You are currently browsing the tag archive for the 'Wisconsin' tag.
Just to keep everyone updated: President Donald Trump has not conceded.
On Friday, December 4, Sean Hannity spoke with former New York City mayor Rudy 'America's Mayor' Giuliani about vote discrepancies in the contested states, beginning with Nevada:
Giuliani said that when someone brings a civil lawsuit, the judge assumes that the allegations are 'true and correct', yet 'the judge' — US state unspecified — 'did just the opposite' (emphases mine):
Now, we can get it reversed but he's accomplished what he wants to accomplish.
He's delayed things, and, I'm sorry to say, he's a Democrat. And you can't tell me he's made this decision based his on legal knowledge unless he really didn't go to law school.
On a motion to dismiss, you have to assume that every allegation we make is true, and then say it doesn't violate the law.
Later on, you get to make a motion for summary judgement … we get a chance for a hearing.
The reason I went to the state legislatures, Sean, is because I saw what the courts were doing, and I wanted to go around them …
The Georgia court wouldn't have allowed those courts to put those witnesses up. The legislature did. In Michigan, the same thing.
We had two Democrat judges and they weren't allowing us to put witnesses up. But, I was able to get some of the witnesses up there because I went to the legislature.
Now, the simple fact is, we don't need courts.
The United States Constitution gives sole power to the state legislatures to decide presidential elections.
In fact, if we go back to the Founding Fathers, they would tell us that we're making a mistake.
This should be thrown right back to the House of Representatives and to the Senate — in each state — and they should hold hearings, they should make factual determinations, and they should decide what the right voter count is.
President Trump sounded off against Governor Kemp of Georgia:
Giuliani had a photo of the suitcases full of ballots in Georgia; I posted a video on Friday:
In Wisconsin, the state's supreme court threw out a Trump lawsuit: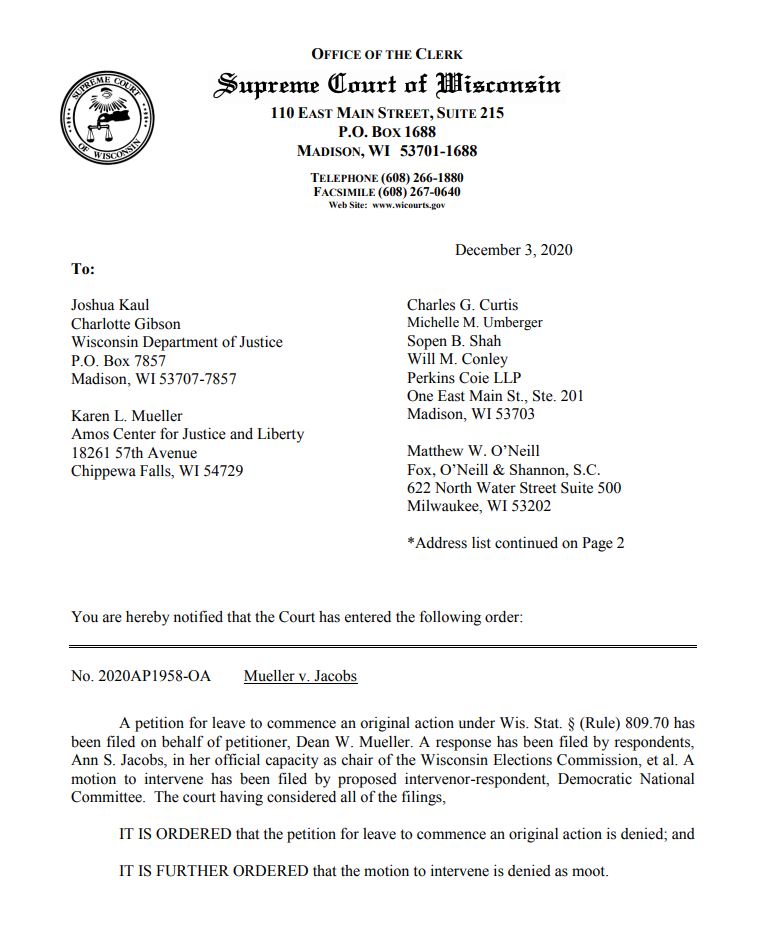 On Friday, December 4, the Daily Mail reported:
A divided Wisconsin Supreme Court on Thursday refused to hear President Donald Trump's lawsuit attempting to overturn his loss to Democrat Joe Biden in the battleground state, sidestepping a decision on the merits of the claims and instead ruling that the case must first wind its way through lower courts.
In another blow to Trump, two dissenting conservative justices questioned whether disqualifying more than 221,000 ballots as Trump wanted would be the proper remedy to the errors he alleged.
The defeat on a 4-3 ruling was the latest in a string of losses for Trump's post-election lawsuits. Judges in multiple battleground states have rejected his claims of fraud or irregularities.
Trump asked the Wisconsin Supreme Court to disqualify more than 221,000 ballots in the state's two biggest Democratic counties, alleging irregularities in the way absentee ballots were administered. His lawsuit echoed claims that were earlier rejected by election officials in those counties during a recount that barely affected Biden's winning margin of about 20,700 votes.
Trump's attorney Jim Troupis said he would immediately file the case in circuit court and expected to be back before the Supreme Court 'very soon.'
However, a hearing will take place in Wisconsin on December 11.
The Gateway Pundit reported:
Wisconsin Republicans will convene a public hearing on the 2020 election irregularities on December 11th. 'Mil' below is Milwaukee County:
Who would have ever thought voter fraud could take place in the land of touristy 'Food, Cheese, Gifts' (a ginormous sign I saw in my youth on trips to Wisconsin)?
Meanwhile, in Arizona, the state's Speaker of the House declined requests to overturn the certification of the vote count. In short:
It's so much easier to do nothing at all. However, doing nothing at all against the Democrats will have severe repercussions for the Great Republic:
It gets worse. Gateway Pundit continues to produce evidence that C h i n a was printing bogus ballots for the election. They have been following this story since November 28.
On December 5, they reported about a video, which has been properly translated into English (emphases in the original):
In the video a caller is heard requesting a bulk order of ballots to ship to the United States.
Here is the video with the translation.
FYI- Our Mandarin speaker confirmed the translation is accurate.
The order was reportedly for 5 million votes.
Two readers noticed that at the 0.54 second mark you can see "Charlotte County Florida" on the ballots …
Here are templates of the Mississippi counterfeit ballots printed in China.
Gateway Pundit have been talking to a former insider, Vinness A. Ollervides, the source for their information:
Here is the video:
On Saturday, President Trump held a successful afternoon rally in Valdosta, Georgia, for the Republican candidates in the state's run-off election early in January 2021. You can read more about it here. The candidates spoke briefly, while the audience voiced their support for the president with cries of 'Fight for Trump':
Elsewhere, President Trump's supporters are also fighting for him:
The battle continues, so, as my late grandfather used to say, 'Don't give up the ship!'
Last week, I wrote about the riots in Kenosha, Wisconsin.
Here is an update.
The 17-year-old shooter has found legal representation:
A British reporter writing for The Sunday Times has documented and photographed the destruction after last week's riots. Unbelievable:
This is unbelievably sad.
Although the journalist was criticised for saying that this affects Joe Biden's campaign, he is not wrong.
Kenosha has a Democrat mayor. Wisconsin has a Democrat governor. Many voters may conclude that this is what happens in Democrat-controlled towns and cities. Based on what has happened this summer in America's main cities — Seattle, Portland and Chicago — they would not be wrong.
Fortunately, a Trump supporter from Virginia, Scott Presler, went to help Kenosha's residents clean up. I like that there is a Black Voices For Trump group:
I'm wondering the same thing:
I hope these people can repair not only their buildings but also their livelihoods.
Kenosha residents did nothing to deserve any of this wanton destruction and gratuitous violence.
President Trump is due to visit Kenosha today (Tuesday).
In the mid-1970s, I met a family from Kenosha, Wisconsin.
They were very nice, responsible, middle class people.
Kenosha, although I've not been there, has been a pleasant, respectable town in which to live.
In my youth, I would have called it 'boring', but as an adult, I am grateful for every place that is like Kenosha used to be until a few days ago.
My heart grieves to see what is going on there now.
The tweets below explain how the violence there began:
This is the current status of the perpetrator:
Kenosha is located between Milwaukee and Chicago.
On August 26, ZeroHedge reported that police think that rioters protesting the police treatment of the perpetrator could be coming in from those two cities, Chicago in particular:
On Tuesday's broadcast of the Fox News Channel's "The Story," Rep. Bryan Steil (R-WI) stated that local law enforcement in Kenosha, WI are "very concerned large numbers of people are coming up from Chicago and trying to disrupt the public safety in the community of Kenosha," in the wake of the shooting of Jacob Blake.
The shooting took place last weekend.
A car dealership was set ablaze:
A TownHall reporter has a very long thread on what happened in Kenosha:
The protesters also marched through residential neighbourhoods.
Meanwhile, in the centre of town:
This is the reason Americans own guns. When seconds count, police are only minutes away. That isn't a dig at the police, but they do have to travel to the scene of the crime:
My heart goes out to the people of Kenosha:
Insurance doesn't always pay for every loss. Premiums go up as a result, as the furniture store owner explained to Julio Rosas:
The owners of the B & L Office Furniture, Scott Carpenter and his mother Linda, told Townhall they had been in business for over 40 years and were extremely disheartened to see the store being torched …
Linda said they'll try to keep working.
"It's not justifiable," Scott said. "We have insurance, yeah, but the insurance isn't there so somebody can destroy your things…we pay for it. It causes insurance rates to go up. It's basically theft. Whoever did this stole from us."
Yes, it is theft.
You can see that the furniture store has been gutted. That will take a long time to rebuild:
A rioter attempted to set fire to another car dealership but was shot — by an armed civilian:
The aforementioned ZeroHedge article states:
… left-wing pundits are already trying to frame the shooting as an act of white supremacist violence even though both the shooter and his victims were armed, and white.
President Trump was focussing on the Republican National Convention, taking place this week. That said, he still had time for Kenosha, as ZeroHedge explains (emphases mine):
Of course, nobody wants to mention the fact that Wisconsin Gov Tony Evers turned down the White House's latest offer of assistance.
White House Chief of Staff Mark Meadows blasted Evers for his decision to turn down federal help and instead Meadows said that earlier in the day, he received a call from some members of the Wisconsin congressional delegation "really just pleading for help, said that the local sheriff and mayor and police chief need some additional assistance. So, I got on the phone right away and called the governor and offered assistance in the form of additional National Guard help. As you know, they're going to have some additional National Guard there tonight. But you've got to, as a governor, and as elected officials, you've got to either ignore the problem — which, a lot of liberal governors are doing exactly that, they're ignoring the problem — or you have to deal with it. … The president was on the phone with the governor today as well. We have National Guard standing by that, if the general for the National Guard needs additional help, we're there to do it. But today, that request was denied by the governor."
Here's the president:
Here's more about the shooting from the Daily Caller:
The man who was fatally shot — and had a police record — was actually asking to be shot:
The shooter was a young man from Illinois:
Things might not end well for him, regardless of the fact that the man who was shot was taunting civilians protecting property:
Breitbart has more:
Seventeen-year-old Kyle Rittenhouse was arrested Wednesday and charged with murder in the shooting deaths of two people during the Tuesday night riots in Kenosha, Wisconsin.
Insider.com reports that Rittenhouse is from Antioch, Illinois, and was allegedly armed with an AR-15 Tuesday night. He allegedly "crossed state lines to stand guard outside businesses during unrest stemming from the… [August 23, 2020] police shooting of Jacob Blake."
Rittenhouse allegedly shot three people Tuesday night, two of whom succumbed to their wounds. The incident was captured on amateur cell phone footage and quickly went viral …
ABC 30 reports that Rittenhouse "is being held at a juvenile facility in Illinois."
According to a USA Today reporter, Rittenhouse's hearing is tomorrow, Friday, August 28:
A reporter from The Blaze spoke with Rittenhouse, who said he was there to protect property:
Top lawyer Lin Wood is offering Rittenhouse legal help:
A curfew continues to be in place:
My word. I can't believe this is happening in Kenosha.
Earlier this year, radicals did say they had a long, hot summer planned around the time of the Democratic and Republican conventions.
However, they started rioting after the Minneapolis shooting took place and haven't let up since, especially in Portland.
Speaking of Minneapolis, here's the latest development:
When is this ever going to stop?
On the positive side, these riots are unintentional campaigns to re-elect President Trump, that's for sure.
Good things do happen in this fallen world.
Here is the spontaneous reaction of a Milwaukee bus driver when she saw a toddler running around unsupervised along her route. This took place last week:
This is such a great video, especially as it is multi-cultural.
Watch to the end, when the bus driver gives the little mite a kiss.
Halfway through, one of the passengers takes off her jacket and gives it to the bus driver to drape over the child to keep her warm.
This lady should get a special commendation and formal recognition — medal, pay rise, both — for this great act of human kindness.
May God bless her, the passenger who gave up her jacket and the little child.
Moral of the story: always supervise little ones!
Last week, I wrote about Jill Stein's divisive petitions for recounts in Wisconsin, Michigan and Pennsylvania — states which Donald Trump won.
Michigan's Attorney General Bill Schuette tweeted the following information on December 6:
Many of us were surprised no one in authority in Michigan said this in the first place. Stein got approximately 1% of the vote in every state. She never had legal standing.
Anyway:
TRO — temporary restraining order.
And:
An ABC affiliate in Michigan, WLOX, has an excellent summary from the Associated Press of what happened in the Stein recount states, some of which is referred to below.
Wisconsin
As of December 5, 23 of 72 counties have finished their recount. In those counties, Trump gained 105 votes and Hillary Clinton lost 41 votes. Overall, Trump won by approximately 22,000 votes.
On Friday, December 9, a federal judge will hear a lawsuit filed last week by a Trump voter and two super PACs seeking to stop the recount.
Michigan
In addition to the tweets from AG Schuette, Trump won Michigan by approximately 10,700 votes.
This was the state's third recount. The first two caused the delay in Michigan posting the election result for several days.
The Conservative Treehouse (CTH) discusses the difficulty of counting votes in Detroit:
If anyone thought a Michigan ballot recount was going to end up being a net positive for Hillary Clinton, they are intellectually disconnected from understanding the reality of how fraudulent the most democrat precincts are in Wayne County (Detroit) Michigan.
CTH cites an article from the Detroit News that states:
Michigan's largest county voted overwhelmingly for Democratic candidate Hillary Clinton, but officials couldn't reconcile vote totals for 610 of 1,680 precincts during a countywide canvass of vote results late last month.
Most of those are in heavily Democratic Detroit, where the number of ballots in precinct poll books did not match those of voting machine printout reports in 59 percent of precincts, 392 of 662.
According to state law, precincts whose poll books don't match with ballots can't be recounted. If that happens, original election results stand. 
As to who pays for this utter waste of time and resources, although the Republican-majority Michigan legislature just approved a measure requiring candidates who won less than 5% of the vote to pay the cost of the recount, Democrats point out this measure came into play after Stein filed for the recount. They do not think she should have to pay for it. The cost would be in the millions of dollars. Stein has the money. She can pay and she should. That is why she was raising funds on Thanksgiving Day.
Pennsylvania
If Michigan's recount is called off, it looks as if Pennsylvania's would be, too.
So far, Trump's lead there has shrunk by about 20,000 votes. He now leads Clinton by 44,000 votes. The margin is still enough to avoid a recount of the entire state. If such a recount had to proceed, it would probably not be finished in time for the Electoral College vote on December 19.
Pennsylvania law states that one must have concrete evidence that voting irregularity occurred. Stein merely stated that the state's election system is 'a national disgrace'. Well, anyone can say that. The recounts in certain counties went ahead, however, based on petitions from Pennsylvanians about their local districts.
The Billy Penn site reports that little changed in Philadelphia's recount:
The great Philadelphia recount has ended, and Hillary Clinton got five more votes than she had in her previous total …
Donald Trump's number stayed the same, as did the totals for Independent candidate Gary Johnson and the Green Party's Jill Stein after the City Commissioners Office recounted votes in 75 of Philadelphia's more than 1600 voting divisions. The recount had been launched by 250-plus Philadelphia residents answering the call of Stein, who asked for three petitioners in each of Pennsylvania's voting district to file recounts to assist in her attempts to get a statewide recount through a Commonwealth Court and then Federal Court lawsuit.
Stein's camp had planned on using the district-level recounts as possible evidence for hacking or fraud. The recount turned up no instances of fraud or hacking here, City Commissioner Al Schmidt said, emphasizing the difficulty of hacking voting machines that aren't connected to the internet …
The five extra votes for Clinton, he said, came from paper provisional or absentee ballots that were undetected by the optical scanner that counted votes in the days following the election. Schmidt said this can happen when people don't mark their choices clearly on paper ballots or, ridiculous as it sounds, use a green highlighter instead of a pen or pencil …
On Monday, December 5, Stein announced in front of Trump Tower that she was going to file a federal lawsuit for a statewide recount in Pennsylvania. This will be heard on Friday, December 9. The Michigan decision might well have an impact on the result in the Pennsylvania hearing. However, if Stein wins the case, a statewide recount would begin.
Nevada
The Independent candidate Rocky De La Fuente, who finished in Nevada with under 1% of the vote, has paid $14,000 for a partial recount, mostly affecting Las Vegas's 92 precincts. The other eight precincts are elsewhere in the state.
If the total recount shows a 1% discrepancy for De La Fuente or Clinton, a statewide recount goes ahead. The partial recount is expected to be complete by the end of the week.
————————————————————————————
I'll provide a final update when it becomes available.