You are currently browsing the tag archive for the 'Yvette Cooper' tag.
The lies from Britain's Remainers about Brexit's Leavers are quite incredible.
For the past three weeks, if not longer, Remainers have told Leavers they did not know what they were voting for in the 2016 Brexit referendum.
False!
Let's go back to when David Cameron was still Prime Minister.
This is what party leaders — Conservative, Lib Dem and Labour — had to say about the referendum. There would be only one:
Cameron summarised the process. Article 50 would be triggered promptly. In February 2016, he said: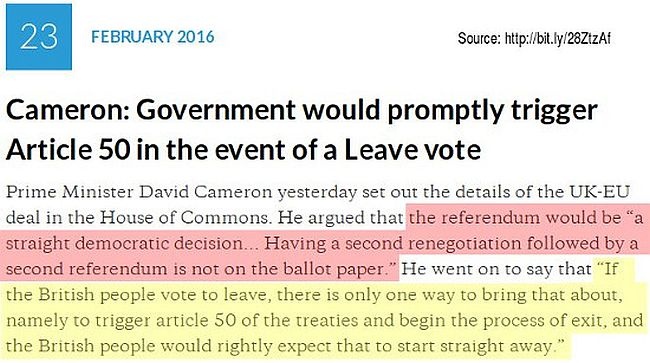 Leavers watched the televised debates.
They also researched sites other than Big Media. Guido Fawkes was one of them. Here Guido explains tariffs:

This was the referendum result on June 23, 2016 — 52%-48%:
David Cameron stood down as Prime Minister the morning of Friday, June 24.
Theresa May succeeded him a few weeks later.
In 2017, under May's premiership, a WTO Brexit was part of the Conservative Party manifesto for the general election held in June: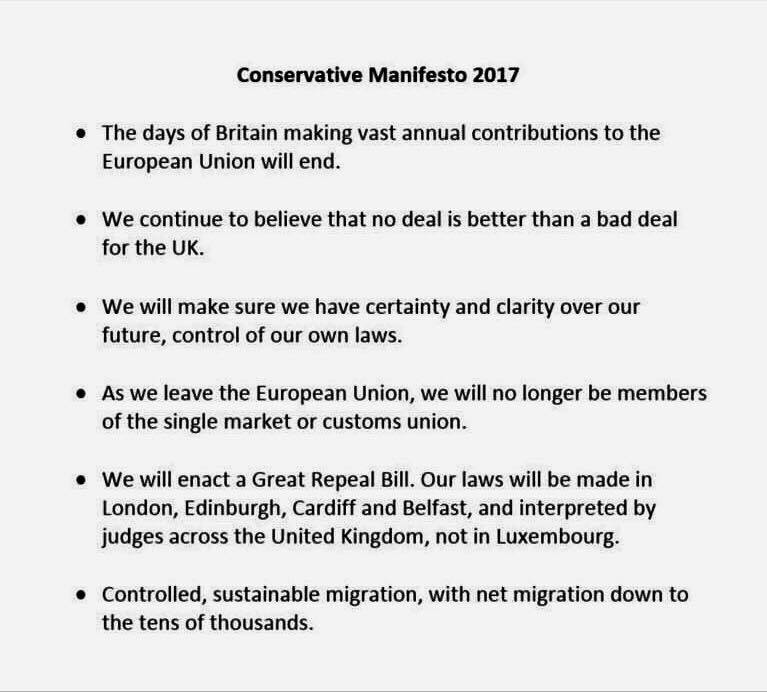 The Conservative Party manifesto excluded a halfway house Brexit with a foot in each camp. Leavers were told they would get a WTO Brexit: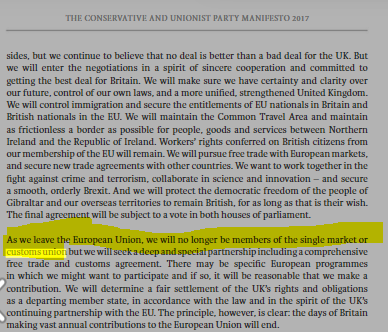 Before the election, Labour MP Yvette Cooper — whose Bill No. 5 blocking a parliamentary/government No Deal is now law — pledged to honour the Brexit mandate, which, incidentally, the Labour Party manifesto also supported. Note that she represents a Leave constituency: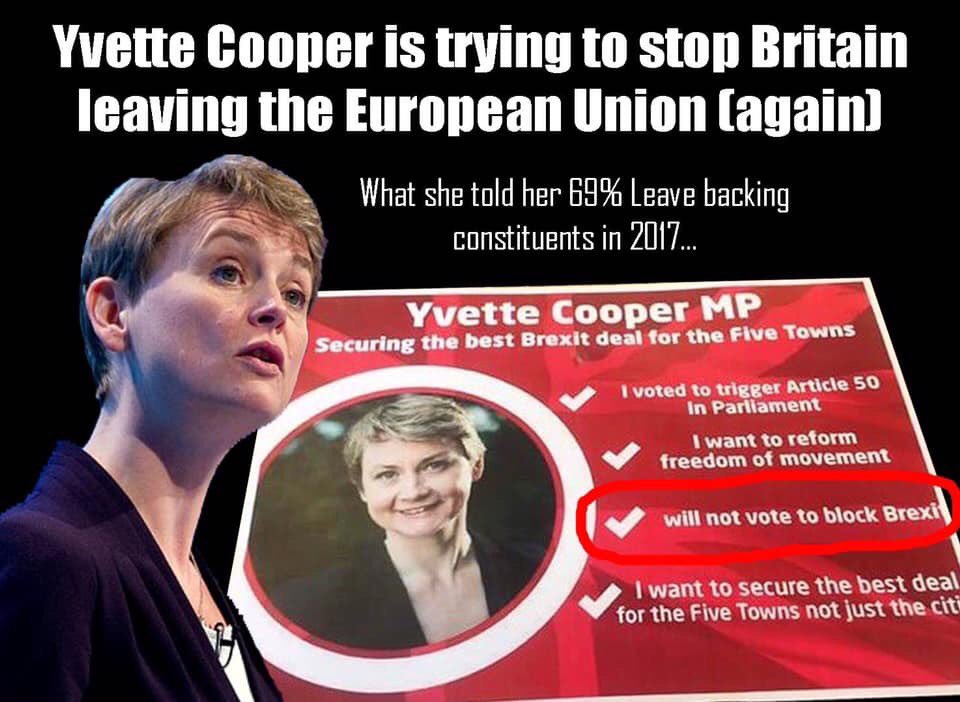 This is what Leavers voted for:
Fast forward to 2019, and who wants a second referendum — a 'People's Vote'? Remainers.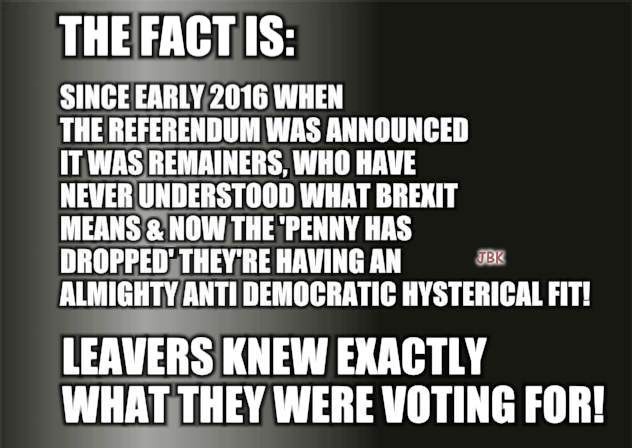 Remainers can rest comfortably knowing that their allies in both Houses — Commons and the Lords — will see to it that they get their wish.
Should Britain end up with a halfway house Brexit — heaven forfend — that is not what Leavers voted for in 2016.
Remainers can share the blame for that with their advocates: parliamentarians and peers alike.
Before recapping to Wednesday's Brexit activity, anyone resident in Britain who wants the UK to Leave with No Deal on April 12 should sign this petition, which has only around 226,000 signatures:
Leave the EU Without a deal on April 12th.
The Government are right when they say that exiting the EU is the "will of the people"
Despite the best efforts of the political classes and media establishment the "silent majority" still wish to leave the EU.
If Mrs May's deal is rejected again we should leave the EU on April 12 with No deal.
Following on from yesterday's Brexit Chronicles instalment, while Prime Minister Theresa May met with Leader of the Opposition Jeremy Corbyn …
… Labour MP Yvette Cooper's Bill No. 5 designed to prevent No Deal and to extend Brexit negotiations for a long period of time passed the House.
As I write on Thursday afternoon, it is now in the House of Lords.
Speaker of the House John Bercow, a Remainer, was not wrong: the legislation did indeed pass the House in one day.
As Leaver Conservative MPs warned Remainers during the debate: act in haste, repent at leisure.
Remainer Conservative Oliver Letwin, spokesman for the bill, smiled superciliously at the warnings.
BrexitCentral has a short and sweet summary of Wednesday afternoon's debate.
QC (Queen's Counsel) Jolyon Maugham was incandescent:
Jo Maugham drafted his own replacement bill which closes the loopholes; whether Remainers will look at it is another question. Doubtful, at this point, if the Cooper-Letwin bill is already with the Lords.
Late last night, the third reading of Bill No. 5 passed — by one vote:
Guido Fawkes summed up the final moments after the vote. Rightly or wrongly, Conservative Leaver Mark Francois quoted our Lord, to the ridicule of Remainers:
Guido reported (emphases in the original):
Rampant Remainers succeeded in ramming an entire Bill through the House of Commons in under 6 hours yesterday – predictably the process was an utter shambles, MPs had no idea which amendments were which, report stage and a third reading debate were entirely skipped and the Bill was so poorly drafted in the first place that Jolyon almost had a meltdown …
After the hours of chaos, Yvette Cooper only succeeded in getting her Bill through by a single vote, 313-312. Any number of MPs have been singled out as the guilty party, 20 Tories including 17 former ministers either rebelled or abstained. Literally guilty Fiona Onasanya traipsed through the Aye lobby complete with electronic ankle tag…
Ultimately it changes little, May was always going to seek a longer extension at next week's European Council in the circumstances anyway. Conspiracy theories that May's Corbyn pitch is a trap or trick to run down the clock are operating in a parallel universe. Make no mistake, Number 10 is in total chaos and acting purely out of desperation now. May's long-term strategy was always to trigger an 11th hour crisis in the hope of bouncing MPs – she never for a minute anticipated that it would be so utterly out of her own control…
I was amazed that this MP was even allowed to vote. However, she is on the list of Independents who voted for Cooper's bill:
Guido reported:
… it turns out that Onasanya didn't just go through the aye lobby with her electronic angle tag, potentially in violation of her curfew. She was actually there fresh from yet another appearance in court…
One of her former caseworkers, Jan Goodenough, has taken Onasanya to tribunal over alleged disability discrimination. Goodenough told Cambridge County Court yesterday that she was unfairly treated by Onasanya and that promises were not kept over close access to a toilet at Onasanya's constituency office in Peterborough. The recall petition in Peterborough is still ongoing for several weeks. Her constituents should find out by Monday if their disgraced MP has fallen foul of the law again…
File under 'Developing', although I suspect it will not matter in the end.
Jo Maugham QC has more on the Cooper bill, citing a Downing Street spokesman who says that it could make No Deal more likely, even though it is specifically designed to prevent that outcome:
EU officials are watching British developments closely. This is what our EU liaison Michel Barnier had to say today:
It looks as if a Leave contingent in the Lords tried to filibuster the debate surrounding Bill No. 5:
How apposite that a peer by the name of Lord True speaks up for Leavers:
As this Leave supporter says, neither House has any idea how betrayed the 52% of referendum voters feel:
Contrary to what Remainers have been saying, most Leavers wanted a clear-cut No Deal on WTO terms.
Leavers knew that joining a Customs Union would make the UK a vassal state, being even further under the yoke of the EU with no vote and no veto in Brussels. That would be a worse outcome than remaining as a member of the EU, as we are now.
PM May's 'deal' is actually a treaty, which would be difficult to back out of.
If No Deal does not happen and none of the proposed options is palatable, a second referendum on Parliament's proposals is definitely in order. In that scenario, Remain would be the only sensible answer.
More next week.
On Tuesday, April 2, 2019, Prime Minister Theresa May and her cabinet met for over seven hours to discuss Brexit.
At the end of the meeting, May announced that she would seek help from the Opposition — Labour — leader Jeremy Corbyn:
The comments following that tweet are scathing.
Incidentally, in case anyone still believes that only the elderly voted for Brexit, there are millions of Britons like this young man who did, too:
It's not just Corbyn whom May has invited on board for discussions. Nicola Sturgeon, the Scottish National Party leader, who does not serve in Westminster, will also meet with PM May:
Although Twitter is littered with photos of cut-up Conservative Party membership cards, Remain Conservative MP Oliver Letwin is determined to prevent any efforts to move the UK to a No Deal World Trade Organization Brexit:
BrexitCentral has the full text of May's announcement, excerpted below, emphases mine. She is dogged about getting her deal ('Withdrawal Agreement') through, not No Deal:
I have just come from chairing seven hours of Cabinet meetings focused on finding a route out of the current impasse – one that will deliver the Brexit the British people voted for, and allow us to move on and begin bringing our divided country back together.
I know there are some who are so fed up with delay and endless arguments that they would like to leave with No Deal next week. I have always been clear that we could make a success of No Deal in the long-term.
But leaving with a deal is the best solution.
So we will need a further extension of Article 50 – one that is as short as possible and which ends when we pass a deal. And we need to be clear what such an extension is for – to ensure we leave in a timely and orderly way.
This debate, this division, cannot drag on much longer. It is putting Members of Parliament and everyone else under immense pressure – and it is doing damage to our politics.
Despite the best efforts of MPs, the process that the House of Commons has tried to lead has not come up with an answer.
So today I am taking action to break the logjam: I am offering to sit down with the Leader of the Opposition and to try to agree a plan – that we would both stick to – to ensure that we leave the European Union and that we do so with a deal.
Any plan would have to agree the current Withdrawal Agreement – it has already been negotiated with the 27 other members, and the EU has repeatedly said that it cannot and will not be reopened.
What we need to focus on is our Future Relationship with the EU. The ideal outcome of this process would be to agree an approach on a Future Relationship that delivers on the result of the Referendum, that both the Leader of the Opposition and I could put to the House for approval, and which I could then take to next week's European Council.
If that does not work, then, it is back to Oliver Letwin's indicative votes for various MPs' alternative options. Both series of indicative votes — March 27 and April 1 — have failed thus far. While the new ones might be slightly different, it seems unlikely they would pass:
if we cannot agree on a single unified approach, then we would instead agree a number of options for the Future Relationship that we could put to the House in a series of votes to determine which course to pursue.
Even worse for those who voted Leave:
Crucially, the Government stands ready to abide by the decision of the House.
There is also a move by Labour MP Yvette Cooper to force May to seek a long extension to Article 50 (pictured is Speaker of the House John Bercow, a Remainer). This was scheduled for discussion on Wednesday, April 3:
In this cross-party effort, Cooper is working with Letwin — with the Speaker's help — to thwart Brexit as it was meant to be.
The Daily Mail reports:
John Bercow ruled rebel MPs can try to push through laws to block No Deal in a single day tomorrow despite Brexiteer fury at the 'reprehensible' plot.
Labour MP Yvette Cooper has published draft laws that would oblige the Government to seek a long delay to Brexit next week if there is not a deal by April 10. 
She wants to use Commons time grabbed by Tory rebel Oliver Letwin tomorrow to ram the law through the Commons in a matter of hours.
Veteran Brexiteer Sir Bill Cash complained the idea was 'unconstitutional' today and urged the Commons Speaker to block it.
But Mr Bercow told him pushing through laws in a single day was 'not particularly unusual' in itself, pointing out the Government does so in an emergency.
The Speaker has repeatedly been accused of helping Remainers to frustrate Brexit and has threatened to block any further votes on Mrs May's Brexit deal.
Also:
After Ms Cooper published her two-clause Bill today, Sir Bill, chairman of the European Scrutiny Committee, said he had 'grave concerns' about the idea of a bill 'effectively being rammed through in one day'.
Sir Bill said: 'This is a reprehensible procedure in the context of this vitally important issue of our leaving the European Union. It is unconstitutional.
'It is inconceivable that we should be presented with a bill which could be rammed through in one day.'
Returning to May's hoped-for Brexit alliance with Labour's Jeremy Corbyn, it is not sitting well with some Conservative MPs:
A former Conservative Party leader and current MP said:
These are the views from May's Cabinet:
It looks as if the fix could have been in around lunchtime:
Fortunately, one Conservative MP, Nigel Adams, had the courage of his convictions to resign his positions, although he will continue to serve his constituency in Parliament. His letter is well worth reading (click the image twice to see each page separately):
The Press Association (PA) reported on the contents of his letter:
The Selby & Ainsty MP said: "Legitimising and turning to Jeremy Corbyn to assist you at this crucial stage, rather than being bold, is a grave error.
"It is clear that we will now end up in the customs union. That is not the Brexit my constituents were promised and it is contrary to the pledge we made in our manifesto. It makes no sense to leave the EU and to have a situation where our trade policy and much of our law is made in Brussels with no say for the UK."
Mr Adams, who was made a whip in January 2018 and promoted to the Wales Office in November, said he continued to believe that no deal was better than a bad deal.
Mr Adams's letter is also partially quoted in Guido Fawkes's tweet below:
Darren Grimes is probably accurate in his assessment above. A lot of fellow Britons of his age were enthusiastic about the referendum in 2016:
The author of the BrexitCentral article in the above tweet, Karl McCartney, is a former Conservative MP, who served between 2010 and 2017. He also sat on the Exiting the European Union and Transport Select Committees and the Executive of the 1922 Committee. He says there is obfuscation around the Irish border issue, which, in reality, is not a problem. It can be solved:
It is to the Irish Taoiseach and EU's shame that their politicking around a non-issue – in their pursuit of a big enough spanner to throw in the 'works' of a deal – has been seen to be just that. That is, gaming the process and working outside the negotiations and using this very real but 'fake' Ireland issue to try and negate Brexit, or at best to permanently delay it. In doing so, they would be keeping the UK leashed at the very least as a supplicant in relation to the other 27 EU states, with no voting rights on all the important issues.
That is not leaving, and for democracy and politics to be fixed in the UK the powers-that-be ought to be aware that the voting public have had enough. They say so on the doorsteps as I and many activists are out knocking on doors and talking to people every weekend. They voted, in a majority, to leave, but whichever way they voted, they expected their will to be implemented.
To not understand that and to wilfully frustrate the original and recent People's Vote of 2016, backed up by a general election when 85% backed the two main parties whose central policy plank was to implement the Leave result, leads us into a dark place.
Leaving the EU, even with no Withdrawal Agreement, does not mean we leave Europe, or that we will no longer trade with, or holiday in, Europe. It means we can carry on treating our nearest European countries as trading partners, on (friendly) WTO terms until further agreements are reached (yes, the Great British Public are going to love it when they realise that these Brexit negotiations are scheduled to go on for years and years, whatever happens with the Withdrawal Agreement). But whilst all this is happening with Europe, we will as a nation have our sovereign powers back to pass what laws we wish to, control immigration to our economic and social advantage and to reach out and engage in trade deals with the Commonwealth countries and all other countries around the world in the great global economy in which we are a proud and key player.
I couldn't agree more!
As for the immediate future, any negotiations between May and Corbyn will be tricky. It is no wonder that Leave voters think the Opposition leader will be the de facto PM during this process:
That said, Labour MPs are not fond of the move, distrusting May's intentions:
Of course, at Wednesday's PM Question Time, everything appeared diplomatic:
That said, there was the usual PM v Opposition Leader sparring over respective party positions on issues other than Brexit.
May faced pointed questions from both sides of the House on Corbyn's involvement with the Brexit process:
Conservative MP Lee Rowley asked:
Caroline Johnson asked:
Julian Lewis was unhappy with May's stock answer to his question, which echoed the sentiments of many Leavers:
May also gave a stock answer to this Conservative:
I am much less hopeful about this process than ever. Someday, someone will write a book about what lay behind May's 'deal' and why she pushed it. In any event, she no longer represents Leavers.
N.B. I wrote this after PMQs, so will not have an update today on the debate of the aforementioned Cooper-Letwin bill. More to come later.
The parliamentary logjam surrounding Brexit is breathtaking.
For those who have not been following, this was the state of play on Britain's official Leave date, established in 2017:
The other day, I elaborated on Remainer Parliamentarians not following through on the result of the Brexit referendum in June 2016. That post provides background on what happened on Monday, April 1, 2019.
Leavers voted to break away from the EU because of its undemocratic nature.
Now Leavers find that their own MPs are scuppering that referendum result.
Recall that in the June 2017 general election, both Conservative and Labour manifestos pledged to honour the referendum result.
Early this year, Leavers began finding out how undemocratic Remain MPs have been. We've seen them vote against No Deal and Theresa May's alternative Brexit deal. We've seen them propose various motions that would overturn the referendum result:
This is a cross-party effort to stop Brexit.
One has to ask who is less democratic: the EU or Remain MPs?
April Fool's Day in Parliament
Last week, Remain Conservative MP Oliver Letwin's motion to allow indicative votes on Brexit alternatives produced eight from as many MPs. None of them passed.
On Monday, April 1, Speaker of the House John Bercow (Remain) put forward four of those motions for a second vote on Monday.
These are the motions they voted on:
C: Permanent customs union with the EU (Kenneth Clarke, Conservative Remainer)
D: Membership in European Free Trade Association (Efta) and European Economic Area (EEA) (Nick Boles, Conservative Remainer)
E: Confirmatory public vote on any parliamentary Brexit deal prior to ratification (Peter Kyle, Labour)
G: Extend Article 50 with parliamentary right to decide next steps (Joanna Cherry, Scottish National Party)
Once again, none passed:
The Guardian has a useful page with each MP's vote. It is interesting to see how many Conservative and Labour MPs are violating their party's manifesto pledges on Brexit.
On that topic, this is an illustrative comment from a Guido Fawkes reader on Labour MP Yvette Cooper, who voted to trigger Article 50 but is now showing her true Remain colours:
Cooper, whose constituency voted 70% to 30% to leave said just before she voted in favor of Article 50 that "Nobody said at any time 'you know what, I am not going to respect the result afterwards' – that's the kind of thing Donald Trump says."
She must have meant Hillary Clinton. Anyway:

Prospects of deselection for Yvette – hopefully very high. There was always going to be a conflict between Islington lefties dropped into Northern working class seats, and the voters in those seat[s].
Other MPs have vacillated, changing their minds between the two indicative voting sessions on Ken Clarke's Custom Union:
Speaking of a permanent Customs Union, Conservative Party members rightly reject it. Look what does have the rank and file members' approval — No Deal and PM May's deal:
Guido Fawkes says (emphasis in the original):
ConHome have done their own set of indicative votes among the Tory membership, finding massive grassroots opposition to any of the options apart from No Deal. Nearly 90% are opposed to Customs Union membership, revoking Article 50 or a second referendum, while 79% oppose 'Common Market 2.0', with barely double figures in favour of them. It's daft that otherwise sensible ministers and MPs are even thinking of adopting the worst possible Brexit outcome…
One of Guido's readers put it this way (emphases mine):
I've said it before and I will say it again.
When I voted in the referendum in June 2016, the thing that mostly closely resembles what I thought I was voting for is what is currently called "no deal Brexit".
I really don't want to be in the Single Market or Customs Union. I'm not interested in a "close and special relationship" with the EU – an ordinary one like Canada and the Australia has with it is fine. I'm not interested in the European Arrest Warrant and their criminal databases (which we mostly contribute to). I couldn't give two hoots about pet passports or mobile phone roaming charges.
I voted for full independence.
The reader later added this:
I am sorry to say that I voted Conservative.
At the time, I believed the Conservative Party and Theresa May were committed to leaving the EU in a meaningful way.
Sadly, I was mistaken.
Compounding the dissatisfaction are the divisions appearing within the political parties themselves as evidenced by MPs last night:
After vote, Remainer Conservative resigns
After yesterday's indicative votes were announced, Conservative MP Nick Boles, a Remainer, announced he was resigning his role as whip — and leaving the Conservative Party:
He then left the Chamber for the evening.
There's more here:
But this is not about compromise. It is about delivering Brexit, preferably World Trade Organization style:
Boles was upset that he got fewer votes on his motion from his fellow Conservatives:
April 2 – it gets worse
Leave supporters went to bed on Monday knowing that the indicative votes did not pass.
However, Remainers will not give up:
Sure enough. Around noon on Tuesday, Remainers had struck again …
… despite the fact that:
Guido's post on the latest Remain wheeze to block Brexit tells us (emphases in the original):
… the Cooper/Boles/Benn/Letwin shadow Government have significant escalated their takeover plans, with Yvette Cooper tabling a full-on Brexit-blocking Bill which they will try to ram through the Commons tomorrow. The Bill tries to block a no-deal Brexit by ordering the PM to seek yet another Article 50 extension from the EU.
The plotters aren't even trying to use the excuse any more that they're just trying to let Parliament have its say, by trying to force through an entire Act of Parliament they are taking on the mantle of a Government but with none of the accountability or scrutiny that should involve. All in the name of blocking the country's biggest ever democratic vote…
Here is an excellent observation on the matter:
This is a benign analysis:
The reality is more like this. This QC (Queen's Counsel) asks pertinent questions:
This could be very bad news indeed, especially for the main Leave group of Conservatives, the ERG (European Research Group):
Meanwhile, as I was writing this post this afternoon, the Cabinet was still meeting at No. 10:
Next steps
This is the likely schedule in Parliament for the next few days:
More anon.