You are currently browsing the tag archive for the 'Evangelical' tag.
The other Sunday, a group of parishioners who had attended an Anglican diocesan series on church growth spoke after the service.
Oh, dear, I thought. Church growth programmes are so wrong, so very, very wrong.
John MacArthur explains how to get people coming in the doors and get them out again, evangelising. It involves teaching doctrine and the Scripture at every church service.
This excerpt is from a 1973 sermon I cited in my post on Acts 11. MacArthur had been at Grace Church for a little over four years at the time. This is his gimmick-free formula (emphases mine):
For four years, plus, I have endeavored basically to do one thing and that is to teach doctrine. Now we teach through the Bible verse after verse after verse, but really what we're doing is taking Scripture and framing a doctrine, framing a principle. Doctrine is just principles. And we've endeavored for four plus years to build a strong doctrinal base.
I believe in my heart for all the time I've been here this has been my goal, my one single desire. And I really think that God in His wonderful providence has blessed His Word here. It's not me. I'm the first one to know that. It's the Word of God. But as you teach the Word of God strength is built, doctrine becomes firm and strong. That's the very basis. The Word is established and my commitment has been to do just that, to spend the time establishing with the Word.
During that same time I feel God has prepared instruments and I prayed this would happen. I prayed that we wouldn't just have a good theology on paper, but that we'd have a lot of people who had grown up with that theology and who were a part of it, and who lived it, and who would mature, and I prayed that this would happen …
I think the last two months have been one of the most exciting times in my life. I couldn't begin to remember the names or even count the people who come to me and say, "John, I've had enough. I'm full. I've learned. I've got to get out of here. I've got to take it somewhere. What can I do?" You wouldn't believe how many people have been coming and telling me this. Everyday I hear this.
Sat down last night playing basketball, a guy on the basketball team says to me, "God wants me to go on the mission field. I never dreamed this could even happen. I just feel in my heart I have to go on the mission field. I got to share. I got to get out." That's just one in a long chain. A lady came in my office the other day and she says, "Is there a place for me in this church? I just want to serve the Lord Jesus Christ. I want to evangelize women." I can count on my hand five people I can think of who told me they've got to go to the mission field soon. God's just leading them. God's calling.
People come to me and say, "I got to start a work of evangelism. I want to do this. Can I work here?" We trust God by the time fall comes around we're going to have a campus evangelist on almost every high school campus in the Valley, people establishing Bible studies and winning people to Christ and nurturing Christians. We're going to do the same thing on every college campus and I haven't generated any of it, haven't invented a program, haven't done one single thing, just teaching and praying that God will raise some people up. You know what they do, they knock my door down and finally I just tell them, "Go ahead and do it." Shows you what kind of an administrator I am. But anyway, that's the way everything works around here. Just wait till people get excited about it. They'll do it. Get them praying about it. A guy prays long enough the Lord will shoot him out and that's the supreme joy for me I'm telling you.
Somebody told me the other day that by next semester we have 24 young men at seminary, Calvin Seminary. You don't know what a joy that is. That's reproduction. See that's reproduction. Those men are going to affect thousands of people in their lifetime. And that's what I hoped would happen, and I praise God that we're beginning to see the little murmurings of it beginning to happen. People are coming to me and say I feel God's calling me to begin a work over here and over there. Will you help support us?
I think our church is going to have to catch a vision, people, because we've come to the place now where we've got prepared people and they're going to demand, by the Spirit of God, that we turn them loose on this world, and we're going to have to be ready to handle it and it's going to mean sacrifice to do it financially. But oh the dividends are eternal, amen? We got to be ready. It's coming. Believe you me if I come up here in the next month and tell you there's ten new staff members. You'd better be ready to handle that. Don't laugh, it might be. The way God's working right now I'm just drowning in them. You don't know what a joy this is.
I think it's a similar thing right here in this situation in this text. The groundwork was laid and it took seven years. For us it's been four years of teaching and teaching and teaching and teaching and we'll keep doing that because there's new people coming all the time and we'll just keep flip flopping them over and someone says, "Do you want more people in your church?" I want more people in here for a little while so I can send more people out of here. That's what I want. I don't people want to just come here and stay. I want people to come here and leave. Now some of you can stay because we need some of you here to train the people to leave. Don't everybody go so next Sunday I'm here alone, right? …
Some people have talked to me about beginning pastorates; about outreach on campuses, about adult evangelism mobilizing people for reaching out, all kinds of things. I'm just thrilled and I think we're seeing a phase like we see here in the 11th Chapter of Acts. As a church, when the groundwork is laid, begins to move out. And you know it's not something you have to generate. Amazingly the Spirit of God does it. He does it.
So, one of our local Anglican churches is opening a café as part of church growth. Big deal. Our area has half a dozen cafés.
I told a good friend of mine — Anglican, but no longer a churchgoer — about the café. He thought it was absurd to think that it would bring more people to church. I agree.
He said he no longer goes to church because the services have been watered down such that there's no more mysterium tremendum that takes you out of the world and puts you in God's presence.
He also complained about the poor preaching.
He said that if the Church of England wants people coming back in droves, they will have to go back to basics regarding the liturgy and the sermons. In short, have more 1662 Book of Common Prayer services and robust preaching that gets one thinking about the state of one's soul.
In short — my friend's advice is not far from what John MacArthur advocated in 1973 and continues to advocate today. His Grace Church in California is jam packed every Sunday. His Masters Seminary is also highly successful. His Grace To You Ministries is international. That is because MacArthur is doing what the Apostles did.
Church growth programmes do not work. Return to doctrine and Scripture instead for real, lasting growth in the Spirit.
John MacArthur has a new book, The Truth War, which he is adapting for a series of blog posts on his GTY — Grace To You — site.
On September 18, 2017, he wrote 'Modernity to Postmodernity: From Bad to Worse'. It is a good summation of how we got to where we are with our 21st century thinking. Excerpts follow, emphases mine:
Postmodernism in general is marked by a tendency to dismiss the possibility of any sure and settled knowledge of the truth … Objectivity is an illusion. Nothing is certain, and the thoughtful person will never speak with too much conviction about anything. Strong convictions about any point of truth are judged supremely arrogant and hopelessly naive. Everyone is entitled to his own truth.
Postmodernism therefore has no positive agenda to assert anything as true or good. Perhaps you have noticed that only the most heinous crimes are still seen as evil. (Actually, there are many today who are prepared to dispute whether anything is "evil," so such language is fast disappearing from public discourse.) That is because the notion of evil itself does not fit in the postmodern scheme of things. If we can't really know anything for certain, how can we judge anything evil?
Therefore postmodernism's one goal and singular activity is the systematic deconstruction of every other truth claim. The chief tools being employed to accomplish this are relativism, subjectivism, the denial of every dogma, the dissection and annihilation of every clear definition, the relentless questioning of every axiom, the undue exaltation of mystery and paradox, the deliberate exaggeration of every ambiguity, and above all the cultivation of uncertainty about everything.
If you were to challenge me to boil down postmodern thought into its pure essence and identify the gist of it in one single, simple, central characteristic, I would say it is the rejection of every expression of certainty. In the postmodern perspective, certainty is regarded as inherently arrogant, elitist, intolerant, oppressive—and therefore always wrong.
Postmodernism has resulted in a widespread rejection of truth and the enshrinement of skepticism. Postmodernists despise truth claims. They also spurn every attempt to construct a coherent worldview, labeling all comprehensive ideologies and belief systems "metanarratives," or grand stories. Such "stories," they say, can't possibly do justice to everyone's individual perspective, and therefore they are always inadequate.
Postmodernism's preference for subjectivity over objectivity makes it inherently relativistic … Instead, truth, if acknowledged at all, becomes something infinitely pliable and ultimately unknowable in any objective sense.
Postmodernism therefore signals a major triumph for relativism—the view that truth is not fixed and objective, but something individually determined by each person's unique, subjective perception. All this is ultimately a vain attempt to try to eliminate morality and guilt from human life.
And as we'll see next time, eliminating rational thought is key to those objectives.
It's a funny thing, postmodernism. A postmodernist will deny Christianity as being subjective or irrational. Yet, that same person will say that it is established science that diet soft drinks are bad for everyone and that climate change science is settled.
Postmodernists pick and choose their 'truths', generally alighting firmly on something that needs more research, the way a bluebottle eagerly lands on decaying rubbish to lay its eggs.
MacArthur's next essay is called 'Rationality Without the Rationalism'. We all know how atheists pride themselves on being rational, whereas, in their eyes, the Christian is irrational. Similarly, an increasing number of Christians eschew the study of philosophy, which they consider harmful because there is no Scripture involved.
However, MacArthur says:
Rationality (the right use of sanctified reason through sound logic) is never condemned in Scripture. Faith is not irrational. Authentic biblical truth demands that we employ logic and clear, sensible thinking. Truth can always be analyzed and examined and compared under the bright light of other truth, and it does not melt into absurdity. Truth by definition is never self-contradictory or nonsensical. And contrary to popular thinking, it is not rational to insist that coherence is a necessary quality of all truth. Christ is truth incarnate, and He cannot deny himself (2 Timothy 2:13). Self-denying truth is an absolute contradiction in terms. "No lie is of the truth" (1 John 2:21).
Nor is logic a uniquely "Greek" category that is somehow hostile to the Hebrew context of Scripture. (That is a common myth that is often set forth in support of postmodernism's flirtation with irrationality.) Scripture frequently employs logical devices, such as antithesis, if-then arguments, syllogisms, and propositions. These are all standard logical forms, and Scripture is full of them—Paul's long string of deductive arguments in 1 Corinthians 15:12–19 being a great example.
MacArthur points out that what postmodernists object to about Holy Scripture and Christianity are propositional statements which are either true or false, with no middle ground:
The reason behind postmodernism's contempt for propositional truth is not difficult to understand. A proposition is an idea framed as a logical statement that affirms or denies something, and it is expressed in such a way that it must be either true or false. There is no third option between true and false. (This is the "excluded middle" in logic.) The whole point of a proposition is to boil a truth-statement down to such pristine clarity that it must be either affirmed or denied. In other words, propositions are the simplest expressions of truth value used to express the substance of what we believe. Postmodernism, frankly, cannot endure that kind of stark clarity.
In reality, however, postmodernism's rejection of the propositional form turns out to be totally untenable. It is impossible to discuss truth at all—or even tell a story—without resorting to the use of propositions. Until fairly recently, the validity and necessity of expressing truth in propositional form was considered self-evident by virtually everyone who ever studied logic, semantics, philosophy, or theology. Ironically, to make any cogent argument against the use of propositions, a person would have to employ propositional statements! So every argument against propositions is instantly self-defeating.
That is no doubt why so many established denominations are moving away from centuries-old dogma and doctrine. Whereas the ancient Church thinkers and, later, the Reformers repeated the same biblical truths, these have now become 'offensive' to many Christians, hence, the movement towards 'all are saved' and 'Jesus loves you'. Yes, and no. Mankind must submit to God's will in order to be saved. All mankind seems to do these days is to submit to addiction (including psychotropes) and/or depravity.
Although MacArthur acknowledges that there is more to Christianity than adopting a set of beliefs, we cannot claim to have our hearts and heads allied with the Lord unless we accept certain truths — which are propositional:
While it is quite true that believing the truth entails more than the assent of the human intellect to certain propositions, it is equally true that authentic faith never involves anything less. To reject the propositional content of the gospel is to forfeit saving faith, period.
Postmodernists are uncomfortable with propositions for an obvious reason: They don't like the clarity and inflexibility required to deal with truth in propositional form. A proposition is the simplest form of any truth claim, and postmodernism's fundamental starting point is its contempt for all truth claims. The "fuzzy logic" of ideas told in "story" form sounds so much more elastic—even though it really is not. Propositions are necessary building blocks for every means of conveying truth—including stories.
But the attack on propositional expressions of truth is the natural and necessary outworking of postmodernism's general distrust of logic, distaste for certainty, and dislike for clarity. To maintain the ambiguity and pliability of "truth" necessary for the postmodern perspective, clear and definitive propositions must be discounted as a means of expressing truth. Propositions force us to face facts and either affirm or deny them, and that kind of clarity simply does not play well in a postmodern culture.
Hence the accusations of notional Christian 'hate' towards others. Fellow Christians accuse each other of that, too. We see it in the controversy over same-sex marriage in church, the Anglican synod being one example. Those who oppose it were shouted down as being haters or reactionaries. No, they are simply being true to Scripture. It also doesn't mean they don't want persons of same-sex persuasion banned from church. What they object to is the church performing misplaced wedding ceremonies.
It seems to me, from what I have seen, that postmodernism has produced a lot of unhappy people. Never before are there so many depressed, angry and violent men, women and children. They react negatively at the drop of a hat — over anything that even politely contradicts their little, individual worldview.
That includes churchgoers.
Clergy aren't helping the situation by turning sermons into 'addresses' and making what should be worship of God into therapy for humankind.
I just reread a recent church bulletin I received. It mentions a new programme on the Bible which will be conducted in 'a non-confrontational atmosphere'. It is sure to be steeped in postmodernist relativism.
When Christians, through the aid of prayer, open their hearts and minds to the truth of Scripture — all of which condemns man's base, sinful nature — and see a good explanation of it, they will come to understand the unchanging truth of Jesus Christ and reject postmodernist thought.
That time cannot come too soon.
In this final instalment on St Peter's spiritual journey, what follows are excerpts from the other two blog posts from John MacArthur on this great Apostle.
My other two in this series, based on MacArthur's posts, are 'John MacArthur on Peter' and 'John MacArthur on Peter's leadership qualities'.
MacArthur tells us that Jesus taught Peter a number of lessons, all of which helped his spiritual and apostolic development. He outlined these in 'Peter: Learning from Life Experience', excerpts from which follow. Emphases mine below.
Previous entries covered Peter's denial of Jesus early on Good Friday. However, there were other episodes which were also learning experiences for him. Highs were followed by lows:
… the experiences—even the difficult ones—were all necessary to shape Peter into the man he needed to become.
He learned, for example, that crushing defeat and deep humiliation often follow hard on the heels of our greatest victories. Just after Christ commended him for his great confession in Matthew 16:16 ("You are the Christ, the Son of the living God"), Peter suffered the harshest rebuke ever recorded of a disciple in the New Testament. One moment Christ called Peter blessed, promising him the keys of the kingdom (Matthew 16:17–19). In the next paragraph, Christ addressed Peter as Satan and said, "Get behind me!" (Matthew 16:23)—meaning, "Don't stand in My way!"
That incident occurred shortly after Peter's triumphant confession. Jesus announced to the disciples that He was going to Jerusalem, where He would be turned over to the chief priests and scribes and be killed. Upon hearing that, "Peter took Him aside and began to rebuke Him, saying, 'God forbid it Lord! This shall never happen to You!'" (Matthew 16:22). Peter's sentiment is perfectly understandable. But he was thinking only from a human standpoint. He did not know the plan of God. Without realizing it, he was trying to dissuade Christ from the very thing He came to earth to do. As usual, he was speaking when he ought to have been listening. Jesus' words to Peter were as stern as anything He ever spoke to any individual: "He turned and said to Peter, 'Get behind Me, Satan! You are a stumbling block to Me; for you are not setting your mind on God's interests, but man's'" (Matthew 16:23).
Ultimately:
Peter had just learned that God would reveal truth to him and guide his speech as he submitted his mind to the truth. He wasn't dependent upon a human message. The message he was to proclaim was given to him by God (Matthew 16:17). He would also be given the keys to the kingdom—meaning that his life and message would be the unlocking of the kingdom of God for the salvation of many (Matthew 16:19).
But now, through the painful experience of being rebuked by the Lord, Peter also learned that he was vulnerable to Satan. Satan could fill his mouth just as surely as the Lord could fill it. If Peter minded the things of men rather than the things of God, or if he did not do the will of God, he could be an instrument of the enemy.
He backslid only once — and briefly — but the Apostle Paul sharply corrected him. The incident is in Galatians 2, discussed here.
MacArthur says that, whatever Peter's experiences with Jesus, he learned to truly be a fisher of men:
Sometimes the experiences were bitter, distressing, humiliating, and painful. Other times they were encouraging, uplifting, and perfectly glorious—such as when Peter saw Christ's divine brilliance on the Mount of Transfiguration. Either way, Peter made the most of his experiences, gleaning from them lessons that helped make him the great leader he became.
There is one more illustrative exchange between Jesus and Peter, which taught the Apostle about obeying earthly law. MacArthur discusses it in 'Peter: The Submissive Leader'. It is the story of the temple tax in Matthew 17:
This account comes at a time when Jesus was returning with the twelve to Capernaum, their home base, after a period of itinerant ministry. A tax collector was in town making the rounds to collect the annual two-drachma tax from each person twenty years old or older. This was not a tax paid to Rome, but a tax paid for the upkeep of the temple. It was prescribed in Exodus 30:11–16 (cf. 2 Chronicles 24:9). The tax was equal to two days' wages, so it was no small amount.
Matthew writes, "Those who collected the two-drachma tax came to Peter and said, 'Does your teacher not pay the two-drachma tax?'" (Matthew 17:24). Peter assured him that Jesus did pay His taxes.
But this particular tax apparently posed a bit of a problem in Peter's mind. Was Jesus morally obliged, as the incarnate Son of God, to pay for the upkeep of the temple like any mere man? The sons of earthly kings don't pay taxes in their fathers' kingdoms; why should Jesus? Jesus knew what Peter was thinking, so "when he came into the house, Jesus spoke to him first, saying, 'What do you think, Simon? From whom do the kings of the earth collect customs or poll-tax, from their sons or from strangers?'" (Matthew 17:25).
Peter answered, "From strangers." Kings don't tax their own children.
Jesus drew the logical conclusion for Peter: "Then the sons are exempt" (Matthew 17:26). In other words, Jesus had absolute heavenly authority, if He desired, to opt out of the temple tax.
But if He did that, it would send the wrong message as far as earthly authority is concerned. Better to submit, pay the tax, and avoid a situation most people would not understand. So although Jesus was not technically obligated to pay the temple tax, he said, "However, so that we do not offend them, go to the sea and throw in a hook, and take the first fish that comes up; and when you open its mouth, you will find a shekel. Take that and give it to them for you and Me" (Matthew 17:27).
As Christ's example is the ultimate of all time, from it Peter learned to submit to earthly authority in his own ministry. He also encouraged his converts to do so, too, thereby following Christ's example:
… in 1 Peter 2:13–18, he would write,
Submit yourselves for the Lord's sake to every human institution, whether to a king as the one in authority, or to governors as sent by him for the punishment of evildoers and the praise of those who do right. For such is the will of God that by doing right you may silence the ignorance of foolish men. Act as free men, and do not use your freedom as a covering for evil, but use it as bondslaves of God. Honor all people, love the brotherhood, fear God, honor the king. Servants, be submissive to your masters with all respect, not only to those who are good and gentle, but also to those who are unreasonable.
That is a tall order to fulfil, especially when governments are tyrannical and employers unreasonable.
MacArthur reminds us:
Remember, the man who wrote that epistle was the same man who when he was young and brash slashed off the ear of the high priest's servant. He is the same man who once struggled over the idea of Jesus' paying taxes. But he learned to submit—not an easy lesson for a natural leader. Peter especially was inclined to be dominant, forceful, aggressive, and resistant to the idea of submission. But Jesus taught him to submit willingly, even when he thought he had a good argument for refusing to submit.
MacArthur's posts came at a serendipitous time, just as Peter's great works and miracles are the subject of where I am in Acts (most recently here and here). Peter will be the dominant Apostle for the next few weeks.
Let us remember MacArthur's words of wisdom as we read more about this great saint in the weeks ahead.
End of series
Last week, I wrote about two of John MacArthur's Grace To You blog posts about St Peter.
MacArthur had three more, all from the end of July 2017, which I have just found.
My post today excerpts MacArthur's entry of July 26, 'Peter: Raw material for leadership'. Excerpts follow, emphases mine.
So often, we think only of Peter of the Gospels rather than Peter post-Pentecost. As I explained last week, Peter had a powerful, Spirit-driven ministry, which included healing miracles. Yesterday's post concerned his raising — through the power of Christ Jesus — Dorcas from the dead.
Jesus prepared his friend and Apostle for the future. MacArthur opens his post with this:
Are great leaders born or made? Peter is a strong argument for both. Without the Lord's discipleship and tutelage, he never would have been more than a fisherman. But true leaders also require certain innate gifts—think of it as the raw material of leadership.
Peter had the God-given fabric of leadership woven into his personality from the beginning. Of course, it was the Lord who fashioned him this way in his mother's womb (cf. Psalm 139:13–16).
MacArthur details the raw leadership characteristics that made Peter into a great Apostle.
Peter was inquisitive:
Leaders need to have an insatiable curiosity. They need to be people who are hungry to find answers. Knowledge is power. Whoever has the information has the lead. If you want to find a leader, look for someone who is asking the right questions and genuinely looking for answers …
In the gospel accounts, Peter asks more questions than all the other apostles combined. It was usually Peter who asked the Lord to explain His difficult sayings (Matthew 15:15; Luke 12:41). It was Peter who asked how often he needed to forgive (Matthew 18:21). It was Peter who asked what reward the disciples would get for having left everything to follow Jesus (Matthew 19:27). It was Peter who asked about the withered fig tree (Mark 11:21). It was Peter who asked questions of the risen Christ (John 21:20–22). He always wanted to know more, to understand better. And that sort of inquisitiveness is a foundational element of a true leader.
Peter showed initiative:
If a man is wired for leadership, he will have drive, ambition, and energy. A true leader must be the kind of person who makes things happen. He is a starter. Notice that Peter not only asked questions; he was also usually the first one to answer any question posed by Christ. He often charged right in where angels fear to tread.
There was that famous occasion when Jesus asked, "Who do people say that the Son of Man is?" (Matthew 16:13). Several opinions were circulating among the people about that. "And they said, 'Some say John the Baptist; and others, Elijah; but still others, Jeremiah, or one of the prophets'" (Matthew 16:14). Jesus then asked the disciples in particular, "But who do you say that I am?" (Matthew 16:15, emphasis added). It was at that point that Peter boldly spoke out above the rest: "You are the Christ, the Son of the living God" (Matthew 16:16). The other disciples were still processing the question, like schoolboys afraid to speak up lest they give the wrong answer. Peter was bold and decisive. That's a vital characteristic of all great leaders. Sometimes he had to take a step back, undo, retract, or be rebuked. But the fact that he was always willing to grab opportunity by the throat marked him as a natural leader.
Of course, Peter made some glaring errors in judgement, such as his attack on the high priest's servant in the Garden of Gethsemane during Jesus's arrest:
A typical Roman cohort consisted of six hundred soldiers, so in all likelihood there were hundreds of battle-ready Roman troops in and around the garden that night. Without hesitating, Peter pulled out his sword and took a swing at the head of Malchus, the servant of the high priest. (The high priest and his personal staff would have been in the front of the mob, because he was the dignitary ordering the arrest.) Peter was undoubtedly trying to cut the man's head off. But Peter was a fisherman, not a swordsman. Malchus ducked, and his ear was severed. So Jesus "touched his ear and healed him" (Luke 22:51). Then He told Peter, "Put your sword back into its place; for all those who take up the sword shall perish by the sword" (Matthew 26:52).
Think about that incident. There was an entire detachment of Roman soldiers there—perhaps numbering in the hundreds. What did Peter think he was going to do? Behead them all, one by one? Sometimes in Peter's passion for taking the initiative, he overlooked the obvious big-picture realities.
Properly channelled, Peter was able to use his initiative to build the numbers of the early Church:
… to do the task Christ had for him, he needed moxie, chutzpa—courage to stand up in Jerusalem on Pentecost and preach the gospel in the face of the same population who had lately executed their own Messiah. But Peter was just the sort of fellow who could be trained to take that kind of courageous initiative.
Peter got involved:
There's a third element of the raw material that makes a true leader: involvement. True leaders are always in the middle of the action. They do not sit in the background telling everyone else what to do while they live a life of comfort away from the fray. A true leader goes through life with a cloud of dust around him. That is precisely why people follow him. People cannot follow someone who remains distant. The true leader must show the way. He goes before his followers into the battle.
Jesus came to the disciples one night out in the middle of the Sea of Galilee, walking on the water in the midst of a violent storm. Who out of all the disciples jumped out of the boat? Peter. There's the Lord, he must have thought. I'm here; I've got to go where the action is. The other disciples wondered if they were seeing a ghost (Matthew 14:26). But Peter said, "Lord, if it is You, command me to come to You on the water." Jesus answered, "Come" (Matthew 14:27–28)—and before anyone knew it, Peter was out of the boat, walking on the water. The rest of the disciples were still clinging to their seats, trying to make sure they didn't fall overboard in the storm. But Peter was out of the boat without giving it a second thought. That is involvement—serious involvement. Only after he left the boat and walked some distance did Peter think about the danger and start to sink.
People often look at that incident and criticize Peter's lack of faith. But let's give him credit for having faith to leave that boat in the first place. Before we disparage Peter for the weakness that almost brought him down, we ought to remember where he was when he began to sink.
And, in the early hours of Good Friday, although Peter denied Jesus three times, Peter — and John — followed Jesus to the high priest's house:
And in the courtyard of the high priest's house, Peter was the only one close enough for Jesus to turn and look him in the eyes when the rooster crowed (Luke 22:61). Long after the other disciples had forsaken Christ and fled in fear for their lives, Peter was virtually alone in a position where such a temptation could snare him, because despite his fear and weakness, he couldn't abandon Christ completely. That's the sign of a true leader. When almost everyone else bailed out, he tried to stay as close to his Lord as he could get. He wasn't the kind of leader who is content to send messages to the troops from afar. He had a passion to be personally involved, so he is always found close to the heart of the action.
I will post on MacArthur's other two articles about Peter. I hope these will give all of us a more positive perspective on this great saint who did not hesitate to preach Christ and Christ alone.
At the beginning of August 2017, John MacArthur posted a few articles on his Grace To You website about St Peter.
As I have been posting on the Book of Acts and am currently studying more of St Peter's ministry, this is serendipitous.
MacArthur says that the post-Pentecost Peter was a very different man from the one in the Gospels.
In 'Peter: The Servant Leader', MacArthur says:
Restraint, humility, and servanthood aren't obvious leadership qualities in the corporate world. Nor are they character traits that readily spring to mind for modern churches focused on growth and vision. But Christ prioritized those three qualities as he cultivated future leaders of the Christian church, most notably Peter.
MacArthur surmises that Peter — before and after he received the Holy Spirit — had the driven personality of a CEO (emphases mine):
Most people with strong leadership abilities don't naturally excel when it comes to exercising restraint. Self-control, discipline, and moderation aren't common qualities among those who live life at the head of the pack. That is why so many leaders have problems with anger and out-of-control passions. Anger-management seminars have become the latest fad for CEOs and people in high positions of leadership in American business. It is clear that anger is a common and serious problem among people who rise to such a high level of leadership.
Peter had similar tendencies. Hotheadedness goes naturally with the sort of active, decisive, initiative-taking personality that made him a leader in the first place. Such a man easily grows impatient with people who lack vision or underperform. He can be quickly irritated by those who throw up obstacles to success. Therefore he must learn restraint in order to be a good leader.
Therefore, during His time on Earth:
The Lord more or less put a bit in Peter's mouth and taught him restraint. That is one of the main reasons Peter bore the brunt of so many rebukes when he spoke too soon or acted too hastily. The Lord was constantly teaching him restraint.
Jesus also taught Peter about humility, especially when the Apostle found that he had denied Him three times, as foretold:
Of course, as usual, Peter was wrong and Jesus was right. Peter did deny Christ not once, but multiple times, just as Jesus had warned. Peter's shame and disgrace at having dishonored Christ so flagrantly were only magnified by the fact he had boasted so stubbornly about being impervious to such sins!
However, the Spirit-filled Peter went on to become a great preacher and, as we know from Acts, a great healer. Peter also wrote epistles to his flock:
… when Peter wrote his first epistle, he said:
Clothe yourselves with humility toward one another, for "God is opposed to the proud, but gives grace to the humble." Therefore humble yourselves under the mighty hand of God, that He may exalt you at the proper time. (1 Peter 5:5–6)
He specifically told church leaders, "[Don't lord] it over those allotted to your charge, but proving to be examples to the flock" (1 Peter 5:3). Humility became one of the virtues that characterized Peter's life, his message, and his leadership style.
MacArthur goes on to say that Peter learned about servanthood and love from Jesus, particularly during the footwashing at the Last Supper:
Love became one of the hallmarks of his teaching. In 1 Peter 4:8 he wrote, "Above all, keep fervent in your love for one another, because love covers a multitude of sins." The Greek word translated "fervent" in that verse is ektenes, literally meaning "stretched to the limit." Peter was urging us to love to the maximum of our capacity. The love he spoke of is not about a feeling. It's not about how we respond to people who are naturally lovable. It's about a love that covers and compensates for others' failures and weaknesses: "Love covers a multitude of sins." This is the sort of love that washes a brother's dirty feet. And Peter himself had learned that lesson from Christ's example.
In 'Peter: The Compassionate and Courageous Leader', MacArthur traces the Apostle's transformation.
In the Gospels:
The apostle Peter was not an obvious candidate for leading the early church. He was impulsive, reckless, and vacillated between chest-beating bravado and cowardly retreat—not exactly the kind of guy you'd want to have responsible for your own well-being.
MacArthur enumerates more lessons that Jesus taught Peter. Returning to the denial in the early morning hours of Good Friday, Peter was remorseful, to say the least:
His ego was deflated. His self-confidence was annihilated. His pride suffered greatly. But his faith never failed.
What was this all about? Jesus was equipping Peter to strengthen the brethren. People with natural leadership abilities often tend to be short on compassion, lousy comforters, and impatient with others. They don't stop very long to care for the wounded as they pursue their goals. Peter needed to learn compassion through his own ordeal, so that when it was over, he could strengthen others in theirs.
This shows in his epistles:
In 1 Peter 5:8–10, he wrote,
Be of sober spirit, be on the alert. Your adversary, the devil, prowls around like a roaring lion, seeking someone to devour. But resist him, firm in your faith, knowing that the same experiences of suffering are being accomplished by your brethren who are in the world. After you have suffered for a little while, the God of all grace, who called you to His eternal glory in Christ, will Himself perfect, confirm, strengthen and establish you.
MacArthur says that Jesus also prepared Peter to be courageous in the best sense of the word, because he was going to suffer in his ministry:
Christ told him,
Truly, truly, I say to you, when you were younger, you used to gird yourself and walk wherever you wished; but when you grow old, you will stretch out your hands and someone else will gird you, and bring you where you do not wish to go. (John 21:18)
What did that mean? The apostle John gives a clear answer: "Now this He said, signifying by what kind of death [Peter] would glorify God" (John 21:19).
The price of preaching would be death for Peter. Persecution. Oppression. Trouble. Torture. Ultimately, martyrdom. Peter would need rock-solid courage to persevere.
The first Pentecost transformed Peter dramatically. He was no longer foolhardy but openly resolute in his faith:
Acts 4 describes how Peter and John were brought before the Sanhedrin, the Jewish ruling counsel. They were solemnly instructed "not to speak or teach at all in the name of Jesus" (Acts 4:18).
Peter and John boldly replied, "Whether it is right in the sight of God to give heed to you rather than to God, you be the judge; for we cannot stop speaking about what we have seen and heard" (Acts 4:19–20). Soon they were brought back before the Sanhedrin for continuing to preach. Again they told them the same thing: "We must obey God rather than men" (Acts 5:29). Peter, filled with the Holy Spirit and driven by the knowledge that Christ had risen from the dead, had acquired an unshakable, rock-solid courage.
That divinely-given courageous faith sustained him throughout his ministry:
Peter was secure in Christ, and he knew it. He had seen the risen Christ, so he knew Christ had conquered death. He knew that whatever earthly trials came his way, they were merely temporary. The trials, though often painful and always distasteful, were nothing compared to the hope of eternal glory (cf. Romans 8:18). The genuineness of true faith, he knew, was infinitely more precious than any perishing earthly riches, because his faith would redound to the praise and glory of Christ at His appearing. That hope is what gave Peter such courage.
Peter said and did many wonderful things in the name of our Lord. He also converted thousands of people in Jerusalem alone. These are what I have covered in my study of Acts to date:
Acts 2:33-35 – Peter, Pentecost, Peter's first sermon, Jesus the Messiah and Lord
Acts 4:22 – Peter, John, the lame man, miracle, healing miracle (includes Acts 3:4-10)
Acts 5:1-6 – Ananias, Peter, lying to the Holy Spirit and God, hypocrisy, sin, deception, death
Acts 5:7-11 – Sapphira, Peter, testing the Holy Spirit, deception, death, sin
Acts 5:12-16 – Signs and wonders, healing miracles, the Apostles, Peter, women
Acts 8:14-25 – Philip, Simon Magus, sorcery, money, divine gifts, God, Holy Spirit, Peter, John
Acts 9:32-35 — Simon, Aeneas, healing miracles, paralysis
There was only one time in his ministry when he briefly backtracked:
In Galatians 2 the apostle Paul relates an incident in which Peter compromised the gospel of grace due to intimidation by influential heretics. We see a brief flash of the old Simon. Paul rebuked Peter in the presence of everyone (Galatians 2:14).
To Peter's credit, he responded to Paul's correction. And when the error of the heretics was finally confronted at a full council of church leaders and apostles in Jerusalem, it was Peter who spoke up first in defense of the gospel of divine grace. He introduced the argument that won the day (Acts 15:7–14). He was in effect defending the apostle Paul's ministry. The whole episode shows how Simon Peter remained teachable, humble, and sensitive to the Holy Spirit's conviction and correction.
(Image credit: Art Hermitage)
Peter and Paul were martyred together in Rome. This is why they are so often associated together and are both the patron saints of that great city.
MacArthur tells us about Peter's martyrdom — and that of his wife. She was put to death before he was. He witnessed it. How horrible:
We know that Jesus told Peter he would die as a martyr (John 21:18–19). But Scripture doesn't record the death of Peter. All the records of early church history indicate that Peter was crucified. Eusebius cites the testimony of Clement, who says that before Peter was crucified he was forced to watch the crucifixion of his own wife. As he watched her being led to her death, Clement says, Peter called to her by name, saying, "Remember the Lord." When it was Peter's turn to die, he pleaded to be crucified upside down because he wasn't worthy to die as his Lord had died. And thus he was nailed to a cross head-downward.
MacArthur concludes:
Peter's life could be summed up in the final words of his second epistle: "Grow in the grace and knowledge of our Lord and Savior Jesus Christ" (2 Peter 3:18). That is exactly what Simon Peter did, and that is why he became Rock—the great leader of the early church.
It is important to remember the Peter that arose following the first Pentecost. Too many of us — Protestants, in particular — think only of the Peter of the Gospels, but he became a great, Spirit-filled Apostle who lived and died for Christ.
On Saturday, May 13, 2017 President Donald Trump gave the commencement address at Liberty University in Lynchburg, Virginia.
The Revd Jerry Falwell Jr, who heads the university his late father founded, was a big Trump supporter and helped bring in Evangelical voters in 2016.
This tweet has the entire address:
Trump's presence attracted a huge crowd, larger than some of his rallies — 50,000 people:
The video below will show as a blank, but will load and play if you click on the time stamp:
Falwell gave Trump an honorary degree:
Bustle has the complete transcript of his speech, even though they dislike him intensely.
Excerpts follow, emphases mine below.
Trump asked the graduates to be mindful of the blessings they had received, called on them to make good use of their degree and told them to take risks:
To the Class of 2017: Today you end one chapter, but you are about to begin the greatest adventure of your life. Just think for a moment of how blessed you are to be here today at this great, great university, living in this amazing country, surrounded by people who you love and care about you so much. Then ask yourself, with all of those blessings, and all of the blessings that you've been given, what will you give back to this country and, indeed, to the world? What imprint will you leave in the sands of history? What will future Americans say we did in our brief time right here on Earth? Did we take risks? Did we dare to defy expectations? Did we challenge accepted wisdom and take on established systems? I think I did, but we all did and we're all doing it.
Or did we just go along with convention, swim downstream, so easily with the current and just give in because it was the easy way, it was the traditional way or it was the accepted way? Remember this, nothing worth doing ever, ever, ever came easy. Following your convictions means you must be willing to face criticism from those who lack the same courage to do what is right — and they know what is right, but they don't have the courage or the guts or the stamina to take it and to do it. It's called the road less traveled.
He then spoke about truth and personal integrity:
I know that each of you will be a warrior for the truth, will be a warrior for our country, and for your family. I know that each of you will do what is right, not what is the easy way, and that you will be true to yourself, and your country, and your beliefs.
He spoke of making one's dreams come true and the importance of faith in God:
In your hearts are inscribed the values of service, sacrifice and devotion. Now you must go forth into the world and turn your hopes and dreams into action. America has always been the land of dreams because America is a nation of true believers. When the pilgrims landed at Plymouth they prayed. When the founders wrote the Declaration of Independence, they invoked our creator four times, because in America we don't worship government we worship God. That is why our elected officials put their hands on the Bible and say, 'So help me God,' as they take the oath of office. It is why our currency proudly declares, 'In God we trust,' and it's why we proudly proclaim that we are one nation under God every time we say the pledge of allegiance.
The story of America is the story of an adventure that began with deep faith, big dreams and humble beginnings.
He praised dreamers over critics:
… the fact is no one has ever achieved anything significant without a chorus of critics standing on the sidelines explaining why it can't be done. Nothing is easier or more pathetic than being a critic, because they're people that can't get the job done. But the future belongs to the dreamers, not to the critics. The future belongs to the people who follow their heart no matter what the critics say because they truly believe in their vision.
Above all, he said, never quit:
If I give you one message to hold in your hearts today, it's this. Never, ever give up. There will be times in your life you'll want to quit, you'll want to go home, you'll want to go home perhaps to that wonderful mother that's sitting back there watching you and say, 'Mom, I can't do it. I can't do it.' Just never quit. Go back home and tell mom, dad, I can do it, I can do it. I will do it, you're going to be successful. I've seen so many brilliant people, they gave up in life, they were totally brilliant, they were top of their class, they were the best students, they were the best of everything, they gave up. I've seen others who really didn't have that talent or that ability and they're among the most successful people today in the world because they never quit and they never gave up. So just remember that. Never stop fighting for what you believe in and for the people who care about you.
He said that nothing is 'impossible' and told the graduates not to worry about being outsiders:
Carry yourself with dignity and pride. Demand the best from yourself and be totally unafraid to challenge entrenched interests and failed power structures. Does that sound familiar by the way? The more people tell you it's not possible, that it can't be done, the more you should be absolutely determined to prove them wrong. Treat the word 'impossible' as nothing more than motivation. Relish the opportunity to be an outsider. Embrace that label — being an outsider is fine, embrace the label — because it's the outsiders who change the world and who make a real and lasting difference. The more that a broken system tells you that you're wrong, the more certain you should be that you must keep pushing ahead, you must keep pushing forward.
He added that one must be true to oneself and do what one wants to do in life:
And always have the courage to be yourself. Most importantly, you have to do what you love. You have to do what you love. I've seen so many people, they're forced through lost of reasons, sometimes including family, to go down a path that they don't want to go down, to go down a path that leads them to something that they don't love, that they don't enjoy. You have to do what you love, or you most likely won't be very successful at it. So do what you love.
Trump concluded with a message about the importance of faith:
Liberty University is a place where they really have true champions and you have a simple creed that you live by: To be, really, champions for Christ. Whether you're called to be a missionary overseas, to shepherd a church or to be a leader in your community, you are living witness of the gospel message of faith, hope and love …
We must always remember that we share one home and one glorious destiny whether we are brown, black or white. We all bleed the same red blood of patriots. We all salute the same great American flag, and we are all made by the same almighty God. As long as you remember what you have learned here at Liberty, as long as you have pride in your beliefs, courage in your convictions and faith in your God, then you will not fail.
And as long as America remains true to its values, loyal to its citizens, and devoted to its creator, then our best days are yet to come, I can promise you that. This has been an exceptional morning. It's been a great honor for me and I want to thank you, the students. I also want to thank you, the family, for getting them there ,and I want to thank and congratulate Liberty. May God bless the class of 2017. May God bless the United States of America. May God bless all of you here today. Thank you very much, thank you. Thank you.
I wish the commencement address I heard when I was graduating was as moving and motivational as this one.
I do think that conservative Christians need to be less like doormats, less passive and more proactive. It can be done. Trump's just given us a 'how-to' primer. Let's follow it.
In 2012, I posted a series of excerpts from articles on Resurrection theology from James A Fowler's Christ In You Ministries site, which had several excellent and uplifiting sermons about the meaning of Easter.
Revd Fowler, a pastor of the Neighborhood Church in Fallbrook, California, has also had a teaching ministry in several countries around the world. The articles cited below can be found on Christ In You's Miscellaneous Articles.
His articles remind us of the importance of the Resurrection, not only on Easter, but the whole year through. I hope you will enjoy his perspective as much as I did. I have also included a Lutheran point of view which is similar to Fowler's:
Remembering the reality of the risen Christ
Are we bypassing the risen Christ?
A call for Resurrection theology
Christianity IS the Risen Christ
Unlocking the meaning of the Gospel
The extension of the risen Christ
A Lutheran application of Resurrection theology
By the way, Eastertide ends on Ascension Day. We have four more Sundays during which to contemplate our Lord's Resurrection and make that joy a part of our daily lives.
Donald Trump was inaugurated five days ago.
Some Christians are disconcerted. A few examples of essays posted last week on the subject follow. Emphases mine below.
1/ John MacArthur's Grace To You (GTY) blog has an excellent post by staffer Cameron Buettel who reminds GTY readers about obedience to government, specifically Romans 13:1-5 and MacArthur's sermon 'Why Christians Submit to the Government'.
GTY readers — conservative Evangelicals — were most unhappy. How on earth could an immoral, unbiblical man become president? One surmises they would have preferred the scheming, conniving and possibly criminal 'Crooked Hillary'. Bottom line: Trump isn't Christian enough to be in the Oval Office! (As if abortion and single sex marriage advocate Obama was?!)
2/ Moving along to the Episcopalian/Anglican site, Stand Firm, one of their contributors, A S Haley, was, rightly, more concerned about what he calls the Sea of Political Correctness. In 'A Wave of PC Crashes into a Solid Barrier', Haley points out:
The Sea of Political Correctness, fed since November 9 by the tears of the self-righteous, is now engulfing its devotees and followers. Vainly casting about for safe spaces where they may continue to breathe air unsullied by what they perceive as the sulfurous emanations of their opponents, they are gasping, choking and sinking as wave after wave of fresh emotional outbursts crashes over their heads …
The politically correct crowd was so certain of its ability to name the next President that it shattered on the shoals of the Electoral College. It has been unable since then to re-form under a single, agreed leader. It is instead trying to coalesce under a common hatred of the successful candidate. Hatred, however, like fear, needs a crowd in which to dissolve, and a crowd needs direction—which is supplied by a leader.
Although I disagree with Haley when he says that Trump's platform lacks
concrete programs of proposed legislation and executive actions
because those had been laid out in detail on Trump's campaign website for over a year, he is correct in saying:
there is every reason to hope that a beginning has been made—is being made as I write—and that, with God's grace, America may truly once more show the way in its humility, in its decency, and in its willingness to serve without expectation of reward.
One of Haley's readers wrote about the protests during the weekend of the inauguration:
In fact, since one of the main complaints about Trump is his vulgarity, the vulgarity and viciousness of these speakers should negate any of those complaints.
I hope so. How can people — e.g. the GTY readers above — miss the stark contrast?
3/ From there, I went for a Reformed (Calvinist) perspective. Dr R Scott Clark of of Westminster Seminary California is the author of several books on the Reformed Confessions. He also writes the ever-helpful Heidelblog. He posted an excellent essay at the time of the inauguration, 'A Reminder Of Why We Should Not Long For A State Church'.
The GTY readers moaning about Trump not being Christian enough should peruse it, but it looks at something anathema to conservative biblicists: history.
Excerpts follow:
… I am regularly astonished at the number of American Christians who seem to want a state-church. They seem not to understand the history of the post-canonical history of state-churches nor the difference between national Israel and the USA …
The governor of my state is a former Jesuit seminarian turned New Ager. I certainly do not want the Hon. Edmund G. Brown, Jr dictating what is to be preached or when it is to be preached. I am sure that Americans who advocate for a state-church do not want the Hon. Barack Hussein Obama or Donald J. Trump to meddle in the life of the institutional church.
Of course, when this objection is raised, the reply is an appeal to an eschatology of great expectations. This raises the problem of the chicken and the egg. Does the postmillennialist want to facilitate the coming earthly glory age through a state-church or is the state-church only to come about after the glory age has descended? This is not clear to me …
Under the new covenant and New Testament, there is no state-church. There is the state and there is the church. Calvin described these two realms as God's duplex regimen (twofold kingdom). He rules over both by his providence but he rules the church, in his special providence, by his Law and Gospel revealed in holy Scripture. He rules over the civil magistrate by his general providence through his law revealed in nature and in the human conscience (see Romans 1–2) …
The visible church's vocation is to announce the Kingdom of God in Christ, to preach the law and the gospel, administer the sacraments and church discipline (Matt 16 and 18) …
4/ I then sought another sensible Calvinist perspective, this time from Dr Michael Horton, who also teaches at the same seminary as Dr Clark. He is Westminster Seminary California's J. Gresham Machen Professor of Theology and Apologetics.
The Washington Post invited Horton to write an article on faith. On January 3, the paper published 'Evangelicals should be deeply troubled by Donald Trump's attempt to mainstream heresy'. It concerns one of the prosperity gospel preachers who prayed at the inauguration: Paula White.
On the one hand, I heartily agree that White is a very poor example of a Christian pastor. On the other hand, she and Trump found solidarity in the prosperity gospel which he grew up with under Norman Vincent Peale. Furthermore, White was helpful to his campaign in getting out the vote among this sector of misguided churchgoers.
Even more unfortunate than her praying at the inauguration is the news that she will head the Evangelical Advisory Board in the Trump administration. I suspect this had not been announced when Horton wrote his article. Still, Trump is no theologian. I refer readers to Clark's essay above.
Horton points out that such preachers have been around the White House before and are popular among certain sections of American society:
Peale and [Robert 'Crystal Cathedral'] Schuller were counselors to CEOs and U.S. presidents. Word of Faith has been more popular among rural sections of the Bible Belt, where faith healers have had a long and successful history. But in the 1980s, the two streams blended publicly, with Copeland, Hinn and Schuller showing up regularly together on TBN.
He goes on to explain the dangerous heresy:
Televangelist White has a lot in common with Trump, besides being fans of [Joel] Osteen. Both are in their third marriage and have endured decades of moral and financial scandal. According to family values spokesman James Dobson, another Trump adviser, White "personally led [Trump] to Christ."
Like her mentor, T. D. Jakes, White adheres closely to the Word of Faith teachings. Besides throwing out doctrines like the Trinity and confusing ourselves with God, the movement teaches that Jesus went to the cross not to bring forgiveness of our sins but to get us out of financial debt, not to reconcile us to God but to give us the power to claim our prosperity, not to remove the curse of death, injustice and bondage to ourselves but to give us our best life now. White says emphatically that Jesus is "not the only begotten Son of God," just the first. We're all divine and have the power to speak worlds into existence.
Again, Trump doesn't get this because his family left their mainstream Presbyterian church in Queens after his confirmation to worship at Peale's Marble Collegiate Church in Manhattan. After Trump married Ivana and became even more successful, he drifted away from the church. Although in recent years he has been attending Episcopal church services, his theological formation isn't very good. But, again, echoing Calvin's two-fold kingdom theology, voters did not elect Trump as Pastor of the United States but rather President of the United States.
I nodded in agreement to this comment, which is 100% true:
Trump is president not a theologian and Horton shouldn't be holding him up to that standard. Where was Dr. Horton when Planned Parenthood and the Gay marriage thingy was going full steam under Obama. Yes, Horton, we realize you are not an evangelical fundie, but jumping on Trump for this?

Michael plays the 'guilt by association' card very well.
Correct. I do not recall Horton criticising Obama's policies very much. I've been reading and listening to him since 2009.
5/ Finally, I found Dr Carl Trueman's article on First Things, 'President Trump, Therapist-In-Chief?'
Trueman, a Presbyterian, is Professor of Historical Theology and Church History and holds the Paul Woolley Chair of Church History at Westminster Theological Seminary in Philadelphia. He is politically centrist but theologically conservative.
Trueman says:
I agree with Horton's analysis but would take the concern a step further. All Americans, not just Evangelicals, should be worried that Paula White is praying at the inauguration, though not for particularly religious reasons. By and large, the rites of American civic religion are harmless enough, bland baptisms of the status quo by the application of a bit of liturgy emptied of any real dogmatic significance or personal demands.
That is what inauguration prayers are largely about. Rightly or wrongly, everyone is represented, especially those who were helpful to the incoming president during campaign season.
He concludes that the real shame is that Trump seems to be endorsing the notion of 'Psychological Man'.
However, once again, may I remind Drs Trueman and Horton: voters did not elect Trump to serve as the nation's pastor-in-chief.
6/ The best rebuttals to Trueman's article is in the comments to his essay. The two comments that nailed it perfectly came from Mike D'Virgilio, whose website is called Keeping Your Kids Christian. It looks very good.
D'Virgilio is a Trump supporter and I agree with his assessments. Excerpts follow. First, from this comment:
… I believe Trump is a net positive for Christianity because what he's doing (including putting the huge "Merry Christmas" signs on his podium during his thank you tour) is potentially contributing to the re-building of the Christian plausibility structure of America. The term "plausibility structure" goes back to sociologist Peter Berger's 1967 book The Sacred Canopy. In a more recent book he defines this simply as, "the social context within which any particular definition of reality is plausible". In other words, what *seems* real to people. For the last 50 years the secularists have driven American culture off a cliff (via education, media, Hollywood, etc.) so that the dominant plausibility structure has been postmodernism/relativism/materialism/secularism (they are all logically intertwined). So God for many people (the rise of the "Nones" for instance) *seems* no more real than Santa Claus. Rarely, if ever, do people grapple with the evidence for the truth claims of Christianity; they just drift away or don't see it as relevant at all.
So Trump, regardless of the content of his own faith, or those at his inauguration, is possibly making Christianity plausible again. Most Americans don't pay attention to what these people actually believe, the theological content of their faith, such as it is. But all of a sudden with Trump this Christianity thing doesn't seem like such the ugly cultural step-child anymore … None of this will change over night, but the arrival of Trump is the first time I've had hope in this regard since, oh, I was born!
… And I agree with pretty much everything Carl says here (I'm a graduate of Westminster myself), but I don't at all agree that Trump is contributing to a therapeutic faith and the triumph of the psychological …
This is from D'Virgilio's second lengthy comment:
… There is no other candidate who has done what Trump has done, or could be doing what he's doing. Cruz is closest of the bunch, but I'm afraid he's just not a winsome fellow. Once you get beyond the caricature of Trump, he's a very likable, appealing showman. Everyone who knows him likes him, says he's humble (impossible to believe for many) and kindhearted.
The greatest thing he's done is blow up political correctness. He's taken that on, along with the shamelessly corrupt media that promotes it, in a way no other Republican can even get close. This is huge for a Christian plausibility structure because PC is antithetical to a biblical/classical (in the sense the objective truth exists) worldview …
And Trump was Trump before the Apprentice. Trump made the Apprentice, the Apprentice didn't make Trump. So I totally disagree Hollywood had anything to do with making the man, The Man. I don't disagree with your assessment of the secular materialism, which is one of the reasons I initially wanted nothing to do with Trump … He doesn't have to be an orthodox, Bible believing Christian to fight for Christians, to appreciate and respect Christians, to love America and the Christian influence in its history. I leave the soul judgments to God. I'm just grateful he's our next president, and not that other person.
I realise some readers are apprehensive about Trump, what he might do and what he represents. I hope this has given them some food for thought, especially in terms of Christianity in America.
Let's remember that there were four other members of the clergy besides Paula White and a rabbi. Furthermore, in his remarks, Franklin Graham reminded everyone that there is only one God.
In closing, sensible Christians living in the United States should be relieved Trump is in the White House. This will be borne out in due course.
In the meantime, rather than sitting around carping, we can always pray that he becomes a better, more orthodox Christian.
Some of my American readers might be familiar with Dutch Sheets.
Sheets has his own ministry and is working towards 'awakening', which, along with 'restoring' and 'reclaiming', is a term Ted Cruz often used during his rallies in primary season.
It is a dog whistle for theocracy and Dominionism — Christians taking over the government.
Bad!
Therefore, it is with reservation that I am summarising and excerpting Dutch Sheets's reasons why he is voting for Donald Trump. He makes it clear that these are his personal views, not those of Dutch Sheets Ministries.
Much of his essay of October 21 resonated strongly with me, and I hope it does with you as well. Please take the time to read it in full and pass it along to conservative Christian friends and family.
First, he has strong reservations about Trump with regard to personality and past deeds which have diminished during the post-convention campaign season.
That said, Sheets and I agree that both of us know what we are voting against.
This is why I am posting so many anti-Hillary pieces in order to reveal the extant evil in the Democratic Party. I am doing this because Big Media will not. They want Americans — especially the uninformed — to think that everything is sweetness and light.
Sheets says (emphases mine):
this election is not nearly as much about who I am for, as it is who and what I am against; and frankly, even with my initial concerns, the decision has never been easier.
He strongly objects to Obama and his administration:
One of the most devastating occurrences in America in our lifetimes, ranking up with The Supreme Court's decisions of Roe vs. Wade and Engel vs. Vitale (the removal of prayer from schools), was the election of Barack Obama. I gave a strong warning about what would happen to our nation if he was elected. Sadly, it has all come to pass: a continued liberalization and empowerment of the judicial system in America; a weakened economy (our national debt has doubled in 7 years to $19 TRILLION!)[1]; further moral deterioration, along with a rebellion to and mockery of God (does anyone remember the White House lit up in the colors of the LGBT movement after marriage was re-defined by the Supreme Court?
If that wasn't an "in your face" to God and those of us who "cling to their God, guns and religion" by the man who mockingly said it, I don't know what could ever be!); increased violence; a weakened position in the world, along with a weakened military; the advance of radical Islamist terrorism; a setback in race relations; and more. I rejoice that our nation has been able to elect our first black president. I am deeply saddened, however, that it was Barack Obama.
I could not agree more.
Electing Hillary Clinton, Sheets says, will finish the work Obama and his administration started:
Hillary is pro-abortion, including partial-birth abortion, the most insidious evil of the last century; will raise taxes while continuing out-of-control spending; will further weaken our military; is for completely open borders[2]; is pro-gay marriage; supports Obamacare; has no respect for our Judeo-Christian heritage; sells influence; and is a proven liar. Do not be fooled—she will completely finish what Obama started.
He goes on to say that the effect will be nearly irreversible. If anything can be undone from 12 years of Democrats at the top, it will take decades.
He recognises that another Clinton White House is not just 'four more years' and makes this appeal to 'conscience' and stay-at-home voters:
I also want to make an appeal to those who say their conscience won't allow them to vote for either Trump or Clinton, so they simply won't vote at all. I sincerely respect your convictions, but in this election, that argument fails the logic test (as does voting for someone who cannot possibly win). Trump's potential negative developments do not come close to the magnitude of those Hillary would produce.
We simply cannot—regardless of our concerns regarding Trump—allow all the above-mentioned consequences to happen. I respectfully appeal to you to turn your "conscience" and "principles" toward the unborn, your children, grandchildren, and the destiny of this nation.
Sheets believes Trump has repented over the past decade and offers this evidence:
To see how Trump would actually lead, I would challenge you to look at those with whom he has surrounded himself: Pence; Carson; Huckabee; Giuliani; Christie; Gingrich; Palin; trusted generals; law enforcement officials; border patrol officials; evangelical leaders of all races; and otherwise, ethical, conservative leaders. What does this tell us? It is probably the greatest indicator of who Trump now is, clearly making the case that he has changed his moral ways over the past 10 years, as he claims.
I personally believe he has changed. I also believe God has gripped his heart for the nation, and is in the process of further transforming Mr. Trump. God has certainly allowed him to be humbled. Of course, the statements made by Trump on the video released from 2005 were despicable. However, if we reject him because of the sins of his past, we would also have to reject Abraham, King David, Rahab, "the woman at the well", Mary Magdalene—all adulterers in their unrighteous past. And don't forget murderers like the Apostle Paul. A lot of formerly despicable people will be in Heaven! And a lot of them, by the way, became great leaders and champions for God. Some changed the world.
These associations also tell us that Trump's stated conservative bent is genuine, and they state that he is wise enough to know what he doesn't know! I believe Trump is showing us that he will function, if elected president, as any wise businessperson does: find qualified people who know how to get the job done, as in the above examples, and empower them to do it. I like those whom he is signaling to us would be those leaders. They are proven, trustworthy and honorable. If you cannot vote for Trump, vote for them.
Indeed. Well said.
Sheets goes on to say that voting against something or someone is a valid reason to vote. He then lists around 20 policies and groups to vote against. All are valid, including these:
• Vote against the unethical, biased, lying and untrustworthy media. (We will never reclaim America until we reject their influence. They may be the single greatest obstacle to America's recovery.)
• Vote against the silencing of the Church. (Only the totally naive do not see this coming quickly.)
• Vote against revising our history and the loss of our Judeo-Christian heritage.
• Vote against the politicization and exploitation of racism, and the polarizing of America.
He has a special message for pastors, which I share 100%.
Sheets tells clergy:
Pastors, if you've ever made a stand, make one now—it may be your last chance. Tell your people the truth…clearly. Pray and fast!
I am truly annoyed to see a third election cycle when practically NO conservative clergy are speaking up about the great danger America faces in a few months' time if Hillary Clinton is elected president. There are many retired pastors and former military chaplains whose websites have incredible followings. They should be saying something to their readers!
Instead, they treat this year as if nothing is happening and carry on with the same old stuff, some of which really is 'stuff' — i.e. of little importance to potential converts — which they have been going on about for years.
Sheets closes with a message for Christians:
To all Believers, if you agree with what I have written, forward it to all of your friends and family members. Most of them hear only from a hypocritical, lying media, which is now the propaganda arm of the liberal agenda. Speak up. Appeal to them to read this and think about it.
And vote!
Vote for a future, one that includes what you love and believe in. Trump has flaws, but Hillary will be fatal.
You can bet your boots that Hillary is fatal.
Trump is the only logical choice for president.
Read, reflect, pray and vote. America's future depends on it.
—————————————————————————————
I don't remember where I got the following graphic, but it does reflect what 'conscience' voters are thinking: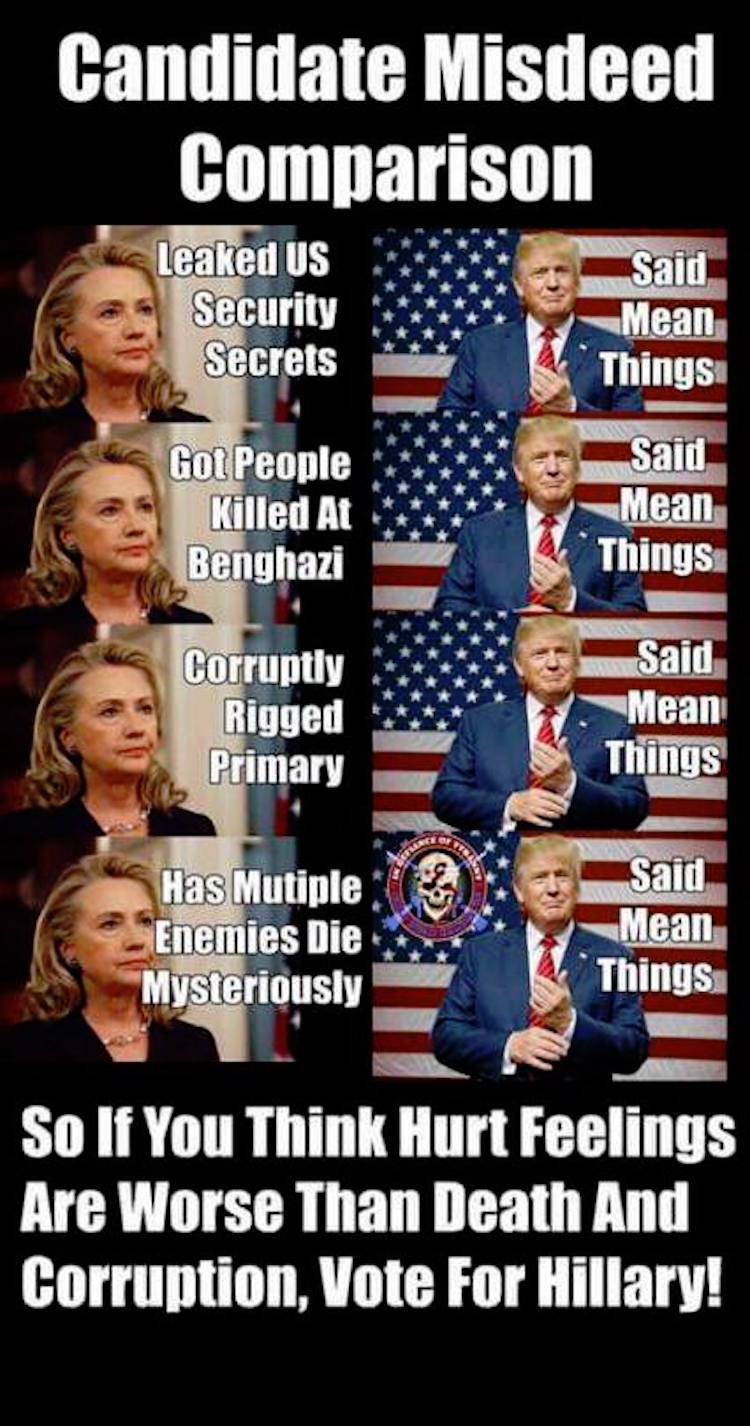 A reader of The Conservative Treehouse wrote a lengthy and interesting perspective on Evangelicals who despise politics except during times of revival.
The man points out that, because the United States is not currently in a state of religious revival, the needle is not moving, so to speak, for some diehard no-politics-for-me Protestants.
Excerpts from his comment follow, emphases mine. I have also corrected a couple of spelling errors.
First, on Evangelicals and politics:
I have written on this subject before last year about Evangelicals. Evangelicals don't get involved in politics. When I say Evangelicals I mean not just those that can name the church they go to on Christmas and Easter, but those who find their identity in their Christian faith. Those that would say they have a relationship with God. When someone becomes an Evangelical one of the first things that happens is a loss of interest in their prior life and worldly things. They prioritize their life. God first, then family, then their local church, then work and career, then national loyalty, and last politics. You hear this when Pence talks and also in Cruz. When most Evangelicals think about politics they look down at it from their higher priorities. It is like a Christian going back to their old life. There is a disgust to it and those involved in it. This is a state of a immature Christian. It is good to reject your old life. But you must still see that God is involved in all things. He is Lord of all. Christ is Lord of your personal faith, your family, your church, your work, your country, and your politics. Where ever you are God is there. But not many Christians and Evangelicals mature to that level …
So barring another ''Great Awakening" we have to work on one Evangelical or Christian at a time.
Just so. If we were not meant to be politically aware, we would not be praying for our respective governments and their leaders at church.
I cannot speak for all denominations but clergy at Catholic and mainline Protestant churches offer a prayer on Sunday (and weekday) services for our political leaders. Therefore, if politics is so distasteful and worldly — it could be respectable — we would not be praying for those people in church.
Now a few words about Donald Trump:
Interestingly, I do see some good signs in Mr. Trump himself. Early on in this movement of Trump Christians have been praying for him and ministers have been surrounding him. The Trump we see now is not the Trump of, say, three years ago. There is a change in him and God is testing him. We may see a large revival yet. It is hard to say what causes revivals except God. But if God is working in Trump he may be working in this movement.
Yes, I do believe Trump has changed from June 2015. He hasn't been around clergy this often since his days with Norman Vincent Peale.
I do think that God is blessing Donald Trump with the strength and the voice to give two or three rallies per day with truth and enthusiasm. I do believe that God is keeping him and his family out of harm's way. I also believe that Donald Trump's candidacy is no accident; it was meant to happen in 2016.
Furthermore, I can think of no candidate who could have borne the relentless, daily slings and arrows from Democrats, the GOPe and Big Media like Donald Trump.
Finally, I believe — unlike other serious churchgoers I know, whether Evangelical, mainline Protestant or Catholic — that this year's presidential election is one of spiritual warfare rather than politics.
In a choice between Good and Evil, there is only one option on November 8.
(Image credit: The Conservative Treehouse)