You are currently browsing the tag archive for the 'Evangelical' tag.
Donald Trump was inaugurated five days ago.
Some Christians are disconcerted. A few examples of essays posted last week on the subject follow. Emphases mine below.
1/ John MacArthur's Grace To You (GTY) blog has an excellent post by staffer Cameron Buettel who reminds GTY readers about obedience to government, specifically Romans 13:1-5 and MacArthur's sermon 'Why Christians Submit to the Government'.
GTY readers — conservative Evangelicals — were most unhappy. How on earth could an immoral, unbiblical man become president? One surmises they would have preferred the scheming, conniving and possibly criminal 'Crooked Hillary'. Bottom line: Trump isn't Christian enough to be in the Oval Office! (As if abortion and single sex marriage advocate Obama was?!)
2/ Moving along to the Episcopalian/Anglican site, Stand Firm, one of their contributors, A S Haley, was, rightly, more concerned about what he calls the Sea of Political Correctness. In 'A Wave of PC Crashes into a Solid Barrier', Haley points out:
The Sea of Political Correctness, fed since November 9 by the tears of the self-righteous, is now engulfing its devotees and followers. Vainly casting about for safe spaces where they may continue to breathe air unsullied by what they perceive as the sulfurous emanations of their opponents, they are gasping, choking and sinking as wave after wave of fresh emotional outbursts crashes over their heads …
The politically correct crowd was so certain of its ability to name the next President that it shattered on the shoals of the Electoral College. It has been unable since then to re-form under a single, agreed leader. It is instead trying to coalesce under a common hatred of the successful candidate. Hatred, however, like fear, needs a crowd in which to dissolve, and a crowd needs direction—which is supplied by a leader.
Although I disagree with Haley when he says that Trump's platform lacks
concrete programs of proposed legislation and executive actions
because those had been laid out in detail on Trump's campaign website for over a year, he is correct in saying:
there is every reason to hope that a beginning has been made—is being made as I write—and that, with God's grace, America may truly once more show the way in its humility, in its decency, and in its willingness to serve without expectation of reward.
One of Haley's readers wrote about the protests during the weekend of the inauguration:
In fact, since one of the main complaints about Trump is his vulgarity, the vulgarity and viciousness of these speakers should negate any of those complaints.
I hope so. How can people — e.g. the GTY readers above — miss the stark contrast?
3/ From there, I went for a Reformed (Calvinist) perspective. Dr R Scott Clark of of Westminster Seminary California is the author of several books on the Reformed Confessions. He also writes the ever-helpful Heidelblog. He posted an excellent essay at the time of the inauguration, 'A Reminder Of Why We Should Not Long For A State Church'.
The GTY readers moaning about Trump not being Christian enough should peruse it, but it looks at something anathema to conservative biblicists: history.
Excerpts follow:
… I am regularly astonished at the number of American Christians who seem to want a state-church. They seem not to understand the history of the post-canonical history of state-churches nor the difference between national Israel and the USA …
The governor of my state is a former Jesuit seminarian turned New Ager. I certainly do not want the Hon. Edmund G. Brown, Jr dictating what is to be preached or when it is to be preached. I am sure that Americans who advocate for a state-church do not want the Hon. Barack Hussein Obama or Donald J. Trump to meddle in the life of the institutional church.
Of course, when this objection is raised, the reply is an appeal to an eschatology of great expectations. This raises the problem of the chicken and the egg. Does the postmillennialist want to facilitate the coming earthly glory age through a state-church or is the state-church only to come about after the glory age has descended? This is not clear to me …
Under the new covenant and New Testament, there is no state-church. There is the state and there is the church. Calvin described these two realms as God's duplex regimen (twofold kingdom). He rules over both by his providence but he rules the church, in his special providence, by his Law and Gospel revealed in holy Scripture. He rules over the civil magistrate by his general providence through his law revealed in nature and in the human conscience (see Romans 1–2) …
The visible church's vocation is to announce the Kingdom of God in Christ, to preach the law and the gospel, administer the sacraments and church discipline (Matt 16 and 18) …
4/ I then sought another sensible Calvinist perspective, this time from Dr Michael Horton, who also teaches at the same seminary as Dr Clark. He is Westminster Seminary California's J. Gresham Machen Professor of Theology and Apologetics.
The Washington Post invited Horton to write an article on faith. On January 3, the paper published 'Evangelicals should be deeply troubled by Donald Trump's attempt to mainstream heresy'. It concerns one of the prosperity gospel preachers who prayed at the inauguration: Paula White.
On the one hand, I heartily agree that White is a very poor example of a Christian pastor. On the other hand, she and Trump found solidarity in the prosperity gospel which he grew up with under Norman Vincent Peale. Furthermore, White was helpful to his campaign in getting out the vote among this sector of misguided churchgoers.
Even more unfortunate than her praying at the inauguration is the news that she will head the Evangelical Advisory Board in the Trump administration. I suspect this had not been announced when Horton wrote his article. Still, Trump is no theologian. I refer readers to Clark's essay above.
Horton points out that such preachers have been around the White House before and are popular among certain sections of American society:
Peale and [Robert 'Crystal Cathedral'] Schuller were counselors to CEOs and U.S. presidents. Word of Faith has been more popular among rural sections of the Bible Belt, where faith healers have had a long and successful history. But in the 1980s, the two streams blended publicly, with Copeland, Hinn and Schuller showing up regularly together on TBN.
He goes on to explain the dangerous heresy:
Televangelist White has a lot in common with Trump, besides being fans of [Joel] Osteen. Both are in their third marriage and have endured decades of moral and financial scandal. According to family values spokesman James Dobson, another Trump adviser, White "personally led [Trump] to Christ."
Like her mentor, T. D. Jakes, White adheres closely to the Word of Faith teachings. Besides throwing out doctrines like the Trinity and confusing ourselves with God, the movement teaches that Jesus went to the cross not to bring forgiveness of our sins but to get us out of financial debt, not to reconcile us to God but to give us the power to claim our prosperity, not to remove the curse of death, injustice and bondage to ourselves but to give us our best life now. White says emphatically that Jesus is "not the only begotten Son of God," just the first. We're all divine and have the power to speak worlds into existence.
Again, Trump doesn't get this because his family left their mainstream Presbyterian church in Queens after his confirmation to worship at Peale's Marble Collegiate Church in Manhattan. After Trump married Ivana and became even more successful, he drifted away from the church. Although in recent years he has been attending Episcopal church services, his theological formation isn't very good. But, again, echoing Calvin's two-fold kingdom theology, voters did not elect Trump as Pastor of the United States but rather President of the United States.
I nodded in agreement to this comment, which is 100% true:
Trump is president not a theologian and Horton shouldn't be holding him up to that standard. Where was Dr. Horton when Planned Parenthood and the Gay marriage thingy was going full steam under Obama. Yes, Horton, we realize you are not an evangelical fundie, but jumping on Trump for this?

Michael plays the 'guilt by association' card very well.
Correct. I do not recall Horton criticising Obama's policies very much. I've been reading and listening to him since 2009.
5/ Finally, I found Dr Carl Trueman's article on First Things, 'President Trump, Therapist-In-Chief?'
Trueman, a Presbyterian, is Professor of Historical Theology and Church History and holds the Paul Woolley Chair of Church History at Westminster Theological Seminary in Philadelphia. He is politically centrist but theologically conservative.
Trueman says:
I agree with Horton's analysis but would take the concern a step further. All Americans, not just Evangelicals, should be worried that Paula White is praying at the inauguration, though not for particularly religious reasons. By and large, the rites of American civic religion are harmless enough, bland baptisms of the status quo by the application of a bit of liturgy emptied of any real dogmatic significance or personal demands.
That is what inauguration prayers are largely about. Rightly or wrongly, everyone is represented, especially those who were helpful to the incoming president during campaign season.
He concludes that the real shame is that Trump seems to be endorsing the notion of 'Psychological Man'.
However, once again, may I remind Drs Trueman and Horton: voters did not elect Trump to serve as the nation's pastor-in-chief.
6/ The best rebuttals to Trueman's article is in the comments to his essay. The two comments that nailed it perfectly came from Mike D'Virgilio, whose website is called Keeping Your Kids Christian. It looks very good.
D'Virgilio is a Trump supporter and I agree with his assessments. Excerpts follow. First, from this comment:
… I believe Trump is a net positive for Christianity because what he's doing (including putting the huge "Merry Christmas" signs on his podium during his thank you tour) is potentially contributing to the re-building of the Christian plausibility structure of America. The term "plausibility structure" goes back to sociologist Peter Berger's 1967 book The Sacred Canopy. In a more recent book he defines this simply as, "the social context within which any particular definition of reality is plausible". In other words, what *seems* real to people. For the last 50 years the secularists have driven American culture off a cliff (via education, media, Hollywood, etc.) so that the dominant plausibility structure has been postmodernism/relativism/materialism/secularism (they are all logically intertwined). So God for many people (the rise of the "Nones" for instance) *seems* no more real than Santa Claus. Rarely, if ever, do people grapple with the evidence for the truth claims of Christianity; they just drift away or don't see it as relevant at all.
So Trump, regardless of the content of his own faith, or those at his inauguration, is possibly making Christianity plausible again. Most Americans don't pay attention to what these people actually believe, the theological content of their faith, such as it is. But all of a sudden with Trump this Christianity thing doesn't seem like such the ugly cultural step-child anymore … None of this will change over night, but the arrival of Trump is the first time I've had hope in this regard since, oh, I was born!
… And I agree with pretty much everything Carl says here (I'm a graduate of Westminster myself), but I don't at all agree that Trump is contributing to a therapeutic faith and the triumph of the psychological …
This is from D'Virgilio's second lengthy comment:
… There is no other candidate who has done what Trump has done, or could be doing what he's doing. Cruz is closest of the bunch, but I'm afraid he's just not a winsome fellow. Once you get beyond the caricature of Trump, he's a very likable, appealing showman. Everyone who knows him likes him, says he's humble (impossible to believe for many) and kindhearted.
The greatest thing he's done is blow up political correctness. He's taken that on, along with the shamelessly corrupt media that promotes it, in a way no other Republican can even get close. This is huge for a Christian plausibility structure because PC is antithetical to a biblical/classical (in the sense the objective truth exists) worldview …
And Trump was Trump before the Apprentice. Trump made the Apprentice, the Apprentice didn't make Trump. So I totally disagree Hollywood had anything to do with making the man, The Man. I don't disagree with your assessment of the secular materialism, which is one of the reasons I initially wanted nothing to do with Trump … He doesn't have to be an orthodox, Bible believing Christian to fight for Christians, to appreciate and respect Christians, to love America and the Christian influence in its history. I leave the soul judgments to God. I'm just grateful he's our next president, and not that other person.
I realise some readers are apprehensive about Trump, what he might do and what he represents. I hope this has given them some food for thought, especially in terms of Christianity in America.
Let's remember that there were four other members of the clergy besides Paula White and a rabbi. Furthermore, in his remarks, Franklin Graham reminded everyone that there is only one God.
In closing, sensible Christians living in the United States should be relieved Trump is in the White House. This will be borne out in due course.
In the meantime, rather than sitting around carping, we can always pray that he becomes a better, more orthodox Christian.
Some of my American readers might be familiar with Dutch Sheets.
Sheets has his own ministry and is working towards 'awakening', which, along with 'restoring' and 'reclaiming', is a term Ted Cruz often used during his rallies in primary season.
It is a dog whistle for theocracy and Dominionism — Christians taking over the government.
Bad!
Therefore, it is with reservation that I am summarising and excerpting Dutch Sheets's reasons why he is voting for Donald Trump. He makes it clear that these are his personal views, not those of Dutch Sheets Ministries.
Much of his essay of October 21 resonated strongly with me, and I hope it does with you as well. Please take the time to read it in full and pass it along to conservative Christian friends and family.
First, he has strong reservations about Trump with regard to personality and past deeds which have diminished during the post-convention campaign season.
That said, Sheets and I agree that both of us know what we are voting against.
This is why I am posting so many anti-Hillary pieces in order to reveal the extant evil in the Democratic Party. I am doing this because Big Media will not. They want Americans — especially the uninformed — to think that everything is sweetness and light.
Sheets says (emphases mine):
this election is not nearly as much about who I am for, as it is who and what I am against; and frankly, even with my initial concerns, the decision has never been easier.
He strongly objects to Obama and his administration:
One of the most devastating occurrences in America in our lifetimes, ranking up with The Supreme Court's decisions of Roe vs. Wade and Engel vs. Vitale (the removal of prayer from schools), was the election of Barack Obama. I gave a strong warning about what would happen to our nation if he was elected. Sadly, it has all come to pass: a continued liberalization and empowerment of the judicial system in America; a weakened economy (our national debt has doubled in 7 years to $19 TRILLION!)[1]; further moral deterioration, along with a rebellion to and mockery of God (does anyone remember the White House lit up in the colors of the LGBT movement after marriage was re-defined by the Supreme Court?
If that wasn't an "in your face" to God and those of us who "cling to their God, guns and religion" by the man who mockingly said it, I don't know what could ever be!); increased violence; a weakened position in the world, along with a weakened military; the advance of radical Islamist terrorism; a setback in race relations; and more. I rejoice that our nation has been able to elect our first black president. I am deeply saddened, however, that it was Barack Obama.
I could not agree more.
Electing Hillary Clinton, Sheets says, will finish the work Obama and his administration started:
Hillary is pro-abortion, including partial-birth abortion, the most insidious evil of the last century; will raise taxes while continuing out-of-control spending; will further weaken our military; is for completely open borders[2]; is pro-gay marriage; supports Obamacare; has no respect for our Judeo-Christian heritage; sells influence; and is a proven liar. Do not be fooled—she will completely finish what Obama started.
He goes on to say that the effect will be nearly irreversible. If anything can be undone from 12 years of Democrats at the top, it will take decades.
He recognises that another Clinton White House is not just 'four more years' and makes this appeal to 'conscience' and stay-at-home voters:
I also want to make an appeal to those who say their conscience won't allow them to vote for either Trump or Clinton, so they simply won't vote at all. I sincerely respect your convictions, but in this election, that argument fails the logic test (as does voting for someone who cannot possibly win). Trump's potential negative developments do not come close to the magnitude of those Hillary would produce.
We simply cannot—regardless of our concerns regarding Trump—allow all the above-mentioned consequences to happen. I respectfully appeal to you to turn your "conscience" and "principles" toward the unborn, your children, grandchildren, and the destiny of this nation.
Sheets believes Trump has repented over the past decade and offers this evidence:
To see how Trump would actually lead, I would challenge you to look at those with whom he has surrounded himself: Pence; Carson; Huckabee; Giuliani; Christie; Gingrich; Palin; trusted generals; law enforcement officials; border patrol officials; evangelical leaders of all races; and otherwise, ethical, conservative leaders. What does this tell us? It is probably the greatest indicator of who Trump now is, clearly making the case that he has changed his moral ways over the past 10 years, as he claims.
I personally believe he has changed. I also believe God has gripped his heart for the nation, and is in the process of further transforming Mr. Trump. God has certainly allowed him to be humbled. Of course, the statements made by Trump on the video released from 2005 were despicable. However, if we reject him because of the sins of his past, we would also have to reject Abraham, King David, Rahab, "the woman at the well", Mary Magdalene—all adulterers in their unrighteous past. And don't forget murderers like the Apostle Paul. A lot of formerly despicable people will be in Heaven! And a lot of them, by the way, became great leaders and champions for God. Some changed the world.
These associations also tell us that Trump's stated conservative bent is genuine, and they state that he is wise enough to know what he doesn't know! I believe Trump is showing us that he will function, if elected president, as any wise businessperson does: find qualified people who know how to get the job done, as in the above examples, and empower them to do it. I like those whom he is signaling to us would be those leaders. They are proven, trustworthy and honorable. If you cannot vote for Trump, vote for them.
Indeed. Well said.
Sheets goes on to say that voting against something or someone is a valid reason to vote. He then lists around 20 policies and groups to vote against. All are valid, including these:
• Vote against the unethical, biased, lying and untrustworthy media. (We will never reclaim America until we reject their influence. They may be the single greatest obstacle to America's recovery.)
• Vote against the silencing of the Church. (Only the totally naive do not see this coming quickly.)
• Vote against revising our history and the loss of our Judeo-Christian heritage.
• Vote against the politicization and exploitation of racism, and the polarizing of America.
He has a special message for pastors, which I share 100%.
Sheets tells clergy:
Pastors, if you've ever made a stand, make one now—it may be your last chance. Tell your people the truth…clearly. Pray and fast!
I am truly annoyed to see a third election cycle when practically NO conservative clergy are speaking up about the great danger America faces in a few months' time if Hillary Clinton is elected president. There are many retired pastors and former military chaplains whose websites have incredible followings. They should be saying something to their readers!
Instead, they treat this year as if nothing is happening and carry on with the same old stuff, some of which really is 'stuff' — i.e. of little importance to potential converts — which they have been going on about for years.
Sheets closes with a message for Christians:
To all Believers, if you agree with what I have written, forward it to all of your friends and family members. Most of them hear only from a hypocritical, lying media, which is now the propaganda arm of the liberal agenda. Speak up. Appeal to them to read this and think about it.
And vote!
Vote for a future, one that includes what you love and believe in. Trump has flaws, but Hillary will be fatal.
You can bet your boots that Hillary is fatal.
Trump is the only logical choice for president.
Read, reflect, pray and vote. America's future depends on it.
—————————————————————————————
I don't remember where I got the following graphic, but it does reflect what 'conscience' voters are thinking: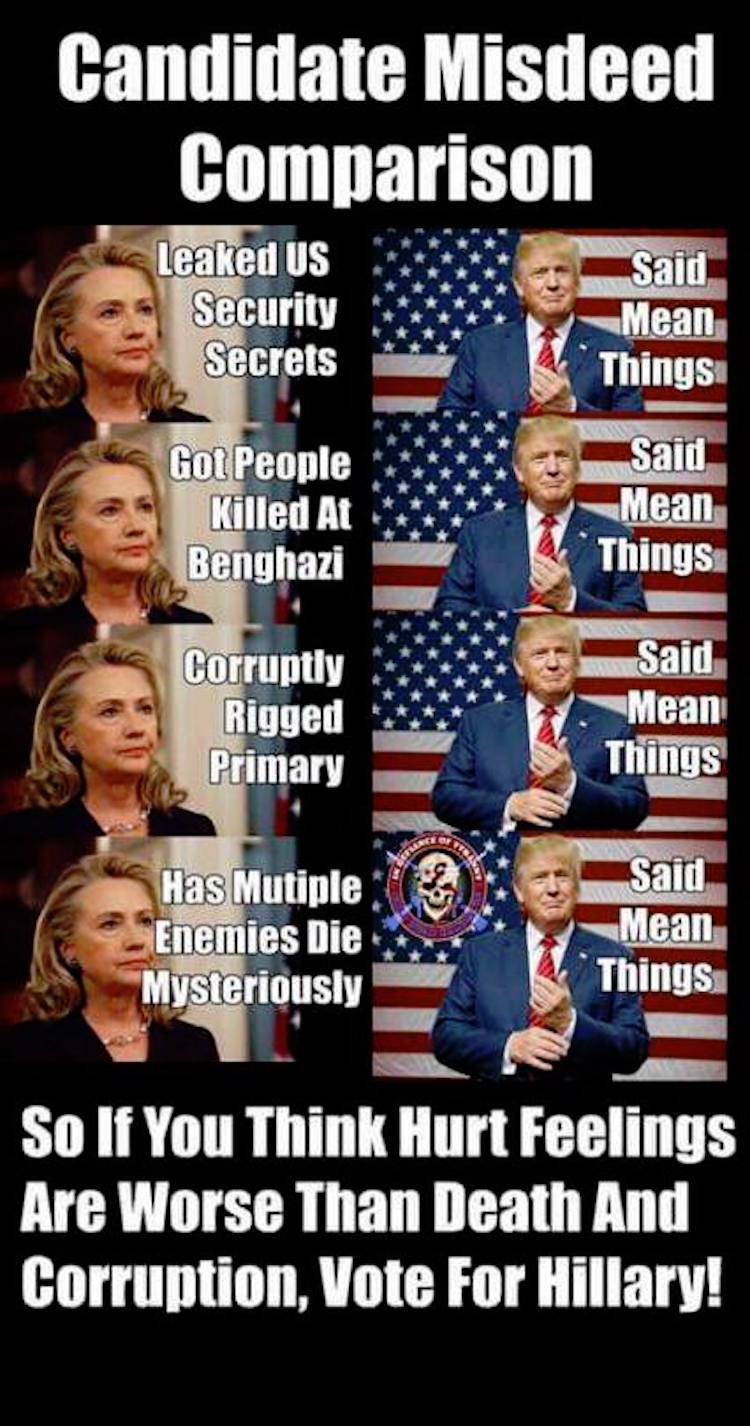 A reader of The Conservative Treehouse wrote a lengthy and interesting perspective on Evangelicals who despise politics except during times of revival.
The man points out that, because the United States is not currently in a state of religious revival, the needle is not moving, so to speak, for some diehard no-politics-for-me Protestants.
Excerpts from his comment follow, emphases mine. I have also corrected a couple of spelling errors.
First, on Evangelicals and politics:
I have written on this subject before last year about Evangelicals. Evangelicals don't get involved in politics. When I say Evangelicals I mean not just those that can name the church they go to on Christmas and Easter, but those who find their identity in their Christian faith. Those that would say they have a relationship with God. When someone becomes an Evangelical one of the first things that happens is a loss of interest in their prior life and worldly things. They prioritize their life. God first, then family, then their local church, then work and career, then national loyalty, and last politics. You hear this when Pence talks and also in Cruz. When most Evangelicals think about politics they look down at it from their higher priorities. It is like a Christian going back to their old life. There is a disgust to it and those involved in it. This is a state of a immature Christian. It is good to reject your old life. But you must still see that God is involved in all things. He is Lord of all. Christ is Lord of your personal faith, your family, your church, your work, your country, and your politics. Where ever you are God is there. But not many Christians and Evangelicals mature to that level …
So barring another ''Great Awakening" we have to work on one Evangelical or Christian at a time.
Just so. If we were not meant to be politically aware, we would not be praying for our respective governments and their leaders at church.
I cannot speak for all denominations but clergy at Catholic and mainline Protestant churches offer a prayer on Sunday (and weekday) services for our political leaders. Therefore, if politics is so distasteful and worldly — it could be respectable — we would not be praying for those people in church.
Now a few words about Donald Trump:
Interestingly, I do see some good signs in Mr. Trump himself. Early on in this movement of Trump Christians have been praying for him and ministers have been surrounding him. The Trump we see now is not the Trump of, say, three years ago. There is a change in him and God is testing him. We may see a large revival yet. It is hard to say what causes revivals except God. But if God is working in Trump he may be working in this movement.
Yes, I do believe Trump has changed from June 2015. He hasn't been around clergy this often since his days with Norman Vincent Peale.
I do think that God is blessing Donald Trump with the strength and the voice to give two or three rallies per day with truth and enthusiasm. I do believe that God is keeping him and his family out of harm's way. I also believe that Donald Trump's candidacy is no accident; it was meant to happen in 2016.
Furthermore, I can think of no candidate who could have borne the relentless, daily slings and arrows from Democrats, the GOPe and Big Media like Donald Trump.
Finally, I believe — unlike other serious churchgoers I know, whether Evangelical, mainline Protestant or Catholic — that this year's presidential election is one of spiritual warfare rather than politics.
In a choice between Good and Evil, there is only one option on November 8.
(Image credit: The Conservative Treehouse)
J Vernon McGee (1904-1988) was a pastor, author and radio show host.
He received his Bachelors in Theology from Columbia Theological Seminary and went on to earn a Masters and a Doctorate from Dallas Theological Seminary.
He was ordained into the Presbyterian Church in the United States (PCUS), which eventually merged with the United Presbyterian Church in the United States of America to form the present day PCUSA in 1983.
McGee served at four PCUS churches in the southern United States before he and his family moved to Pasadena, California, where he took a position at the Lincoln Avenue Presbyterian Church.
In 1949, he was appointed pastor of the Church of the Open Door in Los Angeles, California. There he became an independent Evangelical pastor.
The church is now in Glendale, California because of earthquake damage to the original building, which had to be razed. The Church of the Open Door is best known for its 'Jesus Saves' neon sign which is now on top of the Ace Hotel in Los Angeles.
McGee retired from the Church of the Open Door in 1970. In 1967, he had begun a radio programme called Thru the Bible. After retirement, he continued the broadcasts, which cover every book of the Bible.
He was also a well known public speaker. During that time, McGee was suffering from cancer. That said, his death in 1988 was brought on by a heart problem, thought to have been resolved in 1965.
Today, his ministry continues and broadcasts of Thru the Bible can be heard around the world in more than 100 languages. In North America, over 800 radio stations broadcast it and, elsewhere, one can enjoy the programme via radio, shortwave, and the Thru the Bible ministries website.
Without further ado, let us move on to McGee's application of Matthew 7:6 in real life.
Here is the verse (ESV):
Do not give dogs what is holy, and do not throw your pearls before pigs, lest they trample them underfoot and turn to attack you.
Some may find the KJV more familiar:
Give not that which is holy unto the dogs, neither cast ye your pearls before swine, lest they trample them under their feet, and turn again and rend you.
Now for McKee's anecdote. This is helpful for reprobates who have turned their lives around with the help of divine grace and the Holy Spirit. Their problem comes from mockers who remember their past (emphasis mine):
I remember a Tennessee legislator friend of mine who was a heavy drinker. He was wonderfully converted and is a choice servant of God today. The other members of the legislature knew how he drank. Then they heard he "got religion," as they called it. One day this fellow took his seat in the legislature, and his fellow-members looked him over. Finally, someone rose, addressed the chairman of the meeting and said, "I make a motion that we hear a sermon from Deacon So-and-So." Everyone laughed. But my friend was equal to the occasion. He got to his feet and said, "I'm sorry, I do not have anything to say. My Lord told me not to cast my pearls before swine." He sat down, and they never ridiculed him anymore. (McGee, J V: Thru the Bible Commentary:  Nashville: Thomas Nelson)
A good answer to remember should the occasion arise!
A John MacArthur sermon I cited yesterday has a lovely explanation of marriage.
Excerpts follow from his exposition of Matthew 19:10-12, 'Jesus' Teaching on Divorce, Part 4′. Emphases mine below.
Leaders of every youth group from secondary school through university would do well to borrow from this sermon. Too many of us do not fully appreciate matrimony.
MacArthur sets out the main points of marriage. Each begins with a 'P'.
Procreation
Children are an heritage from the Lord, so there is marriage to have children.  Procreation … Nothing is more clear than you two are one when you see your selves in that one that is born of your union. 

Pleasure
It's for pleasure.  Hebrews 13:4 says, "Marriage is honorable in all and the bed is undefiled."  The bed is undefiled, you can't do anything in that place that is defiling.  Great liberation, 1 Corinthians 7 says, your body is not yours, and her body is not hers they belong to each other and the Old Testament … from Proverbs, talks about the satisfaction of the physical relationship, the pleasure.
Purity
It's for purity.  In 1 Corinthians 7:2, the Bible says, that for fornication let every man have his own wife.
This is the verse (ESV):
2 But because of the temptation to sexual immorality, each man should have his own wife and each woman her own husband.
Provision
I love this.  Ephesians 5 says that the man is to nourish, cherish, provide for, care for, be like a savior to his wife. 
… marriage is a provision of security, it's a provision of carrying and nourishing and cherishing.  Providing for[;] in fact, it says, if a man doesn't provide for his own household, he's worse than an unbeliever. 
Partnership
It's for partnership.  When God made Eve, he said he made Adam a what?  A helper.  A helper. Somebody to come along side and help so you don't do things alone, you do them together.  There is strength in that fellowship, isn't there.  And I confess to you that my wife is strong where I am weak and that I tend to be strong where she is weak and that's the way it ought to be.  She tells me when I need to be told and if she didn't, she wouldn't be strength to my weakness.  She has wonderful ways of reminding me of my weaknesses.  In fact, I can hear the speech coming before she gives it.  I know, speech number 8, you don't have to give it.  But there is real partnership isn't there, real partnership.  I mean, I go here and I work here and I study and I do the things I need to do and she's home providing all the home needs all that the children need, all that I need to be free to do what I do.  It's real partnership.  And I provide all the resources that she needs to do what God has ordained for her to do and so that's partnership.
Picture
And then finally, marriage is picture.  It's picture and what is it picture of?  It is picture of Christ and his what?  Church.  Ephesians 5, it is a graphic demonstration in the face of the world that God loves and has an ongoing unending relationship with the bride whom he loves.  And for whom he lives and dies and I dare say that the whole metaphor of marriage of a symbol of Christ and his church has lost its punch because the church is so rife with divorce and fouled up marriages. 
Conclusion
Some psychologists did a study and came up with a theory that you are what you are because you are adjusting to the most important person in your life.  Whoever the most important person is in your life, that's the person you are trying to please.  Very simple for the Christian, isn't it?  Who is the most important person in our life?  Christ.  That settles the issue, really, because now we can say, I receive it, if you say it.  It's God's order. 
If more of us heard, read and heeded those succinct yet necessary messages about marriage, we would have fewer divorces and many more happy unions.
On May 6, 2016, Russell Moore, a prominent Southern Baptist, wrote an editorial for The New York Times (NYT) explaining why Evangelicals should not support Donald Trump.
Yesterday's post showed to what extremes his views have been taken by other Protestant clergy and laymen, including church discipline. Yikes!
Yet, not one of them is warning Christians against voting for Hillary Clinton or Bernie Sanders, both of whom are pro-choice. Clinton could also be asked any number of questions on unresolved topics over the past few decades.
Therefore, we appear to be receiving a particular sort of message from Moore and those who agree with him.
Unpacking the message
What a number Southern Baptists saw in Moore's message was the mention of their denomination. Therefore, many of them are taking to heart the advice not to vote for Trump.
Some Evangelicals saw that his article, or citations of it elsewhere, concerned them. Gosh, they thought, it is time to sit up, read and reconsider.
Moore crafted his message cannily and cynically. In essence, he implies that white Evangelicals are inherently racist, beginning with the title, 'A White Church No More'.
The body of his op-ed piece — which might have been more relevant in the early 1970s rather than now — includes insults to the intelligence such as:
If Jesus is alive — and I believe that he is — he will keep his promise and build his church. But he never promises to do that solely with white, suburban institutional evangelicalism.
No one ever said He did.
The question is whether evangelicals will be on the right side of Jesus …
Wow …
And finally:
The Bible calls on Christians to bear one another's burdens. White American Christians who respond to cultural tumult with nostalgia fail to do this. They are blinding themselves to the injustices faced by their black and brown brothers and sisters in the supposedly idyllic Mayberry of white Christian America …
A white American Christian who disregards nativist language is in for a shock …
Mayberry, for my readers who are not from the US, refers to two 1960s television shows that took place in a fictional small town of the same name: The Andy Griffith Show and Mayberry R.F.D. There are very few Mayberries left. America is widely integrated today.
Moore is barking up the wrong tree.
I attended integrated churches — Catholic and, later, Episcopalian — in the US in the 1970s and 1980s. We had Hispanics in the former (suburbs) and blacks in the latter (metropolis). The white congregants made them feel most welcome. They played prominent roles in the guitar Masses (Catholic) or were ushers and greeters (Episcopalian).
I also once attended one of the first big-box Evangelical churches in the area where I lived in the 1970s. There were several black families, all greeted and treated like anyone else in the congregation.
No one cared what colour anyone else was then, nor do they now.
Moore's Wikipedia entry says that prior to entering the ministry, he was an aide to a Democrat, Congressman Gene Taylor of Mississippi.
On this note, in 2015, Moore interviewed some of the presidential candidates at a missions conference during the summer. Interestingly, he did not issue invitations to fellow Southern Baptists — Republicans — Mike Huckabee and Ted Cruz. Yet, he invited Methodist Hillary Clinton, a Democrat. She declined.
Regardless of his politics now, deep down he appears to be playing a Democrat game. So do the other men mentioned in this post; go to the linked essays therein and read the comments.
In 2016, as the president of the Southern Baptist Ethics & Religious Liberty Commission, Moore opposed the views not only of Trump but also Ted Cruz and Hillary Clinton. He objected to Cruz's call for a religious test for refugees wishing to enter the United States. He opposed Clinton's pro-choice stance.
Then, in March, he wrote, also for the NYT, that Christians should vote for a third-party candidate if faced with Clinton and Trump.
Now — in May — he mentions only Trump and gives Clinton a pass.
There is also the matter of churches making money off of resettling refugees and immigrants arriving in the United States. I saw a news show recently that said that immigration officials know where to direct newcomers. There is a list of local churches and charities who will take them in immediately and begin their resettlement.
Voluntary agencies (Volags) — religious and secular — helping out in this regard are paid by the US government, i.e. the taxpayer. Refugee Resettlement Watch has more, including the following:
Below are some of the sources of income for Volags:
a.  $1,850 per refugee (including children) from the State Department.
b.  Up to $2,200 for each refugee by participating in a U.S. DHHS program known as Matching Grant. To get the $2,200, the Volag need only show it spent $200 and gave away $800 worth of donated clothes, furniture or cars.
c. The Volag pockets 25% of every transportation loan it collects from refugees it "sponsors".
d. All Volag expenses and overhead in the Washington, DC HQ are paid by the U.S. government.
e. For their refugee programs, Volags collect money from all federal grant programs – "Marriage Initiative", "Faith-based", "Ownership Society", etc., as well as from various state and local grants.
The program is so lucrative that in some towns the Catholic Church has lessened support for traditional charity works to put more effort into resettlement …
Public money has thoroughly driven out private money.
Therefore, voluntary refugee and immigrant agencies — including churches — make a lot of money from the taxpayer. Readers may consider this at their leisure.
Evangelical churches in the United States
It is unclear as to why Moore works on the presumption that white Evangelicals are, by definition, anti-immigrant.
Evangelicals are truly a broad church and have different affiliations. Some, like the ELCA, are Lutheran. Others are Pentecostal. Others are independent but affiliate with broader Evangelical groups with similarly-minded theology.
Some are inclined towards the Democratic Party, even when they interpret the Bible literally. Others lean Republican but are openly accepting and welcoming of all who attend their churches.
I have read a lot of Evangelical commentary since I started this blog in 2009. I have not read one racist comment from anyone — layperson, elder or minister.
Why Trump is winning the Evangelical vote
Like every other American, Evangelicals also need to put food on the table and clothes in the wardrobe.
They have homes and health insurance to pay for, cars to run and jobs to keep — or find.
Evangelicals are concerned about the future, especially that of their children and grandchildren.
Trump is the only candidate who talks about job creation and improving the economy. Is it any surprise that people, including Evangelicals, like that message?
For the record
For the record, a Trump insider says the billionaire changed his mind about abortion once his youngest son Barron was born ten years ago. He sometimes tells the story as being about an anonymous third person, because it was an intensely private journey for him to make.
As for enemies foreign and domestic, Trump is the only candidate to point out that terrorism is an issue. He has said in a number of his rallies that he has Muslim friends and business associates in the US and in the Middle East. His proposals for immigration or travel among this religious group have always included either the words 'temporary' or 'until we figure out what's going on'. Note that, only a few days after he first said this in December 2015, the San Bernardino attack took place. He spoke of Brussels's dire situation in January. Two attacks on that city took place in March. Meanwhile, the Belgian and French security forces already knew there was a hotbed of extremism in parts of Brussels. That became clear when Paris was attacked on November 13, 2015.
Also note that the no-fly list has been in place since Bush II's administration. A Muslim family from the UK were banned from flying to the US just before Christmas — under the Obama administration — because Homeland Security suspected a family member of having links to extremists.
With regard to immigration, Trump is careful in his speeches to specify that he supports legal immigration. Can he help it if people like Moore and the media take it out of context? And, yes, there is a rape epidemic affecting Mexican women crossing the border into the US. Even PBS has pointed that out. Why can't Trump?
In conclusion
Personally, I do not care for whom you vote. That is your business.
However, let's not be taken in by people saying voting for this or that candidate is immoral and is subject to church discipline. That is absurd and wrong. Voting is an intensely private matter. Let's nip this in the bud — now!
Singling out one candidate when the others are all equally sinners in one way or another is, in and of itself, morally objectionable.
You can read what clergy have to say at Time.
As we are in Easter Week, recalling in joyful hope Christ's rising from the dead, let's remember Resurrection theology, which keeps our minds on eternal life.
Most of the following posts excerpt the sermons of Revd James A Fowler of Christ In You Ministries. He is a proponent of exploring the deeper meaning of the Resurrection and asking how we view it in our lives as Christians.
Remembering the reality of the risen Christ
Are we bypassing the risen Christ?
A call for Resurrection theology
Christianity IS the Risen Christ
Unlocking the meaning of the Gospel
The extension of the risen Christ
A Lutheran application of Resurrection theology
May you find these sermons and reflections uplifting in your Christian journey!
I hope that those who have Easter Monday as a holiday are enjoying it! We in Britain are.
Yesterday's post had as a source a sermon by John MacArthur about Acts 10:34-43.
'The Why, Who and How of the Resurrection', which he gave in 1996, begins with a summary of articles about Jesus which appeared in Easter editions of Time, Newsweek and US News and World Report.
I won't go into their vile, false stories, which you can read for yourselves in the sermon.
This is MacArthur's explanation for such falsehoods (emphases mine):
… they do not like the Jesus of the New Testament because He confronts their sin and He threatens judgment. And consequently, they, wanting to hold to their sin, invent a Jesus more to their liking.
A lot of Christians — especially clergy — do this, too. We have liberation theologians, social gospel proponents and others who say that Jesus came to change the temporal world.
No.
As MacArthur points out:
The historical Jesus reached a living end and because He lives we can live also and escape hell with our sins forgiven. The only thing that sends sinners to hell is their sins and God says I'll forgive them if you'll believe in Jesus Christ. What a gift.
I'll tell you one thing, if you miss the real Jesus and His salvation, life will be a dead end.
It will indeed.
I hope and pray that we remember Christ's resurrection from the dead not only at Easter but every day with thanks to God.
My past few posts have discussed hell:
Hell on low — or no — heat (20th century history)
Christian views on hell: moving back to Origen
J C Ryle on hell (19th century, first Anglican Bishop of Liverpool)
The second one in the series has several quotes from 20th and 21st century pastors and theologians who have downplayed hell and questioned eternal punishment in the life to come.
One of my readers, Brad Grierson, who kindly reblogged the aforementioned post on Origen, commented:
I think Hell often gets downplayed because it is so difficult to imagine. The mind cannot rightly comprehend an eternity of suffering so it comes up with ideas that are more familiar to it such as a temporal prison sentence or that it simply doesn't exist at all. In a way, this is how heresy springs up: we cannot fully comprehend so we make it something we can comprehend.
That is very true. Oddly, sinful man has no difficulty imagining heaven as being both beautiful and eternal. Yet, when it comes to divine and just punishment, suddenly, many of us consider that unthinkable.
It is impossible to comprehend God. And, because we cannot comprehend His plan and His ways, we cannot comprehend how offensive our sins against Him actually are.
John MacArthur's Grace To You ministry team posted an excellent three-part series on God and hell in 2011, when Rob Bell's Love Wins came out. Excerpts follow, emphases mine.
I hope you will be encouraged to read all three articles in full.
God's offence at our sin
Tommy Clayton wrote 'Is God a Monster?' in which he explains God's view of sin.
Clayton was not always a Christian. He used to find divine judgment in the Bible unfair, extreme and arbitrary.
The Bible has several examples of people who died because they disobeyed God. Most of these are in the Old Testament, but the New Testament also has one case (not included in the three-year Lectionary, incidentally):
Lot's wife. God turned her into a pillar of salt as she was leaving Sodom. Her crime? A backward glance (Genesis 19:26) …
If we find ourselves asking if God is a monster, Clayton exhorts us to consider our imperfect and sinful lack of comprehension:
Our flesh wants to cry out in protest, "That's not fair!" But responses like that reveal our failure to grasp the depth of sin. We see only actions—a devoted father gathering firewood to keep his family warm; a zealous Israelite anxious to keep the Ark of God off the ground—but God sees things differently, more clearly, than we do. He sees our sin as insurrection, rebellion against His holiness (Exodus 31:14; Numbers 4:15). What's more, He sees the hidden motives and intentions at the core of our actions (Matthew 5:28; Hebrews 4:12) …
The Bible describes our sin as "rebellion," "ungodliness," "lawlessness," "wickedness," and an "abomination" (Leviticus 26:27; Isaiah 32:6; 1 John 3:4; Ezekiel 18:27; Proverbs 15:9). Sinners then, are traitors, refusing to love, thank, serve, and obey the God who gave them life, breath, and every good thing.
Sinners spurn God's love, despise His sovereignty, mock His justice, and view His commands with contempt. They are thieves and murderers, stealing God's glory and assaulting His holiness. In fact, as Martin Luther once remarked, if sinners had their way, they would dethrone and murder God, which is exactly what they did at Calvary (Acts 2:23). Viewed through the lens of Scripture, sin appears exceedingly sinful (Romans 7:13).
Clayton makes an excellent point about humanity's anger with God when they should be angry with themselves over repeatedly offending Him:
I find it ironic that those who protest the idea of eternal, conscious torment deride the doctrine with words like, "cruel," "morally revolting," "monstrous," and "repugnant." Why don't they employ the same terms of outrage to describe sin? Simple: they fail to see as God sees. God finds our sin "cruel," "morally revolting," "monstrous," and "repugnant," and He's absolutely right. If we can't see our sin as God sees it, it stands to reason that we don't see the just judgment of hell like He sees it either. We're just going to have to trust Him.
He concludes:
We've all assaulted God (Romans 3:23), and we all deserve hell. Reject Christ, and hell is exactly what you'll get. God will rise up in judgment and cast all unbelievers into the lake of fire (Revelation 20:14), and all creation will praise His justice. To accuse God of injustice for sentencing sinners to hell is the height of arrogance and audacity.
Yes, God's judgment is unbearable, but it is never unjust (Genesis 4:13). And that is why "it is a fearful thing to fall into the hands of the living God" (Hebrews 10:31).
This reminds me of an atheist who said to me several years ago, 'Hell doesn't apply to me, because I don't believe. Hell is your thing, not mine.'
Hmm. We'll see. One must pray for such people that divine grace imbues their hearts and minds.
Annihilation or temporary punishment
In contemplating the eternity of hell for any length of time, one can understand how the Catholic Church devised their unbiblical doctrine of purgatory and all the short little prayers that one could say which are said to reduce the time therein.
Among Evangelical Protestants, the notions of annihilation and temporary punishment are not uncommon. In 'Is Hell Really Endless?' Travis Allen takes proponents of both errors to task for misinterpreting — either accidentally or deliberately — the word 'eternal' in Scripture.
One view of hell that seems to be making a strong resurgence today among evangelicals is Annihilationism. There are slight variations, but it essentially teaches God will eventually snuff every unbeliever out of existence. Some Annihilationists make room for divine wrath, but they don't allow it to extend beyond the lake of fire. In other words, they won't allow God the full force of His judgment, which is eternal, conscious torment. For them, the lake of fire is what completely consumes and finally destroys sinners. Whether they see death as the end, or whether they see hell's torments as limited in duration, the result is the same—a denial of the endlessness of hell.
… For no good exegetical reason, some Annihilationists have understood the word "eternal" to refer, not to a duration of time, but to the quality of God's judgment. It's eternal in quality, even though it has an end. Other Annihilationists say "eternal" refers to the effect of divine judgment. That is to say, God's judgment results in death—as in extinction, annihilation—which is a state of non-being that lasts eternally.
If you're having a hard time bending your mind around that, you're not alone. It's hard to conceive of a sinner experiencing an eternal quality of judgment without it lasting forever. Matthew 25:46 clearly teaches that the duration of punishment and life are alike, both eternal.
Allen cites John MacArthur's explanation of the word 'eternal':
Punishment in hell is defined by the word aionios, which is the word eternal or everlasting. There are people who would like to redefine that word aionios and say, "Well, it doesn't really mean forever." But if you do that with hell, you've just done it with heaven, because the same word is used to describe both. If there is not an everlasting hell, then there is not an everlasting heaven. And I'll go one beyond that. The same word is used to describe God. And so if there is not an everlasting hell, then there is not an everlasting heaven, nor is there an everlasting God. It is clear that God is eternal; and, therefore, that heaven is eternal, and so is hell. (John MacArthur, "A Testimony of One Surprised to Be in Hell, Part 2")
Allen also quotes St Augustine of Hippo who wrote:
To say that life eternal shall be endless, [but that] punishment eternal shall come to an end is the height of absurdity.
We understand our temporal laws easily. Being found guilty of breaking the law sometimes carries with it a custodial sentence which has an end. However, a sentence to hell from God has no end:
the nature of the infraction is measured against the nature of God who is holy and eternal. Likewise, God, who is perfect in righteousness, determines the justice an infraction demands. According to His Word, the punishment for an offense against a holy God is everlasting torment in hell.
Ultimately:
In an uncomfortably poignant and penetrating way, the doctrine of eternal hell confronts our loyalty, reveals our true authority, and demands that we set aside what seems reasonable to us and trust in the righteous judgment of a holy God. When we embrace the hard doctrines of the Bible, it becomes one of the most significant evidences of true, God-given faith.
He concludes:
I hope the doctrine of eternal torment sobers you. May it fill you with praise to God for saving you from eternal punishment, for giving you eternal life instead. May it humble you when you realize you're not getting what you deserve. And may it ignite in you a passion to proclaim the gospel to those poor souls who are unaware of the terror that awaits them outside the mercy of God.
Again, I cannot help but think of the atheist I spoke to several years ago.
Let's not downplay hell
Tommy Clayton wrote the last article in the series, 'The Severity of Hell'.
He began with a quotation from the famous 19th century Baptist preacher from London, Charles Haddon Spurgeon:
Shun all views of future punishment that would make it appear less terrible.
The rot was already setting in back then.
Clayton warns:
Modern views of hell won't survive the test of biblical fidelity. They'll allow the sinner to feel more comfortable and complacent by defanging God, making Him appear less severe.
He cites the Evangelical professor and theologian Wayne Grudem who associates an unscriptural belief about hell with a lack of belief in the validity of Scripture and, in the end, shaky faith:
The doctrine of eternal conscious punishment . . . tends to be one of the first doctrines given up by people who are moving away from a commitment to the Bible as absolutely truthful  [. . .]. Among liberal theologians who do not accept the absolute truthfulness of the Bible, there is probably no one today who believes in the doctrine of eternal conscious punishment. (Wayne Grudem, Systematic Theology)
Jesus never presented hell lightly, nor did anyone in the Bible. Clayton reminds us:
Whenever Jesus described hell, He was never flippant or dismissive. He used vivid, terrifying terms to describe the final destination of sinners, shocking and scaring His audiences with frighteningly graphic metaphors. Hell is a place so bad that you should be willing to cut off sensitive, irreplaceable parts of your body to avoid it (Matthew 5:29-30); even martyrdom would be worth avoiding the torment of hell (Matthew 10:28). He always presented hell as a horrific place of intolerable suffering.
His descriptions are consistent with other biblical writers. Daniel referred to hell as a place of shame and everlasting contempt (Daniel 12:2). Paul called it a place of endless destruction and punishment (2 Thessalonians 1:5-10). Jude called hell a place of eternal fire and darkness (Jude 7). The Apostle John described hell as a place where sinners suffer everlasting torment, with no rest day or night (Revelation 14:9-11).
Taken together, all those descriptions of hell communicate pain, fear, loss, anger, separation, and hopelessness. It's utter agony, eternal torment.
John Calvin explained:
By such expressions, the Holy Spirit certainly intended to confound all our senses with dread.
Some agnostics and unbelievers say they would rather be in hell so they can be with a close relative or best friend who predeceased them. However, that is a flawed, human way of viewing eternal punishment.
God does not allow any succour in hell. Those thinking they will be near their loved ones there will actually be very far away from them — forever.
Clayton cites John MacArthur:
This is a reminder to all sinners that while hell is the full fury of God's personal punishment presence, He will never be there to comfort. He will never be there to show sympathy. He will never bring relief. [. . .] it is both the punishment of God and the absence of comfort. [. . .] That's hell—punishment without relief ("The King Crucified: Consummation at Calvary")
And the Puritan Thomas Vincent:
Not only will the unbeliever be in hell, but hell will be in him too.
The people ending up in hell will only be concerned with their own remorse and continuous torment, not with anyone else's. Hell implies the absence of all things godly, which include love and compassion.
Please ensure that you understand the full import of hell. No one preaches on it anymore, so it requires independent study.
I've only heard one fire and brimstone sermon and that was by an elderly Catholic priest, a weekend guest in our parish, in 1972. He wore pre-Vatican II vestments, preached for 20 minutes and said most of the things that Grace To You elders have said above.
To say that hell is the absence of God alone makes eternal punishment appear metaphysical. It sells God's justice and sovereignty short.
Posts later this week will give us a more human appreciation of the horrors of hell.
Yesterday's post started with Matthew 13:50, in which our Lord spoke of the 'weeping and gnashing of teeth' that takes place in hell.
In 1982, John MacArthur delivered a sermon on Matthew 13:47-52:
The Parable of the Net
47 "Again, the kingdom of heaven is like a net that was thrown into the sea and gathered fish of every kind. 48 When it was full, men drew it ashore and sat down and sorted the good into containers but threw away the bad. 49 So it will be at the end of the age. The angels will come out and separate the evil from the righteous 50 and throw them into the fiery furnace. In that place there will be weeping and gnashing of teeth.
New and Old Treasures
51 "Have you understood all these things?" They said to him, "Yes." 52 And he said to them, "Therefore every scribe who has been trained for the kingdom of heaven is like a master of a house, who brings out of his treasure what is new and what is old."
MacArthur's sermon is called 'The Furnace of Fire'. In it, he explains the nature of hell.
As I said yesterday, our modern notion of hell has been watered down greatly since the 19th century. Most Christians believe it will be a place of mental torment where the damned long for God forever.
But could there be other sensory elements to hell, ones which mankind would prefer to overlook or to explain away because they are too horrifying to contemplate? MacArthur thinks so.
He says that Jesus talked about how horrible hell would be. The Gospels have many references about eternal condemnation. These can be found in Matthew 5, Matthew 8, Matthew 23 through 25, Mark 9, Luke 6, Luke 12 and Luke 16.
Jesus said more about fire than mental torment, although permanent insanity could well be the end result of going to hell. Yet, many theologians and clergy choose to gloss over this fact. It would be better if they were to  say that hell is like Dante's Inferno and advise us to read it. However, they would probably say that Jesus was using allegory in talking about hellfire. I doubt many believe in hell as Jesus described it.
Degrees of torment
Like Dante, MacArthur believes there will be degrees of punishment in hell (emphases mine):
You have in hell a place of relieved torment of body and soul in varying degrees …  In other words, for some people, hell will be worse than others.  For all who are there, it will be horrible.  It will be ultimate suffering. 
There will be no relief for that, but there will be even more severe degrees of suffering for some.  It says in Hebrews 10, "Of how much more severe punishment shall they be thought worthy who have trodden underfoot the Son of God and counted the blood of the covenant an unholy thing."  People who have stepped on Jesus Christ, who have rejected his cross, will know a greater hell than those who have not. 
There will be degrees, just as there will be degrees of reward in heaven.  We saw that, also, I think, in Matthew chapter 11, when it said, "It will be more tolerable for Sodom than for you."  In other words, it's only relative.  It isn't going to be tolerable for anyone, but it will appear to be more tolerable for them than for you because of what you have experienced. 
You had Jesus Christ in your city, they didn't.  You rejected Him with more light; therefore, hell will be more severe for you.  And then you have, of course, that incredible parable in Luke 12 where the Lord says, "To the servant who knew and didn't do right, many stripes.  To the servant who didn't know and didn't do right, a few stripes."  So hell will be unrelieved torment of body in soul in varying degrees.  And John Gerstner says, "Hell will have such severe degrees that a sinner, were he able, would give the whole world if his sins could be one less."
Darkness
MacArthur reminds us that the Bible speaks of darkness when referring to hell:
the Bible defines it as darkness, outer darkness.  That is deep-pit darkness, darkness that's way out from the light, impenetrable darkness, darkness that closes in.  And it is darkness without the hope of light forever.  Have you ever been in the darkness and longed for the daylight? 
Have you ever been in the darkness and longed for someone to turn a light on?  To be in that encroaching, encompassing, moving kind of darkness and know that for all the eons of eternity, you will never see light is how our Lord describes hell.  Unrelieved darkness forever, with no hope of the light, no hope of the dawn. 
Fire
Yes, there is fire:
And the Bible also says it is a fire.  Now, it is not a fire that we would know as fire, to burn something in this world.  But fire is God's way of describing it because it is a tortuous, unrelieved kind of fire, more terrible than any fire that we would ever know.  But fire describes the torment of the damned; blackness describes the torment of the damned, no light, no light ever, ever.  No relief from the suffering, the agony and the pain, forever.  And there's only two times in all of Scripture that we have any insight into how people respond to hell. 
Torment of the body
MacArthur mentions Jesus's cautionary story about the Rich Man and Lazarus (Luke 16:19-31). Dives did nothing to help poor, sickly Lazarus who ate the scraps from his table. When Lazarus died, he went to heaven. When Dives died, he went to hell. There Dives suffered from everlasting thirst:
24 And he called out, 'Father Abraham, have mercy on me, and send Lazarus to dip the end of his finger in water and cool my tongue, for I am in anguish in this flame.' 
Abraham refused. The rich man then asked him to send someone who had died to his brothers, so they might be warned of the torment to come. Abraham replied that the rich man's brothers had Moses and the prophets to warn them. Ultimately:
31 He said to him, 'If they do not hear Moses and the Prophets, neither will they be convinced if someone should rise from the dead.'"
Torment of the soul
MacArthur says:
it is a place of unrelieved torment for both body and soul, for both body and soul.  Soul being the inner part. 
The new body built for hell
MacArthur explains that the human body as God created for life on earth would not be able to resist hellfire.
So, when the Last Judgement takes place, just as those going to heaven will have a new glorified body, those going to hell will have a new body fit for eternal damnation:
When a person dies now, their soul descends into that torment.  In the future, there will be a resurrection of the bodies of the damned.  They will be given a transcendent body that will then go into a lake of fire.  It will be a body not like the body we have now.  It will be a very different one.  They will be resurrected just like we will, as Christians. 
We will be resurrected because this body could never live eternally in heaven, right?  We have to have a transcendent body, a glorified body, a different body, and so do the damned.  And they will be raised, John 5, they will be raised in new bodies for the single purpose of being punished forever in those bodies. 
That's what the Bible says, tormented forever.  They have to have a body to fit that eternal torment.  And that's why Jesus in Matthew 10:28 said, "Fear not them that can destroy the body, but fear him who is able to destroy both soul and body in hell."  You see, hell is soul and body. 
Some people think it's just bad memories.  No, it isn't just bad memories.  It isn't just the inner thinking processes; it is that body as well.  Transcendent, eternal bodies, greater than anything we have on this earth, are going to be given to the damned so that they can suffer in those bodies forever.  And that's the only reason that they'll have those bodies. 
With the present body, man couldn't endure hell … the body that we have now would be consumed in a moment.  So as God fits the redeemed with new bodies for heaven, He fits the damned with new bodies for hell.
The worm and fire forever
We know that the 'worm dieth not' and that the fire never goes out. This describes the Jewish Gehenna. Was Jesus addressing His people allegorically or literally?
MacArthur explains:
Now what did He mean by that?  When a body goes into the grave, into decay, worms descend into that body.  And they begin to consume that body, and the worms will die when the food is gone.  So once the body is consumed, the worms die.  But in hell, the worms never die because the body, though it is continually being consumed, is never consumed.  So the worm never dies. 
In other words, the Lord was saying the unrelieved torment of body goes on and on.
And:
it says, also, the fire is not quenched.  Now a fire always goes out when the fuel is gone.  But the fuel will never be gone.  Though the burning goes on, the fuel is never consumed.  And so you have unrelieved torment of body and soul.
Conclusion
Do enough of us think about hell or is it something we can explain away?
Is it more than the great existentialist void many of us have been taught to believe?
For all the time we spend rationalising hell, maybe it is time we gave Jesus's warnings more thought. We — inherently sinful men and women — are telling each other that hell is a state of mind. Our Lord described it differently.
If contemplating the hell He described is a horrifying thought, He meant us to clearly understand it's not a place we want to spend eternity. Repent, pray for faith and for continual grace.