You are currently browsing the tag archive for the 'GB News' tag.
Matt Hancock looms large in The Telegraph's Lockdown Files series which ended earlier this month.
For more background, see parts 1 and 2.
Matt Hancock latest
The series continues after an update on latest news about the UK's former Health and Social Care Secretary.
On Saturday, March 25, 2023, The Guardian reported that Hancock had been one of a handful of Conservative MPs caught in a prank set up by the left-wing activist group Led By Donkeys, 'Top Tory MPs ask for £10,000 a day to work for fake Korean company' (emphases mine):
The former chancellor, Kwasi Kwarteng, and former health secretary, Matt Hancock, agreed to work for £10,000 a day to further the interests of a fake South Korean firm after apparently being duped by the campaign group Led by Donkeys.
Kwarteng attended a preliminary meeting at his parliamentary office and agreed in principle to be paid the daily rate after saying he did not require a "king's ransom". When Hancock was asked his daily rate, he responded: "It's 10,000 sterling" …
The senior politicians have complied with all relevant rules and referred to their obligation to their constituents during preliminary meetings. The Led by Donkeys project, conducted with investigative reporter Antony Barnett, comes at a time when people face a cost of living crisis. The campaign group released a report on its investigation on Twitter on Saturday, with recorded undercover footage …
The purported firm that approached the politicians did not exist and had a rudimentary foreign website with fake testimonials. MPs have been warned by the Home Office to be on their guard against the "threat of foreign interference", and the group's investigation demonstrated the ease with which they seemed able to gain access to the MPs.
Led by Donkeys is understood to have approached 20 MPs from the Conservative party, Labour and Liberal Democrats after examining the outside earnings of MPs on the parliamentary register of interests. An email sent by the fake investment and consulting firm, Hanseong Consulting, said it wanted individuals for an international advisory board to "help our clients navigate the shifting political, regulatory and legislative frameworks" in the UK and Europe.
It said advisers would be required to attend six board meetings a year, with a "very attractive" remuneration package and "generous expenses" for international travel. Five MPs agreed to be interviewed on Zoom, with one who was clearly suspicious of the firm's credentials terminating the call. The MPs were interviewed by a woman purporting to be a senior executive, with a backdrop of the skyline of Seoul, the South Korean capital, at her office window …
In early March, Hancock agreed to an online meeting for the advisory role. The Telegraph had that week published his leaked cache of more than 100,000 WhatsApp messages, but he seemed relaxed for the meeting with the fake foreign firm. He said it had been "quite a busy week" but that March was the "start of hope".
"We were wondering, do you have a daily rate at the moment?" he was asked by the interviewer, posing as a senior business executive. "I do, yes," Hancock replied. "It's 10,000 sterling."
… Hancock is an independent MP after he had the whip suspended for taking part in I'm a Celebrity, for which he was paid £320,000, with Rishi Sunak's spokesperson saying at the time that "MPs should be working hard for their constituents".
Hancock said in the meeting that he followed the "spirit and letter" of parliamentary rules, and would also require additional approval for the role because he had been a minister, but outside interests were permitted. He said he was mindful of the responsibility to serve his constituents …
Led by Donkeys was established in 2018 as a campaign in response to Brexit. Its high-profile projects and satirical stunts have since included a spoof episode of the BBC show Line of Duty with Boris Johnson being interrogated by the anti-corruption AC-12 unit and painting the colours of the Ukrainian flag outside the Russian embassy in London.
A spokesperson for Hancock said: "The accusation appears to be that Matt acted entirely properly and within the rules, which had just been unanimously adopted by parliament. It's absurd to bring Mr Hancock into this story through the illegal publication of a private conversation. All the video shows is Matt acting completely properly."
Furthermore, Matt will be looking for a new job as he will not be standing again as an MP come the next general election.
Although I am not a defender of Hancock, former BBC presenter Jon Sopel is hardly in a position to take pot shots at him, considering that he, too, fancies filthy lucre, as Guido Fawkes revealed on Monday, March 27:
Days earlier, on March 18, The Mail's Richard Eden reported that Hancock's girlfriend and her estranged husband sold their South London house to Gordon Ramsay for several million pounds:
Should she ever tire of turning her boyfriend, Matt Hancock, into a TV star, Gina Coladangelo has a lucrative alternative career as a property tycoon.
I can disclose that she and her estranged husband, Oliver Tress, managed to sell their marital home to fiery TV chef Gordon Ramsay and his wife, Tana, for a staggering £7.5 million.
It's an astonishing price for the area of South London. Not only is it almost double the £3.8million that Gina and Tress paid in 2015, but it's £2.5 million more than the top price paid previously for any property in their street.
Zoopla had estimated its value as between £3.8 million and £4.6 million …
The sale, which Land Registry documents confirm went through in January, is all the more impressive as it comes when British property prices are predicted to plunge by ten per cent.
The five-bedroom Edwardian house is in one of London's most desirable areas. Ramsay, 56, and his wife, 48, bought it in their joint names from Gina and Tress, the founder of upmarket homeware and clothing chain Oliver Bonas.
Gina, 45, left Tress, 55, with whom she has three children, for former health secretary Hancock, 44, who competed in I'm a Celebrity . . . Get Me Out Of Here!.
Ramsay, who has an estimated fortune of £175 million, already owns a huge house, said to be worth £7 million, less than a mile away …
Last year, he, Tana and their five children were reported to have temporarily moved out after work began on a super-basement …
Tatler adds:
It is easy to see why Ramsay might need a new home. The chef announced at the start of the year that he and wife Tana are expecting their sixth child. On the Heart Breakfast show, the chef said that 'there's one more on the way' to join their five children: Megan, 25, twins Jack and Holly, 23, Tilly, 21, and Oscar, three. Holly recently featured as one of the most eligible singles at Tatler's Little Black Book party. According to Hello! magazine, the Ramsays are believed to have paid in cash for their new luxury pad; they also own a £6 million house in Cornwall and a mansion in Los Angeles. Gordon and Tana marked their 26th wedding anniversary very recently, having married in Chelsea in 1996.
On March 6, as The Lockdown Files were drawing to a close, The Telegraph reported, 'Matt Hancock cancelled after indiscreet WhatsApps "upset" travel industry':
A major international travel conference has axed Matt Hancock from its programme after The Telegraph revealed he had been highly critical of the travel sector during the pandemic.
The Institute of Travel and Tourism (ITT) confirmed that Mr Hancock will no longer be speaking at its annual conference in Doha, Qatar, saying that the messages uncovered by The Telegraph had caused upset to many in the travel industry.
Last week, as part of its Lockdown Files series, The Telegraph revealed that Mr Hancock and Simon Case, the country's most senior civil servant, shared jokes about those being forced to stay in quarantine hotel rooms during the pandemic …
The former health secretary was also highly critical of the airline and airports industry, describing them as being "totally offside" and "unhelpful", while Mr Case [top civil servant Simon Case] labelled them as "horribly self-serving" ...
In a statement to The Telegraph, Steven Freudman, chairman of the ITT, said that Mr Hancock had become a "major distraction".
He added: "We have over 25 distinguished speakers and it would have been unfair on them for the focus to have been solely on Matt Hancock."
The ITT annual conference is regarded as one of the sector's key annual events, with thousands of travel professionals and high-profile speakers from across the globe attending.
The initial decision to invite Mr Hancock as a speaker at the conference was widely criticised by sector figures even before The Lockdown Files revelations were published.
Industry figures told The Independent that they wanted the ITT to reconsider its decision, accusing Mr Hancock's policies of "destroying the sector" and resulting in thousands of travel jobs being lost …
Dr Freudman said: "The original invitation was issued in the hope that Matt Hancock would recognise the damage that he and his government caused the travel industry with its handling of the pandemic.
"We were also hoping that he might confirm that lessons had been learnt and that any future crises would be handled differently.
"However, his WhatsApp messages have upset many of us in the travel industry and his presence would clearly have been a major distraction."
The Telegraph has contacted Mr Hancock for comment.
That day, Hancock's lawyer appeared on GB News and was introduced as such. He responded vehemently that he did not want that detail mentioned. The presenter calmly read out the lawyer's email to GB News stating that he permitted them to describe him as Hancock's lawyer. The lawyer sheepishly responded that he forgot to type 'not'. Comedy gold:
Isabel Oakeshott describes The Telegraph 'bunker'
Hancock gave Oakeshott access to the 100,000 WhatsApp messages because she co-authored his book, Pandemic Diaries.
On Friday, March 24, she wrote an article for Tatler describing what working in seclusion with The Lockdown Files reporters was like at the beginning of 2023:
… The Daily Telegraph was the only newspaper that consistently challenged the lockdown agenda and had a track record of managing huge investigations in the public interest – famously exposing the MPs' expenses claims in a scandal that rocked Westminster in 2009. They immediately agreed to put a full team of top journalists on the project: The Lockdown Files. 
In a secure bunker, well away from the main newsroom, I worked alongside their reporters, filleting the messages: a team of eight or so, full time, for eight weeks. To avoid hackers, our computers were not connected to the internet. We worked from hard drives stored overnight in a safe. Anything printed was swiftly shredded. Nobody else came into the bunker, which, as the weeks went by, became increasingly unhygienic. Discarded takeaway containers, half-eaten packets of Colin the Caterpillar sweets, mouldy mugs and other detritus were strewn over every grubby surface. Hunched over our computers in a room with no windows, we were like lab rats in some dubious experiment, wracked by colds, coughs and – oh, the irony – Covid. By the week of publication, our core team had swelled to some 25 writers and digital news experts. The Daily Telegraph's newsroom was emptying out – leaving those who remained wondering where all their colleagues had gone. 
There was a curious voyeuristic pleasure in reading the banter between Government ministers and their aides – including some very flirty exchanges between two household names. Who was sending who the heart emojis and who was complimenting who on their sexy outfits? I'll leave it to your imagination. Suffice to say, they wouldn't be too happy if that news was in the public domain.
On Sunday, March 26, we got an answer about the heart emojis. Michael Gove sent them to Hancock:
Hancock responded, 'You have been true throughout'.
Gove explained to Sophy Ridge on Sky News that he agreed, particularly on that day, with Hancock's course of action. No surprise there. They're cut from the same cloth.
Guido Fawkes has the interview:
Oakeshott's article continues:
The WhatsApp from Matt Hancock came through at 1.20am: 'You have made a big mistake,' it said darkly – leaving me to imagine what punishment he had in mind. The following day, he released a furious statement, accusing me of 'massive betrayal'. Fair enough – I had breached his trust and would face plenty of questions about that decision. But did anyone outside the media bubble seriously doubt it was for the public good? The torrent of grateful messages from ordinary people, often with harrowing personal stories about their own suffering during lockdown, was answer enough for me … Dining in a mountain restaurant in the French Alps, my partner, Richard Tice [leader of the Reform Party], was surprised – and touched – to be passed a note by the waiter from a fellow diner who had recognised him. On the crumpled piece of paper were the words 'please thank Isabel'. 
Lord Sumption on Hancock: 'a fanatic'
On March 10, after The Lockdown Files came to an end, Lord Sumption, a former Supreme Court justice and guardian of civil liberties, wrote an editorial for The Telegraph: 'Matt Hancock was never a policy maker — he was a fanatic':
The 19th-century sage William Hazlitt once observed that those who love liberty love their fellow men, while those who love power love only themselves. Matt Hancock says that he has been betrayed by the leaking of his WhatsApp messages. But few people will have any sympathy for him. He glutted on power and too obviously loved himself.
Some things can be said in his favour. The Lockdown Files are not a complete record. No doubt there were also phone calls, Zoom meetings, civil service memos and the like, in which the thoughts of ministers and officials may have been more fully laid out …
Nevertheless, Hancock's WhatsApp messages offer an ugly insight into the workings of government at a time when it aspired to micromanage every aspect of our lives. They reveal the chaos and incoherence at the heart of government, as decisions were made on the hoof. They expose the fallacy that ministers were better able to judge our vulnerabilities than we were ourselves. They throw a harsh light on those involved: their narcissism, their superficiality, their hypocrisies great and small. Above all, they show in embarrassing detail how completely power corrupts those who have it.
… Even the most ardent lockdown sceptics accept that in extreme cases drastic measures may be required. But Covid-19 was not an extreme case …
No government, anywhere, had previously sought to deal with epidemic disease by closing down much of society. No society has ever improved public health by making itself poorer …
The fateful moment came when the government chose to go for coercion. This ruled out any distinction between the vulnerable and the invulnerable, because it would have been too difficult to police. It also meant that ministers began to manipulate public opinion, exaggerating the risks in order to justify their decision and scare people into compliance. So we had the theatrical announcement of the latest death toll at daily press conferences from Downing Street. Shocking posters appeared on our streets ("Look him in the eyes", etc). Matt Hancock announced that "if you go out, people will die".
The scare campaign created a perfect storm, for it made it more difficult to lift the lockdown …
Hancock was the chief peddler of the idea that everyone was equally at risk from Covid-19. This proposition was patently untrue, but it was useful because it frightened people. "It's not unhelpful having people think they could be next," wrote his special adviser, who knew his master's mind well. Other countries did not behave like this. In Sweden state epidemiologist Anders Tegnell was able to reassure his public that a lockdown was neither necessary nor helpful. Events have proved him right.
… Matt Hancock insisted on schoolchildren wearing masks in class in spite of scientific advice that it made little difference, because it was necessary to keep up with Nicola Sturgeon. When Rishi Sunak had the temerity to suggest that once the vaccine rollout started the lockdown should be relaxed, Hancock resisted. "This is not a SAGE call," he said, "it's a political call."
Once ministers had started on this course, there was no turning back. It is hard to admit that you have inflicted untold damage on a whole society by mistake. Hancock resisted shortening the 14-day quarantine period in spite of scientific advice that five days was enough, because he did not want to admit that the original policy had been wrong. Relevant evidence was simply shut out. His response to the success of Sweden's policies was not to learn from it but to dismiss it as the "f—ing Swedish argument". Having no grounds for rejecting the Swedish argument, he had to ask his advisers to find him some. "Supply three or four bullet [points] of why Sweden is wrong," he barked.
The adrenalin of power is corrosive. It was largely responsible for the sheer nastiness of the Government's response to criticism. Hancock lashed out at the least signs of resistance or dissent. He wanted internal critics sacked or moved. He suggested the cancellation of a learning disability hub in the constituency of an MP who intended to vote against the tier system. Ministers "got heavy" with the police to make them tougher on the public …
I'll get to the learning disability hub in a moment. Shameful, just shameful.
Lord Sumption's editorial continues:
There is no sign that Hancock either thought or cared about the wider consequences of his measures. He seems to have believed that there was no limit to the amount of human misery and economic destruction that was worth enduring in order to keep the Covid numbers down. Rishi Sunak is on record as saying that any discussion of the wider problems was ruled out in advance, and this is fully borne out by the WhatsApp messages. Any hint from Sunak or business secretary Alok Sharma that the cure might be worse than the disease provoked an explosion of bile but no actual answers.
Hancock fought tooth and nail to close schools and keep them closed. Deprived of many months of education, cooped up indoors and terrified by government warnings that they would kill their grandparents by hugging them, children suffered a sharp rise in mental illness and self-harm although they were themselves at no risk from Covid-19. Cancer patients were left undiagnosed and untreated. Old people, deprived of stimulation, succumbed to dementia in large numbers. Small businesses were destroyed which had taken a lifetime to build up. A joyless puritanism infected government policy. No travel. No wedding parties or funeral wakes. No hugs. Anyone who spoke up for a measure of decency or moderation in this surreal world was promptly slapped down as a "w—er".
Real policy-making is never black and white like this. It is always a matter of judgment, of weighing up pros and cons. In that sense, Matt Hancock was never a policy-maker. He was a fanatic.
Why did hitherto decent people behave like this? In Hancock's case, at least part of the answer is vanity. The crisis was good for his profile. He saw himself as the man of action, the Churchill of public health, the saviour of his people, earning the plaudits of a grateful nation. As early as January 2020, he was sharing a message from a sycophantic "wise friend" assuring him that a "well-handled crisis of this scale could propel you into the next league". He fussed over his tweets. He pushed his way in front of every press camera. He tried to divert the credit for the vaccines from Kate Bingham to himself. "I think I look great" is one of his more memorable messages.
Sumption says that Boris Johnson, his Cabinet and his advisers could not have restrained Hancock. Boris had no strategy, and the others were lacklustre:
Apart from Sunak and Gove, his Cabinet was probably the most mediocre band of British ministers for nearly a century. Collectively, they proved unable to look at the whole problem in the round. Their eyes were never on the ball. They were not even on the field. These are the lessons of this sorry business.
Blocking disability hub
Hancock did not tolerate Conservative MPs voting against his health policies during the pandemic.
On Tuesday, March 7, The Telegraph led with a story about James Daly MP from Bury North:
'Matt Hancock's plan to block funding for disabled children if MP opposed lockdown' tells us:
Matt Hancock discussed a plan to block funding for a new centre for disabled children and adults as a way of pressuring a rebel Tory MP to back new lockdown restrictions, The Lockdown Files show.
WhatsApp messages between Mr Hancock, the then health secretary, and his political aide show they discussed taking a plan for a learning disability hub in Bury, Greater Manchester, "off the table" if James Daly, the Bury North MP, sided against the Government in a key vote.
It came ahead of the vote on Dec 1, 2020 on the introduction of a toughened new local tiers system of restrictions for England.
The Telegraph has also obtained a WhatsApp message with an attached list of 95 Conservative MPs planning to vote against the tier system and detailing their concerns about it. 
The article has that list.
On November 20, 2020, Allan Nixon, one of Hancock's Spads (special advisers) WhatsApped his boss:
… Thoughts on me suggesting to Chief's spads that they give us a list of the 2019 intakes thinking of rebelling. Eg James wants his Learning Disability Hub in Bury – whips call him up and say Health team want to work with him to deliver this but that'll be off the table if he rebels
These guys' re-election hinges on us in a lot of instances, and we know what they want. We should seriously consider using it IMO
Hancock replied:
yes, 100%
James Daly only found out about this through The Lockdown Files:
Mr Daly – whose constituency is the most marginal in the UK mainland with a majority of just 105 – told The Telegraph he was "appalled" and "disgusted" that the disability hub, for which he had been campaigning, had been discussed as a way of coercing him into voting with the Government.
He said he had never been contacted by the Whips' Office and no threat to block the scheme had been made.
The conversation between Nixon and Hancock continued on December 1, 2020:
On the morning of the vote, Mr Hancock messaged his adviser to say: "James Daly is with us", but Mr Nixon responded with the caveat: "If extra hospitality support is forthcoming."
Later that day, Mr Nixon also forwarded his boss a new list of MPs who were undecided on the vote. In the event, Mr Daly voted against the Government, according to the parliamentary record.
In total, 55 Conservative MPs opposed the tiers system, forcing Mr Johnson to rely on Labour abstaining to get the measures through. It was, at the time, the biggest rebellion of the Johnson administration.
After revealing that he had not been contacted by the Whips' Office, Mr Daly said: "It sounds like the whips didn't bother."
The Bury North MP said he was surprised that the hub, which would allow specialists to coordinate activity under one roof, was even being threatened because "it never got dangled in the first place".
He added: "They were never proposing to give it to me. I still don't have it. Even though I have repeatedly campaigned for it, Hancock never showed the slightest bit of interest in supporting it. I had a number of conversations with Hancock at that time, but I can definitively say the hub was never mentioned.
"I think it is appalling. The fact that they would only give a much needed support for disabled people if I voted for this was absolutely disgusting."
Mr Daly had discussed the need for the centre with Mr Hancock in January 2020. In a post on his website about "how we improve health outcomes for all Bury North residents", he published a photograph of himself with the then health secretary. The hub, he said, would benefit "the most vulnerable in our community".
That afternoon, The Telegraph published 'Rishi Sunak rebukes Matt Hancock over plot to block disability funding':
Downing Street has rebuked Matt Hancock after it emerged that he had discussed a plan to block funding for a new disabled centre to pressure a Tory MP to back lockdown restrictions …
Asked whether this was not the way Rishi Sunak would like his ministers to operate, the Prime Minister's official spokesman said: "Of course. There are rules and guidelines which apply.
"I can't speak for the actions of a former government. I think you heard from the Prime Minister, who said it's important that the inquiry looks at all the issues in a complete way rather than relying on piecemeal bits of information.
"You will know that funding decisions are taken in line with strict guidelines to ensure value for money set out in the spending framework, and ministers' departments are held accountable for their decisions."
Allison Pearson: Hancock 'should be arrested'
After The Telegraph published No. 10's rebuke to Hancock, one of the paper's columnists, Allison Pearson, weighed in with 'Matt Hancock should be arrested for wilful misconduct in public office':
… Dismayingly, if not entirely unpredictably, it was the very restrictions Matt Hancock and his lockdown zealots told us were necessary to save the health service which have very nearly finished it off. "The NHS has collapsed anyway as a direct result of the lockdowns and the vast backlog they caused," says my source. Ironies don't come much more bitter than that …
Just when you think he has sunk as low as is humanly possible, he ponders using children with special educational needs as leverage ("yes 100%," enthused Hancock). By unhappy coincidence, I have just had an email from Rob, a father with an autistic son. This is what Rob wrote: "Lockdown sent him from a happy 14-year-old into a complete psychological breakdown. The fear of why everyone was wearing masks, the breaking of routine (so important for SEN children) and closing of schools. He was utterly terrified. The knock-on-effect for our family has been devastating. Thanks to anti-psych meds he's slowly getting there, but from the second lockdown onwards it's destroyed the fabric of our family to say nothing of our life savings being lost (self-employed). To read the WhatsApps in The Telegraph makes me so angry. Having the heartbreak of a disabled child made worse by self-aggrandising fools is almost too much to take. Administering psychiatric medicines to your child tends to focus the mind as to where the blame lies and it isn't with Isabel Oakeshott."
Well, there's another Hancock Triumph. A 14-year-old boy who successfully had the pants frightened off him. (Hope you feel proud of yourself, Matt.) Are Members of Parliament seriously not going to debate what we suspected, but now know for sure, was done quite deliberately to Rob's son and thousands of other vulnerable children, some of them no longer with us because they were scared into taking their own lives? …
As for Matt Hancock, he has lost the Whip and, unfortunately, can no longer be disciplined by the Conservative party. The slithy tove can – and must – be dragged before a Select Committee. Personally, I would like to see him in jail for the vast hurt he has caused.
Are there grounds for a prosecution of the former minister for misconduct in a public office? Did Matt Hancock "wilfully misconduct himself to such a degree as to amount to an abuse of the public's trust in the office holder without reasonable excuse or justification"? …
Now, that's what I call an Urgent Question.
Also of interest is 'Dominic Cummings takes "nightmare" swipe at Rishi Sunak and Matt Hancock'.
I hope to wrap up the rest of my review of The Lockdown Files tomorrow.
The past week was a newsy one in the UK.
We had Boris's hearing before the Privileges Committee and Matt Hancock being stung by a fake consultancy.
However, it all began on Monday, March 20, and continued on Wednesday with the approval of the Stormont Brake Statutory Instrument of the Windsor Framework for Northern Ireland.
The Windsor Framework replaces the Brexit Northern Ireland Protocol, which everyone knew was imperfect and this new framework replaces it. According to the Government, it renders the Northern Ireland Protocol Bill unnecessary.
However, it seems to Northern Ireland's Democratic Unionist Party (DUP) that it goes too far in favouring the EU. Who can forget the beaming smile on Ursula von der Leyen's face when she signed it alongside Rishi Sunak at the end of February? She knew she had the cat by the tail. Unfortunately, Rishi is still in the dark, as is most of Parliament:
The only vote on it in Parliament was on Wednesday, March 22, 2023. It should be emphasised that was not a vote on the Framework as a whole but only on one statutory instrument (SI) of it, the Stormont Brake.
Rishi overly promoted the Stormont Brake, which, in principle, grants a veto to the Northern Ireland Assembly via the UK Government of new EU acts or rules that it disagrees with.
I cannot see it working as smoothly as specified below. The EU holds the better hand of cards here.
This Twitter thread comes via Jess Sargeant, senior researcher at the Institute for Government, beginning with the flowchart:
The Northern Ireland Assembly, once it reconvenes (the DUP are resisting for the time being), will have a new Windsor Framework Democratic Scrutiny Committee to inform MLAs' (assembly members') decisions on pulling the Brake:
The Brake can be triggered by 30 MLAs from two parties. The Secretary of State (SoS) for Northern Ireland, who sits in Parliament, then reviews the proposed trigger. If the SoS finds it valid, he then liaises with the EU:
In principle, any resolution must have 'cross-community' support in Northern Ireland before being implemented, unless there are exceptional circumstances:
The DUP oppose it as do members of the ERG (Parliament's European Research Group), but it has majority support among MPs:
On Tuesday, March 21, the ERG interviewed the SoS for Northern Ireland, Chris Heaton-Harris MP, a 90-minute session available on parliamentlive.tv. Heaton-Harris could barely look the MPs in the eye as he maintained that voting on the SI (Stormont Brake) was but one of many votes. Perhaps inconveniently for him, a civil servant sitting next to him said that Downing Street would consider a majority vote on the SI proof that MPs approved of the Windsor Framework.
Here is some background on that session from Monday, March 20. Heaton-Harris is on the left of the photo with the ERG's Sir Bill Cash MP on the right:
Guido Fawkes tells us that the ERG wanted to interview Rishi Sunak rather than Heaton-Harris (emphases in the original):
Northern Ireland Secretary Chris Heaton-Harris will appear in front of the European Scrutiny Committee tomorrow afternoon, just a day before MPs vote on the Stormont Brake element of the Windsor Framework Brexit deal in the House of Commons. The Committee's chair, Sir Bill Cash, had previously invited Rishi Sunak, with Cash accusing the PM of dodging scrutiny by repeatedly skipped the invitation. As a compromise, he's sent Heaton-Harris as his loyal lieutenant… 
With the DUP voting against the deal, and the ERG expected to announce their own verdict tomorrow – also not looking positive – it won't be smooth sailing for wise-cracking Heaton-Harris. Stay tuned…
More background from the morning of Tuesday, March 21 follows. The ERG session with Heaton-Harris took place in the afternoon.
A small but vocal opposition bloc was building. Pictured below are Sir Bill Cash, DUP leader Sir Jeffrey Donaldson and Rishi:
Guido's post said, in part:
Tory MPs speaking to Guido say they nonetheless expect the Tory rebellion to be "soft", and "they'll have to have uncovered something pretty bad for a lot of people to vote against it". The Telegraph has heard similarly, with one MP saying the group were "genuinely torn"…
The ERG's Legal Advisory Committee's review of the Windsor Framework can be found here. Although it is 137 pages long, the first 28 pages are the immediately relevant ones. As opponents of the Windsor Framework point out, the Green (customs) lane won't become greener as Rishi said, but rather pinker, as the report states on page 13 (purple emphases mine):
Before coming to the specifics of how the "green lane" would operate as regards movements of goods which would fall within it, it should first be pointed out that there will continue to be many goods moving from Great Britain to Northern Ireland which will fall outside the scope of the "green lane" arrangements and will therefore be subject to the full panoply of EU external border checks, even though those goods are not going to be exported into the Republic or elsewhere in the EU. Businesses within Northern Ireland acquiring goods from Great Britain which intend to sell their products within Northern Ireland, elsewhere in the United Kingdom or to the rest of the world will continue to be damaged by these controls and duties while receiving no conceivable benefit from the NI Protocol arrangements.
The general position will remain that, outside the specific accommodations, EU customs laws will apply to the movement of goods from Great Britain to Northern Ireland (this internal movement is treated as an "importation"26) and to importations of goods from the rest of the world. In other words, there is a customs border, within UK territory, across the Irish Sea, and the EU's rather than the UK's external customs duties will apply to imports from the rest of the world. Importantly, goods which are to be used by businesses in Northern Ireland for "commercial processing" will be subject to EU customs duties, unless the business or the type of processing falls within a specific exemption.
This is why, since Brexit, most British businesses will not ship to Northern Ireland. Big corporations, such as supermarkets, do and will continue to do so, but even British retail chains (e.g. department stores) are not willing to put up with the paperwork and specific knowledge required to ship to Northern Ireland. It's just too much hassle.
For that and many other reasons, the ERG chair Mark Francois called the Framework's Stormont Brake 'practically useless':
Commercial Chancery Barrister Steven Barrett explains why the Stormont Brake could result in 'huge and ongoing fines' for the UK:
The EU can calculate any perceived industry losses if the Brake is applied:
The fines could extend from year to year:
Therefore, the Brake might never be applied:
The ERG's Mark Francois stated:
The star chamber's [the aforementioned report's] principal findings are: that EU law will still be supreme in Northern Ireland; the rights of its people under the 1800 Act of Union are not restored; the green lane is not really a green lane at all; the Stormont brake is practically useless and the framework itself has no exit, other than through a highly complex legal process.'
Thought so.
That evening, another prominent Brexit supporter, Jacob Rees-Mogg, said on his GB News show that he would not be supporting the Government in the vote on the Stormont Brake on the afternoon of Wednesday, March 22:
This was his Moggologue that evening, and the transcript:
Rees-Mogg said that the Government's view, based on a very short summary of the Framework, differs to the ERG's report, which comes much closer to the EU-focused reality:
… everybody has to look through it in detail and that's what's been done by the committee set up by Mark Francois, the chairman of the European Research Group, which went to really strong legal advisers to see.
What was actually happening and what they came up with was not the same as the view given by His Majesty's government.
Indeed, it was closer to the view that was in fact given by the European Commission.
So the Government claimed that 1700 pages of EU laws are disapplied.
The report found no EU laws will be disapplied or removed from Northern Ireland.
We were told that the jurisdiction of the European Court would be disapplied.
The report found Northern Ireland will remain subject to the European Commission and the European Court of Justice, as was said to me by a very senior member of the DUP, European Union law remains a major part of Northern Ireland's settlement and in certain areas outranks UK law.
So we were told that the deal would restore Northern Ireland's place in the Union and safeguard sovereignty. Because this is what it's about. We voted to leave as one United Kingdom, not as Great Britain, and then separately.
Northern Ireland and we are one people.
Under the Act of Union of 1800, we were told that there would be green lanes and you know what a green lane is.
When you come back from your holidays, you go through a green lane and nobody stops you.
But the green lane to Northern Ireland requires 21 pieces of information to be given.
So what was it at that line in Macbeth that may apply to the Windsor framework, the multitudinous Irish Sea and Canadine?
The green one is made red. And last of all, the Stormont brake, which is what we're actually voting on tomorrow, is said to be hard to use.
But even then we've been told that though the vote technically is on the brake, we're actually voting on the whole of the protocol. So even if the brake is good, we're being asked to vote on the bits that are not good.
And the Guardian angels of unionism, the DUP, have said that it's not good enough. So that's the position we're in. We are facing a vote tomorrow.
I will not find it possible to support His Majesty's Government in this vote …
Rees-Mogg then interviewed a KC (King's Counsel) who is a specialist in EU law. He said much the same thing …
… as did former Conservative Home Secretary and former Brexit Party MEP Anne Widdecombe:
On the morning of Wednesday, March 22, The Telegraph reported that Boris Johnson MP would vote against the Stormont Brake SI:
The former prime minister said in a statement to this newspaper that the proposals would keep the province "captured by the EU legal order" and were "not acceptable".
Mr Johnson is expected to interrupt his appearance during the House of Commons Privileges Committee hearing on partygate to vote when the division bell rings …
Mr Johnson told The Telegraph: "The proposed arrangements would mean either that Northern Ireland remained captured by the EU legal order – and was increasingly divergent from the rest of the UK – or they would mean that the whole of the UK was unable properly to diverge and take advantage of Brexit.
"That is not acceptable. I will be voting against the proposed arrangements today. Instead, the best course of action is to proceed with the Northern Ireland Protocol Bill, and make sure that we take back control."
The decision sees Mr Johnson reprise the role he adopted during the final year of Theresa May's premiership, when he put himself at the front of a group of Tory MPs voting against her Brexit proposals. 
A few hours later, Liz Truss said she would also be voting against the SI:
That afternoon, MPs divided — voted — on the SI, which won over nearly all of the Commons. Only 29 MPs voted No, among them the nine DUP MPs:
MPs had very little time to consider the Windsor Framework. There was Rishi's speech to Parliament after it had been agreed, so, 90 minutes. Then there was the 90-minute debate about the SI, which, in reality, was Downing Street's way of approving the whole Framework. Ergo, three hours of discussion about our national sovereignty with regard to Northern Ireland.
On Thursday, March 23, former DUP leader, Arlene — now Baroness — Foster wrote about this parlous state of affairs for The Express:
The Prime Minister promised a vote on the Windsor Framework deal, and this was it – all 90 minutes of it.
The Stormont brake is the central selling point of the agreement between the Government and the European Union to remedy the defects of the NI Protocol.
The idea is that if the Assembly activates the Stormont Brake, then the Government will decide whether to veto whichever new European law has been foisted on the people of Northern Ireland without their say so.
The chances of the Government actually vetoing new European law is next to negligible. As pointed out by the legal opinion of the ERG the Stormont brake is worse than useless because the bar has been set so high and there must be a willingness by the Government to actually trigger the veto – not likely on current experience.
The Government has shown itself in fear of the European Union starting a trade war regardless of how unlikely that is and so they continue to appease the EU's outrageous demands.
It is plain as the nose on your face that the Windsor Agreement was oversold as something it was not.
It was an improvement on the NI protocol, I absolutely acknowledge that, but it falls short of dealing with all the problems. And the Prime Minister and his cheerleaders would have been far better suited to have been honest with us all instead of trying to spin us into the willing suspension of disbelief.
We were told by the PM that the Irish sea border has gone – it clearly hasn't – but this claim in the latest Government infographic has been downgraded to… wait for it… " removes any sense of a border in the Irish sea"… You really couldn't make it up.
How refreshing it would have been if the Prime Minister had announced his deal by saying, "I have moved the negotiations forward, I have made some wins. I recognise it doesn't deal with all the problems, but I will keep working with European colleagues to monitor the issues".
Instead we were treated to spin on a scale not seen since the justification of the Iraq war!
Let's have a look at the reality of the deal:
Firstly, the Stormont Brake is not a veto, no matter what the hapless NI Secretary of State says. The current version is an attempt to put a veneer of consent on the fact that European law will still apply in my part of the United Kingdom.
The mechanism could be strengthened by the Government, because after all Parliament is sovereign, but my guess is that they will not want to upset Brussels.
The Windsor Framework does not deal with the recent decision of the Supreme Court which stated that the Protocol suspended the internal UK trade element of the Acts of Union.
Again, the Government could remedy this element by passing a simple piece of legislation as the later law will take precedence – will they do that? – it would go a long way to dealing with the constitutional aspects of the Protocol.
Another of the elements of the Windsor Framework was the construction of green lanes and red lanes. Sounds good you may think – anything going to NI for final destination from GB will go through the green lane and anything transiting through to the Republic of Ireland will go through the red lane.
However, it is not that simple as there are still forms to be completed to go through the green lane and there is still not full clarity about what goes through the green lanes.
One of the hauliers in NI has described the green lane under the Windsor Framework as not really green but pink, i.e. a lighter version of the red lane!
And what about those manufacturers in NI who only serve the UK market – do they have to abide by EU rules even though their goods are not going to the EU?
As you can see there are many important questions still to be answered and dealt with, but it appears the Prime Minister just wants to push on and prioritise good relations in Europe over internal constitutional issues.
Many who supported Brexit see this Framework as a gateway back into the EU.
Alex Story explained in his article for The Express, 'Sunak capitulated — this is step one to UK's craven re-joining of the EU':
Sunak's Windsor Framework breaks up the United Kingdom. It creates a border that did not exist and that no one wanted.
In effect, Sunak chose subjugation and humiliation.
He didn't kick the can into the long grass so much as build a framework for our eventual and full capitulation.
Accepting no divergence between the United Kingdom and a sclerotic European Union is tantamount to climbing back onto the Titanic to hear the band strike up a tune one last time.
A country unable to pass her own laws to serve her own people according to their needs is not sovereign.
In the short term, given the mess that is the Conservative Party and the duplicity of the Labour Party, there is little doubt that the Government will get its way – by hook or by crook.
Accepting humiliation once, however, is a sure way of guaranteeing we will suffer more indignities at ever decreasing time intervals until, in the end, our heads bowed, we will be forced to re-join on extraordinarily onerous terms. The French will have it no other way.
By choosing short term expediency instead of solid principles, the Government is telling us that our country no longer matters to it.
If this sounds like an exaggeration, it is worth remembering that beyond the empty rhetoric and the torrent of dishonesties we hear daily lies a graveyard of broken promises and discarded pledges.
The jam is always promised for tomorrow.
Our borders are none existent; Our children are under attack in their schools and in their towns; Our police are no longer concerned about real crimes such as burglaries, assaults, and grooming.
Our Government no longer knows how to govern and is desperate to delegate the arduous task to a non-democratic body beyond our shores …
And a country unable to govern itself cannot long survive …
Sunak, to his very small electorate, promised competence.
From the point of view of a marketing exercise, the Windsor Framework and the deception it carried had a certain panache.
But, what the big print giveth, the small print taketh.
In this case, the small print points to one of the greatest acts of abject surrender to a foreign power we have ever witnessed.
Sunak is ensuring the constant interference of the European Union into our internal affairs.
And, lo, so he has.
On Friday, March 24, Foreign Secretary James Cleverly and European Commission Vice President Maros Sefcovic formally adopted the Windsor Framework:
Guido's post says:
Sefcovic is in London today to formally adopt the agreement, after MPs voted in favour of the Stormont Brake element on Wednesday. The one and only time they'll get to do so…
Speaking just before rubberstamping the deal, Cleverly said:
By formally approving the Windsor Framework, we are delivering on our commitment to provide stability and certainty for Northern Ireland. The Framework is the best deal for Northern Ireland, safeguarding its place in the Union and protecting the Belfast (Good Friday) Agreement. I look forward to further effective cooperation with the EU on key issues, such as security and energy.
DUP leader Sir Jeffrey Donaldson is still vowing not to return to power-sharing in Northern Ireland though…
Good for him and the DUP.
This will end up being as divisive as Brexit, because the other main parties in Stormont are ready to resume power-sharing.
On Wednesday, March 8, I went out for a leisurely lunch.
I thought I could avoid the parliamentary debate, which inevitably becomes party political. As it did … on Thursday afternoon, while I was preparing dinner.
Looking back at Wednesday, Guido Fawkes's Christian Calgie gallantly wished British women a happy day. Pictured are all the British political parties that, at one time or another, have had an elected female leader. All, that is, except for — wait for it — Labour:
Guido's post says (emphases his):
On today's International Women's Day, Guido thought it was time to celebrate the first female leaders of significant political parties in the UK. The timeline of trailblazers is:
Conservative Party,

Margaret Thatcher, 1975

Green Party,

Jean Lambert, 1992

Welsh Nationalists,

Leanne Wood, 2012

Scottish Nationalists,

Nicola Sturgeon, 2014

Democratic Unionist Party,

Arlene Foster, 2015

UKIP,

Diane James, 2016

Liberal Democrats,

Jo Swinson, 2019

[

Labour Party

,

NA, NA]
Unless Sir Keir has a big announcement to make, sadly the Labour Party can't yet properly participate in this list…
Guido and his team reinforced the message about Labour's lack of elected lady leaders:
A Labour group later tweeted about diversity on this day. Look closely at the photos. What do you see?
A cross-dressing career comedian who hopes to be a Labour candidate in the next election is pictured in the second row from the bottom, second photo from the right. His name is Eddie Izzard. This week, he declared that he would like to be known as Suzy.
Labour make themselves out to be the progressive choice. Yet, one of their MPs, Lloyd Russell-Moyle, did a bit of mansplaining to a doctor on the BBC's Politics Live about the importance of using gender-neutral language when describing medical conditions that women have. Recently, he tried to intimidate a female Conservative MP during a debate in the Commons:
The Shadow Health Minister, Labour's Wes Streeting, has form when it comes to names for women:
Perhaps he has since repented. After all, the tweets Guido captured (more here) are well over 10 years old.
Before marking the next general election ballot for Labour, British women might want to imagine themselves in a hospital bed and having Mr Streeting visit their bedside as Secretary of State for Health and Social Care in a few years' time. What would he call them: 'old bag', 'cow' or 'tart'?
Elsewhere, a Conservative MP, Theresa Villiers, appeared on GB News and sent Guido a photo of the channel's gender-neutral loos:
Guido tells us that GB News has nothing to do with the loos. They come with the building:
Chipping Barnet MP Theresa Villiers was on GB News and sent Guido this picture of the gender-neutral toilets at their Paddington studio – she was most disconcerted to find men coming in whilst she was touching-up her make-up. Opining that "This doesn't seem entirely consistent with their apparent enthusiasm for fighting culture wars" …
The private sector seems to be solving the fellas-in-frocks in the same washroom as teenage girls problem with single cubicle washrooms. It is obviously more expensive to build single-person washrooms, the higher costs are less controversial than the alternative. Expect to see more of these in the future…
Returning to Labour, Shadow Chancellor Rachel Reeves gave the Evening Standard an incredible piece of misinformation on Wednesday:
Ms Reeves began her career at the Bank of England, where the court of directors has 13 men and just three women …
"I want it to change," Ms Reeves told the Standard.
"I have worked at some of those institutions. The Bank has never had a female governor. There has never been a woman chancellor in 800 years. I want to see change.
"When I started at the Bank of England my graduate intake was 37 and only six of us women."
Ms Reeves began at the Bank 23 years ago, in the same graduate intake as former Health Secretary Matt Hancock.
She's right, but she's also very wrong. An MP should know better.
I read that article on the train home from lunch yesterday and nearly went ballistic.
Here's why.
Every now and then, a photographer manages to get the part of the door to No. 10 on which there is a brass plate above the doorknob that reads:
FIRST LORD OF THE TREASURY
Perhaps Ms Reeves needs to look at more photos of that famous door.
The First Lord of the Treasury is a title that the Prime Minister holds.
To whom does the Chancellor report? The Prime Minister.
We have had three female First Lords of the Treasury — thanks to the Conservatives. They are Margaret Thatcher, Theresa May and Liz Truss. The inscription is just above the letterbox slot:
That's three more female Party leaders and Prime Ministers than Labour have had.
The UK is doing well as far as women in leadership positions go. Well done, Conservatives.
Just as they did with their exposé of the parliamentary expenses scandal in 2009, The Telegraph's journalists have excelled themselves with their exploration of the Government's handling of coronavirus in The Lockdown Files.
Don't miss my first and second entries, which include reaction from sources elsewhere.
The Telegraph's focus on Friday, March 3, was on policing and quarantining holidaymakers.
Boris's sister speaks
Rachel Johnson, Boris's sister, wrote about how she and their father were tracked down during the pandemic in 'As police pursued my father during Covid lockdown, my lonely mother endured care home prison':
She talks about her brother's handling of the pandemic and her own views (emphases mine):
… I opposed lockdowns on a cellular level. Still do. I have to accept that ultimately schools were closed, the entire population pretty much incarcerated in their own homes, with our sick, vulnerable, frail and elderly people rotting in solitary for months and months on end, and it was all signed off by him.
And I admit that I've been cheered to see that the Hancock cache of WhatsApps – which The Telegraph, via Isabel Oakeshott, has done such a majestic public service in revealing – shows him in his truer colours when it came to all the generally pointless non-pharmaceutical interventions we had to put up with for far too long.
He was much more of a sceptic than a zealot, they show, often bounced into U-turns or Covid-sanitary fascism by being presented with selective fatality graphs and other data dashboards in order that he did what either Hancock or Cummings – gibbering control freaks, both – wanted.
She describes a visit from the police and being spied on by a national newspaper, ending with her mother's loneliness in isolation:
The plight of those in care homes fills me with the most unquenchable rage, even to this day. Many still have visiting restrictions and a Covid mentality. My widowed mother ended up in one, and even from June 2021 residents were isolated in their rooms for 10 days minimum if anyone in the home had tested positive.
Before June, though, my mother lived on her own with a carer. When I called her or Zoomed her, she would whisper: "I'm lonely." It broke my heart.
I continued to see her, even though she was not in my ludicrous "bubble" as she had a carer. I took her Christmas dinner in 2020. It was against the rules and the laws or whatever. In my view, that was immaterial.
Every Covid restriction broke the laws of nature, and nothing and nobody – and I mean nobody – was going to tell me not to see my mother on her last Christmas on Earth.
The price of freedom is eternal vigilance, and I completely support Isabel Oakeshott's bravery in showing us how the sausage of doom was made.
It must never, ever, happen again.
Boris's and Rachel's mother died in 2021.
Most of us in the UK remember the news story from November 2020 about the woman who attempted to take her mother out of a care home only to find that the police swarmed around them in a car park. Her daughter, Leandra Ashton, who filmed the incident, talked about what a painful moment that was for her mother and grandmother. Police arrested her mother and took her grandmother back to the care home. Dr Renee Hoenderkamp, a GP, is the other lady in the interview with GB News's Patrick Christys:
Dr Hoenderkamp shares her experience when she spoke to doctors who did not want to listen to her:
It should be noted that over the course of the pandemic, Dr Hoenderkamp changed her mind about coronavirus measures, e.g. masks. The first tweet is part of a long thread:
How Boris's libertarian instinct disappeared
On Thursday, March 2, we discovered how Boris changed his common sense attitude towards the pandemic in 'Lee Cain and James Slack – the media advisers who helped shape the decisions that changed our lives':
WhatsApp messages sent between Boris Johnson and his ministers show the extent to which media advisers were able to influence policy during the coronavirus pandemic.
In June 2020, for example, the then prime minister considered ending some lockdown restrictions early – but dropped the idea after "Slackie and Lee" said it was "too far ahead of public opinion".
He was referring to James Slack and Lee Cain, his two most important media advisers at the time. Here we take a closer look at the two former journalists who had the prime minister's ear.
The article says that Lee Cain was remarkably powerful in No. 10 in 2020:
Mr Cain's influence within Number 10 was such that when the Prime Minister was in hospital with Covid in April 2020, colleagues said – only half-jokingly – that Mr Cain was left "running the country".
His official role was as the then prime minister's director of communications. However, WhatsApp exchanges have shown that Mr Cain's remit went beyond advising on communications and involved helping to decide the policies themselves …
When Chris Heaton-Harris, then the rail minister, suggested to Mr Johnson in May 2020 that the border with France could be reopened, Mr Cain intervened.
He wrote: "Quarantine surely an essential part of any exit strategy – and opening up a flank to an entire continent would seem to leave a substantial hole. Public will think (rightly) we are potty. Overwhelming support for tougher action at our borders!!"
It was Cain who suggested kowtowing to Nicola Sturgeon on masks. He planted doubt in Boris's mind, saying that she might be right:
In Aug 2020, when Mr Johnson asked ministers and officials for their views on whether face masks were necessary in schools, Mr Cain told him: "Considering Scotland has just confirmed it will [impose them] I find it hard to believe we will hold the line. At a minimum I would give yourself flex and not commit to ruling it out …
"Also why do we want to have the fight on not having masks in certain school settings?"
His pivotal role in government raised eyebrows among some former colleagues who had not seen him as a high-flyer in his previous jobs.
Sturgeon's mask policy — later Boris's — came up Thursday night on GB News with Patrick Christys, Neil Oliver and Prof. David Paton lamenting how much damage it did to children:
The article says that Cain had previously worked for The Sun and The Mirror before going into public relations. He began working on the Vote Leave (Brexit) campaign in 2016, which brought him into contact with Dominic Cummings. Interestingly, he had previously applied to be part of the Britain Stronger in Europe campaign but lost out. He claimed he was primarily interested in a political career.
After the successful Brexit referendum result, Cain worked for Andrea Leadsom MP then for Boris when he was Foreign Secretary. Even after Boris resigned that post in the summer of 2018, Cain remained loyal, working for Boris without remuneration. He was confident great things were in store for him.
Ultimately, he ran afoul of Mrs Johnson and set up his own PR firm:
He left Downing Street, together with Mr Cummings, in Nov 2020 after losing what was widely regarded as a power struggle with Mr Johnson's wife, Carrie. He later set up his own corporate communications firm.
James 'Slackie' Slack was the third member of the trio who advised Boris on policy:
Along with Mr Cain and Mr Cummings, he was never far from the prime minister's side and his input helped to shape key decisions dictating people's freedoms.
Like the prime minister himself, Mr Slack had no background in science, behavioural psychology or even public relations – but Mr Johnson would rarely make a move without first consulting "Slackey", "Caino" and "Dom".
… It was he who updated the waiting world on Mr Johnson's condition as he fought for his life in intensive care.
Along with Mr Cain, he helped to shape lockdown policy by expressing concern that lifting restrictions too soon would be too far ahead of public opinion.
In a similar vein, he told ministers and advisers on March 8 2020 that the newly-imposed first national lockdown was out of kilter with public opinion.
He wrote that: "I think we're heading towards general pressure over why our measures are relatively light touch compared to other countries. Also why we aren't isolating/screening people coming back from Italy. We'll need to explain very calmly that we're doing what actually works."
The Telegraph has screenshots of various WhatsApp messages discussing coronavirus measures.
Slack entered the Downing Street orbit in 2016 when he was the political editor of the Daily Mail. Theresa May had just become Prime Minister and hired him in February 2017 to be her official spokesman in order to improve her public image.
After May's departure, Boris retained Slack:
regarding him as a safe, trustworthy pair of hands. Mrs May rewarded him for his loyal service to her with a CBE in her resignation honours list.
Slack got on well with reporters, which was another plus, then:
He briefly succeeded Mr Cain as No 10 director of communications – a political role, rather than a Civil Service posting – at the start of 2021.
His time in Downing Street ended soon afterwards:
Mr Slack's Downing Street career came to an unexpectedly shameful end, when The Telegraph revealed he held his leaving party in April 2021 on the eve of the late the Duke of Edinburgh's funeral.
Mr Slack, who had moved back into journalism as deputy editor of The Sun, issued a public apology for his behaviour.
Laughing at quarantined holidaymakers
Another pivotal personality in the pandemic was Simon Case, a career civil servant who worked for then-Prime Ministers David Cameron and Theresa May before taking a break to be Prince William's Private Secretary between 2018 and 2020.
As I recall, Prince William highly recommended Case to Boris Johnson. In August 2020, Boris appointed Simon Case as Cabinet Secretary and Head of the Home Civil Service. Case continues in that post today under Rishi Sunak.
In the UK, civil servants have long been called 'mandarins', which explains this story, 'Top mandarin mocked holidaymakers "locked up" in Covid quarantine hotel rooms'. It, too, has several screenshots of WhatsApp conversations.
The article begins:
Those unlucky enough to be caught up in Britain's pandemic-era quarantine hotel policy likened it to being held prisoner.
Messages seen by The Telegraph show that ministers and officials shared the sentiment and joked about passengers being "locked up" in "shoe box" rooms.
In February 2021, Simon Case, the country's most senior civil servant, was in WhatsApp contact with Matt Hancock, the then health secretary, as Britain began a forced quarantine for returning holidaymakers.
On February 16, 2021, Case asked Hancock how many people had been 'locked up' in hotels the day before. Hancock responded:
None. But 149 chose to enter the country and are now in Quarantine Hotels due to their own free will!
To which Case replied:
Hilarious
The Telegraph shared experiences from those quarantined:
Those on the receiving end of the quarantine policy described the misery of being held captive in tiny hotel rooms.
"It feels like I'm in Guantanamo Bay," one woman who was forced to spend 10 days in a government-approved hotel told The Telegraph at the time. "I honestly believe this would destroy most people's sanity."
Another furious traveller said: "It's total abuse. It has abused basically every single human right that we have."
In January 2021, Matt Hancock had convinced Boris as well as Case and other senior officials that toughening up travel rules with £10,000 fines was the way to go:
Mr Hancock said it was "BRILLIANT" when he saw reports of people being stopped by police at airports, while Boris Johnson, the prime minister, said news of a traveller being fined £10,000 for breaking quarantine rules was "superb".
The enforcement of the quarantine rules, including severe punishments for those who broke them, became a major priority for Mr Hancock in the next weeks …
The next month, Mr Hancock shared a story with Mr Johnson directly about two people who were fined £10,000 for failing to quarantine after returning to the UK from Dubai.
Officials had scrambled to put the quarantine policy together amid rising concern in the Government about positive cases slipping into Britain from "red list" countries.
Mr Hancock and Mr Case expressed concern that no single government department had control of the border, describing the situation as "mad" and something the prime minister needed to fix.
Later, doubt arose as to whether the quarantine policy actually worked:
The hotel quarantine policy itself has since been criticised in reports by two parliamentary committees, which said it wasted taxpayers' money without restricting the spread of Covid.
In a report last April [2022], the transport select committee that "using case numbers as an indicator, there is no evidence that the requirement for travellers from certain countries to quarantine at a hotel, rather than at a location of their choice, has improved the UK's coronavirus situation compared with other European countries".
In a submission to the public accounts committee, the Cabinet Office said the Government was unable to determine how successful the quarantine policy had been because "it is difficult to isolate the effects of one of a number of interventions from the other ones".
The committee concluded that the Government "does not know whether it achieved value for money from the £486 million that it spent implementing measures".
One tour operator tweeted his disgust at Case's and Hancock's cavalier response to quarantined passengers, which affected his own business and others:
Hancock encouraged heavy-handed policing
We knew from the beginning that Matt Hancock wanted police to get tough with normal people trying to survive the pandemic in 2020, but another article has more detail, '"Get heavy with police" to enforce lockdown, Matt Hancock told ministers'.
Here, too, Simon Case had some involvement. On August 28, 2020, he WhatsApped Hancock:
Blimey! Who is actually delivering enforcement?
Hancock replied:
I think we are going to have to get heavy with the police
The article explains:
The leaked messages also show that the pair again returned to their fears that police were failing to crack down on alleged lockdown breaches.
However, the police were heavy-handed from the beginning of lockdown in March 2020, with each police force in England deciding how far to go with fines and arrests:
Heavy-handed policing was one of the most controversial issues of the pandemic and saw members of the public fined for going for a walk with a cup of coffee, leaving home "without a lawful reason" and taking part in vigils and protests.
Many of the 118,000 fines were challenged in court and overturned, and officers were later criticised for "Orwellian" tactics that included the use of drones, roadblocks and helicopters to catch rule-breakers.
Meanwhile, in Downing Street, things were very different late in December 2020:
The Telegraph can reveal that Mr Johnson took the decision to create a Tier 4 alert level, effectively cancelling Christmas for 16 million people, while a lockdown party was taking place in the same building.
Timestamps on messages from Mr Case and Mr Hancock, who attended the meeting remotely, show that the "Covid-O" meeting to decide the policy coincided with a Number 10 Christmas party on Dec 18, 2020.
Fines subsequently reviewed
I was very happy to read on Thursday that all the fines issued at the height of the pandemic have since been reviewed, with many rescinded.
'How Covid turned Britain into a curtain-twitcher's paradise' tells us more:
Blameless citizens complained that a family get-together would merit a knock at the door from police, but that they showed no such interest if a burglary was reported.
By March 2022, police forces in England and Wales had issued 118,978 fixed penalty notices for breaches of Covid restrictions.
Fines were issued for uncovered mouths and noses in public places, for failing to self-isolate, for meeting too many friends at once, for having a picnic, for going home after entering the country, and much else besides.
Coronavirus regulations changed more than 60 times over the course of the pandemic, meaning many officers struggled to keep up with the latest iteration of the rules and fines were issued unlawfully.
At the time, senior police officers were understood to be concerned about what they were being asked to do. Having spent years building up trust with communities that were in some cases suspicious of the police, they privately expressed fears that long-term damage would be done to their ability to police by consent.
Early on in the pandemic, Derbyshire Police, which turned out to be one of the most draconian forces of the period, set the tone by pouring black dye into a Peak District beauty spot known as the Blue Lagoon to discourage people from going there for exercise.
The same force deployed drones to spy on people exercising away from their local area, and two women drinking coffee while on a walk together were fined £200 each after their hot drinks were deemed to be "a picnic".
Their fines were later withdrawn and they received an apology – but the damage was done as far as public opinion was concerned.
A report by HM Inspector of Constabulary in 2021 accepted that there had been "a reduced service" in some areas of policing as "some forces increased the number of crimes they decided not to investigate because they were unlikely to be solved" and reduced in-person visits to registered sex offenders …
The low point came in March 2021 during an open air vigil for Sarah Everard, the marketing executive who was abducted and murdered by an off-duty police officer, at which four people were arrested for breaching Covid regulations.
A High Court judge later found that police had breached the human rights of the organisers of the vigil, in particular the right to freedom of speech and assembly …
The House of Commons joint committee on human rights concluded that a "significant number" of fines had been wrongly issued, but that many people felt too intimidated to challenge them.
MPs were so concerned about the heavy-handed approach of some police forces, and the wildly differing interpretations of the rules across different forces, that the committee recommended a review of every fine issued.
It discovered that when people who had been issued with fixed penalty notices opted to take the matter to court, rather than simply paying the fine uncontested, the Crown Prosecution Service (CPS) found that around a quarter of the charges were incorrect.
Even more extraordinary was the CPS's disclosure, in 2021, that every prosecution brought under the Coronavirus Act had been unlawful.
The Act was set up to allow the authorities to detain any "potentially infectious" person who refused to take a Covid test, and a CPS review found that all 270 charges under the legislation had been withdrawn when they got to court, or overturned after innocent people were convicted.
However, the fine mentality has affected policing long-term:
There is evidence that this push for ever-greater numbers of fines for petty offences has permanently affected the police's mentality.
Chief Superintendent Simon Ovens, of the Metropolitan Police's Roads and Transport Policing Command, told a meeting of the London Assembly last year that Transport for London was targeting one million speeding prosecutions in the capital each year, compared with the 130,000 issued from fixed speed cameras in 2018.
Rather than targeting road safety and fewer deaths and injuries on the roads, the police were targeting enforcement – a reversal of the Peelian principle that success should be measured in a lack of crime, not an increase in arrests.
Lockdown — and Covid fines — also adversely affected courts:
Already facing an inevitable backlog of cases because of the closure of public buildings, courts found themselves dealing with the extra caseload generated by Covid fines when they reopened after lockdown.
In November last year, Max Hill, the director of public prosecutions for England and Wales, disclosed that almost 75,000 defendants were awaiting trial, up from 70,200 in August 2020, meaning the post-Covid backlog of cases has increased rather than being gradually reduced.
The Government's target is to reduce the waiting list to 53,000 cases by March 2025, which may seem unambitious – but even that target is in danger because of a squeeze on public spending, said Mr Hill …
Clare Waxman, the Victims' Commissioner for London, said the courts system was "still in crisis" and the delays were having a "devastating" effect on victims.
Former police chief objects to Government policy
During parliamentary debates on lockdown policing, the topic of enforcement arose occasionally. MPs who spoke up said that the police were often confused about what and when to enforce something related to the pandemic. Furthermore, were these actually laws or mere guidance?
On Friday, March 3, The Telegraph published an article on this subject, 'Former police chief rejects Matt Hancock's Covid "marching orders" in leaked WhatsApp texts':
After a meeting on Jan 10, 2021, shortly after another lockdown had begun, Mr Hancock wrote to Mr Case about a meeting in Downing Street with senior police officers on enforcement, with the message finishing by saying: "The plod got their marching orders."
Reacting to the latest exposé on Friday morning, Sir Peter Fahy, the chief constable of Greater Manchester Police between 2008 and 2015, said: "Lots of people in the police service won't be surprised at the tone of these remarks.
"They were faced with an unprecedented situation, this legislation was rushed out, it was confused, it had poor definitions in it, there was this constant confusion between what was legislation and what was guidance; often it seemed ministers themselves didn't understand the impact of the legislation."
Sir Peter suggested he would not have rolled over had he been called into Number 10 and told to get tough.
"No, the conversation would be 'sorry the legislation is not clear enough, the definitions are not clear enough, we're trying to do our best but you've not given us the powers to enforce the legislation'… I know those were the messages going back into Government as police were trying to do their best," he told BBC Radio 4's Today programme.
But the former officer of 34 years said "police were stuck in the middle" as some members of the public wanted stronger enforcement while others "felt it was turning into a police state".
Police forces were repeatedly criticised for being over-zealous during the Covid crisis, prompting Neil Basu, then the Met Police assistant commissioner, to warn in this newspaper at the time that "how we police this pandemic will be remembered for many years to come".
Nigel Farage targeted
In 'Can we lock up "pub hooligan" Nigel Farage, asked Hancock's team', we discover how they relented:
Matt Hancock's team asked if they could "lock up" Nigel Farage after he tweeted a video of himself at a pub in Kent, WhatsApp messages have revealed.
On July 4, 2020, the leader of the Brexit Party shared a video of himself drinking his "first proper pint in 103 days" at The Queens Head pub in Downe Village.
A fortnight earlier, Mr Farage had been filmed attending a Donald Trump rally in Tulsa, Oklahoma. At the time, anyone entering England from abroad was required to quarantine at home for 14 days or face a fine of at least £1,000.
Messages seen by The Telegraph have revealed that Mr Hancock asked his team to contact the Home Office to see whether they were "considering" pursuing Mr Farage for the apparent breach.
At 4.28pm that day, Mr Hancock messaged the "MH top team" WhatsApp group with a link to a Sky News report claiming Mr Farage had breached quarantine rules. "We need to discuss urgently", he said.
The group chat, which included his special advisers and senior officials, quickly sprang into action.
Jamie Njoku-Goodwin, at this time one of Mr Hancock's aides, replied: "Does he count as a pub hooligan? Can we lock him up?"
A senior civil servant also responded to ask whether he "needed anything" and suggested that this might be a matter for Priti Patel, then home secretary.
The police are operationally independent of the Home Office. Despite this, Mr Hancock instructed his team to contact Ms Patel's private office …
Three minutes later, Mr Njoku-Goodwin responded to say that he had "just spoken to HO [Home Office] spads". He said: "Sounds like we need to get PHE to do one of their 'spot checks' and prove that he isn't at home."
Mr Hancock then requested that Mr Farage's case was dealt with "like any other" and that any enforcement action was taken by the Home Office, not the Department of Health.
At the time, Mr Farage insisted he had not broken the rules because he had already completed the 14-day isolation period and tested negative, tweeting a photo of him in a pub with the caption: "Sorry to disappoint you. Cheers!"
But the former Ukip leader told The Telegraph on Thursday that he believes he was in fact in breach, saying: "If I was being honest with you, after the first set of lockdowns I wasn't really prepared for some little pipsqueak like Matt Hancock to tell me how to live my life, quite frankly.
"That photo was taken when I came back from America, on the day the pubs opened. It was pretty nip and tuck … which means I probably was in breach. I'm probably a Covidiot."
Mr Farage said he had three visits from the police during the pandemic. "The idea that headmaster Hancock was after me – I love it," he said.
Farage opened his March 2 GB News show with the story:
Piers Morgan another Government obsession
According to Isabel Oakeshott, to whom Hancock turned over 100,000 WhatsApp messages in compiling his Pandemic Diaries, Piers Morgan was another Government obsession, which I find strange as he was pro-lockdown, pro-masks and pro-vaccines at the beginning. Apparently, he changed his mind partway through:
Contrarian Prof Carl Heneghan speaks
Oxford physician and researcher Prof Carl Heneghan, a Covid contrarian, has been one of my heroes throughout the pandemic.
He wrote an article for The Telegraph's Lockdown Files about his experience with Downing Street in late 2020, 'I warned that second lockdown data was wrong — but I was ignored':
It was a Saturday morning when I was asked if I could Zoom into Downing Street for 1 pm.
I was in the midst of a morning shift in urgent care – having just walked out of a care home with a seriously unwell patient, I was a little flustered, to put it mildly.
My role has never been to make the decisions, but to ensure that the decisions are based on the best available evidence. In this case, though, it was vital that decisions affecting the whole of society were made on accurate information.
I work with a great team, who forensically look at the data and notice details that most overlook. We met daily, and it had become clear that the slides leaked to the BBC on estimated Covid deaths and that would later be presented at the government press conference were out of date and the reported deaths were way too high.
I spent Saturday informing advisers that there needed to be a better understanding at the heart of the Government.
While several others on that call were also trying to aid the understanding of the data, the message was clear – the Government was about to lock down again, based on the wrong information.
I couldn't help but think that the public won't forgive you when they find out they are being fed a narrative of fear based on untruths.
But nothing changed. By Saturday night, the Downing Street press conference went ahead. "Unless we act, we could see deaths in this country running at several thousand a day," said the PM. The second lockdown was announced that evening.
Heneghan contacted the health editor of The Telegraph who published an article shortly after the second lockdown was announced.
Heneghan also got in touch with Dr Raghib Ali, a new Covid Government adviser at the time:
He organised a second call with Downing Street late on Sunday.
The Lockdown Files reveal that the Prime Minister told his WhatsApp group that I'd said "the death modelling you have been shown is already very wrong", as it was out of date, having been drawn up three weeks previously.
However, it did not make a blind bit of difference:
By Nov 6,  Downing Street insisted the incorrect death toll data was "a mistake". The error in the graphs made the numbers too high, but by then it was too late to change course. The second lockdown had already begun. 
How terrible when a government cannot admit the greater mistake of lockdown.
Hancock still aggrieved by The Lockdown Files
Matt Hancock says he still feels betrayed by his former book collaborator, Isabel Oakeshott.
Since The Lockdown Files have appeared, someone posted this 2022 tweet of his wherein he says that even when data bring challenges, the final outcome is always better with them than without: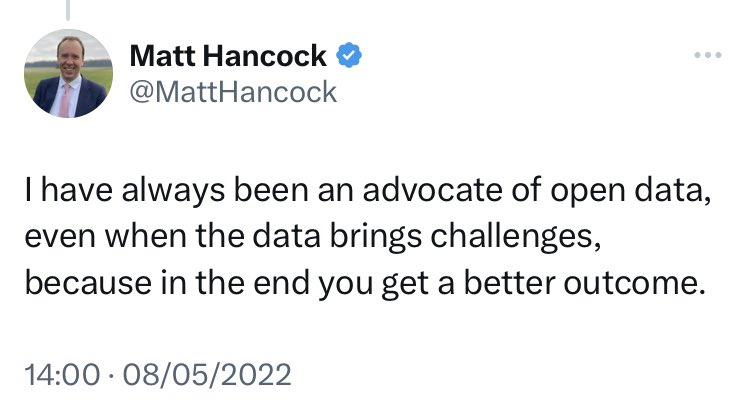 That's something he should keep in mind now, rather than licking his wounds.
On Thursday, Oakeshott told Hancock, via Julia Hartley-Brewer's TalkTV show, that this story is much bigger than he. It's about an entire nation's suffering:
Hartley-Brewer tweeted about Hancock and betrayal. She received an apposite response:
On Thursday afternoon, Oakeshott issued a formal statement on the betrayal issue, which is well worth reading:
Much in our nation could well take decades, if ever, to recover from — in my words — Hancock's disastrous and dictatorial policies.
However, GB News's Patrick Christys said that 'failings extended much further beyond Matt Hancock':
On Thursday, author Lionel Shriver told Jacob Rees-Mogg how sorry she feels for the many children adversely affected by lockdown. It was World Book Day. As such, many schoolchildren dressed up as their favourite literary characters:
The left hand WhatsApp exchange below shows what a farce it was to lock down an entire nation. The mortality rates were quite low overall. When the elderly died, most of them were well into their 80s. People under 35 rarely died. As for Edwina Currie, she single-handedly tanked Britain's egg market in the late 1980s with her salmonella scare:
No doubt, many of us could rail on and on about this. I have done over the past three years.
On the other hand, no words can express the betrayal we — and those in many other Western countries — experienced from elected representatives who are notionally our public servants.
More to follow next week.
Yesterday's post discussed the first release of The Telegraph's Lockdown Files articles.
This was The Telegraph's front page on Wednesday, March 1, 2023:
The fallout was huge, as we can see from Metro's front page on Thursday, March 2:
Parliamentary debate
I left off yesterday mentioning the Urgent Question (UQ) in the House of Commons from Labour's Liz Kendall about The Lockdown Files.
Lightweight Helen Whately, whom Hancock often lumbered with ministerial responsibility for questions he should have been answering during the pandemic, represented the Government. She was Hancock's Social Care Minister, which she resumed under Rishi Sunak's premiership.
The Telegraph's Madeline Grant wrote an excellent parliamentary sketch of the UQ debate. Excerpts follow, emphases mine:
Given the subject matter, Kendall might have at least concealed her glee a teensy bit … "And above all", she said, glowering across the despatch box, "we need answers". There was just one problem – the man in question was nowhere to be seen.
Instead, carrying the can was Whately, who professed herself "shocked and disappointed" by Kendall's tone …
Whately stuck to the same talking points, delivered in a tone of reedy indecision; speaking of the "practicalities of implementation" and arguing again and again that the official Covid inquiry would prove a better forum for a "reasoned" discussion. Frazzled, waif-like, the Social Care Minister resembled a Victorian mudlark …
Soon the heckling began. "People died… unnecessarily!", "You were warned at the time!" screeched Wes Streeting [Labour].
A few Tory backbenchers hit back. The Rt Hon Sir Oliver Heald KC complained of "trial by media and party politics". (In Westminster? Sacre bleu!)
"Shameless politicking," cried Dr Kieran Mullan of Crewe and Nantwich. Mullan demanded an apology from every Labour MP who'd accused Britain of having the worst death toll in Europe. He had a point – the opposition had flitted from years of clamouring for lockdown to launching a fleet of Captain Hindsights in very short order. At the same time, complaining about "politicking" in the Commons was a bit "no fighting in the war room".
I wondered if, at some point, Helen Whately might crack, and begin a well-deserved rant: "I hate Matt Hancock! Why am I up here defending him? He ignored my care home warnings and scuttled off to do I'm A Celebrity, but not before handing over all his incriminating messages to a journalist!" Instead, she simply reminded the House once again of the importance of waiting for the public inquiry.
Who knows how long the public inquiry will take? We could experience more pandemics by the time it's over.
GB News's Tom Harwood says there is no end date:
Hancock lashes out at Isabel Oakeshott
Many of us are eternally grateful to Isabel Oakeshott, co-author of Matt Hancock's Pandemic Diaries, who released 100,000 WhatsApp messages to The Telegraph.
Hancock is decidedly less so.
Oakeshott's column for Thursday's edition was 'Matt Hancock can threaten me all he wants, our nation's children must never suffer this way again', which opened with this:
Of all the travesties and tragedies of the pandemic, the treatment of children is arguably the most egregious. Almost three years after the blind panic over the virus triggered the first ill-fated decision to shut schools, the casualness with which a generation of little ones were sacrificed so that politicians could continue to insist they were doing everything possible to "save lives" should still exercise every one of us. More than anything else, it is the appalling disregard for the wellbeing of young people – which should have been paramount– that has driven me to release these WhatsApp messages: even in the face of a threatening message from Mr Hancock at 1.20am on Wednesday – hours after the Telegraph published.
A Telegraph article about her appeared that day, 'Isabel Oakeshott defends WhatsApp leak: "Anyone who thinks I did this for money must be utterly insane"'.
She appeared on BBC Radio 4's Today programme to answer questions from presenter Nick Robinson.
She told Robinson she was not going to get into a public spat with Hancock:
"Do you know what I'm not going to do, because it wouldn't be pretty, is get involved in a slanging match with Matt Hancock.
"He can threaten me all he likes. There are plenty of things I can say about his behaviour, by the way, that I'm not going to do – at least not at this stage – because this is not about Matt Hancock. It is so much bigger than that."
Pressed on the claim, which Mr Hancock denies, that he sent a threatening or menacing message to her, Ms Oakeshott declined to withdraw the claim.
"I'm saying that he sent me a message at 1.20am in the morning. It wasn't a pleasant message."
Hancock, as usual, had much more to say:
Matt Hancock has said he is "hugely disappointed" by what he said was a "massive betrayal and breach of trust by Isabel Oakeshott".
In a statement, Matt Hancock added: "There is absolutely no public interest case for this huge breach. All the materials for the book have already been made available to the Inquiry, which is the right, and only, place for everything to be considered properly and the right lessons to be learned.
"As we have seen, releasing them in this way gives a partial, biased account to suit an anti-lockdown agenda."
"Isabel and I had worked closely together for more than a year on my book, based on legal confidentiality and a process approved by the Cabinet Office. Isabel repeatedly reiterated the importance of trust throughout, and then broke that trust."
Mr Hancock continued: "Last night, I was accused of sending menacing messages to Isabel. This is also wrong. When I heard confused rumours of a publication late on Tuesday night, I called and messaged Isabel to ask her if she had 'any clues' about it, and got no response.
"When I then saw what she'd done, I messaged to say it was 'a big mistake'. Nothing more.
"I will not be commenting further on any other stories or false allegations that Isabel will make. I will respond to the substance in the appropriate place, at the inquiry, so that we can properly learn all the lessons based on a full and objective understanding of what happened in the pandemic, and why."
Oakeshott's interview on Radio 4 clears up two other issues of speculation on Wednesday — payment from The Telegraph and breaking a non-disclosure agreement:
Ms Oakeshott denied any suggestion she was paid by The Telegraph for the messages …
"They did not pay me for the messages, I've been helping the Daily Telegraph with the investigation, you'll see that I've been writing stories for the Daily Telegraph" …
"You broke a written legal agreement, a non-disclosure agreement," Mr Robinson said.
Ms Oakeshott said it was a matter of "public record" that she had signed an NDA, and that the "public interest is far more important".
She is not wrong.
The inquiry is supposed to start this month — March 2023 — but there is no indication as to when.
Hancock determined to close schools
Thursday's articles from The Lockdown Files concerned education:
Gavin Williamson, former Conservative Chief Whip, was the Education Secretary at the time.
Although there is clear water between him and Hancock right now, they did agree at the time on one thing — teachers' unions.
'Teachers looking for "excuse" not to work during pandemic, said Gavin Williamson' says:
Sir Gavin Williamson criticised both school staff and unions for their response to coronavirus, saying that the latter "really do just hate work".
Sir Gavin made the comments in a discussion with Matt Hancock as school staff prepared for the re-opening of classes in May 2020.
Surely 'October 2020' (see below):
By this point, schools had been effectively shut for two months with only vulnerable children and those whose parents were key workers allowed to attend in person. Ministers and teachers were planning for lessons to begin returning in June.
At the time there was a shortage of personal protective equipment and Sir Gavin said he had originally been told by officials that they could get this through the local resilience forums, composed of representatives from local public services, including the emergency services, and local authorities, but that the Department of Health had backtracked.
He contacted Mr Hancock to ask him to help unblock the request as it "will be very small demand as most schools will already have it and it is only aimed at the situation if a child is clearly ill".
Mr Hancock agreed to help, noting that it was a "tiny amount" and it would only be needed when there were "no alternatives" …
The National Education Union (NEU) was a vocal critic of the Government's handling of schools and had attacked ministers for a string of U-turns …
By the autumn, unions had made a number of demands including additional teachers, smaller classes and better access to tests for staff and students. Some were calling for exams to be cancelled for the second year running.
On the evening of Oct 1, the Telegraph released a front page confirming that Sir Gavin was planning to delay A-level exams for a few weeks.
At almost 10pm Mr Hancock got in touch with his Cabinet colleague, writing: "Cracking announcement today. What a bunch of absolute arses the teaching unions are"
Sir Gavin responded: "I know they really really do just hate work" …
Of course, in Parliament and to the media, Government ministers and Boris Johnson praised teachers.
However, Hancock had to prevail over his peers heading other departments, including Education.
'Matt Hancock staged "rearguard" action to close schools' tells us:
Matt Hancock mounted a "rearguard action" to close schools despite Sir Gavin Williamson battling "tooth and nail" to keep classrooms open, leaked WhatsApp messages reveal.
Exchanges seen by The Telegraph reveal that the then health secretary battled the education secretary in late December 2020 and suggested it was "mad" that Sir Gavin was attempting to keep schools open.
Mr Hancock initially lost a Cabinet argument during which he tried to persuade the Prime Minister to close schools ahead of their return in January 2021.
After Boris Johnson sided with Sir Gavin, Mr Hancock told an aide: "The next U-turn is born" and added: "I want to find a way, Gavin having won the day, of actually preventing a policy car crash when the kids spread the disease in January. And for that we must now fight a rearguard action."
Messages show that Mr Hancock immediately contacted Dan Rosenfield, Mr Johnson's chief of staff, and began an attempt to have schools closed before children returned. He then provided his private email address.
As the planned reopening became increasingly chaotic over the following week, with U-turns on dates and testing requirements for secondary schools, Mr Hancock and his team said Sir Gavin was having to eat "humble pie".
On Jan 4, after many younger children had returned to classes for a single day, Mr Johnson announced that schools would close and exams would be cancelled amid a national lockdown. After the closures on Jan 4, schools did not reopen until March 8, depriving nine million children of another two months of education …
December 2020 ramped up the tension between Hancock and Williamson:
Despite ministers including Matt Hancock saying that they were doing all they could to keep schools open, behind the scenes the then health secretary was running a "rearguard action" to keep pupils at home. WhatsApp messages reveal that while he was offering to help Sir Gavin to his face, behind his back Mr Hancock and his advisers were mocking him for "freaking out" and joking that he was having to eat "humble pie".
The article includes several WhatsApp screenshots.
Interestingly, there is no trace of Hancock's exchanges with Dan Rosenfield, at least for now:
His conversations with Mr Rosenfield do not appear in the conversations that have been leaked to the Telegraph. Mr Hancock instead provided his personal email address after the PM's chief of staff agreed to discuss the issue with him.
It is unclear whether conversations on private email will be handed over to the forthcoming Covid inquiry, although Hugo Keith KC, the chief counsel for the inquiry,  said on Wednesday that witnesses have been encouraged to disclose "any informal or private communications".  
Tens of thousands of children in the UK never returned to schools once they reopened. They are known as 'ghost children'. No one knows what happened to them:
The Lockdown Files show that Mr Hancock's push to shut schools was just one of a number of repeated instances where the interests of children were apparently disregarded in favour of restrictions. Many of the measures went against the counsel of scientific advisers.
The decisions made around children's education were among the most controversial of the pandemic. Studies have shown that keeping children away from the classroom led to a rise in mental health problems and a decline in development. Some children lost more than 100 days of schooling because of closures alone.  
The Telegraph allowed Gavin Williamson to have his say, 'Maybe I should have resigned when my plea to put children first was ignored'. I'm not fond of the man, but I do have empathy for him here:
What was most upsetting about closing down schools for a second time in January 2021 was that I felt it wasn't done for the right reasons.
When the first lockdown happened, no one really knew what Covid was. It was such a new disease and the prevailing medical advice was that schools should close, so we obeyed it. There didn't seem to be any choice about that at all. We had taken the view that we should follow the science.  
But data from November 2020 told us that only 0.1 per cent were absent from school due to confirmed cases of coronavirus. So in my mind, the evidence pointed to keeping schools open.
Despite the fact we'd dispatched close to a million laptops, it was children from disadvantaged backgrounds that would be impacted most significantly if schools closed again. That's what I worried most about.  
I totally understood the need to protect the NHS but I also felt it was right to do everything we could to protect the futures of our young people.
The weekend before schools were due to go back after the Christmas holidays, we were being told it was absolutely okay for schools to return. That morning, you had Boris saying schools must stay open – only for that advice to completely change in a four hour period. By lunchtime, he was having to say that schools must close. 
The data that they'd received over the weekend indicated a surge, and suddenly the Government was having to perform a U-turn. It was absolutely crushing. It was one of the worst moments of the entire pandemic.
You understand you're the one who has to carry the can for it, but it is devastating to be put in that position.
Looking back now, I wonder whether I should have resigned at that point. I certainly thought long and deeply over whether I should have gone then. I just felt so personally upset about it. Ultimately, if the medical experts were saying that's what needed to be done then you're torn even if – in your heart of hearts – you know the best place for children was in school.
I've always been a team player, but you often found that different departments had different priorities and you sometimes felt that what was said one day was very rapidly changing the next day.
… I felt the situation in January was different to that earlier on in the previous year, and I felt that the prioritisation of children should mean protecting their right to go to school.  
… I will never stop believing that arguing for schools to stay open in January 2021 was the right thing to do.
At all stages of the pandemic, we saw teachers, teaching assistants and support staff doing so much, caring for children, putting them first. Amazing work was being done in schools up and down the country.
I think all those who are passionate about education knew that children were best in the classroom – and I stand by this argument, as I hope others do too.
GB News panellists react
Dan Wootton is on a fortnight's holiday with his relatives.
Patrick Christys was guest host on Wednesday, and, as ever, was a triumph.
The full video is here:
Highlights follow, beginning with Christys's opening editorial, accompanied by an article in the second tweet:
The channel's detractors say that GB News promoted the Government line during the pandemic. GB News did not start broadcasting until the June 13, 2021. Furthermore, it has always had an abundance of Covid sceptics, then and now. Tonia Buxton was and is one of them:
A columnist from Conservative Home said that Hancock should not face a criminal investigation and advised us to wait for the results of the inquiry. Christys and the two panellists, one representing care home patients and the other schoolchildren, disagreed with him:
Barrister Francis Hoar, another Covid sceptic, appeared later to say that the Government failed 'to protect the most vulnerable':
A member of the public, Tony Stowell, whose mother died in a care home during the pandemic, described his creepy encounter with Matt Hancock. Chilling:
At the end of the show, Laura Dodsworth, yet another Covid sceptic, was named Greatest Briton for that day and Matt Hancock the Union Jackass:
Well worth watching.
Why The Lockdown Files are crucial
Everyone has been commenting on The Lockdown Files, and rightly so.
The paper has a round-up of media personalities from both sides of the political spectrum giving their opinion, 'Famous names react to The Telegraph's Lockdown Files revelations'. All are positive.
Their columnist Allister Heath explained the importance of the revelations in 'Untruth after untruth was peddled to justify the great lockdown disaster':
Let's face it: Whitehall has learned almost nothing from the fiasco of 2020-22. There has been no proper cost-benefit analysis of lockdown. We haven't engaged in a genuine inquest, our institutions haven't been reformed, and the official inquiry will take too long and risks being captured by an establishment desperate to defend its legacy. Sir Keir Starmer, favourite to be our next prime minister, was at one with the Government and Matt Hancock on lockdowns – his only criticism was that he wanted more of the same, faster.
This is why The Telegraph's Lockdown Files are so important, and so clearly in the public interest. Given officialdom's glacial progress, the free press has a duty to release information, accelerate debate and hold power to account.
One question in particular that should trouble all of us is why so many of the claims made during the pandemic turned out not to be true …
Or take the origins of the virus. Those who sought to explore whether it might have originated in a Chinese laboratory in Wuhan were demonised, ridiculed or cancelled. Now, the director of the FBI has concluded that this is the most likely explanation. This begs a crucial question: would we have followed China's methods – lockdown and extreme social control – had we imagined the Beijing authorities were covering up a Chernobyl-style disaster? Might we not have gone for a more voluntarist, Swedish style approach? Where are the profuse apologies from all those who tarred supporters of the lab leak hypothesis as "racist", "Trumpites" or "conspiracy theorists"? …
Covid saw endless politicians, bureaucrats, public health officials, scientists, professional journal editors, Twitter activists, Left-wing broadcasters and especially big tech firms transmogrify into authoritarian censors. They thought that "following the science" meant that their role was to amplify whatever the public health establishment's most risk-averse current consensus was, rather than to pursue the truth independently. They convinced themselves that dissidents were heartless, paranoid freaks. They went on a terrifying power and ego trip.
The lesson is clear. Even in a crisis, free speech and open inquiry must be nurtured: elite groupthink is too often wrong, and must at all times be scrutinised. Long live the free press.
I could not agree more.
The official inquiry will find The Telegraph's revelations difficult to ignore. Heads should roll — in time. I would also like to see prison sentences dished out to the greatest offenders.
Mark Steyn's British fans have been lamenting his departure from GB News a few weeks ago.
However, we have reason to celebrate, because his replacement, Conservative MP Jacob Rees-Mogg, had a splendid debut with his State of the Nation show on Monday, February 27, 2023. Rees-Mogg has somewhat of a cult following among British conservatives. :
He has represented North East Somerset since 2010 and regularly walks about his constituency, both town and country, at the weekends to find out what's on voters' minds: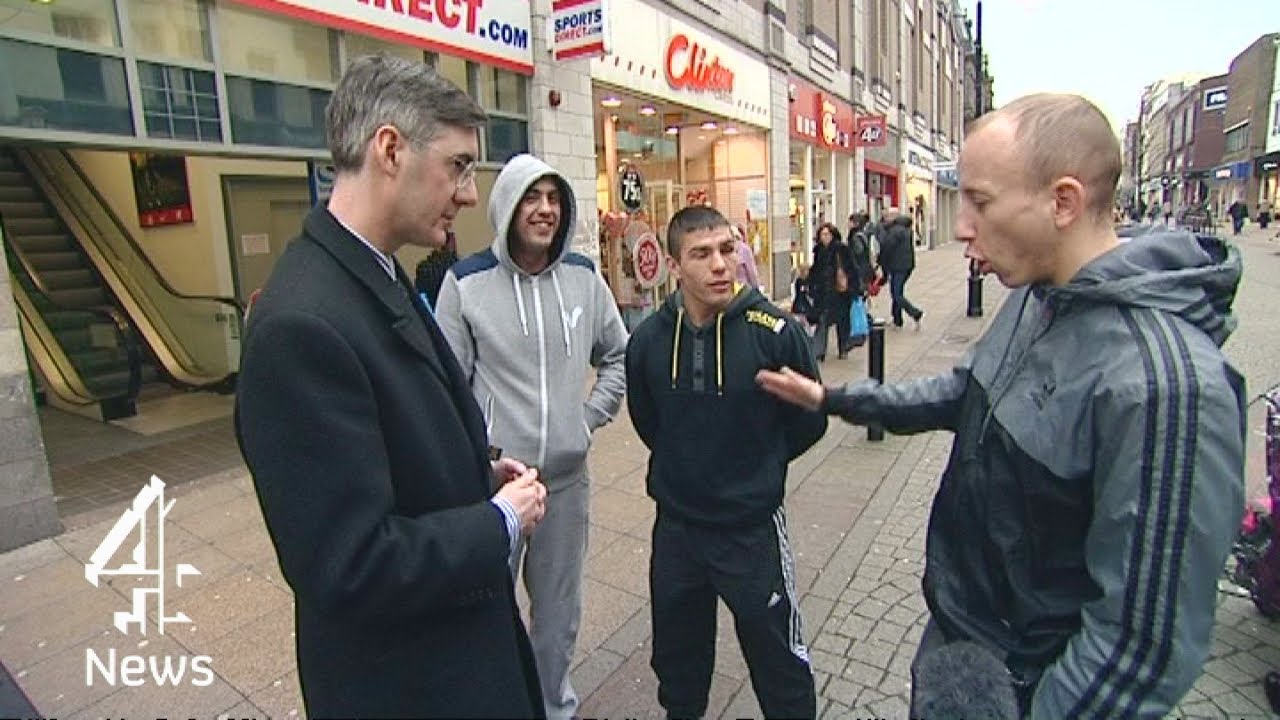 Piers Morgan's show runs concurrently on TalkTV in the 8 p.m. timeslot.
Granted, Monday was Rees-Mogg's first night, but he managed to beat both Morgan and Sky News between 8 and 9 that evening:
In fact, the traditionally-minded MP had twice as many viewers as Morgan.
Guido Fawkes gives us the BARB ratings (red emphases his):
Jacob took in an average of 79,200 viewers for the hour. Piers, meanwhile, took in a mere 35,300. More than doubling Morgan's average throughout the show.
In fact, Rees-Mogg beat Sky News, which scored 64,700. Jacob and Piers will face off again tonight – rest assured, Guido will be checking the figures again. Beaten by a part-time presenter, oh Piers…
Well done!
Here are the segments from last night's programme.
Fortuitously, it was a historic day for the UK, as Prime Minister Rishi Sunak and European Commission president Ursula von der Leyen presented the new Windsor Framework for Northern Ireland that afternoon. King Charles also met Ms von der Leyen, which was controversial, as the monarch does not get involved in matters political.
It is unclear at the moment whether this will be a suitable replacement for the Northern Ireland Protocol in our post-Brexit nation.
Rees-Mogg opened with the story in his Moggologue:
Here's the Moggologue in full:
Lee Anderson, the outspoken Red Wall MP who is now deputy chairman of the Conservative Party, was Rees-Mogg's first guest. They discussed another news item of the day, which was that the first female Speaker of the House of Commons, Labour's Betty Boothroyd, died at the age of 93. Anderson and Boothroyd both came from working class homes. Anderson said that Boothroyd inspired him to pursue a career in politics:
They also discussed the Windsor Framework, which Anderson sees as a positive replacement for the Northern Ireland Protocol:
Rees-Mogg asked Anderson what it was like switching from the Labour Party to the Conservatives. He said that, while the party switch was easy, because he worked in local government in Ashfield as a Labour councillor and for then-MP Gloria De Piero, some of his friends and family found the decision hard to take, although, he added, a fair number of them voted for him in the general election in 2019:
Here's the segment in full:
Veteran Conservative MP David Davis was up next. He was the Secretary of State for Exiting the European Union from 2016 to 2018. He viewed Rishi's Windsor Framework positively and thinks that Brexit is mostly 'done' now:
You can see more of that interview here:
The segment of the evening was a three-way exchange between Rees-Mogg, retired Labour MP Stephen Pound and historian David Starkey on the King's association, no matter how vague, with the Windsor Framework. All agreed he should have sat on the sidelines and not met von der Leyen, as the Queen would have done. I could have listened to another several minutes of their discussion:
Here's the full video:
The show ended with a segment about the rewriting — i.e. censorship — of Ian Fleming's James Bond novels. Joining Pound and Starkey was Toby Young:
Here's the full interview:
State of the Nation, which airs Monday through Thursday evenings, will be good not only for GB News but also for the Conservative Party, bringing a bit of Parliament to television. Jacob Rees-Mogg is an eminently sensible man.
Readers who missed them might wish to read Parts 1 and 2 in this series on Scotland's First Minister, Nicola Sturgeon, who announced her resignation as SNP leader on Wednesday, February 15, 2023.
She will remain First Minister until the SNP membership elect a new leader. Afterwards, she will remain an MSP for Govanhill in Glasgow, which you can view in the first 11 minutes of this video:
The saga about her last few years in office continues.
Independence
Scotland held an indepence referendum in September 2014. Alex Salmond was First Minister at the time. A slim majority of Scots voted to remain part of the UK.
At the time, the SNP said that it would be a 'once in a lifetime' referendum. However, since then, it quickly became apparent that the Party hoped to increase the momentum for Yes in the years that followed.
Neither Salmond nor Sturgeon, who succeeded him in 2014 post-referendum, ever put forward a detailed, phased plan of how independence would actually work.
A Reddit thread from May 9, 2021 illustrates that independence would raise complicated issues and future arrangements. Three contributors' comments follow:
1/ … the plan is to use the pound for several years which, I'm not sure is a great plan.
2/ Weird question but what qualifies as an asset? Sometimes, some independent supporters like to say that if we have a clean break, we'd have no assets but we'd also have no debts but aren't some assets inevitable like the Scottish Parliament building, public infrastructure and all the Crown Territories etc?
3/ There will absolutely not be a clean break. HMRC will almost certainly have to collect tax on our behalf for a number of years.
I also expect us to remain part of the UK single market and customs Union immediately after independence, until something is sorted out with regards to the EU.
The first day of independence will be all about making everything exactly the same as the day before, not one thing should change, that doesn't absolutely have to. Then there should be a gradual parting of the ways over several years, where it is beneficial to do so.
Four months later, on September 9 that year, The Express reported that Sturgeon was keen on another referendum with a 'detailed prospectus' beforehand, even though polling showed that Scots weren't that interested:
The First Minister used her Programme for Government statement on Tuesday to re-pledge her desire to have a second vote on leaving the UK by the end of 2023. Ms Sturgeon argued "at this juncture in history, it is essential that we consider the kind of country we want to be, and how best to secure it".
Putting independence at the heart of her government, she ordered work to once again begin of a "detailed prospectus" outlining the case for going it alone.
But a Survation poll found only 38 percent of voters believe there should be another referendum within two years.
In another damning blow to the SNP's independence dreams, the survey also found support for remaining in the UK stood at 57 percent, with 43 percent backing independence.
The findings are in stark contrast to last December when support for quitting the UK was supported by a record high of 58 percent of Scots.
Just over a year ago, on February 10, 2022, The Spectator pointed out the difficulty with State pensions in the event of independence (emphases mine):
In an interview last night with ITV's Representing Borders programme, the First Minister said that, while she accepts 'on an ongoing basis it will be for the Scottish government to fund Scottish pensions' … she believes that 'historic assets and liabilities' will be a 'matter for negotiation.' Unfortunately, there are no historic assets and liabilities in the pensions system; the state pension is not some great historic pot but rather paid from current taxation.
Sturgeon claims such a negotiation would take account of 'the historical position in terms of National Insurance contributions, paid by Scots.' But the truth is that there is no collective National Insurance 'fund': it's effectively a convenient government myth to raise taxes by the back door. There is no legal claim on an NI fund, with no-one paying in and nothing to pay into. Is Sturgeon trying to deliberately conflate pensions with other assets and liabilities to try to trick the electorate? Or is she herself unaware about how the state pension system actually operates?

Here is a clip from the programme:
The Bow Group think tank crunched numbers for Scotland a few weeks later. On February 28, 2022, The Scottish Daily Express reported that the results were dire:
Scotland would be poorer than countries like Romania and the Czech Republic if the nation separated from the UK, a leading political expert has warned.
… Ben-Harris Quinney, chairman of the Bow Group think tank, says Scotland's economy would take a massive hit.
In the event of separation from the UK, Scotland would need to take on its share of the UK's national debt while other assets and liabilities would need to be divided.
Speaking to the Express.co.uk, Mr Quinney said: "The costs of Scotland having its own currency, splitting assets, and having a trade border with the UK is impossible to predict with any specific accuracy because the variables are too great.
"It is likely however that the costs of these shifts to the Scottish economy will be very high.
"Scotland, separated from the UK, is a relatively poor country based on its economic performance.
"Twenty per cent of Scottish citizens are considered to be living in poverty, and its total national economy of £150 billion is worth less than a quarter of London's economy.
"As an individual nation it would likely be poorer than countries like Romania or the Czech Republic."
In 2020, Romania was only the 18th richest European country with its economy valued at £182billion, contracting by just 3.9 percent and recovering strongly at 6.5 percent in the first half of 2021.
Mr Quinney also warned Scotland could be left footing a bill worth hundreds of billions of pounds if it decides to become an independent country, as it would have to take on a large chunk of the UK high national debt.
While the UK is set to pay the EU nearly £40billion over a number of years as part of a Brexit divorce settlement, Scotland could be left footing a much higher bill.
Mr Harris-Quinney further warned: "Scotland has a significant share of UK national debt, and there are several major UK assets in Scottish territory like North Sea oil and gas, military bases, and Crown territory.
"At a minimum there would have to be a negotiation on ownership of property and payments in either direction to unbind these areas.
"Scotland would likely want to keep tariff free trade with the UK, and a liberal border arrangement with the UK.
"It would rely heavily on imported goods, the majority of which coming from the UK initially, and perhaps for the foreseeable future."
Russia's invasion of Ukraine began on February 24, 2022.
On March 18, a poll found that 59% wanted independence talks halted because of the situation in Ukraine. Boris Johnson was the first world leader to step up to the plate in that regard:
On June 28, Sturgeon announced the next referendum date would be October 19, 2023. Deputy SNP leader John Swinney is walking with her at Holyrood:
The Scots were not interested. This time, rather than Ukraine, they said that the parlous state of the NHS and the police service were a national priority.
On June 30, The Times reported:
Nicola Sturgeon has been accused of neglecting Scotland's NHS and police force with her push for independence as new polls showed voters do not want another referendum on her timetable.
Surveys by YouGov and Savanta ComRes both found that more than half of people asked were against another constitutional ballot taking place on October 19, 2023 …
The Savanta ComRes poll for The Scotsman found that 53 per cent of people did not believe a referendum should take place next October, while 40 per cent said it should and the remainder were undecided.
It also found that 44 per cent of those questioned supported independence, while 46 per cent were opposed, both down one point from a survey last month. Ten per cent were undecided, which was up three percentage points.
The YouGov research, for the Scotland In Union, the anti-independence group, found that 55 per cent of people did not think a referendum should be held before the end of 2023, with 34 per cent in favour and 11 per cent unsure.
The same survey found that voters ranked it fifth in their list of priorities, with 20 per cent of people putting in the top three issues they believed the Scottish government should prioritise over the next two years.
This put a referendum behind the NHS (59 per cent), the economy (57 per cent), education (23 per cent) and climate change and the environment (21 per cent).
On July 20, Sturgeon's new prospectus for independence appeared online. Unfortunately, its cover showed an English wind farm. Admittedly, it was soon changed to a Scottish one, but, considering how the SNP despise the English, the irony was not lost on those of us south of the border:
The Conservative Party leadership contest was in full swing in July and August. Liz Truss called Nicola Sturgeon 'attention-seeking', and, as such, best left ignored.
GB News's Dan Wootton asked The Telegraph's Scottish Editor Alan Cochrane if Truss's remark would damage independence hopes. He said that the SNP was already in enough trouble already:
On Tuesday, August 9, The Express reported that Scotland's Advocate General, a Law Officer of the Crown who advises on Scots law:
submitted the UK Government's argument that constitutional matters are reserved for Westminster and a referendum on Scotland's future cannot be held without the consent of Westminster.
It comes after the SNP-led Holyrood Government claimed last month that its plans for IndyRef2 fall within the scope of its powers as the ballot would be "advisory" and have no legal effect on the union. A full hearing on the case is set to be heard by the Supreme Court in October.
UK law officers have argued that the constitution is reserved to Westminster.
Last month, the Scottish government published its case, stating the referendum is "advisory" and would have no legal effect on the union.
A spokeswoman for the UK government said: "People across Scotland want both their governments to be working together on the issues that matter to them and their families, not talking about another independence referendum.
"We have today submitted our written case to the Supreme Court, in accordance with its timetable …"
The hearing is set to take place on October 11 and 12 in London.
In the submission last month, the Scottish government said any referendum would not be "self-executing", meaning it would be advisory and only used as a way to discover the views of the Scottish people.
On Thursday, August 25, GB News reported that Sturgeon appeared at an Edinburgh Fringe venue to talk and tell the audience that an independent Scotland would remain at the heart of the British Isles:
Nicola Sturgeon has told an audience in Edinburgh that still considers herself to be British, despite the long-running campaign for Scottish independence …
Speaking at 'In Conversation with Nicola Sturgeon' at the Fringe, she said: "So, this might surprise people, but do you know I consider myself British as well as Scottish.
"British is an identity that comes from being part of the British Isles.
"We'll still be part of the British Isles. An independent Scotland would still be part of the British–Irish Council that I go to right now as First Minister.
"Identity is a complex thing. Many people live in Scotland, are as Scottish as I am, but will have a very proud Pakistani or Indian or African identity."
Speaking at a hustings in Perth on Tuesday, Ms Truss told Tory members she would "not allow" another vote on independence if she was elected as prime minister on September 5.
But former chancellor Rishi Sunak – Ms Truss's opponent in the leadership race – was less steadfast in his rejection of another vote, saying he accepted the union was "by consent" but saying he did not think "now or any time in the near future" was the time to consider another vote.
On Wednesday, November 23, The Guardian reported that the UK's Supreme Court blocked a new Scottish independence referendum:
The Scottish parliament cannot hold a second independence referendum without Westminster approval, the UK supreme court has ruled, in a unanimous judgment likely to anger Scottish nationalists who say the country's future is for Scottish voters to decide.
The first minister, Nicola Sturgeon, said immediately after the ruling: "Scottish democracy will not be denied."
She said: "Today's ruling blocks one route to Scotland's voice being heard on independence – but in a democracy our voice cannot and will not be silenced."
Sturgeon said she respected the ruling, but accused Westminster of showing "contempt" for Scotland's democratic will.
"This ruling confirms that the notion of the UK as a voluntary partnership of nations, if it ever was a reality, is no longer a reality," she told a news conference.
Sturgeon said her government would look to use the next general election as a "de facto referendum" on separating from the rest of the UK after more than 300 years.
Insisting that the SNP "is not abandoning the referendum route, Westminster is blocking it", she said: "We must and we will find another democratic, lawful and constitutional means by which the Scottish people can express their will. In my view, that can only be an election."
Scottish 'embassies'
Did you know that Scotland has notional embassies in Canada, China, America, France, Ireland, Germany, Belgium and Denmark?
On August 27, 2022, The Times told us:
Offices include a £2.5 million base in Brussels, the heart of the European Union, which employs about 20 people.
Scottish government officials said hubs increase visibility for Scotland and create new economic and trading opportunities. However, the Scottish Conservatives have accused the first minister of being "caught asleep at the country's wheel while rubbish is piling up on [our] streets".
A Scottish government spokesman said: "The first minister is visiting Denmark for a series of trade, investment and policy engagements, including meeting representatives of the Danish government" …
However, that visit did not go quite as planned.
Sturgeon planned to meet the new Danish prime minister, Mette Frederiksen, who arranged a meeting for her with Denmark's foreign minister Jeppe Kofod, instead. Good for Ms Frederiksen.
The Times said:
The pair "discussed how Scotland and Denmark can work together on issues such as the cost of living crisis, energy and the climate emergency," according to the Scottish government.
Sturgeon has been criticised for travelling to open the "Nordic Office" — which is based inside the UK embassy — with waste piling up on Scotland's streets and workers across the public sector threatening to strike …
Oh, dear. She got the early breakfast slot with Kofod:
Sturgeon met Kofod around 7am before hosting a roundtable with State of Green, a group pushing for a transition towards renewables, business and energy leaders to discuss "how Scotland and the Nordic region can work together to accelerate decarbonisation and share expertise".
That said, afterwards, there was time for Sturgeon to go fully international:
She then visited a Unicef supply warehouse in Copenhagen this afternoon to see how it is supporting children impacted by the war in Ukraine before opening the office with an official reception.
Watch for a global post for her sometime in the future.
Meanwhile, it should be noted that:
Foreign affairs are reserved powers with the UK government, but the Scottish government spends about £6 million a year on a network of overseas offices.
Thank goodness Nicola Sturgeon will no longer be First Minister. It is understood that the leadership contest will be brief.
Scotland should have a new leader by this time in March 2023, if not before.
End of series
On Saturday, February 11, 2023, GB News aired Charlie Peters's incredible 45-minute documentary, Grooming Gangs: Britain's Shame.
This is not easy viewing, but it is important to watch. Peters was able to interview victims and whistleblowers, mostly in Rotherham, but also in Rochdale and Telford — all in England:
Near the end of the documentary is a map of all the known towns in England — there are many — along with Glasgow where grooming gangs currently operate. If I had a still of it, I would post it. Most are in the north, but there are some in the Home Counties, too, such as leafy Wendover.
Imagine. Those are only the places known about. Some experts say that nearly every town in England has a grooming gang network.
Highlights
The following highlights from the documentary show what a serious problem this has been and continues to be.
Action was not taken because of the unique ethnicity of the perpetrators.
It should be noted that Rotherham and Rochdale, among others, have Labour councils.
Amazingly, whistleblower and youth worker Jayne Senior of Risky Business and concerned Rotherham council workers were told that the girls consented. According to English law, children cannot consent because they are not old enough to give informed consent:
Councillors in Rotherham and elsewhere knew what was going on but turned a blind eye. As I mentioned several days ago, Mark Steyn, now back in Canada, shone a spotlight on the grooming situation in Telford when he worked for GB News:
This is one of the cases Rotherham councillors knew about. Julie was 12 at the time. Her 'boyfriend' was 24. He and his mates took over her and her mother's life:
Julie's mother was terrified. The abusers were so intimidating that she felt she had no choice but to co-operate with them by allowing them in the house with access to her daughter:
Julie ended up being trafficked around the country at the whim of the gang. She ended up learning their Pakistani dialect. Two of the councillors who were briefed on her case were committee chairs but did nothing. They remain committee chairs today. One of them now heads Rotherham Council's Standards and Ethics committee:
Jayne Senior of Risky Business was shocked to learn of the Standards and Ethics committee appointment. A survivor called it 'a slap in the face':
Jayne Senior had a database of girls in Rotherham which she worked on in order to find a network of abusers. Someone unknown tampered with aspects of it.
In Rochdale, then-Detective Constable Maggie Oliver, who later retired to found the Maggie Oliver Foundation which helps victims of grooming gangs, said that her superiors told her that there was no evidence to prosecute — even though she had compiled plenty of incriminating evidence.
In every town investigated, grooming gangs treated their victims as subhumans. One was murdered. Another was raped with a broken bottle. One had petrol thrown on her with gang members lighting matches around her. Girls have been routinely tortured, gang raped, drugged, plied with strong drink, burnt — and more.
This is what Maggie Oliver had to say:
She says that, because they have been operating for decades now, grooming gangs know exactly what to look for when selecting a young girl as prey:
The following are current statistics from the Maggie Oliver Foundation:
It is very difficult for a young girl to extricate herself from the gangs.
Elizabeth, a Rotherham survivor, has a book coming out on March 31 about her harrowing experience. She was groomed by a woman who acted as a go-between with the gangs:
Samantha Smith from Telford, a long-time victim, was also in the documentary. She posts an assessment from a Rotherham victim — once one perpetrator has your number, they all have it — and adds that it is easier to treat victims as criminals rather than the perpetrators:
Samantha is now a columnist for The Telegraph, The Spectator and the Daily Mail.
If gang members treated their victims as subhumans, teachers, police and council workers did, too. Samantha said that she was made to feel as if it were her fault.
Home Office reports
There were three Home Office reports into the Rotherham scandal, which continues today.
Nothing happened as a result.
Jayne Senior says the council did not like the results of the reports:
As one newspaper reported, everything was ignored in order to 'preserve grubby political careers':
This thread discusses the Home Office reports and their findings:
Residential care workers also raised the alarm but were largely ignored:
The second and third reports from 2003 and 2006 went further than the first. Those reports revealed that criminality was clearly involved. Police and social work managers ignored them:
Rotherham Council did not want to know, either. Some councillors were in denial. Others thought it was a one-off problem:
Meanwhile, social services were becoming stretched with the numbers of victims coming forward:
Ethnicity was becoming an issue in these cases, but no one in authority wanted to acknowledge it:
No one wanted to open a powder keg. Whilst this is understandable, the problem of CSE — child sexual exploitation — will continue until this is tackled intelligently but thoroughly:
It should be noted that women were also targeted, some of whom acted as madams, by their landlords:
Rotherham's Labour council thinks that the city's designation as the 2025 Children's Capital of Culture will automatically heal all these wounds. Instead, townspeople think it is a sick joke:
Ultimately, there is a desparate need for an honest discussion:
GB News has two detailed reports on Rotherham Council's part in the scandal here and here.
Growing problem that political correctness won't stop
Charlie Peters did several interviews in the run-up to and after the broadcast of the documentary.
Here he says that girls are being ignored and that the authorities are too concerned about political correctness to do anything:
Indeed, Peters points out the problem with political correctness in the documentary:
He is correct in saying that there needs to be a 'national response' to grooming gangs:
Red Wall MP Robbie Moore of Keighley, which also has a grooming gang problem, agrees:
Rotherham's MP, Alexander Stafford, also a Red Wall parliamentarian, told Tom Harwood that he was not happy about councillors remaining in prominent positions. He thanked GB News for the documentary:
The scale is likely to be much larger than had been previously thought, says one solicitor (lawyer):
The statistics are horrifying:
One reason why is the increasing use of social media to lure vulnerable girls:
Home Office response
During last summer's Conservative Party leadership contest, Rishi Sunak said that he would tackle the problem of grooming gangs.
We haven't heard a peep since.
Home Secretary Suella Braverman's office said she was 'appalled' by the documentary's findings:
I won't hold my breath in anticipation.
Reaction
GB News presenters publicised the documentary, with some interviewing Peters.
Nigel Farage said it is a must-see:
Michelle Dewberry, originally from Hull, which also has a grooming gang problem, said the issue needs discussing:
It deserves a repeat showing, more than once:
Elsewhere, The Spectator's Ed West wondered where the moral outrage is over this problem. Note that where there is outrage, the authorities, including the Home Office, stomp on it quickly. More on Labour-run Knowsley at the end of the post:
And, across the Pond, columnist Rod Dreher says that there are lessons to be learned from this in the United States:
Last weekend's news
Knowsley, which is a Labour constituency near Liverpool, had a demonstration last weekend against Channel migrants being housed in local hotels. Families have become increasingly concerned about the safety of girls and women. One 15-year-old girl was propositioned by one of the hotel residents, who was clearly an adult. She recorded it and it went viral.
Unfortunately, the authorities and the media accused those at the peaceful protest of being far-right thugs. To be fair, the protest was later gate-crashed but probably not by the far-right. People dressed in black and wearing balaclavas infiltrated the event and became violent. Such types are likely to be from the far-left. Europeans call them black bloc. Americans call them Antifa.
In London, someone verbally lashed out at the Tate (pictured below) for holding a Drag Queen Story Hour. Again, this person was labelled far-right in the media. In light of the mad things happening in Scotland over sexual identity politics, people are worried.
The Telegraph's Alison Pearson voiced her objections to labelling: 'I'm sick of people with an ounce of common sense being labelled "far-right"':
She adds a third news story to the mix:
… we learn that four Afghan "boys" who arrived in small boats across the Channel last year have just been arrested in connection with the alleged rape of a 15-year-old girl at a school in Dover. So, are all of us who warned that there was a potential safeguarding issue around putting asylum seekers of indeterminate age into British schools still "far-Right"? 
She concludes:
If the Government and a liberal elite continue to stigmatise and silence working-class people for a perfectly rational reaction to policies which threaten their children and their communities then I'm afraid they must prepared to reap the whirlwind.
Are those who think this way far-Right? Or could it possibly be that we are just right?
Many will say that those who object are just right.
Take, for example, this February 14 verdict on a former grooming gang member from West Yorkshire. He walked free:
The defendant apparently has mental health issues. One wonders about his victim's mental health:
He did not serve any time:
One must take a moment to read the article on YorkshireLive. Excerpts follow:
A grooming gang member who was first arrested seven years ago has finally been sentenced – but has walked free from court.
Sayeed Hafeez was 23 when he took a 15-year-old girl to two beauty spots in West Yorkshire and had sexual activity with her. Bradford Crown Court heard the girl had already been groomed and abused by a number of other men who have previously been sentenced.
His Honour Judge Anthony Hatton said there was no evidence to suggest the girl had been "traded" to Hafeez, who is now 36, and it is not clear how they came to know each other. He said Hafeez had had sexual activity with the teenager at Cliff Castle and St Ives …
The court heard the prosecution could not point to anything that would suggest Hafeez, of Thomas Duggan House in Shipley, knew the girl was vulnerable.
Mitigating Taryn Turner told the court …
… the girl was "mature" at 15, and a photograph of Hafeez at the time seems to "reveal he was a much younger man still in college so perhaps the disparity in age is not so great as may be thought at first."
Again, we see the notion of a minor being able to consent. Wrong!
People should be highly upset about this — not only at the perpetrators but also at the authorities for doing absolutely nothing to stop the damaging, sometimes deadly, abuse of young girls.
Today's post concludes my three-part series on Mark Steyn's departure from GB News.
Find out why he left here. This post has more segments from his evening programme, which will be sorely missed.
What follows are clips from the best of the rest of his output for GB News.
Law and order
In 2021, the British public discovered that the police weren't much cop. They began being more interested in patrolling Twitter than investigating actual crime.
Over a year ago, on February 2, 2022, Steyn addressed this parlous state of affairs:
Nearly a week later, on February 8, Steyn pointed out that Labour's Sir Keir Starmer's record as Director of Public Prosecutions (DPP) wasn't exactly good. This editorial came on the back of then-Prime Minister Boris Johnson's accusation at the despatch box during PMQs that Starmer never did anything about BBC presenter Sir Jimmy Savile, since deceased, when two constabularies were investigating him for molesting minors. Labour took great offence at Boris's accusation. Nor did Starmer do anything about the grooming gang situation in Labour-controlled Rotherham when he was DPP:
On April 18, Steyn showed us the parlous police statistics for England and Wales. At the 51-second mark, we see that in less than 10% of cases was anyone charged or even summonsed. Meanwhile, London's Metropolitan Police were investigating Boris for get-togethers during lockdown. Steyn alleged that the Met were looking at each accusation of a party as a separate incident to boost their crime-solving figures. He was being semi-serious, but one can readily believe it:
On April 18, he informed us that, where some cases of multiple sexual assault by more than one person are concerned, the police now prefer something spurious called 'community resolution' to prosecution and sentencing. How would that apply to grooming gangs, one wonders. Dear, oh dear:
Channel migrants
On May 24, Steyn opened his editorial with all the notionally big political machinations going on: the investigation of Boris's partygate, the WEF at Davos and an ever-increasing 'big government'. He concluded that this was the 'death of democracy'. He then discussed the Home Office's plan to place 1,500 Channel migrants in a disused RAF base in tiny Linton-on-Ouse, pop. 700. Unbelievable.
The good people of this North Yorkshire village had been protesting the move for days. The migrants were scheduled to pole up on May 31. Steyn pointed out that the political class 'have everything' and 'you've got nowt':
Fortunately, the Home Office rode back on the decision. That wasn't Steyn's first mention of the village. It would be nice to think that his making it public forced the Government to backtrack.
On August 2, as tens of thousands of migrants had crossed the Channel in 2022 by that time, Steyn had a go at the Government's placing these undocumented people in decent hotels, rather than sending them back over the Channel:
Many of the arrivals from the Channel are Albanians. It seems that the UK is the only European country to admit Albanians crossing illegally. Other European countries refuse them entry. Albania is safe, so safe, in fact, that it is becoming a British tourist destination. Other GB News programmes reported last year that newly-arrived Albanians to the UK are quickly taking over the British drug trade.
On November 28, hundreds of Albanians blocked central London to celebrate Albanian Independence Day. The broadcast video was extraordinary. The Met did nothing, while a load of posh cars paraded in a convoy around the main streets near Parliament. Albanian women in their native dress danced around the cars. Traffic was at a standstill.
On November 29, Steyn said that he had to abandon the taxi he was in to walk to the GB News studio. He criticised MPs for doing nothing about the numbers of Albanians coming here illegally. They were at that time, the majority of the Channel crossers. He also criticised the police for closing a bridge near Parliament rather than breaking up the convoy. Steyn said:
The useless political class have wrecked your country, and they're not done yet.
Conservative Party
During the Conservative Party leadership campaign in July, Steyn interviewed Lord Frost, whom many want to renounce his peerage and throw his hat into the ring one day. (He would need to become an MP first or Party rules would need to be changed.) He is a proper Brexiteer and an unabashed Conservative in the best of ways.
Steyn interviewed the life peer on July 11:
Highlights follow.
Steyn said that the Party has lost its way. Frost and Steyn align on what should matter to true Conservatives:
Lord Frost said that stopping the Channel crossings was paramount:
Perhaps one day he will renounce his peerage and run as a Conservative candidate for Parliament:
Platinum Jubilee
On June 1 and 2, Steyn devoted parts of his show to the Queen's Platinum Jubilee.
Here's the full show. At 49 minutes in, he discusses Australia's new Prime Minister who installed an 'Assistant Minister for the Republic'. Not surprisingly, Steyn is critical, as is The Spectator's Australian editor Alexandra Marshall, who was appalled that the appointment was made just before Platinum Jubilee weekend. Marshall said that no mention of a republic was ever made during the general election and that most Australians are shocked by the move. She says that politicians 'do not deserve any more powers than the ones they already have':
Before that, Steyn interviewed The Conservative Woman's Laura Perrins. Although she has lived in England for many years, she is still Irish to her core and couldn't get excited about the Jubilee. Steyn was disappointed:
On June 2, Steyn paid a splendid tribute to the Queen in his editorial:
Social issues
On December 22, 2021, Steyn interviewed the Revd Will Pearson-Gee, an Anglican priest who said that, in the event of another lockdown, he would not be closing his church at Christmas:
I do not have that interview, but it does give me a chance to once again share the priest's passionate declaration that his church would remain open. In the event, he didn't have to worry about another lockdown, thanks to 101 rebel Conservative MPs:
That same evening, Steyn took exception to the 'man' who had a baby and refused to be called 'mother':
On April 6, 2022, Steyn criticised British politicians who refused to define a woman out of fear. Earlier that day, GB News's Ben Leo had interviewed several MPs on the subject. Some didn't answer. Others ran away. Well worth watching:
On April 27, Steyn had an excellent editorial on whether going to university is a good idea for everyone. Back in the 1990s, then-Prime Minister Tony Blair said that 50% of British students should go on to higher education. Currently, Steyn says, 53% now attend university. However, Blair said last year that 70% of Britons should now go to university. Steyn counters the argument by saying that, in the 20th century, the vast majority of Americans left school at the age of 13 and went on to achieve great things. Steyn poured cold water on the 'achievement' aspect of university, saying that so many are still students at the age of 28 and are working as baristas rather than in high-level employment. Furthermore, university now leaves British students in debt, so they are unable to get married and start families. As a result, British demography is suffering with an ageing population.
He is so right:
A Canadian lady, Yasmine Mohammed, appeared several times early in 2022. She discussed her time in al-Qaeda and deplored the fact that Western nations seem to bend over backward for radical philosophies. She concluded that radicals and Islamicists share the same goal, which is to bring down the West:
Dutch farmers
Until I watched Mark Steyn, I had no idea that the Dutch government wanted to seize farms in the Netherlands.
The legal philosopher, as she calls herself, Eva Vlaardingerbroek, appeared many times to keep Mark and his audience apprised of the situation.
On July 11, Eva explained why the Dutch farmers were actively protesting:
Dutch Prime Minister Mark Rutte says there is a nitrogen crisis exacerbated by farming. That idea came from the EU. Dutch farmers are some of the world's greenest in their innovations, but Rutte wants them to turn their farms over to the government.
On August 1, Eva pointed out the danger that such a move poses to individual freedom — the right to own property and to work productively as one wishes:
On December 14, for the first time, GB News's ratings overtook those of the BBC, with Sky News in third place!
Eva expressed her delight in being part of Mark Steyn's programme:
On February 6, 2023, she expressed her disgust at GB News for Steyn's departure. It should be noted that the channel's CEO has changed his own Twitter account to 'private':
Meanwhile, Eva continues campaigning for Dutch farmers.
Unfortunately for them, Mark Rutte's government is winning. This video is from February 3:
On February 8, she said in an interview that the government intends to purchase 3,000 farms by the end of the decade. Who will supply the food?
The next major farmers protest will take place on March 11 in the Hague. I wish these men and women well in their fight:
Mark Steyn update
On February 7, Press Gazette accused Steyn of launching a 'tirade' against Ofcom:
The telecoms regulator currently has two investigations open into GB News, both relating to claims around the safety of Covid-19 vaccines made on The Mark Steyn Show, which aired at 8pm on Mondays to Thursdays.
No fines have been levied against the broadcaster at present, nor any adverse rulings made against the television channel. (GB News Radio did breach a broadcast rule in March 2022 when it failed to give a full list of candidates standing in a by-election.)
Press Gazette understands Steyn has to date been presenting for GB News in a freelance capacity, and had been in negotiations for a permanent contract.
However, it appears the channel has struggled to get Steyn to comply with Ofcom's requirements under the Broadcasting Code.
In a video published to his website on Monday, Steyn referred to an instance in which, ten minutes before going on air, he had a back and forth with the channel's editorial compliance officer that ended with him calling them "Ofcom's bitch" …
It is unusual for a publisher to ask a staff member to accept the costs of a regulatory or legal sanction. It is unclear from the language in the clause whether Steyn would have automatically had to accept liability for the fines or if GB News was reserving the right to pass him costs.
Steyn said in the video: "I'm on the hook there for Ofcom fines – but, and this is the important point, I don't have any say in our defence against an Ofcom complaint. That's all done by GB News. So Ofcom's bitch, as I call the compliance officer, will be making the weedy, wimpy defence to Ofcom, and then I'm the one who has to pay the £40,000 fine or whatever it is."
Steyn went on to say "Ofcom is making a big move to take over the planet at the moment" in connection with the Online Safety Bill.
Asked about Steyn's accusations, a GB News spokesperson said: "GB News takes Ofcom compliance extremely seriously. All our presenters are expected to comply fully with the Broadcast Code and there are no exceptions.
"This does not impinge on our ability to ask tough questions, express strong opinions, and debate the issues that matter to the people of Britain."
Now comfortably back in Canada, Mark has relaunched his online show with his usual guests:
GB News viewers will miss the beauty of Eva Vlaardingerbroek, Alexandra Marshall and Leilani Dowding:
That episode can be found here.
Follow Mark Steyn and his shows here and here. He's also on Twitter.
Steyn's 'Stats Man' Jamie Jenkins will be watching — and contributing. Excellent:
In closing, The Conservative Woman's Laura Perrins is also dismayed by Steyn's departure:
She is not wrong.
GB News made a huge mistake. Let's hope they can limit the damage this will cause them.
End of series

Many GB News viewers will have been deeply disappointed that Mark Steyn has left GB News over the channel's alleged attempts to make him liable for any Ofcom fines resulting from his show for talking about coronavirus vaccines.
Yesterday's post discusses that and has a variety of Mark's output for the channel, with plenty on people who suffered adverse effects from said vaccines.
Today's post continues with more content from his excellent show.
Don't mention the vaccines (continued)
I covered a lot of Steyn's segments on the coronavirus vaccines yesterday.
Here are others I had bookmarked.
On June 16, 2022, Steyn rightly took issue with a Scottish Parliament member who sent a derisory tweet about people posing questions about the vaccines. Apparently, John Mason MSP has form:
Steyn was committed to covering the coronavirus vaccine issue because no other channel was. He discussed this with Dan Wootton on July 4:
In this clip from the same interview, he says that he isn't going anywhere because he enjoys the editorial freedom that GB News allows its presenters:
It's a shame that the channel seems to be changing tack. It would be disappointing indeed if its other presenters were muzzled accordingly. That said, Dan Wootton was the only other presenter to talk about the pandemic on a regular basis, and I haven't heard him do that for several months now.
On July 13, Steyn had a remarkable show about Britons who were either victims of the vaccine or whose relatives died from it. It was one of the best programmes I've seen in some time:
Here is the full hour-long video:
Highlights follow.
At the time, the British government was only just starting to pay out to vaccine victims. The Government only give £120,000 lump sum if the vaccine is the cause of death on the coroner's report or if a living person has been 60% disabled as a result. A Conservative MP, Sir Christopher Chope, was given an adjournment debate on the matter, because payouts were painfully slow.
It was a shame that the House of Commons benches were nearly empty when he spoke. Then again, nearly all MPs think the vaccines have been a godsend. This is why the Government have been suppressing any opposing views and monitoring prominent social media accounts, as Big Brother Watch uncovered last week. Accordingly, Ofcom are all over this on the airwaves, hence GB News's skittishness over broadcasting such stories, as Mark Steyn had been doing so fearlessly.
Mark began by celebrating the first person to receive Government compensation:
That person is Vikki Spit, whose fiancé died from the vaccine. They were a rock'n'roll duo who loved each other deeply:
The mother and wife of NHS doctor Stephen Wright mourned on air:
GB News presenter Neil 'the Coast guy' Oliver joined Mark. He's sitting on the right in the video:
Michelle Dewberry, whose weeknight show is on at 6 p.m., also joined Mark:
Dan Wootton, who was also interested in every aspect of the pandemic debacle at the time, thanked him on his show, which followed at 9 p.m.:
As the response to this tweet indicates, only GB News was covering this topic:
Now they have pretty much stopped, falling into line with every other news outlet.
As you can see in the following video, the victims were young — thirty-somethings:
On July 27, Professor Richard Ennos joined Mark to discuss the excess deaths from the beginning of the pandemic to the present. He said that the early deaths were comprised of elderly people. Increasingly, the age cohort has been decreasing to include much younger Britons:
On August 8, Steyn interviewed Alex Antic, Senator for South Australia, about the commonality of Western countries to link politics with science. So many nations did the same thing at the same time. No one is allowed to ask questions about pandemic policies:
On Tuesday, August 16, Mark welcomed Dr Aseem Malhotra to the show. Dr Malhotra, a cardiologist, was a big supporter of coronavirus vaccines in the beginning but changed his mind. Later in the year, his healthy father, a physician in his 70s, took the vaccine and died.
You can find the video at this GB News link. The accompanying article says, in part (emphases mine):
A leading consultant cardiologist who was one of the first people in the UK to take two doses of the Covid-19 vaccine and promote them on television has called for an end to all remaining vaccine mandates.
Dr Aseem Malhotra has written an open letter to Prime Minister Boris Johnson and US President Joe Biden calling for the immediate release of the raw data from Pfizer's original Covid-19 vaccine trial.
Speaking exclusively to GB News' Mark Steyn show, Dr Malhotra said: "When the vaccines were first released we were told they were 95% effective against infection.
"This is not true. This is based on relative risk reduction. In absolute terms, they provided 0.84 percent protection which means only one in 119 people would be protected from infection.
"This statistic was the pretence under which vaccine mandates were implemented.
"The latest data reveals that once infected there is no significant difference in transmission rates between the vaccinated and unvaccinated, which makes any scientific case for mandates illegitimate.
"As newer and thankfully, less lethal, mutated strains became dominant, any protection against infection at the very least became less effective and likely completely ineffective, even if there is some significant (as yet to be fully determined in absolute individual terms) protection against serious illness and death" …
Dr Malhotra also wrote: "Rather than encourage transparent debate about the true benefits and potential harms of the Covid vaccine as new evidence emerges, those that encourage more critical thinking and adding to the database of relevant knowledge are smeared."
This comes in light of investigative journalist Paul Thacker's investigation into Pfizer's trial data published in the British Medical Journal (BMJ) last year being branded "false information" by independent fact-checkers …
Dr Malhotra argues "global vaccine mandates for Covid-19 must stop until we have the full data on efficacy of all available vaccines."
Writing in praise of Dr Malhotra's findings, Dr Amir Hannan said "[Dr Malhotra] raises some important questions about the validity of the assertions made, asking for all data to be made available so that an in depth analysis can be developed and proper conclusions identified to help restore trust in doctors, the pharmaceutical industry, the research community, the regulatory bodies, the press and governments."
Dr Malhotra's letter has been published in the European Scientist.
Pfizer/BioNTech have been contacted for comment.
On September 2, Dr Matthew Sweet, who appears on the BBC, took issue with Steyn and proved to be a thorn in his side. Steyn mentioned him frequently in the autumn:
On October 4, feminist author Naomi Wolf, who received her doctorate from Oxford University, appeared on Steyn's show to say that she had been pointing out menstrual abnormalities from the vaccine since 2020:
On October 11, Mark interviewed Robert Roos MEP, Vice-Chair of the European Conservatives and Reformists group, one of the MEPs who questioned Pfizer directors about their vaccine. One of the directors intimated that they had no real data to say that the vaccines would stop transmission of the virus. Roos wants to know more, because in some EU countries, unvaccinated people could not go to the supermarket and people lost their jobs because the vaccine was mandated. Overall, the social cost was too great for an ineffective jab:
On Monday, February 6, 2023, Robert Roos voiced his concerns in the European Parliament, stating that, for the most part, parliamentary questions about the effect of pandemic measures on EU citizens were not posed, either in Brussels or in individual member countries' parliaments:
On October 29, 2022, The Conservative Woman's Kathy Gyngell, who was no stranger to the Steyn show, called our attention to his October 27 show, beginning at the 35-minute mark:
She went so far as to include a transcript, which can be found here.
The segment Kathy Gyngell points to is an interview with Mark Sharman, who, during his career, headed the News and Sport division at ITV as well as being the Director of News at Sky.
Sharman made a documentary about the vaccines, Safe and Effective: A Second Opinion. He posted it on YouTube.
Steyn said:
And so Mr Sharman's documentary has just been taken down at YouTube for the following reasons. Big exclamation – 'Medical Misinformation. YouTube doesn't allow claims about Covid-19 vaccinations that contradict expert consensus from local health authorities or the World Health Organisation.' Ooh! No contradicting the World Health Organisation. Mark Sharman joins me now. Mark, as I said, you've been in British broadcasting for a very long time. Have you ever just had a piece of work, such as your documentary, just – boom! – vaporise in the way that YouTube just did it to you?
Sharman replied:
MARK SHARMAN: No, not at all. Mark, I'm not surprised that it's been cut, but as an old-school journalist who believes in reporting both sides of a story, I'm dismayed about what's happening. You know, we are being controlled. The narrative on many, many things is being controlled, and the evidence is growing. I mean, the governments, the Big Pharma companies, Big Tech media companies, they've all decided what the line is and they're sticking to that line come what may. And as you showed earlier in the programme, there are more and more pieces of research from around the world which proves there is something seriously wrong with these vaccines, they're clearly not totally safe and effective. They're clearly not safe, and that don't appear to be effective. And all we're asking for, Mark, is some proper open scientific debate. You know, if there's something wrong, it should be looked at and stopped before more people are hurt …
Sharman echoed other findings exposed on Steyn's show:
You know, there have been 25,000 excess deaths in this country since April. Across Europe, the death rates, excess death rates, are running at 16 per cent higher than usual. And strangely, they're higher in the countries that have been most vaccinated. The authorities come up with all kinds of reasons, including lockdown and the heatwave and changing your bed or whatever. But they won't put the vaccine injury on the list. Now, any investigator worth his salt is going to look at every suspect, if only to rule them out. And there is absolutely no excuse whatsoever to not put vaccine injury on that list. And as I said before, I'm not on one side or the other, I would just love to see a proper open debate where somebody can look at what is happening to these vaccine-injured and deaths around the world. You know, there are other questions as well about the whole reproductive system, but that's another matter. But again, reports are coming in that should be causing concern to the authorities, but they resolutely won't listen, and won't debate it, and cut scientists off and have cut our film off. By the way, it was just about to hit a million views on YouTube alone. And it's interesting that it's been three weeks and not been touched.
More at the link.
On February 6, 2023, The Conservative Woman posted a brief notice about the demise of the Mark Steyn Show. They, too, found the news on Guido Fawkes, as had I:
This is more than 'a shame because he beat Piers Morgan', as Guido puts it. It is a terrible loss for us all and not just all at TCW, but for the country. It is a tragedy for free speech that his style of fearless, moral and uncompromising broadcasting has been brought to an abrupt end. For a year he threw light on dark, he ridiculed the shameless, for a year he raised our hopes that sanity, reason and truth might prevail. Now he is gone and it is shocking and sad. That is how we feel at TCW.
Hundreds of comments followed their post, nearly all of which lamented Steyn's departure.
Professor Norman Fenton was also very sorry to learn that one of GB News's best hosts had left:
However, there might be hope. Bev Turner, who hosts the channel's weekday mid-morning show, is also concerned about coronavirus vaccine safety.
On Monday, February 6, she interviewed a lady from UsForThem, which campaigns for the right of children not to have a vaccine mandate. Molly Kingsley says that the group has won a claim against Pfizer on marketing the vaccine without presenting the risks involved:
Grooming gangs
Another no-go area where only Steyn ventured in depth involved grooming gangs, which have been operating around England for decades.
Samantha Smith, a grooming gang victim who blossomed into an articulate young woman, lives in Telford, Shropshire. She appeared often on Steyn during the summer, then she got a visit from the police on July 6:
Although other channels might say that grooming gangs are in the past — e.g. Oldham, Rotherham — they are still taking advantage of young girls:
On July 11, she returned to London to speak with Mark about her ordeal with the police. The first tweet has an accompanying article:
Here is the full video:
Would that the police had been so interested when she was undergoing sexual abuse from local predators.
In July, the Conservative Party race to replace Boris as leader was in full flow. On July 13, Samantha tweeted that over 1,000 girls have been sexually abused and exploited in Telford alone — a more urgent matter:
On August 10, The Mail+ gave her a voice in a first-person article about her years of abuse:
An excerpt follows:
For years, between the ages of five and 14, I was abused by successive men who left a devastating legacy.
As my life fell apart, I found myself homeless by the age of 16, and there were many nights when I would lie there — racked by visceral self-loathing — wishing I would simply disappear.
How could I not hate myself?
Of course, I had tried to seek help. I eventually reported my abuse and was interviewed by a police child sexual exploitation team. But they did absolutely nothing to bring my abusers to justice.
In fact, I was made to feel unworthy of help or support, as though the abuse I experienced was my fault. My social workers even spelled it out. 'Your behaviour and actions have led you to where you are today,' they told me.
Isolated as I was, I had no idea that I was not alone, but one of more than a thousand children in Telford who had been sexually exploited over decades while the police and youth workers whose job it is to protect us not only failed to act but all too often blamed us as the architects of our own trauma.
Indeed, that's not just my opinion, but the conclusive judgment of a devastating independent report issued last month following an extensive three-year inquiry into sexual exploitation and abuse in my home town stretching back to the seventies.
The authors' verdict could not have been more damning, concluding that generations of children had been subjected to unnecessary suffering because of the abject failures of West Mercia Police, their wilful neglect damning children to years of unnecessary suffering and cruelty.
In some cases, like that of 16-year-old Lucy Lowe, victims were murdered by their abusers.
Echoing conclusions drawn by investigations into similar scandals in Rotherham, Rochdale and Oxford, the report laid bare the scale of systemic failures, highlighting how many perpetrators — predominantly Asian men — were not investigated because of nervousness about appearing racist.
Meanwhile the largely working-class white victims were treated as no-hope cases who were destined to fall into a life of crime, branded 'troublemakers' or even 'child prostitutes' by police. Teachers and social workers were found to have been actively dissuaded from reporting abuse, while offenders were 'emboldened' as police efforts to stop them were scaled down 'to virtual zero'.
It is little wonder the report has been greeted with widespread fury and disgust. My reaction was one of bittersweet vindication — and an anger that reduced me to tears.
Much of the inquiry focused on gang-related cases but many — as I experienced — were perpetrated by individual men.
And while my case was not one of those featured in the report, I am one of hundreds of victims of child sexual abuse and grooming in Telford whose suffering was brushed under the carpet as part of a deeply engrained cover-up culture.
Even now, it is hard to confront the scale of abuse in the leafy Shropshire town I once called home which — on the outside at least — is a world away from the former mining communities that have more commonly been associated with child sexual abuse scandals.
Statistics do not lie, however: while incidents of child sexual abuse number 7.9 per 10,000 nationwide, in Telford that figure jumps to 16.4.
Samantha also appeared on Steyn's October 27 show, just before the aforementioned documentary maker Mark Sharman appeared.
Sharman praised her eloquence when talking to Steyn:
You know, if there's something wrong, it should be looked at and stopped before more people are hurt. And interesting listening to Samantha talk previously – and by the way, what a wonderful spokesperson she is for victims of sexual abuse – but there are real parallels there. You know, the vaccine injured and the public in general don't seem to be as important as the authorities. They'd rather protect their own line and their own story than look at what's going on. You know, it just isn't right.
No, it isn't right.
Kudos to Mark Steyn for discussing this regularly. Until I saw Samantha, I had no idea that this had even been going on in Telford!
More to come
Steyn also had regular segments on other topics, which I shall cover on Friday.
Stay tuned …