You are currently browsing the tag archive for the 'GB News' tag.
Many years ago, Chicago's PBS station ran a late-night show on Saturdays featuring newspaper columnist Irv Kupcinet, who was its host.
Irv Kupcinet invited a variety of guests on to sit around a table for 90 minutes to discuss current events.
He mentioned 'the lively art of conversation' in every show. Despite the controversial topics, his guests managed to engage with him and each other in an intelligent and considered way. Perhaps that was because Kupcinet set the tone with his own conversational style. I could be wrong, but I don't recall anyone ever walking off the show or being told to calm down.
Nearly 50 years on, things have changed drastically.
We're at the point where we cannot discuss much, even around the relative safety of the dinner table.
On November 22, 2021, The Times's India Knight discussed this unfortunate state of affairs in 'Our children are losing the ability to argue'. She means making a reasoned, fact-based argument for or against something, e.g. climate change.
I fully appreciated her experience as a youngster, because it paralleled my own (emphases mine):
When I was growing up, the kitchen table was a place of frequent and sometimes shouty political and cultural debate. I would acquire an opinion, usually from something I'd read or watched but sometimes from someone I thought was cool, and then I would express it, often with half an eye to provocation, in the self-important teenage manner. I didn't have the sort of parents who smile vaguely and say, "That's nice, dear", so I would be expected to explain why my opinion was my opinion and to defend it as it was dismantled and sometimes demolished.
My father was excellent at that: 'If you're going to take a stance, you'll have to defend it a lot better than that. Come back with some facts.'
And I could also relate to India Knight's reaction as an adolescent:
I did occasionally go off to my room in a huff, there to boil with fury at the great injustice of not being given a standing ovation every time I aired a view. But eight times out of ten the conversation was lively and thought-provoking, even enlightening (because I was a child, and children know less than adults, having lived less life). The conversations/arguments were sometimes fiery, but because I was treated as an intellectual equal, I didn't feel belittled. I found it intriguing and satisfying to learn what the opposing point of view to mine was on any given topic, and why it was held. It taught me that people who hold different opinions from yours can still be clever, likeable and interesting; that they hold their views just as dearly as you hold yours, and that this is fine.
These days, I look back on my late parents' viewpoints on life and politics. I consider them geniuses, because I now hold those same perspectives.
However, today's adolescents and twenty-somethings really don't know how to put forward their side of an argument:
Woke young people are amazing. They do care about important things in a laudable way and are indeed awake to social justice. All that is great. But you really can't say anything any more. The kitchen table scenario I describe above is now often a fraught and tentative affair, involving many eggshells and much tiptoeing. The anxiety is all on the part of the parents. Even the gentlest, most thoughtful and cotton-woolly discussion can result in young people feeling aggressed and disrespected. The parent's only permissible answer to, "The sky is green," is, "Yes, that's right." This is never truer than in the context of gender, in which expressing the previously uncontroversial view that biology is real can instantly mark you out as a bigot, a fascist or a phobe.
Sometimes, too, big, insulting, very loaded accusations are chucked carelessly about by the children. As a result, many parents of teenagers I know — and by "many" I mean "nearly all" — feel it's just not worth the hassle of having these conversations. And, as a result of that, an awful lot of young people don't know how to argue their case when faced with views that differ from their own. They are able to air an opinion but not to defend it objectively or intellectually at any level.
India Knight says:
Parents must gird their loins and persevere, I think, in tiny, manageable increments. It is vital for children to understand that disagreement is not a personal attack, that holding a topic up to the light is not sinister and that saying, "You've just completely contradicted yourself, darling," isn't abusive.
I couldn't agree more, and if more parents, like hers and mine, did that, the world would be a better place.
Unfortunately, a growing number of adults are also unable to accept differing points of view.
Spiked's Brendan O'Neill discussed this sad phenomenon on GB News with Patrick Christys on Wednesday, December 22. He said that people are too afraid to say anything that goes against the accepted narrative. He's right:
That was an apposite interview just before Christmas, when Britons were preparing to host family and friends around the dinner table.
Earlier that day, another GB News host, Michelle Dewberry, explored the horrid nature of the division appearing between the vaccinated and the unvaccinated. Tony Blair called the unvaxxed 'idiots' and the Archbishop of Canterbury called them 'immoral'. Blair later walked back his use of 'idiots'. I'm not sure the Archbishop did likewise.
In any event, Michelle Dewberry discussed this divisive controversy at the beginning of her show (from 8:25 to 11:20):
There are many reasons why people are rightly suspicious of the vaccinations. I've had my two shots and the booster but fully understand why others don't want them. Most of those people can cogently explain their reasons for not doing so.
It is disappointing to see a former Prime Minister and the spiritual head of the Church of England labelling people with whom they disagree in such a parlous way. Were he alive, Irv Kupcinet would have been appalled.
Surely, they should be leading by example.
It is time to return to the lively art of conversation, but that also requires an ability to accept other perspectives, whether we're teens or grandparents.
We know where the blame lies. We have to try and stop damaging division and emotional arguments in the best way we can. Unfortunately, it is much easier said than done, and I do not have a solution.
For many, Christmas as they know it ended at midnight on December 26.
Most people will be heading back to work on Monday.
Yet, there is a reason for the old song The Twelve Days of Christmas, because that is how long the actual season is.
An Anglican priest of the High Church tradition explains to presenter Calvin Robinson in the following GB News video that, when many people think Christmas has ended, it has only just begun. This 45-minute programme, which includes carols from an Anglican church choir, explores the true religious meaning of the season. It's well worth watching:
Epiphany is on January 6, so there is still plenty of time to celebrate and contemplate our Saviour's birth until then.
Furthermore, we in the UK are blessed with a thoughtful Yuletide convention. Because Christmas Day fell on a Saturday this year, Monday, December 27, is a bank holiday. We get a long weekend of celebration and relaxation.
The Queen delivered her traditional address to the nation on December 25. This year, the theme was her loss of Prince Philip, who loved her dearly and was her best friend. The old film clips show her face light up when he joins her at various functions. It's a beautiful, spontaneous reaction. Our monarch said that she is looking forward to celebrating her Platinum Jubilee year in 2022:
The Queen always includes a Christian message. This year was one of enduring faith, one that promotes leadership:
Neil Oliver delivered a thoughtful Christmas message which will appeal to all, believers and non-believers alike. He reflects philosophically on the story of the Christ Child and the meaningful traditions that have emanated from it. This is a must-see:
Oliver also had a round-up of the Greatest Britons he interviewed in 2021. This will restore one's faith in humanity:
A few days ago, I wrote about the Revd William Pearson-Gee's impassioned video about keeping churches open during the Christmas period during the current coronavirus panic over Omicron. Watch his hands; the intensity is palpable:
Mr Pearson-Gee's Buckingham Parish Church has its own YouTube channel with all its main services.
Here is the church's Service of Nine Lessons and Carols for 2021:
The next video was one of their Christmas services which starts with a charming Christingle service and ends with the liturgy for Holy Communion. Mr Pearson-Gee includes Christmas prayers in the second service, making it all the more meaningful:
I hope that these videos, be they religious or secular, help us better appreciate the Christmas season.
On Sunday, December 19, 2021, the Revd Will Pearson-Gee gave a heartfelt extemporaneous sermon at his church in Buckingham, England, part of the Diocese of Oxford.
Last weekend, it was unclear whether some sort of Yuletide lockdown would be implemented in England, possibly including churches. In 2020, churches were closed for months. The Government deemed them to be 'non-essential services'. The Church of England hierarchy were complicit in that decision.
If lockdown were reimposed the way it had been last year, Mr Pearson-Gee clearly stated that he would not be playing that game again at Buckingham Parish Church.
This short must-see video went viral:
High Churchman Calvin Robinson responded:
I saw it on Wednesday, December 22, on GB News, thanks to Mark Steyn who was filling in for Nigel Farage. Steyn's introduction could be a sermon, too, as it directs us to the transcendent, the living God, something the Church of England should have done last year:
Steyn also interviewed Pearson-Gee (from 12:21 to 20:00). I highly recommend watching it:
The vicar said that Zoom worked well in the early months of the pandemic, but it was only ever a temporary solution.
Once churches were allowed to reopen, he said that the elderly spearheaded a renewed fellowship in the congregation.
He graciously did not criticise the Archbishop of Canterbury for last year's spiritual failings in the Church of England, saying that Justin Welby has a very hard job to do.
He also said that he knew Christians in Iraq who risked their lives going to worship, but they took that risk because their faith was so important:
If only we felt the same way.
Pearson-Gee has a lot going on at Buckingham Parish Church, including three different Sunday services — something to suit everyone's liturgical tastes:
His daughter helps him out with Twitter:
Was Will Pearson-Gee always a devout Christian?
No.
Incredibly, he returned to the Church after his first wife and son were killed in a car accident. Mark Steyn mentioned this after his interview with the vicar ended.
Such a tragic event would have put most people off church and God forever, but Pearson-Gee saw things differently.
In March 2014, he discussed his testimony with Premier Christianity. I would highly recommend that unbelievers and agnostics read about his journey of faith which led him to seek ordination.
Excerpts follow, emphases in purple mine:
It was back in 1996 that my world fell apart. My wife, Anna, had gone out with our two children, Eleanor (two) and Jamie (three). It was a really hot summer's day in July and she took them down to Bournemouth to the seaside.
On the way back (for reasons that we'll never know) her car crossed over the centre white line on a narrow bit of a road, and was hit head on by an articulated lorry carrying 40 tonnes of very large rocks. Anna and Jamie, who were on the same side of the car, were crushed and killed instantly. My daughter Eleanor, quite amazingly, was able to be removed from the car wreckage by a Royal Marine Officer travelling in the car behind. She was literally unmarked, which I've always thought was a little bit of a miracle considering the combined collision was about 90 miles an hour. But she survived. Obviously it was a devastating shock for me, but I had my little girl to look after.
I was confronted by their bodies in the mortuary some hours later. They were in quite a mess and it took the mortician a while to make them presentable for identification. They pulled back the white sheets and I ranted, and I screamed, and I wept. Then I looked at them, and I thought, 'This cannot be the end.' There was so much life, particularly in my little boy ? he was such a handful. I just couldn't believe it was the end of him and so I thought, 'Where have they gone? Where are they now?'
At the time I was definitely a 'nominal' Christian. I believed there was some higher power, some greater being beyond myself that I could call upon and might listen to me, but I really had no idea about God's character or whether he cared about me …
Then my eye was drawn to a very simple crucifix on the wall of the mortuary. It was a sign of the Christian faith to which I had been exposed since I was a child. It's like a penny dropped, and it suddenly became not just a cross, but a sign of hope for me. I then realised that if there was all this talk about resurrection and life after death, I needed to find out more about it. I managed to meet up with a Christian, also with my local vicar, and there was a Catholic priest who came into my life who had real expertise in helping people recover from child death. It was this cumulative effect that opened my eyes to the fact my wife and child were somewhere better, they were in heaven, and therefore if I wanted to see them again I needed to get myself right with God. That was a long process in itself.
This is why Pearson-Gee is not angry with God. It is an interesting perspective:
People sometimes ask me if I felt like blaming God. During my early time of grief, through counselling groups, I came across a lot of other people who were suffering and mainly they just blamed God. But to me it didn't make sense that God had just got out of bed one morning and said, 'Who am I going to strike down today?' … Where do you draw the line with him intervening and stopping things going on? In a way, you'd be expecting him to upturn the laws of nature every single nanosecond of the day around the world, and then what kind of world would we be living in? So I don't blame God.
I think God permitted that crash to take place, but 'in all things God works for the good', and I've really clung on to that. … in a funny sort of way the fact it has happened has brought me huge blessings … I've got a lovely wife, I've got three more kids including another son, I've got the most wonderful faith, my wife is a Christian. We know that whatever the world throws at us now, we have this wonderful eternal life waiting for us. Life is good. I know it's not always going to be great and there will be trials and tribulations, but following Jesus is just such an amazing adventure.
Pearson-Gee wrote a brief autobiography for the Buckingham Parish Church website, which is also interesting (emphases mine):
I arrived in Buckingham just in time for Easter 2010 having moved from Oxford where I did my theological training (at Wycliffe Hall) and served my curacy (at St Andrew's Church).
I enjoyed a full career in the Army serving all over the world as an infantry officer in the Coldstream Guards before leaving to join my brother's printing company where I spent 6 happy years.  During this time I started to go to a newly planted church which showed me something that I had never seen before: an Anglican church pulsating with life and growing in size and depth.  Intrigued, I became more and more involved in its incredibly exciting mission and began to sense that ordination might be what God wanted me to pursue.  I think I was the most surprised of all when I arrived at Wycliffe Hall to start my training!
He mentioned the fatal car accident, adding:
That dreadful event really did change my life in more ways that I could have imagined and illustrates the truth in Paul's words in Romans 8:28 "And we know that in all things God works for the good of those who love him, who have been called according to his purpose."  My story surrounding this tragedy is here if you'd like to read it – if you do, I hope you find it an encouragement. Also, here is an article in Christianity Magazine that tells the story.
I am now married to Lucia and between us we have 4 children – Eleanor from my first marriage – and 3 of our own. I must say that I feel a little like Job who lost so much but was then restored by the Lord and had even more. We even called one of our daughters Jemima (as did Job).
Jemima — Mimi — helps her father with Twitter.
This is what motivates Pearson-Gee's ministry:
I suppose what really motivates me in my ministry is sharing the good news that is Jesus Christ. It was this same, unchanging good news that pulled me out of the mire and gave me so much hope after my tragedy. I am passionate about making this good news accessible to everyone and will do all I can to make the Church (that is the people of God – Christians) welcoming to those who are – like I was once – lost.
That's so moving, especially as we approach Christmas.
————————————————————————————–
Normally, I would have ended the post there.
However, the next few posts will involve Christmas readings, so I will close with two secular news items.
The first concerns Northern Ireland, which will reimpose coronavirus restrictions on December 27. Sammy Wilson MP (DUP) is none too happy but turned his disappointment into a little take on 'Hark the Herald Angels Sing':
"Hark the herald angels ping," the East Antrim MP tweeted.
"Robin Swann won't let us do a thing. No more parties, work at home. In the streets you cannot roam
"Omni is far worse than the delta curse. Stay at home. Or they'll be far worse to come."
It upset a number of politicians in Northern Ireland, who branded him a 'moronic fool':
The second item is Neil Oliver's take on our covidian Christmas this year, wrapping lockdown and economic ruin into 'Twas the Night before Christmas and Dickens's A Christmas Carol. Wry, witty and pointed, it's worth watching:
With that — the spiritual and the secular — may I wish all my readers a very happy Christmas. May you be blessed despite State restrictions.
In the UK, coronavirus vaccine boosters progress apace.
This advert is showing at cinemas around the country. It features Prof Chris Whitty, Chief Medical Officer: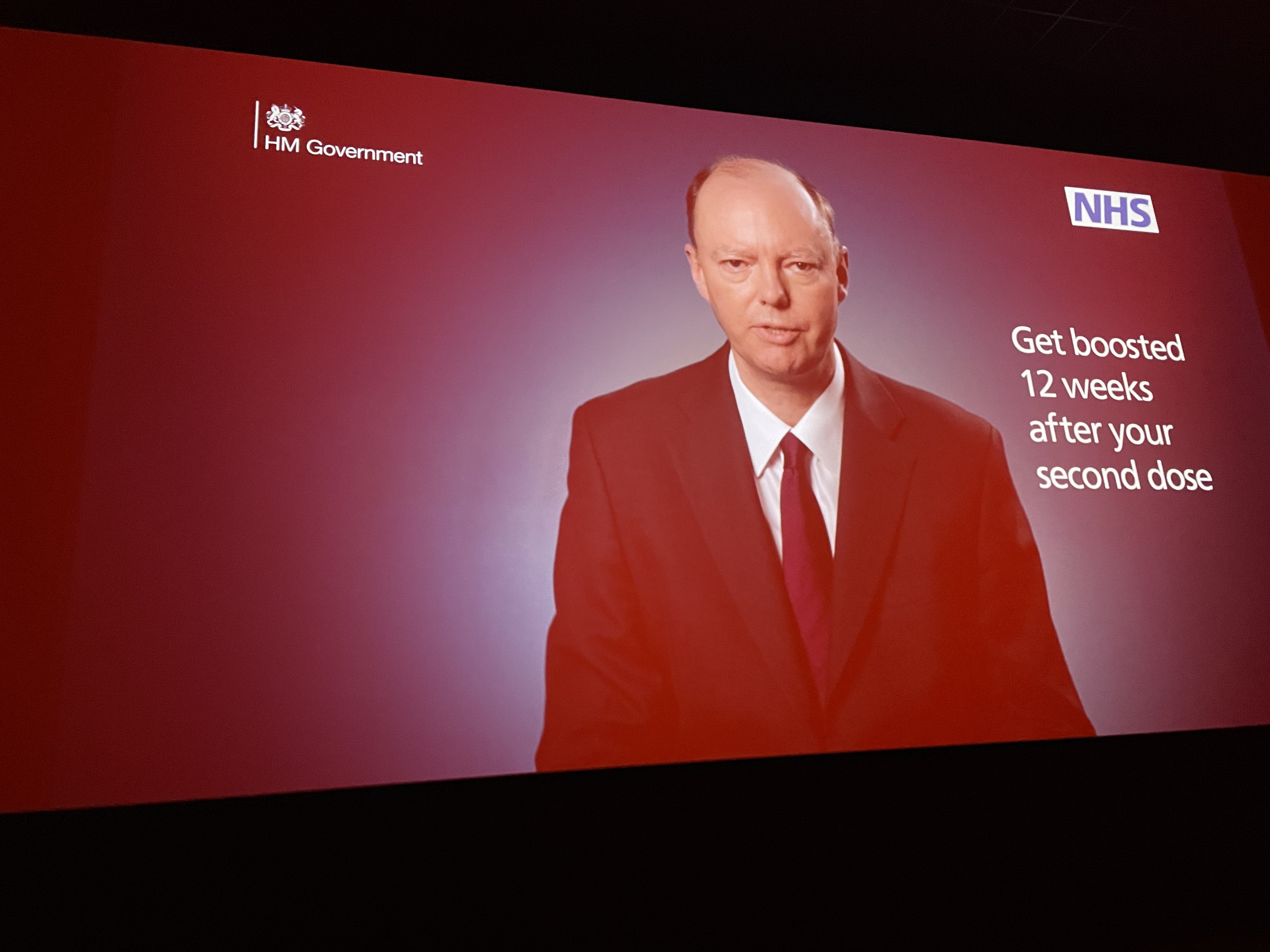 Scary.
It is reminiscent of 1984: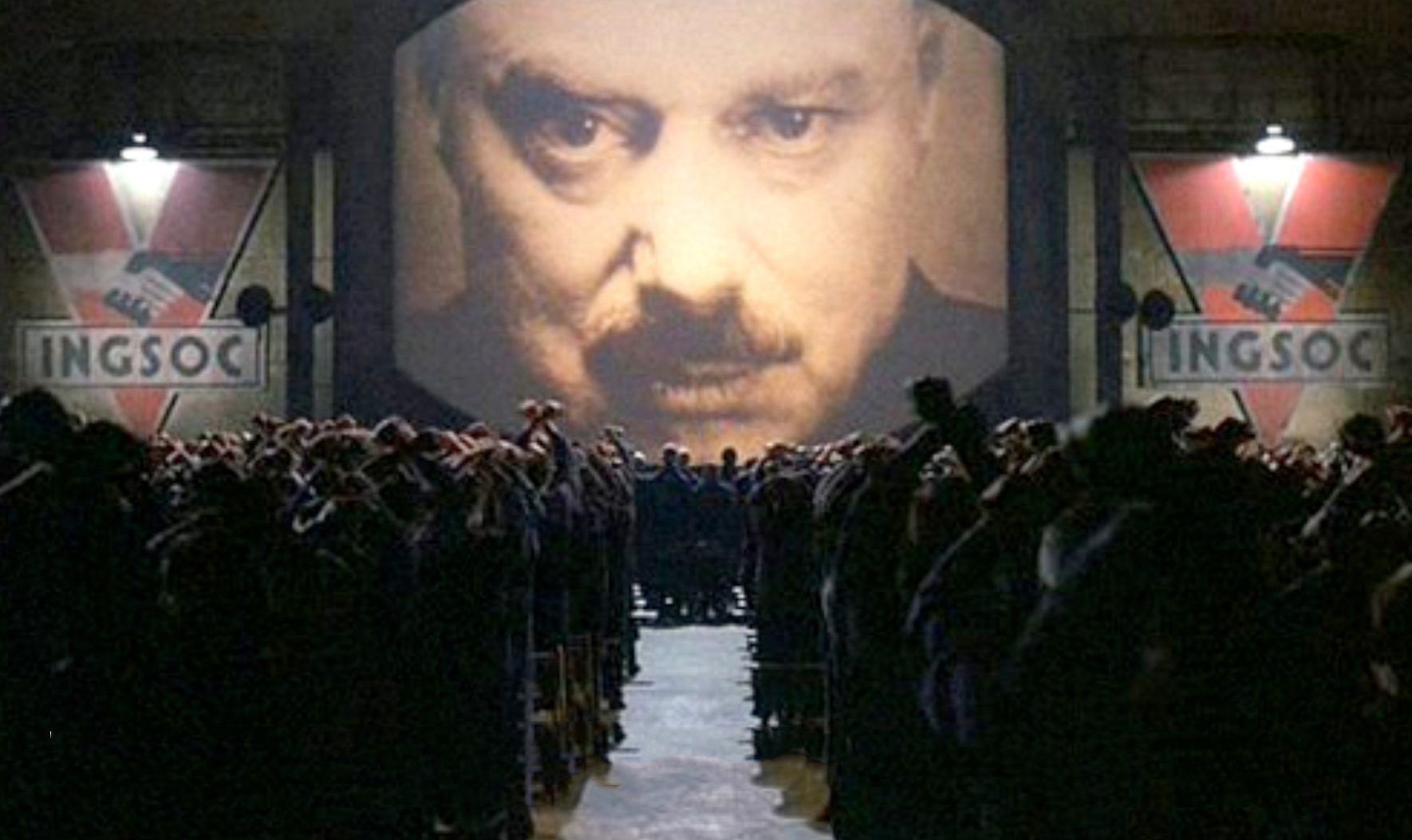 Someone else posted those images a few days ago.
Here's another: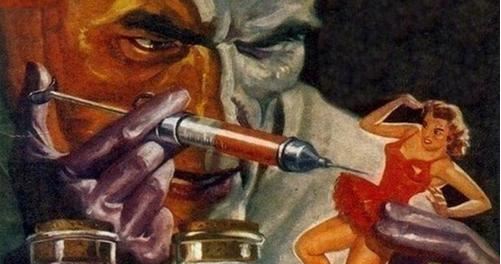 On Saturday, December 18, Neil Oliver of GB News interviewed Dr Robert W Malone about the vaccines and the boosters (33-43 minutes in):
Malone discusses his involvement in mRNA vaccine technology from its inception in the late 1980s and development into the 1990s. He now looks at these vaccines from a regulatory perspective.
He, along with a number of other physicians and scientists, e.g. Dr Pierre Kory, does not think that the coronavirus vaccines have been developed in a conventional manner.
Furthermore, he does not think they should be:
1/ given to children;
2/ given to people with normally functioning immune systems;
3/ mandated.
In other words, if he is correct, most of us reading this post should never have had the coronavirus vaccines or boosters.
Malone thinks that those should have been reserved only for the immuno-compromised, but admits that, even with that caveat, he's having second thoughts about that group as well.
Hmm.
In June, Linked In suspended his account for his views on the vaccines:
In 2022, the UK is likely to get legislation prohibiting 'hateful anti-vaccine' (MPs' words) articles and opinions. A few other countries already have such laws:
Note how the BBC fits in:
Congratulations to Neil Oliver and GB News for giving Dr Malone much needed air time.
With regard to Omicron, this is where we left off on Monday in the UK — one death:
Guido Fawkes's accompanying post says (emphasis in the original):
Boris has claimed this morning that one hospital patient has died with the Omicron variant, telling cameras "Sadly yes, Omicron is producing hospitalisations, and sadly at least one patient has been confirmed to have died with Omicron." It is not yet known whether the patient had comorbidities...
So far, it is believed that Omicron is a relatively mild variant. The Singaporean Ministry of Health has stated (H/T Guido Fawkes; emphasis mine):
Cases who have been detected around the world have mostly displayed mild symptoms, and no Omicron-related deaths have been reported so far. Common symptoms reported include sore throat, tiredness and cough.
The numbers hospitalised with Omicron are in single digits …
… never mind what Justice Secretary Dominic Raab said on this morning's news round:
Dominic Raab doesn't appear to know how many patients are in hospital with Omicron. Yesterday, Sajid Javid said it was "around ten", with Raab this morning claiming on Sky News that the figure had now jumped up to 250, which would be an alarming leap in just 24 hours. Thirty minutes later on BBC Breakfast, however, Raab inexplicably slashed that number all the way down to 9. The new antiviral treatments are good – they aren't that good.
Regardless, today, after the Government already implemented it last week, MPs voted on Plan B for England. There were four separate divisions (votes). One was on coronavirus passports.
When Tuesday's parliamentary session began, Plan B involved wearing masks in enclosed spaces and public transport as well, working from home as well as a return to quarantine.
When Health Secretary Sajid Javid began his address, he mentioned that quarantine would be less severe. It would now involve daily testing instead of a mandated policy to stay indoors (emphases mine):
At the end of last month, this House passed regulations requiring all close contacts of a suspected or confirmed omicron case to self-isolate for 10 days, but given the increasing dominance of omicron, this approach no longer makes sense for public health purposes and nor is it sustainable for the economy. So we are drawing on the testing capacity that we have built to create a new system of daily testing for covid contacts that has started today. Instead of close contacts of confirmed cases or suspected cases having to self-isolate, all vaccinated contacts, irrespective of whether the contact was with an omicron case, will be asked to take lateral flow tests every day for seven days. Regulation No. 1415 allows us to put this plan into action by revoking the omicron-specific provisions for self-isolation.
Ahead of the official vote, The Telegraph's cartoonist Bob Moran took action on masks on Saturday, December 11:
Not surprisingly, Plan B has begun to wreak havoc with cancellations of international travel and Christmas gatherings in hospitality venues.
At least 80 Conservative MPs were expected to rebel and vote against the Government. On the day, 98 rebelled against the vaccine passport, along with three others spotted by Labour Whips. They included Sir Desmond Swayne and Bob Seely. I plan to discuss the results in another post:
Although a rebellion by Conservatives alone did not stop the Government winning the votes — thanks to Labour! — it should send a clear message to Boris.
Alicia Kearns tweeted that she would vote against coronavirus passports:
People living in England are concerned about the constant moving of goalposts with regard to coronavirus restrictions.
Conservative MPs became angry last week. In his press conference on Wednesday, December 8, when he announced Plan B, Boris mooted the idea of 'a national conversation' about mandatory vaccinations:
The rebel MPs' reaction was immediate:
Guido began compiling his list on December 9. A selection of comments from MPs follows:
Alexander Stafford said "he cannot and will not support mandatory vaccinations", adding that working from home "disproportionately negatively affects younger people and those starting out in their careers".
Douglas Ross said "There is no evidence that vaccine passports stop the spread of Covid" and that since he didn't vote for them in Holyrood, he wouldn't vote for them in Westminster either.
Graham Brady said in the chamber last night that "it's deja vu all over again, isn't it?"
Peter Bone slammed compulsory vaccinations on Newsnight, calling the idea "completely outrageous", and even saying "I'd be the first to say the PM should go" if they were implemented.
Simon Jupp said "I don't support Plan B", called vaccine passports "divisive & discriminatory", and made it clear that he "won't vote for these measures."
Steve Baker insisted it is "vital that the maximum number of Conservative MPs vote against Plan B, whatever our useless Opposition do".
Over the weekend, Steve Baker tweeted that he would be relaunching his Conservative Way Forward movement, open to MPs and the general public. It is meant to restore the Conservative Party to its proper origins rather than a Boris-led Blairite/Labour-lite party:
Sir Edward Leigh MP stated his intention to vote against the Government for the first time during this Parliament:
Mark Harper MP pointed out:
"there is no exit strategy", and asked "why should people at home…do things that people working in Number 10 Downing Street are not prepared to do?" 
The Spectator's Kate Andrews also noted the same thing, comparing the content of December 8's press conference with the others that had preceded it. The Government and scientific advisers have made many poor contradictions and bad comparisons between the UK with a strongly vaccinated population versus one like South Africa's:
The Spectator contrasts what our scientific experts from SAGE put forward compared with the real statistics. SAGE have a lot of explaining to do, yet Boris continues to court their shamefully extreme modelling.
Guido's December 9 poll of the public shows that they are increasingly concerned about scope creep, especially with regard to Plan B:
Guido's post reveals who led the press ('lobby') briefing that day. It was not the Department for Health and Social Care (DHSC):
A poll of 3,170 Guido readers opened earlier has less than one-in-seven believing the government's timing of Plan B yesterday was based on epidemiological reasons, and not politics.
Guido can't say he's surprised. Sources suggest that while a quad meeting was always scheduled for yesterday afternoon, Plan B was not on the table. During the morning the briefings were coming from Downing Street not DHSC, further suggesting the move was more politically than epidemiologically motivated.
William Wragg MP was the first to notice the political end to Plan B — a diversion from the Christmas party debacle — and actually challenged Boris on it last Wednesday at PMQs, only hours before the press conference. Tom Newton Dunn tweeted:
Senior Tory William Wragg challenges Johnson directly during PMQs over if he's bringing in Plan B today, and says "few will be fooled by this diversionary tactic". Johnson doesn't deny, but says: "No decisions will be taken without consulting the Cabinet".
It would have been even better if Sir Keir Starmer, leader of the Opposition had said that, but, alas, he's all on board with further restrictions. If he were Prime Minister, we would have never had Freedom Day on Monday, July 19. We would have been where Scotland and Wales continue to be, still restricted in many ways, with compulsory masks and vaccine passports.
On Monday evening, December 13, Sir Keir somehow got media outlets to televise his support for Plan B. The reason for this baffles me, as he is not in Government.
It does appear as if we have a coalition Conservative-Labour government, because the latter jumps on every coronavirus restriction bandwagon going. The Sun's Trevor Kavanagh told Nigel Farage that this is not a good thing:
According to a GB News poll for Dan Wootton Tonight, the public strongly disapprove of Plan B:
Sadly, we now have Plan B in England: face coverings in enclosed spaces, vaccine passports for large venues/events and mandatory vaccines for NHS/care home staff by April 2022. Self-isolation with daily testing was approved unanimously; there was no division on that motion.
The question remains: do we get another lockdown, i.e. Plan C, in the New Year?
Boris wouldn't dare, would he?
Two videos of interest follow concerning coronavirus vaccines, including boosters.
On Monday, December 13, 2021, Health Secretary Sajid Javid said in Parliament that NHS work would be largely paused to focus on the booster programme, with which the British Army will help administer.
An oncologist, Prof. Angus Dalgleish from St George's Hospital, London, told GB News that the booster programme was 'a waste of time', because the new Omicron variant is so infectious. He is concerned that many other ailments, cancer, in particular, will go untreated. He says that a relatively mild cancer which goes undetected can become Stage 4 cancer, bringing about more fatalities from non-COVID illnesses. As for the vaccines, he says that the focus should be on T-cells rather than antibodies, which can disappear over time.
This is around six minutes in length and well worth watching:
A longer video about the vaccines is on Parliamentlive.tv. I recommend the first 40 minutes with Dame Kate Bingham, Former Chair, UK Vaccine Taskforce. (Scroll through the first 10 minutes or so, as the start was delayed.) On December 14, 2021, Dame Kate told the Science and Technology Select Committee how the vaccine programme, which was her big success last year, has begun to falter.
She has been out of the taskforce for a year now. She told the Select Committee that she left a detailed plan behind of how to proceed: staying ahead of the curve both with variants and vaccine supply. She surmises that her plan has not been followed, for whatever reason, because the vaccine rollout has become inefficient.
The most eye-opening part was her discussion of the Valneva lab in Livingston, Scotland. Dame Kate said that the Government recently withdrew funding from the facility because they wanted booster shots only; Valneva produces whole-virus vaccines, which are seen to be more adaptable in the long run.
Valneva was supposed to be 2021's big success story. Prime Minister Boris Johnson visited the facility earlier this year.
Although Valneva is a French company, in February, they were willing to ship their vaccines to the UK first, because the EU had not yet signed a letter of intent:
Guido Fawkes reported that the vaccine would be ready in 2022 (emphasis in the original):
This morning it was revealed that the UK has exercised its option to purchase a further 40 million doses of a promising new vaccine from Valneva SE, a French vaccine developer with its product still in stage 1/2 trials. While the vaccine would not be available until next year it could prove vital in defending against new strains as the UK deploys what will likely be an annual vaccination effort similar to the massive flu jabs programme. The UK had already ordered 60 million doses, bringing the total to 100 million…
Valneva SE CFO David Lawrence told the Today Programme that whilst the UK has been in discussions and had signed deals since the summer of 2020, the EU is yet to sign even a letter of intent with the firm, which is headquartered in Paris.
In April, The Scotsman reported that Valneva was searching for Phase 3 trial volunteers for their promising vaccine, being developed ahead of schedule for delivery at the end of 2021 (emphases mine; sorry about the font size, which I was unable to change):
The UK has ordered 100 million doses of the Valneva vaccine, which are set to be delivered at the end of 2021 and beginning of 2022.
With all adults due to have been vaccinated by the end of the summer, Valneva hopes its vaccine will be used as a booster jag or as a modified vaccine which is more effective against new variants of Covid-19.
The phase 3 trial will run in 24 sites across the UK, with two in Scotland. It is open to healthy adults who have not already had a vaccine.
Around 3,000 people over 30 will be given either two doses of the Valneva vaccine or two doses of the AstraZeneca jag.
Following JCVI guidance not to offer AstraZeneca to under 30s, around 1,000 younger participants in the study will be given only the Valneva option.
Volunteers will be given two doses, 28 days apart, starting at the beginning of May.
Thomas Lingelbach, Valneva chief executive, said: "This Phase 3 initiation marks a significant milestone in the development of the only inactivated vaccine candidate against Covid-19 in clinical trials in Europe.
"As Covid-19 continues to impact people's daily lives, we remain fully focused on developing another safe and efficacious vaccine solution.
"We believe that VLA2001 has an important role to play including boosters or potential modifications to the vaccine to address variants."
Valneva's candidate is an inactivated whole virus vaccine, which contains virus that has been destroyed so cannot infect cells, but can still trigger an immune response.
The technology is used in flu, polio and rabies vaccines, and it's a more traditional approach than the Pfizer (mRNA) and AstraZeneca (adenoviral) vaccines.
Because the vaccine doesn't contain any live virus, it may be especially suitable for vulnerable people, such as the elderly or those with weaker immune systems.
On November 31, Daily Business reported that the UK Government might return to the negotiating table with Valneva, which they had accused of breach of contract:
UK Government ministers may be about to return to the negotiating table with French vaccine developer Valneva two months after cancelling a contract to supply Covid vaccines from its plant in Livingston.
A source close to the situation says it is hoped the UK Government will "seek an amicable resolution" and at least partially reinstate the £1.2bn order to help combat the new Omicron variant.
Westminster terminated the deal in September, claiming breach of contract, a move that drew criticism from business leaders, senior academics and politicians.
The government had placed an order for 100 million doses of its VLA2001 vaccine after increasing its request by 40 million last February. Then, without warning, it pulled the plug.
It placed a question mark over the future of the firm's new West Lothian factory, a globally-qualified manufacturing site for viral vaccines including VLA2001.
The company is currently supplying, or is in discussion, with other countries about potential deals for the vaccine.
For once, I agree with Scottish National Party (SNP) MPs; they rightly deplore the Government's withdrawal of the Valneva order.
Dame Kate Bingham pointed out that, because Valneva's vaccine is a whole virus one rather than one with just the protein spikes, e.g. Moderna's, it can be modified quickly to attack new variants. Moderna's and Pfizer's, on the other hand, require months of work.
Dame Kate called Valneva 'nimble'. She added that, even if the UK were not interested in the vaccine, other countries around the world would want it, which can only be a positive for Britain.
One wonders how many other stories there are like this.
Prime Minister Boris Johnson is quickly going from hero to zero.
Lately, he has been beset by scandals, some from other Conservative MPs but others which can be laid only at his door.
At least he has a new baby daughter to provide some distraction.
N.B. Some tweets below come from a Boris parody account, such as these:
Downing Street flat refurbishment
Carrie Johnson wanted to refurbish the Downing Street flat.
Most PMs' wives have done it on a careful budget. Samantha Cameron redid the flat when her husband David was PM between 2010 and 2016. Unlike the other PMs's wives, she spent £100,000, which included a brand new kitchen.
Theresa May was more prudent when she redecorated further.
According to Tatler, Theresa May's taste was too 'John Lewis', so Carrie enlisted the help of interior designer Lulu Lytle.
On March 1, 2021, news emerged that, before Carrie Symonds married the Prime Minister, her fiancé wanted to set up a charity to fund the costs, as the White House does. The Daily Mail reported (emphases mine):
Boris Johnson is secretly trying to set up a charity to help pay for a costly makeover of his official flat by his fiancée, it has been claimed.
The scheme is based on one used by the White House to raise millions of dollars for interior design, antiques and art.
The presidential charity is bankrolled by private donors – and the proposed Downing Street version is expected to be funded largely by wealthy Tory benefactors.
It runs the risk of claims of conflict of interest if it is seen as a back-door way of providing a financial benefit to the Prime Minister.
Mr Johnson has complained the cost of the refurbishment by Carrie Symonds was 'totally out of control', the Daily Mail has been told. He reportedly said during one meeting that the sum amounted to 'tens and tens of thousands'. On another occasion he said it was 'over a hundred grand'.
He is said to have told one minister he was particularly alarmed by the cost of wallpaper chosen by Miss Symonds, saying she appeared to have ordered 'gold wall coverings'.
Mr Johnson has asked multi-millionaire financier and Tory peer Lord Brownlow, who has close links with the Royal Family, to run the charity. It is believed that an application to register it with the Charity Commission is under way.
The official purpose of the charity is to raise funds to preserve No 10 and No 11 Downing Street for the nation on heritage grounds.
But insiders say the proposal stemmed from the soaring cost of a makeover of the No 11 flat, which is preferred by prime ministers with families because it is bigger than the No 10 flat …
The Charity Commission said it was not aware of any application to set up a Downing Street charity.
Conservative Party HQ, the Cabinet Office, Lord Brownlow and Miss Lytle declined to comment.
The article includes photos of the newly decorated room which looks as if it came out of a harem. What were they thinking?
The hallway is better but is still an acquired taste.
On March 12, the cost came up for discussion in the House of Lords. Journalist John Rentoul put together a graph from the figures that Lord True gave to the Lords:
When this came up earlier this year, it seemed like revenge at Boris for Brexit.
On Wednesday, April 28, the left-leaning Electoral Commission announced a formal investigation into the refurbishment.
Guido Fawkes reported that the Commission's spokesperson said, in part (emphases in the original):
We are now satisfied that there are reasonable grounds to suspect that an offence or offences may have occurred. We will therefore continue this work as a formal investigation to establish whether this is the case.
"The investigation will determine whether any transactions relating to the works at 11 Downing Street fall within the regime regulated by the Commission and whether such funding was reported as required …
Guido pointed out that Prime Minister's Questions (PMQs) took place that day:
Incredibly awkward timing ahead of PMQs…
Sure enough, it was awkward for Boris, facing Labour's Sir Keir Starmer at the despatch box, as Guido later reported, complete with a video (emphases mine):
Boris ended his PMQs spar with Sir Keir visibly furious after four questions about who paid for the No. 10 flat renovation. The PM copied the CCHQ strategy of relying on the specifically-worded phrase "I paid for [the] Downing Street refurbishment personally". Asked whether Lord Brownlow paid the initial refurbishment invoice, Johnson dodged the question, saying "I think I've answered this question several times, the answer is I have covered the cost."
The session finished with an incredible rant from the PM, which resulted in [Speaker of the House] Lindsay Hoyle having to ask him to "Calm it down a little."
Guido and his team discussed the issue on Friday, April 30.
Around that time, Tatler published the text of an email from Lord Brownlow regarding a donation:
The Mail claims that the email appears to prove that the Tories planned to claim the £58,000 was paid not by Lord Brownlow but by a 'soon to be formed Downing St Trust' that did not exist – and still doesn't, officially.
The email, sent by wealthy donor Lord Brownlow last year, on 14 October was marked 'Donation' and reads: 'Hi Mike … further to our conversation I am making a donation to the Party. It includes the £15,000 you and I have agreed – plus £58,000 to cover the payments the Party has already made on behalf of the soon to be formed "Downing Street Trust" – of which I have been made chairman, as you know.'
… Prime Ministers typically receive about £30,000 of public money to redecorate but Johnson is reported to have complained to advisers about the high costs he incurred for his upmarket interior design project.
A Conservative spokeswoman told the Times : 'All reportable donations to the Conservative Party are correctly declared to the Electoral Commission.'
On August 26, Conservative Party headquarters provided an update. Guido reported that the following was buried in the footnote of page 25/26 of the annual report (emphases in the original):
The Conservative Party officially say they provided a "bridging loan" of precisely £52,802 "in relation to the renovation of the Prime Ministerial residence in Downing Street" in anticipation of the formation of the PM's now-abandoned "Downing Street Trust". Conservative Central Office was then invoiced by the Cabinet Office in June 2020. Lord Brownlow then reimbursed the party…
CCHQ continues, "In March 2021, the Prime Minister personally settled the costs incurred by Lord Brownlow", before pointing to the Independent Adviser on Ministers' Interests review, which found the loan provided by CCHQ constituted financial support to the PM. The full stop at the end of the long-running row?
No, that was not the end of the matter. Yesterday, Thursday, December 9, Guido updated us with the news that the Electoral Commission fined the Conservative Party £17,800:
It just one thing after another for No. 10 this morning, as the Electoral Commission fines them £17,800 for failing to "accurately report a donation and keep a proper accounting record" in regards to the Downing Street flat refurb:
" … The investigation found that the party failed to fully report a donation of £67,801.72 from Huntswood Associates Limited in October 2020. The donation included £52,801.72 connected to the costs of refurbishment to 11 Downing Street. The full value of the donation was not reported as required in the party's Q4 2020 donation report.
The Commission also concluded that the reference in the party's financial records to the payment of £52,801.72 made by the party for the refurbishment was not accurate."
It never rains but it pours…
Sleaze
A sleaze scandal involving Conservative MPs erupted in November, resulting in the resignation of Owen Paterson, MP for North Shropshire. A by-election for his successor will be held on Thursday, December 16.
However, as I was on the subject of flats, the Political Editor of The Sun reports that, even though it became an issue in 2012, it appears that MPs buy London flats to rent out then reclaim the expense for the flat:
Guido exposed the practice in 2012. It allegedly involved at least one Labour MP and the then-Speaker of the House John Bercow covering it up (emphasis in purple mine):
The first and most simple method of rent-swapping involves the MPs who make money renting out their own previously taxpayer-funded properties while claiming expenses to rent out homes nearby. According to The Telegraph Chris Bryant rents out his mansion flat in Bloomsbury while claiming £2,000 expenses for rent on another London property. We have repeatedly asked him for an explanation this morning without receiving any reply. The Speaker claims the truth cannot be released because it would pose a security risk. Laughable, Guido and anyone else who wants to know, already knows where he lives.
The second, far more serious, category of rent-swapping covers a handful of MPs suspected of renting out properties to each other, effectively an "I'll pay yours if you pay mine" scheme. MPs are banned from renting homes to relatives but a loophole in the rules allows them to trouser huge sums of money by renting out properties to other current and former MPs. Bercow cites security reasons for not revealing the address or names of landlords, but there is absolutely no reason why he cannot release the names of the MPs involved in this form of rent-swapping. It is a cover up.
There is also potentially a third category: the so-called "phantom" rent swap. This involves the possibility of MPs telling the authorities they have moved when in reality they have not, and then swapping their rent on the quiet.
If these people were claiming housing benefit "Rent Swapping" like this would fall into the category of benefit fraud plain and simple, it is in the parlance of welfare fraud investigators a "contrived tenancy" punishable by up to 10 years imprisonment.
Now on to the big Opposition sleaze attacks from this year.
In April, Labour and Scotland's SNP MPs accused the Conservatives of cronyism when obtaining last year's emergency PPE and equipment contracts to fight the pandemic. On April 26, Michael Gove responded:
Only 0.5% of PPE wasn't up to scratch …

The Dyson texts were about securing ventilators for the frontline …
In November, the Owen Paterson controversy broke. Paterson had been working for the Northern Irish healthcare company Randox, whilst he was Shadow Northern Ireland Secretary. That was before the Conservative-Lib Dem coalition took office in May 2010. In 2015, he began working as a consultant for the company. By 2019, he was earning £8,333 a month for a monthly commitment of 16 hours in that role.
In 2020, the Government awarded two contracts to Randox for producing coronavirus testing kits. The first contract, awarded in March, was worth £133 million. In April 2020, Paterson represented Randox in a call with Lord Bethell, the minister responsible for awarding contracts. Unusually, no minutes of the call were available. Later that year, Randox won another contract worth £347 million. In neither case were other companies allowed to bid for those contracts.
Owen Paterson also worked for another company based in Northern Ireland, Lynn's Country Foods Ltd. They paid the then-MP £12,000 per annum for 24 hours of work.
In October 2021, on Political Correction, Nigel Farage interviewed Paterson on GB News. Paterson said that he had been under investigation by the Parliamentary Commissioner for Standards for many months. Paterson told Farage that, in June 2020, his wife, Rose, asked him one weekend how long the investigation would go on. He replied that he did not know. Little did he know that she was preparing to take her own life in the days that followed. She committed suicide on Wednesday, June 24, 2020. She had been so concerned for him that it was taking a toll on her mental health. Paterson and their three children were devastated.
In October 2021, the Parliamentary Commissioner for Standards concluded her investigation. Wikipedia states:
The Commissioner said Paterson had "repeatedly used his privileged position to benefit two companies for whom he was a paid consultant, and that this has brought the house into disrepute" and that "no previous case of paid advocacy has seen so many breaches or such a clear pattern of behaviour in failing to separate private and public interests".
Paterson told Farage that at no time was he allowed to present his case to the Parliamentary Commissioner for Standards.
The Commons Select Committee on Standards recommended that Paterson undergo a 30-day suspension from Parliament. That length of suspension could have triggered a recall of the MP from his constituency, resulting in a by-election.
In order to avoid that situation — and because some Conservative MPs thought Paterson had suffered enough through his wife's suicide brought on because of the pressure of waiting for the investigation to conclude — Andrea Leadsom MP brought forward an amendment to the motion to suspend him. It involved delaying consideration of the suspension until a new proposed cross-party committee of MPs could investigate the disciplinary process for MPs. The Government supported Leadsom's amendment and appointed a three-line Conservative whip, obliging the party's MPs to vote for it.
The amendment passed: 250–232. Paterson was able to vote for it.
On November 3, Paterson thought he would be able to clear his name. The Guardian quoted him as saying (emphases mine):
The process I was subjected to did not comply with natural justice.
No proper investigation was undertaken by the commissioner or committee.
The standards commissioner has admitted making up her mind before speaking to me or any witnesses.
All I have ever asked is to have the opportunity to make my case through a fair process.
The decision today in parliament means that I will now have that opportunity.
After two years of hell, I now have the opportunity to clear my name.
I am extremely grateful to the PM, the leader of the house and my colleagues for ensuring that fundamental changes will be made to internal parliamentary systems of justice.
I hope that no other MP will ever again be subject to this shockingly inadequate process.
That night, there was outrage among MPs, including Conservatives, and in the media.
Early in the afternoon the following day, Boris Johnson reversed his support for Paterson.
The Guardian reported:
MPs are expected to get another vote "as soon as possible" on suspending the Conservative MP Owen Paterson from parliament, after Boris Johnson made a U-turn and ditched immediate plans to overhaul the standards system.
Following a wave of anger from within his own party and allegations of Tory sleaze, the prime minister retreated. He signalled that he would not go ahead with a new committee chaired by a Conservative MP to review the case and wider sanctions policy, given that opposition politicians had vowed to boycott it.
A motion trying to reverse Wednesday night's vote is expected to be debated next week before the Commons goes into recess, when further details will be set out of how changes to the standards system will be taken forward on a cross-party basis.
Early that evening, Paterson announced that his resignation as MP for North Shropshire.
The Guardian said:
There is a Westminster joke about how eventually everyone gets let down by Boris Johnson, and the U-turn meant that Paterson – who yesterday enjoyed the full support of the No 10 machine – was today facing inevitable suspension from the Commons, and a possible recall election too … Johnson's U-turn makes the government less vulnerable to the toxic charge of corruption and cronyism than it was, but the episode must have caused some reputational damage and Tory MPs who loyally defended what the government was doing yesterday are looking particularly exposed.
The Paterson controversy resonated with many Britons who remember the MPs' expenses scandal that The Telegraph exposed more than a decade ago. Most of us have a dim view of Parliamentarians anyway, with the word 'trough' popping up more often than not in any mention of either House, Commons or Lords.
Interestingly, on November 30, Guido reported that Kathryn Stone, the Parliamentary Commissioner for Standards, cleared another Conservative MP, Geoffrey Cox (purple emphases mine):
of using his Commons Office during a Zoom call for his second job , on the grounds there is insufficient evidence to justify beginning an inquiry. Despite screenshots and videos having him bang to rights…
Stone's limp-wristed decision sets an alarming precedent, arguing the rules on the use of taxpayer-funded parliamentary offices should be operated with a degree of proportion. While this creates an absurdly subjective grey area, Guido confesses he worried this would be the outcome. As the scandal played out last month, he spotted that while the 2010 MP's handbook had explicitly said Commons Offices must not be used for non-MP work, this rule had been written out of the guidelines come the 2017 update …
Unfortunately, this means that Labour MPs using their offices and equipment to campaign for their candidates in by-elections are well in their rights to do so:
Far from this decision only impacting Geoffrey Cox, it also jettisons Guido's campaign against five Labour MPs he'd caught using their parliamentary offices to campaign in by-elections: Matt Western and Catherine West for Batley & Spen; Helen Hayes and Vicky Foxcroft for Old Bexley & Sidcup; and Kate Green for both.
Guido wrote to all five last Friday asking why they thought it an appropriate and fair use of taxpayer-funded resources, unsurprisingly receiving no reply from any. Guido reckons Kathryn Stone must be one of the few taxpayers in the country happy to fork up her cash for MPs like Cox et al to abuse the system and let them get away with it…
Of course, Conservatives hardly have a monopoly on sleaze. There are Opposition MPs who are also raking it in with second jobs. That's another subject for another day.
The result of the sleaze revelations was that Boris and his Government began slipping in the polls. In recent weeks, Labour have taken the lead in some of them.
Therefore, it was hard to see how Boris could manage to make things even worse for himself or the public.
On November 22, Patrick Christys of GB News said that Boris would be unlikely to survive anything further:
But what happened next?
Amazingly, Boris initiated Plan B coronavirus restrictions for England.
Find out why on Monday in Part 2.
Hint: his reason has nothing to do with health.
Last week, GB News, thanks to Nigel Farage, scored a world exclusive with an interview of Donald Trump, who has not been on television outside the United States since he left office in January 2020.
GB News is available to view worldwide. I suggest their YouTube channel, which has not only live streaming but also full episodes of most of their shows.
Here's the full show from Wednesday, December 1. The 30-minute interview with President Trump at Mar-a-lago in Palm Beach is shown in two parts:
Others interviewed include Trump's former speechwriter Stephen Miller, ex-press secretary Sean Spicer and CPAC chairman Matt Schlapp as well as two Democrats advising Joe Biden.
Unfortunately, the 30-minute interview of Trump is no longer available.
The first half of the interview is about the 2020 election. Highlights follow.
Trump talked about his January 6 rally and the violent incident at the Capitol building:
Asked by GB News presenter Nigel Farage whether it was 'a mistake to have that rally on that day', Mr Trump said: 'The insurrection took place on November 3rd, that was Election day, and before and after, that was to me the insurrection and the January 6th was a protest.'
The 45th President went on: 'I have spoken to very big crowds. I have never spoken in front of a crowd that size, nobody ever talks about that.
'And then unfortunately some bad things happened, but also the other side had some very bad things happen.
'And add this, I offered 10,000 and suggested 10,000 national guardsmen… or even the military, because I knew the crowd was going to be massive, because I knew the anger that took place over the election being rigged and I understood that, I understood it better than anybody.'
'And Pelosi and these people turned it down. We would have had tremendous security but they turned it down.'
Trump lamented the current status of the United States:
I think it's at the lowest point it's ever been at.
I don't think it's ever been in a position like this.
We're not respected anymore.
Trump did not say for certain that he would be running again in 2024. Pundits say he is awaiting the outcome of the 2022 mid-term elections, but he gave Farage a few hints:
Speaking to GB News presenter Nigel Farage, Mr Trump was asked why he would consider 'going back into hell again' and re-enter mainstream politics.
The 45th President responded: 'If you love the country you have no choice – it's not a question.
'I love our country. I brought the country to a level it's never seen before.
'Then we had Covid come in and then I brought it back, came up with vaccines that you're using, we're all using, the world is using, saved tens of millions of people throughout the world in less than nine months.
'It was supposed to take 12 years… they were expecting it to take 12 years and everyone said it wasn't going to work and they worked incredibly well.
'We've done an amazing job.
'This is a wonderful, beautiful life, but I like that [politics] too because I'm helping people.
'That's why I did it.'
…
Mr Trump further indicated his intention to try and regain office in 2024, saying: 'I think you'll be happy in the future too, because that'll be your next question.'
Nigel Farage responded: 'Well I know you can't answer that question because it would start the campaign clock ticking.'
To which Mr Trump replied: 'That's right.'
The second half of the interview was about British politics and the Royal Family.
Farage asked Trump about Prime Minister Boris Johnson's green policies. Trump is not a fan of windfarms and thinks that Boris has moved to the left:
Nigel Farage informed Mr Trump about the Prime Minister's comments that he wants the UK to become the 'Saudi Arabia of wind', to which Mr Trump replied: 'I think it's a shame.'
'I'm surprised that he would allow that to happen because you've got one of the most beautiful countries in the world and you're destroying it with all these wind turbines all over the place.
'In Aberdeen they built this ugly wind farm in the ocean. It's so disgusting to look at it – it's a shame.
The former President continued: 'I think it's a shame what's happened in Scotland, in [the] UK, all over the place. You take a look.
'I think Ireland's been better about it, if you want to know the truth.
Despite Mr Trump's assault on the Prime Minister's support for wind energy, the former President still spoke warmly of his relationship with Boris Johnson: 'I like him, I like him. I get along with him, I've always gotten along with him.
However, he told GB News he felt Mr Johnson was erring away from conservative values, noting: 'He's gone a little on the more liberal side.'
Trump also thinks that pursuing a Net Zero policy is mistaken:
The former President then attacked the Westminster Government's pursuit of net zero.
'In your country [the UK], which I do know something about… I see what they're [the Westminster Government] doing and I think they're making a tremendous mistake.'
Then Farage asked him about the Royal Family, beginning with the Duke and Duchess of Sussex, better known as Harry and Meghan:
Donald Trump has accused the Duchess of Sussex of being "disrespectful" to the Queen and the royal family.
… the former US president also said he thinks the Duke of Sussex has been "used horribly".
Speaking about Meghan, Mr Trump said: "I'm not a fan of hers. I wasn't from day one. I think Harry has been used horribly and I think someday he will regret it."
He added: "I think Harry's been used and been used terribly.
"I think it's ruined his relationship with his family, and it hurts the Queen."
In response to comments from GB News presenter Nigel Farage about Meghan using Duchess of Sussex headed writing paper to lobby members of Congress, Mr Trump said: "She is trying do things that I think are very inappropriate."
He had high praise for the Queen and said he really enjoyed meeting her in 2019 while he was president:
Former President Donald Trump says he has been watching the Queen 'very closely' after a 'tough year', but hopes she is 'not too ill.'
In a world exclusive interview for GB News, the 45th President told Nigel Farage that the Queen is 'a fantastic woman' who is 'respected by everyone.'
Mr Trump recounted his interactions with Her Majesty whilst President: 'I was supposed to spend like a half an hour with her [but] I ended up being there for much more than an hour.
'Everyone said "oh that's so rude" but I said "no but she liked it and I liked it I'm not going to be rude".'
He went on: 'We had a great time together, we then had an evening the likes of which you rarely would see.
'She was really laughing and smiling, we got along great, we talked the whole night.'
Mr Trump continued: 'She is a great, wonderful woman… and respected by everyone.
'And no scandal, no anything, think of it.
'She's done this for more than 70 years and she's never had a scandal about herself.'
Mr Trump met the Queen in June 2019, during a state visit, and again in December of the same year during a Royal family reception at a NATO summit hosted at Buckingham Palace.
His love for the Queen began with his mother, who had emigrated from Scotland in the 1930s:
He said of his mother: She was really somebody who respected the Queen, she loved the Queen.
'Anything with the Queen, when they were doing anything ceremonial… she was glued to the television.
'She had great respect and love for the queen.'
Trump denied former press secretary Stephanie Grisham's claim that Prince Charles bored him:
Nigel Farage asked Mr Trump about claims from his former Press Secretary, Stephanie Grisham, that he found the Prince of Wales 'boring' during a private dinner hosted by the Queen.
The former President responded: 'No I wasn't bored, I like Charles, I thought he was good.
'No, he's an environmentalist, he talked about the environment most of the meeting, which was fine.
'I understood that was the purpose of the meeting and he was telling me his views.
'I was not bored at all, no, I think Charles is a wonderful person.'
Sean Spicer gave an upbeat interview, facing off against the Democrats' Eric Guster about a second Trump term in the White House and his Twitter account:
Dan Wootton's show followed Farage's interview.
Wootton asked him if Trump had said more than what was shown on television. Farage demurred, saying that he does not discuss private conversations:
Wootton is clearly in the tank for Trump's 2024 candidacy, should it happen:
His fellow conservative panellists, however, were far less enthusiastic.
It was good of The Times to cover the interview early Wednesday morning before it aired that evening.  Most mainstream newspapers, especially The Telegraph, have taken pot shots at GB News since it launched on Sunday, June 14.
Guido Fawkes also plugged the interview:
Guido also recapped the highlights the following day:
The interview was a huge ratings success for GB News, the best since their launch night:
Guido's accompanying post says that GB News trumped (!) the BBC during the two-hour special (emphases in purple mine):
Unsurprisingly, Farage's interview with Trump last night was box office for GB News. Figures seen by Guido show the interview pulled in Farage's highest ever viewer count, and the largest GB News viewership since its original opening night. For two whole hours between 7pm to 9pm, GB News beat the BBC's average by 155,600 viewers to their 118,200, with Sky News some distance behind on 60,500. The interview reached 208,500 just after 7pm and held steady for the next hour. Nigel's certainly earning his fee…
Nigel Farage has been great for GB News. I rarely miss his show, especially the revelatory Talking Pints segments.
Thanks go to President Trump and the other interviewees for taking the time to give Britain — and the world — an excellent two hours of television.
Christmas has arrived in England.
On Saturday, November 27, 2021, the Parliament Christmas tree arrived from Northumberland and is standing in New Palace Yard:
Here's the video of it being lifted and placed into position:
In other news, scaffolding around the Elizabeth Tower will be coming down over the next six weeks, revealing the newly restored Big Ben. The new colour scheme is actually the original from the Victorian era and will be more colourful:
Juxtaposed against this good news is the new coronavirus variant, Omicron.
Saturday press conference
Prime Minister Boris Johnson wasted no time in giving a press conference on Saturday evening, November 27 (start at 8:19), flanked by Sir Patrick Vallance and Prof Chris Whitty:
Ahh, just like the old days of the near-daily coronavirus briefings …
Boris announced preliminary measures; the return of face coverings came into effect on Tuesday, November 30. These are for the next three weeks (emphases mine):
So yesterday we took steps to protect the UK against the variant coming here from southern African countries – and earlier today added four more countries to the red list.
But we now need to go further and implement a proportionate testing regime for arrivals from across the whole world.
So we are not going to stop people travelling, I want to stress that, we're not going to stop people travelling, but we will require anyone who enters the UK to take a PCR test by the end of the second day after their arrival, and to self-isolate until they have a negative result.
Second, we need to slow down the spread of this variant here in the UK.
Because measures at the border can only ever minimise and delay the arrival of a new variant, rather than stop it altogether.
So in addition to the measures we are already taking to locate those who have been in countries of concern over the last ten days, we will require all contacts of those who test positive – with a suspected case of Omicron – to self-isolate for ten days, regardless of your vaccination status.
We will also go further in asking all of you to help contain the spread of this variant, by tightening up the rules on face coverings in shops and on public transport.
And third – and most importantly – we need to bolster our protections against this new variant.
We don't yet exactly know how effective our vaccines will be against Omicron, but we have good reasons for believing they will provide at least some measure of protection.
And if you are boosted – your response is likely to be stronger.
So it's more vital than ever that people get their jabs, and we get those boosters into arms as fast as possible.
So from today we are going to boost the booster campaign.
We are already planning to do 6 million jabs in England alone over the next three weeks.
The ten red list countries are all in southern Africa: South Africa, Namibia, Lesotho, Botswana, Eswatini (formerly Swaziland), Zimbabwe, Angola, Mozambique, Malawi and Zambia.
Omicron symptoms
Omicron's symptoms are slightly different to those of the previous variants.
On Monday, The Sun reported more, citing Dr Angelique Coetzee, chairwoman of the South African Medical Association. She also has her own private clinic in Pretoria and has seen Omicron patients:
"Their symptoms were so different and so mild from those I had treated before," she said.
"We had one very interesting case, a kid about six years old, with a temperature and a very high pulse rate, and I wondered if I should admit her. But when I followed up two days later, she was so much better.
"What we have to worry about is older, unvaccinated people. If they are not vaccinated, we are going to see many people with a severe form of the disease."
The Omicron strain, or B.1.1.529, is feared to be more transmissible and may be able to avoid vaccines.
It has 50 genetic mutations, most of which have been identified in previous variants, along with three brand-new changes.
Prof Lawrence Young, of Warwick Medical School, said: "This new variant is very worrying. It is the most heavily mutated version we have seen to date.
"This variant carries some changes we've seen previously in other variants but never all together in one virus. It also has novel mutations that we've not seen before.
"Some of the mutations that are similar to changes we've seen in other variants of concern are associated with enhanced transmissibility and with partial resistance to immunity.
"We need laboratory studies to determine whether the antibodies induced by current vaccines are able to block infection with this variant."
Today, another case of the super-strain was identified in the UK – bringing the total to three.
The person tested positive after travelling to Britain from southern Africa where the variant originated.
The individual is no longer in the UK, but the UK Health Security Agency (UKHSA) is carrying out urgent testing in areas they visited when they were likely to have been infectious.
This includes Westminster in central London, officials said.
Two of the original symptoms do not apply to Omicron: loss of smell/taste and breathing problems.
Reaction to restrictions
It is unclear how many people in England will comply with the face covering rules.
Richard Walker, the managing director of the Iceland supermarket chain, said that his staff will not be policing face coverings in their shops. Good man. Co-op have said the same thing with regard to their stores. Excellent news.
Saturday night's GB News commentators had much to say about the return of restrictions.
Mark Dolan said that we comply with restrictions, believing they will end, but, in fact, our compliance only makes them easier to reinstate at the whim of government. He says that Boris wants to be seen to be doing something and is invoking politics rather than science:
Neil Oliver had much more to say, noting: 'With that fear on the wane it was plainly time to cast another spell'. It's an excellent editorial worth reading and sharing:
Oliver says that science and freedom have been consigned to the dustbin over the past 19 months. Excerpts follow:
… Let me put it this way – for a while there, those scientists given the spotlight and the microphone had a good go at driving a single narrative. It almost, almost made sense for a while, in a twisted, not quite right, something funny going on there, sort of a way. Not anymore, though. Now the cracks are starting to show, the wheels coming off the state-sponsored wagon.
I've said all along that this would prove, when all was said and done, to be a tragic lesson in the hubris of some humans – the sort that wear white coats, or that like to give press conferences – which is to say overconfidence from those that said they had all the answers and that everyone else should just shut up and do what they're told. As the months go by, hubris seems more and more like the explanation for so much that has gone awry.
But enough about the virus – whatever it is, wherever it came from and whatever it's doing right now while I speak. Tragically, this process of unlearning science, forgetting, replacing true with false, did not begin with Covid-19. Strange to say, Covid is just a symptom of something much more dangerous – and that is the deliberate dismantling of so much that our ancestors learned and built and handed on to us, in trust. It enabled an acceleration of something we really should have been aware of for years – the taking apart of so much of the world of science and reason and enlightenment, by those who might have been expected and trusted to be its inheritors. Over the last few months, in their efforts to craft a narrative with the power to dupe the unwary, governments, scientists, academics and others have, at best, lost their way, and at worst they have knowingly vacated, walked away from the vast cathedral that has been the home of history, science, culture, beauty, indeed all that is good and worth preserving.
In their hell for leather scramble to grab and then secure powers previously undreamed of, our leaders and their advisors have turned their backs on decades, centuries in fact, of wisdom carefully acquired by the ancestors. Some of those that went before them – in the age of reason, the age of enlightenment – laid the foundations for the civilisation with which we have been blessed.
Those that came after built upon the foundations, carefully and painstakingly furthering our understanding of the world, and of our own species.
They learned many things – the ancestors – by observation, by careful development and application of the scientific method …
All of this learning and wisdom was raised up like a cathedral, or the grandest colosseum. But cathedrals and colosseums depend upon solid foundations. When the power of Rome waned, their great structures fell into disuse. The barbarians, for the most part hardly knew what to make of them, those towering edifices, and so ignored them as they fell into decline – amphitheatres, great bridges, viaducts, aqueducts, entire cities.
It is up to those of us who care to conserve and to maintain the wonders raised by our ancestors, to re-occupy the space made of reason and enlightenment and left vacant by those who have, on account of wishing to push a new ideology that mocks and seeks to undo the past, wandered away into the wilderness of the social justice warriors, of the so-called woke. They have turned their backs on so much that was learned after great effort and often at great cost. That grand and lofty space, that cathedral of our culture and our civilisation, is still there, at least for now, but it requires constant maintenance, and love. Those of us who care should go about the business of looking after the old place. Only then might we continue to benefit from the shelter it has long provided from the cold, confusing world outside.

The full two-hour long show is on YouTube:
The first 45 minutes are devoted to Oliver's editorial and a discussion about Omicron, coronavirus and the vanishing of civil liberties.
The next hour is reminiscent of the classic Oliver from his Coast days on the BBC. There is a new Yorkshire Atlantis, a coastal city that was washed away in a tidal storm in 1362. Sonar images have recently been done and more investigation will take place in the months to come. A number of the structures still exist, so this will be a fascinating discovery.
Another story concerns a farmer in Rutland who discovered a large Roman floor mosaic of the Greek legend, The Iliad, a rather rare cross-cultural find. Archaeologists have uncovered most of it, which is in a field.
From this, one can understand Neil Oliver's respect of our history and our past.
Let's not allow politicians and scientists to obliterate it or our freedoms for the sake of a virus that has a 99.9% recovery rate for the most part, even in the unvaccinated.