You are currently browsing the tag archive for the 'GB News' tag.
My most recent post on Liz Truss left off with the beginning of the end in her final week as Conservative Party leader.
Friday, October 14
Her sacking of Kwasi Kwarteng and installation of Jeremy Hunt as Chancellor on Friday, October 14, meant only one thing — her end was nigh:
Liz Truss's first Chancellor Kwasi Kwarteng: what he expected, what he got instead (October 13, 14)
Liz Truss and Kwasi Kwarteng illustrate that one DAY is a long time in politics (October 13, 14)
The Times's headline on the morning of the 14th said that Conservative MPs were already plotting to install Rishi Sunak and Penny Mordaunt in Truss's place. One of them would be Prime Minister and the other would be Chancellor or Foreign Secretary:
The article also said (purple emphases mine):
Truss and Kwasi Kwarteng, the chancellor, are expected within days to make a humiliating climbdown over corporation tax in an effort to calm the markets and see off a mounting revolt.
Indeed, that is what Truss announced at her disastrous press conference that afternoon. By then, Jeremy Hunt was already Chancellor:
It was hard to believe, especially as Ireland's corporation tax is half that: 12.5%. What is to stop businesses in Northern Ireland from moving south of the border?
Liz prefaced the announcement with:
This is difficult.
Guido Fawkes has the video and another quote preceding her announcement about corporation tax:
It is clear that parts of our mini-Budget went further and faster than markets were expecting… so the way we are delivering has to change…
He concluded (emphases his):
The mother of all U-turns…
Later in the afternoon, Wendy Morton, the Chief Whip, summoned Conservative MPs to an online call with the Deputy Prime Minister Thérèse Coffey.
One hundred of them dialled in. Coffey allegedly kept staring at her notes:
Saturday, October 15
Saturday's papers were scathing.
The Daily Mail asked, 'How much more can she (and the rest of us) take?'
The i paper led with 'Tory MPs tell Truss: "It's over"':
The Telegraph's Tom Harris wrote about the symbiotic relationship between the Prime Minister and the Chancellor from Margaret Thatcher's time to Truss's.
When that relationship goes wrong in a big way, it's nearly always bad news for the PM, although there are exceptions:
When a prime minister loses a long-serving chancellor and ally – as Margaret Thatcher did when Nigel Lawson walked out of her government in 1989 – the political ramifications are enormous. In Thatcher's case, that event signalled the beginning of her long defeat. When a prime minister loses a friend too, it becomes, as Liz Truss stated in her press conference, "not an easy" personal moment. 
Their closeness also makes it impossible for Truss to distance herself from the mess left at the Treasury. It is not clear which policy Kwarteng implemented that the prime minister was so unhappy with that she had to fire him. In 1989, Lawson resigned over his objection to the prime minister's reliance on her economic adviser, Sir Alan Walters, but there were already disagreements between Numbers 10 and 11 over whether Britain should join the European Exchange Rate Mechanism. 
[John Major's Norman] Lamont was fired over his handling of Britain's departure from the same institution. Javid resigned over personnel issues. Rishi Sunak's reasons for resigning were similar, though in his case the personnel issue involved the then prime minister himself.
In Jeremy Hunt, Liz Truss might be given a chance to form the kind of reassuring, mutually supportive – and, crucially, stable – relationship with her chancellor that good government demands. It would be foolish, however, to assume that when such a relationship breaks down, it is always the chancellor who is next to go.
The Telegraph's Camilla Tominey looked at the backbench Conservative MPs, wondering how Conservative they actually were. I was glad to see that she mentioned Alicia Kearns, who does not seem very Conservative to me.
Tominey's article shows that a significant number of Conservative backbenchers do not hold traditional Conservative Party values:
Never underestimate the Conservative Party's unparalleled ability to turn the gun on itself when coming under enemy fire. As the pot shots continued to rain thick and fast on Liz Truss's troubled premiership, what did the Tories decide to do? With Labour's help, they elected Alicia Kearns as chair of the Foreign Affairs Select Committee.
For those unfamiliar with Ms Kearns, she is the former Amnesty International activist who led the so-called "Pork Pie Plot" to oust Boris Johnson over partygate. Despite having been an MP for all of five minutes, the 34-year-old, who won the safe seat of Rutland and Melton in 2019 (hence the pork pie theme) decided that the Conservatives' wisest move was to remove the man who secured the party's biggest election win since 1987. Well, dip me in jellied pork stock and cover me in hot-crust pastry, that went swimmingly!
Having declared last year that she came into Parliament with "one legislative change I wanted to deliver, which was to ban conversion therapy", inexperienced Kearns now occupies one of the most influential posts in the House of Commons.
Her first intervention? Following hot on the heels of her fellow chair, Mel Stride, of outspoken Treasury select committee fame, she used a radio interview on Thursday night to urge the Prime Minister to reverse the tax-cutting measures in the mini-Budget.
I've got nothing personally against Ms Kearns – she is clearly a thoughtful and intelligent woman. But if she isn't for cutting tax, then what on earth is she doing in the Tory party, let alone now apparently in the running to enter a future Conservative Cabinet?
One former minister was this week quoted as saying: "Everything [the Government] are doing is everything that I don't believe in." Why, then, is that senior politician – apparently so opposed to spending controls and economic growth – not currently residing on Sir Keir Starmer's shadow front bench or drinking Remaineraid with Sir Ed Davey?
As former Brexit negotiator Lord Frost put it on Thursday: "There are too many … social democrats operating under Conservative cover."
It is one thing to be a broad church, but the Tories are currently taking on the mantle of a Blue Labour cult.
Not only are many of them perfectly comfortable with taxing people more, despite the tax burden being at its highest in 70 years, but they are also apparently as opposed to fracking as Ed Miliband. They seem to love the status quo and appear happy to watch Britain slowly sink into decline – along with their own party.
Tominey says that Liz Truss's platform was clasically Conservative, and so was the one upon which Alicia Kearns was elected.
These are the MPs who will determine the outcome of Brexit and the next election. Both are in peril.
Tominey rightly lays the blame at the feet of former PM David Cameron, a wet who wanted a different type of Conservative MP:
David Cameron's decision to introduce open primaries in the late 2000s, which saw wannabe MPs selected by non-members as well as members, was perhaps the most obvious mistake. The Conservatives ended up with "yellow" Tories in its ranks, such as Sarah Wollaston, who later defected to the Liberal Democrats.
Funnily enough, Sarah Wollaston is no longer an MP. Others like her, most of whom had the whip removed, were defeated or chose not to run in 2019.
This is the issue:
But more broadly, by inviting people with no background in Conservative politics to stand for Parliament, they ended up with people with no Tory backbone either. Holding successive snap elections only made the selection process less rigorous and open to people high on ambition and low on ideology.
This is a problem for the next general election. GEs depend upon local activists — party members — who are willing to canvass door-to-door:
We now have the Sunak squadders, calling for people to keep less of their wages, for businesses to pay more in corporation tax and for benefits to be linked to inflation, Corbyn-style …
Conservatives have become so detached from reality that they actually believe this will help them to win the next general election – even though it promises to prompt a mass walkout by the very grass-roots activists they rely on to run a campaign.
However, Tominey says that Rishi Sunak's coronavirus handouts have also altered the public perception of the role of the state. We can but see how this will play in 2024 or early 2025 when the next GE comes along.
Monday, October 17
On Monday, October 17, Leader of the House Penny Mordaunt had to stand in for Truss during a debate. Opposition MPs accused Truss of hiding under a desk.
Mordaunt had to deny that more than once, saying that Truss had a 'very genuine reason' for not being present.
I don't often feel sorry for Penny Mordaunt, but I did that day:
However, one Labour MP, Andrew Gwynne, tweeted that Liz Truss was the victim of a 'coup' — his word — and that Jeremy Hunt was the acting PM: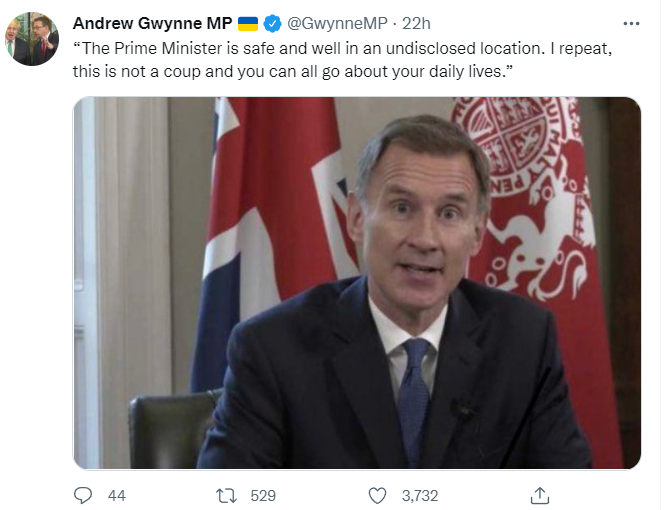 On Tuesday, October 18, The Times explained why Truss did not turn up at the despatch box the day before:
For much of the day Truss was conspicuous by her absence. She refused to respond to a question by Sir Keir Starmer in the Commons, prompting accusations from Labour that she was "frit". Penny Mordaunt, the leader of the Commons, answered questions in her stead. She said that the prime minister had "a very good reason" for her absence but refused to explain further, prompting misplaced speculation that Truss had resigned.
That reason for her absence turned out to be a meeting with Sir Graham Brady, the chairman of the backbench 1922 Committee. Sources said that the meeting was routine and had been arranged before Kwarteng's dismissal. But the issue of her leadership, and a potential revolt by Tory MPs, was said to have been discussed.
One source on the committee said there were a "number of views" on the way ahead but that there were concerns that an immediate move to defenestrate the prime minister could further destabilise the markets.
"The question is whether it is more damaging to create further uncertainty by getting rid of the prime minister when the chancellor [Hunt] appears to have settled the markets," said an MP on the committee.
Some Tory MPs believe that with the unravelling of her tax-cutting agenda and signature energy policy she is finished politically. Sir Charles Walker became the fifth Conservative MP to publicly call for her to go, saying her position was "untenable".
A senior Conservative source added: "It's the biggest unforced humiliation for a British government since Suez. Eden did the decent thing and resigned."
"The trouble is there is no consensus for who should replace her," said one former backer of Rishi Sunak. "And the last thing we need now is to be seen to be causing more uncertainty on the financial markets."
Monday night was grim.
On the subject of a coup, Nigel Farage agreed that Jeremy Hunt was in charge, and that this was a 'globalist coup':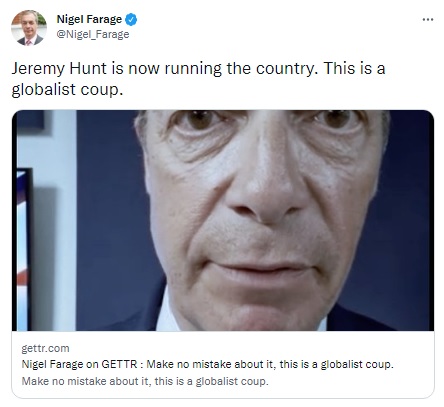 On his GB News show that night, Dan Wootton also said that there had been a coup. He agreed that the unpopular Hunt was in charge and that no one liked him, except for the Establishment. He said that if the Conservatives allowed this to continue, then they deserve to lose the next GE:

Truss surfaced to give an interview to the BBC's Chris Mason, wherein she apologised for the mini-budget. She said:
First of all, I do want to accept responsibility and say sorry for the mistakes that have been made. I wanted to act, to help people with their energy bills, to deal with the issue of high taxes, but we went too far and too fast. I have acknowledged that.
Tuesday, October 18
Tuesday's headlines were deeply discouraging for her. Nearly all had photos of her alongside Hunt:
The new biography of Truss, Out of the Blue, was not even ready for publication. Someone photoshopped the cover with a remainder sticker on it, saying, 'Reduced for quick sale — please just take it':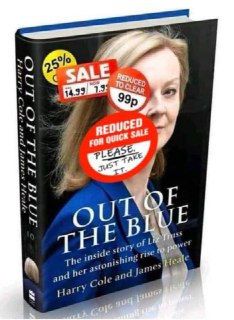 The Sun's political editor, Harry Cole, one of the book's co-authors, posted an article about the MPs plotting against her:
TORY plotters dubbed the "Balti Bandits" carved up Liz Truss's future last night over a korma and bhuna feast, The Sun reveals.
Leading rebel Mel Stride hosted more than a dozen "miserable" Conservative MPs in his large House of Commons office for an Indian takeaway – with the PM's fate also on the table.
Ex-Ministers John Glen, Nick Gibb, Mark Garnier and Shailesh Vara tucked into "lashings of curry and naan" ordered in by Mr Stride, alongside outspoken backbencher Simon Hoare. 
2019 intake MPs Angela Richardson and Simon Baynes were also said to have joined the "poppadum plot" – but sources say the meeting ended with "no credible solution" to their woes …
Contenders include ex-Chancellor Rishi Sunak, Defence Secretary Ben Wallace, new Chancellor Jeremy Hunt and Commons Leader Penny Mordaunt – but given the party is deeply split, the plotters admitted the chances of a rapid "coronation" of a new PM were "almost zero."
One attendee told The Sun: "the vast majority of attendees were Rishi Sunak supporters, but there were Penny people too. It was not a Rishi thing." 
On Tuesday evening, Truss had another group angry with her — her own supporters in the European Research Group, the pro-Brexit group of backbench Conservative MPs.
The Telegraph's Tim Stanley wrote about it, as he was there in the corridor for Truss's meeting with them:
Liz Truss launched her fightback at 6pm in Committee Room 11. The meeting was actually set for 5pm; Commons voting ran late so Mark Francois advised us hacks to go away and come back later, but I hung around on the suspicion that the moment we left, Liz would slip out of her hiding place in the roof of the lift and jog, unseen, into the Room …
These are the true believers: if they're angry at Liz for anything, it's for not keeping the mini-Budget …
What we saw of her on TV on Monday night, interviewed by Chris Mason, did not spark confidence as she uttered that dread word "sorry", thus accepting personal responsibility for blunders past and future. It is the mark of an "honest politician", she said, to admit mistakes. That's true, but it's also a dead giveaway for a not-very-good one, trying to turn a repeated error into a display of moral virtue. As Samuel Johnson might have said, "Honesty is the last refuge of the incompetent".
… She bobbed into view in a dark blue dress and black tights – fresh-faced, one suspects, from a good night's sleep. Instinctively, I stood: she might be a PM, but she's still a lady. I earnt a cheeky nod. Those who can't fathom the rise of Ms Truss haven't met her. She has a way of compromising you, of making you think you're on her side, and it's the most fun side of the room to be on.
The ERG roared as she entered. She entertained them behind a closed door for about 45 minutes. Then she left, followed by Mr Francois who told us it was "a very positive meeting".
The PM evidently spoke about Northern Ireland and her commitment to raising defence spending by the end of the decade, which is ambitious for a woman who could be out of office by Friday. And he noted that David Canzini, the clever political operative, was with her, an eminence so grise, none of us had noticed he'd gone in.
No 10 confirmed it: he was hired as of that morning.
Too little too late. That might have been Canzini's shortest job.
Wednesday, October 19
On Wednesday, October 19, Guido Fawkes posted that the Reform Party — formerly the Brexit Party — was climbing in the polls. The photo shows their chairman, businessman Richard Tice:
Guido's post said, in part:
Guido can reveal that in the 48 hours before close of play yesterday afternoon, the old Brexit Party received almost 1000 new £25 membership sign-ups. That new five-figure cash boost was joined by 300 members registering a new interest in standing as a party candidate at the next election. The first time the Tories dipped below Labour in the polls – September 2021 – Reform saw one in 10 Tory voters switching to them. Can they continue capitalising on Liz's woes? …

It's not just Reform benefitting from the dire state of No. 10. Last night the LibDems revealed five new donors, each giving £50,000 to the party, one of whom is a former Tory donor. While the last 36 hours have been calmer for Truss, it does feel like the ship has sprung one too many leaks to be repaired by a strong PMQs performance…
Wednesday was another fateful day. Home Secretary Suella Braverman resigned, then a confusing scene took place in the voting lobby over a division (vote) on fracking, which resulted in more chaos when it was unclear whether Wendy Morton had resigned as Chief Whip:
Liz Truss's final 24 hours: Suella Braverman's resignation, question over Whips' resignations (October 19)
Truss appointed Grant Shapps, former Transport Secretary, in Braverman's place:
Holy mole, guacamole!
Nigel Farage repeated 'coup' in his tweet about the news:
As with Hunt, Truss had to scrape the barrel.
The Telegraph reported that, like Hunt, Shapps was not a Truss supporter:
It is a remarkable turnaround for Mr Shapps, the transport secretary under Boris Johnson who went on to become a prominent supporter of Ms Truss's leadership rival Rishi Sunak.
Only on Monday night, Mr Shapps was telling a theatre audience that he believed Ms Truss had a "Mount Everest to climb" to remain in power.
"I don't think there's any secret she has a mountain, a Mount Everest to climb," he told Matt Forde's podcast. "What she needs to do is like threading the eye of a needle with the lights off."
Now he is one of her most senior ministers – and another example of the way a weakened Ms Truss is being forced to offer olive branches to the Sunak supporters she had previously shunned.
Not only was Mr Shapps questioning her chances of success until as early as this week – he was working proactively to get rid of her.
Mr Shapps has been viewed in Westminster as one of the leaders of the opposition to Truss's libertarian policies.
He spoke up at the Tory party conference in Birmingham earlier this month against her plans to scrap the 45p rate of income tax, and warned that Ms Truss had "10 days" to turn things around or MPs "might as well roll the dice and elect a new leader".
This is what the aforementioned Camilla Tominey was lamenting in Conservative MPs. Some of the recent ones have no appreciation of or allegiance to Conservative values. Shapps was a Cameronian MP.
The article also discussed Shapps's famous spreadsheets which appear to work as well as the 1922 Committee in making or breaking a Prime Minister:
The veteran MP – known by some as the "Duracell Bunny" for his enthusiasm – is also well-known for his "Star Wars" spreadsheet, with which he has spent the past few weeks recording the views of MPs on Ms Truss and her plans.
Mr Shapps used an earlier version of his famous spreadsheet to lead a rebellion against Theresa May, and also utilised its information to help guide Boris Johnson into Downing Street.
The spreadsheet is said to contain more than 6,000 historical "data points" from previous conversations with MPs.
It was rumoured that he had been in contact with Mr Johnson and Mr Sunak to see if they would join an effort to oust Ms Truss. And some rebel MPs claimed he had even offered himself up as a caretaker prime minister.
Let us not forget that Shapps himself is hardly a paragon of virtue:
… unfortunately for Mr Shapps, some elements of his past may make a shot at No 10 less than likely – not least the Michael Green saga.
This was an alter-ego he employed to enable him to run a series of get-rich-quick schemes on the internet while he was an MP.
Mr Shapps originally denied he had a second job, and threatened legal action against a constituent who said he had. But he was forced to admit practising business under a pseudonym in March 2015.
All this happened while he was Tory chairman, in charge of David Cameron's efforts to win the 2015 election.
He was demoted soon after to aid minister, and resigned from that role after claims he had ignored repeated allegations of bullying involving the Tories' youth organiser. It was said the alleged bullying, which took place on the party's RoadTrip 2015 campaign, may have caused one party member to commit suicide.
On Wednesday evening, Camilla Tominey reprised her warning about un-Conservative MPs and their takeover of the Government. She, too, used the word 'coup':
… the departure of Suella Braverman as home secretary speaks to a bigger problem for Liz Truss than sheer optics.
In sacking two key allies on the Right, only for them to be replaced by opponents more to the Left of the party, the Prime Minister is increasingly looking like the victim of a Conservative coup.
It is certainly ironic that the former home secretary, in post for just 43 days, first used that word to describe those who plotted against Ms Truss's original plan to link benefit to wages rather than inflation. 
With that, and most of her mini-Budget up in flames thanks to a rebellion by the moderates, Jeremy Hunt now appears to be the de facto Prime Minister.
He will now be joined by his fellow Sunakite Grant Shapps, who despite being rejected from Ms Truss's original cabinet, has now been appointed to replace Mrs Braverman at the Home Office.
Braverman, at one point, had headed the aforementioned European Research Group:
… her swift exit from one of the highest posts in public office will anger her European Research Group supporters.
It was only on Tuesday evening that Ms Truss was said to have charmed the backbench group of Eurosceptics with her honest, straight-talking approach.
They are unlikely to take kindly to their former chairman, a darling of the grassroots, being ejected in such unseemly fashion.
Mrs Braverman, a Conservative leadership candidate herself over the summer, received the longest standing ovation at the Tory Party conference two weeks ago.
Fortunately, Rishi Sunak re-appointed Braverman as Home Secretary. He probably realised he had to, in order to keep Party members on side.
Returning to Wednesday, October 19, The Telegraph posted an article stating that Conservative backbenchers were asking Labour for help in ousting Truss. Unbelievable:
Rebel Tories have been asking Labour MPs to help them overthrow Liz Truss, The Telegraph has been told.
Conservative backbenchers are growing increasingly frustrated with the Prime Minister's leadership, but currently lack any mechanisms to remove her given the one-year immunity she has from a no confidence vote.
As things stand, the only way to oust Ms Truss would be to change the rules – which is a decision that only the executive of the 1922 committee of backbenchers can make – or if she resigns of her own volition.
One Labour MP told The Telegraph: "Tories are speaking to us saying 'this is a complete nightmare and there is no way out'. We are being asked 'can't you do something about her?'"
The MP, who said their colleagues have reported similar experiences, said they were approached by one Red Wall MP whose constituency was in the north and another MP who is a member of the One Nation group of moderates …
A Labour source said: "There is very little Labour can do. Even a vote of no confidence doesn't have the constitutional standing that it used to. The Tory party are the ones that elected her, they need to get rid of her."
The paper's Michael Deacon wrote that Conservative MPs were entirely to blame for the mess. Furthermore, he said, they risked angering Party members, the campaigning activists, if they pushed ahead with a rule change saying that the members would no longer be able to vote for future Party leaders. The members elected Truss over Sunak in August:
This week, The Telegraph reported that Tory MPs want to bar members from voting in future leadership elections. Supposedly the reason is to speed up the process of choosing a leader. But this is blatantly a smokescreen. Quite plainly, MPs just want to prevent the members from landing them with another turkey like Truss.
Many members are appalled by this suggestion. And so they should be. Such a plan is not just arrogant and undemocratic, it's delusional. Because party members aren't to blame for the current mess.
Tory MPs are.
After all, who put Truss on the ballot paper in the first place? Tory MPs. No fewer than 113 of them, in fact. A third of the parliamentary party. Out of an initial field of 11 candidates for the leadership, Truss was the MPs' second favourite.
Unlike the MPs, however, the party members weren't allowed to choose between the initial field of 11. If they had been, it's extremely unlikely that they would have chosen Truss. They'd have been far more likely to choose Penny Mordaunt or Kemi Badenoch, to name just two. In fact, if the MPs had deigned to ask them, I suspect that the greatest number of members would have wanted their leader to be Boris Johnson – the person they chose to be leader in the first place.
The truth is, the members voted for Truss simply because they didn't want to vote for Rishi Sunak. In leadership contests, they're only ever given two candidates to choose from. And why? Because Tory MPs don't trust them. They fear that, if presented with a wide-open field, party members will choose the "wrong" candidate. Funny how things turn out.
All things considered, then, it seems clear that, if anyone should be barred from voting in leadership contests, it should be Tory MPs. In future, just leave it to the wiser judgment of the members instead.
That night, The Telegraph posted an article by Lord Frost saying that the Party was moving towards a status quo, if not anti-Brexit, stance, going all the way back to David Cameron's time as Prime Minister, with George Osborne as Chancellor and Philip Hammond in the same post under Theresa May:
… the Government is implementing neither the programme Liz Truss originally advocated nor the 2019 manifesto. It is going in a completely different direction. We are back to Osbornomics, the continuity Hammond view of the world. There is no shred of a mandate for this. It's only happening because the Truss Government messed things up more badly than anyone could have imagined, and enabled a hostile takeover by its opponents …
… the correct account of the past few weeks is the simplest. Truss tried to deliver worthwhile reforms and set the country onto a much-needed new direction. I supported this policy direction and still do. But it was rushed and bungled. The markets were spooked. The mistakes were opportunistically seized on by her opponents to undermine her leadership, to blame Brexit, and to stop the party getting out of the social democratic tractor beam of the past few years. And now, under pressure, the Prime Minister has reversed tack completely.
The risk now is that we lose for a generation the opportunity to do anything better. Every time the PM defends her approach, she denounces the policies on which she was chosen. The danger is that necessary and correct reforms are discredited.
Frost held that Truss was ultimately responsible for her own downfall.
As such, she had to go:
We are where we are. I am very sorry about it, because I had such high hopes. Whatever happens to her ministers or the stability of the Government in the next few days, Truss just can't stay in office for one very obvious reason: she campaigned against the policies she is now implementing. However masterfully she now implements them – and it doesn't seem that it will be very masterfully – it just won't do. She said she wouldn't U-turn, and then she did. Her fate is to be the Henry VI of modern politics – a weak figurehead, unable to control the forces around her, occasionally humiliated, and disposed of when she has become inconvenient. Better to go now.
As for her successor and the Party:
Then the party must do two things: avoid making the economic situation even worse by repeating the policies of the Cameron government in totally different circumstances; and recover some political legitimacy for carrying on – because in our system legitimacy does matter.
Thursday, October 20
After 44 days, Liz Truss resigned as Conservative Party leader on Thursday, October 20.
She served as Prime Minister for 50 days, beating George Canning's record of 118 days. Also a Conservative, he died of tuberculosis in 1827.
She remained PM until Rishi Sunak succeeded her:
Liz Truss's final 24 hours: Suella Braverman's resignation, question over Whips' resignations (October 19)
Liz Truss's final 24 hours: fallout over Braverman and Morton, no tears in exit speech (October 19, 20)
Rishi Sunak becomes Prime Minister: a momentous morning of historic significance (October 24, 25)
How Rishi Sunak won the Conservative Party leadership contest — part 1 (October 20, 21, 25)
How Rishi Sunak won the Conservative Party leadership contest — part 2 (October 21, 26, 27)
How Rishi Sunak won the Conservative Party leadership contest — part 3 (October 22-24, 27, 28)
On Thursday morning, The Telegraph posted a Planet Normal podcast in which Lord Frost said he could see Brexit being reversed:
In the wide-ranging discussion, Lord Frost also said that he could see a future where Brexit is reversed. 
"Brexit was about giving us the power to do things ourselves and to give responsibility back to British ministers, British governments. And they've shown that many of them are not up to the job in the last year or two."
"I can easily see a situation where Keir Starmer gets in. We drift back closer into the single market and go back into the Customs Union. And then everyone says why are we in these things where we don't get a say in them? Wouldn't it be better to be a member? So I can easily see how it could happen. And the way you stop it happening is to prove, while we have the levers of power, that we can do things differently and better. And at the moment we're not making a very good job of that, unfortunately."
Little did Truss know that, the day before, she had stood at the despatch box for her last PMQs:
She resigned early on Thursday afternoon. Thankfully, she didn't cry, unlike Theresa May, who broke down at the podium (Guido has the video):
Sterling began surging the second Truss finished her announcement:
In less than 24 hours, the Conservative Party website deleted her presence from their home page (Guido has the before and after screenshots):
It was a sad ending to a sad episode of British parliamentary history.
Next week, I will look at who, besides Truss herself, was also responsible for it.
Truss is currently spending time in her own constituency and has not yet appeared on the backbenches, an alien place for someone who had been a minister of state for most of her career.
While this is a change to the previous schedule of analysing Liz Truss's premiership, more about which next week, there are references below as to why hers and Kwasi Kwarteng's plan was the right one for the UK.
Chancellor Jeremy Hunt delivered his Autumn Statement — a Labourite Conservative budget — on Thursday, November 17, 2022.
Compared with Kwasi Kwarteng's fiscal event of September 23, this will be a disaster for most middle class Britons.
It was clear that Hunt designed this budget to placate the all-hallowed — for whatever reason — OBR (Office for Budget Responsibility) and the markets. Stability is their watchword. Growth, regardless of what Hunt said yesterday, plays little part in our economy for the foreseeable future.
Unlike Kwarteng's, which did focus on growth, Hunt's statement had little to no consideration of the British taxpayer in a cost of living crisis.
What Hunt said
Before going into Hunt's address, Guido Fawkes has a brief summary and the full detail from the Treasury, a 70-page document.
Below are excerpts from Hunt's Autumn Statement to the House of Commons (emphases mine):
… today we deliver a plan to tackle the cost of living crisis and rebuild our economy. Our priorities are stability, growth and public services. We also protect the vulnerable, because to be British is to be compassionate and this is a compassionate Conservative Government.
Remember when then-Chancellor Rishi Sunak told us we did not have to worry about the cost of borrowing and borrowing itself during the pandemic? Well, now we have to worry:
Most countries are still dealing with the fallout from a once-in-a-century pandemic. The furlough scheme, the vaccine roll-out and the response of the NHS did our country proud, but they all have to be paid for.
Hunt paid homage to the Bank of England and had a poke at Kwarteng for not doing so:
So the Bank of England, which has done an outstanding job since its independence, now has my wholehearted support in its mission to defeat inflation and I today confirm we will not change its remit. But we need fiscal and monetary policy to work together, and that means the Government and the Bank working in lockstep.
He delivered a deeper attack on Kwarteng:
I understand the motivation of my predecessor's mini-Budget and he was correct to identify growth as a priority, but unfunded tax cuts are as risky as unfunded spending, which is why we reversed the planned measures quickly. As a result, Government borrowing has fallen, the pound has strengthened and the OBR says today that the lower interest rates generated by the Government's actions are already benefiting our economy and public finances. But credibility cannot be taken for granted and yesterday's inflation figures show we must continue a relentless fight to bring it down, including a rock solid commitment to rebuild our public finances.
He bowed before the all-powerful OBR, whose forecasts have not been terribly accurate over the past few years. Let us see if these come true in the coming months:
Richard Hughes and his team at the OBR today lay out starkly the impact of global headwinds on the UK economy, and I am enormously grateful to him and his team for their thorough work. The OBR forecasts the UK's inflation rate to be 9.1% this year and 7.4% next year. It confirms that our actions today help inflation to fall sharply from the middle of next year. It also judges that the UK, like other countries, is now in recession. Overall this year, the economy is still forecast to grow by 4.2%. GDP then falls in 2023 by 1.4%, before rising by 1.3%, 2.6% and 2.7% in the following three years. The OBR says higher energy prices explain the majority of the downward revision in cumulative growth since March. It also expects a rise in unemployment from 3.6% today to 4.9% in 2024, before falling to 4.1%.
This is Hunt's strategy, with the blessing of the OBR and borrowing Sunak's morality from the August leadership campaign about leaving debts to the next generation:
I also confirm two new fiscal rules. The first is that underlying debt must fall as a percentage of GDP by the fifth year of a rolling five-year period. The second is that public sector borrowing over the same period must be below 3% of GDP. The plan I am announcing today meets both rules.
Today's statement delivers a consolidation of £55 billion, and means inflation and interest rates end up significantly lower. We achieve this in a balanced way. In the short term, as growth slows and unemployment rises, we will use fiscal policy to support the economy. The OBR confirms that, because of our plans, the recession is shallower and inflation is reduced. Unemployment is also lower, with about 70,000 jobs saved as a result of our decisions today. Then, once growth returns, we increase the pace of consolidation to get debt falling. This further reduces the pressure on the Bank to raise interest rates, because as Conservatives we do not leave our debts to the next generation.
So this is a balanced path to stability, tackling inflation to reduce the cost of living and protect pensioner savings, while supporting the economy on a path to growth. But it means taking difficult decisions.
Hunt then discussed the fiscal drag elements of the budget. Fiscal drag means drawing the unsuspecting into paying new and more tax:
I start with personal taxes. Asking more from those who have more means that the first difficult decision I take on tax is to reduce the threshold at which the 45p rate becomes payable from £150,000 to £125,140. Those earning £150,000 or more will pay just over £1,200 more in tax every year. We are also taking difficult decisions on tax-free allowances. I am maintaining at current levels the income tax personal allowance, higher rate threshold, main national insurance thresholds and the inheritance tax thresholds for a further two years, taking us to April 2028. Even after that, we will still have the most generous set of tax-free allowances of any G7 country.
I was amazed he could talk about 2028 with a straight face. By then, we will probably have a Labour government. Oh well, he's done their work for them.
Continuing on tax rises, he said:
I am also reforming allowances on unearned income. The dividend allowance will be cut from £2,000 to £1,000 next year, and then to £500 from April 2024. The annual exempt amount for capital gains tax will be cut from £12,300 to £6,000 next year, and then £3,000 from April 2024. Those changes still leave us with more generous allowances than countries such as Germany, Ireland, France, and Canada.
Because the OBR forecasts that half of all new vehicles will be electric by 2025, to make our motoring tax system fairer, I have decided that from then electric vehicles will no longer be exempt from vehicle excise duty. Company car tax rates will remain lower for electric vehicles, and I have listened to industry bodies and will limit rate increases to 1 percentage point a year for three years from 2025.
At least he kept one thing from Kwarteng's statement:
The OBR expects housing activity to slow over the next two years, so the stamp duty cuts announced in the mini-Budget will remain in place but only until 31 March 2025. After that, I will sunset the measure, creating an incentive to support the housing market, and the jobs associated with it, by boosting transaction during the period when the economy most needs it.
He won't even be Chancellor then.
Moving on to businesses:
I now turn to business taxes. Although I have decided to freeze the employers national insurance contributions threshold until April 2028, we will retain the employment allowance at its new higher level of £5,000. That means that 40% of all businesses will pay no NICs at all. The VAT threshold is already more than twice as high as the EU and OECD averages. I will maintain it at that level until March 2026.
Then came the windfall tax:
Can I just say that any such tax should be temporary, not deter investment and recognise the cyclical nature of energy businesses? So, taking account of that, I have decided that from 1 January until March 2028 we will increase the energy profits levy from 25% to 35%. The structure of our energy market also creates windfall profits for low-carbon electricity generation, so we have decided to introduce, from 1 January, a new, temporary 45% levy on electricity generators. Together, those measures will raise £14 billion next year.
Business rates have been a thorn in the side of those enterprises on our high streets. Here, it would seem, Hunt offered some relief:
Finally, I turn to business rates. It is an important principle that bills should accurately reflect market values, so we will proceed with the revaluation of business properties from April 2023, but I will soften the blow on businesses with a nearly £14 billion tax cut over the next five years. Nearly two thirds of properties will not pay a penny more next year and thousands of pubs, restaurants and small high street shops will benefit. That will include a new Government-funded transitional relief scheme, as called for by the CBI, the British Retail Consortium, the Federation of Small Businesses and others, benefiting around 700,000 businesses.
Then he turned to people on benefits, proving that Sunak's furlough scheme during the pandemic was more than adequate:
… I am proud to live in a country with one of the most comprehensive safety nets anywhere in the world. But I am also concerned that we have seen a sharp increase in economically inactive working-age adults of about 630,000 people since the start of the pandemic. Employment levels have yet to return to pre-pandemic levels, which is bad for businesses who cannot fill vacancies and bad for people missing out on the opportunity to do well for themselves and their families, so the Prime Minister has asked the Work and Pensions Secretary to do a thorough review of issues holding back workforce participation, to conclude early in the new year.
Alongside that, I am also committed to helping people already in work to raise their incomes, progress in work and become financially independent. So we will ask over 600,000 more people on universal credit to meet with a work coach so that they can get the support that they need to increase their hours or earnings. I have also decided to move back the managed transition of people from employment and support allowance on to universal credit to 2028, and will invest an extra £280 million in the DWP to crack down on benefit fraud and error over the next two years. The Government's review of the state pension age will be published in early 2023.
He then discussed foreign spending:
… I salute the citizens of another country right on the frontline … the brave people of Ukraine. The United Kingdom has given them military support worth £2.3 billion since the start of Putin's invasion, the second highest contribution in the world after the United States, which demonstrates that our commitment to democracy and open societies remains steadfast. In that context, the Prime Minister and I both recognise the need to increase defence spending. But before we make that commitment, it is necessary to revise and update the integrated review, written as it was before the Ukraine invasion. I have asked for that vital work to be completed ahead of the next Budget and today I confirm that we will continue to maintain the defence budget at at least 2% of GDP to be consistent with our NATO commitment.
I was pleased to hear that overseas aid will stay at 0.5%:
Another important international commitment is to overseas aid. The OBR's forecasts show a significant shock to public finances, so it will not be possible to return to the 0.7% target until the fiscal situation allows. We remain fully committed to that target, and the plans I have set out today assume that official development assistance spending will remain around 0.5% for the forecast period. As a percentage of GNI, we were the third highest donor in the G7 last year, and I am proud that our aid commitment has saved thousands of lives around the world.
Net Zero is still going ahead:
I also confirm that, despite the economic pressures, we remain fully committed to the historic Glasgow climate pact agreed at COP26, including a 68% reduction in our own emissions by 2030.
He discussed schools, beginning with those in England:
… we have risen nine places in the global league tables for maths and reading in the last seven years.
… as Chancellor I want to know the answer to one simple question: will every young person leave the education system with the skills they would get in Japan, Germany or Switzerland? So, I have appointed Sir Michael Barber to advise me and my right hon. Friend the Education Secretary on the implementation of our skills reform programme.
… Some have suggested putting VAT on independent school fees as a way of increasing core funding for schools, which would raise about £1.7 billion. But according to certain estimates, that would result in up to 90,000 children from the independent sector switching to state schools, giving with one hand only to take away with another.
So instead of being ideological, I am going to be practical: because we want school standards to continue to rise for every single child, we are going to do more than protect the schools budget—we are going to increase it. I can announce today that next year and the year after, we will invest an extra £2.3 billion per annum in our schools.
He has asked a former Labour MP, Patricia Hewitt, to help him reform the NHS. Oh, my days:
I have asked the former Health Secretary and chair of the Norfolk and Waveney integrated care system, Patricia Hewitt, to help me and the Health Secretary to achieve that by advising us on how to make sure that the new integrated care boards, the local NHS bodies, operate efficiently and with appropriate autonomy and accountability. I have also had discussions with NHS England about the inflationary pressures on their budgets.
More money will be pumped into the system:
With £3.3 billion for the NHS and £4.7 billion for social care, there is a record £8 billion package for our health and care system. That is a Conservative Government putting the NHS first.
Barnett consequentials, which come from the hard-pressed English taxpayer, will also increase:
The NHS and schools in Scotland, Wales and Northern Ireland face equivalent pressures, so the Barnett consequentials of today's decisions mean an extra £1.5 billion for the Scottish Government, £1.2 billion for the Welsh Government, and £650 million for the Northern Ireland Executive. That means more resources for the schools and hospitals in our devolved nations next year, the year after and every year thereafter.
A new energy strategy will be forthcoming from the Business Secretary.
These are Hunt's infrastructure commitments:
… today I can announce that I am not cutting a penny from our capital budgets in the next two years, and I am maintaining them at that level in cash terms for the following three years. That means that although we are not growing our capital budget as planned, it will still increase from £63 billion four years ago to £114 billion next year and £115 billion the year after, and will remain at that level—more than double what it was under the last Labour Government.
Smart countries build on their long-term commitments rather than discarding them, so today I confirm that because of this decision, alongside Sizewell C, we will deliver the core Northern Powerhouse Rail, HS2 to Manchester, East West Rail, the new hospitals programme and gigabit broadband roll-out. All these and more will be funded as promised, with over £600 billion of investment over the next five years to connect our country and grow our economy.
Our national Conservative mission is to level up economic opportunity across the country. That, too, needs investment in infrastructure, so I will proceed with round 2 of the levelling-up fund, at least matching the £1.7 billion value of round 1. We will also drive growth across the UK by working with the Scottish Government on the feasibility study for the A75, supporting the advanced technology research centre in Wales and funding a trade and investment event in Northern Ireland next year.
He is bringing devolution to England in the form of mayoralties:
Our brilliant [Conservative] Mayors such as Andy Street and Ben Houchen have shown the power of civic entrepreneurship. We need more of this inspirational local leadership, so today I can announce a new devolution deal that will bring an elected Mayor to Suffolk, and deals to bring Mayors to Cornwall, Norfolk and an area in the north-east to follow shortly. We are also making progress towards trailblazer devolution deals with the Greater Manchester Combined Authority and the West Midlands Combined Authority, and soon over half of England will be covered by devolution deals. Taken together, that £600 billion investment in our future growth represents the largest investment in public works for 40 years, so our children and grandchildren can be confident that this Conservative Government are investing in their future.
Hunt is altering the Truss-Kwarteng investment zones to be more in line with Michael Gove's aspirations for levelling up:
I will also change our approach to investment zones, which will now focus on leveraging our research strengths by being centred on universities in left-behind areas, to help to build clusters for our new growth industries. My right hon. Friend the Levelling Up Secretary will work with Mayors, devolved Administrations and local partners to achieve this, with the first decisions announced ahead of the spring Budget.
The Truss-Kwarteng energy support plan remains in place until the end of March 2023:
I pay tribute to my predecessor, my right hon. Friend the Member for Spelthorne (Kwasi Kwarteng), and to the former Prime Minister, my right hon. Friend the Member for South West Norfolk (Elizabeth Truss), for their leadership in this area. This winter, we will stick with their plan to spend £55 billion to help households and businesses with their energy bills—one of the largest support plans in Europe. From April, we will continue the energy price guarantee for a further 12 months at a higher level of £3,000 per year for the average household. With prices forecast to remain elevated throughout next year, this will mean an average of £500 of support for every household in the country.
There is more help for the most vulnerable:
At the same time, for the most vulnerable, we will introduce additional cost of living payments next year of £900 to households on means-tested benefits, £300 to pensioner households and £150 for individuals on disability benefit. We will also provide an additional £1 billion of funding to enable a further 12-month extension to the household support fund, helping local authorities to assist those who might otherwise fall through the cracks. For those households that use alternative fuels such as heating oil and liquefied petroleum gas to heat their homes, I am today doubling the support from £100 to £200, which will be delivered as soon as possible this winter. Before the end of this year, we will also bring forward a new targeted approach to support businesses from next April.
But I want to go further to support the people most exposed to high inflation. Around 4 million families live in the social rented sector—almost one fifth of households in England. Their rents are set at 1% above the September inflation rate, which means that on current plans they are set to see rent hikes next year of up to 11%. For many, that would just be unaffordable, so today I can announce that this Government will cap the increase in social rents at a maximum of 7% in 2023-24. Compared with current plans, that is a saving for the average tenant of £200 next year.
Labour started a commotion at this point. Hunt then announced a rise in the minimum wage:
This Government introduced—[Interruption.] I thought they cared about the most vulnerable! This Government introduced the national living wage, which has been a giant step in eliminating low pay, so today I am accepting the recommendation of the Low Pay Commission to increase it next year by 9.7%. This means that, from April 2023, the hourly rate will be £10.42, which represents an annual pay rise worth over £1,600 to a full-time worker. It is expected to benefit over 2 million of the lowest-paid workers in our country, and it keeps us on track for our target to reach two thirds of median earnings by 2024. It is the largest increase in the UK's national living wage ever.
Benefits will increase by the rate of inflation:
… today I commit to uprating such benefits by inflation, with an increase of 10.1%. That is an expensive commitment, costing £11 billion, but it means that 10 million working-age families will see a much-needed increase next year, which speaks to our priorities as a Government and our priorities as a nation. On average, a family on universal credit will benefit next year by around £600. To increase the number of households that can benefit from this decision, I will also exceptionally increase the benefit cap by inflation next year.
Finally, I have talked a lot about the British values of compassion, hard work, dignity and fairness, but there is no more British value than our commitment to protect and honour those who built the country we live in, so to support the poorest pensioners I have decided to increase pension credit by 10.1%, which is worth up to £1,470 for a couple and £960 for a single pensioner in our most vulnerable households, but the cost of living crisis is harming not just our poorest pensioners but all pensioners.
The triple-lock stays:
Because we have taken difficult decisions elsewhere today, I can also announce that we will fulfil our pledge to the country to protect the pension triple lock. In April, the state pension will increase in line with inflation, an £870 increase, which represents the biggest ever increase in the state pension. To the millions of pensioners who will benefit from this measure, I say: "Now and always, this Government are on your side."
Hunt did not receive a jubilant reception from Conservative MPs, some of whom had concerns.
Dr Liam Fox asked about quantitative easing and interest rates:
I congratulate my right hon. Friend on a balanced and skilful statement prioritising fiscal stability. He will be aware that some of us believe that the Bank of England maintained monetary conditions that were too loose for too long, but that it would also be a mistake to maintain monetary conditions that are too tight for too long. Can he therefore confirm that the anti-inflationary measures that he has taken today will mean that the pressure to raise interest rates will be minimised, and that there is a much greater chance that they will fall earlier than would otherwise have been the case?
Hunt replied:
My right hon. Friend is absolutely right to focus on this issue, because every 1% increase in interest rates is about £850 more on the average mortgage, so it is hugely important to families up and down the country. The OBR has said that the measures that we have taken today will mean that inflation is lower than it would otherwise have been. That means that the Bank of England is under less pressure to increase interest rates, which for reasons that he knows are such a worry for so many families.
Sir William Cash was concerned about the ever-increasing costs of the HS2 rail project:
My right hon. Friend argued for sound money and sound foundations. Would he be good enough to explain how it is that High Speed 2 will continue beyond Birmingham at a verifiable cost of at least £40 billion, when every independent report on HS2 condemns the project and confirms that phase 2 will make rail services to all west coast destinations north of Birmingham much worse? I ask him to make a clear commitment to keep this matter under review at all costs; it is in the national interest.
Hunt said:
My hon. Friend is right that the increases in the budget for HS2 are disappointing, but a strong economy needs to have consistency of purpose, and that means saying we will make sure that we are a better connected country. The lack of those connections is one of the fundamental reasons for the differences in wealth between north and south, which we are so committed to addressing. There is a bigger issue about the way that we do infrastructure projects: it takes too long, and the budgets therefore get out of control. We are just not very good at it, and we have to sort it out.
Theresa Villiers rightly asked how soon we could move to a lower-tax economy if the forecasts are wrong. For me, this was the question of the day:
I thank the Chancellor for the announcement on schools funding, which, as he knows, is something that I raised with him as being crucial. Can he also confirm that, if current forecasts about economic recovery and inflation prove to be overly pessimistic, we will move more quickly than he has announced today towards delivering a lower-tax economy?
Hunt was non-committal:
My right hon. Friend is an immensely experienced colleague. She is right to point out that there is always inaccuracy in any forecast, and there is always variation from fiscal event to fiscal event, so we keep all those decisions under review in the round. I think it is still important to have forecasts—that is better than not to have them—but we keep all those decisions under review.
Virginia Crosbie from Ynys Môn in Wales asked how soon the new nuclear programme would begin:
This Government's commitment to Sizewell C and large-scale nuclear is welcome, and it was noted that Labour's shadow Chancellor failed to mention nuclear. When will the launch of Great British Nuclear be announced, and will its scope include large-scale gigawatt nuclear at sites such as Wylfa in my constituency, as well as small modular reactors?
Hunt was encouraging:
There is no more formidable advocate for big nuclear investment on Ynys Môn than my hon. Friend. Indeed, when I went on a family holiday to Ynys Môn this summer, she tried to persuade me to visit the potential site of a nuclear power station with my children. I apologise that I did not take her up on the offer, but it shows her commitment. My right hon. Friend the Business Secretary will be making an announcement soon on things such as the launch of Great British Nuclear—I hope before Christmas, but if not just afterwards—because we want to crack on with our nuclear programme.
Richard Drax was concerned about the burden on the taxpayer, another excellent question:
I have huge sympathy for my right hon. Friend. We are facing severe financial challenges for the reasons he explained so well, but Members on both sides of the House are promising to spend billions and billions more pounds. I remind the House that it is the private sector, and hardworking people through their taxes, who pay for Government expenditure. Does my right hon. Friend agree that raising taxes on both risks stifling the growth and productivity that he and I both want, and that would counter the recession we are now in?
Hunt defended his budget:
My hon. Friend is right to make the case for a lightly taxed dynamic economy, and I would like to bring taxes down from their current level. We are faced with the necessity of doing something fast to restore sound money and bring inflation down from 11%, which is why we have made difficult decisions today. But yes, my hon. Friend is absolutely right: there is no future for this country unless we get back on the path to being a lower taxed economy.
Mark Pawsey asked about small businesses:
My constituents in Rugby and Bulkington will not enjoy the tough decisions that the Chancellor has had to make today, but they will understand the need for sound finances after the huge expenditure that the country has made on the pandemic and supporting people with their energy costs as a consequence of the war in Ukraine. They will also want to know that businesses will continue to invest to grow and to create jobs. Will he speak about the incentives that still exist for businesses to do exactly that?
Hunt pledged his support:
I am happy to do that. My hon. Friend is quite right to raise those issues. We are doing a lot of short-term things, including help with energy bills as well as business rates. As we move to a new business rates system, we are freezing the levels at which business rates can increase and introducing a 75% discount next year for retail, hospitality and leisure businesses. Fundamentally, as a Conservative Government, we know that we cannot flourish as an economy without flourishing small businesses, and we will back them to the hilt.
Greg Smith asked what Hunt was doing about reducing fuel duty:
I absolutely agree with my right hon. Friend when he talks about the inflationary pressures coming from the aftershocks of the pandemic and the war in Ukraine. We see that at the fuel pumps and, more significantly, our haulage and logistics sector sees it with the enormous level of taxation on diesel in particular driving inflation to get food and goods on to our shelves. As he prepares for the March Budget, will he look at the inflationary impact of fuel duty on top of the high cost of diesel and see whether we can reduce it?
Hunt said he was looking at the issue:
I assure my hon. Friend that I will absolutely do that. We have a little time, and I know that fuel duty is an important issue to him and many other colleagues.
March 2023 — fuel duty hike
Hunt's answer to Greg Smith on the fuel duty hike sounded reassuring, but GB News's economic editor Liam Halligan uncovered a planned fuel duty hike of 23% for March 2023 from the OBR forecast. It would be the first since 2011:
Here's Liam Halligan talking about it:
Forbes noticed it, too, bringing the news to an even wider international audience: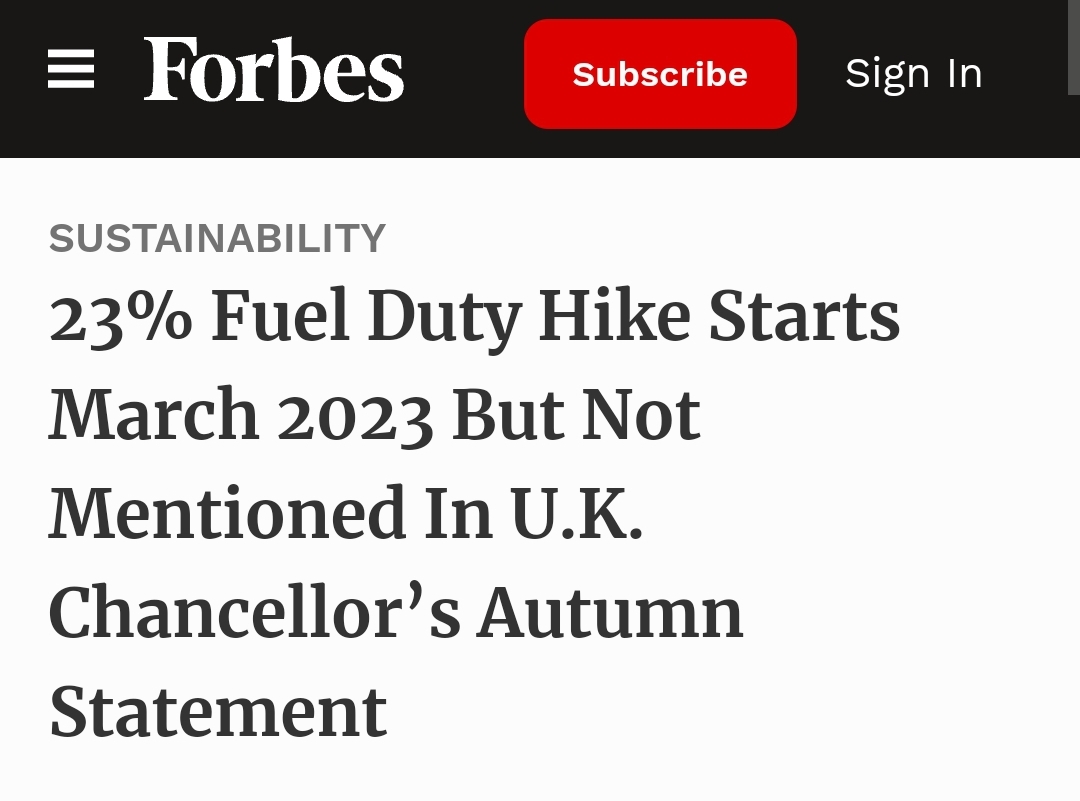 Fiscal drag
The Times had an article on the upcoming fiscal drag following Hunt's budget:
Disposable incomes, after adjusting for inflation, will fall by 4.3 per cent in 2022-23, which would be the largest fall since records began in the 1950s. It is set to be followed by the second largest fall — in 2023-24 — of 2.8 per cent.
… Despite the aspirations of Rishi Sunak to create a low-tax economy, Britain is on course for its biggest ever tax burden as hundreds of thousands of workers are dragged into higher income tax bands by the freezing of thresholds and allowances while businesses also face a jump in levies, including employment taxes.
The tax burden is set to rise to 37.5 per cent of GDP in the financial year ending 2025, reaching the highest level since records began shortly after the Second World War.
The level of taxation as a share of the national income will rise to 36.4 per cent of GDP this year and 37.4 per cent in the financial year ending 2024, breaking the previous record.
Recovery is not likely to begin until 2025, several months after the next general election. This is accurate only if Conservatives are still in power by then:
GDP is expected to rise by 4.2 per cent this year before falling by 1.4 per cent next year, only returning to pre-pandemic levels by the end of 2024. However, growth is expected to pick up to 2.6 per cent the following year and 2.7 per cent in 2026, following a recovery in real incomes, consumption and investment.
The Telegraph also had an article on fiscal drag:
Nearly a quarter of a million workers will be dragged into paying the 45p rate of income tax after Jeremy Hunt slashed the threshold at which it is charged.
The salary on which the additional rate is payable will be reduced from £150,000 to £125,140 effective next April, Chancellor Jeremy Hunt announced in the Autumn Statement, and frozen until 2028, forcing 232,000 workers into paying the top rate of tax for the first time and costing these quarter of a million taxpayers £620 on average, according to wealth manager Quilter.
The number of workers paying 45pc has more than doubled since the rate was first introduced in 2010 – rising from 236,000 to 629,000 today – as wage inflation has pushed more taxpayers into the highest income tax band.
Lowering the threshold will cost the 629,000 workers earning over £150,000 who are already impacted by the 45pc tax an additional £1,250 …
Just two months ago, then-Chancellor Kwasi Kwarteng promised that the top rate would be abolished altogether. But now the Government is hoping to earn £420m in 2023-24 by catching more taxpayers in the 45pc net, and almost double that – £855m – in 2027-28.
Neela Chauhan of accountancy firm UHY Hacker Young said the move was "a major attack" on higher earners.
She added: "It's going to bring in people into the upper rate who feel that they are far from being rich."
Tax firm RSM said that there are also unexpected consequences of slashing the additional-rate threshold and the Chancellor had opened the door to a new 67.5pc tax rate.
Taxpayers earning over £100,000 lose their personal allowance at a rate of £1 for every £2 of income.
This means for every £100 they earn between £100,000 and £125,140, a worker takes home just £40 – because £40 is lost to income tax and another £20 to the tapering of the personal allowance – creating a 60pc tax trap.
Dismal headlines
The Guardian has a breakdown of last Friday's front pages, which were bleak.
The Telegraph noted the austerity of George Osborne, Chancellor when the Conservative-Lib Dem coalition took over from in 2010, and the Labourite policies of his predecessor Gordon Brown. At the bottom of the page is an analysis from Lord Frost:
Lord Frost's analysis is pro-Truss/Kwarteng
Lord Frost points out that the OBR are predicting what Liz Truss did just a few weeks ago:
This was a very curious Autumn Statement. For the last month, we have been told that Britain needed to re-establish the confidence of the markets and put in place renewed fiscal discipline, supposedly so carelessly squandered by Liz Truss. "Eye-wateringly painful decisions" were coming for all of us …
… public spending will be at its highest since the 1970s and taxation the highest since the Second World War. Both only start to fall, gently, in the late 2020s, and then only because of some pretty heroic assumptions about growth. Indeed, under Liz Truss we were told that 2.5 per cent growth was impossible – yet the Office for Budget Responsibility (OBR) is predicting exactly that for 2025 and 2026.
How do we explain this?
To do so, I think, we have to go back to that extraordinary week in mid-October, when Truss's government blew up on the launch pad. 
She was levered out of Downing Street with the argument that she had been careless about the public finances, casual about fiscal discipline and had lost market confidence. An emergency correction was needed – tax rises or spending cuts, and probably both.
Yet on taking office, our current government will have found – as the OBR has now acknowledged – that we were already into a deepening recession. Tightening fiscal policy with growth collapsing and interest rates increasing globally would clearly have been an insane policy, one at variance with what virtually every economist would suggest. But, having destroyed the Truss administration for being insufficiently fiscally disciplinarian, the Government could hardly overtly change course itself.
That is why we got what we got. Keep growing spending, raise taxes now on unpopular groups, defer deficit reduction and everything else until 2025, and meanwhile talk a lot about austerity and discipline to disguise the reality that this is likely a similar fiscal policy to what Truss's would have been, just at higher levels of tax and spend. Then, after the election, if the Conservatives are still in power, it can all be looked at again …
… Taxes on business wreck investment and growth. Taxes on the (not very) rich destroy incentives. Britain's hard-won reputation for being a low tax country is permanently lost. And we all have less of our own money and are less free.
Another defence of Trussonomics
The Mail reminds us that the Truss plan was to cap energy prices for two years. Hunt has reduced this to the end of March 2023:
Average energy bills will rise to £3,000 a year from April as Chancellor Jeremy Hunt confirmed he was scrapping previous Government plans.
In his Autumn Statement to the House of Commons, Mr Hunt revealed changes to the 'Energy Price Guarantee' would leave Britons facing higher gas and electricity payments next year.
When former prime minister Liz Truss first announced the cost of living support in September, she outlined how average energy bills would be frozen at £2,500 a year for the next two years …
Delivering details of an altered plan today, Mr Hunt revealed the Energy Price Guarantee would now be set at a higher level of £3,000 a year for average households until April 2024.
Of course, those who use less energy at home might have less to pay:
The plan only caps the cost per unit that households pay, with actual bills still determined by how much is consumed.
Sarah Coles, senior personal finance analyst at Hargreaves Lansdown, said:
The fact that this comes on top of so many other price rises means life is going to get even tougher next spring.
More Trussonomics
The Spectator's editor Fraser Nelson wrote an analysis of the budget for The Telegraph, 'This could turn out to be the week that the Tories lost the next election'.
I noted above that some of what Hunt said points far into the future.
Fraser Nelson also observed that fact:
Suspiciously, almost all of this austerity is due to take place after April 2025, after the election. The Tory benches were very quiet during Hunt's speech, perhaps because they were piecing all this together. It was not just an Autumn Statement being written, but the next Conservative manifesto, too – with all the bad stuff saved for after the vote. Hardly the behaviour of a party expecting to win.
As one minister put it: "This was the day we lost the election." This is how some Tories see the Autumn Statement: a suicide note, wrapping a poison pill for a Keir Starmer government to swallow.
This is the alarming rate of borrowing today. Factor in the previous QE and the generous Sunak pandemic programmes when he was Chancellor:
Even now, the Government is borrowing £485 million a day – or £20,000 by the time you finish this sentence. It all needs to be repaid. And the interest we all have to pay for such debt is, broadly, treble what it was a year ago.
The new forecasts show a UK Government expecting to pay £484 billion in debt interest over the next five years – almost £300 billion more than was expected this time last year. This year alone it's £120 billion, twice last year's sum.
This extra £60 billion has had to come from somewhere. It's enough to double the size of the military, treble the police force or rebuild every school or hospital. But instead it is dead money, servicing an old debt – and things need to be squeezed to make room for it. For years, Tories wrote cheques, for HS2 and more, barely thinking about the cost. Now the bill has landed.
Nelson doesn't mention the number of times long-serving Conservative backbenchers warned Sunak over the past two years that the bill would come due, but I saw them in parliamentary debates being duly ignored. To Sunak, those men were mere Thatcherites, so last century. Rishi told us we could borrow with little consequence. Not so.
He created a lot of our current problems and campaigned in August that he would be the candidate to get us out of this situation.
Now he is No. 10, just as he wanted to be from the beginning:
Sunak can't be blamed for the debt interest. But he might have been expected to have better ideas of how to get out of the mess.
Of the Autumn Statement, Nelson writes:
Liz Truss said her message was "growth, growth, growth," but Sunak's seems to be "brace, brace, brace". A massive fiscal impact lies ahead, he says – and our mission is to recognise it, make our peace with it, and accept that talk about a low-tax future is futile. So his Autumn Statement did not kick-start a recovery. It was, instead, a requiem for growth.
Of the August leadership campaign, he reminds us:
During the leadership debate, Truss was asked what advice she would give to Sunak. Don't be so fatalistic, she told him. Don't go along with narratives of decline. She had a point. Groundless optimism ended her premiership very quickly, but groundless pessimism can also be deeply damaging.
Nelson wonders how a government can so quickly discount its people:
A million more Brits, for example, are expected to join the 1.7 million already claiming disability or health-related benefits over the next five years. They will, in turn, join the 3.5 million others on out-of-work benefits. Was it so unreasonable to hope that this number might go down, with people helped back to work? We've been promised a review into all this, but not much else.
Another assumption is that most of the 400,000 who have dropped out of the economy since the pandemic started, citing long-term sickness, will never work again. It's hard to find many other countries giving up so readily on such a stunningly large chunk of the population.
Is a uniquely British malady at work here? Or is the real problem a kind of Tory fatalism, where an exhausted governing party thinks the country is now too old, too sick or simply too workshy to get back to where it was in January 2020?
Many conservative voters said at the time that Rishi's furlough scheme was a bit too helpful — and we were paying for it.
Now we are paying even more for it.
Nelson concludes:
… the risk is that voters make up their mind now – and associate Toryism with chaos, broken promises and a general counsel of despair. Labour just needs to promise to do things better. As things stand, it's not a very high bar.
Feeling fleeced yet?
The Telegraph's editorial warned, 'Hard times ahead for British taxpayers':
Unlike the tumultuous response to Kwasi Kwarteng's unfunded growth measures in September, the market reaction was muted, which is precisely what Mr Hunt hoped for, even if the pound fell against the dollar amid forecasts of a year-long recession …
… benefits and the old age pension will rise in April by 10.1 per cent, the inflation rate in October.
This continues a trend of recent years whereby working people are expected to pay more in tax to protect social programmes that successive governments have been reluctant to reform. Although headline tax rates have not risen, the extended freeze on allowances at a time of double-digit inflation is a serious hit to the incomes of millions who will be dragged into higher bands. Some three million earners will pay income tax for the first time.
This year will see the sharpest fall in living standards on record, while the tax burden rises to its highest level as a share of GDP in decades. More than 47 per cent of national income will be spent in the public sector. In fact, spending will actually rise in real terms. The cuts are to planned budgets.
Rishi Sunak and Mr Hunt consider this social democratic approach to be fair and compassionate, closing off attack lines from Labour as a general election approaches. But there are consequences for the long-term well-being of the country if working people and businesses feel they are being fleeced to prop up failing public services and a benefit system in need of a drastic overhaul.
Essentially, the productive part of the economy is being squeezed to prop up the unproductive. The problem Mr Sunak faces is that, by 2024, the Conservatives will have been in office for 14 years and they need to offer voters a better slogan than "Labour will be worse". In fact, Labour would support many of the measures in the Autumn Statement, from loading more tax on the wealthy to increasing windfall taxes on the energy companies.
… ministers need to prepare for the worst and could proactively address the biggest drags on the economy, above all the NHS, social care and welfare benefits. The health service continues to soak up huge sums – with another £6 billion announced yesterday – and yet produces worse outcomes. Its shortcomings are causing problems throughout the economy, with treatment backlogs contributing to acute manpower shortages which the Government intends to fill by increasing immigration.
The Spectator's political editor James Forsyth, a close friend of Rishi Sunak's, explained in The Times why this recession is different to previous ones and why we need more people in the workforce. I hope his friend pays attention to this:
One bright spot amid the gloom is the unemployment rate, which is just 3.6 per cent, down from 3.8 per cent this year. This is close to historic lows. But even this glimmer is tarnished. The low unemployment number disguises how many people have left the labour force: one in five working-age Brits are economically inactive, meaning they are neither in work nor looking for it. More than five million are claiming out-of-work benefits.
The recession may last a year, perhaps two — but it will be different. Unemployment, as formally defined, won't exceed 5 per cent even during the worst of the downturn — in the 1980s it went into double digits. Seldom have there been more vacancies in the economy. It's an odd form of recession where almost anyone who wants a job can find one, but that's the situation we're in. Almost every month, the number of those not looking for work grows: it jumped by 169,000 in the three months to August. That is more than the population of Oxford.
This has consequences. The OBR thinks the cost of health and disability benefits will rise by £7.5 billion — quite a sum. A shrinking labour market is also one of the reasons why the Bank of England thinks potential growth is now a mere 0.75 per cent even in 2024-25. The Tories desperately need to get back to moving people from welfare into work — not just to reduce the welfare bill but also to boost the economy …
Alongside those not in work nor looking for it, there are 970,000 people on Universal Credit who are working very limited hours in an economy where employers are offering shifts. Hunt announced that about 600,000 of them will now be required to meet a work coach to try to increase their hours. This signals a return to Tory welfare reform …
… to ensure taxes don't need to keep going up indefinitely, two things are needed. The first is a renewed emphasis on public-sector reform. The Tory mantra used to be more for less from public services. But in recent years, it has felt like the opposite is the case. As the Institute for Fiscal Studies pointed out this week, the NHS has more money and more staff than it did before Covid yet is treating fewer people on the waiting list. This needs reversing if the tax burden is not to continue climbing ever higher.
The second is the economy needs to grow. Meat needs to be put on the bones of the growth agenda that Sunak and Hunt set out this week, with further incentives for businesses to invest.
After the debacle of the mini-budget, this autumn statement was always going to be about steadying the ship. Yet satisfying the markets is a necessary but not sufficient condition for a successful government. Sunak and Hunt must now deliver on public service reform, moving people from welfare into work and getting more out of the health and education budgets.
The Telegraph had more on the parlous state of the NHS, despite more taxpayer money being dumped into it, all for nought:
An analysis by the Institute for Fiscal Studies shows the health service in England carried out 600,000 fewer procedures in the first nine months of 2022, compared with the same period in 2019.
The NHS's budget rose from £123.7 billion in 2019-20 to £151.8  billion in 2022-23, with the extra funding tied to a target of increasing elective hospital activity by 30 per cent compared with pre-pandemic levels. This will not only be missed but matters have worsened. Why is no one being held to account?
Record sums have been poured in for years, yet there is now a waiting list of more than seven million patients. Working practices remain stuck in the past, with consultants complaining that hospitals are "like the Mary Celeste" at weekends, while most GP surgeries are only open on weekdays, pushing patients to overstretched A&E services.
The NHS unions are not helping in their demands for more money.
The article concludes:
There is something fundamentally wrong with the NHS which politicians must confront before it crashes and brings the rest of the economy down with it.
Hunt puts economic hope in migrants
It seems the OBR, a quango started by the Conservative Chancellor George Osborne and staffed by Labourites, has convinced Jeremy Hunt that he should increase our already heavy migration levels to boost the economy.
That's a left-wing idea that has never worked.
Home Secretary Suella Braverman will oppose that, but can she succeed? Only a few weeks ago, a 90-minute argument with Liz Truss and Hunt resulted in Braverman's resignation. Her security violations were a likely smokescreen for what really happened.
Jeremy Hunt is relying on a surge in net migration to more than 200,000 people per year to help deliver economic growth as he oversees a sharp rise in the tax burden to its highest ever peacetime level.
The Office for Budget Responsibility (OBR) predicted net migration – the numbers entering the UK minus those leaving – will be 224,000 next year, before gently declining to settle at 205,000 a year from 2026 onwards.
This is dramatically higher than the OBR's March estimate, when it predicted that net migration would be between 139,000 and 129,000 in the same years, some 80,000 lower.
It is also significantly higher than the long-term "ambition" of Suella Braverman, the Home Secretary, to reduce net migration to below 100,000 – similar to the target of Theresa May, one of her predecessors in the post.
The increase in migrant labour will help to buttress Britain's economy as Mr Hunt imposes higher taxes on earnings, jobs and investment. The OBR said that an increase in migration would help add to the potential size of the economy.
However, rising costs from tax are creating "growing disincentives to work", reduce business investment and depress wages, according to the OBR itself.
Business groups were even more damning. The Chancellor talked a lot about "hard work" and "fairness" in his Autumn Statement. But workers, entrepreneurs and businesses have been left to pick up the bill to keep Britain's welfare state on the road.
The OBR are being deeply irresponsible in advocating city-sized populations coming from abroad each year.
Where will these people live? How is our infrastructure — medical facilities, schools, water supply — increase to meet this demand year upon year?
Anyone travelling by Tube can pick up a copy of the Evening Standard to read about how many British twenty-somethings in London cannot find a room to rent. In many cases, there are 100 of them chasing every available room. The Standard interviews them. Their stories are heart-breaking. These young people are signed up to every rental app, to no avail.
Council tax increasing
On top of all of this, The Times reported that Hunt has given the green light to councils to increase council tax:
… the chancellor announced "more council tax flexibilities", enabling councils in England to raise council tax by 3 per cent a year (up from 2 per cent) from April 2023 and increase the adult social care precept by 2 per cent a year (up from 1 per cent) without having to hold a referendum — leaving councils free to raise the tax by up to 5 per cent next year.
Their article has charts of various council tax rates and offers this example:
If they decide to increase council tax by the full 5 per cent, council tax band D payments would rise by £115 from £2,300 to £2,415 a year in Rutland in the East Midlands — the local authority with the most expensive tax bills in England — while in Westminster in central London, the cheapest authority, they would increase by just £43 from £866 to £909 a year.
Short takes
The Telegraph has an article on winners and losers from the Autumn Statement. There are only two groups of winners: housebuyers and pensioners/benefits claimants.
The Guardian interviewed some of Hunt's constituents in leafy South West Surrey. They are unhappy with him as MP and are equally unhappy with the Government.
Guido Fawkes's sketchwriter summed up Hunt's announcement as follows:
What was the job of the day? To persuade the markets that all was under control. That debt-to-GDP would fall in reasonable time, that things would get back to normal in his cool, technocratic, managerial hands.
It's what we all need, to believe that someone knows how things work and that they know what they're doing. That there is such a thing as "sound money". That the great, communal hallucination of financial reality may be preserved.
In Guido's view, the Chancellor did exactly that. (Pound crashes, housing market collapses, the global financial architecture disappears into the Pacific Trench)
The readers' comments near the end of that post have to do with the raw deal Liz Truss got. Here's the exchange:
I find it impossible to believe that Liz Truss did so much damage in a couple of weeks with a mini budget which was never even enacted to require today's grotesque socialist budget. Hunt and Rishi must be following an ideological policy and using Truss as their excuse.
Yes, she's been made a convenient scapegoat by the WEF shills, to cover all their earlier and current mistakes and wrongdoings.
She went too far too fast and, by doing so, gave the one nation Tories and SunakHunts the opportunity to bring her down. The real villains are Sunak and Bailey [Bank of England governor] with their money printing and inflation denial. We are paying for their mistakes.
She didn't go too far too fast. That is the Conservative spin. The Socialist spin is that she crashed the economy. It was cautious and a promising start, a direction of travel being set, nothing more – except for that huge two year package on the gas bills which was pure socialism and not mentioned by anyone.
The true Conservative spin is that, as an experienced Cabinet minister, she didn't scan the political and financial hinterlands and underestimated the faux Conservative forces ranged against her. Once she u-turned she was done for.
On another of Guido's posts, a reader posited that this is all about reversing Brexit:
The champagne socialist billionaire Rishi Sunak and arch remainer narssisist Jeremy Hunt have nailed the final nails in the socialist party AKA as the Conservative party coffin. They will be wiped out at the next GE for a generation. They want to tank the economy and make everyone feel financial pain so they can say BREXIT didn't work. They will then seem to come to the rescue with every excuse on the planet and join us up first to the single market and customs union. Then kicking and screaming back into the EU. Why do you think they staged this remainer coup and got rid of Truss? The Truss budget of low tax, high wages, high growth, low government spend and the scrapping of the 2300-3000 EU laws retained on the UK statue book would have taken advantage of BREXIT and boosted the economy. They could not allow that to happen. They want to ditch plans to scrap the EU laws as that will make it harder to leave. They have folded on the NI Protocol and leaving the Jurisdiction of the ECHR. Why? Because they want to rejoin. We now are having forced on us a low wage, high tax, low growth, high government spend economy that will cripple most people financially and small businesses. Who wants to invest in the UK now?
On that note, another reader posted a photo of Hunt and Sunak sharing a laugh, with this fictitious caption:
Hunt: Told you you didn't need the support of the members.
Sunak: Yes, it was so easy to stab Truss in the back, too. Who needs democracy?
What taxpayers can do
All is not lost for taxpayers. There are ways to mitigate the effects from Hunt's statement.
Anyone who needs to cut back on food costs, protein in particular, should start eating eggs, which are cheap and the best source of protein around. Supposedly, they're in short supply, but I bought a dozen only yesterday.
The Telegraph has an excellent article on various egg preparations, whether sweet or savoury. It's well worth reading.
The paper also has a helpful article about what taxpayers can do to mitigate Hunt's raid on their money. Some will require advice from a financial planner. The most important tip is to get one's capital gains in order and start liquidating shares or funds to put into an ISA — a process called 'bed and ISA' — without exceeding the CGT thresholds. This has to be started well before the end of the 2022-23 tax year in April, when the current capital gains threshold of £12,300 expires and becomes £6,000 for one year, then £3,000 the year after that.
Good luck!
As I need something positive to think about while awaiting Chancellor Jeremy Hunt's awful budget on Thursday, November 17, here is a retrospective on Liz Truss's rise to power, however short-lived.
The Conservative Party leadership campaign dominated the latter half of July and all of August.
By Tuesday, August 16, like the Telegraph's Tim Stanley, I, too, had watched every hustings up to that point.
Who could have guessed that, in an extraordinary turn of events, both she and Rishi Sunak would be in No. 10 within weeks of each other?
Reporting on what happened north of the border in Perth, Stanley wrote:
The hustings had become so repetitive, I know the speeches by rote. Rishi grew up in a pharmacy, Liz sat on a planning committee. My only pleasure has been waiting for the day they cross their wires and Rishi announces he grew up on a planning committee and Liz that she sat on a pharmacy.
But on Tuesday we were in Scotland, so the script was rewritten. Lots of references to whisky, gas and Nicola Sturgeon, who Liz once said we should ignore, so Rishi said: "I don't just want to ignore [her], I want to take her on and beat her!" Big clap for that …
"I grew up in a small business," he said. And the cream for your burn, sir, can be found on the fourth aisle.
Liz did a much better job of showing that she knew she was in Scotland, referencing Adam Smith, JK Rowling and salmon fishing – and reminding us that she understood what poverty was because she grew up in a recession in Paisley in the 1980s (when the Tories were in power) and later in Leeds in the 1990s (ditto). 
In fairness to Liz, she meant local councils, not the Government.
The Mail highlighted the disagreement Liz and Rishi had on taxes:
Miss Truss has pledged to reverse the national insurance hike to help struggling families, but has not ruled out offering further support. But Mr Sunak said the right way to help people with higher energy bills is through direct support.
He told the hustings: 'The tax cuts that Liz is proposing are worth about £1,700 to someone on her income. For someone working very hard on the national living wage, it's worth about a quid a week …'
On Wednesday, August 17, the duo were in Northern Ireland, where, yes, there is a Conservative Party. It has around 600 members. I had no idea.
The Guardian had unearthed an old video of her saying that the British weren't very good workers. The Mail said that she defended her remarks to the press in Northern Ireland:
Pressed by reporters in Northern Ireland today whether she believes British workers are not working hard enough, Ms Truss replied: 'What I believe is that we need more skills in our country, we need more capital investment in our country, we need more opportunity in our country. That is what I would deliver as prime minister …
She added : 'I'm fundamentally on the side of people who work hard, who do the right thing. Those are the people I want back.'
Conservatives did not object to Liz's views (emphases mine):
Despite the furore, Ms Truss was delivered a major boost today with the latest ConservativeHome poll showing she is firmly on track for victory on September 5. She was 60 per cent to 28 per cent ahead of Rishi Sunak in a survey of activists.
The Belfast hustings was the only uncomfortable one of the campaign. It was clear neither candidate had any grasp of Northern Ireland or people's concerns:
The furthest Liz could connect with the small group of Conservative members was to say that she knew that a 'woman is a woman', for which she received applause (somewhere around the 12-minute mark). Near the end of her Q&A, a man expressed concern about abortion, which was foisted on them by Westminster. He asked about the fairness of that, since Northern Ireland has its own Assembly. She bristled at the question and brusquely replied that all the devolved nations had to have the same health policies (somewhere between 32 and 35 minutes in).
Rishi's intro and Q&A followed Liz's.
The London Evening Standard had an excellent report from Rebecca Black following the hustings at the Culloden Hotel on the outskirts of Belfast:
The Brexit protocol, the Stormont Assembly, the health service, abortion, foreign policy and support for the party in Northern Ireland were among the issues raised …
Martin Craigs said he remained undecided after hearing their pitches.
He said he felt their content in terms of Northern Ireland had been "very weak".
"They're sitting on the fence, this isn't the audience they're playing to, the audience they're playing to are the 160,000 Conservative members, and there are very few of them in Northern Ireland, but they obviously have to go to all corners of the UK to be seen to be democratic," he told the PA news agency.
"I might actually not vote at all because I think the performance has been so poor."
Matthew Robinson, chairman of the Northern Ireland Conservatives, welcomed the candidates' visit and paid tribute to the commitment they were showing to the region.
He said he had been holding back on deciding who to vote for, but based on what he heard at the hustings he would back Ms Truss.
"I think she outlined an unwavering commitment to what we do locally here as a political force," he said.
"I'm not just encouraged but excited about what we can achieve together during her hopeful premiership."
David Trimble's widow said that, just before he died, he wanted to make sure he voted for Liz. Lord Trimble had originally been a member of the Ulster Unionist Party (UUP) but became a Conservative in 2007. The following year, a voting alliance was created between the UUP and Conservatives in Northern Ireland.
The Standard reported on Lady Trimble's article in the Telegraph in which she supported Liz. The Stormont Assembly has not been meeting for several months now:
The powersharing structures Lord Trimble helped create in the landmark 1998 agreement are currently in limbo, with the DUP blocking the creation of a governing executive in protest at Brexit's Northern Ireland Protocol.
Lady Trimble wrote: "I believe that in this contest, Liz Truss has the best record and a viable plan to protect our Union and Northern Ireland's integral place within it.
"I know David thought the same.
"One of the last things he did before we lost him was to ask his son to collect his voting papers so he could vote for Liz.
"He was adamant that she was what the country needed and I agree.
"She has already proven her resolve and bravery in the face of opposition to our most valuable asset, and I am confident that my husband's legacy, peace in Northern Ireland, will be safe with her."
Lady Trimble, born Daphne Orr, is an academic who served as a member of the Equality Commission for Northern Ireland and the Northern Ireland Human Rights Commission.
Another article in the Standard showed that Liz understood the difficulty with the post-Brexit Protocol:
The Foreign Secretary also said she would not accept any compromises on a renegotiated Northern Ireland Protocol as prime minister if it meant key UK demands were not met.
She made the comments during a visit to Belfast, where she and Rishi Sunak were quizzed by Tory members during a hustings event.
She told party members that until the Northern Ireland Protocol is sorted, Stormont will not be back up and running.
The Standard's Rebecca Black wrote a separate article on the abortion question:
Abortion laws in the region were liberalised in 2019 in laws passed by Westminster at a time when the power-sharing government at Stormont had collapsed.
During a Conservative Party leadership hustings event at the Culloden Hotel on the outskirts of Belfast, Ms Truss was asked if she would abolish abortion in Northern Ireland, "ending infanticide", or let the people of the region have their say on the issue.
She responded to applause [for the man, not her]: "I'm afraid I don't agree with you.
"We are a United Kingdom and we need all of our laws to apply right across the United Kingdom – that is what being a union is."
Rishi's highlight of the hustings was about Liz's £50 billion black hole:
Rishi Sunak has warned that Tory leadership rival Liz Truss's tax plans would add £50 billion to borrowing while failing to give direct support to the most vulnerable in society, as the cost-of-living crisis deepened.
The former chancellor said the Foreign Secretary would be guilty of "moral failure" if she does not focus on the nation's poorest, and warned her policies could further stoke inflation.
Ms Truss instead insisted "taxes are too high and they are potentially choking off growth", as she promised an emergency budget to tackle the situation.
On Thursday, August 18, the eminently sensible Lord Moylan told GB News that he was voting for Liz because Rishi's economic plans did not make sense:
On Saturday, August 20, Sir John Redwood MP criticised the pro-Rishi media:
Redwood laid out his Thatcherite economic plan for Liz in that day's Telegraph:
Britain's fiscal rules should be ripped up by Liz Truss if she wins the Conservative leadership race, one of her key allies has said.
Sir John Redwood, who served as the head of Margaret Thatcher's Downing Street policy unit and is tipped to return to government if Ms Truss wins, said she should abandon the practice of targeting a set percentage of GDP for national debt and the deficit.
He also called for a review of both the Bank of England and Office for Budget Responsibility (OBR), and suggested the Foreign Secretary should be inspired by Mrs Thatcher in removing utilities and transport from state control.
Since 1997, fiscal rules have been announced by chancellors during Budget statements in an attempt to control government spending.
They usually set a restriction on the proportion of national debt or deficit as a percentage of economic output.
But in an interview with The Telegraph, Sir John said the practice is a hangover from EU fiscal regulation agreed between member states at the Maastricht conference in 1992, and does not encourage economic growth or limit inflation.
"I think having a fiscal rule, which is a variant of state debt as a percentage of GDP, and the public deficit as a percentage of GDP in any given year, is not really the right couple of rules for the two targets you're trying to meet," he said.
The Tory backbencher said ministers should maintain "sensible controls over growth in public spending and in public debt" by instead monitoring the amount of money paid by the Treasury to lenders in interest payments.
In a coded rebuke to Rishi Sunak, who was the chancellor until last month, he added: "You have to elect governments that take controlling public finances seriously, and they then have to take them seriously.
"If you have a government that doesn't take controlling public finances seriously, it won't matter what your fiscal rules say, as we know from recent past experience," he said.
Sir John is expected to be appointed as a Treasury minister in Ms Truss's government and is understood to have helped shape her thinking on economic issues during the campaign …
Sir John said he had not had "any discussions" with Ms Truss about taking a role if she wins the contest, but told The Telegraph he would accept a job if he was offered one.
The Times also thought that Liz would give Redwood a role. One campaign source said:
"There are a lot of crumpled up bits of paper. I've been in three meetings about the cabinet and it keeps changing."
Among the names on the pieces of paper: Iain Duncan Smith, who is heading back to cabinet, and John Redwood, who was last a minister 27 years ago and is earmarked for a junior Treasury post.
This weekend Truss will take a team of her senior aides to Chevening, the grace and favour home in Kent which she enjoys as foreign secretary, with the aim of getting people and policies more firmly nailed down.
In the past few days she has repeatedly told her team "no complacency". As an ally puts it more prosaically: "No f***-ups, basically."
Sadly, Liz never offered Redwood a role. If she had, she might still be Prime Minister today.
The Times was also wrong about Iain Duncan Smith, who was not part of Liz's Cabinet, either.
Also on August 20, the Mail's Dan Hodges wrote that Rishi's campaign was effectively over because of his mansplaining:
It was the moment Rishi Sunak's leadership campaign started to unravel. Actually, it was one of 20 moments. 'Please let me respond,' Liz Truss chided, as her opponent butted in during their first head- to-head TV debate. 'Absolutely, let Liz Truss respond,' the BBC's moderator Sophie Raworth was forced to interject.
Sunak didn't. Time and again he talked over his rival, interrupting and silencing her. It was a strategy his team seemed to think would put Truss on the defensive.
They were wrong …
… the damage was done. Sunak was branded a 'Mansplainer'.
To some, this episode provided further evidence of Sunak's poor political tradecraft. But he'd actually fallen into a well-prepared trap.
'We were ready for him!' one Truss campaign ally told me. 'For years, Liz has been patronised by men who are a bit full of themselves. She's not going to just stand there and take it.'
In 15 days' time, Britain will have our third woman Prime Minister. And unlike her predecessors, Liz Truss isn't going to be shy of reminding people of it.
Let us recall that only the Conservatives have had female Party leaders, all of whom were Prime Minister.
By contrast, Labour have yet to elect a woman leader.
On August 21, The Sunday Times told us what Labour-to-Conservative voters in Oldham thought of the two candidates:
If Rishi Sunak (the ferret) and Liz Truss (the budgie) had put a glass to the wall of the room in Oldham where ten swing voters gathered by Public First, all of whom voted Conservative in the last general election, were sharing their impressions of the Tory leadership hopefuls, they would have blushed. But mostly not with pride.
They had been asked to say which animal, item of clothing or single word would best describe each of the candidates (Truss was also a "bunny rabbit", for the record). As someone who has posed for photos atop a tank and astride a motorbike during her cabinet career, she might have been surprised to hear herself described as "mumsy", "dull as dishwater", a "cardigan", "Jemima Puddle-Duck" and, possibly worst of all, an "unknown".
Sunak would have heard that he was a "suit" a "backstabber" and a "traitor" (to Boris Johnson, that is) and he would have certainly regretted wearing a pair of £490 suede Prada shoes to visit a Teesside building site as he did last month. This did not go down well at all with many of these C2DE (aka working class) voters. It suggested, said Rachel, 33, a bar worker, that he was so rich he had "no respect for money"; after all a building site, she said, is going to be messy. She said "quite a lot of people were upset" by it, especially those struggling to make ends meet. "I certainly couldn't afford to buy a £500 pair of shoes," she said.
Matthew, 40, who works in the oil trade, asked how Sunak could possibly relate to low-wage people. The group wondered what his PR advisers were thinking, allowing it to happen. It was quite simple, said Mandy, an educator in a prison: "If you are going to an area where . . . people are on the minimum wage, don't wear £500 shoes."
But there was happier news for Sunak when it came to which of the two leadership candidates they preferred. Five chose Sunak, compared with three for Truss while two didn't know, though by the end of the discussion a couple had changed to "don't know".
Sunak, according to those who picked him, had a higher profile due to the furlough scheme during lockdown. Jodie, 33, a school administrator, said she associated him with helping people during that period. "I had never heard of Liz Truss before this race, but Rishi Sunak . . . we've seen him in action. He's helped out, like, working class people."
Mandy, however, who chose Truss, said the foreign secretary had been growing as a force in the "background" for some time now. She mentioned the "scandals" involving Sunak. This was a reference to a recent video in which he boasted to Conservative party members in Kent of taking money from deprived urban areas in order to give it to other parts of the country …
That day, Guido Fawkes revealed that Rishi's team broke down Liz's £50 billion black hole, which is actually tax savings.
Even now, with Thursday's Rishi-Hunt budget in view, Guido still appears to be correct in his assessment:
Guido also thought that the Conservatives would win the next general election:
Guido's post has Rishi's breakdown of Liz's black hole. This is Guido's analysis of Liz's savings for the taxpayer (emphases his):
According to figures just released by the Rishi campaign, taxpayers will get a net saving of £48.3 billion in reduced taxes under Liz as Prime Minister compared to Rishi. This is a similar figure to calculations made by the Guardian newspaper. This is intended to be an attack line, the argument Rishi is making is that Liz will have to choose between tax cuts or handouts. When you consider that this is equivalent to some £2,000 per taxpayer you will understand what Liz means when she says she wants to "help people in a Conservative way" …
In the Rishi campaign's press release the tax savings are described as "costs". This approach hasn't been seen since 2010, when Gordon Brown would point to any tax saving proposed by the opposition and demand to know from Cameron and Osborne what spending would be cut. It is a mindset that considers the public's money to belong to the government and any income not taxed to be a "cost". Guido's not sure why Liam Booth-Smith, Rishi's policy guru, ever thought this orthodox Brownian line of attack would appeal to Tory members…
By Monday, August 22, with a week and a half left to go in the seemingly endless campaign, Rishi's poll ratings were tanking.
The Guardian warned that Labour found that Liz could boost the Conservatives in the polls, which Labour had been leading for several months by that point. They still are in the lead.
However, the paper said that any poll boost would be short lived:
Tory leadership frontrunner Liz Truss could give the government a double-figure bounce in the polls once she is installed in No 10, according to internal Labour analysis.
A memo drawn up by Keir Starmer's director of strategy, Deborah Mattinson, claimed the foreign secretary could dramatically improve Conservative fortunes.
The document, dated 18 August and leaked to the Guardian, comes amid speculation that Truss could be tempted to capitalise on the upswing and call a snap general election.
However, the research also suggests that any improvement in the government's position could be very short-lived, with voters already concerned about aspects of Truss's character.
"Our focus groups suggest that as voters get to know Truss better they like her less," it says. "Serious negatives – untrustworthiness, inauthenticity, U-turns, lack of grip – are starting to cut through suggesting that any bounce may be very short-lived."
Meanwhile, Rishi allegedly scoffed at the idea he would take a post in Liz's Cabinet. That day, The Times reported on his interview with BBC Radio 2:
Truss has said that she would offer Sunak a cabinet job if she were to win. The Times reported at the weekend that she is considering asking him to become health secretary.
Sunak appeared to scoff at the prospect today, however, suggesting he did not want to serve in a cabinet in which he and the prime minister would disagree on "the big things".
Liz's poll results were buoyant. An Italian firm, Techne, cut their teeth in the UK on this campaign:
In the end, the result was much closer, although Liz still had a clear majority.
However, on the same day, a GB News Peoples Poll (Peoples Poll being the name of the polling organisation) showed that Britons overwhelmingly prefer Labour's Keir Starmer as the next Prime Minister, viewing Liz Truss as 'untrustworthy':
A poll exclusively commissioned by GB News has found that British people would prefer Keir Starmer to be Prime Minister over both Rishi Sunak and Liz Truss.
41 percent of the 1,235 Brits polled said they would be more likely to vote for a Labour Party led by Keir Starmer than the Conservatives led by Liz Truss, who received 22 percent of the vote.
And Rishi Sunak, also standing to become the next Tory leader and Prime Minister, only fared one percent better than Ms Truss when compared with Sir Keir, who received a share of 40 percent of the poll.
In both cases, 28 percent of people said they didn't know who they would prefer, with nine percent preferring not to say.
The results raise questions about the popularity of both candidates, with the Conservatives faring better in a straight contest with Labour.
When asked which party they would vote for if there was a General Election tomorrow, Labour came out on top with 31 percent.
But the margin between the two parties was a lot smaller than between the leaders, with 20 percent voting Conservative …
When asked to give one word they associated with Liz Truss, Brits' top answer was "untrustworthy".
Unfortunately for Ms Truss, second most popular answer was "useless", with the even less flattering "idiot" in third.
On Monday, August 29, the anti-Liz media went into a tizz when she declined an interview with the BBC's Nick Robinson.
Liz Truss has pulled out of a BBC interview with Nick Robinson because she can "no longer spare the time".
Ms Truss, the Tory leadership front-runner, committed to the primetime sit-down interview with Mr Robinson, who presents the Today programme, on Aug 18.
But the Foreign Secretary now appears to have changed her mind as the race to succeed Boris Johnson enters its final week. Rishi Sunak, her leadership rival, was interviewed by Mr Robinson on Aug 10 …
Mr Sunak has taken part in nine one-on-one broadcast interviews throughout the leadership campaign, including three appearances on the Today programme.
Ms Truss has done two such interviews, including the Today programme, when she was interviewed at the start of the head-to-head stage of the contest, and the People's Forum show on GB News.
A bigger controversy that day was that Liz was preparing to cut VAT. She never did, but someone should, because VAT is an EU law. Here is smoked salmon king Lance Forman's wise opinion, saying that the people who object to a VAT cut are on the Left:
On the penultimate day of Conservative Party member voting, Liz pledged to revive Conservative grassroots activism, but readers of ConservativeHome were unimpressed.
One of the comments read:
This and other similar pieces of rhetoric just prove to me that it's all about strategies to win elections rather than a coherent, well thought-out set of policies that will benefit the country in both the short- and long-term, much the same as some of the statements made by both candidates in this "leadership" election.
Surely we are capable of better?
Yes, we are capable of better.
On the last day of members voting, Wednesday, August 31, The Telegraph asked readers who should be in and out of Liz's Cabinet.
Interestingly, everyone the readers wanted out are in Rishi Sunak's Cabinet. Priti Patel is the only exception. And, Alok Sharma is still COP26 president, although he is not in Cabinet.
In conclusion, within weeks, we went back to the same old, same old thing.
I still have a few more items about Liz Truss to cover. Stay tuned.
At midday on Wednesday, October 20, 2022, Liz Truss did a good job at Prime Minister's Questions (PMQs).
She looked normal and bouncy, like the woman we saw in the Conservative Party leadership hustings only a few weeks ago. She was good at the despatch box, including against the leader of the Opposition, Labour's Keir Starmer.
Afterwards, I thought, 'Phew. Looks like a drama-free day for once'.
By mid-afternoon, all hell broke loose and continued into the evening.
Suella Braverman
Suella Braverman was doing a great job as Home Secretary.
Liz Truss appointed her on September 6.
Many outsiders do not know that Braverman is of mixed race, born to parents of Kenyan and Mauritian heritage.
On September 7, ice cream moguls Ben & Jerry were quick to criticise her plans to stem immigration:
The Telegraph reported (purple emphases mine):
Ice cream company Ben & Jerry's is facing criticism for publishing a to-do list for Suella Braverman, the new Home Secretary, suggesting she should "scrap the Rwanda plan" and take dessert breaks.
The firm's UK Twitter account tweeted a message of congratulations to Ms Braverman, accompanied with the image of a list including various objectives for her first day in the role on September 7, such as to "introduce safe routes to the UK for people seeking asylum" and "lift the ban and give people seeking asylum the right to work" …
It came as Ms Braverman made her first speech to Home Office staff on Wednesday, after which it was suggested that she could seek joint beach patrols with the French to help prevent Channel migrant crossings as part of any deal to continue UK funding …
On Wednesday in an address to a packed out atrium of Home Office staff, Ms Braverman said that tackling the Channel migrant crisis was going to be one of her "clear priorities" as she told them she was going to "develop some obsessions."
"This is not just a manifesto pledge, people are dying," she said, as she promised to take a "firmer line" against people traffickers. It was one of three priorities alongside making streets safer through a back-to-basics approach to crime with the extra 20,000 officers and counter-terrorism …
Braverman, who is a barrister, has a brilliant mind but takes time out for mindless entertainment:
Asked on Wednesday by Home Office staff what she does to unwind, she said that other than spending time with her family, it's "trash TV" and singles out Married at First Sight, Love Island and First Dates.
Home Office officials appeared relaxed about Braverman's appointment, with one source in the department telling the journalist Nicola Kelly: "Anyone — Suella included — would be better than what we've had."
Braverman became the first practising Buddhist to be appointed to the Cabinet and took her oath of office when appointed an MP on the Dhammapada, one of the best known Buddhist scriptures.
The new home secretary, born Sue-Ellen Cassiana Fernandes to a mother from Mauritius and a father from Kenya, married Rael Braverman in 2018 in a ceremony in the House of Commons.
He said that she invited him to the Houses of Parliament as their first date and the couple have told how their shared love of politics is what "allowed their romance to blossom".
They have two children, aged three and one, and Braverman became the first cabinet minister to go on maternity leave.
It was a huge deal. I remember watching her in Parliament on the day before she went on maternity leave. She was grateful for that opportunity:
As Attorney General, she banned diversity training in her department when she returned from maternity leave.
On August 4, 2022, the Mail reported:
Mrs Braverman, the Government's chief legal adviser, has scrapped diversity and inclusion training in her department having discovered that hundreds of her lawyers spent 1,900 hours on the woke lectures last year.
Speaking to Talk TV yesterday, she said: 'I looked at the training materials and I was very sad at what very intelligent, fair-minded, professional people were being taught.
'This training stuff was based on a premise that someone like me, an Asian woman from a working-class background, must necessarily be a victim, must necessarily be oppressed, must necessarily be a victim of white privilege and white fragility.'
She said that rather than uniting people, it divides them by cohorts 'based on different kinds of grievances'.
'I don't think it's the right way to spend taxpayers' money, I don't think it's the right way to use vital civil service resource when we've got a Passport Office that needs to work harder on delivering passports and we've got a DVLA that needs to be quicker at issuing driving licences,' she added.
Her first achievement was to be in post during the Queen's funeral events, which went superbly.
Her second was to order an urgent enquiry into why June's scheduled flight to Rwanda had to be abandoned.
On October 15, The Telegraph told us of the results:
A company owned by a lawyer who helped block the Government's Rwanda deportation flight was given taxpayers' money to train immigration advisers, The Telegraph can disclose.
More than £100,000 was awarded to HJT Training – a firm run by two barristers at the chambers which grounded a flight to the African country in June.
A Home Office source said Suella Braverman, the Home Secretary, had instructed civil servants to undertake an "urgent review" of the contract, amid claims from Tory MPs the quango responsible for overseeing immigration advice could have been hijacked by activism.
HJT Training and the quango – the Office for the Immigration Services Commissioner (OISC) – both denied there was any conflict of interest and they are not accused of any wrongdoing …
Two of HJT Training's four directors – Mark Symes and David Jones – are barristers at Garden Court Chambers.
On June 14, the chambers secured injunctions at an emergency hearing before the Court of Appeal which prevented a plane from removing asylum seekers to Rwanda.
Mr Symes, who is listed on Companies House as having a "significant control" in HJT Training, was a member of the team.
Mr Jones did not act in the case. Garden Court Chambers said the asylum seekers they were representing all "had strong cases for asylum in the UK" and their stories demonstrated the "inhumanity in the Rwanda policy".
Her third achievement was deporting 11 Albanians shortly after they crossed the Channel in small vessels.
On October 18, The Guardian reported concerns from human rights groups, but this is the nub of the story:
The Albanians are thought to have arrived in the UK last week and were taken from Manston in Ramsgate where the Home Office processes small boat arrivals, to Stansted airport from where they were put on a plane back to Albania on Wednesday. It is thought to be the first time small boat arrivals have been put on a plane directly from Manston.
Her fourth achievement was seeing the Public Order Bill debated and passed in the Commons that day:
Her closing remarks in that debate will be remembered for some time to come:
When I was the Attorney General, I went to court to establish that it is not a human right to commit criminal damage. The Court of Appeal agreed with me in the Colston statue case that serious and violent disorder crosses a line when it comes to freedom of expression. That is common sense to the law-abiding majority.
Since 1 October alone, the Metropolitan police have made over 450 arrests linked to Just Stop Oil, and I welcome this, but more must be done. That is why I welcome the fact that, today, Transport for London has succeeded in securing an injunction to protect key parts of the London roads network. That is an important step forward in the fight against extremists. However, these resources are vital and precious, and this has drained approximately 2,000 officer days at the Met already. Those are resources that are not dealing with knife crime and are not dealing with violence against women and girls.
I am afraid to say—and I will come to a close soon—that that is why it was a central purpose of the Police, Crime, Sentencing and Courts Bill, now an Act, to properly empower the police in face of the protests, yet Opposition Members voted against it. Had Opposition Members in the other place not blocked these measures when they were in the Police, Crime, Sentencing and Courts Bill, the police would have already had many of the powers in this Bill and the British people would not have been put through this grief. Yes, I am afraid that it is the Labour party, the Lib Dems, the coalition of chaos, the Guardian-reading, tofu-eating wokerati and, dare I say, the anti-growth coalition that we have to thank for the disruption we are seeing on our roads today. I urge Opposition MPs and Members of the other place to take this second chance, do the right thing, respect the rights of the law-abiding majority and support this Bill.
The bill passed: 283 to 234.
The next day, Wednesday, I tuned in to GB News late that afternoon to find out that Braverman had resigned or been sacked:
As such, Braverman holds the record for being the shortest-serving Home Secretary at 43 days.
The next shortest-serving was fellow Conservative Donald Somervell at 62 days, says The Guardian:
Somervell held the post from May to July 1945 in Winston Churchill's caretaker government before it was defeated in a general election.
Truss will have the shortest record as a serving Prime Minister when she leaves next week.
Grant Shapps, former Transport Secretary, replaced Braverman as Home Secretary. It is hard to imagine that he could do the job.
Nigel Farage said that this was a coup:
You could not make this up.
Guido Fawkes reported, alluding to her Public Order Bill closing speech (emphases his):
The Guardian gets the scoop that Suella Braverman is out as Home Secretary "at the behest of the Chancellor".
Sources claimed the move was at the behest of the new chancellor, Jeremy Hunt, who has taken over control of the government's economic response following Truss's disastrous mini-budget, but who they claimed was now "pulling the strings".
A major victory for tofu lovers everywhere…
UPDATE: Reports suggesting she was fired for breaching the ministerial code, after handling sensitive documents on a private phone. Chaos…
Anyone wondering if they are part of what Braverman called the 'tofu wokerati' can take a Times quiz and find out for sure.
Not surprisingly, I came in the middle with mostly 'B' answers to the multiple-choice questions:
Borderline. You know, in your heart, that the wokerati are a real and dangerous thing and definitely not some made-up term chucked about by a desperate home secretary. Come on! You know tofu is bad, nicely crisped or not. You're just too wrapped up in seeming "reasonable" and with "seeing both sides of things". Yes, your monthly mortgage repayments have gone up so much that you've had to sell one of your children … Come on. Time to get off the fence.
Braverman quickly posted her letter of resignation online:
Patrick Christys analysed it on GB News, pointing out the fourth paragraph, particularly the second sentence:
It is obvious to everyone that we are going through a tumultuous time. I have concerns about the direction of this government. Not only have we broken key pledges that were promised to our voters, but I have had serious concerns about this Government's commitment to honouring manifesto commitments, such as reducing overall migration numbers and stopping illegal migration, particularly the small boat crossings.
While Braverman went on to speak at a Diwali reception sponsored by the India Global Forum that evening, the political animals among us were dissecting what really happened:
Boris Johnson's former adviser Dominic Cummings said that what Braverman did was not a sacking offence. 'OFF-SEN' is shorthand for Official-Sensitive and 'CABOFF' is Cabinet Office:
Former Conservative MP Anne Widdecombe told Dan Wootton the same thing that evening:
The Guardian dissected Braverman's letter paragraph by paragraph; excerpts follow, bold emphases theirs:
What she said
Earlier today, I sent an official document from my personal email to a trusted parliamentary colleague as part of policy engagement, and with the aim of garnering support for government policy on migration. This constitutes a technical infringement of the rules … nevertheless it is right for me to go.
What she meant
Braverman devoted the top two paragraphs of her letter – less than half – to addressing the issue she said she was resigning over, making clear she realised she had broken the ministerial code by storing government documents on a personal device and sending those to a "trusted parliamentary colleague". She left herself little wriggle-room and wholly accepted the mistake. It means in the future she will be able to say she stepped down swiftly and try to brush away suggestions about her being unfit to rejoin the government.
What she said
Pretending we haven't made mistakes, carrying on as if everyone can't see that we have made them, and hoping that things will magically come right is not serious politics. I have made a mistake; I accept responsibility; I resign.
What she meant
Not hard to work out what she is referring to here. The parallel between Braverman taking responsibility for her mistake and Truss being accused of refusing to acknowledge the pain caused by her mini-budget is plain to see. Truss has recently said she takes responsibility for the chaos caused. If she were to follow the logic set out by the former home secretary in this paragraph, she would need to resign.
The analysis also addressed Truss's brief letter of acknowledgement:
Liz Truss's reply
I accept your resignation and respect the decision you have made. It is important that the ministerial code is upheld, and that Cabinet confidentiality is respected.
What she meant

Significantly shorter in length and far from gushing about Braverman's performance as home secretary, Truss ensures that it is known the home secretary is stepping down squarely because of her breach of the ministerial code. Given she still has no ethics adviser, this is a quick decision the prime minister must have come to but she is keen to make sure there is no ambiguity.
Readers will be left with the impression there is no love lost between the two women.
The Telegraph reported that there was more to the story than a breach of the ministerial code. The two women had a row over immigration on Tuesday night, with Jeremy Hunt on hand.
Note that the Office for Budget Responsibility wants more migration, which isn't surprising, as they are left-leaning:
The fuse for Suella Braverman's resignation was lit on Tuesday night when she had a heated face-to-face row with Liz Truss and Jeremy Hunt, her new Chancellor, over their demands to soften her stance on bringing down immigration.
Friends said the Home Secretary was appalled that they wanted her to announce a liberalisation of immigration to make it easier for the Office for Budget Responsibility (OBR) to say the Government would hit its growth targets – a key plank in Mr Hunt's strategy to restore market confidence.
"Suella said, this is insane, why are we trying to appease the OBR? Is everything getting thrown out the window?" said one of her allies …
Within 24 hours of her "fiery" 90-minute meeting with the Prime Minister and Mr Hunt, Ms Braverman had been forced to resign after being accused of breaching the ministerial code on two counts for sending official documents to another MP from her personal email …
It now poses a threat to the future of the Prime Minister after Ms Braverman used her resignation letter to say she had "concerns" about the direction of the Government and the breaches of its manifesto commitments on immigration.
However, the most incendiary was a coded attack on Ms Truss's integrity in which the Prime Minister's former leadership rival said "the business of government relies upon people accepting responsibility for their mistakes" …
It had been intended at the start of the week that Ms Braverman would set out the new immigration policy on Thursday with a meeting of the Cabinet's home affairs committee, with Mr Hunt, Therese Coffey, the Deputy Prime Minister, and other senior ministers due to finalise the plans on Wednesday lunchtime.
However, Mrs Braverman never attended the meeting after sending an email on Wednesday morning intended for Sir John Hayes, the chairman of the Common Sense group of Tory MPs, containing Government documents about immigration.
The Home Secretary accidentally clicked on the wrong drop-down tab on her email and sent the document from her personal email address to a staffer who works for Tory MP Andrew Percy.
Mr Percy then complained to Wendy Morton, the Government's Chief Whip, who reported the leak to the Cabinet Office, before Prime Minister's Questions on Wednesday.
Simon Case, the Cabinet Secretary, investigated and rapidly concluded Ms Braverman had broken the ministerial code on two counts.
One was on part 2.14 of the code, the "security of government business". That section says "ministers have an important role to play in maintaining the security of Government business".
The other was 2.3, "collective responsibility". That states "the internal process through which a decision has been made, or the level of Committee by which it was taken should not be disclosed".
Ms Truss then confronted Ms Braverman with the findings. She made clear what should follow from ministerial rule breaches, according to allies, leaving Ms Braverman to resign.
There is a dispute over the nature of the documents that she emailed. Ms Braverman maintains it was a draft written ministerial statement (WMS), due for publication imminently and much of which had already been briefed to MPs.
Downing Street sources were, however, incensed by the claim that it was only a WMS which was made public. Instead, the sources said it was the contents of a sensitive internal policy document that Ms Braverman had passed on.
Allies of Ms Braverman said she was told by Ms Truss that if the Government defended her, it would be at risk of "salami slicing" by critics trying to pick off ministers.
"Liz says: 'If you stay, we'll have to defend you and it will salami slice our credibility. For your own sake you should go'," said one ally.
"Suella thought 'are you serious, you're not even going to defend anyone over anything?' She said: 'Fine, if you won't stand up for me, I'll go'."
The row meant that Ms Truss had to pull out of a visit to a venue near London. Ministers briefed privately that she was detained on a "national security issue".
Within two hours Ms Braverman had quit …
Allies of Ms Braverman said she was in a minority in Cabinet in her attempts to resist liberalising migration to boost growth and the arrival of Mr Hunt as Chancellor appeared to reinforce that majority. In his leadership bid in 2019, he vowed to abandon Mrs May's immigration target of tens of thousands …
Ms Braverman's refusal to accept an "open borders migration policy" with India proved one flashpoint – and was blamed by critics for delaying efforts to secure a trade deal with the second most populous nation in the world …
Migration has already hit a new high as more than one million foreign nationals were allowed to live, work or study in the UK in a year for the first time.
Wendy Morton
As if Braverman's departure wasn't enough during the day, there was more to come with Labour's motion in the Commons that evening, Ban on Fracking for Shale Gas Bill.
Although the debate was about banning fracking, the results of the vote were one of confidence in Liz Truss's premiership. As such, Conservative MPs were told there was a three-line whip. There are Conservative MPs who would love a fracking ban.
The Commons was noisy on both sides of the chamber during the debate. I watched the last hour or so.
At the end, Graham Stuart, the Minister for Climate, responded on behalf of the Government. He sowed doubt as to whether this was a whipping matter for Conservatives:
It is a great pleasure to wind up this debate, to which there have been so many excellent contributions from across the House. Perhaps not for the first time, the right hon. Member for Doncaster North (Edward Miliband)—he is an extremely clever man, for whom I have a great deal of respect—has been a little bit too clever by half. Perhaps if more drafting had gone into this, instead of seizing the Order Paper we could have had a different style—[Interruption.] It was an attempt to seize the Order Paper. Quite clearly, this is not a confidence vote—[Interruption.] Obviously, this is not a confidence vote; it is an attempt—[Interruption.]
Conservative MP Andrew Percy intervened:
The Minister is absolutely right about the green revolution, in which our region in the Humber is playing such a big part. I ask him to reflect on the speeches that have been made today. If this was a clear vote on whether or not we should have fracking, I would be in the Lobby with the Opposition …
Labour's Ed Miliband, who was leading his party's motion, then asked for clarification:
For the guidance of the House, the Minister said something very important from the Dispatch Box: he said that this is not a confidence motion. I think Conservative Members want to know, because if he confirms that statement, they can vote for our motion in the safe knowledge that they can be confident in the current Prime Minister. Will he confirm that?
Stuart said he had already given the answer more than once. Another Labour MP intervened to ask for clarification.
Then another Conservative MP, Ruth Edwards, intervened:
I really need to press the Minister on this question of a confidence vote. Many of us have been told today by our Whips that if we vote for, or abstain from voting against, this motion, we will lose the Whip. Will he please confirm whether that is the case?
Stuart replied:
That is a matter for party managers, and I am not a party manager.
… the deregulatory side of the growth package is under threat, with Tory MPs wary of relaxing planning laws and seeking solid guarantees that fracking has local support before going ahead. Ms Truss's difficulty is that on all these issues she could face rebellions and her beleaguered position makes it harder to persuade her party to support government policy.
Tonight's Labour procedural vote on fracking, which was originally said to be a confidence matter, was a case in point. Although the Government won, the chaos surrounding the vote only reinforced the sense of a parliamentary party now edging towards open mutiny.
The division — the vote — went on for longer than usual. Madam Deputy Speaker, Dame Eleanor Laing, asked the Serjeant at Arms to investigate the No lobby.
After the results were read, showing that the Government's stance on fracking only with local approval prevailed, the Shadow Leader of the House, Thangham Debbonaire, raised a point of order:
On a point of order, Madam Deputy Speaker. There are very strong rumours that the Government Chief Whip has apparently resigned. I wonder if it is possible to get some clarity—[Interruption.] More than rumours—[Interruption.] Well, if Government Front Benchers want to say no. I seek your guidance, Madam Deputy Speaker, on whether or not that can be confirmed, given that this is a matter of parliamentary discipline?
Laing said she had not been informed of any Government resignations.
Then Liberal Democrat MP Tim Farron asked whether this was actually a vote of confidence:
On a point of order, Madam Deputy Speaker. I wonder whether you could clarify that the Minister closing the debate we have just had from the Dispatch Box informed his colleagues that it was not a vote of confidence, when we saw earlier, in writing from the Government Deputy Chief Whip, that it was. Could it be possible that Government Members voted in the Division just now without any clarity on what it was actually they were voting for?
Laing replied:
I thank the hon. Gentleman for his point, which of course is not a point of order for the Chair. My concern is that what is said on the Order Paper is correct and accurate, and it is. I thank the hon. Gentleman for the point he raises, but it is not one on which I can judge. Ministers are responsible for their own words.
Then Labour's Chris Bryant raised a point of order:
On a point of order, Madam Deputy Speaker. I urge you to launch an investigation into the scenes outside the entrance to the No Lobby earlier. As you know, Members are expected to be able to vote without fear or favour and the behaviour code, which is agreed by the whole House, says that there shall never be bullying or harassment of Members. I saw Members being physically manhandled into another Lobby and being bullied. If we want to stand up against bullying in this House of our staff, we have to stop bullying in this Chamber as well, don't we? [Interruption.]
Laing replied:
Order. We are talking about behaviour. We will have a little bit of good behaviour for a moment on both sides of the House.
The hon. Gentleman raises an important matter about behaviour. He knows better than anyone else that we have an extremely good system for investigating allegations of bullying, intimidation or bad behaviour. If the hon. Gentleman cares to bring evidence and facts to me, I will make sure that the matter is properly investigated. Of course, we must have decorous behaviour at all times, so we will now proceed quietly and politely.
Later that evening, The Guardian reported:
Amid chaotic scenes in the Commons, it was reported that Wendy Morton, the chief whip, and her deputy, Craig Whittaker, had left the government. However, after hours of confusion Downing Street released a statement saying the two "remain in post" …
The change of personnel in the second of the four great offices of state came on a frantic day which also saw a series of Tory MPs, including Truss's net zero tsar, rebel in a fracking vote, another U-turn over the pensions triple lock, and a mauling from Keir Starmer at prime minister's questions.
After the government won a vote to defeat a Labour motion to ban fracking, the Labour MP Chris Bryant told the Commons in a point of order that he had seen some Tory members "physically manhandled" by ministers into voting for the government.
Just after midnight on Thursday morning, The Telegraph reported on the chaos around the No lobby.
Things did not look good for the Prime Minister:
The Chief Whip was forced out of Government and then reinstated on Wednesday night, capping off a day of chaos for Liz Truss after a confidence vote descended into allegations of backbenchers being manhandled through the lobby. 
It had been reported earlier in the evening that Wendy Morton, one of Liz Truss's closest allies, had been ousted and that her deputy, Craig Whittaker, quit in protest at her treatment.
But hours later the position was reversed, with a No 10 spokesman issuing a statement to say that the "chief and deputy chief whip remain in post".
Downing Street sources insisted Ms Morton resigned, but some MPs claimed that she marched out of the Chamber during the vote on fracking before being sacked by Ms Truss.
Meanwhile, Jacob Rees-Mogg, the Business Secertary, insisted that "this is a Government that is functioning well."
It came at the end of a day of high drama in Westminster, which saw confusion reign over whether or not Conservative MPs would lose the whip for rebelling over a Labour opposition day debate on fracking.
The motion, which was defeated, would have guaranteed Commons time to debate a new law to ban fracking once and for all.
The vote meant that Ms Truss faced a showdown with rebellious MPs, many of whom have openly expressed their opposition to her plans to lift the moratorium on fracking.
But the Prime Minister ordered backbenchers to support the contentious policy – a high risk strategy given the already mutinous mood within the party.
On Wednesday morning, Tory MPs were told by the whips' office that the vote was a "100 per cent hard three line whip".
The message from Mr Whittaker went on to say: "This is not a motion on fracking. This is a confidence motion in the Government.
"I know this is difficult for some colleagues, but we simply cannot allow this. We are voting no and I reiterate, this is a hard three line whip with all slips withdrawn."
If a vote is being treated as a matter of confidence in the Government, it usually means that MPs who vote against it would be expelled from the Conservative Party and have to sit as independent candidates.
Throughout the afternoon, a string of senior Tory MPs broke ranks to declare that they would be prepared to "face the consequences" of voting against the Government.
Truss's Net Zero tsar, Chris Skidmore, said he would rebel:
Several other Conservative MPs echoed his sentiment.
When it came time to vote on the motion:
Tory backbenchers remained completely in the dark as to whether they would lose the whip for voting against the Government or not.
The scenes must have been unbelievable:
It was at this point that the mayhem appeared to reach boiling point, with Labour's Chris Bryant claiming that Tories were "physically manhandled" into the "no" lobby.
Ms Truss was reportedly yelled at by rebel MPs as she went through the lobby. Meanwhile, Mr Whittaker was reportedly overheard saying: "I am f***ing furious and I don't give a f*** any more."
According to some reports, Ms Morton resigned and left the Chamber as the voting was taking place, with Ms Truss grabbing her arm in an attempt to persuade her to reconsider. The Prime Minister then left the lobby trailing behind Ms Morton, and in the chaos, did not manage to vote herself.
While the Government won the vote, there were no fewer than 40 Tory abstentions – including Kwasi Kwarteng, who was sacked as chancellor on Friday, Theresa May, former prime minister, and Ms Truss herself.
I saw a later report that said that Truss voted but her pass card did not work, which was why her vote did not immediately show.
Chris Bryant alleged that Cabinet members were involved in the chaos:
It was unclear how many of the 40 abstentions were because MPs were unavoidably away from Parliament – Boris Johnson, for example, is currently on holiday – or because they were abstaining as a point of principle.
Mr Bryant told Sky News that Cabinet ministers Therese Coffey and Mr Rees-Mogg were among a group of senior Tories who were putting pressure on Conservative MPs to vote against the Labour motion on fracking.
"There was a bunch of Conservative Members obviously completely uncertain whether they were allowed to vote with the Labour or against it," he said.
"There was a group including several Cabinet ministers who were basically shouting at them. At least one member was physically pulled through the door into the voting lobby. That is completely out of order.
"I know that Therese Coffey was in the group. I know that Jacob Rees-Mogg was in the group and there were others as well. The group all moved forward with one member."
Other MPs were also upset at the lack of clarity:
One furious MP said they felt the Government had deliberately tried to trick backbenchers into supporting it with the mix-up over whether the vote was a confidence matter. They said this amounted to a "breach of trust" between No 10 and MPs that would be almost impossible to repair.
Another senior Tory MP put the confusion down to a "cock up" between No 10 and the whips office and said the confidence vote was in fact meant to be attached to the Government's motion, and not the one tabled by Labour …
One senior Tory MP appeared to sum up the mood in the party and said the past 24 hours had been "beyond comedy", adding: "You couldn't make it up if you spent 20 years trying to write this. The greatest author in the world couldn't make it up."
Business Secretary Jacob Rees-Mogg attempted to shed light on the situation:
Speaking to Sky News after the vote had ended, Mr Rees Mogg said he did not know whether Ms Morton was still in post or not, saying: "I am not entirely clear on what the situation is with the Chief Whip."
He explained that the confusion arose over whether the Commons vote on fracking was a confidence vote because of a message sent by a "junior official in 10 Downing Street", suggesting they did not have the authority to do so.
Asked whether the Government "blinked" and U-turned on the confidence vote over fears of losing it, he told Sky News: "I don't think that's a fair way of looking at it. I think what happened was that, late in the day, a junior official at 10 Downing Street sent a message through to the front bench that it was not a vote of confidence and nobody else was aware of that.
"The whips were not aware of that, I was not aware of that and most members thought that it was a vote of confidence. It was simply one of those unfortunate miscommunications that occasionally happens."
He added: "It's one of the issues you always face in government that people say they speak for Downing Street without having actually ever bothered to get the authority of the Prime Minister and unfortunately on this occasion it fed through immediately to the floor of the house."
The conversation about the vote continued on Thursday, culminating in Liz Truss's resignation.
More about this debacle will follow in my post on Monday.
While Nigel Farage took a two-week break from his early evening GB News show, actor Laurence Fox, who also founded the Reclaim Party, was his guest host.
What a surprise viewers had on Tuesday, October 4, 2022, when Fox spoke to Donald Trump on the phone:
It was an excellent interview, done in segments, after which a Democrat or a Republican appeared on air to give his or her views of what Trump had just said.
This is the full hour-long episode:
Fox began by reviewing Trump's accomplishments while in office, pointing out that he got elected in 2016 because he could connect with millions of Americans and didn't come off as an elitist like Hillary Clinton did:
America's 45th president told Fox how surprised he was at Boris Johnson's change of focus during his premiership, saying that he 'went woke':
This GB News article has more (emphases mine):
Donald Trump has called former UK Prime Minister Boris Johnson "woke" in a surprising attack on his ally.
In a world exclusive GB News interview, the ex-US President said Boris Johnson "went liberal all of a sudden" in a "crazy" move.
Trump called Mr Johnson a "good guy" but criticised him for "changing" as he spoke to Laurence Fox.
The 76-year-old said: "Boris was a friend of mine, perhaps he still is but I haven't spoken to him in a while.
"The problem Boris has is he went liberal all of a sudden, and I think that is crazy.
"He's a good man but something happened to him, he changed, he went for windmills all over the place and he went a little bit wokier than I believe he is and I think ultimately that is the thing that got him out.
"I don't think it was the party [Conservatives] I think that was just an excuse."
Although Trump has not met Boris's successor Liz Truss, he is favourably disposed towards her:
Trump also said that he was surprised at the criticism Truss's mini-budget received (more here):
The Telegraph reported on that part of the interview:
Former US president Donald Trump had said that he backs new Prime Minister Liz Truss and that he thinks "very highly" of her.
Speaking on GB News to Laurence Fox, Trump said of Truss that he liked "some of the things she's done", adding that he had "cut taxes very substantially and we did much more business and she's done that".
He said that he thinks "very highly of her and she had a great send-off from the Queen", adding that as it was the late Queen's last meeting it was a "big deal".
Joe Biden's former Chief of Staff appeared but she didn't respond to anything Trump had said. She only wanted to bang on about how 'divisive' he had been as president. Talk about living in a parallel universe:
In a separate interview, Greg Swenson from Republicans Overseas UK lauded Trump's economic policy and said that more countries around the world should implement them:
Trump discussed his own major accomplishments during his four-year term, which brought criticism from an adviser to both the Bush II and Clinton administrations. Fox ended this man's three-minute rant by telling him to go and have another espresso:
Trump rightly told Fox that, if he were still president, there would be no war in Ukraine:
Former Royal Navy Commander Dr Chris Parry agreed:
Trump was discreet about his meeting with King Charles III a few years ago and offered his support to the new monarch. Trump also reminded us that his mother was Scottish:
GB News reported:
He told Laurence Fox: "I think he'll probably not discuss certain elements of what he believes, in my opinion.
"I think Charles is going to do very well, he's got a great way about him, I think he did very well during the ceremony [Queen Elizabeth II's funeral]."
Despite his warm feeling towards the royal, Trump admitted he does not hold look upon Prince Harry and Meghan Markle as favourably.
He told GB News: "I'm not a fan, I was never much of a fan of her [Meghan].
"I don't get it, but I hope he's [Harry] happy, he didn't seem too happy and he doesn't seem too happy.
"I thought she was disrespectful to the Queen, which is a no no, you can't do that."
The Telegraph had more:
"I know him very well, quite well. And I spent a lot of time when I was over there as president with him. And with his wife [who] was absolutely lovely, by the way, and we had a good time together," he said.
As for the King's popularity versus his mother's, he said:
Probably difficult when you're the King you want to have 100% of the people love you like the Queen did. The Queen had – everybody loved her, right? She didn't have that kind of an agenda.
And yet, you know, she was a very strong woman. I got to know her too. She was a very strong woman, a great woman.
The interview ended with a discussion about biopics. Fox plays Hunter Biden in My Son Hunter, released on September 7.
Trump said that, if it were ever to happen, he hoped that Fox could play him in a biographical movie:
Oh, that voice!
He enthused for another minute or so about Fox's accent, then, with both parties happy, the call came to an end.
Fox's interview style is conversational, something Trump would appreciate. What a great hour of television.
After the gloomy opening of the Conservative Party Conference this year, dominated by U-turns, rebels and division, I promised good news.
Liz Truss's closing speech
Prime Minister Liz Truss gave an excellent closing speech and, despite the train strike that day, the conference hall in Birmingham appeared to be filled.
Her speech is 36 minutes long, but it went by very quickly indeed:
I watched a bit of GB News on Wednesday afternoon. One of their reporters interviewed Party members leaving conference. Nearly all said that they were 'pleasantly surprised' and reassured by what the new Prime Minister had to say.
Writing for The Telegraph, veteran journalist Patrick O'Flynn concluded, 'Liz Truss might just have rescued her premiership' (emphases in purple mine):
Strip away the depressing context surrounding Ms Truss's speech, of backbench rebellions and media pile-ons, and what we heard and saw was a well-crafted address that attempted to place her culturally on the side of "normal working people" – especially in the private sector. More notably, she has positioned herself firmly against an "anti-growth coalition" whose members she characterised as being driven from north London town houses to BBC studios to preach "more tax, more regulation, more meddling".
"They don't understand the British people. They don't understand aspiration," she said, adding: "The real heroes are the people who go out to work, take responsibility and aspire to a better life for themselves and their families and I am on their side."
This was an attempt to glue back together an old alliance between a female prime minister and her natural supporters: that which existed between Margaret Thatcher and "our people". So was a key message towards the end of the speech. Not the grandiose "the lady is not for turning" which had after all been made untenable by the U-turn on top rate tax, but the more sober phrase "we must stay the course".
Guido Fawkes has the transcript, excerpted below.
Truss began by thanking Andy Street, the Conservative mayor of Birmingham, which is the United Kingdom's second largest city. She praised Teesside's mayor, Ben Houchen, as he transforms the North East of England.
She acknowledged that we are in difficult days:
Together, we have mourned the death of Queen Elizabeth II, the rock on which modern Britain was built.
We are now in a new era under King Charles III.
We are dealing with the global economic crisis caused by Covid and by Putin's appalling war in Ukraine.
In these tough times, we need to step up.
I am determined to get Britain moving, to get us through the tempest and put us on a stronger footing as a nation.
I am driven in this mission by my firm belief in the British people.
She said she would not meddle in our personal affairs but resolve the concerns that unite us:
… I'm not going to tell you what to do, or what to think or how to live your life.
I'm not interested in how many two-for-one offers you buy at the supermarket, how you spend your spare time, or in virtue signalling.
I'm not interested in just talking about things, but actually in doing things.
What I'm interested in is your hopes and fears that you feel every day.
Can you get a good job locally?
Is it safe to walk down the high street late at night?
Can you get a doctor's appointment?
I know how you feel because I have the same hopes and fears.
I want what you want.
I have fought to get where I am today.
I have fought to get jobs, to get pay rises and get on the housing ladder.
I have juggled my career with raising two wonderful daughters.
I know how it feels to have your potential dismissed by those who think they know better.
She then related an anecdote from her childhood, which may over-40s will recognise:
I remember as a young girl being presented on a plane with a "Junior Air Hostess" badge.
Meanwhile, my brothers were given "Junior Pilot" badges.
It wasn't the only time in my life that I have been treated differently for being female or for not fitting in.
It made me angry and it made me determined.
Determined to change things so other people didn't feel the same way.
This I did not know:
I stand here today as the first Prime Minister of our country to have gone to a comprehensive school.
She gently reminded her audience that the Government has already addressed the fuel price crisis. The cap is £2,500:
Let's remember where we were when I entered Downing Street.
Average energy bills were predicted to soar above £6,000 a year.
We faced the highest tax burden that our country had had for 70 years.
And we were told that we could do nothing about it.
I did not accept that things had to be this way.
Around that point, two protesters waved a Greenpeace banner (Guido has the video):
They would have had to sign up to be Party members in order to get in, just as the protesters did who infiltrated the Party leadership hustings in July and August.
Conservative men quickly took the banner away. The women had a spare to unfurl. That too, was swifly removed.
Truss quipped:
Now later on in my speech my friends I am going to talk about the anti-growth coalition.
But I think they arrived in the hall a bit too early, they were meant to come later on.
We will get onto them in a few minutes.
She paused while security removed the women from the conference hall.
She concluded on the fuel price cap:
We made sure that the typical household energy bill shouldn't be more than around £2,500 a year this winter and next.
We followed up with immediate action to support businesses over the winter.
We are determined to shield people from astronomically high bills.
So much so, that we are doing more in this country to protect people from the energy crisis than any other country in Europe.
Our response to the energy crisis was the biggest part of the mini-Budget.
Later, she borrowed one of Michelle Obama's phrases from the 2008 presidential campaign:
We need to fund the furthest behind first.
And for too long, the political debate has been dominated by the argument about how we distribute a limited economic pie.
Instead, we need to grow the pie so that everyone gets a bigger slice.
That is why I am determined to take a new approach and break us out of this high-tax, low-growth cycle.
She also used John McCain's 'my friends' in addressing the audience, more than the transcript references. That, too, came from the 2008 presidential campaign:
When the government plays too big a role, people feel smaller.
High taxes mean you feel it's less worthwhile working that extra hour, going for a better job or setting up your own business.
That, my friends, is why we are cutting taxes.
We have already cut Stamp Duty, helping people on the housing ladder – especially first-time buyers.
We are reversing the increase in National Insurance from next month.
We are keeping corporation tax at 19%, the lowest in the G20.
We are helping 31 million working people by cutting the basic rate of income tax …
The fact is that the abolition of the 45p tax rate became a distraction from the major parts of our growth plan.
That is why we are no longer proceeding with it.
I get it and I have listened.
She reiterated pledges for post-Brexit and post-pandemic Britain.
She made a good point about Western complacency, something I have been saying for years:
One of the reasons we are facing this global crisis is because collectively the West did not do enough.
We became complacent.
We did not spend enough on defence.
We became too dependent on authoritarian regimes for cheap goods and energy.
And we did not stand up to Russia early enough.
We will make sure this never happens again.
She pledged continued support for Ukraine, which earned her a standing ovation.
Then it was time for her to talk about the anti-growth coalition — the metropolitan elite — which was lengthy. This was her opening:
I will not allow the anti-growth coalition to hold us back.
Labour, the Lib Dems and the SNP…
…The militant unions, the vested interests dressed up as think-tanks…
…The talking heads, the Brexit deniers and Extinction Rebellion and some of the people we had in the hall earlier.
The fact is they prefer protesting to doing.
They prefer talking on Twitter to taking tough decisions.
They taxi from North London townhouses to the BBC studio to dismiss anyone challenging the status quo.
From broadcast to podcast, they peddle the same old answers.
It's always more taxes, more regulation and more meddling.
Wrong, wrong, wrong.
Guido has the video:
She praised our unsung heroes:
My friends, does this anti-growth coalition have any idea who pays their wages?
It's the people who make things in factories across our country.
It's the people who get up at the crack of dawn to go to work.
It's the commuters who get trains into towns and cities across our country.
I'm thinking of the white van drivers, the hairdressers, the plumbers, the accountants, the IT workers and millions of others up and down the UK.
The anti-growth coalition just doesn't get it.
This is because they don't face the same challenges as normal working people.
She concluded:
We cannot give in to those who say Britain can't grow faster.
We cannot give in to those who say we can't do better.
We must stay the course.
We are the only party with a clear plan to get Britain moving.
We are the only party with the determination to deliver.
Together, we can unleash the full potential of our great country.
That is how we will build a new Britain for a new era.
A strong cross-party coalition, helped powerfully by the media, is clearly trying to do away with Truss's premiership.
These were her YouGov ratings before her speech:
Keep in mind that YouGov was founded by former Chancellor, Nadhim Zahawi, who was caretaker during the leadership contest over the summer.
Guido wrote:
If memory serves Guido correctly, [former Labour leader] Jeremy Corbyn managed a minus 60 net approval rating at his worst. Liz has a net approval rating of minus 59. Guido is told it is the lowest rating ever recorded of a Conservative Party leader. Her speech today needs to be the beginning of a turnaround.
Borrowing from the 1960s protest tune: all we are say-ing, is give Truss a chance …
Truss, with the help of Party whips, has finally been able to complete the rest of her parliamentary appointments.
Guido said:
The Government's reshuffle is finally coming to a close, as appointments to a number of Parliamentary Private Secretary (PPS) positions gave been confirmed. Co-conspirators will recall the whips had been experiencing some difficulty in recruiting enough parliamentary bag-carriers, though they have now managed to fill each position. Even if the vast majority are eager 2019ers…
The Government also seems to have granted whips greater individual responsibility for departments, with specific roles also listed. If recent trends are anything to go by, the government could use all the help to party discipline it can muster.
Having mustard keen 2019 MPs in on the act can only be a good thing. Most of them are from Red Wall seats, so their minds will be focused on growth and other Truss objectives, many of which dovetail with their own.
Other high points — Foreign Secretary Cleverly and Home Secretary Braverman
Other well-received speeches came from Foreign Secretary James Cleverly and Home Secretary Suella Braverman, both of whom appeared on Tuesday, October 4.
Here is a short clip from James Cleverly's speech:
Cleverly's speech is at the 2:05:00 mark in this video. Braverman's comes before, beginning at 1:35:00:
Suella Braverman said many of the same things that her predecessor Priti Patel did as Home Secretary. We can but wait and see what happens.
One of the big problems in processing migrants without papers, such as those who come across the Channel in dinghies, is that they are hard to trace to their true countries of origin.
Another issue is that many in the civil service who are assigned to the Home Office are pro-immigration. Patel tried her best to counter them, but they stood firm, citing EU laws under which we are still beholden. The Brexit process continues. There wasn't enough time to renegotiate everything we should have, e.g. the Dublin Agreement. As we are no longer in the EU, we are no longer subject to that agreement whereby migrants have to apply for asylum in the first safe country they are in — in our case, France. We have to draw up a new agreement along the same lines, which will require EU co-operation.
On top of that, during Theresa May's time as PM, a modern slavery law came into force in the UK. In short, anyone claiming to have been a modern slave is automatically allowed to stay here. No proof is required.
With that burden, we can also add human rights charities and their lawyers who effectively scuppered the first UK flight to Rwanda last summer. It never happened. Everyone's case was challenged before take-off, leaving an empty aircraft.
Euronews reported on that part of Braverman's speech:
In a Tuesday evening speech at the Conservative Party's autumn conference in Birmingham, immigration minister Suella Braverman said that people who arrive by unauthorised means should not be allowed to claim asylum in the UK and she doubled down on contentious plans to send some asylum-seekers on a one-way trip to Rwanda.
However, Braverman acknowledged that a legal challenge to the policy means it's unlikely anyone will be deported to the east African country this year. 
"We need to find a way to make the Rwanda scheme work," said Braverman.
"We cannot allow a foreign court to undermine the sovereignty of our borders," she continued, to cheers and applause from the audience.
"A few months ago the European Court of Human Rights in Strasbourg did just that. By a closed process, with an unnamed judge, and without any representation by the UK. A European Court overruled our Supreme Court. And as a result our first flight to Rwanda was grounded. We need to take back control."
She didn't say how the government intends to 'take back control'. The European Court of Human Rights is not part of the EU, and membership is not affected by Brexit …
Braverman said many migrants were "leaving a safe country like France and abusing our asylum system," adding that she wanted to work more closely with French authorities "to get more out of our partnership."
"We've got to stop the boats crossing the Channel," she said, to more applause.
So far this year, 30,000 migrants have crossed the Channel:
The one advantage that Braverman has over Patel is that she is a lawyer, so she will be finely attuned to legal turns of phrase.
Those interested can read more of her views in this article from The Telegraph.
Quentin Letts, The Times's political sketchwriter, concluded:
the day belonged to Braverman. As bids for popularity go, it wasn't particularly subtle or cerebral. Effective, though.
Proper membership cards make comeback
In an eco-friendly move under Boris Johnson, the Conservative Party began issuing paper certificates instead of plastic membership cards.
Thankfully, those days are over, for lifetime Party members at least:
Guido reports:
Tory party Chair Jake Berry has just confirmed the return of plastic membership cards for lifetime Tory members, replacing the much-maligned 'membership certificates' introduced by Amanda Milling back in 2020. At the time, Milling introduced the paper certificates to save the environment, or something like that. Even MPs were upset; Michael Fabricant complained the certificate wouldn't fit in his trinket box of membership cards and hair clips. Jane Stevenson pointed out they could just be made of card instead. Now the debate has been put to rest – Berry's bringing the real deal back, having just revealed the move at a fringe event this morning. Expect to see the cards' triumphant return from January.
That ends the positive conference news.
Kwarteng's U-turn U-turn U-turn
Chancellor Kwasi Kwarteng did a third U-turn on bringing forward his more detailed fiscal event plans.
It appears that he will be going ahead with presenting them to Parliament on November 23 after all:
Or is it October 23?
Mel Stride, who supported Rishi Sunak in the leadership contest and heads the Treasury Select Committee, says that it will be October 23. So did the Financial Times, apparently. They, too, supported Sunak.
Hmm. I sense mischief making.
Guido reports:
Except Kwasi later insisted on GB News that it definitely wasn't moving:
'Shortly' is the 23rd. People are reading the runes […] it's going to be the 23rd.
"People reading the runes" in this case including the Chair of the Treasury Select Committee. Liz herself later said it's coming in November, and Treasury Civil Servants were told in a team meeting this morning that anything to the contrary was just "press speculation". Guido understands, however, that the people reading the runes are onto something: the Treasury is still considering adjusting the date after all…
Kwasi must stick to his guns and stop the U-turns.
Rebel, rebel …
The rebels were active throughout the conference.
Michael Gove
On Wednesday's Dan Wootton Tonight show on GB News, panellists were split on whether Sunak-supporting Michael Gove should have the whip removed.
The Daily Express's Carole Malone said that Truss should have given Gove a Cabinet post so that he would have made less mischief. However, Wootton countered by saying that Gove always undermines the Prime Ministers he has worked for in Cabinet.
Someone who wasn't on the show and thinks Gove should have the whip removed is Nigel Farage. I fully agree with him. We saw the trouble that rebel Conservatives made for Theresa May and Boris Johnson in 2019 over Brexit. David Gauke was one of them. Boris had the whip removed and we did not see him again after the 2019 general election; his Conservative association deselected him:
Grant Shapps
Grant Shapps, another Sunak supporter, has been working in tandem with Michael Gove to thwart Truss's leadership.
He has made no secret of his threat to go to Sir Graham Brady, chairman of the 1922 Committee, with a letter of no confidence — not only from himself but other MPs:
On Tuesday, October 4, he told Times Radio:
I want Liz to succeed. So I'm hoping that she can turn us around, I think there is a window of opportunity for her to do it. I'm cheering her on, if you like, to succeed. Y'know, in the end I don't think members of parliament, Conservatives, if they see the polls continue as they are, are going to sit on their hands. A way would be found to make that change. You know, it's important, not for members of parliament, but for the country, still two years to go to another election, that we have good, stable, sensible, smart government in place doing things that are required for the people in this country. So of course that could happen. In the meantime, I hope Liz can turn this around.
'A way would be found' means urging Brady to change the rules whereby a PM could be ousted sooner than 12 months of assuming the Party leadership.
Shapps had the gall to suggest Truss had ten days to turn around her leadership!
Nadine Dorries
Nadine Dorries was the Secretary of State for Digital, Culture, Media and Sport while Boris was PM.
When he stood down as party leader, she was gutted. She had at least one defender:
She stayed loyal beyond the end of his premiership, perhaps embarrassingly so: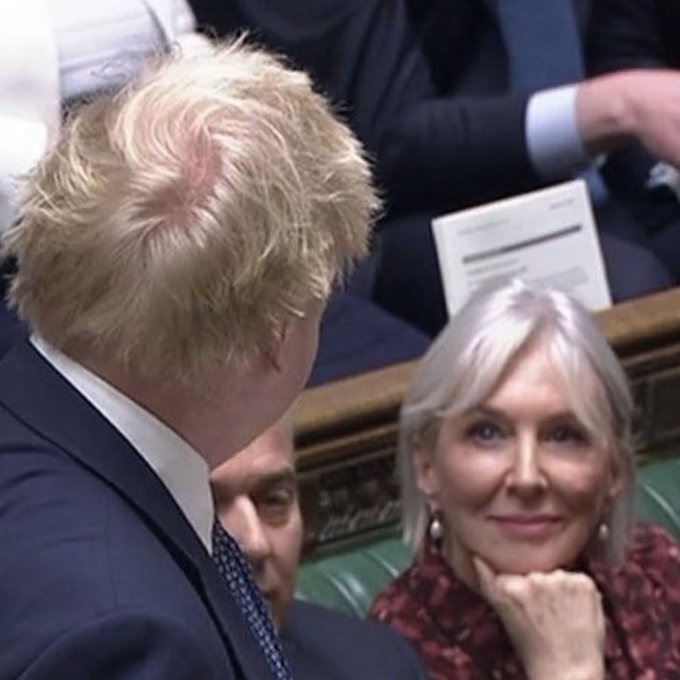 She had a lot to say when he stood down as Party leader:
In the end, she didn't run for Party leadership:
Dorries resigned from Cabinet on Tuesday, September 6. Boris was in his final hours as PM that day, when he and Truss flew separately to Balmoral to see the Queen.
Guido posted Dorries's letter to Boris, commenting:
She added that while Liz had offered her the chance to continue, she's stepping down anyway.
She is now unhappy that her Online Safety Bill might be kicked into the long grass. Millions of us certainly hope so. It is deeply embedded in censorship, principally the 'legal but harmful' clause.
On Monday, October 3, Dorries said that Truss should hold a general election. Utter madness, all because her censorship legislation is up for cancellation. Even madder is the fact that she was a Truss supporter.
The Spectator had the story:
To inspire one Nadine Dorries tweet may be regarded as a misfortune, to inspire two looks like carelessness. Less than 24 hours after the former Culture Secretary criticised Truss for appearing to blame her Chancellor for the 45p tax debacle, she's back at it again. Frustrated by Truss's decision to junk much of the Johnson agenda from 2019, the high priestess of online harms took to her favourite medium of Twitter to write:
Widespread dismay at the fact that 3 years of work has effectively been put on hold. No one asked for this. C4 sale, online safety, BBC licence fee review – all signed off by cabinet all ready to go, all stopped. If Liz wants a whole new mandate, she must take to the country.
The repeated criticisms are all the more interesting, given the importance of Dorries and other Johnson loyalists in ensuring that Truss made the final two earlier this summer. Dorries was something of an unruly attack dog, savaging Truss's opponent Rishi Sunak at ever opportunity …
Guido posted Dorries's tweet …
and wrote:
We appear to be at the "everybody losing their mind" stage of Conservative Party conference a day early.
The next day, she seemed to walk back what she said by citing Boris's support of Truss. This is a clip of her interview with LBC radio's Iain Dale:
Embarrassing.
Benefits rebels
Truss-backer Sir Iain Duncan Smith is now opposing her in wanting benefits increased in line with inflation:
Guido has the video:
Iain Duncan Smith has added his voice to the chorus of rebels piling on Liz to raise benefits with inflation. Speaking at a ConservativeHome fringe the former Work and Pensions Secretary argued giving to the poorest was a more efficient way of going for growth, as they would spend it quicker. He's had a quick change in tune since backing Liz for leader…
That sounds very cynical, indeed.
Kemi Badenoch
Trade Secretary Kemi Badenoch, the popular Party leadership candidate for British voters, openly opposed Truss's bid for even more migration.
It is hard to disagree with Badenoch. Even so, as a Cabinet minister, perhaps she should have held back from expressing them publicly.
She aired her views on Sunday evening:
At the IEA/TPA DrinkTanks reception last night, guest of honour Kemi Badenoch openly rebuked the PM's plans to let in more immigrants to boost growth. The Trade Secretary ignored any sense of collective responsibility as she told the assembled free marketeers:
Simply taking in numbers to boost GDP while GDP per capita falls is not the right way to do that. We need to look again at resolving our productivity issues and that means using capital better, not just getting cheaper and cheaper labour.
Kemi's brazen and deliberate speech last night all but confirmed The Times' article on Sunday reporting major Cabinet divisions over the plan, with Kemi and Suella Braverman at odds with the PM's preferred free market solution. Like Liz, Guido doesn't have a problem with skilled, legal immigration, it is the illegal immigration which is concerning. It seems Tory Cabinet ministers aren't even pretending to play happy families anymore…
45% tax rate rebels
Prominent Conservative Cabinet members disagree with Truss and Kwarteng over their Sunday night U-turn on abolishing the 45% upper tax rate.
Home Secretary Suella Braverman seemed to accuse Conservative MPs of forcing the change in plan, going so far as to claim it was 'a coup':
Guido has a photo of Braverman, along with Jacob Rees-Mogg and Simon Clarke, two other Cabinet members who want the upper rate abolished:
Simon Clarke agrees with Braverman's assessment of 'a coup':
Guido has more:
Jacob Rees-Mogg was also quick to voice his disappointment at the scrapped cut at a fringe event this afternoon, although he claimed to recognise the politics of the move. This all comes in the context of public cabinet battles over benefits, and Penny Mordaunt's attacks on government comms. Meanwhile backbench agitators continue briefing out plans to rebel, with some now even claiming they're holding "crisis" talks about Liz's leadership. Truss has been PM for 28 days. Not quite the honeymoon period she would've hoped for…
Wow. For Jacob Rees-Mogg to speak out about his disappointment is surprising. He is normally respectful of parliamentary boundaries and procedure.
There is a way to get rid of this tax rate. I will have more on that next week.
James Cleverly warns Cabinet rebels to 'shut up'
In much the same way that Welsh Secretary Robert Buckland did, Foreign Secretary James Cleverly warned Cabinet rebels to 'shut up':
On Wednesday, October 5, Guido reported:
James Cleverly has diplomatically warned Cabinet colleagues to shut up after yesterday's day of chaos, in which collective responsibility broke down on everything including the 45p u-turn, immigration numbers and uprating benefits in line with inflation. Speaking on the BBC this morning ahead of Liz's big speech, the foreign secretary warned:
All Cabinet colleagues ultimately are going to have to abide by collective responsibility… I think it's always better and easier to feed ideas, particularly when you're in government and have access to the Chancellor and the PM, feed your ideas directly into the centre of the system…
On TimesRadio he also implied yesterday's comments from Braverman, Mordaunt and Clarke – among others – were inappropriate. Guido hears Cleverly's speechwriter had to edit a swear word out of the Foreign Secretary's speech earlier this week; we can only imagine how many expletives Cleverly wanted to use in response to yesterday's farce…
Conclusion
Here endeth the news about the Conservative Party Conference.
MPs must give Truss a chance. She has gone through the hardest beginning to her premiership of any PM in known history.
She deserves time to lead us. With everyone against her, she must be doing something right.
She is representing British voters' interests. That is only right and fair.
This has not been the best Conservative Party Conference, and here's why:
1/ Bombastic Boris is no longer Prime Minister;
2/ Liz Truss is still finding her feet as his successor;
3/ A train strike is taking place on the final day, so a lot of people left before Liz spoke on Wednesday.
On Wednesday morning, October 5, GB News's Darren McCaffrey, a veteran of many party conferences, said that the mood in Birmingham was very low this year, as if, after 12 years, the Conservatives think that their time in Government could be up.
It doesn't help that Labour's Shadow Chancellor Rachel Reeves has been spreading lies about Kwasi Kwarteng's fiscal event, either:
Meanwhile, the people in Boris Johnson's constituency of Uxbridge in west London miss him dearly:
Anyone who missed the controversies of the Conservative Party Conference can catch up here and here.
On Tuesday night, former Conservative adviser Amanda Platell, who writes for the Daily Mail, said she is praying that Liz Truss can actually govern without opposition from her own MPs. Platell described Michael Gove as 'a jackal'. Platell added that the Leader of the Commons, Penny Mordaunt, wasn't a very good employee when she worked for her several years ago:
After Amanda Platell spoke in that clip, it was time for Stanley Johnson, Boris's father, to give his impressions of this year's conference.
He said that he must have been to a different one, because everyone he saw was upbeat and the conference hall was full for Chancellor Kwasi Kwarteng's speech. Stanley Johnson blames the negativity on an ongoing media narrative:
I didn't see this gloom and doom meeting at all. 
When Dan Wootton asked Stanley about Michael Gove, the former Prime Minister's father replied:
I'm not going to talk about wildlife of any kind … I'm going to sing Michael Gove's praises because he has been a really good Secretary of State for the Environment.
Wootton countered:
He stabbed your son in the back.
Stanley said:
I'm not going to talk about it … I'm speaking as an environmentalist.
In another part of the show, Stanley said that he is '100% certain' that Boris will not be back as Conservative Party leader, i.e. Prime Minister.
Robert Buckland's advice to rebels: 'Shut up'
On Tuesday afternoon while listening to GB News, one of the presenters said that the Secretary of State for Wales, the mild mannered Robert Buckland, told Michael Gove to 'shut up'.
Hoping it was true, I searched Wednesday's headlines but saw only that Buckland had issued his advice indirectly, via Global Radio's News Agents podcast, featuring ex-BBC broadcasters Emily Maitlis, Jon Sopel and Lewis Goodall.
Buckland was mild mannered throughout:
The i paper confirms that no direct confrontation took place:
Welsh Secretary Robert Buckland appealed to recently sacked ministers to "shut up" but indicated he wants to see benefits rise in line with inflation, telling Times Radio he believes in supporting "those who genuinely cannot share … In growth and prosperity".
One can only hope that Gove and his Sunak-backing allies got the message.
On Tuesday night, The Telegraph urged MPs to rally behind their new Prime Minister: 'Tories owe Liz Truss their full support' (emphases in purple mine):
Ms Truss has an ambitious set of policies that she set out in the leadership campaign, yet there is now a danger that she will be thwarted at every turn by a fresh coalition of opponents in her own party.
MPs should remember that the Prime Minister won fairly and squarely under the rules after they removed a leader who had delivered an 80-seat majority just three years ago. She did not engineer a coup and, indeed, stayed loyal to Boris Johnson until the end.
Senior backbenchers and former ministers such as Michael Gove and Grant Shapps, who have been in the vanguard of recent criticism, should consider the damage they are doing to the party's re-election prospects. The only beneficiaries are their political opponents.
Conservative values championing a small state, low taxes and deregulation are being replaced by social democratic nostrums that brook no spending cuts and take the same attitude to wealth creators as the Left. The pandemic lockdowns did not help matters by fostering a widespread sense that the state will always step in to help in difficult times, as it has done again with energy bills.
As we have argued consistently, the UK needs a growth strategy, and Ms Truss is at least providing one. The alternative is to manage the nation's decline into a high-tax, low-productivity economy. She needs the full support of the parliamentary party in her endeavour, starting now.
Left-wing lies persist over economic measures
Last week, the Bank of England had to take action to counter what appeared to be an immediate effect of the Chancellor's fiscal event of Friday, September 23.
However, Guido Fawkes cited a report from the Financial Times which said that the economic hiccup originated with the pensions industry.
Note the exposed deception in this Twitter thread:
Yes, I can well imagine that it was Mark Carney's fault. He was Andrew Bailey's predecessor at the Bank of England. Both are worthless, yet the media deifies Carney as some sort of miracle worker.
The left-wing narrative, spun by Shadow Chancellor Rachel Reeves and the media, persists that the taxpayer is being hung out to dry.
Guido wants to correct that narrative, noting that the BBC's Nick Robinson has already apologised for getting it wrong:
Guido's post from Tuesday, October 4, — which includes audio — says (emphases his):
Since the Bank of England announced market operations to purchase gilts last Wednesday, Westminster politicos have been struggling to get their heads round the intricacies of gilt markets. It therefore comes as no surprise to Guido that Nick Robinson was forced into a correction today, after incorrectly repeating the widely tweeted claim that the Bank of England has spent "£65 billion to prop up the markets" …

The claim is somewhat misleading. The Bank of England pledged to buy gilts to the tune of a maximum of £5 billion a day, over two weeks, to assure markets. This means the maximum possible spend was £65 billion, though the actual number will be far smaller. In reality the bank has purchased around £3.66 billion so far, with yesterday's purchases coming in at just £22 million. The smaller purchase signals the Bank is comfortable with the current state of gilt markets as its credible commitment appears to have paid off. Guido appreciates that the BBC this time took the effort to get the facts right…
Shadow Chancellor Rachel Reeves, who should know better as an ex-Bank of England employee, repeated the same line: "The fact the Bank of England had to step in with a £65 billion bailout with taxpayers money is deeply shameful." It is not a fact.
Firstly, the market operation will be nowhere near £65 billion. Secondly, it is not money from taxpayers … with the purchases even having the potential to make a profit* on resale. So her "taxpayers' money" claim is also incorrect. Robbo we can excuse, he only has a PPE degree from Oxford. The Shadow Chancellor, a trained economist, is deliberately and wilfully misrepresenting the facts for political advantage…
*A market source says that marked-to-market the Treasury is currently in profit on the trade.
In the comments, one of Guido's readers clarified what happens with the Asset Purchase Facility — APF — in this case:
It's not from Treasury reserves. Treasury has no reserves. It's not money from taxpayers either. Neither the bank nor Treasury has any taxpayer money.
The Bank has extended a loan to the APF, and credited the APF's account in the Banking Department with an advance. That is then used to pay whoever is selling the Gilts to the APF, which result in a transfer from the APF's account in the Banking Department to a commercial bank's settlement account in the Banking department.
The end result is Gilt assets in the APF balanced by a liability to the Banking department of the Bank of England. The Bank of England has a loan asset to the APF balanced by a liability to the commercial bank.
It's just good old bank lending. As happens a bazillion times every day across the banking system.
Another reader called out the media for lazy journalism:
All MSM are as bad, Sky and ITV actively promote their left-wing Labour bias too, especially activists like Ed Conway and Peston, respectively, are rarely challenged, and the public generally don`t realise they are being lied to and manipulated. Creating hysteria and headlines are more important now than the truth and lazy groupthink "journalists" just follow the herd. Where is the giant good news headline that the £ is now trading higher than before the mini-budget and the euro is below parity with the dollar, no, they prefer reporting negative UK news to deliberately topple this government.
Kwarteng's U-Turn U-turn
Thankfully, Kwarteng has recovered from the shock of having to make an economic U-turn on the 45% rate of tax and, although that is still off the table for now, he is reneging on bringing forward a vote on a more detailed plan on November 23.
On Tuesday evening, The Telegraph reported that he has postponed this to next year:
Crunch votes to implement last week's mini-Budget will not take place until next spring, The Telegraph understands, putting off potential rebellions until 2023.
Many of the tax-cutting measures which Kwasi Kwarteng, the Chancellor, announced last month will not need to be passed in the House of Commons until next March.
That includes bringing forward the 1p cut in the basic rate of income tax and scrapping a planned rise in corporation tax, two of the most costly moves in the package.
It means that Tory rebels hoping to attach amendments to the Finance Bill may have to wait almost six months, potentially buying Liz Truss some political breathing room …
There was confusion on Tuesday as Mr Kwarteng appeared to row back on Downing Street indications on Monday night that he would reveal his new fiscal plan earlier than planned.
Mr Kwarteng said that the so-called "medium-term fiscal plan", which will spell out his approach to bringing down debt and restraining spending, was coming on November 23.
But that appeared to contradict word from his allies 24 hours earlier suggesting the announcement and the Office of Budget Responsibility (OBR) forecast would actually come sooner.
The OBR forecast is another part of the ongoing anti-Truss narrative. Since its inception by then-Chancellor George Osborne over a decade ago, its forecasts have rarely been accurate. Guido regularly posts on how the economy does much better in reality, putting the OBR to shame.
Yet, the OBR is considered as an oracle:
The failure to produce an OBR forecast alongside the mini-Budget was jumped on by economists and critics to partly explain the reaction from the markets.
It is, in fact, useless.
On Tuesday, Kwarteng gave his reasons for the rushed fiscal event. Contrary to what the lefty narrative says, he was not blaming the Queen, just reminding people of the timeline:
Mr Kwarteng on Tuesday also appeared to cast some blame on the "pressure" of the Queen's death for mistakes in his tax-cutting fiscal statement.
He said: "We had a nation in mourning and then, literally, four days after the funeral we had the mini-budget.
"It was a high speed, high-pressure environment and we could, as David Cameron used to say, have prepared the pitch a bit better."
Kwarteng was rightly disappointed that the Government was not given credit for helping out the nation with their winter fuel bills. This is another part of the false lefty narrative that needs exposure:
Speaking at a fringe event at the Conservative conference on Tuesday night, Mr Kwarteng complained that his energy price freeze was getting too little attention because of the 45p tax row.
The Chancellor said: "If you look at the energy intervention, I mean, nobody's talking about the energy intervention.
"That was a huge use of the balance sheet to help people. People were facing bills of potentially £6,000 next year, and we've intervened.
"There's gonna be a limit of £2,500. That's a huge intervention."
Agreed. He did what people bayed for.
He criticised Rishi Sunak's handling of taxpayer's money, turning the former Chancellor's cries of morality back on him:
Mr Kwarteng has also said the Treasury he inherited from Rishi Sunak and Boris Johnson was "unsustainable".
He said: "We were spending billions and billions and billions and raising the money in tax."
"How can that be sustainable, when we have a very, very high tax burden and very low growth? We had to come off that trajectory."
He called himself a "compassionate Conservative" inspired by his mother …
He added: "It's the people's money – we raise it through tax. And if we do that we have a moral obligation to look after it."
Benefits increases
In line with Kwarteng, Liz Truss wants to be careful about taxpayer's money.
Benefits will have to be raised, but the question is by how much.
One tranche of Conservative MPs says that it must be in line with inflation. Another group says it should be in line with salaries.
Early on Tuesday, The Sun reported:
She is under pressure to hike benefits for the poorest after repeatedly refusing to confirm they will go up in line with inflation.
Speaking at the party conference in Birmingham, the PM said: "We face massive challenges as a country and we need to get through this economic crisis and this energy crisis.
"And we need Britain to come out stronger on the other side, and I want to win over hearts and minds in the country, but also amongst my parliamentary colleagues, to make sure that we are able to deliver for the people of Britain" …
Emboldened rebel MPs are now pushing for further changes having forced her to ditch one flagship measure — with efforts now focusing against a real terms cut to Britain's benefits bill.
Even her own Cabinet Ministers are ratcheting up the pressure for Ms Truss to commit to raising benefits with inflation and not wages.
Penny Mordaunt told the Times it "makes sense" to uprate benefits with prices.
The Commons leader said: "I have always supported, whether it's pensions, whether it's our welfare system, keeping pace with inflation."
But Ms Truss insisted no decision had been made, yet reiterated her promise to keep the pensioners' triple lock.
She admitted the reaction to her Growth Plan had not been "absolutely perfect" but insisted it – and the energy – package will help struggling families braced for a gruelling winter.
It includes cutting stamp duty, income tax and capping the price of energy so the typical household will pay no more than £2,500.
Here's The Spectator's list of the benefits rebels hoping for an increase with inflation rather than wages.
Penny Mordaunt was one of Truss's rivals in the leadership contest and the other five — led by Michael Gove — were staunch Sunak supporters:
Penny Mordaunt
Michael Gove
Damian Green
Esther McVey
John Glen
Mel Stride
Who can forget the day MPs eliminated Mordaunt from the leadership contest, leaving Truss and Sunak as the last two standing?
On July 20, Guido wrote about Mordaunt's last ditch appeal:
It turns out Penny Mordaunt's effort to run a "clean" campaign that puts an end to "toxic politics" lasted as long as she thought she had a chance of winning. Now that Liz Truss is the bookies' favourite, and Kemi Badenoch's voters are up for grabs, the Mordaunt camp has other ideas. This morning, Mordaunt tweeted an Allison Pearson Telegraph article headlined "Tory MPs – vote for Rishi Sunak or Liz Truss today and you'll murder the party you love", which went down like a bucket of cold sick with just about everybody. Don't bother trying to find the tweet – she's since deleted it…
Truss wisely made Mordaunt Leader of the House, probably the safest place for her.
The benefits row is likely to erupt after Parliament reconvenes next week. Gove is pictured with Truss:
On Tuesday morning, Guido posted an audio clip of Mordaunt speaking to Times Radio about increasing benefits in line with inflation:
… on Times Radio … Leader of the Commons Penny Mordaunt was busy once again going characteristically off-script, claiming "it makes sense" to commit to the uplift come rain or shine. Michael Gove is – predictably – saying the same. Even DWP Secretary Chloe Smith has been going around saying "protecting the most vulnerable is a big priority for me", which surely signals the way the wind is blowing… 
However, as The Spectator's editor Fraser Nelson points out, Liz Truss is not being stingy in wanting to increase benefits with salaries rather than inflation:
Difficult decisions lie ahead for Liz Truss as she thinks of ways to constrain spending. One option is to increase benefits in line with average salaries (6.2 per cent), rather than CPI inflation (9.9 per cent): why, it might be argued, should someone on welfare see their income rise faster than someone in work? And with public sector wages rising at just 2 per cent, can government really give a near-10 per cent rise to those out of work? …
So she is considering, at very least, uprating benefits by earnings rather than inflation. But if she's ready for a fight, then so are her Tory opponents. Intriguingly, Penny Mordaunt now seems to be among them.
… Truss may struggle to get a lean settlement through the House of Commons. That's why it matters that Mordaunt, the leader of the House of Commons, has declared in favour of increasing welfare by inflation. Such open lobbying by a cabinet member is rare and indicates a collapse in discipline …
Uprating benefits to inflation would be hugely expensive due to the staggering number currently on out-of-work benefits: 5.3 million in total. This figure has yet to be acknowledged by the government (which prefers a more narrow definition of unemployment) and can only be produced by drilling into its website. There's a six-month lag, such is the lack of attention to this figure. But it amounts to 13 per cent of the UK working-age population, rising to 20 per cent in Manchester and Birmingham and 25 per cent in Blackpool. Here's the breakdown, which we keep updated on The Spectator data hub …
Nelson has included The Spectator's graph in the article. It's rather shocking.
He says it is time to get the nation back to work but realises that could be a hard sell for Truss to make:
As I've argued, the real scandal here is the waste of human potential, more than the waste of money. We have a near-record number of vacancies in the UK – about 1.1 million (hence a lot of the pressure to relax immigration rules), and to combine this with near-record levels on welfare is quite a feat. But it's also a very expensive situation and a problem that will not be helped by decreasing the factor by which people would be better-off in work.
This is a complex and difficult argument to make – and one distinguishing feature of Liz Truss's government is that it struggles to have such discussions even with the Tory party, let alone the country …
… this is a pre-rebellion from Mordaunt: she is describing a situation she'd like, not one that exists. By declaring the restoration of cabinet government, are cabinet members taking back control?
I have written this before Liz Truss gives her speech on Wednesday morning, closing the conference.
The question remains as to whether she can stamp her authority on the Cabinet and Conservative rebels. A tired Tom Harwood, who was also at Labour's conference last week, explains the situation on GB News:
I will feature brighter aspects of the conference in tomorrow's post.
Poor Liz Truss.
My post yesterday about her and Chancellor Kwasi Kwarteng's U-turn on the abolition of the 45% tax rate showed how much the media were running Truss's premiership.
Cracks are showing
Unfortunately, the Conservative Party conference in Birmingham has revealed the factions among Conservative MPs opposed to either Truss or her policies.
This indicates that the cracks in the parliamentary Conservative Party likely began during the mourning period for Queen Elizabeth II in the same way that anti-Boris Conservative MPs sent their no-confidence letters to Sir Graham Brady of the 1922 Committee during the monarch's Platinum Jubilee bank holiday weekend at the beginning of June.
No sooner had Parliament reconvened on the first Monday in June than Conservative MPs held a confidence vote on Boris Johnson's premiership.
One name has been brought up in the overall rebellion against Liz Truss: Michael Gove.
Gove 'a natural plotter'
On Monday evening, The Spectator's Isabel Hardman asked, 'What does Michael Gove want?'
As I wrote yesterday, Gove even turned against the Prime Ministers under whom he served in Cabinet, beginning with his first PM, David Cameron. That was over Brexit. The victory went to Gove.
He worked against Boris Johnson's leadership campaign in 2016, after Leave won the Brexit referendum on June 23. He told Boris he would lead his campaign then pulled out just before Boris was to have announced his candidacy.
It's no surprise that, when Boris became PM in July 2019, he gave Gove Cabinet positions in a 'Keep your enemies closer' move. Those lasted until this past summer.
After the 2022 leadership contest, Gove said he would take a back seat. But did he?
He currently seems to be involved in stirring the pot with regard to benefits — welfare — increases involving the new Work and Pensions Secretary Chloe Smith, who said at conference earlier this week:
protecting the most vulnerable is a big priority for me.
Isabel Hardman points out (emphases mine):
It sounds quite anodyne, but given one of the big battles of the autumn is going to be over whether benefits are raised in line with inflation, it was a clear marker that Smith doesn't think that trying to get some savings this way is the right thing to do. She's not a noisy cabinet minister and is much more likely to make her arguments behind closed doors. But she does also have a very helpful backbench campaign led by someone who loves a public fight: Michael Gove.
Hardman says that Gove is busy at work, doing the rounds at the conference's fringe events:
What is Gove's endgame? He hasn't packed up his bags since Kwarteng U-turned on the 45p: instead, he was still touring the fringe this evening. He has made clear that the benefit rise must go ahead, and many of his colleagues have made the same point to Kwarteng themselves.
Gove could decide to use Trade Secretary Kemi Badenoch in his manoeuvres. He backed her in the summer leadership contest until she lost, at which point he backed Rishi Sunak:
But even if it does, that's not going to be the former minister's last battle. Tory MPs are fascinated by where he wants this to end. Is he still hoping that Kemi Badenoch, who he initially backed for leader, could yet take over from Truss? Badenoch had a really good stint on the conference stage in the most lively session of the [Monday] afternoon programme. She had members eating out of her hand as she talked about taking pride in Britain, about immigration, and about culture wars. Perhaps Gove might want her star to rise further. Or perhaps he is still holding out for Rishi Sunak, who he later backed, and who is staying away from the conference to allow Liz Truss to 'own the moment'.
In any event:
there is a lot of bad feeling among MPs about the way some parts of his [Sunak's] campaign operated. Then again, there's just a lot of bad feeling and mistrust in the party now. The one thing Truss has managed to unite her party on is that MPs in every faction are now annoyed with her.
This year's conference meeting schedule, centred more around fringe events than the main speeches, is likely to deepen these rifts:
Tory conference has long been more stage-managed than other party meetings, but this year the official speeches from ministers have also been condensed into a very strange late afternoon slot lasting just two hours. The rest of the time is free for fringe meetings and plotting.
The main addresses are supposed to be content-light this year, which is unlikely to please Party members:
Ministers and their aides have been told they have to keep their addresses to the hall announcement-lite, which makes those two hours feel largely pointless.
Kwarteng not only had to do a U-turn on abolishing the 45% tax rate, he also was forced into bringing forward his medium-term fiscal plan. That's two U-turns by the second day of conference:
Kwasi Kwarteng didn't announce very much at all, even though his two U-turns have dominated the day's agenda. This morning, the Chancellor dropped the plan to abolish the 45p rate of tax, and this evening it has emerged that he is also bringing forward his medium-term fiscal plan from 23 November – something ministers had been asked to hold the line on.
Work and Pensions Secretary Chloe Smith held up a script at a fringe event to show that what appears to be spontaneous is actually scripted in advance:
A clue to the next potential U-turn came not in one of the speeches but in one of the considerably more-scripted and stage-managed 'discussions'. These have been going on for years at Conservative conference: a minister or two is relegated from a formal speaking slot to a cosy and allegedly informal sit-down with someone who is often a very nice and slightly nervous small business owner, charity pioneer or environmental campaigner. The chit-chats involve a suspiciously large sheaf of notes: indeed, in this particular 'discussion', Work and Pensions Secretary Chloe Smith largely abandoned the pretence that this was spontaneous and held her script up so she could read from it verbatim. But within that script, Smith had a line that she may well end up using against her ministerial colleagues such as Kwarteng in future. She told the hall that 'we know that people are struggling with some of the costs that are rising', adding: 'That's why protecting the most vulnerable is a big priority for me.'
Former Conservative MP Anne Widdecombe, who switched her allegiance to the Brexit Party and served as one of their MEPs in Brussels before the UK left the EU said that the Conservatives are in a dire state.
On Monday, she told GB News's Bev Turner that the removal of the 45% tax band would have cost £2 billion at most, in contrast to the £150 billion bail out in order to help Britons with their energy bills.
She said that Truss and Kwarteng should have held their nerve and not caved in over their fiscal event plans from Friday, September 23. She surmises that they were worried about how the conference would go if they had stuck to their guns. Widdecombe said that they were aware of divisions in the Party but the tax rate U-turn, she said, would not win them any votes.
Turner said that removing the cap on bankers bonuses, also announced on September 23, would seem to be a more controversial move. Widdecombe, however, disagreed, explaining that the EU put a cap on bankers bonuses in place so that London would not be able to compete as well against Frankfurt and Paris in the financial services market. Removing the cap, she added, was part of the Brexit plan and, although it doesn't seem so to ordinary people, will actually help the UK's finances in the long term.
Bev Turner then turned Widdecombe's thoughts to Michael Gove and Grant Shapps's manoeuvres behind the scenes at conference. These included the objection to removing the 45% tax rate.
Widdecombe said:
Michael Gove is extremely dangerous. He spends all his time conspiring and plotting … I've known him for years … What he is not is a good colleague. He gets bees in his bonnet and sets out to destroy everything in his path. He's done it with Boris … He is a plotter. He is a natural plotter. Can't help himself. 
She said that Truss cannot have the whip removed from Gove, as Kwarteng has already U-turned on the 45% tax rate issue. For Truss to remove the whip after the fact, she said, would be useless. So, Truss can't do anything to or about him for now.
Here's the video, which is five-and-a-half minutes long:
How the U-turn came about
On Monday, October 3, The Sun's political editor Harry Cole got the scoop about how Truss and Kwarteng's U-turn came about late on Sunday:
This is an incredible news story, revealing that Cabinet ministers did not know about the U-turn until they saw The Sun's website:
… our story, revealed at 12.20am, came as a shock to some of the most senior members of the government.
Four Cabinet ministers were enjoying a late-night drink when our story broke — leaving them speechless.
No one from No 10 had given them any warning.
After a brutal day of maulings from big beasts of the Tory party and dire warnings her mini-Budget would be voted down by MPs, the newbie PM was forced into a humiliating climbdown.
Gove and Shapps, along with other Rishi Sunak supporters, worked behind the scenes on Sunday:
Ex-Cabinet Ministers Grant Shapps, Julian Smith, Michael Gove, Mel Stride and Damian Green — all of whom backed Rishi Sunak — had spent the day stirring up rebellion and were confident that more than 40 MPs backed their concerns.
Was that why Sunak did not show up? He did say he wanted Truss 'to own the moment'.
Graham Brady contacted Truss early on Sunday evening:
Sir Graham Brady, the chairman of the powerful 1922 Committee of Tory backbenchers, had been to see a worried Ms Truss at 7pm to warn her she did not have the numbers to ram her tax cut plans through Parliament — despite a majority of 71.
Meanwhile, Kwarteng was in Birmingham's lively city centre, planning on tucking into a curry dinner. My commiserations go to him. Birmingham is home to some of the nation's finest Indian restaurants:
… her screeching about-turn would come as a shock to the Chancellor, who had been about to tuck into a beef curry at an upmarket restaurant across town.
He left his dinner before his main course turned up, rushing back for crisis talks with Truss, who told him: "It's time to rip off the plaster."
Kwarteng agreed to the U-turn, sensing trouble ahead:
Once on board, Mr Kwarteng was told he would have to be the face of the surrender the next day.
But it was a painful blow as he had already trailed his big speech to the conference into the next day's papers, insisting there would be no U-turns and saying: "We must stay the course."
Taking to the stage on Monday afternoon for that speech, an exasperated Chancellor said: "What a day."
The divisions are many and deep:
The mood among some Cabinet ministers is one of despair at the state of the Tory party, which is at risk of becoming unmanageable.
And that, in turn, will leave the Government unable to actually govern, leaving the country adrift at the worst possible time.
There are potential mutineers everywhere Truss turns.
After 12 years of Tory rule, there are more than 50 sacked and embittered ex-ministers who do not have much to lose.
This is a group that includes MPs who served under Theresa May and continue to be enraged by her Brexit downfall.
Then there are supporters of Rishi Sunak, who are enjoying the "I told you so" moment.
Some still think it's possible to kill Truss now and have Rishi anointed in a coronation.
Throw in the still-ongoing Brexit wars — Truss, having converted from Remain, is firmly in the Remainiac crosshairs — and it's a poisonous, chaotic mix.
One Cabinet minister said: "They've taken the bat off Boris, broken it into pieces and given chunks to the different warring sides to beat each other with. It's like Lord of the Flies."
However, a week is a long time in politics:
"All's not lost yet", one minister said.
"A week is a long time. We have two years to turn this around. We might not win the next election — but we can at least make ourselves competitive".
City AM's Andy Silvester doesn't hold out much hope, though:
What the public think
It's difficult for those of us who are not economists to know what to believe about the upper tax rate U-turn.
And we trust journalists even less than ourselves. We are doing better researching the matter online through independent sites rather than the mainstream media.
The media told us that abolishing the upper rate of tax would affect Sterling. Hmm. On Tuesday morning, it was holding steady after the Bank of England's intervention at the end of last week:
Did the U-turn have anything to do with exchange rates, though?
One Guido Fawkes reader said that it did not:
Good job Kwasi dropped the 45p tax cut, which, according to the MSM, affected the pound. Anyone knows it did not but he can use it to his advantage: if I borrow more for benefits, giving away money, it will damage the pound and interest rates causing more financial hardship to working tax payers.
So I would love to help but need to get inflation down.
Again being run by all the MSM at the same time to affect the government its disgusting.
He blames Michael Gove and, possibly, Boris's former adviser Dominic Cummings:
Gove and likely helped by Cummings … maybe Truss could ask Boris come out against him that he is damaging the party first him now Truss. Truss did stay loyal to Boris. Gove destroying his own party does not make him a formidable politician …

Another commenter cannot understand what the rebels hope to achieve:
What on earth are the rebels trying to achieve? Collapse the government and shoo-in Labour? If not- what's the end-game? Parachute in Sunak against the expressed wishes of the grassroots party membership? That'll end well. Ultimately- Truss was chosen by the members on the basis of pursuing a pro-business, pro-growth agenda. She is now trying to do exactly that and is being undermined by people who offer no viable alternative.
Someone else said the anti-Truss movement is reminiscent of the anti-Brexit rebellion Theresa May had to endure in 2019:
It's looking very much like this is going to be a repeat of the debacle over Brexit.
Mr Gove should have the good grace to accept the wishes of all Conservative Party members, who voted for Liz Truss, and not the legislative agenda of a few disaffected Blairite "Conservative" MPs, who bizarrrely seem to think that more of the same is going to free us from the social and financial quagmire such policy has led us to in the last 25 years.
I give the current government about 6 months.
Another said that Gove is firmly to blame:
One Cabinet Secretary telling the Daily Express they weren't surprised by Mr Gove's actions because he is a "disloyal ****". When told about Mr Gove's remarks another senior Cabinet Minister used the same four-letter expletive.
The next battle will be over how much to increase benefits: average salary rates or the inflation rate:
Chief whip needs to get a grip and threaten deselection to all those publicly declaring their duplicity and treachery. Removing the whip from Gove would be a good start. No rise in benefits when there are mass vacancies to be filled and when there is no pay rise for the private sector. Too many different factions in the Tories so no chance of collective responsibility.
More on that tomorrow.
In the United Kingdom, we had 12 days of wall-to-wall television coverage of the late Queen Elizabeth II and her family, which ended on Monday, September 19, 2022.
The commercial channels broadcast as usual but during the day BBC1, BBC2 and, throughout, the news channels covered her life and what the Royal Family were doing at this time.
GB News dropped all their advertising, substituting a memorial ident instead and, at other times, playing an instrumental version of the National Anthem accompanied by a photo montage of the Queen.
At first, it seemed unimaginable. Yes, our usual programmes were rescheduled for different days at different times, so we adjusted our video recorders to automatically catch up according to that day's television guide.
Yet, the reality of it was that, by the day of the funeral, I'd become quite used to the coverage. GB News had part of their broadcasts showing the live queue — the Elizabeth Line — in Westminster Hall for viewers to watch while listening to interviews in the studio. The Elizabeth Line was never boring. There was always something to see.
By mandating 12 days of mourning, it seems the Queen wanted us to learn something about our constitutional monarchy as a national institution. It seems she wanted us to reset the way we think about it and how we pass that knowledge and history on to the next generation.
This post covers the two days before the Queen's funeral on Monday, September 19, 2022, and looks at what Britons discovered throughout the days of mourning thus far.
What next for the monarchy?
If there were any lessons to be learned in the immediate aftermath of the Queen's death, it was that the monarchy goes on.
Charles became King immediately and had his Accession Ceremony two days later. There were no obstacles. The crown passed to him automatically.
A relieved nation cried, 'God save the King' and 'Hip, hip, hooray'.
On September 14, YouGov took a poll asking if the mourning period would change the way we perceive this ancient institution. Forty-four per cent said they thought it would change the UK in the long term for the better:
Bob Moran, The Telegraph's former cartoonist, was still upset that the Queen did not step in during the pandemic to call the Government to account over the sometimes fatal procedures at care homes, which are allegedy continuing in some of them:
Yet, most people interviewed on television and the clergy giving sermons at the church services remember with gratitude the Queen's message on the night then-Prime Minister Boris Johnson went to St Thomas Hospital in London with coronavirus. Neither the Queen nor we knew it at the time her message was broadcast, but who can forget her closing words about lockdown, borrowed from the wartime Dame Vera Lynn song:
We'll meet again.
The Queen was adamantly pro-vaccine and in 2021 said that people who didn't get it should think of others instead of themselves. I have seen on Mark Steyn's GB News show several people whose loved ones got the vaccine because of her words and later died of complications. The Government is giving each of those families £120,000 in compensation.
However, quibbles with the monarchy go much deeper than the pandemic. On September 15, The Telegraph addressed the issue of how monarchs attempted to stave off republicanism throughout the ages.
The 1990s were the worst years that the Queen saw during her reign. Princes Andrew and Charles divorced, Windsor Castle caught on fire and Princess Diana was killed in a car accident in Paris.
Regardless, the Royal Family regrouped and returned to normality (emphases mine):
"Diana died at the end of August 1997 and by the time of the Queen's golden wedding anniversary that November she was pretty much re-established," says royal biographer Hugo Vickers. Fast forward 15 years, to the Diamond Jubilee, and the Royal family were popular as never before, enjoying a near 50-point lead in polls over anti-monarchists.
Though so much about the British monarchy can appear unchanging, it was a hard-won transformation, relying on careful reflection and updating after the calamities of the 1990s. In making such adjustments, the royal house showed it could learn not just from its own experience, but from the experience of centuries of fluctuating royal fortunes.
In order to keep republicanism at bay, it is essential for the Royal Family to remain visible:
"In this country," says historian Andrew Roberts, author among others of a book on George III, "there are five areas that give Republicanism a chance to move from being a minority fetish into a mainstream threat." The first four are disastrous relationships, religious meddling, political interference and money. But it is perhaps the last and simplest that is the most important: steadfast presence.
"Sheer visibility is tremendously important," says Roberts. That enduring presence accounts for the astonishing popularity of Queen Elizabeth, he thinks, building on the legacy of her mother and father, who made such efforts to be visible to Britons even in the darkest days of the war. And absence has led perhaps to the darkest days of the monarchy, in the years following the death of Prince Albert, when Queen Victoria in her grief almost completely vanished from the public stage.
Centuries ago, money became a huge issue that still waxes and wanes today:
The Peasants' Revolt of 1381 is just the most notable example of a massed uprising at taxes levied by the king (in that case to support the Hundred Years' War). But grumbling about paying for the royal house's upkeep never went away. A key part of the rejuvenation of the House of Windsor's popularity in the 1990s came after the Queen agreed to pay tax. "At one stroke it took away one of the main planks of republicanism," says Roberts. Even today, some anti-monarchists are moaning about the cost of the Queen's funeral, or the income the new Prince of Wales receives from the Duchy of Cornwall, but it has become far easier to defend the Crown on cash-terms. "It's not the most gracious argument in favour of the monarchy," says Roberts, "but the pocketbook is an important one."
We all know what role religion played in British history as driven by Henry VII, Charles I and James II, so there is no need to elaborate further.
Another issue is — or was — the conflict between Parliament and the monarch. In 1649, Charles I made a fatal mistake:
He, though, committed the sin which would become unforgivable for his successors in the centuries to follow: disdaining parliament.
He was tried in Westminster Hall and executed on January 30, 1649, during the English Civil War:
Alienating, then suspending parliament was, of course, not the Stuart king's only problem. But interfering with the nation's political system was becoming an increasingly dangerous game to play. By the time James hot-footed it out of the country to be replaced by William of Orange, the era of kings by "divine right" had given way to kings approved by parliament. The constitutional monarchy had arrived.
Not that all monarchs understood. George III and prime minister Lord Bute impinged upon the supremacy of parliamentary power in the 1760s, drawing fierce criticism. "George became so unpopular in the 1760s that people pelted his carriage with dirt," says Roberts.
George III learned how to recover the situation:
… he learned his lesson and, by the time of his descent into – and recovery from – madness, he had come to be loved for his personal qualities: fidelity to his wife, frugality and piety.
Fast-forwarding to the 20th century, Prime Minister Stanley Baldwin insisted that Edward VIII abdicate. He got his way:
When it came to Wallis Simpson … Edward stayed by his woman and, on Stanley Baldwin's insistence, lost the throne.
Fortunately, George VI and the Queen Mother resolved the constitutional crisis:
George VI and his own queen Elizabeth (the late Queen Mother) were the ideal pair to succeed, setting the formula – visible, dutiful, steadfast – which so characterised their daughter's long reign.
So far, Charles III has been doing the right things, says historian Hugo Vickers:
"of course King Charles will have to be very aware. But his first speech as King dealt immediately with many of them – his new role, what he can and can't do [politically], about the Church of England, because there was talk about him wanting to be a defender of all faiths. It puts things to rest very quickly. It was very effective." The result was an immediate bounce in popular support, with the number of those who think he will make a good king near doubling to 63 per cent.
While republicanism will never die, it is hoped that people will value the monarchy over an elected president:
… from today's vantage point it seems unlikely that could be so serious as to prompt Britons to dispose of the monarchy altogether. Because ultimately, says Roberts, what makes us love it is not the individual, but the institution. "Even when individuals are unpopular, Britons recognise constitutional monarchy is a good idea, being a power above politics and therefore above politicians. And the British people like the idea of politicians not being at the top of the heap."
Well said.
Funeral attire
To find out more about the traditions of the Royal Family's funeral attire, I happened across a Telegraph article written in April 2021, after the Queen's husband, the Duke of Edinburgh, died.
The Royal Family did not always wear black.
In fact, throughout the Middle Ages until 1560, at least, there was a convention of wearing white (emphases mine):
"white mourning" or deuil blanc … deployed by medieval royals and seen in portraits of Mary, Queen of Scots after she lost her father-in-law, mother and husband within months of each other in 1560 …
The modern convention of wearing black began three centuries later, with Queen Victoria upon the death of her husband Prince Albert. However, even she had gold thread spun into her dresses, as one can see in the photograph in the article:
"Mourning dress has been part of European royal culture for centuries, but it reached its peak in the 19th century with the influence of Queen Victoria, who set a standard for the rest of society to follow," says Matthew Storey, curator at Historic Royal Palaces, which holds the Royal Ceremonial Dress collection. "When her beloved husband died in 1861 she abandoned the colourful clothes of her married life and, with the rest of the royal court, adopted black clothing as an outward sign of grief. Her subjects duly followed suit, causing a rush on suppliers of mourning fabric up and down the country."
That was a time when death was something of a societal obsession and there were strict rules around the wearing of "widows' weeds". "Widows were required to wear black, then either white or mauve, for at least three years before being able to return to richly coloured clothing. Victoria chose never to leave mourning and wore her now iconic black dresses and white widow's caps for the rest of her life," Storey continues. There was no concession even at moments of celebration: "She even insisted that her daughter, Princess Alice, had an all black trousseau when she married in 1862."
The mood oscillated from the dour to the unexpectedly glamorous; Victoria often wore her bridal veil with her black dresses and took to wearing a necklace containing a lock of Albert's hair, but she also popularised striking jet jewellery. "Her clothing was anything but dowdy," Storey confirms. "Every example in the collection is exquisitely made and highly embellished, as befitted her status. Victoria may have been a widow, but she was always a queen."

Queen Victoria died in January 1901. Her son, Edward VII, reigned until his death in 1910. His wife, Queen Alexandra, began wearing purple, although black was still the favoured colour:
After Victoria's death, mourning dress became even more opulent. An exhibition at the Metropolitan Museum of Art in New York in 2014, Death Becomes Her: A Century of Mourning Attire, included two exquisitely beautiful embellished purple gowns worn by Queen Alexandra, wife of Edward VII, in the year after her mother-in-law's demise. You'd really only know they denoted mourning if you were familiar with the strict dress codes of grief. And when Edward died, weeks before Royal Ascot in 1910, there was no question of cancelling, but attendees wore magnificent black outfits instead. That year's event is now remembered as Black Ascot.
In 1938, when the Queen Mother's mother, the Countess of Strathmore died, the Queen Mother was weeks away from joining George VI on a state visit to France. At that time, war was looming and Britain was still getting over the abdication of the King's brother, Edward VIII. Under the circumstances, black seemed too gloomy. Something had to be done, so the Queen Mother enlisted the help of her couturier, the incomparable Norman Hartnell:
A black wardrobe simply wouldn't do, as it was imperative to come bearing optimism.
Hartnell was the one who researched earlier monarchs and found the aforementioned portraits of Mary, Queen of Scots:
Within weeks he had scrapped the original colourful outfits intended for the tour and crafted an entirely white set of looks in their place.
"The Queen has taken with her on her state visit to Paris a superb white wardrobe consisting of 12 gowns, seven coats… one cape, eight hats – and a lace parasol," the Telegraph's report from July 20 1938 read. "Created by leading London designer Norman Hartnell, it symbolises the links between the two countries."
The report went on to explain that Hartnell had referenced the French Pompadour look and pannier, as well as English garden florals and Victorian silhouettes. Hartnell had the idea to revive the crinoline after being shown Winterhalter's portraits of Queen Victoria and her family by the new king.
The Queen Mother became a fashion sensation:
Though the reason for the Queen's all-white dressing was sombre, the reception to the wispy, lacy creations was rapturous. "No wardrobe of modern times has created greater interest than the state wardrobe chosen by the Queen for the visit to Paris," another glowing Telegraph review reported, going on to publish sketches of the gowns in glorious detail. The autumn fashion collections shown later that year were heavily influenced by the Queen's "white wardrobe" and her style more generally – Schiaparelli and Molyneux both included tartan as a nod to her Scottish heritage.
The Queen loved her white collection and the style muse status it had bestowed upon her so much that the following year she commissioned Cecil Beaton to photograph her at Buckingham Palace wearing the designs, resulting in a romantically optimistic set of portraits that do little to suggest that the clothes they capture are a symbol of mourning, nor that the Second World War is months away. The floaty, delicate look of Hartnell's designs influenced the Queen Mother's style for the rest of her life.
The Queen Mother's husband, George VI, died in 1952. Although he had a chronic illness, no one expected him to die while Queen Elizabeth II and Prince Philip were on holiday in Kenya. The Queen had no black dress to wear once she got off the plane in London.
Reports differ as to how a black outfit reached her. One Royal historian told GB News that an attendant was on hand when the plane reached Rome for refuelling. The Telegraph has a different account, intimating that she received mourning attire in London:
… when the plane landed, a black dress had to be taken on board for her to change into, an incident that means that no royal reportedly now travels without a black outfit in their luggage, just in case. On alighting the plane, the 25-year-old queen looked elegant yet solemn in her dark coat, brooch and neat hat.
On the day of the funeral, the Queen Mother, the Queen and Princess Margaret wore long silk veils. The Telegraph has a photo of them:
At her father's funeral, eight days later, the new queen, her mother, grandmother Queen Mary and sister Princess Margaret cast ethereal figures in their long black veils, said to be around 18 inches over the face and one and a half yards down the back. "There is no court regulation with regards to them," the Telegraph had written in 1936, "but the practice of wearing them has always been observed at the funeral of a Sovereign."
By the time the former Edward VIII, the Duke of Windsor, died in 1972, only Princess Margaret and the Duchess of Windsor wore a veil. The Queen and her mother opted for the turban, the stylish hat of the day for women:
It was notable, then, that at the funeral of the Duke of Windsor in 1972, the Royal family refrained from wearing veils. The abdicated king's wife, Wallis Simpson, however, sported a couture coat and chiffon veil that Hubert de Givenchy had reportedly stayed up all night to make for her … By contrast, the Queen wore a black version of the turban style hats she loved at the time, adding Queen Mary's Dorset Bow brooch.
When it came time for Prince Philip's funeral, the Royal Family wore black, but the Queen quickly reverted to wearing her usual clothes afterwards.
Who waited to pay respects to the Queen
For many gathering to pay their respects to the Queen, a family death brought back a deep seam of emotion.
Although The Telegraph's Lauren Libbert watched proceedings from the comfort of her home, what she experienced seemed to ring true for a goodly number of those camping outside in the cold:
For me, at 44 and then again at 49, I watched my parents being taken from their home in a coffin and transported to their final resting place at the nearby cemetery. Watching Queen Elizabeth's coffin make its journey from Balmoral to Edinburgh transported me right back to that heart-wrenching, inexplicable gut-punch of a feeling, remembering how it felt to know my beloved parent was inside and I'd never enfold them in my arms again.
It's a sadness that has not gone unnoticed at home. "But you didn't even know the Queen," said my teenage son, noting my smudged eyeliner and tears when watching the news earlier this week.
"I know," I replied. "But I really miss my mum and dad."
He held me, but he was a bit baffled at the connection. Admittedly, so am I.
Other people, whether in the Elizabeth Line, Parliament Square or near Buckingham Palace, were hardcore attendees of other Royal occasions, as The Times reported. Keep in mind that the nightly temperatures turned distinctly autumnal, in the 50s Fahrenheit:
Mary-Jane Willows loves the sound of metal barriers clattering onto the streets of Westminster. "It means everything is getting organised," she says.
It is 10pm on Thursday and Willows, 68, is settling down for a night's sleep in a camping chair just off Parliament Square. She and her crew of royal superfans are zipped into military bivvy bags and wrapped in foil blankets — at that point of the week they were not allowed to use tents or sleeping bags for security reasons.
It is a hardcore existence, but they will endure. Because on Monday, for the Queen's funeral, they will be in the "best spot in the world".
Just half a mile away there is another camp, also in the best spot in the world. They arrived "on site", on the Mall and overlooking Buckingham Palace, the previous Thursday. And they came with "equipment": bin liners and trolleys jammed with Union Jack flags, hand warmers, underwear, first-aid kits, torches, baby wipes, wine gums and corned beef sandwiches. They have been there since.
These two groups are the most dedicated royal watchers on the planet, bound by births, weddings, jubilees and deaths, and held together by WhatsApp groups and meme-sharing. They are always the first ones to arrive, pitching up on virgin pavement, knackered, cold and in it for the long haul.
John Loughrey, 67, and his friends on the Mall, Sky London, 62, and Maria Scott, 51, have done weddings together (Cambridge, Sussex, York, York), births (George, Charlotte, Louis), jubilees (Diamond, Platinum) and deaths (Diana, Princess of Wales; the Queen).
"If you want to be part of the gang you've got to be with the gang," says London. "It's the camaraderie. It's seeing history and being part of it."
However, whether remembering family losses or cadging the best seat in the house, as it were, how do these people view Britain?
Rob Johns, a politics professor at the University of Essex, claims to have the answer.
I'm not so sure.
He interviewed 400 mourners by the time The Guardian interviewed him on Saturday, September 17. Johns said:
… it is less a case of royalists simply wanting to mourn the Queen in person, and more "a collective gathering that is as much about the queue as it is about reaching the end of all the queueing".
This is the part about which I have doubts:
Who would be willing to wait outdoors for as long as 24 hours , braving the elements along the Thames, for a few seconds alongside the Queen's coffin – and why?
Now, as the Queen's lying in state in Westminster approaches its final hours before Monday's state funeral, researchers believe they have found the answer. A narrow majority vote Conservative, almost two-thirds backed remain and most of them are enjoying a feeling of "subdued positivity" as they wait in line for hours.
Really? I don't know how one could wait outdoors in the cold for a day and support EU supremacy over our monarchy.
With history and contemporary background covered, let us move on to what happened last weekend.
September 17
On Saturday, September 17, the King was back at work.
He had successfully completed his visits to the component nations of the United Kingdom during the mourning period under a plan called Operation Spring Tide. It derives its name from a particularly high tide in springtime known as king tide.
ITV reports that there were sub-operations to Spring Tide:
Scotland (Operation Kingfisher), Wales (Operation Dragon) and Northern Ireland (Operation Shamrock).
In London, Operation London Bridge continued apace.
The Queen's state funeral is the first such event to be held since Winston Churchill's in 1965.
However, unlike Churchill's funeral, the Queen's was mammoth by comparison. Police forces from around the UK travelled to London to participate in maintaining order. Only two were exempt.
The numbers of military engaged were also unprecedented.
Operation London Bridge required meticulous logistical planning to make sure everyone in the capital, including visiting heads of state and other dignitaries, were kept safe.
In the morning, the King visited members of the police and military working all hours to make this a success:
He went on a walkabout at the Elizabeth Line to express his appreciation of people's willingness to pay tribute to his late mother. William Prince of Wales and Sophie Countess of Wessex met mourners in other parts of the queue:
Then it was time for the King to return to Buckingham Palace for more meetings and a reception:
Early that evening, the Queen's grandchildren — The Prince of Wales, The Duke of Sussex, Princess Beatrice (Andrew), Princess Eugenie (Andrew), Lady Louise (Edward), Viscount Severn (Edward), Zara Tindall (Anne) and Peter Phillips (Anne) — held a Vigil of the Princes in Westminster Hall. I have added the relevant Royal parent's name in parentheses for clarity.
The aforementioned ITV article says that the events taking place at Westminster Hall were run under Operations Marquee and Feather:
This covers the four days of the Queen's lying-in-state, focusing on the arrangements inside Westminster Hall.
It's expected to begin on Wednesday, September 14, ending on Sunday before her funeral the next day.
Senior royals are also expected to pay their respects once more here, standing guard in a tradition known as the Vigil of the Princes.
It is linked to Operation Feather, the arrangements for the public who are expected to queue in their thousands for an opportunity to see the monarch's coffin as they did 20 years ago for her mother.
Here is the beginning of the grandchildren's Vigil of the Princes. Members of the Royal Family watched from a viewing point on one side of the hall. Once again, the public could file past:
This video from the Royal Family's YouTube channel has the full vigil, which was very moving indeed. Viscount Severn, who is only 14, was so composed for someone so young. As with other videos from this channel, click 'Watch on YouTube' and it should play, at least for the near future. If not, try the link in their tweet:
Here are some close-ups:
This video is of the young Royals filing out afterwards:
The days of mourning at Westminster Hall nearly passed without incident. On Friday, a man suddenly appeared in the queue outside and exposed himself to two women from behind. He jumped into the Thames but quickly got out. Police were on hand to arrest him. The Guardian reported:
… a man appeared at Westminster magistrates court following allegations that two women were sexually assaulted while they were waiting in the queue to see the Queen lying in state.
On Friday evening, a man inside Westminster Hall was arrested after lunging towards the Queen's coffin. The Telegraph reported:
The individual was reportedly taken to the floor by Metropolitan Police officers and arrested.
The Met told ITV: "At 22:00hrs on Friday 16 September officers from the Met's Parliamentary and Diplomatic Protection Command detained a man in Westminster Hall following a disturbance. He was arrested for an offence under the Public Order Act and is currently in custody".
Viewers of the BBC's live stream reported that the feed went down for 10 minutes.
The aforementioned Guardian article says:
Broadcasters showing the procession of mourners cut away from the scene and instead showed the view from outside parliament.
There are always simple ways to set things right. In this case, broadcasters were prepared with a still of the Palace of Westminster.
The Sun's political editor Harry Cole looked at the bigger picture of the mourners and tweeted a poke at the anti-monarchist metropolitan elite:
September 18
Sunday, September 18, put the logistics of Operation London Bridge to the test as 500 heads of state and other dignitaries arrived in London for the Queen's funeral.
As it would have been impossible for all of them to have been driven in separate cars to Buckingham Palace that day and to Westminster Abbey on Monday, the plan was to 'pod' the leaders into private coaches, painted in plain white.
Scheduled pickups of the great and the good at designated points in central London helped the plan run smoothly and safely.
Only Joe Biden was exempt. The Beasts — one operational and one decoy — were here along with his usual security motorcade.
France's Emmanuel Macron arrived with his wife Brigitte early enough to do an incognito walkabout during the afternoon:
Meanwhile, somehow with the permission of Speaker of the House of Commons Sir Lindsay Hoyle, the Chinese were allowed into Westminster Hall. Hoyle had pledged to MPs that they would not be allowed anywhere on the parliamentary estate:
Conservative MPs were less than impressed:
That evening, after a brief shower, a beautiful rainbow appeared, just as a double rainbow did when the flags were lowered to half mast over Buckingham Palace and Windsor Castle on the day of the Queen's death. This must mean something, surely:
The King and Queen Consort held a formal reception for the dignitaries at Buckingham Palace that evening.
Meanwhile, soldiers participating in the funeral were busy polishing medals and sewing on badges:
A few newspapers printed the last photographic portrait of the Queen for Monday's editions. Ranald Mackechnie took the photo in May, a few weeks before her Platinum Jubilee celebrations:
The Telegraph had an article about the portrait. As ever, the Queen's choice of jewelry told the story:
The Queen, who is dressed in a dusky dove blue dress with her hair neatly curled, is wearing her favourite three-strand pearl necklace, pearl earrings and her aquamarine and diamond clip brooches which were an 18th birthday present from her father George VI in 1944.
The two art deco-style pieces, worn one below the other, were made by Boucheron from baguette, oval and round diamonds and aquamarines.
The Queen wore the brooches when she addressed the nation on the 75th anniversary of VE Day in 2020 and for her Diamond Jubilee televised speech in 2012.
The image was taken by photographer Ranald Mackechnie, who also took the Jubilee portrait of the Queen released to mark the start of national festivities of her milestone 70-year reign.
I cannot help but agree with The Star's 'Kingdom United'. Thank you, your Majesty, for these 12 days of mourning:
The Independent was less sure about 'Kingdom United!' They wrote of a 'turning point':
The Guardian showed us a window of a house in Windsor and how the world was descending there and in London:
The i paper also focused on a world farewell:
The Financial Times took a final look at Westminster Hall:
In closing, The Metro published my favourite portrait of the Queen after she was inducted into the Order of the Garter. Pietro Annigoni (1910-1988) painted the portrait in 1955:
It is simply timeless, as is its subject.
I hope to cover the funeral and committal services in their entirety tomorrow.
The Conservative Party leadership contest hustings ended in London's Wembley Arena on Wednesday, August 31.
Did it last too long? We think so only because we are having a cost of living crisis with more Project Fear pumped into our brains every day. Critics should remember that Parliament is in summer recess anyway. If things were normal with the economy, crime levels and the NHS, we wouldn't have minded so much.
Remember, if this had been a Labour leadership contest, no one would have moaned. The media would have bent over backwards justifying it.
What I do mind, however, is that Parliament will be meeting only for a short time in September then adjourning so that the Conservatives, Labour and the Lib Dems can scuttle off to their respective Party conferences. Surely, parliamentary business can continue in the Chamber during September. Not every MP needs to be at a conference every day. Most of them are held on weekends, and Parliament does not meet on Fridays, so there is no reason why the Commons cannot meet during September.
Back to the hustings.
London
I'll start with the last one in London, which was excellent:
Nick Ferrari, the host of the morning show on LBC (radio), was the moderator.
The sound quality was good as was the music. It was highly professional and everyone looked as if they enjoyed being there.
The Conservative audience was diverse: all ethnic groups and all age groups. There were even a few hipsters present.
The first hour was not filmed. Author, national wit, Celebrity Gogglebox star and former Conservative MP Gyles Brandreth, 74, opened proceedings. I wish I could have seen him. Amazingly, he broke his elbow the day before in Fife, Scotland, but still showed up at Wembley Arena the next day.
In the video, Nick Ferrari comes on at 4:13 to introduce the format, which is consistent with the other Conservative Party hustings. 
At this point in the contest, Liz Truss was seen by pollsters and bookmakers to be way ahead of Rishi Sunak, so the introductory theme was one of unity, meaning: no hard feelings, folks, our next job is to defeat Keir Starmer's Labour.
That is the message Iain Duncan Smith MP gave in his endorsement for Liz Truss (6:09), reminding the audience that:
she cut her political teeth in London.
Greenwich, to be precise.
Liz Truss's campaign video followed (13:41), then she appeared on stage, coming out like a winner and invoking the England Lionesses' ladies football win at the Euros, talking about an 'aspiration nation' and pronouncing London:
the greatest city on earth.
After Liz finished her speech, Michael Gove was next (26:08). He endorsed Rishi.
Gove also spoke about unity and had kind — penitential? — words for Boris, which met with a resounding wall of applause. He thanked Boris for 'the biggest vaccine rollout in Europe' and for being the first to support Ukraine at the end of February:
Boris, thank you for your service.
Rishi rushed on to the stage after his cringeworthy Underdog campaign video played (34:44).
The crowd went wild with cries of 'Rishi, Rishi' (36:00). His parents were in the audience and the cameras got several shots of them when their son was on stage. They sat between Rishi's wife and Michael Gove.
He said:
We value who you are not what you are.
He paid Liz credit for being:
a proud and passionate Conservative.
In his speech, he mentioned tackling the decades-old problem of grooming gangs and said he would get to grips with public safety and illegal migration.
Then it was time for Liz to answer Nick Ferrari's and the audience's questions (51:33).
Afterwards came Rishi's turn (1:25:00).
Andrew Stephenson, the co-chairman of the Conservative Party closed proceedings (1:58:26) and asked the two candidates back on stage for a final momentary appearance.
With that, the 12th and final hustings came to a close.
The Telegraph has a good recap. Emphases mine below.
Liz has had a good campaign:
… the past seven weeks have seen momentum firmly swing towards Liz Truss, and it would be a major political shock if Mr Sunak were be unveiled as the next prime minister on Monday.
Polling suggests the Foreign Secretary has a lead of around 30 points among Tory members, who have been drawn to her promises to immediately cut taxes and instigate radical economic reform.
By and large, she has also been better received at the hustings events that have taken place around the country, routinely winning applause for her positions on National Insurance, fracking and transgender issues.
Around 6,000 Conservative Party members attended the London hustings and heard Gyles Brandreth's introduction:
Gyles Brandreth, the broadcaster and former Tory MP whose arm is in a sling, has just given a speech to the Wembley Arena crowd.
"How exciting it is that two people who are intelligent, committed, capable, passionate about their country are actually ready to give service," he said.
"So whatever the result is it's going to be a great result for the United Kingdom. And whatever the result is at the end of this election, we are going to come together and support whoever the victor is to the hilt! No question of that."
He closed with a poem:
From quiet homes and first beginning
Out to the undiscovered ends,
There's nothing worth the wear of winning
But laughter and the love of friends.
Peter Booth, the chairman of the National Convention, appeared next, giving the audience guidelines on asking their questions.
The video misses out a lone protester, angry about energy charges:
A protester has just run in front of the stage – a man in a dark suit holding a sign that said dontpay.uk, writes Tony Diver, our Whitehall Correspondent, from Wembley Arena.
He was escorted out immediately by two security guards as he ran in front of cameras.
Liz put a lot of blame for London's woes on Mayor Sadiq Khan's shoulders:
Liz Truss tells the hustings it is impossible for Britain to succeed with London but it has been "let down by Sadiq Khan".
"Sadiq Khan is anti-everything – he's anti-car, he's anti-business, he's anti-opportunity and he is holding London back. And I don't believe those people who say London is a Labour city. No, it is not. London is a city where people opportunities and they want to get on in life.
"And that's what we can deliver, and we can make London Conservative again."
Sound familiar?
Nationally:
Ms Truss warns we all face dark times, vowing to reverse National Insurance and impose a moratorium on the green levy, while keeping corporation tax low.
These are her pledges:
I would be honoured to be your prime minister, first of all to deliver for the United Kingdom, to deliver an election victory for the Conservatives in 2024, and to make London a Conservative city again.
The applause for Rishi was greater than it was for Liz:
The cheers in the room are significantly louder and longer for Rishi than Liz. Audience members are on their feet and chanting his name, writes Tony Diver, our Whitehall Correspondent.
"Thank you! Thank you, Wembley!" Mr Sunak responds, after entering to The Weeknd's Blinding Lights.
He pledged an ethical approach, if elected:
He promises to lead an administration "with integrity and decency at the heart of everything we do".
Nick Ferrari tried to box Liz into a corner over domestic issues. She ably answered:
I'm the Foreign Secretary and my job is to focus on key foreign affairs issues.
She pledged that there would be no new taxes in her Government.
She also ruled out energy rationing.
She said that she would not refurbish the Downing Street flat:
Liz Truss responds that as a Yorkshirewoman, she believes in "value for money and not buying new things if you've got things that are perfectly good to use".
"I don't think I'm going to have time to think about the wallpaper or the flooring."
The papers largely picked up on her possible moratorium for 'smart motorways', those without a hard shoulder for emergencies:
Asked if she will restore hard shoulders to motorways and change speed limits from mandatory to advisory, Ms Truss replies: "I absolutely think that we need to review them and stop them if they are not working as soon as possible.
"And all the evidence I have suggests they're not working. We need to be prepared to look at that. I do believe that the smart motorways experiment hasn't worked."
Rishi defended his windfall tax, which the big companies can avoid if they prove they will invest more in the UK:
We've got it in place, but as I said in the situation that we're in it was the right thing to do, and I'm glad I did it, to be honest.
He also said that his plan to tackle inflation was the correct one:
I can guarantee that it will fall far faster with my plan than it will with anyone else's.
He, too, criticised Sadiq Khan:
Crime has become "intolerable" in London, adds Rishi Sunak, and "the first thing we need to do is hold to account Sadiq Khan for his failings".
"If you are prepared as a Mayor to do the right things… For example, stop and search. It's an effective policing tactic".
Unlike Liz, who was relieved not to have to stand up for audience questions, Rishi stood up and worked the stage.
He brought up ethics again:
In a sentence, does he think Boris Johnson was hard done by? "When it comes to those ethical issues, we can't be on the wrong side of them. We need to set a clear direction from the top, I would reappoint an ethics adviser because it sends a strong signal from the top."
The Telegraph's article ends with:
Liz Truss seems like a dead cert to become prime minister on Tuesday, and elements of Rishi Sunak's comments tonight shied away from the personal attacks that have characterised this bitter blue-on-blue campaign to lavish praise on his rival.
The cheers and chants at Wembley Arena tonight – far louder for Mr Sunak than the Foreign Secretary – told a different story from the grassroots polling, which suggests she has a lead of around 30 percentage points …
Boris Johnson's successor is likely to find themselves facing even greater challenges, and must also unite a party fractured by weeks of public division and disagreement.
Veteran political sketch writer Quentin Letts had this to say in The Times:
Surveying a throbbing crowd of 7,000 Tory activists, Sunak gasped "thank you!" nine times, the stage lights bouncing blindingly off his grinning ivories. He strode the large stage like an American presidential candidate and, for a man who must have seen predictions that he will be slaughtered when the result is announced on Monday, maintained an amazing level of pitch and thrust.
He even had an emotive card up his sleeve when he announced that his "two people who inspired me to go into public service are actually here tonight — my mum and dad". Jolly proud they looked, too. Rishi thanked his "loving, kind wife — you know what you mean to me, you chose to give up your high heels and take a chance on the short kid with a backpack". The crowd, audibly more pro-Sunak than some of the regional hustings, shouted: "Reeshi! Reeshi!"
Truss entered to strains of Taylor Swift's Change but her tactics for the evening were more cautious, playing down the clock. She was less sprightly in the opening spiels but came to life more in the questions that followed. In her opening remarks she pushed her voice hard, making it sound more strident and bunged-up. A reply to a question on Israel flew off the bat and had a Sunak supporter clapping hard. She also dealt firmly with some fluff about what sort of limousine she wanted and how she might decorate the No 10 flat. Where her campaign has succeeded with Tory activists has been in its simplicity: the basic message, whacked time and again, of lower taxes and a smaller state.
And so the campaign ends. What a festival for SW1 wonks it has been, allowing for oodles of analysis and fake crossness. The rest of the country, enjoying (lucky devils) their August, has possibly taken less notice of the contest. Sunak, smoother, more fluent, more the establishment's idea of a PM, started it as favourite. He ended last night by replaying that dreadful tough-Cockney video film about him being the underdog …
The Wembley crowd's questions were about smart motorways and advisory speed limits …, trans rights, gas prices for companies, corporate tax dodging, Ukraine, childcare costs, property prices and, commendably, the future of West End theatre.
Like Quentin Letts, I haven't gone into too many policy proposals because whoever gets in will be hit hard with reality.
There is an illusion that Party members of any stripe are being let into an honest discussion about what they want to see in a new Government. I do not believe this is what actually happens:
As evidence, let's cast our minds back to July 2019 and Boris Johnson's campaign.
He was going to ask the Queen if she wanted a new yacht to replace Britannia, which is now moored as a museum:
He also said that Sadiq Khan needed to go. Khan was re-elected in 2021. The Conservatives, for whatever reason, gave no support to their candidate Shaun Bailey. I cannot fathom why not, since Boris was Khan's predecessor. Shaun Bailey is a level-headed Conservative.
This is from the July 18, 2019 edition of The Express. Note the mention of housing and accompanying infrastructure, too. None of this happened, perhaps because of the pandemic. Even so, it shows how empty campaign promises are:
The Tory frontrunner savaged Mr Khan out of nowhere, branding him "useless" and "invertebrate" and "not a patch on the old guy." The onslaught was woven into Mr Johnson's wider solution to a question that had been posed on monocultural housing policies. A member of the audience asked the former London Mayor: "How will you ensure the Government's housing policies don't lend themselves into creating ethnic categories inadvertently?"
Without hesitation, Mr Johnson blasted: "You build fantastic housing in the right place.
"And you put in superb transport infrastructure so you can create mixed communities where there are high quality jobs.
"And if you look at the disasters of planning in the '60s and '70s where monocultural estates were built, it's because there simply wasn't the transport infrastructure.
"Look around London and look at the estates outside London – you can see exactly what went wrong."
That said, in the end, Boris did deliver on these pledges:
Other hustings
I purposely didn't cover half the hustings in separate posts, leaving off with the August 11 one in Cheltenham.
A summary of the others follows.
Perth
The next one took place in Perth, Scotland, on August 16. It was unfortunate that pro-independence supporters ruined it with verbally violent posters, throwing eggs and by spitting on older Scottish Conservative members. The SNP denied any involvement.
The Mail had a summary of what the candidates said:
Liz Truss tonight vowed to 'never, ever let our family be split up' as the Tory leadership frontrunner insisted she would not allow another Scottish independence referendum if she becomes prime minister.
Speaking at the latest Conservative hustings event in Perth, the Foreign Secretary promised to battle Nicola Sturgeon's 'agenda of separatism' as she condemned the First Minister and her SNP government for having 'let down' Scottish voters.
Ms Truss accused the SNP of ignoring issues such as schools, hospitals and public transport as they chase another Scottish independence referendum.
Her rival for the Tory leadership, Rishi Sunak, also used tonight's hustings to take a swipe at Ms Sturgeon, as he vowed to 'call out' the Scottish Government's record on drug and alcohol abuse.
He claimed it was 'completely barmy' for the SNP to be agitating for a 'divisive and unecessary constitutional referendum' amid the cost-of-living crisis. 
Ms Truss and Mr Sunak addressed Tory members inside Perth Concert Hall after reports of ugly scenes outside the hustings venue earlier in the evening.
Conservative Party co-chair Andrew Stephenson demanded Ms Sturgeon 'unequivocally condemn' the 'vile behaviour' of Scottish independence campaigners.
Belfast
The candidates converged on Belfast the next day, Wednesday, August 17:
I felt very sorry for the Northern Ireland Conservatives gathered there. The party only has 300 members, and they have no voice in Westminster.
A clear disconnect emerged between the candidates and the Party members. Everyone looked uncomfortable.
For that reason, this hustings is well worth watching.
It became apparent that neither Liz nor Rishi understands the Conservative Northern Ireland mindset. I'm no expert, but even I could have dealt with some of those issues better than they did.
The moment that sticks in my mind was when someone asked why Westminster is foisting abortion clinics on Northern Ireland. Liz matter-of-factly — and rather coldly — responded that the rest of the UK has them, so Northern Ireland has to have them, too.
Abortion is far from being the norm there, and, as Northern Ireland has a devolved government, it should have been their decision, not Parliament's.
Madeline Grant summarised the disconnect in The Telegraph:
Some English Conservatives might be surprised to learn of the existence of their fellow party members across the Irish Sea, let alone that they had a vote in the leadership contest. Yet seatless and marooned from CCHQ – and perhaps because of this – Ulster Tories are the ultimate Tories. This wasn't your average Home Counties cakewalk, there were questions on more intractable subjects than you'd get elsewhere – abortion, China, the perils of a cashless society. Some of the questioners began with a little intro about how long they'd been party members, reminiscent of Alcoholics Anonymous.
A flamboyant chap in a maroon vest had made a journey almost as ponderous as Truss's own political leap from Lib Dem republican to Tory monarchist – he'd moved to South Antrim after heading up 'Conservatives Abroad' in South Korea. Making a similarly unexplained leap, he proceeded to compare the fight against abortion in Northern Ireland to Britain's fight against the slave trade in the 19th century. Would Liz "be a modern day William Wilberforce, and end abortion and infanticide in Northern Ireland?" he asked. Truss politely declined to take up the mantle.
Unlike Madeline Grant, I did not find the Belfast hustings amusing in the slightest. It was the saddest one of the lot.
Verdict: Must do better.
Manchester
On Friday, August 19, our candidates were back on the mainland for the hustings in Manchester, which Alastair Stewart from GB News moderated (start at 6:30):
Alastair Stewart is a television veteran and knows what questions to ask:
He won high praise from Liz:
Rishi's campaign team launched his second campaign film, The Underdog, at this hustings. It was so awful, I wanted to slip through the floor in embarrassment for him.
He told his family story and said that Conservative values were 'patriotism, family, service, hard work':
He turned defensive (again) when he told Stewart that he was winning the war on inflation and being responsible with borrowing:
He told an audience member, 'We're standing up to Russian aggression':
Liz said that the police must fight crime, not patrol tweets:
She also said that left-wing politics dominates today's socio-political debates:
Rishi, too, was tired of leftist dominance — and Manchester's mayor, former Labour MP Andy Burnham. GB News reported:
Rishi Sunak has vowed to take on the "lefty woke culture that seems to want to cancel our history, our values and our women."
… Speaking to the audience, Mr Sunak pledged to "restore trust by delivering on the things that matter to people".
He continued: "That's why I've set out a plan to finally start reforming the NHS so that we can talk less about how much money we can put into it and more in the healthcare that we want to get out of it.
"It's why I want to take on this lefty woke culture that seems to want to cancel our history, our values and our women.
"And it's why we need to restore trust of communities right here by calling out the failures of the Labour mayor Andy Burnham because it simply isn't good enough.
"Just look at the record, a police force that was put into special measures, the highest rates of knife crimes almost across the UK."
He also talked about illegal migration, details of which are available on his website:
"… I've set out a radical plan to finally get to grips with illegal migration.
"Because for too long we've turned on our TV screens and seen the scenes of people coming here on boats illegally and it is wrong."
His comments come days after the number of migrants to have crossed the Channel so far this year passed 21,000.
Another GB News article about the hustings has more:
He said: "I want to move away from the European definition of what an asylum seeker is, because it is too broad and it gets exploited by lefty lawyers.
"When people shouldn't be here we must be able to send them back, it's as simple as that.
Was the next bit a dig at Liz, our Foreign Secretary and former Secretary of State for International Trade?
"We've got to toughen up our foreign policy. At the moment we have a situation, I found it bonkers, we will go to a country, we'll talk to them about a trade deal we want to do with them, but also potentially be giving them actual foreign aid.
"But at the same time we don't say to them 'hang on, you need to take back your failed asylum seekers', that's clearly wrong."
Liz also had something to say about illegal immigration:
Promoting the much maligned Rwanda policy, which saw its first planned flight grounded on the tarmac, Ms Truss vowed to expand the scheme to other countries if she was elected as Prime Minister.
She said: "What we need to find is a permanent home for those people.
"The way to solve this issue is to find a way of making sure there is a long term home for people who are involved in illegal immigration.
"The real issue is at present people are able to get on the phone to their lawyers when they get on a plane and evade being sent to Rwanda and that is the issue we have to fix, that is about the ECHR."
The candidates are not miles apart.
Liz also discussed her vision for the North:
What I want to see is a successful north of England where everyone has opportunities and we link up the great cities of the north.
From Liverpool to Manchester to Leeds and beyond and also of course Bradford.
And that's why I want to build Northern Powerhouse rail and I want those opportunities to be powered by enterprise and business unleashing investment right across the country.
I want us to make the M62 the superhighway to success.
Unfortunately for Rishi, his attempts at being a man of the people failed, as the Mail reported:
Asked at the hustings event how, as a Southampton football club fan, he could get back to 'winning ways' in the battle to become Boris Johnson's replacement, Mr Sunak attempted to make light of his woes.
But his effort at friendly banter with the Manchester audience saw him blunder in his football knowledge.
'I'm going to be unpopular for saying it here – starting by beating United this weekend!,' Mr Sunak told the event.
It was quickly noted how Southampton are not due to play Manchester United until 27th August and would, in fact, be playing Leicester City this weekend.
Mr Sunak's own goal came just two days after he was mocked for claiming to always enjoy a McDonald's breakfast wrap when out with his daughters – despite the item having not been on sale since March 2020.
Yet, the former chancellor's campaign was handed a boost tonight when Michael Gove backed him to be the next Conservative leader.
Mr Gove, the former Levelling Up secretary who was sacked by Mr Johnson last month, accused Ms Truss of taking a 'holiday from reality' with her vow to tackle the cost-of-living crisis by prioritising tax cuts.
Birmingham
On August 23, Times Radio's John Pienaar, formerly of the BBC, moderated the hustings in Birmingham, the UK's second largest city:
Chancellor Nadhim Zahawi went on stage to endorse Liz.
Liz then went on stage (5:36) and embraced him to big applause and cheers from the audience.
Andrew Mitchell followed her by announcing his support for Rishi (16:34). Rishi's newer campaign film, The Underdog, was played.
Rishi then pledged to continue levelling up the Midlands, as he has been doing (21:47).
Of his speech, Pienaar said (33:01):
That was punchy!
Someone in the audience booed when Liz took to the stage for her Q&A (33:49).
Pienaar gave her a hard time in the beginning, but she got a huge round of applause from the audience. 
Recall that The Times came out for Rishi almost immediately in July.
However, Rishi also had his beefs with Pienaar. He looked irritated (yet again) and said (1:06:00):
John, you're acting as if this is already over.
He went on to explain how well his furlough programme worked during the pandemic (1:18:00).
On the subject of Scottish independence, he said that nationalism (1:34:00):
is a romantic ideal.
Then he complained:
There's not been a single question about tax!
He then expanded on corporation tax and the largest companies. He became really agitated in an oddly friendly way.
This tells us tax is his main consideration, nothing else, no matter what he says.
The man is a technocrat.
Guido Fawkes had an excellent round up of sound bites, starting with Liz (emphases his):
If you want a flavour of the current state of Tory hustings, last night in Birmingham Liz Truss came out with the following two statements within 60 seconds of each other: "I'm not a massive fan of mice", and asked how she'd feel in the event of having to launch a nuclear weapons strike, "I think it's an important duty of the PM and I'm ready to do that." A casually blasé statement committing the UK to potential nuclear armageddon…
Also:
Suggesting she won't replace the government ethics adviser, saying: "The PM needs to take responsibility – you cannot outsource ethics to an adviser"
Suggesting she would redirect this year's £12 billion extra funding for the NHS into social care
Asked why she cut funds to the Environment agency as DEFRA secretary she said "I think there's a way with the way utilities are regulated. We were one of the first countries to regulate and privatise utilities but the world has moved on since then… some of those regulators get mission creep, they don't necessarily keep the market as properly as they should. I certainly think it's the case that water companies need to be better are stopping leaks, I think they should be better at dealing with pollution and we need to sort that out." Sounds a lot like Guido's story last Friday that she believes in a single utilities regulator…
As for Rishi:
Rishi's answers last night were less alarming albeit equally newsworthy. Primarily, he refused to commit to voting for Liz's proposed emergency budget should he lose, saying it is a hypothetical question. He reiterated his belief that her tax cut plans will result in "millions of people facing destitution." …
Rishi suggested UK aid programmes should be cut in countries that refuse to accept deportations of "failed asylum seekers" from Britain.
Rishi spoke movingly of yesterday's horrific shooting of a nine-year-old in Liverpool, saying he reacted by calling his wife, and daughter who is the same age as the victim. Rishi says the government needs to finish the Tories' 2019 policy of recruiting 20,000 policemen.
Let's go to the Rishi-supporting Times for their journalists' verdicts.
Daniel Finkelstein said:
Liz Truss is far better speaking without notes and, having delivered the same remarks over and over, she no longer needs them. Both her opening remarks and her answers to what will have been familiar questions were much better than in the early stages of the campaign. There were even flashes of the humour she shows in private …
But, however good Truss may now be, she still trails Sunak, who is just a better performer. Particularly in his answers, he was fluent, tough and compelling. His opening comments about the flaws in the Truss plan — suggesting it would leave many people destitute — were particularly arresting.
… Whoever wins, their policies have to appeal to those who are not Conservatives and need to actually work.
Winner: Rishi Sunak
Katy Balls said:
The state of the Tory leadership contest can be summed up in the video that welcomed Rishi Sunak to the stage. Last week, his team changed it from the montage played in the earlier hustings. It now has a Ray Winstone-style gangster voice boom that the former chancellor is the underdog — and the country loves an underdog. It points to Sunak's dilemma: if the polls are correct, only something drastic can change the state of play.
Although he was well received in the hall, with some of the loudest cheers, it's hard to pinpoint a "change moment" from the display. He again depicted himself as the only candidate willing to tell people hard truths about the economy. He tried again to invoke the spirit of Thatcher by pointing out that many of those who had worked with the late prime minister were backing his plan …
It helped Truss that she focused on her own plans. She came across as confident and assured. This also played well to a party growing tired of blue-on-blue. As the frontrunner, she needs only to hold the line — and she did that.
Winner: Liz Truss
Patrick Maguire said that both won but in different ways:
So how did Truss fare? As a rubber-chicken circuit speaker, just fine. They loved the answers on grammar schools, wokery and nukes. But as a prospective PM? On the biggest question — what to do about rampant inflation and crippling energy costs — Truss was revealingly unrevealing. Cagey, even. Asked how pensioners and the poor would be shielded from the coming storm, she said only that she would "look at" helping them. How to fund social care once Sunak's £13 billion national insurance hike is scrapped? "General taxation." Her cure for the mouse infestation in the Commons — "more cats" — was more detailed and offered with a good deal more enthusiasm.
Sunak attacked her economics with the kamikaze self-confidence that is likelier than not to lose him this race. It's telling. He is as sure as Ted Heath was that he will, in time, be vindicated by his rival's demise. Sunak is embracing the inevitable. Has Truss? She sounded as if she could not admit to herself — let alone the country — that compromise is coming.
Winner: on the clapometer, Truss. But Sunak won the argument.
Norwich
On Thursday, August 25, talkRADIO's Julia Hartley-Brewer moderated the TalkTV hustings in Norwich in East Anglia.
Hartley-Brewer had a great set of questions for the candidates. One wonders if some came from her and TalkTV's listeners:
While she was preparing her questions, Guido says that some Conservative MPs were annoyed with Rishi:
Allies of Liz's have slammed Rishi over his "scorched earth" policy, saying it risks destroying chances of bringing the party back together again when the contest is over. They accuse him of "behaving like a wounded stoat" and "framing us as Tory scum" over the course of the campaign. Given he said the likely next PM's plans would lead to mass homelessness, they're arguably correct…
Guido also included a photo of Rishi at his mother's former pharmacy in Southampton. Stefan Rousseau is an incomparable photographer:
His mother was a chemist you know…
I just checked Rousseau's Twitter feed, and here's the exterior of the pharmacy:
The Telegraph had a running commentary on the candidates' day and the hustings.
This was the day after Rishi's criticism of coronavirus policy appeared in The Spectator:
He had more difficulties when he went on BBC Radio 4's The World at One:
On whether he will quit if he loses the leadership vote, Mr Sunak told BBC Radio 4's World at One earlier today: "Absolutely not. Of course not.
"And I would dispute the characterisation. I'm working incredibly hard going around the country talking about my ideas for the future, and actually having a very positive reception where I'm going, and I think there's everything left to play for.
"There's still weeks to run in this campaign, and that's why I'm continuing to give it everything I've got."
Meanwhile, Liz visited a food manufacturing plant:
Liz Truss has been out and about in Norwich today, visiting Condimentum Ltd at the Food Enterprise Park in Norwich. 
Ms Truss told reporters at the factory near the Norfolk city that tax cuts and boosting energy supply were the key to addressing the cost-of-living crunch.
I think they make Colman's Mustard there.
Now on to the hustings.
The co-chairman of the Conservative Party defended the length of the leadership campaign:
Andrew Stephenson, chairman of the Conservative Party, addresses the Norwich audience. He defends the leadership contest amid criticism that it has dragged on for too long. 
Health Secretary Steve Barclay came out in support of Rishi.
Rishi said that levelling up is for all corners of the UK:
Levelling up is not just about big cities and the north – it is for everyone, including right here in east Anglia, he says and receives a round of applause.
Work and Pensions Secretary Therese Coffey declared her support for Liz:
She ends her introduction by saying: "Back Liz for leader, you can trust her to deliver."
As Liz, the MP for South West Norfolk, was on home turf, she got a standing ovation:
Huge applause and a standing ovation for Liz Truss as she takes the stage, who is the MP for South West Norfolk so this is very much home turf for her. 
"We have travelled around the entire United Kingdon but there is nothing better than being back in my adopted county of Norfolk," she says, and the audience break out into applause once again.
Rishi had to answer a question about lockdown:
Rishi Sunak defends his interview in the Spectator, saying one of the most "tragic" aspects of lockdown was the damage to children of school closures. 
He said it is always important to have an honest discussion about "trade-offs", adding: "If something sounds too good to be true it probably is".
Hartley-Brewer presented each candidate with the same series of quick-fire questions.
These were Rishi's answers:
Can you name a single public service that works well? The furlough scheme.
Macron, friend or foe? Friend
Mask mandates or no mask mandates? No mask mandates
Is a trans woman a woman? No
Who would you rather be stuck in a lift with, Keir Starmer or Nicola Sturgeon? Take the stairs
If not you, who would be a better PM, Boris Johnson or Liz Truss? Liz Truss
Hartley-Brewer had to get tough with a heckler:
Rishi Sunak is heckled by an audience member and Julia Hartley-Brewer intervenes telling him to "Sit down, Sir!"
Meanwhile another audience member asks about housing supply. Rishi Sunak says we need to overcome our aversion to "flat pack" housing.
He says he wants to help young people get on the housing ladder much faster by "turbo-charging" a scheme that allows first time buyers to purchase a home with a small deposit.
I can't believe he still peddles his daughters' concern for the environment when he's just had a full-size swimming pool installed at his home. Egregious:
Rishi Sunak tells the audience that the only thing his daughters ask him about is: "Daddy, what are you going to do for the environment?"
Then it was Liz's turn.
Hartley-Brewer asked her about lockdown:
I did question lockdown, Liz Truss says. 
"Clearly in retrospect, we did do too much. It was too draconian. I don't think we should have closed schools," she said. "A lot of children have ended up suffering."
She adds: "I can assure you that I would never impose a lockdown if I am selected as PM."
These were Liz's answers to the quick-fire questions:
Name me a single public service that works well: Our education system has got a hell of a lot better in the last ten years. 
Macron, friend or foe? The jury's out. If I become PM I will judge him on deeds not words
Mask mandates or no mask mandates? No mask mandates
Is a trans woman a woman? No
Who would you rather be stuck in a lift with, Keir Starmer or Nicola Sturgeon? I think Nicola Sturgeon. I'd hope to persuade her to stop being a separatist by the time we got to the ground floor.
If not you, who would be a better PM, Boris Johnson or Liz Truss? Boris Johnson
Hartley-Brewer asked her about unisex changing rooms at Marks & Spencer:
"M&S is a shop, they can decide their policies as they see fit," Ms Truss said. "I have been to the bra fitting service in M&S and it is behind a curtain. No one has ever tried to open the curtain while I am in there."
Liz explained why she does not want asylum seekers to work:
The Foreign Secretary says we also have huge numbers of people who are "economically inactive" and it should be our "first port of call" to get those people into work.
The reason why we don't allow asylum seekers to work is because the UK will become "even more of a magnate" for people to travel here illegally, she adds.
Good answer.
Liz reiterated her support for Net Zero.
Media outlets picked up on the candidates' responses to the 'stuck in a lift' question:

Their divergent answers on Emmanuel Macron also made the news.
Liz got both barrels, from Labour and Conservatives alike. The BBC reported:
… she was asked if Mr Macron was a "friend or foe" of the UK at a Tory leadership hustings.
She added that if elected PM she would judge him on "deeds not words".
But Labour's David Lammy accused Ms Truss of "a woeful lack of judgement", saying she had insulted one of "Britain's closest allies".
Ms Truss, widely seen as the clear front-runner to be the next Conservative leader and prime minister, made the remark at the penultimate leadership hustings in Norwich, to loud applause.
Her comment came at the end of the hustings during a series of "quickfire questions" posed by the host, TalkTV's Julia Hartley-Brewer.
When asked the same question Mr Sunak said Mr Macron was a "friend".
One Conservative minister said Ms Truss's comments had "completely undermined our relationship with France", calling her a "faux Thatcher", a reference to the infamously Eurosceptic former Tory prime minister.
In a tweet, former foreign minister Alistair Burt said Ms Truss has made a "serious error" and should have struck a more diplomatic tone.
Former Conservative minister Gavin Barwell also questioned Ms Truss's comment saying: "You would have thought the foreign secretary was aware we are in a military alliance with France."
Guido reported Macron's reaction:
Macron replies to Liz's comments on the French President at last night's husting:
"The United Kingdom is a friendly nation, regardless of its leaders, sometimes in spite of its leaders"
As for the 'better Prime Minister' question, Guido says:
When asked whether Rishi or Boris would be a better PM, Liz emphatically shot back "Boris". Not unsurprising, though rather awkward given Rishi was asked the same question of Liz and graciously chose his opponent…
Conclusion
So, here we are, at long last.
At 12:30 p.m, on Monday, September 5, Sir Graham Brady of the 1922 Committee announced that Liz Truss will be our new Prime Minister. She will meet the Queen at Balmoral on Tuesday, at which point she will form a new Government. More on that later this week.
Liz Truss is our third Party leader in six years.
Conservative MPs must stop the regicide and support her premiership.