You are currently browsing the tag archive for the 'United States' tag.
What a great start to the Biden presidency.
Have we heard from Speaker of the House Nancy Pelosi (D-California) on this?
No. We heard from the Republican Leader of the House, who voiced his disgust:
Senate Majority Leader Chuck Schumer (D-New York) at least took action.
Tens of thousands of troops, mostly National Guard, were sent to Washington, DC, to keep the capital safe before, during and after the inauguration, held on Wednesday, January 20, 2021.
Some of the troops were allowed to sleep in parts of the Capitol building, then, because Congress was in session after the inauguration, they were moved to a parking garage:
On January 21, Chad Pergram from Fox News reported:
Texas governor Greg Abbott (R) was so incensed, he requested that General Norris send the Texas contingent home:
Florida governor Ron DeSantis (R) also asked for his state's troops to return home:
The outrage was intense, because the troops were accommodated elsewhere by the next day:
The National Guard have day jobs in their home states, so, understandably, they were unimpressed with having been left out in the cold during mobilisation. Howard Altman, managing editor of the Military Times, reported:
Here are other reactions:
It is unclear who issued the order to move them to the parking garage:
Later, it was alleged that a Democrat congressman from Massachusetts wanted the troops out because they weren't wearing masks at a nearby Dunkin Donuts:
Disgusting.
Here's more:
Legislators from both sides of the aisle worked to right the wrong.
Arizona Senator Kyrsten Sinema (R-Arizona) offered her office to the troops:
Madison Cawthorn (R-North Carolina), a freshman Congressman, personally delivered pizzas:
Senator Tammy Duckworth (D-Illinois), a military veteran who lost her legs in combat, worked tirelessly to make sure the decision was reversed:
Politico has more on the story but no real conclusions.
On Friday, January 22, Biden tried to make amends, but it was a lame gesture:
I am very glad this did not happen during President Trump's inauguration in 2017.
In case you are wondering what he thought:
And, former President Trump also offered them accommodation:
Well, he was certainly the greatest president we will ever know.
As we are five hours ahead of the US, I have no idea what will happen today, Inauguration Day.
As such, it is worth noting that the White House has announced yet another Trump administration triumph, The 1776 Report, which lays out US history the way many of us remember it being taught. It also has a section on today's pervasive political philosophies and explains why they are incompatible with American values.
The 45-page document also caught the eye of the well-known English commentator, James Delingpole:
Thanks to my reader, A C Harper, for providing the new link to The 1776 Report.
On Wednesday, January 13, 2021, investigative reporter John Solomon of Just The News appeared on Actionable Intelligence to tell host Eric Greitens that the January 6 siege on the Capitol was 'pre-planned':
It appears that President Trump did not have access to intelligence stating that the siege would take place, according to a Just The News article, also published last Wednesday.
'Rush to judgement? Three crucial questions remain unanswered about Capitol siege' states that the FBI and New York Police Department knew, but the White House did not (emphases mine below):
A senior intelligence official told Just the News he has found no evidence that the president, the White House or the National Security Council was alerted in formal intelligence briefings to the pre-warnings or suspicions of violence the FBI and NYPD have admitted they had.
Yet, last Wednesday, Nancy Pelosi and the House of Representatives impeached President Trump for a second time — unprecedented in US history — on the basis that he fomented the violence at the Capitol. That was after a six-hour debate with no due process for the US president.
Mitch McConnell says that he will not reconvene the Senate before the Inauguration on January 20 because of time constraints. The Senate would also have to vote whether to impeach or acquit Trump, but only after a trial, which, as we know from Trump's first impeachment, takes several days. However, can the Senate impeach Trump once he becomes a private citizen again? Or is there something we don't know about January 20?
It is also vital to know that Trump was still giving his speech to rallygoers at The Ellipse, next to the White House, when the siege of the Capitol was taking place:
… the official timeline of events constructed by the New York Times through videos shows protesters began breaching the perimeter of the Capitol a full 20 minutes before Trump finished his speech.
This new evidence raises the first compelling question that remains unanswered. How could Trump incite an attack that had already been pre-planned and was in motion before his speech ended?
Indeed.
Information began to emerge the weekend after the January 6 siege:
Since the weekend, major bombshell revelations already have substantially revised the initial story of a spontaneous mob overrunning an unsuspecting Capitol police force.
The FBI admitted Tuesday it received information ahead of the Jan. 6 tragedy suggesting some participants were planning a "war" on the Capitol, including killing officers and distributing maps of the complex. It alerted Washington D.C. law enforcement through the joint terrorism task force alert system. It also "disrupted" the travel plans of some of the suspected trouble-makers.
"We developed some intelligence that a number of individuals were planning to travel to the D.C. area with intentions to cause violence," Assistant Director Steven M. D'Antuono said. "We immediately shared that information, and action was taken."
The New York Police Department is reported to have given the Capitol Police similar intelligence warnings of impending violence.
The chief federal prosecutor in Washington declared Tuesday he is pursuing conspiracy charges, signaling the attacks on the Capitol involved multiple acts and multiple conspirators working in concert with each other. The prosecutor talked about the planting of carefully constructed IEDs as one such act. In other words, there was pre-planning for some elements of last Wednesday's chaos.
In the video above, Solomon wonders what the Sergeants at Arms knew. One reports to Nancy Pelosi in the House and the other to Mitch McConnell in the Senate.
Solomon says that the Sergeants at Arms are the top security for both Houses of Congress. The Speaker and the Senate Majority Leader have very close working relationships with them. Did they receive this intelligence? We do not know at this point, but both resigned or were reassigned. The Capitol Police Chief, Steve Sund, also resigned. He said that neither Sergeant at Arms was willing to help Sund with reinforcements. The National Guard did not arrive until 5 p.m. that day.
A Gateway Pundit article summarising the contents of the video states that Solomon and his team have been stymied in their efforts for the release of information under FOIA:
Investigative reporter John Solomon dropped a bombshell on Wednesday night and said the DC police rejected his FOIA request for records pertaining to their investigation of the siege of the U.S. Capitol.
The DC police said release of the records would be 'personally embarrassing' and privacy invading to release the documents.
"We're gonna fight for those documents but something tells me what's in those documents has some very very big relevance to what happened on The Hill and the question I have is what did Nancy Pelosi know, what did Mitch McConnell know about these threats beforehand," John Solomon told former Missouri Governor Eric Greitens. "If they didn't know then, it's an intelligence failure of the police. If they did know there's something they didn't tell us before we went into this impeachment."
Also worth noting:
The US Attorney is bringing a conspiracy case which is further proof the siege was planned.
To say this situation is galling is the understatement of the month.
As lynnfay said in yesterday's guest post, Trump had a lot of naysayers who never wanted him in office in the first place.
So far, this has been a deeply sad month in Trump's life.
He's the best president the US has had in living memory. It is a crying shame that a whole host of people have allowed or forced him, as the case may be, to end his four years in ignominy.
Today's guest post comes from my reader lynnfay73, a retired adjunct professor, who, last week, expressed her dismay and disappointment with both of America's political parties after the past two presidential elections, the events of January 6, 2021 at the Capitol and President Trump's second impeachment in the House of Representatives.
—————————————————-
Pen letter to Republicans from a disheartened libertarian:
I will be sending this hard copy to every senator and representative in US.
I'll also send it to The Detroit News where I've been published before, though I may be censored there.
Open letter to Republican politicians from a disheartened libertarian
Dear Republican Leaders,
We Americans couldn't be more dismayed at the state of the country, and we couldn't be more disappointed in you.
I wasn't a Donald Trump fan. I voted in the primaries for Marco Rubio who I thought articulated freedom the best I'd heard in a while (and having decided Rand Paul was unelectable). Donald Trump was an acquired taste to say the least. He's made some mistakes, he's no politician, but nowhere near the extent of the mistakes YOU have made.
Before Donald Trump even took office, the Democrats were calling for impeachment. They were allowed every day on all networks, even Fox News, for four years to call him illegitimate. A Russian asset, a traitor. A NAZI, HITLER. Hollywood circulated memes of him beheaded, did plays with people killing him as Julius Caesar, Madonna called for blowing up the White House, DeNiro and Biden threatening to beat him up. They lied about his words, blatantly, and the left journalists never called them on it, knowing full well he never said white supremacists were "good people"–he expressly said he meant those people who wanted to preserve the statues, NOT white supremacists whom he condemned immediately. And that went on and on. The man is a lot of things, but he's no racist. And let's not forget Maxine Waters' calls for violence against Trump, openly, and Pelosi tearing up the State of the Union address. To name a few things.
Then they went on and weaponized Obama's justice department to use Hillary Clinton bought and paid for (from Russians) dirty dossier which they used illegally (even by their own standards) to obtain illegal FISA warrants to spy on him and ruin Carter Page's life by actually forging documents.
The press never changed the narrative and they severely threatened our Republic by doing all this. And the Never Trumpers are even more to blame. Lincoln Project? You have been a disgrace (and it appears maybe even degenerates) and you harmed the Republican party irreparably by not just staying quiet if he wasn't YOUR cup of tea. The list is long on this. John McCain GAVE that dossier to the FBI and attacked Trump publicly as did Romney, and they wonder why they got the reaction they got. No excuse for that.
Then before this latest election, the left media and Big Tech and the Democrats censored the conservative news — true news, about the Bidens' activities in Ukraine and China (the other phony impeachment crap was to hide and accuse people of what THEY had been doing for four years — using the justice department against a political opponent and covering up their own corruption). They have now carried that to the extreme that not only have they censored the president of the United States, they have silenced the conservative ability to communicate. And they are raising this unrest to fever pitch by these actions alone.
It is the height of hypocrisy to call this mess at the capitol "insurrection" when the left (and even the never-Trumpers) have been stoking just that for four years in an attempt to overturn a duly elected presidential election.
But what is the most egregious is that YOU are such cowards that instead of ALL standing up to force a ten-day investigation– into what is election practices half this country has no intention of accepting going forward– most of you chickened out in the elitist establishment hope that you could hold the senate but get rid of Trump. His list of accomplishments will not be appreciated for a while which is a very big shame AND you have divided this party irreparably. It is YOU who cost us Georgia, mostly because you refuse to insist on election integrity.
And that is why this happened on Jan. 6th, not because of Donald Trump.
None of us thought this election would be overturned. We wanted it investigated and we want election reform NOW. You cowards should have stood by him and insisted that this happen as the American people wanted.
No, this does not excuse violence (though the left excuses it any time they want to), but Donald Trump is not responsible for it. The left is responsible for it with all their actions of the last four years and YOU establishment elitists who are really nothing more than Democrats in disguise–YOU are responsible for it. No idea what you are doing in this party.
And had you had his back the whole time, he could have been more measured in his actions and responses all along. I wonder how any of you would have held up to this kind of abuse, never before seen in American political history.
I will be working to get rid of any of you I can: McConnell, Romney, Sasse, Kinzinger, Cheney, and the rest of you. Liz Cheney (R-Wyo.), John Katko (R-N.Y.), Adam Kinzinger (R-Ill.), Fred Upton (R-Mich.), Jaime Herrera Beutler (R-Wash.), Dan Newhouse (R-Wash.), Anthony Gonzalez (R-Ohio), Tom Rice (R-S.C.), David Valadao (R-Calif.), and Peter Meijer (R-Mich.) who just voted to impeach Donald Trump.
There are some patriots here (even if their motives might be political) — Matt Gaetz, Jim Jordan, Devin Nunes, Ted Cruz, Elise Stefanik, Mo Brooks, and more (and some who might be excused for arguing constitutional issues like states' rights — Mike Lee, Rand Paul).
It's fine if you didn't prefer Donald Trump's style; it is NOT fine that your arrogance and elitist superiority and cowardice (Democrats never would have done this–say what you want about their motives — they play hardball) have resulted in this country embarking on an authoritarian nightmare that could once never have been contemplated in America let alone practiced.
We won't forget.
L. Fay
Adjunct Professor (retired)
————————————————————————————————————-
Lynn's is an excellent letter. I am grateful she allowed it to be reprinted as a guest post.
The incoming Biden administration, headed by an Irish Catholic male who is proud of his origins, has promised that, as a result of the coronavirus crisis:
This did not go down well with all Biden voters:
Agreed.
However, a few hundred miles away from Washington, DC, another conflict took place in New York City.
Tara Szczepanski, an American journalist who is part Polish and part Filipina, had an unfortunate brush with leftist radicals:
The New York Police Department offered no help. They told her to stay six feet away:
This took place on Sunday, January 10, 2021.
Gateway Pundit reported:
Antifa domestic terrorists marched through the streets of New York City on Sunday claiming to own the public space, chanting, "Our motherf*ckin streets!"
A Trump rally was allegedly being held near Columbus Circle in the heart of Manhattan.
For whatever reason, this young woman was attacked:
Antifa goons surrounded a female journalist on 25th and Broadway, hit her with umbrellas and knocked her camera out of her hand.
The left-wing terrorists threw eggs on the woman's head as she screamed for help.
This is what happened:
Apparently, she sinned for being an alleged Trump supporter. It's unclear if that is even true:
Regardless, America is supposed to be the land, constitutionally, where one has freedom of speech and association.
At the same time, on the West Coast, Andy Ngô, the intrepid independent journalist tracking Antifa, has written a book which radicals want to see banned:
Andy Ngô has risked life and limb over the past few years in his quest to expose the radical Left.
My thoughts go out to him in Oregon and to Tara Szczepanski in New York.
Biden and Harris will have a lot of uniting and reconciling to do.
Thanks to James O'Keefe's Project Veritas, Michael Beller, who was at the time Principal Counsel — head lawyer — for the partly publicly funded PBS network in the United States, freely aired his views about America and Donald Trump supporters.
This video was filmed before the November 3, 2020 general election. Gosh:
One of his statements was particularly snobbish. Beller is grateful for being able to live in Washington, DC, because (emphases mine):
Could you imagine if you lived in one of these other towns or states where everybody's just … stupid?
An aghast Howie Carr, who hails from Maine, Boston and Palm Beach, played that clip on his talk radio show on Tuesday, January 12.
Beller thinks the only solution for Trump supporters is to confiscate their children and put them in re-education camps.
You cannot make this up.
He also advocated circling the White House and throwing Molotov cocktails in the event that Trump stays in office:
Good grief.
Beller has no respect for those who partly fund the PBS network:
Americans are so f**king dumb. You know? Most people are dumb …
That was nice (not).
James O'Keefe managed to track Beller down in DC earlier this week. Before Beller slipped into a restaurant, he claimed that his reference to Molotov cocktails meant a new 'drink'. Sure, pull the other one. We all know what they are:
Fortunately, shortly after Project Veritas released their videos, Michael Beller lost his job:
Well, I hope so for America's sake.
James O'Keefe said that this was the quickest reaction ever to a Project Veritas exposé.
Well done, PBS:
The news made the Associated Press:
I wish Project Veritas many more successes as the year unfolds.
Monday's edition of Lou Dobbs Tonight on Fox Business Network was an eye-opener for those who had hoped for the best.
Earlier in the day, we saw the guest list, most prominently Leo Terrell, a well known civil rights lawyer:
These are the segments in order of his January 11 show.
Watch them and weep.
As the old saying in Europe goes, 'When America sneezes, the rest of the world catches a cold'.
Lou began by reporting that, along with social media, 'corporate America' is repudiating President Donald J Trump:
Hmm. Interesting.
Many of us learned in history class — perhaps long ago — that fascism involved government co-opting corporations to do its will.
Tom Fitton from Judicial Watch was up next. He said that the Left's — Democrats' — main goal was to remove Trump from office:
Investigative journalist Sara Carter was interviewed, citing a tweet from former CIA director John O Brennan, who has been keen to get rid of Trump since 2016:
She called attention to his tweet from January 9:
Note the words 'seeking national redemption', 'total denunciation of a despot's legacy' and 'eradicate any remaining malignancy'.
Those are words I never expected to see in a communication from an American official.
Clouthub CEO Jeff Brain followed:
Speaking personally, Leo Terrell's short segment was the best. He came right out and defended President Trump. I wish he had more time to speak:
The closing few minutes featured Lou Dobbs asking for short conclusions from everyone on the show:
In conclusion, the next four years could be very dangerous for the 74+-million people who supported President Trump.
Anyone doubting the possible peril can read John Brennan's recent tweets:
Brennan reposted a video from Arnold Schwarzenegger, who looks really mean. Perhaps plastic surgery went wrong. He doesn't look right, which doesn't lend much credence to his argument against the president:
The next CIA director should be interesting:
Meanwhile, back at the Capitol building, members of the House of Representatives were struck by coronavirus. These seemed to be Republicans only:
The chief of the Capitol Police was dismissed last week. He warned about future security in the building:
A Massachusetts congressman objected to Trump's award of the Presidential Medal of Freedom to his friend, the Patriots' (American football) coach Bill Belichick. Wow. Suddenly, everything Trump touches, so to speak, is tainted:
Belichick will not be accepting the award.
Jake Sherman reports for Punchbowl. He had a series of tweets about the Dems' moves to impeach President Trump for a second time. It is rumoured that Nancy Pelosi could sit on this for months and try to impeach him after he leaves office. This is a first:
This creates a problem for Republicans. This is evidence that corporate America is cutting off funds to the Republican Party. I feel sorry for House Minority Leader Kevin McCarthy (R-California):
It gets worse. Democrats propose to not recognise any Republican who moved to question the Electoral College vote. That is not very democratic, is it?
Looking back to Epiphany, Wednesday, January 6, while the president's rally progressed in various parts of Washington, DC, the first lady was busy with a photo shoot of White House furnishings. She also appeared to distance herself from the very public gathering:
Hmm.
Returning to the Dems and the president, here is a draft of the House impeachment resolutions. I can't see this proceeding, especially on the grounds of 'insurrection'. No one loves the United States more than President Trump:
The seasoned congressman Steny Hoyer is fully behind the impeachment motion:
I do not understand how a trial can begin 'right away'. They have to get a whole committee lined up. Good grief.
That said:
It's unclear whether the Department of Justice will go along with the Dems on claims that the president incited unrest. PJ Media reported:
A senior Justice Department official says there are no plans to indict Donald Trump or anyone else who spoke at a rally just before the Capitol building was breached by a pro-Trump mob.
Ken Kohl, a senior prosecutor in the U.S. attorney's office in Washington, said, "We don't expect any charges of that nature."
This will no doubt be enormously unsatisfying to Democrats who long to see Donald Trump do a perp walk into the federal courthouse.
Elsewhere in the nation's capital, pro-Trump lobbyists are being shunned:
It's worth remembering what happened last Wednesday into the early hours of Thursday. This is a concise summary from a commenter on the British political site Guido Fawkes (sorry, no permalinks available on his site):
Also, Trump's public polling is unchanged, despite negative media coverage and his social media ban. The National Pulse reports:
Numbers from Rasmussen Reports show that following both of these events, his approval rating has shifted either one or two percentage points – exclusively trending upwards.
In conclusion:
In 2016, around the time of Trump's election, I wrote that the Left — Democrats — were aping the Bolsheviks of the Russian Revolution.
I didn't get much traction with that suggestion then.
What about now?
On Monday, January 11, 2021, I listened to the Howie Carr Show to find out the latest on President Trump.
Howie didn't have much news on that score, only wishes from callers hopeful that the US president could rescue his re-election bid.
However, in the final segment, one man from Cape Cod in Massachusetts — a regular summer advertiser on Howie's show and someone whom Howie knows personally — rang in to say that his life has been a shambles since the Washington DC event on January 6.
This successful Massachusetts businessman had rung Howie last week to say that the DC rally had been a wonderful celebration of all things American: tradition, patriotism and friendliness.
This man and the many thousands he was with were not anywhere near the Capitol building. They were some distance away.
Last week, he rang in to tell Howie his story of what a grand day out it was.
Since then, he has been attacked on social media and called every name in the book for having gone to DC last Wednesday.
He told Howie that his wife — 'my beautiful bride' —  has been in tears much of the time and his young daughter has also been severely affected by the verbal attacks by members of the general public.
At one point, uncharacteristically, he broke down in tears. He was unsure for the future of his business, even though his ancestors have lived on the Cape for at least three generations. Everyone knows the family name as being honourable and reputable.
Yet, now, that has all come to an end.
I do not want to mention this man's name for fear of further abuse towards him and his family. Regular listeners of the Howie Carr Show will know this man, even if only by the adverts for his establishment.
He said that money this year is not the problem. It is his reputation.
He has been falsely smeared. He did not know what had been going on at the Capitol that day, yet, his good name — and that of his wife and daughter, who were not in DC — have been besmirched.
May I suggest to everyone who is condemning those who attended last week's Trump rally to step back, take a deep breath and stop accusing everyone — hundreds of thousands of people — of tearing up the Capitol building.
In closing, this is a photo (no source given) of Trump supporters in the Rotunda of the Capitol last Wednesday. In case anyone is wondering, the general public are permitted to see parts of the building. I was in it many decades ago: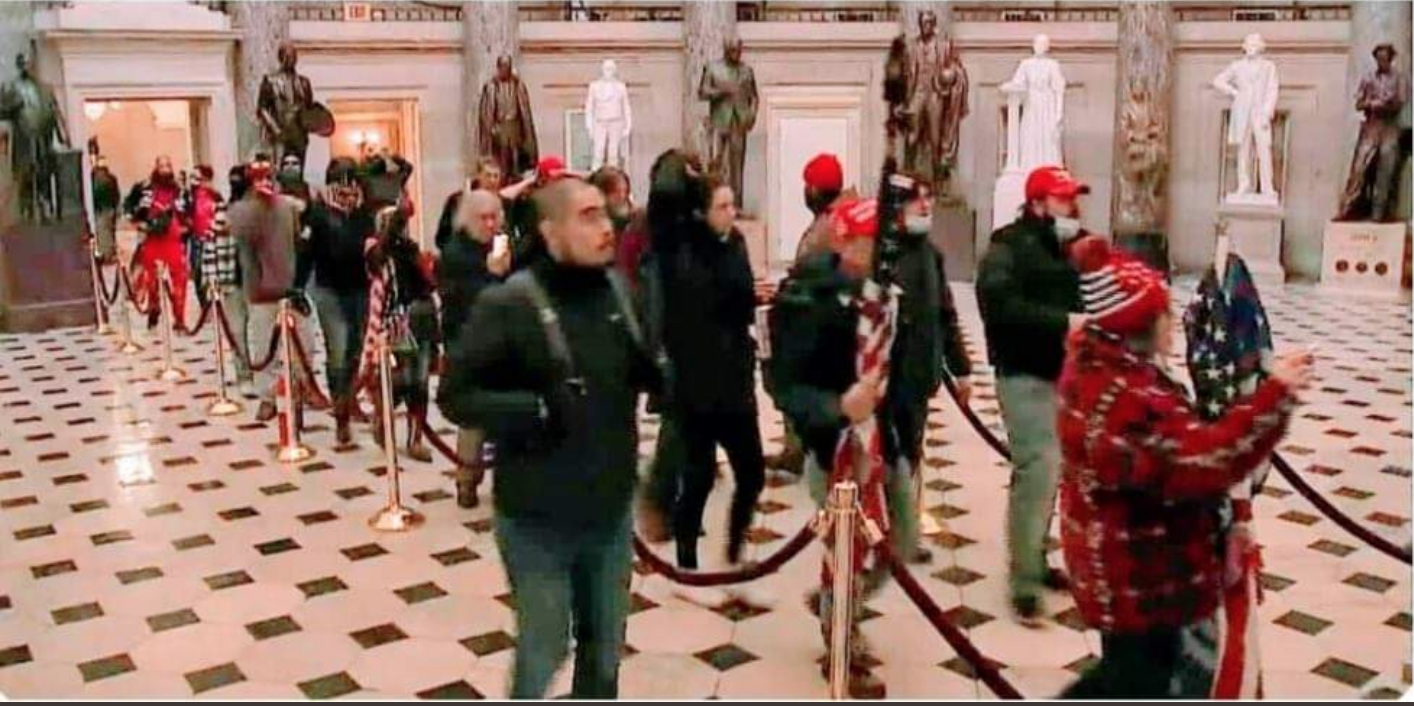 They look pretty lawless, don't they?
If I had a more secular blog, my words would be much stronger.
In conclusion: I hope Trump/Republican detractors stop the hate. Leave people alone. The vast majority went in good faith to support President Trump in his final days in office.
If this businessman's experience is but a snapshot in time, I dread to think what the next four years will bring.
On Monday, December 14, while the London area worried about moving into severe coronavirus tiers on Wednesday, electors from the 50 US states voted for the next leader of the free world.
Joe Biden won the Electoral College vote 306-232 with no faithless electors, however, the vote still has to be ratified on January 6, 2021, by the new Congress.
Biden gave an acceptance speech, riffing Margaret Thatcher's of many years ago which featured the Prayer of St Francis:
Guido Fawkes reported that Senate Majority Leader Mitch McConnell (R-Kentucky) acknowledged Biden's December 14 win:
Our country has officially a President-elect & a Vice President-elect… The Electoral College has spoken… Today, I want to congratulate President-elect Joe Biden.
Newsmax, the new network for disgruntled Fox News viewers, will now refer to the Democrat as President-elect Biden, even though reporters and presenters will continue to cover Team Trump's election battles.
It will be interesting to see what happens on January 6:
That is what the Trump supporters' Stop the Steal coalition hopes will happen. They said as much in their press conference after the electors voted and Mitch McConnell announced his congratulations to Biden and Harris:
McConnell doesn't want any Republicans countering the Electoral College result:
However, Rep. Mo Brooks (R-Alabama) is ready:
Brooks explained his position as follows:
I'm quite confident that if we only counted lawful votes cast by eligible American citizens, Donald Trump won the Electoral College, and we should not be counting illegal votes and putting in an illegitimate President of the United States.
President Trump is not wrong:
Would Mike Pence be ready to defend the Republic on January 6? He has that power, if he chooses to use it:
But, let's go back to Monday. A lot happened.
Earlier that day …
President Trump's adviser and speech writer Stephen Miller (with the dark tie below) spoke about an 'alternative slate' of electors:
Miller probably meant this:
I do not know if this would work or not, but former New York City police commissioner Bernard Kerik says:
The New York Times has a map that shows the result from each state.
In Nevada, Georgia and Pennsylvania, the electors' votes went to Biden.
However, Right Side Broadcasting (RSBN) showed a different result for Nevada:
Gateway Pundit reported that Georgia and Pennsylvania — much larger votes — also voted for the incumbent (emphases mine):
Electors in Georgia and Pennsylvania also cast procedural ballots for Trump while the states continue to be contested.
Procedural ballots are cast in states where the result is contested.
Yet, as I mentioned above, the NYT map shows that Biden won those states.
Trouble for Michigan's Republican electors
Meanwhile, appointed Republican — GOP — electors in Michigan were not allowed to vote. They could not even get in the building.
Gateway Pundit reported and included tweets:
A group of GOP electors on Monday arrived at the Michigan State Capitol to cast their votes for President Trump …
The police would not allow the Republicans in:
'The electors are already here, they've been checked in,' the police said as they blocked access to the Capitol.
The police told the Republican electors:
If you have a problem, you can contact the Governor's office.
Gateway Pundit stated that a Trump elector asked for the Sergeant at Arms. The police replied that he was in a meeting.
With that, the police directed the electors to Governor Gretchen Whitmer's office. She's a Democrat, by the way:
The Republican electors explained that they wanted to vote because Michigan's result is in dispute and under investigation (see below):
Meanwhile — Michigan: audit of Antrim County voting equipment
However, other big news took place in Michigan that day. A state judge, Kevin J Elsenheimer, ordered the release of the results of the December 4 audit of Dominion voting machines in Antrim County. (If you've ever visited Traverse City, famed for its annual Cherry Festival held in July, you've been in Antrim County.)
This is a big victory for Team Trump. As The Election Wizard explains:
The results had been shielded by a protective order, but this morning, Judge Elsensheimer removed that order, clearing the way for the audit results to go public.
The judge further ordered that the case move to the discovery phase and mentioned the case could go to trial by April of 2021.
The hearing was conducted by ZOOM and streamed live on YouTube this morning.
The release of the report is a major victory for President Trump and his supporters, who have called into question the Dominion machines.
However, the journey from December 4 to the 14th was an uneasy one for Constitutional Attorney Matthew DePerno of the DePerno Law Firm, who represented William Bailey, a member of the team who audited the county's voting equipment.
Gateway Pundit reported that Bailey and his team looked at everything:
the 16 Dominion voting machines, tabulators, thumb drives, related software and the Clerk's 'master tabulator' used in the November elections in Antrim County, MI.
The audit — inspection — resulted in a 'collection' and took eight hours:
With 16 CF cards (similar to SIM cards), 16 thumb drives, and forensic images of the Dominion voting machines in hand, the IT team was escorted to the local Antrim County Airport by two Antrim County Sheriff vehicles, where they boarded their jet plane with evidence in hand.
On the morning of December 5 — the following day — Matthew DePerno received a worrying phone call about a previous legal case about which he'd never had a complaint:
Mr. DePerno received a call from the MI State Bar warning him that they have opened an investigation into a case he tried over a year ago in Lapeer, MI.
In case anyone wonders if Lapeer is near Antrim County, it is in the opposite direction: south east central. Antrim County is in the north west.
The caller told DePerno that the State Bar of Michigan had requested 6,000 pages of documents related to the case that had never had a single complaint filed about it. DePerno told Gateway Pundit that the call might have been 'an act of intimidation' on the part of Michigan's Attorney General, Dana Nessel.
On December 9, DePerno and his client William Bailey awaited the forensic results from the election equipment inspection. While they awaited the outcome, DePerno discovered that he was named in a legal motion regarding Antrim County. It was a protection order filed by AG Dana Nessel to prevent the results of the investigation being made public.
The following day, DePerno filed an emergency order with the aforementioned state judge, Kevin J Elsenheimer, to lift the protection order, which the judge granted on Monday, December 14.
What an ordeal.
Here's a tweet with a summary of the findings:
Also, on the same topic:
One can only hope that Team Trump can use this information in their legal pursuits.
Georgia Dems gear up for January state run-off
Democrats in Georgia are gearing up for the state senate run-off in early January 2021.
On December 14, Newsmax reported that failed gubernatorial candidate Stacey Abrams was ready:
Former Georgia gubernatorial candidate Stacey Abrams, now the founder of the voting rights organization Fair Fight, said that Democrats are prepared to win the Senate runoff race in January, and that 1.2 million absentee ballots have already been requested.  
"We know from the numbers that we're in a good place; 1.2 million absentee ballots have been requested thus far," Abrams told CNN's Jake Tapper on "State of the Union." "Just to put that into context, 1.3 million were requested for all of the general election."
It is so sad that the United States has sunk this low. I never would have expected it.
Ongoing violence has its part to play
Political violence has been part of America's urban life since the summer. Granted, it hasn't been taking place everywhere, but it's been endemic in Portland, Oregon, and Seattle, Washington. Other sporadic outbursts of violence have occurred in other American cities, including Washington, DC, and towns, such as Kenosha, Wisconsin.
A former Democrat, who is a retired lawyer, commented on this year's violence on a website for ex-Dems, ex-Hillary supporters. While I disagree with most of it, the first two lines reminded me of what the Bolsheviks must have thought a little over a century ago:
For violence solves nothing, so they say.
But it does change the status quo, in ways words never can…
Think about that, then consider one possibility why the Supreme Court might not want anything to do with defending President Trump. This tweet comes from someone who seems to have an inside track on the election:
However, there is no need to be as senior as a Supreme Court Justice to receive threats:
Therefore, it seemed almost natural that the election would have gone to Joe Biden, because those committing the violence are like so many neighbourhood bullies. Sadly, they are much more serious.
Conclusion
For nearly a century, there has been a saying in Europe:
When America sneezes, the rest of the world catches a cold.
Good grief, please keep this corruption away from our shores. Thank goodness we have handwritten paper ballots and far fewer mail-in ballots.
Millions of us support President Trump even if we are thousands of miles away.