You are currently browsing the tag archive for the 'United States' tag.
In December 2022, I wrote about the UK's 2021 census that revealed we haven't had such a high number of non-Christians since the Dark Ages.
My post included this tweet:
Since then, the news in Britain seems to be worsening by the day.
Scotland has realised it has a behavioural problem in the classroom. The Times's 'End of school punishments blamed for pupil disorder' reveals that all hell is breaking loose (emphases mine):
Teachers and parents have become increasingly alarmed by a decline in classroom behaviour since the end of the pandemic — and a method imported from the justice system is being blamed.
Restorative practice, involving "constructive conversations" with unruly youngsters in an attempt to make them understand what they have done wrong, is taking the place of more traditional sanctions such as detentions or withdrawal from activities.
But members of the Scottish Secondary Teachers' Association (SSTA) have unanimously backed a motion that warns the approach is time-consuming and if mishandled can result in "severe damage to teachers' classroom authority".
Apparently, teachers are not properly trained in class discipline and even less in 'restorative practice'. It is amazing that detentions are out of fashion. The article continues:
Seamus Searson, general secretary of the SSTA, said restorative practice seemed to be "flavour of the month" when it came to managing challenging behaviour in schools …
He warned pupils were taken out of class supposedly to have restorative conversations but would then be returned to lessons without the discussion genuinely taking place …
"The youngsters in class, they see things black and white, it is either right or it is wrong. There is no half-way. They expect that if a child misbehaves something happens. If they think for one second that so-and-so can get away with that, [then they think] why can't I do it?"
This is an issue upon which all political parties north of the border agree: something must be done.
These are a few of the things going on.
First, the school bully:
One parent recalled how her six-year-old boy had come home from school and told her: "You will not believe what they have done. The teachers have taken the nastiest, most horrible boy in the class and have put him in charge of looking after the new pupil who started today."
The manoeuvre had somewhat backfired when the young delinquent began teaching his classmate how to hurl items at other kids.
Teachers thought that by shepherding the new boy, the bully would learn empathy, but the article said that no discussion about that took place.
Secondly, the reward for bad behaviour:
Other parents have described unruly children being rewarded with trips to a local café. A deputy head said one pupil with extreme problems "came into school with fast food".
The senior teacher explained: "He had been taken out for the day. He went in and rubbed it in the face of every single child around him. It alienated him from other people in the school, it alienated the child from his peers. His teacher was saying: 'What is going on?'"
I'm not sure what 'it' in the second sentence of the previous paragraph means. On first reading, I thought 'it' might mean the fast food from the local café. It would not surprise me.
Thirdly, the threat at home:
[A mother, Ms] Green describes her son being involved in a playground tussle started by another boy. They were called inside for a restorative conversation and her son was asked to understand why the boy was having a bad day. "No one asked why my son was upset," she said.
Two days after the "restorative chat", she says the aggressor appeared at her house and said to her son "when you are not in school I am going to jump you and kill you".
The article says that restorative practices are being rolled out in other British nations, which is a pathetic development:
They have crossed to education from the justice system after projects found it could reduce the chance of reoffending if criminals were put in touch with their victims.
Violent incidents are rising in primary (!) schools:
Figures uncovered by the Scottish Liberal Democrats earlier this month show 10,852 incidents of violence were recorded in primary schools in 2021-22 compared with 10,772 in 2018-19. For the secondary sector they have increased from 2951 from 2728.
Good grief. That wouldn't have happened in my day.
This is another thing that wouldn't have happened when I was at school:
Refusal to work, mobile phone misuse, disrespect and wandering around are the most common issues reported. Three quarters said they had experienced verbal aggression.
We never thought of 'wandering around'.
Not surprisingly, students often give the following excuse as the reason for misbehaving:
"because I can!"
Also:
"That child will not be short on telling people: 'nothing happened to me, I have just been put in another room'."
Furthermore, children will band together to confront a teacher:
Stuart Hunter, president of the SSTA, said he had seen restorative conversations carried out badly. In one situation, he said, two pupils raised a complaint about work they had been set. When the teacher was called into an office for the restorative discussion, she found the girls had friends with them for support. The implication, he says, was the teacher was in the wrong.
Nothing much happens to wrongdoers at all. I didn't bookmark it, but I recently read that the UK is a criminal's paradise because the police are so soft.
In fact, whether real or staged, misbehaviour is rewarded. Take the case of Bacari-Bronze O'Garro, 18 and father of one, better known as Mizzy. Within the matter of a month, the Londoner has even been on television being interviewed about his exploits, which, in some cases, were criminal:
In May 2022, O'Garro was given a community protection notice prohibiting him from trespassing on private property.[9] On 24 May 2023, he was fined £200 plus costs and surcharge (£365 in all) after admitting breaching that community protection order on 15 May and was issued with a two-year criminal behaviour order (CBO).[5][10] The next day, O'Garro was interviewed by journalist Piers Morgan on Piers Morgan Uncensored[11] who called him "an idiot" … Former politician and journalist Patrick O'Flynn praised O'Garro's entrepreneurial spirit, noting his ability to grab the media spotlight and convert it into social media fans.[13]
Remind me not to cite any further articles by Patrick O'Flynn.
At least his TikTok and YouTube accounts, on which his exploits appeared, have been terminated. Social media companies go where police and the justice system fear to tread.
What has Mizzy learned? That criminal acts have propelled him to fame:
Our political class is no better. They would rather ruin the UK than make the necessary effort to restore it to its former greatness. Pictured below are two Labour MPs Sir Lindsay Hoyle (Speaker of the House) and Keir Starmer (Labour leader) with the Conservative Prime Minister Rishi Sunak:
The Telegraph's Sherelle Jacobs tells us:
There is no delicate way of putting it: the British governing class has completely lost the plot. It would rather risk some kind of economic collapse or populist backlash than actually deal with any of the country's problems. Bereft of values and captured by institutional pessimism, our politicians are incapable of decisive action. Numbed by groupthink, and poisoned by ever-expanding managerial surveillance and ministerial turf wars, the Civil Service has been rendered inoperable. The British governing machine is broken; we are heading for total systems failure …
How did Britain end up like this? Blairite Third Way politics, devoid of principle beyond "capturing the centre ground", has a lot to answer for. It is hard to imagine a Tory party with a confident philosophy on free markets contemplating price caps; nor a Labour Party committed to a high-wage economy proving so bashful about the country's addiction to mass migration. Institutionalised back-covering, and a total breakdown in trust between ministers and officials, meanwhile, mean that any policy that is difficult or controversial is increasingly impossible to deliver.
A Ground Zero moment of implosion may now be unavoidable. At that point, we can only hope that at least one of the two major parties rediscovers its core beliefs, and regains the stomach to fight for them. Big messy wars will need to be fought – starting with a breakup of the Treasury, bringing an end to its reign of terror.
For now, though, things look pretty bleak. In complex systems theory, a system becomes pathological when it gets to the point where measures being taken to maintain equilibrium are actually destroying the system. A system is also classed as fatally neurotic when it deems the psychological cost of detaching from the status quo to be too great, even if failure to adapt threatens its own destruction. There is little doubt that the British ruling class strongly exhibits both of these symptoms. And things will get a lot worse before they get better.
Sherelle Jacobs is not wrong.
But — and it's a big BUT — two glimmers of hope have emerged.
In September 2022, two months before Britain's post-Christian census figures appeared, The Guardian published '"God gives me reason to hope": why young Britons are turning to prayer'.
Six of the paper's readers gave their reasons for praying in response to a survey which found:
More young people in the UK are turning to prayer compared with 20 years ago, with one in three 18- to 36-year-olds saying they had prayed within the past month.
… spirituality in its many forms are thought to be behind the increase.
Three of the responses are from Christians. Two of them follow.
A 32-year-old midwife says:
Since getting pregnant, I've come back to prayer. I was raised Christian and have come back to it from time to time. But this time things feel different. With the world crumbling, God has given me a reason to hope and see beyond the hopelessness of our current political and financial landscape. It's quite a scary time to be bringing a baby into the world with all the uncertainty – the financial situation and working out what kind of world he's going to be born into is quite scary. Prayer has really helped me to take myself out of those world problems and see things in a broader context.
An 18-year-old student explains:
I used to go to church with the Scouts when I was six or seven but it was never regular – I didn't really understand what was happening when I was that young. I wasn't brought up in a religious family and I didn't have a relationship with faith until recently, when I started seeing videos by priests on TikTok. After I saw that and became interested, I could understand it a bit more. I wanted to connect with faith because I wasn't happy with the way my life was going, and I wanted to be better to other people. Developing my spiritual health has made me feel happier. I pray because it's a way I can speak to God and give him my worries or concerns. I'm not involved with a particular church – I'm just trying to find my place at the moment.
Even more surprising is that nearly one-third of Britons under the age of 40 believe in the afterlife and hell, compared with 18 per cent between the ages of 60 and 77.
On May 23, 2023, The Guardian reported on these findings from the World Values Study, conducted by King's College London:
You may think the idea of hellfire belongs to an age when people's lives were shaped by the threat of eternal damnation.
Wrong, it seems: generation Z and millennials in the UK are significantly more likely to believe in hell than baby boomers, according to a new study by the Policy Institute at King's College London.
Younger people are also more likely to believe in life after death than older generations, despite being less religious generally.
The findings are part of the World Values Study, one of the largest academic social surveys in the world, which has been running for more than 40 years.
According to its data, just under half (49%) of Britons said they believed in God, down from 75% in 1981. Only five countries – Norway, South Korea, Japan, Sweden and China – are less likely to believe in God than the UK. The Philippines topped the league table [in religious belief], scoring 100%.
Good for the Philippines!
Here are the stats on heaven, hell and the afterlife:
Belief in heaven among the UK public has also fallen, from 57% in 1981 to 41% last year. But belief in hell and in life after death has remained largely consistent, at 26% and 46% respectively.
When broken down by age, 32% of those under the age of about 40 said they believed in hell, compared with 18% of those aged between 59 and 77. Belief in life after death was 51-53% for younger generations, compared with 35-39% for older people.
"Our cultural attachment to organised religion has continued to decline in the UK – but our belief that there is something beyond this life is holding strong, including among the youngest generations," said Bobby Duffy, director of the Policy Institute.
"While the youngest generations continue to have lower attachment to formal religion, many of them have similar or even greater need to believe that there is 'more than this'."
The article has international graphs to explore, which are fascinating.
Also of interest is that Britons have a newly increased confidence in religious institutions:
Another unexpected finding is that confidence in religious institutions had rebounded. Between 1981 and 2018, Britons' confidence in churches and religious organisations fell from 49% to 31%, but by 2022 had risen again to 42%.
A possible explanation is the provision by churches and other religious institutions of essential social services such as food banks, social hubs, warm spots and debt counselling as the cost of living crisis has escalated.
Duffy said religious belief in the UK was unlikely to disappear, but would keep eroding. "It looks like a slow but inevitable decline, unless organised religions can engage with that broader sense of wanting something else beyond this life," he said.
One week after this article appeared, the rector of St Bartholomew's in London, the Revd Marcus Walker, posted a series of adverts from the Episcopal Church in the United States, which seem to come from the 1980s. I don't remember these at all. I would have, too, had I seen them, as I had become an Episcopalian during that decade.
These are really powerful, especially the one about Holy Communion:
As Jesus said (John 6:47-48):
47 Very truly I tell you, the one who believes has eternal life. 48 I am the bread of life.
Everyone responding to Marcus Walker was surprised:
Someone from the Church of England should ask for permission to repurpose these. In Scotland, they could use the text as it is, because the denomination is known as The Episcopal Church there and it's not doing well.
If not, something similar can be done throughout the UK.
Let's go, clergy. What are we waiting for? Carpe diem!
Last week, I wrote about society photographers Richard Young and Dafydd Jones.
The first famous high society photographer of the 20th century was Cecil Beaton. Unlike Young and Jones, however, Beaton was of his world and in it.
Early years
Cecil Walter Hardy Beaton was born in London's leafy Hampstead on January 14, 1904.
His grandfather had founded a timber merchants firm and Cecil's father Ernest, an amateur actor, worked for the company. Ernest and his wife Etty had four children. Their other son, Reginald, died prematurely in 1933.
Young Cecil and his siblings had the best of everything, including a nanny. She had a Kodak 3A camera which she taught him how to use. Fascinated, Cecil began taking pictures of his sisters and mother.
When he became proficient, he began sending his photographs to society magazines.
(Photo credit: Wikipedia)
Education
Cecil attended Heath Mount School, still in Hampstead at the time, then went to Harrow in north west London. Although he had little interest in school, he ended up at St John's College, Cambridge, where he read history, art and architecture. By then, he was making contacts at Cambridge as he continued to photograph. He also designed theatre costumes. It was during those years that he had his first photo published in Vogue and two photos of his sister Nancy in Tatler. He went down from Cambridge in 1925 with no degree. However, London beckoned, so he returned to the capital and never looked back.
The 1920s and the Bright Young Things
In the 1920s, Beaton's world intersected with that of a former classmate of his, Evelyn Waugh, who used to bully him at Heath Mount School. As a young adult, Waugh had his novel Vile Bodies published. It featured high society characters 'the Bright Young People', also called the Bright Young Things.
A 2020 Tatler article, 'Stars in his eyes: Cecil Beaton and his Bright Young Things' describes that world and his role in it, complete with photographs (emphases mine):
Masked parties, Savage parties, Victorian parties, Greek parties, Wild West parties, Russian parties, Circus parties' – this was how Evelyn Waugh depicted the era of the 1920s, when the elite of the younger generation, determined to throw off the gloom of the Great War, dedicated themselves to entertainment. As Waugh portrayed them in his novel Vile Bodies, the Bright Young People (or Bright Young Things, as others called them) were funny, frenzied and frivolous, capering from party to party. Among them, and, like Waugh, an astute recorder of the period, was the photographer Cecil Beaton, whose portraits of the era's leading lights make up the dazzling cast of Bright Young Things, a new exhibition at the National Portrait Gallery.
Unfortunately, the exhibition had to be cancelled because of the pandemic. This Tatler article has a set of photographs from it.
Beaton and Waugh never did become friends:
Beaton had been at prep school with Waugh, who bullied him cruelly. Beaton later described Waugh as 'a very sinister character', while Waugh pilloried Beaton in Decline and Fall as the society photographer David Lennox, who 'emerged with little shrieks from an Edwardian electric brougham and made straight for the nearest looking-glass'.
Beaton was hardly standing on the sidelines with his camera. He played a lead role in these parties:
Before long he was embedded in a world of aristocracy, theatre and, perhaps most significantly, a circle of exuberant young people intent on immersing themselves in the most extravagant and imaginative forms of self-indulgence …
Within this world, Beaton was both observer and recorder, as well as eager participant, appearing in pink satin and heavy make-up as a 17th-century dandy, as the Madam of a brothel, and in a coat covered in broken eggshells and roses.
Among the many of Beaton's friends whom he photographed at this period was the very wealthy, very camp Stephen Tennant, son of one of the renowned Wyndham sisters. Tennant adored dressing up and being photographed by Beaton in outrageous poses – in flowing court dress as Queen Marie of Romania at the Impersonation Party, or heavily rouged as the poet Shelley at the Pageant of Hyde Park. After Tennant complimented him on his work, Beaton wrote in his diary: 'I felt puffed with pride that he so gushed at me.'
Another sumptuous occasion was the Great Pageant of Lovers through the Ages, which took place in 1927 at the New Theatre in the presence of Princess Mary and Princess Arthur of Connaught, with Tennant as Prince Charming in a pink wig and Beaton as Lucien Bonaparte in an ornate satin coat with long tails. Also present were two of the most celebrated actresses of the era, Gladys Cooper, who went as Helen of Troy, and Tallulah Bankhead, as Cleopatra.
In Beaton's view, he had by now achieved the perfect balance at the centre of two interconnected worlds – society and the theatre. A subject of his who combined both was Lady Diana Cooper, daughter of the Duchess of Rutland and one of the most famous beauties of her day. Her face, as described by Beaton, 'was a perfect oval, her skin white marble. Her lips were japonica red, her hair flaxen, her eyes blue love-in-the-mist.' He once photographed her as the Madonna in The Miracle, a play directed by Max Reinhardt, which required Lady Diana, serene and holy, to stand throughout most of the performance motionless in her niche on the wall.
… accurately describing himself as 'a scheming snob', Beaton adored being at the centre of this wild and frivolous world. He made friends everywhere …
Also part of the fray were the very wealthy Bryan Guinness and his beautiful wife Diana, one of the Mitford sisters. The young Guinnesses soon became one of the most fashionable couples in town, generous hosts who entertained lavishly …
It was at the very end of the decade, the season of 1929, that the Guinnesses gave an extravagant 1860s party, which, as it turned out, was to be almost the last of the period dominated by the Bright Young People. The spark had already begun to fizzle out and times were changing. In November, Beaton, by now highly paid and much in demand, left for his first visit to America, where in the years to come he was to pursue a remarkable career in Hollywood and New York. His horizons were expanding, his reputation continuing to grow, both as a photographer and as a designer of stage sets and costumes.
Beaton hosted the next big blow out party himself in 1937. At his Fête Champêtre were his friends from the Bright Young Things days a decade earlier. Ever the dandy, he had four changes of attire and the party did not end until 7 a.m. the following day.
The party took place at Ashcombe House in Wiltshire, which he leased between 1930 and 1945:
Here many of the original Bright Young People gathered for a magnificent garden party, photographs of which appeared in Life magazine. The marquee was decorated with flowers and ribbons, the waiters wore animal masks and 30 supper tables were designed to look like ballet dancers.
Beaton entertained frequently and lavishly at Ashcombe House, which is a huge Georgian estate.
His photographs showed up in an important estate collection in 2021. He often took photographs of Dame Edith Sitwell, one of them being in 1926. Dame Edith lived at Weston Hall, which went up for sale that year. Its varied contents later went to auction.
In October 2021, Tatler reported on the contents:
For three centuries, the Sitwells have dominated the literary and artistic landscapes, with generation after generation of writers, eccentrics and creatives amongst their number. Since the 18th century Weston Hall in Northamptonshire has been the family seat, until it was sold earlier this year. Now, its contents are making up a landmark auction at Dreweatts, charting not only the fascinating history of this important family, but also of England itself.
Joe Robinson, Head of House Sales at Dreweatts and taking up the mammoth challenge of cataloguing the works, said, 'Weston Hall was a fascinating encapsulation of not just the Sitwell family history, but also the social history of Britain over the last few centuries. With the extensive collection of works having been preserved in the house for so long, it has been thrilling to go on a journey of discovery with the family, to uncover so many hidden treasures with such wonderful provenance. The stories behind the works truly enrich the pieces and when you purchase a work from this sale, you know you are buying a true piece of history.'
A veritable treasure trove, highlights of the collection include many artworks that were exhibited at the National Portrait Gallery in 1994, in a show titled The Sitwells and the Arts of the 1920s and 1930s. One such piece is a carved fluorite dress ring featuring two mythical beasts that belonged to Edith Sitwell, one of the Bright Young Things of the 1920s. There are multiple other pieces of Edith's jewellery and clothing included in the sale, who was known for her avant garde fashion sense and sometimes shocking behaviour …
Fans of celebrated society snapper Cecil Beaton will also no doubt be keen to get their hands on a whole cache of rare photographs of the family, up for sale for the first time. One of his most famous portraits was of Dame Edith Sitwell wearing an ostrich feather hat, pictured below, while others included are of Georgia Sitwell, the wife of writer Sacheverell Sitwell, taken circa 1927.
Food critic William Sitwell wrote in The Telegraph at the time that he spent many happy days at Weston Hall and remembers Dame Edith's many party costumes left for the younger family members in a dressing up box.
He told Tatler:
This sale offers countless individuals and collectors the chance to own items and collections that are part of the fabric of English history. It's extraordinarily diverse, representing the wide interests and experiences of my family and our ancestors. After the sadness of leaving Weston it will be heart-warming to think that works of art and furniture, which are like so many close friends to myself and my family, will find new homes and become part of new, wonderful collections.
Beaton also snapped the Mitford sisters, who were part of the Bright Young Things. In 2021, one of Nancy Mitford's novels, The Pursuit of Love, was made into a television mini-series. Tatler reported on the Mitfords' descendants and introduced the sisters to a new generation. There was no escaping Cecil Beaton or Evelyn Waugh:
Recognised for their beauty, eccentricity, conflicting political views and sharp intellect, the Mitford sisters were undoubtedly the ultimate It Girls of the 20th century. Everyone was captivated by 'The Six'; whether it was Evelyn Waugh who spent over two decades writing 500 letters to Nancy, Cecil Beaton who captured Diana in theatrical costume time and time again, or youngest sister, Deborah, who later became Britain's most loved Duchess as The Dowager Duchess of Devonshire.
Royal photographer
In July 1939, Beaton's life took a seemingly improbable new turn.
One day he received a phone call out of the blue. The Victoria & Albert Museum tells us of his diary entry:
The telephone rang. "This is the lady-in-waiting speaking. The Queen wants to know if you will photograph her tomorrow afternoon" … In choosing me to take her photographs, the Queen made a daring innovation. It is inconceivable that her predecessor would have summoned me – my work was still considered revolutionary and unconventional.
That Queen was Elizabeth, George VI's wife and mother of Princesses Elizabeth and Margaret.
I read about that in Tatler. Beaton thought it was a prank call and slammed down the phone on the lady-in-waiting. She patiently rang back to arrange an appointment.
The V&A exhibition has a stunning photograph of the then-Queen Consort in Buckingham Palace Garden as well as subsequent ones of the Royals:
The opportunity to photograph Queen Elizabeth, Queen Consort of King George VI, in 1939 was the high point of Beaton's career to date. Published two months after the outbreak of the Second World War, his images presented a sense of continuity with a magnificent pre-war Britain. Several wartime sittings of the Queen and her family would reinforce his vision of a seemingly unshakable monarchy and witness the transformation of Princess Elizabeth from girl to young woman.
Beaton created sumptuous backdrops when the photo shoots took place indoors:
The flowers that appear in many of Beaton's portraits were often picked from his own garden. Cascading arrangements of roses, carnations, lilies and hydrangeas filled the space between a photographic backdrop and the sitter, and were an essential prop in the creation of his idealised pastoral scenes.
Beaton was enamoured of the Royal ladies. Wikipedia says:
Beaton often photographed the Royal Family for official publication.[17] Queen Elizabeth The Queen Mother was his favourite royal sitter, and he once pocketed her scented hankie as a keepsake from a highly successful shoot.
War photographer
Not many of us probably know that Beaton also became a celebrated war photographer, so much so that he is partially credited for America's entry into it. Wikipedia says that, in between his Royal photo shoots:
… the Queen recommended him to the Ministry of Information (MoI). He became a leading war photographer, best known for his images of the damage done by the German Blitz. His style sharpened and his range broadened, Beaton's career was restored by the war.[16]
… During the Second World War, Beaton was first posted to the Ministry of Information and given the task of recording images from the home front. During this assignment he captured one of the most enduring images of British suffering during the war, that of 3-year-old Blitz victim Eileen Dunne recovering in hospital, clutching her beloved teddy bear. When the image was published, America had not yet officially joined the war, but images such as Beaton's helped push the Americans to put pressure on their government to help Britain in its hour of need.[5]
After the war ended, Beaton bought a stately manor, Reddish House, in Wiltshire, more about which below.
In September 1951, once it was politically acceptable and socially safe to party again, Beaton was one of the guests at Le Bal Oriental in Venice. In a 2020 article, Tatler described it, complete with photographs:
Venice was abuzz with decadence and glamour on 3 September 1951, as the beautiful and the damned gathered for eccentric aristocrat Count Carlos de Beistegui's high society gathering Le Bal Oriental – the first since World War II.
Guests were invited six months prior, in order to give them enough time to design their decadent costumes, with the theme inspired by a fresco in his home, the Palazzo Labia. The Banquet of Cleopatra by Giovanni Battista Tiepolo was the chosen artwork; it depicts a wager between Cleopatra and Mark Antony as to which one could provide the most expensive feast. A worthy inspiration for a dress code, no doubt.
The guest list itself was superlative: the brightest stars and hottest young things of the era. Fashion designer Christian Dior attended in a costume designed by surrealist artist Salvador Dalí, while Dalí wore one by Dior. Cecil Beaton took the photographs, while director and actor Orson Welles held court alongside society beauties including Countess Teresa Foscari Foscolo and Patricia Lopez-Huici de Lopez-Willshaw, as well as Aga Khan III.
Then there were the details. Arrival by gondola, after a five-day journey across Europe for many, with cheers from waiting Venetians; 70 footmen dressed in the exact liveries worn at the Duchess of Richmond's famous ball held the night before Waterloo; thirty guests attired in Pierre Cardin (it essentially launched his career); a 6am end time and a host wearing 16-inch platform shoes.
 There is a self-portrait of Beaton:
Cecil Beaton standing on the balcony of the Palazzo Labia dressed as a clergyman
Very convincing it is, too, as by that point Beaton had grey hair and looked seriously distinguished.
Costume design for My Fair Lady
Beaton was somewhat of an artsy polymath. He could act, sing, photograph — and design costumes as well as stage sets.
My Fair Lady put him firmly in the spotlight.
A 2022 Tatler retrospective of the play and the film, complete with photographs, tells us:
Thursday, 15 March 1956: The opening night of My Fair Lady on Broadway. Cecil Beaton had spent month after exhausting month designing and supervising the costumes for a production he was hugely enthusiastic about but not yet entirely convinced by. The run-up had been challenging. Both revolving stages malfunctioned, the sets were flimsy, the curtains got caught up and wouldn't come down, and the dress rehearsal was a disaster. Blizzards kept audiences away from the try-out evenings. Rex Harrison, playing Henry Higgins, was plagued with fear and self-doubt, manifesting itself in monstrous displays of egotism. Beaton found him 'beneath contempt', and only by a miracle, he said, did he prevent an ugly confrontation, while an exasperated 20-year-old Julie Andrews, playing Eliza Doolittle, rehearsing the last-act fight with Harrison, threw her slippers in his face with such force the entire chorus applauded her from the stalls.
Beaton need not have worried. He recorded the opening night in his diary: 'Every joke was appreciated, every nuance enjoyed and the various numbers were received with thunderclaps. The success was beyond all expectation.' It was also, he added, 'an electric evening…I am grateful and overwhelmed.' Curtain call after curtain call. So frenzied was the reception – in the days following, the police were drafted in to keep order at the box office – he now recognised My Fair Lady for what it was: the greatest triumph of his life so far, the high point of his career, though 'it has taken such a long time to achieve', he said wistfully. It won him his second of four Tony awards.
By the time the run ended in 1962 after nearly 3,000 performances, My Fair Lady was the highest grossing Broadway show in history. The London production at the Theatre Royal Drury Lane, which opened in 1958, ran for five and a half years and was reckoned to be the most expensive then staged in the West End.
Beaton had worked on The Chalk Garden sets and costumes in 1955, but loathed it:
Enid Bagnold's curiosity, part melo- drama, part comedy of manners, opened on Broadway to rave reviews but by then Cecil had fallen out with just about everyone connected …
When he was dropped from the London production, it opened a window for him on what would become My Fair Lady. If Lerner and composer Frederick Loewe had not come into his life, he said, he would surely have given up on the theatre.
Beaton, having been born halfway through the Edwardian (Edward VII) period, was a natural fit for My Fair Lady:
As a boy, Beaton had collected glitter-coated postcards of the leading ladies of Edwardian opera and theatre, one of his greatest heroines being the musical comedy star Zena Dare, whom delightedly he got to dress when, at 70, she took on the role of Mrs Higgins for My Fair Lady's West End run. His childhood informed his outlook on life; the observations made at an early age remained constant, he would say, while around him the world would change.
His costumes for My Fair Lady were rooted in his memory bank of Edwardiana, memorialising the world of music hall comedy, his mother's formal dresses, his Aunt Jessie's ostrich-feather hats, fin-de- siècle fashion plates – and, famously, for the black-and-white Ascot scene, he reinterpreted the 'Black Ascot' of 1910 held in mourning for the late king.
Beaton was exacting and resourceful:
In all, Beaton designed more than 150 costumes and kept a punctilious eye on their construction, irritated when a cartwheel hat had to be refashioned three times. Julie Andrews recalled they were so over-scaled that the wearer was often obliged to enter a room sideways – if, that is, they could see at all from beneath the exaggerated brims.
Beaton was exacting and resourceful. Some curtains from his former country home, Ashcombe, had once been appliquéd with 10,000 or so pearl buttons. Taken out of storage, the buttons were detached and sent across the Atlantic to do service for the Pearly Kings and Queens attempting to get Alfred Doolittle to the church on time.
When Beaton's fastidiousness combined with first-night nerves, it was a combustible mix. After the first try-out before the Broadway opening, he was apoplectic with Andrews who had, in all innocence, worn a picture hat back to front. In her dressing room, unsure if everything had gone right, the first words she heard were not of reassurance, but from Beaton flinging the door open, grabbing the hat and shouting: 'Not this way round. That way round. How could you get that wrong?' However, the reviews were ecstatic and Beaton was now a Broadway celebrity in his own right, the consummate showman: 'I felt I was on the crest of a wave and must enjoy the ride…'
The ride was by no means over. Two years later, in April 1958, with the main leads reprising their roles, the show opened in London. Beaton had remodelled several hats and made 20 new costume designs. He considered them far superior to the Broadway ones, though he was delighted to hear that in fashionable Manhattan, belle-époque-style chiffon blouses and delicately pointed boots were now all the rage. Always eager for self-publicity, Beaton wasted no time in getting his pictures of My Fair Lady's leading players into Vogue and Ladies' Home Journal. He accepted a commission to design a range of modern clothes based on his costumes, as well as a line of children's swimwear, and held gallery shows of his sketches. Eventually he would mine it all for a standalone book, Cecil Beaton's Fair Lady (1964).
Though Rex Harrison played up again, the momentum of Broadway was firmly behind London and My Fair Lady opened in a blaze of glory. At a special charity performance, attended by the Queen and Prince Philip, crowds lined the streets from Drury Lane to the Strand. It was more like a coronation than a premiere, remarked Lerner.
The film came next:
Andrews lost the part of Eliza to Audrey Hepburn. However, there was no doubt as to who would design the costumes and this time the sets too, 'an explosive moment of excitement', remembered Beaton – but it was not to last long.
For 10 months from the beginning of 1963, Beaton removed himself to Hollywood where, in the 1930s, he'd had great success as a photographer of movie stars. Despite a close friendship with Hepburn – 'an angel of goodness' – filming was an unhappy experience with echoes of his depressing time on The Chalk Garden. He quarrelled furiously with director George Cukor, whose approach he found undisciplined, his manner coarse. Further, his stage successes had emboldened him and he was unwilling to compromise. He also developed the habit, in breaks during filming, of taking the star off set to photograph her, sweet, pliable and willing, in each of his designs, her own and those of the extras. Already finding Beaton's English vanities insufferable, Cukor was incensed at his presumption and at one point barred him from the set. Tempers simmered to breaking point. 'Everyone's nerves are explosive,' commented Hepburn, 'everyone's on edge!' Beaton tried to resign and in the end left the film earlier than planned. Meanwhile, Rex Harrison was positively beatific.
Regardless of what went on behind the scenes, it was another triumph for Beaton:
My Fair Lady earned Beaton two Oscars for costume and art direction. If the stage productions on London and Broadway made his name, the film guaranteed him immortality. 'There is no formula for success,' he once wrote. 'The element of the unknown is always present to make or mar your effect; but when all the elements fuse and an entity is created, then all the heartburns seem to have been worthwhile.'
Royal photograhy continued
In the post-war years, the then-Princess Elizabeth called Beaton to photograph her first born, Prince Charles.
The aforementioned V&A article tells us:
On 14 November 1948 Princess Elizabeth gave birth to her first child, Prince Charles Philip Arthur George. At her mother's suggestion, the Princess chose Beaton to photograph her newborn son. Beaton would go on to take photographs commemorating the births of her other children: Princess Anne in 1950, Prince Andrew in 1960 and Prince Edward in 1964 …
Beaton photographed the infant Prince Charles on 13 December 1948, two days before the Prince's christening. He commissioned a new backdrop for the occasion, which his assistants installed in the gold and ivory-coloured Music Room at Buckingham Palace. Beaton used a large 8 x 10 inch and smaller Rolleiflex cameras. He recalled that:
His mother sat by the cot and, holding his hand, watched his movements with curiosity, pride and amusement.
My favourite photograph is his official Coronation portrait of the Queen in 1953 with its magnificent backdrop of Westminster Abbey and sumptuous red curtain. The Abbey backdrop appears to be a large painting placed behind the Queen, although you would never know it from looking at the picture.
The Oldie magazine agrees with me:
Back at the Palace, the Queen was photographed by Cecil Beaton. She came in with her maids of honour, 'cool, smiling, sovereign of the situation'. As she posed, he thought she looked 'extremely minute under her robes and crown, her nose and hands chilled, and her eyes tired'.
To him, she was less forthcoming, but he extracted from her, 'Yes, the crown does get rather heavy.' She had been wearing the Imperial State Crown for over three hours, processing in the Gold State Coach through the rainy streets of London. Cecil Beaton went on to capture one of the most iconic images of the reign, way better than the official, tedious James Gunn portraits that lurk in embassies across the globe.
The V&A article has it in all its colourful splendour:
Cecil Beaton attended the ceremony, along with 8,000 other guests. He sat in a balcony close to the pipes of the great organ, recording his impression of the glorious pageant in animated prose and black ink sketches. After the ceremony he returned to the Palace to make final preparations for the official portrait sitting.
In this glittering portrait, the Queen wears the imperial state crown, a replica of that made for Queen Victoria's Coronation. The Queen holds the sceptre with the cross in her right hand, balanced by the orb in her left. On her right hand she wears the coronation ring, a symbol that the sovereign is 'wedded' to the state. On both wrists are the armills, golden bracelets signifying sincerity and wisdom.
In the years that followed, the portraits that Beaton took of the Queen and her children are relaxed rather than stylised, a big departure for him:
Beaton's approach to royal portraiture changed dramatically. All attention was now focused on the sitters, a stark white background replacing the elaborate Rococo-inspired backdrops of earlier years.
In 1968, Beaton was given an exhibition at the National Portrait Gallery. He decided to add a new portrait, one of the Queen. I read in Tatler that he was mildly frustrated that none of the poses were what he wanted. Finally, spontaneously, the Queen suddenly turned her head at an angle. Beaton's timing was perfect, and another iconic portrait emerged.
The V&A article says:
He felt anxious before the sitting, writing in his diary:
The difficulties are great. Our points of view, our tastes are so different. The result is a compromise between two people and the fates play a large part.
As times had changed by 1968, Beaton selected pared-down portraits:
Beaton selected plain white and blue backgrounds, resolving to be "stark and clear and bold". The portraits were a triumph.
But — and its a big but:
They were the last photographs Beaton made of Elizabeth II, although he continued to photograph other members of the family until 1979.
This is, in part, because the Royal Family had its own photographer, Princess Margaret's husband Lord Snowdon.
However, Beaton also suffered a stroke in the 1970s. Despite adaptations made to cameras and other equipment, he became more anxious about his future. Wikipedia says:
… in 1976, [he] entered into negotiations with Philippe Garner, expert-in-charge of photographs at Sotheby's.
On behalf of the auction house, Garner acquired Beaton's archive – excluding all portraits of the Royal Family, and the five decades of prints held by Vogue in London, Paris and New York. Garner, who had almost single-handedly invented the photographic auction, oversaw the archive's preservation and partial dispersal, so that Beaton's only tangible assets, and what he considered his life's work, would ensure him an annual income. The first of five auctions was held in 1977, the last in 1980.
Cecil Beaton died at Reddish House in January 1980, four days after his 76th birthday.
Reddish House has had various famous owners since then and went on the market again in 2020, when Tatler told us:
… the smart home was purchased by Beaton for £10,000 in 1947, with the photographer living there until his death in 1980. He moved there from his sprawling Georgian estate, Ashcombe, which was just down the road.
A consummate host, Beaton threw plenty of soirées in his down-sized abode, with guests as illustrious as the Queen Mother, Mick Jagger, Truman Capote, David Hockney and Lucian Freud. Greta Garbo even moved in for a spell – staying for six weeks …
Not only did he add more rooms on the eastern side of the house, he also extended the parlour southwards and added new fixtures and fittings. Upstairs, the house had been fitted for illegal cock-fighting – Beaton made use of the cages as a wardrobe for his costumes for the play, The Gainsborough Girls. He also planted the gardens, that remain today.
The article has photographs, including another self-portrait from 1968.
Cecil Beaton was one of a kind.
Tomorrow's post will be about another great Royal photographer, the late Lord Snowdon.
The three-year Lectionary that many Catholics and Protestants hear in public worship gives us a great variety of Holy Scripture.
Yet, it doesn't tell the whole story.
My series Forbidden Bible Verses — ones the Lectionary editors and their clergy omit — examines the passages we do not hear in church. These missing verses are also Essential Bible Verses, ones we should study with care and attention. Often, we find that they carry difficult messages and warnings.
Today's reading is from the English Standard Version Anglicised (ESVUK) with commentary by Matthew Henry and John MacArthur.
3 Honour widows who are truly widows. 4 But if a widow has children or grandchildren, let them first learn to show godliness to their own household and to make some return to their parents, for this is pleasing in the sight of God. 5 She who is truly a widow, left all alone, has set her hope on God and continues in supplications and prayers night and day, 6 but she who is self-indulgent is dead even while she lives. 7 Command these things as well, so that they may be without reproach. 8 But if anyone does not provide for his relatives, and especially for members of his household, he has denied the faith and is worse than an unbeliever.
——————————————————————————————————————
Last week's post introduced Paul's instructions on how to properly rebuke those in the congregation who were falling away from their Christian duties.
The Apostle then goes on to provide more detail, beginning with widows.
He tells Timothy to honour widows who truly are widows (verse 3).
Paul gives more specifics later on in the chapter, but he wants Timothy to know that not every woman who has lost her husband is worthy of the church's charity. In other words, there are widows and there are widows. Much depends on their conduct.
John MacArthur explains the context here (emphases mine):
Paul, then, wants Timothy and the church at Ephesus and us to understand our responsibility to widows. He gives five principles … The first principle is this – verse 3 – "Honor widows who are real widows." Honor widows who are real widows. Now let me just give you enough background to understand where Paul is coming from as he writes. Keep this in mind. From the beginning of our study of 1 Timothy, I have told you that I believe this epistle is a polemic; that is to say, it speaks against some problem.
And I believe this church was filled with problems of ungodliness, problems of false doctrine, not the least of which was mishandling the matter of care for widows. The church was as inept at that as it was at all the other things Paul deals with. So this is a corrective passage. We can conclude, then, that widows were not being properly honored. We can conclude that unqualified, older widows were being allowed to serve semi-officially for the church and their lives were really not clear and clean and pure. We can also conclude that younger widows were remarrying unbelievers.
Younger widows were breaking vows made to Christ. There were families that weren't supporting their own widows. There were women who could have supported many widows, such as Dorcas did, but they weren't doing that either. In other words, the whole area of biblical instruction to widows needed to be taught because of what needed to be corrected at Ephesus. It is a very, very basic ministry of the church to care for these women.
Principle number one, then, in verse 3, the obligation of the church to support widows; the obligation of the church to support widows.
MacArthur says that the status of 'widow' in classical Greek encompasses more than we understand it to today:
Now what do we mean by widows? To us, the word means a woman whose husband is dead. The Greek word includes that but is not limited to that. That's a very important statement: The Greek word includes that but is not limited to that.
The word "widow" is chēra. It is a word that's a feminine form of an adjective used as a noun. It is an adjective, it means bereft. It means robbed. It means having suffered loss. It carries the idea of being alone. It comes from chēras, and that's what that means, bereft, robbed, having suffered loss, being left alone. The word, then, doesn't speak about how a woman got into the situation, it just describes the situation. She is alone, she is bereft, she has suffered the loss of her husband. It doesn't say how she lost the husband.
Usually, of course, we would think she lost the husband through death. There's nothing in this word to indicate that it is limited to that. In fact, if you do any kind of study of the word and trace it through any classical Greek usages, you will find that the word means a woman who lost her husband in any fashion – death, divorce, desertion – anything. That can all be summed up in this word.
William Barclay, for example, feels it should include those who were polygamists in the Roman world, and when they came to Jesus Christ in faith, they may have given freedom to their wives that – other than their first wife, to leave in order that they might be monogamous, according to the teaching of the Word of God. And when they sent those women away, those women would fall under this same kind of word. They also would be chēra, bereft of their husband, even though their husband was still alive.
There's no reason to indicate that this should exclude people whose husband left them in desertion or divorced them through a legal means. The word simply describes a woman who has lost her husband, whatever that might be in terms of cause.
MacArthur gives us a modern-day example of a widow without a family structure upon which to rely:
What happens, for example, when a woman is raised in a broken home? Maybe her mother's been married a couple of times, she's had a father and a stepfather, which is not atypical at all but somewhat common. She goes off into a career kind of orientation. Maybe she doesn't get married until she's 26, 27, 28, 29. By that time, she's charted her own course. She marries somebody who has charted his own course. They get together. Something happens to him. She's out there, she's had sort of a career kind of background. She's had a very messed-up family situation.
He dies. She's left with a couple of little kids on her hands. She can't plug back into an intimate family network because it's long gone, if there ever was one, and the burden on the church is even greater.
You see, the price to pay for the disintegration of the family is really monumental. Those widowed women, those women who lose their husbands, need to be able (as Genesis 38 illustrates) to move back into the home of family one way or another, but so often that can't happen or it won't happen because of the disintegration of the family. The tragedy in the breakdown of the family is the loss of the support network. And it puts the burden even greater on the church.
MacArthur says that there were many widows in the classical sense of the word at the time Paul wrote to Timothy:
Now, I want you to know that this expands the accountability and the responsibility of the church immeasurably because what we're talking about here is a responsibility to take care of all those women who have lost their husband, which is a very, very large company of women. Maybe as large now as at any time in the world's history with divorce and desertion and all of those things such a common, everyday matter.
Furthermore, unlike today, it was not possible for women to work in gainful employment and there was no welfare state:
In those days, women could not find honorable employment easily. There were no secular institutions to care for them. And so they were in serious straits. They were very often reduced to poverty unless their husband had left something with them or their father had left an inheritance to them or perhaps they were under the care of a father's family or a mother-in-law's family, or friends or whatever, but many widows were left destitute.
And as I said, there was no honorable employment available to women because women were seen as being cared for within the context of the family and the home, not caring for themselves outside that context. The treatment of these women, then, was a watershed, was a test case for the love of Christ borne in the hearts of the Christian community. Their spiritual character, the demonstration of their devotion to Christ could be seen in how they cared for people who were desperately in need of that care. And I might add that this has been a part of the church's life throughout all of its history.
MacArthur discusses the Greek word for 'honour':
It's the verb timaō. It means to show respect, to show care, to give support, to treat graciously, and it encompasses the idea of meeting needs – whatever they are – financially, of course.
In fact, it is used of pricing something in Matthew 27:9, to put a value on something and then to care for that in light of its value, and certainly there's nothing more valuable than one made by God, than a believing woman, and nothing more precious to the church than a believing woman desperately in need of the church's care.
Matthew Henry's commentary says that Paul is talking not only about charity but admitting women into the office of deaconess, in which they take instruction from a deacon:
Honour widows that are widows indeed. Honour them, that is, maintain them, admit them into office. There was in those times an office in the church in which widows were employed, and that was to tend the sick and the aged, to look to them by the direction of the deacons. We read of the care taken of widows immediately upon the first forming of the Christian church (Acts 6 1), where the Grecians thought their widows were neglected in the daily ministration and provision made for poor widows. The general rule is to honour widows that are widows indeed, to maintain them, to relieve them with respect and tenderness.
Paul gives specific instructions on widows becoming deaconesses later in the chapter.
Paul says that, if a widow has children or grandchildren, then they should show their godliness by making some return — financially — to their parents, because it is pleasing in the sight of God (verse 4).
MacArthur says that Paul is telling Timothy to be discerning in using church funds to aid widows:
So first of all, the church has an obligation to support widows. Second point, and we'll just introduce this with one verse, the obligation of the church to evaluate those widows needing support. It's not a question of everybody get in line, we're just going to give it away, we have to evaluate. The church cannot indiscriminately take on everyone who applies for help. There has to be some criteria, and that comes in verses 4 through 8 …
I just want to introduce verse 4. I think it's so interesting, so important. If any woman who is bereft of a husband, any widow, has children or grandchildren, ekgonos means descendants or grandchildren, not nephews. Now, many widows in the church have children and grandchildren. It is the responsibility of the children and the grandchildren to support that widow. That's what he's saying. It says "Let them" – that is, the children and grandchildren – "learn first to show their godliness in the family." The word home, oikos, referring to family. You say you're godly, then let's see it in your family …
And don't tell me about your godliness – first put it on display in your family. First, show your godliness at home, in the house, before you make a speech about it anyplace else. I've thought to myself that one of the things we ought to do in a seminary application is to ask the mother to write a letter of reference. I don't think we've ever done that but … as I think about it, that would be a great idea. What kind of son is this young man? And what are the evidences of godliness that you have seen in the home?
We might cut down our applications a bit with such a process, but it might be well worth it because that's where godliness is proven, it's proven in the home.
Of the family obligation to help a widow, Henry says:
This is called showing piety at home (v. 4), or showing piety towards their own families. Observe, The respect of children to their parents, with their care of them, is fitly called piety. This is requiting their parents. Children can never sufficiently requite their parents for the care they have taken of them, and the pains they have taken with them; but they must endeavour to do it. It is the indispensable duty of children, if their parents be in necessity, and they in ability to relieve them, to do it to the utmost of their power, for this is good and acceptable before God … If any men or women do not maintain their own poor relations who belong to them, they do in effect deny the faith; for the design of Christ was to confirm the law of Moses, and particularly the law of the fifth commandment, which is, Honour thy father and mother; so that those deny the faith who disobey that law, much more if they provide not for their wives and children, who are parts of themselves; if they spend that upon their lusts which should maintain their families, they have denied the faith and are worse than infidels.
MacArthur points out that, in ancient Greek law, children were obliged to support their elders:
Reading from the Greek culture, it was Greek law from the time of Solon that sons and daughters were not only morally but legally bound to support their parents. Anyone who refused that duty lost his civil rights.
Aeschines, the Athenian orator, said in one of his speeches, "And whom did our lawgiver condemn to silence in the assembly of the people? And where does he make this clear? Let there be," he says, "a scrutiny of public speakers in case there be any speaker in the assembly of the people who is a striker of his father or mother or who neglects to maintain them or to give them a home." Demosthenes said, "I regard the man who neglects his parents as unbelieving in and hateful to the gods, as well as to men." And Philo talked about the fact that even old birds take care of their parents because they taught them how to fly. Should humans do less than that? And we have a responsibility to care for our parents, particularly those widowed ones.
Paul distinguishes two types of widow: one who is all alone but continues her devotions to God (verse 5) and one who is self-indulgent and dead, even though she is alive (verse 6). Paul means the second type of widow is dead in sin, not dead to sin, which the first widow is.
MacArthur gives us the Greek for 'all alone' in verse 5:
The verb here "has been left alone" monoō. We get the word mono, which means single. It's in the perfect tense and it means a continual condition or state or permanent position of being forsaken without resources.
He discusses the first type of widow, the one devoted to God:
Verse 5, "She trusts in God." Now, the Greek text says elpizō, the verb, "She has fixed her hope on God." She has fixed her hope on God. That's also a perfect tense. She not only is in a continual condition of being without means but she is in a continual condition of presenting herself to God as her only hope. Her settled condition is one of desolation. Her settled attitude is one of hope in God.
What does that tell us? She's a Christian. What kind of widows is the church responsible to support? Number one, those who have no children or grandchildren who are supporting them. Two, a widow who is a believer, a single woman having lost her husband who is a believer. If she's never had a husband and is single, she is still the care of her father. That's another issue. But this woman is the woman who has no one to care for her and she has fixed her hope on God. She trusts in the God who has promised to care for widows, the God who has entrusted Himself to her to be her support when she has no support.
This means she's a Christian lady. Only – now get this – only to such women does the church have this special responsibility. We may choose to help non-Christian women; we must help Christian women. This is a mandate. We might choose to do good to all men, especially those of the household of faith. We are bound to serve the Christian woman who is destitute. She looks to God for the supply of her needs …
So here is the kind of widow that is to be supported. We are to come to the aid of a woman who trusts in God, a believing woman, a godly woman. And her godliness is seen in the next phrase. "She continues in supplication and prayers night and day." The fact that she had fixed her hope on God shows that she's a Christian; the fact that she continues day and night in prayer and supplication shows that she's a committed Christian, a godly woman – not just a saved woman but a godly woman.
Anna the prophetess was one such example of a godly widow:
Her name was Anna and she was there at the dedication of the baby Christ, the child Christ, when He was brought to the temple. "And there was one Anna," Luke 2:36 says, "a prophetess, the daughter of Phanuel, of the tribe of Asher, she was of great age and had lived with a husband seven years from her virginity." She would have been married very young, no doubt in her teens, she lived seven years with her husband and her husband died.
"And she had never departed from the temple but served God with fastings and prayers" – there it is – "night and day." She had the privilege of being there when the Messiah Himself arrived and was dedicated in the privilege of going out and speaking of Him to all those who looked for redemption in Israel. Here was a woman who lost her husband and devoted herself to God. This is a woman worthy of support. If God wanted to give her a husband, that's fine. If God wanted her to be remaining single, that's fine.
Her heart was given to God. And yes, she poured out her petition, and yes, she poured out her supplication, but also with it her praise and her thanks and her adoration and her worship.
Now let's look at the widow of verse 6.
Henry says:
But she is not a widow indeed that lives in pleasure (v. 6), or who lives licentiously. A jovial widow is not a widow indeed, not fit to be taken under the care of the church. She that lives in pleasure is dead while she lives, is no living member of the church, but as a carcase in it, or a mortified member. We may apply it more generally; those who live in pleasure are dead while they live, spiritually dead, dead in trespasses and sins; they are in the world to no purpose, buried alive as to the great ends of living.
MacArthur would agree with that assessment:
The Greek says the living for pleasure one living is dead. In other words, the one who goes out and lives for her own ease and all she wants is her own satisfaction and her own indulgence, she may be living physically but she is dead – what? – spiritually.
There are women like that. They have no family. They have to go out and support themselves, but they don't trust God for that. They don't hope in God for their guidance. They don't depend on God. They have no heart of devotion to Him, no love for Him, no dependence on Him, no desire to obey Him, but rather they live for pleasure. Now that Greek term means to live sensually. Some have translated – it's a very rare verb, spatalaō, it means to plunge into dissipation. It means to lead a life of wanton pleasure. The word "wanton" means with disregard for what is right. To lead a life of pleasure with no thought for what is right or what is wrong …
Now, it's likely because of the context here that such women existed in that church, that when their husband was around, they were active in the church. When the husband died or when the husband disappeared, they split and went into that kind of lifestyle. Whatever their past involvement in the church, they forsook it. They were the rocky soil where the plant grew for a little while and then it died. They were the weedy ground where it grew for a little while and then was choked out by the love of lustful desire and the pleasures of the world. For that woman, the church needs to provide nothing. She needs to be turned over to the consequence of her own choices.
And so I do not believe the church is under obligation according to the Word of God to be running around helping ungodly women continue to live their ungodly life.
Paul tells Timothy to command these things so that they may be without reproach (verse 7).
MacArthur explains the verse:
What are these things? Everything he said since verse 3. You command this to your people, Timothy, that they might be without blame, whether they are families who ought to support widows or whether they are widows who ought to live godly lives. He's pulling everybody in. Everybody involved should be above reproach. The church should be above reproach. The church should be a model of virtue in this area, leaving no legitimate fault to be exploited by the critics.
… the reputation of the church is at stake, and if the church is to be blameless, then you better be commanding these things all the time. You tell your people they're responsible for caring for widows, widows who are widows indeed, that is without support and who are godly and who walk with the Lord, have manifested their dependence and hope in Him through a life of prayer. If the church is careful and makes these distinctions and supports these women, it will be above criticism, it will gain a marvelous and wonderful reputation. 
Paul returns to the obligation for a household to care for its widows, saying that anyone who does not do so is denying the faith and no better than an unbeliever (verse 8).
MacArthur says:
That's one of the strongest statements in the whole Bible. You say, "I didn't think a Christian could be worse than a non-Christian." Yeah, you can. In terms of the expression here, you are worse than an unbeliever if you don't take care of your own.
Now, what is he saying here? There's no break in thought. The term "but" keeps the same flow going, the break comes in verse 9 … he states in verse 8 negatively what he said in verse 4 positively. In verse 4 he said, first of all, children take care of your parents. Now in verse 8, he says if you don't, you're worse than an unbeliever. But he goes beyond parents here, and he gives us more criteria to evaluate our responsibility.
The fact that he said it in verse 4 in a positive way and now says it in verse 8 in a negative way leads me to believe that there were a lot of violations of this in Ephesus, and the level of Paul's exasperation was rising and rising because so many people were violating the biblical ethic toward women in need. So he says, "If anyone doesn't provide for his house" – and it's a first-class condition and that means it states a fact so it could be translated, "When any of you doesn't provide for your family" or "Since some of you are not providing for your family."
It's a very simple statement of fact. If you don't provide, and that is pronoeō, to think before, to plan before, to care for someone, to take thought to help, if you're not planning into your life the care of your own – your own what? – your own widows.
Now, what does he mean, your own widows? That's very vague and it is purposely vague because it refers to anybody networked with you. In your family? Not specifically because that comes next, but in your circle of relationships, maybe your relatives, maybe your friends, maybe your neighbors, maybe your acquaintances, anybody networked in life through you, whether in your house or another house, it's purposely vague. And again I say it isn't the question of the organized church doing it, it's the question of a believer doing it.
MacArthur says that the onus can fall upon us as individual churchgoers to support godly widows if we see their need before our church does:
… many people will come to me, and they will say the church ought to help this lady, she needs $200. Why can't the church help her? Well, we want to do everything we can, but if you say that to me I'm liable to say back to you, "Why can't you help her?" And if you say to me, "I can't help her because I don't have anything, either," then we'll help both of you gladly. But don't come and expect the church to do what you won't do. That's not the idea. Where do you – who do you think the church is? If you have a burden for someone, then the responsibility lies with you to do what you can to see that that burden is alleviated.
So first of all, if you don't provide for your own, that is the widows that are in your network, the bereft women that you know of, and especially of those of his own family. So we know the first phrase is beyond family, especially of your own family. He says if you don't help the ones in your network and especially in your own family, your own parents or grandparents or your own aunt or your own sister or whatever, someone close to you, if you don't help those along with everyone networked who in any sense belongs to you as a friend or an acquaintance, you are guilty of two things.
Look at the first one, you've denied the faith. Now, he doesn't mean you personally have lost your personal faith in God. He doesn't mean that. He's not judging your soul. What he means is you deny the biblical principle of compassionate love that is the very center of the Christian faith. God so loved the world that He – what? – gave. And that's the heart of the Christian faith. The love of Christ is shed abroad in our hearts, Romans 5:5. By this shall all men know that you're my disciples, you have love one for another …
So first you've denied the faith, and if you've denied the faith, secondly, you're worse than an unbeliever. In practice, you've denied the faith. In practice, you look worse than an unbeliever. Why? Because most unbelievers take care of their own. I mean, most pagans know that. And most unbelievers have no idea of the obligation of love that God has given, they just do it naturally.
And most unbelievers have no real model to follow since they don't know Christ. And most unbelievers – obviously, all unbelievers don't have the power to love that we have. So we have the mandate, we have the model, and we have the power, and if we don't come up to the level of an unbeliever in caring for someone in need, then we're worse than they are. That's the point. Even pagans revere their ancestors and worship their elders. And the Christian who falls below that basic standard of loving provision is more to be blamed than anybody is to be blamed – blamed because of what he knows, the command he's under, and the love he possesses.
I can attest to an example of anonymous giving at my church just a few months ago. Someone put £200 in an envelope which had a congregant's name on it and gave it to one of our churchwardens. The churchwarden made sure that the person received the cash.
Our church has turned into an amazing place in the past couple of years. But I digress.
I would like to end with observations that John MacArthur has on feminism. In parliamentary debates here in the UK, I hear many Labour MPs, particularly women, lament the poverty levels in single-parent homes. Those Labour MPs are also very much pro-abortion.
MacArthur says the problem will only grow worse, and he delivered today's sermons in 1986. He was speaking of the US here, but similar things are happening in Britain:
Seventy percent of today's women in the labor force work out of economic necessity. More often than not, they are single, widowed, or divorced. And more often than not, they are poor. Seventy-seven percent of this nation's poverty is borne by women and their children. The number of poor families headed by men has declined over the last 15 years by more than 25 percent.
Meanwhile, the number of women who headed families at the poverty level or lower has increased nearly 40 percent. Thus, today, one in three families headed by women is poor, compared with one in ten headed by men, and one in nineteen with two parents.
The point of all of this is to let you know that with women's liberation has come female poverty. When you have the liberation of woman alongside the liberation of everybody from marriage commitment, you have women being thrown out of marriages and left to fend for themselves everywhere. According to the 13th annual report of the President's National Advisory Council on Economic Opportunity, I'm quoting: "If the proportion of the poor among female householder families continues at the speed that it's going now, the poverty population will be composed solely of women and their children before the year 2000."
Women are being dispossessed. They are being left alone. Therefore, they don't want children. The only way to deal with unwanted children in a society where they're reaching out for every relationship they can find is to abort those children. And the Centers for Disease Control tell us now that abortion has reached the place where it is the sixth leading killer among maternal diseases. And according to the May '85 issue of OB/GYN, obstetrics and gynecological journal, they estimate that 50 percent of the deaths related to abortion are not reported, so it's double whatever the statistics indicate.
Women are victims of abortion in incredible ways. Not only death, pelvic abscess, perforation of the uterus and other internal organs, medical complications in abortion include sterility in as many as 25 percent of all women having abortions. Hemorrhaging occurs in ten percent of all cases, requiring transfusions. Viral hepatitis, cervical laceration, cardiorespiratory arrest, acute kidney failure, amniotic fluid embolus, and it goes on and on like that.
The result of this is medical care for men has gone up 12 percent in the last few years. Medical care for women has gone up nearly 30 percent. So what we have now are a rising population of dispossessed women who have to run their own life and their own family, earn their own living, take care of their own medical needs, and in the process of doing that, pay more money than men do for medical care because of the problem of abortion. Such is the cost of feminism: the loss of health, the loss of financial stability, the loss of care.
Since 1960, the number of women in the work force has doubled. Forty-five percent of the entire labor force of the United States is now female, and they still earn an average of $10,000 a year less than men, and get this: The average four-year-college-graduate female in the working place earns the same amount or less as a male high school dropout. Now, I'm not saying that's right, I'm just saying that's fact. What they have worked to get, they haven't gotten, and what they didn't expect to get, they got.
Demanding equality has backfired. Employees won't pay women as much because of daycare center costs, because of maternity leave, because of sick-child absences, and 45 percent of the women in the work force are single, divorced, separated, or widowed, and they're the only person to care for themselves and their children.
And women's liberation and women's equality and everybody saying, "Take care of yourself, baby" has backfired. You add to that casual, recreational sex and illegitimate children and abortion, you add no-fault divorces, which leaves them with no right to alimony, and you have the feminization of poverty. And women have become the victims of the second biggest con game in history. The first was when the serpent persuaded Eve she needed to upgrade her life and be equal to God. The second is when the serpent deceived woman into thinking she needed to upgrade her life and be equal to man. Women will never be equal to men, nor will men be equal to women, they're just different.
According to Lenore Weitzman, in her book The Divorce Revolution: The Unexpected Social and Economic Consequences for Women and Children in America, she writes, "On the average, divorced women and the minor children in their households experience a 73 percent decline in their standard of living in the first year after divorce." That's devastating. Seventy-three percent decline. The former husbands, in the first year after divorce, experience a 42 percent rise in the standard of living. He's unloaded all his baggage. And now – in 1940, one out of every six marriages ended in divorce. Fifty years later, half of all marriages end in divorce.
[The author George] Grant closes this chapter on this issue in his book by saying, "Poverty in America has taken on an increasingly feminine face. More and more women than ever are falling through the gaps in society's safety net. Much of the cause for this abominable situation must be laid at the door of the very movements that sought to liberate women, the abortion movement, the careerist movement, and the no-fault divorce movement. Through them, the structures once built into our cultural system designed to protect women have been systematically dismantled. Dire poverty and even homelessness have become inevitable."
And then he says this: "The solution to the feminization of poverty and the feminization of homelessness thus does not depend upon the advocacy of feminism. Indeed, it cannot. The solution lies with the church. Care for women caught in the clutches of poverty and homelessness, abandonment, widowhood, and distress is always a central sign of devotion to God because God cares so much."
… By God's design, women are always to be cared for. Whoever said, "Baby, you're on your own" defied the purpose and plan of God. And what I'm saying in all of this is what we're looking at, people, is a continual explosion of dispossessed, homeless, poor, alone, desolate, needy, non-supported women. And the burden for all of that is going to come right to the foot of the church initially because if we are the representation of God in the world, then we need to represent the compassion of God toward those people, and He cares, and we have to care as well.
You see, whenever you buy into Satan's lies and deceptions, you never get what you think you're promised. All you get is tragedy. So Paul, writing to Timothy and for us as well, sets in order the responsibility of the church for the care of dispossessed women who are in need.
Paul has more specific instructions for Timothy on the treatment of widows. More on that next week.
Next time — 1 Timothy 5:9-16
As Fox News unceremoniously sacked Tucker Carlson on Monday, April 24, 2023, below is a selection of videos of varying lengths for those who miss his top-rated cable news show.
The first is a short clip about Jeffrey Epstein's death and Bill Gates's reaction, as if he never even knew Epstein:
Another short video is of his interview to the young man from Fullsend Podcast, in which Tucker says that news programmes are not there to inform us, not at all. He admits that he should have been more sceptical years ago, however, it was only in the last ten years that the scales finally fell from his eyes. Better late than never:
In this seven-and-a-half minute long video, Tucker tells us that the Biden administration has not revealed any earth-shattering facts about JFK's assassination, even though they pledged to do so. He is certain that the CIA played a large role in that and explains why. He also reminds us that the term 'conspiracy theory' emerged in 1964 — specifically about those querying the assassination — and is now used on a daily basis:
Next, we come to his final editorial on Friday, April 21, 2023, in which he discusses the Biden administration's penalising honest mortgage payers by $40 a month while allowing poorer mortgage payers more leniency. This, he says (tongue in cheek), is done in the name of equity:
That evening, he gave a 20-minute Keynote Address for the Heritage Foundation's 50th Anniversary Celebration:
I highly commend it to everyone.
My thanks go to my reader Katherine who kindly posted the link in my previous post about Tucker and wrote:
Carlson gave an impassioned speech at the Heritage Foundation Friday night, after his last show (when he didn't know it was his last). Among other things he pointed out that the mutilation of children is evil, and that we should all pray daily for an end to the evil.
This is worth showing to one's family. Children will benefit from seeing it. Listening to Tucker is like listening to a classically WASPy dad or uncle at Sunday lunch.
One of the best bits for me is between the 7:00 and 8:30 points, where he talks about truth telling and lies. He says that every time we tell the truth we feel strengthened inside. That is so important for children to know. Conversely, every time we tell a lie we feel weakened and frightened, which he says is what our notional betters are feeling. Therefore, tell the truth. He follows that by saying that he is paid to tell the truth on his nightly Fox News show. Poor man. Little did he know that Friday what would hit him first thing on Monday morning.
He talks about 'faith' at first then launches into the fact that he is an Episcopalian, adding that the denomination has the 'weakest' of theologies. Yet, he advocates praying for ten minutes a day so that the evil in our world disappears.
Tucker is the old school Episcopalian that I remember from my first thirty years of life on this planet. They made America great. They were the ones I met socially and later went to church with. Although he starts a bit slowly, it doesn't take long for Tucker to build momentum.
Afterwards, Heritage president Kevin Roberts sits and talks with him. Tucker says that the most important thing we can do every morning is to tell our family members that we love them, because we do not know what the day will bring. He meant death. He said that we must not fear death and to give it a bit of thought every day, because it will happen to each of us.
He also said that he no longer trusts anything that he cannot touch or smell, from people and pets to books. He made a point of telling the audience to hold on to physical copies of books.
Kevin Roberts told Tucker that if Fox ever sacks him, that he has a place at the Heritage Foundation.
Mr Roberts, that day has now come.
None of us is either good or perfect, but Tucker Carlson's head and heart are where they should be. I look forward to his next career move.
Having devoted most of the pandemic years to reading about coronavirus and the politics surrounding it, I fell behind in my usual perusal of periodicals.
This explains why the article about Melania Trump that I reference below comes from the November 2020 issue of Tatler, the UK's oldest society publication.
'What's her deal?' by Ben Judah, a British author and journalist with a deep knowledge of world affairs, runs from pages 90 through 97. Mrs Trump also willingly answered questions via email.
It also includes modelling photos of a teenage and twenty-something Melania, including a dramatic Warholesque ad for Camel cigarettes from 1997 (page 94). The colourful advert was painted on the sides of two buildings at the corner of 6th Avenue and 42nd Street. On one building is painted the brand name in its original font and on the other is Melania sitting against a dark background, holding a lit Camel in one hand and a martini in the other. At eight and a half storeys high, it was huge — or should I say 'yuge'? Above her sultry image are the words: 'WORTH SMOKING FOR'.
One thing that has puzzled me about the former first lady are her eyes, the windows into the soul. They were not always the narrow ones we know from her time with Donald Trump. In fact, in her early years, including in the Camel advert, they were very much open and beautiful. They were her best asset. I wonder if she had 'work done', as it were. She should have left them alone.
Summaries and quotes from Ben Judah's article follow, emphases mine.
Early years
By all accounts, Melanija Knavs spent a happy childhood with her parents and sister Ines in Sevnica, Yugoslavia, before it became part of Slovenia.
Page 92 has a photo of Melanija and Ines at a birthday party with seven other children. The kitchen table has a lovely damask tablecloth in a chequerboard weave and an elaborate two-layer cake with candles, rather surprising for the Communist era. Someone had Party connections.
We learn that:
Melania's parents stood out in the small railway town of Sevnica, where she was brought up. 'I grew up with a beautiful family and had a wonderful childhood', Melania says. 'My mother and father taught us the importance of education, hard work and family,' Her father, Viktor (who bears a striking resemblance to Donald Trump), was a car mechanic and chauffeur at a time when such small-time entrepreneurs were treated with scorn. Her mother, Amalija, worked as a pattern-maker at the Jutranjka clothes factory and had a passion for design; friends would call her 'Jackie Kennedy' because she wore heels on the production line. She spent hours making clothes for Melania and her older sister, Ines, ensuring they were always immaculately turned out. Melania says it was while she was growing up that she first heard of this 'amazing place called America'.
Her childhood friend Petra Sedej participated in Ben Judah's article:
Petra Sedej now works in marketing for the Slovenian traffic agency — the kind of destiny that was more likely for Melania than the one she ended up securing. Back then, Sedej was one of the future First Lady's closest friends; they'd gone to school together. 'She was a quiet person,' she recalls. 'In all the pictures and on TV today, she's a very serious person. But she can also make jokes and be funny.' Presentation was very important to Melania — and to her family. No matter what was happening, Sedej remembers her friend always looked perfect, 'with mascara and everything' …
'Her mother is the secret to understanding her,' says Sedej. Melania's parents did well: well enough to have a small flat in Ljubljana for Melania to live in when she moved to the city to study.
Sedej lived nearby:
On the bus to school, they would talk about boys, and after class Sedej would go round to Melania's flat in the suburbs and the two would flick through the faraway world of Vogue together. We were not party girls and we did not go out very often,' Sedej says, recalling that Melania was committed to her studies at the time. Yet she also loved modelling and hired a photographer to put a portfolio together for her. As Sedej notes, 'This is not something you'd do for a hobby.' Though they never talked about it, Sedej sensed Melania wanted to leave the country. 'When you are friends with someone for a long time, you just feel there is something more. We both wanted to do something more with our lives.'
The photographer
It is unclear whether the photographer Melania first met was the one who put the portfolio together for her.
That said:
It all began in January 1987, in Ljubljana, back in what was then still Yugoslavia. Melanija Knavs was 16. The photographer Stane Jerko was leaving early from a fashion show at the city's Festival Hall. 'By the staircase at the entrance, I saw this girl,' he says. Melania was leaning on a fence. It looked as if she w[ere] waiting for someone. 'She was tall, slim, with long hair,' says Jerko. 'I told her who I was, what I did, and why I would photograph her.' In the pre-Instagram age, this was how you found new faces.
Behind the facade of communism, the city was fizzing with punk, fashion and nationalist pampleteers. Rebellion was in the air. Melania, a student at a specialist high school for industrial design and photography, took a chance. Her plan had been to study to be an architect, but now she was going to pose for a shoot. Already her most defining features were visible to Jerko: she had a face that gave nothing away. 'She was shy and reserved at first,' he says. 'Not wanting to open herself up.' But she quickly got into it and began asking questions: 'Why are you constantly moving the light? Is this how I should be holding myself?'
'Still, I didn't have the impression she was ambitions,' says Jerko. 'She was timid.' The pictures he developed looked great. 'So I called her back to do a shoot for the Slovenian magazine Model.' Her career had launched, though Jerko noticed there was still something closed off about her.
Two of those photos are on page 90 and 93, showing an open-eyed, budding young woman.
The boyfriend
Amazingly, Ben Judah managed to track down one of Melania's boyfriends (page 93):
In 1989, the Berlin Wall came down; months later, Yugoslavia began to implode. In 1990, Slovenia voted for independence and the following year, the Yugoslav forces withdrew after a 10-day war. Everyday life was filled with talk of this drama. Slovenian businessman Jure Zorcic was one of Melania's boyfriends, having met her when they were in their early 20s. 'She was very classy, very peaceful, very focused,' remembers Zorcic. 'Very close to her parents and sister.' She was always carefully dressed, which, given the state of the Yugoslavian economy at the time, he recalls, was nothing short of 'a miracle'. It was a moment in Eastern Europe, between the fall of the Berlin Wall and the 1995 massacre in Srebrenica, when anything felt possible.
'We talked about everything,' says Zorcic. 'About Yugoslavia, our future.' Together, they whiled away the summer with friends in the beach towns of Croatia. 'We would laugh a lot and have fun.' Melania would tell him how 'she wanted to go abroad and catch the fashion world of Italy and France as a model'. But it still came as a shock when she actually left; their relationship was over. As central Europe began to make the jump from communism towards Nato and the EU, Melania made her own jump to Milan and then to New York. She had her sights on America and all her life experiences had led her to one conclusion: 'I can tell you that I believe in free market capitalism,' she says.
Milan and the name change
Melania changed her name in Milan (page 94):
When Melania first landed in Milan in 1992, she signed with an agency and first began using a different name — ditching the Slavic Melanija Knavs for the more Germanic Melania Knaus. (The extra 's's came later: Melania Knauss, as if to stress an Western lineage.) And in what now looks like a piece of visionary surrealism, one of her biggest shoots was for a Slovenian advert in which she played the first female US president, complete with mock Air Force One and motorcade.
From Paris to New York
Melania was getting older, which hindered in some ways but helped in others:
She moved to Paris in her mid-20s. Here, she was scouted again, this time by Paolo Zampolli, a New York-based Italian playboy and model manager, who urged her to move to Manhattan, where he would put her up and represent her. She took the gamble, arriving in New York in 1996 to live in a shared apartment off Gramercy Park that Zampolli arranged. The bedroom — if you could even call it that — was behind a Styrofoam wall, with just enough space for a futuon. It was very much a gamble: at 26, she was already much older than the average aspiring model hoping to make it in one of Manhattan's cruellest industries. But the word most used about Melania from her fashion days is 'determined'.
Her age helped her to get the aforementioned Camel advert (pp 94-95):
Too old to hit the big time in conventional campaigns, Melania had her lucky break as a cigarette model, thanks to a law that barred younger models from promoting tobacco. In the summer of 1997, her face towered over Times Square for Camel Lights. 'I wouldn't say she reached supermodel height,' says Irene Marie, who later represented Melania. 'She wasn't the most expensive model, but she was a high-end model.' In Melania, Marie saw a refined and composed young woman. 'What I particularly liked about Melania was that she wasn't part of the nightlife scene, where all you had to do was open different magazines to see whech clubs your models were at. It was the era of cocaine, drugs and clubs, and you had to watch out for your models.' Melania, though, had a reputation for being serious and focused … 
Meeting Donald Trump
It was Paolo Zampolli who introduced her to her future husband (page 95):
… in 1998, he introduced her to his friend and fellow staple of the New York gossip columns, Donald Trump, who had recently separated from his second wife, Marla Maples. Melania met Trump at the Kit Kat Club during New York Fashion Week. Trump later claimed he had been there to see someone else: 'They said, "Look, there's so-and-so." I said, "Forget about her. Who is the one on the left?" It was Melania' …
Trump and Melania married in Palm Beach in 2005, surrounded by 10,000 flowers. It was Trump's third wedding. Bill and Hillary Clinton were guests, as was Benjamin Netanyahu. Almost nobody from Melania's life before Trump was there — it was as though she didn't have a past.
Frankly, that's what happens when one emigrates and marries. The spouse's friends and family become one's primary relationships. How could they not?
Melania gave birth the following year:
Barron was born in 2006, around the time Trump allegedly had affairs with the pornographic actress Stormy Daniels and Playboy model Karen McDougal: both would come back to haunt him.
Melania's mysterious delay in moving to the White House
In 2017, it took five months for Melania to move from Trump Tower in Manhattan to the White House.
In Mary Jordan's unauthorised biography, The Art of Her Deal, where you can see an early modelling photo of Melania, it is asserted that the First Lady was incensed by the womanising stories from the past that came out on the 2016 campaign trail (page 94):
According to Jordan, Melania leveraged the infamous 'grab 'em by the pussy' tape and the Stormy Daniels affair to force a renegotiation of her prenup, securing a better financial deal for herself and her son, Barron. Jordan claims it was because of these negotiations, rather than Brron's schooling, that she delayed moving to Washington and stayed in New York after the election. 'I was worried about Trump,' says one source, 'and so were a lot of folks in the White House, as she makes him less unbalanced.' It took her until five months after the inauguration to finally relocate, better prenup in hand, to Washington — a move worthy of her husband's book The Art of the Deal. Popular as it is, the myth that Melania is a prisoner in the White House misses the real power she has. And yet for all the intensity of interest in her, Melania is still mostly an enigma — Stephanie Grisham, her chief of staff, discmissed Jordan's biography as 'fiction'.
Trouble with Ivanka
Melania allegedly found a rival in Trump's daughter, Ivanka:
… 'The Portrait' is how Ivanka is said to refer to Melania, in light of how little her stepmother speaks.
There is supposedly little love lost between them. Melania's former friend and adviser Stephanie Winston Wolkoff describes Ivana's dogged attempts to sideline her stepmother in her new memoir Melania and Me, alleging that the competition between the two Trump women became so fierce that Melania and Wolkoff launched 'Operation Block Ivanka' to stop her dominating footage of the searing-in. 'Ivanka was relentless and determined to be the First Daughter and to usurp office space out from under Melania.' Wolkoff writes.
Conclusion
It is a shame that no fashion magazine ever profiled the First Lady. It seems that Tatler did so only as a last hurrah in the run-up to the 2020 election.
Melania Trump's life story is a fascinating one, particularly given her transformation from a little girl growing up in a Communist nation to becoming First Lady of the United States. It is a truly remarkable journey.
On page 97, Ben Judah says:
It has been 24 years since Melania first arrived in New York, on the cusp of what has been one of the most astonishing American success stories ever told: the Slovenian model and the gossip-pages-obsessed mogul who ended up in the Whte House. And it's easy to forget that from Melania's perspective she is the real winner here. How many people have come from somewhere so small and yet made it so big? Very few.
The former First Lady told Tatler via email (page 92):
Every step in my life had a different turning point. Growing up in Slovenia, living in both Milan and Paris at a young age, then moving to the United States and living in New York City in my 20s — all of that has led to my serving our great nation as First Lady.
Melania Trump might well be in the spotlight once again for the 2024 elections. Whether she is or not, at least we know a bit more about her. It is a pity that the universally anti-Trump media ignored her and her life's achievements when they could have published them as an inspiration for young women around the world.
Moral of the story: never let go of your dreams.
On Monday, April 24, 2023, Fox News unceremoniously sacked the presenter of their top-rated show, Tucker Carlson Tonight.
Only recently, it was the most-watched cable television news show: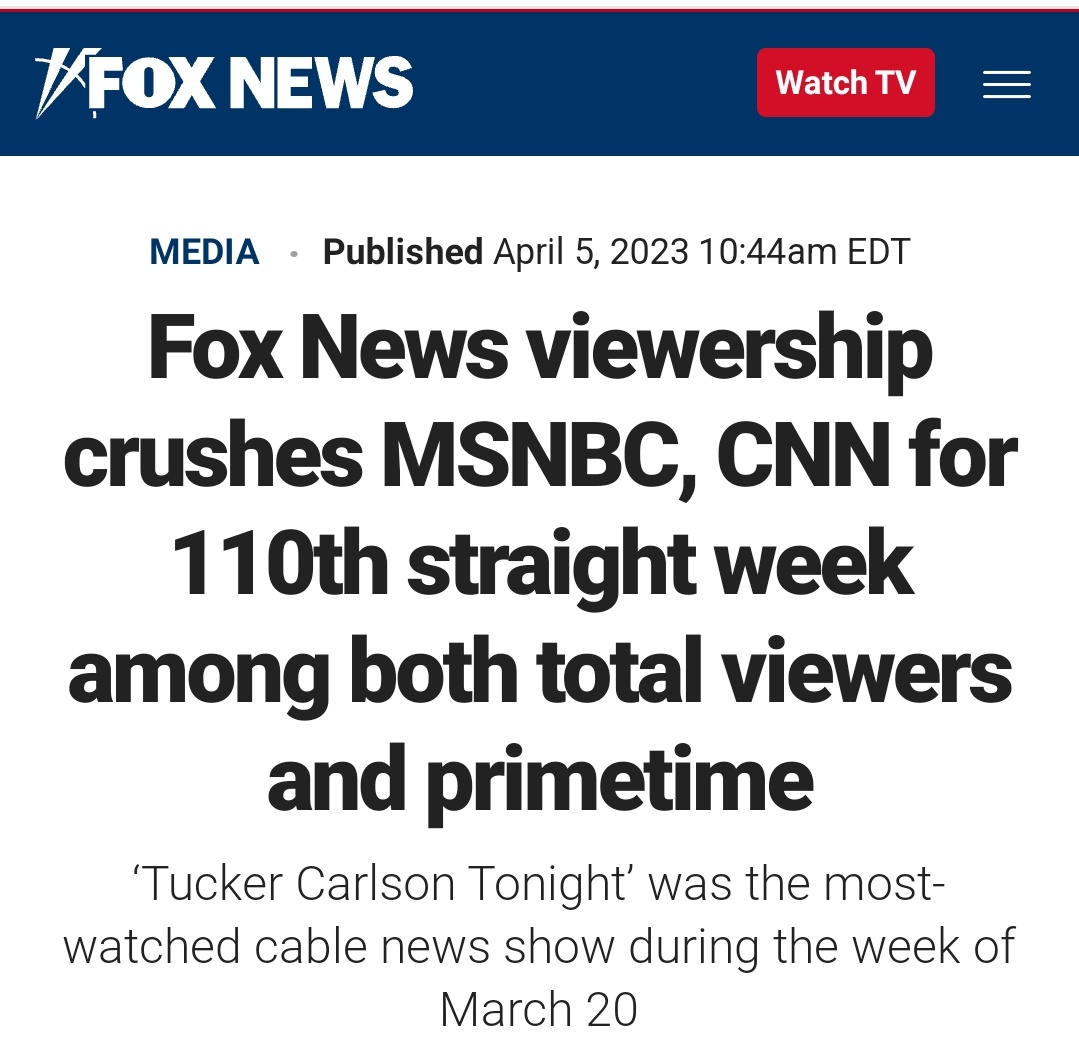 Vanity Fair has the most detail on what happened and possible reasons why Carlson lost his job.
'Tucker Carlson Was Blindsided by Fox News Firing' says (purple emphases mine):
The media world was blindsided by the news that Tucker Carlson and Fox News would be parting ways. So was Carlson. 
On Monday morning, Fox News CEO Suzanne Scott called Carlson and informed him he was being taken off the air, and his Fox News email account was shut off. According to a source briefed on the conversation, Carlson was stunned by his sudden ouster from his 8 p.m. show, the most watched program in cable news last month. Carlson was in the midst of negotiating the renewal of his Fox News contract through 2029, the source said. As of last week, Carlson had told people he expected the contract to be renewed …
The network provided few details in a Monday statement: "Fox News Media and Tucker Carlson have agreed to part ways," it read. "We thank him for his service to the network as a host and prior to that as a contributor."
A Fox News spokesperson declined to comment beyond the press release. Carlson declined to comment.
Details are emerging about Carlson's exit. The Los Angeles Times reported that "Carlson's exit is related to the discrimination lawsuit filed by Abby Grossberg," a producer fired last month, and that the decision to fire Carlson came from Fox Corp. chairman Rupert Murdoch. And The Washington Post reported that Carlson's comments about management, revealed in the defamation case brought by Dominion Voting Systems—which Fox settled last week for $787.5 million—"played a role in his departure."
The Independent reported:
On Monday night, his "Tucker Carlson Tonight" show was instantly replaced with "Fox News Tonight" hosted by Brian Kilmeade, who brushed over Carlson's sudden departure.
"As you probably have heard, Fox News and Tucker Carlson have agreed to part ways," he said.
"I wish Tucker the best. I'm great friends with Tucker and always will be. But right now, it's time for 'Fox News Tonight,' so let's get started."
Vanity Fair reported how the media world around the globe rejoiced at Tucker's departure. However, his views were much more nuanced than his fellow broadcasters give him credit for. Tucker was never keen on Donald Trump and privately criticised the 45th American president's insistence that he won the 2020 election. Tucker was also one of the few presenters anywhere who had people on with views opposite to his own. In addition, he covered news stories no one else would.
The former CNN presenter Brian Stelter wrote for Vanity Fair saying that we might never know why Fox News binned Carlson. Stelter said it looks like 'an execution':
Carlson became, for a couple of years, even bigger than his network. He was said to have a chummy relationship with Fox Corporation CEO Lachlan Murdoch. He was also said to be sharply critical of the women who ran Fox News for Murdoch. Fox staffers believed that Carlson could get away with anything for two main reasons: his friendship with Murdoch and his reliably high ratings …
Not being given a chance to sign off is the television equivalent of an execution.
"Damn," a former Fox producer said to me right after it happened. "It had to be O'Reilly-level bad for him to not even get a goodbye show." You'll recall that Bill O'Reilly, the longtime renter of the 8 p.m. time slot at Fox, was booted in 2017 in the wake of sexual misconduct allegations and revelations about secret settlements. That's not why Carlson is out—in fact, a well-placed network source says Carlson was not the subject of any misconduct investigation. Carlson has many, many flaws, but they're distinct from O'Reilly's flaws.
So what doomed Carlson? Here is a theory. The revelations from Dominion's lawsuit against Fox, which the network settled last week for $787.5 million, were embarrassing for many individuals, including Carlson, whose private emotions about Donald Trump (a "destroyer," a "demonic force") and Fox's own journalists were published for all the world to read. Hundreds of pages of emails and text messages from within Fox were published in Dominion's pre-trial legal filings. But there is a huge number of other pages that remain out of public view. The redactions were voluminous. Only three groups of people know what those pages contain: Dominion's lawyers, Fox's top executives, and obviously the people who were sending and receiving the messages. So what was Carlson saying about, say, Fox News Media CEO Suzanne Scott? What was he texting about the Murdochs? We don't know. We may never know. But this theory may explain why Carlson's top producer and textmate, Justin Wells, was also terminated …
Other potential factors include former producer Abby Grossberg's discrimination lawsuit against the network, which depicted the Tucker Carlson Tonight production environment as a frathouse where "sexist, demeaning comments" were free-flowing. Truth be told, Carlson's exit may always be shrouded in some amount of mystery. Both Fox and Carlson may be incentivized, for financial reasons, to stay semi-peaceful in public.
Where can Tucker Carlson go now? Nowhere. He bears the distinction of having been sacked from all three major news channels in the US: Fox News, CNN and MSNBC. He also worked for PBS briefly in 2004 and 2005, at which time he was still on MSNBC and transitioning to CNN.
It's possible he could return to The Daily Caller, a media outlet that he co-founded in 2010 with Neil Patel, a former college roommate who later worked for Dick Cheney. In June 2020, Carlson sold his third of the stake to Patel and bowed out of it completely.
Perhaps divine providence has called Carlson to take a well-deserved pause from broadcasting. Carlson and his wife, whose father is a priest, are practising Episcopalians. He once said that he loves the liturgy but loathes the politics.
I wish Tucker all the best and hope that he has a renaissance soon.
Today's post concludes my long running series on The Telegraph's The Lockdown Files.
Those who missed it can read Part 1 of the conclusions.
All other posts in my series are on my Marxism/Communism page under The Lockdown Files.
MPs in the dark (cont'd)
In yesterday's post, I featured articles about several Conservative MPs who said that they had no idea the Government was suppressing evidence about coronavirus data and that what the WhatsApp messages revealed was shocking, considering Parliament was given so little time to debate pandemic policy measures.
Another MP in this category is David Davis.
On March 6, 2023, The Telegraph published 'Covid polling data used to shape decision-making still being kept secret, claims ex-minister' (emphases mine below):
The Government has been accused of failing to rapidly disclose Covid polling data that shaped decision-making during the pandemic.
In the wake of The Lockdown Files, David Davis, the former Cabinet minister, has called for the taxpayer-funded research – worth at least £1.5 million – to be made "easily accessible and comprehensible to the public" after ministers repeatedly refused his requests to publish the information in a near three-year transparency battle.
However, the Cabinet Office has insisted some of the data is already in the public domain …
Until April last year, ministers pushed back time and again against Mr Davis's requests for polling data to be put in the public domain on the grounds the information was still being used to shape policy, or would cost too much to publish.
Documents seen by The Telegraph show Mr Davis first submitted a Freedom of Information request in July 2020 seeking the cost and content of all polling conducted by the Cabinet Office, dating back to January that year …
After demanding an internal review and investigation by the Information Commissioner's Office, the former Cabinet minister turned to the parliamentary tools at his disposal – lodging a series of 20 written questions over 18 months.
In September, the government promised to release "evaluation reports" from a review of data held by the Cabinet Office – and wrote to the Public Administration and Constitutional Affairs Committee (PACAC) in December to say details from surveys by pollsters Kantar had been published online.
Oliver Dowden, the Chancellor of the Duchy of Lancaster, also said in his letter to William Wragg, the PACAC chairman, that further data tables from Ipsos were available "on request", while the National Institute for Health Research had published results from its own study.
But Mr Davis told the Commons on Monday he had not seen the data in question, while Mr Wragg said the notion the information had been made available to PACAC was "news to me".
The former Brexit secretary stressed that the details "must be made easily accessible and comprehensible to the public".
Asked for the whereabouts of the reports promised in September last year, the Cabinet Office pointed to the data referenced in the PACAC letter.
The following is an excerpt from David Davis's Point of Order raised on March 6, 2020:
… I kept pressing, and eventually, in April last year, I was told that a timetable for releasing the information would be available in the spring. That deadline came and went, so I tried again in September, when I was told that the data would be published by the end of the year. Now, three months into 2023, I have still not seen it. About an hour ago, a journalist was told by the Cabinet Office that it had been made available to the Public Administration and Constitutional Affairs Committee, whose Chairman, my hon. Friend the Member for Hazel Grove (Mr Wragg), is present; but I have not seen it.
Public money was used to obtain polling information relating to some of the biggest policy decisions in a generation. It must be made easily accessible and comprehensible to the public. May I seek your advice, Madam Deputy Speaker, on how the House can make the Government give it the data on the basis of which it appears to have created policy throughout the pandemic?
William Wragg intervened:
Further to that point of order, Madam Deputy Speaker. As my right hon. Friend prayed me in aid during his point of order, let me simply say that this is news to me, as Chair of the Public Administration and Constitutional Affairs Committee. I can certainly inform the House that the Committee has never received the data in any simple form, such as the questions that were asked and the answers that were received.
Deputy Speaker Rosie Winterton (Labour) responded, in part:
… if a Member has been told that information will be made available by a particular date, I would expect that commitment to be met. Knowing him as I do, I am sure that the right hon. Member will be assiduous in pursuing this matter, for example through parliamentary questions, and I hope he will receive helpful responses.
As for the point from the Chair of the Committee, I suspect that he may go back and request further information, but that is entirely up to him and his Committee.
Lockdown a big mistake, Sweden emerges best
Columnists from The Telegraph and elsewhere were deeply disappointed to see that Government officials ruined the British economy for political purposes and expedience.
Matt Hancock wanted to make himself look good. One of Boris's advisers said that England should side with Scotland on mask-wearing because having a conflict with Nicola Sturgeon would not be worth the trouble.
It's interesting to note that none of those three is in any leadership role in 2023. Boris's adviser resigned a long time before ago.
On March 4, The Telegraph's Allison Pearson posted 'Lockdown sceptics like me were demonised — but we were right':
… don't tell me thousands more would have died if we hadn't locked down because thousands more are dying because we had lockdown. Men and women in their thirties, forties and fifties with families; fit, younger people whom the virus could not harm, now presenting with incurable cancers. Will they be putting their names on the National Covid Memorial wall? They should.
Human beings have an astonishing capacity to forget, especially when something is embarrassing to look back on or when it makes us feel a bit stupid …
The biggest shock revealed by The Telegraph scoop is quite how often our leaders, who always claimed to be guided by "the science", were making decisions on the hoof.
Astonished, we read conversation after conversation where, it becomes clear, that decisions affecting the suffering of the elderly entombed in care homes, of children shut out of schools and playgrounds is filtered through the prism of something called "Comms".
So, when Boris Johnson asks his top team whether masks in schools are necessary, Chris Whitty, the Chief Medical Officer, replies: "No strong reason against in corridors etc, and no strong reason for. The downsides are in the classroom because of the potential to interfere with teaching."
But Lee Cain, the PM's director of Comms, is not happy. Scotland has just confirmed masks in schools so England is under pressure to follow suit lest Nicola Sturgeon gain the advantage. "Why do we want to have the fight on not having masks in certain school settings?" asks Cain …
The Lockdown Files reveal that Matt Hancock and other key players often had a callous disregard for everything except their own egos …
Children's wellbeing? Forget it. Hancock, we learn, launched a disgraceful "rearguard action" to close schools when Gavin Williamson, then-education secretary, was, to his credit, battling to keep them open … Keeping children out of education for another two months (until March 2021) turned out to be the real car crash …
Ironically, Downing Street had become a prisoner of the public's fear. That sense of dread which, as Laura Dodsworth points out in her definitive book, State of Fear, was itself created by government scientists "using a battery of weapons from distorted statistics, 'nudges' and misleading adverts on TV to control the public in order to make them comply with lockdown requirements". So people were convinced that Covid was a uniquely ruthless killer.
… The elderly were at risk of "just giving up" because they had been isolated for so long. Too bad. Hancock did nothing to alleviate the misery experienced by tens of thousands as they enacted a pitiful pantomime of intimacy through care-home windows and Perspex screens. (Visits to care homes and hospitals only returned to something like normality in July 2021 and, appallingly, many are still fortresses.) …
… as time went on, and the restrictions bit deeper, I began to shout at the TV during the Downing Street press briefings. Why did no one ask why having a "substantial meal" with alcohol in a pub protected you against Covid in a way that standing at the bar eating a bag of crisps did not? Robert Jenrick, the communities secretary at the time, explained that "a Cornish pasty on its own" would not constitute a substantial meal, "unless it came on a plate, to a table, with a side of chips or salad". This gave rise to one of the great dilemmas of the pandemic: The Scotch Egg Question. Food minister George Eustice said a scotch egg "probably would count" as a substantial meal, but a No 10 spokesman hastily over-ruled that deplorable, devil-may-care attitude, sternly insisting that "bar snacks do not count".
Grown men, our democratically elected representatives no less, actually said ludicrous things like that with a straight face. On the basis of no scientific evidence whatsoever. It was farcical.
The farce insulted our intelligence, but it was the cruelty I abhorred. Common sense and basic human decency had been overridden, leading to the isolation of the most vulnerable (the very people we were meant to be "saving"); so many lonely deaths, so many families damaged, so many self-harming teenagers. Every day, my Telegraph inbox filled up with devastating stories …
To speak out, however, was to be demonised as a "Covidiot" and worse. The Left of the Labour Party, still smarting from the recent defeat of Jeremy Corbyn, redirected all its fire-breathing zealotry into advancing the cause of "zero Covid", the better to undermine the hated Tories. I regularly found myself under attack, and trending (not in a good way) on Twitter. Once, it was for the heresy of suggesting that we should allow young people to get Covid and build up natural immunity which could then help protect their grandparents. Prior to the pandemic, that had been an uncontroversial precept of epidemiology. As Martin Kulldorff, former professor at Harvard Medical School and co-author of the Great Barrington Declaration, observed drily this week at a Covid hearing in the House of Representatives, "I guess we knew about it [natural immunity] since 430 B.C. – the Athenian plague – until 2020. And then we didn't know about it for three years, and now we know about it again."
I was naïve enough to be shocked when I discovered that a Conservative MP, Neil O'Brien, had set up (at the behest, it was alleged, of certain ministers) a McCarthyite website to monitor the work of journalists like me who took a sceptical attitude to lockdown. How could that be happening in a free society? While I undoubtedly got certain things wrong, especially in the early days, I was repulsed by the way that Matt Hancock assumed the moral high ground, bulldozing over any criticism of his own highly questionable decisions. Intoxicated by his new totalitarian powers. Mr Hancock, I felt, was getting away with murder …
The Covid Inquiry, which began this week [albeit not publicly], with a dismaying lack of lockdown sceptics among its "core participants" had better buck up its ideas, or else. (At first, the inquiry wasn't even going to consider the damage done to children, if you can believe it.
Anne Longworth, the Children's Commissioner, has not been included and there is still not a single witness from the hospitality sector.) If the Establishment was hoping for a whitewash, the Lockdown Files will make that very hard indeed …
The Lockdown Files are not a betrayal. They are a declaration of loyalty to the public which has the right to know.
May we never forget the stick that Isabel Oakeshott got for The Lockdown Files:
On March 18, The Telegraph published Daniel Hannan's 'The evidence is in. Lockdowns kill people — and the more you lock down, the more you kill':
… Britain was driven into abandoning its proportionate, cool-headed epidemic plan, not just by shrieking TV presenters, but by perverse incentives. Put simply, decision-makers knew that they would not get into trouble for excessive caution. They could blow away billions, bankrupt businesses, ruin children's education, and none of it would be a resigning matter. But make the slightest mistake the other way, and they would be done for.
Easy to say in hindsight? Maybe. But those of us who said it at the time were roundly denounced as granny murderers. In February 2020, I recalled the ridiculous forecasts that had accompanied bird flu and swine flu, and cautioned against panic: "Politicians, like most people, are bad at calculating risk, and almost every minister would rather be accused of over-reacting to a threat than of having done too little. There is a similar bias, albeit a less pronounced one, among the various medical advisory bodies".
Every time I criticised the lockdown – and this column was one of only three or four doing so in March 2020 – I would steel myself before pressing send. I knew that demanding a reopening was hugely unpopular. What if it also turned out to be wrong?
Yet the facts remained stubbornly at odds with the policies. As the disease spread from China, Chris Whitty pointed out that it was not dangerous enough to merit an acceleration of the vaccine approval process (no one, at this stage, was contemplating a UK lockdown).
"For a disease with a low (for the sake of argument 1 per cent) mortality a vaccine has to be very safe so the safety studies can't be shortcut," he messaged on February 29 2020. Reader, the mortality rate for Covid in this country never rose as high as 1 per cent.
Why, then, were we panicked? What happened to the original epidemic plan, which was to allow infections to seep gradually through the population so that hospitals would not be overwhelmed at any one moment?
The answer can be glimpsed in a message on March 8 from James Slack, Boris Johnson's calm and measured spokesman: "I think we're heading towards general pressure over why our measures are relatively light touch compared to other countries."
Too bloody right. And the pressure – cretinous rants from Piers Morgan, false rumours of hospitals being overrun, "Go Home Covidiots" signs – grew until, two weeks later, a prime minister who hated nannying with every bone in his body felt obliged to sentence the population to house arrest.
Could he have resisted that pressure? Other countries had already closed, 92 per cent of the electorate wanted to be confined and the scientific advisers, sniffing the wind, had switched to arguing for tougher measures.
But one country held out. Sweden, lacking its own pandemic plan, had adopted Britain's – and, unlike Britain, it did not crack under criticism. Sweden is our counterfactual, a laboratory quality control showing what would have happened here had we held our nerve. And the evidence it presents looks damning. A study has found that, from 2020 to 2022, Sweden had the lowest excess mortality rate in Europe.
That finding blows the case for lockdowns out of the water. In the early days of the pandemic, when the Government was being criticised for what looked like a high death rate (largely because it had sent NHS patients into care homes), ministers and medical advisers urged us to wait until all the evidence was in …
Judged by this metric, Britain did not do badly. Our overall excess death rate was behind Scandinavia, in line with Germany and the Netherlands, and ahead of most of southern and eastern Europe. But the real outlier was Sweden, which had the lowest excess mortality in Europe, and one of the lowest in the world, throughout 2020 and 2021.
During the pandemic, I assumed that Sweden would emerge with a slightly higher death rate, but a much stronger economy. Since poverty correlates with lower longevity, I expected that, over time, Sweden would see fewer deaths from other causes, so ending up healthier as well as wealthier. But I underestimated the lethal impact of the lockdowns themselves. Sweden did not just do better over time; it actually killed fewer people during the pandemic.
How did Britain's leaders respond to the evidence that they should have stuck to Plan A? They took it as a personal affront. Hancock referred in his messages to the "f***ing Sweden argument", and asked officials to "supply three or four bullet [points] of why Sweden is wrong".
But Sweden was not wrong, and no amount of desperate deflection about Norway also having a low death rate can disguise it. The horrible truth is that lockdowns killed people. Sweden had lots of coronavirus cases but relatively few excess deaths. Australia had few coronavirus cases, but a strict lockdown. It ended up with higher excess mortality than Sweden.
Are people ready to believe it? Are we prepared to admit that the disasters we are still experiencing – undiagnosed diseases, absenteeism, debt, lost education, price rises, mental health problems – were self-inflicted?
It seems not. We will go into the next crisis with the same skewed incentives. And all because, like so many Hancocks, we don't want to "imply we've been getting it wrong".
On March 22, The Telegraph published Madeline Grant's 'Nobody wants to confront the truth about lockdown':
… Even now, pro-lockdowners ignore the example of Sweden because its experience of Covid doesn't fit their mantra – "we had no choice". Justifications (but not opinions) have shifted with the evidence. When Sweden appeared to be doing badly, it was "because it failed to lock down". Now the data have moved in Sweden's favour, it's because "Sweden had an unofficial lockdown all along" [false]. The Telegraph's Lockdown Files exposed the self-fulfilling logic behind many decisions. Coercion became its own justification, as when Matt Hancock feared cutting isolation times would dilute the message and "imply we've been wrong". Whether you agree with lockdown or not, this is an appalling way to govern.
… Public readiness to allow so many basic functions of life – worship, exercise, social interaction – to be dismissed as "non-essential" suggests an inability to bear ordinary risks once inseparable from existence; expectations of a level of "security" unthinkable to previous generations. Even if we never lock down in precisely the same way again, a Rubicon has still been crossed.
So we didn't finish stronger or more united, we simply ended up with the cold truth that, for many of us, things we claim to value – freedom, the next generation, prosperity, mental wellbeing didn't really matter that much – at least not enough to fight for. When that becomes clear, there is little left for a society to coalesce around. All that remains are the fragments of those past illusions.
… Vital questions risk being lost along the way; about whether those laws were ever justified, and the incalculable damage they caused.
On March 23, UnHerd's Freddie Sayers, who is half-Swedish, asked 'Why doesn't Britain regret lockdown?'
He says:
… To the majority of people who believe lockdowns were right and necessary, the Covid era was no doubt distressing, but it need not have been cause to re-order their perception of the world. Faced with a new and frightening disease, difficult decisions were taken by the people in charge but we came together and got through it; mistakes were made, but overall we did what we needed to do.
For the dissenting minority, the past three years have been very different. We have had to grapple with the possibility that, through panic and philosophical confusion, our governing class contrived to make a bad situation much worse. Imagine living with the sense that the manifold evils of the lockdowns that we all now know — ripping up centuries-old traditions of freedom, interrupting a generation's education, hastening the decline into decrepitude for millions of older people, destroying businesses and our health service, dividing families, saddling our economies with debt, fostering fear and alienation, attacking all the best things in life — needn't have happened for anything like so long, if at all?
To those who place emphasis on good quality evidence, it has been particularly exasperating. In the early days of 2020, we had only intuitions — there was no real data as to whether lockdowns worked, as they had never been tried in this way. As millions tuned in to our in-depth interviews on UnHerdTV with leading scientists, we made sure to hear arguments in favour of lockdowns as well as against …
In the past year, however, we have for the first time been able to look at the Covid data in the round. Many of the countries which appeared to be doing "well" in terms of low levels of infections and deaths caught up in the second year — Norway ended up much closer to Sweden, while countries such as Hungary, which were initially praised for strong early lockdowns, have ended up with some of the worst death tolls in the world. Due to the peculiarly competitive nature of the lockdowns, the results were neatly tracked, allowing clear comparison between countries and regions. While we spent the first year arguing about deaths "with" Covid as opposed to deaths "from" Covid, all sides in this discussion have now settled on overall "excess deaths" as the fairest measure of success or failure: in other words, overall, how many more people died in a particular place than you would normally expect?
My view on these results is quite simple: in order to justify a policy as monumental as shutting down all of society for the first time in history, the de minimis outcome must be a certainty that fewer people died because of it. Lockdown was not one "lever" among many: it was the nuclear option. The onus must be on those who promoted lockdowns to produce a table showing a clear correlation between the places that enacted mandatory shutdowns and their overall outcome in terms of excess deaths. But there is no such table; there is no positive correlation. Three years after, there is no non-theoretical evidence that lockdowns were necessary to save lives. This is not an ambiguous outcome; it is what failure looks like.
If anything, the correlation now looks like it goes the other way. The refusal of Sweden to bring in a lockdown, and the neighbouring Scandinavian countries' shorter and less interventionist lockdowns and swifter return to normality, provide a powerful control to the international experiment. Three years on, these countries are at the bottom of the European excess deaths league table, and depending on which method you choose, Sweden is either at or very near the very bottom of the list. So the countries that interfered the least with the delicately balanced ecosystem of their societies caused the least damage; and the only European country to eschew mandatory lockdowns altogether ended up with the smallest increase in loss of life. It's a fatal datapoint for the argument that lockdowns were the only option.
So why, three years on, do most people not share this conclusion? Partly because most people haven't seen the evidence. Nor will they. The media and political establishment were so encouraging of lockdowns at the time that their only critique was that they weren't hard enough. They are hardly going to acknowledge such a grave mistake now. Nor do I expect the inquiry to ask the right questions: obfuscation and distraction will continue and mea culpas will never arrive.
But it can't all be put down to the media. Over that strange period, we were reminded of something important about human nature: when frightened, people will choose security over freedom. Endless opinion polls confirmed it, and politicians acted upon it. Tellingly, those constituencies most in favour of lockdowns in our polling are leafy and affluent — New Forest West, Bexhill, Henley, The Cotswolds. Perhaps some people even enjoyed it.
Meanwhile, the dissenting minority is not going anywhere. This new class of citizen is now a feature of every Western society: deeply distrustful of authority, sceptical of the "narrative", hungry for alternative explanations, inured to being demonised and laughed at. The dissident class skews young (it includes 39% of 25-34 year olds) and clusters around poorer inner-city neighbourhoods; it heads to alternative media channels for information. Its number was greatly increased over the lockdown era as those people lost faith in the way the world is run. They will continue to make their presence felt in the years to come.
As for me, the past three years have changed how I view the world. I feel no anger, simply a wariness: an increased sense of how fragile our liberal way of life is, how precarious its institutions and principles, and how good people, including those I greatly admire, are capable of astonishing misjudgements given the right atmosphere of fear and moral panic. In particular those years revealed the dark side of supposedly enlightened secular rationalism — how, if freed from its moorings, it can tend towards a crudely mechanistic world in which inhuman decisions are justified to achieve dubious measurable targets.
I hope there is no "next time", and that the political class will never again think nationwide lockdowns are a proper policy option in a liberal democracy. But if they do, I suspect the opposition, while still perhaps a minority, will be better organised.
On March 9, The Telegraph's Fraser Nelson, who also edits The Spectator, had more on Sweden's success in 'Britain may well repeat its lockdown blunders sooner than anyone thinks':
… The winner, with the smallest rise in "excess" deaths since the pandemic began, is Sweden.
For those who had accused the lockdown-rejecting Swedes of pursuing a "let it rip" policy that left people to die, this is all rather baffling …
Sweden had the unflappable Anders Tegnell as chief epidemiologist, who went all-out to argue against what he saw as populism: lockdowns that were not backed by science and could cause more harm than good. He never stopped arguing, giving television interviews while waiting on train platforms and publishing study after study. He won people over. Sweden ended up with middling Covid but among Europe's least economic damage and lowest increase in deaths. In an interview last week, Tegnell offered advice for his successor: "Have ice in your stomach."
… The science on Covid still isn't clear. On masks, on social distancing, even school closures – it's hard to say what difference they make to the spread of a virus. The UK hasn't commissioned a single high-quality study into what works and what doesn't. Even the excess deaths count is complicated – but Sweden is at or near the bottom, whichever way you cut it. But even now, no one seems very interested in the actual science, or learning lessons any time soon.
It's now 20 years since the boring old coronavirus mutated into a killer in the Sars epidemic. Asian countries updated their pandemic emergency plans – but Britain didn't, sticking with its flu-based approach. Are we seeing the same complacency yet again? We have now seen, in the Lockdown Files, much of what went wrong. We have also seen, in Sweden, what can go right. We will now see whether Rishi Sunak can put the two together.
The following day, The Telegraph reposted Nelson's February 23, 2022 article, 'Was Sweden right about Covid all along?'
It explains more about the psyche of the Swedes as a people:
To understand Sweden, you need to understand a word that's hard to explain, let alone translate: lagom. It means, in effect, "perfect-simple": not too much, not too little. People who are lagom don't stand out or make a fuss: they blend right in – and this is seen as a virtue.
Essays are written about why lagom sums up a certain Swedish mindset – that it's bad to stand out, to consider yourself better or be an outlier. That's why it's so strange that, during the lockdowns, Sweden became the world's defiant outlier.
Swedes saw it the other way around. They were keeping calm and carrying on: lockdown was an extreme, draconian, untested experiment. Lock up everyone, keep children out of school, suspend civil liberties, send police after people walking their dogs – and call this "caution"? Anders Tegnell, Sweden's state epidemiologist, never spoke about a Swedish "experiment". He said all along he could not recommend a public health intervention that had never been proven.
Tegnell also made another point: that he didn't claim to be right. It would take years, he'd argue, to see who had jumped the right way. His calculation was that, on a whole-society basis, the collateral damage of lockdowns would outweigh what good they do. But you'd only know if this was so after a few years. You'd have to look at cancer diagnosis, hospital waiting lists, educational damage and, yes, count the Covid dead.
The problem with lockdowns is that no one looks at whole-society pictures. Professor Neil Ferguson's team from Imperial College London admitted this, once, as a breezy aside. "We do not consider the wider social and economic costs of suppression," they wrote in a supposed assessment of lockdown, "which will be high." But just how high? And were they a price worth paying? …
… its people were incredibly cautious. But unlike Brits, they had a government that trusted them.
There were some Swedish diktats: a "rule of eight" was set up for a while. Bars, restaurants and cafes were all socially distanced and, at one point, had to close by 8.30pm. For a few weeks, Swedes even had vaccine passports. But that was about it: the rest was guidance, and it was followed.
What no statistic can convey is just how careful Swedes were; something that struck me whenever I'd visit. It was perfectly legal to meet up in bars and for a fika in a coffee shop, but most didn't. A friend of mine had a rule that she'd only ever meet friends outside – even in the Stockholm winter (she did this so much that she got frostbite). In summer last year, studies showed Swedes working from home more than in any other European country.
This kept Covid low, while the lack of rules allowed for people to use their judgement while minimising economic and social damage. Sweden's GDP fell by 2.9 per cent in 2020, while Britain's collapsed by 9.4 per cent.
The cost of the various Covid measures is best summed up by the debt mountain: an extra £8,400 per head in Britain, and £3,000 in Sweden.
Swedish schools kept going throughout, with no face masks. Sixth-formers and undergraduates switched to home learning, but the rest of Swedish children went to school as normal. That's not to say there weren't absences as the virus spread: it was common to see a third, at times even half of the class absent due to sniffles or suspected Covid. But there were no full-scale closures and, aside from some suspicions about minor grade inflation (the average maths grade sneaked up to 10.1, from 9.3), there is no talk in Sweden about educational devastation …
Pimlico Plumbers' Charlie Mullins recants on the vaccine
Charlie Mullins was, until recently, the owner of London's Pimlico Plumbers, the capital's best known plumbing outfit. He has since sold the company.
He still owned it during the pandemic and insisted that all of his many employees have the vaccine. In fact, he went so far as to say that no one — no one — should be walking around in public unless they had the vaccine.
On March 7, Mullins changed his tune after having read The Lockdown Files. He appeared on GB News that day to say that the British people were 'misled and lied to'. The second video has the content of what he said when he was pro-vaccine:
Better late than never. I wonder how many of his plumbers lost their jobs because they refused the jab.
He's the sort who probably would have agreed with the jailing of the Scarborough woman for coughing in February 2021: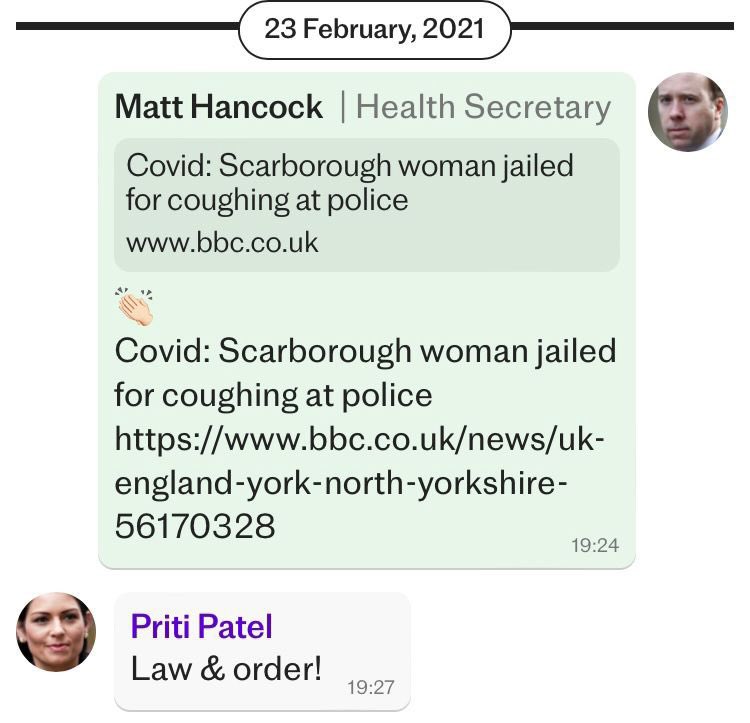 Shameful.
Don't mention China; meanwhile, Joe Biden and FBI are on the case of suspected virus origin
From the beginning of the pandemic, Matt Hancock, to his credit, was suspicious of the origins of the virus. He wanted to include that in his December 2022 book, Pandemic Diaries, but Downing Street refused.
On March 8, The Telegraph published 'Matt Hancock Covid memoirs censored over Wuhan lab leak comments':
Matt Hancock was censored by the Cabinet Office over his concerns that the Covid-19 pandemic began with a lab leak in Wuhan, the Lockdown Files reveals.
The former health secretary was told to tone down claims in his book because the Government feared it would "cause problems" with China.
Mr Hancock wanted to say that the Chinese explanation – that the virus being discovered close to a government science lab in Wuhan was coincidental – "just doesn't fly".
But, in correspondence from late last year and leaked to the Telegraph, the Cabinet Office told him that the Government's position was that the original outbreak's location was "entirely coincidental" .
It is the first time that the British position has been categorically stated. Mr Hancock was warned that to differ from this narrative, which resembles China's version of events, risked "damaging national security".
In his book, Pandemic Diaries, Mr Hancock also wanted to write that "Global fear of the Chinese must not get in the way of a full investigation into what happened" but this too was watered down …
The changes to the book were made by the Cabinet Office when Mr Hancock submitted his manuscript for review – a process all former ministers are expected to follow – last year. Once alterations were made, the book was signed off for publication by Simon Case, the Cabinet Secretary, on November 4 2022.
That same day, Hancock's co-author Isabel Oakeshott, to whom he gave his WhatsApp messages that form the basis of The Lockdown Files, noted that the FBI has since gone public with its suspicions in 'Upsetting China is the Government's biggest taboo, as I found out the hard way':
Sunak recently used his first foreign policy speech to declare that the "golden era" of relations between our two countries is over. Unfortunately, the panjandrums in the Foreign Office have yet to catch up, as the Cabinet Office's painstaking attempts to water down Matt Hancock's book about the pandemic expose.
Did Covid-19 originate in a Wuhan lab, a global centre for the study and storage of exactly the type of coronaviruses that led to the outbreak? The FBI is certainly warming to the theory. Just last week, the US intelligence agency said that was the most likely cause of the outbreak.
Choosing his words carefully, FBI director Christopher Wray declared that a "potential lab incident" was "most likely" to blame. Other intelligence agencies also struggle to believe that the proximity of the first known case to the world's leading coronavirus research laboratory – a place where samples are deliberately altered to make them more deadly to humans – is just happenstance.
As for Downing St? They won't go there. During tortuous negotiations between Hancock and the Cabinet Office over what he could and could not say in his Pandemic Diaries, officials let slip something quite extraordinary: that they believe the proximity of the Wuhan lab to the first recorded Covid outbreak is "entirely coincidental." They seem terrified of anyone saying otherwise.
On March 20, The Guardian reported that Biden ordered the release of intelligence relating to potential links between the virus and the Wuhan lab: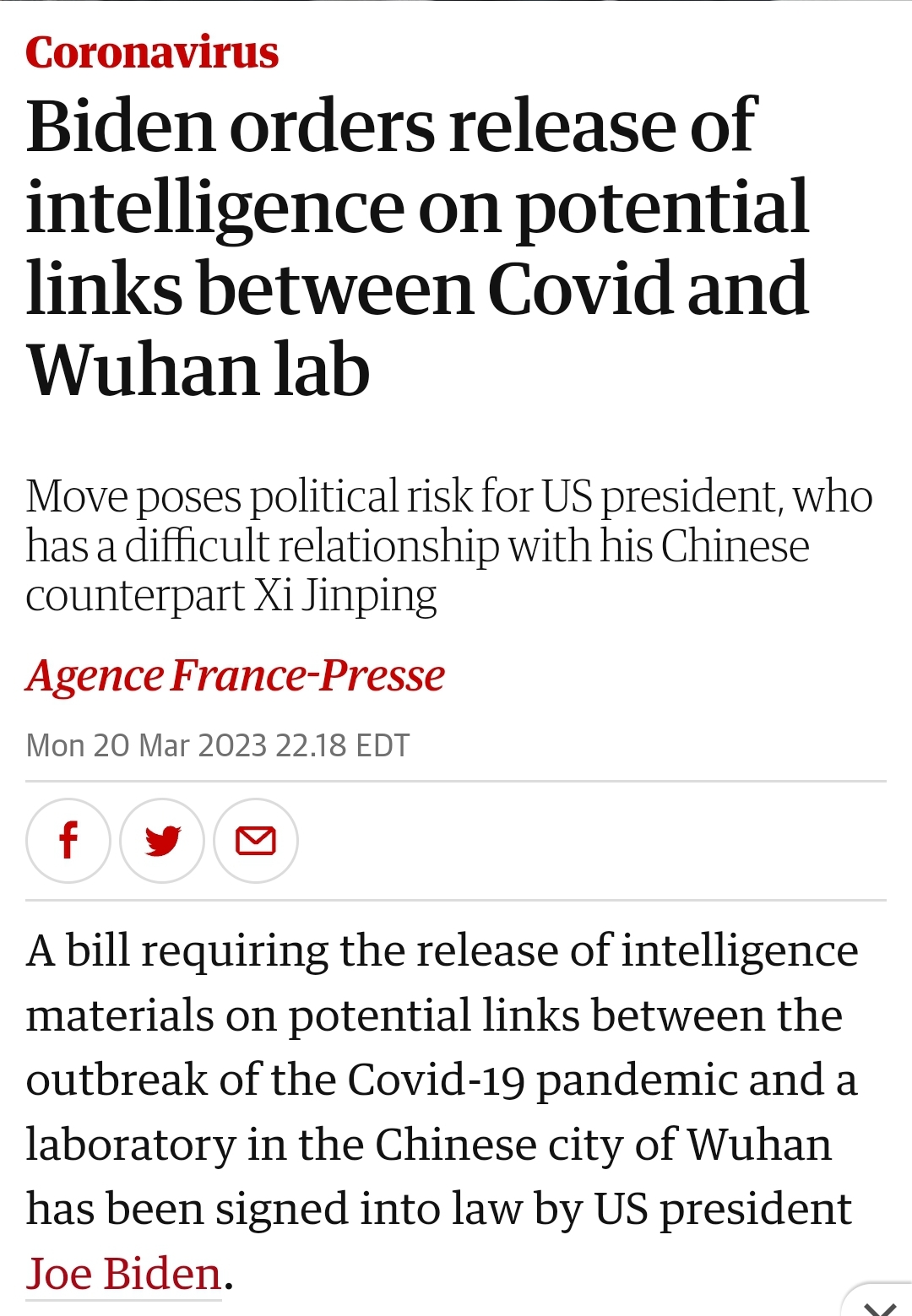 It was discussed on March 21 on GB News:
Conservative MPs have been eager to discuss this in more depth; The Telegraph covered their concerns two weeks before Biden ordered the American intelligence release.
Let us hope that Rishi is not reticent. His father-in-law has an important Infosys office in China.
Conclusion
The Telegraph did the UK a huge favour in publishing The Lockdown Files.
They confirmed all my suspicions in their marvellous 'read it and weep' articles.
Sadly, even friends of mine have criticised Isabel Oakeshott — 'that girl' — and say that everything will be properly dealt with during the inquiry. As if!
Then again, they were proponents of lockdown. And, yes, they live in a leafy place in the Home Counties with a huge garden where they plant their own vegetable supply. They didn't suffer one bit.
When will some people ever learn?
End of series
In December 2022, the then-GB News presenter Mark Steyn suffered two heart attacks within days of each other.
The first one he ignored, because he had never suffered a heart attack and didn't recognise the symptoms.
The second occurred when he and a female friend were in France. Fortunately, he got to the hospital just in time. Fifteen minutes more and he would have died.
While he recuperated in France — there was no chance of his returning to Canada, doctors said — some of GB News's sharpest hosts stepped in to sub for him between 8 and 9 p.m. They told viewers that Mark was on the mend, until the end of January, at which point they mentioned him no more.
Don't mention the vaccines
Then, late on Monday, February 6, 2023, Guido Fawkes posted that Mark would not be returning to GB News. The news channel's CEO wanted to make Steyn liable for any Ofcom fines they received over his segments that criticised the coronavirus vaccine:
Guido tells us, complete with the relevant video clip (emphases in red his):
Mark Steyn has quit GB News on fairly bad terms after a protracted leave of absence owing to his health. A few weeks ago Guido picked up that the channel had been trying to formalise Steyn's contract, having operated on a fairly ad hoc basis since starting his show. Part of trying to get him on board as a properly contracted presenter was also an attempt to rein in his output, given that in a rather short space of time he'd managed to spark two separate Ofcom investigations into claims made on his show.
GBN offered him a new contract to sign, otherwise he'd face termination. It now looks like Steyn is declining to sign the new contract, so he's out.
In a video put out on his website today, Mark doesn't hold back on his opinion of the channel's CEO Angelos Frangopoulos, ranting about the terms of the new contract that would have made him financially liable for any fines imposed on GB News by Ofcom because of his show's output. He also calls Frangopoulos an "habitual liar". Shame – Steyn managed to consistently beat Piers's view count…
After a few months, Mark Steyn Show regularly trounced Piers Morgan's TalkTV show Monday through Thursday in the same time slot.
GB News has been scrupulous about offering both sides of any story on their shows in order to avoid censure from Ofcom. This entails having a left-wing guest oppose the host's centrist or conservative perspective.
In 2022, Press Gazette reported on the channel's potential Ofcom violations. I'll start with the story from August 8, with the communications regulator's examination of two segments, one on Nigel Farage's evening show and one from a morning show with Patrick Christys, who now hosts a three-hour afternoon slot Monday through Friday:
The first two investigations by broadcast regulator Ofcom into GB News have ended with no rebukes, keeping the TV channel's record clean as it enters its 15th month.
Critics feared the opinion-led news channel would rub up poorly against the UK's strict impartiality rules, a problem not faced by broadcasters in the US such as Fox News.
But by balancing views from presenters and guests across its schedule, GB News has avoid any Ofcom rebukes despite airing some strident views on Covid-19 lockdowns and vaccines. Two Ofcom investigations into GB News TV and radio broadcasts remain ongoing.
In October 2022, complaints about Mark Steyn's show were still ongoing:
Ofcom has opened an investigation into an episode of Mark Steyn's 4 October programme on GB News after it received 411 complaints from viewers about comments made by author and journalist Dr Naomi Wolf in relation to Covid-19 vaccines.
Ofcom said: "Specifically, our investigation will consider whether this programme broke our rules designed to protect viewers from harmful material."
Wolf was banned from Twitter last year for spreading unfounded theories about vaccines.
Ofcom is already investigating Steyn's show for a potential breach of standards on 21 April when he claimed people who had a Covid-19 booster vaccine were three times more likely to die than those who had two doses or fewer.
Press Gazette says that the April 21 episode was removed from YouTube:
In a monologue that day, Steyn said: "Why aren't we talking about this? It seems, if the booster shot is making it thrice as likely that you're going to be deadsville, that they're going to carrying you out by the handles, why aren't we talking about that?"
Fact-checking charity Full Fact said the figures used by Steyn were "broadly accurate" but that he was "wrong to claim the booster 'increases your chances of hospitalisation and death'".
Interestingly:
No Ofcom investigations have yet been started into rival TalkTV, which Rupert Murdoch's News UK launched in April.
The Guardian had more, especially about Dr Matthew Sweet, who was interviewed on the BBC and had been monitoring Steyn's show for soundbites that criticised the vaccines. Steyn often mentioned Sweet:
The latest investigation relates to an interview with the author Naomi Wolf in which she claimed women were being harmed by Covid-19 vaccines as part of an effort to "to destroy British civil society".
Ofcom said it would investigate whether the programme broke "rules designed to protect viewers from harmful material" after receiving more than 400 complaints from members of the public.
In the interview, which was originally broadcast on 4 October, Wolf also compared doctors' support for the vaccine rollout to the behaviour of the medical profession in Nazi Germany and described herself as the "last remaining independent journalist" willing to question this.
She was being interviewed on the Mark Steyn Show, which has repeatedly raised doubts over the safety of vaccines. Steyn's claims that the jabs cause "every conceivable kind of damage" have been disputed by factchecking websites. He is already the subject of a separate Ofcom investigation over previous comments about vaccination.
Wolf began as a prominent feminist writer but in recent years her career has taken a hit after she wrote a book partly based on a misunderstanding of English court records. Since then she has veered into the world of conspiracy theories about the impact of 5G telephone masts and the coronavirus vaccine.
Presenter Matthew Sweet, whose BBC interview exposed the flaw in Wolf's book, has since kept tabs on her work and GB News's coverage of the pandemic and accused the channel of repeatedly "broadcasting misinformation about vaccines and presenting conspiracy theorists as legitimate experts on medical matters".
In a letter to Sweet tweeted last month, GB News insisted that at no point had Steyn's programme adopted an "anti-vax" approach. Instead it said he was conducting probing journalism in the face of people who want GB News to be "more supportive of government policy".
As I wrote in my post last week on Big Brother Watch's exposé of Government departments' surveillance of politicians' and journalists' Twitter accounts during the pandemic, the one thing one cannot do is criticise the vaccines.
The best of Mark Steyn's GB News output
Having watched nearly every Mark Steyn show once he began broadcasting weeknights in January 2022, I bookmarked the most notable ones.
Any interested readers should view the videos sooner rather than later. YouTube have already removed some of Steyn's GB News output.
Ratings
It took a while for people to tune into Steyn, which was no fault of his. He did a memorable series in March 2022 in Ukraine and told us that he was partly of Ukranian descent. He hoped to return when the war was over. You can read more about those programmes here.
At the end of that month, he had a special edition on the second anniversary of the first coronavirus lockdown, March 23, 2020. It's a good thing I described the content, because YouTube removed the video for the usual reasons.
Then on Monday, May 16, Mark hit the jackpot, beating TalkTV's Piers Morgan for the first time in the 8 to 9 p.m. slot. Mark wasn't the only ratings star that night — all the GB News evening shows beat TalkTV's:
The following day, Guido wrote:
The slow motion collapse in ratings of Talk TV is astounding. Until now, Piers Morgan has always held his lead in his slot against Mark Steyn on GB News. Last night Steyn beat Morgan for the first time…
And it would not be the last time, either. In fact, it became a regular occurrence.
Coronavirus
On Wednesday, January 12, 2022, Steyn interviewed Lord Ridley — Matt Ridley — about the coronavirus lab leak (30:00 – 40:00):
In February, he covered the Canadian truckers' protest in Ottawa against mandated vaccines:
He also interviewed a Canadian policewoman about the protests:
On April 21, he cited UK government data which said that people over 50 who had three jabs were five times more likely to get the virus: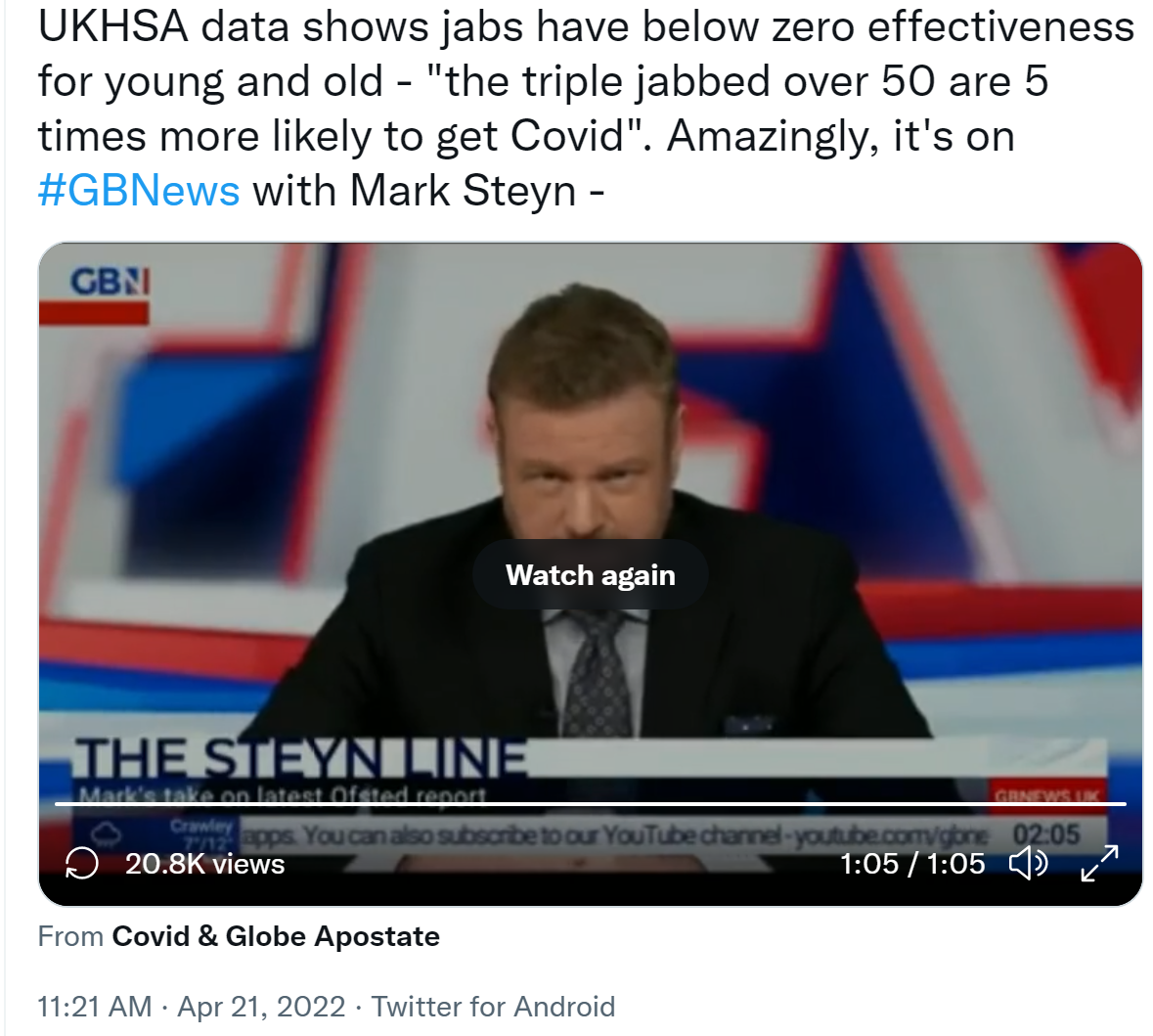 On Monday, May 9, he interviewed vaccine victims:
On May 11, he interviewed people who became seriously ill after taking the Astra Zeneca vaccine. No wonder it's no longer on the Government's vaccine list.
This man got a blood clot on the brain:
This lady suffered blood clots on her liver and lungs:
That day, Laura Perrins from The Conservative Woman waxed lyrical about Steyn's show. I, too, was a bit ambivalent about him many years ago, but as she pointed out:
It is true that a few decades ago he was considered an Establishment journalist; he has written for all your mainstream Right-wing publications. But he had long left that scene by the time I had my political awakening.
Anyway, somehow I stumbled across him, Praise be the Lord. The more I started listening, the more I read, I thought: 'Goodness gracious, hold the phone, shut the front door, this guy is the Real Deal.' This guy knows that we are being had by the political and media establishment and he is not afraid to say it …
Not only is Steyn the best-dressed, most-polished, most-sophisticated of all the presenters on TV, he says what you are thinking. For the last week or two he has been giving a voice to those the MSM have shamefully ignored – families who have lost loved ones through the 'safe and effective' non-vaccine vaccine.
… While Piers 'Lock Me Down Harder, Daddy' Morgan is interviewing Bruce Jenner, Steyn is pointing out that the lockdown has caused economic damage and inflation that the MPs like to ignore.
He also points out that when the Conservatives tell you they are getting a hold on illegal immigration, they are lying to you, they are lying to your face, dear reader.
So, do yourself a favour and watch Mark Steyn, Monday-Thursday, 8pm on GB News.
You can also catch up on YouTube when they haven't censored him for 'disinformation'. This is not a man who could ever be bought or sold for any price. I say again, Mark Steyn is the Real Deal.
The following day, news emerged that the WHO wanted nations to sign up to their pandemic treaty which would supercede national sovereignty. Unbelievable. Steyn said, 'The permanent abnormal staggers on':
On Tuesday, May 17, he talked about the WHO's involvement in the pandemic:
One week later, he interviewed a fellow broadcaster, Andrew Griffiths, who experienced serious side effects after getting the vaccine:
The Powers That Be tried to stir up fear over what is now called MPOX. On May 25, Steyn discussed Natalie Winters' findings for the National Pulse about an alleged link to the Wuhan lab:
Steyn had more on that and other topics on June 1, calling it 'the controlled demolition of the free world':
That was an exceptional show. Former ONS statistician Jamie Jenkins, one of Mark's regulars, alleged that the UK government had not collected any official statistics on vaccine injuries:
Claire Hibbs returned to discuss her injuries and the lack of compensation from the Government:
On June 16, he discussed the disastrous economic results of lockdown with Leilani Dowding:
Other Steyn broadcasts of note
In May 2022, he tapped into Canada's Rebel News output on Davos: excellent and entertaining.
On July 12, he was the only broadcaster to cover the July 12 celebrations in Northern Ireland in a non-confrontational way.
He interviewed Baroness Hoey — former Labour MP Kate Hoey — on her love for Northern Ireland and the United Kingdom:
He also spoke at length with the former leader of the Democratic Unionist Party, now-Baroness, Dame Arlene Foster:
These are just tasters. More to follow tomorrow.
No stranger to controversy
Mark Steyn has never been a stranger to controversy. Thank goodness.
Going way back in my Mark Steyn bookmarks, in 2004, he reviewed Mel Gibson's The Passion of the Christ, an incredible but much-criticised film, for The Spectator (full text here):
… Those who believe in Christ the Redeemer are booming, and Mel Gibson has made a movie for them. If Hollywood was as savvy as it thinks it is, it would have beaten him to it. But it isn't so it didn't. And as most studio execs have never seen an evangelical Christian except in films where they turn out to be paedophiles or serial killers, it's no wonder they're baffled by The Passion's success …
… Mel Gibson was driven by his own passion to make a movie that speaks to millions of people. As I said a couple of weeks back, if it's not the Jesus movie you'd have made, then go make your own. I saw it on a Monday night full house – a rare event in itself – and the crowd was rapt and eerily hushed, except for the occasional sob. It's true that if you don't believe that Christ's death on the cross is the central event in His time on earth then Mel's telling won't convince you and the film will look, as it does to Christopher Hitchens, like an S&M flayfest. One can regard this as a criticism of Gibson. On the other hand, all manner of movies – Star Wars, X-Men – leave you cold if you're not already a devotee. For millions of people, Mel Gibson shows them their Jesus and their salvation.
In 2009, Steyn wrote an article for Canada's Macleans about the danger that political correctness and censorship (i.e. 'hate speech') pose to human lives — the Fort Hood massacre (full text here):
… the old refrain echoes through the corridors of power: vigorous honest free speech will lead to mass murder unless we subject it to "reasonable limits."
Actually, the opposite is true: a constrained and regulated culture policed by politically correct enforcers leads to slaughter. I'm not being speculative here, as Commissar Lynch [Jennifer Lynch, Q.C., Canada's censor at the time] is about my murderous prose style. It's already happened, just a couple of weeks back. Thirteen men and women plus an unborn baby were gunned down at Fort Hood by a major in the U.S. Army. Nidal Hasan was the perpetrator, but political correctness was his enabler, every step of the way. In the days that followed, the near parodically absurd revelations piled up like an overripe satire …

Instead, asked "Who ya gonna believe—The Celebrate Diversity Handbook or your lyin' eyes?", more and more of us plump for the former, if only for a quiet life. Commissar Lynch has it exactly backwards: it's the craven submission to political correctness, the willingness to leave your marbles with the Diversity Café hat-check girl, that leads to death—real death, with real corpses, from Texas to Ontario.
It's amazing that the hot topics really have not changed since the Millennium. It's been the same-old, same-old for over 20 years now.
To be continued tomorrow
In the UK, polls have showed that Britons, particularly younger ones, have no intention of working.
The latest Government findings came out on January 22, 2023. The BBC reported (emphases mine):
Most of the 2.7 million "inactive" people under 25 are students, according to the Office for National Statistics (ONS). The majority of them don't want a job.
This was also true in 2021, as CityAM informed us:
Data from the Office for National Statistics shows of the 13m Brits who are not looking for work, over half said they were doing so because they did not want to work.
In 2015, a student posted the following message on The Student Room forum. Granted, she sees the possibility of owning her own small business but only just:
I'm 22 now and it's slowly dawned on me that I have no intention of working/having a career. I find most work boring and I am simply not inspired by the rat race. I think I want to be a small business owner and a stay at home mother.
It seems with feminism most women just aren't looking to go down the 'small job, husband and babies' route anymore. Am I the only one who doesn't want to work…at all ?
Maybe a small online store or something and a husband and kids. Nothing more (?)
Anyone else ?
The benefits balloon stretches back at least to 2013, possibly earlier. On April 24 that year, the Conservative MP Iain Duncan Smith, the then-Secretary of State for Welfare and Pensions said:
Around 1 million people have been stuck on a working-age benefit for at least three out of the past four years, despite being judged capable of preparing or looking for work.
Ten years on, The Spectator reports that real figures show that five million Britons are receiving out-of-work benefits. Their figures have been disputed, but in November 2022, the magazine's editor Fraser Nelson explained how the data were put together. For now, this is the message:
How can 20 per cent of people in our great cities be on benefits at a time of mass migration and record vacancies? It's perhaps the most important question in politics right now, but it's not being given any scrutiny because the real figures lie behind a fog of data …
Every month, an official unemployment figure is put out on a press release – and news organisations are primed to cover it. It's normally about 1.2 million looking for work: the problem, of course, is so few Brits are actually doing so …
The true benefits figure is not to be found on a press release, but buried in a password-protected DWP [Department for Work and Pensions] database with a six-month time lag …
The five million figure 'seems to be incorrect,' Full Fact said in their email to us. 'According to the most recent statistics, there are around 1.5 million people claiming out-of-work benefits.' But the real figure is more than three times higher – but rather than reply to them, I thought I'd write this blog for anyone interested …
DWP data is now on Stat-Xplore, a versatile open data tool. The password bit is deceptive: you can bypass by clicking 'Guest log in' to find an Aladdin's Cave of data. Look at the dataset 'Benefit Combinations – Data from February 2019'. Click Table 5, then click 'Open table' to get the numbers …
Nelson has posted graphs and a map to illustrate his figure of five million.
He concludes:
To fail to match up 1.2 million vacancies with at least some of those on out-of-work benefits is not just an economic failure but a moral one. But to solve a problem, you need to recognise a problem. Officially counting all five million people on out-of-work benefits would be a good way to start.
Living a life of idleness, however, is nothing new.
St Paul grappled with the same problem two millennia ago when he planted a church in Thessalonika (present day Saloniki).
The following passage, 2 Thessalonians 3:6-12, is one example of his command to work:
Warning Against Idleness
6 Now we command you, brothers, in the name of our Lord Jesus Christ, that you keep away from any brother who is walking in idleness and not in accord with the tradition that you received from us. 7 For you yourselves know how you ought to imitate us, because we were not idle when we were with you, 8 nor did we eat anyone's bread without paying for it, but with toil and labour we worked night and day, that we might not be a burden to any of you. 9 It was not because we do not have that right, but to give you in ourselves an example to imitate. 10 For even when we were with you, we would give you this command: If anyone is not willing to work, let him not eat. 11 For we hear that some among you walk in idleness, not busy at work, but busybodies. 12 Now such persons we command and encourage in the Lord Jesus Christ to do their work quietly and to earn their own living.[d]
John MacArthur explains why we must work in 'Work: A Noble Christian Duty, Part 3', from July 19, 1992.
There were reasons why some in the congregation were not prepared to work:
As we have said in the past … they perhaps have been influenced by some of the Jewish background of the scribes who thought that anything other than studying the law was an unworthy way to spend your life.  They surely were affected by the general Greek attitude that work was demeaning and sordid and base and low and belonged only to slaves and not to freemen. 
And they probably had had those predispositions somewhat exaggerated by virtue of the fact that someone had come along and told them that they were already in the day of the Lord and the return of Christ was imminent and there probably wasn't much use in doing anything other than evangelizing and studying the Word of God.  And so they had given themselves to that happily because of their disdain for work anyway.  Problem was, at least long term, if you can call several months long term for the Thessalonians in that Paul had dealt with it when he was there.  Several months later, when he wrote them the first letter, he dealt with it, and here he is writing a second letter and dealing with it a third time.  They didn't want to work.  It was beneath them. 
Homer, the famous Greek writer, had said that the gods hated man.  And the way they demonstrated their hatred was to invent work and punish men by making them work.  This kind of philosophy being existent in that time, it found its way into the lives of those people and thus, when they became converted, it found its way into the church.  Becoming a Christian doesn't change everything immediately.  We will always have residuals of our past, and we will always to one degree or another be affected by our culture.  And so here in this church in which so many good things had happened, a genuine conversion, a genuine godliness, they were not slack in spiritual service, they had a work of faith and a labor of love, and they did it with patience and endurance because they hoped in the return of Christ.  They worked hard at ministry, but they didn't want to do the jobs that they had to do in the world, at least some of them. 
And so Paul was dealing with a church that had its spiritual life on target and was doing well, excelling spiritually, but they had this one problem that dominates the church in terms of its conduct, and that was that there were people there who didn't work.  They then became a burden on everybody else, and it wasn't that they couldn't work, it wasn't that they had a physical disability, it wasn't that there wasn't a job available, they refused to work, seeing it as beneath them or not a priority for those engaged in kingdom enterprises. 
MacArthur cites American statistics on work from 1980 to 1991:
I suppose 25 years ago, a situation like this would have struggled to be relevant in our time then because America was a hard-working country 25 years ago.  In fact, the American work ethic has always been hailed as sort of the supreme work ethic of the industrialized world.  We have always sort of set the pace for productivity and enterprise – up until more recent years, that is.  Last year, Charles Colson and Jack Eckerd, who heads the Eckerd Company, which operates drug stores in other parts of America, they wrote a book and the title of their book is Why America Doesn't Work.  Now, that's really a new thought, a new concept for our culture, for our society.  The subtitle is, "How the decline of the work ethic is hurting your family and future."  The future of America is changing dramatically.  There are other nations that are putting us to shame in terms of work habits and a work ethic. 
In their book, they point out that we have in America declining rates of productivity, the loss of competitive position in some world markets, and workers who aren't working.  And they concluded it is a bleak picture.  And I suppose they ask the right question, the question we would all ask at that point:  What has happened to the industry and productivity that made this country the marvel of the world at one time? …
We have an ethical malaise all the way from the jet set corporate leaders down to the person working at the bench.  The whole concept of work has so dramatically changed, it no longer has a transcendent motive.  There's no longer something beyond me to make me perform at a certain level.  Thus, the meaning of work has been sapped from everybody from the top to the bottom, to some degree.  Obviously, some people still work harder than others. 
A 1980 Gallup Poll conducted for the Chamber of Commerce found that people still believed in work-ethic values, 1980, they still believed.  That's over ten years ago.  Eighty-eight percent said working hard and doing their best on the job was personally important.  But were they doing it?  They said they believed it, it was still sort of in the air in 1980, but were people working hard?  1982 survey came along.  In that survey, it was reported that only 16 percent said they were doing the best job they could at work.  Eighty-four percent admitted they weren't working hard – 84 percent.  So you can see they were still holding on to a residual ethic that didn't translate into how they functioned, which meant that it was somebody else's transcendent value, somebody else's ethical value imposed on them externally but not truly believed. 
Working hard, they said, was important but they weren't doing it, so how important was it?  Eighty-four percent also said they would work harder if they could gain something from it.  And now you can see that the ethic is not transcendent, the ethic is utilitarian.  It's all tied in to what I get out of it, what's in it for me.  And that's part of the cynicism of our society.  That's part of the direct consequence of the 60s' moral revolution, which is a rejection of transcendent values. 
God is not an issue in anything.  He is not an issue in the way I conduct my sexual life, He is not an issue in my marriage, He is not an issue at my job, He is not an issue in education, He is not an issue anywhere.  God is not an issue; therefore, there is no value beyond myself.  So whatever is enough to get me what I want is enough.  It is a kind of societal economic atheism.  In fact, psychologist Robert Bellah calls it radical individualism.  Surveying 200 middle-class Americans, this UCLA professor discovered that people seek personal advancement from work, personal development from marriage, and personal fulfillment from church.  Everything, he says, their perspective on family, church, community, and work is utilitarian.  It is measured by what they can get out of it, and concern for others is only secondary. 
Down to specifics, James Sheehy, an executive with a computer firm in the upper echelons of the work strata, saw first-hand how this kind of utilitarian value was affecting work.  He wanted a better understanding of the expectations and psyche of younger employees.  Looking at what the future held, what kind of people were going to come up in this generation to work in his company?  What would they be like?  So he decided the best way to find out was to spend his vacation taking a job in a fast-food restaurant.  He wrote most of his coworkers were from upper income families, they didn't need to work but they wanted extra spending money.  He watched and listened as his coworkers displayed poor work habits and contempt for customers.  His conclusion was, "We have a new generation of workers whose habits and experiences will plague future employers for years." 
He writes, "Along with their get-away-with-what-you-can attitude and indifference to the quality of performance, their basic work ethic was dominated by a type of gamesmanship that revolved around taking out of the system or milking the place dry.  Theft, skimming, and baiting management were rampant and skill levels surprisingly low.  The workers saw long hours and hard work as counter-productive.  'You only put in time for the big score,' one said."  After recounting his experience, Sheehy concluded, "Get ready, America.  There's more of this to come from the workforce of tomorrow." 
Doesn't sound too good if you happen to be an employer, does it?  A recent Harris Poll showed 63 percent of workers believe people don't work as hard as they used to.  Seventy-eight percent say workers take less pride in their work.  Sixty-nine percent think the workmanship they produce is inferior, and 73 percent believe workers are less motivated and that the whole trend is worsening and the numbers are going up. 
Imagine. If people felt that way in the 1980s, and it is probable that Britons also did at the time, we are now into a second generation of people who don't care about work, with a third generation on the way.
MacArthur says:
The more and more people demand recreation and idle time, the more corrupt they will become.  The two go hand-in-hand.  An escalating pornographic, sinful, wicked culture is sped on, the slide is greased, by a shrinking commitment to work.  And we fill up all that time with things that feed the lust of the eyes, the lust of the flesh, and the pride of life. 
He lays out why work is a God-given command:
Now, our society may not have a choice but they have to accept this, but as Christians, we can't accept this.  The Christian faith does not accept a utilitarian work ethic.  The Christian view of work is transcendent.  That is, it escapes me and my world and directs its attention toward God. 
… First, work is a command from God.  Six days shall you labor.  God commands us to work.  Secondly, work is a model established by God for it was God who worked for six days and then rested on the seventh, and God, of course, is the worker who continually sustains the universe.  Man, being created in the image of God, then, is created as a worker.  Thirdly, work is a part of the creation mandate.  In other words, what I mean by that is it is the role of man.  Stars shine, suns shine, moons shine, on the earth plants grow, animals do what they're supposed to do, rocks do what they're to do, mountains do what they're to do, water does what it's to do, clouds do what they're to do, and we do what we're to do.  As Psalm 104 says, all of creation moves in a normal course and part of it is man rises, goes to work until the setting of the sun.  It is creation mandate.  It is how we contribute to the processes of life in God's wondrous creation. 
Work is a command.  Work is established as a model by God.  Work is part of the natural creation.  Fourthly, work is a gift from God.  It is a gift from God.  It is a gift through which we glorify Him and the wonder of His creation as we produce things, putting on display the genius of God who created us, in all of our abilities.  It is a means by which we can glorify our Creator.  Just as the beast of the field gives me honor, as Isaiah said, and just as the heavens declare the glory of God by what they do, and we sit in awe of them, so man declares the glory of God, the wonder of His creative genius by doing what he has been given the ability to do.  Work is a gift from God, not only to glorify Him but to give meaning to life.  Work is a gift from God to give us something to do, which avoids the idleness that leads to sin …
Work is a gift from God also to provide for needs.  Work is a gift from God so that we can serve each other.  And lastly, in the Christian work ethic, work is to be done as if the boss was the Lord Himself.  It says in Colossians chapter 3 and Ephesians 6 that we're to work as unto the Lord and not men. 
So the Christian faith does not sanctify the kind of attitude we're seeing in our own country toward work.  In fact, as I said, 25 years ago, this message may have seemed a bit obscure when America was working productively.  Now it seems to be rather on target for we are suffering today with some of the things that Paul faced in the Thessalonian church.  But as Christians, we have to establish the standard. 
I often watch BBC Parliament, not because I love MPs or the Lords, but in order to gain a better insight in to what they are doing to us, the British people.
The number of Opposition — Labour, Liberal Democrat, SNP — MPs who complain that the Conservative government isn't giving enough handouts, when clearly it is, as we can see from the aforementioned statistics, is mind-numbing.
Moving to MacArthur's and his congregation's personal experience, and still tied in to that, this is what happens when work is suggested:
It is an aberrant unbeliever that doesn't work.  The tragedy of those people, the real tragedy, is that they are so deep in sin and so deep particularly in the sin of drunkenness and irresponsibility and immorality that they have put themselves in the position they're in.  And I again say I'm not talking about people who are genuinely in despair, and I've seen those people all around the world.  But there is a mass of people who shouldn't eat because they will not work. 
We see them here at the church.  They come by and they want money and they want food and we suggest work and they leave.  I was told today by one of the gentlemen in our church, serves with the police department, that they will hold a sign – they've tracked them – they will hold a sign, "I need work, homeless, need work," and recently in one of the shopping centers just a couple of days ago they were tracking to find out what was going on.  None of them got jobs but they were averaging $15.00 an hour in donations.  One policeman told me he went by and offered a lady a sandwich purchased at a fast food place and she said, "What's this?" and he said, "Well, it says 'homeless and hungry,' so I'm just giving you this to eat."  She put it in a bag and he said to her, "Well, aren't you hungry?"  She said, "I'll eat it when I get home." 
So you need to be careful about that.  Sometimes the car is parked around the block and the stash is growing in the back of the car.  Just have to be careful because there are people who don't work because they won't work, not because they can't work.  And if you don't work and won't work, then you don't eat, that's what the Bible says.  There needs to be an opportunity for you to earn your own food and you need to take that opportunity, and again I want to say this:  It may be that in some cultures there is not enough work to go around and that a person couldn't do enough work to really make the whole living, then in generosity and charity and love, we make up the lack, but we don't feed the indolence. 
Even our blessed Jesus encountered a crowd of this type. After He had fed the Five Thousand, they returned the next day for another miraculous meal. They became angry when He refused them and said that He was the bread of life, which is infintely more important, then and now. John 6 has the story.
MacArthur interprets the episode:
Jesus, you remember, in John chapter 6, fed the multitude and it was a large crowd.  We talk about feeding the 5,000 but it says 5,000 men, so wherever there are 5,000 men, there have to be 5,000 women, at least, and throw in a few thousand mother-in-laws and grandmas, sisters and aunts, and throw in 15,000 kids, at least, and you've got a crowd somewhere between 20 and 50 thousand.  It could have been a massive crowd and Jesus fed them all.  You remember He had those five little cakes, five loaves, they're actually little barley cakes, and two pickled fish and He just created food.  And I'll promise you, it was the best lunch they'd ever had because it bypassed the world …
Now, do you realize when He said no to breakfast, I really believe that their anger was turned on Him because in an agrarian society like that, they had to work with the sweat of their brow to produce their own food.  They didn't go down to some market and flip out food stamps or a check or a credit card or whatever it is, they didn't go to a fast food restaurant.  If they didn't work that day, they didn't have the food to eat.  And not only a matter of preparation, but a matter of provision.  And so when Jesus – when they saw Jesus make food, they thought they had just found the Messiah who would bring the ultimate and eternal welfare state.  "We don't even need food stamps, just show up and He passes it out.  And you don't even have to get in line to collect it, they serve it."  And when time for breakfast came, they were there and he left, and I think their anger and hostility turned on Him because they knew then what He could do but He refused to do it.  He could have done it for us as well, but He knows the value and the benefit and the purpose of work.
Concluding on Paul's message to the Thessalonians, MacArthur says:
So here were these Thessalonians and they wouldn't work.  And so he says if they don't work, don't let them eat.  That will help them get the message.  That's survival. 
In our world, able-bodied people, believers or not, should be made to feel guilty for depending on the taxpayer for their daily bread. As The Spectator's Fraser Nelson said above, it is a moral issue.
Whether we like it or not, work is the order of the day. We must provide for ourselves to the fullest extent possible.
Last Friday's post was about the friction between the Duke and Duchess of Sussex and the then-Duke and Duchess of Cambridge but also Palace staff. (You can read my first post on them here.)
There were other signs that the Sussexes were a rather unusual Royal couple, which might have tainted the public's opinion of them.
Political ambitions
Just days after their wedding in May 2018, Sebastian Shakespeare wrote an article for the Mail, 'Why Meghan Markle for President isn't crazy' (emphases mine):
Meghan Markle is said to have told a former close associate that her ultimate ambition is to be president of the U.S. The conversation apparently took place after Meghan began her romance with Prince Harry.
'Meghan was quite clear that she wanted to be president one day,' the source claims.
It may sound fanciful, but the new Duchess of Sussex has held the ambition since she was a little girl. In 2015, she reportedly told the journalist Piers Morgan that she had not always sought showbusiness success.
'As a kid, I wanted to be either the president or a news broadcaster like you,' she told him …
And the claim appears to have caused consternation at Kensington Palace yesterday, with the Duchess giving her official spokesman permission to take the unusual step of issuing a public denial.
'This conversation you describe with an associate is fictitious,' the spokesman insisted.
I am, though, not the only one to hear rumours that Meghan still holds political ambitions.
Former Times editor Sir Simon Jenkins says: 'Her friends and associates affirm that she is a political animal.
'Such is her fame, she could perfectly well follow a route taken by a certain Ronald Reagan. She might lead for the Democrats against a Republican Ivanka Trump. All I can say is, why not?'
On November 17, 2018, the Duchess practised interfaith outreach in an official visit to a mosque near Kensington Palace:
PJ Media reported on the visit a week later, taking their source from The Telegraph:
In yet another shocking failure in a long line of interfaith outreach by Western governments since 9/11, The Daily Telegraph reports today that the American-born Duchess of Sussex, Meghan Markle, has been recently promoting a program associated with the notorious Al-Manaar mosque not far from Kensington Palace. The mosque has produced as many as nineteen terrorists — including "Jihadi John" and his Islamic State "Beatles" who tortured and beheaded Western captives in Syria.
The duchess has helped raise more than $250,000 for the Hubb Community Kitchen operated out of the mosque by promoting a cookbook that royal press agents have billed as celebrating "the power of cooking to bring communities together" …
The Grenfell Tower fire had taken place in June 2017, one of the worst blazes in London in decades. It is still spoken of today. Much community rebuilding had to be done, so one can understand that, but, according to The Telegraph, the Duchess had made earlier, 'secret visits' to the mosque:
In February it emerged the 37-year-old royal had made secret visits to the mosque in Westbourne Grove, which has also hosted Princes William and Harry, Theresa May and Jeremy Corbyn in recent months.
An investigation by the Henry Jackson Society (HJS), the anti-extremism think tank, has linked the mosque, opened by Prince Charles in 2001, to 19 jihadists, including Islamic State executioner Mohammed Emwazi, also known as Jihadi John.
Research by the HJS suggests the mosque was once attended by three of the four "Beatles", the Isil terror cell charged with guarding, torturing and killing hostages in Syria and Iraq. As well as Emwazi, Choukri Ellekhlifi, Alexanda Kotey and Aine Davis, all from west London, also have links with Al Manaar.
PJ Media pointed out that ITV News had also picked up on the Duchess's prior visits:
An ITV News report earlier this week reported that the duchess has made numerous unreported visits to the notorious mosque in recent months:
Also:
The Sun reported last night that Kensington Palace was trying to distance Markle from the mosque, claiming that the community kitchen housed in the mosque is an independent project.
But this does raise questions about how royal officials decided to promote an effort so closely tied to the Al-Mannar mosque when reports going back to 2014 chronicled the role that the mosque played in the radicalization of "Jihadi John" and the ISIS "Beatles."
The move to Frogmore Cottage: strain with the Cambridges
As my post from Friday says, by the time the wedding took place, many Palace staff as well as the Cambridges saw too much tension and outbursts involving the new Duke and Duchess of Sussex. It could no longer be contained.
On November 23, 2018, The Sun reported that the Sussexes were leaving Kensington Palace for the 10-bedroom Frogmore Cottage in the grounds of the Windsor estate:
The brothers have always been incredibly close, but Harry and Meghan are setting up their home in the grounds of Windsor Castle.
The Queen has given them Frogmore Cottage, which is having a multi-million pound refit paid for by the taxpayer.
It will provide ten bedrooms and a nursery for their baby, due in April. The couple are expected to move in next year.
A royal source said: "The initial plan was for Harry and Meghan to move out of their cottage in the grounds of Kensington Palace and into one of the main apartments.
"But there has been a bit of tension between the brothers.
"Now Harry and Meghan don't want to live next to William and Kate and want to strike out on their own."
The cosy cottage the pair currently live in as previously home to the Duke and Duchess of Cambridge before the couple moved into a 20-room apartment inside the palace.
"They need more room and hope Frogmore Cottage will be ready in time for when they have the baby."
Frogmore Cottage needs major building work to turn it back into a luxury family home, boasting 10 bedrooms & a new nursery plus space for a gym & yoga studio.
Currently it's been chopped up into 5 units where palace staff have been living.
News of Meghan and Harry's decision to leave Kensington Palace comes weeks after it was first reported that Harry and William would have separate courts in the future instead of using Kensington Palace as a joint office for them.
Nearly a year later, on August 27, 2019, The Sun reported that the Sussexes actually wanted to live in Windsor Castle, but the Queen said no:
MEGHAN Markle and Prince Harry wanted to move in with his grandparents and set up home in Windsor Castle, reports say.
It's claimed the Duke and Duchess of Sussex asked the Queen if living quarters in the historic castle could be made available for them after they were married but the answer was a firm 'no', so they went on to renovate Frogmore Cottage in the grounds of the estate …
The original castle in Berkshire dates back to the 11th century when construction was started following the Norman invasion of England by William the Conqueror.
Since the time of Henry I it has been used by the reigning monarch.
Henry III built a luxurious royal palace within the castle during the middle of the 13th century which were later expanded upon by Edward III.
Frogmore Cottage, in the grounds of Frogmore House on the royal estate, was built in 1801.
On Christmas Day 2018, The Sun reported that all seemed to be well between the Duchesses of Cambridge and Sussex at Sandringham:
MEGHAN Markle placed a hand on Kate Middleton's back in a show of unity as they today brushed aside rumours of a rift for a Christmas Day church service.
The sisters-in-law were all smiles as they joined the royal family at Sandringham for the annual service this morning.
And Meghan and Kate brushed off feud rumours as the former actress placed a hand on the Duchess of Cambridge's back as they appeared to share a joke.
The pregnant Duchess of Sussex looked radiant in a navy £2,250 Victoria Beckham coat with £1,350 black boots as she held tightly to Prince Harry's arm.
The Duchess of Cambridge, who wore a £3,000 red Catherine Walker coat and £650 burgundy "Halo Band" made by milliner Jane Taylor, walked apart from Prince William.
Kate teamed the festive look with matching gloves and a clutch bag, while the Queen was vibrant in a grey feathered hat and jacket with a bright pink trim.
Three weeks later, in January 2019, royal reporters were none the wiser about whether a feud was actually taking place.
On January 17 that year, The Daily Caller reported:
According to new reports by royal insiders Katie Nicholl and Leslie Carroll, the Duchesses may not be as at odds as we were previously led to believe.
Contrary to mainstream narratives pushed over the past several weeks, Markle and Middleton may not be feuding as much as just feeling each other out.
"When [Prince] Harry met Meghan [as] the relationship was progressing, he was really keen to get Kate's stamp of approval," Nicholl tells ETOnline. "He wanted them to be close as sisters-in-law. I think they're still in an early stage of their relationship."
And while there very well could be some jealousy, that doesn't necessarily equate hard feelings.
"Possibly, Kate does feel a little eclipsed by Meghan, who's just come along to such huge media interests, public interests and being so successful from the start," Nicholl added.
Of course, Harry and Meghan's decision to move out of Kensington Palace this year — a rare decision for the Royal Family, who usually resides together at the palace during most of the year — fanned the flames of a rumored feud. It didn't help that a report that Middleton left a meeting with Markle in tears before her May wedding quickly dominated headlines for weeks …
For what it's worth, Ingrid Seward, editor-in-chief of Majesty Magazine, isn't buying the candy-coated reporting.
"People forget Meghan is an LA girl," Seward suggested. "It's very different for her to suddenly come here and marry into the royal family…I think Meghan thought she had an ally in Kate…Kate was pregnant and unwell. And then she had a new baby. So she couldn't give Meghan the attention she expected. And I think that's when things started to sour."
So is it a case of misunderstanding? Or did the two women get off on the wrong foot? We'll have to wait and see…
On February 5, The Daily Caller told its readers that it was Princes Harry and William who were allegedly feuding, not their wives:
Meghan Markle and Kate Middleton's alleged feud is reportedly really between Prince Harry and Prince William after the eldest offered some "brotherly advice."
It reportedly happened when Prince William shared that he was "quite concerned that the relationship [with the Duchess of Sussex] has moved so quickly," Katie Nicholl said in a clip from TLC's "Kate v. Meghan: Princesses at War," per E! News Monday.
And that "'You know, this seems to be moving quickly. Are you sure?' And I think what was meant as well-intended brotherly advice, just riled Harry," she added.
That advice reportedly translated to Harry that William wasn't behind his decision to marry Meghan Markle.
Nicholl continued, "Harry is hugely protective of Meghan. He saw that as criticism. He interpreted that as his brother not really being behind this marriage. And I don't think things have been quite right ever since."
However, royal biographer Lady Colin Campbell explained that the alleged distance between the brothers is all about Markle's influence on her husband.
"Everything I hear is that Harry is completely beguiled by Meghan, and completely enthralled to her and has changed considerably," Lady Campbell shared.
Baby Archie
On March 4, 2019, Gateway Pundit's Niall McCrae didn't sit on the fence when discussing the Duchess of Sussex's baby shower:
Keep your seatbelts on, folks. According to Vanity Fair, Meghan revealed at her baby shower that her imminently expected will be raised as a gender-fluid child. Of course, this was denied by Buckingham Palace. But nobody would be surprised if this progressive princess, supported by her widely popular and slightly wild husband Harry, fully meant what she allegedly said.
It was predictable from the outset that Meghan would be a wrong 'un (should anyone imply such inference, I attribute none of this to her ethnicity or American nationality, which freshen the Windsorhood). She is the epitome of the self-righteous, virtue-signalling, celebrity social justice warrior. Narcissistic Meghan wants to emulate and exceed Diana, and ensure that in future movies she will be not the actress but the actual heroine.
Never being a fan of Diana, my response to her untimely death in 1997 was coolly detached as I saw all those flowers, all those personal messages from people who never met her. However, Diana obviously fulfilled a need in society, and the outpouring of grief after the tragedy marked a turning point in British culture, from the traditional stiff upper lip to open emoting. As Tony Blair said when taking office earlier that year, 'A new dawn has broken, has it not?'
We all wish Meghan and Harry a healthy and happy child. A boy is rumored, and perhaps that explains the gender fluidity. As a devout feminist, Meghan would probably be less keen on undermining the sex of a daughter: instead, she would be raised a strong female, preparing to right the wrongs of the patriarchal world.
On Monday, May 6, The Independent reported on ancient rules regarding royal custody of grandchildren. Keep in mind that this now pertains to King Charles:
… there is a fascinating law in place that means that Prince Harry and Meghan may not always have full legal custody of their child.
More than three centuries ago, a law was enacted that means the sovereign has full legal custody of their minor grandchildren, royal expert Marlene Koenig explains.
The law, called "The Grand Opinion for the Prerogative Concerning the Royal Family," was introduced by King George I in 1717.
"George I did not get along with his son, the future George II," Koenig tells The Independent.
"I believe it came about when the Prince of Wales [George II] did not want to have the godparent for his son that his father wanted – so George I got Parliament to come up with something."
This means that when Charles, Prince of Wales becomes sovereign, he will have custody of his minor grandchildren.
According to Koenig, issues surrounding the law arose in 1994 when Diana, Princess of Wales separated from Prince Charles.
Diana expressed wishes to take their sons, Harry and William, to live with her in Australia, but couldn't due to the regulations laid out by the custody law …
Hmmm …
CNN tries to trap Trump on Markle
On June 1, CNN tried to trap President Trump into saying that the Duchess was 'nasty'. Instead, he said (29-second point in the video):
No, I didn't know that she was nasty.
Here's the full exchange:
Another Twitter user, since deleted, observed — nearly correctly:
List of women Trump has used the word "nasty" to describe: -Hillary Clinton -Nancy Pelosi -Meghan Markle -Kamala Harris -San Juan mayor -Danish prime minister.
August 2019: the turning point
Valentine Low, the author of 2022's best-seller Courtiers, tells us that, by August 2019, things were unravelling quickly for the Sussexes, who already had a US PR team lined up:
By August 2019, things were "awful and tense" within the Sussex household. There were also clues that Harry and Meghan did not see their long-term future as working members of the royal family. Their Africa tour was coming up, but there was nothing in the diary after that. Meanwhile, staff were increasingly aware of the presence in the background of Meghan's business manager, Andrew Meyer, and her lawyer, Rick Genow, as well as her agent, Nick Collins, and Keleigh Thomas Morgan of Sunshine Sachs. The US team had been very busy, working on deals not only with Netflix but also a deal for Harry's mental health series for Apple+ with Oprah Winfrey and Meghan's voiceover for a Disney film about elephants.
The most the public knew at the time was that the Queen had arranged for the couple to go on a tour of Africa, as part of a goodwill sign towards the Commonwealth countries there:
While preparing for the Africa tour, the team was trying to persuade the couple that it would be appropriate to do an interview with the British media. Sam Cohen suggested Tom Bradby of ITV, who already had a relationship with Harry. Meghan was reluctant at first. Her attention was focused on the prospect of doing an interview with Oprah Winfrey. After thinking about it, however, Harry said they would agree. There was one proviso: he and Meghan could not do interviews together or be in the same shot. That would go against their deal with Oprah, which at that point was slated for the autumn of that year. (It eventually went ahead more than a year later, in March 2021.)
The Express was on to the Sussexes at that time.
On Saturday, July 28, the paper reported that the Sussexes' job vacancies were no longer on the Clarence House recruitment site:
The American and the Duke of Sussex are no longer listed on the recruitment page of Prince Harry's father Prince Charles' website. Prince William and wife Kate however, remain there. One family friend said of Harry: "He wants to control everything and everyone he's involved with. How he's going to pay for it is another question."
Under the recruitment tab of the Clarence House website vacancies are listed for staff keen to work for Charles and Camilla and the Cambridges.
Regardless of there being any vacancies available, the Duke and Duchess of Sussex were listed at the top of the site, along with Charles, Camilla, William and Kate.
The couple are no longer there.
The suspicion the Duke and Duchess of Sussex have now split from Prince Charles on his website also raises questions about funding.
The costs of Harry's office and his royal duties are met by a stipend from the Prince of Wales.
Between them Harry and William share about £4million a year, with the lion's share going to the direct heir to the throne.
But without his father's support, Harry would have to turn to the Queen for funding – and she already has a lengthy list of people to support.
… Meghan and Kate seemed to have patched up their differences with a visit to Wimbledon this summer.
But Meghan and Harry aides sparked outrage when it emerged there were rules on how to approach them in Windsor.
The Sun reports neighbours are advised against initiating conversations with the couple.
However, if Meghan or Harry start a discussion they are welcome to exchange pleasantries with the young couple.
They are also asked not to play with the couples' dogs or request to see their baby, the report claims.
On Thursday, August 1, The Express had a follow-up article:
Meghan Markle and Prince Harry made big changes in their lives during recent months as they simultaneously became parents for the first time. The royal couple split from their charity partnership with Prince William and Kate, Duchess of Cambridge in January. Three months later it was announced Prince Harry would team up with US talk show legend Oprah Winfrey on a new TV series about mental health.
This was followed by the birth of their first son Archie Harrison Mountbatten-Windsor on May 6, 2019.
Since then, Meghan and Harry have planned a forthcoming royal visit to South Africa in autumn.
They also raised eyebrows after citing their intention to raise Archie as a "private citizen" despite him being seventh-in-line to the throne.
The royal baby lives with the Duke and Duchess of Sussex at their Windsor Estate home where they can maintain strict privacy …
Her mum, Doria Ragland, lives in Los Angeles where she is a yoga instructor.
Doria has crossed the pond to visit her daughter and grandson but a royal expert has now revealed Meghan may be looking to set up house over there.
Emily Andrews told Yahoo's The Royal Box the Duke and Duchess of Sussex may well purchase a property in the USA for work and personal reasons …
The royal expert did not suggest that any purchase would mean a permanent move to the United States …
She and Harry are expected to travel to the Queen's official Scottish residence, Balmoral Castle, along with other senior royals this summer.
The idyllic holiday home becomes the Queen's two-month break from royal duties every July and August.
Vogue
On August 2, Meghan's issue of Vogue that she had guest-edited appeared on the shelves.
The Spectator rightly objected to the Duchess's perceptions of life. She appears to think that it's not what you do that matters, it's what you look like that counts. Look at Harry in the photo — a completely different person:
The issue featured the Duchess's supposed heroines.
Author and journalist Douglas Murray wrote about it for UnHerd — 'Meghan and Harry are playing a dangerous game':
… Meghan Markle, otherwise known as the Duchess of Sussex, has guest-edited the September edition of Vogue. The contents of the issue are perhaps unsurprising. As well as inevitably celebrating prominent women, such as the teenaged school truant Greta Thunberg, the Duchess has also set out to prove that women don't need men to give them status. Something she has done by including an interview with her husband, Prince Harry.
This in itself has drawn a certain amount of comment, and will not have calmed fears some people had that a highly political figure marrying into the nation's most necessarily non-politically opinionated family might cause problems down the line. The fact that Meghan Markle's pre-Harry politics might be best described as 'woke' is in some ways unimportant – a prominent Donald Trump-supporting Republican marrying into the Royal Family would raise similar concerns, to say the least.
The worry was that Prince Harry's marriage to Ms Markle would end up tipping him towards her political path, fears that will not have been calmed by his appearance in the high-end fashion magazine. In the royally-guest-edited issue, Prince Harry talks about a number of things, the headline-grabber being his claim that he and his wife would not have more than two children because of its impact on the environment and climate change …
It is the Prince's follow-up comments, however, that dish up the problem, less for his audience than for the Prince himself. Watching Prince Harry beginning to play the game of identifying 'unconscious bias' is like gazing at a hapless amateur juggling with loaded pistols; it is enough to make any well-disposed person want to scream "Stop" and seize the guns from his unsuspecting hands.
The comments appear in a conversation between the Prince and primatologist Dr Jane Goodall, on the subject of what humans can learn from chimpanzees. At one point Dr Goodall says that children do not notice skin colour, to which Harry adds: "But again, just as stigma is handed down from generation to generation, your perspective on the world and on life and on people is something that is taught to you. It's learned from your family, learned from the older generation, or from advertising, from your environment." Well perhaps …
One of the most extreme forms of – generally unconscious – bias that people demonstrate throughout their lives is towards attractive people, and not only in the selection of partners. Study after study shows that good-looking men and women stand a better chance of promotion in their chosen field of work than people who are average-looking or actively unattractive.
For instance, it may be carefully suggested that the editor of September's issue of Vogue would not be editing September's edition of Vogue if, rather than the acclaimed beauty she is, she looked rather more like a member of the Addams family. Or indeed an average-looking member of the general public. There may be many reasons why Prince Harry requested Meghan Markle's hand in marriage, but her looks must have – consciously or otherwise – at least counted in her favour on the way to the altar.
Another form of bias that people express throughout their lives – again, consciously or otherwise – might be an inclination towards someone who is financially or socially secure. I should never want to accuse a Duchess – or any other member of the Royal Family – of any variety of bias. And yet it seems possible that in her search for a husband Ms Markle may have demonstrated some form of bias (unconscious or otherwise) towards thrones and their heirs. I will put the point no stronger. But in her search for love, Ms Markle must have met many people. Perhaps she met many princes and mingled with many a duke. But it is striking, at the very least, that of all the people who appeared across her path, the one she ended up marrying in a low-key ceremony at Windsor Castle happened to be the second son of the Prince of Wales.
Balmoral no-show — part 1
It was a given that the Royals joined the Queen during her summer holiday at Balmoral and participated in her favourite country pursuits.
However, the Duchess was fussy.
On August 11, The Sun reported:
MEGHAN Markle might fake a headache to avoid taking part in blood sports when she visits the Queen in Balmoral, a royal expert has claimed.
Sports like hunting and fly fishing are much-loved group activities at the Queen's summer retreat in the Scottish highlands.
With a 50,000 acre estate comprising of grouse moors, forestry and farmland, animals to hunt are in no short supply in Balmoral.
But the Duchess of Sussex, 38, who follows a vegan diet during the week, isn't a fan of hunting – despite her husband Prince Harry being taught from a young age.
Writing for the Mail on Sunday, royal editor Robert Jobson said: "Meghan, however, who rather disapproves of such blood sports, may choose to feign a headache."
BBQs and picnics are thought to take place daily at Balmoral, regardless of the Scottish weather, as the royals are so fond of all things outdoorsy.
"It is hunting which is perhaps the biggest passion", Robert added of the royal hobby, which includes shooting birds and deer.
"Her Majesty shot her last stag in 1983 near to the Spittal of Glenmuick, in a spot that is now called The Queen's Corry.
"But she still attends shoots and drove Kate to a grouse shoot when the couple visited a couple of years ago."
This I did not know. Wow:
The Queen was taught to stalk deer by her late cousin, and best friend, Margaret Rhodes.
Returning now to Meghan:
Earlier this week, a source told Fabulous pescatarian Meghan would try fly fishing to appease her father-in-law Prince Charles.
They added: "But there will no softening on Meghan's stance against hunting, any stag or deer hunting fills her with horror.
"Venison will not be one of her menu choices for sure."
However, the Queen was also fussy. And, after all, Balmoral was her estate.
Five days later, on August 16, The Sun told us that Her Majesty despised ripped jeans and wedge heels. Meghan loves both:
It has been reported that the Duke and Duchess of Sussex will make their first trip to the Scottish castle this summer, but the Queen has her firm views on correct attire.
Speaking to Fabulous Digital, the source said: "The Queen is no favourite of jeans so the US boyfriend look and ripped jeans will be left in Frogmore Cottage along with any wedges which her Majesty hates with a passion."
Meghan Markle has often demonstrated she is a fan of wearing denim, and recently caused a stir when she showed up at Wimbledon wearing jeans …
It is thought this year Meghan will visit the castle for the first time, where the Sussexes will be given their own wing, as well as enjoying a traditional afternoon tea with Her Maj.
A source told the Sun on Sunday: "The Queen and Prince Philip adore the couple and, of course, their new great-grandson Archie, and they have invited them to Balmoral for a few days.
"It is testament to Meghan that she has been given this invite. It's a huge honour."
However, they did not go, according to the Mail's September 6 report:
aides insisted the Sussexes were too busy working on charitable projects to join the Queen at Balmoral this weekend …
There had been rumours that the Sussexes would be joining the monarch at Balmoral in the Scottish Highlands this week with their baby son Archie.
But while most of the Royal Family have made the long trek up to Aberdeenshire, Harry and Meghan actually have no plans to fly to Scotland at all.
Sources close to the couple insist that the decision should not be seen as a 'snub' – and Harry only rarely goes up to the Queen's Deeside estate nowadays.
The US Open
Instead, the Duchess made plans to fly to New York to see her friend Serena Williams compete at the US Open.
Serena Williams was said to be hesitant as she lost at Wimbledon when the Duchess was in the stands:
Despite the long flight and a stressful delay for Meghan, sources have claimed that Williams' coaches aren't massively thrilled that the Duchess has come to support her friend, as she could distract her from the game in hand.
They are said to be concerned due to the fact that Williams lost when Meghan attended her last match at Wimbledon.
A source told Page Six: 'Serena asked her coach about Meghan coming when she won last night and everyone is worried, as tennis players are very superstitious, and Serena lost when Meghan came to watch her at Wimbledon.'
The source added that Williams' aides were concerned that the trip was a publicity stunt.
However Williams is said to 'adore' Meghan and 'wouldn't have a word of it'.
It is not yet known where in New York Meghan will be staying and who she will be staying with, however she is thought to have flown first class for the two-day trip across the Atlantic.
It comes just days after her husband spoke out about sustainable travel at an environmentally-friendly tourism event in Amsterdam.
And last month he is understood to have given a passionate barefoot speech about saving the planet at Google's £16million climate change summit in Sicily.
Meghan's 7,000 mile journey to New York and back is expected to generate 986kg of carbon dioxide.
The article has a helpful map showing all seven flights that the Sussexes took between August 6 and September 6 in Europe.
Harry excused his flights as follows:
He took a scheduled flight to Amsterdam this week to promote Travalyst, a scheme for environmentally-friendly tourism.
Speaking at the event, the prince refused to apologise for his recent private flights, saying: 'I spend 99 per cent of my life travelling the world by commercial.
'Occasionally there needs to be an opportunity [to fly privately] based on a unique circumstance to ensure that my family are safe – it's as simple as that.
'For me it's about balance. It's not a decision I would want to take, but if I have to do that, I will ensure that I balance out the impact that I have.'
Harry dismissed concerns over his carbon footprint by insisting that he 'offsets' his emissions by donating to renewable energy incentives and planting trees.
Returning to tennis, it seems that Serena Williams's coaches were correct. Meghan's presence and Williams's loss coincided, as the Mail told us on September 8:
Tennis fans have accused Meghan Markle of jinxing Serena Williams last night as she watched the tennis star lose and fail to secure an historic 24th Grand Slam at the US Open, just months after she attended Williams' defeat at Wimbledon.
The Duchess of Sussex, 38, was called a 'bad luck charm,' with fans citing the resounding loss at the Wimbledon final to Simona Halep and the year before at SW19 to Angelique Kerber.
The Royal was the centre of attention in New York as she watched with Williams' mother Oracene Price but the pair were left disappointed as the former number one was beaten 6-3, 7-5, by Canadian Bianca Andreescu.
Balmoral no-show — part 2
As for Balmoral, the Mail article continued:
Prince Harry and Meghan's absence from the trip has left Her Majesty 'hurt and disappointed,' the Mail on Sunday understands, at a time when she likes to bring her friends and family together at her favourite time of the year.
The Queen is already said to be 'baffled' by Meghan and Harry's inability to steer clear of PR calamities, and is concerned that her beloved grandson and his new wife are failing to listen to their team of advisers.
On September 8, The Sun told us:
THE QUEEN was left "hurt and disappointed" when Meghan Markle skipped visiting Balmoral in favour of her last-minute trip to New York over the weekend.
In opting for the US Open instead:
she snubbed the Queen's invite to attend the Highland Games – something that proved a disappointment according to royal insiders.
The Mail on Sunday described the move as an "outright snub" adding that Her Majesty "is 'hurt and disappointed' at a time when she likes to bring her friends and family together."
According to insiders the monarch had been looking forward to "a few days of merry chaos" with her great-grandchildren, including Archie who is still yet to visit the Queen's summer home with Harry and Meghan claiming he is "too young."
While Meghan was watching Serena Williams:
the Queen was joined by Prince Charles and Camilla at the Braemar Gathering Highland Games on Saturday …
The Queen is currently staying at her nearby summer residence Balmoral where she last night hosted Boris Johnson and girlfriend Carrie Symonds.
But the Prime Minister was forced to cut short the anticipated weekend-long visit after a turbulent week.
One week later on September 16, The Express reported:
The Queen "does not want to talk about the Sussexes" according to claims from a royal insider. People spending time with Her Majesty, 93, have reportedly been told not to mention Meghan Markle or Prince Harry. Leading royal expert Quentin Letts tweeted the bombshell remark this week, claiming it was the only subject that was strictly banned from discussion.
That is really bad.
As the King would say, 'Dear, oh dear'.
The article continues:
Letts tweeted on Friday: "Friend of an acquaintance was about to go riding with HMQ.
"Was given v firm advice 'Talk about anything except one subject.' Brexit? 'No, The Sussexes.'"
This comes after claims of clashes within the royal family.
The Queen was reportedly left "deeply disappointed" by Meghan and Harry's hostile behaviour.
Several royal sources claimed the monarch was not impressed with the way Prince Harry and Meghan Markle have acted since marrying last year.
She is reportedly "disappointed" with their behaviour as representatives of the British monarchy around the world.
There is plenty more to come about the Sussexes. Stay tuned.