You are currently browsing the tag archive for the 'United States' tag.
In several countries, Father's Day is celebrated on the third Sunday in June. In 2017, it took place on June 18.
Father's Day history
This special day for dads started in the United States, however, contrary to what we might think, it was not a greeting cards company invention. The Sun reports:
There are a few stories with regards to the beginning of Father's Day.
According to one tale, it first began because of a woman named Grace Golden Clayton from Fairmount, West Virginia.
An orphan, Grace lobbied her local Methodist ministers for a church service to honour fathers in 1908.
The story goes that she was inspired to do this after a mining disaster killed 362 local men.
Their deaths orphaned more than 1,000 children and Grace wanted to pay tribute to the children's dead fathers – as well as her own.
Another story involves the daughter of a civil war veteran, Sonora Smart Dodd, from Arkansas.
While listening to a sermon for Mother's Day, Sonora became convinced of the need to celebrate dads too.
She then campaigned to her religious leaders for a special service dedicated to fathers.
In 1966, President Johnson designated that the third Sunday in June should be Father's Day.
Six years later, the Father's Day was made a permanent national holiday in the US, when, in 1972, President Richard Nixon signed it into law.
It is great to know that the origins were connected with women churchgoers who lobbied their clergymen for recognition of paters familias.
Even in the notionally patriarchal 19th and 20th centuries, fathers were not considered as worthy as mothers of having their own special day.
President Trump
President Donald Trump and his family spent Father's Day at Camp David, their first stay at this presidential retreat near Washington, DC.
Although the First Family were low-key in their tweets about the President — see here and here — a Trump supporter found two photos perfect for his Father's Day:
Vice President Pence
Vice President Mike Pence and his family spent part of last week in their home state of Indiana.
New pets
Whilst there, they bought two new pets, a kitten:
and a puppy. The latter was a present to the Vice President:
Hazel and Harley join the other Pence pets, including the popular rabbit, Marlon Bundo:
I say 'popular', because BOTUS, as the media have dubbed Bundo, overshadowed both Ivanka Trump and HR McMaster on May 9, when the Pences welcomed military families at the Vice President's office. Webgrio has a great set of photographs and an accompanying article, excerpts of which follow:
Ivanka Trump had some competition for attention at the White House Tuesday – and they matched in white with black spots.
The first daughter, wearing a polka dotted dress, spoke to a group of military families for an event marking National Military Appreciation Month, hosted by Vice President Mike Pence and his wife, Karen.
Upstaging Ivanka in the audience of small children was the Pence family pet: the white bunny with black spots, Marlon Bundo …
Karen Pence tweeted a photo of herself about to enter an event with military families at the White House – and she brought a special guest, the BOTUS, Marlon Bundo …
White House National Security Advisor H.R. McMaster spoke at the event after Ivanka Trump saying, "OK, that's the toughest act to follow.' But then the rabbit appeared …
The article says that even Pence couldn't hold the children's interest after his wife left with BOTUS in her arms.
BOTUS Bundo trended heavily on Twitter that week:
BOTUS is the subject of a colouring book which made its way as far as the Asia-Pacific:
Let's hope the Pence menagerie can make friends with the bees at the Vice President's residence:
A time to remember
For the Pences, Father's Day was a time to remember.
Karen Pence tweeted an old family photo:
The Vice President honoured his late father:
A Pence supporter chose to remember the Scalise family, who spent Father's Day in the hospital. Congressman Steve Scalise was the primary victim of a crazed man from Illinois who, on Wednesday, June 14, fired a gun at Republicans practising for the annual Congressional baseball game, a charity event. Scalise is expected to be in hospital for weeks as he recovers from a damaging bullet to the pelvis.
I will have more soon on the man who attempted to take the life of Congressman Scalise.
Interestingly, the Illinois man's family will have no more Father's Days as law enforcement officers intervened and — rightly — fatally shot him.
Life is precious and God-given. Therefore, let's make every day a time to honour and remember our parents. We never know what tomorrow will bring.
The head of the US Department of Agriculture Sonny Perdue is the man making school lunches great again.
He is also making farming great again. For too long, American farmers have been looked down upon. That's all changing. Perdue — not related to the chicken processing Perdues — worked on his family's farm, has a Ph.D in veterinary science, owns three small agriculture-related businesses and was the governor of the state of Georgia.
His Twitter feed — @SecretarySonny — is not only educational but will brighten the darkest of days.
This is one of my favourites:
He enjoys touring USDA facilities around the country just to pop in for a chat:
He recently went to see the flood damage in Arkansas. The USDA will do what it can to help:
He enjoys visiting farms:
He's visited grain barges:
He's delighted that China is once again importing US beef, for the first time since the Bush II administration:
And here he is with his lovely wife Mary:
How many people know what's going on in the USDA? Follow Sonny Perdue and find out what Big Media aren't reporting.
Big Media have been making up so many accusations about President Donald Trump and his administration that Americans have now equated them with fake news.
On Wednesday, May 24, 2017, The Hill reported the fake news element of the Harvard survey that shows most coverage of Trump was negative in the extreme. I wrote about the survey's findings with regard to the negativity the other day.
The Hill reported (emphases mine):
According to data from the latest Harvard-Harris poll, which was provided exclusively to The Hill, 65 percent of voters believe there is a lot of fake news in the mainstream media.
That number includes 80 percent of Republicans, 60 percent of independents and 53 percent of Democrats. Eighty-four percent of voters said it is hard to know what news to believe online.
Even 53% of Democrats think Big Media report fake news.
Once again, President Trump is proven correct.
Unfortunately, the survey noted that the consistent onslaught of fake news from Big Media have prevented him from rising in popularity polls. This is exactly what media outlets want.
Hmm. Most Americans think Big Media are peddling fake news, yet they still believe it. They still trust media more than Trump. An interesting situation.
More Americans are walking away from Big Media, whether its mainstream news or printed periodicals.
Those Americans are going online and reading or viewing alternative media, which, at least, seem to be doing a good job of investigation.
This is one small example of why traditional media outlets are losing their grip:
Now a Harvard study of media outlets covering President Donald Trump has proven Americans are correct in their perceptions of bias.
The study, 'News Coverage of Donald Trump's First 100 Days', shows the extent of anti-Trump coverage.
American coverage
This chart gives us a summary of the findings from the Harvard Kennedy School's Shorenstein Center on Media, Politics and Public Policy:
It is also worth remembering the 2016 campaign and the many journalists who were in the tank for Hillary Clinton. The Democrats held a few get-togethers for them, which the Podesta WikiLeaks revealed:
European media
Three European media sources were also included: Britain's Financial Times (FT) and the BBC as well as Germany's ARD.
Of the European sources, ARD was the worst offender, giving Trump astoundingly negative coverage 98% of the time.
The FT came next with 84% negative coverage. The BBC's output was negative 74% of the time.
Basic findings
A summary of and excerpts from the study follow. Emphases mine below.
Trump was the star of the news during his first 100 days.
In the United States:
Trump was the topic of 41 percent of all news stories—three times the usual amount.[15] It was also the case that Trump did most of the talking (see Figure 1). He was the featured speaker in nearly two-thirds (65 percent) of his coverage. Members of the administration, including his press secretary, accounted for 11 percent of the sound bites. Other Republicans, including Mitch McConnell and Paul Ryan, accounted for 4 percent. Altogether, Republicans, inside and outside the administration, accounted for 80 percent of what newsmakers said about the Trump presidency.
Trump supporters were unhappy about the lack of coverage given to violent leftist protests against the president. The Left accused them of being cry babies. However, was Trump's base right or wrong? They were right. With regard to news coverage:
Participants in anti-Trump protests and demonstrations accounted for … 3 percent.
On the other hand, television coverage did not give the Russian hacking scandal as much time as many of us might have thought:
Immigration was the most heavily covered topic, accounting for 17 percent of Trump's coverage.[19] Health care ranked second (12 percent), followed by the terrorism threat (9 percent), and Russia's involvement in the 2016 election (6 percent). Presidential appointments, global trade, Trump's family and personal life, and the economy were the other topics that received 4 percent or more of the coverage.
Even though they loathe the president, cable news channels know he's good for their ratings:
News ratings were slumping until Trump entered the arena.  Said one network executive, "[Trump] may not be good for America, but [he's] damn good for [us]."[18]
In Europe, media coverage focussed on international issues but not on Russia:
Although, like their American counterparts, immigration was at the top of the agenda, they gave relatively more space to international trade, military, and foreign policy issues, a reflection of the extent to which Europe is affected by U.S. policies in these areas. On the other hand, Russia's interference in the U.S. election received considerably less attention in the European media than in the U.S. media.[1]
The three European outlets also discussed Trump's fitness for office much more than their American counterparts did:
Only 3 percent of Trump's U.S. coverage explicitly explored the issue of Trump's fitness for office. European journalists were less restrained with the exception of BBC journalists, who are governed by impartiality rules that prohibit such reporting.[21] Journalists at ARD, Germany's main public broadcasting outlet, are not governed by the same rules, and Trump's suitability for the presidency was ARD's leading topic in January, accounting for a full fifth (20 percent) of its Trump coverage. ARD stayed on the issue in its February coverage, when it consumed 18 percent of its Trump coverage. In March and April, Trump's fitness for office got less attention from ARD, but it nonetheless accounted for about 10 percent of ARD's coverage. Even that reduced amount exceeded the level of any of our seven U.S. outlets in any month. And ARD's journalists were unequivocal in their judgment—98 percent of their evaluations of Trump's fitness for office were negative, only 2 percent were positive.
Historical perspective
The Harvard study provides history about news coverage of American presidents.
Until the early 1960s, television news gave equal time to stories about Congress and the president.
In 1963, television news expanded to half-hour broadcasts on each of the three networks (CBS, ABC and NBC). This new type of news programme facilitated the hiring of the correspondents and camera crews needed to produce picture-driven news.
This resulted in an increased coverage of the president:
who, in any case, was easier than Congress to capture on camera. Newspapers followed suit and, ever since, the president has received more coverage in the national press than all 535 members of Congress combined.[12] The White House's dominance has been such that, on national television, the president typically accounts for roughly one-eighth of all news coverage.[13]
The study points out that the president is not only the focus of media but also their target:
Although journalists are accused of having a liberal bias, their real bias is a preference for the negative.[22] News reporting turned sour during the Vietnam and Watergate era and has stayed that way.[23] Journalists' incentives, everything from getting their stories on the air to acquiring a reputation as a hard-hitting reporter, encourage journalists to focus on what's wrong with politicians rather than what's right.[24]
Furthermore, the traditional honeymoon period no longer exists:
That era is now decades in the past. Today's presidents can expect rough treatment at the hands of the press, and Donald Trump is no exception (see Figure 4). Of the past four presidents, only Barack Obama received favorable coverage during his first 100 days, after which the press reverted to form. During his second 100 days, Obama's coverage was 57 percent negative to 43 percent positive.[26]
Even so, television news coverage of Trump hit a new low in negativity:
Of news reports with a clear tone, negative reports outpaced positive ones by 80 percent to 20 percent. Trump's coverage was unsparing. In no week did the coverage drop below 70 percent negative and it reached 90 percent negative at its peak … The best period for Trump was week 12 of his presidency, when he ordered a cruise missile strike on a Syrian airbase in retaliation for the Assad regime's use of nerve gas on civilians. That week, his coverage divided 70 percent negative to 30 percent positive. Trump's worst periods were weeks 3 and 4 (a combined 87 percent negative) when federal judges struck down his first executive order banning Muslim immigrants, and weeks 9 and 10 (a combined 88 percent negative) when the House of Representatives was struggling without success to muster the votes to pass a "repeal and replace" health care bill.
No wonder Trump is unhappy with the media
When Trump rails against the media, he has fact on his side:
Trump's coverage during his first 100 days was not merely negative in overall terms. It was unfavorable on every dimension. There was not a single major topic where Trump's coverage was more positive than negative …
Trump haters have been spending too much time watching and reading Big Media. Wake up, folks! The Harvard study has news for you:
Research has found that familiarity with a claim increases the likelihood people will believe it, whether it's true or not. The more they hear of something, the more likely they are to believe it.[34]
Here is the Harvard breakdown of print and television media negativity:
Trump's attacks on the press have been aimed at what he calls the "mainstream media." Six of the seven U.S. outlets in our study—CBS, CNN, NBC, The New York Times, The Wall Street Journal, and The Washington Post—are among those he's attacked by name. All six portrayed Trump's first 100 days in highly unfavorable terms … CNN and NBC's coverage was the most unrelenting—negative stories about Trump outpaced positive ones by 13-to-1 on the two networks. Trump's coverage on CBS also exceeded the 90 percent mark. Trump's coverage exceeded the 80 percent level in The New York Times (87 percent negative) and The Washington Post (83 percent negative). The Wall Street Journal came in below that level (70 percent negative), a difference largely attributable to the Journal's more frequent and more favorable economic coverage.
There was no relief.
Looking at this another way:
Studies of earlier presidents found nothing comparable to the level of unfavorable coverage afforded Trump. Should it continue, it would exceed even that received by Bill Clinton. There was not a single quarter during any year of Clinton's presidency where his positive coverage exceeded his negative coverage, a dubious record no president before or since has matched.[29] Trump can't top that string of bad news but he could take it to a new level. During his first 100 days, Clinton's coverage was 3-to-2 negative over positive.[30] Trump's first 100 days were 4-to-1 negative over positive.
Interestingly:
Media failing the American people
Although this was not its only conclusion, the study said that the media need to step up and report more about Americans:
Journalists would also do well to spend less time in Washington and more time in places where policy intersects with people's lives. If they had done so during the presidential campaign, they would not have missed the story that keyed Trump's victory—the fading of the American Dream for millions of ordinary people. Nor do all such narratives have to be a tale of woe. America at the moment is a divided society in some respects, but it's not a broken society and the divisions in Washington are deeper than those beyond the Beltway.
True. This is what a Michigan supporter had to say on Friday, May 19. He doesn't mention the media, but he has a positive message for the president and his fellow supporters:
The man interviewed said that he supported Donald Trump from the beginning. He canvassed door-to-door for him. He got verbally attacked by … family and friends. People on whose doors he knocked sometimes physically assaulted him.
Big Media bear much of the blame for that gentleman's abuse.
They don't care about that man. They don't care about Americans. They do not care one iota about you.
This is what lies ahead, less than a month from now:
The media will fuel the flames then not report on it, just as they ignored the riots earlier this year.
Tune out. Cancel the newspaper subscription. You can read the obituaries online.
If you want to know what's really happening at the White House, follow the Twitter feed.
On June 14, 1777 the Stars and Stripes was officially adopted as the flag of the United States of America.
However, despite several petitions and commemorations during the 19th century, it was only in 1916 that President Woodrow Wilson issued a proclamation declaring June 14 as Flag Day. Later, in 1949, an Act of Congress designated a national Flag Day.
Although Flag Day is not a federal holiday, several towns and cities in the United States hold parades.
(Graphic credit: Wikipedia)
It is entirely coincidental, yet highly appropriate, that on June 14, 1946, Mary Anne MacLeod Trump gave birth to a son, Donald John.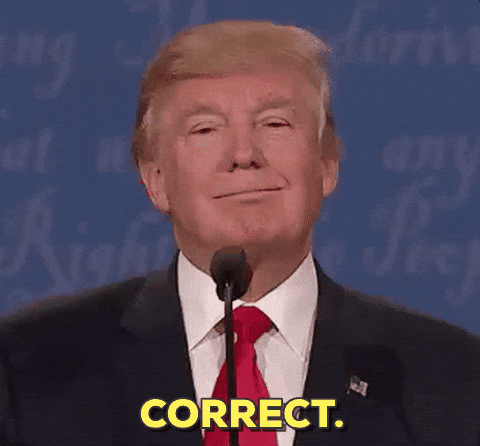 Little did she know then that boisterous, brash Donald would become President of the United States at the age of 70.
Few people love the United States the way President Trump does. During the 2016 campaign, the photo below was widely circulated (courtesy of Reddit). Pure Americana:
Today it's hard to imagine anyone more American than Donald Trump.
God threw away the mould when He made Donald.
Even when the billionaire made mistakes in his career, he always bounced back. He turned failure into success.
Despite three marriages, Trump's five children are exceptional, particularly by today's standards. Barron is too young, but the other four have never had drug or drink problems. The three eldest, by Ivana, have stable marriages. Tiffany (Marla Maples) is single but has a steady boyfriend. All comport themselves well.
For these reasons, it is difficult to be negative about Trump. He also turned reality television to his advantage with The Apprentice. His successor, Arnold Schwarzenegger, just couldn't attract the same audience.
Thanks to The Apprentice, Trump engaged in other television appearances, reaching an ever wider audience. This episode from the wrestling show Raw presents the Battle of the Billionaires in a challenge for charity:
Here's what happened next:
(No billionaire was hurt in the making of that television show. That said, don't try this at home, kids.)
The genius of this silliness is that, by the time he descended the escalator in Trump Tower in June 2015 to announce his candidacy for president, nearly everyone in the United States knew who he was.
Trump also had a wide circle of friends who deserted him after that. Here is a photo of him with Kathy Griffin of CNN (she's the redhead) who recently was in a tasteless, gory video holding an effigy of his head in her right hand. Disgusting. Here they were in happier times:
See how hypocritical people can be?
CNN objected to what Griffin posted online, and cancelled her appearance on their next New Year's Eve show. Meanwhile, Trump supporters have been busy contacting CNN sponsors. The Daily Mail has the full story on Griffin's video and the blowback. By June 2, several of Griffin's appearances at venues around the United States were cancelled. Furthermore, despite Griffin's statements that she would never hurt children, several years ago she targeted Willow Palin — a teenager at the time — and actually had the brass whatsits to knock on the Palins' front door. But I digress.
Over the past two years, President Trump has come to know who his real friends and allies are.
I wish President Trump a very happy birthday and many happy returns. I hope he is surrounded by family and friends for a splendid celebration.
Below is a tweet listing President Donald Trump's many accomplishments during his first four months in office:
It's a handy one to share among Trump admirers and detractors alike.
It's such a powerful message that those replying to Jack Murphy said they were unable to retweet it. Hmm … Twitter's up to something.
Regardless … click on the image, copy, paste and circulate!
It's well worth sharing, because Big Media won't report on Trump's achievements.
Incidentally, Murphy, a college football player, is a big believer in MAGA who also broadcasts about Trump. We need more Americans like him.
The other day, I posted on the Democratic Party origins of the fake Russian narrative used against President Donald Trump.
This post will explain further why the Democrats are opportunistic hypocrites, especially when it comes to Russia.
Last year, I summarised the Clintons' and Podestas' close links to Russia: the uranium deal and banking connection, respectively. The latter popped up in the Panama Papers. If you are unfamiliar with either of those topics, please read my post. You can't get much closer to a warm, comfy relationship with the Russians than the Clintons and the Podesta brothers.
Two prominent Democrats currently braying the most about Trump's supposed Russian connections — again, a fabrication — are Senate Minority Leader Chuck Schumer (NY) and House Minority Leader Nancy Pelosi (CA).
In March 2017, Schumer was intent on finding out the 'truth' about Trump's notional Russian connections. Trump's director of social media replied with pictorial evidence from 2003 of one of Schumer's own meetings with none other than the man himself, Vladimir Putin:
Trump had tweeted the same picture that day with this comment:
We should start an immediate investigation into @SenSchumer and his ties to Russia and Putin. A total hypocrite!
Heavy reported on the tweets and Schumer's love-in with Russia (emphases mine):
The photo originates from September 2003, when Putin visited New York to celebrate the first Lukoil gas station opening in the U.S. after it bought Getty Petroleum in 2000 and began re-branding Getty stations. According to press reports at the time, Putin did not make any public remarks and was only at the gas station convenient store for 10 minutes. That was long enough for Schumer to give Putin a Krispy Kreme doughnut. Lukoil President Vagit Alekperov was also at the meeting.
"When I showed the president of Russia a Krispy Kreme doughnut and he ate it and said it was good, that was one of the more surreal moments I've had in politics," Schumer said at the time.
After Putin left the scene, Schumer told reporters that it was good for the U.S. to have a gas station owned by a company based in a non-OPEC country. "The more competition there is in oil, particularly against OPEC, the better New York will do and the better America will do," Schumer said.
Schumer also wrote a 2008 Wall Street Journal op-ed, in which he said Russia needed to take a big role in talks with Iran during the George W. Bush administration.
The back-and-forth between the president and Schumer came just a day after Attorney General Jeff Sessions agreed to recuse himself from any potential investigation into Russian ties with the Trump campaign and the election, if one was to happen.
Sessions's recused himself because:
he met with Russian Ambassador Sergey Kislyak twice in 2016, before the election.
That wasn't enough for Schumer, though. On March 2, he took the hypocritical high moral ground:
Schumer said Sessions should resign from his post as attorney general. He called on the Trump administration to agree on the creation of an independent counsel to investigate.
On May 17, the Deputy Attorney General Rod Rosenstein appointed the independent counsel, former FBI director Robert Mueller.
As for Pelosi:
Politico reported:
House Minority Leader Nancy Pelosi (D-Calif.) said Friday that she's never met with the current Russian ambassador, Sergey Kislyak …
But a file photo from Pelosi's 2010 meeting with Russian President Dmitriy Medvedev shows Kislyak at the table across from Pelosi — then House speaker — and Rep. Steny Hoyer (D-Md.). Medvedev had been in the country for a meeting with President Barack Obama a day earlier and stopped in on Capitol Hill to meet with congressional leaders as well.
Note the semantics that Pelosi's spokesman used:
Asked to square Pelosi's comments with the photo of the meeting, a spokesman said Pelosi simply meant she never had a solo meeting with Kislyak.
"Of course, that's what she meant," said the spokesman, Drew Hammill. "She has never had a private one-on-one with him."
It's not wrong for either party to meet with Russian officials as part of their work.
The issue is that Democrats are denying their own meetings with them then piling on Attorney General Jeff Sessions for meeting with Ambassador Kislyak when Sessions was a member of the Senate Armed Services Committee at that time in 2016.
Another reason Sessions felt duty bound to recuse himself — perhaps more pertinent — is that he was also involved with Trump's presidential campaign at the time. Is it probable that there was overlap in those conversations with Kislyak? We don't know, but given Sessions's integrity, it's doubtful. In any event, he probably did not want to put up with a lot of bloviating, hypocritical Democrats.
Politico also found out that another Democrat, Senator Claire McCaskill (MO), similarly denied meeting with Russians:
Yet, she communicated directly with them in 2013 and 2015.
She was in the same room with them in 2013:
In 2015, McCaskill discussed the situation in Iran with the ambassador:
McCaskill's denial was an attack on Sessions:
Her claim was designed to underscore what many Democrats view as the impropriety of Sessions' one-on-one meeting with Kislyak last year, which the Trump administration claims was a routine part of his service on the armed services panel.
Republicans returned fire:
Republican operatives quickly blasted McCaskill as misrepresenting her record, citing the Democrat's tweets about a 2013 group meeting with Kislyak and a 2015 call with the ambassador to discuss the nuclear pact with Iran.
"Just like Hillary Clinton, Senator McCaskill has a major problem with the truth," Scott Sloofman, spokesman for the conservative America Rising PAC, said in a statement. "In her rush to stand with Nancy Pelosi and Elizabeth Warren to score political points, McCaskill exposed herself as both a liar and a hypocrite."
The Democrats and the media must put this absurd Russian narrative to bed.
Of course, they will not because it serves their purposes in assassinating the character and integrity of the president and members of his administration.
Low information critics of Trump will know only what they read in the papers and see on television news.
What paupers.
Get online: read and watch what Big Media refuse to report.
The other day I wrote about Seth Rich, a DNC employee who was murdered in mysterious circumstances on July 10, 2016 in Washington, DC.
Yesterday, I provided the source for the beginning of the Russian narrative used against President Donald Trump.
Both are WikiLeaks related.
Today, those who do not already know will find out what Hillary Clinton's campaign had in store for leakers.
That, too, is related to WikiLeaks.
The Podesta WikiLeaks revealed that Hillary's campaign team and advisers wanted to make 'an example' out of 'leakers', even if nothing could be proven.
WikiLeaks released this tweet on October 30, 2016:
The source is Podesta WikiLeaks email no. 36082 from February 21, 2015.
That day, the Washington Post printed a story about Hillary Clinton's campaign branding. Two of the people interviewed were involved with her presidential campaign in 2015:
Ahead of her campaign launch, Clinton has tapped some of the Democratic Party's star strategists as well as two of corporate America's branding wizards: Wendy Clark, who specializes in marketing age-old brands such as Coca-Cola to younger and more diverse customers; and Roy Spence, a ­decades-long Clinton friend who dreamed up the "Don't Mess With Texas" anti-littering slogan as well as flashy ad campaigns for Southwest Airlines and Wal-Mart.
Clark took an unpaid leave in January from Coca-Cola, where she is president of brands and strategic marketing for carbon­ated beverages in North America, to help Clinton in what Clark called "a passion project." Spence is co-founder and chairman of GSD&M, an Austin-based corporate ad firm, and has experience in politics, including with Clinton's 2008 campaign.
John Podesta, Clinton's campaign chairman, and political operative Joel Benenson discussed their displeasure with the article and with those two people for talking to the press without consulting the campaign managers first.
Podesta wrote (emphases mine below):
… we need a strategy on this that goes beyond internal discipline. This story could have been written without any of these big mouths blabbing …
Benenson agreed:
I think we have to make examples now of people who have violated the trust of HRC and the rest of the team. People going forward need to know there are stiff consequences for leaking, self-promotion, unauthorized talking with the press. No one – literally no one talked to the press in either Obama campaign without clearing it with campaign brass.
Podesta replied in a curious way:
I'm definitely for making an example of a suspected leaker whether or not we have any real basis for it.
Campaign manager Robby Mook, who was copied on the exchange, agreed:
I would love an example being made.
How far did this go in reality?
No one knows, but many suspect — rightly or wrongly — that Seth Rich's alleged leak of 40,000+ emails to WikiLeaks — the DNC WikiLeaks — might well have led to his death in July 2016.
On Tuesday, May 16, the torchpaper was lit. As Fox News ran with the Rich story, bringing it to the attention of the general public, three new Twitter hastags were busy: #HisNameWasSethRich, #SethRichCoverUp and #SethRich.
Some leftists did take note, primarily those employed at David Brock's Media Matters, who now realise they've been paid to circulate 'lies' online and said so on 4chan.org/pol/. Let's hope that they do resign now that they know the truth.
Other Americans also doubt the Russian narrative.
With all the law enforcement silence around Rich's murder and little information to go on over the past ten months, people are naturally suspicious details are being covered up or that nothing is being done:
People following the case since last year do not believe that Rich had no involvement in the DNC WikiLeaks:
Equally, they are disappointed that so much wasted energy is being spent on the Russian narrative and James Comey:
This could be why:
Incidentally, Seth Rich was not the only man to die mysteriously in the summer of 2016:
Pray that the truth comes out about these four men, all of whom had a relationship with the Democrats.
My intention last year was to write about the WikiLeaks emails from the Democrats.
Because of all the hubbub surrounding the 2016 presidential campaign, I never got around to it. I still have all the bookmarks of the emails themselves and related analyses from The_Donald. They are a revelation.
I hope that some people will be wondering how and where the Russian narrative used against President Donald Trump started.
Look no further than Hillary Clinton's campaign supremo John Podesta and a journalist, Brent Budowsky, who writes for The Hill.
Much of the Podesta WikiLeaks email no. 25651, dated December 21, 2015, concerns Hillary Clinton's stance on ISIS and Syria. There is also a mention of campaign advertising and getting out the vote.
However, the key to this is the Democrats' strategy against Trump, primarily this one from Brent Budowsky (emphases mine below):
Best approach is to slaughter Donald for his bromance with Putin …

Budowsky was also interested in finding and releasing incriminating tapes of Trump to help Hillary, whom they knew even then was not doing well in the polls:
I suspect her negative trust ratings are locked in through election day. If there is a Trump ISIS video the campaign release it. If not, her untrustworthy numbers will remain further locked at high levels. These trust problems are self-induced and keep occurring.
Budowsky became more insistent:
Re the Trump ISIS video, if we don't have the proof campaign should assign 100 people to look for it ASAP, there is probably something on tape somewhere.
With regard to campaign adverts, Budowsky already noted that Trump was not running them:
It is no coincidence that this year Trump runs no ads, while Jeb and Hillary run the most ads with little effect. Voter registration by contrast creates real voters and changes—and improves—the playing field itself. There is no ad on earth that will increase her trust ratings or the enthusiasm of her voters the way a mega-registration project will increase her support on election day.
They knew then that Hillary was scuppered. Based on the context, they also seemed to discern that Trump was going to be Hillary's opponent in 2016.
In June 2016 — one month before the Republican National Convention declared Trump the GOP presidential candidate — Trump Derangement Syndrome was flying high in the Democrat camp. Obama's campaign manager from 2008, later a senior adviser, tweeted:
On November 9, 2016 — the day after the election — Hillary's campaign heads decided to run hard with the Russian narrative:
The quote in blue comes from an investigative book about the Clinton campaign, Shattered, which came out earlier this year.
On April 21, Breitbart included the quote in their report, which began:
The blistering behind-the-scenes book, by Jonathan Allen and Amie Parnes, illustrates how Hillary Clinton furiously blamed her defeat on the FBI investigation into her private emails, Russian interference, and Trump's supposed support from "white nationalists" …
Also:
The Clinton camp settled on a two-pronged plan — pushing the press to cover how "Russian hacking was the major unreported story of the campaign, overshadowed by the contents of stolen e-mails and Hillary's own private-server imbroglio," while "hammering the media for focusing so intently on the investigation into her e-mail, which had created a cloud over her candidacy," the authors wrote.
And so the Russian narrative survives, alive and well, to this day.
The Democrats and the media have been displaying abject contempt for the people of the United States ever since.
Anyone who still thinks either camp cares about them is sorely mistaken.