You are currently browsing the tag archive for the 'United States' tag.
Brett Kavanaugh is the 102th — or 114th — US Supreme Court Justice.
The US Senate voted 50-48 to appoint him to the Supreme Court.
Congratulations, Justice Kavanaugh!
President Trump, on his way to a rally on Saturday, October 6, signed the requisite commission on board Air Force One:
This was the scene later that day:
Here he is at the Supreme Court ready to be sworn in:
Kavanaugh takes the oath in his wife and daughters' presence. Ashley Kavanaugh holds the Bible:
I could not agree more with Senator Orrin Hatch (R-Utah):
Other Supreme Court justices were also in attendance:
A formal public swearing-in ceremony took place on Monday, October 8:
Monday's ceremony took place at the White House. President Trump made introductory remarks:
This is interesting:
You can see the full ceremony below:
After the public swearing-in …
… Justice Kavanaugh spoke:
You can see the full speech here:
Earlier that day, Kavanaugh championed women, more so than left-wing Justice Ruth Bader Ginsburg, who is still on the bench:
The Daily Caller reported (emphases mine):
Justice Brett Kavanaugh has hired a black law clerk for his new chambers at the U.S. Supreme Court, matching Justice Ruth Bader Ginsburg's record of African-American clerkship hiring during her tenure on the nation's highest judicial tribunal.
With his first clerkship hires, Kavanaugh also set a gender composition record, an apparent attempt to buck the high court's hiring patterns, which tend to favor white, male graduates of elite law schools.
Since joining the high court in 1993, Ginsburg has hired over 100 law clerks, just one of whom is black.
Ginsburg's hiring practices have been criticized for decades. During her 1993 confirmation hearings, GOP Sen. Orrin Hatch of Utah asked Ginsburg if a court might reasonably conclude that a small business in a majority black city that hired 57 white employees and zero black employees over a period of years was discriminatory. Ginsburg dodged, before Hatch pointed out that was in fact her own record of clerkship hiring in her 13 years on the U.S. Court of Appeals for the D.C. Circuit.
On Tuesday, October 9, the mood at the Supreme Court was agreeable:
Justice Kavanaugh hit the ground running:
May God guide Justice Kavanaugh and his colleagues on the Supreme Court.
Yesterday's post was about the Kavanaugh nomination and ritual defamation.
Ritual defamation is a term coined by Laird Wilcox, who researches political fringe movements and is the founder of The Wilcox Collection of Contemporary Political Movements, in the Kansas Collection of Kenneth Spencer Research Library at the University of Kansas.
If you think this is being hypersensitive, here is House Minority Leader Nancy Pelosi (D-California) explaining that the Democrats 'merchandise' lies to the media about Republicans. Of the Wrap-up Smear, she says, 'It's a tactic':
This is what Pelosi says in the video (emphases mine throughout):
It's a self-fulfilling prophecy. You demonize, and then you — we call it the 'wrap up' smear, if you want to talk 'politics'. We call it the 'wrap-up' smear.
You smear somebody, with falsehoods and all the rest, and then you 'merchandise' it. And then you (pointing to the press) write it, and they'll say "See, it's reported in the press, that this, this, this and this…" so they have that validation, that the press reported the 'smear', and then it's called 'the wrap-up smear'.
Now I'm going to 'merchandise' the press' report, on the smear, that we made.
And it's, it's a tactic. And it's self-evident.
Today's post looks at Wilcox's list of extremist traits, which the Democrats and others on the Left, including media, have been displaying since Donald Trump won the 2016 election. One can only hope that, with all its madness, it climaxed with the Kavanaugh nomination to the US Supreme Court, because it really does seem as if demons are everywhere across the pond at the moment.
All of Wilcox's listed traits are pertinent to the climate in America at this time. I have supplemented them with illustrations from the Kavanaugh nomination process. Excerpts follow, so please be sure to read his essay in full:
1. CHARACTER ASSASSINATION.
Extremists often attack the character of an opponent rather than deal with the facts or issues raised. They will question motives, qualifications, past associations, alleged values, personality, looks, mental health, and so on as a diversion from the issues under consideration …
2. NAME-CALLING AND LABELING.
Extremists are quick to resort to epithets (racist, subversive, pervert, hate monger, nut, crackpot, degenerate, un-American, anti-semite, red, commie, nazi, kook, fink, liar, bigot, and so on) to label and condemn opponents in order to divert attention from their arguments and to discourage others from hearing them out. These epithets don't have to be proved to be effective; the mere fact that they have been said is often enough.
3. IRRESPONSIBLE SWEEPING GENERALIZATIONS.
Extremists tend to make sweeping claims or judgments on little or no evidence, and they have a tendency to confuse similarity with sameness. That is, they assume that because two (or more) things, events, or persons are alike in some respects, they must be alike in most respects …
4. INADEQUATE PROOF FOR ASSERTIONS.
Extremists tend to be very fuzzy about what constitutes proof, and they also tend to get caught up in logical fallacies, such as post hoc ergo propter hoc (assuming that a prior event explains a subsequent occurrence simply because of their before and after relationship). They tend to project wished-for conclusions and to exaggerate the significance of information that confirms their beliefs while derogating or ignoring information that contradicts them. They tend to be motivated by feelings more than facts, by what they want to exist rather than what actually does exist. Extremists do a lot of wishful and fearful thinking.
This is what happened to an ordinary American, Thomas Wictor, who tweets on politics. The Left does not like what he has to say, so one or more of their number reported him to the FBI ('thread' should be 'threat'). He's still suspended on Twitter:
5. ADVOCACY OF DOUBLE STANDARDS.
Extremists generally tend to judge themselves or their interest group in terms of their intentions, which they tend to view very generously, and others by their acts, which they tend to view very critically. They would like you to accept their assertions on faith, but they demand proof for yours …
Robert 'Beto' O'Rourke is the Democrat candidate running against incumbent Ted Cruz for US Senate in Texas:
Now back to Judge Kavanaugh:
6. TENDENCY TO VIEW THEIR OPPONENTS AND CRITICS AS ESSENTIALLY EVIL.
To the extremist, opponents hold opposing positions because they are bad people, immoral, dishonest, unscrupulous, mean-spirited, hateful, cruel, or whatever, not merely because they simply disagree, see the matter differently, have competing interests, or are perhaps even mistaken.
7. MANICHAEAN WORLDVIEW.
Extremists have a tendency to see the world in terms of absolutes of good and evil, for them or against them, with no middle ground or intermediate positions. All issues are ultimately moral issues of right and wrong, with the "right" position coinciding with their interests. Their slogan is often "those who are not with me are against me."
8. ADVOCACY OF SOME DEGREE OF CENSORSHIP OR REPRESSION OF THEIR OPPONENTS AND/OR CRITICS.
This may include a very active campaign to keep opponents from media access and a public hearing, as in the case of blacklisting, banning or "quarantining" dissident spokespersons. They may actually lobby for legislation against speaking, writing, teaching, or instructing "subversive" or forbidden information or opinions. They may even attempt to keep offending books out of stores or off of library shelves, discourage advertising with threats of reprisals, and keep spokespersons for "offensive" views off the airwaves or certain columnists out of newspapers. In each case the goal is some kind of information control …
Republican congresswoman Marsha Blackburn represents Tennessee's 7th District and is running for US Senate, but a senior Google engineer deems her a 'terrorist' and 'violent thug':
9. TEND TO IDENTIFY THEMSELVES IN TERMS OF WHO THEIR ENEMIES ARE: WHOM THEY HATE AND WHO HATES THEM.
Accordingly, extremists may become emotionally bound to their opponents, who are often competing extremists themselves. Because they tend to view their enemies as evil and powerful, they tend, perhaps subconsciously, to emulate them, adopting the same tactics to a certain degree. For example, anti-Communist and anti-Nazi groups often behave surprisingly like their opponents. Anti-Klan rallies often take on much of the character of the stereotype of Klan rallies themselves, including the orgy of emotion, bullying, screaming epithets, and even acts of violence …
10. TENDENCY TOWARD ARGUMENT BY INTIMIDATION.
Extremists tend to frame their arguments in such a way as to intimidate others into accepting their premises and conclusions. To disagree with them is to "ally oneself with the devil," or to give aid and comfort to the enemy. They use a lot of moralizing and pontificating, and tend to be very judgmental. This shrill, harsh rhetorical style allows them to keep their opponents and critics on the defensive, cuts off troublesome lines of argument, and allows them to define the perimeters of debate.
This is what happened. I feel sorry for the owner/executive chef:
12. ASSUMPTION OF MORAL OR OTHER SUPERIORITY OVER OTHERS.
Most obvious would be claims of general racial or ethnic superiority–a master race, for example. Less obvious are claims of ennoblement because of alleged victimhood, a special relationship with God, membership in a special "elite" or "class," and a kind of aloof "highminded" snobbishness that accrues because of the weightiness of their preoccupations, their altruism, and their willingness to sacrifice themselves (and others) to their cause. After all, who can bear to deal with common people when one is trying to save the world! Extremists can show great indignation when one is "insensitive" enough to challenge these claims.
13. DOOMSDAY THINKING.
Extremists often predict dire or catastrophic consequences from a situation or from failure to follow a specific course, and they tend to exhibit a kind of "crisis-mindedness" …
14. BELIEF THAT IT'S OKAY TO DO BAD THINGS IN THE SERVICE OF A "GOOD" CAUSE.
Extremists may deliberately lie, distort, misquote, slander, defame, or libel their opponents and/or critics, engage in censorship or repression , or undertake violence in "special cases." This is done with little or no remorse as long as it's in the service of defeating the Communists or Fascists or whomever. Defeating an "enemy" becomes an all-encompassing goal to which other values are subordinate. With extremists, the end justifies the means.
15. EMPHASIS ON EMOTIONAL RESPONSES AND, CORRESPONDINGLY, LESS IMPORTANCE ATTACHED TO REASONING AND LOGICAL ANALYSIS.
Extremists have an unspoken reverence for propaganda, which they may call "education" or "consciousness-raising." Symbolism plays an exaggerated role in their thinking, and they tend to think imprecisely and metamorphically …
16. HYPERSENSITIVITY AND VIGILANCE.
Extremists perceive hostile innuendo in even casual comments; imagine rejection and antagonism concealed in honest disagreement and dissent; see "latent" subversion, anti-semitism, perversion, racism, disloyalty, and so on in innocent gestures and ambiguous behaviors. Although few extremists are clinically paranoid, many of them adopt a paranoid style with its attendant hostility and distrust.
18. PROBLEMS TOLERATING AMBIGUITY AND UNCERTAINTY.
Indeed, the ideologies and belief systems to which extremists tend to attach themselves often represent grasping for certainty in an uncertain world, or an attempt to achieve absolute security in an environment that is naturally unpredictable or perhaps populated by people with interests opposed to their own. Extremists exhibit a kind of risk-aversiveness that compels them to engage in controlling and manipulative behavior, both on a personal level and in a political context, to protect themselves from the unforeseen and unknown. The more laws or "rules" there are that regulate the behavior of others–particularly their "enemies"–the more secure extremists feel.
Think Big Government. Now we know why we have so many nit-picking laws on the books!
19. INCLINATION TOWARD "GROUPTHINK."
Extremists, their organizations , and their subcultures are prone to a kind of inward-looking group cohesiveness that leads to what Irving Janis discussed in his excellent book Victims of Groupthink. "Groupthink" involves a tendency to conform to group norms and to preserve solidarity and concurrence at the expense of distorting members' observations of facts, conflicting evidence, and disquieting observations that would call into question the shared assumptions and beliefs of the group.
Right-wingers (or left-wingers), for example, talk only with one another, read material that reflects their own views, and can be almost phobic about the "propaganda" of the "other side." The result is a deterioration of reality-testing, rationality, and moral judgment. With groupthink, shared illusions of righteousness, superior morality, persecution, and so on remain intact, and those who challenge them are viewed with skepticism and hostility.
We don't need examples for this, do we?
20. TENDENCY TO PERSONALIZE HOSTILITY.
Extremists often wish for the personal bad fortune of their "enemies," and celebrate when it occurs. When a critic or an adversary dies or has a serious illness, a bad accident, or personal legal problems, extremists often rejoice and chortle about how they "deserved" it …
In 2013, the Telegraph had an article detailing leftists rejoicing upon Margaret Thatcher's death. People tweeted that she would burn in Hell, while others announced they were throwing parties.
21. EXTREMISTS OFTEN FEEL THAT THE SYSTEM IS NO GOOD UNLESS THEY WIN.
For example, if they lose an election, then it was "rigged." If public opinion turns against them, it was because of "brainwashing." If their followers become disillusioned, it's because of "sabotage." The test of the rightness or wrongness of the system is how it impacts upon them…
This last one cuts both ways and, today, is hardly extremist on either side. President Trump and his supporters believe that the 2016 system was rigged against him. Everyday Democrats largely believe the system is no good because they do not hold the majority at present. However, as we see from occasional reports on voter fraud, the Left do everything possible to flout voting laws (e.g. sending buses and vans of voters from polling station to polling station on election day).
But, that's okay, because the Kavanaugh SCOTUS farce will wake up an important number of Democrats. The late Andrew Breitbart received a similar political epiphany nearly 30 years ago:
It's important for all of us to identify extremism where it exists, no matter how downplayed it is.
Laird Wilcox researches political fringe movements and is the founder of The Wilcox Collection of Contemporary Political Movements, in the Kansas Collection of Kenneth Spencer Research Library at the University of Kansas.
A few days ago on another website, someone posted a link to his 1990 essay, 'The Practice of Ritual Defamation', which brought to mind Justice Brett Kavanaugh's nomination to the American Supreme Court.
See what you think as you read the excerpts below, beginning with the following (emphases mine):
Defamation is the destruction or attempted destruction of the reputation, status, character or standing in the community of a person or group of persons by unfair, wrongful, or malicious speech or publication. For the purposes of this essay, the central element is defamation in retaliation for the real or imagined attitudes, opinions or beliefs of the victim, with the intention of silencing or neutralizing his or her influence, and/or making an example of them so as to discourage similar independence and "insensitivity" or non-observance of taboos. It is different in nature and degree from simple criticism or disagreement in that it is aggressive, organized and skillfully applied, often by an organization or representative of a special interest group, and in that it consists of several characteristic elements.
Ritual Defamation is not ritualistic because it follows any prescribed religious or mystical doctrine, nor is it embraced in any particular document or scripture. Rather, it is ritualistic because it follows a predictable, stereotyped pattern which embraces a number of elements, as in a ritual.
Below are the elements which apply to Brett Kavanaugh in his nomination process:
2. The method of attack in a ritual defamation is to assail the character of the victim, and never to offer more than a perfunctory challenge to the particular attitudes, opinions or beliefs expressed or implied. Character assassination is its primary tool.
None of Kavanaugh's accusers or their enablers have come up with any details about these alleged assaults. Yet, on Thursday, September 27, he said that the damage is done. His family and name had been 'totally and permanently destroyed', his prior life now 'ruined':
One of his foes, a writer for Stephen Colbert's show, agrees (Twitter account now private):
3. An important rule in ritual defamation is to avoid engaging in any kind of debate over the truthfulness or reasonableness of what has been expressed, only condemn it. To debate opens the issue up for examination and discussion of its merits, and to consider the evidence that may support it, which is just what the ritual defamer is trying to avoid. The primary goal of a ritual defamation is censorship and repression.
The Democrats and the media have been focussing on the emotions, language and optics surrounding sexual assault and male anger …
… not whether or not the allegations are credible. Digging around shows that, often, they are not:
4. The victim is often somebody in the public eye – someone who is vulnerable to public opinion – although perhaps in a very modest way. It could be a schoolteacher, writer, businessman, minor official, or merely an outspoken citizen. Visibility enhances vulnerability to ritual defamation.
5. An attempt, often successful, is made to involve others in the defamation. In the case of a public official, other public officials will be urged to denounce the offender. In the case of a student, other students will be called upon, and so on.
How many women emerged to claim that Kavanaugh assaulted them in high school or at university? Seven?
And what about the reaction from legislators attending his hearings?
7. Also to be successful, a ritual defamation must bring pressure and humiliation on the victim from every quarter, including family and friends. If the victim has school children, they may be taunted and ridiculed as a consequence of adverse publicity. If they are employed, they may be fired from their job. If the victim belongs to clubs or associations, other members may be urged to expel them.
His wife Ashley Kavanaugh and their school-age daughters have been assaulted and threatened.
Then-Judge Kavanaugh has now said he will no longer teach at Harvard, where he has been a lecturer for the past ten years:
8. Any explanation the victim may offer, including the claim of being misunderstood, is considered irrelevant. To claim truth as a defense for a politically incorrect value, opinion or belief is interpreted as defiance and only compounds the problem. Ritual defamation is often not necessarily an issue of being wrong or incorrect but rather of "insensitivity" and failing to observe social taboos.
No one on the Left cared about Kavanaugh's moving testimony in his defence on Friday, September 28.
No one on the Left cared when an ex-girlfriend said the accusations were not true …
… or when a classmate defended him …
Or when Condoleezza Rice supported him:
As we have seen since the 2016 election, the Democrats have played these diabolical games at every turn. Unfortunately, over the past few weeks, it was Brett Kavanaugh's to be the victim of their malicious tricks. Because mid-terms are coming up in less than a month — Tuesday, November 6 — the knives are out.
These are four of the Democrat senators who sat in judgement. From top left going clockwise, they are Cory Booker (New Jersey), Richard Blumenthal (Connecticut), Dianne Feinstein (California) and Kamala Harris (California). Feinstein employed the Chinese spy:
Are they the ones well placed to judge a man who successfully passed six FBI background checks, with results of a seventh to come?
This just shows the world what a stinking pile the Democrat Party is.
And, no, they do not deserve to be called the Democratic Party, because they can no longer live up to the name.
Before this started, I had no opinions one way or the other on Brett Kavanaugh. However, on Sunday, I said a prayer of thanks that he is the newest Supreme Court justice in the United States.
In closing, may justice be done to all those who have ritually defamed Brett Kavanaugh.
On Saturday, September 29, 2018, Kanye 'Ye' West was a guest star on NBC's Saturday Night Live.
As a Trump supporter, he wanted to wear his MAGA — Make America Great Again — cap, but the show's cast and crew told him not to.
Actor Chris Evans, who appeared on the show that night, took strong exception to West's open support of President Trump. I would suggest reading what West says before reading Evans's tweet, then comparing and contrasting the two perspectives:
Candace Owens, about whom I wrote yesterday, made an excellent point about the Democrat plantation (language alert):
Owens sat through Saturday Night Live to watch her friend West, whom she has encouraged to speak out in favour of Trump:
Kanye had the closing segment and was booed. His final comments about the banning of his MAGA hat were not broadcast. He donned his cap and called his fellow entertainers 'cowards'. Here's the clip that was censored. The first 30 seconds are the best:
Here are two excerpts:
This was Candace Owens's take on her friend Kanye and Saturday Night Live:
Yep. It happened after the 2016 election to Kanye, and, sadly, it's possible this could happen again.
Although I reserve the words 'hero' and 'bravery' for military personnel, it is true that West is taking a huge risk in openly supporting his president:
No doubt 'Ye' is delighted to have Candace Owens as a friend.
In closing, I wanted to say a few words about the environment in which Chris Evans grew up. His hometown of Sudbury, Massachusetts, is one of the nicest towns outside of Boston. His father is a dentist and his mother is an artistic director at Concord Youth Theater. Concord is another splendid town outside of Boston, made famous by the American Revolution. Both are upmarket communities which attract rarefied, wealthy people.
Chris Evans's siblings are or have been in the arts. His brother is an actor. Their uncle Mike Capuano is a Democrat congressman representing parts of Boston, Cambridge and Somerville. Capuano's seat used to be Tip O'Neill's, Speaker of the House during the Reagan years.
Chris Evans has never had to want for much in his life growing up. Given his surroundings and family, he had the best of everything.
Candace Owens expressed it well to Breitbart on October 1 (emphases mine):
"Chris Evans sounds like a plantation owner," Owens told Breitbart News, referring to Evans as "Captain out of touch with America," poking fun at his most famous role as Captain America.
"It's them that think their ideas are supreme and superior," Owens said of members of the media and the left-wing Hollywood elite. "Evans didn't challenge Kanye's statements. He simply launched a personal attack"
"It was the euphemistic equivalent of Evans calling Kanye a dumb — …
You can fill in the rest … And, yes, Owens did say the word. She must be steamed about this, because she also made a video about it — well worth watching. She wants to debate Evans:
This reply from an Evans fan to his (Evans's) tweet about West seems to corroborate her words: I'm not going to show it here, so see it for yourselves. Wow. Just wow. Be sure to see the opposing replies in the thread, accompanied by photos. The truth is coming out about the Left, that's for sure.
It's a pity Evans fails to understand that 98% of Americans have not shared his life experience.
That's why they voted for Donald Trump in 2016 and will vote Republican in November 2018.
They would like their children to have the same opportunities that he did.
Maybe Evans doesn't want that to happen.
For over a year, Candace Owens, Communications Director for @TPUSA — Turning Point USA — has been urging American blacks to leave the Democrat plantation.
I've been following her during that time and have bookmarked several of her tweets.
As the Dems are showing the world what a psychological Crazytown they inhabit, here are a few of Candace Owens's recent observations, two of which are subtitled videos.
This tweet discusses President Trump, the man who is renting real estate for free in Democrats' heads. Democrats will tell you that Trump is doing nothing for black Americans. Yet, Owens says the Dems have done nothing for blacks:
Another Dem tactic is to tell blacks that police officers are racist. In a public forum, Owens explains why this is patently untrue:
Here she explains why blacks should support Judge Kavanaugh. She says that empty accusations have also brought about harsh punishments before — namely that of black men in the 1950s who were lynched for the falsehoods levelled against them by white female accusers:
The entertainment world is no better, but most of us already knew that (language alert and typo):
Earlier this year, Candace Owens encouraged Kanye West to speak out. He does so at great risk to his career. Tomorrow's post will have more on his Saturday Night Live (NBC) performance on Saturday, September 29.
Occasionally, I read James Howard Kunstler's website, particularly his erudite blog posts.
Lately, he has been casting his gimlet eye on the Supreme Court (SCOTUS) proceedings with regard to Judge Brett Kavanaugh. Some of his readers are deeply disappointed with Kunstler's take, as he is a Democrat — and so are they. Not all of what he has been writing is in support of his political party.
On September 28, he posted an article, 'The Fog of Bad Faith' (pardon the language in the URLs), which clearly states what Democrats really want by stymieing and stalling a vote on Kavanaugh as the next SCOTUS justice (emphases mine):
The issues in the bigger picture concern a Democratic Party driven by immense bad faith to any means that justify the defeat of this Supreme Court nominee for reasons that everyone over nine-years-old understands: the fear that a majority conservative court will overturn Rowe v. Wade — despite Judge Kavanaugh's statement many times that it is "settled law." What one senses beyond that, though, is the malign spirit of the party's last candidate for president in the 2016 election and a desperate crusade to continue litigating that outcome until the magic moment when a "blue tide" of midterm election victories seals the ultimate victory over the detested alien in the White House.
Finally, a Dem sympathiser finally had the guts to say it.
The Dems are still licking their wounds over Hillary, nearly two years later, and they're driven mad by the possibility that federal abortion law could be overturned. The latter, as Kunstler — and Kavanaugh — have stated, is unlikely.
On October 1, Kunstler went further with 'Imaginary Monsters and the Use of Chaos', which describes what is really happening with the SCOTUS nomination. This essay also upset his readers. He makes several good points, which should sound alarm bells in all sensible people.
First, there's the absence of lucid thinking about the Kavanaugh nomination. An absence of objectivity and calm could have a deleterious impact on American society:
The Kavanaugh hearing underscored another eerie condition in contemporary USA life that offers clues about the combined social, economic, and political collapse that I call the long emergency: the destruction of all remaining categorical boundaries for understanding behavior: truth and untruth, innocent and guilty, childhood and adulthood, public and private. The destination of all this confusion is a society that can't process any quarrel coherently, leaving everyone unsatisfied and adrift, and no actual problems resolved.
Secondly, once again, the Dems are sowing chaos, just as the Spanish Inquisition sowed fear centuries ago:
One element of the story is clear, though. The Democratic party, in the absence of real monsters to slay, has become the party devoted to sowing chaos, mainly by inventing new, imaginary monsters using the machinery of politics, the way the Catholic Church manufactured monsters of heresy during the Spanish Inquisition in its attempt to regulate "belief."
Thirdly, when combined, hysteria and coercion result in totalitarianism:
The spirit of the kangaroo court has since graduated into business and politics where it has proven especially useful for settling scores and advancing careers and agendas dishonestly. Coercion has replaced persuasion. Coercion is at the heart of totalitarian politics. Do what you're told, or else. Believe what we say, or else. (Or else lose your reputation, your livelihood, your friends….) This plays neatly into the dynamics of human mob psychology. When the totalitarians set up for business, few individuals dare to depart from the party line. It's the perfect medium for cultivating mendacious ideologies.
The Democrats want a totalitarian state.
I disagree with Kunstler's conclusions about an economic and social collapse — his 'long emergency', about which he has written for years — because that will not happen under President Trump.
However, a long emergency is exactly what will happen if Democrats win the House and Senate in November. Should that happen, all bets are off.
James Howard Kunstler is so close to walking away from the Democrat Party, but by his continued rejection of Trump and Make America Great Again policies, so far away from seeing the Democrats for what they really are.
The haze is lifting around him, but he continues to cling to the long emergency, which he was predicting 15 or so years ago. It still hasn't happened.
Time to put the long emergency to bed, Jim, and embrace MAGA.
As most of the world knows, Judge Brett Kavanaugh has been going through Hades during his nomination process to the American Supreme Court.
His wife, Ashley, and their two daughters have also been put through much unnecessary harassment and abuse.
Ashley Kavanaugh has asked people to pray for them and for the nation, specifically by praying Psalm 40. Some of my readers prefer the King James Version below:
Others might prefer the English Standard Version (ESV):
My Help and My Deliverer
To the choirmaster. A psalm of David.
40 I waited patiently for the Lord;
    he inclined to me and heard my cry.
2 He drew me up from the pit of destruction,
    out of the miry bog,
and set my feet upon a rock,
    making my steps secure.
3 He put a new song in my mouth,
    a song of praise to our God.
Many will see and fear,
    and put their trust in the Lord.
4 Blessed is the man who makes
    the Lord his trust,
who does not turn to the proud,
    to those who go astray after a lie!
5 You have multiplied, O Lord my God,
    your wondrous deeds and your thoughts toward us;
    none can compare with you!
I will proclaim and tell of them,
    yet they are more than can be told.
6 In sacrifice and offering you have not delighted,
    but you have given me an open ear.[a]
Burnt offering and sin offering
    you have not required.
7 Then I said, "Behold, I have come;
    in the scroll of the book it is written of me:
8 I delight to do your will, O my God;
    your law is within my heart."
9 I have told the glad news of deliverance[b]
    in the great congregation;
behold, I have not restrained my lips,
    as you know, O Lord.
10 I have not hidden your deliverance within my heart;
    I have spoken of your faithfulness and your salvation;
I have not concealed your steadfast love and your faithfulness
    from the great congregation.
11 As for you, O Lord, you will not restrain
    your mercy from me;
your steadfast love and your faithfulness will
    ever preserve me!
12 For evils have encompassed me
    beyond number;
my iniquities have overtaken me,
    and I cannot see;
they are more than the hairs of my head;
    my heart fails me.
13 Be pleased, O Lord, to deliver me!
    O Lord, make haste to help me!
14 Let those be put to shame and disappointed altogether
    who seek to snatch away my life;
let those be turned back and brought to dishonor
    who delight in my hurt!
15 Let those be appalled because of their shame
    who say to me, "Aha, Aha!"
16 But may all who seek you
    rejoice and be glad in you;
may those who love your salvation
    say continually, "Great is the Lord!"
17 As for me, I am poor and needy,
    but the Lord takes thought for me.
You are my help and my deliverer;
    do not delay, O my God!
O Lord, please thwart the attempts of the Kavanaugh family's foes. May their pernicious deeds be brought to light and to justice, whether in the Senate chamber, at home or at school.
Please also preserve the Great Republic, the United States of America, today and always.
We ask this humbly through Jesus Christ our Lord who lives and reigns with you and the Holy Spirit, one God, forever and ever. Amen.
——————————————————–
Forbidden Bible Verses, all being well, is planned for tomorrow.
President Trump is on the elite's blacklist.
What does that say about him and his supporters?
This graphic cannot be attributed, but this is Trump's message about us and about his support for us, wherever we live. He might say 'America first', but he also wants to improve the world: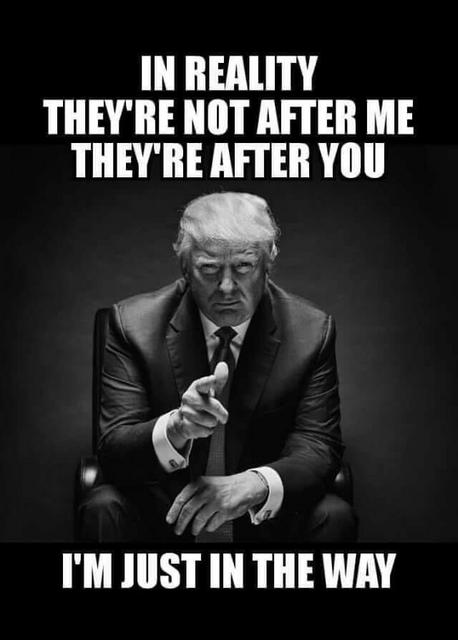 And, until he finishes his service to the United States and the world, this is what he will continue to say (graphic courtesy of The Conservative Treehouse):
For those Americans voting in the mid-terms, please consider these messages not only for your country but also for other nations as well.
Please vote Republican.
The New York Times is appealing to Americans to help them cover the 2018 mid-term elections:
Hmm.
In 2017, James O'Keefe's Project Veritas revealed a rich seam of anti-Trump and anti-Republican bias at the New York Times:
New Project Veritas video exposes New York Times (October 10)
Project Veritas 'American Pravda' series: second video (October 11)
American Pravda Part III — more from the New York Times (October 17)
American Pravda Part IV — Trump Derangement Syndrome at the New York Times (October 19)
Does anyone think that the New York Times intends to cover the mid-terms with integrity?
Those who are not convinced by the Project Veritas undercover videos might wish to read an article by Eric Zuesse for the Strategic Culture Foundation, 'How the New York Times Lies About Lies: Obama v. Trump as Example'.
Eric Zuesse documents various events of the Obama administration and how the New York Times reported them dishonestly. His article begins with this (emphases mine):
Although the New York Times says that President Donald Trump lies vastly more than did President Barack Obama, the definite liar in that comparison — based on the factual record, to be presented here — is the New York Times itself. It lies in alleging this, which isn't to say that either President lies more frequently than the other, but instead, that the Times's calculation fails to count, at all, but instead altogether ignores, some of President Obama's very worst lies — ones that were real whoppers. These were lies that were essential to his maintaining support among Democrats (such as the owners of this corporation, the NYT, are), and that would keep Democrats' support only if they failed to judge him by his actual decisions and actions (such as the NYT's owners do — or else they secretly know the truth on this, but prevent this truth from being published by their employees). Even to the present day, Obama is evaluated by Democrats on the basis of his lies instead of on the basis of his actions. He's admired for his stated intentions and promises, which were often the opposite of what his consistent actual decisions and actions turned out to be on those very same matters, on which he had, in retrospect, quite clearly lied (though that was covered-up at the time — and still is). 
Zuesse carefully details Obama's biggest lies, which the newspaper ignored. He concludes (emphasis in the original, purple highlights mine):
None of these whoppers was included in the listing that the NYT presented in their 14 December 2017 article "Trump's Lies vs. Obama's".
I am nonpartisan toward persons and toward political parties, and consider all of America's Presidents since 1981 (if not since 1968, but with the exception of Carter) to be and have been loathsome people (not even well-intentioned), but 'news'media such as the New York Times aren't any more trustworthy (nor more honest) than these Presidents have been, and the pontifications from such 'news'media (in both their 'news'-reporting and opinion-pieces) are just propaganda, mixtures of truths with lies — and more and more of the public are coming to recognize this disgusting fact, so these media's pretenses to honesty and trustworthiness are having fewer and fewer believers. But these media claim that fake 'news' comes only from their non-mainstream competitors (some of which are actually far more honest than they). Preserving their cartel is crucial to them. And it's crucial to the people who benefit from this cartel.
I mention this, because, recently, I got into a lively discussion with several people at an event about honest reporting about President Trump. To a man — and all have some of the best private school and university educations in the world — they not only read but believe whatever they read in the New York Times and other similar media outlets. They are not Americans, but they are firmly against the Republican Party and Donald Trump based on established media's lies.
When I mentioned that they might want to peruse a site such as The Daily Caller to get another perspective, they sneered, calling it 'fake news'. They've never even heard of, much less read, The Daily Caller.
This is a very sad state of affairs — great for the New York Times and parlous for those of us seeking objective reporting.
Tucker Carlson of Fox News tweeted something important to remember as the United States approaches mid-term elections. It is also relevant to the egregious resistance shown to President Trump and his administration:
For leftists — including the Democrats — 'political power is personal power'. Even a temporary loss of power destabilises them.