You are currently browsing the tag archive for the 'United States' tag.
In December 2022, the then-GB News presenter Mark Steyn suffered two heart attacks within days of each other.
The first one he ignored, because he had never suffered a heart attack and didn't recognise the symptoms.
The second occurred when he and a female friend were in France. Fortunately, he got to the hospital just in time. Fifteen minutes more and he would have died.
While he recuperated in France — there was no chance of his returning to Canada, doctors said — some of GB News's sharpest hosts stepped in to sub for him between 8 and 9 p.m. They told viewers that Mark was on the mend, until the end of January, at which point they mentioned him no more.
Don't mention the vaccines
Then, late on Monday, February 6, 2023, Guido Fawkes posted that Mark would not be returning to GB News. The news channel's CEO wanted to make Steyn liable for any Ofcom fines they received over his segments that criticised the coronavirus vaccine:
Guido tells us, complete with the relevant video clip (emphases in red his):
Mark Steyn has quit GB News on fairly bad terms after a protracted leave of absence owing to his health. A few weeks ago Guido picked up that the channel had been trying to formalise Steyn's contract, having operated on a fairly ad hoc basis since starting his show. Part of trying to get him on board as a properly contracted presenter was also an attempt to rein in his output, given that in a rather short space of time he'd managed to spark two separate Ofcom investigations into claims made on his show.
GBN offered him a new contract to sign, otherwise he'd face termination. It now looks like Steyn is declining to sign the new contract, so he's out.
In a video put out on his website today, Mark doesn't hold back on his opinion of the channel's CEO Angelos Frangopoulos, ranting about the terms of the new contract that would have made him financially liable for any fines imposed on GB News by Ofcom because of his show's output. He also calls Frangopoulos an "habitual liar". Shame – Steyn managed to consistently beat Piers's view count…
After a few months, Mark Steyn Show regularly trounced Piers Morgan's TalkTV show Monday through Thursday in the same time slot.
GB News has been scrupulous about offering both sides of any story on their shows in order to avoid censure from Ofcom. This entails having a left-wing guest oppose the host's centrist or conservative perspective.
In 2022, Press Gazette reported on the channel's potential Ofcom violations. I'll start with the story from August 8, with the communications regulator's examination of two segments, one on Nigel Farage's evening show and one from a morning show with Patrick Christys, who now hosts a three-hour afternoon slot Monday through Friday:
The first two investigations by broadcast regulator Ofcom into GB News have ended with no rebukes, keeping the TV channel's record clean as it enters its 15th month.
Critics feared the opinion-led news channel would rub up poorly against the UK's strict impartiality rules, a problem not faced by broadcasters in the US such as Fox News.
But by balancing views from presenters and guests across its schedule, GB News has avoid any Ofcom rebukes despite airing some strident views on Covid-19 lockdowns and vaccines. Two Ofcom investigations into GB News TV and radio broadcasts remain ongoing.
In October 2022, complaints about Mark Steyn's show were still ongoing:
Ofcom has opened an investigation into an episode of Mark Steyn's 4 October programme on GB News after it received 411 complaints from viewers about comments made by author and journalist Dr Naomi Wolf in relation to Covid-19 vaccines.
Ofcom said: "Specifically, our investigation will consider whether this programme broke our rules designed to protect viewers from harmful material."
Wolf was banned from Twitter last year for spreading unfounded theories about vaccines.
Ofcom is already investigating Steyn's show for a potential breach of standards on 21 April when he claimed people who had a Covid-19 booster vaccine were three times more likely to die than those who had two doses or fewer.
Press Gazette says that the April 21 episode was removed from YouTube:
In a monologue that day, Steyn said: "Why aren't we talking about this? It seems, if the booster shot is making it thrice as likely that you're going to be deadsville, that they're going to carrying you out by the handles, why aren't we talking about that?"
Fact-checking charity Full Fact said the figures used by Steyn were "broadly accurate" but that he was "wrong to claim the booster 'increases your chances of hospitalisation and death'".
Interestingly:
No Ofcom investigations have yet been started into rival TalkTV, which Rupert Murdoch's News UK launched in April.
The Guardian had more, especially about Dr Matthew Sweet, who was interviewed on the BBC and had been monitoring Steyn's show for soundbites that criticised the vaccines. Steyn often mentioned Sweet:
The latest investigation relates to an interview with the author Naomi Wolf in which she claimed women were being harmed by Covid-19 vaccines as part of an effort to "to destroy British civil society".
Ofcom said it would investigate whether the programme broke "rules designed to protect viewers from harmful material" after receiving more than 400 complaints from members of the public.
In the interview, which was originally broadcast on 4 October, Wolf also compared doctors' support for the vaccine rollout to the behaviour of the medical profession in Nazi Germany and described herself as the "last remaining independent journalist" willing to question this.
She was being interviewed on the Mark Steyn Show, which has repeatedly raised doubts over the safety of vaccines. Steyn's claims that the jabs cause "every conceivable kind of damage" have been disputed by factchecking websites. He is already the subject of a separate Ofcom investigation over previous comments about vaccination.
Wolf began as a prominent feminist writer but in recent years her career has taken a hit after she wrote a book partly based on a misunderstanding of English court records. Since then she has veered into the world of conspiracy theories about the impact of 5G telephone masts and the coronavirus vaccine.
Presenter Matthew Sweet, whose BBC interview exposed the flaw in Wolf's book, has since kept tabs on her work and GB News's coverage of the pandemic and accused the channel of repeatedly "broadcasting misinformation about vaccines and presenting conspiracy theorists as legitimate experts on medical matters".
In a letter to Sweet tweeted last month, GB News insisted that at no point had Steyn's programme adopted an "anti-vax" approach. Instead it said he was conducting probing journalism in the face of people who want GB News to be "more supportive of government policy".
As I wrote in my post last week on Big Brother Watch's exposé of Government departments' surveillance of politicians' and journalists' Twitter accounts during the pandemic, the one thing one cannot do is criticise the vaccines.
The best of Mark Steyn's GB News output
Having watched nearly every Mark Steyn show once he began broadcasting weeknights in January 2022, I bookmarked the most notable ones.
Any interested readers should view the videos sooner rather than later. YouTube have already removed some of Steyn's GB News output.
Ratings
It took a while for people to tune into Steyn, which was no fault of his. He did a memorable series in March 2022 in Ukraine and told us that he was partly of Ukranian descent. He hoped to return when the war was over. You can read more about those programmes here.
At the end of that month, he had a special edition on the second anniversary of the first coronavirus lockdown, March 23, 2020. It's a good thing I described the content, because YouTube removed the video for the usual reasons.
Then on Monday, May 16, Mark hit the jackpot, beating TalkTV's Piers Morgan for the first time in the 8 to 9 p.m. slot. Mark wasn't the only ratings star that night — all the GB News evening shows beat TalkTV's:
The following day, Guido wrote:
The slow motion collapse in ratings of Talk TV is astounding. Until now, Piers Morgan has always held his lead in his slot against Mark Steyn on GB News. Last night Steyn beat Morgan for the first time…
And it would not be the last time, either. In fact, it became a regular occurrence.
Coronavirus
On Wednesday, January 12, 2022, Steyn interviewed Lord Ridley — Matt Ridley — about the coronavirus lab leak (30:00 – 40:00):
In February, he covered the Canadian truckers' protest in Ottawa against mandated vaccines:
He also interviewed a Canadian policewoman about the protests:
On April 21, he cited UK government data which said that people over 50 who had three jabs were five times more likely to get the virus: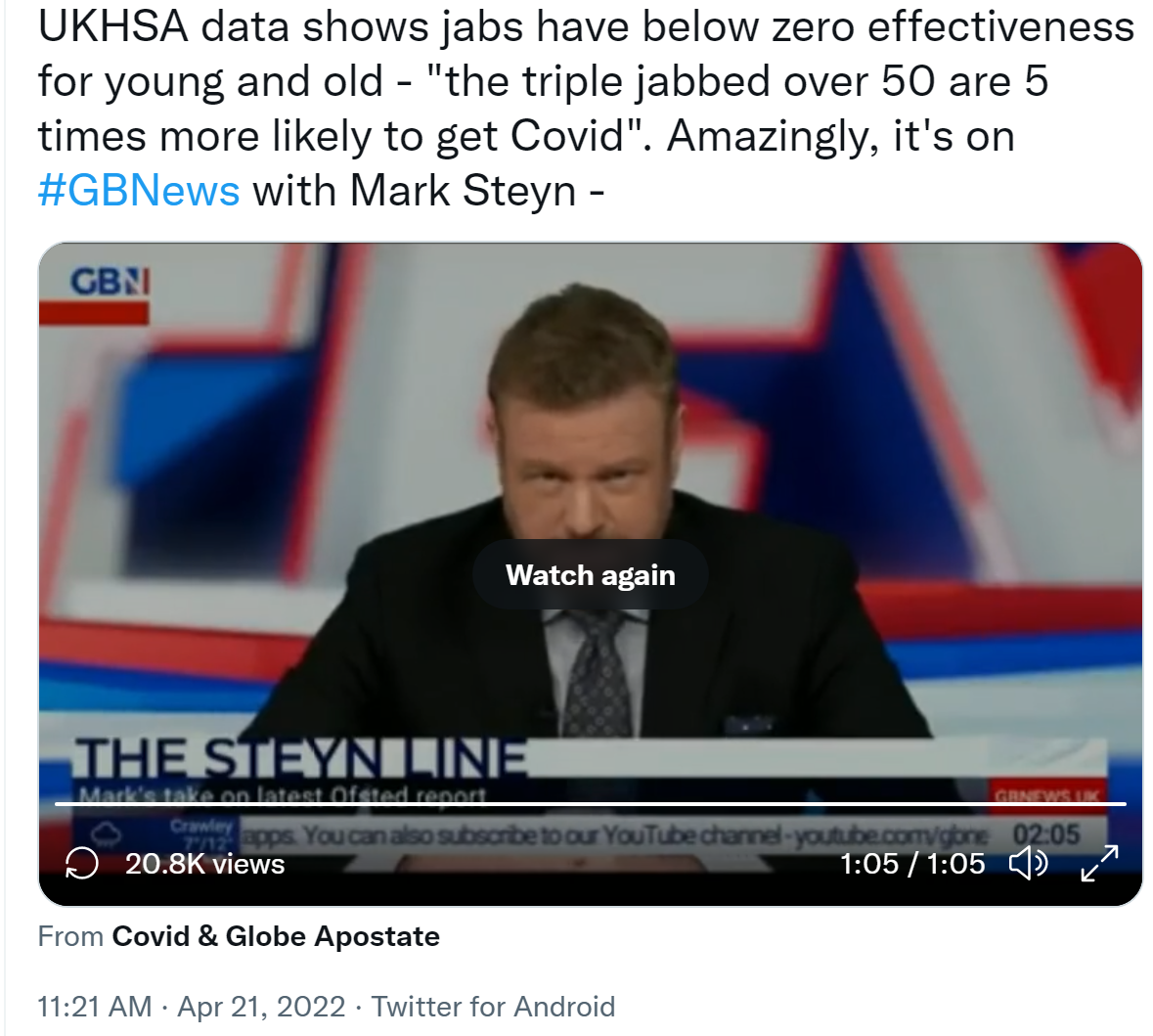 On Monday, May 9, he interviewed vaccine victims:
On May 11, he interviewed people who became seriously ill after taking the Astra Zeneca vaccine. No wonder it's no longer on the Government's vaccine list.
This man got a blood clot on the brain:
This lady suffered blood clots on her liver and lungs:
That day, Laura Perrins from The Conservative Woman waxed lyrical about Steyn's show. I, too, was a bit ambivalent about him many years ago, but as she pointed out:
It is true that a few decades ago he was considered an Establishment journalist; he has written for all your mainstream Right-wing publications. But he had long left that scene by the time I had my political awakening.
Anyway, somehow I stumbled across him, Praise be the Lord. The more I started listening, the more I read, I thought: 'Goodness gracious, hold the phone, shut the front door, this guy is the Real Deal.' This guy knows that we are being had by the political and media establishment and he is not afraid to say it …
Not only is Steyn the best-dressed, most-polished, most-sophisticated of all the presenters on TV, he says what you are thinking. For the last week or two he has been giving a voice to those the MSM have shamefully ignored – families who have lost loved ones through the 'safe and effective' non-vaccine vaccine.
… While Piers 'Lock Me Down Harder, Daddy' Morgan is interviewing Bruce Jenner, Steyn is pointing out that the lockdown has caused economic damage and inflation that the MPs like to ignore.
He also points out that when the Conservatives tell you they are getting a hold on illegal immigration, they are lying to you, they are lying to your face, dear reader.
So, do yourself a favour and watch Mark Steyn, Monday-Thursday, 8pm on GB News.
You can also catch up on YouTube when they haven't censored him for 'disinformation'. This is not a man who could ever be bought or sold for any price. I say again, Mark Steyn is the Real Deal.
The following day, news emerged that the WHO wanted nations to sign up to their pandemic treaty which would supercede national sovereignty. Unbelievable. Steyn said, 'The permanent abnormal staggers on':
On Tuesday, May 17, he talked about the WHO's involvement in the pandemic:
One week later, he interviewed a fellow broadcaster, Andrew Griffiths, who experienced serious side effects after getting the vaccine:
The Powers That Be tried to stir up fear over what is now called MPOX. On May 25, Steyn discussed Natalie Winters' findings for the National Pulse about an alleged link to the Wuhan lab:
Steyn had more on that and other topics on June 1, calling it 'the controlled demolition of the free world':
That was an exceptional show. Former ONS statistician Jamie Jenkins, one of Mark's regulars, alleged that the UK government had not collected any official statistics on vaccine injuries:
Claire Hibbs returned to discuss her injuries and the lack of compensation from the Government:
On June 16, he discussed the disastrous economic results of lockdown with Leilani Dowding:
Other Steyn broadcasts of note
In May 2022, he tapped into Canada's Rebel News output on Davos: excellent and entertaining.
On July 12, he was the only broadcaster to cover the July 12 celebrations in Northern Ireland in a non-confrontational way.
He interviewed Baroness Hoey — former Labour MP Kate Hoey — on her love for Northern Ireland and the United Kingdom:
He also spoke at length with the former leader of the Democratic Unionist Party, now-Baroness, Dame Arlene Foster:
These are just tasters. More to follow tomorrow.
No stranger to controversy
Mark Steyn has never been a stranger to controversy. Thank goodness.
Going way back in my Mark Steyn bookmarks, in 2004, he reviewed Mel Gibson's The Passion of the Christ, an incredible but much-criticised film, for The Spectator (full text here):
… Those who believe in Christ the Redeemer are booming, and Mel Gibson has made a movie for them. If Hollywood was as savvy as it thinks it is, it would have beaten him to it. But it isn't so it didn't. And as most studio execs have never seen an evangelical Christian except in films where they turn out to be paedophiles or serial killers, it's no wonder they're baffled by The Passion's success …
… Mel Gibson was driven by his own passion to make a movie that speaks to millions of people. As I said a couple of weeks back, if it's not the Jesus movie you'd have made, then go make your own. I saw it on a Monday night full house – a rare event in itself – and the crowd was rapt and eerily hushed, except for the occasional sob. It's true that if you don't believe that Christ's death on the cross is the central event in His time on earth then Mel's telling won't convince you and the film will look, as it does to Christopher Hitchens, like an S&M flayfest. One can regard this as a criticism of Gibson. On the other hand, all manner of movies – Star Wars, X-Men – leave you cold if you're not already a devotee. For millions of people, Mel Gibson shows them their Jesus and their salvation.
In 2009, Steyn wrote an article for Canada's Macleans about the danger that political correctness and censorship (i.e. 'hate speech') pose to human lives — the Fort Hood massacre (full text here):
… the old refrain echoes through the corridors of power: vigorous honest free speech will lead to mass murder unless we subject it to "reasonable limits."
Actually, the opposite is true: a constrained and regulated culture policed by politically correct enforcers leads to slaughter. I'm not being speculative here, as Commissar Lynch [Jennifer Lynch, Q.C., Canada's censor at the time] is about my murderous prose style. It's already happened, just a couple of weeks back. Thirteen men and women plus an unborn baby were gunned down at Fort Hood by a major in the U.S. Army. Nidal Hasan was the perpetrator, but political correctness was his enabler, every step of the way. In the days that followed, the near parodically absurd revelations piled up like an overripe satire …

Instead, asked "Who ya gonna believe—The Celebrate Diversity Handbook or your lyin' eyes?", more and more of us plump for the former, if only for a quiet life. Commissar Lynch has it exactly backwards: it's the craven submission to political correctness, the willingness to leave your marbles with the Diversity Café hat-check girl, that leads to death—real death, with real corpses, from Texas to Ontario.
It's amazing that the hot topics really have not changed since the Millennium. It's been the same-old, same-old for over 20 years now.
To be continued tomorrow
In the UK, polls have showed that Britons, particularly younger ones, have no intention of working.
The latest Government findings came out on January 22, 2023. The BBC reported (emphases mine):
Most of the 2.7 million "inactive" people under 25 are students, according to the Office for National Statistics (ONS). The majority of them don't want a job.
This was also true in 2021, as CityAM informed us:
Data from the Office for National Statistics shows of the 13m Brits who are not looking for work, over half said they were doing so because they did not want to work.
In 2015, a student posted the following message on The Student Room forum. Granted, she sees the possibility of owning her own small business but only just:
I'm 22 now and it's slowly dawned on me that I have no intention of working/having a career. I find most work boring and I am simply not inspired by the rat race. I think I want to be a small business owner and a stay at home mother.
It seems with feminism most women just aren't looking to go down the 'small job, husband and babies' route anymore. Am I the only one who doesn't want to work…at all ?
Maybe a small online store or something and a husband and kids. Nothing more (?)
Anyone else ?
The benefits balloon stretches back at least to 2013, possibly earlier. On April 24 that year, the Conservative MP Iain Duncan Smith, the then-Secretary of State for Welfare and Pensions said:
Around 1 million people have been stuck on a working-age benefit for at least three out of the past four years, despite being judged capable of preparing or looking for work.
Ten years on, The Spectator reports that real figures show that five million Britons are receiving out-of-work benefits. Their figures have been disputed, but in November 2022, the magazine's editor Fraser Nelson explained how the data were put together. For now, this is the message:
How can 20 per cent of people in our great cities be on benefits at a time of mass migration and record vacancies? It's perhaps the most important question in politics right now, but it's not being given any scrutiny because the real figures lie behind a fog of data …
Every month, an official unemployment figure is put out on a press release – and news organisations are primed to cover it. It's normally about 1.2 million looking for work: the problem, of course, is so few Brits are actually doing so …
The true benefits figure is not to be found on a press release, but buried in a password-protected DWP [Department for Work and Pensions] database with a six-month time lag …
The five million figure 'seems to be incorrect,' Full Fact said in their email to us. 'According to the most recent statistics, there are around 1.5 million people claiming out-of-work benefits.' But the real figure is more than three times higher – but rather than reply to them, I thought I'd write this blog for anyone interested …
DWP data is now on Stat-Xplore, a versatile open data tool. The password bit is deceptive: you can bypass by clicking 'Guest log in' to find an Aladdin's Cave of data. Look at the dataset 'Benefit Combinations – Data from February 2019'. Click Table 5, then click 'Open table' to get the numbers …
Nelson has posted graphs and a map to illustrate his figure of five million.
He concludes:
To fail to match up 1.2 million vacancies with at least some of those on out-of-work benefits is not just an economic failure but a moral one. But to solve a problem, you need to recognise a problem. Officially counting all five million people on out-of-work benefits would be a good way to start.
Living a life of idleness, however, is nothing new.
St Paul grappled with the same problem two millennia ago when he planted a church in Thessalonika (present day Saloniki).
The following passage, 2 Thessalonians 3:6-12, is one example of his command to work:
Warning Against Idleness
6 Now we command you, brothers, in the name of our Lord Jesus Christ, that you keep away from any brother who is walking in idleness and not in accord with the tradition that you received from us. 7 For you yourselves know how you ought to imitate us, because we were not idle when we were with you, 8 nor did we eat anyone's bread without paying for it, but with toil and labour we worked night and day, that we might not be a burden to any of you. 9 It was not because we do not have that right, but to give you in ourselves an example to imitate. 10 For even when we were with you, we would give you this command: If anyone is not willing to work, let him not eat. 11 For we hear that some among you walk in idleness, not busy at work, but busybodies. 12 Now such persons we command and encourage in the Lord Jesus Christ to do their work quietly and to earn their own living.[d]
John MacArthur explains why we must work in 'Work: A Noble Christian Duty, Part 3', from July 19, 1992.
There were reasons why some in the congregation were not prepared to work:
As we have said in the past … they perhaps have been influenced by some of the Jewish background of the scribes who thought that anything other than studying the law was an unworthy way to spend your life.  They surely were affected by the general Greek attitude that work was demeaning and sordid and base and low and belonged only to slaves and not to freemen. 
And they probably had had those predispositions somewhat exaggerated by virtue of the fact that someone had come along and told them that they were already in the day of the Lord and the return of Christ was imminent and there probably wasn't much use in doing anything other than evangelizing and studying the Word of God.  And so they had given themselves to that happily because of their disdain for work anyway.  Problem was, at least long term, if you can call several months long term for the Thessalonians in that Paul had dealt with it when he was there.  Several months later, when he wrote them the first letter, he dealt with it, and here he is writing a second letter and dealing with it a third time.  They didn't want to work.  It was beneath them. 
Homer, the famous Greek writer, had said that the gods hated man.  And the way they demonstrated their hatred was to invent work and punish men by making them work.  This kind of philosophy being existent in that time, it found its way into the lives of those people and thus, when they became converted, it found its way into the church.  Becoming a Christian doesn't change everything immediately.  We will always have residuals of our past, and we will always to one degree or another be affected by our culture.  And so here in this church in which so many good things had happened, a genuine conversion, a genuine godliness, they were not slack in spiritual service, they had a work of faith and a labor of love, and they did it with patience and endurance because they hoped in the return of Christ.  They worked hard at ministry, but they didn't want to do the jobs that they had to do in the world, at least some of them. 
And so Paul was dealing with a church that had its spiritual life on target and was doing well, excelling spiritually, but they had this one problem that dominates the church in terms of its conduct, and that was that there were people there who didn't work.  They then became a burden on everybody else, and it wasn't that they couldn't work, it wasn't that they had a physical disability, it wasn't that there wasn't a job available, they refused to work, seeing it as beneath them or not a priority for those engaged in kingdom enterprises. 
MacArthur cites American statistics on work from 1980 to 1991:
I suppose 25 years ago, a situation like this would have struggled to be relevant in our time then because America was a hard-working country 25 years ago.  In fact, the American work ethic has always been hailed as sort of the supreme work ethic of the industrialized world.  We have always sort of set the pace for productivity and enterprise – up until more recent years, that is.  Last year, Charles Colson and Jack Eckerd, who heads the Eckerd Company, which operates drug stores in other parts of America, they wrote a book and the title of their book is Why America Doesn't Work.  Now, that's really a new thought, a new concept for our culture, for our society.  The subtitle is, "How the decline of the work ethic is hurting your family and future."  The future of America is changing dramatically.  There are other nations that are putting us to shame in terms of work habits and a work ethic. 
In their book, they point out that we have in America declining rates of productivity, the loss of competitive position in some world markets, and workers who aren't working.  And they concluded it is a bleak picture.  And I suppose they ask the right question, the question we would all ask at that point:  What has happened to the industry and productivity that made this country the marvel of the world at one time? …
We have an ethical malaise all the way from the jet set corporate leaders down to the person working at the bench.  The whole concept of work has so dramatically changed, it no longer has a transcendent motive.  There's no longer something beyond me to make me perform at a certain level.  Thus, the meaning of work has been sapped from everybody from the top to the bottom, to some degree.  Obviously, some people still work harder than others. 
A 1980 Gallup Poll conducted for the Chamber of Commerce found that people still believed in work-ethic values, 1980, they still believed.  That's over ten years ago.  Eighty-eight percent said working hard and doing their best on the job was personally important.  But were they doing it?  They said they believed it, it was still sort of in the air in 1980, but were people working hard?  1982 survey came along.  In that survey, it was reported that only 16 percent said they were doing the best job they could at work.  Eighty-four percent admitted they weren't working hard – 84 percent.  So you can see they were still holding on to a residual ethic that didn't translate into how they functioned, which meant that it was somebody else's transcendent value, somebody else's ethical value imposed on them externally but not truly believed. 
Working hard, they said, was important but they weren't doing it, so how important was it?  Eighty-four percent also said they would work harder if they could gain something from it.  And now you can see that the ethic is not transcendent, the ethic is utilitarian.  It's all tied in to what I get out of it, what's in it for me.  And that's part of the cynicism of our society.  That's part of the direct consequence of the 60s' moral revolution, which is a rejection of transcendent values. 
God is not an issue in anything.  He is not an issue in the way I conduct my sexual life, He is not an issue in my marriage, He is not an issue at my job, He is not an issue in education, He is not an issue anywhere.  God is not an issue; therefore, there is no value beyond myself.  So whatever is enough to get me what I want is enough.  It is a kind of societal economic atheism.  In fact, psychologist Robert Bellah calls it radical individualism.  Surveying 200 middle-class Americans, this UCLA professor discovered that people seek personal advancement from work, personal development from marriage, and personal fulfillment from church.  Everything, he says, their perspective on family, church, community, and work is utilitarian.  It is measured by what they can get out of it, and concern for others is only secondary. 
Down to specifics, James Sheehy, an executive with a computer firm in the upper echelons of the work strata, saw first-hand how this kind of utilitarian value was affecting work.  He wanted a better understanding of the expectations and psyche of younger employees.  Looking at what the future held, what kind of people were going to come up in this generation to work in his company?  What would they be like?  So he decided the best way to find out was to spend his vacation taking a job in a fast-food restaurant.  He wrote most of his coworkers were from upper income families, they didn't need to work but they wanted extra spending money.  He watched and listened as his coworkers displayed poor work habits and contempt for customers.  His conclusion was, "We have a new generation of workers whose habits and experiences will plague future employers for years." 
He writes, "Along with their get-away-with-what-you-can attitude and indifference to the quality of performance, their basic work ethic was dominated by a type of gamesmanship that revolved around taking out of the system or milking the place dry.  Theft, skimming, and baiting management were rampant and skill levels surprisingly low.  The workers saw long hours and hard work as counter-productive.  'You only put in time for the big score,' one said."  After recounting his experience, Sheehy concluded, "Get ready, America.  There's more of this to come from the workforce of tomorrow." 
Doesn't sound too good if you happen to be an employer, does it?  A recent Harris Poll showed 63 percent of workers believe people don't work as hard as they used to.  Seventy-eight percent say workers take less pride in their work.  Sixty-nine percent think the workmanship they produce is inferior, and 73 percent believe workers are less motivated and that the whole trend is worsening and the numbers are going up. 
Imagine. If people felt that way in the 1980s, and it is probable that Britons also did at the time, we are now into a second generation of people who don't care about work, with a third generation on the way.
MacArthur says:
The more and more people demand recreation and idle time, the more corrupt they will become.  The two go hand-in-hand.  An escalating pornographic, sinful, wicked culture is sped on, the slide is greased, by a shrinking commitment to work.  And we fill up all that time with things that feed the lust of the eyes, the lust of the flesh, and the pride of life. 
He lays out why work is a God-given command:
Now, our society may not have a choice but they have to accept this, but as Christians, we can't accept this.  The Christian faith does not accept a utilitarian work ethic.  The Christian view of work is transcendent.  That is, it escapes me and my world and directs its attention toward God. 
… First, work is a command from God.  Six days shall you labor.  God commands us to work.  Secondly, work is a model established by God for it was God who worked for six days and then rested on the seventh, and God, of course, is the worker who continually sustains the universe.  Man, being created in the image of God, then, is created as a worker.  Thirdly, work is a part of the creation mandate.  In other words, what I mean by that is it is the role of man.  Stars shine, suns shine, moons shine, on the earth plants grow, animals do what they're supposed to do, rocks do what they're to do, mountains do what they're to do, water does what it's to do, clouds do what they're to do, and we do what we're to do.  As Psalm 104 says, all of creation moves in a normal course and part of it is man rises, goes to work until the setting of the sun.  It is creation mandate.  It is how we contribute to the processes of life in God's wondrous creation. 
Work is a command.  Work is established as a model by God.  Work is part of the natural creation.  Fourthly, work is a gift from God.  It is a gift from God.  It is a gift through which we glorify Him and the wonder of His creation as we produce things, putting on display the genius of God who created us, in all of our abilities.  It is a means by which we can glorify our Creator.  Just as the beast of the field gives me honor, as Isaiah said, and just as the heavens declare the glory of God by what they do, and we sit in awe of them, so man declares the glory of God, the wonder of His creative genius by doing what he has been given the ability to do.  Work is a gift from God, not only to glorify Him but to give meaning to life.  Work is a gift from God to give us something to do, which avoids the idleness that leads to sin …
Work is a gift from God also to provide for needs.  Work is a gift from God so that we can serve each other.  And lastly, in the Christian work ethic, work is to be done as if the boss was the Lord Himself.  It says in Colossians chapter 3 and Ephesians 6 that we're to work as unto the Lord and not men. 
So the Christian faith does not sanctify the kind of attitude we're seeing in our own country toward work.  In fact, as I said, 25 years ago, this message may have seemed a bit obscure when America was working productively.  Now it seems to be rather on target for we are suffering today with some of the things that Paul faced in the Thessalonian church.  But as Christians, we have to establish the standard. 
I often watch BBC Parliament, not because I love MPs or the Lords, but in order to gain a better insight in to what they are doing to us, the British people.
The number of Opposition — Labour, Liberal Democrat, SNP — MPs who complain that the Conservative government isn't giving enough handouts, when clearly it is, as we can see from the aforementioned statistics, is mind-numbing.
Moving to MacArthur's and his congregation's personal experience, and still tied in to that, this is what happens when work is suggested:
It is an aberrant unbeliever that doesn't work.  The tragedy of those people, the real tragedy, is that they are so deep in sin and so deep particularly in the sin of drunkenness and irresponsibility and immorality that they have put themselves in the position they're in.  And I again say I'm not talking about people who are genuinely in despair, and I've seen those people all around the world.  But there is a mass of people who shouldn't eat because they will not work. 
We see them here at the church.  They come by and they want money and they want food and we suggest work and they leave.  I was told today by one of the gentlemen in our church, serves with the police department, that they will hold a sign – they've tracked them – they will hold a sign, "I need work, homeless, need work," and recently in one of the shopping centers just a couple of days ago they were tracking to find out what was going on.  None of them got jobs but they were averaging $15.00 an hour in donations.  One policeman told me he went by and offered a lady a sandwich purchased at a fast food place and she said, "What's this?" and he said, "Well, it says 'homeless and hungry,' so I'm just giving you this to eat."  She put it in a bag and he said to her, "Well, aren't you hungry?"  She said, "I'll eat it when I get home." 
So you need to be careful about that.  Sometimes the car is parked around the block and the stash is growing in the back of the car.  Just have to be careful because there are people who don't work because they won't work, not because they can't work.  And if you don't work and won't work, then you don't eat, that's what the Bible says.  There needs to be an opportunity for you to earn your own food and you need to take that opportunity, and again I want to say this:  It may be that in some cultures there is not enough work to go around and that a person couldn't do enough work to really make the whole living, then in generosity and charity and love, we make up the lack, but we don't feed the indolence. 
Even our blessed Jesus encountered a crowd of this type. After He had fed the Five Thousand, they returned the next day for another miraculous meal. They became angry when He refused them and said that He was the bread of life, which is infintely more important, then and now. John 6 has the story.
MacArthur interprets the episode:
Jesus, you remember, in John chapter 6, fed the multitude and it was a large crowd.  We talk about feeding the 5,000 but it says 5,000 men, so wherever there are 5,000 men, there have to be 5,000 women, at least, and throw in a few thousand mother-in-laws and grandmas, sisters and aunts, and throw in 15,000 kids, at least, and you've got a crowd somewhere between 20 and 50 thousand.  It could have been a massive crowd and Jesus fed them all.  You remember He had those five little cakes, five loaves, they're actually little barley cakes, and two pickled fish and He just created food.  And I'll promise you, it was the best lunch they'd ever had because it bypassed the world …
Now, do you realize when He said no to breakfast, I really believe that their anger was turned on Him because in an agrarian society like that, they had to work with the sweat of their brow to produce their own food.  They didn't go down to some market and flip out food stamps or a check or a credit card or whatever it is, they didn't go to a fast food restaurant.  If they didn't work that day, they didn't have the food to eat.  And not only a matter of preparation, but a matter of provision.  And so when Jesus – when they saw Jesus make food, they thought they had just found the Messiah who would bring the ultimate and eternal welfare state.  "We don't even need food stamps, just show up and He passes it out.  And you don't even have to get in line to collect it, they serve it."  And when time for breakfast came, they were there and he left, and I think their anger and hostility turned on Him because they knew then what He could do but He refused to do it.  He could have done it for us as well, but He knows the value and the benefit and the purpose of work.
Concluding on Paul's message to the Thessalonians, MacArthur says:
So here were these Thessalonians and they wouldn't work.  And so he says if they don't work, don't let them eat.  That will help them get the message.  That's survival. 
In our world, able-bodied people, believers or not, should be made to feel guilty for depending on the taxpayer for their daily bread. As The Spectator's Fraser Nelson said above, it is a moral issue.
Whether we like it or not, work is the order of the day. We must provide for ourselves to the fullest extent possible.
Last Friday's post was about the friction between the Duke and Duchess of Sussex and the then-Duke and Duchess of Cambridge but also Palace staff. (You can read my first post on them here.)
There were other signs that the Sussexes were a rather unusual Royal couple, which might have tainted the public's opinion of them.
Political ambitions
Just days after their wedding in May 2018, Sebastian Shakespeare wrote an article for the Mail, 'Why Meghan Markle for President isn't crazy' (emphases mine):
Meghan Markle is said to have told a former close associate that her ultimate ambition is to be president of the U.S. The conversation apparently took place after Meghan began her romance with Prince Harry.
'Meghan was quite clear that she wanted to be president one day,' the source claims.
It may sound fanciful, but the new Duchess of Sussex has held the ambition since she was a little girl. In 2015, she reportedly told the journalist Piers Morgan that she had not always sought showbusiness success.
'As a kid, I wanted to be either the president or a news broadcaster like you,' she told him …
And the claim appears to have caused consternation at Kensington Palace yesterday, with the Duchess giving her official spokesman permission to take the unusual step of issuing a public denial.
'This conversation you describe with an associate is fictitious,' the spokesman insisted.
I am, though, not the only one to hear rumours that Meghan still holds political ambitions.
Former Times editor Sir Simon Jenkins says: 'Her friends and associates affirm that she is a political animal.
'Such is her fame, she could perfectly well follow a route taken by a certain Ronald Reagan. She might lead for the Democrats against a Republican Ivanka Trump. All I can say is, why not?'
On November 17, 2018, the Duchess practised interfaith outreach in an official visit to a mosque near Kensington Palace:
PJ Media reported on the visit a week later, taking their source from The Telegraph:
In yet another shocking failure in a long line of interfaith outreach by Western governments since 9/11, The Daily Telegraph reports today that the American-born Duchess of Sussex, Meghan Markle, has been recently promoting a program associated with the notorious Al-Manaar mosque not far from Kensington Palace. The mosque has produced as many as nineteen terrorists — including "Jihadi John" and his Islamic State "Beatles" who tortured and beheaded Western captives in Syria.
The duchess has helped raise more than $250,000 for the Hubb Community Kitchen operated out of the mosque by promoting a cookbook that royal press agents have billed as celebrating "the power of cooking to bring communities together" …
The Grenfell Tower fire had taken place in June 2017, one of the worst blazes in London in decades. It is still spoken of today. Much community rebuilding had to be done, so one can understand that, but, according to The Telegraph, the Duchess had made earlier, 'secret visits' to the mosque:
In February it emerged the 37-year-old royal had made secret visits to the mosque in Westbourne Grove, which has also hosted Princes William and Harry, Theresa May and Jeremy Corbyn in recent months.
An investigation by the Henry Jackson Society (HJS), the anti-extremism think tank, has linked the mosque, opened by Prince Charles in 2001, to 19 jihadists, including Islamic State executioner Mohammed Emwazi, also known as Jihadi John.
Research by the HJS suggests the mosque was once attended by three of the four "Beatles", the Isil terror cell charged with guarding, torturing and killing hostages in Syria and Iraq. As well as Emwazi, Choukri Ellekhlifi, Alexanda Kotey and Aine Davis, all from west London, also have links with Al Manaar.
PJ Media pointed out that ITV News had also picked up on the Duchess's prior visits:
An ITV News report earlier this week reported that the duchess has made numerous unreported visits to the notorious mosque in recent months:
Also:
The Sun reported last night that Kensington Palace was trying to distance Markle from the mosque, claiming that the community kitchen housed in the mosque is an independent project.
But this does raise questions about how royal officials decided to promote an effort so closely tied to the Al-Mannar mosque when reports going back to 2014 chronicled the role that the mosque played in the radicalization of "Jihadi John" and the ISIS "Beatles."
The move to Frogmore Cottage: strain with the Cambridges
As my post from Friday says, by the time the wedding took place, many Palace staff as well as the Cambridges saw too much tension and outbursts involving the new Duke and Duchess of Sussex. It could no longer be contained.
On November 23, 2018, The Sun reported that the Sussexes were leaving Kensington Palace for the 10-bedroom Frogmore Cottage in the grounds of the Windsor estate:
The brothers have always been incredibly close, but Harry and Meghan are setting up their home in the grounds of Windsor Castle.
The Queen has given them Frogmore Cottage, which is having a multi-million pound refit paid for by the taxpayer.
It will provide ten bedrooms and a nursery for their baby, due in April. The couple are expected to move in next year.
A royal source said: "The initial plan was for Harry and Meghan to move out of their cottage in the grounds of Kensington Palace and into one of the main apartments.
"But there has been a bit of tension between the brothers.
"Now Harry and Meghan don't want to live next to William and Kate and want to strike out on their own."
The cosy cottage the pair currently live in as previously home to the Duke and Duchess of Cambridge before the couple moved into a 20-room apartment inside the palace.
"They need more room and hope Frogmore Cottage will be ready in time for when they have the baby."
Frogmore Cottage needs major building work to turn it back into a luxury family home, boasting 10 bedrooms & a new nursery plus space for a gym & yoga studio.
Currently it's been chopped up into 5 units where palace staff have been living.
News of Meghan and Harry's decision to leave Kensington Palace comes weeks after it was first reported that Harry and William would have separate courts in the future instead of using Kensington Palace as a joint office for them.
Nearly a year later, on August 27, 2019, The Sun reported that the Sussexes actually wanted to live in Windsor Castle, but the Queen said no:
MEGHAN Markle and Prince Harry wanted to move in with his grandparents and set up home in Windsor Castle, reports say.
It's claimed the Duke and Duchess of Sussex asked the Queen if living quarters in the historic castle could be made available for them after they were married but the answer was a firm 'no', so they went on to renovate Frogmore Cottage in the grounds of the estate …
The original castle in Berkshire dates back to the 11th century when construction was started following the Norman invasion of England by William the Conqueror.
Since the time of Henry I it has been used by the reigning monarch.
Henry III built a luxurious royal palace within the castle during the middle of the 13th century which were later expanded upon by Edward III.
Frogmore Cottage, in the grounds of Frogmore House on the royal estate, was built in 1801.
On Christmas Day 2018, The Sun reported that all seemed to be well between the Duchesses of Cambridge and Sussex at Sandringham:
MEGHAN Markle placed a hand on Kate Middleton's back in a show of unity as they today brushed aside rumours of a rift for a Christmas Day church service.
The sisters-in-law were all smiles as they joined the royal family at Sandringham for the annual service this morning.
And Meghan and Kate brushed off feud rumours as the former actress placed a hand on the Duchess of Cambridge's back as they appeared to share a joke.
The pregnant Duchess of Sussex looked radiant in a navy £2,250 Victoria Beckham coat with £1,350 black boots as she held tightly to Prince Harry's arm.
The Duchess of Cambridge, who wore a £3,000 red Catherine Walker coat and £650 burgundy "Halo Band" made by milliner Jane Taylor, walked apart from Prince William.
Kate teamed the festive look with matching gloves and a clutch bag, while the Queen was vibrant in a grey feathered hat and jacket with a bright pink trim.
Three weeks later, in January 2019, royal reporters were none the wiser about whether a feud was actually taking place.
On January 17 that year, The Daily Caller reported:
According to new reports by royal insiders Katie Nicholl and Leslie Carroll, the Duchesses may not be as at odds as we were previously led to believe.
Contrary to mainstream narratives pushed over the past several weeks, Markle and Middleton may not be feuding as much as just feeling each other out.
"When [Prince] Harry met Meghan [as] the relationship was progressing, he was really keen to get Kate's stamp of approval," Nicholl tells ETOnline. "He wanted them to be close as sisters-in-law. I think they're still in an early stage of their relationship."
And while there very well could be some jealousy, that doesn't necessarily equate hard feelings.
"Possibly, Kate does feel a little eclipsed by Meghan, who's just come along to such huge media interests, public interests and being so successful from the start," Nicholl added.
Of course, Harry and Meghan's decision to move out of Kensington Palace this year — a rare decision for the Royal Family, who usually resides together at the palace during most of the year — fanned the flames of a rumored feud. It didn't help that a report that Middleton left a meeting with Markle in tears before her May wedding quickly dominated headlines for weeks …
For what it's worth, Ingrid Seward, editor-in-chief of Majesty Magazine, isn't buying the candy-coated reporting.
"People forget Meghan is an LA girl," Seward suggested. "It's very different for her to suddenly come here and marry into the royal family…I think Meghan thought she had an ally in Kate…Kate was pregnant and unwell. And then she had a new baby. So she couldn't give Meghan the attention she expected. And I think that's when things started to sour."
So is it a case of misunderstanding? Or did the two women get off on the wrong foot? We'll have to wait and see…
On February 5, The Daily Caller told its readers that it was Princes Harry and William who were allegedly feuding, not their wives:
Meghan Markle and Kate Middleton's alleged feud is reportedly really between Prince Harry and Prince William after the eldest offered some "brotherly advice."
It reportedly happened when Prince William shared that he was "quite concerned that the relationship [with the Duchess of Sussex] has moved so quickly," Katie Nicholl said in a clip from TLC's "Kate v. Meghan: Princesses at War," per E! News Monday.
And that "'You know, this seems to be moving quickly. Are you sure?' And I think what was meant as well-intended brotherly advice, just riled Harry," she added.
That advice reportedly translated to Harry that William wasn't behind his decision to marry Meghan Markle.
Nicholl continued, "Harry is hugely protective of Meghan. He saw that as criticism. He interpreted that as his brother not really being behind this marriage. And I don't think things have been quite right ever since."
However, royal biographer Lady Colin Campbell explained that the alleged distance between the brothers is all about Markle's influence on her husband.
"Everything I hear is that Harry is completely beguiled by Meghan, and completely enthralled to her and has changed considerably," Lady Campbell shared.
Baby Archie
On March 4, 2019, Gateway Pundit's Niall McCrae didn't sit on the fence when discussing the Duchess of Sussex's baby shower:
Keep your seatbelts on, folks. According to Vanity Fair, Meghan revealed at her baby shower that her imminently expected will be raised as a gender-fluid child. Of course, this was denied by Buckingham Palace. But nobody would be surprised if this progressive princess, supported by her widely popular and slightly wild husband Harry, fully meant what she allegedly said.
It was predictable from the outset that Meghan would be a wrong 'un (should anyone imply such inference, I attribute none of this to her ethnicity or American nationality, which freshen the Windsorhood). She is the epitome of the self-righteous, virtue-signalling, celebrity social justice warrior. Narcissistic Meghan wants to emulate and exceed Diana, and ensure that in future movies she will be not the actress but the actual heroine.
Never being a fan of Diana, my response to her untimely death in 1997 was coolly detached as I saw all those flowers, all those personal messages from people who never met her. However, Diana obviously fulfilled a need in society, and the outpouring of grief after the tragedy marked a turning point in British culture, from the traditional stiff upper lip to open emoting. As Tony Blair said when taking office earlier that year, 'A new dawn has broken, has it not?'
We all wish Meghan and Harry a healthy and happy child. A boy is rumored, and perhaps that explains the gender fluidity. As a devout feminist, Meghan would probably be less keen on undermining the sex of a daughter: instead, she would be raised a strong female, preparing to right the wrongs of the patriarchal world.
On Monday, May 6, The Independent reported on ancient rules regarding royal custody of grandchildren. Keep in mind that this now pertains to King Charles:
… there is a fascinating law in place that means that Prince Harry and Meghan may not always have full legal custody of their child.
More than three centuries ago, a law was enacted that means the sovereign has full legal custody of their minor grandchildren, royal expert Marlene Koenig explains.
The law, called "The Grand Opinion for the Prerogative Concerning the Royal Family," was introduced by King George I in 1717.
"George I did not get along with his son, the future George II," Koenig tells The Independent.
"I believe it came about when the Prince of Wales [George II] did not want to have the godparent for his son that his father wanted – so George I got Parliament to come up with something."
This means that when Charles, Prince of Wales becomes sovereign, he will have custody of his minor grandchildren.
According to Koenig, issues surrounding the law arose in 1994 when Diana, Princess of Wales separated from Prince Charles.
Diana expressed wishes to take their sons, Harry and William, to live with her in Australia, but couldn't due to the regulations laid out by the custody law …
Hmmm …
CNN tries to trap Trump on Markle
On June 1, CNN tried to trap President Trump into saying that the Duchess was 'nasty'. Instead, he said (29-second point in the video):
No, I didn't know that she was nasty.
Here's the full exchange:
Another Twitter user, since deleted, observed — nearly correctly:
List of women Trump has used the word "nasty" to describe: -Hillary Clinton -Nancy Pelosi -Meghan Markle -Kamala Harris -San Juan mayor -Danish prime minister.
August 2019: the turning point
Valentine Low, the author of 2022's best-seller Courtiers, tells us that, by August 2019, things were unravelling quickly for the Sussexes, who already had a US PR team lined up:
By August 2019, things were "awful and tense" within the Sussex household. There were also clues that Harry and Meghan did not see their long-term future as working members of the royal family. Their Africa tour was coming up, but there was nothing in the diary after that. Meanwhile, staff were increasingly aware of the presence in the background of Meghan's business manager, Andrew Meyer, and her lawyer, Rick Genow, as well as her agent, Nick Collins, and Keleigh Thomas Morgan of Sunshine Sachs. The US team had been very busy, working on deals not only with Netflix but also a deal for Harry's mental health series for Apple+ with Oprah Winfrey and Meghan's voiceover for a Disney film about elephants.
The most the public knew at the time was that the Queen had arranged for the couple to go on a tour of Africa, as part of a goodwill sign towards the Commonwealth countries there:
While preparing for the Africa tour, the team was trying to persuade the couple that it would be appropriate to do an interview with the British media. Sam Cohen suggested Tom Bradby of ITV, who already had a relationship with Harry. Meghan was reluctant at first. Her attention was focused on the prospect of doing an interview with Oprah Winfrey. After thinking about it, however, Harry said they would agree. There was one proviso: he and Meghan could not do interviews together or be in the same shot. That would go against their deal with Oprah, which at that point was slated for the autumn of that year. (It eventually went ahead more than a year later, in March 2021.)
The Express was on to the Sussexes at that time.
On Saturday, July 28, the paper reported that the Sussexes' job vacancies were no longer on the Clarence House recruitment site:
The American and the Duke of Sussex are no longer listed on the recruitment page of Prince Harry's father Prince Charles' website. Prince William and wife Kate however, remain there. One family friend said of Harry: "He wants to control everything and everyone he's involved with. How he's going to pay for it is another question."
Under the recruitment tab of the Clarence House website vacancies are listed for staff keen to work for Charles and Camilla and the Cambridges.
Regardless of there being any vacancies available, the Duke and Duchess of Sussex were listed at the top of the site, along with Charles, Camilla, William and Kate.
The couple are no longer there.
The suspicion the Duke and Duchess of Sussex have now split from Prince Charles on his website also raises questions about funding.
The costs of Harry's office and his royal duties are met by a stipend from the Prince of Wales.
Between them Harry and William share about £4million a year, with the lion's share going to the direct heir to the throne.
But without his father's support, Harry would have to turn to the Queen for funding – and she already has a lengthy list of people to support.
… Meghan and Kate seemed to have patched up their differences with a visit to Wimbledon this summer.
But Meghan and Harry aides sparked outrage when it emerged there were rules on how to approach them in Windsor.
The Sun reports neighbours are advised against initiating conversations with the couple.
However, if Meghan or Harry start a discussion they are welcome to exchange pleasantries with the young couple.
They are also asked not to play with the couples' dogs or request to see their baby, the report claims.
On Thursday, August 1, The Express had a follow-up article:
Meghan Markle and Prince Harry made big changes in their lives during recent months as they simultaneously became parents for the first time. The royal couple split from their charity partnership with Prince William and Kate, Duchess of Cambridge in January. Three months later it was announced Prince Harry would team up with US talk show legend Oprah Winfrey on a new TV series about mental health.
This was followed by the birth of their first son Archie Harrison Mountbatten-Windsor on May 6, 2019.
Since then, Meghan and Harry have planned a forthcoming royal visit to South Africa in autumn.
They also raised eyebrows after citing their intention to raise Archie as a "private citizen" despite him being seventh-in-line to the throne.
The royal baby lives with the Duke and Duchess of Sussex at their Windsor Estate home where they can maintain strict privacy …
Her mum, Doria Ragland, lives in Los Angeles where she is a yoga instructor.
Doria has crossed the pond to visit her daughter and grandson but a royal expert has now revealed Meghan may be looking to set up house over there.
Emily Andrews told Yahoo's The Royal Box the Duke and Duchess of Sussex may well purchase a property in the USA for work and personal reasons …
The royal expert did not suggest that any purchase would mean a permanent move to the United States …
She and Harry are expected to travel to the Queen's official Scottish residence, Balmoral Castle, along with other senior royals this summer.
The idyllic holiday home becomes the Queen's two-month break from royal duties every July and August.
Vogue
On August 2, Meghan's issue of Vogue that she had guest-edited appeared on the shelves.
The Spectator rightly objected to the Duchess's perceptions of life. She appears to think that it's not what you do that matters, it's what you look like that counts. Look at Harry in the photo — a completely different person:
The issue featured the Duchess's supposed heroines.
Author and journalist Douglas Murray wrote about it for UnHerd — 'Meghan and Harry are playing a dangerous game':
… Meghan Markle, otherwise known as the Duchess of Sussex, has guest-edited the September edition of Vogue. The contents of the issue are perhaps unsurprising. As well as inevitably celebrating prominent women, such as the teenaged school truant Greta Thunberg, the Duchess has also set out to prove that women don't need men to give them status. Something she has done by including an interview with her husband, Prince Harry.
This in itself has drawn a certain amount of comment, and will not have calmed fears some people had that a highly political figure marrying into the nation's most necessarily non-politically opinionated family might cause problems down the line. The fact that Meghan Markle's pre-Harry politics might be best described as 'woke' is in some ways unimportant – a prominent Donald Trump-supporting Republican marrying into the Royal Family would raise similar concerns, to say the least.
The worry was that Prince Harry's marriage to Ms Markle would end up tipping him towards her political path, fears that will not have been calmed by his appearance in the high-end fashion magazine. In the royally-guest-edited issue, Prince Harry talks about a number of things, the headline-grabber being his claim that he and his wife would not have more than two children because of its impact on the environment and climate change …
It is the Prince's follow-up comments, however, that dish up the problem, less for his audience than for the Prince himself. Watching Prince Harry beginning to play the game of identifying 'unconscious bias' is like gazing at a hapless amateur juggling with loaded pistols; it is enough to make any well-disposed person want to scream "Stop" and seize the guns from his unsuspecting hands.
The comments appear in a conversation between the Prince and primatologist Dr Jane Goodall, on the subject of what humans can learn from chimpanzees. At one point Dr Goodall says that children do not notice skin colour, to which Harry adds: "But again, just as stigma is handed down from generation to generation, your perspective on the world and on life and on people is something that is taught to you. It's learned from your family, learned from the older generation, or from advertising, from your environment." Well perhaps …
One of the most extreme forms of – generally unconscious – bias that people demonstrate throughout their lives is towards attractive people, and not only in the selection of partners. Study after study shows that good-looking men and women stand a better chance of promotion in their chosen field of work than people who are average-looking or actively unattractive.
For instance, it may be carefully suggested that the editor of September's issue of Vogue would not be editing September's edition of Vogue if, rather than the acclaimed beauty she is, she looked rather more like a member of the Addams family. Or indeed an average-looking member of the general public. There may be many reasons why Prince Harry requested Meghan Markle's hand in marriage, but her looks must have – consciously or otherwise – at least counted in her favour on the way to the altar.
Another form of bias that people express throughout their lives – again, consciously or otherwise – might be an inclination towards someone who is financially or socially secure. I should never want to accuse a Duchess – or any other member of the Royal Family – of any variety of bias. And yet it seems possible that in her search for a husband Ms Markle may have demonstrated some form of bias (unconscious or otherwise) towards thrones and their heirs. I will put the point no stronger. But in her search for love, Ms Markle must have met many people. Perhaps she met many princes and mingled with many a duke. But it is striking, at the very least, that of all the people who appeared across her path, the one she ended up marrying in a low-key ceremony at Windsor Castle happened to be the second son of the Prince of Wales.
Balmoral no-show — part 1
It was a given that the Royals joined the Queen during her summer holiday at Balmoral and participated in her favourite country pursuits.
However, the Duchess was fussy.
On August 11, The Sun reported:
MEGHAN Markle might fake a headache to avoid taking part in blood sports when she visits the Queen in Balmoral, a royal expert has claimed.
Sports like hunting and fly fishing are much-loved group activities at the Queen's summer retreat in the Scottish highlands.
With a 50,000 acre estate comprising of grouse moors, forestry and farmland, animals to hunt are in no short supply in Balmoral.
But the Duchess of Sussex, 38, who follows a vegan diet during the week, isn't a fan of hunting – despite her husband Prince Harry being taught from a young age.
Writing for the Mail on Sunday, royal editor Robert Jobson said: "Meghan, however, who rather disapproves of such blood sports, may choose to feign a headache."
BBQs and picnics are thought to take place daily at Balmoral, regardless of the Scottish weather, as the royals are so fond of all things outdoorsy.
"It is hunting which is perhaps the biggest passion", Robert added of the royal hobby, which includes shooting birds and deer.
"Her Majesty shot her last stag in 1983 near to the Spittal of Glenmuick, in a spot that is now called The Queen's Corry.
"But she still attends shoots and drove Kate to a grouse shoot when the couple visited a couple of years ago."
This I did not know. Wow:
The Queen was taught to stalk deer by her late cousin, and best friend, Margaret Rhodes.
Returning now to Meghan:
Earlier this week, a source told Fabulous pescatarian Meghan would try fly fishing to appease her father-in-law Prince Charles.
They added: "But there will no softening on Meghan's stance against hunting, any stag or deer hunting fills her with horror.
"Venison will not be one of her menu choices for sure."
However, the Queen was also fussy. And, after all, Balmoral was her estate.
Five days later, on August 16, The Sun told us that Her Majesty despised ripped jeans and wedge heels. Meghan loves both:
It has been reported that the Duke and Duchess of Sussex will make their first trip to the Scottish castle this summer, but the Queen has her firm views on correct attire.
Speaking to Fabulous Digital, the source said: "The Queen is no favourite of jeans so the US boyfriend look and ripped jeans will be left in Frogmore Cottage along with any wedges which her Majesty hates with a passion."
Meghan Markle has often demonstrated she is a fan of wearing denim, and recently caused a stir when she showed up at Wimbledon wearing jeans …
It is thought this year Meghan will visit the castle for the first time, where the Sussexes will be given their own wing, as well as enjoying a traditional afternoon tea with Her Maj.
A source told the Sun on Sunday: "The Queen and Prince Philip adore the couple and, of course, their new great-grandson Archie, and they have invited them to Balmoral for a few days.
"It is testament to Meghan that she has been given this invite. It's a huge honour."
However, they did not go, according to the Mail's September 6 report:
aides insisted the Sussexes were too busy working on charitable projects to join the Queen at Balmoral this weekend …
There had been rumours that the Sussexes would be joining the monarch at Balmoral in the Scottish Highlands this week with their baby son Archie.
But while most of the Royal Family have made the long trek up to Aberdeenshire, Harry and Meghan actually have no plans to fly to Scotland at all.
Sources close to the couple insist that the decision should not be seen as a 'snub' – and Harry only rarely goes up to the Queen's Deeside estate nowadays.
The US Open
Instead, the Duchess made plans to fly to New York to see her friend Serena Williams compete at the US Open.
Serena Williams was said to be hesitant as she lost at Wimbledon when the Duchess was in the stands:
Despite the long flight and a stressful delay for Meghan, sources have claimed that Williams' coaches aren't massively thrilled that the Duchess has come to support her friend, as she could distract her from the game in hand.
They are said to be concerned due to the fact that Williams lost when Meghan attended her last match at Wimbledon.
A source told Page Six: 'Serena asked her coach about Meghan coming when she won last night and everyone is worried, as tennis players are very superstitious, and Serena lost when Meghan came to watch her at Wimbledon.'
The source added that Williams' aides were concerned that the trip was a publicity stunt.
However Williams is said to 'adore' Meghan and 'wouldn't have a word of it'.
It is not yet known where in New York Meghan will be staying and who she will be staying with, however she is thought to have flown first class for the two-day trip across the Atlantic.
It comes just days after her husband spoke out about sustainable travel at an environmentally-friendly tourism event in Amsterdam.
And last month he is understood to have given a passionate barefoot speech about saving the planet at Google's £16million climate change summit in Sicily.
Meghan's 7,000 mile journey to New York and back is expected to generate 986kg of carbon dioxide.
The article has a helpful map showing all seven flights that the Sussexes took between August 6 and September 6 in Europe.
Harry excused his flights as follows:
He took a scheduled flight to Amsterdam this week to promote Travalyst, a scheme for environmentally-friendly tourism.
Speaking at the event, the prince refused to apologise for his recent private flights, saying: 'I spend 99 per cent of my life travelling the world by commercial.
'Occasionally there needs to be an opportunity [to fly privately] based on a unique circumstance to ensure that my family are safe – it's as simple as that.
'For me it's about balance. It's not a decision I would want to take, but if I have to do that, I will ensure that I balance out the impact that I have.'
Harry dismissed concerns over his carbon footprint by insisting that he 'offsets' his emissions by donating to renewable energy incentives and planting trees.
Returning to tennis, it seems that Serena Williams's coaches were correct. Meghan's presence and Williams's loss coincided, as the Mail told us on September 8:
Tennis fans have accused Meghan Markle of jinxing Serena Williams last night as she watched the tennis star lose and fail to secure an historic 24th Grand Slam at the US Open, just months after she attended Williams' defeat at Wimbledon.
The Duchess of Sussex, 38, was called a 'bad luck charm,' with fans citing the resounding loss at the Wimbledon final to Simona Halep and the year before at SW19 to Angelique Kerber.
The Royal was the centre of attention in New York as she watched with Williams' mother Oracene Price but the pair were left disappointed as the former number one was beaten 6-3, 7-5, by Canadian Bianca Andreescu.
Balmoral no-show — part 2
As for Balmoral, the Mail article continued:
Prince Harry and Meghan's absence from the trip has left Her Majesty 'hurt and disappointed,' the Mail on Sunday understands, at a time when she likes to bring her friends and family together at her favourite time of the year.
The Queen is already said to be 'baffled' by Meghan and Harry's inability to steer clear of PR calamities, and is concerned that her beloved grandson and his new wife are failing to listen to their team of advisers.
On September 8, The Sun told us:
THE QUEEN was left "hurt and disappointed" when Meghan Markle skipped visiting Balmoral in favour of her last-minute trip to New York over the weekend.
In opting for the US Open instead:
she snubbed the Queen's invite to attend the Highland Games – something that proved a disappointment according to royal insiders.
The Mail on Sunday described the move as an "outright snub" adding that Her Majesty "is 'hurt and disappointed' at a time when she likes to bring her friends and family together."
According to insiders the monarch had been looking forward to "a few days of merry chaos" with her great-grandchildren, including Archie who is still yet to visit the Queen's summer home with Harry and Meghan claiming he is "too young."
While Meghan was watching Serena Williams:
the Queen was joined by Prince Charles and Camilla at the Braemar Gathering Highland Games on Saturday …
The Queen is currently staying at her nearby summer residence Balmoral where she last night hosted Boris Johnson and girlfriend Carrie Symonds.
But the Prime Minister was forced to cut short the anticipated weekend-long visit after a turbulent week.
One week later on September 16, The Express reported:
The Queen "does not want to talk about the Sussexes" according to claims from a royal insider. People spending time with Her Majesty, 93, have reportedly been told not to mention Meghan Markle or Prince Harry. Leading royal expert Quentin Letts tweeted the bombshell remark this week, claiming it was the only subject that was strictly banned from discussion.
That is really bad.
As the King would say, 'Dear, oh dear'.
The article continues:
Letts tweeted on Friday: "Friend of an acquaintance was about to go riding with HMQ.
"Was given v firm advice 'Talk about anything except one subject.' Brexit? 'No, The Sussexes.'"
This comes after claims of clashes within the royal family.
The Queen was reportedly left "deeply disappointed" by Meghan and Harry's hostile behaviour.
Several royal sources claimed the monarch was not impressed with the way Prince Harry and Meghan Markle have acted since marrying last year.
She is reportedly "disappointed" with their behaviour as representatives of the British monarchy around the world.
There is plenty more to come about the Sussexes. Stay tuned.
Gosh, what a lot of news to cover in one post.
Admittedly, a few of these items are a bit old but fit in thematically.
Theresa May U-turns on support for Scottish gender reform legislation
I wrote yesterday about former Prime Minister Theresa May's support for Scotland's Gender Recognition Reform bill on Tuesday, December 27.
Within 24 hours she had made a U-turn, thankfully, although she did it through a spokeswoman.
On Wednesday, December 28, The Times reported (emphases mine):
In the wake of the interview the BBC issued a press release which stated: "On the subject of Scotland's proposed gender recognition laws, Ms May said she was disappointed the Westminster government wasn't supporting them."
Yesterday, however, a spokeswoman for the Maidenhead MP insisted that was not the case.
"As prime minister, Theresa launched a consultation looking at gender recognition laws with the aim of providing a more sensitive approach to transgender people, but she does not agree with Nicola Sturgeon's legislation and is particularly concerned about the consequences it could have for children in Scotland and across the UK," she said.
We can but hope that the Secretary of State for Scotland does not send the legislation for Royal Assent:
Immediately after MSPs voted in favour of the legislation Alister Jack, the Scottish secretary, threatened to invoke section 35 of the Scotland Act, which allows him to prevent the legislation from receiving royal assent.
Although gender recognition is devolved to Holyrood, the Equality Act — with which the new law will interact — is reserved to Westminster.
As nearly two-thirds of Scottish voters — even SNP supporters — think this legislation is a terrible idea, Westminster can show the 'Union dividend' in being 'better off together'.
Gas futures coming down
On Thursday, December 29, The Guardian had encouraging news about the price of natural gas futures in Europe:
European gas prices have dropped back to levels seen before the Ukraine war began in February, as fears of a gas crisis this winter ease.
The month-ahead European gas future contract dropped as low as €76.78 per megawatt hour yesterday — its lowest level in 10 months, data from Refinitiv shows.
As this chart shows, gas prices have fallen back from their surge in March, and again in the summer as European countries scrambled to fill their gas storage tanks.
Prices have dropped thanks to warmer-than-normal temperatures this winter, which have limited demand for gas, after the European Union successfully filled reserves to a peak of almost 96% in November.
Consumption reduction targets have also helped to limit demand, with the EU aiming to cut its gas consumption by 15%.
Earlier this week, 83.2% of EU gas storage was filled, data from industry body Gas Infrastructure Europe shows, still above the target of 80% set for the start of November.
Traders are confident that inventories will end winter at a very comfortable level with a very low risk of falling to critically low levels, says John Kemp, energy market analyst at Reuters.
UK gas prices have also dropped back from their highs earlier this year. The day-ahead gas price closed at 155p per therm yesterday, compared with 200p/therm at the start of 2022, and over 500p/therm in August.
The UK versus the EU
All year long in Parliament we've heard that the UK is 'broken' and that we should have stayed in the EU.
Polls have been published showing that Brexit voters have buyer's remorse. Well, they shouldn't have. We are much better off outside an unelected European Commission. Furthermore, EU countries are not doing substantially better than Blighty.
France
This week, I received the latest copy of Marianne, the French newsweekly. Part of its cover story headline, referring to the state of their nation, reads:
EN PANNE
meaning, 'out of order', 'not working'.
On Wednesday this week, The Spectator had an excellent article about our neighbour: 'All is not well in Macron's France':
In 2021, both World Bank and United Nations GDP (nominal) rankings have the UK at 5th and France 7th. International Monetary Fund estimates for 2022 show India overtaking the UK to claim the 5th spot for world GDP, but with France still 7th.
One may question the reliability of GDP as a comparator, but a host of other measures regularly show France worse off than the UK. Debt to GDP ratios show France at some 115 per cent, the UK 99.6 per cent. Meanwhile the Bank for International Settlements gives France's total public and private debt (non-financial) at 351 per cent; the UK at 271 per cent.
One can rightly point to France's present day lower inflation at 7.1 per cent (EU harmonised) compared to the UK's 10.7 per cent. But as French debt statistics above show, president Emmanuel Macron began forcing down domestic inflation by subsidising prices during his 2022 presidential election campaign. French unemployment at 7.4 per cent compares unfavourably with the UK's 3.4 per cent. Meanwhile France is the highest taxed OECD and EU state, leaving little margin for manoeuvre. Her balance of payments figures are as gloomy as the UK's, together with her flat economic growth.
While Britain's position is not rosy, France's is certainly no better. That is why recent predictions in a certain European press, not least in France, taken up by British elites, that the UK was descending into terminal decline has lost all proportion. If the French press enjoy a touch of schadenfreude at the expense of the old enemy, and French politicians are glad to distract from their own problems, the willingness of much of the British middle class to swallow the same view can only be explained by ingrained cultural habit aggravated by post-Brexit resentment. Today, with Macron utterly wedded to the EU project, France for British elites is ipso facto superior to Britain. Yet France's moral state is parlous.
Since the 2022 presidential and legislative elections Macron's centrist party has no overall majority. France is stalemated and drifting towards ever more radical politics. Macron's prime minister Élisabeth Borne, unable to command a majority in the National Assembly, struggles to get her business other than by the constitutional sleight of hand of article 49,3, which guillotines parliamentary debate. With the chamber split four ways the question remains as to whether Macron will eventually dissolve parliament. Opinion polls suggest this would be a gift to Marine Le Pen's party, already the single largest opposition party with 89 seats. France might then come to replicate the present radical right Italian government.
Socially and culturally French society is far from healthy. Other than worsening violence and lawlessness in the banlieues – conveniently out of sight of English elites' visits to France – the French model of assimilation and laïcité is being tested to destruction. Official Justice Ministry statistics for July 2021 show 24.6 per cent of the prison population as foreign (double the proportion in Britain).  The French Interior Minister publicly stated this summer that, although foreigners make up 7.4 per cent of the French population, they account for 19 per cent of all delinquency nationally, and that 48 per cent of arrested delinquents in Paris are foreigners, 55 per cent in Marseille, 39 per cent in Lyon.
… The general picture is of a France far from at ease with itself. The prospect of a member of France's ethnic minorities leading the country with no fuss in the near future, as has just happened in Britain, seems impossible.
And remember the cries of 'Brexit is bad' when the Paris stock exchange overtook London's in November?
I don't recall any mea culpas from the metropolitan elite once we resumed normal service ten days later:
Guido Fawkes posted (emphases his):
The London stock market has re-overtaken Paris's after falling behind for 10 days, with a lead of $63 billion. A 2.5% rally in the value of the pound led to the improvement, and morale booster, compared to a modest 0.7% improvement for the Euro …
Germany
While Remainers in Britain's metropolitan elite moan about food inflation, our friends in Germany have experienced similar price hikes.
On October 14, September figures for the UK showed that our grocery price inflation hit an all-time high of 13.9%.
Yet, JustFood reported that Germany's grocery price inflation also reached historic highs:
Inflation levels in Germany reached their highest levels in three decades in September with food prices rising 18.7% year on year, figures show.
In a continued squeeze on consumer pockets, inflation reached 10% – its highest level since the country's reunification in 1990, the federal statistical office said.
Consumers faced the sharpest rises in edible fats and oils, which were up by 49%. Dairy products and eggs increased by 29.1%, meat and meat products 19.5% and bread and cereals 18.5%.
Month-on-month comparisons show consumers paid 1.8% more for food in September than in August, with vegetables 3.9% more expensive and dairy products up by 2.2%.
The consumer price index for food in Germany, measured against a 2015 baseline of 100, stood at 135.4 year-on-year in September, compared to 121.1 overall.
The federal statistical office said the cost of energy was leading inflation but food also played a major role, with both contributing to an overall 10% rise in prices.
Without food and energy rises in the equation, the country's inflation rate is reduced by over half to 4.6%. The prices of all goods increased by 17.2% in September 2022 compared to 2021, but the prices of non-durable consumer goods, which include food and energy, increased by 23.3%.
We cannot blame German inflation on Brexit. As Conservative ministers rightly say at the despatch box, inflation is up all over Europe and the West.
UK to relax egg rules to line up with EU
Another thing we hear from Remainers, especially in the Houses of Parliament, is that British food regulations are weaker than the EU's!
Nothing could be further from the truth! Our food standards have been higher than the EU's for decades.
Anyone wanting up-to-date proof can read an article in Wednesday's Guardian — 'UK free-range egg rules could be relaxed in line with EU for avian flu outbreaks':
Free-range egg rules in the UK could be relaxed in response to the European Union preparing to overhaul regulations after the biggest avian flu outbreak on record.
Ministers are understood to be considering a change to the rules that would mean eggs laid by hens kept in barns for months on end could be classed as free range.
Currently, eggs cannot be classed as free range if birds are indoors for more than 16 weeks. Farmers have that grace period in both the EU and UK, which means eggs can still be labelled as free-range if a government-issued housing order for birds is in place up to 16 weeks.
Subsequently, labels need to be added to packaging making it clear that those are now classified as barn eggs.
Whitehall sources told the Daily Telegraph that the Department for Environment, Food and Rural Affairs (Defra) is considering changing the regulations in order to keep farmers competitive with Europe …
The European Commission put forward a proposal in September, which stated "where temporary restrictions have been imposed on the basis of EU legislation, eggs may be marketed as 'free-range' notwithstanding that restriction".
The proposal, which is awaiting approval by the European parliament, means eggs could be classed as free range even if hens are forced to spend months indoors due to government rulings.
In September, egg producers in the UK said it was essential that the government now followed suit to avoid British suppliers being undercut by EU imports.
Climate change
Climate change sceptics will be on the right side of history in time.
Guido Fawkes's readers posted about deforestation in this post.
One chap posted an article about the increasing need for balsa wood from Latin and South America for blades on wind farms. Apparently, indigenous communities have not been consulted: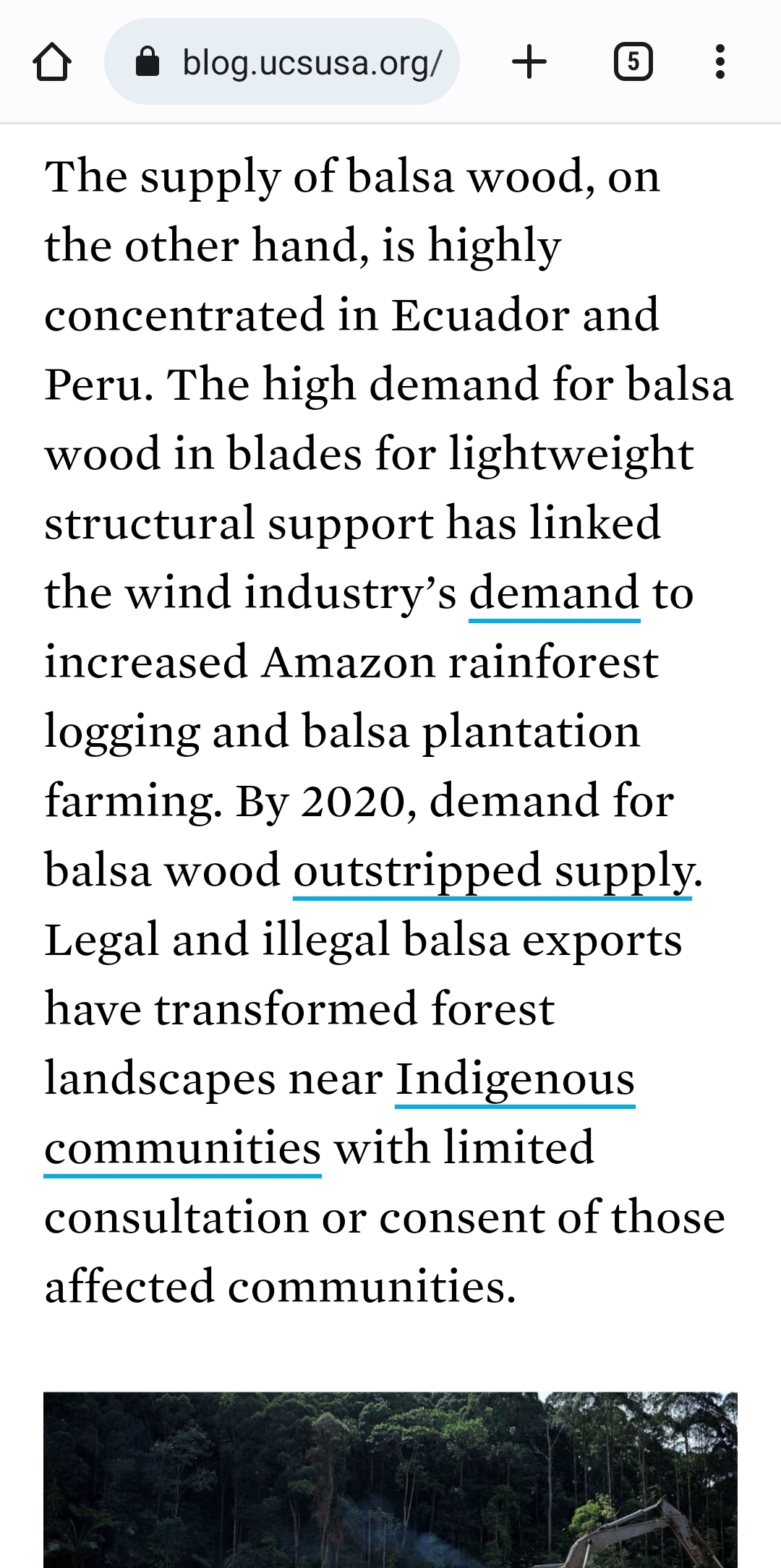 The article continues, stating that some companies are switching from balsa to oil byproducts, such as PET and PVC, or to cellulose: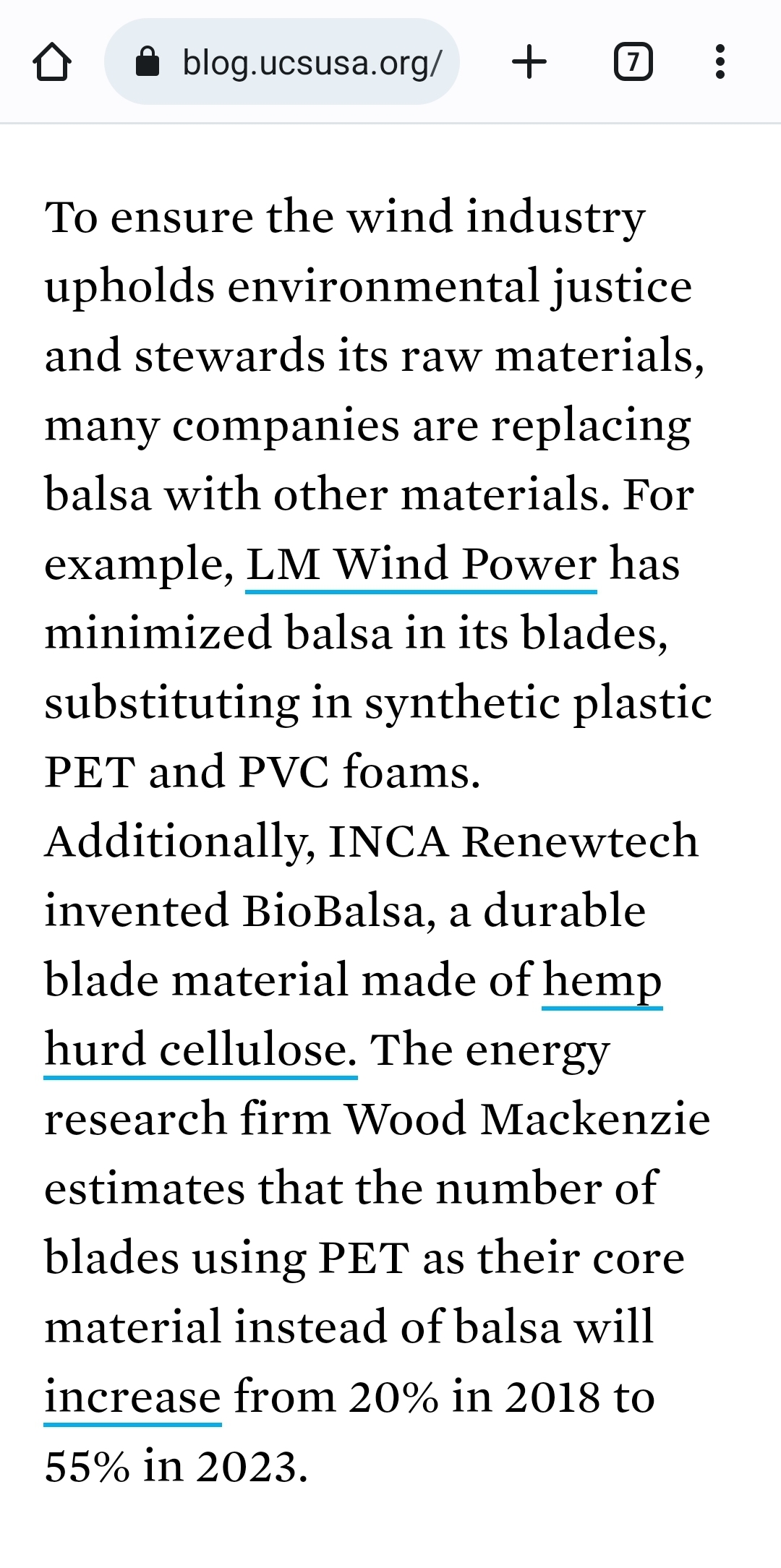 The man who posted the article pointed out:
BALSA is being replaced with PET and PVC (yep- crude oil) but are also experimenting with cellulose– which needs highly toxic chemicals to make.
Someone responded with this:
Synthetic PET usually uses food starch as a replacement for oil based derivatives. These divert food crops away from human and livestock consumption. They also encourage the use of GM crops and pesticides.
PVC production creates sodium chloride, which is a cause of acid rain.
The eco loons really didn't think this through.
Ultimately:
The eco l00ns NEVER think anything through.
And they hope we won't notice.
It's part of the reason why 'climate science is settled' and they refuse to debate.
You know how it goes.
Fracking bad – mining cobalt (even using young children) good.
You flying -bad- them flying- good.
On a similar note, an UnHerd article laments the loss of the hearth in 'Firewood will save the West'. The author, Paul Kingsnorth, lives in Ireland and has his firewood delivered to his home:
The Irish government is currently campaigning against households which burn turf or wood, the former on the grounds of CO2 emissions, and the latter on the grounds of air quality. As ever, the campaign is driven from Dublin, and mostly takes Dublin sensibilities into account. Rural households in Ireland have been burning turf and wood forever, with little significant impact on "air quality" — or at least, no impact comparable to that which Ireland's "Celtic Tiger" modernisation has had. Suddenly, though, the media is full of scientists armed with studies demonstrating how getting a fire going in your cottage in winter will lead to cancer and lung disease on a widespread scale.
That is nonsense. Until recently, Man had been surrounded by smoke for millennia.
Essentially, the Irish government, in line with other Western governments, wants to do away with fireplaces:
This new tilt against household fireplaces is not just an Irish phenomenon: it is suddenly popping up everywhere. Woodstoves are, curiously, becoming the number one air pollution villain. Never mind mass car use, accelerating air travel or industrial pollution. Never mind the emissions caused by the massive increase in Internet server farms, which within just a few years could be using up an astonishing 70% of this country's electricity. These days, if you want to demonstrate your social responsibility, you should be all aboard with the abolition of the traditional fireplace and its replacement with "green" alternatives.
He explains that the home hearth has been not only traditional but also atavistic throughout mankind's history. He cites the philosophical polymath John Michell (1933-2009):
The fireplace, whether our dessicated urban authorities know it or not, has a primal meaning, even in a world as divorced as ours from its roots and from the land.
In his short essay "Fireside Wisdom", the uncategorisable John Michell suggested that the "displacement of the hearth or fireplace" from the home was one of the many reasons for the craziness of the modern world which his life had been spent playfully exploring. The fireplace at the centre of the home, he wrote, was both an ancient practicality and a device of "cosmological significance" across cultures and time: "Conversation is directed into the fire while dreams and images are drawn out of it."
In the past, the act of sitting staring into the smoky fire with family or neighbours was the genesis of the folk tale and folk song which tied the culture together. Now we stare at digital fires hemmed into boxes manufactured by distant corporations who also tell us our stories. No song we can dream up around a real fireplace can compete with what these boxed fires can sell us. "Thus," wrote Michell, "the traditional cosmology is no longer represented by its domestic symbols, and a new, secular, restless, uncentred world-view has taken its place."
Focus, Michell explained, is "the Latin name for the central fireplace. The fire not only warms but, as a symbol, illuminates the corresponding images of a centre to each of our own beings and of a world-centre which is divine, eternal and unchanging." Lose your fires, and you literally lose your focus as a culture. In this context, a government spokesman telling his population, as one minister here recently did, that they should "get over" their "nostalgic" attachment to the hearth fire and install ground source heat pumps instead is more than just a nod to efficiency. It is an assault on what remains of the home and its meaning. It is an attack on the cultural — even the divine — centre.
Paul Kingsnorth posits that each move away from self-sufficiency, e.g. using one's own fireplace, puts us more under the control of government:
When you can no longer grow your own wood or cut your own turf to heat your own parlour, you are made that little bit more dependent on the matrix of government, technology and commerce that has sought to transmute self-sufficiency into bondage since the time of the Luddites. The justification for this attack on family and community sufficiency changes with the times — in 17th-century England, the enclosures were justified by the need for agricultural efficiency; today they are justified by the need for energy efficiency — but the attack is always of the same nature. Each blow struck against local self-sufficiency, pride and love of place weaves another thread into the pattern which has been developing for centuries, and which is almost complete now in most affluent countries …
In my lifetime, in my part of the world, the notion and meaning of "home" has steadily crumbled under external pressure until it is little more than a word. The ideal (post)modern home is a dormitory, probably owned by a landlord or a bank, in which two or more people of varying ages and degrees of biological relationship sleep when they're not out being employed by a corporation, or educated by the state in preparation for being employed by a corporation. The home's needs are met through pushing buttons, swiping screens or buying-in everything from food to furniture; for who has time for anything else, or has been taught the skills to do otherwise?
He refers to a 1980 manuscript, 'Family Work', by the American essayist Wendell Berry:
Like so much of Berry's work, it locates the centrepoint of human society in the home, and explains many of the failures of contemporary Western — specifically American — society as a neglect of that truth. The home, to Wendell Berry, is the place where the real stuff of life happens, or should: the coming-together of man and woman in partnership; the passing-down of skills and stories from elders; the raising and educating of children; the growing, cooking, storing and eating of food; the learning of practical skills, from construction to repair, tool-making to sewing; the conjuration of story and song around the fire …
Even back in 1980, Berry recognised that the home had become an "ideal" rather than a practical reality — precisely because the reality had been placed out of reach for many. What killed the home? Three things, said Berry: cars, mass media and public education. The first meant that both work and leisure could, for the first time in history, happen a long way from home. The second — "TV and other media" — have played a role, since the mid-20th century, in luring us all into a fantasy world of freedom from obligation, and a limitless, fun consumer lifestyle. "If you have a TV," writes Berry, "your children will be subjected almost from the cradle to an overwhelming insinuation that all worth experiencing is somewhere else and that all worth having must be bought." Finally, the school system is designed "to keep children away from the home as much as possible. Parents want their children kept out of their hair." Schools exist to train children to fit into individualistic, consumer societies; to internalise and normalise their ethics and goals, and to prepare for a life serving their needs.
I have to disagree with his disparagement of television, as my better half and I watch a lot of French programmes, food shows in particular. For us, it is a window into a culture we love very much. Were it not for television, we would have to visit France in person much more often. As it is, we can experience France from our sitting room and perfect our language skills while learning more about the world's finest cuisine.
Berry's solution is to make the home a welcoming, peaceful place for everyone living there:
… he suggested that we should "try to make our homes centres of attention and interest"; to make them as productive and nurturing as we can … you will see new possibilities begin to open up. You will see, in Berry's words, that "no life and no place is destitute; all have possibilities of productivity and pleasure, rest and work, solitude and conviviality that belong particularly to themselves", whether in the country, the city or the suburb. "All that is necessary," he suggests, is "the time and the inner quietness to look for them."
Television is a good thing
On the subject of television, a 104-year-old Australian woman told her grandson that it was probably the greatest development in her lifetime.
Lewis Isaacs wrote her story for The Guardian: 'My 104-year-old Nan's secret to a long life':
A life as long as hers can be hard to comprehend. Asked what the biggest change to the world she'd seen across her life was, Nan replied that it was television. Life when she grew up rarely extended past her suburb. Television connected the living room to the world.
How true! Well said, Nan!
The article has family photographs, too.
So what is Coral Isaacs's secret to longevity?
She says it comes down to genetics and finding the right partner. She was widowed more than 30 years ago and says the life she built with my Pop has supported her since. It helps to remember your pills, she adds, and to get up, shower and make your bed every day.
I suspect the truth about her endurance is something different though. Nan is determined to keep her eyes focused on the future. Even when the days are hard, she still looks forward.
I was hoping she would mention smoking a crafty cigarette or enjoying a daily digestif, but, sadly, no.
Churchill's cigar goes on sale
For a smoking story, we had to go to an auction house.
On Thursday, December 29, The Times reported that one of Winston Churchill's cigars is expected to fetch £3,000 at auction:
The former prime minister gave the Cuban cigar to an RAF doctor who helped him when he broke his leg in 1962.
The doctor's grandson has put the rare cigar up for sale with Hansons Auctioneers, which said it would be an "impressive item" for any Churchill collector. Charles Hanson, the owner, said: "We occasionally see Churchill cigar stubs that people have picked up after he dropped them. But to gain a whole cigar in such pristine condition, given as a gift in unusual circumstances, is special."
Churchill, who died in 1965 aged 90, was a lifelong smoker. While he was at boarding school, his mother learnt he had taken up smoking cigarettes and tried to bribe him to stop by promising him a pistol and a pony.
He switched to cigars after spending time in Cuba after his graduation from Sandhurst military academy, and friends, dealers and associates sent him regular deliveries of cigars from then on.
The circumstances are most Churchillian:
The auction house said the cigar under auction was given to an RAF squadron leader, Bertram AJ Barrow. Churchill fractured his femur while getting out of his bed at the Hotel de Paris in Monte Carlo, and was flown back to London on an RAF plane while in a waist-to-ankle plaster cast.
Barrow, the leader of the medical team, plucked up the courage to ask Churchill for one of his famous cigars.
For decades the treasured cigar was kept in a bedside drawer, but will now go under the hammer at on January 9 with an estimate of £2,000 to £3,000.
Barrow's grandson, Thomas Barrow, 33, an employment law adviser from London, said: "Bertram asked for a cigar as a keepsake, and Churchill advised that he could have 'one that he had been saving' — which was Cuban and still in its glass case."
What a story!
Conclusion
As my later grandmother-in-law, a lifelong Londoner, was fond of saying:
The old ways are the best.
I couldn't agree more.
Let's try to recapture them in 2023.
December 26 in the UK and parts of the Commonwealth is Boxing Day.
The day, however, is the feast day of St Stephen, our first martyr, whose story is told in Acts 6 and 7:
The next posts have more about St Stephen's Day and Boxing Day:
December 26 — St Stephen's Day, Boxing Day and more (the money box, details on St Stephen and Good King Wenceslas (2017)
Here is a reminder that the Christmas season is not one day, but 12, as celebrated in the Church:
The Christmas season is 12 days long (2021, GB News)
GB News has done a spectacular job in discussing Christmas on its programmes, especially the Revd Calvin Robinson's hour-long special, A Message of Hope, filmed at the Brompton Oratory this year. For the second year running, Robinson has explored the Christian faith in light of the Christ Child. This video includes excellent carol renditions:
Highlights follow.
This is part of the Anglican deacon's introduction on the meaning of Christmas, which is one of hope and the greatest story ever told:
In these days, especially when Christianity is on a downward trend in the West, it is more important than ever that those of us who live in the developed world spread the Good News so that people really understand what Jesus came to earth to accomplish. Doctor Gavin Ashenden, now a Catholic, but formerly an Anglican priest and one of the late Queen's chaplains, explains more:
Ashenden told Neil Oliver on Christmas Eve that it is regrettable that Christianity, based on non-violence, is seen as such an easy touch for secularists:
Nonetheless, the message of Christianity's forgiveness and redemption still gets through. The Most Revd Robert Barron, a Catholic bishop from the United States, told Calvin Robinson how actor Shia LaBoeuf converted to Christianity. For him, knowing that God forgave his sins was a huge factor. The bishop gives a great summary of the effectual call. He says that God pursues and pursues those whom He has chosen, regardless of how awful our past trespasses were:
Religious Studies professor Dr John Milbank gave a lovely apologetic for Father Christmas, inspired by St Nicholas of Myra, a bishop, who gave anonymous gifts that saved people's lives. By giving gifts of gold to three young women's families, St Nicholas saved them from a life of prostitution. Milbank says it is good for young children to believe in Father Christmas and anonymous gifts. As they get older, he says, the belief in God's gifts of grace from heaven is an easier concept to appreciate and makes more sense to them:
One of the fascinating things about GB News's programmes over the past few days is the universality of Christmas celebrations in the UK. We are living proof that one does not need to be Christian in order to enjoy Christmas. I'm not talking about secularists but those of other faiths.
I have heard a Sikh, a Hindu — and now a Muslim — discuss how they celebrate Christmas. This imam, whose wife is from a non-Muslim background, says that their sons go to his in-laws' house on December 25. On Eid, his parents invite them over to celebrate that feast. This interview took place on the Christmas Day morning show. He said that, afterwards, he would be going to his in-laws for the day:
Neil Oliver also had a good editorial on his show about the meaning of Christmas. He began by discussing the Penlee Disaster, a 1981 shipwreck that took place near Mousehole, Cornwall. He described the selflessness of the men from Mousehole who rushed to the ship to rescue those on board. He then explored this selflessness in light of the Nativity story. He ended with a socio-political commentary:
An excerpt from his editorial follows (emphases mine):
I think about the Penlee lifeboatmen every year at this time. They say Greater love hath no man than this, but that he lay down his life for his friends. I say there is a greater love, and that it was revealed in the willingness of those eight Mousehole men who were ready to lay down their lives for people they had never met and would never know.
I often remind myself of the Penlee lifeboatmen, in fact, throughout the year – and I think about selfless acts of courage that declare in the strongest possible terms what it truly means to be human and alive. I think about what people are capable of, how much they have to give … and how much some of them WILL give. The Penlee lifeboatmen gave everything they had.
At Christmas we think about the birth of a child – Jesus Christ. He is God's gift to the world. Every child is a gift precious beyond description. It is also an act of immeasurable bravery by every woman who bears a child – because every child is, she knows, at the mercy of the world and every mother must understand, without needing to think about it, that her child is ultimately surrendered to life itself.
Mary gave birth to Jesus – the son of God – and even she would not be spared the ultimate loss. All our lives are forfeit – a debt that must be repaid, willingly or unwillingly.
Christmas is the time to think about all this – to think about what it means to give – and to acknowledge the meaning of the gift of the child … of every child.
The selfless courage of the Penlee lifeboatmen and the message of the Christmas story can be the antidote to much of the madness that is all around us now. It is a time to remember what we have, to value our loved ones and be thankful they are with us.
Rather than our hollow, spineless leaders, it is the courage and sacrifice of our fellow citizens that should capture and hold our attention, and not just now but all through the year.
It often feels like we are supposed to be focus all our attention on those who are not worthy. Those whose faces we see every day, the politicians in parliament, the leaders around the world, their preferred experts … whose names we hear over and over – they have nothing to give that is of any use to us now, that much as been made painfully obvious in recent years. I have long since stopped paying them any attention at all. Instead I look for heroes elsewhere.
We are supposed to believe our leaders mean to rescue us – from whatever Covid was, from the warmongers, from climate change, from the cost of lockdown crisis – but they had, and have, no such intentions as far as I can see. If they have plans to make anything better, it is certainly not our lives, or the lives of our children.
There is no cavalry coming to rescue us. If we are to be saved – and we surely will be – then we must look to one another for the necessary effort. We are more than capable of the task. We must save ourselves and each other by setting aside old broken ways, and finding new.
We should turn away from those who have failed us, lied to us, deceived us and left us to our fates and see that it is time to take the initiative, to shape and build something new, something untouched by those who have betrayed us and let us down.
Just because the help and leadership we need is not yet clearly in view … the seeds of it are there among us already, nonetheless. We must come to our own rescue in the year and years ahead because there's no one else.
The Christmas story tells us that 2000 and more years ago, a baby boy was born into poverty and into obscurity. During the 33 years of the life of the man he became, he was recognised for what he really was, his true value, by relatively few. He died as he had lived, in obscurity. He was executed for standing up to, and challenging, the establishment, but by his actions the world was changed for ever, for the better.
Sometimes the most obvious people change the world. At other times, it's the people the world does not notice, that the world thinks nothing of and so ignores, who end up making all the difference.
I hope and also trust that this is one of those times. I have no faith in the obvious, loud people with their hands on the levers of power. We will be saved by our own actions in defiance of those who care for us not a jot and who prioritise only those they serve – which is to say the already rich and the already powerful, the banks, the markets and the global corporations. I say we should ignore the whole lot of them.
Heres's the thing: together, right now, we already have everything we will ever need, which is to say each other. We can share food and warmth and light.
We are free people. It's Christmas and the Christmas message is that hope is here. Light in the dark.
Merry Christmas.
Incidentally, in 2022, December 25 is the seventh and final day of Hanukkah, which GB News also explored. It isn't often when these two religious feasts coincide:
Moving away from GB News, the Revd Giles Fraser, the vicar of St Anne's in Kew, west London, wrote an excellent editorial for The Telegraph. The paper has also included a list of religious belief in every county of England and Wales. Find out if yours is still Christian.
Of Christianity's influence on Western society, Fraser says:
So what, people may ask? Christianity has had its day. But, actually, Judeo-Christian assumptions have underpinned every aspect of life in the West for roughly the past thousand years, shaping the way we think about everything – from art to law, morality to freedom. Our constitution makes no sense without it; our intellectual traditions are incomprehensible without it; even the very idea of the secular is a Christian idea. 
It doesn't matter if you are a fully paid-up believer or not; it doesn't even matter if you dislike religion and consider yourself an atheist – if you are European, you probably still have a broadly Christian imagination. 
But, just like the fish who ask "What is water?" in David Foster Wallace's famous commencement address at his old college in 2005, some things can be so ubiquitous as to be almost invisible. We think in a Christian way even if we have abandoned any sort of specific belief. The very idea of human rights, for instance, is a classic example of a Christian perspective that has been secularised … 
… Indeed, the very act of cultural self-criticism that drives secularism is itself a Christian speciality. There is no more robustly self-critical book than the New Testament. The pious and priestly class are subjected to constant critique for their lack of understanding. The parable of the Good Samaritan is not just an encouragement to look after the vulnerable and stranded, it is a subversive dig at the failure of those who should have been first to help. The Samaritan is the New Testament's representative "other", disliked for being culturally and theologically different. To make a Samaritan the hero of the story is a withering critique of the established religious order. 
The Reformation was a perfect example of this permanent revolution from below – a religious self-critique that, to its proponents, attacked abuses of heteronomous power and relocated learning and authority to the people in the pews, spreading literacy to the ploughboy and fiery encouragement to the dispossessed.
Within education, family life, capitalism, pop music, the welfare state, no area of our common life has been untouched by these cycles of Christian renewal. Christian influence on Western culture cannot be simply measured by the number of virgins on display in the National Gallery, or the fact that you can't even begin to understand European literature without having first read the Bible.  
Nowhere will this be more evident than when King Charles is crowned next year. The Coronation is an inherently Christian ceremony. He will be anointed with oil in the same way that King David from Bethlehem was a thousand years before the first Christmas. Monarchy remains a religious business or it is nothing. The birth of the new king of Bethlehem, the king of kings, redefines monarchy as stripped of its power and glamour. Born in a shed with cattle as courtiers, this is authority without the armies. 
As the historian Tom Holland has argued in his brilliant exploration, Dominion, the story of the Christian engagement with the Roman empire is one of a clash of diametrically opposed systems. What attracted the young Holland to the Romans was all their glamour and cruelty. With Christianity, the weak triumph over the strong. The cross that was used by the Romans as an instrument of public humiliation turned into a universal symbol of human liberation. Which is why it will be the king who was crowned with thorns that will preside over the Coronation, not the history book king of the Roman eagle.
… I can only reflect that the story of God divesting himself of his celestial authority and coming amongst us as a vulnerable child has proved remarkably resilient, despite being banned, dismissed and ignored. 
And as the church places a small plaster representation of the baby into a pile of straw, hope is renewed. It is not hope as optimism, but hope as defiance: at the darkest time of the year, the light comes into the dark and the dark does not overcome it. No, we are not done yet. 
… Christmas is not about our love for Him but His love for us. And for that, Alleluia. Glory to the new born king. Happy Christmas.
Even though the UK is now a non-Christian country, according to the latest census, Christmas 2022 brought much considered thought from those who do acknowledge and believe that Jesus Christ is our Saviour and Redeemer.
Forbidden Bible Verses will appear tomorrow.
Three recent news items about coronavirus are worth passing along.
Long Covid and olfactory nerves
One of the many drawbacks of long Covid is the loss of the sense of smell.
To some extent, this can happen with any virus. Fifty years ago, my mother contracted a winter virus and lost her sense of taste and smell for two years. Although she wasn't a foodie, her inability to enjoy our daily family dinner disappointed her the most. Her GP said there was nothing he could do. She would have to wait and see what happened. Two years later, suddenly, her olfactory senses returned and she had no more problems.
A December 22 article in The Times said that researchers are working on a similar problem with long Covid. It seems that the immune system blocks olfactory nerves (emphases mine):
The loss of smell suffered by people with long Covid is caused by an immune response affecting nerve cells in nasal tissue, scientists have said.
The researchers who conducted the study found that there was a decline in the number of these nerve cells in such patients.
The study, published in the journal Science Translational Medicine, was led by researchers at Duke University in the US and involved colleagues from Harvard University and the University of California, San Diego.
They looked at tissue taken from the olfactory epithelium, found in the nose, where nerve cells responsible for smell are located …
The single-cell analyses revealed that there was a widespread infiltration of T-cells, a type of white blood cell used by the immune system, engaged in an inflammatory response in the nasal tissue.
Researchers found this immune response from these T-cells continued even when there were no detectable levels of Covid in the patient …
Dr Bradley Goldstein, an associate professor in neurobiology at Duke, who was a senior author for the study, said researchers had been encouraged to find that nerve cells appeared to maintain some ability to repair themselves.
He said learning which sites in the nose were being damaged and what cell types were involved would be a key step in designing treatment. "We are hopeful that modulating the abnormal immune response or repair processes within the nose of these patients could help to at least partially restore a sense of smell," he added.
In the meantime, the only prescription is patience. Patience is a virtue.
Recovering from long Covid: mind over matter
On November 19, The Times featured an article by Francesca Steele, a long Covid sufferer, detailing how she overcame her debilitating condition.
Steele had tried everything and ended up spending £15,000, most of which was for naught. In fact, some of the medical treatments she underwent made her feel worse.
As a last resort, she embarked on putting mind over matter. The old saying worked.
She describes the journey back to normality:
It was on a particularly bad day that I started to wonder about mind-body courses, which suggest you can control the reactions of your body by "retraining" your brain. I had come across people who had success with these courses while searching online. One that kept cropping up was called the Lightning Process (LP), a short brain-training programme that, enthusiasts said, also had an impact on the body.
Developed in the Nineties by the British osteopath Phil Parker, LP is a three-day seminar (which you can do in person or on Zoom, with a range of coaches you can find online) that combines neuro-linguistic programming with life coaching, hypnotherapy and osteopathy. Its goal is to give people tools to help themselves with a range of conditions, including post-viral fatigue syndromes, chronic pain and anxiety, by reducing the brain's stress response. It claims to have helped 25,000 people around the world.
Whenever I found someone online who claimed to have recovered from post-viral fatigue conditions in this way I tried to track them down and speak to them directly to check they were real and not invented by snake oil salesmen. They weren't. I spoke to a journalist who said the techniques had cured him entirely of ME. I spoke to a GP who had gone on to train as an LP practitioner after it helped her ten-year-old daughter to recover after three years. I chatted to several writers who said mind-body work had "cured" them of long Covid but they were afraid to speak out, something I understand because I was trolled after mentioning the concept on Twitter …
However, I kept hearing positive things about it on social media, and decided it was at least worth a shot. In March I did the course. The thinking is that a serious shock like a bad virus can send your body into permanent "fight or flight" mode and that your nervous system gets stuck sending messages of sickness that are no longer needed. Using the science of neuro-plasticity, which says that the brain adapts to the neural pathways used most often — and that in this case your brain has adapted to using neural pathways that prompt a sickness response — the course teaches you to "train your brain" to send different signals. So, instead of your immune system, your endocrine system and your inflammation responses all gearing up for an attack, they relax. Your hormones, your blood pressure, your heart rate, your thermoregulation and so on, all, in theory, return to normal. As Dr Anna Chellamuthu, a GP and LP practitioner, puts it: "The LP is absolutely not saying, 'This is all in your head.' This is a physical illness. It's saying that physiology can change when you change your thoughts."
During a £750, three-day Zoom course, our coach talked the three of us (all with long Covid) through various exercises and taught us all a routine to interrupt negative thoughts. Every time I had an anxious thought about symptoms, I had to say "Stop" and do an intense visualisation, imagining myself in a situation where I was energetic, healthy, confident.
It was not easy to stick to. Constantly interrupting your thoughts feels unnatural at first and there were times I was out at the park with my kids when I really didn't feel like scooting off to do the process behind a tree. I often doubted it would work. Yet within a month I was back at work. Two months later I celebrated my 40th birthday with a long walk and delicious dinner. Seven months on from the course, I am about 80-90 per cent back to my old self. I do sometimes get symptoms but they are far fainter and less frequent than before.
To those who say that I'd have got better anyway and that LP just happened to coincide with my recovery, I strongly disagree. I was unable to walk beyond our street for months. Within a week of the course I was able to go much further; within eight weeks I was able to run, after 16 months without exercise.
Various studies suggest the efficacy of mind-body work. In a recent pilot study conducted by a professor at Harvard Medical School, for example, all symptoms of patients with long Covid improved on a 13-week psychophysiological course. There is no doubt that more biomedical research is needed into post-viral fatigue conditions, and I, like others, hope that more evidence is found of the exact mechanisms at play. Dr Boon Lim, a consultant cardiologist at Imperial College Hospital who has treated many people with long Covid, says: "As medics we have been taught to focus all our attention on physical issues, to the detriment of patients. I think you need both physical and mind- body help to improve."
I am also conscious that mind-body courses can be expensive. LP costs £750 (plus more for follow-up guidance). I found the intense nature of it uniquely motivating but cheaper mind-body work does exist, including the app Curable (I know one woman who recovered from 14 years of ME using it) and Suzy Bolt's extremely compassionate, cheap (and some free) online classes.
For me, the process has been gradual, not immediate. I don't claim that it will work for everyone or even that the theory is definitely correct, but I feel as if I've come back from the dead. Before it, I tried everything mainstream medicine had to offer, to no avail. Mind-body work has got me this far, and I believe it will get me the rest of the way. Without it, I believe I'd still be in bed, without hope.
What an encouraging story. This is further evidence that alternative medicine is viable and worth trying. As with any treatment, conventional or otherwise, doing one's homework beforehand is a prerequisite.
Parliamentary debate on vaccines: broken silence
On Tuesday, December 13, the Conservative MP Andrew Bridgen was granted an adjournment debate in the Commons on the potential harms of coronavirus vaccines. Finally, someone had the gumption to break the silence in Parliament.
I had just tuned into BBC Parliament by chance at the moment he started speaking. How providential.
Here's the beginning:
The transcript is here. Excerpts from his hard-hitting speech follow:
Three months ago, one of the most eminent and trusted cardiologists, a man with an international reputation, Dr Aseem Malhotra, published peer-reviewed research that concluded that there should be a complete cessation of the administration of the covid mRNA vaccines for everyone because of clear and robust data of significant harms and little ongoing benefit. He described the roll-out of the BioNTech-Pfizer vaccine as
"perhaps the greatest miscarriage of medical science, attack on democracy, damage to population health, and erosion of trust in medicine that we will witness in our lifetime."
Interestingly, there has so far not been a single rebuttal of Dr Malhotra's findings in the scientific literature, despite their widespread circulation and the fact that they made international news.
Before I state the key evidence-based facts that make a clear case for complete suspension of these emergency use authorisation vaccines, it is important to appreciate the key psychological barrier that has prevented these facts from being acknowledged by policymakers and taken up by the UK mainstream media. That psychological phenomenon is wilful blindness. It is when human beings—including, in this case, institutions—turn a blind eye to the truth in order to feel safe, reduce anxiety, avoid conflict and protect their prestige and reputations. There are numerous examples of that in recent history, such as the BBC and Jimmy Savile, the Department of Health and Mid Staffs, Hollywood and Harvey Weinstein, and the medical establishment and the OxyContin scandal, which was portrayed in the mini-series "Dopesick". It is crucial to understand that the longer wilful blindless to the truth continues, the more unnecessary harm it creates.
Here are the cold, hard facts about the mRNA vaccines and an explanation of the structural drivers that continue to be barriers to doctors and the public receiving independent information to make informed decisions about them. Since the roll-out in the UK of the BioNTech-Pfizer mRNA vaccine, we have had almost half a million yellow card reports of adverse effects from the public. That is unprecedented. It is more than all the yellow card reports of the past 40 years combined. An extraordinary rate of side effects that are beyond mild have been reported in many countries across the world that have used the Pfizer vaccine, including, of course, the United States.
… Only a couple of weeks ago, I was interviewed by a journalist from a major news outlet who said that he was being bombarded by calls from people who said that they were vaccine-harmed but unable to get the support they wanted from the NHS. He also said that he thought this would be the biggest scandal in medical history in this country. Disturbingly, he also said that he feared that if he were to mention that in the newsroom in which he worked, he would lose his job. We need to break this conspiracy of silence.
It is instructive to note that, according to pharmaco-vigilance analysis, the serious adverse effects reported by the public are thought to represent only 10% of the true rate of serious adverse events occurring within the population. The gold standard of understanding the benefit and harm of any drug is the randomised controlled trial. It was the randomised controlled trial conducted by Pfizer that led to UK and international regulators approving the BioNTech-Pfizer mRNA vaccine for administration in the first place.
Contrary to popular belief, that original trial of approximately 40,000 participants did not show any statistically significant reduction in death as a result of vaccination, but it did show a 95% relative risk reduction in the development of infection against the ancestral, more lethal strain of the virus. However, the absolute risk reduction for an individual was only 0.84%. In other words, from its own data, Pfizer revealed that we needed to vaccinate 119 people to prevent one infection. The World Health Organisation and the Academy of Medical Royal Colleges have previously stated and made it clear that it is an ethical responsibility that medical information is communicated to patients in absolute benefit and absolute risk terms, which is to protect the public from unnecessary anxiety and manipulation.
Very quickly, through mutations of the original strain—indeed, within a few months—covid fortunately became far less lethal. It quickly became apparent that there was no protection against infection at all from the vaccine, and we were left with the hope that perhaps these vaccines would protect us from serious illness and death. So what does the most reliable data tell us about the best-case scenario of individual benefit from the vaccine against dying from covid-19? Real-world data from the UK during the three-month wave of omicron at the beginning of this year reveals that we would need to vaccinate 7,300 people over the age of 80 to prevent one death. The number needed to be vaccinated to prevent a death in any younger age group was absolutely enormous.
At this point, Bridgen's fellow Conservative, Danny Kruger (Prue Leith's son), intervened to ask whatever happened to the initial policy (Matt Hancock's) to vaccinate only the vulnerable and certainly not children. Note the pro-vaccine statements BBC Parliament put up when he spoke:
Kruger said:
I am very grateful to my hon. Friend for bringing this debate to the House. It is a very important debate that we should be having. He is talking about the relative risks for different cohorts of the population. He will remember that, when the vaccine was first announced, the intention was that it would be used only for those who were vulnerable and the elderly because, as he says, the expectation was that the benefit to younger people was minor. Does he agree that it would be helpful for the Minister to explain to us why the original advice that the vaccines would be rolled out only for the older population, and would not be used for children in particular, was laid aside and we ended up with the roll-out for the entire population, including children?
Bridgen responded as follows, then continued:
I thank my hon. Friend for that intervention and his support on this very important issue. Of course, it is important that the Government justify why they are rolling out a vaccine to any cohort of people, particularly our children. He will recall that, in the Westminster Hall debate, we questioned the validity of vaccinating children who have minimal risk, if a risk at all, from the virus when there is a clear risk from the vaccine. I will again report on evidence from America later in my speech about those risks, particularly to young children.
In other words, the benefits of the vaccine are close to non-existent. Beyond the alarming yellow card reports, the strongest evidence of harm comes from the gold standard, highest possible quality level of data. A re-analysis of Pfizer and Moderna's own randomised controlled trials using the mRNA technology, published in the peer-reviewed journal Vaccine, revealed a rate of serious adverse events of one in 800 individuals vaccinated. These are events that result in hospitalisation or disability, or that are life changing. Most disturbing of all, however, is that those original trials suggested someone was far more likely to suffer a serious side effect from the vaccine than to be hospitalised with the ancestral, more lethal strain of the virus. These findings are a smoking gun suggesting the vaccine should likely never have been approved in the first place.
In the past, vaccines have been completely withdrawn from use for a much lower incidence of serious harm. For example, the swine flu vaccine was withdrawn in 1976 for causing Guillain-Barré syndrome in only one in 100,000 adults, and in 1999 the rotavirus vaccine was withdrawn for causing a form of bowel obstruction in children affecting one in 10,000. With the covid mRNA vaccine, we are talking of a serious adverse event rate of at least one in 800, because that was the rate determined in the two months when Pfizer actually followed the patients following their vaccination. Unfortunately, some of those serious events, such as heart attack, stroke and pulmonary embolism will result in death, which is devastating for individuals and the families they leave behind. Many of these events may take longer than eight weeks post vaccination to show themselves.
An Israeli paper published in Nature's scientific reports showed a 25% increase in heart attack and cardiac arrest in 16 to 39-year-olds in Israel. Another report from Israel looked at levels of myocarditis and pericarditis in people who had had covid and those who had not. It was a study of, I think, 1.2 million who had not had covid and 740,000 who had had it. The incidence of myocarditis and pericarditis was identical in both groups. This would tell the House that whatever is causing the increase in heart problems now, it is not due to having been infected with covid-19.
It was accepted by a peer-reviewed medical journal that one of the country's most respected and decorated general practitioners, the honorary vice-president of the British Medical Association and the Labour party's doctor of the year, Dr Kailash Chand, likely suffered a cardiac arrest and was tragically killed by the Pfizer vaccine six months after his second dose, through a mechanism that rapidly accelerates heart disease. In fact, in the UK we have had an extra 14,000 out-of-hospital cardiac arrests in 2021, compared with 2020, following the vaccine roll-out. Many of these will undoubtedly be because of the vaccine, and the consequences of this mRNA jab are clearly serious and common.
Bridgen then went on to discuss conflicts of interest and how they influence vaccine approvals. He then talked about a few subsequent investigations:
In a recent investigation by The BMJ into the financial conflicts of interest of the drug regulators, the sociologist Donald Light said:
"It's the opposite of having a trustworthy organisation independently and rigorously assessing medicines. They're not rigorous, they're not independent, they are selective, and they withhold data."
He went on to say that doctors and patients
"must appreciate how deeply and extensively drug regulators can't be trusted so long as they are captured by industry funding."
Similarly, another investigation revealed that members of the Joint Committee on Vaccination and Immunisation had huge financial links to the Bill and Melinda Gates Foundation running into billions of pounds. Ministers, the media and the public know that the foundation is heavily invested in pharmaceutical industry stocks.
Unfortunately, the catastrophic mistake over the approval, and the coercion associated with this emergency-use authorisation medical intervention, are not an anomaly, and in many ways this could have been predicted by the structural failures that allowed it to occur in the first place. Those shortcomings are rooted in the increasingly unchecked visible and invisible power of multinational corporations—in this case, big pharma. We can start by acknowledging that the drug industry has a fiduciary obligation to produce profit for its shareholders, but it has no fiduciary obligation to provide the right medicines for patients.
The real scandal is that those with a responsibility to patients and with scientific integrity—namely, doctors, academic institutions and medical journals—collude with the industry for financial gain. Big pharma exerts its power by capturing the political environment through lobbying and the knowledge environment through funding university research and influencing medical education, preference shaping through capture of the media, financing think-tanks and so on. In other words, the public relations machinery of big pharma excels in subterfuge and engages in smearing and de-platforming those who call out its manipulations. No doubt it will be very busy this evening.
It is no surprise, when there is so much control by an entity that has been described as "psychopathic" for its profit-making conduct, that one analysis suggests the third most common cause of death globally after heart disease and cancer is the side effects of prescribed medications, which were mostly avoidable … 
It has also been brought to my attention by a whistleblower from a very reliable source that one of these institutions is covering up clear data that reveals that the mRNA vaccine increases inflammation of the heart arteries. It is covering this up for fear that it may lose funding from the pharmaceutical industry. The lead of that cardiology research department has a prominent leadership role with the British Heart Foundation, and I am disappointed to say that he has sent out non-disclosure agreements to his research team to ensure that this important data never sees the light of day. That is an absolute disgrace. Systemic failure in an over-medicated population also contributes to huge waste of British taxpayers' money and increasing strain on the NHS.
Danny Kruger intervened a second time:
My hon. Friend is being very good with his time. I just want to call his attention to some research, since I chair the all-party parliamentary group for prescribed drug dependence. He refers to the waste of money; there is £500 million being spent every year by the NHS on prescribed drugs for people who should not be on those habit-forming pills, causing enormous human misery as well as waste for the taxpayer.
Bridgen acknowledged what Kruger said, then concluded his speech:
I thank my hon. Friend for making a point that only reinforces the items in my speech that the public need to know. I thank him again for his support.
We need an inquiry into the influence of big pharma on medications and our NHS. That is been called for many occasions and by some very influential people, including prominent physicians such as the former president of the Royal College of Physicians and personal doctor to our late Queen, Sir Richard Thompson. On separate occasions in the last few years those calls have been supported and covered in the Daily Mail, The Guardian and, most recently, The i newspaper.
We are fighting not just for principles of ethical, evidence-based medical practices, but for our democracy. The future health of the British public depends on us tackling head-on the cause of this problem and finding meaningful solutions …
That first step could start this evening with this debate. It starts here, with the vaccine Minister and the Government ensuring in the first instance an immediate and complete suspension of any more covid vaccines with their use of mRNA technology. Silence on this issue is more contagious than the virus itself, and now so should courage be. I would implore all the scientists, medics, nurses and those in the media who know the truth about the harm these vaccines are causing to our people to speak out.
We have already sacrificed far too many of our citizens on the altar of ignorance and unfettered corporate greed. Last week the MHRA authorised those experimental vaccines for use in children as young as six months. In a Westminster Hall debate some weeks ago, I quoted a report by the Journal of the American Medical Association studying the effect of the covid-19 mRNA vaccination on children under five years of age. It showed that one in 200 had an adverse event that resulted in hospitalisation, and symptoms that lasted longer than 90 days.
As the data clearly shows to anyone who wants to look at it, the mRNA vaccines are not safe, not effective and not necessary. I implore the Government to halt their use immediately. As I have demonstrated and as the data clearly shows, the Government's current policy on the mRNA vaccines is on the wrong side of medical ethics, it is on the wrong side of scientific data, and ultimately it will be on the wrong side of history.
Conservative MP Maria Caulfield responded on behalf of the Government. She is a nurse who worked on the front line during the darkest days of the pandemic. Not surprisingly, she strongly, but politely, disagreed with Bridgen:
I thank my hon. Friend the Member for North West Leicestershire (Andrew Bridgen) for securing the debate. It is important that all Members get to discuss and debate such issues, and they are entitled to their opinion.
I have to say that I strongly disagree with my hon. Friend, not only in the content of his speech, but in the way he derided doctors, scientists and nurses. Many of us worked through the pandemic and saw at first hand the devastation that covid caused. There is no doubt in my mind that, despite the personal protective equipment, social distancing and infection control, the thing that made the biggest difference in combating covid was the introduction of the vaccine …
Caulfield told us things we already know about the Government's support of the vaccine and how the yellow card system works. She refused to take an intervention from Bridgen but did take one from Kruger, who asked about vaccinating children:
I am grateful. The Minister's predecessor had asked the Joint Committee on Vaccination and Immunisation to review the evidence behind the decision to roll out the vaccine to children. Can she update the House or write to us to explain where that review has got to? Does she agree that the JCVI should be looking at the vaccination of children?
She responded, then continued:
I will write to my hon. Friend with an update on that report. It was touched on that the MHRA has licensed the vaccine for babies, but that has not yet been approved by the JCVI, so that is just a licence rather than a recommendation to roll out. However, I am happy to send him the details of that report.
I want to put on the record that the covid vaccines have saved tens of thousands of lives and prevented hundreds of thousands of people from being hospitalised. I completely disagree with my hon. Friend the Member for North West Leicestershire that there is a whole conspiracy of doctors, nurses and scientists—they have done nothing but work hard to get us through the pandemic.
In the end, Bridgen got his intervention:
I thank the Minister for giving way on that important point. The claims about the number of lives saved worldwide by the vaccination are sponsored by vested interests. The modelling is the lowest form of scientific evidence—in fact, it is more science fiction than science fact.
Needless to say, Caulfield disagreed and concluded by promoting the vaccines:
I completely disagree. I worked on the covid wards with patients who were dying from that virus. We had infection control measures, antibiotics, dexamethasone—a steroid—and every known facility available, and the only thing that made a difference was when those vaccines were introduced. They do not necessary stop people from getting the virus, but they certainly reduce its intensity and the likelihood of someone dying from it.
I completely debunk the conspiracy theories about a whole group of people benefiting financially from the roll-out of the vaccine and would gently say to my hon. Friend that if he has evidence, there are mechanisms in place for raising concerns, as we have seen with other drugs. Only today, I was before the Health and Social Care Committee talking about sodium valproate—we also had an Adjournment debate on that last week—where there are genuine safety concerns. The MHRA is taking that extremely seriously. It is not worried about pharma concerns; its first priority is patients, and it is exactly the same with the covid vaccine. So if there is evidence—I am not saying that there is not—it absolutely must go through the proper channels so that it can be evaluated.
We have launched a nationwide campaign to encourage people to come forward this winter to get their booster. I recommend that people do that safe in the knowledge that the vaccine is safe for people to have.
The debate ended and the House was adjourned.
Last Saturday, December 18, GB News's Neil Oliver covered Bridgen's debate and Aseem Malhotra's findings in his editorial. Oliver rightly wonders why the vaccine scandal isn't getting plastered all over the media the way coronavirus statistics were in 2020 and 2021. Instead, he says, there is nothing but deafening silence:
Dr Aseem Malhotra's journey
When governments first announced the vaccines, Dr Malhotra, a cardiologist, was enthusiastic and encouraged everyone to get them.
Like the rest of us, he believed it when world leaders said the vaccines would prevent transmission. We saw that they did not.
Then, Malhotra's father fell ill from one of the jabs. While he was an older gentleman, he was fit and ran daily. He also led an active life.
Malhotra examined his father and saw that he had suddenly developed heart problems.
On October 6, the cardiologist spoke publicly at the World Council for Health about the dangers the vaccines pose. He also said he doubted whether the original claims about preventing transmission were true. He urged a pause in vaccine roll outs:
Even with treatment from his son, Malhotra senior died in October. What a blow that must have been:
On December 17, Malhotra and Dr Peter McCullough discussed the vaccine's dangerous side effects with Jan Jekielek of Epoch Times:
Medical practitioners now speaking out
Fortunately, within the past week, medical practitioners have begun speaking out about the dangers of the vaccines.
On December 16, a vascular specialist urged a pause in the vaccine roll out:
On December 17, a British GP said he would like an investigation into the vaccines:
Doctors for Patients UK aired their views on Wednesday, December 21:
Their video was taken down for a time but is now back up and running:
Apparently, one place where speaking out is forbidden is California, where one's licence to practice can be suspended. No surprise there:
We can but hope that 2023 blows the vaccine controversy out into the open once and for all.
I can bet you dollars to doughnuts that every media outlet knows these interventions don't work and are injurious to health. As Andrew Bridgen said of the media personality he spoke with, they're afraid of losing their jobs if they say something openly.
One media outlet that is covering the vaccines is GB News, particularly on Mark Steyn's weeknight show. My best wishes go to him as he recovers in France from two heart attacks in succession. I hope they are not related to 'the jabs'.
The story goes that when the Swiss Reformer Zwingli said that Holy Communion was a mere symbol, an appalled Martin Luther observed that 'another spirit' was working through him, meaning the devil.
Sadly, we have had a lot of 'another spirit' news in 2022.
Let's get through that first in order to move on to other items.
'Another spirit' news
From the family structure to euthanasia, the devil never stops.
Canada's 'killing fields'
On December 16, the Mail had an excellent article about the many Canadians being urged to undergo euthanasia.
Canada's national euthanasia programme is called MAiD (Medical Assistance in Dying), but this is no comely lass, rather a killing machine of sorts, so much so that even the UN wants to call time on it (emphases mine):
… the progressive administration of Prime Minister Justin Trudeau now finds itself in the deeply embarrassing position of being attacked by human rights campaigners and the United Nations over MAiD. 
Three UN experts last year concluded the law appeared to violate the Universal Declaration of Human Rights. Euthanasia — from the Greek for 'good death' — is a means of release to people in unimaginable and incurable pain, especially if expected to die soon. 
This is how Canada's 'killing fields', as the Mail rightly says, entered the statute books:
Canada's Supreme Court dismissed as scaremongering fears of a 'descent down a slippery slope into homicide' when it overturned a ban on euthanasia in 2015, ruling that it was unconstitutional as it deprived people of dignity and autonomy. 
The following year, Canada's Parliament passed legislation allowing euthanasia, but only for people suffering from a terminal illness whose death was 'reasonably foreseeable'. 
Within five years, it became clear that Canada was, indeed, sliding down the slope when — again under pressure from the courts — MPs passed Bill C-7, which scrapped those criteria. 
From 2021, anyone suffering from an illness or disability that 'cannot be relieved under conditions' that he or she 'considers acceptable' can, with the approval of two doctors or nurse practitioners, get MAiD free. 
The patient must be found to be competent to make the decision and wait a minimum 90-day assessment period before death is provided. 
If a doctor refuses to sign off the request, patients can shop around for one who is more amenable. And unlike other countries, including Belgium and the Netherlands, where euthanasia is legal, Canadian patients are not required to have exhausted all treatment alternatives first. 
Last year, 96 per cent of MAiD applications were approved. 
Seeking to understand why so many in government and healthcare appear to be pushing MAiD enthusiastically, critics point to a 2017 study by the University of Calgary that estimated medically-assisted dying could reduce national healthcare spending by $139million a year (£83 million). 
The report noted that in some Canadian provinces, caring for patients in the last six months of life accounted for more than a fifth of healthcare costs.
This page from a MAiD pamphlet didn't come from the Mail, but its egregious typeface and presentation make such a death look harmless and normal: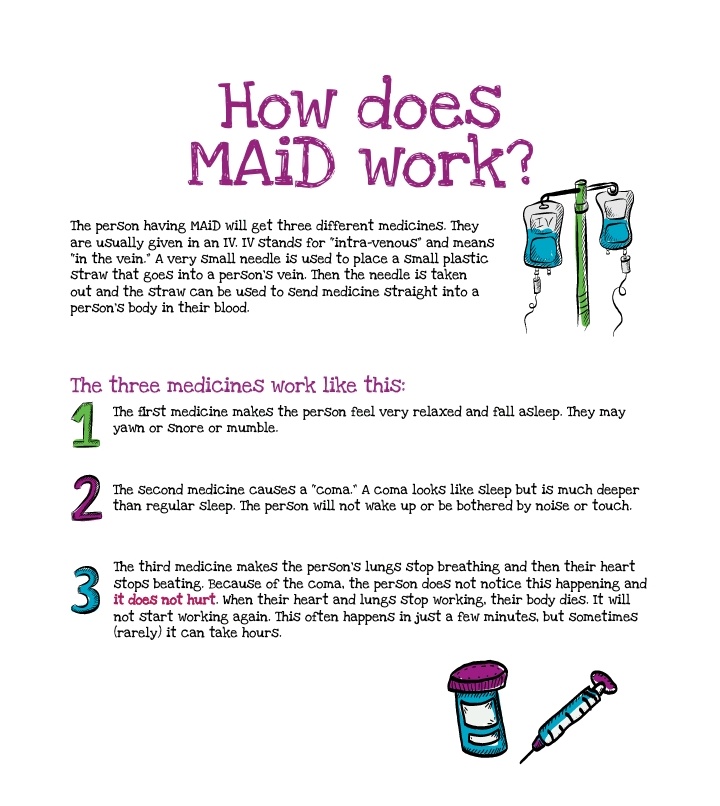 All manner of Canadians — totalling 10,000 in 2021 — have gone to their rest via MAiD. These are photo captions from the Mail where their stories are explored in greater detail. Note the financial reasons:
Michael Fraser, 55, was euthanised by his GP after he pleaded poverty
Wheelchair-bound Les Landry, 65, an ex-lorry driver from Medicine Hat, Alberta, is one of those seeking assisted suicide primarily for financial reasons 
Christine Gauthier, a paraplegic army veteran who competed in the 2016 Paralympics, told MPs how, after five years of trying to obtain a stairlift for her home, a Veterans Affairs official told her that if she was 'desperate', they could offer her MAiD
Here in the UK, both Houses of Parliament have been debating legislating for end of life choices. Some peers (Lords) and MPs (Commons) are all for the Canadian model, about which, it seems, they know very little:
In both Canada and the UK, euthanasia is defined as the act of deliberately ending a person's life to relieve suffering. 
It is often referred to as 'physician-assisted dying' or 'assisted dying' and is distinct from 'assisted suicide' which is helping someone to kill themselves by, say, obtaining lethal drugs for them. 
Just months after the House of Lords halted an attempt to legalise euthanasia in the UK, the Commons last week launched a new inquiry into assisted dying with 'a focus on the healthcare aspects', including the role of doctors, access to palliative care, criteria for eligibility and 'what protections would be needed to safeguard against coercion'. 
Successive UK governments have refused to legalise euthanasia but inquiry chairman [Conservative] Steve Brine MP said there was now 'real-world evidence' to look at from those countries where it is legal. 
What has also changed is that the British Medical Association, Britain's biggest doctors' union, took a landmark vote last year that ended its long- standing opposition to euthanasia. 
It is possible that even children will be able to request MAiD in 2023:
Many are deeply concerned by next spring's extension of MAiD to people with mental illnesses and — pending a parliamentary review — to 'mature minors' above the age of 12. 
MAiD has its critics among clinicians, but does it have enough of them?
This was the most apt description of the process:
Professor Tim Stainton, director of the Canadian Institute for Inclusion and Citizenship at the University of British Columbia, described Canada's law as 'probably the biggest existential threat to disabled people since the Nazis' programme in Germany in the 1930s'. 
It's hard to disagree.
Woe betide Canada. It used to be such a lovely country.
More dismantling of marriage
Two weeks ago, I featured news stories from November advocating that couples abandon the marital bed.
On December 15, The Guardian's Emma Brockes promoted living apart: 'Why are so many women living in separate homes from their partners and kids? Because it's a win-win situation'.
This is obviously for upper middle class types who can afford two homes:
The overheads on two households are eye-bleeding.
Even so, it's another slippery slope article.
As usual, this trend emanates from North America and was first trumpeted in the New York Times, where the devil seems to have a comfy home:
In the New York Times this week – sound the klaxon – a new trends piece drops on the growing numbers of women in the US who, post-pandemic, are opting to sustain the separate household model of marriage, established during lockdown by some families to reduce Covid transmissions, and proving so preferable to the norm, apparently, that they're in no hurry to reunite with their husbands.
It's well known that among straight couples, women initiate most divorces – by some reckonings 70% – and pushing for separate households is, I would imagine, a staging post towards this end for many of the numbers in this new trend. But for others, perhaps it really is a viable solution to the problem of loving your spouse but not wanting them underfoot all the sodding time.
How frightfully sad.
This began years before the pandemic:
What's new is the surge in those who still identify as married but live apart from their spouse; in the US, married couples maintaining separate households rose by a quarter between 2000 and 2019, and in 2021, that number sharply climbed again, according to the New York Times. It is estimated by the Census Bureau that 3.89 million Americans, or 2.95% of married couples, live apart. They even have a little acronym: Lat, or "living apart together".
The trend appears a likely result both of everyone being home for the past two-plus years and driving each other insane, and the fact that after lockdown ended, studies showed that men swiftly dropped the childcare and domestic work some had adopted during that period. Judging by case studies in the article, for some women, quarantining in a quiet, separate residence while their husbands shouldered the caretaking at home, struck them at the level of a revelation. For others, the fact that even a global pandemic did little to undermine – or in some cases, actively deepened – the division of labour at home along traditional gender lines had a straw-that-broke-it effect.
How utterly, utterly selfish.
New York Times crossword puzzle
As we're on the subject of the New York Times, here is their December 18 crossword puzzle. December 18 was the first night of Hanukkah, yet the paper produced a gamma-shaped puzzle. Hmm. Why?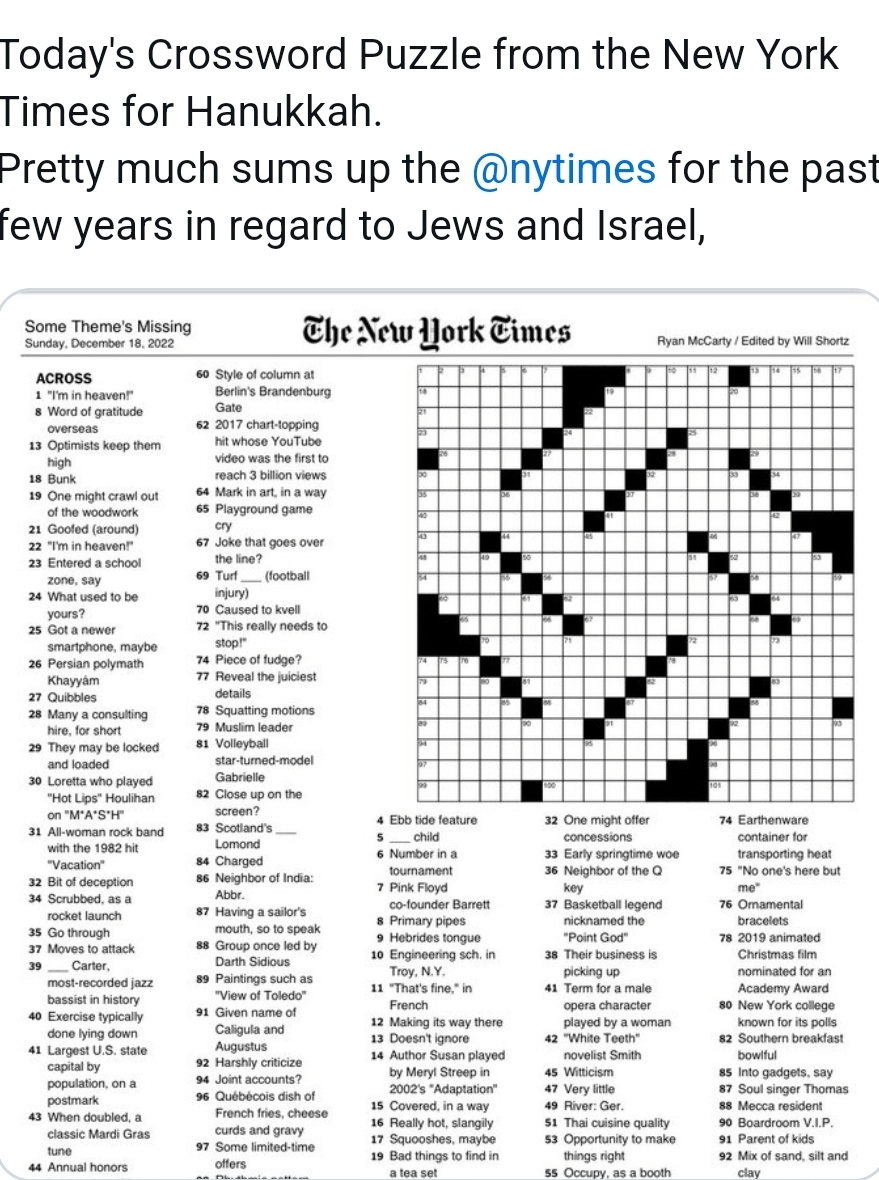 Despite complaints from prominent Jews around the world, the paper defended the puzzle's shape, saying:
'This is a common crossword design: Many open grids in crosswords have a similar spiral pattern because of the rules around rotational symmetry and black squares,' a Times spokesperson told DailyMail.com on Monday. 
Although Carlos Slim is the current owner, the famous Ochs-Sulzberger family are still in charge of content:
The paper is run by AG Sulzberger – the sixth member of the Ochs-Sulzberger family to serve The Times as publisher since the newspaper was purchased by Adolph Ochs in 1896. The family is of both German and Jewish ancestry. 
This is not the first time such a design has appeared:
A similar incident occurred in 2017, and at that time the newspaper responded in a tweet: 'Yes, hi. It's NOT a swastika. Honest to God. No one sits down to make a crossword puzzle and says, "Hey! You know what would look cool?"' 
One wonders.
Christian doctor told to attend 'boundaries' course
I was amazed to see a praying Christian physician, Dr Richard Scott, appear in The Telegraph on September 27.
His is such an old — and sad — story. It goes back to 2019 and has only now been resolved.
The 62-year-old was nearly struck off the medical register for praying by request with his patients in Kent. Someone complained, and you can guess the rest.
The article says:
A tribunal that could have taken away his right to practice was called off after a last-minute settlement with the NHS, but Dr Scott will have to attend a £500 one-day training course on "professional boundaries".
The tribunal was due to consider complaints relating to a telephone interview Dr Scott took part in on BBC Radio 4 in 2019 discussing his use of prayer in his practice.
On the radio programme he also said: "As a Christian doctor you have to ask yourself, who's your ultimate boss? And it's not the GMC [General Medical Council]. It's Jesus Christ."
He said he offered spiritual care to around one in 40 patients, and around 80 per cent of people offered prayer or religious support accepted the offer.
The tribunal was set to begin in Ashford on Monday to determine whether he could still be allowed to work as an NHS doctor.
He had previously been ordered to attend a three-day course costing £1,800 aimed at people who had been accused of sexual impropriety.
Dr Scott was not accused of sexual misconduct and refused to attend the course or undertake a psychiatric assessment. The GMC had twice ruled that the Christian doctor had not breached any of its guidelines.
Following the settlement with the NHS, Dr Scott will now take part in a one-day training course costing £500 relating to "professional boundaries". He said that he did try to "follow the General Medical Council guidelines and if you read them correctly, they allow you and encourage you to speak to patients about religion where it's relevant to their care".
"Some people are desperate for help and I can give any number of examples of people I've helped through spiritual care – which is done on my own time and fully consented." he added.
Andrea Williams, chief executive of the Christian Legal Centre, which supported Dr Scott, said: "Dr Scott is a highly experienced doctor whose life and career has been committed to serving his patients and community.
"He is loved and respected by his community which he has served for decades. His love for Jesus and dedication to his faith is also well known where he works and within the community.
"There is no evidence that Dr Scott's practice of praying with his patients has in any way interfered with his delivery of excellent medicine – in fact, quite the opposite."
NHS England has been contacted for comment.
That poor man. It's hard to imagine the stress he has been under for the past three years. I hope that he and his family have a blessed, relaxing Christmas this year.
House of Lords climate change paper
This month, the House of Lords published a paper on climate change — 'In our hands: behaviour change for climate and environmental goals'.
It's 140 pages long and a product typical of today's left-leaning peers, including a number of the Conservatives lurking there, too.
I've been reading the chapter called 'Behaviour change for climate and environmental goals', because this is what the average Briton will experience in the years to come via media bombardment.
Of course, the Lords worry about 'misinformation' and 'disinformation', meaning any evidence contrary to their Net Zero narrative.
This is from page 84 of the paper (page 86 in the PDF linked to above):
309. Several witnesses expressed concern about the spread of misinformation—incorrect or misleading information—and disinformation—deliberately deceptive information—related to climate change and the environment on social media. Carnegie UK described research carried out by the Institute for Strategic Dialogue (ISD), which compared the levels of engagement on social media platforms generated by reliable scientific organisations and climate sceptic actors respectively and found that the posts from the latter frequently received more traction and reach than the former. Carnegie UK explained:
"In the fortnight over which COP26 took place, sceptic content garnered 12 times the level of engagement of authoritative sources on the platform; and 60 per cent of the "sceptic" posts they analysed could be classified as actively and explicitly attacking efforts to curb climate change."530
310. Witnesses had several suggestions as to how misinformation and disinformation about climate change and the environment on social media could be tackled. Mr Smith suggested traditional broadcasters—like the BBC—must play an important role as "trusted sources" in a landscape of disinformation online. 531 Carnegie UK expressed concern that the Government's Online Safety Bill "does little to tackle climate change information", and proposed amendments to bring climate change disinformation into the scope of the draft Bill in a "proportionate manner".532
Pages 95 and 96 highlight the Conservative government's deficiences in bold text, paragraph after paragraph. Contrary to what the Lords say, this is a good thing.
Here are two sections, emphases theirs, from page 96 (page 98 of the PDF):
362. The public expect the Government to take a leadership role to enable behaviour change, but the Government's reticence to address key areas—such as what people eat, how we heat our homes, what we buy and how we travel—which is largely a result of a reluctance to be perceived as reducing freedom of choice, undermines individuals' willingness and ability to take action.
364. The Government should apply behavioural science to all its policies and initiatives. It should urgently review the Net Zero Strategy and policies and initiatives in place to deliver it and rectify where its six principles underpinning green choices are not being delivered.
Satan has obviously found a home on the cushy red benches of the Lords.
Good on the Conservative government in taking little to no action on this guff. Long may it remain so.
Starving mother struggles to feed children
This is another story that causes one to shake one's head in disbelief or despair.
It appeared on ITV News on Monday, December 19:
A mother-of-four from Bath says she is having to live off her children's leftovers because she no longer has enough money to pay for her own meals.
Victoria Walker will not be able to afford Christmas for her family as food prices continue to rise.
She rarely turns the heating on and tries not to eat so that her children can have food.
"Unless I really have to, I won't eat," she said. "I fill myself up with tea and coffee. I like the children to eat so I tend to have the leftovers."
Recently her 11-year-old daughter even started offering her pocket money to help buy food essentials like bread and milk.
She added: "It just makes me sad. It breaks my heart. Christmas is looking sad for me. I can't afford Christmas."
Victoria is receiving help from Action for Children, a charity created to help vulnerable children, young people and their families in the UK.
Unfortunately, the accompanying video, which can be seen at the link, undermines the mother-of-four's case for hunger.
ITV also showed her in their social media post about the story: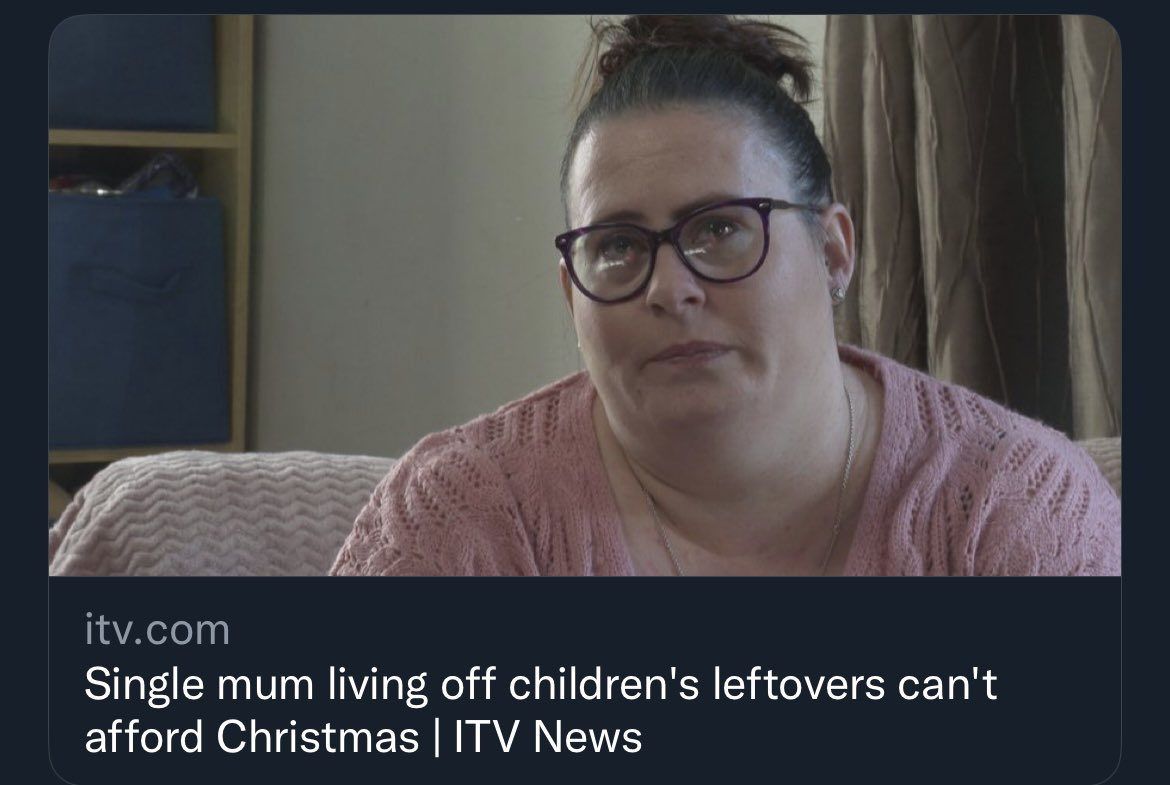 No further comment.
Political theatre: they're all friends, really
We mere mortals think that politicians from opposite sides of the spectrum oppose each other in real life.
However, the Queen's mourning period proved that what we see on television and read in the papers is nothing more than political theatre. I refer specifically to the gathering of hundreds of MPs, Prime Ministers and peers from past and present gathering to see King Charles take the Oath of Affirmation shortly after his mother died.
These men and women, whether Labour or Conservative, have a real rapport with each other.
On September 13, six days before Queen Elizabeth's funeral, The Telegraph's Tom Harris, a former MP himself, discussed the meeting of the Privy Council that day and featured a photo of former Prime Ministers Gordon Brown (Labour) and Boris Johnson (Conservative) sharing a laugh together.
Harris explained why this was not unusual:
Consider this: what if the Queen's death and preparations for her funeral were not forcing natural enemies to behave in public, but were allowing our political leaders the rare opportunity genuinely to enjoy each other's company? …
Cross-party friendships are always surprising to outside observers, though within Westminster's walls they are so common that they are rarely commented upon. True, the tea room, where most of the House of Commons gossip is shared, is strictly split up into party areas. But those demarcations are informal and there is much interchange and banter, including the sharing of tables by MPs of different parties.
The fact is that many MPs will feel more comfortable sitting in the smoking room after a late night vote, having a drink and sharing a joke with colleagues from the opposite party, than they will having a beer after a meeting of their local party. After all, outside those fraught occasions when constituency mergers and boundary changes are in prospect, an MP will see no rival when he gazes around the chamber of the Commons. Everyone there, by definition, already has a seat and is too concerned with holding onto theirs to cast envious eyes on their own.
It's a shame that friendships between MPs of opposition parties is the love that dare not speak its name. Only when tragedy rears its head do we catch a glimpse of those relationships. In a touching tribute to John Smith just a day after the Labour leader's unexpected death in 1994, John Major told of late night drinks in his study with his political rival, meetings which started off with drink singular and then progressed to the plural pretty quickly.
As an MP I would frequently join colleagues from different parties to sample Soho's various karaoke bars … These events were not unusual in themselves; what was unusual was how quickly, the day after, everyone once again sworn political enemies.
Ironic, then, that it is the speeches and barbs of the Commons and TV studio debates, not the joyful, slightly inebriated singing, that are the more performative. Constituents expect it. The first rule of Karaoke Club is that no one talks about Karaoke Club, not just because MPs can't be seen to be enjoying themselves during the week instead of keeping their heads down in the Commons library, but also because it just wouldn't do to be seen to be friends with the other side.
And, finally — Bruce Springsteen
On Monday, November 14, Bruce Springsteen cleared up a long-running argument — apparently — about the lyrics to his 1975 hit 'Thunder Road'.
The next day, The Telegraph reported:
The 73-year-old's fans have long disputed whether the opening line to 1975 hit Thunder Road begins with the slam of a screen door followed by "Mary's dress" either swaying or waving.
Knowing he would be asked about the crucial word during an appearance on US talk show The Tonight Show by host Jimmy Fallon on Monday, Springsteen arrived prepared with an original vinyl LP detailing the song's lyrics.
The Boss declared the LP had the lyrics incorrectly printed as "waves", adding that he had sung "sways" for nearly half a century …
The debate over the wording re-emerged on social media last year after two copies of the handwritten lyrics went to auction, one saying "sways" and the other "waves".
Springsteen's own publications also bear the hallmarks of confusion, with his 2016 autobiography Born to Run using "sways" and his website referring to "waves".
Jon Landau, Springsteen's manager and co-producer on Born to Run, said last year that the lyric was "sways" and that "any typos in official Bruce material will be corrected".
"That's the way he wrote it in his original notebooks," Landau said.
Good to know in case anyone starts a dispute about it after too much Christmas cheer.
More news to follow in the coming days.
Yesterday's post discussed Liz Truss's dogged determination.
Today's entry looks at how determined she was to bring a refreshing libertarianism to Government.
On September 28, 2022, Jeremy Cliffe wrote a fascinating profile of Truss's love of free markets in the New Statesman: 'Liz Truss and the rise of the libertarian right'.
Of Kwasi Kwarteng's mini-budget of September 23, Cliffe points out (emphases mine):
… nothing in Truss's past was fundamentally incompatible with her proclaimed ideological commitment to a small-state, free-market model. And now, just three weeks into her tenure in No 10, it has been comprehensively buried. The unofficial Budget from her like-minded Chancellor, Kwasi Kwarteng, on 23 September, removed any remaining doubt by ushering in the biggest package of tax cuts since the Conservative chancellor Anthony Barber's expansionary "dash for growth" in 1972, and by targeting the benefit of those cuts overwhelmingly on the richest.
Far from popularity-chasing opportunism, this amounts to a huge experiment that, as the Conservative commentator Tim Montgomerie has put it, effectively treats Britain as a giant "laboratory" for economically libertarian ideas. The success or failure of that experiment will make or break Truss's government. Say what you like about the wisdom of this approach – and the markets have had their say – but it is absolutely not the method of a flip-flopper. Rather, it is that of a convinced member of a deep-rooted network of ideas, institutions and thinkers born on the shores of Lake Geneva over 75 years ago. It is impossible to understand the ideological zeal with which Truss and Kwarteng are pushing Britain towards the economic brink without understanding that network.
Cliffe goes on to present a summary of Friedrich Hayek's economic vision. I learned a lot, so am sharing that below.
Hayek and the Mont Pelerin Society
Over the centuries, many wonderful things originated in Switzerland. Libertarianism was no exception.
In 1947, in the aftermath of the Second World War, Friedrich Hayek invited a group of 39 economists, historians and philosophers to promote classical liberalism, which has nothing to do with left wing politics. In fact, what became the Mont Pelerin Society was — and is — actively opposed to Marxist and Keynesian economic policies promoted globally at that time.
The group met at the Hotel du Parc, now the Pelerin Palace, in the village of Le Mont-Pèlerin, which overlooks Lake Geneva. I have been to that part of the world, and it is sublime.
The Mont Pelerin Society still meets regularly, annually for regional meetings and every two years for a general meeting. In 1997, they met at the village's stunning Le Mirador Resort and Spa. In October 2022, they met in Oslo.
Cliffe describes the Society's goal:
Inspired by Hayek's warnings of a "road to serfdom" – as set forth in his 1944 book of that name – they were united in concern at the apparent march of international collectivism, in both its totalitarian (Soviet) and democratic (social democrat and New Deal) forms.
Afterwards, libertarian think tanks were founded in the United Kingdom and the United States which influenced the thinking of Margaret Thatcher and Ronald Reagan:
Over the subsequent decades members and associates of this group established successive generations of influential think tanks advancing anti-collectivist economics. In 1955, Antony Fisher founded the Institute of Economic Affairs in London (IEA). This would help inspire a second wave in the 1970s, including the Cato Institute and the Heritage Foundation in Washington DC and, in London, the Centre for Policy Studies (CPS) and the Adam Smith Institute (ASI). As the historian Daniel Stedman Jones puts it in his book Masters of the Universe: Hayek, Friedman, and the Birth of Neoliberal Politics, these transatlantic "ideological entrepreneurs" provided both a long-term incubator for such ideas and a bridge from high economic theory to applied policy practice. Both Reaganomics and Thatcherism would have been unthinkable without them.
Not all of these think tanks think alike. Some are socially conservative, while others are not. Some are geared towards academia, others towards politics. However, they agree on economic policy:
From the 1980s to the early 2000s came the next wave of more public-facing bodies such as Americans for Tax Reform and the TaxPayers' Alliance (TPA). Matthew Elliott, who worked at the former before returning to his native UK to found the latter in 2004, would also go on to help establish and lead the Vote Leave campaign in the run-up to the 2016 Brexit referendum.
These bodies are not homogeneous. Cato, for example, is classically libertarian on social issues like LGBT+ rights, whereas Heritage is hard-line conservative. There are also differences of approach. Mark Littlewood, the director of the IEA [Institute of Economic Affairs], who has known Truss since their student days – they both attended Oxford in the 1990s – differentiates between more "upstream" think tanks like his own, which are closer to academia and concentrate on disseminating ideas among opinion-forming elites, and more "downstream" organisations, which are focused on government policymaking (like the CPS) and shaping debate in the mass media (like the TPA).
One of Truss's tutors at Oxford, Marc Stears, says:
"Hayek's ideas are really important because of the underlying spirit that animates them: that there is no such thing as collective intelligence; the state does not know things and only individuals can really know things. That faith in the wisdom of the crowd, as expressed in price mechanisms, is very deeply ingrained."
He also points to a shared tendency to be patient, citing the Marxist philosopher GA Cohen's observation that the supply-side right has succeeded at "keeping the fires burning" even through periods in the political wilderness.
Stears himself leads a libertarian think tank:
Marc Stears tutored Truss when she was a PPE student at Oxford and today leads the Policy Lab at University College London. He notes that the more theoretical "upstream" parts of the libertarian think-tank spectrum have grown in significance as academia has tilted leftwards. "There are fewer centres in the big universities where these thinkers cluster," he told me. "So that makes the role of think tanks more important."
Cliffe points out the geographical proximity of think tanks in London and Washington DC:
The majority of these think tanks are clustered around Tufton Street, a Georgian terrace in Westminster, and Massachusetts Avenue, a long boulevard in Washington DC (a distinction being that "Mass Ave" is also home to think tanks of various other intellectual outlooks).
These two worlds have long been linked by transatlantic personalities criss-crossing between them. Prominent examples include Fisher (who founded the Atlas Network, a Washington-based umbrella organisation of international free-market think tanks), Edwin Feulner (a former IEA intern who co-founded Heritage) and Eamonn Butler (an ally of Feulner's who co-founded the ASI in London). Today they number Ryan Bourne – a Truss ally, formerly of the IEA and now at Cato; Daniel Hannan – a Brexiteer former MEP and founder of the Initiative for Free Trade (IFT); and Nile Gardiner – head of the Margaret Thatcher Center for Freedom at Heritage.
Today's economic libertarianism
The current Conservative government, whether under Boris Johnson, Liz Truss or Rishi Sunak, has some commitment to economic libertarianism. Sunak promoted freeports in 2019, which are slowly coming to fruition. Truss advocated investment zones, which are still going ahead, although they will be more focused on research.
Cliffe says:
Ideologically, the institutions and thinkers of this world share a common commitment to a low-tax, low-regulation, Anglo-Saxon social model, distinct from the social democratic "European" one. They tend to favour mechanisms for advancing that model, such as free-trade deals, "levelling down" state intervention, and demarcated zones pioneering extremely small-state government (variously referred to as "freeports", "investment zones" or "charter cities"). They instinctively prefer market-led solutions to collective problems, such as climate change, over state-led ones. Perhaps not unrelatedly, many of them draw on opaque funding from big private-sector interests. Cato, for instance, has received backing from corporations such as FedEx and Google, and, in the past, from the tobacco industry – which has also been a source of funding for both the IEA and ASI.
In the Britain of 2022 these instincts express themselves in a particular analysis of the state of the country. This, as Truss-ite thinkers explain, starts from the argument that British governments since Margaret Thatcher – Conservative as well as Labour – have become much too sentimental about the distribution and moral character of growth, and too little focused on raising the overall growth level. As Bourne puts it: "Liz Truss would not consider it a failure if she got the growth rate up significantly but not equally across regions."
It is not a politics of pursuing what is popular per se, but of letting "what works" (defined as whatever lifts the growth rate) speak for itself. "They won't be transactional about policies," Bourne says of Truss and Kwarteng. "It's the whole string of things. Incrementally, the patient might not like the medicine, but overall they will feel healthier and revived."
Truss's brand of libertarianism
I had no idea that Truss worked for a British think tank or that she had speaking engagements at the American ones.
Her interest began at Oxford, then continued in London:
Even during her student years in Oxford, recalls Marc Stears, Truss prided herself on defying intellectual convention. "Her primary characteristic was a love of controversy, quirkiness and idiosyncrasy… Her thinking was always intriguing and contrarian, if not always fully worked through." A brief flirtation with the Lib Dems is not entirely inconsistent with right-wing libertarianism (the party's Orange Book tendency has links with this world  too, and as a student Truss was also a member of the Hayek Society). "She definitely sat outside the prevailing social democratic orthodoxy even then," Stears says.
Truss worked in think-tank land herself before her election to parliament, serving as deputy director of Reform from 2008 to 2010, a period when the organisation was laying some of the intellectual foundations of the spending cuts and market-led approach to public services that would be introduced under David Cameron and George Osborne. "Cameron and Osborne may have been more Thatcherite where Truss is more Reaganite," notes Tim Bale of Queen Mary University of London, a historian of the Conservative Party. "But they shared the basic belief that the market should be the main force in economic life, the state as small as possible and the individual as large as possible."
Truss's Thatcherite tendencies became more apparent once she entered Parliament in 2010. However, Thatcherism means different things to different people:
Shared beliefs, yes, but with different degrees of intensity. In 2010, Truss typified a romantically Thatcherite intake of new Tory MPs who thought Cameron and Osborne were being too cautious about slashing the state.
"When you think that people's politicisation tends to take place in their teens and early twenties, it is perfectly understandable that MPs who had come of age around 1997 would equate past Conservative election victories with what they saw as Margaret Thatcher's uncompromising free-market ideology, rather than her more compromising reality," Bale says.
Truss rapidly became a figurehead for this generation. "Liz was the first convenor of the Free Enterprise Group," recalls Littlewood, referring to the establishment in 2011 of a cluster of like-minded Conservative MPs – which was effectively the IEA's parliamentary branch. "And Kwasi Kwarteng was the second."
Cliffe says there are other Conservative MPs committed to the free market, Priti Patel and Dominic Raab among them.
In 2017, Truss became Chief Secretary to the Treasury.
The following year, she began giving speeches in the United States:
A particularly notable speech was delivered at the Cato Institute in Washington in 2018. In it, Truss called for a new, small-state "Anglo-American dream" driven by an emergent generation of "market millennials" used to the freedoms of the app economy – "Uber-riding, Airbnb-ing, Deliveroo-eating freedom fighters", as she put it elsewhere. "Free enterprise is a hymn to individuality and non-conformity," she proclaimed to her Cato audience. "It's what allows the young to flower and the anti-establishment to flourish."
Bourne helped set up the speech. I put it to him that her argument ignores strong youth support for the likes of Jeremy Corbyn and Bernie Sanders. "It's a case of stated preference versus revealed preference," he said. "Liz's essential argument is that, in their actions, young people in both countries are very entrepreneurial, independent, and enjoy the fruits of a liberal, dynamic economy. She thinks there is a latent enthusiasm for markets if we can reform things in a direction that enables these people to fulfil their wants and needs, like starting companies and buying homes."
Her visits to the US engaged her interest in the Reagan years:
It was around this time that she became engrossed in books by the American historian Rick Perlstein on the making of the Reagan revolution.
Fast-forwarding to her appointment as Foreign Secretary in 2021, her commitment to libertarian ideals ran deeply:
… her ideology, rooted in the school of thought founded at Mont Pelerin, was long-established. "Her ideological disposition is towards the likes of Robert Mundell, Alan Reynolds and Arthur Laffer," says Bourne, "the original supply-side thinkers in the US who influenced the underpinnings of the Reagan administration. The basic idea is that monetary policy deals with inflation and that fiscal and especially tax policy has to deliver incentives for long-run growth."
Another inspiration is "Rogernomics" in 1980s New Zealand, when the Labour government's finance minister Roger Douglas slashed trade tariffs and non-tariff barriers and pioneered monetary policy targeting. (The legacy of that neoliberal experiment remains deeply divisive on the New Zealand left.)
Liz's libertarian allies
Cliffe discusses Prime Minister Truss's Cabinet and think tank allies:
… now she is Prime Minister, the supposed free-market outriders are finding themselves being outridden by the sitting government. Littlewood of the IEA marvels at the scope of the unofficial Budget. "I have long tried to fine-tune out criticism of Conservative governments for not being radical enough; now they're being more radical than even we are requesting." He cites the government's commitment to scrap all remaining EU law as an example. Even when the IEA and Truss disagreed, the closeness was evident; its criticism of her energy price cap promptly elicited an explanatory call from No 10.
Old Tuftonians hold many of the senior jobs in her government. "Matt Sinclair is the standout example," says Littlewood of Truss's chief economic adviser, formerly of the TPA. "He is steeped in this world." Ruth Porter, deputy chief of staff, is an IEA alumna. Sophie Jarvis, No 10's political secretary, was formerly at the ASI. "She will have hired and appointed people who are on board with her ideologically," agrees Bourne. With Kwarteng as Chancellor, as well as James Cleverly as Foreign Secretary and Jacob Rees-Mogg as Business Secretary, the major cabinet roles are held by true believers.
Free-market think tanks, like the IEA, that have long considered themselves to be outside the broad British consensus have used provocation and controversy to catch attention, shake things up and try to shift debates. Truss, observes Marc Stears of his former student, is now bringing that approach into government. "She loves this idea that the action is in the reaction, prodding and provoking people. The unofficial Budget was like going to a slightly mad libertarian think-tank report launch."
Stears said that Truss:
"actually wants to destabilise things. She thinks the prevailing order is wrong and there is a need to break things to rebuild."
Ryan Bourne and Mark Littlewood say that she would have wanted to increase personal freedoms by reducing the nanny state:
Bourne cites childcare, infrastructure, energy and housing (street votes on city planning decisions, for example) as possible focuses, as well as farming ("where there might be a quid pro quo where they scale back government support but relax regulations"). "And I expect this philosophy to apply to lifestyle freedoms, too," adds Littlewood. "Deregulating ads for sugary drinks, McDonald's advertising on the London Underground, that sort of thing."
Oh, if only she'd been allowed to do all those things.
Bourne had more to say:
"Her broad view is 'We have to show, not tell'," says Bourne. "We have to get on with free-market reforms and when they create results they create a baseline, and that wins hearts and minds." There are echoes of the Prime Minister's vision of "market millennials" here: that young people will come to recognise their small-state instincts when they feel the benefit of such politics put into action.
Cliffe has a message for his Labourite New Statesman readers and suggests how Labour can oppose Truss's ideas:
So far, her environment policies seem designed to serve the interests of big polluters rather than market insurgents in the green-energy sector; her deregulation push appears tailored to the interests of existing market insiders with big lobbying budgets; and her proposed tax cuts will certainly benefit the already rich, rather than the worst off. None of this is a "hymn to individuality and non-conformity". It is corporatism.
The challenge now for Liz Truss's opponents, both inside the Conservative family and on the left, is to engage with these tensions and use them to expose the contradictions of the great unruly experiment being rolled out from Downing Street. Because to do so is to contest what is really driving it; to have a chance of changing the public debate and building a solid foundation for a different and better national project. Bad ideas make a much more obvious and persuasive target than bad intentions.
I would say that has already been done. Sunak's government is very different to Truss's, especially with Chancellor Jeremy Hunt as de facto Prime Minister.
'Weird' Liz Truss
Shortly after Truss resigned as Prime Minister, The Guardian had an excellent profile of her: 'From fighter to quitter: the "weird" rise and fall of Liz Truss'.
Truth telling?
It would appear that Truss was somewhat economical with the truth about her education and that of previous Prime Ministers:
At her recent party conference, she spoke of herself as "the first prime minister of our country to have gone to a comprehensive school". The claim has been disproved by those who note that both Gordon Brown and Theresa May went to comprehensive schools. In any case, Truss has said that Roundhay School in Leeds "let down" children by teaching them "about racism and sexism" with "too little time spent making sure everybody could read and write".
Again, the notion that Roundhay, a consistently "outstanding" school, was unacademic has been strenuously contested, as has Truss's claim that her comfortable middle-class neighbourhood in Leeds was "at the heart of the red wall". Truss is not the first politician to massage her biography but she's unusual in attempting to establish her rightwing credentials by making her formative years seem more underprivileged than they were.
Political 'dynamo' at Oxford
The IEA's Mark Littlewood was complimentary about her commitment to politics at Oxford:
She became president of the university Liberal Democrats, and a member of the national executive committee of the party's youth and student wing. Also at Oxford and another Lib Dem activist was Mark Littlewood, now director general of the free market thinktank most associated with Truss's political outlook, the Institute for Economic Affairs (IEA). He remembers her as a "dynamo who exploded on to the political scene" …
"If you spent any more than three minutes in her company, you had no doubt at all about what she thought of the particular topic you might be discussing," Littlewood says.
Unlike her U-turning days as PM, she was sure of her convictions as a student:
For others, like Neil Fawcett, a fellow committee member of the Lib Dems' student national executive, this trait of certitude came across as dogmatic and unbending. "She always had very strong views on everything," he recalls. "Sometimes they were based on knowledge or experience but quite often they weren't. My main memory is that if she came up with something that simply wasn't going to work, and I was in a position where I had the experience to know that it wasn't going to work, she would still argue the case anyway.
"She was absolutely not for turning, whatever the evidence. I thought of that when I read about Treasury civil servants who have been completely ignored because she knew better."
She was more interested in debating and protesting than in canvassing:
She was more concerned to make a splash, he says, than to get things done. Littlewood suggests, in her defence, that Truss was not much interested in "delivering leaflets". Instead she spoke out against the monarchy at a Lib Dem conference, and protested against the BNP in Tower Hamlets.
Mark Littlewood says that Truss found the Liberal Democrats of the 1990s more libertarian than the Conservatives of that era:
Littlewood insists that the Lib Dems made more sense at the time to Truss because the Conservatives were authoritarian on civil liberties and Truss was primarily interested in personal freedom. This, he says, has been the constant in her political career.
"People say she was a Liberal Democrat and now she's a Tory. She was a remainer and became a Brexiter. She was a republican and she's a monarchist. But actually her overarching view of the world has always been a classical liberal one, that the state is too big and interfering in our lives," he says.
She joined the Conservatives in 1996 – when the "back to basics" morality campaign was still alive, if not very well – and 13 years later, it was her local Tory party that wanted to interfere in her life.
That would have been after her affair with a fellow sitting MP at the time. Some local Conservative association members wanted her deselected from her rural Norfolk seat, although that did not happen:
Several constituency association members, dubbed the "Turnip Taliban", objected, arguing that Truss had not disclosed the extramarital affair she had had with the Conservative MP Mark Field. A motion to cancel her candidature was defeated after the then-leader David Cameron came to Truss's aid.
'Weird'
Some of Truss's detractors told The Guardian that her interpersonal skills are 'weird':
The knowledge of the affair with Field has hung around Truss in a way that it probably would not have done with a male politician. There is a welter of parliamentary gossip and tall stories concerning Truss that MPs routinely refer to, off-the-record, although no one can ever name a source or witness. "She flirted with every man she comes across," says one (female) former Tory minister. "She almost even flirted with women." At the same time, so many of her colleagues and former colleagues – including the one who speaks of her flirting – report that she was unapproachable and, as another put it, "she doesn't have great interpersonal skills".
What most MPs agree that she has always had is ambition. Four years after entering parliament in 2010, she joined the cabinet as environment secretary. The most attention she received in the post came with a bizarrely emphatic speech she gave to the Tory party conference.
"We import two-thirds of our cheese," she told a bemused hall, "that is a disgrace." She spoke the last half of the sentence as if there were full-stops between each word, an oratorical choice that cemented the "weird" reputation.
When Theresa May became leader, she replaced Michael Gove with Truss as justice secretary and Lord Chancellor, making her the first woman to hold either post. One insider says that it was obvious that "she was an entirely unsuitable appointment for the job" …
Also:
When asked to describe Truss, two former Conservative government ministers both used the same word: weird. "She doesn't have any friends. She's just weird," one said. "She sits far too close to you," said another. "And when she talks to you, she keeps repeating your name. It's weird."
As Prime Minister:
While Truss may appear to possess an unshakeable self-confidence, many of her appointments spoke of insecurity, as well as debts that required paying. "Never forget that only 50 MPs voted for her in the first round of the leadership election," says one former minister, who puts Truss's ultimate triumph down to the fact that "she wasn't Rishi Sunak" …
"Oh, she's very clever," the former minister acknowledges, admonishing those who think otherwise. "She may not be great at understanding nuance, and her political antenna is not very good, but her political skill is in being a survivor."
A libertarian perspective: 'shambolic'
The IEA's Mark Littlewood did not seem to approve of the Truss-Kwarteng mini-budget:
Whatever is said of Truss, there can be no doubt that she inherited a difficult political and economic situation, with a cost of living crisis, the war in Ukraine, a huge national debt following the pandemic, and the forecast of a major recession.
But, says Littlewood, she played a bad hand badly. He remains bewildered about why she staked so much political capital on reducing the top rate of income tax. "Why select that as the hill you want to die on?"
Similarly, he doesn't understand why, if she was looking for tax reductions, she didn't cut VAT, which he argues would have been counter-inflationary and broadly progressive. He puts her undoing down to her tendency to rely on just a handful of trusted advisers, which may have worked when she was trade secretary, but not as PM. "That's when you need squadrons of very senior and experienced people advising you," he says.
Of course, squadrons of experienced people did advise her not to cut taxes – perhaps that's why she didn't consult them.
"I was utterly amazed by the complete inability to politically execute anything," Littlewood adds. "It was totally shambolic."
It makes you wonder what went on in all those IEA meetings, if Littlewood was taken so thoroughly by surprise.
The article notes the irony in a free-marketeer being brought down by market forces:
Whatever unfolds from here, hers has been a tale of almost classical hubris. In thrall for so many years to free enterprise, she seemed to expect as prime minister that the compliment would be repaid. Instead, she received from the hedge fund managers and bond traders she lionised an ignominious lesson in the most basic rule of capitalism: you can't buck the market.
'Weird' and friendless
According to Harry Cole and James Heale's Truss biography Out of the Blue, even she admitted that she was lacking.
On November 1, The Telegraph's Tim Stanley got a look at the book as it was a month ago, before publication:
… Harry Cole, political editor of the Sun, and James Heale, diary editor of the Spectator, have proven that hacks do our best work under pressure, adding two chapters on her 44-day premiership and cleverly turning a story of surprise victory into a well-researched tragedy of warnings ignored.
Even Ms Truss had her doubts about her suitability for No 10. I think I'd make a great PM, she once told a visitor to her office, the only problems are: "I am weird and I don't have any friends."
Others agreed with that assessment:
One special advisor recalled her "weird manner, where she has a glint in her eye and she thinks she's being edgy or naughty".
At the end of her premiership, she was pragmatic. And she does have some friends, after all:
"Politics is a blood sport," she told friends, "and I am the fox."
The 'pork markets' speech
In The Times, on Saturday, November 5, Cole and Heale gave us a preview of the book by discussing Truss's pork markets speech, which went viral this year, even though it didn't raise any eyebrows at the time. David Cameron was Prime Minister back then:
While Liz Truss was becoming more astute in Whitehall management, there is no escaping that her early days at Defra — the Department for Environment, Food and Rural Affairs — will be remembered for one thing only: the speech about apples, pork markets and cheese. The 2014 Conservative Party conference in Birmingham was the last chance for the faithful to gather before the widely expected election the following year.
With the polls pointing to a hung parliament, and fears of years more of coalition, it was red meat galore. George Osborne put the £100 billion annual benefits bill on notice, while David Cameron basked in some rare warmth from the membership after seeing off Alex Salmond and co in September's Scottish referendum. That week Truss picked a fight on two fronts. First, she declared war on the Hunting Act, and then she turned fire on her least favourite pudding: Angel Delight.
… it was the 1970s dessert that drew the minister's ire in a bizarre pre-conference intervention, most notably in The Times where she blamed the "new-fangled" instant pudding for the decline of Britain's orchards. "Apples are a symbol of a wider failure to take pride in and cultivate our own food," she wrote. Citing the fact that two thirds of UK orchards had been "ripped up in the past 60 years" and that Britain was importing "65 per cent of the apples we eat", Truss was on the warpath: "Consumers reach for easily made, new-fangled products such as Angel Delight or Instant Whip rather than make an apple crumble."
She continued the crusade from the podium in Birmingham, in her first speech to a conference as a cabinet minister: "At the moment, we import two-thirds of all of our apples. We import nine tenths of all of our pears. We import two thirds of our cheese." She continued, with now infamous emphasis: "That . . . is . . . a . . . dis . . . grace! From the apples that dropped on Isaac Newton's head to the orchards of nursery rhymes, this fruit has always been part of Britain, it's been part of our country. I want our children to grow up knowing the taste of a British apple, of Cornish sardines, of Herefordshire pears, of Norfolk turkey, of Melton Mowbray pork pies and, of course, of black pudding . . . I will not rest until the British apple is back at the top of the tree."
With only a few newspaper mentions, her speech went largely unnoticed.
However, she also mentioned 'pork markets', at which point her face strangely lit up, suggesting something more that wasn't there. By the end of the week, the BBC's satirical quiz show, Have I Got News For You (HIGNIFY), picked up the video:
Jennifer Saunders, the programme's host, mocked the environment secretary's facial gestures; responding to Truss's promise that, "In December, I'll be in Beijing opening up new pork markets", Paul Merton quipped: "She likes to enjoy herself on holiday, doesn't she?" Truss's least radical conference speech would become her most famous — as a meme and as a gif — and "that is a disgrace" a punchline of political jokes for years to come.
Recently, Truss said:
To be honest I didn't think it would get that much attention. So basically I hammed it up a bit too much.
Those who knew her at the time said that Truss's awkward delivery was a product of media training gone wrong:
Truss's friends would later confess she had been on a crash course for "corporate management presentational training" shortly before the speech. Reflecting on it eight years later, Kirsty Buchanan, a former adviser to Truss, told the BBC such training "plays into the worst elements of Liz's communication because it makes her more stilted — over-pronunciation and pausing is not her problem, it's the exact opposite. You need to loosen her up in speeches and get her to relax. In private when she's relaxed, she's articulate, sharp, witty, funny, engaging. Put her in front of a camera, until recently when she's grown in terms of confidence, she kind of clams up."
According to Matt Kilcoyne of the Adam Smith Institute think tank: "At the time in CCHQ [Conservative campaign headquarters] and No 10, they were doing training for ministers, trying to train them in a certain way. You saw that with the weird stance that they all took, standing with their legs apart."
A leading Tory sympathetic to Truss notes the difficulty in delivering a modern conference speech: "Addressing a conference hall while being told to address a headshot camera and speak to viewers at home: it's a difficult balancing act to get right, with speakers attempting to build a rapport with delegates while trying to deliver carefully crafted lines more suited to a party political broadcast or social media clip."
Nevertheless:
The reference to "pork markets" nevertheless raised eyebrows. One special adviser then working in another department says: "I think she was trying to be suggestive, it's all part of the whole naughty and weird act. I think because I've seen her be suggestive so many times, I assumed it was deliberate but it might just have been accidental."
Following the speech, allies admit Truss undertook more training to avoid a repeat of the mockery. Buchanan says: "There has clearly been a lot more work done on bringing the voice down and slowing down the pace of delivery."
Kwasi Kwarteng said:
I think it was a bit unfair . . . it was weird, the delivery people thought was a bit strange. The point she made was a fair point. But again she bounced back. She's totally resilient, totally focused and she learnt from Defra, she learnt from that experience.
She didn't let poor delivery deter her:
Undaunted, Truss threw herself back into her departmental work. An aide recalls: "There's a sort of delightfully Terminator quality to her: she just keeps going. And you know if you combine that with a very thick skin this will lead to this almost relentless optimism. It's quite a powerful force in politics."
Truss can laugh at 'pork markets' now:
One cabinet colleague notes that Truss can at least laugh about the speech: "The number of times that I've been in meetings with her and she's gone, 'That is a disgrace' and everyone chuckles because we all know what the reference is and she laughs along with us like, 'What the f*** was I doing?'" Truss says: "My daughter loves it, though, she plays it all the time."
Scottish Secretary helped Truss become PM
Perhaps one of the biggest revelations of Out of the Blue is that Alister Jack, the Scottish Secretary, helped Truss become PM.
On November 13, The Sunday Times featured a synopsis of how Jack dissuaded Truss from resigning as a Cabinet minister in September 2021.
Truss found out about a rise in National Insurance and told Boris Johnson about it. Then a newspaper report about the rise appeared from an unnamed Cabinet minister. The article quoted the minister as saying the rise would be:
morally, economically and politically wrong.
Boris did not want Truss to resign, so he enlisted Alister Jack's support in keeping her in place:
As a result one of the authors argues that she was able to spend a year at a senior level of the government positioned as the alternative to Rishi Sunak if Johnson lost his job …
Jack had become increasingly close to Johnson and was advising him on a cabinet reshuffle. The book says the Scottish MP contacted Truss to tip her off that she was in line for a significant promotion.
Jack told her to keep quiet about the National Insurance rise:
Jack called her and said: "Look Liz you're gonna get a massive job in two weeks' time, a massive job. You would be well advised to shut the f*** up."
Despite going on to raise concerns in cabinet, she did not comment publicly and, according to a Downing Street official "then sucked it up".
Truss then became Foreign Secretary:
With Truss duly being promoted shortly afterwards to the prestigious foreign secretary post, the authors say: "Perhaps Alister Jack's plan had worked after all; Truss did not resign."
Cole told The Sunday Times: "For fans of alternative history, the role Alister Jack played in the rise of Liz Truss is fascinating.
"Had he not convinced her to temper her attacks on Johnson and Sunak's national insurance rise in September 2021, perhaps she would have resigned. Or perhaps Boris would never have promoted her to foreign secretary to clip Sunak's wings and set up the battle to replace him a year later. Keeping her on board made her a contender as she spent a year basically being the alternative to Rishi if Boris did go down so it was clearly a key milestone in her tilt for the top job — and all that followed."
Currently, rumours have been circulating that Alister Jack will be in line for a peerage, perhaps from Liz Truss. Every Prime Minister is allowed a list of nominees for the House of Lords and Truss is no exception.
The end
After Truss resigned, Harry Cole gave an interview to Times Radio, summarising Truss's final week as Prime Minister. Too many things had gone wrong. She had to go. He ended by saying she was remarkably 'zen' about it all:
That fateful Wednesday of Suella Braverman's resignation coupled with the bungled vote on fracking and no Chief Whip brought Truss and her husband to a serious conversation that night, as the October 23 edition of the Mail on Sunday reported:
When Liz Truss finally accepted that her premiership was over, late on Wednesday evening, she went to the fridge in the No 10 flat and pulled out a bottle of sauvignon blanc to share with her husband Hugh.
She had just endured a torrid night in the Commons, where more than 40 of her MPs had failed to back her in a vote on fracking – leading to the astonishing sight of ministers pulling wavering Tories into the voting lobbies.
As she nibbled on a pork pie, the couple agreed that it was a matter of when, not if, she resigned.
One of the main considerations was the impact of the growing turmoil on their two teenage daughters.
Ms Truss then slept fitfully until 4.30am, when she started messaging aides for advice.
Later that morning, No 10 asked Sir Graham Brady, chairman of the 1922 Committee, to come in to see the Prime Minister.
When she asked if the situation was retrievable, he replied: 'I don't think so, Prime Minister.' The game was up …
Downing Street staff were in tears as Ms Truss prepared her resignation but she reassured them: 'Don't worry, I'm relieved it's over,' before adding, 'At least I've been Prime Minister.'
While newspaper reporters were putting together Truss stories, she was spending her final weekend as Prime Minister at Chequers, in leafy Buckinghamshire.
The Sunday Times reported that she held back-to-back parties:
Truss, 47, held a farewell party for ministers last night, and will thank close aides and their partners tonight …
Prime ministers are required to cover the cost of any private entertainment or party business they host at the residence.
A Times2 article told us what she allegedly served to guests:
One of Liz Truss's many leaving parties at Chequers this weekend featured a menu including bruschetta, pigs in blankets and smoked salmon pinwheels and that, right there, sums up this whole sorry mess.
Anyone who inflicts canapé carnage like that is quite obviously unfit for high office. Smoked salmon followed by a mini sausage followed by bruschetta is a recipe for digestive disaster.
It sounds pretty good to me.
The Mail on Sunday reported more Truss controversy to come involving:
a row over whether Ms Truss should be entitled to the annual £115,000 allowance afforded to ex-PMs after her stint in office lasted only six weeks.
She is also due to receive a £18,860 pay-out for her historically short time in office.
Her aforementioned adviser Kirsty Buchanan stuck the knife in:
Kirsty Buchanan, who was a special adviser to Ms Truss at the Ministry of Justice and who also worked in Downing Street under Theresa May, claimed the PM's reputation was 'in tatters'.
'The seeds of destruction were sown early as she shut out all but her closest allies and cocooned herself with those who shared her views,' Ms Buchanan wrote in the Sunday Times.
'With experience and institutional knowledge gone, dangerous groupthink and staggering naivety took hold at No 10.
'Hubris went unchecked when humility was required from an administration that did not earn its majority but inherited it.
'Politics was baked in a Petri dish, away from the political reality of the world outside.'
Ms Truss's former aide said it would take 'every ounce of her famed resilience' for the PM to 'bounce back from this humiliation'.
'I suspect, though, that it will be the humbling in the eyes of her daughters, of whom she is fiercely proud, which may hit Truss hardest,' she added.
Oh, dear. I hope Ms Buchanan was not one of Truss's guests at Chequers.
I still think that, had Truss been male, most people in power would have tolerated her mistakes and been supportive.
Tomorrow's post looks at the role the Bank of England and the media played in her downfall.
Yesterday's post was an exegesis on the Epistle reading from Ephesians 1 for All Saints Day.
In it, I cited John MacArthur's sermons on Ephesians 1 from August 2021.
Two of those sermons have something more in them: a focus on Christ for the Church and MacArthur's premise that God has passed divine judgement on us, as Paul discussed in Romans 1.
MacArthur is not normally given to pronouncements of divine judgement in our current era. Nor does he take up socio-political causes, which makes 'Our Great Savior, Part 1' and 'Our Great Savior, Part 2' all the more interesting.
Let's look at the second half of Romans 1 (UKESV), emphases mine:
God's Wrath on Unrighteousness
18 For the wrath of God is revealed from heaven against all ungodliness and unrighteousness of men, who by their unrighteousness suppress the truth. 19 For what can be known about God is plain to them, because God has shown it to them. 20 For his invisible attributes, namely, his eternal power and divine nature, have been clearly perceived, ever since the creation of the world, in the things that have been made. So they are without excuse. 21 For although they knew God, they did not honour him as God or give thanks to him, but they became futile in their thinking, and their foolish hearts were darkened. 22 Claiming to be wise, they became fools, 23 and exchanged the glory of the immortal God for images resembling mortal man and birds and animals and creeping things.
24 Therefore God gave them up in the lusts of their hearts to impurity, to the dishonouring of their bodies among themselves, 25 because they exchanged the truth about God for a lie and worshipped and served the creature rather than the Creator, who is blessed for ever! Amen.
26 For this reason God gave them up to dishonourable passions. For their women exchanged natural relations for those that are contrary to nature; 27 and the men likewise gave up natural relations with women and were consumed with passion for one another, men committing shameless acts with men and receiving in themselves the due penalty for their error.
28 And since they did not see fit to acknowledge God, God gave them up to a debased mind to do what ought not to be done. 29 They were filled with all manner of unrighteousness, evil, covetousness, malice. They are full of envy, murder, strife, deceit, maliciousness. They are gossips, 30 slanderers, haters of God, insolent, haughty, boastful, inventors of evil, disobedient to parents, 31 foolish, faithless, heartless, ruthless. 32 Though they know God's decree that those who practise such things deserve to die, they not only do them but give approval to those who practise them.
I'm old enough to remember that the United States — the world as I knew it, and I was only a child at the time — began changing in the mid-1960s. Every year got stranger and stranger. By the end of the decade, protests took place at universities all over the nation and a particularly violent one occurred at the Democratic National Convention in Chicago in the summer of 1968.
The role of the Church
Interestingly, one of MacArthur's favourite books, an anthology on the Reformation, The Reformation of the Church, was published in 1964.
MacArthur points out that, as long ago as then, the Church was failing in its duty:
… in that anthology of those writers from the seventeenth century, Iain Murray wrote a forward, my dear friend Iain Murray. He wrote this in that same year, 1964—and listen to what he said; and I'm quoting, "At a time when the Christian faith is commanding so little influence on the nation, the church herself should be engaged with questions which affect her own life rather than the life of the masses of the people."
Wow.
Church has continued to become more worldly in a variety of ways, none of which need mentioning because we all know what they are:
When the church begins to focus on the masses of the people and what the people want, it loses its influence. It almost sounds counterintuitive. Church "experts" would tell you that if the church wants to reach the world, we have to find out what the world wants—when just the opposite is true. The Christian faith will always, always lose its influence when it tries to accommodate the world. You get the opposite results than what you hoped for.
The Church is not called to be worldly but to reveal Christ to the world:
In another statement, "It has become customary for us to act as though the gospel could progress on earth independently of the condition of the church." Great statement. We think that the character of the church plays apparently a minor role in reaching the world with the gospel. In fact there are so many, these days, so busy trying to find out what the world wants that it's a very popular notion that the worst thing a church can do, that wants to reach the world, is act like a church. That is the devil's lie. For the church to reach the world it must refuse to be like the world. It must refuse to define itself by what the world wants, what unbelievers want, what the unconverted desire. The church has one obligation, and that is to be what the Lord of the church commands—not focused on the culture but focused on Christ, not focused on passing social issues, the desires of the devil's children, but solely on the will of the Lord. Only when churches are what Christ wants them to be are they useful in the fulfillment of the Great Commission.
There is nothing in the Bible, in particular, the New Testament, that says the Church should conform itself to the world. Conforming to the world is one of the devil's best tricks. As I write from England now, I can see that the Anglican Church is on its knees. It is not alone:
Clearly, churches have little influence in the world because they are trying to give the world what it wants, rather than obey the Lord who is the head of the church. There is no text in the entire New Testament that commands the church to give lost sinners what they want; on the other hand the church is to obey the Lord Jesus Christ, to confront the culture as the church. There is nothing in the New Testament that calls the church to change social structures, to be engaged in political efforts, economic efforts. The church that effectively reaches the lost is the church that is relentlessly devoted to being what the Lord of the church commands His church to be. If a church has little influence in the world, don't ask what the world wants, ask what the Lord requires. Be the church. It has always been our passion here to obey and honor and exalt the Lord Jesus Christ. We have no interest in what the children of the devil want a church to be; that is irrelevant. And furthermore, beyond being irrelevant, it invites the devil in.
Paul's letter to the Ephesians is a blueprint for the Church and Christian behaviour. The first three chapters focus on the holy mystery of Christ's bride and the last three chapters tell us how we must act as His followers.
The Reformers, being well read in Scripture, devised the 'formal principle', which defines a true church:
The formal principle was simply what the Reformers identified as the truth: that the Word of God is the sole authority in the kingdom of God, and therefore in the church. So the church is to be whatever the Word of God tells it to be. That is the formal principle. We have only one divine revelation for the life of the church, and that is Holy Scripture. And when you get into the New Testament epistles like Ephesians and the rest of them, you find that they are designed to make sure that every subsequent generation of Christians and churches understands the will of the Lord for their life and conduct.
And that is true of the epistles in general, but particularly true of Ephesians. Early on in the ministry here, I wanted to dig into Ephesians because it's so absolutely definitive as to the life of the church. Here is heaven's instruction book for the church to be the church. There's not a word in it about what the world wants. Nothing about how to engage politically, socially, culturally. It's all about how to follow the Lord who is the head of the church, how to be consumed with Christ. That's why the epistle begins essentially in verse 3, "Blessed be the God and Father of our Lord Jesus Christ, who has blessed us with every spiritual blessing in the heavenly places in Christ."
Everything is in Christ, everything. It's all about our relationship to Christ. It's all about knowing Him, loving Him, adoring Him, declaring Him, and becoming like Him. That's what the church needs to be. The more it's like the world, the more it forfeits its influence. The more it tampers with the world, the more divisive it becomes, the more cantankerous it becomes, the more fractured it becomes, the more exposed its weakness becomes. It is a deadly danger for the church, any church anywhere, to be anything other than what the Lord of the church has designed the church to be. And we have all the information in the revelation of the New Testament.
So as we look at the book of Ephesians, we're going to notice that in the first three chapters the emphasis is on doctrine—that is what we believe. And the last three chapters is the practical section—how we behave. And how we behave is predicated by what we believe.
The memorable line in the film Field of Dreams was 'Build it and they will come'.
John MacArthur's Grace Church in southern California has been predicated on Scripture since its founding in the late 1960s. He never used gimmicks or church growth strategies. He didn't have to. Because he, his other pastors and elders focus on the Bible and on doctrine, the pews are filled for every service. They also have a thriving Spanish-speaking ministry. Thousands of people attend Grace Church every week.
Beyond that, MacArthur also has the Master's Seminary. Its graduates go on to plant churches around the world.
He says:
Paul's prayer is that the church would focus on fully understanding what is theirs in Christ. Every faithful pastor should be leading His church into the deep knowledge of Christ. Every faithful pastor must live in the constant expression of a desire to see the church filled with the wisdom and knowledge that comes with a deep revelation of Christ. This is the church being the church, being Christ-centered. Certainly this is my prayer for Grace Church.
God is answering that prayer, most assuredly.
Divine judgement?
Now we come to Romans 1. I placed it at the top, however, so that we could read it whilst contemplating what has happened to the Church and our world over the past six decades.
MacArthur believes that we are living out Romans 1 and that God has left the Western world to its own devices:
If there would ever be a nation of people who held the truth it would be certainly our nation, as well as most of the Western world. We have had the Bible. We've had the revelation of God. We all are very much aware that that has been rejected in our nation wholesale; and as a result of that, the wrath of God has been revealed. It is revealed against any society, any culture, any people, who hold the truth in unrighteousness, who turn from God; and that's exactly what our society has done. And Romans chapter 1 defines the wrath of God. It says this is what it is. God, when He judges a society for rejecting Him, turns them over to a sexual revolution. It's explicit. We have had that, 30 years ago I suppose, the sexual revolution; that was the first sign of divine judgment. He lets men go into sexual unrighteousness, pornography—really the death of any sense of biblical morality.
The final step is God's giving people a 'reprobate mind':
Reprobate mind is a nonfunctioning mind; and what that means is the final step in divine judgment is a kind of insanity, where nothing makes sense. And out of that, Paul in Romans chapter 1 lists a long list of every imaginable kind of wickedness and sin, that will literally flood and drown a society. In the middle of that list, of course, is deceit and the hatred of God.
So there's a reason why this country is in the insanity that it is in, and it is the judgment of God. God has allowed this nation that has rejected Him to go down the path of Romans 1 … to the point where there is an insanity that really makes no sense to any thinking person. It's a reprobate mind, it's a mind that does not function. And out of that mind that doesn't function comes every imaginable kind of evil.
It was John Calvin who made the interesting statement that when God judges a people He gives them wicked rulers. When God judges a people He gives them wicked rulers. So this judgment of God, that has sent us down this careening path of transgression, iniquity, and sin, is also aided and abetted by wicked rulers because they tend to be the architects of all of this—if not overtly, certainly covertly.
Mankind cannot 'fix' what God has divinely ordained:
So I just want to say that you have to look at this in the light of divine judgment. What is happening in our country—the chaos, the insanity, the nonsense, the things that you can't figure out, the confusion, the disorder, the disruption—is all part of divine judgment. And if you understand it that way you're going to realize that you can't fix it, you can't fix it. The next election will not fix it. No election will fix it. A new governor in California will not fix it. It cannot be fixed; it is divine judgment, and it is obviously unleashed on us, and we're in the final stage, the stage of insanity.
The folly of all follies in a situation like this is to think there's anything you can do in the human realm to stop the divine judgment of God. That's not possible. This is God judging, and He laid it out in detail. We are under judgment at a severe level, the most severe level revealed in Scripture, short of final, global judgment yet to come in the end of the age, and eternal judgment in hell. What is wrong in this country is not fixable; this is God bringing judgment.
However, MacArthur says that God will protect His faithful people:
The good news is that He protects His people in the judgment, that His cover is over us. We are in the shelter of His protection. We are saved from the wrath to come, and we are protected in the current judgment.
MacArthur says that we must have convictions — hills to die on — as we live through this era:
I was at camp this week with a thousand teenagers over in New Mexico, and the seniors from Grace Church got together and wanted to have a question and answer session. It was wonderful; I love doing it. And perhaps the most telling question came from—these are high school seniors—they said, "What do we need to know, facing university, facing college, going forward? What protections should we have?" And I said, "You need two things, two things, without which you will be a victim of the world. Number one: You need conviction. You need conviction. You have to have some non-negotiables, you have to have some hills you die on. And you have to know why, and you have to be able to substantiate those in the Word of God and in your own conscience. Without convictions you are a cork in the surf; you'll end up wherever they take you. You need convictions." And what a blessing to have been, for most of them, brought up in the influences of Grace Community Church where they have those convictions from those who surround them here; and for many of them, their own families. You have to have convictions.
Your convictions are the immovable pillars of your character. They're the structure. Because what they're going to want to do in the university is crush those convictions because they're biblical convictions, and they're true. And the world is ungodly, and the world is run by Satan, who's a liar. They're going to attack you with lies, and they're going to attack your convictions about God, about man, about sin, about righteousness, about conduct, about morality, about everything. You have to have convictions.
The second thing you have to have is critical thinking, critical thinking. And I think for this particular period of history, this is what is most under attack. And let me tell you how to look at that.
Universities these days—certainly in the humanities side of things, universities these days are concerned about ideologies. You hear a lot about that, an ideology. What do they mean by an ideology? It's just another word for a philosophy. But ideologies in the current climate are seductive and attractive to people because they are mindless, they are mindless.
Here's how an ideology works: "What's wrong in America? White privilege. What's wrong in America? Systemic racism. What's wrong in America? Abuse of women." They want you to buy into the fact that everything that's wrong in America can be explained by an ideology. They don't want you to think critically about it.
"What's wrong in America? Some people have money, and others don't. What's wrong in America? Corporations are getting rich, and people are being abused. What's wrong in America?" They can be reduced to an ideology, a simple, single idea. This is stupidity. And universities are really bent on teaching people to be stupid. This is infantile. You can't say, "What's wrong in America? Systemic racism," no matter what it is; if the bus doesn't show up on your corner on time, "Well it's systemic racism." If you have mold on your bread, "Well it's systemic racism." That's the stupidity of that oversimplification of everything—that is easy for people to suck up and be seduced by it because it's a one-size-fits-all answer to everything, and you can put your brain in a bag and bury it. You have to think critically. You have to understand.
Then MacArthur describes the pandemic and post-pandemic period. What an amazing analysis:
For example, I'll give you an illustration. In the United States 99.9 percent of the population survives COVID; that's a fact. You can't mesh that up with the behavior they're requiring. How about this one: "Get vaccinated." And you're saying to yourself, "Well let's see, they lied about Russia. The FBI lies. CIA lies. The National Health Organization lies. The World Health Organization lies. The CDC lies. The director of all of this lies, because he says something different every time he opens his mouth. The politicians lie. They lied about an incident in Chicago. They're just lies and lies and lies and lies and lies." And then they say to you, "Be vaccinated; it's good for you." I know why people aren't getting vaccinated—because people don't believe they're being told the truth. It's simple. It's just the old Aesop's fable about the boy who cried, "Wolf, wolf, wolf, wolf," there never was a wolf. And when there was a wolf, nobody showed up.
You can't keep lying and then expect people to believe you. You have to think critically and thoughtfully and carefully. You have to realize, CDC reports death rate from the normal flu last year was 99 percent lower. Oh, really. What happened to the flu? Where did it go? It went into the COVID statistic.
The chaos of deception and lies forces you, if you want to navigate the world in which you live, to think critically. Are there things wrong with capitalism? Capitalism can be abused, just like socialism is abused. Anything can be abused because sinners are engaged in it. Any kind of relationship, any kind of anything in human relationships is going to have good, bad, and indifferent. But what they want you to do is accept the—buy the package, and shut down alternative discussions. That's why they cancel culture, because they want you to buy the ideology, they don't want you to think critically. But we think critically because we think biblically, and we have the mind of Christ. First Corinthians 2:16, "You have the mind of Christ."
I don't want to get caught up in philosophy, which is another term for human wisdom. I don't want to get caught up in empty deception. I don't want to get caught up in something just passed down from person to person in tradition. And I certainly want to get above the stupid level of the ABCs. You can't reduce me to some simplistic moron. Human wisdom is infantile compared to divine wisdom.
So look at verse 9, Colossians 2. Look, we don't pay any attention to that, but we pay attention to Christ, "For in Him all the fullness of Deity dwells in bodily form, and in Him you have been made" —what? —"complete." Everything we need is in Christ. First Corinthians 2:16, "We have the mind of Christ." We have the mind of Christ.
That's what I told those high school students: convictions, critical thinking. Think like a Christian. Think like Christ. Think biblically. Don't be kidnapped by lies.
MacArthur says that the Church has a vital role to play during divine judgement:
I just want you to understand that the church has one great responsibility in the midst of this judgment. It's not to try to fix what's wrong in society. That same chapter, Romans 1, gives us our mandate. Paul says, "I am not ashamed of the gospel [of Christ], for it is the power of God unto salvation to everyone who believes, to the Jew and the Gentile." Our responsibility is to preach the gospel—not to be ashamed of the gospel but to preach the gospel, which is the only answer. The only hope is Christ, and the only appropriate response to Christ is to embrace Him as Lord and Savior, and to embrace His glorious gospel.
I guess what I'm saying to you is don't expect it to get better. But it raises the stakes for what we as believers in the world are called to do. And while so many churches, so many churches, ranging from the liberal churches to the even evangelical churches, are caught up in trying to fix what's wrong in the world—everything is a result of judgment, even the racial hostility, the insanity of teaching people to hate and living on vengeance and revenge. All of these kinds of things are part and parcel of what happens to a culture when God lets them go. They go to an insanity where nothing makes sense. That's where we are.
For us, we know the truth because we have the mind of Christ in the Word of God. And our responsibility is not somehow to figure out how to fix the world, but how to proclaim the gospel that can deliver people from the world, from the kingdom of darkness into the kingdom of God's dear Son. The church needs to focus on the person of Christ; and sadly it's all over the place on social issues, which cannot be fixed, first of all, because people are sinful. And what's wrong in the world, in society, is a reflection of sin. And secondly, because that sin is compounded when God removes normal, divine restraint, and it becomes a judgment. So the judgment is that sinners get what they want, and it gets worse and worse and worse …
You have to see those things for what they are. They're not fixable; they're a reflection of fallen sinfulness, a reflection of a nation that has abandoned God, and a reflection of divine judgment itself.
Ultimately, the Church must be a haven in times of judgement:
The church needs to become Christ-centered. For the church to reach the world, it has to stop trying to be like the world, because why would you want to identify with a society under judgment? Understand that what's going wrong in our society is divine judgment. We have to be the church. We have to be the haven; we have to be the eye of the hurricane; we have to be the safe place. We have to be the place where Christ is exalted and the Word of God is proclaimed, truth is known and believed and lived and taught. We have the mind of Christ, and it's in the pages of Scripture.
I will return to British politics in my next post. See if we are not under divine judgement, too, as our once great United Kingdom is in a state of collapse in so many ways. No matter what our politicians advocate and try, everything gets worse. It's unfixable for the time being.
Prime Minister Liz Truss resigned early in the afternoon of Thursday, October 20, 2022.
She will remain Prime Minister until a new Conservative Party leader is elected — details to be announced — in a week's time.
She will have seen the shortest tenure of any British Prime Minister. If she serves another week, that will be a total of 52 days.
More to follow next week.
She met the King this afternoon to tender her resignation. It is, after all, His Majesty's Government.
Her penultimate meeting with him was last Thursday, immortalised here:
———————————————————————
Yesterday's post discussed Liz Truss's sacking of Kwasi Kwarteng as Chancellor on Friday, October 14, 2022.
A day is a long time in politics
Kwarteng's defenestration illustrates that one day is a long time in politics, never mind a week.
However, days are eras in Truss's government, if one can call it that.
On Wednesday, October 19, Home Secretary Suella Braverman was out and, by the end of the evening, the Speaker of the House decided to investigate an unrelated incident at a Commons vote on fracking, during which it was unclear whether the Conservative Whip and Deputy Whip had resigned. More about that in another post.
Returning to Kwarteng, on Thursday, October 13, he said he would be going nowhere. This was The Telegraph's headline on the morning of Friday, October 14:
By the time that headline appeared, Kwarteng was on his way back to London on a red eye flight from the annual IMF meeting in Washington DC.
Shortly after 11:00 a.m., by which time Kwarteng would have returned to London, Guido Fawkes tweeted that Truss would be holding a press conference that afternoon:
An hour later, Guido followed up with a tweet saying Kwarteng was about to be sacked:
Guido's post said (emphases his):
Kwasi has just arrived at No.10 for a showdown with Liz Truss. The FT, the Times, the Spectator and the Sun are all reporting he's about to be sacked. A Boris-era insider texts Guido to say "It's just getting silly now." Liz is up in front of the cameras at 2pm. Will she have a new Chancellor by her side?
Just before 12:30, he tweeted that Kwasi was out …
… commenting:
Kwasi Departeng…
Twenty minutes later, Guido posted runners and riders for Chancellor:
His post had eight names with a summary about each candidate. Personally, I would have liked to see one of these two:
Simon Clarke: A key and prominent supporter of Liz. Chief Secretary to the Treasury under Rishi, though with some major disagreements with the former Chancellor reported during his time there. A very likely candidate.
Steve Barclay: Widely reported to have been Rishi's choice for Chancellor had he won the leadership contest.
In the event, we got Jeremy Hunt, as I stated yesterday:
Jeremy Hunt: The centrist, 'party unity' candidate that may placate backbench opponents. Would be an admission that the Truss economic programme is DOA. Currently out of the country.
At 1:05 p.m., Guido posted Kwarteng's gracious resignation letter:
Guido has a better copy here. Kwarteng was most gentlemanly:
You have asked me to stand aside as your Chancellor. I have accepted.
… your vision of optimism, growth and change was right.
As I have said many times in the past weeks, following the status quo was simply not an option.
… I look forward to supporting you and my successor to achieve that from the backbenches.
We have been colleagues and friends for many years … I believe your vision is the right one. It has been an honour to serve as your first Chancellor.
Your success is this country's success and I wish you well.
This was Friday afternoon's headline from London's Evening Standard:
Kwarteng had been Chancellor for 39 days, the second shortest in British parliamentary history.
Iain Macleod lasted one month, before dying of a heart attack in 1970. The Prime Minister at the time was Ted Heath.
What happened behind the scenes
On Friday evening, The Sun's Political Editor Harry Cole posted 'Inside story of Liz Truss' first 40 days in power that ended in biggest political meltdown for 300 years'.
Excerpts follow, purple emphases mine:
Caught between the rock of mercenary traders in the City and the hard place of mutinous Tory MPs in Westminster, it began to dawn on the Prime Minister that her sticking to her plans risked her becoming the shortest ever serving PM.
But it was an email from the Office of Budget Responsibility to the Chancellor last Friday set in motion the most spectacular collapse in Government authority in modern political history.
The independent scrutineers of tax and spending were brutal in their assessment: A £60billion black hole in the nation's finances was the direct result of Ms Truss and Kwasi Kwarteng's mini-Budget.
The scale of the spending cuts that would be needed just to stop debt interest bankrupting the country were not just eye-watering but politically impossible to even a strong government.
But having junked the 45p rate, Truss was barely treading water as PM, let along one strong enough to take a toxic axe to the size of the state.
The extra £18billion Britain will be paying in interest on government borrowing alone was more than the entire Home Office budget …
And when she claimed at PMQs on Wednesday there would be no cut to public spending, the clock was ticking on a spectacular U-turn.
Even as she told the MPs that a rise to corporation tax "would be wrong at a time when we are trying to attract investment into our country", privately work was underway to do just that.
The PM began to make preparations to climb down on Wednesday evening, as her Chancellor — her closest friend and ally in politics — flew to Washington to meet global financial watchdog the IMF.
While he was there they openly criticised the Government's plans in a humiliating dressing down on the world stage.
With inflation rampant, the global experts held up Britain as an example of how not to handle it.
"We were becoming a laughing stock," one minister admits …
With Kwarteng out of the country, Simon Case the Cabinet Secretary and James Bowler, the new head of the Treasury, turned the screw on Ms Truss to jettison the plans.
And the news was grim from political advisers, too.
This was the second time that Sir Graham Brady from the 1922 Committee had to step in over Kwarteng's and Truss's economic plan. The first was Sunday, October 2, during the Conservative Party conference, which caused a U-turn on scrapping the 45% tax rate.
Cole tells us:
Away on holiday, the all-powerful boss of the backbench 1922 Committee, Sir Graham Brady, made his disquiet known in a number of calls with Ms Truss on Wednesday and Thursday.
Just as he came to visit Truss during Tory conference to warn the 45p rate had to be scrapped if she wanted to survive, Sir Graham warned the PM the knives were out for the Chancellor and Kwarteng may need to be offered up as a sacrifice if her administration were to remain in any way credible.
However, Truss's other good friend and Cabinet member, the Deputy Prime Minister (and Health Secretary) was also allegedly on manoeuvres against Kwarteng:
Deputy PM Therese Coffey was also "determined to get Kwasi" according to one senior Government source.
"She put the knife through his shoulder blades while he was still in the departure lounge."
It seems that Truss wanted to deal with her Chief Whip first:
Ms Truss also briefly considered firing the Chief Whip Wendy Morton, who MPs consider a lightweight totally unable to herd the various factions of the Tory MPs publicly machine gunning each other.
Hmm. Wendy Morton was part of the reason for the chaos at the aforementioned fracking motion vote.
Moving on:
… the PM wanted to sleep on the decision to finally fire Kwarteng …
"He had an inkling it was coming and didn't put up much of a fight", one source said.
But it is hard to overstate just what a serious blow to Truss and her entire project the decision was.
Her closest friend in politics, this was their budget written together, at times in secret, away from advisers, aides and spin doctors.
When she U-turned on the 45p rate, she misleadingly blamed it on a "decision the Chancellor had made."
Now in U-turning on Corporation Tax she has thrown that fireguard away – leaving the PM the only target left now.
The Telegraph told us more about Kwarteng's visit to Washington last Thursday:
… the outgoing Chancellor tried to put a brave face on things. Even when he knew his time in Number 11 was up, he didn't show it.
On the night he departed for London, Kwarteng continued to work the room of bankers and officials at the British Embassy in Washington DC. Rubbing shoulders with the likes of Shriti Vadera, once a Labour minister and now chairman of Prudential; Sir Danny Alexander, vice president of the Asian Infrastructure Investment Bank and former chief secretary to the Treasury; and Axel Weber, chairman of the Institute for International Finance, he stopped for quick chats, and even addressed the crowd.
But while to some it seemed like the troubles 3,500 miles away in Westminster were far away, others said he seemed distracted.
He had reasons to be. At first, the British Airways flight out of Washington Dulles at 10.40pm was full and he struggled to get on board. While he and his special adviser managed to find seats eventually, it was an uncomfortable journey home.
In Kwarteng's own words, his 38 days as Chancellor were a "baptism of fire". Investors had already delivered the verdict on his policies, but some of the starkest criticism came from Britain's strongest allies …
But for many observers, it was Kwarteng's steadfast attitude that surprised. Germany has also been criticised for its €200bn (£174bn) energy bailout. But while their finance minister Christian Lindner adopted a more contrite approach in meetings, saying the spending might not be popular with markets but was nonetheless vital, the Chancellor stuck to his message that the Government was unapologetically pro-growth.
"He just didn't seem to understand that you can't just do lots of tax and spending giveaways when the economy is unstable, prices are soaring and borrowing costs are rising," said one member of the US delegation …
One banker who attended the drinks with Kwarteng said: "We just don't know what's coming next from the UK. Which policies are staying? Which are going? Who is staying? Who is going? There's no certainty any more" …
There was more love for Andrew Bailey, the Governor of the Bank of England, who found friends among the financial establishment in Washington DC. Many have known him for several years. "I just hope they don't try to hang him out to dry too," said one US banker.
The Times suggested that Kwarteng had little idea he was about to be dismissed. Yet, motions were in play even during the Conservative Party conference at the beginning of October:
In his suite in the Hyatt Regency hotel at the Conservative Party conference in Birmingham, he told allies: "The idea that a prime minister is going to bullet her chancellor and survive, I just don't think is feasible."
Unknown to Kwarteng, his long-term friend had already been sounding out at least one former cabinet minister about the prospect of replacing him.
Intermediaries had begun reaching out to allies of Sajid Javid, the former chancellor, to gauge his appetite for a return to the Treasury in case Kwarteng was forced to fall on his sword. The prime minister's emissaries asked Javid to name his price but had not bargained on his conditions being too much for Truss to accept.
"Sajid would have only done it if he had complete control," one ally of Javid's said …
It is unclear whether more horse trading took place but by Thursday last week, Javid was no longer in the running, with Truss's allies instead pivoting to another big beast as their preferred replacement for the chancellor.
Just hours after Kwarteng left the UK for Washington to defend the prime minister's fiscal plans to his foreign counterparts at the annual meetings of the International Monetary Fund, senior Truss allies had made contact with Jeremy Hunt, the former foreign and health secretary, who only a month beforehand had backed her rival, Rishi Sunak, for the top job.
Hunt insisted yesterday that when he heard that a "Liz Truss" wanted to talk to him on Friday, he assumed it was a prank call. The twice-failed leadership candidate then cut short a family holiday in Belgium to take charge of the Treasury. By last night — after Hunt's extensive media round, during which he tore up much of the mini-budget — it felt to many Westminster observers that Hunt, not Truss, was now running Britain. Wiser heads note that the Conservatives appear increasingly to resemble a political death cult, having burnt through four prime ministers in six years and four chancellors in the space of a barely believable four months …
Truss arrived at No 10 without a ringing endorsement and faced a faction-driven Westminster.
Last night, a No 10 source denied that Javid had ever been considered for the role now filled by Hunt. "The prime minister laughed out loud at the suggestion," they said …
By Thursday afternoon, Kwarteng knew that his political future might be in jeopardy, despite being 3,700 miles away across the Atlantic. He spent most of his time at the IMF gathering skipping meetings to hold talks with No 10 and his aides in London.
Kwarteng eventually cut short his trip by two days and booked the last overnight flight back to London. By then, however, at least one of his closest allies had already guessed that the game was up. "It wasn't a massive shock," they said. "There was nothing to come back for, no major meeting or announcement. The only reason he was coming back was to be sacked."
If Kwarteng suspected on Thursday evening, as he addressed a room of 200 bankers in Washington at the Institute of International Finance, that the axe was about to fall on his cabinet career, he gave no indication.
He told them there were three important things to sort out: the energy package, growth, and keeping the Bank of England independent …
Confirmation that Kwarteng was receiving his marching orders came the next morning. When he arrived at Downing Street after his red-eye flight, he was informed by Truss that she needed to restart her premiership with a "clean slate" — something that would be impossible with him as chancellor. The two had "a warm meeting" in the Cabinet Room.
"The PM felt deep personal sadness at the decision but made peace with it," an aide said. "Senior party figures had encouraged her to move the chancellor on" …
… Truss's decision to demote Kwarteng's No 2, Chris Philp, who had already been blamed for the policy to abolish the additional rate of income tax, has left some moderate MPs incandescent.
"The most disgusting thing she has done is sack Chris Philp," one said. "He's got his faults, he makes mistakes, but he's a good person and the person she needs around her and they just f***ed him around completely. They used him, sucked the blood dry and then spat him out. They are a real bunch of bastards."
According to a source in Kwarteng's constituency of Spelthorne, Surrey, the former chancellor experienced his first taste of the public's dissatisfaction during a walkabout on his local high street shortly after the mini-budget on September 23. Although his pledge to cut stamp duty had been expected to provide a welcome boost to the housing market, Kwarteng was left in no doubt about the views of a local estate agent who, on being waved at through the shop window, responded with a rude hand gesture.
There were signs the wheels were falling off the Truss bandwagon on Tuesday, when she reiterated her commitment to cutting taxes in a speech at a Conservative fundraising dinner for which guests paid £1,500 a seat. Truss, whose speech was described as "a worse version of the one she gave at conference", was denied a standing ovation.
"It was embarrassing," one guest said. "I can't think of another PM who hasn't received a standing ovation after addressing the same event — not even Theresa May at the height of her Brexit battles. The only topic of conversation was how the party could get rid of her."
Tory donors are also understood to have snubbed the PM. "Aides came to our table and asked our host, a prominent Tory donor, if he wanted to speak to the PM, as is customary. He told them bluntly that he would rather not."
Several miles away, at a separate dinner organised by Mel Stride, a leading Sunak supporter, those present were unanimous in their view that Truss should be replaced.
"The major discussions are no longer about her removal but how to do it," said one of those present. "It was mainstream, moderate MPs. I've never been to a dinner like it in my life. The whole room was discussing how to remove the prime minister."
On Wednesday, Truss faced the wrath of MPs at the 1922 Committee. The No 10 team have privately pointed the finger of blame at the whips for not preparing a proper operation beforehand. Truss was described as "incandescent" that she addressed the back-benchers without Sir Graham Brady, the committee chairman, leading the meeting. "She was stitched up," an ally said. "It was the same public schoolboy men attacking her at the 1922 who then went out to tweet about how good her tax cuts were."
Truss appears to have anticipated that calls for her removal would only grow after Kwarteng's sacking. Within minutes of the prime minister's disastrous eight-minute press conference on Friday afternoon, Thérèse Coffey, the deputy prime minister and health secretary, held a phone call with dozens of ministers in an attempt to shore up Truss's support. Looking "very upset", according to one person on the call, Coffey acknowledged the government had gone "too far and too fast" in the mini-budget but insisted, despite the severe setbacks, that No 10 was determined to prove the "flipping" Office for Budget Responsibility wrong …
Later, Coffey held a second call with backbench MPs, but it did not take long for the mood to sour. Laurence Robertson, a loyalist, told Coffey that Truss's supporters had been made to "look like fools", while Johnny Mercer, Andrew Percy and Steve Double are said to have claimed that the party was hurtling towards "disaster."
… There are reports that as many as 100 letters expressing no confidence in Truss have been submitted to the 1922 Committee, which some backbenchers believe would give Brady a mandate to change the rules and get rid of the year's grace a new prime minister usually has before a leadership challenge can be launched … 
"I've never been more depressed by what has happened in my entire time as an MP," one former minister said. "She sacked Kwasi out of survival but it actually made it worse for her. I think she will be gone by the end of the week" …
Although many of the party are unified in their desire to remove Truss, there is no agreement on who could replace her …
Truss's dire press conference
Truss's press conference last Friday was one for the history books.
She looked white as a sheet and visibly shaken, as if she were a hostage reading a pre-prepared note in front of a camera.
The Naked Emperor's Substack post from October 17 might give us an indication of what went on (bold emphasis his):
Alfred Kammer, head of the IMF's European department said he praised the UK's "strong institutions" but that the IMF would only deliver its verdict once policymakers' "process of recalibrating" the policies had been completed.
It sounds like Kwasi was sent to Washington DC to be assessed but he failed miserably. He was asked to change his mind but when he stuck to his guns, the message was sent back to London that this guy must be removed.
With the message received loud and clear back in London, a new Chancellor needed to be chosen. Once again, Liz Truss thought she was in charge and looked to replace Kwasi with Sajid Javid. However, once more, the powers that be had other ideas and she was told to appoint Jeremy Hunt.
But the main question remains – where was Jeremy Hunt? Why was he not by the Prime Minister's side when she announced his appointment?
The answer is that he was nowhere to be seen because Mr. Hunt had been in Brussels for three days. What was he doing there? Who was he meeting with? Was he being given his orders in case Kwasi couldn't be turned?
Clearly Liz and Kwasi didn't want to reverse course. Her extraordinarily short press conference … looked more like a hostage video.
Without further ado, here's the eight-minute press conference, which includes four questions from the media — Ben Riley-Smith from The Telegraph, Harry Cole from The Sun, Robert Peston from ITV News and a fourth whom I've forgotten. It starts a little after the 36:00 point:
It took Truss ages to choose the appropriate reporter:
Umm … ahh … let's see …
She chose The Telegraph and The Sun first, because those would be the most favourable towards her plight, but it did not turn out like that.
This was The Telegraph's front page on Saturday:
On Saturday, Harry Cole wrote:
Weakened and defenceless, when I asked the PM at yesterday's disastrous press conference why she should remain in office, she could barely muster an answer.
After taking just four questions from reporters, she rushed for the exit – barely eight minutes in.
Last night No10 were scrambling to simply survive in office.
"Tax cuts were meant to be the easy part", a minister claims.
Here is a clip of him asking his question and Truss's answer, which is about her taking 'difficult decisions':
After Truss took the fourth question, she walked away. That was it.
Cole is in the centre of the next video, looking bemused:
You could not have made this up — any of it.
Truth is stranger than fiction.
More to follow on Friday and early next week.