You are currently browsing the tag archive for the 'United States' tag.
Last week, GB News, thanks to Nigel Farage, scored a world exclusive with an interview of Donald Trump, who has not been on television outside the United States since he left office in January 2020.
GB News is available to view worldwide. I suggest their YouTube channel, which has not only live streaming but also full episodes of most of their shows.
Here's the full show from Wednesday, December 1. The 30-minute interview with President Trump at Mar-a-lago in Palm Beach is shown in two parts:
Others interviewed include Trump's former speechwriter Stephen Miller, ex-press secretary Sean Spicer and CPAC chairman Matt Schlapp as well as two Democrats advising Joe Biden.
Unfortunately, the 30-minute interview of Trump is no longer available.
The first half of the interview is about the 2020 election. Highlights follow.
Trump talked about his January 6 rally and the violent incident at the Capitol building:
Asked by GB News presenter Nigel Farage whether it was 'a mistake to have that rally on that day', Mr Trump said: 'The insurrection took place on November 3rd, that was Election day, and before and after, that was to me the insurrection and the January 6th was a protest.'
The 45th President went on: 'I have spoken to very big crowds. I have never spoken in front of a crowd that size, nobody ever talks about that.
'And then unfortunately some bad things happened, but also the other side had some very bad things happen.
'And add this, I offered 10,000 and suggested 10,000 national guardsmen… or even the military, because I knew the crowd was going to be massive, because I knew the anger that took place over the election being rigged and I understood that, I understood it better than anybody.'
'And Pelosi and these people turned it down. We would have had tremendous security but they turned it down.'
Trump lamented the current status of the United States:
I think it's at the lowest point it's ever been at.
I don't think it's ever been in a position like this.
We're not respected anymore.
Trump did not say for certain that he would be running again in 2024. Pundits say he is awaiting the outcome of the 2022 mid-term elections, but he gave Farage a few hints:
Speaking to GB News presenter Nigel Farage, Mr Trump was asked why he would consider 'going back into hell again' and re-enter mainstream politics.
The 45th President responded: 'If you love the country you have no choice – it's not a question.
'I love our country. I brought the country to a level it's never seen before.
'Then we had Covid come in and then I brought it back, came up with vaccines that you're using, we're all using, the world is using, saved tens of millions of people throughout the world in less than nine months.
'It was supposed to take 12 years… they were expecting it to take 12 years and everyone said it wasn't going to work and they worked incredibly well.
'We've done an amazing job.
'This is a wonderful, beautiful life, but I like that [politics] too because I'm helping people.
'That's why I did it.'
…
Mr Trump further indicated his intention to try and regain office in 2024, saying: 'I think you'll be happy in the future too, because that'll be your next question.'
Nigel Farage responded: 'Well I know you can't answer that question because it would start the campaign clock ticking.'
To which Mr Trump replied: 'That's right.'
The second half of the interview was about British politics and the Royal Family.
Farage asked Trump about Prime Minister Boris Johnson's green policies. Trump is not a fan of windfarms and thinks that Boris has moved to the left:
Nigel Farage informed Mr Trump about the Prime Minister's comments that he wants the UK to become the 'Saudi Arabia of wind', to which Mr Trump replied: 'I think it's a shame.'
'I'm surprised that he would allow that to happen because you've got one of the most beautiful countries in the world and you're destroying it with all these wind turbines all over the place.
'In Aberdeen they built this ugly wind farm in the ocean. It's so disgusting to look at it – it's a shame.
The former President continued: 'I think it's a shame what's happened in Scotland, in [the] UK, all over the place. You take a look.
'I think Ireland's been better about it, if you want to know the truth.
Despite Mr Trump's assault on the Prime Minister's support for wind energy, the former President still spoke warmly of his relationship with Boris Johnson: 'I like him, I like him. I get along with him, I've always gotten along with him.
However, he told GB News he felt Mr Johnson was erring away from conservative values, noting: 'He's gone a little on the more liberal side.'
Trump also thinks that pursuing a Net Zero policy is mistaken:
The former President then attacked the Westminster Government's pursuit of net zero.
'In your country [the UK], which I do know something about… I see what they're [the Westminster Government] doing and I think they're making a tremendous mistake.'
Then Farage asked him about the Royal Family, beginning with the Duke and Duchess of Sussex, better known as Harry and Meghan:
Donald Trump has accused the Duchess of Sussex of being "disrespectful" to the Queen and the royal family.
… the former US president also said he thinks the Duke of Sussex has been "used horribly".
Speaking about Meghan, Mr Trump said: "I'm not a fan of hers. I wasn't from day one. I think Harry has been used horribly and I think someday he will regret it."
He added: "I think Harry's been used and been used terribly.
"I think it's ruined his relationship with his family, and it hurts the Queen."
In response to comments from GB News presenter Nigel Farage about Meghan using Duchess of Sussex headed writing paper to lobby members of Congress, Mr Trump said: "She is trying do things that I think are very inappropriate."
He had high praise for the Queen and said he really enjoyed meeting her in 2019 while he was president:
Former President Donald Trump says he has been watching the Queen 'very closely' after a 'tough year', but hopes she is 'not too ill.'
In a world exclusive interview for GB News, the 45th President told Nigel Farage that the Queen is 'a fantastic woman' who is 'respected by everyone.'
Mr Trump recounted his interactions with Her Majesty whilst President: 'I was supposed to spend like a half an hour with her [but] I ended up being there for much more than an hour.
'Everyone said "oh that's so rude" but I said "no but she liked it and I liked it I'm not going to be rude".'
He went on: 'We had a great time together, we then had an evening the likes of which you rarely would see.
'She was really laughing and smiling, we got along great, we talked the whole night.'
Mr Trump continued: 'She is a great, wonderful woman… and respected by everyone.
'And no scandal, no anything, think of it.
'She's done this for more than 70 years and she's never had a scandal about herself.'
Mr Trump met the Queen in June 2019, during a state visit, and again in December of the same year during a Royal family reception at a NATO summit hosted at Buckingham Palace.
His love for the Queen began with his mother, who had emigrated from Scotland in the 1930s:
He said of his mother: She was really somebody who respected the Queen, she loved the Queen.
'Anything with the Queen, when they were doing anything ceremonial… she was glued to the television.
'She had great respect and love for the queen.'
Trump denied former press secretary Stephanie Grisham's claim that Prince Charles bored him:
Nigel Farage asked Mr Trump about claims from his former Press Secretary, Stephanie Grisham, that he found the Prince of Wales 'boring' during a private dinner hosted by the Queen.
The former President responded: 'No I wasn't bored, I like Charles, I thought he was good.
'No, he's an environmentalist, he talked about the environment most of the meeting, which was fine.
'I understood that was the purpose of the meeting and he was telling me his views.
'I was not bored at all, no, I think Charles is a wonderful person.'
Sean Spicer gave an upbeat interview, facing off against the Democrats' Eric Guster about a second Trump term in the White House and his Twitter account:
Dan Wootton's show followed Farage's interview.
Wootton asked him if Trump had said more than what was shown on television. Farage demurred, saying that he does not discuss private conversations:
Wootton is clearly in the tank for Trump's 2024 candidacy, should it happen:
His fellow conservative panellists, however, were far less enthusiastic.
It was good of The Times to cover the interview early Wednesday morning before it aired that evening.  Most mainstream newspapers, especially The Telegraph, have taken pot shots at GB News since it launched on Sunday, June 14.
Guido Fawkes also plugged the interview:
Guido also recapped the highlights the following day:
The interview was a huge ratings success for GB News, the best since their launch night:
Guido's accompanying post says that GB News trumped (!) the BBC during the two-hour special (emphases in purple mine):
Unsurprisingly, Farage's interview with Trump last night was box office for GB News. Figures seen by Guido show the interview pulled in Farage's highest ever viewer count, and the largest GB News viewership since its original opening night. For two whole hours between 7pm to 9pm, GB News beat the BBC's average by 155,600 viewers to their 118,200, with Sky News some distance behind on 60,500. The interview reached 208,500 just after 7pm and held steady for the next hour. Nigel's certainly earning his fee…
Nigel Farage has been great for GB News. I rarely miss his show, especially the revelatory Talking Pints segments.
Thanks go to President Trump and the other interviewees for taking the time to give Britain — and the world — an excellent two hours of television.
Happy Thanksgiving to my American readers. I hope that their day is full of food and fun.
This is an important day, recalling the first Thanksgiving in Massachusetts featuring English Pilgrims and the indigenous people who taught them how to plant and grow regional crops.
Alternatively, some prefer to celebrate the first Thanksgiving in Florida decades before.
Whatever the case, the day is also apposite for giving thanks to God for personal blessings, past and present.
This summer, I spent a lot of time reflecting on the trajectory of my life and those many blessings from the past that made my present days possible. It was a prayerful exercise, full of remembered pleasant surprises from the past. As I looked back, it seemed to be God's plan for me. How thankful I am.
Those weeks of reflection while doing gardening were a useful exercise. They also helped to lift the gloom of lockdown prior to England's mid-July reopening. I still feel elated.
The other day, I wrote about Grant Harrold, The Royal Butler.
My post ended with an autobiographical video about his life:
He describes the trajectory of his life, from being a youngster who persuaded one of his teachers to allow him to start an after-school drama club in Scotland. At that time, he wanted to be an actor but also a butler.
After he finished school, he gave tours of a Scottish estate. From there, he went on to work for the then-Duke and Duchess (now Dowager Duchess) of Bedford, in England. A few years later, he became butler to Prince Charles. He ended up being a guest on television shows, not only in Britain but also the United States and Australia, discussing various aspects of etiquette. His demonstrations of afternoon tea have been particularly popular. Clearly, he has achieved both of his childhood ambitions.
Grant Harrold's life appears to have the hand of God upon it, even if he did not say so.
Currently, The Royal Butler gives courses on etiquette, both in person and online. He ended his video by saying how grateful he was to the people along the way who made that possible, beginning with his schoolteacher who allowed him to set up a drama club three decades ago.
Each of us has much for which to be grateful. Thanksgiving Day is a good time to reflect on our many blessings.
What is 'luxury wellness'?
Posh spas and rehab centres, available only to the wealthy.
Let's open the door and find out more.
Villa Stéphanie Spa & Wellbeing, Baden-Baden, Germany
When it comes to spas, wealthy women already look beautiful, so one wonders how much extra lingering beauty a week-long stay at one actually produces.
On October 2, 2021, the Daily Mail published an article about Victoria Beckham's stay at Villa Stéphanie Spa & Wellbeing in Baden-Baden, Germany (emphases mine):
The retreat – which is described as an entire house dedicated to the world of spa – on its website, offers rooms starting from €270 a night (£231) and massages from €170 (£145). A seven night programme starts from €4,000 (£3,430) per person.
That means treatments are added on to the base price.
The article has several photographs from Mrs Beckham's Instagram account. The photos look as if she were asking, 'Don't you wish you were here?' Of special note is the one with Dr Harry Koenig, who tailors treatments to individual needs:
Showing off her slim figure in a black tank top and accessorising with a black cap, Victoria told fans: 'So we are here in Baden-Baden in Germany having our annual checkups, MRIs… gosh checking literally everything. It is absolutely incredible.' 
The former Spice Girl said she was also taking the opportunity at the lavish retreat to 'detox and have infusions and go for lots of amazing hikes'. 
Victoria shared a photo of herself clad in khaki sweats and embracing Dr Harry Koenig who tailored all of their treatments at the retreat based on their test results …
Victoria shared photos of an egg white omelette with sliced avocado and a dish of fresh salmon and vegetables, and said she's learnt a lot about food and diet' that has now 'influenced' how she eats at home.
Also detailing the more expensive treatments on offer, Victoria shared a photo of nurses Ellen and Sophia bringing her tray of 'daily vitamins and amino acids'.
She also opted for a 'heavy metal chelation supplement' which is said to aid in detoxification and protect the liver and kidneys, daily IV drips, and a hyperbaric oxygen treatment. 
Victoria also used the opportunity to flaunt her own skincare line as she showed off her radiant and makeup-free visage during a beauty treatment, and shared stunning footage of herself hiking through the Black Forest surrounding the retreat. 
This woman needs none of that, because she barely eats when she goes to a restaurant:
It comes after last week Victoria's revelation that her favourite meal of all time is salt on whole grain toast left fans in disbelief.
Speaking to Ruth Rogers on the River Café's Table 4 podcast the fashion designer admitted she was a restaurant's 'worst nightmare' because she was happy with just a slice [of bread] with a sprinkling of the seasoning. 
Ugh!
Judith Woods of The Telegraph wrote a great article about the Beckhams' stay at the retreat:
When Victoria Beckham gave us a sneak peek into her recent physical MOT at a lavish spa retreat in Baden-Baden, it was hard to decide which delicious treat we envied most.
Was it her daily personalised IV drips? The artisan-crafted egg-white omelettes? Or the hyperbaric oxygen treatment? Yum. Or maybe it was the presence of husband David, who was also getting his annual once-over? Because nothing screams enduring love more loudly than his 'n' hers MRI scans followed by a hearty hike in the Black Forest.
Here she is, face scrubbed and smooth as a preternaturally girlish 47-year-old milkmaid, snuggling up next to Dr Harry Koenig, the handsome silver fox who tailored all her treatments.
Meanwhile:
Back in Britain we struggle even to catch sight of a GP, who are second only to HGV drivers and slaughtermen in their scarcity. Yet here was Mrs B with a buff Bavarian medic all to herself, personalising every esoteric infusion and rejuvenating elixir. This isn't just wellness: this is luxury wellness. Actually, scrap that. This is exclusive, bespoke, ultra-luxury wellness.
We discover how much a week's stay can actually cost:
At up to £19,000 a pop for a week's stay, that is one shock and awe shellac. And let's not forget the integrative holistic medicine and the "vampire facelift", where the client's own platelets are injected under the skin along with a hyaluronic acid filler.
On the Beckhams, Woods concludes:
Sorry to be blunt but this sort of high-end "Because I'm worth It" intervention really isn't for amateurs.
In the competitive wellness stakes, the Beckhams pretty much ace it. Just as engagement ring metrics traditionally equate purchase price with strength of ardour, so do modern lavish spa treatments convey exactly how much self-love a celebrity possesses.
Goop at Sea, floating spa
Woods tells us about a spa cruise scheduled for 2022 that is attracting American women on the celebrity circuit:
Happily, celebrities really do excel at leading by example. Why, Goop founder Gwyneth Paltrow has entered into a pact – sorry partnership – with Celebrity Cruises and will set sail round the Med next summer in a venture dubbed Goop At Sea.
Aimed at the sort of person who uses "juice" as a verb, this gorgeous floating spa will feature "trailblazing healers and transformative workshops for mind, body and soul" along with personal butlers, a private restaurant and an exclusive lounge.
Woods rightly points out that female celebrities already look good. These spa visits are a pampering top-up:
Ageless and wrinkle-free; not young per se but not old. Therein presides the spa delusion; civilians imagine that they will emerge relaxed, rested and youthful, just like the beautiful people.
Except they were already beautiful before they handed over their Amex cards. It's their day job. A-listers have no problem being stripped down and rebuilt like a Formula 1 car every so often; it counts as red-carpet running repairs in a profession where optics matter more than anything else.
Agreed.
It is far better and cheaper to book an appointment with a licensed aesthetician, especially in the UK, as they can provide a wide range of beauty treatments and detoxes.
Gentlemen, if these are what the lady in your life wants, get her a gift certificate for a half-day session for Christmas. She will love you even more for it.
Paracelsus Recovery, Zurich, Switzerland

On the rehab side of things, The Telegraph's food critic William Sitwell noticed he was having a few physical problems at the age of 51:
… I don't like sitting down and I'm scared of food. Lower-back pain and acid reflux are now rendering me nervous at the prospect of eating out, uncomfortable doing it, in pain writing about it, and in fear at the physical consequence of it.
The Telegraph treated their treasured food critic to a three-day stay at Paracelsus Recovery in Zurich. The clinic:
promises a 'safe haven', with 'individualised treatment programmes that are designed to address a client's unique set of needs.'
I'm dispatched by The Telegraph, which is fortunate because regular clients at Paracelsus are high-profile, high-net-worth individuals, and the price tag for a week's admission is £75,000. 
Sitwell tells us that many of the clinic's patients enter a three-month programme. Incredible.
Before going, he spoke with Paracelsus's founder and CEO, Jan Gerber, who told him:
'We'll give you your own apartment with views over Lake Zurich. You'll have a housekeeper who will cook and clean for you as well as a team of 10 of us caring for you,' he tells me. 'We'll conduct an array of assessments: physical, emotional and biochemical. We'll identify areas of concern or ones to watch, and with treatments, therapy, yoga and massage we'll implement a programme. Our aim is to add quality years to your life.'
'These are first-world problems, right?' I say. 'That may be true,' he replies, 'and we work with a lot of financially privileged people, but that doesn't mean they don't experience very real emotional or physical pain. What we do here is super complex. Are you willing and able to help us open your can of worms? Don't worry, our responsibility is not to go to places where we leave the doors open.'
The clinic is used to dealing with drug and alcohol addiction. Sitwell went in order to resolve his food issue:
I really love to eat and also hate it – gives me a little wind in my sails. I am worthy of a brief visit. Paracelsus, here I come.
The article comes with photos of his stay, which are well worth looking at.
The clinic's managing partner Pawel Mowlik, a German, met Sitwell at Zurich's airport. A chauffeur drove them into the city centre:
Whisked out of the airport and into the clinic's Bentley Flying Spur, we are soon in the city centre and turning into a nondescript car park behind an apartment block.
Luggage taken care of, doors held open, we go through an entrance with no signage. 'This place is very discreet and highly confidential,' says Mowlik. 'We have the very famous – the richest people, heads of state – and no one needs to know that they are here.'
The apartment was fully kitted out, with a separate area for a live-in therapist:
My apartment is airy and light, with lake views, a large bedroom, comfortable sitting room, kitchen and dining area and my own therapy room. Behind the kitchen is another bedroom and bathroom. 'That's for a therapist to stay,' says Mowlik. 'We can provide that 24/7 if need be. We sent a therapist back to the Middle East with one client,' he adds, 'and they stayed out there for five years.'
The housekeeper, Elizabeth, is there to unpack my things.
Founder and CEO Jan Gerber was already there to greet his new patient:
We sit down to discuss my schedule. Across three days I'll have an intense programme of clinical, psychiatric, fitness, lifestyle and nutritional assessments as well as yoga, psychotherapy, physical training, intravenous therapy, something called bioresonance and then a presentation of results by the team.
Gerber told Sitwell that coronavirus has exacerbated every type of mental health problem.
Chaperones are de rigueur, in case a patient tries to escape. Gerber's mother:
Christine Merzeder, is the senior clinical coordinator. She will chaperone me from meeting to meeting. Mowlik, it turns out, will chaperone me for anything else.
I mention a swim in the lake. 'A lovely idea, we can go tomorrow at 8am,' he says …
I note that the physical assessment and training are at a private gym. 'Is it far to walk?' I ask. 'It's a simple route,' says Mowlik. 'I will show you… and then bring you home.'
The super rich need a crafty chaperone, and this one knows how they think. By his early 20s Mowlik, working for a Zurich-based hedge fund, was earning up to £2 million a month. He began splashing it on private jets, alcohol, drugs … he checked into Paracelsus and liked the place so much he later became a partner. Clients can relate to him, and he's quite handy at finding new recruits, too.
Paracelsus isn't any ordinary rehab clinic:
'Being famous and wealthy can be a very lonely place,' says Mowlik. 'You can't trust anyone, you find yourself exploited and that can be a vicious circle that brings separation from people. Which can lead to depression and medication with substances. We exist because such a person can't go to an average rehab.'
'Did you know that the incidences of addiction among the wealthy are much higher – maybe five-fold – than the average?' states Gerber.  'And it is relative. Pain is very real for the person who feels the pain. In fact it can be harder for someone who is famous and very wealthy to find empathy. Emotionally we are all human, we all need love and social interaction.'
Gerber also argues it is vital the rich and powerful can get confidential help. They can have a lot to lose if the public learns of their difficulties.
'If a head of state or famous entertainer is unwell, that can have a very large effect on their family network or across their business empire: a head of state with a nation in crisis, a lead actor in a major production…' he explains. 'So what we do here is a big lever to heal the world.'
He adds that his therapists need to understand the reality of being rich. 'We call it affluent neglect,' he says. 'There are children brought up by nannies and sent to boarding school.'
Sitwell underwent a battery of physical tests, from blood to stool to urine and more:
I'm wired up to a Metatron, which scans my body for inflammation, I have a portable heart monitor attached to my chest, a live-monitoring glucose implant on my upper left arm, they take blood from my veins, blood from my fingertips, I have strict timetables to deliver urine and stool samples.
Consultant psychiatrist Dr Thilo Beck was Sitwell's therapist, asking him all about his recent life history:
… he teaches me the fascinating concept of the observing self, watching the theatre of life as it progresses. 'The next time you feel angry, pause for a second and consider the idea that you're noticing yourself becoming angry… You are the driver of your bus; your anxiety and fears, the parts you don't like, are parts of you. They are your passengers, stroke them, soothe them, be proud of your bus and drive towards your values.'
Nicole Züllig, a psychotherapist, conducted a separate session on trauma:
'I specialise in trauma,' she tells me. 'I have discovered that most people have unresolved trauma.' It sounds like Prince Harry's been in this chair, I think to myself, recollecting his habit in the press, for example, of describing partying antics in his 30s as not 'fun', but 'unresolved trauma'.
'Where is that trauma, that loss?' she asks. 'I look for that very deep loss. We have a tendency to put it away in anger, to deep-freeze it, we must get it out of the freezer, thaw it and deal with it…
'So tell me about your relationship with your mother.'
Sitwell described his beautiful mother in glowing terms. The article has a picture of her holding him as a boy.
Züllig asked him how he felt, and he replied, 'Guilty' for having spoken to someone about her behind her back.
Then came the real issue, his schooldays, including at Eton, which were not his best days:
As I talk, I laugh at various moments. 'Why are you laughing?' she asks, appalled.
'Because I think it's funny,' I reply.
'Funny?' she exclaims. 'You think this is funny? It is not funny. It is tragic. You were abandoned. This is trauma. You must take this trauma, understand it and thaw it. You must not laugh to avoid it.'
'Whatever,' I mutter. Soon I'm chatting about my more recent work; a few big awards, books, television … I ponder how I've turned out compared with the boy at Eton aged 16, having failed the annual exams, officially labelled in front of 600 of my peers as a General Total Failure.
And I sob. Züllig has done her work and is on hand, brandishing tissues. 'How does this make you feel?' she asks. 'Exhausted,' I reply.
Sitwell fell asleep during his yoga session, after which he received a deep massage, which he described as 'rigorous'.
Another session involved physical training at the Dolder Grand spa, in the city's grandest hotel:
Mowlik lurks outside to prevent any attempt at escape. Later, as I lie on a sunbed for a moment, I look to the plunge pool to my right – and jump with fright as Mowlik emerges from the water.
Sitwell rode in the Bentley there and back.
When he returned to the clinic, Dr Manuel Riegner gave Sitwell the results of his physical exams. On the one hand, he has a 'biological age of 29'. On the other hand:
I have high levels of mercury and uric acid, low levels of zinc, and a very concerning, almost negligible, level of iron. 'No wonder you feel fatigued,' he says.
Nutritionist Priscilla Sanchez gave Sitwell diet and eating advice, which included omitting milk and most carbohydrates as well as cutting down on alcohol:
Then I'm strapped to an intravenous drip, fed amino acids, vitamin C and a detoxmix, given two weeks' worth of supplements, and told I must have an infusion of iron back in the UK, urgently.
Then it was time to pack his bags and leave:
I have a last swim in Lake Zurich, the water and distant sight of the Alps soothing my mind. 'Time to leave,' says Mowlik, coming up for air beside me.
He doesn't leave my side until I'm through departures at the airport.
Once at home, Sitwell stuck to the eating and exercise plans and had not experienced any of his old symptoms.
But something equally important also happened — a sense of gratitude:
Three days of gratuitous self-reflection and I realise I'm so lucky to have the family I have, the wife, the kids, the home, the friends, the most utterly fabulous job writing about my most favourite subject.
Good for him. I have read this article a few times and enjoyed it more every time.
————————————————————————–
Well, that's it for an introduction to 'luxury wellness', something few of us will ever experience.
As I write, Prime Minister Boris Johnson is on holiday in Spain.
He, his wife Carrie and their young son Wilfred left for Lord Goldsmith's holiday villa after the Conservative Party Conference ended on Wednesday, October 6.
It is a well-deserved break. His stay in Cornwall in August lasted 24 hours before he had to return to Downing Street to deal with the fallout from Joe Biden's abrupt withdrawal from Afghanistan.
Despite Britain's crises of fuel and food, he needed a break before Parliament resumes next week.
However, a pivotal personal event also occurred during this time: the death of his mother, Charlotte Johnson Wahl, whose funeral was held on September 28.
A Remainer campaigner sent a nasty tweet asking who was in charge of the Government:
Boris's sister replied:
Boris has not taken any bereavement leave until now.
However, with every lamented death comes new life. Carrie Johnson will be giving birth again in a few weeks' time, which will be a consolation to the Prime Minister.
Budding artist
Charlotte Maria Offlow Fawcett was born in 1942 in Oxford to Frances (née Lowe) — 'Bice' — Fawcett.
Her father, James Fawcett, was a barrister. Three decades later, Sir James Fawcett assumed the presidency of the European Commission for Human Rights.
Years later, Charlotte described her childhood family and friends as 'rich socialists'. She never voted Conservative, although she told Boris that she did vote 'Leave' in the 2016 Brexit referendum.
Charlotte's mother, Bice, was close friends with a woman from another prominent family, Elizabeth Pakenham. Elizabeth and her husband had a baby girl, Rachel.
In a tribute to her friend which she wrote for The Times, Rachel Billington said (emphases mine):
In May 1942 our mothers, Bice Fawcett and Elizabeth Pakenham, both had babies in Oxford and walked our prams side by side. Her family, the Fawcetts, were clever, artistic and international; the Pakenhams were political and literary. Charlotte and I were fat little girls together, waving our Peace in Europe flags and trying to keep up with our siblings. She ended up with four siblings, while I had seven. When both families were in London, I was jealous of music in her house and the sense of an intellectual world beyond my grasp. And she was jealous of my rumbustious life, with a house in the country and horses. Not that she had any wish to ride.
Rachel Billington says that Charlotte attended Catholic school and said her prayers every night, kneeling at her bedside. This religious education might well have imparted the wisdom she gave to Boris, who remembers her talking about 'the equal value of every human life'.
The Fawcetts moved to the United States for a time. Billington recalls:
When her family went to live in America and her youngest brother acquired an American accent, I realised she inhabited a wider world.
The family returned to England. By then, Charlotte was interested in painting and pursued her artistry at Oxford, the university that Billington also attended. Charlotte was reading English:
At Oxford, her intensity was reflected in her small college room where the objects were ordered as if already in a painting. She was painting and drawing complicated faces and patterns. Her essays were remarkably short and there was never anything regurgitated from "further reading". She discovered her views from the text and from her imagination.
Meeting Stanley at Oxford
Charlotte met her first husband, Stanley Johnson, at Oxford.
In a 2015 interview, she recalled how they met at a university dinner:
… she told Tatler magazine in 2015: 'I was engaged to somebody called Wynford Hicks, who was extraordinarily beautiful to look at but actually quite boring.
'Anyway, [after the dinner] Stanley sent me a note asking if he could come to tea and go for a walk.
'So a few days later we went for a walk and he suddenly said, 'Love is sweet. Revenge is sweeter far. To the Piazza. Ah ha ha har!", which made me laugh so much I fell in love with him.'
When he earned a scholarship to study in America, Charlotte accompanied him. They married in 1963 and their first child, Alexander Boris, was born a year later.
Billington explained his middle name. Stanley and Charlotte were on holiday in Mexico City at the time:
The name Boris, incidentally, arose when they ran out of money at the airport on the way to New York where Charlotte was to have the baby, and an impatient passenger in the queue offered to pay what they needed. "That's terrific," Stanley said gratefully, "We'll call the baby after you if it's a boy. What's your name?" "Boris," answered the gentleman. In fact it is our prime minister's second name; while he was at Eton Alexander was dropped in its favour.
However, Boris is still known to his nearest and dearest, Billington included, as Al or Alexander.
Charlotte painted a portrait of her son as a young boy, who grew up with shoulder-length hair:
The casually dressed, floppy-haired boy looks up from his painting. He is relaxed but serious, his complexion fair.
The Johnsons returned to England for a time. Charlotte and Rachel resumed their friendship:
Nothing seemed impossible to this glittering couple and Charlotte returned to resume her degree with Stanley and Alexander while also pregnant with her daughter Rachel. Through these perambulations and my own, Charlotte and I remained close; I was Al's godmother and later Charlotte was my eldest son, Nat's. Friendship was very important for Charlotte and she had the kind of loving warmth that made even newer friends bond to her for life. And tell her their stories and listen to their jokes and laugh. Lots of laughter.
It seems likely that Charlotte named her daughter Rachel in honour of her friend.
Charlotte completed her degree at Oxford as the first married female undergraduate at her college, Lady Margaret Hall.
Ruined marriage
Stanley received a transfer back to the US to work at the World Bank in Washington DC.
Billington was also in the US, working for ABC television in New York.
She remembers meeting up with her friend, the mother of four:
With the Johnsons living in Washington, where Stanley was working at the World Bank, enjoying a highly sociable life, plus now having four children, it seemed extraordinary that Charlotte's painting life could continue. Yet when I visited from New York where I was working for ABC TV, she still had the energy to go down to Rehoboth Beach [Delaware] and bebop with the rest of us.
In the 1970s, the Johnsons' marriage began to break down once the family returned to London.
The Mail alleges:
Mrs Johnson Wahl had an unhappy marriage to Boris' father Stanley, who was accused of breaking her nose in the 1970s.
Charlotte's mental state disintegrated, to the point where she had to be admitted to the Maudsley Hospital in London.
Billington visited her:
… suddenly I was visiting my brilliant friend in the Maudsley Hospital suffering from the problems that pressure and an obsessional nature can bring, properly called obsessive compulsive disorder. While the children ran round in the garden, Charlotte and I talked and I discovered that every day she was painting for hours at a time. Eventually, nearly 80 paintings were exhibited in the hospital, terrifying pictures of people in despair, agony or just misery. Yet also implying hope in the vibrant beauty of the colours and quite often a kind of wry humour, as if saying, "This is my life at the moment."
The Times obituary notes:
She had already become "extremely phobic . . . terrified of all forms of dirt". Eventually she had a breakdown and spent eight months at the Maudsley hospital in south London as a patient of Hans Eysenck, the influential psychologist.
While Charlotte was in the Maudsley, Stanley was transferred to Brussels. He took the children with him.
Charlotte discussed the difficult marriage in a 2008 interview:
"My husband and I were not making each other happy, to put it mildly. It was ghastly, terrible," she told the Daily Telegraph in 2008, tears filling her bespectacled eyes. "The children used to come over from Brussels to see me in hospital. They'd run down the passage and it was sickeningly painful because then they'd go away again. It took me a long time to recover."
Once Charlotte recovered, she was able to move to Brussels and, during holidays, welcome guests at the family farm in Exmoor in Devon. Billington remembers her stays with the Johnsons:
As Charlotte recovered, the family moved to Brussels, but when they were in England I would join them in the house on Exmoor that Stanley inherited from his father. It was a glorious cold comfort farm, but friends, if they survived the long pot-holed driveway, were fed hugely and taken on challenging treks that usually included river swimming and mountain climbing. Well, hills. It was hard for Charlotte to paint there, yet the pictures of her children and her friends' children prove she was still managing. I have three from that period.
The renowned journalist and author Tom Bower has written a biography of Boris, The Gambler. The Mail's obituary of Charlotte recaps how Stanley treated her:
A biography of the Prime Minister claimed her marriage became 'irredeemably fractured' due to her husband's 'neglect and philandering'.
The Gambler, by Tom Bower, alleged that doctors spoke to Stanley 'about his abuse' while the couple's children were told a car door had hit their mother's face.
The most shocking claim was that in the 1970s Stanley hit the Prime Minister's mother in a domestic violence incident that broke her nose and left her requiring hospital treatment.
Mr Bower describes Stanley's first marriage, to Mr Johnson's mother Charlotte, as violent and unhappy, quoting her as saying: 'He broke my nose. He made me feel like I deserved it.'
It was claimed that the incident took place in the 1970s when Mrs Johnson Wahl was suffering from obsessive compulsive disorder and had 'flailed' at Stanley, who broke her nose when 'flailing back'.
Stanley, now 81, is said to have deeply regretted the incident and denied he had been violent on any other occasion.
By the end of the decade, the couple separated. They divorced in 1979.
Billington lived five minutes away from Charlotte, once she separated and could really throw her energies into painting:
After her separation from Stanley, paintings poured out from her flat at the top of a large building in Elgin Crescent in Notting Hill, London, happily just five minutes' walk from me.
The Mail says Charlotte refused financial support from Stanley:
After moving to a flat following her divorce, she refused to accept money from her ex-husband and made a living selling paintings. She later recalled she was 'very hard up'.
Dr Nick Wahl, second husband
Charlotte found happiness with her second husband, Dr Nick Wahl, an American professor. They married in 1988.
The Times obituary tells us how they met in 1982 and summarises their life together:
… she met Nick Wahl, an American academic. "We were at a dinner party in Brussels given by [the diplomat] Crispin Tickell and Nick asked could he see my paintings," she told Tatler. "He was on a trial separation from his wife. There was an immediate connection. I flew out to see him and he came to see me. There were an incredible number of crossings of the Atlantic." They married in 1988, by which time her youngest son was in his final year at Eton, and lived on Washington Square, New York. Wahl died from cancer in 1996 and she returned to London, settling in Notting Hill in a flat that, according to one visitor, resembled "an Aladdin's cave with exotic carpets, a dolls' house, flowers, cherubs on the wall and oil paintings everywhere, including several of the flaxen-headed children".
Billington recalls those years:
That was a great period of creativity that was reinforced by her marriage to Nick Wahl and a double life in London and Washington Square, New York where Nick was professor at the university. It gave her a chance to play with the Manhattan skyline and the sardine tin of the subway to dazzling effect, sometimes on giant canvases. In London, she modestly remarked, "I just paint what I see", but Elgin Crescent had never looked so dramatic. My son Nat snapped up one, which I visit just to see what she made of a fairly ordinary London street.
As her beloved children grew up and made their own paths, and she no longer had the constant responsibilities of motherhood, I saw a painter at the peak of her powers. Now when I visited Manhattan, we ate out for every meal, feeling young and independent, both of us with four adored children, but free to do what we wanted. She painted, I wrote, and of course Charlotte had a whole lot of fascinating New York friends.
Unfortunately, around the time Charlotte met her second husband, she was diagnosed with Parkinson's disease. That was in 1982, when she was only 40 years old.
Her quality of life diminished until 2013, when she underwent state of the art treatment in London.
The Times obituary says:
A cocktail of drugs helped to slow the progress of the disease, but the quality of her life was impeded. "The worst thing is a terrible stiffness," she said. "When you want to walk you can't — you freeze and your feet become attached to the ground." In 2013 she achieved something of a medical breakthrough when Ludvic Zrinzo at the National Hospital in Bloomsbury introduced two electrodes into her brain and linked them to a battery in her chest. "It means I don't jerk any more and I can go to the cinema and the theatre again. It's bliss," she said.
Political opposites
The Mail's obituary states that Charlotte was amazed to be the mother of four children who are all Conservatives:
She was described in a 2015 article in the Evening Standard as 'left-wing'.
Boris Johnson's sister, Rachel, said in the article, about two-party families, 'We are a very mixed-race family politically and my father tends to marry socialists.
She later described her mother as 'the only red in the village when we lived on Exmoor'. And she herself once admitted that she had never voted Conservative, despite two of her sons being Tory MPs.
She told the Radio Times in 2015: 'I find it extraordinary that I should have married a Tory and have four Tory children.
'I've never voted Tory in my life. My parents were very socialist – rich socialists with three cars and two houses, but they were socialists in the days when that happened' …
Along with Boris Johnson, she was also the mother of former Conservative MP Jo Johnson, journalist Rachel Johnson, and entrepreneur Leo Johnson.
The Prime Minister's son Wilfred was her 13th grandchild.
Charlotte had several exhibitions of her paintings, and she sold many. She was also commissioned to paint celebrity portraits, which were equally well received.
May Charlotte Johnson Wahl rest in peace. Hers was a life well lived. Most importantly, she was able to overcome adversity.
Sources:
'Boris Johnson's mother Charlotte Johnson-Wahl dies "suddenly and peacefully" at the age of 79', Daily Mail (includes family photos)
'Charlotte Johnson Wahl was my best friend', The Times
'Charlotte Johnson Wahl, the prime minister's mother, dies aged 79', The Times
Most of the British population has now had their two injections, myself included.
However, in terms of efficacy, the jury is out.
Since the summer, we have been told that boosters will be required as soon as this autumn.
This is what a Guido Fawkes reader had to say, referring to the implementation of vaccine passports in Scotland:
… the vaccine does not prevent infection, re-infection or onward transmission of those vaccinated, so is utterly futile as a warranty of safety for entering any type of premises. Indeed it gives a false warranty about those things. The lurgy may still be lurking.
Indeed.
Remember back in 2020 when Drs Fauci and Walensky told us that the vaccines are 100% effective and that vaccinated people do not carry the virus?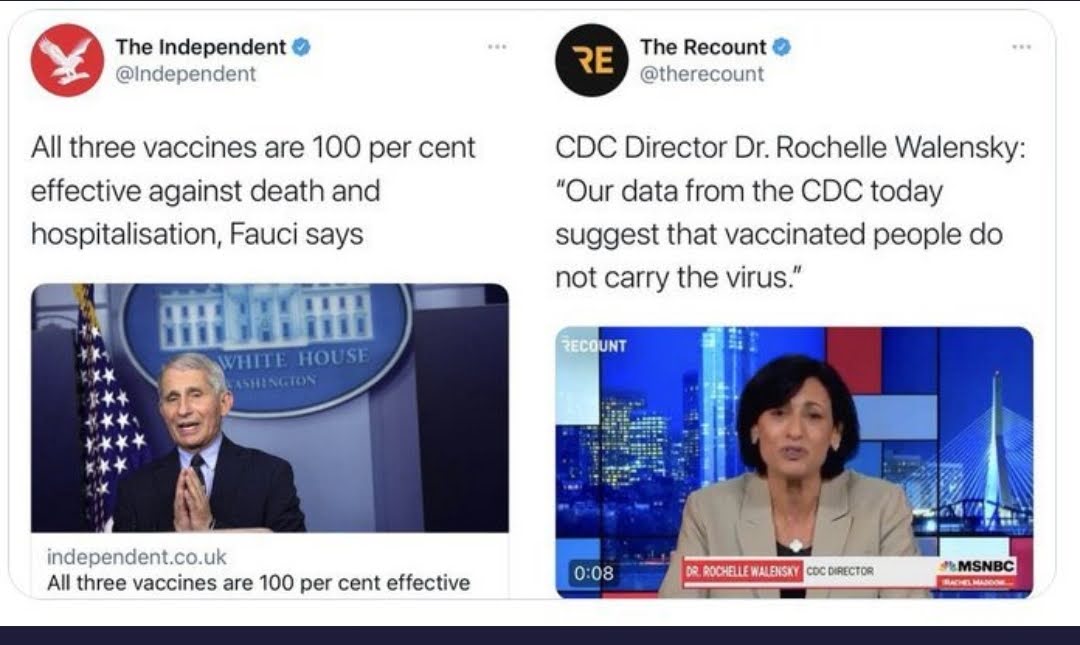 Not so, as we have discovered.
To make matters worse in this parlous state of affairs, the British public are now expected to help market vaccinations on social media. This campaign is called #ValuingVaccines: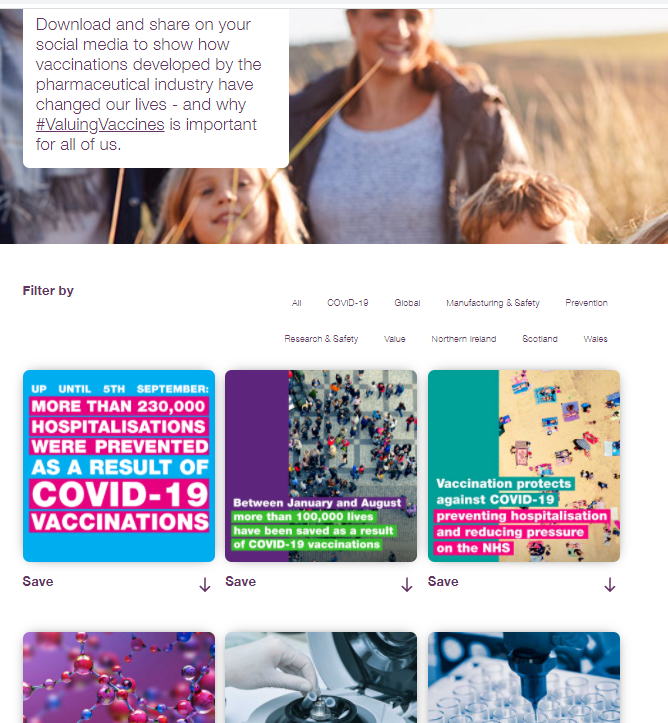 This is a photo of a letter to young Britons urging them to get vaccinated. What is missing from it? Any mention of health benefits: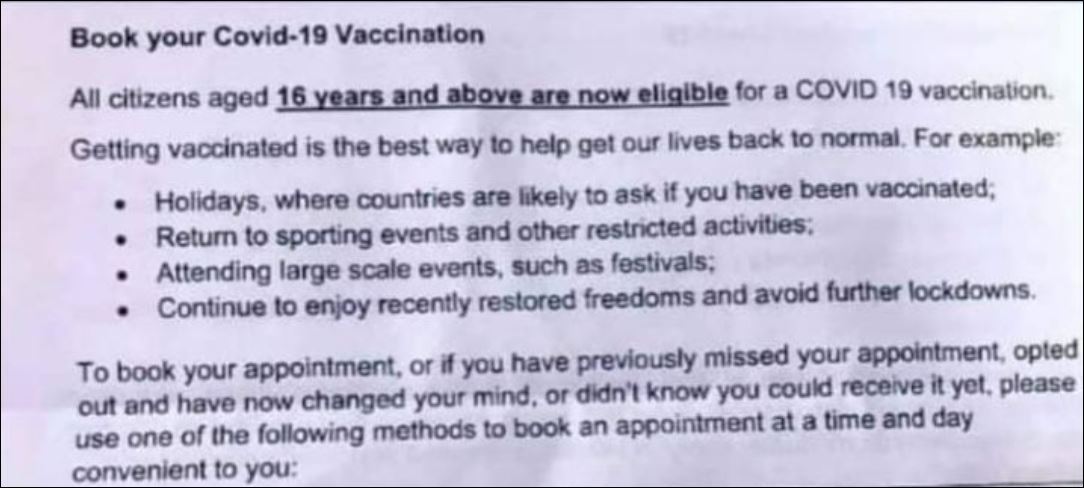 Note the mention of 'freedoms' in the last bullet point.
Here's a thought. Since when did our basic freedoms ever rely on getting a vaccine?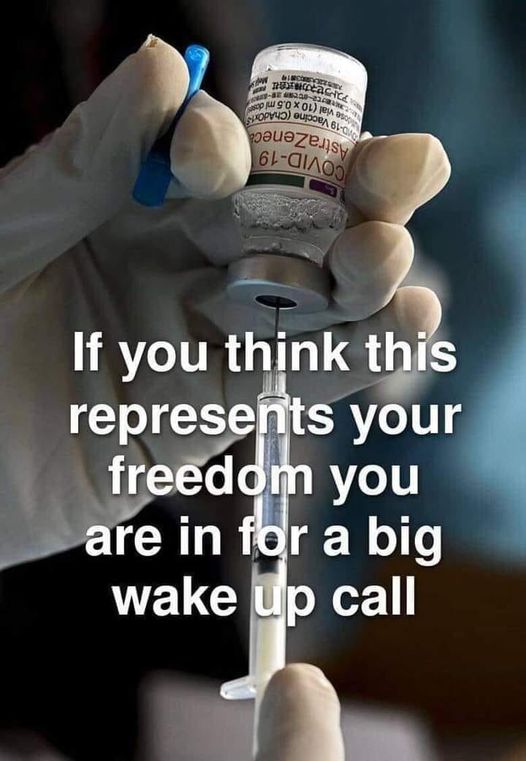 Also, minors eligible for the vaccine in the UK do not require their parents' consent. This is a mock-up of Chris Whitty, our chief medical officer. It's not far from the truth: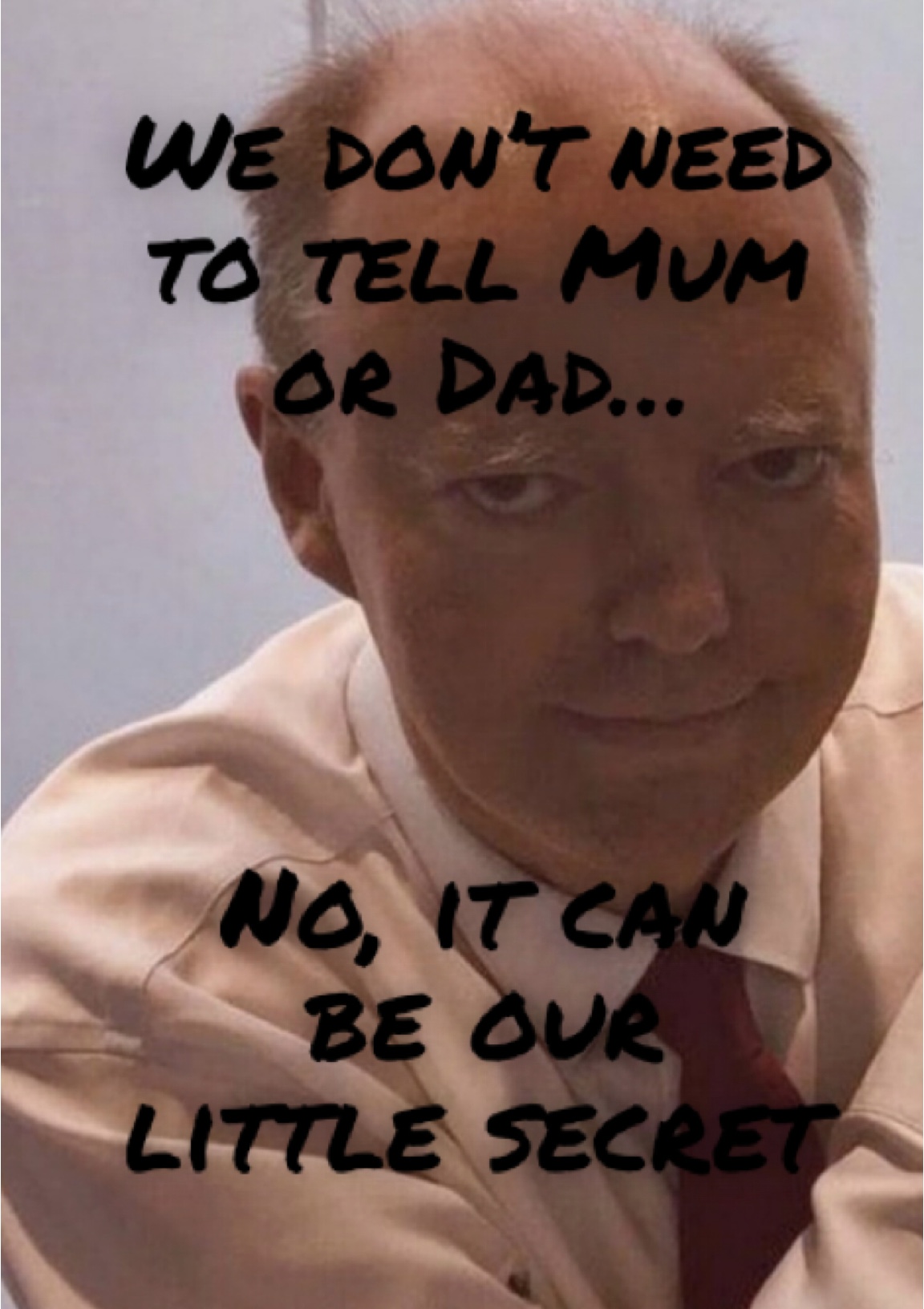 There are other issues with these notional vaccines.
One of them is the redefinition of the word 'vaccination', which has gone from disease prevention (I will always hold by the original and best) to producing immunity against a disease to the current protection from a disease. We've been had, folks, but most of my readers know that by now: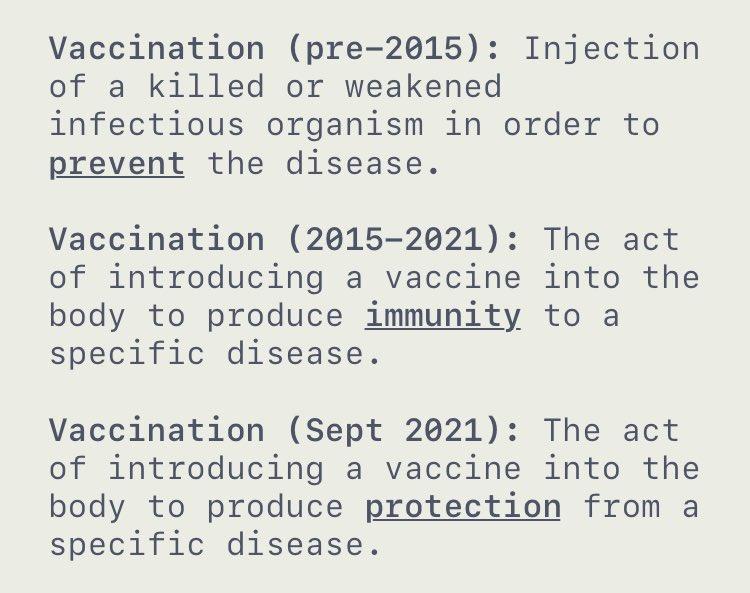 Now let's look at how long producing a vaccine has taken throughout history. With regard to coronavirus, we were told that vaccines take a lot less time these days. Perhaps. However, six months to market seems rather brief: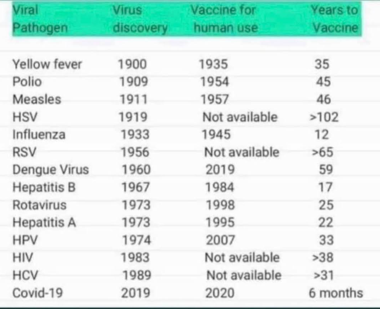 Now let's look at what six months to market has produced — a product that doesn't even work and could be injurious to one's health, if not fatal, depending on the individual. Some American youngsters have experienced heart problems after taking Pfizer or Moderna. The cure can be worse than the disease:

I am glad to see that 'vaccine' has quotation marks around it in this risk/benefit analysis: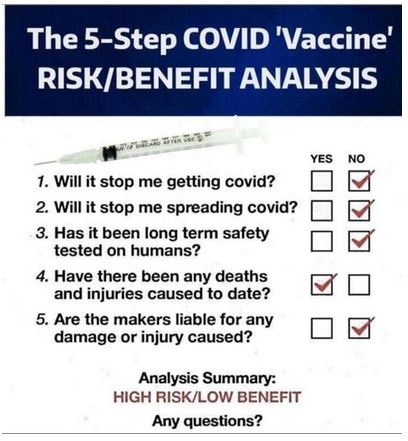 Our notional betters, including journalists, say that the unvaccinated are causing the vaccine to fail. Hmm. That's a new one: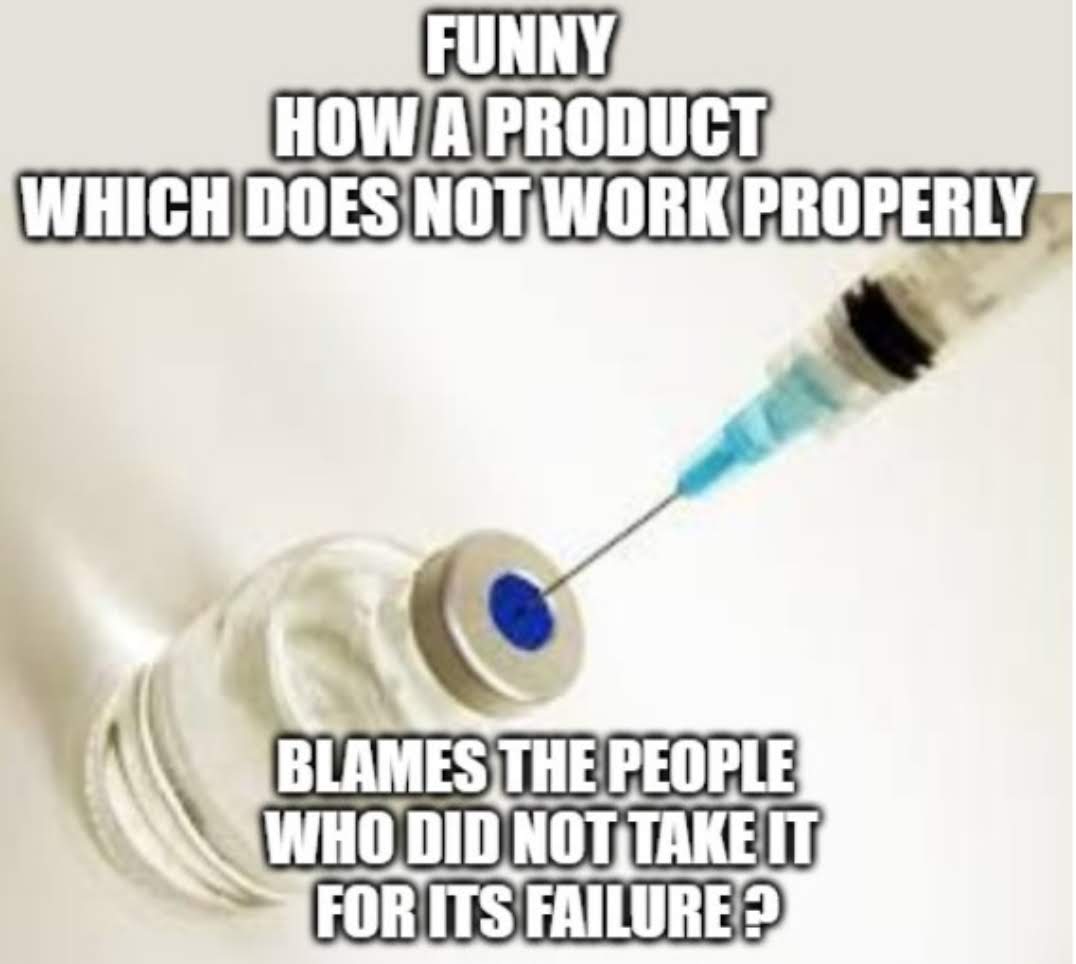 Now we have to worry about vaccine passports. France already requires them just to go to the supermarket. In other words, you cannot eat if you have not been vaxxed: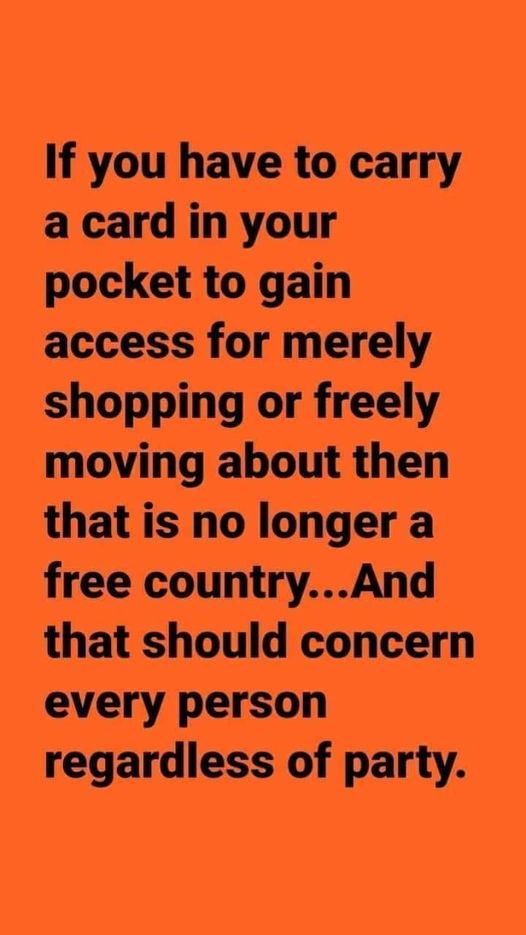 Speaking of supermarkets, here's Manchester mayor Andy Burnham, a former Labour MP, moaning about the lack of social distancing at Tesco. Yes, he named the chain. Yet, here's Burnham partying at Labour's conference this week as if it were the old days. The sheer hypocrisy of our leaders is mind-boggling:
But I digress.
Those are my thoughts on the coronavirus vaccines, a necessary evil if one wishes to go out again.
I would have liked to give credit to the people who created these images, which I found in various places online. My compliments to everyone involved.
On Tuesday, September 21, 2021, Prime Minister Boris Johnson met Joe Biden at the White House:
He and Foreign Secretary Liz Truss arrived in the United States on Monday for discussions about trade and climate change.
The two spent a day in New York then travelled by Amtrak to Washington, DC:
New York
On Monday, Boris gave a speech at the UN Climate Roundtable in advance of COP26 to be held in Glasgow in November:
The full text of his speech is here.
This short video shows Boris summarising his message to world leaders:
COP26 will be the biggest single political event that the UK has ever hosted. I hope that Glasgow is ready:
The Prime Minister met with President Bolsonaro of Brazil and President Moon of South Korea. He also met with Martin Griffiths of the UN Office for the Coordination of Humanitarian Affairs (UNOCHA) and, for whatever reason, with Jeff Bezos of Amazon:
There was speculation on what Boris and Bezos discussed:
In fact, they did discuss tax as well as the Bezos Earth Fund:
They discussed the upcoming COP26 Summit and agreed that there was an urgent need to mobilise more public and private money to help developing countries protect biodiversity, including through the LEAF Coalition.
The Prime Minister welcomed the Bezos Earth Fund's commitment, announced tonight, to give $1 billion to protect forests and remove carbon from the air. The Prime Minister and Mr Bezos agreed to work together to see what more could be done in the run up to and at COP26.
The Prime Minister raised the issue of taxation, and hoped progress could be in implementing the G7 agreement on tax.
Beth Rigby from Sky News was in New York to interview Boris. They talked over each other for two minutes:
I wish he had mentioned her suspension from Sky for flouting coronavirus rules last December:
Boris's interview for the Today show went much better. He was diplomatic about Joe Biden's withdrawal from Afghanistan, even when Savannah Guthrie pressed him on the subject:
Guthrie asked Boris about President Trump. Again, Boris was diplomatic, saying that prime ministers have to get along with US presidents. In fact, Trump was mentioned very little in Parliament, including by Boris. I do not get the impression that Boris was sorry Trump lost the election. In fact, he has said in the Commons — as he does in the clip below — that he considers Biden a 'breath of fresh air'. Biden's name gets mentioned quite a lot in Parliament, by the way:
Boris also discussed family life and his unwavering belief in American ideals:
The Sun's Harry Cole was on hand to broadcast for Sky News from New York:
He said that New York hasn't yet bounced back from coronavirus:
The British press pack then travelled to Washington DC:
Washington DC
On Tuesday, the day that she and Boris went to Washington, Liz Truss's office issued the following tweet about the special relationship between the US and the UK:
Hmm.
Truss held a press huddle on the train:
While Truss met with her American counterpart Secretary of State Antony Blinken, Boris met with Kamala Harris at the Eisenhower Building:
Downing Street issued this summary of their meeting. Topics included the new AUKUS alliance, climate change and humanitarian efforts. Boris also expressed his gratitude to the US military for their leadership in withdrawing from Afghanistan.
British journalist Hugo Gye objected to the Eisenhower Building's architecture:
Then it was time to meet with Joe Biden.
Biden arrived by helicopter, no doubt from Delaware:
Unlike the Trumps, the Bidens do not greet their guests at the door:
Liz Truss accompanied the Prime Minister:
Hugo Gye has a summary of the meeting and brief press conference in the Oval Office. Anne Sacoolas is an American 'diplomat' who was in a road accident in England leading to the death of a young man, Harry Dunn:
My American readers will be very familiar with the Amtrak anecdote, which Biden used on the campaign trail last year:
In the end, the chances of a trade deal appear slim. Trump would have definitely been open to one.
Boris took two questions from the media, one from Harry Cole and the other from Beth Rigby.
Biden pointed to Harry Cole first:
Biden and Boris gave this answer on the Harry Dunn case:
Biden did not solicit questions, even though there were plenty of reporters in the Oval Office. When the session adjourned, they started shouting various questions at him. He apparently answered a question about the southern border, but the reporter could not hear the answer over the din. The reporters filed a complaint with Jen Psaki, who once again replied that the president takes questions 'several times a week':
Downing Street issued a summary of the private meeting which followed:
… The President and Prime Minister agreed that the new AUKUS alliance, announced last week, was a clear articulation of the UK and America's shared values and approach to the world. They underscored the important role the alliance will play in promoting peace and stability around the world, harnessing British, American and Australian expertise to solve future challenges.
The leaders welcomed the close cooperation between our countries during the NATO withdrawal from Afghanistan. The Prime Minister expressed his condolences for the American servicepeople killed during the operation. The Prime Minister and President Biden agreed that the best way to honour all those who gave their lives to make Afghanistan a better place will be to use all the diplomatic and humanitarian tools at our disposal to prevent a humanitarian crisis and preserve the gains made in Afghanistan.
To that end, they discussed the progress made since the G7 meeting last month to coordinate international action on Afghanistan. They agreed that any international recognition of the Taliban must be coordinated and contingent on the group respecting human rights.
The Prime Minister welcomed President Biden's leadership on the issue of climate, and his announcement today that the US would double its climate finance commitment. The leaders agreed on the need for G7 countries to deliver on the promises made in Carbis Bay, particularly with regard to phasing out the use of coal and supporting developing countries to grow cleanly. They agreed the Build Back Better World Initiative would be crucial in achieving this. The Prime Minister said he looks forward to welcoming the President to the COP26 Summit in Glasgow.
The Prime Minster and President Biden also agreed on the need to increase international vaccine access to deliver on the commitment made in Cornwall to vaccinate the world by the end of next year. They noted that the success of the British and American vaccine rollouts has been instrumental in allowing UK-US travel to resume. The Prime Minister welcomed the US announcement that they will allow double vaccinated British nationals to enter the country from November, a move which will allow families and friends to reunite and will help stimulate our economies.
The Prime Minister updated President Biden on the developments with respect to the Northern Ireland Protocol since they last met in June. The leaders agreed on the importance of protecting peace in Northern Ireland …
Not surprisingly, it is unlikely we will get a trade deal with the US. Biden is concerned about the post-Brexit Northern Ireland protocol disturbing the peace agreement between that nation and the Republic of Ireland:
Return to New York
The Telegraph reports Boris Johnson remained in Washington on Wednesday to meet with:
US politicians at Capitol Hill, including senators Chuck Schumer and Mitch McConnell, US Speaker of the House Nancy Pelosi and House minority leader Kevin McCarthy.
Afterwards, he visited Arlington Cemetery before returning to New York to deliver his climate change speech at the UN:
He will then travel to Arlington Cemetery to lay a wreath at the Tomb of the Unknown Soldier, before returning to New York, where he will give his climate change speech to the UN General Assembly in the early hours of the morning UK time.
Liz Truss was in New York on Wednesday to address her counterparts on the UN Security Council:
Sky News reported:
She will chair talks with foreign ministers from the US, France, China, and Russia – the countries that, along with the UK, make up the five permanent members of the United Nations security council – in New York later.
UN Secretary-General Antonio Guterres is also expected to join the discussions.
Ms Truss's aides say she will be promoting greater cooperation among the so-called P5.
This will include encouraging Beijing and Moscow to "act as one" with other international military forces to prevent Afghanistan from once again becoming a home for global terrorists following the Taliban's takeover last month.
But "un peu riche" (a little rich) may be the French retort as the diplomatic rift deepens over a new security pact between Australia, the UK and the US that leaves France out in the cold and China smarting.
Trade might be off the table for now, but, no doubt, both Boris Johnson and Liz Truss will make progress in other areas.
From the beginning of the coronavirus crisis, anyone who doubted Big Media's narrative was branded a conspiracy theorist.
Strangely, most of what notional conspiracy theorists spoke and wrote about in 2020 has come true.
Last week, I read two articles of interest about the virus, the New York Times (NYT) and China.
The NYT, China and the virus
On August 2, 2021, Ashley Rindsberg, the author of The Gray Lady Winked: How the New York Times' Misreporting, Distortions and Fabrications Radically Alter History, wrote an article for UnHerd: 'Did the New York Times stifle lab leak debate?'
What an eye-opener it is. Excerpts follow, emphases mine.
Rindsberg has done a lot of research into the history of the paper, nicknamed The Gray Lady in the United States.
He says that the paper's relationship with China has been going on for over a decade and explores its dubious ties with totalitarian regimes of the 20th century:
Researching and writing my new book, I discovered that the Times has a dark history of inadvertently helping authoritarian regimes with its reporting, including the Nazis, the Soviet Union and Fidel Castro.
In the case of China, this appears true to an alarming degree. For over a decade, the Times has nurtured a special relationship with the CCP — though we can only speculate as to whether this influenced its editorial output. Still, the Times certainly appeared unconcerned about the appearance of impropriety as it took millions of dollars from Chinese propaganda outlets, most prominently China Daily. In exchange for this badly needed revenue, the Times has published hundreds of "advertorials" written by Chinese propaganda outlets, including China Daily, which promote CCP messaging on the most serious topics, such as a double-page spread on the hotly contested Diaoyu Islands brazenly titled: "Diaoyu Islands Belong to China".
But the paper's advertising relationship with Chinese state outlets is only the visible part of the iceberg. In 2012, seeking to capitalise on China's burgeoning middle and upper classes, the Times launched a Chinese edition of its daily paper followed by the launch of a luxury lifestyle magazine. "The appetite for New York Times journalism in Chinese has never been stronger," a company press release stated at the time.
In investing so heavily in China, the Times unintentionally handed the rapacious CCP an editorial lever to sway coverage. The Times learned this first-hand when, in 2012, the CCP blocked Chinese access to the Times online in retaliation for an unfavourable article on the family finances of China's outgoing premier, Wen Jiabao. The Times set out on a year-long "lobbying" effort to restore coverage that included meetings with Xinhua, the parent of China Daily.
In early 2020, the lab leak hypothesis was roundly condemned in Big Media, especially the NYT.
Rindsberg leads us through the timeline and the narrative:
Of course, over the past year newspapers across the world have fallen for the CCP's distorted Covid-19 narrative. And there is no evidence to suggest that the CCP did put pressure on the Times. But when it came to the lab leak debate, the Times was relentless. Starting in early 2020, when little was known about the virus — and nothing about its origins — the Times adopted a stridently anti-lab leak stance. In its first report on the topic, a February 17, 2020 article covering comments made by Sen. Tom Cotton, the Times stigmatised lab leak as a "fringe theory". Once the story was published, its reporter took to Twitter to describe it as "the kind of conspiracy once reserved for the tinfoil hatters".
Only one week prior, another outlet made strikingly similar claims. In an editorial, the CCP-owned China Daily thundered that Cotton's decision to spread "malicious rumors" shows "how irresponsible some are in their haste to attack China". The Times, echoing China Daily, also cast the lab leak hypothesis as a "rumor".
Over the months, the Times's coverage grew even more strident — and more in line with Chinese propaganda. In February 2020, it gave a platform to zoologist Peter Daszak, publishing an opinion piece by him which claimed that the pandemic was caused by "road-building, deforestation, land clearing and agricultural development". Daszak argued that "discovering and sequencing" viruses like Covid-19 in labs like the one in Wuhan should be a priority.
The Times, which used Daszak as a key source in over a dozen articles, has never mentioned that Daszak's organisation funded the Wuhan lab, in particular research into bats and coronaviruses, a flagrant conflict of interest. Crucially, there was no mention of this when a reporter interviewed Daszak this February, following his return from a heavily criticised WHO investigation into the virus's origins. (Danszak later recused himself from the investigation because of the conflict of interest.)
But the Times also never revealed that Daszak was a favoured source for another outlet: China Daily. The state-owned media organisation, along with Xinhua and sister outlet Global Times, repeatedly quoted Daszak to assure readers of China's full cooperation in the search for the virus's origins — and to discredit the possibility of a lab leak.
The NYT's coverage was so supportive of China that Chinese publications began quoting it:
In April 2020, for instance, the Times published an article claiming the Trump Administration's investigation into a lab leak "has echoes of the Bush administration's 2002 push for assessments saying that Iraq had weapons of mass of destruction." Within minutes, a China Daily columnist retweeted the story and parroted its central claim.
With more information coming out about a possible lab leak, the NYT has changed tack:
Today, however, just as the tide is turning on the lab leak debate, so too is the Times's approach to the subject. Last summer, the Times abruptly ended its advertising relationship with Chinese state media outlets and scrubbed all trace of the advertorials from its archive. And in recent months, it has published a handful of articles quoting scientists who believe we should take seriously the prospect of a lab leak.
But does this excuse the paper's behaviour at the start of the pandemic?
I do not think so. The NYT is one of the world's most influential newspapers. Everyone takes what it says as gospel truth. It is hard to disagree with Ashley Rindsberg on his conclusion:
Only time will tell whether the lab leak hypothesis is true or false. But whatever the result, what a tragedy it would be if the Times's coverage delayed that verdict.
Lab leak update
On Friday, September 10, 2021, UnHerd posted the latest on a possible lab leak in Ian Birrell's article, 'Is this proof of lab leak lies?' Birrell is an award-winning foreign reporter and columnist.
Over the past several years, the United States, Britain's Peter Daszak and France were all involved at some point with the Wuhan labs.
Birrell tells us:
… we do know one thing now beyond debate: speculative "gain-of-function" experiments on mutant bat viruses were taking place in Wuhan laboratories.
This research, carried out in labs that did not have maximum level of biosafety, was increasing the infectivity of laboratory-created diseases by constructing chimeric coronaviruses — despite strong denial of such practices by the key Chinese scientists. And the bio-engineering was being funded by United States taxpayers — channelled through a charity run by a British scientist — despite similar denials from America's most senior public health officials that they supported such science fiction activities in Chinese labs.
This information was uncovered via freedom of information requests made in the United States by The Intercept, which is devoted to investigative reporting:
The Intercept obtained 900 pages of documents detailing two research grants in 2014 and 2019 from the National Institutes of Health (NIH) to EcoHealth Alliance. This is the charity headed by Peter Daszak, the controversial Briton who led efforts to squash "conspiracy theories" about a possible lab incident after spending years hunting viruses with Shi Zhengli, the now-famous "Batwoman" expert at Wuhan Institute of Virology (WIV).
While some of this information was already circulating, The Intercept was able to obtain updates on the relevant projects:
… these documents include the original proposals along with project updates, so significantly flesh out what we knew. They highlight how US funding bodies outsourced risky gain-of-function research to China, even over a three-year period between 2014 and 2017 when it was banned in their own nation. They also show, with new clarity, the kind of work taking place in secretive Wuhan labs. These disclosures fuel the mystery over the pandemic origins, while also sparking fresh concerns over top scientists in both China and the West who sought to suppress inquiries into the lab leak hypothesis.
The NYT had a role to play here in defending the Wuhan Institute of Virology (WIV):
A $3.1m grant, according to the documents, was awarded to understand "the risk of bat coronavirus emergence" through screening thousands of samples collected from the nocturnal creatures. This included a chunk of funding worth $599,000 for WIV. Bear in mind that three months ago, Shi, director of its Centre for Emerging Infectious Diseases, angrily protested over the world "pouring filth on an innocent scientist" when emphatically refuting that they carried out gain-of-function work. "My lab has never conducted or co-operated in conducting GOF experiments that enhance the virulence of viruses" she told the New York Times.
Birrell gives us the NIH's definition for 'gain of function' (GOF):
the term gain-of-function research describes a type of research that modifies a biological agent so that it confers new or enhanced activity to that agent.
The following are real life examples of GOF:
Analysis of these papers show US funds supported construction of new chimeric Sars-related coronaviruses, which combined a spike gene from one with genetic material from another — and then showed the resulting creation could infect human cells and mice engineered to display human-type receptors on their cells.
One new virus had increased pathogenicity over the original virus and three new viruses increased viral load in lung tissues up to ten thousandfold, which is most definitely "enhanced activity." As scientists pointed out to me, these results demonstrated increased pathogenicity of SARSr-CoVs with different spike proteins in humanised mouse models. And similar construction work was proposed to be done with another type of deadly pathogen — the Middle Eastern Respiratory Syndrome coronavirus, which first flared up in Jordan nine years ago after spilling over from camels and has since cropped up in 27 countries, causing 858 deaths.
Dr Fauci is also involved:
Anthony Fauci, the US infectious diseases expert and presidential adviser, insisted earlier this year that his country "has not ever and does not now fund gain-of-function research in the Wuhan Institute of Virology". His stance led to a furious clash in Congress with Senator Rand Paul, who gleefully tweeted after The Intercept published its article on the papers: "Surprise surprise – Fauci lied again. And I was right about his agency funding novel coronavirus research at Wuhan."
Paul was backed by Richard Ebright, the bio-security expert and professor of chemical biology at Rutgers University, who has long been a fierce critic of such work since he argues that the risks of creating new diseases in laboratories vastly outweigh any potential benefits. "The documents make it clear that assertions by Anthony Fauci and the NIH Director, Francis Collins that the NIH did not support gain-of-function research or potential pandemic pathogen enhancement at WIV are untruthful," he said.
Birrell discusses France's involvement with Wuhan:
Buried in the documents are two more intriguing details. First, the experimental work creating mutant chimeric coronaviruses was carried out at WIV's biosafety level 2 lab and then the work analysing them in humanised mice performed at the biosafety level 3 Wuhan University Center for Animal Experiment, not at the new maximum level 4 WIV lab built with French assistance. The cluster of labs at the university hospital, incidentally, includes a breeding centre that created at least 1,000 types of genetically engineered animals from mice to monkeys. So this means the details in the papers accord with a previous statement by Shi that their coronavirus research is "conducted in BSL-2 or BSL-3 laboratories" — although a level 2 lab has, some say, barely higher safety standards than a dental clinic and certainly few safeguards against an lethal airborne virus.
As for Daszak, while he defended China, his charity warned about viral infections from animals encountered in fieldwork:
… while Daszak has been condemning supposed conspiracy theories and defending his friends in China with whom he has collected thousands of samples, his own charity was pointing out the major risk of accidental infection faced by researchers when collecting such specimens in a project he led. "Fieldwork involves the highest risk of exposure to SARS or other CoVs, while working in caves with high bat density overhead and the potential for fecal dust to be inhaled. There is also some risk of exposure to pathogens …while handling bats, civets, rodents or other animals, their blood samples or their excreta."
Accidental viral infection via animals was another point mentioned early last year which the media summarily dismissed.
The story of the origins of COVID-19 continues to unfold.
I look forward to reading more in future and covering it here.
It used to be that vaccines prevented infection.
Coronavirus has changed all that. The double-vaxxed are ending up infected:
Andrew Doyle, who hosts Free Speech Nation for GB News, has it, and he's taken his shots.
ITV's Robert Peston, also double-vaxxed, has it, too:
Peston was supposed to be in Aberdeenshire in Scotland but had to cancel:
I hope he recovers soon.
Meanwhile, in the UK, the debate rages on as to whether children over the age of 12 should receive the vaccine and whether older adults should have a booster shot this autumn.
British supporters of vaccines for children say that such programmes in the United States and France have been highly successful. Hmm.
Dr Robert W Malone is an American physician as well as an inventor of mRNA vaccines and RNA as a drug. He directs his readers to an article in LifeSiteNews about possible coercion being used in high schools:
Meanwhile, the WHO is urging countries wishing to vaccinate their children to donate those doses to Covax instead for wider use around the world. The reply to this tweet includes a statement from Britain's JCVI (Joint Committee on Vaccines and Immunisation) which recommended against children's vaccinations on Friday, September 3:
The WHO also disagrees with booster shots in Western countries, again recommending donating those doses to poorer countries:
The UK also wants to roll out vaccine passports by the end of the month. If we can catch the virus despite two jabs, what is the point? It seems as if we are all back at Square One, only that we are susceptible to milder cases rather than death.
Speaking of deaths, the UK figures for 2021 are on a par with other years since the vaccine rollout began. I saw this graphic on another site with no attribution. Note the bright green line up to Week 33: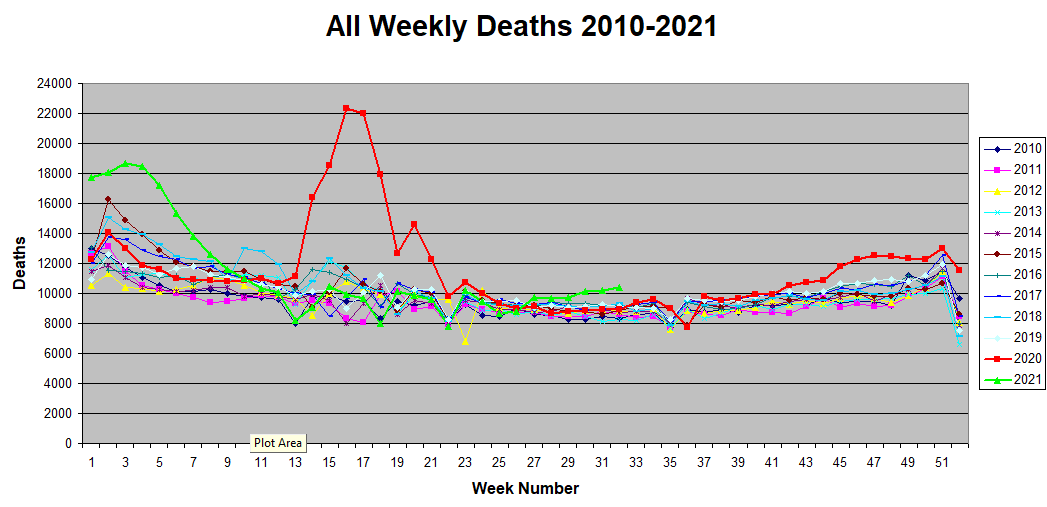 Moving to poorer countries now, not every nation has shown signs of infection or deaths:
Dr Malone says that Peru had a preventive programme of giving its citizens doses of ivermectin until a new president scrapped it. At that point, fatal infections began rising dramatically:
Since the pandemic began, ivermectin for humans has been taken off the market in several Western countries or is restricted on a prescription-only basis for certain conditions, excluding the virus. In many first-world countries, ivermectin is now used solely on animals for various diseases. The current formulation is made for their consumption.
Yet, in Peru and Africa, the formulation for humans is still available. It is inexpensive and is used to cure a variety of diseases as the following Twitter thread about Africa tells us.
The countries in blue are where ivermectin is used on humans. Note the differences in coronavirus cases and deaths:
Ivermectin, sold under the trade name Mectizan, is used to treat river blindness, a common and highly painful disease. It is not unusual to see people with a pair of eyebrow tweezers on a chain around their necks. Among other things, river blindness inflames the eyelash follicles. The only way to relieve the intense pain is to carefully pluck the offending eyelash. It is an ongoing pain until the disease is cured:
The Japanese have looked at sub-Saharan data and have recommended ivermectin to the government as a treatment for coronavirus:
It seems that the Japanese government rejected the use of ivermectin in combatting coronavirus. The updated statistics for Africa are in the second tweet:
Another big supporter of ivermectin is Karl Denninger of The Market Ticker.
On December 18, 2020, he wrote that by giving Americans two tablets of ivermectin, coronavirus could be stopped in one week in the United States. Two tablets in total is all it would take (emphases in the original):
… Why the hell are you not only letting them get away with it but willing to stand in line and take a not-fully-tested shot when a $2 alternative that does the same thing and has been proved safe over more than 30 years of time is available, and it also has a remarkable record of preventing serious disease and death.   This has been known for months.
We can stop Covid-19 in ONE WEEK.
One.  Not five, six, eight or ten as promised by Dr. Redfield with his "masks" who, I remind you, lied.  Covid-19 did not stop even though he got what he wanted.
The science and the CDC's own data says this will work in ONE WEEK.
And the risk if it doesn't work as the science and math says it will?
STATISTICALLY NONE; the drug in question has had over 3.5 billion doses dispensed worldwide and, on the data, is safer than Tylenol and the number of pills you must take is two.
Not two per day.
Two.
Ivermectin will receive broad media coverage only when it's too late. What a pity.