You are currently browsing the tag archive for the 'faith' tag.
The Fifteenth Sunday after Trinity is on September 25, 2022.
Readings for Year C can be found here.
The Gospel is as follows (emphases mine):
Luke 16:19-31
16:19 "There was a rich man who was dressed in purple and fine linen and who feasted sumptuously every day.
16:20 And at his gate lay a poor man named Lazarus, covered with sores,
16:21 who longed to satisfy his hunger with what fell from the rich man's table; even the dogs would come and lick his sores.
16:22 The poor man died and was carried away by the angels to be with Abraham. The rich man also died and was buried.
16:23 In Hades, where he was being tormented, he looked up and saw Abraham far away with Lazarus by his side.
16:24 He called out, 'Father Abraham, have mercy on me, and send Lazarus to dip the tip of his finger in water and cool my tongue; for I am in agony in these flames.'
16:25 But Abraham said, 'Child, remember that during your lifetime you received your good things, and Lazarus in like manner evil things; but now he is comforted here, and you are in agony.
16:26 Besides all this, between you and us a great chasm has been fixed, so that those who might want to pass from here to you cannot do so, and no one can cross from there to us.'
16:27 He said, 'Then, father, I beg you to send him to my father's house–
16:28 for I have five brothers–that he may warn them, so that they will not also come into this place of torment.'
16:29 Abraham replied, 'They have Moses and the prophets; they should listen to them.'
16:30 He said, 'No, father Abraham; but if someone goes to them from the dead, they will repent.'
16:31 He said to him, 'If they do not listen to Moses and the prophets, neither will they be convinced even if someone rises from the dead.'"
Commentary comes from Matthew Henry and John MacArthur.
Luke 9 through Luke 19 is all about our Lord's teachings in the final six months of His ministry.
We are in the latter part of those lessons.
Today's post is another long one. It explores why people go to hell and the nature of hell.
Before exploring this parable in detail, please note that this Sunday's readings, perhaps apart from the one from Jeremiah, all tie together in denouncing the love of riches and luxury.
Today's parable was our Lord's warning to the Pharisees about self-righteousness and the need for repentance.
John MacArthur says:
Hell is full of surprised people.  That's really what this story is about — a man who was shocked to find himself in hell.  Equally shocking to those who listen to the story was the idea that the other man was in heaven.  This was contrary to all of their expectations.
MacArthur explains about the ancient Jewish tradition of believing in a type of prosperity religion. The Pharisees also subscribed to it. In short, the faithful were blessed with wealth while the poor and infirm were cursed:
This story is about a rich man.  He's the main character.  He's a religious man.  He would be understood in the context of this story, as Jesus is telling it, to be a man who had been blessed by God.  They had their own sort of prosperity religion in those days, and…and they saw the poor people as cursed and the rich people as blessed.  That's the view of the Pharisees, the religious leaders of Israel.  So this is a man who has been singularly blessed by God.  He is a man who lives life to the max, who enjoys the best that life can bring limitlessly, who surely expects to go to heaven but ends up in hell.  And then there is that other man, that despicable, poor man, who, by very evidence of his life is being cursed by God, who ends up when he dies in heaven.  That's why you could call this story "The Great Reversal."
And just exactly to whom is this story directed?  Well, it is directed, first of all, at the moment, at the time to the Pharisees again, verse 14.  "The Pharisees who were lovers of money were listening to all these things, and He said to them."  This section is a section of Jesus speaking to the Pharisees; 17:1, he turns to speak to His disciples.  So for the moment, this story is directed at the Pharisees, as have been a number of our Lord's stories, including the amazing three stories He told in the 15th chapter about the lost sheep, the lost coin, and the tale of two sons.  In fact, the Pharisees are the ones who have declared their loyalty to the law and the prophets, referred to in verse 16.  They had declared their adherence to and obedience to Moses and the prophets.  They were the religious leaders of Israel.  They were the ones who considered themselves blessed and, according to verse 14, they were lovers of money.  They had a convenient theology that accommodated their wealth prosperity view.  The more money you had, the more you were blessed by God.  Loving money, pursuing money, is like loving God and pursuing blessing.  That was their view.  The truth is, verse 15, "They were detestable in the sight of God," because they did, in fact, love money and did not, in fact, obey Moses and the prophets.
So the story is directed at the Pharisees.  Their hero in the story is the rich man. He's the symbol of a God-blessed life in Israel.  On the other hand, they would treat the poor man the same way the rich man did, for they were famous for disdaining outcasts.  And, by the way, the Pharisees also believed in life after death.  The Pharisees believed in judgment, and the Pharisees believed in heaven, and the Pharisees believed in hell.  And none of them expected that they would end up in hell …
… And so Jesus is really giving them another jolt.  He's giving another shock to them in this story.  It is directed at those people who are false religionists.  But you have to understand that this kind of jolt and this kind of shock to their system and the system of anybody who comfortably thinks he or she is going to heaven because they are religious, when, in fact, they're going to hell, is not an outrageous act.  It is, on the other hand, a very compassionate and a very merciful act.  Warning people of reality is the…the most compassionate, loving, gracious, kind thing that you can do.  Warning self-righteous, religious people that they're going to end up unintentionally in hell is the most important thing we can do. And that's exactly what Jesus did.  Hell is full of people who went there unintentionally, from their perspective.  The rich man no more expected to find himself in eternal torment than the Pharisees did when they arrived there.  They were among those who gained the world and lost their soul.
MacArthur discusses how Jesus constructed this story:
You have a poor man and a rich man.  The poor man then becomes rich; and the rich man becomes poor; and the poor man becomes richer than the rich man ever was; and the rich man becomes poorer than the poor man ever was.  You have a poor man on the outside of the house, and you have a rich man on the inside.  Then comes death, and you have a poor man on the inside and a rich man on the outside.  You have a poor man with no food, and a rich man with all the food he can possibly need; and then you have a poor man at the great heavenly banquet, and a rich man with absolutely nothing.  You have a poor man with needs and a rich man with no needs; and then you have a poor man with no needs, and a rich man with needs.  You have a poor man who desires everything.  You have a rich man who desires nothing. And then you have a rich man who will never have his desires fulfilled, and a poor man who has all his desires fulfilled.
You have a poor man who suffers and a rich man who is satisfied; and then you have a rich man who suffers, and a poor man who's satisfied.  You have a poor man who's tormented, and a rich man who's happy; and then you have a poor man who's happy, and a rich man who's tormented.  You have a poor man who is humiliated, a rich man who's honored.  Then you have a rich man who is humiliated, and a poor man who is honored.  You have a poor man who wants a crumb, a rich man who feasts; and then you have a poor man who's at a feast, and a rich man who wants a drop of water.  You have a poor man who seeks help, a rich man who gives none.  Then you have a rich man who seeks help, and a poor man who gives none.  Then you have a poor man who is a nobody, a rich man who is well-known; and then you have a poor man who has a name, and a rich man who has none.  You have a poor man who has no dignity in death, not even a burial.  You have a rich man who has dignity in death.  Then you have a poor man who has dignity after death, and a rich man who has no dignity after death, not even a name.  You have a poor man with no hope, and a rich man with all hope.  Then you have a rich man with no hope, and a poor man who has hope realized.
Jesus began His parable by introducing the rich man as being someone who dressed in purple and fine linen and who dined sumptuously every day (verse 19).
Before I go further, this story is often referred to as 'Dives and Lazarus'. 'Dives' is Latin for 'rich'. It is not a name, only an adjective.
Matthew Henry points out that it is not a sin to have riches, but it is when those riches consume one's life:
It is no sin to be rich, no sin to wear purple and fine linen, nor to keep a plentiful table, if a man's estate will afford it. Not are we told that he got his estate by fraud, oppression, or extortion, no, nor that he was drunk, or made others drunk; but, [1.] Christ would hereby show that a man may have a great deal of the wealth, and pomp, and pleasure of this world, and yet lie and perish for ever under God's wrath and curse. We cannot infer from men's living great either that God loves them in giving them so much, or that they love God for giving them so much; happiness consists not in these things. [2.] That plenty and pleasure are a very dangerous and to many a fatal temptation to luxury, and sensuality, and forgetfulness of God and another world. This man might have been happy if he had not had great possessions and enjoyments. [3.] That the indulgence of the body, and the ease and pleasure of that, are the ruin of many a soul, and the interests of it. It is true, eating good meat and wearing good clothes are lawful; but it is true that they often become the food and fuel of pride and luxury, and so turn into sin to us. [4.] That feasting ourselves and our friends, and, at the same time, forgetting the distresses of the poor and afflicted, are very provoking to God and damning to the soul. The sin of this rich man was not so much his dress or his diet, but his providing only for himself.
MacArthur describes the man further:
"There was a rich man."  How rich?  Extravagantly rich.  Luxuriously rich.  And by the way, again, I remind, he would be respected immediately.  He would be envied immediately, honored.  He would be viewed as blessed by God.  That's why he was so rich.  In Israel, his business had been touched by God; and he would be a hero to the money-loving Pharisees.  So he would also be a man who would assume, and everybody would assume, that God had blessed his life; and…and that's why he was as wealthy as he was.  So it wouldn't be just the religious leaders who would think that.  Anybody would think that, even in general, even today, would look at him.  He's a religious man.  He's in Israel.  He's a part of the society.  Look what God has done to bless his life.
How rich was he?  Well, "He habitually dressed in purple and fine linen."  Imperfect tense, "habitually," it means exactly that.  It is an imperfect verb that means this was his regular way of dressing.  He didn't have a casual day, apparently. He just put it all on every day. And what did he wear?  It might not sound like a lot to us, but he dressed in purple and fine linen.  Now, let me tell you a little bit about this…this purple, first of all.  The outer garment that the people wore in those days if they were wealthy enough was made out of wool; and wool was, for the elite, fulled.  You've heard of fulled, F U L L E D, wool.  It was placed into a basin, and then it was mingled with clay, and the process, a very time consuming, laborious, hands-on, manual labor to full that wool in clay, produced a kind of white that was almost blazing, brilliant, shining white.  Very expensive process done for the elite.  They had whiter clothes than everybody else, and it wasn't because of their detergent.  It was because of this process the wool was put through.
And then if you wanted to really make it luxurious, you had it dyed with a Tyrian purple dye.  That's from Tyre, which is on the north coast of Israel; and this dye came from a shellfish called a murex.  Obviously, you had to go get the shellfish, and then extract the dye, and it was the most expensive dye.  You remember Lydia in the book of Acts was a seller of this purple dye; and this dye was used to dye the robe purple, which was considered the highest degree of opulence.  This is the robe of royalty, the purple robe.
Underneath this robe was fine linen.  The normal tunic would be made of fine linen.  Probably a reference to the finest linen of the day, which is probably still the finest cotton in the day, and that's Egyptian cotton.  Linen here referring to something made out of cotton.  Egyptian cotton was the most expensive and the best and the highest thread count, and you ladies know all about that.  So it signified…It signified that this is the finest clothing that somebody could wear, and he wore it every day.  He came out in splendor every day.
Not only was he dressed that way, but he was euphrain.  He was joyously living.  It means to be glad to enjoy oneself.  It is the verb used in Luke 12.  I think it's verse 19, where it says, the…the man who built the bigger barn said, "Let's eat, drink, and be merry."  So he lived a merry life.  He lived a joyous life.  He lived to the max.  He was the party guy, and it was a very luxurious, opulent kind of party.  It is described as splendor.  Actually an adverb; he lived splendidly; and, again, all the language is over the top here; and he lived like that every day.  I mean, for him, every day would be like the feast that the father in Luke 15 gave to the prodigal who came back.  Every day would be a killing of a fatted calf kind of event.
Extreme riches, extreme self-indulgence, lavish lifestyle, ostentatious display; he's got it all.  He is the definition of what it means to be filthy rich, which is a term devised by poor people.
At the rich man's gate lay a poor man named Lazarus, who was covered with sores (verse 20).
Henry and MacArthur both say that, in Hebrew, Lazarus is Eleazar, which means, as Henry says:
the help of God, which they must fly to that are destitute of other helps. This poor man was reduced to the last extremity, as miserable, as to outward things, as you can lightly suppose a man to be in this world.
MacArthur says:
Lazarus is the Greek form of the Hebrew Elazar, or Eliazar.  It means "whom the Lord saved, whom the Lord helped."  Very common name, by the way, in Israel, and a wonderful name for this man; because it tells us how he ended up in heaven.
Anyone familiar with Ohio might remember the Lazarus department stores, which eventually merged with Macy's. As a child, I had trouble reconciling department stores with the men named Lazarus in the New Testament. It was only later that I found out Lazarus was the family name of the brothers who founded the department store chain.
This brings me to another point. Both men named Lazarus in the New Testament are canonised saints. This Lazarus is unique to Luke's Gospel. The Lazarus here is not Mary and Martha's brother from Bethany. The feast day of this Lazarus is June 21 and that of Lazarus of Bethany is December 17.
Henry describes Lazarus further:
(1.) His body was full of sores, like Job. To be sick and weak in body is a great affliction; but sores are more painful to the patient, and more loathsome to those about him.
(2.) He was forced to beg his bread, and to take up with such scraps as he could get at rich people's doors. He was so sore and lame that he could not go himself, but was carried by some compassionate hand or other, and laid at the rich man's gate. Note, Those that are not able to help the poor with their purses should help them with their pains; those that cannot lend them a penny should lend them a hand; those that have not themselves wherewithal to give to them should either bring them, or go for them, to those that have. Lazarus, in his distress, had nothing of his own to subsist on, no relation to go to, nor did the parish take care of him. It is an instance of the degeneracy of the Jewish church at this time that such a godly man as Lazarus was should be suffered to perish for want of necessary food.
MacArthur takes a less charitable view than Henry and says that Lazarus was practically tossed at the rich man's gate:
… verse 20, "A certain poor man," ptchos in the Greek, meaning extreme poverty.  Galatians 4:9, "beggarly, worthless," could be translated pitiful.  Could be translated inferior.  It's not just he had a little.  He had nothing.  Destitution.  This the absolute 180 extreme.  The man has nothing, and it says, he's also laid his gate, the gate of the rich man, covered with sores, covered with sores.  This is to have ulcers, oozing, open lesions. This same word is used in the book of Revelation to describe the horrible judgment of God when the angel pours out the first bowl of wrath in the final judgment.  It becomes a loathsome and malignant sore, Revelation 16:2, on the men who had the mark of the beast and who worshipped his image.  Verse 11: "They blaspheme the God of Heaven because of their pain and their sores."  It is an ugly kind of sore.  Where did the sores come from?  We don't really have a diagnosis of that, but I can give you a pretty good guess; because, if you go back to the verse, it says, "The poor man named Lazarus was laid at his gate."  That's not a good translation.  That sounds like come…somebody came and just kind of delicately laid him down.  That is not a delicate word.  That's the word ball.  It means to throw, throw or throw down.
What happens here is you've got a man who is thrown down at the gate to the rich man's house, which indicates that he probably was paralyzed, couldn't move.  The sores may well have come from the inability of the man to move, as people who can't move in a bed or can't move in a wheelchair develop sores at all points of pressure.
Jesus said that Lazarus wanted only what fell from the rich man's table — crumbs — yet only the dogs came to lick his sores (verse 21).
Henry points out how patient Lazarus was and how cold-hearted well-fed people are towards hunger:
He desired to be fed with the crumbs, v. 21. He did not look for a mess from off his table, though he ought to have had one, one of the best; but would be thankful for the crumbs from under the table, the broken meat which was the rich man's leavings; nay, the leavings of his dogs. The poor use entreaties, and must be content with such as they can get. Now this is taken notice of to show, First, What was the distress, and what the disposition, of the poor man. He was poor, but he was poor in spirit, contentedly poor. He did not lie at the rich man's gate complaining, and bawling, and making a noise, but silently and modestly desiring to be fed with the crumbs. This miserable man was a good man, and in favour with God. Note, It is often the lot of some of the dearest of God's saints and servants to be greatly afflicted in this world, while wicked people prosper, and have abundance; see Ps 73 7, 10, 14. Here is a child of wrath and an heir of hell sitting in the house, faring sumptuously; and a child of love and an heir of heaven lying at the gate, perishing for hunger. And is men's spiritual state to be judged of then by their outward condition? Secondly, What was the temper of the rich man towards him. We are not told that he abused him, or forbade him his gate, or did him any harm, but it is intimated that he slighted him; he had no concern for him, took no care about him. Here was a real object of charity, and a very moving one, which spoke for itself; it was presented to him at his own gate. The poor man had a good character and good conduct, and every thing that could recommend him. A little thing would be a great kindness to him, and yet he took no cognizance of his case, did not order him to be taken in and lodged in the barn, or some of the out-buildings, but let him lie there. Note, It is not enough not to oppress and trample upon the poor; we shall be found unfaithful stewards of our Lord's goods, in the great day, if we do not succour and relieve them. The reason given for the most fearful doom is, I was hungry, and you gave me no meat. I wonder how those rich people who have read the gospel of Christ, and way that they believe it, can be so unconcerned as they often are in the necessities and miseries of the poor and afflicted.
MacArthur explains how a goodly portion of bread ended up on the floor after a meal in that era:
Jaconias Jeremias writes…and he tells us about this. . .a very gifted historian, done a lot of great work around that time of the year…he says…that time of human history: "Guests at a meal used pieces of bread to clean their hands."  Now, let me tell you what the…how the picture works.  In those days, you might have a little fruit and a little vegetable or whatever, but they ate with their hands.  There weren't any knives and forks and all that.  So you basically ate with your hands as…as most of the world has done for most of its history; and, typically, you took bread — bread being a staple — and you dipped it in some kind of stew or thick soup or whatever; and you ate that way.  You ate the bread, like at the Last Supper, dipped in a sop, remember?
OK?  So that's what you did.  Well, I mean it's a little messy; and they didn't have paper napkins; and I guess they could've used cloth if they had to; but they had a really good method for cleaning up the mess on their hands.  They used the bread that was a little more stale.  Now, there would be some bread on the table that was to be dipped.  Then there would be other bread that was to then be used to mop up your…your hands.  Now, the bread had the capability of absorbing the sop, and you ate it that way; and it also the capability of absorbing what was dripping all over your hands; and so they would use the bread to clean their hands and then throw it under the table.
The dogs who licked the poor man's sores were not pets of the rich man. They were the scavengers — wild dogs — that roamed the streets then.
MacArthur says:
These dogs are always presented in the Bible as scavengers, mongrels, sort of semi-wild, not domesticated, ugly.  Was just the way it was in the world at that time.  They roamed the cities.  They roamed the periphery of the cities eating the garbage, and they came in, and in these open courtyards where meals would be held, they would clean up the bread that had been thrown there. And so the rich man has this big feast.  The people are eating, taking the bread they needed to, cleaning, throwing it under there.  The dogs were coming and eating it; and the poor man would've given anything if he could have moved himself under the table with the dogs, to get some of that dirty bread.  That's how desperate this man was.
Dogs are always pictured as dirty.  Second Peter 2:22 says, "The dogs lick up their own vomit." He wanted to get down there with the dogs and eat the dirty bread.  It reminds me of another man in the 15th chapter, the prodigal who wound up eating with what?  Pigs.  Such a humiliated situation.  So destitute.  He's road kill, really.  He's being treated as if he's dead by the rich man. That's how the Pharisees would treat him, too.
Then, one day, the poor man died and angels carried him off to rest with Abraham; the rich man also died and was buried (verse 22).
Note how Jesus framed that sentence. The poor man was lifted up to glory with Abraham, by angels, no less. The rich man ended up in the ground.
MacArthur says the Pharisees would have found that shocking:
The poor man died; and, immediately, he's carried away by angels. That's stunning. That is shocking. That is unthinkable; and then he is taken by the angels to the side of Abraham. The angels take his body from the licking mongrels and they take him and place him beside Abraham. First of all, the fact that angels are doing this is a jolt to the Pharisees who are hearing the story, because they view this man as cursed by God …
So the shock is this man is in heaven. The next shock is he's not just in heaven, he's taken by the angels to heaven. The next shock is he's not just taken by the angels to heaven, but he's not on the periphery. He's not at the back of the room or the back of the crowd looking over everybody's head and between their heads to see who's sitting up at the main table. He's sitting next to Abraham. Wow. This is just way out there. A…a broadside on their theological assumptions.
Henry reminds us that death comes for the rich and the poor alike. Some rich people believe they are invincible.
This is why our late Queen nurtured her personal faith so carefully and why she took the time to evangelise in her Christmas messages — and, most importantly, in her two televised funeral services, seen by four million people around the globe just this past Monday, September 19, 2022:
Death is the common lot of rich and poor, godly and ungodly; there they meet together. One dieth in his full strength, and another in the bitterness of his soul; but they shall lie down alike in the dust, Job 21 26. Death favours not either the rich man for his riches or the poor man for his poverty. Saints die, that they may bring their sorrows to an end, and may enter upon their joys. Sinners die, that they may go to give up their account. It concerns both rich and poor to prepare for death, for it waits for them both. Mors sceptra ligonibus æquat—Death blends the sceptre with the spade.
———æquo pulsat pede pauperum tabernas, Regumque turres. With equal pace, impartial fate Knocks at the palace, as the cottage gate.
Jesus purposely took some liberties with this parable as He said that, while being tormented, the rich man saw Abraham from a distance with Lazarus by his side (verse 23). That would not happen in reality.
MacArthur tells us:
Nobody in hell could see into heaven, because nobody in hell would ever know the heavenly experience. Nobody in hell is omniscient, so they wouldn't be able to see in heaven, look around till they found Abraham. They wouldn't know who Abraham was. Nobody in hell can have a conversation with somebody in heaven; but for the sake of the story, to make a point, because it does reveal the essence of the suffering in hell …
MacArthur says we can be sure the man is in hell, as his translation uses the term Hades:
… in the New Testament, Hades clearly refers to hell, with only one exception, and that is Acts chapter 2 verses 27 and 31, which is a quote from Psalm 16; and there it has a vague meaning of just the grave; but that's because it's quoting an Old Testament passage. Every other usage of the word Hades in the New Testament refers to the abode of the damned. It is never, in the New Testament, the abode of the redeemed, of believers. And so it is synonymous then with hell.
Some might ask about Gehenna.
MacArthur says:
Gehenna is a word referring to the Valley of Hinnom, the city dump that was burning all the time.  It became a metaphor for hell — the never, ever extinguished fire.  The fiery hell of Matthew 5:22 that Jesus spoke about.  The hell of Matthew 5:29 and Matthew 5:30, and there are many other references to it. 
The rich man called out, 'Father Abraham', a reference that would not have been lost on the Pharisees, and he asked him to send Lazarus with a fingertip of water to cool his tongue, for he was in agony in the flames (verse 24).
MacArthur tells us something vital about hell:
One thing about hell, you get a fully active conscience. I'm not going to develop all that. You get a fully active conscience, so that the true wretchedness of who you are is completely dominant in your thinking. All that illusion about how good you are, all those illusions about your self-worth and…and your basic, innate goodness gone. There is a full realization of the sinner's wretchedness in hell. A fully informed, acutely aware and sensitive conscience becomes the tormenter. He doesn't say, "How did I end up here?" That question's never asked in hell. He doesn't say, "Did I really deserve this?" He doesn't say, "Don't you think this is a little extreme?" He doesn't say any of that.
Note that the man still thought so little of Lazarus, as if he were the lowliest servant:
… he looks in his own mind at the person he would consider to be the most wretched person who ever got into heaven, and he picks him, and it's Lazarus. That'll tell you that hell didn't remediate him. He viewed Lazarus exactly the way he always did; and he also thought somebody that lowly ought to serve him. He never got heaven's assessment of Lazarus, because people in hell don't have heaven's assessment of anything …
He's tortured.  The metaphor is thirst and water, but the point is relief.  He wouldn't give Lazarus a crumb, but he wants Lazarus to give him a drip.  "Dip your finger in water, drip it on my tongue."  Minimal.  Any tiny, small bit of relief dripping off the end of Lazarus' finger.  He's not asking for a barrel, not asking for a bucket.  He's not asking for the heavenly pipeline to be extended to hell, so there's a constant flow.  The souls of the damned know they're doomed to suffer.  They know they are suffering justly.  All they ask for in the lips of this man are small moments of relief in this eternal, unending horror.  "I am in agony," odunaō, to be in great pain.  "I am in great pain."  Real water's not going to sooth the eternally tortured soul.  That's not the point.  The message is the desperation for just the smallest moment of relief.  This is consistent with the image of hell.
You read the New Testament, you read even the Old Testament, Isaiah 66:24 talks about the fires of hell.  You go through the New Testament … The gospels and the writers of the New Testament describe hell as a fiery place, and its fire is the fire of torture and torment.  It's also described as darkness, outer darkness, like being lost in the most infinite corner of space under horrible torture and pain, a place of weeping, wailing, teeth-grinding agony.
… A fire that burns forever, but never purifies. A fire that burns forever in an everlasting darkness that only punishes.
Abraham replied, addressing him as 'Child' — some translations say 'Son' — and not in a good way. This is the way a parent addresses a poorly behaved child or a law enforcement officer addresses a criminal.
Abraham reminded the rich man that he received his reward with good things on earth, whereas Lazarus received evil things. In the afterlife, Lazarus was in comfort and the rich man in agony (verse 25).
Henry says that Abraham represents Christ in this parable:
Abraham in this description represents Christ, for to him all judgment is committed, and it is his mind that Abraham here speaks. Those that now slight Christ will shortly make their court to him, Lord, Lord …
He puts him in mind of what had been both his own condition and the condition of Lazarus, in their life-time: Son, remember; this is a cutting word. The memories of damned souls will be their tormentors, and conscience will then be awakened and stirred up to do its office, which here they would not suffer it to do. Nothing will bring more oil to the flames of hell than Son, remember.
Abraham went on to say that a great chasm has been fixed between heaven and hell and that no one in one place can reach the other (verse 26).
Still considering Lazarus to be the lowest of the low, the rich man asked Abraham to send him to his father's house (verse 27), to his five brothers to warn them so that they do not end up in the same place of torment (verse 28).
Abraham denied that request, too, telling him that his brothers have Moses and the prophets: 'they should listen to them' (verse 29).
MacArthur gives us a brief set of Old Testament verses to illustrate that point:
Psalm 3:8, "Salvation belongs to the Lord."  Isaiah 43:3, "I am the Lord your God, the Holy One of Israel, your Savior."  God says, "I am your Savior.  I am your only Savior."  "Truly," says Isaiah 45:15, "Truly Thou art a God who hides Himself.  Oh God of Israel, Savior.  Israel has been saved by the Lord with an everlasting salvation."  God is the Savior.  "Turn to Me.  Turn to Me," verse 22, "all ends of the earth and be saved.  I am God, and there is no other.  There is no other God besides Me, a righteous God, and a Savior."  There's none except Me.  This is total abandonment to God who alone is the Savior; no one else, and you give up everything.
Listen to Isaiah 55:6.  "Seek the Lord while He may be found.  Call upon Him while He's near.  Let the wicked forsake His way, the unrighteous man his thoughts; and let him return to Lord, and He will have compassion on him; and to our God, for He will abundantly pardon." It's about forsaking everything and embracing the God who is the Savior.
Now, in conclusion, does that sound any different than the New Testament?  It's not one bit different.  All those components are components of New Testament salvation.  The only difference is we've seen the reality of the coming King and Sacrifice. If they believed Moses and the prophets, that would've been enough.
The rich man went on with a third request, asking for a sign sent to his brothers — someone from the dead — who will cause them to repent (verse 30).
That request is very much in line with those from the Pharisees. They saw miracles but wanted to kill Jesus. They wanted Him to perform a sign just for them. Our Lord did not grant it.
Abraham replied to the request in the negative, saying that if the five brothers do not listen to Moses and the prophets, they will not be convinced if someone rises from the dead (verse 31).
The man ended up in hell because he did not repent (verse 30).
MacArthur tells us how that man and his brothers could have found the way to repentance:
You must recognize your sinfulness, and the Old Testament commands that you repent. That is, you turn from your sin and turn toward God, realizing that God is gracious and offers grace to those who repent, that God is willing to forgive sin. He is a God of forgiveness by nature, who has no pleasure in the damnation of the wicked; and how do you appropriate that gift? Not by works, not by religious ceremony, but by faith. Abraham believed God, and it was accounted to him for righteousness; and that God will justify you. That is, He will declare you righteous, not because you are righteous; but He will credit His righteousness to you, the great doctrine of justification. Abraham believed God, and it was imputed to him for righteousness. It was his faith, even though he was unrighteous, that God accepted; and then gave Abraham, credited to his account, God's own righteousness.
In closing, MacArthur discusses the differing notions of hell between our society and in the Bible:
… it is critical for us to understand the literal reality of hell, and to accept the warning of Scripture. Hell has really disappeared from the vocabulary of many preachers.  Hell is denied by many in favor of universal salvation or everlasting nonexistence called soul sleep where people die and just go out of existence forever.  That's a popular view among those who call themselves Christians.  Hell is denied by many.  It is preached by few, because it makes people uncomfortable.  That is true.  Hell has been reduced to a swear word, used by unbelievers not believers.  It has been reduced to a trivial verbal epithet that we sling around when wanting to express our anger.  Unbelievers flippantly and frequently tell people to go to hell. And while unbelievers don't seem to have any hesitation to talk about hell and to verbally threaten people with it, at the same time the church is reluctant to warn people not to go to hell, supposedly out of love and compassion and concern and a desire to be acceptable.
So while unbelievers have the word "hell" on their lips frequently, believers have it on theirs rarely; and that is certainly what Satan would want.  Trivialize and make nothing but an epithet out of hell, words that you sling around that have no meaning, and silence the church about the truth of it. But it is the fearfulness of hell; it is the horror of hell that is exactly the point of its revelation.  The purpose of telling us about hell and describing it with such detail and so repeatedly in the Scripture is to produce in sinners fear, terror, and panic.  That's what it's for.  It's to contribute to the way in which they anticipate their eternity.  It is to frighten them, to horrify them so as to produce a terror of spending forever there that drives them in the direction of repentance and faith in the gospel.
Now, the leading preacher of hell of all people, the leading preacher of hell ever is the Savior of sinners, the Lord Jesus Christ.  The most references to hell are in the four gospels and they come out of His mouth.  It is Jesus who teaches us about hell.  Clearly, the epistles are the…the ground in which we will find the clearest foundation for our understanding of hell.  Not just there.  The writer of Hebrews refers to it.  The apostle Peter refers to it.  The apostle John refers to it.  The apostle Paul refers to it.  Even Jude refers to it.  All the writers of the New Testament pick up on the issue of hell.
This punishment is defined by the word aiōnios, which is the word eternal or everlasting; and there are people who would like to redefine that word aiōnios and say, "Well, it doesn't really mean forever."  But if you do that with hell, you've just done it with heaven, because the same word is used to describe that.  If there is not an everlasting hell, then there is not an everlasting heaven; and I'll go one beyond that.  The same word is used to describe God. And so, if there is not an everlasting hell, then there is not an everlasting heaven, nor is there an everlasting God.
It is clear that God is eternal; and, therefore, that heaven is eternal, and so is hell.  This is what is on the heart of the Lord Jesus when He talks to the Pharisees, the religious leaders of Israel, and tells them the story in Luke 16:19 to 31.  He makes it up as He did His parables.  He invents the story.  The only difference between this and any other parable is He has a name for one of the characters; and there's a reason for that; but the story really has one purpose.  It is to warn of hell. It's a story about a man who was surprised to end up in hell.
If you know someone who needs a discussion about hell, do not wait. It is essential in order for them to be saved. Teach them what Jesus says about hell. My prayers go with you in that effort.
Today's post was supposed to be a comprehensive retrospective of what people around the world experienced this week in seeing Queen Elizabeth II being laid to rest.
However, I have information and reflections for more than one post.
Today's will look at the religious aspects and history of Westminster and some Royal funeral traditions.
Westminster's religious history
One thing I learned is that the area that is called Westminster, which we connect with the Abbey and the Palace (where the Houses of Parliament meet) was originally a monastery with a church on the site.
'West' refers to the location being to the west of where most people were settled long before the Norman Conquest in 1066.
The word 'minster' is the Anglicised version of the Latin 'monasterii', 'monasterium' and 'monasteriensis', dating back to 669.
My curiosity was piqued when I read the inscription of the four tall candlesticks immediately flanking the Queen's catafalque. Unfortunately, I do not have the full wording, but 'Westmonasterii' and 'Petri' are on them, gold lettering on a red border, just underneath where the large, thick beeswax candles sit.
Then came the story of how the monastery became linked to St Peter, the fisherman who became a bold Apostle preaching Christ after the first Pentecost.
In 2017, Cambridge University Press published a paper by Bernhard W Scholz, Sulcard of Westminster: Prologus de construccione Westmonasterii.
An extract reads, in part (emphases mine):
Sulcard, a monk of Westminster in the eleventh century, is the author of the first history of his monastery, the unprinted Prologus de construccione Westmonasterii. In this brief tract he describes the foundation of Westminster in the days, as he claims, of King Æthelberht of Kent, and the patronage and endowment extended by various benefactors, notably Archbishop Dunstan of Canterbury and King Edward the Confessor. Sulcard also records the marvellous dedication of Westminster by St. Peter, patron of the church, and two other miracles worked in Westminster by the prince of the apostles.
Of the original church, replaced by the structure we know today, the Wikipedia entry for Westminster Abbey states:
According to a tradition first reported by Sulcard in about 1080, a church was founded at the site (then known as Thorn Ey (Thorn Island)) in the seventh century at the time of Mellitus, a Bishop of London. Construction of the present church began in 1245 on the orders of King Henry III.[5]
Here is where St Peter comes in. A tradition dedicated to him continues today:
A late tradition claims that Aldrich, a young fisherman on the River Thames, had a vision of Saint Peter near the site. This seems to have been quoted as the origin of the salmon that Thames fishermen offered to the abbey in later years, a custom still observed annually by the Fishmongers' Company …
Sulcard's entry reads:
The sole work which Sulcard is known to have produced is the so-called Prologus de Construccione Westmonasterii ("Prologue concerning the Building of Westminster"), dedicated to Abbot Vitalis of Bernay (c. 1076—?1085) and hence datable to about 1080.[2] It relates the history of the abbey, beginning in the time of Mellitus, bishop of London (604—17), with the foundation of its first church on what was then Thorney Island by a wealthy Londoner and his wife. It concludes with the dedication of a new church erected by King Edward the Confessor (r. 1042–1066) for the monastery. In the dedication to Vitalis, Sulcard writes that he intended his work to serve as a 'commemorative book' (codex memorialis) for his house. He was primarily interested in promoting the cult of St. Peter, the abbey's patron saint, who is said to have miraculously appeared in the early 7th century to dedicate the church in person. Two copies of the history are extant, the earliest being a chartulary from Winchester (c. 1300), BL, Cotton MS Faustina A.iii, fols. 11r—16v. The other copy is in BL, Cotton MS Titus A.viii, fols. 2r–5v. The title is not contemporary, but derives from the heading in the former chartulary, to which it serves as a prologue.[3]
Apart from relating local traditions about St. Peter's miraculous involvement, the narrative of Sulcard's prologus is relatively free of embellishments.[1]
It does not appear that the monks had an easy time of it on Thorney Island:
Thorney Island was the eyot (or small island) on the Thames, upstream of medieval London, where Westminster Abbey and the Palace of Westminster (commonly known today as the Houses of Parliament) were built. It was formed by rivulets of the River Tyburn, which entered the Thames nearby. In Roman times, and presumably before, Thorney Island may have been part of a natural ford where Watling Street crossed the Thames,[1] of particular importance before the construction of London Bridge.
The name may be derived from the Anglo-Saxon Þorn-īeg, meaning "Thorn Island". [2]
Thorney is described in a purported 8th century charter of King Offa of Mercia, which is kept in the Abbey muniments, as a "terrible place". In the Spring of 893, Edward the Elder, son of Alfred the Great, forced invading Vikings to take refuge on Thorney Island.[3] Despite hardships and more Viking raids over the following centuries, the monks tamed the island until by the time of Edward the Confessor it was "A delightful place, surrounded by fertile land and green fields". The abbey's College Garden survives, a thousand years later, and may be the oldest garden in England.[4]
Since the Middle Ages, the level of the land has risen, the rivulets have been built over, and the Thames has been embanked, so that there is now no visible Thorney Island. The name is kept only by Thorney Street, at the back of the MI5 Security Service building; but a local heritage organisation established by June Stubbs in 1976 took the name The Thorney Island Society.
In 1831 the boundaries of the former island were described as the Chelsea Waterworks, the Grosvenor Canal, and the ornamental water in St James's Park.[5]
Thorney Island is one of the places reputed to be the site of King Canute's demonstration that he could not command the tides, because he built a palace at Westminster.
In 2000, the politician John Roper was created a Life peer and revived the name of Thorney in Parliament by taking the title Baron Roper of Thorney Island in the City of Westminster.[6]
Royal traditions at Westminster Hall
The Daily Mail has an excellent article on Westminster Hall's history from 1087 to the present, beginning with William the Conqueror's son, William II, or William Rufus.
The Queen's lying in rest was another historic milestone. By September 15, just four days before her funeral, someone described it as a:
piece of history that will never be repeated.
Before the public viewing started, Westminster Abbey's clergy and the Archbishop of Canterbury conducted a 20-minute service, accompanied by the Abbey choir.
Although the Hall is unconsecrated ground, it nonetheless felt as if it were a church.
The hundreds of thousands of people who filed past over four days, until 6:30 a.m. on the morning of Monday, September 19, 2022, also respected it as such. The continuing silence was overwhelming in its beauty.
Although there are traditions relating to monarchs long ago, the Westminster Hall visitation is a relatively new one, as The Telegraph's Tim Stanley tells us:
The modern lying-in-state was invented in 1910, for the funeral of Edward VII. No tickets were issued; rich and poor queued in torrential rain. As the doors opened at Westminster Hall, a work girl was heard to cry, "They're givin' 'im back to us!"
When the ceremony was repeated for George V in 1936, cynics sneered at its elitist "pomp". The writer G K Chesterton advised them to open a history book. In aiming to modernise royalty by bringing George's body closer to the people, he said, the court turned the clock back to the Middle Ages, to when kingship was more personal and tangible. The coffin of a medieval sovereign was generally topped with a waxwork effigy, so that even the lowliest subject could see what he looked like.
The body of a monarch was, in a sense, sacred, transformed by coronation into an instrument of God. But, like Doubting Thomas, we need to see to believe. Hence even as monarchy became more absolutist over time, better convinced of its divine rights, the principal actors still felt the need to put on a show.
France's monarchy was even more open than ours. The public could watch Louis XIV and his family at Versailles:
Louis XIV, the Sun King of France, rose every morning, washed, shaved and dressed in front of an audience of around 100 people. Anyone could come to see him at Versailles; all you needed to get in w[ere] a hat and a sword, and the concierge did a nice sideline in selling both. Tourists could watch the royal family going to chapel, eating, even playing cards – you could say Versailles was the Center Parcs of its day, though reviews were scathing about the pickpocketing and the smell. The palace did not benefit from modern plumbing. People relieved themselves in the corridors. There's a story that Marie Antoinette once stepped out for a walk and a woman in the window above emptied a chamberpot over her head.
Returning to Westminster Hall last week, Stanley says:
Let's call it what it is: a pilgrimage. The body has been returned to the people; the people have come to see it, drawn by belief, by spectacle or raw instinct. When I entered Westminster Hall, I saw at once that it was a shrine, marked by candles and shrouded in silence. Phones were banned.
Alone at the coffin, some bowed, some curtsied, some crossed themselves. These ritual gestures, observed Chesterton back in 1936, are "not only more serious but more spontaneous" than the "ghastly mummery of saying a few words" … The poverty of the 21st-century imagination betrays the dead and the living. Tradition honours with awe, and it provides those left behind with the language and actions to articulate the inexpressible.
The person who willingly submits to the ritual of the lying-in-state, argued Chesterton, "may not be an exceptional person but at least he understands what is meant by an exceptional occasion." By contrast, the bright spark who stands above it all forfeits the wisdom of the crowd, and by rejecting history, discards a part of themselves, too – so that they are ignorant even of their own identity. Worse, they are without hope. If you believe, as we are encouraged to believe today, that death is it, the funeral is a "goodbye" that can't even be heard by the deceased. But if you believe, as the late Queen did, that there is a life after this one, then the rite is a demonstration of faith that things will continue.
To inhabit a tradition means not only to participate in it but to pass it on. Its survival is a tribute to the perseverance of life itself. We will be told that all we've seen is old hat; we'll be told that even if it was grand, Queen Elizabeth was its last shout. Well, they've said that a million times before, and yet here we are lining the streets, or crowding around the television, bearing witness to an ancient institution that has the audacity to claim its origin from King Solomon.
Bemusement? It renders clarity. Despair? It offers hope.
I will return to faith in a moment.
Also writing for The Telegraph, Christopher Howse described the 'sacred mysteries' surrounding royal ceremonies:
The lying-in-state of Queen Elizabeth, her coffin covered by the royal standard upon which rested the Imperial State Crown, made an argument hard to reduce to words. It argued for a constitutional monarchy and the ancient conventions surrounding it. Millions of people this week have quietly taken part in recognising that reality.
In religion, an old saw says: lex orandi lex credendi – the law of prayer is the law of belief. In other words, prayers and liturgy express implicit meanings behind them. Perform the rites and you learn what you believe.
Something similar operates in state ceremonial. I know that traditions are reinvented, and that the lying-in-state in Westminster Hall is little over a century old. But it incorporates remarkably old elements. In the Imperial State Crown, for example, is the sapphire of St Edward, said to have been part of the coronation ring of King Edward the Confessor, who came to the throne in 1042.
It is not too soon now … to consider the coronation of King Charles. There is antiquity here too, the inheritance of which should not be thrown away. The motet Zadok the Priest, for example, has been sung at every coronation since 973, for King Edgar. The words are based on the First Book of Kings (1:38): "Zadok the priest and Nathan the prophet anointed Solomon king. And all the people rejoiced and said: God save the King! Long live the King! God save the King!"
… Some of my fears have been assuaged by the words of King Charles. He had once spoken of being the defender of faiths, rather than the faith of the Church of England implied by the abbreviations found on our coinage: FID DEF – fidei defensor. In his first address on coming to the throne, King Charles called the Church of England "the church in which my own faith is so deeply rooted".
The Coronation takes place within the service of Holy Communion (even if films from 1953 omit images of Queen Elizabeth and the Duke of Edinburgh receiving the Sacrament, as they did).
And, no matter what, we are better off with an established church in England than without one, precisely for these reasons:
Sometimes I find the Church of England annoying. Who doesn't? But I'd rather have it as the Established Church than not … as the godly anointing of the head of state and supreme governor of the Church of England, the Coronation must retain the Christian elements that define it.
The only noise we heard was during the changing of the guard, which took place every 20 minutes. Unless one does it as a job, i.e. in front of one of the palaces, it is difficult to stand completely still in one place for much longer.
Lucy Denyer wrote an article for The Telegraph describing what an honour it was for her to see her husband as part of that guard:
My husband is – imperceptibly, infinitesimally – swaying. Backwards and forwards he goes, gently, so, so gently. Blink and you'd miss it; to all intents and purposes he is standing stock still, eyes front, unsmiling, upright. You'd only catch the tiny movement if you were looking very intently.
… The rocking – forwards and backwards from the heel to the ball of the foot – keeps the blood flowing; stops him passing out. Watch really carefully and they're all at it. 
The Queen herself also did that when standing for long periods of time. It does work.
She, too, commented on the silence:
Inside, under the bright lights hanging from the mediaeval beams, it is silent, bar the tapping of feet, the discreet click of an official photographer's lens and once, the wail of a baby.
Suddenly comes the bang of sword on stone, the signal for the guard to change. It is precisely 12:20am and the four on the corners swing their swords in a graceful arc in perfect time, before making their careful way down the steps of the dais on which the late Queen's catafalque stands …
My husband tells me afterwards that all he could think of, at this point, was not to trip, fall – and become a global meme.
She discussed the power of ritual and solemnity of a vigil:
A vigil can at once be grand or simple, awe-inspiring or strangely intimate – or all of those things – and Queen Elizabeth II's is no exception. Ignore the velvet ropes and the electric lights – and the anoraks, trainers and clutched plastic bags – and this could be a moment from another time; it is timeless.
Soothing, too; the endless river of people filing by the coffin. Most slow, some bow, others curtsey, some blow kisses. Many linger after they have passed by, reluctant to leave this sanctuary that it has taken them so long to reach. Exhaustion is etched on faces; there is the odd dazed-looking child stumbling along between its parents.
Among this stream of awkward humanity, the officers on guard stand in marked contrast – statues, doing their duty. They have been practicing all week: their entrances and exits, their synchronised sword drills run through at home in spare half hours with umbrellas. Standing orders have been dusted off, breastplates refitted, helmets adjusted, boots polished. I have seen the pomp and ceremony hundreds of times, yet never carried out so silently; there is no shouting of orders in here.
The sword bangs once more; it is time to leave. On top of the coffin, the Black Prince's Ruby suddenly flashes red. I pause, bow my head, say a prayer of thanks – for Her Majesty's life, but also, in her death, to have been able to see this, to watch my husband carry out this enormous honour.
Returning to Windsor — and to God
After the Queen's committal at St George's Chapel at Windsor Castle, Tim Stanley wrote a moving tribute for The Telegraph:
The Committal was a homecoming. To Windsor and to God.
This is one of England's holiest spots, burial site of kings, church of the Order of the Garter, it once hosted a splinter of Christ's cross. Its slender pillars are like the trunks of ash trees. 
Beneath its canopy of silver lattice, the coffin was borne to the quire and rested at the catafalque, to a setting of Psalm 121: "I will lift up mine eyes unto the hills."
Then the choir sang the Russian contakion of the departed, also performed at the Duke's funeral, a nod to the family's Orthodox heritage. Absent a eulogy, it was the music that expressed Her Majesty's character and convictions, including a motet arranged by Sir William Henry Harris who, it is believed, taught the young Princess Elizabeth how to play the piano. As a child, she could often be found in the organ loft listening to him play for the services down below, especially at Christmas.
The words by John Donne crystallised the message of the readings: "Bring us, O Lord God… into the house and gate of Heaven", where there shall be no darkness "but one equal light", no noise "but one equal music" and one "equal eternity".
Put another way, Elizabeth II lived as a queen but, in death, she is a soul equal to any other, returned to God. In an age of atheism, when Christians are persecuted across the world, it's remarkable that perhaps history's largest ever TV audience was given over to a statement of unafraid Christian belief – and over the course of the Committal, one cleric after another expressed the vision of their church with utter clarity.
There is the reality of mortality, as described by the Dean of Windsor in Psalm 103: "The days of man are but grass… As soon as the wind goeth over it, it is gone."
There is the certainty of life after death, as stated in the prayers: "We rejoice at thy gracious promise to all thy servants, living and departed, that we shall rise again at the coming of our Saviour Jesus Christ." And there is the vision of triumph at the end of times, as the Dean quoted from Revelation: "There shall be no more death, neither sorrow, nor crying."
This passage was read at the funerals of the Queen's grandparents and father, casting us back over an unbroken line of succession.
There was no qualification in any of these words, no Thought for the Day "some might say, others will feel differently", but instead pure hope rooted in unshakable faith. The Queen has died, but her story does not end. That's true for the monarchy, as well …
Finally, the coffin lowered into the ground as the Dean continued: "Go forth upon thy journey from this world, O Christian soul." The Garter King of Arms proclaimed the late Queen's titles; a bagpiper played a lament from the North Quire Aisle, slowly walking into the distance, till the figure and his tune became a ghost in the ash forest. You might say that physically we were in England, but spiritually we were in Balmoral.
And the congregation awoke from its reverie into a new era …
Later, of course, the family would say a very private farewell to Queen Elizabeth, and she would be laid next to her beloved husband – concluding a set of rites that, like Russian dolls, grew smaller and more precious in form. 
For the public, the emotional journey to this moment was intense. Over 10 days, the lying in state allowed us to participate in the Queen's farewell and, let's be honest, make it a little bit about us. How British were the queues, we said, how democratic the whole thing.
But at the Abbey and the Chapel, we saw what this was really all about: namely the late Queen, her precious traditions and the principles they exist to pass on. Ultimately, the Committal articulated love – for country, for family, for horses and dogs, all the things that make a life worth living.
The Church of England is preoccupied by church growth programmes.
They do not need that at all.
What they need is a continuous replay of the Queen's four days in Westminster Hall, her funeral at Westminster Abbey and her committal service at St George's Chapel.
My message to Anglican clerics is: build it and they will come.
————————————————-
It is not too late to send the Royal Family a message of condolence:
My better half and I were in London yesterday. Friends told us that floral tributes were still being laid in the relevant parks and at Windsor Castle.
It is good to see that mourners are still remembering our late monarch, especially as the Royal Family now have a chance to grieve in private for the next few days.
May God bless them on that difficult journey.
Long live the King.
Reflections on the Queen continue next week.
On Monday, September 19, 2022, the United Kingdom held its first state funeral since the death of Winston Churchill in 1965.
The public viewing of the Queen's casket at Westminster Hall ended at 6:30 a.m.:
I am certain that more than 250,000 people filed past in four days in London, because in 2002, 200,000 filed past her mother's coffin in three days. I was one of them. It was an unforgettable experience.
The Sky News article had more numbers before the Queen's funeral at Westminster Abbey began:
The Mayor of London's office said an estimated 80,000 people were in Hyde Park, 75,000 in ceremonial viewing areas and 60,000 on South Carriage Drive.
Overall numbers will be much higher as crowds formed on virtually the entire route to Windsor, where Thames Valley Police said 100,000 people had turned out.
The Telegraph reported much higher numbers for Westminster Hall. These seem more realistic to me:
The four-day lying-in-state ceremony has seen more than a million mourners packing the banks of the Thames, waiting in a queue which, at its peak, took 24 hours and stretched 10 miles, beyond London Bridge to Southwark Park.
On the final day, Westminster Hall was attended by dozens of foreign leaders and royals who have arrived in London ahead of the state funeral, which starts at 11am.
They included Joe Biden, the US President, Emmanuel Macron, the French leader, Olena Zelenska, the First Lady of Ukraine, President Jair Bolsonaro of Brazil and his wife Michelle, King Felipe and Queen Letizia of Spain, and King Phillipe and Queen Mathilde of Belgium.
On Sunday morning, the Government warned people not to travel to the queue "to avoid disappointment".
Another Telegraph article had more statistics about the Elizabeth Line (emphases mine):
At an average queueing time of 12 hours – perhaps even more – they had clocked up a total of 4.8 million hours between them as they shuffled forward, uncomplainingly, in the sunshine, and in the cold, and in the dark. It means that since the late Queen's lying in state began last Wednesday, her people had spent a cumulative 550 years saying their final thank you.
And if each of them entered the winding, folding queue at its end in Southwark Park, they would have walked 4 million miles between them, the equivalent of 153,846 marathons.
The fact that all of them knew how arduous the wait would be, having been given ample warning, is an even more reliable measure of how much Queen Elizabeth meant to them.
From children in push-chairs to pensioners and even global celebrities, they patiently waited their turn to spend only a few minutes in the presence of the late Queen's coffin, almost all of them pausing to bow or curtsy, many of them turning away in tears.
As one of my readers, dearieme, pointed out, this shows the trust our Queen had in her subjects and foreign visitors:
How often in the history of civilisations would governments, here or elsewhere, have allowed – even encouraged – huge mobs of the public to congregate, and trust largely to their natural instincts to keep themselves in order?
I think the answer might be "rarely".
Douglas Murray pondered all of the above in his Telegraph article: 'Our late Queen's final act was to bring her nation and the world deeply together'.
Excerpts follow:
The passing of Elizabeth II is remarkable for many reasons. But just one of them is the way in which the Queen's final act seems to have been to bring her nation deeply together.
There is the literal way in which that has happened, with the mini-nationalists across Britain ceasing – for a moment at least – their relentless task of trying to tear our country apart. The Scottish nationalists observed the death of our monarch without a series of "buts". Even Sinn Fein paid tribute and passed condolences to the Queen's son and heir – an act that would have been unthinkable beforehand.
People have rightly remarked on the way in which hundreds of thousands of people have queued to pay their own personal respects to the late Queen. But almost as remarkable is the way in which other nations around the world, as well as their media, have mourned her death …
The Queen leaves behind a Commonwealth that has been united in mourning – hardly the expected reaction if she had been the cruel tyrant of the New York Times's imagination.
What is more, although the dissenters have received an extraordinary amount of attention, more extraordinary by far is how united the world's response has been.
France, for instance, is not a country known for its love of monarchy. But on the death of Queen Elizabeth the French political and media class were united in paying tribute to her. She was honoured on the cover of almost every French magazine and periodical, as she was across the European and world media.
This reaction is largely a tribute to a reign of unparalleled length and dignity, a life given to the service of the country and the deepening of alliances with our friends and allies. But it also serves as a reminder of the way in which Britain is regarded around the world. With the exception of a few raucously noisy malcontents, we find that most people do not regard Britain as some terrible tyrannical power, either now or in history. Most see us, rightly, as having been among the fairer, certainly more benign, world powers …
This is the Britain that is still influential both in its impact abroad and also in the lives of its citizens. I doubt that there has been a figure in history whose death has led to such a voluntary outburst of feeling. There may have been despots whose death had to be mourned by their citizens and subjects, but there can have been few, if any, who have ever produced such willing devotion.
And there is a lesson in this for our institutions, and for institutions and nations around the world: people are loyal to institutions that are loyal to them. Break any part of that pact and you break the whole; sustain it and you sustain the whole.
Queen Elizabeth II swore an oath to this country as a young woman, and it was an oath she kept until her dying day. That loyalty is what is being honoured and mirrored today: the respect of people around the world for a life of service and duty. Something to remember, certainly. But something to emulate and live up to as well.
On the subject of tributes from abroad, a Belgian created this inspired photo montage of the Queen:
The next two short videos are well worth watching. The first is about Elizabeth II's 'Queenhood', probably written by the poet laureate with footage from her coronation. The second is a film montage of her entire life from beginning to end:
Operation London Bridge — the Queen's funeral plan — was now in its final phase in the capital and at Windsor Castle.
A military procession arrived at Westminster Hall to take the Queen for her final time to Westminster Abbey.
A new bouquet of pink and purple flowers with foliage and herbs — rosemary for remembrance and myrtle from the plant which supplied the sprigs for her wedding — replaced the white wreath for her lying in state:
Eight pallbearers from the military carefully placed her coffin onto a gun carriage. Naval ratings holding onto ropes in front and in back guided the gun carriage on its way.
This tradition began with Queen Victoria's funeral, which took place in January 1901. Horses were supposed to transport the gun carriage, but part of it snapped off in the cold, thereby making it impossible. Prince Louis Battenberg, who was Prince Philip's grandfather, came up with the solution, which, he said, had operated satisfactorily during the Boer War:
If it is impossible to mend the traces you can always get the naval guard of honour to drag the gun carriage.
The tradition continued throughout the 20th century:
The gun carriage is part of the materiel of the King's Troop, commanded for the first time by a woman, Captain Amy Hooper. She told The Telegraph that she was in Canada when the Queen's death was announced:
"BRIDGE, BRIDGE, BRIDGE," the text stated. "Operation LONDON BRIDGE has been activated. Initiate telephone cascade. All personnel are to return to camp" …
She was in Calgary when the news broke, along with soldiers exercising alongside Canadian mounted units. The British party was flying back to the UK within five hours …
Soldiers as far away as Turkey and America had to cancel their family holidays and return to the UK …
On Monday, she will be leading the gun team in Hyde Park for the Queen's funeral.
King's Troop, a unit of about 160 soldiers with an equal split of men and women, has one of the most important ceremonial roles in the British armed forces.
Their six 13-pounder quick-fire guns, built between 1913 and 1918, all of which have seen active service in the First and Second World Wars, are used regularly for royal salutes in Hyde Park, Green Park or Windsor Great Park for State Occasions and to mark royal anniversaries and royal birthdays …
The gun carriage is known as the George Gun Carriage, and carried King George VI's coffin from Sandringham Church to Wolferton Station in February 1952. It was also used in the funeral of the Queen Mother in 2002.
Queen Elizabeth's funeral had more troops and regiments than had ever been gathered at one time.
These included troops from around the Commonwealth, particularly Canada and Australia:
The soldiers walked at a 75 beat per minute pace, which is slow and difficult to sustain.
The Times reported on the use of a metronome, mimicked on the day by drum beats to ensure proper timing:
Military chiefs have been told to "up their game" for the Queen's funeral today and listen to a metronome at 75 beats per minute to ensure the right pace during the procession.
Admiral Sir Tony Radakin, the chief of the defence staff, admitted to nerves but said an enormous amount of planning for the event had gone on for "a very long time". He said more than 10,000 soldiers, sailors and airmen and women would perform their "last duty" to the Queen during the day's events.
Queen Elizabeth wished to have her funeral at Westminster Abbey because she had been married and crowned there.
The last monarch to have a funeral at the Abbey was George II on November 13, 1760. The other monarchs had theirs at St George's Chapel at Windsor Castle.
The Queen's children along with Princes William and Harry walked in the procession to the Abbey.
Meanwhile, heads of state and dignitaries took their places inside. Charity workers also were seated.
The Queen Consort and the Princess of Wales arrived with Prince George, 9, and Princess Charlotte, 7:
The procession arrived at the Abbey and the pallbearers carefully carried the Queen's coffin inside:
You can find the Order of Service here:
The Times has an excellent article on the service.
You can see the procession from Westminster Hall and the full funeral service. As with the other Royal Family YouTube links I have posted, if you get a message saying it cannot be viewed, click on 'Watch on YouTube' or this tweet:
The Queen chose the music, which held particular significance to her and to the Abbey:
Pardon the irreverence, but this is an aerial view of the seating plan in the transept. Look how far back Joe Biden was. Apparently, his Beasts and motorcade got caught up in traffic, although he arrived before the service began. By contrast, the dignitaries who took the white coaches in the 'podding' system got there on time. Even if he hadn't been late, he would still have been seated in the same place.
The altar is to the left and, out of shot, to the right are more seats for guests: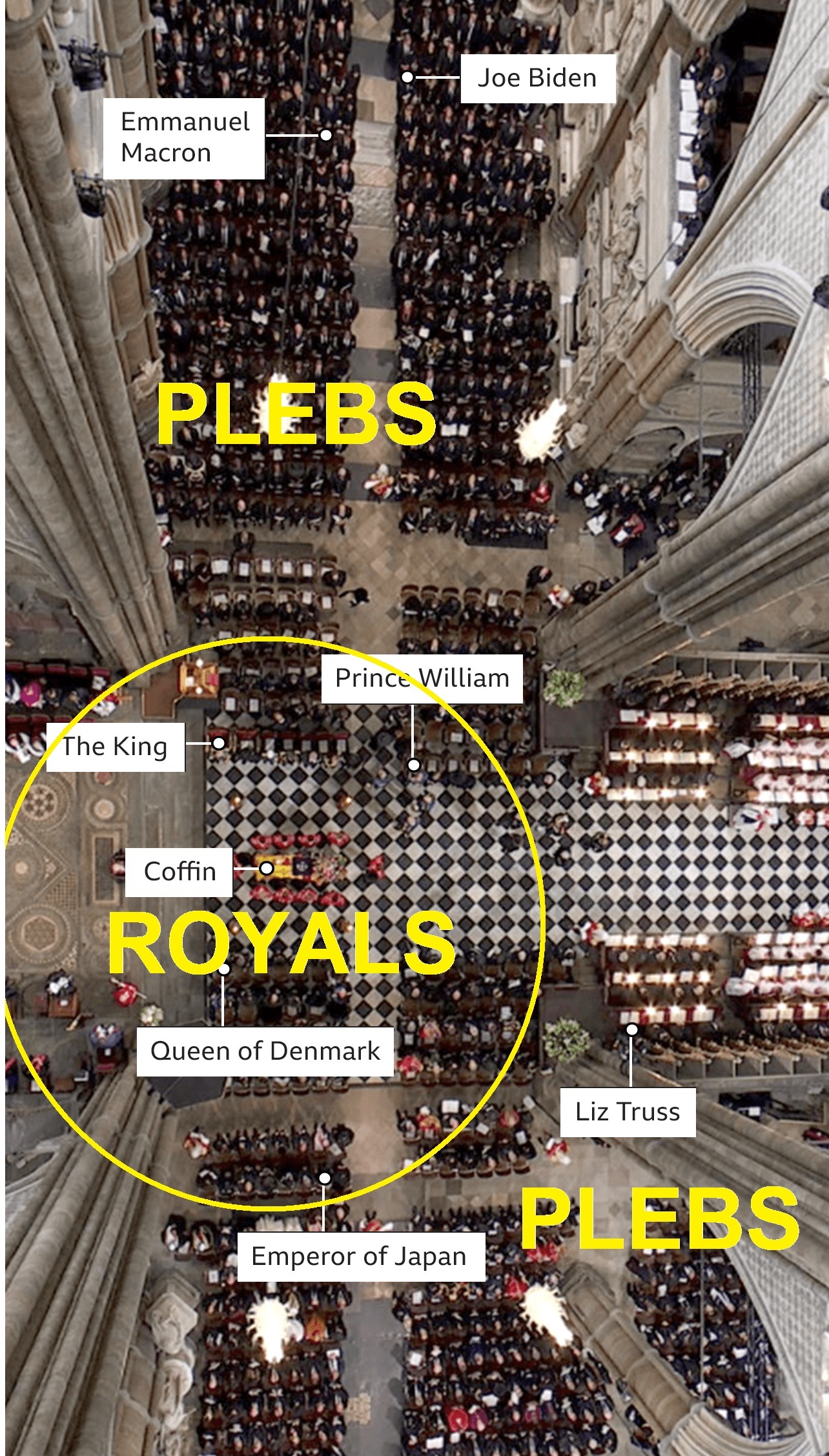 Likely sitting out of shot was, ironically, The Guardian's editor, Kath Viner:
Guido Fawkes has a quote from one of her recent editorials. I cannot bear to cite it in full, so here are the first and last sentences:
Royal rituals are contrived affairs meant to generate popular attachment to a privileged institution and to serve as reminders of a glorious past … How much Britain will be changed once this moment floats past the country is as yet unknown.
Guido commented (emphasis his):
Of course that didn't stop the Guardian's editor Kath Viner accepting a ticket to the funeral from the "privileged institution" herself. Maybe she's sentimental…
Another hypocrite turned up, Scotland's First Minister Nicola Sturgeon, she of the second independence referendum.
The Times has a photo of her and her husband, Peter Murrell, along with a few quotes:
Nicola Sturgeon has said it was an "honour to represent Scotland" as leaders from across the world joined the royal family and other mourners at the state funeral.
The first minister was among some 2,000 mourners at Westminster Abbey along with leaders of the other main Scottish political parties. She spoke of a "final and poignant goodbye to a deeply respected and much-loved monarch".
As I listened to the liturgy, I could not help but think that this is the last time we will hear language from the King James Version of the Bible and the 1662 Book of Common Prayer at a service for the Royals. How I will miss it. I hope I am wrong.
There was one prayer from an even earlier version of the Book of Common Prayer, Archbishop Cranmer's, from 1549. This was put to music. The choir did it full justice:
THOU knowest, Lord, the secrets of our hearts; shut not thy merciful ears unto our prayer; but spare us, Lord most holy, O God most mighty, O holy and most merciful Saviour, thou most worthy Judge eternal, suffer us not, at our last hour, for any pains of death, to fall from thee. Amen.
This was the Bidding Prayer:
O MERCIFUL God, the Father of our Lord Jesus Christ, who is the resurrection and the life; in whom whosoever believeth shall live, though he die; and whosoever liveth, and believeth in him, shall not die eternally; who hast taught us, by his holy Apostle Saint Paul, not to be sorry, as men without hope, for them that sleep in him: We meekly beseech thee, O Father, to raise us from the death of sin unto the life of righteousness; that, when we shall depart this life, we may rest in him, as our hope is this our sister doth; and that, at the general Resurrection in the last day, we may be found acceptable in thy sight; and receive that blessing, which thy well–beloved Son shall then pronounce to all that love and fear thee, saying, Come, ye blessed children of my Father, receive the kingdom prepared for you from the beginning of the world. Grant this, we beseech thee, O merciful Father, through Jesus Christ, our mediator and redeemer. Amen.

The entire liturgy was a lesson about faith and salvation. Even an unbeliver could not miss it.
I pray that it works on the hearts and minds of those in attendance who are indifferent.
The Queen always liked Psalm 42 for its reference to the hart, which reminded her of Scotland:
LIKE as the hart desireth the water–brooks : so longeth my soul after thee, O God.
My soul is athirst for God, yea, even for the living God : when shall I come to
appear before the presence of God?
My tears have been my meat day and night : while they daily say unto me, Where is
now thy God?
Now when I think thereupon, I pour out my heart by myself : for I went with the
multitude, and brought them forth into the house of God;
In the voice of praise and thanksgiving : among such as keep holy–day.
Why art thou so full of heaviness, O my soul : and why art thou so disquieted within
me?
Put thy trust in God : for I will yet give him thanks for the help of his countenance.
Prime Minister Liz Truss read the second Lesson, John 14:1-9a:
LET not your heart be troubled: ye believe in God, believe also in me. In my Father's house are many mansions: if it were not so, I would have told you. I go to prepare a place for you. And if I go and prepare a place for you, I will come again, and receive you unto myself; that where I am, there ye may be also. And whither I go ye know, and the way ye know. Thomas saith unto him, Lord, we know not whither thou goest; and how can we know the way? Jesus saith unto him, I am the way, the truth, and the life: no man cometh unto the Father, but by me. If ye had known me, ye should have known my Father also: and from henceforth ye know him, and have seen him. Philip saith unto him, Lord, shew us the Father, and it sufficeth us. Jesus saith unto him, Have I been so long time with you, and yet hast thou not known me, Philip? He that hath seen me hath seen the Father.

After Psalm 23 was sung, the Archbishop of Canterbury's sermon followed:
Near the end, clergy from the main Christian denominations recited their own prayers in thanksgiving for the Queen's long reign of service.
The Abbey's Precentor then recited a prayer from John Donne (1573-1631):
BRING us, O Lord God, at our last awakening into the house and gate of heaven, to enter into that gate and dwell in that house, where there shall be no darkness nor dazzling, but one equal light; no noise nor silence, but one equal music; no fears nor hopes, but one equal possession; no ends nor beginnings, but one equal eternity; in the habitation of thy glory and dominion, world without end. Amen.
After the blessing, the State Trumpeters of the Household Cavalry sounded The Last Post:
The congregation sang two verses of the National Anthem.
The funeral service closed with a poignant military lament, Sleep, dearie, sleep, performed by the Queen's Piper, Warrant Officer Class 1 (Pipe Major) Paul Burns. He stood on a balcony overlooking the congregation. Words cannot describe it.
This video has brief highlights from the funeral:
After the funeral ended, the Queen's coffin resumed its place on the gun carriage for a procession past Whitehall, down The Mall, then past Buckingham Palace, finishing at Wellington Arch on Constitution Hill.
A gun salute also took place:
The Royals walked with the military, as before. This was a long walk.
Every person in this procession has seen active military service. I put that in bold, because some living overseas think that these are 'toy soldiers', as it were. They are anything but.
Here they are in front of Buckingham Palace. Note that the Queen's household are standing in front of the gates in their normal working clothes to pay their respects:
The horses leading the procession were gifts to the Queen from the Royal Canadian Mounted Police (RCMP), or the Mounties. The Queen was their honorary commissioner.
George, Elizabeth, Darby and Sir John are the latest in a long line of horses given by Canada to the Queen and ridden by senior royals, including King Charles and the Princess Royal, during the annual ceremony of Trooping the Colour …
In 1969, the RCMP presented her with Burmese, a seven-year-old black mare who went on to become the Queen's favourite horse.
She rode her at Trooping the Colour for 18 years, including in 1981 when Marcus Sarjeant, then 17, shot six blank rounds at the Queen as she was travelling down The Mall to the parade that marks her official birthday.
Although Burmese was briefly startled, the horse won praise for remaining calm due to her RCMP training, in which she had been exposed to gunfire.
Burmese, who died in 1990, was the first of eight horses given to the Queen by the Mounties. George was given to her in 2009. Now 22, he has been ridden each year at Trooping the Colour by Charles.
Elizabeth, now 17, named in honour of the Queen Mother, was a gift to mark the Queen's Diamond Jubilee in 2012 …
Sir John, 14, was a 90th birthday present for the Queen and is ridden at Trooping the Colour by Princess Anne, a former Olympic equestrian.
Darby, a 16-year-old Hanoverian gelding, was one of two horses received by the late monarch in 2019.
[Sergeant Major Scott] Williamson is one of four RCMP officers who will ride at the front of tomorrow's funeral procession after the Westminster Abbey service.
It will travel up Whitehall and along The Mall, passing Buckingham Palace before ending at Wellington Arch. Here, the Queen's coffin will be transferred from the state gun carriage to a hearse for her final journey to Windsor.
I will cover the committal service at Windsor in tomorrow's post.
The UK experienced a busy and historic weekend as Operations London Bridge and Unicorn became reality after the Queen's death on Thursday, September 8, 2022.
The nation is now in a 10-day period of mourning, which continues through Monday, September 19, the day of the Queen's funeral in Westminster Abbey. King Charles III has declared the day to be a bank holiday. The Royals, including their staff, will mourn for an additional week.
Before going into the weekend's events, I have a few items to add from the end of last week.
Wednesday and Thursday, September 7 and 8
Last Wednesday, possibly having been busy preparing for her parliamentary statement on the energy crisis on Thursday, Liz Truss's office cancelled the weekly update on Operation London Bridge, the funeral plans for Queen Elizabeth II. However, Simon Case, the civil servant who is Cabinet Secretary, informed the Prime Minister of the Queen's decline early on Thursday morning.
Former Metropolitan Police Chief Superintendent Parm Sandhu told GB News that Operation London Bridge was originally planned in the 1960s and has been regularly reviewed since.
The Duke of Edinburgh's — Prince Philip's — plans were Operation Forth Bridge, so named for the magnificent bridge that links the Scottish capital to Fife.
Operation Unicorn involves funeral plans for Scotland in the event the Queen died there.
As my post on Friday explained, the Prime Minister found out about the Queen's death during the energy debate in the Commons.
On Friday, September 9, Conservative MP Michael Fabricant told GB News that the note she received at lunchtime might well have said:
London Bridge is down.
At that point, the Queen was receiving medical attention and her closest family members were on their way to Balmoral.
The Times reported how Thursday afternoon's events unfolded (emphases mine):
The six hours that followed brought together a fractured royal family and seemed to unite a nation in apprehension. At 12.32pm, moments after the first signs in the Commons, a Buckingham Palace spokesman said: "Following further evaluation this morning, the Queen's doctors are concerned for Her Majesty's health and have recommended she remain under medical supervision."
It was immediately clear the news was more significant than previous announcements about the Queen's health. Newspaper websites swiftly reported the announcement …
… At 12.45pm the Duke and Duchess of Cornwall announced that they were travelling to Balmoral. They were already in Scotland after hosting a dinner at Dumfries House in Ayrshire the previous evening. A minute later the Duke of Cambridge, 40, announced that he would be travelling from London. It was now clear that the situation was grave.
The Duchess of Cambridge, 40, remained at their Windsor home and drove to collect Prince George, Princess Charlotte and Prince Louis following their first full day at their new school to tell them of the news. At 1.30pm the Duke of York, 62, who was stripped of his royal duties after the scandal surrounding Jeffrey Epstein, said that he would also be flying to Scotland. Six minutes later the Earl and Countess of Wessex confirmed that they would also be travelling to Balmoral.
The Princess Royal, 72, had been on the Isle of Raasay on Wednesday and stayed at Balmoral overnight. The Duke of Sussex, despite his long- running troubles with the monarchy, announced at 1.52pm that he was also travelling to Scotland, separately from other senior royals but "in co-ordination with other family members' plans". He arrived at Balmoral almost two hours after the announcement of his grandmother's death. He had flown into Aberdeen airport alone, and his wife remained in Windsor.
Prince Harry, 37, happened to be in the UK anyway, and had been due to attend a charity event in London last night.
The first signs of serious concerns about the Queen's health had emerged at 6pm on Wednesday, when it was announced that she had "accepted doctors' advice to rest" rather than attend a virtual meeting of the privy council that evening.
That would have been only an hour after I'd heard a long pealing of bells from Westminster Abbey on Wednesday, which I mentioned in my post on Friday.
More of the timeline continues, including the hour when the Queen's death was announced:
Soon after the announcement of concerns of the Queen's doctor, Charles, 73, was seen clutching a large briefcase as he boarded the royal helicopter from Dumfries House with Camilla, 75, for the journey to Balmoral.
The flight carrying William, Prince Andrew, Prince Edward and Sophie took off from RAF Northolt in northwest London at 2.39pm. Royal Air Force flight KRF23R landed at Aberdeen airport at 3.50pm. A short while later, at 4.30pm, the prime minister was informed of the Queen's death by Simon Case, the cabinet secretary, according to her official spokesman.
Meanwhile, the Duke of Cambridge was driving his two uncles the 40 miles from Aberdeen airport to Balmoral, arriving just after 5pm. William was behind the wheel of the Range Rover, with Andrew in the passenger seat and Edward, 58, and Sophie, 57, in the back …
The Palace said in a statement: "The Queen died peacefully at Balmoral this afternoon. The King and The Queen Consort will remain at Balmoral this evening and will return to London tomorrow."
Charles had acceded to the throne immediately.
The flags in Downing Street were lowered to half mast at 6.36pm. BBC One played the national anthem following the announcement of the monarch's death, showing a photograph of the Queen, followed by a royal crest on a black background and the words Queen Elizabeth II …
The double rainbow, which I also referenced on Friday, appeared as soon as the flags were lowered to half mast, not only in London but also in Windsor.
On Friday afternoon, The Telegraph reported that only Princess Anne and Prince Charles made it to Balmoral in time to see the Queen before she died:
The King and the Princess Royal were the only two senior members of the Royal family who made it to Balmoral before Queen Elizabeth II's death, it is understood …
As for Prince William and his uncles and aunt:
Royal Air Force flight KRF23R took off shortly after 2.30pm, according to flight tracking website Flightradar24.com, landing in Aberdeen at 3.50pm.
Prince William drove the quartet from the airport to Balmoral and they were pictured sweeping into the gates of the castle shortly after 5pm.
It is possible they had known they would not make it, perhaps even before their plane took off.
In the event, by the time they arrived, it was too late.
Prince Harry's flight was delayed and he did not arrive until 8 p.m.:
… he is believed to have been mid-air when Buckingham Palace announced at 6.30pm that the Queen had died, arriving at Balmoral an hour and a half later.
The Duke's Cessna had been due to land at 6.29pm, a minute before the historic statement. But it was 20 minutes late taking off at Luton Airport, meaning he did not land in Aberdeen until 6.46pm.
The grief-stricken Duke was photographed as he was driven into Balmoral Castle just before 8pm to join other members of his family.
That evening, France paid the Queen tribute by turning off the lights on the Eiffel Tower at midnight and on Friday, at 10 p.m.:

Friday, September 9
On Friday morning, the Telegraph article said that Prince Harry left Balmoral early:
Prince Harry was the first to leave Balmoral on Friday morning, driven out of the gates at 8.20am.
He had to take a commercial flight back to Windsor:
He later boarded a British Airways flight from Aberdeen to Heathrow and is thought to have returned to Frogmore Cottage, Windsor, where the Duchess of Sussex was waiting for him.
Later that morning, the RMT (Rail, Maritime and Transport Union) head, Mick Lynch, announced that the rail strikes planned for September 15 and 17 were cancelled.
Guido Fawkes said that a postal strike was also cancelled (emphases his):
The Communication Workers Union has also called off a planned Royal Mail strike, with General Secretary Dave Ward saying "Following the very sad news of the passing of the Queen, and out of respect for her service to the country and her family, the union has decided to call off tomorrow's planned strike action."
Fair play to both Lynch and Ward, whether they're genuinely in mourning or its cynical comms, they made the right call…
England's three main political parties suspended campaigning during the mourning period. This is fine, except that Parliament is adjourned until after the Queen's funeral, at which point it will continue to be adjourned for three weeks' worth of annual political party conferences.
If Liz is smart, she will find a way to get the Commons, at least, to reconvene during conference season. There is no justification, especially this year, for every MP to attend these rather superfluous events. Furthermore, the evening events are also times of revelry, which seems inappropriate at this time.
Guido's Friday post says:
With King Charles instituting 17 days of mourning, the death of Queen Elizabeth will certainly cast shadows over all three of the major parties' conferences. Guido understands the Tories are having conversations about how to proceed with their Birmingham gathering in light of the news. With politics grinding to a halt, it's going to be difficult for PM Truss to enjoy the full political dividend from yesterday's energy policy announcement…
Parliament is not due to reconvene until October 17. October is the month when the new energy 'price cap' — i.e. a dramatic increase — comes into effect. This will affect everyone and a policy really needs to be finalised before then. Conservative MP John Redwood tweeted:
As I write on Monday afternoon, GB News's Tom Harwood says that a 'fiscal event' — an energy policy announcement — could be made on one of the four consecutive days after mourning and before conference recess. He says that his sources tell him that separate legislation would not be required. Let's hope he is right.
Friday is not normally a day when either House of Parliament meets. However, both MPs and the Lords met to pay tribute to the Queen. The sessions, which also included taking the Oath of Loyalty to King Charles — optional, as the Oath includes successors — continued into Saturday. Every MP and Lord who wanted to speak was able to do so.
The Commons session on Friday afternoon began with a minute's silence:
Afterwards, the Prime Minister began the tributes:
Guido has the video and pulled out the key quote from her address:
The United Kingdom is the great country it is today because of her, the Commonwealth is the family of nations it is today because of her.
Hansard has the full transcript of Friday's and Saturday's tributes from MPs. I commend them to everyone, because many MPs mentioned that the Queen visited their respective constituencies more than once during her reign. Only a handful had never had met her. The contributions reflected a monarch with not only dignity but also good humour. Everyone who met her said that she knew how to put them at ease.
Truss pointed out other historical highlights in her address:
In the hours since last night's shocking news, we have witnessed the most heartfelt outpouring of grief at the loss of Her late Majesty the Queen. Crowds have gathered. Flags have been lowered to half-mast. Tributes have been sent from every continent around the world. On the death of her father, King George VI, Winston Churchill said the news had,
"stilled the clatter and traffic of twentieth-century life in many lands".
Now, 70 years later, in the tumult of the 21st century, life has paused again.
Her late Majesty Queen Elizabeth II was one of the greatest leaders the world has ever known. She was the rock on which modern Britain was built. She came to the throne aged just 25, in a country that was emerging from the shadow of war; she bequeaths a modern, dynamic nation that has grown and flourished under her reign. The United Kingdom is the great country it is today because of her. The Commonwealth is the family of nations it is today because of her. She was devoted to the Union of England, Scotland, Wales and Northern Ireland. She served 15 countries as Head of State, and she loved them all …
Her devotion to duty remains an example to us all. She carried out thousands of engagements, she took a red box every day, she gave her assent to countless pieces of legislation and she was at the heart of our national life for seven decades. As the Supreme Governor of the Church of England, she drew on her deep faith. She was the nation's greatest diplomat. Her visits to post-apartheid South Africa and to the Republic of Ireland showed a unique ability to transcend difference and heal division. In total, she visited well over 100 countries. She met more people than any other monarch in our history.
She gave counsel to Prime Ministers and Ministers across Government. I have personally greatly valued her wise advice. Only last October, I witnessed first hand how she charmed the world's leading investors at Windsor Castle. She was always so proud of Britain, and always embodied the spirit of our great country. She remained determined to carry out her duties even at the age of 96. It was just three days ago, at Balmoral, that she invited me to form a Government and become her 15th Prime Minister. Again, she generously shared with me her deep experience of government, even in those last days.
Everyone who met her will remember the moment. They will speak of it for the rest of their lives. Even for those who never met her, Her late Majesty's image is an icon for what Britain stands for as a nation, on our coins, on our stamps, and in portraits around the world. Her legacy will endure through the countless people she met, the global history she witnessed, and the lives that she touched. She was loved and admired by people across the United Kingdom and across the world.
One of the reasons for that affection was her sheer humanity. She reinvited monarchy for the modern age. She was a champion of freedom and democracy around the world. She was dignified but not distant. She was willing to have fun, whether on a mission with 007, or having tea with Paddington Bear. She brought the monarchy into people's lives and into people's homes.
During her first televised Christmas message in 1957, she said:
"Today we need a special kind of courage…so that we can show the world that we are not afraid of the future."
We need that courage now. In an instant yesterday, our lives changed forever. Today, we show the world that we do not fear what lies ahead. We send our deepest sympathy to all members of the royal family. We pay tribute to our late Queen, and we offer loyal service to our new King.
His Majesty King Charles III bears an awesome responsibility that he now carries for all of us. I was grateful to speak to His Majesty last night and offer my condolences. Even as he mourns, his sense of duty and service is clear. He has already made a profound contribution through his work on conservation and education, and his tireless diplomacy. We owe him our loyalty and devotion.
The British people, the Commonwealth and all of us in this House will support him as he takes our country forward to a new era of hope and progress: our new Carolean age. The Crown endures, our nation endures, and in that spirit, I say God save the King. [Hon. Members: "God save the King."]
Labour's Keir Starmer, Leader of the Loyal Opposition, spoke next. Guido has the video:
The highlight of his speech was this:
She did not simply reign over us, she lived alongside us. She shared in our hopes and our fears, our joy and our pain, our good times, and our bad.
Interestingly, when they were younger, both Starmer and Truss wanted to abolish the monarchy.
Boris Johnson spoke a short time later, declaring the Queen:
Elizabeth the Great.
Historian David Starkey would disagree and did so on GB News on Sunday, September 11. He said that 'the Great' has applied exclusively to monarchs who waged war, e.g. Peter the Great.
Guido has the video. Boris began by saying that the BBC contacted him recently to speak about the Queen in past tense:
I hope the House will not mind if I begin with a personal confession. A few months ago, the BBC came to see me to talk about Her Majesty the Queen. We sat down and the cameras started rolling, and they requested that I should talk about her in the past tense. I am afraid that I simply choked up and could not go on. I am really not easily moved to tears, but I was so overcome with sadness that I had to ask them to go away.
I know that, today, there are countless people in this country and around the world who have experienced the same sudden access of unexpected emotion, and I think millions of us are trying to understand why we are feeling this deep, personal and almost familial sense of loss. Perhaps it is partly that she has always been there:
a changeless human reference point in British life; the person who—all the surveys say—appears most often in our dreams; so unvarying in her pole-star radiance that we have perhaps been lulled into thinking that she might be in some way eternal.
But I think our shock is keener today because we are coming to understand, in her death, the full magnitude of what she did for us all. Think what we asked of that 25-year-old woman all those years ago: to be the person so globally trusted that her image should be on every unit of our currency, every postage stamp; the person in whose name all justice is dispensed in this country, every law passed, to whom every Minister of the Crown swears allegiance; and for whom every member of our armed services is pledged, if necessary, to lay down their lives.
Think what we asked of her in that moment: not just to be the living embodiment, in her DNA, of the history, continuity and unity of this country, but to be the figurehead of our entire system—the keystone in the vast arch of the British state, a role that only she could fulfil because, in the brilliant and durable bargain of the constitutional monarchy, only she could be trusted to be above any party political or commercial interest and to incarnate, impartially, the very concept and essence of the nation.
Think what we asked of her, and think what she gave. She showed the world not just how to reign over a people; she showed the world how to give, how to love and how to serve. As we look back at that vast arc of service, its sheer duration is almost impossible to take in. She was the last living person in British public life to have served in uniform in the Second World War. She was the first female member of the royal family in a thousand years to serve full time in the armed forces.
That impulse to do her duty carried her right through into her 10th decade to the very moment in Balmoral—as my right hon. Friend said—only three days ago, when she saw off her 14th Prime Minister and welcomed her 15th. I can tell you, in that audience she was as radiant and as knowledgeable and as fascinated by politics as ever I can remember, and as wise in her advice as anyone I know, if not wiser. Over that extraordinary span of public service, with her naturally retentive and inquiring mind, I think—and doubtless many of the 15 would agree—that she became the greatest statesman and diplomat of all.
She knew instinctively how to cheer up the nation, how to lead a celebration. I remember her innocent joy more than 10 years ago, after the opening ceremony of the London Olympics, when I told her that the leader of a friendly middle eastern country seemed actually to believe that she had jumped out of a helicopter in a pink dress and parachuted into the stadium. [Laughter.] I remember her equal pleasure on being told, just a few weeks ago, that she had been a smash hit in her performance with Paddington Bear.
Perhaps more importantly, she knew how to keep us going when times were toughest. In 1940, when this country and this democracy faced the real possibility of extinction, she gave a broadcast, aged only 14, that was intended to reassure the children of Britain. She said then:
"We know, every one of us, that in the end all will be well".
She was right …
… It was that indomitability, that humour, that work ethic and that sense of history that, together, made her Elizabeth the Great.
When I call her that, I should add one final quality, of course: her humility—her single-bar-electric-fire, Tupperware-using refusal to be grand. I can tell the House, as a direct eyewitness, that unlike us politicians, with our outriders and our armour-plated convoys, she drove herself in her own car, with no detectives and no bodyguard, bouncing at alarming speed over the Scottish landscape, to the total amazement of the ramblers and tourists we encountered.
It is that indomitable spirit with which she created the modern constitutional monarchy—an institution so strong, so happy and so well understood, not just in this country but in the Commonwealth and around the world, that the succession has already seamlessly taken place. I believe she would regard it as her own highest achievement that her son, Charles III, will clearly and amply follow her own extraordinary standards of duty and service. The fact that today we can say with such confidence, "God save the King" is a tribute to him but, above all, to Elizabeth the Great, who worked so hard for the good of her country not just now but for generations to come. That is why we mourn her so deeply, and it is in the depths of our grief that we understand why we loved her so much.
Theresa May's speech was the funniest. I do wish she had shown this side of herself as Prime Minister. Her comic timing was impeccable:
Guido has a video of most of her address:
Arguably one of May's most poignant speeches. Some needed light relief for the day...
Here's the best part:
This excerpt follows:
Of course, for those of us who had the honour to serve as one of her Prime Ministers, those meetings were more frequent, with the weekly audiences. These were not meetings with a high and mighty monarch, but a conversation with a woman of experience, knowledge and immense wisdom. They were also the one meeting I went to that I knew would not be briefed out to the media. [Laughter.] What made those audiences so special was the understanding the Queen had of issues, which came from the work she put into her red boxes, combined with her years of experience. She knew many of the world leaders—in some cases, she had known their fathers—and she was a wise and adroit judge of people.
The conversations at the audiences were special, but so were weekends at Balmoral, where the Queen wanted all her guests to enjoy themselves. She was a thoughtful hostess. She would take an interest in which books were put in your room and she did not always expect to be the centre of attention; she was quite happy sometimes to sit, playing her form of patience, while others were mingling around her, chatting to each other. My husband tells of the time he had a dream: he dreamt that he was sitting in the back of a Range Rover, being driven around the Balmoral estate; and the driver was Her Majesty the Queen and the passenger seat was occupied by his wife, the Prime Minister. And then he woke up and realised it was reality!
Her Majesty loved the countryside. She was down to earth and a woman of common sense. I remember one picnic at Balmoral that was taking place in one of the bothies on the estate. The hampers came from the castle, and we all mucked in to put the food and drink out on the table. I picked up some cheese, put it on a plate and was transferring it to the table. The cheese fell on the floor. I had a split-second decision to make: I picked up the cheese, put it on a plate and put the plate on the table. I turned round to see that my every move had been watched very carefully by Her Majesty the Queen. I looked at her, she looked at me and she just smiled. And the cheese remained on the table. [Laughter.]
This is indeed a sad day, but it is also a day of celebration for a life well spent in the service of others. There have been many words of tribute and superlatives used to describe Her late Majesty Queen Elizabeth II, but these are not hype; they are entirely justified. She was our longest-serving monarch. She was respected around the world. She united our nation in times of trouble. She joined in our celebrations with joy and a mischievous smile. She gave an example to us all of faith, of service, of duty, of dignity and of decency. She was remarkable, and I doubt we will ever see her like again. May she rest in peace and rise in glory.
Saturday's session in the Commons was another marathon.
Shortly after 1 p.m., Speaker Sir Lindsay Hoyle opened it with this:
I now invite the House to resume its tributes to Her late Majesty. I expect to conclude tributes at 10 o'clock, when I shall invite Ministers to move the motion for a Humble Address to His Majesty. A hundred and eighty-two Members contributed yesterday, and many want to contribute today. I hope Members will therefore keep to the informal time limit of three minutes.
An excerpt from John Redwood's speech follows.
On Friday, he pointed out how historically significant three of our Queens were in British history and for women:
On Saturday, he said:
What always came across to all of us was just how much she respected every person and every institution that she visited. She showed that respect by impeccable manners and great courtesy—always on time, always properly briefed, always appropriately dressed for the occasion.
But, as so many have said from their personal experiences, there was something so much more than that. She was not just the consummate professional at those public events: there was the warm spirit, the personality, and above all the understanding that everyone else at that event was terrified that something was going to go wrong, that they had not understood the protocol, or that there was some magic way of doing it—as my right hon. Friend the Member for Welwyn Hatfield (Grant Shapps) was explaining—that they had to get right. At those public events, the Queen always relaxed people and showed them that there was no right way, because she was there for the people; she was there for the institution; she was there for the event. That is what we can learn from.
Of course, she was also Our Majesty. She was the embodiment of the sovereignty of people and Parliament; she represented us so well abroad and represented us at home, knowing that as a constitutional monarch, she represented us when we were united. She spoke for those times when we were gloriously happy and celebrating, or she spoke for those times when there was misery and gloom and she had to deal with our grief and point to the better tomorrow. That was why she held that sovereignty so well and for so long—a constitutional monarch who did not exercise the power, but captured the public mood; who managed to deal with fractious and difficult Parliaments and different political leaders, but who was above the politics, which meant that our constitution was safe in her hands. I wish her son, the new King, every success in following that great lead as he has told us he will do, and I can, with others, say today—"God save the King."
Redwood later tweeted that he had omitted an important part of his speech:
Indeed.
The Queen attended only two of her former Prime Ministers' funerals, those of Winston Churchill and Margaret Thatcher.
These are links to Friday's (continued here) and Saturday's (continued here) tributes from the Lords, both Spiritual and Temporal.
On Sunday, our vicar said that the Church of England lost her greatest evangelist, the Queen.
I cannot disagree with that.
The Archbishop of Canterbury spoke earlier on Friday afternoon, excerpted below.
He recalled her deep faith, something I wish more CofE clergy had:
… What has been said already today has been extraordinarily eloquent. I do not intend to repeat it but to say something about the Queen's links to faith and to the Church of England. First is her assurance, her confidence, in the God who called her. At her coronation, so long ago, conducted by Archbishop Geoffrey Fisher—the first of seven Archbishops of Canterbury who had the privilege of serving her—the service began with her walking by herself past the Throne, where she would very shortly be seated, and kneeling by the high altar of Westminster Abbey. The order of service said, "She will kneel in private prayer"—and so she did, for some time. The next thing to happen was that homage was paid to her, starting with the Duke of Edinburgh. What that said about her understanding of her role was that she pledged her allegiance to God before others pledged their allegiance to her. She had this profound sense of who she was and by whom she was called.
Then there was her profound, deep and extraordinary theological vision. Many years ago now—seven or eight years ago—I was travelling abroad, and someone who had no knowledge of these things said, "Well, of course, she's not really got that much intellect, has she? I mean, private tutors and all this—what can she know?" Well, what ignorance. In 2012, she spoke at Lambeth Palace on the occasion of her Diamond Jubilee, and the speech she made there is one we return to very frequently, because she set out a vision for what an established Church should be. It was not a vision of comfort and privilege; it was to say, put very politely, "You are here as an umbrella for the whole people of this land". The subtext was, "If you are not that, you are nothing". That is a deep vision of what it is to be the Church—of what it is to be not an established Church but a Christian Church. That came from her deep understanding of faith. Every five years, at the inauguration of the Church of England's General Synod, she came with messages of encouragement and assurance of her prayers. In 2021, her message was,
"my hope is that you will be strengthened with the certainty of the love of God, as you work together and draw on the Church's tradition of unity in fellowship for the tasks ahead."
Publicly, Her late Majesty worshipped regularly and spoke of her faith in God, particularly in her Christmas broadcasts, with quiet, gentle confidence. Privately, she was an inspiring and helpful guide and questioner to me and to my predecessors. She had a dry sense of humour, as we have heard already, and the ability to spot the absurd—the Church of England was very capable of giving her material—but she never exercised that at the expense of others. When I last saw her in June, her memory was as sharp as it could ever have been. She remembered meetings from 40 or 50 years ago and drew on the lessons from those times to speak of today and what we needed to learn: assurance of the love of God in her call, and then humility. It would be easy as a monarch to be proud, but she was everything but that. It was her faith that gave her strength. She knew that, but she knew also her call to be a servant, the one whom she served, and the nation she served, the Commonwealth and the world. Over the last 24 hours, I have had so many messages from archbishops, bishops and other people around the world, within the Commonwealth and way beyond it—from China, Latin America and many other places—in a deep sense of loss.
It has been the privilege of those on these Benches to be intimately involved with momentous occasions so often throughout Her late Majesty's life. As has been said, she has been a presence for as long as we can remember. Jesus says in the Gospel of St Matthew:
"Blessed are those who mourn, for they shall be comforted".
May God comfort all those who grieve Her late Majesty's loss, and may God sustain His Majesty King Charles III in the enormous weight and challenges that he takes on immediately, at the same as he bears the burden of grief, and those around him in his family. May God hold Her late Majesty in His presence, firmly secured in the peace that passes far beyond our understanding.
The Archbishop of York, the Right Revd Stephen Cottrell, spoke in the first of Saturday's sessions in the Lords. He added some light relief:
My Lords, like most Bishops from these Benches, I have stories to tell; stories of doing jigsaws in Sandringham on Sunday evenings and of barbeques in the woods at Sandringham in the middle of January—I even have a slightly scurrilous story about healing the Queen's car. Perhaps I will tell it.
I had preached in Sandringham parish church. We were standing outside and the Bentley was there to get the Queen. It did not start. It made that throaty noise cars make in the middle of winter when they will not start, and everybody stood there doing nothing. I was expecting a policeman to intervene, but nothing happened. Enjoying the theatre of the moment, I stepped forward and made a large sign of the cross over the Queen's car, to the enjoyment of the crowd—there were hundreds of people there, as it was the Queen. I saw the Queen out of the corner of my eye looking rather stony-faced, and thought I had perhaps overstepped the mark. The driver tried the car again and, praise the Lord, it started. The Queen got in and went back to Sandringham, and I followed in another car. When I arrived, as I came into lunch, the Queen said with a beaming smile, "It's the Bishop—he healed my car". Two years later, when I greeted her at the west front of Chelmsford Cathedral, just as a very grand service was about to start and we were all dressed up to the nines, she took me to one side and said, "Bishop, nice to see you again; I think the car's all right today, but if I have any problems I'll know where to come."
When I became the 98th Archbishop of York, during Covid, I paid homage to the Queen by Zoom conference. I was in the Cabinet Office; everyone had forgotten to bring a Bible, including me, but there was one there—which is kind of reassuring. Just as the ceremony was about to begin, the fire alarm went off.
The Queen was at Windsor Castle, but we all trooped out of the Cabinet Office, on to the road, and were out there for about 20 minutes until they could check that it was a false alarm and we could go back in. When I went back into the room, there was the screen, with Her late Majesty waiting for things to begin again. I do not know why I find myself returning to that image of her, faithful watching and waiting through those very difficult times. That was a very small part of a life of astonishing service.
The other thing I have noticed in the last couple of days is that we are all telling our stories. Yesterday, I found myself sharing stories with somebody in the street. I at least had had the honour of meeting Her late Majesty; this person had never met her, but we were sharing stories. I said, "Isn't it strange how we need to tell our stories? It's not as if she was a member of our family." Except she was. That is the point. She served the household of a nation. For her, it was not a rule but an act of service, to this people and to all of us.
I remind us, again and again, that that came from somewhere: it came from her profound faith in the one who said,
"I am among you as one who serves."
The hallmark of leadership is service, watchfulness and waiting. It was her lived-in faith in Jesus Christ, day in and day out, which sustained, motivated and equipped her for that lifetime of service. How inspiring it was last night and this morning to see the baton pass to our new King, King Charles, in the same spirit of godly service to the people of a nation.
I had not thought of this, but the Archbishop of York pointed out the important feast day that coincided with the Queen's death, the Nativity of the Blessed Virgin Mary:
Her Majesty the Queen died on 8 September, the day on which the blessed Virgin Mary is remembered across the world and the Church. Another Elizabeth, the cousin of Mary, said of her when she knew she would be the mother of the Lord:
"Blessed is she who believed that the promises made to her would be fulfilled".
Shot through all our tributes in this House and another place, and across our nation, is that which we have seen, especially as it was only on Tuesday—I thank the noble Baroness, Lady Bull, for reminding us—that the Queen received a new Prime Minister. Can it really be possible? She served to the end—a life fulfilled.
I will finish with a handful of her words. This is what the Queen wrote in a book to mark her 90th birthday, reflecting on her faith in Jesus Christ in her life:
"I have indeed seen His faithfulness."
I am not supposed to call noble Lords "brothers and sisters", but dear friends, we have seen her faithfulness too, and we see it now in our new King. May Her late Majesty the Queen rest in peace and rise in glory. God save the King.
Friday, September 9
At 6 p.m. on Friday, two significant events occurred.
The first was an hour-long service of prayer and reflection held at St Paul's Cathedral:
This service was for people who work in the City of London along with a limited number of members of the public who could apply for wristbands — tickets — to attend. St Paul's posted a page on how to obtain a wristband and how to queue on Friday afternoon for admittance.
Cabinet members attended and sat in the choir stalls. Prime Minister Truss and her Cabinet Secretary Simon Case sat in the front row. On the opposite side were Labour's Keir Starmer and other Opposition MPs.
This was an excellent service. The Cathedral helpfully posted the Order of Service, which can be downloaded from the aforementioned webpage.
Truss read Romans 14:7-12:
We do not live to ourselves, and we do not die to ourselves. If we live, we live
to the Lord, and if we die, we die to the Lord; so then, whether we live or whether we die, we are the Lord's. For to this end Christ died and lived again, so that he might be Lord of both the dead and the living.
Why do you pass judgement on your brother or sister? Or you, why do you despise your brother or sister? For we will all stand before the judgement seat of God. For it is written,
'As I live, says the Lord, every knee shall bow to me, and every tongue shall give praise to God.'
So then, each of us will be accountable to God.
This prayer in memory of the Queen is beautiful:
Eternal Lord God,
you hold all souls in life;
send forth, we pray, upon your servant, Elizabeth,
and upon your whole Church in earth and heaven
the brightness of your light and peace;
and grant that we,
following the good example of those
who have faithfully served you here and are now at rest,
may at the last enter with them
into the fullness of eternal joy
in Jesus Christ our Saviour.
Amen.
Meanwhile, King Charles III addressed the nation for the first time as monarch:
He spoke for ten minutes, first discussing his late mother then pledging his service to the people of the United Kingdom.
He ended his address by saying that Prince William would become the new Prince of Wales and that he had much love for Prince Harry as he and Meghan continue building their life together overseas.
The Telegraph included the following blurb. The last line comes from Shakespeare:
The broadcast was recorded in the Blue Drawing Room of Buckingham Palace, after the King and Queen greeted crowds of mourners outside the gates.
In a final message to his mother, the King said: "To my darling Mama, as you begin your last great journey to join my dear late Papa, I want simply to say this: thank you.
"Thank you for your love and devotion to our family and to the family of nations you have served so diligently all these years.
"May 'flights of Angels sing thee to thy rest'."
The walkabout the paper refers to involved much emotion from members of the public, especially women. One lady kissed him on the cheek and another shook his hand. Historically, one does not touch the monarch. That also applied to the Queen, even if a few people did touch her.
Another similar walkabout by the new King and Queen Consort occurred on Saturday afternoon outside the Palace.
The Accession Ceremony took place on Saturday morning. More about that tomorrow.
The three-year Lectionary that many Catholics and Protestants hear in public worship gives us a great variety of Holy Scripture.
Yet, it doesn't tell the whole story.
My series Forbidden Bible Verses — ones the Lectionary editors and their clergy omit — examines the passages we do not hear in church. These missing verses are also Essential Bible Verses, ones we should study with care and attention. Often, we find that they carry difficult messages and warnings.
Today's reading is from the English Standard Version with commentary by Matthew Henry and John MacArthur.
14 Do all things without grumbling or disputing, 15 that you may be blameless and innocent, children of God without blemish in the midst of a crooked and twisted generation, among whom you shine as lights in the world, 16 holding fast to the word of life, so that in the day of Christ I may be proud that I did not run in vain or labor in vain. 17 Even if I am to be poured out as a drink offering upon the sacrificial offering of your faith, I am glad and rejoice with you all. 18 Likewise you also should be glad and rejoice with me.
—————————————————————————————
Last week's post discussed Paul's very real hope that, with the Philippians' prayers and the provision of the Spirit of Jesus (the Holy Spirit), his imprisonment would work out for his deliverance and honour Christ.
As I go through Paul's letters to the various congregations, I still do not understand how he could have so much hope and joy with so much suffering.
Today's post helps me — and I hope others — understand how he was able to rejoice in truly hard times.
Of course, faith is the key, but how exactly did he maintain it?
This post's quotes from John MacArthur's sermons are hard-hitting and will take some time to consider. This will not be easy.
Before beginning, here is the first part of Philippians 2 (emphases mine):
Christ's Example of Humility
2 So if there is any encouragement in Christ, any comfort from love, any participation in the Spirit, any affection and sympathy, 2 complete my joy by being of the same mind, having the same love, being in full accord and of one mind. 3 Do nothing from selfish ambition or conceit, but in humility count others more significant than yourselves. 4 Let each of you look not only to his own interests, but also to the interests of others. 5 Have this mind among yourselves, which is yours in Christ Jesus,[a] 6 who, though he was in the form of God, did not count equality with God a thing to be grasped,[b] 7 but emptied himself, by taking the form of a servant,[c] being born in the likeness of men. 8 And being found in human form, he humbled himself by becoming obedient to the point of death, even death on a cross. 9 Therefore God has highly exalted him and bestowed on him the name that is above every name, 10 so that at the name of Jesus every knee should bow, in heaven and on earth and under the earth, 11 and every tongue confess that Jesus Christ is Lord, to the glory of God the Father.
Lights in the World
12 Therefore, my beloved, as you have always obeyed, so now, not only as in my presence but much more in my absence, work out your own salvation with fear and trembling, 13 for it is God who works in you, both to will and to work for his good pleasure.
Paul tells the Philippians to do 'all things' without 'grumbling or disputing' (verse 14).
Whenever I used to ask my late grandmother-in-law, a widow who began life as a Primitive Methodist before becoming a Baptist, how she was, she always replied cheerfully:
Mustn't grumble.
When I met her she was becoming arthritic. She used to journey by bus into Central London to buy her groceries at Marks & Spencer in Oxford Street. As the years passed, she was unable to continue those bus rides that gave her so much pleasure. She was also a regular churchgoer, again travelling by bus into the heart of the capital. By the end of her life, she had to enter a care home and had to give up those two pleasures.
I had not realised until today how many scriptural references there are to grumbling and how much God hates it. God actually killed many Israelites on several occasions for complaining.
The Bible uses the word 'grumble' but 'murmur' or 'mumble' means the same thing.
Reformed Wiki lists 25 verses against grumbling and complaining.
Bible Reasons has 19 of those verses along with Jude's warning about murmuring:
Jude 1:16 These are murmurers, complainers, walking after their own lusts; and their mouth speaketh great swelling words, having men's persons in admiration because of advantage.
Matthew Henry's commentary gives us the Greek origins of 'murmuring':
The children of God should differ from the sons of men. Without rebuke—amometa. Momus was a carping deity among the Greeks, mentioned by Hesiod and Lucian, who did nothing himself, and found fault with every body and every thing. From him all carpers at other men, and rigid censurers of their works, were called Momi. The sense of the expression is, "Walk so circumspectly that Momus himself may have no occasion to cavil at you, that the severest censurer may find no fault with you."
John MacArthur explains the Greek origins of 'grumbling' and 'disputing':
Now, those two words are very basic.  Grumblings is an onomatopoetic word; that is, it sounds like what it means.  The word is goggusmos.  Goggusmos, ruh-ruh-ruh.  It's a grouchy, grumbly, onomatopoetic word.  It means a murmuring, an expression of discontent, an expression of dissatisfaction, grumbling, actually muttering in a low voice.  Ruh-ruh-ruh-ruh, you know.  It's, by the way, the very word used in the Greek Septuagint translation of Exodus and Numbers where we read about the grumblings of Israel.  It is complaint expressed in a negative attitude.  It is an emotional rejection of God's will.  It is an emotional rejection of God's providence.  It is an emotional rejection of your circumstances that comes through in mumbling, grumbling, griping, verbiage.  It is an emotional rejection of the circumstances God has chosen for your life and the requirements He has for your conduct.
And then, there's a second word, disputings.  Dialogismos, dialogue we get from it.  It means questionings, criticism.  It is now an intellectual debate with God.  The first one is an emotional belly-aching.  The second is an intellectual debate with God.  You want to argue with God about why things are the way they are.  Or you want to argue with God about why you have to do what you have to do.  Or you want to argue with God about why you're in the circumstance you're in, the marriage, the job, the singleness, the residence, whatever it is.  Or even the church, for that matter.  Arguing with God out of discontent, debating with God because you've got a better idea.  While the first word means to just grumble, gripe, complain, murmur, almost an emotional guttural kind of thing.
MacArthur says that verse 14 refers to verses 12 and 13:
12 Therefore, my beloved, as you have always obeyed, so now, not only as in my presence but much more in my absence, work out your own salvation with fear and trembling, 13 for it is God who works in you, both to will and to work for his good pleasure.
MacArthur explains:
So, Paul is saying, look, in working out your salvation the basic attitude is an attitude that does not complain.  Why?  You're living in a very fallen world.  You're living in the fallen flesh.  It isn't always going to be the way you like it, the people around you aren't always going to be the way you'd like them.  The circumstances aren't always going to be euphoric and perfect.  It's not going to be an idealistic world.  You work out your salvation and in all the things that you do, and in all the circumstances you find yourself, don't ever complain because God hates that, and He has judged it severely as an example to you of how He feels about it.
MacArthur derives that from 1 Corinthians 10. God killed some moaners with fatal snakebites and also by the angel of death. He killed many more Israelites through other means, but, here, Paul mentions two:
Warnings From Israel's History
10 For I do not want you to be ignorant of the fact, brothers and sisters, that our ancestors were all under the cloud and that they all passed through the sea. 2 They were all baptized into Moses in the cloud and in the sea. 3 They all ate the same spiritual food 4 and drank the same spiritual drink; for they drank from the spiritual rock that accompanied them, and that rock was Christ. 5 Nevertheless, God was not pleased with most of them; their bodies were scattered in the wilderness.
6 Now these things occurred as examples to keep us from setting our hearts on evil things as they did. 7 Do not be idolaters, as some of them were; as it is written: "The people sat down to eat and drink and got up to indulge in revelry."[a] 8 We should not commit sexual immorality, as some of them did—and in one day twenty-three thousand of them died. 9 We should not test Christ,[b] as some of them did—and were killed by snakes. 10 And do not grumble, as some of them did—and were killed by the destroying angel.
11 These things happened to them as examples and were written down as warnings for us, on whom the culmination of the ages has come. 12 So, if you think you are standing firm, be careful that you don't fall! 13 No temptation[c] has overtaken you except what is common to mankind. And God is faithful; he will not let you be tempted[d] beyond what you can bear. But when you are tempted,[e] he will also provide a way out so that you can endure it.
MacArthur also cites Lamentations 3:39:
Why should the living complain
    when punished for their sins?
He says:
Listen now, would you do this?  Try your best to make it through today without complaining about something.  Would you do that?  And just make a note every time you complain, and you will find that for many of you it is a way of life.  And it is frankly so utterly habitual that you probably don't even realize what a dominant characteristic it is.  And then, remember Lamentations, would you please?  Just remember Lamentations 3 and 39 and memorize it: why should any living mortal or any man offer complaint in view of his sins?  What do you think you deserve?  Work on it today, will you?
In other words, we are all sinners who deserve God's eternal wrath. Fortunately, we have a Saviour in Jesus Christ. Let us be thankful for His ultimate sacrifice which reconciled us to God.
Furthermore, let us be grateful for our many blessings, all of which come from God.
MacArthur has more on this:
… we throw tantrums because we got seated at a poorly located table in a fancy restaurant.  Or we're frustrated because we can't lose ten pounds.  Or we gripe about our monthly debts.  You've got problems relative to what?  But you see, it's the mood of the mob to complain.  And then, the idealistic fantasy oriented consumptive culture feeds the sin of discontent.  How can we be discontent?  Remember Lamentations 3:39, "Why should any mortal being or anyone offer complaint in view of his sins?"  What do we have to complain about?  So, Paul gives us a general principle in verse 14.  And it really speaks to us at a time when we live in a culture of complaint.  "Do all things without grumbling or disputing.  Do all things without grumbling or disputing."  What do the "all things" refer to?  The living out of your inward salvation, the working out of your salvation.  Here is the pervasive attitude for the Christians' experience.  As we work out our salvation, as we live our godly life, we are to do it without ever complaining about the circumstances which God has put around us.  We are to live a life without complaint.  We are to rejoice always, to use Paul's later terminology, and again I say rejoice.  We are to be content whether we are based or whether we abound, whether we have much or whether we have little, whether we like the circumstances or don't like them.  There is no place for complaining. 
And I only submit to you that it's much more difficult it seems in this culture than in some because we are breeding a culture of complainers, absolute culture of complainers.  And Paul then gives us a general principle that does speak to us very directly.
Now, note as I pointed out last time, that this matter of doing all things without grumbling or disputing has reference to God.  Not so much grumbling disputing among others, that too is a sin, but the idea here is to accept that providential plan which God has ordained for your life, live out your salvation without any complaints directed at Him.  A joyful heart, a thankful heart, no emotional grumbling, that's the grumbling word, and no intellectual disputing or arguing with God.  But rather, without complaint, gratefully we live out our salvation.  That is what he calls for Christians to maintain in terms of an attitude that pervades all their living.
Paul goes on to give other reasons why we should not grumble or dispute: we should be blameless and innocent children of God, shining our light in the midst of a dark, fallen world (verse 15).
That means we really have to let our faith shine at its best. This, for me, is very difficult to do on a consistent basis.
MacArthur elaborates:
Now, he gives us three reasons why.  Okay?  And I'll just lay these before you.  They're not new, they're just a brief review, a summary, and I know you will be familiar with them.  But nonetheless, they are the word of the Spirit of God for us today.  Reason number one, in verse 15, "That you may prove yourselves to be blameless and innocent, children of God above reproach."  Let's say, first of all, then we are to stop complaining for our own sake, for our own sake, that we might be the kind of children that God has saved us to be.  It starts with us.  And this is, by the way, clearly a purpose result clause, a little particle hina with a subjunctive always indicates purpose result.  And so, it could be translated "in order that," or "with the result that," or "given the purpose that."  In other words, this is the very reason why you are to do this, so that you will be a blameless, harmless, above-reproach child of God.  You are called to be all that a child of God should be.  In Ephesians 5:1 that very, very important injunction of Paul where he says, "Be imitators of God as beloved children, be imitators of God as beloved children."  If God is your Father, then imitate God, then pattern your life after Him.  If you are a child of God then live the way a child of God should live, manifesting the character of God.  As it says in Titus 2, adorning the doctrine of God in the manner in which you live.
So, note again then, we'll look at the verse specifically, you are to stop complaining, doing all things without grumbling or disputing, in order that you may prove yourselves to be.  Now the Greek literally says, in order that you may become, in order that you may become.  And I believe here is a process, you are to be in the process of becoming a blameless innocent above-reproach child of God.  So, you are not to complain in order that process may work, that you may be in the process at the end of which you become a harmless, blameless, above-reproach child of God.
Now, those two words, blameless and harmless, or some of your translations will say blameless and innocent, really are not a great deal apart in terms of meaning.  They both speak of moral purity.  Blameless simply means a life that can't be criticized, a life that can't be criticized.  There's nothing for which you can be held responsible by way of sin, evil, wickedness.  It's a life without blame, it's a life that has no blemish, no blot on it, no sinful stain which people can discern and see.
And then, the word "innocent" could be translated "harmless."  It is so translated in Matthew 10:16 where Jesus says, "Be wise as serpents and harmless as doves."  It is also translated "simple" in Romans 16:19, I think it is, Paul says that we are to be simple concerning evil.  It has to do with being pure.  It has to do with being unmixed, unadulterated, undefiled; it is used, for example, to refer to unmixed wine and unalloyed metal.  So, he's simply using two somewhat basic terms, saying that your life is to be a life which cannot be criticized for sin, and which is pure and undefiled and unadulterated and unmixed with evil.  So, really two ways to say, essentially, a pure life, a life without fault and a life without flaw.  That's God's desire for His people, that their character and their conduct should be so pure that they cannot justly be accused, that they are above criticism that is legitimate, there is no foreign element which contaminates their life.  We are to be, in the terms of 2 Corinthians 11, a chaste virgin, a pure virgin, in terms of Ephesians 5, the church is to be a blameless without spot, without blemish bride.  Same concept.
Then, you'll note also in verse 15 he uses the term "above reproach."  That too is one word in the Greek, you have amemptos, akeraios, and then you have ammos, all of them have an alpha-privative which means they're negative terms, and this means above reproach: faultless, flawless, spotless, blemishless.  This word, by the way, is used in the Greek Old Testament in Numbers, I think it's several times, Numbers 6:14, Numbers 19:2, I found in both places, and it's there referring to a sacrifice, without blemish, without spot, the kind of sacrifice to be brought to the Lord.  So, really three ways he's saying the same thing: harmless, blameless, flawless, faultless, sinless, pure.  That's what he wants.  Why?  And the key is this, children of God.  You are to be becoming the proper kind of child of God.  In other words, the kind that would rightly represent God, that would be believable if you said I belong to God, He's my Father, I'm His son, I'm His child.  We are to be truly God's children not only by divine decree, but by testimony as well.  In Romans 12 we are to present our bodies a living and holy sacrifice, acceptable to God.  So, we are like a sacrifice, to be without spot, without blemish, without stain, undefiled, pure.  We're children of God.
We have to get in touch with that.  Who do you belong to?  Whose are you?  Who owns you?  Whose name do you bear?  Whose identity do you share?  Whose life do you share?  The very life of God.  And so, every believer needs to live in consistency with who He is.
MacArthur discusses 'a crooked and twisted generation':
Second point, when we talk about the reason for obedience, not only for our own sake but for the sake of the unsaved.  Here's a very basic principle here, for the sake of the unsaved.  He says in verse 15, "You are to become blameless and innocent children of God, above reproach, in the midst of a crooked and perverse generation among whom you appear as lights in the world holding forth the word of life."  Now, here he is saying this matter of how you live has a dramatic impact not only on whether or not you're consistent as a child of God, but how you affect the world in which you appear as lights.  Now, we're talking about the unsaved, now we're talking about our witnessing, now we're talking about our evangelistic mandate.  And this is the heart of the appeal, by the way.  The first part just led into this; the last part just leads out of it.  This is the main issue.  Evangelism is primarily a matter of God's children shining as lights in a dark world.  But doing that effectively comes down to two things: character and content, character and content, or personality and proclamation.  It's not just what you say; it's also what you are.  And we know that.  This is good reminder.
Now, would you notice verse 15, just to get you in touch with the specifics, he says, "In the midst of a crooked and perverse generation," and he there borrows a phrase from the song of Moses in Deuteronomy 32 and verse 5.  There, Moses was speaking to apostate Israel and saying you are no more the children of God for you are a crooked and perverse nation.  So, he borrows that same phrase, only this time he's not defining an apostate Israel; the writer of Scripture is now defining the society of the world in which the church exists.  In Deuteronomy 32, Moses characterized apostate Israel as a crooked and perverse nation, and here Paul borrows that phrase to characterize the whole world in which the church exists.  And we are living in the midst of a crooked and perverse generation.  And that is something we need to be very careful to understand. 
… Please note: we are in the midst of it.  Jesus said in John 17 when He prayed to the Father, I'm not going to ask you take them out of the world, I'm going to ask You to keep them in the world.  There we are as lights in the world.  It is a world of God-rejecters.  It is a world of Christ-haters.  It is a tragic world, morally warped, spiritually perverted.  It rejects God's message as Israel of old did.  Would you notice those two words, "crooked and perverse?"  The word generation is genea, could translate nation as well.  But the words "crooked and perverse" are interesting.  Crooked is a Greek word, skolios.  Have you ever heard of an illness called scoliosis of the spine?  It's a curvature of the spine.  It comes from this word because the word means curved, bent out of shape.  It describes something that is out of proper alignment, that is off and deviated from the standard.  Proverbs 2:15 describes the society of this world in these terms.  It says, "Their paths are crooked, and they are devious in their ways."  Isaiah 53 puts it this way in verse 6, "All we like sheep have gone," what?  "Astray."  And so, man has a spiritual disease, scoliosis of the heart, in which he is deviated from God, in which he has left the standard, moved away from the straight plumb line of righteousness. 
And then, an even stronger word is the word perverse.  This word means to be severely twisted or severely distorted.  So, man has deviated from the path, and in the deviation become severely twisted and severely distorted.  It is an abnormal condition.  By the way, our Lord also used this basic same expression in Luke 9.  Jesus said, "O unbelieving and perverted generation, how long shall I be with you and put up with you?"  So, this is a good characterization, one used in the Old Testament, one used in the gospels, one used by the writer of the epistle to describe someone who has deviated from the path of righteousness, deviated from the plan of God, become twisted, perverted.
Now, you'll notice here that it says "in the midst of a crooked and perverse nation," and then it says, "Among whom you appear as lights in the world."  So, in a sense, generation and world go together.  Generation speaks basically of the popul[ace]; world speaks of the moral, ethical, sinful system in which they think and by which they operate their lives and conduct their behavior.  So, we face a twisted distorted world.  This is continuously brought home to me.  It's a twisted perverted world.  Fornication is right, adultery is right, homosexuality is right, lying is right, cheating is right, and all the rest of it.  Not the Word of God.  So, the whole culture has deviated from the standard of righteousness, and in the deviation become distorted and twisted, and their thinking is so convoluted that we would never expect the natural man to understand the things of God.  They are to him what?  Foolishness.
Now, that leaves us then with two very important things.  We are to reach this perverse world, we are to reach this crooked world and there are two ways: one, what we are; two, what we say.  Let's look, first of all, at what we are.  Verse 15, "You are children of God, above reproach in the midst of a crooked and perverse generation, among whom you shine as lights in the world."  Now, this is what we are.  This is what we are.  Among whom you appear, phainomai, probably could be translated "you are shining," could be, "you must shine."  But he is saying you have to shine, and this is talking about now what we say but what we are, what we are.  You shine, and here's his analogy, as lights, phstr, that word in a metaphorical sense can refer to a lot of different lights.  But whenever it's used in a specific non-metaphorical sense it always refers to the sun, moon, or stars.  And I take it here that that is probably what Paul is saying. 
We find, for example, such a use of this term in the Septuagint in Genesis 1:14 and Genesis 1:16, we find some non-biblical sources where this word is used to refer to the sun, moon and the stars.  And what he is simply saying is you live in a dark universe, and you are the stars and the sun and the moon; you're the only light the world has.  As the sun and the moon and the stars shine in the heavens, and as they illuminate an otherwise dark sky, so you shine in the world, illuminating an otherwise totally dark society.  We shine.
Now, what do you mean by shine?  We demonstrate the light of God.  What is that?  It's the life of God.  I'm not going to go into a whole study, but light and life are one.  Life, the life of God in us emphasizes the character of that life.  The life of God in us as light emphasizes the impact of that life.  And you find John jumping back and forth to those concepts, light and life, as well as Paul on some occasions.  Jesus says in the Sermon on the Mount, "You are the light of the world."  You are a vessel in whom the light of God has been poured with the life of God and now you have life as to its quality and light as to its impact.  It is a shining life.  It is a living light.  And so, we are called to be what Israel failed to be.  You remember in Romans 2:19, Paul says, "You're confident that you're a guide to the blind and a light to those who are in darkness, but you're not."  Israel, the Jew as the Jewish leaders of Paul's time thought they were the lights but they weren't, and thus they are called the blind leading the blind, and both will fall in the ditch.  But we are the light of the world.  Why?  Because the light of life shines in us and the light of His life in us shines from us.  We are vessels.
In 2 Corinthians 4:6, Paul says God who first ordered the light to shine in the darkness has flooded our hearts with His light.  We can now enlighten men by giving them the knowledge of God's glory that comes through the gospel of Jesus Christ.  We are lights.  We are children of light.  In Ephesians 5:8, there's a good reminder of that and you know it very well.  "You were formerly darkness now you are light in the Lord, walk as children of light."  Then, he even talks about the fruit of light and what is it?  The fruit of light is goodness, and righteousness, and truth, trying to learn what is pleasing to the Lord and not participating in the unfruitful deeds of darkness.  Our light shines in our deeds: goodness, righteousness, truth, what we are, that's how the light shines.
You actually light people one way or another.  You send out an impulsive light, you as a child of God.  You cannot come in contact with other people in this crooked and perverse generation without impacting them in some way.  And if you are a godly, holy, obedient Christian, you will have an almost startling impact on most people.  And they will feel the light and they may even shy away from the light because it is so obvious that you possess something they don't possess.  They may feel the vibrations, to put it in another analogy, of your own holiness; they may feel a yearning to be something better than they are.  They may even sense the appetite, the hunger, the thirst for the unseen and the eternal which they know they don't have.  It's also true that if you're a bad person, you'll bring dark vibrations, and your life will touch someone else and it will put out a corresponding current that you've induced.  So, you affect people for good or for bad, everybody does.
MacArthur then quotes F B Meyer (1847-1929), a Baptist pastor and evangelist from London who also worked in the United States:
In a sense it's a terrible thing to think about.  FB Meyer wrote, "These thoughts press on one's heart that one can never speak a word, never transact a piece of business that one's face is never seen lighted up with the radiance of God or clouded and despondent without it being made harder or easier for other men to live a good life.  Every one of us every day resembles Jeroboam the son of Nebat who made other men sin, or we are lifting other men into the light and the peace and the joy of God.  No man liveth to himself and no man dieth to himself, but the life of everyone is telling upon an increasing number of mankind what a solemn responsibility it is to live."  And we have that responsibility.  You are light.  You have been called to light the dark world.  And the quality of your life is the platform of your personal testimony.  You have to understand that.  By the kind of life you live, you build a platform on which what you say is made believable.  If you have no platform because of your life, your message isn't believable.  And a murmuring discontent, grumbling, griping, complaining Christian is never going to have a positive influence on others.  You can't be talking about the gospel, forgiveness, joy, peace, gladness, comfort, and be moaning and grumbling and complaining all the time.  People are not going to believe the gospel will do what you're trying to say it will do.  That's why the philosopher Heine in Germany said, "Show me your redeemed lives and I might be inclined to believe in your Redeemer."
How true.
Returning to our text, Paul tells the Philippians to hold fast to the word of life, so that when he is finally with Christ he can be proud that he did not run (a spiritual marathon) in vain or labour in vain (verse 16).
The word of life is the Gospel.
MacArthur explains:
… in addition to our character is our content, it's what we say.  Look at verse 16.  Also he adds, in the process of shining as lights in the world you are "holding forth the word of life."  Now, some would translate it "holding fast."  Now, my own feeling is that if Paul wanted to say "holding fast" he probably would have used katech, instead he uses epech, holding forth or holding out.  That same verb used here is used in Homer's "Odyssey" to refer to holding out a gift of wine for someone to take and drink, so it's kind of an offer.  It can mean holding firmly, holding tightly, but the context here is one of shining in a dark world.  It's one of sending light into a dark world.  So, both the word, its uses, its comparison to other terms and its context seems to me to favor holding forth, holding out.  We are shining as stars in terms of character.  We are holding out the Word of life.  What is that?  The Word that gives life.  What Word gives life?  The gospel, the gospel, the message which gives life, the gospel of salvation that gives life, the life of God to the soul, the soul of man.  Men are dead in trespasses and sin, Ephesians 2:1 says, they need life.  We hold out that life.  We hold forth that life.  That's proclamation.  So, on the one hand it's personality; on the other, it's proclamation, it's character, and it's content.  It's what we are, it's what we say.
MacArthur tells us what Paul meant by his own evangelistic efforts on the Philippians' behalf:
Look at verse 16, "So that in the day of Christ I may have cause to rejoice because I did not run in vain nor toil in vain."  He says, "Look, if you'll obey this command, I'll be happy in the day of Christ, and I'll look back on my life and I'll say it wasn't in vain, it wasn't in vain."  So, he says, do it for my sake.  And his pastoral heart is showing here.  He says, "Be pure, be godly, without complaint, for the sake of the one who has given his life in service to you, for the sake of the one who has been called by God, for the sake of the one who has been commissioned by God, for the sake of the one who has extended himself that he might minister to you.  Please do this for my sake, and not for my temporal sake but for my eternal sake," he says.  Not to make me like my ministry better.  No, but to give me a greater joy in eternity.  Why?  I believe it's very simple.  This isn't proud, this isn't self-serving.  Paul's saying this, look, "I love God.  I love God with all my heart, soul, mind and strength.  I live in this life to serve God.  And I look forward to heaven for one great reason: I want to glorify God.  And the more effective my service has been in this world, the greater my capacity to glorify Him will be in the world to come.  So, don't limit my capacity to glorify Him in the world to come by rendering my labors here in vain because you have not followed through."
And so, here's his third and compelling motivation: do it for your sake that you might be a proper child of God.  Do it for the lost's sake that you might shine as a light in the world holding forth the Word of life.  And do it for my sake that out of love for me and esteem for me and desire to see me fully able to glorify God in eternity, do it.  Marvelous point, isn't it?  He had given his life for them.  He was the human instrument of their salvation.  It's recorded in Acts 16 how the Philippian church was born.  Now, he's in prison.  He doesn't know how long he has.  For all he knows at this point he may lose his life.  It turned out he didn't lose it until later in a second imprisonment.  But at the time he faced that prospect.  He looks forward to meeting the Lord and he says, "When I meet the Lord," verse 16, "in the day of Christ," and that, by the way, is different than the day of the Lord.  It's a different emphasis.  Day of the Lord emphasizes judgment; day of Christ emphasizes rewards.  Day of the Lord focuses on the unbeliever; day of Christ focuses on the believer.  So, he says, … "As I look forward to the day when I see Christ and I receive my reward," he says, I will have cause to glory," or better, "cause to rejoice, cause to rejoice."  And why will I rejoice?  "Because I will know that I didn't run in vain," and that's a word that's used to speak of runners in a stadium, making a maximum effort to win a great event, "and I didn't toil in vain," that's kopia, work to the point of sweat and exhaustion.  In other words, I want to get to the end, I want to see Christ and know that none of the tremendous effort that I made was for nothing …
It's not egotistical.  It's that you so cherish the responsibility of ministry that you want God to know you have rendered the very best effort possible.  Paul, if he's going to boast, Romans 15 says, in Christ Jesus, I have found reason for boasting, but I will not presume to speak of anything except what Christ has accomplished through me.  He knows.  Whatever we rejoice in Christ has done, whatever good happens in your life Christ has done.  But be faithful for the sake of those who have poured their life into you.  Be faithful for the sake of those who planted the seed and those who watered the seed. 
Paul, considering his ongoing imprisonment, says that even if he becomes a drink offering on the sacrificial offering of the Philippians' faith, he is happy and rejoices with all of them (verse 17).
MacArthur explains what a drink offering was in the ancient world when an animal sacrifice was made:
Paul is talking about an altar and he's talking about an animal and he's talking about blood and he's talking about suffering and he's talking about pouring out a libation, or otherwise called a drink offering. That's the imagery that's in his mind. And as he looks at his life and realizes that he is to humbly and without complaint work out his salvation, he recognizes that in doing that he will have to offer himself as a sacrifice which he gladly does. And he says this is what you are, of course, to follow, this is the pattern …
Well, in the ancient world of sacrifice…by the way, both the Jewish and the pagan world had these kinds of drink offerings…this is what typically would happen. After the animal on the altar had been killed and was being burned up, there was a final sort of capper, a final topping off of that sacrifice where the offerer came and took wine, sometimes they used water, occasionally we even have illustration of them using honey, but predominantly wine, and pouring wine either on the ground in front of the altar or on top of the burning sacrifice in which case it would vaporize immediately into steam and go into the air, symbolizing the rising of that sacrifice into the nostrils of the deity for whom it was being offered.
So Paul says I am now offering my life as this final topping off libation or drink offering upon another sacrifice. This is the completion of this full sacrifice. By the way, if you want some Scriptures to look up on that, 2 Kings 16:13 describes the Jewish drink offering. Jeremiah 7:18 talks about the pagan drink offerings. And Hosea 9:4 notes that the drink offering was wine. And those are just selected out of a number of Scriptures.
The process went like this. The offerer came and before the altar the animal was killed, put on the altar, burned. At some point during the burning the drink offering was poured out as the final sacrificial act. And that is exactly what Paul has in mind. He sees this whole sacrificial scene…now note this…but what he sees his sacrifice as is the drink offering, the final touch to another sacrifice.
MacArthur says Paul was speaking of his circumstances at the time he wrote to the Philippians, not the prospect of death:
"Even if" is a first-class conditional in the Greek which means that it indicates something that is so. So it should be translated "since." But since I am being poured out. "I am being poured out" is in the present tense, so whatever it is he's referring to it is going on right now. Some people have tried to make this verse refer to his martyrdom, to his future death in the event that he would be executed while imprisoned here, or whenever his martyrdom came that he had that in mind. No, this is not a future, this is a present tense. There is no reason to push this into a future interpretation, he is talking about something that is going on right now. So he is saying even if, and it is the case, I am presently being poured out as a drink offering. Note this, he saw then not his death as a sacrifice, but his life as a sacrifice in which his death was only the culmination. His whole life was a drink offering. His whole life had been poured out. It is happening right now. I am being spendomi, I am being poured out presently. It cannot mean his death, it can end with his death but he is talking about his sacrificial life. Here he is because of the cause of Christ a prisoner, chained to a Roman soldier twenty-four hours a day, he is bound, he cannot carry on his ministry the way he had been free to carry it on prior to this time. And in the difficulty of being chained to a Roman soldier, no privacy and under whatever kind of abuse that might have involved, he sees himself as pouring out his life as an offering to be pleasing to God.
Now note this. This kind of sacrifice is a willing one and Paul was making it with a willing heart. By the way, those who think that Paul's referring to his death are assuming that he was anticipating that he might die. But I don't sense that he really felt he was going to die, it was a remote possibility.
MacArthur explains 'the sacrificial offering' of the Philippians faith. In short, they were suffering persecution:
Now did you notice there is a greater sacrifice than the drink offering? The drink offering is Paul's sacrifice, the greater sacrifice he indicates is that of the Philippian church. Did you see that? This is a very powerful point. I'm poured out as a drink offering on top of or upon the real sacrifice which is your sacrifice. You are making the great sacrifice, I am just the topping off of it …
Well, in the first place, we know that the Philippians were suffering greatly for their faith. Go back to chapter 1 verse … 28, he says, "I don't want you to be in any way alarmed by your opponents." Don't be alarmed by your opponents. Then go down into verse 29, "For to you it has been granted for Christ's sake not only to believe in Him but also to suffer for His sake." So they have opponents, they are suffering for the sake of Christ. Then verse 30 says, "You're even experiencing the same conflict which you saw in me and now here to be in me." You're going through what I'm going through. They were in a hostile environment. They were in an ungodly environment. They were in a pagan culture. And it was bringing on them that persecution which is indicated there in those verses. So Paul says yours is the great sacrifice. You are the one suffering as you proclaim Christ in Philippi. Mine is just the pouring out a libation on top of your great sacrifice …
Some translations add 'service' so that the verse reads 'the sacrifice and service of your faith':
Now notice that phrase "upon the sacrifice and service of your faith." The sacrifice they were making was really the giving of their lives the cause of Christ…preaching, teaching, proclaiming, living for Christ. And he calls it "the service of your faith…the service of your faith." The word "service" is leitourgia from which we get liturgy. Why? Because it means sacred service, religious service, priestly service.
Paul tells the Philippians to be glad in the midst of their suffering and to rejoice, just as he is rejoicing (verse 18):
So Paul looks at them and he sees them as priests. Just like Peter says, holy priests, royal priests, 1 Peter 2. And he sees the Philippians as priests who are offering up their lives as a sacrifice, and his by comparison is just a little topping off compared to theirs. They were a faithful people. They were a sacrificial people. He rejoiced over them. He just rejoiced over them because of their faithfulness to the Lord …
Well, you're going through suffering and you're going through persecution and you're going through opposition, you rejoice too and I'll rejoice and we'll rejoice together that you have put your lives on the altar, that I have poured my life on the altar that it is all well pleasing to God and in that is our great joy.
MacArthur poses difficult questions for us in the context of these verses:
You look at trials and difficulties, hard places, physical discomfort, pain and even death as dark and forbidding. But when you get to the point where you totally abandon yourself to the will of God to be pleasing in His sight, nothing is dark, nothing is forbidding, light is shed on everything and ultimate sacrifice leads to ultimate joy. And the reason we know so little about that kind of joy is because we know so little about that kind of sacrifice.
For us, you see, the only thing that brings joy is what we do for ourselves, and once in a while the joy of seeing something done for someone else. But I wonder how many Christians really aren't consumed with the joy that is theirs because of the total sacrifice they have made for Christ. We get joy out of what we do for ourselves, we get some joy out of what we do for others as a satisfaction in feeding the hungry, helping the poor, whatever it might be, helping little children, sick people. But how many of us are exhilarated with joy in the sacrifices we make for the cause of Christ? Let me ask the question, what are you sacrificing in service to Christ? What amount of treasure, what amount of time, what are you sacrificing for the cause of Christ? I'll put it another way. What have you said no to in order to say yes to God's will? What have you said no to in order to say yes to God's Kingdom? What have you said no to in order to say yes to God's church? That's the question. Paul lived a life of sacrificial joy. And I'm telling you, and I'll say it probably till I die some day, the reason we have such a discontent, unhappy society is because, and even among Christians, they are trying to find joy in possessions rather than in sacrifice where ultimate joy lies. And so they are chasing an illusion.
You say, "Well I don't mind my life, it's not that bad." Well that may be true, God is gracious and you may have a modicum of happiness. But you will never know true joy, surpassing joy, sacrificial joy, the joy that allows a man being burned at the stake to sing with expressions of joy in his lips, the hymns of his great God and Savior, you may never know that exhilarating joy, the joy that comes out of sacrificial giving, sacrificial effort, the greatest joy.
… Jesus is the perfect illustration of ultimate sacrifice and ultimate joy. Jesus in giving His life, enduring the cross, did so for the ultimate joy of offering to God the ultimate sacrifice that was well-pleasing to Him. Paul learned it from Jesus. And he longed…he longed to learn Christ in his own life.
MacArthur contrasts our spiritual condition today with that of St Paul:
Let me make the point that needs to be made. The reason that we are reluctant to set ourselves up as the spiritual model is because we know so much about ourselves as to know the model is not what it ought to be. But listen carefully. When a person is truly spiritual and truly godly and truly deep and truly walks in intimacy with God, there is the utter lack of self-consciousness that is present in the hypocrite. And so Paul can rather readily, in fact almost easily use himself as an illustration because it is the reflection of the purest intent and the purest motive, and so it is done with no self-consciousness. It is the expression of a genuinely humble man, of a genuinely spiritual man, of a genuinely godly man and thus it is not a problem for him, as he said in 1 Corinthians, to literally say to us, "Be ye followers of me as I am of Christ." If you find it difficult for you to say that about yourself, and to establish yourself as the standard for others to follow, it is because there is a self-consciousness there about that. That self-consciousness is born out of a sense of inadequacy because you are not before God what you ought to be. Paul, on the other hand, knows none of that self-consciousness and freely does he express the fact that he is the standard and the model and freely does the Spirit of God encourage him to do that knowing full well what is in his heart. So this is not a wrong thing to do, it is a right thing to do. It is just that there are very few who can be self-conscious and humble and so deeply godly that they can do it as Paul does it so easily. So he is the first illustration, rightly so, and it is godly for him to say so because it is the truest reflection of his pure heart.
In closing, here is another F B Meyer quote, which really brings home the sacrificial spiritual passion we see in Scripture:
It is certain that before any service that we do for God or man is likely to be of lasting or permanent benefit, it must be saturated with our heart's blood. That which costs us nothing will not benefit others. If there is no expenditure of tears and prayer, if that love of which the Apostle speaks in another place which costs is lacking, we may speak with the tongues of men and of angels, may know all mysteries and all knowledge, may bestow all our goods to feed the poor but it will profit nothing. Let us rather seek to be poured forth as an offering, then to do much without feeling the least travail of soul. As the fertility of Egypt in any year is in direct proportion to the height that the waters of the Nile measure, so the amount of our real fruitfulness in the world is gauged by the expenditure of our spiritual force. It was because Moses was prepared to be blotted from the book of God for his people that he carried them for forty years through the desert and deposited them on the very borders of the promised land. It was because Jesus wept over Jerusalem that He was able to send a Pentecost on that guilty city. It was because Paul was prepared to be accursed for his brethren according to the flesh that he was able to turn so many from darkness to light and from the power of Satan unto God … No heart pangs, no spiritual seed.
Never mind the length of this post, the question is whether the content is difficult to comprehend and digest. I will be considering it for some time to come.
Next week, the tone changes as Paul discusses Timothy's faithful ministry.
Next time — Philippians 2:19-24
The three-year Lectionary that many Catholics and Protestants hear in public worship gives us a great variety of Holy Scripture.
Yet, it doesn't tell the whole story.
My series Forbidden Bible Verses — ones the Lectionary editors and their clergy omit — examines the passages we do not hear in church. These missing verses are also Essential Bible Verses, ones we should study with care and attention. Often, we find that they carry difficult messages and warnings.
Today's reading is from the English Standard Version with commentary by Matthew Henry and John MacArthur.
28 Now you,[a] brothers, like Isaac, are children of promise. 29 But just as at that time he who was born according to the flesh persecuted him who was born according to the Spirit, so also it is now. 30 But what does the Scripture say? "Cast out the slave woman and her son, for the son of the slave woman shall not inherit with the son of the free woman." 31 So, brothers, we are not children of the slave but of the free woman.
—————————————————————————–
Last week's post discussed Paul's allegory of Hagar and Sarah, the former being a slave (her followers attached to Mosaic law) and the latter a free woman (Christians having freedom in Christ).
John MacArthur recaps Paul's message for us and adds a similar insight from Hebrews (emphases mine):
Hagar, the slave, symbolizes the old covenant; the earthly, legalistic, Judaistic Jerusalem; the Ishmael mentality of law and bondage. Sarah, the free woman, symbolizes the new covenant, the heavenly Jerusalem, and the wonderful, wonderful blessing of faith and grace. We belong – we belong to the Jerusalem that is above.
I want to talk about that a little bit. So, would you turn to Hebrews chapter 12? Hebrews chapter 12. Because here – this is kind of spread out for us a little bit, Hebrews chapter 12, verse 18 – here the writer of Hebrews is really kind of further explaining this same kind of analogy. He's saying to the believers, "You have not come to a mountain that can be touched and to a blazing fire, and to darkness and gloom and whirlwind" – that's Sinai; you haven't come to that – "and to the blast of a trumpet and the sound of words which sound was such that those who heard begged that no further word be spoken to them. For they couldn't bear the command, 'If even a beast touches the mountain, it'll be stoned.'" And so terrible was the sight, that Moses said, 'I am full of fear and trembling.'"
You haven't come to Sinai; you're not Sinai; you're not Ishmael; you're not Hagar; you're not the present form of religion in this world.
"But you" – verse 22 – "have come to Mount Zion, to the city of the living God, the heavenly Jerusalem, and to myriads of angels, to the general assembly and church of the firstborn who are enrolled in heaven, and to God, the Judge of all, and to the spirits of the righteous made perfect, and to Jesus, the mediator of a new covenant, and to the sprinkled blood, which speaks better than the blood of Abel."
Paul tells the Galatians, who have been in thrall to the Judaizers, that they (the Galatians) are like Isaac, children of promise (verse 28). Recall that Sarah was well past childbearing age when God opened her womb. He promised Abraham and Sarah an heir, and He kept that promise because of Abraham's unwavering faith.
Paul is using this analogy to get the doctrine of justification by faith through grace firmly set in the Galatians' minds and hearts.
Matthew Henry's commentary tells us:
We Christians, who have accepted Christ, and rely upon him, and look for justification and salvation by him alone, as hereby we become the spiritual, though we are not the natural, seed of Abraham, so we are entitled to the promised inheritance and interested in the blessings of it.
MacArthur says of Christians:
We're in the line of Sarah, Isaac, the Jerusalem that is above, faith, freedom. "And if the Son shall make you free, you will be free for real," John 8:36 says.
Isaac's birth was miraculous. It was miraculous. So is ours. The miracle of the new birth cannot be accomplished by human effort. You must be born from above.
Paul likens the state of the Galatians, at risk of persecution at the hands of the Judaizers, to that of Isaac, whom Ishmael mocked (verse 29). Ishmael was jealous that he was no longer Abraham's heir.
Henry says:
… lest these Christians should be stumbled at the opposition they might meet with from the Jews, who were so tenacious of their law as to be ready to persecute those who would not submit to it, he tells them that this was no more than what was pointed to in the type; for as then he that was born after the flesh persecuted him that was born after the Spirit, they must expect it would be so now.
Paul reminds the Galatians of Genesis 21, wherein God told Abraham to do as Sarah asked when she wanted Hagar to leave their home; the son of the slave shall not inherit with the son of the free woman (verse 30).
Here is the relevant passage, beginning with Isaac in verse 8:
God Protects Hagar and Ishmael
8 And the child grew and was weaned. And Abraham made a great feast on the day that Isaac was weaned. 9 But Sarah saw the son of Hagar the Egyptian, whom she had borne to Abraham, laughing.[b] 10 So she said to Abraham, "Cast out this slave woman with her son, for the son of this slave woman shall not be heir with my son Isaac." 11 And the thing was very displeasing to Abraham on account of his son. 12 But God said to Abraham, "Be not displeased because of the boy and because of your slave woman. Whatever Sarah says to you, do as she tells you, for through Isaac shall your offspring be named. 13 And I will make a nation of the son of the slave woman also, because he is your offspring." 14 So Abraham rose early in the morning and took bread and a skin of water and gave it to Hagar, putting it on her shoulder, along with the child, and sent her away. And she departed and wandered in the wilderness of Beersheba.
15 When the water in the skin was gone, she put the child under one of the bushes. 16 Then she went and sat down opposite him a good way off, about the distance of a bowshot, for she said, "Let me not look on the death of the child." And as she sat opposite him, she lifted up her voice and wept. 17 And God heard the voice of the boy, and the angel of God called to Hagar from heaven and said to her, "What troubles you, Hagar? Fear not, for God has heard the voice of the boy where he is. 18 Up! Lift up the boy, and hold him fast with your hand, for I will make him into a great nation." 19 Then God opened her eyes, and she saw a well of water. And she went and filled the skin with water and gave the boy a drink. 20 And God was with the boy, and he grew up. He lived in the wilderness and became an expert with the bow. 21 He lived in the wilderness of Paran, and his mother took a wife for him from the land of Egypt.
However, upon Abraham's death, both Isaac and Ishmael buried him (Genesis 25):
7 These are the days of the years of Abraham's life, 175 years. 8 Abraham breathed his last and died in a good old age, an old man and full of years, and was gathered to his people. 9 Isaac and Ishmael his sons buried him in the cave of Machpelah, in the field of Ephron the son of Zohar the Hittite, east of Mamre, 10 the field that Abraham purchased from the Hittites. There Abraham was buried, with Sarah his wife. 11 After the death of Abraham, God blessed Isaac his son. And Isaac settled at Beer-lahai-roi.
12 These are the generations of Ishmael, Abraham's son, whom Hagar the Egyptian, Sarah's servant, bore to Abraham. 13 These are the names of the sons of Ishmael, named in the order of their birth: Nebaioth, the firstborn of Ishmael; and Kedar, Adbeel, Mibsam, 14 Mishma, Dumah, Massa, 15 Hadad, Tema, Jetur, Naphish, and Kedemah. 16 These are the sons of Ishmael and these are their names, by their villages and by their encampments, twelve princes according to their tribes. 17 (These are the years of the life of Ishmael: 137 years. He breathed his last and died, and was gathered to his people.) 18 They settled from Havilah to Shur, which is opposite Egypt in the direction of Assyria. He settled[a] over against all his kinsmen.
Isaac's wife Rebekah gave birth to Jacob and Esau:
24 When her days to give birth were completed, behold, there were twins in her womb. 25 The first came out red, all his body like a hairy cloak, so they called his name Esau. 26 Afterward his brother came out with his hand holding Esau's heel, so his name was called Jacob.[d] Isaac was sixty years old when she bore them.
Returning to Paul's analogy, he concludes by telling the Galatians that they are not children of the slave woman but of the free woman (verse 31), Sarah.
MacArthur interprets this verse for us:
Ishmael can't inherit along with Isaac. People under the bondage cannot inherit with those that are free in Christ. Those who are trying to please God by the flesh and works cannot inherit with those who have come by grace and faith.
So, just know this, we're not children of the bondwoman; we have nothing to do with them. Since that is true, here's the final exhortation, verse 1, "It was for freedom" – from all that – "Christ set us free; therefore, keep standing firm and do not be subject again to a yoke of slavery." Don't go back into that system from which you have been set free. This is the good news of salvation.
Anybody who comes along, tries to add any kind of externalism, any kind of ceremonialism to your freedom in Christ, you tell them, "I'm in the Sarah, Isaac, promise group, not the Hagar, Ishmael, law group. I'm not under bondage; Christ has set me free …"
Paul hasn't finished with his discourse on freedom in Christ. More to come next week.
Next time — Galatians 5:2-6
The three-year Lectionary that many Catholics and Protestants hear in public worship gives us a great variety of Holy Scripture.
Yet, it doesn't tell the whole story.
My series Forbidden Bible Verses — ones the Lectionary editors and their clergy omit — examines the passages we do not hear in church. These missing verses are also Essential Bible Verses, ones we should study with care and attention. Often, we find that they carry difficult messages and warnings.
Today's reading is from the English Standard Version with commentary by Matthew Henry and John MacArthur.
Example of Hagar and Sarah
21 Tell me, you who desire to be under the law, do you not listen to the law? 22 For it is written that Abraham had two sons, one by a slave woman and one by a free woman. 23 But the son of the slave was born according to the flesh, while the son of the free woman was born through promise. 24 Now this may be interpreted allegorically: these women are two covenants. One is from Mount Sinai, bearing children for slavery; she is Hagar. 25 Now Hagar is Mount Sinai in Arabia;[a] she corresponds to the present Jerusalem, for she is in slavery with her children. 26 But the Jerusalem above is free, and she is our mother. 27 For it is written,
"Rejoice, O barren one who does not bear;
    break forth and cry aloud, you who are not in labor!
For the children of the desolate one will be more
    than those of the one who has a husband."
———————————————————————————–
Last week's post discussed Paul's warnings to the Galatians about the Judaizers' flattery and his being 'perplexed' — frustrated — about their acceptance of those false teachers.
Paul uses the story of Hagar and Sarah to illustrate the difference between slavery under the old law and freedom in living God's promise.
John MacArthur explains why (emphases mine):
… here's the illustration. Ishmael was born to Hagar. Ishmael is an illustration of the flesh. Ishmael is an illustration of the flesh. The promise was clear: God is going to give a son. It's going to have to be supernatural. They don't want to wait on God, they'll do it their way; so the flesh rejects the promise and tries to take by its own power what God gives.
One child is the child of the flesh, the other child is the child of the promise: that's Isaac to Sarah. By the time he's born Abraham's 100, she's 90. But God supernaturally creates that child in her womb. Ishmael was born according to the flesh; they did it on their terms their way. Isaac is born through the promise of God; Ishmael is born naturally, you might say. Isaac is born supernaturally. That's why when he was born they named him "laughter," which is what Isaac means, or "rejoicing," or "gladness."
Two sons then become the patterns for spiritual truth. Ishmael is a son born in the usual, natural way. But beyond that, not just the usual, natural way, but in the flesh in a sinful way, as if they could fulfill the will of God on their own sinful terms. Ishmael is a representative of all those who try to do it on their own. Ishmael is an illustration of those who want salvation by works. And Ishmael was born to a slave, was a slave, and produced a whole lineage of slaves. Ishmael symbolizes accomplishing what God wants by your own flesh and ending up in bondage.
Isaac, on the other side, was born as a result of Abraham's faith in God. As a blessing on His faith, God miraculously enabled Abraham, though he was, Hebrews says, as good as dead in terms of childbearing capacity. He allowed Abraham to deposit his seed in his wife Sarah, and for that to lead to the birth of Isaac. Isaac then was the child of promise. Isaac was the result of the power of God. He was, you might say, Spirit-born. The Holy Spirit caused Isaac to come forth when it would have been impossible for Abraham and Sarah to have a child. Isaac represents then salvation by faith alone. Abraham believed God and God supernaturally fulfilled His will in Abraham.
Ishmael pictures all those who try to please God and accomplish God's will by the flesh. It's sinful, it's useless, it creates bondage. Isaac symbolizes all those who do the will of God by faith in His promise. He does the work; He brings it to pass; He receives the glory.
Paul begins by asking the Galatians who want to live under Mosaic law if they have considered what that would actually be like had they heard it read (verse 21).
Matthew Henry's commentary says:
if they would do this, they might soon see how little reason they had to trust in it.
Paul begins recounting the story in Genesis of Abraham's two sons, one born by a slave woman and the second born by a free woman (verse 22).
Hagar's Ishmael was born by the flesh while Isaac was a fulfilment of God's promise to Abraham and Sarah (verse 23).
Paul says that, allegorically, the women each represent one of two covenants God made with His people. The Old Covenant, made at Mount Sinai, represents Hagar, bearing children for slavery (verse 24).
Paul goes on to say that Hagar is Mount Sinai in Arabia and corresponds to the Jerusalem of the present, as the Jews, having rejected Christ, were still following the old law and were, as such, slaves (verse 25).
Henry confirms this historical point:
… Agar, represented that which was given from mount Sinai, and which gendereth to bondage, which, though it was a dispensation of grace, yet, in comparison of the gospel state, was a dispensation of bondage, and became more so to the Jews, through their mistake of the design of it, and expecting to be justified by the works of it. For this Agar is mount Sinai in Arabia (mount Sinai was then called Agar by the Arabians) …
Then Paul says that the 'Jerusalem above' is free and is the mother of Christians (verse 26).
In that verse, Paul refers to the spiritual Jerusalem, the heavenly Jerusalem.
To support his allegory, he cites Isaiah 54:1, in which the prophet quoted the Lord. When God's people were released from Babylon, the women would be in labour and giving birth once more (verse 27).
MacArthur gives us the context:
This is an amazing approach by Paul. Isaiah 54:1 is long after Abraham, Isaac, Ishmael, Sarah, Sinai. Where does this fit? Isaiah's writing to the captives in Babylon. The people of Israel have been taken captive into Babylon. And Isaiah writes to cheer them up. And this is in the section on salvation. And what he says to them in this verse – chapter 54, verse 1 – is that, "You're desolate, you're barren, you're in exile, life is horrible. You know, you've hung your harps on the willow trees. You have no song to sing. All is sadness." And Isaiah says, "Cheer up, rejoice, barren woman who doesn't bear; break forth and shout you who are not even in labor; for more numerous are going to be the children of you who are now desolate, you who have no husband – more fruitful are you going to be than even those who are married and flourishing."
What was that? That was a promise of the return to the land, "You're going to be out of captivity; you're going back to the land." And when they got back to the land, the women began to flourish, and the nation began to reproduce and reproduce and reproduce, and the nation of Israel grew and grew and grew and grew. And the apostle Paul is using another scripture to say, "I promise you that when God says, 'You will flourish,' you will flourish." God said it to the exiles in Babylon, and He fulfilled it. God said it to Sarah, and He fulfilled it by His power. By His power.
Paul also uses this illustration to say that false teachers hate the truth. The Judaizers hate that the Galatians have freedom in God through their faith in Christ.
MacArthur tells us:
Get this; Hagar hated Sarah. Hagar hated Isaac. We see that in Genesis 16. Then in Genesis 21:8 and 9, we see Ishmael hating Isaac. Ishmael thought for years that he was going to be the heir to the fortune. And then along comes the true heir, and he's out.
And so, there was animosity, and Ishmael was a hater of Isaac, as Hagar was a hater of Sarah. So, persecution came then – mark it – the sons of Hagar, Sinai, the works, the flesh, false religion are always the persecutors of the truth. They will continue to persecute the children of Isaac and Sarah, the children of promise.
The greatest persecutor of the true church is false religion. Satan's system of works ...
This is so amazing. So, we've got this false church persecuting the true church. We've got a war going on.
Paul's allegory continues. More on that next week.
Next time — Galatians 4:28-31
Mothering Sunday is March 27, 2022, which is also Laetare Sunday, the joyful day in Lent:
Laetare Sunday, Mother's Day and the Golden Rose
Laetare Sunday is Mothering Sunday
Some churches in the UK will be departing from the usual Lectionary lesson and read the latter part of 1 Samuel 1 instead.
Here is the whole chapter, the highly moving story of Hannah and her long-awaited son, Samuel (emphases mine below):
The Birth of Samuel
1 There was a certain man from Ramathaim, a Zuphite[a] from the hill country of Ephraim, whose name was Elkanah son of Jeroham, the son of Elihu, the son of Tohu, the son of Zuph, an Ephraimite. 2 He had two wives; one was called Hannah and the other Peninnah. Peninnah had children, but Hannah had none.
3 Year after year this man went up from his town to worship and sacrifice to the Lord Almighty at Shiloh, where Hophni and Phinehas, the two sons of Eli, were priests of the Lord. 4 Whenever the day came for Elkanah to sacrifice, he would give portions of the meat to his wife Peninnah and to all her sons and daughters. 5 But to Hannah he gave a double portion because he loved her, and the Lord had closed her womb. 6 Because the Lord had closed Hannah's womb, her rival kept provoking her in order to irritate her. 7 This went on year after year. Whenever Hannah went up to the house of the Lord, her rival provoked her till she wept and would not eat. 8 Her husband Elkanah would say to her, "Hannah, why are you weeping? Why don't you eat? Why are you downhearted? Don't I mean more to you than ten sons?"
9 Once when they had finished eating and drinking in Shiloh, Hannah stood up. Now Eli the priest was sitting on his chair by the doorpost of the Lord's house. 10 In her deep anguish Hannah prayed to the Lord, weeping bitterly. 11 And she made a vow, saying, "Lord Almighty, if you will only look on your servant's misery and remember me, and not forget your servant but give her a son, then I will give him to the Lord for all the days of his life, and no razor will ever be used on his head."
12 As she kept on praying to the Lord, Eli observed her mouth. 13 Hannah was praying in her heart, and her lips were moving but her voice was not heard. Eli thought she was drunk 14 and said to her, "How long are you going to stay drunk? Put away your wine."
15 "Not so, my lord," Hannah replied, "I am a woman who is deeply troubled. I have not been drinking wine or beer; I was pouring out my soul to the Lord. 16 Do not take your servant for a wicked woman; I have been praying here out of my great anguish and grief."
17 Eli answered, "Go in peace, and may the God of Israel grant you what you have asked of him."
18 She said, "May your servant find favor in your eyes." Then she went her way and ate something, and her face was no longer downcast.
19 Early the next morning they arose and worshiped before the Lord and then went back to their home at Ramah. Elkanah made love to his wife Hannah, and the Lord remembered her. 20 So in the course of time Hannah became pregnant and gave birth to a son. She named him Samuel,[b] saying, "Because I asked the Lord for him."
Hannah Dedicates Samuel
21 When her husband Elkanah went up with all his family to offer the annual sacrifice to the Lord and to fulfill his vow, 22 Hannah did not go. She said to her husband, "After the boy is weaned, I will take him and present him before the Lord, and he will live there always."[c]
23 "Do what seems best to you," her husband Elkanah told her. "Stay here until you have weaned him; only may the Lord make good his[d] word." So the woman stayed at home and nursed her son until she had weaned him.
24 After he was weaned, she took the boy with her, young as he was, along with a three-year-old bull,[e] an ephah[f] of flour and a skin of wine, and brought him to the house of the Lord at Shiloh. 25 When the bull had been sacrificed, they brought the boy to Eli, 26 and she said to him, "Pardon me, my lord. As surely as you live, I am the woman who stood here beside you praying to the Lord. 27 I prayed for this child, and the Lord has granted me what I asked of him. 28 So now I give him to the Lord. For his whole life he will be given over to the Lord." And he worshiped the Lord there.
Hannah vowed that Samuel would take a life-long Nazirite vow (verse 11):
… no razor will ever be used on his head …

The only other men in the Bible to do so were Samson and John the Baptist. Most Nazirite vows were short-term in nature.
John MacArthur explains the vow:
That last little part was a Nazarite vow, described in Numbers 6:3 to 6.  If a Jew wanted to take a vow of total consecration to God, he would not cut his hair, no concern for physical appearance, not drink the wine and the strong drink, abstaining from the banquetings and the celebrations and all of that, living an austere, consecrated, God-centered life. 
Commentary on Hannah's story comes from John MacArthur's 1987 sermon, 'Hannah: A Godly Mother'.
Hannah truly had faith. Even though she was sterile, she believed the Lord would reverse her condition, which He did.
The name Hannah means 'grace'. It befits this woman:
… We meet her in 1 Samuel 1.  Hannah, her name speaks of her beauty; it means grace, and indeed she is the emblem of the grace of womanhood.  She became a mother by faith.  She first appears, as 1 Samuel opens, as a childless woman.  Then she becomes a mother, the mother of one of the greatest men who ever walked the earth, Samuel.  And as you see the account of the birth of Samuel, you note the profile of a godly mother.
Incidentally, the name Anna is a form of Hannah.
This was not a propitious era for Israel, which was experiencing a time of turmoil:
As the book opens, it is the period of the Judges.  There is no king in Israel as yet.  It is a time of turmoil; it is a time of confusion.  It is a time when Israel is vulnerable to the Philistines.  It is a time when they are debauched morally.  It is a time when their religion has grown cold.  And it is a time for a great man to rise and take the leadership of the nation, a period of religious degeneracy, of political distress.  With the death of Samson the country was divided and leaderless.  The Philistines were hanging on the edge.  The priesthood was corrupt.  Moral scandals were rampant among the family of the priests.  The nation was weak.  The nation was impotent.  And the worst of all, chapter 3, verse 1 says, "word from the Lord was rare in those days, and visions were infrequent."  God even had nothing to say.  The nation needed a great leader, a great man, and God needed a great woman to shape that great man.  And Samuel, one of the greatest men who ever walked the earth, was not only the product of the work of God, but the product of a godly mother.  And she gave to her nation and the world the greatest legacy a woman can ever give, a godly child.
MacArthur gives us his perspective on what denotes a godly mother:
As we are introduced to this story, I want us to note three things that profile a godly mother.  She had a right husband relationship, she had a right heavenly relationship, and she had a right home relationship.  Those three things stand out and profile her for us.
First of all, let's consider her right husband relationship.  And may I say that this is, at the very outset, essential for you to understand.  The most important relationship in a family in raising godly children is not the relationship between the parents and the children, it's the relationship between the mother and the father.  What you communicate to your children by your relationship dominates their thinking.  They are learning about human relationships from the two of you.  They are learning about virtue, they are learning about sin.  They are learning about love.  They are learning about forgiveness.  They're learning about sympathy.  They're learning about understanding.  They're learning about compassion.  They're learning about virtue.  They're learning about honesty and integrity.  They're watching, and far more important than your relationship to your child in the long run is the relationship you have to your spouse, that's projected to your child.  And so at the very outset, the Word of God is clear to tell us the relationship between Hannah and Elkanah.
Now, first of all, let me say that it wasn't a perfect relationship; so ladies, you want to start out by realizing you're not married to a perfect man.  That's a given.  I want you to understand what the Scripture says.  Hannah was married to a polygamist.  Now, I don't know how that would sit with you as a woman, but I can guess.  And I can also tell you that it didn't sit any better with Hannah than it does with you, to have a rival in the house, to have another wife in the house.  And worst of all, she is producing boys and girls and Hannah has none, and so she is the unfruitful, unproductive wife who cannot give to her husband that which her heart most longs to give.
He wasn't a perfect man.  The very fact that he was a polygamist indicates his imperfection.  But understand this, this is a primitive time, and polygamy was a part of human culture; never God's design, never.  God always designed one man, one woman, leaving their parents, joining together for life, and becoming one flesh, from Genesis on.  But human society was rife with polygamy, and when the truth of God came into human society, it was so pervasive, polygamy, that it took time to root it out …
And so Elkanah created for Hannah a very difficult situation.  We don't know the details, but it may well have been that he went on to marry Peninnah because of Hannah's barrenness, and in order to produce a generation who could then possess his inheritance.  And so that would even make the pain deeper, because Peninnah came to do in that union what Hannah could not do.  Not a perfect relationship, but nonetheless a good one, a right one.  Let me show you why.
First of all, they shared worship.  Now, "this man," Elkanah, verse 3 says, "would go up from his city yearly to worship and to sacrifice to the Lord of hosts in Shiloh."  It doesn't mean he went once a year, it meant that every year he went.  In Deuteronomy, chapter 16, verse 16, it explains the prescription; three times a year – yes, it was the Feast of Unleavened Bread, the Feast of Weeks, and the Feast of Booths.  The man had to go to the place of worship.  In this particular time, in 1 Samuel, the place of worship was at Shiloh, because that's where the Ark of the Covenant was located before it was transferred to Jerusalem …
Starting out, then, they had a shared worship; so vital.  How you worship communicates volumes of information to your children.  Are you faithful?  Are you faithful to come and meet with God's redeemed people, week in and week out?  Are you faithful to make the Word of God the priority in your life?  Are you faithful that prayer should have a high place in your experience spiritually?  Are you faithful to live what you affirm that you believe?  In other words, the attitude of your spiritual devotion is communicating a Christianity to your children that they will have a hard time overcoming, if it in fact is less than it ought to be.
Secondly, they not only had a right relationship in their marriage because of worshiping together, but secondly, they shared love.  Notice verse 4, "And when the day came that Elkanah sacrificed" – one of those times when he took the trip to Shiloh – "he would give portions to Peninnah his wife and all her sons and her daughters, but to Hannah he would give a double portion, for he loved Hannah."  Stop at that point.  He didn't love Peninnah.  That's the implication.  Peninnah was there to produce the children that Hannah couldn't have.  Peninnah was there to create a future for his family, his inheritance.  But Hannah was the one he loved, and he made no attempt to hide that.  And when they went to offer their sacrifices, I don't know if you know how that worked, but they would go to offer peace offerings, and they would offer the offering on the altar there.  The priest would take a small part, then most of it would come back to the family, and they'd have a feast.  And when passing out the feast, he would give a double portion to Hannah, because she was the one he loved.  This was a gesture in the East to an honored guest.  She was the one who had his heart.  And it was not just the love of emotion, it was the love of kindness, and the love of thoughtfulness, and the love of sacrifice, the love of honor.  He loved her.  And this love was her security. 
Men, if you don't know it yet, you ought to know it; a woman's security is in your love for her, not in your bank account, not in a fancy house, not in new furniture, not in a retirement plan.  A woman finds her security in your love, and it needs to be demonstrated so frequently that there's never a question about it.  People wonder often why women tend to be suspicious of their husbands, and wondering if they might have some other attraction or be fooling around with some other person, and the reason is because it's so deeply rooted in a woman that her security is in the love of her man.  And that's the way it was with Elkanah and Hannah.  And she was secure in his love, because he took the time to demonstrate his love to her in very public ways, such as he had done at this feast in front of everyone.  They shared love, and thus she was secure in that love; and she needed that, believe me, when he had another wife …
… They shared love … There is the absence of anxiety and frustration, so that the woman can give herself to the children, and not always feel that she's got to be a beauty queen to win the affection of her husband.  Once the husband with his love wraps that woman up and secures her, then she can give herself away to her children, and not have to feel that she must always fight the uphill battle to attract her husband.

Thirdly, they shared another thing.  They shared feelings.  Shared worship, their relationship to God was a common one.  They shared love, and they shared feelings.  Look at verse 6.  "Her rival, however," – that's Peninnah – "would provoke her bitterly to irritate her because the Lord had closed her womb."  It said that also at the end of verse 5, twice it says the Lord had closed her womb.  What it's trying to say is this isn't Hannah's problem; the Lord did this.  The Lord closed her womb.  And this Peninnah would harass her, you know, that kind of thing, "Too bad you can't have any children, Hannah," just sticking the knife in.  And it happened year after year; "as often as she went up to the house of the Lord, she would provoke her so she wept and wouldn't eat." 
Here she goes to the big feast.  Elkanah is sympathetically, lovingly giving her a double portion.  She won't eat anything, 'cause on the other side of the table, Peninnah's really rubbing it in that she has no children.  The response – I would not want to be in Elkanah's position, trying to pull these two women together.  But Elkanah, her husband, said to her, "Hannah, why do you weep?  And why do you not eat?  And why is your heart sad?  Am I not better to you than ten sons?"  They shared feelings.  Boy, he read her feelings and he didn't pontificate, he asked a question.  Why are you doing this, Hannah?  Haven't I been better than ten sons to you? … He knew the conflict, and he knew the conflict was intensified from Peninnah's side, and he knew that it was deep and painful and it was a hard, hard place for her to be.  And so he was tender, and sympathetic, and thoughtful, and he felt her feelings in his own heart.
… She has a right husband relationship.  They share worship, the deepest dimension of human life.  They share love, maybe the next deepest dimension of human life.  They share feelings, maybe the next deepest dimension of human life.  They have a deep relationship.  They move together in the presence of God, with one another, and over the issues of life that involve other people.
As devestated as she was about her sterility — which God had given her — she believed that He could reverse her condition. She never lost her faith. Not only did she pray and pray for a child, she also made a vow to the Lord. Many women would have been bitter and turned away from God, but not Hannah:
The high priest is in the temple.  She goes there.  She came into the temple greatly distressed.  Her soul was bitter, it literally says.  And she prayed to the Lord and wept bitterly.  She is just crushed – crushed.  And she made a promise, a vow.  "O Lord," and she goes on to make her vow.  But notice this about this godly woman: she was a woman of prayer.  It's a beautiful characteristic.  She understood that God was the source of children.  She understood that God alone could alter her sterility.  Her distinctive virtue was her faith, constant faith.  Verse 12, "It came about as she continued praying before the Lord" – constant.  She remained there.  She stayed there.  Her heart was broken.  She was pouring out her prayers.  This is the spirit of true prayer …
So she promised God, "I'll give You this child, I just want to be fulfilled as a mother, I just want to raise a godly son to give back to Your glory.  And if You give him to me I'll give him back."  This is her promise, to present her child to God.  That's the essence of a godly mother.  While praying for a child, she prays for that child not for a wrong reason but a right reason, to turn that child back to God, from where the child came.  That's the essence of a godly mother – to give the child to God, to give the child to God.  My mother only had one son, and I am that son.  Before I was born she dedicated me to the Lord from birth, and told my father that she wanted a son who would preach the gospel.  That's a wonderful legacy.  And that may not be what every son is to do, it is not what every son is to do, but every godly mother will give that child to the Lord for whatever he has; the same with a daughter.  So Hannah made her promise.
We also find out more about Eli and his sons. Wasn't it awful for Eli to accuse Hannah in her brokenness of being drunk?
The next thing we see about Hannah was her purity.  Eli was the high priest, but I've got to tell you, he was really a lousy high priest.  And nothing could be said about his discernment, either.  "It came about when she was praying continually before the Lord, Eli was watching her mouth."  Sitting off on a – he was a big, fat man.  In fact, when his sons died, he was so shook he fell over, and landed on his neck and broke it and killed himself.  So Eli was sitting there watching her, and she was in there pouring out her heart and weeping and crying.  And she was speaking in her heart.  She wasn't speaking out loud, it says in verse 13, only her lips were moving.  Have you ever had that experience where you're really talking in your heart but your lips are moving, though not a sound was heard?  So Eli thought she was drunk.  Isn't he discerning?  Now, I don't know anything about my discernment as relative to other people, or to Eli's, but I'll tell you, I think I know the difference between a drunk and a woman broken in prayer. 
So Eli decided to play the spiritual role.  "How long will you make yourself drunk?  Put away your wine from you," he says to her.  And Hannah is so gracious, and answered and said, "No, my lord, I'm a woman oppressed in spirit.  I have drunk neither wine nor strong drink, but I have poured out my soul before the Lord.  You misjudge me.  Do not consider your maidservant as a worthless woman."  That tells us a little bit about drinking wine or strong drink and its relationship to worthlessness regarding women.  That's an Old Testament attitude.  "Don't consider me like that.  I have spoken until now out of my great concern and my provocation."  Then Eli, hearing such a lucid answer, answered and said, "Go in peace, and may the God of Israel grant your petition that you've asked of Him."  It's sort of a mild apology.  But he mistook her for being drunk.  "Don't think your maidservant a worthless woman" – literally, a son of Belial, profitless.  A common term, by the way, in the Old Testament, associated with idolatry, Deuteronomy 13; rebellion, 1 Samuel 2; lewd, sensuous acts in Judges 19 and 20; a term used to speak of arrogance and stupidity in 1 Samuel 25, and even murder in 1 Kings 21.  "Don't think that I'm in that group.  I'm not that kind of person."  She was a virtuous woman, like the woman of Proverbs 12:4 and 31:10, she was a woman of virtue.  She was a godly woman, she was a pure woman …
… the rest of chapter 2 into chapter 3 into chapter 4 is the sad, pathetic tragedy of the family of Eli.  His sons were fornicators.  They died, and he himself fell over, as I said, and died.  It was a tragic, ugly scene.  And the commentary of Scripture on Eli was that he could not restrain his sons from doing evil; and his wife is never mentioned.  I don't know what part, if any, she had, but she was a long way from what Hannah was in producing godly Samuel. 
MacArthur explains why Hannah was able to enjoy eating after she was so upset in prayer:
I'll tell you why: because she had patient faith.  She had patient faith.  She gave it to God, what else could she do?  She wasn't about to remain frustrated.  This is true faith.  True faith doesn't pray, "O God, here's my problem, here's my problem," walk away in utter frustration.  That's really doubt.  Faith says, "Here it is, God," and walks away, and is no longer sad.  That's trust.  "I trust You."  Very much the mark of a godly mother, one who totally trusts God – she casts her burden on God, and that's the end of it.  She walks away.  She eats.  She is no longer sad.
Samuel was a little boy — older than a toddler — when Hannah dedicated him to the Lord:
"For she said to her husband, 'I will not go up until the child is weaned.'"  Now wait a minute.  That's a couple of years, Hannah.  Three years?  I don't know exactly how long Hannah nursed little Samuel, but several years surely.  "I won't go."  It was only about a two or three week trip, at the longest, to go up there and be there for a week, traveling there, traveling back.  It's less than 200 miles from one end of Palestine to the other.  She wouldn't go, she wouldn't go at all.  Why?  She was dedicated to the child.  When God gave the child, she was dedicated to the child …
… Samuel means heard by God.  And boy, once that child came, Hannah said, "This is the child of my passion, this is the child of my vow; I will not forsake my time with this child.  I won't leave this child for several weeks.  I won't take this little child along and make it uncomfortable," because they would necessarily walk.  The child needs sleep, and the child needs the gentleness of home, the quietness of a nursing environment … 
And she dedicates the weaned child to God.  So verse 24, "When she had weaned him, she took him up with her, along with a three-year- old bull, and one ephah of flour, and a jug of wine, and brought him to the house of the Lord in Shiloh, although the child was young.  They slaughtered the bull and brought the boy to Eli, and she said, 'O my lord, as your soul lives, my lord, I am the woman who stood here beside you praying to the Lord.  For this boy I prayed, and the Lord has given me my petition which I asked of Him.  So I have also dedicated him to the Lord; as long as he lives he is dedicated to the Lord.'  And he worshiped the Lord there."
Samuel's story begins in 1 Samuel 2:
Look at chapter 2, verse 18:  "Now Samuel was ministering before the Lord, as a boy wearing a linen ephod."  In other words, he was girded like a priest would be, dressed as a little boy.  His whole life was ministering before the Lord.  "And his mother would make him a little robe," verse 19, "and bring it to him from year to year when she would come up with her husband to offer the yearly sacrifice.  Then Eli would bless Elkanah and his wife and say, 'May the Lord give you children from this woman in place of the one she dedicated to the Lord.'  And they went to their own home.  The Lord visited Hannah; and she conceived and gave birth to three sons and two daughters.  And the boy Samuel grew before the Lord."
She never really let go of her responsibility; every time she came, she came with a new little robe for her growing Samuel.  That's the result of godly mothering.  And that's the insight that you never stop being Mother, no matter how old they become.  God blessed her. To be a godly mother involves a right husband relationship, a right heavenly relationship, and a right home relationship.  Hannah had all of that.  God honored it, and she gives us a model to follow.

In closing, may I wish all mothers celebrating in a few days' time a happy — and blessed — Mothering Sunday.
The three-year Lectionary that many Catholics and Protestants hear in public worship gives us a great variety of Holy Scripture.
Yet, it doesn't tell the whole story.
My series Forbidden Bible Verses — ones the Lectionary editors and their clergy omit — examines the passages we do not hear in church. These missing verses are also Essential Bible Verses, ones we should study with care and attention. Often, we find that they carry difficult messages and warnings.
Today's reading is from the English Standard Version with commentary by Matthew Henry and John MacArthur.
7 Know then that it is those of faith who are the sons of Abraham. 8 And the Scripture, foreseeing that God would justify[a] the Gentiles by faith, preached the gospel beforehand to Abraham, saying, "In you shall all the nations be blessed." 9 So then, those who are of faith are blessed along with Abraham, the man of faith.
——————————————————————————————–
Last week's post discussed Paul's taking the Galatians to task for being 'bewitched' by Judaizers claiming that Gentile converts to Christianity had to be circumcised.
Paul introduced Abraham in verse 6:
5 Does he who supplies the Spirit to you and works miracles among you do so by works of the law, or by hearing with faith—6 just as Abraham "believed God, and it was counted to him as righteousness"?
Abraham believed God's promise to him first. The circumcision of our father in faith did not occur until 14 years later. More on this follows below.
John MacArthur sets the tone for today's three verses:
So in verses 6 to 9, we have Paul's positive proof that Old Testament salvation is by faith alone, positive proof that Old Testament salvation is by faith alone, and the positive proof is Abraham. They want Abraham to defend their works system. He's going to take Abraham and defend faith alone using Abraham. He's going to beat them at their own game by an accurate understanding of Abraham, such as we read in the fourth chapter of Romans …
Paul says that anyone who believes in God — 'those of faith' — are the sons of Abraham (verse 7).
Matthew Henry's commentary says that circumcision — 'according to the flesh' — does not enter into it:
… not according to the flesh, but according to the promise; and, consequently, that they are justified in the same way that he was. Abraham was justified by faith, and so are they.
Paul goes on to cite the promise that God made to Abraham, which is in Genesis 12:3; Scripture foresaw that God would justify the Gentiles by their faith (verse 8).
Henry says (emphases mine):
Abraham was justified by faith, and so are they. To confirm this, the apostle acquaints us that the promise made to Abraham (Genesis 12:3), In thee shall all nations be blessed, had a reference hereunto, Galatians 3:8; Galatians 3:8. The scripture is said to foresee, because he that indited the scripture did foresee, that God would justify the heathen world in the way of faith; and therefore in Abraham, that is, in the seed of Abraham, which is Christ, not the Jews only, but the Gentiles also, should be blessed; not only blessed in the seed of Abraham, but blessed as Abraham was, being justified as he was.
Paul concludes that believers are blessed along with Abraham, 'the man of faith' (verse 9).
Henry explains:
It was through faith in the promise of God that he was blessed, and it is only in the same way that others obtain this privilege.
John MacArthur's sermon provides an excellent explanation of why the Jews held Abraham in such esteem — and rightly so — yet were so mistaken in their rejection of Jesus as the Messiah.
First, he says that Paul clearly includes believing Gentiles as Abraham's children in faith:
… he gives Abraham that title, "the believer," which becomes the title for all New Testament people of faith.
Then MacArthur summarises Paul's impression of Judaism at the time and salvation, which is individual and not collective, as in a whole nation:
Now this is so very, very important. All the Jews leaned on Abraham, and they saw Abraham as circumcised, and they saw Abraham as a law-keeper. There's some serious problems with that, if you remember what we read in Romans 4. But let's go back and follow the pattern of the story, back to Genesis chapter 12 where it all began. Genesis chapter 12.
God is going to call out a people for Himself, a people to whom He will give His divine revelation, a people who will embody the prophets, a people who will be His witness nation in the world. That's their purpose. It is not simply that He designed to save the nation spiritually ...
And this is crystal clear in the second chapter of Romans, because it says there, "He is not a Jew who is one outwardly, but he is a Jew who is one inwardly." And it repeats it again in Romans 9, verses 6 through 8: "Not all Israel is Israel."
The temporal nation of Israel was under the protection of God as a nation to be a witness for Him, but that did not grant them personal salvation. And salvation is always personal, it is always internal, and it is always spiritual. It is never national; it is never external; it is never physical. God is going to call out a people to whom He will give His revelation, who are to be His witness. He is the one true and living God, and they are to represent Him in a world of many gods, polytheistic nations.
MacArthur takes us through Abraham's story. He was called Abram in the beginning:
So the Lord said to Abram, in chapter 12 of Genesis, verse 1, "Go forth from your country." He lived in Ur of the Chaldees. "Go from your country, from your relatives, from your father's house, to a land which I will show you. I'll make you a great nation. I will bless you, make your name great, so you shall be a blessing." I mean, that was the whole point, to bless them, so they could bless the world.
"I will bless those who bless you, and the one who curses you I will curse. In you all the families, all the nations of the earth will be blessed." And Abram was 75 years old when he followed the command of God and left Haran with his wife Sarah. God says, "I am going to call you, and from your loins produce a great nation that will bless the entire world."
Over in chapter 15, very important, God is still speaking to Abram. Abram is a believer now in the true God. He is a believer in the true God. Verse 22 of chapter 14, "I have sworn to the Lord God Most High, possessor of heaven and earth." He is a true believer in the true God. He has abandoned all the gods of his ancient family.
God comes to him again in chapter 15, and tells him not to be afraid. "I am a shield to you. Your reward shall be very great." He's been told he's going to be the father of nations; he doesn't even have one child.
"O Lord God," – verse 2 – "what will You give me, I'm childless? The heir of my house is Eliezer of Damascus." That was his main servant; and if there was no son, then the inheritance could pass to the son of the most intimate servant. "I don't have a child." Verse 3: "You've given no offspring to me; one born in my house is my heir."
"Then the word of the Lord came to him: 'This man will not be your heir; but one who will come forth from your own body, he shall be your heir.' And He took him outside and said, 'Look toward the heavens, and count the stars, if you're able to count them.' And He said to him, 'So shall your descendants be.' Then he believed in the Lord. Then he believed in the Lord."
This is a massive, massive promise against all reality and probability. This is an old man married to an old lady; they can't have children. And he has no offspring, and he believes that the Lord is going to give him children like the sand of the sea or the stars of heaven. "He believed in the Lord;" – here's the key verse – "and he reckoned it to him and righteousness." Wow. It was Abraham's faith that caused God to credit him with divine righteousness.
Abraham serves a dual purpose, for Jews and for Gentiles:
There is salvation by faith. Abraham is the prototype of faith. He's not the first person who believed. "By faith Enoch," Hebrews 11. "By faith Noah," Hebrews 11. But then it's, "By faith Abraham," and Abraham becomes a kind of father of faith to all succeeding generations of believers. He's not only physically the father of Jewish people, spiritually he's the prototype, in a sense, the father of all who believe God through human history. So God gives him a nation physically, but also through that nation comes a Messiah, and through that Messiah comes a world family by faith. That's inherent in the promise of Genesis chapter 12.
Sarah, Abraham's wife, thought that God would want them to use their own initiative on creating the heir that God promised them:
So Sarah makes the suggestion that he make one of the servants in the house pregnant. And she got pregnant and bore Ishmael, who fathered the Arab people. That was a pain that keeps on throughout all of human history, as the Arab-Israeli conflict goes back to Hagar and Ishmael.
Isaac, Sarah and Abraham's son, was still years away, but God plans things in His own time and we must be patient. When Isaac arrived, so did God's command of circumcision:
Eighty-six years old now. Ten years at least have past; there's no child. Then the child comes, and the child is born. And Abraham is ninety-nine years old – chapter 17, verse 1. And when he's ninety-nine years old, the Lord comes to him. And the Lord, down in verse 9, says, "You have your child; the promise is now being fulfilled. Here's what I want you to do. You shall keep My covenant, you and your descendants after you throughout your generations.
"This is My covenant, which you shall keep, between Me and you and your descendants after you: every male among you shall be circumcised. And you shall be circumcised in the flesh of your foreskin; it'll be a sign of the covenant between Me and you. Every male among you who is eight days old shall be circumcised throughout your generations, a servant who is born in the house or who is bought for money from any foreigner, who is not of your descendants. A servant who's born in your house or bought with your money shall surely be circumcised; thus shall My covenant be in your flesh for an everlasting covenant. But an uncircumcised male who is not circumcised in the flesh of his foreskin, that person shall be cut off from his people."
This command to circumcise came several years after Abraham was justified by faith:
Important thing to note is, at least fourteen years after Genesis 15:6, he believed God and it was counted to him for righteousness, Abraham was circumcised as an old man. Salvation didn't come to him because of circumcision.
Mosaic law came centuries later:
Let me add another very important footnote. The law wasn't given for hundreds of years after Abraham, so he certainly wasn't saved by observing the law and ceremony of Moses. There was no law. There was no circumcision when Abraham was reckoned as righteous. And that is precisely Paul's point.
God's objective with circumcision was to keep the nation of Israel as disease-free as possible physically but also to introduce a spiritual element of cleansing:
Throughout history, Jewish women have had the lowest rate of diseases, transmittable diseases, because circumcision eliminates the possibility of things being introduced into a woman's body by the folds of the foreskin. So God was protecting them from diseases, as He promised He will in Exodus.
But more than that, that was a symbol of the fact that they needed to be cleansed at a profoundly personal level. And that's why the Old Testament says in Deuteronomy 10 and Jeremiah 4, "Circumcise your hearts. Cut away that part of you, which is the residence of your disease. Circumcise your hearts."
Abraham also believed in the life to come when he obeyed God in setting Isaac up for death:
And then, an even more dramatic test of his faith comes in the twenty-second chapter of Genesis. Isaac is with Abraham. They go up the mountain, Mount Moriah, to offer a sacrifice; and God says to Abraham, "Isaac is the sacrifice. Put him on the altar and kill him." And Abraham lifts the knife. Why would he do that? Because he believed this, Hebrews 11 says: he believed that if Isaac died, God would raise him from the dead.
Hebrews chapter 11 says that explicitly. He trusted God to such a degree, that he believed he and Sarah, as old and barren, would have a massive family that would stretch across the earth; and that if need be to fulfill that when all there was was one son Isaac, God would raise him from the dead. That's all God wanted to show was his faith; and he pulled his knife back and provided a ram, which was a picture of the sacrifice of Christ to come.
Abraham was not fully righteous, but he believed God and obeyed His commands:
Righteousness came to Abraham from God because he believed. Was he righteous? No, he was not righteous, and demonstrably not righteous when he went in and got his servant pregnant. But God justifies the ungodly whose faith is credited as righteousness.
MacArthur gives us another Scriptural view on Abraham's justification by faith from Psalm 32 as cited in Romans 4:
And then he quotes, Paul does, from Romans, in Romans chapter 4 from Psalm 32, that God forgives the lawless, covers the sins of the sinful … and He does it by faith. And then Paul asks the question, in Romans 4: "Was he circumcised or uncircumcised? Well, he was uncircumcised. The law: Did he obey the law?" There was no law." I can't tell you how foundational this is, folks. This is the biblical argument that you cannot add any works to salvation by faith alone.
MacArthur then looks at John the Baptist's ministry. John the Baptist told the Jews they must be baptised, something that only Gentiles converting to Judaism did. The Jews replied that they did not need to be baptised because Abraham was their father:
Now the Jews thought Abraham was enough. Very early, Matthew chapter 3, John the Baptist comes preaching to the Jews, and he's telling them basically that they're no better than pagans, because he says, "You need to have a baptism. You need to be baptized; I'm here to baptize you." And the only people that were baptized in their world were Gentiles who wanted to become proselytes to Judaism. So it was a proselyte baptism.
So John the Baptist is saying, "You need to be baptized," which is saying, "You're no better than Gentiles. You're no better than Gentiles. You're not ready for the coming of the Messiah," John the Baptist, the forerunner of the Messiah. "You're not ready for his coming. You need to acknowledge your sinfulness, repent of your sin like a pagan, and publicly be baptized."
In fact, John said to the Pharisees and the Sadducees, the elite religious leaders, "You brood of snakes! Who warned you to flee from the wrath to come?" …
And then John the Baptist said this: "And do not suppose that you can say to yourselves, 'We have Abraham for our father.' For I say to you, that from these stones God is able to raise up children to Abraham. The axe is already laid at the root of the trees; and you're going to be cut down and thrown into the fire." ... They were trusting in their Abrahamic ancestry.
MacArthur then explores the rebuke of Jesus to the Jews in John 8:
The most powerful dialog between Jesus and the Jews on that subject is in John 8 – you might want to turn to it. In John 8, Jesus is talking to the Jews, and He tells them they don't know the truth, they don't know the gospel. They don't know the truth about God, they don't know the truth about salvation.
But He says, in verse 32, "If you listen to Me, you'll know the truth, and the truth will make you free, free from the search from the truth, and free from judgment and wrath. So they answered Him," – this was their response to Jesus – 'We are Abraham's descendants, have never been enslaved to anyone. We don't need to be set free, we've never been enslaved to anyone. How is it that You say, 'You will become free?' 'Truly,' Jesus said to them, 'truly, truly, I say to you, everyone who commits sin is a slave of sin. You're all slaves of sin. You're all slaves of sin, all of you. And only when you believe the truth can you be set free.'"
Now, remember, Abraham believed God. He believed that God's word was true, he believed God was trustworthy; and when he believed God, it was counted to him for righteousness. He believed all that God had said. Jesus is saying to these Jews, "You do not believe the truth. You don't believe the truth. You are slaves of sin. So if the Son makes you free, you will be free for real. I know you are Abraham's descendants; yet you seek to kill Me, because My word has no place in you. If you were really Abraham's children, you wouldn't try to kill Me. I speak for God. Abraham believed God when God spoke. I'm speaking for God, and you want to kill Me. If you were Abraham's children, you would believe the truth about God."
Verse 38: "I speak the things which I have seen with My Father; therefore you also do the things which you heard from your father." He hasn't identified who their father is yet.
"They answered and said to Him, 'Abraham is our father.' Jesus said to them, 'If you are Abraham's children, do the deeds of Abraham.'" And what did Abraham do to be justified? He what? He believed. "So believe when God speaks, and I am speaking for God."
"You're seeking" – verse 40 – "to kill Me, a man who has told you the truth, which I heard from God; this Abraham did not do. Abraham believed the truth from God. You don't; you want to kill Me."
"And then He says," – in verse 41 – 'You're doing the deeds of your father.' They said to Him, 'We're not born of fornication;' – which is a slur against Him, accusing Him of being a bastard child – 'we have one father: God.' Jesus said to them, 'If God were your Father, you would love Me, for I proceeded forth and have come from God. I haven't come on My own initiative, but He sent Me.
"Why do you not understand I'm saying? It's because you can't hear My word.' – here it comes – 'You are of your father the devil, and you want to do the desires of your father. He was a murderer from the beginning, doesn't stand in the truth because there's no truth in him. Whenever he speaks a lie, he speaks from his own nature. He's a liar and the father of lies. Because I speak the truth, you do not believe Me.'" That's the issue.
Abraham believed, and it was accounted to him for righteousness. The Jewish people did not believe, and they were pronounced to be doomed to divine wrath. Their attitude was that righteousness was some debt God owed them because they were the children of Abraham. But Abraham's salvation was graciously granted to him by faith, and not by works, and not by circumcision, and not by keeping the law. "And you are not the sons of Abraham."
… In John 8:56, later in the eighth chapter, our Lord said, "Abraham your father." Really important statement. "Abraham your father was extremely glad to see My day, and when he saw it he rejoiced." Abraham didn't know who Christ would be specifically, but he knew God was going to provide a sacrifice. God was going to provide an acceptable offering. He knew God was going to fulfill His promise of an atonement for sin, which would satisfy the justice of God, and by which God could reckon righteousness to a believer.
Abraham died in faith, never saw the promise. All those in Hebrews 11 died in faith, never saw the promise; but they all believed the promise was to come. "Abraham saw My day and rejoiced."
MacArthur concludes, returning to Galatians 3:9:
So, as Abraham believed God and it was counted to him for righteousness, so through Abraham will come the line of the Messiah. Through the Messiah will come the sacrifice to provide that salvation to all who believe. And then the salvation will stretch to the world; all the nations will be blessed. And Abraham will be the father, in a prototypical sense, of all who believe.
Verse 9 sums it up: "So then those who are of faith are blessed with Abraham," – I love this – "the believer, the believer." That becomes the New Testament word to identify Christians: the believer. It's always faith, faith alone. God asks nothing more of us. Faith is not a righteous work, faith is an empty hand receiving righteousness.
Paul continues this theme in the verses that follow. More to come next week.
Next time — Galatians 3:10-14
Over the New Year, a few tweets from Anglican priests caught my eye.
The first is from the Revd William Pearson-Gee, vicar of Buckingham Parish Church, whose sermon about not closing church for coronavirus went viral on Sunday, December 19, 2021:
He has the following suggestions for 2022, which will serve us better than easily-broken resolutions:
The Revd Steve Collier encourages us to put away fear and embrace living:
As far as coronavirus is concerned, Mr Pearson-Gee would like a focus on meaningful data rather than scary statistics:
He was bemused by a panicked mother who drove her child from Kent to Milan for the vaccine:
On the deeply sad news that 400 Anglican churches have closed in England over the past decade alone, he made an unintentional yet inspired typo. He meant to say 'conversation':
I am pretty sure that the Church of England hierarchy is responsible for a number of those closures, as they advocate for online church and only a hub of actual buildings. Philistines! The laity are fighting back. We'll see who wins.
At least Mr Pearson-Gee's church is doing well:
People know that they need more human contact rather than online participation.
The Revd David Horrocks of Barkham Church in Wokingham …
… pointed out the late Revd John Stott's prediction 40 years ago about this sort of thing:
Stott also warned about the effect of television on children:
In closing, why do we persevere with our faith? Because our Lord and Saviour did. He set the example:
Jonathan Edwards, who was a Congregationalist, can teach us a few eternal truths from long ago. It's all in the Bible.
More's the pity that the Church of England isn't more rigorous in its seminary curriculum. At least Mr Horrocks reads a lot of solid theology books, such as this one by a Presbyterian, Sinclair Ferguson, in his own time:
There is a remnant of Anglican clergy who are truly devoted to Jesus Christ and, through Him, God the Father. We read so much about the irritating hierarchy and so little about the good local priests leading their flocks to light and truth.
I will pray that they continue to be faithful servants.