You are currently browsing the tag archive for the '2019' tag.
Most of us thought that Supreme Court Justice Brett Kavanaugh was safe from allegations once he was confirmed and sworn in to office nearly a year ago.
We were wrong.
On Saturday, September 14, 2019, a New York Times article raised the allegations from 2018 once more, calling for Justice Kavanaugh's impeachment.
The paper invited the two authors of a book about the Kavanaugh accusations, The Education of Brett Kavanaugh: An Investigation, to write a column about them. Robin Pogrebin and Kate Kelly wrote the book and the article. Part of the article (paywall) has to do with one of last year's accusers Deborah Ramirez and a classmate, Max Stier, who are said to have witnessed Kavanaugh, a university freshman, at a dorm party. Breitbart has the excerpt of the supposed episode.
Those familiar with Robin Pogrebin and Kate Kelly's book have said one must read it until the end to find this gem:
… critics pointed out: "Not only does the alleged victim not confirm the story, she is reported to be denying it."
Nevertheless, Democrats have been on the attack, including presidential candidate and US Senator, Kamala Harris, from California:
Breitbart's article states:
Harris did not mention, or did not know, that the authors' own book refutes the allegation, which the alleged victim reportedly does not recall. The accuser [Max Stier] — not the victim — also represented Bill Clinton during his impeachment …
During Kavanaugh's confirmation hearings, Harris — who is on the Senate Judiciary Committee — was criticized for tweeting a deceptively edited video that made it appear as though he argued against women's access to birth control.
Some Twitter users, including a co-author of a book on the subject, remember this story from an article in the New Yorker at the time and how it collapsed under scrutiny:
The story of Christine Blasey Ford, the most memorable of Kavanaugh's accusers, was also resurrected — but earlier, around September 8, before the NYT article appeared.
Here's the short version:
On September 8, Newsweek reported, in part:
A video circulating on social media shows Christine Blasey Ford's attorney telling attendees at a feminist conference that her client's testimony against now-Supreme Court Justice Brett Kavanaugh was a politically motivated move to protect Roe v. Wade.
Conservatives are railing against comments attorney Debra Katz made in April in her keynote address at the University of Baltimore's Feminist Legal Theory Conference regarding Kavanaugh's controversial Supreme Court confirmation process. Katz represented Ford, who testified at a public hearing and accused Trump's nominee, at the time a U.S. Court of Appeals judge, of sexually assaulting her 36 years prior while the two were in high school. Katz's comments at the conference appeared to confirm many conservatives' accusations that Ford's testimony was intended in part to protect the 1973 Roe v. Wade ruling that established abortion access as a constitutional right.
Speaking on the theme of "Applied Feminism and #MeToo" earlier this year, Katz told attendees: "In the aftermath of these hearings, I believe that Christine's testimony brought about more good than the harm misogynist Republicans caused by allowing Kavanaugh on the court."
The self-proclaimed "women's rights and social justice activist" continued: "We were going to have a conservative [justice] … Elections have consequences, but he will always have an asterisk next to his name. When he takes a scalpel to Roe v. Wade, we will know who he is, we know his character, and we know what motivates him, and that is important; it is important that we know, and that is part of what motivated Christine."
… American Lawyer Magazine reporter Ryan Lovelace authored a book released last week entitled, Search and Destroy: Inside the Campaign against Brett Kavanaugh, portraying Katz as a partisan, politically-motivated feminist who encouraged Ford to smear Kavanaugh.
Another Democrat candidate for president, Amy Klobuchar, US Senator for Minnesota, tweeted her support for Blasey Ford:
Yet, one of Blasey Ford's oldest friends doubted the veracity of the accusation against Kavanaugh.
This is also in Robin Pogrebin and Kate Kelly's book. They were the ones who wrote the recent NYT article.
On Sunday, September 15, The Federalist's Mollie Hemingway tweeted:
Interestingly, that same day, the NYT issued a correction to their article. One wonders how many people saw the correction and how many millions more spent time at the weekend listening or reading extensive coverage of the efforts to impeach Kavanaugh:
The correction states:
Mr. Stier, who runs a nonprofit organization in Washington, notified senators and the F.B.I. about this account, but the F.B.I. did not investigate and Mr. Stier has declined to discuss it publicly. (We corroborated the story with two officials who have communicated with Mr. Stier.)
Something must be done about the media in general:
This scurrilous tactic of smearing Kavanaugh again and again, now with the goal of impeaching him, could backfire on Dems in 2020.
This is what a sampling of Americans said on Twitter:
One had a message for Kamala Harris:
So why are these accusations and calls for impeachment being raised now?
Here is another reason why. The Senate is appointing dozens of Trump nominees to US federal courts:
Citizen journalist Tracy Beanz, gives us the perspective of another citizen journalist, Harold Finch. The following thread explains that the Democrats are afraid of losing more of their cases in the higher courts. In retaliation, the Dems could try to discredit decisions from those courts — including the Supreme Court — and ignore them. Dangerous:
There it is — plain as day.
This is just one more reason NOT to vote for Democrats in 2020.
The past seven days in Britain have proven further the old adage that a week is a long time in politics.
Last Saturday, September 7, Conservative MP Amber Rudd (Hastings and Rye) resigned from Prime Minister Boris Johnson's cabinet. Her resignation is not a huge loss, as she is a Remainer, however, the optics were potentially damaging to the new PM.
She was upset about the 21 Conservative MPs who had the whip removed last week. (The PM's brother Jo had resigned from Cabinet days before for the same reason.) Fair enough. However, she allegedly told The Sunday Times about her resignation before she notified the PM, according to Buzzfeed's Alex Wickham:
On Monday, September 9, talk revolved around Boris's 'unfair' prorogation. A few weeks ago, Conservative MEP Daniel Hannan reminded us of the facts:
Before prorogation took place, however, former Conservative-now-rebel MP Dominic Grieve put forward a Humble Address procedure in Parliament on Monday afternoon. He wants every detail of correspondence behind prorogation as well as the emergency Brexit procedures contained in Project Yellowhammer. The Guardian has this summary of this extraordinary measure with regard to prorogation correspondence (emphases mine):
Grieve's demand for the release of all written and electronic contact about the temporary suspension of Parliament and Operation Yellowhammer documents since July 23 to be released was approved by MPs by 311 votes to 302 on Monday.
It asked for all correspondence and communications, formal or informal, including WhatsApp, Telegram, Signal, Facebook Messenger, private email accounts, text messages, iMessage and official and personal mobile phones connected to the present Government since July 23 relating to prorogation.
It listed key individuals of Mr Johnson's Government, including senior adviser Dominic Cummings and director of legislative affairs Nikki da Costa.
Grieve was Attorney General just a few years ago, so, apparently, this move is legal, even though one wonders about the legality of requesting private correspondence given EU data protection rules. An update follows below.
That was followed by Speaker of the House John Bercow's announcement that he would be relinquishing his post by October 31. A standing ovation from Opposition MPs followed, at which point most Conservative MPs left the chamber. Then, a 90-minute verbal floral tribute followed to the Remainer from a variety of Opposition MPs, also Remainers. And these are the people who complain they lack adequate time to debate Brexit!
That evening, as MPs continued to sit in session, the PM once again put forward his motion to hold a general election. His prior attempt had been defeated a week earlier.
Once again, Boris was defeated. Those who voted Aye were in the majority, but he needed two-thirds of all sitting MPs to vote for it.
Still, no one can rightly call him a dictator.
Recalcitrant MPs should have listened to Gina Miller. This is probably the one time I agree with her — and that is only with the second sentence in this tweet:
Gina's case on illegal prorogation was rejected, but it goes before the Supreme Court next week on appeal. Former Conservative PM John Major (pictured in the background) piggybacked his own anti-prorogation case onto Miller's:
It's a bit rich for Sir John to complain about Boris's prorogation:
Around the time Parliament was preparing for prorogation, a poll was released saying that the British public do not want another extension to Brexit:
In the early hours of Tuesday morning, all hell broke loose in the House of Commons.
Black Rod, the Lady Usher in the House of Lords and Queen's representative for the prorogation ceremony, entered the House. She was there to prorogue Parliament and summon all MPs to the House of Lords where they had to listen to a very long list of all the achievements of their Parliament. It took ages.
I stayed up to watch everything on BBC Parliament, but the following video has better views of a few other scenes in the Commons. The noise that Opposition MPs made was terrible. Then, a vexed Black Rod, who stood on the red line designating the governing party's boundary in the House, glared at the Speaker as he made some great peroration, to borrow the word he uses against those with whom he disagrees. He then barked at two Conservative MPs telling him to get on with it and leave the chamber. One Labour MP climbed on top of Speaker Bercow to prevent him leaving!
This video is around six and one half minutes long and is well worth watching:
Here is a potted version with subtitles of the proceedings:
It was part of Bercow's job to silence the chamber and allow Black Rod to speak.
Here are a few more scenes:
The 'SILENCED' signs were rich, considering these MPs are thwarting Brexit at every turn. A Leave supporter did a nice Photoshop of the Speaker's chair:
All of the MPs were supposed to follow Black Rod to the House of Lords, but only the Conservatives and a handful of Opposition MPs did.
The rest stayed behind to film themselves in the Commons — not allowed — and to sing songs, such as The Red Flag!
The Labour MP crawling on top of Bercow was re-enacting a similar prorogation scene in Parliament from 1629:
After Bercow returned from the House of Lords, he received a second standing ovation, largely from the Opposition:
On Wednesday, September 11, The Guardian reported that Cabinet minister Michael Gove wrote Dominic Grieve in response to his aforementioned Humble Address procedure requesting private correspondence on prorogation. The government — rightly — will not hand over said documents:
A letter from Michael Gove addressed to former Attorney General Dominic Grieve states that the request would breach the rights of those named in the communications – including civil servants and special advisers.
This is an unprecedented, inappropriate, and disproportionate use of [the Humble Address] procedure. To name individuals without any regard for their rights or the consequences of doing so goes far beyond any reasonable right of Parliament under this procedure.
These individuals have no right of reply, and the procedure used fails to afford them any of the protections that would properly be in place. It offends against basic principles of fairness and the Civil Service duty of care towards its employees.
Excellent move, excellent reasoning.
However, the government did release more information about Operation Yellowhammer, which looks a lot like what we saw reported in the media earlier this year in anticipation of the original March 29 departure date:
We have enough to go on at this time. Why release procedures that could compromise national security?
Michael Gove explained that Yellowhammer details what to do in a worst case scenario. Those scenarios might never happen. They are contingency plans:
That day, three Scottish Appeal Court judges declared that the PM's prorogation is unlawful, as they believe it is intended to stymie Parliament:
The case goes to the UK's Supreme Court next week. The Guardian reported:
The three judges, chaired by Lord Carloway, Scotland's most senior judge, overturned an earlier ruling that the courts did not have the power to interfere in the prime minister's political decision to prorogue parliament.
Lawyers acting for 75 opposition MPs and peers argued Johnson's decision to suspend parliament for five weeks was illegal and in breach of the constitution, as it was designed to stifle parliamentary debate and action on Brexit.
The judges failed to issue an interdict, or injunction, ordering the UK government to reconvene parliament, prompting a row over whether the decision meant MPs could go back to the House of Commons.
The court issued an official summary of its decision declaring the prorogation order was "null and of no effect", but Carloway said the judges were deferring a final decision on an interdict to the UK supreme court, which will hold a three-day hearing next week.
Conservative MP Nigel Evans reiterated the PM's position:
A hypocritical Labour MP showed up alone for PMQs (Prime Minister's Questions) late that morning, following the Scottish judges' declaration. Too bad he did not spend that energy in a vote for a general election:
On Thursday, a High Court judge in Belfast dismissed a legal challenge against a No Deal Brexit. A BBC article says:
One of the three cases brought was by the victims' campaigner Raymond McCord who plans to appeal the decision.
The court heard arguments that a no-deal would have a negative effect on the peace process and endanger the Good Friday Agreement.
But the judge said the main aspects of the case were "inherently and unmistakeably political".
Lord Justice Bernard McCloskey also excluded a challenge against the suspension of Parliament because the issue formed the "centrepiece" of proceedings in England and Scotland.
As the week draws to a close, a reporter for The Times (paywall) says that the EU regrets alliances with Labour and other Remainers over their incoherent policies on Brexit. Labour's Keir Starmer is on the left in the photo, with party leader Jeremy Corbyn on the right:
As far as the government's negotiations in the EU, Boris has made a largely favourable impression, although his negotiator David Frost is seen to be driving a hard bargain in some areas. This thread comes from the Director of the Centre for European Reform, who confirms that, to date, no firm proposals have been presented to the EU. That said, he says some EU nations believe that Boris wants to make a deal before October 31:
Elsewhere in Brussels news, Guy Verhofstadt's wine from his estate in Tuscany is reportedly very good. Perhaps that was what he poured in this documentary clip about the EU's Brexit Steering Group:
On Monday, September 16, the PM will meet over lunch for Brexit talks with Jean-Claude Juncker in Luxembourg.
More to follow anon as this sorry saga continues.
The truth about Remainers wanting Britain to stay in the European Union continues to emerge.
The result is that British voters have become very angry — even Remainers and the normally apathetic.
People are angry because of the false promises those on both sides of the aisle made three years ago:
News items
Late last week, a number of news interviews and articles exposed the continued, wilful intransigence of Remain MPs calling for 'compromise', 'coming together' and so on — all in a concerted effort to block not only Brexit but also a general election.
Spiked's Brendan O'Neill appeared on Sky Australia on September 4 to discuss Hilary Benn's European Union (Withdrawal) (No.6) Bill and the failed vote on a general election:
Meanwhile, in Britain that day, former Conservative MP Michael Portillo rightly said that the 2016 referendum was never about Deal or No Deal. The voter responding to him also remembers then-PM David Cameron's words correctly:
Brexit Party MEP Dr David Bull said the same on David Vine's Channel 5 morning talk show. On Friday, September 6, he responds to a Remainer panellist saying that Leave 'was based on a lie':
Nor did any of the Leave campaigners say it would be easy:
Well said, Portillo! No leading figure campaigning for Brexit *ever* mentioned a deal of any kind! Nobody said we'd be getting a great, quick, easy deal! Nobody said we'd have to have a deal in order to enjoy the exact same benefits of being the EU! These are all Remoaner lies!
On Thursday, September 5, news emerged that former Conservative MPs, from whom the Party whip had been withdrawn last week, plan to stand as Independent MPs in the next general election. They are Remainers:
The Sun reported not only on the rogue MPs but also on other developments going on at the heart of Prime Minister Boris Johnson's government (emphases mine):
They are Philip Hammond, David Gauke, Dominic Grieve, Ed Vaizey, Sam Gyimah, Alistair Burt, Steve Brine, Caroline Nokes, Antoinette Sandbach, Rory Stewart, Margot James and Stephen Hammond.
Even if the rebels fail to win them, the move could split the Tory vote and hand the seats to opposition parties, diminishing the PM's chances of a majority.
It came as Sir John Major last night demanded the PM reinstate the 21 rebels – and sack controversial aide Dominic Cummings in an extraordinary attack.
The former PM said it defied belief the Tory MPs had been booted out for failing to "parrot the views of a Prime Minister influence by a political anarchist".
Former Attorney General and rebel leader Mr Grieve told The Sun last night that his decision to stand "depends on the circumstances of the election".
But Mr Grieve added: "I'm certainly of the view that pulling out of politics during the biggest crisis in recent history would be the wrong thing to do …"
… The development comes as Sajid Javid became the latest senior Tory to join the spiralling Cabinet revolt against the expulsions.
Asked if there was a road to redemption for them, the Chancellor told LBC: "I would hope so. I would like to see them come back at some point" …
It wasn't good news for Labour that day, either, as voters in Grimsby, in North East Lincolnshire, told BBC Radio 4 that they could not countenance the idea of Jeremy Corbyn as Prime Minister. Grimsby is a Labour stronghold and has elected a Labour MP consistently since 1945: 74 years!
The Express has the story about the fishing town that also voted overwhelmingly to Leave in 2016. Some residents are considering voting for the Brexit Party:
Speaking to BBC Radio 4's Today programme, one local said: "Labour are out, I think.
"I would definitely say Labour would be gone. Their position on Brexit is not very clear and that's probably why they're going to be in trouble.
"They'll be seen as the worst of the parties because at least the Lib Dems have come out and said, 'this is our position.' Everyone knows the Tory position with Johnson and people.
"I feel Labour is still sort of in the middle and Corbyn's not going to be, probably, the world's best prime minister" …
And another local appeared to echo the sentiment, saying: "It's difficult when you've been a paid-up Labour member for years and now we're really struggling to think, 'I don't really want to vote for them.'
"Where does your vote go? We could be Liberals but Conservatives, no. Because if you look at the Conservatives at the top at the minute, they don't have to worry about what challenges or financial challenges Brexit would bring because they're all very rich."
Other locals also signalled they would be willing to switch their vote to the newcomer Brexit Party led by Nigel Farage, whose candidates snatched at least one seat in each constituency at the European parliamentary elections in May – including one seat in Scotland.
A man said: "I was talking to my friend earlier and he said he'd vote Farage.
"Actually, that's quite a possibility. I'm thinking about it and my friends are, too."
Boris's call to the voters
On Thursday, September 5, Boris updated the voters, explaining what their choice is now, given last week's events in the House of Commons. The short video has subtitles:
An MP speaks
This video clip shows Conservative MP Nigel Evans defending the voters who, in good faith, ticked the Leave box in 2016. What a pity he spoke to nearly empty benches on both sides:
A Conservative MEP sums up
The eloquent MEP Daniel Hannan sums up the current Brexit deadlock — and prorogation — as follows:
A Labour MP for Leave gets threatened
Kate Hoey, Labour MP for Vauxhall (South London), has been an ardent Leave campaigner from the beginning. After her re-election in 2017, she decided not to stand again as a Labour MP in the next general election.
Last week, she voted with the Government against Hilary Benn's 'Surrender' bill:
She also received the following email, which looks as if it came from a bot. Nonetheless, it carries a nasty threat. She received support from the aforementioned Dr David Bull. Language alert:
Labour Leave tweets
Labour Leave point out the hypocrisy of Remainer MPs. 'SM' is Single Market and 'CU' is Customs Union:
In fact, SM + CU is worse than Remain. We would have no sovereignty — or EU vote.
I am glad to see they took exception to Remain MPs' extreme characterisations of Leavers last week:
The British speak out — 'bigger than Brexit'
It is telling that the British public are now clearly angry about the way Parliament has treated them.
This is now bigger than Brexit. It is about how we are governed.
Some Remainers understand what is happening and want MPs to carry out the referendum result.
So do some who were formerly apathetic about politics in general.
The Remainers
This former Remainer is irked by the People's Vote (FBPE) — second referendum — brigade:
The awakened apathetics
This is a great tweet — followed by similar replies:
Teachers are angry
These are more replies to the man's tweet about his apathetic wife.
These are important because they are about teachers, most of whom voted to Remain. Yet, even they can see that what's happening is greater than Brexit. This is about how we are governed, full stop:
Conclusion
The British are ready now for a general election.
Some of us have had two elections this year: local (not everywhere) and for the EU Parliament.
Yes, we were sick of going to the polls so frequently, especially for an EU election, but, based on last week's antics, we are looking forward to casting our vote.
Consider it a People's Vote, or a second referendum. It serves the same purpose.
In two votes, MPs stymied Prime Minister Boris Johnson during the afternoon and evening of Wednesday, September 4, 2019.
You can read my earlier report here.
The European Union (Withdrawal) (No.6) Bill
The Hilary Benn – Alistair Burt Bill passed the House of Commons, effectively limiting the chances of No Deal Brexit in favour of yet ANOTHER cap-in-hand request to the EU for yet ANOTHER extension!
Burt, by the way, is a rebel Tory and is now an Independent:
Parliament's website has a summary of the bill, known officially as the European Union (Withdrawal) (No.6) Bill:
The Bill would require that unless the House of Commons approves a deal with the EU or the House of Commons agrees a no-deal Brexit, the Government must by 19 October 2019 seek an extension to the Article 50 period until 31 January 2020.
In debating it yesterday afternoon, a handful of Conservative MPs loyal to the British public pointed out that some Remainer MPs — unnamed — are in league with Brussels to prevent a No Deal Brexit or any Brexit at all.
They further accused Remainer MPs of playing for time. The more extensions they get, the further away the timeline moves from the 2016 referendum, at which point they could say that it's time for a second referendum.
There are already some MPs with private estates or farms that receive EU grants. So, they have a vested interest in maintaining the status quo. Others must have some other dependency on the EU financially, otherwise, they would vote to leave on October 31. At some point, someone will reveal more about this.
In any event, the bill progressed to the House of Lords, which — despite the amendments the Conservative peer Lord True tabled (he lives up to his name) — is scheduled to clear by the end of the day, Friday, September 6. The Lords will then return it, with amendments, to the Commons for further debate on Monday. It is likely to pass into legislation.
On Thursday, September 5, Guido Fawkes reported that, in a twist of events, No. 10 has agreed with opposition MPs that the Lords should be enabled to clear this by Friday. That would indicate that the 100+ amendments that Lord True tabled have either been reduced or eliminated:
… following Boris's defeat in the [C]ommons, there ha[ve] been reports that far from the 100 hours-worth of debate we were anticipating in the Lords, the Government has conceded defeat and negotiated with the opposition to agree Hilary Benn's Bill to complete all its stages by Friday – with the bill then going back to the Commons for any further consideration on Monday.
This sounds like a further climbdown on the government's part, but Guido explains that this could help Boris get more leverage for a snap general election (emphasis in the original):
It looks like the decision was accepted by Boris, who now will want legislation to be passed as quickly as possible, to ensure Labour can't again duck out of backing a general election next week. Prorogation could be enacted as late as the 12th, allowing Boris to secure his preferred route to an election by the 16th…
We can but see.
More on the bill follows below.
General Election voted down
Last night, Boris brought forward a motion for a general election.
MPs defeated him on this vote, too.
Until 2011, it was relatively easy for a sitting Prime Minister to call for a general election. However, in 2010, Conservative Prime Minister David Cameron had to form a coalition government with the leader of the Liberal Democrats at that time, Nick Clegg. The Liberal Democrats are a far smaller party than either the Conservatives or Labour. In order to secure the Liberal Democrats' position in the coalition, Parliament passed the Fixed Term Parliament Act, under which no general election can be held unless two-thirds of all sitting MPs approve it. The Queen then rubber stamps the decision.
Last night's vote was overwhelmingly in favour of a general election, however, not all of the MPs voted Aye or No. Some abstained. Others did not vote at all:
The replies to the tweet show that the British public are not happy:
Yes, indeed.
As I write on Thursday, it appears that the Government could be contemplating another motion for an election, to be tabled on Monday:
That said, this is what the Prime Minister said after Thursday's vote:
The Opposition has opted to show confidence in Her Majesty's Government.
That is true.
One member of the public summed up the result as follows:
Yes, in effect, a general election would be a People's Vote on Brexit. The Left has been clamouring for a People's Vote — a second referendum — for most of this year. A general election would accomplish the same objective.
It is also worth noting that Labour have also been calling for a general election since February 2018, only months after the June 2017 election was held. This video shows all their requests:
The following tweets from The Independent's John Rentoul explain Labour's reasoning for voting against the Government's motion on Wednesday:
What Boris might be thinking
These two defeats on Boris's first full day in the Commons look terrible, and indeed they are, however, knowing that he is a keen student of world history going all the way back to the Ancient World, he and his Svengali, Dominic Cummings, no doubt have other cards they intend to play.
On these two votes, some on Twitter offer speculation. One involves Jacob Rees-Mogg's sister Annunziata, who is a Brexit Party MEP:
It makes sense.
What Boris said last night
Late yesterday evening, the Prime Minister gave a ten-minute interview to ITV's Robert Peston, in which he discussed his past two days in Parliament:
At the 2:00 mark, he discussed the new Bill, saying that it damages his ability to negotiate a good deal with the EU. He said that it also dictates the letter he is to write for an extension.
You can see the letter here on page 8. Talk about supplication!
It is clear that Remainer MPs are now out in the open about their opposition to No Deal. The public understands what is going on:
Yep!
Boris's brother resigns
The Prime Minister's brother, Jo Johnson, has a place in the Cabinet, but has chosen to become a rebel and resign the Party whip.
News broke early Thursday afternoon. Andrew Neil discussed it on his BBC show that day:
The now-former Minister for Universities and Science tweeted:
ITV's Robert Peston quipped:
Was it a surprise or not?
Someone replied with the referendum result for Johnson's Kent constituency:
Jo Johnson failed to mention that his constituency of Orpington had a 57.54% estimated LEAVE vote in 2016
Johnson's resignation was only a matter of time. I was surprised to see him accept his brother's offer of a Cabinet post in July, considering his Remainer views.
In other news
Boris's top adviser Dominic Cummings was found in contempt of Parliament in March 2019 for his 2016 role in the Vote Leave campaign, which he chaired. He refused to appear before the Digital, Culture, Media and Sport (DCMS) committee, which accused him of spreading fake news for the campaign.
On Wednesday, Damian Collins MP wrote again to ask him to appear before the committee:
I think Cummings will ignore the request, but I could be wrong.
———————————————————————————————-
And, so, this wraps up a week of excitement in Parliament. What a potboiler this saga is! More to come anon.
A lot of Americans vote Democrat because their families have done so for generations.
A lot of Christians also vote Democrat because a) for Catholics, it was known as 'the party of the Church' and b) others, today, view Dems as kind people concerned about the downtrodden.
Below are three reasons why American voters should think again about voting for Democrat candidates.
New DNC resolution
At the end of August 2019, the Democratic National Committee (DNC) adopted a party resolution: 'Resolution Regarding the Religiously Unaffiliated Demographic'.
An excerpt follows, emphases mine:
WHEREAS, the nonreligious have often been subjected to unfair bias and exclusion in American society, particularly in the areas of politics and policymaking where assumptions of religiosity have long predominated; and
WHEREAS, those most loudly claiming that morals, values, and patriotism must be defined by their particular religious views have used those religious views, with misplaced claims of "religious liberty," to justify public policy that has threatened the civil rights and liberties of many Americans, including but not limited to the LGBT community, women, and ethnic and religious/nonreligious minorities; and
WHEREAS, the Democratic Party is an inclusive organization that recognizes that morals, values, and patriotism are not unique to any particular religion, and are not necessarily reliant on having a religious worldview at all; and
WHEREAS, nonreligious Americans made up 17% of the electorate in 2018 and have the potential to deliver millions more votes for Democrats in 2020 with targeted outreach to further increase turnout of nonreligious voters …
What nonsense.
Americans, whether religious or not, are more pluralistic at any time since the US was founded. I personally know average families who have embraced gay sons and daughters. Others have welcomed marriages of their children with those of another faith or race.
Therefore, there seems no good reason to adopt this sort of resolution.
The Stream has an article about it: 'Democratic Party Passes Resolution Against Christianity'.
The author, Tom Gilson, a senior editor of The Stream and author of books on Christianity and modern day living, raises important points about this move. Excerpts follow:
The key paragraph:
Those most loudly claiming that morals, values, and patriotism must be defined by their particular religious views have used those religious views, with misplaced claims of "religious liberty," to justify public policy that has threatened the civil rights and liberties of many Americans, including but not limited to the LGBT community, women, and ethnic and religious/nonreligious minorities …
The party's hostility toward Christian beliefs and values was clear enough before. Putting it on paper this way, however, raises the message to another level.
The Democrats want to see Christians on the defense. And they're good at putting us there. They have special skill with scare words. Even the simple word "particular" makes us look small, small-minded, and off in an intellectual corner somewhere. Of course none of that is true.
They put "religious liberty" in scare quotes, as if the concept of it weren't in all America's founding conversations, and in the first paragraph of the Bill of Rights. They speak, too, of "civil rights," "liberties," and "minorities." America has sacralized these words, hardly ever stopping to ask when they apply, and when they're nice-sounding words that don't belong where they're being used.
And there's no simple response to this. That's not because the answer is unclear, but because so much needs explaining to get it across. We live in different worlds, as it were. When a party takes aim at the Western world's moral foundation, it's no longer making mere political statements. This is a worldview statement.
In the Democrats' world, "civil rights" are no longer endowed by our creator. They're human products, human inventions. Gay marriage is example number one: It became a right when five Supreme Court justices said it was …
Christianity gets criticized for aligning with the Republican Party. I'm not comfortable with that myself. There's great danger in tying ourselves to any political group. But what choice do Democrats leave us now? There are only two major parties. One of them has made its stand. It's against us. We can't vote Democrat and hold to our Christian values and beliefs.
Let me repeat that: We can't vote Democrat and hold to our Christian values and beliefs. That doesn't mean we have to agree with everything our president does. It doesn't even mean we have to be Republicans. But for all the options seemingly open to Christians, one of them is shut tight, at least for now — by Democrats' own decision.
Abuse of Trump donors and supporters
On August 5, Congressman Joaquin Castro (D-Texas), released a list of prominent Trump donors in the San Antonio area.
On August 10, Ronna Romney McDaniel, the chairwoman of the Republican Party, responded:
One month later, the tweet is still up.
No, Ronna, Democrats will never be forced to condemn such a heinous move. However, if Republicans did such an unthinkable thing, it would be all over the news 24/7 for months.
On August 10, MSNBC featured a discussion between host and guest about physically harming Trump supporters:
Trending Politics covered the discussion, which concerned a Trump donor's fundraiser as well as Senate Majority Leader Mitch McConnell's harassment outside of his home while he was recovering from a recent injury. Language alert below:
On Thursday, MSNBC host Chris Hayes agreed with a guest on his show, Elie Mystal who said that Trump donors should be met with pitchforks and torches.
"People of color are already targets under this administration," Elie Mystal said to Hayes. "I have no problem with shining the light back on the donors who fund this kind of racialized hate. I go farther, I want pitchforks and torches outside this man's house in the Hamptons."
"I've been to the Hamptons, it's very nice, but there's no reason why it has to be," he added. "There's no reason why he should be having his nice, little party. There's no reason why people shouldn't be able to be outside of his house and making their voices peacefully understood that they reject this stuff."
Mystal's comments were directed towards billionaire Stephen Ross who recently held a fundraiser for President Trump's re-election campaign.
"Totally," Hayes agreed. "There have been peaceful protests outside [Senate Majority Leader] Mitch McConnell's house and I imagine there will be peaceful protests outside [Ross's house]. Again, it's all speech."
The protests outside of McConnell's house were anything but peaceful. The demonstrations were caught on camera shouting death threats. One liberal even screamed "just stab the motherfucker in the heart."
"Trump is a bigoted demagogue and we all kind of know that. These people should be ashamed of supporting him. Right? Like, at this point you should basically only be able to contribute to the Trump campaign with bitcoin," Mystal stated. "But Equinox man is holding an 'Eyes Wide Shut' party and he's surprised the people are getting up in his grill."
Here's the video in full:
Can you imagine if Republicans had a conversation like that on Fox News? MSNBC would be dissecting it until Election Day next year.
Do Democrats honestly think that such extremist talk will make Trump supporters falter? Why on earth would Trump supporters want to even vote Democrat after such views were aired?
This is but one example of the hate Democrats have for Trump supporters. Here's another, from the New York Post on September 1:
Witness Hollywood's new ­McCarthyism. "Will & Grace" stars Debra Messing and Eric McCormack could just have boycotted a fundraiser for President Trump next month if they don't like Republicans.
But that's not enough for the Tolerance Taliban. They want the names of anyone who does show up at the fundraiser so they can be blacklisted.
"Please print a list of all attendees please. The public has a right to know," Messing tweeted Friday in response to a Hollywood Reporter story about the Emmy-week function.
McCormack piled on, "Kindly report on everyone attending this event, so the rest of us can be clear about who we don't wanna work with."
It's sinister that high-profile entertainers could harbor such illiberal instincts and have no shame about displaying them for all to see. But the most damage they do is to their own credibility.
I hope the reporter is correct about the credibility angle. Personally, I am less optimistic.
Number of illegals higher than estimated
Recently, Tucker Carlson discussed a Yale University study that says the number of illegals in the United States is likely to be closer to 22 million than the oft repeated 11 million figure.
Please take one minute out of your day to watch this. It has subtitles, so there's no need for sound:
Carlson says that the Dems are soft on illegals, because they want all of them to be able to vote in 2020.
He is not wrong. The Motor Voter programmes run in various states practically guarantee that illegals are registered when they apply for driving licences.
Democrats want to go further now and are pressing for all age-appropriate illegals to be able to vote … in a country they, by law, should not even be in.
Such an act would result in millions more added to the voter rolls in overwhelmingly Democrat states as well as in marginal Republican ones.
The higher the population, the more Electoral College votes — and the more Congressional representation — those states receive. Think of California and New York.
Carlson is correct in saying that the Democrats are using this tactic not because they have any particular feeling for illegals but rather to get the votes they need to stay in power for years to come.
Imagine if there were never another Republican president. Some might cheer at that, but once one party is in power for years and years, corruption is sure to follow, not to mention the strong possibility of totalitarianism.
Conclusion
This man, who is not American, has a warning about the Democrats:
Just in case the lady's tweet gets deleted, here is his message in full:
I could not agree more with his sense of passion and urgency.
I, too, have come to believe that the United States is in a state of spiritual war.
I pray that America recovers. I also pray that this spiritual war does not spread to other nations. No one can afford its costly consequences.
If Brexit were a television series, we would be entering what Americans call 'the new fall season'.
Essentially, MPs picked up where they left off before summer recess.
Tuesday and Wednesday were full of drama.
Rebel MPs
Prime Minister Boris Johnson lost his Commons majority on Tuesday.
In fact, he now has a working minority of -2.
Twenty-one Conservative MPs voted against the government in favour of Labour MP Hillary Benn's motion to prevent a No Deal Brexit, which is still the legal default. The debate on the Benn-Burt Bill, dubbed the Surrender Bill, is going on today, Wednesday, and I will cover that more in another post.
This is not the first time an MP has had control wrested from him in the first vote of his premiership. There were two others, one from the 18th century and another in the 19th.
The first was Pitt the Younger:
Rosebery (misspelled below) was the other:
Government loses. Johnson the first PM to lose his first Commons vote since Roseberry in 1894.
This is very serious for Boris, should the Lords pass the bill. It would prevent him from negotiating the best Brexit deal for the UK.
Many of the Conservatives listed below gave Hilary Benn support in mid-March for another anti-Brexit motion, which he put forward two days before the original March 29 departure date.
The two Labour MPs listed below voted against the motion to debate Benn's bill, which took place on Wednesday.
The list of rebels includes longtime EUrophile Kenneth Clarke, Father of the House:
Kenneth Clarke is not the only prominent Conservative who has had the whip withdrawn. An explanation of whip withdrawal is below.
Sir Nicholas Soames is Winston Churchill's grandson. Remainers are upset that he, along with the others listed, are no longer Conservative MPs, at least for the meantime. However, this graphic offers a reasonable comparison between grandfather and grandson. Courtesy of Leave.EU: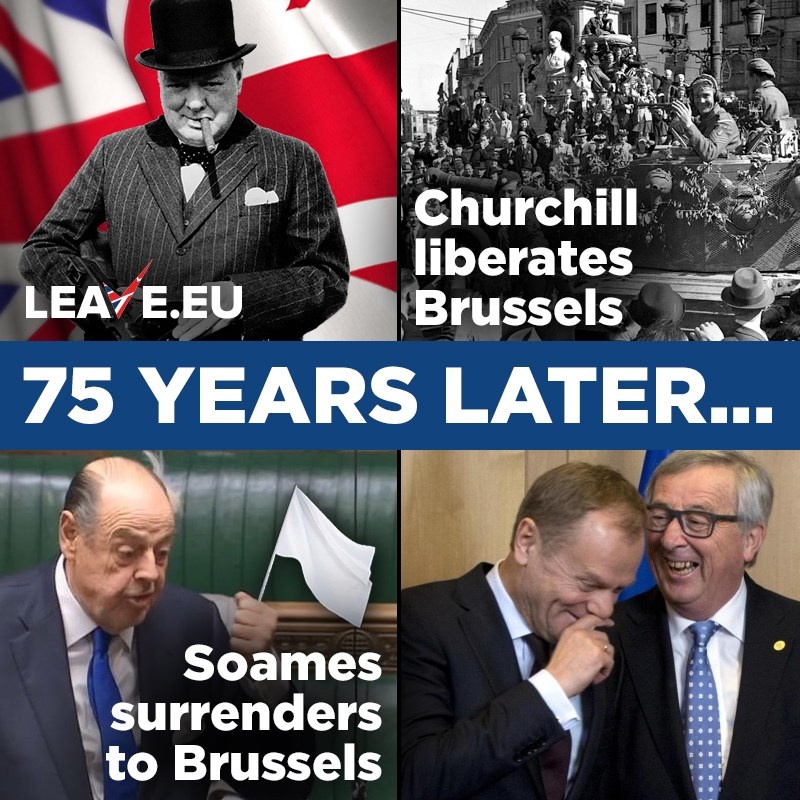 One name does not appear, that of Phillip Lee, who crossed the floor from the Conservatives to the Liberal Democrats — while Boris Johnson was addressing MPs:
Lee explained:
Normally, in these circumstances, an MP would stand down in his/her constituency and a by-election would take place. TalkRADIO's Julia Hartley-Brewer raised the question. Let's also recall Lee's previous position on the 2016 referendum result:
Metro and ZeroHedge have more on the rebels and their impact.
Whip withdrawn from Conservative rebels
It appears as if Boris wants a purge of Conservative MPs voting against his government's — and the people's — wishes.
He was at the prime ministerial country residence Chequers on Sunday, September 1. A purge of disloyal MPs also forces him to ask for a vote on a general election, which Labour do not want to have at this time, as they are too vulnerable — so far:
Yes, it is a risky move.
On September 3, Metro reported on the whip being withdrawn because of MPs' seizing control of the House of Commons agenda from the government. The article also has MPs' reactions (emphases in the original):
More than 20 Tory MPs face deselection after they rebelled against the government tonight.
Boris Johnson's chief whip is speaking to the 21 who voted in favour of a move to try to stop a no-deal Brexit and they will be expelled from the party, a spokesman said.
'The chief whip is speaking to those Tory MPs who did not vote with the government this evening. They will have the Tory whip removed,' the spokesman from Johnson's office said.
MPs voted to seize control of the House of Commons agenda tonight, so they could put forward a bill tomorrow aimed at blocking a no-deal Brexit. It would force the government to seek an extension to Brexit if no deal is agreed by October 17.
Sir Nicholas Soames said he would not stand in the next election.
Kenneth Clarke, a former Chancellor of the Exchequer, will not stand in the next general election, either.
With another former Chancellor, Philip Hammond, things were a bit more variable, especially at the end of August with rank and file members of his constituency's Conservative association. A week before that, his own allies alleged that he and other Remainer MPs were working with Brussels to obtain yet another Article 50 extension!  No wonder the whip was withdrawn this week!
On Monday, Hammond toasted his reselection:
However, Conservative Party HQ overruled the local party association. He is now well and truly deselected (click on the announcement image to see it in full):
To avoid any confusion, these MPs can still sit in the Commons — just not as Conservative MPs:
We'll see if he stands as an Independent when the time comes.
At the end of Wednesday's PMQs, as Conservatives cheered Boris, Hammond was clearly miffed:
Anyway, back to the Conservative Party whip.
This is how it was done (click on second image to see the message in full):
However, former Party leader and current MP Iain Duncan Smith said of the rebels:
Theresa May
Theresa May has been sitting next to Ken Clarke, Father of the House. On Tuesday, they had a grand time listening to Boris at the despatch box, fielding questions from opposition MPs — or perhaps it was when Phillip Lee crossed the floor to the Liberal Democrats' bench while Boris was speaking:
Boris is hardly the 'worst PM' as he's only just begun.
ITV's Robert Peston had this to say about the seating arrangement:
On May's left sits another rebel:
Although they are not supposed to sit with the Conservatives any more, the Labour/Lib Dem benches are too full to accommodate any more MPs:
She did, however, vote with the government — not the rebels.
That said, May has been enjoying her time on the backbenches.
BBC's Nicholas Watt tweeted:
Members of the public replying to Watt's tweet were unimpressed, saying that she is responsible for the mess we are in. True! Now Boris has to dig us out of the morass.
Reuters tweeted a photo of her in a car notionally last night, but it appears to be an old photo, as her jacket is white rather than dark blue.
On Wednesday, she appeared for Boris's first Prime Minister's Questions (PMQs).
Tim Shipman from The Times tweeted:
Or, perhaps she was thinking about something else:
Boris's first PMQs
With all this going on, Boris took his first PMQs on Wednesday.
He clearly did not start as ebulliently as he did on July 25. Still, he put present concerns behind him and scored a few points.
Although I do not agree with that Boris was 'unsettled' throughout, what follows is the short version of PMQs from the Sunday Times's Tim Shipman. The PM was asked about his special adviser Dominic Cummings, one-time head of Vote Leave. Cummings is seen to be the Svengali of Boris's government. Boris also took a question from a Labour MP about a Sunday Telegraph column of his from last year lamenting the burqa, to which Boris said that, if the MP had read the article, he would have understood the context:
Boris got an early swipe at Labour leader Jeremy Corbyn who asked about a trade deal with the US, mentioning chlorinated chicken. The subject of a general election also arose. Boris knows that Corbyn's polling figures aren't as good as his, although positive polls did not work too well for Theresa May in 2017's election, which forced her to seek a 'supply and confidence' arrangement with Northern Ireland's DUP (Democratic Unionist Party):
This next exchange comes with a language alert. It's not often that such a thing is necessary in Parliament, but it has happened before:
Here is the context of Boris's remark. Labour's Angela Rayner asked a question about economic policy. Boris mentioned what she said about her own party's economic policy in 2018:
Speaker of the House John Bercow said nothing:
Near the end came the question about Boris's burqa column from 2018. This was an ill-advised question, considering that Boris's cabinet is far more diverse than Labour's have ever been:
I disagree that the hammering was good, considering our Chancellor is Muslim. Boris also has Muslim ancestors in the not so distant past:
As someone pointed out, a prominent Labour MP also took exception to the women's garment not so long ago. Furthermore, Labour has been accused of unchecked anti-Semitism for some time now, a fact that Boris did not hesitate to point out:
Here's the video:
Conclusion
Not surprisingly, the public are still firmly behind Boris.
They know that MPs are working against them:
This is a useful graphic from the polling organisation Ipsos MORI last week. Voters are not stupid: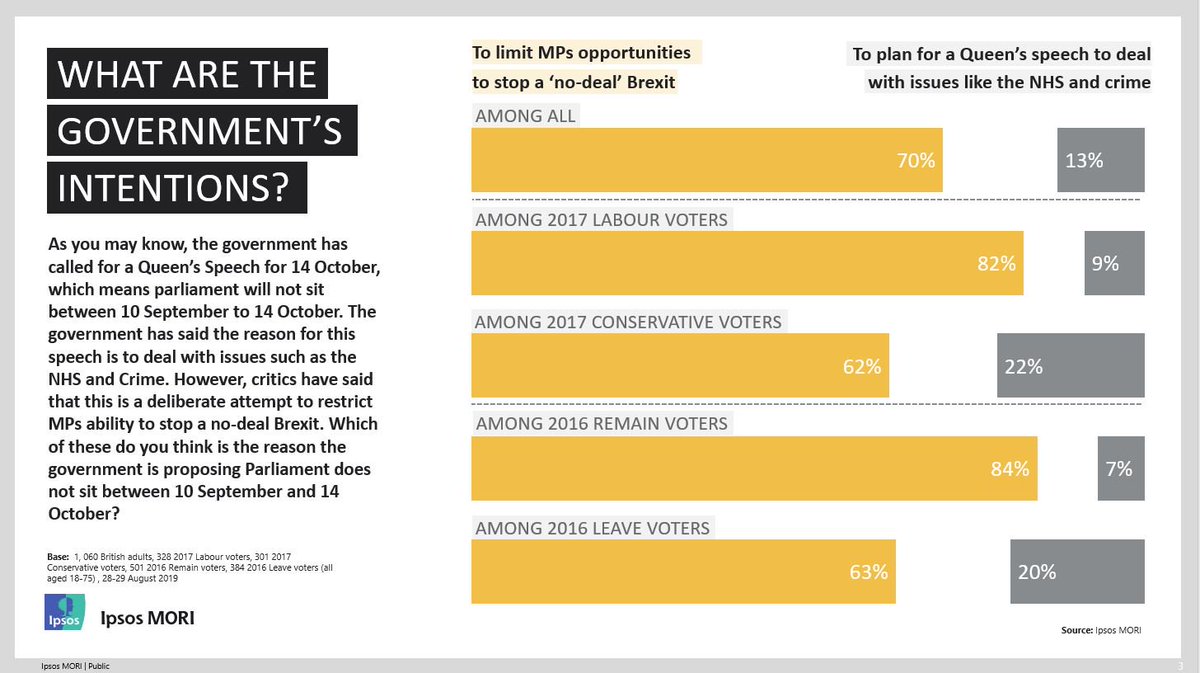 I will have more on Friday, all being well.
So far, Boris Johnson has given only one prime ministerial address, because Parliament adjourned for summer recess at the close of business on Thursday, July 25, 2019.
Boris gave a rousing little speech on his vision for Britain, which includes 'sunlit uplands'. Bring them on!
He then took questions from MPs for around an hour before leaving the chamber. He certainly riled Labour!
The former Leader of the House — and former Conservative leadership candidate — Andrea Leadsom had this to say about sunlit uplands:
Earlier, the new Leader of the House, Jacob Rees-Mogg …
… gave a witty speech, also worth viewing:
I agree with him, but, then again, I am a regular BBC Parliament viewer:
Theresa May was at a cricket match that day, by the way.
Both Houses of Parliament are now back in session. Boris gave a short address on Monday, September 2, outside of No. 10, reporting that Brexit negotiations have been going well, that now is not the time for Labour's Jeremy Corbyn to push for a Brexit extension. Ultimately, Boris wants MPs — and the nation — to come together to support his programme for the country:
Unfortunately, anti-Brexit people who do not want the UK to come together as a nation were protesting outside the gates of Downing Street:
Boris has been busy not only negotiating Brexit but also welcoming various Britons to No. 10 — unprecedented in frequency and transparency …
… as well as touring the nation:
Of course, he also attended the G7:
Britons view Boris positively, which isn't surprising, since he is the first Prime Minister for a long time who has given the nation a real sense of hope:
Here are three different polling samples from the end of August. Thanks to Boris, the Conservatives have really bounced back since July:
However, as most people reading this know, it is not all plain sailing for the new PM and his government.
The 52% who voted to Leave do not want any more extensions to the Brexit deadline. The latest is October 31, and Labour's Corbyn wants it extended for a few more months. All will become clearer today and Wednesday.
Those who want Brexit no longer care whether there is a deal or no deal at all. After all, Theresa May said over 100 times:
No deal is better than a bad deal.
As I write, we have no real details from No. 10 other than Boris's ongoing commitment to exit the EU on October 31.
Then there is his prorogation of Parliament, which will meet for a few days then be in recess until October 14. The Left — and Conservative anti-Brexit MPs are saying that this is an outrage. However, there are two points to keep in mind. First, the term of the previous parliament went on substantially longer than normal and debated — worked against — Brexit for many months. Secondly, Boris is only proroguing Parliament for an extra four to six days. This is because MPs take most of September off for their respective annual party conferences: Conservative, Labour and Liberal Democrats. No two party conferences are held during the same time period, hence, the need to adjourn for most of the next several weeks.
Conservative MP Dominic Grieve is a Remainer who strongly objects to Brexit — and the prorogation. However, on August 30, political pundit Guido Fawkes reminded him of a prior prorogation (emphases mine, the one in red is his):
Dominic Grieve has been touring TV and radio studios claiming that Boris' prorogation is unusually long and therefore unconstitutional as ordinarily the prorogued period cover just four or five days. Guido thought it might be nice to remind the anti-Brexit campaigner who was the Government's Attorney General when Parliament was prorogued for 21 days, starting 14 May and concluding on 4 June in 2014. That recent prorogation spanned the Whitsun recess and a further two weeks of sitting time. In contrast, Boris' prorogation takes up just four days of sitting time…
Paul Goodman calculated six days in his article for Conservative Home:
… yes, the number of days that Parliament now won't sit is only six more than was originally planned.
That's still a far cry from the aforementioned 2014 prorogation.
The Left, media and celebrities included, have been accusing Boris of a 'coup' and implementing something akin to the Third Reich. Paul Goodman explains why they are wrong, by way of explaining what prorogation involves:
… to compare an autumn recess without prorogation to one with it would be to compare apples and pears. Prorogation ends the session: during it, no motions or questions can be tabled. And this will be a very long prorogation: it is to last the best part of five weeks.
There also needs to be a prorogation before the Queen's Speech, scheduled for October 14.
Goodman explains Boris's strategy:
At a stroke, the Prime Minister has thus prevented those MPs opposed to a No Deal Brexit, or indeed to Brexit itself, from seizing control of the Commons timetable and extending the September sitting into the Party Conference season.
In short, he has given them as little time to postpone Brexit on October 31 as he can get away with – just as Ben Wallace suggested in a moment of on-camera candour.  This is bending the rules.  But it is not breaking them.  Parliament is not being shut down.  (It will sit next week and after October 14.)  Johnson is not acting unconstitutionally (because if he had been, the Queen would not have agreed the prorogation).
And he is not, repeat not, re-enacting the Reichstag Fire.  The Commons can pass a no confidence motion in him – this week, if it wishes.  At the risk of invoking Godwin's Law, the German Communist Party was not in a position to move such a vote against Hitler in 1933.
One has to be very clever indeed to suggest a parallel so profoundly stupid, but that's the effect of Brexit for you.
Keep in mind, MPs have been debating and getting extensions to Brexit for months:
… the Commons cannot make up its mind what to do. It has voted against No Deal. It has voted against Theresa May's deal. It has voted against revocation. Against a second referendum. Against Norway Plus. Against the EEA. In short, against everything – with two exceptions. The first is extension. The most likely course it will now take, if it can get its act together, will be to vote for extension yet again. No wonder the Prime Minister believes that enough is enough, and that Britain must leave the EU by October 31.
The second exception is worth bearing in mind. There will be no shortage of drama this week in the Chamber and in law courts, on TV and all over Twitter. Stand by for S024 motions, judges' rulings, emergency Bills, Mr Speaker, Gina Miller, Brussels rumours, Dominic Cummings, Corbyn opposing the No Deal Brexit that he has done so much to further – not to mention deselection talk, with possible action, and election fever. But one should not be so gobsmacked by the actors as to miss the structure of the play.
MPs are unaccustomed to Boris's style:
The long and short of it is that where Theresa May rolled over, Johnson pushes back.  It is almost too much for the Remainer Ascendancy, with its Lord Kerr-like sense of entitlement, to be able to bear.   (And the Hard Left now has an excuse for making a nuisance of itself by, er, rising up in defence of one of our great established institutions).
All hell is likely to break loose in the days ahead.
This is British history in the making, the likes of which have not been seen in decades.
Enjoy the show!
ADHD diagnoses became prevalent in the 1990s — from my recall, anyway.
They involved Ritalin prescriptions for children.
Now those adults are having children. Are they still on SSRIs — psychotropes — of some sort?
What chances their offspring will be diagnosed with ADHD, too?
There once was a time when children could play outdoors. They built forts or played in treehouses. They played as cowboys in the US or knights in the UK imagining appropriately shaped sticks as guns ('Pew pew!') or swords. They played baseball or football in someone's back garden. They ran around. They rode bikes. Their mothers called them home for dinner.
In the 1980s, the milk carton children began appearing in the US. Those were missing youngsters whose photos were on the sides of milk cartons with a phone number to ring should they be sighted.
Understandably, parents — particularly mothers — panicked. Even I, as an adult, found the idea of so many missing children disturbing. What started out as one photo on a milk carton extended to several by the end of that decade.
Consequently, boys and girls spent more time indoors. Television became more popular with them. Family-oriented video games entered the market.
More women worked outside the home, whether married or divorced.
This led to the latch key child phenomenon in the US, which involved children letting themselves in the house after school and staying there until their mothers came home. Although the children were safer indoors, they had few outlets to let off steam and their natural energy.
All of that has led to more prescription drugs for youngsters to control their behaviour. And if their parents were on childhood medication, then, they are less likely to see their own children's prescriptions as worrisome.
It's time everyone stopped becoming so dependent on SSRIs. Whether we realise it or not, multiple generations of Westerners swallowing these tablets is unhealthy:
I agree wholeheartedly. Yet, it can be very difficult, if not impossible, to do battle with schools. Sometimes, parents are obliged to put energetic children on medication in order for them to get an education.
Not having a husband makes parenting particularly difficult, too. Daycare isn't really an answer. The solution has to come from the home.
Note that with so many mothers working, there are more kids who have gone haywire. The easy answer — put forward by our governments, pharmaceutical companies and health experts — involves prescription drugs. The harder — yet, better — solution is to create a structured home life from the start.
I also accept that, even in the suburbs, it isn't safe for children to play outdoors.
Bottom line: all of this is having a detrimental effect on society.
Addiction to prescription pain relievers is another huge problem.
Some prescription pain relievers can be obtained through criminals operating through pharmacies and clinics:
The DOJ issued the following press release on Wednesday, August 28, 2019:
Charges Filed Against Dozens in Trafficking Network Responsible for Diverting Over 23 Million Oxycodone, Hydrocodone and Carisoprodol Pills
DEA Also Takes Administrative Action and Immediately Suspends Seven Pharmacies and Two Providers; DOJ Announces Expansion of Health Care Fraud Strike Force into Rio Grande Valley and San Antonio
Emphases mine below:
A total of 41 individuals have been charged in nine indictments for their alleged involvement in a network of "pill mill" clinics and pharmacies. Those charged include medical providers, clinic owners and managers, pharmacists, pharmacy owners and managers as well as drug dealers and traffickers. Their actions allegedly resulted in the diversion of approximately 23 million oxycodone, hydrocodone and carisoprodol pills.
In addition, federal law enforcement agents executed 36 search warrants including 15 pharmacies and six "pill mill" clinics, as well as other offices and residences, aimed at disrupting networks of opioid diversion.  The Drug Enforcement Administration (DEA) also served immediate suspension orders on seven pharmacies and two providers involved in dispensing controlled substances without legitimate medical purpose.
The Health Care Fraud Unit of the Criminal Division's Fraud Section (HCF Unit) led the enforcement actions in conjunction with U.S. Attorney's Offices (USAOs) for the Southern and Eastern Districts of Texas and District of Massachusetts as well as the DEA and task force officers from greater Houston police departments and the FBI.
The charges allege participating doctors, medical professionals and pharmacies knew the prescriptions had no legitimate medical purpose and were outside the usual course of professional practice.  In some cases, "crew leaders" and "runners" allegedly filled or had the individuals who posed as patients fill the illegal prescriptions at Houston-area pharmacies.  The owner and pharmacist in charge at one pill mill pharmacy allegedly dispensed the second highest amount of oxycodone 30mg pills of all pharmacies in the entire State of Texas in 2019, and the ninth highest amount in the nation.  One hundred percent of the oxycodone dispensed by this pharmacy – every single oxycodone pill that left the premises – was in the highest available dosage strength of that drug.
On certain occasions the indictments allege that drug dealers and traffickers then allegedly diverted and distributed the controlled substances to the streets, with some pills trafficked from Houston to Boston.
The press release goes on to state the names, professions and places of employment of those charged. Here are just a few of them:
Bobby Hobbs, M.D., James John Jackson, Jr., MD, Tameka Moore, Kondre Graves, owner of Chasen Clinic of Houston, Texas, and Tara Graves, for their alleged participation in a scheme to unlawfully distribute and dispense controlled substance without a legitimate medical purpose through Chasen. The case is being prosecuted by Trial Attorney Drew Pennebaker of the Fraud Section.
Brandy LaDawn Fears, 44 of Houston, Texas, owner of Meds R Us Pharmacy of Missouri City, Texas, and Ricky Moten, 44 of Houston, Texas, alleged crew leader, for their alleged participation in a scheme to unlawfully distribute and dispense controlled substance without a legitimate medical purpose. The case is being prosecuted by Trial Attorney Drew Pennebaker.
Arthur Billings, 55 of Missouri City, Texas, owner of Healthfit Pharmacy of Houston, Texas; Jeremy Branch, 32 of Houston, Texas, pharmacist-in-charge; Deanna Michelle Winfield-Gates, 50 of Houston, Texas, pharmacist; Frank Cooper, 49 of Houston, Texas, pharmacist; and Donna Hooper, 56 of Houston, Texas, pharmacy technician, for their alleged participation in a scheme to distribute and dispense controlled substance without a legitimate medical purpose. The case is being prosecuted by Trial Attorney Drew Pennebaker.
It's shocking.
I had a friend who fell into pain reliever addiction several years ago. I only found out about it from him after he was clean. As we didn't live near each other anymore, I wasn't seeing him very often. He said it was a very difficult time for him. It took a couple of years for him under medical supervision to recover.
We should be taking stock of our dependence on prescription drugs. My guess is that our notional betters — the great and the good — shy away from them. So should we.
Actor, producer and author Isaiah Washington recently had a word for Hollywood's conservative cowards who refuse to come out of the closet politically:
The Epoch Times interviewed Washington recently (video at link), describing his career to date as follows:
an actor and producer who started his career in Hollywood in a number of Spike Lee films. He is perhaps best known for his role as Dr. Preston Burke in television show Grey's Anatomy. More recently, he starred in the science fiction TV series The 100.
However, although the actor supports Donald Trump, he is at odds with the way black Americans have been urged to leave the Democrats:
It seems to work for some blacks but not for others. Pro-Trump people need another angle or two. One size does not necessarily fit all.
The Republican Party in California should be encouraging other minorities, too, who disagree with the physical filth and disease permeating cities and suburbs in that state:
Washington delves into American history in order to better analyse the Democrats:
He is also critical of Hollywood:
Incidentally, an executive with the Motion Picture Association of America (MPAA) was arrested on August 23:
I'm delighted that Isaiah Washington and many other blacks have decided the Democrats are no longer for them.
I hope he can persuade more Hollywood conservatives to out themselves politically.
I spotted this last week:
I hope this is satire, but, these days, who knows?
GenZ Conservative appears to claim this came from the Left, but gives us no source. Nonetheless, his/her text gives pause for thought:
… according to this poster it turns out that behaving in ways that were traditionally expected of American citizens is now extremist behavior. Avoiding drugs, promiscuity, and spending time outdoors used to be virtues that Americans would strive for. If the Social Justice Warriors that made this "info sheet" rule us, then I guess we will turn away from them. That won't end well. In fact, it will end disastrously.
And that could make the left label you a far right extremist, or a deplorable! How crazy is that? Being a responsible, patriotic, or normal citizen will now get you blacklisted. I think that is ridiculous and will end poorly for the Western world.
There is a germ of truth in this, because CNN is promoting the idea that Republicans are 'the greatest terrorist threat':
The Left will make the 2020 presidential campaign tense — and tedious.