Today's guest post comes from my reader lynnfay73, a retired adjunct professor, who, last week, expressed her dismay and disappointment with both of America's political parties after the past two presidential elections, the events of January 6, 2021 at the Capitol and President Trump's second impeachment in the House of Representatives.
—————————————————-
Pen letter to Republicans from a disheartened libertarian:
I will be sending this hard copy to every senator and representative in US.
I'll also send it to The Detroit News where I've been published before, though I may be censored there.
Open letter to Republican politicians from a disheartened libertarian
Dear Republican Leaders,
We Americans couldn't be more dismayed at the state of the country, and we couldn't be more disappointed in you.
I wasn't a Donald Trump fan. I voted in the primaries for Marco Rubio who I thought articulated freedom the best I'd heard in a while (and having decided Rand Paul was unelectable). Donald Trump was an acquired taste to say the least. He's made some mistakes, he's no politician, but nowhere near the extent of the mistakes YOU have made.
Before Donald Trump even took office, the Democrats were calling for impeachment. They were allowed every day on all networks, even Fox News, for four years to call him illegitimate. A Russian asset, a traitor. A NAZI, HITLER. Hollywood circulated memes of him beheaded, did plays with people killing him as Julius Caesar, Madonna called for blowing up the White House, DeNiro and Biden threatening to beat him up. They lied about his words, blatantly, and the left journalists never called them on it, knowing full well he never said white supremacists were "good people"–he expressly said he meant those people who wanted to preserve the statues, NOT white supremacists whom he condemned immediately. And that went on and on. The man is a lot of things, but he's no racist. And let's not forget Maxine Waters' calls for violence against Trump, openly, and Pelosi tearing up the State of the Union address. To name a few things.
Then they went on and weaponized Obama's justice department to use Hillary Clinton bought and paid for (from Russians) dirty dossier which they used illegally (even by their own standards) to obtain illegal FISA warrants to spy on him and ruin Carter Page's life by actually forging documents.
The press never changed the narrative and they severely threatened our Republic by doing all this. And the Never Trumpers are even more to blame. Lincoln Project? You have been a disgrace (and it appears maybe even degenerates) and you harmed the Republican party irreparably by not just staying quiet if he wasn't YOUR cup of tea. The list is long on this. John McCain GAVE that dossier to the FBI and attacked Trump publicly as did Romney, and they wonder why they got the reaction they got. No excuse for that.
Then before this latest election, the left media and Big Tech and the Democrats censored the conservative news — true news, about the Bidens' activities in Ukraine and China (the other phony impeachment crap was to hide and accuse people of what THEY had been doing for four years — using the justice department against a political opponent and covering up their own corruption). They have now carried that to the extreme that not only have they censored the president of the United States, they have silenced the conservative ability to communicate. And they are raising this unrest to fever pitch by these actions alone.
It is the height of hypocrisy to call this mess at the capitol "insurrection" when the left (and even the never-Trumpers) have been stoking just that for four years in an attempt to overturn a duly elected presidential election.
But what is the most egregious is that YOU are such cowards that instead of ALL standing up to force a ten-day investigation– into what is election practices half this country has no intention of accepting going forward– most of you chickened out in the elitist establishment hope that you could hold the senate but get rid of Trump. His list of accomplishments will not be appreciated for a while which is a very big shame AND you have divided this party irreparably. It is YOU who cost us Georgia, mostly because you refuse to insist on election integrity.
And that is why this happened on Jan. 6th, not because of Donald Trump.
None of us thought this election would be overturned. We wanted it investigated and we want election reform NOW. You cowards should have stood by him and insisted that this happen as the American people wanted.
No, this does not excuse violence (though the left excuses it any time they want to), but Donald Trump is not responsible for it. The left is responsible for it with all their actions of the last four years and YOU establishment elitists who are really nothing more than Democrats in disguise–YOU are responsible for it. No idea what you are doing in this party.
And had you had his back the whole time, he could have been more measured in his actions and responses all along. I wonder how any of you would have held up to this kind of abuse, never before seen in American political history.
I will be working to get rid of any of you I can: McConnell, Romney, Sasse, Kinzinger, Cheney, and the rest of you. Liz Cheney (R-Wyo.), John Katko (R-N.Y.), Adam Kinzinger (R-Ill.), Fred Upton (R-Mich.), Jaime Herrera Beutler (R-Wash.), Dan Newhouse (R-Wash.), Anthony Gonzalez (R-Ohio), Tom Rice (R-S.C.), David Valadao (R-Calif.), and Peter Meijer (R-Mich.) who just voted to impeach Donald Trump.
There are some patriots here (even if their motives might be political) — Matt Gaetz, Jim Jordan, Devin Nunes, Ted Cruz, Elise Stefanik, Mo Brooks, and more (and some who might be excused for arguing constitutional issues like states' rights — Mike Lee, Rand Paul).
It's fine if you didn't prefer Donald Trump's style; it is NOT fine that your arrogance and elitist superiority and cowardice (Democrats never would have done this–say what you want about their motives — they play hardball) have resulted in this country embarking on an authoritarian nightmare that could once never have been contemplated in America let alone practiced.
We won't forget.
L. Fay
Adjunct Professor (retired)
————————————————————————————————————-
Lynn's is an excellent letter. I am grateful she allowed it to be reprinted as a guest post.
The three-year Lectionary that many Catholics and Protestants hear in public worship gives us a great variety of Holy Scripture.
Yet, it doesn't tell the whole story.
My series Forbidden Bible Verses — ones the Lectionary editors and their clergy omit — examines the passages we do not hear in church. These missing verses are also Essential Bible Verses, ones we should study with care and attention. Often, we find that they carry difficult messages and warnings.
Today's reading is from the English Standard Version with commentary by Matthew Henry and John MacArthur.
9 Or do you not know that the unrighteous[a] will not inherit the kingdom of God? Do not be deceived: neither the sexually immoral, nor idolaters, nor adulterers, nor men who practice homosexuality,[b] 10 nor thieves, nor the greedy, nor drunkards, nor revilers, nor swindlers will inherit the kingdom of God. 11 And such were some of you. But you were washed, you were sanctified, you were justified in the name of the Lord Jesus Christ and by the Spirit of our God.
—————————————————————————————————————————–
Last week's verses were about Paul's censure of the Corinthians for going to civil courts to settle personal grievances, some of which were petty. He exhorted them to resolve their differences within their church community.
It is no surprise that today's verses are not in the three-year Lectionary, although 1 Corinthians 12-20, condemning fornication, are in the readings for the Second Sunday after Epiphany, Year B, which happens to be today, January 17, 2021. Serendipitous, one might say.
Students of the three-year Lectionary know that the editors have been ever anxious not to offend.
A few years ago, I asked a fellow Anglican, who comes from a family of clergymen and who knows a lot about St Paul's Epistles, about today's verses with regard to church unions regardless of sexual persuasion. He said that Paul's verses no longer apply, therefore, same-sex unions are okay in the Church of England and other denominations.
I replied that I am ever wary of people who say certain verses in Scripture no longer apply, unless there is a good explanation for it through scholarly hermeneutics. He told me I was dated and really should get up to speed on these things.
At this point, readers can take his word for it or they can read on … noting that not all of what is stated below is my opinion, but that of Scripture.
After Paul finishes with the subject of civil lawsuits, he goes on to list a number of serious sins, all of which are highly popular today (verses 9 and 10). We can substitute 'wrongdoers' for 'unrighteous' in verse 9.
As I've been reading through 1 Corinthians, Paul could have been writing it for us. Millions of Christians, myself included in a past life, are/were like the Corinthians. We can rationalise anything, because we live in an environment which thrives on and condones sinful behaviour. Respectability and godliness began going out the window at the end of the 1960s with a popular slogan, 'Let it all hang out'. In the 1970s, another saying, 'If it feels good, do it', was all the rage.
Need I say more?
Like the Corinthians, many of us are ruled by carnal compulsion, which, if not corrected through repentance, leads to the road of perdition.
Matthew Henry, whose commentary was published in 1706, put it rather tersely (italics in the original, bold emphases mine):
Those who knew any thing of religion must know that heaven could never be intended for these. The scum of the earth are no ways fit to fill the heavenly mansions. Those who do the devil's work can never receive God's wages, at least no other than death, the just wages of sin, Romans 6:23.
John MacArthur wrote today's sermon in 1975. He has lived all his life in southern California. I do wonder how he copes. Anyway, he introduced his sermon with these words:
I teach you the Word of God not just to teach it, but so that you'll respond to it. We talk about the authority of the Word of God in order that you might come under that authority. The objective of the ministry then, as I see it, is to ring a people to a place of submission to the Word of God. Then you can solve every problem by simply introducing a biblical principle that deals with it and the people will conform to the principle.
So often I talk to ministers, and they don't do that. They don't teach the Word of God, and they don't build into their people a submission to the Word of God. And then when a problem comes, and they offer a biblical solution, the people can't relate to that. They assume it's just another opinion, because they don't have the mind of submissiveness to the Word of God.
That is so true.
In his wisdom, MacArthur begins not by censuring but by saying that God — through Christ's sacrifice on the Cross — can forgive all our sins through our repentance. Therefore, because of that, we should forgive our brothers and sisters their sins against us:
… there is nothing that you have ever done in your life that is outside the forgiveness of God, and that's the standard. Right? You're to forgive one another, even as God, for Christ's sake, has forgiven you. When you come to Christ and believe in me and receive Jesus Christ, is there any sin at that point that is unforgivable? Absolutely not. It doesn't matter what it was: whether it was a moral issue; whether you were the vilest, rottenest, lowest reprobate on the earth; whether it was a religious issue and you were the world's worst false teacher; it doesn't matter what it is, if you come and kneel at the cross to receive Christ, there is nothing that is unforgivable.
If you were a soldier who pounded a nail into the hand of Jesus Christ, if you were a soldier who rammed the spear into his side, if you were a mocker who spit in His face, that is all forgivable. All of it is forgivable. "And as Christ has forgiven you" – 1 John 2:12, "all your trespasses"– that's the standard by which you forgive one another. There is nothing that is unforgivable. Nothing. Now, that's a high standard, isn't it?
You say, "But you don't know what he did to me."
I don't care. There is nothing. You don't know what you did to God either, and He forgave that, and that's the standard.
MacArthur gives us more insights on the Corinthians:
Now, sadly, the Corinthians were openly disobeying this principle. Look at 1 Corinthians chapter 6. This is a simple principle, frankly, people. It just really isn't that tough. But the Corinthians were absolutely ignoring it. Instead of forgiving each other, every time somebody did something wrong, they'd sue them. And they were dragging them into court all the time over every petty little thing. They were gouging each other; they had a gross lack of life, bitterness, vengeance, recompense, self-seeking, unforgiving spirit, robbery; they were extorting and swindling each other. All of this going on within the church, just gouging each other. Instead of forgiving, every little thing became a case for the courts.
And so, Paul writes 1 Corinthians chapter 6 to the beleaguered Corinthian church that has managed to manifest about every sin conceivable. And in 6, he deals with the sin of suing each other instead of forgiving each other. The New Testament principle is very clear, people; we are to forgive one another, and it couldn't be more clear than that.
This ties in with today's verses because the Corinthians, like many of today's Christians (myself included, at one time), falsely distinguished between their salvation and their sinfulness. In other words, they thought that, because they were Christians and had freedom in Christ, they could sin in serious ways and they would still be redeemed.
Paul kicks that notion into touch.
MacArthur elaborates:
… what he does here is really a potent thing. Look at verse 9, and we'll start there. "Don't you know" – he says – "that the unrighteous shall not inherit the kingdom of God?"
Don't you realize that you who are sons of the kingdom are on the opposite end of everything from the unregenerate? They don't even inherit the kingdom. They're not even a part of the same dimension. They're not even in the same sphere. They don't even exist in the same world. They don't breathe the same air. They don't have the capacities that you have. There are two completely different groups. The unrighteous do not inherit the kingdom of God. They have no part with you. You have no business acting like them, and you have no business taking your problems to them. How could those who are not even in the kingdom judge the subjects of the kingdom. Ridiculous. The unrighteous won't have any part in the kingdom in the future; they don't belong in God's kingdom. Why do you go for them to give you judgment, and why are you behaving like those who aren't in the kingdom when you are?
And then he gives this catalog that's just potent. He says, "Be not deceived" – that is, don't think your salvation and your lifestyle are two different things. Don't be deceived. The kind of activities that the world does have no place with you. You can't get away [with] that.
As for the sins Paul lists, MacArthur gives a flavour of the world in 1975. I was in school then. He's got it spot on, no exaggeration. I remember it well:
… here's the world's lifestyle. Number one, fornicators, sexually immoral. I don't think anybody even has to make a comment about that today. Immorality is absolutely incredible. In some of the airports where I was stopping this week, you know, I would go in to get a magazine or to get some gum or something, and you know you can hardly walk in and out of the place without seeing this plethora of sex splattered all over the magazine rack. It's just indulged to the point where you can't believe that people are so tolerant. Fornicators, that's characteristic of our world. Sexual immorality. And it's always been that way, and today it seems more blatant than ever.
Then idolaters, false religion. I read all the time that the false systems of religion are growing more rapidly today than they ever have in their history. There are statistics to show that the cults are growing at an all-time rate. Idolatry. Worshipping false Gods and false religious systems.
Next, adulterers. Unfaithful in marriage. Wife swapping. Unfaithfulness. All of this kind of activity goes on incessantly in our world. No different than then.
That is what the 1960s sexual revolution, as it was called, 'achieved', for lack of a better word.
MacArthur has a fulsome description of another aspect of what the Bible considers to be sexual immorality and swapping gender roles. Parts of what he has to say were okay to express in 1975, less so now. Just to clarify, he is talking about the sin not the sinner in biblical terms. However, he offers a historical perspective from ancient times to the Bible to the Greek language to the present day:
Then you have a very interesting word, the word "effeminate." Effeminate is only – that word malakos is only used once in the New Testament, and that's right here. A very unusual word. And it has to do with perversion. And the best that we can understand what it means, it means this: to exchange one sexual role for another.
One of the characteristics of the ungodly is to exchange sexual roles. Now, it seems to be general enough to include almost anything. It could be something perhaps as simple as a transvestite, somebody who wears the clothes of the opposite sex, which is very common. Interesting, I read an article that said in the Southern California area, one out of every ten women that you see aren't. Now, I don't – I can't verify those statistics, and I don't know how they did when they made the test, but that's what the thing said.
But it can go further than that. It can go to the place of sexual changes and all kinds of sexual aberrations. It can even include any kind of exchange, any kind of exchange of the roles of the sexes.
An interesting comment on this I find in Deuteronomy 22:5, that we've commented before in several of our discussions, but I would just point – you don't need to look it up – Deuteronomy 22:5 says this, "The woman shall not wear that which pertains unto a man. Neither shall a man put on a woman's garment, for all that do so are abomination unto the Lord thy God." God does not want anything that even smacks of an exchange of the roles of the sexes. This is forbidden. This is characteristic of unregenerate, unrighteous, ungodly people who are not a part of the kingdom of God. And it was a part of the society of that day. And I think even women's lib and that kind of thing borders on this, where you are exchanging the roles.
You see, if you can start to do that, you can break it down, you make everybody dress alike, and then you take away the authority submission principle in the home, and you wipe out the family. You destroy the whole basis of a home. And you've destroyed the nation and the – and the pattern of passing on the revelation of God is really wiped out, because it's to be passed from parents to children – and destroy the family and the chain of revelation can be broken at that point.
So, you know Satan wants to wipe out sex roles. They are illustrative – aren't they? – of the church and Christ. And so, that illustration is muddied and destroyed, and away Satan goes to this area. And so, here, characteristic of unregenerate people, they are effeminate. That is they exchange their true identity sexually for the opposite role.
For the next two paragraphs, church membership of those of other sexual persuasions was a big deal in many conservative Protestant churches. However, at the same time — 1975 — the Catholic church my family and I belonged to had a young, gay, atheist organist. The nun who was in charge of pastoral care hired him. But I digress. MacArthur says:
Another word, it says in verse 9 at the end, "abusers of themselves with mankind," which is a long phrase for homosexuals. You people are always today, in the church – you know, I just read where the Methodist Church has now decided that they're going to admit homosexuals and all of this. This goes on all the time, just a rather incessant situation today of, "Oh, we've got to take these people in; they're wonderful people; they just have a little different slant on things, and so forth and so on, and that we need to be very tolerant of them. It's one of those things that doesn't really matter; it's only a biological factor, blah-blah; we have to minster to them and so forth and so on."
And, of course, right here in L.A., we have a homosexual church, Metropolitan something Church … We're not saying that this is unforgiveable, and we're not saying that we don't love these people. We're saying this is a sin that God hates and that characterizes unregenerate people.
MacArthur discusses what went on at Sodom, and, contrary to what we read today, what went on there had nothing to do with 'hospitality', which is today's modern theme about Sodom and Gomorrah:
The word that is used in the Bible is frequently connected with sodomy. 1 Timothy 1:10 talks about it. Sodomy. The word "sodomy" comes from Sodom. The sin of Sodom, which was destroyed, you know, by fire – the sin of Sodom was the sin of homosexuality. The people lusted after the angels that appeared at Lot's house, and that became the first biblical illustration of homosexuality, that terrible perversion.
By the time of the writing of the Corinthian letter, homosexuality was so widespread that it was unbelievable. Fourteen out of the first 15 Roman emperors were homosexuals. Socrates was a homosexual. Plato was most likely a homosexual. He wrote his dialogue called "The Symposium on Love," and the basis of it is homosexual love. Nero, who was reigning around this period, took a boy named Sporus and had him castrated and lived with him as wife. And when Nero died, Sporus was then passed on to Otho, who was the next emperor. So, this was just pattern of living in those days. This is characteristic of their former life.
I'll continue with MacArthur's sermon, because, in Henry's era, people were still God-fearing, for the most part. Yes, there was sexual immorality, along with a depraved underground men's movement that appeared in London during the subsequent Georgian era, but nothing that was mainstream.
Today, gays and lesbians can start their own families — as appropriate — by adoption, artificial insemination or surrogacy. Surrogacy is still very controversial in many countries. I have more of a problem with that than I do adoption or artificial insemination.
Personally, I would rather have gays and lesbians in the Church than outside of it. However, that goes against Paul's teachings, too.
That said, never mind me. Let's focus on Scripture here. 
Moving along, has anyone noticed how certain acts of theft, especially shoplifting, are no longer considered crimes? The police in Britain don't even want to know. A few weeks ago, I read of a proposed law in Seattle whereby anything that is not a felony would be decriminalised. That's pretty serious, because you could be maimed permanently in a mugging or have your house robbed and be ignored by the police. What are we coming to as a society?
MacArthur looks at theft and greed as it was 46 years ago:
… verse 10 says they also are characterized as "thieves" – and the word here means petty theft; this is crime. It could refer to just kind of street crime. And then it – this is characteristic of today, there's no need to even give you statistics on that, it's apparent to everybody that crime keeps getting higher and higher and higher and higher statistically speaking.
And then it says the characteristic of the worlds is that they're "greedy" or "covetous," and I don't know that any of us are unaware of this. We see it in the paper, people demanding more and more, more and more, more and more, never enough, never enough. It's incredible the amount of money that people are demanding. Greed is just taking over our society …
He looks at drunkenness. I'm surprised he did not tie drug abuse in with this, because, even in the 1970s, there were a lot of young people who said they didn't drink but they definitely used drugs instead. I knew several. To them, drugs were better, 'less addictive', so they claimed:
"Drunkenness." Some of you may have seen on television the other night the terrible story that they gave, a documentary about people beginning to be drunkards when they're eight years old, alcoholic children. And all the way through life we just keep producing more and more of these kinds of people.
He goes on to the other sins:
And then he goes to talk about slanderers or "revilers," people who abuse with the tongue. And our society is loaded with those kind of people. No question about that.
And then "extortioners," swindlers, people who are rip-off artists, con artists, people who are able to swindle.
All of these things are categories in which the world is defined by the Word of God. We have a world full of those people.
Paul ends this section of his letter with a reprimand that contains hope, eternal hope (verse 11).
Paul tells the Corinthians that some of them came from these groups of sinners, but that since they found Christ, they have been symbolically washed in His blood and became sanctified. As such, they were justified in God through His Son and the Holy Spirit.
Henry explains:
How glorious a change does grace make! It changes the vilest of men into saints and the children of God. Such were some of you, but you are not what you were. You are washed, you are sanctified, you are justified in the name of Christ, and by the Spirit of our God. Note, The wickedness of men before conversion is no bar to their regeneration and reconciliation to God. The blood of Christ, and the washing of regeneration, can purge away all guilt and defilement. Here is a rhetorical change of the natural order: You are sanctified, you are justified. Sanctification is mentioned before justification: and yet the name of Christ, by which we are justified, is placed before the Spirit of God, by whom we are sanctified. Our justification is owing to the merit of Christ; our sanctification to the operation of the Spirit: but both go together. Note, None are cleansed from the guilt of sin, and reconciled to God through Christ, but those who are also sanctified by his Spirit. All who are made righteous in the sight of God are made holy by the grace of God.
The last word goes to Henry, with a highly practical application of today's verses:
Note, It is very much the concern of mankind that they do not cheat themselves in the matters of their souls. We cannot hope to sow to the flesh and yet reap everlasting life.
That is something to truly ponder and apply to our own lives.
It is much easier to live under the light yoke of holiness than the millstone of sin.
Next time — 1 Corinthians 7:1-16
Below are the readings for the Second Sunday after Epiphany, January 17, 2021.
These are for Year B in the three-year Lectionary used in public worship.
Emphases below are mine.
First reading
In an era without prophets, the Lord called upon young Samuel, Eli's student. Eli's sons had blasphemed the Lord, and Eli had not punished their iniquity. The Lord told Samuel of the judgement He would pass upon Eli and his sons. Matthew Henry wrote a moving commentary on these verses, well worth reading for its insights.
1 Samuel 3:1-10, (11-20)
3:1 Now the boy Samuel was ministering to the LORD under Eli. The word of the LORD was rare in those days; visions were not widespread.
3:2 At that time Eli, whose eyesight had begun to grow dim so that he could not see, was lying down in his room;
3:3 the lamp of God had not yet gone out, and Samuel was lying down in the temple of the LORD, where the ark of God was.
3:4 Then the LORD called, "Samuel! Samuel!" and he said, "Here I am!"
3:5 and ran to Eli, and said, "Here I am, for you called me." But he said, "I did not call; lie down again." So he went and lay down.
3:6 The LORD called again, "Samuel!" Samuel got up and went to Eli, and said, "Here I am, for you called me." But he said, "I did not call, my son; lie down again."
3:7 Now Samuel did not yet know the LORD, and the word of the LORD had not yet been revealed to him.
3:8 The LORD called Samuel again, a third time. And he got up and went to Eli, and said, "Here I am, for you called me." Then Eli perceived that the LORD was calling the boy.
3:9 Therefore Eli said to Samuel, "Go, lie down; and if he calls you, you shall say, 'Speak, LORD, for your servant is listening.'" So Samuel went and lay down in his place.
3:10 Now the LORD came and stood there, calling as before, "Samuel! Samuel!" And Samuel said, "Speak, for your servant is listening."
3:11 Then the LORD said to Samuel, "See, I am about to do something in Israel that will make both ears of anyone who hears of it tingle.
3:12 On that day I will fulfill against Eli all that I have spoken concerning his house, from beginning to end.
3:13 For I have told him that I am about to punish his house forever, for the iniquity that he knew, because his sons were blaspheming God, and he did not restrain them.
3:14 Therefore I swear to the house of Eli that the iniquity of Eli's house shall not be expiated by sacrifice or offering forever."
3:15 Samuel lay there until morning; then he opened the doors of the house of the LORD. Samuel was afraid to tell the vision to Eli.
3:16 But Eli called Samuel and said, "Samuel, my son." He said, "Here I am."
3:17 Eli said, "What was it that he told you? Do not hide it from me. May God do so to you and more also, if you hide anything from me of all that he told you."
3:18 So Samuel told him everything and hid nothing from him. Then he said, "It is the LORD; let him do what seems good to him."
3:19 As Samuel grew up, the LORD was with him and let none of his words fall to the ground.
3:20 And all Israel from Dan to Beer-sheba knew that Samuel was a trustworthy prophet of the LORD.
Psalm
Matthew Henry's commentary says that Jewish scholars consider this to be David's finest Psalm. It is about God's omniscience. It is also a celebration of human life (verses 13 and 16). Henry counsels that if we apply our hearts and our faith when we recite this Psalm, we will benefit our personal holiness and comfort, thanks to divine grace.
Psalm 139:1-6, 13-18
139:1 O LORD, you have searched me and known me.
139:2 You know when I sit down and when I rise up; you discern my thoughts from far away.
139:3 You search out my path and my lying down, and are acquainted with all my ways.
139:4 Even before a word is on my tongue, O LORD, you know it completely.
139:5 You hem me in, behind and before, and lay your hand upon me.
139:6 Such knowledge is too wonderful for me; it is so high that I cannot attain it.
139:13 For it was you who formed my inward parts; you knit me together in my mother's womb.
139:14 I praise you, for I am fearfully and wonderfully made. Wonderful are your works; that I know very well.
139:15 My frame was not hidden from you, when I was being made in secret, intricately woven in the depths of the earth.
139:16 Your eyes beheld my unformed substance. In your book were written all the days that were formed for me, when none of them as yet existed.
139:17 How weighty to me are your thoughts, O God! How vast is the sum of them!
139:18 I try to count them — they are more than the sand; I come to the end — I am still with you.
Epistle
Here we have a rare occasion of the Lectionary editors allowing a reading warning against fornication. It is a rare occurrence, because it is apparent to those who know the Lectionary that no offensive verses should be included in church readings. Serendipitously, 1 Corinthians 6 appears in my Forbidden Bible Verses post for tomorrow, January 17, 2021.
1 Corinthians 6:12-20
6:12 "All things are lawful for me," but not all things are beneficial. "All things are lawful for me," but I will not be dominated by anything.
6:13 "Food is meant for the stomach and the stomach for food," and God will destroy both one and the other. The body is meant not for fornication but for the Lord, and the Lord for the body.
6:14 And God raised the Lord and will also raise us by his power.
6:15 Do you not know that your bodies are members of Christ? Should I therefore take the members of Christ and make them members of a prostitute? Never!
6:16 Do you not know that whoever is united to a prostitute becomes one body with her? For it is said, "The two shall be one flesh."
6:17 But anyone united to the Lord becomes one spirit with him.
6:18 Shun fornication! Every sin that a person commits is outside the body; but the fornicator sins against the body itself.
6:19 Or do you not know that your body is a temple of the Holy Spirit within you, which you have from God, and that you are not your own?
6:20 For you were bought with a price; therefore glorify God in your body.
Gospel
Jesus chooses His disciples. Note Nathanael's reaction (verse 46): 'Can any good come out of Nazareth?' Our Lord Jesus was born and lived in the world in the humblest of circumstances, including His home town.
John 1:43-51
1:43 The next day Jesus decided to go to Galilee. He found Philip and said to him, "Follow me."
1:44 Now Philip was from Bethsaida, the city of Andrew and Peter.
1:45 Philip found Nathanael and said to him, "We have found him about whom Moses in the law and also the prophets wrote, Jesus son of Joseph from Nazareth."
1:46 Nathanael said to him, "Can anything good come out of Nazareth?" Philip said to him, "Come and see."
1:47 When Jesus saw Nathanael coming toward him, he said of him, "Here is truly an Israelite in whom there is no deceit!"
1:48 Nathanael asked him, "Where did you get to know me?" Jesus answered, "I saw you under the fig tree before Philip called you."
1:49 Nathanael replied, "Rabbi, you are the Son of God! You are the King of Israel!"
1:50 Jesus answered, "Do you believe because I told you that I saw you under the fig tree? You will see greater things than these."
1:51 And he said to him, "Very truly, I tell you, you will see heaven opened and the angels of God ascending and descending upon the Son of Man."
Three of these readings are on the theme of 'Call me, Lord' and spiritual readiness, into which the Epistle from Paul ties nicely.
A good celebrant should be able to tie all four together into a cohesive and powerful sermon.
The incoming Biden administration, headed by an Irish Catholic male who is proud of his origins, has promised that, as a result of the coronavirus crisis:
This did not go down well with all Biden voters:
Agreed.
However, a few hundred miles away from Washington, DC, another conflict took place in New York City.
Tara Szczepanski, an American journalist who is part Polish and part Filipina, had an unfortunate brush with leftist radicals:
The New York Police Department offered no help. They told her to stay six feet away:
This took place on Sunday, January 10, 2021.
Gateway Pundit reported:
Antifa domestic terrorists marched through the streets of New York City on Sunday claiming to own the public space, chanting, "Our motherf*ckin streets!"
A Trump rally was allegedly being held near Columbus Circle in the heart of Manhattan.
For whatever reason, this young woman was attacked:
Antifa goons surrounded a female journalist on 25th and Broadway, hit her with umbrellas and knocked her camera out of her hand.
The left-wing terrorists threw eggs on the woman's head as she screamed for help.
This is what happened:
Apparently, she sinned for being an alleged Trump supporter. It's unclear if that is even true:
Regardless, America is supposed to be the land, constitutionally, where one has freedom of speech and association.
At the same time, on the West Coast, Andy Ngô, the intrepid independent journalist tracking Antifa, has written a book which radicals want to see banned:
Andy Ngô has risked life and limb over the past few years in his quest to expose the radical Left.
My thoughts go out to him in Oregon and to Tara Szczepanski in New York.
Biden and Harris will have a lot of uniting and reconciling to do.
Thanks to James O'Keefe's Project Veritas, Michael Beller, who was at the time Principal Counsel — head lawyer — for the partly publicly funded PBS network in the United States, freely aired his views about America and Donald Trump supporters.
This video was filmed before the November 3, 2020 general election. Gosh:
One of his statements was particularly snobbish. Beller is grateful for being able to live in Washington, DC, because (emphases mine):
Could you imagine if you lived in one of these other towns or states where everybody's just … stupid?
An aghast Howie Carr, who hails from Maine, Boston and Palm Beach, played that clip on his talk radio show on Tuesday, January 12.
Beller thinks the only solution for Trump supporters is to confiscate their children and put them in re-education camps.
You cannot make this up.
He also advocated circling the White House and throwing Molotov cocktails in the event that Trump stays in office:
Good grief.
Beller has no respect for those who partly fund the PBS network:
Americans are so f**king dumb. You know? Most people are dumb …
That was nice (not).
James O'Keefe managed to track Beller down in DC earlier this week. Before Beller slipped into a restaurant, he claimed that his reference to Molotov cocktails meant a new 'drink'. Sure, pull the other one. We all know what they are:
Fortunately, shortly after Project Veritas released their videos, Michael Beller lost his job:
Well, I hope so for America's sake.
James O'Keefe said that this was the quickest reaction ever to a Project Veritas exposé.
Well done, PBS:
The news made the Associated Press:
I wish Project Veritas many more successes as the year unfolds.
Monday's edition of Lou Dobbs Tonight on Fox Business Network was an eye-opener for those who had hoped for the best.
Earlier in the day, we saw the guest list, most prominently Leo Terrell, a well known civil rights lawyer:
These are the segments in order of his January 11 show.
Watch them and weep.
As the old saying in Europe goes, 'When America sneezes, the rest of the world catches a cold'.
Lou began by reporting that, along with social media, 'corporate America' is repudiating President Donald J Trump:
Hmm. Interesting.
Many of us learned in history class — perhaps long ago — that fascism involved government co-opting corporations to do its will.
Tom Fitton from Judicial Watch was up next. He said that the Left's — Democrats' — main goal was to remove Trump from office:
Investigative journalist Sara Carter was interviewed, citing a tweet from former CIA director John O Brennan, who has been keen to get rid of Trump since 2016:
She called attention to his tweet from January 9:
Note the words 'seeking national redemption', 'total denunciation of a despot's legacy' and 'eradicate any remaining malignancy'.
Those are words I never expected to see in a communication from an American official.
Clouthub CEO Jeff Brain followed:
Speaking personally, Leo Terrell's short segment was the best. He came right out and defended President Trump. I wish he had more time to speak:
The closing few minutes featured Lou Dobbs asking for short conclusions from everyone on the show:
In conclusion, the next four years could be very dangerous for the 74+-million people who supported President Trump.
Anyone doubting the possible peril can read John Brennan's recent tweets:
Brennan reposted a video from Arnold Schwarzenegger, who looks really mean. Perhaps plastic surgery went wrong. He doesn't look right, which doesn't lend much credence to his argument against the president:
The next CIA director should be interesting:
Meanwhile, back at the Capitol building, members of the House of Representatives were struck by coronavirus. These seemed to be Republicans only:
The chief of the Capitol Police was dismissed last week. He warned about future security in the building:
A Massachusetts congressman objected to Trump's award of the Presidential Medal of Freedom to his friend, the Patriots' (American football) coach Bill Belichick. Wow. Suddenly, everything Trump touches, so to speak, is tainted:
Belichick will not be accepting the award.
Jake Sherman reports for Punchbowl. He had a series of tweets about the Dems' moves to impeach President Trump for a second time. It is rumoured that Nancy Pelosi could sit on this for months and try to impeach him after he leaves office. This is a first:
This creates a problem for Republicans. This is evidence that corporate America is cutting off funds to the Republican Party. I feel sorry for House Minority Leader Kevin McCarthy (R-California):
It gets worse. Democrats propose to not recognise any Republican who moved to question the Electoral College vote. That is not very democratic, is it?
Looking back to Epiphany, Wednesday, January 6, while the president's rally progressed in various parts of Washington, DC, the first lady was busy with a photo shoot of White House furnishings. She also appeared to distance herself from the very public gathering:
Hmm.
Returning to the Dems and the president, here is a draft of the House impeachment resolutions. I can't see this proceeding, especially on the grounds of 'insurrection'. No one loves the United States more than President Trump:
The seasoned congressman Steny Hoyer is fully behind the impeachment motion:
I do not understand how a trial can begin 'right away'. They have to get a whole committee lined up. Good grief.
That said:
It's unclear whether the Department of Justice will go along with the Dems on claims that the president incited unrest. PJ Media reported:
A senior Justice Department official says there are no plans to indict Donald Trump or anyone else who spoke at a rally just before the Capitol building was breached by a pro-Trump mob.
Ken Kohl, a senior prosecutor in the U.S. attorney's office in Washington, said, "We don't expect any charges of that nature."
This will no doubt be enormously unsatisfying to Democrats who long to see Donald Trump do a perp walk into the federal courthouse.
Elsewhere in the nation's capital, pro-Trump lobbyists are being shunned:
It's worth remembering what happened last Wednesday into the early hours of Thursday. This is a concise summary from a commenter on the British political site Guido Fawkes (sorry, no permalinks available on his site):
Also, Trump's public polling is unchanged, despite negative media coverage and his social media ban. The National Pulse reports:
Numbers from Rasmussen Reports show that following both of these events, his approval rating has shifted either one or two percentage points – exclusively trending upwards.
In conclusion:
In 2016, around the time of Trump's election, I wrote that the Left — Democrats — were aping the Bolsheviks of the Russian Revolution.
I didn't get much traction with that suggestion then.
What about now?
On Monday, January 11, 2021, I listened to the Howie Carr Show to find out the latest on President Trump.
Howie didn't have much news on that score, only wishes from callers hopeful that the US president could rescue his re-election bid.
However, in the final segment, one man from Cape Cod in Massachusetts — a regular summer advertiser on Howie's show and someone whom Howie knows personally — rang in to say that his life has been a shambles since the Washington DC event on January 6.
This successful Massachusetts businessman had rung Howie last week to say that the DC rally had been a wonderful celebration of all things American: tradition, patriotism and friendliness.
This man and the many thousands he was with were not anywhere near the Capitol building. They were some distance away.
Last week, he rang in to tell Howie his story of what a grand day out it was.
Since then, he has been attacked on social media and called every name in the book for having gone to DC last Wednesday.
He told Howie that his wife — 'my beautiful bride' —  has been in tears much of the time and his young daughter has also been severely affected by the verbal attacks by members of the general public.
At one point, uncharacteristically, he broke down in tears. He was unsure for the future of his business, even though his ancestors have lived on the Cape for at least three generations. Everyone knows the family name as being honourable and reputable.
Yet, now, that has all come to an end.
I do not want to mention this man's name for fear of further abuse towards him and his family. Regular listeners of the Howie Carr Show will know this man, even if only by the adverts for his establishment.
He said that money this year is not the problem. It is his reputation.
He has been falsely smeared. He did not know what had been going on at the Capitol that day, yet, his good name — and that of his wife and daughter, who were not in DC — have been besmirched.
May I suggest to everyone who is condemning those who attended last week's Trump rally to step back, take a deep breath and stop accusing everyone — hundreds of thousands of people — of tearing up the Capitol building.
In closing, this is a photo (no source given) of Trump supporters in the Rotunda of the Capitol last Wednesday. In case anyone is wondering, the general public are permitted to see parts of the building. I was in it many decades ago: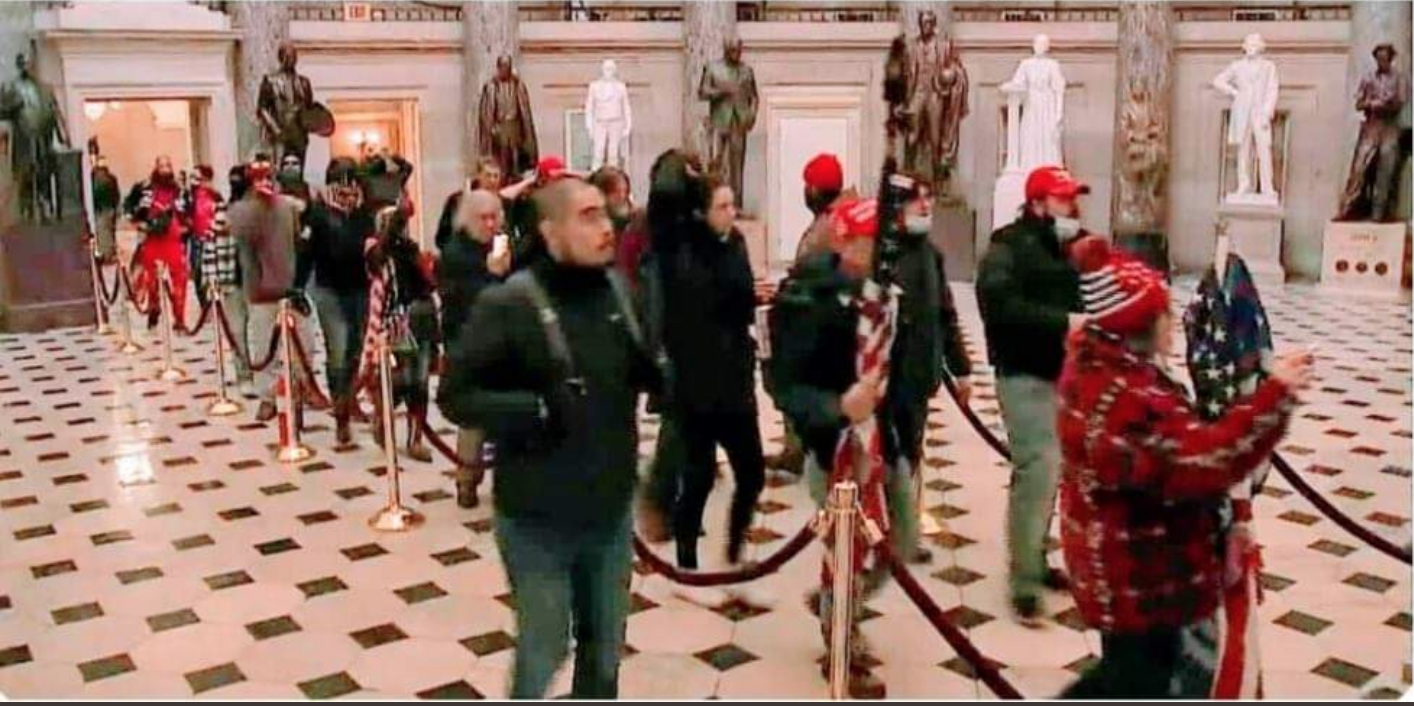 They look pretty lawless, don't they?
If I had a more secular blog, my words would be much stronger.
In conclusion: I hope Trump/Republican detractors stop the hate. Leave people alone. The vast majority went in good faith to support President Trump in his final days in office.
If this businessman's experience is but a snapshot in time, I dread to think what the next four years will bring.
The three-year Lectionary that many Catholics and Protestants hear in public worship gives us a great variety of Holy Scripture.
Yet, it doesn't tell the whole story.
My series Forbidden Bible Verses — ones the Lectionary editors and their clergy omit — examines the passages we do not hear in church. These missing verses are also Essential Bible Verses, ones we should study with care and attention. Often, we find that they carry difficult messages and warnings.
Today's reading is from the English Standard Version with commentary by Matthew Henry and John MacArthur.
Lawsuits Against Believers
6 When one of you has a grievance against another, does he dare go to law before the unrighteous instead of the saints? 2 Or do you not know that the saints will judge the world? And if the world is to be judged by you, are you incompetent to try trivial cases? 3 Do you not know that we are to judge angels? How much more, then, matters pertaining to this life! 4 So if you have such cases, why do you lay them before those who have no standing in the church? 5 I say this to your shame. Can it be that there is no one among you wise enough to settle a dispute between the brothers, 6 but brother goes to law against brother, and that before unbelievers? 7 To have lawsuits at all with one another is already a defeat for you. Why not rather suffer wrong? Why not rather be defrauded? 8 But you yourselves wrong and defraud—even your own brothers![a]
———————————————————————————————————
Last week's post discussed Paul's conclusion on church discipline in order to keep the congregation pure.
In this week's verses, Paul rebukes the Corinthians for taking out vexatious and trivial lawsuits against each other in secular courts rather than try and resolve their differences in Christian love and wisdom.
The Corinthians were troubled and troublesome people. It is not surprising, considering that they lived in a city known throughout the Ancient World for its iniquity.
Paul was keen to get the Corinthian church back on track.
In 1 Corinthians 6, he begins by chiding them for suing each other.
He asks why the Corinthians go to civil courts to resolve their differences rather than seek reconciliation within their church community (verse 1). He rewords the same question in verse 2.
John MacArthur explains the gravity of their situation (emphases mine):
Now, the problem in the church at Corinth was that Christians were suing each other. Now, the Corinthian church, to which Paul wrote this letter, had a lot of problems. The letter was written as kind of a problem solver.
He deals with problems of their divergence of human philosophies resulting in their inability to get along together, problems such as incest, somebody having a sexual relationship with his father's wife, problems of pagan worship, problems of drunkenness, all kinds of problems that the Corinthians had, and each chapter deals with a different one of them. Well, one of the problems they had was the problem of suing each other. They were very busy taking each other to court and really, their motives became very impure. It got to the place where they were even doing it in order to rob each other.
By contrast, the Jews, who were widespread even during that time, were known for settling their differences within their own congregations. They did not take each other to a civil court:
… the Jews did not ordinarily go to law in a public law court. That just wasn't something they did. And if they ever had a problem – and in every city where there were Jews, there was usually a Jewish synagogue. If you had eleven men, you could have a synagogue, and they would start one, and so the synagogue would become kind of the court, and the deciding process would be carried on right within that little framework of the Jewish family, and they never would take their problems into the pagan world.
They were trying to show the world their unity. They were trying to show the world their love. They were trying to settle their own problems, and they also felt that God's Word, the revelation of God, the law of God, the Old Testament, had all the answers to the problems of their life. It had answers to all the family problems, all the problems on a social level, cultural and economic level, and why would they need to go to a pagan court? …
And it was an interesting thing, too, that the Roman and the Greek world accommodated this Jewish attitude. They allowed them the right to decide their own cases. In fact, even in the case of Jesus Christ, you know, it was their own decision to do what they wanted with Jesus Christ. They had that right, short of the right of execution, to decide their own cases, and the Romans and the Greeks were very tolerant in that regard. And Roman law was somewhat advanced and – and very, very tolerant in allowing the Jews to do what they wanted in terms of their own decisions.
What is interesting about this, too, is that it translated over into Christianity because the Romans and the Greeks saw Christianity as a form of Judaism, and since they saw it as a form of Judaism, they allowed Christians the same rights they'd always allowed Jews; that is, they could decide their own issues. So there was absolutely no reason for them to wind up in a pagan court. They had no reason to go there because the courts would've accepted the decisions they had made in their own community and granted them sanction by the government. So it was ridiculous for them to even wind up in court, but here they were, always going to court.
But that was not enough for the Corinthians:
… the reason primarily was they didn't want to settle it in their own community because they couldn't get what they wanted and they wanted to gouge each other. So they wanted to drag it into a pagan court and see if they can get more money out of it or more whatever they were after. And in addition to that, in the community in which they lived, particularly in Athens, the law system and the process of litigation was so much a part of life that it became the chief entertainment.
Let me tell you why. In Athens, there were suits and law problems going on continuously. In fact, one historian said everybody in the city of Athens was a lawyer, more or less. I'll show you why. Let's say you had a problem with a guy and you wanted to settle it. The first process you followed was known as private arbitration. A private arbitrator was given to you, a private arbitrator was given to him, and a neutral third party was chosen, and those three people were supposed to resolve the problem.
If those three people couldn't come to any agreement and couldn't solve the problem, then your case was turned over to a court known as the Forty, and the Forty would appoint another arbitrator. There were certain public arbitrators, not private, now, but public like a public defender. Everybody 60 years old, for the duration of his 60th year, served the community as a public arbitrator. And so if you couldn't get your thing settled by private arbitration, then public arbitrators were assigned to your case.
Now, if that didn't do it, there was a multiple-jury court in Athens made up of 201 people for small cases, and we have records of anywhere from 1,000 to 6,000 people for big cases. You could have a jury of 6,000 people in your court case. Talk about a hung jury. How'd you like to try to convince all them? Well, it was a majority situation but the idea simply being this: that with juries that big, and with the process this involved, everybody got into it.
Everybody in his 60th year, knowing he'd have to be a public arbitrator, would have some sense of knowledge about the courtroom process, and all the jurors in those large juries were 30 years and older, so by the time you hit 30, you'd be involved in all of that. Law was a big deal and as I said, everybody was more or less a lawyer. If you weren't really in on the case, you were in on it in terms of sharing your opinion, discussion, and everything else because it was so much a way of life.
Well, here are these people in the Corinthian system. They are so used to doing this kind of a thing as a process of life, they get saved, they become Christians, they enter the church, and just like they did with everything else, they dragged that whole deal into the church, too. They dragged their philosophies into the church. They dragged their immoralities into the church. They dragged their litigation attitudes into the church. The whole style of life that they used to have just kept coming into the church with them. They never really knew how to make the break.
Paul was looking ahead to the afterlife by reminding them by asking about saints being able to judge angels (verse 3). Therefore, he says, the same principle should apply in this temporal life.
MacArthur explains:
… there's no article. Doesn't say "the" angels or which angels or what kind of angels, just says angels, and that gives it a qualitative sense. Angels as beings. In other words, he's saying we're going to be put above superior beings. We're going to be placed above the angels.
Now, there are two kinds of angels, good ones and bad ones. Evil angels and holy angels. Does this mean we're going to judge the evil angels? Well, there is going to be a judgment of evil angels. There's no doubt about that. 2 Peter 2:4 says that "God spared not the angels that sinned, but cast them to hell, delivered them to chains to be reserved unto judgment." Says the same thing in Jude verse 6. "The angels who kept not there first estate, he reserved in everlasting chains under darkness unto the judgment."
So there's going to be a judgment of evil angels. Will we be a part of that? Could be. Doesn't say which angels here, but it might be that we'll be co-reigning with Christ and judging – ruling over – fallen angels. Now, others say, "No, it means good angels. It means good angels because if it meant bad angels, it probably would say that, so it probably means good angels." Well, that could be. If it means good angels, what are we going to judge them for? They didn't do anything.
Well, then you'd have to say, "Well, the word 'judge' is used synonymously with the word 'rule'" and that's true. To judge in Israel and to rule in Israel meant the same thing in the Old Testament, so maybe he's just saying generally we're going to rule over them. You say, "Which view do you take?" Well, I'm sort of a theological packrat, so I'll take both, and I'll assume that what he's saying here is he's collecting everything up and saying, "You're going to rule the world, and you're going to rule angels. You may be in on the judgment of evil ones, and you will certainly be part of the rule of the good ones."
Just think about it. In heaven someday, we'll have a position to rule over angels. And, of course, their submission to us will be voluntary. Now, I don't understand all the implications of that. I just – I just kind of feel that's kind of interesting to think about. But if we can judge the world someday with the equipment that we have in the power of the Spirit of God and the knowledge of His Word, and if we can judge angels, then we ought to be able to settle our own matters down here. That's a fairly good argument, isn't it? That's what he's arguing here.
Paul asks whether believers should be placing their grievances before a civil authority, those who have no standing in the church (verse 4).
MacArthur interprets that verse for us:
the least esteemed Christian is better equipped to handle a family matter within the framework of Christianity than the most competent pagan judge.
Paul points out that they should be ashamed of going to a civil court to resolve matters that could be done within the context of the church family (verses 5, 6).
Matthew Henry offers this analysis:
It is a shame that little quarrels should grow to such a head among Christians, that they cannot be determined by arbitration of the brethren …
Note, Christians should never engage in law-suits till all other remedies have been tried in vain. Prudent Christians should prevent, if possible, their disputes, and not courts of judicature decide them, especially in matters of no great importance.
Paul criticises the Corinthians for suing each other, calling such behaviour a 'defeat' for them (verse 7). Clearly, they were not showing Christian love for their neighbour. Furthermore, they were demonstrating that lack of love before the pagan world.
Paul goes further, asking them if it were not better for them to be defrauded rather than to engage in unloving behaviour.
MacArthur points out that even pagans believed it was worth being defrauded from time to time, quoting Plato:
… even a – a non-Christian like Plato said this – Plato said, "The really good man will always choose to suffer wrong rather than to do wrong." The truly good man will always choose to suffer wrong rather than to do wrong.
Now listen, I'll apply that to this. Even the pagan man knew that. It's a sin to sue a Christian. It's better to suffer wrong than to sue a Christian, right? It's better. You say, "But he took a lot of money." It's better to suffer wrong than to sue a Christian. You never sue a Christian. That's wrong.
For a Christian with the love of Christ in his heart, he would rather suffer insult, injury, loss, damage, rather than inflict it on somebody else, especially a brother. Vengeance, for a Christian, is absolutely absurd. It is absolutely absurd. A Christian does not order his acts by recompense, by a desire for revenge. A Christian orders his acts by love and forgiveness, doesn't he? And a Christian will seek peace at any cost. Paul says, "I can't believe it. Suing each other."
Paul ends this series of questions with a sharp statement about the Corinthians' preference for doing wrong and defrauding each other rather than loving their brethren (verse 8).
Henry explains:
It is utterly a fault to wrong and defraud any; but it is an aggravation of this fault to defraud our Christian brethren. The ties of mutual love ought to be stronger between them than between others. And love worketh no ill to his neighbour, Rom. 13:10. Those who love the brotherhood can never, under the influence of this principle, hurt or injure them.

Paul has much more to say to the Christians of Corinth. This is but the tip of the iceberg.
Next time: 1 Corinthians 6:9-11
Below are the readings for the First Sunday after Epiphany, the Baptism of the Lord, January 10, 2021.
These are for Year B in the three-year Lectionary used in public worship.
Emphases below are mine.
First reading
We have Moses's account of the beginning of the world. Moses wrote the first five books of the Bible, the Pentateuch. Matthew Henry's commentary says that word Moses used for God was Elohim, meaning 'the great God, the God of Creation'.
Genesis 1:1-5
1:1 In the beginning when God created the heavens and the earth,
1:2 the earth was a formless void and darkness covered the face of the deep, while a wind from God swept over the face of the waters.
1:3 Then God said, "Let there be light"; and there was light.
1:4 And God saw that the light was good; and God separated the light from the darkness.
1:5 God called the light Day, and the darkness he called Night. And there was evening and there was morning, the first day.
Psalm
Matthew Henry says that many Bible scholars think that David wrote this Psalm during a severe storm. While all around him were paralysed by fear, David wrote of his confidence that God, the ruler of nature, would let no harm come to them.
Psalm 29
29:1 Ascribe to the LORD, O heavenly beings, ascribe to the LORD glory and strength.
29:2 Ascribe to the LORD the glory of his name; worship the LORD in holy splendor.
29:3 The voice of the LORD is over the waters; the God of glory thunders, the LORD, over mighty waters.
29:4 The voice of the LORD is powerful; the voice of the LORD is full of majesty.
29:5 The voice of the LORD breaks the cedars; the LORD breaks the cedars of Lebanon.
29:6 He makes Lebanon skip like a calf, and Sirion like a young wild ox.
29:7 The voice of the LORD flashes forth flames of fire.
29:8 The voice of the LORD shakes the wilderness; the LORD shakes the wilderness of Kadesh.
29:9 The voice of the LORD causes the oaks to whirl, and strips the forest bare; and in his temple all say, "Glory!"
29:10 The LORD sits enthroned over the flood; the LORD sits enthroned as king forever.
29:11 May the LORD give strength to his people! May the LORD bless his people with peace!
Epistle
I hope that celebrants giving sermons on Sunday explain to their congregations that John the Baptist had many followers. During his ministry, a good number of those baptised were passing through the region then returned home to a distant land. As such, they had not heard of Jesus. Paul taught them about Jesus and the Holy Spirit. Ephesus was in Asia Minor, a very long way away from the River Jordan.
Acts 19:1-7
19:1 While Apollos was in Corinth, Paul passed through the interior regions and came to Ephesus, where he found some disciples.
19:2 He said to them, "Did you receive the Holy Spirit when you became believers?" They replied, "No, we have not even heard that there is a Holy Spirit."
19:3 Then he said, "Into what then were you baptized?" They answered, "Into John's baptism."
19:4 Paul said, "John baptized with the baptism of repentance, telling the people to believe in the one who was to come after him, that is, in Jesus."
19:5 On hearing this, they were baptized in the name of the Lord Jesus.
19:6 When Paul had laid his hands on them, the Holy Spirit came upon them, and they spoke in tongues and prophesied—
19:7 altogether there were about twelve of them.
Gospel
This is Mark's account of the baptism of Jesus. Our Lord did not need baptism, but as He did with Jewish law, again unnecessary for Him, he obeyed. In other Gospel accounts, John was understandably reluctant to baptise his relative, Jesus, but He insisted. The Holy Spirit and God the Father's voice came from heaven after our Lord's baptism (verses 10, 11). Note that John did not preach his message in Jerusalem, but, as was prophesied, in the wilderness.
Mark 1:4-11
1:4 John the baptizer appeared in the wilderness, proclaiming a baptism of repentance for the forgiveness of sins.
1:5 And people from the whole Judean countryside and all the people of Jerusalem were going out to him, and were baptized by him in the river Jordan, confessing their sins.
1:6 Now John was clothed with camel's hair, with a leather belt around his waist, and he ate locusts and wild honey.
1:7 He proclaimed, "The one who is more powerful than I is coming after me; I am not worthy to stoop down and untie the thong of his sandals.
1:8 I have baptized you with water; but he will baptize you with the Holy Spirit."
1:9 In those days Jesus came from Nazareth of Galilee and was baptized by John in the Jordan.
1:10 And just as he was coming up out of the water, he saw the heavens torn apart and the Spirit descending like a dove on him.
1:11 And a voice came from heaven, "You are my Son, the Beloved; with you I am well pleased."
I read on a notionally Christian website around 15 years ago that Baptism was not necessary for salvation. Perhaps, in certain cases. However, throughout His life, Jesus went to the temple in Jerusalem, preached in the synagogue in Nazareth and obeyed the religious laws of His time.
He set the example for believers. Why would we not follow it by joining a good church and receiving the Sacraments?