You are currently browsing the tag archive for the '2016' tag.
On Tuesday, November 5, 2019, James O'Keefe's Project Veritas team posted a 'hot mic' video about ABC's 2016 cover-up of Jeffrey Epstein. This is a must-watch:
In August 2019, ABC's Amy Robach expressed her frustration to an ABC colleague about the network's spiking the news story. Project Veritas has more (emphases mine):
Newly revealed footage leaked by an ABC insider has exposed how network executives rejected allegations against Jeffrey Epstein years ago, even though there was content regarding the merit of those claims in-hand.
Amy Robach, 'Good Morning America' Co-Host and Breaking News Anchor at ABC, explains how a witness came forward years ago with information pertaining to Epstein, but Disney-owned ABC News refused to air the material for years. Robach vents her anger in a "hot mic" moment with an off-camera producer, explaining that ABC quashed the story in its early stages. "I've had this interview with Virginia Roberts (Now Virginia Guiffre) [alleged Epstein victim]. We would not put it on the air. Um, first of all, I was told "Who's Jeffrey Epstein. No one knows who that is. This is a stupid story."
This was in 2016, during the presidential election campaign. Hillary Clinton was the Democrat candidate, and the footage, Robach says, would have implicated former president Bill Clinton. If aired, that could well have put an end to Hillary's campaign. We all know she was supposed to win.
Robach says she and her team encouraged Virginia Roberts Giuffre to come out of the shadows and discuss her horrific years with Epstein, which she did.
At this point in 2016, ABC was weeks away from getting an interview with the Duke and Duchess of Cambridge — Wills and Kate:
She continues, "The Palace found out that we had her whole allegations about Prince Andrew and threatened us a million different ways."
Robach does not think Epstein committed suicide, as was widely reported:
Robach goes on to express she believes that Epstein was killed in prison saying, "So do I think he was killed? 100% Yes, I do…He made his whole living blackmailing people… Yup, there were a lot of men in those planes. A lot of men who visited that Island, a lot of powerful men who came into that apartment."
Robach repeats a prophetic statement purportedly made by Attorney Brad Edwards "…[T]here will come a day when we will realize Jeffrey Epstein was the most prolific pedophile this country has ever known," and [d]isgustedly Robach states "I had it all three years ago."
Later on November 5, Robach and ABC issued their own statements. The images below come courtesy of Project Veritas:
The Project Veritas went viral that day:
There were another 500,000 views three hours later:
This exposé might not have been covered in much of the Western world that day, but at least it made Australia's news …
… and Fox News in the US:
It's hard to disagree with that.
Former Arkansas governor Mike Huckabee, Sarah Sanders's father, adds:
Later, CNN covered the story but without a reference to Project Veritas, only 'an activist group'.
On November 6, The Daily Caller reported that ABC was looking for the person who leaked the video. The article explains how CBS could be connected:
ABC News has launched an investigation to determine who leaked the video of anchor Amy Robach alleging that the network killed her story on Jeffrey Epstein, it said in a statement Wednesday …
ABC News is trying to determine who leaked the video to Project Veritas, according to a statement from the outlet, journalist Yashar Ali wrote Wednesday.
"We take violations of company policy very seriously, and we're pursuing all avenues to determine the source of the leak," a spokesperson for ABC News said according to Ali.
ABC News also allegedly knows the former employee who had access to the video of Robach, two sources with knowledge of the situation told Ali. The outlet is still unsure if that person leaked the footage to Project Veritas or if they shared it with others who leaked it.
The former employee is now allegedly working at CBS News, the sources said, according to Ali. CBS News did not immediately respond to a request for comment.
The Daily Caller article includes part of Ali's Twitter thread on the developing story:
Not only is there a possible CBS connection but a possible Disney one, too:
The petition is gathering strength:
I wish James O'Keefe and his team the best of luck with this and other exposés:
We know if conservatives were covering up major news stories about highly corrupt and destructive people, it would be all over the news 24/7 for months — and worse:
This story is developing:
Again, best wishes to all concerned who are helping Project Veritas.
The lies from Britain's Remainers about Brexit's Leavers are quite incredible.
For the past three weeks, if not longer, Remainers have told Leavers they did not know what they were voting for in the 2016 Brexit referendum.
False!
Let's go back to when David Cameron was still Prime Minister.
This is what party leaders — Conservative, Lib Dem and Labour — had to say about the referendum. There would be only one:
Cameron summarised the process. Article 50 would be triggered promptly. In February 2016, he said: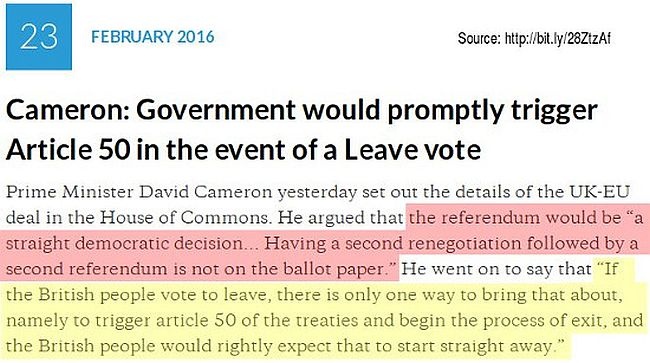 Leavers watched the televised debates.
They also researched sites other than Big Media. Guido Fawkes was one of them. Here Guido explains tariffs:

This was the referendum result on June 23, 2016 — 52%-48%:
David Cameron stood down as Prime Minister the morning of Friday, June 24.
Theresa May succeeded him a few weeks later.
In 2017, under May's premiership, a WTO Brexit was part of the Conservative Party manifesto for the general election held in June: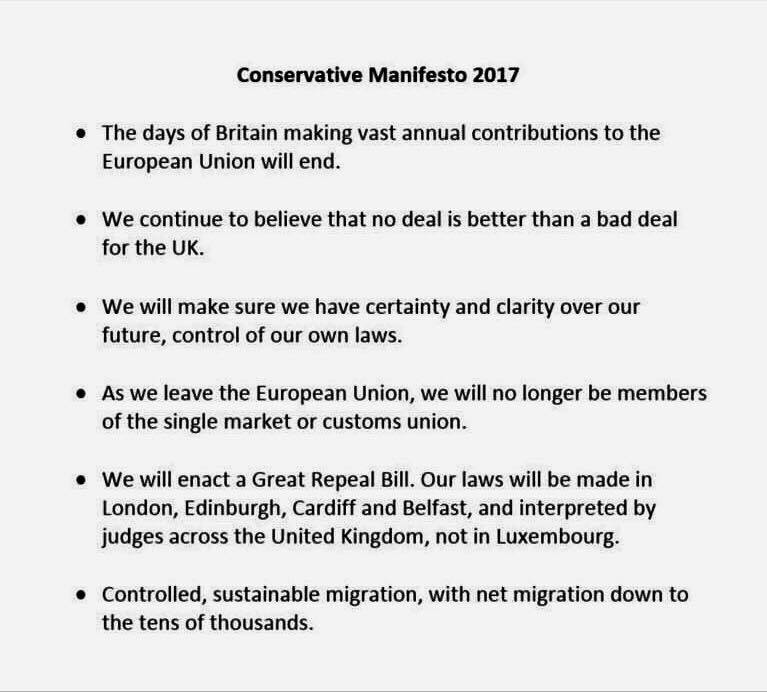 The Conservative Party manifesto excluded a halfway house Brexit with a foot in each camp. Leavers were told they would get a WTO Brexit: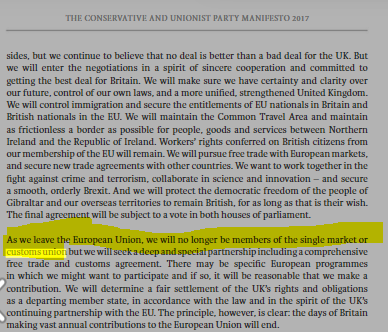 Before the election, Labour MP Yvette Cooper — whose Bill No. 5 blocking a parliamentary/government No Deal is now law — pledged to honour the Brexit mandate, which, incidentally, the Labour Party manifesto also supported. Note that she represents a Leave constituency: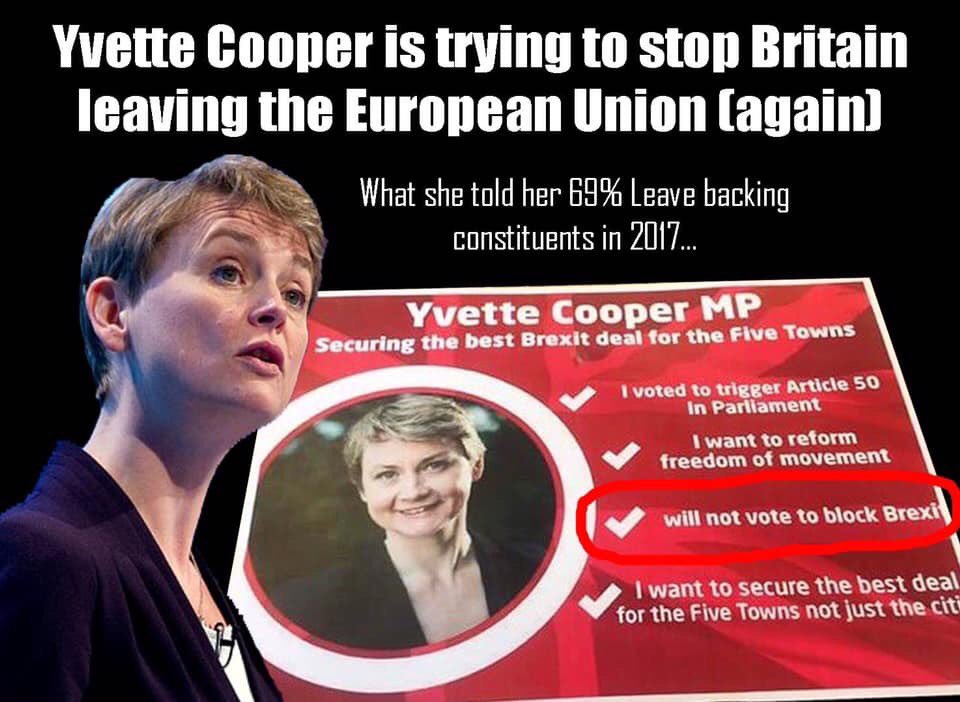 This is what Leavers voted for:
Fast forward to 2019, and who wants a second referendum — a 'People's Vote'? Remainers.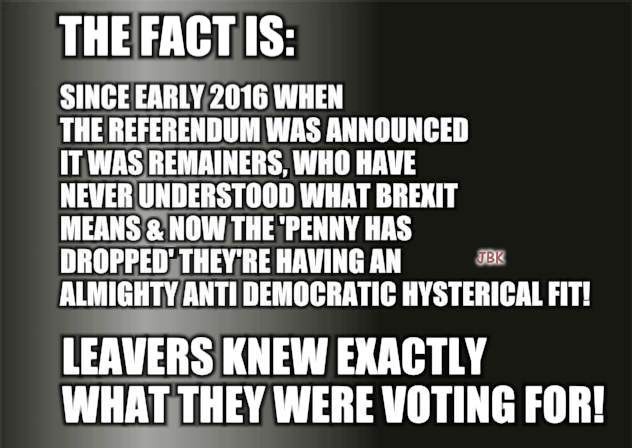 Remainers can rest comfortably knowing that their allies in both Houses — Commons and the Lords — will see to it that they get their wish.
Should Britain end up with a halfway house Brexit — heaven forfend — that is not what Leavers voted for in 2016.
Remainers can share the blame for that with their advocates: parliamentarians and peers alike.
A lot of great interviews have been taking place in the run up to the mid-terms.
By way of introduction to the interview Rush Limbaugh gave Sean Hannity, let us consider this. The photo is of Air Force One in Missoula, Montana, where President Trump gave a rally on Thursday, October 18:
At that rally, Trump once again had much to say. Breitbart has a short report with highlights (emphases mine):
"The choice could not be more clear: Democrats produce mobs, Republicans produce jobs," Trump said during a campaign rally in Montana …
The president highlighted the Democrat effort to personally destroy Supreme Court Justice Brett Kavanaugh during the Senate confirmation battle.
Trump said the protesters against Kavanaugh were "paid by Soros" and used professional signs in their rallies at the Supreme Court …
Trump said that Democrats would try to raise taxes, impose socialism, destroy health care and the Second Amendment, and support open borders.
"Democrats have become the party of crime," Trump said. "They would rather devastate America's communities than defend America's borders."
Rush covered these topics in his interview with Sean Hannity that same day. This is one interview where Hannity does not interrupt his guest. This is probably because a) Hannity used to guest host for Rush and b) the interview was held in Rush's office in Florida. Enjoy:
Rush is celebrating his 30th anniversary on national radio. He said it was more than he ever dreamt of.
He then went on to discuss the behaviour of the Democrats and the Left, which he said has no legitimacy in American society. By that, he meant that decent Americans do not want to be intimidated by violence to change their votes or their way of life. That's not how America works.
He said he was puzzled that the Democrats think they can use violence to not only make Americans recant their support of Donald Trump but make Trump himself change.
He said that America is very fortunate that Hillary did not win the election in 2016, because she would have continued the decline that Obama started. He said that the United States would have experienced fewer jobs, a failing economy, poor foreign relations and more.
Rush was a bit late to the Trump party, even if he said here that he knew Trump would be the Republican candidate as soon as he saw him on the escalator in Trump Tower in 2015.
Rush also said that too many Americans still watch too much mainstream media news. I couldn't agree more. It would be nice if Fox News gave him a weekend show of his own.
He also criticised the media for not engaging positively with Trump supporters, i.e. finding out why the president's policies are important to them and to traditional American values.
I realise that a lot of people don't care for Rush, but this is an excellent interview.
I would also recommend this video to readers who do not live in the United States and who still give credence to the Democrats, Hillary Clinton and Obama.
Today, by chance, I found an interesting Breitbart article from April 5, 2016, '13 Amazing Facts We've Learned About Donald Trump's Campaign', which summarises a New York magazine article.
The people New York interviewed were adviser Sam Nunberg, press secretary Hope Hicks and campaign manager Corey Lewandowski. Nunberg fell at the first hurdle and endorsed Ted Cruz in March 2016; Paul Manafort replaced Lewandowski as an experienced political operative who got Trump his delegates; and Hicks followed Trump to the White House only to resign as communications director a few months ago.
Never mind that.
This is what the scene looked like just two weeks after rioters prevented Trump's Chicago rally from going ahead in mid-March 2016. That was the time I started to study his campaign closely.
These insider titbits came as news to me (emphases mine below). Quotes are from New York:
1. Years before he announced his candidacy, Trump had a former aide listen to talk radio to discover what issues Americans cared about most.
"I listened to thousands of hours of talk radio, and he was getting reports from me," [Sam] Nunberg recalled. What those reports said was that the GOP base was frothing over a handful of issues including immigration, Obamacare, and Common Core. While Jeb Bush talked about crossing the border as an "act of love," Trump was thinking about how high to build his wall.
2. That former aide says he first met Trump when he was a child at a WWE (then WWF) event.
Nunberg is a lawyer wired into right-wing politics who has long looked up to "Mr. Trump," as he calls him. "I first met him at Wrestle­Mania when I was like 5 years old," Nunberg told me.
7. Sherman [author of the article] says not even Trump himself expected to become the frontrunner at first.
…
When he launched his campaign, Trump suspected it would eventually fizzle and he would return to The Apprentice. "You know, when I first got into this, it was for other reasons," he told a friend. As weeks and then months passed with him remaining out front, he began to think winning the nomination was a real possibility, even as he resisted calls to professionalize his campaign. Why bother, when what he was doing was working so well?
10. Trump's campaign has less than 1/8th of the national staff that Hillary Clinton does.
Trump's campaign employs a core team of about a dozen people; his campaign lists 94 people on the payroll nationwide, according to the latest Federal Election Commission filing (Hillary Clinton has 765).
11. The Trump campaign claims to have built a millions-strong email list at virtually no cost just by requiring registration from rally attendees.
After the rallies, Trump makes sure his fans stay mobilized. Everyone who attends a rally has to register by email, and the campaign uses this list, which Lewandowski estimates is "in the millions at this point," to turn out voters. Most campaigns spend a lot of money to acquire voter lists; Trump largely built his own. "If you look at what the Obama campaign achieved many years ago, they were successful at bringing new people in, and then communicating with those people. What we're doing is not dissimilar," Lewandowski explained. "He had a brilliant plan, which was to go in and attract huge crowds," added Ed McMullen, Trump's South Carolina co-chair. "We had extremely strong interaction with them, and we were dedicated to keeping track of who those people were." Trump supporters receive frequent email updates and phone calls from phone-bank volunteers.
12. Trump often writes his infamous Instagram ads and has one employee produce them for almost nothing.
He buys few ads, and when he does, he likes to write them himself.
…
Trump has aired only six unique TV commercials, according to Hicks, while his GOP rivals have aired more than two dozen separate ads each. Through February, he spent only $10 million on ads; Jeb Bush spent $82 million. Trump relies mostly on essentially free Instagram spots produced by 29-year-old Justin McConney, the son of Trump's corporate comptroller, whom Trump put in charge of building his social-media profile a few years ago. (One ad he made that featured Hillary barking and Putin laughing got a ton of — free — press.)
That really is amazing, in every respect. Of course, the campaign evolved that year through staff changes meeting ever-advancing challenges.
Thinking back, even up to the Electoral College vote, most people said, 'Trump can't win!'
And, today, look where America is under President Donald Trump, still resisted by some:
Thank goodness a savvy businessman is in the White House — the first in living memory! Of course, being a savvy businessman is only half the story. The other half is that Trump truly loves the United States and the American people.
This is part of a series about Spygate.
Please see Part 1 for a list of people involved and how they know each other. The same names will be appearing in this and other related posts.
Part 2 covers events from 2015 and the first half of 2016.
Part 3 reviews what happened during the summer that year.
The_War_Economy posted a brilliant Twitter thread of 246 tweets with accompanying sources.
His thread is called SPYFALL, available in Thread Reader and individual tweets.
I will be excerpting and summarising SPYFALL this week as well as adding some of my own information so that those of us reading about Spygate can better comprehend its various elements.
When summarising SPYFALL, I will include the relevant tweet number in parentheses which will have a link to the source material.
Today's post covers what happened between September 2016 and the election on November 8.
Emphases mine below.
September 2016
At the end of Part 3, Stefan Halper met with Trump campaign adviser Sam Clovis for coffee at a hotel in the Washington DC area hotel. That was on September 1. They appeared to have discussed China; Halper also asked how he could get in touch with George Papadopoulos (137).
On September 2, Halper invited Papadopoulos to join him in London. Republican operative Peter W Smith set up KLS Research LLC to help find Clinton's emails, something he had been trying to do since July. FBI lawyer Lisa Page texted her colleague Peter Strzok to say that James Comey was going to meet with Obama, as he was interested in what the FBI was doing (138).
Meanwhile, James Comey refused to say whether Trump campaign aides were being investigated. In Rome, FBI agents were asking Christopher Steele about his sources and future copies of his memos (133).
Steele also spoke with the State Department's Jonathan Winer about his (Steele's) dossier. Winer prepared a two-page summary of the discussion and shared it with State Department colleagues Victoria Nuland and Jon Finer (134). Finer went to share the information with then-Secretary of State John Kerry. Once Kerry found out the FBI had a copy, he dropped the subject. So did Victoria Nuland (135).
Steele was very much against Donald Trump's candidacy. He met with the DoJ's Bruce Ohr and made his views clear (136). Bruce Ohr's wife, Nellie Ohr, had applied for a ham radio licence on May 23.
There was confusion at the Treasury Department about investigating people's bank accounts. Treasury Department lawyer Paul Ahern said that draft guidelines were in place to do so (139), but, in reality, the Office of Intelligence and Analysis had never finalised said guidelines (140).
Russian interference was high on the agenda:
On September 13, George Papadopoulos began meeting with Stefan Halper in London (145). On March 26, 2018, The Daily Caller reported:
Papadopoulos now questions Halper's motivation for contacting him, according to a source familiar with Papadopoulos's thinking. That's not just because of the randomness of the initial inquiry but because of questions Halper is said to have asked during their face-to-face meetings in London.
According to a source with knowledge of the meeting, Halper asked Papadopoulos: "George, you know about hacking the emails from Russia, right?"
Papadopoulos told Halper he didn't know anything about emails or Russian hacking, said the source, who spoke on the condition of anonymity due to the sensitivity of the investigations into Russian meddling in the 2016 campaign. The professor did not follow up on the line of inquiry.
Halper first contacted Papadopoulos by email. In a Sept. 2, 2016, message sent to Papadopoulos's personal email account, he offered the Trump aide $3,000 to write a policy paper on issues related to Turkey, Cyprus, Israel and the Leviathan natural gas field. Halper also offered to pay for Papadopoulos's flight and a three-night stay in London.
Papadopoulos accepted the proposal, flew to England, and met with Halper and one of his assistants. He delivered the paper electronically Oct. 2 and received payment days later, according to documents TheDCNF reviewed …
Papadopoulos, 30, pleaded guilty in October 2017 to lying to the FBI about contacts he had during the campaign with Russian nationals and a London-based professor with links to the Russian government.
That professor, Joseph Mifsud, told Papadopoulos in April 2016 he learned the Russians had possession of "thousands" of Clinton-related emails. That conversation would later spark the FBI's investigation into Russian interference in the presidential campaign. It is not known whether Papadopoulos told anyone on the Trump campaign about Mifsud's remarks …
London was a veritable stomping ground for Papadopoulos during the campaign.
In addition to meetings there with Halper and Mifsud, the Chicago native had an encounter that would serve as the catalyst for the FBI's investigation into Russian meddling.
In May 2016, a month after his meeting with Mifsud, an Israeli embassy official, who Papadopoulos knew, introduced him to Australian High Commissioner to the United Kingdom Alexander Downer.
During a barroom conversation at Kensington Gardens, Papadopoulos told Downer about the emails Mifsud mentioned to him, The New York Times reported in December 2016.
After WikiLeaks published a trove of stolen DNC emails in July 2016, Australian government officials told the FBI about Downer's interaction with Papadopoulos. The bureau opened its counterintelligence investigation July 31, 2016 …
The Daily Caller article says the reasons why Downer wanted to meet with Papadopoulos are unclear and added that Downer and Halper have no clear personal connection with each other.
As to the meetings between Papadopoulos and Halper, the two:
met several times during the London trip, including at the Connaught Hotel and the Travellers Club — a classic 19th century club foreign diplomats and politicians frequent. Halper's research assistant — a Turkish woman named Azra Turk — also met with Papadopoulos. The Connaught Hotel meeting was scheduled for Sept. 13, 2016, and the Travellers Club conclave was two days later …
At the time of the Papadopoulos meeting, Halper was working on a project related to China and Russia's economic relations. There are no public records of Halper releasing reports on Turkey, Cyprus and Israel.
On September 14, the Department of Homeland Security's Lisa Monaco told those attending (146):
the 10-year-anniversary of the DOJ's National Security Division that Russia hacking the elections would be "extremely difficult".
On September 22, two California Democrats — Senator Dianne Feinstein and Rep. Adam Schiff — issued a joint statement condemning Russian hacking based on briefings they had received (148).
On September 23, journalist Michael Isikoff posted an article (149):
"U.S. intel officials probe ties between Trump adviser and Kremlin" with information provided by Steele. The FBI takes notice.
Isikoff knows a Democrat operative, Alexandra Chalupa, who, Politico says:
had worked in the White House Office of Public Liaison during the Clinton administration. Chalupa went on to work as a staffer, then as a consultant, for Democratic National Committee. The DNC paid her $412,000 from 2004 to June 2016, according to Federal Election Commission records, though she also was paid by other clients during that time, including Democratic campaigns and the DNC's arm for engaging expatriate Democrats around the world.
A daughter of Ukrainian immigrants who maintains strong ties to the Ukrainian-American diaspora and the U.S. Embassy in Ukraine, Chalupa, a lawyer by training, in 2014 was doing pro bono work for another client interested in the Ukrainian crisis and began researching [Paul] Manafort's role in Yanukovych's rise, as well as his ties to the pro-Russian oligarchs who funded Yanukovych's political party.
On September 26:
Concern about cyberattacks loomed larger near the end of September:
In the employ of Glenn Simpson from Fusion GPS, Christopher Steele (154):
starts meeting with journalists from The New York Times, The Washington Post, The New Yorker, CNN and Yahoo! News. He meets Jane Mayer at the Tabard Inn in Washington. This is done under Glenn Simpson's watch, as he paid $168,000.00 to Steele to do it.
October 2016
October 2016 was a nail-biting month for both the Trump campaign as well as Hillary and her fellow Democrats.
So many things happened, yet Dems were sure their candidate would win.
Christopher Steele continued to be busy. At this point, he was in contact with the FBI (DoJ) and the State Department:
The FBI had no evidence of collusion between the Trump campaign and Russia. Also, then-deputy FBI director Andrew McCabe hadn't yet told James Comey about Andrew Weiner's laptop (157). Incidentally, Jeff Sessions sacked McCabe on March 16, 2018.
On October 6, the Washington Post held their Cybersecurity Summit. The DHS's Lisa Monaco said it would be difficult to hack the November 8 election because of the various voting systems in place throughout the 50 states (158).
Russia loomed large on October 7:
That day (161), the 2005 Billy Bush Access Hollywood tape dropped, which the GOPe and Democrats hoped would sink Trump. WikiLeaks also started dropping the Podesta emails, a treasure trove of insider Dem information. Two days later, on October 9, the FBI told John Podesta — Hillary Clinton's campaign supremo — they were investigating the email hack (162).
WikiLeaks realeased near-daily dumps of Podesta emails from then until the election.
Meanwhile, on October 13, candidate Trump delivered his 'Slings and Arrows' speech in Florida (163).
On October 14, retired CIA official Michael Morrell (164):
takes some time out to try and tie Trump, Manafort, Stone and Page to Russia through financial connections and suggesting they are all agents of Russia.
That same day, Peter Strzok's wife received a promotion at the SEC and a former US ambassador to Russia visited the White House (165):
Michael McFaul is in the White House, where he bumps into Ambassador Kislyak. Also, Strzok's wife, Melissa Hodgman, is promoted to Associate Director in the SEC's Enforcement Division.
Christopher Steele refocussed his efforts in meeting with journalists, including the BBC's Paul Wood, and once again met with the aforementioned DoJ's Bruce Ohr (166), whom he had met in September.
Defense Secretary Ashton B. Carter and Director of National Intelligence James Clapper told Obama that NSI director Admiral Mike Rogers should be fired (167). Rogers would turn out to be an invaluable asset to president-elect Trump.
October 15 was the DOJ's John Carlin's last day at work. He had resigned as head of the DOJ's National Security Division (168).
On October 16, Julian Assange's access to the Internet was severed (169) but that contingency plans were in place. WikiLeaks claimed a 'state party' was responsible.
On October 18, the Obamas held their last state dinner. It was for Italy's prime minister, Mario Renzi. The guest list includes a few of the names here (see 170 and 171).
On October 19, Robert Mueller appeared on the scene (172):
he's been hired by Booz Allen Hamilton to review their security after the thefts committed by NSA contractor Harold Martin, who was discovered during the FBI's search for the Shadow Brokers.
On October 20, Christopher Steele finished his memos, Stefan Halper addressed the China Forum in Washington and Mike Rogers received a briefing on pending FISA issues (173).
Also related:
As the month drew to a close:
The FBI terminated their relationship with Christopher Steele, as journalist David Corn wrote about information he should not have made public (187):
Now David Corn also drops the article "A Veteran Spy Has Given the FBI Information Alleging a Russian Operation to Cultivate Donald Trump", which ends Steele's relationship with the FBI as they terminate him as a source.
Early November 2016
At the beginning of the month, the Steele Dossier began making the rounds in the Obama administration (189). Again, there was still no evidence of Trump-Russia collusion.
On October 31 the Obama administration sent a message to Russia via a secure channel originally designed for use in averting a nuclear exchange. On November 1, Russia confirmed receipt of the message (191).
That same day, Andrew McCabe recused himself from the FBI investigation into the Clinton Foundation (190).
On November 2, Obama criticised James Comey for his handling of the investigation into Hillary's emails (192). Reopening the investigation at the end of October shocked many. The election was only days away.
A number of legislators and media pundits questioned whether Comey had violated the Hatch Act, a few of whom are listed below. From Wikipedia:
On October 30, 2016, U.S. Senate Democratic Minority Leader Harry Reid stated that FBI Director James Comey may have violated the Hatch Act by sending a letter to the Congress on October 28, 2016, which stated that the FBI would be reopening their investigation of the Hillary Clinton email controversy.[34][35] Also on October 30, Richard Painter, a chief White House ethics lawyer for the George W. Bush administration, published an op-ed saying that he had filed a complaint against the FBI with the OSC and with the Office of Government Ethics about the same matter.[36]
Senator Charles Grassley (R-Iowa) wrote to the DoJ's Inspector General Michael Horowitz about conflicts of interest in the FBI investigation into the Clinton Foundation and Hillary's emails (193). Grassley's letter mentioned the July 2016 tarmac meeting between then-AG Loretta Lynch and Bill Clinton.
On November 3, Stefan Halper told Sputnik News that Hillary Clinton would make a better president than Donald Trump (194).
On November 6, news emerged that the FBI had examined all of Hillary's hundreds of thousands of emails (195):
FBI's Comey shuts down the Clinton investigation again, having read through 650,000 e-mails within about six days, something Michael Flynn openly questions.
Former Conservative MP Louise Mensch, an anti-Trumper now living in New York, wrote a piece for the now-defunct Heat Street (196):
… Louise Mensch (yes, her) published the article "EXCLUSIVE: FBI 'Granted FISA Warrant' Covering Trump Camp's Ties To Russia" in Heat Street …
Meanwhile, confident of a Hillary victory, John Kerry left on a trip to Antarctica. And he must have got the surprise of his life learning the news from November 8:
Of course, as we all know, the story was far from over. In fact, in some respects, Spygate had only just begun.
Tomorrow's post concludes the story of Spygate up to the present.
This is part of a series about Spygate.
Please see Part 1 for a list of people involved and how they know each other. The same names will be appearing in this and other related posts.
Part 2 covers events from 2015 and the first half of 2016 as The_War_Economy laid out in his brilliant Twitter thread of 246 tweets with accompanying sources.
His thread is called SPYFALL, available in Thread Reader and individual tweets.
I will be excerpting and summarising SPYFALL this week as well as adding some of my own information so that those of us reading about Spygate can better comprehend its various elements.
When summarising SPYFALL, I will include the relevant tweet number in parentheses which will have a link to the source material.
Today's post covers what happened during the summer of 2016, when the Republicans and Democrats held their respective conventions to elect their candidate. What appear to be random occurrences in Part 2 start to form pieces of a greater puzzle.
Emphases mine below.
Conferences, private meetings
Conferences take place all year round. However, those that took place during the summer of 2016 would reveal international trips and private meetings.
Secret meetings — unrelated to conferences — also took place.
On June 4, Carter Page received an invitation from a doctoral candidate at Cambridge University to the Race to Change the World symposium (91). The doctoral candidate is thought to have been an assistant to Stefan Halper.
Two years later — on June 5, 2018 — The Daily Caller reported that President Trump's speechwriter, Stephen Miller, received an invitation in May, weeks before Page was invited:
Carter Page was not the only Trump campaign adviser invited to a July 2016 event at the University of Cambridge, the storied British institution where "Spygate" is believed to have originated.
The Daily Caller News Foundation has learned that an invitation to attend the campaign-themed event was extended to Stephen Miller, another Trump campaign adviser who currently serves in the White House. Miller did not attend the event, which featured former Secretary of State Madeleine Albright as a keynote speaker.
J. D. Gordon, the director of the campaign's national security advisory committee, told TheDCNF he believes the invitation from Cambridge to Miller was sent in May 2016. That's a month before a graduate assistant of FBI informant Stefan Halper sent an invitation to Page to visit the campus.
"The invitation was to Stephen Miller who could not attend," Gordon, a former Pentagon spokesman, told TheDCNF. "In the midst of our policy office search for a surrogate, Carter Page informed me that he had also been invited and would like to attend."
Gordon said he told Page the campaign preferred he did not attend the Cambridge conclave.
"Though since he wasn't planning to make public remarks, conduct media interviews or otherwise represent the campaign, he was not required to fill in one of our request forms."
Gordon said Miller, a former Senate aide to Attorney General Jeff Sessions, passed the Cambridge request to John Mashburn, a campaign policy adviser. Mashburn gave it to Gordon.
The three-day Cambridge conclave was where Page first met Halper, a former Cambridge professor who turns out to have also been working for the FBI as part of a counterintelligence investigation into the Trump campaign.
Page, an energy consultant, has said Halper, a veteran of three Republican administrations, offered advice about the campaign during a brief chat on the sidelines of the event.
The pair met numerous times over the course of the next 14 months, Page told TheDCNF. He visited Halper's farm in Virginia and met with the 73-year-old academic in Washington, D.C. They stayed in contact through September 2017, the same month the U.S. government's surveillance warrants against Page expired. (RELATED: EXCLUSIVE: Cambridge Prof With CIA, MI6 Ties Met With Trump Adviser During Campaign, Beyond)
Halper, who has longstanding connections to the CIA, met with at least two other Trump campaign advisers — Sam Clovis and George Papadopoulos.
The Daily Caller article says it is unclear as to whether Stephen Miller was a target of Spygate.
On the Democrat side, an important meeting took place on June 27, approximately one month before the Democratic National Convention (DNC). That was the day when Bill Clinton just happened to be in Phoenix, Arizona, and boarded then-Attorney General Loretta Lynch's plane for an extended chat with her (92). Details about what was discussed are still unknown.
Concerning intelligence, the GCHQ's Robert Hannigan went to Washington DC to give material to John Brennan, then-CIA director (93). However, it should be noted that Brennan was not Hannigan's direct counterpart. Admiral Mike Rogers of the NSA was the person Hannigan should have seen (94). They had already met earlier that year for the US-UK's intelligence relationship anniversary. Yet, Hannigan chose to see the CIA's Brennan.
On July 7, Carter Page travelled to Russia to speak at the New Economic School. During his time there, he also met with Deputy Prime Minister Arkady Dvorkovich (99).
Page returned to the US, then flew to England for the aforementioned Race to Change the World conference. He met with Stefan Halper, who told Page that he (Halper) knew Trump's then-campaign manager Paul Manafort (100).
Between July 27 and July 30, the Aspen Security Forum brought together intelligence officials and CNN reporters. Attendees included Homeland Security's Jeh Johnson, DOJ's John Carlin, ODNI's James Clapper, CNN's Evan Perez, CNN's Jim Sciutto, WaPo's Shane Harris (108, 109). This could explain how Clapper was later hired as a CNN contributor. See Crossfire Hurricane below for details on what happened next.
Other news: DNC emails and FISA
In July, more than 19,000 DNC — Democratic National Committee — emails had been 'stolen'. It was thought that various Russian hacking groups or persons, including Guccifer 2.0 were responsible. It was more likely that these were saved internally by someone working for the DNC — the late Seth Rich, an alleged Bernie Sanders supporter — then leaked. Nonetheless, the narrative of Russian hackers began circulating in the media. One of the intelligence people looking at what happened, particularly with regard to Guccifer 2.0, was Matt Tait, a former GCHQ employee who also writes for the Democrat-dominated blog, Lawfare (95).
The FBI tried to obtain a FISA warrant concerning two Russian banks. They had tried earlier in June. Once again, the FISC — FISA court — rejected the application (96).
On July 25, FBI lawyer Lisa Page and FBI counterintelligence official Peter Strzok sent text messages to each other (105):
about Strzok's relationship to Judge Rudolph Contreras of the FISA Court. 
On July 24, Hillary Clinton's campaign manager Robby Mook blamed the DNC hacks on Russia. ABC news said that CrowdStrike was Mook's source. On July 26, Christopher Steele filed a memo which confirmed what Mook had said (106). That day, Obama (107):
signed a directive to place the FBI in charge of responding to all cyber threats, allowing the federal government an role in investigating, preventing and mitigating attempts to hack US-based computer networks.
USA Today quoted Department of Homeland Security's Lisa Monaco, who defended the new policy.
Hillary Clinton
On July 2, the FBI interviewed Hillary Clinton about her server. On July 5, then FBI director James Comey suggested that no charges be brought against her. On July 6, Loretta Lynch said no charges would be brought against the soon-to-be Democrat nominee for president (98).
In late July, Peter W Smith — a well-connected Republican operative — contacted Matt Tait (103) :
in an attempt to recruit him to figure out who hacked Clinton's private server (aside from Russia), as he had heard from somebody on the dark web had copies of the e-mails.
Donald Trump
On July 20, Donald Trump became the Republican presidential nominee (102). Paul Manafort had done a stellar job the previous two months in getting Trump the necessary delegates. He had been negotiating with hardened anti-Trumpers much of the time.
This was around the time that Peter W Smith got in touch with Matt Tait (see above).
Crossfire Hurricane
On July 31, the day after the aforementioned Aspen Security Forum ended, Crossfire Hurricane began.
This series of tweets is particularly important:
N.B.: The NSA's Mike Rogers was not invited to these meetings.
August's events
With Crossfire Hurricane underway, quite a few things happened in August.
Some of this information emerged only a few weeks ago.
We now know that Crossfire Hurricane provided the basis for Robert Mueller's investigation of alleged Trump campaign Russian collusion.
On May 16, 2018, the New York Times reported that, in early part of August 2016, two FBI agents went to London to meet with Alexander Downer, Australian ambassador to the UK, about his meeting with George Papadopoulos:
a mission so secretive that all but a handful of officials were kept in the dark.
Their assignment, which has not been previously reported, was to meet the Australian ambassador, who had evidence that one of Donald J. Trump's advisers knew in advance about Russian election meddling. After tense deliberations between Washington and Canberra, top Australian officials broke with diplomatic protocol and allowed the ambassador, Alexander Downer, to sit for an F.B.I. interview to describe his meeting with the campaign adviser, George Papadopoulos.
The agents summarized their highly unusual interview and sent word to Washington on Aug. 2, 2016, two days after the investigation was opened. Their report helped provide the foundation for a case that, a year ago Thursday, became the special counsel investigation.
On August 4, James Clapper had a telephone conversation with Russia's FSB's Alexander Bortnikov to warn him against future interference (119). Bortnikov denied any involvement in the US presidential election.
On August 6, before leaving for his summer holiday on Martha's Vineyard, Obama (120):
ordered his aides to "check vulnerabilities in state-run election systems, seek bipartisan support from Congressional leaders for a statement condemning Moscow and urge states to accept federal help".
Remember, Obama mocked Trump that year about election fixing. Obama said there was no way to rig an election and that there were no vulnerabilities in the voting system.
Hillary Clinton chimed in on Russia for the first time (121):
A few days later:
Strzok and Page discussed the "insurance policy" as DoH's Johnson started calling state officials to gain their support in their election defence campaign, but he was met with "a wall of resistance".
On August 19, Paul Manafort resigned as Trump's campaign manager (126). Kellyanne Conway took the reins and led The Donald to victory.
Obama returned from holiday on August 21 (127).
Then:
On August 27, Senator Harry Reid (D-Nevada) sent a letter to then-FBI director James Comey (130):
about the Russia investigation, demanding an investigation be opened, with zero knowledge of Crossfire Hurricane's existence. Reid cited Carter Page in the letter.
On August 28, disgraced New York politician Anthony Weiner, husband of Hillary's confidante Huma Abedin, had been caught sexting again (131). His laptop would be seized, opening up a re-investigation by the FBI into the contents of the political emails therein just days before the election in November.
On August 29, Stefan Halper contacted Trump campaign adviser Sam Clovis, mentioning that Carter Page suggested they meet. He issued an invitation to meet in Washington DC (132).
On June 5, 2018, The Daily Caller reported:
Clovis met with Halper once for coffee on Sept. 1, 2016 at a Washington-area hotel.
Tomorrow's post will look at what happened in the run-up to the November 8 election.
This is part of a series about Spygate.
Please see Part 1 for a list of people involved and how they know each other. The same names will be appearing in this and other related posts.
This entry covers events from 2015 and the first half of 2016 as The_War_Economy laid out in his brilliant Twitter thread of 246 tweets with accompanying sources.
His thread is called SPYFALL, available in Thread Reader and individual tweets.
I will be excerpting and summarising SPYFALL this week as well as adding some of my own information so that those of us reading about Spygate can better comprehend its various elements.
When summarising SPYFALL, I will include the relevant tweet number in parentheses which will have a link to the source material.
Emphases mine below.
Events of 2015
On April 7, 2015, the Democrats were already plotting against the GOP in the upcoming 2016 presidential race (45):
The Clinton campaign intended to institute a Pied Piper campaign into the Presidential election, where they selected three Republican candidates for their project: Ben Carson, Ted Cruz and Donald Trump.
Donald Trump declared his candidacy for president on June 16.
Sometime in August, he met with Lieutenant General Michael Flynn at Trump Tower. The meeting was scheduled to last for 30 minutes. Instead, it lasted 90 (43).
At that time, Flynn had already retired as director of the Defense Intelligence Agency. He and his son, Michael G. Flynn, founded the Flynn Intel Group, Inc. in 2014. It closed in 2016.
In September, the Department of Defense (DoD) hired Stefan Halper as a contractor (44):
On September 25, 2015, Stefan Halper was hired on a contract basis by the DOD's Office of Net Assessment for a total of $244,960.00. This was his third contract. A few days later, on September 29, Evelyn Farkas resigned from the DOD.
Evelyn Farkas is the former Deputy Assistant Secretary of Defense for Russia/Ukraine/Eurasia.
In November, George Papadopoulos joined Ben Carson's campaign team (46):
George Papadopoulos would join Ben Carson's campaign in November 2015, until February 2016, where he joined the London Centre of International Law Practice, where Joseph Mifsud worked as Director of International Strategy.
On December 7, Michael Flynn attended Russia Today's 10th anniversary celebration. He sat next to President Vladimir Putin (47).
According to The Guardian, Britain's GCHQ started picking up intelligence about links between Trump associates and Russians (49).
Events of 2016
GCHQ continued passing along their intelligence to their US counterparts. By the summer, other European countries joined them (51):
Germany, Estonia, Poland, Australia, the Netherlands and France's DGSE.
In February, Michael Flynn became an informal adviser to the Trump campaign.
That same month (53):
Natalia Veselnitskaya's Significant Public Benefit Parole document ended, preventing her from returning to the US.
Natalia Veselnitskaya is the Russian attorney who met in June 2016 with Donald Trump Jr, Jared Kushner and Paul Manafort at Trump Tower. She also has business connections to Fusion GPS.
Meanwhile, Admiral Michael S. Rogers, then-director of the NSA, began working on NSA21 (54):
to merge the spying and hacking arms with the Computer Security Division into one Directorate of Operations.
On February 21, Evelyn Farkas contacted John Podesta, head of Hillary Clinton's campaign, to ask if she could do 'surrogate work' with Eastern European communities for the campaign (55).
In March, the Washington Post pressed candidate Trump for the names of his foreign security advisers (56). This list is not very exciting, because Marco Rubio and Jeb Bush already had the cream of the crop. Nevertheless, this is where we first see the names of Carter Page and George Papadopoulos. Papadopoulos is listed, because he had left Ben Carson's campaign in February:
Trump got five: Walid Phares, Carter Page, George Papadopoulos, Joseph Schmitz and Lt. Gen. Keith Kellogg.
Meanwhile, Papadopoulos was in touch with Professor Joseph Mifsud, who (58):
was promising him connections to Russian officials laced with conversations about Hillary Clinton's e-mails, travelling to Italy and UK to do this.
Joseph Mifsud's career at Link Campus, the London Academy of Diplomacy and more would suggest an allegiance towards western intelligence more than anything else, especially since agents at the FBI have visited Link Campus.
Carter Page had past involvement with Russia in 2013 (60):
where he spoke with the FBI as Russians were attempting to recruit him as an intelligence asset, which led to the Russians arrest.
Fusion GPS and Democrat-centric law firm Perkins Coie got together around this time (61):
Fusion GPS needed somebody to keep paying them, so they reached out to Perkins Coie, with FULL KNOWLEDGE that Perkins Coie represented both the Clinton campaign and the Democratic National Committee. In April, they accepted.
March was also the month when CIA director John Brennan made a 'secret' visit to Russia, which, according to the Russian government was unrelated to Syria (64).
In April, James Baker, then FBI General Counsel, met with Perkins Coie's Michael Sussmann at the Global Privacy Summit (68):
Sussmann would later integrate himself with the DNC's cyber team after introducing them to CrowdStrike.
On April 18, Mike Rogers closed off random access to raw FISA information which vexed a number of contractors doing work for the NSA (70). Interestingly, Mary Jacoby, the wife of Fusion GPS co-founder Glenn Simpson, visited the White House the following morning (71). Could these events be related?
According to the BBC, John Brennan received a tape from the Baltic States concerning money from the Kremlin going into the US presidential campaign. The Trump campaign was not mentioned (72). Brennan then (73):
created two task forces to get around the problem of being unable to act domestically – the Domestic task force (FBI, DOJ and Treasury) and the Foreign task force (CIA, ODNI and NSA).
The US Treasury began investigating certain bank accounts:
Later that month:
On May 23, Nellie Ohr applied for a ham radio licence (82).
In June, Christopher Steele flew to Rome to meet with the FBI's Michael Gaeta (83):
to discuss the dossier, while Natalia Veselnitskaya was granted permission from the US Government to come to the US on a B-status non-immigrant visa.
That month, the FBI tried unsuccessfully to obtain a FISA warrant to monitor four members of the Trump campaign team (90).
It is unclear who those people were, but speculation abounds.
The next post in this series covers the summer of 2016, when everything started to heat up.
There's time only for a quick post today.
James Clapper has served in various intelligence positions in the United States government, most recently as DNI — Director of National Intelligence — from August 2010 to January 2017.
Last week, he appeared on the women's television programme The View (ABC) to say this (image courtesy of USA Carry forums):
I hope people can see through Clapper's questionable logic.
When will this ever end?
Perhaps when President Trump gets a yuge win in North Korea.
On a brighter note, best wishes to my British readers for an enjoyable Spring Bank Holiday and to my American readers for an equally pleasant Memorial Day.
Friday's post provided background to the Russian dossier.
Today's post looks at the memo from Senators Charles Grassley (R-Iowa) and Lindsay Graham (R-South Carolina) about the dossier. A second version — less redacted — appeared on Tuesday, February 6.
First, this is the current state of play with FBI and DOJ employees involved with the dossier:
On December 7, 2017, Fox News had more on Bruce Ohr's demotion (emphases mine):
Until Wednesday morning, Bruce G. Ohr held two titles at DOJ: associate deputy attorney general, a post that placed him four doors down from his boss, Deputy Attorney General Rod Rosenstein; and director of the Organized Crime Drug Enforcement Task Forces (OCDETF), a program described by the department as "the centerpiece of the attorney general's drug strategy."
Ohr will retain his OCDETF title but has been stripped of his higher post and ousted from his office on the fourth floor of "Main Justice."
Initially senior department officials could not provide the reason for Ohr's demotion, but Fox News has learned that evidence collected by the House Permanent Select Committee on Intelligence (HPSCI), chaired by Rep. Devin Nunes, R-Calif., indicates that Ohr met during the 2016 campaign with Christopher Steele, the former British spy who authored the "dossier." 
Also:
According to congressional sources, Simpson and Ohr met sometime around Thanksgiving last year, when President-elect Trump was in the process of selecting his cabinet, and discussed over coffee the anti-Trump dossier, the Russia investigation and what Simpson considered the distressing development of Trump's victory.
How exactly Simpson and Ohr came to know each other is still being investigated, but initial evidence collected by the House intelligence committee suggests that the two were placed in touch by Steele, a former FBI informant whose contacts with Ohr are said by senior DOJ officials to date back to 2006.
A man by the name of Carter Page was used as the excuse to spy on Donald Trump. He very briefly volunteered for the Trump campaign but, contrary to what the media say, was not his foreign affairs adviser:
Christopher Steele, the former MI-6 spy, was responsible for that:
Steele was well known to the FBI:
Some at the FBI were heavily involved with Hillary Clinton's campaign:
The Conservative Treehouse points out the the DOJ was only interested in this state of affairs when Inspector General Michael Horowitz found out (purple highlights mine):
Proving, once again, this is a well thought-out strategy, Chuck Grassley's newest partly declassified version of the Graham-Grassley memo highlights the DOJ didn't care about Bruce Ohr meeting with Christopher Steele until Inspector General Michael Horowitz found out.
Page #5 of the Grassley Memo (pg. 7 pdf), highlights the FBI interviewed DOJ Deputy Attorney Bruce Ohr on November 22nd, and December 12th, 2016 [FD-302 Interview Notes], yet didn't take any action about their discoveries until Inspector General Michael Horowitz found out and revealed the interviews on December 7th, 2017.
Based on what we know to date, the following tweets suggest how the dossier was most likely compiled:
Interesting:
But who is Cody Shearer?
Egads!
You could not make this up!
Conclusion:
Yes, indeed.
On December 31, 2017, Fox News had an excellent guest editorial by financial columnist Liz Peek.
A summary and excerpts from 'Liz Peek: What Trump DIDN'T Do in 2017' follow.
Casting our minds back to 2016, after President Donald Trump's victory, an 'expert' made the following predictions:
Paul Krugman predicted the stock market, which initially sold off on the unexpected outcome, would "never" recover from the blow.
… a despondent Krugman said Trump would plunge the country into a terrible recession.
In fact, on November 9, 2016, the day after Trump won:
the Dow soared 257 points, and has barely paused for breath ever since.
After 'Trump can't win', we had 'Trump won't last':
Columnist David Brooks, who fancies himself a moderate, said Trump would "probably resign or be impeached within a year."
There were also widespread predictions that Trump would start World War III. Europeans, in particular, lost their collective mind.
Remember, too, that Trump was going to mess with monetary policy and start a trade war.
Earlier in 2017, 'experts' predicted Trump would:
fire Special Counsel Mueller or Attorney General Sessions.
None of the 'expert' predictions came true.
In reality:
President Trump accomplished a great deal in his first year of office: helping to pass a massive tax overhaul, putting Neil Gorsuch on the court, snuffing out President Obama's regulatory excesses, signaling a more robust foreign policy and damping illegal immigration, for starters …
Moreover, the president surprised many by following through on his threat to withdraw from the TPP trade deal (a promise also made by Hillary Clinton), his disavowal of the Paris climate accord and, most recently, by declaring Jerusalem the capital of Israel.  There is nothing incoherent or reckless in these decisions however; they are compatible with Trump's focus on jobs, and applauded by his supporters. While 66 percent of Democrats worry about climate change "a great deal", for example, only 18 percent of Republicans are so concerned. Trump voters, like the president, see the Paris deal as bad for our economy.
A realistic assessment of Trump's first year would note a transition to a smoother and more disciplined White House, better coordination with Congressional allies and a more integrated messaging on foreign policy.
Yet, people are still freaking out about Donald Trump.
Peek concludes by saying that the media and other Democrats will continue to push the same talking points in 2018, particularly impeachment. That said:
If the economy continues its steady climb, wages move higher (as is almost certain), and the stock market follows suit, they will need new talking points. Judging from surveys of consumer and business sentiment, Americans do not think the world is coming to an end.
I will post a list of Trump's 2017 accomplishments soon.