You are currently browsing the tag archive for the '2016' tag.
How could Joe Biden end US involvement in Afghanistan so disastrously?
He made the decision unilaterally, leaving the nation in peril over the weekend, with horrific images unfolding across world media.
That said, by the time the US and UK entered Afghanistan in 2001 to rid the world of Osama bin Laden and terror, everyone knew that any operation there would be futile. The Soviets even pulled out in 1989.
In fact, Afghanistan was always an intractable place, a law unto itself throughout history.
Alexander the Great's tenuous hold
Military historian Jamie Hayes wrote a gripping history of an ancient and weak conquest of Afghanistan, 'Unwilling To Stop And Unwilling To Go On: Alexander the Great's Afghan Campaign'.
Until his invasion of Afghanistan, Alexander the Great believed himself invincible (emphases mine):
Alexander the Great was undeniably the greatest military commander in history. He took over his father's throne at just 20 years old and immediately began a campaign the likes of which the world has never seen. He fought battle after battle, forging the largest empire on earth—all without losing even once. As he rampaged across Western and Central Asia, he founded countless cities that stand to this day. Millennia after his death, military geniuses like Napoleon painstakingly studied his battles to learn from his success. He unquestionably earned his moniker—Alexander was Great.
With such a spotless military record, Alexander's conquests seem almost like they were…easy. With his elite troops and unmatched tactical genius, he started from the unassuming Macedon in Northern Greece and wrought the largest empire the world had ever seen, spanning from Greece in the West all the way to India in the East. But while his remarkable conquests in Persia and his far-reaching campaign to India take center stage in the history books, there's an often-forgotten chapter of Alexander's legacy that was anything but easy.
Alexander's campaign in Afghanistan has become a mere footnote in his legacy—perhaps because it was the region where the great warlord saw the least success. Like many other military superpowers would after him, from the British Empire to Russia to NATO, Alexander waltzed into Afghanistan with all the confidence in the world, but he left battered and bruised, with very little to show for it. The region chewed him up and spat him out, and while he never explicitly "lost" any battles in his time there, it's hard to so he won much of anything either. In fact, historians have claimed that the brutal Afghan campaign marked a shift in Alexander—from infallible Golden Boy to a cruel, paranoid shell of what he once was.
Alexander the Great wanted to topple a man named Bessus, the only obstacle preventing the military commander from becoming king of the Persian Empire. Bessus had toppled Darius III (Darius the Great), the self-styled King of Kings of the Persian Empire. Bessus gave himself a new name, Artaxerxes V.
Incensed, Alexander believed that Artaxarxes V was a usurper and set about to right that perceived wrong. For that, he had to follow the new king into Bactria, which is part of modern-day Afghanistan.
Bactria proved to be highly difficult with regard to the terrain and the men who lived there:
… the conflict here was slow and brutal—guerrilla warfare and sieges that left Alexander and his men exhausted and disillusioned. The frozen mountains and blazing deserts of the region were a far cry from the battlefields they were used to, and "glorious battle" seemed to be a thing of the past.
Alexander spent two agonizing years in Afghanistan, a major chunk of his historic campaign across western and central Asia. Granted, he didn't leave the brutal landscape empty-handed: His primary goal in Bactria was to capture the traitorous Bessus, and he accomplished that. The rival claimant to the throne of the Persian Empire was dealt with, and Alexander could rightfully call himself the King of Kings. But the price he paid for that luxury was extreme.
Alexander's most successful enemy in Afghanistan was the land itself. He lost far more men to the frigid peaks of the Hindu Kush or the scorching Northern Afghan desert than to any military resistance he faced. And when he did try to engage enemy forces, he found himself playing a frustrating game of whack-a-mole.
Once he left, his victory was short-lived:
Fighting in Afghanistan was a Sisyphean task, and Alexander's grip on the region started slipping the moment that he left. While it was considered a part of the enormous Empire that he left after his death, control of the territory was tenuous at best. Revolts began almost the moment that Alexander dropped dead, and they seemingly never truly stopped. Rebellion was simply a reality for any foreign state that attempted to claim sovereignty over the unforgiving landscape.
Nonetheless, he left a legacy with the foundation of several cities, including Kandahar. He also found a wife there:
He founded many cities as he chased Bessus across the region, some of which still exist today. The most notable is the city of Kandahar, which he named Alexandria Arachosia (in fact, it's believed that the name Kandahar itself is derived from the Persian name for Alexander, Iskandar). He also found his famous bride, the beautiful Roxana, whom he loved above all others, in the region. But while Alexander left his mark on Afghanistan, Afghanistan also left its mark on him.
Centuries later, the British tried to control the country as did the Soviets. Both failed.
That would not stop another British foray nor did it stop the Americans.
The Americans tried their best
I have only a few bookmarks on the Americans' long-term mission in Afghanistan.
In October 2009, Michelle Malkin found two reports about a deadly attack on US troops. She wrote (emphasis in the original):
An incredible account from ABC News reporter Karen Russo, who notes that wounded troops refused to leave the battlefield this weekend during the deadly siege at Kamdeysh:
Flying into the besieged Afghan base during a nighttime firefight this weekend is a harrowing mix of overwhelming noise, stomach dropping maneuvers and shadows hurrying through the gloom.
When the chopper lifted off moments later with three wounded soldiers, it left behind others who were wounded but refused to be MEDEVACED out of the combat zone so they could return to fight with their buddies.
As fighting at two U.S. outposts raged on the ground this weekend, the MEDEVAC team at a nearby base waited – with both patience and frustration.
Eight soldiers, all from Fort Carson, were killed that night. Malkin cited another report (emphases mine):
In the deadliest day for Fort Carson since Vietnam, eight soldiers from the post's 4th Brigade Combat Team died in Afghanistan on Saturday when insurgents attacked a pair of remote outposts in Nuristan province …
"My heart goes out to the families of those we have lost and to their fellow Soldiers who remained to finish this fight," Col. Randy George, the brigade's commander, said in a statement late Saturday. "This was a complex attack in a difficult area. Both the U.S. and Afghan Soldiers fought bravely together; I am extremely proud of their professionalism and bravery."
Later that month, when Obama had been in the White House for less than a year, Global Research published 'America's Phoney War in Afghanistan', which posited that the real reasons for being in Afghanistan were far removed from terror. Controlling the opium supply there was one real objective. The second was to maintain a bulwark against Russia and China.
Excerpts follow:
The US military is in Afghanistan for two reasons. First to restore and control the world's largest supply of opium for the world heroin markets and to use the drugs as a geopolitical weapon against opponents, especially Russia. That control of the Afghan drug market is essential for the liquidity of the bankrupt and corrupt Wall Street financial mafia.
According even to an official UN report, opium production in Afghanistan has risen dramatically since the downfall of the Taliban in 2001. UNODC data shows more opium poppy cultivation in each of the past four growing seasons (2004-2007), than in any one year during Taliban rule. More land is now used for opium in Afghanistan, than for coca cultivation in Latin America. In 2007, 93% of the opiates on the world market originated in Afghanistan. This is no accident.
It has been documented that Washington hand-picked the controversial Hamid Karzai, a Pashtun warlord from the Popalzai tribe, long in the CIA's service, brought him back from exile in the USA, created a Hollywood mythology around his "courageous leadership of his people." According to Afghan sources, Karzai is the Opium "Godfather" of Afghanistan today. There is apparently no accident that he was and is today still Washington's preferred man in Kabul. Yet even with massive vote buying and fraud and intimidation, Karzai's days could be ending as President.
The second reason the US military remains in Afghanistan long after the world has forgotten even who the mysterious Osama bin Laden and his alleged Al Qaeda terrorist organization is or even if they exist, is as a pretext to build a permanent US military strike force with a series of permanent US airbases across Afghanistan. The aim of those bases is not to eradicate any Al Qaeda cells that may have survived in the caves of Tora Bora, or to eradicate a mythical "Taliban" which at this point according to eyewitness reports is made up overwhelmingly of local ordinary Afghanis fighting to rid their land once more of occupier armies as they did in the 1980's against the Russians.
The aim of the US bases in Afghanistan is to target and be able to strike at the two nations which today represent the only combined threat in the world today to an American global imperium, to America's Full Spectrum Dominance as the Pentagon terms it …
Each Eurasian power brings to the table essential contributions. China has the world's most robust economy, a huge young and dynamic workforce, an educated middle class. Russia, whose economy has not recovered from the destructive end of the Soviet era and of the primitive looting during the Yeltsin era, still holds essential assets for the combination. Russia's nuclear strike force and its military pose the only threat in the world today to US military dominance, even if it is largely a residue of the Cold War. The Russian military elites never gave up that potential.
As well Russia holds the world's largest treasure of natural gas and vast reserves of oil urgently needed by China. The two powers are increasingly converging via a new organization they created in 2001 known as the Shanghai Cooperation Organization (SCO). That includes as well as China and Russia, the largest Central Asia states Kazakhstan, Kyrgyzstan, Tajikistan, and Uzbekistan.
The purpose of the alleged US war against both Taliban and Al Qaeda is in reality to place its military strike force directly in the middle of the geographical space of this emerging SCO in Central Asia. Iran is a diversion. The main goal or target is Russia and China.
Officially, of course, Washington claims it has built its military presence inside Afghanistan since 2002 in order to protect a "fragile" Afghan democracy. It's a curious argument given the reality of US military presence there.
In December 2004, during a visit to Kabul, US Defense Secretary Donald Rumsfeld finalized plans to build nine new bases in Afghanistan in the provinces of Helmand, Herat, Nimrouz, Balkh, Khost and Paktia. The nine are in addition to the three major US military bases already installed in the wake of its occupation of Afghanistan in winter of 2001-2002, ostensibly to isolate and eliminate the terror threat of Osama bin Laden.
The Pentagon built its first three bases at Bagram Air Field north of Kabul, the US' main military logistics center; Kandahar Air Field, in southern Afghanistan; and Shindand Air Field in the western province of Herat. Shindand, the largest US base in Afghanistan, was constructed a mere 100 kilometers from the border of Iran, and within striking distance of Russia as well as China.
Afghanistan has historically been the heartland for the British-Russia Great Game, the struggle for control of Central Asia during the 19th and early 20th Centuries. British strategy then was to prevent Russia at all costs from controlling Afghanistan and thereby threatening Britain's imperial crown jewel, India.
Afghanistan is similarly regarded by Pentagon planners as highly strategic. It is a platform from which US military power could directly threaten Russia and China, as well as Iran and other oil-rich Middle East lands. Little has changed geopolitically over more than a century of wars.
Afghanistan is in an extremely vital location, straddling South Asia, Central Asia, and the Middle East. Afghanistan also lies along a proposed oil pipeline route from the Caspian Sea oil fields to the Indian Ocean, where the US oil company, Unocal, along with Enron and Cheney's Halliburton, had been in negotiations for exclusive pipeline rights to bring natural gas from Turkmenistan across Afghanistan and Pakistan to Enron's huge natural gas power plant at Dabhol near Mumbai. Karzai, before becoming puppet US president, had been a Unocal lobbyist.
By the time the article was posted, there was allegedly little terrorism threat left:
… the National Security Adviser to President Obama, former Marine Gen. James Jones has made a statement, conveniently buried by the friendly US media, about the estimated size of the present Al Qaeda danger in Afghanistan. Jones told Congress, "The al-Qaeda presence is very diminished. The maximum estimate is less than 100 operating in the country, no bases, no ability to launch attacks on either us or our allies."
That means that Al-Qaeda, for all practical purposes, does not exist in Afghanistan. Oops…
If we follow the statement to its logical consequence we must conclude then that the reason German soldiers are dying along with other NATO youth in the mountains of Afghanistan has nothing to do with "winning a war against terrorism." Conveniently most media chooses to forget the fact that Al Qaeda to the extent it ever existed, was a creation in the 1980's of the CIA, who recruited and trained radical muslims from across the Islamic world to wage war against Russian troops in Afghanistan as part of a strategy developed by Reagan's CIA head Bill Casey and others to create a "new Vietnam" for the Soviet Union which would lead to a humiliating defeat for the Red Army and the ultimate collapse of the Soviet Union.
Now US NSC head Jones admits there is essentially no Al Qaeda anymore in Afghanistan. Perhaps it is time for a more honest debate from our political leaders about the true purpose of sending more young to die protecting the opium harvests of Afghanistan.
Nonetheless, terror remained a by-product of the American presence in Afghanistan. One Afghan-American visitor was so affected by his time there that he returned to launch terror attacks of his own in the Chelsea district of Manhattan as well as in a shore town in New Jersey. He was from Elizabeth, New Jersey.
On September 19, 2016, the Boston Herald reported that a friend of the suspect said that the visit to Afghanistan was 'life-changing':
A man who described himself as a childhood friend of the 28-year-old busted today in connection with this weekend's New York-area bombings told the Herald the suspect made a life-changing trip to Afghanistan two years ago. 
"At one point he left to go to Afghanistan, and two years ago he came back, popped up out of nowhere and he was real religious," friend Flee Jones, 27, said of suspect Ahmad Khan Rahami. "And it was shocking. I'm trying to understand what's going on. I've never seen him like this."
Police this morning released a photo of Rahami, an Afghan immigrant and U.S. citizen, wanted for questioning in the bombings that rocked a Manhattan neighborhood and a New Jersey shore town. Rahami was taken into custody after a gunfight in nearby Linden today at 11:20 a.m. (See that story here…)
The terror suspect's arrest came after investigators this morning swarmed a chicken restaurant and apartment here in connection with the hunt for Rahami, Elizabeth Mayor Christian Bollwage told the Herald …
Bollwage told the Herald the search began after five people were pulled over on the Belt Parkway last night in connection with the bombing in Chelsea. That led to the search of First American Fried Chicken and the apartment above it in Elizabeth, Bollwage said, but it was unclear how the people detained were connected to the restaurant.
In addition to the blast in Manhattan's Chelsea neighborhood on Saturday that injured dozens, a pipe bomb exploded in a New Jersey shore town before a charity 5K race and an unexploded pressure cooker device was found blocks away from the explosion site in Chelsea. Yesterday, five explosive devices were discovered at an Elizabeth train station.
FBI agents as well as state and local police were in the eatery and the apartment upstairs, which are cordoned off by yellow crime tape. Investigators towed a black Toyota sedan away from the street in front of the restaurant this morning …
According to an Elizabeth resident, Rahami worked the register at the restaurant and was in charge when his father was gone.
A few months earlier, in June, the father of mass shooter Omar Raheem allegedly supported the Taliban and wanted to become president of Afghanistan. The Daily Mail reported:
Mass shooter Omar Mateen's father Seddique Mateen recently visited Congress, the State Department and met political leaders during a trip to Washington, DC.
Mateen, who made the trip in April, is seen in social media posts posing in front of the State Department and Democratic Foreign Services Committee offices.
The Afghanistan native, who also regularly writes open letters to President Barack Obama, has expressed gratitude [to the] Afghan Taliban who hosts the Durand Jirga Show on a channel called Payam-e-Afghan, which broadcasts from California … 
Dozens of videos are posted under Mateen's name on YouTube, where he speaks on a range of political subjects in the Dari language.
One video shows him declaring his candidacy for the Afghan presidency.
Posts include topics such as 'Rise Afghan people against Pakistan' and 'Intelligent service and Military of Pakistan real Enemy of the USA (sic)'.
In one video the elder Mateen holds up a sign that reads: 'ISI Pakistan and Military is Destroying 14 years of US work in Afghanistan to cut AID to killers'.
Meanwhile, the Taliban were still terrorising children, revealing the fact that local government was superior to that from the nation's capital, Kabul. On June 12, 2010, the Taliban hanged a seven-year-old boy in order to punish his family. The Telegraph reported:
Del Awar, aged seven, was taken at sunset and found hanging in an orchard at sunrise the following day.
Bruises and scratches around the young boy's neck suggested his murder had been neither quick, nor easy, according to those who saw his slight body after it was cut down.
His death is widely believed to have been punishment for the stand taken by his family against the Taliban in their remote Helmand village.
Reports from the village of Heratiyan in Sangin district said Del Awar's father, Abdul Qudoos, and grandfather, Abdel Satar, had grown tired of Taliban intimidation and the violence the militants attracted.
The family had either demanded rebel fighters stop using village compounds to stage ambushes or had refused a demand of £400 for machine guns, villagers reported.
The two men had been angrily denounced as Nato or US spies and unknown to them, Del Awar's cruel fate was sealed.
The Taliban have denied the killing, but in Heratiyan where villagers must live under the reality of complete militant control, many privately doubt their protestations.
Awar's father, Abdul Qudoos, was a poor man who could not send his children to school and did not have a feud with anyone, explained Maulawi Shamsullah Sahrai, a 50-year-old elder from the village …
For those accused of collaboration with the Nato-led forces or with Mr Karzai's weak government, Taliban control often means rapid summary execution.
Afghanistan brought other peculiarities involving alliances through sexual relations. In 2014, an American couple sued the United States Marines for allegedly covering up the circumstances of their son's death in 2012. The New York Post reported:
The shattered family of a Long Island Marine murdered by an Afghan rebel on an American military base in 2012 is suing the corps and top brass for allegedly covering up details of the incident, The Post has learned.
Relatives of Lance Cpl. Greg Buckley Jr., 21, of Oceanside, say his killer served as a "tea boy" for an infamous Afghan police chief who was allowed to operate out of the Helmand province compound despite his perverse reputation, according to the Brooklyn federal suit filed Wednesday.
Ainuddin Khudairaham walked into a gym on the base and shot dead Buckley, Cpl. Richard Rivera and Staff Sgt. Scott Dickinson. He proclaimed himself a jihadist before being arrested.
Khudairaham was employed on the base by Sarwar Jan, a notorious Afghan police chief with a taste for young boys, drug dealing, and trading arms with the Taliban, the suit states.
He had already been ejected from another village for his unsavory activities and the US military compiled a dossier of his ugly exploits long before he arrived at Buckley's base, court papers state.
Afghan women continued to be terrorised, as the Daily Mail reported on December 28, 2016, after Donald Trump had been elected president:
A woman has reportedly been beheaded by a group of armed men in Afghanistan after she entered a city without her husband.
The horrific act took place in the remote village of Latti in Sar-e-Pul province, which is under Taliban control.
Provincial Governor spokesman Zabiullah Amani told the Nation that the 30-year-old woman was targeted because she went out alone without her husband, who is in Iran.
The Middle East Press reported the woman had gone to the market to shop.
Under Taliban rule women are prohibited from leaving their homes unless accompanied by a close male relative.
They are also banned from working or education and are forced to wear the burqa.
The Taliban have rejected any involvement in this latest incident …
Gateway Pundit carried the story and said that Trump would bring better days:
There is hope, however because Donald Trump has publicly stated that 'things will be different after January 20th'.
Terrorism persisted in Afghanistan. On April 13, 2017, Trump retaliated with a MOAB, Mother of All Bombs:
Here is a video of the MOAB:
A Fox News article from that time stated that the MOAB had been tested for deployment as early as 2003:
It was first tested in 2003, but hadn't been used in combat before Thursday.
Pentagon spokesman Adam Stump said the bomb had been brought to Afghanistan "some time ago" for potential use. The bomb explodes in the air, creating air pressure that can make tunnels and other structures collapse. It can be used at the start of an offensive to soften up the enemy, weakening both its infrastructure and morale.
"As [ISIS'] losses have mounted, they are using IEDs, bunkers and tunnels to thicken their defense," Gen. John Nicholson, commander of U.S. forces in Afghanistan, said in a statement. "This is the right munition to reduce these obstacles and maintain the momentum of our offensive against [ISIS]."
President Trump told media Thursday afternoon that "this was another successful mission" and he gave the military total authorization.
Trump was also asked whether dropping the bomb sends a warning to North Korea.
"North Korea is a problem, the problem will be taken care of," said Trump.
It was thought that the MOAB was launched in retaliation for the death of a Green Beret soldier. The Daily Mail reported that the Pentagon denied any revenge:
The blast killed 36 militants as it destroyed three underground tunnels as well as weapons and ammunition, a spokesman for the Afghan Ministry of Defense said.
No civilians were hurt, he added.
U.S. forces used a 30-foot long, GPS-guided GBU-43 bomb, at around 7.30pm local time in the Nangarhar Province …
A crater left by the blast is believed to be more than 300 meters (1,000 feet) wide after it exploded six feet above the ground. Anyone at the blast site was vaporized …
The Pentagon is denying that the attack was a revenge strike despite the fact that it came in the same area of Afghanistan where a Green Beret soldier was killed on Saturday.
Staff Sgt. Mark De Alencar of the 7th Special Forces Group was cut down by enemy small arms fire while his unit was conducting counter-ISIS operations. 
A WikiLeaks document, quoting a New York Times article, says that the CIA had built those tunnels with the help of their then-ally, Osama bin Laden, who had a degree in civil engineering. He tapped into his family's construction equipment. They owned the Saudi Binladin Group:
From the White House, Sean Spicer confirmed the MOAB hit. Nearly two-thirds of registered American voters approved.
Weeks later, on May 7, the US confirmed they had taken out Afghanistan's head of ISIS at the end of April. Reuters reported:
The head of Islamic State in Afghanistan, Abdul Hasib, was killed in an operation on April 27 conducted jointly by Afghan and U.S. Special Forces in the eastern province of Nangarhar, U.S. and Afghan officials said on Sunday.
Hasib, appointed last year after his predecessor Hafiz Saeed Khan died in a U.S. drone strike, is believed to have ordered a series of high profile attacks including one in March 8 on the main military hospital in Kabul, a statement said.
Last month, a Pentagon spokesman said Hasib had probably been killed during the raid by U.S. and Afghan special forces in Nangarhar during which two U.S. army Rangers were killed, but prior to Sunday's announcement there had been no confirmation.
"This successful joint operation is another important step in our relentless campaign to defeat ISIS-K in 2017," the top U.S. commander in Afghanistan, Gen. John Nicholson said in a statement from U.S. military headquarters in Kabul.
Late that summer, on August 21, Trump gave a speech on the future of Afghanistan, stating that he was weary of the American presence. He said that the country would need to sort its own governance out. He told the terrorists that America was keeping a close eye on them. He threatened to withdraw funding for Pakistan if they continued to support terrorists. He requested help and support from India. The short version is here, but beware of the language from the person summarising it.
The full transcript of Trump's speech is here. It is too long to excerpt. He delivered it before the first lady, Mike Pence and a group of American troops.
By October 13, Pakistan was helping the United States. That day, Trump tweeted:
Starting to develop a much better relationship with Pakistan and its leaders. I want to thank them for their cooperation on many fronts.
Nearly one year later, on September 3, 2018 — Labor Day — an American soldier serving in Operation Resolute Support was killed in an attack on NATO forces. He was the sixth American to fall in Afghanistan that year.
Two days earlier, news emerged that China was encroaching on Afghanistan, specifically into the Wakhan Corridor, which connects China's westernmost province of Xinjiang to Afghanistan. This is a thin tongue-shaped area of land, which you can see in a map here.
On September 1, Lawrence Sellin, a retired colonel in the US Army Reserve, wrote an article for the Indian Center for Diplomatic Studies, 'China Moves into Afghanistan As Part of Its Global Expansion Mission'.
He wrote that China was seeking to end the Afghan conflict and enhance their own strategic standing:
For many, it was a stunning development. China will build a brigade-size military training facility in the strategic Wakhan Corridor, the land bridge between Tajikistan and Pakistan, which is located in Afghanistan's northeast Badakhshan province and borders China.
Although Beijing denied the claim that hundreds of Chinese soldiers will be deployed to Afghanistan, a source close to the Chinese military stated, "Construction of the base has started, and China will send at least one battalion of troops, along with weapons and equipment, to be stationed there and provide training to their Afghan counterparts."
For those who have been closely following growing Chinese influence in Afghanistan, the above report comes as no surprise.
A year earlier on August 14, 2017, Spogmai radio quoted the spokesman for the Afghan Ministry of Defense (translation): "A brigade base will be built to maintain the security of Badakhshan, which will be funded by China."
The spokesman stated that China has steadily increased its military cooperation with Afghanistan and had, at that point, already provided $73 million in military aid.
Beyond the enormous geopolitical implications of a Chinese military base inside Afghanistan, the Badakhshan installation is the final security link between Tajikistan, vital to China's commercial interests in Afghanistan, and Pakistan, China's "all-weather" ally in South Asia.
It was largely unreported that China financed border outposts and deployed troops to Tajikistan's eastern Gorno-Badakhshan Autonomous Region, which borders Afghanistan's Badakhshan province and is part of the Wakhan Corridor.
Consolidating a Chinese presence in Badakhshan province, the Afghan Ministry of Information and Technology has discussed signing a contract with China Telecom for a fiber optic network connecting China to the Wakhan Corridor. No doubt, the intention is to couple that system to the larger network linking China with Pakistan, the Middle East and Africa.
China is already Afghanistan's biggest investor. In 2007 it took a $3 billion, 30-year lease for the Aynak copper mine. China and Pakistan have offered to extend the China-Pakistan Economic Corridor (CPEC) to Afghanistan. Some have concluded that the CPEC invitation is a prelude to positioning China as a mediator to end the Afghan conflict.
I will stop there and continue tomorrow.
Involvement in Afghanistan is an unholy mess, aided and abetted by China and its allies.
On Wednesday, June 23, 2021 — the five year anniversary of the Brexit referendum — The Spectator had a good article about how wrong Project Fear's predictions were.
Excerpts from 'Five of the worst Remain predictions five years on' follow (emphases mine).
The sources for these are then-Chancellor George Osborne, the banks, an international accounting firm, then-Prime Minister David Cameron and the EU's Donald Tusk.
George Osborne
George Osborne and the Treasury peddled three Project Fear disasters: impoverished households, huge job losses and what The Spectator calls a 'punishment budget'.
On households, using Treasury figures, he predicted that each household in Britain would be poorer by £4,300 in 2030. Even the Remainer BBC had a problem with that. Their fact check said that the figure was:
questionable and probably not particularly helpful.
In reality, the opposite has happened:
records from the Office for National Statistics (ONS) show in the five years since that real disposable income per head has risen from £5,177 in the second quarter of 2016 to £5,354 at the end of 2020. 
On the jobs front, Treasury figures predicted 500,000 job losses across Britain.
In reality, early in 2020, before coronavirus hit, the employment rate was at a record high:
a million jobs were added by the time Covid hit, with the employment rate for those aged between 16 to 64 rising from 74.5 per cent in June 2016 to 76.6 per cent in January 2020 – the highest level since 1971.
Before the 2016 referendum, Osborne told BBC Radio 4's Today programme that the UK would leave the EU with no economic plan, therefore, a punishment budget of higher taxes and public spending cuts would have to be implemented.
In reality, after Cameron resigned at 9:30 a.m. on June 24, 2016, Osborne left his post as Chancellor. Philip Hammond, his successor, said that no such budget would be implemented.
As a result:
Hammond's first budget was described as a 'low-key package' that increased national insurance contributions for the self-employed and enjoyed stronger-than-expected tax receipts since the EU referendum. Britain even finished the year as one of the fastest growing economies in the G7.
The banks
Goldman Sachs predicted a British recession by early 2017.
Nomura and Credit Suisse predicted falls in GDP: 1.3% and 1%, respectively.
JP Morgan predicted that Scotland would leave the Union and create their own currency.
In reality, Scotland is still yearning to break free with no plan on how to do it:
with the British economy growing up until the first quarter of 2020 when Covid struck with 1.7 per cent annual GDP growth in both 2016 and 2017 followed by 1.3 per cent in 2018 and 1.4 per cent in 2019.
Big accounting firm
PricewaterhouseCoopers predicted a loss of up to 100,000 financial services jobs.
EY (Ernst & Young) came closer to the true figure:
Rivals EY estimated last month that PWC's figure had overestimated such losses by a factor of nine, with just 7,600 going overseas as of March 2021.
Donald Tusk and David Cameron
The EU's Donald Tusk predicted the loss of:
Western political civilization in its entirety.
David Cameron predicted a Third World War.
In reality:
it appears that the greater threat to the EU is in fact its own leaders, given the ongoing debacle of the vaccine rollout in the face of public dismay. Western political civilisation meanwhile has somehow remained intact.
Ordinary citizens — the 52% who voted to Leave — can discern the situation on the ground better than the experts — our notional betters — can.
Thanks again to all Britons who voted Leave on that rainy, miserable day five years ago.
We're out and, together as a Union, we are putting the 'Great' back into Britain. Our coronavirus vaccine rollout has been spectacular, surpassing the EU's by a country mile. More great accomplishments for us lie ahead.
When it comes to the EU, better out than in.
On Saturday, March 6, 2021, Nigel Farage announced that, after nearly 30 years, he is leaving the world of politics:
That photo was taken in the EU Parliament on the last day in that British MEPs participated in proceedings.
Guido Fawkes points out how extraordinary Nigel Farage is:
Granted, Farage was an MEP for South East England for just over a decade — 1999-2020 — and his was probably the only MEP's name anyone in Britain knew. Yes, we voted for them, but it was all a bit of a forgettable side show. I could never remember who our regional MEP was.
1994 by-election
Nigel Farage did run for Parliament, however, and only once. That was in 1994, in Eastleigh, which is in Hampshire.
Eastleigh's Conservative MP, Stephen Milligan, had died suddenly at the age of 45. It transpired that the cause of his death was autoerotic asphyxiation. The story made the papers and LBC (the only talk radio station in England at the time). People talked about it for days: 'Is this really a thing?' Apparently so, among some people back then. We were bemused and astonished.
Milligan's secretary found his body.
From Wikipedia (emphases mine):
Milligan was found dead in his house at 64 Black Lion Lane, Hammersmith, London, by his secretary Vera Taggart on 7 February 1994. Milligan had failed to appear in the House of Commons as expected, and so Taggart went to look for him.[4] Milligan's corpse was found naked except for a pair of stockings and suspenders, with an electrical flex tied around his neck, a black bin liner over his head and an orange in his mouth.[5][4] The coroner concluded that he had died in the early hours of 7 February.[4] The pathology report into Milligan's death discounted the possibility of murder, lending weight to the belief that he died accidentally as a result of autoerotic asphyxiation. No drugs or alcohol were found in his blood, and no substances were found to have contributed to his death.[4][6]
Farage was one of the candidates in the by-election, which was held on June 8 that year. Farage represented UKIP at the time. David Chidgey, a Liberal Democrat, won the by-election. Farage came fourth. Chidgey had come in second to Milligan in the prior election. Chidgey is now in the House of Lords and holds a life peerage. His full title is Baron Chidgey of Hamble-le-Rice in the County of Hampshire.
Eastleigh currently has a Conservative MP, Paul Holmes.
European Parliament
In 1999, Farage was elected as an MEP for the South East England region. He was re-elected three subsequent times, until the UK left the EU. We were no longer allowed to participate once we began our Brexit transition period.
On Thursday, June 23, 2016, Britain voted to leave the EU in the biggest plebiscite in our history. People who hadn't voted for years went to polling stations across the land, especially in England and in Wales, to vote Leave. I remember the day well. It poured buckets all day long. Glastonbury, our biggest music festival, was the next day. Between the weather and Glasto, a lot of young adults who would have voted Remain either stayed home or were on their way to the festival. Leave won by 52% to 48%.
On Tuesday, June 28, 2016, Farage spoke in the EU Parliament, satisfied that, after having been trying since 1992, his life's work was being realised:
You all laughed at me. You're not laughing now, are you?
This short clip of his speech is worth watching. Many Britons have seen it, and it's always great viewing it again. Guy Verhofstadt and Jean-Claude Juncker appear in it, too:
In October 2019, Guy Verhofstadt objected to Prime Minister Boris Johnson's deal, calling it a 'virtual' withdrawal agreement and a 'blame game' against the EU. He then called Boris 'a traitor'. By then, the UKIP MEPs were representing the Brexit Party, Farage's new party incarnation.
In addition to Verhofstadt, this 15-minute video shows a left-wing British MEP denouncing Boris as a 'toe-rag', to which a Conservative MEP objected, Brexit Party MEPs Richard Tice and Claire Fox (now Baroness Fox in the House of Lords) as well as, of course, Farage himself (at the 13-minute point). Farage struck out at Michel Barnier, who was our negotiator for the EU, and a Remainer MEP (14-minute point). He called her a 'patronising stuck up snob'.
I saw this when it happened — a must-watch:
In 2019, with our departure from the EU becoming a reality, the Brexit Party became the Reform Party, devoted to reforming British institutions.
This brings us to the present day.
March 2021
On Saturday, Nigel Farage announced that, having worked for 30 years on getting Britain out of the EU, his work in the political sphere has been fulfilled. He added that it is more than most MPs can say about their parliamentary careers. He is right.
In his 10-minute video, he runs through his struggle for Brexit, expresses his hope that the current teething problems will be worked out and says that he will now devote himself to special personal 'projects' of his, which include shining a light on China and the British education system as well as planting trees to improve the environment:
Richard Tice, a successful businessman, will now head the Reform Party.
On Sunday, March 7, Farage reposted his video and added that he will become Honorary President of Reform UK:
He said that, if asked, he would help Richard Tice in campaigning in the run up to our May 2021 local elections.
Nigel Farage says that we have not heard the last from him and that he will continue to have a strong social media presence, including on YouTube.
He's done fantastic work for the nation.
I was delighted to have heard him speak in person several years ago as well as chat one-on-one with him briefly at that event. During intermission, members of the audience submitted written questions anonymously. I submitted three, and he kindly answered all of them! Thank you, Nigel!
The coronavirus lockdown has certainly contributed to the rising ratings for BBC Parliament and parliamentlive.tv.
More people are tuning in and the BBC have restyled the chyron on their screen to make it more user friendly. We now know what the debate topic is as soon as we tune in.
However, ratings for televised coverage of Parliament began climbing in 2015, when David Cameron was Prime Minister.
On February 12, 2016, Total Politics reported (emphases mine, apart from the italics):
BBC Parliament has reported a record high of an average of two million viewers a month for the first time ever in 2015.
This is an increase of 150,000 viewers each month on the 2014 figures – and it marks the first time the BBC's dedicated parliamentary channel has broken the two million viewers per month threshold.
The channel has more live coverage than ever before and covers proceedings from Westminster, the European parliament, the Welsh and Northern Ireland Assemblies and the Scottish Parliament.
BBC Parliament controller Peter Knowles told TP:
"Providing more live coverage of the key political debates and discussions has meant that during 2015, a dramatic year in politics, we've seen a surge in people using BBC Parliament to follow proceedings.
"New camera positions are also giving our coverage a fresh feel as this parliamentary term is now in full flow."
Apparently the new camera angles, brought in last year, represent the first such change since 1989. According to a BBC spokesman, the new camera angles "bring audiences closer to the key exchanges, debates and votes".
So much for the public being turned off by politicians…
In 2020, in a review of the 2017-2019 Parliament under Theresa May's premiership and with John Bercow as egotistical Speaker of the House, The Institute for Government stated:
Members of the public can now view parliamentary proceedings on a variety of platforms. Run by the parliamentary Digital Service, parliamentlive.tv is the most comprehensive source of parliamentary video and audio, publishing recordings of all events – including meetings of select committees – taking place in public.[24] The site allows members of the public to watch events live, access video on demand and search archive footage going back to December 2007. It is also possible to download clips from parliamentlive.tv – with nearly one thousand clips downloaded on average each week between 5 March 2018 and 30 December 2019. These clips are often shared by MPs, interest groups and political parties on social media. BBC Parliament also carries live coverage of key parliamentary activity.
Parliamentary tensions over Brexit were a massive driver of viewers for Parliamentlive.tv. 
Average daily viewer numbers increased over 150% from 6,552 per day in 2017 to 16,607 per day in 2019. BBC Parliament also saw record viewing figures – the only BBC TV channel experiencing an increase in viewers. An average of one million adults tuned into the channel for at least three minutes each week during 2019, with viewing figures exceeding two million in several key weeks. One commentator described the channel as "the ratings hit that's Big Brother meets 24 – with added Bercow".[25]
Controversial and compelling Brexit debates continued when Boris Johnson became Prime Minister.
On Wednesday, September 4, 2019, the Radio Times reported:
BBC Parliament hit an all-time ratings high on Tuesday as Boris Johnson suffered his first defeat as Prime Minister, with MPs voting to take control of the House of Commons in order to force a vote on a bill that will prevent a no deal Brexit.
Some 1.5m viewers tuned in across the course of the day, marking the biggest 24 hours for the channel on record.
The drama in Westminster continues into Wednesday, as opposition parties and Tory rebels lead a debate on Labour politician Hilary Benn's bill to block a no deal Brexit …
The channel is providing live coverage from the House of Commons throughout the ongoing Brexit crisis, and it is captivating the nation – even drawing viewers away from the beloved Great British Bake Off, which aired its latest episode on Channel 4.
The Radio Times article included two tweets, the first of which is from British television's most famous money pundit, Martin Lewis:
Last year:
Even on less contentious days, the debates can be absorbing, such as a recent closing debate about the threat to driving tests in High Wycombe, Buckinghamshire, not far from London. I watched it while preparing dinner when it aired, and it was compelling. Mail on Sunday columnist Dan Hodges, who is actress/former MP Glenda Jackson's son, tweeted:
Once one starts watching Parliament in action, it is difficult to stop. We get to know the MPs and predict what they will say. With coronavirus, we have the added bonus of seeing what the interiors of their houses look like.
The day's order papers are on the PARLY and House of Commons Twitter feeds:
The most recent development in broadcasting from the Houses of Parliament is a new fit-for-purpose gallery, which Speaker of the House Sir Lindsay Hoyle visited on Tuesday, March 2, 2021:
In a further development, Chancellor for the Exchequer Rishi Sunak will be giving the first-ever press conference about the budget on national television following his statement in Parliament on March 3. Guido Fawkes has more:
After presenting his budget in the House of Commons on Wednesday, the Chancellor will scarper over to No. 10 to take questions on it from the public and journalists from 5pm. The televised event will be the first of its kind on Budget Day …
More on that and the budget tomorrow.
Recently, I've been featuring a bit more about Kevin McCarthy (R-California), the GOP Leader of the House of Representatives.
In my December 15 post, I'd doubted whether he'd been on the Trump Train since 2016, but, according to my ancient bookmarks, he took his first step on board in March that year.
By the way, this is still my favourite tweet from the 2020 election. Well done:
Looking back, as early as March 2016, McCarthy, House Majority Leader at the time (Paul Ryan was Speaker of the House), believed that Candidate Trump could galvanise the Republican Party. On March 10 that year, the venerable Sacramento Bee reported (emphases mine):
House Majority Leader Kevin McCarthy on Thursday rejected the possible calamitous effects a Donald Trump nomination could have on the Republican Party, arguing instead that the businessman and political newcomer may improve the chances of GOP House challengers in November …
He also outlined his hopes for the House:
"Our desire (for) the House is to become the place of ideas," he said. "Whoever becomes president, make the debate about policy, so when the election is over we can solve the problems. But the American people decided which way they wanted to go."
He walked alone.
On May 9 that year, he made the risky move of signing up to be a Trump delegate. Politico reported:
House Majority Leader Kevin McCarthy has signed up to serve as a delegate for presumptive Republican nominee Donald Trump at this summer's national convention in Cleveland.
McCarthy's move is notable in part because House Speaker Paul Ryan has said he is "not ready" to endorse Trump, even though he is the lone Republican remaining in the contest …
Peter Thiel, the billionaire tech venture capitalist who was an early investor in Facebook and a past backer of Kentucky Sen. Rand Paul, signed up as a Trump delegate in House Minority Leader Nancy Pelosi's San Francisco district.
David Horowitz, a conservative activist, and Richard Grenell, a former spokesman for past U.S. ambassadors to the United States, also are slated to be Trump delegates.
Other notable Trump delegates from the California congressional delegation include Reps. Darrell Issa and Duncan Hunter, who was one of the earliest House members to endorse the Manhattan billionaire.
Late in 2019, Kevin McCarthy strongly supported President Trump through his first impeachment in the House:
Sadly, his optimism was misplaced on the House votes. Fortunately, the Senate acquitted the American president.
In December 2020, he spoke out against election fraud:
Around Christmas, he fought against approving billions in foreign aid when Americans were unemployed because of the coronavirus crisis:
Just after Christmas, PJ Media thought McCarthy had a good chance of replacing Nancy Pelosi as Speaker of the House. Oh, if only.
The fragrant Judge Jeanine Pirro was equally hopeful. However, McCarthy dampened her enthusiasm by telling her that Nancy Pelosi was calling back a Democrat congresswoman who had coronavirus to vote in person (true, it happened)! He also said that the Democrats were going to stop freedom of speech as guaranteed under the First Amendment (that also happened). He also thinks that California governor Gavin Newsom will be recalled (I certainly hope so):
Only a few days later, when the break-in of the Capitol building took place and a woman was shot just as electors' votes were to be tabulated (news of the policeman came later), McCarthy, according to John Solomon's Just the News, asked President Trump to make a statement:
"This is not the direction we should go," McCarthy told Fox News.
McCarthy was one of the first to say he heard police saying that shots were fired. To this day, Nancy Pelosi has not said a thing.
Then came calls for President Trump's second impeachment, which McCarthy rightly objected to, saying that the United States would recover her rightful place as 'our shining city on a hill':
Then, the anti-Trump Lincoln Project waded in. How they can use President Lincoln's name in vain is repulsive, to say the least.
The Lincoln Project objected to Trump defenders such as McCarthy, Senator Ted Cruz (R-Texas) and junior Senator Josh Hawley (R-Missouri):
Unbelievable.
This is what Kevin McCarthy said when the House held their brief impeachment hearing for President Trump. It's pretty clear that he objected to a kangaroo court (my words) impeachment with no due process and that is why he said such a move would be divisive for America (around the 3-minute mark):
Not every Trump fan was happy with his speech, but, as GOP Leader, his speech had to be balanced, speaking to both sides of the aisle.
Another Trump fan objected to McCarthy's opposition to Joe Biden's push for yet another amnesty. Why is unclear. Perhaps they do not have as many McCarthy bookmarks as I do.
However, everything Kevin McCarthy has said is consistent with his support for President Trump.
The Lincoln Project thought so, too:
At the end of January, Kevin McCarthy visited Mar a Lago to work with President Trump on a strategy to take back the House of Representatives in 2022:
On January 30, the Lincoln Project posted an egregious video aimed at McCarthy. Words fail me. This is a must watch:
On a brighter note, tomorrow's post will look at some of the newest shining stars in the Republican Party. Kevin McCarthy introduces them one by one.
On Tuesday, November 5, 2019, James O'Keefe's Project Veritas team posted a 'hot mic' video about ABC's 2016 cover-up of Jeffrey Epstein. This is a must-watch:
In August 2019, ABC's Amy Robach expressed her frustration to an ABC colleague about the network's spiking the news story. Project Veritas has more (emphases mine):
Newly revealed footage leaked by an ABC insider has exposed how network executives rejected allegations against Jeffrey Epstein years ago, even though there was content regarding the merit of those claims in-hand.
Amy Robach, 'Good Morning America' Co-Host and Breaking News Anchor at ABC, explains how a witness came forward years ago with information pertaining to Epstein, but Disney-owned ABC News refused to air the material for years. Robach vents her anger in a "hot mic" moment with an off-camera producer, explaining that ABC quashed the story in its early stages. "I've had this interview with Virginia Roberts (Now Virginia Guiffre) [alleged Epstein victim]. We would not put it on the air. Um, first of all, I was told "Who's Jeffrey Epstein. No one knows who that is. This is a stupid story."
This was in 2016, during the presidential election campaign. Hillary Clinton was the Democrat candidate, and the footage, Robach says, would have implicated former president Bill Clinton. If aired, that could well have put an end to Hillary's campaign. We all know she was supposed to win.
Robach says she and her team encouraged Virginia Roberts Giuffre to come out of the shadows and discuss her horrific years with Epstein, which she did.
At this point in 2016, ABC was weeks away from getting an interview with the Duke and Duchess of Cambridge — Wills and Kate:
She continues, "The Palace found out that we had her whole allegations about Prince Andrew and threatened us a million different ways."
Robach does not think Epstein committed suicide, as was widely reported:
Robach goes on to express she believes that Epstein was killed in prison saying, "So do I think he was killed? 100% Yes, I do…He made his whole living blackmailing people… Yup, there were a lot of men in those planes. A lot of men who visited that Island, a lot of powerful men who came into that apartment."
Robach repeats a prophetic statement purportedly made by Attorney Brad Edwards "…[T]here will come a day when we will realize Jeffrey Epstein was the most prolific pedophile this country has ever known," and [d]isgustedly Robach states "I had it all three years ago."
Later on November 5, Robach and ABC issued their own statements. The images below come courtesy of Project Veritas:
The Project Veritas went viral that day:
There were another 500,000 views three hours later:
This exposé might not have been covered in much of the Western world that day, but at least it made Australia's news …
… and Fox News in the US:
It's hard to disagree with that.
Former Arkansas governor Mike Huckabee, Sarah Sanders's father, adds:
Later, CNN covered the story but without a reference to Project Veritas, only 'an activist group'.
On November 6, The Daily Caller reported that ABC was looking for the person who leaked the video. The article explains how CBS could be connected:
ABC News has launched an investigation to determine who leaked the video of anchor Amy Robach alleging that the network killed her story on Jeffrey Epstein, it said in a statement Wednesday …
ABC News is trying to determine who leaked the video to Project Veritas, according to a statement from the outlet, journalist Yashar Ali wrote Wednesday.
"We take violations of company policy very seriously, and we're pursuing all avenues to determine the source of the leak," a spokesperson for ABC News said according to Ali.
ABC News also allegedly knows the former employee who had access to the video of Robach, two sources with knowledge of the situation told Ali. The outlet is still unsure if that person leaked the footage to Project Veritas or if they shared it with others who leaked it.
The former employee is now allegedly working at CBS News, the sources said, according to Ali. CBS News did not immediately respond to a request for comment.
The Daily Caller article includes part of Ali's Twitter thread on the developing story:
Not only is there a possible CBS connection but a possible Disney one, too:
The petition is gathering strength:
I wish James O'Keefe and his team the best of luck with this and other exposés:
We know if conservatives were covering up major news stories about highly corrupt and destructive people, it would be all over the news 24/7 for months — and worse:
This story is developing:
Again, best wishes to all concerned who are helping Project Veritas.
The lies from Britain's Remainers about Brexit's Leavers are quite incredible.
For the past three weeks, if not longer, Remainers have told Leavers they did not know what they were voting for in the 2016 Brexit referendum.
False!
Let's go back to when David Cameron was still Prime Minister.
This is what party leaders — Conservative, Lib Dem and Labour — had to say about the referendum. There would be only one:
Cameron summarised the process. Article 50 would be triggered promptly. In February 2016, he said: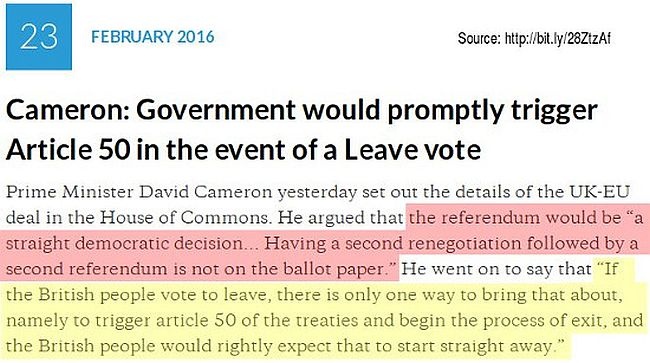 Leavers watched the televised debates.
They also researched sites other than Big Media. Guido Fawkes was one of them. Here Guido explains tariffs:

This was the referendum result on June 23, 2016 — 52%-48%:
David Cameron stood down as Prime Minister the morning of Friday, June 24.
Theresa May succeeded him a few weeks later.
In 2017, under May's premiership, a WTO Brexit was part of the Conservative Party manifesto for the general election held in June: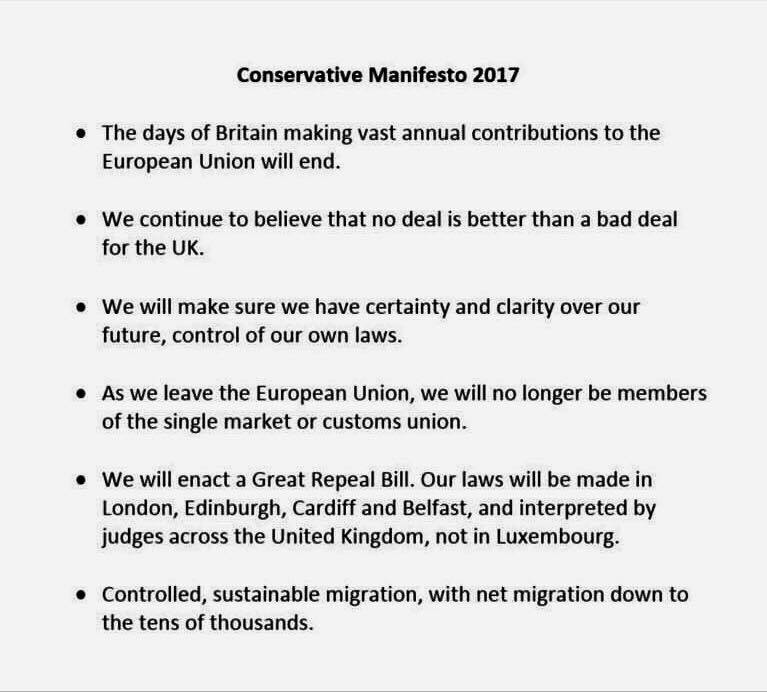 The Conservative Party manifesto excluded a halfway house Brexit with a foot in each camp. Leavers were told they would get a WTO Brexit: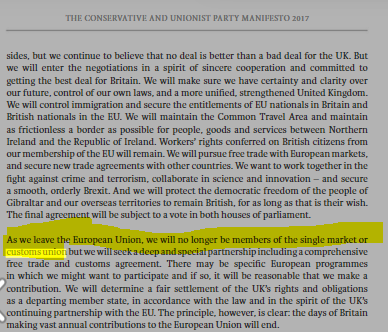 Before the election, Labour MP Yvette Cooper — whose Bill No. 5 blocking a parliamentary/government No Deal is now law — pledged to honour the Brexit mandate, which, incidentally, the Labour Party manifesto also supported. Note that she represents a Leave constituency: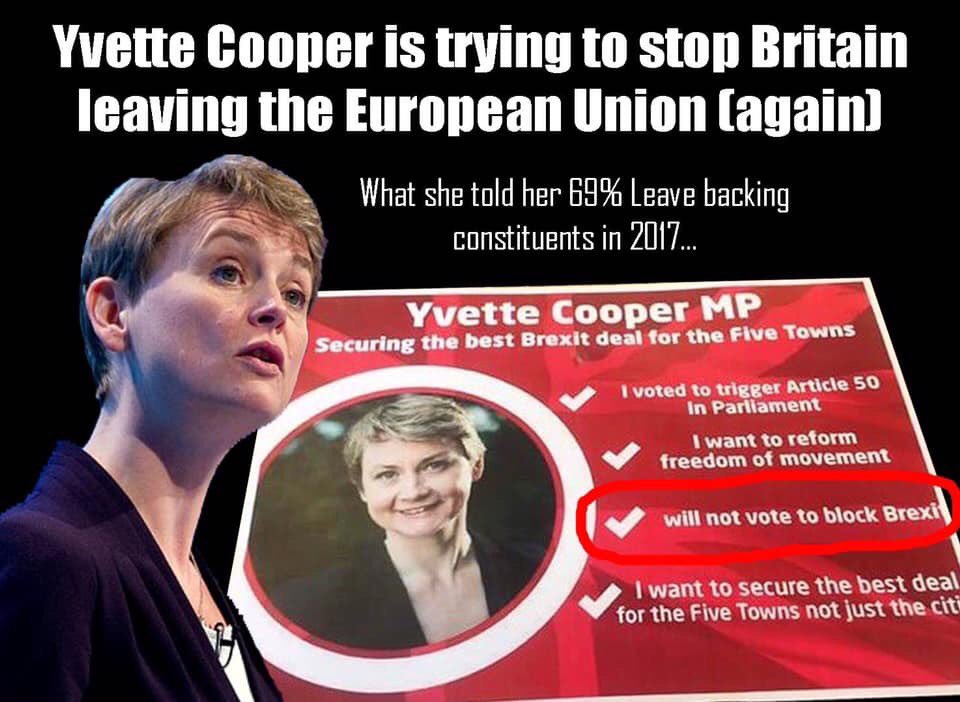 This is what Leavers voted for:
Fast forward to 2019, and who wants a second referendum — a 'People's Vote'? Remainers.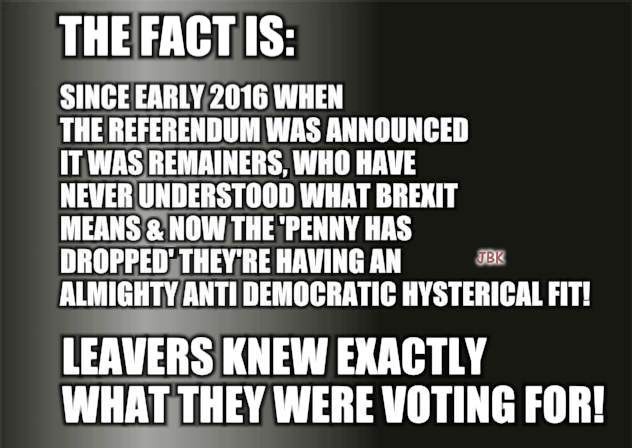 Remainers can rest comfortably knowing that their allies in both Houses — Commons and the Lords — will see to it that they get their wish.
Should Britain end up with a halfway house Brexit — heaven forfend — that is not what Leavers voted for in 2016.
Remainers can share the blame for that with their advocates: parliamentarians and peers alike.
A lot of great interviews have been taking place in the run up to the mid-terms.
By way of introduction to the interview Rush Limbaugh gave Sean Hannity, let us consider this. The photo is of Air Force One in Missoula, Montana, where President Trump gave a rally on Thursday, October 18:
At that rally, Trump once again had much to say. Breitbart has a short report with highlights (emphases mine):
"The choice could not be more clear: Democrats produce mobs, Republicans produce jobs," Trump said during a campaign rally in Montana …
The president highlighted the Democrat effort to personally destroy Supreme Court Justice Brett Kavanaugh during the Senate confirmation battle.
Trump said the protesters against Kavanaugh were "paid by Soros" and used professional signs in their rallies at the Supreme Court …
Trump said that Democrats would try to raise taxes, impose socialism, destroy health care and the Second Amendment, and support open borders.
"Democrats have become the party of crime," Trump said. "They would rather devastate America's communities than defend America's borders."
Rush covered these topics in his interview with Sean Hannity that same day. This is one interview where Hannity does not interrupt his guest. This is probably because a) Hannity used to guest host for Rush and b) the interview was held in Rush's office in Florida. Enjoy:
Rush is celebrating his 30th anniversary on national radio. He said it was more than he ever dreamt of.
He then went on to discuss the behaviour of the Democrats and the Left, which he said has no legitimacy in American society. By that, he meant that decent Americans do not want to be intimidated by violence to change their votes or their way of life. That's not how America works.
He said he was puzzled that the Democrats think they can use violence to not only make Americans recant their support of Donald Trump but make Trump himself change.
He said that America is very fortunate that Hillary did not win the election in 2016, because she would have continued the decline that Obama started. He said that the United States would have experienced fewer jobs, a failing economy, poor foreign relations and more.
Rush was a bit late to the Trump party, even if he said here that he knew Trump would be the Republican candidate as soon as he saw him on the escalator in Trump Tower in 2015.
Rush also said that too many Americans still watch too much mainstream media news. I couldn't agree more. It would be nice if Fox News gave him a weekend show of his own.
He also criticised the media for not engaging positively with Trump supporters, i.e. finding out why the president's policies are important to them and to traditional American values.
I realise that a lot of people don't care for Rush, but this is an excellent interview.
I would also recommend this video to readers who do not live in the United States and who still give credence to the Democrats, Hillary Clinton and Obama.
Today, by chance, I found an interesting Breitbart article from April 5, 2016, '13 Amazing Facts We've Learned About Donald Trump's Campaign', which summarises a New York magazine article.
The people New York interviewed were adviser Sam Nunberg, press secretary Hope Hicks and campaign manager Corey Lewandowski. Nunberg fell at the first hurdle and endorsed Ted Cruz in March 2016; Paul Manafort replaced Lewandowski as an experienced political operative who got Trump his delegates; and Hicks followed Trump to the White House only to resign as communications director a few months ago.
Never mind that.
This is what the scene looked like just two weeks after rioters prevented Trump's Chicago rally from going ahead in mid-March 2016. That was the time I started to study his campaign closely.
These insider titbits came as news to me (emphases mine below). Quotes are from New York:
1. Years before he announced his candidacy, Trump had a former aide listen to talk radio to discover what issues Americans cared about most.
"I listened to thousands of hours of talk radio, and he was getting reports from me," [Sam] Nunberg recalled. What those reports said was that the GOP base was frothing over a handful of issues including immigration, Obamacare, and Common Core. While Jeb Bush talked about crossing the border as an "act of love," Trump was thinking about how high to build his wall.
2. That former aide says he first met Trump when he was a child at a WWE (then WWF) event.
Nunberg is a lawyer wired into right-wing politics who has long looked up to "Mr. Trump," as he calls him. "I first met him at Wrestle­Mania when I was like 5 years old," Nunberg told me.
7. Sherman [author of the article] says not even Trump himself expected to become the frontrunner at first.
…
When he launched his campaign, Trump suspected it would eventually fizzle and he would return to The Apprentice. "You know, when I first got into this, it was for other reasons," he told a friend. As weeks and then months passed with him remaining out front, he began to think winning the nomination was a real possibility, even as he resisted calls to professionalize his campaign. Why bother, when what he was doing was working so well?
10. Trump's campaign has less than 1/8th of the national staff that Hillary Clinton does.
Trump's campaign employs a core team of about a dozen people; his campaign lists 94 people on the payroll nationwide, according to the latest Federal Election Commission filing (Hillary Clinton has 765).
11. The Trump campaign claims to have built a millions-strong email list at virtually no cost just by requiring registration from rally attendees.
After the rallies, Trump makes sure his fans stay mobilized. Everyone who attends a rally has to register by email, and the campaign uses this list, which Lewandowski estimates is "in the millions at this point," to turn out voters. Most campaigns spend a lot of money to acquire voter lists; Trump largely built his own. "If you look at what the Obama campaign achieved many years ago, they were successful at bringing new people in, and then communicating with those people. What we're doing is not dissimilar," Lewandowski explained. "He had a brilliant plan, which was to go in and attract huge crowds," added Ed McMullen, Trump's South Carolina co-chair. "We had extremely strong interaction with them, and we were dedicated to keeping track of who those people were." Trump supporters receive frequent email updates and phone calls from phone-bank volunteers.
12. Trump often writes his infamous Instagram ads and has one employee produce them for almost nothing.
He buys few ads, and when he does, he likes to write them himself.
…
Trump has aired only six unique TV commercials, according to Hicks, while his GOP rivals have aired more than two dozen separate ads each. Through February, he spent only $10 million on ads; Jeb Bush spent $82 million. Trump relies mostly on essentially free Instagram spots produced by 29-year-old Justin McConney, the son of Trump's corporate comptroller, whom Trump put in charge of building his social-media profile a few years ago. (One ad he made that featured Hillary barking and Putin laughing got a ton of — free — press.)
That really is amazing, in every respect. Of course, the campaign evolved that year through staff changes meeting ever-advancing challenges.
Thinking back, even up to the Electoral College vote, most people said, 'Trump can't win!'
And, today, look where America is under President Donald Trump, still resisted by some:
Thank goodness a savvy businessman is in the White House — the first in living memory! Of course, being a savvy businessman is only half the story. The other half is that Trump truly loves the United States and the American people.
This is part of a series about Spygate.
Please see Part 1 for a list of people involved and how they know each other. The same names will be appearing in this and other related posts.
Part 2 covers events from 2015 and the first half of 2016.
Part 3 reviews what happened during the summer that year.
The_War_Economy posted a brilliant Twitter thread of 246 tweets with accompanying sources.
His thread is called SPYFALL, available in Thread Reader and individual tweets.
I will be excerpting and summarising SPYFALL this week as well as adding some of my own information so that those of us reading about Spygate can better comprehend its various elements.
When summarising SPYFALL, I will include the relevant tweet number in parentheses which will have a link to the source material.
Today's post covers what happened between September 2016 and the election on November 8.
Emphases mine below.
September 2016
At the end of Part 3, Stefan Halper met with Trump campaign adviser Sam Clovis for coffee at a hotel in the Washington DC area hotel. That was on September 1. They appeared to have discussed China; Halper also asked how he could get in touch with George Papadopoulos (137).
On September 2, Halper invited Papadopoulos to join him in London. Republican operative Peter W Smith set up KLS Research LLC to help find Clinton's emails, something he had been trying to do since July. FBI lawyer Lisa Page texted her colleague Peter Strzok to say that James Comey was going to meet with Obama, as he was interested in what the FBI was doing (138).
Meanwhile, James Comey refused to say whether Trump campaign aides were being investigated. In Rome, FBI agents were asking Christopher Steele about his sources and future copies of his memos (133).
Steele also spoke with the State Department's Jonathan Winer about his (Steele's) dossier. Winer prepared a two-page summary of the discussion and shared it with State Department colleagues Victoria Nuland and Jon Finer (134). Finer went to share the information with then-Secretary of State John Kerry. Once Kerry found out the FBI had a copy, he dropped the subject. So did Victoria Nuland (135).
Steele was very much against Donald Trump's candidacy. He met with the DoJ's Bruce Ohr and made his views clear (136). Bruce Ohr's wife, Nellie Ohr, had applied for a ham radio licence on May 23.
There was confusion at the Treasury Department about investigating people's bank accounts. Treasury Department lawyer Paul Ahern said that draft guidelines were in place to do so (139), but, in reality, the Office of Intelligence and Analysis had never finalised said guidelines (140).
Russian interference was high on the agenda:
On September 13, George Papadopoulos began meeting with Stefan Halper in London (145). On March 26, 2018, The Daily Caller reported:
Papadopoulos now questions Halper's motivation for contacting him, according to a source familiar with Papadopoulos's thinking. That's not just because of the randomness of the initial inquiry but because of questions Halper is said to have asked during their face-to-face meetings in London.
According to a source with knowledge of the meeting, Halper asked Papadopoulos: "George, you know about hacking the emails from Russia, right?"
Papadopoulos told Halper he didn't know anything about emails or Russian hacking, said the source, who spoke on the condition of anonymity due to the sensitivity of the investigations into Russian meddling in the 2016 campaign. The professor did not follow up on the line of inquiry.
Halper first contacted Papadopoulos by email. In a Sept. 2, 2016, message sent to Papadopoulos's personal email account, he offered the Trump aide $3,000 to write a policy paper on issues related to Turkey, Cyprus, Israel and the Leviathan natural gas field. Halper also offered to pay for Papadopoulos's flight and a three-night stay in London.
Papadopoulos accepted the proposal, flew to England, and met with Halper and one of his assistants. He delivered the paper electronically Oct. 2 and received payment days later, according to documents TheDCNF reviewed …
Papadopoulos, 30, pleaded guilty in October 2017 to lying to the FBI about contacts he had during the campaign with Russian nationals and a London-based professor with links to the Russian government.
That professor, Joseph Mifsud, told Papadopoulos in April 2016 he learned the Russians had possession of "thousands" of Clinton-related emails. That conversation would later spark the FBI's investigation into Russian interference in the presidential campaign. It is not known whether Papadopoulos told anyone on the Trump campaign about Mifsud's remarks …
London was a veritable stomping ground for Papadopoulos during the campaign.
In addition to meetings there with Halper and Mifsud, the Chicago native had an encounter that would serve as the catalyst for the FBI's investigation into Russian meddling.
In May 2016, a month after his meeting with Mifsud, an Israeli embassy official, who Papadopoulos knew, introduced him to Australian High Commissioner to the United Kingdom Alexander Downer.
During a barroom conversation at Kensington Gardens, Papadopoulos told Downer about the emails Mifsud mentioned to him, The New York Times reported in December 2016.
After WikiLeaks published a trove of stolen DNC emails in July 2016, Australian government officials told the FBI about Downer's interaction with Papadopoulos. The bureau opened its counterintelligence investigation July 31, 2016 …
The Daily Caller article says the reasons why Downer wanted to meet with Papadopoulos are unclear and added that Downer and Halper have no clear personal connection with each other.
As to the meetings between Papadopoulos and Halper, the two:
met several times during the London trip, including at the Connaught Hotel and the Travellers Club — a classic 19th century club foreign diplomats and politicians frequent. Halper's research assistant — a Turkish woman named Azra Turk — also met with Papadopoulos. The Connaught Hotel meeting was scheduled for Sept. 13, 2016, and the Travellers Club conclave was two days later …
At the time of the Papadopoulos meeting, Halper was working on a project related to China and Russia's economic relations. There are no public records of Halper releasing reports on Turkey, Cyprus and Israel.
On September 14, the Department of Homeland Security's Lisa Monaco told those attending (146):
the 10-year-anniversary of the DOJ's National Security Division that Russia hacking the elections would be "extremely difficult".
On September 22, two California Democrats — Senator Dianne Feinstein and Rep. Adam Schiff — issued a joint statement condemning Russian hacking based on briefings they had received (148).
On September 23, journalist Michael Isikoff posted an article (149):
"U.S. intel officials probe ties between Trump adviser and Kremlin" with information provided by Steele. The FBI takes notice.
Isikoff knows a Democrat operative, Alexandra Chalupa, who, Politico says:
had worked in the White House Office of Public Liaison during the Clinton administration. Chalupa went on to work as a staffer, then as a consultant, for Democratic National Committee. The DNC paid her $412,000 from 2004 to June 2016, according to Federal Election Commission records, though she also was paid by other clients during that time, including Democratic campaigns and the DNC's arm for engaging expatriate Democrats around the world.
A daughter of Ukrainian immigrants who maintains strong ties to the Ukrainian-American diaspora and the U.S. Embassy in Ukraine, Chalupa, a lawyer by training, in 2014 was doing pro bono work for another client interested in the Ukrainian crisis and began researching [Paul] Manafort's role in Yanukovych's rise, as well as his ties to the pro-Russian oligarchs who funded Yanukovych's political party.
On September 26:
Concern about cyberattacks loomed larger near the end of September:
In the employ of Glenn Simpson from Fusion GPS, Christopher Steele (154):
starts meeting with journalists from The New York Times, The Washington Post, The New Yorker, CNN and Yahoo! News. He meets Jane Mayer at the Tabard Inn in Washington. This is done under Glenn Simpson's watch, as he paid $168,000.00 to Steele to do it.
October 2016
October 2016 was a nail-biting month for both the Trump campaign as well as Hillary and her fellow Democrats.
So many things happened, yet Dems were sure their candidate would win.
Christopher Steele continued to be busy. At this point, he was in contact with the FBI (DoJ) and the State Department:
The FBI had no evidence of collusion between the Trump campaign and Russia. Also, then-deputy FBI director Andrew McCabe hadn't yet told James Comey about Andrew Weiner's laptop (157). Incidentally, Jeff Sessions sacked McCabe on March 16, 2018.
On October 6, the Washington Post held their Cybersecurity Summit. The DHS's Lisa Monaco said it would be difficult to hack the November 8 election because of the various voting systems in place throughout the 50 states (158).
Russia loomed large on October 7:
That day (161), the 2005 Billy Bush Access Hollywood tape dropped, which the GOPe and Democrats hoped would sink Trump. WikiLeaks also started dropping the Podesta emails, a treasure trove of insider Dem information. Two days later, on October 9, the FBI told John Podesta — Hillary Clinton's campaign supremo — they were investigating the email hack (162).
WikiLeaks realeased near-daily dumps of Podesta emails from then until the election.
Meanwhile, on October 13, candidate Trump delivered his 'Slings and Arrows' speech in Florida (163).
On October 14, retired CIA official Michael Morrell (164):
takes some time out to try and tie Trump, Manafort, Stone and Page to Russia through financial connections and suggesting they are all agents of Russia.
That same day, Peter Strzok's wife received a promotion at the SEC and a former US ambassador to Russia visited the White House (165):
Michael McFaul is in the White House, where he bumps into Ambassador Kislyak. Also, Strzok's wife, Melissa Hodgman, is promoted to Associate Director in the SEC's Enforcement Division.
Christopher Steele refocussed his efforts in meeting with journalists, including the BBC's Paul Wood, and once again met with the aforementioned DoJ's Bruce Ohr (166), whom he had met in September.
Defense Secretary Ashton B. Carter and Director of National Intelligence James Clapper told Obama that NSI director Admiral Mike Rogers should be fired (167). Rogers would turn out to be an invaluable asset to president-elect Trump.
October 15 was the DOJ's John Carlin's last day at work. He had resigned as head of the DOJ's National Security Division (168).
On October 16, Julian Assange's access to the Internet was severed (169) but that contingency plans were in place. WikiLeaks claimed a 'state party' was responsible.
On October 18, the Obamas held their last state dinner. It was for Italy's prime minister, Mario Renzi. The guest list includes a few of the names here (see 170 and 171).
On October 19, Robert Mueller appeared on the scene (172):
he's been hired by Booz Allen Hamilton to review their security after the thefts committed by NSA contractor Harold Martin, who was discovered during the FBI's search for the Shadow Brokers.
On October 20, Christopher Steele finished his memos, Stefan Halper addressed the China Forum in Washington and Mike Rogers received a briefing on pending FISA issues (173).
Also related:
As the month drew to a close:
The FBI terminated their relationship with Christopher Steele, as journalist David Corn wrote about information he should not have made public (187):
Now David Corn also drops the article "A Veteran Spy Has Given the FBI Information Alleging a Russian Operation to Cultivate Donald Trump", which ends Steele's relationship with the FBI as they terminate him as a source.
Early November 2016
At the beginning of the month, the Steele Dossier began making the rounds in the Obama administration (189). Again, there was still no evidence of Trump-Russia collusion.
On October 31 the Obama administration sent a message to Russia via a secure channel originally designed for use in averting a nuclear exchange. On November 1, Russia confirmed receipt of the message (191).
That same day, Andrew McCabe recused himself from the FBI investigation into the Clinton Foundation (190).
On November 2, Obama criticised James Comey for his handling of the investigation into Hillary's emails (192). Reopening the investigation at the end of October shocked many. The election was only days away.
A number of legislators and media pundits questioned whether Comey had violated the Hatch Act, a few of whom are listed below. From Wikipedia:
On October 30, 2016, U.S. Senate Democratic Minority Leader Harry Reid stated that FBI Director James Comey may have violated the Hatch Act by sending a letter to the Congress on October 28, 2016, which stated that the FBI would be reopening their investigation of the Hillary Clinton email controversy.[34][35] Also on October 30, Richard Painter, a chief White House ethics lawyer for the George W. Bush administration, published an op-ed saying that he had filed a complaint against the FBI with the OSC and with the Office of Government Ethics about the same matter.[36]
Senator Charles Grassley (R-Iowa) wrote to the DoJ's Inspector General Michael Horowitz about conflicts of interest in the FBI investigation into the Clinton Foundation and Hillary's emails (193). Grassley's letter mentioned the July 2016 tarmac meeting between then-AG Loretta Lynch and Bill Clinton.
On November 3, Stefan Halper told Sputnik News that Hillary Clinton would make a better president than Donald Trump (194).
On November 6, news emerged that the FBI had examined all of Hillary's hundreds of thousands of emails (195):
FBI's Comey shuts down the Clinton investigation again, having read through 650,000 e-mails within about six days, something Michael Flynn openly questions.
Former Conservative MP Louise Mensch, an anti-Trumper now living in New York, wrote a piece for the now-defunct Heat Street (196):
… Louise Mensch (yes, her) published the article "EXCLUSIVE: FBI 'Granted FISA Warrant' Covering Trump Camp's Ties To Russia" in Heat Street …
Meanwhile, confident of a Hillary victory, John Kerry left on a trip to Antarctica. And he must have got the surprise of his life learning the news from November 8:
Of course, as we all know, the story was far from over. In fact, in some respects, Spygate had only just begun.
Tomorrow's post concludes the story of Spygate up to the present.