You are currently browsing the tag archive for the 'Scotland' tag.
This is my final post on the events of the Queen's Platinum Jubilee Weekend.
For those who missed it, I have covered Trooping the Colour, the Service of Thanksgiving at St Paul's and the Party at the Palace concert.
Today's recap is about the fantastic pageant in central London and festive street parties around the nation on Sunday, June 5, 2022.
Before I go into that, however, there are two more things to cover from earlier in the weekend.
The first concerns lunch at the Guildhall following Friday's Service of Thanksgiving.
On Monday, June 6, Dan Wootton wrote about it for the Daily Mail (emphases mine):
The sense of disappointment within London's grand Guildhall was palpable.
One of the rooms hosting dignitaries and other invited guests had been left without a member of the Royal Family present to mingle and chat as promised.
The mood turned frosty when the upset attendees, who had expected to be hosted by a minor royal as they were served English sparkling wine and a buffet of traditional dishes like coronation chicken and smoked duck, were told by organisers it was because the Duke and Duchess of Sussex had turned down an invitation to attend.
But it wasn't just the public who were stunned at Harry and Meghan's notable snub following an awkward appearance at St Paul's Cathedral for the Service of Thanksgiving.
That carefully choreographed event had been derailed by the boos received by Harry and Meghan from onlookers as they entered and then departed the church where Princess Diana famously married Prince Charles – the worst nightmare for courtiers who have long feared normally polite monarchists might vocally turn on the couple after their unrelenting attacks on the institution since Megxit.
I've learned some members of the Royal Family and many senior courtiers were horrified at the detached and cold appearance by the exiled couple, who had also made the decision to fly out of the country before the Queen had even made her historic Buckingham Palace balcony appearance, alongside Charles, Camilla and the Cambridges, on Sunday evening.
Lady Colin Campbell spoke with Wootton on his GB News show Monday night. She, too, said the Sussexes were snubbed:
She added that the couple were deeply unhappy because the Jubilee has outshone their own 'brand':
At least Her Majesty was able to meet Lilibet, who celebrated her first birthday at the weekend.
In another news event not widely covered, the Queen's Baton Relay arrived in London on June 2 in advance of this summer's Commonwealth Games in Birmingham:
Commonwealth Games minister Nigel Huddleston (wearing a red tie) met with some of the participants on Saturday at the Tower of London:
The Commonwealth Games will be starting in Birmingham on July 28:
Street parties
At lunchtime, the weather was dismal in many parts of the UK.
The Mail on Sunday reported:
Royal superfans are set to brave the elements on the final day of the Queen's Platinum Jubilee weekend, amid fears today's £15million Pageant will be battered by thunderstorms.
The Met Office has issued a yellow warning for heavy rainfall and potentially even hail across much of England and Wales from midnight until 6pm this evening.
Forecasters have said that the bad weather – including downpours of up to 50mm an hour, and even hail – may cause travel disruption and flooding in some places, with parts of London and the South East, the Midlands, East Anglia most at risk.
In London, we had what I call Coronation Day weather. Coronation Day was on June 2, 1953. It was cold, damp and rainy.
The greatest of these lunch parties was the Big Jubilee Lunch at Oval Cricket Ground in Vauxhall, south London. Prince Charles and Camilla, Duchess of Cornwall, represented the Royal Family.
The Mail on Sunday has an article with so many photos, you will have felt as if you'd been there.
An excerpt follows:
Prince Charles today said he hopes 'bickering' does not return to Britain after the Platinum Jubilee generated a feeling of 'togetherness' across the country.
The Prince of Wales and Camilla, Duchess of Cornwall are tucking into the Big Jubilee Lunch at the Oval cricket ground in South London, where they marvelled at a 20ft tea table made entirely of felt and cut a big cake before toasting Her Majesty. 
Guests at the lunch have said that the future king remarked: 'When it comes to Monday are we going to go back to all the bickering again? Let's hope we don't do that.'
That is one thing Charles and I agree upon. Unfortunately, Monday's confidence vote about Boris Johnson put paid to that.
As for the rest of the nation attending street parties:
Britons are attending a record-breaking 12million parties and lunches today as they celebrate the Queen's astonishing seven-decade reign. 
Dear me. How was that even possible?
And there were more lunches, not only in the Commonwealth nations:
More than 600 Big Jubilee Lunches are being planned throughout the Commonwealth and beyond – from Canada to Brazil, New Zealand to Japan and South Africa to Switzerland.
How wonderfuul was that?
Meanwhile, in Windsor, Prince Edward and Sophie, Duchess of Wessex, attended a 'long lunch' just outside the castle gates:
… the Earl and Countess of Wessex are expected to join thousands of the Queen's neighbours for a record breaking 'long lunch' on the Long Walk outside the gates of Windsor Castle on the final day of the Platinum Jubilee celebrations.
Here is a photo montage of street parties and lunches across the UK, which the Eden Project has helped organise in an attempt to bring the nation together in unity:
Street parties are renowned for delightful sweet treats:
For once, Scotland had better weather than England.
Despite all their independence rhetoric as well as the SNP-run councils and the Scottish Parliament, Scots came out in force to celebrate the Queen.
Edinburgh, the capital, took the cake, according to The Times:
In Edinburgh, the street party capital of Scotland, neighbours laid tables and chairs outside their homes and shared a small mountain of home baking, wine and champagne to toast the Queen's landmark achievement.
Residents of 32 streets applied to Edinburgh city council to ban traffic for the afternoon, the most of any local authority area, which allowed long lunches and children's games to take place in safety …
In Rutherglen, South Lanarkshire, about 300 adults and children enjoyed a picnic in the town's Overtoun Park, as part of the Big Jubilee Lunch. With the Duchess of Rothesay as patron of the organisation, an estimated 85,000 similar events were taking place around the UK at the same time …
Eugenie Aroutcheff, organiser of the Rutherglen event, said the eco-friendly project in the park was designed to combat social isolation and loneliness in the community.
Following the pandemic, the emphasis this year is on getting neighbours and friends back together again.
I will have more on street parties in general. The consensus among some people is that we should not need a Jubilee in order to organise street parties. I could not agree more, especially as the next Jubilee is likely to be decades away — unless the Queen shows exceptional longevity. It's possible. Her mother died just days before her 102nd birthday.
The Platinum Jubilee Pageant
There was no time for the thousands of people organising and participating in the Platinum Jubilee Pageant to have a too leisurely sit-down lunch:
They were all busy making their final preparations for the last official event of the weekend:
In all, 10,000 people made this spectacular pageant possible. It was amazing, and I'm not all that keen on this sort of thing.
This was the parade route, which is quite long:
The theme was honouring the Queen and each of the seven decades of her reign:
The Royal Marines had been part of the official events since Thursday. They must have been exhausted. Here we can see a short video about their many rehearsals:
This video shows a few of the Pageant performers and the floats involved:
The acts were magnificent. The costumes and choreography were so creative. I've never seen anything like it.
Here's the full three-hour video as seen at the end near the Victoria Fountain in front of Buckingham Palace. All the Royal Family members and most of the politicians and dignitaries who were at Saturday's concert were there:
The Queen's third balcony appearance
Around 4 p.m., news emerged that the Queen would be travelling in from Windsor Castle to Buckingham Palace for a final balcony appearance, bringing an end to four days of celebrations.
Four generations of the Royal Family appeared on the balcony: the Queen, Prince Charles and Camilla, Prince William and Kate and their children.
One must object, however, to Prince William's entreaties the night before about saving the planet as he and his family took a private helicopter to London:
Hmm. Perhaps it's not the best look.
The Queen looked stunning in an emerald green outfit. She appeared before the crowd around 5:10 p.m.:
The crowds in The Mall ran to the palace as soon as her Standard (flag) went up sometime after 4 o'clock. When the Standard flies above any Royal household, the Queen is in residence:
Agence France Presse had lovely photos:
Chart-topper Ed Sheeran and a few other singers sang the National Anthem. Afterwards, Sheeran swiftly but sincerely wished everyone a safe journey home. The crowd dutifully dispersed. By then, the weather had improved.
The Queen's influence is worldwide
Incredibly, the Queen's Platinum Jubilee was celebrated even in countries that are not part of the Commonwealth, e.g. Thailand, Switzerland, Poland, Morocco and Portugal:
What a wonderful four-day weekend it was!
Long live our gracious Queen! Long live our noble Queen! Long live the Queen!
It came as no surprise that the Conservatives fared poorly in the 2022 local elections on Thursday, May 5.
England
In England, the major headline was that the Liberal Democrats lived up to their slogan of 'Winning here' for the first time in quite a while.
They were the big beneficiaries of English votes where local councillors stood this year (many councils held elections in 2021):
Labour's big wins were in London, where they won three longstanding Conservative councils for the first time: Westminster, Wandsworth and Barnet.
It will be interesting to see how these London boroughs fare under Labour. In Lambeth, council tax for a Band D property is £1,502 per annum. Under the Conservatives, Wandsworth's was £800 per annum. Guido has a photo of a street in each of those council areas, where one can see a discernable difference in low-spend, high service council delivery.
Here's a Twitter exchange on the subject, focusing on Wandsworth:
The Croydon Council mention is interesting. It went from Labour to Conservative on Thursday, something I thought I'd never see.
Outside of London, Labour had little traction, especially in Red Wall areas, with the exception of the newly created Cumberland council.
Guido Fawkes has a good analysis, excerpted below (emphases in the original):
Whilst it was obviously terrible for the Tories that they lost nearly 500 seats, now all the votes are in and the dust has settled, did Labour advance as the Tories retreated? They actually did relatively poorly.
Labour's electoral performance outside their M25 enclave saw them gain just 22 councillors across England. That's it. While the Tories' results were obviously weak – although not at their worst expectations – any attempts to spin the numbers will have to contend with the fact that the LibDems, the Greens, and even independent candidates gained more net seats than Labour. Labour's wins in London will be small beer when it comes to a general election …
Winning a net gain of just 22 councillors, and gaining control of the same number of councils as the LibDems, is not a strong showing. William Hague managed to do better in 2001, when the Tories won 120 seats and 5 councils – a consolation prize for getting pummelled in the general election the same day. 
Even within the capital, however, there are warning signs for Labour. While they pop champagne over wins in Westminster, Barnet, and Wandsworth, their losses in Croydon and Harrow to the Tories, and Tower Hamlets to Lutfur Rahman [Independent] should raise a few eyebrows. Losing Tower Hamlets to a man who was temporarily banned from office over corruption isn't exactly promising…
For the Conservatives, the most damaging losses were in previously loyal areas now called the Blue Wall, e.g. the Home Counties just outside of London, the south coast and parts of the West Country.
Late on Friday, The Guardian reported (purple emphases mine):
Boris Johnson's leadership is facing fresh peril after senior Conservatives blamed him for losing swaths of the party's southern heartlands to the Liberal Democrats and flagship London boroughs to Labour.
In a punishing set of local elections for the Tories, the party lost about 400 council seats, ceding control of Westminster and Wandsworth in London to Labour for the first time since the 1970s, and plunging to its worst position in Scotland for a decade.
Conservative MPs and council leaders questioned Johnson's leadership, demanding action to tackle the cost of living crisis and rebuild trust in the wake of the Partygate scandal after a damaging series of losses across the "blue wall" in Somerset, Kent, Oxfordshire and Surrey.
However, the scale of the Tory backlash was tempered by a mixed picture for Labour, which showed progress, but not enough yet to suggest a landslide for Keir Starmer in a general election. A BBC projection for a general election based on Friday's results put Labour on 291 seats, the Conservatives on 253, the Lib Dems on 31 and others on 75.
Labour had a very strong result in London and took some southern councils such as Worthing, Crawley and Southampton …
The Lib Dems also had a clearly successful election night in England, adding at least 189 seats. They took control of the new unitary authority in Somerset, previously a Tory stronghold, edged out the Conservatives in Portsmouth, and pushed them out of control in West Oxfordshire. The Greens also performed well, winning 81 seats – more than doubling their number of councillors – as voters also turned to independents and residents' associations.
Going back to Tuesday, May 3, Conservative Party chairman Oliver Dowden MP alleged that Labour and the Lib Dems had a 'pact', whereby Labour did not put forward a candidate in every council election, deferring to the Lib Dems in order to win against the Conservatives. This is because England uses FPTP (First Past The Post) voting.
Pictured are the Lib Dems' Ed Davey on the left and Labour's Keir Starmer on the right:
Guido has the story along with a video of a Lib Dem woman who confirms such a plan:
There are clearly tactical Lib-Lab stand downs going on around the country. Tory chairman Oliver Dowden claims that in the South West, Labour are standing candidates in 61% of seats compared to 97% in 2018. In the South East, Labour are standing candidates in 88% of seats compared to 99% in 2018.  In the North East, the LibDems are standing in just 56% of seats, down from 78% four years ago. Labour is standing in 99% of seats in the area. "These shifts", claims Dowden, "are far too substantial to be a mere coincidence". In response Starmer says "There is no pact, everybody knows there is no pact" …

This LibDem organiser in Cumbria gives the game away about what is happening at local level. Labour-supporting Neal Lawson and Clive Lewis have been arguing for years that an unfair 'First Past the Post' system splits the 'progressive vote' and prevents the 'progressive majority' from winning.
It stands to reason that the total left-of-centre vote will be split, given on average two candidates from Labour, the LibDems or the Greens are running against just one right-of-centre candidate in England.  According to new research from Electoral Reform Society front-group "Politics for the Many", in 43.8% of wards there is one Tory standing against candidates from all three of the progressive 'left' parties. In 35.5% of wards where there is one Tory candidate, there are two 'left' candidates. According to the research, in almost 3,000 council seats up for grabs, there are only 15 wards in the whole of England where there are more right-of-centre parties standing than left parties.
Labour and LibDem strategists know this; they are looking on these locals as a trust-building exercise and a dry run for the general election…
The Telegraph confirmed this pact on Friday, May 6:
If Sir Keir is to get the keys to Number 10, it may be thanks to a deal struck after election day with another party – which is why the Liberal Democrat performance on Thursday is so interesting.
Seven years ago, the party was all but wiped out as voters punished Nick Clegg for his coalition with David Cameron. The political toxicity has clung on in the years since then.
But there were signs of real green shoots for the Lib Dems on Thursday. Their victory in Hull, taking the council from Labour, was the stand-out early result. 
The relentless targeting of Blue Wall Tory seats – often in rural southern constituencies they believe have been "taken for granted" by the Conservatives – also achieved notable wins.
By now, Labour realisea that it is relatively easy for a Conservative area to go for the Lib Dems at some point, much more than it would be to vote in Labour candidates.
A good illustration of this is in St Albans, Hertfordshire, which, over the past several years, has gone from True Blue to Yellow-Orange, including their MP:
A lot of Lib Dem councils stay that way. This is largely because a) the Lib Dems know how to get out the vote and b) residents get to know the Lib Dem candidates better for that reason:
Conservatives would do well to study St Albans and find out where they've gone wrong.
On that note, one Conservative MP who does realise the value of getting out the vote is Bob Blackman, who has represented Harrow East since 2010.
On Sunday, May 8, he told GB News's The Political Correction that Harrow became a Conservative council on Thursday because he and other Conservatives went out once a week to canvass residents on council services. Their dogged determination worked.
Blackman says that, as far as he is concerned, the next election campaign has already begun, hence more canvassing. Other Conservative MPs should follow his example.
Devolved nations
Each of the devolved nations has a form of proportional representation rather than FPTP. This is why they are very much left-of-centre.
This is how the Single Transferable Vote works:
Wales
Welsh Labour were highly successful. In Wales, First Minister Mark Drakeford runs his nation's Labour Party, so there is no Keir Starmer influence.
As such, Welsh Labour wiped out the last council under Conservative control: Monmouthshire.
Scotland
Scottish Labour also performed well, placing the Conservatives in third place for the first time in ten years.
Nicola Sturgeon's Scottish National Party (SNP) remains the top party, however.
Late on Friday, the Daily Mail reported:
Nicola Sturgeon has said she is 'thrilled' with the results coming out of the local elections in Scotland after her party increased its share of councillors.
The leader of the SNP told Sky News that the results sent a 'clear message' to Boris Johnson and the Tories.
She said: 'We are the largest party in more councils today than we were yesterday – we've won the election and we've won the election by a country mile.
'I think it's the eighth consecutive election win under my leadership of the SNP or after 15 years in government so it is a stupendous result for the SNP and sends the clearest possible message to Boris Johnson and the Tories.'
She said the SNP was still the largest party in Glasgow, despite some Labour gains.
However Sir Keir's party came very close to taking the city council, adding five councillors for a total of 36.
The SNP, meanwhile, shed two seats for a total of 37.
Sturgeon said Labour benefited a lot from Tory's Partygate scandal, adding: 'Labour threw the kitchen sink at Glasgow… and yet they still can't defeat the SNP, so I think there's still some reflection perhaps needed on Labour's behalf.'
All councils up for election in Scotland have now declared their votes.
The SNP gained the most new councillors with 23, followed by the Lib Dems with 20 and Labour 19.
The Green Party gained 15 while the Conservatives lost a total of 61.
Northern Ireland
For the first time in its 101-year history, the Northern Ireland Assembly now has a Sinn Féin majority, even though 58% of the votes in that nation went to Unionist parties. Here's the UK's Deputy Prime Minister Dominic Raab (video here):
As with Wales and Scotland, Northern Ireland's Assembly is free to make its own laws in a number of areas. Oddly enough, that did not extend to abortion laws, which Westminster (the UK Government) imposed on the province by fiat in 2021:
But I digress.
Under the aforementioned Single Transferable Vote system, Sinn Féin won more first preference votes than did the Unionist parties.
This result propels Deputy First Minister Michelle O'Neill to First Minister. She has been Vice President of Sinn Féin for a few years now.
The Democratic Unionist Party (DUP), which had control previously, now refuses to form a coalition government — power-sharing executive — unless and until Boris Johnson's government rectifies the damaging anomalies in the post-Brexit Northern Ireland Protocol.
Until a power-sharing executive is formed, Michelle O'Neill cannot take up her duties as First Minister.
Most Britons associate Sinn Féin not only with past terrorism but also with Irish re-unification, which will surely be on the cards within the next five years.
On Thursday, the party played a blinder, as the Daily Mail reported last Friday:
Neither Sir Jeffrey Donaldson's party or the Ulster Unionists have yet agreed to join a power-sharing executive in which Sinn Fein would be able to nominate the First Minister. 
They have argued that a win for Sinn Fein would lead to a referendum on Irish reunification. But Sinn Fein has run its campaign on the cost-of-living crisis.
Conclusion
The Conservatives are only now reacting after the horse bolted months ago.
They should have been out campaigning over the past few weeks, MPs included.
Only now are they coming up with possible solutions which should have been discussed on the hustings.
On Friday, May 6, the Daily Mail reported that Boris Johnson is considering a summer reshuffle to tackle the cost of living crisis. Hmm.
Over the weekend, a number of Conservative MPs began asking the Government for tax cuts.
Chancellor Rishi Sunak promises to look 'at all the options'.
Good luck with that. There isn't much time before the 2024 elections.
Twitter users have posted fantastic videos about the situation in Ukraine, a selection of which follows.
On Tuesday, March 15, 2022, Oleksiy Goncharenko, a member of the Ukrainian parliament posted a short, upbeat video showing a nearly full house. Parliament was very much in session:
It is sad to see history repeat itself. Here are two photos of the opera house in Odessa. The one on the left was taken during the Nazi occupation. They put up the fortifications:
The Scottish Conservatives welcomed a Ukrainian student to their Spring conference in Aberdeen at the end of last week. Her speech (split between the two tweets below) is really inspiring. She certainly loves the United Kingdom:
She also had the opportunity of meeting Boris Johnson and meet with him privately. Well done, Boris:
Speaking of the UK, hats off to a group of London black taxi drivers who took supplies to Warsaw to help the refugee effort. All being well, they will bring back refugees to Britain:
Here they are in Warsaw:
In Slovakia, border guards took time out to play with child refugees:
Back in Ukraine, there has been time for entertainment, whether it's comedy in Sumy or music in Lviv:
As for Putin, no one wants to shake his hand. This is a short, must-see video:
Prayers continue for Ukraine. Their upbeat attitude is unparalleled in modern times and is truly exemplary.
Isn't it interesting that the media narrative has changed from wall-to-wall coronavirus coverage to Ukraine?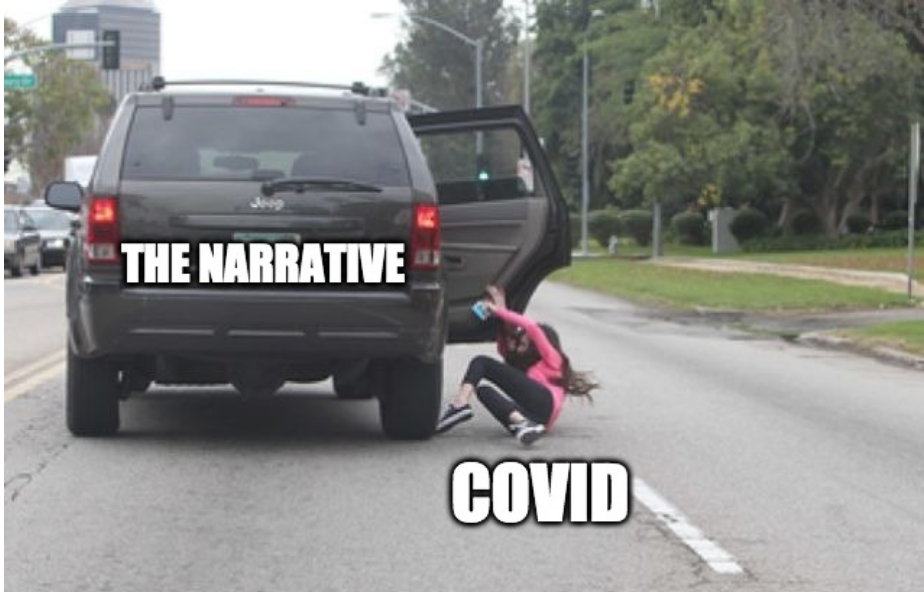 It seems that there is never room for more than one media narrative at a time. Sadly, this is now true even on GB News.
Fortunately, I have a few coronavirus gems from last month.
We must never forget what our notional betters did to us over the past two years.
The UK will hold a formal inquiry, although we do not know when it will start.
On Saturday, February 5, GB News's Neil Oliver delivered a five-star editorial on coronavirus measures in Scotland and other Western nations:
This was the theme:
Well, the narrative certainly changed by the end of the month.
Nonetheless, even as I write, coronavirus measures are still a thing in Scotland. First Minister Nicola Sturgeon has lifted some, with others to go this month. However, it might be some months before all of them disappear north of the border.
This was the state of play in Scotland in early February:
Somehow, Covid still manages to be in our faces – suffocating us bit by bit and all the time.
My children are still required to wear masks at school all day every day – rebreathing their own exhaust fumes for hours at a time.
In Scotland last week, first minister Nicola Sturgeon said her devolved assembly would spend hundreds of thousands of taxpayers' pounds cutting the bottoms off classroom doors so as to improve air flow in schools.
Seriously – that's what she said. Get this: she actually said there's a worry about how much CO2 children are inhaling in improperly ventilated classrooms.
They have to keep the masks on – so that they exist in a permanent cloud of their own, self-generated CO2, held over their mouths and noses like a smothering hand, but rather than let them take off those masks and breathe air like free people should, Sturgeon's proposed solution is to take a saw to the bottom of the classroom doors.
To say you couldn't make it up is an insult to made up things.
The fact that you can open a door to increase ventilation, on account of its hinges, the fact that doors exist in schools at least in part to inhibit the spread of smoke and flames in the event of fire, significantly more of a threat to the lives of children and staff than Covid ever was, has apparently passed Sturgeon by.
But, hey-ho, if there's one thing we've learned after two years, it's that everything is all and only about Covid.
Some days it feels like it always will be.
Covid could and should be behind us, as I have already said, but the powers that be keep pulling it back around until it's front and centre.
[Boris] Johnson announced some sort of an end to restrictions, but still, that air of lives limited, lives controlled, prevails, like the smirking grin that remains after the Cheshire Cat has otherwise disappeared.
And do you want to know why? Because after these two years like no others in our history, Covid is all they've got to explain and to justify everything else.
He took issue with Western governments:
Governments need Covid, and desperately …
All the money we ever had and most of the money we might ever dream of having – they blew the lot on Covid.
And since Covid is all the Governments have got now, by God they're determined to keep it.
Covid, as it turns out, is like a sort of Swiss Army knife, equipped with all sorts of useful little tools for all sorts of jobs, large and small. And meanwhile the evidence of manmade disaster is all around us.
He referred to the Johns Hopkins study that came out a few days beforehand:
A recently published study from the world-renowned Johns Hopkins University, in Baltimore, found lockdowns had had little to zero public health benefits and instead imposed enormous economic and social costs.
Like we didn't know that already, having been there while it was actually happening – but anyway, let's hear it again.
Researchers found lockdowns in Europe and the US lessened the Covid-19 mortality rate by just 0.2 percent.
The authors concluded that lockdown policies are ill founded and should be rejected in future.
Everywhere they were applied – everywhere – lockdowns caused enormous economic and social costs.
He went on to discuss how our various governments 'blew it':
Allow me to summarise those findings even more: Our governments blew it.
Faced with what they told us was the greatest threat to our civilisation in our lifetimes, for a hundred years or more, our governments took a bad thing and, through over-confidence, monumental incompetence and with the dull-eyed stubbornness of mules made it massively worse.
More importantly, when they must have known they were making it worse, they did it again. And again.
Now, rather than take responsibility and own up to their catastrophic failures – maybe say sorry for all the lives ended, lives ruined, lives compromised, a generation of children used like sandbags to protect the vulnerable from a flood, like stab vests worn on the chests of adults – they keep holding up the tattered rags of Covid, like the remnants of a curtain to stop us seeing the reality that lies behind it.
What lies behind that shabby curtain are consequences, and even now those powers that be don't want us looking at them, far less talking about them and thereby understanding the crippling reality of them.
Isn't it convenient that the TPTB now have Ukraine with which to distract us? Thanks, Putin. The news overkill on that is the ultimate distraction.
Oliver then talked about the horrors of quantitative easing:
What they did with money – your money, my money, everybody's money – during the pandemic is what the banks have been doing with money for decades now, and it's largely to blame for the bigger mess we're in now.
Quantitative Easing, they called it – printing money, to you and me.
For decades the tactic applied by the banks, with governments in cahoots, was to print uncountable, unthinkable amounts of money.
"We don't have any money left."
"Well print more, then."
"How much?"
"As much as you like – and keep it coming, I need another super yacht, and so does my mum. No one'll notice. And if they do, say it was Covid."
Imagine a glass of orange squash – a little bit of concentrate, topped up with water.
Tastes like orange, you know how it goes.
Then imagine tipping that glass-full into an empty swimming pool and turning on the taps.
By the time the pool is filled up with water, any orange in the mix is so diluted as to be utterly undetectable.
That, more or less, is what has happened to our money.
The value of our money has been so diluted it is quite literally not worth the paper it's printed on – which probably explains why they don't seem to want to actually print it on paper anymore.
They just add more zeros on their computer screens instead. Look at what they did with some of that pretend money: trillions of pounds worth of debt that will never, ever be repaid.
Billions blown on dodgy PPE, billions handed over as 'Bounce Back Loans' to companies that didn't even exist. Gone.
Those gazillions are gone – and the truly troubling point is that in every way that matters, they didn't really exist in the first place.
Rishi Sunak and Boris Johnson and the like have the gall to say they've got a way to fix the mess.
They might as well try to put out a factory fire by blowing on it.
On account of all that funny money, and then their use of Covid as a hammer to flatten business after business, the economic and financial model we've taken for granted for the last 50 years or more is finally done.
He looked at Covid measures in various countries:
Much of Europe is an interesting watch, to say the least. Austria is a police state now, in all but name, thanks to Covid.
Papers, please! Italy and Germany are much the same.
France would likely go the same way – except President Macron is too properly scared of too many of his own people to go all the way to vaccine mandates.
Instead, he remains committed to making the lives of the unvaccinated as miserable as possible. In Western Australia unvaccinated parents are barred from the hospitals where their children lie sick, dying.
In Canada the GoFundMe organisation has withheld millions of dollars raised in good faith, in support of the truckers protesting vaccine mandates.
What will become of that money, donated by hundreds of thousands of ordinary Canadians, remains unclear.
More and more questions are being asked about the vaccines, all around the world.
Questions about efficacy, about safety, and yet governments like the US, Canada and Australia, as well as here and just about everywhere else continue to dig in, more and more determined to get a needle into every arm on the planet.
Israel is beavering away with injection number four – and the positive cases are spiking in what looks, on the graphs, like a vertical line pointed into space.
With the Covid narrative in tatters now, new weapons of mass distraction are being deployed to stop us thinking too much about the mess.
Enter Putin with his invasion of Ukraine. How timely. In early February, we knew it was coming:
I'd like to say, Don't Mention the War, but of course there's Russia and Ukraine to look forward to as well.
Oliver brought up non-Covid health issues:
There was a GP on the telly last week saying the stress of lockdown is causing heart attacks and strokes.
Well, I never.
He brought up the irony about the silence surrounding all the plastic face masks being dumped into the environment:
Climate crisis and environmental meltdown are back to the fore again – never mind the fact we've dumped trillions of filthy face masks, and Covid tests into that environment, that doesn't seem to matter.
He concluded:
Weapons of mass distraction or not, there'll be no hiding the fuel bills due in a few weeks' time.
People forced to choose between eating and heating tend to behave differently than before.
Energy black hole, Net Zero and its consequences and only pretend money with which to pay for it all.
How much longer can our dear leaders hide behind Covid?
We do a lot of weather forecasting on this channel. I tell you this – there's a storm coming.
Oliver then had Benjamin Loughnane (pron. 'Loknayn') from The Bow Group think tank to discuss the Johns Hopkins study about lockdown. This was also a very good segment:
Richard Tice from the Reform Party also appeared to talk about our leaders' mistakes:
You can see the full show below. Almost all of it concerns coronavirus:
Later in the evening, Mark Dolan presented an excellent editorial on how the media and Government handled the pandemic:
The replies to the tweets were worthwhile, such as this one:
Some of us knew from the beginning that most of the coronavirus measures in Western countries were bogus, but anyone who mentioned that PCRs were picking up old viruses was dismissed as a crank.
Lo, it emerged last month that the intrusive PCR testing was proven to be ineffective in accurately diagnosing coronavirus.
Dolan said (emphases mine):
A major new study confirms that PCR tests are horribly inaccurate. There's a surprise.
According to researchers at the University of Oxford, if you've heard of it, a third of people who tested positive for coronavirus via PCR tests were not contagious and did not need to self-isolate.
The study found that many laboratories are setting the positivity bar very low, meaning they're picking up people, who are – quotes – "a danger to no one".
Hand sanitising is also inconclusive:
Do you remember our blistered skin, in March 2020?
Sing happy birthday twice, as you wash your hands? After which a couple of scientists with half a brain cell, pointed out that the virus is transmitted through the air, via aerosols. No sugar, Sherlock.
Perspex screens in shops — or, in cars, as was the case in France — might not have been a good idea, either:
A report came out in August of last year, suggesting those environmentally catastrophic Perspex screens you see in shops, offices and on TV, may make matters worse.
The Environmental Modelling Group, a panel of 16 SAGE experts, said "There is some epidemiological and mechanistic evidence, that suggests screens could increase risks of aerosol transmission, due to blocking/changing airflow patterns or creating zones of poor air circulation behind screens.
Well done everyone.
The best masks couldn't stop the rise in contagion:
Even where countries have demanded better N95 masks, like Austria, cases have sky rocketed nonetheless.
There was no evidence that vaccine passports stopped the spread:
What about vaccine passports? We're saving lives aren't we?
Except that cases have continued to soar in countries that have implemented these divisive measures, which link your medical status to certain basic rights, freedoms and privileges, including in particular in France and Italy.
The same held true for closing nightclubs:
What about closing nightclubs?
The Welsh first Minister Mark Drakeford, who likes a boogie himself, was able to demonstrate no evidence that closing nightclubs would have an impact on spread.
After two years, our health service is on backlog overload and probably will be until the end of the decade.
Some people's lives are in ruins: closed businesses, relatives' suicides, nervous breakdowns, missed diagnoses of terminal illness. I could go on.
Dolan said:
Two years in which we have incarcerated the healthy, stopped people from going out to work and making a living, closed once viable businesses, wrecked mental health and ignored worse diseases like cancer.
The Telegraph are reporting that up to 87,000 cancer diagnoses may have been missed. And the rest.
If you think Covid is worse than cancer, there is something wrong with you.
But that's been the message of the pandemic response.
'If it's not Covid, they don't care' is something I've heard from so many of you over the last two years.
The famously deadly disease of cancer, that affects all age groups, has been relegated in importance for two years, with tragic consequences that will be with us for years to come, with cases like young mothers who didn't get that lump checked or weren't able to. Well done everyone.
There will be a day of reckoning for what Professor Jay Bhattacharya, one of the most respected medics in the world, has called the biggest public health mistake in history. He's being polite.
Dolan rightly took issue with governments, modellers and the media:
So who's to blame?
Well, weak politicians who panicked in March 2020 and discarded decades of pandemic planning …
I blame the modellers like the randy professor, Professor Pants Down himself, Neil Ferguson, who predicted half a million deaths at the start of the pandemic, which spooked ministers into taking this ruinous path.
Some government scientific advisors predicted 6000 deaths a day if we didn't cancel Christmas …
I blame Sage, who failed to equate economic damage with death.
The University of Bristol have told me that half a million people will die as a result of creating the biggest recession in 300 years. And what about wrecked lives?
It's a question no one has ever been able to answer me. Why is it okay to wreck lives? Of course, it isn't. But wreck them we did. And it's most reprehensible when you think of the needless impact on young people and children, who face vanishing threats from the virus. So who else do I blame?
Well I blame the media …
… I blame the media for offering just one narrative. Lockdowns work, masks work and absolutely everybody's got to have the vaccine.
Now these views are valid, arguably the majority of people and perhaps most scientific professionals think exactly that. No problem. Let's hope you're right, because that's the hell you've put us through.
As data come in from around the world, based upon different approaches, with no obvious difference from where I'm standing, I have my doubts. But remember those press conferences – the Beeb, Sky, ITV – why are we not locking down longer, tougher, harder?
By offering such one-sided coverage of the pandemic, by betting everything on the words of SAGE, and freezing out other scientific voices like Sunetra Guptha, Carl Henegan, Martin Kulldorf and Jay Bhattacharya, the media let us down.
To say that the media have lied to you is a bit strong. But they have not provided the full picture.
And any lawyer will tell you concealing information is tantamount, in its own way, to an untruth.
Shall we be polite and just call it government propaganda? I think that'll do.
I shouldn't name names, but I will. The Mail and the Telegraph are the only papers I can think of that have consistently balanced their reporting and have dared to offer a critique about these debatable lockdowns.
The Guardian is a paper I've always admired and read every day.
But where was their coverage of the Johns Hopkins University report, a meta analysis of 24 studies into lockdown, suggesting the measures saved 0.2% of lives, whilst of course exacting colossal harm.
Not peer reviewed and the study has been done by economists, but worth reporting?
I'd say so.
Sweden got it right. That was something that many of us were criticised for saying offline.
Dolan said:
Sweden have seen a fraction of the economic damage, the societal damage and have had fewer per capita deaths than so many countries that locked down hard.
He concluded:
In the end I think the media have got this wrong – they've backed the wrong horse and they are on the wrong side of history.
So there will be a day of reckoning for their one-sided coverage. But will we ever get an admission of guilt, or dare I say it, an apology? I doubt it.
There will be no contrition. And for all of those well paid and high profile figures in the media – we know who they are – the relentless cheerleaders for these disastrous and, in my view, failed measures, sorry seems to be the hardest word.
Now to the present day.
On Wednesday, March 2, the House of Commons Science and Technology Select Committee gathered oral evidence on coronavirus in a session called 'UK Science, Research and Technology Capability and Influence in Global Disease Outbreaks'. Greg Clark (Conservative) chaired the session.
You can watch it here.
After the first hour, Prof Graham Medley — who exchanged tweets late last year with The Spectator's Fraser Nelson on modelling — gave his oral evidence on SPI-M's modelling of the pandemic. He is SPI-M's chair.
Sorry seemed to be the hardest word for him, too, as he saw no need to apologise for Prof Neil Ferguson's mad models which the Swedes described as 'hysterical'.
Medley told MPs that SPI-M 'didn't have the time' (his words) to calculate the probability or feasibility of their overblown scenarios. They plugged garbage in, and, lo, garbage came out. However, he defended everything. He had no regrets.
Three MPs gently took him to task for the modelling. Labour's Graham Stringer came right out and said that he doesn't trust modelling at all, none of it.
One of the MPs tried to press him on the Twitter exchange with Fraser Nelson. Medley replied:
I wish you wouldn't do that.
In the end, he managed to get himself out of any controversy.
Most of the other MPs wanted to question the person from the behavioural part of SAGE, SPI-B. This person was to have sat along side Medley. However, the SPI-B representative cancelled. How convenient.
Dr Camilla Holten-Møller appeared in the final segment. She is the Chair of the Expert Group for Mathematical Modelling at Statens Serum Institut (SSI) in Denmark. What a breath of fresh air she was.
She admitted that SSI did get one of their models woefully wrong, so they quickly regrouped, studied their mistakes and liaised more closely with university research and clinical groups who provide them with data.
It would be nice if Medley had showed the same candour. As it was, he didn't even look bothered.
I can hardly wait for the formal coronavirus inquiry in the UK. The Science and Technology Select Committee will write a report on this evidence session, as they have with others, and submit it to the Government. The reports will be part of the inquiry process.
At least one Collins book can be found in nearly every English-speaking household in the UK.
Speaking personally, we have a Collins Bible, Book of Common Prayer and several dictionaries, including the incomparable Collins Robert French Dictionary. In the past, I also bought annual Collins calendar diaries.
What I did not know until reading the recent obituary of Jan Collins, one of the publishing house's heirs, was that it was started by a Scottish Evangelical.
The Times published Jan Collins's obituary on February 14, 2022. Jan, who died at the age of 92 on January 29, will be remembered as much for his tennis prowess as his publishing career.
Of Billy Collins, the publishing house's founder, the obituary states (emphases mine):
Founded in 1819 by Jan Collins's great-grandfather William Collins, an evangelical Christian, it was known primarily for its printing of Bibles, dictionaries and diaries. In the early Thirties, more than 600,000 Bibles were published annually. One sales jingle declared: "Satan trembles when he sees/Bibles sold as cheap as these."
Jan Collins joined his family's business, then called William Collins, after he graduated from Oxford in 1952. He was assigned to the Bible department, located in Glasgow:
At the time it was still the leading publishing house in Scotland, with some 2,500 people employed in its Glasgow printing presses in Cathedral Street, which could produce up to 15,000 books an hour.
The company's fiction and non-fiction books were published in London:
The general fiction and non-fiction titles division was based in St James's Place, London, meanwhile, and was being considerably expanded by Collins's father, Billy Collins, with the addition of bestselling authors such as Agatha Christie, Enid Blyton, Alistair MacLean and Patrick O'Brian. In 1956 the firm's last substantial British acquisition was Hatchards bookshop in Piccadilly. In 1960, Collins published 576 new editions, the most in the UK.
Jan Collins was responsible for bringing us The Good News Bible. Love it or loathe it, I know several Americans who told me it was the only version of the Bible they could actually read and understand:
After a decade working in the Bible department he hit upon the money-spinning idea of teaming up with the American Bible Society to publish the New Testament in contemporary English, an edition known as Good News for Modern Man. A decade after that, the Old Testament was included and it was known under the title of the Good News Bible, which is still the most popular Bible currently published. More than a million copies were sold in the first year and subsequently nearly a billion copies have been printed throughout the world.
He then turned his attention to dictionaries and the printing presses in Scotland:
Jan Collins also rebuilt the Collins Dictionary business and spearheaded the modern bilingual dictionaries, forging partnerships with Robert in Paris and Mondadori in Italy. In 1971 he was appointed vice-chairman and by the mid-Seventies was in charge of the manufacturing side of the business. He was responsible for moving the entire printing department from Cathedral Street to a new site on the outskirts in Bishopbriggs, which employed 2,000 people.
When his father Billy Collins died in 1976, the atmosphere in the company became turbulent:
Collins was appointed executive chairman of the entire group but within a few years, boardroom tensions developed between the London and Glasgow-based divisions of the company, particularly because of the persistent losses in the print division and differing opinions about possible solutions. There were also questions raised regarding the management style of Jan Collins and, as a consequence, he stepped down in 1979 but remained as non-executive chairman until 1981. At this point, he and his mother sold their shares to Rupert Murdoch and he stepped down as non-executive chairman as well.
Rupert Murdoch ended up buying the company, which is now known as HarperCollins:
Murdoch held 41.7 per cent of the shares. He made a bid to take a controlling interest in William Collins, but was opposed by the new chairman Ian Chapman (obituary, November 30, 2019) and the rest of the board, which included a number of other Collins family members.
Murdoch finally succeeded in taking over the company in 1989, when he merged it with his other publishing holdings in the US and Australia to become HarperCollins, now one of the three biggest English-language book publishers in the world.
Jan Collins had a rareified upbringing in Scotland and England:
William Janson Collins was born in Great Western Terrace, Glasgow, in 1929, son of Sir William "Billy" Collins, who was head of William Collins and the grandson of the founder of the publishing house, and Priscilla Marian Lloyd. Billy Collins was considered one of the last of the benevolent despots in publishing, who scrutinised every aspect of the business. According to one employee, he combined "the necessary elements of the hustler and the showman with the more discreet and urbane attitudes of the worldly gentleman publisher".
Shortly after Jan's birth, the Collins family moved to a William Adam mansion on the outskirts of Troon, the favoured Ayrshire seaside resort of Glaswegian millionaires, thanks to its golf courses. The extended Collins family were all passionate sportsmen, which rubbed off on Jan, who apart from golf, took up shooting and tennis. His parents were both talented players and his uncle Ian Collins played at Wimbledon 12 times, making it to the final of the doubles and mixed doubles in the early Thirties. His father was on the All-England Club committee until late in life, while in the late Forties Jan came only one round short of making the championships at Wimbledon.
He was sent to prep school at Ludgrove, and then Eton, where he was All England Racquets champion at 14, in the first XI cricket team and president of Pop, the elite club of Eton prefects. When Collins was 15, he met his wife, Lady Sally Hely-Hutchinson, at the Eton and Harrow cricket match at Lord's.
Being president of Pop is a huge deal. Allow me to digress for a while with an article by an Old Etonian, Bill Coles, who wrote about the exclusive club for The Express in 2011, the year of its bicentenary. Coles somewhat regretted that he was never elected to be a member:
The Eton Society – or Pop as it's known – this year celebrates its 200th anniversary and though Prince William and his uncle Earl Spencer will both have been invited to the £250-a-head party in its honour, I will sadly not be among their number.
… At first glance Pop looks like nothing more than a very posh sixth form club. But Eton (with fees of £30,000 a year) is still regarded by many as the top elite school in the country – one that has provided 19 prime ministers (not least our current one) as well as old boys ranging from George Orwell and James Bond author Ian Fleming to Boris Johnson and Hugh Fearnley-Whittingstall. And if Eton is an educational elite then Pop is an even smaller elite within it – one that elects its own members, who form not just an exclusive network but one that doesn't always admit the members you might expect.
… well they looked like peacocks strutting among a horde of black crows and to a stripling teenager it all seemed rather exotic. Here, in full, was the uniform of an Eton Popper: a black tailcoat with braid piping; spongebag trousers in a houndstooth check; and a starched wing collar with a white (hand-tied) bow tie.
The uniform would usually be capped off with a thick cow-lick of hair, spit-polished black lace-ups pickers), plus a gardenia or a rose in the button-hole. While the rest of us schoolboys had been shoe-horned into grubby black waistcoats the Poppers were allowed to wear any waistcoat they pleased, at least a dozen and you can only imagine the glorious oneupmanship that was involved.
I remember waistcoats of green leather, waistcoats spangled with Pearly King buttons, and even a hideous fur electric pink number. Prince William, when he was a Popper, tended towards the staid and I believe his most daring outfit was a patriotic Union Jack. To all intents and purposes the Poppers don exactly the same sort of clothes that the gentlemen will be wearing at next month's royal wedding …
When this article appeared, David Cameron was Prime Minister and Boris Johnson was Mayor of London:
Once you realise the sheer showiness of the Pop uniform it is all too easy to understand how David Cameron came to be quite so enamoured with the Bullingdon Club at Oxford. For, if he had been elected into Pop he might never had quite such an urge to dress like a foppish Bullingdon blue-blood (though London Mayor Boris Johnson was in both Pop and the Bullingdon Club). Within Eton, Pop was a self-electing club for the sports stars, which certainly did not include me, and the hearty good guys. There were about 25 of them and they were charged with keeping the 1,300 other boys for such misdemeanours as not being properly dressed, or even "socking" (eating) in the street.
I still recall how, when I was 13, an enormous Popper accosted me in the street for not wearing any cuff links. "Have a pound in my room by lock‑up," he told me. Ostensibly all this loot went to charity, though doubtless the Poppers were just using it for extra beer money at the school pub, Tap. Speaking to contemporaries who were members, one is struck by the fact that while Pop is exclusive it does not necessarily bother itself with the most opulent surroundings.
"It was a bit like a St James's club in that boys were put up for election but if there was a single blackball against them then they weren't in. Things have changed more recently and now the Eton masters have a right of veto. You probably don't get quite so many bad eggs …
One can see how Jan Collins's sporting prowess appealed to Pop members:
Pop was predominantly filled with sports buffs and swells and that's still pretty accurate to this day. It appeals to people who like to dress up as a peacock." Pop was founded in 1811 and it was originally a debating society and had the name "Popina", from the Latin for "Tea-Shop" which is where the boys used to meet. In its heyday Pop was the ultimate networking tool and could open the most incredible doors. One can even see Pop's shadow hanging over Prime Minister Harold Macmillan when he culled half his cabinet during "The Night of the Long Knives" in the late Fifties.
It's said that Macmillan sacked half his friends from Pop – only to replace them with the other half. Fagging at Eton is now a distant memory but in my time in the Eighties a Popper could fag off any boy on the street, sending him off to do any chore he pleased. I still remember my outrage when a Popper took offence at my smirking face and sent me to Windsor to buy him a postcard for his mother. Another extraordinary aspect of the society was that 50 years ago Poppers were empowered to deliver a "Pop tan" – where reprobate boys would be flogged by every member of Pop …
One Old Etonian told Bill Coles:
One of the strange things about Pop is that it never goes away. You find it cropping up in a lot of Etonians' obituaries. These are people who may well have won VCs or who are captains of industry – and yet for some reason the fact that they were a member of Pop is seen to be on a par with anything else that they've done.
And, lo, we discover that Jan Collins was not only in Pop but also one of its presidents.
Now, back to the rest of the publisher's life.
He did his National Service as a young officer in the Coldstream Guards. The obituary has a stunning photograph of him in dress uniform.
Jan Collins married Lady Sally Hely-Hutchinson while he was reading English at Magdalen College, Oxford:
while his sporting prowess continued, winning blues in tennis, squash, cricket and fives. Later in life, he said that his family were "all frightful sporting bores".
In 1952, they moved to Scotland:
The newly married couple moved to Troon in 1952, and he remained in Ayrshire for the rest of his life.
Lady Sally had a career as a novelist:
Under the pen name of Harriet Martyn, Lady Sally wrote three girls' boarding school works of fiction — the Balcombe Hall stories — which were inspired by the escapades of her daughter Jane at St Mary's, Wantage; and as Sara Healy, three historical novels including a Second World War evacuee story inspired by her own experiences. She died in 2013. He is survived by their four children, Noel, an entrepreneur, Jane who runs her own publishing company in Ireland, Tiffany, a company director, and Bryony who is in technology.
Meanwhile, apart from owning and operating three restaurants that closed in relatively short order, Jan devoted the rest of his life to tennis:
After retiring, he became a fully qualified tennis coach. He was appointed MBE for services to tennis in 2004, after raising nearly £2 million to create the largest junior tennis programme in Scotland. He was the oldest surviving member of the All England Lawn Tennis Club, having first joined 70 years ago, in 1952. In fact, he had attended every Wimbledon tennis tournament since then, including last year. He was especially proud of winning the over-85 category of the British veterans' grass court championship at Wimbledon in 2014.
During lockdown in 2021, Jan Collins raised money for charity:
In the summer of 2021, when lockdown regulations meant no golf clubs were open throughout the UK, a private five-hole course was suddenly created in the rear garden of a 90-year-old golfer in Troon. Inspired by the story of Captain Sir Tom Moore, Jan Collins raised £8,000 by playing 1,000 holes of golf in his back garden.
But his was not a totally serious life of work and tennis. Privately, he was known for his wit and harmless pranks.
There was no mention of any religious aspect to his life, but Jan Collins lived quite the life. May he rest in peace.
Yesterday's post examined Britain's metropolitan elite and the unwitting effect they had on the 2015 general election, handing the Conservative Prime Minister David Cameron another term with a clear majority of seats, surpassing the magic number of 326 to end up with 331!
At that point, Cameron no longer needed the Liberal Democrats in coalition. The Conservatives were fully in charge.
David Cameron
Cameron fulfilled two Conservative pledges:
1/ To resolve the 1977 West Lothian Question and EVEL — English Votes for English Laws — the Government made a change to a standing order in Parliament so that:
a new law could no longer be imposed only on England by a majority of all MPs if a majority of English MPs were opposed. However, a proposed new law could still be vetoed by a majority of all MPs even if a majority of English MPs were in favour. 
This was abolished in 2021, a move with which I disagreed and instigated by a Scot, Levelling Up Minister Michael Gove, whom I do not trust at all. His reasoning was that the measures:
had "added complexity and delay to the legislative process" and that their removal would allow all MPs to be represented equally.[9]
I watched that debate. Why should another nation have its MPs 'represented equally' where English laws are concerned? English MPs cannot vote on another nation's laws.
That said, so far, Scotland's SNP MPs are careful to leave their benches when laws for England and Wales are debated.
2/ A referendum on leaving the European Union was scheduled for June 23, 2016. Fifty-two per cent of British voters opted for Brexit.
Although he said that he would abide by the referendum result, David Cameron resigned on Friday, June 24, that year at 9:30 a.m.
He and his wife Samantha honestly did not think the British would vote to leave. According to some news reports, Samantha spent much of the night in tears while watching the returns come in.
Theresa May
Theresa May became Conservative leader and Prime Minister in the summer of 2016.
Having previously branded the Conservatives 'the nasty party' at an annual party conference a few years before, she had big plans to improve opportunities for everyone living in Britain.
Although she was a Remainer, she pledged to abide by the referendum result. She appointed good Conservative MPs to her Brexit team, and Boris Johnson became Foreign Secretary.
The Opposition benches said that she had no mandate, so she held a general election in June 2017. Two trusted aides told her that polling showed that the Conservatives would do well. Furthermore, the controversial Jeremy Corbyn was Labour leader. It sounded as if May and her party were shoo-ins. In the end, there was a hung Parliament and May brokered a confidence and supply arrangement with Northern Ireland's Democratic Unionist Party (DUP), led by Arlene Foster at the time.
Things began to unravel further in the summer of 2018. May's Brexit team had come up with a sensible, considered plan to leave the EU. May held a meeting at Chequers, the prime ministerial weekend estate, to discuss the plan. Unbeknownst to her colleagues, she had a compromise plan ready to discuss which superseded the Brexit team's plan. She told her ministers that if they did not agree to her compromise plan, later rumoured to have been developed with German input from someone working for Angela Merkel, they were free to leave the country estate at their own expense. It was shocking and resulted in several resignations from the Brexit team. Boris Johnson resigned as Foreign Secretary.
By January 2019, May could get nowhere in Parliament with Brexit votes, even with her compromise. I began watching BBC Parliament in earnest at that time and haven't stopped. We really do have a load of virtue-signalling troughers from the metropolitan elite in both Houses. But I digress.
On May 24, 2019, Theresa May announced that she would resign as Conservative Party leader on June 7. That triggered a leadership election by the party members. May stayed on as PM until July 24, the day after Boris Johnson became the new leader of the Conservatives. Today, May serves on the backbenches, representing the constituency of Maidenhead, a delightful Home Counties town bordering the Thames.
Boris Johnson
Boris gave his first speech at the despatch box, all guns blazing. I watched it on television. He had a go at Labour, alleging that one of their MPs had been involved in corruption while serving on the Greater London Assembly many years before. A PM couldn't get better than this.
However, Brexit was the major issue, and he was presiding over the hung Parliament from the 2017 election, with Arlene Foster's DUP providing confidence and supply to Conservative policies. Try as he might, Boris could get nowhere with the Opposition benches.
Brexit negotiations with the EU resumed on August 28, 2019, the same day that Boris attempted to prorogue (adjourn) Parliament from September 10 to October 14. He claimed that the prorogation would cover all the party conferences normally held during that time. However, court cases arose in the Supreme Court in England, presided over by Baroness Hale, she of the spider brooch (Guido's story involves a later controversy, unrelated to the prorogation):
'Spiderwoman' Hale's decision forced Parliament to reconvene on September 3. It will come as no surprise that attempting to get Brexit votes through the House of Commons became even more difficult. On September 4, the Benn Act, a bill to block a no-deal Brexit passed. At that point, Boris proposed a motion to hold a general election on October 15. It failed to command two-thirds approval from MPs.
In addition, several Remainer Conservative MPs had the party whip removed at that time, which made matters worse. Although some had the whip restored, the Conservatives no longer had a working majority.
As a result, Parliament was dissolved in October 2019, with an election called for December 12 that year.
What voters thought
Whether Leavers or Remainers, more people began paying close attention to the goings-on in Parliament.
Leavers knew that, while Boris was flawed, he was on their side with regard to getting Brexit done. After delay upon delay in Parliament from June 2016 to October 2019, that was all that mattered.
Remainers wanted a second referendum to confirm (ahem) the first vote. In other words, they wanted to overturn the 2016 vote.
Leavers felt increasingly betrayed by Parliamentarians. However, Brexit was also beginning to have an effect on their personal lives: relationships broke down, family feuds began and working life became strained.
England was becoming a highly divided and divisive place, exacerbated by print and broadcast media alike. Leavers felt alienated and betrayed.
The fallout between 2015 and 2019
I'm returning briefly to the comments left on the 2015 Guardian article I cited yesterday: 'The metropolitan elite: Britain's new pariah class', which appeared on May 22, two weeks after the general election.
What people felt about the metropolitan elite did not change in the four years that followed. Voters were disappointed.
One Guardian commenter remembered the unity during the Thatcher era as the Iron Lady began closing mines (emphases mine):
We have a situation amongst the majority of the "lower classes" which is this:
If you dare to offer a "lefty" opinion you are automatically assumed to be a rich metro elite type, with no experience of the real world.
If you dare to offer a "right" opinion you are immediately branded a racist, ignoramus.
Does no one else see the division this has caused?
Remember when the gay rights groups went to help the miners? Can you imagine that happening today? – They'd be sniping at each other over these perceived differences, instead of recognising their similarities and fighting together against a common enemy.
We are all exactly where they want us, and until we recognise that- the real elite have won and will carry on winning- regardless of what colour they pin to their (old boys) ties.
Another went back further in time, putting forward post-war Prime Minister Clement Attlee as a man of duty:
… the most effective Labour Prime Minister by far was Clement Attlee: the son of a well-off London solicitor, educated at Haileybury and Oxford, served with distinction as a junior officer in WW1 and reached the rank of Major. Though not a patrician, you'd hardly have called him a man of the people, and I suspect that he would have felt under no obligation to put on glottal stops or pretend that he liked football (though he had actually played it in his youth).
The point is that perhaps aided by attending Haileybury – the public school that specialised in training boys up for the Indian Civil Service – he had an intense, deeply ingrained sense of his duty to the nation and particularly to the less well-off part of it, which carried him through all the vicissitudes of setting up the Welfare State in a bankrupt, exhausted country with an empire to get rid of. He knew what had to be done, and he was determined to do it, and what focus groups or the media thought about it was of no consequence to him.
… where there is no vision the people perish. Without a thoroughgoing analysis of the state we're in and a thought-through programme for putting it right, such as it had in 1945, Labour is simply wasting its own time and everyone else's and might as well shut up shop now.
People dislike when MPs are not local, especially when a well-heeled Londoner represents a disadvantaged Northern constituency:
It's ridiculous that these parachuted-in pillocks can hold office in northern constituencies when many of them will secretly smirk about it being "grim up north" every time they're sat in some trendy London wine-bar.
Someone had a solution to candidate selection:
We need to stop north-London PPE [Philosophy, Politics and Economics] graduates from pretty much automatically getting into Westminster. Anyone who's interested in being a politician does that PPE degree, then works for a think-tank or as a political advisor then a junior minister and so on.
Candidates should be elected from people who live in individual constituencies, who have done proper jobs and who genuinely wish to fight for their communities. In this system George Osborne, Nick Clegg and Ed Miliband would not be able to stand in northern constituencies; they'd have to run in the cities and towns where they actually lived. Generally speaking, that would mean a borough of London – Oh, wait Chukka Umunna and Ed Miliband live in the same borough? Tough! Only one of them can stand for Labour. What's that; several of the Tory cabinet live in the same town in rural Oxfordshire? Oh dear, only one of them can stand. And in order to prevent parachuting candidates in, they'd have to live there for at least five years prior to being selected.
The whole political system in this country lacks any legitimacy. The people who are affected the most by politics are the people who are the least engaged in it …
This issue also affects London. One person wrote about Labour's David Lammy:
Lammy is my MP and I like him, but I do have a slight problem: according to the Tory leaflet through the door pre-election, he doesn't live in Tottenham, his constituency, he lives in Crouch End, which is rather met-elity itself. Not to mention giving the option of a state secondary school you'd actually want your kids to go to.
If the Tories were lying I apologise.
One reader understood why people resented the metropolitan elite:
I totally get the hatred of the "metropolitan elite". The assumption that you, as someone who is not a member of that class, will have no idea what they are talking about whether it is art, literature, politics, whatever and, by extension, you are an idiot. It's bloody infuriating!!
It's essential for the media not to leave London:
Aside from John Harris I know of no other Guardian columnist that sets foot out of London – or even North London.
Tell a lie – Polly [Toynbee] is in Brighton for her Arts Festival.
That's the nature of metropolitan elites – write about those less well-off but be sure never to meet any.
Also:
Metropolitan elite means people living in London who are unnatural and out of touch with the rest of the country. This is nothing new. The medieval word for a Londoner was "cock's egg"' (cockney) which also described something unnatural and out of touch.
I did not know that!
Other readers noted the petty, controlling interference that the metropolitan elite display:
Different people will have different reasons for disliking the ME. One of these must surely be the neopuritanism they espouse, which means you're always looking over your shoulder worrying whether you've exhibited the wrong attitude, e.g. insufficient enthusiasm about gay marriage or a penchant for Top Gear.
On that topic:
Metropolitan elite who work in media, government, academia, charities, and NGOs from the National Trust to Oxfam and the Royal Society. These tend to coalesce on gay marriage, "safe" places, "islamophobia" issues, pro-EU sentiment, pro-Obama and catastrophic climate change. Just watch the BBC for any length of time.
Another said:
I personally feel this miring of everything in semantics does little to describe the current rot in UK politics. It would be better to use a historical example – I personally think referring to these people as "The Marie Antoinette Class" is more appropriate. It illustrates just how out of touch they really are with the current reality of life for British working people.
Even worse, they don't really seem to be British at heart:
What has happened (maybe?) is that the elite in the UK (England specifically) has become more like other countries – urban and bourgeois, rather than rural and aristocratic – and without the aspiration to ennoble themselves that the previous industrial bourgeois had (by marrying their wealth into the old order's titles). What we have now is a class of educated professional people who share urban liberal-middle-class values that are much more like those of their equivalents in other European countries than they are many of their own compatriots.
Another reader also noticed the lack of Britishness:
One explanation could be that many young educated people in Europe were brought up to feel European (or even global) than from a particular country or region. Programs like ERASMUS and the increasing cheapness and availability of travel have opened up the horizons of many smart and educated individuals. This is definitely causing a class divide with those who remain rooted and patriotic. Combine that with the growing phenomenon of elitism in all societal institutions (you need a degree to do anything these days), then you inevitably get more of group A in all positions of power.
I can't tell whether this is a good thing (or even inevitable) or not. The "metropolitan elite" would probably find themselves thinking that they are better than group B, who are quagmired in small mindedness and petty issues. Then you have group B, made up largely of working class people, who are feeling disenfranchised and silenced (the elite would probably condescendingly refer to it as "feeling left behind"). It's like a soft Russian revolution, and look what happened that time when they let their "betters" look after them. I think a healthy society needs to always listen to both sides, whenever you start thinking "you know best" and ignore the plebs who "don't know any better", well, then you get the Star Wars prequels.
Globalism alienates:
There is hardly any difference in the political parties communications, only semantics. The nation state is dying and Universalism is taking over through the multinational corporations & global organisations.
One reader gave us the education profiles of the main political players of 2015 and the Labour years:
They are all cut from the same cloth…a ll that differentiates them is how they divvy up and pork barrel the the trolls tax contributions.
Cameron: Philosophy, Politics and Economics (PPE) at Brasenose College, Oxford
Miliband: Corpus Christi College at the University of Oxford, and the London School of Economics
Clegg: University of Cambridge, the University of Minnesota, College of Europe
Farage: Dulwich College, a public school (private), and stockbroker….
Mandelson: Philosophy, Politics and Economics at St Catherine's College, Oxford
Blair: St John's College, Oxford…and various private schools
Brown: University of Edinburgh, History (as the son of CoS [Church of Scotland] Minister he is definitely middle class)
The list is not exclusive…….but the stench is unmistakable……
At least voters know where they stand with the Conservatives:
This is why the Tories won the election. So the PM is posh and privileged. He knows it and we know it.
Someone complimented Cameron's approach to EVEL:
What people object to, at a gut level, is getting a clever-dick, hypocritical answer to their concerns.
For example, Labour's position on EVEL is transparently self-serving and relies on a lot of chin-scratching about complicated constitutional niceties. In contrast Cameron's proposition, that it is only fair for England to have self-determination on the same issues which Scotland does, is an uncomplicated statement of a simple principle, even if it is of course equally self-serving.
So people see Labour as putting self-interest first and talking down to them about constitutions, on the one hand, and on the other they see Cameron espousing a simple principle which they see as being on their side.
It's no surprise Labour end up on the wrong side of so many arguments.
Interestingly, someone brought up Boris:
Londoners are not much interested in the politics of power, influence, wealth and class envy. For many, social justice might mean the mortgage paid off so they can fund their care home one day. Love him or hate him, Boris Johnson recognised and tapped into this and that's why they voted Boris Johnson Mayor. Twice. London actually gave an early indicator for the national mood.
Labour, on the other hand, cannot relate to most people. The second sentence gave me a chuckle:
I am still angry that Ed wasn't able to put his view across more forcefully.
He is very fond of the third chapter of The Working Classes And Their Struggle For A Cohesive Understanding Of Dialectical Materialism Within A Framework Of Sonambulant Artifice And Prolapsed Thinking and yet people still didn't think he understood what life is like on a Council estate or in a factory.
It beats me.
Someone else agreed, saying that Labour were interested only in themselves:
Labour's metropolitan political class – and believe me, they are ABSOLUTELY the worst, an utter ideological and moral vacuum compared to, say, the Lib Dems or the centrist strain of the Tory Party – are utterly without allegiance to anyone but their own caste.
What voters want(ed)
One reader provided a profile of the ideal MP:
Here's what we require of our politicians:
(1) honesty
(2) probity
(3) the ability to listen to their constituents
(4) the ability to put the needs of their constituents before the interests of big business, the aristocracy or the establishment.
Tick all four boxes and I don't care where you were born, where you were schooled or where you live. The problem is finding anybody who'll tick those boxes.
Little did that person know that a bevy of Conservative candidates could tick those boxes in 2019.
To be continued next week.
By chance, last week I read an article from May 20, 2015 in The Guardian about the general election result earlier that month: 'The metropolitan elite: Britain's new pariah class'.
Labour lost, leaving the metropolitan elite scratching their heads and wondering why.
Zoe Williams's article has three pages of comments, which are illuminating. The general public revealed why Conservatives won not only in 2015 but even more convincingly with an 80-seat majority in 2019.
Of course, in between those two elections was the one held in 2017, whereby Prime Minister (PM) Theresa May barely scraped by with a slim majority which caused her major problems in getting Brexit legislation passed in the first half of 2019. She resigned during the summer, and Boris Johnson became party leader, thereby succeeding her as PM. He held an election on December 12 that year, primarily to break the Brexit deadlock. It was one of the best things he ever did.
What is the metropolitan elite?
Zoe Williams, who has been writing for The Guardian for decades, defines the metropolitan elite through interviews with other people which makes up the article.
The characteristics that tie the metropolitan elite together are working in London, living in an upper-middle class bubble, going to a public (private boarding) school; having an Oxford degree (especially in Philosophy, Politics and Economics); making a close network of friends from school and university; finding employment in politics, the civil service, law, the media and academia. They ensure their children follow the same route.
No one's definition is perfect. Each needs another element added to it.
Williams concludes that an exact definition doesn't really matter, because it is fluid, but the reality is that this group has caused the ethos of Parliament to change through the years (emphases mine):
The meaning of "metropolitan elite" is not fixed. It will change in the mouth of whoever says it, and it will take on the shape of the person to whom, for whatever combination of reasons, it is thrown at and sticks. But the anger is real: parliament, as the last century understood it, represented the people to the state. Parliament now represents the state to the people. And maybe "metropolitan" is a way to say that, and to give it a face.
Background to the 2015 election
Below is a summary of the highlights of the 2015 election.
Conservatives and Liberal Democrats
David Cameron was PM at the time, part of a coalition government with the Lib Dems. Nick Clegg was deputy PM.
Clegg ran as the Lib Dem candidate as he was party leader at the time.
Cameron was getting a lot of heat about holding a Brexit referendum. Nigel Farage, leader of UKIP at the time, piled on the pressure. Referenda are not a British thing and Cameron could have happily ignored it were it not for the fact that a Conservative victory depended upon granting voters a Brexit referendum.
There was also much talk at the time about English Votes for English Laws, or EVEL: the inappropriateness of allowing Scottish MPs to vote on English laws when English MPs have not been able to vote on Scottish laws since devolution in 1999. MPs from Wales and Northern Ireland can also vote on English laws, but the issue mainly concerns Scotland, since many laws apply equally to England and Wales. EVEL — arising from the West Lothian Question of 1977 — was another issue Cameron had to address in the campaign. As such, it became part of the Conservative manifesto that year.
Labour
Ed Miliband was Labour's leader at the time.
Emily Thornberry
The snobbish aspect of the metropolitan elite, which Labour embodies so well, came to light during the World Cup in 2014. Emily Thornberry MP experienced a combination of bemusement and outrage upon seeing that someone would have the audacity to display St George's flags, representing England, outside their home. What's more, there was a white van parked in the driveway. Oh, the horror!
She tweeted a photo of the house and captioned it: 'Image from #Rochester'
The offending home was in Rochester, Kent, where a by-election was being held in November that year. The owner of the house said that he put three St George's flags up during the World Cup and decided to leave them flying from an upstairs window.
On November 14, the BBC reported that Thornberry resigned from the shadow front bench as a result of the tweet (bold in the original here):
Emily Thornberry has resigned from Labour's front bench after sending a tweet during the Rochester and Strood by-election which was branded "snobby".
The shadow attorney general apologised for the message, which showed a terraced house with three England flags, and a white van parked outside.
UKIP said she had "sneered, and looked down her nose at a white van in Strood with the cross of St George on it".
Labour leader Ed Miliband was "angry" at her, a senior figure told the BBC.
The resident of the house, Dan Ware, said Ms Thornberry – the MP for Islington South and Finsbury – was a "snob".
"I've not got a clue who she is – but she's a snob," he told the Sun. "We put the flags up for the World Cup (in 2014) and will continue to fly them."
Even today, everyone who loves England remembers Thornberry's attitude towards our nation's flag. Ed Miliband was right to have been angry at the time. It must have lost Labour votes in certain constituencies:
The Independent had more:
Three hours later she apologised, after Ed Miliband intervened and the Labour leader made it "very clear" that he believes people should be able to fly the England flag without feeling ashamed.
Following her resignation, Labour has revealed that Thornberry had spoken to Mr Miliband a second time.
"Ed and Emily had a second conversation. She thought the right thing to do was to resign. Ed agreed," the source said.
Her tweeted apology received strong reactions, among them the following:
Simon Danczuk, who was the Labour MP for Rochdale at the time, could see the elitist London-centric outlook at work:
Everyone will know exactly what she meant by that comment. I think she was being derogatory and dismissive of the people. We all know what she was trying to imply.
I've talked about this previously. It's like the Labour party has been hijacked by the north London liberal elite and it's comments like that which reinforce that view.
In the end, Mark Reckless won the by-election which was held because he wanted to change party affiliation from Conservative to UKIP. Nigel Farage had told him to do the right thing by asking his constituents. Reckless became the second UKIP MP to serve in the House of Commons when he joined Douglas Carswell that year. Carswell also had to hold a by-election in his constituency before Farage would allow him into UKIP.
Ed Miliband
Returning to Labour, a month before the by-election, Ed Miliband proposed a mansion tax, aimed primarily at Londoners.
However, a Londoner from Dartmouth Park in Kentish Town, Dan Carrier, wrote an article for The Guardian in October 2014, saying that not everyone living in a house in North London was necessarily wealthy: 'My house in the middle of Ed Miliband's street'.
It so happens that Ed Miliband and his family moved into the street where Mr Carrier grew up. In 2014, his parents still lived in the same house and he had the good fortune to be able to buy a home just a few doors down.
The Carriers and the Milibands are two very different classes of people:
In many ways our road is a typical London street: a mixture of Victorian terraces, some grand double-fronted villas and a postwar apartment block. More recently, however, it has had national media attention, prompted by the arrival a few years ago of Ed Miliband and his family. When they decamped from Primrose Hill, the move produced a swathe of articles describing my neighbourhood as a place of leafy-lefty-intellectual-middle-class types. The road I grew up on, and moved back to, has become shorthand for the gentrification of north London. The gap between the property haves and have-nots has never been starker, and housing is set to be a defining issue of the next general election. Ours is just one street, but it could be anywhere in the capital.
Carrier described many of his neighbours, who were working- or middle-class, hardly of the metropolitan elite. As such, a mansion tax would have been devastating:
Under the proposed system, many of Ed's neighbours could face large bills.
The newcomers, however, were flush with cash:
One recently arrived couple, both on six-figure salaries, asked not to be named. Being able to buy a property in this neighbourhood these days, it seems, is enough to single you out for unwanted attention.
They say they moved here because of "the large houses, and the fact it's not chi-chi like Hampstead or Primrose Hill. You see neighbours at the weekends, they're not all out at their country homes. You don't see Fortnum's vans pull up." Dartmouth Park is not yet Mayfair, in other words – not a comparison my parents' generation would have felt compelled to make. "It feels like a real street, with real people."
In the end, there was no mansion tax because Labour lost the election, thankfully.
By the way, Ed's house has two kitchens in it. One is for the nanny and the children. The other is for Ed and his wife.
Ed Miliband could have taken some advice on the PR front. The lesser of his campaign sins was jamming a bacon sandwich into his mouth, further proof that no one should be photographed eating. The greater sin, however, was imitating Moses by erecting a stone listing five Labour Party goals, dubbed the Ed Stone. Oh, my, how we laughed at such hubris.
The election was held on Thursday, May 7.
Miliband resigned as Labour Party leader on Friday, May 8, a position he had held since September 2010.
By May 10, the Ed Stone was nowhere to be seen.
That day, The Guardian reported:
A case of champagne is among the rewards being offered by tabloids and rightwing pundits in return for the whereabouts of the so-called "Ed Stone".
The 10 commandments-style tablet, engraved with five promises and unveiled in the final days before the election, was meant to symbolise how Ed Miliband would keep his pledges and restore trust in politics.
But the gimmick was perhaps the greatest gift Miliband gave to his opponents – and the mockery shows no signs of letting up even after his resignation and the quiet disappearance of the stone.
An 8ft 6in-high, two-ton limestone hulk is not the easiest thing to hide. But the stone, which was rumoured to have cost up to £30,000, is proving remarkably elusive and Labour sources are staying tight-lipped.
The Mail has offered a case of champagne to any reader who has information that "leads to the discovery of the Ed Stone". The Sun has set up a dedicated "Ed Stone hotline" for tips about the stone's whereabouts.
But without any apparent success in locating the real thing, the Sun also offered its readers a chance to win a full-size replica of "the Labour loser's laughable slab".
It was only on January 16, 2016, that we found out what happened to the slab. The Guardian reported:
The Ed Stone was broken up shortly after the general election, it has been revealed, putting an end to eight months of speculation about its whereabouts.
Two party officials, speaking on condition of anonymity, told Bloomberg News that the stone had been destroyed in the weeks following 7 May 2015.
Shortly before the election, David Cameron tweeted that there would be chaos with Ed Miliband (pictured with Ed Balls on the left):
Miliband is still an MP.
The Ed Stone might not have survived, but one of his lasting legacies as Energy Minister from Labour's time in power has: the green levy on home heating fuel, which is more than the VAT. The Conservatives should scrap the levy. Perhaps they will when the cost of gas for the home reaches breaking point and people get sufficiently irritated with Net Zero.
I wrote two posts about the 2015 election. In the second, I wrote about the 'historic upset the pollsters missed':
Even the most accurate poll — the exit poll — slightly underestimated the final total. The Conservatives won a clear majority of seats, surpassing the magic number of 326 to end up with 331!
David Cameron no longer needed a coalition government.
Today, Nick Clegg works in California for Facebook and has just received a huge promotion as president of global affairs for parent company Meta, taking on some of Mark Zuckerberg's former responsibilities.
What the public thought
In 2015, the public made it abundantly clear that they preferred a Conservative government.
The readers' responses to Zoe Williams's article about the metropolitan elite made some excellent points. I read them all.
One person said that the Conservatives' policies appeal more to the average Briton:
The election was won by the Tories less because they represent the views of more people than any other party than because their policies offended fewer people than those of any other party. The widespread and insidious disenchantment with politicians stems from this disconnect and it just happens that at the moment the Tory message is marginally less unpopular than a whole range of unpopular messages – probably because the Tory demographic is a currently a bit wider than that of Labour.
Another said that Labour had deserted the working class for the middle class:
A large section of the working class of this country still can't box their way out of this ingrained deference to the ruling class. The existence of the royal family and the institution of the monarchy is the guarantor of that deference. But they do not feel the same deference to the 'metropolitan elite' and this fact has been nicely used by right wing media to undermine urban liberalism and split the working class vote. The Labour party will have difficulty fighting its way out of this conundrum so long as they exclude working class representatives in favour of middle-class ones, black or white.
The working class feel ignored:
Labour are more and more removed from working class people … The divide is growing -hence the growth in UKIP in traditional labour areas. The metropolitan elite – useless Ed is one of them – have failed to understand and address the concerns of their traditional voting base in far too many areas.
Someone said that the Labour Party was synonymous with the metropolitan elite:
If the Labour Party (or the metropolitan elite that provides it`s talking heads) thinks that simply stealing the Conservatives`s clothes or repositioning themselves on Europe is going to work – forget it. At the moment the terms "Labour Party" and "metropolitan elite" are interchangeable and are synonymous with what us plebs would call "being out of touch". Can the Labour Party learn how to talk to us again?….They`d better, and quickly because at present we`re all listening to the Tories and UKIP …
Another reader said the same thing:
I say this as a northern working class boy …
Until we have a left wing party led and organised by the working class, I'm a Tory. All you people still voting Labour when these people are in charge of the party are fools – they've tricked you into believing they represent you, but actually you're just useful to them to legitimise their marginal differences compared to their blue friends in the next street.
Two people even had a go at Zoe Williams:
Zoe Williams. Godolphin and Latymer School, Oxbridge, lives in Camberwell, brays, wrote a tedious feminist piece about why she married the father of her kids after a decade as if anyone cared, spouts by-numbers liberal-lefty discourse every week in the Graun.
I don't loathe the metropolitan elite. It's just a shame there are so many of them clogging up the national media, the political scene, academia, the arts, public policy, etc. when they represent such an infinitesimal cadre of people. So much for the 'diversity' they so often chirrup about.
Also:
YOU, Zoe W, are most certainly a member of that elite. How else do you get on What The Papers Say on Sky television?
This comment seemed to unknowingly say the most about what would happen in December 2019. Britain was — and is — becoming more nationalistic, but not as a Union, only as separate parts:
Events in Scotland and the victory of the SNP and the rise of UKIP, particularly in Northern heartlands, have raised questions about the leadership of a working class party by a group of North London academics and politicians. However the real event is the battle of ideas about what a Labour Party should represent as the North London hegemony over policy has dissolved. The Blairites are in the news on the TV every day attempting to solve the problem of hegemony by a return to the centre. Both the SNP and UKIP have shown that there is no way back as both Scotland and large swathes of England are staunch nationalist. The rest of England, with the collapse of Lib Dems, is dark and lite tint blue Tory, and as such a distinct Englishness has temporarily been established. This Englishness is different from that of the UKIP North and certainly different from that of the Scottish nationalism of the SNP. The hegemonic moment of North London has in the words of Tom Nairn come face to face with the break up of Britain. Dr. Eamon O'Doherty
And, lo, it turned out to be …
More to come tomorrow.
On Friday, I wrote that Prime Minister Boris Johnson was still standing; rumours of his political demise were premature.
On Thursday, February 10, The Spectator's Fraser Nelson, who also writes for The Telegraph, wrote an article for the latter: 'Whisper it, but I'm beginning to see how Boris just might survive this'.
That same day, two polling companies were conducting their polls for the weekend. Both YouGov and Opinium show that Boris's Conservatives at 34% are closing the gap with Labour on 37%:
Opinium have revised their methodology, re-evaluating how 'don't know' results are tabulated. Without that, Labour would have been ten points ahead.
Guido Fawkes explains (emphases in the original, purple one mine):
On Saturday Opinium – the most accurate 2019 pollster – also found this same lead with identical 37% and 34% poll ratings respectively. Opinium's poll also came with a methodology change that claims most polls giving Labour a very large lead is because of Tory voters switching to 'don't know' rather than Labour. The new methodology weights the Tory 'don't knows' differently, giving a more accurate picture of voting intention.
Without the methodology shift, Opinium says their latest poll would have shown a ten-point Labour lead…
Returning to Fraser Nelson's article, it details how Boris is returning to being the candidate of 2019. While we elect MPs rather than Prime Ministers, the Conservatives' majority of 80 at the time showed that Boris was the winning factor.
Nelson says that, with the pandemic in decline, Boris is reversing big-state policies that were alienating voters, especially those who had voted Conservative for the first time in 2019 (emphases mine):
The Prime Minister we see before us now is a very different creature to the one who governed by diktat for the best part of two years. He's humbly asking Tory MPs what to do, then doing it. It's humiliating, but it's greatly improving the quality of the Government. He has broken free from Sage (whose advice on omicron turned out to be bunkum) and didn't seek its advice before deciding to abolish all remaining Covid restrictions a month early. Warming to his theme, he's now referring to this as "freedom day".
Some of his worst ideas are being abandoned. His plans to set up an all-powerful Animal Sentience Committee to judge government policy now look doomed. His anti-obesity strategy – whereby a Conservative government would tell shops what sort of food they could and could not promote – is being shelved.
"That was his personal idea," says one minister, "so to see it abandoned showed how his personal power has vanished. But it helps him. People resent him less."
As Parliament is in recess as I write, Boris has no immediate rivals for his leadership:
… the rebellion is losing steam. Parliament is breaking up for half-term with no immediate threat to his leadership. He has been lucky in his enemies: when Christian Wakeford defected to Labour he revived the Tories' sense of tribal loyalty. Being attacked by Sir John Major, who has never recovered from the Brexit referendum result, will also have helped him. An attempt to change the rules of the 1922 Committee of Tory backbenchers – to make it easier to depose him – has also failed.
We can only hope the 'old' Boris returns and that this isn't a temporary move out of panic:
This holds out the prospect – no more than that – of the big-state, bossy Boris giving way to the buccaneering, risk-taking and freedom-loving leader they thought they were getting when they first elected him. So far, it seems he's prepared to do anything to survive. Even reform the NHS …
The Downing Street parties are still an issue. At the weekend, Boris received a questionnaire from the Metropolitan Police which he must complete within seven days:
The current obsession with the Met's investigation into Partygate might, paradoxically, help the Prime Minister. If he is not fined, he can claim vindication – and move, straightaway, to focus on his great Covid reopening. If he keeps moving while his enemies are still, there's every chance of his regaining momentum.
Still, if Boris can keep meeting the next departure deadline, he just might survive:
With an approval rating almost as low as John Major's, the chances of a full Johnsonian recovery look slim. But as one of his loyalists puts it: "The aim is to make it to Valentine's Day, then May Day, then summer. So far, so good."
On Saturday, February 12, Steve Barclay, the Chancellor of the Duchy of Lancaster and Boris's new Chief of Staff, wrote an article for The Telegraph: 'We in No 10 know that cutting back the size of the state must be a priority'.
Barclay says, that, post-Covid:
it is a priority to restore a smaller state – both financially and in taking a step back from people's lives. It's time to return to a more enabling approach. To trust the people, return power to communities, and free up business to deliver.
I know how frustrating the recent weeks of speculation about the workings of government have been – for the people of this country, and for political colleagues. But the Prime Minister has apologised for the things we simply did not get right, and for the way that some matters have been handled. And knowing the Prime Minister as I do, he is the best person to deliver the mission of renewal and recovery.
He outlined what will be happening in the coming weeks:
After this week's Parliamentary recess, the Prime Minister will be bringing forward a plan for everyone to live with Covid. Last Friday's move to relax travel restrictions further will encourage both business and leisure bookings and help kickstart the aviation sector. And in a fortnight – provided the data continues its encouraging trend – all Covid regulations in England are due to be abolished. That the Prime Minister can consider bringing this forward is thanks in part to the hard work of the British people, which has also contributed to our economic recovery.
We know that families are facing a rise in the cost of living, which is why the Prime Minister and Chancellor brought forward a support package earlier this month to help households with energy bills. The Prime Minister is raring to get the economy fully firing and determined to build more efficient and more responsive public services. He is the leader to capitalise on the benefits of Brexit – changing our laws to better reflect Britain's needs. And, through the levelling up white paper, he aims to balance the UK more fairly. These are the core values of the Conservative Party.
The week ahead will see the Prime Minister getting out of Westminster and visiting Scotland, the North East, and other parts of the UK to focus on the people's priorities and see how we are improving their communities. He'll be championing important domestic policies – like the apprenticeships that spread opportunity to people who earn as they learn and gain experience on the job. And he will carry on working with our allies to maintain peace in Europe, as he did last week in Brussels with our Nato partners, and in Poland with our armed forces.
Boris spent the morning of Valentine's Day in Scotland alone — with no Conservative support from north of the border.
The lockdown parties at No 10 have strained his relationship with the Scottish Conservatives, especially their leader Douglas Ross, who is both an MP at Westminster and an MSP at Holyrood.
Ross, the Scottish Parliament's leader of the opposition, was so put off by the party controversy that he initially did not invite Boris to the Scottish Conservatives' annual conference.
In the end, however, Ross relented and Boris will be appearing via video link.
On Monday, The Times reported further:
The prime minister also sent Ross a handwritten birthday card, according to The Daily Telegraph.
Conservatives at Holyrood are nervous about Boris:
Some MSPs are uncomfortable with Johnson's appearance and worry about the impact of the present situation if he survives in office.
Yet, Downing Street has reason to believe Scottish Conservative voters are more open to Boris:
… figures in No 10 believe Johnson is not as offputting to voters as his plunging poll ratings north of the border suggest.
"I think [Johnson's critics in the Scottish Conservatives] sort of have this view that the prime minister is a bit like Mrs Thatcher in the Eighties, [that] she was so toxic in Scotland but actually it was only under John Major that the party went into really serious reversal in Scotland," a Johnson ally said.
"With Boris's so-called toxicity in Scotland, we didn't do so badly at the last election in Scotland, relative to historic performances."
In 2019 the Scottish Tories lost seven seats but retained six [in Westminster], having had only one seat between 1997 and 2017.
The article says that Scottish Conservatives insist there is no personal animosity on the part of Douglas Ross and point out that he supported Boris in the 2019 leadership contest, which preceded the general election that year.
Boris's civil servants in Whitehall will be working more closely with Scotland's SNP government, especially in a bid to avoid another independence referendum:
Whitehall sources also intend to work more collaboratively with SNP ministers as part of efforts to take the heat out of disputes between the administrations.
Some senior figures believe that if both governments can agree to schemes that benefit Scotland economically it will help stave off public pressure for a second independence referendum. "We are hugging them close," said a source.
Earlier on Monday, the Daily Mail reported on Boris's half-day trip:
The Prime Minister visited Scotland to announce an agreement with the Scottish Government on a plan to create new green freeports.  
He visited Rosyth shipyard this morning and will later head to an oncology centre tackling coronavirus backlogs in the north west of England. 
The PM had been due to stay overnight in Cumbria but is now expected to return to Downing Street because of the Ukraine crisis …
The UK and Scottish governments have agreed there will be two 'green freeports' north of the border. 
Freeports – special economic zones offering tax breaks and lower tariffs for businesses – are being promoted by the UK Government as part of its 'levelling up' agenda …
Mr Johnson will have been bracing for a frosty welcome given the Tory civil war over the Partygate scandal. 
Mr Ross has said that Mr Johnson's position is 'no longer tenable' and has called for him to resign. 
The Scottish Tory leader is understood to have sent a letter of no confidence in Mr Johnson to Sir Graham Brady, the chairman of the 1922 Committee of Conservative MPs.     
The comments from Mr Ross prompted a slap down from Cabinet minister Jacob Rees-Mogg who described the Moray MP as a 'lightweight', fuelling rising tensions.
Six months from now we will look at Boris's travails and they will seem trivial. Everything will be water under the bridge, including partygate.
There will be bigger issues in the months to come — and Boris, rightly or wrongly, will still be at the helm.
Despite receiving more brickbats this week, Prime Minister Boris Johnson is still standing as Parliament enters its February recess.
Former PM John Major had a go at Boris about Brexit in a speech he gave to the Institute for Government this week. Like another former PM, Theresa May — still a serving MP — Major is a staunch Remainer.
Writing for The Spectator, historian Nigel Jones discussed the Blob (our Swamp) on Thursday, February 11, 2022 (emphases mine throughout except for Guido Fawkes's posts):
Still fighting their neverendum certain Blobbers, so used to having things go their way for the past half century, view the man who brought us Brexit as the one who betrayed the favourite cause of his caste. For that alone he must be punished. They seek not only Johnson's removal from office but his total humiliation …
The Mays and the Majors of this world, uniting with the legions of the left who have always loathed Johnson, cannot bear it that someone who sums up in his rumpled and hitherto popular persona all that they are not, is, after all the ordure that they have poured over him, like Elton John: still standing. After weeks of sustained bombardment with the most vicious projectiles his enemies can muster, the object of their righteous wrath is still withstanding the siege from the Downing Street bunker, even belting out 'I will survive!'
… And those such as Johnson's former editor Max Hastings, who has predicted the PM could be gone within weeks, could yet be proven wrong. But if Boris does go he will not have been brought down in a flood of booze but by the bile of 'the Blob' against the black sheep who dared, by accident or design, to stray from the flock.
The Spectator's Katy Balls says Boris is succeeding because he is buying himself time, putting forward his 'red meat' policies to win back MPs and those souls who voted Conservative in 2019:
After a difficult few weeks, Boris Johnson has made it to parliamentary recess. Given few expect a no confidence vote to be held during recess, time away from parliament gives the Prime Minister much-needed breathing space. After the seemingly never-ending parade of partygate stories, there have been times when MPs were sceptical he would make it this far.
Instead, the Prime Minister has succeeded in buying himself time — talking down would-be plotters and rushing out a string of red meat announcements to keep the right of his party on side. The announcement this week that all Covid restrictions could end a month early is a prime example of this. When MPs return from recess, Johnson will unveil his plan for living with the virus — which will include the guidance rather than law (self-isolation is expected to become just advice) and reduced access to tests.
Boris made his liberating announcement about lifting coronavirus restrictions to the House of Commons on Wednesday, February 9:
Guido Fawkes wrote:
Boris in the Chamber just now announcing that the final Covid restrictions, including the legal requirement to self-isolate after a positive test, are likely to be lifted after the February recess. The "living with Covid" plan will be revealed on 21st February. A full month ahead of schedule…
February 24 could be our third liberation day. We already had Independence Day on July 4, 2020, followed by Freedom Day on July 19, 2021 and now this. Let's hope it is permanent.
In any event, the announcement made two front pages on Thursday, February 10, with the Daily Mail being more positive about this world leading move than The Star. I can empathise with both:
When SAGE's scientists and the unions object, we know Boris is on the right track. Boris didn't even bother consulting the former, as The Mail reported:
Unions are already digging their heels in after Boris Johnson revealed he intends to ditch all remaining Covid laws within a fortnight as a poll revealed that three in four workers ground down by almost two years of lockdowns and restrictions want to continue with self-isolation.
Unison, Britain's largest union serving more than 1.3million members from swathes of the public sector, has accused the Prime Minister of going 'too far, too soon', insisting that the virus 'hasn't disappeared' — despite a raft of data suggesting the worst is now over.
SAGE scientists have also warned of the 'dangers' of the PM's plan to make England the first country in the world to scrap all Covid rules, after it emerged Mr Johnson had not discussed it with the committee which is now infamous for its gloomy predictions about the pandemic.
Boris appears to be placing more weight on what is actually happening rather than alarming data projections from SAGE:
The resistance comes despite Covid infections falling consistently, with even the gloomiest surveillance study now accepting that the country's outbreak has peaked — mirroring the official numbers.
The milder nature of Omicron, coupled with sky-high immunity, mean the NHS never came under the levels of pressure that No10's experts feared would happen, with hospitalisations and deaths both now in freefall.
People with fragile health should note that they will be free to continue self-isolating. That freedom is an individual choice rather than a mandate by law.
The same goes for masks.
Boris is no doubt trying to encourage the socialist governments in Wales and Scotland to do the same thing:
The announcement annoyed the devolved governments in Scotland and Wales – with Nicola Sturgeon's administration calling it a publicity stunt to divert from the Partygate scandal that has left the PM fighting for his job.
The First Minister did this afternoon pledge to ditch face masks in Scotland's classrooms from February 28 — keeping them in communal areas — but says she will wait for expert advice before following Boris's lead on any other rules.
The Scottish Government is unlikely to go as far as dropping all rules when it publishes its strategy for living with Covid in the months ahead on February 22. The plans will be debated by MSPs, meaning any changes could be several weeks behind England. The Scottish Government is even set to extend its Covid powers until September 24.
Conservatives applauded Boris's move:
Lord Frost, who dramatically quit Cabinet partly in protest at draconian curbs, was among the senior Tories praising the move. 'The PM's plan to end all Covid restrictions a month early is the right thing to do & is extremely welcome. I hope the government will also make clear we will not go down the road of coercive lockdowns ever again,' he tweeted.
Tory MPs last night insisted that lockdowns should never be deployed again. 'I am glad to see the emphasis on learning to live with Covid,' said Bob Seely, who represents the Isle of Wight …
David Jones, a former Cabinet minister, welcomed the 'very positive' news, adding: 'The PM deserves credit for this. We have locked down for too long and we now need a commitment that we will not lock down again, save for in the most exceptional of circumstances.'  
Steve Baker hit the nail on the head. The lifting of restrictions is meaningful only if Boris reforms the Public Health Act of 1984 — and, may I add, scraps the Coronavirus Act of 2020:
Former minister Steve Baker added: 'I welcome this announcement but we are not out of the woods until the Public Health Act has been reformed, we have new rules for better modelling, competitive, multi-disciplinary expert advice and wellbeing-based cost-benefit analysis covering the costs of lockdowns and restrictions. There is much to do!'
Earlier this week, Boris made another reshuffle involving the Cabinet Office and Downing Street, in line with the preliminary recommendations from Sue Gray's report on Boris's lockdown parties on January 31. Boris had met with Conservative MPs that evening:
Guido's accompanying post reads in part:
It could be "imminent".
Guido was also first to reveal the PM won over swathes of support from wavering MPs by promising to massively up their involvement in No. 10's policy-making, saying he liked Graham Brady's suggestion of 1922-organised MP policy committees.
In a sign of how the day had played out, in the evening Birmingham 2019 MP Gary Sambrook put out a gushing tweet about the PM:
Guido understands he's now withdrawn his letter of no confidence to Graham Brady. After the vaccine rollout and Brexit, the new shadow whipping operation has to be one of the most impressive things Boris's No. 10 has managed to organise…
On Tuesday, February 8, GB News gave us the details on the reshuffle:
Jacob Rees-Mogg will be the minister responsible for "Brexit opportunities" in the first move confirmed as part of Boris Johnson's reshuffle.
The shake-up of the ministerial team follows the appointment of Stephen Barclay as the Prime Minister's chief of staff and comes as Mr Johnson seeks to relaunch his administration following the partygate row.
Mr Rees-Mogg, previously the Leader of the House of Commons, will still sit at the Cabinet table in his new role as Minister for Brexit Opportunities and Government Efficiency …
Former Chief Whip Mark Spencer has been confirmed as the new Leader of the House of Commons to replace the vacant role left by Jacob Rees-Mogg.
Mark Spencer has been the MP for Sherwood since 2010 and has previously been Deputy Leader of the House of Commons.
Stuart Andrew has been appointed as Minister of State (Minister for Housing) in the Department for Levelling Up, Housing and Communities; he has been the MP for Pudsey since 2010, he has most recently been a deputy whip.
Chris Heaton-Harris has been confirmed as the Government's new Chief Whip; he has served as MP for Daventry since 2010, he had most recently been Minister of State for Europe and is famed in Westminster for his use of Twitter to post one-liner jokes.
James Cleverly MP will become Minister of State (Minister for Europe) in the Foreign, Commonwealth and Development Office as part of the shake-up of the Government frontbench, Downing Street said.
Wendy Morton MP to be a Minister of State in the Department for Transport.
Rt Hon Christopher Pincher MP to be Treasurer of HM Household (Deputy Chief Whip).
Samantha Jones, the Prime Minister's adviser on the NHS and social care, has been appointed as the new No 10 permanent secretary and chief operating officer, Downing Street said.
Samantha Jones, who is a civil servant, is a former NHS trust executive.
She helped develop the plan to reduce hospital waiting lists, but it did not go down well in Parliament this week when Health Secretary Sajid Javid announced it. Even Conservative MPs thought it was weak, especially as a record high of 6.1 million patients are awaiting surgery or other medical procedures.
Samantha Jones will be both an interim No 10 permanent secretary and its COO, both new posts, as The Telegraph reported on February 9:
Boris Johnson has appointed a former NHS trust executive who advises him on health policy to the newly created position of No 10 permanent secretary.
In the latest move to shake-up his inner circle, the Prime Minister announced that Samantha Jones will take the role for six months on an "interim" basis.
Ms Jones had been Mr Johnson's expert adviser on NHS transformation and social care, meaning she helped craft the newly announced plan to bring down NHS waiting lists.
The former nurse and NHS veteran will also hold the title of Chief Operating Officer for Downing Street as she helps shape the new civil service structure being created for the Prime Minister.
There was another appointment, that of Stuart Andrew MP as Levelling Up Minister:
Andrew Griffith, one of the MPs who was reshuffled in the first week of February, laid out his plans as Boris's new Director of Policy:
You would not know it from the media headlines, but families want to hear about our plans to grow employment, tackle the NHS backlog, control our borders, make their streets safer, bring down the cost of living and return rapidly to the point when we can cut taxes to let everyone keep more of their own money – all policies that are rooted in strong Conservative values.
As the Prime Minister's Director of Policy, these are my top priorities together with delivering the tangible opportunities from Brexit that will allow our economy to be more competitive and the reform of government to deliver better public services. Whilst the Policy Unit's remit is to advise the Prime Minister across the widest breadth of government policy, we will be unafraid to ruthlessly focus on the key issues. It is ultimately outputs that matter.
Elected in 2019, he is far from the Sir Bufton Tufton brand of Conservative MP and has been against the EU since John Major's time as PM:
From a comprehensive school in south-east London, I was the first in my family to go to university, where campaigning to keep the UK out of the Exchange Rate Mechanism turned me into a lifelong Conservative.
Jacob Rees-Mogg went further, asking Sun readers for suggestions on which EU regulations should be rolled back in the UK:
The opportunities in front of us are immense. Huge parts of our economy are no longer regulated by the EU.
Before Brexit, many of my constituents would write to me to complain about regulations that burdened them daily.
From farmers to electricians, on so many issues I had to tell them that even as an MP I could not help to solve their problems, as these rules were set by the EU, not the British Parliament.
Thanks to Brexit, that has all changed. Sun readers can hold their MPs accountable, as the buck truly stops with them …
You are the ones who know the red tape binds your hands, and to do my job I need your wisdom. Ronald Reagan rightly said: "The nine most terrifying words in the English language are, 'I'm from the Government, and I'm here to help'." This needs to be turned on its head: Britain needs The Sun readers' help instead.
I implore you all to write to me with the regulations you want abolished — those which make life harder for small businesses, which shut out competition, or simply increase the cost of operating. Through thousands of small changes, we can enact real economic change — which means The Sun's readers will feel a real Brexit bonus in their pockets and in their lives  every day.
WRITE TO ME: Jacob Rees-Mogg, House of Commons, London SW1A 0AA
EMAIL: jacob.reesmogg.mp@parliament.uk
In other news, the UK economy grew 7.5% in 2021:
Guido has the quote from the ONS:
 Darren Morgan, ONS: 
"Despite December's setback, GDP grew robustly across the fourth quarter as a whole with the NHS, couriers and employment agencies all helping to support the economy," he said.
"Overall, GDP in December was in line with its level in February 2020, before Covid-19 struck, while in the fourth quarter as a whole, it was slightly below that of the fourth quarter in 2019."
People are trying to cast shade on this achievement, but even The Spectator, hardly pro-Boris, has a compliment for his administration. Today, Katy Balls pointed out:
With prices soaring, interest rates rising and the cost of living crisis growing more acute by the day, we could do with some more positive news: and this morning's GDP update has played a small part in providing it.
Despite suffering the largest economic contraction in 300 years in 2020 – and taking the biggest economic hit in the G7 – Britain had the fastest growing economy in the G7 last year, boosting its GDP by 7.5 per cent.
It's still a mixed story: looking at where the UK economy is now compared with pre-pandemic levels, it ranks average within the G7. But with one of the steepest hills to climb back to recovery, the UK's relatively fast growth enabled the economy to get there several months before it was forecast to do so …
… while the economy did take a slight hit at the end of last year, it did not fall back below pre-pandemic levels. Britain can still boast that it made a full economic recovery – and hopefully recoup December's losses fairly quickly, given how quickly fears about Omicron's severity were put to bed.
Finally, with local elections coming up in May, Boris will be doing what he does best — campaigning around England (with one stop in Wales):
Guido notes that not all of Boris's destinations will be holding an election this Spring, but the PM needs to turn things around for the Conservatives:
Boris has spent a lot of time on the road recently. Almost every day he seems to show up at another school, building site, or hospital somewhere outside SW1 – in just the last 5 weeks, he's made 10 trips across the UK. Coincidentally, 7 of those trips happen to be in seats which are holding local elections in May …
With Labour and much of the media hammering away at Partygate since December inside the Westminster bubble, Boris obviously knows his best chance of turning things around is to get back into campaign mode. It is what he does best, after all…
Although Labour are still ahead in the polls, an amazing reversal that began when the Downing Street parties during lockdown came to light, a pollster from Savanta ComRes thinks that it will be easier for Boris to win his 2019 voters back than it will be for Starmer to encourage them to vote Labour:
This is what Savanta ComRes uncovered from their latest focus group — Starmer isn't capturing their collective imagination, so Boris is still in with a chance:
I will have more next week on Boris's attempt to survive at No. 10.
A well known Catholic priest from Glasgow, the Revd James 'Big Jim' Doherty, died earlier this month.
On January 10, 2022, Tim Stanley, a Catholic and a columnist for The Telegraph, related one of his favourite anecdotes about Big Jim:
A tribute to another outspoken Catholic
Speaking of outspoken Catholics, I'd like to pay tribute to Fr James Doherty, AKA "Big Jim", a Glasgow priest who died last week, of whom the stories are legendary. On one occasion, a man appeared at the presbytery with a notepad that read: "I am homeless, deaf and dumb. Please help." The cleric had seen this trick before.
"Can you lip read?" asked Big Jim. The man nodded. "Well, I've nae money, honey, but if you'll come into the house, I'll make you a sandwich." Thank you, the man nodded.
As they walked past the huge gong the house keeper would use to summon the clergy to lunch, Jim whacked it so hard it rang like Big Ben. "Good God!" cried the homeless man, "What the Hell did you do that for?!"
"Oh, it's a double miracle!" said Big Jim. "Ye can hear and ye can speak!!"
"Aye well," replied the man, rubbing his ears, "you've got to work bloody hard to get any money out of people nowadays."
Jim made the man his sandwich.
That's one of the best anecdotes I've read in some time.
Lying does not pay, especially to a priest. Priests have heard or seen everything under the sun. They are not to be underestimated.