You are currently browsing the tag archive for the 'Rishi Sunak' tag.
One year ago, July 4 was England's Independence Day from coronavirus.
Shops and restaurants re-opened, albeit with requirements for masks.
One year on, and it's Groundhog Day. After a prolonged period of restrictions from Christmas 2020, England awaits Freedom Day, which Prime Minister Boris Johnson and his Cabinet ministers assure us will be on July 19.
On Monday, July 5, 2021, when the Duchess of Cambridge began self-isolating for ten days and her husband Prince William attended an NHS service of thanksgiving at St Paul's Cathedral, Boris gave a coronavirus briefing about what we can expect on Freedom Day. Health Secretary Sajid Javid gave Parliament a briefing at the same time.
All being well, tomorrow, I will report on the details of what they had to say.
It was largely good news, except for some ambiguity about masks, which could lead to mask rage once restrictions are relaxed.
Below is relevant analysis aired and published before Boris and Saj (as he is now known) delivered their remarks.
Masks
The most contentious lifting of restrictions concerns masks.
Masks are the new Brexit referendum. They have divided England enormously, as Matthew Lynn wrote in the Telegraph on July 5 (emphases mine):
Maskers and anti-maskers look set to become the new Remainers and Leavers (with almost, if not quite, the same tribes in both camps). Very few people on either side of that bitter debate were actually very interested in the finer points of tariffs on citrus fruits, or what the European Commission's plans for the digital transformation of European industry might be this week. They wanted to say something about themselves.
He is not wrong. Anti-maskers, for the most part, appear to be Leavers. Pro-maskers are Remainers.
The Sunday news shows seemed to bear this out.
Housing Secretary Robert Jenrick told Trevor Phillips on Sky News that he would stop wearing one as soon as restrictions are lifted:
By contrast, Prof Adam Finn, a member of the JCVI (Joint Committee on Vaccination and Immunisation) told Phillips that he would continue to wear his mask 'indefinitely':
Finn is a man who manages to travel to holiday locations on taxpayer's money. Here he is in Coimbra, Portugal. Nice work if you can get it. Wouldn't Portugal have been on the amber list at the time of this interview? Interesting. Another case of 'For me, but not for thee'.
So, how exactly will this mask dilemma play out in real life? This is what Matthew Lynn foresees:
London mayor Sadiq Khan, a man who never saw a cynical political gesture without wanting to give it a big hug, is reportedly toying with demanding that masks continue to be worn on public transport in the capital, whatever the Government decides. If he goes through with it, it can surely only be a matter of seconds before Wales's Mark Drakeford and Scotland's Nicola Sturgeon follow suit, saltire or dragon optional, while every grandstanding local politician will soon be jumping on that bandwagon.
Likewise, businesses will be coming up with their own rules, based on what they see as their core demographic. A sports bar in Chelmsford, decked out in England flags? My feeling is it won't require masks. A vegan cafe in Islington or Bristol? You will have to wrap up your face before ordering that soyamilk fair trade latte.
There was a time — at the height of the pandemic in Spring 2020 — when we had no masks. Somehow, the vast majority of us did not catch coronavirus.
Lynn reminds us of the absurdity of the rules:
We can also all argue about whether masks were ever necessary. The scientific evidence was always shaky, which was why most governments in Europe, as well as the US, were reluctant to impose them in the first place. The rules governing masks have become increasingly bizarre, too. Why the virus doesn't spread while you are eating a meal at a restaurant, for example, but does while you walk to the lavatory, defies any rational explanation.
Nonetheless, Lynn sees masks and lockdowns as yet more tools of social division:
We might have hoped that Covid-19 would soon be behind us. There seems little chance of that now. The divisions lockdowns have opened up and exacerbated will run for years.
Hope amidst ambiguity
The Telegraph's Tim Stanley wrote 'The British must reject fear and dump their masks'.
He began by saying:
Hope, at last! The Government has indicated that all legal lockdown restrictions will end in England on July 19 and that even masks will become a question of choice, in which case I choose to burn mine. I've only worn the wretched thing "to make others feel comfortable", and my heroes are the religious cranks and anti-social yobs who refused to play along.
He is pinning his hopes on new Health Secretary Sajid Javid:
Javid, one hopes, has taken a fresh look at the data and concluded that cases are rising significantly but hospitalisations and deaths are not, which suggests the emergency is under control.
Stanley says we must adjust our outlook towards coronavirus:
We need to shift from disaster containment to threat management. Think of it as living in an earthquake zone: you're conscious of the risk and prepare for the worst, but you don't walk around acting like an earthquake is happening right now, with your knees bent, holding onto the furniture. Nor should we act as if Covid will kill us all, because it won't.
He has two suggestions for the Government in order to make things clear to the public and avoid ambiguity:
The Government needs to get two things right. One is consistency: if adults are free, children should be too. It makes no sense whatsoever that they are isolating from school, or even routinely tested, if this disease doesn't pose a direct threat to them and the vulnerable are double-jabbed. If we keep this silly regime going on in schools, it would both be unjust and sow confusion and fear: how are we supposed to feel safe if kids are treated like unexploded bombs?
And, second – this is so crucial – the Government mustn't allow legal restrictions to be replaced with ongoing "advice" or "guidance", because we've never got to the bottom of which is what, and the result – if trains or supermarkets are still advising us to distance and people assume they have to comply – will be de facto lockdown.
SAGE and communitarianism
SAGE continue to try to make the UK a communitarian, authoritarian society with their rules and restrictions.
Sorry, we are not the Far East, and most of us do not want to transform Britain into that type of society.
Here is a good example of SAGE-think. On Sunday, July 4, the Telegraph reported:
Prof Stephen Reicher at the University of St Andrews, a member of the Sage subcommittee advising on behavioural science, said it was frightening to have ministers "who want to make all protections a matter of personal choice when the key message of the pandemic is "this isn't an 'I' thing, it's a 'we' thing."
No, it is not a 'we' thing. It never should have been.
Reicher gets a lot of airtime on the BBC, especially in Scotland.
Prof Stephen Powis, the NHS medical director for England, told the BBC's Andrew Marr on Sunday that we must continue to protect the NHS by getting vaccinated twice. He said that the link between infection and hospitalisation is 'severely weakened' but not yet broken:
When asked about masks, he said:
Some people may choose to wear face masks in particular circumstances, such as crowded environments, and that's not necessarily a bad thing. Those habits to reduce infections are a good thing to keep.
Millions of us would disagree.
As for official figures in England:
Official figures showed there had been 24,248 Covid cases in the last 24 hours, up 161 per cent on a fortnight ago and highest daily figure since January, but only 15 more people had died as more than half English residents have now been double-jabbed.
These scientists must be from SAGE:
Some UK scientists warned however, that the lifting of all Covid-19 restrictions was like building new "variant factories" at a very fast rate.
If it were up to them, we, the great unwashed, would never see freedom again.
A new 'broom', a new outlook
We are fortunate to have a new health secretary who is a new broom, so to speak, with a new outlook.
Sajid Javid is on the same page as Chancellor Rishi Sunak and Boris himself.
Spectator editor Fraser Nelson explained the alliance for the Telegraph on Thursday, July 1:
Unlocking on July 19 now looks a near-certainty, but so does the surge in Covid cases. So the Prime Minister will need to explain to a nervous country why, all of a sudden, people should be relaxed when the virus rises. Javid will need a version of the "live without fear" theme that Sunak was developing last summer. To say that most of these cases are now among the under-25s, so hospitalisations should be low, posing no serious threat to the NHS. And it's best to get this "exit wave" over with now, rather than wait for the winter.
This will be the next battle: whether Covid-style techniques (self-isolation, classroom closures) should be used to fight back whatever winter brings. This is perhaps where a Sunak-Javid alliance will really come into play. Last summer, the Treasury vetoed an NHS plan to expand hospital capacity on the (now laughable) logic that Test and Trace would quash any second wave. Extra capacity is needed now. Lockdowns, of course, hurt the economy and hit future ability to pay for the NHS.
When the vaccines were first proven to work, Johnson's first thought was that this meant things should be over quickly. Surely they'd only need to protect the over-50s, he thought, then life could then get back to normal. It all turned out very differently, and he ended up caught in a Whitehall war. In Sunak and Javid, he now has two of his most senior ministers committed to an irreversible reopening.
They might not succeed. But this time, he can't say he lacked the support that he needs.
I hope the plan for July 19 works, especially as it would send a clear message to SAGE about the direction of the future for the UK. A data review will take place on Monday, July 12.
On the evening of Saturday, June 26, many Britons were relieved that Prime Minister Boris Johnson appointed a new Secretary of State for Health and Social Care so soon after Matt Hancock's resignation.
Although lockdown supporters say that Sajid Javid has no experience in health, that is why many of us think he is a good choice. He will give the department a fresh pair of eyes and a new perspective, one that isn't tied to SAGE or 'our NHS', which has become a cult religion over the past 16 months (March 2020 – June 2021).
Since the pandemic began, it has become very difficult being able to see a general practitioner (GP) in person.
The Telegraph's Ross Clark wrote (emphases mine):
… many patients struggle to get a doctor to see them even at the surgery. Hancock's vision of us all consulting medical staff via smartphone app doesn't allow for the fact that, according to Ofcom, only 55 percent of the over-65s – ie those who need the NHS the most – use a smartphone. Even if it did, it ignores the views of cancer specialists who have warned that cancer is often diagnosed via subtle changes in a patient's appearance – something you can't capture by uploading a photograph of a spot.
Hopefully, the new health secretary will bring a keen eye to Hancock's failures and won't shy away from tackling vested interests so that we can a real doctor, in real life, when we need to.
GB News covered the appointment on their Sunday morning programme:
TalkRADIO's Julia Hartley-Brewer also thought Javid's appointment was good news:
Mark Harper MP of the Covid Recovery Group (CRG) in Parliament tweeted his congratulations:
The Sunday Times said that Carrie Johnson, who once worked for Javid in government, was influential in getting him the job:
The Mayor of London appeared on Andrew Marr's show on Sunday to congratulate a fellow son of a bus driver (video here):
This confused Deputy Labour Leader Angela Rayner, who also said 'fragrant' instead of 'flagrant' in an interview this week:
Later that day, Times journalist Steven Swinford was told that the security camera in Hancock's former office — now Javid's — had been turned off:
Monday's front page of the Telegraph reported a positive outlook from the new Health Secretary:
That morning, Javid gave an interview to Sky News expressing his desire for a quick lifting of coronavirus restrictions:
However, as Guido Fawkes pointed out, Javid has voted with the Government on continuing restrictions (emphasis in the original):
Co-conspirators will be relieved to hear that given hitherto he has voted in favour of every lockdown. Javid also confirmed the notorious camera lurking in his new office has now been disabled, though not by him personally…
Late Monday afternoon, Javid delivered his first statement in Parliament as Health Secretary. Excerpts from Hansard follow, emphases mine.
He stated the positives about the vaccine rollout, beginning with a brief tribute to Hancock:
I want to take this opportunity to pay tribute to my predecessor, my right hon. Friend the Member for West Suffolk (Matt Hancock), who has worked hard throughout all these testing times. He achieved a great amount in the work that he did, and I know that he will have more to offer in public life. I wish him the very best.
There remains a big task ahead of us to restore our freedoms—freedoms that, save in the gravest of circumstances, no Government should ever wish to curtail. My task is to help to return the economic and cultural life that makes this country so great, while, of course, protecting life and our NHS. That task has been made all the more difficult by the delta variant, which we now know makes up some 95% of new cases in the UK. Not only does it spread more easily, but the evidence points to a higher risk of those who have not been vaccinated needing hospital treatment, compared with the previously dominant alpha variant.
This narrowing of the race between the virus and the vaccine led to this Government's difficult decision to pause step 4 on our road map until 19 July. We are using this extra time to protect as many people as we can. When the Government took that decision on 14 June, more than 4.3 million over-40s had had a first dose but not a second. The figure is now down to 3.2 million people over 40. We can all be reassured by how many more people are getting the life-saving opportunity that a vaccine offers.
At this two-week review point, I want to update the House on our progress on our road map to freedom. Our aim is that around two thirds of all adults in this country will have had both doses by 19 July. We are bringing forward second doses, and bringing forward our target for first doses too, so we can meet that 19 July goal. Vaccine uptake remains sky-high. We have seen that age is no barrier to enthusiasm for getting the jab: as of this weekend, more than half of adults under 30 have taken up the chance to be vaccinated—including, in the past couple of weeks, all three of my own adult children.
Our vaccines are working, including against the delta variant. The latest modelling from Public Health England shows that they have saved more than 27,000 lives and have prevented more than 7 million people from getting covid-19. We know that, after a single dose of vaccine, the effectiveness is lower against the new delta variant, at around a 33% reduction in symptomatic disease, but two doses of the vaccine are just as effective against hospital admission with the delta variant as with the alpha variant.
The jabs are making a difference in our hospitals, too. In January, people over 65 who were vaccinated earlier in our programme made up the vast majority of hospital admissions; the latest data shows that that group now makes up less than a third. While cases now are ticking up, the number of deaths remains mercifully low, and we will continue to investigate how our vaccines are breaking that link between cases, hospitalisations and deaths. I am also encouraged by new data just today from Oxford University's mix and match trial, which shows that a mixed schedule of jabs, such as getting the AstraZeneca jab first and the Pfizer second, could give our booster vaccination programme more flexibility and possibly even some better immune responses …
I spent my first day as Health Secretary—just yesterday—looking at the data and testing it to the limit. While we decided not to bring forward step 4, we see no reason to go beyond 19 July because, in truth, no date we choose comes with zero risk for covid. We know we cannot simply eliminate it; we have to learn to live with it. We also know that people and businesses need certainty, so we want every step to be irreversible. Make no mistake: the restrictions on our freedoms must come to an end. We owe it to the British people, who have sacrificed so much, to restore their freedoms as quickly as we possibly can, and not to wait a moment longer than we need to.
With the numbers heading in the right direction, all while we protect more and more people each day, 19 July remains our target date. The Prime Minister has called it our terminus date. For me, 19 July is not only the end of the line, but the start of an exciting new journey for our country. At this crucial moment in our fight back against this pandemic, we must keep our resolve and keep on our road map to freedom so that together we can beat this pandemic and build back better. It is a task that I am deeply honoured to lead and one I know will succeed. I commend this statement to the House.
Shadow Health Secretary Jonathan Ashworth (Lab) responded for the Opposition, pointing out that Javid's optimism might be misguided:
Can I just say at the outset that, despite our fierce political differences, my dealings with the previous Secretary of State, the right hon. Member for West Suffolk (Matt Hancock), were always courteous, respectful and professional, and I wish him well in resolving his personal difficulties.
I welcome the right hon. Member for Bromsgrove (Sajid Javid) to his place and thank him for advance sight of his statement. He will find working with the NHS and social care staff both inspirational and rewarding, and I hope he will agree to make arrangements for them to receive a fair pay rise and not the real-terms pay cut that is currently pencilled in.
Today, the Secretary of State has let it be known that the 19 July reopening will effectively go ahead. He told the news this morning that there is "no going back" and that lifting restrictions will be "irreversible". A word to the wise: I have responded to a lot of these statements these past 15 months, and I remember Ministers telling us there was "nothing in the data" to suggest that 21 June would not go ahead. I remember children returning to school for one day before the January lockdown. I remember, "It will all be over by Christmas". I remember, "We will send it packing in 12 weeks".
Well, we have seen around 84,000 cases in the past week—an increase of around 61%. Today, we have seen the highest case rate since January. If these trends continue, we could hit 35,000 to 45,000 cases a day by 19 July. That will mean more long covid—the Secretary of State did not mention more long covid—and it will mean more disruption to schooling. For some, it will mean hospitalisation, and we know that even after two doses, someone can catch and transmit the virus, so what is he going to do to push infections down? Vaccination will do it eventually, but not in the next four weeks.
I want to see an end to restrictions and our constituents want to see an end to restrictions, but I hope the Secretary of State's confidence today about 19 July does not prove somewhat premature or even, dare I say it, hubristic. Can he confirm that by "irreversible" he is ruling out restrictions this winter? Has he abandoned the plan that the previous Secretary of State and officials were drawing up for restrictions this winter? …
Javid responded, without addressing possible winter restrictions:
… With all the data I saw yesterday—I sat down and discussed it with the experts and my colleagues—it is very clear that we are heading in the right direction, and I am very confident about that date of 19 July …
Lucy Allan (Con), who has voiced her scepticism about coronavirus restrictions before, asked about the terminus date:
Can my right hon. Friend confirm that 19 July will mark the end of the road map out of lockdown, that "terminus" means the end of the line, not an interchange, and that it is his intention that all restrictions will be lifted on that date?
Javid replied:
… As she will have heard in my statement, it is absolutely our intention to have step 4 commence on 19 July and to remove restrictions and start returning to normal. She asked me specifically about all restrictions, or which restrictions. It is certainly our intention to remove restrictions, but as we follow the data in the coming days, we will set out more in due course.
Jim Shannon (DUP), a staunch Anglican, asked about loosening restrictions on church worship:
… If we are aiming for progression and moving away from restrictions such as the wearing of masks, may I ask when people will be able to attend worship and sit in churches self-distanced, without wearing a mask, just as diners can sit in a restaurant self-distanced without a mask? If we are going to have parity, then I believe that churches should have parity with restaurants.
Javid gave a reassuring reply:
I thank the hon. Gentleman for his remarks. I agree with him that as we move towards removing restrictions and step 4, we should take seriously into account what he said about people attending churches and the restrictions that they currently face. That is certainly my intention.
John Redwood (Con) asked whether Javid would look into improvements in ventilation and cleaning for various types of establishments to improve the air flow. Javid said that he would do so.
Theresa Villiers (Con) also asked about church, specifically singing hymns:
… Now that thousands of people are allowed to gather together at a football match to shout and cheer as much as they want, is it not time that we allowed congregations in church to sing hymns together?
Javid responded positively, which is more than Hancock ever did when asked similar questions:
I can tell my right hon. Friend that that is certainly what I would like to see and it is certainly my intention to allow that to happen as soon as possible. When it does, I hope we can sing a hymn together.
Richard Drax (Con) asked how long it would take before people could see their GPs in person again.
It looks as if Javid will address that issue, which Hancock did not much care about, insisting that phone and video conferences were highly successful:
My hon. Friend has raised an important issue. Even before I had this job, that issue came up again and again when I was a constituency MP just like him, and I absolutely understand it. It has especially been raised by older members of my constituency; people have brought this issue up where they are perhaps not as familiar with technology and they want that face-to-face meeting. I have already asked for advice on that and I will write to him on it, if I may.
Liam Fox (Con) asked for more data to be made public:
… As for the data we get, it is not just about the number of infections—it is about who is infected, what age they are, whether they have pre-existing conditions, and whether they have been offered a vaccine, but have refused. It is not just about hospitalisations and how many people are in hospital. How long have they been hospitalised compared with the figures for previous parts of the pandemic? How many of them require extra care and how many are in intensive care units? We need to understand much better how the Government are reaching their decisions. The British people are not stupid, and Parliament needs to be taken into the Government's confidence much more. I trust, given the previous examples of how he has conducted himself, that my right hon. Friend can do that.
Javid replied:
… On his important point about data, I saw the data in the Department for the first time yesterday. I saw the detail that it provides and how granular it is. I was impressed with that data, so I can give my right hon. Friend reassurance that the Government are looking at the data, and are absolutely taking it into account. I would also like to find a way to make sure that we can share as much of that data as possible so that others can benefit from it, and I will certainly look at ways in which we can do just that.
Dr Ben Spencer (Con) asked about winter measures:
… Does he share my concerns regarding this winter, when we predict that an increase in covid hospitalisations may be superimposed on normal NHS winter pressures? Can he confirm that plans and preparations are being put in place now to support our NHS in what may be a very difficult winter indeed?
Javid responded in the affirmative:
My hon. Friend is right to raise this issue. I can absolutely confirm that plans are being put in place. A huge amount of work was done by my predecessor and, of course, I will continue that work—just yesterday, I had meetings on winter plans. I can give my hon. Friend the absolute assurance, not just on vaccinations but on dealing with the backlog, that there are plans in place, and in due course I will come to the House and set them out.
Huw Merriman (Con) asked about a return to international travel, especially for those who have had two vaccinations.
Javid said:
First, my hon. Friend will know that, in terms of 19 July and the restrictions that will be removed, we are focusing on domestic restrictions. He knows that, separately, we also take very seriously the border controls, the border restrictions and the so-called traffic light system. In terms of making any further decision on that, he will know that it is kept under constant review on a very regular basis, and it is something that I intend to sit down and discuss with my right hon. Friend the Transport Secretary as soon as I can.
Mark Harper (Con) pressed Javid with a question on winter restrictions:
… I welcome my right hon. Friend's tone and his intent to get us back to normal, but let me pick up on his earlier answer to our hon. Friend the Member for Runnymede and Weybridge (Dr Spencer). There are those in government, from documents that I have seen, who are preparing the ground for the return of restrictions in the autumn and the winter. Will he rule out the use of lockdowns and restrictions in the winter as a mechanism for managing covid, and look at alternatives to ensure that the NHS is able to deal with us getting back to normal?
Javid answered:
… I am very happy to meet with him to discuss the issues in more detail and listen to his views. He should know that it is my intention, and the Government's intention, as I have said from day one on this job, to remove all restrictions as quickly as possible.
Steve Brine (Con) asked about the disruptive self-isolation rules following positive test results, especially for schoolchildren:
… I am looking for a change in policy as much as a change in tone. I return him to the subject of education. Estimates suggest that a quarter of a million children are missing school today due to precautionary isolations, the vast majority of them sequential due to the bubbles that they are caught in. Under the current rules, 10 days of isolation is then unavoidable, even with a negative PCR test. Have our young people not suffered enough? Are we really going to continue to do this to ourselves? Is this not an area, given the availability and reliability of testing now, where I might find the change of policy that I am looking for?
Javid replied:
Other hon. Members have rightly raised this very important issue, and my hon. Friend is right to draw attention to it once again. It is something that I have focused on from day one on the job. That is why I have asked for fresh advice on it. As he knows, that decision was made with the data that was available at the time. Clearly, data is changing all the time, and we must ensure that we keep that under review for exactly the reasons that he has just set out. As I say, I have asked for advice on that and will hopefully be able to say more on it as soon as possible.
This is what journalists and the public picked up from that debate.
The Sun's Deputy Political Editor Kate Ferguson tweeted about the terminus date …
… and singing in church:
GB News was a bit more cautious:
The Telegraph's Alison Pearson gave Javid five suggestions for improvement, including sacking SAGE and publishing COVID-19 recovery data with the public:
… It was pure speculation by Sage that led to the cancellation of Freedom Day on June 21. Subsequent figures have shown that we are not seeing any sign of hospitalisations for Covid "rocketing" or "surging" as we were warned two weeks ago. On the contrary, NHS England currently has just 1,445 Covid patients (one per cent of all beds). The rolling seven-day average of deaths after a positive test with Covid is 17. Sir John Bell, regius professor of medicine at Oxford, says the vaccines are holding up really well against variants. Asked about the large number of "cases", he said, "This is trivial, actually. Most who test positive are under 30 and they don't get very sick." Sir John is clearly far too sane to qualify as a government adviser. Maybe have a word with him?
As for publishing the recovery data:
Matt Hancock promised he would last summer; the slippery eel never did. We are among the only countries in the world not to trust its people with positive information from which they can calculate their own risk. Please stop infantilising us.
The Telegraph's Jeremy Warner has hope that, by working together, Javid and Chancellor of the Exchequer Rishi Sunak can turn this parlous situation around:
Like the new Health Secretary, Sunak has always been at the libertarian end of the debate on lockdown, as he must given his interest in a functioning, tax generating economy. So unusually, we for now have a Chancellor and a Health Secretary who are actually on the same page. The Prime Minister should enjoy the harmony while it lasts. The Treasury and Health department are not natural bedfellows.
On the other hand, Bob Moran, the Telegraph's cartoonist and a coronavirus sceptic, was unimpressed:
Someone picked up on 'Build Back Better':
However, author Carl Vernon, also a coronavirus sceptic, was positive:
I tend to agree with him.
As Sajid Javid has worked for some of the world's greatest investment banks, I hope that he will cast a gimlet eye over all of the data and ask probing questions of SAGE when they make recommendations on continuing restrictions.
I wish our new Health Secretary all the best.
Last week at this time, Prime Minister Boris Johnson was preparing for the G7 summit at Carbis Bay in Cornwall.
Prior to that, meetings between G7 foreign ministers and finance ministers took place earlier in London.
This is the family photo of the foreign ministers from their meeting in May. The eighth man is an EU representative:
One of the outcomes of the finance ministers' meetings in early June was a tax on profits from the largest multinational tech giants, to be continued when the G20 meet in July:
Joe Biden
It was amazing to see Joe Biden last the full course of the G7, especially without Kamala Harris hovering over him:
I am still puzzling over this photo of Dr Jill prepping for the G7 and the text 'United States government official'. She is the First Lady, not a government official:
Joe Biden successfully triggered a post-Brexit storm around the EU trading arrangements with Northern Ireland, which are crucial to maintaining the peace agreement between that part of the UK and the Republic of Ireland:
Biden's opinion is important, because the UK wants to make a trade deal with the US, which would have been much easier were President Trump still in the White House:
Nigel Farage rightly tweeted:
The sad truth is that no one in government cares about Trump. Boris has made it pretty clear in Parliament that he prefers dealing with Biden.
On Thursday, June 10, the US and the UK signed The New Atlantic Charter to promote common interests between the two nations, including technology, health pandemics and climate change.
The original Atlantic Charter was signed by Winston Churchill and Franklin D Roosevelt in 1941.
This new charter is hardly as ground breaking as the original.
The Daily Mail reported:
The major focus of Mr Johnson and Mr Biden's new charter is defeating the coronavirus crisis and preventing further global health crises.
To achieve these goals, the two men agreed to 'scale up joint work on genomic sequencing and variant assessments' and to work together on a new global surveillance system.
This will see the UK Health Security Agency's new Centre for Pandemic Preparedness establishing a working relationship with its US counterpart, the proposed National Center for Epidemic Forecasting and Outbreak Analytics.
The new charter states: 'We recognise the catastrophic impact of health crises, and the global good in strengthening our collective defences against health threats.
'We commit to continuing to collaborate to strengthen health systems and advance our health protections, and to assist others to do the same.
Mr Johnson said: 'While Churchill and Roosevelt faced the question of how to help the world recover following a devastating war, today we have to reckon with a very different but no less intimidating challenge – how to build back better from the coronavirus pandemic.'
While the men met, Carrie Johnson, young Wilfred Johnson and Jill Biden took a walk along the beach. That evening, the Bidens enjoyed a drink at the Tregenna Castle Hotel in St. Ives.
On Sunday, June 13, the Bidens left Cornwall and were guests of the Queen at Windsor Castle where they enjoyed tea together. The Express has more.
On Monday and Tuesday, Biden met with NATO leaders and held a private meeting with the president of Turkey, Tayyip Erdogan.
The Bidens flew to Geneva on Tuesday night. On Wednesday, Biden met with Vladimir Putin in Geneva.
Sausage war
On the topic of Biden's beef over Northern Ireland, he wants the UK to move closer to the EU and had the diplomat at the American Embassy in London issue Boris with a démarche, a reprimand normally reserved for enemy nations.
On Wednesday, June 9, the Telegraph reported:
Joe Biden ordered US officials to rebuke Boris Johnson for jeopardising the peace process in Northern Ireland due to its stand-off with the European Union, it emerged on Wednesday night.
In a significant diplomatic intervention which now threatens to overshadow the G7 summit in Cornwall, America's most senior diplomat in Britain told the Brexit minister Lord Frost that the UK's stance on the Northern Ireland Protocol was "inflaming" tensions in Ireland and Europe.
Yael Lempert is said to have issued Lord Frost with a demarche – a formal diplomatic reprimand – at a meeting on June 3 in London, during which she relayed to him the US President's "great concern" over the UK's approach to the protocol, which was established to prevent a hard Irish border.
The protocol is causing difficulty in shipping sausages, hence 'sausage war'. You could not make this up.
Lord David Frost is attempting to negotiate with the EU:
During "frank" discussions in London, the Brexit minister Lord Frost said he would not rule out acting unilaterally to prevent a ban on the sale of British sausages in the province from coming into force at the end of the month.
It came despite Maros Sefcovic, the European Commission vice-president, warning that the EU could ultimately suspend parts of the Brexit trade deal and hit British products with tariffs should the UK choose to extend the grace period on chilled meats.
In a clear show of defiance, one insider involved in the joint committee that oversees the Northern Ireland Protocol told The Telegraph: "David very clearly said he wasn't taking that off the table."
Lord Frost also rebuffed EU calls for the UK to solve the row by signing up to a Swiss-style veterinary agreement which would require it to follow the bloc's food safety rules as they change over time in a process known as "dynamic alignment".
Over the years, British food and veterinary standards have become more strict than those of the EU, so it is no surprise that Lord Frost is sticking to his guns.
The démarche from the United States upset the DUP leader in Northern Ireland — Edwin Poots — and some Conservative MPs in Westminster.
On Thursday, June 10, the Daily Mail reported:
New DUP leader Edwin Poots laid into Joe Biden today after the US president intervened in Northern Ireland politics with a rebuke for Boris Johnson over the EU 'sausage war'.
Hardliner Mr Poots accused the Democrat of trying to drive 'a coach and horses through the Good Friday Agreement' that guarantees sectarian peace in Northern Ireland.
The US President instead used his diplomats to express 'great concern' over the conflict centred on post-Brexit trade rules agreed last year by both sides, which the UK is now seeking to change, the Times reported today.
The UK is now at loggerheads with the EU over rules governing the import of chilled goods like sausages into Ulster under the Northern Ireland Protocol agreed six months ago.
The US is said to have issued a 'demarche' to Britain, an official diplomatic censure not normally used against allies, especially those as close as the two nations.
The United States was said to have 'strongly urged' Britain to 'stay cool' and reach an agreement, even if that meant making 'unpopular compromises'.
The White House tried to row back from the row today, insisting the bust-up had been overplayed, but not before the president was branded 'senile' by a Tory Brexiteer …
… an anonymous Tory MP told Politico: 'America should remember who their allies are… unfortunately he's (Biden) so senile that he probably won't remember what we tell him anyway.
'Unless an aide is listening I'm not sure he's going to remember for very long.'
The Express had more from anonymous Conservative MPs:
One told Express.co.uk: "The cognitive decline of the American President appears to mirror the decline of the special relationship.
"I don't actually believe this is Biden doing this.
"He's lost the plot again. Somebody is pulling his strings because he's senile and just hasn't got it – if he ever had it."
Another angry Conservative told this website the US was picking fights with the wrong people.
They said the Biden administration had issued a rebuke to the UK, one of America's oldest allies, quicker than it had taken action against Iran or China.
"He's talking to the wrong people on this one I'm afraid," the MP said.
The Gateway Pundit picked up on the story:
Joe Biden's first trip abroad is turning into an utter disaster as the senile sock puppet offends our closest allies and endangers the peace process in Northern Ireland with his incompetent dementia …
On June 10, the Prime Minister and Biden met privately at St Michael's Mount, a 17th-century castle on an island just off the coast of Cornwall.
The Daily Mail reported that Boris downplayed the disagreement:
Boris Johnson tonight insisted Joe Biden did not rebuke him over the Northern Ireland situation during their first face-to-face talks – as the White House tried to cool a furious row.
The PM revealed that the US president avoided reading the riot act over the Brexit standoff when they met in Cornwall this afternoon.
But he said there is 'common ground' between the UK, America and the EU that solutions must be found to the Northern Ireland protocol issues.
The Express quoted him as saying:
So it's a relationship, you can call it the 'deep and meaningful relationship', whatever you want, the 'indestructible relationship'.
It's a relationship that has endured for a very long time, and has been an important part of peace and prosperity in Europe and around the world.
Emmanuel Macron's gaffe
Emmanuel Macron ruffled British feathers when he said that Northern Ireland was not part of the United Kingdom.
The Express reported on Macron's reaction to the sausage war:
Britain has been left frustrated by the EU's implementation of the mechanism, warning excessive customs checks are having a detrimental impact on trade between Britain and Northern Ireland.
During talks with Mr Macron at the G7 summit, Boris Johnson tried to explain the problems with the Protocol, comparing it to the hypothetical introduction of checks on goods between Toulouse and Paris.
Mr Macron responded by saying there was a difference because Northern Ireland is a separate country to the rest of the UK.
The comments enraged Boris Johnson and led to Foreign Secretary Dominic Raab blasting the EU for a lack of "respect".
According to the newspaper, Macron also threatened a reset of British and French relations:
Emmanuel Macron was among the leaders who visited Cornwall this week for the G7 summit. Mr Macron told Prime Minister Boris Johnson the two countries had common interests, but ties could only improve if he kept his word on Brexit. One source told the Guardian: "The president told Boris Johnson there needed to be a reset of the Franco-British relationship. This can happen provided that he keeps his word with the Europeans."
Meanwhile, Carrie Johnson took Brigitte Macron and Jill Biden to a performance at the Minack Theatre. Mrs Macron wore espadrilles.
The Queen's reception
On Friday, June 11, the Queen held a reception at the futuristic green Eden Project for G7 leaders and their spouses. Prince Charles (pictured) and the Duke and Duchess of Cambridge also attended:
A family photo was taken, where the Queen cracked a joke:
She also hosted G7 leaders in 1977. Among them was Justin Trudeau's father, Pierre, on the far left in the photo below. Valery Giscard d'Estaing and the Queen engaged in conversation. It is unclear why the Queen Mother and Jimmy Carter were holding hands:
Other members of the Royal Family also attended this year's reception.
The Queen has met nearly every US president since Dwight D Eisenhower. The only one she never met was Lyndon B Johnson.
The Duchess of Cambridge took Jill Biden for a visit to Connor Downs Academy, a primary school in Hayle:
Jill Biden revealed that she knows Prince Harry well, thanks to the Invictus Games.
In a separate event, the Duchesses of Cambridge and Cornwall accompanied the Queen to an event in St Austell, where the monarch cut a cake with a ceremonial sword. This video is a must:
Lighter moments
The G7 security costs were eye-watering:
In addition, the Daily Mail reported that the Royal Navy's giant new aircraft carrier sailed past the summit venue where the G7 leaders are staying to prove Britain's power.
A beach party was held on Saturday, June 12. The weather was good:
The G7 family photo this year was socially distanced because of coronavirus:
Elbow bumps replaced handshakes:
However, social distancing disappeared for the flypast by the Red Arrows:
Conclusion
The G7 summit ended on Sunday, June 13.
The French tried to clarify Macron's remark about Northern Ireland:
Boris announced that the UK would build back better in a 'gender neutral', possibly even 'more feminine', way.
The nations' leaders also agreed to counter China's belt and road policy:
Meanwhile, the sausage war rages on.
The next big British event will be COP26, to be held in Glasgow in November 2021.
In the UK, the annual budget statement is the Parliamentary event of the year for the British public.
This year, it took place on Wednesday, March 3:
In the old days, many people bought a newspaper the following day for the details on taxes.
Now everything is online and many more people are tuning in to one of the two Parliamentary channels to watch proceedings.
Why is this so important? As Chancellor of the Exchequer Rishi Sunak says, this involves taxpayers' money. It's not the government's, it's ours:
This year, he held the first-ever press conference on the budget:
Here is a bit of history on the UK budget:
In modern times, the Chancellor displays his ministerial red box for an obligatory photo op before going to Parliament:
Despite what the Opposition said on Wednesday, Rishi Sunak put in a lot of work, including television interviews:
He held an online meeting with those most affected by the coronavirus lockdown and the loss of income:
No one could have imagined that when he gave his first budget, on March 11, 2020, one that was full of optimism and big plans, how things would change within one year:
By the way, the projected coronavirus spending for this year should fall dramatically compared with 2020:
On the day the Chancellor lays out the budget, the Chairman of the Ways and Means committee presides, rather than the Speaker of the House.
Since last year's budget, Dame Eleanor Laing, also a Deputy Speaker of the House, was appointed to head this committee:
In the next video, the delightful Dame Eleanor explains what the budget is and how it is debated in Parliament after the Chancellor presents it:
Coronavirus has brought its own challenges. Normally, every MP packs into the Commons for the budget. This year, socially distancing was enforced. Most MPs participated in the initial debate virtually:
Here she is with her team. Masks are obligatory on the Parliamentary estate these days:
This is the video of the coverage as it happened. Click to watch it:
Below are the highlights.
Much of it concerns economic recovery from the pandemic:
Most taxes are frozen for now as well as personal tax thresholds:
There will also be a new taskforce to help prevent fraud in coronavirus claims:
These are designed to fit around Prime Minister Boris Johnson's roadmap to exit the coronavirus crisis:
There will be help for small-to-medium businesses:
And help for technology businesses:
There is a new visa programme to attract the brightest and best talent:
I do hope that our education system is improved so that we do not need to keep looking abroad for talent. Only 30 years ago, Britain's schools were among the best in the world. How times have changed.
You can get more detail about the budget from The Telegraph. One thing to note is that the inheritance tax threshold has not changed since 2009. It is still £325,000 per person.
Finally, in an exciting post-EU development, the Chancellor announced eight new Freeports, where favourable customs rules and tax reliefs will apply, furthering trade with other nations:
Teesside will also be the new 'campus' for the UK's treasury, just up the road from the Chancellor:
The hospitality industry, which has been closed since December — and longer in some places with regional lockdowns — welcomed the budget measures:
The director-general of the Confederation of British Industry (CBI) was also satisfied:
I am cautiously optimistic, but I felt so much happier with the 2020 budget, when we were on top of the world.
For Labour and the SNP, the spending didn't go far enough. However, as Margaret Thatcher, Britain's first female Prime Minister and a Conservative, said in 1983: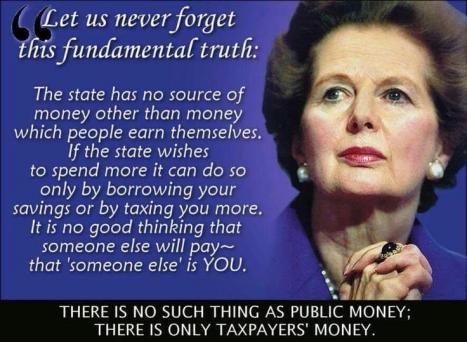 Rishi Sunak is attempting to navigate Britain's worst financial crisis since the early 1700s.
Let's hope his plan works.
The coronavirus lockdown has certainly contributed to the rising ratings for BBC Parliament and parliamentlive.tv.
More people are tuning in and the BBC have restyled the chyron on their screen to make it more user friendly. We now know what the debate topic is as soon as we tune in.
However, ratings for televised coverage of Parliament began climbing in 2015, when David Cameron was Prime Minister.
On February 12, 2016, Total Politics reported (emphases mine, apart from the italics):
BBC Parliament has reported a record high of an average of two million viewers a month for the first time ever in 2015.
This is an increase of 150,000 viewers each month on the 2014 figures – and it marks the first time the BBC's dedicated parliamentary channel has broken the two million viewers per month threshold.
The channel has more live coverage than ever before and covers proceedings from Westminster, the European parliament, the Welsh and Northern Ireland Assemblies and the Scottish Parliament.
BBC Parliament controller Peter Knowles told TP:
"Providing more live coverage of the key political debates and discussions has meant that during 2015, a dramatic year in politics, we've seen a surge in people using BBC Parliament to follow proceedings.
"New camera positions are also giving our coverage a fresh feel as this parliamentary term is now in full flow."
Apparently the new camera angles, brought in last year, represent the first such change since 1989. According to a BBC spokesman, the new camera angles "bring audiences closer to the key exchanges, debates and votes".
So much for the public being turned off by politicians…
In 2020, in a review of the 2017-2019 Parliament under Theresa May's premiership and with John Bercow as egotistical Speaker of the House, The Institute for Government stated:
Members of the public can now view parliamentary proceedings on a variety of platforms. Run by the parliamentary Digital Service, parliamentlive.tv is the most comprehensive source of parliamentary video and audio, publishing recordings of all events – including meetings of select committees – taking place in public.[24] The site allows members of the public to watch events live, access video on demand and search archive footage going back to December 2007. It is also possible to download clips from parliamentlive.tv – with nearly one thousand clips downloaded on average each week between 5 March 2018 and 30 December 2019. These clips are often shared by MPs, interest groups and political parties on social media. BBC Parliament also carries live coverage of key parliamentary activity.
Parliamentary tensions over Brexit were a massive driver of viewers for Parliamentlive.tv. 
Average daily viewer numbers increased over 150% from 6,552 per day in 2017 to 16,607 per day in 2019. BBC Parliament also saw record viewing figures – the only BBC TV channel experiencing an increase in viewers. An average of one million adults tuned into the channel for at least three minutes each week during 2019, with viewing figures exceeding two million in several key weeks. One commentator described the channel as "the ratings hit that's Big Brother meets 24 – with added Bercow".[25]
Controversial and compelling Brexit debates continued when Boris Johnson became Prime Minister.
On Wednesday, September 4, 2019, the Radio Times reported:
BBC Parliament hit an all-time ratings high on Tuesday as Boris Johnson suffered his first defeat as Prime Minister, with MPs voting to take control of the House of Commons in order to force a vote on a bill that will prevent a no deal Brexit.
Some 1.5m viewers tuned in across the course of the day, marking the biggest 24 hours for the channel on record.
The drama in Westminster continues into Wednesday, as opposition parties and Tory rebels lead a debate on Labour politician Hilary Benn's bill to block a no deal Brexit …
The channel is providing live coverage from the House of Commons throughout the ongoing Brexit crisis, and it is captivating the nation – even drawing viewers away from the beloved Great British Bake Off, which aired its latest episode on Channel 4.
The Radio Times article included two tweets, the first of which is from British television's most famous money pundit, Martin Lewis:
Last year:
Even on less contentious days, the debates can be absorbing, such as a recent closing debate about the threat to driving tests in High Wycombe, Buckinghamshire, not far from London. I watched it while preparing dinner when it aired, and it was compelling. Mail on Sunday columnist Dan Hodges, who is actress/former MP Glenda Jackson's son, tweeted:
Once one starts watching Parliament in action, it is difficult to stop. We get to know the MPs and predict what they will say. With coronavirus, we have the added bonus of seeing what the interiors of their houses look like.
The day's order papers are on the PARLY and House of Commons Twitter feeds:
The most recent development in broadcasting from the Houses of Parliament is a new fit-for-purpose gallery, which Speaker of the House Sir Lindsay Hoyle visited on Tuesday, March 2, 2021:
In a further development, Chancellor for the Exchequer Rishi Sunak will be giving the first-ever press conference about the budget on national television following his statement in Parliament on March 3. Guido Fawkes has more:
After presenting his budget in the House of Commons on Wednesday, the Chancellor will scarper over to No. 10 to take questions on it from the public and journalists from 5pm. The televised event will be the first of its kind on Budget Day …
More on that and the budget tomorrow.
This is the final instalment in my series about minority MPs from today's modern Conservative Party.
Previous posts can be found here: parts 1, 2, 3, 4, 5 and 6.
This post looks at the new intake of MPs in the December 12, 2019 election during Boris Johnson's premiership.
Saqib Bhatti (Meriden)
Saqib Bhatti represents Meriden in the West Midlands.
The ancient town of Meriden — known as Alspath in the Domesday Book — was historically considered to be the 'centre of England', until the 20th century, when an Ordnance Survey proved that claim to be incorrect.
Before he entered Parliament, Bhatti was well known in the West Midlands for being president of Greater Birmingham Chambers of Commerce, a position he resigned upon becoming an MP. His philosophy is that business is a force for good. For his efforts, he received an MBE (Member of the Order of the British Empire) in the 2020 New Year Honours.
Bhatti was born in the West Midlands town of Walsall to Pakistani parents. His father founded a firm of chartered accountants, Younis Bhatti & Co. Saqib Bhatti serves on its board of directors.
Bhatti read Law at the London School of Economics, graduating with an LLB (Hons). He began working for Deloitte in 2007 as a chartered accountant and financial auditor. In 2010, he left to work for his father's firm.
He is married and lives in the affluent village of Dorridge in the West Midlands.
Bhatti says that his father is his greatest inspiration (emphases mine below):
The biggest influence on me is my father who moved to the UK in the 60s in pursuit of the 'Great British Dream', he taught me the values of hard work, integrity and determination which have driven my life so far. [6]
Bhatti's predecessor in Parliament was the redoubtable Dame Caroline Spelman, who had been Meriden's MP since 1997.
He paid tribute to her in his maiden speech, delivered on Wednesday, February 26, 2020:
He said:
My predecessor, Dame Caroline Spelman, was a mightily impressive colleague and friend to many in the House. During her 22-year career, she held a number of important positions, such as party chairperson, several shadow Cabinet positions, Second Church Estates Commissioner and Secretary of State for Environment, Food and Rural Affairs. She did all of these with distinction, while demonstrating an unrelenting dedication to her constituents—a dedication that I hope to emulate. I am sure the whole House will join me in congratulating her son David, who last month rowed across the Atlantic with a friend as part of the Talisker challenge and broke the world record.
He spoke of Meriden, which he still considers to be the centre of England:
My constituency takes its name from the village of Meriden, known as Alspath in the Domesday Book. It originally made up part of Lady Godiva's estate and, as many Members of this House will know, Lady Godiva rode through the streets of Coventry naked in protest against her husband's tax rises. Mr Deputy Speaker, I have a lot in common with Lady Godiva—[Laughter.] I do not know why they are all laughing: I love horses and, like Lady Godiva, I am a big advocate of low taxation. However, I am going to wait for the Budget this time, before I decide to what degree and how I protest any new taxes.
In the Domesday Book, Meriden was known as the true centre of England. That was until the early 2000s, when an over-zealous team at the Ordnance Survey decided that the centre of England was in fact in the constituency of my hon. Friend the Member for Bosworth (Dr Evans), but since I am not a bitter man and I do not hold a grudge, Mr Deputy Speaker, let me tell you why Meriden is still the beating heart of this country …
Meriden is unique and picturesque. It has more than 300 listed buildings and is steeped in history. It contains idyllic villages such as Hampton in Arden, Knowle, Dorridge, Catherine-de-Barnes, and Balsall Common, to name just a few. They capture the true character of the great British countryside like nowhere else, despite what my hon. Friend the Member for Runnymede and Weybridge (Dr Spencer) earlier tried to tell the House. Meriden is home to Birmingham airport and the National Exhibition Centre. It has rail links to every part of the country, and will soon be home to a certain high-speed rail link and interchange station. It has a Jaguar Land Rover plant, the prestigious Blythe Valley business park, and Birmingham business park, which houses names such as Oracle, Arup, and Rolls-Royce, as well as new market disrupters such as Gymshark.
Saqib Bhatti ended his speech with a call for unity as MPs debated leaving Europe for the last time that year:
There is no "leave" or "remain", Mr Deputy Speaker; there is only our great global Britain—the Britain that says it does not matter where somebody was born, where they come from, what they believe, who they love, or what anyone else says they are capable of achieving. Instead, as long as they share our values of respect, hard work, and they stand up for what is right, they can achieve anything. We live and serve in the best country in the world. Unwavering in our commitment to our values, we have remained faithful to our vision for a better world, and we have always stood tall and firm in the face of adversity.
We must now hold that vision more closely and dearly than ever before. As we embark on the final leg of our journey to new-found independence, it is now that we must remember our old friends and seek out new ones. It is now that we must speak up and act for those facing persecution and oppression across the world, and we must take seriously the threats to our environment and society. We must remember everything that we have in common, and everything that unites us. We must dare to believe.
Claire Coutinho (East Surrey)
Claire Coutinho was born and bred in London.
She represents East Surrey, a constituency just south of the capital.
Her parents are Christians who emigrated from Goa in the late 1970s. Her father Winston is a retired anaesthetist. Her mother Maria is a GP.
Coutinho attended the oldest independent school for girls in Greater London, James Allen's Girls' School, in Dulwich.
Afterwards, she read mathematics and philosophy at Exeter College, Oxford.
Upon graduation, she worked for four years at Merrill Lynch in the emerging markets equity team.
She took a two-year break in 2012 to devote herself to food. She started a literary-themed supper club, the Novel Diner, then appeared on the British version of The Taste in 2014. Nigella Lawson chose Coutinho for her team; unfortunately, the future MP was the second to be eliminated.
Coutinho worked for a conservative think tank, the Centre for Social Justice, and an industry group, the Housing and Finance Institute. She then returned to the corporate world, taking a position as Corporate Responsibility Manager with KPMG.
By then, the prospect of a Brexit referendum beckoned. David Cameron promised one in 2015, and it took place on June 23, 2016. Coutinho, passionate about leaving the EU, took a position as a special adviser to the Government so that she could help to deliver Brexit 'from the inside'. She worked first for Parliamentary Secretary to the Treasury Julian Smith and then for Rishi Sunak when he was Chief Secretary to the Treasury.
East Surrey has been a safe Conservative seat since 1918. Coutinho's predecessor was Sam Gyimah, who was a strong Remainer. He had the Conservative whip removed for his anti-Brexit votes in 2019 and subsequently became a Liberal Democrat. (Gyimah is now working once again at Goldman Sachs, his first employer.) Coutinho was selected to be the Conservative candidate on November 11, 2019, one month before the election. She won with a comfortable majority of 24,040 (40.3%).
Coutinho gave her maiden speech in Parliament on Wednesday, January 15, 2020:
She paid tribute to her predecessor, as is customary:
I am proud to be here representing the beautiful constituency of East Surrey. I begin by paying tribute to my predecessor, Sam Gyimah. We have more in common than representing East Surrey: we are both the children of immigrant doctors, and I, too, am 5 feet 4½ inches. Although we may have slightly different views on Brexit, I know he is passionate about the prosperity of this country, which both our families now call home. I am sure the House will agree that he made many important contributions in this place as Childcare Minister, as Prisons Minister and as Universities Minister.
She spoke about her constituency, which is mandatory:
East Surrey is known for its local beauty. There are four local nature reserves, eight sites of special scientific interest and over a third of the constituency is in an area of outstanding natural beauty or of great landscape value. Those who walk through the North Downs or the High Weald are met with chalk downs, rolling hillsides, lowland meadows and woodlands …
She talked about her time working for Rishi Sunak, who, at the time, was just a few weeks away from becoming Chancellor of the Exchequer:
I had the considerable pleasure of working with the Chief Secretary to the Treasury, my right hon. Friend the Member for Richmond (Yorks) (Rishi Sunak), on the 2019 spending review, which saw record investment in schools, in the police and in the NHS. Now I am on the other side of the table, I wholeheartedly and unreservedly welcome the increased funding, particularly where those funds might land in East Surrey. I will be working hard to make sure that the initial groundwork of that national announcement makes a meaningful difference to classrooms, GP surgeries and police officers on the ground.
Coutinho closed with a tribute to her grandmother, who was her role model and inspiration:
I would like to mention my grandmother, who may be the single greatest emblem of Conservative values I know. She was a teacher in India who, in my memory, took her fashion lead firmly from the Queen. She raised seven children with little in terms of resources, but with a strong sense that you can achieve the impossible with hard work and determination. Her children were doctors, teachers and grade 8 musicians who are now scattered all across the globe. If she could see me here today, in "the noblest government in the world," I am sure she would tell me to work hard, to be determined and to achieve the impossible.
Hear, hear!
Darren Henry (Broxtowe)
Darren Henry is the MP for Broxtowe in Nottinghamshire.
Born in Bedford, he is the first Conservative MP of West Indian origin. His father Harry is from Jamaica and his mother Gloria is from Trinidad.
He and his wife are the parents of twins.
His predecessor for Broxtowe was Anna Soubry, who like the aforementioned Sam Gyimah, had the Conservative whip removed for not supporting Brexit in 2019. It is unclear what she is doing at the moment.
Henry had a long career in the Royal Air Force, which he discussed in his maiden speech of Thursday, June 25, 2020. I saw it on the day. It was excellent:
He gave his speech during not only Armed Forces Week but also Windrush Week, marking the 72nd anniversary of the arrival of the ship, the Empire Windrush.
Excerpts follow:
I would like to pay tribute to my predecessor as the Member for Broxtowe, Anna Soubry. I may not have agreed with all that she said in this place, but I wish to set on record my acknowledgement of the good work she did for Broxtowe and for her constituents. I wish to thank her for her efforts on improving access at Beeston railway station. I admire her strong will and her determination to do what she felt was best for Broxtowe and for this country, and I wish her the best of British.
This week is the 72nd anniversary of the arrival of the Empire Windrush. The people of the Windrush generation came to Britain to help rebuild our great country, and my parents were among them. Dad, Harry, is from Jamaica, and Mum, Gloria, from Trinidad. Like many of that too long ignored generation, they worked hard to make a good life here. Dad worked double shifts, and Mum worked all day in a factory. They saved; they bought a house. They were ambitious, and they prospered. We were a traditional British working-class family: hard working, loyal, fiercely patriotic—and Conservative.
Opposition Members claim Windrush as their own, as if it is obvious that immigrants are somehow obliged morally and practically to be Labour supporters. Well, my family were not, and I am not. I stand here as evidence of what immigrants and their children can achieve in what my parents called the land of opportunity. I am proud to be the first Conservative MP of West Indian heritage—black, British with all my heart, immensely proud of my West Indian heritage and Conservative to my fingertips.
Before coming to this place, I spent 26 years in the Royal Air Force. Like others here, I knew that service to my country was the right and dutiful career for me. On my first day in the RAF, I had a splendid Afro hairstyle, and now, because of weeks of lockdown, I am delighted —my Afro is coming back!
The armed forces are known for getting things done, and that is what I will do for the people of Broxtowe. At Chilwell station, also known as Chetwynd barracks, we have seen service personnel assisting efforts to tackle the covid-19 pandemic as part of Op Rescript. As it is Armed Forces Week and Veterans Day today, I hope that this message is heard loud and clear by my fellow veterans: "If you are driven by public service, as I am, stand up and serve your community again."
His special personal interests are the NHS and mental health:
During my election campaign, I pledged to support investment in our local hospitals as part of my six-point plan for Broxtowe. This is a cause that is close to my heart. My wife Caroline spent 25 weeks out of her 34-week pregnancy in hospital. It is to Caroline and the NHS staff at Nottingham City Hospital that I say thank you for the blessing that is my twin children …
Parents do their best for their children. As the father of two children with autism, I recognise that those in Broxtowe who are on the autistic spectrum or suffer with mental health conditions have found it particularly difficult being cooped up during lockdown. In normal times, getting mental health support is a struggle. I am convinced that it does not have to be this way. The Government's planned reform of the Mental Health Act 1983 must ensure that people subject to the Act receive better care and have a much greater say in that care. I will continue to fight to secure the needs of vulnerable people in Broxtowe. They will not be forgotten.
He also praised the various corporations in his constituency, such as Boots the Chemists and Fred Hallam, the grocers.
He ended by saying:
… Broxtowe will have a thriving future.
I will work to make that vision a reality for the people of Broxtowe—my constituency; my people. To paraphrase D. H. Lawrence, a local lad made good, I will be still when I have nothing to say; when genuine passion moves me, I will say, and say it hot.
Outstanding.
Imran Ahmad Khan (Wakefield)
Imran Ahmad Khan represents the constituency of Wakefield in West Yorkshire, which includes his home town, the Cathedral city of Wakefield.
He was born there in Pinderfields Hospital, where both his parents worked. His father, who emigrated from modern-day Pakistan, was a consultant dermatologist. His mother, who is English, was a State Registered Nurse and midwife. Her mother worked at the hospital as a staff sister. Her husband was a miner.
Khan attended the independent Silcoates School. Afterwards, he studied the Russian language at the Pushkin Institute in Moscow before earning a bachelor's degree in war studies from King's College London.
He worked for the United Nations as a special assistant for political affairs in Mogadishu and became a counter-terrorism expert. His brother, Karim Ahmad Khan QC, is an assistant secretary-general of the United Nations.
His other brother, Khalid Ahmad Khan, is a lawyer based in Oman, won the Middle East General Counsel of the Year Award in 2017 and was named one of the most influential lawyers in the Middle East in Legal 500's GC Powerlist 2019.[27][28][29]
Imran Ahmad Khan gave his maiden speech on Monday, January 13, 2020:
Excerpts follow.
Khan's predecessor was the well known Labour MP Mary Creagh. He won in 2019 largely because of his strong pro-Brexit stance:
As an Ahmadi Muslim belonging to a peace-loving minority community that suffers vicious persecution, discrimination and oppression in many parts of the world, I see perhaps more clearly than most the deep and enduring importance of core British values such as compassion, tolerance and fairness, especially at a time when those values are perceived as under threat in many parts of our world. We must continue to be a beacon of thoughtful, respected and innovative thinking born of years of accumulated learning and practice.
Before I launch into the rich history of Wakefield, one with which my own family story is intertwined, I want to pay tribute to my predecessor. In 2005 Mary Creagh became the first woman elected to represent Wakefield, a tenure that was to last for 14 years. I am not sure if the House is aware, but before Mary and I first met, she propelled me to new heights—approximately 13,000 feet. On a bright November morning last year, after reading Mary's comments in The Yorkshire Post about her incoming Tory opponent being parachuted in, I put the protestations of my friends and family aside and performed a parachute jump. This had not been on any bucket list of mine, but it definitely got the adrenalin flowing, so thank you, Mary.
Later that day, with my feet firmly on the ground, I met Mary for the first time. We were both appearing on a BBC Radio Leeds drivetime debate, and I turned up still resplendent in my true blue jumpsuit. Mary accepted it with good grace, and during this first encounter set out her stall as a calm, concise and experienced advocate.
That first meeting was in one of Wakefield's many good schools: Queen Elizabeth Grammar School. It was QEGS where my eldest brother went to school, and it is the arch rival of my own alma mater, Silcoates. QEGS is an independent school that has actively championed and supported its local state sector rivals, including the outstanding Pontefract College, and was a willing participant in the assisted places scheme. As the radio programme came to an end, the pupils in the audience immediately gravitated towards Mary. This was an example of the interest and affection that many constituents in Wakefield have for her.
I, like Mary, contend with a hearing impairment, something she referenced in her own maiden speech. Wakefield has within its dynamic business community a company that is currently accessing research funding to investigate tinnitus, a hearing condition for which there are more than a million GP referrals each year. This project has multiple international partners, including industry, government and academia.
I would also like to pay special tribute to Mary's time and contribution while working on overseas aid and development. This resonates with me a lot owing to my previous work at the United Nations and elsewhere abroad. Our overseas aid and development is testament to British compassion, and it can be leveraged as a powerful agent for, and a real measure of, Britain's reach and influence around the world. Mary was a public servant, and I hope she is able to continue her work in other places. Wakefield is fortunate to have had such a worthy Member of Parliament.
He discussed Wakefield's ancient history:
Edward the Confessor had an estate in Wakefield, hundreds of years after it was first settled by the Anglo-Saxons and Vikings. In J. S. Fletcher's "Nooks & Corners of Yorkshire"—a very good read—he describes Wakefield as the principal town along the banks of the Calder, and it has figured in history to no small extent. Indeed, it is just over 560 years ago to the day, on 30 December 1460, that Richard Neville, Duke of York, and his son Thomas met their deaths at the battle of Wakefield. The Lancastrians, led by Lord Clifford, defeated the Yorkists, only to suffer a major reverse months later in Britain's bloodiest battle, at Towton, a site just down the road. Wakefield became yet another battlefield almost 200 years later, during the English civil war, when the parliamentarian forces fought an engagement with the royalists. Although I now find myself a parliamentarian, Madam Deputy Speaker, I confess to you to always having sympathised, in the round, with Cavaliers.
According to an old English ballad, Wakefield can claim fame as the location for some of Robin Hood's shenanigans. It was at Stanley, later part of Wakefield's deep historical roots in the coalmining industry, that Robin and his band of freebooters had their infamous encounter with the pinder of Wakefield. The pinder was a nominated townsman of Wakefield who went toe to toe with Robin and his merry men after they goaded him by trespassing with stray animals on Wakefield land. Robin was so impressed by the pinder's nerve and prowess that he invited him to join his outlaw band. This may be a legend, Madam Deputy Speaker, but it aptly captures some of the characteristics of the proud, honest and plain-speaking constituents of Wakefield, and their continued willingness to fight for their rights. I humbly submit that when you come to visit our city, Madam Deputy Speaker, you keep your flock of geese under control—or perhaps even consider leaving them at home.
He praised the innovative companies in Wakefield, paying tribute to the aforementioned one investigating tinnitus:
… my constituency and the wider business community has within it other companies involved heavily in fields that may surprise some Members. There is a company working on supercomputer-generated models for predicting adverse weather patterns … There are also companies that are pioneering and improving new methods of high-tech manufacturing and recycling harmful plastics. I want to see these companies thrive, not only with their spirit of innovation but by employing skilled young people born and educated in the local area. Throughout my campaign, I heard the voices of hard-working parents who want the best for the most important thing in their lives: their children. I want to help to carry the torch, already lit by the individuals and organisations in my constituency, to foster confidence, aspiration and achievement.
He concluded:
Madam Deputy Speaker, I thank you and Members present for listening to this maiden speech of mine. I owe my sincere thanks to the people of Wakefield, whom I am proud to serve. I seek a purposeful and confident future for our United Kingdom wherein people's hopes and aspirations are realised and great achievements recorded—a future as brilliant as our past is glorious.
I last heard Imran Ahmad Khan speak earlier this week. He is always worth listening to, not only for his eloquence but also for his instructive speeches.
Gagan Mohindra (South West Hertfordshire)
Gagan Mohindra is the MP for the affluent constituency of South West Hertfordshire, within an easy commuting distance to London.
Mohindra's predecessor was David Gauke, who, like Anna Soubry and Sam Gyimah, had the Conservative whip removed for voting against Brexit in 2019. Gauke ran as an Independent against Mohindra. He has returned to working at Macfarlanes, a large law firm, where he is their head of policy.
Mohindra was born in England in 1978 to parents who emigrated from Punjab, India. He was raised as a Hindu.
He read mathematics at King's College London and worked in finance upon graduation. He later founded the Chromex Group, where he worked until 2015.
He then entered local and county politics in Essex and is the president of the Essex Conservatives.
In Parliament, he is a member of the Public Accounts Committee.
His wife is a privacy lawyer.
Unfortunately, I could not find a video of Mohindra's maiden speech on Tuesday, March 17, 2020.
Excerpts follow:
… I would like to start by paying tribute to my predecessor, the right hon. David Gauke. During his 14 and a half years of public service, David was a dedicated Member of Parliament, and he was highly respected by his constituents and colleagues alike. He was fiercely intelligent and famously cool under pressure. However, during the 2019 general election, the public got to know another side of David: his wicked sense of humour, which was already well known to his friends in this House. As I fought the election, I found I had to overcome the appeal of not one Gauke, but two, as Gauke senior, Jim, went viral in David's videos. David ran one of the most engaging campaigns to be found during the general election, and I commend his enthusiasm and passion. Despite the difficult circumstances of his fighting against his former party, it was a civilised battle and I thank him for that.
As to David's political career, he was a heavyweight of the Conservative Government over the last decade. He held many senior roles, including Chief Secretary to the Treasury, Secretary of State for Work and Pensions and, finally, Secretary of State for Justice. As I have said before, in different times we may well have been colleagues, and I would have been proud to work alongside him. I thank David for his commitment to the residents of South West Hertfordshire, and wish him, Rachel and the rest of his family well in their future endeavours …
He spoke of his constituency and his constituents:
My constituency offers an embarrassment of riches, from its historical market towns, such as Tring, to the Chiltern hills, which are rightly classed as areas of outstanding natural beauty. Further south lies the Colne Valley Regional Park, which is known as the first taste of countryside west of London and comprises some 60 lakes, among woodland, canals and farmland. You can pass many a peaceful afternoon walking here, or visiting the famous aquadrome, where you can water-ski, canoe or sail to your heart's content.
Behind the thriving Berkhamsted High Street are found the ruins of Berkhamsted castle. It was in Berkhamsted that William the Conqueror received the surrender of the Crown of England in 1066. The castle was then built to assert control over the key supply route through the Chiltern hills from London to the Midlands. It is a constituency heaped with history, some of which cannot be retold, like the activities of Northwood HQ. I would like to take this opportunity to thank our armed services for continuing to keep us safe.
The visual beauty of my constituency is only outdone by the warmth and good nature of my constituents. Nowhere in the country better represents the open-minded, tolerant, progressive nature of the United Kingdom than South West Hertfordshire, and I am so grateful that I have been so warmly welcomed. Of course, there are also a number of local concerns and issues to which I will devote my energies. For our commuters, the issues of unreliable rail and underground transport are a repeated source of frustration. There is a lack of access to affordable housing, a concern that has to be balanced against the desire to protect the green belt and character of the area. There are pockets of poverty in a mostly affluent area, resulting in associated social issues, including crime. Of course, we also have many excellent schools in my constituency, including Merchant Taylors' School and Berkhamsted School, but we need to ensure that good education is accessible for all, not only the affluent.
He fully supports the Government's manifesto policy of 'levelling up':
… I am dyslexic, so I understand the frustrations posed by learning difficulties, but I must acknowledge that I have also had the benefit of many advantages. I understand that, like many of us in this place, I have been blessed with the good fortune to have self-belief and ambition nurtured in me, both in the home and in the wider environment, from my earliest days. Many in our society are not afforded this most essential of luxuries, and the impact, compounded of course, by other inequalities, is far-reaching. I am passionate about our commitments, as a Government, to do our part to ensure that aspiration and self-belief are not luxury items. That, to me, is the true meaning of levelling up. I look forward to seeing more and more faces in this House who represent our great country in all its guises.
Conclusion
It is always a delight — and an education — to hear the perspectives from our new Conservative MPs on BBC Parliament.
Long may they prosper in serving their constituents — and the United Kingdom.
End of series.
In case you've missed the earlier posts in this series, here they are: parts 1, 2, 3 and 4.
The best known of the minority MPs from David Cameron's premiership — 2010 to 2016 — is Rishi Sunak, who is Chancellor of the Exchequer.
He represents the Richmond constituency in Yorkshire.
Early years
Rishi Sunak's grandparents moved from the Punjab province of India to East Africa. Rishi's mother Usha was born in Tanzania. His father Yashvir was born in Kenya. Both are Hindus.
Both sets of grandparents migrated to the UK in the 1960s.
After marriage, Usha and Yashvir settled in Southampton, on the southern coast of England. Usha worked locally as a pharmacist. Yashvir was a general practitioner.
The couple have three children: Rishi, another son Sanjay, who is a psychologist, and a daughter Raakhi, who works on COVID-19 strategy for the Foreign, Commonwealth and Development Office.
Rishi Sunak went to the renowned public (private) school Winchester College, founded in 1382, where he was head boy and editor of the student newspaper.
He then went to Lincoln College, Oxford, where he graduated with a First in 2001 in PPE, which is nothing to do with hospital gowns, rather Philosophy, Politics and Economics. Whilst at Oxford, he did a brief stint at Conservative Campaign Headquarters.
During summer holidays he worked at a curry house in Southampton.
Sunak began his career at Goldman Sachs, where he worked as an analyst from 2001 to 2004.
He then decided to study for an MBA at Stanford University in California, where he met his wife, Akshata Murthy, the daughter of the Indian billionaire N. R. Narayana Murthy, the man behind Infosys. The couple married in 2005. Sunak, a Fulbright Scholar, completed his MBA in 2006.
Sunak and his wife settled in England and have two young daughters.
Prior to entering politics, Sunak worked for two hedge funds and was also the director of one of his father-in-law's companies, Catamaran Ventures.
Political career
Former Conservative Party leader William Hague represented Richmond, which has been a safe seat for the party for over a century.
Rishi Sunak was elected comfortably to his first term with a majority of 19,550 (36.2%). Once in Parliament, he was appointed to the Environment, Food and Rural Affairs Select Committee.
Sunak was also committed to Brexit and was an early advocate of free ports, having written a report on the concept in 2016, the year of the referendum.
In 2017, with Theresa May as Prime Minister, Sunak won re-election with an even greater majority of 23,108 (40.5%). In Parliament, he continued to support Brexit, voting for Theresa May's deal and against a referendum on a final withdrawal agreement in 2019.
That year, Theresa May stood down as PM. Sunak supported Boris Johnson in the ensuing leadership contest.
That autumn, during the general election campaign, he appeared on a television debate, representing the Conservatives:
I am sure Sunak did better than Iain Dale gave him credit for:
He also participated in a seven-way debate on ITV.
On December 12, Sunak further increased his margin of victory at the polls to 27,210 (47.2%).
The coronavirus Chancellor — and some inside scoops
Then, in February 2020, Prime Minister Boris Johnson replaced Sajid Javid with Rishi Sunak as Chancellor:
He gave his first budget less than a month later, on Wednesday, March 11, which I wrote about at the time.
The following Monday, March 16, Boris announced social distancing rules and the closure of pubs, restaurants and events venues. Rishi spoke at one of Boris's televised coronavirus briefings with news of a generous financial package:
Guido Fawkes posted the full video and remarked (emphasis in the original):
You wouldn't guess he's only been in the job for five weeks…
Full details are here. Sunak also issued a Twitter thread with a summary:
Then lockdown came a week later on Monday, March 23.
A few days later, Boris was struggling with his bout of coronavirus, as was Health Secretary Matt Hancock:
The Conservatives soared to record approval ratings in the polls:
Early in April, Boris was quietly rushed to St Thomas' Hospital in London. Rishi did another coronavirus briefing to reassure an anxious nation:
The well-spoken, gentle Sunak appealed greatly to the folks at home. The Independent did not like that one bit.
Society magazine Tatler began running articles on Sunak in March. They could see he would quickly become a cult personality.
On March 18, the magazine posted an article by Annabel Sampson, 'Everything you need to know about Britain's new Chancellor, Rishi Sunak'.
It begins with this (emphases mine):
The virtues of 39-year-old Rishi Sunak have been extolled many times over; for his charming demeanour, his razor sharp brain and his acute financial sense. Now the man who has come to be recognised as the 'Maharaja of the Dales', thanks to his Indian ancestry and Yorkshire home, has been appointed to the highest office in the country, to Boris Johnson's Cabinet in the role of the Chancellor of the Exchequer, the second biggest government job; and the second youngest person ever to take the position.
The appointment follows the 'Cabinet Reshuffle' that occurred in February when Savid Javid, the former Chancellor, resigned when he was asked to get rid – reportedly a request linked to Dominic Cummings – of his closest aides. Rishi Sunak's star has been rising for some time now, so his appointment to the position will have baffled few.
The article has several photos, including one of Sunak in the Yorkshire countryside and one with his dog, which resembles Boris Johnson's Welsh rescue pup, Dilyn.
Sunak and his wife had a traditional Indian wedding:
Rishi and Akshata were married in her hometown of Bangalore, in a two-day ceremony attended by 1,000 guests.
Akshata is a working mother:
Akshata runs her own fashion label Akshata Designs and is also a director of a venture capital firm founded by her father in 2010. Her designs are wonderful; she's been profiled by Vogue India and been credited for creating clothes that are 'vehicles to discovering Indian culture' – comprised of chic silhouettes with bold, Indian design.
Did we know that the Sunaks throw great parties? We do now:
With their combined wealth, they understandably have a generously sized home in Northallerton, North Yorkshire (in Sunak's constituency). The Daily Mail reports that their annual summer garden party is a county highlight; where uniformed staff loft around serving ice cold champagne and canapés (no doubt prepared by the prestigious Yorkshire Party Company).
Sunak is a natural at politics:
According to the Daily Mail, 'While many MPs stutter and trundle their way through their maiden speech in the Commons, Mr Sunak's at-ease manner provided a glimmer of what was to come'. One ally in parliament told the Telegraph: 'He's ferociously intelligent and thoroughly decent at the same time' …
He was one of the few Conservatives who were let loose on the air waves (14 times in total) and allowed to make public appearances during the election campaign last year. He has even been dubbed the 'Prime Minister-in-waiting', we'll see. His first big challenge was the March budget; and now he is juggling the unprecedented complexity of the impact of the coronavirus on the economy. The UK are in safe hands.
The article also has a photo of him supporting Yorkshire County Cricket at Edgbaston.
Early in July, Tatler's Ben Judah travelled to Sunak's home town of Southampton and reported his findings in 'Inside the world of Rishi Sunak'.
Naturally, Judah went to the curry house where Sunak worked during his summer holidays:
The kitchen at Kuti's Brasserie, not far from Southampton docks, was not the sort of place, in August 1998, you would have gone looking for a future hedge funder, son-in-law of a billionaire and Conservative chancellor.
That summer – the summer of the France 98 World Cup and the Omagh bombing – Kuti Miah, the eponymous restaurateur behind the curry house, went to have a word with one of his waiters. 'You're going to be someone, Rishi,' he said. The future UK chancellor flashed his famous smile. He was, adds Miah, 'a brilliant talker'. Rishi Sunak, then 18, was about to go to Oxford, but that holiday he waited tables for Miah, a close family friend, to earn some pocket money. 'I saw him grow up,' says Miah. 'His father used to bring him in his carry cot.'
Miah was fast friends with Yashvir and Usha Sunak, both Hindu Punjabis born in colonial Kenya and Tanzania respectively, whose parents had migrated from India. After India's independence, both families left East Africa for Southampton in the mid-to-late 1960s. Yashvir and Usha met in Britain and married. He became a local GP and she ran a pharmacy. They were 'brilliant conversationalists' and 'very strong believers' who 'worked very, very hard', according to Miah, who also recalls that they were 'passionately British'.
Rishi, the eldest of their three children, was cut from the same patriotic cloth. Not only did the young Sunak fall in love with the game of cricket, he fervently supported England over India at any opportunity. His career, too, has followed one of the most traditional and storied of England's paths to power. Like five chancellors of the exchequer before him, Sunak was schooled at the ancient and distinguished Winchester College; and like three of those same Wykehamist chancellors, he went on, as was expected, to study at Oxford.
The article includes a photo of Sunak with his wife and in-laws.
Ben Judah had met Rishi Sunak before, in 2015, just before the general election that year. They met up in Northallerton, North Yorkshire:
We were a long way from London – from where Sunak had been 'parachuted in' for the seat. During the interview, I had a distinct sense of being the only person in the cafe who knew that this slight man in a Barbour jacket was running for parliament. 'I tell this story when I'm out and about,' he said, coffee in hand, 'that you can come to this country with very little… My grandparents came with very little from a village in northern India, and two generations on, their grandson has this enormous privilege of running as a candidate for parliament. For my family, the route was education.'
Well said.
Sunak's candidacy in 2015 raised some eyebrows:
He was vying for a seat once presided over by Tory grandees William Hague and Leon Brittan. But I had spent days in Richmond and the surrounding area, reporting on the resentment his sudden arrival had stirred up among certain local Tory notables, who felt the seat in the Dales was rightfully theirs. 'There was a very acrimonious constituency battle,' claimed one source, with a lot of hostility to an outsider coming in.
Sunak's wife had also met with some resistance on the campaign trail, says Judah.
However, Sunak's father-in-law enthusiastically flew to England where he helped to campaign:
Sunak's billionaire father-in-law, NR Narayana Murthy, however, has been so enthusiastic about Sunak's parliamentary career that he'd flown in, and had even been leafleting on his behalf, wearing a Rishi sweatshirt. 'To be honest,' said Sunak in Costa Coffee that day, 'I think it's patronising to assume minorities should only run in minority seats.'
The article discusses Sunak's property profile:
On 7 May 2015, Sunak won, with more than 50 per cent of the vote (a Ukip vote of 15 per cent had appeared from nowhere). He put down roots in his new constituency of Richmond, North Yorkshire, augmenting a £10 million property portfolio (metropolitan digs in London – a Kensington mews house, a flat on Old Brompton Road – and a place in California) with a £1.5 million Georgian manor in Yorkshire set across 12 acres, including an ornamental lake. Here, he now entertains the constituency membership with lavish summer parties at which uniformed staff serve champagne and canapés. He has been repeatedly dubbed by newspapers the 'Maharajah of the Yorkshire Dales'.
The general public know less about those details. Nonetheless, Rishi Sunak has become a household name:
In a swift few years, Sunak has become known as many things: Dishy Rishi to the tabloids; one of the richest MPs in Westminster; the second-youngest-ever chancellor of the exchequer, presiding over a £350 billion package to boost the economy (the largest ever recorded in peacetime); and a former hedge funder whose profile has risen faster than stocks in a vaccine manufacturer.
However dazzling all of this is now, things were very different when Sunak entered Winchester College as an adolescent:
… Winchester would come at a price for the Sunaks. No sooner was he accepted than Rishi's good fortune immediately foundered: he missed out on the expected scholarship. Desperate not to let the opportunity go to waste, his parents decided to take on the high fees themselves, picking up extra work and making what the chancellor has called considerable 'sacrifices'. His brother would later follow.
One of his classmates discussed Sunak and described Winchester in the mid- to late 1990s:
Tim Johnson, now a lawyer, was in the boarding house next door. 'Rishi was a good chap, in boarding-school idiom,' he recalled. Sunak, he said, was a 'reasonable cricketer', who stood out in friendliness; and he was a solid, but never number one, student. 'Rishi was always expected to do something,' Johnson remembered. But exactly what, beyond Winchester, was vague. 'He was always expected to be head boy as he was clever enough, reasonable enough and well behaved enough.' This became Sunak's thing – hard work and attainment, becoming the first Winchester head of school from an Indian background.
Sunak was different to other sixth formers in Winchester: a lifelong nondrinker, he wasn't distracted by the allure of the pub. But there was something else that marked him out from the herd. He was a conservative in every sense: not only in his outlook and demeanour but in his religious attitudes, too – a practising Hindu who avoided beef. At school, where few boys were political, Sunak was clearly 'associated with the Tories', said Johnson. It was 1997, The Chemical Brothers were topping the charts and the mood was rebellious. Counterculture, New Labour and ripped jeans were in; the Conservatives were out. 'That wasn't his intellectual jam. Rishi didn't play that game,' Johnson explained.
'Everyone was chipper about it when Blair won,' Johnson said. But not Rishi. His family's story was closer to Margaret Thatcher's than that of his bourgeois Labourite classmates. Watching the early results of the landslide on election night 1997, Sunak sat down to write a gloomy article for the school magazine, The Wykehamist, lamenting the news. His main complaint: Europe. 'He revels in the label of a patriot,' he complained of Tony Blair, 'but has plans for the possible break-up of the United Kingdom and membership of an eventual European Superstate.' The seeds of Brexit were already in his mind.
'Already,' fretted Sunak, 'the New Labour rhetoric sounds worryingly pro-European and avid pro-Europeans are being sent to Brussels' …
Later, at Oxford, Sunak had a low profile, unlike his predecessor as MP, William Hague:
He was nothing like the young William Hague, who arrived at Oxford fêted and almost a Tory celebrity, or the young Boris Johnson, the blond beast who tore apart the Oxford Union. At Oxford, Sunak was a nobody, much like Tony Blair.
He continued to eschew strong drink:
Oxford acquaintances remember him as a nerdy teetotaller who was 'just very clearly going into business'. He would 'make this big thing' out of drinking Coke in the pub. 'Rishi was unknown to the student politicians, that gossipy overlapping world, who all knew each other,' said Marcus Walker, then-president of the Oxford University Conservative Association, now a clergyman. Sunak was never a member.
It is hard to remember how irrelevant and demoralised Tory circles felt after 1997, but some do recall Sunak as a 'Thatcherite' and 'Eurosceptic'. 'That was absolutely par for the course,' said Walker. 'If you were still a Tory after 1997, you were a Eurosceptic. That was all you had left.'
Nevertheless, Sunak did develop a network from his Winchester College and Oxford days. Graduates from Winchester are called Old Wykehamists:
These days, socially, Sunak has been placed by some in Westminster's Spectator set. He was best man to his lifelong friend and fellow Old Wykehamist James Forsyth, political editor of The Spectator, at Forsyth's politician-studded wedding in 2011, to Allegra Stratton, the national editor at ITV News – and gave what one guest recalled was 'one of the most touching best man's speeches I've ever heard'. (In fact, Stratton has recently announced she's leaving ITV News for a job with Sunak at the Treasury. Some have seen this as very Cameron-esque in its 'chumocracy'.)
Allegra Stratton, also a good friend of ITV's Robert Peston, now works for Boris Johnson as his notional press secretary, although she has not yet begun to give press briefings, probably because of coronavirus.
Imagine the son of immigrants having ties to Britain's two oldest — ancient — magazines: The Spectator and Tatler. Wow.
Tatler's Ben Judah also spoke with people who had worked with Sunak during his hedge fund days. They painted a similar character portrait of the Chancellor:
After two years in California completing a CV-topping MBA, he returned to London and Mayfair in 2006, where a new type of boutique finance was booming: hedge funds. He was hired by Sir Chris Hohn at The Children's Investment Fund (TCI). It was a dream job: a big role at an activist firm off Berkeley Square at the peak of their fame. 'He appears to have been trusted,' said a source. Indeed, Sunak was made a partner two years later. Contemporaries remember him ever-ready to meet and greet; a mixture of a junior, deputy and a bag carrier; the perfect foil to Hohn's bolshy swagger. 'Ridiculously nice.' 'Affable.' 'Approachable.' 'Charming.' These are the words that come up again and again among Mayfair types who knew Sunak. The charm was of a particular kind: 'There are two kinds of people at hedge funds,' said one source. 'Handsome and thin smooth-talkers who are always on the phone or going out to lunch with clients, getting them to part with their money. And then quants in the back room with their shirts buttoned up badly.'
Sunak was one of the smooth-talkers, his charm honed on calls to investors, getting them on board with whatever drastic moves the fund wanted to make. The kind of charm that prizes clarity and persuades people to part with their money. It worked: but hedge-fund charm is designed to hide as much as it reveals. The atmosphere at TCI was buccaneering and bold; it both led and profited from a controversial banking raid that eventually meant a £45.5 billion public bailout of the Royal Bank of Scotland. (The Treasury and TCI say Sunak was not involved in the deal.) He left when TCI split in 2009, and joined the breakaway hedge fund Theleme Partners. His new firm's reputation took a knock when its founder was revealed to have used a notorious tax avoidance scheme. The Labour Party researched Sunak's past during the 2019 election. 'But he was too little known for us to use it,' said one source …
His reasons for entering Parliament are equally obscure. Those who know him have different opinions as to why. One thing that everyone agrees on is his penchant for order:
Many in Westminster see his motivation as status. 'He's not an ideologue,' said one Tory source. 'He wanted to enter politics in that old-fashioned way, because it was seen as the good thing to do.' Good, as in socially ambitious. Whether that's true is another matter, because first came a stint at Policy Exchange, leading a unit researching black and minority ethnic attitudes. The scruffy but influential Conservative think tank world is seen as a de facto holding pen for future special advisers, but it was nonetheless an unexpectedly technical way into Westminster for someone with means.
Sunak quickly made an impression. 'He's got that Blair-like ability to hold your eye,' says Nick Faith, who worked with him there. Sunak cut a snappy figure amid slovenly suits. 'He's into his clothing.' His is not the fusty establishment Rees-Mogg or Nicholas Soames style, but more the wiry Emmanuel Macron look. Everything Sunak wears, many remarked, is immaculate, even at the end of a Treasury work day, and fits perfectly. Faith says that 'everything, from how Rishi dresses to how he structures his life, is very well organised'. Sunak's elegant house in London, with a touch of Indian decor, reflects that. 'Nothing is out of place. For someone with two small kids, that's quite an achievement.'
Having learned from his background in finance, Sunak also knows how and when to place his bets:
'His mind works in Excel,' said one City contemporary. But like all hedge funders, it also works in bets: and the two biggest bets that Sunak has made in his career have paid off spectacularly – Brexit and Boris. David Cameron knew the gravity of his predicament when Sunak came out for Leave. 'If we've lost Rishi, we've lost the future of the party,' he reportedly said. The same thing played out in reverse in June 2019 when Sunak came out for Boris in The Times with two other MPs during the party leadership elections. This was widely seen in Westminster as a decisive turning point: the one where Johnson won over 'the sensibles' and pivoted the backbenchers. The PM seems to agree: all three have been handsomely rewarded.
In Parliament, he keeps a low profile but, to those who know him, is loyal:
'He's unknown in parliament,' said one MP. 'He doesn't play the parliamentary game at all.' Tory Remainers are sceptical of him. 'It's Star Wars,' said one MP, referring to the chancellor's strange and classically 'geek-chic' hobby for minutely detailed models of spaceships and video games. 'Most of his political philosophy comes out of the Star Wars trade wars that are about the independence of various kingdoms from the Empire. He's not someone intellectual.' Loyalty has been his strongest suit. Sunak is a No 10 man. 'He's a grown-up,' said one MP. 'The only grown-up in Downing Street, despite him being 20 years younger than them.'
… At the height of tensions over Brexit last year, he was cheerfully going around Westminster saying he would back 'no deal' if push came to shove. He struck the right note, in the right place, at the right time. Tensions between Boris Johnson and Sajid Javid's teams exploded in February, when the then-chancellor resigned after refusing to fire his own special advisers and submit to an unprecedented joint team with Downing Street, effectively under the stewardship of Dominic Cummings. It was Sunak, with high skills and no clear agenda or faction behind him in parliament, whom Downing Street turned to. He quickly agreed to the joint team, once again becoming the perfect foil for an outsized boss. 
Even now, it's still too early to say whether Rishi Sunak will become a future leader of the Conservative Party and, as such, a possible prime minister. A week is a long time in politics.
When Boris's erstwhile special adviser Dominic Cummings broke coronavirus rules in travelling from London to Durham and back during Boris's time in hospital, Sunak tried to calm the ever-turbulent waters surrounding Cummings, who was never popular with the Remainer media. He tweeted this after Cummings's lengthy press conference in May:
In June, Sunak was tactful about the reopening of shops and businesses in Britain after the first coronavirus lockdown:
He also warned that his generous financial package could not go on indefinitely:
A few weeks later, in early July, pubs were allowed to reopen:
The Government launched the Enjoy Summer Safely campaign. Pictured below is Piccadilly Circus:
On July 8, he issued a Summer Economic Update, with financial help continuing (more here):
This included the launch of his Eat Out To Help Out plan, which lasted to the end of August:
A lot of Labour MPs didn't like the plan. I don't know why. Leftists own restaurants, too.
He cut VAT for the hospitality industry, too.
He also issued a detailed jobs plan, including an apprentice scheme:
Some men in the media were taking a shine to Dishy Rishi, including the leftist Owen Jones of The Guardian and Channel 5's Jeremy Vine:
At that time, the attention being given to Sunak and Boris Johnson got the better of Conservative MP Caroline Dineage, a Culture minister, who was questioned on masks, which were strongly suggested (mandatory only on public transport) but still optional in what now look like heady days. This was from a BBC interview:
… asked why the Prime Minister and Chancellor Rishi Sunak had not worn one in public, she snapped: "You'd have to ask the Prime Minister and the Chancellor that, with respect.
"But it is something that is advised and we keep it under review."
At the end of September 2020, the coronavirus crisis dragged on. Talk intensified about a winter lockdown.
On September 24, Sunak issued a Winter Economy Plan, about which I wrote at the time. When he presented it in the House of Commons, he advised all MPs to live 'without fear'.
By October 6, Sunak was being blamed for an uptick in coronavirus 'cases' (positive test results, not necessarily hospital admissions) for the Eat Out to Help Out scheme:
A US study, which did not cover Britain, showed that hospitality venues were shown to be responsible. However, the study did not cover workplaces or hospitals. Nonetheless, it is still a contentious point even to this day.
The Sun's Harry Cole rightly, in my opinion, defended the Chancellor's restaurant promotion.
Then talk of hospitality curfews emerged. Fellow Conservative MP Matt Vickers defended the Chancellor's Eat Out to Help Out programme, which had come to an end five weeks earlier.
The calls for a winter lockdown grew. The Chancellor rightly opposed them:
By then, more areas of England had moved into tiers, indicating more coronavirus cases. Sunak increased financial support to those cities and counties. He also offered more help to businesses, including the self-employed.
By November, some thought a storm was truly brewing between Boris and Rishi. Despite all the talk from the Government about people being able to meet loved ones at Christmas — for the first time in months, for many — a pessimistic undercurrent, which turned out to be accurate, seemed to be part of every news cycle.
Rumours circulated that Sunak was ready to resign. However, on November 1, the Daily Mail reported:
A source said there was a 'collective decision' to back a second lockdown, and that Mr Sunak 'accepted it' – and he did not threaten to resign, as some whispers around Westminster were suggesting yesterday.
The November lockdown was supposed to prevent a Christmas lockdown, but that was not to be. There was a brief re-opening before Christmas, and on December 19, the hammer fell once more.
Interestingly, the minority MPs in Cabinet shared Sunak's concerns.
By the middle of December, Sunak was clearly worried about how long the borrowing could go on. On Saturday, December 19, the day when Boris announced Christmas was cancelled, The Spectator reported what the Chancellor said about borrowing and quantitative easing (QE):
'Are you or anyone else going to guarantee me that, for the duration of this parliament, rates might not go back to 1 per cent?' he asks, pointing out that this almost happened in March, before the Bank of England started printing money to bring rates back down. 'There is this very large QE thing that's going on. No one has done that before. There are plenty of smart investors who are also thinking about the risks of inflation over the next 12 months. Because we are now so levered, small changes have huge cash implications. If I have to come up with £10-£20 billion a year in a few years' time because things have changed — well, that's a lot of money.'
To Sunak, it's not just an economic problem but a political one. 'If we [Tories] think borrowing is the answer to everything, that debt rising is fine, then there's not much difference between us and the Labour party,' he says.
The media criticised him for going to his constituency of Richmond for Christmas. To be fair, he did work while he was there, visiting a local hospital and a vaccine centre. He did not rush back to London.
On February 3, 2021, Sunak rightly accused scientists advising the Government of shifting the goalposts regarding lockdown:
This might be causing a rift in Boris's Cabinet:
On a brighter note, Time magazine has included Rishi Sunak on its list of 100 'emerging leaders'. On February 17, the Daily Mail reported:
Under the 'leaders' category, Chancellor Rishi Sunak landed a spot on the list, being described as the 'benevolent face of the government's response to the COVID-19 pandemic' by Times reporter Billy Perrigo.
The Chancellor's profile piece discussed the furlough scheme, describing how he approved 'large handouts' for people whose jobs had been affected by coronavirus.
The piece also paid respect to Sunak's Eat Out to Help Out scheme, which the magazine described as an attempt to 'revive the economy' by subsidizing dining out at restaurants.  
Although his profile acknowledges that Sunak bears more responsibility than most for his calls to ease lockdown restrictions, Time's profile for the Chancellor admits he has earned himself a 'legion of fans'.
Sunak's accompanying profile points to a YouGov poll showing him to be the nation's most popular politician and even tips him to be the bookmakers' favourite as the next Prime Minister.  
Again, a week is a long time in politics. We shall see about the future as and when it happens.
For now, Sunak is focussing on the budget, to be delivered on March 3. He is asking industry leaders for their thoughts.
Michelin-starred chef Gordon Ramsay was one of those leaders:
If Rishi Sunak ever tires of being an MP or Chancellor, a job in media awaits.
He is an excellent interviewer and researched Gordon Ramsay well. The 15-minute video is worth watching.
The list of minority Conservative MPs continues. All being well, more tomorrow.
Episode 13 of Andrew Neil's Spectator TV aired on Thursday, November 26, 2020.
As you can see, the main topics were coronavirus and Brexit:
I haven't tuned into the episodes following the US election, because everyone is so anti-Trump.
The Chancellor's spending review
Andrew Neil opened the programme with the UK Government's spending review.
We are heading towards a national debt of £3 trillion and a budget deficit of nearly £420 billion.
There will be few spending cuts but tax rises will help to fill the gaps.
Kate Andrews gave us more information about Chancellor Rishi Sunak's statement. She had updated data from the Office for Budget Responsibility (OBR). The economy is set to contract by 11.3%, the biggest fall in 300 years. I wrote about that earlier this year, so it came as no surprise.
We will not even start to recover until 2022. Andrews said that some believe this is too pessimistic, even if the OBR says they took into account that we would have a vaccine. Well, we have that vaccine now (the week after the programme aired), which means that we could reopen our economy by the middle of next year. That said, we do not know how long the vaccine programme will take. Unemployment will rise by 3.5% to 7.5%, 2.5 million people.
Even by 2025, our deficit will still be around £100 billion. There will be a £15 billion increase in social spending, but Rishi will have to start to raise money. We won't find out how until early next year, possibly at the end of the year.
Andrew Neil said that, so far, the Chancellor has 'kept his powder dry'. James Forsyth, political editor of The Spectator, said there is too much up in the air right now to make any firm predictions.
Katy Balls, The Spectator's deputy political editor, said that a few areas of the statement have raised questions. However, Rishi's decisions might look more reasonable next year. Some cuts, e.g. foreign aid, will be popular with Conservative voters, including those in the North of England.
Forsyth said that as we spend more on defence, it is logical that something will have to be cut: foreign aid (which, in reality, is not being cut by that much).
The 2019 intake of Conservative MPs have formed the One Nation Caucus, who could rebel against the Government, but, as Katy Balls noted, there are various shades of conservatism that do not automatically amount to mass rebellion.
Andrew Neil asked Kate Andrews about the OBR's four scenarios, especially the most optimistic one. She said that we do not know how effective the vaccine will be and how quickly the roll out will go.
Neil asked her about the lack of specifics from the Treasury. Andrews said that he is probably looking at all the options, especially positive ones that might prevent higher unemployment next year.
Forsyth said we will know how much more we need to spend on COVID-19 compensation plans by March 2021, but the Chancellor will have to decide on policy by 2022, well in advance of the next election in 2024. He added that the Chancellor will have to put clear water between the Conservatives and Labour on spending. Currently, there isn't much difference.
Coronavirus tiers in England
Coronavirus tiers came up next. England was still in its final days of the second national lockdown, which ended on December 2.
Only Cornwall, the Isles of Scilly and the Isle of Wight are in Tier 1. That wasn't known at the time of broadcast, but it was already expected because of indications from the Prime Minister and our national medical experts who warned that most areas in Tier 1 before lockdown would end up in Tier 2.
Neil asked Forsyth whether a relaxation over Christmas for family celebrations wouldn't start bumping up contagion rates. Forsyth said that, in Canada, after their Thanksgiving in October, rates started to soar. He also mentioned the warnings going on in Scotland: be sensible and try not to take advantage of Christmas celebrations.
Katy Balls talked about the backbench Conservative rebels on lockdown, particularly about the new tier classification. Many counties with low rates are in Tier 2. However, those rebels are not of large enough number to cause the Government to lose a vote on further restrictions. That vote was held on Tuesday, December 1. Balls said that Boris has Labour's votes on his side, so he will win now and in future.
Coronavirus vaccines
Neil announced that the Government had pre-purchased doses of various vaccines so that two-thirds of the population could achieve 'herd immunity'. Dr Stuart Ritchie, a behavioural scientist at Kings College London, gave his views on the subject.
Neil asked Ritchie about vaccine scepticism. Ritchie said that more and more Britons were sceptical about taking a vaccine. He found the polls 'worrying'. He said that there is a new term replacing 'anti-vax', which is 'vaccine hesitancy'. He said that people are rightly worried, especially when they perceive a political element to vaccination. The rapidity of the vaccine development is one factor, the lack of information about it being another. He admitted that there are things we just do not know yet until the vaccine is rolled out.
Neil asked about mandatory vaccinations. Ritchie said that France has several vaccines that are mandatory, as do the US and Australia. Ritchie does not think this will be a question in the UK, because, despite the polls, there is still an eagerness among the public for vaccination. He thinks the Government should pay people around £200 to get vaccinated as an incentive.
Changing people's minds could be less successful, he admitted. Neil pushed Ritchie on no admittance to restaurants or on flights. Neil clearly is gung-ho on this, sadly. Ritchie agreed, saying that people would feel safer if mandates such as these were added to our everyday lives. (Pathetic.)
Forsyth said that the Government wants 75% of target groups to be vaccinated but added that scepticism would be a problem. Ritchie said making it compulsory would only make people more suspicious. That said, he purported that the vaccine was truly safe.
Ritchie looks very young to me and he was most enthusiastic on vaccination. I would like to see him as a 60+ giving such views.
Katy Balls said the vulnerable as well as front line health workers will be at the top of the vaccination priority list. However, she does not doubt that Conservative rebels will be on the case, depending on the vaccination issue of the day.
She said that one poll showed that the public would be more likely to take the vaccine if their MP took it first. (Excellent idea.)
Ritchie said that vaccine efficacy will determine future uptake.
Brexit
The final topic was Brexit. Neil spoke with Sir Ivan Rogers, the UK's permanent representative to the EU between 2013 and 2017. He worked closely with former Prime Ministers David Cameron and Theresa May on this issue. Neil asked Rogers about Brexit talks as they stand. Rogers said they were 'very fraught'. Time is running out, and decisions now have to be made. Rogers thought the markets were too optimistic on the EU and UK arriving at a deal.
Rogers said that Boris's government is not 'classically Conservative', meaning Thatcherite. He added that we are also in the coronavirus crisis, which has added another dimension to EU-UK negotiations.
Neil said that British politicians never considered how difficult Brexit would be to negotiate. Rogers said that ministers knew about the difficulty and discussed it privately during his time. He agreed that ministers did not have a vision as to how they wanted to negotiate an exit. He added that he had real doubts from the beginning about Theresa May's deal, which he never thought would succeed.
Then there were disagreements about what a 'Canada+' deal actually meant. He said there were 'huge misreadings' on both sides. He warned about the '++' element for that reason. The final deal will be much stronger on goods than on services, he thinks, which is a centuries-old priority.
Neil asked if these negotiations could go on and on in smaller ways, even with a deal. Rogers thinks there will be modifications in the years to come. Some of these are already under discussion, he said, which is making a final deal more evasive at this time.
After the interview, Forsyth said that fishing is the biggest issue right now, especially as the French — Emmanuel Macron, specifically — baulking at the UK's reclaiming our national territories.
Forsyth stated that, even with a deal, future EU-UK negotiations will continue 'for the rest of our lifetimes'. He said these will be a 'constant for the rest of our working lives'.
——————————————————————–
Thanks to Charles Stanley Wealth Managers for their sponsorship of the programme.
On the evening of October 31, 2020, the English received a Halloween trick rather than a treat.
Prime Minister Boris Johnson held a press conference to announce that England would be going into a second nationwide lockdown on Thursday, November 5.
How ironic that the Government chose November 5, Guy Fawkes Night, when, in 1605, Fawkes and group of his mates tried to blow up Parliament. This is England's night for fireworks and bonfires remembering that Fawkes and his pals were imprisoned and that traitors will never succeed. But I digress.
The Chief Medical Officer, Prof Chris Whitty, and Chief Scientific Officer, Sir Patrick Vallance, accompanied Boris. They showed yet another alarming set of statistics, an incomplete set of hospitals (showing 29 out of a total of 482) and updated heat maps showing that even regions of England with low rates of 'infection' were in potential danger if 'no action' were taken:
At the time of the press conference, half of the country, including London, had been in either one of the two new designations, Tier 2 or Tier 3. People in those tiers were told that it would take a few weeks to see any tangible decrease in the R ('infection') rate. Action was being taken.
Yet, Boris — urged by SAGE, of which Whitty and Vallance are members — did not bother to wait to see if the numbers in Tiers 2 and 3 were decreasing. He went straight for another national lockdown.
Once again, Boris circumvented presenting the plan to Parliament first for scrutiny. He claimed it was so urgent that he had no time for that.
What made matters worse is that an unknown someone leaked the lockdown plan to the media. MPs were in recess at the time. They returned to the Commons on Monday, November 2.
Speaker of the House Sir Lindsay Hoyle was not happy.
No. 10 launched a enquiry with regard to the leak. The police might get involved, if necessary.
The Daily Mail has a full timeline of events from Friday, October 30. Excerpts follow, emphases mine:
Furious Speaker Lindsay Hoyle today demanded a personal apology if a Cabinet minister is found to have leaked the PM's lockdown plan.
The Commons chief read the riot act to the government after the bombshell news spilled over the weekend, rather than being announced to Parliament first …
'I expect the Prime Minister to keep the House updated on his leak inquiry,' he said.
'I also hope that if the leaker is identified and if a member of this House, that member will make a full apology to the House for the discourteous and unacceptable behaviour.'
Separately, science chief Patrick Vallance is facing a backlash over a grim off-the-record briefing to reporters on Friday afternoon, in which he underlined SAGE's push for an immediate lockdown – alongside figures suggesting more than 85,000 people could die this winter.
Sir Patrick's office insist his briefing on Friday afternoon was just a regular off the record discussion with journalists, and dismiss the idea he was pre-empting any government move …
Sir Patrick suggested to reporters that it was too late for a two-week circuit breaker, and a four-week lockdown similar to that introduced in France was the best way to control the R number.  
Mr Johnson had still been wavering on the issue that morning, when Foreign Secretary Dominic Raab was sent out to defend the local 'Tiers' system on the airwaves.
But, confronted with Sir Patrick and Chris Whitty's dire predictions he set the wheels in motion on a month-long lockdown. 
Within hours the tentative decision taken by the elite group was leaked to the Daily Mail and Times – before the full Cabinet had been informed – in an apparent effort to prevent the PM changing his mind. 
By Saturday morning the BBC's political editor Laura Kuenssberg was giving details of two key documents that were shown to the 'quad' [core group of decision makers], a controversial prediction that the daily death toll would hit 4,000 a day and that NHS hospitals would be overwhelmed. 
There has since been criticism that the 4,000 a day projection was already out of date. It was produced by experts from the University of Cambridge and Public Health England who have since revised their numbers and lowered the possible numbers of deaths. 
Nevertheless, both slides formed a key part of the data finally officially presented on Saturday night, when a livid Mr Johnson brought forward his announcement after a call with his clueless wider Cabinet.
A formal leak inquiry has now been launched to find the culprit – with claims that just 15 people, including Sir Patrick, chief medical officer Chris Whitty and NHS England head Sir Simon Stevens were in the meeting.
There have even been dark threats that the police could be called in to find who undermined the PM's approach …
A former Cabinet minister told MailOnline that the behind-the-scenes manoeuvring over the lockdown was 'very odd'.
They suggested that the intervention from Sir Patrick could have been part of an effort to 'bounce' the PM. 'It does sound like a bounce. If he was briefing people in advance he was obviously trying to build up a head of steam behind the notion of a lockdown,' they said …
The MP said the figures being used to support the lockdown move, including claims that deaths could hit 4,000 a day, were questionable
'The figures don't appear to have been updated to reflect the true state of affairs,' they said …
Mr Johnson will today try to head off a mounting Tory revolt against his nationwide lockdown by warning coronavirus deaths this winter could otherwise by double the first wave. MPs have been raging at the 'evil' new rules, likening them to something from a 'totalitarian regime'.
On Tuesday, November 3, Whitty and Vallance appeared before the Science and Technology Select Committee, headed by the estimable MP, Greg Clark.
The Telegraph details the reasons why they were asked to appear at such short notice: spurious statistics given at Saturday's press conference used to justify a second lockdown.
The two physicians faced questions not only from Clark but also the other MPs who sit on that committee:
That link is still working, so, while there is no transcript, you can watch the proceedings, which last a little over two hours.
It was an engrossing session and, based on the replies to that tweet, no doubt many lockdown sceptics tuned in to watch:
What follows are highlights of the Select Committee hearing. MPs asked good questions:
An MP was able to get Whitty and Vallance to admit that they had not taken the effect of the tier system into account before the press conference last Saturday:
Greg Clark did an excellent job of chairing the hearing:
The duo explained that the reason they pushed for a lockdown was because R >1 across England, even in regions which are in the Medium (no tier) range. I disagree that this means 'cases are doubling'; they are not:
Graham Stringer (Lab) is one of my favourite MPs. He said that Saturday's alarmist graphs scared the public. Vallance's response follows:
Jeremy Hunt (Con) also asked about the projected 4,000 deaths:
The duo were also asked about the subtle blame they were putting on university students as being part of the cause of the increase in R. They quickly walked back the insinuation:
The duo were asked whether it might be a good idea to have an economist on SAGE to present the economic damage of lockdowns. Whitty seemed more open to this than Vallance, who was vehemently opposed. He said that SAGE were not responsible for economic modelling and said that was the remit of the Treasury:
The replies to the next tweet mention soundbites on other questions:
Around halfway through, it was apparent that the duo were uncomfortable with the probing nature of MPs' questions. Vallance glared at one point.
Chris Whitty is shown below:
When asked about the test and trace system in place, they said that it works best at the beginning of a pandemic when cases are just beginning to climb rather than later on. The Government has put a huge emphasis on our test and trace system. As such, it is viewed as being essential by MPs and the public:
They were asked about excess deaths taking place because of all the emphasis being put on COVID-19:
There is doubt that much of the NHS was overrun, even at the height of the pandemic:
Later on, talk turned to the ban on public worship and outdoor sports for children which come into effect today. The two admitted that their 'evidence' about closing houses of worship was 'anecdotal'. When pressed, Whitty said that he would not answer theological questions. When Greg Clark pursued the subject of outdoor sports for children, Whitty refused to say it was a low-risk activity that would help keep youngsters in better health.
Not everyone was happy with the line of questioning, although it was much better than I'd expected.
Barrister Francis Hoar had submitted questions to the select committee which were not asked. I, too, would like answers to these but think the discussion would have taken up much of the two hours:
The following day, Chris Whitty sent a letter to Greg Clark retracting a statement he had made earlier about infection rates in the over-60s in Liverpool:
The following statement is correct:
Based on the admittedly bogus data, it seems incongruous that we should have a second England-wide lockdown:
Nonetheless, after a debate in Parliament on Wednesday, October 4, MPs voted overwhelmingly — 516-38 — for a second lockdown:
I am pleased to say that, during the debate, several MPs from both sides of the aisle pressed the Government for a change of tack on banning public worship and certain outdoor sports, including for children. Unfortunately, the Government refused to budge.
Guido Fawkes has a list of the MPs who voted No. Four of those were from Northern Ireland's Democratic Unionist Party (DUP); sadly, I did not see Jim Shannon's name among their number.
Clearly, there weren't enough rebels, but I am most grateful for those who stood up for their principles — and for us.
On November 5, Chancellor of the Exchequer Rishi Sunak delivered a statement to Parliament announcing an extension to his original furlough scheme:
Lockdown ends on December 2, at which point the Government with local officials, including the NHS, will decide what regions need to return to the Tier system.
On Monday, October 12, 2020, Prime Minister Boris Johnson announced a three-tier system for England in an attempt to make new coronavirus restrictions easier to understand:
He delivered a statement in Parliament and later addressed the nation. In the video clips below, Chief Medical Officer Prof Chris Whitty is on the left and Chancellor of the Exchequer Rishi Sunak is on the right:
These plans run for the next six months:
Earlier that day, Chief Medical Officer Prof Chris Whitty, Chief Scientific Officer Sir Patrick Vallance and Deputy Chief Medical Officer Prof Jonathan Van-Tam presented an update. It is unnerving when SAGE (Scientific Advisory Group for Emergencies) members make an announcement of upcoming health policy before the Prime Minister or the Secretary of State for Health and Social Care, Matt Hancock. They did this on September 21 as well, against a Government backdrop. They have official permission to do so, but it is unsettling to see. It looks as if they are in charge. Perhaps they are.
Hmm.
I very much agree with this tweet about SAGE members who are physicians, such as the aforementioned three men (emphases mine below):
'Drs' go into epidemiology and PH because they want the same salary as the frontline grafters without the hours, stress or risk.
So, how accurate were Sir Patrick Vallance's alarming projections from September? Not very accurate at all, as many people in England suspected three weeks ago, and deaths are thankfully minimal compared to springtime statistics:
The SAGE members spoke on Monday morning. Boris addressed MPs that afternoon.
The Conservative MP for Wakefield, Imran Ahmad Khan, rightly pointed out that a Conservative government should let citizens make informed choices for themselves:
As Conservatives, we often speak of levelling up. However, now is the time to level with the British people. There is no silver bullet. All measures to stop the spread of covid have painful effects on our economy, social lives and mental wellbeing. Voices on the Opposition Benches believe that British people are incapable of understanding complex issues such as Brexit. The Conservative party is the champion of individuals' rights to make autonomous decisions without state interference. Will the Prime Minister double down on our party's historic commitment to invest greater trust in the individual to decide what is best for themselves?
Boris gave his standard communitarian response:
Indeed, and I hope that the individual will also recognise that the risk that we carry—he or she carries—is not just to ourselves, but to the whole of the community because, in the end, we are all potential vectors of this disease and we may bring it inadvertently to someone who is more vulnerable than ourselves. That is the risk. That is why we are bringing in these measures, why we have had the package of measures that we have had throughout this pandemic, and why we now need to intensify them in some local areas now.
Boris answered over 100 questions in two hours. The session ended just before 6 p.m.
He addressed the nation on television at 7 p.m.
The adjournment debate in Parliament that evening revealed that the National Health Service would be more aptly named the National Covid Service.
Labour's Fleur Anderson, who represents Putney in south west London, spoke about the continued closure of the Urgent Care unit at Queen Mary's Hospital in Roehampton. Excerpts follow:
In August 1997, Queen Mary's Hospital, which is in Roehampton, ended its A&E service, and has since had a minor injuries unit, which the trust gave a gold-standard accreditation in November last year. So there is no A&E service in my constituency. The minor injuries unit was upgraded to an urgent treatment centre, with a GP added to the excellent nurse practitioner staff, earlier this year. In a normal year, the centre serves 16,000 to 18,000 people, so it is a vital service in our community.
During the peak of the pandemic, the decision was taken to temporarily close the service because of a lack of space for social distancing and to be able to adhere to Government guidelines, and also to move the staff to other areas that needed them more. The pharmacy for out-patients has only recently been closed, and at very short notice. Of course I understand, as do local residents, that changes had to made and that health services had to adapt. I fully appreciate that our NHS managers had to make some extremely difficult decisions on service provision as they faced the prospect of being overwhelmed, which they are now facing again, with the second wave. The continued closure makes us in Roehampton feel overlooked, and it is putting additional pressures on NHS services at Teddington, the walk-in centre at Kingston, St George's Hospital A&E and local GP surgeries. I am concerned that this will cause untold long-term damage to the health and wellbeing of our community.
I have been asked, "What about the person with the dislocated shoulder, the chest pain, the allergic reaction?" They all need to be assessed and stabilised urgently, but at the moment they are being turned away. I have met the chief executive of the hospital trust and raised these issues. I asked her to assure me that the centre would be reopened as soon as it was safe to do so, but she has not confirmed when it will reopen, if at all. That is very ​worrying. I hope to hear from the Minister this evening that he will support the trust in making plans to reopen the walk-in urgent treatment centre. 
I would like briefly to explain the impacts that the closure is having on local people. Anyone who goes to where the minor injuries unit used to be is asked to travel far away to the Teddington walk-in centre, to Kingston A&E or to St George's A&E in Tooting. Those bus journeys can take an hour, which can result in painful journeys or in many people not making the journey, not being seen and not being treated. I am sure the Minister will agree that an hour on public transport is an unacceptably long journey time when there is a really good hospital right there in Roehampton, but it is just not open for walk-in urgent care. One of my constituents wrote to me this week to say:
"I took my elderly father, who is nearly 90 years old, to Queen Mary's just over a month ago, because he had cut his fingers quite badly and they were bleeding. The kind staff there had helped us when my father had a similar problem last year and they knew how to bandage his fingers because he has very thin skin…Because the Centre was closed, we had to go all the way to Kingston Hospital which was quite stressful. While his treatment there was good, it would have been far easier if we could have gone somewhere more local to him as my father isn't used to travelling that far."
Also, some patients are unable to travel or should not travel. An example is patients with diabetic foot ulcers, who should keep their activity to a minimum to allow ulcers to heal. At the same time, if they have an infection, it needs treating immediately as it could deteriorate rapidly leading to the need for amputation. That is one group of patients who are not getting the care they need because the urgent treatment centre and the pharmacy are not open. There is an obvious health risk to people needing to travel further if they are seriously ill.
There is also an increased risk of covid infection through asking people to travel greater distances by public transport during the pandemic, especially when they are unwell or chronically ill. They could have an underlying condition, which might be the reason they are going to the urgent care centre in the first place. That would make them more susceptible to the effects of covid-19. Closing the pharmacy is having the effect of delaying patients receiving treatment, as they are now being referred to their GP by the clinics. If they cannot immediately get an appointment with their GP, this can lead to delays of up to 48 hours before starting their treatment. That is another impact.
There is also a knock-on effect on services in other places. The fact that 16,000 to 18,000 people a year used to be treated at Queen Mary's is putting pressure on St George's and Kingston, along with the increasing demand at the moment. GP surgery appointments are already at a premium, and this demand will only worsen as the difficult winter months approach. Even before the pandemic, it was reported that over 11 million patients had to wait more than 21 days for a GP appointment. In my constituency, there are 14 main surgeries and three branch practices. My team has called round all the local GP services. Several are still only doing appointments over Zoom, and in one local medical centre, a member of staff begged for the urgent care centre to reopen due to the pressure its closure is causing for GP surgeries.​
Increased demand for overstretched GP surgeries with finite resources ultimately means fewer local people's conditions or illnesses receiving treatment, and even more concerningly, serious and urgent illnesses such as cancer being missed and going undiagnosed. It is cancer diagnosis that I am particularly concerned about. As the Minister knows, lots of cancers are diagnosed when people present at hospital with a symptom. With the doors of the urgent treatment centre still closed, many cancers that might otherwise have been spotted will have been missed …
Edward Argar, Minister for Health, responded on behalf of the Government:
… I am conscious that the trust has yet to set out a firm commitment to a reopening date, but I join the hon. Lady in saying that I hope it will set out its future plans as soon as possible. I am conscious that she has met the trust's chief executive, Jacqueline Totterdell, to discuss these issues and plans for the reopening of the urgent treatment centre. Although that reopening date is still to be confirmed, I understand that the trust and local commissioners are undertaking work to agree a new covid-secure model of care before reopening, which is the right approach.
The hon. Lady highlighted not only the urgent treatment centre but its role in helping early diagnosis and treatment of cancers. I completely understand and recognise her concerns about the impact of the pandemic on cancer services and the importance of ensuring that cancers do not go undiagnosed. The NHS is working to restore the full operation of all cancer services, with local delivery plans being delivered by cancer alliances. Systems will be working with GPs and the public locally to increase the number of people coming forward and being referred with suspected cancer to at least pre-pandemic levels—I will come on to the performance of her local trust in a moment.
To support that, systems will help to ensure sufficient diagnostic capacity in covid-19-secure environments, through the use of independent sector facilities and the development of community diagnostic hubs and a rapid diagnostic centre. The hon. Lady is right to highlight that diagnostic capability is a considerable challenge, not least because, to put it perhaps a little bluntly, many diagnostic tests are very close and personal, and the equipment used is intimate in terms of looking inside the human body. The cleaning and infection control measures that are necessary between each patient make it challenging to see as many patients as would have been the case before the pandemic.
That last sentence worried my far better half, who asked, 'Does that mean they weren't cleaning between patients before coronavirus?'
After discussing cancer services, Argar discussed the Urgent Care pharmacy in question:
The hospital pharmacy is absolutely vital for people being able to have timely access to the medicines they need and being able to get them on site. Although people using it will have been treated and advised in hospital, they can none the less get very helpful advice from the pharmacy as well, so I share her view about the importance of that. As I have said, I include that in my offer to her—to discuss that with her and with the chief executive. I will endeavour to do that later this week …
I simply reiterate that I share the hon. Lady's view that, where services for perfectly good and legitimate clinical reasons have been temporarily closed or altered, it is extremely important that they are reopened as soon as trusts are able to do so and, where in the future any changes are proposed, that they are subject to the usual full public consultation, engagement and consideration. I do not want to see temporary measures becoming permanent by default, and she can read that as perhaps an expression of my view on what is happening in Roehampton …
I hope that I have been able to offer the hon. Lady some reassurances today. I thank her for securing the debate, and I very much look forward to meeting her …
Fleur Anderson was reassured. I hope that Queen Mary's Hospital gets back to full service soon.
The content of that debate was alarming.
Apologies for the digression, but this is the state of play for the NHS, or should I say NCS, not only in Roehampton but all over the nation. It is an absolute shambles.
Tuesday, October 13 — the almighty SAGE, no evidence needed
On Tuesday, October 13, Treasury Minister Steve Barclay laid out the Chancellor's expanded plans for financial support during the continuing coronavirus crisis.
The 10 p.m. curfew for pubs was also voted on later that day.
Mel Stride, the Conservative MP representing Central Devon, asked for scientific evidence about the curfew:
My right hon. Friend and the Chancellor of the Exchequer have done a great deal to support the economy, but there has to be a careful balance struck between protecting against the virus and avoiding further economic destruction. With ​that in mind, what scientific evidence has the Treasury received that closing pubs at 10 pm gets that balance right?
Steve Barclay did not answer the question and inadvertently pointed out SAGE's woefully inaccurate modelling (see graph at the top of the post):
We have to balance the evidence that the Government receive from a range of quarters. My right hon. Friend will recall that when the initial advice from the Scientific Advisory Group for Emergencies was put forward, the Government came forward with a range of measures, such as the rule of six and the curfew. Indeed, if we look at the projections that were made at that time, we see that we could potentially have had 49,000 or so daily cases by 14 October when in actual fact the figure on that date was 12,872. That indicates the fact that the package of measures put in place by the Prime Minister and the Chancellor of the Exchequer have had an influence. However, listening to the SAGE advice, it is recognised that we need to go further and that is why the tiered approach has been set out.
Mike Wood (Con, Dudley South) sounded the alarm about pubs in his West Midlands constituency:
A tenth of pubs have not reopened since lockdown in March while two thirds were already trading at a loss, even before restricted opening times, mandatory table service and the new restrictions announced yesterday. Will my right hon. Friend look at the support that is available for pubs that are not yet compelled to close, but are legally prevented from operating economically, and in particular state aid limits that threaten to prevent 10,000 pubs from receiving the support they need? Without that support, many thousands of pubs will close their doors and never reopen.
Barclay responded:
… Ultimately, that is why the Chancellor set out the wider package of support, recognising the concerns he speaks of with the tax deferrals, the loans, the business rate support and the measures on VAT, which are targeted at the sector because of the very real concerns he correctly articulates.
Bob Seely (Con, Isle of Wight) asked for evidence that compels swimming pools and gyms to close in some areas under the new restrictions:
Is there any specific evidence that swimming pools and gyms are centres for covid transmission? Has any research been done into rising obesity and unfitness levels, and has any research been done into rising unemployment caused by the closure of gyms and pools that is now happening in parts of the UK?
Barclay reiterated that those sectors were part of the reason for the Chancellor's expanded support package. Again, he could not provide any scientific evidence:
In some ways, that is slightly more of a Health question than a Treasury question, but I recognise that there is read-across from those businesses into the economy. In short, the opinion of the chief medical officer and the chief scientific officer is that those businesses do carry significantly more risk, which is why they have been harder hit in the guidance that has been issued.
What if it turned out that Whitty and Vallance were as wrong about that as they are with their astronomically mistaken 'case' projections?
I fully agree with the assessment of Sir Edward Leigh (Con, Gainsborough):
It is not surprising that more and more Members are calling for more Government support, because the Government are forcing more and more businesses, particularly in the hospitality sector, out of business. The Chief Secretary says that his priority is to help business. The best way to help businesses is to let them get on and do business. We are going bankrupt as a nation—there will not be the money to pay for the NHS or pensions. What is the Treasury doing to row back against other parts of the Government and insist that we must allow British business to operate? He did not answer the question from the Chairman of the Select Committee, my right hon. Friend the Member for Central Devon (Mel Stride)—what is the scientific evidence for pubs closing at 10 o'clock? Is he leading the fight to help Britain to stay in business?
Barclay replied:
With respect, I did answer it. I pointed to the projection given by the chief medical officer and chief scientific adviser at that time, the SAGE guidance and the fact that the package of measures put in place by the Prime Minister has resulted in a lower infection risk. The CMO and others would recognise that this is a range of measures. My right hon. Friend says that the Government have gone too far and that there is no evidence for the curfew. The tenor of most of the questions one gets is that we have not moved far enough and should be taking more drastic actions. That speaks ​to the fact that this is a balanced judgment. One needs to look at the range of measures we are taking, and that is what I would refer him to.
After that, MPs debated then voted on all the new coronavirus measures. All passed, including the 10 p.m. curfew for pubs across the nation.
Matt Hancock delivered the statement which opened the debate.
He took strong exception to the Great Barrington Declaration:
Some people have set out this more relaxed approach, including those in the so-called Great Barrington declaration. I want to take this argument head on, because on the substance, the Great Barrington declaration is underpinned by two central claims and both are emphatically false. First, it says that if enough people get covid, we will reach herd immunity. That is not true. Many infectious diseases never reach herd immunity, such as measles, malaria, AIDS and flu, and with increasing evidence of reinfection, we should have no confidence that we would ever reach herd immunity to covid, even if everyone caught it. Herd immunity is a flawed goal without a vaccine, even if we could get to it, which we cannot.
Well, not all of us get flu every year, and, in the wide scheme of things, COVID-19 has a 99% survival rate.
I agree with Hancock's second point about the impossibility of isolating older members in multi-generational households.
However, overall, Hancock really is in thrall to SAGE. They must be relishing the power they have over him:
John Redwood (Con, Wokingham) asked a simple question:
How long do the scientists think we will need these lockdowns for, and what is their exit plan?
Hancock had no real answer. The one he gave proves that lockdowns do not work. So much for SAGE advice:
We have seen the exit plan from local lockdowns. For instance, in Leicester, where we had a firm local lockdown, the case rate came right down. We lifted that and we have sadly seen it start to rise again. The case rate is determined by the amount of social mixing, and it reduces during a lockdown. In some parts of the country where the case rate has continued to rise, there is an argument for further ensuring that we do not reach the level of contact that is at the root of the virus spreading. The challenge is how to calibrate the lockdown to get the virus under control while doing the minimum damage to the economy and to education.
Huw Merriman (Con, Bexhill and Battle) pointed out the futility of a 10 p.m. curfew, as everyone pours out into the street and onto public transport at the same time:
The Secretary of State talks about a regulation on pubs closing at 10 o'clock, which has been in force for four weeks. There may be some undoubted positives for health, but we see some negatives with people amassing together on public transport and in the streets. Do the positives outweigh the negatives, as far as the science is concerned?
More waffle from Barclay, I'm sorry to say.
You can see some of Shadow Health Secretary Jonathan Ashworth's reply to Barclay in the video below. Ashworth says that the Government have not gone far enough, even if he opposes another full lockdown, or circuit-breaker, as it is now called.
The debate continued.
Addressing Matt Hancock, Dr Andrew Murrison (Con, Southwest Wiltshire), who is a physician, cautioned him against being closed-minded and advised looking at other voices in the medical world, including those of those who say that lockdown serves little purpose and should be confined to the vulnerable only:
I support these restrictions with a heavy heart. On balance, I will be supporting the Government this evening, but I want to make just a few quick points.
I would be very careful about subscribing to the Vallance/Whitty orthodoxy that informed these regulations, while not at all examining very carefully respectable bodies of medical opinion to the contrary. I would cite particularly the Heneghan/Sikora/Gupta line. It is important that the Secretary of State and his ministerial team address those things head-on and treat them with the respect that they deserve …
We need to be careful about groupthink, confirmation bias, a thin evidential basis and uncertainty masquerading as certainty. There is a huge margin of uncertainty with all this, and we all need to develop a level of humility in our attitudes towards dealing with this crisis. That is why I shall be supporting the Government this evening …
In all this, we simply do not know and we are learning all the time. We have to accept, I think, the expertise of those advising Ministers and that we have experts for a reason, but there is an alternative view. Unless we get a vaccine—goodness me, I hope we do—I think we may find that the cure is worse than the disease in terms of lives lost directly to covid, incidental lives lost to other common diseases—stroke, heart attack and particularly cancer—loss of liberty, loss of livelihood and the compete trashing of our economy. That is what is at stake. I do not envy the Secretary of State in his work.
Labour's John Spellar (Warley) made excellent points. I agree with every one of them:
There is a huge principle to be debated here. At the heart of it is the false dichotomy posed again by the Secretary of State today ​between hospitality and the economy and jobs, as though hospitality were not part of the real economy and millions of jobs did not depend on it. Tell that to the workers and businesses owners in pubs and clubs, restaurants and cafes, hotels and wedding venues, theatres and cinemas, betting shops, bingo halls and casinos and gyms, all of which are facing really hard times and challenges. They are facing closures, ruin and job losses on a massive scale. At the same time, as we heard earlier, Treasury support is weakening and the Chancellor of the Exchequer is not only losing the cost of support but suffering a major loss of revenue.
Unfortunately, the approach seems to be driven less by deep analysis and more by the dreaded doctrine of "something must be done". This is something; therefore we must do this irrespective of proportionality, outcome or impact. But this time it is even worse. It seems to be "something needs to be seen to be done" without any cost-benefit analysis or considering the impact on a beleaguered industry and a workforce facing mass redundancies. Accordingly, I and many other Members are unclear about the basis, either at a local or national level, of these proposals. The Chief Secretary talked earlier of anecdotes. I want a bit more than anecdotes.
Sir Richard Leese, the leader of Manchester City Council, rightly said on Radio 4 today that a far better way than closures and curfews is to give powers to local councils to take rapid action to shut down non-compliant venues. In my authority of Sandwell, which has an enviable contact rate of 85% led by the excellent public health director Dr McNally, we have had one case linked to a hospitality venue, and that was early on in the pandemic in a pub in Smethwick. The Express & Star, our evening newspaper, investigated and found that across the Black Country, which is home to 1.25 million people, there have been just 10 such incidences of covid, again all early in the pandemic.
In his opening speech, the Secretary of State did not give an indication of how long he thinks this can go on. It could last almost indefinitely unless we develop a vaccine, an event that, as the Prime Minister candidly admitted yesterday, is uncertain and would not be 100% effective. One of the tests of an exit strategy is considering how we contain the virus if we are not able to eliminate it, as we have had to do with major diseases throughout history and as many of parts of the world still have to do today.
Steve Baker (Con, Wycombe) brought up the economic damage done and his support for the Great Barrington Declaration. He said that the Government must find a middle way:
… three problems. The first is that a vaccine may not come. The second is that a vaccine may not be effective. The third is that all this is propped up on quantitative easing and ultra-cheap credit. Indeed, now we are reading in the newspapers about negative interest rates, and this is why I declared the interest. I think you have to have a peculiarly high level of economic education to believe that we can head towards £745 billion of QE and ultra-low or negative interest rates and that all this will not be a problem. I will not say any more about it. I think it will be a problem, and it is precarious indeed that the Government's strategy is propped up on such a monetary policy …
Personally, I think that privately the Government are a little more optimistic about the AstraZeneca vaccine, which my right hon. Friend the Prime Minister mentioned, ​but here is the thing: even suppose the Government had vaccinated the public with a successful, safe vaccine by Easter or possibly the summer, that still leaves our economy and Government spending propped up on ultra-cheap credit. The problem with that is that the Bank of England has told us on the Treasury Committee that if inflation comes in it will have to, under its mandate, fight inflation. That would effectively mean pulling the plug on Government spending. This is precarious indeed …
For the reasons that I have given, I am convinced that the Government must find an alternative strategic plan between the Great Barrington declaration and where we are today.
All Government measures passed in the votes that night.
Labour's mixed messages
Meanwhile, Labour's shadow cabinet are all over the shop.
On Tuesday, Jonathan Ashworth opposed a national lockdown, while saying that the Government were not going far enough with measures:
However, Labour leader Keir Starmer announced on national television that he wants a national lockdown, as Guido Fawkes points out (emphases in the original):
Why does Keir Starmer support imposing a national lockdown on areas with low Covid incidence whilst opposing regional lockdowns on areas with high Covid incidence? Whatever side of the argument you are on, surely it is clear that being on both sides of the argument at the same time makes no sense logically? Unless it is pure political opportunism…
Ashworth said, rightly that a national lockdown "would be disastrous for society… but I don't believe anyone in the house is proposing that…" Hours later Starmer proposed precisely that…
Tiered lockdown: public money from taxpayers or private enterprise?
In closing, this is what is allegedly happening in Essex, which is just to the east of London. This is puzzling, because Essex has low positive test rates.
Adam Brooks is a publican:
Essex Council deny that money is involved. The councillor giving the following statement said that the Council is doing it for health, not financial, reasons:
Fair enough.
The leader of the Council issued this video announcement, which was not well received by Essex residents (read the replies):
Essex aside, on the subject of lockdown money, Laura Dodsworth has written a lengthy article for Spiked, 'There's a financial incentive for councils to lock down'.
She stands by her article:
She explains that Liverpool Council made sure they received commitment to a financial package from the Government before entering Tier 3:
Liverpool mayors Steve Rotheram and Joe Anderson said that they did not agree with some aspects of the Tier 3 lockdown, but were aware that government would bring in rules 'with or without them'. And so rather than argue forcefully against lockdown, they negotiated to secure the best financial package possible.
This policy is not without its drawbacks:
The new funding package for councils is designed to alleviate the pain of lockdown, to sugar the pill. But the structure of the funding might end up providing local authorities with the ingredients to make lockdown cake indefinitely. It is specifically intended to support more testing, including door-to-door testing, sometimes with help from the military. But more testing leads to more cases. More cases lead to more lockdowns.
… the funding is also going towards enforcement of lockdown regulations and self-isolation, which there are fines for breaching. That, in turn, raises more funds – the revenue from fixed-penalty notices, whether they are issued by local police, environmental-health officers or new Covid marshals, goes into local-authority coffers. In theory, the lockdown fixed-penalty fines should be going straight back into public health (as littering fines would go towards the environment). But, in reality, revenue from fines is not always that well ring-fenced in local authorities.
Liverpool Council is nearly broke:
Back in April, Liverpool council warned it was facing bankruptcy. It's easy to appreciate that local leaders are anxious to secure funds to deal with the ongoing lockdown crisis. I am not suggesting that councils and local politicians would make calculated decisions to push areas into lockdown. But the road to hell is paved with good intentions. This financial model has the potential to become a vicious circle. Seasoned disaster-planner Lucy Easthope tells me: 'There is a tendency in reactive disaster funding to create dependency and to actively avoid thinking through the long-term harms and over-reliance [on emergency funds].'
Allegedly, London is likely to be next:
It will be interesting to see how this turns out in the months to come. I hope that the Treasury have terms and conditions attached to this funding.
The end of the road for England's pubs?
Since the smoking ban in 2007 and the financial crisis the following year, the number of pubs decreased from 50,000 to 39,000 in the UK. That was as of 2018.
Because of the earlier lockdown this year, more have no doubt closed — for good.
The new coronavirus regulations began on Wednesday, October 14:
Below is a video of the 'last hurrah', as my parents' generation would have called it, in Liverpool, before Tier 3 regulations set in.
Regardless of what one thinks of the video, according to the pie chart, when workplaces and schools/universities are factored in, according to Public Health England, hospitality accounts only for 3 per cent of coronavirus 'case' sources:
Not all pubs have to close, but in order to stay open, they must serve 'a substantial meal', as in New York City. A packet of crisps or pork scratchings will not do. The Pub Curmudgeon said that the Government have not precisely defined the term 'substantial meal', which could be problematic.
Meanwhile, Adam Brooks, the aforementioned publican from Essex, has given an interview to Spiked:
More to come tomorrow on how his business has fared during the coronavirus crisis.