You are currently browsing the tag archive for the 'Rishi Sunak' tag.
For me, the Conservative Party leadership contest is over.
I could be wrong, but it looks as if Liz Truss will be measuring curtains for No. 10 in a few weeks' time.
Barring anything unforeseen, this will be my last report on the contest until early September.
Telegraph hustings at Cheltenham
On Thursday, August 11, The Telegraph presented a Conservative Party hustings at the Cheltenham racecourse in Gloucestershire.
The paper's Camilla Tominey moderated the event.
She asked Liz Truss about her barbed exchange with TalkTV's Tom Newton Dunn earlier last week:
Camilla: Are you happy with the press this week? Because you've had a bit of a go at us.
Liz: Well, I had a go at Tom Newton Dunn, but you're asking much sounder questions Camilla.
Camilla: Thank you!
Guido has the video, in which Liz tells Camilla that she would like more questions about trade deals:
Here is the video of the hustings in full:
Viewers were given the opportunity to vote for their preferred candidate online in a poll for the paper. It appeared that people could vote more than once:
Even before the hustings began, Rishi was in the lead. Hmm:
The Telegraph featured an article highlighting readers' opinions.
It is a shame that so many Britons have forgotten the comparative 'more'. There were only two candidates, therefore, saying 'most' — implying three or more — was clearly wrong.
One of Rishi's supporters thought he could beat Labour:
Having just watched both candidates, it's not too difficult to accept that Rishi Sunak was the most inspiring. Indeed, in contrast to his wooden adversary, he gave a rousing speech. I wonder how many members watched and are open-minded enough to ditch Liz Truss? She would lose to Labour in two years' time. Sunak at least gives us a chance.
Another said Liz was 'weak':
Liz Truss's yes and no round showed her to be very weak: no dramatic reform of the BBC, no cap on immigration, keeping net zero, no dramatic reduction to the size of government. She is no Tory candidate.
Another branded her 'useless':
Liz Truss cannot answer a question properly. She is useless. At least Rishi Sunak is willing to tell some home truths even if people don't want to hear it.
However, Liz's supporters thought that she offered a fresh approach.
One said (emphases mine):
I'm beginning to like Liz Truss more and more. She's a radical democrat determined to confront the anti-democratic 'establishment'. If she wins, hers will be a revolution supported by the democratic majority in the UK.
Another said she has foresight:
Whoever wins the leadership contest, one thing is for certain – Rishi Sunak will lose the next general election. Liz Truss at least has a better chance of seeing off Labour and the Lib Dems. She has more foresight than Rishi Sunak, where he is telling the Tory members more of the same is right, where at least Liz Truss is offering a choice of something different. Time will tell if she's right.
Another said that Rishi looked too managerial:
Watching this debate reminded me of a typical departmental meeting. Rishi Sunak is the over-keen middle manager trying to impress the boss and climb the greasy pole. Liz Truss is the experienced old hand who just gets on with the job.
Yes, interesting comment, that. Who is Rishi's boss? His Infosys father-in-law?
Telegraph columnists weighed in with their verdicts.
Seasoned veteran Janet Daley noted that, while the candidates differed on strategy, they are both committed to Conservative values:
The substantive disagreement came through as clearly as I have ever heard it. Rishi believes that inflation is the greatest danger and that our primary obligation is to pay down the national debt to create a sound economy. 
Liz insists that the more serious threat is impending recession which would be made more likely by increasing taxes which would depress investment and entrepreneurialism. That's it. This was an argument about strategy rather than outcome.
Apart from that, their philosophies and values were remarkably similar. They are both sincere in their commitment to post-Thatcher Conservative values which they defined in almost identical ways: pride in the country and its values, the importance of education in providing opportunity and equality and, above all, creating the possibility for aspiration and social mobility. For all the supposed acrimony in this contest, they could certainly serve in each other's Cabinets.
She said that the candidates' ease of presentation depended on the format:
The opening statement went to Rishi who was rather manically charismatic but charming, where Liz looked uncomfortable and stiff.
But in the conversational mode with Camilla Tominey, Liz came through as relatable and convincingly thoughtful. She looked much happier talking to a person than to a large audience. Rishi seemed perfectly at home with a crowd, turning round repeatedly to make sure to address the whole room. It made him appear confident – perhaps too much so.
There was something of the conceited sixth former about him – as there has been all along.
Tim Stanley thought that Camilla Tominey came out on top.
He picked up on Liz's line about wheat fields being turned into solar farms:
Fields that should be stuffed with wheat, she said, are now planted with solar panels – and "it's one of the most depressing sights in Britain".
Oh, I can think of far worse. Such as an email from British Gas.
He prefers Rishi's stage presence but says that Liz's policies are more interesting:
The curious thing is that Rishi still looks like the frontrunner. He's got the best ad, energy and endorsers: Hague, Lilley, Lawson and the ghost of Lord Salisbury. But it's Liz who with every appearance gets more interesting. No election before 2024, she said; no windfall taxes because profit is a good thing.
In the end:
For my money, the winner of this one was The Telegraph, because it had the best presenter thus far. Camilla for PM.
Ross Clark thought that Rishi was losing ground:
He couldn't understand, he told us, why he was perceived not to be 'Brexity' enough. Both claims fell flat. No-one clapped or cheered when he tried to establish his Brexit credentials.
Moreover, Sunak's strongest suit – his warmth as a public speaker – no longer seemed quite the asset it was in earlier debates. He tried to up the tempo – with the result that he began to lose gravitas …
Clark said that Liz is developing policies as she gradually moves through the hustings:
For her part, Truss concentrated on trying to resolve the policy weaknesses which led, for example, to last week's embarrassment over regional pay boards. It was a strategy that seemed to pay off in Cheltenham. She came across as someone who is thinking carefully on policy – even though she is still lacking many answers.
Her biggest weakness was failing to answer what immediate steps she would take to help people with energy bills over the next few months; she sketched over the issue and rushed ahead onto longer-term policies such as fracking – which might be right but are not going to help people over the next few months.
In the one-to-one section of the hustings it became clear that Rishi's team is better at filling to front rows of these events with his own cheering supporters. But you sense that the rest of the audience are more interested in what Truss has to say, because she remains by far the most likely victor.
Patrick O'Flynn said that Liz's ideas for defeating the Liberal Democrats, who have been winning Conservative by-elections, topped Rishi's style over substance:
Her pledge about bringing back a special unit in CCHQ to mastermind a fightback against the Yellow Peril – the Lib Dems, with whom she enjoyed a youthful infatuation – may not have raised the roof but certainly had the wise owls in the crowd nodding sagely. Her claim that she could best beat the Liberals because she knew all about their old tricks was stretching things a bit, but then so was Sunak's attempt to be passionate about having funded "the dualling of the A417".
If this were a knife-edge contest then Sunak's slick display and his whooping fans could have conjured the illusion of him being the candidate with most momentum. And fair play to him for insisting again that he will not quit the contest prematurely. But he is so far behind on points that he would have needed a knockout blow to revive his chances and he came nowhere near that.
The paper also reported that, although things looked normal on stage, once the cameras were off:
things were frostier, with the candidates clearly avoiding crossing one another's path as they walked off stage towards their dressing rooms.
The Guardian's political editor, Toby Helm, was also in Cheltenham to assess the mood before and after the hustings:
As Conservative party members filed into the latest leadership hustings at a baking hot Cheltenham racecourse, very few among this important electorate seemed enthused by the two-way race.
Neither of the runners – foreign secretary Liz Truss nor ex-chancellor Rishi Sunak – excited much Tory passion, nor seemed the subject of heavy betting. Some of those who attended, and who will decide the identity of the new prime minister, suggested they had come along out of duty, to choose the least worst option on offer …
Lucy Coxall, a project manager for a London design company, who had travelled from Wiltshire, said she was genuinely undecided and irritated at media reports that Truss had it in the bag already. "It is ridiculous to suggest it is already over. I really want to hear what the candidates have to say," she said.
Caroline Baldwin, who runs a property business with her husband, said she was leaning to Truss but not firmly, while Jude Walker, who used to vote Labour, but had switched to the Tories a few years ago because she liked Boris Johnson, seemed to wish the dethroned PM could carry on, as she arrived to assess the qualities of his potential successors.
Ned Bowron, who runs an outside events business and is deputy chair of membership and fundraising for Stroud Conservatives, said he too was leaning in the Truss direction but was open to persuasion by Sunak, while Bob Griffin, who runs an export business, preferred Truss on the evidence thus far.
Two hours of speeches and interrogation later, many views had changed. Some undecideds had made up their minds, some decideds had switched allegiances, while others had just hardened their opinions in the direction they were already leaning. Strikingly, the movement was by no means all – or even predominantly – towards the hot favourite Truss.
The previously agnostic Coxall had decided to plump decisively for Sunak on the basis of what she had seen and heard. "I was much more convinced by Rishi and thought he had an answer for everything on the economy," she said afterwards. "He presented himself with energy. He sounded so much more progressive and had so much more of a vision for the future. Everything from Liz was short-term thinking." If Truss were to become prime minister, Coxall believes the Tories will have less chance of victory at the next general election.
Griffin, on the other hand, had become more convinced that Truss was the right choice after the meeting: "What she was trying to sell me was a genuine 'to do list' while what he was selling was 'Rishi Sunak for prime minister'."
Both Bowron and Baldwin, however, had gone from preferring Truss to thinking better of Sunak than they had before. "Liz's financial plans seemed, well, rather unbudgeted and rather worrying," said Bowron. "I am pretty sure I will vote for Rishi now. I think he is a safer pair of hands. Liz doesn't seem to understand that those who most need help don't pay tax and yet she is going on about tax cuts." Baldwin was also concerned that Truss's tax plans would not help the most needy. "I was leaning to her but now I am not sure," she said.
Boris
Boris returned from his holiday early last week and is now house-hunting.
On Monday, August 15, the Mail reported that he is looking for an abode in Dulwich Village, south London:
Boris Johnson appears to be taking notes from a former Prime Minister, as he looks to buy a house in the same south London suburb Margaret Thatcher moved to after she left No 10 Downing Street.
The outgoing Prime Minister, 58, will be leaving his role next month and has started house-hunting for a new marital home in Dulwich Village with wife Carrie, 34, and the couple's two children.
Before moving into Number 10 in 2019, Mr and Mrs Johnson bought a property overlooking Brunswick Park in Camberwell, south London.
That townhouse is now listed for sale for £1.6million, £400,000 more than they paid for it.
Not short of cash, the couple's reported budget of £3million should be more than sufficient, as properties in the leafy village have sold £1,820,887 on average in the past year, according to Zoopla.
Margaret Thatcher, however, did not stay in Dulwich Village for long:
Margaret Thatcher moved to Dulwich Village after being ousted in 1990, buying a house with her husband Dennis for £400,000.
However the Iron Lady lasted just a year in the village before moving back to a more central location in London.
Discussions on GB News at the weekend showed that Boris was still popular with the public, especially among newly-minted Red Wall Conservatives.
They liked the spark and verve he brought to the 2019 general election. They appreciated the attention he gave them.
They said that neither Truss nor Sunak seemed to be in touch with ordinary people.
The irony is that Boris isn't anymore in touch with them than either of the two leadership candidates. He just knows how to speak to people — and fire up their imaginations. He's the best campaigner the Conservative Party will have for decades.
There hasn't been any more mention of whether a special ballot will go out to Conservative members with his name on it. The petition, with nearly 20,000 signatories, was a great idea but it didn't go anywhere at CCHQ, which would have had to change the rules.
On Tuesday, August 9, one of the petition's campaigners, David Bannerman, a former Conservative MEP, told Nigel Farage that he was supporting Liz Truss:
Farage, as one would expect, presented the Conservatives as losers, saying that the public would never forgive them for the cost of living crisis.
Boris, in his detractors' minds, is somehow supposed to take care of the crisis when everyone who is anyone is on holiday at the moment.
On Monday, August 8, Scotland's Westminster leader, Ian Blackford (SNP), demanded that Boris 'come out of hiding' and recall Parliament:
Interestingly, Ian Blackford was on holiday in the western United States at the time, enjoying sights such as the Grand Canyon. Guido Fawkes has his full itinerary. Blackford did not fly home until August 6, at the earliest.
Also interesting is that, by the time Blackford issued his demand, Boris had already returned to London:
Here's Tony Blair's spinmeister Alastair Campbell also baying for Boris and saying that former Labour PM Gordon Brown should be in charge:
Voters will not care what Campbell or Blackford think. Gordon Brown piped up, too, but a lot of conservatives and Conservatives still back the former Party leader.
On Sunday, August 14, The Guardian reported:
This weekend, with less than three weeks to go before voting ends, Truss is way ahead of Sunak, according to opinion polls of the Tory membership.
Today's survey of 570 Conservative members, by Opinium, for the Observer, gives Truss a 22-point lead. She is on 61% to Sunak's 39% ….
Where this latest poll is perhaps most intriguing is in the lack of enthusiasm it shows for either Truss or Sunak among those who must choose the next leader of the party and country after September 5. This is evident when those with a vote in the contest are offered the choice of either Truss or Sunak, against the theoretical option of Johnson remaining leader and prime minister. Asked who they would prefer in No 10 – Johnson or Truss – 63% of Conservative members said they would prefer to keep Johnson while only 22% would rather have Truss. When the offer is Johnson staying on, versus Sunak taking over, 68% say Johnson and just 19% Sunak. Chris Curtis of Opinium says sellers' remorse is setting in as far as Johnson is concerned. "It could be down to people forgetting how bad things got, or a lack of appetite for the replacements," he said.
But it is hardly encouraging for the eventual winner to know that three times as many of their party's own voters would now prefer to have the previous leader than either of them to fight for a fifth consecutive Tory win at the next general election. Inside the hustings at Cheltenham, there were cheers for Truss and Sunak in equal measure. But there was deep uncertainty – and plenty who were unimpressed.
On Saturday, August 13, Jacob Rees-Mogg, former Leader of the house and current minister for Brexit opportunities and government efficiency, told MPs Esther McVey and Philip Davies, her husband, that Boris would not be returning to Downing Street.
The Telegraph reported that Rees-Mogg, a Boris loyalist, said:
life just isn't like that.
Despite Boris's hints at a return during his final PMOs …
… Rees-Mogg told the two MPs:
that it was not "realistic" to think that Mr Johnson could make a return to Downing Street …
"Nobody's come back having lost the leadership of the party since Gladstone," Mr Rees-Mogg replied. "And I just don't think in modern politics, the chance of coming back is realistic.
"Lots of people think they're going to be called back by a grateful nation which is why Harold MacMillan waited 20 years before accepting his peerage… Life just isn't like that."
It's time to let Boris get on with the rest of his life after September 5.
We won't have seen the last of him, but it will be in a different guise.
This week, I hope to write about the events that led to Boris's downfall.
On Wednesday, August 10, 2022, Liz Truss appeared on GB News's The People's Forum to answer questions from residents of Leigh in Greater Manchester about her proposed policies:
The veteran newsreader and broadcaster Alistair Stewart ably moderated proceedings, allowing the audience to ask questions then reading viewers' questions and asking a few himself:
The programme was an hour long:
Brian Sheeran was first up to the microphone. Leigh, established in 1885, is a Red Wall constituency. They elected their first Conservative MP in 2019: James Grundy.
Sheeran asked why the people of Leigh should trust the Conservatives. Truss said that voters no longer could rely on Labour, because Labour never did anything for them:
She said that she would make sure that she started local projects as soon as possible, because people only trust a political party once they see tangible signs of improvements being made.
She also pledged to boost local businesses by rescinding EU laws that are still on the books post-Brexit.
She said that she would place a moratorium on the green levy on fuel and prepare an emergency budget as one of her first tasks as Prime Minister.
Not everything would happen straightaway. At least one measure would have to wait until April 2023 to be implemented because the Finance Act would require amending, a procedure that would require approval in both Houses of Parliament.
Another man asked what help Truss would give to working class families now, because the price of home energy has become crippling. He has had to take on a weekend job just to make ends meet:
Truss said that 'from day one', people would be able to keep more of what they earn.
He said that he needs help now, not at some point in the future. She said that she would look into all the options as soon as she becomes Prime Minister, should that happen.
Philip Orr asked about illegal immigration and was remarkably well informed on the statistics of our population increase over the past several years:
Truss summarised the situation of people trafficking across the Channel in dinghies. Criminal gangs are making big money. She hopes to make the Rwanda deportation policy work through Dominic Raab's proposed Bill of Rights. She also hopes to expand the number of countries who could take in these illegal migrants because they need more workers.
Orr suggested revoking French fishing licences if the French authorities continue to do nothing to stop the dinghies coming across the Channel.
In response, Truss said that she had had a 'tough' conversation with the French two weeks ago and that she would continue to be 'robust' in her negotiations. She cited the Northern Ireland Protocol Bill as proof that she could get things done.
She said that these migrants are in league with their lawyers before they make the trip over, enabling the lawyers to use ECHR laws to stop their deportation from the UK.
Finally, Orr asked why the UK couldn't use other countries' ports instead of being so reliant on France.
Orr called all of this 'sticking plaster politics', because nothing so far has been successful.
Jane Knight was the next to ask a question. She noted that the Government was not working. She asked what Truss's key strengths were and how she hoped to build a good Cabinet that would be ready to run on Day One:
Truss said that she has established a record of being able to get things done and has received backing from those Cabinet ministers, past and present, who have worked with her.
She said that she would be looking for three things in her Cabinet ministers: competence, the ability to stand up to civil servants in Whitehall and loyalty to her rather than to the media.
Knight said 'yes' to those but said there should be a certain amount of 'risk taking' and asked whether Kemi Badenoch, immensely popular among the people during her leadership campaign, would be able to have a Cabinet post, such as, perhaps, Foreign Secretary, Truss's current position:
Guido Fawkes has the dialogue (emphases his):
Jane Knight: I would like you to give some opportunity to maybe people that you might not know as well at the moment… certainly somebody who fired the imagination of the public was Kemi Badenoch and I'd really like to see her given a meaty role.
Truss: Do you have any ideas about what that role should be?
Knight: Oh well, Foreign Secretary! There might be a role going there!
Truss: Look, I don't want to get ahead of myself and this leadership campaign is still going on, but I can tell you that I will make sure the best players in the Conservative Party are on the pitch if I'm elected leader… Kemi – I've worked with her as Women & Equalities Minister – we've taken on a lot of the agenda of people who are trying to deny that women are women and so on, so I think she's absolutely brilliant and I would definitely want her as part of my team if I'm successful.
Knight also asked whether the Cabinet would be 'leaner, leaner, leaner', nodding for affirmation as she spoke those words.
Truss said that she could promise a 'leaner No. 10', which 'has become a bit too presidential' and she repeated her pledge to find a good post for Badenoch.
Knight said:
Ohhh, good answer.
Alistair Stewart brought up strikes at universities which prevent students from getting a full education. Some of these strikes are about changes in terms to lecturers' and professors' pensions because some universities took a 'pension holiday', not paying in continually to the pension pot. Other strikes, however, took place during the pandemic over health concerns. Either way, students are out of pocket, to the tune of £9,000 per year. They do not receive refunds for strike action.
Theo Murphin (?), a student, asked about this situation:
Truss said that she would hold universities to account to ensure that students get what they pay for.
In other strike areas, such as railways, she would ensure that industrial action would not overrun the network completely.
Theo also asked about the Online Safety Bill and the coming restrictions on freedom of speech. Truss said that her major focus of the bill would be to ensure that minors are not adversely affected by what they see online. With regard to adults, she said that one should be able to say the same things online as well as offline.
On the subject of strikes, Janice, a Daily Mail reader, wrote in with a question about the disruption of this year's strikes in various sectors across the country. Stewart asked her question for her.
Truss said she would legislate 'as soon as possible' to ensure that a minimum level of service is provided. She added that she is also concerned about activist organisations and mentioned Extinction Rebellion. She said that she would also take steps to ensure that they are dealt with, too, so as to not disrupt the daily circulation of people and goods.
Stewart brought up child grooming gangs (30:39), which seem to be everywhere in England now. He called Paul Eckersley to the microphone. Eckersley asked Truss what she planned to do about these gangs and 'bring criminals to justice':
Truss said that police should not be spending time patrolling tweets. Instead, she said, they should be fighting crime. She said that she wants to introduce police league tables on various forces' results.
Returning to the grooming gangs, she said that what has been going on has been 'absolutely repulsive'. She said that she wanted gang members to be held to account, 'but more than that' also the locals in authority — police, councillors and so forth — who did not do anything to stop them.
She received a round of applause for her answer.
Stewart then turned the subject to housing, especially getting young people on the housing ladder.
Jessica Buckthorpe, a cheerful and polite university student, asked whether Truss had any proposals to help young people in her situation, a student who works but cannot put together enough savings:
Truss proposes using young people's rental history of paying in full and on time to go on their mortgage applications, helping them to get a mortgage more easily.
Truss added that she also wanted to give more planning control to individual communities to plan for the housing they need. It is not unusual for young people to move away from where they grew up because they cannot afford the house prices.
Buckthorpe said that, while she appreciated these ideas, she said that the enormous actual mortgage deposit required is a 'pipe dream' not just for herself but for many other young adults.
Truss replied that using rental history would play an important part in enabling young adults to get a mortgage.
Truss said that it was important to keep in mind that our current inflationary period is temporary:
… we should not bake that into the future.
Stewart looked at Buckthorpe for her reaction:
There's a smile there.
A beaming Buckthorpe said:
Thank you very much.
The subject of war widows' pensions came up, especially those widows of veterans who subsequently remarried and lost their first husbands' pensions through subsequent rule changes. They are known as the WASPIs.
Stewart called on one woman who has a problem with her pension, Patricia Morgan, to ask her question. See the 2:40 point in this video:
Morgan said that, while she does not think she is getting the right amount of state pension because of a change in retirement dates, she cannot help but notice that money is going everywhere else, from coronavirus programmes to the war in Ukraine.
Truss said that she has met many such women in her own Norfolk constituency. The matter has also been addressed — unsatisfactorily, to many women — in Parliament. Truss said that she does not think that women have been looked after fairly in this regard. However, she said it would be very difficult to revisit the circumstances of the WASPIs and she apologised for that. She did, however, pledge to look at the tax system and see how it has an unfair impact on women in changing family circumstances.
Morgan politely countered by bringing up a parliamentary ombudsman's report which said that 'maladministration' had taken place. Truss said that she did not want to make promises that she could not keep. She could only address the future.
Stewart brought up the war widows' issue. Truss said she had already looked at that when she was in the Treasury. This issue, she said, she would look at again in more detail. Some 300+ women are affected.
Stewart then discussed the problems in the NHS.
Janine Ronaldson was the next person to approach the mic. She is a registered nurse with 31 years' experience, who works as a community nurse. She asked what Truss would do about the fact that nurses' salaries and benefits have decreased in recent years, resulting in many of them leaving the profession:
Truss said that nurses on the front line should be able to make more of their own decisions. She added that additional funding could come from existing funds and that the National Insurance tax rise was unnecessary. Some of this money can also go into social care, enabling hospital beds to be freed up for the elderly to go into a care home upon release from hospital. Currently, some patients have to stay in hospital because there is no satisfactory home situation for them to return to.
This, coupled with a huge post-pandemic backlog, is becoming a national problem.
Truss also pledged to look at the pension situation and talk to individuals to assess their concerns. She said that her incoming Health Secretary would also have to be committed to this.
Ronaldson said that it has been very difficult for her to see nurses leaving the profession and having to take on their workloads.
Stewart then asked for final questions on the topics that had been addressed.
One question came from Councillor Liam Billington, who asked about the child grooming problem. He said that Greater Manchester Council keep voting down motions to hold a public inquiry into what happened in Oldham. Truss responded that she would look into it and get back to him.
Johnny Riley (?) was next. He said that he had to give up his job to become a full-time carer for his wife. He receives only £70 a week from the Government in carer's allowance. He now has to use his life's savings to help them get by.
Truss thanked him for his devotion to his wife, who has cystic fibrosis. She said that her pledged review of the tax system should reveal how it works with the benefits system. She does not people like Johnny to be penalised for doing the right thing.
He said that he has paid into the system, so it's not about paying tax; it's about benefits, the least paid of all of them. Truss said that the whole system has to work, which is why she wants to look into it. She said she does not have a detailed answer. He said it was no wonder, because there has never been a detailed answer:
All we're asking for is a fair crack at the whip.
Trevor Bell asked how the Government can retain VAT on gas and electricity, when that is an EU law that should have gone once we left the European Union:
It was a Brexit promise … It should go now.
Truss reiterated that she would abolish the National Insurance tax rise and impose a temporary moratorium on the green energy levy. She also repeated that she would have an emergency budget early this autumn.
She said that the 70-year tax high is unacceptable but, right now, she cannot be more specific because the leadership contest is not yet over.
Truss said that getting rid of the green levy would save as much as getting rid of VAT.
The penultimate question came from Shelley Guest, who asked if Leigh could break away from Wigan Council and set up its own in order to use the tax receipts that it generates for its own needs (58:08). This is known as Lexit (!), something that Leigh's MP, James Grundy, also supports.
The room burst into applause.
Stewart told Truss that, while this seems like a local concern, it is also one that many other communities in England face.
Guest is concerned about rising council tax were Leigh to become independent.
Truss herself was once a local councillor. She appreciated Leigh's wish for independence and has spoken with James Grundy about it. She said she would consult the people of Leigh and appoint a Local Government Secretary to look into the matter with Grundy.
On a much lighter note, the final question came from a viewer who wanted to know about Truss's relationship with cats. Larry is the Downing Street moggie, and Liz remembered Palmerston, the Foreign Office's cat.
She replied that Larry frequently sidles up to her at Cabinet meetings, so she would like to develop her friendship with him. As for Palmerston, she said he left the Foreign Office during the pandemic and is now:
working from home. It's a true story!
She got a huge round of applause.
Some undecided voters there told Michelle Dewberry, who came on next with her show, that they really liked what Truss said.
They were a polite but hard-hitting group of real people who spoke frankly.
One wonders if Rishi Sunak would have the bottle to sit in a studio with their like. Would he or wouldn't he?
GB News has extended him an invitation to participate in his own People's Forum, so we'll see.
Speaking of Sunak, that day, a few other developments occurred.
Guido reported:
Away from the glare of the GB News cameras, Liz's team spent the day tearing chunks out of Camp Rishi on her behalf. After Rishi attacked Liz's cost of living plan for being "clear as mud", Team Truss went nuclear: "Rishi Sunak wouldn't know how people benefit from a tax cut because he has never cut a tax in his life.
People didn't vote for the Conservative Party to be subjected to old fashioned Gordon Brown style politics of envy." Team Rishi inevitably responded in kind – see below…
The mudslinging didn't stop there: Kwasi Kwarteng and Simon Clarke have an article in the Telegraph today in which they claim Rishi "dug his heels in" as Chancellor over post-Brexit reforms, particularly on plans to ditch the EU's Solvency II rule and reform the NI Protocol. You'd be forgiven for forgetting they're all in the same party. Team Rishi insist the claims in the article are "categorically untrue", and Sunak backed a muscular approach to Brussels all along…
Rishi didn't take kindly to Team Liz's attacks – it turns out being compared to Gordon Brown doesn't exactly flatter him. His team countered by claiming Liz's backtrack on regional pay boards last week was "a serious moral and political misjudgement affecting millions of people". This is the same Liz Truss whom Rishi has claimed he'll serve under in any Cabinet role.
His campaign also sent out a dubious press release claiming he'd cut taxes "16 times during and following the pandemic". One of those 'cuts' was reducing the Universal Credit taper rate, another is the promise to cut income tax by 1p in 2024 which, last time Guido checked, is two years away…
Instead of being with an average group of taxpayers, he chose to be interviewed one-on-one by the BBC's Nick Robinson:
He also promised to do more for households this winter beyond the package already announced, although didn't go into specific details on the basis that it was simply too early.

Although when asked whether it would cost "a few billion" or more than £10 billion, he said it would be "closer to the former than the latter"…
He gave Robinson an indication that he might lose the leadership contest:
He came the closest yet to admitting the race may well be over, claiming he'd always "stay true to [his] values" and he would rather lose than "win on a false promise".
It's interesting that Sunak chooses television formats that suit him rather than the electorate, even if, at present, they are Conservative Party members.
Sunak's non-participation in public fora other than Party hustings and closed interviews tells us something about the man.
Next week I will post on The Telegraph's hustings, held on Thursday, August 11.
While Foreign Secretary Liz Truss continues to dominate the polls in the Conservative Party leadership contest, former Chancellor Rishi Sunak needed a break.
He got two breaks: an interview on GB News and TalkTV's hustings.
GB News
GB News announced last week that Truss would be the guest of a People's Forum on Wednesday, August 10 at 5 p.m. She took questions from the public for an hour. I will have more on that in a separate post.
By contrast, GB News allowed Sunak a private interview with MPs Esther McVey, one of his supporters, and her husband Philip Davies.
The couple host a two-hour current affairs programme every Saturday morning.
The interview aired on Saturday, August 6, and was interspersed with other segments on their two-hour show. Judging from the room, it took place somewhere in the Palace of Westminster.
Philip Davies asked a couple of harder questions but his wife dominated the interview, making her candidate look good.
Rishi defended his Gordon Brown policy of raking in tax and giving it back to the taxpayer in insignificant token amounts:
Sunak said how difficult it was for him to resign as Chancellor. He painted it as a moral dilemma. Never mind that he, like Boris, also received a Fixed Penalty Notice for attending a Downing Street gathering. He just happened to be working in that room at the time, as he did often:
He said that he was against a Christmas 2021 lockdown — which didn't happen, thanks to 101 rebel Conservative MPs — and said he made a special effort to make his opposition known. That said, he would not, like Truss, rule out a future lockdown:
He gave a weak answer on stopping the Channel migrant crossings, which are costing the taxpayer £5 million a day in hotel accommodation. By now, we must be running out of hotel rooms — no joke:
Sunak also said he was appalled by the grooming gangs and said that he would consider introducing a life sentence for child rape and repeated sexual assaults on children.
TalkTV
TalkTV's Tom Newton Dunn presented a Conservative Party hustings in Darlington on Tuesday, August 9, broadcast as a special edition of his evening show:
As this was a Conservative Party event, the format was the same as in Eastbourne on August 5.
Andrew Stephenson MP, the new Party co-chair, gave the introduction.
Tom Newton Dunn introduced himself. It would have been helpful if he had added he leans towards the Liberal Democrats. Incidentally, he regularly loses in the ratings to GB News, although perhaps his Tuesday show bumped him up a notch or two.
Then Angela Sterling, a Conservative councillor from Durham, went up on stage to pledge her support for Sunak (9:56).
Sunak introduced himself to the audience and spoke for several minutes (16:20). From the moment he appeared, it was apparent he was on home turf. Darlington is just north of his constituency. He had many supporters from Teesside, sporting Ready for Rishi shirts and placards.
Fortunately, he didn't make the same mistake he did on July 20 and say the city was in Scotland:
Afterwards, Anne-Marie Trevelyan MP, explained why she was supporting Truss (30:00).
Then Truss introduced herself (35:00).
Sunak's Q&A session began after that (48:32).
Newton Dunn gave him an easy ride. There was only one tough question from a woman who had paid all her National Insurance stamps but was still not getting a full pension. He asked her to email him and said that he would definitely look into the matter for her.
Some say that Sunak received a hard question from the man who asked about Boris, but the audience took care of that by booing him.
However, we can see from this clip that a negative question can irritate Sunak:
Sunak did mention grooming gangs to the audience and repeated what he told Esther McVey and Philip Davies. The audience applause indicated they were pleased, although Newton Dunn looked visibly uncomfortable.
Guido Fawkes has three more highlights, one involving a delicious regional dish, the parmo (emphases his):
Rishi was on home turf this evening in his newly-adopted home of Teesside – "It is so great to be home!". Within his opening speech we got everything from the Darlington Treasury Campus to parmos, and – to be fair – he got a very warm reception.
He even cracked a decent gag: "My parents are staying with us at the moment, and I realised I'd been campaigning a lot when last night I was talking to them – and I started telling them that my dad was a GP and my mum ran the local chemist when I grew up" …
Among Rishi's backers in the audience was none other than co-conspirator favourite Tom Harding – Anna Soubry's former chief of staff who slipped through Sky News' debate vetting and

laid into

Liz

. 

He came armed

with a massive "Ready for Rishi" poster…
Then it was time for Truss's Q&A (1:19:00).
Newton Dunn interrupted Truss from the beginning. She handled the situation well and kept her composure, making quips where she could.
He would not even allow her to take a question from one of her own supporters:
I wouldn't want to make it easy for you.
How petty.
Guido has more. Once again, as it was in Eastbourne, Truss Derangement Syndrome was the order of the day (purple highlights mine):
Last night's husting saw a rather feisty Liz Truss, not least with quite a few barbs at the media
There were at least three digs towards the fourth estate, including over their continued use of the phrase "handouts" in regards to her proposed tax reductions
She also had a minor bust-up with Tom Newton Dunn when

he asked her who was responsible for Boris's downfall

. Multiple members of the audience shouted out "the media", with Liz laughing along and asking "who am I to disagree with this wonderful audience?"
At the end of the session, as

she hugged TND, she jokingly apologised for her barbs

. TND was caught on mic bitterly saying "it's cheap and you know it"
The press isn't happy, even calling her jibes "Trumpian", though every one of Liz's comments were made in a lighthearted way.
Aside from her press scrap she also said she'd vote against continuing the Privilege's Committee investigation into Boris given the hypothetical that MPs were allowed a say
Guido's readers appreciated the video montage of Truss's barbed but witty comments about the media:
Here's Guido's video:
His accompanying post says:
At points during last night's husting it felt like Tom Newton Dunn was getting more of a pasting from Liz than Rishi. During the course of her sit-down interview she – quite rightly – attacked the press for framing her tax cuts as "handouts"; bringing down Boris; proposing a "bizarre" "kangaroo committee" of her, Rishi and the CBI; and for not believing in Britain. Tom was clearly smarting, telling the foreign secretary off when they hugged for her "cheap" attacks. Grow a pair…
I couldn't agree more. Tom Newton Dunn, who, amazingly, was The Sun's Political Editor for many years, is one of the worst offenders.
Although Truss might not have had an easy time of it in Darlington, something positive happened afterwards.
Chris Skidmore was the first backbench MP to switch from Sunak to Truss. He wrote an exclusive editorial for The Telegraph, which the paper summarised:
Chris Skidmore has become the first Conservative MP to publicly switch his backing from Rishi Sunak to Liz Truss in the in the Tory leadership race.
Announcing his defection in an article for The Telegraph, Mr Skidmore said he had became "increasingly concerned" by the Sunak campaign's "consistently changing position" on policy. 
He urged other Tory MPs to join him in switching support to the Foreign Secretary, saying: "It is never too late to make the right decision".
The switch is especially noteworthy as Mr Skidmore, one of the most prominent Tory supporters of Net Zero, is seen as being on the party's liberal wing, while many of Ms Truss's most prominent backers are on the traditionalist Right.
A Truss campaign source claimed the "floodgates could open" now Mr Skidmore, the MP for Kingswood and a former universities minister, had flipped support, with other defections possible later this week.
Red Wall MP Aaron Bell followed suit, explaining his views in an exclusive for The Times. Excerpts follow:
It has been a tough campaign for everybody. There has been a lot of in-depth policy debate about the future of our party and country, much of which has been productive and insightful. And it's important that there has been a contest, because it's right that the candidates have been tested under pressure — we need to know that our next prime minister has what it takes to lead. But there has been a darker side to the campaign too. The blue-on-blue attacks have been bruising and have left me concerned for the good reputation of our party.
Because of this, I have come to the conclusion that, above all, what we need out of this leadership campaign is unity. The whole party — our members, councillors and activists, and MPs — will need to pull together after the division of the past few months. Without that unity we cannot deliver for our party or our country, and we certainly cannot defeat Sir Keir Starmer's Labour Party …
For years, Newcastle-under-Lyme had been taken for granted by the Labour Party and this came to a head in 2019 when, following our vote for Brexit and the ensuing holdup by the political establishment, my constituents turned to the Conservatives …
They watched as big cities and other areas progressed and benefited from serious investment, private and public, while their own town was forgotten and got left behind. In 2019 I pledged, alongside my Conservative colleagues, to turn this around. Indeed, after getting Brexit done, it was to be our government's guiding mission: restoring not only investment but also local pride in towns such as Newcastle …
We need, with increasing urgency, to deliver on our promises to level up. We have two years until the next election, and if we are to have any hope of beating Labour and continuing to be able to deliver for our country, this is an absolute must. That is why I am supporting Liz Truss to be our next prime minister.
Once Tom Tugendhat, my initial choice, was eliminated, I was leaning towards supporting Rishi Sunak. But, having observed the campaign, I now believe that Liz is the best person to unite the party, deliver on our promises to level up, and beat Keir Starmer in the red wall seats.
Well done!
I will feature Liz Truss's GB News appearance tomorrow.
Yesterday's post was about the August 5 Conservative Party leadership hustings at Eastbourne's Winter Garden Theatre.
This seems to be the first leadership contest hustings this time around when there were protesters outside. A few managed to infiltrate proceedings indoors and took some time to be removed.
All of the protesters stand firmly against the Conservative Party.
Niall McCrae, an officer of the Workers of England Union, was one of the outdoor protesters. He was there to protest coronavirus lockdowns.
McCrae wrote about his experience for The Conservative Woman.
An excerpt follows, emphases mine:
ON Friday I went to the Conservative Party leadership hustings at the Winter Gardens in Eastbourne with a number of other members of the local resistance against the Covid regime which has removed fundamental freedoms over the past two and half years. We found ourselves outnumbered by those do not have any interest in the enlightenment value of liberty – as most Conservative Party members do at least nominally. Of 150 anti-Tory campaigners, about half were bearing Socialist Worker Party placards and chanting 'refugees are welcome', while the other half were hard-core Extinction Rebellion 'terrorists' with their accompanying flags and banners who proceeded to disrupt the meeting.
So we found ourselves protesting not only against the Truss and Sunak supporters entering the venue, but also counter-protesting against the shrill sanctimony of people who want more fear and more control. Between their parroted chants led by a man with a megaphone, we asked these middle-class Trotskyists and carbon nihilists whether they cared about older people struggling to heat their homes, or that billions of taxpayers' money was being splurged not on public services but on missiles for Ukraine. Answers came there none. 
Earlier, before the rabble appeared, we had taken pole position outside the hall entrance. The queue was a captive audience for our satirical utterances: 'Welcome to the World Economic Forum puppet show', and 'If the answer is Truss or Sunak, you're asking the wrong question.' 
Eastbourne's Tory MP Caroline Ansell came out, concerned at us being allowed so close to respectable party members and clearly embarrassed by our 'conspiracy' theories about a new world order. Tory MPs would have us pretend that the WEF doesn't exist, despite both candidates for next prime minister having unashamedly signed up to a globalist organisation which is developing a technocracy of digital surveillance and resource rationing. 
The atmosphere remained good-natured and good-humoured. That was until the SWP/XR followers arrived … We were trying to appeal to the Tory members, to talk and to make them aware of our concerns. The SWP mob had nothing but contempt for them. Though police officers were positioned at the entrance, and joined by more, a female XR protester with a flag still got into the building and sat in the doorway. Before she could use glue to cement herself, two security guards managed to drag her out. This did not stop her from another successful dodge through the police line, while we later heard that other XR activists had infiltrated the audience where they disrupted Liz Truss by shouting 'shame on you'.

On Saturday, August 6, The Telegraph reported on the protesters who got indoors. Interestingly, only Liz Truss faced their ire. They did not disturb Rishi Sunak during his time on stage.
This was a case of Truss Derangement Syndrome:
Liz Truss on Friday vowed to crack down on "militant activists" after six Green New Deal Rising protesters disrupted the fourth Tory leadership hustings in Eastbourne.
The Foreign Secretary said she would pass new laws to stop hardline unions and activists "who try and disrupt our democratic process and our essential services".
She had just taken to the stage at The Winter Garden theatre when a female protester interrupted her opening remarks, yelling "shame on you Liz Truss".
As the first woman was collared and led out by security staff, four other demonstrators shouted out from a stage area calling for a "Green New Deal".
One, still clutching an "In Liz We Truss" placard, screamed "we just want fair trade" and "good jobs" at the former trade secretary, insisting "we will win".
A sixth demonstrator turned up during Truss's Q&A session. The Foreign Secretary took his interruption in her stride:
… a young man in a suit, stood up and berated the Foreign Secretary about her climate policies.
He accused Ms Truss of "killing people by licensing new oil and gas" – a reference to her plan to boost North Sea energy to help Britain through the energy crisis.
"I take it as a compliment that I'm so popular with Extinction Rebellion", she said to applause from the audience as he was also ejected by security. It has since been confirmed the group was not Extinction Rebellion but Green New Deal Rising.
She later added: "I'm a believer in freedom to do as you want so long as you don't harm others. One person's freedom should not mean that other people suffer misery."
The host of the hustings joked that the protesters had all "paid their £25 Conservative tax" given that they would have had to sign up as members to enter the venue.
GB News's Dan Wootton happened to be in Eastbourne and interviewed several of the leftist protesters for his show on Monday, August 8:
In his opening Digest, he said that the protesters were trying to scupper democracy and threaten ordinary Britons with whom they disagree.
He deplored the fact that the media ignored the protests. Indeed they did. The first I'd seen how many there were was on his show. I was amazed to see scores of people of all ages with placards, shouting. At least one group was multi-generational: a grandmother, her daughter and her grand-daughter, a baby. You'll see them in the clip below.
One young woman from Green New Deal Rising told Wootton that she was 'fed up'. She seemed angry and said she was there because she was 'a young person'. Wootton asked her how she got in to the Winter Gardens Theatre, and she refused to answer. One of her fellow protesters, a comely lass, politely asked Wootton to leave them alone, if he wouldn't mind. He asked her if she was glad she wasn't arrested but received no reply.
He managed to get a fuller interview with a young man from Just Stop Oil. He was dressed in a long-sleeved white shirt and a tie. Wootton told him, 'You're essentially a Communist'.
Wootton was rightly appalled that the police did nothing to stop the heated protest. While it did not turn physically violent, it could have done so quite easily.
Wootton closed his Digest by showing an interview with local Conservative MP Caroline Ansell, who told him that this was not the Eastbourne she represented. She was wearing a 'Ready for Rishi' badge on her jacket lapel. No doubt, protesters came in from elsewhere on the south coast.
Wootton also spoke with Liz Keegan MP, a Truss supporter. She downplayed the protest and said it was nothing like those one experiences when attending the annual Conservative Party conferences. It is not unusual for people to spit at Conservatives.
Greg Smith MP was less understanding, saying that the protesters disturb the democratic process. He said that the protesters cannot win on the arguments so they try to win on disruption. An excellent point.
Here's Wootton's Digest, which can also be seen on YouTube:
Afterwards, Wootton asked his panel for their thoughts. Daily Express columnist Carole Malone rightly pointed out that the media are always going on about far-right groups but ignore or make excuses for the much more visible radical left, who have taken to the streets regularly since lockdown in 2020, beginning with the protests in June that year — when no one was supposed to be gathering in groups. She said that politicians from all parties need to get tougher with protesters and applauded Liz Truss's proactive stance:
On a brighter note, a number of Boris supporters were in Eastbourne lamenting the loss of the Conservative Party leader. Wootton interviewed several of them who will miss Boris dearly:
As I write, there is no verdict yet from CCHQ as to whether Boris's name will appear on the leadership ballot. If it were, the rules would have to be changed overnight to allow it to happen. More on that once a decision has been made.
Liz Truss must be over the target.
She's been attracting a lot of flak.
On Wednesday, August 3, 2022, The Telegraph's Allister Heath wrote an excellent editorial, 'Truss Derangement Syndrome is lulling our failed elite into a fatal miscalculation'.
Truss is quickly becoming a hate figure, again showing that she is the continuity candidate to Boris, whom the metropolitan elite hounded out of leadership via a sizeable group of self-interested Conservative MPs.
Allister Heath tells us (emphases mine):
My enemy's enemy is my friend, so it is no wonder that Liz Truss is ahead in the race to be our next prime minister. She is driving all of the right people mad, and their increasingly unhinged contempt is proving her best recruiting sergeant among a Tory membership desperate to sock it to the Left.
Her critics cannot understand her appeal, and are displaying all of the classic signs of a delusional ruling class that no longer likes or understands half their country. The Twitter mob is already exhibiting the full symptoms of Truss Derangement Syndrome, as an even cursory scroll through the rantings of our cultural elites immediately reveals …
There were several stages to the onset of TDS. First, when it became obvious that Truss was emerging as the frontrunner, the reaction was bafflement, hilarity and joy: those stupid Tories have really done it this time, handing the election to Labour! Then, as she started to unveil her offering, there was an outpouring of support for Rishi Sunak from people who would never dream of voting Tory.
We are now at the third stage, with anger, fury and extreme, disproportionate rage at her temerity, her audacity, her anti-orthodox positions, combined with almost staggering levels of complacency: how dare she call for more grammar schools or for an improved remit for the Bank of England? How stupid! Doesn't she know that clever people have already looked into, and dismissed, this? The electorate will hate such ideas, won't it? Won't it?
There will undoubtedly be an even uglier, nastier fourth stage, triggered if and when she starts to score higher than Labour in the polls, and especially if she is able to break the 40 per cent support threshold. This will be met by total war and a hysterical, never-ending commitment to annihilate her, reminiscent of the scorched earth campaigning that accompanied the Brexit battles in the dying days of the May government …
TDS is closely connected to a series of bizarre emotional pathologies to which the British centre-Left has succumbed … a feeling among some of the latter that Britain doesn't deserve to succeed. We need to be punished: we voted for Brexit and then for Boris, and so failure is our just desserts. That is why we are told that hiking corporation tax would make no difference to our competitiveness – though, of course, it would supposedly be demagogic to cut taxes to attract capital.
Then there is the closely related "Candide fallacy", after Voltaire's satirical novella: the idiotic idea, first aired by Treasury Remainers in 2016, that everything is already for the best in this best of all possible worlds …
Last but not least, our self-consciously egalitarian, progressive London elites make an exception when it comes to Right-wing Tory women: the over-the-top nature of some of the attacks on Truss are clearly partly driven by a despicable misogyny laced with anti-Northern snobbery. Even Johnson wasn't treated with such disdain, such derision, such snootiness.
I disagree with that last sentence. Boris got similar treatment but it revolved around the metropolitan elite's notional moral superiority and his Etonian education.
The question remains, if elected leader, does Truss have the stamina and enough good advisers to succeed as Prime Minister?
Heath says:
I've known Truss since 2008 and I'm cautiously optimistic. Comparisons with the Iron Lady can be inappropriate, but there is one enlightening historical parallel. Many dismissed Margaret Thatcher in the early 1970s; as education secretary, her opposition to comprehensivisation was disappointingly soft. She ensured that it was no longer compulsory for councils to turn all schools into comprehensives, but that only slowed the massacre. She didn't defeat the Blob, and only saved 94 grammar schools, allowing hundreds to be vandalised. She wasted too much political capital ending free school milk, a minor cost cut.
A similar performance today would have seen centre-Right critics write Thatcher off in despair. Few would have predicted how much she would grow into the role, and Truss's supporters hope that she too will eventually turn into a formidable leader. Her critics, blinded by Truss Derangement Syndrome, cannot even conceive of the possibility that this could be right. They will rue the day they so completely underestimated her.
On Friday, August 5, the Conservatives held a hustings in Eastbourne on the south coast (Sky News also has a video):
The audience was comprised of active Conservative Party members, some of whom were selected to ask questions of the candidates.
Jimmy McLoughlin, creator of the podcast Jimmy's Jobs of the Future and a Party adviser during the time when David Cameron was leader, moderated the Q&A session.
Nus Ghani, MP for the nearby constituency of Wealden, approached the dais and was the first to pledge her support for Liz Truss.
At the 10-minute point in the video, Liz took the stage to introduce herself and elaborate on her achievements in Parliament.
As she was talking, a group of noisy climate protesters started shouting at Truss. One grabbed a microphone saying, 'We are the majority' (15:00):
Guido borrowed a Trumpism in describing the infiltrators — 'low energy':
It took a few minutes for security guards to remove them from the hall. Meanwhile, Conservatives in the audience chanted, 'Out, out, out!'
After decorum was restored and Truss finished her introduction, Dominic Raab presented his reasons for supporting Rishi Sunak.
Sunak then introduced himself (32:00) and said he was the first to suggest that the Government implement freeports; he said he had written a paper on them in 2016, which would have been at the time of the Brexit referendum campaign.
Then it was time for Truss to return for her Q&A session (44:00).
She was happily answering questions when another protester barged in yelling, 'Shame on you, shame on you' and was summarily removed (1:00:00).
Rishi took his place to answer audience questions (1:15:00). He came across as a real technocrat.
I got the feeling that he viewed the British public as numbers rather than people.
He would continue to avoid us as much as he could.
To Sunak, we are the great unwashed. The next day, I saw a clip of him in his hometown of Southampton — standing on a pier with yachts swanning past him.
He talked a lot about new technology. A young Conservative asked him about smart phone use (1:28:00). Jimmy McLouglin asked jovially if the man asking the question was a plant.
Sunak talked about bringing in workers from overseas — 'the best and the brightest' — to implement new technology. Infosys, anyone?
Why did he not talk about training young Britons for this role? We have successful gaming start-ups in the West Midlands.
At one point, Sunak spoke about the importance he places on family, which for him, comes before everything else. Hmm. In normal circumstances, I would praise that but, given his billionaire in-laws, I wonder whether this indicates a personal agenda someone has asked him to fulfil for a future goal.
McLoughlin asked Sunak if he would have gone into banking today, were he 22 years old. Sunak replied that, in 2022, he would have become an entrepreneur.
Sunak closed by saying that, although Truss can explain Conservative values well (a bit condescending?), the Party needs someone who can beat Labour, meaning himself.
No one heckled Sunak.
Let's go back to Truss's bright moment during the hustings.
The Mail reported on that and on the protesters, complete with photographs:
Liz Truss made light of her Liberal Democrat past last night at the leadership hustings in Eastbourne – declaring that 'we all had teenage misadventures' and that joining the party was her version of 'sex, drugs and rock 'n' roll' in an assured performance.
In a question regarding climate change and young people, Truss unprompted decided to tackle the issue head on by adding that she made a childish decision to join the party when she was a teenager.
Speaking in a Q&A section of the evening on the south coast, the Foreign Secretary said: 'We all made mistakes. We all had teenage misadventures. That was mine.
'Some people had sex, drugs and rock 'n' roll. I had the Liberal Democrats.'
The quip came despite numerous attempts by eco-protesters to disrupt the hustings while the frontrunner Ms Truss was making her case to become the next Prime Minister.
Ms Truss was left fuming by six protesters who stormed yesterday's hustings in Eastbourne before being removed by security.
The Foreign Secretary snapped back at the eco-warriors who could be heard shouting 'shame' and calling for a Green New Deal to be implemented by a new Prime Minister.
I did not see her fuming or hearing her snap at them. If anything, she stood back and looked at them patiently, waiting for them to finish their antics.
Anyway:
Five protesters were kicked out of the Tory leadership hustings in Eastbourne after shouting 'shame on you' to Liz Truss during her opening remarks, calling for a 'Green New Deal' and claiming to be the majority. Tory members in the audience could be heard chanting 'out, out, out!'
Another was ejected during the Q&A section shouting similar slogans at Ms Truss.
During the initial incursion, Ms Truss said that she would legislate to stop the likes of these protesters from disrupting ordinary people's lives and vowed to clamp down on them immediately if she wins the leadership.
She said: 'I would legislate immediately to make sure that we are standing up to militant trade unions who stop ordinary commuters getting into work.
'And I would legislate to protect our essential services. I will make sure that militant activists such as Extinction Rebellion are not able to disrupt ordinary people who work hard and do the right thing and go into work.
'And I will never ever ever allow our democracy to be disrupted by unfair protests.'
After the initial wave of protesters, another disruptor infiltrated the arena and was removed.
The frontrunner then quipped that she was 'popular with Extinction Rebellion' after the eco-warriors did not heckle Mr Sunak.
The protesters were from Green New Deal Rising, a youth climate group, and they said: 'This is a critical moment for our country. Our next Prime Minister should be responding to what the majority wants, which is good wages, secure jobs and a safe climate.
'But Liz Truss and Rishi Sunak are clogging up the airwaves with policies that will make things worse, not better.
'Energy bills are set to rise to over £3000 a year and nothing they have announced will come anywhere near putting that money back in people's pockets.
'We disrupted the hustings tonight to send a clear message that we are the majority and we are rising up.'
However, Sunak was not without his own problem.
Conveniently, on the morning of the Eastbourne hustings, the pro-Labour New Statesman magazine issued a video of Sunak in the traditionally upmarket town of Tunbridge Wells, Kent, in which he told Conservatives that, as Chancellor, he was able to reverse a Labour policy of targeting deprived areas in England's major cities and put taxpayers' money to work in their own areas instead:
That evening, in Eastbourne, he had some explaining to do.
On Saturday, the Mail reported that someone had asked him about it in his Q&A session:
… Rishi Sunak came under fire from Tories and Labour yesterday after he was recorded saying he had been working to divert funding from 'deprived urban areas' towards prosperous towns.
Responding to the furore, Mr Sunak said: 'I wanna level up everywhere, and as you may have seen from a video clip that is online, I don't believe that's just about our very large urban cities.
'I believe that's about investing in and leveling up small towns in rural communities, in coastal communities like those here in the south-east.'
The intervention garnered applause from the watching Conservative members despite widespread backlash to his earlier remarks.
The former chancellor was filmed bragging that he had started changing public funding formulas when he was chancellor to ensure places like Tunbridge Wells receive 'the funding they deserve'.
The New Statesman magazine, which obtained video revealing Mr Sunak's remarks, said they were made to grassroots Tories in the Kent town on July 29.
It promoted criticism, with Foreign Office minister Lord Zac Goldsmith – a close ally of Boris Johnson – saying: 'This is one of the weirdest – and dumbest – things I've ever heard from a politician.'
Jake Berry, the chairman of the Northern Research Group of Tory MPs, said that in public Mr Sunak 'claims he wants to level up the North, but here, he boasts about trying to funnel vital investment away from deprived areas'.
'He says one thing and does another – from putting up taxes to trying to block funding for our armed forces and now levelling up,' the Truss supporter said …
But, and it's a big but:
Tees Valley mayor Ben Houchen said, 'Strangely enough, most Red Wall areas that voted Conservative for the first time in 2019 – who have been left behind for decades – aren't urban/city areas. Exactly the whole point of levelling up.
'They should post the full clip, which would show Rishi Sunak talk about the local council funding formula and how it discriminated against non-metropolitan areas in favour of cities – by giving them less money for things like adult and children services, highways and fire.'
At the weekend, conservative broadcaster André Walker was on GB News. He said that he lives in Windsor, which has its tax money taken away to benefit more deprived parts of Berkshire, yet Windsor has its own needs that also require additional expenditure.
This is what Sunak said in the video:
I managed to start changing the funding formulas, to make sure areas like this are getting the funding they deserve because we inherited a bunch of formulas from Labour that shoved all the funding into deprived urban areas and that needed to be undone.
I started the work of undoing that.
Fair enough.
In Eastbourne, Truss said that, despite forecasts, a recession is not inevitable.
The Spectator's editor, Fraser Nelson, agrees with Truss. He wrote about Eastbourne the following day:
'Forecasts are not destiny,' said Liz Truss in last night's debate: a remark that has drawn alarm in some quarters …
… I'd go further and say that the approach to economic forecasts is one of the biggest differences between the candidates. Rishi Sunak's campaign is rather fatalistic: he seems to think we cannot really avoid a big-state, high-tax, low-growth future described by these forecasts. Under his plan then he'd need seven long years to reverse only half of his tax rises – and still leave us with the highest tax burden since the 1950s. Truss says there is another way, but she hasn't said much about how she'd finance it.
… This dismal science has had a mixed record of late. A 2019 Bloomberg study looked at 469 downturns in national economies in the previous three decades and found only four had been predicted by the International Monetary Fund. In the UK, a recession was widely predicted after the Brexit vote. It didn't materialise. Then we had the 2009 crash that, as the Queen pointed out, no one saw coming.
… And who saw inflation coming? As Niall Ferguson recently observed, if you go back to Easter last year only a handful of economic commentators were warning about what was in store …
Does the above mean the experts are stupid? No, it just underlines the problem with economic models. They are a mixture of maths and subjective assumptions: if one of the many assumptions is wrong, the whole picture changes.
After the Eastbourne hustings, Team Truss released an open letter from the Foreign Secretary's most prominent backers suggesting that Rishi Sunak should stand down.
Early Saturday morning, the Mail reported:
Liz Truss called last night for the Conservative Party to 'unite' to take on Keir Starmer's Labour as 21 current and former Cabinet ministers issued a declaration of support for her.
The Foreign Secretary, firm favourite to succeed Boris Johnson, appeared to put pressure on her rival Rishi Sunak to stand down as she shared the open letter from some of her prominent backers, including Lord Frost, Defence Secretary Ben Wallace and Sir Iain Duncan Smith.
The signatories, which include ten sitting and 11 past Cabinet ministers, argued that only Miss Truss 'has what it takes' and would break from the 'tired economic managerialism of the past' in a thinly veiled swipe at the former chancellor …
… in their open letter, the 21 senior Tories say Miss Truss's record as Foreign Secretary and low-tax promises should see her become prime minister.
They wrote: 'For us, there is only one candidate who has what it takes: Liz Truss. She has shown she will do what is necessary and right, even in the face of great adversity.
'In challenging times, Britain needs a prime minister who can be trusted to deliver. Liz has a clear plan to grow our economy, founded on true Conservative principles of aspiration, enterprise and freedom, which will help fund our public services and NHS.
'She will unleash the huge opportunities of Brexit, break from the tired economic managerialism of the past and challenge failed groupthink.'
The backers include Tories from all regions of the country and wings of the party, such as Northern Research Group chairman Jake Berry, current Chancellor Nadhim Zahawi and former leadership rival Penny Mordaunt.
Miss Truss responded by saying, 'it's time to unite', and said she would 'unite our party, beat Keir Starmer, and… deliver for Britain'.
For his part, Mr Sunak has repeatedly insisted he will not quit the contest even if he falls further behind his rival.
I agree with Sunak. As much as it pains me to watch that technocrat doing his Tony Blair impersonation, it is only fair — even with another three weeks of this contest — that he stay in it. Many Conservative Party members are rankled enough that Boris was taken from them. To see a Theresa May-style coronation (her opponent dropped out in 2016) would upset them further.
Again, I do not have a vote. I'm merely an interested bystander.
In closing, here are the latest polls from Monday, August 8.
Only Liz Truss has a chance of beating Labour's Keir Starmer:
Guido Fawkes says (emphases his):
Opinium's latest polling puts Liz far ahead of Rishi amongst Tory voters, with 2019 Tories now giving her 26-point lead at 48% to 22%. The previous survey had Rishi ahead on "looking like a Prime Minister in waiting". That lead has now evaporated: Truss is leading on all measures with the Tories.
Even worse for Rishi is his polling against Starmer. In head-to-head polling, Liz beats Starmer amongst all voters by 1 point at 29% to 28%. Rishi, meanwhile, trails Starmer at 28% to 24%. Rishi and his supporters are still pushing the polls from last month showing him best placed to beat Sir Keir. That's looking like a pretty weak claim now…
UPDATE: Redfield & Wilton find the same outcomes; Liz beats Keir, Keir beats Rishi.
I will have more on the protesters in a separate post.
There was no doubt that Sky News presenters and reporters promoted Rishi Sunak heavily before, during and after the last major debate of the Conservative Party leadership contest on Thursday, August 4, 2022.
All of them were talking about Rishi while downplaying or ignoring any mention of Liz Truss's achievements at the Departments of the Treasury, Education, International Trade — or the Foreign Office.
It was all Rishi, Rishi, Rishi.
Sky claimed to have an audience of undecided Conservative Party members. I'll address that claim below.
Prior to the debate, Sky presenters interviewed their colleagues, some of these undecided voters and two MPs, Dominic Raab on Team Rishi and Kwasi Kwarteng on Team Truss.
Raab, who looked rattled, kept interrupting Kwarteng on the subject of tax. Kwarteng politely asked him not to interrupt, especially as he had given Raab an opportunity to speak freely about his candidate.
Although Guido Fawkes's tweet and video say this was after the debate, it was actually before the debate:
Sky's clock says 19:18. The debate did not start until later:
Guido's post says (red emphases his):
It seems Team Rishi forgot to send the 'don't shout over your opponent, it looks bad' memo to their star backer…
Too right, but this was Sky and only Liz's supporters probably took any notice.
Kay Burley, 61, was the moderator. The video of the coin toss determining who went first is here. Truss won the toss and said she would go first. Kay was all smiles at the end, so much so that she looked weird. Clearly, there was an opportunity for Sunak to shine later on.
During the debate, Burley asked questions after the audience of 'undecideds' had posed theirs.
Afterwards, the audience voted on their choice for the better candidate.
This is Truss's Q&A session:
The Mail's Henry Deedes filed the following report (emphases in purple mine).
We had Truss's use of the word 'bold':
Up first was Miss Truss, having won the coin toss. 'It really is make or break,' said Kay, doing the introductions. Cue Rocky soundtrack. Duff-duff-duff!
We heard from someone called Diana who worried about the Bank of England's doom and gloom forecast yesterday that recession was inevitable. Liz insisted it wasn't. 
'We can change the outcome,' she said. 'Now is the time to be bold.' That's what voters want to hear! Diane beamed. This was Elgar to her ears. One ticked ballot paper in the box marked 'Truss'.
Deedes noted how Truss's demeanour has improved over the past few weeks:
Remarkable how much the Foreign Secretary has grown during this contest. She was fluent – no ums and ahs. The joints too have loosened up. She was able to shimmy around the stage as she answered questions. At her launch a month ago, she was stiffer than a store mannequin.
An audience member criticised Truss's proposal on realigning public sector pay outside of London — one that she ditched within 24 hours — and said he was deeply offended, especially as it would have included nurses and teachers. The man asked Truss whether she would apologise. A second man, sitting in the front row, said that he could not understand why every mis-step had to have an apology tacked on to it. Truss stood by waiting for the two men to finish.
It was a spiky exchange:
Now we get to Sky's claim of having undecided Conservative Party members in the audience.
Guido reported on the offended man who asked Truss to apologise. It turns out that he, Tom Harding, was chief of staff to former MP Anna Soubry, a hardline Remainer who lost the Party whip in 2019. She did not win re-election later that year.
Guido told his readers the next day about Harding and another person in the audience, Jill Andrew:
To say questions have been raised about Sky's debate audience last night would be an understatement. Despite two polls this week giving Liz a 32-34 point lead over rival Rishi, the audience was incredibly hostile towards her, with Rishi coming out on top. Sky News has said the audience was made up of undecided members. Guido's not sure they did their homework properly…
One very critical anti-Liz audience member has already been identified as Jill Andrew, a former CCHQ lawyer and party candidate who stood against Boris for his Henley seat in 2001. Hardly a typical member…
The jewel in Sky's audience crowd, however, was undoubtedly Tom Harding, who went to town on Liz over her regional pay boards u-turn before almost starting a fight with a fellow audience member standing up for her. Harding, it transpires, is none other than Anna Soubry's former chief of staff…
It turns out that Harding has form, having appeared in a BBC Question Time audience two months ago criticising Boris:
Astute viewers at home were not impressed:
Guido had a closer look at Sky's claims of an audience of undecided Party members and concluded it was bunkum:
The Times had more on Truss's economic policy on the day that the Bank of England raised interest rates:
Liz Truss said last night that recession in Britain was "not inevitable", as she claimed her plan to cut taxes could prevent an economic downturn.
In the last televised debate of the Tory leadership campaign the foreign secretary cast doubt on the Bank of England's predictions of a slump and defended her plans for a multibillion-pound stimulus for the economy …
… Truss claimed that she had the policies to build towards growth.
"What the Bank of England has said is extremely worrying, but it is not inevitable," she said.
"We can change the outcome, and we can make it more likely that the economy grows."
The Mail reported that Truss was eager to get civil servants off their Pelotons and back into the office:
Liz Truss last night pledged to get more civil servants back to the office after it emerged many Whitehall desks are still empty.
She backed Cabinet Office minister Jacob Rees-Mogg's efforts to curb the work from home culture in the civil service.
The Foreign Secretary, who has previously suggested flexible working should 'become the norm', made the vow as Cabinet Office figures showed that in the week commencing July 25, just over half of Whitehall desks were occupied.
The worst culprits were the Scotland Office on 27 per cent and Miss Truss's own department on 34 per cent. Numbers are falling as the weeks go on.
Miss Truss said: 'I support the work Jacob Rees-Mogg has been doing… and I will be looking at that very carefully.'
Truss must be careful about flip-flopping. It is careless and gives her opponents ammunition.
After Truss finished answering questions from the audience, Burley invited her to sit down opposite her for questions. I thought this was terribly rude:
You can have a drink of water. You're welcome.
Burley asked Truss about violations of lockdown rules, hinting at Boris.
Truss, recalling Burley's 2020-2021 suspension from Sky for her 60th birthday bash in London's West End, gave a tactful response, yet one that Burley would have found hard to miss:
Many mistakes were made during lockdown, Kay, by many people.
Here's the video. The reply has another Burley incident involving a fellow journalist outside a London courthouse several years ago:
Then it was Sunak's turn to shine:
At this point in the polls, Rishi was far behind and every Conservative knew it.
The Mail's Henry Deedes noted:
On came Rishi. He seemed jittery. Hyper. A man in a hurry. Much like his whole campaign, he was playing catch-up.
Going second was clearly a massive disadvantage. Good on him though. He must know his bid by now is doomed. Yet still he ploughed on, smiling and joking, charming the audience with his polished public school manners. He reminded me of a dutiful airline steward aboard a plummeting plane, insisting all's tickety-boo.
There was an early question as to whether he was going to withdraw from the leadership contest. Course he wasn't. He'd given up a holiday in sunny Californ-I-A to do this. He wasn't going to pack it in early. 
'I'm sure we'll get to talking about the economy in a minute,' he said at one point. Translation: Please, please ask me about the economy.
Here's the video of that exchange at 1:50 in. Unfortunately, it doesn't get to talking about the economy, the best part:
Contrary to what Deedes wrote, going second was clearly a winning position for Sunak.
The Murdoch-owned Times gave much more coverage to him than to Truss. Recall that they came out immediately for Sunak as party leader, beginning with a hit on Truss:
In the last televised debate of the Tory leadership campaign the foreign secretary cast doubt on the Bank of England's predictions of a slump and defended her plans for a multibillion-pound stimulus for the economy.
But she was attacked by Rishi Sunak, her rival, who said the Conservative Party needed to "get real and fast".
He said: "The lights on the economy are flashing red and the root cause is inflation. I'm worried Liz Truss's plans will make the situation worse.
"It's not the tax burden which is causing the recession. That's simply wrong" …
"What I'm not going to do is embark on a borrowing spree worth tens of billions of pounds," he said. "We need to be really careful about policies that will make it worse" …
During the debate Sunak was confronted with polling suggesting that he was trailing Truss in the contest. But the former chancellor insisted that he would not concede. "I'm fighting for something I really believe in," he said.
Sunak also gave a spirited defence of his decision to resign from Boris Johnson's cabinet.
"Everyone remembers what was going on with Chris Pincher, that was a serious ethical question that the government was on the wrong side of again, and I couldn't defend it," he said, referring to the former deputy chief whip who has been accused of groping men.
"Maybe you're OK to defend that, I wasn't OK to defend it, 60 other members of the government were not OK to defend it because it was wrong."
After Truss secured a number of high-profile endorsements in recent days, Sunak insisted that he was the most popular candidate with Tory MPs.
"Every single round of the parliamentary process, I led," he said. "And since it finished, more and more people have come and joined the team."
At the end of the programme, the audience was asked for a show of hands on who they thought would make a better prime minister, with Sunak emerging as the clear winner.
Sky were eager for everyone to pile on in support of Sunak.
After the debate, reporters and audience members gave their view.
Only one person, a manager in the social care sector, supported Truss. The reporter tried to change her mind. The woman felt awkward, shifting in her chair. She was unshakeable, however, and repeated that she thought Truss had a better solution for social care.
Journalists at The Telegraph gave their views on the debate.
Madeline Grant thought that Truss won, despite having to admit policy U-turns:
Liz Truss won. Both she and Kay Burley, the compere, had arrived in the same shade of red, like a pair of awkward accidentally-matching wedding guests. Liz's outfit was offset with a Frodo Baggins ring around her neck – appropriate on a day when the Bank of England was predicting Mount Doom.
Rishi Sunak looked more like a Moss Bros dummy than ever, with his sharp suit and matinee idol quiff …
Faced, for the first time in ages, with real grassroots rage, Liz garbled in that weirdly jolty way of hers, hands outstretched like an angler lying about his catch …
… Kay stirred the pot by presenting the Liz of 2022 with a quote from the Liz of 2019 about the necessity of building on the green belt. Liz squirmed again. "I've changed my view on that… What I don't want to do, Kay, is build on the green belt" …
After a series of irritating one-on-one questions that told us more about the host than the interviewee, it was Rishi's turn, and he did his best to shake off his reputation as the establishment candidate by listing all the Tory grandees who had lined up behind him.
Despite invoking Michael Howard and William Hague, he reprised his old Tony Blair impression, with lots of gesticulations and compliments to the audience. However, like his campaign, it was a patchy mix, half New Labour, half Ukip – his Blairite intonation, "I wanna deliver", was matched with a Faragean dig at "Lefty lawyers".
Kay began a question in Latin. "Et tu, Rishi?", she snarled. The Wykehamist tried unconvincingly to pretend he didn't know what this meant. In the end, it took a man from the audience shouting in plain English – "you stabbed Boris in the back!" – for the message to seep in … 
The audience poll pointed to a decisive win for Rishi, but he'll need to land many more body blows if he is to win the ultimate toss of the Tory coin.
In another Telegraph article, Ross Clark and Tim Stanley gave their impressions of the candidates' performance.
Ross Clark pointed out that Truss never recovered from having to defend her public sector pay policy reversal:
Truss was less wooden, less awkward than on some previous occasions. She showed a sense of humour. But, thanks to her rapidly-withdrawn policy of regional pay boards, she spent much of her 45 minutes on the back foot. Her most difficult moment was when a man from Newcastle [Tom Harding] said he had been 'offended' by the suggestion that his work in the North East was of less value than someone doing the same job in London.
Truss was also a little hampered when answering questions on Ukraine and Taiwan – she is the foreign secretary, and her answers really mattered.
… But she never explained why she had come up with her regional pay policy in the first place if she was going to drop it so quickly.
Truss came across as someone more prepared to answer questions directly. The more that Sunak's 45 minutes went on, the more he came across as someone who was repeating prepared questions on autopilot – and the more you understood why support for him in this contest was draining away. But not was not, it appeared, how the studio audience saw it – a show of hands at the end suggested he had firmly won over the audience.
Tim Stanley said the audience won the debate, in a sense, but Truss's weak spots mean the contest between her and Sunak is far from over:
The winner of the Sky debate was the audience. It was invited, said Kay Burley, to reflect the demographics of the Conservative party, so I was anticipating something like Cluedo: a vicar, a professor, a colonel and an inebriated peacock.
Instead we got some marvellous characters who, when the candidates failed to answer a question, argued with themselves instead. A debate broke out between Tom from Gateshead who found Liz's regional pay policy insulting and a fellow in the front row who thought politicians should stop apologising.
"When someone's asking for your vote, you don't expect to be offended," said Tom. If looks could kill! Who murdered the Tory Party? Tom from Gateshead, in the TV studio, with passive aggression.
On the subject of *that* policy, Liz, who was dressed as Miss Scarlett, refused to admit an error while also trying to make a virtue out of being willing to make a u-turn …
Rishi Sunak, meanwhile, tried to combine being a safe pair of hands with being a radical reformer. His vibe is "recklessly sensible", and it won over this sceptical crowd. The polls, and the pundits, say Liz is the favourite, but given the alarming rise in inflation, and combined with the late arrival of ballots – I still think the election is up for grabs.
Guido reported a snap poll that Redfield & Wilton Strategies took after the debate:
A second poll in a row has found Liz to be more popular than Keir Starmer, widening her lead to three points. A Team Liz source joked to Guido that with Rishi we'll get socialism for two years followed by socialism for another 5"
The poll shows that Labour's Keir Starmer would beat Sunak 39% to 32%.
Truss holds a narrow lead over Starmer, 37% to 35%.
Readers interested in more policy detail from the candidates can read about it here, here and here.
So much happened in the UK this week that it is hard to find the time and the space to write about it all.
Conservative leadership contest
Liz Truss's campaign continues to motor ahead, gaining powerful MPs' backing.
On Wednesday, August 3, a new Conservative Home poll appeared, its results matching those of polling companies, e.g. YouGov. Liz is 32 points ahead:
Conservative Home's Paul Goodman analysed his site's results and YouGov's (emphases mine):
Granted, neither can be proved right or wrong: as our proprietor has it, a poll is a snapshot, not a prediction. If our survey is correct, all that follows is that Truss would win the contest, were it held now, by 32 points among those who have declared their hand.
However, if we and YouGov are right it is very hard to see how Sunak recovers in the month or so between the opening and closing of the poll. For even if during that time he won over that 16 per of undecideds and others, Truss would still beat him by 58 per cent to 42 per cent.
In short, if our survey is correct he would have to add to that 16 per cent of don't knows and others some nine per cent of Truss's supporters – i.e: persuade them to switch.
This seems most unlikely if YouGov's question about certainty of intention is taken into account. For it finds that 83 per cent of Truss voters and 70 per cent of Sunak voters have made their minds up.
What odds would you give on Sunak winning over all those don't knows and others (from our survey), and then adding to that pile over half of Truss's soft support (using YouGov's figure)? I would say that they are very long indeed …
Those interested in events slightly further back will recall that Boris Johnson beat Jeremy Hunt by 66 per cent to 34 per cent during the leadership election of 2019.  That's exactly the same margin as the Truss-Sunak forced choice I spell out above from our new survey.
One way of looking at Conservative leadership election as matters stand might be to forget the thrills and spills, hype and blunders – such as Truss's yesterday over regional public sector pay.
And stick instead to the simple thought that the Tory membership divides right-of-party-centre to left-of-party-centre by about two to one and so, all other things being equal, the leadership candidate perceived to be right-wing than the other will win by a margin about two to one.
Finally, Opinium promises a Conservative members poll next week, and it has tended recently to find better results for Sunak than ours or YouGovs.
The YouGov poll from August 3 showed that Britons believe Truss is better than Sunak on the main issues:
Liz gained another supporter in former Health Secretary Sajid Javid, who was also Boris Johnson's first Chancellor from the summer of 2019 through to February 2020, at which point Rishi Sunak took over.
Sunak worked for Javid when the latter was Chancellor. Javid mentored his younger MP friend:
However, the dynamic changed when Chancellor Sunak locked horns with Health Secretary Javid during the pandemic in 2021.
… those who know both men say there are more prescient personal and political reasons behind Javid's decision [to back Truss].
They say that tensions emerged after Javid was brought back into the government as health secretary. Sunak regarded the NHS as a bottomless drain on resources and was exasperated by what he saw as Javid's failure to spearhead fundamental reform of the health service.
Javid for his part was frustrated with the highhanded manner in which the Treasury dealt with the Department of Health and its refusal to countenance the type of spending he believed was necessary to tackle treatment backlogs coming out of the pandemic. He felt that Sunak had not shown the loyalty that he had when the power dynamics were reversed.
There are now significant policy differences as well. When Javid threw his hat in for the leadership he set out a tax-cutting agenda broadly similar to that proposed by Truss. He proposed cutting national insurance and reversing the planned corporation tax rise while Sunak stuck to his policies as chancellor.
One ally said Javid sincerely believes that only by kick-starting growth through tax cuts can public services be properly funded. They said it would have been "odd" if Javid had backed Sunak, given their different and genuinely held views on how to deal with Britain's economic uncertainties.
This is what Javid had to say about Truss in his article for The Times:
"I fought for strong fiscal rules in our last manifesto," he wrote. "But the circumstances we are in require a new approach. Over the long term, we are more likely to be fiscally sustainable by improving trend growth.
"Only by getting growth back to pre-financial crisis levels can we hope to support the high-quality public services people rightly expect."
In a direct attack on Sunak, he said: "Some claim that tax cuts can only come once we have growth. I believe the exact opposite — tax cuts are a prerequisite for growth. Tax cuts now are essential. There are no risk-free options in government. However, in my view, not cutting taxes carries an even greater risk."
He added: "With only two years before the next election, there has been a temptation to just 'get the barnacles off the boat' and avoid any short-term political pain for long-term national gain.
"We must reject that. As a nation we are sleepwalking into a big-state, high-tax, low-growth, social democratic style model which risks us becoming a middle-income economy by the 2030s with the loss of global influence and power" …
A senior Truss campaign source described Javid's endorsement as the "big one for us".
They added: "The bigger beasts of the party are uniting behind Liz because they believe in her vision for the economy. We can't have the Treasury orthodoxy and tired status quo. They believe she will turn things around in time for the next election by getting on and delivering quickly in No10."
On Wednesday, August 3, Truss and Sunak canvassed separately in Wales before meeting up for a televised hustings in Cardiff later in the day.
A Conservative Welsh Senedd (Senate) member, James Evans, changed his mind about Sunak and decided to support Truss instead. He got a lot of flak in response to his tweet:
Truss's former party, the Liberal Democrats, criticised her for taking a helicopter around Wales to get to the various Conservative associations there. Pictured is the Lib Dem leader Sir Ed Davey:
Guido Fawkes points out that the Lib Dems are suffering an attack of sour grapes — and hypocrisy (red emphases his):
… Rishi's been known to use them, so why should Liz be confined to the rail network…
i News were the ones to reveal Liz's chartering this afternoon, juxtaposing the decision against her backing of net-zero carbon emissions by 2050. The LibDems were only too happy to butt in, providing a quote for the copy that it "makes a complete mockery of her promises on Net Zero. It's clear that she is not serious on climate change." This quote came from Vera Hobhouse rather than Sir Ed Davey himself, who surely wouldn't mind the coverage…
Guido's sure Sir Ed's decision not to provide the comment has little to do with the fact that, in 2013 as Energy Secretary, he hitched a ride in the helicopter of EDF boss Henri Proglio, after handing him a nuclear deal at double the going rate for electricity. The decision raised objections from Friends of the Earth at the time, who said it "confirms how close the Big Six energy firms are to our decision-makers."  A source close to Liz Truss calls the political attack "the usual sanctimonious hypocrisy from the LibDems". Sir Ed may need to refuel his own spin machine…
While in Wales, Truss took the opportunity to have a go at First Minister Mark Drakeford (Labour), calling him:
the low energy version of Jeremy Corbyn.
Bullseye!
John McTernan, who advised Tony Blair between 2005 and 2007, wrote in UnHerd why Labour should be afraid of Truss.
I've seen John McTernan on GB News and he knows whereof he speaks.
He explains Truss's strengths:
One of her overlooked strengths is that she has been on a political journey. Changing your mind is often thought of as a weakness in politicians, whereas in reality an unchanging commitment to ideology is one of their most eccentric habits. In normal life, we change our minds frequently and without fuss. As economist Paul Samuelson said, in a line so good it is often attributed to Keynes: "Well when events change, I change my mind. What do you do?" In itself, changing their mind humanises a politician — a particular asset in a time of popular revolt against out-of-touch elites.
But, more than that, making a political journey shows character. Three of the most significant politicians of the Blair era — John Reid, Alan Milburn, and David Blunkett — were great New Labour reformers who had started on the hard Left. Their politics had been tempered and strengthened by their journey. Liz Truss was brought up on the Left and attended anti-nuclear peace camps with her mother. She then became a Liberal Democrat activist, famously demanding an end to the monarchy to Paddy Ashdown's discomfort. And when a Tory Cabinet minister she backed Remain not Leave, though she is now a passionate Brexiteer. Those surprised that Tory party members overwhelmingly see a former Remainer as the best defender of Brexit need to remember their New Testament: "There will be more rejoicing in heaven over one sinner who repents than over ninety-nine righteous persons who do not need to repent." The redemption narrative is one of our most powerful stories: she who once was blind, but now can see.
The fact Liz Truss has been on a political journey also makes her a powerful communicator. Some of the most persuasive arguments in politics are based on empathy rather than angry disagreement. Liz Truss knows why voters find progressive policies attractive, which can strengthen the persuasive power of her arguments for people to change their views. And her speaking style is clear and simple. The listener readily understands what she thinks and believes. Her opponents who too readily dismiss her as simplistic are missing the point. Politics is not a mathematical equation — a ten-point plan won't beat a five-point plan 10-5. The messages and policies that win are those that connect with the heart as much as the head.
The Truss agenda is straightforward. The educational system is failing kids. Grammar schools would identify and help some bright working-class and minority children. The cost-of-living crisis is hitting wallets and purses. A tax cut would give money back to the public. Energy prices are spiking. Pausing the green levy would reduce prices. Now, there are good arguments against each of these policies, but they are superficially strong one-liners. It takes time to explain how grammar schools distort the education of the vast majority of pupils who don't get into them, or to make the case that there is a danger that tax cuts lead to more inflation. The arguments against Liz Truss's policies are strong but they need to be explained. And, as the old political saying goes, "when you're explaining, you're losing".
… One of the best jokes in the US TV show Veep comes when Selina Myers uses the slogan "continuity with change" for her Presidential campaign. It works because it is bizarrely true — and it is true because that is what most voters want. They're not revolutionaries, they're realists.
The Truss offer is continuity with the spirit of Johnson and Brexit while meeting the demands of the voters who were, and are, angry with the status quo. That anger has been the fuel of politics since the Global Financial Crisis — it was there in Brexit, in the Scottish independence referendum, in the rise of Corbyn, and in Boris Johnson's 2019 landslide. The fact that such competing and conflicting political forces can harness that same anger signals that there is an underlying volatility in British politics that can be channelled in different directions by strong and intelligent leadership.
It is in leadership that Labour must contest most convincingly. Liz Truss will likely be undone by events. The cost-of-living crisis is of such a scale that it is hard to see any of her policies — or any of Rishi Sunak's — that will be more than a drop in the ocean. To win, Keir Starmer must learn from New Labour [Tony Blair's government]. Attack the new Prime Minister and her government, but don't nit-pick. The critique must be based on a vision of hope and a positive project that positions Labour once more as the "political wing of the British people". Otherwise, Keir Starmer risks being just one more man, in a long line of men, who have underestimated Liz Truss at their peril. After all, there are no accidental Prime Ministers, and like the rest, Truss has guile, will and talent.
Guido Fawkes adds another point:
… Truss will be the Tories' third female PM to Labour's big fat nought …
Exactly. And Conservatives didn't need to have all-women shortlists, either, unlike Labour.
For Conservative Party member Toby Young, General Secretary of the Free Speech Union, Truss's strength lies in opposing another lockdown, which she said 'No' to on Monday night in Exeter:
Also in Exeter, on Monday, Truss said that First Minister Nicola Sturgeon (SNP) was an 'attention seeker' who should be ignored. Again, I'm pretty sure Truss meant that with regard to appeals for a second independence referendum.
The Telegraph's Alan Cochrane, who lives in Scotland, said that some would sincerely welcome those words: 'Amen to that! Liz Truss finally puts the boot into Nicola Sturgeon':
It is easy to sympathise with Liz Truss's presumably exasperated and outspoken statement that the best way to deal with Nicola Sturgeon was to ignore her. 
After watching, listening and responding to this ambitious politician for more than 20 years, ignoring her is something I'd rather have been doing than countering every one of her largely lame-brained arguments for breaking up Britain.
Furthermore, the First Minister is every bit the "attention seeker" that the Foreign Secretary portrays her as – most especially when she dons her "Mother of Scotland" role and seeks to insist that she, and only she, speaks for the whole of Scotland. 
The truth, of course, is that she speaks only for her party and government, neither of which commands an overwhelming majority of Scottish opinion …
… while Ms Truss is being assailed for her choice of words by the Nationalists and those faint hearts who seek a peaceful political life, there will be more than a few who will shout "Amen to that!" when she talks of Ms Sturgeon's perpetual attention seeking.
Furthermore, a great deal more candour from Westminster in its dealings with the SNP is long overdue. Far too long. Successive UK administrations have bent over backwards not to be seen as provoking the cause of independence when the truth is that it is already on a life support system, with a fast declining appeal to the Scottish people.
The fact is that Ms Truss knows that she cannot just ignore the devolved Scottish Government and its leader. But she is to be commended for putting the boot in. It's about time someone did.
While Truss and Sunak were in Wales, Iain Duncan Smith MP was north of the border in Scotland.
He was at an event for Scottish Conservatives in Stirling, in Scotland's central belt.
The former work and pensions secretary backtracked on comments made by Truss that Nicola Sturgeon, the first minister, should be "ignored" as he criticised the UK government's approach towards the Union.
"I don't want to ignore her," he said. "What I want to do is to let the world know just exactly why Scotland is suffering so much under this incompetent regime at Holyrood. The truth is, it is a disaster: everything from health, the police, the railways — they can't even build ships sometimes on time and on budget."
He's not exaggerating. It's the raw truth.
The MP wants the next PM to have greater powers of scrutiny over the way Scotland's SNP government is run. They get billions from taxpayers in the Barnett Formula and waste it. No one, not even Scots, has any idea where the money goes.
He said:
I am desperate for greater powers for scrutiny. It is only scrutiny that unearths all this nonsense and … that the weaker scrutiny up here has allowed the Nationalists to get away with it. So I am going to take that straight back and talk to her about it and see what we could do.
Not surprisingly, the SNP were furious and, as usual, blamed Westminster:
Kirsten Oswald, the SNP deputy leader at Westminster, said: "This is an utterly ridiculous suggestion, showing that even the Tories are out of ideas for how to fix the broken Westminster system. It is not the SNP's job to explain why Westminster control is increasingly making life more difficult for the people of Scotland — even if the Tories are out of excuses.
"The job of SNP MPs in Westminster is to stand up for Scotland against a UK government choosing to ignore our interests at every turn. That is what they will continue to do."
Duncan Smith justified his desire for scrutiny saying that SNP MPs are part of the Scottish government, too:
… Duncan Smith said: "We need to turn the tables on them and start saying, 'Well, can we have a period of question time for you lot to talk about what you are doing in Scotland as the devolved administration?'
"And start examining some of this stuff because they're not just SNP protesters down in parliament, they are actually part of the government up here."
Meanwhile, Rishi Sunak told the audience in Cardiff that Truss was wrong about her public sector pay reform and tried to scare Welsh Conservatives into thinking that Truss was going to cut the pay of every single public sector worker in Wales:
However, Sunak got himself into a bit of hot water when he 'misspoke' on wind turbines at the event:
On Thursday, August 4, Guido reported:
Rishi's team has said he "misspoke" during the hustings last night when it appeared he'd u-turned on his opposition to new onshore wind. At the Wales' husting, Sunak was asked "will you be bold enough to scrap the embargo on onshore wind in England?", replying "So, yes, in a nutshell." This appeared totally contradictory to one of his previous policy announcements:
Wind energy will be an important part of our strategy, but I want to reassure communities that as prime minister I would scrap plans to relax the ban on onshore wind in England, instead focusing on building more turbines offshore,
Team Liz immediately leapt on his words as sign of yet another u-turn from Rishi, alleging it was his eleventh campaign u-turn.
This morning Team Rishi, asked to justify his words, bluntly replied "he misspoke". Much like Britain under Rishi's actual wind energy policy, he's losing fans rapidly…
Sunak is also being economical with the truth when he says that he personally came up with the idea of British freeports, which were first mooted in an early Margaret Thatcher manifesto for the Conservatives:
However, Rishi managed to get two notable endorsements, one from former Conservative Party leader Michael Howard and Nigel Lawson, who was Chancellor under Margaret Thatcher. He is also Nigella Lawson's father.
Guido has more:
Finally got an endorsement from Nigel Lawson himself, who writes in The Telegraph that Rishi is

"the only candidate who understands Thatcherite economics" …



Michael Howard opened for Rishi at Wales' Tory husting last night, saying he can provide the leadership needed "not only in this country, but across the wider western world"
Lawson must have felt obliged to endorse Sunak, given that the latter has a photo of him in his office.
Sunak was over the moon about Lawson's Telegraph article:
Boris looms large
Prime Minister Boris Johnson still looms large in the psyche of British voters.
Normally, we are all too happy when a Prime Minister stands down. When Margaret Thatcher's MPs booted her out, we breathed a sigh of relief. We'd had enough of Tony Blair when he left No. 10 to Gordon Brown. We didn't care too much about David Cameron's resignation, although we did think he was petty-minded for resigning the morning after the Brexit referendum result. And we were only too happy for Theresa May to go, although we did feel sorry for her as she cried at the Downing Street podium.
However, Boris is a different kettle of fish.
The August 3 YouGov poll showed that a) most Conservative Party members thought their MPs made a mistake in getting him to resign as Party leader and b) he would make a better PM than either Truss or Sunak:
In response to the aforementioned Welsh Senedd member's tweet, someone responded with this:
Incredibly, as ballots are currently being posted to Conservative Party members, Alex Story, the leader of the Bring Back Boris campaign, still thinks there is time to add Boris's name to the list of candidates.
He spoke to Nigel Farage on Wednesday, August 3:
He said that 14,000 members of the public wrote to Conservative Party headquarters after Boris stood down as leader.
He added that most Boris supporters knew he was economical with the truth, but they felt that his ouster was forced.
Nigel Farage countered by saying that 40% of Conservative voters wanted Boris to leave. Furthermore, he could no longer command the support of his MPs.
Story responded by saying that Boris will be like 'Lazarus [rising] from the dead … something romantic and quirky'.
That's one way of putting it, I suppose.
It is highly unlikely that Boris's name will be on the ballot, but … one cannot fault Story and Lord Cruddas for trying on the public's behalf.
More news next week.
On Monday, August 1, 2022, a hustings took place in Exeter.
The event was two hours long. Sky News filmed it, and the moderator was Sebastian Payne, the Financial Times's Whitehall editor:
The sound quality is not the best. There are lots of echoes.
The venue was full. Some supporters made their allegiances known Trump rally style, either by waving 'Ready for Rishi' placards or by wearing 'Liz for Leader' tee shirts.
The event began with a couple of videos from Conservative MPs.
Then Penny Mordaunt appeared on stage to pledge her support for Liz Truss (video clip here):
Liz took the stage afterwards (17:38 in the video) and introduced her platform.
Afterwards, Liam Fox went on stage (33:34), announcing that he would be backing Rishi Sunak.
Liz's Q&A came after that (45:00), taking questions from the audience and Sebastian Payne.
She was much more relaxed than she had been at previous events over the past two weeks. She has a sense of humour. She gesticulated in a natural way. She was conversational.
When an audience member asked if she would favour another lockdown, she gave a simple answer — 'No'. She explained that, during the pandemic, her Cabinet responsibilities lay in areas other than health and that when presented with past measures, she said others told her they were already 'a fait accompli'. Liz said she always favours the least amount of intervention:
Liz also lobbed a zinger at Scotland's First Minister Nicola (Neverendum) Sturgeon (SNP) by saying that she should was an 'attention seeker' who should be ignored. She got a huge round of applause.
This raised a stink the next day, including on GB News, but I understood it in the context of having another independence referendum eight years after the first 'once in a generation' one:
GB News has the quote (emphases mine):
Liz Truss has claimed it is best to ignore "attention seeker" Nicola Sturgeon.
The Conservative Party leadership candidate criticised Scotland's First Minister before ruling out a second independence referendum.
Ms Truss, speaking at a hustings event in Exeter, referenced growing up in Paisley before saying: "I feel like I'm a child of the union, I really believe we're a family and we're better together and I think the best thing to do with Nicola Sturgeon is ignore her."
Tory members cheered and applauded the comment, with the Foreign Secretary adding: "She's an attention seeker, that's what she is.
"What we need to do is show the people of Scotland, Northern Ireland and Wales what we're delivering for them and making sure that all of our Government policies apply right across the United Kingdom."
She replied "no, no, no" when asked about another independence referendum in Scotland if she becomes prime minister.
SNP MP Chris Law, posting on Twitter with a link to Ms Truss's remarks, said: "The only reason why Scotland needs independence. Utter contempt from the future PM."
Rishi Sunak has also ruled out having a second referendum on Scottish independence should be become Prime Minister.
He said: "I am clear that another referendum is the wrong priority at the worst possible moment.
"The SNP are wrong to try and tear the country apart when we should be pulling together. Why aren't they talking about the drugs crisis in Scotland or how we can get more money into Scottish workers' pockets?
"Just as I want to be more accountable to people in every corner of the United Kingdom, so too does the SNP need to be more accountable for their responsibilities."
That night, comedians on GB News's Headliners joked about the SNP's utter irresponsibility north of the border. Leo Kearse is Scottish and gives the full story of the disappearing billions. He says that Westminster should audit the Scottish Government:
Earlier, on Dan Wootton's show, 90% of viewers agreed with Liz on Nicola Sturgeon with regard to a second referendum:
In short, Liz came across as the continuity candidate. People who liked Boris will find an appropriate comfort level with her.
Then it was Rishi's turn to take questions (1:17:00).
Both candidates received warm applause for their policies, but some applauded only for their preferred candidate.
Rishi left the stage with a clean slate.
However, Liz got into trouble over the next 24 hours for saying that she would reform public sector pay. I took her to mean civil servants, but people got anxious and critical over teachers and NHS staff.
Liz said she would cut public sector pay outside of London, but wouldn't keeping their pay the same or upping it a pledge to 'levelling up'?
Years ago, Labour's Harriet Harman tried the same thing:
The Financial Times article that Guido Fawkes cites explains why what Liz's proposal is problematic.
Journalist Stephen Bush begins by disingenuously putting on the frighteners …
Liz Truss has promised to save £11bn a year by cutting pay for public sector workers — including civil servants, teachers and nurses — outside London and the South-East.
… before clarifying that it would take several years for the proposed plan to be rolled out to all public sector workers:
The foreign secretary said she would introduce regional pay boards that would set wages for civil servants working outside London in line with local labour market conditions and living costs. Her campaign said the regional pay would initially be introduced for new civil service recruits, but if successful would be rolled out over a number of years to all public sector workers.
From that, it is obvious that the FT want Rishi Sunak to win.
This is why public sector pay is difficult to reform:
Now, it's true to say that, in real terms, a secondary school teacher in Torridge in north Devon or Cannock Chase in Staffordshire is paid more in real terms than they are in St Albans or Hackney. And this is true across the public sector. In real terms, a public sector worker would be economically better off working in Don Valley in South Yorkshire than if they were working in the centre of Manchester.
But of course, it is also true to say that we find it easier to recruit secondary schoolteachers, GPs, firefighters and police officers in St Albans, Hackney or Manchester than we do in Don Valley, Cannock Chase or Torridge …
The policy suggestion does the rounds every so often and it founders on the same basic problem: you can't cut salaries in the places you struggle to recruit. Given that the UK state (rather like the UK as a whole) faces considerable difficulties in recruiting enough workers it is highly unlikely that the policy will succeed now.
 … What might matter is if enough Conservative members see this policy as an electorally disastrous idea they need to avoid.
One thing that would be welcome is reforming or getting rid of unnecessary posts in the public sector. Liz favours this, too:
I'll come back to that in a moment.
Polling
Stephen Bush's article gave more evidence that he and the FT are Ready for Rishi, so to speak.
Based on polling, Bush is worried that Liz might be winning:
Every scrap of data suggests Liz Truss is ahead of Rishi Sunak, and that Sunak failed to really change the dynamic of the race in any of the televised debates.
Although both Ben Wallace and Tom Tugendhat have ideological and policy reasons to endorse Truss over Sunak, it helps, of course, when everything suggests that to help Truss is to help yourself. Unless her campaign finds a way to implode or the polls are wildly out of kilter.
Now, of course, the big known unknown in this leadership election is just how big Liz Truss's lead actually is. YouGov's polls have shown the foreign secretary enjoying a 24 point lead over Rishi Sunak (opens a new window) among Tory members. The gap suggested by Opinium has been a narrower one. Its latest snap poll showed (opens a new window) Tory voters thought Truss did better in the television debate last week by 47-38.
Now another pollster, Techne, has tried its hand at a poll of the Conservative supporters (opens a new window), who comprise Tory voters that are also activists. The result is, again, a Truss lead, but not a very large one.
I wouldn't sweat this too much, frankly. What unites the various polls (Liz Truss is winning all of them) is more important than what divides them (the exact size of Liz Truss's opinion poll lead). It's possible that some error or event on the part of Truss's campaign may hand Sunak a victory, and it's possible that all the polls are wrong. Given all that, the implied 10 per cent probability of a Sunak victory suggested by the prediction website Metaculus (opens a new window) seems about right to me. But of course, if Truss's lead is only five points, this "cut public sector pay in places with greater shortages" wheeze may well prove catastrophic for her chances.
Guido has more on the Techne results.
Another interesting poll appeared on August 1. Redfield & Wilton Strategies results show that Liz Truss could just beat Labour's Keir Starmer in being perceived to be a better potential Prime Minister. Rishi, on the other hand, would lose to Starmer — 40% to 33%:
Why are all the metropolitan elite coming out for Rishi? They know he would lose and put the Conservatives out of office for years!
On Tuesday, August 2, YouGov came out with a poll also showing stonking results for Liz:
Polling took place between July 29 and August 2:
Guido also posted about the polls and another pro-Rishi publication, The Times:
Guido then posted the YouGov poll:
I couldn't agree more about voting anxiety. This reminds me of the 2019 contest between the totalitarian Jeremy Hunt and Boris 'Sunlit Uplands' Johnson.
Guido explained the stark differences between the two polls:
The Times claimed — wrongly — that Liz Truss's team commissioned the more favourable YouGov poll. Guido notes that the newspaper has since changed its copy. Good:
And someone confirmed the hypothesis that media supporting Rishi want the Conservatives to lose:
On Wednesday, August 3, YouGov published an all-party poll. After months of the Conservatives trailing Labour by a large margin, there is now only one percentage point between the two!
Amazing!
Guido wrote (red emphases his):
The YouGov poll of Tory members showing Liz looking to take two-thirds of the vote for leader was not the only surprising poll result. YouGov's regular voting intention survey has the Tories on 34% (+2 from 21-22 July), just a point behind Labour on 35% (-4). Is this an outlier?
YouGov themselves say "This shrinking of Labour's lead from 7 points to 1 point is a sharp move, but changes are either within the margin of error or close to it. It will be worth waiting to see whether further polls replicate the extent of this narrowing of the gap before we can be certain of a Tory recovery."
Yet, an IPSOS-Mori poll from Monday shows Rishi in the lead.
The Evening Standard reported:
As the 160,000 members of the Tory party prepare to start voting in the Tory leadership contest from Monday, the exclusive survey by Ipsos shows that 49 per cent of Conservative backers said the former Chancellor would make a good premier compared to 40 per cent for rival Liz Truss.
Among Conservative voters in the 2019 general election, Mr Sunak enjoys an even bigger lead over the Foreign Secretary with 49 per cent saying Mr Sunak has what it takes for the top job compared to 35 per cent for Ms Truss.
Among the general public, just over a third of people said Mr Sunak would make a good Prime Minister compared to just 24 per cent for Ms Truss.
Conservative Home's poll of its readers did not show Rishi on their chart. This is because he resigned as Chancellor and is no longer in the Cabinet:
The perils of policy on the hoof
Now that we have covered the good news, let us return to Liz's public sector statement, which is the first real blunder she has made in her campaign.
Not surprisingly, Team Rishi jumped on it.
On Tuesday, August 2, Guido reported that a Red Wall mayor is also unhappy:
Team Rishi has slammed Liz Truss over her policy announcement last night that she can save up to £8.8 billion by replacing National Pay Boards with Regional Pay Boards. This sum immediately raised eyebrows given the total Civil Service salary budget is around £16.5 billion. The footnotes of the press release specified this figure is "the potential savings if the system were to be adopted for all public sector workers in the long term," allowing her opponents to spin the policy as one of cutting nurses' and teachers' pay in the Red Wall while improving the pay packets of those in London and the South East. Tees Valley Metro Mayor Ben Houchen is not happy:
There is simply no way you can do this without a massive pay cut for 5.5m people including nurses, police officers and our armed forces outside London.
Liz Truss's campaign is explicit that their savings target is only possible 'if the system were to be adopted for all public sector workers'.
This is a ticking time bomb set by team Truss that will explode ahead of the next general election.
Just one mistake like this can help Rishi win over Conservative Party members:
Rishi doubles down by calling the policy "a gift to the Labour Party and Keir Starmer. Her plan would punish hard working nurses, police officers and soldiers across the country, including in the Red Wall just before a General Election". Rishi was already reportedly performing better among Southern members – can this latest attack help him claw back up North?
Liz and her team quickly backtracked but said it was a 'wilful misrepresentation' of the policy:
UPDATE: Team Truss say
Over the last few hours there has been a wilful misrepresentation of our campaign. Current levels of public sector pay will absolutely be maintained. Anything to suggest otherwise is simply wrong. Our hard-working frontline staff are the bedrock of society and there will be no proposal taken forward on regional pay boards for civil servants or public sector workers.
Under fire from Rishi she drops the policy. So we now have the status quo of a national pay rate for civil servants.
Another member of Liz's team told Guido that the policy will not be taken forward. Nonetheless:
Team Rishi are absolutely loving this, joking "The lady is for turning"…
Yes, one can imagine.
On GB News Tuesday afternoon, a number of presenters and pundits, some of whom think Liz either should or could win (there is a difference), thought that she made a terrible mistake with this.
One said that making policy up on the hoof was a 'dangerous' thing to do and could turn the contest against her.
However, Team Liz were ready to fire back at Rishi, accusing him of more U-turns during this campaign than at a driving test centre.
Note that only one of Liz's U-turns happened during the campaign. The other three happened when she was a young adult. The same cannot be said of Rishi:
Guido has the full story, which begins with this:
Hours after a brief campaign blip from Team Liz, which involved a somewhat humiliating climbdown from their regional pay boards policy, they've finally pulled their finger out for some return fire on the topic of u-turns. Team Rishi has spent the morning on cloud nine, joking that it turns out "The lady is for turning", and accusing Liz of having a Mayite 'Dementia Tax' moment. In return Liz Truss's team have compiled a list, which they allege shows Rishi has performed "more u-turns than a DVLA test centre". A spokesperson for Liz says:
This is all a bit rich coming from Sunak's backers when they stayed schtum on the steady stream of u-turns from Rishi over the recent weeks. He's flip-flopped on tax cuts, VAT, grammar schools, China , EU regulations, Northern Ireland protocol and planning to name a few.
Before Monday's debate, Liz issued a letter to Conservative Party members, which can be read in full here. It has way too many 'I's, which someone should have reworded.
An excerpt follows:
… If you work hard, do the right thing, save your money, or start your own business, then I am on your side.
And you can trust me to deliver. I have delivered trade deals, faced down Putin's Russia, and got on with sorting the Northern Ireland Protocol. I am honest and straight talking. I do what I say I will and I know what it takes to get things done. 
We cannot continue to have business-as-usual and I have a bold plan to get our economy back on track.
We must reject orthodoxy, the voices of decline and unleash Britain's potential in line with Conservative values. 
I will lower taxes to spark economic growth and reward people for working hard. I will seize the full opportunities of Brexit, and level up in a Conservative way. I will defend freedom at home and abroad, and keep Britain safe. 
I will ensure the police do more to crack down on real crimes, and raise defence spending. I will stand up for free speech, and protect single sex spaces for our young women. And I will abolish Soviet top-down housing targets. I know from being a councillor that local people are best-placed to deliver the housing we need. 
To win in 2024, we must work relentlessly to deliver on our promises. 
Now is the time to be bold … 
That is how Liz came across in the debate, so I was happy to see The Telegraph endorse her candidacy that night:
Ballots delayed to next week
The Party members' ballots were to have arrived this week.
However, a security issue has caused a delay, therefore, they will not be sent until next week.
Nigel Farage tweeted:
The Telegraph's Ben Riley-Smith got the scoop on the ballots. Furthermore, members can now vote only once, not twice as planned — excellent:
This might turn out to be a blessing in disguise for Liz.
A week is a long time in politics, so by the time the ballots arrive, Liz's public sector policy blunder is likely to be old news.
Even better, however, is the platform that GB News will give her on Wednesday, August 10, just as the ballots arrive:
I do not have details as to how the event was arranged nor do I know whether Rishi was invited to appear on a separate programme.
The next debate was on Sky News on Thursday, August 4. More about that in a separate post.
It's difficult winning against Andrew Neil, the longtime BBC political presenter who was the leading face of GB News for a month in 2021 and who currently has his own Friday evening show on Channel 4.
When it comes to grilling politicians, no one does it better than he.
Rishi Sunak agreed to subject himself to Neil's unfailing command of the facts. So far, Liz Truss — as did Boris Johnson — has not committed to the same.
Neil's interview
Sunak appeared with Neil on Friday, July 29, 2022, to put forth his case for becoming the next leader of the Conservative Party and, by extension, the United Kingdom's next Prime Minister.
Having watched the Q&A session, I thought that Rishi did a good job.
However, there was a real dissonance between what he said his policies involved and what Neil said they did.
As such, it made for awkward viewing. Who was telling the truth? I was left none the wiser.
At times, I was focusing on Neil's hair, which he has dyed a dark brown. His natural colour is ginger.
Rishi presented himself as the sensible, cautious candidate with regard to tax and the deficit:
Rishi defended raising taxes to fund the NHS. He did well in preventing his irritability from showing, but a vulnerability did slip out here:
Neil accused him of being 'consistently inconsistent' with regard to tax reform, but Rishi said that's how it works:
Hmm.
Neil asked Rishi about his wife's non-dom status. The former Chancellor gave a short reply, saying that she addressed it. This did not satisfy me, but then I don't have a vote in this contest:
Yes, there are family obligations here, it would seem. Those appear to involve his in-laws.
Neil was surprised at Rishi's answer about curbing the number of refugees. What Neil doesn't realise is that legal immigrants and their children take a much different view on migration than the British metropolitan elite.
Neil also managed to squeeze in Rishi's televised statement from his teenage years in 2001 in which he said he had no working class friends:
Neil concluded by reiterating that Liz Truss was still welcome to appear on his show.
I did not really know what to make of this half-hour broadcast.
Only the Mail had any commentary on it.
One article with more dialogue from the programme is 'Sunak is forced to deny he has shown a "lack of consistency" on VAT to Andrew Neil'.
An excerpt follows:
Veteran broadcaster Andrew Neil said Mr Sunak's approach of tightening fiscal policy risks recession in an interview on Channel 4.
The Tory leadership hopeful replied: 'No, if you look at what's happening around the world, it's inflation that is slowing economies down. It's rising interest rates that are already putting a brake on economic activity.
'And my concern is that I want to get to grips with inflation as quickly as possible because inflation makes everybody poorer. It erodes people's living standards.'
He also insisted his policy to hike national insurance thresholds was 'undoubtedly, objectively progressive' when Neil suggested it penalised workers.
'It's an entirely progressive measure,' Mr Sunak said. 'Raising thresholds means that those with the broadest shoulders contribute the most.'
The heated exchange resulted in Neil saying that the OECD has said that Mr Sunak's plans will result in a recession for the UK economy – which the former Chancellor disputed. 
It came as Mr Sunak sat down with the fearless interviewer Mr Neil on Channel Four – after frontrunner Liz Truss refused to do the same.
Mr Neil once again extended the hand to come on his show to the Foreign Secretary – saying the 'invitation is still open'.
The Southampton-born millionaire repeated his claims that tax rises were necessary for paying for Covid measures and said that he did not want to pass debt onto future generations.
He said that it would be the 'easiest thing in the world' to cut taxes to aide his leadership campaign but that he thought it was not the responsible thing to do.
Mr Neil hit out at Mr Sunak's wife's non-dom status which hit the papers earlier this year but the former Chancellor attempted to draw a line under the line of questioning, saying that he was the one running for office – not his partner.
The line of questioning made Mr Sunak visibly uncomfortable as he tried to move on from the scandal.
The tax cuts intended to fund the NHS were another line with Mr Neil used to attack Mr Sunak – as the interviewer quoted suggestions that the waiting lists on the NHS will reach 10 million in the next two years.
Mr Sunak attempted to distance himself from the Conservative's record on health after the fierce Scot tried to pin the NHS's problems on him – saying that he has left Government to change course on the NHS.
He added that he wanted to set up over 100 'elective surgery hubs' to bring down the backlog. 
Henry Deedes examined the optics of the interview: 'The ex-chancellor sat awkwardly, like a man about to undergo an enema'.
Excerpts follow:
We immediately saw Sunak sat behind a desk, his hands placed slightly awkwardly on top of each other. Across his mouth was smeared a distinctly uncomfortable grin. He looked like a man nervously waiting to undergo an enema …
Tax was the main topic, namely why Rishi as chancellor made us pay so much of it. Sunak said he wanted to pay down the cost of the pandemic rather than saddle our grandchildren with all that debt. 'I'd like to give people all these nice things – don't you think that'd make my life easier?' he pleaded.
Rishi kept calling Neil by his first name. Most of his replies began with a chummy 'look, Andrew'. Doubtless his spin doctors thought familiarity might soften the old brute. It didn't.
Neil kept coming at him over tax rises. A Bren gun with ceaseless ammunition. Pop, pop, pop. 
Why had he frozen the income tax threshold? Why had he left comfortable pensioners alone? Why were so many people paying the top rate? Unfortunately for Sunak, Neil is that rare thing in journalism – someone who actually understands economics …
Talk turned toward the NHS. Neil pointed out that waiting lists were up, despite the gazillions of pounds which get thrown at the Health Service every year. 'These are complex issues, Andrew,' Rishi mansplained.
Yes, yes, said Neil. But it had gotten worse on the Government's watch. 'Andrew, I left the Government,' pleaded Rishi. 
'Yes, but only a few days ago,' barked Neil. Sunak's answer to the NHS backlog was to set up a task force. Yes, that should do it!
There was mention of a recent video which surfaced of Sunak in which he told an interviewer he didn't know any working class people. 
Bit odd for someone who claims to come from such a modest background. 'I grew up working in my mother's pharmacy,' Sunak reasoned. 'We know all that,' sighed Neil witheringly.
He seemed to think Sunak's 'umble roots were a tad overplayed. Especially since he was schooled at Winchester. Neil's intellect of course was forged and honed at Paisley Grammar.
A brief tit-for-tat developed over Lady Sunak's non-dom tax status. 'I'm the one running for office, not my wife,' said Rishi. His voice lowered a bit at this point. He shot Neil a steely look as if to say 'Let's leave her out of this, shall we?' Respect.
We were now out of time. To be fair to Sunak he was still standing. But only just.
Incidentally, his opponent Liz Truss had given Neil's offer of an interview a wide swerve. 'Her choice, of course,' said Neil, voice laced with irritation. Chicken? Jolly wise, I'd say…
More scrutiny
Last week, Rishi's policies and personal life came under more scrutiny.
A Mail headline from April 24 resurfaced about his lavish Yorkshire home, which has a heated pool and will soon have a new gym and tennis courts. Incidentally, he has other homes, including a pricey mews house in London:

Just a little over a year ago, on July 2, 2021, Asia Financial reported that Rishi wanted more trade between the UK and China:
UK Chancellor of the Exchequer Rishi Sunak called for a "mature and balanced relationship" with China that helps British firms to exploit "the potential of a fast-growing financial services market with total assets worth £40 trillion" ($55 trillion) in a speech on Thursday July 1 …
Sunak set out alternative plans for an independent financial services policy for the UK and spent more time discussing opportunities in China than the US, which is the UK's most important bilateral partner.
He attempted to frame the opportunity to sell financial services to China within a context of maintaining principles such as openness and commitment to a rules-based order.
"Too often, the debate on China lacks nuance," Sunak said. "Some people on both sides argue either that we should sever all ties or focus solely on commercial opportunities at the expense of our values. Neither position adequately reflects the reality of our relationship with a vast, complex country, with a long history."
Sunak highlighted the appeal of China's financial services market for UK firms, as well as the need to cooperate on global issues like health, ageing, climate and biodiversity.
He seemed to effectively offer China the opportunity to agree different financial services terms with the UK than the EU, now that Brexit has arrived without a deal on mutual recognition of standards across Europe – which was the former target of "equivalence" of regulation.
Hmm. Interesting. His father-in-law's Infosys has an office in China.
A year later, on July 25, after China's Global Times endorsed him as the next Conservative Party leader, he walked back his support and claimed Liz Truss was the greater supporter of the Communist nation.
Guido Fawkes reported (red emphases his):
It's unsurprising, given his tacit endorsement from the Chinese propaganda arm Global Times, that Rishi has decided to go in hard on the country's security threat this morning. Declaring the Chinese Communist Party "the largest threat to Britain and the world's security and prosperity this century", Sunak attacks Liz for "[rolling] out the red carpet" and turning "a blind eye to China's nefarious activity and ambitions". He calls for a new NATO alliance to be set up to counter it the threat, and pledges to close all 30 Confucius centres, which teach Mandarin in the UK and are thought to be used as fronts by the Chinese intelligence services.
In response Team Truss returned fire last night, using Iain Duncan Smith to call the policy "surprising" and asking where Sinophobe Sunak has been for the last two years. Her team points to the above Sunak's endorsement by Global Times, and says he has been consistently soft on China …
In response, a Truss ally bluntly tells Guido that Sunak's team are "moronic", given not only was Truss responsible for childcare policy as an education minister, universities policy was run out of the business department at the time. David Willets was the BIS minister responsible, who – whilst yet to declare in this leadership election – has backed Sunak's tax rises. 
Guido also exposed the fact that the Artichoke Trust received £1,234,682 through Cultural Recovery Grants during the pandemic, when Rishi was Chancellor.
The Artichoke Trust puts out 'art' like this:
Clearly, not much scrutiny took place during the pandemic. No doubt, the Treasury were all in a rush to send out grants — taxpayers' money — to all and sundry.
On Tuesday, July 26, Rishi did a huge tax U-turn, imitating his rival Liz Truss.
Only days before, Rishi told Liz that it would be 'immoral' to lower taxes, yet, here he was at the beginning of last week reversing that to sound more like his rival:
Guido rightly asked why Rishi did not cut VAT on energy bills when he was Chancellor. Oddly, he now advocates the policy:
This is what the former Chancellor said in February 2022:
Guido has more on his February comments here.
On July 27, the Mail on Sunday had an article about his U-turn, saying he was 'under pressure' since the BBC debate of July 25 (emphases in purple mine):
This morning, Truss ally Kwasi Kwarteng, the Business secretary, welcomed Mr Sunak's 'late to the party' change on taxes.
He told Times Radio: 'I think he's under a lot of pressure. That's why we see all these statements: he was the person who said the VAT cut would disproportionately benefit rich families and now he's saying that a VAT cut on energy bills is the right thing.
'He was saying that tax cuts were a fairytale, now he is proposing an unfunded tax cut.
'There comes a time in campaigns when people are under a lot of pressure, he clearly felt under a lot of pressure in the debate and he wanted to get out on the front foot and interrupt Liz.'
But Transport Secretary Grant Shapps, an ally of Rishi Sunak, defended the former chancellor's plan. He rejected the suggestion that Mr Sunak is 'flip-flopping' and said the £4.3 billion policy is sensible as it would not add to inflation.
Put to him that it is a 'flip-flop', Mr Shapps said: 'If he hadn't produced £37 billion of support, about £1,200 to the hardest-up households already – if he hadn't done any of that and then suddenly did it then you would have a point.
'But he has, he has been providing all this support, now he is saying "Here's something that won't add to inflation that would save every person watching your programme £160 off their energy bills" – I think that's worthwhile.'
Last night No10 insiders told the Daily Mail that Mr Sunak's plan was something Boris Johnson tried to implement to ease the burden on consumers – but was blocked by his then chancellor.
'Boris begged him to do it – but he wouldn't budge', said the source. 'It's astonishing that he's now claiming it as his own policy.'
Meanwhile new polling shows that the rising cost of living and handling of the NHS could cost the Tories the most votes at the next election.
The Mail on Sunday's Anna Mikhailova pointed out that Rishi hardly had a long-term career in business, despite his own claims.
Nigel Farage picked up on her tweet and called Rishi 'a fraud':
Farage had elaborated on his GB News show the day before, Monday, July 25. He pointed out that Rishi included a clip of him in his campaign video on immigration. He doubted Sunak's sincerity on China and ended by saying, 'Well, I guess that leaves us with Liz Truss':
By July 27, the bookies gave Liz Truss an 83% chance of winning the leadership contest.
That night, Dan Wootton said that 'Fishy' Rishi's tax U-turn was 'too little, too late':
John Sergeant, who reported for the BBC for decades, said that the former Chancellor appeared 'rattled':
Political commentator Patrick O'Flynn said that many intelligent politicians weren't very good at politics, Rishi being a case in point:
On Thursday, July 28, Lord Ranger, a Rishi supporter, said that if the Conservative Party members do not choose the former Chancellor as leader, they are racists.
Dan Wootton responded by pointing out that this Conservative leadership contest has been the most diverse in history:
That includes Labour, too, by the way.
Wootton said, in part:
It was still only a matter of time before Team Rishi Sunak blamed his imploding campaign on racism.
Forget the fact that Kemi Badenoch was a surprise favourite among the party membership before being booted out by MPs for being too daring and different.
Forget the fact that Liz Truss is a woman who went to a Leeds comprehensive.
Nope, Sunak's failure is nothing to do with his big state/high tax agenda, which saw him increase our tax burden to the highest it's been in 70 years.
Nothing to do with his globalist posturing and desire to cosy up to China by making the Communist country our market of choice, as revealed in bombshell leaked Treasury documents reported in The Times today.
Nothing to do with the fact he backstabbed Boris Johnson – the man to whom he owes his career – plotting his leadership campaign, all the while pretending to be his loyal Chancellor.
No, no, no, no it's down to racism.
Conservative donor and Fishy Rishi supporter Lord Ranger told Indian news network Bharat Tak: "If people reject him, it will be a bad name for the party and the country because this will be perceived as racist.
"And so there is pressure on them to prove that here race does not matter.
"Calibre matters, and Rishi's calibre is above everyone. I am optimistic that people here will be fair and will not reject anyone on the basis of race."
Lord Ranger, I can assure you the Conservative members are not rejecting Rishi based on race.
They're rejecting him based on policies and a lack of loyalty too.
As my colleague and friend Calvin Robinson tweeted in response: "'Vote for me because I am brown,' is bad enough 'if you don't you're a racist' is even worse.
"This divisive, toxic rhetoric is straight from the Leftist guidebook on Critical Race Theory and should have no place in the Conservative Party or the government of this great nation."
Former Cabinet member Michael Gove's ex-wife Sarah Vine, who writes for the Daily Mail, said that Rishi stabbed Boris in the front:
On Friday, July 28, a Techne poll showed that Liz was gaining ground over Rishi:
That morning, Defence Secretary Ben Wallace put the boot into Rishi's decision to resign as Chancellor:
Wallace told Sky News:
Wallace: Let's look at that Friday afternoon – I think it was a Friday – what if the markets had crashed? What if the Home Secretary had done that and there was a terrorist attack? What would the public think, they would never forgive us for that… I don't think people needed to walk out, the public would see that as a government not thinking about the job in hand.
The multi-year settlement [for the Department of Defence] that we got was not what the Treasury had wanted, they wanted a one-year settlement – this was back in 2019 I think – and it was vital that we got a multi-year settlement, and the PM effectively asserted his authority and made all that to happen…
Interviewer: But Mr Sunak was not in support?
Wallace: Not that I remember.
Cut the right taxes like not proceed with corporation tax rises helps growth. When Rishi was Chancellor he cut entrepreneurial relief – he cut the relief we give to entrepreneurs who've invested in this country, invested in businesses – that's not a way to help create either wealth or indeed growth.
Wallace had more to say. He said that, as Secretary of State for Defence, he did not have the 'luxury' of resigning, a pointed barb at Rishi, who, he intimated, should have stayed on as Chancellor:
Wallace pledged his support for Liz Truss.
Meanwhile, Rishi's team claimed someone was leaking official documents:
Rishi allegedly asked Simon Case, the head of the civil service, to get involved.
Guido reported:
What leaks might Rishi be upset about? The Treasury documents which completely undermined his pledge to "scrap or reform EU laws in 100 days" is a strong bet. Earlier this month, just after promising to review all of the remaining 2,400 EU laws on the statute book, Bloomberg revealed the Treasury had – under Rishi's leadership – written to Liz Truss to claim that reforming EU taxes was desirable but probably not deliverable until 2026. Last time Guido checked, that wasn't quite within 100 days. Brexit Opportunities Minister Jacob Rees-Mogg even responded by claiming it was "a surprising promise as the Treasury under his leadership was insisting that taxation was exempt from the removal of EU law." What was it Rishi said about "fairytale promises"?
UPDATE: Now a spokesperson for Liz Truss says:
We condemn the leaking of Government documents and papers. Neither campaign condones leaks of material and will not use documents it receives. Furthermore, both campaigns will report any such leaks to the Cabinet Secretary who may take action directly, or via the Police, against the individuals involved in perpetrating such leaks or receiving and not reporting material. We understand leak investigations will be carried out without fear or favour.
Word around Whitehall is that Simon Case is livid, demanded both camps issue a statement and has called in police to investigate the China leaks.
On Saturday, July 30, things got worse for Team Rishi. He had to give away tickets to what had been a £20 per person hustings event:
Then, Tom Tugendhat, he of the military service, endorsed Liz Truss:
Oh, dear.
While all that was going on, staff at the Mail on Sunday (MoS) were preparing its copy.
Late on Saturday in one of the MoS pieces, Boris loyalist Nadine Dorries MP further reinforced the notion that Rishi is not a man of the people. She wrote about a tweet she'd sent out a few days before commenting on his expensive attire:
I wanted to highlight Rishi's misguided sartorial style in order to alert Tory members not to be taken in by appearances in the way that happened to many of us who served with the Chancellor in Cabinet. The assassin's gleaming smile, his gentle voice and even his diminutive stature had many of us well and truly fooled.
I wish to stress it's not the case that I believe a rich man or woman – even if their father-in-law is one of the richest men on an entire continent – cannot be Prime Minister of this great country. But they do have to possess good judgment, understand the lives of others, have empathy, compassion and know how to fill a car with petrol and pay for it at a till.
Rishi's father was a GP, his mother a pharmacist. He attended a public school where the annual fees are about £36,000. They were in the top two per cent income bracket of all earners in the UK. To describe his background as humble is yet another indication of poor judgment.
Rishi will never know what it is like to feel scared, broke and hopeless, without a safety net provided by wealthy parents. He has never had to lie awake at night, worrying about how to pay the bills. A bailiff will never knock on his door …
Too right.
Dorries said that Boris was not best pleased when he found out that Rishi is now pledging to cut VAT on energy bills, something she said Boris begged him to do as Chancellor:
… Rishi says he wants to cut VAT on energy bills. However, Boris had been pleading with him to introduce this measure for two years as the PM had been convinced that such a cut could provide immediate relief to families.
In a speech on Thursday, Boris commented with a hint of uncustomary sarcasm: 'Turns out it was easier than we thought!'
Rishi was the classic dog in the manger as Chancellor. Whenever Boris sought him out to discuss serious issues, Rishi was always polite but unforthcoming. Never a team player.
Another MoS article revealed photos of a young Rishi Sunak at an exclusive nightclub in London's fashionable Mayfair.
Reporter Michelle Bromley included photos, writing about the young man and his then-fiancée, now wife, the Infosys heiress Akshata Murty, who lived in California in 2008:
Despite living 5,400 miles apart, the couple regularly flew back and forth across the Atlantic.
These photographs show how they spent an evening with friends at the Whisky Mist nightclub in London.
Ms Murty is seen with a cocktail while Mr Sunak (who says he's teetotal and 'a total Coca-Cola addict') generously bought all the drinks that night for the couple's friends.
At the time, the club off Park Lane was popular with the young Prince Harry and celebrities such as Beyoncé and Leonardo DiCaprio. Many years later, Tesla tycoon Elon Musk met his second wife, actress Talulah Riley, there.
Whisky Mist was apparently named after an incident during which a tipsy Queen Victoria thought she'd spotted a stag in the fog from the window of Balmoral Castle.
Friends with Mr Sunak and his girlfriend that night recall how many of the guests were focused on Ms Murty because of her family's fabulous wealth.
Her father founded global IT giant Infosys.
Mr Sunak was described by a female reveller as 'the most attentive boyfriend you have ever seen' and as 'someone who would ask a lot of questions but not give too much away about himself'.
Not long before, he had been to Africa where he met some of Barack Obama's relatives. He was photographed with them while holding a copy of the future US president's book, Dreams From My Father: A Story Of Race And Inheritance.
The picture was posted on Mr Sunak's Facebook page. Mr Obama used his book as a primer to introduce himself to the American people as he campaigned in 2008 to become the first black US president.
Fourteen years on, the young Briton captivated by that book is campaigning to become Britain's first Prime Minister of Asian heritage – and of America's greatest ally.
Nadine Dorries is right. Rishi Sunak will never have to worry about anything significant in his life.
The Sunday Telegraph said that Conservative MPs criticised Dorries for retweeting a photoshopped image showing Rishi as Brutus wielding a knife at Johnson's Julius Caesar's back. The original tweet is at the link.
The MoS also reported that some of the MPs supporting Rishi have serious doubts about his campaign:
Conservative MPs backing Rishi Sunak have privately admitted 'It's over' as panic sets into his leadership campaign.
Insiders told The Mail on Sunday that some supporters were refusing to do campaigning events for the former Chancellor.
MPs are said to be getting cold feet after Defence Secretary Ben Wallace and former leadership rival Tom Tugendhat threw their support behind Liz Truss in quick succession.
However, other MPs backing Mr Sunak insisted he was doing well with Tory members, and said private polling showed Ms Truss's supporters had been easily convinced to switch their support to him.
As this week opened, Dan Wootton's Monday poll showed that GB News viewers thought that his tax U-turn was still too little, too late:
That polling ran while Rishi and Liz were at a hustings in Exeter, more about which tomorrow.
I hope the former Chancellor, whose mother owned a pharmacy, does not get anywhere near Downing Street, except as a visitor: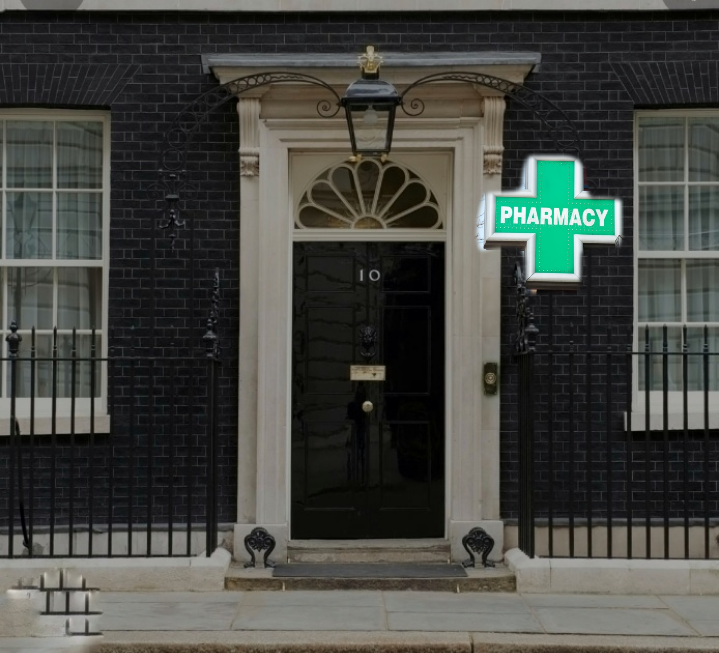 Why anyone wants Rishi to be the next occupant of No. 10 escapes me. Convince me — someone, anyone — why he should be our next Prime Minister.
On Thursday, July 28, 2022, LBC's morning host Nick Ferrari presented a hustings in Leeds for Conservative Party members:
Ferrari interviewed the candidates separately, and each had a chance to deliver a message alone to the audience.
The audience also asked questions.
Liz Truss
This year's burning question for any politician has been, 'What is a woman?' Very few have defined a woman, including Rishi Sunak.
Liz played on that theme:
This hustings took place on the same day that it was announced the Tavistock clinic was to close. This next video has an excellent interview with Dr David Bell, a whistleblower who used to work for the clinic:
Liz discussed sexual identity:
A member of the audience expressed her concern that school loos were changed to unisex during the pandemic when students were at home. Liz came out in favour of separate boys and girls facilities:
LBC's article, which has a video of the hustings in full, says:
The foreign secretary was quizzed about same-sex toilets being introduced in schools during the pandemic while speaking at LBC's Tory hustings.
When asked about returning to single-sex toilets, Ms Truss said: "I completely agree with you – I have sought to clarify that as women's minister.
"I've been very clear that single-sex spaces should be protected, particularly for young people as well as vulnerable people – vulnerable women in domestic violence shelters, for example – and I can assure you, as Prime Minister, I would direct that to happen.
"It's a difficult time being a teenager – being a young girl – and you should be able to have the privacy you need in your own loo, so I 100% agree with you and I would make that happen.
In a follow up question from LBC's Nick Ferrari about pupils who are transitioning, Ms Truss added: "First of all, I do not believe that under-18s should be able to make irreversible decisions about their own bodies that they might come to regret later.
"It's very important to note that.
"And of course, schools should be sensitive – they can provide additional facilities – but it should not be at the expense of protecting young girls."
On the subject of schools and the pandemic, Liz said it was a mistake to close schools in early 2021 and allow the pubs to stay open. She would not have closed schools but said that hindsight is a wonderful thing and no one knew at the time what to do. She did give Boris credit for doing 'his absolute best':
In response to Peter from Tadcaster, Liz said that she supports fracking but said it must have residents' consent. She also supports the smaller nuclear plants, 'like we have in Derbyshire'. She also thinks that we need to continue to use more of our own gas as an immediate response to energy demand:
There was a light hearted moment when Ferrari asked her about her university days. She admitted she was something of 'a teenage controversialist'. She said she regretted saying that the monarchy should be abolished as soon as she said it years ago. And she has since met the Queen. She also said that she had been a member of the Liberal Democrats but left when she realised 'the error of their ways':
A reality show, Love Island, has been this summer's must-watch for a proportion of the British population. Liz said she could watch only ten minutes with her teenage daughter before she turned off the television. She thinks her daughter went to watch it in another room:
Liz repeated her stance on tax, saying that the rise in National Insurance not only broke the 2019 Party manifesto but is also unnecessary as it limits growth:
Liz, who grew up in Leeds, says that the public transport there is as bad now as it was when she was a girl. She promised to improve the situation. She also pledged to cut red tape for farmers:
Ferrari asked Liz for her opinion of Theresa May and Boris Johnson, as she served in both their Cabinets. She said that she always liked Boris and supported him in the 2016 leadership contest, which Theresa May ultimately won. She gave Boris much credit during his time as Party leader and Prime Minister:
Ferrari asked her whether she would lead us into World War Three, which she dismissed as Russian propaganda and sabre-rattling. She added that the UK should have been better prepared in the past, because we did not do enough for Ukraine over Crimea and the Donbass:
On that topic, Liz said that she would raise defence spending to three per cent of GDP by 2030:
More on that below.
An audience member asked about post-pandemic staff shortages. Liz said she would tighten benefits rules to get the workshy back into paid employment. She also said she would have a training programme so that Britons had the available skillsets that we need:
Contrast her response with Rishi's below. He wants to bring more foreigners into the country and forget about our own people.
Someone from the Bury Conservative Association asked whether Liz would give Jeremy Hunt a Cabinet position. She replied that she was not thinking about a possible Cabinet at the moment but that she would appoint a broad range of Conservative talent, should she become Prime Minister:
Please, Liz, no Jeremy Hunt. He would deploy all of Beijing's coronavirus policies and have us masked up and in lockdown in perpetuity. He also said in Parliament that he wanted to make the annual flu jab mandatory. No, no and no!
Rishi Sunak
Last week, Rishi was adamant that tax cuts were 'immoral', then he did a U-turn.
He tried to convince everyone that he didn't do a U-turn on his tax policy. Hmm:
Ferrari then gave the UK's most recent statistics on our poor economic performance this year, but Rishi reminded him about 2021 figures, which were far higher than any other Western nation. Rishi also said that visas needed to be revisited to make sure we attract the 'best and brightest' into Britain. Notice how he has no plans to train young Britons for British jobs. Why am I thinking of his father-in-law's Infosys? Hmm:
Ferrari brought up the petition to the Conservative Party to put Boris's name on the members' ballots. By last Thursday, more than 14,000 people had signed the petition. Rishi said that Boris had lost the confidence of his MPs, 60 of whom resigned from various Government posts. Rishi said that a Prime Minister must have the confidence of his MPs, hence the present leadership contest:
Ferrari told Rishi that he was the first Chancellor since Labour's Denis Healey to raise corporation tax. Healey did that in 1974.
Rishi gave an incoherent answer. He said that Margaret Thatcher raised taxes in the early part of her premiership which lowered inflation. (Mmm. Actually, Margaret Thatcher got different advisers who told her to lower tax, which brought about growth.) He said that lower corporation tax has not worked over the past decade. So, he would cut tax on business investment instead.
I'll leave this to the Rishi fans to ponder and tell me why he is correct:
Ferrari said that President Zelenskyy said that he would like for Boris to remain front and centre for Ukraine and not disappear into the background. Rishi said that Boris is 'very talented' but that he would not give him a post in his Cabinet, were he to become Prime Minister:
A lady in the audience asked Rishi how he viewed our current asylum system. He said that it needs to be changed, by pulling out of the ECHR and using the international Refugee Convention instead. He said that we reject far fewer asylum claims than other European countries and that needs to be changed:
Another member of the audience asked Rishi how committed he would be to supporting Ukraine. Rishi said that he 'absolutely' would be. In elaborating, he said that sanctions towards Russia need to be changed, because, so far, they are having little effect on Putin:
Matthew from West Yorkshire asked Rishi whether he had stabbed Boris Johnson in the back and how the former Chancellor planned to reunite the Party. Rishi said that he had to resign because he and Boris differed too much in the end on economic policy (?!). He pledged to bring the best Conservatives into his Cabinet if elected leader and thinks that would reunite the Party. Watch his leg bob up and down as he answers Ferrari near the end of the video:
Verdict
Afterwards, LBC took calls and interviewed experts about what they thought of the hustings.
LBC's Ben Kentish asked his fellow presenter Iain Dale, a Conservative, for his views. Dale said that not every topic can be covered in one of these events. Therefore, topics such as child care and the NHS are discussed at other local meetings.
Dale thought that Liz 'smashed it'. She did not use any notes this time. She gave 'interesting' and 'entertaining' solo speeches, which surprised him. He said that Rishi did a good job, too, but didn't quite come up to Liz's standard that evening. He said that Rishi has a lot of catching up to do and that 'he's in a real bind now'.
He concluded that it was a 'really good evening for Liz Truss'. He gives her a 75 per cent chance of becoming the next Party leader and, by extension, Prime Minister:
Ferrari took more reactions on his Friday morning show:
Body language expert Dr Harry Witchell said that Liz was more relaxed in both her presentation and gestures than she had been previously. Rishi, he said, was much less aggressive, which was an improvement over last week's performances:
Patrick Hennessy from London Communications Agency said that Liz is likely to have won over the Telegraph's readers. the Leeds audience seemed to warm more to Liz than to Rishi. He reminded Ferrari of Matthew from West Yorkshire's aforementioned question asking Rishi if he'd stabbed Boris Johnson in the back. Indeed:
Former Conservative MP Michael Portillo said that Rishi's campaign is slipping away. He pointed out that, after the Leeds hustings, Defence Secretary Ben Wallace came out in favour of Liz Truss and, also crucially, Simon Clarke, who worked closely with Rishi, has come out in favour of Liz:
Ferrari then interviewed Defence Secretary Ben Wallace, who described Liz as 'feisty':
Ben Wallace discussed Liz's varied experience, reminding Ferrari and listeners that she had been Chief Secretary to the Treasury. The person in that post is the one who tells another Secretary of State whether they can increase their budget. Liz later worked in trade and is the current Foreign Secretary. Wallace said that he has been in meetings with her representing Britain around the world, so she has a lot of experience on the world stage:
Wallace told Ferrari that he 'didn't have the luxury' of resigning … unlike some ministers. He meant Rishi, among others. He said that he, like the Home Secretary Priti Patel, needed to stay in place for national security reasons. The Home Secretary, he explains, has warrants to sign. He, as Defence Secretary, has military operations to authorise. He also said that he did not want Boris to stand down as Party leader:
Wallace said that, in 2019, Rishi wanted to give Defence a one-year monetary settlement. Wallace said that Boris overrode that decision and gave the department a multi-year settlement instead, which is what is necessary:
LBC has more on Wallace's interview here.
All being well, tomorrow's post will be about Andrew Neil's grilling of Rishi Sunak last Friday evening on Channel 4.