You are currently browsing the tag archive for the '2017' tag.
We first went to Aux P'tits Anges in 2017.
I found out about it online somewhere, because I was a bit fed up with the street hawkers and musicians strolling up and down Rue Felix Faure and Le Suquet outside of the main tourist restaurants.
Aux P'tits Anges fit the bill perfectly, as it is located far away from all that, yet is still in the centre of town on a side street near the Marché Gambetta: 4 Rue Marceau (near the corner of Boulevard de la République).
They still have the same maître d', who likes speaking English. (He is fluent outside of saying 'idee' for 'idea', which is rather charming.) He worked in England for several months years ago and enjoys taking his family there on holiday.
The owner is the chef, by the way. He also employs two pastry chefs.
2017
Rue Marceau is a modest street of businesses and bars.
Aux P'tits Anges can be a bit difficult to find the first time around — and reservations are recommended. If I remember rightly, we scoped it out one afternoon and reserved a table during their lunch service.
We sat outside, which isn't exactly scenic, but it did mean we could enjoy a cigarette between courses. Whilst service is good, the maître d' serves all the tables, indoors and out, therefore, dining here takes a while.
We had the Menu Diablotin for €37 each. There is a higher priced menu, Menu des Anges, for €55. (More here.)
Starters
We both had the pan seared slices of the lobe of duck foie gras (escalope de foie gras).
We received just the right amount of slices, seared to perfection. On the side was a flavoursome mango chutney, which was an ideal complement.
Mains
We both had king scallops (coquilles St Jacques) seasoned with piment d'Espelette and topped with tiny slices of chorizo. We both enjoyed it a lot. As I noted in my food diary, 'Beautiful!'
Wine
We had a Côtes de Provence rosé 2013 from Château Les Valentines in La Londe-des-Maures (Var). The château, incidentally, is named after the owners' children, Valentin and Clémentine. I put the name in bold, as we ordered another of their wines in 2019.
Desserts
I ordered the cheese plate, which had two wedges of Tomme and one of Coulommiers.
My far better half (FBH) had a dreamy dessert which was a chocolate cigar — yes, it looked just like the real thing — with a creamy filling. It was served in a tuile ashtray. FBH still talks about it.
Verdict
We both regretted we had already reserved at other restaurants for our remaining nights. We resolved to eat here twice on our 2019 trip, which we did.
2019 — first visit
We did not make reservations for our first return visit this year.
It was a quiet Tuesday evening, and the restaurant is closed on Sundays and Mondays.
We opted for the Menu Diablotin again (still €37).
Starters
The chef changed the lobe of foie gras starter.
I preferred his former presentation, but FBH liked this one equally.
The highlight of this was the diced strawberries (with a touch of balsamic vinegar, I would guess) that came as the fruity garnish, rather than chutney, sautéed peaches or figs.
This year, the slices came in a sandwich format. The bread is a charcoal-turmeric marble loaf. The slices were lightly toasted with the foie gras slices in the middle. Obviously, this was not meant to be eaten with one's hands. Chef probably thought this was a witty presentation.
For me, there was too much bread, especially as the top slice hid the foie gras. Why do that when fewer things are lovelier to look at than seared foie gras?
Initially, I left my bread behind.
Then, as more diners began arriving, the maître d' understandably was busy taking orders and serving customers. I ended up eating the bread, which I still think is a strange combination of ingredients. However, such flavour combinations in bread have been the trend in certain French restaurants and bakeries in recent years. FBH enjoyed it, so it has its customer appeal.
Mains
We both had the roasted cod (cabillaud) loin topped with tiny slices of chorizo, served with a red pepper and raspberry sauce. It was to die for!
I don't know how they do their sauce, and the maître d' said that one could substitute raspberry vinegar for the actual fruit, but it was out of this world. I had to come up with a close facsimile when we got home, because we both wanted it again. What follows is my recipe, which comes pretty darned close to theirs.
Red pepper and raspberry sauce
200g raspberries
pinch of sugar
1 scant tsp balsamic vinegar
3 red bell peppers, finely diced
pinch of salt and pepper
dash of raspberry vinegar
1/ Put the raspberries and sugar in one saucepan and cook for 15 minutes over medium heat. Remove from the heat to cool, then strain. Keep the juice.
2/ While the raspberries are cooking, put the diced bell pepper into a pan with salt, pepper and the balsamic vinegar. Gently sauté until cooked through — around 15 minutes. Remove from the heat to cool.
3/ Put the raspberry juice and the sautéed bell pepper into a blender or food processor to blitz into a sauce. Strain again, if necessary.
4/ This is a sauce to prepare just before you cook your cod, because the sauce loses the raspberry aspect fairly quickly. If the raspberry taste needs topping up, add a dash of raspberry vinegar to revive it.
5/ Reheat the sauce and serve with the cod, spooning it around the side of the fish rather than on top.
6/ Top with sautéed chorizo slices or bits.
Wine
We had a red, La Punition (The Punishment) 2017, another great wine from Château Les Valentines (see above), priced at €45. The bottle's tasting notes explain that the grapes — 100% Carignan — were difficult to grow for a number of years. The producers could hardly wait until they had enough Carignan to make this wine, hence 'the punishment'. Whatever they've been doing to make their harvest successful has obviously worked.
Dessert
We both had cheese assortments on this occasion.
The maitre d' did identify them for us, but I did not note them in my diary. They were very good, however.
2019 — second visit
We could hardly wait to return and, had in fact, booked our table in advance.
We opted for the Menu Diablotin once more, with FBH hoping for a second chocolate cigar!
It was rather windy that evening, so we ate inside for the first time ever.
The chef-owner's wife and mother-in-law have chosen the little plaques and artwork about happiness. These small additions are rather over the top, but the general atmosphere is one of elegant charm.
Starters
FBH had the lobe of foie gras again, partly for the marble bread.
I opted for breaded gambas (jumbo shrimp), perfectly deep fried and served with courgette tagliatelle. It was delightful.
Mains
We both opted for the duck breast stuffed with foie gras. The sauce was a raspberry coulis, which was perfect.
We ordered seasonal vegetables. These were largely courgettes. The maître d' explained, 'Chef loves his courgettes. He puts them with everything.'
The duck was okay, but it was not great. In fact, neither of us would order it again. We expected a juicy, unctuous duck breast with a rim of rendered, crispy skin on top enhanced by an equally unctuous insert of foie gras. The reality was a dry duck breast devoid of all outer skin that even a foie gras centre couldn't save.
Oh well.
Wine
Another bottle of La Punition (see above)!
Dessert
Amazingly, I did not write down what I had.
But that doesn't matter, because I will now describe FBH's dish which we dubbed 'the dessert of the trip'.
FBH still has fond memories of the chocolate cigar, but the chocolate tart ranks right up there. The experience was further heightened when we saw the two young pastry chefs (both men) go out for a quick ciggie break. They were the same chaps who made the chocolate cigar in 2017.
It was the most elaborate — and tasty — creation.
The filling was a light chocolate mousse topped with a spun red sugar spiral, two tiny chocolate cookie/vanilla ice cream sandwiches and two caramel filled chocolates on the side.
We would have paid any amount of money to take a box of those chocolate caramels back to the hotel. The salted caramel oozed out and was sublime, if not divine.
Additional notes
TripAdvisor has customer reviews.
Conclusion
We will definitely return to Aux P'tits Anges on our next trip.
By then, the menu will have evolved further, including the desserts!
We first ate at Au Mal Assis in the Old Port area of Cannes in 2015.
I gave it a rave review then.
We have since returned twice.
Au Mal Assis is the oldest restaurant in the Old Port. It has been in operation since 1914 and is located at 5 Quai Saint Pierre.
2017
Be warned, the portions are generous here.
Starters
My far better half (FBH) had octopus (poulpe) salad which included two langoustines and two large shrimp (gambas). That could have been a main course. I noted at the time: 'HUGE!'
I had a dozen escargots and was able to retrieve each from the shell. The parsley/garlic butter was copious and perfect with baguette.
Mains
BH ordered the veal escalope with creamy mushroom sauce and skinny chips (fries). It was another huge plate of food.
I opted for the coquilles St Jacques (king scallops) in sage and balsamic sauce over rice. What a delight!
We decided then that we would return in 2019.
Wine
We drank a satisfying red Bandol from the Var region: Domaine La Ragle 2011 (83330 Domaine de la Roque).
Dessert
I ordered a cheese assortment (assiette de fromage), which was a delightful end to dinner.
FBH declined, having had too much to eat!
2019
This was the first restaurant we went to this year.
Our expectations were high.
The bill came to €111.50 for two.
Service
Service was very slow this year. Admittedly, we went out later than usual this time.
Starters
The dozen escargots were once again on the money. Unfortunately, I could retrieve only ten this time.
FBH ordered the home made foie gras de canard, which was delicious.
Mains
Both of us had stunning sea bass fillets (loup from the Mediterranean) which was encrusted with a tasty basil and bread crumb crumble. We would certainly order that again.
This dish is priced at a reasonable €22. In my notes, I wrote: 'GREAT VALUE!'
Wine
We drank a white AOC de Provence: St Victorin from Christian Troin et Fils (Var).
I noted: 'GOOD WINE!'
Desserts
As it was late, I had eaten sufficiently.
BH wanted a cheese platter, but our waiter took so long to return to our table that we gave up, which was disappointing.
Additional notes
This is the menu, which shows that some dishes are much more expensive than others.
TripAdvisor has very mixed reviews.
As we left, one of the staff was assembling a two-tiered sumptuous seafood platter. We told him it was as if we were watching an artist at work. He smiled broadly and thanked us. Every bit of seafood had its precise place on the plates.
Conclusion
We would return to Au Mal Assis but would go shortly after it opens. The later one goes, the greater the likelihood of poor service.
2017 was the first time we dined at Gaston Gastounette in the Old Port area of Cannes, at 6 Quai Saint Pierre.
We returned this year.
I looked at my restaurant notes to see that the two of us had ordered nearly the same dishes both times.
The service can be painfully slow — and this is a place that has experienced old school waiters — but the food is worth the wait for first or second time diners.
Either the menu has changed since we were there a few weeks ago or it is merely representative, but the descriptions below should demonstrate that the cooking is competent.
Diners choose two starters and one main course. Prix fixe menus are currently priced at €33 and €41.
2017
In 2017, both my far better half and I ordered the €40 prix fixe menu. We sat outdoors next to a British couple.
The waiter brought us regional black olives as an amuse bouche.
Service
The wait between courses was so long that both of us yearned to light up cigarettes. However, we didn't, because of the couple sitting next to us.
When it came time to leave, all four of us got up at the same time. We moved a few yards away and all of us lit up simultaneously.
We all remarked that, as we were together, we could have easily smoked between courses at dinner — and had a good conversation.
All of us wondered why the service was so doggone slow.
I remember that we kept eating the bread — thankfully, the waiter refilled our bread baskets regularly — and that I ate all the butter provided. Believe me, there was a lot of butter.
Starters
That year, the two of us began with two starters each of salmon tartare, filet of sea bream (dorade) and three oysters. There was a garnish of salad on the side of the plate. Why they left the salad undressed is anyone's guess. A bit of vinaigrette would have added just the right note of acidity.
Other than that, the starters were very good, indeed. The oysters were of a good size with perfect flavour: sweet and salty at the same time.
Mains
My far better half (FBH) ordered deep fried squid (calamar) and shrimp (gambas). In my notes, I wrote, 'Looked great — nice and crispy'. The tempura batter looked perfect.
I ordered baked sea bass (loup, from the Mediterranean) garnished with sautéed artichokes. I noted, 'Lots of artichoke! Yum!'
Wine
We drank Bandol Blanc, Domaine Bunan 2015, Moulin des Costes from the province of Var (83740 La Cadière d'Azur).
Desserts
My FBH had baba au rhum, described as rather 'industrial'.
I had a competently prepared creme brulée.
2019
This year, we chose the €36 prix fixe menu.
We sat indoors near the window this time. There were no tables outside the restaurant.
The waiter brought us regional black olives as an amuse bouche. I was happy to see that they continue to do that.
Starters
Each of us ordered oysters, which were perfect, as in 2017.
For the second option, my better half had the raviolo with white truffle.
I had the artichoke salad, which was ginormous, with lots of artichoke.
Mains
This time, I decided to have the deep fried squid (calamar) and shrimp (gambas), too.
Both of us thought they were excellent. The tempura batter was outstanding.
Wine
We drank Cassis, which is a white or a rosé wine from the Var and not in any way like creme de cassis (blackcurrant) used in kir.
We chose the Domaine du Paternel (Santini family) for €44.
Service
Service was execrable, considering there were only a few tables of diners. We got there shortly after 7 p.m.
I am happy to say that I did not devour the whole pot of butter at our table.
Dessert
The waiter did not even ask us if we wanted dessert! He just presented us with the bill (€114).
Additional notes
I understand that the ladies' loo is done in marble and is above average for Cannes restaurants in its cleanliness.
You can read more about Gaston Gastounette on TripAdvisor.
Conclusion
As the service so slow and we were not even asked if we would like dessert this year, we are unlikely to return.
We've been there twice and ordered the same things twice, so there is no need for a third visit.
That said, Gaston Gastounette is worth a visit for those who don't mind waiting. The food is excellent.
Any Remainers who missed last week's BBC4 Storyville documentary about Brexit from a Brussels perspective must watch it before voting in the EU election on May 23, 2019.
The two-part documentary was made by Belgian film-maker, Lode Desmet, who spent two years with Guy Verhofstadt and his team in Brussels.
I did not watch it at the time, because it features Verhofstadt, whom I consider to be odious.
At the weekend, I read a British website where two Remainers commented after watching it. Both said they had changed their minds — to NO DEAL! Amazing.
After that, I looked the Storyville documentary up on YouTube, because BBC iPlayer said their videos could not be played at that time. On BBC iPlayer, part one is here and part two is here.
Each part is just under an hour long. I highly recommend them to everyone, particularly Remainers:
Conservative MP Mark Francois is absolutely correct:
What follows is part of his article for Brexit Central (emphases mine):
On one occasion – incredibly, bearing in mind he was on camera – one of Verhofstadt's staffers, exclaimed on hearing that we had agreed to the 585-page so-called "Withdrawal Agreement", that "We have made them a colony!". The sheer joy that was evidenced on the faces of the European negotiators when it became apparent that we had acceded to the "Withdrawal Agreement" tells you everything you need to know about why they regarded it as a clear victory over Britain.
Again and again throughout the documentary, the UK's negotiating tactics are derided by their interlocutors, including the EU's Chief Negotiator, Michel Barnier. The Prime Minister and her team are repeatedly disrespected and only on one occasion – when Dominic Raab took over as the Brexit Secretary – did any of the Europeans appear to believe that we had started to resist …
Verhofstadt and his highly self-satisfied team are then filmed watching the result of the first Meaningful Vote in Parliament in January 2019. When the "Withdrawal Agreement" was defeated by 230 votes (the largest defeat in parliamentary history as it turns out), their disappointment is palpable. The pattern is repeated for MV2 and MV3 – by which time Verhofstadt cannot bear to watch, as he has clearly realised what is going to happen.
I have never doubted that I was right to vote against the "Withdrawal Agreement", but this dramatic insight only confirmed my deep conviction that we were fighting a surrender to the European Union all along. Indeed, Martin Selmayr, the Secretary General of the European Commission said some time ago (although not in the programme) that "Losing Northern Ireland was the price the UK would pay for Brexit". It seems on reflection the House of Commons was not prepared to pay this price – and rightly so.
One other thing struck me when I watched the programme – as a patriotic Brit – which was that I could not help but be angered by the sheer arrogance of the people on camera and the utter disdain that they had for our country and its people. I was discussing this only yesterday with a TV producer who is a self-declared Remainer but who told me, in her own words:
"I have always been pro-EU and I gladly voted Remain, but when I saw that documentary all I could think was – how dare you talk about us like that, f**k you!"
As a media expert, she also volunteered that these people were not in any way self-conscious about being filmed – because they clearly thought that they were doing nothing wrong.
Ultimately:
I would urge every MP and indeed everyone who is thinking of casting a vote in the European Elections on 23rd May (which I hope will be as many people as possible) to watch this programme before deciding how to cast their ballot.
The European elite have completely given themselves away – on camera – and proven once and for all via this programme that 17.4 million people were right all along.
The EU elite do not give a fig about Great Britain and Northern Ireland. They are interested only in our money to fund their lavish Brussels lifestyles.
I am surprised that the BBC even showed this documentary, because it really paints a most unflattering portrait of the EU elite.
Therefore, this is one of those rare times I can honestly say, 'Thank you, BBC!'
The lies from Britain's Remainers about Brexit's Leavers are quite incredible.
For the past three weeks, if not longer, Remainers have told Leavers they did not know what they were voting for in the 2016 Brexit referendum.
False!
Let's go back to when David Cameron was still Prime Minister.
This is what party leaders — Conservative, Lib Dem and Labour — had to say about the referendum. There would be only one:
Cameron summarised the process. Article 50 would be triggered promptly. In February 2016, he said: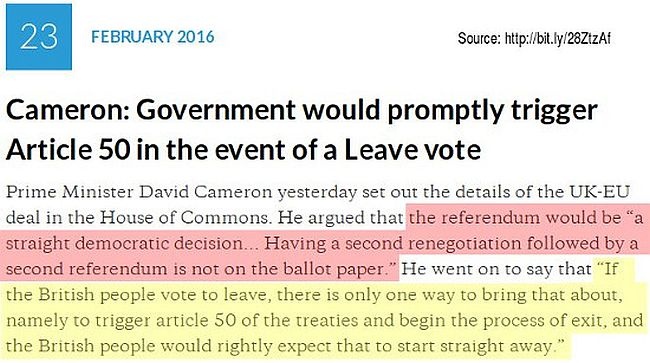 Leavers watched the televised debates.
They also researched sites other than Big Media. Guido Fawkes was one of them. Here Guido explains tariffs:

This was the referendum result on June 23, 2016 — 52%-48%:
David Cameron stood down as Prime Minister the morning of Friday, June 24.
Theresa May succeeded him a few weeks later.
In 2017, under May's premiership, a WTO Brexit was part of the Conservative Party manifesto for the general election held in June: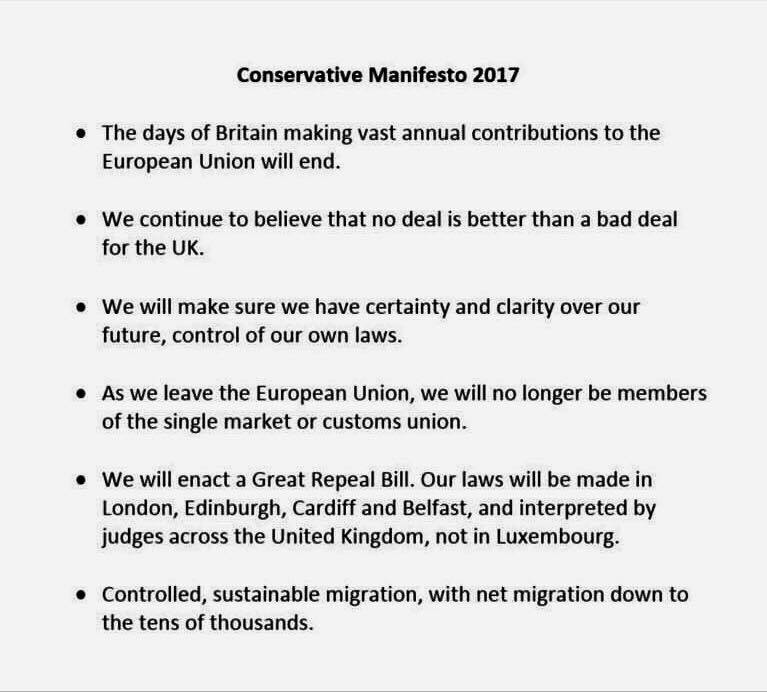 The Conservative Party manifesto excluded a halfway house Brexit with a foot in each camp. Leavers were told they would get a WTO Brexit: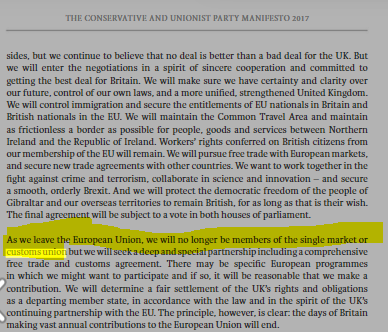 Before the election, Labour MP Yvette Cooper — whose Bill No. 5 blocking a parliamentary/government No Deal is now law — pledged to honour the Brexit mandate, which, incidentally, the Labour Party manifesto also supported. Note that she represents a Leave constituency: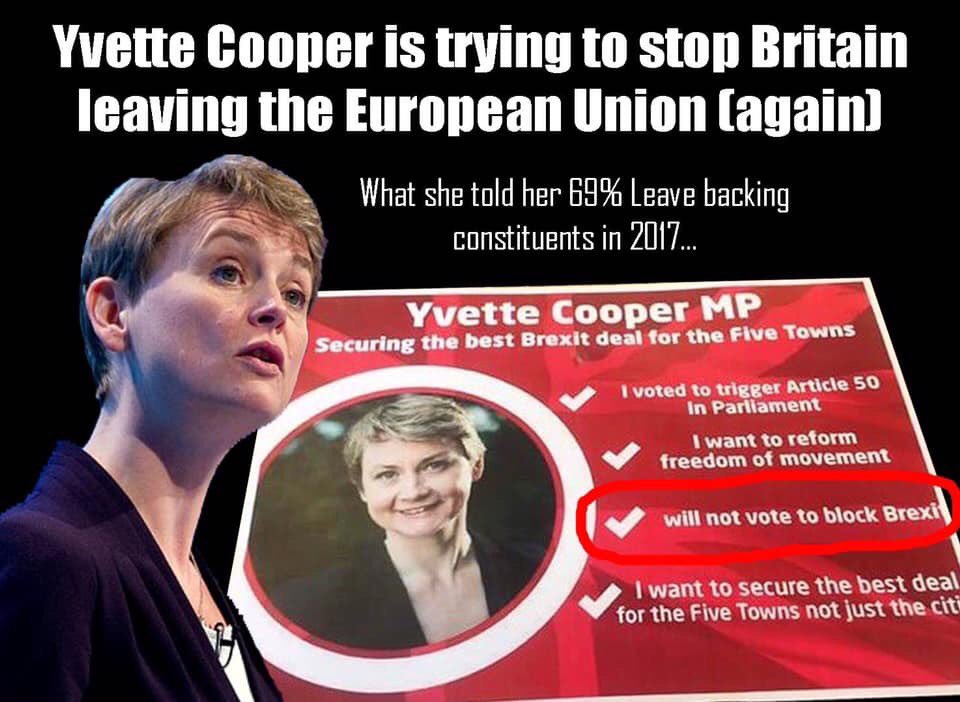 This is what Leavers voted for:
Fast forward to 2019, and who wants a second referendum — a 'People's Vote'? Remainers.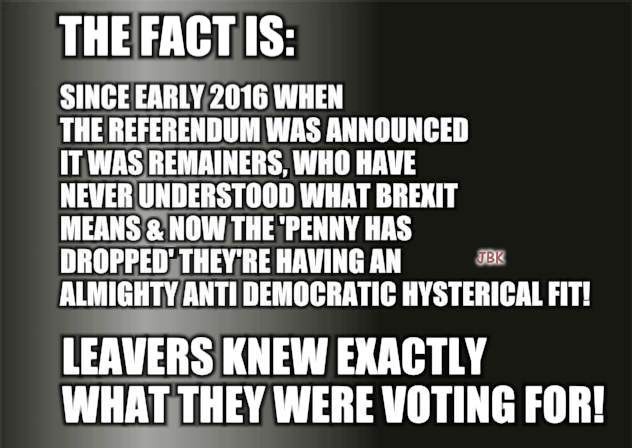 Remainers can rest comfortably knowing that their allies in both Houses — Commons and the Lords — will see to it that they get their wish.
Should Britain end up with a halfway house Brexit — heaven forfend — that is not what Leavers voted for in 2016.
Remainers can share the blame for that with their advocates: parliamentarians and peers alike.
The part of then-candidate Donald Trump's platform I had the most concerns about in 2016 was a barrier along the southern US border.
Yet, by the end of 2017, I was convinced that something must be built.
However, I had not yet seen the following set of figures from that year, enumerating just how much illegal immigration is costing America, state by state. These are staggering numbers:
The comments in the tweet are illuminating in that many Americans say they are in siege mode: tense, tired, afraid and suspicious.
Others point to the better ways in which such money could be used to improve the lives of American citizens.
Mega-MAGA Young Republican, Scott Presler of Virginia, recently wrote a letter to the editor asking why illegals get better treatment than American citizens. He is not wrong:
Notice that Democrats do not support funding a secure border or a wall. Consequently, not only are the states are paying for illegals' upkeep, the federal government is, too.
Meanwhile, drugs, gangs and other criminals pour into the United States harming innocent people — law-abiding, tax-paying American citizens and their families. South of the border, amongst the illegal aliens, women and children are subject to trafficking and rape.
How can a Democrat wilfully ignore that?
This absurdity has run its course. President Trump is doing his best to get the wall built and beef up security along the border. Yes, declaring a national emergency for the United States — rather than for a foreign country, for once — was the right thing to do.
Let us pray this situation is resolved, at least partially, by the end of the year.
Until last week, an Independent candidate for Seattle's city council was running for local elections in 2019.
His is one of the best political adverts I've ever seen. Please take two minutes to watch it:
Christopher Rufo has made documentaries for Netflix and PBS, assignments that have taken him around the world. The video shows him with his wife and two sons. Clearly, they are a happy family.
He wants to clean up Seattle, which has become a filthy, depressing place in recent years, and to lower taxes for the city's hardest hit workers. He says that Seattle doesn't need more money; it needs better leadership.
What's not to like?
The radical left went after him, just as they did Tucker Carlson, using the Cuban approach. They harassed one of his sons on his school's Facebook page and tried to get his wife fired from her job with Microsoft.
On November 14, The Daily Caller reported that, because of the horrific abuse his family has had to take, Christopher Rufo has regrettably dropped out of the 2019 local race. Excerpts follow, emphases mine.
Rufo clearly blamed the radical left:
An independent candidate for Seattle City Council announced on Wednesday that he is dropping out of the race, due to what he described as racial and sexual harassment of his wife by left-wing activists.
Christopher Rufo, a documentary filmmaker, made combatting Seattle's "activist class" and "the ideologues on our city council" a central part of his campaign for election in 2019.
He sent an email to his supporters explaining the situation. It says, in part:
I had hoped that this would be a campaign of ideas, but I quickly discovered that the activists in this city have no interest in ideas. Since the campaign launch, they have harassed and threatened my family nonstop. I was prepared to take the heat, but unfortunately, they have focused their hatred on my wife and children.
They've made vile racist attacks against my wife, attempted to get her fired from Microsoft, and threatened sexual violence. They have even posted hateful messages to my 8-year-old son's school Facebook page. I know that as the race progresses, the activists will ratchet up their hate-machine and these attacks will intensify significantly …
… my primary responsibility is to make sure my family is healthy, happy, and safe. That's not possible in our current political climate, which has been overtaken by polarization and the ever-present threat of violence.
I've learned that our problem here in Seattle is much deeper than the city council's policies—we have created a culture of intolerance that is deeply destructive to the common good. I plan to spend the next few months reflecting on this experience and charting a way forward in a series of essays. I hope that some positive benefit can come out of this disappointment.
Rufo has pledged to refund all of the donations to his campaign, which are upwards of $12,000.
How sad for him and his family. They look like good people.
I cannot imagine going after anyone, especially someone from an ethnic minority or a child. What is wrong with these people, who accuse everyone else of being intolerant?
Where does this end?
Keep in mind that Rufo is probably not a conservative, and is likely to be more of a libertarian.
The Daily Caller's article directs readers to another one focussing on Seattle, 'Seattle Council Member Using Gov Resources To Organize Anti-Trump Protests', dated January 4, 2017, a few weeks before President Trump's inauguration:
A Seattle city council member is openly using government resources to organize anti-Trump protests in collaboration with a radical socialist organization.
Councilmember Kshama Sawant posted an open letter to her "fellow activists" on the City of Seattle's taxpayer-funded website, urging participation in anti-Trump "Occupy Inauguration" protests organized by the Socialist Alternative Seattle. More than 3,500 people have already committed to joining the protests, according to the event's Facebook page.
"A right-wing anti-worker bigot has been elected President. Donald Trump's cabinet is a who's who of multi-billionaires with long records of hostility towards workers, the labor movement, women's rights, and the planet," Sawant charges in her letter, which was posted on New Years Eve. She goes on to urge visitors to the government website to engage in "resistance" to the president-elect.
'Government resources' is better translated as 'taxpayer money'.
How can a city council allocate tax money towards protests — of any kind?
Socialist Alternative Seattle, influential in the councilwoman's campaign and behind the pre-Inauguration protest:
stands in "political solidarity" with the Committee for a Workers' International, a far-left organization that calls for a "Marxist programme" to end capitalism.
In short, Sawant is using taxpayer resources to organize anti-Trump protests sponsored by a radical socialist organization that brags about its ties to global Marxists …
Sawant is the vice-chair of the city council's committee on civil rights. She did not return a request for comment by press time.
Unbelievable.
Back to Christopher Rufo's — and Tucker Carlson's — situation. As one of my readers commented on Saturday:
These orchestrated mob attacks on political dissidents are outrageous and cannot be tolerated. I lay the blame for this escalating violence at the feet of Jeff Sessions, the former US Attorney General.
The first act of terrorism occurred shortly after Donald Trump took office. A Democratic party activist shot Congressman Steve Scalise and several others. Had Jeff Sessions reacted in a decisive manner and declared that violence against Republican officials will not be tolerated and demanded that Democratic party officials condemn the violence, disavow violence as a political tool, and take positive actions to insure that there are no further acts of violence, I believe that we would not see the mob attacks on dissidents we see today.
If local police refused to arrest and local courts refused to prosecute political terrorists, then Jeff Sessions should have stepped in and arrested and prosecuted the terrorists under federal statutes. Recall when Eric Holder was Attorney General, if a local court decision didn't go the way the Obama administration wanted it to go, Holder would arrest and prosecute the individual under federal statutes.
I couldn't agree more.
Acting Attorney General Matt Whitaker must now step up to the plate, say 'Enough!' and prosecute to the fullest extent of the law.
Americans — from Independents to Libertarians to Republicans — cannot be held hostage or abused by groups of unhinged leftists who belong either in jail or mental health facilities.
How many people know about the Battle of Lepanto?
In the 1970s, when Western education was still decent, I took a year of World History in high school. If we covered it, it must have been a footnote.
I read about it in depth only six years ago, when someone from the West Indies had a WordPress blog, since deleted. The writer was Catholic and explained the religious, historical and cultural significance of October 7, 1571, the date of the victory over the Ottoman Empire.
The victory was important to Mediterranean Europe. Inland, the Battle of Vienna took place just over a century later, on September 12, 1683, led by the indomitable King Jan (John) III Sobieski of Poland. Lepanto was to the Mediterranean what Vienna was to the rest of Europe.
On to the Battle of Lepanto and October 7, which Catholics venerate as the Feast of Our Lady of the Rosary. In 2017, Polish Catholics assembled nationwide to pray the Rosary on that day. The Daily Mail has more (emphases mine):
Hundreds of thousands of Polish Catholics are expected to descend Saturday on the country's borders to recite the rosary "to save Poland and the world" from the dangers facing them, organisers say, but others claim the event is aimed at protecting Europe from what they term a Muslim onslaught.
The episcopate insists that the "Rosary to the Borders" is a purely religious initiative, but some Catholics view it as a weapon against "Islamisation."
The date was not chosen at random. October 7 is when Catholics celebrate the Feast of Our Lady of the Rosary, marking the 1571 victory of Christianity over the Ottoman Turks at the Battle of Lepanto.
A victory attributed to the recital of the rosary "that saved Europe from Islamisation", the Solo Dios Basta foundation said on the website of the event it is organising.
Many Poles see Islam as a threat. The conservative government, which enjoys the backing of a sizeable portion of the population, refuses to welcome migrants to Poland, which has very few Muslims of its own.
Twenty-two border dioceses will take part in the event, whose faithful will congregate in some 200 churches for a lecture and mass before travelling to the border to say the rosary.
The goal is to have as many prayer points as possible along the 3,511 kilometres (about 2,200 miles) that make up Poland's borders with Belarus, the Czech Republic, Germany, Lithuania, Russia, Slovakia, Ukraine and the Baltic Sea.
Fishing boats will join in at sea, while kayaks and sailboats will form a chain along rivers and lakes. Prayers will also be said at the chapels of a few international airports …
The goal is to pray for world peace, according to Father Pawel Rytel-Andrianik, spokesman for the Polish Bishops' Conference.
"The initiative obviously received the approval of Poland's bishops," he told AFP, emphasising that it would be wrong to view the event as a prayer against the arrival of Muslim refugees.
"It is not a matter of closing ourselves off to others. On the contrary, the point of bringing the rosary to the borders is to break down walls and open ourselves up to Russians, Belarussians, Slovaks, Ukrainians and Germans," he said …
In 2018, on October 7, Italy's interior minister, Matteo Salvini, appeared on a talk show saying that the influx of immigrants arriving by boat are not true refugees. He estimates that only 10 per cent are. He recommends taking in only women and young children. He objects to turning Italy's public housing over to immigrants arriving by boat and says that local and regional governments should continue to reserve these flats and houses for Italians. Currently, Angela Merkel is trying to transfer immigrants who had arrived in Germany via Italy back to Italy:
RMC (French talk radio) had a lengthy segment on immigration from Africa on the morning of Monday, October 8. Opinion was strongly divided as to whether and how many more immigrants France — especially Paris — should accommodate. It was a lively discussion with no conclusion. One point that did stand out was that French people were being pushed down the queue for social housing for recently-arrived immigrants. So, the French housing situation is like Italy's, which is like Germany's and Sweden's.
Besides the religious and 21st century significance of the Battle of Lepanto, there is a historic one. It took place at a time when the invasion of hordes of groups of people — not just those from the Ottoman Empire — were invading not only Europe but also Asia.
I had always wondered how these groups had been stopped. A considered essay, 'The Significance of Lepanto', explains what happened from that point through to the 18th century.
First, we need to consider the main group of players in Europe's Holy League. These nation-states also controlled various parts of the Mediterranean, including islands such as Corsica, Cyprus and Crete. Trade and strategic ports were important to the Spanish, the Venetians and to the Vatican, which also controlled territory in this part of the world:
The Battle of Lepanto has a major place in the symbolism of the Western-Islamic relationship, and Niccolò Capponi's recently published Victory of the West: The Story of the Battle of Lepanto treats the battle as a major encounter between the Islamic Ottoman empire and the forces of Western Christendom.
Lepanto was the last great battle that could be described as a simple clash between Christendom and Islam. Fought on October 7, 1571, it saw the fleet of the Ottoman empire pitted against an alliance of Spain, Venice and various other minor players to form a Holy League under the leadership of Don Juan of Austria, the illegitimate half-brother of Philip II of Spain.
The battle was the response of the Christian powers to the invasion of the Venetian possession of Cyprus. At stake was control of the Mediterranean. If the Ottomans had won then there was a real possibility that an invasion of Italy could have followed so that the Ottoman sultan, already claiming to be emperor of the Romans, would have been in possession of both New and Old Rome. The Pope could have become as much a tool of the Ottoman sultan as his Orthodox counterpart the Patriarch of Constantinople already was.
Yet, as Capponi points out, the Holy League was hardly a model of Christian solidarity. The Spanish and the Venetians had different strategic objectives—the Spanish were concerned primarily with Italy, North Africa and the Western Mediterranean, while Venice was anxious to recover Cyprus and protect its interests in the eastern Mediterranean. The Spanish were not keen for a battle that might lose them precious resources, particularly as Philip II, with interests as well in northern Europe, was usually on the verge of bankruptcy. The Spanish were also concerned that the Venetians were in the process of cutting a deal with the Ottomans. Just a few days before the battle there was a conflict between the Spanish and Venetians that almost tore the fleet apart. Nevertheless the alliance held and the League fleet scored a stunning success.
Lepanto reshaped the religious bent of the Mediterranean:
The cultural shape of the lands around the Mediterranean was confirmed with a largely Islamic East and South staring across the waters at a Christian North and West.
The Ottoman Empire gradually lost territory and influence from that point until it collapsed with the Great War (1914-1918). That said, we are still dealing with the aftermath a century later:
The Ottoman empire, like the ancient Roman empire and the Byzantine empire before it, was left with the task of defending its ever diminishing borders over the next three centuries. When it did finally "fall" after the First World War the ramifications were enormous, and we are still attempting to cope with them from Bosnia to Iraq.
The Europeans defeated the Ottomans because of advanced naval battle tactics and weaponry. They also had more advanced trade and inventions, such as the printing press, which the Ottomans were slow to adopt:
The League won because it used innovative tactics. The usual form that galley warfare took was to ram the enemy ships and then take them by storm. The Venetian ships attempted a new and different tactic. Using a larger and modified form of galley known as galleasses, they filled these ships with cannons and attempted to blow as many of the Ottoman galleys as possible out of the water. League ships carried many more cannon and its troops made much greater use of firearms. Many of the Ottoman troops preferred to use bows, although these were not necessarily inferior to the clumsy arquebus of that time …
In the longer term, however, the future belonged to the new commercial instruments of the West rather than to the bureaucratic machinery of the Ottomans. In her study of seventeenth-century Crete, A Shared World, Molly Green demonstrates that the commercial techniques and practices used by the Venetians were much more sophisticated and developed than those of the Ottoman regime that replaced them in mid-century. It was also the case that the Ottomans were slow to take to make use of printing, with the "printing revolution" that swept the West in the sixteenth century not really taking off in the Islamic world until the nineteenth century.
Europe and Asia had been beset by invaders for centuries, especially during the perilous Dark Ages.
In Europe, during the latter days of the Roman Empire:
Rome, and the Roman empire, had to face an almost continuous set of threats, beginning with the Celts, then moving through to the Germans, Huns, Avars, Arabs and Turks. The Ottoman Turks simply delivered the coup de grâce to what had become little more than a living corpse.
In Asia:
China built its "great wall" to protect itself from nomadic predators, while the damage inflicted by the Mongols on the settled Islamic world, including the sack of Baghdad, was staggering.
These invasions happened because invading tribes of people envied the civilisation of settled societies:
A settled civilisation, by creating a measure of comfort and a settled way of life, makes itself a target for those living outside their boundaries who are drawn by what it has to offer.
Large-scale invasions ended in the 18th century, probably thanks to the Chinese:
… the Qing Chinese empire in the eighteenth century successfully conquered and subdued the last of the great nomadic empires of Eurasia. For the first time in millennia no barbarian horsemen, no Huns, no Avars, no Mongols, surged across the great plains of Eurasia to sack and pillage Europe, China and the great civilisations of the Islamic world and India.
When a new barbarian empire emerged powerful enough to threaten the Ottomans, and by this I mean the Russian empire, it was successfully checked by the jealousy of the other European powers. It was also into this world … of empires that were not revitalised by new sets of barbarians, in the Middle East, in India and in China, that the European empires were able to make such inroads from the eighteenth century onwards.
Lepanto, as with so many other advances of that era, helped to usher in modernity to Europe with an emphasis on trade rather than war:
Lepanto can be seen as symbolic of that transition, described by the nineteenth-century French liberal philosopher Benjamin Constant, from the age of war to the age of commerce. Or as others might say, it can be considered as the birth of modernity. Even the overwhelming use of firepower can be found in the pages of Constant as a feature of the utilitarian approach to warfare favoured by commercial nations. The irony was that the somewhat ramshackle empires of sixteenth-century Europe, with their disorganised finances and administrative apparatuses much inferior to those of the Ottomans, would within 300 years come to dominate the world not because of their superior asabiya or virtue but because of their capacity to create modern efficient institutions far superior to the slave bureaucracy of the Ottomans, and because of their ability to deliver superior firepower.
This new European and commercial form of empire supplanted an older, more traditional imperial form. What this meant was that the old rules of empire, of an imperial expansion dictated by the need to conquer to attain booty and slaves and a decline governed by the need to protect its settled possessions from new predators, would give way to a new set of rules. These are the rules of the export and import of capital, as described by Niall Ferguson in his recent studies of the English and American empires.
Looking at present day developments in Europe, there does seem to be an envy of others to have what we Europeans have without contributing to our respective nations. When well-intended private and state generosity is met with Marxist-driven violence and disregard for the host citizenry, it is no wonder that many think of Lepanto.
This post concludes a series on Spygate.
Please see Part 1 for a list of people involved and how they know each other. The same names will be appearing in this and other related posts.
Part 2 covers events from 2015 and the first half of 2016.
Part 3 reviews what happened during the summer that year.
Part 4 covers events from September through November 8, 2016.
Last weekend, The_War_Economy posted a brilliant Twitter thread of 246 tweets with accompanying sources.
His thread is called SPYFALL, available in Thread Reader and individual tweets.
I have been excerpting and summarising SPYFALL this week as well as adding some of my own information so that those of us reading about Spygate can better comprehend its various elements.
When summarising SPYFALL, I will include the relevant tweet number in parentheses which will have a link to the source material.
Emphases mine below.
Today's conclusion covers events from the 2016 transition period through to Trump's inauguration on January 20, 2017.
November 2016
While Trump and his transition team were getting organised, the Obama administration wasted no time in working against them. Nor did Christopher Steele:
On November 11, former New Jersey governor Chris Christie stood down from Trump's transition team. Mike Pence assumed leadership of the team. Meanwhile, former Ambassador to Russia Michael McFaul attended a talk by Russian ambassador Kislyak (202):
On November 16, John Kerry had returned from Antarctica and was in Marrakesh for a UN climate conference. In Washington (206):
ODNI's Clapper handed in his resignation, and Schumer chose Feinstein to take over the Senate Judiciary Committee, allowing Mark Warner to lead the Senate Intelligence Committee.
On November 15, Admiral Mike Rogers stood down from Trump's transition team (204). At least one news report suggested he was too much of a Chris Christie ally.
However, Mike Rogers had one more thing to do, which is why I said in Part 4 that he had been invaluable to Trump:
At this point, Republican senator and anti-Trumper John McCain (Arizona) entered the Steele Dossier/UK intelligence nexus:
On November 22, the FBI interviewed either the DoJ's Bruce Ohr or his wife Nellie Ohr, employed by Fusion GPS in 2016 (212).
December 2016
The FBI ramped things up against the president-elect early in the month (214):
FBI's Comey put more resources into the counter-intelligence operation into Trump as Randall Coleman resigns and Luke Harding meets with Steele.
The Clinton campaign paid their final fees to law firm Perkins Coie, which received $5.6 million between June and December 2016 (215).
Christopher Steele had given Sir Alex Younger a copy of the infamous dossier (216):
Alex Younger gives a speech at the Secret Intelligence Services Headquarters in London, after he had received the dossier from Steele directly. The dossier was also passed throughout UK's intelligence services, including GCHQ, who provided their assessment to the NSA.
On December 5, the FBI interviewed one of the Ohrs again (217).
A few days later, John McCain met with James Comey (218):
… and handed in the dossier. This was either on December 8, 9 or after the 13th. Who knows? He may have even met Glenn Simpson during this. It's multiple choice!
On December 9, Obama ordered a review of Russian interference in US elections going back to 2008 (219), the year he was elected to the presidency.
On December 12, the FBI interviewed the Ohrs again and (220):
At the same time, Evelyn Farkas published the article "Here's What America Needs to Know About Trump and Russia".
More about Russian meddling on both sides of the Atlantic appeared in the days that followed:
On December 20, the Ohrs went in for another FBI interview (225).
On December 23, Lawfare's Matt Tait – ex-GCHQ – wrote an article for Politico called 'Putin's Way of War' (226).
On October 28, Obama took diplomatic action against Russia, which involved a phone conversation between Ambassador Kisylak and General Mike Flynn, a member of Trump's transition team. This would rebound on Flynn a short time later. Even today, his case is still ongoing and he is relying on the goodness of others to survive:
The FBI said there was nothing wrong with Flynn talking with Kislyak. They were right. As a member of the transition team, he was within his rights to do so:
January 2017
President-elect Trump was clearly unhappy at the intelligence community, Obama people and Democrats opposing his upcoming inauguration.
Senator Chuck Schumer (D-NY) offered a memorable riposte:
Last chance efforts to damage Trump were in play, which included the Steele dossier. The most influential names from Spygate were coming together as one:
the ODNI published the unclassified version of their report on Russian influence in the 2016 United States Presidential election, which both the FBI and the CIA had high confidence in. The NSA? Not so much.
That day, Comey decided to brief Trump about the Steele dossier (236):
… neglecting to tell him who paid for it, but said that CNN was looking for a hook. And then, by coincidence, ODNI's Clapper appeared on CNN for an interview and told Tapper about the dossier.
Up to that point, the dossier looked like a solid card to play against Trump, until BuzzFeed and the Wall Street Journal got involved. Hilarious, for Trump supporters, anyway!
That said, although the DoJ's inspector general Michael Horowitz opened up an investigation into his department on January 12 (239), it was business as usual for Trump's adversaries in Washington:
On January 17, outgoing US ambassador to the UN Samantha Power used her final speech to verbally attack Russia (242).
Then came Inauguration Day, January 20:
Thus concludes Spygate as The_War_Economy detailed it in SPYFALL.
Thank you very much, The_War_Economy, for your brilliant work!