You are currently browsing the tag archive for the '2017' tag.
James O'Keefe, the founder and head of Project Veritas (past videos at the link), has once again produced a sterling undercover video.
This time, he sent an undercover reporter of his to CNN to investigate the Russian collusion accusations against President Donald Trump.
On Monday, June 26, 2017, Laura Loomer of Canada's Rebel Media tweeted:
Within hours, the Project Veritas video appeared on YouTube.
I highly recommend this subtitled, 8+-minute video (mild language alert), not only to anti-Trump readers but also to those of similar mindset who live outside of the United States, particularly in Europe:
The following synopsis comes from Project Veritas (emphases mine below):
In the recent video footage obtained by Project Veritas, John Bonifield a Sr. Producer at CNN, admits to several beliefs that are in direct conflict with the official CNN narrative that Trump has colluded with Russia, and that Russia has interfered with the 2016 election. Bonifield expresses clear doubts that there is a fire behind the Russia smoke, stating, "I haven't seen any good enough evidence to show that the President committed a crime." He also confirms suspicions that CNN staff is ideologically biased against Trump, stating, "I know a lot of people don't like him and they'd like to see him get kicked out of office…"
Bonifield even further confirms CNN's bias against the President, stating, "I think the President is probably right to say, like, look you are witch hunting me…you have no real proof."
Bonifield exposes that Russia has been great for CNN's ratings, and that orders from CEO Jeff Zucker himself have directed CNN to pursue Russia leads at the expense of other stories. Bonifield states "And the CEO of CNN said in our internal meeting, he said 'good job everybody covering the Climate Accords, but we're done with it let's get back to Russia.'"
He further comments on Russia, "it's mostly bullshit right now. Like, we don't have any giant proof…if it was something really good, it'd leak."
This is not fabricated. John Bonifield does indeed work for CNN, his employer for several years.
Quite rightly, O'Keefe channelled his late friend and mentor, Andrew Breitbart, who encouraged more people to make honest and hard-hitting exposés:
The Russian Ministry of Foreign Affairs has seen the video:
Freedom of speech is one thing, but when a news organisation purporting to be trustworthy keeps pushing damaging falsehoods for ratings, that's something else:
Yep.
I know a lot of people offline who believe what CNN says. They, like most of CNN's viewers, are highly educated. One man told me recently, 'It's not a matter of if, but when, Trump's Russian collusion comes out.'
But, wait, didn't Obama laugh at the notion that an American election could be rigged? He ridiculed Trump's claims last year of voter fraud and more. Since then, the fake Russian narrative that somehow they helped Trump win the White House has been front and centre, especially from CNN.
Yesterday, Trump tweeted:
Lou Dobbs of Fox News analysed the web of deceit surrounding the Democrats' claims about Trump and Russia. Dobbs doesn't say, but some Republicans also believe this fakery:
Trump had more to say on the topic. Sundance of The Conservative Treehouse put the president's tweets together:
Over the past week or so, CNN's obnoxious and belligerent Jim Acosta has been complaining about the White House press briefings and gaggles. Some changes have been made; filming, for example, is no longer guaranteed.
I call Acosta obnoxious because he was particularly rude to Trump last winter when the then president-elect gave a press conference at Trump Tower. Acosta interrupted him several times. Trump got his own back on Acosta weeks later in his first press conference as president.
Those who watch these briefings say that whilst Acosta himself might be ignored, others from CNN are not:
That was nothing compared to what happened next.
CNN discovered it was in hot water for its fake news.
On Friday, June 24, the network had to withdraw a story, one that involved the Russia narrative.
Newsweek has a summary of what happened:
CNN's announcement of new publishing restrictions on articles about President Donald Trump and Russia, as reported by Buzzfeed, has delighted right-wing media.
Populist website Breitbart reported that the "very fake news scandal" was consuming the network, while Fox News host Sean Hannity taunted CNN's Jeff Zucker on Twitter …
CNN's retracted story, which alleged that the Senate Intelligence Committee was probing claims that the chief of a $10 billion Russian investment fund had met with a member of Trump's transition team days before the president's inauguration, was based on a single unnamed source …
BuzzFeed reported (language alert):
The now-deleted story was published Thursday and cited a single, unnamed source who claimed that the Senate Intelligence Committee was looking into a "$10-billion Russian investment fund whose chief executive met with a member of President Donald Trump's transition team four days before Trump's inauguration."
A source close to the network, who requested anonymity to discuss the matter, told BuzzFeed News earlier that the story was a "massive, massive fuck up and people will be disciplined." The person said CNN Worldwide President Jeff Zucker and the head of the company's human resources department are "directly involved" in an internal investigation examining how the story was handled.
BuzzFeed included this tweet:
On Monday, June 26, three CNN employees resigned (Jeff Zucker, the network's CEO, is pictured giving the announcement):
That particular BuzzFeed article said, in part:
Three CNN employees have resigned in the wake of the news outlet's retracted Russia story.
Thomas Frank, the reporter who wrote the story; Eric Lichtblau, who recently joined CNN from the New York Times; and CNN Investigates executive editor Lex Haris have left the news outlet. The Washington Post first reported the resignations, which a CNN source confirmed to BuzzFeed News …
The story, written by investigative reporter Frank, was posted on Thursday and deleted late Friday. More than an hour after BuzzFeed News contacted CNN about the deletion, an editor's note appeared on CNN website saying that the story "did not meet CNN's editorial standards and has been retracted."
The note also apologized to Anthony Scaramucci, a member of Trump's orbit who had been named in the story (and who later tweeted that the apology was accepted).
The retraction sent CNN scrambling to deal with the fallout over the weekend, even within parts of the news operation that weren't involved in the retracted report …
Historian and author Thomas Wictor had an interesting exchange with another Twitter user about Eric Lichtblau's reporting history at the New York Times, including:
And, with further implications for CNN:
Trump tweeted:
This is not the end of the story for CNN — or for other media outlets. Investigative journalist and New York Times best selling author Sharyl Attkisson has just come out with a new book, The Smear, which is all about fake news. She could not have timed it better. I wish her all the best with book sales:
It might well answer the president's queries:
Monday, June 26, was also notable for the Supreme Court's temporary approval of Trump's partial travel ban from earlier this year. The Supreme Court justices will look at the ban formally as a case later this year, probably October.
White House Press Secretary Sean Spicer said at that day's press briefing:
Good afternoon. I want to say at the top that with respect to the Supreme Court decision on the President's executive order, the President was honored by the 9-0 decision that allows him to use an important tool to protect our nation's homeland.
His number-one responsibility as Commander-in-Chief is to keep the American people safe, and that's exactly what this executive order does.
Nationally syndicated talk show host John Cardillo tweeted:
In a statement from the Department of Justice, Attorney General Jeff Sessions explains why this partial travel ban is necessary for the safety and security of the United States:
I know some people still find this executive order discriminatory, however, it covers only six countries, those which lack adequate security detail and procedures to vet their own citizens, some of whom could be potential terror risks.
With these two significant items of good news, perhaps White House Anon is legit, after all. On June 22, he predicted good things would happen this week.
Wow.
After a two-week break which was largely free from US news, I return to find that things across the pond are as crazy as ever.
First, a reminder that fake news — then known as yellow journalism — existed a century ago:
The New York World — long since defunct — is the press organ that supposedly came up with the eponymous World Series for baseball. Ironically, Joseph Pulitzer — of the esteemed journalism prize — was the paper's publisher. The World was a leading national 'voice' of the Democratic Party. Enough said.
Now onto the week's news.
Anyone who is sensitive or easily triggered is advised to avoid some of the material in this post, particularly the first few news items. That said, this entry ends on a positive note.
White supremacy ends with white abortion
I really hope the following article is yellow journalism and nothing more but, with all the madness going on, it is difficult to be sure.
An online magazine, Medusa, has an article called 'Beyond Pro-Choice: The Solution to White Supremacy is White Abortion'. I hope Tucker Carlson is able to get the author, Nicole Valentine, on his Fox News show.
In response, alternative media journalist and author Jack Posobiec tweeted:
Valentine says that white women are not doing enough:
White women: it is time to do your part! Your white children reinforce the white supremacist society that benefits you. If you claim to be progressive, and yet willingly birth white children by your own choice, you are a hypocrite. White women should be encouraged to abort their white children, and to use their freed-up time and resources to assist women of color who have no other choice but to raise their children. Women of color are in need of financial and humanitarian resources. As this white supremacist society continues to imprison black fathers, women of color are forced to stand alone in their plight to raise the next generation of Americans.
But why is that? It is because the welfare state has benefited single mothers since the late 1960s, discouraging traditional marriage and the family. For nearly 50 years, women have been 'married' to the government, not a (or the) father of their children.
Valentine continues:
How about adopting children of color who have lost their parents to the destructive white supremacist society that you have enabled and encouraged?
However, that, too, has been criticised both in the United States and the United Kingdom, especially when a white couple does so.
Valentine concludes:
Of course, the best choice is to act preventatively to ensure that white children are not at risk of being born. But in circumstances in which termination and generation are the options, it is best to take advantage of your right to choose, and abort in favor of assisting women of color.
This is her brief autobiography located beneath the comments (photo supplied):
Nicole Valentine
Not a Christian attitude.
For those wondering what intersectional feminism means, USA Today explains:
If feminism is advocating for women's rights and equality between the sexes, intersectional feminism is the understanding of how women's overlapping identities — including race, class, ethnicity, religion and sexual orientation — impact the way they experience oppression and discrimination.
A white woman is penalized by her gender but has the advantage of race. A black woman is disadvantaged by her gender and her race. A Latina lesbian experiences discrimination because of her ethnicity, her gender and her sexual orientation.
The United States has had a plethora of laws on state and federal books, some of which date back 50+ years, that clearly prohibit racial, sexual as well as age discrimination and, in some cases, favour positive discrimination.
White professors should 'get out the way'
An article on the American Mathematical Society blog says that whites should step aside from teaching. It should be noted that:
The opinions expressed on this blog are the views of the writer(s) and do not necessarily reflect the views and opinions of the American Mathematical Society.
In May 2017, mathematician Piper Harron wrote 'Get Out The Way' for the AMS blog. (She wrote a follow-up in June on her own website.) She opened her AMS article with this:
If you are a white cis man (meaning you identify as male and you were assigned male at birth) you almost certainly should resign from your position of power. That's right, please quit. Too difficult? Well, as a first step, at least get off your hiring committee, your curriculum committee, and make sure you're replaced by a woman of color or trans person. Don't have any in your department? HOW SHOCKING.
Remember that you live in a world where people don't succeed in a vacuum; most success happens on the backs of others who did not consent. You have no idea how successful you would have been if you were still you, but with an additional marginalization (not white, or not male, or not cis gender, or with a disability, etc).
In other words, echoing POTUS 44: 'You didn't build this'.
Also:
Remember having white cis women run the world is no kind of solution.
This is because — and she supplies an accompanying chart — 63% of white males and 53% of white females support President Donald Trump.
It is highly unlikely that (m)any whites teaching in a college or university support Donald Trump. Not long ago, I met with a group of professors (white and Hispanic, male and female). None of them supports Trump.
Next?
More calls for president's assassination — one arrest
As we know, the calls for President Trump to be assassinated have been incessant.
What that man and his family have to endure every day for no good reason is beyond our ken. Please continue to pray for their safety.
With a rewrite of a Shakespearean play which recently ran in Central Park about a Trump assassination, Kathy Griffin's sick video of his 'decapitation' and the attempt on Republican congressman Steve Scalise's and others' lives, Johnny Depp decided to 'joke' at the Glastonbury music and cinema festival in the west of England.
USA Today reports:
Speaking onstage Thursday at Glastonbury Festival in Somerset, England, Depp stepped into controversy with jokes aimed at President Trump that addressed presidential assassination.
"Can we bring Trump here?" Depp asked the crowd at the festival.
"I think he needs help," Depp said, according to video posted online. "This is going to be in the press and it'll be horrible. But I like that you're all a part of it. When was the last time an actor assassinated a president?" …
The Associated Press reported that Depp then added it's "been a while, and maybe it's time."
Actor John Wilkes Booth assassinated President Abraham Lincoln in 1865.
Depp's representative did not immediately respond to USA TODAY's request for comment about Depp's jokes.
For Depp fans currently out of the loop:
The actor has been in the headlines this year following his contentious divorce from ex-wife Amber Heard and a lawsuit with his former business managers. Depp sued the Management Group in January for more than $25 million, charging fraud and negligence.
Sad.
Meanwhile, an Edwardsville, Illinois, man was arrested and charged with threatening to kill President Trump. The Belleville News-Democrat reports:
Joseph Lynn Pickett was charged with threatening the president of the United States on June 15.
U.S. Secret Service Special Agent Vincent Pescitelli said Pickett threatened to "take the life of, to kidnap, and to inflict bodily harm" against Trump on Facebook, according to a criminal complaint filed with the charges. The complaint included screenshots of Pickett's Facebook posts.
Breaking 911 says:
A judge has ordered Pickett be held without bail.
Both articles have his Facebook comments. Fortunately — perhaps, 'finally' — the Secret Service reacted.
Like Depp, Pickett also had his personal problems. The Belleville News-Democrat tells us (emphases mine below):
Until about six to eight months ago, Pickett had been working at Lowe's in Granite City until he was fired for making threats to a coworker, according to the complaint.
Two Lowe's employees contacted the St. Louis chapter of the U.S. Secret Service and told them that Pickett had threatening posts on his Facebook page. They also said he had bragged about having weapons.
A financial affadavit submitted to the court says Pickett has not been employed since February. He got by with food stamps and financial support from his father.
Pickett will be detained until his trial, according to court documents. A judge ruled that Pickett should be detained because the court couldn't ensure the safety of other people in the community and because of "mental instability."
Good on the Lowe's employees.
Would the Secret Service had done anything otherwise?
One wonders if the Secret Service would have paid Depp a visit if he still lived in the US.
Trump remembers Scalise at Congressional Picnic
On Thursday, June 22, the Trumps hosted their first Congressional Picnic at the White House, which included Ivanka 'Vanilla' (see here and here) Trump and her daughter:
The video below is of President Trump's remarks:
In his short speech, Trump remembered Steve Scalise, in hospital for the foreseeable future, after the shooting on Wednesday, June 14:
On June 22, the Free Beacon reported that 30 Republican congressmen have been threatened or attacked since the beginning of May. There is no excuse for that. Few arrests have been made.
These are the latest two attacks (language alert, emphases in purple mine):
June 22: An Ohio man was arrested for leaving a voicemail threatening the life and family of Rep. Steve Stivers (Ohio).
"We're coming to get every goddamn one of you and your families. Maybe the next one taken down will be your daughter. Huh? Or your wife. Or even you," the man said.
The same day, Utah Rep. Jason Chaffetz played a threatening voicemail he had received on "Fox & Friends."
"I suggest you prepare for the battle motherf**ker, and the apocalypse," the caller yelled. "Because we are going to hunt your ass down, wrap a rope around your neck, and hang you from a lamppost."
Jeffrey Epstein update
On June 22, federal prosecutors broke their decade-long silence regarding the soft treatment billionaire Jeffrey Epstein — a close friend of Billary Clinton — received after his intimate involvement with teenage girls.
The Palm Beach Post reports (emphases mine):
Contrary to claims by attorneys representing two of Epstein's victims in a lawsuit against the federal government, Assistant U.S. Attorney Marie Villafana said she and her superiors were trying to help the traumatized young women when they agreed to let Epstein plead guilty to state prostitution charges.
The now-64-year-old money manager, who spends most of his time on his estate in the Virgin Islands, served 13 months of an 18-month sentence in the Palm Beach County Stockade. He was allowed to leave each day to go to work.
Hoping to persuade U.S. District Judge Kenneth Marra to throw out the lawsuit that accuses the government of violating the federal Crime Victims Rights Act, Villafana said she tried to keep Epstein's victims informed about the investigation and the eventual plea deal. But, she said, negotiations were sensitive and neither Epstein, his victims nor their attorneys made it easy.
For instance, she said, most of the young women were extremely reluctant — or simply refused — to testify against Epstein, who had paid them to give him sexually-charged massages at his mansion …
Jane Doe 1, who is also suing the government, agreed to testify. But Villafana said one victim wouldn't have been enough to convict Epstein.
Rather than let Epstein use his considerable influence to evade prosecution, she and top officials at the U.S. Justice Department crafted the plea deal.
In exchange for pleading guilty to charges of solicitation of prostitution and soliciting minors to engage in prostitution in Palm Beach County Circuit Court, Epstein was not charged with any federal counts.
The article says that Epstein's legal team will file a response at the end of July.
New US ambassador to the UK
In more neutral news, President Trump has appointed a new ambassador to the UK who succeeds Matthew Barzun, an Obama bundler and National Finance Chair for his 2012 presidential campaign.
It would have been nice if Trump had promoted a career diplomat to this plum position, however, the president chose to go down the same route of selecting a big campaign donor.
New York Jets owner Woody Johnson is the new man in London:
Bloomberg reports that, in 2016:
Johnson backed Trump when Bush dropped out of the race. He gave $349,000 to Trump Victory, which split donations between Trump's campaign, the Republican National Committee and state Republican parties. The committee reported receiving the bulk of the money ($249,000) on Nov. 10, 2016, two days after Trump's election, according to Federal Election Commission records.
Perhaps Trump thinks that Johnson will be a true ally who can help smooth over the cracks in the US/UK relationship which no one can call 'special' right now:
Johnson will step into challenges that have arisen in the six months since Trump took office, notably how to stabilize the U.S.-U.K. relationship in the post-Brexit world and how to win over Britons who have shown open hostility toward the U.S. president.
A planned state visit to the U.K. by Trump still hasn't been formally scheduled, and no reference to it was made by Queen Elizabeth II during her speech to parliament this week — an omission observers noted as a departure from tradition in advance of state visits.
I hope my fellow Britons will be nice to him. I wish him all the best in his assignment.
I also hope that Mr Johnson enjoys lamb, because its frequency at many British dinners deeply disappointed Mr Barzun, who clearly prefers beef.
And finally …
The notional White House Anon who surfaced briefly on 4chan/pol/ made a second — and, perhaps, final — appearance on June 22 to say:
I'm here to let you know that sometime between right now as I type this, or no later than around 2 pm tomorrow, you will either read about, listen to, or watch a news story. You will probably see it first on Twitter from a few well known conservative (right wing) people. It will break on cable news shortly after. I cannot go in to specifics. I know most of you all support President Trump, so have no worries on the matter. This information will completely shift the narrative away from him and any of his staff. You will all be very happy and excited about this as many of us have and will too. Look forward to many happenings next week. Things are about to shift in a direction Democrats are going to hate. It will be lovely. Big happenings, not just silly things like "Russia" hoax or "Yet another terrorist attack has happened". Most of you all have been waiting for a happening like this for a year or more, and people will be talking about this for years to come. Stay thirsty my friends. Promises made, promises kept.
I really hope Anon is legit. With only two appearances, it was hard to tell. Even FBI Anon was considered suspect after several lengthy postings, even though it seems he was right on the money.
In closing, The_Donald's contributors remind us that June 23 is Britain's first anniversary of Brexit! Thanks, chaps!
Cannes is as lovely as ever.
Some of my readers cannot see the attraction, but it all depends on when one sees this jewel of the Mediterranean.
There is a brief window between the end of the annual film festival in May and the beginning of the Cannes Lions advertising festival in June when one can experience the city in near normality. Of course, smaller conferences and another international festival — namely the music industry's MIDEM — take place at that time, but these do not normally impinge as much on city life as the others do.
I'll have more to write in the coming days, so this is a summary of impressions that my better half SpouseMouse and I noted this year.
Weather
The weather was perfect from start to finish. It was too hot for SpouseMouse during the second week, but we had wall-to-wall sunshine and warm temps.
By contrast, in 2015, we had some rollicking thunderstorms, including one around 6:30 a.m., which brought everyone in our hotel down to breakfast by 7:00 a.m.
Italians
We were surprised at the number of Italian visitors, given that most French people go to Italy for an inexpensive weekend break or holiday.
Femininity and masculinity maintained
Speaking of Italians, they and the French are firmly maintaining male and female roles. Women are feminine and men are masculine.
This was noticeably less common with visitors from northern Europe and North America.
New restaurants
There were a number of new restaurants that opened near the Marché Gambetta near the railway station. I will write about these in future posts.
These are convenient for people staying (and living) in that area. It also means that diners can readily avoid the street hawkers and musicians who panhandle at night near the bigger seafood restaurants along Rue Félix Faure in the centre of town.
Food prices
Restaurant menu prices haven't gone up much, if at all, since our last visit in 2015, which is good news.
However, the prices of French food and vegetables at Marché Forville in Le Suquet have increased markedly. I can appreciate French talk radio listeners who ring up RMC to say that they do without home-grown produce, buy less of it or plump for Spanish fruit and vegetables which are much less expensive.
French produce is definitely cheaper at the supermarket than at the market stall.
Meat, whether at a butcher's or the supermarket, is incredibly expensive, probably 50% higher than in the UK.
Shopping
Clothing prices are about the same as in 2015.
One can still find terrific bargains in natural fabrics for men and women at Monoprix and in Rue Meynadier, both of which attract Cannes residents as well as tourists.
Fun Mod' in Rue Meynadier still has durable, traditional espadrilles in all adult sizes and colours for €6 a pair. You can't get a better bargain.
Service
Service continues to improve in restaurants, both in terms of getting plates to the table and communication. We can speak French reasonably well, but many wait staff spoke in English initially to be helpful.
Cleanliness
Cannes is a smooth running ship in terms of hygiene.
We did not see any litter. (There are fines of €180 if the authorities see someone littering.)
I saw only one small bit of graffiti — in the upmarket Rue d'Antibes.
The dustmen went around at least daily — twice a day on Tuesdays and Fridays — to collect trash and recycling. There was a man who rode a machine that swept and cleansed the sidewalks of Rue d'Antibes every afternoon.
The majority of dog owners — of which there were plenty — were very serious about cleaning up after their pets, so there was very little canine detritus.
Conclusion
We had a lovely time. For once, we were able to stay for two weeks. The hotel was perfect. We had a room with a sea view and a spacious terrace. The hotel beach was great and the sea water soothing.
I am four to five shades darker than when I left Blighty, for which I am grateful.
More to come now and then over the next week or two. I have much to say.
In several countries, Father's Day is celebrated on the third Sunday in June. In 2017, it took place on June 18.
Father's Day history
This special day for dads started in the United States, however, contrary to what we might think, it was not a greeting cards company invention. The Sun reports:
There are a few stories with regards to the beginning of Father's Day.
According to one tale, it first began because of a woman named Grace Golden Clayton from Fairmount, West Virginia.
An orphan, Grace lobbied her local Methodist ministers for a church service to honour fathers in 1908.
The story goes that she was inspired to do this after a mining disaster killed 362 local men.
Their deaths orphaned more than 1,000 children and Grace wanted to pay tribute to the children's dead fathers – as well as her own.
Another story involves the daughter of a civil war veteran, Sonora Smart Dodd, from Arkansas.
While listening to a sermon for Mother's Day, Sonora became convinced of the need to celebrate dads too.
She then campaigned to her religious leaders for a special service dedicated to fathers.
In 1966, President Johnson designated that the third Sunday in June should be Father's Day.
Six years later, the Father's Day was made a permanent national holiday in the US, when, in 1972, President Richard Nixon signed it into law.
It is great to know that the origins were connected with women churchgoers who lobbied their clergymen for recognition of paters familias.
Even in the notionally patriarchal 19th and 20th centuries, fathers were not considered as worthy as mothers of having their own special day.
President Trump
President Donald Trump and his family spent Father's Day at Camp David, their first stay at this presidential retreat near Washington, DC.
Although the First Family were low-key in their tweets about the President — see here and here — a Trump supporter found two photos perfect for his Father's Day:
Vice President Pence
Vice President Mike Pence and his family spent part of last week in their home state of Indiana.
New pets
Whilst there, they bought two new pets, a kitten:
and a puppy. The latter was a present to the Vice President:
Hazel and Harley join the other Pence pets, including the popular rabbit, Marlon Bundo:
I say 'popular', because BOTUS, as the media have dubbed Bundo, overshadowed both Ivanka Trump and HR McMaster on May 9, when the Pences welcomed military families at the Vice President's office. Webgrio has a great set of photographs and an accompanying article, excerpts of which follow:
Ivanka Trump had some competition for attention at the White House Tuesday – and they matched in white with black spots.
The first daughter, wearing a polka dotted dress, spoke to a group of military families for an event marking National Military Appreciation Month, hosted by Vice President Mike Pence and his wife, Karen.
Upstaging Ivanka in the audience of small children was the Pence family pet: the white bunny with black spots, Marlon Bundo …
Karen Pence tweeted a photo of herself about to enter an event with military families at the White House – and she brought a special guest, the BOTUS, Marlon Bundo …
White House National Security Advisor H.R. McMaster spoke at the event after Ivanka Trump saying, "OK, that's the toughest act to follow.' But then the rabbit appeared …
The article says that even Pence couldn't hold the children's interest after his wife left with BOTUS in her arms.
BOTUS Bundo trended heavily on Twitter that week:
BOTUS is the subject of a colouring book which made its way as far as the Asia-Pacific:
Let's hope the Pence menagerie can make friends with the bees at the Vice President's residence:
A time to remember
For the Pences, Father's Day was a time to remember.
Karen Pence tweeted an old family photo:
The Vice President honoured his late father:
A Pence supporter chose to remember the Scalise family, who spent Father's Day in the hospital. Congressman Steve Scalise was the primary victim of a crazed man from Illinois who, on Wednesday, June 14, fired a gun at Republicans practising for the annual Congressional baseball game, a charity event. Scalise is expected to be in hospital for weeks as he recovers from a damaging bullet to the pelvis.
I will have more soon on the man who attempted to take the life of Congressman Scalise.
Interestingly, the Illinois man's family will have no more Father's Days as law enforcement officers intervened and — rightly — fatally shot him.
Life is precious and God-given. Therefore, let's make every day a time to honour and remember our parents. We never know what tomorrow will bring.
Below is a tweet listing President Donald Trump's many accomplishments during his first four months in office:
It's a handy one to share among Trump admirers and detractors alike.
It's such a powerful message that those replying to Jack Murphy said they were unable to retweet it. Hmm … Twitter's up to something.
Regardless … click on the image, copy, paste and circulate!
It's well worth sharing, because Big Media won't report on Trump's achievements.
Incidentally, Murphy, a college football player, is a big believer in MAGA who also broadcasts about Trump. We need more Americans like him.
On May 27, 2017 John Betjeman's son Paul left a message on one of my posts announcing his son Timothy's upcoming art exhibition at Marlborough College in Wiltshire.
My English readers who live nearby might be interested in attending.
Paul Betjeman informs us:
the opening is June 9th 6-9pm at the Mount House gallery at Marlborough College.
His son Timothy's exhibition runs from June 10 through to June 25 (inclusive). You can read more about it on Timothy's website.
Timothy has been Marlborough's Artist in Residence over the past year. He enjoys painting in the college chapel and explained in February (emphasis in the original):
I decided early on in my time at Marlborough that I would like to paint regularly in the Chapel.  I knew that my grandfather, Sir John Betjeman (B2 1920-25), had enjoyed spending time there, and had seen it as something of a refuge from the trials of student life. There is a sense, upon entering and shutting the wooden doors behind you, that one has entered a space related to, but many miles away from the outside.
The Chapel does not take in a huge amount of natural light, so that when it is empty, the only indications of time passing, are occasional creaks from the wooden pews and the minutely changing colour of the chancel windows, which start off in the morning as a very pale blue, and by the evening have turned an aqueous green.  I have several paintings in progress, all created from the same spot in the back centre of the chapel, and a half-dozen etchings, which I work on after dark under electric light, or when I am too tired to paint.  Collectively, these represent sections of the day, and different architectural and decorative features coming into relief.  As the sun moves and colour relations change above the altar, I set down one painting and resume work on another.  I don't like working from photographs because you miss all this.  The rituals and cycles of a place: visual, musical, religious and secular.  Painting is itself a ritual, and one which I have found harmonises well with that of the church.
Timothy Betjeman's work is now complete. His website has a catalogue of what will appear at the exhibition. His paintings reflect a plein-air style. His etchings are stunning.
The Marlborough article explained that he also taught art classes and that they were delighted to have him as Artist in Residence:
Alongside Tim's regular teaching of a range of art practices to our Art Scholars and Option classes, he has welcomed pupils visits to his studio space and the Chapel. Most recently, a Remove Art class were greatly impressed by the expressive mark-making, detail and application of colour that Tim achieves within his current oil paintings. Our pupils asked Tim many questions relating to his gestural painting techniques and particular interest in studying the Chapel's altar.
It is a pleasure to have Tim within the College community this academic year, and we look forward to further creative interactions throughout the remainder of his residency.
I wish him all the best with his exhibition and future endeavours.
I would also like to thank his father for sending in the links.
For all his words during the presidential campaign lauding diversity, Emmanuel Macron has a remarkably un-diverse cabinet.
I normally wouldn't say anything, but back in February, Teen Vogue — increasingly political and left-wing — took President Donald Trump apart for his lack of cabinet diversity:
President Donald Trump just shared a photo on Twitter late Thursday night from the @POTUS account that features the president sitting at his Oval Office desk surrounded by 12 others … And because nothing gets by the good people of the Internet, many immediately pointed out how much the photo is lacking in diversity: Everyone in the photo appears to be white, and there is only one woman included.
This was the offending tweet:
On May 8, Bloomberg speculated on who would be in Macron's cabinet. The article oohs and ahhs over the people coming in from the elite Sciences-Po and ENA (École Nationale d'Administration). Macron attended both, by the way:
The following tweet shows Macron's staff:
What would Teen Vogue say? Probably nothing. It's too inconvenient a truth.
After President Donald Trump's successful visits to Saudi Arabia and Israel, he and First Lady Melania Trump went to Europe.
I covered their visit to Vatican City in the comments on the Israel post.
The next stop was Brussels.
The first item of business on Thursday, May 25, 2017 was to address the leaks that had emerged from US intelligence or law enforcement about confidential aspects of the suicide bombing that had taken place on Monday, May 22.
British Prime Minister Theresa May was furious that the US had leaked sensitive information. From the BBC:
Details about Abedi's identity had already emerged in the US media less than 24 hours after the explosion and against the UK's wishes.
Home Secretary Amber Rudd said she was "irritated" by the disclosure of Abedi's identity and had warned Washington "it should not happen again".
However, the pictures of debris – which appear to show bloodstained fragments from the bomb and the backpack used to conceal it – were subsequently leaked to the New York Times, prompting a furious response from within Whitehall and from UK police chiefs.
BBC security correspondent Gordon Corera says UK officials believe that US law enforcement rather than the White House is the likely culprit for the leaks.
Trump issued an official statement, which reads in part:
I am asking the Department of Justice and other relevant agencies to launch a complete review of this matter, and if appropriate, the culprit should be prosecuted to the fullest extent of the law.   
There is no relationship we cherish more than the Special Relationship between the United States and the United Kingdom.
The Daily Caller provided Attorney General Jeff Sessions's comments:
I share the president's deep concern and talked to Home Secretary Rudd yesterday about this matter. These leaks cannot be tolerated and we will make every effort to put an end to it. We have already initiated appropriate steps to address these rampant leaks that undermine our national security.
This was a temporary situation which the two nations quickly resolved:
However, Trump is unlikely to be in a good mood once he returns to the White House. Next week's news cycle should be interesting.
This graphic describes Trump's mood in Brussels (courtesy of a contributor to The Conservative Treehouse):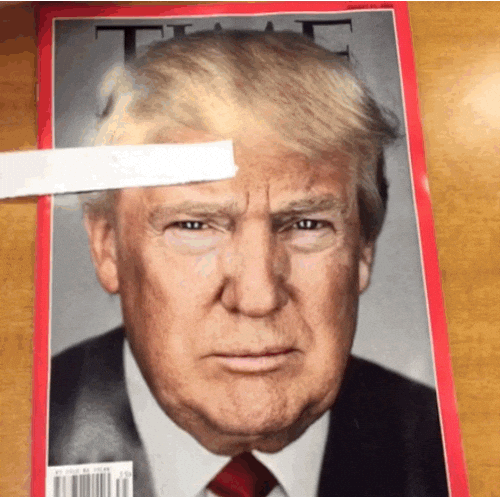 Unbelievably, French President Emmanuel Macron posted this video of Trump strongarming him into a handshake. Seconds earlier, Macron walked straight towards Trump before snubbing him for Angela Merkel:
Despite the smiles and hand gestures, their brief photo op and statements looked chilly:
In another group shot of NATO leaders, the following video makes it look as if the American president forced his way to the forefront:
A Washington Post reporter who lists her American allegiance last, tweeted:
In reality, Prime Minister Dusko Markovic of Montenegro had accidentally stepped on Trump's foot.
A contributor at The_Donald couldn't help but react:
Trump visited members of NATO today, and while walking with several members, is seen moving PM Dusko Markovic aside. The corrupt and fake media took this video clip and spun it completely into FAKE NEWS territory by saying:
"DONALD TRUMP SHOVES A MEMBER ASIDE IN ORDER TO REMAIN IN FRONT OF THE GROUP"
… You can CLEARLY see he winced in pain after his foot was apparently stepped on, and he moves the Prime Minister aside to get him off his foot. Even the PM reacts the moment he steps on Trump's foot, knowing he caused him pain.
Here's the clip in slow motion:
A ceremony took place for the new NATO headquarters and a memorial which included a metal remnant the 9/11 attack in 2001 and a chunk of the Berlin Wall from 1989. In his address, Trump said:
I want to extend my appreciation to the 9/11 Memorial and Museum in New York for contributing this remnant of the North Tower, as well as to Chancellor Merkel and the German people for donating this portion of the Berlin Wall.  It is truly fitting that these two artifacts now reside here so close together at the new NATO Headquarters.  And I never asked once what the new NATO Headquarters cost.  I refuse to do that.  But it is beautiful.
Each one marks a pivotal event in the history of this Alliance and in the eternal battle between good and evil.  On one side, a testament to the triumph of our ideals over a totalitarian Communist ideology bent on the oppression of millions and millions of people; on the other, a painful reminder of the barbaric evil that still exists in the world and that we must confront and defeat together as a group, as a world.
This twisted mass of metal reminds us not only of what we have lost, but also what forever endures — the courage of our people, the strength of our resolve, and the commitments that bind us together as one.
We will never forget the lives that were lost.  We will never forsake the friends who stood by our side.  And we will never waiver in our determination to defeat terrorism and to achieve lasting security, prosperity and peace.
Thank you very much.  It's a great honor to be here.  Thank you.
However, it's what he said before that really matters:
The following graphic from a contributor at The Conservative Treehouse explains Trump's objections. Out of each nation's GDP, the percentages reflect how much goes towards defence, NATO and otherwise:
We pay 4% to NATO defense budget.
We will pay 36% for our defense overall.
They pay less than 2% of their GNP for practically their entire defense overall.
NATO ally flags were raised cermonially:
The flypast:
Whereas Trump diplomatically summarised the meeting as being one of united interests:
Emmanuel Macron made it a Europeans-only occasion:
Fortunately, the NATO spouses and partners seemed to get on better. Melania Trump was buddied with Brigitte Trogneux, Macron's wife and his former high school teacher.
The group went on a tour of the Magritte Museum (Magritte misspelled below):
The Daily Mail, with excellent photos, reported on the visit to the royal palace:
Melania and Brigitte, who met while touring the Magritte Museum in Brussels earlier in the day, posed for pictures alongside the royal [Queen Mathilde] and the other spouses at the royal residence
Mrs Trump also had her own engagements that day:
The next and final stage of the trip is the G7 conference in Taormina, Sicily.
The Trumps left Brussels on Thursday, flying to Italy, then onto Taormina. Watch the Italian guard at 43 seconds in sneak a brief smile to the Trumps:
Trump tweeted:
Taormina is a beautiful ancient city:
This was the schedule and list of participants for Friday, May 26:
The 43rd G7 summit is taking place in Taormina, Sicily, between May 26-27. Attendees will include the leaders of the Group of Seven member states, as well as representatives of the European Union.
The summit is set to be the first for British Prime Minister Theresa May, French President Emmanuel Macron, Italian Prime Minister Paolo Gentiloni, and US President Donald Trump.
Other participants include German Chancellor Angela Merkel, Canadian Prime Minister Justin Trudeau and his Japanese counterpart Shinzo Abe. The EU will be represented by European Commission President Jean-Claude Juncker and European Council President Donald Tusk.
COVERAGE SCHEDULE:
06:00-08:00 GMT – Arrivals from Sigonella airbase.
08:00-09:00 GMT – Jean-Claude Juncker and Donald Tusk press conference.
09:30-10:30 GMT – Welcome cerimony and family photos at Greek Theatre.
10:00-10:30 GMT – Moving to Hotel San Domenico.
10:45-11:30 GMT – Arrivals at Hotel San Domenico. Tour de Table.
17:00-18:00 GMT – Concert for the opening of the G7 Summit at Greek Theatre.
18:15-18:45 GMT – Welcome ceremony and family photo at Hotel Timeo. Official dinner hosted by Italian President Sergio Mattarella.
A concert by La Scala Philharmonic Orchestra and dinner with President Mattarella followed.
Foreign Policy reported that Trump has an important American objective at the G7:
President Donald Trump's controversial senior advisor and speechwriter, Stephen Miller, has led White House efforts to undercut an initiative by Italy to place the migration crisis at the center of this week's Group of Seven major summit meeting starting Friday in Sicily.
For Italy, the summit in Taormina, Sicily, was to provide a poignant opportunity to raise awareness of the plight of hundred of thousands of refugees who cross the Mediterranean Sea to Italy's shores each year, and to reach agreement on a plan to find them permanent homes.
But the Donald Trump White House has largely blocked its Italian host from putting forward an initiative addressing the need to resettle millions of refugees and migrants who have poured into Europe on rickety boats or crossed borders on foot over the past decade. Instead, the United States has pressed the leaders to cap the session with a stern declaration on the need to fight terrorism, a cause that gained added urgency following a grisly suicide bombing at an Ariana Grande concert in Manchester.
The rearguard action was led by the 31-year-old Miller, who has exercised outside influence over the summit's response to the worst refugee crisis since World War II.  In line with President Trump's pledge to build a wall to keep Mexicans out of the United States, the White House has been pressing the G-7 leaders to focus more attention on the need to prevent illegal immigrants from crossing borders than on finding migrants who make the journey a permanent home.
Trump also intends to push back on other G7 preoccupations:
including climate change, trade, and migration that until recently aligned closely with President Obama's foreign-policy vision.
This G7 summit should prove to be a delicate one to be navigated diplomatically. The summit concludes on Saturday, May 27.
On Monday, May 15, President Donald Trump's final cabinet choice was sworn in, Robert Lighthizer as US Trade Representative:
That day, buoyant housing market results were released (emphases mine):
New home sales have been one of this year's best surprises and home builders are reporting strong activity this month and see even better times ahead. The housing market index topped expectations in May, rising 2 points to 70. Current sales are also up 2 points to 76 with 6-month sales up 4 points to a very strong 79. And traffic, in a key reading, is at 51 and over breakeven 50 for the 5th time in the last six months. The West leads the regions with a 3-month composite score of 80 with the Northeast trailing at 50.
Even though traffic is nearly 30 points behind sales, it is still the highlight of the report. This is its best run by far of the expansion and offers a hopeful hint that first-time buyers, who have been priced out of the new home market, may begin to be a factor. Today's report is a plus heading into tomorrow's housing starts report where similar strength is expected.
Returning to cabinet choices, it has taken Trump an eternity to get his nominees approved.
Although past presidents in living memory also faced one or two significant delays, a useful chart from CNBC shows that nearly all — from Jimmy Carter to Barack Obama — had the bulk of their appointments confirmed within 60 days, generally sooner.
During the Obama presidency, there were only two major delays. His choice of Gary Locke for Commerce did not receive confirmation until April 2009. Kathleen Sebelius did not receive confirmation to Obama's cabinet until May that year.
Outside of those exceptions, however, it actually has taken a record amount of time for President Trump to get his nominees confirmed.
At least his cabinet is now in place.
The title of the United States Trade Representative is Ambassador, by the way. Lighthizer is the 18th person to take on that role:
At the time he was chosen by President Trump to serve as USTR, Ambassador Lighthizer was a partner at the law firm Skadden, Arps, Slate, Meagher & Flom LLP (Skadden), where he practiced international trade law for over 30 years. His work there on behalf of American workers and businesses in the heavy manufacturing, agricultural, high-tech, and financial services industries opened markets to U.S. exports and defended U.S. industries from unfair trade practices. He was lead counsel for scores of trade enforcement cases and was a well-known advocate for the type of "America First" trade policies supported by President Trump.
Before joining Skadden, Ambassador Lighthizer served as Deputy USTR for President Ronald Reagan. During his tenure, Ambassador Lighthizer negotiated over two dozen bilateral international agreements, including agreements on steel, automobiles, and agricultural products.  As Deputy USTR, he also served as Vice Chairman of the Board of the Overseas Private Investment Corporation.
Prior to becoming Deputy USTR, Ambassador Lighthizer was Chief of Staff of the United States Senate Committee on Finance for Chairman Bob Dole.  In this position, he was a key player in enacting the Economic Recovery Tax Act of 1981, which was the most significant tax reform in decades, as well as the other basic elements of the Reagan economic program.
Ambassador Lighthizer earned a Bachelor's degree at Georgetown University and his Juris Doctor from Georgetown University Law Center. He is a native of Ashtabula, Ohio and has two children. 
He looks too young to have all that experience behind him. He will bring a wealth of knowledge to the role. Check for further news on Twitter.
In other news, Trump's overseas trip has given him a boost in US presidential popularity, at least with Rasmussen. Bear in mind that most polling companies have not been honest in their polling methods, e.g. favouring Democrats over Independents and Republicans. Matt Drudge tweeted:
OK. Trump approval pops to 48% today… Obama Averaged 47.9% Job Approval as President.. http://www.rasmussenreports.com/public_content/politics/trump_administration/prez_track_may24 …
The Rasmussen link says, in summary, that the visits to Saudi Arabia and Israel, particularly when the Manchester bombing took place on Monday, got voters thinking more about the dangers of terrorism. Voters tend to agree with Trump that the Saudis need to do more to fight terror. They also think that a good relationship with Israel is essential to the prospect of peace in the Middle East.