You are currently browsing the tag archive for the 'Democratic Party' tag.
Yesterday's post concerned Melania Trump's opening her husband's February 18 rally in Melbourne, Florida with the Lord's Prayer.
The following day, The_Donald — a welcoming forum for Trump supporters and ex-leftists — featured a long thread about the first lady's call to prayer.
Most of The_Donald's readers are Millennials and gamers. They also do not mince words. Sometimes their language is salty. Therefore, it was heartening to read their support of prayer.
Selected comments follow, demonstrating that perhaps the United States is returning to the Lord. And, as others know, where the US goes, the rest of the world often follows. Emphases mine below.
FullMetalSquirrel: Therefore put on the full armor of God, so that when the day of evil comes, you may be able to stand your ground, and after you have done everything, to stand.
Ephesians 6:13
KrakNup (replied): It's hard to believe that we can converse and post passages like this without being totally shut down. It's been too many years since that was so.
GCMythix (further reply): Exactly, it's amazing how this community is so open to all types of people. This is the first place on the internet I haven't been completely disregarded for my faith. I've been made fun of and discredited just because of my beliefs and I'm so glad that we can come together as a nation. I'm glad atheists and Christians and those from every belief get along so well here🙂 
An atheist chimed in:
Neo8Aeon (excerpted): I'm an atheist, spent much of 2 years ago explaining why atheism is better online and on forums, watched and read Hitchens, Dawkins, Harris and others and preached the message of rationality and science over all …
I love science and I'm still an atheist to the core, but I'm not of the anti Christian sect any more. I love what the Christian culture and values did in the America of my childhood. But for a few, highly over-publicized cases, the Christianity I've known has always been hate the sin, love the sinner, and we are all sinners, all worth loving.
Right now if the USA again moved toward prayer in schools, toward people who quoted the bible reverently, with malice toward none but charity for all I'd be on board for that. So I've become a pro-Christian atheist.
God Bless the USA!
Melania's popularity went up with the act of prayer:
cequiceracera: I thought she seemed a little nervous, but was so glad she took the stage. I hope we hear more from her in the future!
Perhelion (reply): I think she will get used to it as she takes on more speaking roles as FLOTUS. But again, starting with the Lord's Prayer won massive points with me. She may as well have walked on water today. That's how highly I think of her now.
Another reader reminded the Left of America's origins:
GoneGalt13: Reminder for triggering leftists: our official national motto is IN GOD WE TRUST. Also, for what it's worth E Pluribus Unum refers to STATES. Out of many states, one country.
Some criticised the first lady's detractors:
StillTraveling: Everyone on twitter talking about how she had to read it off a card…
They are retarded. English is not her first language. I'm sure she prays in her first language; therefore, it is to be expected that she would utilize the written English prayer to help her along.
ZippyTheChicken (reply): when you are not off the cuff like donald its always best to read off a card.. can you imagine if she missed a word the left would say horrible things.
the fact is … she said it.. and I have never heard anyone else in politics say it
FullMetalSquirrel (further reply): It is easy to get a prayer wrong though. I do this all the time in my head and have to start over. So stupid and mean.
I've gotta say, they will answer for mocking her for praying and it will be to the Lord himself.
From someone who was at the rally:
FL_MEGA_MAGA: I was there, it was awesome. DEUS VULT!
And from someone who wasn't:
speaksdinosaur: I found myself doing the Sign of the Cross. Old habits die hard even if you're not religious.
Amen!
More positive comments followed:
Sleek_Bones: Finally, a president[ial] couple that worships the one and only.
locploc: It was a fantastic surprise. Very heart-warming.
dparks2010: For anyone who missed it – here's a video which starts with Melania's intro:
What a gorgeous and classy woman. I'm proud to have her as my First Lady.
ManOfTheInBetween: When was the last time you heard a Presidential family say something like this in public? Whether you believe or not we call all agree that the values of Christianity are valuable and benefited western culture. God Bless the USA!
Indeed.
In closing, some were inspired to seek a broader application in a time of growing unbelief:
FullMetalSquirrel: I am seriously thinking of starting a list of names of people here who say this or that they're atheists and praying for them once a week at least.
My hope is always that people will find God and to do so in a way that doesn't involve something painful or heart breaking.
ZippyTheChicken (reply, excerpted): you know I was thinking about that the other night .. the thing is everyone who says they are an atheist has all ready been told the good word and they intentionally reject the idea that God can exist.
Now I understand that they might not believe the bible and every word of it as hard core science .. that might be understandable.. some believers are exacting in their belief of every single word and there could be people that say that can't actually be true.. well whatever .. let's get past that …
But to reject God as a possibility? …
If you look at the atom it has very similar properties to a solar system.. there is the nucleus and orbiting planets which could be considered protons and then moons that represent electrons and then there are comets and asteroids that are similar to quarks …
The atom is infinitely small and the universe is infinitely large
you look into an atom and you find a quark.. well that quark can be divided..
you look at our solar system and you understand it is nothing in comparison to the milky way and then the milky way to the universe.
It's just astounding .. and we believe that God said Let There Be Light….
I have 4 years of organic chemistry and many more of other sciences… I have been educated in engineering and taught it…. I have lectured at a half dozen Ivy League Schools to professors not students and I have known many people who are held up as the most brilliant in our society only to see that they are fricken idiots in some cases.
If someone uses science as a basis to reject God then they are an uneducated idiot.
If they follow the garbage that comes out of the mouth of someone like Bill Nye who was a failed Boeing Engineer that had a kids show on public access cable that was launched into a career because someone had to fill that spot of being the science guy… and he has no real scientific accomplishments of his own worth noting…
I mean its so exasperating and depressing to see someone reject God intentionally and then use Science or anything else as the basis to say God does not exist …
Accepting God is not Going to Church
its how you live your life
and Life is short.. 100 years or so at the most we get…
It is a job interview for Eternity
Eternity that is as vast and larger than the universe..
An eternity where you will find peace
God didn't screw this world up People did
I deeply wish people would understand that God is real and that maybe God would show himself in their lives ..
But God Exists whether we believe or not
He was there before we were born and will be there for eternity
I say just do your best .. and only you know if you are doing your best.
And if you make a mistake or give into temptation .. ask for forgiveness and then try again to do your best.
It is evident that Melania Trump's public recitation of the Lord's Prayer last Saturday has inspired many people who normally would not discuss Christianity so openly. It has provoked useful and inspiring conversation.
It is also apparent that the Lord was working through her in that rally. Contrary to what a substantial minority of Americans think, the Lord is also working through her husband in leading the United States — and possibly other places in the world — to a more righteous and just future for all.
The Left are in disarray. I am not the first person to say that they are akin to a vicious animal that finds itself cornered. It will attack for survival. In the end, it will be subdued.
Right now, the president sees the lashing out.
In the end, he will overcome it.
However, that is a perilous task, one that 99% would not be able to accomplish. It demands physical resilience and mental strength.
Donald Trump needs the prayers of the faithful right now. The high echelon of the intelligence community opposes him. One of them said in an interview last week that Trump 'better watch his mouth'. Some Democrats want the president to undergo a psychological examination. Another faction wants the government — elected by the people — to be declared illegitimate.
These are very dangerous times. The media aid and abet Democrats and the GOP establishment, both of which have much to hide. The media have their sins, too.
Ultimately, Donald Trump's enemies fear he and his men will expose their heinous sins and crimes not only to Americans but also to the world.
This is why it is so important to pray that God protects Trump, his administration and their families. The truth must come out — and a thorough cleansing must take place.
There are too many theories about National Security Adviser Lieutenant General (ret'd) Michael Flynn's resignation on Monday, February 13, 2017 and too much information unknown to the public.
Sure, Flynn's name has been all over the media for weeks, but more than one element is likely to be involved in his departure. You decide.
Deep State and the Democrats
Just after the New Year, Democrat Charles E Schumer, Senate Minority Leader, told MNSBC's Rachel Maddow in a discussion about President Trump's rebuttal of notional Russian hacking:
Let me tell you, you take on the intelligence community, they have six ways from Sunday at getting back at you. So even for a practical, supposedly hard-nosed businessman, he's being really dumb to do this.
There's also another angle.
The Free Beacon analyses how Obama's people feared Flynn would reveal more about the former president's nuclear deal with Iran, so they set out to destroy him (emphases mine):
The abrupt resignation Monday evening of White House national security adviser Michael Flynn is the culmination of a secret, months-long campaign by former Obama administration confidantes to handicap President Donald Trump's national security apparatus and preserve the nuclear deal with Iran, according to multiple sources in and out of the White House who described to the Washington Free Beacon a behind-the-scenes effort by these officials to plant a series of damaging stories about Flynn in the national media.
The effort, said to include former Obama administration adviser Ben Rhodes—the architect of a separate White House effort to create what he described as a pro-Iran echo chamber—included a small task force of Obama loyalists who deluged media outlets with stories aimed at eroding Flynn's credibility, multiple sources revealed.
The operation primarily focused on discrediting Flynn, an opponent of the Iran nuclear deal, in order to handicap the Trump administration's efforts to disclose secret details of the nuclear deal with Iran that had been long hidden by the Obama administration.
Leaks from within the White House
Close observers knew it was questionable whether Trump could use the Oval Office after the inauguration.
It was always likely — perhaps probable — that the Oval Office is or was bugged. No doubt, Trump had it swept prior to the inauguration. However, the success of the sweep depends on who did it and how thoroughly:
Then there are Obama appointees still in place because senators were slow in approving Trump's key cabinet appointments. Rex Tillerson is now in place as Secretary of State. Jeff Sessions is now Attorney General. However, it will take some time for both to make their own staff appointments.
There could also be people close to Trump — his personally appointed staff — who are leaking to the media.
With regard to Flynn specifically, the Washington Post (WaPo) says that the retired general had discussions with Russian ambassador Sergey Kislyak as early as December when he was part of the transition team. He would have been in New York at that point. New York magazine gives a summary:
Several current and former U.S. officials say National Security Adviser Michael Flynn discussed new sanctions imposed on Russia by the Obama administration during conversations with that country's ambassador in December. That may be illegal, and to make matters worse, it contradicts denials made by senior members of the Trump administration, including Vice-President Mike Pence.
The Washington Post reported on Thursday that nine current and former U.S. officials who had access to intercepted communications between Flynn and Russian ambassador Sergey Kislyak say that Flynn made explicit references to election-related sanctions. Two said Flynn even urged Russia not to overreact. "Kislyak was left with the impression that the sanctions would be revisited at a later time," said one former official.
When the Post asked Flynn on Wednesday if he ever discussed sanctions with Kislyak, he said no. Then, on Thursday, his spokesman walked that back, saying Flynn "indicated that while he had no recollection of discussing sanctions, he couldn't be certain that the topic never came up."
Flynn exchanged phone calls and texts with Kislyak a day before the Obama administration imposed new sanctions and expelled 35 Russian diplomats over the Kremlin's alleged attempt to meddle in the U.S. election.
Those sanctions came during the Christmas holiday.
As Flynn's conversations from December have been revealed, it is possible that Trump has a GOPe mole in his midst.
Trump is rightly concerned about who is leaking:
On February 14, WaPo featured quotes from conservatives who voiced their concerns about Trump transition and administration leaks:
"I think this really was the death by a thousand leaks," Laura Ingraham, a conservative news commentator, said on Fox News. "The leaks that were coming out of this administration and the transition — before the administration — were at a level that I don't remember seeing for quite some time."
Not long before Trump tweeted, Sen. Ron Johnson (R-Wis.), chairman of the Senate Homeland Security Committee, said on Fox that "somebody in the nebulous intelligence community" would have had access to the information about Flynn's calls.
"Who tapped the phones? Who is listening to it? Who leaked it? I think those are legitimate questions to ask," Johnson said Tuesday morning.
The senator said he did not know whether those who leaked the information about Flynn broke the law, but he added: "Leaks of this nature are incredibly damaging to America, to our national security, and we need to look into it."
On the opposite side of the political spectrum, The Intercept's Glenn Greenwald agrees:
That Flynn lied about what he said to Russian Ambassador Sergey Kislyak was first revealed by Washington Post columnist David Ignatius, who has built his career on repeating what his CIA sources tell him. In his January 12 column, Ignatius wrote: "According to a senior U.S. government official, Flynn phoned Russian Ambassador Sergey Kislyak several times on Dec. 29, the day the Obama administration announced the expulsion of 35 Russian officials as well as other measures in retaliation for the hacking."
That "senior U.S. government official" committed a serious felony by leaking to Ignatius the communication activities of Flynn. Similar and even more extreme crimes were committed by what the Washington Post called "nine current and former officials, who were in senior positions at multiple agencies at the time of the calls," who told the paper for its February 9 article that "Flynn privately discussed U.S. sanctions against Russia with that country's ambassador to the United States during the month before President Trump took office, contrary to public assertions by Trump officials." The New York Times, also citing anonymous U.S. officials, provided even more details about the contents of Flynn's telephone calls.
That all of these officials committed major crimes can hardly be disputed. In January, CNN reported that Flynn's calls with the Russians "were captured by routine U.S. eavesdropping targeting the Russian diplomats." That means that the contents of those calls were "obtained by the processes of communication intelligence from the communications of [a] foreign government," which in turn means that anyone who discloses them — or reports them to the public — is guilty of a felony under the statute.
Yet very few people are calling for a criminal investigation or the prosecution of these leakers, nor demanding the leakers step forward and "face the music" — for very good reason: The officials leaking this information acted justifiably, despite the fact that they violated the law. That's because the leaks revealed that a high government official, Gen. Flynn, blatantly lied to the public about a material matter — his conversations with Russian diplomats — and the public has the absolute right to know this.
The trust issue
In January, the then-acting Secretary of State Sally Yates warned the White House that Flynn had not been entirely honest with Vice President Mike Pence about his conversations with the Russian ambassador.
In his press briefing of February 14, Sean Spicer announced:
We've been reviewing and evaluating this issue with respect to General Flynn on a daily basis for a few weeks, trying to ascertain the truth.  We got to a point not based on a legal issue, but based on a trust issue, where a level of trust between the President and General Flynn had eroded to the point where he felt he had to make a change.
The President was very concerned that General Flynn had misled the Vice President and others.  He was also very concerned in light of sensitive subjects dealt with by that position of national security advisors — like China, North Korea and the Middle East — that the President must have complete and unwavering trust for the person in that position.
The evolving and eroding level of trust as a result of this situation and a series of other questionable instances is what led the President to ask for General Flynn's resignation.  Immediately after the Department of Justice notified the White House Counsel of the situation, the White House Counsel briefed the President and a small group of senior advisors.  The White House Counsel reviewed and determined that there is not a legal issue, but rather a trust issue.
During this process it's important to note that the President did not have his Attorney General, Jeff Sessions, who he trusts immensely, approved by the Senate.  When the President heard the information as presented by White House Counsel, he instinctively thought that General Flynn did not do anything wrong, and the White House Counsel's review corroborated that.
… The issue here was that the President got to the point where General Flynn's relationship — misleading the Vice President and others, or the possibility that he had forgotten critical details of this important conversation had created a critical mass and an unsustainable situation.
That's why the President decided to ask for his resignation, and he got it …
Larry Johnson of No Quarter, who worked for the CIA then the State Department, wrote:
Sad day for Mike Flynn. The only thing he did wrong was not tell Vice President Pence the full truth. That's it. He was well within his rights as the incoming National Security Advisor to talk to the Russians and to talk about any issue. The only thing he could not do was pass on classified information. That's it. The people who insist he did something untoward with Russia are either woefully ignorant about the duties of the incoming Director of the NSC or are being deliberately disingenuous.
Another security expert, Richard A Moss, wrote about Flynn's indiscretion in the way he communicated with the Russian ambassador. From WaPo:
Flynn resigned not because of his communications with the Russians, but rather because of his lack of discretion, misleading Vice President Pence about the nature of the exchanges, and, allegedly, opening himself up to blackmail by the Russians.
Moss goes on to explain how Henry Kissinger and Richard Nixon co-ordinated Kissinger's communications with the Russians during Nixon's transition period between 1968 and 1969:
… Nixon and Kissinger synchronized the two back channels to the Soviets during the 1968 election and the transition period …
We know these details not because of the content of reportedly leaked FBI wiretaps, as in the case of Flynn, but because of good record keeping. Kissinger wrote detailed memorandums of his various back-channel exchanges and shared them with the president (and, occasionally, others who had a need to know). In Washington, political warfare is frequently fought on the battlefield of competing memorandums. Kissinger also had his staff make transcripts of his phone conversations, eventually off recordings of the calls, but initially by having a secretary write in shorthand by listening on a telephone with a muted microphone.
Flynn operated differently:
By contrast, Flynn's inconsistency over the content of his conversations with Kislyak hurt his credibility and brought on scrutiny both inside and outside the White House.
Somewhat strangely for a career intelligence officer, Flynn also used insecure means of communication by talking on open telephone lines to Kislyak. In military-speak, he used poor communications security (COMSEC), which was apparently subject to FBI monitoring — and, hypothetically, foreign intelligence collection …
Flynn's preference for the phone is ironic since Trump said a few weeks ago, "You know, if you have something really important, write it out and have it delivered by courier, the old-fashioned way."
Ultimately, nearly 50 years ago:
Kissinger kept good records and he kept his boss, Nixon, informed. Fundamentally, back channels require the confidence of the person at the top. Kissinger understood this and became the indispensable man for Nixon's foreign policy.
This year:
Flynn clearly lost the confidence of those at the top and had to go.
It should be noted that, on February 14, WaPo walked back earlier reports on the FBI and Flynn. This is at the end of a different article, not the one Richard A Moss wrote:
Correction: An earlier version of this post incorrectly stated that Michael Flynn was the reported object of FBI investigations. This version has been updated.
Accuracy In Media states that the FBI cleared Flynn.
Is this important?
The double standard
We are seeing an egregious double standard in play.
The aforementioned article from The Intercept points out:
What matters is not the motive of the leaker but the effects of the leak. Any leak that results in the exposure of high-level wrongdoing — as this one did — should be praised, not scorned and punished.
However, keep in mind that those cheering Flynn's resignation were blind to the transgressions on their own side for eight years:
It's hard to put into words how strange it is to watch the very same people — from both parties, across the ideological spectrum — who called for the heads of Edward Snowden, Chelsea Manning, Tom Drake, and so many other Obama-era leakers today heap praise on those who leaked the highly sensitive, classified SIGINT information that brought down Gen. Flynn.
It's even more surreal to watch Democrats act as though lying to the public is some grave firing offense when President Obama's top national security official, James Clapper, got caught red-handed not only lying to the public but also to Congress — about a domestic surveillance program that courts ruled was illegal. And despite the fact that lying to Congress is a felony, he kept his job until the very last day of the Obama presidency.
Unintended positive consequences
The Intercept goes on to say that this leak and Flynn's resignation may work for Trump and the American public rather than against them:
numerous leaks have already achieved great good in the three short weeks that Trump has been president.
Trump knows, his staff know and the American public know.
As negative as these events appear right now, they could help Trump to 'drain the swamp'.
As former CIA analyst and retired U.S. Army Reserve Lieutenant Colonel Tony Shaffer told FOX Business Network:
I would put this right at the feet of John Brennan and Jim Clapper and I would go so far as to say the Obama White House was directly involved before they left. Ben Rhodes and those folks… The Democrats are behind this and some of the Republicans are involved with the leaks. So I say 'Bring it on!'
Flynn's replacement could be even better
One of the men being discussed as a replacement for Flynn is retired Vice Admiral Robert Harward.
Gateway Pundit reports that Harward served under then-General James 'Mad Dog' Mattis at US Central Command and that he speaks Farsi:
Harward could prove to be a much better candidate than Michael Flynn which would be disastrous for the left who just spent weeks trying to get Flynn removed.
————————————————————————–
Those of us who watched Trump put together his transition team late last year remember that Flynn did consulting work for Turkey and is pro-Erdogan. Geopolitical expert Joel Richardson wrote about that at the time:
… in a Facebook post on Dec. 7, Richardson called for the Trump administration to cut ties with Flynn, because "he'll be gone within the first year."
… Richardson blasted Flynn for reportedly owning a company that lobbied for an obscure Dutch company with ties to Turkey's government and President Erdoğan himself. Richardson characterized the hiring of Flynn as a betrayal of Trump's promise to "drain the swamp" by removing lobbyists from government positions.
"On Election Day, Flynn published a fairly lengthy opinion piece, and a very strong opinion piece, in the online news website called The Hill, a real prominent website," said Richardson. "Specifically, he was urging the U.S. to support Turkey and Turkey's controversial president Recep Tayyip Erdoğan. … Those who follow my program know I am no fan of President Erdoğan. He is a dictator and I am likening him to an emerging Adolf Hitler. … This guy is dangerous."
Flynn's temporary replacement is Lt. General Joseph Keith Kellogg, Jr.
To everyone who doubts Trump's ability to rectify the situation, remember, he is there to win the war. Battles will be lost from time to time. Flynn's departure is one of them. However, in the words of Machiavelli (H/T: The Conservative Treehouse):
It must be remembered that there is nothing more difficult to plan, more doubtful of success, nor more dangerous to manage than a new system. For the initiator has the enmity of all who would profit by the preservation of the old institution and merely lukewarm defenders in those who gain by the new ones.
Onwards and upwards. MAGA!
President Obama gave his farewell speech in Chicago on Tuesday, January 10, 2017.
The Daily Caller provided this summary:
President Obama referred to himself 75 times in his farewell address Tuesday night, according to a review of his prepared remarks by The Daily Caller.
Obama heavily promoted the speech, penning a blog post about it and appearing in a promotional video in the days leading up to the address.
Obama said "I" 33 times during the speech, "my" 20 times, "me" 10 times, and "I'm" or "I've" 12 times.
The president made a habit of focusing large chunks of his speeches on himself during his eight years in office.
Democrat operative Bob Creamer, who appeared in the stunningly frank undercover video about violent harrassment of Donald Trump supporters, was seated in the front row (photo courtesy of The_Donald):
This is the Project Veritas video from James O'Keefe which I wrote about in October 2016 (language alert, but the truth must out):
It is interesting that the day before Obama gave his farewell address, this took place:
It is incredible that so many were taken in by a man who, from his candidacy, had all his personal records sealed. Then they re-elected him!
A number of Democrats left the party before Election Day in 2008 and became independents. They were correct in suspecting something wasn't right.
Below is a graphic from Dr Leonard Coldwell which explains the outgoing incumbent well. After all, we have nothing else to go on other than a contrived, ghostwritten autobiography.
'They already are lost', but not for long. Recovery begins on the afternoon of January 20. It cannot come soon enough.
Obama pledged transparency. Americans who could see through him knew he was disingenuous.
For the first time in decades, the United States will have a president who is transparent. Like him or loathe him, he's an open book.
That president will also love America as she's never been loved before in our lifetime. Bring it on.
The post-election events of just this week alone could be turned into a potboiler of a television series.
I feel bad for people who didn't have the time (work, family) or inclination (closed-mindedness) to follow this election every day. Those who didn't have the time are excused. The second group do not realise how serious the situation in the United States is today.
America is in grave danger. People who warned against Obama in 2008 and again in 2012 will be proven correct. Some news items in this post illustrate that.
Mischief afoot — fake news from Big Media
Last weekend, America's news shows discussed at length stories in the Washington Post and New York Times that 'intelligence officials' (anonymous, but within the CIA) stated that the Russian government
hacked the U.S. election.
The Conservative Treehouse pointed out:
First, the media's choice of wording is critical within both reports.
It is impossible to "hack an election".  What was hacked was the DNC email system, and John Podesta's email.  WikiLeaks published the content of both "hacks".
Additionally, WikiLeaks has denied the source of the information was a foreign government.
Both The Washington Post and New York Times, simultaneously, published articles on Friday claiming anonymous sources within the CIA (note: intensely political CIA Chief John Brennan in charge) point to the Russian government as the originators of the hacking.   However, both articles are written with very obtuse and non specific language intended to cover over the fact these reports are not actually stating the official intelligence community are making these specific claims.
All other media outlets subsequently take this illogically based presentation and spin their coverage whereby the "DNC hacked" becomes "the election hacked".
On Monday, December 12 John Podesta responded to a request from 10 Democratic electors, including a daughter of Nancy Pelosi (D-CA) for more information about the CIA's assertions that Russians were involved in affecting the outcome of the election.
That day, Politico reported (emphases mine):
"The bipartisan electors' letter raises very grave issues involving our national security," Podesta said in a statement Monday. "Electors have a solemn responsibility under the Constitution and we support their efforts to have their questions addressed" …

Podesta's statement is the first public statement from the Clinton campaign raising questions about the legitimacy of Donald Trump's victory.
… Rep. Jim Himes (D-Conn.), a member of the House Intelligence Committee, told POLITICO on Monday that Trump is a "potentially dangerous president."
On Wednesday, FBI Director James Comey threw a spanner into the works:
In telephone conversations with Donald Trump, FBI Director James Comey assured the president-elect there was no credible evidence that Russia influenced the outcome of the recent U.S. presidential election by hacking the Democratic National Committee and the e-mails of John Podesta, the chairman of Hillary Clinton's presidential campaign.
What's more, Comey told Trump that James Clapper, the director of National Intelligence, agreed with this FBI assessment.
The only member of the U.S. intelligence community who was ready to assert that the Russians sanctioned the hacking was John Brennan, the director of the CIA, according to sources who were briefed on Comey's conversations with Trump.
Later that day, Fox News reported lawmakers were furious that a House Intelligence Committee briefing on the matter was cancelled:
Anger on Capitol Hill boiled over Wednesday night after the intelligence community's alleged "intransigence" forced the cancellation of a House Intelligence Committee briefing on claims of Russian interference in the U.S. election. 
"Somebody has the time to leak it to The Washington Post and The New York Times, but they don't have the time to come to Congress," Rep. Peter King, R-N.Y., a member of the committee, told Fox News' "The Kelly File." "It's their job to come. They don't have any choice. They have to come in, especially when they have created this."
… Fox News was told the CIA Director John Brennan declined to provide a briefer, citing its focus on the full review requested by President Obama. The other agencies did not respond to the committee's request, which is unusual given the panel is the most-senior committee with jurisdiction.
Larry Johnson, the founder of No Quarter, used to work for the CIA. He picked up on this story in his post, 'John Brennan's Failed Soft Coup?' He wrote:
This should be setting off alarm bells throughout the U.S. Government, but especially within the intel community and the military. CIA Director John Brennan appears to have tried and failed to take out Donald Trump. It is his Agency that spread the lie that Russia made it possible for Trump to win the Presidency. This was not the idle opinion of some underling. Someone was given permission to tell elected Legislators a lie. A bald faced lie. Brennan, and no one else, bears ultimate responsibility for this lie.
When the news first broke last Friday that the CIA had told Senators that Russia essentially gave the election to Donald Trump the politicians and pundits infesting Washington were up in arms. Hell, even John McCain and Lindsay "Little Old Lady" Graham jumped on the hysteria bandwagon to voice outrage and threaten Russia. Tonight we learn that Brennan was lying.
There's more at the link, but it is important to see this:
I have heard from knowledgeable friends that Clapper finally decided he would not walk the plank for John Brennan. Clapper has lied once before to the Senate and apparently felt that he could stomach no more lies. This isolated Brennan. He has no place to hide now. He could have sent a briefer who would have had to endure the indignity of admitting that the CIA had no hard evidence to buttress its speculation that Russia favored Trump.
This is more than a lie folks. This represents the first time in my life that the Director of the CIA has tried to intervene and disrupt a Presidential election. Brennan should be immediately dismissed and he should pray to God (or Allah) that he is not prosecuted for sedition. Given his prior service as the Chief of Station in Saudi Arabia, one begins to wonder if he has been protecting the interests of America or serving those of a foreign power?
And:
This also completely destroys the Democrat effort to gather support to brief the Electors, who have no security clearances. How in the world can you justify briefing Electors when you are refusing to brief members of Congress who do have the clearances?
In today's Washington Post, John Podesta blamed the FBI — and people connected with Donald Trump — for Hillary's loss:
Comparing the FBI's massive response to the overblown email scandal with the seemingly lackadaisical response to the very real Russian plot to subvert a national election shows that something is deeply broken at the FBI.
Podesta's picture accompanying the article is priceless. Sorry, the Democrats have only themselves to blame. The Podesta WikiLeaks made it abundantly clear that the Democrats — and Hillary — do not like everyday Americans. They also do not like each other.
On the Russian interference front, I have seen reports this week that a British MP said Russians were to blame for Brexit. Someone in Germany thought the Russians could be influencing their election set for next year. Don't believe it for a moment!
The faithless elector — more fake news from Big Media
Chris Suprun is a Republican elector for Texas. He doesn't want to vote for Donald Trump, the voters' choice in that state. Not voting for the winner in one's state makes one a 'faithless' elector.
He is one of a handful of 'Hamilton electors' who take the moral high ground. The expression  'Hamilton elector' did not surface until this year. These people claim to be voting in the manner of Alexander Hamilton, instrumental in establishing the Electoral College in the infancy of the United States.
Suprun probably thought he had it made when the New York Times published his op-ed on December 5 listing the many reasons why Trump is no good.
He lives in the Dallas area and works as a paramedic.
He wrote some interesting things, including these gems:
Fifteen years ago, as a firefighter, I was part of the response to the Sept. 11 attacks against our nation.
I owe a debt to my children to leave them a nation they can trust.
Fifteen years ago, I swore an oath to defend my country and Constitution against all enemies, foreign and domestic. On Dec. 19, I will do it again.
Rule No. 1 for electors: vote for the winning candidate in your state. Each elector signs a pledge to do just that. Any elector who has a problem with that should stand down. (I couldn't be an elector. I was for Gore in 2000. I could not have cast a vote for W then or in 2004.)
The next day, Americans made their responses known. YourVoice Radio host Bill Mitchell rightly said Suprun should be stripped of his electorship. Mitchell took a poll asking what the public thought. 98% of the 4601 participants said he should be withdrawn as an elector.
A man from Texas started a petition on Change.org to demand that very thing. Unfortunately, it is still 14,000+ votes shy of the necessary 50,000. The Electoral College vote takes place on Monday. Still, it was worth a try and a decent effort.
On December 8, Suprun appeared on Tucker Carlson, who confronted him over his soi-disant description of 'moral elector'. He told Carlson that several other electors have contacted him and they have had very interesting conversations:
Discussing the upcoming vote with other EC Republican electors could be interpreted as an 'ILLEGAL electoral college coup d'état'. Such actions could give rise to charges of treason, rebellion, insurrection or sedition.
The following day, news emerged that the media contact company Suprun had on his Twitter account is Van Jones's (former Obama adviser) PR firm. Did they come up with 'Hamilton elector' and 'moral elector'?
After tweets about Megaphone Strategies appeared, Suprun listed a different media contact on his Twitter page. Texas ABC television news affiliate WFAA contacted both firms:
Two public relations firms he has hired – Megaphone Strategies and Fenton Communications – responded to our requests for an interview saying: "Suprun's schedule is jammed packed."
But that wasn't all. His first responder story turned out to be bunk:
on at least two occasions over the last couple years at crowded Major League Baseball games, Suprun has been introduced as a 9/11 veteran before throwing out first pitches.
"He claimed to be a first responder with the Manassas Park [Virginia] Fire Department on September 11, 2001 and personally told us stories 'I was fighting fire that day at the Pentagon.' No, I was on a medic unit that day at the Pentagon and you make a phone call to Manassas Park and you find out that he wasn't even employed there until October 2001," said a first responder who knows Suprun and only agreed to speak about him if his identity was concealed.
The City of Manassas Park confirmed to WFAA that it hired Suprun on October 10, 2001, one month after the 9/11 attacks.
The fire chief there added that his department never even responded to the Pentagon or any of the 9/11 sites.
And there is more, much more. His CV is littered with lies:
It shows he was, at the time this story aired on WFAA, a paramedic with Air Methods air ambulance service. But Christina Brodsly, a spokeswoman for that company, said he is not an employee there.
Suprun also claims to currently be a paramedic with Freedom EMS in Dallas. But records from the Texas Department of State Health Services indicate there's no such company. A firm with that name used to exist in Houston, but it went out of business in 2008, according to DSHS.
The article goes on to say that Chris Suprun — upholder of the nation's morality when it comes to voting for a president — has been bankrupt for most of the past five years. He was released from bankruptcy supervision only this month.
The story isn't over yet, though. On December 12, Gotnews revealed that this moral guardian depends on his wife to work to pay off their $200,000 debt owed to various creditors. Suprun and his wife have three young children.
Gotnews got digging. While Mrs Suprun is busy working to support the family, her moralistic husband has been surfing on the cheating website Ashley Madison:
According to the data, Suprun joined Ashley Madison in February 2012, just six months after joint-filing for bankruptcy with his wife, Dianne Michelle Suprun, in September 2011, and paid for an "affair guarantee" in September 2012.
Where did he get the money?
An "affair guarantee", which costs $249 today, is a discounted "package" for "credits" that allow men to chat with potential cheating partners on the website. Suprun, who had three kids under the age of 10 at the time, listed himself on the site as "attached male seeking female."
Gotnews tells us:
Even though he used a throw-away e-mail address and changed his birth date by a few days, the Ashley Madison credit card data is unmistakably Suprun …
There's only one Stephen Christopher Suprun, from Texas, born in March 1974, and the P.O. box is one of many P.O. boxes registered to Stephen Christopher Suprun that can be found with a quick search of any public records database.
It's also the same P.O. box used for Suprun's "Never Forget 9/11" charity, which he still lists on his Twitter profile …
There's more at the link.
And this upstanding man — someone who has lied about his career, being a 9/11 first responder and also registered with a cheater's website — has a problem voting for Donald Trump?
News becomes 'performance art'
Tucker Carlson recently had another guest from Newsweek. Kurt Eichenwald appeared, alleging that Trump had been in a mental hospital for treatment in the 1980s or early 1990s. Eichenwald explained some of the background but spent nine minutes avoiding giving a definitive 'yes' or 'no' as to whether the president elect actually was a patient.
Carlson rightly accused Eichenwald of 'filibustering', winding down the time so he wouldn't have to give an answer to a topic he himself raised as the issue he wanted to discuss. He never did give an answer and accused Carlson of interrupting him. Eichenwald ended by saying he had an important message from the CIA. He never delivered that, either. Meanwhile, he occasionally waved around a white binder that read 'Tucker Carlson Falsehoods'.
This interview was very strange indeed. Carlson called it 'performance art' and 'the craziest interview' he'd ever done, which it probably was:
The_Donald has more, including partial transcripts of the dialogue.
And it didn't end when he got off air. A bizarre series of tweets ensued. Someone also sent him an assault gif, which Eichenwald's 'wife' said, using his account, gave him a seizure. (The assault gifs are linked to in the aforementioned The_Donald thread. Don't look. They are potentially dangerous for people prone to seizures.) It's unclear whether his wife was actually tweeting on his behalf. Then Eichenwald couldn't find the all-important CIA message. Let's hope it wasn't sensitive information!
This man appears to have a peculiar journalistic past with regard to an incident involving investigating pornography (more here). That was in 2007. This year, he was a big water carrier for Hillary Clinton and is sure there is a link between Trump and the Kremlin. He got aggressive about the issue with a fellow journalist in October and began tweeting repeatedly about it.
Faithful electors in the majority
Regardless of Chris Suprun, two reports state that the electors are highly likely to be faithful to the process and to their states' voters.
Politico reports that Suprun is the only faithless Republican elector we know about. The Republican National Committee (RNC) is contacting their electors to ensure they will be voting for Trump. the article goes on to say that the RNC routinely contacts them after presidential elections. However, this year, there's a difference as the Democratic National Committee has also been contacting GOP electors in an effort to discourage them from voting for Trump.
Trump currently has 306 electoral votes. He needs 270 to win:
If 37 Republican electors rejected him, he'd fall below the 270-vote threshold necessary to become president, sending the election to the House of Representatives for a January vote.
Democrats are attempting to persuade Republican electors to vote for someone like John Kasich of Ohio instead of Trump. However, Kasich said he does not want electoral votes.
Being a faithless elector is not a light matter in some states. Utah:
binds electors to support the candidate who won the statewide popular vote, as the most prominent reason he won't consider voting for someone other than Trump. Similar laws exist in 29 states, including 14 where Trump won.
The penalties for violating these laws vary widely, with some states carrying no penalty at all, some issuing modest fines, and some requiring immediate replacement of electors. One state, New Mexico, treats "faithless" electoral votes as felonies.
Two Republican electors have already resigned, but still have until the day of the Electoral College vote to change their minds. If they do not turn up on the day in their respective state capitals, they will be replaced with alternates.
Business Insider reported that the Associated Press was able to contact all 538 electors and interview 330 of them:
finding widespread Democratic aggravation with the electoral process but little expectation that the hustle of anti-Trump maneuvering could derail him. For that to happen, Republican-appointed electors would have to stage an unprecedented defection and Democrats would need to buck tradition, too, by peeling away from Hillary Clinton and swinging behind a consensus candidate in sufficient numbers.
Business Insider tells us that Bret Chiafalo of Everett, Washington, co-founded Hamilton Electors. He said that the goal of the group is to steer electors away from the two main party candidates to a third party candidate. However, electors say the group's tactics leave something to be desired:
"We got a stack of letters from idiots," said Republican elector Edward Robson, 86, a Phoenix homebuilder.
Fellow elector Carole Joyce, 72, a state committeewoman in Phoenix and retired public-health nurse, was more charitable.
"They've caused me great distress on my computer, that's for sure," she said.
Trump appointees
On a brighter note, Deplorable Dave from New York not only has a fun countdown calendar but also a highly useful blog page of Trump appointees with the briefest of comments by each name. He updates it every day. It's well worth visiting between now and the inauguration.
There aren't many open posts left, which is good. That means the Trump administration can be up and running by January 20.
The Conservative Treehouse has timely analyses of new and potential appointments. Trump has drawn heavily on senior military officers. Former Navy SEAL Commander Ryan Zinke is the latest; he is likely to be the new Secretary of the Interior.
What is also interesting is that Trump is approaching conservative media personalities such as Monica Crowley, appointed to the National Security Council, and Kimberly Guilfoyle as his potential White House press secretary.
What's next
Donald Trump and Mike Pence's thank you tour ends this weekend.
Trump has three appearances. He will hold a rally in Orlando on Friday evening. On Saturday afternoon, he will media at the airport in Mobile, Alabama. Then he will meet Pence an hour later in the city's Ladd-Peebles Stadium for the final rally.
A Nigerian newspaper recently republished an article about Trump by Pat Buchanan but changed the title to something much better: 'Trump, Tribune of the American People'. How wonderful!
On Monday, December 19, the Electoral College will vote. Although the votes are not counted in the House of Representatives until early January, the media often give an indication before then of the expected result. If credible news appears, I'll provide an update.
Stand Firm is a traditional Episcopalian/Anglican site with excellent articles not only on the Episcopal Church but also on American politics.
A S Haley is a regular contributor to Stand Firm and wrote a great column which I recommend to all my readers. Excerpts and a summary of 'The Professor Is Right Again' follow.
This is why so many American voters are happy (emphases mine):
Professor Helmuth Norpoth of Stony Brook University on Long Island correctly called this election for Donald Trump back in February, when everyone—and I mean everyone—was confident that Trump would lose by a big margin. Later in the season, he was joined by a different professor using a different model, but who went contrary to the popular trends and predicted the same result.
The biggest loser in this election was not Hillary Clinton. She lost, and lost decisively, to be sure—but the professors' models predicted she would lose, and they've been infallible in past elections for decades.
No, the biggest loser—actually, losers (to use a term beloved of our President-elect)—are (1) the Beltway elite; and (2) the mainstream media—who gave it everything they had, and still fell way short.
Haley posted his article on November 9 and prepared his readers for what we see now: the narratives that Trump will be harmful to America.
He then reminded us of what we can look forward to:
the mainstream media will lose ever more and more of their readers and listeners, to the point where they, too, will have to look around for other lines of work.
And last but not least, James Comey's stalwart agents in the field may finally be able to investigate some people worthy of their attention: start with Comey's former boss, Loretta Lynch, and her attempts to squelch the ongoing investigations into Hillary's violations of our secrecy laws; move on to Patrick Kennedy and the whole corrupt bunch at the State Department who lied about Benghazi and then have been enabling and hiding Hillary's outrageous and dangerous disregard for our security; then to the IRS and its illegal targeting of conservative non-profit groups; then to Eric Holder and his scheme of gun-running, while also letting others get away with voter intimidation; and …  oh, yes—did I mention a certain former Secretary of State? And her husband? Who together enriched themselves by selling access and favoritism at this country's expense? And broke all the laws about charitable organizations in the process?
Who knows where all this is going to lead, indeed? Certainly not the entrenched elite, nor their lapdogs, the mainstream media.
That said, whilst Trump's victory is a blessing despite his imperfections:
And no one can assure us that a shakeup of this magnitude will be totally beneficial in all ways—some things that are truly good may perish along with so much else that is so bad, and deserves to come to an end. As I have maintained throughout this campaign, America is under God's judgment—which is why we were presented with the Hobson's choice we had. We are not out from under that judgment yet, because America has not yet turned back from its ways, and repented of its manifold sins and wickedness. Whether it will do so under its new government remains to be seen.
So fasten your seatbelts. It's going to be a riveting ride.
It will indeed be a riveting ride. I, for one, can hardly wait.
I predict with confidence based on what I have been reading outside Big Media that 2017 will be the year of evil exposed in the United States and beyond. Good people, especially devout Christians, will find these exposés unbelievable because they will be so utterly disturbing in content.
I will post on one of these soon in more detail. For now, if you have not already read FBI Anon parts 1, 2 and 3, please do so when you can because they will prepare you for what is coming next year.
With Donald Trump's appointment of Breitbart News executive chairman Steve Bannon as senior counselor and chief West Wing strategist, Clinton-controlled Politico is in meltdown:
On November 14, Politico journalist Jack Shafer laid out his concerns in 'Will America Now Have a Pravda?'
Excerpts follow, emphases mine:
As President-elect Donald Trump prepares to take control of the American executive branch, he will have a weapon at his disposal that few if any presidents have enjoyed—a direct connection to a faithful media operation that reaches millions of loyal populist readers in the form of Breitbart, the self-styled honey badger of alt-right journalism …
… in Breitbart, Trump has an international Web tribune for his message. It's run by the man Trump just named as his chief strategist: Stephen Bannon, who will serve as co-#2 in the White House with Chief of Staff Reince Priebus. And depending how Bannon shapes it, Breitbart could become the closest thing the United States has ever had to a "state-run media enterprise," to quote a phrase by a former Breitbart spokesman.
The phrase came from Kurt Bardella, who resigned from Breitbart earlier this year, because, to him:
it had turned into a de facto "super PAC" for Mr. Trump.
This is rather pot-and-kettle, because the Podesta WikiLeaks demonstrated how in the Clinton campaign's pocket Politico — and other American media outlets — were.
On October 24, Jim Hoft at Gateway Pundit exposed all the media connections to the campaign, complete with photos. Emphases in the original:
Thanks to Wikileaks we now know that at least 65 mainstream reporters were working closely with the Clinton campaign this election year. They were invited to top elitist dinners with Hillary Campaign Chairman John Podesta or Chief Campaign strategist Joel Benenson …
These 65 mainstream reporters CAN NEVER BE TRUSTED:
As previously reported— At least 38 top national reporters attended a different dinner at John Podesta's house in April 2015.
The Clinton campaign sent out invites to New York reporters in April 2015 on their off-the-record meeting on how to sell Hillary Clinton to the public.
As images of the RSVP list from one of the WikiLeaks emails show, eight were from CNN, five each from The New York Times, ABC and MSNBC and the rest from other media outlets — including Politico's Mike Allen and Glenn Thrush.
Glenn Thrush was a huge toady for the Clinton campaign. On April 30, 2015, he cleared his copy with John Podesta before publishing it on Politico. Podesta okayed it and Thrush wrote back  (emphases mine):
Because I have become a hack I will send u the whole section that pertains to u
Please don't share or tell anyone I did this …
Two weeks earlier — on April 17, 2015 — Thrush had sent a lengthy chunk of copy to Jennifer Palmieri, Hillary Clinton's communications director. Earlier this year, The Daily Caller reported on the email exchange which had:
the subject line: "pls read asap — the [Jennifer Palmieri] bits — don't share." This was revealed in Thursday's WikiLeaks release of Clinton campaign chairman John Podesta's emails. It is included in Podesta's emails as Palmieri shared the email with several other Clinton staffers, including campaign manager Robby Mook and Podesta.
The eight paragraphs that Thrush sent Palmieri were filled with glowing sentences about her. She wrote in the forwarded email to Clinton staffers, "He did me courtesy of sending what he is going to say about me. Seems fine."
The paragraphs about Palmieri ended up largely unchanged in the column, "Quiet, please. Hillary's running," a piece focused on Clinton's press strategy.
Yet, Politico is now hand-wringing and worried about Breitbart? Unbelievable.
We know how all of Big Media — including Fox News — shilled for Hillary. Yet, Politico worries about Steve Bannon.
Let's cast our minds back not so long ago to Hillary's tolerance of the First Amendment and the media. On August 15, The Daily Caller reported:
Democratic nominee Hillary Clinton's campaign has sent out a fundraising email arguing the website Breitbart News has no "right to exist," and suggests that if elected, the website will be shut down entirely.
"We've had a conservative media in this country for a while," says the email, sent Thursday and signed by deputy communications director Christina Reynolds. "I don't always like what they have to say, but I respect their role and their right to exist Reynolds' acknowledgment that the regular conservative media has a "right to exist," though, is used to contrast it with Breitbart, which apparently has no such right …
"Breitbart is something different," she says. "They make Fox News look like a Democratic Party pamphlet. They're a different breed altogether — not just conservative but radical, bigoted, anti-Muslim, anti-Semitic conspiracy peddlers … "
One of the goals of Clinton's campaign, Reynolds says, is to ensure Breitbart is destroyed.
From my few visits to Breitbart, only the commenters are anti-Semitic. This is ironic, because Andrew Breitbart himself was Jewish.
Oddly, leftists accuse Steve Bannon of anti-Semitism, but, as he and Andrew Breitbart were close business associates and friends, this is highly unlikely.
These are just more lies propagated by Democrats who increasingly are becoming more socialist and communist with each passing day, particularly in the aftermath of the election. Here is one example — and it concerns Bannon:
It is unsurprising that Politico's 'Pravda' article said nothing at all about their collusion with Hillary Clinton's campaign.
Reader response was mixed, but this is one of the best comments:
Laughable coming from leftmedia like Politico. There has never been a more collusive, corrupt, propaganda media blitz than the one we saw trying to elect Clinton. They exceeded the volume of the counter-message by an order of magnitude. There were brazen lies and deception – and she lost anyway. Seems the people are not as stupid as Gruber [Obamacare frontman] and the Clinton syndicate had assumed. We'll see what influence Bannon has in an official capacity. But there is no way it can be more Pravda-like than the recent leftmedia experience.
Have no fear of Bannon and Breitbart. Whatever happens, they can have nowhere near the impact as nearly every newspaper, news channel and online outlet did acting in concert as the Clinton propaganda machine.
In closing, Bernie Marcus, co-founder and retired CEO of Home Depot, issued a statement about Steve Bannon for the Republican Jewish Coalition. It reads as follows:
I have known Steve Bannon for many years. I have been shocked and saddened to see the recent personal attacks on Steve. Nothing could be further from the truth. The person that is being demonized in the media is not the person I know. These attacks on Steve are nothing more than an attempt to undermine the incoming Trump administration. I have known Steve to be a passionate Zionist and supporter of Israel who felt so strongly about this that he opened a Breitbart office in Israel to ensure that the true pro-Israel story would get out. What is being done to Steve Bannon is a shonda.
Shonda is Yiddish for shameful scandal.
The thread on The_Donald about the memo has a number of fascinating insights into various aspects of Jewish history over the past millennium:
Most Jewish neighbourhoods in New York City voted for Trump;
Over a century ago when immigrants arrived at Ellis Island, a Tammany Hall (Democratic machine) representative was there to make sure they got settled in and promise to vote Democrat in return;
Secular Jews voted for Hillary;
Practising Jews do not think Steve Bannon is anti-Semitic;
Practising Russian and Ukranian Jews tend to vote Republican;
The Anti-Defamation League should now be called All Democrat Lobbying;
Ancient Rome brought the first Ashkenazi Jews to Europe and settled them in Alsace because they were excellent farmers. Generations later they began moving eastward;
Ashkenazi and their Spanish/North African counterparts the Sephardic Jews share the same Y-chromosome haplotypes and certain DNA; Ethiopian Jews do not share these characteristics;
There was no mass conversion to Christianity among the Ashkenazi during the Middle Ages, only among some of their leaders.
Returning to Steve Bannon, it seems Breitbart might be suing a 'major media company' for calling their site a white nationalist one. I'm not much on Breitbart, but they should challenge leftist media people on their lies.
The Trump transition begins. There's even a new website!
Warmest congratulations go to Kellyanne Conway, the Trumpwhisperer, who is the first woman to manage a victorious presidential campaign in the United States. She was responsible for refining Trump's stump speeches and for putting the kibosh on his excessive tweeting. No one else could do that! Furthermore, her internal polls were spot on. Conway is one tough tigress, make no mistake. She is also married, a mother of four and a practising Catholic.
Also noteworthy is that Hillary Clinton spent nearly twice as much money per vote as Trump and lost: $8.80 to $4.57. Trump has decisively proven you do not need big money to win an election!
President-elect Donald Trump and his wife Melania flew to Washington DC on Thursday, November 10 to meet with the Obamas as well as top Republican congressional leaders Paul Ryan and Mitch McConnell.
Vice President-elect Mike Pence was also in Washington. He met with his outgoing counterpart Joe Biden, in what Pence described as a 'warm reception'. Pence also had a telephone conversation with British Foreign Secretary Boris Johnson, who tweeted:
Just spoken to US VP-elect @mike_pence. We agreed on importance of the special relationship & need to tackle global challenges together
Trump's son-in-law — Ivanka's husband — Jared Kushner was also with the Trumps. During their private meetings, he spent time with White House chief of staff Denis McDonough, who gave him a tour of the Rose Garden. Kushner has been a close adviser to his father-in-law throughout the campaign and is expected to remain so after the inauguration.
Trump and Obama had a 90-minute discussion, far exceeding Trump's expectations.
Melania and Michelle shared tea together, discussed raising children and talked about what it is like to live in the White House.
The Mail has a great set of photos from the day.
Afterwards, Trump tweeted:
A fantastic day in D.C. Met with President Obama for first time. Really good meeting, great chemistry. Melania liked Mrs. O a lot!
Questions have been asked about the Trumps' entrance by a side door and the two couples not posing together for a photo in front of the White House. Things were different eight years ago with Bush 43 (i.e. 43rd president):
Breitbart had more on the matter:
White House Press Secretary Josh Earnest refused to explain the details of the decision but denied the story.
"Not true," he said, during the White House press conference, when asked about the report. He also denied that the lack of a photo opportunity had anything to do with First Lady Michelle Obama not wanting to be photographed with the Trump family. He argued that it was not a "snub" of the Trumps, but rather a different strategy of press access.
The press pool was allowed into the Oval Office on Thursday, to photograph Trump and Obama together after their 90-minute meeting. The two men met alone, with no staffers present.
But Obama snubbed the press by telling Trump not to answer any of their questions after the meeting.
"Here's a good rule. Don't answer any questions," Obama said to Trump after reporters shouted questions at the pair.
Despite the pleasantries exchanged between the two political foes, Earnest specified afterwards that Obama still believed that Trump was unsuitable to be president …
Earnest's remarks contrasted with Obama's welcome of Trump at the White House, promising to meet the standards set by President George W. Bush …
Earnest hinted that the White House might release a photo of the two couples meeting.
Independent Bernie Sanders pledged his support to Trump. The Daily Caller reported:
"Donald Trump tapped into the anger of a declining middle class that is sick and tired of establishment economics, establishment politics and the establishment media," Sanders said. "People are tired of working longer hours for lower wages, of seeing decent paying jobs go to China and other low-wage countries, of billionaires not paying any federal income taxes and of not being able to afford a college education for their kids – all while the very rich become much richer" …
In his statement Sanders went on to say: "To the degree that Mr. Trump is serious about pursuing policies that improve the lives of working families in this country, I and other progressives are prepared to work with him …"
The Democrats' wounds are still raw. Despite Big Media's attempted character assassination of Trump and the voter fraud — which is why his popular vote isn't higher — he prevailed once again. (Are we sick and tired of winning, ladies and gentlemen? Never!)
Business Insider reports that the Democratic Party is in disarray.
It looks very likely that the DNC will replace current interim chair Donna Brazile. A White House staffer yelled at her for being 'part of the problem' in Hillary Clinton's loss.
Politico reports:
No party leader calls have been set to map out a plan ahead, and no signal has come from the White House or from Clinton's team about what comes next. The phone lines were silent, only slowly picking up, and escalating to a fever pitch as the defeated nominee prepared her morning speech and interim DNC chairwoman Donna Brazile sat on the silent 9:00 Acela [train] from New York to Washington.
The Washington Post says that Minnesota Muslim congressman Keith Ellison or former Vermont governor Howard Dean are tipped to lead the DNC. The Huffington Post says Brazile could stay on until March, however, based on the aforementioned yelling:
Thursday's meeting shows at least some party officials want fresh blood at the top.
Early in the morning of Wednesday, November 9, Clinton's team had to get pervy John Podesta to address campaign workers. This is because Clinton had been weeping 'inconsolably', according to Ed Klein author of the recent book on the Clintons, Guilty As Sin. Klein appeared on a radio show later that morning and said:
"She couldn't stop crying.
"Her friend said — her female friend from way, way, back — said that it was even hard to understand what she was saying, she was crying so hard.
"This is Hillary we're talking about," Klein said.
Clinton appeared two hours later dressed like Batman's The Penguin in black and purple. Earlier, Podesta had told everyone to go home. Yet, after Hillary spoke, there was applause. I read somewhere that the delay allowed travel time for a new audience of those closest to her: big wigs.
The New York Times has highlights of her concession speech and Obama's remarks.
Before I go into detail on the protests — all previously organised, none are 'organic' (spontaneous) like Big Media are telling you — Sundance at The Conservative Treehouse has a theory about Obama/Clinton and the demonstrations and riots taking place:
If the ridiculous election protests continue again tonight, then President Obama has not called them off.  That means he and Clinton received no substantive assurances, and are worried about being held to account – prosecuted and investigated.
If the ridiculous election protest do not happen again tonight, then President Obama has called them off.  That means he and Clinton feel more comfortable they will not be held to account – prosecuted and investigated …
Ultimately the Machiavellian political gamesmanship then evolves toward how does Obama/Clinton "feel" about the success of their initial probing for terms.
Demonstrations and riots around the US continued the night of November 10.
After this post, I will be mentioning them as little as I can. They do not deserve the oxygen of publicity, to borrow Margaret Thatcher's phrase.
However, I do want everyone to understand what is happening here.
Americans should note that there are laws on riots — 18 U.S. Code § 2101 — as being criminal rather than examples of freedom of speech. In part:
(a) Whoever travels in interstate or foreign commerce or uses any facility of interstate or foreign commerce, including, but not limited to, the mail, telegraph, telephone, radio, or television, with intent—
(1) to incite a riot; or
(2) to organize, promote, encourage, participate in, or carry on a riot; or
(3) to commit any act of violence in furtherance of a riot; or
(4) to aid or abet any person in inciting or participating in or carrying on a riot or committing any act of violence in furtherance of a riot;
and who either during the course of any such travel or use or thereafter performs or attempts to perform any other overt act for any purpose specified in subparagraph (A), (B), (C), or (D) of this paragraph— [1]
Shall be fined under this title, or imprisoned not more than five years, or both.
I would not hold my breath expecting anyone to be prosecuted. However, after the inauguration, watch for this law to be enforced in future.
The demonstrators in Austin, Texas, who marched not far from the state capitol building, arrived by bus:
Not only that, but they were paid.
At least one ad appeared on Craigslist: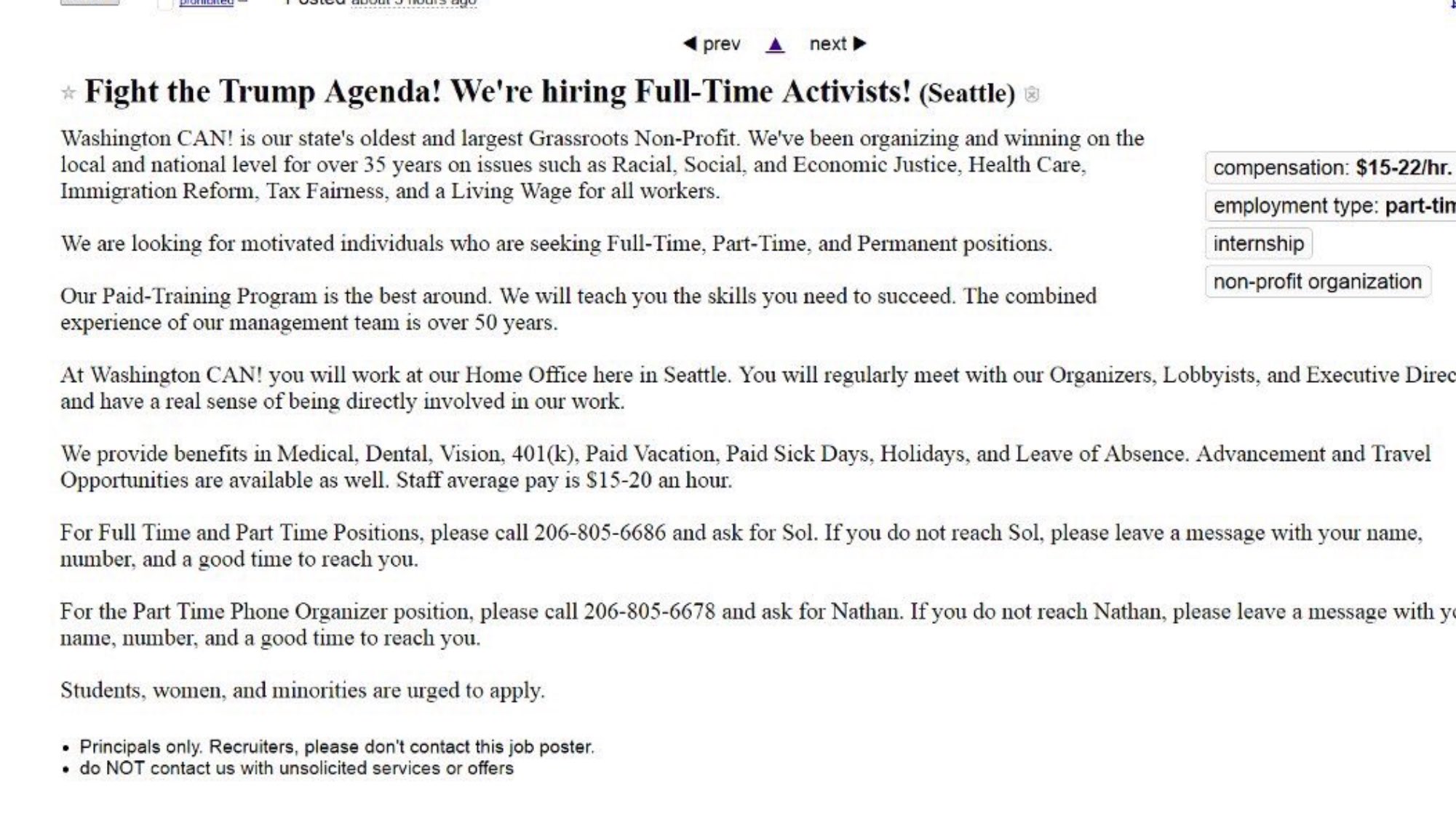 Here's another Craigslist ad, this one for Manhattan, from a European television network (I'm curious):
Earlier on November 10, a panellist on Fox and Friends actually asked if George Soros was funding these demos and riots. This is good, because Big Media never do this. In case the YouTube in the previous link is removed, The_Donald reproduced the exchange:
Brian: "There were no protests for Al Gore, there were no protests for John Kerry, there were no protests for Mitt Romney. What's going on?"
Steve: "Well, back then, George Soros wasn't funding these things. Is he behind this? Don't know!"
Many people say that when Soros dies, all this seditious activity — explained here in detail — will die with him. Not true. His children are every bit as committed to it as he is. One also appears to be involved with the Clinton Spirit Cooking dinners.
Breitbart reported that MoveOn.org — Soros's flagship activist organisation — has anti-Trump protests and riots going on all over America. Amazingly, people actually contribute to MoveOn.
A wide network of organisations affiliated with MoveOn are involved.
In March, after the cancellation of Trump's rally in Chicago, Independent Sentinel listed several groups allied with MoveOn and added:
The billionaire George Soros and other liberal donors bankroll a new $15 million campaign to mobilize Latinos and other immigrants this fall, hoping to channel outrage at  Donald J. Trump and other Republicans into a surge of votes for Democratic candidates in November …
And now that has failed on a national scale, they have today's violent protests, such as this riot in Portland, Oregon. (More here.) If these anarchists and maladjusted folks aren't driving sceptical Americans into the Trump — and gun — camp, I don't know who is.
Below is a list of planned protests from ANSWER (Act Now to Stop War and End Racism). You can also read more here:
Another group to watch for is Socialist Alternative, one of whose directors is a union man, born and bred in Britain, who has lived in Chicago for many years. They, too, have a list of demonstrations.
A number of the protesters are carrying professionally printed signs. One of The_Donald's contributors has seen some that read revcom.us on the bottom, indicating another Soros-funded communist organisation.
It also looks as if Aaron Black — featured in this James O'Keefe Project Veritas video about bird dogging (inciting Trump supporters to violence) — is part of the protest mix. He makes sure everyone is kitted out with signs and whatever else they need. He is supposed to be a background man and says no one should be able to easily identify him at protests.
On Chicago's West Side, a man was dragged out of his car at an intersection and was brutally assaulted. This post has a YouTube video of young men pulling a motorist out of his vehicle, beating him up, stealing items from his car — all abetted by a woman shouting instructions nearby. This tweet has a video of what happened next: the young men got into the car, the man was able to grab onto a door frame and they all sped off around the corner, with the man holding on for dear life. The Chicago Tribune caught up with him afterwards (photo at link). Emphases mine below:
David Wilcox, 49, said he was about to turn left from Kedzie Avenue to Roosevelt Road around 1 p.m. Wednesday when a black sedan pulled up and scraped the right side of his Pontiac Bonneville.
"I stopped and parked. And I asked if they had insurance, and the next thing that I knew they were beating the s— out of me," Wilcox said Thursday …
"They were beating me to have me let go of the car," Wilcox said. "The guy went to 70 and 80 mph. If I let go, I was dead. He slowed to 45. … He tried to push the door open. …So he stepped on it again.
"He stepped up back to 70 and 80, swerved again," Wilcox said. "The wheels on my side left the ground, up to 2 inches. … Then he slowed down. I was looking at oncoming traffic. He probably slowed to about 45. God was watching over for me. I rolled about five or seven times into the oncoming traffic lanes.
"There was a parole officer with a gun and bulletproof vest," he added. "He turned left, and he told me just sit down and wait for the police to come."
Wilcox filled out a police report, but no one was reported in custody Thursday afternoon. Police said they were investigating the beating and who made the "politically divisive" statements in the video.
I wonder if he got his car back. It should have DNA.
Pray for David Wilcox's recovery. He must be undergoing trauma, even if it doesn't show.
If that is not a hate crime, I do not know what is. They could have killed him, directly or indirectly. This got little to no coverage outside of Chicago!
In California, a female high school student near San Francisco was beat up by another classmate — also a girl — for supporting Trump online:
Cellphone video captured the moment a female student attacked sophomore Jade Armenio.
"This girl comes up to me and she said, 'Do you hate Mexicans?' and I was like, 'no,' and she said, 'You support Trump. You hate Mexicans.'"
Armenio says the girl hit her, threw her to the ground, pulled out her earrings and hair. She was left with a bloody nose and scratches and bruises …
The princip[al] of Woodside High School issued a statement that reads in part the recorded incident was investigated in conjunction with law enforcement and appropriate disciplinary action has been taken …
Armenio['s] parents say they are keeping her out of school until they know she'll be safe.
Let's pray for her, too.
Meanwhile, a story that did get nationwide coverage turned out to be false. A university student in Lafayette, Indiana, accused two Trump supporters of tearing off her hijab and stealing her wallet. Thankfully, she confessed to a lie. She should be charged:
The story made national headlines and was featured in The New York Times, The Huffington Post and other national media outlets. Messages of love and support were found all over UL Lafayette's campus after news of the attack spread.
It's unclear whether the student will face charges for filing a false police report.
In closing, here is an interesting exchange from 2013. The_Donald calls it 'the tweet that started it all':
You can't stump the Trump!
And, finally, a great summary of the past few weeks, also from The_Donald:
Protests aside, the next four years are going to be an exciting — and positive — time for all Americans. Trump has a Republican Congress and Senate to help him to restore the Great Republic. Outspoken radio show host Michael Savage says:
God's hand is all over this election.
I truly believe it is.
MAGA!
This will be my final post about the presidential campaign prior to the election on November 8. Post-election analysis will follow later this week.
I have three big topics to cover: Clinton's horrible people, voter fraud and voting for Democrats. This post is not for children or other vulnerable people.
If you have not already read yesterday's post on Spirit Cooking, please do so. Yes, it involves the Clinton people.
Thankfully, faithful Christians in Los Angeles put up posters on Sunday condemning Hillary Clinton for having a Jezebel spirit. Gateway Pundit has photos and an article on the subject.
This is the poster, which mentions Ephesians 6:11:
Put on the whole armor of God, that you may be able to stand against the schemes of the devil.
Children and the Clinton people
I really want to give this section the title it deserves, substituting a Greek 'p' word for 'children', but I want to make sure everyone sees and reads it, so have toned it down.
Yesterday's post also had a section by this title relating to the same sinful, egregious behaviour. As I said then, the Podesta emails from WikiLeaks have several references to pizza, cheese pizza, hot dogs and so on. One talks about a black and white pizza map handkerchief and pillows. The latter is a code word for drugs.
Please make sure you read that section along with the explanation of symbols and code words (here, here and here). If you have children or are in charge of young people, you really should read all of those links.
This is one of the grossest things ever.
It is not here gratuitously but rather to convince you to vote sensibly on Tuesday.
I did not believe it until I saw the following 3:21 minute long video. Not only does it look like Clinton advisers and insiders the Podesta brothers and James Alefantis (owner of Comet Ping Pong in DC, also involved in the Clinton Foundation) are connected with this, but it also explains what the codes mean. If you think these pizza and other food references are far-fetched, this will prove to you otherwise:
David Seaman, formerly of Huffington Post until he got sacked in August for questioning Hillary's health, has an excellent 9+ minute video here of what WikiLeaks has exposed in this regard. 'Walnuts', he says, refers to little girls' private parts. 'Sauce' means orgy:
On Sunday night I watched a longer video, 50+ minutes long. Stefan Molyneux led a discussion with Mike Cernovich (see Jezebel poster above) and blogger Vox Day, who looks very young at 48. It concerned the occult practices and child sexual abuse that WikiLeaks helped to expose, even if indirectly. Dozens of people, especially at The_Donald, started investigating people, places and connections. Some of their research has been featured on other alt-right sites, as I explained yesterday.
The reason I have included Molyneux's discussion below is that he and Cernovich are unbelievers. Day, on the other hand, became a Christian as an adult. All are repulsed by the activity of the Clinton circle.
The final ten minutes really sum up what is happening here. This is the first time Cernovich and Molyneux have actually seen evil. Cernovich said he now thinks there could be something to Christianity, after all. Let's hope so. Anyway, the upshot is that, as Day explained, Christians want to do God's will whereas the NWO, Clinton people included, want to be gods themselves, hence the horrific means they will go to for power (fast forward to 40 minutes in):
That's the best explanation I have heard for adults or younger people old enough to understand what's going on with these devilish rituals and heinous sexual abuse. Even the unbelievers understood.
Keep in mind these horrible people go to church, too. Hillary occasionally attends a Methodist service and John Podesta has emailed about his Mass attendance! The devil never appears as himself but in disguise. Church is one of his best hideouts.
Voter fraud
Voter fraud has been going on in the United States in various places for decades. Democrats engineer it in the general election. Republicans do it in their own primaries, most notably this year in Ohio, Kansas and Maine.
When I was growing up, the jokey slogan in Chicago was 'vote early, vote often'.
Here's an anecdotal back catalogue of voting in Cleveland.
Philadelphia is well known for convicts and non-citizens voting, especially over the past 14 years.
More recently, in 2012, St Lucie County in Florida had a 158.85% voter turnout.
That same year in Virginia, Congressman Jim Moran's son advised vote stealers to forge a utility bill in that person's name. Around 100 legitimate voters could have been affected.
A YouTube from January 2008 shows how lax New Hampshire was in the presidential primary that year. They have procedures; the Secretary of State and his men deliberately chose not to follow them.
Also in 2008, the Podesta WikiLeaks (a 2015 email) revealed that Obama's campaign had 'flooded' Colorado caucuses in primary season 'with ineligible voters'.
Early in October, New York City election commissioner Alan Schulkin said he has an ongoing problem with voter fraud in poorer boroughs. Lefty mayor Bill de Blasio said Schulkin's claims were 'crazy' and called on him to resign:
Big Media are trying to mislead you when they say that all this is a figment of Trump's imagination. They know the truth. They just don't want you to know it.
People take this lightly — and Hillary wouldn't answer post-debate questions on the matter — but at least some, like this young Bernie Sanders supporter, have switched to Donald Trump because:
I don't support people who steal my vote!
If you can, ask for a paper ballot.
Check your vote carefully before you leave the booth. If your vote has not been recorded as you cast it, please notify a polling official immediately.
Reporting fraud at a higher level
This section has contact points followed by states where voter fraud has been reported.
How to report it
What follows are various contacts at county and national levels.
If I were doing it, I'd probably email where possible.
Alex Jones: vote [at] infowars.com
In your state:
Where voter fraud has been occurring
California: In October, residents of a halfway house were promised a $300 rebate if they voted for Hillary.
Delaware: Vote flipping took place in the Democratic primary this year.
Florida: Broward County (October 26, incomplete ballot papers, opening the door to double voting). Trump campaign is suing. On October 28, two Dade County campaign operatives were arrested: one for illegally marking ballots for a particular local candidate in Miami and the other for registering non-existent persons or the dead.
Illinois: Thugs from Chicago have been bribing people in downstate Kankakee to vote Democratic. The local race there is reportedly very tight. HillBuzz has information about Chicago votes.
Indiana: On October 20, Indiana's secretary of state found voter registration forms altered with discrepancies in personal details.
Maryland: 20-20 Watch has details of what occurred during the 2016 primary.
Texas: Mid-October reports in Nueces, Tarrant, Denton, Randall and Potter Counties: full details. There's more on Tarrant County here. On October 25, Chambers County had to resort to paper ballots because of a machine 'glitch' that required a software update.
Anywhere: The Washington Post has reported that non-citizens have been voting since 2008. What a coincidence (not). Emphases mine below:
Because non-citizens tended to favor Democrats (Obama won more than 80 percent of the votes of non-citizens in the 2008 CCES sample), we find that this participation was large enough to plausibly account for Democratic victories in a few close elections. Non-citizen votes could have given Senate Democrats the pivotal 60th vote needed to overcome filibusters in order to pass health-care reform and other Obama administration priorities in the 111th Congress. Sen. Al Franken (D-Minn.) won election in 2008 with a victory margin of 312 votes. Votes cast by just 0.65 percent of Minnesota non-citizens could account for this margin. It is also possible that non-citizen votes were responsible for Obama's 2008 victory in North Carolina. Obama won the state by 14,177 votes, so a turnout by 5.1 percent of North Carolina's adult non-citizens would have provided this victory margin.
The article went on to say that voter ID has no effect. See the Alan Schulkin video above from New York.
On a similar line, in Virginia, the governor, Terry McAuliffe, recently pardoned 60,000 felons — giving them the right to vote in this election.
'Mortal sin to vote Democrat'
In the Roman Catholic Diocese of San Diego, parishoners found an odd insert in their church bulletins on October 16.
NBC San Diego reported on the leaflet entitled 'How to vote like a Catholic – it is a mortal sin to vote Democrat!'
The handout goes on to outline several political issues, including abortion, and notes the church's stance on the topic. "Based on the above, it is mortal sin to vote Democrat," adding that sin, if not confessed, "means eternal damnation," the leaflet cautioned.
Two weeks later, parishioners received a second bulletin titled "Voting Catholic," that again discussed social issues and implored them to take a "Catholic view."
"The devil does this through the tactics outlined by Saul Alinsky with the outcome as Hillary Clinton has stated, 'And deep-seated cultural codes, religious beliefs and structural biases have to be change,' to draw us away from God's teachings regarding the sanctity of life to those of the world and its prince," the leaflet said.
The Diocese knew nothing about these leaflets. Bishop Robert McElroy issued a statement:
Let me stress again that while we have a moral role to play in explaining how Catholic teaching relates to certain public policy issues, we must not and will not endorse specific candidates, use parish media or bulletins to favor candidates or parties through veiled language about selectively chosen issues, or engage in partisan political activity of any kind.
True.
It was a great guerilla move on someone's part, though. Well done!
Not all of the San Diego cafeteria Catholics were impressed.
Nor was the Catholic priest who appears on Fox News impressed by these nuns:
With that, I leave you to vote. (Graphic below from The Conservative Treehouse).
Please pray that the better of the main parties' candidates wins. Otherwise, this spells the end for America as the Great Republic.
Two important developments occurred at the weekend. American voters need the full story on yesterday's Reno incident and the Clinton circle's Spirit Cooking before going to polling booths on Tuesday, November 8.
Donald Trump in Reno
On Saturday, November 5, Secret Service agents rushed Donald Trump from the stage in Reno, Nevada, where he addressed a diverse group of supporters.
Five minutes later, Trump returned to the stage and resumed his speech, saying:
Nobody said it was going to be easy for us. But we will never be stopped. Never ever be stopped.
He went on to discuss defence policy.
This is a full video with the first section about the strong support he has in the Latino community (many in the audience), stopping drug trafficking through strong borders, the incident (5:05), Trump's return (12:22) and the rest of his speech:
This is what happened.
A Reno resident, Austyn Crites, 33, had a sign that read 'Republicans against Trump'. He manoeuvred his way through the crowd to get to the front.
Trump saw him, said 'Get him outta here' and asked Crites how much Hillary was paying him: '$1,500?'
It is likely Trump asked him that because of his jacket which read, 'Paid for by H' (with the Hillary campaign symbol).
Trump gave Crites a long, hard stare.
Someone — he or an accomplice? — then yelled 'Gun!' At that point, Secret Service agents rushed Trump off the stage. The image comes courtesy of MissLizzyNJ:
People around Crites wrestled him to the ground before police took him away. There was no weapon.
The AP reported that the Secret Service said an investigation was ongoing.
In the meantime, as this article from The Guardian shows, Crites is free to talk. By the time you read this, he will have probably given several interviews painting himself as a victim.
A patriot at The_Donald described what happened. He was six feet away from Crites at the time. Excerpts follow, emphases mine:
I'm a bit shaken still, but I wanted to get this out there: the crazy guy had a REPUBLICANS AGAINST TRUMP sign. He started shoving his way towards the front of the crowd. I was 3 people back from the front row and about 6 feet from this guy. He started to jump up and down and almost acting like a mosh pit.
He was pushing and shoving people. He knocked people over, including elderly. Children were right there, too. You see Trump shade his eyes twice as he watches what is happening and doesn't acknowledge it until the guy gets so violent that some men tackle him.
This is when Trump made the comment about him being paid and to get him out. Many people fell over in the process. About 6 or more men restrained him, and in the process, one of those men got up and yelled that he had a gun. It took about 5 or 6 shouts before Secret Service heard and reacted.
This is when Trump was taken off stage. People panicked, dropped to the ground, covered their heads… children were screaming, women crying, personal belongings stampeded and lost. Secret service then got on the guy, followed by police, followed by some sort of tactical swat/police team in helmets and bullet proof vests with rifles. Elderly and handicap people were down on the cement after being pushed over.
It was completely traumatizing, but because there were thousands of people in there, they blocked all of what was happening on the ground. I have a video from before the swat team came showing them coming in and taking the guy out from right where it happened. I'll upload tomorrow, but for now I just need to calm down.
For those of you making light of the fact there was no gun — hindsight is 20/20, but I'm that insane moment things went in slow motion and dozens if not hundreds of us were in fear …
EDIT 2: Thank you for everyone's kind words and advice. I just saw a post on another subreddit where people who weren't there are saying stuff like Trump instructed a peaceful guy to get beat up and also supposed FB posts from this asshole's family members saying he was attacked after Trump instructed the crowd. Trump didn't say anything until after he was down on the ground and it was because it was totally out of hand. It's such an outright lie that these people are echo chambering to each other. It makes me feel sick. To actually witness the event and read the fake stories… I'm a whole new level of upset. Please, please, please vote for Trump on Tuesday!
Here's his video which starts shortly before police arrived:
He concluded with this:
I already worry so much that Trump could be assassinated and seeing him in person was such a crazy experience itself. To go from so happy and excited to see a hero to terrified, confused, and scared as someone yells GUN so close to you in a crowd so tight that you can't move… and see secret service, police, and swat team proceed as it's an active shooter type situation… cannot describe my emotional roller coaster.
Another patriot at The_Donald did some digging and put together a helpful montage of information (enlarged image) about Crites, who registered as a Republican in 2011 although his Facebook page says he supports Clinton, and his brother Kerry/Cary, who lives in California. More here, suggesting voter fraud. 4chan also has more (language alert). Crites is also available for work in the San Francisco Bay Area.
Early in 2011, Crites ordered three copies of a book called The Next Decade. You can do a WikiLeaks search and see the results for yourselves. The information is on WikiLeaks because it was part of the 5+ million emails from The Global Intelligence Files:
On Monday February 27th, 2012, WikiLeaks began publishing The Global Intelligence Files, over five million e-mails from the Texas headquartered "global intelligence" company Stratfor. The e-mails date between July 2004 and late December 2011. They reveal the inner workings of a company that fronts as an intelligence publisher, but provides confidential intelligence services to large corporations, such as Bhopal's Dow Chemical Co., Lockheed Martin, Northrop Grumman, Raytheon and government agencies, including the US Department of Homeland Security, the US Marines and the US Defence Intelligence Agency. The emails show Stratfor's web of informers, pay-off structure, payment laundering techniques and psychological methods.
The Next Decade explores the geopolitical situation future US presidents will need to navigate. The author is George Friedman, founder and CEO of Stratfor.
It must be a fascinating book if Crites ordered three copies in the second half of January 2011.
Going back to the Reno incident, Trump threw out the payment figure of $1,500. Where did he get that? From James O'Keefe's Project Veritas undercover video where leading Democratic operatives describe in rough language and fact how they recruit and pay people to engage in bird dogging for them against Trump and his supporters. I will leave you to draw your own conclusions as to whether Crites fits into this unholy mess:
Another patriot at The_Donald has contacted the FBI and The Guardian:
Hijacking top comment to say I notified the FBI with all info in this thread and local PD AND I SENT AN EXTREMELY strongly yet polite worded email to to both the author and the Guardian's review and ethics department demanding an immediate retraction and apology for this story, telling them I also notified the FBI about this guy. The definition of terrorism is inciting violence for political purposes. This guy is a terrorist and needs to be sent to g bay. He needs to be outsourced to Egypt for enhanced interrogation so he gives up the names of those who paid him. FOVAL AND CRAMER need to go to prison too.
The self-described 'weaponised autists' at The_Donald are investigating Crites further. What they have discovered is highly disturbing. This thread and this picture of a former residence of his are nothing short of creepy and involve children.
Both bring us neatly to the next topic.
Children and Clinton people
The story behind Clinton people and children — sex rings and trafficking — is developing and is unlikely to be complete before the election.
According to Steve Piecznik's recent videos on YouTube, WikiLeaks is now co-ordinating their releases with the FBI and other law enforcement agencies.
Sex rings and politicians are nothing new. One operated in the latter days of Bush I's administration. It was discovered in 1989 — see The Washington Times lead story — and a documentary about it aired in the United States in 1994. It involved male prostitutes.
The patriots at The_Donald have been examining WikiLeaks for evidence of child trafficking and sexual abuse then reviewing other information related to the Clinton email investigation. In one thread on the topic, someone remembered James Comey mentioning:
how they found and saved a little girl that was abducted and chained to a tree… and everyone wondered why he was talking about that!
… everyone in the live stream comments was going "this is a hearing about Hillary's emails, w[hat] is he on about?"
Another poster on The_Donald remembered it, too:
Do you guys remember when Comey had his second hearing to the House Committee on the Judiciary? He talked about a case that they just wrapped up involving an abducted girl.
It seemed odd to me that he opened up his testimony about Clinton's private email server and circumventing nationality security laws by talking about saving a little girl. In this context, it does make more sense.
Here's a direct link to the part where he talks about the girl:
It's at 45 minutes in. (Video should go there when you start it.)
Many of the recent WikiLeaks releases have a number of emails relating to pizza. It is taking me quite a while to get on board with the connection between pizza and children, but I'm reading what's available.
UPDATE (November 7): I am now in agreement with The_Donald on what they are reporting thanks to this 3:12 video which explores the pizza places on Connecticut Ave in Washington DC and the codes paedophiles use which relate to the handkerchief WikiLeaks email below. It is vital for every parent and guardian to read these two entries: Wikipedia and RationalWiki.
Recall that FBI Anon said:
when you are reading Podesta's e-mails, remember that the Clintons deal in weapons, drugs, and people. Some terminology in use is far more nefarious than many of you suspect.
"cards" [Child Abduction Rapid Deployment]
"favors", "extras", "officers"
[What next WikiLeaks will reveal] Evidence of favors for foreign nationals including the sale of human beings.
I know a lot of info regarding their movements of people and children.
A lot of these pizza references seem innocuous. The Podestas and their friends certainly enjoy it though.
On September 2, 2014 (emailID 32795), a realtor got in touch with a friend of John Podesta's who wrote him to say:
The realtor found a handkerchief (I think it has a map that seems pizza-related. Is it yorus [sic]? They can send it if you want. I know you're busy, so feel free not to respond if it's not yours or you don't want it.
On October 2015 (37072), there were plans for a birthday for Podesta's brother Tony:
Small gathering a few days before the pizza extravaganza …
Who has pizza extravaganzas? Pizza parties, maybe.
In March 2016 (49372), Tony invites John to dinner at Marta, a pizzeria in Manhattan. John declines:
I'm going to pass. I have too much to do before heading to Michigan tomorrow. No need for pizza.
The folks at The_Donald were working on the child trafficking — not all of which is connected to pizza — at the weekend. They are summarised below.
Email 15526 from Hillary Clinton's archive mentions a Washington Post story related to DynCorp, which had a government contract at the time (2009) and had hired a boy from Afghanistan to entertain a group of their executives. Obviously, that does not implicate Clinton herself in that incident, but this thread states, in part:
Hillary covered up for DynCorp. 1. The Washington Post wrote about it to her. 2. Later they publish a story saying the DynCorp employee was fired and no mention of the boy. 3. Nothing ended up being done.
The author of the thread then goes on to refer to two articles, one in the Daily Mail and the other on TruthFeed:
What is most disgusting is we now know Hillary has covered up for Weiner texting an underage girl and Laura Silsby's crew of kidnapping children from Haiti for trafficking.
The Daily Mail article, supported by WikiLeaks emails, says that Hillary's staff knew about Anthony Weiner's underage sex activity in 2011 but did nothing about it.
TruthFeed credits a contributor to The_Donald for making the connection between Clinton, Jeffrey Epstein and Laura Silsby, former director of The New Life Children's Refuge:
The discovery also included Wikileaks emails from Hillary Clinton, the content of which reveal Clinton contacting a lawyer regarding ten people arrested involved in the child trafficking ring. It was also revealed that the lawyer who represented Silsby was a convicted child sex trafficker …
Charisma News reports:
The Clinton family's connections to convicted sex offender Jeffrey Epstein raise concerns over newly discovered connections between Hillary Clinton and convicted child abductor Laura Silsby.
Another thread on The_Donald discusses links between the Clinton Foundation, the International Crisis Group and DynCorp dating back to Bosnia, where a sex scandal involving the rape, buying and selling of 12 year old girls was exposed in 1999.
And, finally — returning to pizza — the weaponised autists also uncovered two pizza places in Washington, DC which are not only near each other but also across the street from Beyond Borders, which works to stop violence against women and girls in Haiti. They are connected to the Clinton Foundation as one of the Partner(s) of the Commitment Maker(s).
Maybe this is no big deal, either, but one of the pizzerias — Besta Pizza — has an odd symbol which very closely resembles one paedophiles use to signify 'boy lover'.
You can see it on this FBI document, which I would encourage all parents and those in charge of children to study. The boy lover symbols are on the first page and the girl lover symbols are on the next.
Another thread is here.
Again, this might all be something or nothing. If Big Media were doing their job instead of suppressing any investigation into paedophile rings connected with Clinton people, we would know for sure.
Spirit Cooking
Another topic that Big Media are ignoring is Spirit Cooking which is a ritualised, satanic meal involving lots of blood, along with sperm and breastmilk.
A performance artist named Marina Abramovic leads these evenings. Image courtesy of The_Donald:
In 2015 (15893), Abramovic emailed Tony Podesta to say:
I am so looking forward to the Spirit Cooking dinner at my place. Do you think you will be able to let me know if your brother is joining? All my love, Marina
Tony forwarded the email to brother John and his wife Mary to extend the invitation.
This is part of the ritual:
This video explains Spirit Cooking. It also has pictures of John Podesta's hands. His fingers look unusually odd and gnarly, as if he has been cutting into them.
Let's look at WikiLeaks email 15461 from 2014 in which John seeks medical help. Are these related? I think we should be told:
Dr. Haque,
I've been doing well, but fear that the little finger may be getting infected. I saw Daniel Saturday and this morning and all seemed fine except the place where the finger joins the palm continues to weep. We concluded that it might be a good idea to have the White House Docs re-dress the wound with clean peri strips. I've arranged to do that tomorrow morning. Tonight the finger seems to be swelling more and hurts a bit more. Color is still pink and consistent with other skin. Swelling could be a result of PT, but seems possible that it's infected. I can keep my a appointment with the WH med unit and ck in after that, unless you think it's better to come in straight away.
In conclusion
Do Americans want four more years of these people in the White House and in the administration? I hope not.
The Clintons are under five FBI investigations. If we were even under one, we could not even get a job at McDonald's!
Please be sure to vote on Tuesday.
Voting wisely is one of the best ways to show how much you love your neighbour.
Tomorrow: voter fraud
The site 4chan has had several AMAs (Ask Me Anything) threads featuring one or more agents going loosely by the name FBI Anon.
He — or they — are all working on 'the Clinton case'.
What follows over the next few posts are FBI Anon's comments from the following threads:
July 2 (before either the Republican or Democratic National Conventions and just after Loretta Lynch and Bill Clinton had their conversation on her plane) — today's focus
September 25 (just before the first debate) — future post
October 17 (the most recent) — future post
A language alert applies to all three. However, what FBI Anon says cannot be completely discounted, even if some disinformation — perhaps 10% — is mixed in. The agent includes the disinformation in order to keep his job. It is unlikely that it pertains to big ticket topics, but smaller ones.
A number of 4chan participants do not believe what FBI Anon says, but the guys at The_Donald are confident that what he says is mostly accurate and should be noted.
N.B.: After this, you will never think of the Democratic Party or the Clintons or their foundation in the same way again. When I first read these threads, I thought about them for days afterward. I am presenting this information to you to help you and yours make an informed decision on November 8.
FBI Anon asks the 4chan folks to spread the information. I found various threads on The_Donald about him. This one lists all the 4chan FBI threads.
I shall do my best to divide everything up by topic. I have edited out the foul language and corrected some spelling and grammatical errors. Emphases mine below.
Reference is made below to a SAP — Special Access Program — which FBI Anon defined as follows (July):
A Special Access Program is an intelligence program classified above top-secret. They are held on closed servers at secret locations. The only way to get one is if you are specifically read on to a program, have a need to know, then you must physically go to a location and pass through several layers of security to even look at the program. A good example in non-classified terms would be the locations and operations of our intelligence operatives around the globe, or our missile silo locations.
FBI Anon introduction
I am a person with intimate knowledge of the inner workings of the Clinton case. I will answer as many questions as I can without giving too much away.
Why FBI Anon went to 4chan in July
Sent home, awaiting word about the [chaos] Lynch just caused.
Chances of Hillary Clinton being indicted or brought to justice
There is intense pressure for us not to do so. I am posting from a position of near anonymity and enough plausible deniability to evade prosecution, as we have all been given gag orders.
There is enough for her and the entire government to be brought down. People do not realize how enormous this whole situation actually is. Whether she will be or not depends on how much info about others involved gets out, and there are a lot of people involved.
She had SAP level programs on her server, which if made public, would literally cause an uprising and possibly foreign declarations of war.
There already is enough to indict. Comey has been trying to stall because he does not want to face the Clinton Machine, as well as the rest of Washington D.C. But this case would explode into a million other cases if fully brought to light, and then we would be one agency competing against the entire government and a hoard of other interests. It is a very tense and uncomfortable position.
What Lynch is saying is she will accept whatever they do and make her determination as she will. Nothing about her responsibilities has changed, she is simply trying to keep her hide intact.
We have no power to prosecute, we simply hand over the data to the DOJ for them to prosecute. And we do not have the authority to hand over all of the data because of its sensitivity. And some of the data will lead into other cases of corruption.
Making a recommendation is not the same as actually prosecuting. We only say "here is the data, you need to get XYZ" and then the DOJ acts. 
We have our hands tied. My message to you and everyone on this board is do not get distracted by Clinton's e-mails. Focus on the Foundation. All of the nightmarish truth is there. The e-mails will pale in comparison.
SAPs
All I can tell you about the SAPs is HRC had them, and she did not have proper authority to have any of them. They were leaked to her by someone, and she did sell them to overseas donors. Possessing them alone makes her guilty of treason. 
Sec. [of State] CAN have access. That does not mean he/she WILL. SAP is granted on a need to know basis, and HRC did not have any need to know any of the programs on her server.
Public knowledge of issues influencing continued investigation
Before the Clinton-Lynch meeting, I would have said 0%. Now it looks more likely because the public now sees the Clintons trying to cover their asses. More questions will add pressure for the investigation to continue.
The Clinton Foundation (CF)
The real point of interest is the Clinton Foundation, not the e-mail server. We received the server from Benghazi, then from the server we found data on the CF. Then we realized the situation is much worse than previously thought.
Killing HRC would not cause this problem to go away. The problem is with the Clinton Foundation as I mentioned, which you should just imagine as a massive spider web of connections and money laundering implicating hundreds of high-level people. Though I do not have a high opinion of Hillary, she is just a piece -albeit a big piece – of this massive [horrible situation].
Obama is loosely tied to the CF, but much more tied in with the same people who donate to the CF.
BC likely wanted LL to focus on the e-mail server and shy away from prosecuting the foundation.
[The Foundation] Sold influence, intel, favors, and people to anyone willing to pay.
(next comments from continuation thread)
The people under the magnifying glass do have an affinity for children.
Pedophiles and sex traffickers everywhere. Many politicians trade girls like cattle.
Why no one else is brought to justice
The DOJ is most likely looking to save itself. Find everyone involved in the Clinton Foundation, from its donors to its Board of Directors, and imagine they are all implicated.
My opinion is the entire government is guilty of treason, which is why HRC's death would not cease the investigation or prevent further scandals. Many, many people are involved.
If we recommend, we literally hand over documentation implying the entire government is involved in treason at the highest levels and everyone is about to duck and cover, as well as some sensitive details of SAPs which would obliterate national security.
[Then again] If we do not recommend, it will look like a cover-up and Trump will use the perception to bolster his message. I did work in PsyOps once, and Trump's use of confirmation bias is legendary.
We could do it tomorrow if we wanted. [But …] There are too many political players involved.
Your moral inclinations may look good on the internet, but in real life the situation is complicated. You cannot possibly ask the entire government to prosecute itself. Lynch has also given to the Foundation, and has many ties to many people she should not. Remember that Bill appointed her. She is a great prosecutor, but she did not get where she is by simply being good at her job.
The problem is with the entire government. HRC is one component of that government.
… you do not have the breadth of info that I have that would make your eyes fall out of your skull if you knew what all was going on.
George Soros
Soros is at the heart of all of this.
He is the kingpin.
Ideologue. Believes he and his cohorts are the answer to ending all world wars. Todd Huizinga's book The New Totalitarian Temptation reveals the mindset quite adequately.
Soros funds, instructs, and influences every layer of US government, right down to the tax code.
Agents fearing for their lives, including Clinton retaliation against them
We are all worried about that.
My bosses have the benefit of being in the limelight. Their disappearances or silences would be accompanied by questions. Mine would not.
I do not want to post any information about me or where I am, because if any hint got out that I posted anything, I would be fired and blacklisted. Possibly killed.
Does Hillary kill people?
People have a way of dying around her.
Hillary and Obama's relationship
Obama and HRC do hate each other. HRC hates black people and Obama dislikes recklessness. As far as the investigation, some details are correct. As to the outcome, no one knows.
The Obamas
Obama is a liberal atheist who is willingly associated with the Muslim Brotherhood. Stephen Coughlin's book, while not totally accurate, does shine light in the right direction.
(next comment from continuation thread)
Michelle is a woman.
Who else has the emails?
Foreign powers are in possession of some of the documents we have analyzed, because they were hacked from the Clinton server. Trump has some files as well, and likely plans to leak them and use them to his advantage soon.
The leaks will have to be made in a non-transparent fashion.
What about Russia?
I am not sure, but some of my war strategy buddies are estimating a high probability that Russia will leak all of the info they have to the world, since Clinton wants to go to war with them and they have no desire to be in conflict with the US.
(next comment from continuation thread)
Russia wants Ukraine back, and then they want to be left … alone to invest. Russia is more a paragon of freedom and nationalism than any other country.
Other foreign relations implications
[HRC responsible for selling] Weapons, favors, intelligence, and people.
It benefits her because her donors have paid for it.
Canada has no business telling us how to run intel. Trudeau makes you [Canadians] all look like fools, and already his intel departments are coming to us for help doing … everything.
Germany is not involved. Merkel likes HRC though.
(next comments from continuation thread)
Get rid of Trudeau. He has no experience managing or running a country.
Mexico is actively trying to undermine the US.
The media
Mainstream media is [dire]. Who cares what they say. They are attempting to distract by putting the focus on HRC's emails and not the Foundation.
If Hillary wins
 We will go to war with Russia and possibly China if she wins.
Donald Trump
The entire government is corrupt. No one is clean, not even Trump.
Trump has donated to the Clinton Foundation in the past, though for fairly innocuous things like building permits and such. He is smart, so his tracks are covered well. But if any prosecutor wants to go very in-depth Trump would be brought on bribery charges. He could easily get out of them, but he would be charged nonetheless.
I do not know of Trump's record, but from the case he definitely knew to limit his exposure and make it only look like a donation.
If Trump wins, HRC will be prosecuted.
Trump has very good people advising and leaking to him.
Trump is not a Clinton plant. He believes they are disgusting animals.
[Sidney] Blumenthal is attempting to get dirt on and strategize against Trump. 
(next comment from continuation thread)
I support Trump. He is a good candidate. Not perfect, but good. I used to work in PsyOps, and Trump's campaign is exactly how the textbooks train. It will be studied by agents forever.
Most of us are pro-Trump.
HRC hates that Trump makes the media profitable, so they have to keep covering him.
The choices
I will put it to you this way: You have three choices,
A) turn over all of the information to the DOJ, make public a recommendation, the truth comes out, the entire world realizes how much the US is meddling in foreign affairs and we go to war, the civilian population realizes how much foreign money influences our government, and a civil war begins.
B) You cherry-pick the data to implicate the people already in the eye of public opinion, so the chips fall on the heads of a select few and the whole system does not crash.
C) you do nothing and watch the unstable political climate to gauge how you will respond.
I am confident if Trump wins she will be going to jail.
… most of us are of the opinion that HRC will not be president, and having Trump in office makes our job that much easier. But right now we have to carefully wade through the mud.
A is not going to happen.
Revolutions are much longer and more violent than you think. And if a civil war breaks out, foreign powers will immediately get involved, prolonging any conflict.
[In general] People can integrate if done in a healthy and constructive way. Not by force.
The agents and 4chan (/pol/ — political threads)
The FBI is rather fond of /pol/. We study more than we investigate.
/pol/ is an amalgamation of minds from various geographic and demographic factions. We study very intensely the ideas which emanate and gain prominence on the board, as well as which ideas other organizations try to promote which ultimately get defeated (JIDF, for example, is highly unsuccessful as making /pol/ pro-israel). And most of us just enjoy the posts in general. We like to see how close to the truth everyone is. And we occasionally let our true nature slip.
Alex Jones
(from continuation thread)
Alex Jones is a useful idiot. He does believe what he says, though.
What the public can do
Post about HRC everywhere you can. Focus on the Foundation. Do not let her e-mail server be the sole focus of media attention. Follow the Foundation. Her e-mails are a small bite compared to the CF.
Promote and discuss it everywhere. Ask questions. Read the news on it. Post articles everywhere. Pirate Jerome Corsi's book (so people can't say I am shilling) because he does have some things right.
If you dig hard into the foundation and make it the sole point of your focus, you will remember this thread when the truth is revealed.
(next comment from continuation thread)
We do not live in a democracy, we live in a republic. There is a lot of greatness in America, and there is still plenty to love. Society and culture are dependent on man. You are in control of society, not the other way around.
Tomorrow: more FBI Anon