You are currently browsing the tag archive for the 'women' tag.
Before I get to Joe Biden's behaviour around the opposite sex, I have an update on Tony Bobulinski's interview with Tucker Carlson.
I featured half of it in yesterday's post, but here is the full interview:
The Federalist's Mollie Hemingway tweeted a summary of it. I'll begin with her commentary where I left off:
On last night's show, Tucker said that he asked one of his staff members to send some Hunter Biden-related documents to him in Los Angeles, where he has been filming. The staff member, based in New York, sent them through a well-known, reputable courier service. Unfortunately, an empty package reached Carlson. (I hope they have a copy in New York.)
When notified of the empty envelope, the courier company investigated every step of the way but came up empty-handed.
En route, the package was opened and contents removed. The company interviewed every possible person who could have handled it. They also searched a van and plane, but nothing showed up. The company is not only deeply apologetic, but also deeply disturbed that this could have happened:
I agree. Someone is watching.
Here's Tucker's full show from Wednesday, October 28. I'm not sure how long it will be up, so watch it while you can. The last five minutes are about how to pronounce Kamala, as in Harris. Some say KAM-a-la, others say KAHM-a-la. The vice presidential candidate herself pronounces it halfway between the two.
Now on to the main topic.
Gropin' Joe
During his vice presidency, Joe Biden swore in US Senators. Watch Biden caress Senator Christopher Coons's daughter Maggie:
That video went viral:
Maybe he's just a tactile person? It looks as if Hillary wants him to get off. Outside of Maggie Coons, the rest are likely to be married women. Even if they weren't, it looks highly inappropriate — and weird:
The woman on the left in the photo collage above is a reporter, Amie Parnes:
Four years ago, the lefty media buzzed with anti-Trump groping stories, but the real groper was Biden. A Daily Mail article from October 18, 2016, has more on Biden, including photos.
The article features a photo of Stephanie Carter, the wife of the then-defense secretary Ash Carter. She and Biden were standing behind the podium as Ash Carter was speaking! Biden had his hands firmly on her shoulders and looked as if he were kissing her hair. (Also see The Daily Caller's take.)
Carter was not bothered:
'Oh, I laughed. I laughed. I laughed,' Carter said after the fact. He told the 'Today' show, 'They know each other extremely well, and we're great friends with the Bidens.'
Returning to Maggie Coons above, the article says:
Biden placed his hands on the shoulder of Coons' daughter and whispered in Maggie Coons' ear during the ceremony, attracting enough chatter in DC that Senator Coons got asked about it during an appearance on Fox News Sunday.
'I have to ask, 'cause a lot of people have been speculating about it, does she think the vice president is creepy?' host Chris Wallace asked point-blank.
'No, Chris,' Coons responded. 'She doesn't think the vice president is creepy.'
Senator Coons also vouched for what Biden said at the time. "I could hear him. He was leaning forward and whispering some encouragement to her about how when he was sworn in his own daughter Ashley was 13 and she felt awkward and uncomfortable.'
Biden feels at liberty to touch women, regardless of age. There is another photo of him caressing an older lady's chin with this accompanying caption:
Biden has also been known to flash his charm on mature women during swearing in ceremonies, including chatting up Sen. John Barrasso's mom.
The article carried this short video compilation of Biden's 'greatest hits', as it were. Hillary features in this too, in another scene at an airport. She's patting his arm rather insistently — as in 'get off' — while smiling:
Here's the Hillary sequence all on its own:
Here is the full swearing in of Sen. Kelly Ayotte. This one has audio. He asks Kelly Ayotte's daughter how old she is. After the swearing in, he can't keep his hands off her. I don't particularly agree with the title of this video — others do — but Biden shouldn't be touching children like that:
In 2018, Biden campaigned for Sen. Tammy Baldwin in Wisconsin and the gubernatorial candidate Tony Evers. He said Tony had met his future wife when both of them were in kindergarten:
The Daily Caller has the story (emphases mine):
"By the way, running for governor is a team sport! No way out," Biden said. "He met Kathy in kindergarten. In kindergarten. She was too young to resist. She should've known better but she did it anyway."
Biden did not explain what he meant by the joke, instead planting a kiss on Kathy's forehead. The audience laughed and smiled along with Biden's joke.
Here is a strange photo, dating from Joe's earlier days as US Senator for Delaware:
Obama
He and Obama had a somewhat unusual friendship.
On June 28, 2016, People reported that Obama made a friendship bracelet for his vice president:
"That stuff's hard," Obama concluded in the video for BuzzFeed, which has partnered with a nonprofit, nonpartisan app called TurboVote to help make the voter registration process smooth sailing. "But you know what isn't? Registering to vote. I hope you all understand that you have the power to shape our country's course. Don't take that for granted."
"Now if you'll excuse me, I've got a meeting with my vice president," Obama added, proudly holding up a friendship bracelet with the name "Joe" on it.
Biden returned the favour on Obama's birthday that year:
This next tweet is just a bit of fun:
Republicans react differently
Not everyone has been as understanding of Joe Biden's behaviour as establishment Democrats are.
In the next video, then-Sen. Jeff Sessions bats Biden's hand away from his granddaughter. Before that, however, Biden rests his hand on a teen's waist and is tempted to reach further:
Secret Service agents' stories
In 2014, veteran journalist Ronald Kessler wrote a book about Secret Service agents' experiences, The First Family Detail.
On August 1 that year, a few days before its release, US News & World Report received an advance copy. Regarding Joe Biden, their article says:
"Agents say that, whether at the vice president's residence or at his home in Delaware, Biden has a habit of swimming in his pool nude," Kessler writes in the book – due for release Aug. 5.
"Female Secret Service agents find that offensive," he writes.
"Biden likes to be revered as everyday Joe," an unnamed agent told Kessler. "But the reality is no agents want to go on his detail because Biden makes agents' lives so tough."
In addition to the alleged skinny-dipping, agents are reportedly irritated by frequent last-minute trips to Delaware.
A Biden spokeswoman would not address the claims on the record. A spokesperson for the Secret Service did not immediately respond to a request for comment.
The Atlantic's Conor Friedersdorf thought that criticising skinny dipping was out of date:
… let me tell you that virtually no one in the Washington, D.C., political press is scandalized by skinny dipping. But every time it emerges that someone in public life has swam naked, there is widespread, disingenuous playacting on the question. You'd suddenly think that Maude Flanders was managing the newsroom. While I have no idea if the reporting in the new book on the Secret Service is credible, outlets treating it as credible enough to report have been distracted by skinny-dipping from what is indisputably more important news.
He forgets that the press corps weren't there; female Secret Service agents were the ones guarding him. They had every right to be offended.
In 2017, Gateway Pundit reported that Secret Service agents were relieved that Biden was no longer vice president because his behaviour towards women was so raunchy.
A former Secret Service agent described it as 'Weinstein-level stuff', it was so bad (emphases in the original, those in purple mine):
Speaking on the condition of anonymity, the agent asserted that,  "We had to cancel the VP Christmas get together at the Vice President's house because Biden would grope all of our wives and girlfriend's asses." The annual party was for agents and Navy personnel who were tasked with protecting the Biden family.
"He would mess with every single woman or teen. It was horrible," the agent said.
According to the source, a Secret Service agent once got suspended for a week in 2009 for shoving Biden after he cupped his girlfriend's breast while the couple was taking a photo with him. The situation got so heated, the source told Cassandra Fairbanks, that others had to step in to prevent the agent from hitting the then-Vice President.
Additionally, the agent claims that Biden would walk around the VP residence naked at night. "I mean, stark naked… Weinstein level stuff," he added.
He said that the men on duty would frequently stand in front of female agents and Navy women that were present "like a damn guardian." On some occasions, they would make up reasons to get the women away from where he was.
The agent said he was specifically concerned about women in the Navy.
"They weren't allowed to disobey him at all, but we'd take them away under pretend auspices," the agent stated.
The official Vice Presidential residence is the Queen Anne style house at One Observatory Circle in Washington, DC, which is located on the northeast grounds of the U.S. Naval Observatory. The property is maintained and cared for by the service branch.
As for skinny dipping at his home in Delaware:
Our source confirmed this sentiment, adding that "it was especially an issue at his Delaware house that he would go to every weekend."
"He would only get naked when Jill was absent," he added.
Biden has also long been criticized for his contact with women and girls in photos and videos, and was even referred to as "Creepy Uncle Joe Biden" by the Washington Post.
The agent said that this type of thing did not go on when Republicans were in charge:
The agent also worked under the Bush administration, and added that Vice President Dick Cheney "never grabbed any butts or breasts."
Lucy Flores, 2014 Democrat candidate
In 2019, Lucy Flores, recounted her encounter with Biden while she was running for lieutenant governor of Nevada in 2014. She wrote a first-person article for The Cut: 'An Awkward Kiss Changed How I Saw Joe Biden'. (Breitbart's John Nolte wrote about this story shortly after her article appeared.)
Excerpts follow (emphases mine):
… when my campaign heard from Vice-President Joe Biden's office that he was looking to help me and other Democrats in the state, I was grateful and flattered. His team offered to bring him to a campaign rally in an effort to help boost voter turnout. We set the date for November 1, just three days before election day …
I found my way to the holding room for the speakers, where everyone was chatting, taking photos, and getting ready to speak to the hundreds of voters in the audience. Just before the speeches, we were ushered to the side of the stage where we were lined up by order of introduction. As I was taking deep breaths and preparing myself to make my case to the crowd, I felt two hands on my shoulders. I froze. "Why is the vice-president of the United States touching me?"
I felt him get closer to me from behind. He leaned further in and inhaled my hair. I was mortified. I thought to myself, "I didn't wash my hair today and the vice-president of the United States is smelling it. And also, what in the actual fuck? Why is the vice-president of the United States smelling my hair?" He proceeded to plant a big slow kiss on the back of my head. My brain couldn't process what was happening. I was embarrassed. I was shocked. I was confused. There is a Spanish saying, "tragame tierra," it means, "earth, swallow me whole." I couldn't move and I couldn't say anything. I wanted nothing more than to get Biden away from me. My name was called and I was never happier to get on stage in front of an audience …
Biden was the second-most powerful man in the country and, arguably, one of the most powerful men in the world. He was there to promote me as the right person for the lieutenant governor job. Instead, he made me feel uneasy, gross, and confused. The vice-president of the United States of America had just touched me in an intimate way reserved for close friends, family, or romantic partners — and I felt powerless to do anything about it.
She then wrote about some of the material I have posted above, which has been making the rounds for the past four years, and more:
Time passed and pictures started to surface of Vice-President Biden getting uncomfortably close with women and young girls. Biden nuzzling the neck of the Defense secretary's wife; Biden kissing a senator's wife on the lips; Biden whispering in women's ears; Biden snuggling female constituents. I saw obvious discomfort in the women's faces, and Biden, I'm sure, never thought twice about how it made them feel. I knew I couldn't say anything publicly about what those pictures surfaced for me; my anger and my resentment grew.
Had I never seen those pictures, I may have been able to give Biden the benefit of the doubt. Had there not been multiple articles written over the years about the exact same thing — calling his creepy behavior an "open secret" — perhaps it would feel less offensive. And yet despite the steady stream of pictures and the occasional article, Biden retained his title of America's Favorite Uncle. On occasion that title was downgraded to America's Creepy Uncle but that in and of itself implied a certain level of acceptance. After all, how many families just tolerate or keep their young children away from the creepy uncle without ever acknowledging that there should be zero tolerance for a man who persistently invades others' personal space and makes people feel uneasy and gross? In this case, it shows a lack of empathy for the women and young girls whose space he is invading, and ignores the power imbalance that exists between Biden and the women he chooses to get cozy with.
A male friend told Flores not to say anything about her encounter:
When I spoke to a male friend who is also a political operative in Biden's orbit — the first man who had heard the story outside of my staff and close friends years ago — he did what no one else had and made me question myself and wonder if I was doing the right thing. He reminded me that Biden has significant resources and argued points that made me question my memory, even though I've replayed that scene in my mind a thousand times. He reminded me that my credibility would be attacked and that I should be prepared for the type of "back and forth" that could occur. (When reached by New York Magazine, a representative for Vice-President Joe Biden declined to comment.)
I'm not suggesting that Biden broke any laws, but the transgressions that society deems minor (or doesn't even see as transgressions) often feel considerable to the person on the receiving end. That imbalance of power and attention is the whole point — and the whole problem.
In the end, Lucy Flores did speak up and out:
Trump's winning campaign manager Kellyanne Conway tweeted:
No one can dispute this:
Nancy Pelosi doesn't take Joe's groping seriously.
You can find more photos and GIFs of Joe Biden in action here.
Democratic primary campaign videos
He was still at it on the campaign trail before winning the nomination this year.
These are incidents from 2019:
Gateway Pundit wrote about another:
Their article says, in part:
No video has been posted yet, but it fits a pattern seen on numerous videos of Biden making sexual comments to pre-teen and adolescent girls about staying away from boys, or keeping boys away or not dating until they are thirty. That is in addition to the numerous videotaped incidents of Biden groping young girls.
Here's one where he held onto a woman's hands:
Poor woman:
This is the last set of videos from 2019. The one with the kids is from Wilmington, Delaware:
He told them the story of Cornpop:
This video from Texas is where he can't remember 'God':
Hillary Clinton told People magazine that year that we have to 'get over it'. Joe's gropes are no biggie.
Lucy Flores nailed it: Joe Biden he thinks he's so powerful that he can get away with anything. And does.
Last Thursday, I wrote about Bevelyn Beatty, who painted over provocative street signage in front of Trump Tower around two weeks ago.
A few days later, Eric Metaxas, a Christian conservative, interviewed her at length. I would like to thank one of my readers, michaelh, for this link:
This is an excellent video, just over half an hour long:
She discusses her personal Christian journey, helped along by her good friend Edmee, who was also part of the group of ladies smearing black paint over the B in BLM in front of Trump Tower.
She explains why no Christian should be associating with or supporting BLM: they don't believe in family, they don't believe in saving black lives and they do not like black men.
She discusses the horrific crime rates in New York, particularly under Mayor Bill de Blasio and says that she is seriously considering leaving.
And, yes, Bevelyn talks about her and her friends' experience in front of Trump Tower, their arrest and their excellent treatment by the police.
Bevelyn is feisty. She's got spark. She's a committed Christian.
Eric Metaxas says that the US needs a thousand more like her.
I couldn't agree more.
When she and her friends finish helping to 'take back' America, maybe they can come to cities in England. I am sure many would like to hear her speak and learn more about her journey in faith.
On June 24, 2020, John MacArthur posted a sermon, 'Act Like Men', with the key phrase from the Bible, 'be strong and courageous':
It is one hour and six minutes long and, as you would expect, every minute is well spent watching and listening.
Without saying it explicitly, MacArthur disparages the welfare state which has caused millions of men to relinquish their family responsibilities.
Those of us who have had responsible fathers will greatly appreciate what the founder of Grace To You and Master's Seminary has to say to men in the modern world.
In order to place this into context, you might wish to read my post from June 29, 'John MacArthur videos about the protests', which offers excellent advice about what to do in our journey as Christians.
Excerpts from the 'Act Like Men' transcript follow, emphases mine.
MacArthur begins by saying that, in the wake of the protests across the United States and the rest of Western world, he called a meeting of men from his congregation and Master's Seminary — particularly men of colour — to enlighten him further. He asked them to give him five working points for a Christian agenda moving forward:
These are young Black men that gave up a chunk of their time to sit with me and talk through some of these issues. Thanks to Carl Hargrove for kind of leading that discussion which was powerfully fruitful for me …
So I said to these men after about two hours plus of talking together, and it was a very gracious and loving communication. I said, "So give me five things that we need to do as believers in Jesus Christ to reach across racial lines and bring the gospel to these people and have it received." So I said, "You get five shots, and I'll have this as the introduction to my sermon." So here we go. This is what they said to me.
Number One: "Tell people that racism is a sin." Racism is a sin, isn't it. Any kind of hate is a sin, and racism is an utterly irrational hate. Racism is what causes genocide, what caused the Holocaust, what causes ethnic battles all across the planet as long as there's been human history. But then men in their natural state hate God, and the Bible says they hate each other. The first crime was a murder based upon anger, based upon hate, when Cain killed his brother.
Any kind of hate is a sin. Any kind of racial hate is an irrational expanded form of hate coming from any human heart; it is reflective of the fallenness of that heart. And we also know in our society that there are some people who have received more of that than others. We need to make it very clear that to hate anyone on any basis or any group of people is a sin against God of monumental proportions.
Secondly: "We need to show compassion, compassion to those who've experienced this." And lots of people have. We need to open our hearts and weep with those who weep and mourn with those who mourn. Jesus looked at the multitudes and had compassion. Even when He went to the grave of Lazarus, He wept; and He knew He was going to raise him from the dead, and He still wept. That's the heart of Jesus.
Life is hard, and it has been especially hard for some groups of people; and that certainly speaks to the issue of the history of Black people in America. For those of us who know and love the Lord Jesus Christ, they don't want to hear the statistics, but they would love to know you have compassion for them.
Thirdly, we talked about the fact that, "We need to listen." And that's pretty much a basic principle, isn't it: slow to speak and quick to hear. We may have all the theological answers, we may have all the statistical answers, but can we keep our mouths closed long enough to hear the heart of someone else? Engaging someone with the gospel is so much more effective if that comes in the context of having heard their heart.
Number Four they said: "Use these days as an opportunity to show the love of Christ." This was really rich advice for me. Say racism is a sin, and it is. Any kind of hate coming from anybody in any direction and you can see that it is tearing this culture to shreds.
Show compassion, listen, and use these opportunities as an occasion to show love. That's four; got one more. And the final one was this: "The only thing that's going to break the cycle of our problems in this country is godly fathers. Help us develop godly fathers." Now you might say that was a providence of God that it happened the week of Father's Day. Sure set me up for this morning because I want to talk about fathers.
Here are the current American statistics on fatherhood. These involve the main demographics, by the way. The statistics are probably similar, proportionally, throughout the Western world. Please read these and note them well:
Here's the current reality. Twenty-five million children in our country live without a biological father – one out of three. Grades 1 to 12, forty percent of children live without a biological father in the home. Over fifty percent currently of children are born outside marriage. Eighty-five percent of prisoners grew up in a fatherless home. Eighty-five percent of children with behavioral disorders came from fatherless homes. Ninety percent of youth who run away and become homeless come from fatherless homes. Children from fatherless homes are three hundred percent more likely to deal drugs and carry weapons.
This is a holocaust. And it's not limited to any group of ethnic people, it is a national holocaust. The statistics I gave you are across the board for our country. Just that one statistic, eighty-five percent of prisoners grew up in a fatherless home, is a terrifying reality.
I used to hear when I was a kid that if you had a good mother you could have any ol' schtick for a dad. That's not true. I used to hear when I was a kid preachers say, "You men, it's important how you live, you Christian men, because your children will get their view of God from you." That's ridiculous. They don't get their view of God from me, they get their view of God from the Bible. That's an insult to God. What they do get from me is their view of a man. Children will get their view of a man and what a man is from the father.
There, I must disagree, at least in part. I have posted a few entries on fathers and clergy who have not fulfilled their respective responsibilities, either in the family or in the Church:
Here's what happens when Dad doesn't attend church
Consistent churchgoing habits important for children
The Methodist Church advocates man-centredness — survey (2010)
Which is more deplorable, the gun culture or the fatherless culture?
What kind of father doesn't protect his family? (concerns bishops)
But I digress.
Back to John MacArthur:
Sexual immorality, relentless assault of feminism, overexposure to perversion, complete collapse of homes has just produced generations of bad fathers. And the reality is nothing is more devastating to a society than that, nothing. And on the other hand, the only hope for stability and the only hope for sanity, the only hope for peace in a society is masculine, virtuous men.
Some will find that hard to absorb. However, think of the rise of the welfare state over the past half-century. That might begin to put this into context. A virtuous life is not about absentee fathers or Big Government acting as a husband or father. If you sire a child, you need to be there as part of a family unit.
Even if one disagrees with that, it is hard to disagree that, during the past 50 years or so, the further we slip into moral laxity, the more we see evil. In fact, we're seeing unimaginable evil. We thought we would be nice and allow people to do what they please. Now we see the results of that ill-advised experiment:
Evil abounds absolutely everywhere. How men respond to its presence determines the survival and well-being of a society. Let me say that again: "Evil abounds everywhere. How men respond to its presence determines the survival and well-being of that society." One psychologist said, "Masculinity is taking responsibility to reduce evil and produce good."
No culture will ever rise above the character of its men: fathers. The feminist lie has been that patriarchy is bad. It is tyrannical. It is toxic. It needs to be destroyed. And they've been doing it for decades. To destroy masculinity, to destroy strong male leadership and character leads to the current disaster: irresponsible men running loose in the streets terrorizing a society. Weak men have given us this legacy. Weak men produce the death of society. And men are in a crisis today, they are being continually told to try to get in touch with their feminine side, so they have become defensive about their masculinity.
Women rise higher and higher and higher and more frequently into positions of leadership, as men feel overwhelmed and overpowered and unable to fight against the trend. Oh, there are lots of men at the gym, pretty buff, have some muscles, but they're doing virtually nothing to stop the tide of evil in the world. And by the way, in case women haven't begun to realize it: weak, immoral men abuse women, and they produce more weak, immoral sons. No, children don't get their view of God from their father, but they do get their view of what a man is. And we are in some serious trouble because the current crop of men are infecting the children.
There are two views in the Bible on generational sin. If one repents of a generational sin, one has wiped his slate clean. See Ezekiel 18:19-20:
19 "Yet you ask, 'Why does the son not share the guilt of his father?' Since the son has done what is just and right and has been careful to keep all my decrees, he will surely live. 20 The soul who sins is the one who will die. The son will not share the guilt of the father, nor will the father share the guilt of the son. The righteousness of the righteous man will be credited to him, and the wickedness of the wicked will be charged against him.
Yet, where there is no repentance from generation to generation, the sin endures as a punishable act:
Listen to the Word of God, Exodus chapter 20 and verse 5: I, the Lord your God, am a jealous God, visiting the iniquity of the fathers on the children, on the third and fourth generation of them that hate Me." Listen to Exodus 34:7, "God will by no means leave the guilty unpunished, visiting the iniquity of the fathers on the children to the third and fourth generation." God says it again in Deuteronomy 5:9 and 10, "I, the Lord your God, am a jealous God, visiting the iniquity of the fathers on the children, and on the third and fourth generation of those who hate Me, but showing lovingkindness to thousands, to those who love Me and keep My commandments."
Repeatedly, God says corrupt fathers create in society a legacy of corruption that is generational. He's not saying that a son would be punished for a father's sin; clearly that is not the case. Deuteronomy 24:16 says, "Fathers shall not be put to death for their sons, nor shall sons be put to death for their fathers; everyone will be put to death for his own sin." We're not talking about an individual suffering punishment for another person's sin. What we are saying is fathers – plural – who are corrupt leave a legacy that will not be overturned in three or four generations. And if the next generation is corrupt, it pushes that out another three or four, and the next generation another three or four, and it becomes an impossible cycle.
In the words of the prophet Zechariah as he begins his prophecy, "In the eighth month of the second year of Darius, the word of the Lord came to Zechariah the prophet, son of Berechiah, the son of Iddo saying, 'The Lord was very angry with your fathers. Therefore say to them, "Thus says the Lord of hosts, 'Return to Me,' declares the Lord of hosts, 'that I may return to you,' says the Lord of hosts. "Do not be like your fathers."'" Something has to break the cycle.
This is what happens without repentance:
Clearly, a generation dominated by sinful fathers will bear the crushing consequence of their sinful progenitors. Their children will suffer. Their grandchildren will suffer. Their great-grandchildren will suffer. No generation exists in isolation or as an island. A wicked society defined as wicked by the behavior of the men won't be rooted out for multiple generations. So it isn't that people get their view of God from a father, but they do get their view of what a father is, and if it's the wrong view, it's just purposely repeated again and again and again.
So, as Christians, what do we do? First, we need to acknowledge that we are all prone to sin. When we give in to sin, we give in to all sorts of carnality. On the other hand, when we are alive in Christ, God's infinite grace enables us to resist temptation through faith and the gifts of the Holy Spirit:
The default position of every man is corruption, right? It's the most natural thing they do is sin. The most accessible affect of that sin is on the women in their lives, and then on the children in their lives, and then it extends to everybody else.
The problem is, "There's none righteous, no, not one. They're all evil," as we read in Romans 3. They don't seek after God. They hate God, they hate others, and they're influencing their children while they're harming their wives. I understand why there's a women's movement. And even though it's wrong and totally devastates a society, pushes women into places they were never intended to be and men out of the places they were intended to be, I understand it because of the corruption of men.
So where do we begin? We have to begin as believers who have new natures, right? We are new creations in Christ, we have the Holy Spirit, and we start by breaking the cycle. It's not going to be broken, it's still around, right? What you're seeing today in the chaos of this culture, what you see in the weakness and foolishness of people in high places, what you see is just the reality that corrupt fathers destroy society.
MacArthur then begins discussing one of the gifts of the Holy Spirit: fortitude. As we are in the season of Pentecost — please do ignore the term 'Ordinary Time' — it is important that we take some lessons from the weeks from Pentecost until the end of the Church year, just before December.
Fortitude is no casual word. It is not restricted to men alone, however, it is in scarce supply these days among some of today's men, enough to make a difference in Western society:
Fortitude. What is fortitude? It's a great word. Firmness, strength of soul that faces danger with courage and bears loss and pain without complaint. Fortitude: "Firmness and strength of soul that faces danger with courage and bears loss and pain without complaint." That's not a theological definition, that's just a definition of the word.
When you say a man has fortitude, you're talking about someone who doesn't compromise even when there's danger, even when that danger escalates to fear and pain. Fortitude is a combination of conviction, courage, and endurance – conviction, courage, and endurance. It is the willingness – it is not just the willingness, I would say it's even the desire to risk, to literally create challenges if they're not already there, to attack difficulty, to challenge difficulty head on, to bear suffering with courage. This is what makes a man a man, and this is the kind of man in whom a woman finds her security, finds her protection; and in that kind of relationship, the woman's femininity flourishes.
Men are those who should be the protectors, the purifiers, who secure their wives, who secure their children, who accomplish all that needs to be done to reduce evil in a society and produce good; and yet this society for years and decades has had men busy producing evil, and diminishing good. True manliness is bound up in the word "courage." That is the virtue that marks a real man. Truth, conviction, courage.
Turn to 1 Corinthians chapter 16, 1 Corinthians chapter 16. At the end of this wonderful letter, near the end, is tucked a very important verse, actually two verses: verses 13 and 14. Listen to what the apostle Paul says: "Be on the alert, stand firm in the faith, act like men, be strong. Let all that you do be done in love." "Be on the alert," – danger is everywhere – "stand firm in the faith," – don't waiver in your belief and convictions – "act like men," – What does that mean? Fortitude, uncompromising courage – "be strong." The New King James actually says, "Be brave, be strong." "Act like men" essentially means to conduct one's self in a courageous way, to conduct one's self in a courageous way.
Courage is the stock-in-trade of a man: courage in the face of danger, courage in the face of temptation, courage in the face of loss, courage in the face of suffering. This strength of verse 13, essentially four statements saying, one way or another, "Be strong." Is then balanced in verse 14 by, "Let all that you do be done in love." And how important is it to add that. There's nothing more manly than a man with consummate conviction, courage, and endurance, who is marked by love. That's a man – not weak, not vacillating, not fearful; and loving.
Real men face life with this kind of fortitude. They're watchful of the dangers around them. They're alert. They're protectors of their wives and children, and of their friends and all the people over whom they have influence. They have convictions about what is true. They have courage to live out those convictions and the strength to be unwavering when those convictions will cost them everything. Your convictions, they're only real convictions if they hold up under the most intense pressure.
MacArthur then goes into the many Bible verses with the words 'be strong and courageous':
In Deuteronomy 31, Moses is passing the mantle on to Joshua, and in verse 6, Deuteronomy 31, he says this: "Be strong and courageous, do not be afraid or tremble at them," – meaning your enemies – "for the Lord your God is the one who goes with you. He will not fail you or forsake you." "Then Moses called to Joshua and said to him in the sight of all Israel, 'Be strong and courageous, for you shall go with this people into the land which the Lord has sworn to their fathers to give them, and you shall give it to them as an inheritance. The Lord is the one who goes ahead of you; He will be with you. He will not fail you nor forsake you. Do not fear or be dismayed." That's the greatest transitional leadership speech ever.
Look at … 2 Samuel chapter 10 and verse 12. This is Joab to the Israelites who were facing opposition, strong opposition, tremendously strong opposition. Back in verse 6, it lays out the forces that were coming against them. But in verse 12, Joab says to the Israelites, "Be strong, and let us show ourselves courageous for the sake of our people and for the cities of our God; and may the Lord do what is good in His sight."
First Kings chapter 2. In 1 Kings chapter 2, David addresses Solomon his son. "David's time to die drew near. He charged Solomon his son, saying, 'I'm going the way of all the earth. Be strong, therefore, show yourself a man. Keep the charge of the Lord your God, to walk in His ways, to keep His statutes, His commandments, His ordinances, and His testimonies, according to what is written in the Law of Moses, that you may succeed in all that you do and wherever you turn, so that the Lord may carry out His promise which He spoke.'" Moses to Joshua, Joab to the Israelites, David to Solomon.
For another view of David's speech to his son Solomon, look at 1 Chronicles chapter 22. I'm showing you these because I want you to see how common this is. First Chronicles 22, David calls for his son to build the house of God, and we can pick it up in verse 11: "Now, my son, the Lord be with you that you may be successful, and build the house of the Lord your God just as He has spoken concerning you. Only the Lord give you discretion and understanding, and give you charge over Israel, so that you may keep the law of the Lord your God. Then you will prosper, if you're careful to observe the statues and ordinances which the Lord commanded Moses concerning Israel. Be strong and courageous, do not fear nor be dismayed." All of these declarations assume that your devotion to God is going to be tested, and you're going to have to be strong. It's going to be tested, no way around it.
David says again, 1 Chronicles 28:20, to his son Solomon, he gives this speech another time: "Be strong and courageous, and act; do not fear nor be dismayed, for the Lord God, my God, is with you. He will not fail you nor forsake you until all the work for the service of the house of the Lord is finished." Just a couple more.
Toward the end of 2 Chronicles, Hezekiah is speaking to men in positions of leadership. Hezekiah, chapter 32 of 2 Chronicles, the first verse: "After these acts of faithfulness Sennacherib king of Assyria came, invaded Judah, besieged the fortified cities, and thought to break into them for himself. Hezekiah saw that Sennacherib had come invading Judah and he intended to make war on Jerusalem; he decided with his officers and warriors to cut off the supply of water from the springs" – this was a siege – "which were outside the city, and they helped him. So many people assembled and stopped up all the springs and streams which flowed through the region, saying, 'Why should the kings of Assyria come and find abundant water?' And he took courage and rebuilt all the wall that had been broken down and erected towers on it, built another outside wall, strengthened the Millo in the city of David, made weapons and shields in great number, appointed military officers over the people and gathered them in the square of the city gate, and spoke encouragingly to them, and this is what he said: 'Be strong and courageous, do not fear or be dismayed because the king of Assyria nor because of all the horde that is with him; for the one with us is greater than the one with him. With him is only an arm of flesh, but with us is the Lord our God to help us and to fight our battles.'" That's a great pep talk, isn't it, for an army. Psalm 27:14 says, "Be strong and let your heart take courage."
Men don't give in to fear. Men don't give in to pressure. Men don't give in to intimidation, and they don't give in to temptation. They don't seek the easy way. They will take the pain, they will invite the risk, they will confront the challenge, and they will not bow to the pressure to compromise the commandments of God. Strength of a man is that he lives on principle, that he lives on conviction, that he has the courage of those convictions, stands strong against everything that comes at those convictions, bravely faces the challenges in a fortified way. Manly fortitude means contending with difficulty, facing every enemy, meeting the enemy head on, bearing the pain, maintaining self-discipline, upholding truth, pressing on to the goal. That's what defines a man.
MacArthur cites more examples. God spoke the same words to Joshua in the presence of Moses:
I want to show you another passage back in Joshua, right at the beginning of Joshua. Moses gives this speech again as he passes the baton, as it were, to Joshua. He says to him in chapter 1 of Joshua, verse 5, "No man will be able to stand before you all the days of your life. Just as I have been with Moses, I will be with you." This is God now speaking, God is the one speaking. "Just as I have been with Moses, I will be with you."
So here it comes not from Moses to Joshua, but from God to Joshua in the presence of Moses. And here's what God says to Joshua, verse 6: "Be strong and courageous, for you shall give this people possession of the land which I swore to their fathers to give them. Only be strong and very courageous; be careful to do according to all the law which Moses My servant commanded you; do not turn from it to the right or to the left, so that you may have success wherever you go."
And here comes the key to that. How do you live like that? How do you live with that strength and courage? How do you live without ever compromising? Verse 8: "This book of the law" – the Word of God – "shall not depart from your mouth, but you shall meditate on it day and night, so that you may be careful to do according to all that is written in it; for then you will make your way prosperous, and then you will have success. Have I not commanded you? Be strong and courageous! Do not tremble or be dismayed, for the Lord your God is with you wherever you go." It's an incredible speech from God.
"Be strong" – verse 5 – "because God will be with you," – "because you're fulfilling a divine cause, a promise from God." Verses 7 and 8, "The only way you can do this is to submit to the Word of God so that it constantly is in your mind and you live out its truths." You will be able to be obedient if you're saturated by the Word of God empowered by the Spirit of God.
Can you see why this speech is repeated so many, many times? This is the mark of a man. It takes a father like that to raise a son like that. Spiritual men are courageous, strong, principled, uncompromising, and bold. This is God's role for men to play in a society, but it is also God's role for the men to play who are the leaders of His people Israel. And this is God's standard for the men who lead His church.
This is what we should expect from our clergy:
When we come into the New Testament and we are introduced to the kind of men that the Lord commands to lead His church. This is how He describes them in 1 Timothy 3: "This man must be above reproach, a one-woman man, temperate, prudent, respectable, hospitable, able to teach, not addicted to wine or pugnacious, but gentle, peaceable, free from the love of money. He must be one who manages his own household well, keeping his children under control with all dignity (if a man doesn't know how to manage his own children, how will he take care of the church of God?), and not a new convert, so that he will not become conceited and fall into the condemnation incurred by the devil. And he must have a good reputation with those outside the church, so that he will not fall into reproach and the snare of the devil." High standards for a pastor, an elder.
To Titus, Paul says similarly, "Appoint elders. If a man is above reproach, one-woman man, having children who believe, not accused of dissipation or rebellion; for the overseer" – or the shepherd, pastor, bishop – "must be above reproach as God's steward, not self-willed, not quick-tempered, not addicted to wine, not pugnacious, not fond of sordid gain, but hospitable, loving what is good, sensible, just, devout, self-controlled, holding fast the faithful word which is in accordance with the teaching, so that he'll be able to exhort in sound doctrine and refute those who contradict." This is the kind of men who lead the church.
Why is the standard so high for the leaders of the church? Because the leaders of the church have the responsibility to set the pattern for what manliness looks like in a godly environment. It's not that they alone should be like this, it is that they should be like this so the others can see what a man should be. It isn't that the Lord wants to pick up all the pastors and elders and take them to another level of spirituality which no one could attain, it is rather that this is what God expects from every man. But it's got to be modeled. Men like that and men, as Ephesians 5 said, who love their wives like Christ loved the church, and who are protectors of their wives and who literally are the saviors of their wives, are the kind of men who become a haven for the wife, who make her feel secure and protected, nourished, cherished. And when children grow up in a home where the man secures the woman and the children, there's peace.
So, how have we gone so far astray?
This culture has turned on God, eliminated His Word. The bible and the gospel is an enemy.
One wonders what John MacArthur thinks of President Trump. To my knowledge, he has not been invited to the White House. I wish that President Trump would invite him. That would make for an interesting transcript.
But I digress. MacArthur says:
The leaders of this nation have no interest in God or in His Word, and they are basically running this country right into hell as fast as they can. The only thing that's going to stop this is not a group of feminized men who thinks God just wants to give them what they want so they can be happy. What this world needs is not sensitive men, it needs strong men. We live in a world of compromise, more than compromise. You could barely call it compromise because there's nothing left of that which is good, so what are they compromising with.
That said, it is clear that MacArthur, a Californian, disapproves of California Governor Gavin Newsom's views. Newsom is a self-proclaimed Catholic. Here's a 2008 video of the two of them on the old Larry King Show on CNN when Newsom was the mayor of San Francisco and married to his second wife at the time:
Now on to the word 'integrity':
To add another word to your thoughts about this, I would say that people who have no price have integrity, integrity. So we talk about fortitude, let me talk about integrity. "People who have no price have integrity."
What is integrity? It is essentially unbreakable fortitude. Integrity is defined as steadfast adherence to a moral code. It comes from "integer," which means "whole" or "complete." Its synonyms are "honesty," "sincerity," "simplicity," "incorruptibility." It's antonym is "duplicity" or "hypocrisy." A person who lacks integrity is a hypocrite. Integrity means that you live by your convictions: you say what you believe, you hold to what you believe, you're immoveable. That's wholeness. That's integrity: you are one. It was said long ago of a preacher that he preached very well, but he lived better. The world is a seducer, and Satan is a seducing deceiver, pushing us into compromise, and therefore into hypocrisy.
When our Lord indicted the scribes and Pharisees who were the frequent objects of His blistering attacks. Inevitably it was on their integrity that He assaulted them. For example, in Matthew 23:3, He said, "They say things and do not do them."
MacArthur, who is truly blessed, has a number of additional observations. As such, I would invite you to read or watch his sermon in full.
In short, manliness does not involve belonging to a street gang.
Each man, at some point, will have to rely upon his own wits, determination and fortitude to resolve his own trials, whether they be his own or those of his family.
We need to recover the biblical ideal of manliness, which has kept Western society protected for centuries. It hasn't always succeeded, but we are fallen people, susceptible to temptation and sin.
Men have been beaten into the ground for decades. This must be remedied:
We need a generation of men who are alert to danger, who stand firm in the faith, who are courageous with the Word of God, uncompromising and strong.
And, listen, everything about this that I've said indicates they will be tested. Manliness will be tested. Conviction will be tested. Courage will be tested. Strength will be tested. The pressure will come, it'll come in unexpected ways, but it'll come. You may get away with your statement of conviction for years, but there will come a test, and many men will shock the people who knew them by selling out, compromising, abandoning their integrity, playing the hypocrite out of cowardice. This falls into a translation of Romans 12:2. Don't let the world squeeze you into its mold.
Stay strong. Stand firm in the faith, as Saint Paul did.
The world needs real men now more than ever, especially to stand by principled women.
Super Bowl LIV (54, in new money) took place on Candlemas, February 2, 2020.
It is hard to imagine any half-time display less worthy of a Sunday, let alone on an important feast day in the Church.
February 2 is also Groundhog Day, and that found its rightful place in the advertising.
Half-time show
Not being an American football fan, I did not watch any of it but saw tweets about the half-time show the next day. You'll have to click on the link to see the content.
Was this family viewing?
Jeb! liked it, though:
Yes, it does sound creepy. Quite something for a convert to Catholicism and a Fourth Degree in the Knights of Columbus.
The self-described 'Follower of Christ', Sen. Marco Rubio (R-Florida) also enjoyed it. He gave the half-time show an A+:
The SGT Report wrote about child grooming on February 7, mentioning the half-time show. This excerpt begins after the introductory section about a mother who posed online as an 11-year-old (emphases mine):
This is the new face of how predators are grooming young girls (and boys) to be trafficked, molested and raped. However, it starts much earlier, with a culture that has brainwashed itself into believing that sexual freedom amounts to a Super Bowl half-time show in which barely-clad women spend 20 minutes twerking, gyrating (some of it on a stripper pole) and showing off sexually provocative dance moves.
This is part and parcel of the pornification of American culture …
"Pop culture and porn culture have become part of the same seamless continuum," explains theatre historian and University of Illinois professor Mardia Bishop. "As these images become pervasive in popular culture, they become normalized… and… accepted."
This foray into porn culture—the increasing acceptability and pervasiveness of sexualized imagery in mainstream media—is where pop culture takes a dark turn. "Visual images and narratives of music videos clearly have more potential to form attitudes, values, or perceptions of social reality than does the music alone," notes author Douglas A. Gentile in his book Media Violence and Children. In fact, music videos are among the worst culprits constantly bombarding young people today with sexual images and references.
Screen time has become the primary culprit for the oversexualization of young people.
Danger, Will Robinson, danger.
Mar a Lago party
President and Mrs Trump held a large private Super Bowl party at Mar a Lago in Palm Beach.
It looks as if they were filing in to the dining room during the half-time show. Actor Terrence K Williams was with them. Good for him:
The US president gave a pre-game show interview to Sean Hannity. This was before his third State of the Union address and his impeachment acquittal:
Advertising
The Super Bowl is the advertising world's biggest day of the year.
Some American viewers are just as interested in the adverts as they are in the game, if not more so.
However, some advertising themes are more worthy than others:
That day, Ad Week posted 'The 10 Best Super Bowl Ads of 2020'. They chose ads in reverse order for Porsche, Tide, Microsoft, Mtn Dew Zero Sugar, Snickers, Hyundai Sonata, Amazon Alexa, Google AI (artificial intelligence) and Jeep.
What, no Budweiser? Well, the iconic Clydesdales were nowhere to be seen — at least not this year.
Jeep won the top spot, in Ad Week's estimation. Those responding to Jeep in the tweet below also raved about it. I found it rather frustrating to watch. Then again, I never liked Groundhog Day:
Although this next video on Super Bowl LIV advertising is just under 20 minutes long, the two presenters from The Corbett Report offer an amusing, yet sound, critique of three adverts, which one of them chose to analyse:
The three adverts chosen have one running theme: artificial intelligence.
The first ad they played was Budweiser's. It was poorly put together. This is because most of the advert shows an Alexa-type device in a young man's flat. Where's the brew, you might ask? Nowhere. Or maybe a bottle showed up briefly at the end. I don't recall. (That is what makes it a bad ad.) This is a safety announcement about drinking responsibly. The Budweiser logo shows up only at the end.
The next advert the men looked at was the one Ad Week rated second (see above): Google's. A man went through old photographs of his late wife Loretta and spoke to Google, narrating a caption for each photo. Each of his phrases began with the word 'remember'. The helpful electronic Google assistant confirmed that it was logging all his captions.
The two presenters rightly pointed out that people were unwittingly posting their life stories to the cloud. How would Google use those data? How many thousands or millions of lives would be logged for Google's use? Food for thought.
The third ad was for Verizon. It showed clips of first responders in emergency situations. Verizon's superior network capabilities help them get to the scenes of accidents and fires that much quicker. What's not to like, right? Yet, as The Corbett Report presenters said, pandering to the public's emotions is a very slick and underhanded way of getting people to accept and rely on artificial intelligence.
So, we have Alexa monitoring one's drink levels, Google 'helping' with memory problems and Verizon's GPS (tracking) capabilities.
Danger, Will Robinson, danger.
Next week: How Cannes Lions ad winners shape your worldview
Happy New Year!
Happy new decade!
I enjoy, albeit with trepidation at times, looking back at the decades I've lived through and charting the change from beginning to end.
O tempora, o mores!
1960s
In 1960, growing up in the United States, I remember that things were still quite formal. Most people took care in the way they spoke and in their appearance. They were careful to conduct their households in a respectable manner. By the middle of the decade, that began to change but not too noticeably.
By 1968, a social revolution was underway, including sexually. What was once private became public. Attire reflected that. Women began wearing skirts above the knee. Men's clothes became more form-fitting.
Sloppiness and drugs became fashionable with the advent of hippies. Even though they were a small minority, they received a lot of media coverage. A slogan connected with them — 'If it feels good, do it' — began to pervade society at large.
Cinema and television reflected this change.
At home, Americans moved from watching westerns to tuning into a zany comedy hour. In 1960, Gunsmoke was the most viewed programme. In 1969, it was Rowan and Martin's Laugh-In. Gunsmoke had moved to sixth place in the Nielsen ratings.
Film genres and themes also shifted. In 1960, the great epics were popular, with Spartacus the highest grossing film and Exodus coming third. Psycho was second. In 1969, while Butch Cassidy and the Sundance Kid was in the top slot, Midnight Cowboy was at No. 3, Bob & Carol & Ted & Alice was No. 6 and an X-rated movie, I Am Curious (Yellow) was No. 12. It would have been unthinkable in 1960 that an urban drama about homosexuality, a movie about swingers and one that was pornographic would have been so popular nine years later.
1970s
The cultural shift continued in the 1970s. American magazines and newspapers devoted many column inches to social drop-outs experimenting with communal living. Swingers were becoming popular in suburbia. Again, those were two small sub-groups of society, but everyone — even the most respectable — knew about these two phenomena.
Pop music got bolder, more sexualised. I remember in high school that we talked a lot about sex and could hardly wait to start dating so that we could experiment. Our parents wondered what was wrong with us. The idea of sin and the forbidden went out the window. 'If it feels good, do it' had spread to the middle classes. Previously forbidden carnal acts were encouraged as being completely 'natural'. This furthered the evolution of a shame-free society. Today, I read that some teenagers don't kiss on a first date; instead they engage in oral sex.
Interestingly, one of the most suggestive singers of the decade, Eric Carmen of the Raspberries, laments where this has led today:
I remember neighbours of ours getting divorced. The wife said that she could earn her own living now, thank you very much. The husband was heartbroken. We felt sorry for their two children. Until then, my family and I personally did not know any couples who got divorced. It just didn't happen to everyday individuals. However, divorce rates continued to rise and, these days, no one bats an eyelid.
More women started working. What began as a liberating elective would turn out to be a mandatory means of survival in marriage in the years that followed. Few of us knew that then, though.
Returning to music, it was a great decade for youngsters. FM radio produced rather excellent stations devoted to little known genres that never reached Top 40 AM stations. Through them, we discovered prog rock from Britain: Yes, Rick Wakeman, and Emerson, Lake and Palmer, to name but three musical greats. There were many more, too numerous to mention here.
Near the end of the decade we had disco. Saturday Night Fever was a huge box office hit and propelled John Travolta from television (Welcome Back Kotter) to cinema fame.
The most popular television sitcoms, such as Welcome Back Kotter, were all set in metropolitan areas. In terms of television in general, The Waltons was probably the only show with a rural setting.
Halfway through the decade, I spent a year in France, which was much quieter than the US socially and still quite formal, even though the more leftist state university students were generally unkempt and unwashed. In many respects, the country was a bridge between the 1960s and the 1970s in the nicest possible way.
1980s
Leaving university, I recall that many of my friends latched onto the Reagan zeitgeist and became conservatives.
They turned into their parents and lost the fun-loving verve they once had. I stayed single the longest, so was more acutely aware of a shift into respectability and suburban living.
I lived in a major US city then, earning my own way in life. For relaxation, I used to go to matinees at the weekend. The price of admission was cheaper and the cinemas were nearly empty, giving me the impression I had the big screen all to myself.
I saw a lot of world films in the first part of that decade, some from Brazil and Australia but mostly Britain and France. French film became a passion. Even one of the UHF television channels showed French films from the 1950s. Bliss.
As far as music was concerned, my favourite FM station played British and European singles apart from reggae on Sunday afternoons. More bliss.
Then, around 1986, something began to change. Although my favourite radio station stayed the same, the movie theatres weren't showing as many foreign films. Within a couple of years, they stopped showing them altogether. One of my lifelines had vanished, sadly. The American films that replaced them were not very good, either, so I stopped going to the cinema.
Everything became very one-dimensional. America, somehow, had lost the link with the zeitgeist of European culture, which it never recovered. It used to be that people in the 1960s and early 1970s made a two- or three-week trip to western Europe to see the historic sites they learned about in school. It was what we today would call a bucket list item.
Fortunately, by the end of the decade, employment events intervened — and further improved — for me.
1990s
Living in England, I realised that I had an insatiable appetite for history and politics. I learned a lot about both thanks to a gift subscription to The Spectator, which I had read about in English lit class in high school. It's been around since 1828.
In 1990s, my in-laws told me that Margaret Thatcher's time was up. She had become too full of herself. We had high hopes for John Major.
I remember the 1992 election, which Major won handily. I could not understand the rage of my female colleagues who expected Neil Kinnock to win. They stayed up all night drinking, waiting for a Labour government that never came. The next day, at work, they were hungover, tearful — and, above all, angry. Why did they think he stood a chance? Perhaps I had been reading too much of The Spectator, but I had no doubt that Major would continue as Prime Minister.
By 1997, most of us felt change was needed. The Conservative MPs on the front bench seemed like tired, bloated bureaucrats. None of them had an original idea. Most seemed to be lining their own pockets. I was most consterned by Health Secretary Virginia Bottomley, who started closing A&E (Accident and Emergency) services at local hospitals. What was she thinking?
When Tony Blair became Prime Minister in 1997, nearly everyone I knew rejoiced. Change was coming.
And how …
2000s
The first few years of Labour were fine. I was enjoying my work too much to pay any attention.
By 2005, I longed for a Conservative government, especially when Gordon Brown became PM with no general election.
After that, Labour became unbearable, banging on about people's personal lives and habits. The smoking ban came into force in the summer of 2007. Ministers assured us in television interviews that private members clubs and hotels would be exempt. No, not at all. It was a blanket ban everywhere.
It was during this decade that London elected its first mayor, Ken Livingstone. He served two terms and introduced the city-wide congestion charge for motor vehicles, which we called the Kengestion Charge. My colleagues at the time reminded me that, as head of the old GLA (Greater London Authority), he was known as Red Ken.
Boris Johnson succeeded him, also serving two terms. His administration made the streets tidy again and also lowered crime.
By 2006, I started looking more closely at the EU and the unelected bureaucrats in Brussels who seemed to rule our lives. I agreed with those disgruntled Britons who wanted a referendum on our membership.
Most of all, however, I was sick and tired of Labour, to the point of despair.
I also asked my far better half to cancel my gift subscription to the The Spectator, as it had changed its editorial line considerably after Boris Johnson left as editor. Although more people now read it, it is a former shadow of itself. I would not call it neither conservative nor traditional at all any more.
2010s
Hope came in the May 2010 general election.
The Conservatives had to form a coalition government with the Liberal Democrats. It was the David Cameron and Nick Clegg Show, but at least Labour were out of the picture after 13 years.
David Cameron referred to himself as the 'heir to Blair'. It took me some time to see it, but he was not wrong.
He set out to reform the Conservative Party and alienated older, faithful members in their local associations. CCHQ suddenly did not need their help.
On a broader level, Cameron will probably be best remembered for opening up marriage to same-sex couples and for offering us the EU referendum, billed by all parties as a 'once in a lifetime' choice which they all pledged to implement.
A number of televised debates took place in 2016. I watched them all. Some of my friends were less than convinced by the Leave proposition. The one clincher was Brexit The Movie, which is an hour-long eye-opener about the Brussels gravy train and better than any of the debates, no matter how good:
I stayed up until the early hours of the morning of Friday, June 24, 2016 to watch the result. When it was clear that Leave had won, I went to bed. The next day, my far better half and I woke up to Cameron resigning because he did not like the result. We had a celebratory lunch in London and went to a party that evening that had been planned months earlier. I remember the apprehension we both felt about sounding out the other party guests as to their views on the EU. We later discovered that were not alone. Finally, someone there broke the ice upon his arrival by exclaiming:
Is everybody HAPPY? I certainly am!
At that point, we were free to talk about Brexit.
Theresa May became Prime Minister later that summer.
Across the pond, another sea change was happening: Donald Trump's candidacy. It was even more of a shock when he won. A startled nation awoke to find that Hillary Clinton was not their president.
The conflicts about Brexit and Trump continue today. Opponents to both have grown ever more vehement.
On September 20, 2019, the British website Spiked issued a thought-provoking documentary on Trump and Brexit. It's 26-minutes long and well worth watching. To cover Brexit, their reporters interviewed residents of Southend-on-Sea in Essex. To cover the Trump phenomenon, they interviewed Pennsylvania journalist Salena Zito and residents of Erie, which was once a major industrial powerhouse in that state. It has fallen on very hard times, indeed:
The major theme running through both is, as they put it, 'change', which I believe they should have called 'self determination' and 'recovering the aspirational dream'.
One thing that struck me was the interview with the owner of a gym in Erie. He said that his father raised seven children on a janitor's salary:
You couldn't do that now.
Too right. Both parents now have to work — unlike in the 1960s — and few households can support more than two or three children.
People in Britain and the United States want to work and save more of their hard-earned cash. They also want good job opportunities for their children.
A fisherman in Southend said that, because of EU rules, he is restricted to an ever-smaller part of waters in which to fish. The number of fishing boats has continued to decline, he added, and the number of fisherman has also dropped dramatically. That is why he, and many others in Southend, voted Leave in 2016.
The decade closed with Boris Johnson's landslide victory on December 12. Historian David Starkey explores what this means for the nation in this 57-minute documentary from The Sun, ably conducted by a young reporter:
Starkey explores the evolution of Parliament since Victorian times, when it became the institution we know today. As many Northern constituencies flipped from Labour to Conservative, Starkey says that Boris's pledge to revitalise the North will mean little unless he espouses their values of patriotism, which, he says, has been a dirty word for many years.
He says that Boris could well become a figure like Charles II, who restored the monarchy beginning in 1660. Many of their personality traits are similar, he notes, particularly their penchant for bringing a nation together and reforming it at the same time. It is well worth watching when you have the opportunity.
There is much more to Starkey's interview than summarised here. He talks about the people of the North, Labour, Jeremy Corbyn, David Cameron, Tony Blair and, significantly, Benjamin Disraeli. Starkey hopes that the PM will study his Victorian predecessor's successes closely.
With that, I must close for now. There are many developments over the past 60 years that I have not mentioned. This is merely to give an idea about the direction that Western society took as the decades rolled on.
Welcome to 2020. Let's hope it brings many good tidings. I wish all of us the very best.
Since the early hours of Friday morning, I have said many prayers of thanksgiving for Boris Johnson's overwhelming Conservative Party victory.
The new Conservative MP for Bishop Auckland, which has always voted Labour in living memory, spent the weekend giving thanks, too. God is good:
When I wake up now, this is one of my first thoughts:
This is another:
As is this. What a lovely scene of London, especially with the Christmas tree in the middle:
I am amazed at how the Conservatives were able to demolish the impenetrable 'red wall', as they called it, by winning in constituencies that had not voted Conservative ever or for a very long time. Their novice candidates beat long-standing Labour MPs.
This is incredible:
Ballots from St Ives were the last to arrive because of a storm:
This was the result (note the Father Christmas sweater):
Thursday's election result was truly historic, the best since Margaret Thatcher 40 years ago:
See how true blue the electoral map of England has become post-election (second tweet):
Guido Fawkes has more detail (emphases in the original):
The Tories lost seven seats to the SNP and one to Labour, but won enough new seats to make up for those and more, particularly in the Midlands, Wales, and the North. The one seat Labour managed to take off the Tories was typically metropolitan Putney…
Big names to lose their seats included:
Jo Swinson

Laura Pidcock

Dennis Skinner

Chris Williamson

Emma Dent Coad

Caroline Flint

David Gauke

Antoinette Sandbach

Dominic Grieve

Anna Soubry

Nigel Dodds

Zac Goldsmith
Luciana Berger, Chuka Umunna, and Sam Gyimah also failed to win new ones.
The Tories won so evenly across the country that Michael Gove was able to triumphantly declare in the Tories' victory event this morning that "Next year both the Durham Miners' Gala and the Notting Hill Carnival will take place in seats held by the Conservatives." The Tories won back Kensington which includes Notting Hill, and astonishingly Laura Pidcock was defeated in her seat of North West Durham…
Commiserations to Nigel Dodds and Zac Goldsmith. I will miss them. UPDATE (Dec. 17): Apparently, there could be plans to elevate Zac Goldsmith to the House of Lords, enabling him to keep his cabinet position.
Guido posted another list later that day, based on the BBC's research. This one concerns all the MPs who ran as independents, so some of the same names will appear. Explanatory notes in purple are mine:
Research by the BBC's Laurence Sleator has shown that all 18 MPs who defected in the last Parliament then stood again for this one failed in their endeavours to be re-elected to the House of Commons. Two even lost their deposits…
Liberal Democrat Losers
Angela Smith 

(ex-Labour)



Chuka Umunna 

(ex-Labour)



Phillip Lee 

(ex-Conservative)



Luciana Berger  

(ex-Labour)



Sarah Wollaston 

(ex-Conservative)



Antoinette Sandbach 

(ex-Conservative)



Sam Gyimah  

(ex-Conservative)



Independent Losers
Frank Field 

(ex-Labour; elderly, has served Birkenhead well over the years)



David Gauke 

(ex-Conservative)



Dominic Grieve 

(ex-Conservative)



Anne Milton

(ex-Conservative)



Chris Williamson (Lost deposit)

– ex-Labour



Ivan Lewis (Lost deposit)

– ex-Labour



Gavin Shuker 

(ex-Labour)



Roger Godsiff 

(ex-Labour)



Tigger Losers  (TIG — The Independent Group)

Anna Soubry 

(ex-Conservative)



Mike Gapes 

(ex-Labour)



Chris Leslie 

(ex-Labour)



Turns out voters don't take too kindly to party-hopping democracy dodgers when their time comes…
I'm sorry about Frank Field, but as far as the others in that list are concerned, good riddance. Many have commented online that this is evidence of 'draining the swamp'. True.
The ex-Conservative rebels, e.g. Dominic Grieve, David Gauke, Antoinette Sandbach and Anna Soubry, were so certain they would win. Ha!
The Press Association has a great recap of how the early hours of Friday morning unfolded. Note the SNP's Nicola Sturgeon making a fool out of herself when she found out that the then-Lib Dem leader Jo Swinson lost her Scottish constituency to the SNP. Shameful. Furthermore, the big-hitting Conservatives predicted to lose their seats WON. The media were WRONG:
Only Tom Harwood, 23, who works with Guido Fawkes, predicted a Conservative landslide. Guido posted a compilation of Harwood's appearances on the BBC's Newsnight where presenter Jo Coburn sneered dismissively, 'And we'll live happily ever after'. The media were wrong AGAIN.
Congratulations, Tom. Highly recommended viewing:
It was Tom's idea to use 'stonking' at Guido Fawkes in describing the Conservatives' majority. Now Boris is using the word, too, as did Sky News's Kay Burley and Labour's Ian Lavery:
Another point worth making is that we now have a record number of women MPs!
Before the election, media pundits said the rough and tumble of Parliament would be too much for them. The media were WRONG about this, too:
Here's another thing the media got WRONG: Boris Johnson was going to be turfed out of the last Parliament.
Let us look at Boris's Friday the 13th — an excellent day for him:
Late that morning, he went to Buckingham Palace, where the Queen invited him to form a new government:
Then he returned to 10 Downing Street:
Shortly after 3 p.m., he addressed the nation. This video is subtitled. The press await on the opposite side of the street:
This version from the Press Association (PA), also subtitled, is a bit longer:
Meanwhile:
WEDDING RING UPDATE (Dec. 21) — owner found, ring a family heirloom:
On Saturday, December 14, the PA reported that a grateful Boris was visiting some of the constituencies that had voted Conservative for the first time (emphases mine):
Boris Johnson will meet with newly-elected Conservative MPs as part of a celebratory victory lap after winning a "stonking mandate" at the General Election.
The Prime Minister secured an 80-seat majority and many of his gains came in Labour's heartland areas across the North and the Midlands.
Some areas, such as Bishop Auckland in the North East, had never elected a Tory MP before Thursday.
Mr Johnson, speaking outside Number 10, said he would "work round the clock" to repay the trust of those who "voted for us for the first time" – including those whose "pencils may have wavered over the ballot and who heard the voices of their parents and their grandparents whispering anxiously in their ears" …
Mr Johnson will make the first move to show newly-elected MPs that the concerns of their constituents will be heard with a visit on Saturday to some of those who overturned a Labour majority.
Later that day, the PA reported that Boris poled up in Sedgefield, Tony Blair's former constituency, which voted overwhelmingly Conservative:
Boris Johnson has vowed to repay the trust of former Labour supporters whose votes helped deliver him victory in the General Election.
The Prime Minister made a symbolic visit to Tony Blair's old Sedgefield constituency in County Durham – which fell to the Tories on Thursday night – to pledge his commitment to spreading opportunity across the country.
"We believe in giving opportunity to everyone," he told a crowd of cheering supporters and newly-elected MPs from the region packed into the local cricket club.
"We believe that talent is evenly distributed throughout our country, but opportunity is unfairly distributed.
"We are going to rectify that as a One Nation Conservative government, as a people's government, that is what we are going to do."
Sedgefield was one of a swathe of seats across the North, Midlands and north Wales in Labour's hitherto impregnable "red wall" to go blue as the Tories stormed to an 80-seat majority in the new House of Commons.
Sedgefield residents were over the moon:
We have a lot to look forward to once we 'get Brexit done', as Boris says, and begin trade negotiations. That said, I will not be buying chlorinated chicken, especially as free range British chicken is the real thing and so, so tasty. Let's hope our Conservative victory does augur a landslide victory for President Trump in 2020:
Today heralded a glorious return to Parliament!
Congratulations to Boris Johnson!
Congratulations to everyone in Britain who voted Conservative!
Congratulations to all Conservative MPs, especially the novices!
Onwards and upwards for what Conservatives are calling The People's Government!
For a change, below are three stories one can file under 'happy news'.
This little fellow from England has taken his first steps at the age of four. He has a rare form of cerebral palsy and recently underwent an operation to reduce the spasticity in his legs. The video is subtitled, so you can read more about him. The joy on his face is a sight to behold. God is good:
Speaking of walking, the little boy thrown from the third floor of the Mall of America on April 12 is once again fully ambulatory. I bet his and his family's Thanksgiving was extra special this year. God is good:
On November 23, Fox News reported (emphases mine):
The 5-year-old boy who was thrown from a Mall of America third-floor balcony and survived is "walking perfectly" and could be off his medication soon.
The family of Landen Hoffman gave an update about the boy on a GoFundMe page, saying the open wound on his belly had "finally scabbed over and new skin is growing."
"Mom has been doing everything she can to speed up the healing of his wound and working toward getting off some of his medications," the post said.
Hoffman was hospitalized with two broken arms, a broken leg and fractures to his face and skull when Emmanuel Aranda, 24, tossed him about 40 feet during a random attack at the Mall of America in Bloomington, Minn. on April 12.
He was forced to undergo 15 separate medical procedures and surgeries due to the injuries and "severe complications." He returned home months later.
Now, Hoffman [is] said to be enjoying life and is going to kindergarten with his twin brother and sister.
"He gets out of the car every morning happy and blows kisses all the way in! He's a strong, happy boy," the post added. "When his mommy asks him if she can look at his wound or asks how he's doing, he always responds with 'Mom, I'm healed, you don't need to ask me anymore.' Landen loves life and Jesus!"
It continued: "He tells people all the time when they get hurt, don't worry, I fell off a cliff, but Angels caught me and Jesus loves me, so I'm ok and you will be too!"
Bless his heart.
And, finally, did you know the adorable baby portraits on the Gerber baby food jars are of real infants? Ann Turner Cook, the model for the original portrait, turned 93 last week:
ABC News reported on an Instagram post celebrating the occasion:
"For over 90 years, it's been our pleasure to welcome countless babies to our ever-growing Gerber family," the caption said. "Our dedication to each and every generation of little ones has long been part of our heritage, and we'll always take time to celebrate a true classic!"
The iconic charcoal sketch was first created by Cook's neighbor, Dorothy Hope Smith, who specialized in children's portraits and submitted the sketch to Gerber, according to the company.
The irresistible baby first appeared on Gerber products in 1928 and became the company's official trademark in 1931.
Many happy returns, Ms Cook!
Interestingly, whilst the Conservatives were at their annual party conference, the opposition benches were largely empty.
Strange. Last week, they voted against proroguing Parliament from Monday through Wednesday because they had serious work to get on with.
Or so they said.
As it turned out, only a handful of the diligent, hardworking opposition MPs showed up on those days.
On Tuesday, October 1, a Brexit-related session headed by George Eustice, the minister for DEFRA (Department for Environment, Food and Rural Affairs) covered the draft Common Agricultural Policy from July 24 which would be used for Brexit. The end of the debate is here. It's a pity that only the opposition agricultural ministers and a couple of other MPs attended:
On Wednesday, October 2, Foreign Minister Dominic Raab headed PMQs — Prime Minister's Questions — as Prime Minister Boris Johnson gave his rousing speech in Manchester to the party faithful.
That morning, the Labour Whips issued a directive to their MPs not to ask Urgent Questions that day:
It was even worse when the afternoon's proceedings began.
Recall — as if we could forget — that the opposition claim to be the champions of the vulnerable, especially women.
So, it was particularly galling to see that very few of them turned up for the second reading of the Domestic Abuse Bill:
Only a few Liberal Democrat MPs attended that afternoon. Labour produced more, but could have done much better.
Good grief.
Apparently, this bill and some others have been carried over post-Queen's Speech on October 14:
Therefore, if this is true, the opposition knew full well that they could have easily prorogued for three days during the Conservative Party Conference but chose not to out of sheer spite. Ditto the Supreme Court when they cancelled Boris's prorogation.
The main and most moving speech of the debate was that of Labour MP Rosie Duffield. Her testimony of a recent relationship is well worth sharing with your daughters or nieces.
Women cannot be too careful when getting involved in a long-term relationship. If this can happen to an MP, it can happen to anyone. Please watch:
This bill is Theresa May's. She brought it forward as a backbencher, therefore, before she became Prime Minister in 2016. How slowly the wheels of legislation turn.
Theresa May also gave an impassioned speech for the bill near the end.
Debate continues after October 14.
Attendance improved when Boris appeared on Thursday, October 3, to discuss a new proposal for Brussels, sent to Jean-Claude Juncker the day before:
Note the final paragraph about the Northern Ireland backstop on the first page: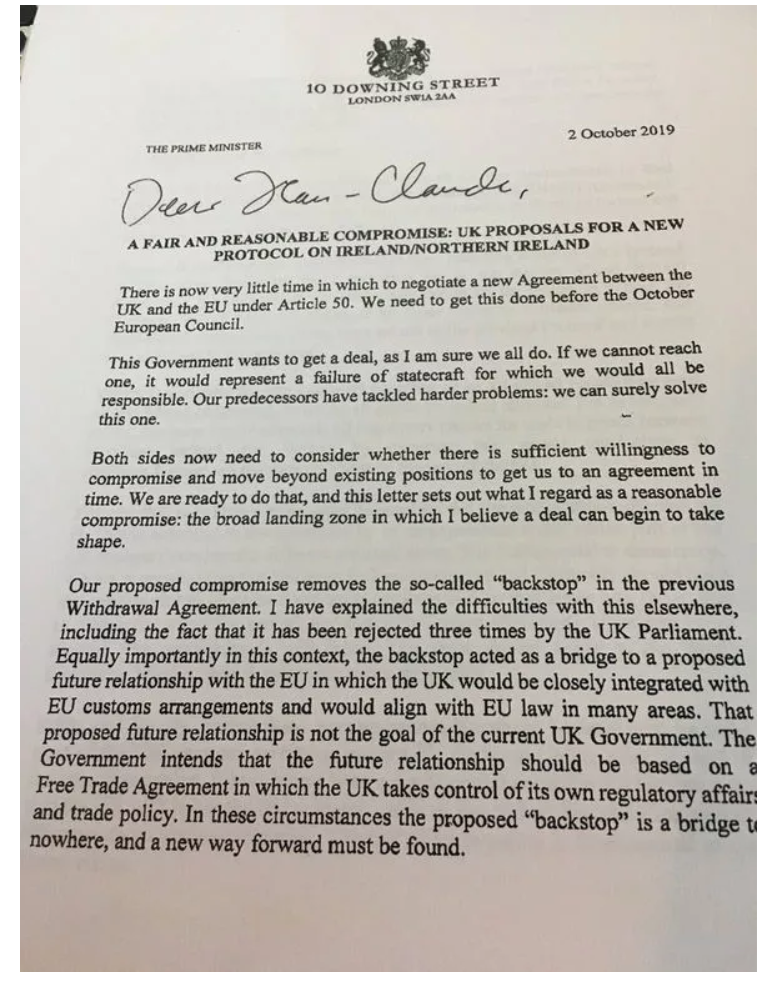 This is the European Commission's announcement about the letter (click on the image to enlarge text):
Many MPs who offered comments following Boris's address commented positively. Even most Remainers accepted the proposal, albeit with a request for more details, which will be forthcoming. Only two or three diehard Remainers spoke out against it.
Several MPs hoped that the EU commissioners were watching the positive reaction.
Guido Fawkes has more, including this video of Boris's speech:
Guido gives us the transcript of Boris's five elements concerning the abolition of the proposed backstop, the crux of the leaving date delay thus far (italics in the original):
In the first place all our actions are based on our shared determination to sustain the Belfast (Good Friday) Agreement, the fundamental basis of governance in Northern Ireland the protection of which is the highest priority of all.

And from this follows the second principle – namely that we shall of course uphold all the longstanding areas of co-operation between the UK and our friends in Ireland including the rights of all those living in Northern Ireland, North/South co-operation and the Common Travel Area, which predates both the Good Friday Agreement and the European Union itself.

Third, we propose the potential creation of a regulatory zone on the island of Ireland covering all goods, including agri-food. For as long as it exists, this zone would eliminate all regulatory checks for trade in goods between Ireland and Northern Ireland.

But fourth, unlike the so-called backstop, such a regulatory zone would be sustained with the consent of the people of Northern Ireland, as expressed through the Assembly and Executive. They will give their consent during the transition period as a condition for these arrangements entering into force. Thereafter, the Assembly will vote again every four years – and if consent were withheld, these arrangements would then lapse after one year.

Fifth, it has always been a point of principle for this government that at the end of the transition period, the UK should leave the EU Customs Union whole and entire restoring sovereign control over our trade policy and opening the way for free trade deals with all our friends around the world.
In short: no hard border between the Republic and Northern Ireland. Instead, there would be a regulatory zone covering all goods, including foodstuffs. Northern Ireland's Assembly and Executive would vote on the arrangements in the near future and every four years after that. (I do not know how that will work if Stormont is not sitting, but, no doubt, the government can find a way.)
I'm guardedly hopeful that Boris is onto something positive with this. It won't please Brexit Party members, but we were never going to get an absolute No Deal. I'm hoping that David Davis's Canada ++ arrangement can be revived. Theresa May insisted that his plans be superseded by her Withdrawal Agreement in July 2018, no ifs, ands or buts. Davis resigned as Secretary of State for Exiting the European Union on July 8 that year. It was all downhill from there.
Davis has not tweeted his reaction, but another staunch Leave MP, John Redwood, offered his thoughts on Boris's proposal:
Unfortunately, the Twitter replies to that were very angry, indeed.
It is essential to keep in mind that trade and other agreements will be in transition once we leave the EU.
It's not as if everything will change dramatically on November 1 (God willing) or whenever we leave.
The transition period is likely to last anywhere from two to four years, depending on negotiations.
As for prescription drug shortages, some of which are occurring now in the UK and being blamed on Brexit: several EU countries have been experiencing similar shortages of essential medication for several months now. France and the Netherlands are among those nations. We cannot blame Brexit for that.
On Friday, June 21, 2019, the UK's Court of Protection ordered a mentally disabled Nigerian woman in her 20s to abort her 22 week old baby.
Fortunately, the following Monday, the Court of Appeal reversed that decision:
The world had followed this story, and police are still investigating the circumstances of the woman's pregnancy.
Going back to June 21, the Catholic News Agency reported:
The Court of Protection handles cases involving individuals judged to lack the mental capacity to make decisions for themselves.
The woman, who cannot been publicly identified, has been described as "in her twenties," and is under the care of an NHS trust, part of the UK's National Health Service.
Doctors at the trust wished to abort her pregnancy and argued that, due to her diminished mental capacity, the abortion would be less traumatic for the woman than giving birth, especially if the baby would then be placed in foster care.
The woman's mother made clear to doctors and the court that she would assume care of her grandchild.
The woman is believed to have the mental capacity of a grade school-age child. She is reportedly Catholic, and her mother is Nigerian.
It is unknown if the pregnancy was conceived consensually, and police are investigating the circumstances of conception.
The woman's mother, reported to be a former midwife, registered her absolute opposition to the abortion citing the Catholic faith of herself and her daughter. A social worker who cares for the woman also disagreed that she should be forced to have an abortion.
The judge said she did not believe the woman understood what it meant to have a baby.
The Washington Examiner had more on the story that day (emphases mine):
In her ruling for the Court of Protection on June 21, Justice Nathalie Lieven said, "I am acutely conscious of the fact that for the State to order a woman to have a termination where it appears that she doesn't want it is an immense intrusion … [but] I have to operate in [her] best interests, not on society's views of termination."
"Immense intrusion" is a remarkable understatement. If the government can force you to abort your child, is there any limit to its power?
The pregnant mother and her family do not want an abortion, but she is under the care of a division of the U.K.'s National Health Service — thus why this matter has gone to court and why they have not already gotten one. But because the pregnant mother is mentally challenged, Lieven said, "I think she would like to have a baby in the same way she would like to have a nice doll," completely dismissing the mother's desire for her baby.
Barrister John McKendrick, who is leading the legal team for the pregnant woman's mother, says the court has "no proper evidence" that having an abortion will be beneficial to the pregnant mother. "Their evidence is premised on a narrow clinical view. The application must be dismissed," McKendrick said. The pregnant woman's mother has added that abortion strongly violates her family's Catholic values and that she would raise her grandchild herself.
I have no idea why the judge, a woman herself, wanted an abortion instead of adoption. Could she not bear to see the baby go to a good home?
A Canadian CEO considered the term 'right to choose':
I have no doubt that millions of prayers ascended on this future mother's behalf.
As is so often the case with prayer, the good Lord heard us and answered our pleas according to His will.
On June 24, Sky News reported on the welcome reversal (emphasis in the original):
Doctors must not be allowed to perform an abortion on a pregnant mentally-ill woman, Court of Appeal judges ruled on Monday.
This is a marvellous result, especially for the people of United Kingdom.
Thank you, Lord, for answering our prayers! Please bless this lady and her mother in the weeks and months ahead. Please also bless the child once s/he is born. To God be all glory, now and forever! Amen.