You are currently browsing the tag archive for the 'women' tag.
Interestingly, whilst the Conservatives were at their annual party conference, the opposition benches were largely empty.
Strange. Last week, they voted against proroguing Parliament from Monday through Wednesday because they had serious work to get on with.
Or so they said.
As it turned out, only a handful of the diligent, hardworking opposition MPs showed up on those days.
On Tuesday, October 1, a Brexit-related session headed by George Eustice, the minister for DEFRA (Department for Environment, Food and Rural Affairs) covered the draft Common Agricultural Policy from July 24 which would be used for Brexit. The end of the debate is here. It's a pity that only the opposition agricultural ministers and a couple of other MPs attended:
On Wednesday, October 2, Foreign Minister Dominic Raab headed PMQs — Prime Minister's Questions — as Prime Minister Boris Johnson gave his rousing speech in Manchester to the party faithful.
That morning, the Labour Whips issued a directive to their MPs not to ask Urgent Questions that day:
It was even worse when the afternoon's proceedings began.
Recall — as if we could forget — that the opposition claim to be the champions of the vulnerable, especially women.
So, it was particularly galling to see that very few of them turned up for the second reading of the Domestic Abuse Bill:
Only a few Liberal Democrat MPs attended that afternoon. Labour produced more, but could have done much better.
Good grief.
Apparently, this bill and some others have been carried over post-Queen's Speech on October 14:
Therefore, if this is true, the opposition knew full well that they could have easily prorogued for three days during the Conservative Party Conference but chose not to out of sheer spite. Ditto the Supreme Court when they cancelled Boris's prorogation.
The main and most moving speech of the debate was that of Labour MP Rosie Duffield. Her testimony of a recent relationship is well worth sharing with your daughters or nieces.
Women cannot be too careful when getting involved in a long-term relationship. If this can happen to an MP, it can happen to anyone. Please watch:
This bill is Theresa May's. She brought it forward as a backbencher, therefore, before she became Prime Minister in 2016. How slowly the wheels of legislation turn.
Theresa May also gave an impassioned speech for the bill near the end.
Debate continues after October 14.
Attendance improved when Boris appeared on Thursday, October 3, to discuss a new proposal for Brussels, sent to Jean-Claude Juncker the day before:
Note the final paragraph about the Northern Ireland backstop on the first page: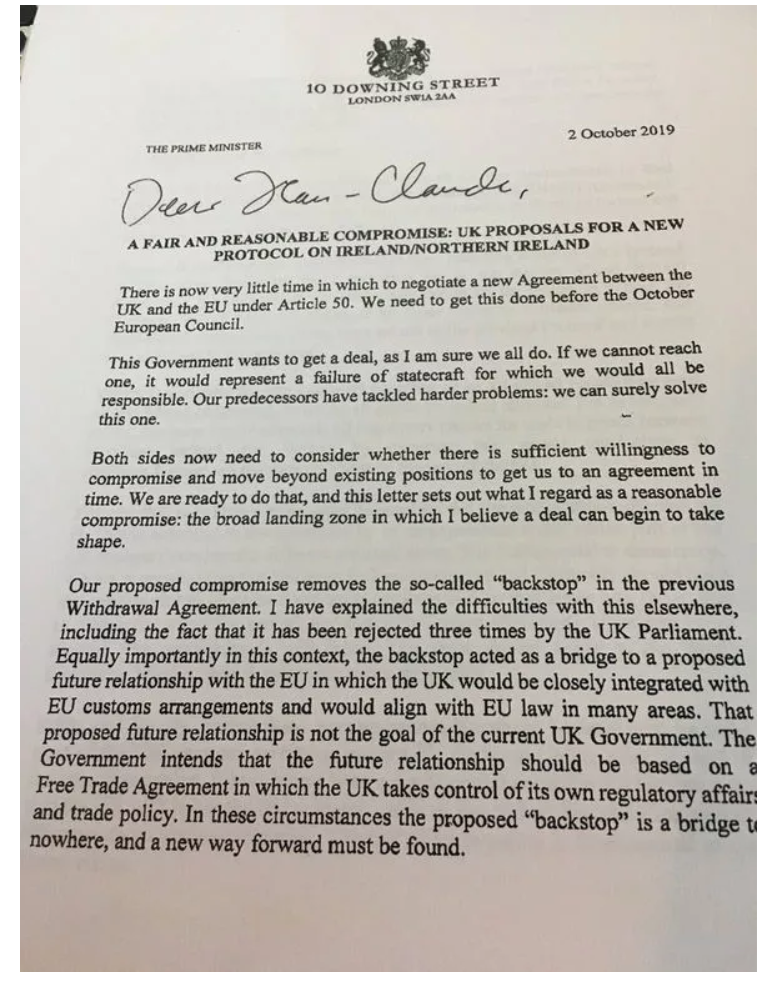 This is the European Commission's announcement about the letter (click on the image to enlarge text):
Many MPs who offered comments following Boris's address commented positively. Even most Remainers accepted the proposal, albeit with a request for more details, which will be forthcoming. Only two or three diehard Remainers spoke out against it.
Several MPs hoped that the EU commissioners were watching the positive reaction.
Guido Fawkes has more, including this video of Boris's speech:
Guido gives us the transcript of Boris's five elements concerning the abolition of the proposed backstop, the crux of the leaving date delay thus far (italics in the original):
In the first place all our actions are based on our shared determination to sustain the Belfast (Good Friday) Agreement, the fundamental basis of governance in Northern Ireland the protection of which is the highest priority of all.

And from this follows the second principle – namely that we shall of course uphold all the longstanding areas of co-operation between the UK and our friends in Ireland including the rights of all those living in Northern Ireland, North/South co-operation and the Common Travel Area, which predates both the Good Friday Agreement and the European Union itself.

Third, we propose the potential creation of a regulatory zone on the island of Ireland covering all goods, including agri-food. For as long as it exists, this zone would eliminate all regulatory checks for trade in goods between Ireland and Northern Ireland.

But fourth, unlike the so-called backstop, such a regulatory zone would be sustained with the consent of the people of Northern Ireland, as expressed through the Assembly and Executive. They will give their consent during the transition period as a condition for these arrangements entering into force. Thereafter, the Assembly will vote again every four years – and if consent were withheld, these arrangements would then lapse after one year.

Fifth, it has always been a point of principle for this government that at the end of the transition period, the UK should leave the EU Customs Union whole and entire restoring sovereign control over our trade policy and opening the way for free trade deals with all our friends around the world.
In short: no hard border between the Republic and Northern Ireland. Instead, there would be a regulatory zone covering all goods, including foodstuffs. Northern Ireland's Assembly and Executive would vote on the arrangements in the near future and every four years after that. (I do not know how that will work if Stormont is not sitting, but, no doubt, the government can find a way.)
I'm guardedly hopeful that Boris is onto something positive with this. It won't please Brexit Party members, but we were never going to get an absolute No Deal. I'm hoping that David Davis's Canada ++ arrangement can be revived. Theresa May insisted that his plans be superseded by her Withdrawal Agreement in July 2018, no ifs, ands or buts. Davis resigned as Secretary of State for Exiting the European Union on July 8 that year. It was all downhill from there.
Davis has not tweeted his reaction, but another staunch Leave MP, John Redwood, offered his thoughts on Boris's proposal:
Unfortunately, the Twitter replies to that were very angry, indeed.
It is essential to keep in mind that trade and other agreements will be in transition once we leave the EU.
It's not as if everything will change dramatically on November 1 (God willing) or whenever we leave.
The transition period is likely to last anywhere from two to four years, depending on negotiations.
As for prescription drug shortages, some of which are occurring now in the UK and being blamed on Brexit: several EU countries have been experiencing similar shortages of essential medication for several months now. France and the Netherlands are among those nations. We cannot blame Brexit for that.
On Friday, June 21, 2019, the UK's Court of Protection ordered a mentally disabled Nigerian woman in her 20s to abort her 22 week old baby.
Fortunately, the following Monday, the Court of Appeal reversed that decision:
The world had followed this story, and police are still investigating the circumstances of the woman's pregnancy.
Going back to June 21, the Catholic News Agency reported:
The Court of Protection handles cases involving individuals judged to lack the mental capacity to make decisions for themselves.
The woman, who cannot been publicly identified, has been described as "in her twenties," and is under the care of an NHS trust, part of the UK's National Health Service.
Doctors at the trust wished to abort her pregnancy and argued that, due to her diminished mental capacity, the abortion would be less traumatic for the woman than giving birth, especially if the baby would then be placed in foster care.
The woman's mother made clear to doctors and the court that she would assume care of her grandchild.
The woman is believed to have the mental capacity of a grade school-age child. She is reportedly Catholic, and her mother is Nigerian.
It is unknown if the pregnancy was conceived consensually, and police are investigating the circumstances of conception.
The woman's mother, reported to be a former midwife, registered her absolute opposition to the abortion citing the Catholic faith of herself and her daughter. A social worker who cares for the woman also disagreed that she should be forced to have an abortion.
The judge said she did not believe the woman understood what it meant to have a baby.
The Washington Examiner had more on the story that day (emphases mine):
In her ruling for the Court of Protection on June 21, Justice Nathalie Lieven said, "I am acutely conscious of the fact that for the State to order a woman to have a termination where it appears that she doesn't want it is an immense intrusion … [but] I have to operate in [her] best interests, not on society's views of termination."
"Immense intrusion" is a remarkable understatement. If the government can force you to abort your child, is there any limit to its power?
The pregnant mother and her family do not want an abortion, but she is under the care of a division of the U.K.'s National Health Service — thus why this matter has gone to court and why they have not already gotten one. But because the pregnant mother is mentally challenged, Lieven said, "I think she would like to have a baby in the same way she would like to have a nice doll," completely dismissing the mother's desire for her baby.
Barrister John McKendrick, who is leading the legal team for the pregnant woman's mother, says the court has "no proper evidence" that having an abortion will be beneficial to the pregnant mother. "Their evidence is premised on a narrow clinical view. The application must be dismissed," McKendrick said. The pregnant woman's mother has added that abortion strongly violates her family's Catholic values and that she would raise her grandchild herself.
I have no idea why the judge, a woman herself, wanted an abortion instead of adoption. Could she not bear to see the baby go to a good home?
A Canadian CEO considered the term 'right to choose':
I have no doubt that millions of prayers ascended on this future mother's behalf.
As is so often the case with prayer, the good Lord heard us and answered our pleas according to His will.
On June 24, Sky News reported on the welcome reversal (emphasis in the original):
Doctors must not be allowed to perform an abortion on a pregnant mentally-ill woman, Court of Appeal judges ruled on Monday.
This is a marvellous result, especially for the people of United Kingdom.
Thank you, Lord, for answering our prayers! Please bless this lady and her mother in the weeks and months ahead. Please also bless the child once s/he is born. To God be all glory, now and forever! Amen.
On Thursday, May 23, 2019, the author Judith Kerr went to her eternal rest.
A survivor of Nazi Germany, she was best known for her children's book, The Tiger Who Came to Tea, a modern classic in Britain and the Commonwealth:
I am unfamiliar with the book and Ms Kerr's other works. However, from reading and hearing about The Tiger Who Came to Tea, I had the mistaken impression it was for adults. People have been saying it is about the sexual revolution of the 1960s, or feminism, or an unhappy marriage, or alcoholism or depression.
So it was interesting to run across a tweet from the BBC's Emily Maitlis:
Her colleague Nick Robinson tweeted this reply:
She told me that some told her the tiger was really the Gestapo. Even when she said "No, he's just a tiger" they said "Ah, you may think that but it's your subconscious conjuring up the Gestapo"
Sometimes, a story is just a story.
Writers and playwrights have had to deal with readers' deep introspection for years. Arthur Miller was one of them:
Sometimes a name is just that: a name. Nothing more. No deep symbolism.
In closing, here is Emily Maitlis's interview with Judith Kerr, who was 92 at the time. She describes her happy childhood in Paris, then London. Her parents, who were going through endless difficulties during the war in Paris, protected her from it all. She did not know that her mother was suicidal for a time. She found out only when she read a collection of family papers as an adult:
Kerr, a former screenwriter for the BBC, told Maitlis that she came to writing books 'late', as a wife and mother. Her husband, Tom (Quatermass) Kneale — a fellow BBC screenwriter — strongly encouraged her. She said that, had she not started writing books, she would have become religious.
As it turned out, she said she never was religious. She said near the end of the video that she strongly supported euthanasia.
Maitlis says she was 'inspired' by meeting her idol. Oh, well.
I should think it would be impossible not to embrace religion after what she and her family went through. Personally, I would be giving hearty thanks to God daily. Then again, perhaps her parents were not religious in the first place, so she never had the example.
More's the pity.
Thankfully, Abby Johnson, upon whose life the film Unplanned is based, is a staunch pro-life advocate.
However, it was not always that way.
Many people know that Johnson worked for Planned Parenthood — and, as a local clinic director, was their Employee of the Year — until she had to assist with an abortion herself.
What most of us do not know is that Johnson actually had two abortions before being employed by Planned Parenthood. These episodes are covered in the film.
After reading a Christian Post article by Brandon Showalter, '"Unplanned" movie will cause men to repent for mistreating, abandoning women and shift the culture', I was amazed that any woman who went through two traumatic abortions would even want to work for Planned Parenthood.
One cannot help but think that God was trying to send her a message. When the first one did not reach her psyche, He seemed to have tried again. Incredibly, that one also failed.
These, quite possibly, involved Johnson's two abortions, both of which involved her boyfriend, then husband, Mark.
Showalter tells us that Johnson's first abortion took place while she was in college and partying quite a bit with Mark. The inevitable happened, and Mark offered her a lift to an abortion clinic to 'take care of it'. He couldn't afford to pay for her abortion, so:
Abby applied for her first credit card to pay for it herself.
Unplanned shows Ashley Bratcher, who plays Abby:
being handed a few crackers as she's seated alongside several other dazed and traumatized women dressed in pink hospital gowns as they're herded in and out of the procedure room at the clinic like cattle.
Abby's father warned her about Mark, but she went ahead and married him anyway. A year later, on Valentine's Day, he was cheating on her. She filed for divorce, then found out she was eight weeks pregnant with his baby. She went to the Planned Parenthood clinic which later employed her as its director. Perhaps she worked there to improve standards, because this was her experience (emphases mine):
… she's told that because she's only eight weeks pregnant she qualifies for a chemical abortion that she can perform by herself at home.
Actress Ashley Bratcher turns in a stunningly convincing performance as Abby Johnson. She fully inhabits the role. And in my view, the most unforgettable scene was how she portrayed the grisly, excruciating night of desperation that a young, panicked Abby endures as she bleeds out and discards the pieces of her second pregnancy. One can palpably feel her anguish as she writhes in intense pain, sobbing all alone in the fetal position on her bathroom floor.
Her ordeal was followed by several weeks of severe abdominal cramps and blood clots, health risks Planned Parenthood never warned her about when they gave her the RU-486 abortion pill couched in professional-sounding assurances that she'd be just fine.
Wow.
So she went to work at a place that could have killed her. She also encouraged, even indirectly, other women to have abortions there.
Thankfully, the Lord got through to her mind and heart in the end.
Fortunately, everything ended well. Showalter elaborates:
It's extra hopeful in that she was fortunate to find a good man in her second husband, Doug, a stay-at-home dad who I interviewed in the latest CP podcast, and with whom she's now expecting their eighth child.
The one thing Showalter does tell us is that his reaction to the abortions portrayed in the film — Abby's and the one in which she had to participate — is not unusual for other men who have also seen Unplanned:
The film's promoters told me that my visceral response to the movie was something they'd seen from many men at other prescreenings around country. If that's true, then I dare say we are on the cusp of a massive shift in the national conversation about abortion. And it won't just be about this or that legal restriction and the usual toxic politics we have trained ourselves to tune out or compartmentalize as just another issue.
Go see "Unplanned" this weekend. Take several friends with you. I'd advise taking a box or two of tissues. This one is not to be missed.
Make sure your sons, nephews and their friends see Unplanned. Just because it's about abortion does not mean it's 'only' a 'woman's' film.
In November 18, my reader underground pewster of Not Another Episcopal Church Blog posted 'Good News and Bad News: Number of abortions in U.S. hits historic low' which contrasts abortion and homicide figures for the United States.
As the whole world knows, gun control is a huge topic. These were America's homicide figures for 2016 as compiled, interestingly enough, by the Centers for Disease Control and Prevention (CDC). Emphases in the original:
All homicides: 19,362
Firearm homicides: 14,415
The CDC also publishes abortion statistics. In 2016, the Washington Post reported an annual total of:
638,169 abortions …

Is anyone up in arms (pun intended) about that?
No.
In fact, WaPo cheered the news:
the Centers for Disease Control and Prevention indicate that "fewer U.S. women are having abortions than at any time since Roe v. Wade." … down two percent from 2014.

Wait a minute. In the run up to Roe v Wade in 1973, abortion supporters told the American public that this 'medical procedure', as they called it, would be 'rare'.
Yet, this is the lowest number of abortions per annum since 1973?
So much for 'rare'.
In 45 years, there have been approximately 60 million abortions in the US.
'Rare', indeed.
In January 1918, LifeSite.com reported the statistics. The 60m figure comes from the Guttmacher Institute, which assumes that CDC under-reports figures by as much as five per cent, exacerbated by the absence of reporting from state health departments in California and New Hampshire for over a decade. Here is a graph comparing the two sets of figures.
Note that in 1973, there were well over half a million abortions that year alone:
So, the next time someone gets triggered over homicides and gun control, ask them if they are equally as worried about abortions.
Remember: 60 million, since 1973.
Then ask that person what the greater worry is: guns or abortion?
A new film about the reality of abortion clinics makes its US debut on Friday, March 29, 2019.
Unplanned tells the true story of Abby Johnson, a former abortion clinic manager. Ms Johnson won a Planned Parenthood Employee of the Year award. Then, one day, she saw just what an abortion entailed — and that the baby was very much alive and moving. She subsequently resigned and became a pro-life advocate.
This moving trailer provides a synopsis:
Unplanned is rated 'R' because it shows the graphic detail behind an abortion.
On February 22, Life Site News reported (emphases mine):
"UNPLANNED is an 'R' rated film which has no MPAA cautions for profanity, nudity, sex or violence … except for violence directly associated with the abortion process," said writers/directors Cary Solomon and Chuck Konzelman, reported Movieguide. 
"Ironically, the MPAA seems to be indirectly endorsing the pro-life position: namely that abortion is an act of violence," they added. They do not plan to contest the rating.
A double irony of the rating did not go past Solomon and Konzelman.
"Even more ironically, as a result of the MPAA's decision to give us a 'Restricted' rating, many teenage women in this country who can legally obtain an actual abortion without parental permission will be prohibited from going to see our film containing simulated images of abortion, without obtaining parental permission," they said. 
Abby Johnson, a pro-life advocate, had this to say about the film:
We are pushing the boundaries of what has never been before on such a wide scale by showing America exactly what abortion is — and abortion is disturbing. It's violent. No one will walk away from seeing this movie and say 'I didn't know.'
I would urge everyone with teenagers to get them to the cinema at the end of March to see this film. The Unplanned website lists a number of US locations, so please click the +More box to see additional towns and cities where it will be shown.
When I was growing up in the 1970s, Americans were told that abortion is simply 'a medical procedure' to remove 'a mass of cells'. Now we know better.
I would also highly recommend that readers watch Ashley Bratcher's interview on Fox News. Bratcher plays Abby Johnson in the movie. She did not have time to speak with Johnson, because she got a last-minute call to pack her bags — for seven weeks — and head out to Oklahoma to begin filming.
While she was in Oklahoma, Bratcher received a call from her mother, who told her that she — Ashley — was almost aborted herself. Her mother and father were in their late teens and did not feel ready for a child. Her father pawned a family shotgun to pay for the abortion. Ashley says that she finds it odd that the price for a human life would have been a shotgun.
In the end, Ashley's mother felt sick on the operating table and said she could not go through with the abortion.
Oh, the irony of it all — but what a blessing!
Bratcher says that Unplanned has all sorts of elements to it and that it is not a judgemental film, but rather one of hope, forgiveness — and grace.
A few days ago, I watched an abortion survivor give her testimony against Planned Parenthood before the US House Judiciary Committee on September 9, 2015.
Melissa Ohden is, happily, not the only abortion survivor, but further proof that there are many living miracles. The good Lord's design was to have them survive the worst procedures, give those babies care through concerned hospital staff and provide them with loving adoptive families to nurture and raise them.
This is powerful testimony — and it's just over six minutes long. I encourage everyone, especially logical, rational, pro-choice readers to listen to what this lady says and to especially note what she survived at 31 weeks old — saline solution over a five-day period — designed to burn her to death (see the medical report at 1:06 minutes in):
It turns out that Melissa's biological parents wanted her to be born and wanted to get married. However, Melissa's maternal grandmother — a pillar of the community — said they were much too young (aged 19) and that would impact the family's social standing negatively. So, Melissa's grandmother forced the abortion procedure against the 19-year-old's will (see first 14 minutes in this 2013 video of hers):
Returning to the first video, Melissa says that she was fortunate in that the abortion procedure was performed in a hospital rather at a Planned Parenthood clinic. She says that Planned Parenthood are experts at ensuring that abortion survivors — live babies — die.
Melissa survived abortion in 1977. That was only five years after Roe v Wade was passed. Those of us who were alive at the time were told that abortion was a simple 'medical procedure' performed at an early stage on a 'lump of cells'. I had no idea until now that abortions then were also performed at an advanced stage of pregnancy.
When she was a newborn, doctors told Melissa's adoptive parents that she would be chronically ill throughout her life. Certainly, she had seizures and other illnesses that no baby should suffer. Yet, despite all the odds, thanks to God's mercy and a loving family, Melissa grew up to become a healthy child — and a healthy adult.
Melissa holds a Masters degree in social work and worked in that field dealing with clients who had problems with substance abuse, domestic violence and sexual assault.
Melissa researched the failed abortion herself, which took dogged attempts over the years. Finally, she was able to obtain her medical records of the failed saline procedure at St Luke's Hospital — oh, the irony — in Sioux City, Iowa.
Melissa's journey was, at times, understandably painful emotionally. She came to terms with the circumstances of her birth and her biological family by becoming a Christian. She is a practising Roman Catholic.
Visit Melissa's website for more information.
The video in the tweet below is from 2013, but if, like me, you are relatively new to watching abortion clinic footage, then you might also find it instructive:
The woman from the clinic gives the prospective 'patient' (an undercover investigator for Live Action, a pro-life organisation) various scenarios for later-term abortion, presumably by injection, as she says two-day procedures are not uncommon.
If the patient goes to the clinic, the staff would put the live baby into a jar of solution to drown. According to the woman from the clinic, the baby wouldn't feel anything. Hmm. Seems a bit hard to believe.
She counsels the patient about what to do if she has the baby at home before being able to make it into the clinic: either flush the newborn down the toilet or put it in a bag and take it to the clinic.
Yes, the woman actually says:
Flush it!
And:
Put it in a bag or something.
The woman from the clinic actually laughs at various points.
I had no idea abortion was so hilarious.
Below are two views of abortion.
The first is Bill 'Science Guy' Nye presenting his opinion, strongly objecting to the pro-life movement and stupid men of 'European' extraction who legislate against it. Nye, an atheist, disapproves of the Bible, which he mentions here as 'a book around 5,000' years old, and, clearly, outmoded. He does not present one salient fact about abortion. Essentially, if you don't like abortion — tough. You're probably too dumb:
The second is from a former abortionist, Dr Anthony Levatino, who still works as an obstetrician and gynaecologist. He testified in 2015 before the House Judiciary Committee hearing about Planned Parenthood's medical procedures. The YouTube description adds:
Planned Parenthood has been under fire after videos were released showing how the mega abortion provider sold fetal tissue to researchers.
Regardless of where you stand on the subject, I strongly recommend watching — not just listening to — Dr Levatino's description of what happens during a second-trimester abortion. This video is especially important for those who call foetuses/developing babies 'whatchamacallits':
During his career as an abortionist, he performed over 1,200 D&Es — dilations and evacuations — as abortions done between 13 and 24 weeks are known in the medical profession.
The instrument he is holding in his hand is a Sopher clamp. That is used to remove all the body parts. Watch him describe how the abortionist has to use it 'blindly' in search of a leg, then an arm, then the head.
The Sopher clamp purposely has rows of sharp metal teeth on it so that the doctor can grasp all of the body parts as efficiently as possible.
He says that all the body parts must be set aside on a table and be accounted for. Anything left in the former mother can cause infection, haemorrhaging and, possibly, death.
He then related his own family experience. He met his wife while at medical school in Albany. Interestingly enough, they wanted to start a family, but they had an infertility problem. They adopted a baby, Heather, in 1978. Incredibly, his wife became pregnant a month later.
Just before Heather turned six, she was fatally injured in an automobile accident. Levatino thought he could get through the mourning period and go back to work.
He did, for a time.
Then, one day when he was beginning another abortion, he pulled out a limb and got sick. He composed himself and finished the abortion, but when he looked at all the assembled body parts:
All I could see was somebody's son or daughter.
That was the last D&E he ever performed.
Several months later, he stopped doing abortions altogether.
————————————————————————————
In November 1987, Levatino spoke at the first ever Meet the Abortion Providers conference.
Pro-Life Action has an edited transcript of what he said. Excerpts follow, emphases mine.
He said that the private clinic where he worked in Albany was about the only one performing D&Es:
My partner and I, however, were relatively important in the Albany area for one infamous fact, which to this day I regret. Our group was just about the only group that was performing late abortions, D & E procedures, Dilatation and Evacuation. And we received referrals from all over the area in our part of the state, even from neighboring counties 70 to 80 miles away. We had a lot of patients.
He explained why OB-GYNs perform abortions:
It's profitable, there's a lot of money in it! But there's philosophical things that come first. As I'm fond of telling people, if you are pro-choice and you happen to be a gynecologist, then it's up to you to take the instruments in hand and actively perform an abortion. It's the most natural association in the world.
Along the way you find out you make a lot of money doing abortions. In my practice we were averaging between $250 and $500 for an abortion, and it was cash.
The pro-choice movement helped a lot, too:
There are other reasons; they're perhaps no less important. I've heard many times from other obstetricians: Well, I'm not really pro-abortion, I'm pro-woman. How many times have you heard that one? The women's groups in this country, they're not alone, but they've done a very good job selling that bill of goods to the population. That somehow destroying a life is pro-woman. But a lot of obstetricians use that justification to themselves, and I can tell you, a lot of them believe it. I used to. It's not hard to be convinced of it.
There is a gynaecological procedure known as a D&C — dilation and curretage — which is performed when a woman has a uterine ailment. However, it is also used for early-term abortions. Levatino described his residency period, which required that he perform several D&C suction abortions twice a week. Despite the fact that they are first-trimester abortions, they can also present risks to a woman. And, in case anyone is still unconvinced, there is more than 'a mass of cells' afterwards:
When the abortionist finishes a suction D & C he has to literally reassemble the child.
When the abortionist finishes a suction D & C, he has to open a little suction bag and he has to literally reassemble the child. He has to do that because he wants to make sure he didn't leave anything behind.
I had complications, just like everybody else. I have perforated uteruses. I have had all kinds of problems — bleeding, infection — Lord knows how many of those women are sterile now.
I remember getting called down to my chairman's office because a young lady that I had done an abortion on showed up, and the abortion had been incomplete. I had not done my job right, and she passed an arm or a leg and she freaked out because she didn't realize what had happened.
He also performed saline procedures. This was during the time he and his wife were going through their period of infertility. Saline is painless, right? Saline is harmless, right? After all, 'it's just a mass of cells', right? Levatino describes what he experienced during his residency:
My discomfort came at that point because there was a tremendous conflict going on inside me. Here I was doing my D & Cs, five and six a week, and I was doing salines on a nightly basis whenever I was on call.
I wish one of these people would just let me have their child. But it doesn't work that way.
The resident on call got the job of doing the salines and there would usually be two or three of those. They were horrible because you saw one intact, whole baby being born, and sometimes they were alive. That was very, very frightening. It was a very stomach-turning kind of existence.
Yet, I was doing that at the same time that my wife and I were trying to have a child, and we were having difficulty with that. We had been married a couple of years at that point — and no baby. Suddenly, we realized we had an infertility problem.
I kept doing abortions, I didn't stop. But it was tough. We started desperately looking for a baby to adopt, and I was throwing them in the garbage at the rate of nine and ten a week. It even occurred to me then: I wish one of these people would just let me have their child. But it doesn't work that way. So the conflict was there.
Remember that Levatino also helped pregnant women have their babies. I cannot fathom how one can rejoice with an expectant mother one moment, then perform an abortion the next. Yet, these men and women do it. Levatino said:
As a doctor, you know that these are children; you know that these are human beings with arms and legs and heads and they move around and they are very active. But you get reminded — every time you put that scanner down on somebody's uterus — you are reminded. Because you see the children in there — hearts beating, arms flinging.
We have a ball with it. It is a lot of fun. We have people coming in who have bleeding and who are afraid they may have a miscarriage — now this is someone who wants to have their child. There is no better news for me than to put that scanner on them at seven and eight weeks and show them a heartbeat and say: Your baby is okay. You do that as an obstetrician all the time.
And then, an hour later, you change your clothes, walk into an operating room and do an abortion. If you have any heart at all, it affects you.
Having graduated and being the proud adoptive father of baby Heather, he joined a gynaecologist in the Albany area who did D&Es. Levatino learned how to perform them. By then, his wife was expecting their first child:
Again, I didn't particularly like doing abortions, but my partner did abortions and I didn't object to it morally, so we worked together. I was on salary at the time, as a new partner, so it made not a whit of difference on my income. I did it to be agreeable. It's a lousy reason in retrospect, but that was my reason. That was our business for years to come.
In 1984, his daughter Heather was hit by a car in front of their home and died:
Everything changes. All of a sudden, the idea of a person's life becomes very real. It is not an embryology course anymore. It's not just a couple of hundred dollars. It's the real thing. It's your child you buried.
His relationships at home and in the office became strained:
Every time I was asked to schedule an abortion, I got very angry. I began feeling that people were doing something to me. That was ridiculous — I was doing it to myself.
After a few months of that I started to realize — this is somebody's child. I lost my child, someone who was very precious to us. And now I am taking somebody's child and I am tearing him right out of their womb. I am killing somebody's child.
Eventually, he turned his revulsion on himself:
My own sense of self-esteem went down the tubes. I began to feel like a paid assassin. That's exactly what I was. It got to the point where it just wasn't worth it to me anymore. It was costing me too much personally. All the money in the world wouldn't have made a difference.
So, Levatino stopped performing abortions:
I slept a lot better at night after that.
I really like hearing male doctors present the case against abortion, and I particularly liked Levatino's staccato, matter-of-fact delivery in the video above. He presents his case objectively. Any men who are fence-sitting on abortion would do well to watch his video.
I hope that someday that Dr Levatino meets Bill Nye and teaches him a thing or two about abortion.