You are currently browsing the tag archive for the 'Christianity' tag.
The three-year Lectionary that many Catholics and Protestants hear in public worship gives us a great variety of Holy Scripture.
Yet, it doesn't tell the whole story.
My series Forbidden Bible Verses — ones the Lectionary editors and their clergy omit — examines the passages we do not hear in church. These missing verses are also Essential Bible Verses, ones we should study with care and attention. Often, we find that they carry difficult messages and warnings.
Today's reading is from the English Standard Version with commentary by Matthew Henry and John MacArthur.
Saul Proclaims Jesus in Synagogues
For some days he was with the disciples at Damascus. 20 And immediately he proclaimed Jesus in the synagogues, saying, "He is the Son of God." 21 And all who heard him were amazed and said, "Is not this the man who made havoc in Jerusalem of those who called upon this name? And has he not come here for this purpose, to bring them bound before the chief priests?" 22 But Saul increased all the more in strength, and confounded the Jews who lived in Damascus by proving that Jesus was the Christ.
————————————————————————————–
Last week, I wrote three lengthy posts on Paul's conversion based on the first half of Acts 9. These are important, because only by carefully studying his Damascene conversion can we come to appreciate and understand how the Holy Trinity worked through Paul and made him such a pivotal Apostle, even though he was not of the original, or even replacement (Matthias, Acts 1), Twelve:
Part 1 of Acts 9:1-9: Saul's — St Paul's — conversion
Part 2 of Acts 9:1-9: Saul's — St Paul's — conversion (includes interesting info from John MacArthur on his own conversion)
Acts 9:10-19 — when scales fell from the eyes of Saul of Tarsus (final part of St Paul's conversion story)
People say that Paul was much 'greater' than Peter. He certainly left his stamp on the Church and the New Testament. That said, God gave the two men different types of ministries.
Peter actually had the blessing of being with Jesus for three years. Paul did not.
Whilst foolhardy at times during Jesus's ministry, Peter did not commit the sins that Paul did, requiring a brutal conversion. If Paul did not actually participate in murdering Christians, he certainly engineered and approved of it e.g. Stephen (Acts 7 and 8). He was pure evil before the Light of Christ struck him off his horse.
Ultimately, both died together as martyrs in Rome at the same time although in different ways, which is why their names are so often linked together. Their feast day is June 29 in the Western Church. They are the patron saints of Rome.
Now on to today's verses. After he received the Holy Spirit and was baptised, Paul — still Saul — immediately began his ministry in Damascus (verse 19b). The city had a large Jewish population, possibly up to 20,000, and the Christian converts — ex-Jews — there, as elsewhere at that time, worshipped in the synagogues. So he had many new Christians to address.
Wherever he went in the city, Saul preached that Jesus is the Son of God (verse 20). He did not talk about his own dramatic testimony, only Christ and Christ crucified.
Matthew Henry elaborates:
When he began to be a preacher, he fixed this for his principle, which he stuck to ever after: We preach not ourselves, but Christ Jesus our Lord; nothing but Christ, and him crucified. He preached concerning Christ, that he is the Son of God, his beloved Son, in whom he is well pleased, and with us in him, and not otherwise.
Martin Luther emphasised that principle and it holds true today.
John MacArthur clarifies what the words Son of God mean (emphases mine):
Jesus is God, He is very God of God in human flesh. He is only called Son in the sense that as the second person of the Trinity He came to earth. He is a Son in the sense that He was born. He is not a Son in terms of rank in the Trinity. He's not less than the Father. He's only a Son in an incarnate sense. Before His incarnation He was God the second person of the Trinity. The title Son belongs to His incarnation …
He is not a Son in the sense of inferiority to God the Father in any way, shape, or form. And I only say that because you'll run into some people who'll deny that He is God because He's called the Son of God. Since we only know Christ from our standpoint in terms of incarnation, we call Him the Son of God and so did Saul, because we know Him in His incarnation. We call Him Jesus too, but that's an incarnation name as well. We call Him Christ and that's an incarnation name as well. So he began to preach that he is the Son of God.
The alternative to preaching Christ and Him only is a subjective testimony. MacArthur warns:
Now there's nothing wrong with your testimony, it's just that your testimony is relatively inconsequential in terms of the importance of the presentation of who Christ is, you see? Your testimony as a supplement is fine. Your testimony as a witness itself isn't any good at all because it's got to be more than that. All good preaching and witnessing is doctrinal. And really, you know, the church has gone overboard on people's testimonies and people's experiences and we have created, what I'm afraid, is almost a subjective approach to Christianity.
Now subjectivism is a curse that man has had to live with for a long time. Ever since the Garden of Eden when man sinned, immediately God started looking for man and man started looking at man. He ran in the Garden, I'm naked, I better cover myself. Man became man centered or subjective. God's always been looking at man. Man's always been turning inside. And man creates religions that are totally subjective. It's all experiential. And even today the cultured philosophical men of our world have found an experiential religion, you know. The leap of faith. The upper story, whatever you call it.
But religion is subjective, but not Christianity. Romans 10, "Faith comes by hearing a speech about Christ." Did you hear that? "Faith comes by hearing a speech about Christ." Not a subjective analysis of what's going on in me. Now it's all right to talk about your own experience in certain context and it's all right to include your testimony in terms of presentation, but never to the exclusion of the actuality of the presentation of Jesus Christ.
It is interesting that Saul's own testimony, being so dramatic, rarely entered into his preaching. It did briefly later on, as documented in Acts 22 and 26. However, from the start — immediately upon beginning his ministry — he did not take that route.
Bear in mind that, from an early age, as a Pharisee, Saul was educated in Scripture and philosophy in Tarsus. Later, in Jerusalem, he continued his studies under the famed Gamaliel. He was blessed with a gift for sound logic and argumentation. Now he was using that blessing to preach to new Christians. MacArthur imagines the sermons:
And boy I imagine he unlocked that Old Testament, and it was exciting. And that's how he became known his whole life as a preacher of Jesus Christ.
Recall that Saul originally went with his men to Damascus to round up Christian converts and take them back to the temple in Jerusalem for trial on charges of heresy. Now he is preaching to them, full of the Holy Spirit and knowledge of Christ.
It is no wonder then that the people were 'amazed' at hearing Saul before them preaching to them (verse 21). No wonder they were abuzz asking, 'Isn't this the man who was persecuting converts brutally in Jerusalem?' And, as verse 21 tells us, they knew he was coming for them.
Yet, now he was one of them.
Matthew Henry says that the people would have found his conversion as a massive proof that Jesus is the Messiah:
Doubtless this was looked upon by many as a great confirmation of the truth of Christianity, that one who had been such a notorious persecutor of it came, on a sudden, to be such an intelligent, strenuous, and capacious preacher of it. This miracle upon the mind of such a man outshone the miracles upon men's bodies; and giving a man such another heart was more than giving men to speak with other tongues.
St Luke, the author of Acts, wanted us to know that the more Saul preached, the stronger he became in faith and oratory (verse 22). As such, he was able to argue his case with Jewish opponents. 'Confound' in that verse means to frustrate.
Henry explains:
He grew more bold and daring and resolute in defence of the gospel: He increased the more for the reflections that were cast upon him (Acts 9:21), in which his new friends upbraided him as having been a persecutor, and his old friends upbraided him as being now a turncoat; but Saul, instead of being discouraged by the various remarks made upon his conversion, was thereby so much the more emboldened, finding he had enough at hand wherewith to answer the worst they could say to him. (2.) He ran down his antagonists, and confounded the Jews who dwelt in Damascus; he silenced them, and shamed them–answered their objections to the satisfaction of all indifferent persons, and pressed them with arguments which they could make no reply to. In all his discourses with the Jews he was still proving that this Jesus is very Christ, is the Christ, the anointed of God, the true Messiah promised to the fathers. He was proving it, symbibazon–affirming it and confirming it, teaching with persuasion. And we have reason to think he was instrumental in converting many to the faith of Christ, and building up the church at Damascus, which he went thither to make havoc of. Thus out of the eater came forth meat, and out of the strong sweetness.
Saul must have known it would not be long before he would be hunted down and persecuted.
More on that next week.
Next time — Acts 9:23-25
In order to better understand and appreciate St Paul's ministry, it is helpful to read the first half of Acts 9 carefully.
My past two posts — here and here — went through the background and conversion of Saul of Tarsus in detail.
The painting at left depicts his dramatic Damascene conversion according to St Luke's account in Acts.
Today's post looks at what happened after he was blinded and the men around him led him by the hand into Damascus.
The passage below is from the English Standard Version of the Bible. Commentary comes from Matthew Henry and John MacArthur.
10 Now there was a disciple at Damascus named Ananias. The Lord said to him in a vision, "Ananias." And he said, "Here I am, Lord." 11 And the Lord said to him, "Rise and go to the street called Straight, and at the house of Judas look for a man of Tarsus named Saul, for behold, he is praying, 12 and he has seen in a vision a man named Ananias come in and lay his hands on him so that he might regain his sight." 13 But Ananias answered, "Lord, I have heard from many about this man, how much evil he has done to your saints at Jerusalem. 14 And here he has authority from the chief priests to bind all who call on your name." 15 But the Lord said to him, "Go, for he is a chosen instrument of mine to carry my name before the Gentiles and kings and the children of Israel. 16 For I will show him how much he must suffer for the sake of my name." 17 So Ananias departed and entered the house. And laying his hands on him he said, "Brother Saul, the Lord Jesus who appeared to you on the road by which you came has sent me so that you may regain your sight and be filled with the Holy Spirit." 18 And immediately something like scales fell from his eyes, and he regained his sight. Then he rose and was baptized; 19 and taking food, he was strengthened.
————————————————————————————————
My previous posts discussed how Saul of Tarsus, a Pharisee, devised a grand plan of travelling to Damascus to persecute Christians, only to find himself blinded by the light of Christ and toppled from his horse.
He travelled with a number of men in pursuit of converts whom Saul wanted transported back to Jerusalem for religious trial on charges of heresy. So much for that plan. Our Lord had other ideas, but, first, Saul had to be taught a lesson about his persecution of our Saviour.
Before being struck down, Saul of Tarsus was a nasty little piece of work. (Yes, he was of short stature. His Roman name Paul means 'little'.) He went around persecuting Christians in Jerusalem. Man or woman, it did not matter. He was involved with the martyrdom of Stephen, after which the disciples (but not the Apostles) fled Jerusalem. Philip the Evangelist went to Samaria and made many converts there. Damascus was also a destination for evangelism, hence why Saul wanted to go there.
Saul and his companions found a place to stay in Damascus. Saul immediately spent three days contemplating his grave sins against Christ to the extent that he could not eat or drink. Physically, he was as helpless as a baby. Spiritually, he was growing: engaging in heartfelt prayer and increasing in divine grace. He was leaving his Pharisaical heritage behind and becoming a Christian.
Verse 10 tells us that the Lord appeared in a vision to a convert named Ananias. Matthew Henry tells us that Ananias was a native of Damascus, not a convert who fled Jerusalem, and that he had occasional visions from the Lord (emphases mine below):
… it is said (Acts 22:12) that he had a good report of all the Jews who dwelt there, as a devout man according to the law; he had lately embraced the gospel, and given up his name to Christ, and, as it should seem, officiated as a minister, at least pro hac vice–on this occasion, though it does not appear that he was apostolically ordained …
It is probable it was not the first time that he had heard the words of God, and seen the visions of the Almighty; for, without terror or confusion, he readily answers …
The Lord told Ananias to go to a street called Straight and to the house of Judas (not Iscariot) where a certain Saul of Tarsus was praying (verse 11). John MacArthur says that Straight is the main avenue in Damascus:
It had a street that ran right straight through the middle of it from the eastern gate to the western gate, straight about three miles long. It's still existing today. The street's called Straight there, it's called Darbal Mospakeem, different name of course. But it's still there and the street called Straight, at one end of it was the house of Judas. Today some people say that there's a spot where that house was and supposedly a closet where Saul was praying for those three days, but that's conjecture.
One might wonder why the Lord did not send one of the Apostles to travel from Jerusalem to minister to Paul. It was no doubt more expedient to employ a local believer and that would also help the Church grow there. Furthermore, as Henry points out:
Surely, because Christ would employ variety of hands in eminent services, that the honours might not be monopolized nor engrossed by a few–because he would put work into the hands, and thereby put honour upon the heads, of those that were mean and obscure, to encourage them–and because he would direct us to make much of the ministers that are where our lot is cast, if they have ordained mercy to be faithful, though they are not of the most eminent.
As we discover in verse 12, the Lord had already given Saul a vision of a man named Ananias who would go to visit him and restore his sight. Saul's expectations must have been high.
Ananias hesitated, telling the Lord that Saul was notorious for 'evil' — persecuting converts in Jerusalem (verse 13). Furthermore, he said that Saul was in Damascus to persecute Christ's followers (verse 14). So, word had already reached the converts that Saul was going there under the authority of the chief priests in Jerusalem. Jerusalem was the religious centre for Jewish authority, regardless of where Jews lived.
The Lord replied that He intended to use Saul as 'a chosen instrument' to minister to Gentile and Jew alike (verse 15). He added that Saul would suffer in His name (verse 16), which he did. He, the one who sought to imprison Christians, would himself be no stranger to confinement. He was instrumental in Stephen's martyrdom in Jerusalem and would also die a martyr, along with the Apostle Peter, in Rome.
Ananias obeyed the Lord and spoke a precise message, identifying himself, describing Saul's being struck down and announcing that he would regain his sight and be filled with the Holy Spirit (verse 17).
Note that Ananias laid hands on him (verse 17) — healing hands on someone who had been a believer's worst enemy. Ananias also addressed the man he was fearing as 'brother'. What an experience that must have been for both men.
Then, a supernatural event took place: 'something like scales' fell from Saul's eyes and he could see once more (verse 18). This has a double meaning, one that is physical and one that is spiritual.
Did a scale-like substance really fall from Saul's eyes? MacArthur says no:
Now this is Luke. Luke is a physician and so naturally he chooses a little metaphor that would be medical. He didn't really have scales as it were as jose in the Greek, not to be confused with the Spanish jose. But it means as if. It was as if he had some medical problem and scales dropped of his eyes. 
Henry takes the verse literally:
Saul is delivered from the spirit of bondage by receiving sight (Acts 9:18), which was signified by the falling of scales from his eyes; and this immediately, and forthwith: the cure was sudden, to show that it was miraculous.
You're welcome to interpret that as you like. Personally, I would like to think that there was a physical manifestation of a scale-like substance as God's way of demonstrating to Saul how spiritually blind he had been for the following reason. Recall that Saul was born and raised a Pharisee. Recall how often Jesus told the Pharisees of their blindness — spiritual blindness. I think this was a physical manifestation, a divine way of driving home a point to Saul.
Henry offers this analysis:
This signified the recovering of him, [1.] From the darkness of his unconverted state. When he persecuted the church of God, and walked in the spirit and way of the Pharisees, he was blind; he saw not the meaning either of the law or of the gospel, Romans 7:9. Christ often told the Pharisees that they were blind, and could not make them sensible of it; they said, We see, John 9:41. Saul is saved from his Pharisaical blindness, by being made sensible of it. Note, Converting grace opens the eyes of the soul, and makes the scales to fall from them (Acts 26:18), to open men's eyes, and turn them from darkness to light: this was what Saul was sent among the Gentiles to do, by the preaching of the gospel, and therefore must first experience it in himself.
The removal of scales would also signify that Saul's time in judgement and terror had ended:
[2.] From the darkness of his present terrors, under the apprehension of guilt upon his conscience, and the wrath of God against him. This filled him with confusion, during those three days he sat in darkness, like Jonah for three days in the belly of hell; but now the scales fell from his eyes, the cloud was scattered, and the Sun of righteousness rose upon his soul, with healing under his wings.
Ananias then baptised Paul. Baptism is very important. I have read notional Christian websites that say it isn't, but the New Testament has several mentions of baptism, beginning with Jesus in the Gospels and continuing in Acts. If it were unimportant, these mentions would not exist.
Henry tells us:
He was baptized, and thereby submitted to the government of Christ, and cast himself upon the grace of Christ. Thus he was entered into Christ's school, hired into his family, enlisted under his banner, and joined himself to him for better for worse. The point was gained: it is settled; Saul is now a disciple of Christ, not only ceases to oppose him, but devotes himself entirely to his service and honour.
MacArthur says:
Baptism is so important people. If you haven't gotten that message through the book of Acts you haven't been listening. See? Baptism is critically important. Why? Because it's a public confession of your identification with the body of believers.
I knew a lady who had strayed from the Church for many years. She married an unbeliever. She never had her daughter baptised. By the time I met her, she had returned to the Church and her daughter was an adult. This lady regretted never having had her daughter baptised as an infant because, later on, it was too late! She broached the subject with her daughter, but the young woman replied, 'Why? I don't even believe!' Baptism confers grace. The lady knew it and regretted depriving her daughter of that grace, thinking it would persuade her to become a believer. But I digress.
In verse 19, St Luke tells us that Paul ate and was strengthened. MacArthur thinks it was a large Christian meal. He says in jest:
And if you know anything about how Christians feed, you can imagine the poor guy was almost sick when it was over.
Quite possibly!
Saul being Saul, he wasted no time in going out into Damascus to preach in Jesus's name. Christ's divine intervention transformed the zeal he had in persecuting converts to passionately preaching in His name.
More on that when Forbidden Bible Verses returns at the weekend.
Yesterday's post introduced Saul — later, Paul — whom Christ brought to the ground and, with that fall, accomplished the most dramatic conversion in Christian history.
That post has much information on Saul's background. It is important to know, as it helps reveal the man who wrote so many letters to his converts — Epistles which we hear most Sundays — and, other than Jesus, contributed the most to Christian theology.
The painting at left shows what happened as described in Acts 9:1-9.
Yesterday's post covered Acts 9:1-2. Today's will cover the next seven verses.
Commentary comes from Matthew Henry and John MacArthur.
I've used the English Standard Version below:
The Conversion of Saul
9 But Saul, still breathing threats and murder against the disciples of the Lord, went to the high priest 2 and asked him for letters to the synagogues at Damascus, so that if he found any belonging to the Way, men or women, he might bring them bound to Jerusalem. 3 Now as he went on his way, he approached Damascus, and suddenly a light from heaven shone around him. 4 And falling to the ground, he heard a voice saying to him, "Saul, Saul, why are you persecuting me?" 5 And he said, "Who are you, Lord?" And he said, "I am Jesus, whom you are persecuting. 6 But rise and enter the city, and you will be told what you are to do." 7 The men who were traveling with him stood speechless, hearing the voice but seeing no one. 8 Saul rose from the ground, and although his eyes were opened, he saw nothing. So they led him by the hand and brought him into Damascus. 9 And for three days he was without sight, and neither ate nor drank.
Saul, journeying from Jerusalem to the ancient city of Damascus to round up Christian converts, probably travelled there with a retinue of men. All were likely to be on horseback, as it was a long journey.
Yesterday's post explained that Saul was on a religious mission that he devised himself. He asked the high priest for letters to the synagogues in Damascus to reveal their Christian members. The temple in Jerusalem had jurisdiction over all Jews, wherever they might be. The temple was like the Vatican, all powerful in matters religious. Christians were to be brought back to Jerusalem for trial on grounds of heresy, akin to the Spanish Inquisition.
John MacArthur describes the journey as follows (emphases mine below):
… he probably had really a large entourage of people going along with him to bring these prisoners back. So this whole gang is going north.
And what's a fantastic note is this. Just think about this. To go north to Damascus, 160 miles, he's got to go right through Samaria. Now … you know what's going on in Samaria. And if he was irritated already, you can imagine how irritated he was by the time he got through Samaria, because who had just finished going through Samaria? Philip, who was immediately followed by Peter and John. The gospel was preached all over Samaria. People were turning to Jesus Christ by the thousands. A revival was going on in Samaria. That must have really irritated him.
I wrote about Philip the Evangelist's powerful ministry, as documented in Acts 8, here, here and here. Acts 8 ends with Philip's conversion of the Ethiopian eunuch, a man well placed in Queen Candace's household.
MacArthur continues:
But he didn't seem to stop at any point. He made his way through, infuriated, no doubt, at what he saw, but intent on getting to Damascus, and figuring he'd mop this area up later. It normally took a caravan six days to get there, so it was a pretty good trip. Well, on that sixth day, as they got near town, something fantastic happened, and that, in verse 3, begins the conversion of Saul of Tarsus.
For such a long trip, the men were securely and comfortably saddled. That is important to keep in mind.
Matthew Henry gives us a bit of history about Damascus and its significance in Saul's conversion:
Some observe that he who was to be the apostle of the Gentiles was converted to the faith of Christ in a Gentile country. Damascus had been infamous for persecuting God's people formerly—they threshed Gilead with threshing instruments of iron (Amos 1:3), and now it was likely to be so again.
Also important to keep in mind is that Saul was a well educated man, a knowledgeable and rational thinker. Although short in stature — his Roman name Paul meant 'little' — he was probably physically powerful, very determined and rarely frightened.
As they approached Damascus, then, a shaft of light from heaven shone around him (verse 3). It shone only on him, although the men around him, particularly those nearest him, saw it, too, although it did not envelop them. Henry explains:
… the Lord Jesus was in this light, and appeared to him by the way. He saw that just One (Acts 22:14), and see Acts 26:13. Whether he saw him at a distance, as Stephen saw him, in the heavens, or nearer in the air, is not certain. It is not inconsistent with what is said of the heavens receiving Christ till the end of time (Acts 3:21) to suppose that he did, upon such an extraordinary occasion as this, make a personal visit, but a very short one, to this lower world; it was necessary to Paul's being an apostle that he should see the Lord, and so he did, 1 Corinthians 9:1,15:8. (1.) This light shone upon him suddenly–exaiphnes, when Paul never thought of any such thing, and without any previous warning …
Also:
It was a light from Heaven, the fountain of light, from the God of heaven, the Father of lights. It was a light above the brightness of the sun (Acts 26:13), for it was visible at mid-day, and outshone the sun in his meridian strength and lustre, Isaiah 24:23. (3.) It shone round about him, not in his face only, but on every side of him; let him turn which way he will, he finds himself surrounded with the discoveries of it. And this was designed not only to startle him, and awaken his attention (for well may he expect to hear when he is thus made to see something very extraordinary), but to signify the enlightening of his understanding with the knowledge of Christ. The devil comes to the soul in darkness; by this he gets and keeps possession of it. But Christ comes to the soul in light, for he is himself the light of the world, bright and glorious to us, as light.
Paul — prepared, determined, fearless and, likely, secure in his saddle — fell to the ground. However, the Lord saw that he broke no bones. Henry describes the scene:
It is probable that he was mounted, as Balaam, when he went to curse Israel, and perhaps better mounted than he; for Saul was now in a public post, was in haste, and the journey was long, so that it is not likely he should travel on foot. The sudden light would frighten the beast he rode on, and make it throw him; and it was God's good providence that his body got no hurt by the fall: but angels had a particular charge concerning him, to keep all his bones, so that not one of them was broken. It appears (Acts 26:14) that all that were with him fell to the earth as well as he, but the design was upon him.
MacArthur reminds us of what happened in the Garden of Gethsemane, hours before His death:
… if you read further, in chapter 22 and chapter 26, you'll find that those two chapters also record this same event, and they fill in a lot of details. What happened was, the light shone and the whole crowd hit the ground. They just completely fell over. They were face to face with Jesus Christ. They did the same thing, you remember, the soldiers in the Garden? Jesus walked out, and the whole army went just like that. And they all hit the ground. Apparently, as you put the narratives together, some of the soldiers started picking themselves back up again, and they were dumb with amazement. They couldn't figure out what was going on.
Saul heard Christ's voice from heaven asking why he was persecuting Him. Up to now, Saul no doubt knew about Jesus's ministry on earth but, for him, the story stopped with the Crucifixion. Saul considered Jesus's followers heretics.
However, being surrounded by a ray of light brighter than the noonday sun, which, in that part of the world is startlingly bright, Saul's recognition of Jesus came instantly.
Now, the all-powerful Saul was prostrate on the ground, lying defeated, immediately addressing Christ as 'Lord' (verse 5)!
What a moment that must have been.
Henry offers this analysis:
This may be considered, (1.) As the effect of Christ's appearing to him, and of the light which shone round about him. Note, Christ's manifestations of himself to poor souls are humbling; they lay them very low, in mean thoughts of themselves, and a humble submission to the will of God … (2.) As a step towards this intended advancement. He is designed not only to be a Christian, but to be a minister, an apostle, a great apostle, and therefore he must thus be cast down. Note, Those whom Christ designs for the greatest honours are commonly first laid low. Those who are designed to excel in knowledge and grace are commonly laid low first, in a sense of their own ignorance and sinfulness. Those whom God will employ are first struck with a sense of their unworthiness to be employed.
That unworthiness is a continual theme in Paul's letters to his flock. For that reason, he was vigilant in exhorting others to see their own sinfulness and repent.
Note that Jesus told him that, by persecuting His followers, Saul was persecuting Him (verse 5). That was emphasised in the previous verse when He used Saul's name twice. MacArthur explains that the double use of a name in Luke's Gospel and here in Acts, also by Luke, denotes a warning:
… in Luke's writing, the repetition of a name refers to a rebuke or a warning, whether Luke says, "Martha, Martha," "Simon, Simon," or "Jerusalem, Jerusalem," and here, "Saul, Saul." In Luke's mind, that's rebuke and warning. And it was.
Henry's assessment agrees but further posits that Saul was so stunned that Jesus had to call him twice:
First, The deep sleep that Saul was in; he needed to be called again and again, as Jeremiah 22:29, O earth, earth, earth. Secondly, The tender concern that the blessed Jesus had for him, and for his recovery. He speaks as one in earnest; it is like Martha, Martha (Luke 10:41), or Simon, Simon (Luke 22:31), or O Jerusalem, Jerusalem, Matthew 23:37. He speaks to him as to one in imminent danger, at the pit's brink, and just ready to drop in: "Saul, Saul, dost thou know whither thou art going, or what thou art doing?"
As for Christ's asking Paul why he was persecuting Him via His followers, Henry explains:
Christ never complained so much of those who persecuted him in his own person as he did here of those who persecuted him in his followers. He complains of it as it was Saul's sin: "Why art thou such an enemy to thyself, to thy God?" Note, The sins of sinners are a very grievous burden to the Lord Jesus. He is grieved for them (Mark 3:5), he is pressed under them, Amos 2:13.
It was more powerful for Jesus, in His infinite wisdom, to ask than to tell:
Those have no knowledge who eat up God's people, Psalms 14:4. Why persecutest thou me? He thought he was persecuting only a company of poor, weak, silly people, that were an offence and eye-sore to the Pharisees, little imagining that is was one in heaven that he was all this while insulting; for surely, if he had known, he would not have persecuted the Lord of glory. Note, Those who persecute the saints persecute Christ himself, and he takes what is done against them as done against himself, and accordingly will be the judgment in the great day, Matthew 25:45.
Henry says we would do well to remember this story in light of our own sins:
It is convincing language: "Why dost thou thus: Canst thou give any good reason for it?" Note, It is good for us often to ask ourselves why we do so and so, that we may discern what an unreasonable thing sin is …
If God contend with us for our sins, we are not able to answer for one of a thousand, especially such a one as the sin of persecution. Convictions of sin, when they are set home with power upon the conscience, will silence all excuses and self-justifications.
Jesus told Saul to enter Damascus and to await further instructions (verse 6).
Although he was still on the ground, Saul's travelling companions were now standing, startled. They could hear Christ's voice but could see no one (verse 7). Henry tells us that Acts 22 describes this further:
… when they were up, (1.) They stood speechless, as men in confusion, and that was all, Acts 9:7. They were going on the same wicked errand that Paul was, and perhaps, to the best of their power, were as spiteful as he; yet we do not find that any of them were converted, though they saw the light, and were struck down and struck dumb by it. No external means will of themselves work a change in the soul, without the Spirit and grace of God, which distinguish between some and others; among these that journeyed together, one is taken, and the others left. They stood speechless; none of them said, Who art thou, Lord? or, What wilt thou have me to do? as Paul did, but none of God's children are born dumb. (2.) They heard a voice, but saw no man; they heard Paul speak, but saw not him to whom he spoke, nor heard distinctly what was said to him: which reconciles it with what is said of this matter, Acts 22:9, where it is said, They saw the light and were afraid (which they might do and yet see no man in the light, as Paul did), and that they heard not the voice of him that spoke to Paul, so as to understand what he said, though they did hear a confused noise.
Saul rose, but he was blinded (verse 8) — blinded by the Light. He was now helpless. His men had to lead him by the hand into Damascus. He, who was to lead a sweeping mission against Christians and Christ, could not do a thing.
Henry describes Saul's condition at that point. A divine plan was at work:
(1.) He arose from the earth, when Christ commanded him, but probably not without help, the vision had made him so faint and weak, I will not say like Belshazzar, when the joints of his loins were loosed and his knees smote one against another, but like Daniel, when upon the sight of a vision no strength remained in him, Daniel 10:16,17. (2.) When his eyes were opened, he found that his sight was gone, and he saw no man, none of the men that were with him, and began now to be busy about him. It was not so much this glaring light that, by dazzling his eyes, had dimmed them–Nimium sensibile lædit sensum; for then those with him would have lost their sight too; but it was a sight of Christ, whom the rest saw not, that had this effect upon him. Thus a believing sight of the glory of God in the face of Christ dazzles the eyes to all things here below.
This is essential to understanding Saul's loss of sight and why Saul remained not only blind but also unable to take any food or drink for three days (verse 9):
Christ, in order to the further discovery of himself and his gospel to Paul, took him off from the sight of other things, which he must look off, that he may look unto Jesus, and to him only …
So far from this that we have reason to think he was all this time rather in the belly of hell, suffering God's terrors for his sins, which were now set in order before him: he was in the dark concerning his own spiritual state, and was so wounded in spirit for sin that he could relish neither meat nor drink.
We find out that they went to the house of a man named Judas in the street called Straight, nothing more. The important thing is that Saul was reduced to nothing for three days. In Damascus, he planned to persecute many — and violently. Now he was in spiritual lockdown — a spiritual prison — to ruminate on and repent of his sins in order to fully acknowledge Jesus Christ as Lord.
The number three is significant in Holy Scripture. Bible Study tells us, in part:
The number 3 is used 467 times in the Bible. It pictures completeness, though to a lesser degree than 7. The meaning of this number derives from the fact that it is the first of four spiritually perfect numerals (the others being 7, 10 and 12) …
There are 27 books in the New Testament, which is 3x3x3, or completeness to the third power.
Dr Richard D Patterson has much more, with a list of all the occurrences of the number 3, except for Saul's conversion story. That said, his detailed essay is well worth reading, especially as his general theme for the number 3 is one of not only completion but also expectation of a future event.
In this case, that event is Paul's magnificent ministry, unequalled in the Church.
In closing, MacArthur gives in his sermon a few interesting details about his own conversion. You might find these events from his youth as surprising as I did:
Some people God gently calls. And some people hear the still, small voice. But there are other people who are making so much noise that God's got to make a lot of racket to get through, see. You know, I think about my own life, and the years and years that I was in a Christian home, and went to church so many years, and all this stuff. And I was in…I knew everything. I had seven zipper Bibles from the graduation from every department, and, you know, and I always had sticker stains on my head from turkeys and gold stars. I'd been in Sunday School since the year one. And I knew all of the things there were to know, and God continually spoke to my heart, and I continued to rebel in my own heart about really committing my life to Him.
And so, finally, going 75 miles an hour, a car flipped, He threw me out, I hit the pavement, slid 100 yards on my…and after it was all over, God could communicate. I said, "You know, I can only go so far, Lord. If you're going to do it like this, I can't fight it." But it was one of those kind of things in my life where God had to get dramatic …
If you're a sinner here and you die and go to hell, it won't be because you lied. I've lied, and I'm not going to hell. It won't be because you stole something. I stole something. Even got put in the Glendale City Jail. But I'm not going to hell. If you go to hell, it won't be because you went out and got drunk, because you took drugs. I've never done that. I've done a lot of other things. If you go to hell, it'll be because you didn't acknowledge Jesus Christ as Savior and Lord. That's the only reason.
The next part of this series concludes with what happened next to Saul in Damascus.
Before I continue with my Forbidden Bible Verses series, I would like to explore the story of Saul's — St Paul's — conversion.
The first half of Acts 9 is in the three-year Lectionary used in public worship, but one wonders how good the sermons are on it.
This is one of the most dramatic and significant episodes in the New Testament. There is also much history to explore here.
Commentary is taken from Matthew Henry and John MacArthur. The verses below are from the English Standard Version (ESV).
The Conversion of Saul
9 But Saul, still breathing threats and murder against the disciples of the Lord, went to the high priest 2 and asked him for letters to the synagogues at Damascus, so that if he found any belonging to the Way, men or women, he might bring them bound to Jerusalem. 3 Now as he went on his way, he approached Damascus, and suddenly a light from heaven shone around him. 4 And falling to the ground, he heard a voice saying to him, "Saul, Saul, why are you persecuting me?" 5 And he said, "Who are you, Lord?" And he said, "I am Jesus, whom you are persecuting. 6 But rise and enter the city, and you will be told what you are to do." 7 The men who were traveling with him stood speechless, hearing the voice but seeing no one. 8 Saul rose from the ground, and although his eyes were opened, he saw nothing. So they led him by the hand and brought him into Damascus. 9 And for three days he was without sight, and neither ate nor drank.
—————————————————————————————–
Recall that Saul was the most violent persecutor of Christians in Jerusalem. I wrote about Acts 8:1-3 in May. Those verses introduce Saul and say that he approved the martyrdom of Stephen, one of the first deacons. He was probably present at and involved with Stephen's stoning.
After Stephen was stoned, many new converts — of which there were thousands — fled Jerusalem for neighbouring areas. Samaria was one of them. Damascus (Syria) was another. The Apostles remained in Jerusalem, but the disciples — including Hellenist (Greek) Jews — fled with the other converts to Gentile areas.
Acts 9 introduces Paul — as Saul. From this point on in Acts, Paul is the dominant figure, although Peter is still mentioned occasionally.
Because there is much to read here, this post will cover only the first two verses.
Matthew Henry provides background on Saul. This is important to note because it will come in handy as we progress through the rest of the Book of Acts (emphases mine below):
His name in Hebrew was Saul–desired, though as remarkably little in stature as his namesake king Saul was tall and stately; one of the ancients calls him, Homo tricubitalis–but four feet and a half in height; his Roman name which he went by among the citizens of Rome was Paul–little. He was born in Tarsus, a city of Cilicia, a free city of the Romans, and himself a freeman of that city. His father and mother were both native Jews; therefore he calls himself a Hebrew of the Hebrews; he was of the tribe of Benjamin, which adhered to Judah.
Tarsus is in present day Turkey.
Saul was highly intelligent, very well educated — and a Pharisee:
His education was in the schools of Tarsus first, which was a little Athens for learning; there he acquainted himself with the philosophy and poetry of the Greeks. Thence he was sent to the university at Jerusalem, to study divinity and the Jewish law. His tutor was Gamaliel, an eminent Pharisee. He had extraordinary natural parts, and improved mightily in learning.
Gamaliel was a well-known and highly respected man. You can read more about him in my discussion of Acts 5:33-42. He served on the temple council in Jerusalem and warned his fellow council members against persecuting the Apostles in case they (the council) were unknowingly opposing God.
MacArthur says:
At the age of approximately 13, no doubt, Saul was packed off to Jerusalem. The Jewish heritage was motivation enough for him to have good Jewish training. So he was off to Jerusalem, and he sat under a great teacher by the name of Gamaliel. Gamaliel was called "the beauty of the law" because of his marvelous ability to teach. Gamaliel was also so revered that when he died, the people said that the reverence for the law died with Gamaliel. And so Saul studied under this brilliant man.
The course of his study would involve memorization of great portions of the entire Old Testament. So he became quite scholarly in terms of his knowledge of the Old Testament. He also would sit in question and answer sessions with his tutor, and so he was a familiar man in terms of Jewish history and theology.
Henry tells us that Saul came to become a tent-maker because, as strange as it might seem to us, that is what men of his religious and social status did:
He had likewise a handicraft trade (being bred to tent-making), which was common with those among the Jews who were bred scholars (as Dr. Lightfoot saith), for the earning of their maintenance, and the avoiding of idleness. This is the young man on whom the grace of God wrought this mighty change here recorded, about a year after the ascension of Christ, or little more.
MacArthur has more:
… in the city of Tarsus one of the very large industries was the industry of tent-making. And so the young Saul apparently learned this trade. He was able to weave cloth from the black hair of goats. They would weave the cloth into strips, then tie the strips together to make tents. And it really isn't any different today in the East. You can see the very same kind of tents if you go there right now.
MacArthur fills in the gap between Saul's education and his persecution of Christians:
… since it is never mentioned that he met Jesus, it is likely that he, having studied in Jerusalem, then went back to Tarsus, and perhaps was the master teacher in the synagogue at Tarsus. Later on, however, he returns to Jerusalem, and on his return Jesus has already disappeared from the scene, and he confronts this man Stephen. And Stephen was dynamic. He was bold. He was dramatic. He was powerful. Saul couldn't handle him in life. The only thing he could do was get rid of him, so they killed him. But, as I said, I think the death of Stephen planted a time bomb in the brain of Saul that exploded finally on the Damascus Road in conjunction with God's invasion of his life …
… he, back in Jerusalem, is still furiously pursuing the killing of Christians and their incarceration and jail. However, he apparently has accomplished something of what he set out to do in the city of Jerusalem, because he's now bent on leaving town and finding little pockets of Christians anywhere he can find them and rooting them out.
Christians know that Paul was on fire for the Lord Jesus. However, as Saul of Tarsus — before his Damascene conversion — he was equally as zealous in persecuting His followers. We see this in verse 1: 'breathing threats and murder'.
MacArthur explains the meaning in Greek. Paul was entirely consumed by his persecution mission:
You notice the term "breathing out." In the literal Greek, it's "breathing in." It's not so much the idea that he's sort of expelling air as it is the idea that he's inhaling it. He lives in an aura of threat and slaughter. He breathes the very air of slaughter. This man is totally encompassed, his whole lifestyle, his very life breath, is threat and slaughter against the disciples of the Lord. And what it means is that that's all that occupied him. He was consumed in this thing. This is not just a Saturday afternoon hobby. This was the consuming passion of his very existence, to exterminate every Christian he could find.
Having finished much of his work in Jerusalem, Saul set his sights on Damascus. He asked the high priest in Jerusalem for letters addressed to the synagogues that he could take with him (verse 2). The plan was that synagogue leaders would then inform on any Christians worshipping there. Saul would then round them up and take them as prisoners to Jerusalem, where they would go on trial at the temple.
MacArthur adds:
Now, we don't know how he got the information about Damascus, but we know that he got it. There were probably 150,000 minimum people in Damascus. At least 20,000 were Jews. We know that because it wasn't too long after this that Damascus was sacked and about 20,000 Jews were massacred. So there had to be at least that many there.
The church in Jerusalem worshipped at Solomon's Portico (Porch) at the temple, and new converts in other areas worshipped at their synagogue. House churches had not yet arisen. This is why Paul went to the synagogues. MacArthur explains:
Christianity began in the synagogue and went from there, you see. So in every area, really, where it began, it began with a group of Jews who then saw the new covenant and moved away from that, but they didn't necessarily move out of the synagogue.
He says this brought with it problems. Some Jewish converts — Judaisers — did not want to break with the old customs. This is part of the reason why I will be covering the Book of Hebrews after completing the Book of Acts. MacArthur goes on to say:
that's the problem on which the Book of Hebrews is based, the fact that you had Jews who had come to Christ but who maintained their involvement in all of the rigmarole of the Jewish synagogue. And so that was what the Book of Hebrews was really written to do, was to detach the Christians from the traditions that were so much a part of their former life.
MacArthur describes Damascus, which already existed in Abraham's day. It is a very ancient city — and was beautiful when Saul was on his way there. It also had buildings made out of white stone:
Damascus was a very beautiful city. It was situated about 2,200 feet above sea level, 60 miles inland from the coast, about 160 miles northeast of Jerusalem, I'd guess. It was such a beautiful area that one of the Oriental writers said that "Damascus was like a handful of pearls in a goblet of emerald," which'll give you a little idea. Lush, green and a beautiful white city. In fact, the historians called it the paradise of the earth.
Now, Damascus was an ancient city. It was the capital city of Syria, and it was very old. In fact, if you go back into Genesis, you'll find that Abraham had a servant who came from Damascus, which means that Damascus predated Abraham. So it's an old, old city, and yet it still remained, and now with a great Jewish population.
It is also important to know that the temple in Jerusalem had jurisdiction over all synagogues, including those in other countries. Henry explains that Jerusalem then was like a Jewish Vatican. The Jewish high priest was akin to a pope:
The high priest and sanhedrim claimed a power over the Jews in all countries, and had a deference paid to their authority in matters of religion, by all their synagogues, even those that were not of the jurisdiction of the civil government of the Jewish nation … By this commission, all that worshipped God in the way that they called heresy, though agreeing exactly with the original institutes even of the Jewish church, whether they were men or women, were to be prosecuted …
This was a very big deal, on the order of the Spanish Inquisition.
Note in verse 2 that Saul was looking for men and women in Damascus who belonged to 'the Way'. MacArthur explains:
Just go through the Book of Acts and even through the New Testament and find all the uses of the term "way" as a description of Christianity. That became…that became the popular name for Christianity, "the way." "The way." Even Saul was pursuing people of "this way."
Jesus, you remember, had said, "I am," what? "The way, the truth and the life." And over and over and over again He had isolated Christianity as the only way to God, you see. So Christianity became known as "the way." It's interesting, because there probably couldn't be a more apropos term than that. In Acts 18, the Bible says that it's the way to God. In Hebrews, chapter 9 and chapter 10, it's the way to the holiest. In Revelation 3:17, it's called the way of peace. In II Peter 2, it's called the way of truth and the way of righteousness.
Christianity is the way. There's only one way to God, and it's through Jesus Christ. And Christianity became known as "the way," and indeed it is. "Now, there is a way that seemeth right unto a man, but the end thereof are the ways of death." Isaiah said this. "This is the way. Walk ye in it." Jesus said, "It is a narrow way and," what? "Few there be that find it." And Saul was after those few.
I remember back in the 1970s that 'the Way' was often used by Evangelicals in the United States to describe Christianity, as in 'Do you follow the Way?' My mother thought that was strange, but it makes sense, especially as Jesus referred to Himself as the Way.
As these first two verses required context, the next entry will look at Saul's brutal yet grace-filled conversion.
The three-year Lectionary that many Catholics and Protestants hear in public worship gives us a great variety of Holy Scripture.
Yet, it doesn't tell the whole story.
My series Forbidden Bible Verses — ones the Lectionary editors and their clergy omit — examines the passages we do not hear in church. These missing verses are also Essential Bible Verses, ones we should study with care and attention. Often, we find that they carry difficult messages and warnings.
Today's reading is from the English Standard Version with commentary by Matthew Henry and John MacArthur.
14 Now when the apostles at Jerusalem heard that Samaria had received the word of God, they sent to them Peter and John, 15 who came down and prayed for them that they might receive the Holy Spirit, 16 for he had not yet fallen on any of them, but they had only been baptized in the name of the Lord Jesus. 17 Then they laid their hands on them and they received the Holy Spirit. 18 Now when Simon saw that the Spirit was given through the laying on of the apostles' hands, he offered them money, 19 saying, "Give me this power also, so that anyone on whom I lay my hands may receive the Holy Spirit." 20 But Peter said to him, "May your silver perish with you, because you thought you could obtain the gift of God with money! 21 You have neither part nor lot in this matter, for your heart is not right before God. 22 Repent, therefore, of this wickedness of yours, and pray to the Lord that, if possible, the intent of your heart may be forgiven you. 23 For I see that you are in the gall[a] of bitterness and in the bond of iniquity." 24 And Simon answered, "Pray for me to the Lord, that nothing of what you have said may come upon me."
25 Now when they had testified and spoken the word of the Lord, they returned to Jerusalem, preaching the gospel to many villages of the Samaritans.
————————————————————————————-
Last week's entry discussed the ministry of Philip the Evangelist (not the Apostle) in Samaria. Those verses also introduced a magus — magician, sorcerer — called Simon, more about whom later.
Simon had a hold on the Samaritans because of his sorcery. He called himself great and people came to believe that he had God-given gifts, partly because of the hype he told about himself.
Philip, on the other hand, truly had divinely-given gifts of preaching and healing. He worked miracles among the Samaritans. He also brought them to Christ and baptised them.
Simon was one of those who was baptised and continued to follow Philip. However, John MacArthur explains:
He thought Philip had another particular bag of tricks that maybe he could lay hold of and he ought to get in on this baby so he figured I'll join up. But he looked at salvation as a commodity to be added to his bag of tricks …
One gift that Philip did not have was the ability to confer the Holy Spirit on his converts. Matthew Henry says that Philip himself had received the Holy Spirit, but lacked the power to bestow those gifts. Henry also thought that only certain Samaritans were chosen to receive those gifts, possibly those who would go on to lead the Church in Samaria:
We have reason to think that Philip had received these gifts of the Holy Ghost himself, but had not a power to confer them; the apostles must come to do this; and they did it not upon all that were baptized, but upon some of them, and, it should seem, such as were designed for some office in the church, or at least to be eminent active members of it; and upon some of them one gift of the Holy Ghost, and upon others another.
Therefore, once word reached the Apostles, who remained in Jerusalem, that Philip was baptising Samaritans, they sent Peter and John to ask that the Holy Spirit descend upon the converts (verses 14-16).
Recall that the Holy Spirit worked particularly powerfully through Peter, who was able to discern the hidden truth behind false converts, namely Ananias and his wife Sapphira, who pledged to make an important donation to the new church in Jerusalem then held some of the money back. They thought no one would ever find out, until Peter confronted them. Both dropped dead from the shock of being discovered.
John had been the closest to Jesus and his Gospel is testimony to His understanding of our Lord being the light in a very dark world, one which rejected — and rejects — Him.
As Henry explains, they were the foremost of the Twelve and went to help Philip, setting an example for clergy to follow (emphases mine below):
Two apostles were sent, the two most eminent, to Samaria, 1. To encourage Philip, to assist him, and strengthen his hands. Ministers in a higher station, and that excel in gifts and graces, should contrive how they may be helpful to those in a lower sphere, and contribute to their comfort and usefulness. 2. To carry on the good work that was begun among the people, and, with those heavenly graces that had enriched them, to confer upon them spiritual gifts.
The two Apostles laid their hands upon the people who then received the Holy Spirit (verse 17). Henry tells us:
The laying on of hands was anciently used in blessing, by those who blessed with authority. Thus the apostles blessed these new converts, ordained some to be ministers, and confirmed others in their Christianity.
Henry says that the Samaritans who had received the Holy Spirit began speaking in tongues.
Simon watched this take place and thought it was some kind of gift he could purchase, so he offered them money, as if it were something he could be trained to perform (verse 18). He did not understand that this gift came only from God. The Apostles were but conduits.
Simon himself had not received the Holy Spirit in this blessing. Whether that was because of Peter and John's discernment or something Philip told them about Simon, we do not know. Henry points out that:
He does not desire them to lay their hands on him, that he might receive the Holy Ghost himself (for he did not foresee that any thing was to be got by that) …
MacArthur thinks Simon followed Philip just to maintain his own exalted status as a sorcerer:
I think three things, at least, number one he continued because he wanted to maintain a following. If all of his followers went to Philip he figured he'd go with them because he wanted to be associated with what was going on. Second thing, people would associate the power with him if he stayed next to Philip. I'll just believe that Philip had Simon on his tail all the time and it might have even been that whenever Philip was doing the miracles Simon was doing some hocus-po[c]us in the background so people would think he was in on it. And the third reason he hung around was he was looking for an opportunity to figure out how to buy this power because the sorcerers would exchange their tricks and their incantations for money and he figured I'll get in on this deal, surely Philip's in the same thing I'm in. That's what makes me believe that Simon was not a conscious fraud that he actually believed that he was doing. He figured he'd buy Philip's tricks. And he went through the rigmarole to get in. But he had a wrong view of salvation, external.
Peter turned on Simon Magus. Again, whether the Holy Spirit was giving him the ability to seek out Simon's heart, we cannot say, but Peter discerned that Simon's heart was not with Jesus, God or the Holy Spirit. MacArthur says:
He saw [him]self egotistically he saw salvation externally and he saw the Spirit economically … he thought he could buy the Holy Spirit. He thought that was the magical power he needed. Now to him the Holy Spirit was just another one of these demons that he trafficked in and so he just figured he'd buy into this one …
As soon as Simon offered money to buy this gift (verse 19), Peter rebuked him, saying that God's gift cannot be bought with money (verse 20).
Peter did not stop there. He told Simon that he was unworthy because his heart was not right with God (verse 21). Peter then told Simon he had better repent and pray that God would forgive him (verse 22).
Peter treated Simon harshly because, as MacArthur explains:
He didn't want the sanctifying power of the Holy Spirit within, did he? He was a vile, demon infested individual. He wanted the power of capturing people with more miracles. In fact, the word simony which is an ecclesiastical word comes from this man's name and it means the illegal buying and selling of ecclesiastical offices. There use to be in the big structures of the church, if you wanted to be a bishop you paid somebody off and you got the job. So Simon had a high view of himself and a low view of God. He thought he was some great one, he thought God was some kind of cheap commodity to be bought like a bag of tricks to add to his repertoire. He didn't understand the glory of God.
Henry sums Simon up:
He was ambitious to have the honour of an apostle, but not at all solicitous to have the spirit and disposition of a Christian. He was more desirous to gain honour to himself than to do good to others.
MacArthur tells us that 'wickedness' (verse 22) in Greek is:
Kakia – general evil.
Our two commentators differ on interpreting Peter's words about repentance and forgiveness in Simon's case.
MacArthur thinks that Peter believed God might not forgive such heinous sin:
Peter's acknowledging that he doesn't know whether God will forgive him. You know, that you ought to repent of your sins not because God will forgive you but because your sin is rotten. That's enough reason to repent of it and then hope that He will forgive you.
However, Henry puts Peter's doubt on the sincerity of Simon's repentance:
When Peter here puts a perhaps upon it, the doubt is of the sincerity of his repentance, not of his pardon if his repentance be sincere. If indeed the thought of thy heart may be forgiven, so it may be read. Or it intimates that the greatness of his sin might justly make the pardon doubtful, though the promise of the gospel had put the matter out of doubt, in case he did truly repent: like that (Lamentations 3:29), If so be there may be hope.
Peter hadn't finished in his stark admonition of Simon. He used an expression which might be strange to us (verse 23):
you are in the gall[a] of bitterness …

Henry says that means as bitter as bile (gall) and comes from the Old Testament:
They are in the gall of bitterness–odious to God, as that which is bitter as gall is to us. Sin is an abominable thing, which the Lord hates, and sinners are by it made abominable to him; they are vicious in their own nature. Indwelling sin is a root of bitterness, that bears gall and wormwood, Deuteronomy 29:18. The faculties are corrupted, and the mind embittered against all good, Hebrews 12:15. It intimates likewise the pernicious consequences of sin; the end is bitter as wormwood.
Simon, overcome by Peter's rebuke, asked the Apostle to pray for him that God might refrain from pouring out His wrath on him (verse 24). However, as MacArthur points out:
he's just saying – Do something to save my hide. He's still not repenting. There no forgiveness asked for, no confession, no self-judgment, no acknowledging sin, no exhibit of confidence in the Lord, no asked forgiveness, no nothing.
Baptism, in Simon's case — and countless others since — did and does not confer salvation. Depending on denominational belief, baptism washes away original sin but does not remove man's inherent sinful nature and/or it makes us one in the Christian community. That said, it confers grace and we should be ever mindful that it signifies we should be walking with Christ, not away from Him.
Note that when Peter and John had laid hands on the Samaritans and preached to them, they left, but continued to spread the Gospel to the villages they passed through on their return to Jerusalem (verse 25). Henry offers this advice:
In their road home they were itinerant preachers; as they passed through many villages of the Samaritans they preached the gospel. Though the congregations there were not so considerable as those in the cities, either for number or figure, yet their souls were as precious, and the apostles did not think it below them to preach the gospel to them. God has a regard to the inhabitants of his villages in Israel (Judges 5:11), and so should we.
What then of Simon Magus? According to the Wikipedia entry, much has been written about him throughout history. The first Doctors of the Church considered him to be the root of all heresies. As such, he is still an important figure to the Gnostics, perhaps the movement's originator.
Historians of that era also wrote about Simon Magus.
Some of those who wrote about him said that Simon was able to levitate and/or fly at will. There are several ancient legends about him.
Hippolytus wrote that after Peter confronted Simon, the latter was thrown into despair. He renounced his faith and continued with sorcery. He sailed to Rome, where Peter confronted him once more.
Justin Martyr wrote that Simon was famous during the reign of Claudius and that a statue was erected to him on an island in the Tiber with the following inscription:
Simoni Deo Sancto, "To Simon the Holy God" (Apologia, XXVI).
Simon had his followers, called Simonians. He documented his own set of beliefs for them to follow. Epiphanius wrote that Simon twisted Holy Scripture:
Epiphanius further charges Simon with having tried to wrest the words of St. Paul about the armour of God (Ephesians 6:14–16) into agreement with his own identification of the Ennoia with Athena. He tells us also that he gave barbaric names to the "principalities and powers," and that he was the beginning of the Gnostics. The Law, according to him, was not of God, but of "the sinister power." The same was the case with the prophets, and it was death to believe in the Old Testament.
The versions of Simon's death are varied. Some say he was crucified and/or flayed alive.
The apocryphal Acts of Peter says Simon was levitating and Peter — and possibly Paul — prayed that God would stop him. Simon then fell and broke his leg in three parts. The people began stoning the magician, who had to be carried out of Rome during the night and taken to a nearby town, where he died after two local surgeons were unable to save him.
A church in Rome claims to be built on the place where Simon fell:
The church of Santa Francesca Romana, Rome, is claimed to have been built on the spot where Simon fell. Within the Church is a dented slab of marble that purports to bear the imprints of the knees of Peter and Paul during their prayer. The fantastic stories of Simon the Sorcerer persisted into the later Middle Ages,[39] becoming a possible inspiration for the Faustbuch and Goethe's Faust.[40]
Whatever the case, Simon Magus put himself above God and claimed to be His Son. He was a very bad man.
Next time — Acts 9:19b-22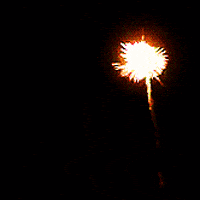 Best wishes to all my American readers for a happy Independence Day. I hope all, wherever they are in the world, have a happy Fourth of July.
May it be enjoyable, yet peaceful.
And may it be spent in good company, with excellent food and summertime beverages.
This year, Americans have channelled the spirit of Brexit:
The US Department of the Interior has a great little video (the length of a television advert) with beautiful photos of the American landscape from sea to shining sea as well as of those who fought to keep the nation free:
Below are a few reflections and facts about the American colonies' fight for independence and the country they built.
Happiness
Since the late 1970s, the notion of personal happiness became a priority first in American society then elsewhere in the Western world.
The Declaration of Independence, adopted on July 4, 1776, contains the following text (an amendment by the Committee of Five of Thomas Jefferson's initial sentence):
We hold these truths to be self-evident, that all men are created equal, that they are endowed by their Creator with certain unalienable Rights, that among these are Life, Liberty and the pursuit of Happiness. ——
Read it carefully.
Karl Denninger at Market Ticker points out (emphasis in the original):
I note that the Founding Fathers, wise men that they were, recognized this as they called out in the Declaration of Independence the fundamental human right to the pursuit of happiness.
Nowhere is attainment of happiness mentioned, nor can it be assured, and for good reason — it's mostly in our heads!
The Declaration of Independence does not guarantee happiness, only the pursuit thereof.
Life and liberty, on the other hand, are the bedrock of the document and the ideals behind the new nation.
It is ironic and sad that, today, life (abortion, euthanasia, murder) and personal liberty (constantly eroded) take second place to a misplaced and misguided idea of the achievement — rather than the pursuit — of happiness, which is impossible in a fallen world.
Freemasonry and the Founding Fathers
If only history were taught academically and disseminated publicly the way it was in 1976, the year of the Bicentenary, which I remember well.
Everything was much more straightforward then.
Over the past 20 years, aided by the Internet, every revisionist kook — 'Christian' and secularist — is coming out of the woodwork to denounce the Founding Fathers who made such painstaking efforts to give the world the United States of America.
I say 'world', because, by now, someone from nearly every country on earth has been able to settle there.
But I digress.
Much has been made by certain religious Americans about Freemasonry's role in the independence effort.
It is difficult to know what books and websites are telling the truth. By now, we may never know. With the passage of time come more biased perceptions and selective evidence.
One interesting webpage on the subject is called 'Freemasonry and the American Revolution'. Highlights follow.
On one Founding Father and President:
Thomas Jefferson was not a Freemason
nor was he part of any Illuminati Conspiracy
While there were a lot of Masonic lodges in the colonies, few Masons led the independence effort:
While some Freemasons joined the Revolutionary cause, the vast majorities of American Revolutionaries were not members of the Masonic fraternity. Important Revolutionary leaders like Thomas Jefferson, Thomas Paine, John Adams, and Patrick Henry were not Freemasons. Of the fifty-six signers Declaration of Independence only eight or nine can be shown to have been Freemasons.[4]
On George Washington's commitment to the Masons:
While Masons shamelessly promote George Washington's membership and sometimes allege his persevering zeal for the Masonic fraternity, his commitment to the organization is unclear. In 1798 Washington wrote to a Reverend Synder, "to correct an error you have run into, of my presiding over the English Lodges in this country. The fact is I preside over none, nor have I been in one more than once or twice in the last thirty years." As early as 1780, Washington called Freemasonry "Child's Play" and subsequently announced to a committee of right worshipfuls of King David's Lodge, that it was not agreeable to him to be addressed as a Mason. When Washington retired to private life, Freemasons Andrew Jackson and Edward Livingston were two of the three men to vote AGAINST Congressional resolutions giving thanks to this great man. It is unclear whether the third man was also a Mason.[5]
The essay says that Benjamin Franklin was cagey about his membership.
General Lafayette joined the Masons only after the Revolutionary War. He seemed sceptical of them during a trip to New York City:
To-morrow, I am to visit the schools; I am to dine with the Mayor; and in the evening, I suppose, I am to be made VERY WISE by the Masons.
The traitor Benedict Arnold was a Freemason.
The article says that in early America, the Masons were somewhat divided post-independence. Those who supported independence sided with the Founding Fathers. Many others wanted to retain a certain primacy that harked back to England:
The American Revolution had a profound impact on the America's Masonic lodges. It should come as no surprise that many American Masons were swept up in the spirit of non-Masonic giants like Thomas Jefferson. However, Freemasons were inherently ideologically opposed to the egalitarian beliefs of America's revolutionaries. After the war was over many Masons, who had benefited from strong ties to the English Monarchy's hierarchical and class oriented structure, worked to create 'a new hierarchical order' which could preserve and promote exclusive membership privileges in a country without a ruling monarch.
I have no opinion on this. It was the most thought-provoking piece of historical research I've seen, and it seemed worth citing.
Freemasonry or not, there is always a pecking order. Every society, even the most 'egalitarian', has one.
Christianity and independence
Another contentious subject today — an era where the vast majority of Americans have plenty of creature comforts to hand and every citizen has free access to the democratic process — is whether the Revolutionary War and subsequent independence were biblical.
A number of Protestant pastors today think Romans 13 should be obeyed at all costs. These are men who live comfortable lives. They are firmly middle class. They do not know what it was to live in the American colonies.
Anyone who thinks American independence was unbiblical, disobedient or ill-advised should move to Canada.
Yet, notice that these pastors keep appearing like the proverbial bad penny, establishing their churches in the United States and making a living off of the American people.
If the Revolutionary War and the War of 1812 were not destined, respectively, to achieve and maintain independence, the British would have won. Of that, we can be sure.
Let us now look at a webpage from a history about the early United States, 'III. Religion and the American Revolution'. Excerpts, a summary and graphics follow.
Although the essay does not mention it, the 18th century was the era of the First Great Awakening:
World events at the time of the First Great Awakening
George Whitefield, a great preacher in the First Great Awakening
The powerful preaching and widespread revivals were important in the life of colonial America and no doubt influenced how the settlers viewed the British. Not all were anti-British. However, the more vocal supporters of British rule had to either keep their views quiet or move. Some Loyalists — pejoratively called Tories (bandits) — went back to Britain and others settled in Canada.
'Religion and the American Revolution' says that clergy were similarly divided.
I have read elsewhere that some clergy supporting independence cited Acts 5:29 (when the temple leaders tried to forbid the Apostles from preaching):
29 But Peter and the apostles answered, "We must obey God rather than men.
In any event (emphases mine):
The Revolution strengthened millennialist strains in American theology. At the beginning of the war some ministers were persuaded that, with God's help, America might become "the principal Seat of the glorious Kingdom which Christ shall erect upon Earth in the latter Days." Victory over the British was taken as a sign of God's partiality for America and stimulated an outpouring of millennialist expectations–the conviction that Christ would rule on earth for 1,000 years. This attitude combined with a groundswell of secular optimism about the future of America to create the buoyant mood of the new nation that became so evident after Jefferson assumed the presidency in 1801.
Jonathan Mayhew (1720-1766) was born in the colony of Massachusetts. He was a Congregationalist minister who took strong exception to the Anglican Church:
Jonathan Mayhew considered the Church of England as a dangerous, almost diabolical, enemy of the New England Way. The bishop's mitre with the snake emerging from it represented his view of the Anglican hierarchy.
Mayhew asserted that resistance to a tyrant was a "glorious" Christian duty. In offering moral sanction for political and military resistance, Mayhew anticipated the position that most ministers took during the conflict with Britain.
A Presbyterian minister from New York, Abraham Keteltas (1732-1798):
celebrated the American effort as "the cause of truth, against error and falsehood . . .the cause of pure and undefiled religion, against bigotry, superstition, and human invention . . .in short, it is the cause of heaven against hell–of the kind Parent of the Universe against the prince of darkness, and the destroyer of the human race."
Peter Muhlenberg (1746-1807), a Lutheran pastor from Pennsylvania who served in the Continental Army and later as a congressman, was the foremost 'fighting parson':
The eldest son of the Lutheran patriarch Henry Melchior Muhlenberg, young Muhlenberg at the conclusion of a sermon in January 1776 to his congregation in Woodstock, Virginia, threw off his clerical robes to reveal the uniform of a Virginia militia officer. Having served with distinction throughout the war, Muhlenberg commanded a brigade that successfully stormed the British lines at Yorktown. He retired from the army in 1783 as a brevetted major general.
The Scottish-born president of Princeton University, John Witherspoon (1723-1794), a Presbyterian
minister, was dubbed the most 'political parson' of the Revolutionary period. He represented New Jersey in the Continental Congress and, as such, was a signatory to the Declaration of Independence:
As president of Princeton, Witherspoon was accused of turning the institution into a "seminary of sedition."
Religious inscriptions were common on Revolutionary flags and banners, such as the one below:
Its saying is still used today where Americans oppose bureaucracy and the Deep State.
Incidentally, the Quakers suffered a schism. Those who wanted to join the Revolutionary effort broke away from their pacifist brethren and became known as the Free Quakers. They built their own Free Quaker meeting house in Philadelphia.
Conclusion
Unlike the French Revolution and the Bolivarian liberations of various South American countries from Spain, the American Revolution was well rooted in the Bible and Christian preaching. The other two were purely secular.
Any country which turns to God will receive His merciful blessings.
However, based on the nature of its independence effort, tied as it was to scriptural and Christian support, the Great Republic has survived this long because of Americans' enduring faith in the Almighty.
Long may it remain so.
The three-year Lectionary that many Catholics and Protestants hear in public worship gives us a great variety of Holy Scripture.
Yet, it doesn't tell the whole story.
My series Forbidden Bible Verses — ones the Lectionary editors and their clergy omit — examines the passages we do not hear in church. These missing verses are also Essential Bible Verses, ones we should study with care and attention. Often, we find that they carry difficult messages and warnings.
Today's reading is from the English Standard Version with commentary by Matthew Henry and John MacArthur.
Simon the Magician Believes
9 But there was a man named Simon, who had previously practiced magic in the city and amazed the people of Samaria, saying that he himself was somebody great. 10 They all paid attention to him, from the least to the greatest, saying, "This man is the power of God that is called Great." 11 And they paid attention to him because for a long time he had amazed them with his magic. 12 But when they believed Philip as he preached good news about the kingdom of God and the name of Jesus Christ, they were baptized, both men and women. 13 Even Simon himself believed, and after being baptized he continued with Philip. And seeing signs and great miracles[a] performed, he was amazed.
————————————————————————————————-
Last week's entry discussed the first few verses of Acts 8, which is about Philip the Evangelist, not to be confused with Philip the Apostle.
Philip the Evangelist was one of the first deacons, instituted by the Apostles in Jerusalem. He was a Hellenic (Greek) Jew who converted and, like Stephen (the first martyr), God gave him the ability to work healing miracles.
Today's verses describe how Philip was able to convert the Samaritan magician Simon — Simon Magus. Much has been written over the centuries about this man whose life story I will discuss more next week.
John MacArthur says that sorcery was well known during this era (emphases mine):
The word for sorcery is a word is maguon and it really is a word that means magic, simply maguon even sounds the same but its original meaning is to be skilled in magian lore. Do you remember that the men who came to the birth of Jesus Christ were called the Magi, that's the same word. The magian lore is the priests religion of Medo-Persia connected with Zoroastrianism, it was kind of a combination of astronomy, astrology, horoscope, it was a science – superstition kind of duo. So these people who were astrologers and soothsayers, sorcerers dealt in incantations, charms, divinations, spells, astrology, horoscopes and so forth. This kind of thing really goes way back to the time of Zoroastrianism, it even goes back to the tower of Babel which was apparently related to the zodiac and all of this was basic to Simon's operation.
MacArthur explains more about Simon's power over the people in Samaria who knew of or had seen his works (verses 9, 11). Falling for his hype, they really believed Simon had God-given gifts (verse 10):
He was one who called demonic supernatural powers into action to perform wonders. Simon had used his sorcery to capture the minds of these people. The word bewitched means astonish them or dupe them or brought them under his control. He had actually captured these people. Now mark this down, these sorceries actually happened. He actually did supernatural things and it's still being done today. These things were really being pulled off and because of them people's minds were being captured to the control of Simon. And he announced to everybody that he was some great one, some great power of God.
Matthew Henry tells us that Simon might have gone to Samaria soon after Jesus visited the Samaritan woman at the well (John 4), whose witness resulted in many converts. Henry says that Satan worked through Simon to disrupt this:
perhaps he came there by the instigation of the devil, soon after our Saviour had been there, to undo what he had been doing there; for it was always Satan's way to crush a good work in its bud and infancy, 2 Corinthians 11:3,1Th+3:5.
Henry points out that, unlike Philip, Simon had no interest in improving people's lives by bringing them to God:
He had no design to reform their lives, nor improve their worship and devotion, only to make them believe that he was, tis megas–some divine person. Justin Martyr says that he would be worshipped as proton theon–the chief god. He gave out himself to be the Son of God, the Messiah, so some think; or to be an angel, or a prophet. Perhaps he was uncertain within himself what title of honour to pretend to; but he would be thought some great one. Pride, ambition, and an affectation of grandeur, have always been the cause of abundance of mischief both to the world and to the church.
However, when Philip arrived, the people paid attention to him rather than to Simon. Philip's preaching in the name of Jesus Christ and his miracles were so powerful that many men and women were baptised (verse 12).
Henry tells us that this shows the power of God will displace that of Satan any day:
Thus, notwithstanding the influence Simon Magus had had upon them, and the unwillingness there generally is in people to own themselves in an error, and to retract it, yet, when they saw the difference between Simon and Philip, they quitted Simon, gave heed no longer to him, but to Philip: and thus you see,
[2.] How strong the power of Divine grace is, by which they were brought to Christ, who is truth itself, and was, as I may say, the great undeceiver. By that grace working with the word those that had been led captive by Satan were brought into obedience to Christ.
In fact, Philip's preaching was so powerful that Simon himself asked to be baptised and duly was (verse 13).
Simon then followed Philip.
Henry analyses this for us, saying that Simon, of all people, would have seen the greater power in Philip's healing miracles than his own sorcery:
Yes (Acts 8:13), Simon himself believed also. He was convinced that Philip preached a true doctrine, because he saw it confirmed by real miracles, of which he was the better able to judge because he was conscious to himself of the trick of his own pretended ones. [1.] The present conviction went so far that he was baptized, was admitted, as other believers were, into the church by baptism;
He goes on to say that Philip was right to baptise Simon:
and we have no reason to think that Philip did amiss in baptizing him, no, nor in baptizing him quickly. Though he had been a very wicked man, a sorcerer, a pretender to divine honours, yet, upon his solemn profession of repentance for his sin and faith in Jesus Christ, he was baptized. For, as great wickedness before conversion keeps not true penitents from the benefits of God's grace, so neither should it keep professing ones from church-fellowship. Prodigals, when they return, must be joyfully welcomed home, though we cannot be sure but that they will play the prodigal again. Nay, though he was now but a hypocrite, and really in the gall of bitterness and bond of iniquity all this while, and would soon have been found to be so if he had been tried awhile, yet Philip baptized him; for it is God's prerogative to know the heart. The church and its ministers must go by a judgment of charity, as far as there is room for it. It is a maxim in the law, Donec contrarium patet, semper præsumitur meliori parti–We must hope the best as long as we can. And it is a maxim in the discipline of the church, De secretis non judicat ecclesia–The secrets of the heart God only judges.
However, Simon was intrigued by Philip's miracles. His amazement is the subject of next week's verses.
Next time — Acts 8:14-25
The three-year Lectionary that many Catholics and Protestants hear in public worship gives us a great variety of Holy Scripture.
Yet, it doesn't tell the whole story.
My series Forbidden Bible Verses — ones the Lectionary editors and their clergy omit — examines the passages we do not hear in church. These missing verses are also Essential Bible Verses, ones we should study with care and attention. Often, we find that they carry difficult messages and warnings.
Today's reading is from the English Standard Version with commentary by Matthew Henry and John MacArthur.
Philip Proclaims Christ in Samaria
4 Now those who were scattered went about preaching the word. 5 Philip went down to the city[a] of Samaria and proclaimed to them the Christ. 6 And the crowds with one accord paid attention to what was being said by Philip, when they heard him and saw the signs that he did. 7 For unclean spirits, crying out with a loud voice, came out of many who had them, and many who were paralyzed or lame were healed. 8 So there was much joy in that city.
—————————————————————————————–
My previous entry discussed the first three verses of Acts 8.
In summary, Stephen's brutal martyrdom — aided and abetted by Paul (verses 1 and 3) — caused the disciples to scatter. The Apostles remained in Jerusalem to minister to the converts there.
Despite Stephen's martyrdom in Jerusalem, which everyone would have been aware of, those who scattered continued to preach the word (verse 4).
Matthew Henry makes this point about the persecutors (emphases mine below):
The persecution that was designed to extirpate the church was by the overruling providence of God made an occasion of the enlargement of it. Christ had said, I am come to send fire on the earth; and they thought, by scattering those who were kindled with that fire, to have put it out, but instead of this they did but help to spread it.
As for the disciples:
They did not go to hide themselves for fear of suffering, no, nor to show themselves as proud of their sufferings; but they went up and down to scatter the knowledge of Christ in every place where they were scattered. They went every where, into the way of the Gentiles, and the cities of the Samaritans, which before they were forbidden to go into, Matthew 10:5. They did not keep together in a body, though this might have been a strength to them; but they scattered into all parts, not to take their ease, but to find out work. They went evangelizing the world, preaching the word of the gospel; it was this which filled them, and which they endeavoured to fill the country with, those of them that were preachers in their preaching, and others in their common converse.
They knew Samaria and the Samaritans knew about Christ:
They were now in a country where they were no strangers, for Christ and his disciples had conversed much in the regions of Judea; so that they had a foundation laid there for them to build upon; and it would be requisite to let the people there know what that doctrine which Jesus had preached there some time ago was come to, and that it was not lost and forgotten, as perhaps they were made to believe.
This was thanks to the exchange Jesus had with the Samaritan woman at the well in John 4:
25 The woman said to him, "I know that Messiah is coming (he who is called Christ). When he comes, he will tell us all things." 26 Jesus said to her, "I who speak to you am he."
27 Just then his disciples came back. They marveled that he was talking with a woman, but no one said, "What do you seek?" or, "Why are you talking with her?" 28 So the woman left her water jar and went away into town and said to the people, 29 "Come, see a man who told me all that I ever did. Can this be the Christ?" 30 They went out of the town and were coming to him.
39 Many Samaritans from that town believed in him because of the woman's testimony, "He told me all that I ever did." 40 So when the Samaritans came to him, they asked him to stay with them, and he stayed there two days. 41 And many more believed because of his word. 42 They said to the woman, "It is no longer because of what you said that we believe, for we have heard for ourselves, and we know that this is indeed the Savior of the world."
John MacArthur picks up on the words 'went about' in verse 4:
It literally means, "They went through countries and districts." And it's used of missionary extensions, and here you have the first missionary effort of the church.
Verse 5 brings us to Philip, the subject of much of Acts 8. Like Stephen, he was one of the first deacons, as Acts 6:5 tells us:
5 And what they said pleased the whole gathering, and they chose Stephen, a man full of faith and of the Holy Spirit, and Philip, and Prochorus, and Nicanor, and Timon, and Parmenas, and Nicolaus, a proselyte of Antioch.
He, again like Stephen, was a Hellenic (Greek) Jew who converted to Christianity.
The Apostles instituted the office of deacon to ensure that food and charity were fairly distributed in the Church in Jerusalem. Acts 6:1 says:
Now in these days when the disciples were increasing in number, a complaint by the Hellenists[a] arose against the Hebrews because their widows were being neglected in the daily distribution.
Incidentally, Philip the Deacon — or Evangelist — is different to Philip the Apostle. Philip the Evangelist might have been the founder of the church in Tralles in Anatolia. He also had four daughters who followed him into prophesying (Acts 21:9).
In a third similarity to Stephen, God gave Philip remarkable powers. Acts 6:8 states:
8 And Stephen, full of grace and power, was doing great wonders and signs among the people.
Acts 8:6-8 describes Philip as being able to accomplish God-given signs and the ability to drive out demons as well as restore the paralysed and lame to full health, all of which brought much happiness to the people of Samaria.
MacArthur describes the history of the uneasy relationship between the Jews and the Samaritans. First, there is the statement in verse 5 that Philip 'went down' to Samaria:
Now when it says he went down to Samaria, everybody always thinks, "Well, my map, Samaria is up." But if you were in Jerusalem, everything is down because Jerusalem is way up on a high plateau and you go down to go to Samaria, down to go to Jericho, down to go to anywhere. And so he went down and north to Samaria. Samaria was an area, and it was also the name of the city, the ancient capital of that whole area, the Northern Kingdom, was Samaria. And so he went to this place.
Now into the history:
In the 8th Century B.C., you remember before that had been split into the Northern Kingdom and Southern Kingdom of Israel. After Solomon, Solomon messed everything up so much that Solomon had brought about a fracture in the kingdom and, of course, following Solomon, the kingdom was split: Jeroboam and Rehoboam in the north and the south. Ten tribes went north, two tribes went south: Judah and Benjamin. The Northern Kingdom, by the 8th Century, was carried off into captivity by the Assyrians. And at that time, there were some Jews left in the lands. Most of them were carried off; some were left. They then moved strangers into the land, and the Jews, not being really committed to their Judaism, intermarried with the strangers that the Assyrians put in the land. Consequently, it became a mongrel race.
In the 5th Century B.C., the Jews who had been carried into Babylonian captivity, the South Kingdom, was Judah, Benjamin. They'd been carried off. After 70 years, Cyrus gave a decree they could come back. Now remember they came back under Ezra and Nehemiah to build the temple again, and the walls. So they all marched back and started their building. Well, all the guys in the North who were now half-breeds came down and said, "We want to help." They were contemptuously rejected. Remember the story? They didn't want a thing from those half-breeds who had desecrated their Judaism by intermarrying with Gentiles. And that began the rift, and it's continued even until the book of Acts, and often times even until today.
MacArthur says that Philip was the first to bridge the gap between evangelist and teaching pastor. Verse 5 tells us that Philip 'proclaimed' Christ to the people. In some translations, the word is 'preached':
Now this is an interesting thing because the word "preached" in 5 is different than the word "preaching." One is euaggelizo, one is kerusso. Philip – kerusso; that means he "proclaimed". He was a public herald. There is a difference between an individual presenting the gospel, and somebody who is a preacher, a herald, a public speaker. Philip was a public speaker and he presented, in preaching – look at it – Christ, unto them.
The people of Samaria understood and appreciated Philip's public proclamations because they already knew something about Christ:
So, when Philip went there, he presented to them that Christ is Messiah. It was a simple message, and they were ready for it. Now, hang on to this point. You see, they had the background to understand that announcement.
Because of this, they 'paid attention' to what he said and did (verse 6):
In verse 6, bang, they responded right off. And these people, the word is "multitudes," with one accord, they had a wholesale spiritual awakening; gave heed unto those things which Philip spoke.
Furthermore, the miracles proved the truth of Philip's words:
God confirmed the preaching with miracles, so they would know it was from God.
MacArthur points out that these abilities ended with the Apostolic Age:
We don't have that power today. Jesus had the power to cast them out with a word. His apostles and these two [Stephen and Philip], whom He gave the gift of miracles, had the power to do it. But today, we are the same level as we are when we come to the sick. We have to pray for their healing. And so with demon possessed people. We can't walk around saying "Alright all you demons. In the name of Christ, get out." And I think a lot of people today are frustrated because they try it and it doesn't work. You know, people say to me "Well, I tired to cast these demons out. It didn't go." Well, I've done the same thing and I've tried and it didn't go either.
There's a question of the ability to do miracles here that does not belong to us and we have to pray for these people even as we do sick people, because we can't just walk up and say, "Be healed." That gift belonged to this age.
He says that there was only one time when he was sure he had met someone — a woman — possessed by two demons, who came out only when she confessed serious sins from her past to him and another minister with him at the time:
… we found that we had to pray, and it all boiled down to her confession of sin before those demons ever left. Because I had worked for two hours and so had Jerry, trying to get rid of this one demon, called Decito. And nothing ever happened until she finally was willing to confess some really filthy things in her life for which she needed relief, the relief that comes in confession, and the cleansing. And then it was gone, no problem.
So again, we cannot go about casting out demons, but we can certainly pray for people. And we can certainly confront them with the need for confession and cleansing that there might be no place for demons to occupy.
Next week's post will feature more about Philip's ministry.
Next time: Acts 8:9-13
Corpus Christi Sunday is celebrated this year on June 18.
It is most widely known in the Catholic Church, but some traditionalist Anglicans and Lutherans also celebrate this important feast day, which may include a procession of the Blessed Sacrament in a monstrance (pictured at right).
Corpus Christi means 'Body of Christ' in Latin. The feast dates back to the Middle Ages and became a mandatory feast in 1312. It parallels the Last Supper on Maundy (Holy) Thursday, but is a more joyous celebration and one of thanksgiving, as Christ's prophecies of His death, resurrection and ascension into Heaven have been fulfilled. He also sent the Holy Spirit to His disciples and the Holy Trinity was revealed to mankind — all as He promised.
You can read more about the feast of Corpus Christi in my 2010 post, which also includes the Scripture reference from St John's Gospel.
Forbidden Bible Verses will return next week.
In 2017, Trinity Sunday is June 11.
As I explained in 2010, also known as the Solemnity of the Most Holy Trinity, it falls on the Sunday after Pentecost.
Catholics, Anglicans, Methodists, Lutherans and many Presbyterians celebrate this important feast day honouring the Triune God: Father, Son and Holy Spirit.  The celebrant wears white vestments.
That post has more information on the history of Trinity Sunday, one of the major feast days in the Church calendar.
These posts might also be of interest:
Anglican reflections on the Trinity
A practical — and Anglican — reflection for Trinity Sunday
Trinity Sunday — an Anglican analysis of its importance
Trinity Sunday 2016: May 22 (John 16:12-15, three-year Lectionary Year C)
Now is a good time to explain the Holy Trinity to children. The concept of Three-in-One can be difficult to grasp, but one Lutheran pastor came up with an ingenious way of explaining it with an egg. This is foolproof:
A great way to explain the Holy Trinity
I hope that all my readers have a blessed day rejoicing in the Triune God.
(Comments temporarily off.)