You are currently browsing the tag archive for the 'children' tag.
Over the weekend, I read two contrasting approaches to coronavirus, going from the sublime to the ridiculous.
El Salvador
This is the latest message from the government in El Salvador about coronavirus. It advocates exercise, achieving a normal weight, eating properly and getting enough sleep:
It is sublime. If only other governments had advocated the same thing over the past 22 months. Then again, there's no Big Pharma involvement, so this never could have happened in the West.
France
Now we move to the ridiculous.
Last summer, the French government mandated the vaccine passport, popularly called le pass sanitaire, when in reality it is le pass vaccinale.
In August 2021, the Minister for Work, Elisabeth Borne, said that anyone refusing to get a vaccine passport would be denied his/her salary or unemployment benefit. Someone replied to this tweet with a quote from February 2021 in which Borne said that, as a woman of the Left, fighting for social justice and equal opportunity were her two biggest objectives in life. Oh, the irony:
Initially, at least, vaccine passports were required even to go into a supermarket.
Here's a chap at Carrefour who could not get past the security guard on August 17 at Noisy le Grand, just outside of Paris:
Two more videos appeared on August 18. One was in the city of Pau in the south west of France. Police prevented angry shoppers from entering Leclerc:
The second confrontation took place at an Auchan in Marseille. Shoppers chanted 'Liberté, liberté':
I don't know what happened after that, but I haven't heard or seen any more about people being prevented from entering a supermarket.
I did see videos with police checking people sitting outdoors at cafés and bars for vax passport status.
Fast forwarding to January 2, 2022, Prime Minister Jean Castex said that food and drink can only be taken in bars and cafés sitting down. A bit like Wales and Scotland, then:
That same day, the education minister, Jean-Michel Blanquer, explained that every school would have a list of students showing their vaccination status, thereby violating the principle of privacy with regard to personal health records — a slippery slope:
The following day, the president of France's parliament, Richard Ferrand, got coronavirus. No one was allowed to ask questions, though, because it wasn't anyone's business. Circulez, il n'y a rien a voir. Keep moving, nothing to see here:
Incidentally, no vax passport is required in France's parliament. Typical:
On January 4, French president Emmanuel Macron said that he wanted to 'p— off' as many unvaccinated as possible. This means that the unvaccinated will not be able to go to sports fixtures, the cinema — or even restaurants, bars and cafés.
Contrast that with what he said on December 15, 2021: 'With some things I've said, I've hurt people. I won't do it again':
There is even an older statement from Macron from April 29, 2021, in which he pledged there would never be a mandatory vax passport in France:
Jean Castex refused to comment on Macron's pronouncement about p—ing off the unvaccinated:
Meanwhile, an anti-vax passport petition circulated online. It had over 1.2 million signatures as of January 5. The initiator of the petition was not allowed to present it to parliament. Police restrained him:
France's senate will be voting on further vax passport measures this week, postponed from last week:
Constitutionalists say that the vax passport measures are unconstitutional:
Here is a roadside hoarding (billboard) critical of Macron's vaccination policies:
The vaccine passport mandate was supposed to end on November 16, 2021. Yet, it is still in place.
On Saturday, January 8, many thousands of French citizens took to the streets to protest.
This was the scene in Aix-en-Provence:
Paris had the largest demonstration, despite the rain:
Here's another view:
Of course, the media, in this case BFMTV, reported 'only a few thousand' protesters. They would, wouldn't they?
On Monday, January 10, a French physician who works in ER called for the abolition of vaccine passports and urged the government to focus on treating the sick — 'Revenons au basique', or 'Back to basics':
Just before Christmas, a general practitioners' union pledged their support for the unvaccinated, a clear refutation of Macron's policy:
France's talk radio station, RMC, discussed the unvaccinated on Monday. Here's the segment from Les Grandes Gueules [The Big Mouths], for any interested Francophones.
A general practitioner who is a regular guest on the show said that anyone spreading 'disinformation' should be put in prison. Unbelievable:
One of the panellists complained about the constant testing of schoolchildren, which she thought was a waste of time and money:
Some time ago, when waffling on about the necessity for constitutional reform, Macron pledged that any petition with more than 1 million signatures would go to a referendum in order to give the French people a voice. As the anti-vax passport petition has 1.2 million signatures, will Macron prove good on his word?
Even during an election year, I wouldn't hold my breath.
Macron's voters are pro-vaccine and pro-vaccine passport people. Sadly, I think he will win another five-year mandate in May 2022.
The UK's biggest topics that truly matter to everyday people are coronavirus, COP26 and the fishing row with France.
Coronavirus
On Wednesday, November 10, the BBC news site featured an article on mothers and babies over the past year and a half: 'Coronavirus births: "My baby's first word was mask"'.
How sad is that? My first word was 'Da-da'.
The BBC interviewed Leanne Howlett, who gave birth to a daughter in March 2020, during the first lockdown. Poor woman.
She said (emphases mine):
"Overnight, home appointments [from the perinatal mental-health team] dropped away," she remembers.
They would be over the phone instead, she was told, causing her panic about how she would cope.
Nurseries were closed, she couldn't see family and getting through the basics of each day was a huge struggle.
"I dipped to rock-bottom," says the 34-year-old.
"You cannot bring yourself out of it – you think everyone is better off without you" …
Leanne started to feel better last summer, when childcare bubbles were allowed and her husband took time off work, but she believes the impact on her daughter, Miley, now two years old, has been profound.
"She is not at all sociable – she didn't see anyone but us until she was nearly one.
"All those missed activities, photos, and all those firsts," laments Leanne.
When she did go to her first baby group, all the mums wore face coverings, she says.
"My baby's first word was mask."
Black taxis
Prior to the pandemic, Uber was more popular than the traditional black taxi, especially in London.
In fact, Uber drivers from as far away as Manchester drove to the capital every weekend to reap the largesse.
On October 30, The Guardian posted an article on the new-found success of black cabs: 'Black cabs roar back into favour as app firms put up their prices'.
It begins with the story of a young man who had been stood up by Uber and another app-oriented service, Bolt:
The young man was frantic, trying to get to a third date with a woman he already knew he wanted to marry. But four Bolt drivers had let him down, and when he tapped his Uber app, it was asking for triple surge pricing. In desperation, he did something he'd never done before – flagged down a black London taxi.
"He was trying to open the front door to get in. He wanted to give me a postcode – it was the usual thing you get from the ones who've never been in a cab before," said Karen Proctor, a London taxi driver for more than a decade. "I told him 'the postcode's not going to help – just tell me where you want to get to'. It was a restaurant. And we got there seven minutes early, at about a third of the cost. He was converted."
Tales like that are why, after nearly a decade of Uber-induced gloom, things are looking up for cabbies. Trade has roared back into life since the end of Covid measures in July, with many talking with some astonishment about their best-ever takings.
I hope the marriage proposal met with success.
I am a big champion of black taxis. London drivers have to pass a three-year course called The Knowledge, where they regularly go in at least once a week to be quizzed by a veteran taxi driver on how to get various places in and out of the capital. This requires memorising routes, including all the requisite street names. I saw a three-part documentary on it several years ago. It looked and sounded daunting.
During lockdown, some black taxi drivers sold their vehicles and left the road for good. Some firms are buying up those taxis and renting them out to licensed drivers:
While drivers with a cab talk of people running towards cabs when they stop to let out a passenger, arguing about whose taxi it is, or queues of 100 people outside Victoria train station or Liverpool city centre, there are plenty of licensed drivers without a vehicle.
"People are coming to us every single day looking for a cab," said Lee DaCosta, a founder of Cabvision which runs payment systems for taxis and also rents a fleet for drivers who don't own a vehicle. "We're having drivers turning up literally walking the streets from garage to garage going 'got any cabs?'"
Transport for London (TfL) figures show there were 13,858 licensed taxis in London on 24 October, compared with historic levels of about 21,000.
The rapid decline is partly due to Covid. During the pandemic, when drivers had no prospect of earning money and some were ineligible for government support, some were forced to sell their cabs and take up other jobs. It led to the sight of hundreds of cabs being stored in unused car parks and fields around London.
But some of the decline pre-dated the pandemic, and DaCosta says TfL's policy of forcing older, diesel taxis off the road has not been accompanied by enough support for electric cabs.
As Uber demand returns to normal, however, drivers are fewer on the road than before. Some were EU nationals who went home and never returned. Others have opted to drive delivery vehicles instead.
No doubt everything will stabilise in time.
COP26
It appears that COP26 did not do much for Glasgow's hospitality sector.
On Wednesday, November 10, The Times reported that the anticipated uplift didn't happen. The conference ends this weekend:
While hotels across Glasgow are fully booked to accommodate the thousands of delegates, the hospitality trade is understood not to have seen any uplift in trading since the event began on October 31.
There are even suggestions the event has led to a reduction in trade for some operators. Footfall in the city centre is said to have been affected as people try to avoid the demonstrations.
There is also thought to be a number of delegations which have stayed outside of the city, with Edinburgh hotels among those which are busy.
Oli Norman, whose Ashton Properties owns venues such as Brel and Sloans, said he had heard of some publicans and restaurant owners who have seen their trading fall by up to 50 per cent, and added: "It should have signified a resurgence in the local economy but if anything it has been a damp squib."
Fishing wars
Any Englishwoman hoping to keep relations smooth with the French during the fishing wars in the Channel would do well to support her adopted country, as Samantha Brick, who lives in France, wrote in The Telegraph:
"Fishing wars" isn't a phrase I'd ever suppose would have an impact on my marriage – or indeed on my status in France – but in these strange times I suppose I shouldn't be surprised.
After I recently strutted through arrivals at Bergerac airport I was pulled up sharp at passport control. While my documents were checked, I was casually asked what I thought about the issue of French fishing trawlers being unable to go about their business in British waters.
Noting my French passport was still in the hands of the uniformed officer, I swallowed my pride and, after a bit of inconclusive waffle, I was told I should be proud of my French passport and those fishing trawlers. I feebly replied: "Vive la France" …
Not since Brexit has my other half been so fired up about Anglo-French relations. The right to fish is something that the French get very, very angry about. Pascal routinely shouts at the breakfast and lunchtime television (frankly OTT) news reports of the French fishing industry being stymied by brazen Brits and a dozen or so of our fishing boats.
Crustacea, I've learnt, is a French human right. The right to gorge on seafood is taken so seriously that drones and police on horseback are deployed to patrol and protect Atlantic oyster farms.
Her husband Pascal's household does not sound either women- or Anglo-friendly:
My brother-in-law is also married to an English woman. She isn't mad about the dozen or so oysters the family get in per person each Christmas either; note, we Brits have to compare notes outside the home on this as speaking in our native tongue at home is banned.
In fact, food is probably the area of most contention in our marriage …
… the French are pretty rigid when it comes to anything and everything at the kitchen table. There are centuries old traditions and behaviours which have been silently passed down the generations.
In the early days I once stood up, noticed I'd not finished my rosé and then drained the glass. Pascal was in turn speechless and outraged afterwards. This is, apparently, something no French woman would ever do. Women are supposed to nurse just one glass of wine throughout the evening …
… one rule he is immovable on is not clearing your plate. The motto – which is drilled into every house guest – is "you eat what you take". The French cannot abide waste.
Sounds dire.
I don't remember my academic year in France being like that and I was a fairly regular guest in French households, either for parties or for sleepovers concluding with Sunday lunch.
Look before you leap, ladies.
Conclusion
We in the UK are at a strange crossroads at the moment.
Everything we were told not to worry about has become of increasing concern: children's development post-COVID, Glasgow's resurgence during COP26 and the nothing-to-see-here fishing wars. At least the taxi trade is prospering.
The Eighteenth Sunday after Trinity — Nineteenth Sunday after Pentecost — is October 3, 2021.
Readings for Year B can be found here.
The Gospel reading is as follows (emphases mine):
Mark 10:2-16
10:2 Some Pharisees came, and to test him they asked, "Is it lawful for a man to divorce his wife?"
10:3 He answered them, "What did Moses command you?"
10:4 They said, "Moses allowed a man to write a certificate of dismissal and to divorce her."
10:5 But Jesus said to them, "Because of your hardness of heart he wrote this commandment for you.
10:6 But from the beginning of creation, 'God made them male and female.'
10:7 'For this reason a man shall leave his father and mother and be joined to his wife,
10:8 and the two shall become one flesh.' So they are no longer two, but one flesh.
10:9 Therefore what God has joined together, let no one separate."
10:10 Then in the house the disciples asked him again about this matter.
10:11 He said to them, "Whoever divorces his wife and marries another commits adultery against her;
10:12 and if she divorces her husband and marries another, she commits adultery."
10:13 People were bringing little children to him in order that he might touch them; and the disciples spoke sternly to them.
10:14 But when Jesus saw this, he was indignant and said to them, "Let the little children come to me; do not stop them; for it is to such as these that the kingdom of God belongs.
10:15 Truly I tell you, whoever does not receive the kingdom of God as a little child will never enter it."
10:16 And he took them up in his arms, laid his hands on them, and blessed them.
Commentary comes from Matthew Henry and John MacArthur.
There is a lot to discuss here, so grab yourself a cup of tea and a biscuit.
We pick up where we left off last Sunday.
It is unclear why the Lectionary editors left out Mark 10:1, so here it is:
And he left there and went to the region of Judea and beyond the Jordan, and crowds gathered to him again. And again, as was his custom, he taught them.
John MacArthur explains:
… we find Him, according to verse 1, having concluded His Galilean ministry. And actually, by the time we get into this chapter in Mark, He has also concluded His Judean ministry, which lasted quite a number of months. Mark gives us no record of that at all. If you want the record of that period of ministry, look at Luke 10 through 18, and those months are covered in a summary fashion by Luke.
So we jump from the Galilean ministry right over the top of the Judean ministry, and here we find our Lord beyond the Jordan in the area called Peraea, often referred to, then, as His Peraean ministry. This is the last little bit of ministry He does before He goes down to Jericho and in chapter 11 enters Jerusalem for the final week of His life. So we're at the end of His earthly ministry here, virtually at the end of it. And He is teaching His disciples some very, very important lessons, and this one happens to be about the subject of divorce.
Also:
There were lots of people there. He was ministering there at the very end. Why? Because when He left Galilee, He left the hostility of Galilee. Six months in Judea has escalated the hostility of Judea, so He spent the last brief time before His death crossing the Jordan into Peraea.
So in chapter 10, you really have His Peraean ministry. It's just one chapter. As I say, Mark doesn't even tell us about the six months, we just have one chapter, and then in chapter 11, verse 1, He enters Jerusalem. The Galilean Jews who went down to Jerusalem, which they would start doing now because Passover would be coming – that's why Jesus went there, to be the Passover – Galilean Jews would travel south on the east side of Jordan because if they were on the west side, they'd be going through Samaria, and they hated the Samaritans because they were inter-married half-breeds.
And so they would all go down the east side, all the way down to Jericho, and from Jericho up to Jerusalem, and so our Lord would find crowds there at the last time of His ministry, crowds of people, because there were many Jews who had moved there during the reign of Herod the Great, and they lived there but there would also be many pilgrims, traversing on their way to Jerusalem.
It had a large Jewish population, as I said, that developed during the reign of Herod the Great, the father of the current ruler, Herod Antipas. So we read here there were crowds gathered around Him. Those would be the Jews that lived in that area, as well as the pilgrims headed to Jerusalem, as the migration would have begun toward the coming feasts.
The Pharisees were on hand to test him with a question about divorce (verse 2).
MacArthur says that the question being posed and where the Pharisees posed it was no accident, but part of a plan to put Jesus in danger:
They were putting Him to the test with the purpose of discrediting Him. They wanted Him to say things that would alienate Him from the people. Since divorce was popular among the leaders, it was popular among the people, the men especially. And they wanted Jesus to say what they knew He believed because they had heard it before.
They wanted Him to say that divorce was wrong, and they wanted Him to condemn everybody that was divorced, and that would set Him against the leaders and against the people, irritate the people, and thus Jesus would not be nearly so popular. But even more than that, it happened to be that they confront Him on the subject in Peraea because they're in the territory under Herod Antipas, and Herod had divorced his wife and married the divorced wife of his own brother and committed incest with her because she was his relative.
And John the Baptist had confronted this divorce and Herod chopped his head off. They were hoping that if Jesus took John's position on divorce, Herod might rise again and destroy Jesus the way he had destroyed John the Baptist. So they had some plans to discredit Jesus and even to have Him killed by bringing up the question.
We do not normally think of the ancient Jews as favouring divorce, but they did in the Old Testament.
MacArthur tells us of the books of Nehemiah and Malachi where Jewish men divorced their Jewish wives in order to marry pagan women. In the time of Jesus, Jewish men were divorcing their wives under petty claims of indecency, which could be anything trivial, to marry other Jewish women:
What they were doing was divorcing their Jewish wives to marry pagan Gentile women. That's how, essentially, the Old Testament history ends. Nehemiah and Malachi give us the last word, and the last word of the Old Testament to the priests and the people is, "Do not divorce your wives, I hate divorce." Four hundred years later, we arrive in Mark's gospel in the New Testament period, and you can go back to chapter 10. Divorce now has been reestablished as a noble alternative, a righteous behavior.
The Jews of our Lord's day have a rationalized framework to make divorce acceptable. They're engaged in it. It was rampant through the culture of Israel and including the priests who were the ones indicted originally four hundred years earlier by Malachi and Nehemiah. This issue of pervasive divorce in the land of Israel becomes the subject of the opening verses of this chapter.
Jesus responds by asking them what Moses commanded (verse 3).
They responded by saying that Moses allowed a man to write a certificate of dismissal and to divorce a wife (verse 4).
Jesus replied that Moses allowed that provision because of their hardness of heart (verse 5).
Matthew Henry says that some men would have killed their wives just to be rid of them:
That the reason why Moses, in his law, permitted divorce, was such, as that they ought not to make use of that permission; for it was only for the hardness of their hearts (Mark 10:5; Mark 10:5), lest, if they were not permitted to divorce their wives, they should murder them; so that none must put away their wives but such as are willing to own that their hearts were so hard as to need this permission.
Jesus referred to Genesis 1:27: Adam and Eve, male and female (verse 6). There were no other humans in the Garden of Eden.
MacArthur discusses God's plan for a union between a man and a woman:
Now, what's important about that is there is no provision for polygamy. There isn't Adam and Eve and Sally and Alice. And there is no provision for divorce because there are not a few single women hanging around as options or alternatives. In the order of creation, there was one man and one woman. There are no spare parts. There are no spare people. They were created for each other and for no one else. Their union was complete, their union was unique, and they are a pattern for all to follow. Every marriage is no less an indissoluble union between one man and one woman.
And there were no provisions for any other people. The argument is clear. In the case of Adam and Eve, divorce is not only inadvisable, it is not only wrong, it is impossible where there isn't anybody else for either of them to marry.
Jesus went on to cite Genesis 2:24: a man shall leave his mother and father to be joined to his wife and the two will become one flesh (verses 7, 8).
Matthew 19:5 uses the word 'cleave' or 'cling', as in sticking to each other as one:
Verse 7, "For this reason a man shall leave his father and mother," and Matthew adds, "and shall cling to his wife." This is Genesis 2:24. This is the God-ordained view of marriage. It is an independent, strong union. You leave father and mother. You break the prior family bond. And in the language of Matthew 19:5, which is taken from Genesis 2:24, "You cling" or cleave "to your wife." The idea of that word is glue – glue. You're literally stuck together.
It is not a – arm's-length relationship, it is not a look-and-see trial. You are glued together. And it also, that word, carries the idea – cleaving carries the idea of pursuing hard after. It is two people unbreakably connected together, glued together, and pursuing hard after each other to be united in mind and will and spirit and body and emotion. The Jewish term for marriage is kiddushin. It means sanctification or consecration. Both of those words mean something completely set apart for special use. It was used to describe something dedicated to God as His exclusive possession, His personal possession.
Jesus said what God has joined together, no man must separate (verse 9).
MacArthur explains:
You can't divide one. One is the indivisible number – one is the indivisible number.
That oneness, that indivisibility is seen in the product of those two, isn't it? Children. The child is the one that comes out of the two. It is an indivisible oneness that manifests itself in the offspring that are the ones that come from the two. Family plays into this, then, by implication. We all understand the destructiveness of the family in divorce.
Later, once they were in the house where they were staying, the disciples asked Jesus again about divorce (verse 10).
He responded, saying that a man who divorces his wife and marries another woman commits adultery against her (verse 11) and that a woman who divorces her husband to marry another man commits adultery (verse 12).
Henry says:
No more is here related of this private conference, that the law Christ laid down in this case–That it is adultery for a man to put away his wife, and marry another; it is adultery against the wife he puts away, it is a wrong to her, a breach of his contract with her, Mark 10:11; Mark 10:11. He adds, If a woman shall put away her husband, that is, elope from him, leave him by consent, and be married to another, she commits adultery (Mark 10:12; Mark 10:12), and it will be no excuse at all for her to say that it was with the consent of her husband. Wisdom and grace, holiness and love, reigning in the heart, will make those commands easy which to the carnal mind may be as a heavy yoke.
Children feature in Mark 10, just as they did in Mark 9.
People were bringing their children to Jesus so that He might touch them, but the disciples rebuked them (verse 13).
We would find that a strange response, but the disciples, still thinking of works-based salvation, disregarded small children because they did not understand Mosaic law nor could they accomplish what was involved in keeping those laws.
MacArthur explains:
So while they had come to salvation by grace, they had imbibed so much of their former system (salvation by works) that they didn't think children fit in anywhere. And, of course, the Lord hadn't apparently said anything to this point about the children, so this is their teaching moment. They strongly protest this group of parents who desired the Lord to bless their babies and pray for their babies, convinced that this would just be an unnecessary, trivial interruption.
And, again, if you just took a Greek New Testament, took the word epitimaō and started in Mark 3 and traced it through Mark 10, you would see that every time it's used, it's a very intense reprimand. So the disciples really let those parents have it …
And that is a very strong word, epitimaō, a compound word intensified again by a preposition as verbs tend to be in the Greek language. Literally, it means they censured them or they reprimanded them. In a noun form, it means punishment. They turned on these parents. Their worldview, their religious worldview, was such that children had no place in the system of religion, no place before God, not until they arrived at the point where they could do the things they needed to do to gain God's favor.
The practice of a Jewish blessing either by a patriarch or a religious elder was widespread throughout history:
There are Old Testament illustrations of how fathers blessed their children. There are a number of them. All through the patriarchal period, fathers blessed their children, Noah blessed Shem and Japheth, and we see that through the patriarchs, through Jacob and passed down to the next generation and the next, Isaac blessing his sons and Jacob blessing his sons, and this was a typical fatherly benediction pronounced on the heads of children.
What was it about? It was a desire, including a prayer, for their spiritual blessing. It was that God would show favor to them. In fact, it was even more specific. The elders used to say that when you pray for your child and you pray blessing on your child, you pray this, that the child would be famous in the law, faithful in marriage, and abundant in good works. Famous in the law, faithful in marriage, and abundant in good works. The father would lay his hands on the child's head, the elders of the synagogue would come together and they would do the same and bless the child, and they would pray for the child.
The Talmud tells us that it was a very customary thing for parents to bring their children, their little children, to be blessed by the elders of the synagogue, and in Judaism, there was a special day set aside for this, the day before the Day of Atonement, the day before Yom Kippur. In fact, they would bring their children that day before praying that, of course, the atonement the next day would be applied to those children.
The children in today's reading were toddlers, little innocents.
Jesus was indignant with the disciples, telling them that they should not stop the children coming to Him because they were part of the kingdom of God (verse 14).
MacArthur tells us:
"He was indignant" – again, a very strong verb, to be angry, to be irate. This is not an insignificant issue, not a minor issue. Jesus doesn't pass over this lightly. He is very angry that they would treat children this way. The parents were not wrong. He did not rebuke the parents. Only the disciples were rebuked for their wrong assumptions and their bad understanding of Scripture.
MacArthur says this is an unconditional promise for children and is not dependent on baptism. This is important for parents who have lost their little ones:
The kingdom of God belongs to such as these. There are no qualifiers there. Okay? There are no caveats there. There are no conditions there. This is so very important. He doesn't say the kingdom of God belongs to these as if somehow these particular babies were in the kingdom. He says the kingdom of God belongs to such as these, meaning the whole category or the whole class of beings to which these babies belong. Literally, the kingdom of God belongs to these kind, babies, infants, little children.
Matthew calls it the kingdom of heaven and says the same thing, it belongs to such as these. Not just to these but to the whole category to which these belong. The kingdom of God belongs to babies. They have a place in the kingdom. They have a part in the kingdom.
What is He talking about, the kingdom? He's talking about the sphere of salvation – the sphere of salvation – same thing He was always talking about. The sphere in which God rules over those who belong to Him, the spiritual domain in which souls exist under His special care.
Now, what's important here is He just said that babies, as a category, have a part in the kingdom. They belong to it, it belongs to them, same thing. Nothing is said about the parents' faith, nothing is said about a covenant as if there was some family covenant. Nothing is said about baptism. Nothing is said about circumcision. Nothing is said about any rite, any ritual, any parental promise, parental covenant, or any national covenant. His words simply and completely engulf all babies. They belong to the kingdom; the kingdom belongs to them.
And if our Lord was ever going to teach infant baptism, this would have been the perfect spot. All He would have to have said was, "These children will possess the kingdom if you baptize them." But He doesn't say that. This was His golden opportunity, but He said nothing, and neither does anybody else in the Bible say anything about infant baptism. This is not about personal faith, either. He doesn't commend the parents' faith. He doesn't commend the babies' faith, which would be nonexistent. He simply says babies belong in the kingdom and the kingdom belongs to them, as a category …
This is not salvation, but this is His special care. And in the event that the child dies, I think the testimony of Scripture is that child receives salvation at the point of death because of God's sovereign grace. Another way to look at it is to understand that all babies that die are elect. They're all saved. Christ's sacrifice is applied to them all.
Jesus was emphatic — 'Truly, I tell you' — that whoever does not receive the kingdom of God as a little child will never enter it (verse 15).
That means that we need to be as little innocents when approaching the Gospel and our Lord.
MacArthur says:
You have to come the way children come – simple, open, trusting, unpretentious, dependent, weak, lacking achievement, humbly. And if you don't come like that, you'll never enter the kingdom.
Henry has an eloquent commentary on that verse:
We must receive the kingdom of God as little children (Mark 10:15; Mark 10:15); that is, we must stand affected to Christ and his grace as little children do to their parents, nurses, and teachers. We must be inquisitive, as children, must learn as children (that is the learning age), and in learning must believe, Oportet discentem credere–A learner must believe. The mind of a child is white paper (tabula rasa–a mere blank), you may write upon it what you will; such must our minds be to the pen of the blessed Spirit. Children are under government; so must we be. Lord, what wilt thou have me to do? We must receive the kingdom of God as the child Samuel did, Speak, Lord, for thy servant heareth. Little children depend upon their parents' wisdom and care, are carried in their arms, go where they send them, and take what they provide for them; and thus must we receive the kingdom of God, with a humble resignation of ourselves to Jesus Christ, and an easy dependence upon him, both for strength and righteousness, for tuition, provision, and a portion.
Jesus took the children in His arms, laid His hands on them and blessed them (verse 16).
Henry says this was a fulfilment of prophecy:
See how he out-did the desires of these parents; they begged he would touch them, but he did more. (1.) He took them in his arms. Now the scripture was fulfilled (Isaiah 40:11), He shall gather the lambs in his arms, and carry them in his bosom. Time was, when Christ himself was taken up in old Simeon's arms, Luke 2:28. And now he took up these children, not complaining of the burthen (as Moses did, when he was bid to carry Israel, that peevish child, in his bosom, as a nursing father bears the sucking child,Numbers 11:12), but pleased with it. If we in a right manner bring our children to Christ, he will take them up, not only in the arms of his power and providence, but in the arms of his pity and grace (as Ezekiel 16:8); underneath them are the everlasting arms. (2.) He put his hands upon them, denoting the bestowing of his Spirit upon them (for that is the hand of the Lord), and his setting them apart for himself. (3.) He blessed them with the spiritual blessings he came to give. Our children are happy, if they have but the Mediator's blessing for their portion. It is true, we do not read that he baptized these children, baptism was not fully settled as the door of admission into the church until after Christ's resurrection; but he asserted their visible church-membership, and by another sign bestowed those blessings upon them, which are now appointed to be conveyed and conferred by baptism, the seal of the promise, which is to us and to our children.
In closing, I wanted to share with you John MacArthur's views on marriage. Like him, I would like to see as many people married as possible.
He says not to wait too long or be too fussy:
… by the way, marriage is the grace of life. And here's a verse all you ladies know, "A man who finds a good wife finds a good thing. A wife is a gift from the Lord," Proverbs 19:14. A wife is the best gift that God can ever give a man; a husband is the best gift that God could ever give a woman. It's the best thing in life. It's the greatest joy in life. It's the greatest fulfillment in life.
The disciples were talking on a very theoretical and pragmatic level. It's not good for man to be what? Alone. It is the grace of life. It is the joy of all joys, the blessing of all blessings. It is the path to fruitfulness, to children, the blessing of children, the blessing of grandchildren, the blessing of family. So He says it's a nice sentiment, but you're made to be married. Find somebody. Don't look for the Messiah, just find somebody.
I keep saying that to girls, you know, the Messiah came and went, you've got to settle for somebody else. Not everybody can receive it. He means not everybody can be fulfilled in a single state. Not everybody – literally, the word means have space or room for that. You need to be married. We say, "Well, if marriage is so hard…."
Well, look, let me tell you how to make a marriage work. Two people perfectly related to Jesus Christ will be perfectly related to each other. Two people who seek to honor Christ will have no problem honoring each other. How do you treat your spouse? You treat your spouse the way you would treat Christ because when you receive that person, you receive Christ. You treat that person the way Christ would treat that person.
People sometimes say to me, "You seem to have a good marriage." I do have a good marriage. I'm ecstatic about the marriage that God has given to me. I love my wife more now than I've ever loved her. I can't even – I don't even know where I stop and she starts. That's the way it is. She has not been married to a perfect man, but she has been married to a man who pursues the things in her life that I believe Christ would want for her. And the same for me. She pursues in my life the things that Christ would want for me. And it's the joy of all joys, it's supreme joy.
And I'll tell you young people, I know some of you are hanging around, waiting for the perfect person to come up. Look, just find somebody in whom Christ lives who desires to serve Christ and don't postpone marriage needlessly. Get married. This is the grace of life. We need more kids in the nursery. The kingdom grows that way.
You know, hanging around until you're 30 years of age, just checking everybody out, guess what – they're checking you out, and they're not thrilled, either, so just find somebody. You're wasting great years, do you understand that? You're wasting great, great years. If I could wish anything for myself, I wish that I had gotten married younger because it's such a wonderful thing, a blessed thing, God-honoring thing. In Christ, your marriage can be anything that Christ wants it to be, if you walk with Him.
You're in the best of circumstances here to have a sanctifying influence. Let me tell you something: It's not good to be single. It's good to have a sanctifying influence in your life right next to you 24 hours a day. And you want a strong believer. Just find one and let that person be a spiritual influence on you.
I could not agree more.
Let us pray for singletons seeking a suitable partner for life's journey.
Marriage is an amazing blessing! I am most grateful for mine; it is a tremendous gift from God.
Most of the British population has now had their two injections, myself included.
However, in terms of efficacy, the jury is out.
Since the summer, we have been told that boosters will be required as soon as this autumn.
This is what a Guido Fawkes reader had to say, referring to the implementation of vaccine passports in Scotland:
… the vaccine does not prevent infection, re-infection or onward transmission of those vaccinated, so is utterly futile as a warranty of safety for entering any type of premises. Indeed it gives a false warranty about those things. The lurgy may still be lurking.
Indeed.
Remember back in 2020 when Drs Fauci and Walensky told us that the vaccines are 100% effective and that vaccinated people do not carry the virus?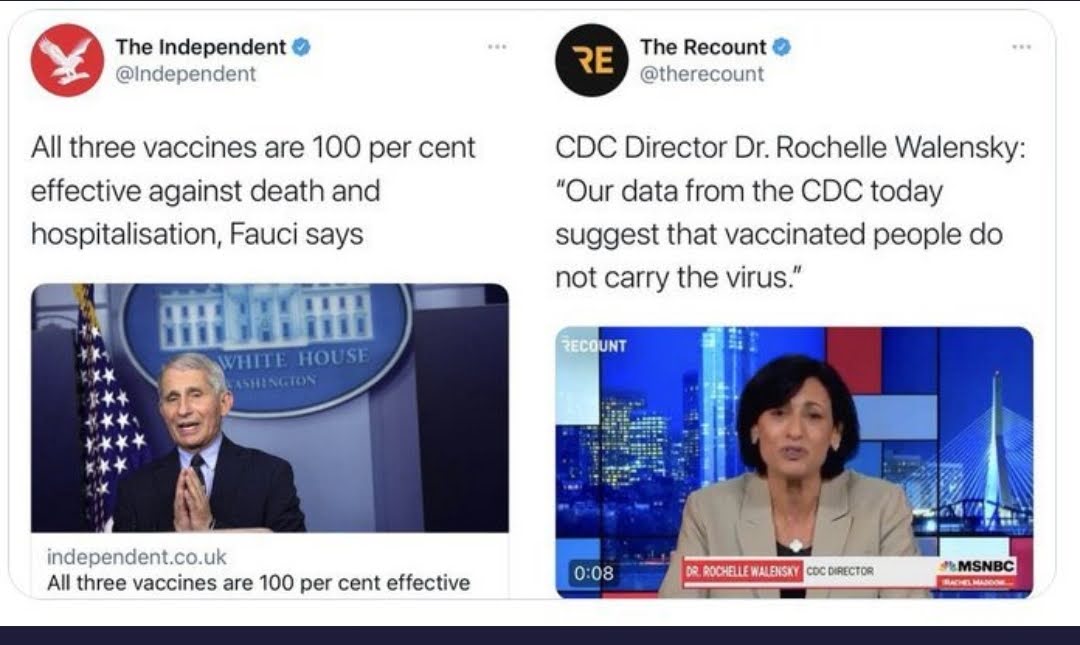 Not so, as we have discovered.
To make matters worse in this parlous state of affairs, the British public are now expected to help market vaccinations on social media. This campaign is called #ValuingVaccines: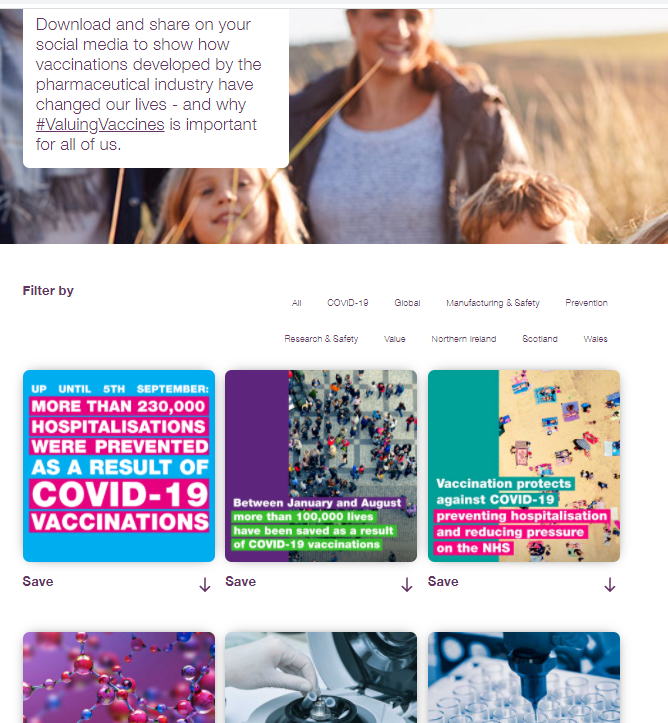 This is a photo of a letter to young Britons urging them to get vaccinated. What is missing from it? Any mention of health benefits: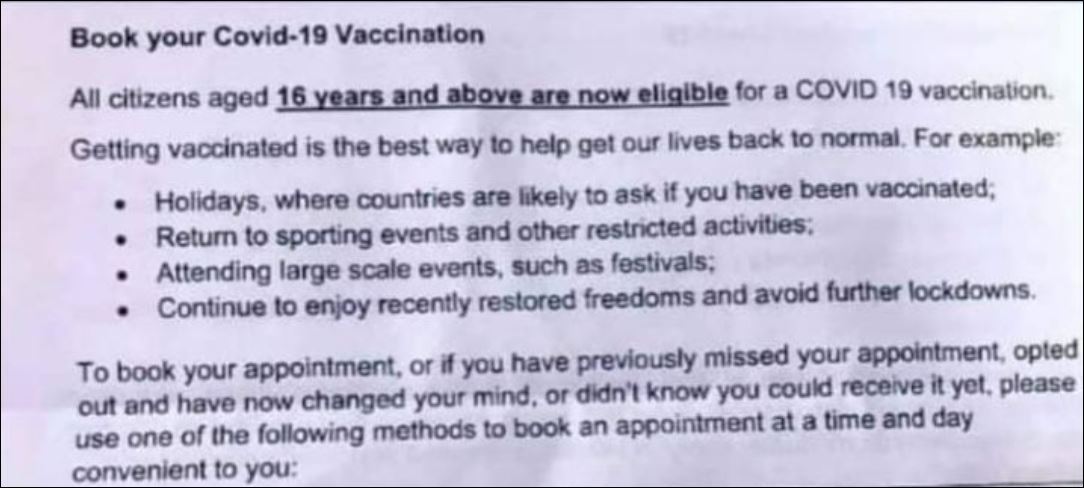 Note the mention of 'freedoms' in the last bullet point.
Here's a thought. Since when did our basic freedoms ever rely on getting a vaccine?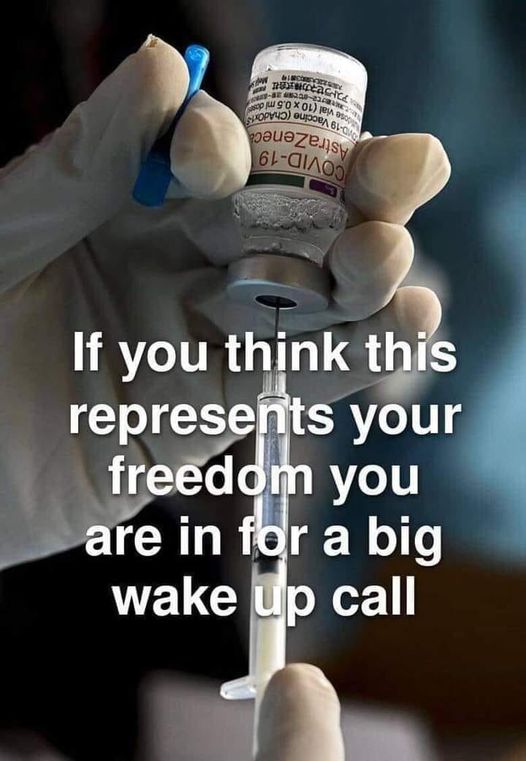 Also, minors eligible for the vaccine in the UK do not require their parents' consent. This is a mock-up of Chris Whitty, our chief medical officer. It's not far from the truth: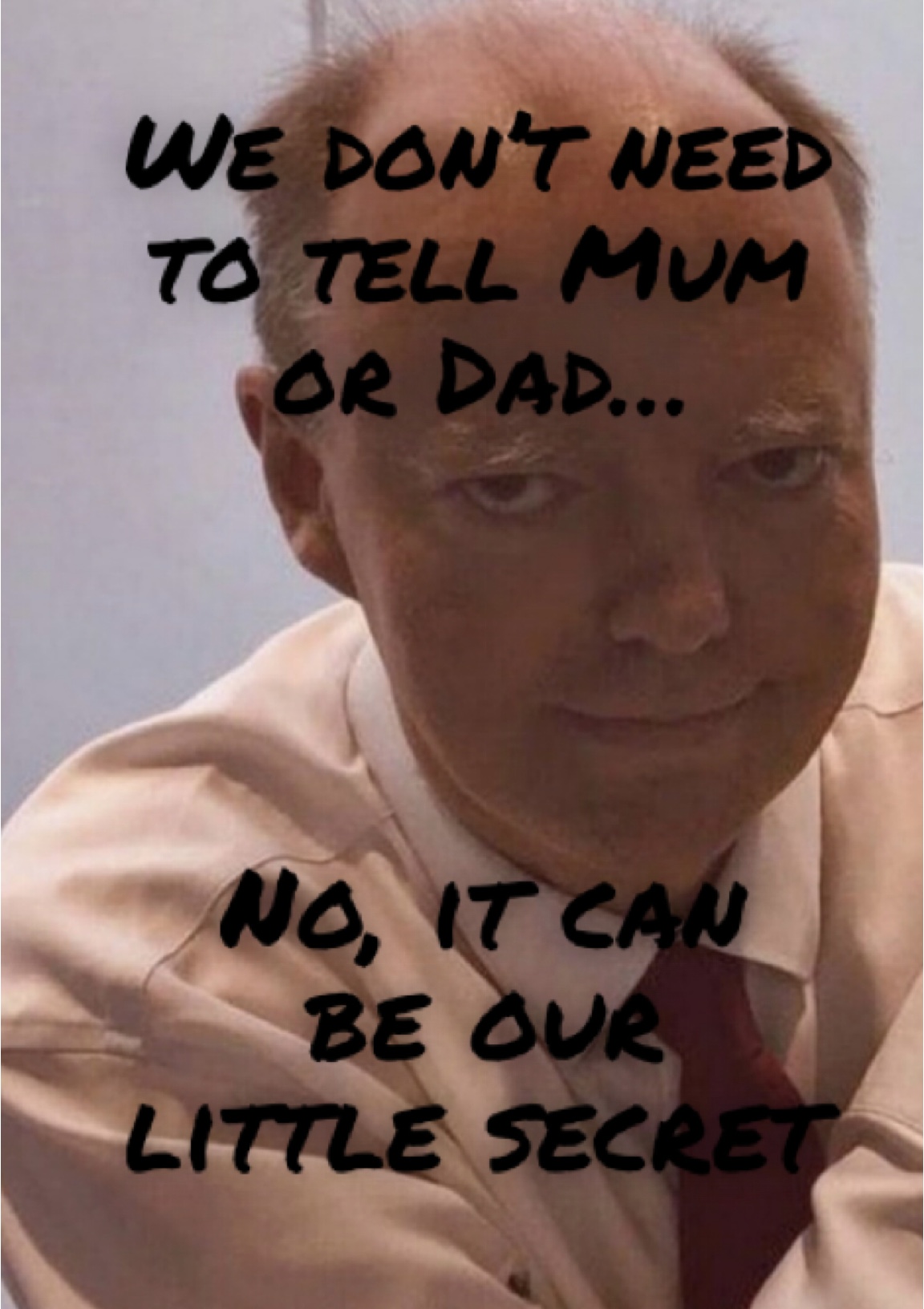 There are other issues with these notional vaccines.
One of them is the redefinition of the word 'vaccination', which has gone from disease prevention (I will always hold by the original and best) to producing immunity against a disease to the current protection from a disease. We've been had, folks, but most of my readers know that by now: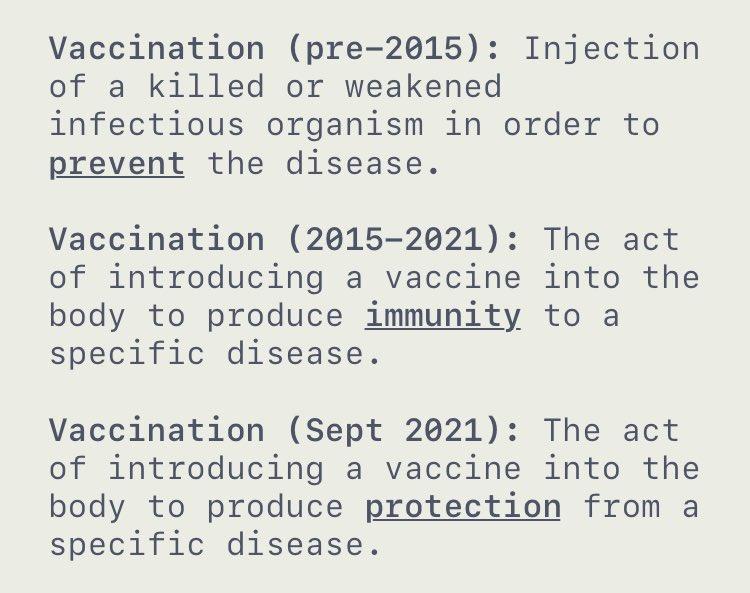 Now let's look at how long producing a vaccine has taken throughout history. With regard to coronavirus, we were told that vaccines take a lot less time these days. Perhaps. However, six months to market seems rather brief: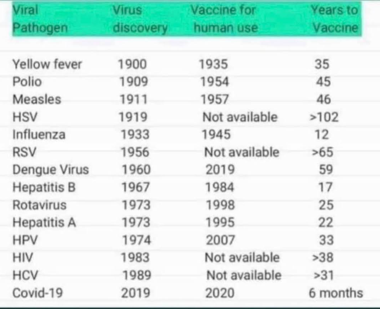 Now let's look at what six months to market has produced — a product that doesn't even work and could be injurious to one's health, if not fatal, depending on the individual. Some American youngsters have experienced heart problems after taking Pfizer or Moderna. The cure can be worse than the disease:

I am glad to see that 'vaccine' has quotation marks around it in this risk/benefit analysis: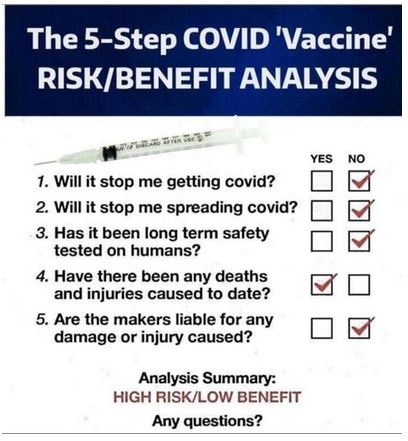 Our notional betters, including journalists, say that the unvaccinated are causing the vaccine to fail. Hmm. That's a new one: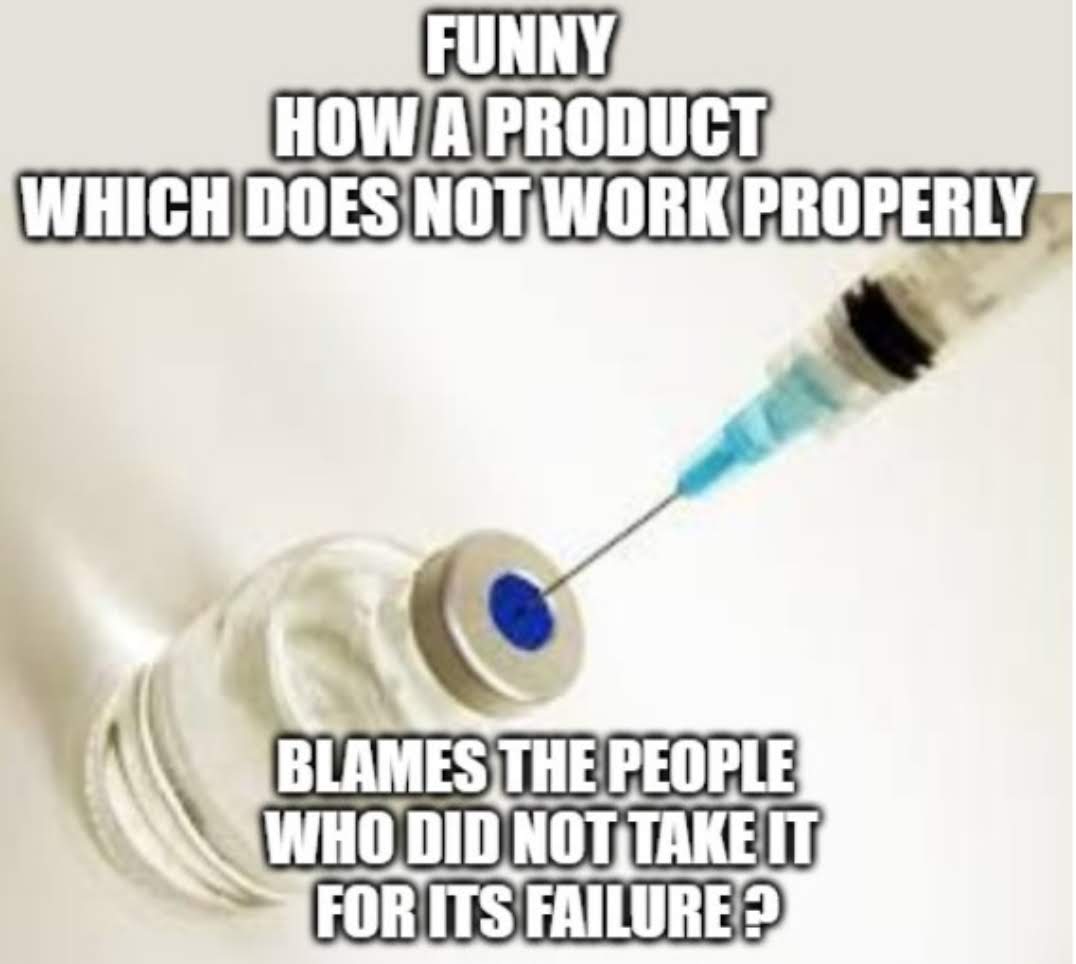 Now we have to worry about vaccine passports. France already requires them just to go to the supermarket. In other words, you cannot eat if you have not been vaxxed: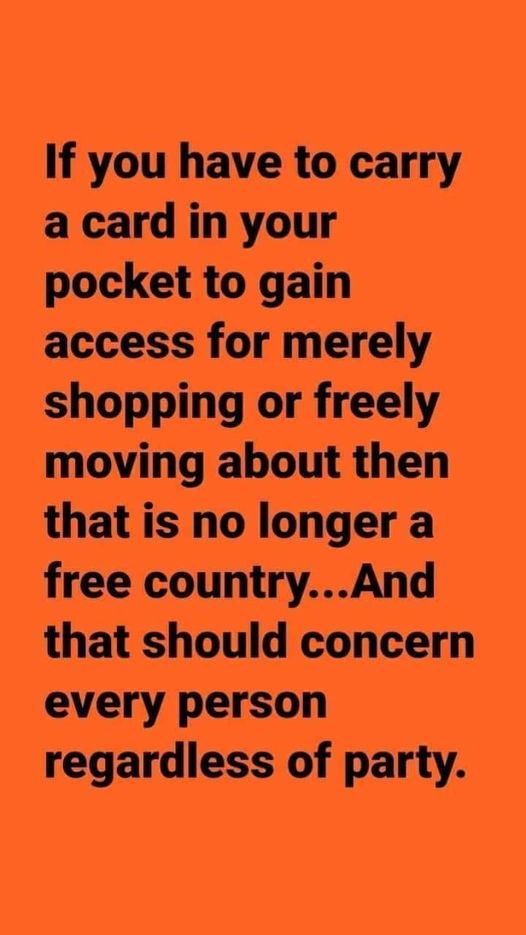 Speaking of supermarkets, here's Manchester mayor Andy Burnham, a former Labour MP, moaning about the lack of social distancing at Tesco. Yes, he named the chain. Yet, here's Burnham partying at Labour's conference this week as if it were the old days. The sheer hypocrisy of our leaders is mind-boggling:
But I digress.
Those are my thoughts on the coronavirus vaccines, a necessary evil if one wishes to go out again.
I would have liked to give credit to the people who created these images, which I found in various places online. My compliments to everyone involved.
The Taliban never change, except that they have allowed themselves a bit of fun.
During the past week, I saw several tweets of the Taliban on pedalos. It was unclear whether the images were photoshopped.
However, on September 19, the Mail on Sunday posted similar photos of the armed misogynists on pedalos which were taken at Band-e Amir National Park, which used to be a tourist attraction.
Interestingly, the park is 45 miles away from Bamiyan, formerly the home of the Buddhas of Bamiyan, which the Taliban destroyed in 2001.
The Mail's article also gave an update on the Taliban's treatment of girls and women.
The Women's Affairs Ministry is now the Ministry for the Propagation of Virtue and the Prevention of Vice, which, if I recall correctly, was in existence in 2001. It is designed to repress women severely. Once again, no more lipstick, visible hair or legs.
For the moment, girls are allowed to attend primary school only, under the pretext of security reasons. They might be allowed to attend secondary school at some point.
Women are allowed to attend private universities:
but with harsh restrictions on their clothes and movement.
There is some resistance to the new education policy (emphases mine):
A statement from the education ministry last Friday demanded: 'All male teachers and students should attend their educational institutions.' It made no mention of female teachers or pupils.
Some Afghan women are now protesting the return to repression, with boys also refusing to attend class in solidarity. One boy was pictured in a Twitter post holding a sign that says: 'We don't go to school without our sisters'. 
Afghans voiced their support for the child in the post's replies, with one saying: 'Education is the right of every Afghan. We hope that the Taliban will allow our sisters to open schools as well.' 
How sad for the Afghans.
UNICEF have issued a statement condemning the policy. It is unlikely the Taliban will be worried about that.
As for the ladies who worked at the Women's Affairs Ministry:
Videos posted to social media showed female ministry workers protesting outside after losing their jobs.
What a pathetic state of affairs.
The Times was able to interview former president Hamid Karzai, who wore the exquisite long silk jackets. He spoke out from his home in Kabul.
He told the paper that he is in regular discussions with the Taliban, especially on the egregious education policy, making Afghanistan:
the only country on earth to exclude girls from secondary education.
He said that he despairs of the current situation in Afghanistan:
Afghanistan's former president Hamid Karzai has spoken out against the Taliban for the first time, decrying their restrictions on girls' education and revealing his despair at seeing so many talented young Afghans fleeing the country.
"Education of girls is extremely important," he told The Sunday Times in an interview at his house in Kabul, now guarded by the Taliban. "There is no other way. This will not be a country which stands on its own feet without education, especially for girls."
He has three daughters:
Karzai, 63, ran the country's western-backed government for 13 years after the Taliban was toppled in 2001. He has three daughters, aged 4, 7 and 9, and said that one of his proudest achievements from his time in office was that millions of girls returned to school.
… many believe that Karzai is courting danger by criticising the country's new masters now.
He intends to "continue to speak out and speak out strongly", he said from his library, where the shelves are lined with photos of himself with the likes of Prince Charles and President George W Bush. "I stayed because I love my country and wanted to reassure people. We need a government that brings development and delivers services, has good relations with the rest of the world and where people live happily without fear or repression, and we must keep working for it" …

"The fact is this is a society which has changed massively in the last 20 years. It's the responsibility of the Taliban to make sure young educated Afghans stay for the wellbeing of our country."
He shared his sadness at knowing that so many women MPs, judges and activists are now in hiding. "People are fearful. The Taliban should work to remove this environment of fear and create an environment both physically and psychologically that's conducive for people to stay."
That seems rather unlikely.
Karzai was known for criticising the West and foreign military over night raids and airstrikes that killed civilians.
As such, he was happy to see the departure of troops:
"I am not unhappy the foreign troops have gone," said Karzai. "They were not respecting our culture, and this country needs to stand on its own."
However, to date, his discussions with the Taliban have been less than successful, and the whole country, including Panjshir province, is under their control:
He helped to mediate an end to the fighting in Panjshir, the region which held out the longest against the Taliban, and was initially positive about his negotiations with the victorious Islamists. Now, however, he admits he is disappointed. "From the very beginning in all our talks we emphasised three fundamentals: education and education for girls, inclusivity in government, and the place of women in our society. We also spoke of the importance of the national flag and values of the country.
"They fully agreed and said all the right things, but so far things didn't happen that way. We need their actions to match their words or Afghanistan will again be cut off from the world."
Any one of us could have told him that much.
And to think that Biden considers this disaster of his will be forgotten in time for the 2022 mid-term elections. I certainly hope not.
It used to be that vaccines prevented infection.
Coronavirus has changed all that. The double-vaxxed are ending up infected:
Andrew Doyle, who hosts Free Speech Nation for GB News, has it, and he's taken his shots.
ITV's Robert Peston, also double-vaxxed, has it, too:
Peston was supposed to be in Aberdeenshire in Scotland but had to cancel:
I hope he recovers soon.
Meanwhile, in the UK, the debate rages on as to whether children over the age of 12 should receive the vaccine and whether older adults should have a booster shot this autumn.
British supporters of vaccines for children say that such programmes in the United States and France have been highly successful. Hmm.
Dr Robert W Malone is an American physician as well as an inventor of mRNA vaccines and RNA as a drug. He directs his readers to an article in LifeSiteNews about possible coercion being used in high schools:
Meanwhile, the WHO is urging countries wishing to vaccinate their children to donate those doses to Covax instead for wider use around the world. The reply to this tweet includes a statement from Britain's JCVI (Joint Committee on Vaccines and Immunisation) which recommended against children's vaccinations on Friday, September 3:
The WHO also disagrees with booster shots in Western countries, again recommending donating those doses to poorer countries:
The UK also wants to roll out vaccine passports by the end of the month. If we can catch the virus despite two jabs, what is the point? It seems as if we are all back at Square One, only that we are susceptible to milder cases rather than death.
Speaking of deaths, the UK figures for 2021 are on a par with other years since the vaccine rollout began. I saw this graphic on another site with no attribution. Note the bright green line up to Week 33: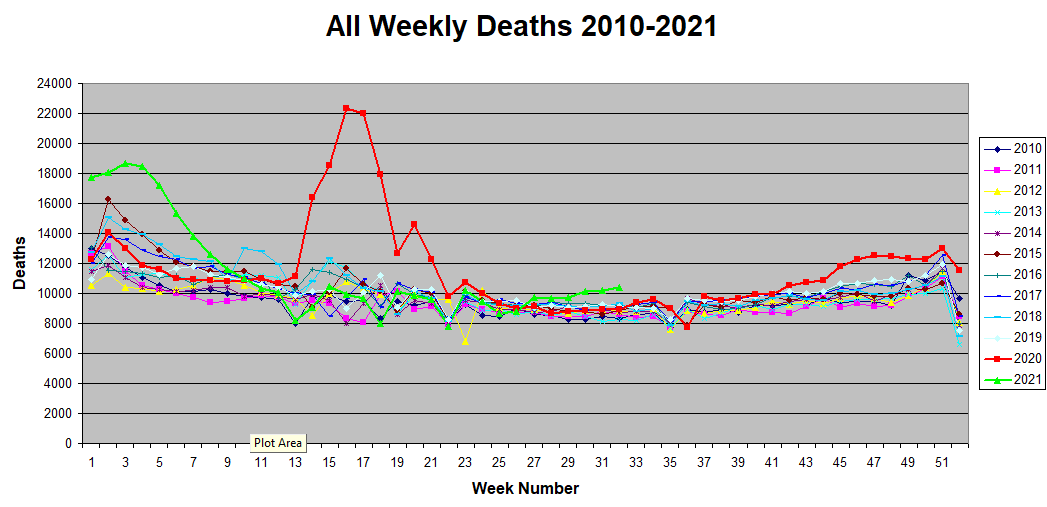 Moving to poorer countries now, not every nation has shown signs of infection or deaths:
Dr Malone says that Peru had a preventive programme of giving its citizens doses of ivermectin until a new president scrapped it. At that point, fatal infections began rising dramatically:
Since the pandemic began, ivermectin for humans has been taken off the market in several Western countries or is restricted on a prescription-only basis for certain conditions, excluding the virus. In many first-world countries, ivermectin is now used solely on animals for various diseases. The current formulation is made for their consumption.
Yet, in Peru and Africa, the formulation for humans is still available. It is inexpensive and is used to cure a variety of diseases as the following Twitter thread about Africa tells us.
The countries in blue are where ivermectin is used on humans. Note the differences in coronavirus cases and deaths:
Ivermectin, sold under the trade name Mectizan, is used to treat river blindness, a common and highly painful disease. It is not unusual to see people with a pair of eyebrow tweezers on a chain around their necks. Among other things, river blindness inflames the eyelash follicles. The only way to relieve the intense pain is to carefully pluck the offending eyelash. It is an ongoing pain until the disease is cured:
The Japanese have looked at sub-Saharan data and have recommended ivermectin to the government as a treatment for coronavirus:
It seems that the Japanese government rejected the use of ivermectin in combatting coronavirus. The updated statistics for Africa are in the second tweet:
Another big supporter of ivermectin is Karl Denninger of The Market Ticker.
On December 18, 2020, he wrote that by giving Americans two tablets of ivermectin, coronavirus could be stopped in one week in the United States. Two tablets in total is all it would take (emphases in the original):
… Why the hell are you not only letting them get away with it but willing to stand in line and take a not-fully-tested shot when a $2 alternative that does the same thing and has been proved safe over more than 30 years of time is available, and it also has a remarkable record of preventing serious disease and death.   This has been known for months.
We can stop Covid-19 in ONE WEEK.
One.  Not five, six, eight or ten as promised by Dr. Redfield with his "masks" who, I remind you, lied.  Covid-19 did not stop even though he got what he wanted.
The science and the CDC's own data says this will work in ONE WEEK.
And the risk if it doesn't work as the science and math says it will?
STATISTICALLY NONE; the drug in question has had over 3.5 billion doses dispensed worldwide and, on the data, is safer than Tylenol and the number of pills you must take is two.
Not two per day.
Two.
Ivermectin will receive broad media coverage only when it's too late. What a pity.
How could Joe Biden end US involvement in Afghanistan so disastrously?
He made the decision unilaterally, leaving the nation in peril over the weekend, with horrific images unfolding across world media.
That said, by the time the US and UK entered Afghanistan in 2001 to rid the world of Osama bin Laden and terror, everyone knew that any operation there would be futile. The Soviets even pulled out in 1989.
In fact, Afghanistan was always an intractable place, a law unto itself throughout history.
Alexander the Great's tenuous hold
Military historian Jamie Hayes wrote a gripping history of an ancient and weak conquest of Afghanistan, 'Unwilling To Stop And Unwilling To Go On: Alexander the Great's Afghan Campaign'.
Until his invasion of Afghanistan, Alexander the Great believed himself invincible (emphases mine):
Alexander the Great was undeniably the greatest military commander in history. He took over his father's throne at just 20 years old and immediately began a campaign the likes of which the world has never seen. He fought battle after battle, forging the largest empire on earth—all without losing even once. As he rampaged across Western and Central Asia, he founded countless cities that stand to this day. Millennia after his death, military geniuses like Napoleon painstakingly studied his battles to learn from his success. He unquestionably earned his moniker—Alexander was Great.
With such a spotless military record, Alexander's conquests seem almost like they were…easy. With his elite troops and unmatched tactical genius, he started from the unassuming Macedon in Northern Greece and wrought the largest empire the world had ever seen, spanning from Greece in the West all the way to India in the East. But while his remarkable conquests in Persia and his far-reaching campaign to India take center stage in the history books, there's an often-forgotten chapter of Alexander's legacy that was anything but easy.
Alexander's campaign in Afghanistan has become a mere footnote in his legacy—perhaps because it was the region where the great warlord saw the least success. Like many other military superpowers would after him, from the British Empire to Russia to NATO, Alexander waltzed into Afghanistan with all the confidence in the world, but he left battered and bruised, with very little to show for it. The region chewed him up and spat him out, and while he never explicitly "lost" any battles in his time there, it's hard to so he won much of anything either. In fact, historians have claimed that the brutal Afghan campaign marked a shift in Alexander—from infallible Golden Boy to a cruel, paranoid shell of what he once was.
Alexander the Great wanted to topple a man named Bessus, the only obstacle preventing the military commander from becoming king of the Persian Empire. Bessus had toppled Darius III (Darius the Great), the self-styled King of Kings of the Persian Empire. Bessus gave himself a new name, Artaxerxes V.
Incensed, Alexander believed that Artaxarxes V was a usurper and set about to right that perceived wrong. For that, he had to follow the new king into Bactria, which is part of modern-day Afghanistan.
Bactria proved to be highly difficult with regard to the terrain and the men who lived there:
… the conflict here was slow and brutal—guerrilla warfare and sieges that left Alexander and his men exhausted and disillusioned. The frozen mountains and blazing deserts of the region were a far cry from the battlefields they were used to, and "glorious battle" seemed to be a thing of the past.
Alexander spent two agonizing years in Afghanistan, a major chunk of his historic campaign across western and central Asia. Granted, he didn't leave the brutal landscape empty-handed: His primary goal in Bactria was to capture the traitorous Bessus, and he accomplished that. The rival claimant to the throne of the Persian Empire was dealt with, and Alexander could rightfully call himself the King of Kings. But the price he paid for that luxury was extreme.
Alexander's most successful enemy in Afghanistan was the land itself. He lost far more men to the frigid peaks of the Hindu Kush or the scorching Northern Afghan desert than to any military resistance he faced. And when he did try to engage enemy forces, he found himself playing a frustrating game of whack-a-mole.
Once he left, his victory was short-lived:
Fighting in Afghanistan was a Sisyphean task, and Alexander's grip on the region started slipping the moment that he left. While it was considered a part of the enormous Empire that he left after his death, control of the territory was tenuous at best. Revolts began almost the moment that Alexander dropped dead, and they seemingly never truly stopped. Rebellion was simply a reality for any foreign state that attempted to claim sovereignty over the unforgiving landscape.
Nonetheless, he left a legacy with the foundation of several cities, including Kandahar. He also found a wife there:
He founded many cities as he chased Bessus across the region, some of which still exist today. The most notable is the city of Kandahar, which he named Alexandria Arachosia (in fact, it's believed that the name Kandahar itself is derived from the Persian name for Alexander, Iskandar). He also found his famous bride, the beautiful Roxana, whom he loved above all others, in the region. But while Alexander left his mark on Afghanistan, Afghanistan also left its mark on him.
Centuries later, the British tried to control the country as did the Soviets. Both failed.
That would not stop another British foray nor did it stop the Americans.
The Americans tried their best
I have only a few bookmarks on the Americans' long-term mission in Afghanistan.
In October 2009, Michelle Malkin found two reports about a deadly attack on US troops. She wrote (emphasis in the original):
An incredible account from ABC News reporter Karen Russo, who notes that wounded troops refused to leave the battlefield this weekend during the deadly siege at Kamdeysh:
Flying into the besieged Afghan base during a nighttime firefight this weekend is a harrowing mix of overwhelming noise, stomach dropping maneuvers and shadows hurrying through the gloom.
When the chopper lifted off moments later with three wounded soldiers, it left behind others who were wounded but refused to be MEDEVACED out of the combat zone so they could return to fight with their buddies.
As fighting at two U.S. outposts raged on the ground this weekend, the MEDEVAC team at a nearby base waited – with both patience and frustration.
Eight soldiers, all from Fort Carson, were killed that night. Malkin cited another report (emphases mine):
In the deadliest day for Fort Carson since Vietnam, eight soldiers from the post's 4th Brigade Combat Team died in Afghanistan on Saturday when insurgents attacked a pair of remote outposts in Nuristan province …
"My heart goes out to the families of those we have lost and to their fellow Soldiers who remained to finish this fight," Col. Randy George, the brigade's commander, said in a statement late Saturday. "This was a complex attack in a difficult area. Both the U.S. and Afghan Soldiers fought bravely together; I am extremely proud of their professionalism and bravery."
Later that month, when Obama had been in the White House for less than a year, Global Research published 'America's Phoney War in Afghanistan', which posited that the real reasons for being in Afghanistan were far removed from terror. Controlling the opium supply there was one real objective. The second was to maintain a bulwark against Russia and China.
Excerpts follow:
The US military is in Afghanistan for two reasons. First to restore and control the world's largest supply of opium for the world heroin markets and to use the drugs as a geopolitical weapon against opponents, especially Russia. That control of the Afghan drug market is essential for the liquidity of the bankrupt and corrupt Wall Street financial mafia.
According even to an official UN report, opium production in Afghanistan has risen dramatically since the downfall of the Taliban in 2001. UNODC data shows more opium poppy cultivation in each of the past four growing seasons (2004-2007), than in any one year during Taliban rule. More land is now used for opium in Afghanistan, than for coca cultivation in Latin America. In 2007, 93% of the opiates on the world market originated in Afghanistan. This is no accident.
It has been documented that Washington hand-picked the controversial Hamid Karzai, a Pashtun warlord from the Popalzai tribe, long in the CIA's service, brought him back from exile in the USA, created a Hollywood mythology around his "courageous leadership of his people." According to Afghan sources, Karzai is the Opium "Godfather" of Afghanistan today. There is apparently no accident that he was and is today still Washington's preferred man in Kabul. Yet even with massive vote buying and fraud and intimidation, Karzai's days could be ending as President.
The second reason the US military remains in Afghanistan long after the world has forgotten even who the mysterious Osama bin Laden and his alleged Al Qaeda terrorist organization is or even if they exist, is as a pretext to build a permanent US military strike force with a series of permanent US airbases across Afghanistan. The aim of those bases is not to eradicate any Al Qaeda cells that may have survived in the caves of Tora Bora, or to eradicate a mythical "Taliban" which at this point according to eyewitness reports is made up overwhelmingly of local ordinary Afghanis fighting to rid their land once more of occupier armies as they did in the 1980's against the Russians.
The aim of the US bases in Afghanistan is to target and be able to strike at the two nations which today represent the only combined threat in the world today to an American global imperium, to America's Full Spectrum Dominance as the Pentagon terms it …
Each Eurasian power brings to the table essential contributions. China has the world's most robust economy, a huge young and dynamic workforce, an educated middle class. Russia, whose economy has not recovered from the destructive end of the Soviet era and of the primitive looting during the Yeltsin era, still holds essential assets for the combination. Russia's nuclear strike force and its military pose the only threat in the world today to US military dominance, even if it is largely a residue of the Cold War. The Russian military elites never gave up that potential.
As well Russia holds the world's largest treasure of natural gas and vast reserves of oil urgently needed by China. The two powers are increasingly converging via a new organization they created in 2001 known as the Shanghai Cooperation Organization (SCO). That includes as well as China and Russia, the largest Central Asia states Kazakhstan, Kyrgyzstan, Tajikistan, and Uzbekistan.
The purpose of the alleged US war against both Taliban and Al Qaeda is in reality to place its military strike force directly in the middle of the geographical space of this emerging SCO in Central Asia. Iran is a diversion. The main goal or target is Russia and China.
Officially, of course, Washington claims it has built its military presence inside Afghanistan since 2002 in order to protect a "fragile" Afghan democracy. It's a curious argument given the reality of US military presence there.
In December 2004, during a visit to Kabul, US Defense Secretary Donald Rumsfeld finalized plans to build nine new bases in Afghanistan in the provinces of Helmand, Herat, Nimrouz, Balkh, Khost and Paktia. The nine are in addition to the three major US military bases already installed in the wake of its occupation of Afghanistan in winter of 2001-2002, ostensibly to isolate and eliminate the terror threat of Osama bin Laden.
The Pentagon built its first three bases at Bagram Air Field north of Kabul, the US' main military logistics center; Kandahar Air Field, in southern Afghanistan; and Shindand Air Field in the western province of Herat. Shindand, the largest US base in Afghanistan, was constructed a mere 100 kilometers from the border of Iran, and within striking distance of Russia as well as China.
Afghanistan has historically been the heartland for the British-Russia Great Game, the struggle for control of Central Asia during the 19th and early 20th Centuries. British strategy then was to prevent Russia at all costs from controlling Afghanistan and thereby threatening Britain's imperial crown jewel, India.
Afghanistan is similarly regarded by Pentagon planners as highly strategic. It is a platform from which US military power could directly threaten Russia and China, as well as Iran and other oil-rich Middle East lands. Little has changed geopolitically over more than a century of wars.
Afghanistan is in an extremely vital location, straddling South Asia, Central Asia, and the Middle East. Afghanistan also lies along a proposed oil pipeline route from the Caspian Sea oil fields to the Indian Ocean, where the US oil company, Unocal, along with Enron and Cheney's Halliburton, had been in negotiations for exclusive pipeline rights to bring natural gas from Turkmenistan across Afghanistan and Pakistan to Enron's huge natural gas power plant at Dabhol near Mumbai. Karzai, before becoming puppet US president, had been a Unocal lobbyist.
By the time the article was posted, there was allegedly little terrorism threat left:
… the National Security Adviser to President Obama, former Marine Gen. James Jones has made a statement, conveniently buried by the friendly US media, about the estimated size of the present Al Qaeda danger in Afghanistan. Jones told Congress, "The al-Qaeda presence is very diminished. The maximum estimate is less than 100 operating in the country, no bases, no ability to launch attacks on either us or our allies."
That means that Al-Qaeda, for all practical purposes, does not exist in Afghanistan. Oops…
If we follow the statement to its logical consequence we must conclude then that the reason German soldiers are dying along with other NATO youth in the mountains of Afghanistan has nothing to do with "winning a war against terrorism." Conveniently most media chooses to forget the fact that Al Qaeda to the extent it ever existed, was a creation in the 1980's of the CIA, who recruited and trained radical muslims from across the Islamic world to wage war against Russian troops in Afghanistan as part of a strategy developed by Reagan's CIA head Bill Casey and others to create a "new Vietnam" for the Soviet Union which would lead to a humiliating defeat for the Red Army and the ultimate collapse of the Soviet Union.
Now US NSC head Jones admits there is essentially no Al Qaeda anymore in Afghanistan. Perhaps it is time for a more honest debate from our political leaders about the true purpose of sending more young to die protecting the opium harvests of Afghanistan.
Nonetheless, terror remained a by-product of the American presence in Afghanistan. One Afghan-American visitor was so affected by his time there that he returned to launch terror attacks of his own in the Chelsea district of Manhattan as well as in a shore town in New Jersey. He was from Elizabeth, New Jersey.
On September 19, 2016, the Boston Herald reported that a friend of the suspect said that the visit to Afghanistan was 'life-changing':
A man who described himself as a childhood friend of the 28-year-old busted today in connection with this weekend's New York-area bombings told the Herald the suspect made a life-changing trip to Afghanistan two years ago. 
"At one point he left to go to Afghanistan, and two years ago he came back, popped up out of nowhere and he was real religious," friend Flee Jones, 27, said of suspect Ahmad Khan Rahami. "And it was shocking. I'm trying to understand what's going on. I've never seen him like this."
Police this morning released a photo of Rahami, an Afghan immigrant and U.S. citizen, wanted for questioning in the bombings that rocked a Manhattan neighborhood and a New Jersey shore town. Rahami was taken into custody after a gunfight in nearby Linden today at 11:20 a.m. (See that story here…)
The terror suspect's arrest came after investigators this morning swarmed a chicken restaurant and apartment here in connection with the hunt for Rahami, Elizabeth Mayor Christian Bollwage told the Herald …
Bollwage told the Herald the search began after five people were pulled over on the Belt Parkway last night in connection with the bombing in Chelsea. That led to the search of First American Fried Chicken and the apartment above it in Elizabeth, Bollwage said, but it was unclear how the people detained were connected to the restaurant.
In addition to the blast in Manhattan's Chelsea neighborhood on Saturday that injured dozens, a pipe bomb exploded in a New Jersey shore town before a charity 5K race and an unexploded pressure cooker device was found blocks away from the explosion site in Chelsea. Yesterday, five explosive devices were discovered at an Elizabeth train station.
FBI agents as well as state and local police were in the eatery and the apartment upstairs, which are cordoned off by yellow crime tape. Investigators towed a black Toyota sedan away from the street in front of the restaurant this morning …
According to an Elizabeth resident, Rahami worked the register at the restaurant and was in charge when his father was gone.
A few months earlier, in June, the father of mass shooter Omar Raheem allegedly supported the Taliban and wanted to become president of Afghanistan. The Daily Mail reported:
Mass shooter Omar Mateen's father Seddique Mateen recently visited Congress, the State Department and met political leaders during a trip to Washington, DC.
Mateen, who made the trip in April, is seen in social media posts posing in front of the State Department and Democratic Foreign Services Committee offices.
The Afghanistan native, who also regularly writes open letters to President Barack Obama, has expressed gratitude [to the] Afghan Taliban who hosts the Durand Jirga Show on a channel called Payam-e-Afghan, which broadcasts from California … 
Dozens of videos are posted under Mateen's name on YouTube, where he speaks on a range of political subjects in the Dari language.
One video shows him declaring his candidacy for the Afghan presidency.
Posts include topics such as 'Rise Afghan people against Pakistan' and 'Intelligent service and Military of Pakistan real Enemy of the USA (sic)'.
In one video the elder Mateen holds up a sign that reads: 'ISI Pakistan and Military is Destroying 14 years of US work in Afghanistan to cut AID to killers'.
Meanwhile, the Taliban were still terrorising children, revealing the fact that local government was superior to that from the nation's capital, Kabul. On June 12, 2010, the Taliban hanged a seven-year-old boy in order to punish his family. The Telegraph reported:
Del Awar, aged seven, was taken at sunset and found hanging in an orchard at sunrise the following day.
Bruises and scratches around the young boy's neck suggested his murder had been neither quick, nor easy, according to those who saw his slight body after it was cut down.
His death is widely believed to have been punishment for the stand taken by his family against the Taliban in their remote Helmand village.
Reports from the village of Heratiyan in Sangin district said Del Awar's father, Abdul Qudoos, and grandfather, Abdel Satar, had grown tired of Taliban intimidation and the violence the militants attracted.
The family had either demanded rebel fighters stop using village compounds to stage ambushes or had refused a demand of £400 for machine guns, villagers reported.
The two men had been angrily denounced as Nato or US spies and unknown to them, Del Awar's cruel fate was sealed.
The Taliban have denied the killing, but in Heratiyan where villagers must live under the reality of complete militant control, many privately doubt their protestations.
Awar's father, Abdul Qudoos, was a poor man who could not send his children to school and did not have a feud with anyone, explained Maulawi Shamsullah Sahrai, a 50-year-old elder from the village …
For those accused of collaboration with the Nato-led forces or with Mr Karzai's weak government, Taliban control often means rapid summary execution.
Afghanistan brought other peculiarities involving alliances through sexual relations. In 2014, an American couple sued the United States Marines for allegedly covering up the circumstances of their son's death in 2012. The New York Post reported:
The shattered family of a Long Island Marine murdered by an Afghan rebel on an American military base in 2012 is suing the corps and top brass for allegedly covering up details of the incident, The Post has learned.
Relatives of Lance Cpl. Greg Buckley Jr., 21, of Oceanside, say his killer served as a "tea boy" for an infamous Afghan police chief who was allowed to operate out of the Helmand province compound despite his perverse reputation, according to the Brooklyn federal suit filed Wednesday.
Ainuddin Khudairaham walked into a gym on the base and shot dead Buckley, Cpl. Richard Rivera and Staff Sgt. Scott Dickinson. He proclaimed himself a jihadist before being arrested.
Khudairaham was employed on the base by Sarwar Jan, a notorious Afghan police chief with a taste for young boys, drug dealing, and trading arms with the Taliban, the suit states.
He had already been ejected from another village for his unsavory activities and the US military compiled a dossier of his ugly exploits long before he arrived at Buckley's base, court papers state.
Afghan women continued to be terrorised, as the Daily Mail reported on December 28, 2016, after Donald Trump had been elected president:
A woman has reportedly been beheaded by a group of armed men in Afghanistan after she entered a city without her husband.
The horrific act took place in the remote village of Latti in Sar-e-Pul province, which is under Taliban control.
Provincial Governor spokesman Zabiullah Amani told the Nation that the 30-year-old woman was targeted because she went out alone without her husband, who is in Iran.
The Middle East Press reported the woman had gone to the market to shop.
Under Taliban rule women are prohibited from leaving their homes unless accompanied by a close male relative.
They are also banned from working or education and are forced to wear the burqa.
The Taliban have rejected any involvement in this latest incident …
Gateway Pundit carried the story and said that Trump would bring better days:
There is hope, however because Donald Trump has publicly stated that 'things will be different after January 20th'.
Terrorism persisted in Afghanistan. On April 13, 2017, Trump retaliated with a MOAB, Mother of All Bombs:
Here is a video of the MOAB:
A Fox News article from that time stated that the MOAB had been tested for deployment as early as 2003:
It was first tested in 2003, but hadn't been used in combat before Thursday.
Pentagon spokesman Adam Stump said the bomb had been brought to Afghanistan "some time ago" for potential use. The bomb explodes in the air, creating air pressure that can make tunnels and other structures collapse. It can be used at the start of an offensive to soften up the enemy, weakening both its infrastructure and morale.
"As [ISIS'] losses have mounted, they are using IEDs, bunkers and tunnels to thicken their defense," Gen. John Nicholson, commander of U.S. forces in Afghanistan, said in a statement. "This is the right munition to reduce these obstacles and maintain the momentum of our offensive against [ISIS]."
President Trump told media Thursday afternoon that "this was another successful mission" and he gave the military total authorization.
Trump was also asked whether dropping the bomb sends a warning to North Korea.
"North Korea is a problem, the problem will be taken care of," said Trump.
It was thought that the MOAB was launched in retaliation for the death of a Green Beret soldier. The Daily Mail reported that the Pentagon denied any revenge:
The blast killed 36 militants as it destroyed three underground tunnels as well as weapons and ammunition, a spokesman for the Afghan Ministry of Defense said.
No civilians were hurt, he added.
U.S. forces used a 30-foot long, GPS-guided GBU-43 bomb, at around 7.30pm local time in the Nangarhar Province …
A crater left by the blast is believed to be more than 300 meters (1,000 feet) wide after it exploded six feet above the ground. Anyone at the blast site was vaporized …
The Pentagon is denying that the attack was a revenge strike despite the fact that it came in the same area of Afghanistan where a Green Beret soldier was killed on Saturday.
Staff Sgt. Mark De Alencar of the 7th Special Forces Group was cut down by enemy small arms fire while his unit was conducting counter-ISIS operations. 
A WikiLeaks document, quoting a New York Times article, says that the CIA had built those tunnels with the help of their then-ally, Osama bin Laden, who had a degree in civil engineering. He tapped into his family's construction equipment. They owned the Saudi Binladin Group:
From the White House, Sean Spicer confirmed the MOAB hit. Nearly two-thirds of registered American voters approved.
Weeks later, on May 7, the US confirmed they had taken out Afghanistan's head of ISIS at the end of April. Reuters reported:
The head of Islamic State in Afghanistan, Abdul Hasib, was killed in an operation on April 27 conducted jointly by Afghan and U.S. Special Forces in the eastern province of Nangarhar, U.S. and Afghan officials said on Sunday.
Hasib, appointed last year after his predecessor Hafiz Saeed Khan died in a U.S. drone strike, is believed to have ordered a series of high profile attacks including one in March 8 on the main military hospital in Kabul, a statement said.
Last month, a Pentagon spokesman said Hasib had probably been killed during the raid by U.S. and Afghan special forces in Nangarhar during which two U.S. army Rangers were killed, but prior to Sunday's announcement there had been no confirmation.
"This successful joint operation is another important step in our relentless campaign to defeat ISIS-K in 2017," the top U.S. commander in Afghanistan, Gen. John Nicholson said in a statement from U.S. military headquarters in Kabul.
Late that summer, on August 21, Trump gave a speech on the future of Afghanistan, stating that he was weary of the American presence. He said that the country would need to sort its own governance out. He told the terrorists that America was keeping a close eye on them. He threatened to withdraw funding for Pakistan if they continued to support terrorists. He requested help and support from India. The short version is here, but beware of the language from the person summarising it.
The full transcript of Trump's speech is here. It is too long to excerpt. He delivered it before the first lady, Mike Pence and a group of American troops.
By October 13, Pakistan was helping the United States. That day, Trump tweeted:
Starting to develop a much better relationship with Pakistan and its leaders. I want to thank them for their cooperation on many fronts.
Nearly one year later, on September 3, 2018 — Labor Day — an American soldier serving in Operation Resolute Support was killed in an attack on NATO forces. He was the sixth American to fall in Afghanistan that year.
Two days earlier, news emerged that China was encroaching on Afghanistan, specifically into the Wakhan Corridor, which connects China's westernmost province of Xinjiang to Afghanistan. This is a thin tongue-shaped area of land, which you can see in a map here.
On September 1, Lawrence Sellin, a retired colonel in the US Army Reserve, wrote an article for the Indian Center for Diplomatic Studies, 'China Moves into Afghanistan As Part of Its Global Expansion Mission'.
He wrote that China was seeking to end the Afghan conflict and enhance their own strategic standing:
For many, it was a stunning development. China will build a brigade-size military training facility in the strategic Wakhan Corridor, the land bridge between Tajikistan and Pakistan, which is located in Afghanistan's northeast Badakhshan province and borders China.
Although Beijing denied the claim that hundreds of Chinese soldiers will be deployed to Afghanistan, a source close to the Chinese military stated, "Construction of the base has started, and China will send at least one battalion of troops, along with weapons and equipment, to be stationed there and provide training to their Afghan counterparts."
For those who have been closely following growing Chinese influence in Afghanistan, the above report comes as no surprise.
A year earlier on August 14, 2017, Spogmai radio quoted the spokesman for the Afghan Ministry of Defense (translation): "A brigade base will be built to maintain the security of Badakhshan, which will be funded by China."
The spokesman stated that China has steadily increased its military cooperation with Afghanistan and had, at that point, already provided $73 million in military aid.
Beyond the enormous geopolitical implications of a Chinese military base inside Afghanistan, the Badakhshan installation is the final security link between Tajikistan, vital to China's commercial interests in Afghanistan, and Pakistan, China's "all-weather" ally in South Asia.
It was largely unreported that China financed border outposts and deployed troops to Tajikistan's eastern Gorno-Badakhshan Autonomous Region, which borders Afghanistan's Badakhshan province and is part of the Wakhan Corridor.
Consolidating a Chinese presence in Badakhshan province, the Afghan Ministry of Information and Technology has discussed signing a contract with China Telecom for a fiber optic network connecting China to the Wakhan Corridor. No doubt, the intention is to couple that system to the larger network linking China with Pakistan, the Middle East and Africa.
China is already Afghanistan's biggest investor. In 2007 it took a $3 billion, 30-year lease for the Aynak copper mine. China and Pakistan have offered to extend the China-Pakistan Economic Corridor (CPEC) to Afghanistan. Some have concluded that the CPEC invitation is a prelude to positioning China as a mediator to end the Afghan conflict.
I will stop there and continue tomorrow.
Involvement in Afghanistan is an unholy mess, aided and abetted by China and its allies.
Joe Biden just cannot help himself.
Last week, he signed off on new legislation but not without pulling a little girl close to him. What is his problem?
Contrast that with President Trump holding a little boy at one of his rallies.
The children's body language in this tweet says it all:
Sick. Yet, Trump Derangement Syndrome lives on.
Time is short today, so here are a few brief takes on coronavirus.
The young
I was appalled to see this video of an infant undergoing a PCR test. What are parents and medical staff thinking?
Why would a tiny baby need to undergo such a test? Yes, I agree that the procedure could cause an infection or, worse, damage. The barrier between the brain and back of the nose must be extremely delicate in such a young child.
The old
Allegedly, last October, Prime Minister Boris Johnson sent the following message expressing scepticism about a winter lockdown in England. I agree with all of what he says. Barrister Francis Hoar makes a valid point about deaths of/with coronavirus. At the time Boris made this statement, our PCR cycle threshold was >35, thereby picking up anything and everything:
It is true that, in England, at least, the average age for the elderly dying from the virus is greater than the average life expectancy.
I do wish Boris had had the nerve to 'recalibrate' and avoid a winter-to-spring lockdown. He resisted, but, as usual, SAGE got to him, it would seem.
This topic came up in the comments to an article on Conservative Home about Boris.
One reader wrote (emphases mine):
A reply to the comment pointed out the truth about winter respiratory diseases:
I am 82 years old. Pneumonia was always called "the old man's friend."
Vaccine passports
Despite the Government denying it for the past seven months, it looks as if coronavirus passports are coming to England.
There is speculation that they will be required at the annual Conservative Party conference this coming autumn in Manchester at the Midland Hotel:
Guido Fawkes says:
The Mail reports the Tories' September conference in Manchester is set to require Covid passports, in a blow to any libertarian MPs hoping to attend. While most of conference is quite far away from nightclubbing scenes, no doubt photos of a packed Midland's bar would attract online ire …
Yesterday the Telegraph reported one prominent Tory rebel MP said he suspects if Boris does force them "significant numbers of Conservative MPs and activists will refuse to attend."
I hope libertarian-minded Conservatives do boycott this. This policy would set a dangerous precedent for civil liberties. It's a narrow step from a vax passport to a digital ID.
The Mail's article reports that the insider said:
'Some MPs might not like it, but all the polling suggests the public are quite strongly in favour of Covid passports,' they said.
'That looks to be truer for the older generations who are more at risk, and might be wanting to come along.'
On their heads be it.
Appalling.
The cost of coronavirus in England has been immense.
There is no end in sight for some restrictions and, as I wrote earlier in the week, there will be no Freedom Day on July 19, except for theatres and nightclubs.
London
On July 15, The Telegraph's Tanya Gold wrote about London's ongoing ghost town appearance (emphases mine):
It is too early to say that London is dying, but something is wrong with the city and Covid has accelerated it. Certainly, there is a sense that things are slipping out of control …
I was in central London last week, and it felt ever more ominous. Perhaps it was the weather – again, the rain was monstrous. Or perhaps it was the silence: the department stores in Oxford Street were glassy and empty …
What will happen if offices shutter forever, and most people work from home? This will work for the affluent with spare rooms for offices, and gardens; or they might just leave for Amersham and its Britain in Bloom awards stacked on posts. For those renting in inner cities, it won't; employers will pass a business expense onto an employee, one whose home is already small.
Will central London's beautiful buildings become flats? John Lewis [a nationwide department store chain] is moving into housing. Will anyone want to live in them if the city declines?
Restaurants 
On the topic of London, Mark Hix, one of Britain's best chefs, has had to close his two restaurants in the capital.
He has moved back to Dorset and opened a restaurant there.
Hix Soho in Brewer Street is now a taqueria and Tramshed, his old 150-cover restaurant in Shoreditch (East London), will become a furniture showroom.
He wrote about the two establishments for The Telegraph.
The owners of the El Pastor taqueria invited him to visit, which he did:
My strongest feeling was not one of regret, or even missing the time when this place was my flagship, but rather of pleasure at seeing it busy and buzzy again. It has a new lease of life. And therefore I wished them well, especially with the landlord, the same greedy one who had doubled the rent when I was the tenant and began the collapse of my London chain of restaurants because we just couldn't make any money at the rate he was charging.
We have all learnt some important life lessons these past 16 months of Covid. Perhaps the landlord has too in the new business climate it has produced. Most of all, though, what that walk down memory lane did was give me courage.
As for the Tramshed:
I've got a date in my diary to go back to the kitchen at the Tramshed, my old 150-cover restaurant in Shoreditch. It is going to be less return in triumph and more fond farewell, for my presence there is, as the theatre posters put it, 'for one night only'. The guys who have been running it since my business went into administration are moving out and are staging one last hurrah with my help.
Lockdown has killed the place off and it is going to be converted into a furniture showroom of some description. When I took it on in 2012, this handsome building had been used for chemical storage, so I suppose it is a case of back to the future. Which rather neatly sums up my life story since I handed back the keys in March of last year after breaking the news to the staff there that they had lost their jobs.
He foresees a difficult return for hospitality:
I've come back to Dorset, where it all started, and am now building a new future. All being well, on Monday we will be taking one more step towards that with the lifting of all Government restrictions on how we trade, but the hard work of repairing the damage done by Covid has only just begun. The road back to prosperity for the whole hospitality industry remains a long one.
As I write, Hix is taking a brief fishing break in Iceland, a country on the Green list.
However, a question remains over whether he and other restaurant owners will be able to trade freely on Monday with the lifting of restrictions. 
Hospitality chiefs are still trying to interpret what Boris Johnson said on Monday, which sounded to me like a U-turn on what he said on July 5. The Times says that masks and outdoor service are still recommended, as is checking customers in with contact details. That is what is in place today.
Furthermore, coronavirus passports, which the Government had previously denied would be recommended, are, in fact, on the table.
On Wednesday, July 14, The Telegraph reported:
Ministers on Wednesday published delayed sectoral advice for businesses on how to operate when the country moves to step four of the Prime Minister's roadmap out of lockdown next Monday …
The Government was accused of widening the net of companies encouraged to use domestic coronavirus passports, after Boris Johnson initially signalled on Monday that they would be recommended for nightclubs and venues with "large crowds".
The Prime Minister said relevant firms should show "social responsibility" and "make use" of the NHS Covid pass app, which shows proof of double vaccination, a recent negative test or natural immunity, as "a means of entry".
The updated guidance sparked a backlash among Conservative MP and hospitality chiefs, after advice specifically for restaurants, pubs, bars, nightclubs and takeaway services encouraged the use of Covid passports.
It stated: "Consider the use of the NHS Covid pass to reduce the risk of transmission at your venue or event."
So far, only Steve Baker MP (Con) has spoken out against this recommendation:
I am simply astonished that after everything the Prime Minister and Michael Gove said in the past about ID cards that they are advancing this fast down this really quite appalling path.
Kate Nicholls, the head of the industry body UK Hospitality, expressed her disappointment and said:
the guidance for pubs and restaurants was "disappointing" in the wake of a select committee of MPs and a Cabinet Office consultation "acknowledging that this was a very difficult thing to implement in a domestic hospitality setting".
She said ministers needed to provide a "whole suite of guidance" to explain how Covid passports should work in the sector "for us to decide whether we are willing to adopt this on a voluntary basis".
Predicting few businesses would adopt the measure by Monday, from which date the guidance is meant to apply, she said: "I don't think anybody would be able to introduce this on a voluntary basis from Monday until we have clarification."
Ms Nicholls added that "more work is needed by the Government" and warned that there were "real concerns" around equalities legislation, and "practical issues" around the type of testing that qualifies and how businesses should handle customers' personal health data.
This is an unfortunate development.
Transport
Still on the subject of London, the capital's mayor, Sadiq Khan (Lab), a strong opponent of his predecessor Boris Johnson, intends to continue with mask mandates on Transport for London (TfL) vehicles and the Tube as a condition of carriage.
Douglas Murray wrote an editorial for The Telegraph in which he says:
Sadiq Khan, for instance, has tried to look super responsible by insisting that even after the rules for mask-wearing are relaxed masks will be compulsory on public transport in London. Obviously, throughout the pandemic, there have been the rules and there has been what people do. I have seen plenty of people get on the bus with their mask on and then pull it under their chin as soon as they are in their seat. We have become used to the theatre of masks.
But the Mayor of London has ordered Transport for London to enforce mask wearing after July 19, making the prospect of a journey on the London Underground even more enjoyable. Citizens of the capital not only have to pay the highest fares of any commuters in the world for one of the world's worst services, but must now mask up under threat of the London Transport Police if they do not. What a wonderful way to get the capital moving again.
Agreed. It makes no sense, and Khan has complained for months that TfL's finances have been dire since lockdown started last year. It's pure political theatre just to oppose Boris Johnson's government.
Office work
On July 5, the Government encouraged office workers to go back to their workplaces.
This Monday, they backtracked because they got complaints in the media.
The Times has an article about the travel company Tui, which has told its employees they only need to come into the office one day a month, regardless of what happens on July 19.
Other companies have followed suit. However, in the United States, fully-vaccinated employees are expected to be back at their desks by September:
Other businesses adjusting their working practices include KPMG, the accountancy firm, which has told its 16,000 UK staff they should work in the office for up to four days a fortnight. In the US, by way of contrast, Bank of America yesterday followed Goldman Sachs in telling all fully-vaccinated staff to be back at their desks by September.
The policy director of the Institute of Directors says that the Government's advice this month has been confusing:
Roger Barker, policy director at the Institute of Directors, said: "Like everybody else, businesses across the country having been awaiting 'freedom day' with bated breath — but we have had a series of mixed messages and patchwork requirements from government that have dampened enthusiasm.
"Return to work or continue to stay at home. Throw away your masks or continue to wear them. The guidance has done little to dispel that confusion.
"Business leaders are understandably confused as to the legal status that this guidance has and are concerned about vulnerability under health and safety legislation, as well as the validity of their insurance.
"Government needs to inspire confidence in businesses and the workforce that we can all return to work safely."
School
We have little idea of exactly how much school-age children have been suffering over the past year.
One mother and her ex-husband saw how their daughter's scholastic performance had been declining and put her in an independent school, with financial help from both sets of grandparents.
The mother, Mel Sims, told The Telegraph her story, beginning in the Spring of 2020:
My daughter was in Year 5 when the first lockdown brought her education to an abrupt halt. A bright only child, mature for her age because she spends so much time with adults, she'd been doing very well in the classroom. But then the state primary she attends in our village in Essex closed its doors to all but key worker children. I'm a 49-year-old single mother. My daughter's father lives in Durham. I had no choice but to become her full-time teacher.
While some of her friends in private or religious schools were receiving a whole day of live Zoom teaching, my daughter's school was very disappointing. What they did provide was an email every Monday morning, packed with multiple different lessons for parents to print off, somehow quickly get their heads around, then teach to our children as best we could.
My business – a children's play centre – shut down along with the schools, so I was at home. I found myself teaching my daughter from 9.30am until 4.30pm every day. Other than the weekly email, we received no contact from the school, which, like many, lacks funding and has class sizes of 30-plus. My daughter's after-school club, where she mixed with older children, was closed. Extracurricular dance classes went on hold and the swimming pool was shut.
Since Covid, my daughter has received very little or no homework as the teachers seem to feel the children already have enough on their plates. I don't know what happened to her foreign language lessons. My previously high-achieving daughter was starting to fall behind the level she had been at before – not just a little, but dramatically. By the end of each week of lockdown, her maths and English were worse. She'd lost interest in doing better; any desire to excel. It was heartbreaking to see her sliding backwards.
This caused tension between the mother and the school:
Friction began to develop between us and the school, as they resented me trying to push her beyond the slow pace at which her class was moving. Many of the families in our village didn't even have enough computers for their multiple children. My daughter's academic success was riding on all the other local parents' capabilities, and that felt deeply unfair on her.
Schools reopened last autumn then shut down at the end of January 4, 2021 for several weeks. By then, the cumulative negative effect had kicked in:
When the second lockdown arrived, my daughter was in Year 6 [the year before secondary school]. This time, there was at least a school registration every day, which took place over Zoom. But my daughter gained little from it, as everyone on the call was at such different levels both academically and behaviourally. There wasn't the opportunity for much academic input from the teacher and my daughter quickly grew bored.
Fortunately, the girl had passed her 11-plus exams, which opened up more education opportunities. Her parents decided that she would have to go to an independent day school, but, even pooling their savings together, they could not afford school fees of £5,500 per term. With the help of the girl's grandparents, they are able to meet the cost of the new school.
Mel Sims concludes:
We'll all be making big changes. But we'll do so in order that, if schools do close again, our daughter's education will not grind to a halt. The new school staff have already assured me that if we go back into lockdown, exactly the same learning will continue over Zoom, full-time and unaided by parents.
I never thought it would come to this. Pre-pandemic, I'd always believed we didn't need private school; that whatever happened at state school, we could get our daughter through.
School closures have changed all that. Yes, we're paying a price. But I feel we've had to invest in a lockdown-proof education. With so many children off school again even now, as their "bubbles" have burst, it seems we have made the right decision.
Care homes
Recently, Sunrise Senior Living and Gracewell Healthcare, a group which runs 45 private care homes in England and one in Wales, wrote to Sajid Javid, the Secretary of State for the Department for Health and Social Care to ask that mask mandates be relaxed.
On Thursday, July 15, The Telegraph reported that:
some of these measures are now damaging the well-being of care home residents.
The Department for Health and Social Care (DHSC) is expected to issue updated guidance on care homes, and whether or not masks will be mandatory in them, later this week …
"For many residents, a visit from their family member has provided invaluable improvements to their well-being, but the requirement for these visitors to wear a face mask degrades the level of connection and therefore devalues the positive impacts their visits can have.
"This restrictive policy, along with various others from both the DHSC and PHE [Public Health England], should be reconsidered as we approach this next step in England's roadmap out of lockdown."
The letter said the success of the vaccination programme among care home staff and residents meant the majority of homes "are now set to confidently return back to an enhanced degree of normality".
All 46 Sunrise and Gracewell homes have at least 90 per cent of residents vaccinated and all but one have more than 80 per cent of staff jabbed. This is the threshold that the Scientific Advisory Group for Emergencies (Sage) says needs to be met in each setting to provide a minimum level of protection against Covid outbreaks.
Helen Whately MP (Con) oversees social care provision. It is unclear as yet whether she will change any requirements for July 19. The Telegraph quoted her as saying:
I'm also really aware that there will be circumstances I'm expecting to continue in health and social care, clearly, where people will need to continue to wear PPE [personal protective equipment], which includes masks.
Conclusion
I find it concerning that the Left, whether in Parliament, SAGE and elsewhere have caused the Government to backtrack on Freedom Day.
As Douglas Murray says in his aforementioned article:
It is inevitable, perhaps, that politicians like Khan want to score some political points. But again what is so strange is that all the points are scored from that side. Putting aside a few MPs on the Tory benches there is no political pressure on us to go the other way. To do so – to advocate the path of greater risk and greater freedom – is still presented as though it is somehow irresponsible or otherwise risky.
But society is risky. Life is risky. The biggest leap towards normal life has already been taken. It is the success of the mass vaccination programme which this country has rolled out so well. But after that we do not need politicians and private companies policing us ever more. We need to take a different leap. Not into greater safety, but into greater freedom. Our allies and competitors are up for that. The question now is whether Britain is. An awful lot rides on the answer.
I couldn't agree more.