You are currently browsing the tag archive for the 'Jesus' tag.
The three-year Lectionary that many Catholics and Protestants hear in public worship gives us a great variety of Holy Scripture.
Yet, it doesn't tell the whole story.
My series Forbidden Bible Verses — ones the Lectionary editors and their clergy omit — examines the passages we do not hear in church. These missing verses are also Essential Bible Verses, ones we should study with care and attention. Often, we find that they carry difficult messages and warnings.
Today's reading is from the English Standard Version with commentary by Matthew Henry and John MacArthur.
Warning Against Neglecting Salvation
2 Therefore we must pay much closer attention to what we have heard, lest we drift away from it. 2 For since the message declared by angels proved to be reliable, and every transgression or disobedience received a just retribution, 3 how shall we escape if we neglect such a great salvation? It was declared at first by the Lord, and it was attested to us by those who heard, 4 while God also bore witness by signs and wonders and various miracles and by gifts of the Holy Spirit distributed according to his will.
———————————————————————————————————–
Last week's entry discussed Hebrews 1, in which the author set out scriptural reasons why Jesus Christ is superior to the angels and how He is the only begotten Son of God.
It is also useful to know that the Book of Hebrews was addressed to three different audiences.
Hebrews 2 begins where Hebrews 1 ended. Note 'Therefore' in verse 1.
In verse 1, the author exhorts the audience to pay close attention to the content of the previous chapter, 'lest we drift away from it'. In older translations it is 'let them slip'.
Matthew Henry's commentary explains that humans are weak and our brains do not retain everything they should (emphases mine):
Learn, (1.) When we have received gospel truths into our minds, we are in danger of letting them slip. Our minds and memories are like a leaky vessel, they do not without much care retain what is poured into them; this proceeds from the corruption of our natures, the enmity and subtlety of Satan (he steals away the word), from the entanglements and snares of the world, the thorns that choke the good seed. (2.) Those meet with an inconceivable loss who let gospel truths, which they had received, slip out of their minds; they have lost a treasure far better than thousands of gold and silver; the seed is lost, their time and pains in hearing lost, and their hopes of a good harvest lost; all is lost, if the gospel be lost. (3.) This consideration should be a strong motive both to our attention to the gospel and our retention of it; and indeed, if we do not well attend, we shall not long retain the word of God; inattentive hearers will soon be forgetful hearers.
The author returns to angels in verse 2. Angels were the next closest beings to God for the Jews. They delivered divine messages, God's laws and also judgements.
Therefore, the author asks (verse 3), if angels serve God in all those ways, who are we to escape judgement if we do not accept the great salvation that Jesus Christ has for the faithful? After all, the author says, it was the Lord Himself who declared His Son and the audience of Hebrews knew about Jesus from the Apostles and others.
Let us look at the importance of angels in the Old Testament, via John MacArthur:
If a man couldn't neglect the revelation that came through angels, how much can he neglect the revelation which came through the Lord himself? Now I want you to notice the word if. "For if the word spoken by angels was steadfast," and this is what we call in Greek, a fulfilled condition. In view of the fact that the word spoken by angels was steadfast, it's not an if maybe. It's an if absolutely. It's a since, or in view of the fact that.
Now let me look at specifics with you for a minute. You'll notice that it says, "the words spoken by angels. Now why is it that the Old Testament commandments, particularly the Ten Commandments, the Decalogue in Moses' tablets, why is that so connected with the angels? Why does it say that the angels mediated the old covenant? Well, because the angels were instrumental in bringing the Ten Commandments, and I'll show you that from several passages, Psalm 68:17.
Now Psalm 68:17 just kind of barely scratches the surface of this. 68:17, "The chariots of God are twenty thousand, even thousands of angels: the Lord is among them, as in Sinai, in the holy place." Now where did Moses get the law? What mount? Sinai. This verse says the Lord is in Sinai with twenty thousand, even thousands of angels. So the angels evidently were there at Sinai, which was the mount upon which Moses received the law, the Ten Commandments.
Now in Deuteronomy 33:2, I read you this. This is Moses, and he said, "He said:
"The Lord came from Sinai and rose up from Seir under them; he shined forth from Mount Paran, and he came with ten thousands of holy ones, angels. From his right hand went a fiery law for them." Now we believe that this is an indication that angels were involved in the bringing of the law.
The New Testament also has references to this effect:
Now in the New Testament, Acts, for example, chapter 7 gives us the same indication, verse 38. "This is he, that was in the church in the wilderness with the angel who spoke to him in the Mount Sinai." Now here is a specific designation that when Moses was in Sinai an angel spoke to him.
In verse 53 of the same chapter, it says, "Who have received the law by the disposition of angels." So angels were at Sinai. Both in the Old Testament and the New Testament we are told that. They were very instrumental in the bringing of the law. That's what is indicated here in what the writer of Hebrews is saying. Angels had a place in bringing the law. The law which they brought, the word spoken by angels, and we believe this refers primarily the Ten Commandments, was steadfast.
And breaking religious law brought about swift retribution and judgement:
Now what it means there is if you broke that law, that law broke you. Right? I mean there wasn't any out. That was it. I mean if a person committed adultery, what happened to him? They stoned him. And so forth and so on. If a person worshiped false gods, and blasphemed God, they stoned him. That was it. The law was inviolable, it was sure, it was certain.
And it says in verse 2, "Every transgression and disobedience received a just recompensive reward." That means the law punished every sin.
Now there are only two kinds of sin, and they're indicated by those two words, transgression, parabasis, it means to step across the line. That's a willful act of sin. That's an overt sin of commission. You know, that's just going right out there and sinning. God says, "Here's the line, and over there is a no no." And you say, "No. Over there is a yes yes." See, and you go. That is a sin that is active, overt, a sin of commission.
The word disobedience is a different word. This word means imperfect hearing, like a deaf man. This is the deliberate shutting of the ears to the commands, warnings, and invitations of God. This is the sin of neglect or omission. This is standing there doing nothing when you should do something.
There's only two kinds of sin, what you do and what you don't do. They're covered by those two words. And so every sin, whether it was a do it sin or a don't do it sin, was covered by the law. And both types and categories of sin were breaches of the Old Testament law, and they received a just punishment. And I mean the punishments were severe.
In Leviticus, for example, chapter 24, I'll illustrate some fantastic things here to you, and you'll see how severe punishment was. Leviticus 24:14, "Bring forth him who hath cursed outside the camp; and let all who heard him lay their hands upon his head, and let all the congregation stone him. And thou shalt speak unto the children of Israel, saying, 'Whosoever curseth his God shall bear his sin. And he that blasphemeth the name of the Lord, he shall surely be put to death, and all the congregation shall certainly stone him. As well the sojourner as he who is born in the land, when he blasphemeth the name of the Lord, he shall be put to death.'"
Now that's pretty severe law, but God wanted to make sure that Israel's purity was maintained and all false prophets and blasphemers were dealt with immediately to maintain the purity of His people.
Now in Numbers 15:30, "But the soul that doeth anything presumptuously, whether he is born in the land or a sojourner, the same reproacheth the Lord; and that soul shall be cut off from among his people. Because he hath despised the word of the Lord and hath broken His commandment, that soul shall utterly be cut off. His iniquity shall be upon him.' And while the children of Israel were in the wilderness, they found a man who gathered sticks upon the Sabbath day." You say big deal.
"And they found him with gathered sticks brought him unto Moses and Aaron and unto all the congregation they put him in prison, because it was not declared what should be done to him. And the Lord said unto Moses, "The man shall be surely put to death. All the congregation shall stone him with stones outside the camp." And all the congregation brought him outside the camp, stoned him with stones, and he died, as the Lord commanded Moses."
You say, "Died for picking up sticks on the ____." As the principle of the issue, he was defying the law of God. God set the law, and the punishment was inviolable.
Numbers 25, at the beginning of the verse, "Israel abode in Shittim, and the people began to commit whoredom with the daughters of Moab." Here they are getting involved with Moabites sexually. "And they called the people unto the sacrifices of their gods," – they begin to worship false gods – "and the people did eat and bow down to their gods. And Israel joined himself unto Baal of Peor, and the anger of the Lord was kindled against Israel. And the Lord said unto Moses, 'Take all the heads of the people and hang them up before the Lord against the sun, that the fierce anger of the Lord may be turned away from Israel.' And Moses said unto the judges of Israel, 'Slay ye every one his men who were joined unto Baal of Peor.' And behold, one of the children of Israel came and brought unto his brethren a Midianite woman in the sight of Moses and in the sight of all the congregation of the children of Israel, who were weeping before the door of the tabernacle of the congregation. And when Phinehas, the son of Eleazar, the son of Aaron the priest, saw it, he rose up from among the congregation and took a javelin in his hand; and he went after the man of Israel into the tent and thrust both of them through, the man of Israel and the woman through her abdomen.' Just stuck them both. 'So the plague was stayed from the children of Israel. And those who died in the plague were twenty and four thousand.'"
See, God didn't like it when they broke His law.
In Deuteronomy, chapter 17, and you see, God had to do to this to maintain purity in Israel. He defended them and he kept them from these false people. The ones who were being slain here were those who were not of God, but of Satan. And God dealt strictly with them.
Deuteronomy, chapter 17, verse 2, "If there be found among you, within any of thy gates which the Lord thy God giveth thee, man or woman who hath wrought wickedness in the sight of the Lord thy God in transgressing His covenant, and hath gone and served other gods and worshiped them, either the sun or moon or any of the host of heaven, which I have not commanded, and it be told thee, and thou hast heard of it and inquired diligently, and behold, it is true and the thing certain that such abomination is wrought in Israel, then shalt thou bring forth that man or that woman who hath committed that wicked thing unto thy gates, even that man or that woman, and shalt stone them with stones till they die. At the mouth of two witnesses or three witnesses shall he that is worthy of death be put to death, but at the mouth of one witness he shall not be put to death." This was protecting them.
"The hands of the witnesses shall be first upon him to put him to death, and afterwards the hands of all the people. So shalt thou put the evil away from among you." But why did God do all this?
Verse 13 said, "And all the people shall hear, and fear, and do no more presumptuously." If you make the consequence strict enough, maybe the people will obey.
In Deuteronomy 27, and this is the last one we're going to read in the Old Testament, 27:26, sum up is this, "'Cursed be he that confirmeth not all the words of this law to do them.' And all the people shall say, 'Amen.'" Now that's inviolable law that God set, and it was strong.
In Jude in the New Testament, verse 5, "I will therefore put you in remembrance, though ye once knew this, that the Lord, having saved the people out of the land of Egypt, afterward destroyed them that believed not." That's strong judgment on unbelievers. Even under the old economy there was tremendous judgment on unbelievers.
Now you don't think for a minute that such unbelief was punished in such a way under the old covenant that it will not be punished in such a way under the new covenant, for indeed it will. And that's the whole point of verses 2 and 3 here in Hebrews. "If the word spoken by angels was steadfast, inviolable, and every transgression and disobedience received a just recompense of reward, how shall we escape if we neglect so great a salvation."
Now you'll notice in verse 2, and I must point it out the word just. People like to accuse God of not being just. God is just. God's never done anything unjust in His existence. In every punishment and everything that He ever did was a deterrent to the sin that He wanted to stop. And He only punished those that were already determined to abide without Him, and to defy Him, and He removed them for the sake of those who were pure and holy and wanted to live for Him.
Concerning God's announcement of His Son Jesus Christ, the author addressed this question in Hebrews 1. God delivered His message through the many Old Testament prophets. Then, Jesus came to Earth. Now we have His words and deeds to heed via those who were His disciples and later those who knew them:
The Supremacy of God's Son
1 Long ago, at many times and in many ways, God spoke to our fathers by the prophets, 2 but in these last days he has spoken to us by his Son, whom he appointed the heir of all things, through whom also he created the world.
All that Jesus did on Earth came via God according to His holy will as well as via the gifts of the Holy Spirit (verse 4). However, during the Apostolic Era those men also performed miracles to increase the growth of the Church and to bring new souls to Christ.
MacArthur explains:
So you see, Jesus confirmed his own ministry by his own miracles. And of course, that was the message of Peter on the day of Pentecost. I think it's Acts 2:22, "Ye men of Israel, hear these words: Jesus of Nazareth, a Man approved of God among you by miracles, wonders, and signs," do you see? Jesus was approved, or his word confirmed by signs, wonders, and miracles. Do you know that the very same things that Peter talks about there or talked about here as the same confirming signs for the second generation preachers? Did you know that? …
And so God bore them witness by giving them the ability to do the same things that Jesus had done, right, signs, wonders, miracles. And Jesus himself even made the statement to his own disciples that greater works than these shall what? "Ye do. 'Cause I go to my Father."
And they performed astounding miracles. They performed the raising of the dead, the healing of people, all kinds of miracles. And so it was that God confirmed them. Now when you're arguing with the gospel of Jesus Christ, coming from the mouths of these apostles, then you're arguing with the confirmation of God. This is not human philosophy right here in the New Testament. This is not some little guy's little brainstorm rolling out of his little pea brain. That isn't what it is.
This is divine truth substantiated by signs, and wonders, and miracles. And if you don't think so, just start in chapter 5 of Acts and just read right straight through chapter 19, and you'll just read about one after the other of miracles that attended the ministry of these men.
You say, why the miracles? God was saying believe them, they're from me, and it's proven by the ability they have to do miracles. Now the words, signs, wonders, and miracles are really synonyms. They're referring to all these marvelous supernatural things that these apostles did. But then one other thing, not only did they confirm the Word with signs, and wonders, and miracles, and we'll make mention of that again in moment, but also by gifts of the Holy Spirit. Do you see it there in verse 4? Gifts of the Holy Spirit.
Now watch this gentle, but powerful conclusion, "according to his own will?" Now the question mark doesn't belong in that statement. The question mark belongs with the How shall we escape? What is it saying? It's saying, gifts [from] the Holy Spirit come according to who's will? His will. Now that's almost shoved in there just to keep some people from getting messed up about how to get certain gifts. Subtle, isn't it?
The Apostolic Era has passed. We have recorded Old and New Testaments which provide the revelation we need.
MacArthur says:
They have no need to exist today, because there is no need to confirm the Word. If a guy comes along and says, "Thus said the Lord. Thus said the Lord. Thus said the Lord," and you say, "Hey, how do we know he's for real?" You don't need a miracle, what do you need? You match him up with the Word, right?
When that which is perfect has come, then that which is partial is passed away. We don't need any more confirming signs. [BB] Warfield, a great scholar of the Bible said, "These miraculous gifts were part of the credentials of the apostles, as the authoritative agents of God in founding the church. Their function thus confined them to distinctively the apostolic church, and they necessarily passed away with it."
The main message is this:
Three classic reasons that a man is a fool to neglect salvation – the character of Christ, the certainty of judgment, and the confirmation of God. This gospel is a gospel that God has attested to with signs, wonders, miracles, gifts, and now He attests to it in the miracle of His written word.
My friend, let it not be said of you that you neglected Jesus Christ. History tells us that three hours' neglect cost Napoleon Waterloo. And the neglect of Christ's salvation will cost you eternal blessing, eternal joy, and bring you damning judgment. Don't be so foolish as to drift past God's grace.
The rest of Hebrews 2 says that, for a time during His earthly ministry, Jesus was lower than the angels, however, He now sits at the right hand of the Father forevermore.
The closing verses are particularly moving. Jesus is our only Mediator and Advocate with the Father. The fact that He, of divine nature, humbled Himself to also take on human form shows He understands our weaknesses and helps us to overcome them:
14 Since therefore the children share in flesh and blood, he himself likewise partook of the same things, that through death he might destroy the one who has the power of death, that is, the devil, 15 and deliver all those who through fear of death were subject to lifelong slavery. 16 For surely it is not angels that he helps, but he helps the offspring of Abraham. 17 Therefore he had to be made like his brothers in every respect, so that he might become a merciful and faithful high priest in the service of God, to make propitiation for the sins of the people. 18 For because he himself has suffered when tempted, he is able to help those who are being tempted.
That's something to think about and remind ourselves of as we go about our daily lives this week.
Next time — Hebrews 3:1-6
The three-year Lectionary that many Catholics and Protestants hear in public worship gives us a great variety of Holy Scripture.
Yet, it doesn't tell the whole story.
My series Forbidden Bible Verses — ones the Lectionary editors and their clergy omit — examines the passages we do not hear in church. These missing verses are also Essential Bible Verses, ones we should study with care and attention. Often, we find that they carry difficult messages and warnings.
Today's reading is from the English Standard Version with commentary by Matthew Henry and John MacArthur.
13 And to which of the angels has he ever said,
"Sit at my right hand
    until I make your enemies a footstool for your feet"?
14 Are they not all ministering spirits sent out to serve for the sake of those who are to inherit salvation?
————————————————————————————————————-
If you have not read my post, 'An introduction to the Book of Hebrews', I strongly recommend doing so before reading expositions on it, which begin today and continue on Sundays. This is a theologically rich book which, whilst intended for the Jews in the years before the destruction of the temple, will also benefit us today. I cited John MacArthur's discussion of the three audiences for whom the book is intended: Jewish converts to Christianity, Jews who were intellectually but not spiritually convinced and Jews who did not believe that Jesus is the Messiah.
For me, this book made me rejoice in Christianity, knowing that Jesus is Lord! I hope that Christians reading Hebrews share that same joy.
Citing the Old Testament, the author of Hebrews — unknown! — makes the case that Jesus is greater than the angels.
To us, that would seem a strange starting place, because we would say, 'Of course, He is'. However, to the Jews at that time, angels were the next closest beings to God. MacArthur explains (emphases mine):
… the old covenant was mediated to men by angels, and that the Jewish people revered and esteemed angels higher than any other created being. And if they were the mediators of the old covenant, then the writer must prove that Jesus is better than angels. If He's a better mediator, with a better covenant, He must be better than angels. And so, as we come to verses 4-14, we find the subject Jesus better than angels.
Here are the first 12 verses of Hebrews 1:
The Supremacy of God's Son
1 Long ago, at many times and in many ways, God spoke to our fathers by the prophets, 2 but in these last days he has spoken to us by his Son, whom he appointed the heir of all things, through whom also he created the world. 3 He is the radiance of the glory of God and the exact imprint of his nature, and he upholds the universe by the word of his power. After making purification for sins, he sat down at the right hand of the Majesty on high, 4 having become as much superior to angels as the name he has inherited is more excellent than theirs.
5 For to which of the angels did God ever say,
"You are my Son,
    today I have begotten you"?
Or again,
"I will be to him a father,
    and he shall be to me a son"?
6 And again, when he brings the firstborn into the world, he says,
"Let all God's angels worship him."
7 Of the angels he says,
"He makes his angels winds,
    and his ministers a flame of fire."
8 But of the Son he says,
"Your throne, O God, is forever and ever,
    the scepter of uprightness is the scepter of your kingdom.
9 You have loved righteousness and hated wickedness;
therefore God, your God, has anointed you
    with the oil of gladness beyond your companions."
10 And,
"You, Lord, laid the foundation of the earth in the beginning,
    and the heavens are the work of your hands;
11 they will perish, but you remain;
    they will all wear out like a garment,
12 like a robe you will roll them up,
    like a garment they will be changed.[a]
But you are the same,
    and your years will have no end."
The author wastes no time in getting to the point: God used to speak to His people via the prophets, but now He speaks to them through His Son, Jesus Christ (verse 1, 2).
He explains that Christ has the same nature as His Heavenly Father and that He is Heir of all things (verse 3).
It should be noted that during most of His time on Earth, Jesus was lower than the angels in His humanity. However, after He died on the Cross — 'making purification for sins' — God exalted Him to sit at His right hand, making Him superior to the angels (verses 3, 4).
The author goes on to give scriptural proofs of Christ's superiority to angels by asking questions about various verses in the Old Testament. Those clearly were not intended for angels.
Verse 5 cites Psalm 2:7 and 2 Samuel 7:14, respectively:
7 I will tell of the decree:
The Lord said to me, "You are my Son;
    today I have begotten you.
14 I will be to him a father, and he shall be to me a son. When he commits iniquity, I will discipline him with the rod of men, with the stripes of the sons of men,
Verse 6 cites Deuteronomy 32:43:
43 "Rejoice with him, O heavens;[a]
    bow down to him, all gods,[b]
for he avenges the blood of his children[c]
    and takes vengeance on his adversaries.
He repays those who hate him[d]
    and cleanses[e] his people's land."[f]
Verses 8 and 9 directly quote Psalm 45:6-7.
Verses 10 through 12 directly quote Psalm 102:25-27.
Clearly, none of those verses pertain to angels, but to God's Son. In fact, the angels worship Jesus Christ. They do His bidding. Therefore, He is superior to them.
The author is putting down the argument that Jesus was a good man who suffered terribly and died. On the contrary, He lives and reigns forevermore. MacArthur says of verse 8:
People who are always going around saying, "Jesus was just a man," and "Jesus was just one of many angels," or "Jesus was one of many prophets of God," or "Jesus was like a lot of other little gods, sub-gods, the inferior gods," are lying, and bringing upon themselves the anathema, the curse, of God. Jesus is God. That's what He's saying. The Father says to the Son, "Thy throne, O God, is for ever and ever." That is the Father acknowledging the Son as God. Now, I believe this verse supplies us with the most powerful, clear, and emphatic, irrefutable proof of the deity of Christ in the Bible.
In John 5:18, it's corroborated, because it says, "The Jews sought to kill Him, because He not only had broken the Sabbath, but said also that God was His Father, making Himself equal with God." Jesus all along claimed equality with God. John 10, for example, verse 30: "I and my Father are one." And "The Jews answered Him" – verse 33 – "saying, 'For a good work we stone Thee not, but for blasphemy; and because that Thou, being a man, makest Thyself God.'" They understood that that was His claim. That's more than I can say for a lot of so-called Bible scholars.
You have it again in Romans, chapter 9 and verse 5, talking about Israel and all their blessings, Israel, "Whose are the fathers, and of whom as concerning the flesh Christ came, who is over all, God blessed for ever." And the King James stuck the comma in the wrong place. "Who is over all God, blessed forever." Not "Who is over all, God blessed forever" – "Who is over all God" – the claim that Jesus Christ is God. In 1 Timothy, chapter 3, verse 16: "And without controversy great is the mystery of godliness: God was manifest in the flesh, justified in the Spirit, seen of angels, preached unto the nations, believed on in the world, received up into glory."
And who was it? It was God, that's who it was. Jesus is God. Titus 2:13: "Looking for that blessed hope, and the glorious appearing of the great God and our Savior Jesus Christ." There is no question that the Bible claims that Jesus is God. 1 John 5:20: "And we know that the Son of God is come, and hath given us an understanding, that we may know Him that is true, and we are in Him that is true, even in His Son Jesus Christ. This is the true God." Now, you can't say it any more simply than that.
The author then asks if God was speaking of angels in Psalm 110:1 (verse 13). Clearly not:
The Lord says to my Lord:
    "Sit at my right hand,
until I make your enemies your footstool."
MacArthur explains:
The destiny of Jesus Christ is that ultimately, everything in the universe be subject to Him. Do you understand that? That at the name of the Jesus, every knee should bow, things above the earth, on the earth, and under the earth – Philippians 2. Jesus Christ, in God's plan, is destined to be the ruler of the universe, and everything that inhabits it. In 1 Corinthians 15:25 – well, backing up to 23: "But every man in his own order: Christ the firstfruits; afterwards they that are Christ's at His coming" – talking about resurrection.
"Then cometh the end" – what happens at the end? – "when He shall have delivered up the kingdom to God, even the Father; when He shall have put down all rule and all authority and power. For He must reign, till He hath put all enemies under His feet." And verse 25 – verse 26: "The last enemy that shall be destroyed is death. For He hath put all things under His feet." And verse 28: "And when all things shall be subdued unto Him, then shall the Son also Himself be subject unto Him that put all things under Him, that God maybe all in all."
In relationship of Sonship, He is subordinate to God, only in the designation of Sonship; and under His feet are placed all the kingdoms and authorities and powers of the world. You say, "When does that happen?" It happens at His second coming. It happens when He comes in glory. I read you one verse that describes it, Revelation 19:15: "And out of His mouth goeth a sharp sword, that with it He should smite the nations: and He shall rule them with a rod of iron: and He treadeth the winepress of the fierceness and wrath of Almighty God."
The author ends the chapter by saying that angels are ministering spirits to serve the Holy Trinity by tending to those who will inherit salvation — we ourselves (verse 14).
Matthew Henry expands on this beautifully:
Note, (1.) What the angels are as to their nature: they are spirits, without bodies or inclination to bodies, and yet they can assume bodies, and appear in them, when God pleases. They are spirits, incorporeal, intelligent, active, substances; they excel in wisdom and strength. (2.) What the angels are as to their office: they are ministering spirits. Christ, as Mediator, is the great minister of God in the great work of redemption. The Holy Spirit is the great minister of God and Christ in the application of this redemption. Angels are ministering spirits under the blessed Trinity, to execute the divine will and pleasure; they are the ministers of divine Providence. (3.) The angels are sent forth for this end–to minister to those who shall be the heirs of salvation. Here observe, [1.] The description given of the saints–they are heirs of salvation; at present they are under age, heirs, not inheritors. They are heirs because they are children of God; if children, then heirs. Let us make sure that we are children by adoption and regeneration, having made a covenant-resignation of ourselves to God, and walking before him in a gospel-conversation, and then we are heirs of God, and joint-heirs with Christ. [2.] The dignity and privilege of the saints–the angels are sent forth to minister for them. Thus they have done in attending and acting at the giving forth of the law, in fighting the battles of the saints, in destroying their enemies. They still minister for them in opposing the malice and power of evil spirits, in protecting and keeping their bodies, pitching their tents about theirs, instructing, quickening, and comforting their souls under Christ and the Holy Ghost; and thus they shall do in gathering all the saints together at the last day. Bless God for the ministration of angels, keep in God's way, and take the comfort of this promise, that he will give his angels charge over you, to keep you in all your ways. They shall bear you up in their hands, lest you dash your feet against a stone, Psalms 91:11,12.
Christ's superiority to the angels also has a relationship to the Old and New Covenants. The author is saying that we are now to study what He taught and did, believing that He is the promised Messiah.
This theme continues in Hebrews 2.
Next time — Hebrews 2:1-4
How sad for Christians who planned a trip to Paris with Easter Mass at Notre-Dame Cathedral as the high point:
Fox News reported:
Crowds lined the embankments across from the cathedral Saturday, taking photos or just staring in shock. The fire collapsed the spire and destroyed the roof of the 12th century monument, and Easter services normally held in Notre Dame are being conducted elsewhere.
Visitor Susan Harlow of Kansas City, Missouri, said: "We didn't get here in time to see it. And now we probably never will," given the many years it's expected to take to repair.
I wonder if anyone there with children heard an Easter explanation like the following. I hope not, but this is, sadly, representative of modern Britain. This comment is from the British site PoliticalBetting.com (emphases mine):
Off-topic:
Over Easter I took my son to Ely Cathedral. Whilst there we talked about Easter, and he said: "It's where Jesus dies to give children chocolate."
Which he then extended into a dissertation on the nature of Jesus' relationship with the Easter Bunny.
I must admit that if he formed that into a religion, I'd probably be a follower…
Those who normally worship at Notre-Dame were invited to Saint-Eustache Church on the Right Bank for Easter Mass.
Reuters has a splendid photo of Saint-Eustache and reported:
The archbishop of Paris, Michel Aupetit, began the service by drawing a parallel between the planned reconstruction of Notre-Dame de Paris cathedral and the resurrection of Jesus from the dead, celebrated every year by Christians at Easter.
"We will rise up again and our cathedral will rise up again," he told the congregation, which included the mayor of Paris, Anne Hidalgo, and the head of the Paris fire service, General Jean-Claude Gallet.
The Independent had more:
Paris Archbishop Michel Aupetit handed over a bible that had been rescued from Notre Dame to the firefighters, who held a place of honour at Sunday's service.
Aupetit thanked city officials for their support amid "the drama" of last Monday's fire, and "especially you, those for whom this Mass is dedicated" — the firefighters who struggled for nine hours to contain flames that consumed Notre Dame's roof and collapsed its spire.
He notably thanked fire service chaplain Jean-Marc Fournier, who saved the most precious thing for Catholics from the fire, the chalice containing consecrated hosts that for Catholics are the body of Christ.
I will have more on Fr Fournier in another post. He truly was on the front line.
The New York Post's story on this Easter Mass at Saint-Eustache said that many dignitaries attended not only from France but also other countries.
Let us now consider why Notre-Dame's bursting into flames for nine hours was so devastating.
It was more than 'a church', and no, the faithful will not despair, even though the cathedral is unarguably one of the hallmarks of Western civilisation:
The Spectator's Tom Holland assesses Western civilisation correctly in light of the great achievements from the Middle Ages. Our civilisation is a Christian one:
Another Briton, the controversial Milo Yiannopoulos, who is Catholic and Jewish via parentage, wrote a considered article for FrontPage Mag,
'The Notre Dame Fire: Our Fault, Our Most Grievous Fault', published on Good Friday, April 19, 2019.
Excerpts follow:
Buildings like Notre Dame do not erupt into flames spontaneously. That's not how God works, even to punish a civilization as deep in moral ruin as ours. My suspicions, and those of almost everyone I know, are hardly calmed when we see Fox News—yes, even Fox—repeatedly refusing to host an honest discussion of the possibility, even as experts tell French TV that eight hundred year old timber simply doesn't burn that way without an accelerant. I mean, it's not as though news networks restrain their hosts from wild speculation during other crises …
Anyway, as of now, no solid evidence has emerged, and our media refuses to discuss the context in which this fire occurred …
We can say, however, that the loss of Notre Dame is an especially Christian tragedy. It is a tragedy emblematic of the rapid destruction of Western civilization in the past few decades, a visual reminder of the inferno that has already gutted the Academy. It's a wonder they didn't finish off some of these churches first, though of course the cultural warriors of the Left can only squeal in excitement at the sort of brazen defacement they would never be brave enough to commit themselves …
That's not to say that only Christians are mourning. Notre Dame wasn't just the spiritual heart of Paris but remains its literal geographic center—the place from which distances are measured. As a cathedral school, it was the center of medieval intellectual life. Peter Abelard and Thomas Aquinas both taught there. Whatever the later horrors of French postmodernism and poststructuralism, the University of Paris once had a reasonable claim to be the locus of the Western intellectual tradition, leading the world in the study of Aristotle, scholastic theology and reason applied to the mysteries of faith.
Notre Dame is considered the ultimate example of High Gothic style, a popular form for churches because it symbolizes the body of Christ. It is significant and—again, to let my suspicions run amuck—surely no coincidence that this happened during Holy Week, since hope for the resurrection is at the heart of Gothic design. But Notre Dame transcended its role as a place of Catholic worship. As the recently departed Fr. James Schall once remarked about the great cathedrals of Europe, "Each of these extraordinary structures, built somehow in a way I do not wholly understand by ages far poorer than our own, incited me strangely in the thoroughly unexpected way that something which need not exist at all surprises and awakens us when, contrary to our private illusions and expectations, we suddenly discover that it exists and that it is lovely."
He went on: "The shock and glory of unexpectedly finding such buildings touches almost the peak of human experience. The very foundations of our existence, then, are grounded in this startling realization that we do not already grasp all of reality, especially things of such exalted beauty. We cannot but be humbled by the immediate revelation of how much we have missed. And yet we are glad that, so humbled, we can now inherit what the Earth has borne to us. For we stand to all reality as we do to Durham and to Freiburg and to Litchfield [cathedrals] when we behold them for the first time, when we are given something by the ages that we could not create or even imagine by ourselves."
For lovers of architecture, the cathedral's North Rose window is one of the three great surviving roses from the thirteenth century. The rose has Mary at its center. As God shone through Mary, taking on the color of her human nature, so does the sunlight take on the color of the glass. As St. Bernard of Clairvaux put it in the twelfth century, "As a pure ray enters a glass window and emerges unspoiled, but has acquired the color of the glass… the Son of God who entered the most chaste womb of the Virgin, emerged pure, but took on the color of the Virgin, that is, the nature of a man and a comeliness of human form, and he clothed himself in it."
… Mary—the "Our Lady" of Notre Dame—is proof of the Incarnation. It is her body through which God becomes incarnate and it is she through whom the Word became incarnate and who is taken as a patron by educators. Notre Dame was built to support this understanding, a belief unique to Christianity.
I sense in much of the European coverage of the past week a kind of guilt. France, perhaps more than any other country, deserved some sort of retribution from God, and I think Parisians know it. France doesn't even record its citizens' religious beliefs in its national census. No one has any idea what percentage of French people are Christian, though we can be sure the percentage is going down as the number of Muslims goes up. Since the Enlightenment, France has done more than any other country to wipe out Christianity. And it started early. As long ago as 1767, Voltaire described the Christian religion as "sans contredit la plus ridicule, la plus absurde, et la plus sanguinaire qui ait jamais infecté le monde." ("Without question the most ridiculous, absurd and bloody ever to have infected the world.")
In the West, we have lost our appreciation of Christianity as a source of reason, hope and joy, and we embrace characterizations of the faith as weak, ridiculous, superstitious and faintly sick—impressions not helped by the current state of the Catholic church hierarchy. The loss is not total, just as many of Notre Dame's most precious relics and treasures appear to have been saved. But the trajectory is clear.
As for Notre-Dame's restoration:
It is characteristic of Western civilization to rise again, as even Left-wing medievalists who can't bring themselves to acknowledge Christianity have to admit. But can we possibly restore what has been lost even if we try? The West has lost its soul, and with that soul, its craft. As we lost our understanding of God as maker, we lost our respect for making things ourselves. We therefore no longer possess either the will or the means to build something like Notre Dame, less still the technical ability to dare attempt a repair. We have forgotten how, and part of me says the Cathedral should be left to stand precisely as it is now to remind us of the fact, unfinished and unrepaired until we rediscover the purpose for which it was constructed in the first place. We don't have the right to crassly imitate the original.
Hilaire Belloc could say, approvingly and as recently as the twentieth century, that Europe "repairs and finishes." Could he have said that today? Would he, after hearing Emmanuel Macron's chilling pledge that Notre Dame will be rebuilt "more beautiful than before"? In 1905, churches in France were declared the property of the state, which raises horrifying prospects for Notre Dame's reconstruction. Will Macron suggest a "multi-faith prayer space" in order to be "truly inclusive" of France's "multicultural society"? Don't bet against it, folks. Already the calls are going out from elitist architects—in Rolling Stone, natch—that the rebuilding should not reflect "white European France."
Of this nine-hour blaze that defies description, Milo says:
It was alive, and, mesmerized by it, we got a glimpse of our end, of what we have allowed to happen to our greatest institutions, of the defacement done to our curricula and the petty vandalism we allow every day to be performed upon our laws, our customs and our social mores by people who loathe everything about us. And in that acrid smoke lurked a question that haunts me today: Did we deserve this?
Quite possibly, Milo.
This image goes quite well with his article:
Many visitors tweeted their favourite memories of Notre-Dame, whether a rose window …
… or the magnificent vaults …
… or Mass:
This is what the world — not just the West — lost:
Be that as it may, we must keep our sights on higher things:
The frustration is seeing the enemy causing so much destruction and deception among men, but the Lord reminds us to keep our minds on things above. We have eternal life and God's Kingdom to look forward to.
My prayers go to those who are investigating the blaze and to those who are working towards Notre-Dame's eventual restoration.
I will have more on this topic tomorrow.
This Tuesday of Easter Week is St George's Day — April 23, 2019.
It is time the English reclaimed their patron saint's feast day. Other countries are proud to celebrate this special day. How wonderful, therefore, to see a trend for St George's Day on Twitter, which includes these delightful tweets:
On a contemplative note, the following are by two Catholics from the Archdiocese of Southwark in London:
Returning to Easter, conservative commentator Chuck Woolery's witness for the faith gives pause for thought, as does the video in the first reply he received:
I also liked this reply to America's First Lady's Easter greetings (click on image link to see it in full):
On Easter Sunday, the Trumps attended a morning service at the Episcopal Church of Bethesda-by-the-Sea in Palm Beach. The Daily Caller has photos, especially of First Lady Melania Trump.
While the Trumps posed for photo ops outside the church, back in Washington, things went less well for Robert Mueller, who was accosted by a reporter outside of St John's Episcopal Church in Washington DC after worship.
I'm hardly a Mueller fan, but this is just plain wrong:
On Easter Monday, the Trumps hosted the traditional Easter Egg Roll at the White House:
This video shows the First Couple returning to the White House from Palm Beach on Sunday. The Easter Egg Roll event begins at 12:50:
Mrs Trump read to the children (fashion notes here) …
… as did Press Secretary Sarah Sanders, mother of four:
As ever, the day was packed with activities. On April 19, the White House announced:
First Lady Melania Trump and President Donald J. Trump invite this year's Easter Egg Roll attendees to enjoy a variety of activities, including the time-honored Egg Roll and the Trump Administration's Cards for Troops station. New to the Egg Roll this year: musical eggs and Be Best hopscotch. In recognition of the First Lady's Be Best campaign, children will also have the opportunity to spread kindness by mailing postcards to anyone they choose – friends, family, members of the military – directly through a United States Postal Service mailbox that will be on the South grounds.
Over 30,000 attendees are expected to walk the historic south grounds of the White House, experiencing all the tradition and fun that comes with the White House Easter Egg Roll.
There were also egg hunts, egg and cookie decorating stations, the military bands, tennis court activities, and a chance for the children to meet costumed characters, such as the Easter Bunny:
Reading stations have been a big part of the Trump Easter Egg Rolls, with members of the president's advisory team as well as the Cabinet. Imagine hearing Secretary of State Mike Pompeo, General Joseph Keith Kellogg, Jr. or Surgeon General Jerome Adams reading a book to a group of children. If past readers of previous years are anything to go by, they no doubt did exceptionally well.
Mrs Trump was delighted with the event and her many guests:
I am so pleased this went well and without incident.
Tomorrow's post concerns a very sad subject: the attacks on Sri Lankan churches at Easter.
This eight-minute video from Michael Knowles of The Daily Wire is an excellent exploration of the future reconstruction of Notre-Dame Cathedral, Holy Week and Jesus:
For such a young man, Knowles posits observations well beyond his years.
His video is based around Rolling Stone's article from Holy Week, after the Notre-Dame fire, saying that the cathedral should be reconstructed to move away from 'a deeply flawed institution' — the Catholic Church.
Knowles says that it's not only the Catholic Church that has flaws. Every Christian denomination has them, because of mankind's own flaws.
He says that, following on logically from Rolling Stone's assertion, the further we pull away from our traditional institutions — even secular ones — the more our society becomes 'lonely' and 'isolated'. He says that we have seen this happen in Western countries over the past few decades to the point that even our basic structure of the family unit is fracturing.
Knowles goes on to quote Edmund Burke, who said, essentially, that liberating oneself from everything constricting results in a life without meaning.
Knowles ends by saying there is something to be said for 'an exalted freedom', which actually requires 'some subservience' and 'obedience'. He says this is best exemplified in Jesus, in the last days before His death and resurrection — the events we remember during Holy Week and Easter.
Knowles says that Jesus did not come to us as a 'fully liberated hippie guy' but as a 'servant'. He submitted His will to that of His Father for the benefit of mankind.
Knowles should pursue the ministry. He makes much more sense than most present-day clerics.
More on Notre-Dame to follow this week.
I went to the early morning Easter Communion service today at my neighbourhood Anglican parish church.
The early morning Easter service is always a wonderful reminder of the passing from darkness into light. As our vicar reminded us, traditional churches remain dark from the end of the Maundy Thursday service through to Easter morning, whether that be at a daybreak or early morning service.
The light returns via the Paschal candle, which is lit following a prayer. The acolyte then lights the other candles from the flame of the Paschal candle.
John's Gospel has a recurring theme of darkness and light. The risen Christ is, indeed, that Light.
Our vicar gave a moving sermon, encouraging us to think of the Resurrection as a living reality, whereby not only our souls but also our mortal bodies will once again be reunited in glorious perfection one day.
He pointed out that Christianity is the only religion that offers life after death. This is what Jesus accomplished through His resurrection, which we celebrate at Easter.
The vicar's sermon was a moving one, as he is a convert from another world faith. He implored us not to turn the Resurrection into an intellectual or historical exercise, because it will be a very real experience when the time comes. He also exhorted us not to view Jesus as a mere historical good example of a life well lived, but as our Saviour and Redeemer.
I thought about the vicar's sermon for most of the day whilst occupied with gentle pursuits: caring for God's creation in the garden and preparing a suitable, satisfying Easter dinner of roast lamb.
Our vicar's sermon made me wish that Easter were more than just one day. Whilst we are now in Easter Week, there are no modern readings by which to remember our Lord's resurrection for the next six days.
As each year passes, I long for a more fulsome celebration and remembrance of the Resurrection. We sing the beautiful and joyous Easter hymns only one day a year.
For some of us, our recollection of the Resurrection ends up being a fleeting one.
However, it does not need to be this way.
An Evangelical pastor in California, the Revd James A Fowler of Christ In You Ministries in Fallbrook, has written a beautiful series of sermons on the meaning of the Resurrection and its impact. I hope that you will read the following posts in the coming week and reflect upon his considered, thought-provoking messages about what he terms Resurrection theology:
Remembering the reality of the risen Christ
Are we bypassing the risen Christ?
A call for Resurrection theology
Christianity IS the Risen Christ
Unlocking the meaning of the Gospel
The extension of the risen Christ
A Lutheran (Missouri Synod) pastor has also reflected similarly upon the Resurrection in the context of people's anger with the Church. This, too, is guaranteed to get us thinking about our sin and the purpose of the Crucifixion as well as our Lord's rising from the dead in eternal glory — for us:
A Lutheran application of Resurrection theology
I hope that you will join me in contemplating Resurrection Theology, even when it is not stated in those terms.
Christ our Lord is risen. He is risen, indeed.
Once again, readers, happy Easter.
May the blessings of the risen Christ be with us today and always. Amen.
In the traditional period of Shrovetide, Transfiguration Sunday — the last Sunday of Epiphany — was known as Quinquagesima Sunday.
You can read more about the three Sundays before Lent and Shrovetide in the following posts:
The Sundays before Lent — an explanation
Ash Wednesday is on March 6, 2019, which means that March 5 is Shrove Tuesday, Pancake Day and/or Mardi Gras (Fat Tuesday), the last time to feast before Easter.
What follows are the readings for Quinquagesima — Transfiguration — Sunday, March 3, 2019, so called because of the Gospel reading about the Transfiguration of Christ, a glimpse given to three Apostles of His eternal glory. Jesus was unimaginably, startlingly radiant.
These are for Year C in the three-year Lectionary used in public worship.
Emphases mine below.
First reading
The Israelites saw a similar, startling radiance in Moses's face when he brought down the two tablets from Mount Sinai. (Moses appeared at the Transfiguration; see the Gospel reading below. Paul also referred to him in his letter to the Corinthians in the Epistle.)
Exodus 34:29-35
34:29 Moses came down from Mount Sinai. As he came down from the mountain with the two tablets of the covenant in his hand, Moses did not know that the skin of his face shone because he had been talking with God.
34:30 When Aaron and all the Israelites saw Moses, the skin of his face was shining, and they were afraid to come near him.
34:31 But Moses called to them; and Aaron and all the leaders of the congregation returned to him, and Moses spoke with them.
34:32 Afterward all the Israelites came near, and he gave them in commandment all that the LORD had spoken with him on Mount Sinai.
34:33 When Moses had finished speaking with them, he put a veil on his face;
34:34 but whenever Moses went in before the LORD to speak with him, he would take the veil off, until he came out; and when he came out, and told the Israelites what he had been commanded,
34:35 the Israelites would see the face of Moses, that the skin of his face was shining; and Moses would put the veil on his face again, until he went in to speak with him.
Psalm
The Psalm references Moses in discussing the Lord's eternal holiness, majesty and righteousness.
Psalm 99
99:1 The LORD is king; let the peoples tremble! He sits enthroned upon the cherubim; let the earth quake!
99:2 The LORD is great in Zion; he is exalted over all the peoples.
99:3 Let them praise your great and awesome name. Holy is he!
99:4 Mighty King, lover of justice, you have established equity; you have executed justice and righteousness in Jacob.
99:5 Extol the LORD our God; worship at his footstool. Holy is he!
99:6 Moses and Aaron were among his priests, Samuel also was among those who called on his name. They cried to the LORD, and he answered them.
99:7 He spoke to them in the pillar of cloud; they kept his decrees, and the statutes that he gave them.
99:8 O LORD our God, you answered them; you were a forgiving God to them, but an avenger of their wrongdoings.
99:9 Extol the LORD our God, and worship at his holy mountain; for the LORD our God is holy.
Epistle
Paul referred to Moses's veil. In the case of the Jews of the early Church era, Paul said theirs was a veil of spiritual blindness. They had hardened their hearts to Moses. However, turning to the Lord through Jesus Christ would remove that figurative veil. No longer would those who did so be spiritually blind. Instead, they would come to know the Lord God through His Son and the Holy Spirit.
2 Corinthians 3:12-4:2
3:12 Since, then, we have such a hope, we act with great boldness,
3:13 not like Moses, who put a veil over his face to keep the people of Israel from gazing at the end of the glory that was being set aside.
3:14 But their minds were hardened. Indeed, to this very day, when they hear the reading of the old covenant, that same veil is still there, since only in Christ is it set aside.
3:15 Indeed, to this very day whenever Moses is read, a veil lies over their minds;
3:16 but when one turns to the Lord, the veil is removed.
3:17 Now the Lord is the Spirit, and where the Spirit of the Lord is, there is freedom.
3:18 And all of us, with unveiled faces, seeing the glory of the Lord as though reflected in a mirror, are being transformed into the same image from one degree of glory to another; for this comes from the Lord, the Spirit.
4:1 Therefore, since it is by God's mercy that we are engaged in this ministry, we do not lose heart.
4:2 We have renounced the shameful things that one hides; we refuse to practice cunning or to falsify God's word; but by the open statement of the truth we commend ourselves to the conscience of everyone in the sight of God.
Gospel
This is one of my favourite Gospel readings. One can rather appreciate why Peter and brothers John and James (sons of Zebedee) wanted that moment to last forever. They did not yet understand what a revelation it was of not only the eternal glory to come in the next life but that Jesus is truly the Son of God. Note how Jesus selflessly continued His ministry afterwards, in healing the boy with a demon.
Luke 9:28-36, (37-43a)
9:28 Now about eight days after these sayings Jesus took with him Peter and John and James, and went up on the mountain to pray.
9:29 And while he was praying, the appearance of his face changed, and his clothes became dazzling white.
9:30 Suddenly they saw two men, Moses and Elijah, talking to him.
9:31 They appeared in glory and were speaking of his departure, which he was about to accomplish at Jerusalem.
9:32 Now Peter and his companions were weighed down with sleep; but since they had stayed awake, they saw his glory and the two men who stood with him.
9:33 Just as they were leaving him, Peter said to Jesus, "Master, it is good for us to be here; let us make three dwellings, one for you, one for Moses, and one for Elijah" — not knowing what he said.
9:34 While he was saying this, a cloud came and overshadowed them; and they were terrified as they entered the cloud.
9:35 Then from the cloud came a voice that said, "This is my Son, my Chosen; listen to him!"
9:36 When the voice had spoken, Jesus was found alone. And they kept silent and in those days told no one any of the things they had seen.
9:37 On the next day, when they had come down from the mountain, a great crowd met him.
9:38 Just then a man from the crowd shouted, "Teacher, I beg you to look at my son; he is my only child.
9:39 Suddenly a spirit seizes him, and all at once he shrieks. It convulses him until he foams at the mouth; it mauls him and will scarcely leave him.
9:40 I begged your disciples to cast it out, but they could not."
9:41 Jesus answered, "You faithless and perverse generation, how much longer must I be with you and bear with you? Bring your son here."
9:42 While he was coming, the demon dashed him to the ground in convulsions. But Jesus rebuked the unclean spirit, healed the boy, and gave him back to his father.
9:43a And all were astounded at the greatness of God.
It should be noted that the boy's father had asked the Apostles to heal him, because Jesus had given them His own divine powers to go preach and heal. For whatever reason — perhaps doubt about this commission or lack of prayerfulness on their part — they could not drive out the demon. Hence, Jesus's rebuke of them as a 'faithless and perverse generation'.
We are now in the season of Epiphany, which takes us to Lent at the beginning of March.
The following readings are for the First Sunday after Epiphany — also known as the Baptism of the Lord — in Year C of the three-year Lectionary.
Themes are jubilation and rejoicing in God the Father for sending His Son to save us and bring us to life everlasting.
Emphases mine below.
First reading
We recall how God historically delivered His holy people from captivity, despite their many sins.
Isaiah 43:1-7
43:1 But now thus says the LORD, he who created you, O Jacob, he who formed you, O Israel: Do not fear, for I have redeemed you; I have called you by name, you are mine.
43:2 When you pass through the waters, I will be with you; and through the rivers, they shall not overwhelm you; when you walk through fire you shall not be burned, and the flame shall not consume you.
43:3 For I am the LORD your God, the Holy One of Israel, your Savior. I give Egypt as your ransom, Ethiopia and Seba in exchange for you.
43:4 Because you are precious in my sight, and honored, and I love you, I give people in return for you, nations in exchange for your life.
43:5 Do not fear, for I am with you; I will bring your offspring from the east, and from the west I will gather you;
43:6 I will say to the north, "Give them up," and to the south, "Do not withhold; bring my sons from far away and my daughters from the end of the earth—
43:7 everyone who is called by my name, whom I created for my glory, whom I formed and made."
Psalm
We rejoice in the Lord God, Creator of the universe and giver of life.
Psalm 29
29:1 Ascribe to the LORD, O heavenly beings, ascribe to the LORD glory and strength.
29:2 Ascribe to the LORD the glory of his name; worship the LORD in holy splendor.
29:3 The voice of the LORD is over the waters; the God of glory thunders, the LORD, over mighty waters.
29:4 The voice of the LORD is powerful; the voice of the LORD is full of majesty.
29:5 The voice of the LORD breaks the cedars; the LORD breaks the cedars of Lebanon.
29:6 He makes Lebanon skip like a calf, and Sirion like a young wild ox.
29:7 The voice of the LORD flashes forth flames of fire.
29:8 The voice of the LORD shakes the wilderness; the LORD shakes the wilderness of Kadesh.
29:9 The voice of the LORD causes the oaks to whirl, and strips the forest bare; and in his temple all say, "Glory!"
29:10 The LORD sits enthroned over the flood; the LORD sits enthroned as king forever.
29:11 May the LORD give strength to his people! May the LORD bless his people with peace!
Epistle
The Apostles ministered to the Samaritans, half-Jews, whom the Jews of the time despised. St Luke wrote the Book of Acts, by the way. His Gospel account of Jesus's baptism follows.
Acts 8:14-17
8:14 Now when the apostles at Jerusalem heard that Samaria had accepted the word of God, they sent Peter and John to them.
8:15 The two went down and prayed for them that they might receive the Holy Spirit
8:16 (for as yet the Spirit had not come upon any of them; they had only been baptized in the name of the Lord Jesus).
8:17 Then Peter and John laid their hands on them, and they received the Holy Spirit.
Gospel
John the Baptist baptised Jesus. Heaven opened, bringing the dramatic confirmation that Jesus is the Messiah.
Luke 3:15-17, 21-22
3:15 As the people were filled with expectation, and all were questioning in their hearts concerning John, whether he might be the Messiah,
3:16 John answered all of them by saying, "I baptize you with water; but one who is more powerful than I is coming; I am not worthy to untie the thong of his sandals. He will baptize you with the Holy Spirit and fire.
3:17 His winnowing fork is in his hand, to clear his threshing floor and to gather the wheat into his granary; but the chaff he will burn with unquenchable fire."
3:21 Now when all the people were baptized, and when Jesus also had been baptized and was praying, the heaven was opened,
3:22 and the Holy Spirit descended upon him in bodily form like a dove. And a voice came from heaven, "You are my Son, the Beloved; with you I am well pleased."
Several years ago, I read a Bible commentary that said that we are under no obligation to be baptised. It seems the author did not know his New Testament very well, because there are many references to baptism therein.
If Jesus was baptised, should we not follow His holy example?
In closing, a warning about baptism follows. Child baptism is very important. I know a number of people who returned to the Church in their later years. They raised families while they were not attending church.
Those who did not have their children baptised deeply regretted it.
Those unbaptised children did not want to be christened in their adulthood.
Not one is a believer, either.
I'm not saying that baptism is salvific in and of itself, but it is an important first step in belonging to a church community and, more importantly, is one of the two universally agreed upon Sacraments.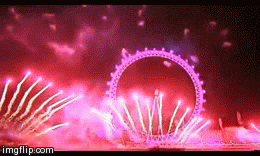 Happy New Year to all my readers!
May 2019 be a year of blessings, comfort, health and prosperity!
On a serious note, traditionally, January 1 is the feast of the Circumcision and Naming of Christ Jesus, about which you can read more below:
January 1 – Feast of the Circumcision of Christ (2010)
New Year's Day: the Circumcision — and Naming — of Christ Jesus
The stained glass window at left, depicting our Lord's circumcision, is probably the only one of its kind in existence. It was originally made in the mid-15th century for the Crutched Friars in Cologne, Germany, and is now displayed in the Cloisters Museum in Manhattan. You can read more about it below:
New Year's greetings — and the Feast of the Circumcision
It is always interesting to contemplate how closely the Holy Family obeyed Jewish laws and traditions. Surely, given that Jesus is Messiah, they did not need to, but they did — because they loved God and they wanted to obey Him.
The greatest sign of obedience was the Crucifixion, the ultimate, all-sufficient sacrifice that Jesus made for our sins.
For all the 'fun' we might be having at this time, may we be always mindful of our all-loving Creator who sent His Only Begotten Son to us to humble Himself as Saviour and Redeemer.