You are currently browsing the tag archive for the 'health' tag.
Over the weekend, I read two contrasting approaches to coronavirus, going from the sublime to the ridiculous.
El Salvador
This is the latest message from the government in El Salvador about coronavirus. It advocates exercise, achieving a normal weight, eating properly and getting enough sleep:
It is sublime. If only other governments had advocated the same thing over the past 22 months. Then again, there's no Big Pharma involvement, so this never could have happened in the West.
France
Now we move to the ridiculous.
Last summer, the French government mandated the vaccine passport, popularly called le pass sanitaire, when in reality it is le pass vaccinale.
In August 2021, the Minister for Work, Elisabeth Borne, said that anyone refusing to get a vaccine passport would be denied his/her salary or unemployment benefit. Someone replied to this tweet with a quote from February 2021 in which Borne said that, as a woman of the Left, fighting for social justice and equal opportunity were her two biggest objectives in life. Oh, the irony:
Initially, at least, vaccine passports were required even to go into a supermarket.
Here's a chap at Carrefour who could not get past the security guard on August 17 at Noisy le Grand, just outside of Paris:
Two more videos appeared on August 18. One was in the city of Pau in the south west of France. Police prevented angry shoppers from entering Leclerc:
The second confrontation took place at an Auchan in Marseille. Shoppers chanted 'Liberté, liberté':
I don't know what happened after that, but I haven't heard or seen any more about people being prevented from entering a supermarket.
I did see videos with police checking people sitting outdoors at cafés and bars for vax passport status.
Fast forwarding to January 2, 2022, Prime Minister Jean Castex said that food and drink can only be taken in bars and cafés sitting down. A bit like Wales and Scotland, then:
That same day, the education minister, Jean-Michel Blanquer, explained that every school would have a list of students showing their vaccination status, thereby violating the principle of privacy with regard to personal health records — a slippery slope:
The following day, the president of France's parliament, Richard Ferrand, got coronavirus. No one was allowed to ask questions, though, because it wasn't anyone's business. Circulez, il n'y a rien a voir. Keep moving, nothing to see here:
Incidentally, no vax passport is required in France's parliament. Typical:
On January 4, French president Emmanuel Macron said that he wanted to 'p— off' as many unvaccinated as possible. This means that the unvaccinated will not be able to go to sports fixtures, the cinema — or even restaurants, bars and cafés.
Contrast that with what he said on December 15, 2021: 'With some things I've said, I've hurt people. I won't do it again':
There is even an older statement from Macron from April 29, 2021, in which he pledged there would never be a mandatory vax passport in France:
Jean Castex refused to comment on Macron's pronouncement about p—ing off the unvaccinated:
Meanwhile, an anti-vax passport petition circulated online. It had over 1.2 million signatures as of January 5. The initiator of the petition was not allowed to present it to parliament. Police restrained him:
France's senate will be voting on further vax passport measures this week, postponed from last week:
Constitutionalists say that the vax passport measures are unconstitutional:
Here is a roadside hoarding (billboard) critical of Macron's vaccination policies:
The vaccine passport mandate was supposed to end on November 16, 2021. Yet, it is still in place.
On Saturday, January 8, many thousands of French citizens took to the streets to protest.
This was the scene in Aix-en-Provence:
Paris had the largest demonstration, despite the rain:
Here's another view:
Of course, the media, in this case BFMTV, reported 'only a few thousand' protesters. They would, wouldn't they?
On Monday, January 10, a French physician who works in ER called for the abolition of vaccine passports and urged the government to focus on treating the sick — 'Revenons au basique', or 'Back to basics':
Just before Christmas, a general practitioners' union pledged their support for the unvaccinated, a clear refutation of Macron's policy:
France's talk radio station, RMC, discussed the unvaccinated on Monday. Here's the segment from Les Grandes Gueules [The Big Mouths], for any interested Francophones.
A general practitioner who is a regular guest on the show said that anyone spreading 'disinformation' should be put in prison. Unbelievable:
One of the panellists complained about the constant testing of schoolchildren, which she thought was a waste of time and money:
Some time ago, when waffling on about the necessity for constitutional reform, Macron pledged that any petition with more than 1 million signatures would go to a referendum in order to give the French people a voice. As the anti-vax passport petition has 1.2 million signatures, will Macron prove good on his word?
Even during an election year, I wouldn't hold my breath.
Macron's voters are pro-vaccine and pro-vaccine passport people. Sadly, I think he will win another five-year mandate in May 2022.
England had a relatively better coronavirus Christmas season than Wales or Scotland.
Prime Minister Boris Johnson decided against moving from the current Plan B restrictions, in place until January 26, 2022, to Plan C, which would have resembled the approach our socialist mainland neighbours have imposed on their residents.
As such, a number of Scots visited Newcastle and Carlisle to celebrate Hogmanay, the last day of the old year: New Year's Eve. The Scots celebrate through to January 2, an annual bank holiday there. Edinburgh has the best Hogmanay celebrations, but First Minister Nicola Sturgeon cancelled them this year.
The Welsh also journeyed across the border to England to ring in the New Year.
We were happy to have both nations share in our fun.
On January 2, The Sunday Times reported (emphases mine):
Several hours before the famous new year countdown in Times Square, New York, young Scottish revellers were counting down the seconds to midnight at bars in Times Square, Newcastle.
Party-goers fled Scotland, where nightclubs were shut and tougher socialising restrictions were in place, desperate for a big blowout. In the west of England, a similar exodus of young people from Wales boosted the numbers of clubbers in Chester, Bristol and other towns and cities across the border.
In the late afternoon on New Year's Eve, groups of friends spilled out of Newcastle station, dragging wheelie cases behind them, girls freshly spray-tanned, hair in rollers, and boys clutching plastic bags full of cans.
One, with his arms around the shoulders of a group of friends, declared they were here for "a party". Hailing from towns and cities across Scotland, most were in their late teens and early twenties. Many had spent successive birthdays in lockdown and were not prepared to do the same for a second New Year's Eve.
While the UK government had allowed new year celebrations to continue, Scotland's first minister, Nicola Sturgeon, ordered nightclubs to shut for three weeks to limit the spread of the Omicron variant, and Edinburgh's world-famous Hogmanay celebrations were cancelled.
"It's boring in Scotland, all the nightclubs are shut — what are we going to do in Scotland?" said Brian, 25, from Edinburgh. Lily Owen, 19, a student from Edinburgh, was visiting Newcastle for the first time with a group of friends. "There's clubs here, it's open, it's a no-brainer: we're going to go," she said.
Aimee Stuart, 22, had also come to England with friends, "because Nicola Sturgeon has banned us from going out". They had paid about £200 each for the trip — and they were not worried about Covid. "I've just had it, so it's fine," Stuart said. "And we're all double-vaccinated."
It has been interesting to note how the media narrative is beginning to change from a pro-restriction one to a more Swedish-style one.
On January 2, news emerged that epidemiologist Prof Mark Woolhouse OBE from the University of Edinburgh once again advocated a Swedish-style approach, which he had done in September 2020.
The Guardian obtained excerpts from Woolhouse's forthcoming book, The Year the World Went Mad: A Scientific Memoir, and published them:
Rather than imposing blanket lockdowns across the nation, the government should have adopted measures designed to make contacts safe, Woolhouse maintains. "You can see from the UK data that people were reducing their contacts with each other as cases rose and before lockdown was imposed. That, coupled with Covid-safe measures, such as masks and testing, would have been sufficient to control spread."
Largely voluntary behaviour change worked in Sweden and it should have been allowed to progress in the UK, argues Woolhouse. Instead, we plumped for an enforced national lockdown, in part because, for the first time in history, we could. Enough business is now done online to allow large parts of society to function fairly well – through video conferences and online shopping. "But it was a lazy solution to a novel coronavirus epidemic, as well as a hugely damaging one," he adds.
However, Woolhouse is at pains to reject the ideas of those who advocated the complete opening up of society, including academics who backed the Barrington Declaration which proposed the Covid-19 virus be allowed to circulate until enough people had been infected to achieve herd immunity.
"This would have led to an epidemic far larger than the one we eventually experienced in 2020," says Woolhouse. "It also lacked a convincing plan for adequately protecting the more vulnerable members of society, the elderly and those who are immuno-compromised."
Instead, the country should have put far more effort into protecting the vulnerable. Well over 30,000 people died of Covid-19 in Britain's care homes. On average, each home got an extra £250,000 from the government to protect against the virus, he calculates. "Much more should have been spent on providing protection for care homes," says Woolhouse, who also castigates the government for offering nothing more than a letter telling those shielding elderly parents and other vulnerable individuals in their own homes to take precautions.
The nation could have spent several thousand pounds per household on provision of routine testing and in helping to implement Covid-safe measures for those shielding others and that would still have amounted to a small fraction of the £300bn we eventually spent on our pandemic response, he argues. Indeed, Woolhouse is particularly disdainful of the neglect of "shielders", such as care home workers and informal carers. "These people stood between the vulnerable and the virus but, for most of 2020, they got minimal recognition and received no help."
Britain spent a fortune on suppressing the virus and will still be servicing the debt incurred for generations to come, he adds. "By contrast, we spent almost nothing on protecting the vulnerable in the community. We should and could have invested in both suppression and protection. We effectively chose just one."
And Woolhouse is emphatic that further lockdowns are not the way to deal with future waves of Covid-19. "Lockdowns aren't a public health policy. They signify a failure of public health policy," he states.
Instead, the country needs, very quickly, not to be surprised by new variants and not to respond each one in an ad hoc fashion. "We should agree a sliding scale of interventions and trigger points for implementing them. With omicron it all feels a bit chaotic. We need better planning and preparation for when the next variant arrives, as it surely will."
Woolhouse is having a poke at the Conservatives there. He would be better off posting that to Nicola Sturgeon and Mark Drakeford (Wales's First Minister). They have maintained much more stringent restrictions than England from 2020 to the present.
Another piece about adopting a Swedish-style strategy appeared in The Guardian on January 2. Larry Elliott wrote about Boris's new change of tack in an attempt to reduce his current hero to zero reputation.
Elliott writes:
Government policy towards Covid-19 has come full circle. For now, at least, England has returned to the Swedish way of dealing with the pandemic. Tough, officially imposed lockdowns are out. Trusting the people to do the sensible thing is back in.
Whether this approach will survive the expected surge in hospitalisations from Christmas and New Year revelries remains to be seen. Boris Johnson is the master of the screeching U-turn and with the number of infections hitting new records pressure on Downing Street to act is growing. We have been here before.
Back in the early days of the pandemic the prime minister was minded to copy Sweden, a country that imposed few restrictions and decided early on that it needed to learn to live with the virus.
The prime minister's flirtation with the "Swedish experiment" was brief, and at the end of March 2020 a draconian lockdown was imposed. Ministers knew this would have a dire impact on the economy but felt the risk of the NHS being overwhelmed left them no choice.
A paper published in the online journal Scientific Reports last year examined what would have happened had Britain followed the Swedish approach. Even assuming the public here would have been as willing to adhere to non-mandatory recommendations as the Swedes (a pretty big assumption) the UK death rate would have at least doubled.
This time, the decision is a lot less clearcut, not least because vaccines are providing protection from the virus. The news from South Africa, one of the countries where Omicron first surfaced, has also been encouraging. While more transmissible, the new variant has resulted in fewer hospitalisations and deaths. Case numbers, after rising rapidly, have started to decline.
A degree of caution is needed when comparing the two countries, because South Africa has a much younger population than Britain, and it is summer rather than the middle of winter there. Even so, it is clear the government has set a high bar for imposing further restrictions.
The prime minister's weakened political position is one reason the government has gone Swedish. The risk of causing serious damage to the economy when it is looking particularly vulnerable is another, because this is going to be a tough year for the British public. Inflation is rising, interest rates are going up, and energy bills are expected to rocket in the spring just as Rishi Sunak's increase in national insurance contributions comes into force.
The cumulative effect is a whopping cut to living standards. According to the Resolution Foundation thinktank the average household is going to be £1,000 a year worse off. Those on the lowest incomes will be especially hard hit by soaring gas and electricity bills.
In the circumstances, it is easy to see why the government is reluctant to add to the economic pain by imposing tougher restrictions to slow the spread of the Omicron variant. Fresh curbs mean slower growth and a hit to the public finances. They would also test the resilience of the labour market.
Good news. I, like many others of a libertarian bent, foresaw these disasters nearly two years ago in March 2020.
Let Scotland and Wales continue mired in socialist control, which is doing little to alleviate coronavirus numbers.
Meanwhile, may England lead the way out of this pandemic.
In a few months' time, we'll find out which approach was the correct one. I suspect England's, provided it turns out to be a more libertarian one, will have been proven the right thing to do.
I suspect that Omicron is providential. Whilst I would not advocate throwing drinks and nibbles parties, how many people have had it and not know it?
In that respect, it could be good for building up herd immunity the old fashioned way.
The UK had another big weekend of news, which, as I said last week, is unusual, given that Christmas is just around the corner.
One of the big scoops was The Spectator's revelation as to why every SAGE scenario is based on a worst-case outcome.
Fraser Nelson, the magazine's editor, had an online exchange with Graham Medley from SAGE, which can be seen in his article, 'My Twitter conversation with the chairman of the Sage Covid modelling committee', which is a must-read.
Excerpts follow, emphases mine.
Medley is a professor at London School of Hygiene & Tropical Medicine (LSHTM). Last week, LSHTM published another alarming set of figures for the Omicron variant that, naturally, make the case for more lockdowns.
By contrast, JP Morgan came up with a different conclusion after looking at LSHTM's data:
JP Morgan had a close look at this study and spotted something big: all the way through, LSHTM assumes that the Omicron variant is just as deadly as Delta. 'But evidence from South Africa suggests that Omicron infections are milder,' JP Morgan pointed out in a note to clients.
JP Morgan concluded:
Bed occupancy by Covid-19 patients at the end of January would be 33% of the peak seen in January 2021. This would be manageable without further restrictions.
Fraser Nelson says:
So JP Morgan had shown that, if you tweak one assumption (on severity) then – suddenly – no need for lockdown.
Nelson went online to find out why LSHTM didn't do the same thing:
Medley seems to imply that the Government wants the worst case scenario:
Nelson says:
Note how careful he is to stay vague on whether any of the various scenarios in the Sage document are likely or even plausible. What happened to the original system of presenting a 'reasonable worse-case scenario' together with a central scenario? And what's the point of modelling if it doesn't say how likely any these scenarios are?
From what Prof Medley says, it's unclear that the most-likely scenario is even being presented to ministers this time around. So how are they supposed to make good decisions? I highly doubt that Sajid Javid is only asking to churn out models that make the case for lockdown. That instruction, if it is being issued, will have come from somewhere else.
He concludes that there is an ethical issue with SAGE's pronouncements:
Prof. Robert Dingwall, until recently a JCVI [Joint Committee on Vaccines and Immunisation] expert, has said that Medley's candour reveals "a fundamental problem of scientific ethics in Sage" – ie, a hardwired negativity bias. "The unquestioning response to the brief is very like that of SPI-B's behavioural scientists," he says and suggests that the Covid inquiry looks into all this.
At a time when we have just been given a new set of 'scenarios' for a new year lockdown it might be good if someone – if not Prof Medley – would clear up what assumptions lie behind the new 6,000-a-day-dead scenario, and if emerging information from South Africa about Omicron and its virulence have been taken into account. And how probable it is that a double-jabbed and increasingly boosted nation (with 95 per cent antibody coverage) could see this worst-case scenario come to pass.
In my view, this raises serious questions not just about Sage but about the quality of the advice used to make UK lockdown decisions. And the lack of transparency and scrutiny of that advice. The lives of millions of people rests on the quality of decisions, so the calibre of information supplied matters rather a lot – to all of us.
Too right.
I haven't believed SAGE at all, from the beginning. I am also still angry about how much taxpayers' money has been pumped in for a pandemic that needed a common sense solution in March 2020, such as, 'There are a lot of unknowns here. We will provide updates. However, we advise that anyone who feels sick to get a test then isolate at home for 10 days. Keep your distance from those outside your household. Keep your hands clean. Above all: use the same precautions you would in any potentially contagious environment.'
That's it in a nutshell. Not a lot more needed to be said.
But no.
We plebs couldn't have that. We cannot be trusted.
Chief Medical Officer Prof Chris Whitty implied that we do not know what we are talking about.
This video is from Whitty's appearance before a parliamentary Select Committee on Thursday, December 16. Dean Russell MP (Conservative) asked him whether the NHS risks prioritising the virus over cancer. While it might not be Dean Russell's view, this is a prevailing opinion among many members of the public.
Whitty wasted no time in shooting that down, saying that we do not understand 'health' and insisting that lockdowns helped to save the NHS, which would have collapsed otherwise. Along with Prof Gordon Wishart, I also beg to differ, but here is the exchange:
People are frustrated:
General practitioners are wrapped up in this, too:
Coronavirus has overtaken their surgeries. It was already nearly impossible to get an online appointment, never mind one in person. As of last week, GPs' priority from the Government is to dispense boosters:
No, pandemics are not a regular occurrence, but the NHS should be prepared to deal with one.
On Monday, December 20, Boris convened the Cabinet for a two-hour meeting to discuss the possibility of imposing a Christmas lockdown in England. Sir Patrick Vallance presented a doom-and-gloom scenario.
Bear in mind that Boris is skating on thin ice at the moment politically. A lockdown might have caused some of them to resign their Cabinet positions.
In the end, they decided not to go for a lockdown in England, at least over Christmas weekend:
Well, five of them did, at least.
Foreign Secretary Liz Truss had to leave early:

Guido Fawkes has more (red emphasis his, the purple one mine):
The Times and Telegraph have the most comprehensive write-ups, reporting Rishi, Steve Barclay and Grant Shapps were those leading the sceptics' charge. The Times reports Jacob Rees-Mogg had a prolonged argument with Vallance about their modelling, telling Boris to trust the people rather than the scientists. Truss, Kwarteng, Alister Jack, Nadhim Zahawi and Nigel Adams are all also reportedly sceptical about the threat of Omicron…
On the other side of the divide backing restrictions, according to The Telegraph, are (unsurprisingly) Javid and Gove; Nadine Dorries and Chief secretary to the Treasury Simon Clarke. We can only presume the PM also errs towards this group. There's set to be one more Cabinet before Christmas day that could still decide to recall MPs before New Year.
Katy Balls of The Spectator reports that this is the first time in ages that the Cabinet has been consulted on coronavirus policy:
So what happened in that meeting? 'Boris did a great job and encouraged a proper discussion and respected other views,' says one minister. 'He had quite a lot humility'. Michael Gove was, as usual, leading the arguments for more lockdown. But this was based on Sage forecasts of what might happen which have lost some credibility in the eyes of Cabinet members who were — for the first time in a while — genuinely being consulted.
Boris knows he's in trouble:
Several members of Johnson's Cabinet are vocally opposed to new restrictions. They argue that there needs to be clearer data before any restrictions are brought in – with whispers of resignations if Johnson pressed on without this. These members of government hope that more time will offer clarity that could show omicron is milder than previous variants.
Behind the scenes, the Chancellor is understood to have played a key role warning against rushing into decisions that could cost billions. Other ministers keen to see more modelling include Commons leader Jacob Rees-Mogg and Transport Secretary Grant Shapps ("although it was never quite clear what he was saying," I'm told.) Other ministers have been pressing on Johnson the idea of limiting any new measures to guidance.
But when Johnson emerged talking about the need to observe the data, and questions about Omicron's severity, he was using the language of those who opposed lockdown. They argue, in effect, that Sage models cannot be trusted as they are composed of hypotheticals – and that we need to wait for real-world data. The next few days of hospital data, it's argued, will tell us much about how severe Omicron is and if lockdown is needed. Data is emerging not just from South Africa (where cases now seem to be falling) but Denmark where Omicron has been found to be significantly less likely to put patients in hospital. At least some Sage modellers produced figures on the assumption that Omicron is no less likely to hospitalise or kill: one scenario talks about deaths peaking a day …
Johnson faces a parliamentary party filled with MPs vehemently opposed to any new restrictions and who could question his ability to lead as a result. When the Whips office sent a note around this afternoon telling MPs that the parliamentary away day has been cancelled, one messaged me to say:
'It's probably for the best. If we were all in one place for a few days, we could work out a successor'
But there are Tory MPs who believe action is required. One senior Tory concludes:
'This is a Prime Minister paralysed between science and his backbenchers. It's depressing.'
The Times reports on Leader of the House Jacob Rees-Mogg's words of wisdom. He, too, read Fraser Nelson's article. Good man:
Jacob Rees-Mogg, leader of the Commons, said the government should trust people to do the right thing rather than introduce further restrictions. He said many people had voluntarily changed their behaviour as the threat posed by Omicron became clear.
The prime minister said Rees-Mogg's argument was interesting but asked how he would justify his approach at a press conference. He said that as prime minister he had to look after everyone's health. Rees-Mogg is understood to have responded: "I would stand up and say I respect them for doing the right thing." The prime minister is said to have suggested that this would not be enough if the NHS were at risk of being overwhelmed.
Rees-Mogg is also understood to have criticised official modelling suggesting that without further action 3,000 Omicron patients a day could need a hospital bed. He asked if Johnson had read an article by Fraser Nelson, editor of The Spectator, questioning the assumptions behind the data.
Sir Patrick Vallance, the chief scientific adviser, is said to have responded directly to Rees-Mogg that the modelling had included scenarios where the Omicron variant was deemed less severe than the Delta variant.
If so, why did Vallance not present those data?
Boris made a brief announcement after the Cabinet meeting, saying that he is still keeping all options open after Christmas:
On Wednesday, December 22, Health minister Gillian Keegan told LBC's Nick Ferrari not make firm plans for New Year's parties because of ongoing 'uncertainty':
As people have been cancelling dinner reservations and reneging on trips to the pub, Chancellor Rishi Sunak has had to come up with a £1bn compensation plan for the hospitality sector, which amounts to £6000 per business. A nightclub owner says it's 'insulting'. I agree with the person replying — just drop any remaining restrictions:
When is this going to end?
Oh, well. At least we're not in the socialist nations of Scotland or Wales, where things have been far worse and continue so to be.
In the UK, coronavirus vaccine boosters progress apace.
This advert is showing at cinemas around the country. It features Prof Chris Whitty, Chief Medical Officer: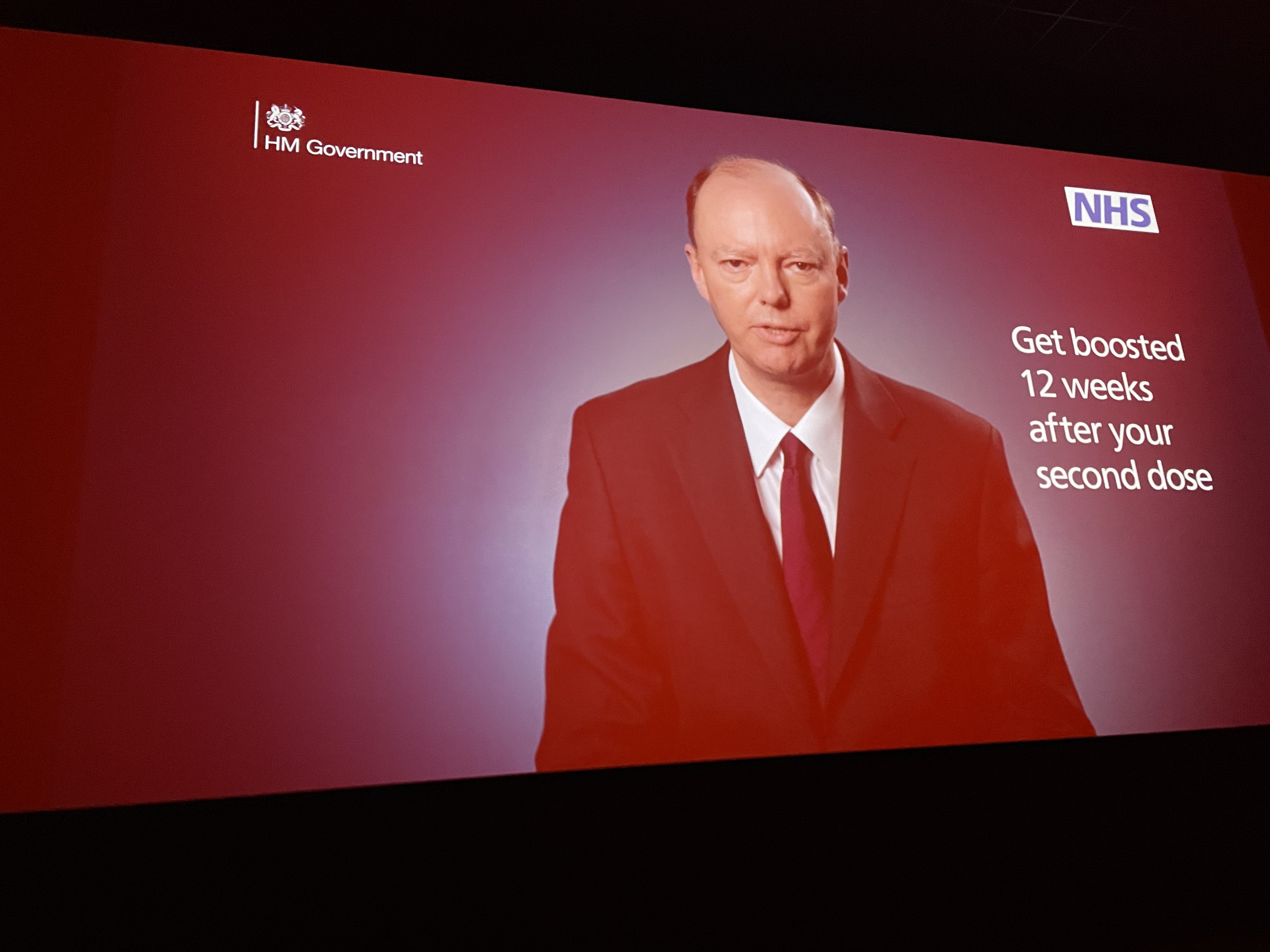 Scary.
It is reminiscent of 1984: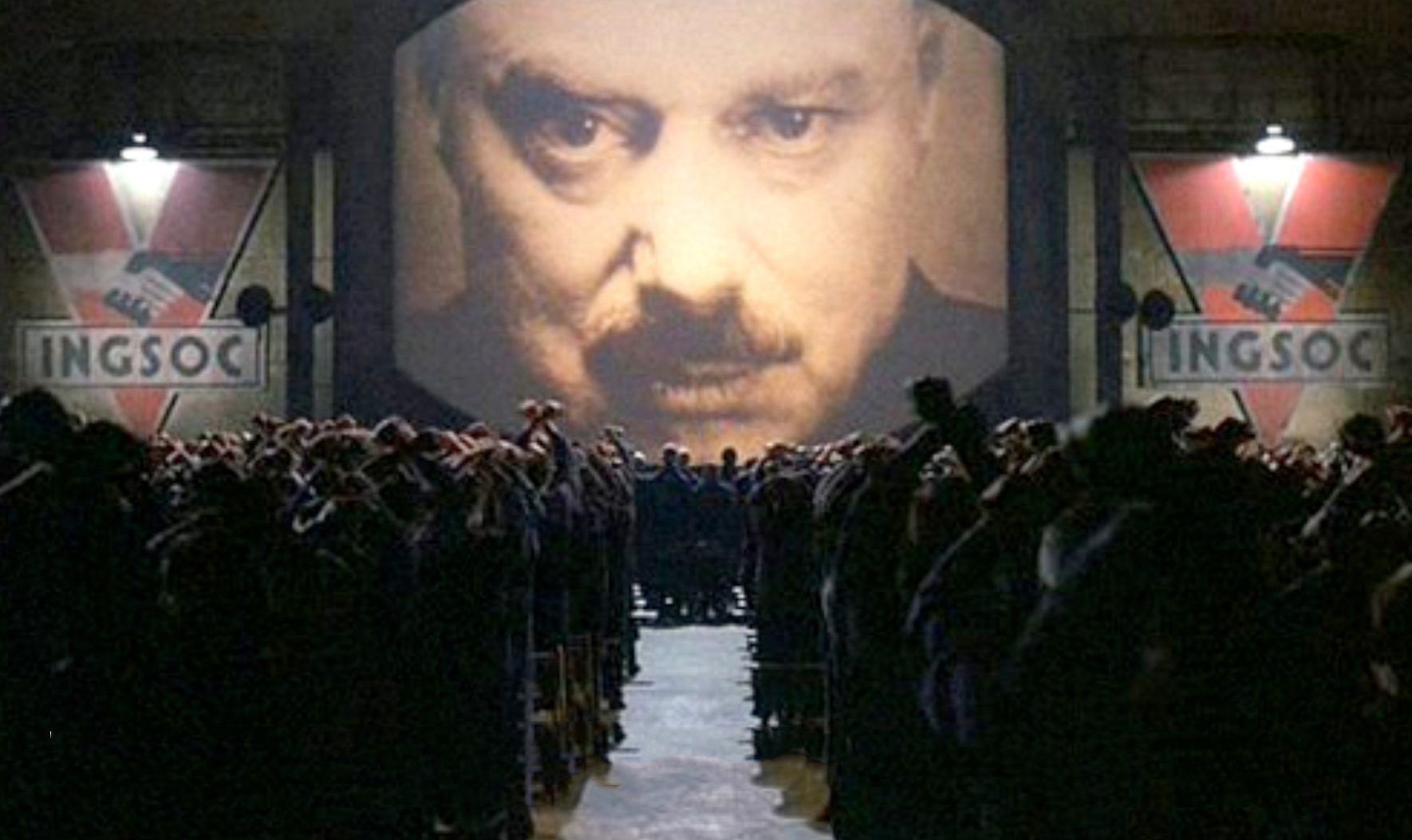 Someone else posted those images a few days ago.
Here's another: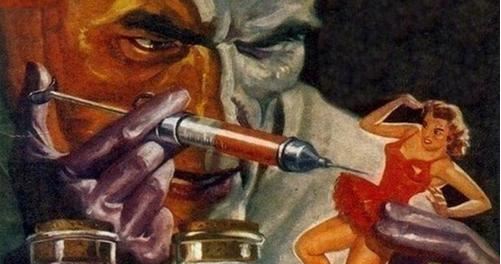 On Saturday, December 18, Neil Oliver of GB News interviewed Dr Robert W Malone about the vaccines and the boosters (33-43 minutes in):
Malone discusses his involvement in mRNA vaccine technology from its inception in the late 1980s and development into the 1990s. He now looks at these vaccines from a regulatory perspective.
He, along with a number of other physicians and scientists, e.g. Dr Pierre Kory, does not think that the coronavirus vaccines have been developed in a conventional manner.
Furthermore, he does not think they should be:
1/ given to children;
2/ given to people with normally functioning immune systems;
3/ mandated.
In other words, if he is correct, most of us reading this post should never have had the coronavirus vaccines or boosters.
Malone thinks that those should have been reserved only for the immuno-compromised, but admits that, even with that caveat, he's having second thoughts about that group as well.
Hmm.
In June, Linked In suspended his account for his views on the vaccines:
In 2022, the UK is likely to get legislation prohibiting 'hateful anti-vaccine' (MPs' words) articles and opinions. A few other countries already have such laws:
Note how the BBC fits in:
Congratulations to Neil Oliver and GB News for giving Dr Malone much needed air time.
Two videos of interest follow concerning coronavirus vaccines, including boosters.
On Monday, December 13, 2021, Health Secretary Sajid Javid said in Parliament that NHS work would be largely paused to focus on the booster programme, with which the British Army will help administer.
An oncologist, Prof. Angus Dalgleish from St George's Hospital, London, told GB News that the booster programme was 'a waste of time', because the new Omicron variant is so infectious. He is concerned that many other ailments, cancer, in particular, will go untreated. He says that a relatively mild cancer which goes undetected can become Stage 4 cancer, bringing about more fatalities from non-COVID illnesses. As for the vaccines, he says that the focus should be on T-cells rather than antibodies, which can disappear over time.
This is around six minutes in length and well worth watching:
A longer video about the vaccines is on Parliamentlive.tv. I recommend the first 40 minutes with Dame Kate Bingham, Former Chair, UK Vaccine Taskforce. (Scroll through the first 10 minutes or so, as the start was delayed.) On December 14, 2021, Dame Kate told the Science and Technology Select Committee how the vaccine programme, which was her big success last year, has begun to falter.
She has been out of the taskforce for a year now. She told the Select Committee that she left a detailed plan behind of how to proceed: staying ahead of the curve both with variants and vaccine supply. She surmises that her plan has not been followed, for whatever reason, because the vaccine rollout has become inefficient.
The most eye-opening part was her discussion of the Valneva lab in Livingston, Scotland. Dame Kate said that the Government recently withdrew funding from the facility because they wanted booster shots only; Valneva produces whole-virus vaccines, which are seen to be more adaptable in the long run.
Valneva was supposed to be 2021's big success story. Prime Minister Boris Johnson visited the facility earlier this year.
Although Valneva is a French company, in February, they were willing to ship their vaccines to the UK first, because the EU had not yet signed a letter of intent:
Guido Fawkes reported that the vaccine would be ready in 2022 (emphasis in the original):
This morning it was revealed that the UK has exercised its option to purchase a further 40 million doses of a promising new vaccine from Valneva SE, a French vaccine developer with its product still in stage 1/2 trials. While the vaccine would not be available until next year it could prove vital in defending against new strains as the UK deploys what will likely be an annual vaccination effort similar to the massive flu jabs programme. The UK had already ordered 60 million doses, bringing the total to 100 million…
Valneva SE CFO David Lawrence told the Today Programme that whilst the UK has been in discussions and had signed deals since the summer of 2020, the EU is yet to sign even a letter of intent with the firm, which is headquartered in Paris.
In April, The Scotsman reported that Valneva was searching for Phase 3 trial volunteers for their promising vaccine, being developed ahead of schedule for delivery at the end of 2021 (emphases mine; sorry about the font size, which I was unable to change):
The UK has ordered 100 million doses of the Valneva vaccine, which are set to be delivered at the end of 2021 and beginning of 2022.
With all adults due to have been vaccinated by the end of the summer, Valneva hopes its vaccine will be used as a booster jag or as a modified vaccine which is more effective against new variants of Covid-19.
The phase 3 trial will run in 24 sites across the UK, with two in Scotland. It is open to healthy adults who have not already had a vaccine.
Around 3,000 people over 30 will be given either two doses of the Valneva vaccine or two doses of the AstraZeneca jag.
Following JCVI guidance not to offer AstraZeneca to under 30s, around 1,000 younger participants in the study will be given only the Valneva option.
Volunteers will be given two doses, 28 days apart, starting at the beginning of May.
Thomas Lingelbach, Valneva chief executive, said: "This Phase 3 initiation marks a significant milestone in the development of the only inactivated vaccine candidate against Covid-19 in clinical trials in Europe.
"As Covid-19 continues to impact people's daily lives, we remain fully focused on developing another safe and efficacious vaccine solution.
"We believe that VLA2001 has an important role to play including boosters or potential modifications to the vaccine to address variants."
Valneva's candidate is an inactivated whole virus vaccine, which contains virus that has been destroyed so cannot infect cells, but can still trigger an immune response.
The technology is used in flu, polio and rabies vaccines, and it's a more traditional approach than the Pfizer (mRNA) and AstraZeneca (adenoviral) vaccines.
Because the vaccine doesn't contain any live virus, it may be especially suitable for vulnerable people, such as the elderly or those with weaker immune systems.
On November 31, Daily Business reported that the UK Government might return to the negotiating table with Valneva, which they had accused of breach of contract:
UK Government ministers may be about to return to the negotiating table with French vaccine developer Valneva two months after cancelling a contract to supply Covid vaccines from its plant in Livingston.
A source close to the situation says it is hoped the UK Government will "seek an amicable resolution" and at least partially reinstate the £1.2bn order to help combat the new Omicron variant.
Westminster terminated the deal in September, claiming breach of contract, a move that drew criticism from business leaders, senior academics and politicians.
The government had placed an order for 100 million doses of its VLA2001 vaccine after increasing its request by 40 million last February. Then, without warning, it pulled the plug.
It placed a question mark over the future of the firm's new West Lothian factory, a globally-qualified manufacturing site for viral vaccines including VLA2001.
The company is currently supplying, or is in discussion, with other countries about potential deals for the vaccine.
For once, I agree with Scottish National Party (SNP) MPs; they rightly deplore the Government's withdrawal of the Valneva order.
Dame Kate Bingham pointed out that, because Valneva's vaccine is a whole virus one rather than one with just the protein spikes, e.g. Moderna's, it can be modified quickly to attack new variants. Moderna's and Pfizer's, on the other hand, require months of work.
Dame Kate called Valneva 'nimble'. She added that, even if the UK were not interested in the vaccine, other countries around the world would want it, which can only be a positive for Britain.
One wonders how many other stories there are like this.
People in England are ready to comply with Government measures on the new Omicron variant.
The measures went into effect at 4 a.m. on Tuesday, November 30 and include compulsory face coverings in shops and on public transport:
Most Britons would like to see more mask mandates in secondary schools:
On that basis, one wonders if theatre and cinema audiences will stay at home over Christmas:
Most of us are following Omicron news:
Mixed public opinion
Despite the uniformity of YouGov's survey results, opinion is more mixed, as GB News discovered when discussing the new measures on Carnaby Street in the heart of London. Everyone had a different opinion:
Mixed messages from Government ministers and advisers
Government ministers are trying to be measured in their assessment of the new variant.
On Wednesday, December 1, the Daily Mail had a round-up of the mixed messaging.
Prime Minister Boris Johnson and Health Secretary Sajid Javid held a press conference on booster shots the afternoon before.
Boris wants people in England to carry on with Christmas plans (emphases mine):
Prime Minister Boris Johnson urged people not to cancel Christmas parties or school nativity plays. He also promised to 'throw everything' at the booster vaccination campaign to tackle the virus's spread.
Sajid Javid is cautious:
There are 'no guarantees' that there won't be a lockdown this Christmas, the Health Secretary warned today.
In an ominous shift in tone from recent days, Sajid Javid insisted another festive shutdown was 'not the plan', but said: 'We can't rule out any particular measure at this point in time because we always have to look at the data and do what we need to protect people.'
He even urged people to take Covid tests before going to Christmas parties and wear facemasks while partying amid mounting fears about the so-called 'Omicron' variant … 
Asked if he would wear a mask if he was at a Christmas party, Mr Javid told Sky News's Kay Burley: 'It depends if I am walking around or sitting down. It depends if I'm eating. People just need to make a decision based on the guidance.'
Elsewhere, Dr Jenny Harries, who heads the ominous sounding UK Health Security Agency, is not keen on group celebrations:
Dr Jenny Harries recommended people reduce the extent to which they socialise this winter – in a hint that restrictions could go further.
Last year, Harries discouraged going to pubs in one of the televised coronavirus briefings, so this comes as no surprise.
Another NHS bigwig also issued a warning to health staff:
Saffron Cordery, deputy chief executive of NHS Providers, which represents NHS trusts, said some NHS organisations had asked staff 'not to mix in big groups' in the run-up to Christmas owing to fears off staff absences.
Understandably, the hospitality industry is concerned about the reaction to Omicron:
Hospitality leaders now fear another hammering to their industry this December. Kate Nicholls, the chief executive of UKHospitality, told Radio 4's Today programme that Saturday's press conference had had a 'chilling effect on consumer confidence'. She warned against 'the threat of a stop-start to the economy again' in the run up to Christmas …
'I think it's driven largely by consumer confiden[ce]. I think there's also a sense of trepidation that their plans might be disrupted again, and so that irrespective of whether there are government controls imposed on the economy, that is having a cooling effect undoubtedly on hospitality.
'We already saw that bookings were subdued this year compared to pre-pandemic levels. And this will clearly have a further adverse impact on our businesses.'
Trouble started for the travel industry almost immediately after last Saturday's press conference:
New curbs on global travel including the addition of 10 countries to the UK's so-called 'red list', a return of testing rules, and quarantine hotels have also spooked travellers – and sparked a wave of cancellations of bookings at airport hotels …
The Arora Group said travellers who stay at hotels at Heathrow, Gatwick and Stansted airports before catching early morning flights are axing their December bookings. They are even suspending corporate events at the four-star Fairmont in Windsor in January due to mounting uncertainty about the spread of the Covid variant, group chairman Surinder Arora said.
He told the Today programme: 'It's been a bit of a rollercoaster ride. Obviously we had the quarantine hotels at the beginning of this year, and then over the past few weeks as we've been trying to return to some kind of normality, most of the hotels have gone back to operating normal commercial hotels.
'And then of course last week we were hit with this new virus, so sadly that's all changed again and the Government's obviously introduced 10 new countries on the red list which means they need a few hotels to go on the quarantine programme.
'Over the last few weeks, when the quarantine finished we were thankful for getting back to some kind of normality. Since this latest news, instead of getting new bookings the guys are getting a lot of cancellations …
'And not just the leisure business, we're getting quite a few bookings cancelled for meetings and events. I know, for instance, some of the larger bookings – we just recently opened our new flagship at the Fairmont in Windsor, and they actually had big large corporates who had bookings in January who are saying "actually, we may want to push it back to further, later in the year to get some more clarity on where we're heading".'
It's all so sad. If only the Government were less cowed by health advisers.
Behavioural scientist Susan Michie and the BBC
Speaking of health advisers, SAGE and Independent SAGE member Susan Michie, an avowed Communist, has been making the rounds on the BBC once again.
In July, one week before our Freedom Day on the 19th — already delayed from June — she disparaged scientists who wanted to lift lockdown:
To behavioural scientists, we are things to be manipulated:
On Monday, November 29, The Times had a scathing, yet accurate, article: 'The BBC has a blind spot over the bias of its Covid expert Susan Michie'.
Excerpts follow:
Professor Susan Michie, of University College London, a super-rich longstanding member of the Communist Party of Britain, was lined up as a main expert to pass judgment on the prime minister's announcement of measures to tackle the new Omicron variant.
Michie, dubbed "Stalin's nanny" when she was a student at Oxford, is often simply introduced as someone who sits on the Sage committee, the government's Scientific Advisory Group for Emergencies.
This doesn't tell the whole story: Michie is part of the Covid-19 Scientific Pandemic Influenza Behaviour team (SPI-B), a sub-group of Sage made up of almost 50 people from many disciplines and backgrounds. In other words, Michie is one voice — and not necessarily the most important — in the room.
She is not a medical doctor or a virologist but a health psychologist. What overarching qualifications she has to pass judgment on air — and so often — on a range of pandemic policies is open to question …
She has tweeted that "China has a socialist, collective system … not an individualistic, consumer-oriented, profit-driven society badly damaged by 20 years of failed neoliberal economic policies".
Michie's revolutionary views — she is said to be dedicated to establishing a socialist order in the UK — are surely relevant when evaluating her critique of pandemic policies.
However, by Wednesday, Susan Michie had appeared three times on the BBC, which every household in Britain has to pay for via the licence 'fee' (tax?):
Guido Fawkes had a video and an article:
Guido cites The Times's second article on the BBC's invitations to Michie (purple emphases mine):
It's not just Guido criticising the corporation's attitude here. In a Times article yesterday, senior Cambridge University clinical research associate Raghib Ali said:
"I think it would have been helpful to say to the viewers there may have been a conflict of interest. I also think scientists' track record should be taken into account. For example Professor Michie's organisation Independent Sage has repeatedly made inaccurate forecasts overestimating infections since July."
Professor Simon Clarke, associate professor in cellular microbiology at Reading University, also said:
"I see nothing wrong with Professor Michie being given air time, but it should be in a more balanced way. But that's not her responsibility to ensure, it's the BBC's."
Only ITV's Good Morning Britain has told the truth about Michie:
So far the only prime time presenter to call out Michie's hardline beliefs for the transparency of viewers is Richard Madeley…
Coronavirus cousins could help combat Covid variants
In better news, a London consortium of scientists posits that the common cold, also a type of coronavirus in some cases, could help fight COVID-19 variants.
On November 30, The Times reported:
Professor James Moon, a consultant cardiologist who last week was named on a list of the world's most influential researchers, is chief investigator of the Covidsortium, a group of researchers from University College London (UCL) and St Bartholomew's Hospital that was assembled before the start of the first UK pandemic wave in March 2020. Showing remarkable foresight and, in research terms, unprecedented speed, Moon and his colleagues recruited 400 hospital staff working with infected patients in a bid to find out how and why some of the health workers might be more susceptible to infection than others. Funding was sourced — initially through a JustGiving campaign, then boosted with a significant contribution from the investment bank Goldman Sachs — in a matter of days.
Within a week they had collected blood, saliva and nasal samples and continuing data from the participants, and produced findings that informed policy from very early in the pandemic. "It is information that has proven impossibly valuable," Moon says. "It provides the only cohort of samples taken before anyone had been infected or had a vaccination or booster."
To date the team has published more than 20 papers, with more in the pipeline, and its attention is turning to Omicron and whether revisions to vaccines will be necessary to defy it …
… clues to how new vaccines might be developed could evolve from the most recent published findings of the Covidsortium, which identified "parts of the virus that might make for a very good vaccine that may be effective against different variants".
Reporting in the journal Nature, the team discovered that blood samples taken from about one in ten of their participants revealed markers that showed they had been exposed to Covid, yet didn't fall ill. Unlike people who are asymptomatic — those infected with Covid but who don't develop symptoms — this small group appeared to evade it altogether, remaining uninfected and without symptoms or a positive test.
What their blood samples did show, however, was that a subset of T-cells known to recognise and react to coronavirus appeared to have been present and poised for action even before the pandemic took hold. And the reason these people seemed to be super-protected could be down to the common cold …
However, this is more complex than catching a cold and thinking that it offers protection against coronavirus:
There are more than 200 cold viruses — none is exactly the same and only about 10 per cent are caused by coronaviruses. The chances of you catching the right cold at the right time to prime your defences is minimal. And even if you did catch the right sort of cold early on, any added resistance it may have provided has probably waned.
Omicron might have been a blessing in disguise, because Covidsortium was planning on disbanding in April 2022. They now plan to continue their research:
Moon says that the team had planned to wind down their research programme next April because immunity would be waning — until last week when Omicron scuppered that. "We are clearly going to have to keep going as our research still has so much relevance," he says. "We have samples from so many people stored in our freezers and they contain so much unique information about their antibodies and T-cells, and the questions that only we can answer are not running out."
I wish them every success.
Let there be light
In further happier news, Parliament's Christmas tree is casting light in the darkness.
The Lord Speaker — John McFall, Lord McFall of Alcluith — is delighted to make up for lost time:
We must make the best of this time, knowing our restrictions could be far worse. We only have to look at the EU to see that: full lockdowns in some countries, with the possibility of mandatory vaccinations in all EU nations.
The UK's biggest topics that truly matter to everyday people are coronavirus, COP26 and the fishing row with France.
Coronavirus
On Wednesday, November 10, the BBC news site featured an article on mothers and babies over the past year and a half: 'Coronavirus births: "My baby's first word was mask"'.
How sad is that? My first word was 'Da-da'.
The BBC interviewed Leanne Howlett, who gave birth to a daughter in March 2020, during the first lockdown. Poor woman.
She said (emphases mine):
"Overnight, home appointments [from the perinatal mental-health team] dropped away," she remembers.
They would be over the phone instead, she was told, causing her panic about how she would cope.
Nurseries were closed, she couldn't see family and getting through the basics of each day was a huge struggle.
"I dipped to rock-bottom," says the 34-year-old.
"You cannot bring yourself out of it – you think everyone is better off without you" …
Leanne started to feel better last summer, when childcare bubbles were allowed and her husband took time off work, but she believes the impact on her daughter, Miley, now two years old, has been profound.
"She is not at all sociable – she didn't see anyone but us until she was nearly one.
"All those missed activities, photos, and all those firsts," laments Leanne.
When she did go to her first baby group, all the mums wore face coverings, she says.
"My baby's first word was mask."
Black taxis
Prior to the pandemic, Uber was more popular than the traditional black taxi, especially in London.
In fact, Uber drivers from as far away as Manchester drove to the capital every weekend to reap the largesse.
On October 30, The Guardian posted an article on the new-found success of black cabs: 'Black cabs roar back into favour as app firms put up their prices'.
It begins with the story of a young man who had been stood up by Uber and another app-oriented service, Bolt:
The young man was frantic, trying to get to a third date with a woman he already knew he wanted to marry. But four Bolt drivers had let him down, and when he tapped his Uber app, it was asking for triple surge pricing. In desperation, he did something he'd never done before – flagged down a black London taxi.
"He was trying to open the front door to get in. He wanted to give me a postcode – it was the usual thing you get from the ones who've never been in a cab before," said Karen Proctor, a London taxi driver for more than a decade. "I told him 'the postcode's not going to help – just tell me where you want to get to'. It was a restaurant. And we got there seven minutes early, at about a third of the cost. He was converted."
Tales like that are why, after nearly a decade of Uber-induced gloom, things are looking up for cabbies. Trade has roared back into life since the end of Covid measures in July, with many talking with some astonishment about their best-ever takings.
I hope the marriage proposal met with success.
I am a big champion of black taxis. London drivers have to pass a three-year course called The Knowledge, where they regularly go in at least once a week to be quizzed by a veteran taxi driver on how to get various places in and out of the capital. This requires memorising routes, including all the requisite street names. I saw a three-part documentary on it several years ago. It looked and sounded daunting.
During lockdown, some black taxi drivers sold their vehicles and left the road for good. Some firms are buying up those taxis and renting them out to licensed drivers:
While drivers with a cab talk of people running towards cabs when they stop to let out a passenger, arguing about whose taxi it is, or queues of 100 people outside Victoria train station or Liverpool city centre, there are plenty of licensed drivers without a vehicle.
"People are coming to us every single day looking for a cab," said Lee DaCosta, a founder of Cabvision which runs payment systems for taxis and also rents a fleet for drivers who don't own a vehicle. "We're having drivers turning up literally walking the streets from garage to garage going 'got any cabs?'"
Transport for London (TfL) figures show there were 13,858 licensed taxis in London on 24 October, compared with historic levels of about 21,000.
The rapid decline is partly due to Covid. During the pandemic, when drivers had no prospect of earning money and some were ineligible for government support, some were forced to sell their cabs and take up other jobs. It led to the sight of hundreds of cabs being stored in unused car parks and fields around London.
But some of the decline pre-dated the pandemic, and DaCosta says TfL's policy of forcing older, diesel taxis off the road has not been accompanied by enough support for electric cabs.
As Uber demand returns to normal, however, drivers are fewer on the road than before. Some were EU nationals who went home and never returned. Others have opted to drive delivery vehicles instead.
No doubt everything will stabilise in time.
COP26
It appears that COP26 did not do much for Glasgow's hospitality sector.
On Wednesday, November 10, The Times reported that the anticipated uplift didn't happen. The conference ends this weekend:
While hotels across Glasgow are fully booked to accommodate the thousands of delegates, the hospitality trade is understood not to have seen any uplift in trading since the event began on October 31.
There are even suggestions the event has led to a reduction in trade for some operators. Footfall in the city centre is said to have been affected as people try to avoid the demonstrations.
There is also thought to be a number of delegations which have stayed outside of the city, with Edinburgh hotels among those which are busy.
Oli Norman, whose Ashton Properties owns venues such as Brel and Sloans, said he had heard of some publicans and restaurant owners who have seen their trading fall by up to 50 per cent, and added: "It should have signified a resurgence in the local economy but if anything it has been a damp squib."
Fishing wars
Any Englishwoman hoping to keep relations smooth with the French during the fishing wars in the Channel would do well to support her adopted country, as Samantha Brick, who lives in France, wrote in The Telegraph:
"Fishing wars" isn't a phrase I'd ever suppose would have an impact on my marriage – or indeed on my status in France – but in these strange times I suppose I shouldn't be surprised.
After I recently strutted through arrivals at Bergerac airport I was pulled up sharp at passport control. While my documents were checked, I was casually asked what I thought about the issue of French fishing trawlers being unable to go about their business in British waters.
Noting my French passport was still in the hands of the uniformed officer, I swallowed my pride and, after a bit of inconclusive waffle, I was told I should be proud of my French passport and those fishing trawlers. I feebly replied: "Vive la France" …
Not since Brexit has my other half been so fired up about Anglo-French relations. The right to fish is something that the French get very, very angry about. Pascal routinely shouts at the breakfast and lunchtime television (frankly OTT) news reports of the French fishing industry being stymied by brazen Brits and a dozen or so of our fishing boats.
Crustacea, I've learnt, is a French human right. The right to gorge on seafood is taken so seriously that drones and police on horseback are deployed to patrol and protect Atlantic oyster farms.
Her husband Pascal's household does not sound either women- or Anglo-friendly:
My brother-in-law is also married to an English woman. She isn't mad about the dozen or so oysters the family get in per person each Christmas either; note, we Brits have to compare notes outside the home on this as speaking in our native tongue at home is banned.
In fact, food is probably the area of most contention in our marriage …
… the French are pretty rigid when it comes to anything and everything at the kitchen table. There are centuries old traditions and behaviours which have been silently passed down the generations.
In the early days I once stood up, noticed I'd not finished my rosé and then drained the glass. Pascal was in turn speechless and outraged afterwards. This is, apparently, something no French woman would ever do. Women are supposed to nurse just one glass of wine throughout the evening …
… one rule he is immovable on is not clearing your plate. The motto – which is drilled into every house guest – is "you eat what you take". The French cannot abide waste.
Sounds dire.
I don't remember my academic year in France being like that and I was a fairly regular guest in French households, either for parties or for sleepovers concluding with Sunday lunch.
Look before you leap, ladies.
Conclusion
We in the UK are at a strange crossroads at the moment.
Everything we were told not to worry about has become of increasing concern: children's development post-COVID, Glasgow's resurgence during COP26 and the nothing-to-see-here fishing wars. At least the taxi trade is prospering.
Without a vote on October 19, 2021, in the House of Commons, the Coronavirus Act 2020 has been renewed again until March 24, 2022.
Not enough MPs rebelled to trigger a division (vote):
Interestingly, Bill Gates was in London on Monday. The Queen shook hands with him and he met with Prime Minister Boris Johnson.
As usual, Mark Harper (Conservative) was the only MP who has continued to push back against this questionable piece of legislation. He rightly pointed out that this is the first time that Labour have complained about lack of scrutiny:
Labour have never opposed the Coronavirus Act.
A few other MPs, mostly Conservative, spoke up at Tuesday's debate. This was probably the only time I've agreed with Labour's Dawn Butler:
The Act has always been presented on the Floor of the House as an all-or-nothing Bill; MPs never have an opportunity to change, amend or scrutinise it, so I think that the Secretary of State is just a little misleading in how he is presenting it to the House today …
Unintentionally misleading.
It would appear that MPs did not clamour for a vote because some of the Act's provisions have expired.
However, the driver behind the powers of the Coronavirus Act 2020 lie in a separate public health act from 1984 (oddly enough).
The Mirror, a Labour paper, explains (emphases mine):
Facing pressure from Tory MPs, Boris Johnson announced that the vast majority of Coronavirus Act powers – including on detention, events, gatherings, shops and restaurants and schools – would expire last month.
The means only a few of the more draconian powers – including the power to suspend port operations – now remain in the Act.
However, the Act also includes laws designed to improve the state's response to the pandemic.
Those include the temporary registration of social workers, paramedics and other NHS staff if trainees or retirees need to surge into the system, and the ability to pay sick pay from day one of absence.
Labour MP Dawn Butler said the "authoritarian" Act had been passed with "no scrutiny" and "it was never proportionate".
She added she was "pleased" that the most draconian powers – including detention powers – had been removed.
No one blamed Sajid Javid, still newish in his role as Health Secretary. It was the principle of the legislation and the way it was rolled out last year.
Of course, every Briton expects the NHS to be under pressure again this year. It's been under pressure every winter since I moved here decades ago.
Sajid Javid said:
"We do certainly expect more pressure as we head into winter, we've been very open about that and that is why the vaccination programme, both the Covid vaccination programme, the boosters and the flu vaccination programme remain important.
"But there are provisions in this Act which are still, I believe, still necessary and proportionate to help with the pressure … "
At the end of the debate, Deputy Speaker Rosie Winterton (Labour) took the mood of the Commons. Too few Noes spoke — to much laughter — in a near-empty House. Sickening, as if this were an in-joke. It probably is:
What an insult to the taxpayers who pay MPs' salaries and expenses.
Meanwhile, it will come as no surprise that various scientists have been pressing the Government to quickly implement 'Plan B', which would mean a return to masks and more restrictions.
It looks as if we will be stuck in this downward spiral for some time to come.
Yesterday's post recapped the horrific murder of Sir David Amess MP on October 15, 2021.
Today's will cover more about this much admired man's personal character and political causes.
Posthumous victory: Southend-on-Sea now a city
I was delighted to learn at dinner time last night that the Queen granted Southend-on-Sea city status. Sir David must have mentioned Southend at least once a week in Parliament. He had long campaigned for it and made 115 references to it. Here he is with his two French bulldogs, one of which is Vivienne. He was due to participate with her in the Westminster Dog of the Year charity event on October 28:
The GB News article says that Prime Minister Boris Johnson made the announcement to MPs on Monday, October 18 (emphases mine):
The Prime Minister has notified the House of Commons that the Queen has agreed to confer city status upon Southend in tribute to Sir David Amess who was recently killed.
MPs cheered in the Commons as the Prime Minister announced Southend "will be accorded the city status it so clearly deserves".
Mr Johnson said: "As it is only a short time since Sir David last put that very case to me in this chamber, I am happy to announce that Her Majesty has agreed that Southend will be accorded the city status it so clearly deserves …
That 'short time' was probably last Thursday, October 14:
In a three-hour debate on Monday, preceding a service of remembrance at St Margaret's, the Parliamentary church next to Westminster Abbey, Boris noted that Amess was never an MP interested in climbing the greasy pole to a Cabinet or party leadership position:
"That Sir David spent almost 40 years in this House, but not one day in ministerial office, tells everything about where his priorities lay."
Boris Johnson, opening tributes to Sir David Amess, told the House of Commons: "The passing of 72 hours has done little to numb the shock and sadness we all felt when we heard of the tragic and senseless death of Sir David Amess.
"This House has lost a steadfast servant, we've lost a dear friend and colleague, and Julia and her children have lost a loving husband and devoted father.
"Nothing I or anyone else can say can lessen the pain, the grief, the anger they must feel at this darkest of times."
Returning to Southend-on-Sea, having city status will help to increase its profile and encourage outside investment, as the leader of the city's council explains below. Incidentally, having a cathedral, the traditional marker of an English city, is no longer necessary. City status is now a symbolic designation:
On Friday night, this Southend business owner said that Amess was dedicated to making his town a city:
Everything I know about Southend I learned from David Amess's contributions in the House of Commons:
'Community man'
There are MPs and there are MPs.
Sir David was the type of MP who will be sorely missed by his constituents, who called him a 'community man'. GB News interviewed several over the weekend, some of whom were in tears or close to it, including men, such as this Leigh-on-Sea councillor:
This councillor from Southend says that Sir David, whose mother lived to the age of 104, used to throw parties for constituents over 100 years old. He also used to ask about local issues in Southend and resolve them with the help of councillors:
Another councillor remembers that Sir David would check on certain constituents to see if they had transport for important meetings, probably related to issues of theirs he was dealing with as an MP. The man says that Sir David would personally drive those constituents to the places they needed to go. And, yes, there were right to life issues he campaigned for:
The Chairman of Leigh-on-Sea council recalls Sir David's selflessness:
This lady from Leigh-on-Sea, the Essex town where Sir David was stabbed to death (17 times), discusses his dedication to his constituency. Like many other people, she had the pleasure of meeting him at work in nearby Southend:
As was the case with other people GB News interviewed, a man interviewed (at 2:35 in the next video) said that people used to see Amess in the local Lidl, where he took time to chat with fellow shoppers. The man said that he did not vote for him but said that the MP was always available and accessible to everyone:
Vigil Mass
On Friday evening, the Revd Jeffrey Woolnough conducted a vigil Mass at St Peter's Catholic Church in Eastwood, Leigh-on-Sea.
This is the church the Amess family attend.
The video below has a few photos from the Mass. Starting at the 40-second point, notice how traditional it is. The priest stands with his back to the people, as in days of yore. He also wears a short chasuble that is very pre-Vatican II, a fiddleback. How fortunate for the Amess family to have found such a church:
At 1:50 in the video above, two ladies expressed their grief on Friday night following the vigil Mass. One of them said that Amess 'knew everybody'. As was the case with other people GB News interviewed, one of ladies said that people used to see him in the supermarket.
GB News was on hand to cover the Mass:
A service at Saint Peter's Church in Eastwood Lane, close to where Sir David was killed, was held on Friday evening to remember him – where he was described by a priest as "Mr Southend".
The church fell silent as Father Jeffrey Woolnaugh paid tribute to the Conservative MP and invited his constituents to remember him.
He placed a photograph of Sir David at the front of the church, and said: "This liturgy is one I was not expecting to lead today.
"The whole world grieves. In this Mass we pray for the repose of the soul of dear David.
"Have you ever known Sir David Amess without that happy smile on his face? Because the greeting he would always give you was that happy smile.
"He carried that great east London spirit of having no fear and being able to talk to people and the level they're at. Not all politicians, I would say, are good at that."
Around 80 people attended the service and listened as Father Woolnough recounted his own memories of Sir David.
He said: "When you can speak to your MP and you can talk and get on like a house on fire, that's when you can talk to them later about things that are important to your area.
"What can we say? He died doing the thing he loved, meeting his constituents, his local people."
Father Woolnough added that his constituents could "count on" Sir David, and said: "He was always available. We don't have the words tonight.
"Dear Sir David, rest well."
The priest also said that Amess's smile is ingrained on everyone's hearts:
On Saturday night, a secular candlelit vigil took place near where Sir David was murdered. The Daily Mail has many moving photographs of the gathering.
Biography
Most Britons think that all Conservatives were born with a silver spoon in their mouths.
Not so.
David Amess was born in humble circumstances in London's East End.
The Telegraph recounted his life:
David Anthony Andrew Amess was born on March 26 1952 in working-class Plaistow, East London, to James Amess, an electrician, and Maud, née Martin, a dressmaker. As Amess recalled, "we were very poor and lived in a small terraced house with no bathroom, an outside toilet and a tin bath hanging on the wall". In 2014 he would compile and publish a pamphlet, Party of Opportunity, containing short biographies of Tory MPs with working-class origins.
David's mother was a Roman Catholic who brought him up in the faith and he remained a staunch Catholic throughout his life, his commitment reflected in his opposition to abortion and to the broadening of LGBT rights. "Confession," he once said, "is very important to me."
He attended St Antony's Junior School, Forest Gate, where he was "often in classes of 50, and the teachers still gave us excellent tuition and kept order to a high standard", and St Bonaventure's Grammar School, Newham, where he remembered being "quite bossy and pushy" and was rumoured to have once hit a fellow pupil over the head with a bicycle pump.
Until the age of five, Amess said, he had the nickname of "Double Dutch" on account of a bad stutter: he could not make the sounds "st" or "the" and saw a speech therapist for three years, which also had the effect of virtually eliminating his Cockney accent.
He had a varied career prior to entering politics:
He took a degree in Economics and Government at Bournemouth College of Technology. Then, after 18 months' teaching at a primary school ("I specialised in teaching children who were described as ESN"), and a short stint as an underwriter, he became a recruitment consultant.
One wonders if he met his wife Julia while he was an underwriter:
In 1983 he married Julia Arnold, a former underwriter, who survives him with their four daughters and a son.
Margaret Thatcher was Prime Minister during Amess's early years in politics:
A dedicated Thatcherite, Amess contested the safe Labour seat of Newham North West in 1979, and in 1982 became a councillor in the London borough of Redbridge.

During those years, Essex went from electing Labour MPs to Conservative ones. The county is still Conservative-dominated in Parliament.
In the 1980s and 1990s, the media coined expressions for Essex voters, many of whose families had been moved out of London after the Second World War had ended. The next generation of voters became known collectively as 'Basildon man' and 'white van man'.
Amess rode the crest of that wave, as The Sun's Trevor Kavanagh explains:
Basildon was the first constituency he served, beginning in 1983:
When the incumbent Tory MP for Basildon, the Right-wing Harvey Proctor, moved to safer Billericay for the 1983 general election, Amess was chosen to fill his shoes and was duly elected. Three years later he stood down from the council to concentrate on his Westminster seat.
Basildon was regarded as a bellwether seat, and when Amess won it again in 1992, albeit with a tiny majority, it provided the first indication that despite the pundits, and the triumphalism of Labour's leader Neil Kinnock, the Tories were on course for a fourth successive election victory. He would later describe his campaign in a short pamphlet entitled 1992: Against All Odds! (2012).
Boundary changes prior to the 1997 general election meant that Basildon was almost certain to go Labour, so Amess decided to look elsewhere, and in 1995 was selected to fight Southend West after the retirement of Paul Channon. Returned to Westminster again, he held the seat until his death.
Amess focused on his constituents, first and foremost:
Assiduous and likeable, Amess built a strong personal following by concentrating on constituency issues: the Guardian's Andrew Rawnsley once suggested that the secret of his electoral success was that "he never completed a sentence without mentioning his constituency".
This was also reflected away from Parliament:
Amess … was a lifelong supporter of West Ham United, and also followed Basildon United …
Even after he left Basildon, he still returned to visit, as this former Basildon councillor remembers:
He had many accomplishments with regard to charity, earning him a knighthood. He:
was knighted in 2015 and received several awards for his contributions in parliament, including the Animal Welfare and Environment Champion award of the 2011 Dods Charity Champion Awards, and the "Outstanding Achievement Award" at the same event the following year, in recognition of his lifetime commitment to charitable work.
This was how the newly knighted Sir David celebrated:
He did not always follow the Conservative line in Parliament:
… he incurred the wrath of many fellow Conservatives by consistently voting to ban foxhunting and hare coursing (though he was in favour of capital punishment), and supporting numerous other animal welfare campaigns.
Many MPs will remember his staunch support of Brexit, however.
They will also remember him for supporting animal causes and an end to fuel poverty:
The most significant of these were the Protection Against Cruel Tethering Act (1988), and the Warm Homes and Energy Conservation Act (2000) …
The animal-related Act, supported by the NFU, banned the tethering of "any horse, ass or mule under such conditions or in such manner as to cause that animal unnecessary suffering".
The second piece of legislation, following on from the death of a constituent from cold, required the Secretary of State to "publish and implement a strategy for reducing fuel poverty". The measure was credited with pushing fuel poverty to near the top of the political agenda, contributing to a dramatic fall in the problem in England from 5.1 million households in 1996 to 1.2 million in 2004.
Another cause that Amess supported, thanks to a Leigh-on-Sea constituent, Carla Cressy, was that of endometriosis. 
The Telegraph has the story:
"I first approached Sir David Amess when I'd just found out I had endometriosis five years ago," says Carla Cressy, 30, an accounts manager from Leigh-on-Sea. "I didn't know much about it, and realised there was very little awareness, support and education around it. He's my local MP so I visited him at his surgery. I had no expectations of what would happen. I just knew I wanted to share my story with him, about how I'd suffered with endometriosis for an entire decade before I was diagnosed.
"He was so lovely – genuinely concerned and upset about what I'd been through. He said we need to do something about it, and he then really did. He went above and beyond to champion this community like a beacon of light. It was incredible. I am devastated that he's gone."
This is what happened:
"Sir David recognised the significant impact endometriosis could have, and really wanted to make a difference to help those with the disease," says Emma Cox, CEO of Endometriosis UK, a charity that was working closely with an All-Party Parliamentary Group (APPG) that Sir David set up in 2018 to raise awareness in Parliament of the condition …
One of Sir David's goals when he created the APPG was for the government to provide education on endometriosis in schools. It's something the group achieved over a year later, meaning menstrual wellbeing is now included on the English curriculum. "We made so much progress together," says Cressy, who worked closely with Sir David on the campaign. "He really has changed so many lives, including my own."
One of Sir David's upcoming tasks, had he lived, was to ask for further research funding, as a Labour MP explains:
"He really wanted that debate," says Labour MP Emma Hardy, vice-chair of the APPG on endometriosis. "We'd published a report last year, collecting evidence from women around the country with their experience of endometriosis, and Sir David wanted to draw attention to our recommendations."
Their key goals are to reduce the time it takes for people to be diagnosed, ensure GPs have enough information to make them aware of the condition, raise public awareness, and fund more research into non-invasive ways of diagnosis …
"The main thing that comes from women is not being listened to, not being believed, taking ages to be diagnosed and then when they are, there's not much change. Sir David wanted to change that. Endometriosis isn't party politics, but he was really passionate about trying to do something about this condition. I don't want him to be remembered as the person this tragedy happened to, but the person who worked so hard to improve the lives of people with endometriosis. We can't replace him, but I hope we can find another Conservative MP to champion his work and continue with the APPG."
This GB News video covers Sir David's public life from the time he entered politics:
MPs paid respects
On Friday afternoon, Union flags were lowered to half-mast over government buildings, including No. 10:
On Saturday morning, prominent Conservative and Labour MPs laid flowers near the Methodist church hall where Sir David was murdered:
Government whips have reminded MPs that there is an Employee Assistance Programme for anyone among them who wants counselling after Sir David's senseless murder.
Everyone, regardless of party affiliation, was deeply sorry to lose this man:
This was because he befriended MPs from both sides of the aisle and found ways to work constructively with them:
One of the things I found moving in watching and reading these tributes was the recollection made by more than one MP, regardless of party affiliation, on his befriending of new Parliamentarians. He introduced himself, asked how they were getting on and enquired if they had any issues with which he could help.
Conservative MPs
These are some of the Conservative MPs' tributes, beginning with Boris's:
Long-time friend David Davis paid tribute to Amess's career of service, rather than ambition:
Stuart Anderson remembers Amess helping him settle into the job:
Andrew Rosindell, another Essex MP, lamented the loss of his oldest friend in the Commons:
Another long-time friend, David Jones, called him 'frankly irreplaceable':
I agree with Mike Wood. Forthcoming Adjournment debates will never be the same. That said, Southend is now a city:
The folks running PARLY agree on the adjournment debates, during which Sir David addressed more issues than Southend:
Labour
Party leader Sir Keir Starmer emphasised Amess's Christian faith and the fact that he was well liked across the House:
Hilary Benn remembered Amess's dogged campaigning and dedication:
Siobhain McDonagh will forever connect Amess with Southend, and who can blame her?
Steve McCabe will remember Amess's cheerful nature:
John Cryer was a former neighbour:
Liberal Democrat
The most moving tribute, however, came from Lembit Öpik, a former Liberal Democrat MP, who spoke to Mark Dolan on GB News Saturday night:
The former MP was so moved that he had to sit down and recover after that interview. Mark Dolan's producer was with him during that time.
Conclusion
It was serendipitous that the Gospel reading for Sunday, October 17, was about service (Mark 10:35-45):
10:42 So Jesus called them and said to them, "You know that among the Gentiles those whom they recognize as their rulers lord it over them, and their great ones are tyrants over them.
10:43 But it is not so among you; but whoever wishes to become great among you must be your servant,
10:44 and whoever wishes to be first among you must be slave of all.
10:45 For the Son of Man came not to be served but to serve, and to give his life a ransom for many."
What apposite verses for Sir David Amess, who gave his all in service to his constituents.
May his place in Heaven be an exalted one.