You are currently browsing the tag archive for the 'health' tag.
It's unclear whether this is good news or bad: the common cold is back in England and has hit with a vengeance.
On Thursday, October 14, 2021, The Times reported (emphases mine):
Figures from the Royal College of General Practitioners show that the incidence of the common cold is about a third higher than this time last year, at 3.1 per 100,000 people in the week ending October 3, compared with 2.1 in the week ending October 4, 2020.
In London, levels went from 1.8 per 100,000 in the week ending September 26 to 4.2 per 100,000 in the week ending October 3. In the north of England, levels went from 2.5 to 3, in the south from 2.4 to 2.5, and in the Midlands and east of England from 2.6 to 2.9.
This strain seems to be much stronger than the colds we used to get:
Dr Mohammed Abbas Khaki, a GP in London, said that there was "a horrific cold going around". He added that he had been telling patients to "stay at home until they feel well".
Some have dubbed it the 'super cold':
Increasing numbers of patients are calling 111 or their GP with symptoms of a so-called super-cold …
Recent days have seen large numbers of people complain on social media of suffering "the worst cold ever".
The cold seems to be affecting those aged between 15 and 44 the most.
The Telegraph lists the symptoms:
Since last month, increasing numbers of people have reported symptoms ranging from sandpaper throats to muscle aches, with some saying their cold has left them exhausted or bedridden.
The paper blames the lack of immunity we have because of lockdown:
The "super cold" sweeping Britain is likely to be no worse than normal – but it is hitting people harder because of a lack of immunity.
Health experts said lockdowns, social distancing and masks had left Britons unable to shake off common infections.
Because the common cold is a form of coronavirus, sufferers should be attentive to their symptoms:
… experts warned that some symptoms of colds and Covid can be similar and said it was important to get tested if a fever or cough develops or people begin to lose their sense of taste or smell.
This is yet another reason why lockdown and masks were a bad idea.
Furthermore, most of us have bought wholesale into Project Fear, which our government and experts have stoked so well since March 2020. Any common cold we get now is going to be blown out of all proportion.
In any event, it might be worth stocking up on a product like Vicks First Defence and take it as soon as the first symptoms begin to appear.
What is 'luxury wellness'?
Posh spas and rehab centres, available only to the wealthy.
Let's open the door and find out more.
Villa Stéphanie Spa & Wellbeing, Baden-Baden, Germany
When it comes to spas, wealthy women already look beautiful, so one wonders how much extra lingering beauty a week-long stay at one actually produces.
On October 2, 2021, the Daily Mail published an article about Victoria Beckham's stay at Villa Stéphanie Spa & Wellbeing in Baden-Baden, Germany (emphases mine):
The retreat – which is described as an entire house dedicated to the world of spa – on its website, offers rooms starting from €270 a night (£231) and massages from €170 (£145). A seven night programme starts from €4,000 (£3,430) per person.
That means treatments are added on to the base price.
The article has several photographs from Mrs Beckham's Instagram account. The photos look as if she were asking, 'Don't you wish you were here?' Of special note is the one with Dr Harry Koenig, who tailors treatments to individual needs:
Showing off her slim figure in a black tank top and accessorising with a black cap, Victoria told fans: 'So we are here in Baden-Baden in Germany having our annual checkups, MRIs… gosh checking literally everything. It is absolutely incredible.' 
The former Spice Girl said she was also taking the opportunity at the lavish retreat to 'detox and have infusions and go for lots of amazing hikes'. 
Victoria shared a photo of herself clad in khaki sweats and embracing Dr Harry Koenig who tailored all of their treatments at the retreat based on their test results …
Victoria shared photos of an egg white omelette with sliced avocado and a dish of fresh salmon and vegetables, and said she's learnt a lot about food and diet' that has now 'influenced' how she eats at home.
Also detailing the more expensive treatments on offer, Victoria shared a photo of nurses Ellen and Sophia bringing her tray of 'daily vitamins and amino acids'.
She also opted for a 'heavy metal chelation supplement' which is said to aid in detoxification and protect the liver and kidneys, daily IV drips, and a hyperbaric oxygen treatment. 
Victoria also used the opportunity to flaunt her own skincare line as she showed off her radiant and makeup-free visage during a beauty treatment, and shared stunning footage of herself hiking through the Black Forest surrounding the retreat. 
This woman needs none of that, because she barely eats when she goes to a restaurant:
It comes after last week Victoria's revelation that her favourite meal of all time is salt on whole grain toast left fans in disbelief.
Speaking to Ruth Rogers on the River Café's Table 4 podcast the fashion designer admitted she was a restaurant's 'worst nightmare' because she was happy with just a slice [of bread] with a sprinkling of the seasoning. 
Ugh!
Judith Woods of The Telegraph wrote a great article about the Beckhams' stay at the retreat:
When Victoria Beckham gave us a sneak peek into her recent physical MOT at a lavish spa retreat in Baden-Baden, it was hard to decide which delicious treat we envied most.
Was it her daily personalised IV drips? The artisan-crafted egg-white omelettes? Or the hyperbaric oxygen treatment? Yum. Or maybe it was the presence of husband David, who was also getting his annual once-over? Because nothing screams enduring love more loudly than his 'n' hers MRI scans followed by a hearty hike in the Black Forest.
Here she is, face scrubbed and smooth as a preternaturally girlish 47-year-old milkmaid, snuggling up next to Dr Harry Koenig, the handsome silver fox who tailored all her treatments.
Meanwhile:
Back in Britain we struggle even to catch sight of a GP, who are second only to HGV drivers and slaughtermen in their scarcity. Yet here was Mrs B with a buff Bavarian medic all to herself, personalising every esoteric infusion and rejuvenating elixir. This isn't just wellness: this is luxury wellness. Actually, scrap that. This is exclusive, bespoke, ultra-luxury wellness.
We discover how much a week's stay can actually cost:
At up to £19,000 a pop for a week's stay, that is one shock and awe shellac. And let's not forget the integrative holistic medicine and the "vampire facelift", where the client's own platelets are injected under the skin along with a hyaluronic acid filler.
On the Beckhams, Woods concludes:
Sorry to be blunt but this sort of high-end "Because I'm worth It" intervention really isn't for amateurs.
In the competitive wellness stakes, the Beckhams pretty much ace it. Just as engagement ring metrics traditionally equate purchase price with strength of ardour, so do modern lavish spa treatments convey exactly how much self-love a celebrity possesses.
Goop at Sea, floating spa
Woods tells us about a spa cruise scheduled for 2022 that is attracting American women on the celebrity circuit:
Happily, celebrities really do excel at leading by example. Why, Goop founder Gwyneth Paltrow has entered into a pact – sorry partnership – with Celebrity Cruises and will set sail round the Med next summer in a venture dubbed Goop At Sea.
Aimed at the sort of person who uses "juice" as a verb, this gorgeous floating spa will feature "trailblazing healers and transformative workshops for mind, body and soul" along with personal butlers, a private restaurant and an exclusive lounge.
Woods rightly points out that female celebrities already look good. These spa visits are a pampering top-up:
Ageless and wrinkle-free; not young per se but not old. Therein presides the spa delusion; civilians imagine that they will emerge relaxed, rested and youthful, just like the beautiful people.
Except they were already beautiful before they handed over their Amex cards. It's their day job. A-listers have no problem being stripped down and rebuilt like a Formula 1 car every so often; it counts as red-carpet running repairs in a profession where optics matter more than anything else.
Agreed.
It is far better and cheaper to book an appointment with a licensed aesthetician, especially in the UK, as they can provide a wide range of beauty treatments and detoxes.
Gentlemen, if these are what the lady in your life wants, get her a gift certificate for a half-day session for Christmas. She will love you even more for it.
Paracelsus Recovery, Zurich, Switzerland

On the rehab side of things, The Telegraph's food critic William Sitwell noticed he was having a few physical problems at the age of 51:
… I don't like sitting down and I'm scared of food. Lower-back pain and acid reflux are now rendering me nervous at the prospect of eating out, uncomfortable doing it, in pain writing about it, and in fear at the physical consequence of it.
The Telegraph treated their treasured food critic to a three-day stay at Paracelsus Recovery in Zurich. The clinic:
promises a 'safe haven', with 'individualised treatment programmes that are designed to address a client's unique set of needs.'
I'm dispatched by The Telegraph, which is fortunate because regular clients at Paracelsus are high-profile, high-net-worth individuals, and the price tag for a week's admission is £75,000. 
Sitwell tells us that many of the clinic's patients enter a three-month programme. Incredible.
Before going, he spoke with Paracelsus's founder and CEO, Jan Gerber, who told him:
'We'll give you your own apartment with views over Lake Zurich. You'll have a housekeeper who will cook and clean for you as well as a team of 10 of us caring for you,' he tells me. 'We'll conduct an array of assessments: physical, emotional and biochemical. We'll identify areas of concern or ones to watch, and with treatments, therapy, yoga and massage we'll implement a programme. Our aim is to add quality years to your life.'
'These are first-world problems, right?' I say. 'That may be true,' he replies, 'and we work with a lot of financially privileged people, but that doesn't mean they don't experience very real emotional or physical pain. What we do here is super complex. Are you willing and able to help us open your can of worms? Don't worry, our responsibility is not to go to places where we leave the doors open.'
The clinic is used to dealing with drug and alcohol addiction. Sitwell went in order to resolve his food issue:
I really love to eat and also hate it – gives me a little wind in my sails. I am worthy of a brief visit. Paracelsus, here I come.
The article comes with photos of his stay, which are well worth looking at.
The clinic's managing partner Pawel Mowlik, a German, met Sitwell at Zurich's airport. A chauffeur drove them into the city centre:
Whisked out of the airport and into the clinic's Bentley Flying Spur, we are soon in the city centre and turning into a nondescript car park behind an apartment block.
Luggage taken care of, doors held open, we go through an entrance with no signage. 'This place is very discreet and highly confidential,' says Mowlik. 'We have the very famous – the richest people, heads of state – and no one needs to know that they are here.'
The apartment was fully kitted out, with a separate area for a live-in therapist:
My apartment is airy and light, with lake views, a large bedroom, comfortable sitting room, kitchen and dining area and my own therapy room. Behind the kitchen is another bedroom and bathroom. 'That's for a therapist to stay,' says Mowlik. 'We can provide that 24/7 if need be. We sent a therapist back to the Middle East with one client,' he adds, 'and they stayed out there for five years.'
The housekeeper, Elizabeth, is there to unpack my things.
Founder and CEO Jan Gerber was already there to greet his new patient:
We sit down to discuss my schedule. Across three days I'll have an intense programme of clinical, psychiatric, fitness, lifestyle and nutritional assessments as well as yoga, psychotherapy, physical training, intravenous therapy, something called bioresonance and then a presentation of results by the team.
Gerber told Sitwell that coronavirus has exacerbated every type of mental health problem.
Chaperones are de rigueur, in case a patient tries to escape. Gerber's mother:
Christine Merzeder, is the senior clinical coordinator. She will chaperone me from meeting to meeting. Mowlik, it turns out, will chaperone me for anything else.
I mention a swim in the lake. 'A lovely idea, we can go tomorrow at 8am,' he says …
I note that the physical assessment and training are at a private gym. 'Is it far to walk?' I ask. 'It's a simple route,' says Mowlik. 'I will show you… and then bring you home.'
The super rich need a crafty chaperone, and this one knows how they think. By his early 20s Mowlik, working for a Zurich-based hedge fund, was earning up to £2 million a month. He began splashing it on private jets, alcohol, drugs … he checked into Paracelsus and liked the place so much he later became a partner. Clients can relate to him, and he's quite handy at finding new recruits, too.
Paracelsus isn't any ordinary rehab clinic:
'Being famous and wealthy can be a very lonely place,' says Mowlik. 'You can't trust anyone, you find yourself exploited and that can be a vicious circle that brings separation from people. Which can lead to depression and medication with substances. We exist because such a person can't go to an average rehab.'
'Did you know that the incidences of addiction among the wealthy are much higher – maybe five-fold – than the average?' states Gerber.  'And it is relative. Pain is very real for the person who feels the pain. In fact it can be harder for someone who is famous and very wealthy to find empathy. Emotionally we are all human, we all need love and social interaction.'
Gerber also argues it is vital the rich and powerful can get confidential help. They can have a lot to lose if the public learns of their difficulties.
'If a head of state or famous entertainer is unwell, that can have a very large effect on their family network or across their business empire: a head of state with a nation in crisis, a lead actor in a major production…' he explains. 'So what we do here is a big lever to heal the world.'
He adds that his therapists need to understand the reality of being rich. 'We call it affluent neglect,' he says. 'There are children brought up by nannies and sent to boarding school.'
Sitwell underwent a battery of physical tests, from blood to stool to urine and more:
I'm wired up to a Metatron, which scans my body for inflammation, I have a portable heart monitor attached to my chest, a live-monitoring glucose implant on my upper left arm, they take blood from my veins, blood from my fingertips, I have strict timetables to deliver urine and stool samples.
Consultant psychiatrist Dr Thilo Beck was Sitwell's therapist, asking him all about his recent life history:
… he teaches me the fascinating concept of the observing self, watching the theatre of life as it progresses. 'The next time you feel angry, pause for a second and consider the idea that you're noticing yourself becoming angry… You are the driver of your bus; your anxiety and fears, the parts you don't like, are parts of you. They are your passengers, stroke them, soothe them, be proud of your bus and drive towards your values.'
Nicole Züllig, a psychotherapist, conducted a separate session on trauma:
'I specialise in trauma,' she tells me. 'I have discovered that most people have unresolved trauma.' It sounds like Prince Harry's been in this chair, I think to myself, recollecting his habit in the press, for example, of describing partying antics in his 30s as not 'fun', but 'unresolved trauma'.
'Where is that trauma, that loss?' she asks. 'I look for that very deep loss. We have a tendency to put it away in anger, to deep-freeze it, we must get it out of the freezer, thaw it and deal with it…
'So tell me about your relationship with your mother.'
Sitwell described his beautiful mother in glowing terms. The article has a picture of her holding him as a boy.
Züllig asked him how he felt, and he replied, 'Guilty' for having spoken to someone about her behind her back.
Then came the real issue, his schooldays, including at Eton, which were not his best days:
As I talk, I laugh at various moments. 'Why are you laughing?' she asks, appalled.
'Because I think it's funny,' I reply.
'Funny?' she exclaims. 'You think this is funny? It is not funny. It is tragic. You were abandoned. This is trauma. You must take this trauma, understand it and thaw it. You must not laugh to avoid it.'
'Whatever,' I mutter. Soon I'm chatting about my more recent work; a few big awards, books, television … I ponder how I've turned out compared with the boy at Eton aged 16, having failed the annual exams, officially labelled in front of 600 of my peers as a General Total Failure.
And I sob. Züllig has done her work and is on hand, brandishing tissues. 'How does this make you feel?' she asks. 'Exhausted,' I reply.
Sitwell fell asleep during his yoga session, after which he received a deep massage, which he described as 'rigorous'.
Another session involved physical training at the Dolder Grand spa, in the city's grandest hotel:
Mowlik lurks outside to prevent any attempt at escape. Later, as I lie on a sunbed for a moment, I look to the plunge pool to my right – and jump with fright as Mowlik emerges from the water.
Sitwell rode in the Bentley there and back.
When he returned to the clinic, Dr Manuel Riegner gave Sitwell the results of his physical exams. On the one hand, he has a 'biological age of 29'. On the other hand:
I have high levels of mercury and uric acid, low levels of zinc, and a very concerning, almost negligible, level of iron. 'No wonder you feel fatigued,' he says.
Nutritionist Priscilla Sanchez gave Sitwell diet and eating advice, which included omitting milk and most carbohydrates as well as cutting down on alcohol:
Then I'm strapped to an intravenous drip, fed amino acids, vitamin C and a detoxmix, given two weeks' worth of supplements, and told I must have an infusion of iron back in the UK, urgently.
Then it was time to pack his bags and leave:
I have a last swim in Lake Zurich, the water and distant sight of the Alps soothing my mind. 'Time to leave,' says Mowlik, coming up for air beside me.
He doesn't leave my side until I'm through departures at the airport.
Once at home, Sitwell stuck to the eating and exercise plans and had not experienced any of his old symptoms.
But something equally important also happened — a sense of gratitude:
Three days of gratuitous self-reflection and I realise I'm so lucky to have the family I have, the wife, the kids, the home, the friends, the most utterly fabulous job writing about my most favourite subject.
Good for him. I have read this article a few times and enjoyed it more every time.
————————————————————————–
Well, that's it for an introduction to 'luxury wellness', something few of us will ever experience.
Previews of a 151-page report from two parliamentary select committees appeared on October 12, 2021.
Jeremy Hunt, chairs the Health and Social Care Committee, and Greg Clark is chairman of the Science and Technology Committee. The report represents the unanimous conclusions of the 22 Conservative, Labour and SNP MPs serving on them.
Whilst one can appreciate the hours of work it took to create a report out of many hours of testimony since 2020, it might as well have been compiled from newspaper reports.
I have not yet found the full report online, but media reports have been appearing throughout the morning.
In summary, although the vaccine rollout was a great success, the Government made a lot of mistakes: not locking down sooner (!?!), neglecting the elderly, being late in creating a test and trace system and relying too much on SAGE:
Guido Fawkes looked at the criticism of SAGE (emphases in the original):
… What caught Guido's eye in the report, however, was how critical it is of the scientific advice that dictated the government's response at the start of the pandemic:
"In the first three months the strategy reflected official scientific advice to the Government which was accepted and implemented. When the Government moved from the 'contain' stage to the 'delay' stage, that approach involved trying to manage the spread of covid through the population rather than to stop it spreading altogether […] The fact that the UK approach reflected a consensus between official scientific advisers and the Government indicates a degree of groupthink that was present at the time which meant we were not as open to approaches being taken elsewhere as we should have been."
In other words, the government was wrong to consistently accept the scientific advice, and should have challenged SAGE's input more often. Quite the departure from the Twitterati's squawks that the government should always and only "follow the science"…
The report later adds:
"We accept that it is difficult to challenge a widely held scientific consensus. But accountability in a democracy depends on elected decision-makers taking advice, but examining, questioning and challenging it before making their own decisions."
The government made lots of mistakes last year, yet it's clear they were also being guided by ill-informed voices. Of course, that's bound to happen in the chaos of a pandemic; it was a novel virus and no one really had all the right answers. Hindsight makes this look a lot easier. Still, this hardly vindicates Whitty, Vallance, and SAGE – and going forward, as the report says, there should be an effort to "include more representation and a wider range of disciplines" when making these decisions…
The Times picked up on 'group-think':
"Group-think" among ministers, scientific advisers and civil servants meant that a lockdown was not brought in quickly enough early last year, ranking as "one of the most important public health failures the United Kingdom has ever experienced".
However, the Daily Mail reports that Chief Scientific Adviser Sir Patrick Vallance hit back, especially about 'following the science' (emphases mine):
Ministers shouldn't have said they were being 'led by the science' throughout the Covid pandemic, Sir Patrick Vallance has said.
No10's chief scientific adviser claimed science doesn't decide nor does it 'lead the way', insisting that there were other complex matters that needed to be factored in for crucial decisions.
He said No10 should have stuck to the phrase 'informed by science', rather than implying they were 'slavishly following' evidence 'because science doesn't have all the answers to these things'.
In his first in-depth interview since the virus hit the UK, he also said he doesn't 'sugar coat' information for the Government.
Sir Patrick, who became a household name during the course of the pandemic due to his frequent appearances at daily televised press briefings in Downing St, said he views his job as 'giving scientific advice, like it or not, to the Prime Minister and Cabinet to enable them to make decisions'.
And he revealed that his mantra has always been to act early when adopting lockdown restrictions to thwart the spread of coronavirus.
Did Vallance ever advise the Prime Minister and Cabinet ministers against saying 'follow the science' or similar? It would appear not, as they said it dozens of times in press conferences and in Parliament.
Dominic Cummings took advantage of the report to lambaste Boris again. The Mail reported:
Speaking to Sky News outside his home, the Prime Minister's former chief adviser said: 'Me and others put into place work to try to improve the system in 2020 after the first wave.
'Unfortunately, the Prime Minister being the joke that he is has not pushed that work through.
Mr Cummings, who has been a vocal critic of Mr and Mrs Johnson since he left Downing Street, added: 'Now we have a joke Prime Minister and a joke leader of the Labour party, and we obviously need a new political system.'
The report recommends better planning for the future. Ho-hum. The Government had a chance to do that following a 2016 report and the three-day-long Exercise Cygnus on how better to manage influenza. Jeremy Hunt, one of the authors of today's report, was Health Secretary at the time. He didn't do anything about the recommendations then. Therefore, it's a bit rich for him to criticise now, yet, he heads the Health and Social Care Committee and that's part of his job.
A formal inquiry on the UK's response to the coronavirus pandemic is expected to begin in 2022.
On Monday, October 4, a reader of mine, The Underdoug, commented on my last coronavirus vaccine post, including a link to an essay by Julius Ruechel, 'The Snake-Oil Salesmen and the COVID-Zero Con: A Classic Bait-And-Switch for a Lifetime of Booster Shots (Immunity as a Service)'.
Julius Ruechel appears to be a dairy farmer living in Canada.
Excerpts from his lengthy essay follow, emphases in purple mine.
Ruechel posits that coronavirus vaccines could become yet another subscription model, because there will always be a perceived need for boosters:
Exposing this story does not require incriminating emails or whistleblower testimony. The story tells itself by diving into the long-established science that every single virologist, immunologist, evolutionary biologist, vaccine developer, and public health official had access to long before COVID began. As is so often the case, the devil is hidden in the details. As this story unfolds it will become clear that the one-two punch of lockdowns and the promise of vaccines as an exit strategy began as a cynical marketing ploy to coerce us into a never-ending regimen of annual booster shots intentionally designed to replace the natural "antivirus security updates" against respiratory viruses that come from hugs and handshakes and from children laughing together at school. We are being played for fools.
This is not to say that there aren't plenty of other opportunists taking advantage of this crisis to pursue other agendas and to tip society into a full-blown police state. One thing quickly morphs into another. But this essay demonstrates that never-ending boosters were the initial motive for this global social-engineering shell game ― the subscription-based business model, adapted for the pharmaceutical industry. "Immunity as a service".
Vaccines cannot eradicate everything
Ruechel explains that vaccines cannot eradicate everything, because specific criteria must be met in order to do so.
A disease such as smallpox, which is specific to humans, can be eradicated, but a respiratory virus that jumps across species — animals and humans — cannot:
Eradication of a killer virus sounds like a noble goal. In some cases it is, such as in the case of the smallpox virus. By 1980 we stopped vaccinating against smallpox because, thanks to widespread immunization, we starved the virus of available hosts for so long that it died out. No-one will need to risk their life on the side effects of a smallpox vaccination ever again because the virus is gone. It is a public health success story. Polio will hopefully be next ― we're getting close. 
But smallpox is one of only two viruses (along with rinderpest) that have been eradicated thanks to vaccination. Very few diseases meet the necessary criteria. Eradication is hard and only appropriate for very specific families of viruses.
Smallpox made sense for eradication because it was a uniquely human virus ― there was no animal reservoir. By contrast, most respiratory viruses including SARS-CoV-2 (a.k.a. COVID) come from animal reservoirs: swine, birds, bats, etc. As long as there are bats in caves, birds in ponds, pigs in mud baths, and deer living in forests, respiratory viruses are only controllable through individual immunity, but it is not possible to eradicate them. There will always be a near-identical cousin brewing in the wings.
Even the current strain of COVID is already cheerfully jumping onwards across species boundaries …
SARS was an exception, he says, because it was poorly adapted to humans:
When it made the species jump to humans, it was so poorly adapted to its new human hosts that it had terrible difficulty spreading. This very poor level of adaptation gave SARS a rather unique combination of properties:
SARS was

extremely difficult to catch (it was never very contagious)

SARS

made people extremely sick

.
SARS

did not have pre-symptomatic spread

.
These three conditions made the SARS outbreak easy to control through contact tracing and through the quarantine of symptomatic individuals. SARS therefore never reached the point where it circulated widely among asymptomatic community members. 
COVID-19 was different:
COVID was quite contagious (its rapid spread showed that COVID was already well adapted to spreading easily among its new human hosts), most people would have mild or no symptoms from COVID (making containment impossible), and that it was spreading by aerosols produced by both symptomatic and pre-symptomatic people (making contact tracing a joke).
In other words, it was clear by January/February 2020 that this pandemic would follow the normal rules of a readily transmissible respiratory epidemic, which cannot be reined in the way SARS was. Thus, by January/February of 2020, giving the public the impression that the SARS experience could be replicated for COVID was a deliberate lie – this genie was never going back inside the bottle.
Viruses such as these mutate quickly, unlike polio or smallpox:
Once a reasonably contagious respiratory virus begins circulating widely in a community, herd immunity can never be maintained for very long. RNA respiratory viruses (such as influenza viruses, respiratory syncytial virus (RSV), rhinoviruses, and coronaviruses) all mutate extremely fast compared to viruses like smallpox, measles, or polio. Understanding the difference between something like measles and a virus like COVID is key to understanding the con that is being perpetrated by our health institutions. Bear with me here, I promise not to get too technical.
All viruses survive by creating copies of themselves. And there are always a lot of "imperfect copies" — mutations — produced by the copying process itself. Among RNA respiratory viruses these mutations stack up so quickly that there is rapid genetic drift, which continually produces new strains. Variants are normal. Variants are expected. Variants make it virtually impossible to build the impenetrable wall of long-lasting herd immunity required to starve these respiratory viruses out of existence. That's one of several reasons why flu vaccines don't provide long-lasting immunity and have to be repeated annually ― our immune system constantly needs to be updated to keep pace with the inevitable evolution of countless unnamed "variants." 
Hence the need for constant booster shots, as with influenza:
This never-ending conveyor belt of mutations means that everyone's immunity to COVID was always only going to be temporary and only offer partial cross-reactive protection against future re-infections. Thus, from day one, COVID vaccination was always doomed to the same fate as the flu vaccine ― a lifelong regimen of annual booster shots to try to keep pace with "variants" for those unwilling to expose themselves to the risk of a natural infection. And the hope that by the time the vaccines (and their booster shots) roll off the production line, they won't already be out of date when confronted by the current generation of virus mutations.
He criticises public health officials and Big Pharma for causing alarm over variants:
The alarm raised by our public health authorities about "variants" and the feigned compassion of pharmaceutical companies as they rush to develop fresh boosters capable of fighting variants is a charade, much like expressing surprise about the sun rising in the East.
Vaccines for these types of viruses will only ever offer temporary, short-lived protection. The same goes for our own antibodies:
… for fast-mutating respiratory viruses, including coronaviruses, within a few months they are sufficiently different that your previously acquired immunity will only ever offer partial protection against your next exposure. The fast rate of mutation ensures that you never catch the exact same cold or flu twice, just their closely related constantly evolving cousins. What keeps you from feeling the full brunt of each new infection is cross-reactive immunity, which is another part of the story of how you are being conned, which I will come back to shortly. 
But let's pretend for a moment that a miraculous vaccine could be developed that could give us all 100% sterilizing immunity today. The length of time it takes to manufacture and ship 8 billion doses (and then make vaccination appointments for 8 billion people) ensures that by the time the last person gets their last dose, the never-ending conveyor belt of mutations will have already rendered the vaccine partially ineffective. True sterilizing immunity simply won't ever happen with coronaviruses. The logistics of rolling out vaccines to 8 billion people meant that none of our vaccine makers or public health authorities ever could have genuinely believed that vaccines would create lasting herd immunity against COVID.
So, for a multitude of reasons, it was a deliberate lie to give the public the impression that if enough people take the vaccine, it would create lasting herd immunity. It was 100% certain, from day one, that by the time the last dose is administered, the rapid evolution of the virus would ensure that it would already be time to start thinking about booster shots. Exactly like the flu shot. Exactly the opposite of a measles vaccine. Vaccines against respiratory viruses can never provide anything more than a temporary cross-reactive immunity "update" ― they are merely a synthetic replacement for your annual natural exposure to the smorgasbord of cold and flu viruses. Immunity as a service, imposed on society by trickery. The only question was always, how long between booster shots? Weeks, months, years? 
Feeling conned yet?
Mass vaccination and vaccine passports are a 'con'
Ruechel posits that mass vaccination should not have been done. Only the vulnerable should have had the vaccine:
… these vaccines can neither stop you from catching an infection nor stop you from transmitting the infection to someone else. They were never capable of creating herd immunity. They were designed to protect individuals against severe outcomes if they choose to take them – a tool to provide temporary focused protection for the vulnerable, just like the flu vaccine. Pushing for mass vaccination was a con from day one. And the idea of using vaccine passports to separate the vaccinated from the unvaccinated was also a con from day one. The only impact these vaccine passports have on the pandemic is as a coercive tool to get you to roll up your sleeve. Nothing more.
I am going to interject here to offer support for the argument that vaccine passports drive up vaccination rates. In Scotland, vaccine passports will be mandatory from October 18, 2021, provided the bugs with the app, which rolled out on October 1, can be ironed out.
A July 21 article in The National on this subject has a quote from Dr Nicola Steedman, Scotland's deputy chief medical officer:
According to the Times, less than half of men under 30 in Scotland's cities have received their first dose of a vaccine. Asked if a passport scheme could increase vaccine uptake, Steedman said: "In theory it might, and clearly that's something other nations have used to increase the uptake in their vaccination programmes, but we have to balance that very carefully against people feeling as though they've been forced into something or coerced …"
The need for a vaccine passport, the use of which in Scotland will be limited, increases Big Pharma's profits, especially if people have to update it every few months to prove they have had the latest booster shot.
Ruechel says:
vaccines will, at best, only last as long as immunity acquired through natural infection and will often fade much faster because the vaccine is often only able to trigger a partial immune response compared to the actual infection. So, if the disease itself doesn't produce a broad-based immune response leading to long-lasting immunity, neither will the vaccine. And in most cases, immunity acquired through vaccination will begin to fade much sooner than immunity acquired through a natural infection. Every vaccine maker and public health official knows this despite bizarrely claiming that the COVID vaccines (based on re-creating the S-protein spike instead of using a whole virus) would somehow become the exception to the rule. That was a lie, and they knew it from day one. That should set your alarm bells ringing at full throttle …
Thus, to pretend that there was any chance that herd immunity to COVID would be anything but short-lived was dishonest at best. For most people, immunity was always going to fade quickly. Just like what happens after most other respiratory virus infections. By February 2020, the epidemiological data showed clearly that for most people COVID was a mild coronavirus (nowhere near as severe than SARS or MERS), so it was virtually a certainty that even the immunity from a natural infection would fade within months, not years. It was also a certainty that vaccination was therefore, at best, only ever going to provide partial protection and that this protection would be temporary, lasting on the order of months. This is a case of false and misleading advertising if there ever was one.
He explains that coronavirus vaccines for animals work in the same way:
If I can allow my farming roots to shine through for a moment, I'd like to explain the implications of what was known about animal coronaviruses vaccines. Baby calves are often vaccinated against bovine coronaviral diarrhea shortly after birth if they are born in the spring mud and slush season, but not if they are born in midsummer on lush pastures where the risk of infection is lower. Likewise, bovine coronavirus vaccines are used to protect cattle before they face stressful conditions during shipping, in a feedlot, or in winter feed pens. Animal coronavirus vaccines are thus used as tools to provide a temporary boost in immunity, in very specific conditions, and only for very specific vulnerable categories of animals. After everything I've laid out so far in this text, the targeted use of bovine coronavirus vaccines should surprise no-one. Pretending that our human coronavirus vaccines would be different was nonsense. 
The only rational reason why the WHO and public health officials would withhold all that contextual information from the public as they rolled out lockdowns and held forth vaccines as an exit strategy was to whip the public into irrational fear in order to be able to make a dishonest case for mass vaccination when they should have, at most, been focused on providing focused vaccination of the most vulnerable only. That deception was the Trojan Horse to introduce endless mass booster shots as immunity inevitably fades and as new variants replace old ones.
How natural immunity works
Ruechel explains how the body fights off infection.
Not all forms of our natural defences are needed whenever we get sick. It depends on the illness:
… a mild infection doesn't trigger as many layers whereas a severe infection enlists the help of deeper layers, which are slower to respond but are much more specialized in their attack capabilities. And if those deeper adaptive layers get involved, they are capable of retaining a memory of the threat in order to be able to mount a quicker attack if a repeat attack is recognized in the future. That's why someone who was infected by the dangerous Spanish Flu in 1918 might still have measurable T-cell immunity a century later but the mild bout of winter flu you had a couple of years ago might not have triggered T-cell immunity, even though both may have been caused by versions of the same H1N1 influenza virus.
As a rule of thumb, the broader the immune response, the longer immunological memory will last. Antibodies fade in a matter of months, whereas B-cell and T-cell immunity can last a lifetime.
Another rule of thumb is that a higher viral load puts more strain on your immune defenses, thus overwhelming the rapid response layers and forcing the immune system to enlist the deeper adaptive layers. That's why nursing homes and hospitals are more dangerous places for vulnerable people than backyard barbeques. That's why feedlot cattle are more vulnerable to viral diseases than cattle on pasture. Viral load matters a lot to how easily the generalist layers are overwhelmed and how much effort your immune system has to make to neutralize a threat.
Where the infection happens in the body also matters. For example, an infection in the upper respiratory tract triggers much less involvement from your adaptive immune system than when it reaches your lungs. Part of this is because your upper respiratory tract is already heavily preloaded with large numbers of generalist immunological cells that are designed to attack germs as they enter, which is why most colds and flus never make it deeper into the lungs. The guys with the clubs are capable of handling most of the threats that try to make through the gate. Most of the specialized troops hold back unless they are needed.
Catching a dangerous disease like measles produces lifetime immunity because an infection triggers all the deep layers that will retain a memory of how to fight off future encounters with the virus. So does the measles vaccine. Catching a cold or mild flu generally does not.
Constant booster shots could harm natural immune systems
Ruechel says that a continual regimen of booster shots could harm our natural immune systems:
At this point you may be wondering, if there is no lasting immunity from infection or vaccination, then are public health officials right to roll out booster shots to protect us from severe outcomes even if their dishonest methods to get us to accept them were unethical? Do we need a lifetime regimen of booster shots to keep us safe from a beast to which we cannot develop durable long-term immunity?
The short answer is no. 
Contrary to what you might think, the rapid evolution of RNA respiratory viruses actually has several important benefits for us as their involuntary hosts, which protects us without the benefit of broad lifelong immunity. One of those benefits has to do with the natural evolution of the virus towards less dangerous variants. The other is the cross-reactive immunity that comes from frequent re-exposure to closely related "cousins". I'm going to peel apart both of these topics in order to show you the remarkable system that nature designed to keep us safe… and to show you how the policies being forced on us by our public health authorities are knowingly interfering with this system. They are creating a dangerous situation that increases our risk to other respiratory viruses (not just to COVID) and may even push the COVID virus to evolve to become more dangerous to both the unvaccinated and the vaccinated. There are growing signs that this nightmare scenario has already begun. 
The panic generated by our notional experts over the Delta variant is unwarranted and unethical. That variant is a logical progression of coronavirus.
Ruechel says:
fear mongering about the Delta variant being even more contagious leaves out the fact that this is exactly what you would expect as a respiratory virus adapts to its new host species. We would expect new variants to be more contagious but less deadly as the virus fades to become just like the other 200+ respiratory viruses that cause common colds and flus. 
How lockdown damages healthy immune systems
Lockdowns and restricted circulation among humans also adversely affect healthy immune systems:
… the decision to lock down the healthy population is so sinister. Lockdowns, border closures, and social distancing rules reduced spread among the healthy population, thus creating a situation where mutations produced among the healthy would become sufficiently rare that they might be outnumbered by mutations circulating among the bedridden. Mutations circulating among the healthy are, by definition, going to be the least dangerous mutations since they did not make their hosts sick enough to confine them to bedrest. That's precisely the variants you want to spread in order to drown out competition from more dangerous mutations.
A host stuck in bed with a fever and not out dining with friends is limited in his ability to infect others compared to a host infected with a variety that only gives its host a sniffle. Not all bedridden hosts have caught a more dangerous mutation, but all dangerous mutations will be found among the bedridden. Thus as time goes by, dangerous mutations can only compete with less dangerous mutations if the entire population is limited in its ability to mix and mingle.
As long as the majority of infections are among the healthy, the more dangerous variants circulating among some of the bedridden will be outnumbered and will become evolutionary dead ends. But when public health officials intentionally restricted spread among the young, strong, and healthy members of society by imposing lockdowns, they created a set of evolutionary conditions that risked shifting the competitive evolutionary advantage from the least dangerous variants to more dangerous variants. By locking us all up, they risked making the virus more dangerous over time. Evolution doesn't sit around to wait for you while you develop a vaccine.
Spanish Flu 1918
Ruechel explores the Spanish Flu pandemic, which took place in the last year of the Great War. A lot of soldiers were in trenches:
Let me give you a historical example to demonstrate that this rapid evolution of a virus towards either more or less dangerous variants isn't mere theory. Small changes to the environment can lead to very rapid changes in the virus' evolution. The first wave of the 1918 Spanish Flu was not particularly deadly, with mortality rates similar to regular seasonal flu. However, the second wave was not only much deadlier but, rather unusually, was particularly deadly to young people rather than just the old and the weak. Why would the second wave be the deadly one? And what would cause the virus to evolve so quickly to become both more deadly and better adapted to preying on young people? At first glance it would seem to defy all evolutionary logic.
The answer demonstrates just how sensitive a virus is to small changes in evolutionary pressure. The Spanish Flu spread in the midst of the lockdown-mimicking conditions of World War One. During the first wave, the virus found a huge population of soldiers trapped in the cold damp conditions of the trenches and a near endless supply of captive bedridden hosts in overflowing field hospitals. By the Spring of 1918, up to three-quarters of the entire French military and half of British troops had been infected. These conditions created two unique evolutionary pressures. On the one hand, it allowed variants that were well adapted to young people to emerge. But on the other hand, unlike normal times, the cramped conditions of trench warfare and field hospitals allowed dangerous variants that immobilize their hosts to spread freely with little competition from less dangerous variants that spread through lively hosts. The trenches and field hospitals became the virus incubators driving the evolution of variants. 
Normally young people are predominantly exposed to less dangerous mutations because the healthiest do all the mingling while the bedridden stay home. But the lockdown conditions of war created conditions that erased the competitive advantage of less dangerous mutations that don't immobilize their hosts, leading to the rise of more dangerous mutations. 
Thanks to the end of the war, the lockdown-mimicking conditions also ended, thereby shifting the competitive advantage back to less dangerous mutations that could spread freely among the mobile healthy members of the population. The deadliness of the second wave of the 1918 Spanish Flu is inextricably linked to the First World War, and the end of the war is linked to the virus fading into the background of regular cold and flu season.
This brings him back to our 2020 lockdowns around the world:
It is therefore highly likely that the 1918 Spanish Flu would never have been more than a really bad flu season had it not been for the amplifying effect of lockdown conditions created by a world at war.
It also raises the question, for which I don't have an answer, whether the lockdown strategy during COVID was intentionally used to reduce spread among the healthy in order to keep the virus from fading into harmless irrelevancy. I use the word "intentionally" ― and it's a strong word ― because the deadly second wave of the 1918 Spanish Flu and its causes are hardly secrets in the medical community. You'd have to be a completely reckless and utterly incompetent idiot, or a cynical bastard with an agenda, to impose any strategy that mimics those virus-amplifying conditions. Yet that's what our health authorities did. And what they continue to do, while shamelessly hyperventilating about the risk of "variants" to force us to submit to medical tyranny based on mandatory vaccines, never-ending booster shots, and vaccine passports that can turn off access to our normal lives. This is cynicism at its finest.
'Leaky' vaccines: how vaccinated people can pose a danger
As we know, coronavirus vaccines do not provide what is known as sterilising immunity because they cannot.
The vaccinated can still spread the virus, making the vaccines 'leaky', something which happened in chickens vaccinated against a herpes virus in the 1950s. This is what is known as the Marek effect, as he was the one who discovered it in 1968.
Ruechel says:
Vaccinated chickens were protected from severe outcomes but nevertheless continued to catch and spread the virus, so evolutionary pressure led to the emergence of a dual-track variant that become the dominant strain of this herpes virus. It continues to spread among the vaccinated chickens without killing them but kills up to 80% or more of unvaccinated birds if they get infected. Thus, a never-ending stream of vaccinations is now required just to maintain the status quo. I bet the pharmaceutical industry is smiling at all those drug-dependent chickens though — talk about having a captive audience!
Ruechel explains that this same effect is happening with COVID-19 vaccinations:
A vaccine that provides sterilizing immunity prevents the vaccinated from being able to catch or transmit the virus. They become a dead end for the virus. However, as I've already mentioned, the current crop of COVID vaccines, which are meant to train the immune system to recognize the S-spike proteins, were not designed to create sterilizing immunity. By their design, they merely help reduce the risk of severe outcomes by priming the immune system. The vaccinated can still catch and spread the virus ― the definition of a leaky vaccine ― and epidemiological data makes it very clear that this is now happening all around the world. Thus, both the vaccinated and the unvaccinated are equally capable of producing new variants. The idea that the unvaccinated are producing variants while the vaccinated are not is a boldfaced lie.
This is dangerous:
From an evolutionary perspective, this is a potentially dangerous scenario. What has been done by temporarily blunting the risk of hospitalization or death, but without stopping infection among the vaccinated, is to create a set of evolutionary conditions where a variant that is dangerous to the unvaccinated can spread easily among the vaccinated without making the vaccinated very sick. For lack of a better term, let's call this a dual-track variant. Thus, because the vaccinated are not getting bedridden from this dual-track variant, they can continue to spread it easily, giving it a competitive advantage, even if it is highly dangerous to the unvaccinated.
Furthermore, since COVID vaccination only offers temporary short-term protection, as soon as immunity fades, the vaccinated themselves are also equally at risk of more severe outcomes. Thus, this creates the evolutionary pressure for the virus to behave as an increasingly contagious but relatively mild virus as long as everyone is vaccinated but as a dangerous but also very contagious virus as soon as temporary immunity wears off. The call for boosters every 6 months is already here. (Update: now it's being revised down to 5 months.)
Here's where Big Pharma steps in, aided and abetted by our respective leaders:
So, the pandemic really does have the potential to become the Pandemic of the Unvaccinated (the shameless term coined by public health officials to terrify the vaccinated into bullying their unvaccinated peers), but reality comes with a twist because if a dual-track variant does evolve it would be the unvaccinated (and those whose boosters have expired) who would have reason to fear the vaccinated, not the other way around as so many frightened citizens seem to believe. And the end result would be that we all become permanently dependent on boosters every 6 months, forever.
He says that the reason this hasn't happened with the flu vaccine is because not enough people are advised to take it, thereby avoiding a dangerous dual-track variant scenario:
It is mostly the vulnerable and those who work around them that get it while children, young adults and other healthy members of society don't get it. So, even if more deadly variants were to arise in nursing homes or hospital settings, the high number of healthy unvaccinated visitors to those facilities would constantly bring less deadly more contagious variants with them, thereby preventing more dangerous variants from gaining a competitive edge in nursing home or hospital settings. But if the leaky flu vaccinations were to be extended to everyone, or if nursing home populations continue to be kept isolated from the rest of society during COVID lockdowns, things might begin to look a little different.
We do not need constant booster shots
Ruechel gives various scientific reasons why we do not need constant booster shots for coronavirus if we are healthy:
This year's runny nose is your protection against COVID-23. Your cross-reactive immunity to last years annoying flu might just save your life if something truly dangerous arrives, as long as it is at least somewhat related to what your immune system has seen before. COVID could easily have turned out to be as dangerous to us as the Spanish Flu if it hadn't been for the saving grace of cross-reactive immunity. As this study shows, up to 90-99% of us already had some level of protection to COVID thanks to partial cross-reactive immunity gained from exposure to other coronaviruses. The high percentage of infections that turn out to be asymptomatic bears that out.
Someone needs to remind Bill Gates, his fawning public health bootlickers, and the pharmaceutical companies that whisper sweet-nothings in his ear that in the natural world of respiratory viruses, most of us don't need a regimen of never-ending booster shots to keep us safe from COVID variants ― we already have a perfectly functioning system to keep bringing us new updates. Respiratory viruses are a completely different beast than smallpox, polio, or measles; and pretending otherwise is not just silly, it's criminal because anyone with a background in immunology knows better. But it's a fantastic and very profitably way to scare a wide-eyed population into accepting never-ending booster shots as a replacement for the natural antivirus updates that we normally get from hugs and handshakes. Protect the vulnerable. Stop preying on the rest of us.
He also delves into the Diamond Princess cruise case, which was made public in February 2020, early on in the pandemic. Not many people displayed symptoms, and only a few died.
Yet, world leaders were getting the jitters:
The important thing to remember is that the Diamond Princess data was already publicly available since the end of February of 2020. Operation Warp Speed, the vaccine development initiative approved by President Trump, was nevertheless announced on April 29th, 2020. Thus, our health authorities knowingly and opportunistically recommended lockdowns and promoted vaccines as an exit strategy after it was already clear that the majority of us had some kind of protection through cross-reactive immunity. The Diamond Princess example provided the unequivocal proof that the only people who might benefit from a vaccine, even if it worked as advertised, were the small number of extremely vulnerable members of society with weak immune systems. Likewise, lockdowns should have been recommended only for nursing home residents (on a strictly voluntary basis to protect their human rights) while the pandemic surged through the rest of us.
Conclusion — vaccine by subscription
There is much more that Ruechel discusses, so it is worth reading his essay in full.
I'm going to skip to the conclusion, which is about making us permanently dependent on Big Pharma's vaccines:
What if, by depriving us of normal life, those who stand to gain from vaccines can forever cement themselves at the center of society by providing an artificial replacement for what our immune systems used to do to protect us against common respiratory viruses back when we were still allowed to live normal lives? …
What if the fast mutation of RNA viruses ensures that no vaccine will ever be fully effective at providing lasting immunity, thus creating the illusion that we are permanently in need of vaccine boosters? 
What if politicians could be convinced to make vaccination mandatory in order to prevent potential customers from opting out? 
What if, by relying on lockdowns during the winter season, our vulnerability to other viruses increased, which could then be used to rationalize expanding the jab, via mission creep, to simultaneously vaccinate us against RSV, influenza, other coronaviruses, the common cold, and so on, despite knowing full well that the protection that these vaccines offer against respiratory viruses is only temporary?
And what other social engineering goals can be rolled into your annual booster shot in the future once you are permanently bound to these annual jabs and vaccine passports? In an atmosphere of hysteria, it's a system ripe for abuse by opportunists, ideologues, power hungry totalitarians, and Malthusian social engineers. The snowball doesn't have to grow by design. Mission creep happens all on its own once Pandora's Box is opened to coerced vaccinations and conditional rights. The road to Hell is frequently paved by good intentions… and hysteria. 
So, what if COVID-Zero and the vaccine exit strategy is merely the global state-sanctioned equivalent of a drug dealer creating dependency among its customers to keep pushing more drugs? 
What if it was all just a way of convincing society of the need for subscription-based "immunity as a service"? The subscription-based business model (or some version of it) is all the rage these days in the corporate world to create loyal captive audiences that generate reliable money streams, forever. Subscriptions are not just for your cable TV and gym membership anymore. Everything has been redesignated as a "consumable". 
Netflix did it with movies.
Spotify did it with music.
Microsoft did it with its Office suite.
Adobe did it with Photoshop editing suite.
The smartphone industry did it with phones that need to be replaced every 3 to 5 years.
The gaming industry did it with video games.
Amazon is doing it with books (i.e. Kindle Unlimited).
The food industry is doing it with meal delivery services (i.e. Hello Fresh).
Uber is doing it with subscription-based ride sharing …
Monsanto and its peers did it to farmers with patented seed technology, which cannot legally be replanted, and is lobbying to try to legalize the use of terminator seed technology (GMO seeds that are sterile in the second generation to prevent replanting).
The healthcare industry is doing it with concierge medical services, fitness tracking apps (Fitbit), sleep-tracking apps, and meditation apps.
The investment industry is doing it with farmland, with investors owning the land and leasing it back to farmers in a kind of modern revival of the sharecropping system. (Bill Gates is the largest farmland owner in the USA – are you surprised?)
Blackrock and other investment firms are currently trying to do it with homes to create a permanent class of renters.
And public health authorities and vaccine makers have been trying to do it with flu vaccines for years, but we've been stubbornly uncooperative. Not anymore.
Remember when the World Economic Forum predicted in 2016 that by 2030 all products would become services? And remember their infamous video in which they predicted that "You will own nothing. And you will be happy."? Well, the future is here. This is what it looks like. The subscription-based economy. And apparently it now also includes your immune system in a trade-off for access to your life.
Ultimately:
The con is clear. It's time to focus all our might on stopping this runaway train before it takes us over the cliff into a police state of no return. Stand up. Speak out. Refuse to play along. Stopping this requires millions of voices with the courage to say NO — at work, at home, at school, at church, and out on the street …
It's time to be bold. It's time to call out the fraudsters. And it's time to reclaim the habits, values, and principles that are required to fix our democratic and scientific institutions to prevent this from ever happening again.
Feudalism was one giant stinking cesspool of self-serving corruption. Individual rights, free markets, the democratic process, and limited government were the antidotes that freed humanity from that hierarchical servitude. It seems we have come full circle. The COVID con is a symptom, not the cause, of a broken system …
Freedom of speech, individual rights, private property, individual ownership, competition, good faith debate, small government, minimal taxes, limited regulation, and free markets (the opposite of the crony capitalism we now suffer under), these are the checks and balances that bullet-proof a society against the soulless charlatans that fail upwards into positions of power in bloated government institutions and against the parasitic fraudsters that seek to attach themselves to the government's teat.
Yes, we need a Great Reset. Just not the subscription-based version that the World Economic Forum imagined.
I learned a lot about vaccines and immunity from Ruechel's essay, even though reading it and writing this post has taken me well over five hours.
Thanks again to The Underdoug for sharing it.
Last weekend, the biggest news in Britain was a proposed permanent tax rise on National Insurance (NI) to finance the NHS backlog from coronavirus, then social care.
The NHS needs £10bn within the coming months to begin to take care of the missed appointments, treatments and operations caused by coronavirus. In 2025, the revenue will go towards social care, legislation for which is non-existent at present.
For a low-tax party, the Conservatives have managed to increase taxes to their highest level since the Second World War. Britain has had Conservative prime ministers since 2010:
This is the current situation:
The TaxPayers' Alliance posted a petition against the NI tax rise:
The TaxPayers' Alliance has been keeping a gimlet eye on public sector expenditures, including 'golden goodbyes' for senior civil servants.
On Sunday, September 5, the Telegraph's Christopher Hope reported (emphases mine):
More than 1,000 senior civil servants have received six-figure "golden goodbyes" worth over £100 million since MPs passed a law five years ago to outlaw them, The Telegraph can disclose …
The Enterprise Act – which was passed into law in May 2016 – expressly put a £95,000 cap on exit payments in the public sector.
However, it was not actually implemented until Nov 2020. It was in place for just three months before a court challenge overturned it.
This has allowed senior civil servants to continue to pocket payments of more than £100,000 each.
Analysis by the TaxPayers' Alliance of severance payments in departmental annual reports in 2017/18, 2018/19 and 2019/20, as well as including those reports filed so far for 2020/21, found 1,032 civil servants had received the sums.
In the most recent year The Treasury – which is in charge of the policy – was one of the biggest offenders handing £100,000 payouts to seven civil servants.
Returning to the NI tax rise, Hope retweeted the link to his article on Tuesday:
On Monday, September 6, it appeared that a number of Conservative MPs would rebel on Wednesday, the 8th, when the vote on the measure was held.
Christopher Hope reported on the fact that this tax is likely to affect low-income earners much more than the wealthy:
One Cabinet minister described it as "a tax raid on supermarket workers and nurses so the children of Surrey homeowners can receive bigger inheritances" …
Former minister and Tory MP Jake Berry told the BBC that the rise would disproportionately affect working people "on lower wages than many others in the country", who would end up "paying tax to support people to keep hold of their houses in other parts of the country where house prices may be much higher".
Robert Halfon, chairman of the education select committee, and a former deputy chairman of the party, added that "it's going to hit the low paid, then I think that would cause me huge worries".
On Tuesday, the day when Boris Johnson introduced the proposal to MPs, various think tanks said the same thing. Paul Johnson of the Institute for Fiscal Studies said why NI was being targeted instead of, say, income tax. Both employer and employee will pay a quick and consistent source of revenue:
A levy of 1.25% on employee earnings and on employer wage costs (so a 2.5% overall increase in the tax rate on earnings), will raise £14 billion a year. The extension of this levy to those over state pension age and to dividends is welcome, but this remains a tax which will be overwhelmingly borne by workers with very little coming from pensioners. This continues a trend seen over many decades of the burden of tax being shifted towards earnings. The creation of an entirely new tax will mean yet more quite unnecessary complexity.
CAPX had more on tax disparity, especially for young people, and public sector inefficiency:
… raising NI has been called a 'reverse Robin Hood' tax. The beneficiaries of hikes to NICs would be the already wealthy and their relatives, especially as you don't have to pay NI on income from investments or rental properties.
Meanwhile a 1% rise would see the average earner's tax bill go up by £204 and those earning over £50,000 a year will pay an extra £404 a year. Worst of all, unlike income tax, those on the very lowest wages still have to pay NI. That particularly rankles coming from a party that has spent so long talking about 'taking the lowest paid out of tax' by increasing the personal allowance …
As set out in a previous Adam Smith Institute paper, social care is already cursed with being run by inefficient government bodies. With staff shortages, an ageing population and an inundated NHS, this is a sector facing myriad problems that a tax hike alone won't get near solving. As the ASI's Eamonn Butler puts it, throwing money at the sector without fixing its underlying problems is 'like pouring oil into a rusty engine – it still gets you nowhere'.
That said, if you are going to raise money for the sector, there are some obvious places to look before raising taxes on working age people. We could start by means-testing some of the universal benefits given to pensioners, such as free bus passes and the Winter Fuel Allowance. If the Government is determined to fund it through NICs, at least change the system so that working pensioners pay it as well.
Sadly, as The Sun's Harry Cole tweeted, this tax will only increase:
Worst of all, at the moment, NI revenue doesn't stay segregated. It is used for all and sundry expenditures, as the i paper's Mark Wallace pointed out:
It isn't an "insurance" scheme at all. It's just a second income tax.
There is no "pot" being paid into, no "contributions" in any meaningful sense, and no deal by which what you pay in buys you the benefits that are supposedly purchased. When you "pay in", your money just goes into general taxation, to be spent on whatever the government of the day wants …
At best, the money you pay goes back out of the door in the form of pensions and benefits to an earlier generation of workers. Fulfilling the salesman's promise with the fees of new customers is a Ponzi scheme tactic that Bernie Madoff himself would recognise.
As well as being immoral, this framing distorts our political debate. The confusion makes NI easier to exploit than plain old income tax – as YouGov found in a recent poll, raising the former is sizeably more popular than raising the latter.
Prior to Boris's announcement to MPs, the Government issued MPs with the plan for health and social care funding:
He also sent a detailed letter to the First Ministers of Scotland, Wales and Northern Ireland, whose nations will also benefit from this revenue.
In his statement to MPs, he explained why he broke his party's manifesto commitment not to raise NI contributions:
He concluded his statement with this:
After all the extraordinary actions that have been taken to protect lives and livelihoods over the last 18 months, this is the right, reasonable and fair approach, enabling our amazing NHS to come back strongly from the crisis; tackling the covid backlogs; funding our nurses; making sure that people get the care and treatment they need, in the right place, at the right time; and ending a chronic and unfair anxiety for millions of people and their families up and down this country. I commend this statement to the House.
Sir Keir Starmer, Labour leader, gave the Opposition's response, which was negative. Labour, incidentally, were in power for 13 years — 1997 to 2010 — and never came up with a social care plan, needed then as much as it is needed now.
Boris Johnson responded:
He added:
Let us be in no doubt: if we did what we have heard from the Labour party over the past few weeks, we would still be in lockdown, because the right hon. and learned Gentleman opposed coming out of stage 4; we would have absolutely nothing by way of dealing with the NHS backlogs; and after decades of inertia from the Labour party we would have absolutely no way of dealing with the anxiety of millions of families across this country who face the prospect of catastrophic social care costs.
This Government are dealing with those things—we are dealing with all of them. We are getting on with it. We are taking the decisive action. We are doing it all together. This is the Government who get on and deal with the people's priorities; this is the Government who tackle social care; and, indeed, this is the party of the NHS.
The House of Commons voted on the NI increase on the following day, September 8.
That morning, some in the business world grumbled (Rishi Sunak, Chancellor of the Exchequer, pictured below):
Health Secretary Sajid Javid vowed to make every penny count …
… however, the NHS plans to press on with hiring more useless managers who earn much more than the Prime Minister:
By the time the debate before the vote took place, most Conservative MPs had calmed down.
The New Statesman, a Labour-supporting magazine, explained why:
What has changed? The main thing is the Tory sense of pragmatism that has seen the party shapeshift, change leaders and directions time and again to electoral advantage. One Conservative MP says they understand that this health and social care levy is a "flagship policy" of the government – not one they can rebel on lightly without inflicting serious harm on their own brand. A cynic might also wonder if rumours of a cabinet reshuffle before Conservative Party conference … have helped to inspire loyalty in the Conservative ranks.
There is a second factor that has influenced those on the back benches. Conservative MPs have reluctantly concluded that they will be in a weak position to ask for more money for the NHS in their constituencies if they oppose a levy designed to raise funds for it. Tory MPs are competing against each other for money from the towns fund, levelling-up fund, and for a piece of the pie in new funding for NHS hospitals. They know their negotiating hand is weakened if they rebel.
The third factor in squeezing the rebellion is, quite simply, that Tory MPs think the Prime Minister's plan is better than they had initially feared. The proposal was first reported over the weekend, before the government had decided the final details of the policy, leaving critics time to get ahead of the story without anyone from No 10 making the case for it. Expanding the national insurance levy to include pensioners in work has done something to allay Tory fears that this is an unfair tax on younger people, as has the dividends tax hike.
In the end, the NI increase was voted in comfortably — 319 to 208:
Only five Conservative MPs voted against the bill:
However, 37 Conservatives abstained.
The public are divided on increasing NI, according to Opinium (more here):
However, YouGov's poll results were much closer:
It will be interesting to see what happens in 2025, when the NI increase is shifted from the NHS to social care, because the NHS always demand more money:
And what happens if Labour are in charge again someday?
I might not like it, but I hope this works, for Conservatives and the UK.
It used to be that vaccines prevented infection.
Coronavirus has changed all that. The double-vaxxed are ending up infected:
Andrew Doyle, who hosts Free Speech Nation for GB News, has it, and he's taken his shots.
ITV's Robert Peston, also double-vaxxed, has it, too:
Peston was supposed to be in Aberdeenshire in Scotland but had to cancel:
I hope he recovers soon.
Meanwhile, in the UK, the debate rages on as to whether children over the age of 12 should receive the vaccine and whether older adults should have a booster shot this autumn.
British supporters of vaccines for children say that such programmes in the United States and France have been highly successful. Hmm.
Dr Robert W Malone is an American physician as well as an inventor of mRNA vaccines and RNA as a drug. He directs his readers to an article in LifeSiteNews about possible coercion being used in high schools:
Meanwhile, the WHO is urging countries wishing to vaccinate their children to donate those doses to Covax instead for wider use around the world. The reply to this tweet includes a statement from Britain's JCVI (Joint Committee on Vaccines and Immunisation) which recommended against children's vaccinations on Friday, September 3:
The WHO also disagrees with booster shots in Western countries, again recommending donating those doses to poorer countries:
The UK also wants to roll out vaccine passports by the end of the month. If we can catch the virus despite two jabs, what is the point? It seems as if we are all back at Square One, only that we are susceptible to milder cases rather than death.
Speaking of deaths, the UK figures for 2021 are on a par with other years since the vaccine rollout began. I saw this graphic on another site with no attribution. Note the bright green line up to Week 33: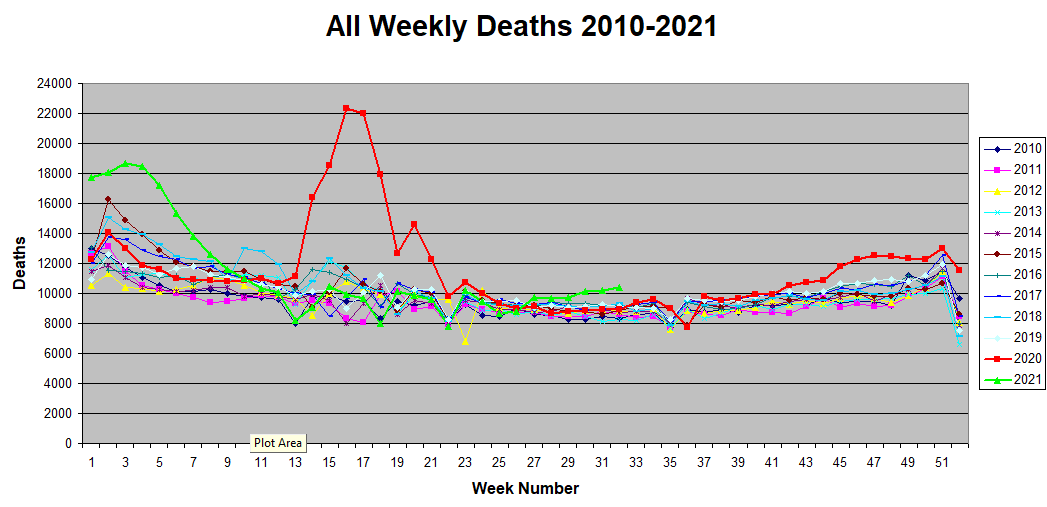 Moving to poorer countries now, not every nation has shown signs of infection or deaths:
Dr Malone says that Peru had a preventive programme of giving its citizens doses of ivermectin until a new president scrapped it. At that point, fatal infections began rising dramatically:
Since the pandemic began, ivermectin for humans has been taken off the market in several Western countries or is restricted on a prescription-only basis for certain conditions, excluding the virus. In many first-world countries, ivermectin is now used solely on animals for various diseases. The current formulation is made for their consumption.
Yet, in Peru and Africa, the formulation for humans is still available. It is inexpensive and is used to cure a variety of diseases as the following Twitter thread about Africa tells us.
The countries in blue are where ivermectin is used on humans. Note the differences in coronavirus cases and deaths:
Ivermectin, sold under the trade name Mectizan, is used to treat river blindness, a common and highly painful disease. It is not unusual to see people with a pair of eyebrow tweezers on a chain around their necks. Among other things, river blindness inflames the eyelash follicles. The only way to relieve the intense pain is to carefully pluck the offending eyelash. It is an ongoing pain until the disease is cured:
The Japanese have looked at sub-Saharan data and have recommended ivermectin to the government as a treatment for coronavirus:
It seems that the Japanese government rejected the use of ivermectin in combatting coronavirus. The updated statistics for Africa are in the second tweet:
Another big supporter of ivermectin is Karl Denninger of The Market Ticker.
On December 18, 2020, he wrote that by giving Americans two tablets of ivermectin, coronavirus could be stopped in one week in the United States. Two tablets in total is all it would take (emphases in the original):
… Why the hell are you not only letting them get away with it but willing to stand in line and take a not-fully-tested shot when a $2 alternative that does the same thing and has been proved safe over more than 30 years of time is available, and it also has a remarkable record of preventing serious disease and death.   This has been known for months.
We can stop Covid-19 in ONE WEEK.
One.  Not five, six, eight or ten as promised by Dr. Redfield with his "masks" who, I remind you, lied.  Covid-19 did not stop even though he got what he wanted.
The science and the CDC's own data says this will work in ONE WEEK.
And the risk if it doesn't work as the science and math says it will?
STATISTICALLY NONE; the drug in question has had over 3.5 billion doses dispensed worldwide and, on the data, is safer than Tylenol and the number of pills you must take is two.
Not two per day.
Two.
Ivermectin will receive broad media coverage only when it's too late. What a pity.
A developing situation in the coronavirus saga revolves around a possible link between vaccination uptake and new variants, not to mention deaths from the virus.
Dr Luc Montagnier
On May 19, 2021, LifeSiteNews reported that the Nobel Prize winning virologist Dr Luc Montagnier has alleged that mass vaccinations are creating variants which could be fatal. Emphases mine below:
French virologist and Nobel Prize winner Luc Montagnier called mass vaccination against the coronavirus during the pandemic "unthinkable" and a historical blunder that is "creating the variants" and leading to deaths from the disease.
"It's an enormous mistake, isn't it? A scientific error as well as a medical error. It is an unacceptable mistake," Montagnier said in an interview translated and published by the RAIR Foundation USA yesterday. "The history books will show that, because it is the vaccination that is creating the variants."
In another interview, he discussed antibody-dependent enhancement, or ADE:
Many epidemiologists know it and are "silent" about the problem known as "antibody-dependent enhancement," Montagnier said.
"It is the antibodies produced by the virus that enable an infection to become stronger," he said in an interview with Pierre Barnérias of Hold-Up Media earlier this month.
He alleges that vaccinations are driving ADE:
While variants of viruses can occur naturally, Montagnier said that vaccination is driving the process. "What does the virus do? Does it die or find another solution?"
"It is clear that the new variants are created by antibody-mediated selection due to the vaccination."
He also said that:
Vaccinating during a pandemic is "unthinkable" and is causing deaths, the winner of the 2008 Nobel Prize in Medicine for discovery.
LifeSiteNews posted this video in the article:
Here is a simple definition of ADE:
A physician, Dr Robert W Malone, inventor of mRNA vaccines and RNA as a drug, agrees with Montagnier's assessment:
A farmer also agrees. He says that unvaccinated people could not be creating new variants. Someone replying references Marek's disease, which comes about when chickens are vaccinated:
Dr Malone explains ADE, which most likely occurs during the waning phase of vaccine immune responses. This might explain the need for a booster shot:
He says that the coronavirus vaccine trials did not take ADE into account:
No one is talking about ADE, yet it could be highly significant, for the worse:
Public Health England report
At the weekend, the media reported that a booster programme for people living in England is planned for this autumn, possibly as early as September, for those who are aged 50 and over.
Malone tweeted about a paper from Public Health England (PHE) linking vaccinations and coronavirus deaths:
The Simpson Post has a summary of PHE's paper:
The UK government agency Public Health England published a report on Friday that officials who are trying to push the Covid-19 vaccine upon the rest of the world do not want people to see. Data contained within their report revealed people who have received the Covid-19 vaccine are more vulnerable to the Delta variant than those who have not been vaccinated. Their briefing titled "SARS-Cov-2 variants of concern and variants under investigation in England," investigated every variant of covid-19 that is currently known. The information contained in the report showed that people who received the covid-19 shot are more than three times likely to die than those who have not received the vaccine.
Out of 117 people who died over a time period of four weeks, 73 of them had received the covid-19 vaccine. That means 63 percent of those who died from the Delta variant had been vaccinated. Information within the chart that can be found on pages 13 and 14 of the report revealed that one of the people who died received their first dose of the covid-19 vaccine within three weeks of when they died. 19 of them had been vaccinated more than three weeks before they died. 50 of the people who died during the four week time span had received both doses of the covid-19 vaccine.
The Conversation has more about vaccines, variants and the possibility of ADE occurring. As a reminder, the Delta variant originated in India and the Lambda in Peru:
A risk assessment released by Public Health England in July concedes there's not yet enough information on Lambda to know whether infection increases the risk of severe disease.
The risk assessment also recommends ongoing surveillance in countries where both Lambda and Delta are present be implemented as a priority. The aim would be to find out whether Lambda is capable of out-competing Delta.
With ongoing high levels of transmission of the coronavirus, there's a continued risk of new variants emerging. The Lambda variant again highlights the risk of these mutations increasing the ability of SARS-CoV-2 to infect cells or disrupt existing vaccines and antibody drugs.
The WHO will continue to study Lambda to determine whether it has the potential to become an emerging risk to global public health and a variant of concern.
It would be nice if England's health experts and politicians would come clean on the need for booster shots. I've watched every single coronavirus briefing and none of the above has been mentioned, ever.
There is speculation that a third shot — i.e. booster — might cause ADE to kick in. Again, this is a developing situation, but our betters must have an idea of what could happen to us, none of it good.
Dr Colin Axon, Brunel University's senior lecturer in engineering, has been advising SAGE on ventilation in supermarkets in an effort to minimise the risk of cross-contamination.
On July 17, he said that masks do not help to reduce cross-infection.
The Telegraph reported that he compared masks to 'comfort blankets', saying that wearing one is 'bad behaviour' (emphases mine):
"The public were demanding something must be done, they got masks, it is just a comfort blanket," Dr Axon noted. "But now it is entrenched, and we are entrenching bad behaviour.
Dr Axon added that the effect of mask wearing is too small to be accurately measured:
All around the world you can look at mask mandates and superimpose on infection rates, you cannot see that mask mandates made any effect whatsoever.
The best thing you can say about any mask is that any positive effect they do have is too small to be measured.
Good.
He said that medics have a 'cartoonish' view of the world and do not understand some of the laws of physics:
Medics have this cartoonised view of how particles move through the air – it's not their fault, it's not their domain – they've got a cartoonish view of how the world is.
Once a particle is not on a biological surface it is no longer a biomedical issue, it is simply about physics. The public has only a partial view of the story if information only comes from one type of source. Medics have some of the answers but not a whole view.
Also:
Dr Axon said the public need to be offered a wider view of the science behind face masks, rather than the "partial view" of information being pushed by medics over their effic[acy].
He compared escaping droplets from masks to marbles being thrown at scaffolding:
"The small sizes are not easily understood but an imperfect analogy would be to imagine marbles fired at builders' scaffolding, some might hit a pole and rebound, but obviously most will fly through," he told The Telegraph.
Excellent.
I hope that more scientists and engineers start to speak up about masks.
Monday, July 19, 2021, will not be the long-awaited Freedom Day in England, just an unlocking for larger gatherings and venues, including theatres, nightclubs and strip clubs.
Mask wearing will still be 'expected'.
In his coronavirus briefing on Monday, July 12, Prime Minister Boris Johnson no longer used the words 'terminus' or 'irreversible'. In fact, he warned about the winter months ahead.
Health Secretary Sajid Javid had announced the very same in his statement to the Commons earlier that afternoon.
At this point, I doubt that we will see any semblance of pre-coronavirus normality until next year. We might even have to have coronavirus passports. Here is the minister in charge of the vaccination programme, Nadhim Zahawi:
Incidentally, French president Emmanuel Macron announced his plans for such passports on Monday for France. He also suggested that vaccinations could be made mandatory if there is not enough take up.
The Telegraph summarised the position in England (emphases mine):
People will be expected to continue wearing masks in indoor spaces, a stricture that will no doubt remain a requirement of entry for shops and hospitality venues as well as being mandated on public transport. Companies eager for their staff to return to the office have been left in an impossible position by ambiguous guidance about working from home. Employees are not being told to stay away but nor are they expected to go to work.
Since Mr Johnson previously said it was "now or never" to end these restrictions, the inescapable conclusion is that it is to be never. If they are to be requirements now, in the middle of summer, how will they not be in the autumn and winter when the number of Covid and flu cases will rise? Some scientists, indeed, have argued that distancing and face coverings should be made permanent.
In the Commons, the Health Secretary, Sajid Javid, confirmed the new tone, saying that next Monday would not be a terminus after all but another step on the road back to normality, though with no indication of when that might be.
If there are good public health reasons for this circumspection then let ministers say so and produce the evidence to justify it. If, however, the four tests set for a full reopening have been met – as Mr Javid told MPs they had been – then let it happen. Worryingly, however, the pledge of an "irreversible" course out of lockdown is no longer being heard.
It is, of course, to be welcomed that Stage 4 of the road map will be implemented next Monday. But for as long as ministerial pronouncements seeking to influence how we should behave stay in place, "Freedom Day" will remain some way off.
The Telegraph's Sherelle Jacobs wrote an excellent editorial on the subject: 'Boris Johnson has lost his nerve and condemned us to Covid no-man's land'.
She points out that, despite the stellar vaccine rollout, the Government's response to the virus is essentially the same as it was early in 2020:
I do not envy the Prime Minister. He is having to make decisions in the face of violent resistance from scientists who have strayed far beyond their proper roles as apolitical advisers. It is, however, astonishing that 16 months and 45 million vaccinations later, our basic approach to Covid is still no more sophisticated than it was in March 2020.
She sees the NHS as the tail wagging the British dog, which, by the way, is also true in the devolved nations (Scotland, Wales and Northern Ireland):
… No 10's priority appears to remain to "protect the NHS" at all costs. Restrictions are still deemed to be a vital tool to prevent ICUs becoming overwhelmed. Far from Britain breaking free, one can only conclude that our liberties will be tethered to ICU capacity indefinitely, with the Government loosening and tightening the reins as Covid fluctuates with the seasons.
The Government may think that it has public opinion on its side. Recent polling suggests that a sizeable proportion of the population would be happy for some restrictions to remain forever, even once the threat of Covid has faded …
The only answer is reforming the NHS:
There is one obvious way out of this. If the NHS is so precious that it is in danger of being overwhelmed even after one of the most comprehensive vaccination programmes in history, then the priority now must be to reform the service to make it fit for purpose. Germany, for instance, with its insurance-based model, has more than four times as many critical care beds per capita as Britain.
The NHS has become the new secular national religion in Britain.
Applauding it last year over so many Thursday nights at 8 o'clock has put it on a pedestal it might not wholly deserve:
The NHS has become Britain's all-consuming project, the millstone around its neck and the cloying source of confected national pride. Its hold over the country is so powerful that even a so-called libertarian Conservative PM decided this week to risk sacrificing our ordinary freedoms rather than dare to reform it.
She adds an interesting fact about NHS financing in 1948, when it was founded:
As noble as the idea behind the NHS might have been, it is founded on delusions about Britain's finances. (Indeed Westminster initially partly bankrolled it with foreign money, splitting 1940s Marshall aid between its domestic healthcare dreams and ailing colonial dominions).
We cannot go on like this forever, even though some would like to do so:
… the downsides of lockdowns are becoming too enormous to ignore. Their effectiveness is limited in free Western countries plagued by widespread low-level non-compliance and inadequate infection control in care homes and hospitals. Contrastingly, the damage lockdowns cause is limitless – from decimating mental health to destroying children's education. It is extraordinary that, even now, Johnson only pays lip service to this inescapable truth.
The biggest problem for the foreseeable future will be masks, especially as the Government says they are 'expected' in crowded, enclosed spaces. What does that really mean?
Another Telegraph article, by The Spectator's Anglo-American Kate Andrews, offers a suggestion to make things clearer:
Boris Johnson's message last night was that he 'expects and recommends' that people continue to wear masks in 'crowded' and 'enclosed' spaces, or where you come into contact with strangers: a vague, yet seemingly large request. The message could be far more simple: be aware of your surroundings and make an informed decision. This would be a real breakaway from our Covid lifestyles, and a return to the notion of personal responsibility.
The continuation of masks and compliance in this regard could be interpreted in a sinister way:
Perhaps the mask debate playing out now is the one we should have had in the first place. After the Government's most senior medical and scientific advisers spent months last spring telling the public not to buy or wear masks, the rule changed to mandate them on public transport, punishable by fines. Did we need to criminalise people for not wearing a mask, or might guidance have done the trick? But even now, the push for guidance often reveals itself as a push to keep emergency laws — not to be clearer with the public, but to be harsher.
There has been consensus throughout the pandemic that the British public have been wonderful: thoughtful and willing to uphold their social contract to strangers, to protect the lives of the vulnerable and elderly. Now, as their freedoms are set to be returned, that consensus is breaking. It seems when some were praising the public, they were really praising the rules that hovered over them.
Perhaps so. It is a sobering thought.
In any event, July 19 will not be Freedom Day by any stretch of the imagination. It will certainly not affect me personally, especially if I am still expected to wear a face covering.
I had been looking forward to going out for a long, languorous, maskless lunch in London next month. That will have to wait, probably until 2022.
This week's coronavirus debates in both houses of Parliament are proof that only the Left want masks and lockdown to stay.
Below are revealing excerpts from debates in the Commons and the Lords.
Emphases mine.
House of Commons
Health Secretary Sajid Javid appeared twice in the House of Commons this week.
Monday, July 5
He delivered his statement about lifting all restrictions, including those for masks, on Monday, July 5.
Shadow Health Secretary Jonathan Ashworth (Lab) objected:
He will be aware that Israel has reintroduced its mask mandate because of the delta variant, so why is he planning to bin ours? Masks do not restrict freedoms in a pandemic when so much virus is circulating. They ensure that everyone who goes to the shops or who takes public transport can do so safely, because wearing a mask protects others. If nobody is masked, covid risk increases and we are all less safe. He must understand that those in the shielding community are particularly anxious. Why should they feel shut out of public transport and shops because he has abandoned the mask mandate? That is no definition of freedom that I recognise.
Who else suffers when masks are removed? It is those working in shops, those who drive the buses, those who drive taxis and those who work in hospitality—it is the low-paid workers who have also been without access to decent sick pay. Many of them live in overcrowded accommodation. It is those who have been savagely, disproportionately impacted by the virus from day one and now the Secretary of State is asking them to bear the brunt of the increased risk again. Will he explain why he thinks abandoning masks is a sensible proposal to follow?
Dr Philippa Whitford (SNP) also objected:
Why is he planning to end even simple measures such as mask wearing?
As did Caroline Lucas (Green):
Failing to mandate mask-wearing in stuffy crowded places such as public transport, where people are often pressed together for much longer than 15 minutes, risks high costs, and allowing people to choose whether or not to put others at risk is both reckless and unfair. If the freedom to pelt down the motorway at 100 mph is restricted because it poses risks to others, why, with millions still unvaccinated, with some immunosuppressed and with the risk of long covid rising, does the Health Secretary not apply the same logic to mask-wearing?
Patrick Grady (SNP) wants masks to become 'routine' in the notional new normal:
Given that masks help to reduce the spread of not just covid, but all kinds of respiratory diseases, is it not important to avoid mixed messages and encourage everyone to continue that kind of practice and the likes of good hand hygiene as a relatively routine part of a new normal, to stop coughs and sneezes from spreading diseases?
Paul Blomfield (Lab) said:
We all want to unlock the economy, but surely we should maintain barriers to infection where we can. The Secretary of State has said that wearing masks would be a good thing, so will he accept that requiring them on public transport, in essential shops and in similar locations would make sense and would reassure people?
Tuesday, July 6
On Tuesday, July 6, Javid delivered a statement on self-isolation and vulnerable people.
By way of response, Jonathan Ashworth had more to say on masks:
Getting back to normal, which we all want to do, depends on people feeling safe. Does the Secretary of State appreciate that those who are immunocompromised, or for whom the vaccination is less effective, will have their freedoms curtailed by ditching masks on public transport? Blood Cancer UK warned yesterday that people with blood cancer will feel like their freedoms have been taken away when mask wearing lifts. What is his message to those with blood cancer? It is not good enough simply to say that people should travel or go to the shops at less busy times.
Of course, the Secretary of State understands the importance of masks. I have now read his Harvard pandemic paper, to which he likes to refer. He praises the use of masks in this paper, but he also warns:
"Changing course in policy making…is an essential feature of good policy making. Yet, politicians find it hard"—
because of—
"the tendency for decisions to become psychologically and emotionally anchored."
Well, I agree with him, and I hope he still agrees with himself. Let us have a U-turn on mask wearing. Yes, let us have freedom, but not a high-risk free for all. Keep masks for now, fix sick pay and let us unlock in a safe and sustainable way.
Martyn Day (SNP) agreed:
In a poll by New Scientist, a majority of disease experts said that some form of mask-wearing would be required until 2022. Others thought that 2023 or later was the correct time to lift mask requirements—more than agreed with the Government's position of ending the requirements this year. For the sake of clarity and honesty, can the Secretary of State confirm that the UK Government have stopped listening to the science on their covid policy? Tragically, we have 150,000 people dead already, and the Prime Minister has said that we must reconcile ourselves, sadly, to more deaths from covid, so perhaps the Secretary of State can enlighten us as to how many more deaths the UK Government think acceptable.
Tulip Siddiq (Lab) brought up public transport:
The flu season that we have just been through was the mildest on record, thanks in no small part to the fact that we have all been wearing masks to protect against coronavirus. Public Health England has warned that we could see a flu surge in winter, as we have not had much recent exposure to and therefore immunity from other respiratory viruses. What is the Secretary of State doing to prepare for this? Does he agree that we should keep the wearing of masks compulsory on public transport to keep covid cases down and prepare for the flu season?
Matt Western (Lab) wants England to emulate the Far East:
Case rates are currently eight or nine per 100,000 in Korea and Japan, yet those countries—certainly Korea—are still mandating the wearing of masks. In the light of that, what does the Secretary of State think we should be doing, because those places are clearly having success?
House of Lords
The House of Lords held debates on Sajid Javid's vaccine-driven strategy for Freedom Day on July 19.
The Left-leaning among the noble lords were furious.
Tuesday, July 6
Below are excerpts from Tuesday's debate.
The Lords direct their questions to a Government minister, in this case, Lord Bethell (Con).
Baroness Thornton (Lab) had a lot to say about masks. She is old enough to have had both 'jabs', therefore, in theory, she should not be worried:
We have government Ministers saying different things about what they personally intend to do; last night, we had a clear message from the CMO [Chief Medical Officer, Chris Whitty] about the circumstances under which he intends to wear a mask. So I think that we have every right to be concerned that the debate may cause confusion and compromise crucial safety.
Let us look at public transport, for example. I have been using public transport throughout. I started wearing a mask long before it became mandatory. I still do not feel safe on a very crowded Tube, and I still do not want anyone to sit next to me. I test twice a week, and I have self-isolated twice since January when I got pinged. I do not think that I am unusual or nervous, but I feel strongly that I have a duty not to unwittingly spread the virus, and I do not want people to infect me. In a recent travel study, a majority of passengers said that they would lose confidence if the use of face masks were reduced. Many people, especially those who are more vulnerable, may become more anxious about using public transport if face masks become voluntary.
What is the Minister's answer to these legitimate concerns? Does it go with the view that we let the virus rip and take the consequences? Given that we know that bus and taxi drivers experience Covid and death, what does the Minister have to say to them about their safety in these circumstances? Masks do not restrict freedoms in a pandemic when so much virus is circulating; they ensure that everyone who goes to the shops or takes public transport can do so safely. Who suffers most when masks are removed? It is those working in the shops, those driving the buses and taxis, and low-paid workers without access to decent pay, many of whom live in overcrowded housing and have been savagely, disproportionately impacted by this virus from day one.
We know that masks are effective when a virus is airborne. Given that high circulations of virus can see it evolve and possibly escape vaccine, what risk assessment have the Government done on the possibility of a new variant emerging? Will the Minister publish that assessment?
Baroness Brinton (Lib Dem) followed her, also with much to say on masks, putting forward the example in the Far East:
We on these Benches want to start with a return to normal and to lift restrictions. We desperately need to kick-start the economy, to start to socialise again and, as my noble friend Lord Scriven said last month, to live with Covid as it is now endemic and will be with us for some years to come. However, that means providing the safety net needed to ensure that people are as safe as possible. Asian countries that managed their pandemic well learned from SARS. The use of face masks became routine and a matter of personal and wider social responsibility, allowing life to continue in the flu season and in the pandemic. They also maintain strong and effective test, trace and isolate systems all the time. We will be discussing test, trace and isolate in detail following the Statement that is due to come to your Lordships' House on Thursday, but the proposed reductions in test, trace and isolate will remove the UK's ability to manage outbreaks swiftly, during which time others will catch and pass on Covid.
When we drive into our towns and cities, we rely on local authorities to set up traffic systems, including traffic lights, to help to guide us on safe journeys, regulate movement and reduce harm and damage. But it is as if "freedom day" is getting rid of all our traffic lights.
Proportionate responses are needed, and these include face masks. Early last year, even the WHO was equivocal on the use of face masks but, as the world became aware that this is a respiratory disease passed on through droplets, most countries moved to face mask mandates. On 19 July we switch to rules that make it only the responsibility of individuals. Thankfully, most people have taken that responsibility seriously, but not everyone has. That is important because, despite what the Minister said in response to my question yesterday about the clinically extremely vulnerable, there is no direct reference to the CEV in this Statement—unless he meant the passing reference to them being part of the priority group that will get the third jab. They need to know where they stand. There is no new advice, just the burning of the remaining rules that keep them safe.
I'm including part of Lord Bethell's reply, because I have not covered the Lords as much as I have the Commons:
I have four children—who are vectors of infection, to put it politely—and I attend a large number of business meetings, including here in the House, and I regard myself as a high-risk candidate for carrying the disease.
I have never caught it myself and I have been vaccinated but when I sit on a Tube train I wear my mask, not to protect myself but to protect the person next to me. That is my personal assessment and my personal decision. That is the spirit in which we are inviting people to step forward and make their own decisions and to be considerate to each other.
We cannot have laws on all these matters for the rest of time. At some point we have to ask the country to step up and take responsibility and to have personal agency in these decisions. If we do not put that challenge to the country in the summer months, when our hospitals are relatively safe and the virus has the right conditions, when will we be able to make those decisions?
Lord Campbell-Savours (Lab) put forward a case for the vulnerable, a tiny proportion of the English population:
My Lords, is it not obvious that if you reduce mask wearing on public transport and in public places, those who believe they are more exposed to the virus will then reduce their use of public transport and avoid public places? People who are fearful of more liberated environments will avoid them, leading to a slowdown in the return to work that the Government want. Indeed, it is the reverse of what the Government want. Why remove those restrictions that offer the only way of securing public confidence in the new regime that is being proposed?
Lord Bethell replied:
I applaud the noble Lord for his advocacy of mask wearing, but of course this issue cuts both ways. He is right that we need to build back trust in sharing space with one another, but I am not sure that mandatory mask wearing either builds trust or erodes it. If we give people the impression that wearing masks is somehow a panacea that protects everyone on a tube train or in a lift, that is a false impression. Masks are not a panacea. In fact, for some people, they can be a source of grave concern and be enough to send them back home to seek safety. I take the noble Lord's point that we have to be clear about this, but I am not sure that mandatory mask wearing, or even ubiquitous mask wearing, is either a universal antidote to the spread of the disease or necessarily builds trust in the manner he describes.
Baroness Tyler of Enfield (Lib Dem) spoke next:
My Lords, continuing on this theme: "masks work" is the clear message from Public Health England. Both Sir Patrick Vallance and Professor Chris Whitty have said that they will continue to wear a mask in crowded indoor spaces, primarily because it protects others. Critically, it does not hold back the opening up of the economy, but rather provides a safeguard as social distancing rules are relaxed. Can the Minister tell me why there is so little in the Statement about our social responsibility to others, including front-line transport and shop workers, and the clinically extremely vulnerable? In this scrapping of masks, we are condemning millions with poor immune systems to be trapped in their homes, too afraid to go to the shops or their workplace or to use public transport.
Lord Bethell responded, saying that people who are ill should stay at home:
Since this is the second question on masks, I hope the noble Baroness will not mind if I go off on a tangent. Masks do work a bit; they are not a panacea. What is really important is that when you are ill, you stay at home. That is the big behavioural change that will make a big difference in the year to come. That is where Britain has got it wrong in the past. Too often we have put our workmates, fellow travellers and school friends at risk by heroically going into crowded indoor places and coughing all over them. I hope that is one habit that will stop and that that will be a legacy of this awful pandemic.
Baroness Donaghy (Lab) said that not enough people were being penalised for ignoring the mask mandate:
My Lords, one person's choice is another's imposition. Even when mask wearing was mandatory on the tube, some broke the law and there was no policing. So-called choice will cause conflict and confusion. Can the Minister assure me that the Government are not reverting to type and their original herd immunity policy based not on the science but on "let us see how it falls"? Although he does not accept any deaths, as he said, what assessment has been made of the impact of this new policy on death rates and long Covid rates?
Lord Bethell countered, saying that a lot of fines had been issued:
My Lords, I do not have the figures to hand, but I reassure the noble Baroness that the policy on masks was very diligently imposed and a large number of people did get fined. We have to ask ourselves as a society whether we really want to live in a country where simple behavioural habits, such as wearing a mask or not, make you susceptible to arrest or fines. That is a very uncomfortable place for a country to find itself. The noble Baroness is right: that does introduce ambiguity, but we are sophisticated people and can live with a degree of ambiguity. We need to learn how to live not only with this disease but with each other. The dilemma that the noble Baroness points out is one that we will all have to debate, understand and learn to live with. We are not in any way letting this disease get on top of us. We are fighting it through the vaccine, we are supporting the vaccine with test and trace, and we have a tough borders measure. We are taking the battle to the virus and will continue to do so.
Only one Conservative peer spoke out in favour of masks, Lord Bellingham, who said:
My Lords, as a strong supporter of the Government's policy on the coronavirus, I was nevertheless critical of them being very slow to enunciate a clear policy on masks over a year ago—so I have a lot of sympathy with those noble Lords who have expressed concern about the imminent lifting of compulsion regarding masks. Surely one possible compromise might be to keep masks where you have passengers on public transport sitting or standing next to each other?
Lord Bethell replied, saying that it would be up to local councils and transport companies, rather than the Government:
My Lords, I hear my noble friend's words loud and clear. The Government have indicated that we will leave it to those who run the transport systems themselves and to local politicians. There is a good case for a degree of devolvement and subsidiarity in this matter. He is right that masks do perform an important role, but they are not a catch-all, and it is therefore reasonable to leave those who run the transport systems to make decisions for themselves.
Thursday, July 8
On Thursday, July 8, another debate on the Government's new coronavirus strategy took place.
Once again, Baroness Thornton (Lab) had a lot to say. With regard to masks, she mentioned the tiny minority of people living in England with poor health:
Does the Minister appreciate that those who are immunocompromised or for whom the vaccine is less effective will have their freedoms curtailed by ditching masks on public transport? Blood Cancer UK warned yesterday that people with blood cancer will feel that their freedoms have been taken away from them.
Baroness Brinton (Lib Dem) followed her. She was horrified by what she saw on television following the England-Denmark match:
Wonderful as yesterday's England victory was, the sight of 60,000 fans walking down Wembley Way in very close proximity with hardly a mask in sight was concerning. As with the England-Scotland match, we must expect a surge in cases. Yesterday, the BBC asked Dr Mike Ryan of the World Health Organization about the UK proposals to lift all restrictions on 19 July. He replied:
"The logic of more people being infected is better is, I think, logic that has proven its moral emptiness and epidemiological stupidity".
The letter in today's Lancet from 100 senior medics and scientists echoes the WHO view. What are the Government doing to explain to the experts why their strategy is safe? …

Last night, Sebastian Payne of the Financial Times reported the re-election of Sir Graham Brady MP as chairman of the 1922 committee, and tweeted:
"Brady's re-election is … a reminder of why Johnson is dropping masks and nearly all other … restrictions on July 19: ministers privately say the government no longer had the … votes to keep the measures in place. Relying on Labour would have been … difficult for the PM."
Are the Prime Minister and the so-called Covid Recovery Group now putting health and lives at risk for their own principles?
Lord Bethell replied, saying that it was better to reopen England now rather than wait until autumn or winter, when the NHS would be under pressure:
… the noble Baroness, Lady Thornton, half-answered her own question, because she is entirely right: we need to focus on getting the NHS back to speed in order to address the very long waiting lists and to get elective surgery back on track. It is very difficult to find an answer to the question, "If not now, when?" That has been tackled by the CMO and a great number of people. It must surely be right that we take the inevitable risks of restarting the economy and getting people back to their normal lives at the moment of minimum risk from the virus, which has to be in the middle of summer. Assessing those risks precisely is incredibly complex. Impact assessments of the kind that we would normally associate with legislation are the product of months of analysis. They often identify one relatively straightforward and simple policy measure. We are talking here about a machine of a great many moving parts.
I cannot guarantee that any model anywhere could give us accurate projections of the exact impact of what is going to happen this summer. We are, to a certain extent, walking into the unknown: the Prime Minister made that extremely clear in his Statement. As such, we are ready to change and tweak our policy wherever necessary in reaction to events. However, what we know very well now on the basis of our assessment of the data, and because of the pause we put in place to give ourselves breathing time to assess and additional time to roll out the vaccinations, is that that direct correlation between the infection rate and severe disease, hospitalisation and death has massively diminished. There is a relationship, but it is a fraction of what it used to be.
We can therefore look at a period where those who are at extremely low risk of any severe disease may see an increase in the infection rate, because we know that those in the highest-risk groups have been protected by two doses of the vaccine, and two weeks, and because we are working incredibly hard to get as many in the high-risk groups vaccinated as possible—half a million a day—and to roll out the vaccine to younger cohorts. That is the balance. I cannot deal in certainty here, because certainty does not exist. Balance is key, and I believe the balance we have here is the right one.
A Cross-bencher, Baroness Bull, cited the editor-in-chief of The Lancet — another leftist, as we saw last summer — which called the Government's new policy 'libertarian':
My Lords, 120 scientists have written to the Lancet and today come together in an emergency summit to ask the Government to rethink their plans. The editor in chief warned against
"a plan driven more by libertarian ideology than prudent interpretation of the data"
and called for continued mask-wearing, distancing and increased vaccine coverage. A YouGov survey found that two-thirds of people want to continue with masks and an ALVA survey found that three-quarters of people did. So why have the Government decided to end this simple yet effective measure? It costs the economy nothing, but it would be life-changing for the clinically extremely vulnerable, who will be forced back into lockdown by this shift from a public health approach to so-called personal responsibility.
Lord Bethell said that the policy was not at all 'libertarian':
I am always grateful for the challenge of medics in the Lancet and elsewhere. I would like to reassure them that this is not a question of libertarian ideology but a question of assessing the risks faced by the country. We have discussed masks several times in the Chamber. I would like to reassure the noble Baroness that masks simply are not a panacea; were the whole country to wear masks for the rest of their lives, we would still have pandemics because they offer only marginal protection.
One peer voiced his disapproval:
Nonsense!
Lord Bethell replied:
I am afraid we cannot have in place laws on the intimate practicalities of people's lives for the long term. We do not have a law on sneezing. I would not think of sneezing in the presence of noble Lords, but I do not accept that I should be given a fine for doing so.
I'll leave it at that.
Conclusion
It is abundantly clear, with only one Conservative peer speaking in favour of masks and many Left-leaning MPs and peers supporting continued muzzling, that they do not trust the general public — the great unwashed who pay their salaries.
We, the great unwashed, however, do have the brains, the intellect and the discernment to think for ourselves and do the right thing.
If that is libertarianism, count me in.