You are currently browsing the tag archive for the 'Protestant' tag.
The feast day of the Ascension of the Lord is Thursday, May 13, 2021.
The painting at left is German, Himmelfahrt Christi (The Ascension of Christ), by Mattheis Störbel. It was painted between 1515 and 1519 and is in the Deutsche Museum Nürnberg. This is likely to be the only depiction of the Ascension showing our Lord's feet alone. (Image credit: Wikipedia)
Relevant posts follow, including the readings:
Readings for Ascension Day (same regardless of Lectionary year)
Ascension Day 2016 (John MacArthur on Acts 1-11)
A Reformed view of the Ascension (Christ as prophet, priest and king)
Acts 1:9-11 on the Ascension (addresses errors of preterism)
The Gospel reading is as follows (emphases mine):
Acts 1:1-11
1:1 In the first book, Theophilus, I wrote about all that Jesus did and taught from the beginning
1:2 until the day when he was taken up to heaven, after giving instructions through the Holy Spirit to the apostles whom he had chosen.
1:3 After his suffering he presented himself alive to them by many convincing proofs, appearing to them during forty days and speaking about the kingdom of God.
1:4 While staying with them, he ordered them not to leave Jerusalem, but to wait there for the promise of the Father. "This," he said, "is what you have heard from me;
1:5 for John baptized with water, but you will be baptized with the Holy Spirit not many days from now."
1:6 So when they had come together, they asked him, "Lord, is this the time when you will restore the kingdom to Israel?"
1:7 He replied, "It is not for you to know the times or periods that the Father has set by his own authority.
1:8 But you will receive power when the Holy Spirit has come upon you; and you will be my witnesses in Jerusalem, in all Judea and Samaria, and to the ends of the earth."
1:9 When he had said this, as they were watching, he was lifted up, and a cloud took him out of their sight.
1:10 While he was going and they were gazing up toward heaven, suddenly two men in white robes stood by them.
1:11 They said, "Men of Galilee, why do you stand looking up toward heaven? This Jesus, who has been taken up from you into heaven, will come in the same way as you saw him go into heaven."
Commentary is from John MacArthur.
The first verse should be no mystery, although I hope that celebrants everywhere explain to their congregations that Luke is the author of the Book of Acts, or Acts of the Apostles.
John MacArthur gives us the details:
Luke is the author of Acts. And Luke was closely associated with the apostles from about the time of Jesus' death, around 30 A.D. to about 60 or 63 A.D. when evidently he penned this book; and in those intervening 30‑plus years, as Luke travelled in the companionship of the apostles, he penned what was going on …
Now, there are many reasons that Luke wanted to write this, and we could, perhaps, pull out as many reasons as there are truths in the book. It's important, because it gives us the pattern of the church. It's important, because it shows us the pattern of world evangelism. It's important, because there are principles of discipleship. It's important for a multiplicity of reasons. But in Luke's own mind, as he is writing, he is directing this book to a particular Roman high official whose name we shall see in a moment; and in writing to this man, he is evidently – as one of his purposes – attempting to commend Christianity to the Roman world.
MacArthur tells us about Theophilus:
Now, if you go back to the beginning of Luke and look at chapter 1, verse 3, Luke addresses this gospel to Theophilus. He says, "To write unto thee in order, most excellent Theophilus, that thou mightest know the certainty of those things wherein thou hast been instructed." Luke wrote Luke, the gospel of Luke, to Theophilus, and we know that. Now, here in chapter 1 of Acts, verse 1, he says, "The former treatise have I made, O Theophilus," so we know it's the same writer …
Now, picking just a moment, some thoughts from the name Theophilus, which is a combination of two words meaning beloved of God, or friend of God, or lover of God. Theophilus we know little or nothing about except historically. In the second century, his name appears, and is some indication in the second century sources that he was an influential wealthy official in Antioch. There's also some indication that Luke was originally from Antioch, and therefore Luke had a knowledge of this man; and perhaps because he was a well‑known physician had some connection with Theophilus.
Undoubtedly, Theophilus had become a believer; and consequently Luke had addressed these particular volumes to Theophilus to give him information, as he states in Luke, concerning Jesus Christ that he might well understand the things in which he had been instructed. So evidently he had come to Christ, and now he needed detail; and perhaps Theophilus was a man who demanded detail. Also the fact that he commends Christianity to the Romans would be in back of his mind as he writes to a Roman like Theophilus.
Now, we may also assume from Luke chapter 1, where he calls him "excellent Theophilus," that he was a high-ranking Roman official, for the term "excellent" also appears in connection with Festus and Felix who were governors. So it is very likely that this man Theophilus was a very high-ranking Roman official who had come to Christ; and it is this one to whom Luke pens this two-volume set on the work of Jesus Christ, His work on earth and His work through His church, Volume 2. And you'll notice that this is indicated very simply in verse 1. It says this: "I'm writing to you about all that Jesus" – what's the next word? – "began, began to do and to teach." In other words, "I only got it started." Jesus on earth in the gospel accounts only began to do the work.
Luke writes that his first book — the Gospel — was about the ministry of Jesus up to His ascension to heaven, having given Spirit-inspired instructions to the Apostles, whom He had chosen (verse 2).
Readers of the New Testament know that the Apostles, especially Peter, did not understand the purpose of His ministry very well. Jesus knew that He needed to send them the gifts of the Holy Spirit, otherwise they would not be able to expand the Church.
MacArthur explains Luke's use of 'taken up to heaven', repeated in verses 9 and 11:
Verse 9 emphasized it. It say He was taken up, verse 11 says He was taken up, and verse 22 says He was taken up. And the Holy Spirit is trying to tell us something: He was taken up. Physically in His glorified body, Jesus went up into heaven.
… the same Jesus Christ in the same glorified body that was touched by those disciples is sitting at the right hand of the Father, no different than He was when He left …
When He comes back He'll be the very same that He was when He left. That's why we can have confidence in what the writer of Hebrews says that we have not a high priest that cannot be touched with the feelings of our infirmities. He knows how we feel, because He's there even now in a glorified body.
After His resurrection, Jesus continued appearing to the Apostles — eleven in number — teaching them about the kingdom of God (verse 3).
Jesus no longer appeared to everyone, as He had done before He was crucified. He appeared only to His disciples.
Luke says that Jesus told His disciples not to leave Jerusalem but to wait until God fulfilled His promise (verse 4): a baptism not of water, as in John the Baptist's time, but of the Holy Spirit (verse 5).
That baptism of the Spirit would be a first. MacArthur explains how the Holy Spirit operated through prophets previously:
… in the old economy, the Spirit would come and go according to the need. If you're going to do a special work, the Spirit would come in, and then when the work was done He would depart.
The Old Testament says the Spirit of God descended upon Elijah then the Spirit of God departed. This is how the Spirit of God worked, never indwelling, but just moving in-and-out for a specific purpose. But the promise now is that the Spirit will come and be in you. That's John 14:17, one of the really key verses in all the Word of God.
Note that when they gathered around Jesus before His return to the Father, the Apostles asked if He was going to restore Israel's kingdom (verse 6). They were still thinking temporally, not spiritually.
Jesus deflects that by saying that only God the Father knows when He will accomplish His purpose according to His timeline (verse 7).
He then returns to discussing the imminent arrival, ten days hence, of the Holy Spirit which will enable the Apostles to be Christ's witnesses, not only in the lands nearest to Jerusalem but also 'to the ends of the earth' (verse 8).
MacArthur paraphrases that verse:
"Don't concentrate on when I'm coming; you concentrate on doing the job until I get there."
He discusses the word 'witness' in Greek, from which we get the word 'martyr', and applies it to Westerners' practice of Christianity today:
It's interesting; the word "witness" here is martures. "Witnesses unto me" is mou martures, "My martyrs, My martyrs." For some of you maybe it'll be that. So many Christians died that the word "witness" finally came to mean martyr. So many of them died. Are you willing?
It's sad; not only are we not willing to die for Jesus, most of us aren't even willing to live for Him. We haven't even learned not only what it is to be a dead sacrifice, but we haven't learned what it is to be a living sacrifice.
Do you know what it is to be a living sacrifice? I think maybe Hosea knew a little bit about it when he said, "I'll offer God the calves of my lips," – in other words – "the real me." I think Abraham knew what it was about when he went to sacrifice Isaac. Isaac would have been a dead sacrifice; Abraham would have been a living one. He was sacrificing all of his dreams, and promises, and everything God had ever given him when he slew that son. But he was willing to do it for God's sake.
And that's what a living witness is all about; that's what a martyr is all about. God doesn't necessarily want you to die for Him, but He wants you to live for Him as if you couldn't care less about anything, sacrificing everything you have for His glory: a living witness, a living martyr, a living sacrifice.
As soon as Jesus had spoken about the Apostles' upcoming mission, He was 'lifted up' and a cloud took Him out of their sight (verse 9).
As He ascended — returning home — the Apostles looked upward, when, suddenly, two men in white robes appeared beside them (verse 10).
The two men ask why the Apostles were looking heavenward, then say that Jesus will return to us in the same way that He left (verse 11). What a glorious day that will be.
The rapid growth of the Church was the result of the Holy Spirit entering into the Apostles, then those to whom they preached, not just for a time, but throughout their lives, just as we do:
The early church did it right. They did it from the day of Pentecost for thirty years. And you can follow the church by the blaze of their witness: super-charged with divine power. Witnessing fearlessly to the world, they turned the currents of civilization, they changed the face of the ages for God; and they had no more equipment than you have – none at all.
Admittedly, the Apostles did have particular Spirit-led gifts, such as healing. These were only for the Apostolic Era in order to spread the growth of the Church.
MacArthur's sermon ends with this:
My grandfather had a poem written in his Bible, and I memorized it; and it goes like this: "When I stand at the judgment seat of Christ and He shows me His plan for me, the plan of my life as it might have been, and I see how I blocked Him here and checked Him there and would not yield my will; will there be grief in my Savior's eyes, grief though He loves me still? He would have me rich, but I stand there poor, stripped of all but His grace, while memory runs like a haunted thing down a path I can't retrace. Then my desolate heart will well nigh break with tears I cannot shed. I'll cover my face with my empty hands, I'll bow my uncrowned head." Then this prayer: "O Lord, of the years that are left to me, I give them to Thy hand. Take me, break me, mold me to the pattern that Thou hast planned."
I don't know how much time we have, but I know whatever you do for Christ needs to be done today, because Jesus is coming. Christian, do you see it? Chapter 1, verse 1 to 11. You've got it all, you've got it all. It's only a question of your will.
There is much for us to contemplate between Ascension Day and Pentecost Sunday — the Church's birthday — in ten days' time.
The three-year Lectionary that many Catholics and Protestants hear in public worship gives us a great variety of Holy Scripture.
Yet, it doesn't tell the whole story.
My series Forbidden Bible Verses — ones the Lectionary editors and their clergy omit — examines the passages we do not hear in church. These missing verses are also Essential Bible Verses, ones we should study with care and attention. Often, we find that they carry difficult messages and warnings.
Today's reading is from the English Standard Version with commentary by Matthew Henry and John MacArthur.
6 Now, brothers,[a] if I come to you speaking in tongues, how will I benefit you unless I bring you some revelation or knowledge or prophecy or teaching? 7 If even lifeless instruments, such as the flute or the harp, do not give distinct notes, how will anyone know what is played? 8 And if the bugle gives an indistinct sound, who will get ready for battle? 9 So with yourselves, if with your tongue you utter speech that is not intelligible, how will anyone know what is said? For you will be speaking into the air. 10 There are doubtless many different languages in the world, and none is without meaning, 11 but if I do not know the meaning of the language, I will be a foreigner to the speaker and the speaker a foreigner to me. 12 So with yourselves, since you are eager for manifestations of the Spirit, strive to excel in building up the church.
—————————————————————————————————-
Last week's reading introduced Paul's discourse on the false use of speaking in tongues in the church in Corinth.
The Corinthians who thought they were speaking in tongues were not speaking in a foreign language at all. They were speaking in gibberish, the way pagans did before their deities. Even they did not know what they were saying. Furthermore, they were having an experience of ecstasy while doing so. It was a carnal and sinful practice.
Paul's use of the word 'prophecy' is the original: 'preaching'. Last week's post explains that the inclusion of prediction in that definition did not come about until centuries later in the Middle Ages.
Note 1 Corinthians 14:5 (emphases mine below):
Now I want you all to speak in tongues, but even more to prophesy. The one who prophesies is greater than the one who speaks in tongues, unless someone interprets, so that the church may be built up.
Paul continues his discourse by asking the Corinthians how they would benefit if Paul spoke to them in tongues — a foreign language (verse 6). In order for it to be of use, someone would have to interpret that spiritual lesson in Greek, the language of Corinth.
John MacArthur gave his sermon on this chapter in 1977, when many mainstream churches were undergoing what was called a Charismatic 'renewal' at the time. Suddenly, a spiritual gift that, for centuries, was considered one of the Apostolic Era — the earliest years of the Church — and died out because the number of Christians had grown sufficiently, became a trend which would continue for the next two decades or so.
I knew mainstream Christians who attended special Charismatic services at their church because they 'felt better' afterwards. They sought some sort of ecstatic comfort which they interpreted as emotional healing. They didn't understand what they were saying, nor did they understand what anyone else was saying. It was entirely personal.
MacArthur says:
It's amazing to me today that we have seen this one segment of the church put such an incredible premium on unintelligible communication that nobody, not even the speaker, understands. It's also amazing to note that many, many times when the interpretation is so-called given as the true interpretation, it can be indicated that it is, in fact, not a true interpretation at all, as there's many, many testimonies to the effect that people have experimented speaking in Hebrew and whatever, and somebody gives a translation that's in no way related to what they said.
And somehow today we have made some kind of sacred cow, some kind of great, spiritual hierarchy out of people who have been able to communicate to nobody. Paul says, "If I came and used the true gift, it wouldn't mean anything to you because you speak Greek."
Also, referring to verse 9:
… the only significant time for the use of the true gift in the Apostolic Era was when somebody was there who understood the language; and if it occurred in the assembly of believers, then it would be translated in order that the believers might even also, in addition, be edified by it. It must be easy to be understood, or you're just blowing into the air.
In order to get his point across, Paul poses questions using musical illustrations, something that everyone would understand.
He asks whether the flute or the harp would make sense without different notes played to create a melody (verse 7).
Matthew Henry explains:
Unintelligible language is like piping or harping without distinction of sounds: it gives no more direction how a man should order his conversation than a pipe with but one stop or a harp with but one string can direct a dancer how he should order his steps …
Similarly, Paul asks, what good would a bugle be in calling troops to battle if it played only one note (verse 8). We are all familiar with our respective nations' military instrumental melodies. One tune awakens the troops, another readies them for battle and another announces the end of the day.
MacArthur says:
A military trumpet was the clearest and the loudest of all instruments; but no soldier would have any idea what to do if it didn't blow something with significance.
Paul then asks the Corinthians how any of them, including the person 'speaking', as it were, will understand unintelligible speech; what good is that doing anyone but talking into the air (verse 9)?
Henry interprets this verse as follows:
Words without a meaning can convey no notion nor instruction to the mind; and words not understood have no meaning with those who do not understand them: to talk to them in such language is to waste our breath.
Paul brings his point to a close by saying that the world is full of different languages (verse 10) but if he does not understand a particular language, then he is a foreigner to the speaker and the speaker a foreigner to him (verse 11). In other words, the whole point of a spiritual lesson is lost unless one understands that particular language.
MacArthur says that Paul uses the Greek word 'barbaros' — 'barbarian' — in verse 11:
He says in verse 11, "Therefore, if I know not the meaning of the sound," – or the voice – "I shall be unto him that speaks a barbaros, and he that speaketh shall be a barbaros unto me." Now he says, "If you don't talk in something I can understand, we're two barbarians trying to talk."
In case you don't remember what a barbarian is, a barbarian is a term for a foreigner; and a barbarian was anybody who didn't speak Greek. So he's simply saying, "If you talk in that kind of stuff, we're just going to be incommunicado, because it's going to be like two barbarians, neither of whom have a common language."
Interesting thing about the word. The word barbaros is, again, a word that is onomatopoeiatic. Remember that? A word that sounds – remember "bzzz" and "zip" and "hiss" – any of those kinds of words that simply repeat a sound. Well, this word really is the repetition of "bar-bar." And what he's saying is, "If you speak like that, and I don't know the meaning of what you're saying, it's just 'bar-bar-bar-bar' to me. I don't understand it, and it doesn't make any sense."
So the whole point, you see, is the uselessness of unintelligible languages and pagan gibberish. It had absolutely no signification whatsoever. It is contrary to all the laws of sound and meaning, according to verse 10.

Paul ends with the same message he gave in 1 Corinthians 14:5: seek gifts of the Holy Spirit that will build up — edify — the church in Corinth (verse 12).
MacArthur says:
"Seek that the church be edified." He's really dealing with their selfishness. The Corinthians came together; they were all seeking this experience. They were all seeking this ecstasy; they wanted the sensual experience.
And we still have that today. And I think that's part of what is going on in the Charismatic and Pentecostal movement is they all seek this personal experience, when Paul is saying "That's the antithesis of the spiritual gift, which is to seek to edify the body." So the position of tongues is secondary, reason number one, because prophecy will edify the church; and number two, tongues are unintelligible, and consequently have a very limited use. And, incidentally, that limited use was limited also to the Apostolic Era.
Many moons ago when I was in high school — around the time MacArthur gave this sermon — I knew a girl who stopped going to her family's church and began attending Sunday service with her boyfriend and his family at the local Foursquare Gospel church. She said she preferred the services there because they were 'exciting' and one never knew what would happen next.
The preacher gave sermons, but she said she never listened to them because they were 'boring'. She was there to watch someone experience personal ecstasy. For her, church was theatre. She thought every church should be like that.
I'm going to skip ahead to 1 Corinthians 14:33 and 40 for an answer to 'church as theatre':
33 For God is not a God of confusion but of peace.
40 … all things should be done decently and in order.
Paul has much more to say on the topic of speaking in tongues, so more will follow next week.
Next time — 1 Corinthians 14:13-19
Below are the readings for the Sixth Sunday of Easter, May 9, 2021.
These are for Year B in the three-year Lectionary used in public worship.
Emphases mine below.
First reading
This is part of the story of the conversion of Cornelius the centurion, who was the first Italian saint. Acts 10 is one of my favourite chapters in the New Testament. Peter has a divine vision. Cornelius has a divine vision. The two men meet, and Cornelius, along with his household, are the first Gentiles to be baptised. You can read all about the visions and encounter here and see Rembrandt's inspired depiction of Cornelius.
Acts 10:44-48
10:44 While Peter was still speaking, the Holy Spirit fell upon all who heard the word.
10:45 The circumcised believers who had come with Peter were astounded that the gift of the Holy Spirit had been poured out even on the Gentiles,
10:46 for they heard them speaking in tongues and extolling God. Then Peter said,
10:47 "Can anyone withhold the water for baptizing these people who have received the Holy Spirit just as we have?"
10:48 So he ordered them to be baptized in the name of Jesus Christ. Then they invited him to stay for several days.
Psalm
This short, joyful and prophetic Psalm ties in well with the reading above, as verse 9 refers to Gentiles being brought into the Messiah's kingdom.
Psalm 98
98:1 O sing to the LORD a new song, for he has done marvelous things. His right hand and his holy arm have gotten him victory.
98:2 The LORD has made known his victory; he has revealed his vindication in the sight of the nations.
98:3 He has remembered his steadfast love and faithfulness to the house of Israel. All the ends of the earth have seen the victory of our God.
98:4 Make a joyful noise to the LORD, all the earth; break forth into joyous song and sing praises.
98:5 Sing praises to the LORD with the lyre, with the lyre and the sound of melody.
98:6 With trumpets and the sound of the horn make a joyful noise before the King, the LORD.
98:7 Let the sea roar, and all that fills it; the world and those who live in it.
98:8 Let the floods clap their hands; let the hills sing together for joy
98:9 at the presence of the LORD, for he is coming to judge the earth. He will judge the world with righteousness, and the peoples with equity.
Epistle
Readings from 1 John continue. There is much to contemplate in these six verses: the light burden of God's commandments, faith conquering the world (of sin) and the sacrifice of Jesus Christ for our sins.
1 John 5:1-6
5:1 Everyone who believes that Jesus is the Christ has been born of God, and everyone who loves the parent loves the child.
5:2 By this we know that we love the children of God, when we love God and obey his commandments.
5:3 For the love of God is this, that we obey his commandments. And his commandments are not burdensome,
5:4 for whatever is born of God conquers the world. And this is the victory that conquers the world, our faith.
5:5 Who is it that conquers the world but the one who believes that Jesus is the Son of God?
5:6 This is the one who came by water and blood, Jesus Christ, not with the water only but with the water and the blood. And the Spirit is the one that testifies, for the Spirit is the truth.
Gospel
Readings from John's Gospel continue. This reading picks up from last week's. Jesus spoke these words at the conclusion of the Last Supper, after He sent Judas away. He wanted to make sure that the Apostles stayed together in faith and love.
John 15:9-17
15:9 As the Father has loved me, so I have loved you; abide in my love.
15:10 If you keep my commandments, you will abide in my love, just as I have kept my Father's commandments and abide in his love.
15:11 I have said these things to you so that my joy may be in you, and that your joy may be complete.
15:12 "This is my commandment, that you love one another as I have loved you.
15:13 No one has greater love than this, to lay down one's life for one's friends.
15:14 You are my friends if you do what I command you.
15:15 I do not call you servants any longer, because the servant does not know what the master is doing; but I have called you friends, because I have made known to you everything that I have heard from my Father.
15:16 You did not choose me but I chose you. And I appointed you to go and bear fruit, fruit that will last, so that the Father will give you whatever you ask him in my name.
15:17 I am giving you these commands so that you may love one another.
The Gospel reading is apposite, as Ascension Day is on this coming Thursday. Next Sunday, the one that precedes Pentecost, is traditionally known as Exaudi Sunday, one of sadness and bewilderment for the disciples after Christ ascends to Heaven. They had no idea how powerful the coming of the Holy Spirit would be: how that first Pentecost would change their lives and bring about the birth of the Church.
The three-year Lectionary that many Catholics and Protestants hear in public worship gives us a great variety of Holy Scripture.
Yet, it doesn't tell the whole story.
My series Forbidden Bible Verses — ones the Lectionary editors and their clergy omit — examines the passages we do not hear in church. These missing verses are also Essential Bible Verses, ones we should study with care and attention. Often, we find that they carry difficult messages and warnings.
Today's reading is from the English Standard Version with commentary by Matthew Henry and John MacArthur.
Prophecy and Tongues
14 Pursue love, and earnestly desire the spiritual gifts, especially that you may prophesy. 2 For one who speaks in a tongue speaks not to men but to God; for no one understands him, but he utters mysteries in the Spirit. 3 On the other hand, the one who prophesies speaks to people for their upbuilding and encouragement and consolation. 4 The one who speaks in a tongue builds up himself, but the one who prophesies builds up the church. 5 Now I want you all to speak in tongues, but even more to prophesy. The one who prophesies is greater than the one who speaks in tongues, unless someone interprets, so that the church may be built up.
——————————————————————————————————–
Last week's entry concluded Paul's treatise to the Corinthians on Holy Communion. It included a warning about sickness and death afflicting those who took the sacrament unworthily.
The next two chapters are in the Lectionary. 1 Corinthians 12 concerns spiritual gifts and the members of the church comprising one, holistic body. 1 Corinthians 13, concerning love, is often read at weddings.
In 1 Corinthians 14, Paul discusses the gifts of the Holy Spirit.
Taking up where he left off, he begins by encouraging the Corinthians to pursue love and desire the gifts of the Holy Spirit especially that they might prophesy (verse 1).
Prophesying means preaching, as John MacArthur explains (emphases in bold mine):
It comes from the Greek word prophēteuō. Two words: pro, meaning before; phēmi meaning speak. It means to speak before. Prophecy is for somebody to speak before somebody else.
That's what I do every Sunday, I prophesy. You say, "I thought it meant to predict the future." No. No. You know the idea of predicting the future never came along until the Middle Ages when the English word took on that meaning. That's never its intention in the Greek. It simply means to speak before somebody.
Matthew Henry's commentary agrees:
While they were in close pursuit of charity, and made this Christian disposition their chief scope, they might be zealous of spiritual gifts, be ambitious of them in some measure, but especially of prophesying, that is, of interpreting scripture.
Paul uses two interesting verbs in that sentence: 'pursue' and 'desire'. Today, 'pursue' suggests a police chase. As for the second, we think of the word in the context of 'heart's desire', not entirely a religious thing to say.
Henry defines 'pursue' in Greek as follows:
Follow after charity, pursue it. The original, diokete , when spoken of a thing, signifies a singular concern to obtain it; and is commonly taken in a good and laudable sense. It is an exhortation to obtain charity, to get this excellent disposition of mind upon any terms, whatever pains or prayers it may cost: as if he had said, 'In whatever you fail, see you do not miss of this; the principal of all graces is worth your getting at any rate'.
MacArthur addresses the context of 'desire' and refers back to 1 Corinthians 12 to make his point:
Now this word "desire" could be translated many ways, because it's a kind of a form that could go a lot of ways. But when you study the context, it comes out as an imperative; and it comes out, I believe, as kind of a continuous imperative, so that it would translate this way – now watch: "Pursue love," and then there is a de in the Greek, and de is like "but." It is not equating equals; that would be kai. It's adversative; there is a change here.
So he is saying, "Follow after love, but continue desiring spirituals." In other words, "I'm not telling you to quit desiring gifts." And then go back to 12:31, "You are pursuing the showy things. You should pursue love, but don't stop pursuing gifts," or the spiritual realm literally. In other words, "I don't want you to quit, because you should want the ministry of the Holy Spirit through the gifts of the Spirit. I'm not saying don't have anything to do with gifts. But rather pursue love and continue to seek the spiritual realm, the realm of the operation of the Holy Spirit, the true things that the Spirit of God is doing. But" – now look at the end of the verse – "most of all, most of all, mallon, most of all that you should prophesy." You see, tongues are secondary. "When you come together, instead of the chaos, and the confusion, and the gibberish of tongues, should be the clarity of prophecy."
Paul says that speaking in tongues does not say anything to men; the person is speaking to God only, uttering mysteries in the Spirit (verse 2).
Henry says that the Corinthians were pleased with their notional ability to speak in tongues:
It seems, this was the gift on which the Corinthians principally valued themselves. This was more ostentatious than the plain interpretation of scripture, more fit to gratify pride, but less fit to pursue the purposes of Christian charity; it would not equally edify nor do good to the souls of men … whatever mysteries might be communicated in his language, none of his own countrymen could understand them, because they did not understand the language …

MacArthur has more on this peculiarity, which was part of their pagan heritage. Sadly, they were returning to it. This was not even close to the 70 disciples speaking in tongues on the first Pentecost:
… as we come to the Corinthian situation – incidentally, the only time that the gift is ever mentioned after the book of Acts is in Corinth, and there because it was so confused and chaotic. But as we come to the Corinthian situation, we find that they had counterfeited the real gift and substituted a pagan, ecstatic kind of speech. The true gift had been confused with ecstatic tongues, which was the counterfeit …
Remember that, for the most part, the Corinthians had allowed the entire world system in which they existed to infiltrate their assembly. For example, they were all hung up with human philosophies, the first four chapters say. They had a hero worship cult just like their society did; chapter 3 talks about that. They were involved in terrible, gross, sexual immorality; chapters 5 and 6 talks about that. They were suing each other in the court; chapter 6 talks about that. They had fouled up the home and marriage, and misevaluated that whole thing; chapter 7 talks about that.
They were all confused about pagan feasts and idolatry and things offered to idols; chapters 8, 9 and 10 talks about that. They had goofed up the proper place of women in the church; chapter 11 talks about that. They had misconstrued the whole dimension of spiritual gifts; chapter 12 talks about that. And they had lost hold of the one great thing, love; chapter 13 talks about that.
They had let the entire mass of the satanic system that existed in their society infiltrate the church. And once it all came in, in with it came pagan-style of religion, with all of the ecstasies, and all of its eroticisms, and all of its sensualities; they bought the whole bag.
In short, they were developing a syncretic version of Christianity:
It was Christianity in part and paganism in part, all wedded together.
This can be seen in some pseudo-religious movements which are popular today: New Age and vaudou, to name but two. However, one can also add the charismatic movement and Pentecostalism to the list.
MacArthur mentioned ecstasy, which is a key feature for the person speaking in tongues that no one else can understand. These people seek the mind rush, for lack of a better term, that they experience:
Now if you study the Greco-Roman world the time of the Corinthian church, you would know that they had various priests and priestesses; and people who were devotees of the gods would go to these great temples, and they would worship these priests and priestesses. And it was very common for a devotee would go into an ecstasy. An ecstasy means to go out of yourself. That's the literal meaning of the word, to go out of yourself. They would literally flip out, and they would go into an unconscious state, in which they would have all kinds of phenomena occur, a psychic kind of phenomena. They would believe that when they went out of themselves, they literally left the body, and they ascended into space, and they connected to deity, whatever deity they were worshiping, and they began to commune with the deity; and once they began to commune with that deity, they would begin to speak the language of the gods.
This was a very common thing in their culture. So that term used in Corinthians, glōssais lalein, to speak in tongues, was not invented by Bible writers, but was a term used commonly in the Greco-Roman culture to speak of pagan ecstasy, and going out of the body, connecting with the deity, and in a mystical way beginning to speak the language of the gods, which came out as some kind of gobbledygook and gibberish.
Now the Greeks even had a word for this ecstatic religious experience. You'll be interested to know what the word was. It was the word eros. Remember that word? We sometimes translate it as sensual love. But the word is a bigger word than that; it has a broader meaning. The word eros simply means the desire for the sensual, or the desire for the erotic, or the desire for the ecstasy, or the desire for the ultimate experience or the feeling.
And the kind of religion they had was erotic religion. It was religion designed to be felt. It was sensual, ecstatic kind of religion. And you'll remember, if you studied those religions, that when they went to those temples and to those priestesses they actually entered into orgies, didn't they. And that whole idea of erotic and sexual and sensual and ecstatic and the gibberish that went on with divine utterances, all was rolled into one big ball under the mystery religions that had spawned in Babylon and had come into the Corinthian society. And I'm not going to take the time to read you all of the information on that, but there is tremendous historical information that tells us that this did occur.
Now I'm afraid that what has happened today in the Charismatic movement is just a reproduction of exactly what happened in Corinth. The church, because of a deadness, and because of years of ignorance of the true work of the Holy Spirit, and because of a lack of really fine Bible teaching in many places, and because of just the dearth of anything really significant going on, people in the church began to reach out, and to want to feel God, and to sense reality, and Satan's counterfeit came flooding in the door. And what happened now in the Charismatic Movement is simply Corinth revisited. The church has married the system of pagan religion again, and we have developed a sensual, feeling, experiential, erotic kind of approach to religion, only we call it the work of the Holy Spirit, when in fact it is the counterfeit of Satan. If you were to find time to talk with various people who've been involved in it, you would find that some of their experiences are very much in that way – very sensual, very feeling-oriented.
This is what speaking in tongues involved — and it was only ever a means for the early Church to expand into every possible nation in the ancient world. That time was known as the Apostolic Age or the Apostolic Era.
MacArthur explains:
… when God gave the gifts to the early church, He gave them some miraculous gifts which were designed to be signs that authenticated the validity of the message of the new age. You see, God had spoken in the past by the fathers through the prophets; but in these last days, He has spoken in His Son, and there was a new message; and to let, particularly, the Jewish world know that this was a new era, and there was new revelation, and God was speaking again. There were attendant signs and wonders, and one of those was the ability that the apostles and some who worked with them had, to speak a language they did not know, under divine inspiration. That was the gift of languages.
We learned also that it was always a language, that it was the ability to speak a foreign language. In Acts 2, "Everybody understood in their own language," it says.
As the Corinthians were not truly speaking in tongues, rather in a pagan gibberish, Paul encourages them to seek the desire to prophesy, or to preach, because good preaching edifies those hearing the message, that of the Good News (verse 3).
Paul goes on to say that those who speak meaningless words in tongues help no man, but those who can prophesy — preach — duly build up the Church (verse 4).
Paul says that he wants the Corinthians to speak in tongues — properly, one might add, as had the disciples in Acts — but more importantly, they should preach, so that everyone can understand what is being said and thereby benefit from it (verse 5).
MacArthur explains the Corinthians' situation and that of some of the present day church movements:
In Christianity, it was the true gift of languages, used only when someone who spoke the language was present in order that it might be a sign that God was there, and that God's people were speaking God's truth. Never was it intended to be confused with paganism. But as always, whenever God does something, Satan counterfeits it, doesn't he? And that confuses the issue.
And so Satan's smokescreen to cloud the true revelatory work of the Holy Spirit in the early church were phony revelations and phony visions and phony tongues. And that's why in 1 John, John says, "When somebody comes along and starts telling you they speak for God, you'd better test the spirits." It's easy to fall prey to the phony. And the Corinthians, because they had decided to marry the spirit of the age, were victims.
Now remember, Satan is called the god of this age, Satan is called the spirit who energizes the children of disobedience. Satan is the one who wants to be like God, and Satan appears transformed as an angel of light. He wants to counterfeit reality, he wants the church to buy a phony; that's his business. And so we see in heathenism all that fake; and here in Corinth, it had engulfed the church.
And I'm afraid it's doing the same today. There are no ecstasies, no sensualities, no eroticisms, no going out of yourself ever associated in the New Testament with the true work of the Holy Spirit – never, never. In fact, in 14:32 it says, "The spirits of the prophets must be subject to the prophets." Nobody ever gives up his spirit. Nobody ever loses control. Nobody ever goes out of himself in terms of that which God has designed. And that's why, at the end of the fourteenth chapter, the final word of the apostle Paul is, "Let everything be done decently and" – what? – "in order." This is not the Holy Spirit's way. It is not the Holy Spirit's way to have everybody jumping up, "and everybody has a psalm" – verse 26 – "and everybody a doctrine, and everybody a revelation, and everybody an interpretation, and everybody wanting to speak in ecstasy, and everybody wanting to have a vision," and so forth. That's the confusion of paganism that has engulfed the church.
This is the reason why members of established churches are often called the 'frozen chosen'. Long may they remain so.
Next time — 1 Corinthians 14:6-12
Below are the readings for the Fifth Sunday of Easter, May 2, 2021.
These are for Year B in the three-year Lectionary used in public worship.
Emphases below are mine.
First reading
The eunuch from Ethiopia asks Philip the Apostle to teach him about Jesus. This would have been some time after the first Pentecost. There were different types of eunuchs in the ancient world; not all were castrated but all held important positions in the courts where they served. Matthew Henry's commentary says this man was a eunuch 'not in body, but in office-lord chamberlain or steward of the household' and would have commanded respect. This event fulfilled the prophecy of Psalm 68:31: 'Ethiopia shall soon stretch out her hands unto God'. The eunuch had been reading Isaiah, and Isaiah 53:7-8 are cited below in Acts 8:32-33.
Acts 8:26-40
8:26 Then an angel of the Lord said to Philip, "Get up and go toward the south to the road that goes down from Jerusalem to Gaza." (This is a wilderness road.)
8:27 So he got up and went. Now there was an Ethiopian eunuch, a court official of the Candace, queen of the Ethiopians, in charge of her entire treasury. He had come to Jerusalem to worship
8:28 and was returning home; seated in his chariot, he was reading the prophet Isaiah.
8:29 Then the Spirit said to Philip, "Go over to this chariot and join it."
8:30 So Philip ran up to it and heard him reading the prophet Isaiah. He asked, "Do you understand what you are reading?"
8:31 He replied, "How can I, unless someone guides me?" And he invited Philip to get in and sit beside him.
8:32 Now the passage of the scripture that he was reading was this: "Like a sheep he was led to the slaughter, and like a lamb silent before its shearer, so he does not open his mouth.
8:33 In his humiliation justice was denied him. Who can describe his generation? For his life is taken away from the earth."
8:34 The eunuch asked Philip, "About whom, may I ask you, does the prophet say this, about himself or about someone else?"
8:35 Then Philip began to speak, and starting with this scripture, he proclaimed to him the good news about Jesus.
8:36 As they were going along the road, they came to some water; and the eunuch said, "Look, here is water! What is to prevent me from being baptized?"
8:38 He commanded the chariot to stop, and both of them, Philip and the eunuch, went down into the water, and Philip baptized him.
8:39 When they came up out of the water, the Spirit of the Lord snatched Philip away; the eunuch saw him no more, and went on his way rejoicing.
8:40 But Philip found himself at Azotus, and as he was passing through the region, he proclaimed the good news to all the towns until he came to Caesarea.
Psalm
David prophesies the Messiah in this beautiful Psalm. These are the concluding verses.
Psalm 22:25-31
22:25 From you comes my praise in the great congregation; my vows I will pay before those who fear him.
22:26 The poor shall eat and be satisfied; those who seek him shall praise the LORD. May your hearts live forever!
22:27 All the ends of the earth shall remember and turn to the LORD; and all the families of the nations shall worship before him.
22:28 For dominion belongs to the LORD, and he rules over the nations.
22:29 To him, indeed, shall all who sleep in the earth bow down; before him shall bow all who go down to the dust, and I shall live for him.
22:30 Posterity will serve him; future generations will be told about the Lord,
22:31 and proclaim his deliverance to a people yet unborn, saying that he has done it.
Epistle
Readings from 1 John continue. Here John writes of love of each other and of God.
1 John 4:7-21
4:7 Beloved, let us love one another, because love is from God; everyone who loves is born of God and knows God.
4:8 Whoever does not love does not know God, for God is love.
4:9 God's love was revealed among us in this way: God sent his only Son into the world so that we might live through him.
4:10 In this is love, not that we loved God but that he loved us and sent his Son to be the atoning sacrifice for our sins.
4:11 Beloved, since God loved us so much, we also ought to love one another.
4:12 No one has ever seen God; if we love one another, God lives in us, and his love is perfected in us.
4:13 By this we know that we abide in him and he in us, because he has given us of his Spirit.
4:14 And we have seen and do testify that the Father has sent his Son as the Savior of the world.
4:15 God abides in those who confess that Jesus is the Son of God, and they abide in God.
4:16 So we have known and believe the love that God has for us. God is love, and those who abide in love abide in God, and God abides in them.
4:17 Love has been perfected among us in this: that we may have boldness on the day of judgment, because as he is, so are we in this world.
4:18 There is no fear in love, but perfect love casts out fear; for fear has to do with punishment, and whoever fears has not reached perfection in love.
4:19 We love because he first loved us.
4:20 Those who say, "I love God," and hate their brothers or sisters, are liars; for those who do not love a brother or sister whom they have seen, cannot love God whom they have not seen.
4:21 The commandment we have from him is this: those who love God must love their brothers and sisters also.
Gospel
Readings from John's Gospel continue. Jesus spoke these words to the remaining eleven Apostles at the Last Supper. He had already sent Judas away.
John 15:1-8
15:1 "I am the true vine, and my Father is the vinegrower.
15:2 He removes every branch in me that bears no fruit. Every branch that bears fruit he prunes to make it bear more fruit.
15:3 You have already been cleansed by the word that I have spoken to you.
15:4 Abide in me as I abide in you. Just as the branch cannot bear fruit by itself unless it abides in the vine, neither can you unless you abide in me.
15:5 I am the vine, you are the branches. Those who abide in me and I in them bear much fruit, because apart from me you can do nothing.
15:6 Whoever does not abide in me is thrown away like a branch and withers; such branches are gathered, thrown into the fire, and burned.
15:7 If you abide in me, and my words abide in you, ask for whatever you wish, and it will be done for you.
15:8 My Father is glorified by this, that you bear much fruit and become my disciples.
This is a particularly excellent set of Lectionary readings. The themes of joy, hope and love here should lift our thoughts in the days ahead.
The three-year Lectionary that many Catholics and Protestants hear in public worship gives us a great variety of Holy Scripture.
Yet, it doesn't tell the whole story.
My series Forbidden Bible Verses — ones the Lectionary editors and their clergy omit — examines the passages we do not hear in church. These missing verses are also Essential Bible Verses, ones we should study with care and attention. Often, we find that they carry difficult messages and warnings.
Today's reading is from the English Standard Version with commentary by Matthew Henry and John MacArthur.
27 Whoever, therefore, eats the bread or drinks the cup of the Lord in an unworthy manner will be guilty concerning the body and blood of the Lord. 28 Let a person examine himself, then, and so eat of the bread and drink of the cup. 29 For anyone who eats and drinks without discerning the body eats and drinks judgment on himself. 30 That is why many of you are weak and ill, and some have died.[a] 31 But if we judged[b] ourselves truly, we would not be judged. 32 But when we are judged by the Lord, we are disciplined[c] so that we may not be condemned along with the world.
33 So then, my brothers,[d] when you come together to eat, wait for[e] one another— 34 if anyone is hungry, let him eat at home—so that when you come together it will not be for judgment. About the other things I will give directions when I come.
———————————————————————————————
Last week's passage discussed the church love feasts that the Corinthians held. These would be comparable to today's church potlucks. Afterwards, they would receive Holy Communion. The problem was their irreverence and mutual hostility.
Some wealthier members deprived poorer congregants of food. Other people attending got drunk. Many argued at table. They were not in a fit state to receive the Lord's body and blood.
Paul takes them to task for their irreverent behaviour, especially in the presence of the sacrament.
In last week's post, I'd written that the church potlucks I'd attended were happy occasions where everyone was united over plates of homemade food and good conversation.
One of my readers, Rob, wrote about the potlucks he's been to and has given me permission to post his comments, revealing a much different perspective (emphases mine):
This is a sad topic to miss out on in the 3-year lectionary. Addressing the disorder in the Corinthian church, Paul is relevant to today's fellowships as well. I suppose it's not the same as back in his day, with our socially dispersed lifestyles and varied views of the Supper.
One thing I think applies: today, there are the "in crowd" and the less visible hangers-on. One group is clearly more in fellowship than the others. Being ignored or dismissed because one is not "theological enough" or isn't involved in popular trends of his church is analogous to what Paul is fighting in this passage.
Yes, the cliques are ever-present, though largely ignored or dismissed. The latest trends are regular old liberal theology, homeschooler superiority, subordination of women and then the typical class divide. Doubt it's any different from any decade, really. Though folks are certainly more agitated and outspoken these days (social media).
Between last week's and this week's verses are the following, which are in the Lectionary:
23 For I received from the Lord what I also delivered to you, that the Lord Jesus on the night when he was betrayed took bread, 24 and when he had given thanks, he broke it, and said, "This is my body, which is for[f] you. Do this in remembrance of me."[g] 25 In the same way also he took the cup, after supper, saying, "This cup is the new covenant in my blood. Do this, as often as you drink it, in remembrance of me." 26 For as often as you eat this bread and drink the cup, you proclaim the Lord's death until he comes.
Those are important because not only are they theologically precise but Paul wrote them before the Gospels were written.
John MacArthur explains:
… this is directly taken from the statements of Jesus Christ. In fact, it's practically certain. And I think that you'd find very few conservative scholars who would disagree with this. It is practically certain that 1 Corinthians was written before any of the four Gospels, though the four Gospels appear in your New Testament first in their order, they are not, in terms of chronological authorship, in that order. They were not written till a later period than this.
So, here is really the first statement of God in print regarding the Lord's Table. For a full understanding of all of it, you need to read the account in Matthew, Mark, Luke, and John, but here is the earliest account of the institution of the Lord's Supper. And Paul says, "It was directly from the words of Jesus. He Himself instituted it.
There are two ordinances of the Church: communion and baptism. Both of them were set in order by the example of Christ and ordained and initiated by Him as well. And this is no different. So, he says, "This is straight from the Lord. It is His Supper. He has instituted it." You notice in verse 20 "the Lord's Supper." It is His Supper.
One wonders how many people are familiar with today's verses wherein Paul says that receiving Holy Communion in an unworthy manner can — not will — lead to illness or death. I only discovered these 12 years ago, thanks to another blogger.
No doubt this has applications beyond the Corinthians' situation.
Paul says that receiving the sacrament in an unworthy manner is akin to crucifying Christ all over again (verse 27).
Matthew Henry's commentary states:
He lays before the Corinthians the danger of receiving unworthily, of prostituting this institution as they did, ad using it to the purposes of feasting and faction, with intentions opposite to its design, or a temper of mind altogether unsuitable to it; or keeping up the covenant with sin and death, while they are there professedly renewing and confirming their covenant with God. 1. It is a great guilt which such contract. They shall be guilty of the body and blood of the Lord (v. 27), of violating this sacred institution, of despising his body and blood. They act as if they counted the blood of the covenant, wherewith they are sanctified, an unholy thing, Heb. 10:29. They profane the institution, and in a manner crucify their Saviour over again. Instead of being cleansed by his blood, they are guilty of his blood.
We say that we do not do that. Many of us receive Holy Communion in a worthy manner, however, it is easy to profane it.
MacArthur gives us examples:
I'll tell you how you can come unworthily. The Corinthians did it. You can come – here's the way you can treat the Table of the Lord unworthily. Number one, by ignoring it rather than obeying it. By just not doing it. You're saying, "It's irrelevant. It doesn't matter. It's unimportant." Is that right? No, that's wrong; that's unworthy of you, and unworthy of Him.
Second, you can treat the Table unworthily by making it a performance rather than something meaningful, by just doing it rather than understanding it.
I'll tell you another way you can pervert the Table and come unworthily is by making it into a saving thing rather than a communing thing. By thinking that it saves you to do it rather than understanding that it only causes you to make a fresh commitment and a fresh communion with Christ.
Another way that you can come unworthily is by treating it as a ceremony rather than as a personal experience. And another way that you can come unworthily is by treating it lightly rather than treating it seriously. If you come to this table with any bitterness toward another Christian in any way, shape, or form; with any unconfessed sin; living in any kind of sin that you will not repent of and turn from; if you come with any less than the loftiest thought about God, Christ, and the Holy Spirit, and the Word of God; if you come with anything less than total love for the brothers and sisters in the body of Christ, you come to this Table unworthily.
And you say, "What's the result?"
Look; you are liable for the body and blood of the Lord.
Paul advises the Corinthians — and us — to examine our consciences beforehand, then receive Communion (verse 28). If you have had an argument with someone, seek reconciliation. If you've done someone a wrong, right it. Then receive the sacrament.
Paul says that it is important to discern 'the body' — that means Christ's body — beforehand. Contemplate our Lord's suffering, the horrifying way He bore our sins on the Cross. 
Serendipitously, today's Sunday Gospel reading, for the Fourth Sunday of Easter (Year B), discusses His sufferings. Christ's crucifixion was a suffering of both body and soul. In that reading, in which Jesus speaks of Himself as the Good Shepherd, John MacArthur points out that the Greek word psuche is used, which means soul, or inner person. Our Lord suffered our sins in an unimaginably intense way in order to reconcile us to God.
Returning to today's passage, MacArthur discusses the Greek used in 1 Corinthians 11:29:
Look at your heart. Is there anything there that shouldn't be there? The word here in the Greek means a rigorous self-examination: your life, your motives, your attitude toward the Lord, your attitude toward the Lord's Supper, your attitude toward other Christians. Be certain you're not careless, flippant, indifferent, entertaining sin, unrepentant, mocking – all of that.
And when you've examined yourself, then let him eat of the bread and drink the cup. Examination first. Why? "Because he that eats and drinks unworthily, eats and drinks" – krima in the Greek; it should be translated chastisement. It's not damnation. That's the worst translation I've ever read of that. It means chastisement. Katakrima means damnation. That's used in verse 32. Krima is a less intense word; it means chastening. "If you eat and drink unworthily, you will eat and drink chastening to yourself because you are not discerning the Lord's body."
Paul goes further and says that the reason many of the Corinthians are becoming ill and some dying is because of their unworthy reception of Holy Communion (verse 30). Older translations use a form of 'sleep' for 'death'.
MacArthur says:
How does God chasten us? Well, in Corinth, this is what He did, verse 30, "Because of this, many are weak and sickly among you, and many sleep." And "sleep" is a metaphor for death. The Lord said, "Because of the Corinthians' abuse of the Lord's Table, some of them had gotten weak. They were mildly sick. Some of them were very sick, and some of them God had killed.
And incidentally, the Greek says a sufficient number were dead. I don't know how many God killed in Corinth, but a goodly number. Why did he kill them? What evil did they do? The evil of coming to the Lord's Table in an irreverent manner. You get a little idea of the seriousness.
He refers to Ananias and Sapphira who suddenly dropped dead in Acts 5 (another passage excluded from the three-year Lectionary) after cheating the church in Jerusalem:
I personally believe that Ananias and Sapphira, who were executed by God for their sin, were probably killed and executed at a communion service. That would be very, very stark, wouldn't it? They probably dropped dead at a communion service, because that's what the early Church did when it came together. And I'm not sure that it isn't true that some Christians today are weak, others are sick, and some have even died because of how they treated the Lord's Table: with indifference, sinfulness, whatever.
Paul offers a remedy. We are to judge ourselves so that God does not judge us (verse 31). That means examining our conscience (verse 28), repairing our broken relationships, repenting of our sins, then receiving Holy Communion.
Paul also points out that when the Lord passes judgement on us it is a chastisement for this world, one from which to learn, so that we may avoid judgement with 'the world' — non-believers — in the life to come (verse 32).
MacArthur explains:
I love this, "But when we are judged" – he says – "we are chastened of the Lord that we should not be katakrima with the world." We are chastened by the Lord that we might not be damned with the world. Want to hear something? You want to hear something? No Christian, no time, under no circumstance will ever be damned with the world.
People say, "Oh, does this mean I lose my salvation? Does this mean I'm lost?"
No. You will never be damned with the world because short of that, you will be – what? – chastened by the Lord. The worst thing that could ever happen to a Christian would be the ultimate chastening. And what's that? Take you to heaven. See, that's not too bad. The point of the verse – a tremendous verse – the point of the verse is, "Look, we are being chastened by the Lord in order that we would not be damned with the world."
You say, "But maybe the Lord won't chasten me."
Whom the Lord loves He chastens, and every son He scourges. Every Christian is under the chastening hand of the Lord which prevents him from ever being condemned with the world. Is that a great truth? So, we have not that ultimate fear. I don't know about you; I'd just as soon be healthy, happy, and alive for a little while. So, I want to check myself when I come to the Lord's Table.
Paul closes with simple advice on church dinners, especially if followed by Holy Communion, as was the case in the early days of the Church. Those who are hungry should eat at home first (verse 34). When gathering together, wait until everyone has arrived before eating (verse 33).
Paul ends by saying that he will give the Corinthians more instructions — 'directions' — when he sees them again.
About that, MacArthur says simply:
I don't know what the rest of the problems were, but you can let your imagination run wild.
Indeed we can.
The next two chapters are in the Lectionary. 1 Corinthians 12 concerns spiritual gifts and the members of the church comprising one, holistic body. 1 Corinthians 13, concerning love, is often read at weddings.
1 Corinthians 14 discusses the Holy Spirit's gifts to those living in the Apostolic Era in order to increase the growth of the Church.
Next time — 1 Corinthians 14:1-5
In 2021, the Fourth Sunday of Easter is April 25.
The readings for Year B can be found here.
The Gospel reading of the Good Shepherd follows (emphases mine):
John 10:11-18
10:11 "I am the good shepherd. The good shepherd lays down his life for the sheep.
10:12 The hired hand, who is not the shepherd and does not own the sheep, sees the wolf coming and leaves the sheep and runs away–and the wolf snatches them and scatters them.
10:13 The hired hand runs away because a hired hand does not care for the sheep.
10:14 I am the good shepherd. I know my own and my own know me,
10:15 just as the Father knows me and I know the Father. And I lay down my life for the sheep.
10:16 I have other sheep that do not belong to this fold. I must bring them also, and they will listen to my voice. So there will be one flock, one shepherd.
10:17 For this reason the Father loves me, because I lay down my life in order to take it up again.
10:18 No one takes it from me, but I lay it down of my own accord. I have power to lay it down, and I have power to take it up again. I have received this command from my Father."
Commentary for today's exegesis comes from Matthew Henry and John MacArthur.
It is useful to put this passage in context.
Matthew Henry's commentary tells us:
It is not certain whether this discourse was at the feast of dedication in the winter (spoken of John 10:22), which may be taken as the date, not only of what follows, but of what goes before (that which countenances this is, that Christ, in his discourse there, carries on the metaphor of the sheep, John 10:26,27, whence it seems that that discourse and this were at the same time) or whether this was a continuation of his parley with the Pharisees, in the close of the foregoing chapter. The Pharisees supported themselves in their opposition to Christ with this principle, that they were the pastors of the church, and that Jesus, having no commission from them, was an intruder and an impostor, and therefore the people were bound in duty to stick to then, against him. In opposition to this, Christ here describes who were the false shepherds, and who the true, leaving them to infer what they were.
John MacArthur is certain that John 10 is a continuation of the events in John 8 and 9:
Chapter 9, then, features an extension of chapter 8 in the hostility of the religious leaders of Judaism toward Jesus. The healing of the blind man, in a sense, in the big drama of things, is somewhat incidental. Not incidental to the blind man, but the big picture here is that when Jesus does a monumental miracle that has no other explanation, because this is a man congenitally blind, and everybody knows it because he's a familiar figure there who has been begging a long time, it has no effect on how they feel about Jesus. They make no move in the direction of affirming something other than that He's satanic. Their hostility has passed the point of any return. They are, in fact, demonstrating themselves to be false leaders who, instead of acknowledging their Messiah, reject their Messiah, and want to execute their Messiah. They are, in a word, the false shepherds of Israel …
So, in chapter 9, after the healing of this man, they surface again with the same hatred and the same hostility.  The chapter closes, chapter 9 does, with Jesus pronouncing a judgment on them because of their blindness, because they are willfully blind to the truth. The conversation, specifically with them, ends with these words: "Your sin remains."  You are anything but righteous.  You are in your sin. 
Now, He said that back earlier when He said to them, "You will die in your sin, and where I go, you will never come."  Here He says, a couple of chapters later, "You remain in your sin."  Your sin remains.  So, here are the blind leaders of Israel, the blind leaders of the blind; here are the false shepherds of Israel.
As we come into chapter 10, He is still talking to them, still talking to them.  They're still there.  The blind man is still there.  The disciples are there.  The crowd of Jews is there by the location where the healing took place.  And the Pharisees, scribes, are still there.  Jesus then launches into a description of how a good shepherd conducts his life … It is, according to verse 6, a figure of speech, an analogy, a metaphor … A shepherd has his own sheep.  He has his own sheep.  He knows his own sheep.  He not only has the right to lead and feed his own sheep, but he has the responsibility to lead and feed his own sheep.
Jesus continues His discourse and says that He alone is the Good Shepherd, because He lays down His own life for the sheep (verse 11).
In the Old Testament, the Messiah is portrayed as a shepherd. Henry says:
He was prophesied of under the Old Testament as a shepherd, Ezek. xxxiv. 23 xxxvii. 24 Zech. xiii. 7.
By contrast, a hired hand — hireling — has more interest in his own welfare rather than those of the sheep; as such, he runs away in times of trouble (verse 12). That could mean a marauding wolf or violent thieves. In the case of the latter, the hired hand might hope to receive some money from the thieves for allowing them to steal the sheep.
As for a menacing wolf, Henry says:
See here, (a.) How basely the hireling deserts his post when he sees the wolf coming, though then there is most need of him, he leaves the sheep and flees. Note, Those who mind their safety more than their duty are an easy prey to Satan's temptations. (b.) How fatal the consequences are! the hireling fancies the sheep may look to themselves, but it does not prove so: the wolf catches them, and scatters the sheep, and woeful havoc is made of the flock, which will all be charged upon the treacherous shepherd. The blood of perishing souls is required at the hand of the careless watchmen.
The hireling will desert the flock because he does not care at all about the sheep (verse 13).
The Jewish hierarchy did not care about the humble believers in their midst, most of whom they despised for their lowly status in life. They cared about their positions and their posturing. They were not interested in teaching the faithful. If they really cared to reread Scripture, they would see the Messiah in their midst and would tell the Jews to follow Him. But they were woefully, wilfully blind. Instead, they wanted to kill Him.
Jesus repeats that He is the Good Shepherd; He knows His sheep and they know Him (verse 14).
MacArthur explains the repetition:
Let's look at that a little bit.  "I am the good shepherd."  Then He repeats it immediately, "the good shepherd," again.  Now, this is an important construction for us to understand.  The emphasis here is this: "I am the shepherd, the good one."  Very important order there.  "I am the shepherd, the good one."  As if to say, "in contrast to all the bad ones."  I am the shepherd, the good one.  But there's two words in Greek for "good."  One is agathos, from which you get the word, "agatha," or the name "Agatha."  Agathos, old name.  Agathos means sort of morally good.  Good, and sort of confined to moral goodness.  It's a wonderful word, a magnificent word, familiar in the New Testament.
But the other word is kalos, the opposite of kakos, which is "to be bad."  Kalos is to be good not only in the sense of moral quality, but it's a more encompassing word.  It means to be beautiful, to be magnificent, to be winsome, to be attractive, to be lovely, to be excellent on all levels, not just in that which is unseen in terms of character, but in all aspects.  I am the shepherd, the excellent one.  I am the shepherd, be it the lovely one, the beautiful one, as contrasted to the ugly ones, the dangerous ones. 
He is not just another shepherd.  He is the shepherd, the good one, the one who is preeminently excellent.  He's above all shepherds.  The good one. 
Christ knows His faithful just as well as He and His Father know each other; therefore, He lays down His life for His own (verse 15).
Henry explains:
Christ speaks here as if he gloried in being known by his sheep, and thought their respect an honour to him. Upon this occasion Christ mentions (John 10:15) the mutual acquaintance between his Father and himself: As the Father knoweth me, even so know I the Father. Now this may be considered, either, First, As the ground of that intimate acquaintance and relation which subsist between Christ and believers. The covenant of grace, which is the bond of this relation, is founded in the covenant of redemption between the Father and the Son, which, we may be sure, stands firm for the Father and the Son understood one another perfectly well in that matter, and there could be no mistake, which might leave the matter at any uncertainty, or bring it into any hazard. The Lord Jesus knows whom he hath chosen, and is sure of them (John 13:18), and they also know whom they have trusted, and are sure of him (2 Timothy 1:12), and the ground of both is the perfect knowledge which the Father and the Son had of one another's mind, when the counsel of peace was between them both. Or, Secondly, As an apt similitude, illustrating the intimacy that is between Christ and believers. It may be connected with the foregoing words, thus: I know my sheep, and am known of mine, even as the Father knows me, and I know the Father compare John 17:21. 1. As the Father knew the Son, and loved him, and owned him in his sufferings, when he was led as a sheep to the slaughter, so Christ knows his sheep, and has a watchful tender eye upon them, will be with them when they are left alone, as his Father was with him. 2. As the Son knew the Father, loved and obeyed him, and always did those things that pleased him, confiding in him as his God even when he seemed to forsake him, so believers know Christ with an obediential fiducial regard.
MacArthur discusses a shepherd's death for his own flock:
Shepherds were absolutely responsible for sheep.  It was serious business.  It was a man's man's job, and it was really kind of a lowly and humble job as well, because it was unskilled and it was high risk, and it was messy and dirty.  But a shepherd was absolutely responsible for the sheep.  If anything happened to the shepherd, he had to produce proof that it was not his fault due to dereliction of duty or rustling the sheep away for his own keeping, or letting a friend take one, or whatever.
Amos the prophet speaks about the shepherd rescuing two legs, or a piece of an ear out of the lion's mouth (Amos 3:12).  They were in battle with beasts.  There were wolves, there were mountain lions, there were even bears.  David tells Saul how when he was keeping his father's sheep, back in 1 Samuel 17, David fought off a lion, and he fought off a bear.  By the way, that's what made David such a heroic shepherd.
In Isaiah 31, Isaiah speaks of the crowd of shepherds being called out.  When a lion attacked, they called the shepherds to go fight the lion.  The law laid it down, Exodus 22:13, "If the sheep be torn in pieces, then let him bring a piece for a witness."  If you don't have a sheep, if you lost a sheep, you have to account for that sheep to the ultimate owner.  You have to bring a piece to prove that it was an animal. 
To the shepherd, it was the most natural thing then to risk his life.  It's what shepherds did.  It's what they did.  You could just take them to the grass and leave them there, I suppose, but why did the shepherd stay?  Why those long, long, long hours of staying there?  Because he had to be a protector. 
There's an old book called the The Land of the Book, and the author of that historical look at Israel said, "I have listened with intense interest to their graphic descriptions of downright and desperate fights with savage beasts.  And when the thief and the robber come, the faithful shepherd has often to put his life in his hand to defend his flock.  I have known more than one case where he had literally to lay it down in the contest."  Well, I mean, if you're fighting a wild beast, you could lose.  So, there was risk and you couldn't just all of a sudden stop the risk.  It could come to death.
Then Jesus mentions Gentiles indirectly: 'other sheep that do not belong to this fold'; He needs to gather them in so that there will be one flock with one shepherd (verse 16). Jesus wants Jews and Gentiles alike to become His one flock with Himself as the head of the Church.
Henry expresses this as follows:
First, "They shall hear my voice. Not only my voice shall be heard among them (whereas they have not heard, and therefore could not believe, now the sound of the gospel shall go to the ends of the earth), but it shall be heard by them I will speak, and give to them to hear." Faith comes by hearing, and our diligent observance of the voice of Christ is both a means and an evidence of our being brought to Christ, and to God by him. Secondly, There shall be one fold and one shepherd. As there is one shepherd, so there shall be one fold. Both Jews and Gentiles, upon their turning to the faith of Christ, shall be incorporated in one church, be joint and equal sharers in the privileges of it, without distinction. Being united to Christ, they shall unite in him two sticks shall become one in the hand of the Lord. Note, One shepherd makes one fold one Christ makes one church. As the church is one in its constitution, subject to one head, animated by one Spirit, and guided by one rule, so the members of it ought to be one in love and affection, Ephesians 4:3-6.
Henry says that verse was also intended in another way, to refute the allegations of the Jewish hierarchy that He had few followers:
Christ speaks of those other sheep, First, To take off the contempt that was put upon him, as having few followers, as having but a little flock, and therefore, if a good shepherd, yet a poor shepherd: "But," saith he, "I have more sheep than you see." Secondly, To take down the pride and vain-glory of the Jews, who thought the Messiah must gather all his sheep from among them. "No," saith Christ, "I have others whom I will set with the lambs of my flock, though you disdain to set them with the dogs of your flock."
Jesus tells the crowd what will happen to Him — death and resurrection — both of which please His Father (verse 17).
Jesus says that He does both through His own power, as commanded by God (verse 18).
MacArthur points out that Jesus was speaking of His soul:
Go down to verse 18.  "No one has taken it away from Me, but I lay it down on My own initiative.  I have authority to lay it down, and to take it again." 
Freely, voluntarily, Jesus gave up His life for the sheep.  Some would say, "Well, that's no big thing.  He's God, so He had a body, and He gave up the body and, you know, big deal."  It's more than that.  It's strange that the commentators would even say something like that.  There was a lot more than that, and it's bound up in the word "life."  He lays down His life.  It's not the word bios or zoe.  Those are the two words for "life" in Greek.  Bios, biological life; zoe, that gets transliterated "zoology," the study of life. 
It was neither of those sort of scientific words.  It's the word psuche, which is the word for "soul," which speaks of the whole person.  Not the outside, but the inside.  The psuche is the inside.  He gave up His soul, His whole person.  He didn't just feel the pain of the nails in His body, and the pain of the thorns in His body, and the pain of the scourging in His body.  His whole soul was tortured with sin-bearing anguish, suffering.
In Matthew 20:28, Jesus said, "The Son of man gives His soul a ransom for many."  It translates "life," but it's psuche again.  He gives His soul, His whole person, and He felt it in every part of His being. 
Why did He do that?  Why did He voluntarily lay down His soul?  He says, "for the sheep," huper, "on behalf of, for the benefit of."  That's exactly what it says in 2 Corinthians 5:21 where Paul explains: "He who knew no sin became sin for us" – "for us," "for us," "for us."  Huper appears in a lot of passages that speak about the substitutionary atonement of Christ, that He took our place, that He died for us.  An actual atonement, folks.  He laid down His soul for the sheep.  That's pretty narrow.  For the sheep.  It was an actual atonement, a complete atonement for the sheep whom He knew, and who, when called, would know Him.
He did it for the benefit of the sheep.  From a natural standpoint, if this happened to the shepherd, that's the end of the sheep.  If something's coming after the sheep and kills the shepherd, the sheep are going to be vulnerable.  They're liable to be killed, they're liable to be scattered. Whether it's an animal or a robber or a thief, the death of the shepherd could really spell the end of the sheep. 
But this shepherd?  No.  Because He laid down His life, verse 18 says He had the power to do what?  "Take it up again."  And on the third day, He came out of the grave and re-gathered His scattered sheep.  Were they scattered?  Yeah, they were.  Smite the shepherd and what?  The sheep are scattered.  Zechariah promised, and they were.  But He came back from the grave and re-gathered them, and He said this: "All that the Father gives to me will come to Me, and I have lost none of them." 
MacArthur explains what this means for today's clergy, referring to a missionaries conference:
Jesus said in Matthew 7, "There is inside danger, the false teachers, who instead of protecting the flock, flee when the danger comes."  But the True Shepherd, He gives His life for the sheep, and then He takes it back again and gathers them as they have been scattered.
So, the church's first essential really in leadership is Christ-like shepherding, where you even put your life on the line, even risk your life for the sheep.  You risk your life to be the one through whom God in Christ can call them out, protect them.  When the danger comes, you don't run.  When the danger comes, you stand up. 
I was talking to one of the missionaries at the conference yesterday, and he was saying, "Where are the people who will stand up and speak the truth to protect the people of God?  Where are they?"  So hard to find any.  We're all under-shepherds, 1 Peter 5, under the Great Shepherd, the Good Shepherd.  We all have to be willing to risk our lives for the sheep. 
MacArthur goes on to say that 'know' in these verses includes the notion of 'love' in Greek:
It's all know, four times, the verb ginosko, "to know."  Well, let me show you something, just a little bit of a hint.  "My Father knows Me," verse 15.  "My Father knows Me." Verse 17, "the Father loves Me."  That's the interpretive key.  The word "know" here has the idea of a loving relationship …
It's not about information. It's about love, and four times, that word "know" here, it implies this intimate relationship, this intimate, sweet, loving fellowship …
He loves His sheep.  He knows them more than knowing their name, more than knowing who they are.  He has an intimate relationship with them.  He knows them intimately.  In the Sermon on the Mount, Jesus said, "Depart from Me, I never" – What? – "I never knew you, but I know who you are."  It's not about information.  I know who you are.  I don't have any intimate relationship with you, any love relationship.  He wanted to give His life for His sheep because He knew them, He loved them. 
John 3:16.  "God so loved the world that He" – What? – "gave His only begotten Son."  That's why the Father gave the Son; that's why the Son gave His life.  He loves His sheep.  He loves His sheep.  This too is in stark contrast to the false shepherds who have no love for the sheep, no affection for the sheep that they claim to shepherd.  He loves His own. 
I hope this adds depth to the title of our Lord as the Good Shepherd.
May all reading this have a very blessed Sunday.
The three-year Lectionary that many Catholics and Protestants hear in public worship gives us a great variety of Holy Scripture.
Yet, it doesn't tell the whole story.
My series Forbidden Bible Verses — ones the Lectionary editors and their clergy omit — examines the passages we do not hear in church. These missing verses are also Essential Bible Verses, ones we should study with care and attention. Often, we find that they carry difficult messages and warnings.
Today's reading is from the English Standard Version with commentary by Matthew Henry and John MacArthur.
The Lord's Supper
17 But in the following instructions I do not commend you, because when you come together it is not for the better but for the worse. 18 For, in the first place, when you come together as a church, I hear that there are divisions among you. And I believe it in part,[a] 19 for there must be factions among you in order that those who are genuine among you may be recognized. 20 When you come together, it is not the Lord's supper that you eat. 21 For in eating, each one goes ahead with his own meal. One goes hungry, another gets drunk. 22 What! Do you not have houses to eat and drink in? Or do you despise the church of God and humiliate those who have nothing? What shall I say to you? Shall I commend you in this? No, I will not.
——————————————————————————————————-
Last week's reading was about women's hair, a particular instruction to the church in Corinth and not a general one, as that was the only time Paul discoursed on head coverings.
The rest of 1 Corinthians 11 is about the Lord's Supper, or Holy Communion. The Corinthians were partaking of the sacrament unworthily.
Matthew Henry's commentary summarises the situation (emphases mine below):
In this passage the apostle sharply rebukes them for much greater disorders than the former, in their partaking of the Lord's supper, which was commonly done in the first ages, as the ancients tell us, with a love-feast annexed, which gave occasion to the scandalous disorders which the apostle here reprehends …
The problem was not with the love-feast, or agape, but the manner in which they conducted that feast then received Communion afterwards.
The early church in Jerusalem instituted the agape out of love and mutual necessity. Shortly after the first Pentecost, the numbers of Christian converts grew to more than 3,000 people. Some had travelled to Jerusalem from afar — e.g. the Hellenic Jews — to celebrate Shavuot, the Feast of Weeks, and stayed in the city afterwards. They had no money or jobs. Acts describes how the Christians who did have money and property pooled together what they had so that every convert could be fed, clothed and housed.
John MacArthur gives us more history on the agape, which some small sects still practice, although it is not commanded in the New Testament. Our modern day equivalent would be coffee after a Sunday service, a time of fellowship. Another would be a church potluck, where everyone brings a plate of food to be shared by others attending.
MacArthur says:
Notice verse 41 and 42 of Acts chapter 2. Acts 2:41, "Then they that gladly received his word were baptized" – and this is in response the message of Peter given on the Day of Pentecost – "the same day there were added" – and they would be added to those who had already believed in Christ – "three thousand souls." Now, there is the birth of the Church.
And they continued steadfastly in four areas, four ways in which the early Church celebrated its life. One, the apostles' doctrine. That's teaching. Theology. Teaching that which the apostles received as revelation from God. Fellowship. That's ministering. That's carrying out the duties and responsibilities that believers have within the framework of the Christian community …
And then lastly, in prayers. Those are the four dimensions of the life of the early Church: teaching, ministering, communing with the living Lord, who had died for them, and praying.
Now, those things, again, are indicated in part in verse 46, "They continued daily with one accord in the temple" – and apparently that's where they gathered for teaching or apostles' doctrines, very likely – "and breaking bread from house to house, did eat their food with gladness and singleness of heart." And the idea there again is you have breaking of bread and fellowship, and certainly prayer would be thrown in as well.
So, in the life of the Church, notice, they continued every day breaking bread. I'm convinced, along with many other Bible scholars and historians of this period, that the early Church celebrated the Lord's Table on a continual basis. In fact, it is not unlikely that they may have had communion with every meal they ate at the close of that meal. That is not an impossibility. That is, perhaps, a likelihood …
Now, we see this as we go through the book of Acts. And eventually, that fellowship meal became known as the love feast, became known as the agapē, or some of you may have heard it pronounced agapē. It was the love feast, the common meal, the sort of early Church potluck that they ate and followed it with the communion.
Now, it seems as though, in the early days, they were doing it every day. They were fellowshipping all over everywhere all the time. Now, remember this; that at the time when Peter preached at Pentecost … in that whole long period of feasting in Israel, many pilgrims had come to the city and were living with other Jewish families. This was part of the culture. When many of those pilgrims were saved, they didn't want to go back; so, they stayed in the community. And when they stayed in the community, then the Christians had to take care of them. That's why it says in chapter 2, verse 44, "They had all things in common and were selling their possessions and goods and giving them to the people that had need," because there were all these people who had come into the city, whose needs had to be met. They had no livelihood.
In addition, instantly, at the point that the Church began, slaves were saved. And there became a common brotherhood of the slave and the rich man, and the slaves' needs were then being met by rich men who could meet needs. And there was a beautiful commonness. They ate in different houses. They began to mingle their lives, and part of this was the celebration of the breaking of bread commemorating the communion of our Lord.
Eventually:
… this became a pattern in the early Church. The church came together the first day of the week. They had a fellowship meal, followed by communion, followed by a sermon. Now, that became pretty much the pattern. And as time progressed, it stayed with us. And in fact, even today, there are many churches that meet together on every Lord's Day, have the breaking of bread, followed by a sermon.
The love feast, long ago, faded away. The love feast was not something instituted by our Lord. It was not something instituted by the apostles. It was something that was a holdover from the culture. And so, it never really stuck. The early custom to connect the Lord's Supper to the ordinary meal of every day began to fade away a little bit. They didn't do it with every meal. Then they did it with the common meal, once a week, and even that began to fade.
Now on to today's verses.
Paul begins by saying that he is not about to compliment the Corinthians on the way they gather for Holy Communion, because it is for the worse, not the better (verse 17).
He says that when they gather together as an assembly — a church — they do so with divisions among them (verse 18).
Recall that in the early parts of 1 Corinthians, Paul tells them to put their divisions aside, come together and follow Christ.
MacArthur explains:
Verse 18, "For first of all, when you come together in the church" – and the word church – ekklēsia – is never used in the New Testament in reference to a building. Never. It is always used in reference to an assembly of people. Whether they're living, dead, universal, or local, it's always people. A church is an organism. So, "When you come together in the church, I keep on hearing" – again and again is the Greek – "that there are schismata among you, and I partly believe it."
Now, schismata is an interesting term. It refers basically to a difference of opinion. I want you to understand the word here, because I think we're seeing another dimension in the messed up life of the Corinthian church. It refers basically to a difference of opinion …
So, he says, "When you come together, I continually hear that there are differences of opinion among you." When the Church comes together, instead of uniting and fellowshipping, all you do is argue. Argue.
Now, this adds another dimension to their already messed-up church. They had already split the church on at least two other accounts. The rich and the poor had drawn a big line between them, and they were totally alienating each other. So, they were split on that basis – the sociological split.
They were split theologically – "I am of Paul;" "I am of Apollos;" "I am of Cephas;" "I am of Christ." Everybody had his little clique. We'll read it in chapter 1 and chapter 3. They had their own little theological group, and the amazing part of it was that the different groups didn't even disagree theologically; they just isolated around personalities.
And so, here there were personality cults, segmenting everybody. There was a split sociologically between the rich and the poor. And now here we find that in just the – every week, week in, week out, discussion and interaction of the life of the church, there was a constant wrangling about differences of opinions about everything.
Interestingly, Paul says that factions have to exist in order for the peacemakers to emerge (verse 19).
Henry interprets that verse as follows:
Note, The wisdom of God can make the wickedness and errors of others a foil to the piety and integrity of the saints.
Paul says that the Corinthians are not coming together to partake of the Lord's Supper (verse 20). Instead, they are behaving like gluttons and drunks with others among them going hungry (verse 21).
Henry explains:
They would not stay for one another; the rich despised the poor, and ate and drank up the provisions they themselves brought, before the poor were allowed to partake; and thus some wanted, while others had more than enough. This was profaning a sacred institution, and corrupting a divine ordinance, to the last degree. What was appointed to feed the soul was employed to feed their lusts and passions. What should have been a bond of mutual amity and affection was made an instrument of discord and disunion. The poor were deprived of the food prepared for them, and the rich turned a feast of charity into a debauch. This was scandalous irregularity.
Paul asks why they have to behave in this manner (verse 22). Do they not have homes where they can privately enjoy a feast? Or are they behaving like that because they hate the Church, especially in their humiliation of sending the hungry away empty? He rebukes them for their actions and says they deserve no commendation at all for their love-feasts. In fact, he implies they deserve condemnation.
MacArthur summarises Paul's frustration with the Corinthians:
… what kind of a potluck is that, where you go and sit in a corner and eat your own food? Selfish. And one is hungry. The poor man, he can't get anything, and another is drunk. You have extremes there. The rich are drunk, and the poor have nothing. And you call this the love feast? You call this the Lord's Supper? You say this is communing, and then you enter into the communion in that kind of a situation, hating each other, fighting each other, antagonizing each other. How can you celebrate the common unity of the saints? How can you do what he says in 10:16, "How can this be communion with the blood, communion with the body? How can you be that one bread and one body of verse 17? How can you celebrate that you're a one-bread family? You've destroyed it. There's no room for that."
And then Paul, in just a frustration, as if he were groping for a reason why they're doing it says in verse 22, "What? What am I to think? What is the answer? Is it because you don't have a house to eat and drink in? I mean do you roam the streets, and the only place you can go to eat is here, so you've got to come here and stuff your face? Is that it? You don't have a home, if you're hungry, that you could go home to and eat or drink? You got to turn the fellowship meal into a gluttony and drunkenness exercise because you don't have a house you can eat and drink in? Is that it?
"Or maybe it isn't that you don't have a house. Maybe it's that you despise the church of God. Maybe your problem is you hate the church, and you'd just as soon destroy it. Maybe your desire is to take the thing which Jesus has bought with His precious blood and wreck it. Is that what you want to do?"
I hope this does not happen these days. I haven't been to a church potluck for 40 years. I remember them as being happy occasions of fellowship, with tables full of food, more than enough for everyone.
Paul isn't finished with his criticism of the Corinthian love-feasts. In fact, he issues a severe warning about receiving Communion unworthily. More on that next week.
Next time — 1 Corinthians 11:27-34
Below are the readings for the Third Sunday of Easter, April 18.
These are for Year B in the three-year Lectionary used in public worship.
Emphases mine below.
First reading
Peter has just healed a lame man. It is a pity that the Lectionary compilers could not have included the first part of Acts 3 to put this reading into context. This miracle took place soon after the first Pentecost. Who doesn't want to hear about a miracle?
One would almost think the Lectionary editors despise the Bible. These omissions make most pewsitters think that Holy Scripture is arcane, obscure or boring.
Here are those verses:
The Lame Beggar Healed
3 Now Peter and John were going up to the temple at the hour of prayer, the ninth hour.[a] 2 And a man lame from birth was being carried, whom they laid daily at the gate of the temple that is called the Beautiful Gate to ask alms of those entering the temple. 3 Seeing Peter and John about to go into the temple, he asked to receive alms. 4 And Peter directed his gaze at him, as did John, and said, "Look at us." 5 And he fixed his attention on them, expecting to receive something from them. 6 But Peter said, "I have no silver and gold, but what I do have I give to you. In the name of Jesus Christ of Nazareth, rise up and walk!" 7 And he took him by the right hand and raised him up, and immediately his feet and ankles were made strong. 8 And leaping up, he stood and began to walk, and entered the temple with them, walking and leaping and praising God. 9 And all the people saw him walking and praising God, 10 and recognized him as the one who sat at the Beautiful Gate of the temple, asking for alms. And they were filled with wonder and amazement at what had happened to him.
Peter Speaks in Solomon's Portico
11 While he clung to Peter and John, all the people, utterly astounded, ran together to them in the portico called Solomon's.
Here is today's reading, which shows how the Holy Spirit transformed Peter into a bold healer and preacher:
Acts 3:12-19
3:12 When Peter saw it, he addressed the people, "You Israelites, why do you wonder at this, or why do you stare at us, as though by our own power or piety we had made him walk?
3:13 The God of Abraham, the God of Isaac, and the God of Jacob, the God of our ancestors has glorified his servant Jesus, whom you handed over and rejected in the presence of Pilate, though he had decided to release him.
3:14 But you rejected the Holy and Righteous One and asked to have a murderer given to you,
3:15 and you killed the Author of life, whom God raised from the dead. To this we are witnesses.
3:16 And by faith in his name, his name itself has made this man strong, whom you see and know; and the faith that is through Jesus has given him this perfect health in the presence of all of you.
3:17 "And now, friends, I know that you acted in ignorance, as did also your rulers.
3:18 In this way God fulfilled what he had foretold through all the prophets, that his Messiah would suffer.
3:19 Repent therefore, and turn to God so that your sins may be wiped out,
Psalm
In this short Psalm, David exhorts his people to repent for the peace it provides with God. It fits well with the reading from Acts.
Psalm 4
4:1 Answer me when I call, O God of my right! You gave me room when I was in distress. Be gracious to me, and hear my prayer.
4:2 How long, you people, shall my honor suffer shame? How long will you love vain words, and seek after lies? Selah
4:3 But know that the LORD has set apart the faithful for himself; the LORD hears when I call to him.
4:4 When you are disturbed, do not sin; ponder it on your beds, and be silent. Selah
4:5 Offer right sacrifices, and put your trust in the LORD.
4:6 There are many who say, "O that we might see some good! Let the light of your face shine on us, O LORD!"
4:7 You have put gladness in my heart more than when their grain and wine abound.
4:8 I will both lie down and sleep in peace; for you alone, O LORD, make me lie down in safety.
Epistle
Readings from 1 John continue. John tells his Christian converts of the glorified bodies that they and all believers will have one day as children of God.
1 John 3:1-7
3:1 See what love the Father has given us, that we should be called children of God; and that is what we are. The reason the world does not know us is that it did not know him.
3:2 Beloved, we are God's children now; what we will be has not yet been revealed. What we do know is this: when he is revealed, we will be like him, for we will see him as he is.
3:3 And all who have this hope in him purify themselves, just as he is pure.
3:4 Everyone who commits sin is guilty of lawlessness; sin is lawlessness.
3:5 You know that he was revealed to take away sins, and in him there is no sin.
3:6 No one who abides in him sins; no one who sins has either seen him or known him.
3:7 Little children, let no one deceive you. Everyone who does what is right is righteous, just as he is righteous.
Gospel
This reading comes at the end of Luke's Gospel. The preceding event was the encounter with Christ — although the disciples did not recognise Him — on the road to Emmaus on the day of our Lord's resurrection. He now had a glorified body.
Luke 24:36b-48
24:36b While they were talking about this, Jesus himself stood among them and said to them, "Peace be with you."
24:37 They were startled and terrified, and thought that they were seeing a ghost.
24:38 He said to them, "Why are you frightened, and why do doubts arise in your hearts?
24:39 Look at my hands and my feet; see that it is I myself. Touch me and see; for a ghost does not have flesh and bones as you see that I have."
24:40 And when he had said this, he showed them his hands and his feet.
24:41 While in their joy they were disbelieving and still wondering, he said to them, "Have you anything here to eat?"
24:42 They gave him a piece of broiled fish,
24:43 and he took it and ate in their presence.
24:44 Then he said to them, "These are my words that I spoke to you while I was still with you–that everything written about me in the law of Moses, the prophets, and the psalms must be fulfilled."
24:45 Then he opened their minds to understand the scriptures,
24:46 and he said to them, "Thus it is written, that the Messiah is to suffer and to rise from the dead on the third day,
24:47 and that repentance and forgiveness of sins is to be proclaimed in his name to all nations, beginning from Jerusalem.
24:48 You are witnesses of these things.
So, Jesus fulfilled the prophecies of Scripture. It was God's plan for His Son to suffer at the hands of men to die for our sins, reconcile us to God and bring us to everlasting life.
I am writing this on Saturday, the day of Prince Philip's funeral at Windsor Castle. Eternal rest grant unto your servant Philip, O Lord, and let perpetual light shine upon him. May his soul and all the souls of the faithful departed through the mercy of God rest in peace. Amen.
All being well, Monday's post will recap the funeral and include more recollections about Prince Philip.
Sadly, Prince Philip, the Duke of Edinburgh, died on Friday, April 9, 2021, exactly two months short of his 100th birthday:
The Queen has lost her best friend. My deepest sympathies to her for the unimaginable loss of her long-time husband and daily confidant. My condolences also go to the Royal Family in their grief.
Young love
The couple first met in 1934, and began corresponding when the Prince was 18 and a cadet in the Royal Navy. Princess Elizabeth was 13 at the time.
She was smitten with him from the start.
Prince Philip served with distinction during the Second World War in the Mediterranean and Pacific fleets.
After the war ended, he could have had a stellar career in the Royal Navy. His superiors praised his clear leadership skills.
However, love intervened and the rest was history.
Born Prince Philip of Greece and Denmark, he renounced his foreign titles and took British citizenship before he and Princess Elizabeth were engaged. He took the surname of his maternal grandparents: Mountbatten.
He and Princess Elizabeth were engaged in July 1947. They married on November 20 that year. Shortly before the wedding, George VI gave him the titles of Duke of Edinburgh (created for him), Earl of Merioneth and Baron Greenwich.
Prince Philip remained in the Royal Navy until July 1951. He retired with the rank of Commander.
Royal succession — and surname
In January 1952, he and the Queen began a tour of the Commonwealth countries. They were in Kenya when news reached them that the Queen's father, George VI, died on February 6 that year.
Although she became Queen immediately upon her father's death, her coronation took place in 1953, as it had to be planned meticulously.
On Coronation Day, he knelt before her, clasped her hands and swore an oath of allegiance to her:
He also had to touch her crown and kiss her on the cheek.
He never had a constitutional role, nor was he ever formally given the title of Royal Consort. The courtiers did not like him, nor did they trust him. They believed his personality to be brash and unbecoming of the Royal household. They shut him out of as much decision making as possible.
When Elizabeth became Queen, the question about her family name arose. Prince Philip suggested that the Royal Family be known as the House of Edinburgh. Upon discovering that suggestion, Queen Mary, Elizabeth's grandmother, wrote to Prime Minister Winston Churchill, who advised the young monarch to issue a royal proclamation saying that the Royal Family would continue to be known as the House of Windsor.
In his inimitable style, Prince Philip complained privately:
I am nothing but a bloody amoeba. I am the only man in the country not allowed to give his name to his own children. [57]
The Queen did nothing until eight years later, in 1960, 11 days before she gave birth to Prince Andrew. She issued an Order in Council declaring that the surname of her and her husband's male-line descendants who are not styled as Royal Highness or titled as prince or princess would be Mountbatten-Windsor.
Pater familias
Prince Philip had to carve a role out for himself. He became the pater familias and, through the years, his role expanded to cover not only his four children but his grandchildren. He listened to their concerns, shared their joys and gave them advice. He knew everything that went on in their lives.
Although the public knew him for speaking as he saw — rather bluntly, on occasion — behind closed doors Prince Philip was known to be a warm, loving man.
He also favoured a more transparent Royal Family. According to the BBC, it was he who encouraged the Queen to make a multi-episode documentary on their daily lives, including those of their four children. It was broadcast in the late 1960s. I remember seeing it in the United States.
When Princess Diana died on August 31, 1997, Prince Philip was the one who kept an eye on the public mood that fateful week. He, the Queen and Princes William and Harry were at Balmoral in Scotland for their summer holiday. When the young princes wanted to attend church, their grandparents took them to the Sunday service on the day of their mother's death. Later in the week, it was Prince Philip who encouraged the boys to walk behind the funeral procession the following Saturday. He said:
If you don't walk, I think you'll regret it later. If I walk, will you walk with me? [93]
One cannot imagine what he thought of Prince Harry's departure for the United States to live a life separate from his closely knit family. I did read that the Royal Family shielded information about the Oprah interview from him.
John F Kennedy's funeral
Prince Philip was in Washington for John F Kennedy's funeral in 1963.
He had a friendly encounter with John Jr, who was still a toddler and known as John-John at the time. The child wondered where his father was, as he had no one with whom to play. The Prince stepped in to fill that gap. In 1965, the British government gave an acre of land at Runnymede to the United States for use as a memorial to JFK:
Funeral arrangements
Prince Philip was self-effacing and did not like a fuss to be made over him.
Therefore, the funeral arrangements will respect his wishes, which is rather convenient, as coronavirus restrictions are still in place. Up to 30 people will be allowed at his funeral, in line with legislation across the nation:
The funeral is scheduled to take place on Saturday, April 17:
It is interesting that Prince Harry will be able to attend when we have a 10-day quarantine in place for arrivals into the UK under coronavirus regulations.
The Sunday Mirror reported on Prince Harry's return to the UK:
He could also be released from quarantine if he gets a negative private test on day five, under the Test to Release scheme.
Given his status as a member of the Royal Family travelling to support the Queen, Harry might be considered exempt from travel restrictions.
Wow. It's nice to know we have a two-tiered quarantine system in place /sarc.
A championship boxer remembers the Prince
Former WBC Heavyweight Champion Frank Bruno MBE posted his memories of meeting Prince Philip. He is at the top left in the following photo:
An Anglican priest remembers the Prince
The Revd Peter Mullen, an Anglican priest, recalled his encounters with Prince Philip for Conservative Woman on April 10 in 'A personal recollection'.
He first met the Prince during his schooldays:
The first time I met the Prince was in connection with his Duke of Edinburgh's Award Scheme which gave a leg up to youngsters from what would now be called the less privileged parts of the country. He paid a visit to the Leeds branch of the Church Lads' Brigade of which, aged fourteen, I was a member. We were in the church hall making things. My task was to make a table lamp. I was hopeless at it.
The Duke got hold of my half-finished creation, held it up to one eye and said, 'I suppose this hole is where the flex goes?'
'I think so, Sir.'
'You think so? I was never any good at this sort of thing either!'
And he was off . . . 
As an adult, Mullen met him on more than one occasion thanks to the Honourable Company of Air Pilots. The Prince was its Grand Master. Mullen served as chaplain.
He recalls:
The Company gave a lunch for him to mark his 80th birthday and I recall how jovial he was, making light of his years: 'I believe I have lasted so long because you people are always toasting my good health, but I don't want to live to be a hundred. Things are dropping off already!'
At another luncheon one of our Liverymen who had his own port wine business presented the prince with Bottle Number One, the first fruits, so to speak. As he left, the duke handed the bottle to me: 'You have this, Peter. Our house floats on the bloody stuff.'
'Well, Sir, now I don't know whether to drink it or frame it.'
'Gerrit down ya neck!'
Prince Philip on MPs
Guido Fawkes came up with a good quote from one of the Prince's trips to Ghana. It concerns MPs. His Ghanaian hosts told him the country had 200 MPs. Prince Philip replied:
That's about the right number. We have 650 and most of them are a complete bloody waste of time.
Incidentally, Parliament will be recalled one day early from Easter recess. On Monday, April 12, MPs and Lords paid tribute to the Prince in their respective Houses:
That afternoon, the House of Commons reconvened to pay their tribute — from 2:30 p.m. until 10 p.m. (good grief).
Speaker Sir Lindsay Hoyle spoke first:
Prime Minister Boris Johnson had this to say:
Boris Johnson, who was invited to the funeral but declined so that another member of the Royal Family can attend, said that he would forego a pint when pub gardens reopen on April 12, out of respect for the Prince. Guido Fawkes, however, thinks that the Duke of Edinburgh would have wanted us to toast his memory, especially at a pub that bears his title in Brixton, south London:
Guido had a second tweet on the subject with another quote from the Prince:
Agreed.
Prince Philip on Australia
This is too funny. For those who are unaware, Australia was established as a place where Britain could send convicts. That was a long time ago, but the nation's original purpose was to serve as a prison: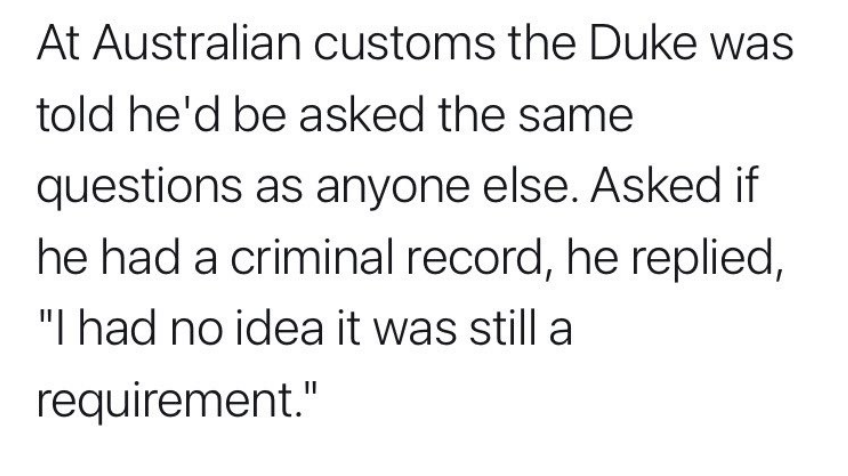 Prince Philip on civil liberties
On a serious note, the 12-minute interview below from 1984 is well worth watching, especially in the coronavirus era.
Prince Philip firmly supported the rights of the individual and believed that the state should serve the individual, not, as in our times, the other way around.
This is from a Thames Television programme originally broadcast on ITV:
I have posted the video below in case the tweets are deleted:
The Prince also said that certain subjects are out of bounds, such as the media and the NHS.
He said that the media are incapable of taking a joke about themselves and, as for the NHS, well, one cannot say anything against it. He didn't necessarily dislike the NHS but thought it was held in too high a regard. Nothing is perfect in this world.
We have been travelling a long road towards the point where we are at present: ruled by the media (they clamoured for coronavirus restrictions) and worship of the NHS. This is how Health Secretary Matt Hancock, Prime Minister Boris Johnson and SAGE have been able to rule our lives. It's been at least 40 years in the making.
BBC coverage on Friday
I was watching BBC Parliament early Friday afternoon, around 1:15, when the programme was interrupted by a broadcast from the BBC News Channel.
I checked the schedule an hour later, which said that the programme would last until 4 p.m. It was still going when I was preparing dinner at 5 p.m.
The final of MasterChef was to have been broadcast that night on BBC1. This was a clip from Thursday's programme:
Pictured are the hosts and judges, chef/restaurateur John Torode on the left and former greengrocer, now television presenter, Gregg Wallace on the right:
BUT:
The BBC News channel was simulcast all afternoon and all night long, not only on BBC Parliament but also on BBC1, to the dismay of MasterChef fans (myself included), and BBC2. BBC4 was suspended for the evening.
I read on social media that the BBC also broadcast continuous coverage of Prince Philip on their radio stations, including Radio 2, knocking out Steve Wright's drive-time show on Friday afternoon.
A friend of mine said that most of the BBC's employees were probably rubbing their hands with glee because it meant an early weekend for them. It's a cynical perspective that could well turn out to be true. We'll find out when someone writes his or her memoirs.
Everyone with a television set receives the BBC News channel. It comes into our homes at no extra charge. There was no need for the BBC to take over every channel for hours on end. By the way, if one had watched two hours of the Prince Philip coverage, as I did, one would have seen and heard everything in its entirety.
The BBC braced themselves for a plethora of complaints; they took the relevant page down on Sunday. Good. I am sure Prince Philip would have objected, too.
As much as I love the Queen, I hope they do not try this when her day comes. God willing, may it be long into the future.
Record-beating prince
Prince Philip established two records as consort to the Queen. He was the longest-serving royal consort in British history. He was also the longest-lived male member of the British royal family.
May he rest in eternal peace with his Maker.
May our gracious Lord grant the Queen, Defender of the Faith, His infinite peace and comfort in the months ahead. May He also bless the Royal Family during this difficult time.