You are currently browsing the tag archive for the 'Protestant' tag.
One of the things I have found most irritating over the years is the indirect encouragement of emotion by pastors, particularly famous Baptist ones, by using the word 'heart' with a tear in their eye.
However, John MacArthur tells us that heart in the Bible has nothing to do with emotion. Heart as used in Scripture refers to the mind. Mention of the gut — or bowels — in the Bible refers to emotion.
MacArthur's sermon, 'Strengthen Your Heart', dated May 16, 1976, is about Colossians 2. It explains this distinction and tells us why we should not be ruled by our emotions.
Excerpts follow, emphases mine.
Let me begin by citing the first three verses of Colossians 2:
2 For I want you to know how great a struggle I have for you and for those at Laodicea and for all who have not seen me face to face, 2 that their hearts may be encouraged, being knit together in love, to reach all the riches of full assurance of understanding and the knowledge of God's mystery, which is Christ, 3 in whom are hidden all the treasures of wisdom and knowledge.
'Encouraged' appears as 'strengthened' in some translations, which encompasses 'comforted'. In our world, we see them as three separate concepts, but where Scripture is concerned, the three words go together.
Some reading this will find it hard to stomach the word 'bowels'. They might do better to think of 'gut' instead, as in 'gut instinct'.
MacArthur begins by giving us our definition of 'heart', i.e. linked to emotion, then the biblical one for the word, which means 'mind'. That is how the Apostle Paul used the word:
Now when we talk about the heart, what do we mean? We have to make that clear, because otherwise we will not understand what he's saying; because in the English language, the heart is the seat of – what? – emotion. "My heart cries for you," we say. "I love you with all my heart." The heart is the symbol of emotion. To the Hebrew it was not the symbol of emotion. Did you get that? In the English language heart represents emotion. To the Hebrew, it did not.
Now the Hebrews referred to two organs of the body, and I want to talk about these two. The two organs that they referred to many, many times in the Scripture are the bowels and the heart. Now we'll take the bowels first. Don't panic. There are many references in the Bible to the term "bowels." They have been fairly well erased in the later translations, but the pure translation of the Hebrew indicates that that is the word.
Now it is used in the Bible to speak of the womb, of the stomach, of the intestines, and of several other abdominal organs; so it becomes a general term for the gut, if you will. When a Hebrew says, "My bowels such and such," he means, "I feel it in the gut." That's what he's saying. Now watch this. The Hebrews did not know anything of speculative thinking, and they did not know anything of interpreting things in abstraction. Everything to them was a concrete, experiential physical reality.
… Turn with me to Psalm 22:14. And here is a description of Jesus on the cross; and this is a prophetic picture of Him on the cross. But I want you to notice how the psalmist expresses what Jesus feels. He's dying on the cross. "I am poured out like water, all my bones are out of joint;" – a perfect picture of crucifixion; listen now – "my heart is like wax, it is melted in the midst of my bowels." And here he means, "My whole abdominal area is in upheaval. I feel it in the gut," is what He is saying. "I feel it, and my stomach is in knots." A very experiential concept, not abstract at all …
I'll show you another one. This is very interesting. Song of Solomon chapter 5 – and I know you're all racing there. Song of Solomon chapter 5, verse 4. Now this is very interesting; just to give you an idea of how the Hebrew expressed his feelings. Now you've got to have the picture. The bride is waiting for the bridegroom. It is time to consummate the marriage. This is a great hour.
Now listen, the Hebrew says in verse 4: "My beloved put his hand to the latch of the door, and my bowels are moved for him." Now you say, "Wait a minute. That's in the Bible?" That's in the Bible. You say, "What does that mean, John?" That means is that the bowels include that whole area, including the arousal of sexual desire in the human body. All of that area, even feeling in the genital area, was expressed by the Hebrews in that terminology. You see, they didn't say, "And I began to sense great overwhelming passion." That's an abstraction. The Hebrew defined it in its lowest level of experiential feeling.
MacArthur says that the ancient Jews considered emotions — feelings from the gut — the lowest form of human experience:
Lamentations chapter 2, verse 11. Now Jeremiah, he was a patriot. I mean he was a real patriot, Jeremiah. But he wasn't a blind patriot. He loved his country when his country loved God. In Lamentations 2:11, he says, "My country's falling apart," in essence. He's seeing the death of his country. That's why Lamentations is called Lamentations; it's the weeping of Jeremiah over the death of his country. He says, "My eyes do fail with tears," – and here it comes – "my bowels are troubled. I feel it in the gut again. The pain in my stomach is – I'm in knots."
Now you've experienced that. He is having psychosomatic responses in his body to anxiety in his mind, but the Hebrew expresses it in terms of the psychosomatic symptom, not in terms of the abstraction. So emotions biblically, in the Old Testament particularly, are not experienced as abstractions, but at the lowest level of experience. And so now, watch this, in the cases of the bowels being used in the Scripture, they have reference to emotional responses, so that to the Hebrew mind, the heart is not the seat of emotion. What is? The stomach. The bowels …
… it says in 1 John 3:17, "Whosoever hath this world's good, and sees his brother hath need, and shuts up his bowels from him, how dwells the love of God in him?"
Boy, that is strange. That is strange. What is he saying? He is simply expressing what, in the Hebrew mind, is an obvious thing. He is saying, "Look, when you see somebody have a need, that need ought to cause a gut feeling in you. It ought to stir you up, and tighten up your stomach, and make you feel some real anxiety".
Now notice, in every one of those passages that I showed you, the bowels are always responding. They responded to pain, in the first one I told you about; they responded to sex, in Song of Solomon; they responded to disaster, in the case of Jeremiah; and they respond to human need, in the case of 1 John 3. So that that in the Hebrew mind, the bowel is always that which responds. It is emotion. They felt it inside.
That isn't to say that there is no reference to 'mind' in the Bible. Occasionally there is, Revelation 2:23 being a case in point, when the Lord says:
I will search the minds and the heart.
However, overall, the heart is used alone in Scripture. I have read the following passages that MacArthur cites and wondered why the authors did not use 'mind' instead.
He tells us why the authors used 'heart':
What is the heart? Listen to me. First of all, we see from that passage [Revelation 2:23] the heart is the place of responsibility. It's the place of responsibility. "The heart is that which is wicked," in Jeremiah 17. "The heart of man is" – what? – "deceitful above all things, and" – what? – "desperately wicked." It is the seat of responsibility. It is that which God is going to judge. And He will try men's – what? – hearts. It is that which is righteous or wicked. When God redeems Israel, He will take away their stony heart, and give them a new – what? – heart. It is the seat of responsibility; it is that which is judged.
I'll take you a step further. It can't be emotion then. It can't be emotion. What is it? Let's look at Revelation 18, verse 7. And here he's talking about Babylon the Great, the destruction of the final world system in the tribulation. "How much she hath glorified" – Revelation 18:7 – "glorified herself, and lived luxuriously, so much torment and sorrow give her;" – listen – "for she saith in her heart, 'I sit a queen, and am no widow, and shall see no sorrow.'"
Now notice something. To say "in her heart" is a metaphor for doing what? Thinking. "She said in her heart." What does that mean? She thought in her mind. What then does the heart picture? Not the emotions, but the mind. The intellect and the mind is made up of two things: the intellect and the will. That's the heart in biblical terminology.
In ancient times, you don't find them referring to the brain. Listen to this one: "The fool hath said in his brain." No. "The fool hath said in his" – what? – "heart." Why? Because the heart was the seat of thought. It was the seat of thinking. And so that the heart represents the mind that sets the pace, and the bowels represent the responding emotion.
You say, "Well how did they get to this discovery?" Well, it's easy to know how they got to the bowels being connected with emotion, because when they got emotional they began to have what we have today: upset stomachs, colitis, and all those symptoms that we get, ulcers – right? – all right here.
But how did they get the heart out of the brain? Well, some have surmised that because when the brain is really functioning, the heart is really working, and they could feel it throbbing and pulsing. But that's the way they did it. Real serious thinking, says a Hebrew, can be felt in the beat of the heart. So the heart thinks, and the bowels respond with emotion. That's the way you are.
Now remember this. In the mind of the Hebrew, and in the Revelation of God, emotions never initiate, they always respond. The heart thinks, and the emotions respond. That is the divine pattern.
MacArthur says that it is important for us to be able to control our emotions, whereas the Baptist pastors I mentioned earlier seem to favour emotions running riot.
MacArthur says:
"I can't control my emotions." You know why? Because your emotions will only be controlled by your mind, because emotion is a responder. The key to controlling your emotions is filling your mind with divine truth. That's the key to controlling your emotions. You see, the emotions respond to what the mind perceives as true. Did you get that? Your emotions will respond to what your mind perceives is true, even if it isn't true. That's right.
Have you ever been lying in bed, and all of a sudden you woke up with a jolt when you landed after falling off that forty-story building? You weren't falling, but your mind perceived it, and your emotions responded to it. You know what that teaches me about emotions? Don't ever" – what – "trust them." Don't trust them, because you can make your emotions do anything if you can just make your mind think it perceives that. And the only way to control your emotions is to make sure that your mind is filled with divine truth. Emotions are like bad little children, they'll run amuck if you don't control them. And you say, "How do you control them?" You control them indirectly by feeding the mind.
Let me take you to 2 Corinthians chapter 6 … And here's what he says, 2 Corinthians 6:11, "O ye Corinthians, our speech to you is candid, our heart is wide open." Now listen. "Corinthians, listen to me. My speech to you is straightforward, candid, pulling no punches; and my heart" – or my mind – "is wide open."
"Listen, I've got all kind of truth to tell you. It's in my brain, and my brain's open. It's in my mouth, and my speech is wide open and straightforward." Now watch this. "But on our part, there is no constraint. But there is constraint in your affections." You know what the literal Greek is there? "You are tightened in your bowels." That's the literal translation. "I would certainly like to impart truth from my mind to your mind, but you are all tightened up emotionally. You are straightened emotionally."
Listen to this. The Corinthians had put an emotional attitude against Paul in the way, and they couldn't receive the truth. Listen to me. When emotions get ahead of the mind, you've got a lot of problems. Paul says, "I can't even tell you the truth."
… Just think about the person who comes to church and has something against me. They can't learn, can they, because they put their emotions in front of the truth. The emotions have stopped being a responder, and the emotions are running the show.
Here the Corinthians were putting emotions first. They wouldn't accept Paul. They were emotionally upset at him, so they were all tightened, uptight, and they couldn't perceive truth; they had it all backwards. When people start putting emotions first, then they really get into problems.
MacArthur cites a contemporary example of emotions running the show in church:
One classic illustration of that today is the Charismatic Movement, Pentecostalism. You know what they attempt to do? They attempt to start the emotions without the mind. And they get you there, and you've got enough hallelujahs going, and enough running around and waving going, you can bypass the mind and you can really get the emotions flying. The only problem is, the emotions are responding to something they perceive that isn't the truth, because there hasn't even been the introduction to the truth. What they attempt to do is short-circuit the truth, and let the emotions run wild; and that's the opposite of the biblical pattern.
You see, emotions should always respond to the truth. The key then to behavior, and the key to the control of emotion is the heart, the heart as seen as the mind. We need to plant the truth in the mind, and it will control the emotional responses.
Therefore, when we read of the heart in the Bible, we should be thinking of the mind rather than of our emotions:
Proverbs 4:23 says – and this is good: "Guard your heart." What does it mean? "Guard your mind, your brain, with all diligence; for out of it are the issues of life." You see? You want to control life; guard your mind, and don't let anybody short‑circuit it. That's 4:23.
Proverbs 22:5 further, says, "Thorns and snares are in the way of the perverse; but he that doth guard his soul shall be far from them." The same basic terminology: the guarding of the mind, the Hebrew.
You find it in Proverbs 23:19: "Hear thou, my son, and be wise, and guide your heart in the way." Guide your heart: guard it, and guide it, that it might hear and perceive the truth, and that your emotion might respond to the truth.
A beautiful passage, Deuteronomy 4:9. I can't resist reading it to you. "Take heed to yourself; keep your soul diligently, lest you forget the things which your eyes have seen, and lest they depart from your" – listen – "heart." I'll read it again. Listen to this: "Take heed to yourself. Guard your soul diligently, lest you forget the things which you have seen, and they depart from out of your heart." Don't forget the truth. Guard your heart.
In Psalm 139, a beautiful portion of Scripture, in verses 23 and 24: "Search me, O God, and know my" – what? – "my heart. Try me, and know my thoughts." You see, the heart equated with thinking. "And see if there be any wicked way in me, and lead me in the way everlasting." Guard the heart. Guide the heart. Ask God to protect the heart – that's your brain, your mind.
"A good man" – said Jesus in Matthew 12:35 – "out of the good treasure of the" – what? – "heart brings forth good things." All the goodness will come out of the mind. The mind must guide the pattern of behavior.
One other passage, Matthew 15:19. "For out of the heart proceed evil thoughts, murders, adulteries, fornications, theft, false witness, blasphemy." Jesus said in Matthew 12, "All the good things come out of the thinking process." Jesus said in Matthew 15, "All the bad things come out of the thinking processes." So the Bible says, "God, guard my thinking processes."
Earlier, I mentioned the commonality between 'encouraged', 'strengthened' and 'comforted'. Readers thinking that these sound like gifts from the Holy Spirit — the Paraclete — are correct.
MacArthur explains how the meanings tie together:
Now let's go back to Colossians, and watch what this means to you now. "I wish you knew how great a conflict I have for you and for them at Laodicea, and for as many as have not seen my face in the flesh, that their" – what? – "hearts might be strengthened." What do hearts mean? Minds. Paul says, "Number one thing I want out of you is to be strong in heart."
What about the word "comforted"? You say, "It's comfort in my Bible." Sure, parakaleō, parakaleō, a very beautiful word; a word used repeatedly in the New Testament, and a word that always contains the idea of strengthening.
In Ephesians 6:22 it says, "that He might strengthen your hearts." In 2 Thessalonians chapter 2, "Strengthen your hearts." The word parakaleō includes in it the idea of comfort. It includes in it the idea of courage, it includes in it the idea of being strengthened, and it always carries all those aspects. In fact, we can look backwards into etymology and we can find the use of this word to mean specifically "strengthened."
… It means to provide a strong, courageous inner man; an intellect, and a will that will act heroically for God. A strong heart means a firm mind: a mind that has courage, a mind that has conviction, a mind that believes, a mind that has principle …
He tells us how essential the Holy Spirit is in giving us a strong mind in all the right ways:
You say, "But how do you get strong like that?" I'll show you. Ephesians chapter 3, verse 16 tells you in one verse. How do you get that mind, that inner part of me strong? Verse 16: "He prays to the Father that He would grant you according to the riches of His glory, to be strengthened with power by His" – what? – "Spirit."
Who is the strengthener of the heart? Who is it? It's the Holy Spirit. And we need it. We live in a world with a weak heart. People don't have convictions. People don't believe in things. People don't know the truth. People don't learn the truth: they don't pursue the truth, they don't mine the truth. And he says, "I want you to be strong in it. I want you to be courageous. I want you to be comforted, encouraged, and strengthened by it." All of that's in the word parakaleō. And the Holy Spirit is the one that can do it.
You say, "How does it happen, John?" I believe as you yield to the power of the Spirit of God, as you walk in the Spirit, He strengthens the inner man. I think that's what he's saying here. You give the Spirit of God control of your life on a day-to-day, moment-by-moment basis, and the Spirit of God will feed that inner man. The Spirit of God, by the revelation of God, will feed your mind, and strengthen your mind.
As we yield moment-by-moment to the presence of the Spirit of God, we're strengthened. Paul is a perfect illustration of that. In Acts 9 he tells us that he was converted, and immediately one of the things that began to happen after he was converted was that he began to be strengthened. Acts 9:19 says, "He was strengthened." Acts 9:22, "But Saul increased the more in strength."
He became stronger, and stronger. It wasn't that he was lifting weights, and it wasn't that he was eating a lot of food. It was that he was being equipped by the Spirit of God, and he became so strong in his heart, he became so solid in his confidence, he became so unflinching in his ministry, that in chapter 20, verse 22, he said, "I go bound in the Spirit to Jerusalem. I don't know what's going to happen, except I hear that bonds and afflictions await me. But none of these things" – what? – "move me" …

If the word parakaleō means to strengthen, it is the very same word that is used in John 14, 15, and 16 as the name of the Holy Spirit. Do you remember the Holy Spirit being called Paraklētos, the Paraclete? That's the identical word. You could just as well translate those verses this way.
John 14:16, this would be accurate according to the meaning of the word. John 14:16, Jesus said, "And I will pray the Father, and He shall give you another Strengthener." Verse 26, "But the Strengthener, who is the Holy Spirit, whom the Father will send in My name, He will teach you all things." John 15:26, "But when the Strengthener is come." John 16:7 "If I go not away, the Strengthener will not come." It's the same word.
MacArthur brings us the methods of the Holy Spirit, the Paraclete, in practical applications:
If you're going to be strong in heart, then you're going to be strengthened by the Strengthener, and that's the Holy Spirit. And I'll tell you what makes a weak Christian: that's a Christian who walks all the time in the flesh. Right? Listen. Every step you take walking in the Spirit is a step like spiritual weightlifting, just that much stronger in your mind, in your convictions, in the things you know and believe about God.
Now I want to go a step further. Although the Holy Spirit is the Strengthener, He uses human instruments. He uses people like me to strengthen you, people like you to strengthen each other. Listen to Acts 18:23, "And after he had spent some time there," – that's Paul – "he departed and went over the country of Galatia and Phrygia" – now listen – "strengthening all the disciples."
What was he doing? What was Paul doing? What did he do to them? He went in there and he poured into their minds divine truth, and that strengthened them. God uses human instruments empowered by His Spirit to strengthen.
Did you ever read 1 Timothy 6:2 this way? Paul says to Timothy at the end of the verse, "These things teach and strengthen." Same verb. You know what strengthens people? Teaching. "These things teach and strengthen." It is the Word of God in the hands of the Spirit of God, whether it's directly as he ministers to you, or through a teacher that strengthens you.
… "Beloved, when I gave all diligence" – Jude 3 – "to write unto you of the common salvation, it was needful of me to write unto you, and strengthen you that you should earnestly fight for the faith once delivered to the saints." He says, "I had to write you to strengthen you." "What do you mean?" "I had to impart to your brain knowledge to make you strong."
MacArthur says that emotions are a sign of weakness. May our minds prevail in God's truth via the Holy Spirit:
Listen. People don't get strong by exercising their emotions. Do you understand that? You must understand what it says. "I want you to have strong hearts. It doesn't mean I want you to have over exercised emotions. What it means is that I want you to have the input of the Spirit of God and the truth of God in your mind." And so it will come from the Holy Spirit who is the Strengthener; and it will come from other instruments, such as Paul, such as Jude, such as me, such as anybody. And you know something, it will come from you; because if you're strong, you'll be able to pass that truth on.
I can think of a world-famous couple who have done a lot of damage — and continue to do so — by relying on their emotions rather than cool-headed, rational thinking.
They caused rifts within a tightly-knit family, rifts which might never be mended. They also caused ongoing anxiety in the matriarch of the family, who was already ill and grieving. She died this month and was buried exactly one week ago.
They did it by putting their emotions first and foremost.
We mustn't be like that couple.
Instead, let us pray for increased knowledge of the eternal truth via the Holy Spirit, as the matriarch did during her long life of service and devotion.
May our minds be ever strengthened and at peace in Christ Jesus via the Holy Spirit. Amen.
The three-year Lectionary that many Catholics and Protestants hear in public worship gives us a great variety of Holy Scripture.
Yet, it doesn't tell the whole story.
My series Forbidden Bible Verses — ones the Lectionary editors and their clergy omit — examines the passages we do not hear in church. These missing verses are also Essential Bible Verses, ones we should study with care and attention. Often, we find that they carry difficult messages and warnings.
Today's reading is from the English Standard Version with commentary by Matthew Henry and John MacArthur.
2 For I want you to know how great a struggle I have for you and for those at Laodicea and for all who have not seen me face to face, 2 that their hearts may be encouraged, being knit together in love, to reach all the riches of full assurance of understanding and the knowledge of God's mystery, which is Christ, 3 in whom are hidden all the treasures of wisdom and knowledge. 4 I say this in order that no one may delude you with plausible arguments. 5 For though I am absent in body, yet I am with you in spirit, rejoicing to see your good order and the firmness of your faith in Christ.
———————————————————————————–
Last week's post concluded my study of Paul's letter to the Philippians.
This week, we begin looking at Paul's letter to the Colossians. This was another letter that the Apostle wrote as a prisoner in Rome. It is dated AD 62.
As Matthew Henry says:
He was not idle in his confinement, and the word of God was not bound.
Paul never met the Colossians. Epaphras founded the church in Colossae (pron. 'Co-loss-see'). Epaphras learned about Christ and the doctrine of the faith from Paul in Ephesus and took those truths back to his home city. It is likely that Timothy also ministered there.
Although Paul did not know the Colossians, he felt every ounce of love for them that he did for the congregations he knew personally.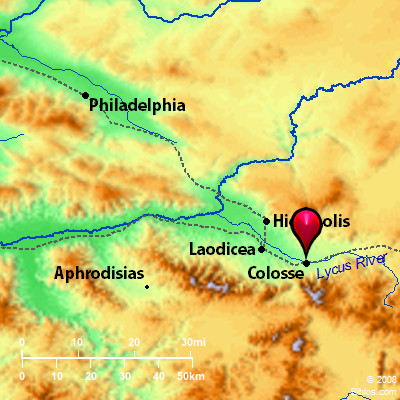 The illustration of Colossae's location in Asia Minor — today's Turkey — comes from Bible Map, along with this description (emphases mine):
ko-los'-e (Kolossai, "punishment"; the King James Version Colosse): A city of Phrygia on the Lycus River, one of the branches of the Meander, and 3 miles from Mt. Cadmus, 8,013 ft. high. It stood at the head of a gorge where the two streams unite, and on the great highway traversing the country from Ephesus to the Euphrates valley, 13 miles from Hierapolis and 10 from Laodicea. Its history is chiefly associated with that of these two cities. Early, according to both Herodotus and Xenophon, it was a place of great importance. There Xerxes stopped 481 B.C. (Herodotus vii.30) and Cyrus the Younger marched 401 B.C. (Xen. Anab. i.2, 6). From Colossians 2:1 it is not likely that Paul visited the place in person; but its Christianization was due to the efforts of Epaphras and Timothy (Colossians 1:1, 7), and it was the home of Philemon and Epaphras. That a church was established there early is evident from Colossians 4:12, 13 Revelation 1:11; Revelation 3:14. As the neighboring cities, Hierapolis and Laodicea, increased in importance, Colosse declined. There were many Jews living there, and a chief article of commerce, for which the place was renowned, was the collossinus, a peculiar wool, probably of a purple color. In religion the people were specially lax, worshipping angels. Of them, Michael was the chief, and the protecting saint of the city. It is said that once he appeared to the people, saving the city in time of a flood. It was this belief in angels which called forth Paul's epistle (Colossians 2:18). During the 7th and 8th centuries the place was overrun by the Saracens; in the 12th century the church was destroyed by the Turks and the city disappeared. … The ruins of the church, the stone foundation of a large theater, and a necropolis with stones of a peculiar shape are still to be seen. During the Middle Ages the place bore the name of Chonae; it is now called Chonas.
Wikipedia has more information, excerpted below:
Despite a treacherously ambiguous cartography and history, Colossae has been clearly distinguished in modern research from nearby Chonai (Χῶναι), now called Honaz, with what remains of the buried ruins of Colossae ("the mound") lying 3 km (1.9 mi) to the north of Honaz.[6][7][8]
The medieval poet Manuel Philes, incorrectly, imagined that the name "Colossae" was connected to the Colossus of Rhodes.[9] More recently, in an interpretation which ties Colossae to an Indo-European root that happens to be shared with the word kolossos, Jean-Pierre Vernant has connected the name to the idea of setting up a sacred space or shrine.[10] Another proposal relates the name to the Greek kolazo, "to punish".[9] Others believe the name derives from the manufacture of its famous dyed wool, or colossinus.[11]
… the wool of Colossae gave its name to colour colossinus.[14]
The town was known for its fusion of religious influences (syncretism), which included Jewish, Gnostic, and pagan influences that, in the first century AD, were described as an angel-cult.[17] This unorthodox cult venerated the archangel Michael, who is said to have caused a curative spring to gush from a fissure in the earth.[4] The worship of angels showed analogies with the cult of pre-Christian pagan deities like Zeus.[18][19] Saint Theodoret of Cyrrhus told about their surviving in Phrygia during the fourth century.[20]
… in the Epistle to Philemon Paul tells Philemon of his hope to visit Colossae upon being freed from prison.[26] Tradition also gives Philemon as the second bishop of the see.
The city was decimated by an earthquake in the 60s AD, and was rebuilt independent of the support of Rome.[27]
The Apostolic Constitutions list Philemon as a bishop of Colossae.[28] On the other hand, the Catholic Encyclopedia considers Philemon doubtful.[29]
The first historically documented bishop is Epiphanius,Council of Chalcedon, but whose metropolitan bishop Nunechius of Laodicea, the capital of the Roman province of Phrygia Pacatiana, signed the acts on his behalf.
who was not personally at the
The city's fame and renowned status continued into the Byzantine period, and in 858, it was distinguished as a Metropolitan See. The Byzantines also built the church of St. Michael in the vicinity of Colossae, one of the largest church buildings in the Middle East. Nevertheless, sources suggest that the town may have decreased in size or may even been completely abandoned due to Arab invasions in the seventh and eighth centuries, forcing the population to flee to resettle in the nearby city of Chonai (modern day Honaz).[11]
Colossae's famous church was destroyed in 1192/3 during the Byzantine civil wars. It was a suffragan diocese of Laodicea in Phyrigia Pacatiane but was replaced in the Byzantine period by the Chonae settlement on higher ground.[4]
As of 2019, Colossae has never been excavated, as most archeological attention has been focused on nearby Laodicea and Hierapolis,[30] though plans are reported for an Australian-led expedition to the site. The present site exhibits a biconical acropolis almost 100 feet (30 m) high, and encompasses an area of almost 22 acres (8.9 ha). On the eastern slope there sits a theater which probably seated around 5,000 people, suggesting a total population of 25,000–30,000 people. The theater was probably built during the Roman period, and may be near an agora that abuts the cardo maximus, or the city's main north-south road. Ceramic finds around the theater confirm the city's early occupation in the third and second millennia BC.
The holiness and healing properties associated with the waters of Colossae during the Byzantine era continue to this day, particularly at a pool fed by the Lycus River at the Göz picnic grounds west of Colossae at the foot of Mt. Cadmus. Locals consider the water to be therapeutic.[32]
John MacArthur has more on the city's topography, which was beneficial for raising sheep and producing wool:
… from the Lycus River there were chalk deposits that were left. And some historians have said that they left amazing configurations all over the area where the water would spill out, and it would rise at flood time, and it would leave this chalk, and all kinds of strange formations that looked like monuments would result. Now, on the land where there wasn't any chalk, the land was super fertile and they grew pasture there and had excellent, excellent pasture land for sheep, and it became the wool center of the ancient world. And they used the chalk, also, for making dyes. They would raise the sheep, get the wool, and then dye the wool right there.
MacArthur's estimation of Colossae's population is higher than those mentioned above:
It was a Gentile city, but there are estimates that in those three cities there could be as many as fifty thousand Jews, and the reason they estimate that is they found some papers about a tax that the Jewish community there was sending back to Jerusalem. And by the amount of the tax they can deduct how many Jews there would have been in order to give that amount, and they estimate about fifty thousand Jews. So, there would be a large Gentile population and a rather large Jewish population.
He gives us a timeline of Paul's ministry and the founding of various churches in Asia Minor:
On Paul's third missionary journey, he went to Ephesus. Ephesus was a great center of Asia Minor. And Paul went there on his third journey, and he stayed there for three years. Remember? During the three years that he was in Ephesus, he never visited Colossae, as far as we know, but people started coming to him from all over Asia Minor. And do you know that during those three years the church at Ephesus was founded, and all seven churches of Revelation 2-3 were founded. You have Ephesus, Laodicea, Smyrna, Philadelphia, Pergamum – all of those – Thyatira; all of those churches were founded during that time, and so was the church in Colossae, and so was the church in Hierapolis. They were all outgrowths of Paul's ministry on his third missionary journey as he ministered there.
In Acts chapter 19, verse 10, it says – and this is part of his ministry there in Ephesus – "And this continued for the space of two years." This was the first part of it, "so that all they who dwelt in Asia" – that's Asia Minor, a province – "all that dwelt in Asia Minor heard the word of the Lord Jesus, both Jews and Greeks." Verse 26, when they wanted to throw him out, they said, "Morever you see and hear, that not alone in Ephesus, but almost throughout all Asia Minor, this Paul has persuaded and turned away many people, saying they are no gods which are made with hands." So, it is the comment of Luke in verse 10, and it is the comment of his persecutors in verse 26 that his gospel had filled the whole of Asia Minor. From the vantage point of Ephesus people would come hear the gospel and go back. From Colossae came a group of people – Epaphras, Philemon, Apphia, Archippus. From Laodicea came Nymphas. All of them received Christ under the ministry of Paul. All of them went back to be used of God to begin churches. The most influential person in the beginning of those three churches in those cities was Epaphras.
Epaphras founded the churches in Colossae, Laodicea and Hieropolis. Today, we would call them a 'tri-city area'.
After Paul's three years of ministry in Ephesus ended:
He spent a winter in Greece writing, and then he started back to Jerusalem. He gathered the collections to take to the poor saints – went all the way back to Jerusalem.
He arrived at Jerusalem, and you remember the terrible trouble that happened? They threw him in jail. The next thing you knew he wound up in Caesarea in jail. He pleaded his case to Caesar and  they shipped him to Rome.
Epaphras went to Rome to seek Paul's spiritual counsel about the Colossians, who were pure of heart but prone to heresy:
Here is a congregation of Gentiles, and they've got a smattering probably of Jewish believers, maybe, just a very little, and they've got a problem. There's a heresy that's beginning to creep into the congregation and Epaphras, their pastor, is really concerned. He makes a trip of a thousand to thirteen hundred miles, depending upon which way he took, to go to Rome and see Paul – and he pours his heart out to Paul. He says, in effect, "the people are super, Paul, but there's an imminent danger; there's a peril." And Paul writes to them and says, "Hey, you are super people, but let me warn you about something." Further on you'll hear him say, "Don't let anybody beguile you." It wasn't that they'd already been, it was that they were in danger of being beguiled. This is prevention.
You say, "Well, what is the heresy?" Well, it was a twofold heresy. First of all, it was coming from paganism. Those people were living on the verge of paganism all the time. You know, in that one region historians tell us that the deities such as Cybele, Men, Issus, Serapis, Helios, Selene, Demeter, and Artimus dominated the worship of the people. I mean, there were gods – you know, ad nauseam, plenty of them. And the basic evil that faced that church was a relapse into paganism. For the most part they were new Christians, and the pull of the darkness and the sensuality of the old life was strong.
… I call it sometimes, as I think it's Hendriksen uses the term (William Hendriksen), "the cable of the past." Life is like a cable; habit makes cables. A person weaves a thread every day until it becomes an unbreakable cable – and then you can't cut it, and the cable of the past tends to pull. And there was the environment of the present that they were living in. It was hard to row against the current. And then they had their own undertow of passion pulling them. And so, Paul's telling them, "Don't go back, don't go back."
… And this false doctrine – let me give it to you very simply – this false doctrine basically had two features. We don't know what brand it is. We don't have any title for it. It really isn't any particular system that we know about historically, but I'll define it for you. This false doctrine that Satan was beginning to spread, or at least was going to try to spread in Colossae, had two basic features.
Number one: it included a false philosophy. Chapter 2, verse 8, "Beware, lest any man spoil you through philosophy." Boy, a lot of people have been spoiled through philosophy. "And empty deceit." Hmmm. This is interesting.
… Here's what they were saying: the Greeks loved knowledge; oh did they love it. They literally gloated over what they knew, and the higher you got in knowledge, and the more difficult you were to understand, and the further you got spaced out with strange, weird understanding, the more snobbish you became. The heretics were saying this, they were saying: "The simplicity of the gospel is not adequate." Now listen. "The simplicity of the gospel is not adequate." Jesus Christ is not enough; you must have elaborate knowledge in addition to having Him. Salvation is – watch – Christ plus knowledge equals salvation. They claimed secret visions … This guy's pretending to see a vision, and he comes and says, "I have seen a vision. I have seen the supernatural." And he assumes an air of deep insight into divinely revealed mysteries. And he prides himself on his superior knowledge, and this is what became later Gnosticism. From gnosis, "to know" – superior knowledge. It isn't Gnosticism yet because Gnosticism isn't really defined for many years after this. But here are the seeds of it, intellectual snobbery. Somebody was saying, "It isn't enough to know Jesus. You can't defeat the powers of the emanating demons, you can't crack the barriers to get to the divine realm by Jesus alone – you've got to have superior knowledge." And so, they were talking about weird philosophies, and they were intruding, verse 18 says, "into things they had seen and their fleshly mind was being puffed up." Jesus isn't adequate. You see Jesus, they believed, was one of the emanations …
There's a second factor in this heresy. The first one was false philosophy. The second was Judaistic ceremony, legalism. Now, you say, "Well, that's a strange bedfellow for Greek philosophy." You're right, but it was there. Somehow this strange heresy was a combination of Greek philosophy and Jewish ceremonialism, or legalism. Look at chapter 2, verse 11. Some of them were saying you had to be circumcised to be saved. "In whom also you are circumcised with the circumcision made without hands," he says. You don't need a circumcision. What was this part of the heresy saying? Watch. Christ-plus-works-equals-salvation. The philosophy said, "Christ plus knowledge equals salvation." This is Christ plus works. And God says, "Christ plus nothing equals salvation." That's the message of Colossians. Chapter 3 tells us a little more about – chapter 3, he says, "There is neither Greek nor Jew, circumcision or uncircumcision." Don't get into that. That's not an issue. There's no need to even be concerned about that.
And so, they were concerned with things that there was no reason to be concerned with – none whatsoever. It even went so far as, for example, in chapter 2, verse 20, "If you're dead with Christ from the rudiments of the world, why, as though living in the world, are you subject to ordinances, (Touch not; taste not; handle not…)." This is like asceticism, you know. They couldn't do anything. "(Which are all to perish with the using;) after the commandments and doctrines of men. These things have indeed a shew of wisdom or self-imposed worship." And so, he really says, "You don't need those things – touch not; taste not; handle not" and all that. It's pointless …
So, here they were, wrapped up in Greek philosophy and Jewish ceremonialism, these false teachers. And they were just beginning to attack the church at Colossae.
You say, "What a weird mixture. Where did it come from?" We don't know. We don't even know who these people were, but there is a, there's precedent for this. There was a group of people in Israel called the Essenes. Have you ever heard of them? The three major groups among the Jews, the three major religious sects in Judaism: Pharisees, Sadducees, and Essenes. The Essenes were ascetics, and by that I mean they were far out. In fact, they believed that you shouldn't have anything, that you should be totally deprived of everything. I mean, they were really far out. They were Gnostics. That's interesting. They believed that the body was corruptible, that matter was corruptible, and spirit was good and imperishable.
So, they had that same philosophical strain. They saw the soul in the prison of the body, which was a Greek concept. It was their concept, and the reason the Greeks had it and they had it was the devil – the same devil, whether he's working with the Greeks or with anybody else. They were super-strict legalists. They went way beyond the Pharisees. They were celibate. And they adopted children in order to propagate their theology. Some of them married, but if they did marry they gave their wife a three year probation period. I don't know on what criteria they decided whether they should continue it after that or not. They hated riches. You know what Josephus says about them? Josephus says they worshiped angels. Isn't that interesting? It's amazing, but all of the things that this strange group of people did affecting the Colossian church are also characteristic of these people, the Essenes. The Essenes were vegetarians, super legalistic. That may well be that the influencing group behind the picture at Colossae was this group of Essenes, but whatever. They were saying, "Christ plus rules and laws equal salvation" – "Christ plus knowledge equals salvation." Paul wants to say in Colossians, "Christ plus" – What? – "nothing equals salvation."
… They talked about Christ, but it was Christ plus some super-knowledge. They had not only all of the philosophy that was into their heresy in Colossae, but they had all of the Jewish legalism. What a mess. But the one attack was this: Satan had concerted all of this hodgepodge to attack – What? – the sufficiency of – Whom? – Christ. And that's always where he attacks. And listen to Paul's response in Colossians 2:9, "For in him dwelleth all the fullness of the Godhead bodily." Listen to me, "and you are" – What? – "complete in him." Isn't that beautiful? There's the answer. You want to know God? Christ is the image of God. You want knowledge? In Him are hidden all the treasures of wisdom and knowledge. You want to be accepted by God? Worship Christ not angels or celestial intercessors. You want to fulfill God's will? Don't fool with the shadow. The substance is Christ. You want holiness? It doesn't come from abusing your body. It comes from setting your affections on Him …
Paul has one thing in mind in Colossians: Christ-sufficient.
MacArthur points out that things are very much the same today. New Age philosophy mixes with Christianity and produces syncretism. There are many different types of syncretism, vaudou being yet another, mixing the veneration of canonised saints with animal sacrifices and evil spells.
We also have the personal beliefs of celebrities and media personalities which we can read on a daily basis.
He says:
Let me take you to verse 8. "See to it that no one takes you captive" – chapter 2 – "See to it that no one takes you captive through philosophy." This is human opinion, the mind of man. There are no human solutions to spiritual problems. There are no human insights that take us places the Bible doesn't or can't. That is to say there is nothing necessary for life and godliness that is not delivered to us by the Word through the Spirit. We don't need Christ plus insights into human wisdom, spiritual intuition. You can take all the philosophers the world has ever known, in ancient and modern times, all the authors, all the writers, all the playwrights, all the movie producers, all the talk show hosts, all the psychologists, sociologists, religious leaders, and you can take all their endless verbosity about truth and life and morality, and all their solutions to human problems and dilemmas, and they add nothing to what is already in Christ.
We don't even have much classic philosophy anymore. New Age philosophy is not about thinking; it's about feeling. Philosophy used to be a rational exercise. Now, in a postmodern world, it is an irrational exercise.
With that in mind, let's look at Colossians 1, which is included in the Lectionary:
Greeting
1 Paul, an apostle of Christ Jesus by the will of God, and Timothy our brother,
2 To the saints and faithful brothers[a] in Christ at Colossae:
Grace to you and peace from God our Father.
Thanksgiving and Prayer
3 We always thank God, the Father of our Lord Jesus Christ, when we pray for you, 4 since we heard of your faith in Christ Jesus and of the love that you have for all the saints, 5 because of the hope laid up for you in heaven. Of this you have heard before in the word of the truth, the gospel, 6 which has come to you, as indeed in the whole world it is bearing fruit and increasing—as it also does among you, since the day you heard it and understood the grace of God in truth, 7 just as you learned it from Epaphras our beloved fellow servant.[b] He is a faithful minister of Christ on your[c] behalf 8 and has made known to us your love in the Spirit.
9 And so, from the day we heard, we have not ceased to pray for you, asking that you may be filled with the knowledge of his will in all spiritual wisdom and understanding, 10 so as to walk in a manner worthy of the Lord, fully pleasing to him: bearing fruit in every good work and increasing in the knowledge of God; 11 being strengthened with all power, according to his glorious might, for all endurance and patience with joy; 12 giving thanks[d] to the Father, who has qualified you[e] to share in the inheritance of the saints in light. 13 He has delivered us from the domain of darkness and transferred us to the kingdom of his beloved Son, 14 in whom we have redemption, the forgiveness of sins.
The Preeminence of Christ
15 He is the image of the invisible God, the firstborn of all creation. 16 For by[f] him all things were created, in heaven and on earth, visible and invisible, whether thrones or dominions or rulers or authorities—all things were created through him and for him. 17 And he is before all things, and in him all things hold together. 18 And he is the head of the body, the church. He is the beginning, the firstborn from the dead, that in everything he might be preeminent. 19 For in him all the fullness of God was pleased to dwell, 20 and through him to reconcile to himself all things, whether on earth or in heaven, making peace by the blood of his cross.
21 And you, who once were alienated and hostile in mind, doing evil deeds, 22 he has now reconciled in his body of flesh by his death, in order to present you holy and blameless and above reproach before him, 23 if indeed you continue in the faith, stable and steadfast, not shifting from the hope of the gospel that you heard, which has been proclaimed in all creation[g] under heaven, and of which I, Paul, became a minister.
Paul's Ministry to the Church
24 Now I rejoice in my sufferings for your sake, and in my flesh I am filling up what is lacking in Christ's afflictions for the sake of his body, that is, the church, 25 of which I became a minister according to the stewardship from God that was given to me for you, to make the word of God fully known, 26 the mystery hidden for ages and generations but now revealed to his saints. 27 To them God chose to make known how great among the Gentiles are the riches of the glory of this mystery, which is Christ in you, the hope of glory. 28 Him we proclaim, warning everyone and teaching everyone with all wisdom, that we may present everyone mature in Christ. 29 For this I toil, struggling with all his energy that he powerfully works within me.
In Colossians 2, Paul says he has a great struggle for the congregations in Colossae and Laodicea and for those he does not know personally (verse 1).
Henry says Paul's struggle is one of agony:
Observe, 1. Paul's care of the church was such as amounted to a conflict. He was in a sort of agony, and had a constant fear respecting what would become of them. Herein he was a follower of his Master, who was in an agony for us, and was heard in that he feared.
MacArthur says that Paul would have had to truly love the Lord to get to this point in feeling for strangers:
… a man of God must have that basic commitment that he really loves the church, that he first loves the Lord, and then that he loves the Lord's people.
He, too, points to Paul's agony:
Now because of his great love for the saints, he says, in verse 1 of chapter 2, "I would that you knew what great agōn, agony I have for you, and for them at Laodicea and for as many as have not seen my face in the flesh. Not just you, but anybody else. It's obvious I love the people I've been with, but I love even the people who've never even seen me, those people who make up the church. And because of that, when I see the difficulty that you're in, when I see the attack that you're under in terms of false teaching, when I know the anxieties of living the Christian life and walking the walk, I have a great sense of agony and struggle and striving on your behalf." And that comes because he loved them.
Paul truly wants their hearts to be encouraged, to be knit together in love, to reach those riches of full assurance in understanding and knowing the mystery of God in Jesus Christ (verse 2).
MacArthur's translation uses 'strengthened' instead of 'encouraged', but he explains how both words can tie together and include 'comforted':
Now we translated that term "strengthened" rather than "comforted," because we think that that is the more particular emphasis that the apostle is making here. The word means to comfort, to console, or to strengthen. It embodies all of that idea. It even means to grant endurance. So it's a lot of things. But it seems to me that the sum of it all, and what Paul is really working on, is that their hearts would be strengthened …
Now what he's saying is, "I want your mind to be strengthened. I want strong minds." Why? Because the mind is the first thing that Satan assails. You understand that? Satan assails the mind with lies. He is the father of – what? – of lies. He brings around false truth and false information, and assaults the mind with it; and that directs the behavior that responds. And so it is necessary to have a strong mind.
Now the term in the Bible "heart" generally is used to refer to the mind or the intellect. That's its technical meaning. I would add though that there are times when heart is used in a general non-technical sense to refer to the totality of man's inner being. But when it is used in its technical sense, it has reference to the mind, or the seat of knowledge, which is basically the beginner of action.
So it is necessary to have a powerful, fruitful Christian life to have a strong mind. And the way your mind is strengthened is by filling it with divine truth that can trigger a positive behavior pattern in your will; and then your emotions will be responding.
MacArthur has more on the biblical use of 'heart' as 'mind' in another sermon, which I'll discuss more in tomorrow's post:
What then does the heart picture? Not the emotions, but the mind. The intellect and the mind is made up of two things: the intellect and the will. That's the heart in biblical terminology.
… the heart was the seat of thought. It was the seat of thinking. And so that the heart represents the mind that sets the pace, and the bowels [gut, as in instinct] represent the responding emotion …
But how did they get the heart out of the brain? Well, some have surmised that because when the brain is really functioning, the heart is really working, and they could feel it throbbing and pulsing. But that's the way they did it. Real serious thinking, says a Hebrew, can be felt in the beat of the heart. So the heart thinks, and the bowels respond with emotion. That's the way you are.
Now remember this. In the mind of the Hebrew, and in the Revelation of God, emotions never initiate, they always respond. The heart thinks, and the emotions respond. That is the divine pattern.
MacArthur discusses Paul's notion of hearts being knit together in love:
… all of that theology, and all of that knowledge, and all of that brain power is balanced off by love. And so hastily, Paul says, "I pray that their hearts might be comforted," – now watch the next line – "being knit together in love, being knit together in love." He wants a one-mindedness of hearts, that are knit together in love. And as I said, this is the balancer to doctrine.
The word "knit," or "knit together," simply means to unite. But it really is a beautiful picture of the body of Christ, all of us being knit together in an indivisible kind of oneness. Your body is a combination of billions of cells, all knit together. You can't pick any one of them apart, because they blend indiscriminately together. And that's the thing that the apostle Paul is after. "As the cells of a body are indistinguishable because they're lost in the mass, so should you be indistinguishable as you're lost in the unity of love that exists among the brethren."
The sense of the word here as it appears – and also it appears later on in chapter 2, verse 19, you'll see it, "knit together again;" they're talking about the body again being joined together and knit together – is the idea of all the parts being put together in a way that leaves them almost without any personal identity. And they're held together, like atoms are held together in your body by, what we called a few weeks ago, nuclear glue, which is nothing more than a funny name for God. God holds it all together. So in the spiritual sense, we are to be united; and the nuclear glue, if you will, that holds us together, is being knit together in – what? – love. Love is the thing that ties believers together …
We do not have to create unity, the Spirit has already created it. We just have to – what? – guard it. We have to guard that unity. You say, "How do you guard it?" By being a peacemaker. It is the unity of the Spirit that is guarded by the bond of peace, that is that you and I have a covenant that we will be at peace with each other. That's the bond of peace, that you and I agree that we will not argue, that we will not fight, that we will not hassle, but that we will be at peace. We're peacemakers; and we will keep, we will guard the unity the Spirit has already put there positionally. We will guard it, and allow its practical manifestation by being peacemakers.
Paul says that in Christ are hidden all the treasures of wisdom and knowledge (verse 3).
This verse relates to the end of verse 2. The more we understand the more we appreciate the riches (verse 2) and the treasures (verse 3) of the eternal truth in Christ.
MacArthur says that we arrive at this point through regular prayer and study of Scripture:
The unregenerate man does not have truth connected to conduct. His mind is a blank. Paul says, "I want you to have settled understanding. I want you to understand." "Paul," – you say – "what do you want me to understand?" "I want you to understand the will of God and all that's involved in it" …
What does God want you to understand? The revelation of God's will.
And I'll tell you; the more you study, the more your mind is filled; the more it begins to flow through you, in terms of operation, in terms of behavior; the more you understand how really rich you are. And you can enjoy the Christian life. And the things of the world mean less, and less, and less; and you find that the things you initially couldn't let go of, you finally can let go, because you know where the true riches are.
And you can begin to do what Jesus says with confidence, "Lay up for yourselves" – what? – "treasure in heaven," because you know now that's where your confidence is. Because where your heart is, that's where your treasure's going to be. And until you have a heart that is settled, and assured, and confident in God, you're going to hang on to some things in the world. But when your mind is confident, and your behavior roots that confidence, you're going to have the kind of assurance that let's you let go and trust the true riches.
You say, "How do you get that assurance? How do you get that confidence?" Well, you need to pray for it, I think. Praying just keeps you acknowledging the source of it.
MacArthur says that Paul is urging them to have convictions — strong principles — about their faith that they can articulate to themselves and to others. This is something we need as Christians even today:
He says, "All of this stuff comes from one source, so you've got to have a settled conviction about one thing," – verse 2, he says – "the full assurance of understanding to the acknowledgement" – I'm going to read this the way it is in the Greek – "to the acknowledgement of the mystery of God, Christ; to the acknowledgement of the mystery of God, Christ, in whom are hidden all the treasures of wisdom and knowledge."
Now listen to me. Paul says, "I want you to have a basic, settled, assured conviction; and the place that that thing has to start is that you have to be convinced that the mystery of God is Christ. Now listen. "What do you mean, Paul?" "You have to be convinced of the deity and all-sufficiency of Christ," – is what he's saying – "that the hidden God has manifested Himself in the revealed Christ."
You see what he's saying? "I want you to have absolute, unwavering assurance, and acknowledge that the mystery of God, that is, the hidden God, is revealed as Christ;" – what is that saying? That Christ is deity – "and that in Him are hidden all the treasures of wisdom and knowledge." That is sufficiency. And why does he say this? Because those are the two things that the false teachers in Colossae were attacking: the deity of Christ, and His sufficiency to save.
And he says, "You have to start there. You have to have a settled conviction about the deity of Christ and His sufficiency." And these people would come into Colossae attacking the deity of Jesus Christ. They were saying that Jesus was just one of those emanations … just a sort of an angelic being down the line, a good emanation, a good spirit, like many others. And they were saying, "It isn't enough to come to Christ for salvation; He's just one step on the ladder. You've got to have super wisdom, and you've got to go for some mysterious knowledge, and et cetera, et cetera."
And Paul is saying, "Look, I don't want you to fuss with that. I want you to have an absolute, settled assurance about the riches that you have. And the first thing that you have to be sure of is that this Christ is none other than the hidden God revealed. He is deity," – number 2 in verse 3 – "that in Him is all sufficiency." That's his point: a settled conviction about Christ …
Over the years, a lot of people have said to me, 'I believe in God, but I don't believe in Jesus.'
It seems to me that, in stopping church early in their teenage years, they never really came to a true understanding of Jesus Christ. Perhaps they got bored. However, anyone truly paying attention in church and in Sunday School learns that there is nothing boring or ambivalent about our Lord and Saviour.
Paul then makes a reference to the heretical philosophy the Colossians have been hearing. He says that he wants them to understand the mysteries of God in Christ in order not to be 'deluded' by 'plausible arguments' (verse 4).
The heretics were peddling plausible arguments. That is how heresy works. It is the work of the devil and, as such, seductive.
MacArthur says:
The heretics and the false teachers believed there was a great mass of divine knowledge necessary for salvation, and it was hidden in secret books; and the secret books were called apokruphos, and only those super-intellects could open them. And Paul says, "Baloney." The only apokruphos where all of this stuff is hidden is Jesus Christ. And the day you opened your heart to Christ, God took the lid off the diamond mine, and just said, "Go ahead; take what you need. It's all there."
You don't need the special books of the secret intellect …
… in verse 4, "And I'm saying this, lest any man should beguile you with enticing words." Lightfoot translates it, "I wish to warn you against anyone who would lead you astray by specious arguments and persuasive rhetoric." He's saying, "I don't want you to exchange proven riches for speculation."
Boy, it's sad when a Christian would come to a place where he'd listen to some of that garbage about Christ. "Well, I don't know. I've always believed the other way." See? Paul is saying, "Look, have a settled conviction. And I'm telling you this, lest anybody is going to beguile you with enticing words, clever phrases – and they're clever, and their arguments are good."
This is the basic attack of all false systems. They'll deny two things. They'll deny the deity of Christ – now mark it in your mind – they'll all do it. They'll deny the deity of Christ, and they'll deny His sufficiency to save; one or the other, or both. They'll come and say, "Oh, yes. Yeah, Christ saves, plus works." Right? Or, "Oh, yes, Christ isn't God."
But these are the two things around which all that false stuff revolves. It is a denial of the deity of Christ and/or His sufficiency to save alone. And the cults are all brought to the bar of God right here and condemned, folks, all of them. Anything that reduces Christ to less than deity, or anything that adds anything to His saving sufficiency belongs in the beguiling activity of Satan.
Paul ends this section by saying that, although he isn't with them in body, he is with them in spirit, rejoicing to see their good order — personal conduct — and the firmness of their faith in Christ (verse 5).
In MacArthur's translation the final words are 'your order and steadfastness'.
He says that Paul was using military terms:
Both of those words are military terms. The word "order," taxis, is an interesting word. It means rank, and it means a single-file line of soldiers. "You're still holding rank." You know what happens when an army begins to lose the battle? The ranks begin to become depleted. They begin to shoot them down. This comes from way back. The army would do out in a phalanx, and they'd start shooting them down, and they'd be falling …
And then he uses another term, "steadfast," stereōma. This again speaks of a solid front of soldiers, ready to stand the shock of attack. And it speaks of more of not the unbroken rank, but the solidarity. "Not only are you unbroken in your rank, but, man, you are standing firm. And when the shock of battle hits, boom, you're going to stop it; and I rejoice. You're obedient, you're disciplined, you're holding rank, and you're going to stand the attack; and that makes me happy. Yet I warn."
Next week's post will look at Paul's warning about asceticism, another system of works which cannot save.
Next time — Colossians 2:20-23
The Fifteenth Sunday after Trinity is on September 25, 2022.
Readings for Year C can be found here.
The Gospel is as follows (emphases mine):
Luke 16:19-31
16:19 "There was a rich man who was dressed in purple and fine linen and who feasted sumptuously every day.
16:20 And at his gate lay a poor man named Lazarus, covered with sores,
16:21 who longed to satisfy his hunger with what fell from the rich man's table; even the dogs would come and lick his sores.
16:22 The poor man died and was carried away by the angels to be with Abraham. The rich man also died and was buried.
16:23 In Hades, where he was being tormented, he looked up and saw Abraham far away with Lazarus by his side.
16:24 He called out, 'Father Abraham, have mercy on me, and send Lazarus to dip the tip of his finger in water and cool my tongue; for I am in agony in these flames.'
16:25 But Abraham said, 'Child, remember that during your lifetime you received your good things, and Lazarus in like manner evil things; but now he is comforted here, and you are in agony.
16:26 Besides all this, between you and us a great chasm has been fixed, so that those who might want to pass from here to you cannot do so, and no one can cross from there to us.'
16:27 He said, 'Then, father, I beg you to send him to my father's house–
16:28 for I have five brothers–that he may warn them, so that they will not also come into this place of torment.'
16:29 Abraham replied, 'They have Moses and the prophets; they should listen to them.'
16:30 He said, 'No, father Abraham; but if someone goes to them from the dead, they will repent.'
16:31 He said to him, 'If they do not listen to Moses and the prophets, neither will they be convinced even if someone rises from the dead.'"
Commentary comes from Matthew Henry and John MacArthur.
Luke 9 through Luke 19 is all about our Lord's teachings in the final six months of His ministry.
We are in the latter part of those lessons.
Today's post is another long one. It explores why people go to hell and the nature of hell.
Before exploring this parable in detail, please note that this Sunday's readings, perhaps apart from the one from Jeremiah, all tie together in denouncing the love of riches and luxury.
Today's parable was our Lord's warning to the Pharisees about self-righteousness and the need for repentance.
John MacArthur says:
Hell is full of surprised people.  That's really what this story is about — a man who was shocked to find himself in hell.  Equally shocking to those who listen to the story was the idea that the other man was in heaven.  This was contrary to all of their expectations.
MacArthur explains about the ancient Jewish tradition of believing in a type of prosperity religion. The Pharisees also subscribed to it. In short, the faithful were blessed with wealth while the poor and infirm were cursed:
This story is about a rich man.  He's the main character.  He's a religious man.  He would be understood in the context of this story, as Jesus is telling it, to be a man who had been blessed by God.  They had their own sort of prosperity religion in those days, and…and they saw the poor people as cursed and the rich people as blessed.  That's the view of the Pharisees, the religious leaders of Israel.  So this is a man who has been singularly blessed by God.  He is a man who lives life to the max, who enjoys the best that life can bring limitlessly, who surely expects to go to heaven but ends up in hell.  And then there is that other man, that despicable, poor man, who, by very evidence of his life is being cursed by God, who ends up when he dies in heaven.  That's why you could call this story "The Great Reversal."
And just exactly to whom is this story directed?  Well, it is directed, first of all, at the moment, at the time to the Pharisees again, verse 14.  "The Pharisees who were lovers of money were listening to all these things, and He said to them."  This section is a section of Jesus speaking to the Pharisees; 17:1, he turns to speak to His disciples.  So for the moment, this story is directed at the Pharisees, as have been a number of our Lord's stories, including the amazing three stories He told in the 15th chapter about the lost sheep, the lost coin, and the tale of two sons.  In fact, the Pharisees are the ones who have declared their loyalty to the law and the prophets, referred to in verse 16.  They had declared their adherence to and obedience to Moses and the prophets.  They were the religious leaders of Israel.  They were the ones who considered themselves blessed and, according to verse 14, they were lovers of money.  They had a convenient theology that accommodated their wealth prosperity view.  The more money you had, the more you were blessed by God.  Loving money, pursuing money, is like loving God and pursuing blessing.  That was their view.  The truth is, verse 15, "They were detestable in the sight of God," because they did, in fact, love money and did not, in fact, obey Moses and the prophets.
So the story is directed at the Pharisees.  Their hero in the story is the rich man. He's the symbol of a God-blessed life in Israel.  On the other hand, they would treat the poor man the same way the rich man did, for they were famous for disdaining outcasts.  And, by the way, the Pharisees also believed in life after death.  The Pharisees believed in judgment, and the Pharisees believed in heaven, and the Pharisees believed in hell.  And none of them expected that they would end up in hell …
… And so Jesus is really giving them another jolt.  He's giving another shock to them in this story.  It is directed at those people who are false religionists.  But you have to understand that this kind of jolt and this kind of shock to their system and the system of anybody who comfortably thinks he or she is going to heaven because they are religious, when, in fact, they're going to hell, is not an outrageous act.  It is, on the other hand, a very compassionate and a very merciful act.  Warning people of reality is the…the most compassionate, loving, gracious, kind thing that you can do.  Warning self-righteous, religious people that they're going to end up unintentionally in hell is the most important thing we can do. And that's exactly what Jesus did.  Hell is full of people who went there unintentionally, from their perspective.  The rich man no more expected to find himself in eternal torment than the Pharisees did when they arrived there.  They were among those who gained the world and lost their soul.
MacArthur discusses how Jesus constructed this story:
You have a poor man and a rich man.  The poor man then becomes rich; and the rich man becomes poor; and the poor man becomes richer than the rich man ever was; and the rich man becomes poorer than the poor man ever was.  You have a poor man on the outside of the house, and you have a rich man on the inside.  Then comes death, and you have a poor man on the inside and a rich man on the outside.  You have a poor man with no food, and a rich man with all the food he can possibly need; and then you have a poor man at the great heavenly banquet, and a rich man with absolutely nothing.  You have a poor man with needs and a rich man with no needs; and then you have a poor man with no needs, and a rich man with needs.  You have a poor man who desires everything.  You have a rich man who desires nothing. And then you have a rich man who will never have his desires fulfilled, and a poor man who has all his desires fulfilled.
You have a poor man who suffers and a rich man who is satisfied; and then you have a rich man who suffers, and a poor man who's satisfied.  You have a poor man who's tormented, and a rich man who's happy; and then you have a poor man who's happy, and a rich man who's tormented.  You have a poor man who is humiliated, a rich man who's honored.  Then you have a rich man who is humiliated, and a poor man who is honored.  You have a poor man who wants a crumb, a rich man who feasts; and then you have a poor man who's at a feast, and a rich man who wants a drop of water.  You have a poor man who seeks help, a rich man who gives none.  Then you have a rich man who seeks help, and a poor man who gives none.  Then you have a poor man who is a nobody, a rich man who is well-known; and then you have a poor man who has a name, and a rich man who has none.  You have a poor man who has no dignity in death, not even a burial.  You have a rich man who has dignity in death.  Then you have a poor man who has dignity after death, and a rich man who has no dignity after death, not even a name.  You have a poor man with no hope, and a rich man with all hope.  Then you have a rich man with no hope, and a poor man who has hope realized.
Jesus began His parable by introducing the rich man as being someone who dressed in purple and fine linen and who dined sumptuously every day (verse 19).
Before I go further, this story is often referred to as 'Dives and Lazarus'. 'Dives' is Latin for 'rich'. It is not a name, only an adjective.
Matthew Henry points out that it is not a sin to have riches, but it is when those riches consume one's life:
It is no sin to be rich, no sin to wear purple and fine linen, nor to keep a plentiful table, if a man's estate will afford it. Not are we told that he got his estate by fraud, oppression, or extortion, no, nor that he was drunk, or made others drunk; but, [1.] Christ would hereby show that a man may have a great deal of the wealth, and pomp, and pleasure of this world, and yet lie and perish for ever under God's wrath and curse. We cannot infer from men's living great either that God loves them in giving them so much, or that they love God for giving them so much; happiness consists not in these things. [2.] That plenty and pleasure are a very dangerous and to many a fatal temptation to luxury, and sensuality, and forgetfulness of God and another world. This man might have been happy if he had not had great possessions and enjoyments. [3.] That the indulgence of the body, and the ease and pleasure of that, are the ruin of many a soul, and the interests of it. It is true, eating good meat and wearing good clothes are lawful; but it is true that they often become the food and fuel of pride and luxury, and so turn into sin to us. [4.] That feasting ourselves and our friends, and, at the same time, forgetting the distresses of the poor and afflicted, are very provoking to God and damning to the soul. The sin of this rich man was not so much his dress or his diet, but his providing only for himself.
MacArthur describes the man further:
"There was a rich man."  How rich?  Extravagantly rich.  Luxuriously rich.  And by the way, again, I remind, he would be respected immediately.  He would be envied immediately, honored.  He would be viewed as blessed by God.  That's why he was so rich.  In Israel, his business had been touched by God; and he would be a hero to the money-loving Pharisees.  So he would also be a man who would assume, and everybody would assume, that God had blessed his life; and…and that's why he was as wealthy as he was.  So it wouldn't be just the religious leaders who would think that.  Anybody would think that, even in general, even today, would look at him.  He's a religious man.  He's in Israel.  He's a part of the society.  Look what God has done to bless his life.
How rich was he?  Well, "He habitually dressed in purple and fine linen."  Imperfect tense, "habitually," it means exactly that.  It is an imperfect verb that means this was his regular way of dressing.  He didn't have a casual day, apparently. He just put it all on every day. And what did he wear?  It might not sound like a lot to us, but he dressed in purple and fine linen.  Now, let me tell you a little bit about this…this purple, first of all.  The outer garment that the people wore in those days if they were wealthy enough was made out of wool; and wool was, for the elite, fulled.  You've heard of fulled, F U L L E D, wool.  It was placed into a basin, and then it was mingled with clay, and the process, a very time consuming, laborious, hands-on, manual labor to full that wool in clay, produced a kind of white that was almost blazing, brilliant, shining white.  Very expensive process done for the elite.  They had whiter clothes than everybody else, and it wasn't because of their detergent.  It was because of this process the wool was put through.
And then if you wanted to really make it luxurious, you had it dyed with a Tyrian purple dye.  That's from Tyre, which is on the north coast of Israel; and this dye came from a shellfish called a murex.  Obviously, you had to go get the shellfish, and then extract the dye, and it was the most expensive dye.  You remember Lydia in the book of Acts was a seller of this purple dye; and this dye was used to dye the robe purple, which was considered the highest degree of opulence.  This is the robe of royalty, the purple robe.
Underneath this robe was fine linen.  The normal tunic would be made of fine linen.  Probably a reference to the finest linen of the day, which is probably still the finest cotton in the day, and that's Egyptian cotton.  Linen here referring to something made out of cotton.  Egyptian cotton was the most expensive and the best and the highest thread count, and you ladies know all about that.  So it signified…It signified that this is the finest clothing that somebody could wear, and he wore it every day.  He came out in splendor every day.
Not only was he dressed that way, but he was euphrain.  He was joyously living.  It means to be glad to enjoy oneself.  It is the verb used in Luke 12.  I think it's verse 19, where it says, the…the man who built the bigger barn said, "Let's eat, drink, and be merry."  So he lived a merry life.  He lived a joyous life.  He lived to the max.  He was the party guy, and it was a very luxurious, opulent kind of party.  It is described as splendor.  Actually an adverb; he lived splendidly; and, again, all the language is over the top here; and he lived like that every day.  I mean, for him, every day would be like the feast that the father in Luke 15 gave to the prodigal who came back.  Every day would be a killing of a fatted calf kind of event.
Extreme riches, extreme self-indulgence, lavish lifestyle, ostentatious display; he's got it all.  He is the definition of what it means to be filthy rich, which is a term devised by poor people.
At the rich man's gate lay a poor man named Lazarus, who was covered with sores (verse 20).
Henry and MacArthur both say that, in Hebrew, Lazarus is Eleazar, which means, as Henry says:
the help of God, which they must fly to that are destitute of other helps. This poor man was reduced to the last extremity, as miserable, as to outward things, as you can lightly suppose a man to be in this world.
MacArthur says:
Lazarus is the Greek form of the Hebrew Elazar, or Eliazar.  It means "whom the Lord saved, whom the Lord helped."  Very common name, by the way, in Israel, and a wonderful name for this man; because it tells us how he ended up in heaven.
Anyone familiar with Ohio might remember the Lazarus department stores, which eventually merged with Macy's. As a child, I had trouble reconciling department stores with the men named Lazarus in the New Testament. It was only later that I found out Lazarus was the family name of the brothers who founded the department store chain.
This brings me to another point. Both men named Lazarus in the New Testament are canonised saints. This Lazarus is unique to Luke's Gospel. The Lazarus here is not Mary and Martha's brother from Bethany. The feast day of this Lazarus is June 21 and that of Lazarus of Bethany is December 17.
Henry describes Lazarus further:
(1.) His body was full of sores, like Job. To be sick and weak in body is a great affliction; but sores are more painful to the patient, and more loathsome to those about him.
(2.) He was forced to beg his bread, and to take up with such scraps as he could get at rich people's doors. He was so sore and lame that he could not go himself, but was carried by some compassionate hand or other, and laid at the rich man's gate. Note, Those that are not able to help the poor with their purses should help them with their pains; those that cannot lend them a penny should lend them a hand; those that have not themselves wherewithal to give to them should either bring them, or go for them, to those that have. Lazarus, in his distress, had nothing of his own to subsist on, no relation to go to, nor did the parish take care of him. It is an instance of the degeneracy of the Jewish church at this time that such a godly man as Lazarus was should be suffered to perish for want of necessary food.
MacArthur takes a less charitable view than Henry and says that Lazarus was practically tossed at the rich man's gate:
… verse 20, "A certain poor man," ptchos in the Greek, meaning extreme poverty.  Galatians 4:9, "beggarly, worthless," could be translated pitiful.  Could be translated inferior.  It's not just he had a little.  He had nothing.  Destitution.  This the absolute 180 extreme.  The man has nothing, and it says, he's also laid his gate, the gate of the rich man, covered with sores, covered with sores.  This is to have ulcers, oozing, open lesions. This same word is used in the book of Revelation to describe the horrible judgment of God when the angel pours out the first bowl of wrath in the final judgment.  It becomes a loathsome and malignant sore, Revelation 16:2, on the men who had the mark of the beast and who worshipped his image.  Verse 11: "They blaspheme the God of Heaven because of their pain and their sores."  It is an ugly kind of sore.  Where did the sores come from?  We don't really have a diagnosis of that, but I can give you a pretty good guess; because, if you go back to the verse, it says, "The poor man named Lazarus was laid at his gate."  That's not a good translation.  That sounds like come…somebody came and just kind of delicately laid him down.  That is not a delicate word.  That's the word ball.  It means to throw, throw or throw down.
What happens here is you've got a man who is thrown down at the gate to the rich man's house, which indicates that he probably was paralyzed, couldn't move.  The sores may well have come from the inability of the man to move, as people who can't move in a bed or can't move in a wheelchair develop sores at all points of pressure.
Jesus said that Lazarus wanted only what fell from the rich man's table — crumbs — yet only the dogs came to lick his sores (verse 21).
Henry points out how patient Lazarus was and how cold-hearted well-fed people are towards hunger:
He desired to be fed with the crumbs, v. 21. He did not look for a mess from off his table, though he ought to have had one, one of the best; but would be thankful for the crumbs from under the table, the broken meat which was the rich man's leavings; nay, the leavings of his dogs. The poor use entreaties, and must be content with such as they can get. Now this is taken notice of to show, First, What was the distress, and what the disposition, of the poor man. He was poor, but he was poor in spirit, contentedly poor. He did not lie at the rich man's gate complaining, and bawling, and making a noise, but silently and modestly desiring to be fed with the crumbs. This miserable man was a good man, and in favour with God. Note, It is often the lot of some of the dearest of God's saints and servants to be greatly afflicted in this world, while wicked people prosper, and have abundance; see Ps 73 7, 10, 14. Here is a child of wrath and an heir of hell sitting in the house, faring sumptuously; and a child of love and an heir of heaven lying at the gate, perishing for hunger. And is men's spiritual state to be judged of then by their outward condition? Secondly, What was the temper of the rich man towards him. We are not told that he abused him, or forbade him his gate, or did him any harm, but it is intimated that he slighted him; he had no concern for him, took no care about him. Here was a real object of charity, and a very moving one, which spoke for itself; it was presented to him at his own gate. The poor man had a good character and good conduct, and every thing that could recommend him. A little thing would be a great kindness to him, and yet he took no cognizance of his case, did not order him to be taken in and lodged in the barn, or some of the out-buildings, but let him lie there. Note, It is not enough not to oppress and trample upon the poor; we shall be found unfaithful stewards of our Lord's goods, in the great day, if we do not succour and relieve them. The reason given for the most fearful doom is, I was hungry, and you gave me no meat. I wonder how those rich people who have read the gospel of Christ, and way that they believe it, can be so unconcerned as they often are in the necessities and miseries of the poor and afflicted.
MacArthur explains how a goodly portion of bread ended up on the floor after a meal in that era:
Jaconias Jeremias writes…and he tells us about this. . .a very gifted historian, done a lot of great work around that time of the year…he says…that time of human history: "Guests at a meal used pieces of bread to clean their hands."  Now, let me tell you what the…how the picture works.  In those days, you might have a little fruit and a little vegetable or whatever, but they ate with their hands.  There weren't any knives and forks and all that.  So you basically ate with your hands as…as most of the world has done for most of its history; and, typically, you took bread — bread being a staple — and you dipped it in some kind of stew or thick soup or whatever; and you ate that way.  You ate the bread, like at the Last Supper, dipped in a sop, remember?
OK?  So that's what you did.  Well, I mean it's a little messy; and they didn't have paper napkins; and I guess they could've used cloth if they had to; but they had a really good method for cleaning up the mess on their hands.  They used the bread that was a little more stale.  Now, there would be some bread on the table that was to be dipped.  Then there would be other bread that was to then be used to mop up your…your hands.  Now, the bread had the capability of absorbing the sop, and you ate it that way; and it also the capability of absorbing what was dripping all over your hands; and so they would use the bread to clean their hands and then throw it under the table.
The dogs who licked the poor man's sores were not pets of the rich man. They were the scavengers — wild dogs — that roamed the streets then.
MacArthur says:
These dogs are always presented in the Bible as scavengers, mongrels, sort of semi-wild, not domesticated, ugly.  Was just the way it was in the world at that time.  They roamed the cities.  They roamed the periphery of the cities eating the garbage, and they came in, and in these open courtyards where meals would be held, they would clean up the bread that had been thrown there. And so the rich man has this big feast.  The people are eating, taking the bread they needed to, cleaning, throwing it under there.  The dogs were coming and eating it; and the poor man would've given anything if he could have moved himself under the table with the dogs, to get some of that dirty bread.  That's how desperate this man was.
Dogs are always pictured as dirty.  Second Peter 2:22 says, "The dogs lick up their own vomit." He wanted to get down there with the dogs and eat the dirty bread.  It reminds me of another man in the 15th chapter, the prodigal who wound up eating with what?  Pigs.  Such a humiliated situation.  So destitute.  He's road kill, really.  He's being treated as if he's dead by the rich man. That's how the Pharisees would treat him, too.
Then, one day, the poor man died and angels carried him off to rest with Abraham; the rich man also died and was buried (verse 22).
Note how Jesus framed that sentence. The poor man was lifted up to glory with Abraham, by angels, no less. The rich man ended up in the ground.
MacArthur says the Pharisees would have found that shocking:
The poor man died; and, immediately, he's carried away by angels. That's stunning. That is shocking. That is unthinkable; and then he is taken by the angels to the side of Abraham. The angels take his body from the licking mongrels and they take him and place him beside Abraham. First of all, the fact that angels are doing this is a jolt to the Pharisees who are hearing the story, because they view this man as cursed by God …
So the shock is this man is in heaven. The next shock is he's not just in heaven, he's taken by the angels to heaven. The next shock is he's not just taken by the angels to heaven, but he's not on the periphery. He's not at the back of the room or the back of the crowd looking over everybody's head and between their heads to see who's sitting up at the main table. He's sitting next to Abraham. Wow. This is just way out there. A…a broadside on their theological assumptions.
Henry reminds us that death comes for the rich and the poor alike. Some rich people believe they are invincible.
This is why our late Queen nurtured her personal faith so carefully and why she took the time to evangelise in her Christmas messages — and, most importantly, in her two televised funeral services, seen by four million people around the globe just this past Monday, September 19, 2022:
Death is the common lot of rich and poor, godly and ungodly; there they meet together. One dieth in his full strength, and another in the bitterness of his soul; but they shall lie down alike in the dust, Job 21 26. Death favours not either the rich man for his riches or the poor man for his poverty. Saints die, that they may bring their sorrows to an end, and may enter upon their joys. Sinners die, that they may go to give up their account. It concerns both rich and poor to prepare for death, for it waits for them both. Mors sceptra ligonibus æquat—Death blends the sceptre with the spade.
———æquo pulsat pede pauperum tabernas, Regumque turres. With equal pace, impartial fate Knocks at the palace, as the cottage gate.
Jesus purposely took some liberties with this parable as He said that, while being tormented, the rich man saw Abraham from a distance with Lazarus by his side (verse 23). That would not happen in reality.
MacArthur tells us:
Nobody in hell could see into heaven, because nobody in hell would ever know the heavenly experience. Nobody in hell is omniscient, so they wouldn't be able to see in heaven, look around till they found Abraham. They wouldn't know who Abraham was. Nobody in hell can have a conversation with somebody in heaven; but for the sake of the story, to make a point, because it does reveal the essence of the suffering in hell …
MacArthur says we can be sure the man is in hell, as his translation uses the term Hades:
… in the New Testament, Hades clearly refers to hell, with only one exception, and that is Acts chapter 2 verses 27 and 31, which is a quote from Psalm 16; and there it has a vague meaning of just the grave; but that's because it's quoting an Old Testament passage. Every other usage of the word Hades in the New Testament refers to the abode of the damned. It is never, in the New Testament, the abode of the redeemed, of believers. And so it is synonymous then with hell.
Some might ask about Gehenna.
MacArthur says:
Gehenna is a word referring to the Valley of Hinnom, the city dump that was burning all the time.  It became a metaphor for hell — the never, ever extinguished fire.  The fiery hell of Matthew 5:22 that Jesus spoke about.  The hell of Matthew 5:29 and Matthew 5:30, and there are many other references to it. 
The rich man called out, 'Father Abraham', a reference that would not have been lost on the Pharisees, and he asked him to send Lazarus with a fingertip of water to cool his tongue, for he was in agony in the flames (verse 24).
MacArthur tells us something vital about hell:
One thing about hell, you get a fully active conscience. I'm not going to develop all that. You get a fully active conscience, so that the true wretchedness of who you are is completely dominant in your thinking. All that illusion about how good you are, all those illusions about your self-worth and…and your basic, innate goodness gone. There is a full realization of the sinner's wretchedness in hell. A fully informed, acutely aware and sensitive conscience becomes the tormenter. He doesn't say, "How did I end up here?" That question's never asked in hell. He doesn't say, "Did I really deserve this?" He doesn't say, "Don't you think this is a little extreme?" He doesn't say any of that.
Note that the man still thought so little of Lazarus, as if he were the lowliest servant:
… he looks in his own mind at the person he would consider to be the most wretched person who ever got into heaven, and he picks him, and it's Lazarus. That'll tell you that hell didn't remediate him. He viewed Lazarus exactly the way he always did; and he also thought somebody that lowly ought to serve him. He never got heaven's assessment of Lazarus, because people in hell don't have heaven's assessment of anything …
He's tortured.  The metaphor is thirst and water, but the point is relief.  He wouldn't give Lazarus a crumb, but he wants Lazarus to give him a drip.  "Dip your finger in water, drip it on my tongue."  Minimal.  Any tiny, small bit of relief dripping off the end of Lazarus' finger.  He's not asking for a barrel, not asking for a bucket.  He's not asking for the heavenly pipeline to be extended to hell, so there's a constant flow.  The souls of the damned know they're doomed to suffer.  They know they are suffering justly.  All they ask for in the lips of this man are small moments of relief in this eternal, unending horror.  "I am in agony," odunaō, to be in great pain.  "I am in great pain."  Real water's not going to sooth the eternally tortured soul.  That's not the point.  The message is the desperation for just the smallest moment of relief.  This is consistent with the image of hell.
You read the New Testament, you read even the Old Testament, Isaiah 66:24 talks about the fires of hell.  You go through the New Testament … The gospels and the writers of the New Testament describe hell as a fiery place, and its fire is the fire of torture and torment.  It's also described as darkness, outer darkness, like being lost in the most infinite corner of space under horrible torture and pain, a place of weeping, wailing, teeth-grinding agony.
… A fire that burns forever, but never purifies. A fire that burns forever in an everlasting darkness that only punishes.
Abraham replied, addressing him as 'Child' — some translations say 'Son' — and not in a good way. This is the way a parent addresses a poorly behaved child or a law enforcement officer addresses a criminal.
Abraham reminded the rich man that he received his reward with good things on earth, whereas Lazarus received evil things. In the afterlife, Lazarus was in comfort and the rich man in agony (verse 25).
Henry says that Abraham represents Christ in this parable:
Abraham in this description represents Christ, for to him all judgment is committed, and it is his mind that Abraham here speaks. Those that now slight Christ will shortly make their court to him, Lord, Lord …
He puts him in mind of what had been both his own condition and the condition of Lazarus, in their life-time: Son, remember; this is a cutting word. The memories of damned souls will be their tormentors, and conscience will then be awakened and stirred up to do its office, which here they would not suffer it to do. Nothing will bring more oil to the flames of hell than Son, remember.
Abraham went on to say that a great chasm has been fixed between heaven and hell and that no one in one place can reach the other (verse 26).
Still considering Lazarus to be the lowest of the low, the rich man asked Abraham to send him to his father's house (verse 27), to his five brothers to warn them so that they do not end up in the same place of torment (verse 28).
Abraham denied that request, too, telling him that his brothers have Moses and the prophets: 'they should listen to them' (verse 29).
MacArthur gives us a brief set of Old Testament verses to illustrate that point:
Psalm 3:8, "Salvation belongs to the Lord."  Isaiah 43:3, "I am the Lord your God, the Holy One of Israel, your Savior."  God says, "I am your Savior.  I am your only Savior."  "Truly," says Isaiah 45:15, "Truly Thou art a God who hides Himself.  Oh God of Israel, Savior.  Israel has been saved by the Lord with an everlasting salvation."  God is the Savior.  "Turn to Me.  Turn to Me," verse 22, "all ends of the earth and be saved.  I am God, and there is no other.  There is no other God besides Me, a righteous God, and a Savior."  There's none except Me.  This is total abandonment to God who alone is the Savior; no one else, and you give up everything.
Listen to Isaiah 55:6.  "Seek the Lord while He may be found.  Call upon Him while He's near.  Let the wicked forsake His way, the unrighteous man his thoughts; and let him return to Lord, and He will have compassion on him; and to our God, for He will abundantly pardon." It's about forsaking everything and embracing the God who is the Savior.
Now, in conclusion, does that sound any different than the New Testament?  It's not one bit different.  All those components are components of New Testament salvation.  The only difference is we've seen the reality of the coming King and Sacrifice. If they believed Moses and the prophets, that would've been enough.
The rich man went on with a third request, asking for a sign sent to his brothers — someone from the dead — who will cause them to repent (verse 30).
That request is very much in line with those from the Pharisees. They saw miracles but wanted to kill Jesus. They wanted Him to perform a sign just for them. Our Lord did not grant it.
Abraham replied to the request in the negative, saying that if the five brothers do not listen to Moses and the prophets, they will not be convinced if someone rises from the dead (verse 31).
The man ended up in hell because he did not repent (verse 30).
MacArthur tells us how that man and his brothers could have found the way to repentance:
You must recognize your sinfulness, and the Old Testament commands that you repent. That is, you turn from your sin and turn toward God, realizing that God is gracious and offers grace to those who repent, that God is willing to forgive sin. He is a God of forgiveness by nature, who has no pleasure in the damnation of the wicked; and how do you appropriate that gift? Not by works, not by religious ceremony, but by faith. Abraham believed God, and it was accounted to him for righteousness; and that God will justify you. That is, He will declare you righteous, not because you are righteous; but He will credit His righteousness to you, the great doctrine of justification. Abraham believed God, and it was imputed to him for righteousness. It was his faith, even though he was unrighteous, that God accepted; and then gave Abraham, credited to his account, God's own righteousness.
In closing, MacArthur discusses the differing notions of hell between our society and in the Bible:
… it is critical for us to understand the literal reality of hell, and to accept the warning of Scripture. Hell has really disappeared from the vocabulary of many preachers.  Hell is denied by many in favor of universal salvation or everlasting nonexistence called soul sleep where people die and just go out of existence forever.  That's a popular view among those who call themselves Christians.  Hell is denied by many.  It is preached by few, because it makes people uncomfortable.  That is true.  Hell has been reduced to a swear word, used by unbelievers not believers.  It has been reduced to a trivial verbal epithet that we sling around when wanting to express our anger.  Unbelievers flippantly and frequently tell people to go to hell. And while unbelievers don't seem to have any hesitation to talk about hell and to verbally threaten people with it, at the same time the church is reluctant to warn people not to go to hell, supposedly out of love and compassion and concern and a desire to be acceptable.
So while unbelievers have the word "hell" on their lips frequently, believers have it on theirs rarely; and that is certainly what Satan would want.  Trivialize and make nothing but an epithet out of hell, words that you sling around that have no meaning, and silence the church about the truth of it. But it is the fearfulness of hell; it is the horror of hell that is exactly the point of its revelation.  The purpose of telling us about hell and describing it with such detail and so repeatedly in the Scripture is to produce in sinners fear, terror, and panic.  That's what it's for.  It's to contribute to the way in which they anticipate their eternity.  It is to frighten them, to horrify them so as to produce a terror of spending forever there that drives them in the direction of repentance and faith in the gospel.
Now, the leading preacher of hell of all people, the leading preacher of hell ever is the Savior of sinners, the Lord Jesus Christ.  The most references to hell are in the four gospels and they come out of His mouth.  It is Jesus who teaches us about hell.  Clearly, the epistles are the…the ground in which we will find the clearest foundation for our understanding of hell.  Not just there.  The writer of Hebrews refers to it.  The apostle Peter refers to it.  The apostle John refers to it.  The apostle Paul refers to it.  Even Jude refers to it.  All the writers of the New Testament pick up on the issue of hell.
This punishment is defined by the word aiōnios, which is the word eternal or everlasting; and there are people who would like to redefine that word aiōnios and say, "Well, it doesn't really mean forever."  But if you do that with hell, you've just done it with heaven, because the same word is used to describe that.  If there is not an everlasting hell, then there is not an everlasting heaven; and I'll go one beyond that.  The same word is used to describe God. And so, if there is not an everlasting hell, then there is not an everlasting heaven, nor is there an everlasting God.
It is clear that God is eternal; and, therefore, that heaven is eternal, and so is hell.  This is what is on the heart of the Lord Jesus when He talks to the Pharisees, the religious leaders of Israel, and tells them the story in Luke 16:19 to 31.  He makes it up as He did His parables.  He invents the story.  The only difference between this and any other parable is He has a name for one of the characters; and there's a reason for that; but the story really has one purpose.  It is to warn of hell. It's a story about a man who was surprised to end up in hell.
If you know someone who needs a discussion about hell, do not wait. It is essential in order for them to be saved. Teach them what Jesus says about hell. My prayers go with you in that effort.
Today's post was supposed to be a comprehensive retrospective of what people around the world experienced this week in seeing Queen Elizabeth II being laid to rest.
However, I have information and reflections for more than one post.
Today's will look at the religious aspects and history of Westminster and some Royal funeral traditions.
Westminster's religious history
One thing I learned is that the area that is called Westminster, which we connect with the Abbey and the Palace (where the Houses of Parliament meet) was originally a monastery with a church on the site.
'West' refers to the location being to the west of where most people were settled long before the Norman Conquest in 1066.
The word 'minster' is the Anglicised version of the Latin 'monasterii', 'monasterium' and 'monasteriensis', dating back to 669.
My curiosity was piqued when I read the inscription of the four tall candlesticks immediately flanking the Queen's catafalque. Unfortunately, I do not have the full wording, but 'Westmonasterii' and 'Petri' are on them, gold lettering on a red border, just underneath where the large, thick beeswax candles sit.
Then came the story of how the monastery became linked to St Peter, the fisherman who became a bold Apostle preaching Christ after the first Pentecost.
In 2017, Cambridge University Press published a paper by Bernhard W Scholz, Sulcard of Westminster: Prologus de construccione Westmonasterii.
An extract reads, in part (emphases mine):
Sulcard, a monk of Westminster in the eleventh century, is the author of the first history of his monastery, the unprinted Prologus de construccione Westmonasterii. In this brief tract he describes the foundation of Westminster in the days, as he claims, of King Æthelberht of Kent, and the patronage and endowment extended by various benefactors, notably Archbishop Dunstan of Canterbury and King Edward the Confessor. Sulcard also records the marvellous dedication of Westminster by St. Peter, patron of the church, and two other miracles worked in Westminster by the prince of the apostles.
Of the original church, replaced by the structure we know today, the Wikipedia entry for Westminster Abbey states:
According to a tradition first reported by Sulcard in about 1080, a church was founded at the site (then known as Thorn Ey (Thorn Island)) in the seventh century at the time of Mellitus, a Bishop of London. Construction of the present church began in 1245 on the orders of King Henry III.[5]
Here is where St Peter comes in. A tradition dedicated to him continues today:
A late tradition claims that Aldrich, a young fisherman on the River Thames, had a vision of Saint Peter near the site. This seems to have been quoted as the origin of the salmon that Thames fishermen offered to the abbey in later years, a custom still observed annually by the Fishmongers' Company …
Sulcard's entry reads:
The sole work which Sulcard is known to have produced is the so-called Prologus de Construccione Westmonasterii ("Prologue concerning the Building of Westminster"), dedicated to Abbot Vitalis of Bernay (c. 1076—?1085) and hence datable to about 1080.[2] It relates the history of the abbey, beginning in the time of Mellitus, bishop of London (604—17), with the foundation of its first church on what was then Thorney Island by a wealthy Londoner and his wife. It concludes with the dedication of a new church erected by King Edward the Confessor (r. 1042–1066) for the monastery. In the dedication to Vitalis, Sulcard writes that he intended his work to serve as a 'commemorative book' (codex memorialis) for his house. He was primarily interested in promoting the cult of St. Peter, the abbey's patron saint, who is said to have miraculously appeared in the early 7th century to dedicate the church in person. Two copies of the history are extant, the earliest being a chartulary from Winchester (c. 1300), BL, Cotton MS Faustina A.iii, fols. 11r—16v. The other copy is in BL, Cotton MS Titus A.viii, fols. 2r–5v. The title is not contemporary, but derives from the heading in the former chartulary, to which it serves as a prologue.[3]
Apart from relating local traditions about St. Peter's miraculous involvement, the narrative of Sulcard's prologus is relatively free of embellishments.[1]
It does not appear that the monks had an easy time of it on Thorney Island:
Thorney Island was the eyot (or small island) on the Thames, upstream of medieval London, where Westminster Abbey and the Palace of Westminster (commonly known today as the Houses of Parliament) were built. It was formed by rivulets of the River Tyburn, which entered the Thames nearby. In Roman times, and presumably before, Thorney Island may have been part of a natural ford where Watling Street crossed the Thames,[1] of particular importance before the construction of London Bridge.
The name may be derived from the Anglo-Saxon Þorn-īeg, meaning "Thorn Island". [2]
Thorney is described in a purported 8th century charter of King Offa of Mercia, which is kept in the Abbey muniments, as a "terrible place". In the Spring of 893, Edward the Elder, son of Alfred the Great, forced invading Vikings to take refuge on Thorney Island.[3] Despite hardships and more Viking raids over the following centuries, the monks tamed the island until by the time of Edward the Confessor it was "A delightful place, surrounded by fertile land and green fields". The abbey's College Garden survives, a thousand years later, and may be the oldest garden in England.[4]
Since the Middle Ages, the level of the land has risen, the rivulets have been built over, and the Thames has been embanked, so that there is now no visible Thorney Island. The name is kept only by Thorney Street, at the back of the MI5 Security Service building; but a local heritage organisation established by June Stubbs in 1976 took the name The Thorney Island Society.
In 1831 the boundaries of the former island were described as the Chelsea Waterworks, the Grosvenor Canal, and the ornamental water in St James's Park.[5]
Thorney Island is one of the places reputed to be the site of King Canute's demonstration that he could not command the tides, because he built a palace at Westminster.
In 2000, the politician John Roper was created a Life peer and revived the name of Thorney in Parliament by taking the title Baron Roper of Thorney Island in the City of Westminster.[6]
Royal traditions at Westminster Hall
The Daily Mail has an excellent article on Westminster Hall's history from 1087 to the present, beginning with William the Conqueror's son, William II, or William Rufus.
The Queen's lying in rest was another historic milestone. By September 15, just four days before her funeral, someone described it as a:
piece of history that will never be repeated.
Before the public viewing started, Westminster Abbey's clergy and the Archbishop of Canterbury conducted a 20-minute service, accompanied by the Abbey choir.
Although the Hall is unconsecrated ground, it nonetheless felt as if it were a church.
The hundreds of thousands of people who filed past over four days, until 6:30 a.m. on the morning of Monday, September 19, 2022, also respected it as such. The continuing silence was overwhelming in its beauty.
Although there are traditions relating to monarchs long ago, the Westminster Hall visitation is a relatively new one, as The Telegraph's Tim Stanley tells us:
The modern lying-in-state was invented in 1910, for the funeral of Edward VII. No tickets were issued; rich and poor queued in torrential rain. As the doors opened at Westminster Hall, a work girl was heard to cry, "They're givin' 'im back to us!"
When the ceremony was repeated for George V in 1936, cynics sneered at its elitist "pomp". The writer G K Chesterton advised them to open a history book. In aiming to modernise royalty by bringing George's body closer to the people, he said, the court turned the clock back to the Middle Ages, to when kingship was more personal and tangible. The coffin of a medieval sovereign was generally topped with a waxwork effigy, so that even the lowliest subject could see what he looked like.
The body of a monarch was, in a sense, sacred, transformed by coronation into an instrument of God. But, like Doubting Thomas, we need to see to believe. Hence even as monarchy became more absolutist over time, better convinced of its divine rights, the principal actors still felt the need to put on a show.
France's monarchy was even more open than ours. The public could watch Louis XIV and his family at Versailles:
Louis XIV, the Sun King of France, rose every morning, washed, shaved and dressed in front of an audience of around 100 people. Anyone could come to see him at Versailles; all you needed to get in w[ere] a hat and a sword, and the concierge did a nice sideline in selling both. Tourists could watch the royal family going to chapel, eating, even playing cards – you could say Versailles was the Center Parcs of its day, though reviews were scathing about the pickpocketing and the smell. The palace did not benefit from modern plumbing. People relieved themselves in the corridors. There's a story that Marie Antoinette once stepped out for a walk and a woman in the window above emptied a chamberpot over her head.
Returning to Westminster Hall last week, Stanley says:
Let's call it what it is: a pilgrimage. The body has been returned to the people; the people have come to see it, drawn by belief, by spectacle or raw instinct. When I entered Westminster Hall, I saw at once that it was a shrine, marked by candles and shrouded in silence. Phones were banned.
Alone at the coffin, some bowed, some curtsied, some crossed themselves. These ritual gestures, observed Chesterton back in 1936, are "not only more serious but more spontaneous" than the "ghastly mummery of saying a few words" … The poverty of the 21st-century imagination betrays the dead and the living. Tradition honours with awe, and it provides those left behind with the language and actions to articulate the inexpressible.
The person who willingly submits to the ritual of the lying-in-state, argued Chesterton, "may not be an exceptional person but at least he understands what is meant by an exceptional occasion." By contrast, the bright spark who stands above it all forfeits the wisdom of the crowd, and by rejecting history, discards a part of themselves, too – so that they are ignorant even of their own identity. Worse, they are without hope. If you believe, as we are encouraged to believe today, that death is it, the funeral is a "goodbye" that can't even be heard by the deceased. But if you believe, as the late Queen did, that there is a life after this one, then the rite is a demonstration of faith that things will continue.
To inhabit a tradition means not only to participate in it but to pass it on. Its survival is a tribute to the perseverance of life itself. We will be told that all we've seen is old hat; we'll be told that even if it was grand, Queen Elizabeth was its last shout. Well, they've said that a million times before, and yet here we are lining the streets, or crowding around the television, bearing witness to an ancient institution that has the audacity to claim its origin from King Solomon.
Bemusement? It renders clarity. Despair? It offers hope.
I will return to faith in a moment.
Also writing for The Telegraph, Christopher Howse described the 'sacred mysteries' surrounding royal ceremonies:
The lying-in-state of Queen Elizabeth, her coffin covered by the royal standard upon which rested the Imperial State Crown, made an argument hard to reduce to words. It argued for a constitutional monarchy and the ancient conventions surrounding it. Millions of people this week have quietly taken part in recognising that reality.
In religion, an old saw says: lex orandi lex credendi – the law of prayer is the law of belief. In other words, prayers and liturgy express implicit meanings behind them. Perform the rites and you learn what you believe.
Something similar operates in state ceremonial. I know that traditions are reinvented, and that the lying-in-state in Westminster Hall is little over a century old. But it incorporates remarkably old elements. In the Imperial State Crown, for example, is the sapphire of St Edward, said to have been part of the coronation ring of King Edward the Confessor, who came to the throne in 1042.
It is not too soon now … to consider the coronation of King Charles. There is antiquity here too, the inheritance of which should not be thrown away. The motet Zadok the Priest, for example, has been sung at every coronation since 973, for King Edgar. The words are based on the First Book of Kings (1:38): "Zadok the priest and Nathan the prophet anointed Solomon king. And all the people rejoiced and said: God save the King! Long live the King! God save the King!"
… Some of my fears have been assuaged by the words of King Charles. He had once spoken of being the defender of faiths, rather than the faith of the Church of England implied by the abbreviations found on our coinage: FID DEF – fidei defensor. In his first address on coming to the throne, King Charles called the Church of England "the church in which my own faith is so deeply rooted".
The Coronation takes place within the service of Holy Communion (even if films from 1953 omit images of Queen Elizabeth and the Duke of Edinburgh receiving the Sacrament, as they did).
And, no matter what, we are better off with an established church in England than without one, precisely for these reasons:
Sometimes I find the Church of England annoying. Who doesn't? But I'd rather have it as the Established Church than not … as the godly anointing of the head of state and supreme governor of the Church of England, the Coronation must retain the Christian elements that define it.
The only noise we heard was during the changing of the guard, which took place every 20 minutes. Unless one does it as a job, i.e. in front of one of the palaces, it is difficult to stand completely still in one place for much longer.
Lucy Denyer wrote an article for The Telegraph describing what an honour it was for her to see her husband as part of that guard:
My husband is – imperceptibly, infinitesimally – swaying. Backwards and forwards he goes, gently, so, so gently. Blink and you'd miss it; to all intents and purposes he is standing stock still, eyes front, unsmiling, upright. You'd only catch the tiny movement if you were looking very intently.
… The rocking – forwards and backwards from the heel to the ball of the foot – keeps the blood flowing; stops him passing out. Watch really carefully and they're all at it. 
The Queen herself also did that when standing for long periods of time. It does work.
She, too, commented on the silence:
Inside, under the bright lights hanging from the mediaeval beams, it is silent, bar the tapping of feet, the discreet click of an official photographer's lens and once, the wail of a baby.
Suddenly comes the bang of sword on stone, the signal for the guard to change. It is precisely 12:20am and the four on the corners swing their swords in a graceful arc in perfect time, before making their careful way down the steps of the dais on which the late Queen's catafalque stands …
My husband tells me afterwards that all he could think of, at this point, was not to trip, fall – and become a global meme.
She discussed the power of ritual and solemnity of a vigil:
A vigil can at once be grand or simple, awe-inspiring or strangely intimate – or all of those things – and Queen Elizabeth II's is no exception. Ignore the velvet ropes and the electric lights – and the anoraks, trainers and clutched plastic bags – and this could be a moment from another time; it is timeless.
Soothing, too; the endless river of people filing by the coffin. Most slow, some bow, others curtsey, some blow kisses. Many linger after they have passed by, reluctant to leave this sanctuary that it has taken them so long to reach. Exhaustion is etched on faces; there is the odd dazed-looking child stumbling along between its parents.
Among this stream of awkward humanity, the officers on guard stand in marked contrast – statues, doing their duty. They have been practicing all week: their entrances and exits, their synchronised sword drills run through at home in spare half hours with umbrellas. Standing orders have been dusted off, breastplates refitted, helmets adjusted, boots polished. I have seen the pomp and ceremony hundreds of times, yet never carried out so silently; there is no shouting of orders in here.
The sword bangs once more; it is time to leave. On top of the coffin, the Black Prince's Ruby suddenly flashes red. I pause, bow my head, say a prayer of thanks – for Her Majesty's life, but also, in her death, to have been able to see this, to watch my husband carry out this enormous honour.
Returning to Windsor — and to God
After the Queen's committal at St George's Chapel at Windsor Castle, Tim Stanley wrote a moving tribute for The Telegraph:
The Committal was a homecoming. To Windsor and to God.
This is one of England's holiest spots, burial site of kings, church of the Order of the Garter, it once hosted a splinter of Christ's cross. Its slender pillars are like the trunks of ash trees. 
Beneath its canopy of silver lattice, the coffin was borne to the quire and rested at the catafalque, to a setting of Psalm 121: "I will lift up mine eyes unto the hills."
Then the choir sang the Russian contakion of the departed, also performed at the Duke's funeral, a nod to the family's Orthodox heritage. Absent a eulogy, it was the music that expressed Her Majesty's character and convictions, including a motet arranged by Sir William Henry Harris who, it is believed, taught the young Princess Elizabeth how to play the piano. As a child, she could often be found in the organ loft listening to him play for the services down below, especially at Christmas.
The words by John Donne crystallised the message of the readings: "Bring us, O Lord God… into the house and gate of Heaven", where there shall be no darkness "but one equal light", no noise "but one equal music" and one "equal eternity".
Put another way, Elizabeth II lived as a queen but, in death, she is a soul equal to any other, returned to God. In an age of atheism, when Christians are persecuted across the world, it's remarkable that perhaps history's largest ever TV audience was given over to a statement of unafraid Christian belief – and over the course of the Committal, one cleric after another expressed the vision of their church with utter clarity.
There is the reality of mortality, as described by the Dean of Windsor in Psalm 103: "The days of man are but grass… As soon as the wind goeth over it, it is gone."
There is the certainty of life after death, as stated in the prayers: "We rejoice at thy gracious promise to all thy servants, living and departed, that we shall rise again at the coming of our Saviour Jesus Christ." And there is the vision of triumph at the end of times, as the Dean quoted from Revelation: "There shall be no more death, neither sorrow, nor crying."
This passage was read at the funerals of the Queen's grandparents and father, casting us back over an unbroken line of succession.
There was no qualification in any of these words, no Thought for the Day "some might say, others will feel differently", but instead pure hope rooted in unshakable faith. The Queen has died, but her story does not end. That's true for the monarchy, as well …
Finally, the coffin lowered into the ground as the Dean continued: "Go forth upon thy journey from this world, O Christian soul." The Garter King of Arms proclaimed the late Queen's titles; a bagpiper played a lament from the North Quire Aisle, slowly walking into the distance, till the figure and his tune became a ghost in the ash forest. You might say that physically we were in England, but spiritually we were in Balmoral.
And the congregation awoke from its reverie into a new era …
Later, of course, the family would say a very private farewell to Queen Elizabeth, and she would be laid next to her beloved husband – concluding a set of rites that, like Russian dolls, grew smaller and more precious in form. 
For the public, the emotional journey to this moment was intense. Over 10 days, the lying in state allowed us to participate in the Queen's farewell and, let's be honest, make it a little bit about us. How British were the queues, we said, how democratic the whole thing.
But at the Abbey and the Chapel, we saw what this was really all about: namely the late Queen, her precious traditions and the principles they exist to pass on. Ultimately, the Committal articulated love – for country, for family, for horses and dogs, all the things that make a life worth living.
The Church of England is preoccupied by church growth programmes.
They do not need that at all.
What they need is a continuous replay of the Queen's four days in Westminster Hall, her funeral at Westminster Abbey and her committal service at St George's Chapel.
My message to Anglican clerics is: build it and they will come.
————————————————-
It is not too late to send the Royal Family a message of condolence:
My better half and I were in London yesterday. Friends told us that floral tributes were still being laid in the relevant parks and at Windsor Castle.
It is good to see that mourners are still remembering our late monarch, especially as the Royal Family now have a chance to grieve in private for the next few days.
May God bless them on that difficult journey.
Long live the King.
Reflections on the Queen continue next week.
Shall we not call our late Queen Elizabeth the Good?
While everyone has been calling her Elizabeth the Great, historian David Starkey was right to point out last week on GB News that 'the Great' belongs to rulers who won great wars.
Our Queen has also been referred to as Elizabeth the Dutiful and Elizabeth the Faithful.
Yet, it seems we should find a monosyllabic word.
Therefore, Elizabeth the Good seems fitting.
Someone on GB News suggested that very briefly, and only once. It is a good suggestion.
Yesterday's post was about the Queen's state funeral in London, the first since Winston Churchill's in 1965.
Monday, September 19 concluded with her committal service at St George's Chapel at Windsor Castle.
The funeral cortege left London for Windsor, where the public viewing area was full of mourners. You could hear a pin drop.
The procession was smaller and made its way up the Long Walk to the castle.
The Queen's favourite pony stood quietly on the side to watch his mistress pass by one last time. Her two corgis were nearby and able to watch it. They were very well behaved. Do animals sense death? It would seem so.
Prince Andrew is now the keeper of the corgis.
The Times reported (emphases mine):
The Queen's corgis waited in the Quadrant at Windsor Castle as the funeral procession made its way to St George's Chapel.
Muick and Sandy — one on a red lead and one on a blue lead — were brought out on to the steps by two pages in red tailcoats for the arrival of the Queen's coffin.
Emma, the Queen's fell pony, was standing in a gap in the floral tributes lining the Long Walk as the procession moved towards the castle. Emma was among the Queen's favourites and is said to be still going strong at 24 years old.
The two corgis will now be looked after by the Duke of York and his ex-wife Sarah, Duchess of York.
Muick (pron. 'Mick') is named for one of Prince Philip's favourite places in Scotland, Loch Muick.
This video shows the crowds, the procession and her favourite animals:
The pallbearers carefully carried the Queen's casket, which, as it is lined with lead, weighs around 700 pounds. An even procession upwards mandates that all the pallbearers be the same height. The officer in charge gave them instructions on negotiating the steps of St George's Chapel as they progressed:
Around 800 invited mourners filled the chapel. That said, this was a more private service for those who live and work on the estate as well as for foreign royals, other dignitaries and for members of the military.
The Order of Service for the Committal is here:
The service began at 4:08 p.m., eight minutes later than scheduled. The procession in London took slightly longer than anticipated.
Senior members of the Royal Family, including young Prince George and Prince Charlotte, processed behind the casket in the chapel.
The full service is below. Access it via their tweet:
My far better half preferred the Committal Service to the one in the Abbey because it dealt with her instruments of state and her being lowered into the vault at the end.
I immediately noted the more modern English used in the prayers and the spoken readings.
Highlights of the service follow.
The pallbearers brought the Queen's casket up in front of the altar, over the lift that would take her down into the vault at the end. This also happened at Prince Philip's funeral:
The minister from Crathie Kirk near Balmoral joined the Chapel clergy and the Archbishop of Canterbury:
The service will be conducted by the Right Reverend David Connor, Dean of Windsor, with prayers said by the Rector of Sandringham, the Minister of Crathie Kirk and the Chaplain of Windsor Great Park and the blessing pronounced by the Lord Archbishop of Canterbury, The Most Reverend Justin Welby.
The Choir of St George's Chapel will sing during the Service, conducted by Director of Music James Vivian.
The choir sang Psalm 121:
I will lift up mine eyes unto the hills: from whence cometh my help.
My help cometh even from the Lord: who hath made heaven and earth.
He will not suffer thy foot to be moved:
and he that keepeth thee will not sleep.
Behold, he that keepeth Israel: shall neither slumber nor sleep.
The Lord himself is thy keeper: the Lord is thy defence upon thy right hand;
So that the sun shall not burn thee by day: neither the moon by night.
The Lord shall preserve thee from all evil:
yea, it is even he that shall keep thy soul.
The Lord shall preserve thy going out, and thy coming in:
from this time forth for evermore.
Then the choir sang The Russian Kontakion for the Departed, also sung at Prince Philip's funeral in 2021. He had been raised Greek Orthodox.
The musical arrangement was the Kiev Melody, in a nod to Ukraine.
These are the lyrics:
Give rest, O Christ, to thy servant with thy Saints:
where sorrow and pain are no more; neither sighing but life everlasting.
Thou only art immortal, the Creator and Maker of man:
And we are mortal, formed of the earth, and unto earth shall we return:
For so thou didst ordain, when thou createdst me, saying,
Dust thou art, and unto dust shalt thou return.
All we go down to the dust; and, weeping o'er the grave we make our song:
Alleluya, alleluya, alleluya.
Give rest, O Christ, to thy servant with thy Saints:
Where sorrow and pain are no more; neither sighing but life everlasting.
The Dean of Windsor recited the Bidding Prayer:
We have come together to commit into the hands of God the soul of his servant Queen Elizabeth. Here, in St George's Chapel, where she so often worshipped, we are bound to call to mind someone whose uncomplicated yet profound Christian Faith bore so much fruit. Fruit, in a life of unstinting service to the Nation, the Commonwealth and the wider world, but also (and especially to be remembered in this place) in kindness, concern and reassuring care for her family and friends and neighbours. In the midst of our rapidly changing and frequently troubled world, her calm and dignified presence has given us confidence to face the future, as she did, with courage and with hope. As, with grateful hearts, we reflect on these and all the many other ways in which her long life has been a blessing to us, we pray that God will give us grace to honour her memory by following her example, and that, with our sister Elizabeth, at the last, we shall know the joys of life eternal.
The Dean of Windsor, who is also the Register of the Most Noble Order of the Garter, for it is at St George's Chapel where the Garter ceremonies are conducted, read Revelation 21.1-7:
I saw a new heaven and a new earth: for the first heaven and the first earth were passed away; and there was no more sea. And I, John, saw the holy city, new Jerusalem, coming down from God out of heaven, prepared as a bride adorned for her husband. And I heard a great voice out of heaven saying, Behold, the tabernacle of God is with men, and he will dwell with them, and they shall be his people, and God himself shall be with them, and be their God. And God shall wipe away all tears from their eyes; and there shall be no more death, neither sorrow, nor crying, neither shall there be any more pain: for the former things are passed away. And he that sat upon the throne said, Behold, I make all things new. And he said unto me, Write: for these words are true and faithful. And he said unto me, It is done. I am Alpha and Omega, the beginning and the end. I will give unto him that is athirst of the fountain of the water of life freely. He that overcometh shall inherit all things; and I will be his God, and he shall be my son.
The minister of Crathie Kirk participated in the clergy prayers. These included one for the Royal Family and another for the Queen and her fellow Companions of the Order of the Garter:
Lord God Almighty, King of creation, bless our King and all Members of the Royal Family. May godliness be their guidance, may sanctity be their strength, may peace on earth be the fruit of their labours, and their joy in heaven thine eternal gift; through Jesus Christ our Lord. Amen.
God save our gracious Sovereign and all the Companions, living and departed, of the Most Honourable and Noble Order of the Garter. Amen.
The choir sang the prayer from John Donne that was also part of the Westminster Abbey service.
Then the drama began. I cannot think of a better word, so, please excuse me.
The Telegraph describes how the Queen's instruments of state were ceremonially removed from her coffin and placed on the altar. This was written beforehand, hence the future tense:
Queen Elizabeth II will finally part company with the Imperial State Crown, orb and sceptre as the final hymn is sung at her committal ceremony, in what is likely to be one of the most moving moments of today's funeral …
They will only be removed in the final moments before the public sees its last images of the monarch's coffin.
Before the final hymn is sung in St George's Chapel during the ceremony that begins at 4pm today, Mark Appleby, the Crown Jeweller, will remove the crown, orb and sceptre from the coffin, with the help of the Bargemaster and the Serjeants-at-Arms – royal servants who guard the regalia during state occasions. They will pass them one by one to the Dean of Windsor, who will place them on the high altar.
While the crown represents the sovereign's power over her subjects, the orb, made up of a cross above a globe, represents Christ's earthly dominion and symbolises the monarch's status as God's mortal representative. The sceptre, which holds the world's largest cut diamond, the Cullinan I, represents equity and mercy. They will be presented to the King at his coronation in 2023.
They are now back safely at the Tower of London.
Watching this ceremony, I was reminded of 1 Timothy 6:7:
For we brought nothing into this world, and it is certain we can carry nothing out.
Each instrument of state had its own purple cushion on the altar. The orb has a golden spike on the bottom to keep it anchored. Its cushion is specially designed with a metal recipient in the centre.
King Charles then had a role to play. He was sitting where the Queen used to sit.
He rose and stood before his mother's coffin to:
place a military flag on top of the coffin which, according to the Army, will be placed inside her coffin before she is interred.
The Grenadier Guards Queen's Company Camp Colour – a small flag which normally adorns the Company Captain's bunk designating his place of work – is unique to each sovereign and ceases to be used when they die …
The Grenadier Guards are the most senior of the Foot Guards regiments, and the Queen was their Colonel in Chief.
The full-sized version of the flag was draped at the foot of the Queen's coffin as she lay in state.
After that took place, the King took his place and the Lord Chamberlain, the Royal household's most senior member, broke his wand of office and placed it on top of the coffin. The wand is designed such that there is a break point in the middle, surrounded by metal on either side.
The Lord Chamberlain broke his wand because, with the Queen's death, his work has now ended — unless the King decides to reappoint him.
Here are photos of the instruments of state, King and the Lord Chamberlain:
The Queen's coffin was then lowered into the vault (see the 1:42:00 point in the Royal Family video). The complete lowering is never shown to the public.
While that took place, the Dean of Windsor recited Psalm 103:13-17 in traditional language:
Like as a father pitieth his own children:
even so is the Lord merciful unto them that fear him.
For he knoweth whereof we are made:
he remembereth that we are but dust.
The days of man are but as grass:
for he flourisheth as a flower of the field.
For as soon as the wind goeth over it, it is gone:
and the place thereof shall know it no more.
But the merciful goodness of the Lord endureth for ever and ever
upon them that fear him:
and his righteousness upon children's children.
He then recited a committal prayer, again in traditional language:
Go forth upon thy journey from this world,
O Christian soul;
In the name of God the Father Almighty who created thee;
In the name of Jesus Christ who suffered for thee;
In the name of the Holy Spirit who strengtheneth thee.
In communion with the blessèd saints,
and aided by Angels and Archangels,
and all the armies of the heavenly host,
may thy portion this day be in peace,
and thy dwelling in the heavenly Jerusalem.
Amen.
Then, the Queen's Piper, Pipe Major James M. Banks — the one who played the lament at Westminster Abbey — appeared in a side aisle to play another lament.
As he was ending, viewers could see him pass the doorway near the altar and vanish as the pipes faded away into silence.
You won't want to miss this:
The service was about to end but not before the Dean prayed for the King:
Let us humbly beseech Almighty God to bless with long life, health and honour, and all worldly happiness the Most High, Most Mighty and Most Excellent Monarch, our Sovereign Lord, now, by the Grace of God, of the United Kingdom of Great Britain and Northern Ireland and of His other Realms and Territories King, Head of the Commonwealth, Defender of the Faith, and Sovereign of the Most Noble Order of the Garter. God Save The King.
The Archbishop of Canterbury gave the blessing:
Go forth into the world in peace;
Be of good courage, hold fast that which is good,
render to no one evil for evil; strengthen the fainthearted,
support the weak, help the afflicted, honour all people,
love and serve the Lord, rejoicing in the power of the Holy Spirit;
And the blessing of God Almighty,
the Father, the Son, and the Holy Spirit
be among you and remain with you always. Amen.
The congregation sang one verse of the National Anthem.
They then processed out in order:
All remain standing as The King and The Queen Consort, preceded by the Archbishop of Canterbury and the Archbishop of York and accompanied by the Dean of Windsor, move to the Galilee Porch. At the Galilee Porch the Archbishop of York, the Archbishop of Canterbury and the Dean of Windsor take their leave.
Other members of the Royal Family, escorted by the Canons of Windsor, move to the Galilee Porch, where the Canons, the Archbishop of York, the Archbishop of Canterbury and the Dean of Windsor take their leave.
Members of Foreign Royal Families, Governors Generals and Realm Prime Ministers, escorted by Gentlemen Ushers, move to the West Doors.
The Choir and Succentor leave the Quire by way of the Organ Screen. The Clergy leave by way of the North Quire Gate. The Congregation sits.
His Majesty's Body Guard of the Honourable Corps of Gentlemen at Arms and The King's Body Guard of the Yeomen of the Guard move by way of the Centre Aisle, the North Nave Aisle and the North Quire Aisle to the Cloisters.
The Congregation will be asked by the Stewards and the Ushers to leave the Chapel.
However, the day was not yet finished for the Queen's children.
At 7:30 p.m., they returned to enter the tiny King George VI Memorial Chapel, which holds only six people maximum, to inter their beloved mother and father:
whose coffins will be moved from the royal vault to be interred alongside the Queen's parents and her sister Princess Margaret.
According to Royal experts, George VI often said to his wife and daughters before the Queen married, 'It's only the four of us'.
Here is a family portrait of them with the Duke of Edinburgh:
With the interment came the end of Operation London Bridge, which went brilliantly. It is likely to have been the first and the last occasion of its kind.
Well, the Queen was the first and last of her kind, too:
The Royal Family have another week of mourning. Until now, they have had no chance to grieve privately:
Visitors to Royal palaces should be aware that some exhibitions and tours will be closed, some for the rest of the year:
In closing, many of us will feel like this corgi, rather bereft:
My next post will analyse the significance of the funeral services and the past two weeks.
On Monday, September 19, 2022, the United Kingdom held its first state funeral since the death of Winston Churchill in 1965.
The public viewing of the Queen's casket at Westminster Hall ended at 6:30 a.m.:
I am certain that more than 250,000 people filed past in four days in London, because in 2002, 200,000 filed past her mother's coffin in three days. I was one of them. It was an unforgettable experience.
The Sky News article had more numbers before the Queen's funeral at Westminster Abbey began:
The Mayor of London's office said an estimated 80,000 people were in Hyde Park, 75,000 in ceremonial viewing areas and 60,000 on South Carriage Drive.
Overall numbers will be much higher as crowds formed on virtually the entire route to Windsor, where Thames Valley Police said 100,000 people had turned out.
The Telegraph reported much higher numbers for Westminster Hall. These seem more realistic to me:
The four-day lying-in-state ceremony has seen more than a million mourners packing the banks of the Thames, waiting in a queue which, at its peak, took 24 hours and stretched 10 miles, beyond London Bridge to Southwark Park.
On the final day, Westminster Hall was attended by dozens of foreign leaders and royals who have arrived in London ahead of the state funeral, which starts at 11am.
They included Joe Biden, the US President, Emmanuel Macron, the French leader, Olena Zelenska, the First Lady of Ukraine, President Jair Bolsonaro of Brazil and his wife Michelle, King Felipe and Queen Letizia of Spain, and King Phillipe and Queen Mathilde of Belgium.
On Sunday morning, the Government warned people not to travel to the queue "to avoid disappointment".
Another Telegraph article had more statistics about the Elizabeth Line (emphases mine):
At an average queueing time of 12 hours – perhaps even more – they had clocked up a total of 4.8 million hours between them as they shuffled forward, uncomplainingly, in the sunshine, and in the cold, and in the dark. It means that since the late Queen's lying in state began last Wednesday, her people had spent a cumulative 550 years saying their final thank you.
And if each of them entered the winding, folding queue at its end in Southwark Park, they would have walked 4 million miles between them, the equivalent of 153,846 marathons.
The fact that all of them knew how arduous the wait would be, having been given ample warning, is an even more reliable measure of how much Queen Elizabeth meant to them.
From children in push-chairs to pensioners and even global celebrities, they patiently waited their turn to spend only a few minutes in the presence of the late Queen's coffin, almost all of them pausing to bow or curtsy, many of them turning away in tears.
As one of my readers, dearieme, pointed out, this shows the trust our Queen had in her subjects and foreign visitors:
How often in the history of civilisations would governments, here or elsewhere, have allowed – even encouraged – huge mobs of the public to congregate, and trust largely to their natural instincts to keep themselves in order?
I think the answer might be "rarely".
Douglas Murray pondered all of the above in his Telegraph article: 'Our late Queen's final act was to bring her nation and the world deeply together'.
Excerpts follow:
The passing of Elizabeth II is remarkable for many reasons. But just one of them is the way in which the Queen's final act seems to have been to bring her nation deeply together.
There is the literal way in which that has happened, with the mini-nationalists across Britain ceasing – for a moment at least – their relentless task of trying to tear our country apart. The Scottish nationalists observed the death of our monarch without a series of "buts". Even Sinn Fein paid tribute and passed condolences to the Queen's son and heir – an act that would have been unthinkable beforehand.
People have rightly remarked on the way in which hundreds of thousands of people have queued to pay their own personal respects to the late Queen. But almost as remarkable is the way in which other nations around the world, as well as their media, have mourned her death …
The Queen leaves behind a Commonwealth that has been united in mourning – hardly the expected reaction if she had been the cruel tyrant of the New York Times's imagination.
What is more, although the dissenters have received an extraordinary amount of attention, more extraordinary by far is how united the world's response has been.
France, for instance, is not a country known for its love of monarchy. But on the death of Queen Elizabeth the French political and media class were united in paying tribute to her. She was honoured on the cover of almost every French magazine and periodical, as she was across the European and world media.
This reaction is largely a tribute to a reign of unparalleled length and dignity, a life given to the service of the country and the deepening of alliances with our friends and allies. But it also serves as a reminder of the way in which Britain is regarded around the world. With the exception of a few raucously noisy malcontents, we find that most people do not regard Britain as some terrible tyrannical power, either now or in history. Most see us, rightly, as having been among the fairer, certainly more benign, world powers …
This is the Britain that is still influential both in its impact abroad and also in the lives of its citizens. I doubt that there has been a figure in history whose death has led to such a voluntary outburst of feeling. There may have been despots whose death had to be mourned by their citizens and subjects, but there can have been few, if any, who have ever produced such willing devotion.
And there is a lesson in this for our institutions, and for institutions and nations around the world: people are loyal to institutions that are loyal to them. Break any part of that pact and you break the whole; sustain it and you sustain the whole.
Queen Elizabeth II swore an oath to this country as a young woman, and it was an oath she kept until her dying day. That loyalty is what is being honoured and mirrored today: the respect of people around the world for a life of service and duty. Something to remember, certainly. But something to emulate and live up to as well.
On the subject of tributes from abroad, a Belgian created this inspired photo montage of the Queen:
The next two short videos are well worth watching. The first is about Elizabeth II's 'Queenhood', probably written by the poet laureate with footage from her coronation. The second is a film montage of her entire life from beginning to end:
Operation London Bridge — the Queen's funeral plan — was now in its final phase in the capital and at Windsor Castle.
A military procession arrived at Westminster Hall to take the Queen for her final time to Westminster Abbey.
A new bouquet of pink and purple flowers with foliage and herbs — rosemary for remembrance and myrtle from the plant which supplied the sprigs for her wedding — replaced the white wreath for her lying in state:
Eight pallbearers from the military carefully placed her coffin onto a gun carriage. Naval ratings holding onto ropes in front and in back guided the gun carriage on its way.
This tradition began with Queen Victoria's funeral, which took place in January 1901. Horses were supposed to transport the gun carriage, but part of it snapped off in the cold, thereby making it impossible. Prince Louis Battenberg, who was Prince Philip's grandfather, came up with the solution, which, he said, had operated satisfactorily during the Boer War:
If it is impossible to mend the traces you can always get the naval guard of honour to drag the gun carriage.
The tradition continued throughout the 20th century:
The gun carriage is part of the materiel of the King's Troop, commanded for the first time by a woman, Captain Amy Hooper. She told The Telegraph that she was in Canada when the Queen's death was announced:
"BRIDGE, BRIDGE, BRIDGE," the text stated. "Operation LONDON BRIDGE has been activated. Initiate telephone cascade. All personnel are to return to camp" …
She was in Calgary when the news broke, along with soldiers exercising alongside Canadian mounted units. The British party was flying back to the UK within five hours …
Soldiers as far away as Turkey and America had to cancel their family holidays and return to the UK …
On Monday, she will be leading the gun team in Hyde Park for the Queen's funeral.
King's Troop, a unit of about 160 soldiers with an equal split of men and women, has one of the most important ceremonial roles in the British armed forces.
Their six 13-pounder quick-fire guns, built between 1913 and 1918, all of which have seen active service in the First and Second World Wars, are used regularly for royal salutes in Hyde Park, Green Park or Windsor Great Park for State Occasions and to mark royal anniversaries and royal birthdays …
The gun carriage is known as the George Gun Carriage, and carried King George VI's coffin from Sandringham Church to Wolferton Station in February 1952. It was also used in the funeral of the Queen Mother in 2002.
Queen Elizabeth's funeral had more troops and regiments than had ever been gathered at one time.
These included troops from around the Commonwealth, particularly Canada and Australia:
The soldiers walked at a 75 beat per minute pace, which is slow and difficult to sustain.
The Times reported on the use of a metronome, mimicked on the day by drum beats to ensure proper timing:
Military chiefs have been told to "up their game" for the Queen's funeral today and listen to a metronome at 75 beats per minute to ensure the right pace during the procession.
Admiral Sir Tony Radakin, the chief of the defence staff, admitted to nerves but said an enormous amount of planning for the event had gone on for "a very long time". He said more than 10,000 soldiers, sailors and airmen and women would perform their "last duty" to the Queen during the day's events.
Queen Elizabeth wished to have her funeral at Westminster Abbey because she had been married and crowned there.
The last monarch to have a funeral at the Abbey was George II on November 13, 1760. The other monarchs had theirs at St George's Chapel at Windsor Castle.
The Queen's children along with Princes William and Harry walked in the procession to the Abbey.
Meanwhile, heads of state and dignitaries took their places inside. Charity workers also were seated.
The Queen Consort and the Princess of Wales arrived with Prince George, 9, and Princess Charlotte, 7:
The procession arrived at the Abbey and the pallbearers carefully carried the Queen's coffin inside:
You can find the Order of Service here:
The Times has an excellent article on the service.
You can see the procession from Westminster Hall and the full funeral service. As with the other Royal Family YouTube links I have posted, if you get a message saying it cannot be viewed, click on 'Watch on YouTube' or this tweet:
The Queen chose the music, which held particular significance to her and to the Abbey:
Pardon the irreverence, but this is an aerial view of the seating plan in the transept. Look how far back Joe Biden was. Apparently, his Beasts and motorcade got caught up in traffic, although he arrived before the service began. By contrast, the dignitaries who took the white coaches in the 'podding' system got there on time. Even if he hadn't been late, he would still have been seated in the same place.
The altar is to the left and, out of shot, to the right are more seats for guests: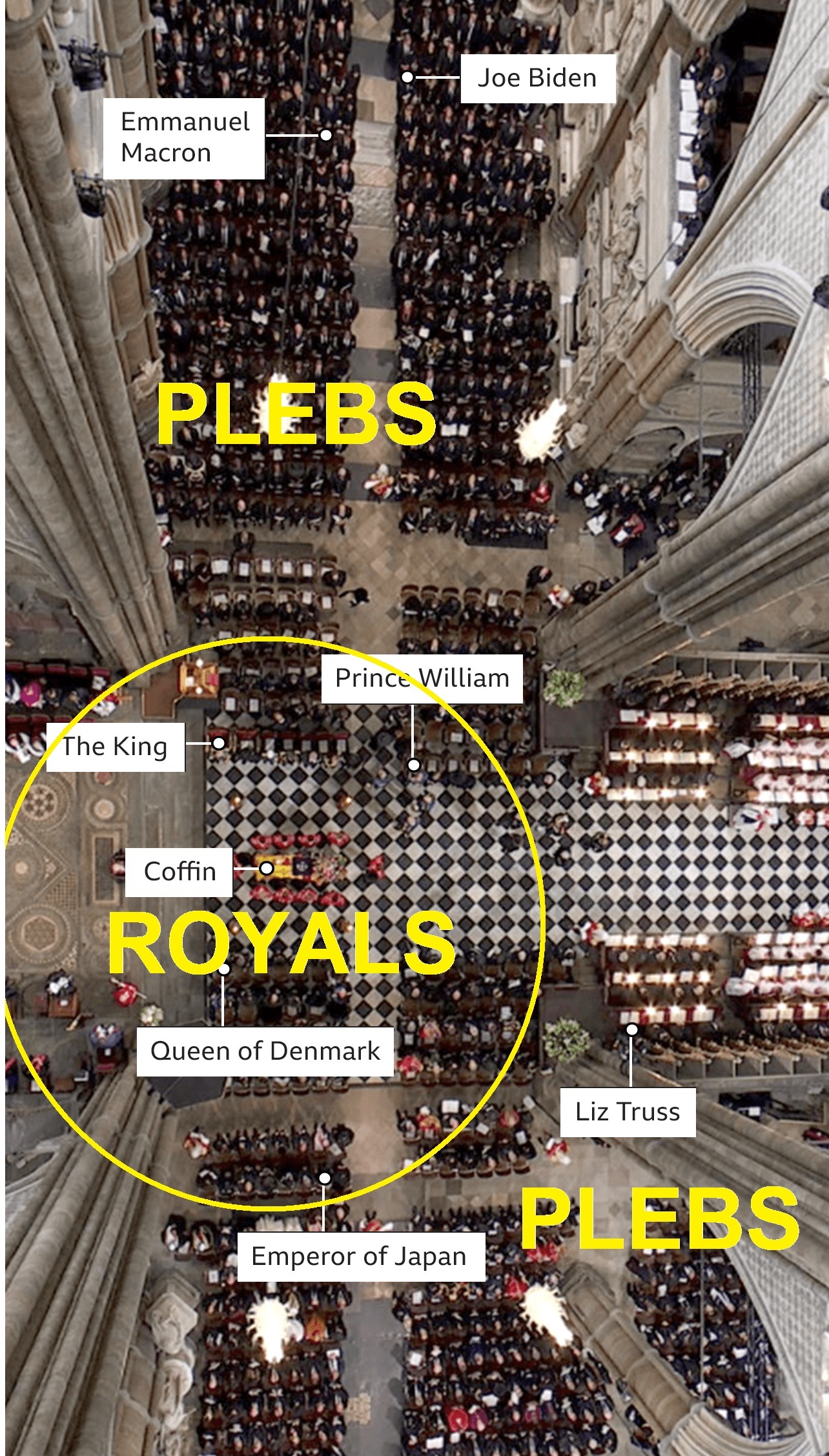 Likely sitting out of shot was, ironically, The Guardian's editor, Kath Viner:
Guido Fawkes has a quote from one of her recent editorials. I cannot bear to cite it in full, so here are the first and last sentences:
Royal rituals are contrived affairs meant to generate popular attachment to a privileged institution and to serve as reminders of a glorious past … How much Britain will be changed once this moment floats past the country is as yet unknown.
Guido commented (emphasis his):
Of course that didn't stop the Guardian's editor Kath Viner accepting a ticket to the funeral from the "privileged institution" herself. Maybe she's sentimental…
Another hypocrite turned up, Scotland's First Minister Nicola Sturgeon, she of the second independence referendum.
The Times has a photo of her and her husband, Peter Murrell, along with a few quotes:
Nicola Sturgeon has said it was an "honour to represent Scotland" as leaders from across the world joined the royal family and other mourners at the state funeral.
The first minister was among some 2,000 mourners at Westminster Abbey along with leaders of the other main Scottish political parties. She spoke of a "final and poignant goodbye to a deeply respected and much-loved monarch".
As I listened to the liturgy, I could not help but think that this is the last time we will hear language from the King James Version of the Bible and the 1662 Book of Common Prayer at a service for the Royals. How I will miss it. I hope I am wrong.
There was one prayer from an even earlier version of the Book of Common Prayer, Archbishop Cranmer's, from 1549. This was put to music. The choir did it full justice:
THOU knowest, Lord, the secrets of our hearts; shut not thy merciful ears unto our prayer; but spare us, Lord most holy, O God most mighty, O holy and most merciful Saviour, thou most worthy Judge eternal, suffer us not, at our last hour, for any pains of death, to fall from thee. Amen.
This was the Bidding Prayer:
O MERCIFUL God, the Father of our Lord Jesus Christ, who is the resurrection and the life; in whom whosoever believeth shall live, though he die; and whosoever liveth, and believeth in him, shall not die eternally; who hast taught us, by his holy Apostle Saint Paul, not to be sorry, as men without hope, for them that sleep in him: We meekly beseech thee, O Father, to raise us from the death of sin unto the life of righteousness; that, when we shall depart this life, we may rest in him, as our hope is this our sister doth; and that, at the general Resurrection in the last day, we may be found acceptable in thy sight; and receive that blessing, which thy well–beloved Son shall then pronounce to all that love and fear thee, saying, Come, ye blessed children of my Father, receive the kingdom prepared for you from the beginning of the world. Grant this, we beseech thee, O merciful Father, through Jesus Christ, our mediator and redeemer. Amen.

The entire liturgy was a lesson about faith and salvation. Even an unbeliver could not miss it.
I pray that it works on the hearts and minds of those in attendance who are indifferent.
The Queen always liked Psalm 42 for its reference to the hart, which reminded her of Scotland:
LIKE as the hart desireth the water–brooks : so longeth my soul after thee, O God.
My soul is athirst for God, yea, even for the living God : when shall I come to
appear before the presence of God?
My tears have been my meat day and night : while they daily say unto me, Where is
now thy God?
Now when I think thereupon, I pour out my heart by myself : for I went with the
multitude, and brought them forth into the house of God;
In the voice of praise and thanksgiving : among such as keep holy–day.
Why art thou so full of heaviness, O my soul : and why art thou so disquieted within
me?
Put thy trust in God : for I will yet give him thanks for the help of his countenance.
Prime Minister Liz Truss read the second Lesson, John 14:1-9a:
LET not your heart be troubled: ye believe in God, believe also in me. In my Father's house are many mansions: if it were not so, I would have told you. I go to prepare a place for you. And if I go and prepare a place for you, I will come again, and receive you unto myself; that where I am, there ye may be also. And whither I go ye know, and the way ye know. Thomas saith unto him, Lord, we know not whither thou goest; and how can we know the way? Jesus saith unto him, I am the way, the truth, and the life: no man cometh unto the Father, but by me. If ye had known me, ye should have known my Father also: and from henceforth ye know him, and have seen him. Philip saith unto him, Lord, shew us the Father, and it sufficeth us. Jesus saith unto him, Have I been so long time with you, and yet hast thou not known me, Philip? He that hath seen me hath seen the Father.

After Psalm 23 was sung, the Archbishop of Canterbury's sermon followed:
Near the end, clergy from the main Christian denominations recited their own prayers in thanksgiving for the Queen's long reign of service.
The Abbey's Precentor then recited a prayer from John Donne (1573-1631):
BRING us, O Lord God, at our last awakening into the house and gate of heaven, to enter into that gate and dwell in that house, where there shall be no darkness nor dazzling, but one equal light; no noise nor silence, but one equal music; no fears nor hopes, but one equal possession; no ends nor beginnings, but one equal eternity; in the habitation of thy glory and dominion, world without end. Amen.
After the blessing, the State Trumpeters of the Household Cavalry sounded The Last Post:
The congregation sang two verses of the National Anthem.
The funeral service closed with a poignant military lament, Sleep, dearie, sleep, performed by the Queen's Piper, Warrant Officer Class 1 (Pipe Major) Paul Burns. He stood on a balcony overlooking the congregation. Words cannot describe it.
This video has brief highlights from the funeral:
After the funeral ended, the Queen's coffin resumed its place on the gun carriage for a procession past Whitehall, down The Mall, then past Buckingham Palace, finishing at Wellington Arch on Constitution Hill.
A gun salute also took place:
The Royals walked with the military, as before. This was a long walk.
Every person in this procession has seen active military service. I put that in bold, because some living overseas think that these are 'toy soldiers', as it were. They are anything but.
Here they are in front of Buckingham Palace. Note that the Queen's household are standing in front of the gates in their normal working clothes to pay their respects:
The horses leading the procession were gifts to the Queen from the Royal Canadian Mounted Police (RCMP), or the Mounties. The Queen was their honorary commissioner.
George, Elizabeth, Darby and Sir John are the latest in a long line of horses given by Canada to the Queen and ridden by senior royals, including King Charles and the Princess Royal, during the annual ceremony of Trooping the Colour …
In 1969, the RCMP presented her with Burmese, a seven-year-old black mare who went on to become the Queen's favourite horse.
She rode her at Trooping the Colour for 18 years, including in 1981 when Marcus Sarjeant, then 17, shot six blank rounds at the Queen as she was travelling down The Mall to the parade that marks her official birthday.
Although Burmese was briefly startled, the horse won praise for remaining calm due to her RCMP training, in which she had been exposed to gunfire.
Burmese, who died in 1990, was the first of eight horses given to the Queen by the Mounties. George was given to her in 2009. Now 22, he has been ridden each year at Trooping the Colour by Charles.
Elizabeth, now 17, named in honour of the Queen Mother, was a gift to mark the Queen's Diamond Jubilee in 2012 …
Sir John, 14, was a 90th birthday present for the Queen and is ridden at Trooping the Colour by Princess Anne, a former Olympic equestrian.
Darby, a 16-year-old Hanoverian gelding, was one of two horses received by the late monarch in 2019.
[Sergeant Major Scott] Williamson is one of four RCMP officers who will ride at the front of tomorrow's funeral procession after the Westminster Abbey service.
It will travel up Whitehall and along The Mall, passing Buckingham Palace before ending at Wellington Arch. Here, the Queen's coffin will be transferred from the state gun carriage to a hearse for her final journey to Windsor.
I will cover the committal service at Windsor in tomorrow's post.
The three-year Lectionary that many Catholics and Protestants hear in public worship gives us a great variety of Holy Scripture.
Yet, it doesn't tell the whole story.
My series Forbidden Bible Verses — ones the Lectionary editors and their clergy omit — examines the passages we do not hear in church. These missing verses are also Essential Bible Verses, ones we should study with care and attention. Often, we find that they carry difficult messages and warnings.
Today's reading is from the English Standard Version with commentary by Matthew Henry and John MacArthur.
Final Greetings
21 Greet every saint in Christ Jesus. The brothers who are with me greet you. 22 All the saints greet you, especially those of Caesar's household.
23 The grace of the Lord Jesus Christ be with your spirit.
———————————————————————————
Last week's post discussed Paul's gratitude to the Philippians for their gifts to him over the years.
We have now reached the conclusion of Philippians and Paul's benediction.
John MacArthur sets the scene for us (emphases mine):
So as the dear Apostle Paul watches the candle flicker, probably at night, and realizes that the darkness of night is soon to fall and waits the morning dawn when he hands the scroll, as it were, to Epaphroditus and he says, "Epaphroditus, the letter is done, you can now return to Philippi and give it to the leaders of the church," as he waits to send off that dictated letter which an amanuensis or secretary has taken down, just before he is finished in the flickering of that last evening, he picks the stylus up himself and with his own hand it is very likely that verses 20, 21, 22 and 23 were written.
You say, "Well what makes you think that? The word of the Apostle Paul to the Thessalonians. The Apostle Paul in writing the final words of 2 Thessalonians said this, "I, Paul," chapter 3 verse 17, "write this greeting with my own hand and this is a distinguishing mark in every letter, this is the way I write." You wouldn't write a letter without signing it to authenticate it, neither would Paul. And he says in that verse, "In all the letters I write, I always take up the pen and authenticate this." You can understand how important that would be, right? People could be sending all kinds of letters and saying they were from Paul, it was vital that the true Word of God through that instrument be validated by his own inimitable inscription. And we know from Galatians 6:11 that he wrote with large letters. There's reason to assume a rather large clumsy letters were his common way to sign off which would be very difficult to counterfeit. And so he picks up the stylus from his secretary, or amanuensis, and pens this final word. And as he does he introduces to us this lovely theme of sainthood.
Paul tells the Philippians to greet every saint in Christ Jesus and says that the brothers with him greet them also (verse 21).
The greeting Paul speaks of is more than saying 'hello'. It suggests affectionate fellowship.
MacArthur says:
The simple verb translated "greet" or "salute," although that has so many military connotations we don't use it anymore, the simple verb means to say "hello" but not just in a vacuum, it implies a note of affection and a desire for one's well being. And here we could assume that Paul is saying affectionately, "I want you to express to all the saints how much I desire their spiritual well being. Share my love and passion for their spiritual development." That's really what's on his heart. It says I care, I care about you.
Would you notice he says "greet every saint." He doesn't say greet all the saints in sort of the collective way. Instead of using the collective "all" he uses the individualistic word "every." And here he is noting for us that every saint is worthy of Paul's concern, Paul's care, Paul's affection and Paul's wishes for spiritual well being. Now this is a monumental and unique element of the Christian faith that we are to love one another the same. We are to consider others better than ourselves. There is no stratification in the body of Christ. There are to be no favorites. God is not a respecter of…what?…of persons. We are not to elevate some over the other. And what Paul shows us here that is…in his affectionate desire for the spiritual well being of the saints he included everybody. This is his heart. This is what he was after in chapter 2 when he said to them, "If there's any encouragement in Christ, any comfort of love, any fellowship of the Spirit, any affection and compassion, please make my joy complete." Why? "By having the same mind, loving everyone the same way, being united in Spirit, having one purpose, not being proud but humble, regarding one another as more important than yourself and not looking on your own things but the things of other," namely, having the mind of Christ, the mind of humility. That's fellowship.
That is not always how fellowship works in reality, but that is how it should work and what we should strive for.
MacArthur says that this instruction of greeting is meant for the church leaders:
Now the injunction here in verse 21 is directed at the church leaders who will get the letter. And when he says, "Greet every saint in Christ Jesus," he is telling the pastors and elders and deacons to go greet the people on his behalf individually, assuring them of his love and his desire for their spiritual well being. This is the way it is with Christ. He had a heart for the individual. I remember Mark 5:31 where out of the midst of the multitude He felt the little lady who touched His garment. He always had that sense of being touchable. So it is in the church. There's no stratification, there's no elevation. We're all commonly saints. None of us is superior to or inferior to the other, we are what we are by the grace of God, 1 Corinthians 15:10 says, and only because of His grace.
MacArthur explains who the brothers are in that verse:
Now I want you to know that while he was a prisoner in Rome for this time writing this letter, he had some pretty formidable folks coming to see him. He calls them the brethren who are with me and they send you the same desire for spiritual well being and affection and they're the ones with me. These are his specific coworkers, as opposed to all the rest that he mentions in verse 22. And doing a little bit of background on this you find out who they were…quite an amazing group of people.
For example, we know that during his imprisonment Timothy was with him because he refers to him in the letter clear back in chapter 1 verse 1, then in chapter 2 verse 19. Timothy was his protege, his son in the faith, a very gifted, great, godly man, thirty years the junior of Paul but nonetheless a very unique and gifted man. There was also Epaphroditus, that godly saint who had come from Philippi, he too was with Paul, and you know the character of that man, it's mentioned at the end of chapter 2. He was such a devout Christian that he came close to death for the work of Christ, risking his own life just to serve Paul. That is a sacrificial man.
So Timothy was there, and Epaphroditus was there. Chapter 1 and verse 14 also indicates to us that there were some other brethren who were courageously preaching the Word of God without fear, so there were a group of other preachers there, evangelizers. In addition to that it's very likely that Tychicus and Aristarchus were there, well known and noble Christians. There are many who would tell us that Luke was there and Mark was there. If we compare all the data we have, and that's a formidable duo, namely the two who wrote the two gospels, Mark and Luke. And some have suggested it's very likely Onesimus was there, the runaway slave who ran into Paul and was converted to Christ, who went back then to serve Philemon. Others would say a man named Jesus Justus was there. And then there are some unnamed brethren who were there with him.
The point that I want you to see is very interesting, it's this. That as high up the ladders of stratification as they might be, these gentlemen are only described as the brethren. And again we pull them down from any supposed rank and we talk again about the commonality of sainthood. Timothy may have been unusually gifted, and certainly was. Epaphroditus may have been a noble Christian soul, and certainly he was. And among the preachers at Rome, there were unquestionably some extremely gifted men. And no one would argue about the spiritual qualifications of Tychicus and Aristarchus, given that they had spent a lot of time with Paul. And who would question Mark and Luke's character? But as formidable as they were, they need only be associated with such sort of non-descript and troublesome characters as Onesimus. And they are all pulled together in one term "brethren." You see, the fellowship of saints is a common bond without strata ... There isn't any stratification here. This is the common identity, the brethren who are saints, those others who love Christ. The fact that they were gifted in different ways doesn't make them any superior at all. In fact, Paul when identifying himself said, "I am the least of all Apostles," and in another epistle he said, "I am the chief of sinners."
Paul goes on to say that all the saints greet the Philippians, especially those in Caesar's household (verse 22).
Matthew Henry's commentary says:
He sends salutations from those who were at Rome: "The brethren who are with me salute you; the ministers, and all the saints here, send their affectionate remembrances to you. Chiefly those who are of Cæsar's household; the Christian converts who belonged to the emperor's court." Observe, (1.) There were saints in Cæsar's household. Though Paul was imprisoned at Rome, for preaching the gospel, by the emperor's command, yet there were some Christians in his own family. The gospel early obtained among some of the rich and great. Perhaps the apostle fared the better, and received some favour, by means of his friends at court. (2.) Chiefly those, etc. Observe, They, being bred at court, were more complaisant than the rest. See what an ornament to religion sanctified civility is.
MacArthur points out the unifying nature of the greeting:
… further opening up to us the window on fellowship, in verse 22 he says, "All the saints greet you," and he just wraps his arms around the whole Roman church, all the people in Rome that were Christians…the wider circle of Christians, they send their love and their affection and their wishes for spiritual well being and growth.
Beloved, that's the heart of Christian fellowship. We're all saints, none superior to the other, though differently gifted and at points in our life differently faithful. But we are all one brotherhood, we are all one fellowship, we are all one body in Christ. And the less comely members, Paul says to the Corinthians, are not less significant, but are perhaps in many cases more significant, as the less beautiful members of your body are more significant than those ones which receive all the kudos. And so we find here that the fellowship of saints is a very simple thing, it is the sharing of common love and the desire for spiritual well being. The Christian singer is not a soloist, he's a member of a choir. The Christian soldier is not solitary figure, he's a member of an army. The Christian scholar is not a privately tutored leaner, he's a part of a class and a school. The Christian son is not just a lonely child, he's a member of a family. The Christian runner is not an individual performer, he is a part of a team. That's the fellowship.
Catholics and Anglicans do not normally refer to each other as saints. That is something we leave to other denominations.
MacArthur defines what a saint is in Paul's context, one which many Protestant denominations use:
Saints are not some group of people exist in isolation, as cold as the stone that marks them out. They're common possessors of the eternal life of God who share their love with each other.
So sainthood is characterized then by being separated from sin unto God for holy purposes through faith in Christ. The worship of saints is godward praise in response to truth and blessing. The fellowship of saints is a loving and non-discriminating mutual care.
Number four, the joy of saints. Paul opens a window to that for us in verse 22 and I think he must have had a gleam in his eye as he penned this with his own stylus. He says in verse 22, "All the saints greet you, especially those of Caesar's household." And I just think he loved to say that. Why? Well this is the joy of the saints. You say, "What is the joy of the saints?" I'll tell you what the joy of the saints is. In Luke 15 Jesus told a story about a lady who lost a coin, looked all day, found the coin, called her friends and rejoiced.
Then He told a story about a man who had sheep, lost a sheep, found the sheep, called his friends and they rejoiced. Then He told a story about a man who lost a son, found the son, called his friends, had a feast, they rejoiced. And through that fifteenth chapter of Luke the Scripture says that when a soul is saved there is joy in heaven. The theme of Luke 15 is the joy of heaven over the salvation of a soul. And may I say to you that that's not the only place where there's joy when a soul is saved. What is the joy of the saints on earth? The greatest, highest joy we have, isn't it, is to see someone come to Christ.
We had the first two of those parables in the Gospel from Luke 15 in the Year C readings on September 10, 2022, the Thirteenth Sunday after Trinity.
The final element of sainthood is realising, as Paul did, that — even though we still sin — we still live in Christ:
Listen, He's the theme of this whole letter, did you get that? The name of Christ is mentioned 40 times in these four chapters, one every couple of verses, He's the heart of the whole thing. He is central to it. Paul began by describing himself as a slave of Jesus Christ. He addresses the Christians as saints in Jesus Christ. When referring to his imprisonment he says my bonds are in Jesus Christ. When he speaks about life he says for to me to live is Christ. When he speaks about death he says for me to die is Christ. When he exhorts people to godly conduct, it is to be like Christ. When he calls for proper attitudes, it is to have the mind of Christ. When he speaks of choices and desires and hopes, he says they are to be built on trust in Christ. When he speaks about joy it is the joy of Christ. When he speaks about strength it is the strength of Christ. When he calls for power and knowledge and fellowship, it is the knowledge of Christ, the power of Christ, the fellowship of His sufferings that he longs for. And when he looks for eternal hope and glory, he says I am looking for Christ. And when it's spiritual steadfastness he needs, it is in Christ. And when it is sufficiency he wants, it is in Christ. It is Christ, Christ, Christ, Christ …
Our whole life is Christ, beloved. If you get nothing else, get that out of Philippians. Called by Christ, saved by Christ, to have the mind of Christ, to serve the way Christ served, to become like Christ. That's the message. To be like the beloved Redeemer. We are saints, not yet all we should be, but moving to become like the one who called us saints.
MacArthur tells us of Paul's mention of Caesar's household in verse 22, which would have included a lot of employees, just as the British Royal Family has. By contrast, the Caesar at that time was the perverse Nero, who hated Christians:
Paul knows what joy this will bring when he says, "Especially those of Caesar's household." Why so? Because Nero was the Caesar and everybody knows what Nero thought about Christ and Christians. Nero had fancied himself a god, a competing deity, a competing lord and demanded that the people in the Roman Empire worship him. Now the household of Caesar would not just have been his own family, the household of Caesar is a word to indicate all who were in his direct employ. And if you study history you find it's a very interesting group. You can do reading on it yourself. You will find it included courtiers, princes and higher ups in his personal court, judges. It included cooks, food preparers, tasters who tasted the food to make sure he didn't get poisoned. Musicians, custodians, builders, people who attended to his stables, it included soldiers and those who led them, it included people who managed his financial affairs. All of those people who were in any sense a part of the direct system, they would have been by our definition today government workers, a large group of people. And I believe that because Caesar and his whole enterprise was the direct counterpart to Christ, that there was some special exhilaration in the heart of Paul when somebody in Caesar's household became a Christian…when they turned their backs on emperor worship and embraced the true Christ.
Now to whom is he referring? Who are these who got saved? Well, two groups. First of all, those who had come to Christ in Caesar's household since Paul had become a prisoner. Paul being the instrument of God that he was, you can be sure that the Roman soldiers who had been chained to him heard the gospel. In fact, if you have any question about it, I remind you of chapter 1 verse 13 which says that since his imprisonment, the gospel of Christ had become known throughout the whole Praetorian Guard and to everybody else. The Praetorian Guard or the Roman soldiers were exposed to Paul…it's one thing to be chained to Paul, to guard him, it's something else to have Paul chained to you. Talk about not being able to get away. And the result was people were coming to Christ in the Praetorian Guard. So some of those in Caesar's household that you can rejoice over are converted soldiers and others who heard the Word, too, who were part of serving the Caesar.
But there's something else here as well. There's no reason to assume that it doesn't also include people who were Christians before Paul's imprisonment. The gospel had already come to Rome and many had come to know Christ.
MacArthur gives us a list of names we have already seen in our studies of Paul's letters. These come thanks to the Victorian New Testament scholar, the Revd J B Lightfoot, not to be confused with the Revd Dr John Lightfoot whom Matthew Henry cites. I have not read that they were related:
J.B. Lightfoot, that great New Testament scholar, has a marvelous treatment of this whole idea of the Christians in Caesar's household. And studying all kinds of lists that have been discovered archaeologically that give us names of Caesar's household, and they've found them in archaeological digs, he has taken all the names on all those lists that have been discovered, gone over those names to see if he can recognize any of them, and found amazingly many parallels on the list of government workers with the list of names in Romans chapter 16. You remember when Paul was writing the epistle to the Romans and the sixteenth chapter he commends many, many people who helped him. Many of those names appear on the lists of Caesar's household. In fact, Lightfoot concludes that Romans 16 should studied that way and that it's pretty clear that people like Ampliatus, Apelles, Stachys, Rufus, Hermes, Tryphaena and Tryphosa, at least, and maybe others, were very, very much a part of Caesar's household. So you have some people being converted out of Caesar's household while Paul was a prisoner. You have some who were already Christians before that. And now Paul just loves to say, gathering up both groups, all the Christians in Caesar's house send their love. How wonderful, how thrilling that the household of Caesar, the enemy of Christ had yielded up many souls to the conquering Christ. The crucified Galilean had already begun to rule the governments of the world spiritually. Surprising joy, surprising joy.
You can read more about them and others in my posts on Romans 16:
Romans 16:7-10 – Andronicus and Junia (Junias), Ampliatus, Urbanus, Stachys, Apelles, those of the household of Aristobulus
Romans 16:11-13 – Herodion, those 'in the Lord' in the household of Narcissus, Tryphaena and Tryphosa, Persis, Rufus and Rufus's mother
Romans 16:14-16 – Asyncritus, Phlegon, Hermes, Patrobas, Hermas, Philologus, and the brothers who are with them; also, Julia, Nereus and his sister, and Olympas
Paul concludes by commending the grace of Jesus Christ to the Philippians' spirit (verse 23).
We need divine grace daily, the way we need water and food. We cannot live in Christ without His grace.
MacArthur elaborates:
You want to hear something, you didn't deserve to be saved and you don't deserve to be kept saved. Do you understand that? You are no more worthy of your salvation now than you were then. And so you are sustained by grace just as you were saved by grace. It is grace by which our whole life exists. That's why Paul says in Romans 5:2, "This grace in which we stand." We live in it. Our life is governed by grace, guided by grace, kept by grace, strengthened by grace, sanctified by grace, enabled by grace. Listen, if God only gave us now that we're Christians what we deserve, we'd still be damned to hell. It is the constant grace of forgiveness, the grace of enabling strength, the grace of comfort, the grace of peace, the grace of joy, the grace of boldness, the grace of revelation and instruction. We are dependent on all of it all the time.
He started out in chapter 1 verse 2 wishing them grace. He ends up wishing them grace and again comes full circle. He says the grace of the Lord Jesus Christ be with your spirit. What do you mean by that? Your spirit, your person, your inner man, the real you…may you know the fullness of grace, that purifying, beautifying, sanctifying grace.
What an uplifting note on which to end this study of Philippians.
Next week, I will introduce Paul's letter to the Colossians. It, too, is a short letter, and most of it is in the Lectionary. We will see some familiar themes and names over the next few weeks.
Next time — Colossians 2:1-5
The Fourteenth Sunday after Trinity is on September 18, 2022.
Readings for Year C can be found here.
As Queen Elizabeth II will be buried on Monday, September 19, and as Charles III is our new King, today's exegesis will be on the Epistle, which is relevant to monarchs and others in authority.
May our beloved monarch rest in peace and rise in glory.
Long live the King.
The Epistle is as follows (emphases mine):
1 Timothy 2:1-7
2:1 First of all, then, I urge that supplications, prayers, intercessions, and thanksgivings be made for everyone,
2:2 for kings and all who are in high positions, so that we may lead a quiet and peaceable life in all godliness and dignity.
2:3 This is right and is acceptable in the sight of God our Savior,
2:4 who desires everyone to be saved and to come to the knowledge of the truth.
2:5 For there is one God; there is also one mediator between God and humankind, Christ Jesus, himself human,
2:6 who gave himself a ransom for all–this was attested at the right time.
2:7 For this I was appointed a herald and an apostle (I am telling the truth, I am not lying), a teacher of the Gentiles in faith and truth.
Commentary comes from Matthew Henry and John MacArthur.
Paul wrote this letter to Timothy to help him come to grips with the issues besetting the church in Ephesus.
John MacArthur explains that the attitude of the congregation was becoming rather exclusive:
If we read through the epistle and if we examine it as we have in the past for the errors that are here, we will be reminded that there were Jews apparently in the church at Ephesus who were claiming that only law-keeping Jews or those who were sort of proselytes to the keeping of the law could be accepted by God. There was a Judaizing element, and that's apparent in chapter 1 from verse 7 through 11. There were those who were advocating law keeping as the means of salvation. And that was an exclusiveness that said salvation isn't for everybody. It's for those who come within the framework of maintaining the Jewish law.
Also, we note that in this Ephesian assembly there was the Gentile exclusivism that grew out of that old philosophy that later became known as gnosticism, which philosophy said salvation only belongs to the elite initiated exclusive people who have reached a level of knowledge, who have tuned in to the various mediators and sub-gods and eons and angelic beings that line up between man and God. So the Jewish people would be saying salvation's only for those who keep the Jewish law. And the Gentiles might be saying salvation's only for those who are in the know, who are the gnostics, the ones who know – it's from the Greek verb to know – who are in the know, that elite group of people who have ascended to another level in some mystical experience with spirits which they believe to be good spirits, which Paul points out to be demons.
So there was an exclusivism that had come to be in the church at Ephesus. Because of this, there was severe error in the doctrine of salvation which becomes the final note of the whole epistle, where he closes out in verse 21 of chapter 6 by saying they have erred concerning the faith. The greatest error was an error in the matter of the extent of salvation. One group saying it's only for those Jews who are in the know in terms of the Jewish law. The others, it's only for that one small group of people who are in the know in terms of mystical understanding. Everybody else is left out.
Therefore, Paul urges Timothy to make sure, as a priority, that the Ephesians' prayers are for everyone — including those outside the congregation (verse 1).
Matthew Henry's commentary says:
Timothy must take care that this be done. Paul does not send him any prescribed form of prayer, as we have reason to think he would if he had intended that ministers should be tied to that way of praying; but, in general, that they should make supplications, prayers, intercessions, and giving of thanks: supplications for the averting of evil, prayers for the obtaining of good, intercessions for others, and thanksgivings for mercies already received. Paul thought it enough to give them general heads; they, having the scripture to direct them in prayer and the Spirit of prayer poured out upon them, needed not any further directions … There must be prayers for ourselves in the first place; this is implied here. We must also pray for all men, for the world of mankind in general, for particular persons who need or desire our prayers. See how far the Christian religion was from being a sect, when it taught men this diffusive charity, to pray, not only for those of their own way, but for all men.
MacArthur has more about what Paul is urging Timothy to do:
Because you have a charge, because you have a commission, because all of this has been confirmed in the church through the prophets as we saw, because all of this is set on your shoulders, therefore, Timothy, get at it. And here's what I urge you, and then he uses this phrase "first of all." Here's what I urge you first of all. And you might ask the question I asked, why is this first? I'll tell you why. What is the primary objective of the church? What are we in the world for? Listen, if the primary objective of the church is fellowship, where would we be? In heaven cause we'd have perfect fellowship there and none of you could mess it up. If the primary objective of the church was knowledge of the Word of God, we might as well go to heaven. We'll have perfect knowledge there, and I won't be able to mess it up with anything that I might say that isn't quite accurate.
No, see, the purpose of the church in the world today is to reach the lost. And so the priority begins at that point.
Paul includes as 'everyone' kings and all who are in positions of authority so that people may lead quiet and peacable lives in all godliness and dignity (verse 2).
Henry explains:
Pray for kings (v. 2); though the kings at this time were heathens, enemies to Christianity, and persecutors of Christians, yet they must pray for them, because it is for the public good that there should be civil government, and proper persons entrusted with the administration of it, for whom therefore we ought to pray, yea, though we ourselves suffer under them. For kings, and all that are in authority, that is, inferior magistrates: we must pray for them, and we must give thanks for them, pray for their welfare and for the welfare of their kingdoms, and therefore must not plot against them, that in the peace thereof we may have peace, and give thanks for them and for the benefit we have under their government, that we may lead a quiet and peaceable life in all godliness and honesty. Here see what we must desire for kings, that God will so turn their hearts, and direct them and make use of them, that we under them may lead a quiet and peaceable life. He does not say, "that we may get preferments under them, grow rich, and be in honour and power under them;" no, the summit of the ambition of a good Christian is to lead a quiet and peaceable life, to get through the world unmolested in a low private station. We should desire that we and others may lead a peaceable life in all godliness and honesty, implying that we cannot expect to be kept quiet and peaceable unless we keep in all godliness and honesty. Let us mind our duty, and then we may expect to be taken under the protection both of God and the government. In all godliness and honesty. Here we have our duty as Christians summed up in two words: godliness, that is, the right worshipping of God; and honesty, that is, a good conduct towards all men. These two must go together; we are not truly honest if we are not godly, and do not render to God his due; and we are not truly godly if we are not honest, for God hates robbery for burnt-offering … 4. All men, yea, kings themselves, and those who are in authority, are to be prayed for. They want our prayers, for they have many difficulties to encounter, many snares to which their exalted stations expose them. 5. In praying for our governors, we take the most likely course to lead a peaceable and quiet life. The Jews at Babylon were commanded to seek the peace of the city whither the Lord had caused them to be carried captives, and to pray to the Lord for it; for in the peace thereof they should have peace, Jer 29 7. 6. If we would lead a peaceable and quiet life, we must live in all godliness and honesty; we must do our duty to God and man.
MacArthur also lays importance on leading quiet Christian lives for everyone's benefit:
Now I want to expand on this because I don't think this is a well understood thought. In 1 Thessalonians we have a similar word, chapter 4 verse 11, where Paul says, "That we are to study" – that is to be diligent – "to be quiet." We are not to be rabble rousers. If we are known for anything, we are known for our quiet demeanor. We do not make disturbances. We do not disrupt society as such, that is not our intent, that is not our overt effort. "We are to be quiet," he says, "do your own business, work with your own hands as we commanded you in order that you may walk honestly toward them that are outside" – the unbelievers. They ought to see us as quiet diligent faithful people. Second Thessalonians 3 also speaks to the same matter. We hear, he says in verse 11 that, "There are some who walk among you disorderly, working not at all." They're indigent; they are unemployed; they don't do as they ought. "They're busybodies. Command them and exhort them by the Lord Jesus Christ that with quietness they work and eat their own bread."
Now listen, beloved, the church, Paul is saying, is never to be the political agitator. It is never to be seen as the perceivable enemy to national security or national peace. That is not our role. We are to seek to make all the people around us whatever their viewpoint politically, whatever their viewpoint philosophically, we are to seek to make them friends by praying for them rather than enemies by hating them and rejecting them. And sometimes that's difficult, because when we're raised in a very clearly defined Christian environment, we tend not only to hate the evil system, but we tend to see all the people in it as our enemies. And so we grow bitter against those who deny the life that we believe is so right. The church even today, I'm sure, in the United States is seen by many as an agitating political force endeavoring to disrupt things in our country.
Now I want you to understand what the Scripture is saying in light of that. Christians are to be model citizens. That doesn't mean we're indifferent or apathetic or don't have an opinion. But we are to be model citizens in every way. We are to be a blessing and a benediction to everyone around us. We are to pray for the salvation of everyone. And if they know us, they should know the church not as a strong political lobby group, not as a powerful group with money moving through society for its own ends. They are to know us as quiet peace-loving people who are constantly committed to praying for the salvation of those who are outside.
We are to submit to the authority over us and more than just submit to it, we are to pray for the salvation of those very people. If we do that, if the church in this country was just banded together in spirit, covenanting together to pray for the lost in our nation and to pray for our rulers and pray for our leaders and not engage in power kind of efforts and power kind of moves and power kind of politics to overturn things and eliminate people and get rid of people, but rather pray for their salvation, we would never be accused or even suspected of disloyalty. Nor would anybody miss the point of our existence. And we would be more likely to be allowed to worship and evangelize without fear or restriction and thus to live our lives in a quiet and tranquil way.
Paul tells Timothy that God finds this exhortation right and acceptable (verse 3) because He wants everyone to be saved and come to the knowledge of the truth (verse 4).
MacArthur gives us his analysis of verse 3, referring to the Greek manuscript:
This is a powerful, powerful truth. We are to pray for the lost, one, because it's good; it's right; it's morally excellent. Two, it is consistent with God's will. We are to pray for the lost because it is consistent with God's will. Notice verse 3, "This is good and" – here it comes – "acceptable in the sight of God our Savior who will have all men to be saved and to come to the knowledge of the truth." It is acceptable in the sight of God our Savior who wills all men to be saved. It is the will of God that men be saved. It's consistent with His will.
The word acceptable, which is also used in a similar phrase in chapter 5 verse 4, has the idea – it's a very rich word. It's not just to receive – dechomai. It's apodechomai. It means to applaud, it means to gladly receive, to accept with satisfaction, to heartily welcome. It's a very warm word. It is to say the Lord gladly anxiously eagerly with applause and satisfaction and joy receives this. This is what He wants, the salvation of the world. So praying for all the world is really gladly received by God. He applauds that kind of praying. He accepts it heartily because it is consistent with His character.
And what do you mean by that? Well notice it in verse 3, "This is good and acceptable in the sight of God our" – creator. Is that what it says? No, "God our" – what? – "Savior." It's consistent with who He is. It's consistent with His nature, with His character.
MacArthur wisely clarifies the diference between these verses and John 17, where Jesus did not pray for the world. He did pray for the world but not for the sinful world's success:
Let's look at John 17:9, and I thought of this and I brought it in because I didn't want anybody finding that verse and saying, "Wait, this confuses me." Why in John 17:9 does Jesus say to the Father in His high priestly prayer, "I pray for them" – that is for the disciples, those who You have given to Me, My own disciples – "I pray not for the world, but for them whom Thou hast given Me, for they are Thine"? And somebody would say, well Jesus didn't pray for the whole world. He says right here I don't pray for the world. And you know something? That's right – in this particular case, He said, "I don't pray for the world."
What did He mean by that? Well that's the whole point. Does that mean God doesn't love the world? Well in John 3:16, "God so loved the world that He gave His only begotten Son." Now the whole point of the verse is He gave His only begotten Son to fulfill His love, so God loves the whole world. First John 2:2 says He is the covering for our sin and not for ours only but for the sins of the whole world. So God loves the whole world, gave a Savior to the whole world, a covering for sin is offered to the whole world, why does He say, "I pray not for the world?" And isn't Jesus' mission to go to the whole world? Didn't He say preach the gospel to every creature? Yes. Why in verse 9 does He say, "I pray not for the world?"
That's very simple. What He is saying here is I'm not praying for the world's success as the world. You understand that? The cosmos, the evil Satanic system. What He means is, I'm not praying that the world succeed. I'm praying for the disciples to succeed in winning the world, not for the world to succeed in stopping them. He can't pray for His own and pray for the world which is the enemy.
MacArthur discusses God's desire to save and mankind's coming to the knowledge of the truth in verse 4:
The word knowledge here is epignōsis. It means a deep full rich and complete knowledge and that is the knowledge of true salvation. It is used four times in these pastoral epistles. In 2 Timothy 3:7 it talks about people who have a form of godliness but no reality who are ever learning but never able to come to the knowledge of the truth – same word. And in Titus 1:1, comparing faith and knowledge, both elements of salvation, again he refers to the knowledge of the truth. So what he is saying here is, it is God's will that all men be saved and salvation comes through the true deep knowledge of saving truth, the gospel, the work of Christ.
And this may be an answer to some Jews who were saying God willed the damnation of heretics. There were Jews who believed that God willed the damnation of Gentiles in general. And then there was that gnostic/pre-gnostic view that God must have willed the damnation of all the non-elite, the people who never attained mystical knowledge. And he takes issue with that. And he says, "Listen, God wills because He is by nature a Savior that all men would be saved through coming to the full knowledge of saving truth in Jesus Christ."
And I want to close by talking about the word will and I want you to listen carefully. What kind of will is this? Because somebody looks at this verse and says, oh, God will have all men to be saved. I'll tell you one thing, God gets what He wants. He's in charge. Therefore universalism is taught. That is that ultimately everybody will be saved because that's God's will. It says so right here. Other people say, no, no, no, no. The Bible teaches hell and the Bible teaches that people are going to be there forever, so some people aren't going to go to heaven. Therefore when it says God will have all men to be saved. It doesn't mean all men, just means some men. Because after all, God's got to get what He wants and He can't save everybody because hell's there and some people are there. So He's got to save all the people that He wants to save. Therefore He doesn't want to save all people. All doesn't mean all; it must means some.
Paul says that there is one God and also one mediator between God and mankind: Christ Jesus, Himself human (verse 5).
MacArthur says:
… here we get into a profound argument on the part of Paul, the third element in his reason for evangelistic praying is that it is reflective of God's nature as one God. It is reflective of God's nature as one God. Notice verse 5, "For there is one God" – or, "For God is one." There's only one God … As it says in 1 Corinthians 8, an idol is zero. An idol is nothing. If you want to spend your life worshiping nothing, that's your privilege. But that's folly. God is one. There's only one God. In Isaiah 44:6 God said it as clearly as it could be said, "I am the first and I am the last, and beside Me there's no other." That covers the ground.
And that's why you see Mark 12:29 to 31 says, "Hear O Israel, the Lord our God is one, therefore you shall love the Lord your God with all your heart, soul, mind and strength." Why? You can give all your heart, all your mind, all your soul, all your strength to God, because there's nobody else to give it to. There's only one. So you love that one God with all the capacity you have to love and worship.
Now this unity of God, the Lord our God is one, the Shema of Deuteronomy 6 is the central truth in all the Old Testament Scripture. As over against the polytheism of the nations surrounding Israel – many gods, many God's – Israel stood for one God. Now this is Paul's point. There's only one God. What do you mean by that? What he means is if there were many gods then there would be many ways of salvation. Right? And isn't that what the people in the world teach today? Sure. I mean, the world says, "Well, there's a god for these people and these people and as long as you're sincere, it's going to be okay. Every god has his way, every god has his means of salvation." So if there are many gods, then there are many ways of salvation. And if that's true, there's no need for evangelism. Right? You don't need evangelism. Everybody's got their own way; leave them alone. They'll come home wagging their tails behind them. It will all work out in the end.
But Paul says since there is only one God and one Savior God, then that one God stands in the same relationship to all men in relationship to Salvation. If there is one God and that one God is the Savior and that one God desires all men to be saved, then He is the God of all in whom all must believe if all are to be saved, therefore we must pray for all. Since the God of all men wants all men to be saved, prayer for all men is consistent with His nature. The foundation then, beloved, of the universality of the gospel is bound up in the oneness of God. Listen to Romans 3 as Paul begins to delineate the gospel in verse 29, he said, "Is He the God of the Jews only? Is He not also of the nations? Yes, of the nations also. Seeing He is one God" – there's only one God. Therefore all men must come to the same God, therefore all men must hear the same way, and therefore we must pray for all men. There's only one God. And it is the unity of God that justifies the universal scope of evangelism.
Of Jesus Christ as Mediator, MacArthur explains:
There is not only one God, but there is "one mediator between God and men." And the Greek text says "man" – no article – "man Christ Jesus." A better way to translate that to get the intent of the Greek would be, "There is one God and one mediator between God and man, Christ Jesus Himself man." Now here we find the consistency with the person of Christ. How many mediators are there? One. So we can't say, "Well, there are lots of ways to heaven," like the Bahai people say, lots of doors; you can go this way, that way; you can follow this leader, that leader, this leader. No, there's only one. And we're back to the same thing. One God, one mediator, one way of salvation, therefore we pray for the whole world. God wants the whole world saved and the only way they can be saved is through that one mediator to that one God.
In Job chapter 9 we are introduced to the concept of a mediator as Job cries out in the midst of his distress. And he says in verse 32 in wanting to communicate with God, he says, "For He is not a man as I am that I should answer Him and we should come together in judgment." He says I don't know how to get to God. He's not a man. I can't just communicate with Him. We can't sit down and work this thing out. And then in verse 33, "Neither is there any mediator between us." He uses the word daysman, which is a word for an arbiter or an umpire or a mediator. "There's no mediator between us" – listen to this – "that might lay his hand on both of us." And here was Job in the middle of his distress crying out, "Where is somebody who can put his hand on God and his hand on me and bring us together?" Well, that cry is answered in Christ. Isn't it? Christ is that mesitēs, that mediator, that go between, that one who intervenes between two for the purpose of restoring peace and friendship or of ratifying a covenant, making a promise, forming a compact. And there's only one mediator. Listen to that, only one.
… There is only one mediator, just one that is the daysman who puts His hand on both God and man and brings them together. And it is Christ Jesus, man Himself – or Himself man. And the word for man here is the word anthrōpos. We get anthropology from it. It is the generic word for man. Anēr is the word for male … But here is the generic word. He became man. He was God always. He became man. He is the perfect God-man. As such He takes God and man and brings them together. And so Christ Jesus is that mediator.
The Anglican 1662 Book of Common Prayer has the following intercession in the liturgy for Holy Communion. It follows the first five verses of today's reading. Of course, the priest is now praying for King Charles, but, until two Sundays ago, the prayer went as follows:
Let us pray for the whole state of Christ's Church militant here in earth.
Almighty and everliving God, who by thy holy Apostle hast taught us to make prayers and supplications, and to give thanks, for all men: We humbly beseech thee most mercifully [*to accept our alms and oblations, and] to receive these our prayers, which we offer unto thy Divine Majesty; beseeching thee to inspire continually the universal Church with the spirit of truth, unity, and concord: And grant, that all they that do confess thy holy Name may agree in the truth of thy holy Word, and live in unity, and godly love. We beseech thee also to save and defend all Christian Kings, Princes, and Governors; and specially thy servant ELIZABETH our Queen; that under her we may be godly and quietly governed: And grant unto her whole Council, and to all that are put in authority under her, that they may truly and indifferently minister justice, to the punishment of wickedness and vice, and to the maintenance of thy true religion, and virtue. Give grace, O heavenly Father, to all Bishops and Curates, that they may both by their life and doctrine set forth thy true and lively Word, and rightly and duly administer thy holy Sacraments: And to all thy people give thy heavenly grace; and specially to this congregation here present; that, with meek heart and due reverence, they may hear, and receive thy holy Word; truly serving thee in holiness and righteousness all the days of their life. And we most humbly beseech thee of thy goodness, O Lord, to comfort and succour all them, who in this transitory life are in trouble, sorrow, need, sickness, or any other adversity. And we also bless thy holy Name for all thy servants departed this life in thy faith and fear; beseeching thee to give us grace so to follow their good examples, that with them we may be partakers of thy heavenly kingdom: Grant this, O Father, for Jesus Christ's sake, our only Mediator and Advocate. Amen.
One can see how this prayer fulfils Paul's instruction to Timothy.
Paul impresses upon Timothy the work of Christ's crucifixion, a ransom for all, attested at the right time (verse 6).
I prefer the King James Version which says 'due time' and makes more sense:
Who gave himself a ransom for all, to be testified in due time.
Henry says:
As the mercy of God extends itself to all his works, so the mediation of Christ extends itself thus far to all the children of men that he paid a price sufficient for the salvation of all mankind; he brought mankind to stand upon new terms with God, so that they are not now under the law as a covenant of works, but as a rule of life. They are under grace; not under the covenant of innocence, but under a new covenant: He gave himself a ransom. Observe, The death of Christ was a ransom, a counter-price. We deserved to have died. Christ died for us, to save us from death and hell; he gave himself a ransom voluntarily, a ransom for all; so that all mankind are put in a better condition than that of devils. He died to work out a common salvation: in order hereunto, he put himself into the office of Mediator between God and man. A mediator supposes a controversy. Sin had made a quarrel between us and God; Jesus Christ is a Mediator who undertakes to make peace, to bring God and man together, in the nature of an umpire or arbitrator, a days-man who lays his hand upon u both, Job 9 33. He is a ransom that was to be testified in due time; that is, in the Old-Testament times, his sufferings and the glory that should follow were spoken of as things to be revealed in the last times, 1 Pet 1 10, 11.
MacArthur explains substutionary atonement, i.e. Christ dying so that we would not have to endure eternal death:
Go back again to verse 6. Speaking of Christ Jesus who was man as well as God and brought God and man together, it says, "Who gave" – and that word is loaded with content. He gave. John 10:18, Jesus said, "No man takes My life from Me, I" – what? – I lay it down by Myself" – voluntarily. "Who gave" – and what did He give? – "Himself." Not a portion of Himself, not something He possessed, not something He owned, not something He really didn't need, He gave everything. That's the totality of it. Christ Jesus voluntarily gave totally Himself, "as a ransom for all."
Now the word ransom here is just loaded with meaning. It is not the simple word for ransom, which is lutron. It is antilutron and there's a huper preposition connected with it in the phrase. And it just fills up the meaning. It's not a simple word for ransom where somebody's kidnapped, you go pay a ransom, you get him back. It is the idea of a substitutionary ransom. You put yourself there and free that person by your own enslavement. It is as if a father was receiving a note about a kidnapped child and the note demanded that he go and become the kidnapped person for the freedom of his beloved child. Christ becomes the victim that we might be set free. So it is more than the simple word ransom which means the priced pay for the release of a slave. It is the idea of an exchange. Christ exchanged His life for our lives. He died our death. He bore our sin. He took our place. He gave Himself totally as a substitutionary payment for our sin.
For whom did He do this? He was a ransom for all. Would you just circle that? That's the point here. Did Christ die for a few? He died for all. That's what it says. And that's Paul's key idea. He is not here, by the way, intending to give a complex treatment on the theology of the atonement. He is not here trying to emphasize all that could be said about the substitutionary ransom of Jesus Christ. His point here is the all. What he wants you to understand is that Christ who is the one mediator came to do a work on the cross in behalf of man and God that would provide a ransom for all men.
Paul puts his stamp of authority on these verses by saying that he was appointed for this work as a herald and apostle, confirming that he is telling the truth and that he is a teacher of the Gentiles in faith and in truth (verse 7).
MacArthur addresses this verse as follows:
In other words, he's saying what in the world am I doing if this thing isn't for everybody?
The word preacher is from the verb form kērussō. It has to do with a herald, a proclaimer, a public speaker. In those days they didn't watch television, didn't read books, didn't have newspapers. Basically if you had an announcement, you went into the city square and you made your announcement. It was the time of hot communication. It was a time when you verbalized. The herald went around and made all the announcements the people needed to have and communication was out in the open and people preached in the open and they taught in the open and philosophers spoke in the open and opinions were given in the open. And Paul became one of those open-air preachers, one of those public heralds proclaiming the gospel of Christ. And what he is saying is, why I was ordained by God to go out and publicly proclaim a gospel that if limited belies my very calling. And then I was called not only to be a herald but an apostle. And the word there is – has reference to one being sent as a messenger. Here I am an apostle to the nations, here I am a messenger from city to city and nation to nation, publicly heralding the gospel of Christ. What am I doing if this isn't applicable to everybody?
He says, "I speak the truth in Christ, I lie not." You know that I've been called as a herald to publicly proclaim. You know I've been called as a messenger to extend the truth of saving grace as far and wide as God allows me. As a herald I speak publicly. As a missionary I reach all I can reach. And you know this is the truth and I'm not lying. You know that's my calling, he's saying. You know that's my ordination. And there may be a little bit of rebuttal in his saying that because there might be some in the church that would sort of take issue with the strength of his conclusions here and he reminds them that he's speaking the truth.
And then he says in the end of verse 7 also, "I am a teacher of the nations in faith" – that is the faith, content – "and verity" – that is sincerity of heart. I'm one who teaches with right content and a right heart of sincerity. And I'm a teacher of the nations. The word the nations is key – ought to underline that. That's the key idea. I've been sent to the nations, to the nations of the world. And I'm supposed to publicly proclaim to all of these people that Jesus saves and that Christ is a ransom for all and call them to salvation. How can I do that if that's not true? There's an integrity problem here, he says. I mean, I've been ordained for this. In fulfilling the Great Commission, Mark 16:15, to preach the gospel to every creature. Paul says with the faith, the content, and a sincere heart, I go out to speak the truth.
And beloved, I really believe this is a powerful, powerful statement on the mission responsibility of the church for the world. We are called to world missions. Why? Because it is the will of God that all men be saved. Why? Because there's only one God for them all, and there's only one mediator for them all who died for them all. And we are called as preachers and missionaries to reach them all. And how could we ever believe for a moment that we were saying something that isn't true if He did not die for all and if God did not will that all be saved? Then we ought to say that. But we can't because we know better. And so there is a powerful argument for the universal proclamation of the saving gospel of Jesus Christ.
In closing, MacArthur offers this observation:
I am amazed how readily we pray for physical problems and how hesitantly we pray for salvation. And physical problems are not really the significant issue.
That is so true. Perhaps in our era we find it presumptuous to pray for someone's salvation. It seems intrusive. On the other hand, praying for someone's recovery from a malady makes more sense. We can empathise with their physical pain because pain is tangible. We don't want people to suffer.
Yet, MacArthur is correct in saying that physical problems are not the main issue in our lives. Salvation is. Therefore, we should pray for each other's salvation, because that lasts for eternity, whereas bodily pain is temporary, disappearing before or at the time we die.
May all reading this have a blessed Sunday.
My two previous posts about the Queen's death in Scotland are here and here.
Thanks to the Queen's and Princess Anne's Operation Unicorn plan for the monarch's death in Scotland, we saw their capital and the monarchy depicted magnificently.
Unicorn ticked all the boxes, especially at St Giles' Cathedral in Edinburgh.
A filmmaker could not have done better — and that was the Queen's intention.
History of St Giles' Cathedral
The Times has an excellent history of St Giles' Cathedral, the High Kirk: 'Beauty and peace of St Giles' make it a fitting place to lie at rest for Queen Elizabeth II'.
Excerpts follow, emphases mine:
St Giles' Cathedral in Edinburgh, High Kirk of the Church of Scotland, where the Queen will lie at rest, has been at the centre of Scottish history for more than 800 years. It has seen war, violence, rebellion and desecration, never more so than during the Reformation, when it was stripped to the bone by the firebrand Calvinist John Knox.
Kings and queens have left their mark on it down the ages. From it, Elizabeth's Stewart forebears in particular have tried at various stages to impose their religious beliefs on an unwilling and recalcitrant Scottish people.
Charles I gave it cathedral status in 1633 but when he insisted on introducing a common prayer book, based on the English order of worship, he provoked a riot, famously culminating in a tirade from a market trader called Jenny Geddes, who hurled a stool at the dean, forcing him to end the service abruptly.
It is also a place of beauty, its architecture lovingly restored, its 15th-century crown steeple one of Edinburgh's most distinctive landmarks — described by a historian as "a serene reminder of the imperial aspirations of the late Stewart monarchs". Here, in 1416, a graceful pair of storks made their nest, an event hailed as a portent of peace at a time of civic strife. Not until March 2020, when three birds nested at the Knepp Estate in Sussex, would storks return to Britain.
No one quite knows why the church, as it originally was, took its name from St Giles, the patron saint of lepers, but in its early days it was seen as a place with healing powers. The arm bone of the saint was brought as a relic from France, and at one stage the church had no fewer than 50 altars for those who came to pray for salvation. In the aftermath of the disastrous Battle of Flodden in 1513, when most of the Scottish nobility, and their king, James IV, were killed, Bishop Gavin Douglas held a requiem mass, a powerful act of mourning and renewal.
Knox was less forgiving. He ordered workmen to clear stone altars and monuments from the church. Precious items used in pre-Reformation worship were sold. The church was whitewashed, its pillars painted green, and St Giles's arm was hurled into the Nor' Loch. In 1558 Knox published his First Blast of the Trumpet Against the Monstrous Regiment of Women, a polemical work attacking female monarchs, and arguing that rule by women is contrary to the Bible …
The Queen will lie at peace in a place of singular beauty, close to the elegant Thistle Chapel, with which she was so familiar. Created by the great Scottish architect Robert Lorimer in 1909, it was the place where she, as senior member of the ancient Order of the Thistle, Scotland's equivalent to the Order of the Garter, welcomed new members, 16 in number, appointed on her personal recommendation.
The cathedral's interior is now a place of colour, its crown steeple is gilded with gold, its stained glass windows filter in the daylight, thanks to a renewal appeal, headed by the late financier Sir Angus Grossart, which led to the conservation of the medieval tower, the restoration of the stained glass windows, and the moving of the altar to the centre of the building. A thanksgiving service in the presence of the Princess Royal in January 2011 marked the conclusion of the project.
September 12, continued
In covering the events of Monday, September 12, 2022 in Edinburgh, I left off with the service at St Giles' Cathedral.
Afterwards, mourners were already queuing to pay their respects:
The Guardian reports that former Prime Minister Boris Johnson gave an interview to the BBC's Fiona Bruce that day. She asked him what his final meeting with the Queen at Balmoral on Tuesday, September 6, was like:
Johnson said: "In that audience, she had been absolutely on it. She was actively focused on geopolitics, on UK politics, quoting statesmen from the 50s, it was quite extraordinary.
"She seemed very bright, very focused. She was clearly not well. I think that was the thing that I found so moving when I heard about her death on Thursday, I just thought how incredible that her sense of duty had kept her going in the way that it had, and given how ill she obviously was, she could be so bright and so focused. It was a pretty emotional time."
Johnson gave a memorable tribute to the Queen in parliament on Friday, the day after her death. He told the broadcaster that her death was a "colossal" thing for him and that he felt a "slightly inexplicable access of emotion".
Shortly after 5:30 p.m., the King and Queen Consort arrived at Holyrood, Scotland's parliament, not far from the Palace of Holyroodhouse (emphases in the original):
King Charles and Camilla, Queen Consort have processed into the Scottish parliament in Holyrood, as trumpets played in the background.
They had met political leaders from Scotland beforehand, including first minister, Nicola Sturgeon, Labour leader, Anas Sarwar, and leader of the Conservative party, Douglas Ross.
Presiding officer, Alison Johnstone, opened the session and paid tribute to the Queen, who was there for the assembly's first session in 1999.
Two minutes' silence is now being held. Sturgeon will shortly move a motion of condolence.
She recounted an amusing anecdote from one of her visits to Balmoral:
I did, however, experience one rather tense moment at Balmoral. My husband and I were with the Queen before dinner when the drawing room light started to flicker. To my great alarm … my husband suddenly leapt up and darted across the room. Peter had spotted the cause of the flickering light, one of the Queen's young corgis, a beautiful pup called Sandy was eating through a lamp switch. Thankfully tragedy was adverted, not before a ticking off from his mistress.
Sturgeon, the woman who refused to deliver a message of loyalty on the occasion of the Platinum Jubilee, then waxed lyrical:
I deeply valued the time I spent alone with the Queen. Her words of wisdom, counsel, and humour will stay in my heart for the rest of my life …
The Queen has been intrinsic to the story of modern Scotland, from the opening of the Forties oil pipeline, to the Forth bridge, the Queensferry Crossing, three Commonwealth Games, she was present at so many of our iconic moments. She was a true and steadfast friend of this parliament.
Our nation is in mourning today for a Queen whose loss we have not yet begun to come to terms with. We are deeply honoured by the presence today of His Majesty King Charles III and the Queen Consort. Your Majesty, we stand ready to support you as you continue your own life of service and build on the extraordinary legacy of your mother. Queen Elizabeth, Queen of Scots, we are grateful for her life, may she now rest in peace.
After Sturgeon spoke, the other Party leaders had their turns: Douglas Ross from the Conservatives, Anas Sarwar from Labour and Patrick Harvie from the Greens.
Patrick Harvie's remarks once again revealed how far left he is. He praised all the social advances made during the Queen's reign — more than enough for most people — then said that much more needed to be done. He sounded ungrateful.
Harvie evidently did not want to meet the King. He sent the Greens' deputy leader Lorna Slater instead.
The session concluded with an address from the King:
Wearing a kilt, he stands and says:
I know that the Scottish parliament and the people of Scotland share with me a profound sense of grief at the death of my beloved mother. Through all the years of her reign, the Queen, like so many generations of our family before her, found in the hills of this land, and in the hearts of its people, a haven and a home.
My mother felt as I do, the greatest admiration for the Scottish people, for their magnificent achievements and their indomitable spirit. It was the greatest comfort for her to know, in turn, the true affection in which she was held. The knowledge of that depth and abiding bond must be a solace as we mourn the life of incomparable service.
If I might paraphrase the words of the great Robert Burns, my dear mother was the friend of man, the friend of truth, the friend of age, and guide of youth. Few hearts like hers with virtue warned, few heads with knowledge so informed.
While still very young, the Queen pledged herself to serve her country and her people and to maintain the principles of constitutional government. As we now mark with gratitude a promise most faithfully fulfilled, I am determined with God's help and with yours to follow that inspiring example.
The title of Duke of Rothesay and the other Scottish titles which I have had the honour of carrying for so long, I now pass to my eldest son, William, who I know will be as proud as I have been to bear the symbols of this ancient kingdom.
I take up my new duties with thankfulness for all that Scotland has given me, with resolve to seek always the welfare of our country and its people, and with wholehearted trust in your goodwill and good counsel as we take forward that task together.
The King and Camilla, Queen Consort, then leave the chamber while the bagpipes are being played.
By the time that the Holyrood session ended, mourners were entering St Giles' Cathedral to pay their respects.
The Vigil of the Princes took place that evening, with the Royal Family returning to St Giles' from Holyroodhouse.
The Vigil of the Princes was devised for George V's funeral in 1936. His four sons stood at his casket for a short time. It took place in Westminster Hall at 12:15 a.m. on January 28 that year, after it closed to the public.
In 2002, the Queen Mother's grandsons participated in a similar vigil in Westminster Hall.
For the first time, this silent ceremony included a woman. The Princess Royal, being one of the Queen's four children, participated in it at St Giles'.
This time, the public were able to see them in their solemn ten-minute vigil:
They have chosen not to be armed with swords, as they have the right to do so.
Charles stands at the head of the coffin, the crown behind him on top of it. He and his siblings, facing outwards, bow their heads. They are stood next to the Royal Company of Archers. Camilla is sat off to the side alongside Sophie, Countess of Wessex.
Prince Andrew and Princess Anne can be seen with their eyes closed.
Members of the public are still filing past the coffin.
It was incredibly moving. Two videos follow:
The Royals then returned to Holyroodhouse to spend the night.
The Queen lay at rest in the cathedral until early Tuesday afternoon, at which point staff and the military prepared for her casket to be put in the hearse for the journey back to London.
People queued all night. By the time the viewing closed on Tuesday, 26,000 people paid their respects. They were of all ages and included quite a few children, some dressed in their school uniforms.
The Guardian had a report on the mourners at the close of Monday:
Many thousands of people are waiting for hours in long queues through central Edinburgh to see the Queen lying in rest at St Giles' Cathedral, with some facing a wait until early morning before they pass the coffin.
Mourners queueing in George Square, an early Georgian square now part of the University of Edinburgh, have been waiting for over three hours, with the line six to eight people abreast in places.
The Scottish government responded by increasing the number of lines at the security checkpoint on George IV Bridge, dramatically increasing the numbers of people being cleared to move on to the cathedral. Officials estimate that up to 6,000 people per hour were being allowed through.
Aaron Kelly, 32, a psychotherapist originally from Belfast, who lives close to George Square, had been timing his wait on iPhone. It had clocked up three hours and five minutes by about 8.15pm. He felt it was essential to be there.
"This is a moment in history and I think the Queen has done so much for the nation; it just felt it was apt to come and pay our final respects," he said.
Behind him stood Corey Docherty, 14, and his mother, Mary, and their friend Janis. After travelling from the Glasgow area, and with school tomorrow, he faced getting home after midnight. Docherty has visited Balmoral, Buckingham Palace and Clarence House, the king's former residence in London.
"It's just the most famous royal family in the world," he said. Of the new king, he said: "He's the king. We must support him. He has waited 73 years."
Norman Davenport, 68, who recently retired after 18 years as an officer in the RAF reserve and before then 20 years as an army reservist, began queueing for the cathedral at 2pm on Monday, in good time for it to open to the public at 5.30pm, and arrived there by around 7pm. By 8.30pm, he was in George Square for a rest and a sandwich.
The queen was honorary air commodore of his RAF reserve unit, 603 (City of Edinburgh) Sqdn. He had met her twice. "I have a huge connection with her, from that point of view, as a personal thing. She was my sovereign, my commander in chief, my honorary air commodore."
The City of Edinburgh Council's website had a helpful list of guidelines for mourners.
The Guardian's Murdo MacLeod has an excellent photo compilation of the long queue as it grew throughout the night.
September 13
On Tuesday morning, September 13, The Guardian had an update on the mourners:
Tens of thousands of people, including royalists, "soft republicans" and the plain curious, have queued through the night in Edinburgh to view the Queen's coffin lying at rest.
The queues stretched several kilometres from St Giles' Cathedral on the Royal Mile – with the route winding past security checks, Scotland's national museum, Edinburgh university's student union and library on George Square, then on to The Meadows, a tree-lined park on the city's south side – in an event without modern parallel in Scotland.
Over Monday night, the queues were eight to 10 people abreast in places, with mourners and well-wishers – helped by dry and temperate weather – waiting more than five hours to reach the Queen's coffin.
At 5am on Tuesday, they queued in the open for more than hour to view the coffin, which was guarded by four green-garbed members of the Royal Company of Archers, each holding an upright bow, and four police officers wearing white gloves.
The Scottish government expects the queue – remarkable in its size – to grow again on Tuesday morning, before public viewing ends at 3pm. At about 5pm, the Queen's coffin will be taken by hearse to Edinburgh airport, accompanied by Princess Anne, the Princess Royal, then flown by military aircraft to RAF Northolt, before being driven to Buckingham Palace …
Victoria, 53, an artist, and her daughter Grace, 20, an art and philosophy student, woke up at 3.45am to come from Linlithgow, West Lothian, by train. Both women said they had an emotional response to the Queen's death, which contradicted their republican sympathies.
"We're not royalists but it has been a very strange thing, to be affected by the Queen dying," Victoria said. "And Grace was very affected too, so we thought: 'Let's go.'
"From a political point of view, I'm just a bit confused because it's what I'm against politically, but I just felt an emotional desire to come. I wasn't expecting to feel this way" …
Brian Todd, 51, who had joined the Royal Navy at 16 before serving as a fire fighter, and his partner, Allison Pearson, 55, a property manager, travelled from Livingston, West Lothian, getting up at 3.30am. They said they were monarchists, born to monarchist parents …
For Todd, originally from County Durham, the three days of events in Scotland attached to the Queen's death at Balmoral – events which began with the funeral cortege's slow 170-mile drive through eastern Scotland to Edinburgh on Sunday – were significant and resonant.
"Scotland needed this as well," he said. "Everything seems to be London-centric and set down south. It's not great that the queen has passed away, but it has been great for Scotland. At least we can say we did her proud. It's not just about London."
Meanwhile, at Holyroodhouse, the King and Queen Consort were preparing for a day in Northern Ireland while Princess Anne steeled herself to accompany her mother's casket on a flight back to London to rest overnight at Buckingham Palace. Her husband, Vice Admiral Sir Tim Laurence, accompanied her.
The plan was for the King and Queen Consort to arrive at Buckingham Palace in time to meet his mother's casket.
At 12:15, the Scottish Government reported on the visitors at St Giles':
The queue was still long, but by the end of the viewing, everyone was accommodated at St Giles':
The King and Queen Consort touched down in Belfast shortly after noon that day:
At 12:30 p.m., the King and Queen Consort had arrived at the official Royal residence in Northern Ireland, Hillsborough Castle, which had a huge crowd waiting to greet them.
The Royal couple did a walkabout before viewing an exhibition about the Queen's long association with Northern Ireland.
The Guardian reported that the crowd chanted 'God save the King':
He and the Queen Consort Camilla were greeted by delighted crowds. He went along the line smiling and laughing and receiving flowers for over five minutes.
"I spoke to him and he spoke back!" yelled one woman in delight as he passed.
The Daily Mail has a video of well-wishers, including a corgi:
The floral tributes were many.
Just before 1:30, the King met the new Northern Ireland Secretary, Chris Heaton-Harris, inside the castle.
The Northern Ireland Assembly, which meets at Stormont in Belfast, gathered at the castle to present official condolences to the monarch. This took place a short time after the King's meeting with the Northern Ireland Secretary.
The Assembly's speaker, Alex Maskey MLA, opened proceedings:
Maskey, a Sinn Féin member of the assembly, directly addressed the political context of the changes in Northern Ireland during Queen Elizabeth's lifetime, saying:
On the walls of parliament building in Stormont are images from two of Queen Elizabeth's visits during the coronation year 1953 and the second for the diamond jubilee in 2012. It is extraordinary to consider how much social and political change Queen Elizabeth witnessed in the time between those visits, and indeed throughout her long reign. Yesterday an assembly of Unionists, Republicans, nationalists met to pay tribute to the late Queen. When she first came to the throne, no one would have anticipated an assembly so diverse and inclusive.
Also:
It was notable that neither the speaker of the Northern Ireland assembly, Sinn Féin's Alex Maskey, nor the new King, shied away from talking about the history of Northern Ireland or the long years of conflict, and Maskey alluded to the current stalemate.
Maskey said that at one point it would have been unthinkable for someone "from my own background and political tradition" being in the position to deliver this address. He said:
… Queen Elizabeth was not a distant observer in the transformation and progress of relationships between these islands. She proudly demonstrated that individual acts of positive leadership can help break down barriers and encourage reconciliation. Queen Elizabeth showed that a small but significant gesture – a visit, a handshake, crossing the street or speaking a few words of Irish can make a huge difference and change attitudes and build relationships. Her recognition of both British and Irish citizens as well as the wider diversity of our community was undoubtedly significant.
Of course, such acts of leadership do not come without risks, or the need for courage and determination to see them through. I represent the elected assembly of a society which has struggled with the legacy of our past and how to move on from it without leaving those who have suffered behind.
During her visit to Dublin, Queen Elizabeth said that whatever life throws at us, our individual responses will be all the stronger for working together and sharing that load. Let us all pay heed to that. As we remember Queen Elizabeth's positive leadership, let us all reflect that such leadership is still needed. And let us be honest with ourselves enough to recognise that too often, that leadership has been lacking when it has been most required.
Maskey's reference to 'a handshake' recalled the time she shook Martin McGuinness's hand in 2012. She was wearing gloves. McGuinness was a pivotal figure in the IRA, which was responsible for assassinating one of the Queen's relatives, Lord Moutbatten, in 1979.
The King responded to Maskey's speech:
Charles says that his mother, the Queen, was aware of her own role, saying:
My mother felt deeply the significance of the role she has played in bringing together those who history had separated, and extending a hand to make possible the healing of long-held hurts.
He said he would dedicate himself to a similar role, saying:
At the very beginning of her life of service, she made a pledge to dedicate herself to her country and her people and to maintain the principles of constitutional government.
This promise she kept with steadfast faith.
Now with that shining example for me, and with God's help, I take up my new duties resolved to seek the welfare of all the inhabitants of Northern Ireland.
He recalled Lord Mountbatten's death:
King Charles thanked Northern Ireland for the condolences, and said that his mother never ceased to pray for the best of times for its people, "whose sorrows our family had felt", in a reference to the death of Lord Mountbatten in 1979.
Here is the video:
Then, the King met Northern Ireland's political leaders. The Guardian has photos of him with DUP (Democratic Unionist Party) leader Sir Jeffrey Donaldson MP, Northern Ireland Assembly speaker Alex Maskey, Alliance Party leader Naomi Long and Sinn Féin vice president Michelle O'Neill, who is the most senior member of the Assembly.
At the end of the Royal couple's visit, the King experienced pen problems once more as he signed the visitors' book. This time, it was more than a misplaced tray of pens. His fountain pen was well and truly leaking. The Queen Consort helped to dry it with a handkerchief, which ended up soaked with ink. Sky News has a subtitled version:
The Daily Mail's description reads:
'Can't bear this bloody thing!' King Charles frustrated by leaking pen, but Queen Consort Camilla saves the day. This is the moment King Charles blasts a leaking pen that threatens to ruin his mood just hours after the new monarch was warmly embraced by the people of Northern Ireland during his inaugural trip as monarch. King Charles III, sitting inside the royal residence of Hillsborough Castle appeared visibly frustrated as he tried wiping off dripping ink during a book signing towards the end of his visit. Charles complained about the faulty instrument he was using to sign his name, pronouncing he 'can't bear this bloody thing' as he briskly turned on his heels and left the room flanked by aides. The leaky pen was swiftly replaced by flustered courtiers before Queen Consort Camilla sat down to sign the book herself from inside the historic residence.
Afterwards, the Royal couple returned to Belfast for a Service of Reflection at St Anne's Cathedral (Anglican).
It was very moving, as have been all the religious services for the late Queen. You can find the Order of Service here.
Clergy representing Northern Ireland's main Christian denominations all participated.
Alex Maskey MLA read Philippians 4: 4-9:
Rejoice in the Lord always; again I will say, rejoice. Let your gentleness be known to everyone. The Lord is near. Do not worry about anything, but in everything by prayer and supplication with thanksgiving let your requests be made known to God. And the peace of God, which surpasses all understanding, will guard your hearts and your minds in Christ Jesus. Finally, beloved, whatever is true, whatever is honourable, whatever is just, whatever is pure, whatever is pleasing, whatever is commendable, if there is any excellence and if there is anything worthy of praise, think about these things. Keep on doing the things that you have learned and received and heard and seen in me, and the God of peace will be with you.
Also notable was the prayer before the sermon for its use of 'felicity', a word I have not heard in decades:
O Lord, our heavenly Father, high and mighty, King of kings and Lord of lords, the only ruler of princes, who from your throne beholds all who dwell upon earth; grant to us understanding of your will and thankfulness of heart for the life and reign of our most beloved Queen, and to her everlasting joy and felicity, through Jesus Christ our Lord. Amen.
The Most Reverend John McDowell, Archbishop of Armagh and Primate of All Ireland delivered the sermon, which was gentle in tone yet hard hitting in content when it came to reconciliation.
To me, this was the best sermon of all from the Services of Reflection.
Excerpts follow:
In the Name of the Father and of the Son and of the Holy Spirit. In anim a Athair, agus a Mhic agus a Spiorad Naomh. Amen.
For many of us in the United Kingdom there were two people whose deaths we could never imagine. Our own and the Queen's. I think that is one of the reasons why the death of Queen Elizabeth was literally felt so keenly by so many people when the news broke on Thursday afternoon. It was as though the nation's collective grief was gathered up in those remarkable words of Christopher Marlowe's:
"If I had wept a sea of tears for her, it would not ease the sorrow I sustain".
And if that was how those of us felt who were her adopted family through her coronation oath, how much more profound must that feeling of loss be to those of the Queen's blood family; those who knew her best and loved her most; Your Majesty, our prayers will be with you and your family for a long time to come.
St Paul could be a bit of a gloomy old moralist at times and some of the injunctions contained in his letters are far from easy to put into practice. It is pretty difficult to "have no anxiety about anything". But I would dare to suggest that for the family of the late Queen and for millions of others, there will be no difficulty whatsoever, when she comes to mind, in following St Paul's command to think on "whatever is true, whatever is just, whatever is pure, whatever is lovely, whatever is gracious and whatever is worthy of praise".
There were many other words used about the late Queen during her long reign. Faithfulness, care, dutifulness, love and devotion. All of these could be employed to describe her relationship with Northern Ireland (with patience binding them all together) but paying attention especially to what she said most recently, the word which I think will be most associated with Queen Elizabeth and Ireland, north and south, is reconciliation.
It is a great New Testament word and it is a great civic word; and it is a hard word. So hard in the religious sense that it was beyond the power of humanity to achieve, and God himself had to give it to us as a gift in his Son. And as a disciple of Jesus Christ, Queen Elizabeth followed where Jesus led as women often have in the elusive and unfinished work of reconciliation here in Ireland.
For where the Master is, there will his servant be also.
It has always been love's way that in order to rise, she stoops; so the bowing of her head in respect was far more powerful than much grander gestures would have been. Love listens far more than she speaks, so a few words in an unfamiliar language and a judicious sentence or two of heartfelt regret and wisdom said far more than ceaseless volubility. Love never rushes into anything for fear of overwhelming the beloved, but when the moment is right she walked the few steps between two Houses of Prayer in Enniskillen alongside the beloved, in encouragement and affection. Although love is easily injured, she keeps no record of wrongs and extends the open hand of sincerity and friendship, with courage, to create an environment and an atmosphere where reconciliation has a chance.
And love never fails; for where the Master is there will his servant be also.
Reconciliation is about the restoration of broken relationships. And the word should never be cheapened by pretending it is an easy thing to achieve. By and large in the work of reconciliation most of our victories will be achieved quietly and in private: and most of our humiliations will be in public.
Reconciliation requires the greatest of all religious virtues, love; and it requires the greatest of all civic virtues, courage. But as the great apostle of reconciliation says: "What you have learned and received and heard and seen in me, do; and the God of peace will be with you" …
It is only an impression, but it seemed to me that in the last years of her reign the tone and content of the Queen's broadcasts became more overtly religious and perhaps a little more personal. On Christmas Day 2017 she said this:
Although we are capable of great acts of kindness, history teaches us that we sometimes need saving from ourselves – from our recklessness and greed. God sent into the world a unique person – neither a philosopher or a general, important as they are; but a saviour with the power to forgive. Forgiveness lies at the heart of the Christian faith. It can heal broken families, it can restore friendships and it can reconcile divided communities. It is in forgiveness that we feel the power of God's love.
At her baptism Elizabeth Alexandra Mary was signed on her forehead with the sign of sacrifice; the cross. And for 96 years in a life which was a prodigy of steady endeavour she offered herself, her soul and body, as a living sacrifice to the God who loves her with an everlasting love.
So, I want to finish by reminding you of those final words spoken by Mr Valiant for Truth in Bunyan's Pilgrim's Progress, some of which the Queen herself used in her very first Christmas televised broadcast in 1957:
Then he said, I am going to my Fathers, and though with great difficulty I am got hither, yet now I do not repent me of all the trouble I have been at to arrive where I am. My sword I give to him who shall succeed me in my pilgrimage, and my courage and skill to him that can get it. My marks and scars I carry with me, that I have fought his battles who will now be my Rewarder. When the Day that he must go hence was come, many accompanied him to the riverside, into which as he went he said, Death where is thy sting; and as he went down deeper he said, Grave where is thy victory? So he passed over, and the trumpets sounded for him on the other side.
All these words I have offered from an unworthy heart.
God save the King
Oecumenical prayers followed.
Two verses of the National Anthem followed:
God save our gracious King,
Long live our noble King,
Thy choicest gifts in store
On him be pleased to pour,
To sing with heart and voice,
God save the King.
The service closed with a Celtic blessing.
The Belfast News Letter has a collection of photos from the service, leading with one of Prime Minister Liz Truss sitting next to Ireland's Taoiseach (pron. 'Tee-shuck') — Prime Minister — Micheal (pron. 'Mee-hull') Martin.
According to television reports, various politicians, including Truss and Martin, spent a long time in the cathedral talking after the service.
The Daily Mail reported that Truss and Martin will meet after the Queen's funeral on Monday, September 19:
Liz Truss is expected to hold talks with Irish premier Micheal Martin about Northern Ireland's Brexit political impasse when he visits London for the Queen's funeral.
They are expected to meet after the Taoiseach represents Ireland at the Westminster Abbey ceremony on Monday …
It comes after Mr Martin suggested the Queen's death was an opportunity to 'reset' relations between Britain and Ireland following bitter Brexit disputes.
Northern Ireland is currently gripped by heightened political tensions at Stormont and between the UK and Irish governments over post-Brexit arrangements for Northern Ireland. 
Sinn Fein became the largest party at the assembly in May's election but the DUP has refused to restore the power-sharing executive until the Northern Ireland Protocol of the UK/EU Brexit deal is replaced.
Ms Truss is also threatening to push ahead with legislation at Westminster to scrap key elements of the Protocol if negotiations with the EU on revamping trade rules continue to stall.
This has caused a furious response from both Dublin and Brussels, with the bloc launching fresh legal action against the UK.
After greeting clergy and other dignitaries, the King and Queen Consort returned to Belfast Airport to return to RAF Northolt in north west London.
The Daily Mail has a video showing the amazing crowds in Belfast and Hillsborough:
Back in Edinburgh, the military attending during the Queen's lying in state at St Giles' carefully placed her coffin in the hearse to go to Edinburgh Airport.
Princess Anne and her husband were there to accompany it.
People lined the roads on the way to the airport.
The Daily Mail has an article with many photographs showing the Princess and her husband making the sorrowful six-hour journey from Balmoral to Edinburgh on Sunday. Undertakers William Purves, which have been operating since the 19th century, provided the service. They followed up with a second article with more photos.
At least the ride to Edinburgh Airport was much shorter.
The number on the RAF aircraft, a C-17 Globemaster — also used to transport our military home from Afghanistan — was ZZ177, or Liz. Note that the Scottish Crown was removed, as it stays in Scotland: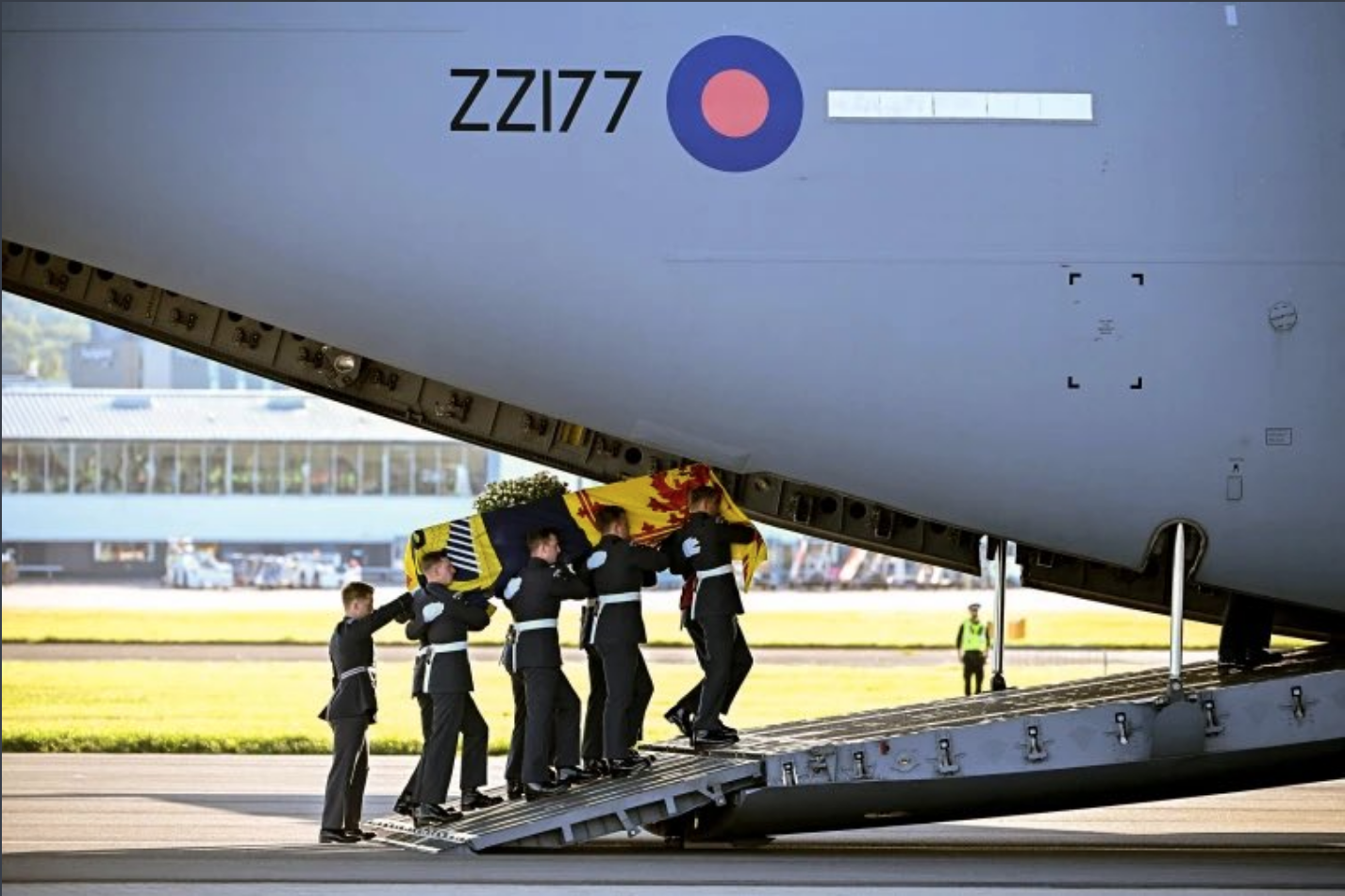 As Princess Anne and her husband prepared for takeoff, the King and Queen Consort arrived in London.
Crowds gathered around Buckingham Palace to welcome them.
The flight with the Queen's casket landed at RAF Northolt just after 7 p.m. Liz Truss and a senior Anglican clergyman, who offered a blessing, were present.
Crowds lined the route on the way into the capital. Rod Stewart's wife Penny Lancaster was outside RAF Northolt as a special constable, keeping order. You could not make this up:
The 51-year-old, who is married to crooner Rod Stewart, began working as a special constable last year and earlier confirmed she would be working during the Queen's funeral on Monday.
On Tuesday evening she was pictured engaging and marshalling expectant crowds and helping a wheelchair user.
The cortege arrived at Buckingham Palace an hour later:
The Queen's casket rested in the Bow Room of the palace overnight before moving to Westminster Hall on Wednesday.
On Wednesday, September 13, the Mail reported on the statement the Princess posted online after she reached London on Tuesday evening:
The Princess Royal has paid tribute to her mother and said it had been 'an honour and a privilege' to accompany the Queen on her final journeys as she travelled with the monarch's coffin back to London.
Princess Anne, the late monarch's only daughter, told how she was 'fortunate to share the last 24 hours of my dearest mother's life'.
She said the love and respect shown to the Queen on her journey from Balmoral to Edinburgh and onto London had been 'both humbling and uplifting'.
Anne also thanked the nation for the 'support and understanding offered to my dear brother Charles' as he takes on his duties as King.
She ended her statement with the words: 'To my mother, The Queen, thank you.' 
More will follow beginning next Monday, continuing on with Wednesday's events in London, Friday's trip to Wales and the Queen's funeral.
This has been an incredible period not only in British history, but also the world's.
We are experiencing the end of an era.
Yesterday's post introduced the significance of Scotland to Queen Elizabeth II.
In it, I mentioned that, after the 1707 Acts of Union, the history of Scotland began to be romanticised through the efforts of Queen Victoria, Prince Albert as well as Walter Scott's novels.
Romantic history
A royal historian told GB News that Prince Albert was quite taken by the countryside in Aberdeenshire, which reminded him of his native Rhineland.
He and Victoria had an amazing love life, according to a television documentary I saw many years ago. In the early days, at least, he used to dress and undress her. Her silk stockings were a favourite part of the ritual.
After Albert died in 1861, Victoria moved up to Balmoral for a time and became close friends with one of his servants, John Brown, a Scot. A film about their relationship, Mrs Brown, made its debut in 1997.
In 1863, courtiers and the Royal Family thought that Brown could rehabilitate the mourning Queen. Instead, he began controlling her daily life at her holiday idyll.
In time, rumours about the extent of their relationship began circulating not only among her inner circle but also in London, where a republican sentiment began growing in her absence. Courtiers and the Royal Family changed tack, this time urging Brown to get the widowed Queen back to the capital to make public appearances.
Brown followed orders, although his and Victoria's relationship was never the same afterwards.
On the other hand, her resumption of public appearances quelled restive republicans.
Brown remained a loyal servant, foiling an assassination attempt on the Royal Family. In 1883, he contracted pneumonia. Victoria visited him in his room and apologised for not having been a better friend. Brown died a short time later and left behind a diary, which, allegedly, has disappeared.
Victoria's two main courtiers, Sir Henry Ponsonby and Sir William Jenner, found it and read it. Only they knew what happened to it afterwards. One of them said later on that the then-Prince of Wales — Edward VII — was so resentful of Brown that he threw a bust of the man over the palace wall in London after his death.
At Balmoral, John Brown is immortalised in two paintings which hang in the drawing room where Queen Elizabeth II received Boris Johnson and Liz Truss on Tuesday, September 6, 2022.
On September 7, The Times helpfully told us more about the room's features, including the paintings which flank the fireplace (emphases mine):
Victoria and John Brown, her servant and close friend after the death of Prince Albert, feature twice in the room's paintings. To the left of the mantelpiece they appear in Sir Edwin Landseer's chalk and pastel drawing Sunshine: Balmoral in 1860 or Death of the Royal Stag. Albert stands proudly in the foreground with a gun over his shoulder, dogs at his heel and a stag at his feet. In the background Victoria sits side-saddle on a horse led by Brown, her ghillie.
To the right is Gilbert Sprague's copy of another Landseer painting of Victoria, in mourning as she sits on her pony Flora outside Osborne House, her retreat on the Isle of Wight. Victoria commissioned the original in 1861 after Albert's death, telling Landseer that she wished to be depicted "as I am now, sad and lonely, seated on my pony, led by Brown, with a representation of Osborne".
Queen Elizabeth also experienced the magic of Scotland that her forebears helped to create.
As a child, she remembered happy days at Glamis Castle then Balmoral. As an adult, she associated possibly her happiest memories with Balmoral. There, the love of her life, Prince Philip, proposed to her. The happy couple also spent their honeymoon there.
On September 8, The Times published an insightful article: 'Balmoral gave Elizabeth the chance to feel "free"', excerpted below:
Scotland played a large and emotional part in Elizabeth's life. Her happiest memories were of the childhood days she spent with "Granny Strathmore"— Cecilia Bowes-Lyon, Countess of Strathmore and Kinghorne, who was also her godmother — at Glamis Castle.
At the family home in Angus she enjoyed parties, children's theatre after tea, and visits to nearby Cortachy Castle, owned by Lord Airlie, where she once "borrowed" the young David Ogilvie's little blue pedal car, much to his fury. At Balmoral, she felt she could be "normal" — almost a housewife, like ordinary people; it took her into another world. "Here I can be free," she told a friend once.
Not that it was exactly ordinary; there were certain traditions. A piper played every morning before breakfast, and, when guests were staying, there would be pipers at dinner. The ladies would depart after the meal, leaving the men to talk over the brandy.
There were shooting parties, with the Queen and her dogs driving out to join the guns at lunch, then "picking up": her dogs retrieving the birds they had shot. "She was an ace picker-up," recalled one friend. Back at the house the first duty would be to feed the dogs.
She insisted on doing the washing-up after picnics, when Philip managed the barbecue and she did the rest. Those picnics — some of them in the evening, in one or other of the huts in the grounds of the estate, always kept open, and often used by members of the public — were famous occasions, remembered by guests long after for their combination of relaxed informality and perfectly organised routine.
Then it would be back to the castle. What one friend noticed, however, was that, as soon as Elizabeth walked through the door of Balmoral Castle, she became Queen again. This was the royal residence, and there was no mistaking who was in charge.
The Queen also enjoyed an annual week-long stay in Edinburgh at the Palace of Holyroodhouse. The city's Lord Provost would deliver the keys to the palace to her in the Ceremony of the Keys and a closing ceremony of her returning them to him took place upon her departure.
She would visit St Giles' Cathedral, probably the only Presbyterian cathedral in existence, and, beginning in the late 1990s, Holyrood, the Scottish parliament.
The independence movement strengthened by an SNP government has grown leaps and bounds since I last visited Scotland 30 years ago.
It is difficult to pin down what exactly the SNP expect as an independent nation, including where they stand on the monarchy. Although First Minister Nicola Sturgeon praised the Queen in death, she was less forthcoming in June during the Platinum Jubilee weekend:
After the scandal surrounding Prince Andrew, she said that there should be a "debate" about the future of the monarchy; she notably failed to deliver a message of loyalty at the time of the Platinum Jubilee; and she did nothing to contradict a statement from the Green Party, her allies in government, which accused the monarchy of "holding back" progress.
However:
None of that has diluted the Queen's affection for Scotland, and her pride in her Scottish connections. As Sir Charles Fraser, who was purse bearer at the Palace of Holyroodhouse for nearly 20 years, commented: "Over many conversations with the Queen, she always spoke of her love for Scotland and her commitment to her Scottish ancestry. Throughout her reign she gave us leadership and hope, where others have failed."
Incidentally, former Royal servants say that all of them enjoyed being at Balmoral and could hardly wait for their annual stay there. It seems that it was as delightful for them as it was for the Queen. 
Monday, September 12
In my preceding post, I wrote about a young woman getting arrested on Sunday, September 11, near St Giles' Cathedral for an anti-monarchy poster with an obscenity written on it. This happened during the proclamation of Charles III as the new King.
People in England were upset about it, but Scotland has its own speech laws which are much stricter than ours:
Guido Fawkes thought that the arrest was overkill. I tend to agree but, then again, I don't know anything about Scottish policing (emphases his):
The 22-year-old woman who was arrested after holding up this anti-monarchy placard at St Giles' Cathedral has been charged "in connection with a breach of the peace" and is reportedly due to appear at Edinburgh Sheriff Court today. Amid the emotional royalist fervour, the country is feeling it is even more important to stand up for universal and enduring values. The Free Speech Union has expressed concern that the protester been arrested for voicing anti-monarchist views during the Proclamation of King Charles III yesterday.  Defenders of free speech know that if they don't stand up for views with which they disagree or even find offensive, they're not defending free speech. Whatever your views on the monarchy, this protester has a right to hers.
… The Free Speech Union has already reached out to the protester to offer their assistance.
That day, Guido reported that the SNP's deputy leader John Swinney expressed surprising pro-monarchy views. He sounded like a Conservative:
Guido said that, on Sunday, Swinney said he watched the broadcast of Charles III's Accession Ceremony in London:
I thought that when I watched the accession council in London yesterday because right at the heart of it was the significance of Scotland's place within the Union and the extraordinary significance that was attached to that and the declarations and commitments that the King made and the fact the Secretary of State for Scotland, the First Minister of Scotland, the Lord Advocate of Scotland, the Lord President of the Court of Session in Scotland, were signatories to the documents which essentially facilitate the accession.
On Monday, Swinney went further:
This morning, Swinney went even further in irritating the most ardent of Scottish nationalists, stating the SNP would continue to have the UK monarch be Head of State in the event of independence, as they promised during the 2014 referendum:
The monarch should be the head of state of an independent Scotland. It's what we argued in the referendum in 2014 and it's what we will continue to argue.
Will the death of the Queen accidentally cause a cooling of temperatures in the Scottish independence debate?
That is part of what Operation Unicorn — the days of mourning in Scotland — was designed to do.
For much of Monday, the Queen continued lay in rest at the Palace of Holyroodhouse. This allowed staff to pay their respects in quiet privacy from Sunday afternoon onwards.
Senior members of the Royal Family, such as Princess Anne, were there awaiting the arrival of King Charles. Upon his and the Queen Consort's arrival, the Lord Provost would go to conduct the Ceremony of the Keys.
Meanwhile, in the morning, King Charles was in London, addressing both Houses of Parliament in the ancient Westminster Hall, adjacent to the Houses of Parliament.
Westminster Hall was built by William the Conqueror's son, William Rufus (William II) in 1097. It is the largest hall of its kind in Europe. The beamed ceilings were added in 1399 when Richard II had the pillars removed so that everyone inside could see what was going on. On the two occasions when the Palace of Westminster caught on fire or when it was bombed during the Second World War, the first priority of firefighters is to save Westminster Hall over the parliamentary palace.
The building has been used throughout the ages as Parliament, as court for the trials of Charles I and the real Guido Fawkes (a traitor) but has also been the venue for coronation banquets. It is still used by both houses of Parliament and is open to the public on important occasions when it is used for the lying in state of distinguised politicians such as Winston Churchill (1965) and members of the Royal Family. The Queen Mother was the last person to lie in state there. I went to pay my respects to her in 2002. The Queen is lying in state there as I write.
The Queen also spoke there on her Silver Jubilee (1977), her Golden Jubilee (2002) and her Diamond Jubilee (2012). A beautiful stained glass window commemorating her Diamond Jubilee is installed on one side of the hall.
Charles's visit was of historical significance and not only because he is the United Kingdom's first King in 70 years.
Both Speakers — of the Lords and of the Commons — wore their dress robes, which are gilded. Their respective serjants of arms brought each House's mace up to the appropriate Speaker and laid them down on a raised platform.
The Speakers stood across from each other below the raised platform on which Charles was due to speak. The maces were covered with a black cloth, indicating not only mourning but also that they were subservient to the Sovereign.
Peers and MPs, as well as staff members, were in attendance.
The Speaker of the Lords, Lord McFall spoke first to extend his and the Lords' sympathy to the King.
The life peer, a Scot, is a testament to the progress people can make in modern Britain:
Sir Lindsay Hoyle spoke next for the Commons, reminding the new monarch of the increased powers of Parliament since the Glorious Revolution of 1688. The King smiled wryly:
Then it was time for the King to address the room:
The Telegraph's summary has the key points of his speech:
We gather today in remembrance of the remarkable span of the Queen's dedicated service to her nations and peoples.
While very young her late Majesty pledged herself to serve her country and her people and to maintain the precious principles of constitutional government which lie at the heart of our nation.
This vow she kept with unsurpassed devotion. She set an example of selfless duty which, with God's help and your counsels, I am resolved faithfully to follow.
The King had already met with senior Government ministers, including Liz Truss, over the weekend at Buckingham Palace. Shadow (Opposition) ministers also met with him:
After the event at Westminster Hall ended, a reception was held, but the King and Queen Consort did not attend as they were due to fly to Edinburgh.
While the Royal couple were on their way, people lined up along Edinburgh's Royal Mile:
Once Charles and Camilla arrived at Holyroodhouse, they and other members of the Royal Family assembled to be led by members of Scottish regiments for the procession to St Giles' Cathedral, for a service of remembrance.
I know from first hand experience that it is a long walk and did not envy the Royals who did walk behind the hearse, especially on the cobbled road.
The Royals who walked were the Queen's children: the King, the Princess Royal, Prince Andrew and the Prince Edward. Vice Admiral Sir Tim Laurence, Princess Anne's husband, also walked with them.

Prince Andrew was not allowed to wear his military uniform. He appeared in morning dress with his military medals.
A young heckler shouted at Prince Andrew in reference to sexual allegations with an underage girl, was quickly tackled by a member of the public, then police dragged him to his feet and arrested him:
He was arrested for breach of the peace:
The SNP had toughened up that law in 2010:
The procession up the ancient road was deeply moving, like something out of a film.
Prince Charles wore the green sash and star of the Order of the Thistle.
The Queen's coffin was draped in the Royal Standard of Scotland.
The Guardian's diary for the day added:
The Queen's coffin is … dressed with a wreath of flowers consisting of white spray roses, white freesias, white button chrysanthemums, dried white heather from Balmoral, spray eryngium, foliage, rosemary, hebe, and pittosporum.
The hearse is flanked by a bearer party found by the Royal Regiment of Scotland and the King's Body Guard for Scotland.
The cortege arrived at St Giles' shortly after 3 p.m. Watching the procession, I do not think they allowed enough time.
Heralds and Pursuivants of Scotland stood outside the cathedral door to receive the Queen for one last time. The Guardian has a magnificent photo of their uniforms.
The Crown of Scotland (see photo) was placed on the Queen's casket before the service.
Here is a photo of the military bearer party dressed in kilts placing the casket on the catafalque in the cathedral.
The Guardian reported (emphases theirs):
At the beginning of the service of thanksgiving for the Queen, Reverend Calum MacLeod welcomed the royal family, "representatives of our nation's life" and "people whose lives were touched by the Queen in so many unforgettable ways".
Among those attending the service are the prime minister, Liz Truss, as well as Scotland's first minister, Nicola Sturgeon.
Unfortunately, there is no video of the service, which was very well done and oecumenical.
The Order of Service is here.
Nicola Sturgeon read Ecclesiastes 3:1-15. We know the first several verses well but here are the next:
What gain have the workers from their toil? I have seen the business that God has given to everyone to be busy with. He has made everything suitable for its time; moreover, he has put a sense of past and future into their minds, yet they cannot find out what God has done from the beginning to the end. I know that there is nothing better for them than to be happy and enjoy themselves as long as they live; moreover, it is God's gift that all should eat and drink and take pleasure in all their toil. I know that whatever God does endures forever; nothing can be added to it, nor anything taken from it; God has done this, so that all should stand in awe before him. That which is, already has been; that which to be, already is; and God seeks out what has gone by.
The Church of Scotland has a transcript of the sermon that the Right Revd Dr Iain Greenshields preached:
Excerpts follow:
Death has been overcome, these are the words of hope expressed and centered around Jesus who died and rose again.
And this is clearly something that Her Majesty Queen Elizabeth acknowledged and personally embraced.
These last few days, as tributes to her Majesty have poured in and we have watched images of her on screen from her earliest years, capturing that remarkable life, yet now beginning to sink in that she is gone from us – "gone home" to express her own words.
Today, we gather in this place of worship and throughout the nation, to express our thanks to God, for her Majesty Queen Elizabeth's extraordinary life.
We are united in sorrow at the death of our Monarch, but we are also so aware that His Majesty King Charles and all his family are not just grieving the loss of their Queen, but their mother, grandmother and great-grandmother too.
Her Majesty Queen Elizabeth began her reign, like King Solomon by asking for wisdom, something that she demonstrated in large measure and to which was added duty, honour, commitment, and faith.
These are the words that we reach for today to describe the life and reign of Queen Elizabeth, whose passing is mourned not only in her native land but across the Commonwealth and the world, as has been so evident to us in recent days.
Most of us cannot recall a time when she was not our monarch.
Committed to the role she assumed in 1952 upon the death of her beloved father, she has been a constant in all of our lives for over 70 years.
She was determined to see her work as a form of service to others and she maintained that steady course until the end of her life.
People who were in her company always felt that they were being listened to carefully and attentively and with compassion.
She possessed a sharp, intelligent mind, with amazing recall, a kindly heart and a gentle sense of humour.
She understood the breadth of world affairs and also cared about what happened to all of her people.
And although sometimes buffeted by events around her, she continued resolutely and cheerfully fulfilled her responsibilities …
Much has been said about the Queen's contribution to the life of the United Kingdom and the Commonwealth which meant so much to her.
But here in Scotland we acknowledge with gratitude her deep links with our land and its people.
Her love of the Balmoral estate is well known and being there latterly brought her great comfort.
There she was valued as a neighbour and a friend and there she drew strength and refreshment during the summer months.
She was active in the life of civic Scotland, travelling across the country to support numerous causes, entertaining guests at Holyrood Palace and presiding at ceremonial events, many of which took place in this Church.
Here she received the Scottish crown in 1953, an event vividly memorialised in the painting by the Orcadian artist Stanley Cursiter.
Her links with the Scottish churches were also deep and lasting.
She was the Supreme Governor of the Church of England, but she worshipped in the Church of Scotland here north of the border, at Canongate Kirk and especially at Crathie Kirk where she took her pew each Sunday morning, prevented from doing so latterly only by infirmity.
She perceived little difficulty in belonging to two Churches and appreciating the strength of each.
It is clearly evident and without doubt that the Queen's Christian faith was genuine, and often gave clear and sincere expression in those remarkable Christmas broadcasts.
She spoke unashamedly of her trust in God and of the example and teaching of Jesus Christ whom she sought to follow as best she could – indeed, of that faith she said she had no regret …
Today we mourn her passing but we also celebrate the long and happy reign that we experienced with her.
And we pray God's blessing upon King Charles who will surely draw strength from his mother's example and the many affectionate tributes of these days and from our assurance to him as a Church of our steadfast prayers at all times and of our unstinting support to him as was offered to his mother, the Queen.
The Cathedral's website has more about the Queen's visits.
The service lasted an hour and ended at 4:15.
The Royal party then returned to Holyroodhouse.
However, their day was far from over.
The King met with Nicola Sturgeon. He and the Queen Consort then went to Holyrood to visit the Scottish parliament where MSPs delivered a motion of condolence.
At 7:20 that evening, the senior Royals returned to St Giles' for the Vigil of the Princes. It would be the first time that a female — Princess Anne — would take part.
More on that tomorrow.