You are currently browsing the tag archive for the 'Donald Trump' tag.
This is an important example of left-wing hypocrisy:
Is everyone in the United States aware that the FBI is investigating Bernie Sanders for fraud?
NBC's Chuck Todd didn't mention it in his interview with Sanders about last week's special elections in Georgia and South Carolina. I can appreciate that the network is proud that Meet the Press is in its 70th year, but, please, give people the full story:
In May 2016, Burlington College in Vermont had to close. It went broke. Sanders's wife Jane had been a recent Burlington College president.
On June 22, 2017, Politico published Harry Jaffe's article, 'Jane Sanders Lawyers Up', which recaps the background. Jaffe, who has been following Sanders's career since the 1970s, is the editor-at-large for Washingtonian magazine and the author of Why Bernie Sanders Matters. Excerpts and a summary follow.
In short:
Investigative reporters had been breaking stories about a federal investigation into allegations that the senator's wife, Jane Sanders, had committed fraud in obtaining bank loans for the now defunct Burlington College, and that Sanders's Senate office had weighed in.
In May 2017, Sanders blamed the story on President Donald Trump's campaign manager in Vermont:
Sanders had never responded to questions about the case, but he took the bait this time. Briefly.
"Well, as you know," he said, "it would be improp— this implication came from Donald Trump's campaign manager in Vermont. Let me leave it at that, because it would be improper at this point for me to say anything more."
Sanders repeated the accusation:
"Yes," Sanders responded, "it is nonsense. But now that there is a process going on, which was initiated by Trump's campaign manager, somebody who does this all of the time, has gone after a number of Democrats and progressives in this state. It would be improper at this point for me to add any more to that."
Investigators are looking into whether Senator Sanders's office used his influence to obtain a loan from People's United Bank to help bail out the college.
Sanders is correct in saying that Brady Toensing, an attorney who chaired Trump's Vermont campaign, notified authorities. Politico reports that Toensing sent a letter in January 2016:
Toensing, in an email to Politico Magazine, notes, "The investigation was started more than a year ago under President Obama, his Attorney General Loretta Lynch, and his United States Attorney, all of whom are Democrats."
Politico says that Mr and Mrs Sanders are now seeking top lawyers:
Jeff Weaver, Sanders' longtime top political adviser who heads Sanders' political organization, Our Revolution, confirms to Politico Magazine that Bernie and Jane Sanders have lawyered up. The couple has retained Rich Cassidy, a well-connected Burlington attorney and Sanders devotee, and Larry Robbins, the renowned Washington-based defense attorney who has represented I. Lewis "Scooter" Libby and disgraced former Rep. Bill Jefferson, to represent Jane Sanders in the matter.
It's now Trump's Department of Justice that is handling the investigation which could proceed via a US Attorney for Vermont, not yet appointed.
Politico says:
The facts of the case are complicated. They are steeped in Vermont's peculiar educational culture and the incestuous financial system in Burlington, Sanders' hometown and political base, where some Sanders backers worry that with Trump's Justice Department calling the shots, the facts—intricate as they are—may not determine the outcome.
Reporters knew about it a year and a half ago:
On January 10, 2016, in the midst of Sanders' sudden stardom—just weeks before the votes in Iowa and New Hampshire—the U.S. attorney for Vermont was sent a "Request for an Investigation into Apparent Federal Bank Fraud."
Backed by six exhibits and a dozen documents, the four-page letter described how Jane Sanders had "orchestrated" the purchase of 33 acres along Lake Champlain in Burlington, Vermont's largest city, where her husband had minted his populist political brand as mayor. The deal closed in 2010, when the senator's wife was president of Burlington College, a tiny, obscure, nontraditional school that always seemed to be struggling for students and funds. The letter alleged that to secure a $10 million loan and execute her grand plan to expand the college, Jane Sanders had falsified and inflated nearly $2 million that she'd claimed donors had pledged to repay the loans.
Sanders had "successfully and intentionally engaged in a fraudulent scheme to actively conceal and misrepresent material facts from a federal financial institution," the letter alleged. It pressed for a federal investigation into potential bank fraud.
However, Politico says that reporters did not ask the Sanders about the letter or exhibits, because they were too intrigued by his popularity with voters.
Meanwhile:
Beyond the glare, federal investigators and FBI agents started to pull apart the $10 million financial arrangement. They showed up at Burlington College to sift through hard drives, audit reports and spreadsheets. They began to interview donors, board members and past president Carol Moore. "I was contacted and spoke with an FBI agent numerous times last spring, again last summer," Moore told Vermont Public Radio in May 2017, "and recently, maybe a month ago."
A second letter followed, alleging Senator Sanders's office was involved:
A second letter to federal prosecutors in early 2016 alleged that Senator Sanders' office had pressured the bank to approve the loan application submitted by Jane Sanders. "Improper pressure by a United States Senator is a serious ethical violation," the letter asserted.
It is surprising how far back this story goes.
Before discussing that, however, let's look at a bit of history. Burlington College was founded in 1972 by a literature professor, Steward LaCasce, who had envisaged an institution of higher learning without walls and with a high degree of autonomy. He started Burlington in his living room with 14 students. Anyone reading this who was not alive then should know that the early 1970s was still a time of flower power and experimental lifestyles which held a lot of appeal for a niche group.
Although LaCasce's fledgling institution was not known as Burlington College initially, it got its name once classes moved to a former grocery store in Burlington.
When Jane Sanders was appointed president in 2004, Burlington College had 200 students. She had big plans for the college's expansion. However, those did not materialise immediately. In the meantime, she was proving unpopular with other faculty and even students:
In the four years since she had taken over, two dozen faculty and staff had left the tiny college. The Student Government Association in late 2008 described a "toxic and disruptive environment on campus." Nearly half of the students and faculty members signed a petition demanding a meeting about the "crisis in leadership." Even so, Sanders' salary rose to $150,000 in 2009, according to college records, as tuition increased by $5,000, to $22,407 in 2011, and enrollment dropped to 156 students.
Despite this, she carried on with the support of college trustees.
In 2010, she decided to act on expansion. She planned to move the college to larger grounds, on the desirable Lake Champlain, no less. The local Roman Catholic diocese needed to sell a magnificent building — a former orphanage and rectory — because they needed to fund settlements from child abuse lawsuits:
The property went on the market for $12.5 million. The Diocese took Burlington College's offer of $10 million, which seemed to be a bargain.
There was only one problem. Burlington College could not afford it:
… the college was nearly broke. Its annual budget hovered just below $4 million. Even at a discounted rate, the land would be an extravagant purchase. Yet Sanders was able to craft a complex set of deals to finance the acquisition.
So:
The state's Educational and Health Buildings Finance Agency voted to issue $6.5 million in tax exempt bonds. People's United Bank loaned Burlington College $6.5 million to buy the bonds. The Catholic church loaned the school $3.65 million in a second mortgage. To secure the loans, Sanders assured the bank and the church that the college had $5 million in likely pledges and $2.4 million in confirmed pledges, which she would be able to use to pay off the debt. And finally, the college received a $500,000 bridge loan from Anthony Pomerleau, a wealthy Burlington developer close with Bernie and Jane Sanders.
Yet, landscaping the campus required an additional $6 million:
To many locals, it didn't add up.
In September 2011, Sanders took reporters on a tour of the new campus, overlooking Lake Champlain.
However, one month later, the board of trustees persuaded her to resign. Financial problems — repayments and unfulfilled pledges — as well as her continuing conflicts with faculty were the principal reasons.
Regardless, it was too late for the college to recover:
Burlington's free fall accelerated after the board forced out Sanders. The school had moved into the old buildings on its new campus, and though Sanders had budgeted for more than $3 million in renovations, the structures were in need of rehabilitation that would cost substantially more. Unable to increase enrollment to pay for the added costs, the school lost students.
Even selling off parcels of prime lakefront property to developers did not suffice. The college still could not pay off the loans sufficiently.
The bank called in the loan in April 2016. In May, Burlington College closed its doors — for good.
In a 2015 interview on Vermont Public Radio, Jane Sanders insisted she left the college in good financial condition in 2011.
Trump's campaign manager, Brady Toensing, became interested in Burlington College's financial difficulties in July 2014, after an alternative newspaper, Seven Days, carried an in-depth piece on it:
The New England Association of Schools and Colleges had put it on probation because of the school's shaky finances. The college was about to sell off land to defray its mounting debt.
Toensing:
requested loan documents from the Vermont Educational and Health Buildings Finance Agency that had issued the $6.5 million bonds for the land. The August 1 response from the bonding agency produced a trove of documents that detailed how Jane Sanders convinced the bank and the church that Burlington College could pay back its millions of dollars in loans.
Politico says he shared the documents with Seven Days and a non-profit Vermont website, VTDigger.
Interestingly, it was The Daily Caller — based in Washington DC — that first broke the story on March 26, 2015:
under the headline: "Exclusive: Bernie Sanders' Wife May Have Defrauded State Agency, Bank."
VTDigger took it from there (emphases mine below):
Morgan True, reporting for VTDigger, went deeper. Examining the pledges Sanders had listed on documents she signed for the loan, True and other reporters found discrepancies and overstatements.
The records showed that Sanders had assured People's United Bank and the state bonding agency that the college had $2.6 million in pledges to secure the loan. Internal college audits showed that only $676,000 in actual donations came in from 2010 to 2014. Sanders listed two people as having confirmed pledges for more money than they had offered; neither knew their pledges had been used to support the loan. A third donor had offered a $1 million bequest, to be paid upon her death. Instead, the college's loan application counted it in funds to be paid out over the next few years.
When media contacted her at the time, Jane Sanders gave no comment.
Brady Toensing had what he needed. He:
wrapped these figures and facts into the January 2016 letter to the U.S. attorney and the FDIC, requesting an investigation into what he termed "apparent federal bank fraud." In March 2016, Toensing doubled down in another letter to federal officials. This time, he made an allegation that struck to the core of Bernie Sanders' clean-government image. "As a result of my [initial] complaint," Toensing wrote, "I was recently approached and informed that Senator Bernard Sanders's office improperly pressured People's United Bank to approve the loan application submitted by the Senator's wife, Ms. Sanders."
Politico says that proving that Bernie Sanders's office was involved would be difficult at best, adding that proving bank fraud is also challenging:
Charges of bank fraud, say legal experts, are not easy to prove. "It requires that the act be performed knowingly," says William Lawler, a former federal prosecutor now with the law firm Vinson & Elkins. "Not every mistake is going to rise to the level of a crime."
As I write, investigators have not yet finished their work. Once they have done so, they will present their findings to federal prosecutors and the relevant lawyers will:
have discretion on whether or not to bring charges.
Attorney General Jeff Sessions and the DoJ would then decide whether to prosecute. Remember that Jeff Sessions and Bernie Sanders were both in the Senate together for many years. Sessions will also know what Mr and Mrs Sanders said about Trump on the campaign trail and this year.
The story is on hold for now but is trending on Twitter. However, it will be interesting to see how this materialises, especially, if, as Politico suggests, Brady Toensing is a successful nominee for the post of US Attorney for Vermont.
Wow.
After a two-week break which was largely free from US news, I return to find that things across the pond are as crazy as ever.
First, a reminder that fake news — then known as yellow journalism — existed a century ago:
The New York World — long since defunct — is the press organ that supposedly came up with the eponymous World Series for baseball. Ironically, Joseph Pulitzer — of the esteemed journalism prize — was the paper's publisher. The World was a leading national 'voice' of the Democratic Party. Enough said.
Now onto the week's news.
Anyone who is sensitive or easily triggered is advised to avoid some of the material in this post, particularly the first few news items. That said, this entry ends on a positive note.
White supremacy ends with white abortion
I really hope the following article is yellow journalism and nothing more but, with all the madness going on, it is difficult to be sure.
An online magazine, Medusa, has an article called 'Beyond Pro-Choice: The Solution to White Supremacy is White Abortion'. I hope Tucker Carlson is able to get the author, Nicole Valentine, on his Fox News show.
In response, alternative media journalist and author Jack Posobiec tweeted:
Valentine says that white women are not doing enough:
White women: it is time to do your part! Your white children reinforce the white supremacist society that benefits you. If you claim to be progressive, and yet willingly birth white children by your own choice, you are a hypocrite. White women should be encouraged to abort their white children, and to use their freed-up time and resources to assist women of color who have no other choice but to raise their children. Women of color are in need of financial and humanitarian resources. As this white supremacist society continues to imprison black fathers, women of color are forced to stand alone in their plight to raise the next generation of Americans.
But why is that? It is because the welfare state has benefited single mothers since the late 1960s, discouraging traditional marriage and the family. For nearly 50 years, women have been 'married' to the government, not a (or the) father of their children.
Valentine continues:
How about adopting children of color who have lost their parents to the destructive white supremacist society that you have enabled and encouraged?
However, that, too, has been criticised both in the United States and the United Kingdom, especially when a white couple does so.
Valentine concludes:
Of course, the best choice is to act preventatively to ensure that white children are not at risk of being born. But in circumstances in which termination and generation are the options, it is best to take advantage of your right to choose, and abort in favor of assisting women of color.
This is her brief autobiography located beneath the comments (photo supplied):
Nicole Valentine
Not a Christian attitude.
For those wondering what intersectional feminism means, USA Today explains:
If feminism is advocating for women's rights and equality between the sexes, intersectional feminism is the understanding of how women's overlapping identities — including race, class, ethnicity, religion and sexual orientation — impact the way they experience oppression and discrimination.
A white woman is penalized by her gender but has the advantage of race. A black woman is disadvantaged by her gender and her race. A Latina lesbian experiences discrimination because of her ethnicity, her gender and her sexual orientation.
The United States has had a plethora of laws on state and federal books, some of which date back 50+ years, that clearly prohibit racial, sexual as well as age discrimination and, in some cases, favour positive discrimination.
White professors should 'get out the way'
An article on the American Mathematical Society blog says that whites should step aside from teaching. It should be noted that:
The opinions expressed on this blog are the views of the writer(s) and do not necessarily reflect the views and opinions of the American Mathematical Society.
In May 2017, mathematician Piper Harron wrote 'Get Out The Way' for the AMS blog. (She wrote a follow-up in June on her own website.) She opened her AMS article with this:
If you are a white cis man (meaning you identify as male and you were assigned male at birth) you almost certainly should resign from your position of power. That's right, please quit. Too difficult? Well, as a first step, at least get off your hiring committee, your curriculum committee, and make sure you're replaced by a woman of color or trans person. Don't have any in your department? HOW SHOCKING.
Remember that you live in a world where people don't succeed in a vacuum; most success happens on the backs of others who did not consent. You have no idea how successful you would have been if you were still you, but with an additional marginalization (not white, or not male, or not cis gender, or with a disability, etc).
In other words, echoing POTUS 44: 'You didn't build this'.
Also:
Remember having white cis women run the world is no kind of solution.
This is because — and she supplies an accompanying chart — 63% of white males and 53% of white females support President Donald Trump.
It is highly unlikely that (m)any whites teaching in a college or university support Donald Trump. Not long ago, I met with a group of professors (white and Hispanic, male and female). None of them supports Trump.
Next?
More calls for president's assassination — one arrest
As we know, the calls for President Trump to be assassinated have been incessant.
What that man and his family have to endure every day for no good reason is beyond our ken. Please continue to pray for their safety.
With a rewrite of a Shakespearean play which recently ran in Central Park about a Trump assassination, Kathy Griffin's sick video of his 'decapitation' and the attempt on Republican congressman Steve Scalise's and others' lives, Johnny Depp decided to 'joke' at the Glastonbury music and cinema festival in the west of England.
USA Today reports:
Speaking onstage Thursday at Glastonbury Festival in Somerset, England, Depp stepped into controversy with jokes aimed at President Trump that addressed presidential assassination.
"Can we bring Trump here?" Depp asked the crowd at the festival.
"I think he needs help," Depp said, according to video posted online. "This is going to be in the press and it'll be horrible. But I like that you're all a part of it. When was the last time an actor assassinated a president?" …
The Associated Press reported that Depp then added it's "been a while, and maybe it's time."
Actor John Wilkes Booth assassinated President Abraham Lincoln in 1865.
Depp's representative did not immediately respond to USA TODAY's request for comment about Depp's jokes.
For Depp fans currently out of the loop:
The actor has been in the headlines this year following his contentious divorce from ex-wife Amber Heard and a lawsuit with his former business managers. Depp sued the Management Group in January for more than $25 million, charging fraud and negligence.
Sad.
Meanwhile, an Edwardsville, Illinois, man was arrested and charged with threatening to kill President Trump. The Belleville News-Democrat reports:
Joseph Lynn Pickett was charged with threatening the president of the United States on June 15.
U.S. Secret Service Special Agent Vincent Pescitelli said Pickett threatened to "take the life of, to kidnap, and to inflict bodily harm" against Trump on Facebook, according to a criminal complaint filed with the charges. The complaint included screenshots of Pickett's Facebook posts.
Breaking 911 says:
A judge has ordered Pickett be held without bail.
Both articles have his Facebook comments. Fortunately — perhaps, 'finally' — the Secret Service reacted.
Like Depp, Pickett also had his personal problems. The Belleville News-Democrat tells us (emphases mine below):
Until about six to eight months ago, Pickett had been working at Lowe's in Granite City until he was fired for making threats to a coworker, according to the complaint.
Two Lowe's employees contacted the St. Louis chapter of the U.S. Secret Service and told them that Pickett had threatening posts on his Facebook page. They also said he had bragged about having weapons.
A financial affadavit submitted to the court says Pickett has not been employed since February. He got by with food stamps and financial support from his father.
Pickett will be detained until his trial, according to court documents. A judge ruled that Pickett should be detained because the court couldn't ensure the safety of other people in the community and because of "mental instability."
Good on the Lowe's employees.
Would the Secret Service had done anything otherwise?
One wonders if the Secret Service would have paid Depp a visit if he still lived in the US.
Trump remembers Scalise at Congressional Picnic
On Thursday, June 22, the Trumps hosted their first Congressional Picnic at the White House, which included Ivanka 'Vanilla' (see here and here) Trump and her daughter:
The video below is of President Trump's remarks:
In his short speech, Trump remembered Steve Scalise, in hospital for the foreseeable future, after the shooting on Wednesday, June 14:
On June 22, the Free Beacon reported that 30 Republican congressmen have been threatened or attacked since the beginning of May. There is no excuse for that. Few arrests have been made.
These are the latest two attacks (language alert, emphases in purple mine):
June 22: An Ohio man was arrested for leaving a voicemail threatening the life and family of Rep. Steve Stivers (Ohio).
"We're coming to get every goddamn one of you and your families. Maybe the next one taken down will be your daughter. Huh? Or your wife. Or even you," the man said.
The same day, Utah Rep. Jason Chaffetz played a threatening voicemail he had received on "Fox & Friends."
"I suggest you prepare for the battle motherf**ker, and the apocalypse," the caller yelled. "Because we are going to hunt your ass down, wrap a rope around your neck, and hang you from a lamppost."
Jeffrey Epstein update
On June 22, federal prosecutors broke their decade-long silence regarding the soft treatment billionaire Jeffrey Epstein — a close friend of Billary Clinton — received after his intimate involvement with teenage girls.
The Palm Beach Post reports (emphases mine):
Contrary to claims by attorneys representing two of Epstein's victims in a lawsuit against the federal government, Assistant U.S. Attorney Marie Villafana said she and her superiors were trying to help the traumatized young women when they agreed to let Epstein plead guilty to state prostitution charges.
The now-64-year-old money manager, who spends most of his time on his estate in the Virgin Islands, served 13 months of an 18-month sentence in the Palm Beach County Stockade. He was allowed to leave each day to go to work.
Hoping to persuade U.S. District Judge Kenneth Marra to throw out the lawsuit that accuses the government of violating the federal Crime Victims Rights Act, Villafana said she tried to keep Epstein's victims informed about the investigation and the eventual plea deal. But, she said, negotiations were sensitive and neither Epstein, his victims nor their attorneys made it easy.
For instance, she said, most of the young women were extremely reluctant — or simply refused — to testify against Epstein, who had paid them to give him sexually-charged massages at his mansion …
Jane Doe 1, who is also suing the government, agreed to testify. But Villafana said one victim wouldn't have been enough to convict Epstein.
Rather than let Epstein use his considerable influence to evade prosecution, she and top officials at the U.S. Justice Department crafted the plea deal.
In exchange for pleading guilty to charges of solicitation of prostitution and soliciting minors to engage in prostitution in Palm Beach County Circuit Court, Epstein was not charged with any federal counts.
The article says that Epstein's legal team will file a response at the end of July.
New US ambassador to the UK
In more neutral news, President Trump has appointed a new ambassador to the UK who succeeds Matthew Barzun, an Obama bundler and National Finance Chair for his 2012 presidential campaign.
It would have been nice if Trump had promoted a career diplomat to this plum position, however, the president chose to go down the same route of selecting a big campaign donor.
New York Jets owner Woody Johnson is the new man in London:
Bloomberg reports that, in 2016:
Johnson backed Trump when Bush dropped out of the race. He gave $349,000 to Trump Victory, which split donations between Trump's campaign, the Republican National Committee and state Republican parties. The committee reported receiving the bulk of the money ($249,000) on Nov. 10, 2016, two days after Trump's election, according to Federal Election Commission records.
Perhaps Trump thinks that Johnson will be a true ally who can help smooth over the cracks in the US/UK relationship which no one can call 'special' right now:
Johnson will step into challenges that have arisen in the six months since Trump took office, notably how to stabilize the U.S.-U.K. relationship in the post-Brexit world and how to win over Britons who have shown open hostility toward the U.S. president.
A planned state visit to the U.K. by Trump still hasn't been formally scheduled, and no reference to it was made by Queen Elizabeth II during her speech to parliament this week — an omission observers noted as a departure from tradition in advance of state visits.
I hope my fellow Britons will be nice to him. I wish him all the best in his assignment.
I also hope that Mr Johnson enjoys lamb, because its frequency at many British dinners deeply disappointed Mr Barzun, who clearly prefers beef.
And finally …
The notional White House Anon who surfaced briefly on 4chan/pol/ made a second — and, perhaps, final — appearance on June 22 to say:
I'm here to let you know that sometime between right now as I type this, or no later than around 2 pm tomorrow, you will either read about, listen to, or watch a news story. You will probably see it first on Twitter from a few well known conservative (right wing) people. It will break on cable news shortly after. I cannot go in to specifics. I know most of you all support President Trump, so have no worries on the matter. This information will completely shift the narrative away from him and any of his staff. You will all be very happy and excited about this as many of us have and will too. Look forward to many happenings next week. Things are about to shift in a direction Democrats are going to hate. It will be lovely. Big happenings, not just silly things like "Russia" hoax or "Yet another terrorist attack has happened". Most of you all have been waiting for a happening like this for a year or more, and people will be talking about this for years to come. Stay thirsty my friends. Promises made, promises kept.
I really hope Anon is legit. With only two appearances, it was hard to tell. Even FBI Anon was considered suspect after several lengthy postings, even though it seems he was right on the money.
In closing, The_Donald's contributors remind us that June 23 is Britain's first anniversary of Brexit! Thanks, chaps!
In several countries, Father's Day is celebrated on the third Sunday in June. In 2017, it took place on June 18.
Father's Day history
This special day for dads started in the United States, however, contrary to what we might think, it was not a greeting cards company invention. The Sun reports:
There are a few stories with regards to the beginning of Father's Day.
According to one tale, it first began because of a woman named Grace Golden Clayton from Fairmount, West Virginia.
An orphan, Grace lobbied her local Methodist ministers for a church service to honour fathers in 1908.
The story goes that she was inspired to do this after a mining disaster killed 362 local men.
Their deaths orphaned more than 1,000 children and Grace wanted to pay tribute to the children's dead fathers – as well as her own.
Another story involves the daughter of a civil war veteran, Sonora Smart Dodd, from Arkansas.
While listening to a sermon for Mother's Day, Sonora became convinced of the need to celebrate dads too.
She then campaigned to her religious leaders for a special service dedicated to fathers.
In 1966, President Johnson designated that the third Sunday in June should be Father's Day.
Six years later, the Father's Day was made a permanent national holiday in the US, when, in 1972, President Richard Nixon signed it into law.
It is great to know that the origins were connected with women churchgoers who lobbied their clergymen for recognition of paters familias.
Even in the notionally patriarchal 19th and 20th centuries, fathers were not considered as worthy as mothers of having their own special day.
President Trump
President Donald Trump and his family spent Father's Day at Camp David, their first stay at this presidential retreat near Washington, DC.
Although the First Family were low-key in their tweets about the President — see here and here — a Trump supporter found two photos perfect for his Father's Day:
Vice President Pence
Vice President Mike Pence and his family spent part of last week in their home state of Indiana.
New pets
Whilst there, they bought two new pets, a kitten:
and a puppy. The latter was a present to the Vice President:
Hazel and Harley join the other Pence pets, including the popular rabbit, Marlon Bundo:
I say 'popular', because BOTUS, as the media have dubbed Bundo, overshadowed both Ivanka Trump and HR McMaster on May 9, when the Pences welcomed military families at the Vice President's office. Webgrio has a great set of photographs and an accompanying article, excerpts of which follow:
Ivanka Trump had some competition for attention at the White House Tuesday – and they matched in white with black spots.
The first daughter, wearing a polka dotted dress, spoke to a group of military families for an event marking National Military Appreciation Month, hosted by Vice President Mike Pence and his wife, Karen.
Upstaging Ivanka in the audience of small children was the Pence family pet: the white bunny with black spots, Marlon Bundo …
Karen Pence tweeted a photo of herself about to enter an event with military families at the White House – and she brought a special guest, the BOTUS, Marlon Bundo …
White House National Security Advisor H.R. McMaster spoke at the event after Ivanka Trump saying, "OK, that's the toughest act to follow.' But then the rabbit appeared …
The article says that even Pence couldn't hold the children's interest after his wife left with BOTUS in her arms.
BOTUS Bundo trended heavily on Twitter that week:
BOTUS is the subject of a colouring book which made its way as far as the Asia-Pacific:
Let's hope the Pence menagerie can make friends with the bees at the Vice President's residence:
A time to remember
For the Pences, Father's Day was a time to remember.
Karen Pence tweeted an old family photo:
The Vice President honoured his late father:
A Pence supporter chose to remember the Scalise family, who spent Father's Day in the hospital. Congressman Steve Scalise was the primary victim of a crazed man from Illinois who, on Wednesday, June 14, fired a gun at Republicans practising for the annual Congressional baseball game, a charity event. Scalise is expected to be in hospital for weeks as he recovers from a damaging bullet to the pelvis.
I will have more soon on the man who attempted to take the life of Congressman Scalise.
Interestingly, the Illinois man's family will have no more Father's Days as law enforcement officers intervened and — rightly — fatally shot him.
Life is precious and God-given. Therefore, let's make every day a time to honour and remember our parents. We never know what tomorrow will bring.
Big Media have been making up so many accusations about President Donald Trump and his administration that Americans have now equated them with fake news.
On Wednesday, May 24, 2017, The Hill reported the fake news element of the Harvard survey that shows most coverage of Trump was negative in the extreme. I wrote about the survey's findings with regard to the negativity the other day.
The Hill reported (emphases mine):
According to data from the latest Harvard-Harris poll, which was provided exclusively to The Hill, 65 percent of voters believe there is a lot of fake news in the mainstream media.
That number includes 80 percent of Republicans, 60 percent of independents and 53 percent of Democrats. Eighty-four percent of voters said it is hard to know what news to believe online.
Even 53% of Democrats think Big Media report fake news.
Once again, President Trump is proven correct.
Unfortunately, the survey noted that the consistent onslaught of fake news from Big Media have prevented him from rising in popularity polls. This is exactly what media outlets want.
Hmm. Most Americans think Big Media are peddling fake news, yet they still believe it. They still trust media more than Trump. An interesting situation.
More Americans are walking away from Big Media, whether its mainstream news or printed periodicals.
Those Americans are going online and reading or viewing alternative media, which, at least, seem to be doing a good job of investigation.
This is one small example of why traditional media outlets are losing their grip:
Now a Harvard study of media outlets covering President Donald Trump has proven Americans are correct in their perceptions of bias.
The study, 'News Coverage of Donald Trump's First 100 Days', shows the extent of anti-Trump coverage.
American coverage
This chart gives us a summary of the findings from the Harvard Kennedy School's Shorenstein Center on Media, Politics and Public Policy:
It is also worth remembering the 2016 campaign and the many journalists who were in the tank for Hillary Clinton. The Democrats held a few get-togethers for them, which the Podesta WikiLeaks revealed:
European media
Three European media sources were also included: Britain's Financial Times (FT) and the BBC as well as Germany's ARD.
Of the European sources, ARD was the worst offender, giving Trump astoundingly negative coverage 98% of the time.
The FT came next with 84% negative coverage. The BBC's output was negative 74% of the time.
Basic findings
A summary of and excerpts from the study follow. Emphases mine below.
Trump was the star of the news during his first 100 days.
In the United States:
Trump was the topic of 41 percent of all news stories—three times the usual amount.[15] It was also the case that Trump did most of the talking (see Figure 1). He was the featured speaker in nearly two-thirds (65 percent) of his coverage. Members of the administration, including his press secretary, accounted for 11 percent of the sound bites. Other Republicans, including Mitch McConnell and Paul Ryan, accounted for 4 percent. Altogether, Republicans, inside and outside the administration, accounted for 80 percent of what newsmakers said about the Trump presidency.
Trump supporters were unhappy about the lack of coverage given to violent leftist protests against the president. The Left accused them of being cry babies. However, was Trump's base right or wrong? They were right. With regard to news coverage:
Participants in anti-Trump protests and demonstrations accounted for … 3 percent.
On the other hand, television coverage did not give the Russian hacking scandal as much time as many of us might have thought:
Immigration was the most heavily covered topic, accounting for 17 percent of Trump's coverage.[19] Health care ranked second (12 percent), followed by the terrorism threat (9 percent), and Russia's involvement in the 2016 election (6 percent). Presidential appointments, global trade, Trump's family and personal life, and the economy were the other topics that received 4 percent or more of the coverage.
Even though they loathe the president, cable news channels know he's good for their ratings:
News ratings were slumping until Trump entered the arena.  Said one network executive, "[Trump] may not be good for America, but [he's] damn good for [us]."[18]
In Europe, media coverage focussed on international issues but not on Russia:
Although, like their American counterparts, immigration was at the top of the agenda, they gave relatively more space to international trade, military, and foreign policy issues, a reflection of the extent to which Europe is affected by U.S. policies in these areas. On the other hand, Russia's interference in the U.S. election received considerably less attention in the European media than in the U.S. media.[1]
The three European outlets also discussed Trump's fitness for office much more than their American counterparts did:
Only 3 percent of Trump's U.S. coverage explicitly explored the issue of Trump's fitness for office. European journalists were less restrained with the exception of BBC journalists, who are governed by impartiality rules that prohibit such reporting.[21] Journalists at ARD, Germany's main public broadcasting outlet, are not governed by the same rules, and Trump's suitability for the presidency was ARD's leading topic in January, accounting for a full fifth (20 percent) of its Trump coverage. ARD stayed on the issue in its February coverage, when it consumed 18 percent of its Trump coverage. In March and April, Trump's fitness for office got less attention from ARD, but it nonetheless accounted for about 10 percent of ARD's coverage. Even that reduced amount exceeded the level of any of our seven U.S. outlets in any month. And ARD's journalists were unequivocal in their judgment—98 percent of their evaluations of Trump's fitness for office were negative, only 2 percent were positive.
Historical perspective
The Harvard study provides history about news coverage of American presidents.
Until the early 1960s, television news gave equal time to stories about Congress and the president.
In 1963, television news expanded to half-hour broadcasts on each of the three networks (CBS, ABC and NBC). This new type of news programme facilitated the hiring of the correspondents and camera crews needed to produce picture-driven news.
This resulted in an increased coverage of the president:
who, in any case, was easier than Congress to capture on camera. Newspapers followed suit and, ever since, the president has received more coverage in the national press than all 535 members of Congress combined.[12] The White House's dominance has been such that, on national television, the president typically accounts for roughly one-eighth of all news coverage.[13]
The study points out that the president is not only the focus of media but also their target:
Although journalists are accused of having a liberal bias, their real bias is a preference for the negative.[22] News reporting turned sour during the Vietnam and Watergate era and has stayed that way.[23] Journalists' incentives, everything from getting their stories on the air to acquiring a reputation as a hard-hitting reporter, encourage journalists to focus on what's wrong with politicians rather than what's right.[24]
Furthermore, the traditional honeymoon period no longer exists:
That era is now decades in the past. Today's presidents can expect rough treatment at the hands of the press, and Donald Trump is no exception (see Figure 4). Of the past four presidents, only Barack Obama received favorable coverage during his first 100 days, after which the press reverted to form. During his second 100 days, Obama's coverage was 57 percent negative to 43 percent positive.[26]
Even so, television news coverage of Trump hit a new low in negativity:
Of news reports with a clear tone, negative reports outpaced positive ones by 80 percent to 20 percent. Trump's coverage was unsparing. In no week did the coverage drop below 70 percent negative and it reached 90 percent negative at its peak … The best period for Trump was week 12 of his presidency, when he ordered a cruise missile strike on a Syrian airbase in retaliation for the Assad regime's use of nerve gas on civilians. That week, his coverage divided 70 percent negative to 30 percent positive. Trump's worst periods were weeks 3 and 4 (a combined 87 percent negative) when federal judges struck down his first executive order banning Muslim immigrants, and weeks 9 and 10 (a combined 88 percent negative) when the House of Representatives was struggling without success to muster the votes to pass a "repeal and replace" health care bill.
No wonder Trump is unhappy with the media
When Trump rails against the media, he has fact on his side:
Trump's coverage during his first 100 days was not merely negative in overall terms. It was unfavorable on every dimension. There was not a single major topic where Trump's coverage was more positive than negative …
Trump haters have been spending too much time watching and reading Big Media. Wake up, folks! The Harvard study has news for you:
Research has found that familiarity with a claim increases the likelihood people will believe it, whether it's true or not. The more they hear of something, the more likely they are to believe it.[34]
Here is the Harvard breakdown of print and television media negativity:
Trump's attacks on the press have been aimed at what he calls the "mainstream media." Six of the seven U.S. outlets in our study—CBS, CNN, NBC, The New York Times, The Wall Street Journal, and The Washington Post—are among those he's attacked by name. All six portrayed Trump's first 100 days in highly unfavorable terms … CNN and NBC's coverage was the most unrelenting—negative stories about Trump outpaced positive ones by 13-to-1 on the two networks. Trump's coverage on CBS also exceeded the 90 percent mark. Trump's coverage exceeded the 80 percent level in The New York Times (87 percent negative) and The Washington Post (83 percent negative). The Wall Street Journal came in below that level (70 percent negative), a difference largely attributable to the Journal's more frequent and more favorable economic coverage.
There was no relief.
Looking at this another way:
Studies of earlier presidents found nothing comparable to the level of unfavorable coverage afforded Trump. Should it continue, it would exceed even that received by Bill Clinton. There was not a single quarter during any year of Clinton's presidency where his positive coverage exceeded his negative coverage, a dubious record no president before or since has matched.[29] Trump can't top that string of bad news but he could take it to a new level. During his first 100 days, Clinton's coverage was 3-to-2 negative over positive.[30] Trump's first 100 days were 4-to-1 negative over positive.
Interestingly:
Media failing the American people
Although this was not its only conclusion, the study said that the media need to step up and report more about Americans:
Journalists would also do well to spend less time in Washington and more time in places where policy intersects with people's lives. If they had done so during the presidential campaign, they would not have missed the story that keyed Trump's victory—the fading of the American Dream for millions of ordinary people. Nor do all such narratives have to be a tale of woe. America at the moment is a divided society in some respects, but it's not a broken society and the divisions in Washington are deeper than those beyond the Beltway.
True. This is what a Michigan supporter had to say on Friday, May 19. He doesn't mention the media, but he has a positive message for the president and his fellow supporters:
The man interviewed said that he supported Donald Trump from the beginning. He canvassed door-to-door for him. He got verbally attacked by … family and friends. People on whose doors he knocked sometimes physically assaulted him.
Big Media bear much of the blame for that gentleman's abuse.
They don't care about that man. They don't care about Americans. They do not care one iota about you.
This is what lies ahead, less than a month from now:
The media will fuel the flames then not report on it, just as they ignored the riots earlier this year.
Tune out. Cancel the newspaper subscription. You can read the obituaries online.
If you want to know what's really happening at the White House, follow the Twitter feed.
On June 14, 1777 the Stars and Stripes was officially adopted as the flag of the United States of America.
However, despite several petitions and commemorations during the 19th century, it was only in 1916 that President Woodrow Wilson issued a proclamation declaring June 14 as Flag Day. Later, in 1949, an Act of Congress designated a national Flag Day.
Although Flag Day is not a federal holiday, several towns and cities in the United States hold parades.
(Graphic credit: Wikipedia)
It is entirely coincidental, yet highly appropriate, that on June 14, 1946, Mary Anne MacLeod Trump gave birth to a son, Donald John.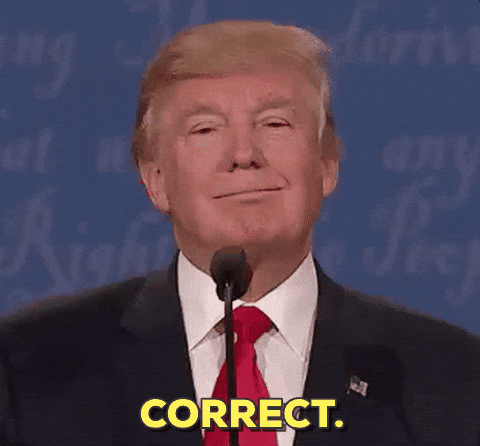 Little did she know then that boisterous, brash Donald would become President of the United States at the age of 70.
Few people love the United States the way President Trump does. During the 2016 campaign, the photo below was widely circulated (courtesy of Reddit). Pure Americana:
Today it's hard to imagine anyone more American than Donald Trump.
God threw away the mould when He made Donald.
Even when the billionaire made mistakes in his career, he always bounced back. He turned failure into success.
Despite three marriages, Trump's five children are exceptional, particularly by today's standards. Barron is too young, but the other four have never had drug or drink problems. The three eldest, by Ivana, have stable marriages. Tiffany (Marla Maples) is single but has a steady boyfriend. All comport themselves well.
For these reasons, it is difficult to be negative about Trump. He also turned reality television to his advantage with The Apprentice. His successor, Arnold Schwarzenegger, just couldn't attract the same audience.
Thanks to The Apprentice, Trump engaged in other television appearances, reaching an ever wider audience. This episode from the wrestling show Raw presents the Battle of the Billionaires in a challenge for charity:
Here's what happened next:
(No billionaire was hurt in the making of that television show. That said, don't try this at home, kids.)
The genius of this silliness is that, by the time he descended the escalator in Trump Tower in June 2015 to announce his candidacy for president, nearly everyone in the United States knew who he was.
Trump also had a wide circle of friends who deserted him after that. Here is a photo of him with Kathy Griffin of CNN (she's the redhead) who recently was in a tasteless, gory video holding an effigy of his head in her right hand. Disgusting. Here they were in happier times:
See how hypocritical people can be?
CNN objected to what Griffin posted online, and cancelled her appearance on their next New Year's Eve show. Meanwhile, Trump supporters have been busy contacting CNN sponsors. The Daily Mail has the full story on Griffin's video and the blowback. By June 2, several of Griffin's appearances at venues around the United States were cancelled. Furthermore, despite Griffin's statements that she would never hurt children, several years ago she targeted Willow Palin — a teenager at the time — and actually had the brass whatsits to knock on the Palins' front door. But I digress.
Over the past two years, President Trump has come to know who his real friends and allies are.
I wish President Trump a very happy birthday and many happy returns. I hope he is surrounded by family and friends for a splendid celebration.
Below is a tweet listing President Donald Trump's many accomplishments during his first four months in office:
It's a handy one to share among Trump admirers and detractors alike.
It's such a powerful message that those replying to Jack Murphy said they were unable to retweet it. Hmm … Twitter's up to something.
Regardless … click on the image, copy, paste and circulate!
It's well worth sharing, because Big Media won't report on Trump's achievements.
Incidentally, Murphy, a college football player, is a big believer in MAGA who also broadcasts about Trump. We need more Americans like him.
The other day, I posted on the Democratic Party origins of the fake Russian narrative used against President Donald Trump.
This post will explain further why the Democrats are opportunistic hypocrites, especially when it comes to Russia.
Last year, I summarised the Clintons' and Podestas' close links to Russia: the uranium deal and banking connection, respectively. The latter popped up in the Panama Papers. If you are unfamiliar with either of those topics, please read my post. You can't get much closer to a warm, comfy relationship with the Russians than the Clintons and the Podesta brothers.
Two prominent Democrats currently braying the most about Trump's supposed Russian connections — again, a fabrication — are Senate Minority Leader Chuck Schumer (NY) and House Minority Leader Nancy Pelosi (CA).
In March 2017, Schumer was intent on finding out the 'truth' about Trump's notional Russian connections. Trump's director of social media replied with pictorial evidence from 2003 of one of Schumer's own meetings with none other than the man himself, Vladimir Putin:
Trump had tweeted the same picture that day with this comment:
We should start an immediate investigation into @SenSchumer and his ties to Russia and Putin. A total hypocrite!
Heavy reported on the tweets and Schumer's love-in with Russia (emphases mine):
The photo originates from September 2003, when Putin visited New York to celebrate the first Lukoil gas station opening in the U.S. after it bought Getty Petroleum in 2000 and began re-branding Getty stations. According to press reports at the time, Putin did not make any public remarks and was only at the gas station convenient store for 10 minutes. That was long enough for Schumer to give Putin a Krispy Kreme doughnut. Lukoil President Vagit Alekperov was also at the meeting.
"When I showed the president of Russia a Krispy Kreme doughnut and he ate it and said it was good, that was one of the more surreal moments I've had in politics," Schumer said at the time.
After Putin left the scene, Schumer told reporters that it was good for the U.S. to have a gas station owned by a company based in a non-OPEC country. "The more competition there is in oil, particularly against OPEC, the better New York will do and the better America will do," Schumer said.
Schumer also wrote a 2008 Wall Street Journal op-ed, in which he said Russia needed to take a big role in talks with Iran during the George W. Bush administration.
The back-and-forth between the president and Schumer came just a day after Attorney General Jeff Sessions agreed to recuse himself from any potential investigation into Russian ties with the Trump campaign and the election, if one was to happen.
Sessions's recused himself because:
he met with Russian Ambassador Sergey Kislyak twice in 2016, before the election.
That wasn't enough for Schumer, though. On March 2, he took the hypocritical high moral ground:
Schumer said Sessions should resign from his post as attorney general. He called on the Trump administration to agree on the creation of an independent counsel to investigate.
On May 17, the Deputy Attorney General Rod Rosenstein appointed the independent counsel, former FBI director Robert Mueller.
As for Pelosi:
Politico reported:
House Minority Leader Nancy Pelosi (D-Calif.) said Friday that she's never met with the current Russian ambassador, Sergey Kislyak …
But a file photo from Pelosi's 2010 meeting with Russian President Dmitriy Medvedev shows Kislyak at the table across from Pelosi — then House speaker — and Rep. Steny Hoyer (D-Md.). Medvedev had been in the country for a meeting with President Barack Obama a day earlier and stopped in on Capitol Hill to meet with congressional leaders as well.
Note the semantics that Pelosi's spokesman used:
Asked to square Pelosi's comments with the photo of the meeting, a spokesman said Pelosi simply meant she never had a solo meeting with Kislyak.
"Of course, that's what she meant," said the spokesman, Drew Hammill. "She has never had a private one-on-one with him."
It's not wrong for either party to meet with Russian officials as part of their work.
The issue is that Democrats are denying their own meetings with them then piling on Attorney General Jeff Sessions for meeting with Ambassador Kislyak when Sessions was a member of the Senate Armed Services Committee at that time in 2016.
Another reason Sessions felt duty bound to recuse himself — perhaps more pertinent — is that he was also involved with Trump's presidential campaign at the time. Is it probable that there was overlap in those conversations with Kislyak? We don't know, but given Sessions's integrity, it's doubtful. In any event, he probably did not want to put up with a lot of bloviating, hypocritical Democrats.
Politico also found out that another Democrat, Senator Claire McCaskill (MO), similarly denied meeting with Russians:
Yet, she communicated directly with them in 2013 and 2015.
She was in the same room with them in 2013:
In 2015, McCaskill discussed the situation in Iran with the ambassador:
McCaskill's denial was an attack on Sessions:
Her claim was designed to underscore what many Democrats view as the impropriety of Sessions' one-on-one meeting with Kislyak last year, which the Trump administration claims was a routine part of his service on the armed services panel.
Republicans returned fire:
Republican operatives quickly blasted McCaskill as misrepresenting her record, citing the Democrat's tweets about a 2013 group meeting with Kislyak and a 2015 call with the ambassador to discuss the nuclear pact with Iran.
"Just like Hillary Clinton, Senator McCaskill has a major problem with the truth," Scott Sloofman, spokesman for the conservative America Rising PAC, said in a statement. "In her rush to stand with Nancy Pelosi and Elizabeth Warren to score political points, McCaskill exposed herself as both a liar and a hypocrite."
The Democrats and the media must put this absurd Russian narrative to bed.
Of course, they will not because it serves their purposes in assassinating the character and integrity of the president and members of his administration.
Low information critics of Trump will know only what they read in the papers and see on television news.
What paupers.
Get online: read and watch what Big Media refuse to report.
My intention last year was to write about the WikiLeaks emails from the Democrats.
Because of all the hubbub surrounding the 2016 presidential campaign, I never got around to it. I still have all the bookmarks of the emails themselves and related analyses from The_Donald. They are a revelation.
I hope that some people will be wondering how and where the Russian narrative used against President Donald Trump started.
Look no further than Hillary Clinton's campaign supremo John Podesta and a journalist, Brent Budowsky, who writes for The Hill.
Much of the Podesta WikiLeaks email no. 25651, dated December 21, 2015, concerns Hillary Clinton's stance on ISIS and Syria. There is also a mention of campaign advertising and getting out the vote.
However, the key to this is the Democrats' strategy against Trump, primarily this one from Brent Budowsky (emphases mine below):
Best approach is to slaughter Donald for his bromance with Putin …

Budowsky was also interested in finding and releasing incriminating tapes of Trump to help Hillary, whom they knew even then was not doing well in the polls:
I suspect her negative trust ratings are locked in through election day. If there is a Trump ISIS video the campaign release it. If not, her untrustworthy numbers will remain further locked at high levels. These trust problems are self-induced and keep occurring.
Budowsky became more insistent:
Re the Trump ISIS video, if we don't have the proof campaign should assign 100 people to look for it ASAP, there is probably something on tape somewhere.
With regard to campaign adverts, Budowsky already noted that Trump was not running them:
It is no coincidence that this year Trump runs no ads, while Jeb and Hillary run the most ads with little effect. Voter registration by contrast creates real voters and changes—and improves—the playing field itself. There is no ad on earth that will increase her trust ratings or the enthusiasm of her voters the way a mega-registration project will increase her support on election day.
They knew then that Hillary was scuppered. Based on the context, they also seemed to discern that Trump was going to be Hillary's opponent in 2016.
In June 2016 — one month before the Republican National Convention declared Trump the GOP presidential candidate — Trump Derangement Syndrome was flying high in the Democrat camp. Obama's campaign manager from 2008, later a senior adviser, tweeted:
On November 9, 2016 — the day after the election — Hillary's campaign heads decided to run hard with the Russian narrative:
The quote in blue comes from an investigative book about the Clinton campaign, Shattered, which came out earlier this year.
On April 21, Breitbart included the quote in their report, which began:
The blistering behind-the-scenes book, by Jonathan Allen and Amie Parnes, illustrates how Hillary Clinton furiously blamed her defeat on the FBI investigation into her private emails, Russian interference, and Trump's supposed support from "white nationalists" …
Also:
The Clinton camp settled on a two-pronged plan — pushing the press to cover how "Russian hacking was the major unreported story of the campaign, overshadowed by the contents of stolen e-mails and Hillary's own private-server imbroglio," while "hammering the media for focusing so intently on the investigation into her e-mail, which had created a cloud over her candidacy," the authors wrote.
And so the Russian narrative survives, alive and well, to this day.
The Democrats and the media have been displaying abject contempt for the people of the United States ever since.
Anyone who still thinks either camp cares about them is sorely mistaken.