You are currently browsing the tag archive for the 'ethics' tag.
William 'Bill' Pelham Barr is America's current attorney general.
He has been in various government positions since the Reagan years in the 1980s.
Prior to that, he was a member of the CIA between 1973 and 1977, after having served as a summer intern in 1971 and 1972.
Between 1982 and 1983, he served in the Reagan White House as Deputy Assistant Director for Legal Policy on a domestic level.
He built his legal career at the law firm of Shaw, Pittman, Potts & Trowbridge from 1978 to 1982, resuming after he left his position with Reagan in 1983. He remained with the firm until 1989.
During the George HW Bush years, he began working as assistant attorney general for the Office of Legal Counsel in 1989. In 1990, he became deputy attorney general before being promoted the following year to acting attorney general. Later in 1991, he was appointed attorney general after an unusually smooth two-day confirmation hearing. He served in that capacity until 1993.
In 1994, he re-entered the private sector and worked for GTE Corporation as executive vice president and general counsel.
In 2009, he joined the law firm of Kirkland & Ellis, then left to work as a consultant for various corporations, advising them on government enforcement matters and regulatory litigation issues. He rejoined Kirkland & Ellis in 2017.
During President Trump's first two years in office, Barr, unsolicited, came to his aid, defending the president's outspoken statements, including those about Hillary Clinton. In another unsolicited move, Barr sent a 20-page memo to the Department of Justice criticising the Mueller investigation, even though Robert Mueller and his wife are close friends of Barr and his wife.
In December 2018, Trump nominated Barr for the attorney general position to succeed Jeff Sessions. He was sworn in on Valentine's Day 2019.
As for his personal life, both his father and mother were educators. His mother, Mary Margaret Ahern, lectured at Columbia University. She brought her son up as a Roman Catholic. She must have had a strong influence in matters religious at home, because Barr's father, Donald, converted from Judaism and became a Catholic. He is probably best known for being headmaster at the Dalton School in Manhattan in the early 1970s.
Barr attended Columbia University, earning his BA in government in 1971 and an MA in government and Chinese studies in 1973.
He earned his law degree in 1977 at George Washington University Law School, graduating with highest honours.
Barr married Christine Moynihan in 1973. The Barrs have three daughters, all of whom have government jobs.
Barr is an avid bagpiper and is a past member of the City of Washington Pipe Band.
——————————————————————————
On Friday, October 11, 2019, William Barr spoke at the University of Notre Dame, just outside of South Bend, Indiana.
He addressed the university's law school and de Nicola Center for Ethics and Culture.
These are the headlines:
I am most grateful to one of my readers, GA/FL, who supplied me with the link to the transcript of his talk at Notre Dame.
Excerpts follow, emphases mine.
Barr began by explaining what America's Founding Fathers had in mind for religious freedom. This differs to the false secularist narrative so prevalent today:
From the Founding Era onward, there was strong consensus about the centrality of religious liberty in the United States.
The imperative of protecting religious freedom was not just a nod in the direction of piety. It reflects the Framers' belief that religion was indispensable to sustaining our free system of government.
In his renowned 1785 pamphlet, "Memorial and Remonstrance Against Religious Assessments," James Madison described religious liberty as "a right towards men" but "a duty towards the Creator," and a "duty….precedent both in order of time and degree of obligation, to the claims of Civil Society."
It has been over 230 years since that small group of colonial lawyers led a revolution and launched what they viewed as a great experiment, establishing a society fundamentally different than those that had gone before.
They crafted a magnificent charter of freedom – the United States Constitution – which provides for limited government, while leaving "the People" broadly at liberty to pursue our lives both as individuals and through free associations.
This quantum leap in liberty has been the mainspring of unprecedented human progress, not only for Americans, but for people around the world.
He went on to say that this philosophy began to change in the late 20th century, continuing on to the present day. I was particularly struck by the ever rising rates of illegitimate births, statistics that rarely see the light of day:
I think we all recognize that over the past 50 years religion has been under increasing attack.
On the one hand, we have seen the steady erosion of our traditional Judeo-Christian moral system and a comprehensive effort to drive it from the public square.
On the other hand, we see the growing ascendancy of secularism and the doctrine of moral relativism.
By any honest assessment, the consequences of this moral upheaval have been grim.
Virtually every measure of social pathology continues to gain ground.
In 1965, the illegitimacy rate was eight percent. In 1992, when I was last Attorney General, it was 25 percent. Today it is over 40 percent. In many of our large urban areas, it is around 70 percent.
Along with the wreckage of the family, we are seeing record levels of depression and mental illness, dispirited young people, soaring suicide rates, increasing numbers of angry and alienated young males, an increase in senseless violence, and a deadly drug epidemic.
As you all know, over 70,000 people die a year from drug overdoses. That is more casualities in a year than we experienced during the entire Vietnam War.
I will not dwell on all the bitter results of the new secular age. Suffice it to say that the campaign to destroy the traditional moral order has brought with it immense suffering, wreckage, and misery. And yet, the forces of secularism, ignoring these tragic results, press on with even greater militancy.
Among these militant secularists are many so-called "progressives." But where is the progress?
We are told we are living in a post-Christian era. But what has replaced the Judeo-Christian moral system? What is it that can fill the spiritual void in the hearts of the individual person? And what is a system of values that can sustain human social life?
The fact is that no secular creed has emerged capable of performing the role of religion.
Scholarship suggests that religion has been integral to the development and thriving of Homo sapiens since we emerged roughly 50,000 years ago. It is just for the past few hundred years we have experimented in living without religion.
We hear much today about our humane values. But, in the final analysis, what undergirds these values? What commands our adherence to them?
What we call "values" today are really nothing more than mere sentimentality, still drawing on the vapor trails of Christianity.
He cautioned that we should not consider this to be a short-term trend. It is becoming ever pervasive, with serious effects:
We have all thought that after a while the "pendulum will swing back."
But today we face something different that may mean that we cannot count on the pendulum swinging back.
First is the force, fervor, and comprehensiveness of the assault on religion we are experiencing today. This is not decay; it is organized destruction. Secularists, and their allies among the "progressives," have marshaled all the force of mass communications, popular culture, the entertainment industry, and academia in an unremitting assault on religion and traditional values.
These instruments are used not only to affirmatively promote secular orthodoxy, but also drown out and silence opposing voices, and to attack viciously and hold up to ridicule any dissenters.
One of the ironies, as some have observed, is that the secular project has itself become a religion, pursued with religious fervor. It is taking on all the trappings of a religion, including inquisitions and excommunication.
Those who defy the creed risk a figurative burning at the stake – social, educational, and professional ostracism and exclusion waged through lawsuits and savage social media campaigns.
The pervasiveness and power of our high-tech popular culture fuels apostasy in another way. It provides an unprecedented degree of distraction …
But, as Blaise Pascal observed, instead of grappling with these questions, humans can be easily distracted from thinking about the "final things."
He also warned about our increasing dependence on government to resolve moral and social problems. Previously, individuals took it upon themselves to rectify their personal lives for the better:
But today – in the face of all the increasing pathologies – instead of addressing the underlying cause, we have the State in the role of alleviator of bad consequences. We call on the State to mitigate the social costs of personal misconduct and irresponsibility.
So the reaction to growing illegitimacy is not sexual responsibility, but abortion.
The reaction to drug addiction is safe injection sites.
The solution to the breakdown of the family is for the State to set itself up as the ersatz husband for single mothers and the ersatz father to their children.
The call comes for more and more social programs to deal with the wreckage. While we think we are solving problems, we are underwriting them.
We start with an untrammeled freedom and we end up as dependents of a coercive state on which we depend.
Interestingly, this idea of the State as the alleviator of bad consequences has given rise to a new moral system that goes hand-in-hand with the secularization of society. It can be called the system of "macro-morality." It is in some ways an inversion of Christian morality.
Christianity teaches a micro-morality. We transform the world by focusing on our own personal morality and transformation.
The new secular religion teaches macro-morality. One's morality is not gauged by their private conduct, but rather on their commitment to political causes and collective action to address social problems.
This system allows us to not worry so much about the strictures on our private lives, while we find salvation on the picket-line. We can signal our finely-tuned moral sensibilities by demonstrating for this cause or that.
And there is more to the story. We are using law as a weapon:
A third phenomenon which makes it difficult for the pendulum to swing back is the way law is being used as a battering ram to break down traditional moral values and to establish moral relativism as a new orthodoxy.
Law is being used as weapon in a couple of ways.
First, either through legislation but more frequently through judicial interpretation, secularists have been continually seeking to eliminate laws that reflect traditional moral norms.
At first, this involved rolling back laws that prohibited certain kinds of conduct. Thus, the watershed decision legalizing abortion. And since then, the legalization of euthanasia. The list goes on.
More recently, we have seen the law used aggressively to force religious people and entities to subscribe to practices and policies that are antithetical to their faith.
The problem is not that religion is being forced on others. The problem is that irreligion and secular values are being forced on people of faith.
This reminds me of how some Roman emperors could not leave their loyal Christian subjects in peace but would mandate that they violate their conscience by offering religious sacrifice to the emperor as a god.
Similarly, militant secularists today do not have a live and let live spirit – they are not content to leave religious people alone to practice their faith. Instead, they seem to take a delight in compelling people to violate their conscience.
For example, the last Administration sought to force religious employers, including Catholic religious orders, to violate their sincerely held religious views by funding contraceptive and abortifacient coverage in their health plans. Similarly, California has sought to require pro-life pregnancy centers to provide notices of abortion rights.
This refusal to accommodate the free exercise of religion is relatively recent. Just 25 years ago, there was broad consensus in our society that our laws should accommodate religious belief.
In 1993, Congress passed the Religious Freedom Restoration Act – RFRA. The purpose of the statute was to promote maximum accommodation to religion when the government adopted broad policies that could impinge on religious practice.
At the time, RFRA was not controversial. It was introduced by Chuck Schumer with 170 cosponsors in the House, and was introduced by Ted Kennedy and Orrin Hatch with 59 additional cosponsors in the Senate. It passed by voice vote in the House and by a vote of 97-3 in the Senate.
Recently, as the process of secularization has accelerated, RFRA has come under assault, and the idea of religious accommodation has fallen out of favor.
Because this Administration firmly supports accommodation of religion, the battleground has shifted to the states. Some state governments are now attempting to compel religious individuals and entities to subscribe to practices, or to espouse viewpoints, that are incompatible with their religion.
This is not restricted to adults. American schools are making certain sex education and identity politics courses mandatory, even for young children:
The first front relates to the content of public school curriculum. Many states are adopting curriculum that is incompatible with traditional religious principles according to which parents are attempting to raise their children. They often do so without any opt out for religious families.
Thus, for example, New Jersey recently passed a law requiring public schools to adopt an LGBT curriculum that many feel is inconsistent with traditional Christian teaching. Similar laws have been passed in California and Illinois. And the Orange County Board of Education in California issued an opinion that "parents who disagree with the instructional materials related to gender, gender identity, gender expression and sexual orientation may not excuse their children from this instruction."
Indeed, in some cases, the schools may not even warn parents about lessons they plan to teach on controversial subjects relating to sexual behavior and relationships.
This puts parents who dissent from the secular orthodoxy to a difficult choice: Try to scrape together the money for private school or home schooling, or allow their children to be inculcated with messages that they fundamentally reject.
Some states are also restricting funds to religious schools:
A second axis of attack in the realm of education are state policies designed to starve religious schools of generally-available funds and encouraging students to choose secular options. Montana, for example, created a program that provided tax credits to those who donated to a scholarship program that underprivileged students could use to attend private school. The point of the program was to provide greater parental and student choice in education and to provide better educations to needy youth.
But Montana expressly excluded religiously-affiliated private schools from the program. And when that exclusion was challenged in court by parents who wanted to use the scholarships to attend a nondenominational Christian school, the Montana Supreme Court required the state to eliminate the program rather than allow parents to use scholarships for religious schools.
It justified this action by pointing to a provision in Montana's State Constitution commonly referred to as a "Blaine Amendment." Blaine Amendments were passed at a time of rampant anti-Catholic animus in this country, and typically disqualify religious institutions from receiving any direct or indirect payments from a state's funds.
The case is now in the Supreme Court, and we filed a brief explaining why Montana's Blaine Amendment violates the First Amendment.
Barr said that the only solution to this dangerous trend is go back to Judeo-Christian basics by addressing moral education at home, rather than depending on government institutions:
We understand that only by transforming ourselves can we transform the world beyond ourselves.
This is tough work. It is hard to resist the constant seductions of our contemporary society. This is where we need grace, prayer, and the help of our church.
Beyond this, we must place greater emphasis on the moral education of our children.
Education is not vocational training. It is leading our children to the recognition that there is truth and helping them develop the faculties to discern and love the truth and the discipline to live by it.
We cannot have a moral renaissance unless we succeed in passing to the next generation our faith and values in full vigor.
The times are hostile to this. Public agencies, including public schools, are becoming secularized and increasingly are actively promoting moral relativism.
If ever there was a need for a resurgence of Catholic education – and more generally religiously-affiliated schools – it is today.
In conclusion, Barr spoke these lines during the middle of his speech. However, they are to me the most enduring now and in future:
For anyone who has a religious faith, by far the most important part of exercising that faith is the teaching of that religion to our children. The passing on of the faith. There is no greater gift we can give our children and no greater expression of love.
I couldn't agree more.
Little Alfie Evans, born on May 9, 2016, died in the early hours of the morning on Saturday, April 28, 2018.
He spent much of his short life in a 'semi-vegetative' state:
and has a degenerative neurological condition doctors had not definitively diagnosed.
Specialists say his brain has been "eroded".
Alfie's parents, Tom Evans, 21, and Kate James, 20, had been in courts in the UK and Europe in an effort to save their son.
On Monday, April 16, the couple's lawyer asked British Court of Appeals judges to allow the child to travel to Italy for life-saving treatment, but three judges — Lord Justice Davis, Lady Justice King and Lord Justice Moylan — ruled against the appeal.
Earlier this year, in February (emphases mine):
Mr Justice Hayden ruled that doctors at Alder Hey Children's Hospital in Liverpool could stop treating Alfie against the wishes of his parents following hearings in the Family Division of the High Court in London and Liverpool.
Specialists at Alder Hey said life-support treatment should stop and Mr Justice Hayden said he accepted medical evidence which showed that further treatment was futile.
Alfie's parents want to move their son from Alder Hey to a hospital in Rome.
The couple said Italian doctors are willing to treat the little boy and an air ambulance is available.
But Mr Justice Hayden said flying Alfie to a foreign hospital would be wrong and pointless.
Court of Appeal judges upheld his decisions.
Supreme Court justices and European Court of Human Rights judges refused to intervene.
They are now arguing that Alfie is being wrongly "detained" at Alder Hey and have made a habeas corpus application.
A writ of habeas corpus – Latin for "you may have the body" – is a legal manoeuvre which requires a court to examine the legality of a detention …
Mr Justice Hayden dismissed that habeas corpus claim last week.
Appeal judges upheld Mr Justice Hayden's decision but said doctors should keep treating Alfie pending a Supreme Court decision.
By April 24, Alfie, at Alder Hey and off life support, was still alive:
Doctors have been left "gobsmacked" after Alfie Evans' life-support was withdrawn but he continued to live, his father has said.
Tom Evans said it was obvious that the youngster was breathing unassisted "within a few minutes" of life-support being withdrawn on Monday night …
Speaking outside Alder Hey Children's Hospital in Liverpool on Tuesday morning, his father said Alfie's life-support should be reinstated due to his remarkable progress.
"He is still working, he's doing as good as he can," he told reporters …
"Because he's been doing it for nine hours totally unexpected, the doctors are gobsmacked and I do believe he will need some form of life-support in the next couple of hours and I think he ought to be respected and given that."
Alfie's parents want treatment to continue and want to fly him to a hospital in Rome.
The Italian government had already taken care of foreseeable issues:
His case has been highlighted by the Pope, who expressed support for the couple, and he has been granted Italian citizenship.
Amazing.
Alfie's father had to persuade Alder Hey doctors to give the little mite oxygen and water. Why wouldn't they have done that of their own accord?
Mr Evans said that he had a "lengthy talk" with doctors and pleaded with them to give his son oxygen.
"They left him for six hours without food, water and oxygen," he said.
"I felt blessed when they confirmed they were going to give him his water and his oxygen.
"He's now on oxygen. It's not changing his breathing but it's oxygenating his body."
Also on April 24, LifeNews.com reported that the air ambulance was actually at the hospital ready to transport little Alfie to Rome:
An air ambulance has arrived outside the hospital where little Alfie Evans is located. Alfie has breathed on his own and has survived for over 18 hours after the Children's Hospital yanked his life support.
Alfie has defied doctors' expectations to this point and his parents are headed back to court to fight for his life further. They are hoping to be able to get life support restored and also want to be able to take him to Italy, which granted him citizenship yesterday …
As one British media outlet reports, "Paul Diamond, who will represent the parents this afternoon, is expected to argue that it cannot be in Alfie's best interests to be left at Alder Hey Hospital and that he should instead be flown overseas – with an air ambulance already ready and waiting."
"He will argue that Alfie should be allowed to travel to Italy where doctors are ready to care for him," according to the Christian Legal Centre (CLC). The organization said the aircraft was on hand to transport the little boy to a hospital in the country. "The court and the hospital should welcome the intervention of the Italian government and let Alfie travel to Italy."
A representative of the Italian Embassy would attend the hearing.
The pope tweeted:
It didn't matter. Later that day, LifeNews.com posted an update:
The judge in the case just prohibited Alfie's family from taking him to Italy for care and treatment and potential experimental treatment for his rare degenerative neurological disorder.
The article went on to say that many people were critical of the courts' callous decisions, including physicians and healthcare experts:
Today, a British doctors group, The Medical Ethics Alliance, expressed its horror over the treatment of Alfie Evans that it called a "medical tyranny."
And Italy's Healthcare Chief has slammed the decisions by UK courts to treat Alfie the way that they have. The President of the Italian National Institute of Health lambasted the UK High Court's decision yesterday on Alfie Evans' that resulted it the children's hospital being allowed to remove life support over Alfie's parents' objections.
On Wednesday, April 25, news emerged (BT.com) that, despite everything being in place — including a German air ambulance — Mr Justice Hayden, ruling from Manchester, would not allow Alfie to travel to Italy; Alfie could only return to his home from Alder Hey. Yet, hope continued as the case would be heard again that afternoon:
A spokeswoman for the Christian Legal Centre, representing Alfie's parents, said the case is due to be heard at the Court of Appeal on Wednesday afternoon.
On Tuesday a judge ruled the boy may be allowed home from Alder Hey Children's Hospital, but will not be allowed to go to Rome for further treatment.
The 23-month-old confounded doctors' expectations when he continued to live after life-support was withdrawn on Monday night, his father, Tom Evans, said.
"The court of appeal have reached out to us and said they are going to set back three judges to hear the case," Mr Evans told reporters outside hospital on Tuesday night.
"In reality, he could be in Italy right now. We all know the military air force are ready to take him and a team of doctors are there.
"We've also got a German air ambulance team, who attempted to take him in the first place, ready… the reality is these people are eager to get him out of the country and I'm not giving up because Alfie's breathing away, he's not suffering."
This is where the story gets stranger:
At an earlier High Court hearing in Manchester, Mr Justice Hayden described Alfie as "courageous" and a "warrior", but said the case had now reached its "final chapter".
He rejected claims by Mr Evans that his son was "significantly better" than first thought because he had been breathing unaided for 20 hours after doctors first withdrew life support.
Instead, the judge said the best Alfie's parents could hope for was to "explore" the options of removing him from intensive care either to a ward, a hospice or his home.
But a doctor treating Alfie, who cannot be named for legal reasons, said that for Alfie to be allowed home would require a "sea change" in attitude from the child's family, and they feared that in the "worst case" they would try to take the boy abroad.
Mr Justice Hayden ruled out the family's wishes to take the child to the Bambino Gesù hospital in Rome, following interventions from the Pope and the Italian authorities.
Meanwhile, the child's story attracted the attention of the Polish president:
Merseyside Police announced they were monitoring social media, which attracted critical responses:
However, Wednesday's hearing produced no positive news and was the final legal challenge. BT.com reported:
The parents of Alfie Evans have failed in an 11th-hour attempt to persuade judges to let them move the terminally-ill youngster to a foreign hospital …
A High Court judge ruled against them on Tuesday and three Court of Appeal judges dismissed a challenge to that decision on Wednesday.
Lawyers representing Alder Hey bosses said Alfie's condition was irreversible and there was no evidence that it had changed.
They said the fact that he had continued to breathe unaided might have surprised members of the public but had not surprised specialists.
Barrister Michael Mylonas QC, who led Alder Hey's legal team, said it had never been suggested that Alfie would die as soon as life-support treatment stopped.
He said the couple's challenge should be dismissed.
Barrister Sophia Roper, who represents Alfie and takes instructions from a court-appointed guardian, agreed.
Lord Justice McFarlane, who headed the appeal court panel of judges, said Alfie's parents were trying to take "one last chance".
But he said there was no prospect of the couple's challenge succeeding.
He said Alfie was in "the middle" of a palliative care plan.
The two other appeal judges, Lady Justice King and Lord Justice Coulson, agreed.
Lady Justice King said there was "acceptance" that Alfie was dying.
It is unclear to the average person why a baby with his parents around him would need a court-appointed guardian.
A greater question remains: why would a court forbid loving parents to take their child out of the country for medical treatment when a) transport is at the hospital and b) doctors are on standby at the final destination? It is very strange.
On the morning of Thursday, April 26, BT.com reported that, despite the court's decision the previous day, Alfie's father was not giving up on his son's life:
The parents of Alfie Evans are expected to meet doctors to discuss taking their terminally ill son home.
Speaking outside Alder Hey Children's Hospital in Liverpool on Thursday, his father Tom Evans, 21, said he hoped to have a "positive" meeting with medical staff …
Mr Evans told reporters: "He's been off a ventilator for three days now, there's been no deterioration.
"He hasn't woke up, he's still a little bit weak, but what we ask for is to go home to sustain his life."
He said the family still had "appeals to explore".
Mr Evans added: "All I ask for now is for this meeting to be a positive one, and I hope to have Alfie, on the terms of mine and Alder Hey, to be home within a day or two.
"If the meeting doesn't go well today, well then, I'll go back to court."
He accused doctors at the hospital of being "wrong" about their diagnosis: "Alfie lives, comfortably, happily, without ventilation, without any form of ventilation.
"That must be enough for you now to consider that Alfie may prove you wrong."
Alfie and his parents attracted much local support:
The hospital was unhappy:
Police remained outside the hospital on Thursday, after Alder Hey said its staff had experienced "unprecedented personal abuse".
In an open letter, the hospital chairman Sir David Henshaw and chief executive Louise Shepherd: "Having to carry on our usual day-to-day work in a hospital that has required a significant police presence just to keep our patients, staff and visitors safe is completely unacceptable."
What else was the public to think other than that human rights were at stake, seeing court-controlled families?
Furthermore, why wouldn't a physician would agree to let a baby and his parents travel to another country if they could get life-saving treatment?
Of course people are going to be upset. After all of this stonewalling, emotions were running high.
Public doubt and bemusement about Alfie's situation only increased on the morning of Friday, April 27, when an NHS physician appeared on ITV's This Morning. CNSnews.com has the story (emphases in the original):
Forcing 23 month-old Alfie Evans to die by starvation "is not killing," Dr. Ranj Singh argued on U.K.'s "This Morning" ITV program Friday, Express reports.
Withdrawing life-support and refusing to allow Alfie's parents to take him home, feed and care for him, is, instead merely "redirecting care," Dr. Singh said:
"This is not the killing of a child – this is redirecting care to make them more comfortable."
… Dr. Singh doubled down on his claim, framing the withdrawal of life support as a way to make patients more comfortable and give them "the most dignifying life":
"Withdrawing life support is not killing someone. It is redirecting care to make them more comfortable and give them the most dignifying life that you can."
Dr. Singh also said pro-life Alfie supporters outside the Alder Hey Hospital protesting to save Alfie's life are behaving "disgustingly":
"There's a small proportion who have – I will say it – behaved disgustingly."
Perhaps, but it is hard to have empathy for a medical institution who will not allow a patient to seek treatment elsewhere.
That day, LifeNews.com reported that the Evans family had asked for protests to ease so that Alfie's parents could work with the hospital for his release (emphases mine):
As LifeNews reported, Alfie Evans' father Tom Evans called for supporters of Alfie and his family to "stand down" so they can begin "building a bridge" with Alder Hey Children's Hospital and its staff.  The statement from Alfie's father was surprising given the animosity that had developed between the Evans family and the hospital …
But perhaps seeing that there is little opportunity left to fight for Alfie's rights and their right to take him abroad or take him home or sensing a need to appease the hospital to bring him home, Tom Evans is now striking a conciliatory tone.
Now, Alfie's uncle Daniel Evans has posted on Facebook that he believes things are progressing to a point where Alfie could go home soon.
Evans also hinted that protests could continue if Alder Hey officials don't send Alfie home. Daniel Evans said Alfie's dad Tom didn't want to approach the press or have any further protests, but added that this would be "until something changes with the hospital."
He wrote: "I have seen that people are believing this is the end of Alfie's army? Tom has released a statement that states he will not approach media or want any protests. This will be until something changes with the hospital but we hope and pray it doesn't."
He continued: "They aim to get him where they have always desperately wanted him HOME. And with today's positive meeting this could be a goal complete for Tom and Kate. I will continue to update when necessary."
On Saturday, April 28, Alfie breathed his last. BT.com reported:
The parents of Alfie Evans have said they are "heartbroken" after their son died on Saturday morning.
The 23-month-old – who was being treated at Alder Hey Children's Hospital in Liverpool – died at 2.30am, Kate James and Thomas Evans said on Facebook.
The post said: "Our baby boy grew his wings tonight at 2:30 am. We are heart broken. Thankyou everyone for all your support."
Alder Hey offered their condolences — posted on their website. Think of the staff:
In a statement issued on its website, Alder Hey Children's Hospital said: "We wish to express our heartfelt sympathy and condolences to Alfie's family at this extremely distressing time.
"All of us feel deeply for Alfie, Kate, Tom and his whole family and our thoughts are with them.
"This has been a devastating journey for them and we would ask that their privacy and the privacy of staff at Alder Hey is respected."
The family of Alfie Evans said they have been left "shattered" by his death, as more than 1,000 supporters gathered to release balloons in his memory.
The terminally ill 23-month-old, who was being treated at Alder Hey Children's Hospital in Liverpool, died at 2.30am on Saturday, his parents Kate James and Thomas Evans said.
Hundreds gathered in Springfield Park, next to the hospital, to release blue and purple balloons in his memory at 2.51pm – exactly 12 hours after he was officially pronounced dead.
Mr Evans and Ms James, both in their early 20s, did not attend the event but Mr Evans's sister Sarah told the crowd: "I just want to thank you all for coming today …
In an editorial for Fox News, Newt Gingrich reminded his readers that life comes from God. He also mentioned another relatively recent British case involving the late, little Charlie Gard. Please read it all. An excerpt follows:
The secular system has asserted its right to define what lives are worth living and is determined to prevent its authority from being questioned. Alfie Evans' life – like Charlie Gard's before him – has been determined to be limited by the standards of the secular state, and therefore without value.
These tragic government-imposed death sentences for innocent infants should frighten all of us about increasing secularism in society and the steady shift towards a totalitarian willingness to control our lives – down to and including ending them – on the government's terms.
This is a direct assault on the core premise of the Declaration of Independence. We Americans asserted that we "are endowed by (our) Creator with certain unalienable Rights, that among these are Life, Liberty, and the Pursuit of Happiness." In the American Revolution, in our fight against the British crown, we asserted that rights come from God – not from government.
However, our secular, liberal culture increasingly dismisses the concept of God and asserts that our rights come from a rational contract enforced by government.
In the original American model, we asserted our God-given rights against the power of a potentially tyrannical government. In the emerging left-wing secular order, since there is no God our rights depend on a secular state controlling itself.
Britain is giving us a vivid, tragic sense of how dangerous and heartless government tyranny can be once God is rejected and there is nothing between us and the government.
Ironically, this latest decision was made the same year Stephen Hawking died – 55 years after he was diagnosed with ALS (commonly known as Lou Gehrig's disease) and told he had only two years to live.
Apparently, the British government learned no lessons from Hawking's remarkable lifetime of work and achievement, which he pursued despite having to battle an extraordinarily challenging illness…
When you read about these two babies being denied life support by a supposedly free government, remember what John Donne warned when he wrote "any man's death diminishes me, because I am involved in Mankind, and therefore never send to know for whom the bell tolls; it tolls for thee."
In these two years, we have seen two babies effectively sentenced to death by a government we would once have considered humane. What will the next horror be?
Breitbart has an excellent article not only on Alfie Evans and Charlie Gard but also on other children — mostly in the UK — who ran up against the system. These cases have attracted international attention:
The ill toddler [Alfie] joins a list of other children removed from life support against their parents' wishes, whose stories have touched the hearts of people around the world and whose fight for their short lives found the support from high-profiled figures such as Pope Francis, Polish President Andrzej Duda, European Parliament President Antonio Tajani, and U.S. President Donald J. Trump.
Charlie Gard was treated at London's Great Ormond Street Children's Hospital, known for its clinical excellence. However, they were not only unable to treat the baby's mitochondrial condition, they also refused — with the aid of the courts — to release him to receive treatment outside of the UK:
The courts ordered the hospital take the child off life support, despite the Gards fundraising over one million pounds for Charlie's transportation and private hospital care, and numerous figures pledging their help and support including Pope Francis and U.S. President Donald Trump. Baby Charlie died on July 28th, 2017.
During one of the Gards' many court cases, the family spokesman addressed media to say that Charlie had "effectively being taken prisoner by the NHS and by the State", asking: "Whose child is he? Is he the state's child? Is he the NHS's child? Or does this child belong to the parents?"
Earlier this year, on March 7, one-year-old Isaiah Haastrup died at King's College Hospital in London. Isaiah's mother had a difficult delivery at the hospital, also known for its clinical excellence:
Within a month of the European Court of Human Rights (ECHR) rejecting the Evanses plea to overturn Alder Hey's decision for the first time, on March 6th, Lanre Haastrup and Takesha Thomas lost their battle at the Strasbourg court to stop King's College Hospital doctors from removing life support from their son Isaiah.
Isaiah suffered brain damage during his mother's complicated labour — which King's College Hospital admitted it was partly responsible for, due to "specific issues in monitoring" during his birth.
At one point, the hospital was denying Mr. Haastrup visitation of his son when he was near death, administrators claiming the father had 'verbally abused' hospital staff in an argument over the withdrawal of baby Isaiah's life support.
Another British life-support issue occurred with three-year-old Dylan Askin, who was suffering from a rare form of lung cancer:
In 2016, doctors told Kerry Askin that her three-year-old son Dylan would not survive his rare form of lung cancer, influencing the mother to decide to turn off his life support.
Mrs. Askin had her unresponsive son baptised on Good Friday and the family agreed to have him removed from life support.
However, instead of dying, Dylan improved. He's alive — and well — today:
After life support began to be removed, Mrs. Askin related that "once the muscle relaxant was turned off… we discovered he needed more sedation. Upon doing that he slowly improved!"
By Easter Sunday he was stabilised and discharged just two weeks later from hospital. Two years later, Dylan had beaten his illness.
Then there was the case of Ashya King in 2014, which was really awful:
Though not an end-of-life dispute, 2014 saw an analogous high profile battle over treatment options for five-year-old Ashya King that resulted in a so-called abduction, an international manhunt, and his parents' arrest.
British doctors in Southampton had diagnosed young Ashya with an aggressive brain tumour. They operated on his brain and told his parents he would need chemotherapy and radiotherapy.
Ashya's parents, Brett and Naghemeh King, thought that would be too much for the youngster. They wanted to take him to to the Czech Republic for proton therapy instead. This is where the drama started:
Doctors stood by their plan of treatment, so shortly after, Aysha's parents took him from Southampton General Hospital and boarded a ferry to France. The parents were arrested later in Malaga, Spain.
After extradition was denied, a High Court ruling agreed that Aysha could be taken to the Czech Republic for proton therapy.
The proton therapy was highly successful:
Three years later, Ashya was cleared of cancer and according to his father is playing and speaking again.
The Breitbart article also looked at an American case, that of two-year-old Israel Stinson whose life support system was turned off in 2016:
after a Los Angeles Superior Court judge dismissed a restraining order barring the hospital from doing so until September 8th.
Incredibly, had consulted Guatemalan doctors prior to going to California. The Guatemalan physicians allegedly said that:
his condition was improving and that he was not brain dead.
American political commentator Lew Rockwell posted an article originally on American Thinker. Columnist Joe Herring wrote about his grandson who has the same condition as Alfie Evans. Unlike Alfie, now with the angels, Herring's grandson recently turned 17.
Excerpts follow:
I see Joseph's innocence in Alfie's eyes, and I struggle with the marked physical resemblance between Alfie and Joseph at that age. I also vividly recall the doctors counseling my daughter to abort her pregnancy, to save her child from suffering.
"He will likely live 18 months, certainly no more than three years," they told us solemnly. Joseph celebrated his 17th birthday in February of this year …
In Britain's socialized medical system, second opinions are typically given by other NHS physicians, chosen not by the parents or the patient, but by the attending physician who gave the first opinion.  Unsurprisingly, second opinions in the NHS rarely overturn the first.  In this case, however, Alfie's parents were able to force the hospital to release records for outside review.
Unsurprisingly, Alder Hey's prognosis has not been confirmed by outside medical professionals.  Indeed, numerous outside experts vehemently disagree with Alder Hey's conclusions.
The disturbing truth is, the physicians of Alder Hey haven't even attempted to determine the cause of Alfie's distress, having decided within months of his birth that his life was not worth living.
In closing, a Telegraph reader made an excellent point (25 Apr 2018 11:42PM) on the misplaced hubris of the NHS and the erroneous death decisions the health service makes:
As one has argued…
"With Italian doctors willing to treat Alfie and a plane standing by to take him to Italy, with his parents desperate to take them up on that invitation, the only conceivable reason the UK would refuse to let him go is because they're terrified that he really might be successfully treated. If they're wrong on a question of life and death that's now being scrutinized internationally, no one would ever trust an NHS end-of-life assessment again."
Discuss.
Who can say fairer than that?
This must stop now.
In the meantime, my prayers and thoughts go to Alfie's parents, Tom Evans and Kate James. I thought about them all weekend. May the Lord comfort them in the months and years ahead.
Yesterday's post provided an update on Puerto Rico one week after Hurricane Maria hit.
This post has more news — from Puerto Rico, not the mainland — and will discuss the island's weak infrastructure.
Latest news
Someone on another site posted a PDF from The San Juan Daily Star dated Thursday, September 28, 2017.
The paper's articles refute the misinformation that the big American media outlets are reporting. Big media are trying to set up a crisis situation for President Donald Trump, when, in fact, the US government's response has been nothing short of excellent.
A summary of the articles follows. Emphases mine below.
'Lengthy Power Restoration Effort Seen in Puerto Rico: US Power Companies'
Damage assessments are still ongoing to determine what human and equipment resources are needed. The Electricity Subsector Coordinating Council (ESCC) is working with the US government and private electricity concerns, including the American Public Power Association (APPA) which represents the Puerto Rico Electric Power Authority (PREPA):
"We thank (U.S.) President (Donald) Trump for authorizing 100-percent cost sharing by the federal government for 180 days of emergency work to help begin the process of repairing damaged energy infrastructure," said APPA President and Chief Executive Sue Kelly …
The rates PREPA charged were not enough for the utility to maintain its infrastructure, in part due to ineffective collection efforts and longstanding mis-management that had left it in a $9 billion hole before declaring bankruptcy in July this year.
PREPA's equipment was already "degraded and unsafe," according to a draft fiscal report the company filed in April.
'FEMA Activating Army to Help Restore Energy Grid'
Alejandro de la Campa, FEMA director for Puerto Rico and the Caribbean, said that:
the federal agency will for the first time activate the Army to assist in the restoration of the electrical energy system on the island following the destruction wrought by Hurricane Maria.
The Army will work with PREPA.
In addition:
He also said FEMA will increase staff and resources for the island.
'Pentagon to Set Up Local Command Center, Send Hospital Ship'
This is about the anticipated arrival of USNS Comfort and Brigadier General Richard Kim's establishment of a command center to oversee reconstruction efforts.
Puerto Rico Resident Commissioner Jenniffer González Colón said:
"I am grateful to the federal executive branch for all the work they continue to do as well as my colleagues in Congress, who have expressed their full support for working for Puerto Rico."
'US Mulls Request by Lawmakers to Waive Shipping Limits on PR'
This is about lifting the Jones Act, which would enable non-US vessels to get fuel to Puerto Rico.
As I said yesterday — which this article supports — lifting the Jones Act is unnecessary because the necessary fuel is already in port. It just needs delivery across the island:
Puerto Rico has long railed against the Jones Act, saying it raises the cost of imported basic commodities, such as food, clothing and fuel. But the [Department of Homeland Security] official said that the Defense Department and the Federal Emergency Management Agency (FEMA) have not indicated there is a lack of ships to get food and goods to the island …
"The real challenges happen to be on the island itself," the official said, adding that there were plenty of U.S.-flagged barges and tugs available.
'DACO Chief Urges Around-the-Clock Deliveries for 500 "Operational" Gas Stations'
Michael Pierluisi Roja, the island's Consumer Affairs (DACO) director, announced that more than 500 filling stations are 'operational'. That means a) they are ready to receive fuel or b) already received it but ran out.
Roja wants fuel distributors and retailers to get on the ball:
Now, he said, "it is up to the distributors to put get on the ball and respond quickly, responsibly and urgently to the gas stations," he said. "We have done everything we can to ensure that they have operating conditions. Retailers who have not communicated with wholesalers should do so immediately and in whatever manner is necessary."
The official acknowledged that there are wholesalers who cannot operate at night due to the lack of electricity at the Yabucoa terminal.
And he also called on gasoline retailers "to allow consumers to fill their gas tanks, so they do not have to return daily to [wait in long lines] in the middle of the crisis."
'Federal Agents Now Escorting Some Gasoline Deliveries'
After describing efforts to get fuel deliveries out to various towns, there is notice from Puerto Rico's Public Affairs and Public Policy Secretary Ramón Rosario Cortés and Governor Ricardo Rosselló Nevares that it is time for public employees to get back to work:
Gov. Ricardo Rosselló Nevares said Tuesday that "government employees should report to their work stations" or, alternatively, public workers should report to the nearest headquarters of their agency or public corporation. If these are not operational, they should report to the nearest municipal Emergency Operations Center, "where their mayor will inform them where to receive aid."
Rosario Cortés added that "personnel working in school cafeterias and food stores, school teachers and directors should report to their workstations to help with school repairs."
Other news
An article on page 4 of the PDF lists all the relief activity to date.
Another says that 86 firefighters from the state of New York have arrived to help.
On page 5, there is an article about Puerto Rico Resident Commissioner Jenniffer González Colón's meetings in Washington with legislators and federal agencies about long-term recovery for Puerto Rico.
The generals involved
Big Media are making a big deal about the 'delay' in the appointment of a general to oversee recovery efforts.
However, they are wrong.
Thomas P Bossert, President Trump's assistant for Homeland Security and Counterterrorism, took questions from reporters at the White House Press Briefing on September 28. An excerpt from the transcript follows:
Q I'm not sure if I still understand — why has it taken eight days to get a three-star general on the ground to start organizing this? We know the island situation, et cetera. But why eight days?
MR. BOSSERT: Yeah, well, because it didn't require a three-star general eight days ago. Let me explain to you how the process works. It will be the best way of explaining the answer.
We have a three-star general in charge of this, and we had one in charge of this out of San Antonio from day minus-eight and day minus-two and all the way through until today. We forward-deployed a one-star general — a brigadier general — to take care of ground force command once we realized the problem of logistics distribution had outstripped the capacity of the affected municipal governments …
… the change, move here[,] on day eight was to take that three-star general and to put him there, physically located in the field. I don't anticipate he'll stay there long, but he needs to get there, have his eyes on it, and make sure that he's comfortable with the interaction between his forces and the governor and the municipal forces, because it's a little bit of a different business plan model in the field, and because it's unique and it's an island 1,100 or so miles away from the nearest land in Florida.
And so once he's satisfied, I think — or would expect that three-star general to recede back into his appropriate command structure. But for now, both he and his one-star subordinate command will be there in charge of ground forces and overall military marshals, and we'll end up with a lot more people there over the coming days to try to address this really significant problem and significant need.
The rest of Bossert's Q&A has more details on what has been done in Puerto Rico to date and what lies ahead.
Stars and Stripes has a good article from Monday, September 25, outlining all the military support that Puerto Rico will receive for the foreseeable future. In summary:
WASHINGTON – The Defense Department has dispatched about 2,600 troops to aid Hurricane Maria victims in the U.S. Virgin Islands and in Puerto Rico, where access to power and communications remained severely limited five days after the Category 4 storm struck the U.S. territory.
The military has focused primarily on conducting search and rescue operations, delivering life-sustaining supplies and providing generators and fuel to power critical infrastructure such as water treatment facilities and hospitals, Army Col. Rob Manning, a Pentagon spokesman, said Monday …
"We have the capability to do exactly what we're doing, and we're going to do all we can for the people of Puerto Rico and the Caribbean in the wake of these disastrous storms," he said. "This is a long-term effort. It's a marathon, not a sprint, and [the Defense Department] will continue to support them as long as support is needed."
Elderly electricity grid
Puerto Rico's electricity grid was in dire straits before Hurricanes Irma and Maria struck.
The Washington Examiner explains that the aforementioned PREPA mismanaged finances and lost a lot of manpower as workers moved to the United States:
PREPA's power plants are 44 years old on average, Reuters reported, compared to the industry-wide average of 18 years.
Puerto Rico derives most of its power from Venezuelan oil, and PREPA relied on selling bonds to pay for the imported oil it burned at its aging power plants that need billions of dollars worth of repairs.
Sensitive to price shocks in the oil market, PREPA charges the island's residents high rates, more than any U.S. state but Hawaii, according to the Energy Information Administration.
The power company is also grappling with a manpower shortage. PREPA has lost 30 percent of its employees since 2012 as locals migrate to the mainland to escape the island's financial woes and stagnant economy.
"The entire operation was failing both organizationally, and in the energy generation system and transmission and distribution systems," said Tom Sanzillo, the director of finance at the Institute for Energy Economics and Financial Analysis, told the Washington Examiner. "They were vulnerable. So the surprise to me is the electricity is on at all in Puerto Rico, with the storm or no storm. It is that serious and has been that serious."
In May 2017, Puerto Rico entered a process similar to bankruptcy protection in order to restructure $70 billion in debt. Congress appointed a board, PROMESA, to oversee the restructuring process.
Tom Bossert said at yesterday's press briefing that nothing had been determined yet about Puerto Rico's dire financial situation, but that the US government would certainly help rebuild not only the electricity grid — but also the island's water system:
Those are the two concerning elements where they're going to have to be rebuilt, they're going to have to be rebuilt under proper management, and they're going to have to be rebuilt under proper rebuilding codes and standards to make sure that they can withstand a future hurricane, and that we don't just go back to sticks and wires in the future.
So we're going to put federal money into this. We should do it wisely and prudently. I've said that from this podium here before. President Trump believes in that seriously. I don't think we're going to have to address the debt restructuring issue in this next go-around, but if we do, and if Congress wants us to, President Trump is up to that challenge.
Financial mismanagement
In 2016, a Republican congressman, John Fleming of Louisiana, took issue with Puerto Rico's dire financial situation and said he would vote against PROMESA. It's a moot point now, but these were his reasons as laid out in the Daily Signal:
Puerto Rico is facing a financial mess. Much of it has been caused by poor governance on the island, but also exacerbated by the heavy hand of the United States government.
No one said it better than Pedro Perluisi, the Democratic Delegate from Puerto Rico to the U.S. House of Representatives, when he spoke at a hearing on the Puerto Rico bankruptcy bill. He said, "Part of this over-spending is definitely the result of mismanagement. I admit it. It's embarrassing."
But then he went on to blame Obamacare not spending enough money on Medicaid. Prior to Obamacare, he said that Puerto Rico received $350 million per year. After Obamacare, they are receiving $1.2 billion per year, but conditions are worse. And he seems to think it is because the federal government needs to spend more money.
Earlier that year, Wilbur Ross, who was still restructuring failed companies at the time — he is now Trump's Secretary of Commerce — said:
Puerto Rico is the US version of Greece.
Yet, going back further to 2015, Breitbart said that comparing Puerto Rico to Greece was unfair to Greece. More Greeks work than do Puerto Ricans. More Puerto Ricans are reliant on government handouts than Greeks.
This is because, because of US law, Puerto Rico has an unsustainably high minimum wage which prohibits entry-level jobs from being created. The only choice is to apply for welfare:
An unsupportably high minimum wage has meant that entry level jobs simply don't exist in Puerto Rico, USA. Official unemployment is only 12 percent, but that is only because the labor force participation rate is about 43%, as opposed to 63% on the mainland.
Perhaps to make up for this disastrous employment policy, welfare and entitlement payments are kept high. As a result, the incentive to give up public assistance in favor of a job has been substantially reduced for Puerto Rico, USA. Less than half of working age males are employed, 35 percent of the island's residents are on food stamps, and 45.4 percent of Puerto Rico, USA is in poverty.
Even worse:
Puerto Rico USA is actually worse off than its impoverished neighbor Cuba. Although Puerto Rico's $103 billion annual GDP is twice the size of Cuba's, Puerto Rico's debt of $73 billion is now over three times larger than Cuba's debt of $23.44 billion.
The article concludes:
A quick look at Puerto Rico USA demonstrates how destructive America's socialistic labor and tax policies can be to a group of Americans.
Indeed.
Corruption and high crime rate
In January 2014, Fox News had an article about Puerto Rico's deep corruption and high crime rate.
At that point, 13 people had been murdered over the course of five consecutive days. Four murders took place on one night alone.
Despite it being a US territory, Puerto Rico's murder rate is more in line with developing countries such as Mexico and the Dominican Republic.
Angelo Falcón, president of the National Institute for Latino Policy, told Fox News:
"The crime rate has been neglected for so long that it looks like the problem is not going to go away anytime soon."
Falcón added that Puerto Rico has locked in a three-fold predicament when trying to tackle its violent crime rate – an unstable economic situation that limits available resources, a recent shake-up in the island's police department, and a lack of attention from federal law enforcement to territory's position as an increasingly important drug transit zone.
In 2013, Obama's Department of Justice gave Puerto Rico $10 million to clean up police corruption over a 10-year period. I reckon that money's long gone and the corruption even deeper.
In any event, drug trafficking has ballooned:
Puerto Rico and other parts of the Caribbean are beginning to see a trafficking surge reminiscent of the 1980s heyday of the Colombia-South Florida drug trade.
The article blames the US government for not sending more money. As if that's going to do anything much. Surely, this is a question of morality and ethics.
On February 13, 2017, a big cocaine distribution network was busted. Insight Crime has the story:
Ten individuals — including several airport officials — have been arrested for trafficking 20 metric tons of cocaine from Puerto Rico to the United States since 1998, a reminder of the importance of this oft-overlooked territory as a drug transshipment point. 
US and Puerto Rican authorities arrested ten individuals on February 13 in a sting operation against the cocaine trafficking group, reported Hoy Los Ángeles. A previous police operation in November 2016 resulted in the arrest of two other suspects that belonged to the network …
The group would contract drug "mules," or low-level human smugglers, to ensure that their luggage would board the plane unchecked. The US indictment indicates that up to five mules would board a plane at a time, registering two pieces of luggage that each contained between eight and fifteen kilos of cocaine.
The estimated worth of the drugs smuggled between 1998 and 2016 was $100 million.
The article also says:
The increased drug smuggling through Puerto Rico is due to greater security pressure in the Dominican Republic that has led to a shift in trafficking routes, according to the 2015 National Drug Threat Assessment by the US Drug Enforcement Administration (DEA). 
A significant portion of the cocaine moving through Puerto Rico is sold to domestic users. According to the DEA's 2016 annual report, between 70 and 80 percent of the cocaine that arrives on the island is sent to the United States, while the rest is consumed by the local market.
Wow.
Conclusion
Puerto Rico is in a lot of trouble structurally, financially and morally.
Throwing excessive money their way may only exacerbate these problems. There has to be a better way.
For anyone who celebrated Thanksgiving and is not going out to shop this weekend, below is a set of films allowing you to revisit the Good, the Bad and the Ugly. (Sorry, no Clint here, only politics.)
I'll leave it to you to decide which is which.
These will keep you occupied for a day. So, grab a turkey sandwich, a piece of pumpkin pie and settle in for hours of revealing information.
Donald Trump
The following Objectified programme was broadcast on Friday, November 18. TMZ wanted to do a companion piece on Hillary Clinton, but she refused. The original idea was to show two Objectified episodes, one with each candidate, prior to the election so that voters would have a better idea of who Donald Trump and Hillary Clinton are in private life.
I highly recommend everyone see this episode, especially if they do not particularly like Trump. You'll see and hear a fascinating story of his life from Trump Tower (39 min). The interviewer chooses various objects in his home, and Trump discusses their significance:
The following clip (41 sec) is from Rona Barrett's show in 1980. Rona Barrett interviewed all the celebrities that decade. Her programme was very popular. Here, Trump explains why he doesn't want to run for president — he'd have to be nice all the time:
Here is a clip from Oprah Winfrey's 1988 interview with Trump on the subject of the presidency. Note how quiet and interested the audience is (3 min):
Reddit has a fascinating post with endless contributions from people who knew or met Trump from his schooldays to the present. I only read half of it, and that took three hours. Once you start reading (be sure to click 'load more comments'), you can't stop. Everyone said he was really nice.
Also included in that thread are anecdotes about Mitt Romney. Everyone said he's also very nice.
Billary Clinton
I had not seen the following films until a few weeks ago. I highly recommend them in the following order.
These involve input from Larry Nichols, who is dying from cancer. He was a Clinton insider in Arkansas for several years and helped them to hone the election and PR strategies they still use today.
First, an overview of the Clintons from their Arkansas days through to 1994, the second year of Bill's administration (1 hour, 44 min):
Next, a shocking, in-depth look at Bill's time in Arkansas and elsewhere, revealing not only murder but also unusual political leanings in his university days (1 hr, 52 min):
Finally, an update from 2015 (33 min), narrated by Larry Nichols in which he describes the '86 Plan he created with the Clintons — playing the long game. Note that, as early as last year, he said that the New York Times was the PR machine for the couple. Even though they were the first paper to break the email scandal, they would then turn that around to make Hillary look like the underdog. Nichols says in the film that nothing would ever come of the email scandal. And, lo, it came to pass in 2016:
George Soros
The following video is of the 1998 60 Minutes interview with George Soros.
In 2016, the Hillary campaign's Correct The Record (CTR) team said that Soros never betrayed the Jewish people during the Second World War. Yet, here he is, admitting his sins with a smile. As he tells the interviewer, if he hadn't done it, someone else would have. He has done that throughout his life, as the film shows.
He clearly states that he meddles in other countries' business with no view of social or economic consequences (13 min):
Words fail me, so I'll sign off here.
Enjoy the films. You won't be disappointed. I look forward to comments!
Stand Firm is a traditional Episcopalian/Anglican site with excellent articles not only on the Episcopal Church but also on American politics.
A S Haley is a regular contributor to Stand Firm and wrote a great column which I recommend to all my readers. Excerpts and a summary of 'The Professor Is Right Again' follow.
This is why so many American voters are happy (emphases mine):
Professor Helmuth Norpoth of Stony Brook University on Long Island correctly called this election for Donald Trump back in February, when everyone—and I mean everyone—was confident that Trump would lose by a big margin. Later in the season, he was joined by a different professor using a different model, but who went contrary to the popular trends and predicted the same result.
The biggest loser in this election was not Hillary Clinton. She lost, and lost decisively, to be sure—but the professors' models predicted she would lose, and they've been infallible in past elections for decades.
No, the biggest loser—actually, losers (to use a term beloved of our President-elect)—are (1) the Beltway elite; and (2) the mainstream media—who gave it everything they had, and still fell way short.
Haley posted his article on November 9 and prepared his readers for what we see now: the narratives that Trump will be harmful to America.
He then reminded us of what we can look forward to:
the mainstream media will lose ever more and more of their readers and listeners, to the point where they, too, will have to look around for other lines of work.
And last but not least, James Comey's stalwart agents in the field may finally be able to investigate some people worthy of their attention: start with Comey's former boss, Loretta Lynch, and her attempts to squelch the ongoing investigations into Hillary's violations of our secrecy laws; move on to Patrick Kennedy and the whole corrupt bunch at the State Department who lied about Benghazi and then have been enabling and hiding Hillary's outrageous and dangerous disregard for our security; then to the IRS and its illegal targeting of conservative non-profit groups; then to Eric Holder and his scheme of gun-running, while also letting others get away with voter intimidation; and …  oh, yes—did I mention a certain former Secretary of State? And her husband? Who together enriched themselves by selling access and favoritism at this country's expense? And broke all the laws about charitable organizations in the process?
Who knows where all this is going to lead, indeed? Certainly not the entrenched elite, nor their lapdogs, the mainstream media.
That said, whilst Trump's victory is a blessing despite his imperfections:
And no one can assure us that a shakeup of this magnitude will be totally beneficial in all ways—some things that are truly good may perish along with so much else that is so bad, and deserves to come to an end. As I have maintained throughout this campaign, America is under God's judgment—which is why we were presented with the Hobson's choice we had. We are not out from under that judgment yet, because America has not yet turned back from its ways, and repented of its manifold sins and wickedness. Whether it will do so under its new government remains to be seen.
So fasten your seatbelts. It's going to be a riveting ride.
It will indeed be a riveting ride. I, for one, can hardly wait.
I predict with confidence based on what I have been reading outside Big Media that 2017 will be the year of evil exposed in the United States and beyond. Good people, especially devout Christians, will find these exposés unbelievable because they will be so utterly disturbing in content.
I will post on one of these soon in more detail. For now, if you have not already read FBI Anon parts 1, 2 and 3, please do so when you can because they will prepare you for what is coming next year.
The Trump transition begins. There's even a new website!
Warmest congratulations go to Kellyanne Conway, the Trumpwhisperer, who is the first woman to manage a victorious presidential campaign in the United States. She was responsible for refining Trump's stump speeches and for putting the kibosh on his excessive tweeting. No one else could do that! Furthermore, her internal polls were spot on. Conway is one tough tigress, make no mistake. She is also married, a mother of four and a practising Catholic.
Also noteworthy is that Hillary Clinton spent nearly twice as much money per vote as Trump and lost: $8.80 to $4.57. Trump has decisively proven you do not need big money to win an election!
President-elect Donald Trump and his wife Melania flew to Washington DC on Thursday, November 10 to meet with the Obamas as well as top Republican congressional leaders Paul Ryan and Mitch McConnell.
Vice President-elect Mike Pence was also in Washington. He met with his outgoing counterpart Joe Biden, in what Pence described as a 'warm reception'. Pence also had a telephone conversation with British Foreign Secretary Boris Johnson, who tweeted:
Just spoken to US VP-elect @mike_pence. We agreed on importance of the special relationship & need to tackle global challenges together
Trump's son-in-law — Ivanka's husband — Jared Kushner was also with the Trumps. During their private meetings, he spent time with White House chief of staff Denis McDonough, who gave him a tour of the Rose Garden. Kushner has been a close adviser to his father-in-law throughout the campaign and is expected to remain so after the inauguration.
Trump and Obama had a 90-minute discussion, far exceeding Trump's expectations.
Melania and Michelle shared tea together, discussed raising children and talked about what it is like to live in the White House.
The Mail has a great set of photos from the day.
Afterwards, Trump tweeted:
A fantastic day in D.C. Met with President Obama for first time. Really good meeting, great chemistry. Melania liked Mrs. O a lot!
Questions have been asked about the Trumps' entrance by a side door and the two couples not posing together for a photo in front of the White House. Things were different eight years ago with Bush 43 (i.e. 43rd president):
Breitbart had more on the matter:
White House Press Secretary Josh Earnest refused to explain the details of the decision but denied the story.
"Not true," he said, during the White House press conference, when asked about the report. He also denied that the lack of a photo opportunity had anything to do with First Lady Michelle Obama not wanting to be photographed with the Trump family. He argued that it was not a "snub" of the Trumps, but rather a different strategy of press access.
The press pool was allowed into the Oval Office on Thursday, to photograph Trump and Obama together after their 90-minute meeting. The two men met alone, with no staffers present.
But Obama snubbed the press by telling Trump not to answer any of their questions after the meeting.
"Here's a good rule. Don't answer any questions," Obama said to Trump after reporters shouted questions at the pair.
Despite the pleasantries exchanged between the two political foes, Earnest specified afterwards that Obama still believed that Trump was unsuitable to be president …
Earnest's remarks contrasted with Obama's welcome of Trump at the White House, promising to meet the standards set by President George W. Bush …
Earnest hinted that the White House might release a photo of the two couples meeting.
Independent Bernie Sanders pledged his support to Trump. The Daily Caller reported:
"Donald Trump tapped into the anger of a declining middle class that is sick and tired of establishment economics, establishment politics and the establishment media," Sanders said. "People are tired of working longer hours for lower wages, of seeing decent paying jobs go to China and other low-wage countries, of billionaires not paying any federal income taxes and of not being able to afford a college education for their kids – all while the very rich become much richer" …
In his statement Sanders went on to say: "To the degree that Mr. Trump is serious about pursuing policies that improve the lives of working families in this country, I and other progressives are prepared to work with him …"
The Democrats' wounds are still raw. Despite Big Media's attempted character assassination of Trump and the voter fraud — which is why his popular vote isn't higher — he prevailed once again. (Are we sick and tired of winning, ladies and gentlemen? Never!)
Business Insider reports that the Democratic Party is in disarray.
It looks very likely that the DNC will replace current interim chair Donna Brazile. A White House staffer yelled at her for being 'part of the problem' in Hillary Clinton's loss.
Politico reports:
No party leader calls have been set to map out a plan ahead, and no signal has come from the White House or from Clinton's team about what comes next. The phone lines were silent, only slowly picking up, and escalating to a fever pitch as the defeated nominee prepared her morning speech and interim DNC chairwoman Donna Brazile sat on the silent 9:00 Acela [train] from New York to Washington.
The Washington Post says that Minnesota Muslim congressman Keith Ellison or former Vermont governor Howard Dean are tipped to lead the DNC. The Huffington Post says Brazile could stay on until March, however, based on the aforementioned yelling:
Thursday's meeting shows at least some party officials want fresh blood at the top.
Early in the morning of Wednesday, November 9, Clinton's team had to get pervy John Podesta to address campaign workers. This is because Clinton had been weeping 'inconsolably', according to Ed Klein author of the recent book on the Clintons, Guilty As Sin. Klein appeared on a radio show later that morning and said:
"She couldn't stop crying.
"Her friend said — her female friend from way, way, back — said that it was even hard to understand what she was saying, she was crying so hard.
"This is Hillary we're talking about," Klein said.
Clinton appeared two hours later dressed like Batman's The Penguin in black and purple. Earlier, Podesta had told everyone to go home. Yet, after Hillary spoke, there was applause. I read somewhere that the delay allowed travel time for a new audience of those closest to her: big wigs.
The New York Times has highlights of her concession speech and Obama's remarks.
Before I go into detail on the protests — all previously organised, none are 'organic' (spontaneous) like Big Media are telling you — Sundance at The Conservative Treehouse has a theory about Obama/Clinton and the demonstrations and riots taking place:
If the ridiculous election protests continue again tonight, then President Obama has not called them off.  That means he and Clinton received no substantive assurances, and are worried about being held to account – prosecuted and investigated.
If the ridiculous election protest do not happen again tonight, then President Obama has called them off.  That means he and Clinton feel more comfortable they will not be held to account – prosecuted and investigated …
Ultimately the Machiavellian political gamesmanship then evolves toward how does Obama/Clinton "feel" about the success of their initial probing for terms.
Demonstrations and riots around the US continued the night of November 10.
After this post, I will be mentioning them as little as I can. They do not deserve the oxygen of publicity, to borrow Margaret Thatcher's phrase.
However, I do want everyone to understand what is happening here.
Americans should note that there are laws on riots — 18 U.S. Code § 2101 — as being criminal rather than examples of freedom of speech. In part:
(a) Whoever travels in interstate or foreign commerce or uses any facility of interstate or foreign commerce, including, but not limited to, the mail, telegraph, telephone, radio, or television, with intent—
(1) to incite a riot; or
(2) to organize, promote, encourage, participate in, or carry on a riot; or
(3) to commit any act of violence in furtherance of a riot; or
(4) to aid or abet any person in inciting or participating in or carrying on a riot or committing any act of violence in furtherance of a riot;
and who either during the course of any such travel or use or thereafter performs or attempts to perform any other overt act for any purpose specified in subparagraph (A), (B), (C), or (D) of this paragraph— [1]
Shall be fined under this title, or imprisoned not more than five years, or both.
I would not hold my breath expecting anyone to be prosecuted. However, after the inauguration, watch for this law to be enforced in future.
The demonstrators in Austin, Texas, who marched not far from the state capitol building, arrived by bus:
Not only that, but they were paid.
At least one ad appeared on Craigslist: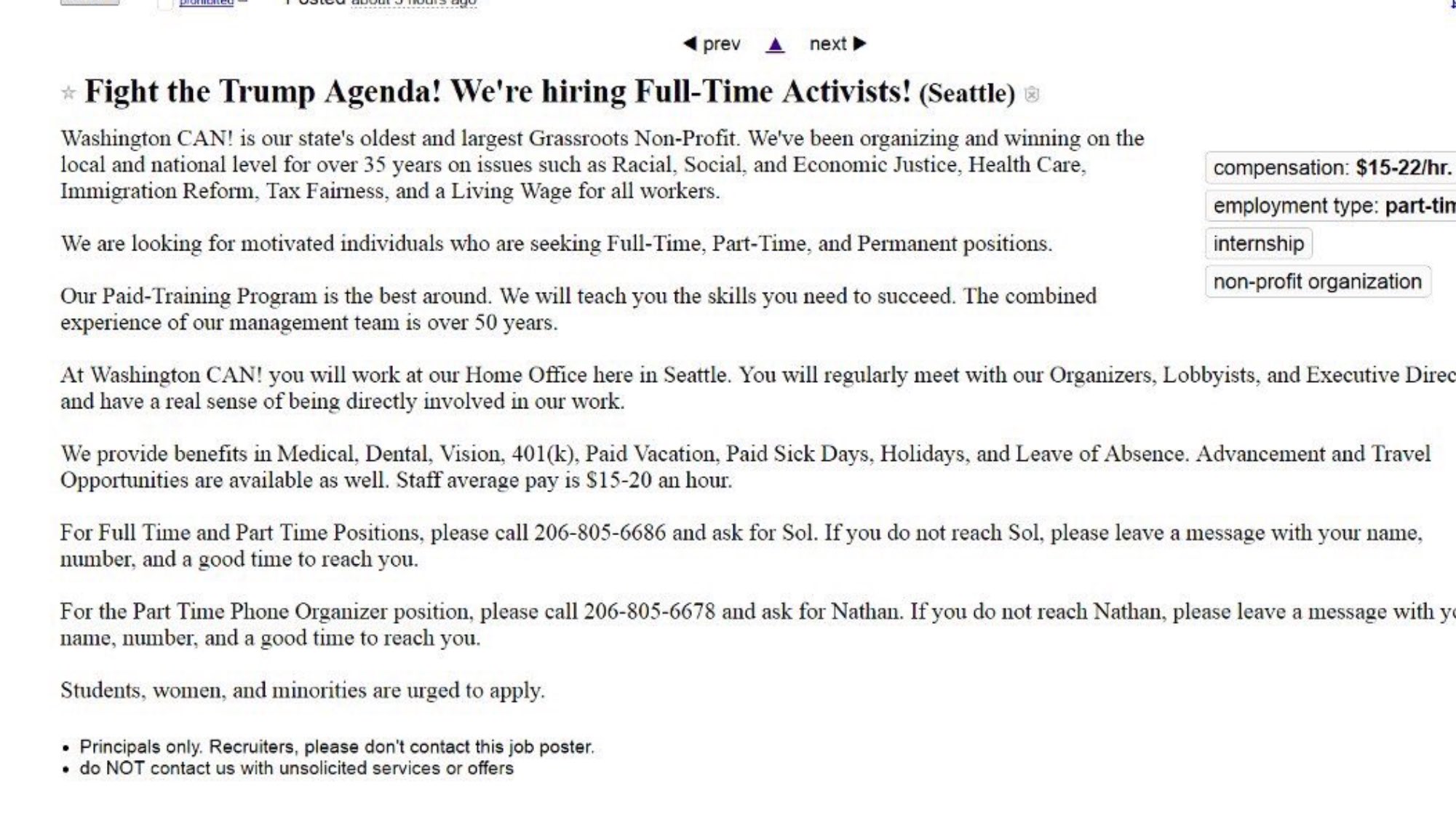 Here's another Craigslist ad, this one for Manhattan, from a European television network (I'm curious):
Earlier on November 10, a panellist on Fox and Friends actually asked if George Soros was funding these demos and riots. This is good, because Big Media never do this. In case the YouTube in the previous link is removed, The_Donald reproduced the exchange:
Brian: "There were no protests for Al Gore, there were no protests for John Kerry, there were no protests for Mitt Romney. What's going on?"
Steve: "Well, back then, George Soros wasn't funding these things. Is he behind this? Don't know!"
Many people say that when Soros dies, all this seditious activity — explained here in detail — will die with him. Not true. His children are every bit as committed to it as he is. One also appears to be involved with the Clinton Spirit Cooking dinners.
Breitbart reported that MoveOn.org — Soros's flagship activist organisation — has anti-Trump protests and riots going on all over America. Amazingly, people actually contribute to MoveOn.
A wide network of organisations affiliated with MoveOn are involved.
In March, after the cancellation of Trump's rally in Chicago, Independent Sentinel listed several groups allied with MoveOn and added:
The billionaire George Soros and other liberal donors bankroll a new $15 million campaign to mobilize Latinos and other immigrants this fall, hoping to channel outrage at  Donald J. Trump and other Republicans into a surge of votes for Democratic candidates in November …
And now that has failed on a national scale, they have today's violent protests, such as this riot in Portland, Oregon. (More here.) If these anarchists and maladjusted folks aren't driving sceptical Americans into the Trump — and gun — camp, I don't know who is.
Below is a list of planned protests from ANSWER (Act Now to Stop War and End Racism). You can also read more here:
Another group to watch for is Socialist Alternative, one of whose directors is a union man, born and bred in Britain, who has lived in Chicago for many years. They, too, have a list of demonstrations.
A number of the protesters are carrying professionally printed signs. One of The_Donald's contributors has seen some that read revcom.us on the bottom, indicating another Soros-funded communist organisation.
It also looks as if Aaron Black — featured in this James O'Keefe Project Veritas video about bird dogging (inciting Trump supporters to violence) — is part of the protest mix. He makes sure everyone is kitted out with signs and whatever else they need. He is supposed to be a background man and says no one should be able to easily identify him at protests.
On Chicago's West Side, a man was dragged out of his car at an intersection and was brutally assaulted. This post has a YouTube video of young men pulling a motorist out of his vehicle, beating him up, stealing items from his car — all abetted by a woman shouting instructions nearby. This tweet has a video of what happened next: the young men got into the car, the man was able to grab onto a door frame and they all sped off around the corner, with the man holding on for dear life. The Chicago Tribune caught up with him afterwards (photo at link). Emphases mine below:
David Wilcox, 49, said he was about to turn left from Kedzie Avenue to Roosevelt Road around 1 p.m. Wednesday when a black sedan pulled up and scraped the right side of his Pontiac Bonneville.
"I stopped and parked. And I asked if they had insurance, and the next thing that I knew they were beating the s— out of me," Wilcox said Thursday …
"They were beating me to have me let go of the car," Wilcox said. "The guy went to 70 and 80 mph. If I let go, I was dead. He slowed to 45. … He tried to push the door open. …So he stepped on it again.
"He stepped up back to 70 and 80, swerved again," Wilcox said. "The wheels on my side left the ground, up to 2 inches. … Then he slowed down. I was looking at oncoming traffic. He probably slowed to about 45. God was watching over for me. I rolled about five or seven times into the oncoming traffic lanes.
"There was a parole officer with a gun and bulletproof vest," he added. "He turned left, and he told me just sit down and wait for the police to come."
Wilcox filled out a police report, but no one was reported in custody Thursday afternoon. Police said they were investigating the beating and who made the "politically divisive" statements in the video.
I wonder if he got his car back. It should have DNA.
Pray for David Wilcox's recovery. He must be undergoing trauma, even if it doesn't show.
If that is not a hate crime, I do not know what is. They could have killed him, directly or indirectly. This got little to no coverage outside of Chicago!
In California, a female high school student near San Francisco was beat up by another classmate — also a girl — for supporting Trump online:
Cellphone video captured the moment a female student attacked sophomore Jade Armenio.
"This girl comes up to me and she said, 'Do you hate Mexicans?' and I was like, 'no,' and she said, 'You support Trump. You hate Mexicans.'"
Armenio says the girl hit her, threw her to the ground, pulled out her earrings and hair. She was left with a bloody nose and scratches and bruises …
The princip[al] of Woodside High School issued a statement that reads in part the recorded incident was investigated in conjunction with law enforcement and appropriate disciplinary action has been taken …
Armenio['s] parents say they are keeping her out of school until they know she'll be safe.
Let's pray for her, too.
Meanwhile, a story that did get nationwide coverage turned out to be false. A university student in Lafayette, Indiana, accused two Trump supporters of tearing off her hijab and stealing her wallet. Thankfully, she confessed to a lie. She should be charged:
The story made national headlines and was featured in The New York Times, The Huffington Post and other national media outlets. Messages of love and support were found all over UL Lafayette's campus after news of the attack spread.
It's unclear whether the student will face charges for filing a false police report.
In closing, here is an interesting exchange from 2013. The_Donald calls it 'the tweet that started it all':
You can't stump the Trump!
And, finally, a great summary of the past few weeks, also from The_Donald:
Protests aside, the next four years are going to be an exciting — and positive — time for all Americans. Trump has a Republican Congress and Senate to help him to restore the Great Republic. Outspoken radio show host Michael Savage says:
God's hand is all over this election.
I truly believe it is.
MAGA!
The site 4chan has had several AMAs (Ask Me Anything) threads featuring one or more agents going loosely by the name FBI Anon.
He — or they — are all working on 'the Clinton case'.
What follows over the next few posts are FBI Anon's comments from the following threads:
July 2 (before either the Republican or Democratic National Conventions and just after Loretta Lynch and Bill Clinton had their conversation on her plane) — today's focus
September 25 (just before the first debate) — future post
October 17 (the most recent) — future post
A language alert applies to all three. However, what FBI Anon says cannot be completely discounted, even if some disinformation — perhaps 10% — is mixed in. The agent includes the disinformation in order to keep his job. It is unlikely that it pertains to big ticket topics, but smaller ones.
A number of 4chan participants do not believe what FBI Anon says, but the guys at The_Donald are confident that what he says is mostly accurate and should be noted.
N.B.: After this, you will never think of the Democratic Party or the Clintons or their foundation in the same way again. When I first read these threads, I thought about them for days afterward. I am presenting this information to you to help you and yours make an informed decision on November 8.
FBI Anon asks the 4chan folks to spread the information. I found various threads on The_Donald about him. This one lists all the 4chan FBI threads.
I shall do my best to divide everything up by topic. I have edited out the foul language and corrected some spelling and grammatical errors. Emphases mine below.
Reference is made below to a SAP — Special Access Program — which FBI Anon defined as follows (July):
A Special Access Program is an intelligence program classified above top-secret. They are held on closed servers at secret locations. The only way to get one is if you are specifically read on to a program, have a need to know, then you must physically go to a location and pass through several layers of security to even look at the program. A good example in non-classified terms would be the locations and operations of our intelligence operatives around the globe, or our missile silo locations.
FBI Anon introduction
I am a person with intimate knowledge of the inner workings of the Clinton case. I will answer as many questions as I can without giving too much away.
Why FBI Anon went to 4chan in July
Sent home, awaiting word about the [chaos] Lynch just caused.
Chances of Hillary Clinton being indicted or brought to justice
There is intense pressure for us not to do so. I am posting from a position of near anonymity and enough plausible deniability to evade prosecution, as we have all been given gag orders.
There is enough for her and the entire government to be brought down. People do not realize how enormous this whole situation actually is. Whether she will be or not depends on how much info about others involved gets out, and there are a lot of people involved.
She had SAP level programs on her server, which if made public, would literally cause an uprising and possibly foreign declarations of war.
There already is enough to indict. Comey has been trying to stall because he does not want to face the Clinton Machine, as well as the rest of Washington D.C. But this case would explode into a million other cases if fully brought to light, and then we would be one agency competing against the entire government and a hoard of other interests. It is a very tense and uncomfortable position.
What Lynch is saying is she will accept whatever they do and make her determination as she will. Nothing about her responsibilities has changed, she is simply trying to keep her hide intact.
We have no power to prosecute, we simply hand over the data to the DOJ for them to prosecute. And we do not have the authority to hand over all of the data because of its sensitivity. And some of the data will lead into other cases of corruption.
Making a recommendation is not the same as actually prosecuting. We only say "here is the data, you need to get XYZ" and then the DOJ acts. 
We have our hands tied. My message to you and everyone on this board is do not get distracted by Clinton's e-mails. Focus on the Foundation. All of the nightmarish truth is there. The e-mails will pale in comparison.
SAPs
All I can tell you about the SAPs is HRC had them, and she did not have proper authority to have any of them. They were leaked to her by someone, and she did sell them to overseas donors. Possessing them alone makes her guilty of treason. 
Sec. [of State] CAN have access. That does not mean he/she WILL. SAP is granted on a need to know basis, and HRC did not have any need to know any of the programs on her server.
Public knowledge of issues influencing continued investigation
Before the Clinton-Lynch meeting, I would have said 0%. Now it looks more likely because the public now sees the Clintons trying to cover their asses. More questions will add pressure for the investigation to continue.
The Clinton Foundation (CF)
The real point of interest is the Clinton Foundation, not the e-mail server. We received the server from Benghazi, then from the server we found data on the CF. Then we realized the situation is much worse than previously thought.
Killing HRC would not cause this problem to go away. The problem is with the Clinton Foundation as I mentioned, which you should just imagine as a massive spider web of connections and money laundering implicating hundreds of high-level people. Though I do not have a high opinion of Hillary, she is just a piece -albeit a big piece – of this massive [horrible situation].
Obama is loosely tied to the CF, but much more tied in with the same people who donate to the CF.
BC likely wanted LL to focus on the e-mail server and shy away from prosecuting the foundation.
[The Foundation] Sold influence, intel, favors, and people to anyone willing to pay.
(next comments from continuation thread)
The people under the magnifying glass do have an affinity for children.
Pedophiles and sex traffickers everywhere. Many politicians trade girls like cattle.
Why no one else is brought to justice
The DOJ is most likely looking to save itself. Find everyone involved in the Clinton Foundation, from its donors to its Board of Directors, and imagine they are all implicated.
My opinion is the entire government is guilty of treason, which is why HRC's death would not cease the investigation or prevent further scandals. Many, many people are involved.
If we recommend, we literally hand over documentation implying the entire government is involved in treason at the highest levels and everyone is about to duck and cover, as well as some sensitive details of SAPs which would obliterate national security.
[Then again] If we do not recommend, it will look like a cover-up and Trump will use the perception to bolster his message. I did work in PsyOps once, and Trump's use of confirmation bias is legendary.
We could do it tomorrow if we wanted. [But …] There are too many political players involved.
Your moral inclinations may look good on the internet, but in real life the situation is complicated. You cannot possibly ask the entire government to prosecute itself. Lynch has also given to the Foundation, and has many ties to many people she should not. Remember that Bill appointed her. She is a great prosecutor, but she did not get where she is by simply being good at her job.
The problem is with the entire government. HRC is one component of that government.
… you do not have the breadth of info that I have that would make your eyes fall out of your skull if you knew what all was going on.
George Soros
Soros is at the heart of all of this.
He is the kingpin.
Ideologue. Believes he and his cohorts are the answer to ending all world wars. Todd Huizinga's book The New Totalitarian Temptation reveals the mindset quite adequately.
Soros funds, instructs, and influences every layer of US government, right down to the tax code.
Agents fearing for their lives, including Clinton retaliation against them
We are all worried about that.
My bosses have the benefit of being in the limelight. Their disappearances or silences would be accompanied by questions. Mine would not.
I do not want to post any information about me or where I am, because if any hint got out that I posted anything, I would be fired and blacklisted. Possibly killed.
Does Hillary kill people?
People have a way of dying around her.
Hillary and Obama's relationship
Obama and HRC do hate each other. HRC hates black people and Obama dislikes recklessness. As far as the investigation, some details are correct. As to the outcome, no one knows.
The Obamas
Obama is a liberal atheist who is willingly associated with the Muslim Brotherhood. Stephen Coughlin's book, while not totally accurate, does shine light in the right direction.
(next comment from continuation thread)
Michelle is a woman.
Who else has the emails?
Foreign powers are in possession of some of the documents we have analyzed, because they were hacked from the Clinton server. Trump has some files as well, and likely plans to leak them and use them to his advantage soon.
The leaks will have to be made in a non-transparent fashion.
What about Russia?
I am not sure, but some of my war strategy buddies are estimating a high probability that Russia will leak all of the info they have to the world, since Clinton wants to go to war with them and they have no desire to be in conflict with the US.
(next comment from continuation thread)
Russia wants Ukraine back, and then they want to be left … alone to invest. Russia is more a paragon of freedom and nationalism than any other country.
Other foreign relations implications
[HRC responsible for selling] Weapons, favors, intelligence, and people.
It benefits her because her donors have paid for it.
Canada has no business telling us how to run intel. Trudeau makes you [Canadians] all look like fools, and already his intel departments are coming to us for help doing … everything.
Germany is not involved. Merkel likes HRC though.
(next comments from continuation thread)
Get rid of Trudeau. He has no experience managing or running a country.
Mexico is actively trying to undermine the US.
The media
Mainstream media is [dire]. Who cares what they say. They are attempting to distract by putting the focus on HRC's emails and not the Foundation.
If Hillary wins
 We will go to war with Russia and possibly China if she wins.
Donald Trump
The entire government is corrupt. No one is clean, not even Trump.
Trump has donated to the Clinton Foundation in the past, though for fairly innocuous things like building permits and such. He is smart, so his tracks are covered well. But if any prosecutor wants to go very in-depth Trump would be brought on bribery charges. He could easily get out of them, but he would be charged nonetheless.
I do not know of Trump's record, but from the case he definitely knew to limit his exposure and make it only look like a donation.
If Trump wins, HRC will be prosecuted.
Trump has very good people advising and leaking to him.
Trump is not a Clinton plant. He believes they are disgusting animals.
[Sidney] Blumenthal is attempting to get dirt on and strategize against Trump. 
(next comment from continuation thread)
I support Trump. He is a good candidate. Not perfect, but good. I used to work in PsyOps, and Trump's campaign is exactly how the textbooks train. It will be studied by agents forever.
Most of us are pro-Trump.
HRC hates that Trump makes the media profitable, so they have to keep covering him.
The choices
I will put it to you this way: You have three choices,
A) turn over all of the information to the DOJ, make public a recommendation, the truth comes out, the entire world realizes how much the US is meddling in foreign affairs and we go to war, the civilian population realizes how much foreign money influences our government, and a civil war begins.
B) You cherry-pick the data to implicate the people already in the eye of public opinion, so the chips fall on the heads of a select few and the whole system does not crash.
C) you do nothing and watch the unstable political climate to gauge how you will respond.
I am confident if Trump wins she will be going to jail.
… most of us are of the opinion that HRC will not be president, and having Trump in office makes our job that much easier. But right now we have to carefully wade through the mud.
A is not going to happen.
Revolutions are much longer and more violent than you think. And if a civil war breaks out, foreign powers will immediately get involved, prolonging any conflict.
[In general] People can integrate if done in a healthy and constructive way. Not by force.
The agents and 4chan (/pol/ — political threads)
The FBI is rather fond of /pol/. We study more than we investigate.
/pol/ is an amalgamation of minds from various geographic and demographic factions. We study very intensely the ideas which emanate and gain prominence on the board, as well as which ideas other organizations try to promote which ultimately get defeated (JIDF, for example, is highly unsuccessful as making /pol/ pro-israel). And most of us just enjoy the posts in general. We like to see how close to the truth everyone is. And we occasionally let our true nature slip.
Alex Jones
(from continuation thread)
Alex Jones is a useful idiot. He does believe what he says, though.
What the public can do
Post about HRC everywhere you can. Focus on the Foundation. Do not let her e-mail server be the sole focus of media attention. Follow the Foundation. Her e-mails are a small bite compared to the CF.
Promote and discuss it everywhere. Ask questions. Read the news on it. Post articles everywhere. Pirate Jerome Corsi's book (so people can't say I am shilling) because he does have some things right.
If you dig hard into the foundation and make it the sole point of your focus, you will remember this thread when the truth is revealed.
(next comment from continuation thread)
We do not live in a democracy, we live in a republic. There is a lot of greatness in America, and there is still plenty to love. Society and culture are dependent on man. You are in control of society, not the other way around.
Tomorrow: more FBI Anon
Since the 2005 Billy Bush/Donald Trump tape was leaked last Friday, timed with the Wikileaks drop of the Democrats', including Hillary Clinton's emails, the Deplorables have resolved to fight on — with or without the GOPe.
WARNING: This post has Clinton-related content and some links with language unsuitable for children. I apologise in advance, but the truth must come out, no matter how distasteful.
The Deplorables' situation
It is essential to understand what the Deplorables experience in American life.
Many worry how they will get by. Tax increases are a huge issue.
One Pittsburgh resident — an ex-Hillary supporter — describes what he and his family members experience. Excerpts and a summary follow. I have edited spelling and grammar.
How is it there is not enough tax to make sure homeless veterans are taken care of, yet the United States can afford to send countless mobile phones to Africa? There are more sanctuary cities for notional refugees, yet there is not enough tax revenue to finance Social Security for older Americans.
Taxes continue to increase, but (emphases mine):
Burden is shared. I have no say … Where does that money go? Same thing with the lottery; where is that cash? Tax tax tax … My school dropped German and French. My dad gets 1700 a month social security. He has no 401k. He had six kids all of whom pay lots of taxes. He always paid his taxes. My mom became a nurse once dad [left]. She has some money but how many people know it was under Clinton that food was excluded from COLA? I said from the beginning Obamacare was about privatizing Social Security. Demand you pay for health care, we can demand you pay for retirement. Think of the money. Trillions to be made: what choice would you have? You might support a homophobic misogynist regime like Saudi Arabia every hour you worked and paid a tax as Supreme Court ruled Obamacare went through; why not retirement?
Then, there is the elite's perception of these Americans, from 2008 to the present. The main author of The Crawdad Hole — ex-Clinton supporters for the most part — has a Twitter description which sums it up perfectly:
Obama called me a bitter clinger. Hillary called me deplorable. Terrorists call me an infidel. Trump calls me an American.
I do not know how many of my readers have seen the following tee shirt, which originated with Infowars, but a lot of anti-Hillary voters are wearing it:
Open disgust
Wisconsin
After the Billy Bush/Donald Trump tape was released, the GOP elite denounced Trump.
Trump was supposed to appear in Wisconsin last Saturday, October 8, but a sanctimonious Paul Ryan — Speaker of the House — rescinded his invitation to the state's annual GOP fundraiser.
Attendees paid $30 apiece to get in. They expected to see Trump.
Buzzfeed reported:
ELKHORN, Wisconsin — In a jarring illustration of the chaos now engulfing the Republican Party, supporters of Donald Trump clashed bitterly with GOP leaders at a rally here Saturday — booing elected officials, heckling Paul Ryan, and angrily demanding greater establishment support for their beleaguered presidential nominee …
When, early in the event's program, Wisconsin Attorney General Brad Schimel tried to address the recently leaked video that has sent Trump's campaign into a tailspin, the crowd erupted in angry protest.
"Get over it!" one heckler yelled.
"Trump! Trump! Trump!" others chanted.
Appearing taken aback by the reaction, Schimel made a brief nod toward support for the nominee — "Donald Trump will appoint judges that will defend our Constitution" — and then quickly changed the subject.
Other elected officials became more combative with the audience. When Rep. Jim Sensenbrenner talked about how voters had been coming to the Fall Fest for years to support Ryan and other local Republicans, hecklers shouted, "Not anymore!" and, "I'm for Donald Trump!"
"Why don't you listen to what I have to say instead of interrupting me?" Sensenbrenner snapped. Soon, the 73-year-old congressman was in a shouting match with the Trump supporters in the crowd. "Listen to me, please," he kept repeating, before ordering the audience to "clean up your act."
By the time it was Ryan's turn to speak, the mood had grown indisputably hostile. He took the stage to scattered boos, and shouts of, "What about Donald Trump?" and, "Shame on you!" …
Trump supporters are now unlikely to vote down ticket for Republicans who have shunned their candidate.
This is audience reaction to Ryan's speech:
One young man wore a RAPE shirt with Bill Clinton's image on it — another popular Infowars product.
Michigan
Alex Jones is giving between $1,000 and $5,000 to anyone who can get captured on camera with it at a rally. More money is given to those who can stay on camera for several seconds and mention Infowars.
Alex is looking forward to hearing from this man who turned up at Clinton's October 11 rally in Detroit. Not only will he receive $5,000, but he will be invited for an interview on the Infowars show:
How he was able to get one of the privileged places on the podium will make for an interesting story.
Townhall has a really clear close up.
Amazingly, the woman with the slogan 'Stronger Together' and who is a self-described tireless advocate of minorities had this reaction:
Hillary Clinton sarcastically laughed as the man was shoved down the stairs and she told people outside the event to "follow him" and "stage an intervention."
Wow! I hope the man stayed safe.
I bet Big Media will ignore that story.
North Carolina
At an Obama rally for Clinton, a man and a woman paraded beneath the stage in Greensboro on Tuesday, October 11. Each wore homemade 'Bill Clinton Rapist' tee shirts (8 seconds in).
An American Lookout article says that Obama was interrupted again by other protesters:
The second and third times by people yelling about Bill Clinton and rape.
The article continues (emphases in the original):
These protesters are everywhere!
Will the mainstream media finally do some reporting on what these people are saying? On what they're willing to get arrested for to say? …
It's become counter-cultural to be Conservative. Conservatives are now the rock stars. The punk rockers of politics.
And these are courageous citizens! They're standing up against Obama, the Clintons and the Mainstream Media to shout the truth!
California
At the weekend in Bakersfield, the city's local Business Conference took place.
Hundreds of people showed up to hear conservative commentator Laura Ingraham (LifeZette) speak in support of Trump.
Gateway Pundit has a brief excerpt of the crowd cheering:
THIS IS AN AMAZING VIDEO–
Thousands of voters at the Bakersfield Business Conference tell the GOP to stand by Donald Trump and FIGHT!
Nevada
The same day that Trump supporters booed Wisconsin GOPe types, Nevada Rep. Joe Heck disavowed the candidate. The audience booed him:
Breitbart reports that Heck has fallen prey to the George Soros funded Common Defense PAC, notionally comprised of military veterans, and a MoveOn.org petition hidden within (emphases mine):
Common Defense PAC has a simple mission statement: "As veterans, we swore to protect the rights of every American. We continue to fulfill this promise by standing against Donald Trump." Its "leadership team" page on its website lists sixteen military veterans with no contact information for them.
On its Facebook page, the PAC features a video from a different super PAC in which a mainstream reporter asks Nevada congressman Joe Heck if he trusts Trump having the nuclear codes.
"Watch this. Share it. Then sign the petition to tell Congressman Heck to disavow Donald Trump," says Common Defense PAC, with the link to the petition: fornevadasfuture.com/heck.
But the petition is actually a MoveOn.org petition called "Joe Heck: Disavow Donald Trump."
One can be pretty sure that Heck and the rest of the GOPe don't know the men behind the PAC:
Common Defense PAC is registered with the Federal Election Commission at a P.O. Box in Lancaster, Pennsylvania. The group's treasurer is Jonathan Matthew Smucker, a Berkeley doctoral student, activist, and radical writer who did not return a request for comment for this report.
The PAC's July quarterly filing report with the FEC only lists one donor: a Baltimore IT consultant named Marjorie Roswell who gave $20,000 on June 30.
Perry O'Brien is the group's director. O'Brien is a longtime left-wing activist.
O'Brien was a medic in Afghanistan with the 82nd Airborne and received a discharge in 2004 for being a conscientious objector.
Perry O'Brien personally started a MoveOn.org petition called "Tell GOP leaders to disavow Trump and his attacks on veterans." The petition, which has 121,242 signatures as of this writing, is "To be delivered to Sen. John McCain, Sen. Mitch McConnell, Rep. Paul Ryan, and all GOP leaders."
Well, there you go. It worked. Don't Republicans investigate these things? It took me a simple Internet search.
What Deplorables will remember
On Tuesday, October 11, Laura Ingraham analysed the disparity between GOPe and their core voters:
The vast majority of Republicans want Donald Trump to be president … they have come together in an effort to save the country from Hillary Clinton.
A small minority of Republicans do not want Donald Trump to be president. They prefer Hillary Clinton. Unfortunately for most of the Republican Party, this small group of angry dissenters includes many of the people at the top of the party — officeholders, major donors, "strategists," and "conservative" pundits. These people have been able to leverage their connections with the mainstream press to repeatedly attack Trump — even though they refuse to say anything nice about Hillary.
… instead of having an honest discussion as to whether the GOP should be a globalist party or a nationalist party, everything dissolves into personal attacks.
When this election is over, the vast majority of Republicans are going to remember that their supposed leaders — the same officeholders, millionaires, and pundits who told them that they had to "come together" and support John McCain and Mitt Romney — refused to do the same for Donald Trump. They will know that what they have long suspected is true — the Republican Party is led by people who have more in common with the Clintons than with the GOP base. And that knowledge will affect the future of the GOP for years to come.
The biggest irony in all this is that, as one pro-Trump Rep. Steve King of Iowa said, quoting a fellow congressman:
"He said, 'If you are so worried about a sexual deviant in the White House, helping Hillary Clinton will put Bill Clinton in the White House,'" King paraphrased.
Very true, indeed.
At a congressional hearing on September 28, 2016, FBI director James Comey said:
You can call us wrong, but don't call us weasels. We are not weasels.
Apparently, no one used that word against Comey or the FBI. He came up with that himself.
David L Hunter, associate editor of Capitol Hill Outsider, has more:
Sigmund Freud would have a field day with Mr. Comey's psyche. Dr. Freud would say he protests too much. Why does the FBI Director compare himself—and the now perhaps forever tarnished organization he heads—to a pack of weasels? Guilty subconsciousness perhaps, Herr Doctor?
Recall, the FBI's motto is Fidelity, Bravery and Integrity. Once important American ideals, today reduced to a bumper sticker slogan. Consider the bureau's former principled reputation of incorruptibility: of holding the powerful to account without fear or favor.
Well, I had forgotten the FBI motto. Did I ever know it? A high school buddy of mine used to go on and on about J Edgar Hoover's personal life such that I never had any interest in the FBI.
As for the non-prosecution of Hillary Clinton or anyone else involved in the email scandals, Hunter says:
… the fix was in before that. Specifically, when spouse Bill Clinton had an "unplanned" chinwag with Attorney General Lynch. Both in different private planes which by "sheer coincidence" crossed paths on the same tarmac in Phoenix. So the nation's top prosecutor meeting privately with the spouse (an ex-president) whose wife is the prime subject of a then looming criminal indictment isn't a colossal conflict of interest? Moreover, is it any surprise that just days after that infamous meeting AG Lynch announced that Hillary would face no criminal charges?
It's a big deal, because:
Those unsecured, illegal devices likely hacked by bad actors in which Mr. Comey stated 110 emails were classified—and 48,000 (read: 33,000 originally reported and an additional 15,000 recently uncovered) were destroyed.
And some Hillary voters need reminding of more:
If the email scandal wasn't malfeasance enough, there is the Clinton Foundation "charity": a pay-for-play scheme involving high-level political favors in exchange for a personal Clinton slush fund (while Mrs. Clinton was Secretary of State). The 238 million the Clintons have "earned" after being "dead broke" 15 years ago doesn't even factor in the 2 billion dollar foundation they control. By his own Freudian omission, Mr. Comey's a weasel, but the crooked Clintons are far worse: unapologetic rats who make Richard "Watergate" Nixon look, by comparison, like a church mouse.
Enough of the church mouse mentions in the same sentence as Watergate! 😉
You know, if Hillary were a Republican, Big Media would be all over her 24/7 for all her scandals.
Imagine if Donald Trump were guilty of all that.
But, instead, Big Media give Hillary a pass and go to town on Trump over his taxes.
Edward Klein has more on Comey, Loretta Lynch and Bill Clinton in his new book, Guilty as Sin: Uncovering New Evidence of Corruption and How Hillary Clinton and the Democrats Derailed the FBI Investigation.
I wrote about it the other day in connection with Hillary's health.
On October 3, the New York Post featured an excerpt from the book which explains how and why Comey let Clinton off the hook.
Ultimately (emphases mine):
Comey knew that if he recommended an indictment of Hillary — something that was fiercely opposed by the president, the attorney general, the Democrats in Congress, and the mainstream media — he'd ignite a firestorm and go down in history as the man who traumatized the country's political system. What's more, if after all of that, Hillary was found not guilty by a jury, it would blacken Comey's reputation for all time to come.
So, here's what happened.
On June 27, Bill Clinton was just about to fly out of Phoenix when his Secret Service agent told him Loretta Lynch was about to land:
"Don't take off!" Bill barked.
As his plane skidded to a halt and then headed back to its parking space, Bill grabbed a phone and called an old friend — one of his most trusted legal advisers …
"Bill said, 'I want to bushwhack Loretta,' " the adviser recalled. " 'I'm going to board her plane. What do you think?' And I said, 'There's no downside for you, but she's going to take a pounding if she's crazy enough to let you on her plane.'
Americans were, rightly, angry that she allowed him on her plane, but the adviser who spoke with Edward Klein for his book explained:
He wanted to intimidate Loretta and discredit Comey's investigation of Hillary's emails, which was giving Hillary's campaign agita.
Bill had the Secret Service agent ring Lynch, who was on the plane with her husband Stephen Hargove. Lynch agreed to allow him on board:
"Bill said he could tell that Loretta knew from the get-go that she'd made a huge mistake," his adviser said. "She was literally trembling, shaking with nervousness. Her husband tried to comfort her; he kept patting her hand and rubbing her back."
They did talk about grandchildren and golf. The adviser told Klein that the subjects of conversation didn't matter because, in his words, all Bill wanted to do was to:
send a message to everyone at Justice and the FBI that Hillary had the full weight of the Clinton machine, the Democratic Party, and the White House behind her.
And so it turned out to be, because the following week Obama gave her a lift on Air Force One to a campaign rally in North Carolina.
Klein explains that Obama would never have offered to have her as a passenger on the presidential plane if she were in danger of being indicted.
The following day, Comey gave a long speech at a press conference about the email investigation. Lynch watched it in her office, accompanied by her closest aides.
The longer Comey went on about the results of the investigation, the more he was making a case for prosecution. Lynch was 'livid', Klein tells us, because:
Lynch had promised President Obama and Valerie Jarrett that Hillary would not be indicted.
Then, finally, Comey concluded:
Hillary, he said, shouldn't be prosecuted for her handling of classified information — even though it wasn't his job to make prosecutorial decisions. That was up to the prosecutors in the Justice Department. There was no evidence, he said, that Hillary had intentionally transmitted or willfully mishandled secret documents in order to harm the United States.
"Our judgment is that no reasonable prosecutor would bring such a case."
Klein ends with this:
Hillary was clearly guilty as sin, and the right thing would have been for Comey not only to say so — which he did — but to make her pay for her sins.
But he didn't.
If this woman is elected in November — either by legitimate votes or a fix — the end of the Great Republic is nigh.
During the first presidential debate on September 26, Hillary Clinton accused Donald Trump of sexism and came out with several of his most outrageous anti-women quotes.
One of them concerned the 1996 Miss Universe, Venezuela's Alicia Machado. Trump was less than flattering about her subsequent weight gain.
Hillary made a big deal about this, and she would have had a point were it not for two reasons.
1996 Miss Universe
Machado, who became a US citizen this year, sailed close to the wind with the law in 1998 in her native country. She was not indicted because of lack of evidence. The Daily Mail reports:
… two Associated Press reports from 1998 have revealed the Machado was accused of aiding attempted murder and threats to kill in Venezuela.
DailyMail.com has asked the Clinton campaign whether they knew about the accusations, which do not appear to have ended in conviction, before the candidate spoke about her at the debate.
The campaign also organized a conference call for reporters on Tuesday with the now 39-year-old actress, in which she spoke almost exclusively in Spanish to continue the attacks on Trump.
The Mail has the full story.
The article also says that, during her time as Miss Universe, Machado gained 35 pounds. Trump owned the Miss Universe pageant at the time.
Beauty pageant winners have to comply with certain terms and conditions during their tenure, weight gain being one of them.
Here is a CNN interview of Trump with Machado and her trainer in 1997. A CNN article that appeared at the same time explained she had gained 60 pounds during her reign. She was losing weight to appear in that year's contest to crown the new winner. If there is a reference to Miss Piggy the Muppets star (all the rage at the time), I missed it. There is also no animosity between Machado and Trump:
On September 28, another Mail article appeared about her career in porn and relationship with a drug lord. The Conservative Treehouse also has a set of links. Gateway Pundit has a Florida Declaration of Domicile for her daughter who was born in Miami.
Billary Clinton
Hillary portrays herself as a champion of women's rights, but, as I wrote earlier this month, in 1975 she successfully defended a middle-aged man who raped a 12-year-old girl in Arkansas. She even laughed about it. The audio recordings are available to the public at the University of Arkansas. Also:
Clinton's defense strategy also included aggressive claims about the victim's character, including allegations that the 12-year-old "sought out older men" and was "emotionally unstable," according to court documents first reported by Newsday in 2008.
Two decades later, she was in the White House and the 'bimbo eruption' took place.
If you find that term offensive, you should know that an advisor to Bill Clinton — a woman and feminist — coined it. Betsey Ross Wright came up with the words:
to describe rumors alleging extramarital affairs by Clinton.[2]
Wright met Bill and Hillary — unmarried, but an item — in 1972. In August 2016, The Daily Beast posted an excellent article by Professor Gil Troy who teaches History at McGill University and wrote The Age of Clinton: America in the 1990s. Excerpts follow:
… these three new friends relished the possibilities they were starting to envision, a more open, liberal, egalitarian, and female-friendly world. 
"It was a nascent feminist movement then," Wright would tell Bill Clinton's biographer David Maraniss. Wright believed "that women were the ethical and pure force that American politics needed." And Wright, a big, bold, bawdy powerhouse, recalled being "less interested in Bill's political future than Hillary's. I was obsessed with how far Hillary might go, with her mixture of brilliance, ambition, and self-assuredness."
Bill's presidential campaign rolled around 20 years later with (emphases mine):
Hillary Clinton and Betsey Wright determined not to let Bill Clinton's promiscuity harm his White House bid. Wright, who monitored each piece of gossip – and frequently bullied Bill's "exes" – coined the crude phrase "bimbo eruptions." The term mocked the accusers and the reporters who believed them. Just a few years ago, Americans were more censorious about affairs but more forgiving about such sexist dismissals of victimized women. 
Gil Troy explains that 'bimbo' comes from bambino and originally denoted stupid men. By the 1920s, it began being used to describe women. A song of that decade was called My Little Bimbo Down on the Bamboo Isle. In the 1930s, 'blonde' prefaced the word. I knew a man in the 1980s who often referred to a group of women out for a night on the town as 'the bimbo squad', but I digress.
Gil Troy concludes:
The ironies abound. Betsey Wright the feminist boosting a sexist slander. Hillary Clinton, the betrayed wife, not just standing by her man but trashing his accusers – no matter how true their story. Wright's odd contribution to history, then, is sharpening the Clinton conundrum: how can a couple so committed to doing good behave so badly so often?  Wright's tale highlights the moral blind spot of the Clintons and their enablers. Their idealism, their liberalism, their faith in the good they hope to do, makes them excuse all kinds of lapses, from libeling innocent women to following their own rules regarding emails and government secrecy … 
The investigation into the Whitewater scandal, which ran deep once Kenneth Starr was in charge, brought out more details about philandering which dogged Bill's presidency. Then there was the Monica Lewinsky scandal. In 1998, Hillary appeared on Today — NBC's breakfast show — and said this:
I think we're going to find some other things. And I think that when all of this is put into context, and we really look at the people involved here, look at their motivations and look at their backgrounds, look at their past behavior, some folks are going to have a lot to answer for.
The following year, the New York Post featured this quote:
I don't know who created the graphic, by the way.
Last year, a book called The Clintons' War on Women was published. The Political Insider summarised the detailed work done by authors Roger Stone, a Republican strategist and Trump insider, and Robert Morrow. 
I strongly urge everyone to read The Political Insider article, most of which I cannot quote here because of the adult content. Here are two excerpts:
For 41 years, Hillary Clinton has worked tirelessly to discredit and destroy women like that. Since 1982, she has been hiring private detectives to look into their lives and find anything that could embarrass them …
Juanita Broaddrick was alleged raped so severely that he nearly tore off her upper lip, then raped her a 2nd time …
Conclusion
Donald Trump must make it calmly crystal clear at the next debate that Hillary Clinton is no women's advocate. Whilst he should not discuss Miss Universe, he can mention other topics. For a start, Europe's mass immigration problem has brought with it a large increase in sexual attacks on women. Yet, Hillary wants to up migrant intake from the same countries in the Middle East. American women will be at risk.
The rest of us can spread the word about her misogyny in the remaining weeks before the presidential election.
It is essential that younger voters be aware of the Clintons' past. Sexual crimes are only one part of it. As one of my readers says, it would take a lifetime to chronicle all their evil. More to come tomorrow.