You are currently browsing the tag archive for the 'ethics' tag.
The UK had another big weekend of news, which, as I said last week, is unusual, given that Christmas is just around the corner.
One of the big scoops was The Spectator's revelation as to why every SAGE scenario is based on a worst-case outcome.
Fraser Nelson, the magazine's editor, had an online exchange with Graham Medley from SAGE, which can be seen in his article, 'My Twitter conversation with the chairman of the Sage Covid modelling committee', which is a must-read.
Excerpts follow, emphases mine.
Medley is a professor at London School of Hygiene & Tropical Medicine (LSHTM). Last week, LSHTM published another alarming set of figures for the Omicron variant that, naturally, make the case for more lockdowns.
By contrast, JP Morgan came up with a different conclusion after looking at LSHTM's data:
JP Morgan had a close look at this study and spotted something big: all the way through, LSHTM assumes that the Omicron variant is just as deadly as Delta. 'But evidence from South Africa suggests that Omicron infections are milder,' JP Morgan pointed out in a note to clients.
JP Morgan concluded:
Bed occupancy by Covid-19 patients at the end of January would be 33% of the peak seen in January 2021. This would be manageable without further restrictions.
Fraser Nelson says:
So JP Morgan had shown that, if you tweak one assumption (on severity) then – suddenly – no need for lockdown.
Nelson went online to find out why LSHTM didn't do the same thing:
Medley seems to imply that the Government wants the worst case scenario:
Nelson says:
Note how careful he is to stay vague on whether any of the various scenarios in the Sage document are likely or even plausible. What happened to the original system of presenting a 'reasonable worse-case scenario' together with a central scenario? And what's the point of modelling if it doesn't say how likely any these scenarios are?
From what Prof Medley says, it's unclear that the most-likely scenario is even being presented to ministers this time around. So how are they supposed to make good decisions? I highly doubt that Sajid Javid is only asking to churn out models that make the case for lockdown. That instruction, if it is being issued, will have come from somewhere else.
He concludes that there is an ethical issue with SAGE's pronouncements:
Prof. Robert Dingwall, until recently a JCVI [Joint Committee on Vaccines and Immunisation] expert, has said that Medley's candour reveals "a fundamental problem of scientific ethics in Sage" – ie, a hardwired negativity bias. "The unquestioning response to the brief is very like that of SPI-B's behavioural scientists," he says and suggests that the Covid inquiry looks into all this.
At a time when we have just been given a new set of 'scenarios' for a new year lockdown it might be good if someone – if not Prof Medley – would clear up what assumptions lie behind the new 6,000-a-day-dead scenario, and if emerging information from South Africa about Omicron and its virulence have been taken into account. And how probable it is that a double-jabbed and increasingly boosted nation (with 95 per cent antibody coverage) could see this worst-case scenario come to pass.
In my view, this raises serious questions not just about Sage but about the quality of the advice used to make UK lockdown decisions. And the lack of transparency and scrutiny of that advice. The lives of millions of people rests on the quality of decisions, so the calibre of information supplied matters rather a lot – to all of us.
Too right.
I haven't believed SAGE at all, from the beginning. I am also still angry about how much taxpayers' money has been pumped in for a pandemic that needed a common sense solution in March 2020, such as, 'There are a lot of unknowns here. We will provide updates. However, we advise that anyone who feels sick to get a test then isolate at home for 10 days. Keep your distance from those outside your household. Keep your hands clean. Above all: use the same precautions you would in any potentially contagious environment.'
That's it in a nutshell. Not a lot more needed to be said.
But no.
We plebs couldn't have that. We cannot be trusted.
Chief Medical Officer Prof Chris Whitty implied that we do not know what we are talking about.
This video is from Whitty's appearance before a parliamentary Select Committee on Thursday, December 16. Dean Russell MP (Conservative) asked him whether the NHS risks prioritising the virus over cancer. While it might not be Dean Russell's view, this is a prevailing opinion among many members of the public.
Whitty wasted no time in shooting that down, saying that we do not understand 'health' and insisting that lockdowns helped to save the NHS, which would have collapsed otherwise. Along with Prof Gordon Wishart, I also beg to differ, but here is the exchange:
People are frustrated:
General practitioners are wrapped up in this, too:
Coronavirus has overtaken their surgeries. It was already nearly impossible to get an online appointment, never mind one in person. As of last week, GPs' priority from the Government is to dispense boosters:
No, pandemics are not a regular occurrence, but the NHS should be prepared to deal with one.
On Monday, December 20, Boris convened the Cabinet for a two-hour meeting to discuss the possibility of imposing a Christmas lockdown in England. Sir Patrick Vallance presented a doom-and-gloom scenario.
Bear in mind that Boris is skating on thin ice at the moment politically. A lockdown might have caused some of them to resign their Cabinet positions.
In the end, they decided not to go for a lockdown in England, at least over Christmas weekend:
Well, five of them did, at least.
Foreign Secretary Liz Truss had to leave early:

Guido Fawkes has more (red emphasis his, the purple one mine):
The Times and Telegraph have the most comprehensive write-ups, reporting Rishi, Steve Barclay and Grant Shapps were those leading the sceptics' charge. The Times reports Jacob Rees-Mogg had a prolonged argument with Vallance about their modelling, telling Boris to trust the people rather than the scientists. Truss, Kwarteng, Alister Jack, Nadhim Zahawi and Nigel Adams are all also reportedly sceptical about the threat of Omicron…
On the other side of the divide backing restrictions, according to The Telegraph, are (unsurprisingly) Javid and Gove; Nadine Dorries and Chief secretary to the Treasury Simon Clarke. We can only presume the PM also errs towards this group. There's set to be one more Cabinet before Christmas day that could still decide to recall MPs before New Year.
Katy Balls of The Spectator reports that this is the first time in ages that the Cabinet has been consulted on coronavirus policy:
So what happened in that meeting? 'Boris did a great job and encouraged a proper discussion and respected other views,' says one minister. 'He had quite a lot humility'. Michael Gove was, as usual, leading the arguments for more lockdown. But this was based on Sage forecasts of what might happen which have lost some credibility in the eyes of Cabinet members who were — for the first time in a while — genuinely being consulted.
Boris knows he's in trouble:
Several members of Johnson's Cabinet are vocally opposed to new restrictions. They argue that there needs to be clearer data before any restrictions are brought in – with whispers of resignations if Johnson pressed on without this. These members of government hope that more time will offer clarity that could show omicron is milder than previous variants.
Behind the scenes, the Chancellor is understood to have played a key role warning against rushing into decisions that could cost billions. Other ministers keen to see more modelling include Commons leader Jacob Rees-Mogg and Transport Secretary Grant Shapps ("although it was never quite clear what he was saying," I'm told.) Other ministers have been pressing on Johnson the idea of limiting any new measures to guidance.
But when Johnson emerged talking about the need to observe the data, and questions about Omicron's severity, he was using the language of those who opposed lockdown. They argue, in effect, that Sage models cannot be trusted as they are composed of hypotheticals – and that we need to wait for real-world data. The next few days of hospital data, it's argued, will tell us much about how severe Omicron is and if lockdown is needed. Data is emerging not just from South Africa (where cases now seem to be falling) but Denmark where Omicron has been found to be significantly less likely to put patients in hospital. At least some Sage modellers produced figures on the assumption that Omicron is no less likely to hospitalise or kill: one scenario talks about deaths peaking a day …
Johnson faces a parliamentary party filled with MPs vehemently opposed to any new restrictions and who could question his ability to lead as a result. When the Whips office sent a note around this afternoon telling MPs that the parliamentary away day has been cancelled, one messaged me to say:
'It's probably for the best. If we were all in one place for a few days, we could work out a successor'
But there are Tory MPs who believe action is required. One senior Tory concludes:
'This is a Prime Minister paralysed between science and his backbenchers. It's depressing.'
The Times reports on Leader of the House Jacob Rees-Mogg's words of wisdom. He, too, read Fraser Nelson's article. Good man:
Jacob Rees-Mogg, leader of the Commons, said the government should trust people to do the right thing rather than introduce further restrictions. He said many people had voluntarily changed their behaviour as the threat posed by Omicron became clear.
The prime minister said Rees-Mogg's argument was interesting but asked how he would justify his approach at a press conference. He said that as prime minister he had to look after everyone's health. Rees-Mogg is understood to have responded: "I would stand up and say I respect them for doing the right thing." The prime minister is said to have suggested that this would not be enough if the NHS were at risk of being overwhelmed.
Rees-Mogg is also understood to have criticised official modelling suggesting that without further action 3,000 Omicron patients a day could need a hospital bed. He asked if Johnson had read an article by Fraser Nelson, editor of The Spectator, questioning the assumptions behind the data.
Sir Patrick Vallance, the chief scientific adviser, is said to have responded directly to Rees-Mogg that the modelling had included scenarios where the Omicron variant was deemed less severe than the Delta variant.
If so, why did Vallance not present those data?
Boris made a brief announcement after the Cabinet meeting, saying that he is still keeping all options open after Christmas:
On Wednesday, December 22, Health minister Gillian Keegan told LBC's Nick Ferrari not make firm plans for New Year's parties because of ongoing 'uncertainty':
As people have been cancelling dinner reservations and reneging on trips to the pub, Chancellor Rishi Sunak has had to come up with a £1bn compensation plan for the hospitality sector, which amounts to £6000 per business. A nightclub owner says it's 'insulting'. I agree with the person replying — just drop any remaining restrictions:
When is this going to end?
Oh, well. At least we're not in the socialist nations of Scotland or Wales, where things have been far worse and continue so to be.
The three-year Lectionary that many Catholics and Protestants hear in public worship gives us a great variety of Holy Scripture.
Yet, it doesn't tell the whole story.
My series Forbidden Bible Verses — ones the Lectionary editors and their clergy omit — examines the passages we do not hear in church. These missing verses are also Essential Bible Verses, ones we should study with care and attention. Often, we find that they carry difficult messages and warnings.
Today's reading is from the English Standard Version with commentary by Matthew Henry and John MacArthur (as cited below).
Submission to the Authorities
13 Let every person be subject to the governing authorities. For there is no authority except from God, and those that exist have been instituted by God. 2 Therefore whoever resists the authorities resists what God has appointed, and those who resist will incur judgment. 3 For rulers are not a terror to good conduct, but to bad. Would you have no fear of the one who is in authority? Then do what is good, and you will receive his approval, 4 for he is God's servant for your good. But if you do wrong, be afraid, for he does not bear the sword in vain. For he is the servant of God, an avenger who carries out God's wrath on the wrongdoer. 5 Therefore one must be in subjection, not only to avoid God's wrath but also for the sake of conscience. 6 For because of this you also pay taxes, for the authorities are ministers of God, attending to this very thing. 7 Pay to all what is owed to them: taxes to whom taxes are owed, revenue to whom revenue is owed, respect to whom respect is owed, honor to whom honor is owed.
——————————————————————————————————————
Last week's post largely concluded Romans 11, in which Paul wrote that God will one day lift his judgement against Israel for unbelief in His Son and bring His people into the Church in great numbers. As such, Gentiles are not to become boastful about their position in the Church. Nor are they to hate the Jews, God's rightful heirs of His covenants, Old and New.
That is a hard truth for some to accept. However, it is what Paul tells us will happen.
In the first half of Romans 13, Paul tells us what our relationship as Christians is to society at large.
These are among the most important verses in the New Testament, but, for whatever reason, the Lectionary compilers omitted them from readings used in public worship.
These days, one must offer an apology for a long post. My advice here is to grab a cuppa and a snack.
John MacArthur explains why Paul moved from the spiritual to the temporal (emphases mine):
If all Paul wanted to focus on was the matter of justification, he could have ended the epistle in chapter 11, but he doesn't. He goes on to deal with the implications of the doctrines, which have been laid down in the first 11 chapters, which implications we are now looking at. And so it is essential that a Christian understand that his relationship to authority, his relationship to government, and those who are over him is dramatically impacted by his salvation. We are called to live as model citizens, that we may reach the world around us with the saving gospel of Jesus Christ …
In other words, how you behave under the authorities in your country, your nation, your city, whatever it is, will demonstrate your faith, the legitimacy of your faith, to that society. And so we are to submit then to the king, to the governor, to anyone who is over us in authority.
We've had more than two months of 'protests' and, dare one say it, outright insurrection in Seattle and Portland.
Some might empathise with the destruction of public property and general anarchy.
However, Christians are not called on to participate in or to support lawlessness that results in chaos, loss of life and destruction of property, including businesses.
We know that insurrections have taken place throughout history. The United States was created on the back of insurrection. MacArthur thinks that was unbiblical; elsewhere, he said that some of his ancestors were Canadian. Through that filter, one can see his point. He says:
The truth of the matter is, and you need to think about this – the truth of the matter is that our own nation was borne out of a violation of this biblical text. Now that may throw you for a loss, but that's the fact. Our nation was borne out of a violation of this text, in the name of Christian freedom.
That does not mean that God doesn't overrule such violations and bring about good, which He did in this case, but that doesn't justify the means.
Yet, for just over 200 years, America was the beacon of liberty and the pursuit of happiness. For millions of people around the world, it still is.
For that reason, one can say, rightly, that the Revolutionary War gave birth to the Great Republic.
The French also had a revolution, within two decades of America's. The principal French players in this and a few American Founding Fathers travelled back and forth to exchange ideas. General Lafayette helped America's Revolutionary troops greatly.
The difference between America's and France's respective revolutions lies in the content of their constitutions, which largely say the same thing with a few exceptions. The French constitution separates church and state. America's guarantees freedom of worship. The American Declaration of Independence clearly states that powers to the citizen come from 'Nature's God', 'their Creator'. America had deist leaders. For the most part, France had atheists at the top at that time.
But I digress.
Some of the Western world has been riven by urban uprisings this year, 2020, protesting against the brutal death of a man who had a police record and, for one conviction, served five years in prison.
The colour of this man's skin has revived the awareness of blots on Western history: slavery, colonialism and police brutality.
MacArthur wrote the sermons I'm citing here in 1985, when Ronald Reagan was president.
Yet, much of what he says still holds true today.
This is what he says about injustice and what should be the Christian response, according to Paul's words:
We are to be – and listen carefully, this is an important thought – we are to be the conscience of the nation by godly living and faithful preaching. We confront the nation, not through political pressure, but through the word of God. That's how we confront the nation. We preach against sin. We preach against the evils of our time. But it is preaching and godly living that is our calling.
For some, that will be insufficient.
MacArthur goes on to define the society in which Jesus and St Paul lived:
Look at Christ for just a moment as we build a foundation for this passage. Look at Christ. He came into a very interesting world. He came into a Roman Empire where slavery flourished. Slavery. You understand that. Slavery. There were three slaves – approximately three slaves — to every free man. He also came into a world that was dominated by absolutism in terms of rulership. Men were absolutely monarchs, absolute rulers. After the end of the Roman republic, when the Caesars came in and took power, they ruled with absolute authority. And although Julius Caesar was murdered in the Roman Senate in 44 BC, this only accelerated the centralization of power. The Roman Senate declared Augustus proconsul and tribune of Rome for life, and he had absolute and total power. He was commander-in-chief of all soldiers, he stood above the senate, and he controlled all civil affairs.
So Jesus came into a world dominated by slavery and by one man rule, the absolute antithesis of democracy, which we believe to be so dear. All the power of the state was in one man's hands.
You had the same thing in Palestine, where the ruler of Palestine, who was placed there as sort of a puppet king under Rome was a man by the name of Herod. Herod was an Edomite. Herod was not a Jew. That Edomite ruler of Palestine, the king with great power, had the single authority to demand that every single baby in a certain region be massacred, and nobody could stay his hand. He had absolute authority over life and death. He murdered his whole family, his mother, his wife, his sons, and no one held him accountable.
In the time that Jesus came into the world taxes were exorbitant, and those who worked in the taxing process who sold themselves to Rome for money, exacted exorbitant taxes out of the people, overcharged them. In fact, you remember don't you, that Zacchaeus when he was converted, immediately said I'll do what? I'll pay back everything I've extorted how many times? Fourfold. Which was rather typical of the kind of thing that went on, tax collectors were extortioners. So there were unjust taxes. There was unjust rule that heard nothing from the people. In fact, Caesar August[us] decreed that all the world should be taxed, and tried to collect … from everyone.
Furthermore, Jesus came to His people, the Jews, in a very unique situation for them. They were chattel for the Romans. They were an underprivileged and oppressed minority. They had no voice in Roman government, they had to pay heavy taxes to their Roman taskmasters. Now that's the world Jesus came into. They didn't even know anything about democracy, about voting, about certain quote-unquote "freedoms" that we enjoy.
And what did Jesus say? He said this. "Render to Caesar" what? "The things that are Caesar's." You give the government its due. And to God, what? The things that are God's.
He did not come with power and force to overthrow the Roman tyranny. He did not seek social change. He did not attempt to eliminate slavery. He did not come with political or economic issues at stake. They were not the concern of his life and ministry. He did not come to bring new government, to bring democracy, to wave the flag of Judaism, even. His appeal was ever and always to the hearts of individual men and women, not their political freedoms, not their rights under government.
He did not participate in civil rights. He did not crusade to abolish injustice. He preached a saving gospel, so that once a man's soul or a woman's soul is right with God, it matters very little what the externals are. He was not interested in a new social order, but in a new spiritual order, the church. And he mandated the church to carry on the same kind of ministry.
And listen, their problems in those days were far more severe than ours, far more severe. Even people living on relief today have cars, TVs and modern conveniences.
Uprisings were not allowed in that era. The Romans relied strongly on maintaining order. Any Roman governor who allowed uprisings was called back to Rome from his post. He might have gone on trial. He risked imprisonment. In some cases, he could be put to death. In any event, he spent the rest of his days as a social and political outcast.
Moving on to today's passage, Paul makes it clear that we must be subject to our governing authorities, because God has given them to us to maintain order (verse 1).
Naturally, the first question most of us have upon reading that is about totalitarian dictatorships. MacArthur has an answer:
You say, "What about the cruel governments? How can you say that about communist governments? How can you say that about Adolf Hitler? How can you say that about abusive kinds of government? How can you say that those are ordained of God?" Well let me answer it by saying this. I didn't say it. I just read it. The Bible said it. So I'm off the hook, folks. This is not my problem. There is no power but of God.
And then the other side of it is, the power that is, is ordained by God. "You mean in our nation that's what it says?" If it is a power, it's ordained by God. Well you say, "What about the cruel abuses?" Listen, the cruel abuses and the injustices and the wrongs of governments are no reflection of God's holy nature, and no reflection of God's holy will, any more than divorce in a marriage is a reflection of God's holy will. But marriage is no less an institution of God. And though there is apostasy in the church, the church is still an institution ordained of God. But the apostasy is no reflection of the nature of God.
No, abuses do not deny the sacredness nor the divine trust and authority in any of God's institutions, be it the home, the church, or the government. Frankly, men abuse all God's gifts, don't they? And wicked rulers are part of God's plan to punish wicked nations, and to allow evil to run its course toward destruction. If the truth were known, and perhaps someday in heaven, God has designed by His sovereign purpose and will a reason for every government that exists on the face of the earth. Some are for the benefit of those who have done well. Some are for the punishment of those peoples who have done evil. We cannot second-guess why God institutes a certain kind of government in a certain place.
God has ordained government to protect and preserve men, to protect their life and their property. To do that, there must be the role of government to repress evil, to repress crime, and to hold up and honor those who are virtuous and good. So Paul says, "The powers that be are ordained by God." The powers that be are not — I hope you know this — the will of the majority. The majority only reflects the sovereign purpose of God. The powers that be are God's design. And that means any governmental power in any form.
So here, beloved, is reason number one why we submit to the government, because the government is in place by the decree of God. It is the time for God to do in a nation what He chooses to do. It is expressive of the divine will. Sometimes He wants to punish a nation. Sometimes He wants to prosper a nation. Sometimes He wants to bless a people. Sometimes He chooses to judge a people. But government in all its form is by divine decree.
Therefore, those who resist authority — be it good or bad — are going against God's will. As such, those people will fall under His judgement (verse 2).
MacArthur referred to a Russian emigré, Georgy Vinz, who had spoken at his church. This was the faithful Christian response during the repressive days of the former Soviet Union:
Way back in 1839, Robert Haldane, writing in his wonderful commentary on Romans wrote, "The people of God, then, ought to consider resistance to the government under which they live as a very awful crime, even as resistance to God, Himself," end quote. It's quite a remarkable statement, and one which I mentioned to you last week, is whole-heartedly ascribed to by Georgy Vinz and those who have come out of Russia to tell us that the dear Christian brothers and sisters in Russia will make no resistance against their government. And if they are imprisoned, it will be simply and only because of their love and proclamation of the gospel of Jesus Christ.
Wow. That is quite something.
MacArthur had this to say on judgement in verse 2:
So government is divinely decreed, and to resist it is to resist God. Now I want to take you to a third thought as we wrap up. Those who resist will be punished. Look at verse 2, again. "They that resist shall receive to themselves judgment." If you resist the government, you're going to be punished. That's the way it is. The word is krima. It's a word that means judgment.
It's used in 1 Corinthians 11:29, of the judgment of God. But here it's used, I think, primarily in reference to the punishment that comes from God through civil authorities, through civil authorities. God has ordained government to punish evildoers. And if you resist the government, you're going to get punished. Now, if like Daniel, you have to because you have a higher command, then you accept the punishment. But if it's not in that situation, if it's just a choice you make to resist, of course, you're going to receive the punishment. Now that was true in the Old Testament economy.
There is a fine line here between obeying and disobeying those in authority.
MacArthur spoke of Daniel. This is what happened when Daniel disobeyed the king's orders to eat the finest food and enjoy the finest wine:
Look for a moment in your Bible to Daniel's prophe[c]y. And here you have a very clear, precise illustration of a man who refused to do what the king said, because it would be in violation of what God had said. And you remember in Daniel chapter 1 that Daniel was taken into Babylon captive with other of the young princes of Israel, and several of them are named in verse 7. Their real Hebrew names are in verse 6, Hananiah, Mishael, and Azariah. And it says in verse 8 that Daniel purposed in his heart he would not defile himself with the portion of the king's food, nor the wine which he drank. Now here you have the occasion where Daniel is instructed by the Babylonian monarch to take the food of Babylon and eat it. To do that would have been to violate that which he knew to be laws revealed by God, for the Jews had very circumspect dietary laws, and he would not defile himself with food that was not prescribed by God. And yet, in all of Daniel's attitude there's a spirit of submission.
"He requested," verse 8 says, "of the prince of the eunuchs that he might not defile himself." He asks permission. He goes to the one who is over him, under the king, and over him, and he seeks permission. And he gets into a little dialogue. He says, "Let's try a test. I'll commit myself to eating what I would prefer to eat, and after a period of certain days, you come back. We'll look at everybody, those who've eaten the king's meat, and myself having eaten just these vegetables. Ten days will go by and we'll see who looks the best."
And this was a wonderful and conciliating way for Daniel to seek to obey God without becoming abusive of this man who was carrying out orders from his king. And so in verse 14, the man consented and ten days passed. And, of course, you know the story. When the ten days were ended and the man came into to check everybody out, Daniel and his friends far and away surpassed all the others and rose to place of prominence.
Now Daniel could have protested. He could have revolted. He could have been disrespectful to the one over him. He could have badmouthed the king. He could have done all kinds of things. But he sought a conciliating means to obey God in the midst of a difficult situation. But he would not compromise. Later on, as you follow through for a moment in the book of Daniel, you'll remember that three of his friends, of course, in chapter 3, refused to bow down to the idol image. And as a result of that, they had disobeyed the king. They were told to bow down. They would not, because they couldn't bow down to the king when God had told them to bow only to Him. And so they were caught in the same crux of the same dilemma. And they were true to God and they said, "If you want to throw us in the fire, throw us in the fire. If God wants to deliver us, He'll deliver us. And if He doesn't want to deliver us, we still won't bow down."
And so there was a no-compromise attitude. But there was a sense of respect in what they said in verse 17. "If it be so, our God whom we serve is able to deliver us from the burning, fiery furnace. And He will deliver us out of thine hand, oh king. But if not, be it known unto thee, oh king, that we will not serve thy gods nor worship the golden image which thou hast set up." They did not speak any evil words against him. They were not disrespectful. They called him by his proper title. And they simply said, "We will not do this. But we are more than happy to suffer whatever consequences you feel are just for our seeming [m]isbehavior." And, again, their attitude is remarkably conciliating and gracious in the light of what they might have said. As a result of it, chapter 3, verse 30 says, "The king promoted Shadrach, Meshach, and Abednego in the province of Babylon." They got a promotion because the king surely appreciated men with great conviction. He also wouldn't mind having people on his team who could walk through fiery furnaces.
And then in chapter 6, we find, of course, that very familiar account of Daniel in the lion's den. And now it's moved out of the Babylonian setting, and we're in the Medeo-Persian kingdom. And by the way, I want to say as a footnote here, there is absolutely nothing wrong for anyone serving in a government position. There's nothing wrong with serving in a civil government role or a state government, or any other kind of leadership. That is an honored position. And Daniel is the single best example of that in the Scripture. And every time he was uncompromising, he got a greater reputation.
And because of his uncompromising spirit, he was constantly promoted till he finally became the prime minister of the whole nation, the whole kingdom. It is an honorable thing to serve in government. It is not a dishonorable thing. Daniel is an illustration of that. But it was Daniel's wonderfully conciliating, and yet non-compromising attitude that caused him to prosper. You remember that Daniel prayed. And so those princes that wanted to get rid of Daniel got the king to sign an edict that no one was to pray to anybody, no one was to give obeisance to any other god.
And, of course, Daniel went on with his prayers. He went on with doing what he knew was right before God. And so he was thrown into the den of lions. But he was not at all disrespectful, as you know. And God…verse 21, rather, just before God protected him, "Then said Daniel to the king," verse 21, "'Oh, king,'" what? "'Live forever.'" Long live the king. This seems a strange thing for a man about to be thrown in a den of … lions by this king. But he understands that the powers that be are ordained of God. And he is submissive in a unique sense, and very trustful that no matter what that king does to him, he's in the hands of God.
God delivered him. At the end of chapter 6, verse 28 says, "So this Daniel prospered in the reign of Darius, and the reign of Cyrus the Persian." Daniel's no-compromise approach, along with his friends, meant disobeying the government. But his attitude is a model for all those who come to that…that crossroads of having to face the reality that you can't do what the government says, or you can't not do what they say to stop doing. He never wavered from honoring the king, and neither did his friends, Hananiah, Mishael, and Azariah. They were never disrespectful.
In fact, just let me give you a little bit of a pattern that I see flowing out of the experience of Daniel. First of all, normally we obey, respect, and do everything in response to and to please those in authority. We are to be model citizens, obedient not only outwardly, but obedient in spirit. Secondly, we resist and disobey only when we are commanded to do something the Word of God forbids, or are forbidden to do something the Word of God commands. And those two things are illustrated in Daniel's prophecy. He would not do what the Word of God forbid, that is, eat a certain [type] of food. And he would not stop doing what God commanded him to do, and that was pray.
The third princip[le] that flows out of it: Even when government and the Word of God conflict, we should not disobey overtly until we have done all we can to try to resolve the conflict peacefully. Did you get that? To try to resolve the conflict peacefully.
Returning to Paul, he writes to the Romans that rulers are not a threat to good judgement but to bad (verse 3). Do what is good and you will meet well with God's earthly authority, because He will act only against the wrongdoer through earthly authority (verse 4).
These days, in 2020, it seems local authorities can not even accomplish a prosecution of the wrongdoer, whether in Seattle, Portland or London.
Yet, according to Scripture and to history — excepting some of our most recent events — judges, among them magistrates, are tasked with upholding the law. Admittedly, magistrates by name are much more a feature in English law than elsewhere. However, they are in place in other nations, e.g. those such as Judge Judy who hear cases or night court judges. That is not to demean the magistrates' significance at all. Those are the lawgivers you fear the most — much more so than a high court or superior court judge.
Matthew Henry explains:
Rulers are not a terror to good works, but to the evil, &c. Magistracy was designed to be,
[1.] A terror to evil works and evil workers. They bear the sword; not only the sword of war, but the sword of justice. They are heirs of restraint, to put offenders to shame; Laish wanted such, Judges 18:7. Such is the power of sin and corruption that many will not be restrained from the greatest enormities, and such as are most pernicious to human society, by any regard to the law of God and nature or the wrath to come; but only by the fear of temporal punishments, which the wilfulness and perverseness of degenerate mankind have made necessary. Hence it appears that laws with penalties for the lawless and disobedient (1 Timothy 1:9) must be constituted in Christian nations, and are agreeable with, and not contradictory to, the gospel. When men are become such beasts, such ravenous beasts, one to another, they must be dealt with accordingly, taken and destroyed in terrorem–to deter others. The horse and the mule must thus be held in with bit and bridle. In this work the magistrate is the minister of God, Romans 13:4. He acts as God's agent, to whom vengeance belongs; and therefore must take heed of infusing into his judgments any private personal resentments of his own.–To execute wrath upon him that doeth evil. In this the judicial processes of the most vigilant faithful magistrates, though some faint resemblance and prelude of the judgments of the great day, yet come far short of the judgment of God: they reach only to the evil act, can execute wrath only on him that doeth evil: but God's judgment extends to the evil thought, and is a discerner of the intents of the heart.–He beareth not the sword in vain. It is not for nothing that God hath put such a power into the magistrate's hand; but it is intended for the restraining and suppressing of disorders. And therefore, "If thou do that which is evil, which falls under the cognizance and censure of the civil magistrate, be afraid; for civil powers have quick eyes and long arms." It is a good thing when the punishment of malefactors is managed as an ordinance of God, instituted and appointed by him. First, As a holy God, that hates sin, against which, as it appears and puts up its head, a public testimony is thus borne. Secondly, As King of nations, and the God of peace and order, which are hereby preserved. Thirdly, As the protector of the good, whose persons, families, estates, and names, are by this means hedged about. Fourthly, As one that desires not the eternal ruin of sinners, but by the punishment of some would terrify others, and so prevent the like wickedness, that others may hear and fear, and do no more presumptuously. Nay, it is intended for a kindness to those that are punished, that by the destruction of the flesh the spirit may be saved in the day of the Lord Jesus.
[2.] A praise to those that do well. Those that keep in the way of their duty shall have the commendation and protection of the civil powers, to their credit and comfort. "Do that which is good (Romans 13:3), and thou needest not be afraid of the power, which, though terrible, reaches none but those that by their own sin make themselves obnoxious to it; the fire burns only that which is combustible: nay, thou shalt have praise of it." This is the intention of magistracy, and therefore we must, for conscience' sake, be subject to it, as a constitution designed for the public good, to which all private interests must give way.
That explanation ties in well with Paul's next verse about avoiding God's wrath for the sake of conscience (verse 5).
Then we enter into Paul's dictum on taxes, none of which we like and all of which keep increasing year after year. Paul says we must continue paying them, because the authorities in charge are ordained by God (verse 6).
These are hard verses to swallow, especially the one on taxes, particularly these days when it seems we are paying for everyone but ourselves. Aargh!
Henry's explanation appears quaint today, even if there was no welfare/dole in his time:
He does not say, "You give it as an alms," but, "You pay it as a just debt, or lend it to be repaid in all the blessings and advantages of public government, of which you reap the benefit." This is the lesson the apostle teaches, and it becomes all Christians to learn and practise it, that the godly in the land may be found (whatever others are) the quiet and the peaceable in the land.
I suppose we reap it universally in the UK in some way, but, from what many of us can see tangibly, we do not do so broadly these days.
I would elaborate, but will refrain from doing so under our extraordinary circumstances in 2020.
Paul continues about taxes and other payments due (verse 7), however, we see in our time that little has changed — and not for the better, in terms of tax.
Tax aside, Paul sends an important message: pay as you owe without undue delay, showing honour and respect to those with whom you have dealt in business.
Paul was not the only one in the New Testament besides Jesus to advocate obeying the law. James and Peter also did the same in their letters to their converts.
Peaceful assembly can take place, but violence and destruction are unbiblical. Paying taxes is essential as is giving our neighbour and our businessmen their due.
Do unto others as you would be done by is the rule.
Next time — Romans 14:13-19
In closing my series on the Book of Hebrews, the first eight verses of Hebrews 13 are in the Lectionary and are read during Year C (2019) during one of the Sundays after Pentecost.
Thank goodness, because the author of Hebrews, inspired by the Holy Spirit, gives us a short précis of how to live the Christian life.
Verses 2 and 8 are two exceptionally beautiful and memorable verses:
Sacrifices Pleasing to God
13 Let brotherly love continue. 2 Do not neglect to show hospitality to strangers, for thereby some have entertained angels unawares. 3 Remember those who are in prison, as though in prison with them, and those who are mistreated, since you also are in the body. 4 Let marriage be held in honor among all, and let the marriage bed be undefiled, for God will judge the sexually immoral and adulterous. 5 Keep your life free from love of money, and be content with what you have, for he has said, "I will never leave you nor forsake you." 6 So we can confidently say,
"The Lord is my helper;
    I will not fear;
what can man do to me?"
7 Remember your leaders, those who spoke to you the word of God. Consider the outcome of their way of life, and imitate their faith. 8 Jesus Christ is the same yesterday and today and forever.
The author exhorts his audience of Christian converts to continue in brotherly love (verse 1). That means obeying the Ten Commandments: loving one's neighbour as oneself.
We should do no harm to anyone and, beyond that, we should exercise kindness whenever we can, especially to our fellow believers.
Matthew Henry's commentary says:
Christians should always love and live as brethren, and the more they grow in devout affection to God their heavenly Father the more they will grow in love to one another for his sake.
To put this verse in context with regard to the Hebrew converts of that era, Henry reminds us that conflict brewed, with the potential of driving the converts apart. Their family and friends also persecuted them, so it was not easy. Furthermore, those who know this book understand that many were having second thoughts about having converted to Christianity.
Henry elaborates (emphases mine):
It is here supposed that the Hebrews had this love one for another. Though, at this time, that nation was miserably divided and distracted among themselves, both about matters of religion and the civil state, yet there was true brotherly love left among those of them who believed on Christ; and this appeared in a very eminent manner presently after the shedding forth of the Holy Ghost, when they had all things common, and sold their possessions to make a general fund of subsistence to their brethren … This brotherly love was in danger of being lost, and that in a time of persecution, when it would be most necessary; it was in danger of being lost by those disputes that were among them concerning the respect they ought still to have to the ceremonies of the Mosaic law. Disputes about religion too often produce a decay of Christian affection; but this must be guarded against, and all proper means used to preserve brotherly love.
John MacArthur explains why the author of Hebrews made the exhortation to love so simple:
… the law says, 'Don't commit adultery, don't kill, don't steal, don't bear false witness,' – that means to lie – 'don't covet.' And if there be any other commandment, he could put them all together in one saying: 'Thou shalt' – what? – 'love thy neighbor as thyself. For love works no ill to its neighbor, therefore love is the fulfilling of the law."
That's why, you see, in Hebrews 13 it doesn't need to list a whole lot of things. All it needs to say is just love, and that'll take care of the law; that's right. If a man loves, he won't kill; for lover never seeks to destroy. And listen to this: love can't hate. Love will seek to destroy an enemy by making him a friend.
If a man loves, he'll never steal; for love doesn't take, what does it do? It gives. And if a man loves, he will never covet; for covetousness – epithumia, which means the uncontrolled, inordinate desire for self-satisfaction. If a man loves, he'll never covet, because love is not self-centered, it's selfless, you see.
So love is really all he needs. In fact, Paul says, "Love is the bond of perfection, it ties everything together." So love is the basic ethic toward others.
It is also worth saying that the love spoken of here is agape — platonic — not an emotional or sexual love, which some churchgoing advocates of polyamory (yes, they exist) insist upon:
… you can reduce Christian conduct down to a simple, common denominator. There it is: love people. And before you say, "Well, I just can't get it worked out," let me remind you that love is not an emotion, it's a principle. Don't ever forget it.
I don't get emotional about certain people. I don't say, "Oh, there's Mr. So-and-So. Oh, love, love," you know. No, no. Love in the Bible is not necessarily emotional at all, it is a principle; and if you want to know what kind of a principle it is, read 1 Corinthians 13. It's a principle of self-sacrifice.
It doesn't matter what kind of a Mr. So-and-So, Mr. So-and-So is; you need to condescend to help him, to meet his need, to care for him, to bear his burdens, to pray for him. Those are principles that have handles on them. Those are not ethereal, foggy, pie in the sky, lovey-dovey kind of squashy emotions. Listen, we're not talking about something that's just kind of syrupy. Love is a basic principle, and it's the principle of self-sacrifice based on humility, isn't it …
Verse 2 is not only beautiful, but it also has a biblical basis in fact with regard to 'entertained angels unawares', as Henry outlines:
Thereby some have entertained angels unawares; so Abraham did (Genesis 18:1-32), and Lot (Genesis 19:1-38), and one of those that Abraham entertained was the Son of God; and, though we cannot suppose this will ever be our case, yet what we do to strangers, in obedience to him, he will reckon and reward as done to himself. Matthew 25:35, I was a stranger, and you took me in. God has often bestowed honours and favours upon his hospitable servants, beyond all their thoughts, unawares.
Does that mean being a doormat? No, it does not.
MacArthur explains it as follows:
Back in Genesis 18 Abraham put out a nice spread for three visitors, and found out one of them was God and two of them were angels. Now that isn't to say get ready because angels are coming to your house; not at all. But that does mean that God sometimes will bring people into your path that you need to be very careful to show love to, because you just don't know who you have on your hands. And it's not just for your benefit either; maybe they have a tremendous need, and a word of love from you can turn a life around. You know that? How many times have people said to me, "John, my life was such and such and such, and I met so-and-so, and in just a moment of time my life was changed."
Verse 3 discusses those 'in prison' — 'in bonds' in some translations. That might be an actual prison — and we know that from the earliest days of Christianity, people such as Peter and Paul were in chains for preaching the Good News. That has not stopped. There are Christians today who are suffering in prison, sometimes tortured, for their beliefs.
There are also innocent people in prison. There are also criminals who are not only in prison but also have psychological obstacles that act like a prison which caused them to be incarcerated in the first place.
There are other people, walking in perfect freedom, who also live in a psychological prison: addiction, for example.
For all of them, we must be empathetic and at least pray for them.
Note that the author of Hebrews says 'since you are also in the body' — the body of humanity or the body of believers.
MacArthur examines the times when Peter and Paul were in prison:
… Verse 3: "Remember them that are in bonds, as bound with them." Do you know really what sympathy is? To suffer with, literally; empathy to get inside and feel what somebody feels. You have to be a selfless person to do that. If people are in prison, do you feel that, those who suffer adversity as being yourselves also in the flesh? In your own body, do you know what people go through when they go through pain?
Remember this morning, when we studied about the church that prayed for three days, day and night for Peter? They felt what he felt, didn't they? They were hurting because he was hurting. That's sympathy.
And, you know, sympathy can be shown in three ways at least, many ways. But here's three interesting ones in the New Testament: 2 Timothy 1:16, "The Lord give mercy unto the house of Onesiphorus; for he often refreshed me, and was not ashamed of my chain. But when he was in Rome, he sought me out very diligently, and found me. The Lord grant unto him that he may find mercy in the Lord in that day: and in many things he ministered unto me at Ephesus, thou knowest very well." You know one way to be sympathetic? By your personal presence with somebody in need. That's sympathy, just being there where they are.
Here's another way: Not only just in your presence, but in certain deeds that you might do. Philippians chapter 4, Paul needed some sympathy, he was in jail. Philippians 4:14, "Notwithstanding you have well done that you did share with my affliction. Now you Philippians know that in the beginning of the gospel when I departed from Macedonia, no church shared with me as concerning giving and receiving, but you only." In other words, nobody gave me any money to carry on my ministry. "For even in Thessalonica you sent once and again unto my necessity. Not because I desire a gift; but I desire fruit that may abound to your account. I'm glad you're giving, not because I get the money, but because when you give, you get blessed."
Verse 18: "But I have all, and abound; I'm full, having received of Epaphroditus the things which were sent from you, an odor of sweet smell, sacrifice acceptable, well-pleasing to God." Another way to show sympathy is by deeds of love. Not only your personal presence, but by doing deeds of love.
There's a third way to show sympathy to somebody and that's by prayer, praying for them, Colossians 4:18. Paul closes Colossians with these words: "Remember my bonds." Hey, he says, "Don't forget I'm in jail; pray for me." Now this is our basic obligation to other people: to love them with full care and sympathy.
The author of Hebrews moves on from the general to the particular, beginning with a verse warning against sexual immorality and encouraging marital purity (verse 4). He says that God will judge those who have defiled the marital state through adultery or fornication.
God devised marriage as an earthly means of intimate companionship between two people who want to spend the rest of their lives together. This is why traditional Christians hold this institution so closely to their hearts. This is also why it is so important to marry the right person.
Henry says:
It is honourable, for God instituted it for man in paradise, knowing it was not good for him to be alone. He married and blessed the first couple, the first parents of mankind, to direct all to look unto God in that great concern, and to marry in the Lord. Christ honoured marriage with his presence and first miracle. It is honourable as a means to prevent impurity and a defiled bed. It is honourable and happy, when persons come together pure and chaste, and preserve the marriage bed undefiled, not only from unlawful but inordinate affections.
Although MacArthur preached the sermon cited here nearly 40 years ago, the problems with sexual purity were already widespread because of the 'sexual revolution' of the late 1960s:
Now the word "sex" has become – you know, there were taboos in the past and, you know, sex was a word that was a taboo many years ago. You just didn't say that word; it was a terrible word. And now sex is everywhere.
Even if mankind thinks it is fine to engage in all manner of sexual impurity, God does not. Students of the Bible know there are many passages condemning it:
"Let the bed be undefiled; for fornicators and adulterers God will judge." Sexual purity. And we live in a world that's going crazy over sex. It's not that people's desires are any different, it's just that if society will let them do more things, they'll do it. And Romans chapter 1 says they get real clever and they invent new things.
People in our society have gone crazy in the area of sexual fulfillment. When two people allow their passions to run away with each other, when two people allow themselves to get caught in a compromising situation sexually, let me tell you something, friends, it is not that they love each other too much, it is that they don't love each other enough. It is that they love each other too little to respect each other's purity before God.
And I say to you, if a guy comes to you, girls, and says, "I love you so much; give me what I want," he doesn't love you very much at all, believe me. His love hasn't developed where the most important thing in his life is your beauty and purity and holiness. When he sees you like that, then he really loves you.
Now you say, "And why is this a sin against ourselves?" Well, that's what Paul said, you see, in 1 Corinthians 6:18. He said, "Flee fornication. For every sin that a man does is outside the body; but he that commiteth fornication" – porneia, sex sin – "sins against his own body." You see, you have to live with this in your own flesh. This is a sin against your own body. The purity of your own body has been defiled. And so God says, "I desire sexual purity."
The next personal message the author of Hebrews has for his audience is to avoid loving money (verse 5). Money in and of itself is fine, but when we lust after it, it becomes sinful.
MacArthur mentions an interesting observation from Charles Spurgeon on covetousness:
Spurgeon said one time, he said, "In all my life" – he said – "I've been in a lot of testimony meetings, and I've heard a lot of people share how they have sinned." And he said, "I've had people come to me and make confession of sin. In my life" – he said – "I never had one person confess the sin of covetousness to me." And I've only been around a few years, and I've never had anyone confess it to me either.
Wow. That means we're probably all guilty of covetousness, without even realising it.
MacArthur says:
Be honest: the bigger thing, the better thing, more money, promotion, bigger house, bigger car – this is a temptation for all of us – nicer clothes, all of these things. And it's a very serious thing. God says, "I want you to be, in a word, satisfied." Godliness with contentment is really being rich, isn't it.
Yet, interestingly, as I write this, government restrictions on coronavirus are driving economies around the world into meltdown: 'Shares may go down, as well as up'.
Both our commentators encourage us to be happy with what we have at the time. I know that is difficult to swallow right now. People are currently losing their jobs: hospitality workers, certain retail workers, self-employed shopkeepers as well as some artisans and tradesmen. The list goes on. They have rent or mortgages to pay and families to support. Life is going to get very difficult for them. Let's remember to patronise their businesses, have a friendly chat with them and, at home, pray for them.
We are all going to feel the pain in one way or another, just wait. This will not get better for the foreseeable future.
This isn't a matter of not having enough loo roll or bags of pasta, this is going to be a disaster. That's not even mentioning civil liberties. But, I digress.
Therefore, we need to commit the end of verse 5 …
for he has said, "I will never leave you nor forsake you."
… and verse 6 to our hearts and minds:
So we can confidently say,
"The Lord is my helper;
    I will not fear;
what can man do to me?"
Even though a lot of us will be unable to attend church for the next few weeks, because of coronavirus, we can spend that time reading the Bible and reflecting on our faith in prayer.
Let us also remember our clergy in our prayers, particularly during this time. They, too, have taken difficult decisions in closing churches.
We can reflect on the good example they have shown us and imitate it as best we can (verse 7). That might include praying more, leading a deeper spiritual life, exercising more kindness and patience towards others.
Finally, we come to my favourite verse in the Bible (verse 8):
Jesus Christ is the same yesterday and today and forever.
Jesus had unlimited, boundless love during his earthly ministry, and He shows that same love for us not only today but for eternity. What He considered good in the Gospel stories, He still considers good. What Jesus considered evil during his earthly ministry, He still considers evil. He died for our sins and, sitting at the right hand side of the Father, His redemption continues to hold good, today and forever.
Jesus is our ultimate role model, therefore, let us be Christlike, as MacArthur explains:
Your first group of examples? Men. The supreme example, who? Jesus Christ, who never varies, who never changes. And you notice it uses His earthly name, Jesus. Uses His earthly title, Messiah, Christ. Why? Because it's presenting an earthly pattern. He says to them – watch – "Follow the men who were your leaders," but – oh, if you really want to pattern your life, pattern it after the human Jesus.
Let me ask you something. You want to see sustained love? The first ethic we talked about. You want to see sustained love? Who are you going to see it in better than anybody else? John 13, "Jesus having loved them" – loved them what? – "unto the end." Sustained love. You want to see sympathy? Who you going to see it in? Who you going to see sympathy in? You hear it in John. He goes to the grave of Lazarus, and He begins to do what? To weep. You want to see sexual purity? You'll see it in Jesus like you'll never see it anywhere else. As He denounces the vile sin of sexual immorality in John 8 and then cleanses the immoral woman.
You want to see satisfaction? Contentment? You'll hear it when Jesus says, "My meat is to do the will of Him that sent me." You'll hear it when He says, "The foxes have holes, birds of the air have nests, but the Son of man hath not where to lay his head." That's satisfaction. You want to hear steadfastness? Listen to Him in Matthew 4, as Satan confronts Him three times, and three times He says no. "I'll trust God's Word, I reject yours." Steadfast. You want to see separation from the world? Listen to His prayer in John 17:16, He said, "Father, they are not of the world, even as I am not of the world."
You want to see sacrifice? Listen to the Apostle Paul in Ephesians 5:2 when he says, "And walk in love as Christ also loved us" – listen – "and hath given Himself for us an offering and a sacrifice to God as a sweet-smelling savor." Never a greater sacrifice than His. You want to see submission? Listen to Jesus in the garden as He prays, "Not my will" – what? – "Thine be done." You want to see supplication? Watch Him in the garden as He prays for Himself, for His disciples, and for all the Christians who would ever be born in the world.
My friends, the perfect example, the unchanging-yesterday-today-and-forever example is Jesus Christ. The ethics, great. The example, look at Jesus and mimic Him. And you also will find Him reproduced in the lives of men after whom you can pattern your lives.
I hope that this will give us spiritual encouragement and sustainment now and in future.
I also hope this apologetic explains the tenets of the Christian life we are called to live.
Yesterday's post on Democrat support for abortion featured Pete Buttigieg and a Fordham University bioethics professor who was so distraught by the mayor's pro-choice stance that he resigned from the board of Democrats for Life.
Last week, the Revd Franklin Graham was astonished to hear Bernie Sanders say that being 'pro-choice' — supporting abortion — was part and parcel of being a Democrat:
The son of the late Billy Graham rightly wondered where the 'outcry' was against such a stance.
The Breitbart article of February 12 linked in the tweet tells us that Graham sent a sharp warning about socialism before urging Christians to 'wake up' (emphases mine):
The evangelical leader went on to urge Christians to wake up to what is happening in the Democrat party and to take to heart their civic duty to vote.
"This is an example of why it is so important for people of faith to research who you vote for in every election and understand where they stand on issues that are important to you," he said.
"I urge Christians to pray for our nation, our leaders, and the upcoming elections, from local to national. Make sure that you are registered to vote, otherwise we will lose our country," he warned.
True.
This November, Republicans, the supporters of the rights of the unborn — and, yes, as God's creation, the unborn do have rights — need to win back the House of Representatives and maintain, if not increase, their majority in the Senate.
I despair of notional Christians, including clergy, who are lukewarm on the subject of abortion. They laud the Democrats as the only politicians with ethics. The way it looks to many of us, even overseas, is that most Democrat politicians lack ethics, pure and simple. I am struggling to think of any in the House or Senate who deal honestly and fairly.
One thing is for sure: most Democrats no longer support life in the womb.
William 'Bill' Pelham Barr is America's current attorney general.
He has been in various government positions since the Reagan years in the 1980s.
Prior to that, he was a member of the CIA between 1973 and 1977, after having served as a summer intern in 1971 and 1972.
Between 1982 and 1983, he served in the Reagan White House as Deputy Assistant Director for Legal Policy on a domestic level.
He built his legal career at the law firm of Shaw, Pittman, Potts & Trowbridge from 1978 to 1982, resuming after he left his position with Reagan in 1983. He remained with the firm until 1989.
During the George HW Bush years, he began working as assistant attorney general for the Office of Legal Counsel in 1989. In 1990, he became deputy attorney general before being promoted the following year to acting attorney general. Later in 1991, he was appointed attorney general after an unusually smooth two-day confirmation hearing. He served in that capacity until 1993.
In 1994, he re-entered the private sector and worked for GTE Corporation as executive vice president and general counsel.
In 2009, he joined the law firm of Kirkland & Ellis, then left to work as a consultant for various corporations, advising them on government enforcement matters and regulatory litigation issues. He rejoined Kirkland & Ellis in 2017.
During President Trump's first two years in office, Barr, unsolicited, came to his aid, defending the president's outspoken statements, including those about Hillary Clinton. In another unsolicited move, Barr sent a 20-page memo to the Department of Justice criticising the Mueller investigation, even though Robert Mueller and his wife are close friends of Barr and his wife.
In December 2018, Trump nominated Barr for the attorney general position to succeed Jeff Sessions. He was sworn in on Valentine's Day 2019.
As for his personal life, both his father and mother were educators. His mother, Mary Margaret Ahern, lectured at Columbia University. She brought her son up as a Roman Catholic. She must have had a strong influence in matters religious at home, because Barr's father, Donald, converted from Judaism and became a Catholic. He is probably best known for being headmaster at the Dalton School in Manhattan in the early 1970s.
Barr attended Columbia University, earning his BA in government in 1971 and an MA in government and Chinese studies in 1973.
He earned his law degree in 1977 at George Washington University Law School, graduating with highest honours.
Barr married Christine Moynihan in 1973. The Barrs have three daughters, all of whom have government jobs.
Barr is an avid bagpiper and is a past member of the City of Washington Pipe Band.
——————————————————————————
On Friday, October 11, 2019, William Barr spoke at the University of Notre Dame, just outside of South Bend, Indiana.
He addressed the university's law school and de Nicola Center for Ethics and Culture.
These are the headlines:
I am most grateful to one of my readers, GA/FL, who supplied me with the link to the transcript of his talk at Notre Dame.
Excerpts follow, emphases mine.
Barr began by explaining what America's Founding Fathers had in mind for religious freedom. This differs to the false secularist narrative so prevalent today:
From the Founding Era onward, there was strong consensus about the centrality of religious liberty in the United States.
The imperative of protecting religious freedom was not just a nod in the direction of piety. It reflects the Framers' belief that religion was indispensable to sustaining our free system of government.
In his renowned 1785 pamphlet, "Memorial and Remonstrance Against Religious Assessments," James Madison described religious liberty as "a right towards men" but "a duty towards the Creator," and a "duty….precedent both in order of time and degree of obligation, to the claims of Civil Society."
It has been over 230 years since that small group of colonial lawyers led a revolution and launched what they viewed as a great experiment, establishing a society fundamentally different than those that had gone before.
They crafted a magnificent charter of freedom – the United States Constitution – which provides for limited government, while leaving "the People" broadly at liberty to pursue our lives both as individuals and through free associations.
This quantum leap in liberty has been the mainspring of unprecedented human progress, not only for Americans, but for people around the world.
He went on to say that this philosophy began to change in the late 20th century, continuing on to the present day. I was particularly struck by the ever rising rates of illegitimate births, statistics that rarely see the light of day:
I think we all recognize that over the past 50 years religion has been under increasing attack.
On the one hand, we have seen the steady erosion of our traditional Judeo-Christian moral system and a comprehensive effort to drive it from the public square.
On the other hand, we see the growing ascendancy of secularism and the doctrine of moral relativism.
By any honest assessment, the consequences of this moral upheaval have been grim.
Virtually every measure of social pathology continues to gain ground.
In 1965, the illegitimacy rate was eight percent. In 1992, when I was last Attorney General, it was 25 percent. Today it is over 40 percent. In many of our large urban areas, it is around 70 percent.
Along with the wreckage of the family, we are seeing record levels of depression and mental illness, dispirited young people, soaring suicide rates, increasing numbers of angry and alienated young males, an increase in senseless violence, and a deadly drug epidemic.
As you all know, over 70,000 people die a year from drug overdoses. That is more casualities in a year than we experienced during the entire Vietnam War.
I will not dwell on all the bitter results of the new secular age. Suffice it to say that the campaign to destroy the traditional moral order has brought with it immense suffering, wreckage, and misery. And yet, the forces of secularism, ignoring these tragic results, press on with even greater militancy.
Among these militant secularists are many so-called "progressives." But where is the progress?
We are told we are living in a post-Christian era. But what has replaced the Judeo-Christian moral system? What is it that can fill the spiritual void in the hearts of the individual person? And what is a system of values that can sustain human social life?
The fact is that no secular creed has emerged capable of performing the role of religion.
Scholarship suggests that religion has been integral to the development and thriving of Homo sapiens since we emerged roughly 50,000 years ago. It is just for the past few hundred years we have experimented in living without religion.
We hear much today about our humane values. But, in the final analysis, what undergirds these values? What commands our adherence to them?
What we call "values" today are really nothing more than mere sentimentality, still drawing on the vapor trails of Christianity.
He cautioned that we should not consider this to be a short-term trend. It is becoming ever pervasive, with serious effects:
We have all thought that after a while the "pendulum will swing back."
But today we face something different that may mean that we cannot count on the pendulum swinging back.
First is the force, fervor, and comprehensiveness of the assault on religion we are experiencing today. This is not decay; it is organized destruction. Secularists, and their allies among the "progressives," have marshaled all the force of mass communications, popular culture, the entertainment industry, and academia in an unremitting assault on religion and traditional values.
These instruments are used not only to affirmatively promote secular orthodoxy, but also drown out and silence opposing voices, and to attack viciously and hold up to ridicule any dissenters.
One of the ironies, as some have observed, is that the secular project has itself become a religion, pursued with religious fervor. It is taking on all the trappings of a religion, including inquisitions and excommunication.
Those who defy the creed risk a figurative burning at the stake – social, educational, and professional ostracism and exclusion waged through lawsuits and savage social media campaigns.
The pervasiveness and power of our high-tech popular culture fuels apostasy in another way. It provides an unprecedented degree of distraction …
But, as Blaise Pascal observed, instead of grappling with these questions, humans can be easily distracted from thinking about the "final things."
He also warned about our increasing dependence on government to resolve moral and social problems. Previously, individuals took it upon themselves to rectify their personal lives for the better:
But today – in the face of all the increasing pathologies – instead of addressing the underlying cause, we have the State in the role of alleviator of bad consequences. We call on the State to mitigate the social costs of personal misconduct and irresponsibility.
So the reaction to growing illegitimacy is not sexual responsibility, but abortion.
The reaction to drug addiction is safe injection sites.
The solution to the breakdown of the family is for the State to set itself up as the ersatz husband for single mothers and the ersatz father to their children.
The call comes for more and more social programs to deal with the wreckage. While we think we are solving problems, we are underwriting them.
We start with an untrammeled freedom and we end up as dependents of a coercive state on which we depend.
Interestingly, this idea of the State as the alleviator of bad consequences has given rise to a new moral system that goes hand-in-hand with the secularization of society. It can be called the system of "macro-morality." It is in some ways an inversion of Christian morality.
Christianity teaches a micro-morality. We transform the world by focusing on our own personal morality and transformation.
The new secular religion teaches macro-morality. One's morality is not gauged by their private conduct, but rather on their commitment to political causes and collective action to address social problems.
This system allows us to not worry so much about the strictures on our private lives, while we find salvation on the picket-line. We can signal our finely-tuned moral sensibilities by demonstrating for this cause or that.
And there is more to the story. We are using law as a weapon:
A third phenomenon which makes it difficult for the pendulum to swing back is the way law is being used as a battering ram to break down traditional moral values and to establish moral relativism as a new orthodoxy.
Law is being used as weapon in a couple of ways.
First, either through legislation but more frequently through judicial interpretation, secularists have been continually seeking to eliminate laws that reflect traditional moral norms.
At first, this involved rolling back laws that prohibited certain kinds of conduct. Thus, the watershed decision legalizing abortion. And since then, the legalization of euthanasia. The list goes on.
More recently, we have seen the law used aggressively to force religious people and entities to subscribe to practices and policies that are antithetical to their faith.
The problem is not that religion is being forced on others. The problem is that irreligion and secular values are being forced on people of faith.
This reminds me of how some Roman emperors could not leave their loyal Christian subjects in peace but would mandate that they violate their conscience by offering religious sacrifice to the emperor as a god.
Similarly, militant secularists today do not have a live and let live spirit – they are not content to leave religious people alone to practice their faith. Instead, they seem to take a delight in compelling people to violate their conscience.
For example, the last Administration sought to force religious employers, including Catholic religious orders, to violate their sincerely held religious views by funding contraceptive and abortifacient coverage in their health plans. Similarly, California has sought to require pro-life pregnancy centers to provide notices of abortion rights.
This refusal to accommodate the free exercise of religion is relatively recent. Just 25 years ago, there was broad consensus in our society that our laws should accommodate religious belief.
In 1993, Congress passed the Religious Freedom Restoration Act – RFRA. The purpose of the statute was to promote maximum accommodation to religion when the government adopted broad policies that could impinge on religious practice.
At the time, RFRA was not controversial. It was introduced by Chuck Schumer with 170 cosponsors in the House, and was introduced by Ted Kennedy and Orrin Hatch with 59 additional cosponsors in the Senate. It passed by voice vote in the House and by a vote of 97-3 in the Senate.
Recently, as the process of secularization has accelerated, RFRA has come under assault, and the idea of religious accommodation has fallen out of favor.
Because this Administration firmly supports accommodation of religion, the battleground has shifted to the states. Some state governments are now attempting to compel religious individuals and entities to subscribe to practices, or to espouse viewpoints, that are incompatible with their religion.
This is not restricted to adults. American schools are making certain sex education and identity politics courses mandatory, even for young children:
The first front relates to the content of public school curriculum. Many states are adopting curriculum that is incompatible with traditional religious principles according to which parents are attempting to raise their children. They often do so without any opt out for religious families.
Thus, for example, New Jersey recently passed a law requiring public schools to adopt an LGBT curriculum that many feel is inconsistent with traditional Christian teaching. Similar laws have been passed in California and Illinois. And the Orange County Board of Education in California issued an opinion that "parents who disagree with the instructional materials related to gender, gender identity, gender expression and sexual orientation may not excuse their children from this instruction."
Indeed, in some cases, the schools may not even warn parents about lessons they plan to teach on controversial subjects relating to sexual behavior and relationships.
This puts parents who dissent from the secular orthodoxy to a difficult choice: Try to scrape together the money for private school or home schooling, or allow their children to be inculcated with messages that they fundamentally reject.
Some states are also restricting funds to religious schools:
A second axis of attack in the realm of education are state policies designed to starve religious schools of generally-available funds and encouraging students to choose secular options. Montana, for example, created a program that provided tax credits to those who donated to a scholarship program that underprivileged students could use to attend private school. The point of the program was to provide greater parental and student choice in education and to provide better educations to needy youth.
But Montana expressly excluded religiously-affiliated private schools from the program. And when that exclusion was challenged in court by parents who wanted to use the scholarships to attend a nondenominational Christian school, the Montana Supreme Court required the state to eliminate the program rather than allow parents to use scholarships for religious schools.
It justified this action by pointing to a provision in Montana's State Constitution commonly referred to as a "Blaine Amendment." Blaine Amendments were passed at a time of rampant anti-Catholic animus in this country, and typically disqualify religious institutions from receiving any direct or indirect payments from a state's funds.
The case is now in the Supreme Court, and we filed a brief explaining why Montana's Blaine Amendment violates the First Amendment.
Barr said that the only solution to this dangerous trend is go back to Judeo-Christian basics by addressing moral education at home, rather than depending on government institutions:
We understand that only by transforming ourselves can we transform the world beyond ourselves.
This is tough work. It is hard to resist the constant seductions of our contemporary society. This is where we need grace, prayer, and the help of our church.
Beyond this, we must place greater emphasis on the moral education of our children.
Education is not vocational training. It is leading our children to the recognition that there is truth and helping them develop the faculties to discern and love the truth and the discipline to live by it.
We cannot have a moral renaissance unless we succeed in passing to the next generation our faith and values in full vigor.
The times are hostile to this. Public agencies, including public schools, are becoming secularized and increasingly are actively promoting moral relativism.
If ever there was a need for a resurgence of Catholic education – and more generally religiously-affiliated schools – it is today.
In conclusion, Barr spoke these lines during the middle of his speech. However, they are to me the most enduring now and in future:
For anyone who has a religious faith, by far the most important part of exercising that faith is the teaching of that religion to our children. The passing on of the faith. There is no greater gift we can give our children and no greater expression of love.
I couldn't agree more.
Little Alfie Evans, born on May 9, 2016, died in the early hours of the morning on Saturday, April 28, 2018.
He spent much of his short life in a 'semi-vegetative' state:
and has a degenerative neurological condition doctors had not definitively diagnosed.
Specialists say his brain has been "eroded".
Alfie's parents, Tom Evans, 21, and Kate James, 20, had been in courts in the UK and Europe in an effort to save their son.
On Monday, April 16, the couple's lawyer asked British Court of Appeals judges to allow the child to travel to Italy for life-saving treatment, but three judges — Lord Justice Davis, Lady Justice King and Lord Justice Moylan — ruled against the appeal.
Earlier this year, in February (emphases mine):
Mr Justice Hayden ruled that doctors at Alder Hey Children's Hospital in Liverpool could stop treating Alfie against the wishes of his parents following hearings in the Family Division of the High Court in London and Liverpool.
Specialists at Alder Hey said life-support treatment should stop and Mr Justice Hayden said he accepted medical evidence which showed that further treatment was futile.
Alfie's parents want to move their son from Alder Hey to a hospital in Rome.
The couple said Italian doctors are willing to treat the little boy and an air ambulance is available.
But Mr Justice Hayden said flying Alfie to a foreign hospital would be wrong and pointless.
Court of Appeal judges upheld his decisions.
Supreme Court justices and European Court of Human Rights judges refused to intervene.
They are now arguing that Alfie is being wrongly "detained" at Alder Hey and have made a habeas corpus application.
A writ of habeas corpus – Latin for "you may have the body" – is a legal manoeuvre which requires a court to examine the legality of a detention …
Mr Justice Hayden dismissed that habeas corpus claim last week.
Appeal judges upheld Mr Justice Hayden's decision but said doctors should keep treating Alfie pending a Supreme Court decision.
By April 24, Alfie, at Alder Hey and off life support, was still alive:
Doctors have been left "gobsmacked" after Alfie Evans' life-support was withdrawn but he continued to live, his father has said.
Tom Evans said it was obvious that the youngster was breathing unassisted "within a few minutes" of life-support being withdrawn on Monday night …
Speaking outside Alder Hey Children's Hospital in Liverpool on Tuesday morning, his father said Alfie's life-support should be reinstated due to his remarkable progress.
"He is still working, he's doing as good as he can," he told reporters …
"Because he's been doing it for nine hours totally unexpected, the doctors are gobsmacked and I do believe he will need some form of life-support in the next couple of hours and I think he ought to be respected and given that."
Alfie's parents want treatment to continue and want to fly him to a hospital in Rome.
The Italian government had already taken care of foreseeable issues:
His case has been highlighted by the Pope, who expressed support for the couple, and he has been granted Italian citizenship.
Amazing.
Alfie's father had to persuade Alder Hey doctors to give the little mite oxygen and water. Why wouldn't they have done that of their own accord?
Mr Evans said that he had a "lengthy talk" with doctors and pleaded with them to give his son oxygen.
"They left him for six hours without food, water and oxygen," he said.
"I felt blessed when they confirmed they were going to give him his water and his oxygen.
"He's now on oxygen. It's not changing his breathing but it's oxygenating his body."
Also on April 24, LifeNews.com reported that the air ambulance was actually at the hospital ready to transport little Alfie to Rome:
An air ambulance has arrived outside the hospital where little Alfie Evans is located. Alfie has breathed on his own and has survived for over 18 hours after the Children's Hospital yanked his life support.
Alfie has defied doctors' expectations to this point and his parents are headed back to court to fight for his life further. They are hoping to be able to get life support restored and also want to be able to take him to Italy, which granted him citizenship yesterday …
As one British media outlet reports, "Paul Diamond, who will represent the parents this afternoon, is expected to argue that it cannot be in Alfie's best interests to be left at Alder Hey Hospital and that he should instead be flown overseas – with an air ambulance already ready and waiting."
"He will argue that Alfie should be allowed to travel to Italy where doctors are ready to care for him," according to the Christian Legal Centre (CLC). The organization said the aircraft was on hand to transport the little boy to a hospital in the country. "The court and the hospital should welcome the intervention of the Italian government and let Alfie travel to Italy."
A representative of the Italian Embassy would attend the hearing.
The pope tweeted:
It didn't matter. Later that day, LifeNews.com posted an update:
The judge in the case just prohibited Alfie's family from taking him to Italy for care and treatment and potential experimental treatment for his rare degenerative neurological disorder.
The article went on to say that many people were critical of the courts' callous decisions, including physicians and healthcare experts:
Today, a British doctors group, The Medical Ethics Alliance, expressed its horror over the treatment of Alfie Evans that it called a "medical tyranny."
And Italy's Healthcare Chief has slammed the decisions by UK courts to treat Alfie the way that they have. The President of the Italian National Institute of Health lambasted the UK High Court's decision yesterday on Alfie Evans' that resulted it the children's hospital being allowed to remove life support over Alfie's parents' objections.
On Wednesday, April 25, news emerged (BT.com) that, despite everything being in place — including a German air ambulance — Mr Justice Hayden, ruling from Manchester, would not allow Alfie to travel to Italy; Alfie could only return to his home from Alder Hey. Yet, hope continued as the case would be heard again that afternoon:
A spokeswoman for the Christian Legal Centre, representing Alfie's parents, said the case is due to be heard at the Court of Appeal on Wednesday afternoon.
On Tuesday a judge ruled the boy may be allowed home from Alder Hey Children's Hospital, but will not be allowed to go to Rome for further treatment.
The 23-month-old confounded doctors' expectations when he continued to live after life-support was withdrawn on Monday night, his father, Tom Evans, said.
"The court of appeal have reached out to us and said they are going to set back three judges to hear the case," Mr Evans told reporters outside hospital on Tuesday night.
"In reality, he could be in Italy right now. We all know the military air force are ready to take him and a team of doctors are there.
"We've also got a German air ambulance team, who attempted to take him in the first place, ready… the reality is these people are eager to get him out of the country and I'm not giving up because Alfie's breathing away, he's not suffering."
This is where the story gets stranger:
At an earlier High Court hearing in Manchester, Mr Justice Hayden described Alfie as "courageous" and a "warrior", but said the case had now reached its "final chapter".
He rejected claims by Mr Evans that his son was "significantly better" than first thought because he had been breathing unaided for 20 hours after doctors first withdrew life support.
Instead, the judge said the best Alfie's parents could hope for was to "explore" the options of removing him from intensive care either to a ward, a hospice or his home.
But a doctor treating Alfie, who cannot be named for legal reasons, said that for Alfie to be allowed home would require a "sea change" in attitude from the child's family, and they feared that in the "worst case" they would try to take the boy abroad.
Mr Justice Hayden ruled out the family's wishes to take the child to the Bambino Gesù hospital in Rome, following interventions from the Pope and the Italian authorities.
Meanwhile, the child's story attracted the attention of the Polish president:
Merseyside Police announced they were monitoring social media, which attracted critical responses:
However, Wednesday's hearing produced no positive news and was the final legal challenge. BT.com reported:
The parents of Alfie Evans have failed in an 11th-hour attempt to persuade judges to let them move the terminally-ill youngster to a foreign hospital …
A High Court judge ruled against them on Tuesday and three Court of Appeal judges dismissed a challenge to that decision on Wednesday.
Lawyers representing Alder Hey bosses said Alfie's condition was irreversible and there was no evidence that it had changed.
They said the fact that he had continued to breathe unaided might have surprised members of the public but had not surprised specialists.
Barrister Michael Mylonas QC, who led Alder Hey's legal team, said it had never been suggested that Alfie would die as soon as life-support treatment stopped.
He said the couple's challenge should be dismissed.
Barrister Sophia Roper, who represents Alfie and takes instructions from a court-appointed guardian, agreed.
Lord Justice McFarlane, who headed the appeal court panel of judges, said Alfie's parents were trying to take "one last chance".
But he said there was no prospect of the couple's challenge succeeding.
He said Alfie was in "the middle" of a palliative care plan.
The two other appeal judges, Lady Justice King and Lord Justice Coulson, agreed.
Lady Justice King said there was "acceptance" that Alfie was dying.
It is unclear to the average person why a baby with his parents around him would need a court-appointed guardian.
A greater question remains: why would a court forbid loving parents to take their child out of the country for medical treatment when a) transport is at the hospital and b) doctors are on standby at the final destination? It is very strange.
On the morning of Thursday, April 26, BT.com reported that, despite the court's decision the previous day, Alfie's father was not giving up on his son's life:
The parents of Alfie Evans are expected to meet doctors to discuss taking their terminally ill son home.
Speaking outside Alder Hey Children's Hospital in Liverpool on Thursday, his father Tom Evans, 21, said he hoped to have a "positive" meeting with medical staff …
Mr Evans told reporters: "He's been off a ventilator for three days now, there's been no deterioration.
"He hasn't woke up, he's still a little bit weak, but what we ask for is to go home to sustain his life."
He said the family still had "appeals to explore".
Mr Evans added: "All I ask for now is for this meeting to be a positive one, and I hope to have Alfie, on the terms of mine and Alder Hey, to be home within a day or two.
"If the meeting doesn't go well today, well then, I'll go back to court."
He accused doctors at the hospital of being "wrong" about their diagnosis: "Alfie lives, comfortably, happily, without ventilation, without any form of ventilation.
"That must be enough for you now to consider that Alfie may prove you wrong."
Alfie and his parents attracted much local support:
The hospital was unhappy:
Police remained outside the hospital on Thursday, after Alder Hey said its staff had experienced "unprecedented personal abuse".
In an open letter, the hospital chairman Sir David Henshaw and chief executive Louise Shepherd: "Having to carry on our usual day-to-day work in a hospital that has required a significant police presence just to keep our patients, staff and visitors safe is completely unacceptable."
What else was the public to think other than that human rights were at stake, seeing court-controlled families?
Furthermore, why wouldn't a physician would agree to let a baby and his parents travel to another country if they could get life-saving treatment?
Of course people are going to be upset. After all of this stonewalling, emotions were running high.
Public doubt and bemusement about Alfie's situation only increased on the morning of Friday, April 27, when an NHS physician appeared on ITV's This Morning. CNSnews.com has the story (emphases in the original):
Forcing 23 month-old Alfie Evans to die by starvation "is not killing," Dr. Ranj Singh argued on U.K.'s "This Morning" ITV program Friday, Express reports.
Withdrawing life-support and refusing to allow Alfie's parents to take him home, feed and care for him, is, instead merely "redirecting care," Dr. Singh said:
"This is not the killing of a child – this is redirecting care to make them more comfortable."
… Dr. Singh doubled down on his claim, framing the withdrawal of life support as a way to make patients more comfortable and give them "the most dignifying life":
"Withdrawing life support is not killing someone. It is redirecting care to make them more comfortable and give them the most dignifying life that you can."
Dr. Singh also said pro-life Alfie supporters outside the Alder Hey Hospital protesting to save Alfie's life are behaving "disgustingly":
"There's a small proportion who have – I will say it – behaved disgustingly."
Perhaps, but it is hard to have empathy for a medical institution who will not allow a patient to seek treatment elsewhere.
That day, LifeNews.com reported that the Evans family had asked for protests to ease so that Alfie's parents could work with the hospital for his release (emphases mine):
As LifeNews reported, Alfie Evans' father Tom Evans called for supporters of Alfie and his family to "stand down" so they can begin "building a bridge" with Alder Hey Children's Hospital and its staff.  The statement from Alfie's father was surprising given the animosity that had developed between the Evans family and the hospital …
But perhaps seeing that there is little opportunity left to fight for Alfie's rights and their right to take him abroad or take him home or sensing a need to appease the hospital to bring him home, Tom Evans is now striking a conciliatory tone.
Now, Alfie's uncle Daniel Evans has posted on Facebook that he believes things are progressing to a point where Alfie could go home soon.
Evans also hinted that protests could continue if Alder Hey officials don't send Alfie home. Daniel Evans said Alfie's dad Tom didn't want to approach the press or have any further protests, but added that this would be "until something changes with the hospital."
He wrote: "I have seen that people are believing this is the end of Alfie's army? Tom has released a statement that states he will not approach media or want any protests. This will be until something changes with the hospital but we hope and pray it doesn't."
He continued: "They aim to get him where they have always desperately wanted him HOME. And with today's positive meeting this could be a goal complete for Tom and Kate. I will continue to update when necessary."
On Saturday, April 28, Alfie breathed his last. BT.com reported:
The parents of Alfie Evans have said they are "heartbroken" after their son died on Saturday morning.
The 23-month-old – who was being treated at Alder Hey Children's Hospital in Liverpool – died at 2.30am, Kate James and Thomas Evans said on Facebook.
The post said: "Our baby boy grew his wings tonight at 2:30 am. We are heart broken. Thankyou everyone for all your support."
Alder Hey offered their condolences — posted on their website. Think of the staff:
In a statement issued on its website, Alder Hey Children's Hospital said: "We wish to express our heartfelt sympathy and condolences to Alfie's family at this extremely distressing time.
"All of us feel deeply for Alfie, Kate, Tom and his whole family and our thoughts are with them.
"This has been a devastating journey for them and we would ask that their privacy and the privacy of staff at Alder Hey is respected."
The family of Alfie Evans said they have been left "shattered" by his death, as more than 1,000 supporters gathered to release balloons in his memory.
The terminally ill 23-month-old, who was being treated at Alder Hey Children's Hospital in Liverpool, died at 2.30am on Saturday, his parents Kate James and Thomas Evans said.
Hundreds gathered in Springfield Park, next to the hospital, to release blue and purple balloons in his memory at 2.51pm – exactly 12 hours after he was officially pronounced dead.
Mr Evans and Ms James, both in their early 20s, did not attend the event but Mr Evans's sister Sarah told the crowd: "I just want to thank you all for coming today …
In an editorial for Fox News, Newt Gingrich reminded his readers that life comes from God. He also mentioned another relatively recent British case involving the late, little Charlie Gard. Please read it all. An excerpt follows:
The secular system has asserted its right to define what lives are worth living and is determined to prevent its authority from being questioned. Alfie Evans' life – like Charlie Gard's before him – has been determined to be limited by the standards of the secular state, and therefore without value.
These tragic government-imposed death sentences for innocent infants should frighten all of us about increasing secularism in society and the steady shift towards a totalitarian willingness to control our lives – down to and including ending them – on the government's terms.
This is a direct assault on the core premise of the Declaration of Independence. We Americans asserted that we "are endowed by (our) Creator with certain unalienable Rights, that among these are Life, Liberty, and the Pursuit of Happiness." In the American Revolution, in our fight against the British crown, we asserted that rights come from God – not from government.
However, our secular, liberal culture increasingly dismisses the concept of God and asserts that our rights come from a rational contract enforced by government.
In the original American model, we asserted our God-given rights against the power of a potentially tyrannical government. In the emerging left-wing secular order, since there is no God our rights depend on a secular state controlling itself.
Britain is giving us a vivid, tragic sense of how dangerous and heartless government tyranny can be once God is rejected and there is nothing between us and the government.
Ironically, this latest decision was made the same year Stephen Hawking died – 55 years after he was diagnosed with ALS (commonly known as Lou Gehrig's disease) and told he had only two years to live.
Apparently, the British government learned no lessons from Hawking's remarkable lifetime of work and achievement, which he pursued despite having to battle an extraordinarily challenging illness…
When you read about these two babies being denied life support by a supposedly free government, remember what John Donne warned when he wrote "any man's death diminishes me, because I am involved in Mankind, and therefore never send to know for whom the bell tolls; it tolls for thee."
In these two years, we have seen two babies effectively sentenced to death by a government we would once have considered humane. What will the next horror be?
Breitbart has an excellent article not only on Alfie Evans and Charlie Gard but also on other children — mostly in the UK — who ran up against the system. These cases have attracted international attention:
The ill toddler [Alfie] joins a list of other children removed from life support against their parents' wishes, whose stories have touched the hearts of people around the world and whose fight for their short lives found the support from high-profiled figures such as Pope Francis, Polish President Andrzej Duda, European Parliament President Antonio Tajani, and U.S. President Donald J. Trump.
Charlie Gard was treated at London's Great Ormond Street Children's Hospital, known for its clinical excellence. However, they were not only unable to treat the baby's mitochondrial condition, they also refused — with the aid of the courts — to release him to receive treatment outside of the UK:
The courts ordered the hospital take the child off life support, despite the Gards fundraising over one million pounds for Charlie's transportation and private hospital care, and numerous figures pledging their help and support including Pope Francis and U.S. President Donald Trump. Baby Charlie died on July 28th, 2017.
During one of the Gards' many court cases, the family spokesman addressed media to say that Charlie had "effectively being taken prisoner by the NHS and by the State", asking: "Whose child is he? Is he the state's child? Is he the NHS's child? Or does this child belong to the parents?"
Earlier this year, on March 7, one-year-old Isaiah Haastrup died at King's College Hospital in London. Isaiah's mother had a difficult delivery at the hospital, also known for its clinical excellence:
Within a month of the European Court of Human Rights (ECHR) rejecting the Evanses plea to overturn Alder Hey's decision for the first time, on March 6th, Lanre Haastrup and Takesha Thomas lost their battle at the Strasbourg court to stop King's College Hospital doctors from removing life support from their son Isaiah.
Isaiah suffered brain damage during his mother's complicated labour — which King's College Hospital admitted it was partly responsible for, due to "specific issues in monitoring" during his birth.
At one point, the hospital was denying Mr. Haastrup visitation of his son when he was near death, administrators claiming the father had 'verbally abused' hospital staff in an argument over the withdrawal of baby Isaiah's life support.
Another British life-support issue occurred with three-year-old Dylan Askin, who was suffering from a rare form of lung cancer:
In 2016, doctors told Kerry Askin that her three-year-old son Dylan would not survive his rare form of lung cancer, influencing the mother to decide to turn off his life support.
Mrs. Askin had her unresponsive son baptised on Good Friday and the family agreed to have him removed from life support.
However, instead of dying, Dylan improved. He's alive — and well — today:
After life support began to be removed, Mrs. Askin related that "once the muscle relaxant was turned off… we discovered he needed more sedation. Upon doing that he slowly improved!"
By Easter Sunday he was stabilised and discharged just two weeks later from hospital. Two years later, Dylan had beaten his illness.
Then there was the case of Ashya King in 2014, which was really awful:
Though not an end-of-life dispute, 2014 saw an analogous high profile battle over treatment options for five-year-old Ashya King that resulted in a so-called abduction, an international manhunt, and his parents' arrest.
British doctors in Southampton had diagnosed young Ashya with an aggressive brain tumour. They operated on his brain and told his parents he would need chemotherapy and radiotherapy.
Ashya's parents, Brett and Naghemeh King, thought that would be too much for the youngster. They wanted to take him to to the Czech Republic for proton therapy instead. This is where the drama started:
Doctors stood by their plan of treatment, so shortly after, Aysha's parents took him from Southampton General Hospital and boarded a ferry to France. The parents were arrested later in Malaga, Spain.
After extradition was denied, a High Court ruling agreed that Aysha could be taken to the Czech Republic for proton therapy.
The proton therapy was highly successful:
Three years later, Ashya was cleared of cancer and according to his father is playing and speaking again.
The Breitbart article also looked at an American case, that of two-year-old Israel Stinson whose life support system was turned off in 2016:
after a Los Angeles Superior Court judge dismissed a restraining order barring the hospital from doing so until September 8th.
Incredibly, had consulted Guatemalan doctors prior to going to California. The Guatemalan physicians allegedly said that:
his condition was improving and that he was not brain dead.
American political commentator Lew Rockwell posted an article originally on American Thinker. Columnist Joe Herring wrote about his grandson who has the same condition as Alfie Evans. Unlike Alfie, now with the angels, Herring's grandson recently turned 17.
Excerpts follow:
I see Joseph's innocence in Alfie's eyes, and I struggle with the marked physical resemblance between Alfie and Joseph at that age. I also vividly recall the doctors counseling my daughter to abort her pregnancy, to save her child from suffering.
"He will likely live 18 months, certainly no more than three years," they told us solemnly. Joseph celebrated his 17th birthday in February of this year …
In Britain's socialized medical system, second opinions are typically given by other NHS physicians, chosen not by the parents or the patient, but by the attending physician who gave the first opinion.  Unsurprisingly, second opinions in the NHS rarely overturn the first.  In this case, however, Alfie's parents were able to force the hospital to release records for outside review.
Unsurprisingly, Alder Hey's prognosis has not been confirmed by outside medical professionals.  Indeed, numerous outside experts vehemently disagree with Alder Hey's conclusions.
The disturbing truth is, the physicians of Alder Hey haven't even attempted to determine the cause of Alfie's distress, having decided within months of his birth that his life was not worth living.
In closing, a Telegraph reader made an excellent point (25 Apr 2018 11:42PM) on the misplaced hubris of the NHS and the erroneous death decisions the health service makes:
As one has argued…
"With Italian doctors willing to treat Alfie and a plane standing by to take him to Italy, with his parents desperate to take them up on that invitation, the only conceivable reason the UK would refuse to let him go is because they're terrified that he really might be successfully treated. If they're wrong on a question of life and death that's now being scrutinized internationally, no one would ever trust an NHS end-of-life assessment again."
Discuss.
Who can say fairer than that?
This must stop now.
In the meantime, my prayers and thoughts go to Alfie's parents, Tom Evans and Kate James. I thought about them all weekend. May the Lord comfort them in the months and years ahead.
Yesterday's post provided an update on Puerto Rico one week after Hurricane Maria hit.
This post has more news — from Puerto Rico, not the mainland — and will discuss the island's weak infrastructure.
Latest news
Someone on another site posted a PDF from The San Juan Daily Star dated Thursday, September 28, 2017.
The paper's articles refute the misinformation that the big American media outlets are reporting. Big media are trying to set up a crisis situation for President Donald Trump, when, in fact, the US government's response has been nothing short of excellent.
A summary of the articles follows. Emphases mine below.
'Lengthy Power Restoration Effort Seen in Puerto Rico: US Power Companies'
Damage assessments are still ongoing to determine what human and equipment resources are needed. The Electricity Subsector Coordinating Council (ESCC) is working with the US government and private electricity concerns, including the American Public Power Association (APPA) which represents the Puerto Rico Electric Power Authority (PREPA):
"We thank (U.S.) President (Donald) Trump for authorizing 100-percent cost sharing by the federal government for 180 days of emergency work to help begin the process of repairing damaged energy infrastructure," said APPA President and Chief Executive Sue Kelly …
The rates PREPA charged were not enough for the utility to maintain its infrastructure, in part due to ineffective collection efforts and longstanding mis-management that had left it in a $9 billion hole before declaring bankruptcy in July this year.
PREPA's equipment was already "degraded and unsafe," according to a draft fiscal report the company filed in April.
'FEMA Activating Army to Help Restore Energy Grid'
Alejandro de la Campa, FEMA director for Puerto Rico and the Caribbean, said that:
the federal agency will for the first time activate the Army to assist in the restoration of the electrical energy system on the island following the destruction wrought by Hurricane Maria.
The Army will work with PREPA.
In addition:
He also said FEMA will increase staff and resources for the island.
'Pentagon to Set Up Local Command Center, Send Hospital Ship'
This is about the anticipated arrival of USNS Comfort and Brigadier General Richard Kim's establishment of a command center to oversee reconstruction efforts.
Puerto Rico Resident Commissioner Jenniffer González Colón said:
"I am grateful to the federal executive branch for all the work they continue to do as well as my colleagues in Congress, who have expressed their full support for working for Puerto Rico."
'US Mulls Request by Lawmakers to Waive Shipping Limits on PR'
This is about lifting the Jones Act, which would enable non-US vessels to get fuel to Puerto Rico.
As I said yesterday — which this article supports — lifting the Jones Act is unnecessary because the necessary fuel is already in port. It just needs delivery across the island:
Puerto Rico has long railed against the Jones Act, saying it raises the cost of imported basic commodities, such as food, clothing and fuel. But the [Department of Homeland Security] official said that the Defense Department and the Federal Emergency Management Agency (FEMA) have not indicated there is a lack of ships to get food and goods to the island …
"The real challenges happen to be on the island itself," the official said, adding that there were plenty of U.S.-flagged barges and tugs available.
'DACO Chief Urges Around-the-Clock Deliveries for 500 "Operational" Gas Stations'
Michael Pierluisi Roja, the island's Consumer Affairs (DACO) director, announced that more than 500 filling stations are 'operational'. That means a) they are ready to receive fuel or b) already received it but ran out.
Roja wants fuel distributors and retailers to get on the ball:
Now, he said, "it is up to the distributors to put get on the ball and respond quickly, responsibly and urgently to the gas stations," he said. "We have done everything we can to ensure that they have operating conditions. Retailers who have not communicated with wholesalers should do so immediately and in whatever manner is necessary."
The official acknowledged that there are wholesalers who cannot operate at night due to the lack of electricity at the Yabucoa terminal.
And he also called on gasoline retailers "to allow consumers to fill their gas tanks, so they do not have to return daily to [wait in long lines] in the middle of the crisis."
'Federal Agents Now Escorting Some Gasoline Deliveries'
After describing efforts to get fuel deliveries out to various towns, there is notice from Puerto Rico's Public Affairs and Public Policy Secretary Ramón Rosario Cortés and Governor Ricardo Rosselló Nevares that it is time for public employees to get back to work:
Gov. Ricardo Rosselló Nevares said Tuesday that "government employees should report to their work stations" or, alternatively, public workers should report to the nearest headquarters of their agency or public corporation. If these are not operational, they should report to the nearest municipal Emergency Operations Center, "where their mayor will inform them where to receive aid."
Rosario Cortés added that "personnel working in school cafeterias and food stores, school teachers and directors should report to their workstations to help with school repairs."
Other news
An article on page 4 of the PDF lists all the relief activity to date.
Another says that 86 firefighters from the state of New York have arrived to help.
On page 5, there is an article about Puerto Rico Resident Commissioner Jenniffer González Colón's meetings in Washington with legislators and federal agencies about long-term recovery for Puerto Rico.
The generals involved
Big Media are making a big deal about the 'delay' in the appointment of a general to oversee recovery efforts.
However, they are wrong.
Thomas P Bossert, President Trump's assistant for Homeland Security and Counterterrorism, took questions from reporters at the White House Press Briefing on September 28. An excerpt from the transcript follows:
Q I'm not sure if I still understand — why has it taken eight days to get a three-star general on the ground to start organizing this? We know the island situation, et cetera. But why eight days?
MR. BOSSERT: Yeah, well, because it didn't require a three-star general eight days ago. Let me explain to you how the process works. It will be the best way of explaining the answer.
We have a three-star general in charge of this, and we had one in charge of this out of San Antonio from day minus-eight and day minus-two and all the way through until today. We forward-deployed a one-star general — a brigadier general — to take care of ground force command once we realized the problem of logistics distribution had outstripped the capacity of the affected municipal governments …
… the change, move here[,] on day eight was to take that three-star general and to put him there, physically located in the field. I don't anticipate he'll stay there long, but he needs to get there, have his eyes on it, and make sure that he's comfortable with the interaction between his forces and the governor and the municipal forces, because it's a little bit of a different business plan model in the field, and because it's unique and it's an island 1,100 or so miles away from the nearest land in Florida.
And so once he's satisfied, I think — or would expect that three-star general to recede back into his appropriate command structure. But for now, both he and his one-star subordinate command will be there in charge of ground forces and overall military marshals, and we'll end up with a lot more people there over the coming days to try to address this really significant problem and significant need.
The rest of Bossert's Q&A has more details on what has been done in Puerto Rico to date and what lies ahead.
Stars and Stripes has a good article from Monday, September 25, outlining all the military support that Puerto Rico will receive for the foreseeable future. In summary:
WASHINGTON – The Defense Department has dispatched about 2,600 troops to aid Hurricane Maria victims in the U.S. Virgin Islands and in Puerto Rico, where access to power and communications remained severely limited five days after the Category 4 storm struck the U.S. territory.
The military has focused primarily on conducting search and rescue operations, delivering life-sustaining supplies and providing generators and fuel to power critical infrastructure such as water treatment facilities and hospitals, Army Col. Rob Manning, a Pentagon spokesman, said Monday …
"We have the capability to do exactly what we're doing, and we're going to do all we can for the people of Puerto Rico and the Caribbean in the wake of these disastrous storms," he said. "This is a long-term effort. It's a marathon, not a sprint, and [the Defense Department] will continue to support them as long as support is needed."
Elderly electricity grid
Puerto Rico's electricity grid was in dire straits before Hurricanes Irma and Maria struck.
The Washington Examiner explains that the aforementioned PREPA mismanaged finances and lost a lot of manpower as workers moved to the United States:
PREPA's power plants are 44 years old on average, Reuters reported, compared to the industry-wide average of 18 years.
Puerto Rico derives most of its power from Venezuelan oil, and PREPA relied on selling bonds to pay for the imported oil it burned at its aging power plants that need billions of dollars worth of repairs.
Sensitive to price shocks in the oil market, PREPA charges the island's residents high rates, more than any U.S. state but Hawaii, according to the Energy Information Administration.
The power company is also grappling with a manpower shortage. PREPA has lost 30 percent of its employees since 2012 as locals migrate to the mainland to escape the island's financial woes and stagnant economy.
"The entire operation was failing both organizationally, and in the energy generation system and transmission and distribution systems," said Tom Sanzillo, the director of finance at the Institute for Energy Economics and Financial Analysis, told the Washington Examiner. "They were vulnerable. So the surprise to me is the electricity is on at all in Puerto Rico, with the storm or no storm. It is that serious and has been that serious."
In May 2017, Puerto Rico entered a process similar to bankruptcy protection in order to restructure $70 billion in debt. Congress appointed a board, PROMESA, to oversee the restructuring process.
Tom Bossert said at yesterday's press briefing that nothing had been determined yet about Puerto Rico's dire financial situation, but that the US government would certainly help rebuild not only the electricity grid — but also the island's water system:
Those are the two concerning elements where they're going to have to be rebuilt, they're going to have to be rebuilt under proper management, and they're going to have to be rebuilt under proper rebuilding codes and standards to make sure that they can withstand a future hurricane, and that we don't just go back to sticks and wires in the future.
So we're going to put federal money into this. We should do it wisely and prudently. I've said that from this podium here before. President Trump believes in that seriously. I don't think we're going to have to address the debt restructuring issue in this next go-around, but if we do, and if Congress wants us to, President Trump is up to that challenge.
Financial mismanagement
In 2016, a Republican congressman, John Fleming of Louisiana, took issue with Puerto Rico's dire financial situation and said he would vote against PROMESA. It's a moot point now, but these were his reasons as laid out in the Daily Signal:
Puerto Rico is facing a financial mess. Much of it has been caused by poor governance on the island, but also exacerbated by the heavy hand of the United States government.
No one said it better than Pedro Perluisi, the Democratic Delegate from Puerto Rico to the U.S. House of Representatives, when he spoke at a hearing on the Puerto Rico bankruptcy bill. He said, "Part of this over-spending is definitely the result of mismanagement. I admit it. It's embarrassing."
But then he went on to blame Obamacare not spending enough money on Medicaid. Prior to Obamacare, he said that Puerto Rico received $350 million per year. After Obamacare, they are receiving $1.2 billion per year, but conditions are worse. And he seems to think it is because the federal government needs to spend more money.
Earlier that year, Wilbur Ross, who was still restructuring failed companies at the time — he is now Trump's Secretary of Commerce — said:
Puerto Rico is the US version of Greece.
Yet, going back further to 2015, Breitbart said that comparing Puerto Rico to Greece was unfair to Greece. More Greeks work than do Puerto Ricans. More Puerto Ricans are reliant on government handouts than Greeks.
This is because, because of US law, Puerto Rico has an unsustainably high minimum wage which prohibits entry-level jobs from being created. The only choice is to apply for welfare:
An unsupportably high minimum wage has meant that entry level jobs simply don't exist in Puerto Rico, USA. Official unemployment is only 12 percent, but that is only because the labor force participation rate is about 43%, as opposed to 63% on the mainland.
Perhaps to make up for this disastrous employment policy, welfare and entitlement payments are kept high. As a result, the incentive to give up public assistance in favor of a job has been substantially reduced for Puerto Rico, USA. Less than half of working age males are employed, 35 percent of the island's residents are on food stamps, and 45.4 percent of Puerto Rico, USA is in poverty.
Even worse:
Puerto Rico USA is actually worse off than its impoverished neighbor Cuba. Although Puerto Rico's $103 billion annual GDP is twice the size of Cuba's, Puerto Rico's debt of $73 billion is now over three times larger than Cuba's debt of $23.44 billion.
The article concludes:
A quick look at Puerto Rico USA demonstrates how destructive America's socialistic labor and tax policies can be to a group of Americans.
Indeed.
Corruption and high crime rate
In January 2014, Fox News had an article about Puerto Rico's deep corruption and high crime rate.
At that point, 13 people had been murdered over the course of five consecutive days. Four murders took place on one night alone.
Despite it being a US territory, Puerto Rico's murder rate is more in line with developing countries such as Mexico and the Dominican Republic.
Angelo Falcón, president of the National Institute for Latino Policy, told Fox News:
"The crime rate has been neglected for so long that it looks like the problem is not going to go away anytime soon."
Falcón added that Puerto Rico has locked in a three-fold predicament when trying to tackle its violent crime rate – an unstable economic situation that limits available resources, a recent shake-up in the island's police department, and a lack of attention from federal law enforcement to territory's position as an increasingly important drug transit zone.
In 2013, Obama's Department of Justice gave Puerto Rico $10 million to clean up police corruption over a 10-year period. I reckon that money's long gone and the corruption even deeper.
In any event, drug trafficking has ballooned:
Puerto Rico and other parts of the Caribbean are beginning to see a trafficking surge reminiscent of the 1980s heyday of the Colombia-South Florida drug trade.
The article blames the US government for not sending more money. As if that's going to do anything much. Surely, this is a question of morality and ethics.
On February 13, 2017, a big cocaine distribution network was busted. Insight Crime has the story:
Ten individuals — including several airport officials — have been arrested for trafficking 20 metric tons of cocaine from Puerto Rico to the United States since 1998, a reminder of the importance of this oft-overlooked territory as a drug transshipment point. 
US and Puerto Rican authorities arrested ten individuals on February 13 in a sting operation against the cocaine trafficking group, reported Hoy Los Ángeles. A previous police operation in November 2016 resulted in the arrest of two other suspects that belonged to the network …
The group would contract drug "mules," or low-level human smugglers, to ensure that their luggage would board the plane unchecked. The US indictment indicates that up to five mules would board a plane at a time, registering two pieces of luggage that each contained between eight and fifteen kilos of cocaine.
The estimated worth of the drugs smuggled between 1998 and 2016 was $100 million.
The article also says:
The increased drug smuggling through Puerto Rico is due to greater security pressure in the Dominican Republic that has led to a shift in trafficking routes, according to the 2015 National Drug Threat Assessment by the US Drug Enforcement Administration (DEA). 
A significant portion of the cocaine moving through Puerto Rico is sold to domestic users. According to the DEA's 2016 annual report, between 70 and 80 percent of the cocaine that arrives on the island is sent to the United States, while the rest is consumed by the local market.
Wow.
Conclusion
Puerto Rico is in a lot of trouble structurally, financially and morally.
Throwing excessive money their way may only exacerbate these problems. There has to be a better way.
For anyone who celebrated Thanksgiving and is not going out to shop this weekend, below is a set of films allowing you to revisit the Good, the Bad and the Ugly. (Sorry, no Clint here, only politics.)
I'll leave it to you to decide which is which.
These will keep you occupied for a day. So, grab a turkey sandwich, a piece of pumpkin pie and settle in for hours of revealing information.
Donald Trump
The following Objectified programme was broadcast on Friday, November 18. TMZ wanted to do a companion piece on Hillary Clinton, but she refused. The original idea was to show two Objectified episodes, one with each candidate, prior to the election so that voters would have a better idea of who Donald Trump and Hillary Clinton are in private life.
I highly recommend everyone see this episode, especially if they do not particularly like Trump. You'll see and hear a fascinating story of his life from Trump Tower (39 min). The interviewer chooses various objects in his home, and Trump discusses their significance:
The following clip (41 sec) is from Rona Barrett's show in 1980. Rona Barrett interviewed all the celebrities that decade. Her programme was very popular. Here, Trump explains why he doesn't want to run for president — he'd have to be nice all the time:
Here is a clip from Oprah Winfrey's 1988 interview with Trump on the subject of the presidency. Note how quiet and interested the audience is (3 min):
Reddit has a fascinating post with endless contributions from people who knew or met Trump from his schooldays to the present. I only read half of it, and that took three hours. Once you start reading (be sure to click 'load more comments'), you can't stop. Everyone said he was really nice.
Also included in that thread are anecdotes about Mitt Romney. Everyone said he's also very nice.
Billary Clinton
I had not seen the following films until a few weeks ago. I highly recommend them in the following order.
These involve input from Larry Nichols, who is dying from cancer. He was a Clinton insider in Arkansas for several years and helped them to hone the election and PR strategies they still use today.
First, an overview of the Clintons from their Arkansas days through to 1994, the second year of Bill's administration (1 hour, 44 min):
Next, a shocking, in-depth look at Bill's time in Arkansas and elsewhere, revealing not only murder but also unusual political leanings in his university days (1 hr, 52 min):
Finally, an update from 2015 (33 min), narrated by Larry Nichols in which he describes the '86 Plan he created with the Clintons — playing the long game. Note that, as early as last year, he said that the New York Times was the PR machine for the couple. Even though they were the first paper to break the email scandal, they would then turn that around to make Hillary look like the underdog. Nichols says in the film that nothing would ever come of the email scandal. And, lo, it came to pass in 2016:
George Soros
The following video is of the 1998 60 Minutes interview with George Soros.
In 2016, the Hillary campaign's Correct The Record (CTR) team said that Soros never betrayed the Jewish people during the Second World War. Yet, here he is, admitting his sins with a smile. As he tells the interviewer, if he hadn't done it, someone else would have. He has done that throughout his life, as the film shows.
He clearly states that he meddles in other countries' business with no view of social or economic consequences (13 min):
Words fail me, so I'll sign off here.
Enjoy the films. You won't be disappointed. I look forward to comments!
Stand Firm is a traditional Episcopalian/Anglican site with excellent articles not only on the Episcopal Church but also on American politics.
A S Haley is a regular contributor to Stand Firm and wrote a great column which I recommend to all my readers. Excerpts and a summary of 'The Professor Is Right Again' follow.
This is why so many American voters are happy (emphases mine):
Professor Helmuth Norpoth of Stony Brook University on Long Island correctly called this election for Donald Trump back in February, when everyone—and I mean everyone—was confident that Trump would lose by a big margin. Later in the season, he was joined by a different professor using a different model, but who went contrary to the popular trends and predicted the same result.
The biggest loser in this election was not Hillary Clinton. She lost, and lost decisively, to be sure—but the professors' models predicted she would lose, and they've been infallible in past elections for decades.
No, the biggest loser—actually, losers (to use a term beloved of our President-elect)—are (1) the Beltway elite; and (2) the mainstream media—who gave it everything they had, and still fell way short.
Haley posted his article on November 9 and prepared his readers for what we see now: the narratives that Trump will be harmful to America.
He then reminded us of what we can look forward to:
the mainstream media will lose ever more and more of their readers and listeners, to the point where they, too, will have to look around for other lines of work.
And last but not least, James Comey's stalwart agents in the field may finally be able to investigate some people worthy of their attention: start with Comey's former boss, Loretta Lynch, and her attempts to squelch the ongoing investigations into Hillary's violations of our secrecy laws; move on to Patrick Kennedy and the whole corrupt bunch at the State Department who lied about Benghazi and then have been enabling and hiding Hillary's outrageous and dangerous disregard for our security; then to the IRS and its illegal targeting of conservative non-profit groups; then to Eric Holder and his scheme of gun-running, while also letting others get away with voter intimidation; and …  oh, yes—did I mention a certain former Secretary of State? And her husband? Who together enriched themselves by selling access and favoritism at this country's expense? And broke all the laws about charitable organizations in the process?
Who knows where all this is going to lead, indeed? Certainly not the entrenched elite, nor their lapdogs, the mainstream media.
That said, whilst Trump's victory is a blessing despite his imperfections:
And no one can assure us that a shakeup of this magnitude will be totally beneficial in all ways—some things that are truly good may perish along with so much else that is so bad, and deserves to come to an end. As I have maintained throughout this campaign, America is under God's judgment—which is why we were presented with the Hobson's choice we had. We are not out from under that judgment yet, because America has not yet turned back from its ways, and repented of its manifold sins and wickedness. Whether it will do so under its new government remains to be seen.
So fasten your seatbelts. It's going to be a riveting ride.
It will indeed be a riveting ride. I, for one, can hardly wait.
I predict with confidence based on what I have been reading outside Big Media that 2017 will be the year of evil exposed in the United States and beyond. Good people, especially devout Christians, will find these exposés unbelievable because they will be so utterly disturbing in content.
I will post on one of these soon in more detail. For now, if you have not already read FBI Anon parts 1, 2 and 3, please do so when you can because they will prepare you for what is coming next year.
The Trump transition begins. There's even a new website!
Warmest congratulations go to Kellyanne Conway, the Trumpwhisperer, who is the first woman to manage a victorious presidential campaign in the United States. She was responsible for refining Trump's stump speeches and for putting the kibosh on his excessive tweeting. No one else could do that! Furthermore, her internal polls were spot on. Conway is one tough tigress, make no mistake. She is also married, a mother of four and a practising Catholic.
Also noteworthy is that Hillary Clinton spent nearly twice as much money per vote as Trump and lost: $8.80 to $4.57. Trump has decisively proven you do not need big money to win an election!
President-elect Donald Trump and his wife Melania flew to Washington DC on Thursday, November 10 to meet with the Obamas as well as top Republican congressional leaders Paul Ryan and Mitch McConnell.
Vice President-elect Mike Pence was also in Washington. He met with his outgoing counterpart Joe Biden, in what Pence described as a 'warm reception'. Pence also had a telephone conversation with British Foreign Secretary Boris Johnson, who tweeted:
Just spoken to US VP-elect @mike_pence. We agreed on importance of the special relationship & need to tackle global challenges together
Trump's son-in-law — Ivanka's husband — Jared Kushner was also with the Trumps. During their private meetings, he spent time with White House chief of staff Denis McDonough, who gave him a tour of the Rose Garden. Kushner has been a close adviser to his father-in-law throughout the campaign and is expected to remain so after the inauguration.
Trump and Obama had a 90-minute discussion, far exceeding Trump's expectations.
Melania and Michelle shared tea together, discussed raising children and talked about what it is like to live in the White House.
The Mail has a great set of photos from the day.
Afterwards, Trump tweeted:
A fantastic day in D.C. Met with President Obama for first time. Really good meeting, great chemistry. Melania liked Mrs. O a lot!
Questions have been asked about the Trumps' entrance by a side door and the two couples not posing together for a photo in front of the White House. Things were different eight years ago with Bush 43 (i.e. 43rd president):
Breitbart had more on the matter:
White House Press Secretary Josh Earnest refused to explain the details of the decision but denied the story.
"Not true," he said, during the White House press conference, when asked about the report. He also denied that the lack of a photo opportunity had anything to do with First Lady Michelle Obama not wanting to be photographed with the Trump family. He argued that it was not a "snub" of the Trumps, but rather a different strategy of press access.
The press pool was allowed into the Oval Office on Thursday, to photograph Trump and Obama together after their 90-minute meeting. The two men met alone, with no staffers present.
But Obama snubbed the press by telling Trump not to answer any of their questions after the meeting.
"Here's a good rule. Don't answer any questions," Obama said to Trump after reporters shouted questions at the pair.
Despite the pleasantries exchanged between the two political foes, Earnest specified afterwards that Obama still believed that Trump was unsuitable to be president …
Earnest's remarks contrasted with Obama's welcome of Trump at the White House, promising to meet the standards set by President George W. Bush …
Earnest hinted that the White House might release a photo of the two couples meeting.
Independent Bernie Sanders pledged his support to Trump. The Daily Caller reported:
"Donald Trump tapped into the anger of a declining middle class that is sick and tired of establishment economics, establishment politics and the establishment media," Sanders said. "People are tired of working longer hours for lower wages, of seeing decent paying jobs go to China and other low-wage countries, of billionaires not paying any federal income taxes and of not being able to afford a college education for their kids – all while the very rich become much richer" …
In his statement Sanders went on to say: "To the degree that Mr. Trump is serious about pursuing policies that improve the lives of working families in this country, I and other progressives are prepared to work with him …"
The Democrats' wounds are still raw. Despite Big Media's attempted character assassination of Trump and the voter fraud — which is why his popular vote isn't higher — he prevailed once again. (Are we sick and tired of winning, ladies and gentlemen? Never!)
Business Insider reports that the Democratic Party is in disarray.
It looks very likely that the DNC will replace current interim chair Donna Brazile. A White House staffer yelled at her for being 'part of the problem' in Hillary Clinton's loss.
Politico reports:
No party leader calls have been set to map out a plan ahead, and no signal has come from the White House or from Clinton's team about what comes next. The phone lines were silent, only slowly picking up, and escalating to a fever pitch as the defeated nominee prepared her morning speech and interim DNC chairwoman Donna Brazile sat on the silent 9:00 Acela [train] from New York to Washington.
The Washington Post says that Minnesota Muslim congressman Keith Ellison or former Vermont governor Howard Dean are tipped to lead the DNC. The Huffington Post says Brazile could stay on until March, however, based on the aforementioned yelling:
Thursday's meeting shows at least some party officials want fresh blood at the top.
Early in the morning of Wednesday, November 9, Clinton's team had to get pervy John Podesta to address campaign workers. This is because Clinton had been weeping 'inconsolably', according to Ed Klein author of the recent book on the Clintons, Guilty As Sin. Klein appeared on a radio show later that morning and said:
"She couldn't stop crying.
"Her friend said — her female friend from way, way, back — said that it was even hard to understand what she was saying, she was crying so hard.
"This is Hillary we're talking about," Klein said.
Clinton appeared two hours later dressed like Batman's The Penguin in black and purple. Earlier, Podesta had told everyone to go home. Yet, after Hillary spoke, there was applause. I read somewhere that the delay allowed travel time for a new audience of those closest to her: big wigs.
The New York Times has highlights of her concession speech and Obama's remarks.
Before I go into detail on the protests — all previously organised, none are 'organic' (spontaneous) like Big Media are telling you — Sundance at The Conservative Treehouse has a theory about Obama/Clinton and the demonstrations and riots taking place:
If the ridiculous election protests continue again tonight, then President Obama has not called them off.  That means he and Clinton received no substantive assurances, and are worried about being held to account – prosecuted and investigated.
If the ridiculous election protest do not happen again tonight, then President Obama has called them off.  That means he and Clinton feel more comfortable they will not be held to account – prosecuted and investigated …
Ultimately the Machiavellian political gamesmanship then evolves toward how does Obama/Clinton "feel" about the success of their initial probing for terms.
Demonstrations and riots around the US continued the night of November 10.
After this post, I will be mentioning them as little as I can. They do not deserve the oxygen of publicity, to borrow Margaret Thatcher's phrase.
However, I do want everyone to understand what is happening here.
Americans should note that there are laws on riots — 18 U.S. Code § 2101 — as being criminal rather than examples of freedom of speech. In part:
(a) Whoever travels in interstate or foreign commerce or uses any facility of interstate or foreign commerce, including, but not limited to, the mail, telegraph, telephone, radio, or television, with intent—
(1) to incite a riot; or
(2) to organize, promote, encourage, participate in, or carry on a riot; or
(3) to commit any act of violence in furtherance of a riot; or
(4) to aid or abet any person in inciting or participating in or carrying on a riot or committing any act of violence in furtherance of a riot;
and who either during the course of any such travel or use or thereafter performs or attempts to perform any other overt act for any purpose specified in subparagraph (A), (B), (C), or (D) of this paragraph— [1]
Shall be fined under this title, or imprisoned not more than five years, or both.
I would not hold my breath expecting anyone to be prosecuted. However, after the inauguration, watch for this law to be enforced in future.
The demonstrators in Austin, Texas, who marched not far from the state capitol building, arrived by bus:
Not only that, but they were paid.
At least one ad appeared on Craigslist: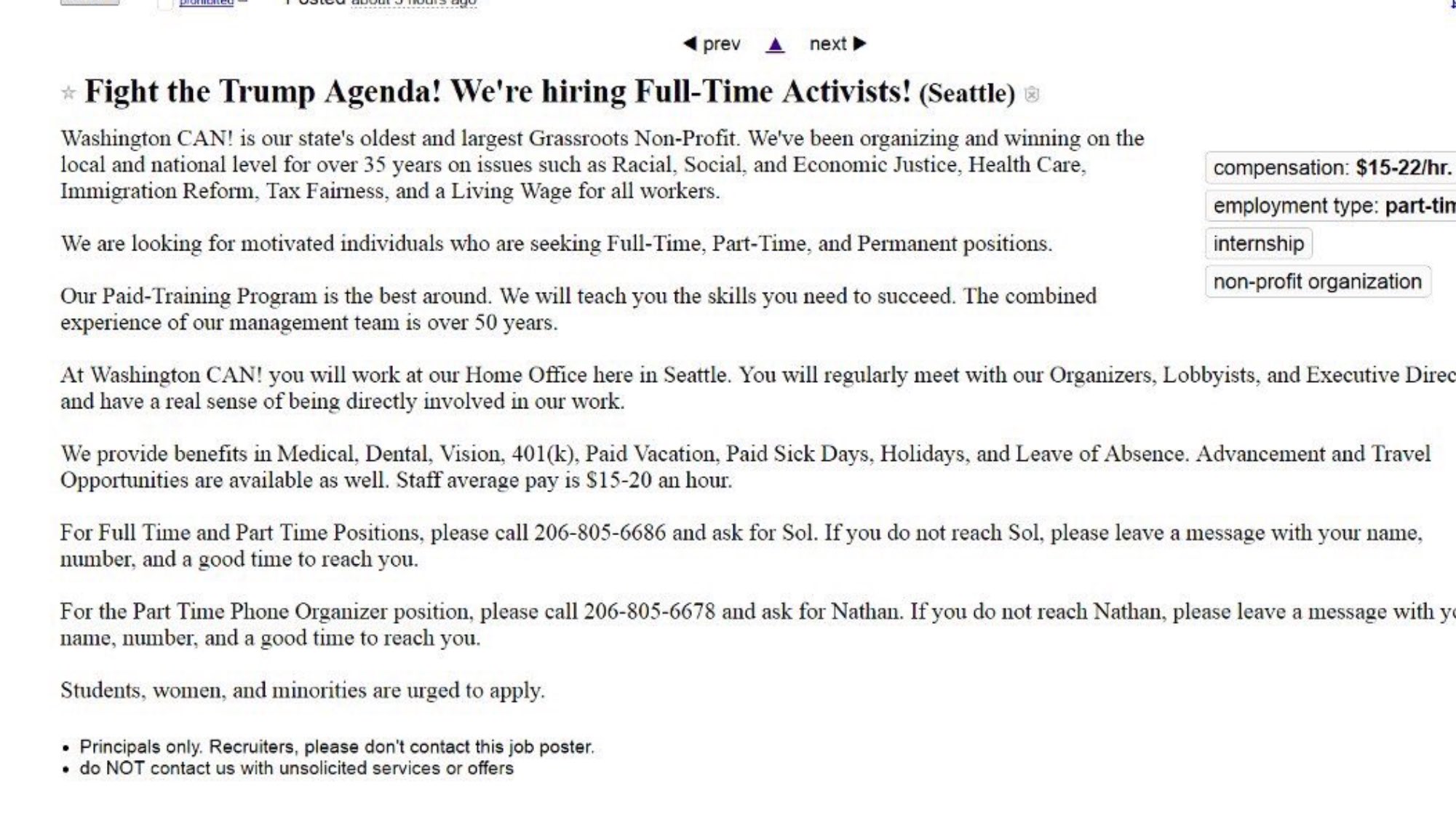 Here's another Craigslist ad, this one for Manhattan, from a European television network (I'm curious):
Earlier on November 10, a panellist on Fox and Friends actually asked if George Soros was funding these demos and riots. This is good, because Big Media never do this. In case the YouTube in the previous link is removed, The_Donald reproduced the exchange:
Brian: "There were no protests for Al Gore, there were no protests for John Kerry, there were no protests for Mitt Romney. What's going on?"
Steve: "Well, back then, George Soros wasn't funding these things. Is he behind this? Don't know!"
Many people say that when Soros dies, all this seditious activity — explained here in detail — will die with him. Not true. His children are every bit as committed to it as he is. One also appears to be involved with the Clinton Spirit Cooking dinners.
Breitbart reported that MoveOn.org — Soros's flagship activist organisation — has anti-Trump protests and riots going on all over America. Amazingly, people actually contribute to MoveOn.
A wide network of organisations affiliated with MoveOn are involved.
In March, after the cancellation of Trump's rally in Chicago, Independent Sentinel listed several groups allied with MoveOn and added:
The billionaire George Soros and other liberal donors bankroll a new $15 million campaign to mobilize Latinos and other immigrants this fall, hoping to channel outrage at  Donald J. Trump and other Republicans into a surge of votes for Democratic candidates in November …
And now that has failed on a national scale, they have today's violent protests, such as this riot in Portland, Oregon. (More here.) If these anarchists and maladjusted folks aren't driving sceptical Americans into the Trump — and gun — camp, I don't know who is.
Below is a list of planned protests from ANSWER (Act Now to Stop War and End Racism). You can also read more here:
Another group to watch for is Socialist Alternative, one of whose directors is a union man, born and bred in Britain, who has lived in Chicago for many years. They, too, have a list of demonstrations.
A number of the protesters are carrying professionally printed signs. One of The_Donald's contributors has seen some that read revcom.us on the bottom, indicating another Soros-funded communist organisation.
It also looks as if Aaron Black — featured in this James O'Keefe Project Veritas video about bird dogging (inciting Trump supporters to violence) — is part of the protest mix. He makes sure everyone is kitted out with signs and whatever else they need. He is supposed to be a background man and says no one should be able to easily identify him at protests.
On Chicago's West Side, a man was dragged out of his car at an intersection and was brutally assaulted. This post has a YouTube video of young men pulling a motorist out of his vehicle, beating him up, stealing items from his car — all abetted by a woman shouting instructions nearby. This tweet has a video of what happened next: the young men got into the car, the man was able to grab onto a door frame and they all sped off around the corner, with the man holding on for dear life. The Chicago Tribune caught up with him afterwards (photo at link). Emphases mine below:
David Wilcox, 49, said he was about to turn left from Kedzie Avenue to Roosevelt Road around 1 p.m. Wednesday when a black sedan pulled up and scraped the right side of his Pontiac Bonneville.
"I stopped and parked. And I asked if they had insurance, and the next thing that I knew they were beating the s— out of me," Wilcox said Thursday …
"They were beating me to have me let go of the car," Wilcox said. "The guy went to 70 and 80 mph. If I let go, I was dead. He slowed to 45. … He tried to push the door open. …So he stepped on it again.
"He stepped up back to 70 and 80, swerved again," Wilcox said. "The wheels on my side left the ground, up to 2 inches. … Then he slowed down. I was looking at oncoming traffic. He probably slowed to about 45. God was watching over for me. I rolled about five or seven times into the oncoming traffic lanes.
"There was a parole officer with a gun and bulletproof vest," he added. "He turned left, and he told me just sit down and wait for the police to come."
Wilcox filled out a police report, but no one was reported in custody Thursday afternoon. Police said they were investigating the beating and who made the "politically divisive" statements in the video.
I wonder if he got his car back. It should have DNA.
Pray for David Wilcox's recovery. He must be undergoing trauma, even if it doesn't show.
If that is not a hate crime, I do not know what is. They could have killed him, directly or indirectly. This got little to no coverage outside of Chicago!
In California, a female high school student near San Francisco was beat up by another classmate — also a girl — for supporting Trump online:
Cellphone video captured the moment a female student attacked sophomore Jade Armenio.
"This girl comes up to me and she said, 'Do you hate Mexicans?' and I was like, 'no,' and she said, 'You support Trump. You hate Mexicans.'"
Armenio says the girl hit her, threw her to the ground, pulled out her earrings and hair. She was left with a bloody nose and scratches and bruises …
The princip[al] of Woodside High School issued a statement that reads in part the recorded incident was investigated in conjunction with law enforcement and appropriate disciplinary action has been taken …
Armenio['s] parents say they are keeping her out of school until they know she'll be safe.
Let's pray for her, too.
Meanwhile, a story that did get nationwide coverage turned out to be false. A university student in Lafayette, Indiana, accused two Trump supporters of tearing off her hijab and stealing her wallet. Thankfully, she confessed to a lie. She should be charged:
The story made national headlines and was featured in The New York Times, The Huffington Post and other national media outlets. Messages of love and support were found all over UL Lafayette's campus after news of the attack spread.
It's unclear whether the student will face charges for filing a false police report.
In closing, here is an interesting exchange from 2013. The_Donald calls it 'the tweet that started it all':
You can't stump the Trump!
And, finally, a great summary of the past few weeks, also from The_Donald:
Protests aside, the next four years are going to be an exciting — and positive — time for all Americans. Trump has a Republican Congress and Senate to help him to restore the Great Republic. Outspoken radio show host Michael Savage says:
God's hand is all over this election.
I truly believe it is.
MAGA!