You are currently browsing the tag archive for the 'England' tag.
It's unclear whether this is good news or bad: the common cold is back in England and has hit with a vengeance.
On Thursday, October 14, 2021, The Times reported (emphases mine):
Figures from the Royal College of General Practitioners show that the incidence of the common cold is about a third higher than this time last year, at 3.1 per 100,000 people in the week ending October 3, compared with 2.1 in the week ending October 4, 2020.
In London, levels went from 1.8 per 100,000 in the week ending September 26 to 4.2 per 100,000 in the week ending October 3. In the north of England, levels went from 2.5 to 3, in the south from 2.4 to 2.5, and in the Midlands and east of England from 2.6 to 2.9.
This strain seems to be much stronger than the colds we used to get:
Dr Mohammed Abbas Khaki, a GP in London, said that there was "a horrific cold going around". He added that he had been telling patients to "stay at home until they feel well".
Some have dubbed it the 'super cold':
Increasing numbers of patients are calling 111 or their GP with symptoms of a so-called super-cold …
Recent days have seen large numbers of people complain on social media of suffering "the worst cold ever".
The cold seems to be affecting those aged between 15 and 44 the most.
The Telegraph lists the symptoms:
Since last month, increasing numbers of people have reported symptoms ranging from sandpaper throats to muscle aches, with some saying their cold has left them exhausted or bedridden.
The paper blames the lack of immunity we have because of lockdown:
The "super cold" sweeping Britain is likely to be no worse than normal – but it is hitting people harder because of a lack of immunity.
Health experts said lockdowns, social distancing and masks had left Britons unable to shake off common infections.
Because the common cold is a form of coronavirus, sufferers should be attentive to their symptoms:
… experts warned that some symptoms of colds and Covid can be similar and said it was important to get tested if a fever or cough develops or people begin to lose their sense of taste or smell.
This is yet another reason why lockdown and masks were a bad idea.
Furthermore, most of us have bought wholesale into Project Fear, which our government and experts have stoked so well since March 2020. Any common cold we get now is going to be blown out of all proportion.
In any event, it might be worth stocking up on a product like Vicks First Defence and take it as soon as the first symptoms begin to appear.
Anyone, especially men, who worked in London in the 1980s will tell you how wonderful business lunches were in that era.
They were long and languorous, fuelled with alcohol.
The 1990s put paid to all that, and lunch al desko with fizzy pop or coffee became the norm, which, sadly, still exists today.
Therefore, it is good to read that long 1980s style lunches are back, in England, at least.
That's the only good thing that can be said about coronavirus.
According to food critic Kate Spicer, writing for The Sunday Times, the trend started during curfew mandates in Ibiza in 2020 (emphases mine):
Daylight decadence is back. As someone recently said to me: "It's literally carpe diem." It arguably all started in Ibiza. With clubs closed, hedonism was a sit-down affair, and lunch became the island's big ticket.
When holidaying Britons returned from the Spanish resort and our restaurants reopened, lunch followed.
Restaurateurs in London are loving it:
Dan Keeling can tell you what a good lunch sounds like. The co-owner of the highly praised Noble Rot restaurants in London has his office above the dining room at the Lamb's Conduit Street site. "There's no maybe about it — people are relishing lunch," he says. "I know when we're having a good service because the rumble of laughter, the roar of conversation, the actual vibrations of convivial good living rise up through the floorboards. A service like that can go off on a Tuesday. I love it. I feel like a kid up there, listening to my parents having a party."
"We've been scooping grown men giggling into taxis at 6pm all summer,'' says Fitzdares's CEO, William Woodhams. ''What I see is people planning lunches weeks in advance — off the cuff is over, it's all about a lunch as a main event. Reservations start with a table for two and snowball. With everyone half in the office, half WFH, people are not in London all the time. They'll come in, plan a morning of, say, three meetings where they might have originally done eight in a day, and then devote the afternoon to lunch."
This phenomenon is an urban one:
Keeling thinks the urban exodus during the pandemic has reminded people exactly why we love our big British cities: "It's impossible to recreate that urban glamour and energy in the shires."
How true!
Other big cities are benefiting, such as Manchester:
At Manchester's Hawksmoor, the high-end steak and seafood restaurant, lunches are as busy as they have ever been since opening in 2015. Co-founder Will Beckett puts it down to people wanting "face time not FaceTime. It's not about what's new and centred round the 'chef's vision'. They want a restaurant that nails the food and atmosphere but puts customers at the centre of the meal, somewhere they'll feel comfortable and loved."
Not everything is rosy, however. Brexit and coronavirus resulted in Europeans moving back to the Continent. That said, we have six million who successfully applied to remain in the UK, so we should be able to get European hospitality workers, surely.
Still, for those restaurants that can open for lunch, the world is their oyster. One London restaurant co-owner described it as 'Christmas every day':
At Luca, the unimpeachable Italian in Farringdon, the co-owner Johnny Smith says they could book lunch sittings several times over. He describes the energy then as celebratory. "It feels like Christmas every day. And when people come they have it all — the prelunch drink at the bar, all the courses."
Good!
Here's a glimpse of the 1980s lunch, as served at Langan's, which is reopening on October 30:
At its epicentre was Langan's Brasserie in Mayfair, then owned by Peter Langan and the actor Michael Caine. It was the destination for "languid, long, late and liquid business lunches", as Richard Young, the photographer who documented its glory days, remembers. When the stars came out, he would often spot the same people sitting there at 8pm, rolling lunch over to dinner. One of the restaurant's new owners, Graziano Arricale, says it won't be having any express-menu business either when it reopens in October after recent refurbishment. "People see Langan's as an escape from work," he says. "I don't think the two-bottle business lunch will come back, but going out for friends is different. Our lunch crowd will be in for a long, celebratory two or three hours."
Excellent!
Another fan of the 1980s lunch was the late Keith Waterhouse, who even wrote a book about it:
The writer and satirist Keith Waterhouse rose at dawn, worked until lunch and then spent the rest of the day over a meal he eulogised in The Theory and Practice of Lunch. The book, published in 1986, is worth digging out to remind our fretful, workaholic Pret generations what it's like to breathe into the afternoon and take time over eating during the daylight hours. "Lunch at its lunchiest," he wrote, "is the nearest it is possible to get to sheer bliss while remaining vertical."
I could not agree more.
However, alcohol is not necessary for a good lunch:
… it doesn't have to be drunken. Good company is its own high, says the model, make-up artist and sidesaddle stuntwoman Lady Martha Sitwell, who has mastered the sober long lunch. "If it's a good crowd I'll slam a few sugary drinks and a good atmosphere will pull you into the afternoon. It doesn't have to be messy." Not that she's anti that. "It's just pointless pretending you can work," she says. "It's straight to the sofa to rehydrate and brainless Friends reruns."
Yes, it is one's lunchmates who make the afternoon a memorable one.
That's why my far better half and I are looking forward to another long, languid London lunch with friends next week. I can hardly wait.
What is 'luxury wellness'?
Posh spas and rehab centres, available only to the wealthy.
Let's open the door and find out more.
Villa Stéphanie Spa & Wellbeing, Baden-Baden, Germany
When it comes to spas, wealthy women already look beautiful, so one wonders how much extra lingering beauty a week-long stay at one actually produces.
On October 2, 2021, the Daily Mail published an article about Victoria Beckham's stay at Villa Stéphanie Spa & Wellbeing in Baden-Baden, Germany (emphases mine):
The retreat – which is described as an entire house dedicated to the world of spa – on its website, offers rooms starting from €270 a night (£231) and massages from €170 (£145). A seven night programme starts from €4,000 (£3,430) per person.
That means treatments are added on to the base price.
The article has several photographs from Mrs Beckham's Instagram account. The photos look as if she were asking, 'Don't you wish you were here?' Of special note is the one with Dr Harry Koenig, who tailors treatments to individual needs:
Showing off her slim figure in a black tank top and accessorising with a black cap, Victoria told fans: 'So we are here in Baden-Baden in Germany having our annual checkups, MRIs… gosh checking literally everything. It is absolutely incredible.' 
The former Spice Girl said she was also taking the opportunity at the lavish retreat to 'detox and have infusions and go for lots of amazing hikes'. 
Victoria shared a photo of herself clad in khaki sweats and embracing Dr Harry Koenig who tailored all of their treatments at the retreat based on their test results …
Victoria shared photos of an egg white omelette with sliced avocado and a dish of fresh salmon and vegetables, and said she's learnt a lot about food and diet' that has now 'influenced' how she eats at home.
Also detailing the more expensive treatments on offer, Victoria shared a photo of nurses Ellen and Sophia bringing her tray of 'daily vitamins and amino acids'.
She also opted for a 'heavy metal chelation supplement' which is said to aid in detoxification and protect the liver and kidneys, daily IV drips, and a hyperbaric oxygen treatment. 
Victoria also used the opportunity to flaunt her own skincare line as she showed off her radiant and makeup-free visage during a beauty treatment, and shared stunning footage of herself hiking through the Black Forest surrounding the retreat. 
This woman needs none of that, because she barely eats when she goes to a restaurant:
It comes after last week Victoria's revelation that her favourite meal of all time is salt on whole grain toast left fans in disbelief.
Speaking to Ruth Rogers on the River Café's Table 4 podcast the fashion designer admitted she was a restaurant's 'worst nightmare' because she was happy with just a slice [of bread] with a sprinkling of the seasoning. 
Ugh!
Judith Woods of The Telegraph wrote a great article about the Beckhams' stay at the retreat:
When Victoria Beckham gave us a sneak peek into her recent physical MOT at a lavish spa retreat in Baden-Baden, it was hard to decide which delicious treat we envied most.
Was it her daily personalised IV drips? The artisan-crafted egg-white omelettes? Or the hyperbaric oxygen treatment? Yum. Or maybe it was the presence of husband David, who was also getting his annual once-over? Because nothing screams enduring love more loudly than his 'n' hers MRI scans followed by a hearty hike in the Black Forest.
Here she is, face scrubbed and smooth as a preternaturally girlish 47-year-old milkmaid, snuggling up next to Dr Harry Koenig, the handsome silver fox who tailored all her treatments.
Meanwhile:
Back in Britain we struggle even to catch sight of a GP, who are second only to HGV drivers and slaughtermen in their scarcity. Yet here was Mrs B with a buff Bavarian medic all to herself, personalising every esoteric infusion and rejuvenating elixir. This isn't just wellness: this is luxury wellness. Actually, scrap that. This is exclusive, bespoke, ultra-luxury wellness.
We discover how much a week's stay can actually cost:
At up to £19,000 a pop for a week's stay, that is one shock and awe shellac. And let's not forget the integrative holistic medicine and the "vampire facelift", where the client's own platelets are injected under the skin along with a hyaluronic acid filler.
On the Beckhams, Woods concludes:
Sorry to be blunt but this sort of high-end "Because I'm worth It" intervention really isn't for amateurs.
In the competitive wellness stakes, the Beckhams pretty much ace it. Just as engagement ring metrics traditionally equate purchase price with strength of ardour, so do modern lavish spa treatments convey exactly how much self-love a celebrity possesses.
Goop at Sea, floating spa
Woods tells us about a spa cruise scheduled for 2022 that is attracting American women on the celebrity circuit:
Happily, celebrities really do excel at leading by example. Why, Goop founder Gwyneth Paltrow has entered into a pact – sorry partnership – with Celebrity Cruises and will set sail round the Med next summer in a venture dubbed Goop At Sea.
Aimed at the sort of person who uses "juice" as a verb, this gorgeous floating spa will feature "trailblazing healers and transformative workshops for mind, body and soul" along with personal butlers, a private restaurant and an exclusive lounge.
Woods rightly points out that female celebrities already look good. These spa visits are a pampering top-up:
Ageless and wrinkle-free; not young per se but not old. Therein presides the spa delusion; civilians imagine that they will emerge relaxed, rested and youthful, just like the beautiful people.
Except they were already beautiful before they handed over their Amex cards. It's their day job. A-listers have no problem being stripped down and rebuilt like a Formula 1 car every so often; it counts as red-carpet running repairs in a profession where optics matter more than anything else.
Agreed.
It is far better and cheaper to book an appointment with a licensed aesthetician, especially in the UK, as they can provide a wide range of beauty treatments and detoxes.
Gentlemen, if these are what the lady in your life wants, get her a gift certificate for a half-day session for Christmas. She will love you even more for it.
Paracelsus Recovery, Zurich, Switzerland

On the rehab side of things, The Telegraph's food critic William Sitwell noticed he was having a few physical problems at the age of 51:
… I don't like sitting down and I'm scared of food. Lower-back pain and acid reflux are now rendering me nervous at the prospect of eating out, uncomfortable doing it, in pain writing about it, and in fear at the physical consequence of it.
The Telegraph treated their treasured food critic to a three-day stay at Paracelsus Recovery in Zurich. The clinic:
promises a 'safe haven', with 'individualised treatment programmes that are designed to address a client's unique set of needs.'
I'm dispatched by The Telegraph, which is fortunate because regular clients at Paracelsus are high-profile, high-net-worth individuals, and the price tag for a week's admission is £75,000. 
Sitwell tells us that many of the clinic's patients enter a three-month programme. Incredible.
Before going, he spoke with Paracelsus's founder and CEO, Jan Gerber, who told him:
'We'll give you your own apartment with views over Lake Zurich. You'll have a housekeeper who will cook and clean for you as well as a team of 10 of us caring for you,' he tells me. 'We'll conduct an array of assessments: physical, emotional and biochemical. We'll identify areas of concern or ones to watch, and with treatments, therapy, yoga and massage we'll implement a programme. Our aim is to add quality years to your life.'
'These are first-world problems, right?' I say. 'That may be true,' he replies, 'and we work with a lot of financially privileged people, but that doesn't mean they don't experience very real emotional or physical pain. What we do here is super complex. Are you willing and able to help us open your can of worms? Don't worry, our responsibility is not to go to places where we leave the doors open.'
The clinic is used to dealing with drug and alcohol addiction. Sitwell went in order to resolve his food issue:
I really love to eat and also hate it – gives me a little wind in my sails. I am worthy of a brief visit. Paracelsus, here I come.
The article comes with photos of his stay, which are well worth looking at.
The clinic's managing partner Pawel Mowlik, a German, met Sitwell at Zurich's airport. A chauffeur drove them into the city centre:
Whisked out of the airport and into the clinic's Bentley Flying Spur, we are soon in the city centre and turning into a nondescript car park behind an apartment block.
Luggage taken care of, doors held open, we go through an entrance with no signage. 'This place is very discreet and highly confidential,' says Mowlik. 'We have the very famous – the richest people, heads of state – and no one needs to know that they are here.'
The apartment was fully kitted out, with a separate area for a live-in therapist:
My apartment is airy and light, with lake views, a large bedroom, comfortable sitting room, kitchen and dining area and my own therapy room. Behind the kitchen is another bedroom and bathroom. 'That's for a therapist to stay,' says Mowlik. 'We can provide that 24/7 if need be. We sent a therapist back to the Middle East with one client,' he adds, 'and they stayed out there for five years.'
The housekeeper, Elizabeth, is there to unpack my things.
Founder and CEO Jan Gerber was already there to greet his new patient:
We sit down to discuss my schedule. Across three days I'll have an intense programme of clinical, psychiatric, fitness, lifestyle and nutritional assessments as well as yoga, psychotherapy, physical training, intravenous therapy, something called bioresonance and then a presentation of results by the team.
Gerber told Sitwell that coronavirus has exacerbated every type of mental health problem.
Chaperones are de rigueur, in case a patient tries to escape. Gerber's mother:
Christine Merzeder, is the senior clinical coordinator. She will chaperone me from meeting to meeting. Mowlik, it turns out, will chaperone me for anything else.
I mention a swim in the lake. 'A lovely idea, we can go tomorrow at 8am,' he says …
I note that the physical assessment and training are at a private gym. 'Is it far to walk?' I ask. 'It's a simple route,' says Mowlik. 'I will show you… and then bring you home.'
The super rich need a crafty chaperone, and this one knows how they think. By his early 20s Mowlik, working for a Zurich-based hedge fund, was earning up to £2 million a month. He began splashing it on private jets, alcohol, drugs … he checked into Paracelsus and liked the place so much he later became a partner. Clients can relate to him, and he's quite handy at finding new recruits, too.
Paracelsus isn't any ordinary rehab clinic:
'Being famous and wealthy can be a very lonely place,' says Mowlik. 'You can't trust anyone, you find yourself exploited and that can be a vicious circle that brings separation from people. Which can lead to depression and medication with substances. We exist because such a person can't go to an average rehab.'
'Did you know that the incidences of addiction among the wealthy are much higher – maybe five-fold – than the average?' states Gerber.  'And it is relative. Pain is very real for the person who feels the pain. In fact it can be harder for someone who is famous and very wealthy to find empathy. Emotionally we are all human, we all need love and social interaction.'
Gerber also argues it is vital the rich and powerful can get confidential help. They can have a lot to lose if the public learns of their difficulties.
'If a head of state or famous entertainer is unwell, that can have a very large effect on their family network or across their business empire: a head of state with a nation in crisis, a lead actor in a major production…' he explains. 'So what we do here is a big lever to heal the world.'
He adds that his therapists need to understand the reality of being rich. 'We call it affluent neglect,' he says. 'There are children brought up by nannies and sent to boarding school.'
Sitwell underwent a battery of physical tests, from blood to stool to urine and more:
I'm wired up to a Metatron, which scans my body for inflammation, I have a portable heart monitor attached to my chest, a live-monitoring glucose implant on my upper left arm, they take blood from my veins, blood from my fingertips, I have strict timetables to deliver urine and stool samples.
Consultant psychiatrist Dr Thilo Beck was Sitwell's therapist, asking him all about his recent life history:
… he teaches me the fascinating concept of the observing self, watching the theatre of life as it progresses. 'The next time you feel angry, pause for a second and consider the idea that you're noticing yourself becoming angry… You are the driver of your bus; your anxiety and fears, the parts you don't like, are parts of you. They are your passengers, stroke them, soothe them, be proud of your bus and drive towards your values.'
Nicole Züllig, a psychotherapist, conducted a separate session on trauma:
'I specialise in trauma,' she tells me. 'I have discovered that most people have unresolved trauma.' It sounds like Prince Harry's been in this chair, I think to myself, recollecting his habit in the press, for example, of describing partying antics in his 30s as not 'fun', but 'unresolved trauma'.
'Where is that trauma, that loss?' she asks. 'I look for that very deep loss. We have a tendency to put it away in anger, to deep-freeze it, we must get it out of the freezer, thaw it and deal with it…
'So tell me about your relationship with your mother.'
Sitwell described his beautiful mother in glowing terms. The article has a picture of her holding him as a boy.
Züllig asked him how he felt, and he replied, 'Guilty' for having spoken to someone about her behind her back.
Then came the real issue, his schooldays, including at Eton, which were not his best days:
As I talk, I laugh at various moments. 'Why are you laughing?' she asks, appalled.
'Because I think it's funny,' I reply.
'Funny?' she exclaims. 'You think this is funny? It is not funny. It is tragic. You were abandoned. This is trauma. You must take this trauma, understand it and thaw it. You must not laugh to avoid it.'
'Whatever,' I mutter. Soon I'm chatting about my more recent work; a few big awards, books, television … I ponder how I've turned out compared with the boy at Eton aged 16, having failed the annual exams, officially labelled in front of 600 of my peers as a General Total Failure.
And I sob. Züllig has done her work and is on hand, brandishing tissues. 'How does this make you feel?' she asks. 'Exhausted,' I reply.
Sitwell fell asleep during his yoga session, after which he received a deep massage, which he described as 'rigorous'.
Another session involved physical training at the Dolder Grand spa, in the city's grandest hotel:
Mowlik lurks outside to prevent any attempt at escape. Later, as I lie on a sunbed for a moment, I look to the plunge pool to my right – and jump with fright as Mowlik emerges from the water.
Sitwell rode in the Bentley there and back.
When he returned to the clinic, Dr Manuel Riegner gave Sitwell the results of his physical exams. On the one hand, he has a 'biological age of 29'. On the other hand:
I have high levels of mercury and uric acid, low levels of zinc, and a very concerning, almost negligible, level of iron. 'No wonder you feel fatigued,' he says.
Nutritionist Priscilla Sanchez gave Sitwell diet and eating advice, which included omitting milk and most carbohydrates as well as cutting down on alcohol:
Then I'm strapped to an intravenous drip, fed amino acids, vitamin C and a detoxmix, given two weeks' worth of supplements, and told I must have an infusion of iron back in the UK, urgently.
Then it was time to pack his bags and leave:
I have a last swim in Lake Zurich, the water and distant sight of the Alps soothing my mind. 'Time to leave,' says Mowlik, coming up for air beside me.
He doesn't leave my side until I'm through departures at the airport.
Once at home, Sitwell stuck to the eating and exercise plans and had not experienced any of his old symptoms.
But something equally important also happened — a sense of gratitude:
Three days of gratuitous self-reflection and I realise I'm so lucky to have the family I have, the wife, the kids, the home, the friends, the most utterly fabulous job writing about my most favourite subject.
Good for him. I have read this article a few times and enjoyed it more every time.
————————————————————————–
Well, that's it for an introduction to 'luxury wellness', something few of us will ever experience.
As I write, Prime Minister Boris Johnson is on holiday in Spain.
He, his wife Carrie and their young son Wilfred left for Lord Goldsmith's holiday villa after the Conservative Party Conference ended on Wednesday, October 6.
It is a well-deserved break. His stay in Cornwall in August lasted 24 hours before he had to return to Downing Street to deal with the fallout from Joe Biden's abrupt withdrawal from Afghanistan.
Despite Britain's crises of fuel and food, he needed a break before Parliament resumes next week.
However, a pivotal personal event also occurred during this time: the death of his mother, Charlotte Johnson Wahl, whose funeral was held on September 28.
A Remainer campaigner sent a nasty tweet asking who was in charge of the Government:
Boris's sister replied:
Boris has not taken any bereavement leave until now.
However, with every lamented death comes new life. Carrie Johnson will be giving birth again in a few weeks' time, which will be a consolation to the Prime Minister.
Budding artist
Charlotte Maria Offlow Fawcett was born in 1942 in Oxford to Frances (née Lowe) — 'Bice' — Fawcett.
Her father, James Fawcett, was a barrister. Three decades later, Sir James Fawcett assumed the presidency of the European Commission for Human Rights.
Years later, Charlotte described her childhood family and friends as 'rich socialists'. She never voted Conservative, although she told Boris that she did vote 'Leave' in the 2016 Brexit referendum.
Charlotte's mother, Bice, was close friends with a woman from another prominent family, Elizabeth Pakenham. Elizabeth and her husband had a baby girl, Rachel.
In a tribute to her friend which she wrote for The Times, Rachel Billington said (emphases mine):
In May 1942 our mothers, Bice Fawcett and Elizabeth Pakenham, both had babies in Oxford and walked our prams side by side. Her family, the Fawcetts, were clever, artistic and international; the Pakenhams were political and literary. Charlotte and I were fat little girls together, waving our Peace in Europe flags and trying to keep up with our siblings. She ended up with four siblings, while I had seven. When both families were in London, I was jealous of music in her house and the sense of an intellectual world beyond my grasp. And she was jealous of my rumbustious life, with a house in the country and horses. Not that she had any wish to ride.
Rachel Billington says that Charlotte attended Catholic school and said her prayers every night, kneeling at her bedside. This religious education might well have imparted the wisdom she gave to Boris, who remembers her talking about 'the equal value of every human life'.
The Fawcetts moved to the United States for a time. Billington recalls:
When her family went to live in America and her youngest brother acquired an American accent, I realised she inhabited a wider world.
The family returned to England. By then, Charlotte was interested in painting and pursued her artistry at Oxford, the university that Billington also attended. Charlotte was reading English:
At Oxford, her intensity was reflected in her small college room where the objects were ordered as if already in a painting. She was painting and drawing complicated faces and patterns. Her essays were remarkably short and there was never anything regurgitated from "further reading". She discovered her views from the text and from her imagination.
Meeting Stanley at Oxford
Charlotte met her first husband, Stanley Johnson, at Oxford.
In a 2015 interview, she recalled how they met at a university dinner:
… she told Tatler magazine in 2015: 'I was engaged to somebody called Wynford Hicks, who was extraordinarily beautiful to look at but actually quite boring.
'Anyway, [after the dinner] Stanley sent me a note asking if he could come to tea and go for a walk.
'So a few days later we went for a walk and he suddenly said, 'Love is sweet. Revenge is sweeter far. To the Piazza. Ah ha ha har!", which made me laugh so much I fell in love with him.'
When he earned a scholarship to study in America, Charlotte accompanied him. They married in 1963 and their first child, Alexander Boris, was born a year later.
Billington explained his middle name. Stanley and Charlotte were on holiday in Mexico City at the time:
The name Boris, incidentally, arose when they ran out of money at the airport on the way to New York where Charlotte was to have the baby, and an impatient passenger in the queue offered to pay what they needed. "That's terrific," Stanley said gratefully, "We'll call the baby after you if it's a boy. What's your name?" "Boris," answered the gentleman. In fact it is our prime minister's second name; while he was at Eton Alexander was dropped in its favour.
However, Boris is still known to his nearest and dearest, Billington included, as Al or Alexander.
Charlotte painted a portrait of her son as a young boy, who grew up with shoulder-length hair:
The casually dressed, floppy-haired boy looks up from his painting. He is relaxed but serious, his complexion fair.
The Johnsons returned to England for a time. Charlotte and Rachel resumed their friendship:
Nothing seemed impossible to this glittering couple and Charlotte returned to resume her degree with Stanley and Alexander while also pregnant with her daughter Rachel. Through these perambulations and my own, Charlotte and I remained close; I was Al's godmother and later Charlotte was my eldest son, Nat's. Friendship was very important for Charlotte and she had the kind of loving warmth that made even newer friends bond to her for life. And tell her their stories and listen to their jokes and laugh. Lots of laughter.
It seems likely that Charlotte named her daughter Rachel in honour of her friend.
Charlotte completed her degree at Oxford as the first married female undergraduate at her college, Lady Margaret Hall.
Ruined marriage
Stanley received a transfer back to the US to work at the World Bank in Washington DC.
Billington was also in the US, working for ABC television in New York.
She remembers meeting up with her friend, the mother of four:
With the Johnsons living in Washington, where Stanley was working at the World Bank, enjoying a highly sociable life, plus now having four children, it seemed extraordinary that Charlotte's painting life could continue. Yet when I visited from New York where I was working for ABC TV, she still had the energy to go down to Rehoboth Beach [Delaware] and bebop with the rest of us.
In the 1970s, the Johnsons' marriage began to break down once the family returned to London.
The Mail alleges:
Mrs Johnson Wahl had an unhappy marriage to Boris' father Stanley, who was accused of breaking her nose in the 1970s.
Charlotte's mental state disintegrated, to the point where she had to be admitted to the Maudsley Hospital in London.
Billington visited her:
… suddenly I was visiting my brilliant friend in the Maudsley Hospital suffering from the problems that pressure and an obsessional nature can bring, properly called obsessive compulsive disorder. While the children ran round in the garden, Charlotte and I talked and I discovered that every day she was painting for hours at a time. Eventually, nearly 80 paintings were exhibited in the hospital, terrifying pictures of people in despair, agony or just misery. Yet also implying hope in the vibrant beauty of the colours and quite often a kind of wry humour, as if saying, "This is my life at the moment."
The Times obituary notes:
She had already become "extremely phobic . . . terrified of all forms of dirt". Eventually she had a breakdown and spent eight months at the Maudsley hospital in south London as a patient of Hans Eysenck, the influential psychologist.
While Charlotte was in the Maudsley, Stanley was transferred to Brussels. He took the children with him.
Charlotte discussed the difficult marriage in a 2008 interview:
"My husband and I were not making each other happy, to put it mildly. It was ghastly, terrible," she told the Daily Telegraph in 2008, tears filling her bespectacled eyes. "The children used to come over from Brussels to see me in hospital. They'd run down the passage and it was sickeningly painful because then they'd go away again. It took me a long time to recover."
Once Charlotte recovered, she was able to move to Brussels and, during holidays, welcome guests at the family farm in Exmoor in Devon. Billington remembers her stays with the Johnsons:
As Charlotte recovered, the family moved to Brussels, but when they were in England I would join them in the house on Exmoor that Stanley inherited from his father. It was a glorious cold comfort farm, but friends, if they survived the long pot-holed driveway, were fed hugely and taken on challenging treks that usually included river swimming and mountain climbing. Well, hills. It was hard for Charlotte to paint there, yet the pictures of her children and her friends' children prove she was still managing. I have three from that period.
The renowned journalist and author Tom Bower has written a biography of Boris, The Gambler. The Mail's obituary of Charlotte recaps how Stanley treated her:
A biography of the Prime Minister claimed her marriage became 'irredeemably fractured' due to her husband's 'neglect and philandering'.
The Gambler, by Tom Bower, alleged that doctors spoke to Stanley 'about his abuse' while the couple's children were told a car door had hit their mother's face.
The most shocking claim was that in the 1970s Stanley hit the Prime Minister's mother in a domestic violence incident that broke her nose and left her requiring hospital treatment.
Mr Bower describes Stanley's first marriage, to Mr Johnson's mother Charlotte, as violent and unhappy, quoting her as saying: 'He broke my nose. He made me feel like I deserved it.'
It was claimed that the incident took place in the 1970s when Mrs Johnson Wahl was suffering from obsessive compulsive disorder and had 'flailed' at Stanley, who broke her nose when 'flailing back'.
Stanley, now 81, is said to have deeply regretted the incident and denied he had been violent on any other occasion.
By the end of the decade, the couple separated. They divorced in 1979.
Billington lived five minutes away from Charlotte, once she separated and could really throw her energies into painting:
After her separation from Stanley, paintings poured out from her flat at the top of a large building in Elgin Crescent in Notting Hill, London, happily just five minutes' walk from me.
The Mail says Charlotte refused financial support from Stanley:
After moving to a flat following her divorce, she refused to accept money from her ex-husband and made a living selling paintings. She later recalled she was 'very hard up'.
Dr Nick Wahl, second husband
Charlotte found happiness with her second husband, Dr Nick Wahl, an American professor. They married in 1988.
The Times obituary tells us how they met in 1982 and summarises their life together:
… she met Nick Wahl, an American academic. "We were at a dinner party in Brussels given by [the diplomat] Crispin Tickell and Nick asked could he see my paintings," she told Tatler. "He was on a trial separation from his wife. There was an immediate connection. I flew out to see him and he came to see me. There were an incredible number of crossings of the Atlantic." They married in 1988, by which time her youngest son was in his final year at Eton, and lived on Washington Square, New York. Wahl died from cancer in 1996 and she returned to London, settling in Notting Hill in a flat that, according to one visitor, resembled "an Aladdin's cave with exotic carpets, a dolls' house, flowers, cherubs on the wall and oil paintings everywhere, including several of the flaxen-headed children".
Billington recalls those years:
That was a great period of creativity that was reinforced by her marriage to Nick Wahl and a double life in London and Washington Square, New York where Nick was professor at the university. It gave her a chance to play with the Manhattan skyline and the sardine tin of the subway to dazzling effect, sometimes on giant canvases. In London, she modestly remarked, "I just paint what I see", but Elgin Crescent had never looked so dramatic. My son Nat snapped up one, which I visit just to see what she made of a fairly ordinary London street.
As her beloved children grew up and made their own paths, and she no longer had the constant responsibilities of motherhood, I saw a painter at the peak of her powers. Now when I visited Manhattan, we ate out for every meal, feeling young and independent, both of us with four adored children, but free to do what we wanted. She painted, I wrote, and of course Charlotte had a whole lot of fascinating New York friends.
Unfortunately, around the time Charlotte met her second husband, she was diagnosed with Parkinson's disease. That was in 1982, when she was only 40 years old.
Her quality of life diminished until 2013, when she underwent state of the art treatment in London.
The Times obituary says:
A cocktail of drugs helped to slow the progress of the disease, but the quality of her life was impeded. "The worst thing is a terrible stiffness," she said. "When you want to walk you can't — you freeze and your feet become attached to the ground." In 2013 she achieved something of a medical breakthrough when Ludvic Zrinzo at the National Hospital in Bloomsbury introduced two electrodes into her brain and linked them to a battery in her chest. "It means I don't jerk any more and I can go to the cinema and the theatre again. It's bliss," she said.
Political opposites
The Mail's obituary states that Charlotte was amazed to be the mother of four children who are all Conservatives:
She was described in a 2015 article in the Evening Standard as 'left-wing'.
Boris Johnson's sister, Rachel, said in the article, about two-party families, 'We are a very mixed-race family politically and my father tends to marry socialists.
She later described her mother as 'the only red in the village when we lived on Exmoor'. And she herself once admitted that she had never voted Conservative, despite two of her sons being Tory MPs.
She told the Radio Times in 2015: 'I find it extraordinary that I should have married a Tory and have four Tory children.
'I've never voted Tory in my life. My parents were very socialist – rich socialists with three cars and two houses, but they were socialists in the days when that happened' …
Along with Boris Johnson, she was also the mother of former Conservative MP Jo Johnson, journalist Rachel Johnson, and entrepreneur Leo Johnson.
The Prime Minister's son Wilfred was her 13th grandchild.
Charlotte had several exhibitions of her paintings, and she sold many. She was also commissioned to paint celebrity portraits, which were equally well received.
May Charlotte Johnson Wahl rest in peace. Hers was a life well lived. Most importantly, she was able to overcome adversity.
Sources:
'Boris Johnson's mother Charlotte Johnson-Wahl dies "suddenly and peacefully" at the age of 79', Daily Mail (includes family photos)
'Charlotte Johnson Wahl was my best friend', The Times
'Charlotte Johnson Wahl, the prime minister's mother, dies aged 79', The Times
Yesterday's post discussed the first three days of the Conservative Party Conference.
Today's entry will look at Prime Minister Boris Johnson's speech on Wednesday, October 6, 2021.
It was still content-light, but at least he explained what 'levelling up' is. More on that below.
But first, let's look at what happened the night before, the last opportunity for MPs and the party faithful to get together on the dance floor.
Tuesday, October 5, after hours
Pensions minister Thérèse Coffey had a great time as the temporary £20 Universal Credit boost came to an end.
A cold fish at the despatch box at the best of times, Coffey showed us a different side of herself as she, a chemist by training, belted out 'Time of My Life' from Dirty Dancing (video credit to the Daily Mail):
The Mail reported (emphases mine):
The cabinet minister in charge of Universal Credit was slammed today for belting out Time of My Life at a boozy Conservative party Conference karaoke bash hours before cutting payments to six million people.
Work and Pensions Secretary Therese Coffey enthusiastically belted out the 1987 power ballad from the film Dirty Dancing in a duet with fellow Will Quince – a former welfare minister.
It came as a £20-per-week Covid uplift payment was removed from UC for families across the UK.
The Government has pressed ahead with the cut despite concerns – including from Tory backbenchers – that hundreds of thousands of people will be plunged into poverty.
From today, no assessments will include the uplift, meaning that from October 13 – a week later – no payments will be received that include the extra money.
I don't know what I think about removal of the £20 uplift. The Government always said in Parliament that it was temporary and stated months ago that it would end in October 2021. I feel for those families. On the other hand, the last thing I want to see is Universal Basic Income, and if this £20 were maintained, it would have been a slippery slope along that road.
Furthermore, there are plenty of job vacancies and salaries are going up. Note the decrease in people clicking on the vacancies, however. Hmm:
Two other MPs, Levelling Up minister Michael Gove, in the process of divorcing his wife, and Tom Tugendhat, danced together. Guido referred to this season's Strictly Come Dancing:
It was only a few weeks ago that Gove spent the early hours of one morning dancing in a nightclub in Aberdeen, his home town.
The Mail reported:
Michael Gove has been spotted rocking the dance floor again – this time busting moves to Whitney Houston's I Wanna Dance With Somebody and belting out Bonnie Tyler's Total Eclipse Of The Heart at the Tory party conference. 
One hilarious clip shows the Levelling Up Secretary, 54, arm in arm with Tom Tugendhat as he throws his finest shapes to a cover of the 1987 hit while wearing a suit and tie – just a month after his infamous night out in Aberdeen.  
Newly-single Mr Gove, and Mr Tugendhat, MP for Tonbridge and Malling, are seen taking turns to spin each other as they go all out at the gathering – which is not usually known as a hotbed of hedonism. 
In a second clip shared by The Sun, Gove can be seen passionately singing along to Bonnie Tyler's hit 1983 anthem with his mouth wide open, hands interlocked with an unidentified woman in front of him.
Meanwhile, at another Conference party event, Liz Truss danced to Beyonce (video credit to Guido Fawkes):
Wednesday, October 6
Wednesday was Boris's big day.
He abandoned his diet temporarily:
Guido Fawkes has the calorific coffee order:
Sat in the conference exhibition hall ahead of Boris's speech Guido was astonished to overhear the Speccie's Katy Balls being told by a barista that Boris's aides turned up at his stall yesterday to fetch the boss a coffee. The coffee order in question was a stomach-churning triple shot flat white, with extra caramel syrup with three sugars – an astonishing departure from the diet Carrie supposedly put him on after his Covid hospital trip.
Later, an appreciative crowd gave their Party leader a standing ovation:
Guido has the full text of Boris's speech, which was not much shorter than Keir Starmer's last week but was delivered in half the time: 45 minutes compared with 90.
Before going into Boris's speech, Keir Starmer's speechwriter dived in to say that his went on 'absolutely' too long:
Guido reported that Philip Collins, Starmer's speechwriter (and Tony Blair's), said the policy sections were 'a bit baggy' (red emphases in the original, purple one mine):
Philip Collins, the man who drafted Sir Keir's epic 90-minute address at Labour Conference last week, has admitted the speech "absolutely" went on too long – and even claimed the sections on policy (such that they were) were "a little bit baggy" and yes, "boring". This is a speech he wrote only a week ago…
Speaking on Politico's Westminster Insider Podcast, Collins said:
"It's always the same bits […] the policy bits are very, very difficult to bring to life. If you don't include them, everybody will write that you have nothing to say, that you're empty […] those bits, if I'm critical, could have been tighter, could have been more compressed. I think they were a bit long, a little bit baggy."
Which in view of criticisms of Boris that his conference speech was light on policy detail, suggests he made the right call. Collins, who was also Tony Blair's wordsmith, goes on to say that while he thought Starmer handled the inevitable heckles well, the interruptions and subsequent applause ("people enjoyed it far too much!") contributed to the running time, claiming Starmer "was getting standing ovations for things that were just basically boring lines that were meant to just take you to the next stage of the speech". "It got ridiculous", Collins said…
Returning to Boris, Guido also has videos of his speech.
It was clear that Boris, a former journalist, penned the words himself.
He opened with an amusing put-down of former Labour leader Jeremy Corbyn, recalling the 2019 election:
Isn't it amazing to be here in person, the first time we have met since you defied the sceptics by winning councils and communities that Conservatives have never won in before – such as Hartlepool. In fact it's the first time since the general election of 2019 when we finally sent the corduroyed communist cosmonaut into orbit where he belongs …
Then he threw in a joke about Michael Gove:
The Mail was on hand to give us Gove's reaction:
Prime Minister Boris Johnson later referenced Mr Gove's disco moves at his conference speech today, branding him 'Jon Bon Govi' – prompting the minister to turn bright red.
Here's Guido's video:
Boris said:
… for months we have had one of the most open economies and societies and on July 19 we decided to open every single theatre and every concert hall and night club in England and we knew that some people would still be anxious, so we sent top government representatives to our sweatiest boîtes de nuit to show that anyone could dance perfectly safely and wasn't he brilliant my friends? Let's hear it for Jon Bon Govi, living proof that we, you all, represent the most jiving, hip, happening and generally funkapolitan party in the world.
Tom Harwood, a Guido alum now working for GB News, gives us tweeted highlights.
Despite the rise in National Insurance tax, Boris insisted that Britain would move towards a low-tax economy:
Boris then had a go at Labour:
He then went on to slam Insulate Britain, which had blocked the roads for ten consecutive days at that point (12 as I write):
He discussed immigration from Afghanistan and Hong Kong …
… adding:
We are doing the right and responsible thing and, speaking as the great grandson of a Turk who fled in fear of his life, I know that this country is a beacon of light and hope for people around the world, provided they come here legally, provided we understand who they are and what they want to contribute, and that is why we took back control of our borders and will pass the borders bill, because we believe there must be a distinction between someone who comes here legally and someone who doesn't, and, though I have every sympathy with people genuinely in fear of their lives, I have no sympathy whatever with the people traffickers who take thousands of pounds to send children to sea in frail and dangerous craft. And we must end this lethal trade. We must break the gangsters' business model.
He made reference to 2022's general election in France and the newly-conservative outlook on the EU and immigration from our Brexit negotiator:
And is it not a sublime irony that even in French politics there is now a leading centre right politician calling for a referendum on the EU. Who is now calling for France to reprendre le controle?? It's good old Michel Barnier. That's what happens if you spend a year trying to argue with Lord Frost, the greatest frost since the great frost of 1709.
Boris then illustrated what he means by 'levelling up'. Different areas of England will get solutions to their specific needs:
I will tell you what levelling up is. A few years ago they started a school not far from the Olympic park, a new school that anyone could send their kids to in an area that has for decades been one of the most disadvantaged in London. That school is Brampton Manor academy and it now sends more kids to Oxbridge than Eton. And if you want proof of what I mean by unleashing potential and by levelling up, look at Brampton Manor, and we can do it.
There is absolutely no reason why the kids of this country should lag behind, or why so many should be unable to read and write or do basic mathematics at the age of 11. And to level up – on top of the extra £14 bn we're putting into education and on top of the increase that means every teacher starts with a salary of £30k – we are announcing a levelling up premium of up to £3000 to send the best maths and science teachers to the places that need them most.
And above all we are investing in our skills, skills, folks. Our universities are world beating. I owe everything to my tutors and they are one of the great glories of our economy, but we all know that some of the most brilliant and imaginative and creative people in Britain – and some of the best paid people in Britain – did not go to university. And to level up you need to give people the options, the skills that are right for them. And to make the most of those skills and knowledge and to level up you need urgently to plug all the other the gaps in our infrastructure that are still holding people and communities back.
As I've been saying over this wonderful conference to you when I became leader of this party, there were only, can you remember, what percentage of households had gigabit broadband when you were so kind as to make me leader? 7 percent, only 7 percent, and by the new year that will be up to 68 per cent. Thanks to Rishi's super-deduction the pace is now accelerating massively as companies thrust the fibre-optic vermicelli in the most hard to reach places.
On that topic, he had a witty go at Scotland's Ian Blackford MP, a multi-millionaire who gives the impression he has nothing. This bit is about the remote video connections Parliament had during the pandemic:
It's wonderful, for years SNP leader Ian Blackford has been telling the Commons that he is nothing but a humble crofter on the Isle of Skye. Well, now we have fibre optic broadband of very high quality that we can inspect the library or is it perhaps the billiard room of Ian Blackford's croft. And that is levelling up in action.
Boris wants to get Britons back in the office:
And my friends it is not good enough just to rely on Zoom. After decades of ducked decisions, our national infrastructure is way behind some of our key competitors.
It is a disgrace that you still can't swiftly cross the Pennines by rail, a disgrace that Leeds is the largest city in Europe with no proper metro system, a waste of human potential that so many places are not served by decent bus routes. Transport is one of the supreme leveller-uppers and we are making the big generational changes shirked by previous governments.
We will do Northern Powerhouse rail. We will link up the cities of the Midlands and the North. We will restore those sinews of the union that have been allowed to atrophy: the A1 north of Berwick and on into Scotland, the A75 in Scotland that is so vital for the links with Northern Ireland and the rest of the country, the North Wales corridor. And we will invest in our roads, unblocking those coagulated roundabouts and steering-wheel-bending traffic lights, putting on 4000 more clean green buses made in this country, some of them running on hydrogen.
And as we come out of Covid, our towns and cities are again going to be buzzing with life because we know that a productive workforce needs that spur that only comes with face to face meetings and water cooler gossip.
If young people are to learn on the job in the way that they always have and must, we will and must see people back in the office. And that is why we are building back better with a once in an a century £640bn pound programme of investment.
And by making neighbourhoods safer, by putting in the gigabit broadband, by putting in the roads and the schools and the healthcare, we will enable more and more young people everywhere to share the dream of home ownership, the great ambition of the human race that the left always privately share but publicly disparage.
And we can do it.
He discussed rewilding Britain:
We are going to re-wild parts of the country and consecrate a total of 30 per cent to nature. We are planting tens of millions of trees.
Otters are returning to rivers from which they have been absent for decades. Beavers that have not been seen on some rivers since Tudor times, massacred for their pelts, and now back. And if that isn't conservatism, my friends I don't know what is.
Build back beaver.
And though the beavers may sometimes build without local authority permission, you can also see how much room there is to build the homes that young families need in this country.
He talked about the housing crisis and the importance of home ownership, especially for the young:
He praised the success of the coronavirus vaccine rollout and the contribution of private enterprise:
He wittily criticised Labour's reluctance to accept the Government's pandemic strategy:
Boris discussed the Labour Party conference and Sir Keir Starmer. This is classic Boris:
Did you see them last week, did you watch them last week in Brighton? Hopelessly divided I thought they looked.
Their leader looked like a seriously rattled bus conductor, pushed this way and that by, not that they have bus conductors any more, unfortunately, like a seriously rattled bus conductor pushed this way and that by a Corbynista mob of Sellotape-spectacled sans-culottes or the skipper of a cruise liner that has been captured by Somali pirates desperately trying to negotiate a change of course and then changing his mind.
He discussed getting a trade deal with the United States, especially our export of British beef:
He touched on AUKUS …
… and Labour's opposition to that alliance:
He also addressed political correctness, which, frankly, has only worsened under this Government. He really does need to tackle it, so I hope he means what he says here. On a lighter note, he mentioned Michael Gove again:
We are led by our values, by the things we stand for. And we should never forget that people around the world admire this country for its history and its traditions. They love the groovy new architecture and the fashion and the music and the chance of meeting Michael in the disco. But they like the way it emerges organically from a vast inherited conglomerate of culture and tradition. And we Conservatives understand the need for both and how each nourishes the other. And we attack and deny our history at our peril. And when they began to attack Churchill as a racist I was minded to ignore them. It is only 20 years ago since BBC audiences overwhelmingly voted him the greatest Briton of all time, because he helped defeat a regime after all that was defined by one of the most vicious racisms the world has ever seen.
But as time has gone by it has become clear to me that this isn't just a joke. They really do want to re-write our national story starting with Hereward the Woke. We really are at risk of a kind of know-nothing cancel culture, know-nothing iconoclasm. And so we Conservatives will defend our history and cultural inheritance, not because we are proud of everything, but because trying to edit it now is as dishonest as a celebrity trying furtively to change his entry in Wikipedia, and its a betrayal of our children's education.
He closed by paying tribute to England footballers, Emma Radacanu and Team GB's Olympians and our Paralympians, who did so well this year:
The spirit of our Olympians. It is an incredible thing to come yet again in the top four, a formidable effort for a country that has only 0.8 per cent of the world's population … but when we come second in the Paralympics as well – that shows our values, not only the achievement of those elite athletes but a country that is proud to be a trailblazer.
To judge people not by where they come from but by their spirit and by what is inside them.
That is the spirit that is the same across this country, in every town and village and city that can be found. That can be found in the hearts and minds of kids growing up everywhere.
And that is the spirit we are going to unleash.
The crowd loved every minute:
Tom Harwood interviewed party members afterwards, all of whom gave Boris's speech rave reviews:
I could go into the pundits' analyses, but why bother? So many are disgruntled Remainers, still licking their wounds over Brexit, which means that they will attack any Conservative policy.
As a former boss of mine used to say: 'Onwards and upwards!'
The Conservative Party Conference took place in Manchester from Sunday, October 3 through Wednesday, October 6, 2021.
It was the first one since 2019, which was two months before their victory in the December 12 election that year.
UK in crisis
This year's conference took place during the ongoing petrol supply problems and shock record-breaking hikes in gas futures on Tuesday and Wednesday:
On top of that, on Wednesday, Reuters reported that the UK's petroleum regulator rejected Shell's plans to redevelop the Jackdaw gasfield in the North Sea (emphases in purple mine):
"We're disappointed by the decision and are considering the implications," a Shell spokesperson said.
It was unclear on what grounds the Offshore Petroleum Regulator for Environment and Decommissioning (OPRED) refused to approve the environmental statement for the field's development.
The Department for Business, Energy and Industrial Strategy, under whose umbrella OPRED operates, did not immediately reply to a request for comment.
Maddening.
The supply chain crisis for food continues. On Wednesday, The Times reported The National Pig Association warned retailers that 120,000 pigs would have to be slaughtered because of a lack of butchers. Some pig farmers are closing down altogether.
Some supermarkets are also suffering from empty shelves. Tesco, however, is bucking the trend. The Times reported that the supermarket chain is:
often highest up the pecking order when it comes to suppliers committing to make the business a priority …
Good for them.
Conference theme disappointing
The conference theme was … Build Back Better.
How awful.
Here it is draped across Central Station Manchester:
The Conservatives riffed on this in a Bake Off-style event. Pictured with Prime Minister Boris Johnson is Home Secretary Priti Patel:
Having listened to some of the speeches and read excerpts from others, they were all light in content. Most of them were pep rally or visionary statements rather than what plans Cabinet ministers have for the nation.
As The Telegraph's Madeline Grant wrote:
Never at a Tory Conference has so little been said, by so many, to so few.
Sunday, October 3
As the conference opened, rumours circulated about three unnamed Labour MPs thinking of crossing the aisle to the Conservatives, as the Mail on Sunday reported:
Guido Fawkes had more on the story (emphases in red Guido's):
… this is due to disillusionment with Starmer's leadership, with the MPs already having opened up "lines of communication" with Tory whips. In related news, a senior Labour MP was spotted by a co-conspirator chatting with two Mail on Sunday hacks and three senior Tory advisors at a conference bar last night…
The day's big event, according to The Spectator, was the drinks party that the 1922 Committee of backbenchers held, sponsored by ConservativeHome. Interestingly, a long-time Labour MP for north-west London — Barry Gardiner — was in attendance:
… the main focus of the night was the 1922 drinks with ConservativeHome in a room stuffed full of parliamentary talent and, for some reason, Barry Gardiner.
Strangely, Boris did not appear, leaving a gap which Chancellor of the Exchequer Rishi Sunak ably filled (video):
While Johnson was not scheduled to make an appearance here, Prime Ministers have traditionally done so in the past to pay tribute to their colleagues. His 'disappointing' absence – in the words of one disgruntled backbencher – left a vacuum for Sunak to fill, in a room full of MPs who will presumably one day decide who Johnson's successor should be.
The Chancellor leapt to the stage to tell fellow Tories about what he was most looking forward too at conference: Michael Gove dancing, the PM running in a full suit (not just a shirt) and 'machine like message discipline from every single one of you – and that means you too Cabinet.' He added that 'I've got your back' to anxious MPs in the room and that 'for the record I too am a low tax conservative' – welcome words for those party donors who Mr S[teerpike, columnist] understands attended a 'tense' meeting earlier at the Midland, amid considerable unease at the recent NI [National Insurance] hike.
In such circumstances, perhaps it's understandable that Boris would stay away.
According to The Telegraph, senior Conservatives have warned Boris not to dream up any more future tax hikes:
Earlier that day, Boris gesticulated wildly at the BBC's Andrew Marr, saying, 'You have no fiercer opponent to tax rises than me'. This probably means more tax rises are on the way:
The Spectator has more on the interview.
On tax hikes, Sir Desmond Swayne MP told talkRADIO's Julia Hartley-Brewer the raw truth. He added that lower taxes will enable greater economic growth:
Another event that Boris avoided was the one by the Tory Reform Group (TRG), which wants the Conservatives to move closer to the centre politically. They are Remainers. The Spectator reported:
Theresa May's former deputy Damian Green welcomed attendees …
Green, a mainstay of various causes on the left-ish wing of the party over the past two decades, told activists that it was their task to 'make sure that the voice of moderate conservatism, centre-right conservatism is as strong as possible within the party' – a job 'never more important than today because there are times when I slightly feel that it is only people like us that stop this party drifting back to being seen as the nasty party.' A tacit rejoinder to Priti Patel perhaps?
But then it was time for the speaker and the great white hope of Tory moderation. Tom Tugendhat, the chairman of the Foreign Affairs Select Committee, took to the stage to ecstatic applause and, like Green, was under no illusions about the awesome responsibility he and his One Nation caucus members share – to keep the Conservative party effectively sane …
There was also ample time for several potshots at the current Tory leader Boris Johnson, with whom Tugendhat is said to enjoy a wary relationship.
Foreign Secretary Liz Truss, tipped to be a future Party leader, also made the rounds that day (video):
The fringes were packed last night as Tory ministers did the rounds. Liz Truss, the darling of the free market think tanks, appeared at the Think Tent equipped with a magnificent blow dry and an applause-winning speech which castigated cancel culture as 'fundamentally wrong.' That and other jibes at identity politics in her conference address lead the Daily Mail this morning to ask whether she is in fact the new Mrs Thatcher.
Several reporters wrote about her new hairdo, which, to me, didn't look much different from the old one.
Returning to the mysterious Labour people who might want to change parties, here's Manchester mayor Andy Burnham, a former Labour MP, heaping praise on Michael Gove, the minister in charge of Boris's levelling up programme. Burnham spoke to Trevor Phillips on Sky News that morning. Hmm:
Neither Andy Burnham nor Barry Gardiner is a Conservative. Crossing the aisle for ideals they don't believe in seems a rather rash way of getting their own back at Keir Starmer.
Boris made four appearances at conference that day, including one for the Scottish Conservatives. Guido captured his wit along with audio:
The PM warned of a "crackpot coalition" between the SNP and Labour – "the only way they could" kick the Tories out.
He described the Labour conference as "a total rabble", saying it had the air to him of "a seriously rattled bus conductor" facing an "insurrection on the top deck of the bus", or the "captain of a Mediterranean cruise ship facing insurrection by a bunch of Somali pirates".
Douglas Ross MP/MSP also addressed Scottish Conservatives. As party leader in Scotland, he wants to position the party as that of the nation's working class. It's a good move, as The Spectator reported:
Like all good fables, Douglas Ross's speech at Tory conference had a beginning, middle and end. Act One detailed the many iniquities of the SNP, from their dysfunctional vaccine passport scheme to their Hate Crime Act, and most of all their agitation for Scotland to break away from the UK. Act Two took the sword to Labour, bemoaned its abandonment of working-class voters and its internal divisions over the constitution. Theirs was not the party to take on the SNP. Only one party was and it was the subject of Act Three, in which Ross deepened a theme begun under Ruth Davidson's leadership: the Scottish Conservatives as the party of the Scottish working-class.
He hit all the familiar notes about the SNP's failings in government, the ones that never seem to stick longer than two or three news cycles and are invariably forgotten about by the next election. He also hinted at an interesting theme that, if teased out carefully, could come into greater play. It is the perception, no longer wholly limited to unionists, that Nicola Sturgeon is a bit… off. Out of touch. Superior. Maybe even a bit of a snob.
In other news, last week, Labour's Angela Rayner called Conservatives 'Tory scum'. Feisty Dehenna Davison MP, representing Bishop Auckland as the constituency's first Conservative, had 'Tory Scum' badges made.
This harks back to 1948, when Aneurin 'Nye' Bevan said the Conservatives were 'lower than vermin'. Following that, the Conservatives formed the Vermin Club. Club member Margaret Roberts — who would become Margaret Thatcher — also had 'Tory Vermin' badges made, as Nigel Farage told Dehenna Davison on GB News:
Party chairman Oliver Dowden pledged that the Conservatives would do away with ugly new housing developments by strengthening planning laws.
He also assured the public that they would have turkeys for Christmas, referring to ongoing supply chain problems.
Monday, October 4
Monday opened with the latest ConservativeHome popularity poll.
Liz Truss is at the top. Other MPs pictured are (left to right) Defence Secretary Ben Wallace, Leader of the House Jacob Rees-Mogg, Chancellor Rishi Sunak and Education Secretary Nadhim Zahawi:
Guido analysed the results, excerpted below:
The turn round in her fortunes from last year when she was being tipped to be sacked from the Cabinet is quite something. Liz is one of the increasingly rare consistently free market voices around the Cabinet table…
Rishi Sunak is down by some 10 points and moves from second to fifth place. Rishi's tax hikes have clearly taken the gloss off him with the true blue believers. 
Grant Shapps [Transport] and Priti Patel are bumping along the bottom in barely positive approval territory. Shapps has been doing fairly well with the incredibly difficult transport brief. Patel is suffering because she has failed to do the seemingly impossible – stop the cross channel migrants. Tory activists are unforgiving, they don't want excuses, they want results.
It was the turn of Rishi Sunak to address the party faithful.
A rise in council tax would not go down well. Meanwhile, protesters pelted Sir Iain Duncan Smith MP with a traffic cone:
Some at conference are disappointed with Sunak, whose budget comes up in a few weeks' time. Steve Baker MP is pictured in the second tweet:
Boris was out and about in Greater Manchester. He spoke to an interviewer about policing and said that the Government needs to change its culture, which has become misogynistic, particularly in light of the Sarah Everard murder earlier this year, committed by … a policeman, who recently received a life sentence.
In other news, Justice Secretary Dominic Raab plans to reform UK human rights legislation and do away with the ties to EU human rights legislation we are still under.
With regard to the Labour mystery, Manchester's mayor, Andy Burnham, had a conversation with Levelling Up minister Michael Gove, whom he had praised the day before. The Mail reported that Burnham was also due to address Conservatives at a fringe event sponsored by Transport for the North the following day. Hmm.
The cervix question that appeared at Labour's conference was also brought up with Conservatives. Dominic Raab responded by bringing up both misogyny and misandry in a highly confused way (video):
Two MPs decided to have a bit of fun with the issue as they drove to Manchester together:
Guido recapped their amusing exchange:
Health-conscious Conservative MPs Marco Longhi and Lee Anderson don't want to fanny about when it comes to their well-being. Marco, according to their road-trip video, made sure to receive a cervix exam before heading to conference this week. Always better to be safe than sorry…
Why is it that no one ever asks if women have a prostate gland?
On the subject of health, Desmond Swayne told Julia Hartley-Brewer why he is firmly against vaccine passports:
Lord Frost (pictured on the right) threatened the EU over the post-Brexit trade issues with Northern Ireland. Outside of the conference, pig farmers protested over the inability to get their stock to market. Boris had said that government cannot solve every issue, referring to the supply chain problem. He also told British businesses to hike staff salaries, which did not go down well, either:
I think they should give the meat away. A lot of poor families would appreciate it.
Tuesday, October 5
Boris began the day with an interview to LBC's Nick Ferrari. Extinction Rebellion offshoot Insulate Britain had blocked some of Britain's roads for the ninth consecutive day.
Despite injunctions from Priti Patel's Home Office, their human blockades continue.
Boris told Ferrari they are 'irresponsible crusties' (video). The question remains whether Extinction Rebellion gets any Government funding:
Dominic Raab confirmed in his speech that he would be reform the Human Rights Act to free it from EU hackles.
Guido's post includes a quote and this summary:
They will detach it from the ECHR, enabling quicker deportations of convicted criminals and swifter action on domestic abusers …
Raab's successor at the Foreign Office, Liz Truss, confirmed a trip to India later this month, ahead of COP26 in Glasgow in November.
Guido had a chat with her:
Among other topics, the foreign secretary confided in Guido she was finding the new department's mandarins to be "a bit 'Yes, Minister'"…
Rishi Sunak addressed the Northern Powerhouse Leaders' Lunch.
Guido says:
Sunak claimed that there is a "new age of optimism" in the north thanks to Red Wall Tories, and heaped them with praise for "helping to change our party and change our country". "In me, you have a Chancellor who is going to be with you every step of the way," he added.
See? I told you these speeches were content-free.
Later in the day, he appeared at a fringe event where he was asked about the cost of Net Zero. This was his alarming answer:
Health Secretary Sajid Javid promised another reform of the NHS, which mostly involves digitisation. I can think of more pressing NHS concerns and agree with Guido:
… pouring in taxpayers' money without checking how it's being spent isn't enough. That cash needs to be put to good use. Reviewing the eye-watering pay packets of some NHS diversity managers would be a start…
The Telegraph's Christopher Hope interviewed Oliver Dowden, who is thinking about resurrecting the singing of the National Anthem at conference, calling it a 'splendid idea'.
Hope also took the opportunity to present Dowden with a 'Tory Scum' badge, which he put on and said he would wear for the duration of the interview. Hope suggested he wear it until the end of conference.
This video shows the badge exchange. Hope gives us more information on the aforementioned Vermin Club:
Guido says that the badges were most popular. Dehenna Davison had to order more:
Many conference-goers have spent the last couple of days asking Davison for one of her badges, only to be disappointed upon being told she'd run out. Good news however, after Davison put in an emergency order for 400 more given their popularity…
The most outrageous session of the day — and a British first — was an address by the Prime Minister's wife to Party faithful. No Prime Minister's spouse — we've had two husbands in that role — has ever made a party political address until now:
Never mind the subject matter: was it the right thing for Carrie Johnson to do — even if she is a very good public speaker? Boris watched from a distance.
Polling stable
I'll review Boris's closing speech in tomorrow's post.
Post-conference polling is stable. YouGov's was taken on Tuesday and Wednesday:
Sir Desmond Swayne explained to Julia Hartley-Brewer that Boris's popularity and the lack of ideas from the Opposition have buoyed the Conservatives:
What Government should do next
Health Secretary Sajid Javid needs to keep a gimlet eye on NHS spending, especially on things like this:
Guido says:
The NHS is recruiting a supplier to deliver "compassionate conversations training" to 14,000 front facing NHS staff in a publicly funded contract worth a mind-boggling £3 million. The contract tender, which was published yesterday and closes on 5 November 2021, says the aim is to equip NHS staff with "the skills they need to handle challenging situations with compassion whilst ensuring they feel able to look after their own wellbeing if needed". Guido assumed that doctors were already taught about the importance of a good bedside manner…
It's almost ludicrous to think that this weekend Javid promised a forensic review of the NHS's management and leadership whilst the NHS continues to recklessly splash cash on diversity roles. Just six months ago Guido revealed that the NHS was hiring eight more 'diversity, equality and inclusion managers' across the country, with salaries up to as much as a whopping £62,000. If Javid is going to cut down those waiting list times he needs to focus taxpayers' money on the clinical front line, not nonsense make-work contracts and diversity roles…
Guido says it is also time for Boris to reconsider the current Government moratorium on fracking:
If Boris wants to energise Britain, domestic gas production should be part of that mix; it would provide energy security when Britain's energy needs are being threatened by the Russians and the the French. Boris is now in a position to do something glorious, to stop pussy-footing around and leave no stone unturned or unfracked. So get on with it…
This is what Boris had to say on the subject while he was Mayor of London:
I won't be holding my breath on either of those propositions.
Tomorrow: Boris's keynote speech
Last week, I wrote about the global transport crisis.
This week, I saw two more items on the subject about the situation in Britain.
Michael Crick, a journalist who used to work for Channel 4 News and now writes for Mail+, stopped at a lorry park in Staffordshire, England, to chat with HGV (heavy goods vehicles) drivers.
The page with his article includes a video featuring brief interviews with drivers who stopped in at the Hollies Truck Stop for a bite to eat and a bit of a rest. He also interviewed Ian Wright from the Food and Drink Federation and a dairy farmer.
Despite the long hours, the drivers' salaries are going up. One said that his hourly wage went up 50%, from £13 to £18. Crick browsed the job adverts in Transport News and found many paying from £40,000 to £50,000 per annum.
He asked one driver why younger people aren't seeking these jobs. The driver replied that many younger people are 'bone idle'.
Crick included a summary of his other interviews in his article. They were less positive (emphases mine):
… few drivers I met this week would recommend the job to their children or grandchildren. The job nowadays is overloaded with bureaucracy, they say. Drivers are treated with no respect wherever they go, and sometimes get lumbered with fines their employers won't pay.
He discovered that some HGV drivers are switching to making customer deliveries, whether for supermarkets or Amazon:
Many HGV men (and the occasional woman) decided it's simpler to drive for Sainsburys, Tesco or Amazon. The distances are shorter, the hours are more sociable, and the pay is sometimes better. Yet unless British firms can recruit more lorry drivers, the economy will be in serious trouble.
As for dairy farmers, in August, there were not enough drivers to take their milk to market:
In the area round the Hollies Truck Stop, around 30 dairy farmers were told one day last month to drain away their milk because the buyer didn't have enough drivers to do the daily milk collection.
The farmer Crick interviewed says he was able to arrange a work around for his milk delivery but said that the other farmers were unable to do so.
The other item I saw was posted online in a comments section. I do not know the provenance of this first-hand experience of a former lorry driver, but it is well worth reading: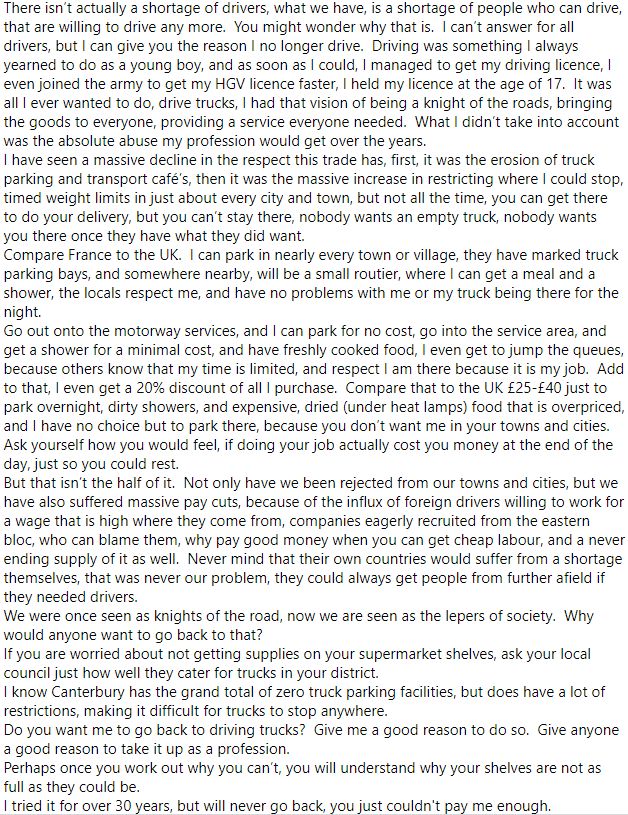 Judging from his testimony, the government and local councils need to ensure that drivers can circulate and make their stops more freely in town and city centres. Canterbury, I'm looking at you.
Local councils could also appropriate a brownfield site for a truck stop. These men and women need places where they can eat and rest.
The industry is starting to pay better wages. Of course, that will be passed along to consumers, but do we care? Driving a lorry these days is no treat. And, as the driver says, to make things worse, he and his associates are seen as:
the lepers of society.
That's odd, given that the pandemic has made us more dependent on lorry drivers than ever.
Unlike the other essential workers so many Britons applauded every Thursday in 2020, lorry drivers don't take time off for stress. They don't star in dancing videos, either. They are always there for us, until we make their occupation so unbearable for them that they quit.
On Thursday, September 9, the Scottish parliament voted in a motion to implement vaccine passports for the nation, beginning October 1:
Patrick Harvie's Greens, who are in a new alliance with the governing SNP, changed their minds about vaccine passports and decided to vote in favour of them:
Some of the MSPs lost their internet connection during the vote. That does not matter, because they, along with MSPs voting from home, can let the moderator know and she will allow them to cast their vote in person or over the telephone. Those votes are broadcast in the chamber.
The incident gives me a chance to show you the interior of Holyrood, where MSPs meet:
The day before the Holyrood vote, MPs in Westminster debated the implemention vaccine passports for England.
Nadhim Zahawi, the vaccines minister, gave a statement about the plans. It did not go well for him.
MPs — including his fellow Conservatives — quoted his previous statements in which he said the passports would not be implemented domestically.
William Wragg (Con), a member of the awkward squad of backbenchers, chided Zahawi (emphases mine):
What a load of rubbish. I do not believe that my hon. Friend believes a word he just uttered, because I remember him stating very persuasively my position, which we shared at the time, that this measure would be discriminatory. Yet he is sent to the Dispatch Box to defend the indefensible. We in this House seem prepared to have a needless fight over this issue. It is completely unnecessary. We all agree that people should be encouraged to have the vaccine, and I again encourage everybody to do so, but to go down this route, which is overtly discriminatory, will be utterly damaging to the fabric of society.
Zahawi replied:
I am grateful to my hon. Friend, who has made his view clear to me on many occasions. It pains me to have to take a step like this, which we do not take lightly, but the flipside to that is that if we do not and the virus causes super-spreader events in nightclubs and I have to stand at the Dispatch Box and announce to the House that we have to close the sector, that would be much more painful to me.
Mark Harper, another Conservative who has opposed coronavirus restrictions, voiced his disapproval:
I have to say that I agree with the Chairman of the Public Administration and Constitutional Affairs Committee, my hon. Friend the Member for Hazel Grove (Mr Wragg). The Minister set out earlier this year that this policy was discriminatory. He was right then and that remains the case. It is a discriminatory policy. The vaccines are fantastically effective at reducing hospitalisation and death. They are very much less effective in reducing transmission of the Delta variant. This is a pointless policy with damaging effects. I am afraid that the Minister is picking an unnecessary fight with his own colleagues. I say to him that the Government should think again. The Leader of the House has been clear that we do not believe—the Government do not believe—that this policy is necessary for us to meet here in a crowded place. Let us not have one rule for Members of Parliament and another rule for everybody else. Drop this policy.
Zahawi replied, saying he hoped the vaccine passports would be temporary:
This is not something that we enter into lightly, but it is part of our armoury to help us transition over the winter months from pandemic to endemic status. I hope to be able to stand at this Dispatch Box very soon after that and be able to share with the House that we do not need to do this any more as we will be dealing with the virus through an annual vaccination programme.
An SNP MP hoped there would be proportionality:
I pay tribute to all those involved in the vaccination programme. It has been extraordinary. In Scotland, we have 4.1 million adults with a first dose and almost 4 million with a second dose, which means that north of 90% of all adults have had at least one dose. It is a fantastic result across the UK since last December, but the pandemic is not over. Lives are still at risk and the pressures on the NHS are very real, so we in Scotland are introducing a vaccine passport, but, broadly, it will be limited to nightclubs, outdoor standing events with more than 4,000 people and any event with more than 10,000 people. While the rules in England may be slightly different, I hope that they are as proportionate as that.
Zahawi said that more details would be forthcoming.
Zahawi's voice faltered several times during the debate:
It pains me to have to stand at the Dispatch Box and implement something that goes against the DNA of this Minister and his Prime Minister, but we are living through difficult and unprecedented times. As one of the major economies of the world, our four nations have done an incredible job of implementing the vaccination programme. This is a precautionary measure to ensure that we can sustainably maintain the opening of all sectors of the economy.
A Liberal Democrat MP, Munira Wilson, picked up on Zahawi's delivery:
I almost feel sorry for the Minister because he really is struggling to defend this policy. However, he has failed to answer the fundamental question posed by my right hon. Friend the Member for Orkney and Shetland (Mr Carmichael) about this deeply illiberal, discriminatory and unnecessary policy: will this House get a vote on the implementation of covid vaccine passports—yes or no?
Zahawi answered:
There will be appropriate parliamentary scrutiny, as I have said today and in the past.
Not one MP approved of the proposed policy measure in the debate.
On Friday, September 10, news emerged that, if implemented, vaccine passports could open the way for sweeping powers. They could eventually become a national ID 'card'. The Telegraph's Madeline Grant tweeted:
The Telegraph's news that day cited an article from The Sun saying that we might have to have a vaccine passport to go to the pub:
Britons could be required to show vaccine passports at more businesses, the Culture Secretary has suggested amid reports the Prime Minister is preparing to unleash a "toolbox" of contingency measures. 
The Government is set to push ahead with mandatory Covid certification for nightclubs at the end of the month.
But The Sun reports that this will be widened to include other venues such as stadiums and pubs, which will be announced next week by Boris Johnson as part of plans to control the virus through the autumn and winter. 
Oliver Dowden told Sky News: "We will be looking at bringing in certification for nightclubs at end of the month.
"If there is a need to further extend that certification according to the public health need, we will look at doing so but we're always reluctant to impose more restrictions on businesses unless we really need to."
However, having voted in the unpopular increase in National Insurance contributions and the poll result showing a Labour lead for the first time since January, the Government reconsidered their stance on vaccine passports.
On Sunday, September 12, Health Secretary Sajid Javid appeared on the BBC's Andrew Marr Show to say that vaccine passports in England will not be going ahead. I would add 'for now', because this Government is on a right merry-go-round with regard to coronavirus policies:
Mark Harper MP welcomed the news:
Even Public Health England (PHE) statistics show two inoculations (I use the term advisedly) offer little protection:
TalkRADIO's Julia Hartley-Brewer points out that vaccine passports cannot save lives and are discriminatory:
Yet, Scotland's First Minister Nicola Sturgeon insists the decision to implement them north of the border is the right thing to do:
However, one of Scotland's coronavirus advisers, behavioural psychologist Stephen Reicher implied that England, not Scotland, made the right decision:
Guido Fawkes has a quote from Reicher (emphases in the original):
They are a double edged sword. Passports accelerate uptake in the willing but accentuate opposition in the sceptical. They increase safety but can increase complacency.
Quite a departure from Sturgeon's claim that they "have part to play". At least she insisted they were "a very limited scheme"…
Scotland could still backtrack on vaccine passports, as their September 9 vote was on a motion only, not legislation:
It is good to see that politicians are taking note of the public mood — for once.
For the past 20 years, England's front gardens have been vanishing bit by bit.
The culprit is the automobile.
More households have cars and a number of them have two.
Most people do not have garages and must park on the street. The number of available parking spaces makes coming home from work or a day out challenging in our hunt for a place to park.
Another reason for the vanishing front garden is the restriction by local councils on the number of parking permits granted per household.
Therefore, the practical solution is to get rid of the front garden, guaranteeing that one will always have a place to put at least one car.
The problem with this is that, with heavy rain excess water has nowhere to go, because there is no longer any soil to absorb it.
Harry Mount, writing for The Telegraph, points out that paved-over front gardens contribute to damaging urban floods (emphases mine):
Where earth absorbs water, concrete sends it pouring into your basement. This summer, intense rainstorms produced extensive basement flooding in Walthamstow, north-east London, and Holland Park, in the capital's west. The rain that would once have soaked into the deep earth of the front garden sloshes instead into the new subterranean cinema, leading, literally, to a perfect storm when the heavens open.
Gardening expert Bunny Guinness says that, in Peterborough, she was surprised to learn that "people in residential streets were only allowed two residents' permits per house. That meant anyone who went over their allocation had to pave over their front garden to squeeze in another car."
I first noticed the disappearance of the front garden when I lived in northwest London.
Now I see it in the Home Counties.
It is an unfortunate development which goes against the current ecological trend, as Mount explains:
However small your front garden is, it can accommodate a huge range of plants, as long as you don't give in to the four-wheeled invaders.
In Wildlife of a Garden: A Thirty-Year Study, Dr Jennifer Owen described the species she has found in her garden in Leicester. In those three decades, she has counted 474 plant species, 80 types of spider, 183 bug species, 375 types of moth and 442 kinds of beetle. All in all, the retired ecology lecturer and zoology museum curator has found 2,673 different species of flora and fauna.
And that's only the tip of the iceberg. In the average British garden, the total number of insect species is thought to be around 10,000. Pouring concrete over your front lawn, then, is tantamount to insecticide.
We might imagine the front gardens of Blighty are fairly unexotic, but we mess around with our unique legacy at our peril: in fact, thanks to our temperate climate that can accommodate northern and southern species, they are more ecologically diverse than the lushest rainforest.
Sadly, as Mount points out, the loss of the front garden is likely to increase with the use of notionally eco-friendly electric cars:
In the eternal battle between front lawns and our love of the car, it seems, the automobile is winning. And, in a strange paradox, supposedly green electric cars are killing off more front gardens than ever, with eco-conscious drivers needing to park close to their front door in order to keep their motor charged.
The green lobby have been complaining for years about the loss of our English flora and fauna.
Their championing of the electric car is partly to blame.