You are currently browsing the tag archive for the 'Parliament' tag.
Sadly, Prince Philip, the Duke of Edinburgh, died on Friday, April 9, 2021, exactly two months short of his 100th birthday:
The Queen has lost her best friend. My deepest sympathies to her for the unimaginable loss of her long-time husband and daily confidant. My condolences also go to the Royal Family in their grief.
Young love
The couple first met in 1934, and began corresponding when the Prince was 18 and a cadet in the Royal Navy. Princess Elizabeth was 13 at the time.
She was smitten with him from the start.
Prince Philip served with distinction during the Second World War in the Mediterranean and Pacific fleets.
After the war ended, he could have had a stellar career in the Royal Navy. His superiors praised his clear leadership skills.
However, love intervened and the rest was history.
Born Prince Philip of Greece and Denmark, he renounced his foreign titles and took British citizenship before he and Princess Elizabeth were engaged. He took the surname of his maternal grandparents: Mountbatten.
He and Princess Elizabeth were engaged in July 1947. They married on November 20 that year. Shortly before the wedding, George VI gave him the titles of Duke of Edinburgh (created for him), Earl of Merioneth and Baron Greenwich.
Prince Philip remained in the Royal Navy until July 1951. He retired with the rank of Commander.
Royal succession — and surname
In January 1952, he and the Queen began a tour of the Commonwealth countries. They were in Kenya when news reached them that the Queen's father, George VI, died on February 6 that year.
Although she became Queen immediately upon her father's death, her coronation took place in 1953, as it had to be planned meticulously.
On Coronation Day, he knelt before her, clasped her hands and swore an oath of allegiance to her:
He also had to touch her crown and kiss her on the cheek.
He never had a constitutional role, nor was he ever formally given the title of Royal Consort. The courtiers did not like him, nor did they trust him. They believed his personality to be brash and unbecoming of the Royal household. They shut him out of as much decision making as possible.
When Elizabeth became Queen, the question about her family name arose. Prince Philip suggested that the Royal Family be known as the House of Edinburgh. Upon discovering that suggestion, Queen Mary, Elizabeth's grandmother, wrote to Prime Minister Winston Churchill, who advised the young monarch to issue a royal proclamation saying that the Royal Family would continue to be known as the House of Windsor.
In his inimitable style, Prince Philip complained privately:
I am nothing but a bloody amoeba. I am the only man in the country not allowed to give his name to his own children. [57]
The Queen did nothing until eight years later, in 1960, 11 days before she gave birth to Prince Andrew. She issued an Order in Council declaring that the surname of her and her husband's male-line descendants who are not styled as Royal Highness or titled as prince or princess would be Mountbatten-Windsor.
Pater familias
Prince Philip had to carve a role out for himself. He became the pater familias and, through the years, his role expanded to cover not only his four children but his grandchildren. He listened to their concerns, shared their joys and gave them advice. He knew everything that went on in their lives.
Although the public knew him for speaking as he saw — rather bluntly, on occasion — behind closed doors Prince Philip was known to be a warm, loving man.
He also favoured a more transparent Royal Family. According to the BBC, it was he who encouraged the Queen to make a multi-episode documentary on their daily lives, including those of their four children. It was broadcast in the late 1960s. I remember seeing it in the United States.
When Princess Diana died on August 31, 1997, Prince Philip was the one who kept an eye on the public mood that fateful week. He, the Queen and Princes William and Harry were at Balmoral in Scotland for their summer holiday. When the young princes wanted to attend church, their grandparents took them to the Sunday service on the day of their mother's death. Later in the week, it was Prince Philip who encouraged the boys to walk behind the funeral procession the following Saturday. He said:
If you don't walk, I think you'll regret it later. If I walk, will you walk with me? [93]
One cannot imagine what he thought of Prince Harry's departure for the United States to live a life separate from his closely knit family. I did read that the Royal Family shielded information about the Oprah interview from him.
John F Kennedy's funeral
Prince Philip was in Washington for John F Kennedy's funeral in 1963.
He had a friendly encounter with John Jr, who was still a toddler and known as John-John at the time. The child wondered where his father was, as he had no one with whom to play. The Prince stepped in to fill that gap. In 1965, the British government gave an acre of land at Runnymede to the United States for use as a memorial to JFK:
Funeral arrangements
Prince Philip was self-effacing and did not like a fuss to be made over him.
Therefore, the funeral arrangements will respect his wishes, which is rather convenient, as coronavirus restrictions are still in place. Up to 30 people will be allowed at his funeral, in line with legislation across the nation:
The funeral is scheduled to take place on Saturday, April 17:
It is interesting that Prince Harry will be able to attend when we have a 10-day quarantine in place for arrivals into the UK under coronavirus regulations.
The Sunday Mirror reported on Prince Harry's return to the UK:
He could also be released from quarantine if he gets a negative private test on day five, under the Test to Release scheme.
Given his status as a member of the Royal Family travelling to support the Queen, Harry might be considered exempt from travel restrictions.
Wow. It's nice to know we have a two-tiered quarantine system in place /sarc.
A championship boxer remembers the Prince
Former WBC Heavyweight Champion Frank Bruno MBE posted his memories of meeting Prince Philip. He is at the top left in the following photo:
An Anglican priest remembers the Prince
The Revd Peter Mullen, an Anglican priest, recalled his encounters with Prince Philip for Conservative Woman on April 10 in 'A personal recollection'.
He first met the Prince during his schooldays:
The first time I met the Prince was in connection with his Duke of Edinburgh's Award Scheme which gave a leg up to youngsters from what would now be called the less privileged parts of the country. He paid a visit to the Leeds branch of the Church Lads' Brigade of which, aged fourteen, I was a member. We were in the church hall making things. My task was to make a table lamp. I was hopeless at it.
The Duke got hold of my half-finished creation, held it up to one eye and said, 'I suppose this hole is where the flex goes?'
'I think so, Sir.'
'You think so? I was never any good at this sort of thing either!'
And he was off . . . 
As an adult, Mullen met him on more than one occasion thanks to the Honourable Company of Air Pilots. The Prince was its Grand Master. Mullen served as chaplain.
He recalls:
The Company gave a lunch for him to mark his 80th birthday and I recall how jovial he was, making light of his years: 'I believe I have lasted so long because you people are always toasting my good health, but I don't want to live to be a hundred. Things are dropping off already!'
At another luncheon one of our Liverymen who had his own port wine business presented the prince with Bottle Number One, the first fruits, so to speak. As he left, the duke handed the bottle to me: 'You have this, Peter. Our house floats on the bloody stuff.'
'Well, Sir, now I don't know whether to drink it or frame it.'
'Gerrit down ya neck!'
Prince Philip on MPs
Guido Fawkes came up with a good quote from one of the Prince's trips to Ghana. It concerns MPs. His Ghanaian hosts told him the country had 200 MPs. Prince Philip replied:
That's about the right number. We have 650 and most of them are a complete bloody waste of time.
Incidentally, Parliament will be recalled one day early from Easter recess. On Monday, April 12, MPs and Lords paid tribute to the Prince in their respective Houses:
That afternoon, the House of Commons reconvened to pay their tribute — from 2:30 p.m. until 10 p.m. (good grief).
Speaker Sir Lindsay Hoyle spoke first:
Prime Minister Boris Johnson had this to say:
Boris Johnson, who was invited to the funeral but declined so that another member of the Royal Family can attend, said that he would forego a pint when pub gardens reopen on April 12, out of respect for the Prince. Guido Fawkes, however, thinks that the Duke of Edinburgh would have wanted us to toast his memory, especially at a pub that bears his title in Brixton, south London:
Guido had a second tweet on the subject with another quote from the Prince:
Agreed.
Prince Philip on Australia
This is too funny. For those who are unaware, Australia was established as a place where Britain could send convicts. That was a long time ago, but the nation's original purpose was to serve as a prison: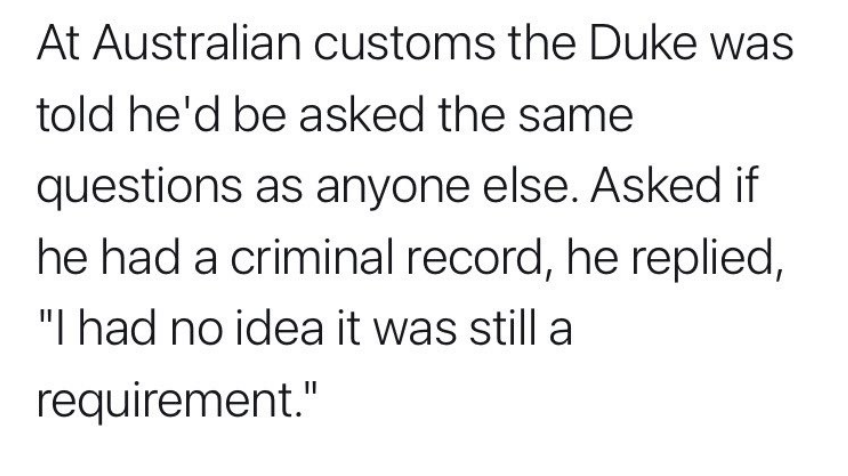 Prince Philip on civil liberties
On a serious note, the 12-minute interview below from 1984 is well worth watching, especially in the coronavirus era.
Prince Philip firmly supported the rights of the individual and believed that the state should serve the individual, not, as in our times, the other way around.
This is from a Thames Television programme originally broadcast on ITV:
I have posted the video below in case the tweets are deleted:
The Prince also said that certain subjects are out of bounds, such as the media and the NHS.
He said that the media are incapable of taking a joke about themselves and, as for the NHS, well, one cannot say anything against it. He didn't necessarily dislike the NHS but thought it was held in too high a regard. Nothing is perfect in this world.
We have been travelling a long road towards the point where we are at present: ruled by the media (they clamoured for coronavirus restrictions) and worship of the NHS. This is how Health Secretary Matt Hancock, Prime Minister Boris Johnson and SAGE have been able to rule our lives. It's been at least 40 years in the making.
BBC coverage on Friday
I was watching BBC Parliament early Friday afternoon, around 1:15, when the programme was interrupted by a broadcast from the BBC News Channel.
I checked the schedule an hour later, which said that the programme would last until 4 p.m. It was still going when I was preparing dinner at 5 p.m.
The final of MasterChef was to have been broadcast that night on BBC1. This was a clip from Thursday's programme:
Pictured are the hosts and judges, chef/restaurateur John Torode on the left and former greengrocer, now television presenter, Gregg Wallace on the right:
BUT:
The BBC News channel was simulcast all afternoon and all night long, not only on BBC Parliament but also on BBC1, to the dismay of MasterChef fans (myself included), and BBC2. BBC4 was suspended for the evening.
I read on social media that the BBC also broadcast continuous coverage of Prince Philip on their radio stations, including Radio 2, knocking out Steve Wright's drive-time show on Friday afternoon.
A friend of mine said that most of the BBC's employees were probably rubbing their hands with glee because it meant an early weekend for them. It's a cynical perspective that could well turn out to be true. We'll find out when someone writes his or her memoirs.
Everyone with a television set receives the BBC News channel. It comes into our homes at no extra charge. There was no need for the BBC to take over every channel for hours on end. By the way, if one had watched two hours of the Prince Philip coverage, as I did, one would have seen and heard everything in its entirety.
The BBC braced themselves for a plethora of complaints; they took the relevant page down on Sunday. Good. I am sure Prince Philip would have objected, too.
As much as I love the Queen, I hope they do not try this when her day comes. God willing, may it be long into the future.
Record-beating prince
Prince Philip established two records as consort to the Queen. He was the longest-serving royal consort in British history. He was also the longest-lived male member of the British royal family.
May he rest in eternal peace with his Maker.
May our gracious Lord grant the Queen, Defender of the Faith, His infinite peace and comfort in the months ahead. May He also bless the Royal Family during this difficult time.
Parliament is entering Easter recess on Thursday, March 25, 2021.
A few notable news items follow from both Houses — and the Scottish Parliament.
Scottish Parliament — MSPs standing down
A number of MSPs are standing down from their seats in Holyrood. Scots will elect new MSPs in May.
The Scotsman has a useful list, complete with photos, cited below. Emphases mine:
While all 129 of Holyrood's seats will be contested at this year's ballot, more than a quarter of the current crop of MSPs are standing down – including high profile figures like Ruth Davidson, Iain Gray and Jeane Freeman.
Highlights follow.
Independent
I will miss Ken Macintosh, who was a faultless convener presiding over fractious debates during the past year:
Ken Macintosh has been an MSP since the opening of the parliament in 1999, before unsuccessfully seeking the Labour leadership twice. He was elected as the parliament's fifth presiding officer in 2016, but announced in September that he would not be seeking re-election as an MSP.
Scottish Conservatives
Ruth Davidson will be elevated to the House of Lords:
The former Scottish Tories leader took over the party's reins at Holyrood once more when MP Douglas Ross was elected as the new leader last year. Ms Davidson will now take up a seat in the House of Lords.
Scottish Labour
Iain Gray is ending a long career as an MSP:
Former Scottish Labour leader Iain Gray was first elected to the Scottish Parliament in 1999 and is currently Labour's education spokesman at Holyrood.
SNP
Here is the list of SNP MSPs who are standing down. Many have been in Holyrood for a number of years:
Jeane Freeman was in charge of health during the coronavirus crisis. Many residents of Scottish care homes died during that time.
One wonders what she will do next:
Health Secretary Jeane Freeman confirmed she will not seek re-election. The Carrick, Cumnock and Doon Valley MSP said she had "more she wanted to do" outside of politics.
The Scotsman has an interesting article from 2018 about her career history at that time:
Jeane Freeman, for it was she, has moved on to greater things as Health Minister in the Scottish Government. In the first half of this decade, she was a useful cog in the SNP machine as a former Labour apparatchik who, when the wind changed, discovered she was really a Nationalist.
Long a habituée of the quango circuit, Ms Freeman's new appointments included the disastrous Scottish Police Authority. In her peak year of 2013-14, she pulled in £57,000 from that source alone. There were a couple of NHS roles, not forgetting the Judicial Appointments Board.
All this added up to 376 paid days in the financial year. One might have thought the Scottish Commissioner for Public Appointments (for such a person exists) might have done the arithmetic and asked questions but that is to over-estimate the vigilance of our non-barking watchdogs.
At the same time, Ms Freeman fronted "Women for Independence" and ran a lobbying firm which targeted the public sector. When a member of the public tabled a Freedom of Information request in 2015 about her business meetings with Scottish Ministers and officials, he was given the classic brush-off – the question would cost too much to answer.
Not unreasonably, he then wondered how lobbying activity could be monitored if ministers refused to provide information about their contacts on such implausible grounds. Another of our civic protectors, the Freedom of Information Commissioner, dismissed his complaint. Scotland really is a village …
There are still individuals floating around the Scottish quango circuit who were being put up for every chairmanship that occurred 20 years ago. The qualifications are that they challenge nothing, remain anonymous and nod their heads when directed by ministers. Political influence is as prevalent as it ever was – just much less transparent. Ask Ms Freeman.
This all fits into the wider pattern of centralisation which has systematically downgraded every other centre of influence within Scotland – public bodies, local government, police boards, funding-dependent third sector organisations – in order to create a closely integrated structure which brooks no challenge.
There is a powerful political agenda waiting to be created around the need to restore diversity and scrutiny within Scotland in order to challenge the power of the centre. Some might see that requirement as a paradoxical outcome of devolution while others recognise it as depressing – but largely predictable.
Linda Fabiani was the convener for the Holyrood inquiry examining the way Alex Salmond's case was conducted. Hmm. Interestingly, The Scotsman makes no mention of this:
Ms Fabiani was first elected to the Scottish Parliament in 1999 as an MSP for Central Scotland, but since 2011 she has represented East Kilbride.
Then there's Mark McDonald:
The Aberdeen Donside MSP resigned from the SNP after sending a woman an inappropriate text message which referenced a sex act.
House of Commons news
Historic Westminster by-election in Scotland
A historic by-election will be taking place in Scotland as the SNP's Neil Gray announced he would be standing down. He made his final speech in Westminster — the mother of all Parliaments — on Tuesday, March 23:
An arcane parliamentary point needs to be explained:
Although the actual Manor of Northstead in Yorkshire no longer exists, the estate has been redeveloped as a park.
In political terms, this is a temporary position for MPs who have resigned and is given out at the pleasure of the Chancellor of the Exchequer. Wikipedia explains:
By virtue of the fact that it became and was retained as a Lordship of the Crown beyond the sale and eventual disappearance of the estate, since the nineteenth century the post of Crown Steward and Bailiff of the Manor of Northstead has played a role in the procedure for effecting resignation from the British House of Commons by Members of Parliament (MPs). While no longer having any actual role or responsibility, it remains a nominal paid office of the Crown, a sort of sinecure, appointment to which is one of the things that by law disqualify an MP from the House. This principle goes back to the Act of Settlement 1701, and is now regulated by the House of Commons Disqualification Act 1975. Since 1624, MPs have not been permitted to resign their seats directly. While several such offices have been used for this purpose in the past, in the present day only two are used: the Northstead post and that of Crown Steward and Bailiff of the three Chiltern Hundreds of Stoke, Desborough and Burnham.[1][2]
… Appointments to the posts are made by the Chancellor of the Exchequer. Using two posts allows more than one MP to resign simultaneously, although more commonly, single resignations are effected by alternating appointments to the Northstead and Chiltern Hundreds offices. One of the most recent MPs to be appointed to the Northstead office was former Prime Minister David Cameron, who announced his decision to resign from his Parliamentary seat of Witney on 12 September 2016.[5]
Neil Gray was praised again in the House of Commons today during Business Questions, including by Leader of the House Jacob Rees-Mogg. Here are more compliments from Tuesday:
This means there will be a by-election in Gray's former constituency of Airdrie and Shotts:
This is the first time there will be a Commons by-election in an SNP-held seat:
Boris reasserts his position as Prime Minister
On March 24, Prime Minister Boris Johnson appeared before the Liason Committee, comprised of heads of the parliamentary Select Committees.
The session lasted around 90 minutes and covered several topics, one of which was devolution.
Scotland and Wales are trying to whittle away the significance of the UK government.
Stephen Crabb (Conservative, Preseli Pembrokeshire) asked Boris how he saw his position. He confirmed that he is the Prime Minister of Scotland as well as the United Kingdom:
Part of the answer is to employ civil servants with the ability to accommodate the interests of the United Kingdom as well as those of the devolved nations:
House of Lords news
Two notable things happened in the House of Lords this week.
Unusual tie vote
The Lords voted on an amendment to a Government bill, only to find the result was tied. As such, the amendment failed, meaning that the Government won that round:
Hereditary peer says old biscuits perfectly edible
The House of Lords still has 90 hereditary peers.
One of them is Lord Palmer, whose family part owns the famous biscuit manufacturing firm Huntley and Palmers Ltd.
If anyone in the Lords should know when a biscuit is past its best, it would be he.
I'm bookmarking this for future reference:
With Parliament in recess, I'll be able to do some springtime projects around the house. If I find a stale biscuit, I'll let you know.
At the weekend, demonstrations took place across Europe protesting lockdown and other continuing coronavirus restrictions. Most of those were peaceful.
Meanwhile, in Bristol, on Sunday, March 21, 2021, a violent group of rioters took exception to the proposed Police, Crime, Sentencing and Courts Bill making its way through Parliament. It passed its second reading last week and goes into committee for further debate this week.
It has been a long time since such violence has touched our shores. It was as if poison had come from across the pond, so to speak.
Having seen videos of what happened, millions of people living in England will now hope that the proposed legislation makes it through Parliament and the Lords with few amendments.
On Monday, March 22, Chief Constable Andy Marsh of Avon and Somerset Police detailed the damage and injury for Sky News. A number of officers had to be sent to hospital, two with injuries that required immediate treatment. One of those officers had a punctured lung, another a broken arm. Chief Constable Marsh said that every one of them is doing well and are out of hospital. Twelve police vans were also destroyed. Police have arrested seven people but the Chief Constable says that he will need the public's help in the coming days to arrest more:
You can see the police vans being set alight in this video:
Here is a burnt-out police car:
And who will pick up the tab for replacements? Taxpayers:
The riot's name was Kill the Bill. On the face of it, it was about the legislation, however, the police are also known colloquially in England as 'the Bill', for many reasons, one of which was that they used to carry a Bill of Parliament with them to certify their authority:
It is attempted murder when you look beyond the name of the riots….'kill the bill'…..nothing to do with the 'bill' passed in Parliament.
No doubt Bristol's authorities thought they saw the last of their problems once they started acquiescing to demonstrators' demands last summer. But the radical left always want more:
ITV News has a video of a police van being rocked back and forth. It also includes the broken windows at Bristol's Bridewell Police Station. Bristol residents quickly disowned the gratuitous vandalism:
Police tried to do the right thing last summer, but the 'softly, softly' approach does not work in the long run. Think Seattle. Think Portland:
This is what happened Sunday afternoon:
This is what happened on Sunday night:
According to Rep. Adam Schiff (D-California), rioters are attempting to achieve peace through violence. Sounds like the Bolsheviks of a century ago:
The British public are understandably unhappy:
Note the reaction to this tweet from Home Secretary Priti Patel:
Yes, the English will want rioters brought to book and properly sentenced:
Some think that Bristol's Labour council might be onside, just as Democrat-controlled cities were with American protests last year:
Labour MPs also opposed the proposed legislation last week, even though the principles of the bill, not specifics, were being discussed.
As much as we support the police, they, too, need to rethink their optics and their tactics.
Only a week ago, the public saw this in London during the vigil for Sarah Everard:
Just days later, police in England went after soft targets at pro-democracy rallies but appeared seemingly helpless when confronted by anarchists:
It's not a good look.
By and large, the British support the police but find their modus operandi confusing, to say the least. No new laws will help that.
In the UK, the annual budget statement is the Parliamentary event of the year for the British public.
This year, it took place on Wednesday, March 3:
In the old days, many people bought a newspaper the following day for the details on taxes.
Now everything is online and many more people are tuning in to one of the two Parliamentary channels to watch proceedings.
Why is this so important? As Chancellor of the Exchequer Rishi Sunak says, this involves taxpayers' money. It's not the government's, it's ours:
This year, he held the first-ever press conference on the budget:
Here is a bit of history on the UK budget:
In modern times, the Chancellor displays his ministerial red box for an obligatory photo op before going to Parliament:
Despite what the Opposition said on Wednesday, Rishi Sunak put in a lot of work, including television interviews:
He held an online meeting with those most affected by the coronavirus lockdown and the loss of income:
No one could have imagined that when he gave his first budget, on March 11, 2020, one that was full of optimism and big plans, how things would change within one year:
By the way, the projected coronavirus spending for this year should fall dramatically compared with 2020:
On the day the Chancellor lays out the budget, the Chairman of the Ways and Means committee presides, rather than the Speaker of the House.
Since last year's budget, Dame Eleanor Laing, also a Deputy Speaker of the House, was appointed to head this committee:
In the next video, the delightful Dame Eleanor explains what the budget is and how it is debated in Parliament after the Chancellor presents it:
Coronavirus has brought its own challenges. Normally, every MP packs into the Commons for the budget. This year, socially distancing was enforced. Most MPs participated in the initial debate virtually:
Here she is with her team. Masks are obligatory on the Parliamentary estate these days:
This is the video of the coverage as it happened. Click to watch it:
Below are the highlights.
Much of it concerns economic recovery from the pandemic:
Most taxes are frozen for now as well as personal tax thresholds:
There will also be a new taskforce to help prevent fraud in coronavirus claims:
These are designed to fit around Prime Minister Boris Johnson's roadmap to exit the coronavirus crisis:
There will be help for small-to-medium businesses:
And help for technology businesses:
There is a new visa programme to attract the brightest and best talent:
I do hope that our education system is improved so that we do not need to keep looking abroad for talent. Only 30 years ago, Britain's schools were among the best in the world. How times have changed.
You can get more detail about the budget from The Telegraph. One thing to note is that the inheritance tax threshold has not changed since 2009. It is still £325,000 per person.
Finally, in an exciting post-EU development, the Chancellor announced eight new Freeports, where favourable customs rules and tax reliefs will apply, furthering trade with other nations:
Teesside will also be the new 'campus' for the UK's treasury, just up the road from the Chancellor:
The hospitality industry, which has been closed since December — and longer in some places with regional lockdowns — welcomed the budget measures:
The director-general of the Confederation of British Industry (CBI) was also satisfied:
I am cautiously optimistic, but I felt so much happier with the 2020 budget, when we were on top of the world.
For Labour and the SNP, the spending didn't go far enough. However, as Margaret Thatcher, Britain's first female Prime Minister and a Conservative, said in 1983: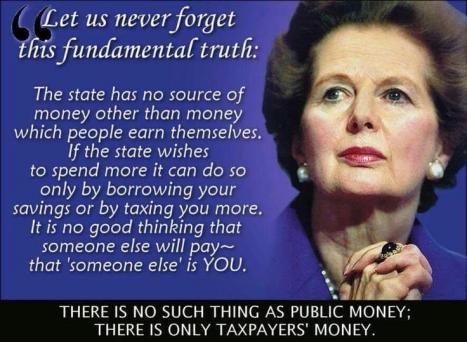 Rishi Sunak is attempting to navigate Britain's worst financial crisis since the early 1700s.
Let's hope his plan works.
The coronavirus lockdown has certainly contributed to the rising ratings for BBC Parliament and parliamentlive.tv.
More people are tuning in and the BBC have restyled the chyron on their screen to make it more user friendly. We now know what the debate topic is as soon as we tune in.
However, ratings for televised coverage of Parliament began climbing in 2015, when David Cameron was Prime Minister.
On February 12, 2016, Total Politics reported (emphases mine, apart from the italics):
BBC Parliament has reported a record high of an average of two million viewers a month for the first time ever in 2015.
This is an increase of 150,000 viewers each month on the 2014 figures – and it marks the first time the BBC's dedicated parliamentary channel has broken the two million viewers per month threshold.
The channel has more live coverage than ever before and covers proceedings from Westminster, the European parliament, the Welsh and Northern Ireland Assemblies and the Scottish Parliament.
BBC Parliament controller Peter Knowles told TP:
"Providing more live coverage of the key political debates and discussions has meant that during 2015, a dramatic year in politics, we've seen a surge in people using BBC Parliament to follow proceedings.
"New camera positions are also giving our coverage a fresh feel as this parliamentary term is now in full flow."
Apparently the new camera angles, brought in last year, represent the first such change since 1989. According to a BBC spokesman, the new camera angles "bring audiences closer to the key exchanges, debates and votes".
So much for the public being turned off by politicians…
In 2020, in a review of the 2017-2019 Parliament under Theresa May's premiership and with John Bercow as egotistical Speaker of the House, The Institute for Government stated:
Members of the public can now view parliamentary proceedings on a variety of platforms. Run by the parliamentary Digital Service, parliamentlive.tv is the most comprehensive source of parliamentary video and audio, publishing recordings of all events – including meetings of select committees – taking place in public.[24] The site allows members of the public to watch events live, access video on demand and search archive footage going back to December 2007. It is also possible to download clips from parliamentlive.tv – with nearly one thousand clips downloaded on average each week between 5 March 2018 and 30 December 2019. These clips are often shared by MPs, interest groups and political parties on social media. BBC Parliament also carries live coverage of key parliamentary activity.
Parliamentary tensions over Brexit were a massive driver of viewers for Parliamentlive.tv. 
Average daily viewer numbers increased over 150% from 6,552 per day in 2017 to 16,607 per day in 2019. BBC Parliament also saw record viewing figures – the only BBC TV channel experiencing an increase in viewers. An average of one million adults tuned into the channel for at least three minutes each week during 2019, with viewing figures exceeding two million in several key weeks. One commentator described the channel as "the ratings hit that's Big Brother meets 24 – with added Bercow".[25]
Controversial and compelling Brexit debates continued when Boris Johnson became Prime Minister.
On Wednesday, September 4, 2019, the Radio Times reported:
BBC Parliament hit an all-time ratings high on Tuesday as Boris Johnson suffered his first defeat as Prime Minister, with MPs voting to take control of the House of Commons in order to force a vote on a bill that will prevent a no deal Brexit.
Some 1.5m viewers tuned in across the course of the day, marking the biggest 24 hours for the channel on record.
The drama in Westminster continues into Wednesday, as opposition parties and Tory rebels lead a debate on Labour politician Hilary Benn's bill to block a no deal Brexit …
The channel is providing live coverage from the House of Commons throughout the ongoing Brexit crisis, and it is captivating the nation – even drawing viewers away from the beloved Great British Bake Off, which aired its latest episode on Channel 4.
The Radio Times article included two tweets, the first of which is from British television's most famous money pundit, Martin Lewis:
Last year:
Even on less contentious days, the debates can be absorbing, such as a recent closing debate about the threat to driving tests in High Wycombe, Buckinghamshire, not far from London. I watched it while preparing dinner when it aired, and it was compelling. Mail on Sunday columnist Dan Hodges, who is actress/former MP Glenda Jackson's son, tweeted:
Once one starts watching Parliament in action, it is difficult to stop. We get to know the MPs and predict what they will say. With coronavirus, we have the added bonus of seeing what the interiors of their houses look like.
The day's order papers are on the PARLY and House of Commons Twitter feeds:
The most recent development in broadcasting from the Houses of Parliament is a new fit-for-purpose gallery, which Speaker of the House Sir Lindsay Hoyle visited on Tuesday, March 2, 2021:
In a further development, Chancellor for the Exchequer Rishi Sunak will be giving the first-ever press conference about the budget on national television following his statement in Parliament on March 3. Guido Fawkes has more:
After presenting his budget in the House of Commons on Wednesday, the Chancellor will scarper over to No. 10 to take questions on it from the public and journalists from 5pm. The televised event will be the first of its kind on Budget Day …
More on that and the budget tomorrow.
The other day, I posted a profile of Kemi Badenoch, an Englishwoman of Nigerian heritage, who is the UK's Equalities Minister.
In that entry, I posted a link to an hour long interview she did in October 2020 with the editor of The Spectator, Fraser Nelson, on the politics of cultural grievance.
Having watched it, the interview deserves a post of its own, and I would commend it to all who have young people at home.
Regrettably, The Spectator did not have its own YouTube channel at the time, but the link plays perfectly well and the video is in full screen format.
Kemi Badenoch explains that black history in the United States is much different to that of black history in Britain. Most blacks in Britain are here because either they or their antecedents believed that Britain is a land of opportunity. As such, one cannot import black American history to the UK under a guise of universal historical experience.
Having lived in Nigeria during her youth, she says that most blacks are socially conservative and are not empathetic to grievances based on skin colour. Having travelled widely in other nations in Africa, she says that most blacks living there are concerned about what their governments are doing to them today.
As a mother of three, she tells Fraser Nelson that it is an uphill battle for her to reverse what her mixed-race children learn about grievance politics. She thinks that British schools should develop a black history curriculum that includes positive contributions by blacks throughout history, particularly during the 21st century with the Windrush generation that helped to rebuild the nation after the Second World War.
She says that she objects to the politics of skin colour, which she believes is an unpleasant and damaging development. Furthermore, she thinks it is unhealthy for a person to go through life imagining microaggressions where none exist. In other words, sometimes people are just rude to others regardless of skin colour — and everyone needs to learn to live with that.
She says that imagining that everyone not like them is automatically against them is not the right way to go through life and makes things in this world even more difficult.
Badenoch made similar comments in the House of Commons around the same time she did The Spectator interview.
On October 25, 2020, Patrick O'Flynn of The Express reported:
Like a batsman hitting every delivery straight off the middle, Ms Badenoch reduced the opposition rabble to rubble.
"We should not apologise for the fact that British children primarily study the history of these islands," she said. "To make race the defining principle of what is studied is not just misguided but actively opposed to the fundamental purpose of education."
Taking direct issue with [then-Labour leader] Jeremy Corbyn over a pro-BLM speech he had just made, she added: "We are against the teaching of contested political ideas as if they are accepted fact." She singled out for criticism the new fad among white Leftists such as Corbyn for socalled critical race theory. This ideology, she said, "sees my blackness as victimhood and their whiteness as oppression".
"Black lives matter, of course they do," added Ms Badenoch, "but we know the Black Lives Matter movement is political? we do not want to see teachers teaching their white pupils about inherited racial guilt. Any school that teaches partisan political views such as defunding the police without offering balanced treatment of opposing views is breaking the law."
There was more, too. For the formidable Ms Badenoch also nailed the lie that America's troubled history of slavery and shoot-from-the-hip policing had any echo in Britain, "Our history is our own, it is not America's. Too often people who campaign against racial inequality import wholesale a narrative and assumptions that have nothing to do with this country's history …
Then she gave Labour MPs a lesson about the slave trade in Africa, telling them about "the history of black slave traders who existed before and after the transatlantic slave trade".
Ms Badenoch concluded by saying: "Black people from all over the world have found this to be a great and welcoming country."
Perhaps the first thing we can learn in all of this is that American history is not British history.
My series on minority MPs in the Conservative Party continues.
In case you've missed the earlier posts in this series, here they are: parts 1, 2, 3, 4 and 5.
Today's post covers the two minority MPs who were elected during Theresa May's snap general election of June 2017.
Bim Afolami (Hitchin and Harpenden)
Bim Afolami represents the leafy Hertfordshire constituency of Hitchin and Harpenden, far enough from London to be in the countryside yet a close enough for a daily commute to and from the capital.
I always enjoy hearing what Afolami has to say in Parliament. He speeches are eloquent, considered and, above all, sensible.
Afolami was born in the Home County of Berkshire to a Nigerian father, employed as a consultant physician for the NHS. His mother works as a pharmacist.
Afolami attended Eton College and University College, Oxford, where he read Modern History. While at Oxford, he worked as a librarian for the Oxford Union Society and played football for the university team.
He worked as a lawyer prior to entering politics. His employers included the prestigious law firm Freshfields and the banking corporation HSBC.
In 2017, Hitchin and Harpenden's MP Peter Lilley stood down. Afolami was selected as the Conservative candidate.
Afolami was a Remainer, however, during his time in Parliament, he voted the Brexit line most of the time.
He has been a member of several parliamentary committees.
He has also had positions as Parliamentary Private Secretary in the Department of Transport, International Development, International Trade and the Department for Work and Pensions.
Currently, he chairs the All-Party Parliamentary Group on Credit Unions and is a Commissioner for the Financial Inclusion Commission.
Afolami is married with three children.
He describes Winston Churchill as his 'biggest hero'.
Kemi Badenoch (Saffron Walden)
Kemi Badenoch also reveres Winston Churchill, along with Margaret Thatcher.
She, too, has Nigerian roots and spent her formative years there before returning to England.
She represents the constituency of Saffron Walden in Essex, which, not surprisingly, includes the ancient town of the same name. The town of Saffron Walden was known not only for its wool production but also for its cultivation of saffron in the 16th and 17th centuries. That happy combination of industry enabled the town to develop dyes as well as provide the condiment for use in food.
Olukemi Olufunto Adegoke was born in Wimbledon, London. Her father is a GP and her mother a professor of physiology. As her mother obtained teaching positions overseas, Kemi lived in both the United States and Nigeria. She returned to England at the age of 16 to complete her A levels and attend university.
She has worked in computing for most of her career. She obtained a law degree in 2009 and went on to work as an associate director of private bank and wealth manager Coutts and was a director for The Spectator.
Kemi joined the Conservative Party in 2005.
In 2012, she married Hamish Badenoch and took his surname.
In 2015, she served on the London Assembly after Suella Fernandes Braverman had to give up her seat, since she had just been elected to Parliament.
In 2017, Kemi Badenoch succeeded Sir Alan Haslehurst as MP for Saffron Walden with a healthy majority.
In her maiden speech, she explained how she became a conservative: failing nationalised electricity and water provision during her years in Nigeria. Wow.
She also said that Brexit was the 'greatest vote ever'.
If you want to feel uplifted about Britain and conservatism, this video is definitely worth five-and-a-half minutes of your time:
She currently holds two positions, to which Prime Minister Boris Johnson appointed her in 2020: Exchequer Secretary to the Treasury and Parliamentary Under Secretary of State (Minister for Equalities) in the Department for International Trade.
The latter position has seen her come up against stiff opposition from the Opposition benches last year when it emerged that minorities were more affected by coronavirus. The protests in June exacerbated the issue.
On June 4, an SNP MP, Alison Thewliss, had the gall to intimate that Badenoch had little understanding of the black community.
Badenoch politely responded that she objected to Thewliss's 'confected outrage'.
As former Labour MP — now Baroness Hoey in the House of Lords — put it:
Guido Fawkes posted a video of the exchange and commented (emphasis in the original):
Today's BAME Urgent Question was never going to be one Parliament's more tranquil sessions given the ongoing Black Lives Matter protests. Kemi Badenoch gave a feisty performance, scolding left-wing white MPs for telling her how to feel as a black person. Her slap down of SNP MP Alison Thewliss, who conflated all black Britons with recent immigrants, is worth a watch…
The BBC also attacked her response.
On June 6, Badenoch wrote an article for the Daily Mail, which said, in part (emphases mine):
The disproportionate impact of the Covid-19 pandemic on black and minority ethnic people has been one of the most troubling aspects of the pandemic – and the Government was right to seek the expert guidance of Professor Kevin Fenton, an eminent black physician at Public Health England, to examine the issue. 
So when, as Equalities Minister, I stood up in the Commons to discuss his review and its conclusions, I expected tough questions. 
This, after all, has been a week of heightened emotion about racial divisions. Unfortunately, clumsy attempts at scrutiny by some MPs and commentators unintentionally risk inflaming racial tensions. 
Updating Parliament on the review, Labour MPs repeated racially charged claims such as: 'Being black is a death sentence.' 
One SNP MP conflated all black people with recent immigrants. This language does nothing to calm tensions at a time when politicians need to set an example. 
Far more irresponsible though, was the BBC's coverage of the debate – with the headline: 'Minister rejects systemic racism claims'. I did no such thing. 
In fact, the phrase 'systemic racism' was not used once in the debate. The BBC report was shared on social media thousands of times and believed because it was from a trusted source. This is incredibly harmful. 
By implying that a black Minister has, out of hand, rejected racism as a factor, the hard work done by many ethnic minorities in Government, the NHS and Public Health England is discredited, trust is lost and race relations become worse. 
Yes, there are gaps in PHE's review. By its nature, it highlights what we don't know and must investigate further. 
We will build on this work, engaging with individuals and organisations within communities, to protect lives in this pandemic … 
We need to be more circumspect; we need real journalism, not campaigning. 
We must address prejudice but this is impossible if our national broadcaster, politicians and commentators play a social media game to achieve outrage rather than enlightenment. 
We must combat the real inequities in society, but we do everyone a disservice if we give in to culture warriors whose relevance depends on inflaming tensions. 
By hijacking the Government's work to improve the lives of BAME people, those spoiling for a fight are sacrificing the hope of so many young people for little more than clicks, likes and retweets. 
In October, Badenoch volunteered to take part in a vaccine trial:
Moving to the present day — February 2021 — issues have arisen with minorities reluctant to get vaccinated when the time comes. Personally, I do not blame them. There is a lot we do not know about their long-term effects, particularly the mRNA vaccines. So that minorities would feel more reassured, the Government appointed Nadhim Zahawi MP to oversee vaccine rollout in the UK. His brief includes visiting minority communities to encourage uptake:
In January, minority MPs from both sides of the aisle took part in a video to promote the vaccine programme.
Badenoch was criticised for not having taken part. She said it was because she was participating in the aforementioned vaccine trial:
Let's return to last year.
In October 2020, Badenoch spoke in Parliament about Black History Month in the UK. She said that she was taken aback by something her daughter said:
That month, she participated in a Spectator discussion debunking various socio-political left-wing theories and promoting conservatism.
This triggered a severe reaction from the Left in November.
Several radical left-wing academics took issue with what she said:
Guido Fawkes provided the exhaustive list along with the radical positions of each academic, explaining the background (red emphases in the original, those in purple mine):
Equalities minister Kemi Badenoch sent Twitter's wokesters and academia's race baiters into meltdown a fortnight ago when her savaging of "Critical Race Theory" (CRT) went viral, with 2.4 million views. Guido's since picked up on an open letter doing the rounds in nutty left-wing academic circles, who – unable to take on the substance of what Badenoch argues – have chosen instead to misrepresent her words. Aside from their attacks on the substance of Kemi's words – incorrectly claiming she wants "the banning of certain ideas or schools of thought" and that she misunderstands history and CRT – the mostly former-polytechnic-based academics now claim CRT has "scientific principles" behind their ideology. Eugenicists, phrenologists and Marxists have argued the same for decades...
Looks like Kemi's on pretty sound ideological ground…
I wish Kemi Badenoch all the very best in holding her ground so consistently.
Tomorrow's post concludes this series.
In case you've missed the earlier posts in this series, here they are: parts 1, 2, 3 and 4.
The best known of the minority MPs from David Cameron's premiership — 2010 to 2016 — is Rishi Sunak, who is Chancellor of the Exchequer.
He represents the Richmond constituency in Yorkshire.
Early years
Rishi Sunak's grandparents moved from the Punjab province of India to East Africa. Rishi's mother Usha was born in Tanzania. His father Yashvir was born in Kenya. Both are Hindus.
Both sets of grandparents migrated to the UK in the 1960s.
After marriage, Usha and Yashvir settled in Southampton, on the southern coast of England. Usha worked locally as a pharmacist. Yashvir was a general practitioner.
The couple have three children: Rishi, another son Sanjay, who is a psychologist, and a daughter Raakhi, who works on COVID-19 strategy for the Foreign, Commonwealth and Development Office.
Rishi Sunak went to the renowned public (private) school Winchester College, founded in 1382, where he was head boy and editor of the student newspaper.
He then went to Lincoln College, Oxford, where he graduated with a First in 2001 in PPE, which is nothing to do with hospital gowns, rather Philosophy, Politics and Economics. Whilst at Oxford, he did a brief stint at Conservative Campaign Headquarters.
During summer holidays he worked at a curry house in Southampton.
Sunak began his career at Goldman Sachs, where he worked as an analyst from 2001 to 2004.
He then decided to study for an MBA at Stanford University in California, where he met his wife, Akshata Murthy, the daughter of the Indian billionaire N. R. Narayana Murthy, the man behind Infosys. The couple married in 2005. Sunak, a Fulbright Scholar, completed his MBA in 2006.
Sunak and his wife settled in England and have two young daughters.
Prior to entering politics, Sunak worked for two hedge funds and was also the director of one of his father-in-law's companies, Catamaran Ventures.
Political career
Former Conservative Party leader William Hague represented Richmond, which has been a safe seat for the party for over a century.
Rishi Sunak was elected comfortably to his first term with a majority of 19,550 (36.2%). Once in Parliament, he was appointed to the Environment, Food and Rural Affairs Select Committee.
Sunak was also committed to Brexit and was an early advocate of free ports, having written a report on the concept in 2016, the year of the referendum.
In 2017, with Theresa May as Prime Minister, Sunak won re-election with an even greater majority of 23,108 (40.5%). In Parliament, he continued to support Brexit, voting for Theresa May's deal and against a referendum on a final withdrawal agreement in 2019.
That year, Theresa May stood down as PM. Sunak supported Boris Johnson in the ensuing leadership contest.
That autumn, during the general election campaign, he appeared on a television debate, representing the Conservatives:
I am sure Sunak did better than Iain Dale gave him credit for:
He also participated in a seven-way debate on ITV.
On December 12, Sunak further increased his margin of victory at the polls to 27,210 (47.2%).
The coronavirus Chancellor — and some inside scoops
Then, in February 2020, Prime Minister Boris Johnson replaced Sajid Javid with Rishi Sunak as Chancellor:
He gave his first budget less than a month later, on Wednesday, March 11, which I wrote about at the time.
The following Monday, March 16, Boris announced social distancing rules and the closure of pubs, restaurants and events venues. Rishi spoke at one of Boris's televised coronavirus briefings with news of a generous financial package:
Guido Fawkes posted the full video and remarked (emphasis in the original):
You wouldn't guess he's only been in the job for five weeks…
Full details are here. Sunak also issued a Twitter thread with a summary:
Then lockdown came a week later on Monday, March 23.
A few days later, Boris was struggling with his bout of coronavirus, as was Health Secretary Matt Hancock:
The Conservatives soared to record approval ratings in the polls:
Early in April, Boris was quietly rushed to St Thomas' Hospital in London. Rishi did another coronavirus briefing to reassure an anxious nation:
The well-spoken, gentle Sunak appealed greatly to the folks at home. The Independent did not like that one bit.
Society magazine Tatler began running articles on Sunak in March. They could see he would quickly become a cult personality.
On March 18, the magazine posted an article by Annabel Sampson, 'Everything you need to know about Britain's new Chancellor, Rishi Sunak'.
It begins with this (emphases mine):
The virtues of 39-year-old Rishi Sunak have been extolled many times over; for his charming demeanour, his razor sharp brain and his acute financial sense. Now the man who has come to be recognised as the 'Maharaja of the Dales', thanks to his Indian ancestry and Yorkshire home, has been appointed to the highest office in the country, to Boris Johnson's Cabinet in the role of the Chancellor of the Exchequer, the second biggest government job; and the second youngest person ever to take the position.
The appointment follows the 'Cabinet Reshuffle' that occurred in February when Savid Javid, the former Chancellor, resigned when he was asked to get rid – reportedly a request linked to Dominic Cummings – of his closest aides. Rishi Sunak's star has been rising for some time now, so his appointment to the position will have baffled few.
The article has several photos, including one of Sunak in the Yorkshire countryside and one with his dog, which resembles Boris Johnson's Welsh rescue pup, Dilyn.
Sunak and his wife had a traditional Indian wedding:
Rishi and Akshata were married in her hometown of Bangalore, in a two-day ceremony attended by 1,000 guests.
Akshata is a working mother:
Akshata runs her own fashion label Akshata Designs and is also a director of a venture capital firm founded by her father in 2010. Her designs are wonderful; she's been profiled by Vogue India and been credited for creating clothes that are 'vehicles to discovering Indian culture' – comprised of chic silhouettes with bold, Indian design.
Did we know that the Sunaks throw great parties? We do now:
With their combined wealth, they understandably have a generously sized home in Northallerton, North Yorkshire (in Sunak's constituency). The Daily Mail reports that their annual summer garden party is a county highlight; where uniformed staff loft around serving ice cold champagne and canapés (no doubt prepared by the prestigious Yorkshire Party Company).
Sunak is a natural at politics:
According to the Daily Mail, 'While many MPs stutter and trundle their way through their maiden speech in the Commons, Mr Sunak's at-ease manner provided a glimmer of what was to come'. One ally in parliament told the Telegraph: 'He's ferociously intelligent and thoroughly decent at the same time' …
He was one of the few Conservatives who were let loose on the air waves (14 times in total) and allowed to make public appearances during the election campaign last year. He has even been dubbed the 'Prime Minister-in-waiting', we'll see. His first big challenge was the March budget; and now he is juggling the unprecedented complexity of the impact of the coronavirus on the economy. The UK are in safe hands.
The article also has a photo of him supporting Yorkshire County Cricket at Edgbaston.
Early in July, Tatler's Ben Judah travelled to Sunak's home town of Southampton and reported his findings in 'Inside the world of Rishi Sunak'.
Naturally, Judah went to the curry house where Sunak worked during his summer holidays:
The kitchen at Kuti's Brasserie, not far from Southampton docks, was not the sort of place, in August 1998, you would have gone looking for a future hedge funder, son-in-law of a billionaire and Conservative chancellor.
That summer – the summer of the France 98 World Cup and the Omagh bombing – Kuti Miah, the eponymous restaurateur behind the curry house, went to have a word with one of his waiters. 'You're going to be someone, Rishi,' he said. The future UK chancellor flashed his famous smile. He was, adds Miah, 'a brilliant talker'. Rishi Sunak, then 18, was about to go to Oxford, but that holiday he waited tables for Miah, a close family friend, to earn some pocket money. 'I saw him grow up,' says Miah. 'His father used to bring him in his carry cot.'
Miah was fast friends with Yashvir and Usha Sunak, both Hindu Punjabis born in colonial Kenya and Tanzania respectively, whose parents had migrated from India. After India's independence, both families left East Africa for Southampton in the mid-to-late 1960s. Yashvir and Usha met in Britain and married. He became a local GP and she ran a pharmacy. They were 'brilliant conversationalists' and 'very strong believers' who 'worked very, very hard', according to Miah, who also recalls that they were 'passionately British'.
Rishi, the eldest of their three children, was cut from the same patriotic cloth. Not only did the young Sunak fall in love with the game of cricket, he fervently supported England over India at any opportunity. His career, too, has followed one of the most traditional and storied of England's paths to power. Like five chancellors of the exchequer before him, Sunak was schooled at the ancient and distinguished Winchester College; and like three of those same Wykehamist chancellors, he went on, as was expected, to study at Oxford.
The article includes a photo of Sunak with his wife and in-laws.
Ben Judah had met Rishi Sunak before, in 2015, just before the general election that year. They met up in Northallerton, North Yorkshire:
We were a long way from London – from where Sunak had been 'parachuted in' for the seat. During the interview, I had a distinct sense of being the only person in the cafe who knew that this slight man in a Barbour jacket was running for parliament. 'I tell this story when I'm out and about,' he said, coffee in hand, 'that you can come to this country with very little… My grandparents came with very little from a village in northern India, and two generations on, their grandson has this enormous privilege of running as a candidate for parliament. For my family, the route was education.'
Well said.
Sunak's candidacy in 2015 raised some eyebrows:
He was vying for a seat once presided over by Tory grandees William Hague and Leon Brittan. But I had spent days in Richmond and the surrounding area, reporting on the resentment his sudden arrival had stirred up among certain local Tory notables, who felt the seat in the Dales was rightfully theirs. 'There was a very acrimonious constituency battle,' claimed one source, with a lot of hostility to an outsider coming in.
Sunak's wife had also met with some resistance on the campaign trail, says Judah.
However, Sunak's father-in-law enthusiastically flew to England where he helped to campaign:
Sunak's billionaire father-in-law, NR Narayana Murthy, however, has been so enthusiastic about Sunak's parliamentary career that he'd flown in, and had even been leafleting on his behalf, wearing a Rishi sweatshirt. 'To be honest,' said Sunak in Costa Coffee that day, 'I think it's patronising to assume minorities should only run in minority seats.'
The article discusses Sunak's property profile:
On 7 May 2015, Sunak won, with more than 50 per cent of the vote (a Ukip vote of 15 per cent had appeared from nowhere). He put down roots in his new constituency of Richmond, North Yorkshire, augmenting a £10 million property portfolio (metropolitan digs in London – a Kensington mews house, a flat on Old Brompton Road – and a place in California) with a £1.5 million Georgian manor in Yorkshire set across 12 acres, including an ornamental lake. Here, he now entertains the constituency membership with lavish summer parties at which uniformed staff serve champagne and canapés. He has been repeatedly dubbed by newspapers the 'Maharajah of the Yorkshire Dales'.
The general public know less about those details. Nonetheless, Rishi Sunak has become a household name:
In a swift few years, Sunak has become known as many things: Dishy Rishi to the tabloids; one of the richest MPs in Westminster; the second-youngest-ever chancellor of the exchequer, presiding over a £350 billion package to boost the economy (the largest ever recorded in peacetime); and a former hedge funder whose profile has risen faster than stocks in a vaccine manufacturer.
However dazzling all of this is now, things were very different when Sunak entered Winchester College as an adolescent:
… Winchester would come at a price for the Sunaks. No sooner was he accepted than Rishi's good fortune immediately foundered: he missed out on the expected scholarship. Desperate not to let the opportunity go to waste, his parents decided to take on the high fees themselves, picking up extra work and making what the chancellor has called considerable 'sacrifices'. His brother would later follow.
One of his classmates discussed Sunak and described Winchester in the mid- to late 1990s:
Tim Johnson, now a lawyer, was in the boarding house next door. 'Rishi was a good chap, in boarding-school idiom,' he recalled. Sunak, he said, was a 'reasonable cricketer', who stood out in friendliness; and he was a solid, but never number one, student. 'Rishi was always expected to do something,' Johnson remembered. But exactly what, beyond Winchester, was vague. 'He was always expected to be head boy as he was clever enough, reasonable enough and well behaved enough.' This became Sunak's thing – hard work and attainment, becoming the first Winchester head of school from an Indian background.
Sunak was different to other sixth formers in Winchester: a lifelong nondrinker, he wasn't distracted by the allure of the pub. But there was something else that marked him out from the herd. He was a conservative in every sense: not only in his outlook and demeanour but in his religious attitudes, too – a practising Hindu who avoided beef. At school, where few boys were political, Sunak was clearly 'associated with the Tories', said Johnson. It was 1997, The Chemical Brothers were topping the charts and the mood was rebellious. Counterculture, New Labour and ripped jeans were in; the Conservatives were out. 'That wasn't his intellectual jam. Rishi didn't play that game,' Johnson explained.
'Everyone was chipper about it when Blair won,' Johnson said. But not Rishi. His family's story was closer to Margaret Thatcher's than that of his bourgeois Labourite classmates. Watching the early results of the landslide on election night 1997, Sunak sat down to write a gloomy article for the school magazine, The Wykehamist, lamenting the news. His main complaint: Europe. 'He revels in the label of a patriot,' he complained of Tony Blair, 'but has plans for the possible break-up of the United Kingdom and membership of an eventual European Superstate.' The seeds of Brexit were already in his mind.
'Already,' fretted Sunak, 'the New Labour rhetoric sounds worryingly pro-European and avid pro-Europeans are being sent to Brussels' …
Later, at Oxford, Sunak had a low profile, unlike his predecessor as MP, William Hague:
He was nothing like the young William Hague, who arrived at Oxford fêted and almost a Tory celebrity, or the young Boris Johnson, the blond beast who tore apart the Oxford Union. At Oxford, Sunak was a nobody, much like Tony Blair.
He continued to eschew strong drink:
Oxford acquaintances remember him as a nerdy teetotaller who was 'just very clearly going into business'. He would 'make this big thing' out of drinking Coke in the pub. 'Rishi was unknown to the student politicians, that gossipy overlapping world, who all knew each other,' said Marcus Walker, then-president of the Oxford University Conservative Association, now a clergyman. Sunak was never a member.
It is hard to remember how irrelevant and demoralised Tory circles felt after 1997, but some do recall Sunak as a 'Thatcherite' and 'Eurosceptic'. 'That was absolutely par for the course,' said Walker. 'If you were still a Tory after 1997, you were a Eurosceptic. That was all you had left.'
Nevertheless, Sunak did develop a network from his Winchester College and Oxford days. Graduates from Winchester are called Old Wykehamists:
These days, socially, Sunak has been placed by some in Westminster's Spectator set. He was best man to his lifelong friend and fellow Old Wykehamist James Forsyth, political editor of The Spectator, at Forsyth's politician-studded wedding in 2011, to Allegra Stratton, the national editor at ITV News – and gave what one guest recalled was 'one of the most touching best man's speeches I've ever heard'. (In fact, Stratton has recently announced she's leaving ITV News for a job with Sunak at the Treasury. Some have seen this as very Cameron-esque in its 'chumocracy'.)
Allegra Stratton, also a good friend of ITV's Robert Peston, now works for Boris Johnson as his notional press secretary, although she has not yet begun to give press briefings, probably because of coronavirus.
Imagine the son of immigrants having ties to Britain's two oldest — ancient — magazines: The Spectator and Tatler. Wow.
Tatler's Ben Judah also spoke with people who had worked with Sunak during his hedge fund days. They painted a similar character portrait of the Chancellor:
After two years in California completing a CV-topping MBA, he returned to London and Mayfair in 2006, where a new type of boutique finance was booming: hedge funds. He was hired by Sir Chris Hohn at The Children's Investment Fund (TCI). It was a dream job: a big role at an activist firm off Berkeley Square at the peak of their fame. 'He appears to have been trusted,' said a source. Indeed, Sunak was made a partner two years later. Contemporaries remember him ever-ready to meet and greet; a mixture of a junior, deputy and a bag carrier; the perfect foil to Hohn's bolshy swagger. 'Ridiculously nice.' 'Affable.' 'Approachable.' 'Charming.' These are the words that come up again and again among Mayfair types who knew Sunak. The charm was of a particular kind: 'There are two kinds of people at hedge funds,' said one source. 'Handsome and thin smooth-talkers who are always on the phone or going out to lunch with clients, getting them to part with their money. And then quants in the back room with their shirts buttoned up badly.'
Sunak was one of the smooth-talkers, his charm honed on calls to investors, getting them on board with whatever drastic moves the fund wanted to make. The kind of charm that prizes clarity and persuades people to part with their money. It worked: but hedge-fund charm is designed to hide as much as it reveals. The atmosphere at TCI was buccaneering and bold; it both led and profited from a controversial banking raid that eventually meant a £45.5 billion public bailout of the Royal Bank of Scotland. (The Treasury and TCI say Sunak was not involved in the deal.) He left when TCI split in 2009, and joined the breakaway hedge fund Theleme Partners. His new firm's reputation took a knock when its founder was revealed to have used a notorious tax avoidance scheme. The Labour Party researched Sunak's past during the 2019 election. 'But he was too little known for us to use it,' said one source …
His reasons for entering Parliament are equally obscure. Those who know him have different opinions as to why. One thing that everyone agrees on is his penchant for order:
Many in Westminster see his motivation as status. 'He's not an ideologue,' said one Tory source. 'He wanted to enter politics in that old-fashioned way, because it was seen as the good thing to do.' Good, as in socially ambitious. Whether that's true is another matter, because first came a stint at Policy Exchange, leading a unit researching black and minority ethnic attitudes. The scruffy but influential Conservative think tank world is seen as a de facto holding pen for future special advisers, but it was nonetheless an unexpectedly technical way into Westminster for someone with means.
Sunak quickly made an impression. 'He's got that Blair-like ability to hold your eye,' says Nick Faith, who worked with him there. Sunak cut a snappy figure amid slovenly suits. 'He's into his clothing.' His is not the fusty establishment Rees-Mogg or Nicholas Soames style, but more the wiry Emmanuel Macron look. Everything Sunak wears, many remarked, is immaculate, even at the end of a Treasury work day, and fits perfectly. Faith says that 'everything, from how Rishi dresses to how he structures his life, is very well organised'. Sunak's elegant house in London, with a touch of Indian decor, reflects that. 'Nothing is out of place. For someone with two small kids, that's quite an achievement.'
Having learned from his background in finance, Sunak also knows how and when to place his bets:
'His mind works in Excel,' said one City contemporary. But like all hedge funders, it also works in bets: and the two biggest bets that Sunak has made in his career have paid off spectacularly – Brexit and Boris. David Cameron knew the gravity of his predicament when Sunak came out for Leave. 'If we've lost Rishi, we've lost the future of the party,' he reportedly said. The same thing played out in reverse in June 2019 when Sunak came out for Boris in The Times with two other MPs during the party leadership elections. This was widely seen in Westminster as a decisive turning point: the one where Johnson won over 'the sensibles' and pivoted the backbenchers. The PM seems to agree: all three have been handsomely rewarded.
In Parliament, he keeps a low profile but, to those who know him, is loyal:
'He's unknown in parliament,' said one MP. 'He doesn't play the parliamentary game at all.' Tory Remainers are sceptical of him. 'It's Star Wars,' said one MP, referring to the chancellor's strange and classically 'geek-chic' hobby for minutely detailed models of spaceships and video games. 'Most of his political philosophy comes out of the Star Wars trade wars that are about the independence of various kingdoms from the Empire. He's not someone intellectual.' Loyalty has been his strongest suit. Sunak is a No 10 man. 'He's a grown-up,' said one MP. 'The only grown-up in Downing Street, despite him being 20 years younger than them.'
… At the height of tensions over Brexit last year, he was cheerfully going around Westminster saying he would back 'no deal' if push came to shove. He struck the right note, in the right place, at the right time. Tensions between Boris Johnson and Sajid Javid's teams exploded in February, when the then-chancellor resigned after refusing to fire his own special advisers and submit to an unprecedented joint team with Downing Street, effectively under the stewardship of Dominic Cummings. It was Sunak, with high skills and no clear agenda or faction behind him in parliament, whom Downing Street turned to. He quickly agreed to the joint team, once again becoming the perfect foil for an outsized boss. 
Even now, it's still too early to say whether Rishi Sunak will become a future leader of the Conservative Party and, as such, a possible prime minister. A week is a long time in politics.
When Boris's erstwhile special adviser Dominic Cummings broke coronavirus rules in travelling from London to Durham and back during Boris's time in hospital, Sunak tried to calm the ever-turbulent waters surrounding Cummings, who was never popular with the Remainer media. He tweeted this after Cummings's lengthy press conference in May:
In June, Sunak was tactful about the reopening of shops and businesses in Britain after the first coronavirus lockdown:
He also warned that his generous financial package could not go on indefinitely:
A few weeks later, in early July, pubs were allowed to reopen:
The Government launched the Enjoy Summer Safely campaign. Pictured below is Piccadilly Circus:
On July 8, he issued a Summer Economic Update, with financial help continuing (more here):
This included the launch of his Eat Out To Help Out plan, which lasted to the end of August:
A lot of Labour MPs didn't like the plan. I don't know why. Leftists own restaurants, too.
He cut VAT for the hospitality industry, too.
He also issued a detailed jobs plan, including an apprentice scheme:
Some men in the media were taking a shine to Dishy Rishi, including the leftist Owen Jones of The Guardian and Channel 5's Jeremy Vine:
At that time, the attention being given to Sunak and Boris Johnson got the better of Conservative MP Caroline Dineage, a Culture minister, who was questioned on masks, which were strongly suggested (mandatory only on public transport) but still optional in what now look like heady days. This was from a BBC interview:
… asked why the Prime Minister and Chancellor Rishi Sunak had not worn one in public, she snapped: "You'd have to ask the Prime Minister and the Chancellor that, with respect.
"But it is something that is advised and we keep it under review."
At the end of September 2020, the coronavirus crisis dragged on. Talk intensified about a winter lockdown.
On September 24, Sunak issued a Winter Economy Plan, about which I wrote at the time. When he presented it in the House of Commons, he advised all MPs to live 'without fear'.
By October 6, Sunak was being blamed for an uptick in coronavirus 'cases' (positive test results, not necessarily hospital admissions) for the Eat Out to Help Out scheme:
A US study, which did not cover Britain, showed that hospitality venues were shown to be responsible. However, the study did not cover workplaces or hospitals. Nonetheless, it is still a contentious point even to this day.
The Sun's Harry Cole rightly, in my opinion, defended the Chancellor's restaurant promotion.
Then talk of hospitality curfews emerged. Fellow Conservative MP Matt Vickers defended the Chancellor's Eat Out to Help Out programme, which had come to an end five weeks earlier.
The calls for a winter lockdown grew. The Chancellor rightly opposed them:
By then, more areas of England had moved into tiers, indicating more coronavirus cases. Sunak increased financial support to those cities and counties. He also offered more help to businesses, including the self-employed.
By November, some thought a storm was truly brewing between Boris and Rishi. Despite all the talk from the Government about people being able to meet loved ones at Christmas — for the first time in months, for many — a pessimistic undercurrent, which turned out to be accurate, seemed to be part of every news cycle.
Rumours circulated that Sunak was ready to resign. However, on November 1, the Daily Mail reported:
A source said there was a 'collective decision' to back a second lockdown, and that Mr Sunak 'accepted it' – and he did not threaten to resign, as some whispers around Westminster were suggesting yesterday.
The November lockdown was supposed to prevent a Christmas lockdown, but that was not to be. There was a brief re-opening before Christmas, and on December 19, the hammer fell once more.
Interestingly, the minority MPs in Cabinet shared Sunak's concerns.
By the middle of December, Sunak was clearly worried about how long the borrowing could go on. On Saturday, December 19, the day when Boris announced Christmas was cancelled, The Spectator reported what the Chancellor said about borrowing and quantitative easing (QE):
'Are you or anyone else going to guarantee me that, for the duration of this parliament, rates might not go back to 1 per cent?' he asks, pointing out that this almost happened in March, before the Bank of England started printing money to bring rates back down. 'There is this very large QE thing that's going on. No one has done that before. There are plenty of smart investors who are also thinking about the risks of inflation over the next 12 months. Because we are now so levered, small changes have huge cash implications. If I have to come up with £10-£20 billion a year in a few years' time because things have changed — well, that's a lot of money.'
To Sunak, it's not just an economic problem but a political one. 'If we [Tories] think borrowing is the answer to everything, that debt rising is fine, then there's not much difference between us and the Labour party,' he says.
The media criticised him for going to his constituency of Richmond for Christmas. To be fair, he did work while he was there, visiting a local hospital and a vaccine centre. He did not rush back to London.
On February 3, 2021, Sunak rightly accused scientists advising the Government of shifting the goalposts regarding lockdown:
This might be causing a rift in Boris's Cabinet:
On a brighter note, Time magazine has included Rishi Sunak on its list of 100 'emerging leaders'. On February 17, the Daily Mail reported:
Under the 'leaders' category, Chancellor Rishi Sunak landed a spot on the list, being described as the 'benevolent face of the government's response to the COVID-19 pandemic' by Times reporter Billy Perrigo.
The Chancellor's profile piece discussed the furlough scheme, describing how he approved 'large handouts' for people whose jobs had been affected by coronavirus.
The piece also paid respect to Sunak's Eat Out to Help Out scheme, which the magazine described as an attempt to 'revive the economy' by subsidizing dining out at restaurants.  
Although his profile acknowledges that Sunak bears more responsibility than most for his calls to ease lockdown restrictions, Time's profile for the Chancellor admits he has earned himself a 'legion of fans'.
Sunak's accompanying profile points to a YouGov poll showing him to be the nation's most popular politician and even tips him to be the bookmakers' favourite as the next Prime Minister.  
Again, a week is a long time in politics. We shall see about the future as and when it happens.
For now, Sunak is focussing on the budget, to be delivered on March 3. He is asking industry leaders for their thoughts.
Michelin-starred chef Gordon Ramsay was one of those leaders:
If Rishi Sunak ever tires of being an MP or Chancellor, a job in media awaits.
He is an excellent interviewer and researched Gordon Ramsay well. The 15-minute video is worth watching.
The list of minority Conservative MPs continues. All being well, more tomorrow.
Parts 1, 2 and 3 of this series show what a diverse party the Conservatives have become in England.
More black and ethnic minority Conservatives entered Parliament during the years when David Cameron was Prime Minister between May 2010 and June 2016.
The list continues.
James Cleverly (Braintree)
James Cleverly is a Londoner, born and bred.
He has served the Essex constituency of Braintree since 2015. He also was the London Assembly member for Bexley and Bromley between 2008 and 2016, during which time Boris Johnson was Mayor of London.
Prior to entering politics, Cleverly worked in publishing, both print and digital.
He has also been a member of the Territorial Army since 1991 and is currently a Lieutenant Colonel.
James Cleverly's father is white British. His mother is originally from Sierra Leone. In 2020, at the height of last summer's protests, to which he firmly objected, Cleverly told a BBC Question Time panel that he grew up at a time when interracial marriages were unusual. He said that the early 1970s for him were unpleasant and hurtful as a child as people sometimes made open remarks to or about his parents as they walked down the street.
One of his pet peeves is the biased BBC:
Cleverly is the first black to be appointed as Deputy Chairman of the Conservative Party (2018-2019) and Co-Chariman (2019-2020). Ben Elliot was the other Co-Chairman:
He laid out the Party manifesto in this short video:
Prior to that appointment, he worked on Brexit as a junior minister for the Department for Exiting the European Union:
Later that autumn, he campaigned tirelessly for the Conservatives before the December 12 general election, in which they routed Labour …
… including in constituencies that had never before had a Conservative MP, such as Bishop Auckland (near Durham) and North Stoke (Stoke on Trent):
Early in 2020, he enjoyed posting this video in which Prime Minister thanked Labour voters for their support:
He was also able to get his Brexit countdown clock back on the wall:
Cleverly is currently the Minister for State for the Middle East and North Africa, to which he was appointed on February 13, 2020.
He is married and has two children.
Nus Ghani (Wealden)
Nus Ghani has served the constituency of Wealden, East Sussex, since 2015.
She was born in Kashmir to Pakistani parents in 1972. Her parents later moved to Birmingham, where she grew up.
Ghani worked in the charity sector before becoming an MP.
Since 2015, she has held a variety of posts on parliamentary committees and all-party groups.
She was Lord Commissioner of the Treasury, serving under Theresa May (2019) and was also Parliamentary Under-Secretary for Aviation and Maritime under May and Boris Johnson (2018-2020).
Ranil Jayawardena (North East Hampshire)
Ranil Jayawardena is the son of a Sri Lankan father and Indian mother.
He has served the North East Hampshire constituency since 2015. He knows Hampshire well, having spent most of his life there. His parents moved there from London when he was a boy.
He graduated from the London School of Economics and worked as a senior manager for Lloyds Banking Group in capital markets, corporate banking and group executive functions.
Between 2008 and 2015, Jayawardena was a councillor of the borough of Basingstoke and Deane.
Since becoming an MP in 2015, he has held a number of positions on All-Party Parliamentary Groups. He has also served as Parliamentary Private Secretary to the Department for Work and Pensions as well as to the Ministry of Justice.
He was Deputy Chairman of the Conservative Party in the early part of 2020.
Jayawardena is currently the Parliamentary Under-Secretary of State for International Trade and helped to formulate Britain's new trade deal with Japan:
He is now working on enhancing Britain's trade with India:
Jayawardena is a Christian and was a trustee/director of the Conservative Christian Fellowship.
He is married and has two daughters.
Alan Mak (Havant)
Alan Mak has been the MP for Havant, Hampshire, since 2015.
His parents were born in Guangdong then lived in Hong Kong before moving to England. Alan was born in Leeds in 1983.
He is the first MP of Cantonese and Asian origin. However, he wants to be known for representing all of Havant, as he told the South China Morning Post's Post Magazine:
It's a stupid story. I am not standing for the Chinese population of Britain. I am standing for the people of Havant and my country.
Mak is a high achiever. He read Law at Peterhouse, Cambridge, where he won the coveted ECS Wade Prize for Administrative Law. He then completed a post-graduate law and business diploma at Oxford, where he was runner-up for the Oxford Leadership Prize.
Before entering politics, he practised law as a solicitor for a large firm in the City of London and, in 2010, won the award of Young City Lawyer of the year in Square Mile magazine's 30 under 30 awards.
Suella Braverman (Fareham)
Suella Braverman was first elected in 2015 to represent the constituency of Fareham in Hampshire.
Born in 1980, she is the daughter of Christie and Uma Fernandes, both of Indian origin, who migrated to England from Kenya and Mauritius.
Suella Fernandes grew up and attended schools in North West London.
She read Law at Queens' College Cambridge, where she was Chairman of the Cambridge University Conservative Association.
Afterwards, she completed a master's degree in European and French Law at Pantheon-Sorbonne University. She was an Entente Cordiale Scholar.
She was called to the bar at Middle Temple in 2005 and was a barrister until 2015.
She married Rael Braverman in 2018 and took his name. The couple have one child and are expecting a second this year.
Braverman is a practising Buddhist.
A firm Brexiteer, she came to prominence in 2018, being one of the MPs who objected to Theresa May's Chequers agreement with the EU:
She also said that Britain could survive a no-deal Brexit:
She further objected to May's deal in early 2019, when it went through a series of unsuccessful votes:
During that time, she came under fire for using the term 'C u l t u r a l  Marxism'. It turned out that many of her critics thought she was white because she was a 'Conservative Brexiteer':
It took some time for the dust to settle.
Suella Braverman is currently Attorney General for England and Wales and Advocate General for Northern Ireland.
I wish her and all the aforementioned MPs continued success.
——————————————————————————
Rishi Sunak, Chancellor to the Exchequer, who also began his term as an MP in 2015, will be the subject of a post next week.
In case you haven't read them, don't miss Parts 1 and 2 of my series on today's modern Conservative Party.
Part 1 includes a glimpse on one of Prime Minister Boris Johnson's ancestors, a Muslim from Turkey.
Today's post focuses solely on another MP who was elected in 2010, when David Cameron became Prime Minister: Sajid Javid.
Sajid Javid (Bromsgrove)
Sajid Javid's life story is a true lesson on the wrong type of education.
Not all school guidance advisers are good ones.
One can only hope that Sajid Javid's are having difficulty swallowing their respective lunches. Even if they vote Labour, I hope they follow Conservative Party news.
How many of Javid's teachers and advisers got far enough in life to work at JPMorgan and serve as Chancellor of the Exchequer? None of them!
The beginning
Although Sajid Javid was born in Rochdale, Lancashire, to a Pakistani family, he grew up in Bristol, in the south-West of England.
Today, Bristol is a very leftist city, sadly, as is the city's university.
Perhaps it wasn't when Sajid Javid was growing up.
The former Chancellor of the Exchequer (July 2019 – February 2019), succeeded by Rishi Sunak, is sure to make a comeback sooner rather than later.
However, his teachers and advisors clearly missed his potential in the late 1980s. He was born in 1969.
Perhaps they relied only on the background of his Pakistani parents. His father had been a bus driver in Rochdale and his mother did not speak English until she had lived in England for ten years.
Once the family moved to Bristol, his parents bought a shop. The family lived in a flat above it.
Yet, that was not good enough for Sajid's teachers and advisors at school.
Adolescence
At the age of 14, while attending a state comprehensive school — an average high school, in American terms — near Bristol, Sajid Javid developed an interest in the stock market and The Financial Times.
Incredibly, at that age, he was able to borrow £500 from a bank in order to invest in stock market shares.
However, his teachers and guidance counsellors took little notice and advised him to become … a TV repairman!
Good grief.
Young adulthood
Javid duly went on to further his studies at Filton Technological College in Stroud (South Gloustershire). From there, he went on to complete his education at the University of Exeter from 1988 to 1991, where he read economics and politics.
During that time, he joined the Conservative Party.
At the age of 20, he campaigned against the Thatcher government's decisions to join the ERM (Exchange Rate Mechanism), joining the UK to the EU.
Early career
Javid left the UK in the early 1990s for New York City.
In 1992, he not only rose to become the youngest vice president of Chase Manhattan Bank, but also served as an aide to Rudy Giuliani's successful mayoral campaign in 1993.
So much for his career as a TV repairman!
Banking career
Savid Javid, destined by his school to become a TV repairman, worked for Chase Manhattan Bank in South America.
Upon his return to London in 1997, he relocated to Singapore, where he became head of Deutsche Bank's credit trading, equity convertibles, commodities and private equity businesses in Asia,[24] and was appointed a board member of Deutsche Bank International Limited.
Political career
In 2009, Javid decided to pursue a career in politics.
He was selected to succeed Julie Kirkbride, a Conservative who was standing down from her seat in the Bromsgrove constituency, located in Worcestershire.
He won the May 2010 election by a comfortable margin. He won again in 2015 and 2017. In 2019, he further increased his lead over Labour.
During his early years in Parliament, he served as Economic Secretary to the Treasury (2012-2013) and Financial Secretary to the Treasury (2013-2014).
After that, he served as Secretary of State to three different departments: Culture, Media and Sport (2014-2015); Business, Innovation and Skills (2015-2016) and Housing, Communities and Local Government (2016-2018).
Britons know Javid best as Home Secretary under Theresa May (2018-2019) and as Boris Johnson's first Chancellor of the Exchequer (2019-2020). He was replaced in February 2020 by Rishi Sunak. Today, Javid is on the Conservative backbenches, still working hard for the people of Bromsgrove.
During his time as Home Secretary, Javid spoke out against 'sick' paedophiles who had finally been brought to justice; he said such men would find no favour with him.
He was also committed to reducing harms to children online. The Online Harms white paper was issued in April 2019:
An Online Harms bill is expected to pass Parliament sometime in 2021.
In 2019, Javid's popularity was such that he was one of those running for Conservative Party leader to replace Theresa May. Boris Johnson won the contest.
In August 2019, as Chancellor, he promoted a no-deal Brexit:
However, Boris's top adviser at the time, Dominic Cummings, did not seem to like some of Javid's advisers. In August 2019, Cummings appeared to have been behind the sacking of Javid's media person, Sonia Khan. She was sacked without Javid's knowledge, leaving him understandably furious.
In the House of Commons, Javid had to put up with the odious then-Speaker of the House, John Bercow, who interrupted his spending review statement:
This was the substance of Javid's 2019 spending review, covering a variety of areas:
Things were going so well at the time:
However, Boris Johnson and Dominic Cummings didn't like Javid's spending plans. They did not think Javid was spending enough.
On September 20, 2019, not long after the spending review statement and just before the annual Party conference, the Daily Mail reported that No. 10 was looking at Rishi Sunak as a replacement (emphases mine):
The animosity between No 10 and No 11 Downing Street is over a serious of announcements Mr Johnson wants to make at the Conservative Party Conference at the end of the month.
No 10 is furious at attempts by former leadership challenger Mr Javid to water down some of Mr Johnson's plans to open the cash taps with a series of announcements to the party faithful in Manchester, the Guardian reported.
Team Javid is said to be furious at the central role being played by divisive Downing Street adviser Dominic Cummings, and efforts to bypass the Chancellor in favour of his more accommodating deputy, Chief Secretary to the Treasury Rishi Sunak.
A Whitehall source told the website: 'There is no sign of change, in fact it has got worse. 
'Saj [Javid] remains furious because he is not part of the decision-making process on government expenditure. 
'It all comes from Cummings and a small number of No 10 people. A lot of people are saying that Saj's days are numbered. No 10 is much happier with Rishi.' 
Mr Johnson is believed to want to make domestic spending announcements in areas like housing, the NHS and social care, with Mr Javid wanting to take a more cautious, longer-term approach.
It makes one wonder how Javid would have handled the coronavirus crisis spending were he still Chancellor. That's an interesting question.
At the 2019 Party conference, Javid made another forceful case for the Brexit mandate:
He had planned on having special 50p commemorative coins minted for Brexit that year:
The minting had to wait until the end of January 2020:
I have never seen this coin in real life. Apparently, a limited number were minted, with more to follow later in the year. Coronavirus probably put paid to that plan. What a shame.
Returning to the end of 2019, things were really looking up for Britain:
Boris launched another Brexit campaign for the snap general election held on December 12 that year. He had pledged to negotiate a new Withdrawal Agreement with Brussels, which he did accomplish:
During the campaign, Javid pressed home Conservative values, particularly where the economy and taxes were concerned:
It was a wonderful moment when the election programmes announced early on that Conservatives won by a landslide, even in Northern constituencies that had always voted Labour.
While the first weeks of 2020 left Conservatives heady with excitement, Sajid Javid's days were far less happy.
At the end of January 2020, a comedian, Shazia Mirza, insulted Javid, and, sadly, a BBC news presenter found it funny (more here):
More importantly, No. 10 continued to plot against the Chancellor.
Boris had a reshuffle planned. On February 13, he told Javid that he (Javid) would have to sack all his advisers and accept those that No. 10 would choose for him.
Not surprisingly, Javid refused to accept those conditions.
I had read that people at No. 10, probably Dominic Cummings, suspected that some of Javid's advisers were leaking confidential information about government policy to the media. I don't know how true that is.
Sajid Javid resigned that day and wrote an excellent letter to the Prime Minister:
The BBC pressed him on Dominic Cummings, but he said that the conditions came from the Prime Minister himself, adding:
I don't believe any self-respecting minister would accept such conditions so therefore I felt the best thing to do was to go.
Of course, he was obliged to give a resignation speech before Parliament, which he did a fortnight later on February 26:
Guido Fawkes urged readers to view it (emphasis in the original):
Watch his properly Conservative, spending restraining, tax cutting resignation speech in full…
At that time, our domestic airline, FlyBe, was in deep trouble financially. Javid had never promised a bailout, nor had his successor Rishi Sunak:
As lockdown took hold, having begun on Monday, March 23, 2020, Sajid Javid's thoughts turned towards abused children.
On May 30, the Telegraph reported that he would be leading an investigation into sexual abuse of children:
The economic impact of the lockdown will pale by comparison to the "perfect storm" leaving vulnerable children "isolating alongside their abusers", Sajid Javid has warned.
Writing for The Telegraph, the former Home Secretary said the current restrictions appeared to be facilitating a "surge" in sexual abuse of children which he predicted would be reflected in figures later this year.
Mr Javid is to lead a new "no holds barred" investigation into child sexual abuse in Britain, along with the Centre for Social Justice think tank. Mr Javid said the inquiry would not be impeded by "cultural and political sensitivities" after the men convicted in recent high-profile cases were disproportionately of Pakistani, Kashmiri, Bangladeshi and Bengali heritage.
His intervention follows repeated warnings by children's charities about the increased risks of child abuse while children are being kept at home during the lockdown.
Last month The Telegraph disclosed that the number of vulnerable children "out of contact" as a result of the lockdown was causing alarm among ministers studying the cost of measures designed to halt the spread of coronavirus.
As we are still in lockdown, with a brief reprieve for a few months last year, this investigation will probably take some time to complete.
On August 17, 2020, although Sajid Javid is still an MP, he began serving as a senior adviser to his former employer JPMorgan, on the bank's European Advisory Council.
His role at the bank will be "strictly ringfenced" from his political position and has been signed off by the UK government's Advisory Committee on Business Appointments, according to a person briefed on the details.
Among other members of the council are Esko Aho, the former Finnish prime minister, and Vittorio Grilli, the former Italian finance minister, who has taken over as chair.
The council is made up of senior business and political leaders from across Europe, the Middle East and Africa and meets periodically throughout the year.
"We are delighted to welcome Sajid back to JPMorgan as a senior adviser, and we look forward to drawing upon his in-depth understanding of the business and economic environment to help shape our client strategy across Europe," the bank said in a statement to the Financial Times.
JPMorgan declined to provide details on how much Mr Javid would be paid.
Conclusion
I am grateful we have Sajid Javid on the Conservative benches.
One wonders what his school teachers think of him now.
I hope that whoever told him that he should be a television repairman has been eating a lot of humble pie over the past few years.
More on Conservative MPs from minority backgrounds will follow tomorrow.