You are currently browsing the tag archive for the 'Parliament' tag.
This week in Parliament was another exciting and contentious one.
I wrote about Conservative MPs' responses to the new coronavirus measures a few days ago. Two MPs spoke up at the end of Wednesday's debate (see the end of this post).
I will cover Rishi Sunak's new funding plans for individuals and businesses early next week.
To follow up on angry Conservative MPs, Guido Fawkes reports that Sir Graham Brady (right) and Steve Baker (left) are confident that they can get Brady's amendment to the Coronavirus Act 2020 passed:
On Thursday, September 24, Guido wrote (emphases in the original):
MPs have been growing increasingly concerned with the Government imposing new restrictions with no debate in, or assent from Parliament. Increasing scepticism meant the Government leant away from as harsh measures as many were expecting earlier this week. This being said, the curfew measures for example are baffling many, and they want the opportunity to have their say over new measures in the future. All this led to a proposed amendment from Graham Brady which, if selected by the Speaker, would require Parliamentary approval for new measures.
Around 40 Tory MPs backing his amendment, which would be enough to overturn the Government's 80 seat majority if opposition MPs back it too. Last night Steve Baker told Robert Peston that he is "absolutely, 100% certain it will pass if Labour and the SNP vote for it. But I'm afraid Labour and the SNP have been missing in action on civil liberties…"
One potential snag is that, as The Times' Steven Swinford revealed yesterday, House Clerks have advised the motion on extending coronavirus powers is "binary" – and can only be approved or rejected, not amended. Rebel MPs do not see this as a problem as they believe if the amendment is selected and passed, it does not need to carry legal authority. The theory is the moral authority of the will of the Commons will be enough to brow beat the Government into finally putting new measures before Parliament for debate before being enacted…
It's all good news — but only if Speaker of the House Sir Lindsay Hoyle allows Brady to bring the proposed amendment forward for debate.
Yesterday, I wrote about last week's progress on the Internal Market Bill.
On Monday, September 21, the bill entered its third day at Committee stage. Debate on amendments and clauses continued. This time they centred on Part 5 of the bill which relates to the Northern Ireland protocol.
Excerpts follow, emphases mine.
Robert Walker, Minister of State for the Northern Ireland Office, said:
Through this Bill, we are acting to uphold those priorities and deliver the commitments we made in our election manifesto that we would provide unfettered access between Northern Ireland and Great Britain and
"maintain and strengthen the integrity and smooth operation of our internal market."
The protocol also explicitly depends on the consent of the people of Northern Ireland for its continued existence. As we implement the protocol, that must be kept in mind. Those commitments are, of course, entirely in accord with the protocol itself, which makes it clear that, among other things, Northern Ireland remains part of the United Kingdom's customs territory, that nothing in the protocol prevents unfettered access from Northern Ireland to the rest of the UK market, and that in its application the protocol should impact as little as possible on the everyday life of communities in both Ireland and Northern Ireland.
Walker received a lot of interventions from both sides of the House after that introduction.
Theresa May (Maidenhead, Con) tried to stick the knife in:
My hon. Friend has been setting out throughout his speech that the Government want clauses 41 to 45 because of the bad consequences that could come from an interpretation of the withdrawal agreement. If the potential consequences of the withdrawal agreement were so bad, why did the Government sign it?
Walker responded:
As my right hon. Friend knows well, the withdrawal agreement was negotiated by the UK and the EU and agreed with a view that certain elements would be resolved by the Joint Committee. I think there was a reasonable expectation on both sides that the Joint Committee would have made more progress on those issues, but unfortunately we have heard some harmful interpretations over the past few months. The point of these Government clauses is to ensure that we can rule those out and put in place the appropriate legal default.
After allowing further interventions, Walker resumed a detailed set of provisions and reasons why the Government was rejecting others:
Clause 45 completes the all-purpose safety net for regulations made under clauses 42 and 43, so that there can be no confusion about the position in domestic law for our courts, businesses and public bodies …
Finally, clause 50 disapplies certain provisions of the UK Internal Market Bill in the scenario that Northern Ireland's representatives resolve, under the protocol's consent mechanism, that articles 5 to 10 of the protocol should cease to apply. This is a practical step to account for and respect the principle of consent enshrined in the protocol. The protocol itself is not codified as a permanent solution for Northern Ireland, and neither should it be in the domestic legislation that implements it. Taken together, these clauses deliver on our commitments to Northern Ireland …
I turn to two amendments regarding the commencement of these provisions that have been subject to much debate and attention, including a number of powerful and persuasive speeches on Second Reading. Amendment 4, which is in the name of my hon. Friend the Member for Bromley and Chislehurst (Sir Bob Neill), the Chair of the Justice Committee, and is signed by my hon. Friend the Member for North Dorset (Simon Hoare), the Chair of the Northern Ireland Affairs Committee, seeks to provide in essence that break-glass mechanism on the key safety net provisions in relation to the protocol by stating that clauses 42, 43 and 45 of the Bill may not come into force until a motion in this House is passed. Since that amendment was tabled, I am pleased that there have been constructive talks between my hon. Friend the Member for Bromley and Chislehurst and Ministers, and the Government have tabled amendment 66, which provides for substantially the same break-glass mechanism, with the additional requirement for a take-note debate in the other place (House of Lords). I hope that that amendment will demonstrate to hon. Members, including the Chair of the Justice Committee, that we are committed to ensuring that any decision to use the powers is explicitly approved by Parliament.
Neill was satisfied:
I thank my hon. Friend for the constructive tone that he and members of the Government have adopted in these matters. It enables some of us who otherwise would not have been able to support these clauses to proceed, on the understanding that there is a specific parliamentary lock that bad faith on the counter-party's side must be proven to the House before these powers are brought into operation, which of course all of us hope will never be the case. I welcome that, and it enables us to support the Government's amendment.
Walker replied:
I am very grateful to my hon. Friend for that point. A fundamental principle of our constitution, and one that lies at the very heart of our exit from the EU, is that this Parliament is sovereign. As set out in clause 38 of the European Union (Withdrawal Agreement) Act 2020, that means that it can choose to legislate to deliver an interpretation of the protocol consistent with our understanding, while recognising that to do so is a significant step. The parliamentary procedure set out in amendment 66 recognises that, and provides a clearer, more explicit democratic mandate for the use of the powers. I therefore commend amendment 66 to the Committee, and urge my hon. Friend and all Members to support it and not to press amendment 4.
He continued:
Amendments 64 and 65, in the name of my right hon. Friend the Business Secretary, make it clear that any regulations made under clauses 42 or 43 would, of course, be subject to judicial review, contrary to some of the claims that have been made over recent weeks, while ensuring that any claims must be brought within a three-month period. That ensures that any challenge to the regulations will be subject to a timely resolution before the courts, which is essential to ensure that Northern Ireland businesses and investors in Northern Ireland have the certainty that they need, which is at the heart of the Bill. I commend those amendments to the House. As they clarify the position on judicial review, amendment 44 is not necessary.
Amendments 61 to 63, in the name of my right hon. Friend the Business Secretary, are targeted technical amendments to ensure that the Government are able to maintain the integrity of the UK's VAT and excise systems and can deal with any threats to biosecurity in Great Britain in response to changes required in Northern Ireland under the protocol.
In particular, the amendments ensure that the Government can act to address cases of double taxation and non-taxation created by the Northern Ireland protocol, as well as to close down opportunities for tax evasion.
The amendments will also ensure that both the UK Government and the devolved Administrations can continue, as they do now, to respond to specific biosecurity threats arising from the movement of animals and high-risk plants. The principle of facilitating actions to protect biosecurity on an ongoing basis between England, Scotland and Wales is already reflected in schedule 1 to the Bill. The amendments simply clarify that similar processes can also apply with regard to Northern Ireland where there is a genuine risk of a biosecurity threat that poses a serious threat to the health of humans, animals or plants.
I commend those amendments to the Committee …
Amendment 41 seeks, among other things, to add a paramount duty to clause 40, requiring authorities to act without prejudice to international and domestic law. ​Amendment 53 similarly seeks to prevent authorities from exercising functions in a way that is incompatible or inconsistent with relevant domestic or international law. Amendment 52 appears to require the Government to follow the process agreed in the withdrawal agreement as the only mechanism for dispute resolution. Amendments 54 and 55 seek to prevent regulations made under clause 42 from having effect, notwithstanding international and domestic law. Amendment 46 would remove the Northern Ireland protocol from the list of international law that may be set aside, undermining the intent of clauses 42 and 43.
Amendments 57 and 59 would prevent regulations under clause 43 from interpreting, disapplying or modifying the effect of article 10 of the protocol. Clause 43 is a necessary provision that will ensure that the Secretary of State's interpretation will achieve the correct effect in domestic law.
I repeat that the Government are committed to implementing the withdrawal agreement and the Northern Ireland protocol; however, as a responsible Government we cannot accept any amendments that would undermine the provisions in the Bill and render them no kind of safety net at all, thereby risking the compromising of the UK internal market's economic integrity by unintended consequences or harmful defaults contained in some interpretations of the protocol, or creating confusion or uncertainty about the position in domestic law. I therefore urge right hon. and hon. Members to withdraw the amendments.
I recognise the spirit behind amendments 67 and 68. The Government have been clear that, as we set out in the Command Paper, we will ensure that there are no tariffs on any goods that remain within the UK customs territory. I hope Members will welcome the further relevant measures that will be set out in the Finance Bill.
There will not be any new customs infrastructure in Northern Ireland. We have always accepted that there will be some limited, streamlined processes for goods moving from Great Britain to Northern Ireland, building on what already happens at existing points of entry and limited to electronic declarations for businesses in Great Britain to confirm that their products are for the Northern Ireland market.
We have outlined our commitment to providing extensive support for businesses, including through the new trader support service, which will provide an end-to-end service and guide traders through all import processes at no additional cost. This is a unique intervention, backed by £200 million in Government funding to ensure that businesses of all sizes can draw on the support that it provides. Given those assurances, I hope that Members will feel able to withdraw the amendments.
Gavin Robinson (Belfast East, DUP) was unhappy at being asked to withdraw the amendments without seeing any specifics as to why.
Walker tried to reassure him:
I absolutely hear the hon. Gentleman's concerns. I have made the point about what we have said in the Command Paper and what the Prime Minister has referred to in respect of the Finance Bill.
Amendment 69 seeks to ensure that there would be no new costs for a Northern Ireland business to access or sell in the market. The UK Government have already committed in legislation to delivering unfettered access for Northern Ireland businesses, including through the Bill, which will apply the principles of mutual recognition and non-discrimination to qualifying Northern Ireland goods, thereby ensuring that they can continue to be sold in the Great Britain market in the same way as now. The amendment is therefore unnecessary.
Amendment 70 seeks to ensure that goods moving from Northern Ireland to Great Britain through Ireland will benefit from unfettered access. I reassure Members that we recognise the importance of trade from Northern Ireland to Great Britain that moves via Dublin to Holyhead. We are currently engaging with businesses and the Northern Ireland Executive on the long-term means for delivering qualifying status for unfettered access. It would be wrong to pre-empt the outcome of that consultation, so the Government cannot accept the amendment.
On amendment 71, the Government have been working and will continue to work closely with the Northern Ireland Executive on the implementation of the protocol, including on unfettered access, but we do not agree that a restriction on the Government's powers to make regulations effectively would be justified.
We resist amendment 72 on the basis that it is legally unnecessary. The current wording already encompasses distortions of competition between persons supplying goods or services in the course of a business within the UK internal market. Such wording is already sufficient to cover the regulation of subsidies that would have the effect of making Northern Ireland businesses less competitive in the Great Britain market.
Although the Government agree with the spirit of amendment 78, the whole Government are acutely aware of the need to maintain Northern Ireland's integral place in the UK internal market, which is already referenced many times elsewhere in the Bill, so we do not believe the amendment is necessary.
On amendment 79, I understand Members' concerns and support mutual recognition and the non-discrimination principle, but the exception to mutual recognition that we have introduced for chemicals is there to allow the relevant authorities to respond to local factors. Authorisations granted by the EU after the end of the transition period will not take local conditions into consideration. I emphasise that the authorisations relate to the use of substances of very high concern. It is important that the Government and devolved Administrations can take local factors into account when they decide how to protect human health or the environment from the significant risks posed by such chemicals. I therefore urge Members to withdraw or vote against the amendment.​
On new clause 7 and amendment 45, I want to reassure Members that the Bill includes provisions that are there precisely to protect the essential basis of the peace process, by ensuring that, regardless of whether further agreement is reached in the negotiations, there will be no hard border between Northern Ireland and Great Britain, and that Northern Ireland businesses will continue to benefit from unfettered access to the rest of the UK market when the transition period ends.
I can also reassure hon. Members that our commitment to protecting the Belfast/ Good Friday agreement of course includes protecting north-south co-operation in areas specified under that agreement, and the protocol is clear on that. That commitment is already enshrined in UK legislation: in section 10 of the European Union (Withdrawal) Act 2018, and through our continued support for this strand of the Belfast/Good Friday agreement throughout the process of exiting the European Union …
Walker then covered several other amendments which the Government deemed unnecessary.
Debate centred around the possible violation of international law.
Sir William Cash intervened during Paul Blomfield's (Sheffield Central, Lab) speech with this:
I am actually going to look briefly at a simple point, which is that, apart from our own judges, the German federal constitutional court in December 2015 clearly stated that international law leaves it to each state to give precedence to national law. International law gives effect in that way. How does the hon. Gentleman answer that?
In his defence Blomfield quoted Northern Ireland Secretary Brandon Lewis, who said on September 8 that the Internal Market Bill would 'break international law' in a 'specific and limited way'.
Joanna Cherry (Edinburgh South West, SNP) cited the Gina Miller court case against Brexit, wherein our Supreme Court ruled that international law, not domestic law, governs international treaties.
Blomfield continued, casting doubt on the bill.
Theresa May spoke next, again having a go at Prime Minister Boris Johnson, who was not present for the debate. She and the Opposition were in agreement on breaking international law:
… Today, we are focusing on the parts of the Bill that relate to the Northern Ireland protocol, part of the withdrawal agreement—the withdrawal agreement that was signed by my right hon. Friend the Prime Minister less than a year ago. I can say to the Minister that, in my view, clauses 41 to 45 have no place in this Bill. We are told that they are there because the EU either is acting in bad faith, or might act in bad faith. This is because the withdrawal agreement put a border down the Irish sea and the Government cannot accept that—but the Government did accept that when they signed the withdrawal agreement with the European Union, and I assume that, when they did so, the Government signed that in good faith. Yet here we have clauses 41 to 45 saying that the Government should have the ability to renege on parts of the withdrawal agreement to break international law.
There are three reasons why I believe that these clauses have no place in the Bill. The first, which has been referred to in earlier interventions, is that it is unnecessary. There is an arbitration process available. Under article 175, the ruling of the arbitration panel should be binding on the UK and the EU. The Government have acknowledged the existence of the arbitration procedure, but they are saying that they would enter into that in parallel with the operation of the elements of this Bill. The message, it seems to me, is very clear, which is, if we do not like the outcome of the arbitration panel, then we will break international law and we will not accept it. Yet, again, that is breaking the international treaty—an agreement that UK Government signed—because it is breaking article 175, which says that the view of the arbitration panel shall be "binding" on both parties. However, there is not just an arbitration process available. As the right hon. Member for Leeds Central (Hilary Benn) referred to, article 16 says:
"If the application of this Protocol leads to serious economic, societal or environmental difficulties that are liable to persist, or to diversion of trade, the Union or the United Kingdom may unilaterally take appropriate safeguard measures."
Clauses 41 to 45 are not necessary …
She continued, then concluded:
I cannot emphasise enough how concerned I am that a Conservative Government are willing to go back on their word, to break an international agreement signed in good faith and to break international law.
Later, at least one MP on the Opposition benches acknowledged her warmly for that.
Bill Cash was able to intervene:
Is she aware that the EU itself and indeed many other states throughout the world, including many democratic countries, have persistently broken international law, and that this applies not only to other countries, but to the United Kingdom? There are many overrides of international treaties by the UK itself.
May persisted:
Let me get this right. My hon. Friend seems to be saying, "If somebody else does something wrong, it's okay for us to do something wrong." I am sorry, I do not agree with him on that point.
I recognise that my hon. Friend the Member for Bromley and Chislehurst (Sir Robert Neill) has taken every effort to ameliorate the impact of these clauses, and the Government have accepted and put down their own amendment. But, frankly, my view is that to the outside world, it makes no difference whether a decision to break international law is taken by a Minister or by this Parliament; it is still a decision to break international law. This can only weaken the UK in the eyes of the world. One of the great strengths we have as a country is our commitment to the rule of law, and this will have been damaged. Our reputation as a country that stands by its word will have been tarnished, and the willingness of other countries to trust the United Kingdom and its values will have been reduced. So much for global Britain! …
I consider that, in introducing clauses 41 to 45, the Government are acting recklessly and irresponsibly, with no thought to the long-term impact on the United Kingdom's standing in the world. It will lead to untold damage to the United Kingdom's reputation and puts its future at risk. As a result, with regret I have to tell the Minister that I cannot support this Bill.
May had the support of the next speaker, the SNP's Kirsten Oswald (East Renfrewshire):
It is a privilege to follow such a thoughtful and considered speech …
Bill Cash spoke next:
There are many essential reasons, in our national interest and on constitutional and legal grounds, and grounds of practical necessity, for the clear, unambiguous "notwithstanding" clauses in the Bill that have been discussed in the context of clauses 42 to 45.
I mentioned in response to my right hon. Friend the Member for Maidenhead (Mrs May) that this was a question not just of whether the Euro pot was calling the British kettle black, but of whether, in the United Kingdom, we had ourselves overridden clear treaties. There are too many—they are far too numerous—to mention in this short debate. Of course, there is also an enormous number of examples of international law breaches by foreign states—not only, in Europe, by member states but by the EU itself, egregiously. Furthermore, there are examples of other countries, every one of them democratically elected, having done so. This question of values and reputation, and the issues that have arisen, has to be weighed against that context …
There is no argument about it; it is there in black and white in the treaties and in the sections of various enactments that have overtaken and overridden international law.
The debate went on for some time — fascinating and fractious.
In the end, the Government won in the divisions.
On Tuesday, September 22, the bill was at Committee stage for the fourth day. The debate centred on rewording of certain clauses and amendments.
The day's theme was 'power grab' and the lowering of animal welfare among other standards.
The SNP are terrified that the UK parliament will attempt to reduce the Scottish government's powers under devolution.
Drew Hendry (Inverness, Nairn, Badenoch and Strathspey) led the charge:
This Cummings-directed Tory UK Government are breaking international law, and they are breaking devolution. Behind the innocent-sounding mutual recognition mechanism, the Bill simply starts a race to the bottom on standards with the UK Government imposing it against our will in Scotland.
The Bill will see the Tories mount an assault on devolution with the biggest power grab since the Scottish Parliament was re-established. People in Scotland are seeing through the contempt that the Tory Government and Westminster have for their democratic choices. They are not daft. They know that this shabby, illegal, dogmatic Bill is not designed to fix anything, but it is designed to game the system for vested interests.
It is a fact that existing mechanisms and simple changes to Standing Orders could have worked with consensus instead, but this Government do not believe in consensus, just in getting their own narrow ideological way.
The UK Government's approach—the diktat—is the opposite of the democratic European single market approach. The development of the EU single market has been based on the principles of equality, co-operation, co-decision, subsidiarity and, of course, consent. Crucially, ​it sets a baseline of minimum agreed standards with which all member states' own rules must be compatible. What a contrast with this hasty, badly written, contemptuous Bill. The Government are even having to amend their own Bill as they go along, so shabby is it. Government amendment 109 is necessary to remove clause 20—how slapdash is that?
On the mutual recognition mechanism, clauses 2 to 9 contain sweeping powers to compel Scotland to accept lower standards, set elsewhere in the UK, on animal welfare, food safety and environmental protections, among a host of other areas.
I do not think that is the case.
Liz Saville Roberts from Wales (Dwyfor Meirionnyd, Plaid Cymru) agreed:
… policies that already exist under the auspices of the Scottish Government and the Welsh Government, if they were to be adapted, might then fall within the scope of this Bill. These are popular policies that we have made to cut our own path in the past, and yet this now threatens their future.
Bill Cash got into an exchange with Drew Hendry over whether the EU interferes. Cash said that EU policies have done serious damage to British industry. Hendry disagreed.
Cash said (in part):
The hon. Gentleman puts forward capable arguments. I notice how he weaves his way round these subjects. That is a compliment, in a way, but it does not alter the fact that the people in Scotland will suffer grievously if they continue to have EU regulatory arrangements inflicted on them. The Bill ensures that they will not. I dare say that the Minister is noting what I am saying—I hope that he is—because it is important to understand the damage that has been done.
Liz Saville Roberts expressed her concern over a halt to devolution in Wales and state aid.
Cash replied:
I am always extremely aware of other points of view—I have been subjected to them for the past 35 years in this House, but so far they have not prevailed. I am clear in my mind about the benefits of the United Kingdom as a whole, on all these matters—there are so many aspects that we do not have time to go into today—but state aid is central to the whole question of maintaining our spirit of enterprise. It is central to the degree to which we can provide tax incentives to facilitate and encourage UK jobs for the whole UK, including Scotland. It is central to our ability to encourage competitiveness, based on our own laws, and level up throughout the entire country, including Scotland. This is fundamental stuff …
This is not a small matter; this is monumental. It is all very well for the hon. Member for Inverness, Nairn, Badenoch and Strathspey to talk about this in terms of independence, but people will not thank him, and they will not thank the right hon. Member for Dwyfor Meirionnydd (Liz Saville Roberts) or anyone from any other part of the United Kingdom when the truth comes home to roost, which is that the EU will not allow us to compete favourably or at all. Its cardinal principle is to make sure that we cannot compete with it, and that is a reason in itself why we have to stand firm on the whole question of the notwithstanding clauses.
The debate was lengthy: more here.
The SNP MPs talked, seemingly at length, about Scotland's minimum alcohol pricing, which they lauded — one of the great achievements of devolution, in their minds. They fear that the UK government will want to change the policy. Unlikely. Wales adopted it, too.
The Government won on the ensuing votes.
Debate on the bill concludes on Tuesday, September 29.
Business Secretary Alok Sharma has tabled the following for debate that day:
Wednesday's session ended with two Conservative MPs raising a point of order about coronavirus legislation rushed through without proper debate in the Commons.
Sir Desmond Swayne (New Forest) said:
On a point of order, Mr Deputy Speaker. Some of the orders that we are about to deal with are quite dated, but I assume that they have been debated in a Committee upstairs. They touch on very intimate parts of our liberty and our choice. Is there any protocol on the circumstances in which they could be debated on the Floor of the House, rather than upstairs in a Committee stitched up by the Committee of Selection?
Deputy Speaker Nigel Evans replied:
The default procedures of the House, as the right hon. Member knows, are designed such that these measures are not debated on the Floor of the House. Of course, any Committee stages upstairs could have been attended. If any of these measures do not quite fit with his understanding as to what is acceptable, he is able to shout "Object". I will take that objection, and he will have the opportunity to have his name recorded in a deferred Division tomorrow.
Sir Christopher Chope (Christchurch) spoke:
Further to that point of order, Mr Deputy Speaker. I want to raise the issue of the inconsistency between quite a few of these remaining orders. Because of the delay in introducing these orders, some of them amend orders that are earlier on the Order Paper. We know that members of the public find it increasingly difficult to comprehend the changing scene of regulation on criminality and restriction of liberty. Surely if a regulation is amended by a subsequent statutory instrument, there should not be a need for the original statutory instrument to be approved by the House. For example, there are two separate statutory instruments relating to the north of England, one dated 25 August and one dated 2 September, and they are inconsistent with each other. Can you explain the reason for this confusion? Would it not be much better if—as I thought the Government had already promised—every regulation brought forward was debated at the earliest opportunity, before the Government had a chance to change their mind?
Nigel Evans repeated his answer to Desmond Swayne.
No objection was raised.
The first part of a review of last week in Parliament concerned coronavirus with a follow-on here.
The other big debates last week were about the Internal Market Bill, a legislative safeguard to preserve Britain's sovereignty after the Brexit transition period concludes at the end of the year.
Talks with the EU have reached an impasse. Worse, the EU wants to take Northern Ireland hostage, as it were, with the possibility that food from other parts of Britain might be prohibited from reaching it. Absurd, but that is the state of play.
On Saturday, September 12, Steve Baker tweeted:
The Telegraph article in Steve Baker's tweet explains (emphases mine):
Boris Johnson has accused the European Union of threatening to impose a food "blockade" in the Irish Sea that would destroy the "economic and territorial integrity of the UK".
Writing in The Telegraph, the Prime Minister made a passionate defence of his decision to alter the Brexit divorce deal, saying he has to protect Britain from the "disaster" of handing Brussels the "power to carve up our country".
He also issued a direct plea to Tory MPs threatening to rebel over his plans, telling them that, if they stand in his way, they will reduce the chance of getting a trade deal with the EU.
Mr Johnson insisted a Canada-style trade deal with the bloc is still possible and remains his goal, but that Brussels must "take their threats off the table" and rebel MPs must get into line. He also believes the UK will still "prosper mightily" under a narrower, Australia-style trade deal.
The Prime Minister claimed the EU could effectively impose a food blockade across the Irish Sea by refusing to grant the UK approved "third party" status for food exports, which officials say Michel Barnier, the EU's chief negotiator, has "explicitly" threatened.
The Withdrawal Agreement gives the EU oversight over goods of animal origin being transported from the mainland to Northern Ireland for four years, meaning Brussels could use an "extreme interpretation" to impose tariffs or declare such trade illegal …
The Government is trying to rush through legislation that would amend the Withdrawal Agreement and in particular its Northern Ireland protocol.
Mr Johnson argues that he has been forced to act because of a "serious misunderstanding" in Brussels about the terms of the agreement, and must unilaterally make changes to it because it has become a "danger to the very fabric of the United Kingdom".
The EU has told Mr Johnson that, unless he backtracks by the end of the month, the trade talks are over. 
That weekend, the news was full of MPs, senior legal experts and former Prime Ministers saying that Boris Johnson's proposals were a 'violation of international law':
On Friday a group of more than a dozen MPs, among them former ministers, signalled that they would press ahead with attempts to bar the Government from overriding the Withdrawal Agreement without the support of Parliament …
In the House of Commons, Sir Bob Neill, an avowed Remainer, led the rebel charge. Neill is:
the chairman of the Commons justice committee, who has already secured the backing of Damian Green, Theresa May's former deputy, and ex-solicitor general Sir Oliver Heald.
The Remain media gave airtime to those who said this proposal violates international law, a distinctly Remainer stance. In 2018, Theresa May watered down an excellent Brexit plan — Canada ++. Boris pushed a stronger 'deal' last autumn. Now Boris sees what the EU could do next year if the UK doesn't close this loophole.
In short, those who oppose Boris's proposed legislation are Remainers. Those who support it are Leavers.
This became evident in Parliamentary debates last week and this week.
On Monday, talkRADIO interviewed two Leavers.
Sir Desmond Swayne gave an early morning interview:
Labour Peer — and Leaver — Kate Hoey went on the air later:
Guido Fawkes published the full text of the bill.
The second reading of the bill took place on Monday, September 14. Excerpts from the debate follow.
Boris introduced the second reading, emphasising its importance to the Union:
The creation of our United Kingdom by the Acts of Union of 1707 and 1801 was not simply a political event, but an act of conscious economic integration that laid the foundations for the world's first industrial revolution and the prosperity we enjoy today. When other countries in Europe stayed divided, we joined our fortunes together and allowed the invisible hand of the market to move Cornish pasties to Scotland, Scottish beef to Wales, Welsh beef to England, and Devonshire clotted cream to Northern Ireland or wherever else it might be enjoyed.
When we chose to join the EU back in 1973, we also thereby decided that the EU treaties should serve as the legal guarantor of these freedoms. Now that we have left the EU and the transition period is about to elapse, we need the armature of our law once again to preserve the arrangements on which so many jobs and livelihoods depend. That is the fundamental purpose of this Bill, which should be welcomed by everyone who cares about the sovereignty and integrity of our United Kingdom.
We shall provide the legal certainty relied upon by every business in our country, including, of course, in Northern Ireland. The manifesto on which this Government were elected last year promised business in Northern Ireland "unfettered access to the rest of the UK".
Sir Bob Neill (Bromley and Chislehurst, Con) spoke, asking about upholding 'the rule of law', a popular theme among Remainer MPs:
I have listened carefully to what the Prime Minister says, but does he accept that were our interlocutors in the EU to behave in such an egregious fashion, which would clearly be objectionable and unacceptable to us, there is already provision under the withdrawal agreement for an arbitrary arrangement to be put in place? Were we to take reserve powers, does he accept that those reserve powers should be brought into force only as a final backstop if we have, in good faith, tried to act under the withdrawal agreement and are then frustrated? The timing under which they come into force is very important for our reputation as upholders of the rule of law.
The PM responded:
… there is the question of tariffs in the Irish sea. When we signed the protocol, we accepted that goods "at risk" of going from Great Britain into the EU via Northern Ireland should pay the EU tariff as ​they crossed the Irish sea—we accepted that—but that any goods staying within Northern Ireland would not do so. The protocol created a joint committee to identify, with the EU, which goods were at risk of going into Ireland. That sensible process was one achievement of our agreement, and our view is that that forum remains the best way of solving that question.
I am afraid that some in the EU are now relying on legal defaults to argue that every good is "at risk", and therefore liable for tariffs. That would mean tariffs that could get as high as 90% by value on Scottish beef going to Northern Ireland, and moving not from Stranraer to Dublin but from Stranraer to Belfast within our United Kingdom. There would be tariffs of potentially more than 61% on Welsh lamb heading from Anglesey to Antrim, and of potentially more than 100% on clotted cream moving from Torridge—to pick a Devonshire town at random—to Larne. That is unreasonable and plainly against the spirit of that protocol …
MPs on the Opposition benches were restive. The PM said:
To answer the questions that are being shouted at me from a sedentary position, last year we signed the withdrawal agreement in the belief, which I still hold, that the EU would be reasonable. After everything that has recently happened, we must consider the alternative. We asked for reasonableness, common sense, and balance, and we still hope to achieve that through the joint committee process, in which we will always persevere, no matter what the provocation.
Jeremy Wright (Kenilworth and Southam, Con) asked about violating international law:
… When I was the Attorney General in the previous Government, I was happy to confirm that the ministerial code obliged Ministers to comply with international as well as domestic law. This Bill will give Ministers overt authority to break international law. Has the position on the ministerial code changed?
The PM replied:
No, not in the least. My right hon. and learned Friend can consult the Attorney General's position on that. After all, what this Bill is simply seeking to do is insure and protect this country against ​the EU's proven willingness—that is the crucial point—to use this delicately balanced protocol in ways for which it was never intended.
The Bill includes our first step to protect our country against such a contingency by creating a legal safety net taking powers in reserve, whereby Ministers can guarantee the integrity of our United Kingdom. I understand how some people will feel unease over the use of these powers, and I share that sentiment. I say to my right hon. and learned Friend that I have absolutely no desire to use these measures. They are an insurance policy, and if we reach agreement with our European friends, which I still believe is possible, they will never be invoked. Of course, it is the case that the passing of this Bill does not constitute the exercising of these powers.
Ed Miliband (Doncaster North, Lab) moved an amendment on behalf of Labour leader Sir Keir Starmer, who was not in the Chamber as he was self-isolating. Note 'the rule of law':
I beg to move an amendment, to leave out from "That" to the end of the Question and add:
"this House notes that the UK has left the EU; calls on the Government to get on with negotiating a trade deal with the EU; recognises that legislation is required to ensure the smooth, effective working of the internal market across the UK; but declines to give a Second Reading to the Internal Market Bill because this Bill undermines the Withdrawal Agreement already agreed by Parliament, re-opens discussion about the Northern Ireland Protocol that has already been settled, breaches international law, undermines the devolution settlements and would tarnish the UK's global reputation as a law-abiding nation and the UK's ability to enforce other international trade deals and protect jobs and the economy."
There are two questions at the heart of the Bill and of why we will oppose it tonight. First, how do we get an internal market after 1 January within the UK while upholding the devolution settlements, which have been a vital part of our constitution for two decades and are essential to our Union? Secondly, will our country abide by the rule of law—a rules-based international order, for which we are famous around the world and have always stood up?
Those are not small questions. They go to the heart of who we are as a country and the character of this Government …
After interventions from a few MPs, Miliband openly challenged the PM, which had to be seen to be believed, it was that bold:
… there is also an irony here—the Prime Minister tried to slip this in; I do not know whether the House noticed—which is that this Bill does precisely nothing to address the issue of the transport of food from Great Britain to Northern Ireland. It is about two issues where the Government are going to override international law: exit declarations, Northern Ireland to GB, and the definition of state aid relating to Northern Ireland. If the Prime Minister wants to tell us that there is another part of the Bill that I have not noticed that will deal with this supposed threat of blockade, I will very happily give way to him. I am sure he has read it; I am sure he knows it in detail, because he is a details man. Come on, tell us: what clause protects against the threat, which he says he is worried about, to GB-to-Northern Ireland exports? I give way to him. [Interruption.]
As the PM smouldered at Miliband's arrogance, Deputy Speaker Dame Eleanor Laing intervened:
Order. The right hon. Gentleman cannot give way unless he is asked to.
Miliband carried on ranting, ending with:
I do not understand this. He signed the deal. It is his deal. It is the deal that he said would protect the people of Northern Ireland. I have to say to him, this is not just legislative hooliganism on any issue; it is on one of the most sensitive issues of all. I think we should take the word of two former Prime Ministers of this country who helped to secure peace in Northern Ireland.
An indignant Sammy Wilson (East Antrim, DUP) intervened:
Before the shadow spokesman lectures the Prime Minister about reading documentation or starts lecturing us about the Good Friday agreement, does he not recognise, first of all, that the Good Friday agreement talks about the principle of consent to change the constitutional position of Northern Ireland, which is what this protocol does? The Good Friday agreement has within it a mechanism to safeguard the minorities in Northern Ireland through a cross-community vote, which again the protocol removed. So before he starts talking about the threats to the Good Friday agreement, does he not recognise that the protocol was a threat to it in the first place?
Miliband replied to Sammy Wilson, then went on to invoke other Remainers, Theresa May and former PM John Major:
The right hon. Gentleman did not like the protocol at all. He would rather have not had the protocol. He and I just have a disagreement on this issue. I believe it was necessary to make special arrangements for Northern Ireland, or for the UK to be in the EU customs union to avoid a hard border in Ireland. That is why the Prime Minister came along and said the protocol was the right thing to do …
Let us just get this straight for a minute, because I think it is important to take a step back. The Prime Minister is coming to the House to tell us today that his flagship achievement—the deal he told us was a triumph, ​the deal he said was oven-ready, the deal on which he fought and won the general election—is now contradictory and ambiguous. What incompetence. What failure of governance. How dare he try to blame everyone else? I say to the Prime Minister that this time he cannot blame the right hon. Member for Maidenhead (Mrs May), he cannot blame John Major, he cannot blame the judges, he cannot blame the civil servants, he cannot sack the Cabinet Secretary again. There is only one person responsible for it and that is him. This is his deal. It is his mess. It is his failure. For the first time in his life, it is time to take responsibility. It is time to 'fess up: either he was not straight with the country about the deal in the first place, or he did not understand it.
Enough of Miliband.
Sir William Cash (Stone, Con) spoke on behalf of the bill:
… There has never been a level playing field in the EU. Its cardinal objective in these negotiations from the outset has included preventing us from being able to compete fairly. That is not good faith. Under the protocol, ​the EU would even control our legal tax freedom to create freeports and enterprise zones. All of this would massively undermine our businesses and jobs and therefore our voters …
He gave several examples of how the EU operates unfairly, then concluded:
The EU seeks to subject us to a foreign regulator, taking essentially political decisions and armed with undemocratic prohibition powers and authorisations. It would be unconscionable and utterly naive for us to allow that to happen. It would be contrary to our national interests at this time of economic instability generated by coronavirus.
You can watch his speech in full here:
Leavers thought it was an excellent performance:
Bill Cash is part of the pro-Brexit ERG (European Research Group), which issued a three-page briefing memo explaining the importance of passing the Internal Market Bill. Guido Fawkes published it in full.
The SNP's Ian Blackford (Ross, Skye and Lochaber) gave his 'Scotland' speech once again and made an egregious emotional appeal, invoking, like other Remainers, the rule of law:
Every Member has a choice. We know that the Bill breaks international law—so many learned individuals, including the previous Attorney General, have told us so. Tonight, this House can tell the Government that it is not on and that this House is not going to be complicit in a breach of international law. I venture that that is the responsibility that each Member has. Every Member—every Member, Madam Deputy Speaker—should examine their conscience. This is about a Bill that breaches the terms of a treaty, the ink of which is barely dry and on the delivery of which the governing party fought an election.
As is his wont, he spoke for ages, taking interventions from Labour MPs supporting his position.
Blackford said that the bill would hamper further devolution. Michael Gove, the Chancellor for the Duchy of Lancaster, asked how.
Blackford replied:
I hear the Cabinet Office Minister shout, "How?" Perhaps he should go and talk to the General Teaching Council, and it will give him its views directly. [Interruption.] Really? We have the Business Secretary, who is supposed to be taking this Bill through, sitting laughing—laughing at the legitimate comments made by stakeholders in Scotland. It is little wonder that the Tories are rejected in the way they are at the polls in Scotland …
Sir Bob Neill began to come around to see the positive points in the bill yet said he could still not support it without amendments being added.
Sammy Wilson responded, making an excellent point:
The hon. Member for Bromley and Chislehurst (Sir Robert Neill) said that we have obligations to the rule of law and obligations to the EU. What about the obligations to the people of the United Kingdom to ensure the provisions of the Act of Union? The economic basis of the Act of Union makes it quite clear that there shall be no barriers on trade between different parts of the United Kingdom. I believe that the Government are fulfilling, in part, their obligations to the people of Northern Ireland in this Bill, and that is why we will support it tonight.
There were many excellent contributions from Brexit-supporting Conservative MPs. Opposition MPs were feisty and the debate was lively.
That evening, the bill passed — 340 to 263:
Guido has the list of Conservative abstentions. Theresa May's name was among those listed.
The Labour amendment to reject the bill entirely failed by 349 votes to 213. TalkRADIO has an analysis.
The bill then moved on to Committee Stage.
On Tuesday, September 15, MPs debated various clauses and amendments.
That might sound boring, but it made for excellent viewing on BBC Parliament. Sparks were flying left and right.
SNP MPs insisted that the bill would decrease their powers under devolution. This is an argument that Conservatives, rightly, find absurd.
Paul Bristow (Peterborough, Con) asked the SNP's Drew Hendry (Inverness, Nairn, Badenoch and Strathspey):
The hon. Gentleman called the Office for the Internal Market an unelected quango. Does he accept that, if he had his way, he would be handing powers back to unelected quangos in Brussels?
Drew Hendry replied:
This is the argument that Government Members try to propagate all the time—that if these powers came to Scotland, they would immediately be transferred to unelected people in the EU. Two things are wrong with that. First, nobody in the EU is actually unelected when they make decisions; they are all elected by either the Parliament or the people who go there. The second and most fundamental point is that, under these proposals, the UK Government are simply taking all control and overriding the ability of Members of the Scottish Parliament to do their job by representing the people who voted for them and their choices.
The SNP fear that the UK Parliament will make decisions that override the spending wishes of the Scottish Government. It's possible but probably unlikely. Still, would that not be better than the EU making those decisions? According to the SNP, no, it would not.
Bill Cash intervened in an attempt to add reason to the debate:
The arguments that I have just heard from the hon. Member for Inverness, Nairn, Badenoch and Strathspey (Drew Hendry) are, in my judgment, completely unjustified. [Interruption.] He might expect me to say that; it is hardly surprising. The reality is that the Bill is intended to provide for independent advice and monitoring through the creation of this internal market within the Competition and Markets Authority arrangements. What the provision clearly states—far from it being just a bunch of nodding donkeys, which is more or less what the hon. Gentleman is saying—is that it will be a non-ministerial department, albeit sponsored by the Department for Business, Energy and Industrial Strategy, and it will have an enormous amount and range of experience and knowledge brought from its predecessor.
Hendry asked him who would be in the Competition and Markets Authority (CMA).
Cash replied, dryly:
What I can say for sure is that it will not be the European Union, and that summarises the argument in a nutshell.
Cash elaborated on the danger of EU interference:
We will need to be able to compete effectively throughout the world. This is a serious matter about a serious issue. What we cannot have, as I mentioned yesterday, is the situation that we have at the moment, which is where authorisations are given by the European Commission that either create discrimination against British businesses or have the perception or the potential for doing so. They will affect the voters in Scotland—and the voters in Sheffield, if I may say so. I was brought up in Sheffield. I saw what the European Coal and Steel Community did to the British steel industry. [Interruption.] I hear what the hon. Member for Sheffield Central (Paul Blomfield) says. The reality is that those businesses were driven out of business by, in many cases, unfair subsidies and unfair state aids that were given to other member states. I can give an example. I happened to know many people who worked at the coalface—I used to play cricket with them when I played for Sheffield—and I can tell Members that the Sheffield steelworkers, whom I also played with on occasion, sometimes it was rugger, found that they were very severely jeopardised by the massive state aids that were given to the German coal industry—it was as much as £4 billion—and authorised by the Commission. For a variety of reasons, we did not get the same kind of treatment here in the United Kingdom. This is all part of the problem of how to have fair and reasonable competition.
Joanna Cherry (Edinburgh South West, SNP) directed her comment to Cash, unintentionally getting the soundbite of the day in his reply:
I am going to answer the hon. Gentleman's question. The Scottish National party wants Scotland to remain part of the European Union—a single market of more than 500 million consumers. The SNP does not wish to put up trade barriers with England. It is his party that wishes to enforce upon us trade barriers if we dare to exercise our democratic right of self-determination, which he has spent the last 40 years banging on about in this House for England.
Cash's reply was brilliant:
If I may say so, not unsuccessfully.
Cherry was clearly irritated:
That remains to be seen.
There is too much to quote from this lively debate, so do read it here.
An Opposition amendment and a clause were defeated.
The debate in Committee Stage continued on Wednesday, September 16. The Opposition brought forward more amendments.
The theme of devolution continued. Discussion about a possible threat to Welsh devolution accompanied the concerns of Scottish SNP MPs.
John Lamont, a Conservative MP representing the Scottish constituency of Berwickshire, Roxburgh and Selkirk asked the SNP's Alison Thewlis why she thought the UK government was working against Scotland's interests:
The hon. Lady is giving a typically bitter speech around the role of the UK Government into Scotland. Does she not accept that the UK Government and the Scottish Government have worked very closely together on the growth deals and city deals in Scotland? They are very good examples of what can be achieved in Scotland with both Governments working together, rather than the attitude that she takes of opposing everything that this place does.
Thewliss replied:
I am very interested that the hon. Gentleman raises growth deals, because every single growth deal in Scotland has been short-changed by the UK Government. The Scottish Government have put in more than the UK Government to those growth deals and we are still waiting for the money for some of those growth deals to be realised.
Andrew Bowie, another Conservative MP representing a Scottish constituency (West Aberdeenshire and Kincardine) couldn't change her mind, either.
The Conservatives brought logic to the debate, something Opposition MPs were unable to do.
A Labour amendment, brought forward by Ed Miliband, requiring financial assistance to be the subject of a framework agreement to be agreed by resolution of each House of Parliament was defeated: 330-208.
That day, Boris Johnson appeared before a Select Committee to explain why the Internal Market Bill was necessary:
He told Labour MP Hilary Benn that he thought the EU representatives were negotiating in bad faith:
It is always possible that I am mistaken. Perhaps they will prove my suspicions wrong.
On Thursday, September 17, Guido Fawkes outlined the debates which took place this week (emphases in the original):
The Government will table two amendments to its own Bill on Tuesday, firstly a redrafted version of the Neill Amendment – setting in stone the need for a parliamentary vote beyond the requirements of ordinary statutory instruments, and secondly a clause to prevent significant litigation of the enactment of the controversial provisions. Tightening up the ability to deploy with the consent of the House.
Of course, the Government insists it still does not want to have to use these powers of last resort. But now it will have them in case the EU don't offer concessions…
I'll cover those tomorrow.
This week, the UK government's scientific advisers and Prime Minister Boris Johnson said that new, stricter coronavirus measures would come into effect on Thursday, September 24.
On Monday morning, Chris Whitty and Sir Patrick Vallance presented their latest figures, which looked as if they must have come (once again) from Prof Neil Ferguson, they are that exaggerated. You can see the graph further down in my post:
This is utter madness, reminiscent of the WMD days when Tony Blair told us that a WMD could reach our shores within 45 minutes:
Their presentation, given against a No. 10 backdrop, had the purpose of preparing the public for Boris Johnson's announcements on Tuesday. They took no questions.
They showed graphs of where Spain and France are, with an uptick in 'cases'. Again, that means positive test results, most of which do not require hospitalisation.
Strangely enough, the Rule of Six only came in on Monday. Let's let it bed in for a few days, fellas, before taking more measures. They're doing exactly what they did in March, though. On March 16, new measures came in. On March 23, we had lockdown.
The Rule of Six is a Belgian tactic that SAGE thought would work in England. As such, they recommended it to the Government.
Perhaps this is the reason the two scientists did not mention Belgium once in their presentation:
I am glad someone will be tracking the progress of the projections over the next few weeks:
On Tuesday, Boris addressed Parliament and gave a short address that evening, televised to the nation.
In short:
– Pubs and restaurants must close by 10 p.m.
– They must offer table service only.
– All retail workers in hospitality settings must wear masks, along with customers, unless they are eating or drinking.
– Fines for breaking the Rule of Six or not wearing a face covering will result in an initial fine of £200, up from £100, for a first offence.
– Indoor five-a-side football matches have been banned.
– Wedding attendance has been reduced from 30 to 15; funeral attendance remains capped at 30.
– Police are allowed to call the military to fulfil office duties and/or to guard protected sites, leaving the police more capacity to fight crime.
– The plan to return a limited number of fans to sports stadia on October 1 is now postponed indefinitely.
The Daily Mail has a comprehensive article, including Boris's transcript, on the scathing reactions from police and business owners, particularly publicans. Sir Andrew Lloyd Webber said that this could sound the death knell for commercial theatre.
The Telegraph's Matt has this take on Army assistance:
The chances of that happening are very low:
The sad thing is that only five per cent of COVID-19 infections occur in a hospitality environment!
The Government and SAGE know this — yet they pressed on with restrictions!
The Daily Mail reported (emphases mine):
Public Health England data reveals that of the 729 outbreaks in the week to September 13, only five per cent occurred in food outlets such as restaurants and pubs – 45 per cent were in care homes, 21 per cent in schools and 18 per cent in places of work.
Wetherspoons founder Tim Martin said: 'The curfew doesn't even stand up to five minutes consideration by an intelligent person because if you look at the stats… there are relatively few transfers of infections in pubs.
Kate Nicholls, chief executive of trade body UK Hospitality, urged the Government to heed its own statistics because the curfew could take a sledgehammer to the industry which is already 'on its knees'.
She said this morning: 'People will think it's not that significant, but it really will have a big economic impact on jobs, not just on pubs, but also for cafes and restaurants.'   
Martin Wolstencroft, head of Arch Inspirations, which runs 17 bars and restaurants in Leeds, Manchester, York and Newcastle, said the curfew will not make it viable to open some of his venues.
Ironically, August was the month of discount lunches in Chancellor Rishi Sunak's successful initiative, Eat Out to Help Out, which the hospitality industry welcomed.
The Government's new restrictions will largely destroy any uplift participating restaurants received from it.
What on earth is going on?
Toby Young, who was at Oxford with Boris, says that something has changed — and not for the better. Note that Prince Charles approves of military intervention for climate change. Scary:
It's entirely possible that these ruinous measures have no basis in scientific fact, devastating people's livelihoods and families:
Conservative backbench MPs sounded off.
On Tuesday, Sir Desmond Swayne, who has commented both in and outside the House of Commons, tweeted:
His blog post states, in part:
Flu kills all year round – In the last weeks of July it killed 1000 of us (where Covid-19 killed only 200)- but it is seasonal: it certainly kills a lot more of us in the winter. Equally, we should stop talking about another wave of Covid-19 and instead, like flu, start expecting its annual season.
Having peaked in April Covid-19 abated over the summer. Inevitably it will get worse in winter. It may also be worse this winter than might otherwise have been the case. This is because we carried on with a number of restrictions on normal social life during the summer, reducing our ability to acquire and share herd immunity and wasting the opportunity provided by the weakest period for the virus.
My contention remains, as I have said many times over the last months, that our over-reaction to the disease has done much more lasting economic damage, and, counter-intuitively, even more damage to our health than the disease itself.
The current strategy merely kicks the can down the road. If the measures work and reduce the spread, the virus will simply reappear later.
Of course, we could be lucky and get a vaccine or a cure, or even 'moon-shot' daily tests to enable us to return to normality, but none of these are certain.
One day there may be a virus that threatens our whole way of life – but this isn't it, even if we are behaving as if it were.
Sir Desmond retweeted a neurologist's comment on the outrageous graph of projected 'cases' this autumn — in reality, positive tests:
Today, Sir Desmond gave an interview to the BBC about the continuing and questionable restrictions on civil liberties:
Richard Drax rightly predicted economic disaster, ruining the lives of millions:
Lucy Allan also spoke out on Twitter.
She tweeted Monday's graph from SAGE:
She rightly opposes putting everyone on restrictions when we should be protecting those most at risk:
She retweeted an open letter from Profs Sikora, Heneghan and several other leaders in British medicine:
She also called for the precise definition of a 'case':
That's probably why Whitty and Vallance didn't take questions.
Sir Edward Leigh also had a lot to say on this week's announcements:
He is rightly concerned about the blind faith we place in authority and the gradual erosion of civil liberties:
I couldn't agree more:
At least 1,000 people die in the UK every day.
Below are the causes of death per day in September.
Note where COVID-19 is: second from the bottom, dwarfed by heart disease and cancer.
There were nearly twice as many suicides than deaths from the Chi-vi: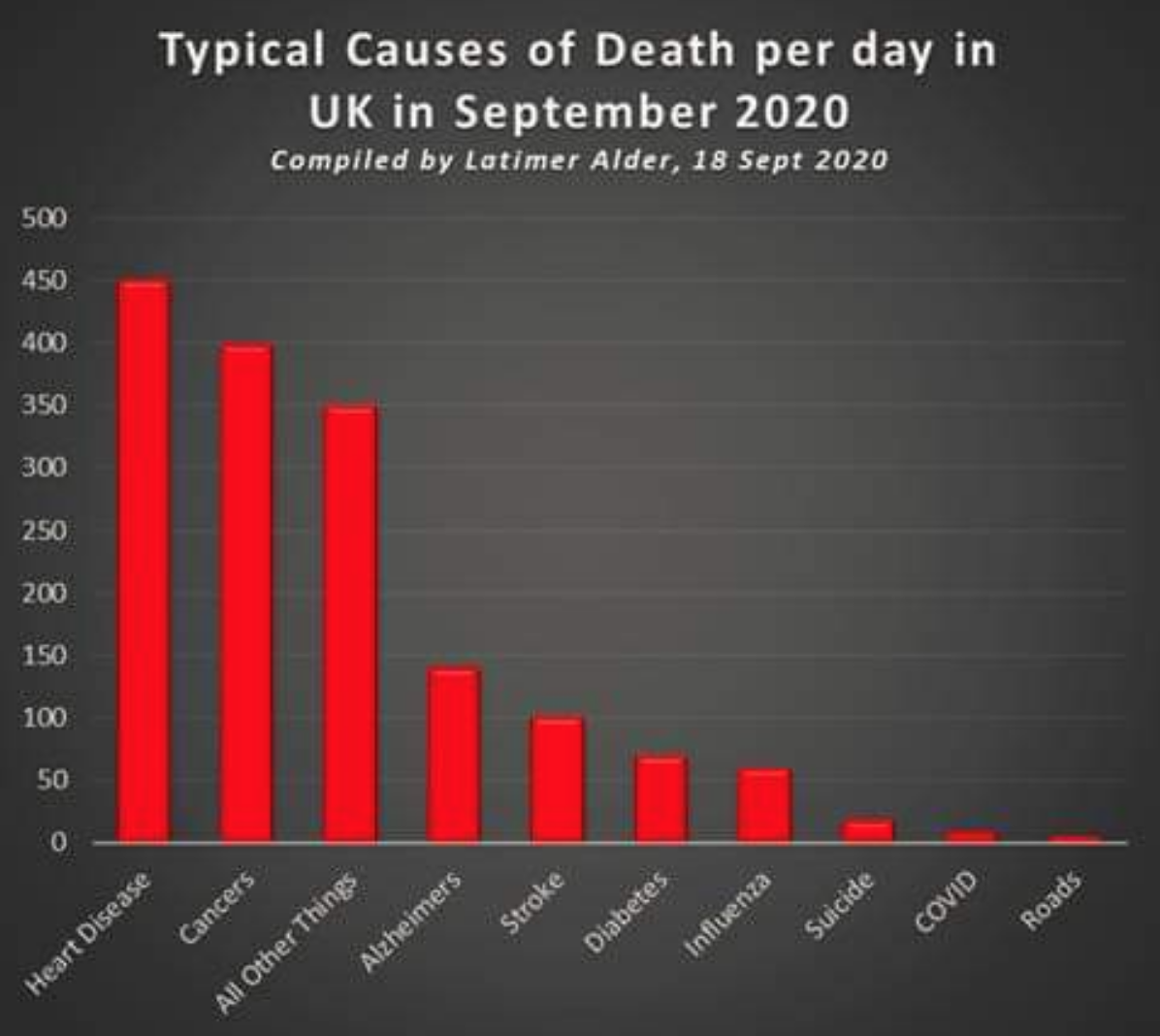 Steve Baker is also concerned about the restrictions bypassing Parliament:
Wow. Sir Graham Brady could pit a load of Tory rebels against the government. Good show:
The article from The Critic says:
Unless Matt Hancock finds a workable accommodation with Sir Graham Brady, the chairman of the 1922 Committee of Tory backbench MPs, the government faces the prospect of defeat next Wednesday when the Coronavirus Act 2020 comes up for its six-monthly renewal in the House of Commons.
The scale of backbench unhappiness is such that according to Steve Baker, who is working alongside Sir Graham, "the magic number was exceeded with 24 hours" of his beginning to canvas support for an insurrection among fellow Conservative MPs. Victory would require Labour and SNP MPs to seize on the opportunity to inflict a humiliating defeat on the government by voting with the Tory rebels. Indications increasingly suggest that this could happen. An increasingly dispirited Whips Office, which feels ignored and disrespected by Downing Street, is especially concerned at the sight of the former ERG "Spartans" leader, Baker, at Westminster furiously tapping away on his phone – a colliery canary of trouble ahead.
The government is equally concerned that the rebellion is being led by Sir Graham Brady, whose role as chairman of the 1992 Committee makes him the most authoritative channel of backbench opinion. In a sign of how seriously Downing Street management is taking the senior shop steward's challenge, on Monday evening the prime minister privately went to see the 1922's executive committee.
The primary complaint is that the government is using powers granted to it under the 1984 Public Health Act and 2020 Coronavirus Act to enact previously unconscionable measures without any prior debate in the Commons. Brady has condemned ministers who "have got into the habit of ruling by decree."
MPs were prepared to cede considerable authority to the government in March in a period of acute crisis when there appeared to be only weeks if not days to "flatten the sombrero" to save the NHS from being overwhelmed. But Boris Johnson's admission in his statement to Parliament today that the latest curtailments (which include further restrictions on hospitality opening hours and the number of people who can congregate at weddings, funerals and other public, private and sporting functions), would likely last at least six months has alerted MPs to the reality that government by decree may last until a vaccine is approved. If, indeed, a vaccine is approved. This is a war that will not be over by Christmas.
Far from persuading potential rebel MPs that a new crisis is looming, the performance of the government's chief medical and scientific officers, Chris Whitty and Sir Patrick Vallance, at their press conference yesterday has heightened consternation that the government is over-reliant on advice predicated upon worst case scenarios that is trumping competing economic and civil liberty considerations.
The likelihood of executive mission creep was foreseen back in March by David Davis and Steve Baker who pushed the government into adopting an amendment reducing from two years to six months the period in which the powers of the Coronavirus Act must be renewed by parliament. That renewal debate will now take place next Wednesday.
I remember that debate from March and also wondered if the Government were as good as their word.
Whilst they are unlikely to call for a wholesale repeal of the Coronavirus Act, Sir Graham Brady could call for a scrutiny clause appended to the Act so that every new statutory instrument connected to the legislation would have to go through Parliament first. To date, many of them have not. Therefore:
Rebels are pinning their hopes on this prospect. They may find a friend in the The Speaker, Sir Lindsay Hoyle, who has already made clear his intense irritation with Matt Hancock's disregard for informing parliament first of major legal changes like the "rule of six" and for the government's brusque imposition of restrictions in his own Chorley constituency …
The appeal of such a mechanism is obvious to Tory backbenchers concerned that laws are being made without scrutiny and are difficult to repeal. But there is no in-principle reason why Opposition parties need object to such a parliamentary safeguard either. Hence the likelihood of a rebellion having the numbers to succeed next Wednesday.
I can hardly wait.
Iain Duncan Smith is also airing his views. Note what he says and compare it to the death graph above:
Brexit better be more than BRINO, otherwise that prediction about the Conservatives could come true.
Former Brexit Party MEP and owner of England's greatest smoked salmon business, Forman's, said:
How true.
Unfortunately, at today's PMQs, Boris said that restrictions will continue until a vaccine is found! Dangerous.
Last week proved to be another emotive and passionate one in the House of Commons with regard to coronavirus and Brexit.
This post concerns coronavirus.
On Monday, September 14, Prime Minister Boris Johnson's Rule of Six, which he announced on September 9, came into effect. It sounds rather Chinese.
It means that people living in England cannot meet in groups of greater than six, indoors or outdoors. If we do, according to him, we 'will be breaking the law'.
He also introduced a new platoon to keep us in line: COVID marshals, to remind us of existing coronavirus rules in England — 'hands, face, space'.
Recall that Boris said after the December 2019 election that we now have the People's Government. Hmm.
The UK government is copying a Belgian idea. The Rule of Six reduced their second spike.
Increasingly, Britons have been looking back at Sweden, which refused to lock down. Fraser Nelson is the editor of The Spectator. Chris Whitty is our Chief Medical Officer; in May, he said that coronavirus was harmless for most people and most of us would never get it:
Michael Gove MP, a Cabinet minister and Chancellor of the Duchy of Lancaster, made matters worse when he confirmed that under-12s were part of the Rule of Six, unlike in Scotland and Wales, where under-12s are not. With life getting back to normal as school has started again, this came as a blow to many families:
The Telegraph reported that the Cabinet was split on the proposals (emphases mine):
… one senior Tory source said that "half the Cabinet" had doubts about the so-called 'rule of six', and it was "pretty hard to find a Conservative member of Parliament who agrees with all of this".
The COVID marshals are also a problem for police and local councils:
Meanwhile, Mr Johnson's plan for coronavirus marshals to help enforce the six-person rule was unraveling as police derided them as "Covid Wombles" and councils said they were a "gimmick".
Downing Street admitted councils would not be given any money to pay for the marshals, suggesting volunteers could do the job, and said it would be up to individual local authorities to decide whether they actually wanted them.
It got worse, as curfews were mooted:
The Government has discussed going even further with new lockdown restrictions, and has drawn up "a well-developed proposal" for a nationwide curfew which was discussed at ministerial level.
My head spun.
Then the ministerial snitch crowd appeared on weekend news programmes to say that people must tell on their neighbours if they are seen to be violating the Rule of Six:
Political journalist Isabel Oakeshott rightly responded:
I couldn't agree more. This is supposed to be the People's Government, isn't it?
History will not look kindly on 2020 with regard to the measures taken to combat the virus:
I was wrong.
Home Secretary Priti Patel said that people should not even talk when they see friends in the street, even at a distance (audio here, thanks to Guido Fawkes, and there's video, too):
Yebbut, if you DO report what appears to be criminal activity, allegedly, the police do not want to know. Here is a printscreen of a set of comments on a Guido Fawkes thread. I call your attention to the last two. Police would rather pick on mums and their children. Ironically, that was posted on the anniversary of the Battle of Britain. Go figure.
A mild-mannered man from Buckingham called talkRADIO to say he would not comply with the Rule of Six because the Government had gone too far.
So did a lady from Brighton, saying that the Rule of Six was about:
control. They're trying to see how much they can get away with.
Another talkRADIO host, Julia Hartley-Brewer, had a go at Roy Lilley, former NHS Trust chairman. She said:
We are being scared into thinking we have to give up our civil liberties when that won't save lives. Being sensible will save lives.
The Telegraph's Salley Vickers wrote of the restrictions on her and her loved ones:
I would rather risk dying and have the joy of their company than lose that vital contribution to my own happiness.
With the festive season only several weeks away, the Daily Mail's Peter Hitchens told talkRADIO's Mike Graham that the Rule of Six has:
made Christmas an arrestable offence.
Another Daily Mail journalist, Bel Mooney, wrote an editorial for Conservative Woman saying that she was surprised at the amount of resistance she received when she wrote that she would be defying the Rule of Six at Christmas:
… in response to Matt Hancock's sudden, arbitrary and illogical 'rule of six' diktat, I wrote a strong opinion piece (at the request of my newspaper) headlined 'NO, NO, NO! I'm having Christmas for 14 – and no puffed-up Covid marshal will stop me'.
As you might expect, there was a huge response. I never look online, and am not on Twitter (I expect there was a lot of poison swilling around out there). I am talking about emails to me and the newspaper. What interested me was the fact that, if I am to be honest, the antis outnumbered the pros. I didn't expect that from Mail readers.
You can never tell with Mail readers, though. They're a tricky lot.
Oxford University's Professor Carl Heneghan and honorary research fellow Tom Jefferson wrote an article for The Spectator against the Rule of Six, saying that Boris must bin it:
At Oxford University's Centre for Evidence Based Medicine, we have spent years trawling through the scientific evidence on the effects of measures such as distancing on respiratory viral spread. We are not aware of any study pointing to the number six. If it's made up, why not five or seven? …
Northern Ireland has taken a more measured approach and not announced any changes to how many people can meet. These disagreements in policy reveal how decisions are being made without evidence. It seems that somebody in government sat in a cabinet office room and said six is a good idea and nobody disagreed …
The problems with policy stem from the current cabinet's vast inexperience: the Health Secretary has been in post for just over two years now; the PM and the Chief Medical Officer a year. The Joint Biosecurity Centre is overseen by a senior spy who monitors the spread of coronavirus and suppresses new outbreaks. Add to this mix the new chair of the National Institute for Health Protection, who similarly has little or no background in healthcare. Our leaders amount to little more than a Dad's Army of highly paid individuals with little or no experience of the job at hand.
This inexperience leads to rash decisions and arbitrary policies.
One example is that entire areas can be locked down if they have 50 cases per 100,000 people. Yet the recognised alert threshold for 'regular' acute respiratory infections is 400 cases per 100,000.
Lord Sumption, who has been speaking out against lockdown this year, said that the Rule of Six will be unenforceable. I hope he is right:
Tom Tugendhat (Tunbridge and Malling, Con) expressed his concerns about the new rule and rightly wanted MPs to vote on it and similar measures:
It's unlikely that the House of Lords can help, either. They already have a full schedule. We should thank Lord Lamont for raising the issue of consulting the public, however. 'SI' means 'statutory instrument':
Monday, September 14
Behind the scenes and well outside of Parliament, an email emerged dated May 23, wherein Chief Scientific Adviser Sir Patrick Vallance stated he had pushed the most for March's lockdown:
Guido Fawkes has the full text of the email. I am not sure how Sir Patrick thinks that a vaccine will achieve herd immunity, though.
In the first of the debates on the Brexit-related Internal Market Bill, Charles Walker MP (Broxbourne, Con) prefaced his comments by expressing his dismay about the Rule of Six, the lack of consultation with Parliament and the fining of Jeremy Corbyn's brother Piers at the anti-lockdown rally on Saturday, September 12.
Thank you, Charles Walker:
This is short and well worth watching:
Tuesday, September 15
Secretary of State for Health and Social Care Matt Hancock poled up to make a statement to MPs about the Rule of Six and testing.
Excerpts follow:
There are signs that the number of cases in care homes and the number of hospitalisations is starting to rise again, so last week we acted quickly, putting in place new measures—the rule of six, which came into force yesterday. We do not do this lightly, but the cost of doing nothing is much greater.
Testing also has a vital part to play. Everyone in this House knows that we are doing more testing per head of population than almost any other major nation, and I can tell the House that we have now carried out over 20 million tests for coronavirus in this country. As we expand capacity further, we are working round the clock to make sure that everyone who needs a test can get a test. The vast majority of people who use our testing service get a test that is close to home, and the average distance travelled to a test site is now just 5.8 miles —down from 6.4 miles last week; but the whole House knows that there are operational challenges, and we are working hard to fix them.
We have seen a sharp rise in people coming forward for a test, including those who are not eligible.
Jonathan Ashworth (Leicester South, Lab/Co-op), speaking for the opposition, said:
I am grateful for advance sight of the Secretary of State's answer. That was decent of him.​
Yesterday LBC revealed that there were no tests available in covid hotspots, including Rochdale, Pendle and Bradford. Over the weekend in Bolton, where infections are the highest in the country, a mobile testing centre failed to turn up. Meanwhile, in Bury hundreds queued for five hours for a test. In Walsall, a father with his sick child travelled 76 miles to an appointment in Wales, only to find on arrival that tests had run out. Increasing numbers of teachers and pupils are not in school. In hospitals, operations are cancelled while NHS staff are stuck in limbo, waiting for tests.
The Secretary of State blames increased demand, but when tracing consistently fails to reach 80% of contacts, when less than 20% of those with symptoms self-isolate properly and there is a lack of financial security, infections rise. When schools reopen and people return to workplaces and social distancing becomes harder, infections rise. Extra demand on the system was inevitable. Why did he not use the summer to significantly expand NHS lab capacity and fix contact tracing?
Just as demand is increasing, the ability to process tests is diminishing. Post-graduate students working in the Lighthouse labs are returning to university, so why did the Secretary of State not plan for the inevitable staff shortages in the Lighthouse labs? Those commercial pillar 2 labs, The Sunday Times revealed at the weekend, have a huge backlog of 185,000 tests. Thursday's data revealed that 65,709 test results were not returned by the end of the week. Care home residents now wait an average of 83 hours for their result. The Prime Minister promised us a 24-hour turnaround for results, so what is going on? What is the current backlog and what is the timeframe for clearing it?
We were promised a world-beating system, so why are we sending tests to Germany and Italy for processing? But, most importantly, people want to know when they will get a test and when this mess will be fixed. Today there will be thousands of ill people trying to book a test, only to be told none is available. When will people be able to book a test online again, or has the online booking system been deliberately disabled? When will ill people no longer have to travel hundreds of miles for a test that should be available on their doorstep? When will pupils and teachers out of school get access to testing, so they can get back to school? When will NHS staff have access to regular testing, so they can focus on their patients and not be sitting at home?
We are at a perilous moment. Imperial College estimates the virus is doubling every seven to eight days. We all want to avoid further restrictions or another national lockdown, but when testing and contact tracing break down, the growth of the virus cannot be tracked. The Prime Minister promised us whack-a-mole, but instead his mallet is broken. The Secretary of State is losing control of the virus; he needs to fix testing now.
Many MPs — from both Opposition and Conservative benches — said that their constituents could not get tests.
Even the Speaker of the House tweeted that his constituents were having similar problems:
The testing situation is shocking — as Terry-Thomas used to say in the Boulting Brothers films: 'An absolute shower!'
On the upside, the British coronavirus jobs situation is improving, thank goodness (more from Guido here):
Wednesday, September 16
Deputy Labour Leader Angela Rayner (Ashton-under-Lyne) stood at the Opposition despatch box for Prime Minister's Questions (PMQs), as Sir Keir Starmer was self-isolating:
She did a good job.
She began by saying:
Many people in the Chamber will think that the battle of Britain is today, but actually we marked the 80th anniversary of those veterans yesterday, and I want to put on record our thanks to all those who fought for our country in the past.
I want to start by reading to the Prime Minister a message that I have received from a man called Keir. Keir was not able to go to work today and his children could not go to school because his family had to wait for their coronavirus test results, despite the Prime Minister's promise of results within 24 hours. Keir was able to do the right thing and self-isolate and work from home, but other people are not in this position, and many of them are the very people who were getting us through this crisis, such as the care workers, who I used to work alongside before I was elected to this House. The Prime Minister once earned £2,300 an hour; can he tell us the average hourly rate of a care worker in this country?
Boris was singularly unimpressed, although he had a neutral expression on his face, even when discussing Starmer:
I congratulate the hon. Lady on her elevation. She speaks of the constituent Keir, and I can tell her that—allegedly, apparently—he has had a negative test, and I do not know quite why he is not here. But 89% of those who have in-person tests get them the next day, and we are working very fast to turn around all the test requests that we get. I think that most people looking at the record of this country in delivering tests across the nation will see that that compares extremely well with any other European country. We have conducted more testing than any other European country, and that is why we are able to deliver tests and results in 80% of cases where we know the contacts.
The hon. Lady asks about care homes, and I can tell the House that today we are launching the winter care home action plan. She is right to raise the issue of care homes, and we are concerned about infection rates in care homes, but we will do everything we can to ensure that care homes and their workers are protected.
On the hon. Lady's final point, I am proud that it is this Government who have instituted the national living wage to ensure that every worker in this country, including care home workers, is paid substantially more, thanks to the care and the work of the people of this country.
Boris listened attentively and responded sensitively to all the points that Angela Rayner raised until this point, which came several minutes in, when she said:
Infections are rising. The testing system is collapsing. When you are the Prime Minister, you cannot keep trying to blame other people for your own incompetence. We have the highest death toll in Europe, and we are on course for one of the worst recessions in the developed world. This winter, we are staring down the barrel of a second wave, with no plan for the looming crisis. People cannot say goodbye to their loved ones. Grandparents cannot see their grandchildren. Frontline staff cannot get the tests that they need. And what was the top priority for the covid war Cabinet this weekend? Restoring grouse shooting.
I suppose that is good news for people like the Prime Minister's friend who paid for a luxury Christmas getaway to a Caribbean island and funded his leadership campaign, and just so happens to own two grouse moor estates. So Prime Minister, is this really your top priority?
The Prime Minister answered:
While the Labour Opposition have been consistently carping from the sidelines throughout this crisis and raising, frankly, issues that are tangential, if not scare stories about what is going on, we are getting on with delivering for the British public. We are not only massively ramping up. She has not contested any of my statistics today about the extent to which this country is now testing more than any other European country.
She has not disputed the massive acceleration in our programme. [Interruption.] I will answer the substance of her question, thank you very much. We are getting on with delivering on the priorities of the British people: getting us through this covid crisis; delivering on making our country safer, bringing forward measures to stop the early release of dangerous sexual and violent offenders, which I hope she will support; strengthening our Union, which in principle Opposition Front Benchers should support; and building more homes across this country and more affordable homes across this country, which she should support. That is in addition to recruiting more doctors and more nurses, and building more hospitals.
I do not think anybody is in any doubt that this Government are facing some of the most difficult dilemmas that any modern Government have had to face, but every day we are helping to solve them, thanks to the massive common sense of the British people, who are getting on with delivering our programme and our fight against coronavirus. It is with the common sense of the British people that we will succeed, and build back better and stronger than ever before.
If only.
That day, news of an upcoming curfew in London emerged.
Apparently, the British people don't have much common sense, after all.
Currently, London has some of the fewest new coronavirus cases (i.e. positive tests, little hospitalisation):
Guido rightly wrote (emphases in the original here):
If this afternoon's splash from the Evening Standard is true, it is a step too far. The London director of Public Health England (yes, the organisation is still limping on for now, despite the Health Secretary announcing its abolition back in August) has issued a "curfew alert" to the capital through the newspaper, saying residents could face a mandatory curfew if Covid cases continue to rise. A ridiculous suggestion that should be forcefully opposed.
Shutting pubs, bars, restaurants, and just about everything else at an arbitrary hour will obviously do nothing to stop the spread of coronavirus. If anything, the move will be counter-productive – compressing the same number of customers into a shorter time and making social distancing harder still. Or pushing social gatherings into homes not bars, which are thought to be more likely to spread the virus. This no doubt ineffective PHE [Public Health England] nannying should have been dumped when the organisation was. The government need to remember there is a limit to people's compliance. This might just hit it.
As I write early on Tuesday, September 22, Boris is planning to bring in an England-wide curfew for pubs and restaurants on Thursday. As if the virus will know the difference between a 10 p.m. closing time versus the usual one of 11 p.m. The mind boggles.
Thursday, September 17
Matt Hancock appeared again with another update on coronavirus.
This time, it was about measures taken on lockdown in the North East of England. This includes strict adherence to household bubbles, table service only in hospitality venues and a curfew between 10 p.m. and 5 a.m.:
Once again, he was straining every sinew, an expression he has been using since March:
The battle against coronavirus is not over, and while we strain every sinew to spring free of its clutches, with winter on the horizon we must prepare, bolster our defences and come together once again against this common foe.
Then he announced upcoming plans to make everyone using A&E (Accident and Emergency) departments to make a booking! Good grief:
… we are working to get patients the right care in the right place, by expanding the role of NHS 111. During the peak of this pandemic, we saw millions of people using NHS 111, on the phone or online, to get the best possible advice on coronavirus, helping them to stay safe and, where possible, to stay out of hospital, where they could have unknowingly spread the virus. It is crucial that, ahead of winter, we use this window of opportunity to seek out what worked and build on it, so we provide a better service for patients and protect the NHS. Of course, no one will ever be turned away from our emergency departments in the most serious of cases; however, we have worked with the royal colleges, the NHS and others to develop a better, quicker and more clinically appropriate service for patients by using NHS 111 first.
This is how it works. We will invest £24 million to increase call-handling capacity and to make sure there are more clinicians on hand to provide expert advice and guidance, and we will build on our trials to make NHS 111 a gateway to the emergency care system, providing a first port of call for patients. In future, rather than having to queue in an emergency ward, we are testing that people should call NHS 111 first to book an appointment with whoever can give them the most appropriate care, whether it is a GP, a specialist consultant, a pharmacist, a nurse or community services. Of course if they need to go to the emergency department, NHS 111 will be able to book them into an appropriate time slot. We want to see this approach lead to shorter waiting times and better availability of appointments for patients. We will consult on how its performance is best measured, and, with successful pilots, we will roll out NHS 111 First to all trusts from December.
This is the bit that galled me the most:
The purpose of 111 First is to improve access, including in terms of inequalities in the NHS, by ensuring that people get the right treatment in the right place and easier access if they do need to go to an emergency department, because the emergency ​department will know that they are coming. It is commonplace now in almost every part of our life to let people know that we are coming. If we are going to do something as important as visit an emergency department, it will help both the patient seeking treatment and the NHS to let them know that they are coming first. That is the principle behind 111 First. It sits alongside 999, which anybody should call in a serious incident.
'People's government', my eye.
Nor is the NHS the people's health service.
If you have a serious injury, you or your loved ones could be losing life- or limb-saving time by calling 111 or 999.
Based on what I read during the March lockdown, calling 111 was life-threatening. Children calling on behalf of elderly parents were told, 'If your relative is not turning blue, do the best you can.'
Calling the ambulance service on 999 generally produced this result: 'We're overloaded. If you can take your relative to hospital yourself, please do so.'
Over the past few months, I have heard NHS senior executives give testimony to Select Committees. They do not want patients coming in to a hospital, to a GP surgery — anywhere on NHS property.
An absolute shower!
Speaking of absolute showers, Baroness Harding — Dido Harding, a former jockey and failed business consultant/corporate director — gave testimony to a Select Committee, the Commons Science and Technology Committee, led by Greg Clark MP (Tunbridge Wells, Con).
Wow. It was car-crash television on BBC Parliament.
Baroness Harding is, inexplicably, the director of NHS Test and Trace programme.
Greg Clark is no slouch. He pressed and pressed the same question. Did she not anticipate the increase of demand for tests after lockdown lifted?
Finally, she gave the answer.
The Independent reported:
Demand for coronavirus tests is three to four times the number available, the director of NHS test and trace has admitted.
Baroness Dido Harding, who told MPs there was capacity to carry out 242,817 tests a day, said the "sizeable" rise in demand had been unexpected.
Boris Johnson has pledged to raise capacity to 500,000 by next month – but Baroness Harding's estimates suggest that even that figure would not be enough to satisfy demand.
Even then:
despite images of queues outside Covid-19 drive-in centres, the testing tsar said: "I strongly refute that the system is failing."
She put the blame on SAGE …
Baroness Harding insisted current capacity had been based on modelling provided by the government's Scientific Advisory Group for Emergencies (Sage) and suggested that around a quarter of those seeking tests did not have symptoms.
… and the testing laboratories:
Quizzed by the committee chair and former Tory minister Greg Clark on the current issues in the system, she said that the "constraint" in the testing was in processing and laboratories.
On Friday, Sir Jeremy Farrar, a SAGE member and director of the Wellcome Trust, hit back.
The Telegraph reported:
Sir Jeremy Farrar, the director of the Wellcome Trust, who sits on the Government's Scientific Advisory Group for Emergencies, said the body had given "clear advice" that a fully functioning test, track and trace system should be in place …
Responding to her comments on social media, Sir Jeremy said he had personally warned that a growing testing crisis was looming.
"Interesting to be blaming Sage," he wrote on Twitter. "Has been clear, and in the advice, that the UK faced an inevitable increase in community transmission and cases after the summer and needed a fully functional and trusted test, track and trace in place."
Sir Jeremy posted his comments from a BBC interview with Andrew Marr in June, in which he warned of a "nasty rebound" if steps were not taken to improve testing. He also re-posted an article from May in which he warned that lifting restrictions was difficult even with a fully working testing programme in operation.
The testing crisis deepened on Friday when it emerged that children at four out of five schools are staying at home because they cannot get a test …
This coronavirus business will only get worse. Watch and wait.
Part 2 concerns the Brexit-related Internal Market Bill.
This week was a bit of a barnstormer in the House of Commons: from Extinction Rebellion to coronavirus.
Last weekend, a man stabbed several people in Birmingham's city centre, killing one. A stabbing also occurred in Lewisham (South London). On Monday morning, a shooting occurred in a small town in Suffolk.
Extinction Rebellion (XR) disrupted the distribution of most national newspapers' weekend editions in England. They glued themselves to scaffolding outside some of the printing plants. Members of Extinction Rebellion also protested at a printing plant in Motherwell, Scotland. The Scottish protests were less severe.
Coronavirus testing has been problematic, with many people unable to find tests when they need them.
Big Christmas gatherings are likely to be cancelled because of new coronavirus legislation.
Grab yourself a cuppa and a sarnie. This week's Parliamentary debates and reaction were compelling.
Monday, September 7
Kit Malthouse, the Minister for Crime and Policing, delivered a statement about the Birmingham stabbings and the Extinction Rebellion direct action. A debate followed.
An excerpt from Malthouse's statement follows (emphases mine below):
On Friday night, Extinction Rebellion protesters used trucks and bamboo scaffolds to block roads outside the newsprinters works at Broxbourne, Hertfordshire and Knowsley, near Liverpool. These presses print The Sun, The Times, The Sun on Sunday and The Sunday Times, as well as The Daily Telegraph, The Sunday Telegraph, The Daily Mail, The Mail on Sunday and the London Evening Standard. The police reacted quickly on Friday night, arrested around 80 people nationally and worked throughout Saturday to clear the sites completely. In Broxbourne, approximately 100 protesters were reported in attendance. Assistance from neighbouring forces was required, with work long into the early hours to ease the disruption. Fifty one protesters were arrested for public nuisance and subsequently charged with obstruction of the highway. They were taken to three custody suites in Hertfordshire, Bedfordshire and London. Disruption concluded by midday on Saturday. All main roads remained open, including the nearby A10. However, there was disruption to the distribution of newspapers as well as for local businesses.
In Knowsley, a group of 30 protesters were reported in attendance alongside 10 observers, one legal adviser and one police liaison individual. Thirty protesters were arrested, with disruption concluding by 10.45 the next morning. These protesters were subsequently charged with aggravated trespass and bailed to appear before magistrates at a later date. Twenty four protesters also ​attended a print works in Motherwell, Lanarkshire in Scotland. In this instance there was no disruption caused and no arrests were made.
A free press is the cornerstone of a British society. The freedom to publish without fear or favour, to inform the public, to scrutinise our institutions and to stimulate debate on events that affect each and every one of us is indispensable. The actions of Extinction Rebellion were a direct challenge to this freedom and the values of liberty and tolerance that we hold dear. Extinction Rebellion claims to be an environmental campaign group, yet that worthy cause is undermined by its tactics. Its actions show that it is not interested in purely peaceful protest, dialogue and debate. Instead, it seeks to impose its view through this kind of direct action.
The right to peaceful protest is a fundamental tool of civic expression and will never be curtailed by the Government. Equally, it is unacceptable for groups such as XR to hide behind the guise of protest while committing criminal acts that prevent law-abiding citizens from going about their lives. All of us will remember the disruption caused last year as the group blocked roads and major transport routes. Police forces across the country were forced to divert resources away from tackling other crime in order to oversee those occupations. It is a terrible shame to see those counterproductive tactics revived in the midst of a pandemic, when we are only just recovering from the profound disruption of lockdown. Throughout the pandemic, our police officers have been on the streets every day working to keep the public safe and to stop the spread of coronavirus. In placing unnecessary pressure on our emergency services, the actions of the protesters are contemptuous not only of the police but of the public whom they seek to protect.
The irony is that the United Kingdom is already doing more to tackle climate change and decarbonise our economy than almost any other nation on earth. The UK is the first major economy to legislate to end our contribution to climate change by 2050. Since 2000, we have decarbonised our economy faster than any other G20 country. The Prime Minister has set up two Cabinet Committees focused on tackling climate change—one for strategy and another for implementation—discussing how Departments can go further and faster in meeting our legally binding 2050 net zero target. We are also hosting the next UN climate change conference, COP26, which will take place in November in Glasgow. It would be far more productive if, rather than plotting disruption and chaos, those behind Extinction Rebellion put their efforts into working with the Government to tackle climate change and build the green economy. While they persist in their current course, however, our message to those individuals is clear: if you plan to curtail our freedoms through criminal acts, be in no doubt that you will face the full force of the law. As a Government, we will not stand by and allow the livelihoods of hard-working people to be undermined by a minority using the pretence of tackling climate change to impose an extremist world view.
Extinction Rebellion's actions have shown how the tactics of disruptive protests are changing. The Home Office has been engaging with police chiefs to understand the challenges they face and to assess how they can facilitate peaceful protest while not causing significant disruption and infringing on the rights of others with differing views. The Home Secretary and I are committed ​to learning the lessons of recent protests and ensuring that the police have the powers required to deal with the disruption caused by groups such as XR. I will keep the tools available to tackle this behaviour under constant review. As always, our thanks go to the police for their tireless efforts to respond to all manner of incidents, and particularly at this time when so many have worked so hard during the pandemic. I hope that the leaders of Extinction Rebellion will issue an apology to them for actions that have been roundly condemned by all mainstream opinion in our country.
By its actions this weekend, XR has done nothing to bolster the cause of fighting climate change. Rather, it has reminded us of the value of a free press and free expression and made us think about what more we may need to do to protect those freedoms. I commend this statement to the House.
Sarah Jones (Croydon Central), responding for Labour, gave an excellent speech. An excerpt follows:
… all Members of the House will be deeply concerned about the wider rise in violent crime that we are seeing. As the former chair of the all-party parliamentary group on knife crime and violence reduction, I am all too aware of the seriousness of this issue. I know that West Midlands police, along with David Jamieson, the PCC, is taking this very seriously, and the violence reduction unit is doing some great preventive work in the west midlands. Does the Minister accept that over the past decade we have seen knife crime rise in every police force area in England and Wales, and ​that easing lockdown restrictions poses particular challenges? Does he further accept that rising violent crime must be urgently addressed?
Turning to the matter of Extinction Rebellion, I trust that the Minister will agree with me, rather than some members of his own party, in recognising that tackling climate change is the challenge of our generation. However, we also know that the free press is the cornerstone of democracy, and we must do all we can to protect it. As a result, actions that stop people being able to read what they choose are wrong. They will do nothing to tackle climate change. Those who break the law should be held to account. As the Leader of the Opposition said over the weekend, the actions of those who deliberately set out to break the law and stifle freedom of the press are completely unacceptable. Stopping people being able to buy the newspapers they choose and hitting small businesses in the process is hugely counterproductive. It does nothing to tackle the vital cause of tackling climate change. In fact, it sets it back.
On the policing response to the incidents, can the Minister confirm whether the authorities had any intelligence that these incidents might occur?
Today in the media, new laws have been mentioned by the Home Secretary. Can the Minister confirm what aspects of our current public order laws he believes are inadequate? Will he also confirm which aspects of the Coronavirus Act 2020 dealing with gatherings he believes leave gaps? Does he agree that we should not forget the many people who are concerned about climate change who wish to peacefully and lawfully protest, and that that right should be protected?
Malthouse did not answer her question about new legislation and said that the intelligence surrounding Extinction Rebellion's actions at the printing plants was unclear.
Bob Stewart (Beckenham, Conservative) suggested giving the protesters fixed-penalty notices (fines). Malthouse said that, as those were new during the coronavirus pandemic, there aren't enough data to measure their efficacy.
An SNP MP, Kenny MacAskill (East Lothian) downplayed the Extinction Rebellion incident. As SNP MPs always do, they think only of Scotland. If this doesn't spell out the SNP's sympathies with Marxism, I don't know what does:
The … group perpetrated no violence—random or otherwise—nor is it a criminal gang, terrorist ​group or a deranged individual. Any attempt to portray those people as that is wrong and a dangerous precedent in a democracy. The actions carried out by Extinction Rebellion, both in Scotland and in England, were a peaceful protest. That should not be forgotten, and that remains legitimate. It is a group of young people, although not always entirely young, who care about the environment. That is a legitimate position to take. This action was not an attempt to close down free speech, and to suggest otherwise is disingenuous. All they were seeking to do was to disrupt the outgoing of print for a period of time. There was no cessation of the print being published. Indeed, it appeared online and at most delivery was delayed to some shops.
Malthouse replied:
I am sorry that the hon. Gentleman has positioned the SNP outside mainstream opinion. [Interruption.] Well, you're all expressing consternation, and speaking, smiling and laughing. I do not know why me expressing concern is worthy of derision. In truth, the vast majority of people in this country, and all mainstream parties in this country, have expressed alarm at the tactics of Extinction Rebellion over the weekend and its stated aim of disrupting newspapers' ability to distribute their views and opinions because they do not agree with them. One of the first things that happens in extremist states and takeovers is an attempt to grip the television station, the radio station or the newspapers. Control of information is key so we need to take care with these things. I hope he will agree with me in time.
Antony Higginbotham (Burnley, Conservative) expressed concern at the cost of the Extinction Rebellion protest:
The unacceptable actions of Extinction Rebellion show a consistent disregard for the lives and livelihoods that they disrupt. Does my hon. Friend believe we should hold Extinction Rebellion to account, not just for the significant public sector costs that rack up with the action it undertakes, but for the significant lost income that businesses across the country have suffered as a result?
Malthouse said:
My hon. Friend raises a very important point. He is right that these protests are not costless. Aside from the costs to the businesses affected, there is a large overtime bill to be covered. Of all the costs, the most profound and alarming is the opportunity cost; those police officers who are spending time ungluing protesters and dismantling scaffolding are not spending time preventing knife crime, murder, rape or domestic violence. There are other much more vital activities that could be performed in the communities they serve.
Anthony Browne (South Cambridgshire, Conservative) pointed out that freer countries have fewer environmental issues:
I am a journalist and an environmentalist. I used to be environment editor of The Observer and The Times. I am currently chair of the all-party parliamentary group on the environment, and I have seen around the world that those countries that have a free press are far better at tackling environmental problems than those countries without a free press. Will my hon. Friend join me in condemning Extinction Rebellion's assault on the free press, and does he agree that such attacks on free speech will ultimately do more harm to the environmental cause than help it?
Malthouse responded:
I completely agree with my hon. Friend. Of course, the paradox, or even the tragedy, of the protests is that I understand that the edition of The Sun that was prevented from being distributed contained an op-ed from David Attenborough—no less—extolling the virtues of climate change action and urging Sun readers to do their bit on global warming. Ten years ago, nobody would have dreamt of that opinion appearing ​in that newspaper, and it shows how far the argument has been advanced by peaceful means. This protest runs the risk of setting the debate back rather than moving it forward.
Dr Julian Lewis, who is now Independent (having had the Conservative whip removed), pointed out the contradiction of fining anti-lockdown spokesman Piers Corbyn £10,000 when XR were free to glue themselves to scaffolding with no fine:
It is true that various brands of Corbynism are a little less popular these days, but does my hon. Friend agree that fining a climate change denier £10,000 for an anti-lockdown protest sets a benchmark which should equally apply to those who break the law in pursuit of more fashionable causes?
Malthouse replied:
As the right hon. Gentleman may know, a number of fixed penalty fines have been handed out over the past few days for all manner of contraventions of the coronavirus regulations. No doubt some may be disputed, but we shall see in the end where the courts decide.
The SNP's Patricia Gibson (North Ayrshire and Arran) asked if XR would be reclassified as a criminal group:
Does the Minister understand the genuine concerns about any plans to reclassify Extinction Rebellion as a ​criminal group and the implications that this may have for peaceful protest, especially given that last year the Prime Minister's own father addressed an Extinction Rebellion rally and said that he backed their methods?
Malthouse said that such groups are being watched and are under review.
Richard Burgon (Leeds East, Labour) claimed that direct action was part of democracy:
Direct action is a proud part of our history and democracy. Through it, the Chartists and suffragettes helped secure the right to vote and trade unions won the eight-hour working day and paid holidays, and it played a key part in securing legislation for gay rights and for women's and racial equality. If pursued, would not the Home Secretary's suggestion of defining Extinction Rebellion as a criminal gang be a betrayal of our proud tradition of civil liberties?
Malthouse said:
Direct action is not the same thing as a crime. If the hon. Gentleman is saying that there are certain crimes that he wishes to ignore, then I am afraid the Opposition are in a very difficult place. I am the Minister for policing and crime, and when, under our current law as approved through this House, somebody commits a crime, I have no choice other than to condemn it.
Lee Anderson (Ashfield, Conservative) would like for XR to be designated a criminal organisation:
The people of Ashfield see no benefit in protesters gluing their ears to the pavement, spraying red dye on our monuments or camping out in trees on Parliament Square. Extinction Rebellion is now public nuisance No. 1 because of the disruption it causes, as well as the massive cost to our emergency services when, frankly, they have better things to do. Does my hon. Friend agree that this group should be ​classified as a crime group and feel the full weight of the law if it continues to disrupt members of the public going about their daily business?
Malthouse repeated his earlier answer about such groups being under continuing review.
Martyn Day (Linlithgow and East Falkirk, SNP) did not want to see XR labelled as a criminal organisation:
Whatever we think about Extinction Rebellion's tactics, be they right or wrong, its actions were peaceful, and such civil disobedience methods have been used throughout history, so any branding of the activists as criminals is certainly not acceptable. Does not the Minister agree that two wrongs do not make a right?
Malthouse gave this wise reply:
Not all crimes are violent.
Only one MP dared to connect Marxism with XR — Imran Ahmad Khan (Wakefield, Conservative). Well done:
It is with regret that, since Extinction Rebellion's inception, we have witnessed it adopt increasingly radical measures, which masquerade upon an environmentalist platform. In truth, it is a considered ruse to gain support for its ​Marxist agenda, which attacks British values predicated on freedom and pluralism. Blocking ambulances and seeking to constrain press freedom are but two examples from a plethora of behaviours that demonstrate its devious agenda.
Her Majesty's Government were elected with a mighty mandate from the British people to restore their ancient rights and freedoms, whether threatened from Brussels or from the barricade. The fine people of my constituency of Wakefield expect us to deliver on that. Will the Minister outline what steps the Government will take to neutralise XR's disruptive and dangerous tactics?
Malthouse replied:
I am grateful for my hon. Friend's stentorian support. He is quite right that people want to see a sense of order in this country, and that is exactly what we will put in place and what we are beavering away to make happen across the country—in his constituency and elsewhere.
I certainly hope so.
Tuesday, September 8
Matt Hancock, Secretary of State for Health and Social Care, gave a statement updating MPs on coronavirus and the situation in Bolton. New laws, he said, would apply only to Bolton.
He was economical with the truth …
Wednesday, September 9
On Wednesday morning, Steve Baker (Wycombe, Conservative), tweeted:
No one raised this topic at Prime Minister's Questions (PMQs).
Meanwhile, Matt Hancock gave a morning interview (more here):
What does that even mean?
He explained his change of advice on testing to Sky News:
More on this follows below.
It was National Farmers Day, and many MPs wore ears of British wheat tied together with British wool. Labour's Angela Rayner wasn't the slightest bit interested:
Most of PMQs was about testing. Prime Minister Boris Johnson made this startling statement about daily coronavirus testing at home:
Just after PMQs, as Boris hurriedly scuttled out of the chamber, Sir Desmond Swayne (New Forest West, Conservative) raised a point of order about the coronavirus legislation.
I wonder if Boris knew about it in advance and got out of there as quickly as he could:
On a point of order, Mr Speaker. Had the Secretary of State for Health given notice of the Government's intention to further restrict our liberty to meet with one another in his statement yesterday, at least some of us would have been able to question him about it. What remedy is there for those of us who enthusiastically support the Prime Minister, but nevertheless want to restrain the Government's ability to govern by order without debate?
Speaker of the House Sir Lindsay Hoyle replied:
I thank the right hon. Member for giving me notice. I am very sympathetic to the main point he makes. I accept that decisions have been taken in a fast-moving situation, but timings for statements are known to Ministers. It is really not good enough for the Government to make decisions of this kind in a way that shows insufficient regard to the importance of major policy announcements being made first to this House and to Members of this House wherever possible. I have already sent a letter to the Secretary of State. I think the total disregard for this Chamber is not acceptable. I know that the Prime Minister is a Member of Parliament as well and that he will ensure that statements should be made here first, especially as this particular Secretary of State requests statements. To then ignore the major fact that he wanted to put to the country, and not put it before this House, is not acceptable and I hope he will apologise to Members.
Jonathan Ashworth (Leicester South, Labour Co-op) had more information:
Further to that point of order, Mr Speaker. Not only did we not get a convincing explanation yesterday from the Secretary of State on the ongoing testing fiasco, but in fact Mr Robert Peston of ITV wrote on Twitter, ahead of the Secretary of State's statement, that the Government were planning to shift the regulations down from 30 people to six. There was no reason why the Secretary of State could not have told the House yesterday that that was the Government's plan. Has the Secretary of State given you, Mr Speaker, notice that he is coming to the House to update MPs on that change in policy, or should we assume that Ministers do not know what they are doing from one day to the next?
Peston had tweeted this on Tuesday:
The Speaker was uncharacteristically incandescent:
What I would take on board is the fact that it was all over Twitter as this was going on. Obviously, somebody decided to tell the media rather than this House. What I would say is that I expect the Secretary of State to apologise to Members and make sure that this Chamber knows first. He was fully aware—fully aware—of what was going to be said later. Let me say that if this Minister wants to run this Chamber ragged, I can assure you now that I am sure an urgent question every day might just begin to run him ragged.
At 4 p.m., Boris gave a coronavirus press conference, announcing new coronavirus 'marshals' who will be appearing on our streets as of next week — so, not only in Bolton:
I agree 110% with this tweet:
Thursday, September 10
Leader of the House Jacob Rees-Mogg was unable to deliver his customary business statement to the Commons. One of his children developed coronavirus symptoms. Stuart Andrew, the Acting Leader, stood in for him:
Matt Hancock showed up to make a statement on new coronavirus regulations. He was taken to task over his confusing advice about getting a test. Earlier this year, he encouraged people to get tested. Now, with the system overwhelmed, he's backtracked:
Guido Fawkes has quotes from Hancock documenting his about-face on the matter and concludes (emphases in the original):
Was Hancock's advice wrong then or is it wrong now? The public will be getting pretty sick of the Department of Health's cock-ups being the responsibility of anyone other than Hancock.
UPDATE: A government source tells Guido "The guidance is clear. If you think you have symptoms you should get a test. Today's message is no different to that." Apparently people in doubt about whether they have symptoms should still get a test…
Simon Dolan, a businessman who is taking the Government to court over lockdown, tweeted:
The Speaker of the House introduced the debate:
Before I call the Secretary of State, I would like to say that he and I had a conversation in a meeting last night, and I think we have some new arrangements coming forward to help the House.
That means that Hancock will be obliged to show up to present these developments to the House for debate in future.
He's so disingenuous:
Thank you very much, Mr Speaker. Just to concur with what you have said, I do regard it as incredibly important to come to the House as often as possible. Sometimes these are fast-moving situations, and I will ensure that I give the House my full attention and, as I try to do, answer as many questions as fully as I can.
Excerpts follow:
… As the chief medical officer said yesterday, we must learn from the recent experience of countries such as Belgium that have successfully put in place measures to combat a similar rise in infections. So today, I would like to update the House on a number of new measures that will help us to get this virus under control and to make the rules clearer, simpler and more enforceable.
First, we are putting in place new rules on social contact … In England, from Monday, we are introducing the rule of six. Nobody should meet socially in groups of more than six, and if they do, they will be breaking the law. This will apply in any setting—indoors or outdoors, at home or in the pub. It replaces both the existing ban on gatherings of more than 30 and the current guidance on allowing two households to meet indoors.
There will be some exemptions. For example, if a single household or support bubble is larger than six, they can still gather.
Guido Fawkes was no doubt relieved:
Hancock continued:
Places of education and work are unaffected. Covid-secure weddings, wedding receptions and funerals can go ahead up to a limit of 30 people. Organised sport and exercise is exempt.
These are not measures that we take lightly. I understand that for many they will mean changing long-awaited plans or missing out on precious moments with loved ones, but this sacrifice is vital to control the virus for the long term and save lives, and I vow that we will not keep these rules in place for any longer than we have to.
Secondly, we are putting in place stronger enforcement. Hospitality venues will be legally required to request the contact details of every party. They will have to record and retain those details for 21 days and provide them to NHS Test and Trace without delay when required. This system is working well voluntarily, with minimal friction, and it is very effective, but it is not in place in all venues. It is only fair that it is followed by all. We are supporting ​local authorities to make greater use of their powers to close venues that are breaking rules and pose a risk to public health, and fines will be levied against hospitality venues that fail to ensure their premises are covid-secure.
Our goal, as much as possible, is to protect keeping schools and businesses open, while controlling the virus …
Our ability to test and trace on a large scale is fundamental to controlling the virus, as we have discussed in the House many times. The latest data show that we are doing more testing per head than other European countries such as Germany and Spain, and we have record capacity. We have increased capacity by more than 10,000 tests a day over the last fortnight. While there have been challenges in access to tests, the vast majority of people get their tests rapidly and close to home. The average distance travelled to a test site is 6.4 miles, and 90% of people who book a test travel 22 miles or less. We already have more than 400 testing sites in operation. We added 19 last week and plan 17 more this week.
However, as capacity has increased, we have seen an even faster rise in demand, including a significant increase from people who do not have symptoms and are not eligible for a test. That takes tests away from people who need them. If you have symptoms of coronavirus or are asked by a clinician or local authority to get a test, please apply, but if you do not have symptoms and have not been asked, you are not eligible for a test.
At the same time, we are developing new types of test that are simple, quick and scalable. They use swabs or saliva and can be turned round in 90 minutes or even 20 minutes. So-called Operation Moonshot, to deploy mass testing, will allow people to lead more normal lives and reduce the need for social distancing. For instance, it could mean that theatres and sports venues could test audience members on the day and let in those with a negative result, workplaces could be opened up to all those who test negative that morning, and anyone isolating because they are a contact or quarantining after travelling abroad could be tested and released. We are piloting that approach right now and verifying the new technology, and then it can be rolled out nationwide. [Laughter.] …
This will not meet well with a great swathe of people living in England (see the replies):
Simon Dolan tweeted:
Incidentally, the wait until Monday is partly because the St Leger Festival is being run through this weekend:
As the debate progressed, MPs from both sides of the House said that their constitutents were told to drive hundreds of miles away for tests. Here are two examples:
Rosie Cooper (West Lancashire) (Lab)
Will the Secretary of State please explain the lack of availability of home testing kits, which has dropped dramatically in my area of West Lancashire? In the absence of home testing kits, very ill pensioners are being offered tests 80 or 100 miles away. The confusing message in the assurance that he is trying to give is that there are too many getting tested, but that, if in doubt, people should get tested. How does that deal with the asymptomatic carriers or spreaders? This is a huge hidden danger. In the light of the Secretary of State's earlier comment, my constituents would genuinely love to get with the programme, get tested where necessary and stay safe—if only the Government's words met their actual experience of the system.
Lucy Allan (Telford) (Con)
I thank my right hon. Friend for his statement and very much welcome the exciting progress on developing saliva testing. Outstanding progress has already been made on expanding testing capacity, and he deserves our thanks for his tireless work. Inevitably, this is not without its challenges. On Tuesday evening, hundreds of cars from across the country—and I do mean hundreds—descended on Telford's testing site, as they were directed to do by the booking system. Tests quickly ran out, roads became blocked, people who had travelled from as far away as Cornwall, Stockport and London were turned away, and my constituents were no longer able to access tests in the area and so in turn were sent elsewhere. What assurances can he give that the error in the booking system that directed so many people to Telford has now been corrected, and does he agree that people should not be criss-crossing the country and travelling for many hours to secure a test?
Harriet Baldwin (West Worcestershire, Conservative) asked about the infringement on civil liberties and whether the Government were moving the goalposts. I won't bother with Hancock's response, because he did not answer her question. He merely repeated the same old waffle:
We accepted massive restrictions on our liberty in March because we wanted to protect the NHS from being overwhelmed, and we achieved that—indeed, not all the capacity was used. We are now imposing more restrictions on people's liberty. Does the Secretary of State's strategic goal for England continue to be to protect the NHS from being overwhelmed, or has he now gone further and is aiming for zero covid in England?
Friday, September 11
Unusually, the House of Commons convened on a Friday.
The Speaker of the House opened the session with this:
We meet today on the 19th anniversary of 9/11. We remember all those who lost their lives due to terrorism on that day and all those who were injured, as well as those who were bereaved.
Then, Sir Christopher Chope (Christchurch, Conservative) spoke, concerned about the new coronavirus rules coming in on Monday, September 14:
On a point of order, Mr Speaker. I have been looking at today's Order Paper and particularly at the remaining orders, where I had expected to see the statutory instrument that the Government must lay for the draconian new rules they are bringing in on Monday to be lawful. It does not appear to have been laid, despite the Prime Minister making an announcement about it on Wednesday and the Secretary of State for Health and Social Care having made a statement yesterday. I am very concerned about the lack of opportunity for the public to see the text of these new regulations and about the Government's continuing reluctance to give any opportunity to Members to debate this. Yesterday, my right hon. Friend the Member for New Forest West (Sir Desmond Swayne) asked when we could have a debate on it, and he was told that he could apply for a Backbench Business debate. That hardly fits in with the sense of urgency about all this. When my hon. Friend the Member for Altrincham and Sale West (Sir Graham Brady) then raised the matter with the Secretary of State yesterday, he was told that the Secretary of State would take it away and think about it. That is not satisfactory, as we are talking about the most draconian introduction of new restrictions on our liberty, with criminal sanctions. We need to be aware of what is happening and given the opportunity to debate it.
Mr Speaker replied:
May I say that I share your disappointment? I think that we should all be informed and the country should also know what is going on. The laying of this instrument is a matter for the Government, but I would say that you know and I know that other avenues could be taken on Monday to tickle this little item out, if required. So I will leave it with you to ponder what you want to do next. The Clerk has made a note, and we will come back with further information.
MPs debated the Co-operative and Community Benefit Societies (Environmentally Sustainable Investment) Bill.
Earlier that morning, Steve Baker was a guest on BBC Radio 4's Today. He spoke his mind about the Government's response to coronavirus:
Baker retweeted an item from Liberty's feed:
Good. Finally. I hope this results in a solid Left-Right grouping of credible people speaking out against this bill, hastily rushed through the Commons and the Lords in March.
Meanwhile, in Sweden:
Sweden continues to operate fairly normally. The British Government, on the other hand, follows the rest of the Western lemmings.
Last Thursday, September 3, 2020, Spectator TV made its debut.
Anyone missing Andrew Neil's piercing interviews on the BBC should definitely watch it:
You cannot ask for a better hour of interviews and analysis about the events of the past week: simply excellent.
It's free to view.
Professor Carl Heneghan from Oxford was the guest. He described how the current cases of COVID-19 in the UK differ from the ones we had six months ago: less hospitalisation and very few deaths. He also said that the chances of contracting the virus in Britain now are very low overall.
The possibility of a second Scottish independence referendum was the next topic of discussion. James Forsyth (political editor of The Spectator) and Fraser Nelson (the magazine's editor) laid out the complexity of the issue as it relates to the United Kingdom as a whole. The Scottish people view independence as a heartfelt emotional issue, hence the rise in the polls for an independent Scotland. Yet, the economic realities point to potential hardship should the nation become independent; the oil price is still very low and Scotland has the most debt of any Western nation. Therefore, it is hard to see how they would get by on their own.
James Forsyth said that the UK government should call Nicola Sturgeon's bluff and start discussions with her on independence. There would be many issues to resolve: currency, trade, cross-border movement, to name but a few. Once the realities become clearer to the Scottish people, they might vote against it, as they did in their first referendum (2014) which was supposed to settle the question once and for all. Fraser Nelson took a different tack. He said that Unionists (those who want to preserve the United Kingdom) need to make a better — and positive — argument for the Union. Because they have never had to do that, it requires thinking differently and presenting a convincing case to Scots who favour independence.
Katy Balls, The Spectator's deputy political editor, described the mood on the Conservative benches in Parliament. One would think that with a majority of 79 (it was 80, until the party whip was withdrawn from Dr Julian Lewis), Prime Minister Boris Johnson would have an easy time of things. However, many MPs had a rough summer defending government policy on COVID-19 to their constituents. They also do not feel as if No. 10 wants them involved in anything useful. Some MPs told Balls that they think Boris is being 'held prisoner' in No. 10 and that his principal adviser Dominic Cummings is actually running the show. Furthermore, Boris's appearances at Prime Minister's Questions (PMQs) have been a disaster since the House of Commons implemented social distancing. Boris performs much better with a large audience, and it will be some time before he gets one. On a deeper level, however, Conservative backbenchers do not think Boris prepares himself enough for PMQs, which they find insulting to their constituents.
The growing tension between No. 10 and Conservative backbenchers means that Boris has to be careful about what policy positions he puts up for a vote in Parliament. Some, e.g. planning laws, he will delay until local elections are held next year; they are too controversial to vote on now, as he could lose.
The programme ended with a 12-minute Q&A from those who registered to watch the programme live on Zoom. There were a few hiccups with the mute button, but some viewers did get to participate. We did not see their faces, just a black screen with their names to accompany the audio. The questions were intelligently expressed.
If the BBC made programmes like this, no one would be carping about the licence fee.
Roll on Spectator TV. I'm looking forward to the next instalment.
My apologies. This is a long but important post on the endgame for coronavirus, as things stand at present.
On Wednesday, September 2, 2020, the House of Commons' adjournment debate was about coronavirus measures in England.
Sir Christopher Chope MP (Conservative, Christchurch) voiced disapproval on behalf of his constituents.
Sir Christopher has a good track record for representing the people, such as in this heated debate on Brexit in March 2019:
Before Parliament reconvened on Tuesday, September 1, many English residents became concerned about the Government's response to coronavirus, particularly after lockdown began to be lifted early this summer. The following tweets reflect their concerns:
In the middle of August, The Human Unleashed Team posted an excellent article about two possible strategies the Government has. Excerpts from 'COVID: The Case Against the UK Government' follow, emphases in purple mine.
It begins as follows:
Has the U.K. Government acted in good faith over the COVID-19 crisis?
In this post, we'll examine the UK Government's actions around the COVID crisis alongside various data published by official sources. The goal is to get insight into whether the Government has acted honestly and in good faith.
For now let's put aside the science around whether the disease known as COVID-19 is caused by the novel coronavirus (SARS-CoV-2) and focus on the evidence as it emerged.
Let's keep two alternative possibilities in mind as we look at the facts.
The first, "Case A" is that the UK Government has conducted itself in good faith, in the genuine belief that this is a pandemic, and has done all it can to reverse it, so that the country can safely return to normal as soon as possible.
The second possibility, which we'll call "Case B", is the possibility that the UK Government knows that the pandemic is no longer present, but does not wish a swift return to normal, and is therefore continuing to push the pandemic narrative for some other reason.
The article is complete with graphs, such as the one charting talk about a second wave when the initial deaths from the first wave had only just appeared in March:
If Case A (the Government is acting in good faith), this really does not make sense. The public did not suddenly starting talking about it for no reason. Why would the key influencers (WHO, Government, and media) seed the idea of a second wave so soon?
It only makes any sense in Case B (the Government is knowingly rolling out a prepared agenda), where it could be argued that the idea of "second wave" is being implanted into the public's consciousness. Why? Is it to set expectations of a second wave that is already planned?
Talk of a vaccine started trending two weeks before that, at the end of February:
Considering that the public's interest is guided by the media narrative, it is interesting that the public's attention was guided to terms like "second wave" and "vaccine" so early in the lifecycle of this pandemic.
Once lockdown started (Monday evening, March 23) 'flatten the curve' disappeared quickly from the official narrative:
Why was "flatten the curve" hailed as the nation's priority in March, but then swiftly dropped even before the fatality curve peaked?
Furthermore (and this is a recurring theme), if flattening the curve was ever truly the goal, we would now be celebrating the fact that the curve has been flat for nearly two months. We are not. Neither the Government nor mainstream media have been cheering the fact that the COVID wave has, to all extents and purposes, ended and that the country can return to normal.
The death curve has been flat since the end of July:
Even in the hardest-hit groups (60 years and 80-plus), the curve is now objectively flat. Why are we not partying in the streets? (When it comes to younger age groups, the picture is even more ridiculous. The official NHS numbers show that only two people aged under forty have died in hospital in the past month related to COVID.)
If Case A were true, you would expect that the Government would be proudly announcing its success in halting COVID mortality. However, there have been no such announcements. On the contrary, the narrative from both Government and state news sources continue to stress the threat of another wave. Case A makes no sense.
It does all fit with the Case B scenario. If the Government's purpose involves perpetuating the fear level thus justifying continuing the increased level of control over the population's freedoms, then you can see why they would choose to ignore the simple fact that today there is no epidemic in the UK.
In fact, this summer, there were more fatalities from seasonal flu than there were from COVID-19:
You can see that, following a tremendous spike in death rates, since mid-June deaths linked to COVID have been significantly lower than flu/pneumonia deaths …
Again, if Case A were true, the Government would be wasting no time in announcing the end of the epidemic and delivering the good news that everything can now return to normal. Considering the incredible damage that has already been inflicted on the UK economy, you would imagine that the party in power would be anxious to lift the restrictions.
As none of that has happened, we must consider Case B. Not only has the Government resisted the clear opportunity to end all the restrictions, they have actually implemented new rules, including the requirement to wear face coverings in enclosed public spaces, backed up with the threat of a £100+ fine, since July 24th.
What can we conclude?
Think it through. If both diseases are the result of similar, communicable viruses, why are more people now dying every day from flu than from COVID-19?
One possible explanation that has been suggested could be that the virus that causes COVID-19 is far more contagious than the influenza virus. If that were the case, it would suggest the novel coronavirus spread like wildfire through the UK population, but killing the elderly almost exclusively. And if that were true, it would mean that we have already reached the fabled "herd immunity", suggesting that you could make an argument that the elderly and infirm should still be protected, but that the rest of the UK public could return to normal immediately.
So we must conclude that we have either achieved "herd immunity", which means there is no more pandemic and that the virus is no longer a high consequence infectious disease (which Public Health England in fact published back in March), or one or more of the above assertions are incorrect, suggesting that COVID-19 may not be caused by a communicable pathogen, in which case there is also no pandemic.
Over the summer, the Government's focus turned to 'cases', which has kept the psychological fear factor up among the general public:
If Case A is true, and the UK Government's priority is to protect the population and get through the COVID crisis as swiftly and as safely as possible, why would they stop talking about deaths and start talking "cases" as the death rate dropped towards zero?
Cases simply refer to positive test results. They do not mean that someone is sick, or at risk of dying. Yet testing has continued to grow week-on-week, now averaging over 150,000 tests being processed daily. Why would a Government whose priority is a rapid and safe return to normal keep increasing its efforts to find more "cases", instead of applauding the vanishing mortality numbers?
Again, only Case B makes logical sense. The Government's own actions show that it is continually pouring more resources into the search for "cases", which could have the effect of spreading fear and panic, and choosing not to report the good news that now almost nobody is dying of COVID-19, which of course would have the opposite effect.
Then there were the inflated death statistics that have now been corrected. England now has 5,000 fewer COVID deaths. Hospital admissions were also erroneously inflated:

Let us be clear. In the middle of a global disease pandemic, the Government's number one priority must be to evaluate the danger accurately. The responsibility falls on the Health Secretary, who completely failed to deliver. He had ONE JOB.
The article concludes as follows:
It is now clear, from observing its own actions, that the UK Government does not wish a timely return to normal life. If it did, it would be going to lengths to celebrate the practical eradication of the COVID pandemic in this country, and moving to reverse the extreme measures that limit the population's freedoms that have resulted in such catastrophic outcomes.
Instead, the sum of this Government's actions appear only to support the hypothesis that they wish to prolong the present restrictions by giving the impression that the pandemic is ongoing and far more serious than the data suggest.
The UK Government has some very, very serious questions to answer. This establishment must take responsibility for conspiring to extend the appearance of the alleged COVID pandemic, leading to disastrous economic outcomes for the country, but – even more importantly – the unimaginable health and emotional damage on the population of this country.
Keep all of that in mind as you read the excerpts from Sir Christopher Chope's speech and the response on behalf of the Government from Paul Scully MP (Conservative, Sutton and Cheam), who is the Parliamentary Under-Secretary of State for Business, Energy and Industrial Strategy.
Wikipedia says (emphases mine below, link added in the next sentence):
Scully's wife Emma is employed by Nudge Factory Ltd as an Office Manager and replaced her husband as 'a person with significant control' on 1 April 2018.[30][31]
The text from the adjournment debate can be found in Hansard: 'Regulatory Impact Assessments (Legislative Scrutiny)'. The crux of the debate was that the Government made emergency laws without properly assessing the impact they would have on small business owners. That said, masks also featured in the debate.
I promise that you will not be bored reading the following excerpts. Unbeknownst to me at the time, my far better half also watched the entirety of this debate in another room. Both of us were gripped.
Sir Christopher wasted no time in making his points. He expressed himself politely but with all guns blazing, so to speak. (Bold letters for MPs' names are in the Hansard document).
Sir Christopher Chope (Christchurch) (Con)
I shall start with some quotes from my constituents about the Government:
"The most inept and incompetent administration in my lifetime."
"Incoherent and indecisive." "Authoritarian and arrogant." "Inconsistent and incomprehensible." "Socialist in all but name." As these criticisms become increasingly difficult to rebut, it is indeed essential that the Prime Minister gets a grip. The constructive purpose of this debate is to remind the Government that one key tool to enable them to get a grip is to use regulatory impact assessments as part of the policy-making process.
A regulatory impact assessment is a well-established, internationally acclaimed toolkit for good policy making. It facilitates transparency and public accountability, promotes democratic discussion by enabling potential possible policy options to be evaluated and compared. It prevents the inconsistency that arises from knee-jerk reactions and policies being developed on the hoof.
It helps to ensure that sudden changes are the exception and are made in response to changes in hard evidence rather than in response to the chorus of a single-issue pressure group—and I think it is probably fair to say that the covid alarmists are the most successful pressure group in British history. If, for the past six months, the Government had been using this toolkit, it would not have been possible for commentators to observe, as one did on Sunday:
"Britain has become a paradise for those who like to answer questions with 'rules is rules'; even when they're clearly made up on the spot or nonsensical."
Allowing beard and eyebrow trimming for men but not eyebrow treatments for women was but one ridiculous example.
Most fair-minded observers supported the Government's initial response to the covid-19 pandemic. The Government had no option but to make their priority ensuring that our hospitals were able to treat all those seriously ill as a result of covid-19. Our NHS was not as well-prepared as it would have been if the recommendations of Exercise Cygnus had been implemented. Cygnus was a brilliant initiative to war-game a serious epidemic of respiratory illness in order to identify where investment was needed to fill the gaps and thereby ensure an effective response. Tragically, Public Health England did not learn the lessons identified and failed to put the recommended preparatory work in place. We, the public, have been denied access to the full results. It remains a mystery to me as to why the Government are so defensive about the whole matter—and have indeed been dodging parliamentary questions that I have put down on the subject.
… The purpose of this debate is to try to get some more assurance from the Government that they are going to apply these principles not just to covid-19 but to other regulatory measures that are, at the moment, being brought in with far too insufficient scrutiny.
Tomorrow it will be six months since the Department of Health and Social Care policy paper on coronavirus was published. This action plan, as it became, on which the Coronavirus Act 2020 was based, envisaged four phases: contain, delay, research and mitigate. The delay phase was to
"slow the spread in this country, if it does take hold, lowering the peak impact and pushing it away from the winter season".
Because of the emergency timetable, the legislation had the sketchiest of regulatory impact assessments, without any cost-benefit analysis. But who would have thought that none of the regulations being made under that primary legislation would be properly evaluated before implementation? I certainly hoped that that would happen, but it has not.
The basic steps in the RIA process should involve consultation and an assessment of the nature and extent of the problems to be addressed. There should be a clear statement of the policy objectives and goals of the regulatory proposal, which should include the enforcement regime and strategy for ensuring compliance. Alternative courses of action should be identified, including any non-regulatory approaches considered as potential solutions to the identified problem. There should also be a clear outline of the benefits and costs expected from the proposal and identified alternatives. The conclusion should not only identify the preferred solution but explain how it is superior to the other alternatives considered. Finally, there should be a monitoring and evaluation framework set out describing how performance will be measured.
Although the processes I have set out could not be embarked on in the immediate emergency of introducing lockdown, they should surely form an inherent part of the process of easing lockdown, and ensuring consistent and timely relaxations of the regulations. It is the failure to do this that has resulted in sudden and contradictory changes to the regulations.
This has also led to unacceptable mission creep, which increasingly embodies a gradual shift in objectives. Hon. and right hon. Members will remember that the original objective was to enable the NHS to provide the best care to all the victims of covid-19 who needed it. That clear mission has now widened into a mission to suppress the spread of covid-19 as an end in itself, regardless of the cost. The irony is that, in allowing the original objective to be blurred, the important subsidiary objective of preventing the virus peaking again in the winter is being put in jeopardy.​
The easing of lockdown has, sadly, become a veritable shambles. While the number of deaths from covid-19 has mercifully plummeted from its April peak, there has not been a corresponding relaxation of the emergency regulations. I shall refer later to the OECD principles of best practice for regulatory policy, but one of the key principles is:
"Proposed solutions should be appropriate to the risk posed, and costs identified and minimised."
In the statement he made yesterday to the House, the Secretary of State for Health [Matt Hancock] said that there are now
"60 patients in mechanical ventilator beds with coronavirus".—[Official Report, 1 September 2020; Vol. 679, c. 23.]
This compares with 3,300 at the peak of the epidemic, and he then said that the latest quoted number for reported deaths is two in one day. Today, The Sun newspaper has calculated from these figures that the odds of catching covid-19 in England are about 44 in 1 million per day. Economist Tim Harford, who presents what I think is one, if not the only, good programme on the BBC—the statistics programme, "More or Less"—has said:
"Covid-19 currently presents a background risk of a one in a million chance of death or lasting harm, every day."
While age, gender, geography, behaviour and other aspects affect the risk, it is now far lower than the risk of death or serious injury in a motor accident. On average, five people continue to be killed each day on our roads, yet I have not yet heard from the Government any proposals to ban people from driving because of the risks associated with so doing.
One sure way of ensuring consistency would be to impose the discipline of a regulatory impact assessment on each and every continuing restriction, so that the justification for loss of personal liberty could be evaluated against the alleged benefits. It is not too late for this to start, and I hope that the Minister, in responding to this debate, will provide an assurance that the forthcoming six-month review of the legislation will include a full regulatory impact assessment and an evaluation of the performance of the emergency regulations introduced.
The public would then be able to see the evidence about whether the decisions taken were correct. For example, was closing schools and setting back the education of the covid regeneration a proportionate and necessary measure? Was the postponement of 107,000 weddings across the United Kingdom justified? Could any of the 4,452 weddings which should have taken place last Saturday have been permitted? Why can people sit safely side by side with strangers on an aircraft, but not at a wedding breakfast or in a church, a theatre or a concert hall—or even in this Chamber?
Why was the World Health Organisation advice, which was originally that there should be 1 metre social distancing, not applied from the outset? We introduced a 2-metre or 6-foot rule, but that has now been modified with the 1 metre-plus rule, but at the same time the additional safeguards required for the 1 metre-plus situation are being applied to the 2-metre situation, which is creating all sorts of problems, conflicts and uncertainties for our constituents.
Is it protecting the NHS to create a situation where, as was revealed in The Times on 27 August, 15.3 million people are now on the hidden waiting list for treatment? ​Is it reasonable that we should try to prevent two deaths a day and keep 15.3 million people on waiting lists for treatment, with all the dire consequences that flow from that? Madam Deputy Speaker, I do not know whether you were listening to the Secretary of State for Health when he made his statement yesterday, but in my view his responses on the issue of NHS waiting lists were the weakest and least convincing parts of what he had to say.
Is the continuing economic cost of lockdown now disproportionate to the benefits? Well, let us have an exercise and see. Let us see the data presented, so that we can have a proper debate about it. I raised the importance of regulatory impact assessments in public policy making with the Leader of the House at business questions on 2 July. It was his response on that occasion which caused me to apply for this Adjournment debate, which I am delighted that we are having this evening. I said that we would be able to achieve much more consistency in Government advice with regulatory impact assessments. The Leader of the House [Jacob Rees-Mogg], however, argued that
"if we spend too long doing all this, by the time we have done it we have moved on to the next stage of the lockdown."
He accused me of "calling for bureaucratic folderol", which would inhibit moving
"at a pace to ensure that things happen in a timely manner".—[Official Report, 2 July 2020; Vol. 678, c. 534.]
Would that they were. But I must correct the Leader of the House, because, far from being the worthless trifles described in the expression "folderol", regulatory impact assessments are fundamental to ensuring that we make the right decisions as legislators.
It is incredible that, instead of lockdown continuing to be relaxed, new restrictions on freedom, such as mandatory face coverings, have been introduced. The consequence is that I detect a growing atmosphere of gloom and foreboding as we see winter approaching: no vaccine availability for many months; the economy in a worse state than most of our competitors; and the prospect of the resurgence of the pandemic coinciding with the flu season. I do not like the expression "waves" because it makes it seem as though we are talking about something equivalent to the Atlantic rollers so much enjoyed by our former Prime Minister and colleague, David Cameron. We are not talking about waves. We are talking about the potential resurgence of the pandemic—not everywhere, but in particular hotspots.
This scenario demands a rational evaluation of conflicting risks to the economy and public health, together with a cost-benefit analysis, and now is the time for the Government to reinstate the intellectual rigour of the regulatory impact assessment process. Sooner or later, the incredible economic cost of the Government's failure to remove lockdown restrictions in a timely and effective manner will become apparent. If that coincides with the Government asking their natural supporters to pay the price for their failure through higher taxes, the political consequences will indeed be dire. It is for that reason that I commend to the Government what the OECD says about regulatory impact analysis. It describes it as an
"important element of an evidence-based approach to policy-making…that…can underpin the capacity of governments to ensure that regulations are efficient and effective in a changing and complex world."​
I will not read from the whole OECD regulatory impact assessment report on best practice principles for regulatory policy, but it extends to about 40 or 50 pages and is extremely well researched and documented. As I understand it—the Minister will correct me if I am wrong—these principles are supported by the Government; the trouble is that they do not seem to be being implemented by the Government and by Government Departments. I hope that in his response the Minister will tell us what he is doing to try and put that right.
The Government should revert to following their own "better regulation framework" established under the Small Business, Enterprise and Employment Act 2015, which requires that
"A RIA should be prepared for all significant regulatory provisions as a standard of good policy making and where an appropriate RIA is expected by parliament and other stakeholders."
The interim guidance issued in March this year sets out a general threshold for independent scrutiny of regulatory impact assessments and post-implementation reviews, where the annual net direct cost to business is greater than £5 million. It calls on Government Departments to undertake proportionate cost-benefit analysis to inform decision making.
The trouble is that this is not being done, and I will give just one topical example, to which I referred in my brief comments in the previous debate. Under the Coronavirus Act 2020, there was specific primary legislation saying that residential tenancies should be protected from eviction until 20 September this year. On Friday last week—27 August—regulations were made extending that period from 20 September for another six months. The regulations came into force on 28 August, which was last Saturday, the very same day that they were laid before Parliament. Regulation 1(2) says:
"These Regulations come into force on the day after the day on which they are laid".
Those regulations have caused a storm of protest from residential landlords in my constituency; they are apoplectic about the fact that they are not going to be able to recover possession of their premises. Notwithstanding the contractual agreements they have entered into with their tenants, they are not going to be able to recover their premises until 31 March 2021.
It says in the explanatory notes to the regulations that they amend schedule 29 of the 2020 Act. This is primary legislation being amended by subordinate legislation subject only to the negative resolution procedure, and so one might have expected that there would be a regulatory impact assessment or something which would indicate to us, on behalf of our constituents, that the Government have thought this whole process through, but that is not there, and instead there is a little note which says:
"A full impact assessment has not been produced for this instrument due to the temporary nature of the provision" …

Bob Stewart [Conservative, Beckenham]

It makes us look like clowns.
Sir Christopher Chope
I hope that that is on the record—it makes us look like clowns. That is why I hope that we can persuade the Government to reform their ways. It is also extraordinary that the excuse should be put forward that this is a temporary arrangement and that is why there is no need for a regulatory impact assessment. That is not set out anywhere in any of the books on this, and it is a novel interpretation of what should be happening.
Switching away from the regulations directly related to coronavirus, I have received support for raising this issue from the Internet Association, which is the only trade association that exclusively represents leading global internet companies on matters of public policy. The organisation responded to the Government's invitation when they went out to consultation in June inquiring about the reforming regulation initiative. It said, "Regulation in the digital sector has a wide range of potential impacts which extend beyond traditional economic impact analysis. As a matter of course, the Internet Association recommends that Government Departments and regulators undertake a wider impact assessment of their proposals covering not only the economic impact, but also issues such as technological feasibility and impacts on freedom of expression and privacy." It goes on to say that "there have been a number of recent policy and regulatory initiatives in the digital sector where it has not been clear whether an impact assessment has been conducted and/or the impact assessment has not been published for external scrutiny." It gives an example of the Department for Digital, Culture, Media and Sport/Home Office online harms White Paper. The Internet Association believes that wider regulatory impact assessments, as specified, should be required for major digital policy and regulatory initiatives. Therefore, this extends into that field also, as it does to all legislative and Government policy making—or it should do—and I hope that we will be able to get ourselves back on track.
The interim guidance to which I refer, which was published in March this year, referred to the Government considering how best the better regulation framework can be delivered
"more effectively over the course of this Parliament".​
Now is the time, surely, to take some action. As their first step, the Government should promise that the six-monthly review of the Coronavirus Act 2020 will be accompanied by a full post-implementation review and that a full cost-benefit analysis of those emergency regulations that it recommends should be kept in place. I hope that the Minister will announce that he is going to do that tonight and thereby help to restore public confidence in the Government's decision making and the ability of Parliament to scrutinise it, because that is fundamental. I am grateful for the opportunity to put this point to the House.
This was the Government minister's response, which entailed further lively debate:
The Parliamentary Under-Secretary of State for Business, Energy and Industrial Strategy (Paul Scully)
… Our commitment to conducting such impact assessments remains strong. The analysis that goes into impact assessments ensures that Government consider the need for and likely impact of new regulations to support legislative change. They ensure that we consider how regulation will affect the operation of markets and best enable businesses to innovate, and, in line with the subject of this debate, they inform parliamentary decision making …
The Coronavirus Bill, introduced in March this year, provided powers needed to respond to the coronavirus pandemic. The powers enabled the Government to introduce temporary emergency legislation to respond to the pandemic. To allow the Government to deliver at the required pace, formal regulatory impact assessments are not required for better regulation purposes for the temporary measures put in place in response to the pandemic. Further flexibility in the approach to impact assessments is appropriate where permanent measures need to be enforced urgently.​
My hon. Friend mentioned some specific examples where we have assessed the impact in a different way. He is right to talk about the importance of regulatory impact assessments. Some of the guidelines that he mentioned fall within my area. The specific residential landlord and tenant issue that he mentioned falls to my colleagues in the Ministry of Housing, Communities and Local Government, but in terms of the commercial Landlord and Tenant Act 1954 changes, we found from listening and speaking to businesses over a period that some companies that were struggling to pay their rent were being wound up by some landlords, so we acted.
This is on the basis of detailed, long-standing conversation and engagement with businesses on both sides of the debate. In my short time as a Minister, I have had around 500 meetings with, I estimate, 3,000 to 4,000 businesses, so I think I have a reasonable handle on retail, hospitality, weddings and the beauticians who do eyebrows and beard trimming that my hon. Friend mentioned. It is a source of great regret that we are unable to allow wedding celebrations of more than 30 people to occur at the moment. I have seen at first hand and heard from people in the wedding sector, which is an enormous contributor to the UK economy, how badly they are suffering as a result …
At this point, the responses from Paul Scully became brittle and defensive. More importantly, Scully said that some changes will be permanent:
Sir Christopher Chope
May I present a challenge to the Minister? Will he publish for our benefit a regulatory impact assessment on the issue of not allowing larger weddings? That would bring into the open all the issues with which he is familiar but which have not yet been exposed to public debate and scrutiny. Is that not what it is all about? This has now been going on for six months, and people want to know where the future lies for the small organisations involved in weddings. Will he offer to do that for us, notwithstanding the fact that his Department is very busy? That would be really helpful.
While I have the Floor, let me also say that I am concerned that the Minister seemed to distance himself from what is happening to individual landlords. Although they may not be incorporated, they are small businesses.
Paul Scully
To answer my hon. Friend's last point, I am not distancing myself; I literally was not involved in that decision. I do not want to offer a line of thought on something that I was not involved in, but I understand his point.
On weddings and the public debate, my hon. Friend has clearly not been following my Twitter feed—totally understandably—which is full of such debates about the wedding sector. We are trying to work with the sector to make sure it can open. My primary concern is about ensuring we get our economy open again with a warm but safe welcome to people. The Government's first priority has always been to save and protect lives, but restoring livelihoods, protecting jobs and protecting businesses are right up there, for the reasons that my hon. Friend set out. If we do not get this kick-started now, the effect on the economy will be huge, so it is important that we work together to give people not just confidence but joy, so that when they come out to use services in their local high streets and city centres they enjoy the experience and come back time and time again.
A one-off hit to our economy is not good enough. We know it is not going to go back to how it was in February, and there are some permanent behaviour changes that seem to be kicking in. None the less, we need to work with the new normal, which means working with the virus, because we will be living with it. My hon. Friend talked about a second wave, or spike or whatever he wants to call it. If we learn to live with it, there may be a third and a fourth until we get a vaccine, but live with it we must. There will be a new reality of the permanent behaviour change.
Well-designed and effective regulation, which my hon. Friend wants to see in our legislation, and which we are championing, enables markets and business to flourish, grow and innovate. It can provide certainty for investors and protection for individuals and society. The use of impact assessments in informing regulatory design can help us to achieve those outcomes. Excessive or poorly designed regulation can impede innovation and create unnecessary barriers to trade, investment and economic efficiency. We have sought to limit that by ensuring that regulation changes in response to the pandemic are targeted and time-limited.
Bob Stewart
One of the biggest things that the Government have insisted on is facemasks, which we have mentioned already. I would be intrigued to know ​whether there is a regulatory impact assessment on why we all have to wear facemasks in public and various other places, because I have not seen it. If there is one that could be made public, perhaps it could be put in the House of Commons Library. There are growing numbers of people in my constituency of Beckenham who are rebelling against that idea.
Paul Scully
I thank my hon. Friend for his intervention. I get the train and the Underground into London each and every day, and the adherence of people to wearing face masks is, on the whole, good. Tube use, I am glad to say, is increasing substantially. London city centre—the central activity zone in London—is incredibly quiet. That is affecting the west end in particular, and the City.
The west end represents 3% of the entire UK economy—just the west end—so although we need to make sure that the whole country is able to restore the confidence and joy that I was talking about, it would be remiss of me, as Minister for London as well, not to showcase those areas that make up a massive amount of our capital city as a strategic and world city, so that it is ready for international travellers when they have the confidence to travel.
The Government's focus has been on improving design and proportionality in regulation. That is done through the Better Regulation Executive, which is responsible for embedding smarter, more cost-efficient and better regulation across Government, and which has recently introduced new guidance templates and training to improve the quality of impact assessments. As a result, impact assessments have clearer presentation of results, better planning for implementation and more quantification of costs and benefits.
The better regulation guidance represents the agreed Government policy on evidence and independent scrutiny, including when to seek independent scrutiny. It is clear that legislation should be accompanied by robust evidence and assessment of impact.
Bob Stewart
Forgive me. The Minister is a really good friend of mine, but he did not answer my question. I would really like to see the Government's justification, in writing, as to why so many people have to wear face masks. Can we know what that justification is in this House?
Paul Scully
There has been a long debate about the use of face masks, both on transport and in retail. There are arguments either side—whether it gives a false sense of security or whether people touch their face when they put on or take off their mask. None the less, we have a better understanding of the transmission of the virus and the aerosol nature of its transmission. That is why the World Health Organisation has changed its advice from the beginning, when it said people do not need to have masks or face coverings, to, "Yes, you do." Actually, we can learn from history. In the 19th century, cholera was assumed to be transmitted by air, but by greater understanding and by working through it—they did not need a regulatory impact assessment to figure it out— eventually people found that it was the water supply that was causing cholera, so they were able better to tackle that particular issue at that given time …​
By mentioning cholera (?!), Scully killed his own argument. He should read up on the 20th century instead, specifically, the 1918-19 influenza pandemic. In the early 1920s, medical experts concluded that masks did nothing to stop the contagion. However, I digress.
The debate continued:
Sir Christopher Chope
Is this body to which the Minister is referring going to look at the issue of face masks, or face coverings? In answer to my hon. Friend the Member for Beckenham (Bob Stewart) he has said that there are arguments on both sides of this. In those circumstances, why are the Government taking one side and criminalising behaviour instead of trusting people to reach their own decisions on the information provided by the Government?
Paul Scully
I am sure the necessary people will have heard my hon. Friend's call for that to be examined, but on the use of face masks, it is the same as self-isolation as a result of the test and trace system: the number of people who are having to self-isolate at any one time means that millions of us can go about our relatively normal lives by going to retail, hospitality or our places of work, which we were not able to do for so many months.
Those changes are evolving. I, like my hon. Friend, do not take any infringement of our civil liberties lightly, but this is a situation—I am not going to use the word "unprecedented" even though I just have; it has been used an unprecedented number of times—that we have never had to face before. No Government have ever had to face such a situation, so we are learning as we go along. We will not always get it right, but we have to make sure we are using the best engagement, listening to both sides of the argument, and working through as the science evolves and as we see what is in front of us in terms of human behaviour.
My hon. Friend the Member for Christchurch talked about the OECD, whose latest report acknowledged that better regulation is an area of strength in the UK. It notes that the UK has been a leader in regulatory policy in general, with the early adoption of the better regulation agenda. Our ambitious agenda is reflected in the results of the OECD's monitoring of regulatory management tools, as displayed in the "OECD Regulatory Policy Outlook 2018", with the UK displaying the highest composite indicator score for stakeholder engagement for primary laws. Our score for secondary legislation is also significantly above the OECD average. We also had the highest composite indicator score for regulatory impact assessments across the OECD. That includes strong formal regulatory impact assessment requirements in areas such as establishing a process to identify how the achievement of the regulation's goals will be evaluated; assessing a broad range of environmental and social impacts; and undertaking risk assessments as part of regulatory proposals. So we should be justifiably proud of our world-leading reputation in this area.
These assessments are valuable documents, and the Government should be applauded for encouraging their production and the transparent scrutiny of them, but, ​as with some individual impact assessments themselves, there is always room for improvement. As with the principles underpinning better regulation, we are always looking for ways to learn and improve our approach.
Sir Christopher Chope
Obviously, we are fortunate in having a bit of extra time this evening, which is great. Will the OECD be asked to opine on the effectiveness of the Government's regulatory response to the coronavirus epidemic? For example, will the OECD be able to comment on the distinction, which my hon. Friend has made, between rules on face coverings, for which there are lots of exemptions, and rules about isolation and quarantine, for which there are no exemptions. I am afraid that there is an anomaly there.
At that point, Scully could hardly wait to bring this important debate to a close, with no give on his part.
As you read the following (if you got this far), please note that the Government, not the requesting MP, is supposed to look into matters resulting from these debates:
Paul Scully
I am afraid I do not have the OECD on speed dial, but I am sure that my hon. Friend will be able to ask it to look into all these things. I am glad that we have extra time, because there is nothing I like more than to discuss regulatory impact assessments—I am afraid that Hansard does not detect sarcasm. Although I make light, it is good that we have parliamentary scrutiny of an important topic to cover.
As I say, there is a further cultural shift in Whitehall to make on such impact assessments across the board. We do have a responsibility to monitor the extent to which the laws we have passed are implemented as intended and have the expected impact. My hon. Friend ​is justified in raising this important issue, so that we can consider, learn and move forward together. The planning for monitoring and evaluating regulatory changes could be more effective. There is a risk that laws are passed that result in unexpected consequences or inappropriately stifle innovation. I have seen that at first hand as we have been changing and tweaking various support measures for businesses; we have had to change them so that they are supporting businesses as intended, rather than with an unintended consequence. Better planning for monitoring and evaluating will help to ensure that there is sufficient information to assess the actual state of a law's implementation and its effects.
In conclusion, regulatory impact assessments, in themselves, have evolved into an important and valuable component of the UK's better regulation system. The transparent publication of impact assessments has added accountability to the analytical dimensions to policy development, which has increased the amount of evidence presented alongside policy proposals, and the existence of the independent scrutiny has increased both the transparency of the process and the accountability of government. I thank my hon. Friend for raising this important issue.
Bravo, Sir Christopher. I hope that more of the old guard Conservative MPs continue along his line of debate. We, the people, need their support.
On the other side of the Pond, that same day — September 2 — Tucker Carlson had an excellent segment on the endgame of the coronavirus panic. According to the WHO's Dr Tedros, who is not a medical doctor, the plan is to ultimately bring in a worldwide reset to fight climate change. Bill Gates approves.
This is a short but highly instructive video:
Given all of the above, do Britons think that the UK government has been acting in good faith over coronavirus?
Boris Johnson promised us a 'people's government'. It certainly doesn't look like one at present.
Thank you, Sir Edward Leigh, for speaking out against mandatory face coverings.
Yesterday's post reported that Sir Desmond Swayne MP spoke out during Health Secretary Matt Hancock's announcement about masks on July 14.
On Thursday, July 16, 2020, Sir Edward Leigh MP (Conservative, Gainsborough) made a forceful statement during Leader of the House Jacob Rees-Mogg's Business Statement. Leigh said that mandatory masks in shops should have merited a debate in the Commons. It is no small step, especially for a Conservative government. No true Conservative cares what other countries do in this regard. This is England:
Rees-Mogg brushed Leigh's objections away with a reply that a debate will be held in 'due course', which means in September or October. Parliament's last day before summer recess is Wednesday, July 22:
One consolation for today's Commons schedule was the Second Reading of the Non-Domestic Rating (Public Lavatories) Bill. Many have closed over the past several years because local councils can no longer afford them. This bill is designed to help councils out in this regard by giving rate (property tax) relief:
Back now to masks.
Sir Edward Leigh received supportive replies to his tweet.
The first concerns Lincolnshire:
The others are more generalised:
The mask controversy extends to London, too.
The Telegraph's Head of Culture, Serena Davies, wrote about her and her daughter's experience at the National Gallery in Trafalgar Square: 'How "mask rage" ruined my trip to the National Gallery'.
She thought that, as few people would be out and about, now would be a good time to take her nine-year-old daughter to see some of the most important paintings in history.
They sanitised their hands upon entry. Ms Davies asked about masks, which the Gallery 'encourages' but does not yet make mandatory. She and her daughter went without.
They went through rooms with Renaissance art. Davies's daughter marvelled at seeing the paintings in person. As they continued, they stopped in front of Titian's Poesies. Then, things took a nasty turn (emphases mine):
A tall, skinny, crow-like man wearing a black mask that seemed to cover most of his head lurched well within two metres of our periphery just as we'd sat down on a bench.
"Is there a reason for that?" he spat (into his mask).
I thought he had a problem with us sitting down. "How do you mean?" I asked.
"Masks!" he growled.
Constance and I weren't wearing them. I'd checked with the guard on arrival, and she'd said that it was optional, if "encouraged". I conveyed this to the man, who had no riposte and stalked off to glare at us from Perseus and Andromeda.
But the damage was done. "Why was the man so cross?" asked Constance in front of the Tintorettos. "That man was really quite nasty wasn't he?" she said as we peered at a De Hooch.
I said some people just start off the day with a bit of horrid to get out, and the mask thing was only an excuse.
"Do you think the man might be cheered up by a yo-yo?" she asked in the shop. We bought a yo-yo – to cheer up Constance.
Poor girl:
The rooms of paintings were simply thrilling to see, and easier to enjoy than during any other point in my lifetime, yet the masked vigilante scared my child so much he ended our fun right there.
Nasty Man will get his way on July 24, at least with regard to shops.
Coronavirus has changed the way the Western world operates.
In London, commuter levels have been at unheard of lows in recent memory. On July 16, The Telegraph's business correspondent, Allister Heath, sounded a warning: 'The death of the commuter is an extinction-level event for London'.
This means fewer railway passengers. Until mid-March, commuter trains going in and out of the capital were jam packed. Much less so now, he says, including London Underground:
The Greater London Authority, and Transport for London, its main asset, are, in effect, bankrupt, with nearly empty Tubes meaning fare revenues are in freefall, reliant on handouts from the Government.
Heath paints us a picture of an empty capital city, even now that many attractions have reopened and people have been encouraged to return to their offices:
The private sector, for its part, is facing gargantuan structural losses: the economics of offices and retail is predicated on mass commuting and tourism. The former won't fully come back; the latter will take a year or two. The arts, luxury, fashion, transport, hospitality, restaurant and many service industries face decimation. It's a full-on biotic crisis: London's economic ecosystem is suffering an immense decline in diversity. Lower-paid jobs, in particular, are being culled; the population could fall, with tens of thousands returning to Europe.
No doubt London will recover. It always does.
However, this just shows how ill-advised Matt Hancock's decision to make masks mandatory in shops is.
We can only hope that Chancellor Rishi Sunak encourages him to reverse it in the months to come.
If people feel more comfortable with masks, they are welcome to wear them.
However, shops have gone to great expense to accommodate social distancing.
Let's encourage common sense instead.
And, where masks are optional, let's stop criticising each other if people choose not to wear them.
On Monday, as I went out to run an errand, I saw that life appeared to be getting back to normal on our high (main) street, post-coronavirus.
The local cafés had opened to allow customers indoors for a sit-down service. The inviting aromas of hot lunches perfumed the air.
I silently rejoiced that, after three months, normality was finally returning to our streets.
I no sooner returned home when I learned through the media that Health Secretary Matt ('I'm from Newmarket') Hancock planned to announce an anti-normality measure on Tuesday, July 14, 2020 — mandatory face coverings effective July 24:
The nightly newscasts confirmed this — at 6 p.m. …
… and 10 p.m.:
Hancock was not alone in choosing July 14 to make that announcement. France's Health Minister Olivier Véran made a similar announcement that day: mandatory face coverings in all enclosed spaces effective August 1.
Returning to England, Matt Hancock made his announcement from the despatch box in the House of Commons early in the afternoon on Tuesday.
There were two dissensions.
The first came from Peter Bone MP (Conservative, Wellingborough and Rushden). He rightly asked why Hancock's department provided information to the media about the new mandate before the health secretary presented it to Parliament.
Hancock gave a brusque answer, replying that he (Hancock) was doing it right then.
One can assume only that Peter Bone approves of mandatory face coverings, as he retweeted a government video about it:
The second dissension came from the flamboyant Sir Desmond Swayne (Conservative, New Forest West). He said everything necessary:
Parliamentary sketch writer Michael Deacon filed this report for The Telegraph (emphases mine):
"Nothing would make me less likely to go shopping," erupted Sir Desmond, "than the thought of having to mask up!"
Too right.
Just when my far better half and I were ready to venture out to shops, including the garden centres, this mad rule comes in. We are now rethinking our long-anticipated sorties.
Swayne continued:
"Was this consultation with the police force," he fumed, "and in particular with the chief constable of Hampshire? For it is she who will have to enforce this monstrous imposition" – he spat out this phrase as if it were a maggot in a mouthful of apple – "this monstrous imposition against myself, and a number of outraged and reluctant constituents!"
I felt like applauding him as I watched him on BBC Parliament.
Hancock found this amusing. One wonders if he was bullied at school. He has made the most authoritarian pronouncements from his appearances in the government's daily coronavirus briefings to those at the despatch box in Parliament.
This was his reply:
Mr Hancock, meanwhile, told Sir Desmond that it had been "a difficult balance to strike" between the need to defeat the virus, and "the ancient liberty of a gentleman to go shopping". But in the end, said the Health Secretary, the Government had decided that this ancient liberty could be protected by "requiring the gentleman to wear a mask".
Pah.
Swayne was unimpressed:
To judge from his expression, Sir Desmond was neither persuaded nor amused. He was smouldering like a dragon's nostril.
Note that this is being brought in when England's coronavirus deaths are at their lowest point since the first week of March:
The original image — not mine — is here.
On Wednesday, Hancock reiterated his resolve (a favourite word of his). The Telegraph reported that we might have cover up until summer 2021:
Rules requiring members of the public to wear face masks in shops and on public transport could remain in place until next summer, Health Secretary Matt Hancock has admitted, as he warned they will be required for the "foreseeable future".
Asked whether the rules may be in place into next year, Mr Hancock refused to rule it out, instead insisting that the UK needs to "see how we are doing on getting a vaccine".
Oh, the vaccine, the vaccine! Words fail me.
But, wait. There could be more to come.
That Telegraph piece has this as a subhead:
Next stop, masks in offices
I would not doubt it.
Masks are known to cause hypoxia and hypercapnia. Healthy people can deprive themselves of oxygen by wearing unnecessary face coverings. Hypercapnia — having too much CO2 in one's blood — is another hazard that results from improper breathing because one's mouth is covered.
A small upside is that face coverings will become a means of self-expression.
Here is the svelte, slim health minister of Belgium. I wouldn't take her health advice on anything. Furthermore, her mask is unfortunate, to say the least:
On Monday night, I read a lot of readers' comments to the Telegraph articles concerning mandatory face coverings.
The hostility of the pro-mask people reminded me of that of Remainers' during the run-up to the Brexit referendum in 2016. Scary. All emotion, very little fact.
Anti-maskers, on the other hand, pointed to civil liberties and the likelihood that we will be objectifying each other in the coming months because we cannot see each others' faces.
Personally, I think crime will go up because of it. All it takes is a masked bandit or two robbing small shops.
There is also a Left-Right split on masks.
A left-wing organisation, Masks4All, is promoting homemade face coverings. Its founders include Greens and an Extinction Rebellion activist.
The University of Edinburgh's Linda Bauld is also a mandatory face covering advocate. Linda Bauld made her name in Tobacco Control.
Bauld disapproves of visors — allowing people to breathe under a transparent barrier — because they do not allow enough protection. On May 18, The Guardian quoted her:
Bauld said she was sceptical. "The reason for having a visor which would cover the upper half of your face would be if you're regularly coming into contact with the public at closer range, and you might be exposed to somebody who is emitting those small droplets that we're all aware are very efficient at carrying the virus," she said.
"So I could see how in some retail settings and other environments they wish to do that, but I don't think there's any strong evidence that they're something the public should be wearing on a routine basis. The key thing is to cover the mouth and the nose.
"The face coverings that people are being encouraged to use, for example, on public transport is not to protect the wearer, but to protect other people. Whereas the visor and harder material is clearly to protect the wearer from coming into contact with others at those droplets."
On July 13, she advocated the dreaded 'nudge':
Linda Bauld, Professor of Public Health at Edinburgh University, said: "Requiring it just gives that little extra nudge and it's much clearer for the public."
Anyone who wants people such as this controlling their lives — control being the operative word, as it has been with tobacco — can have at it. Smokers have said for years that Tobacco Control can use their blueprint for any other 'health' advocacy issue, from bans on salt and sugar to … well, we'd never have guessed it … mandatory face coverings.
We will just have to play by the rules rather than risk a police-enforceable £100 fine (half-off if one pays within 14 days).
If more people shop online than in the high street, I hope that Chancellor Rishi Sunak will bring that to Prime Minister Boris Johnson's attention. We need shops and personal discretion, not a useless policy from Matt Hancock, who, at the best of times, sounds like a second-rate headmaster.
I will have more on the dubious efficacy of masks soon.
The British government did not request a Brexit negotiation extension in June 2020.
On Friday, June 12, our chief negotiator from No. 10 tweeted:
On June 25, David Frost updated us as follows:
As of July 1, we were on our way out.
Talks continued in London on July 8:
As of the end of June, despite coronavirus, the International Monetary Fund predicts that, post-Brexit, Britain's growth could surpass that of the EU next year:
Guido Fawkes summarises the details (red emphases in the original):
The International Monetary Fund's new growth projection shows a global contraction of 4.9%, with every region of the world simultaneously in recession for the first time in human history. Advanced economies are projected to be hit particularly harshly by this crisis, with double digit contractions for the UK and Euro area this year at -10.2% each. Notably, however, is that in 2021 (after the UK will have left the economic orbit of the EU) the UK is set to fall by as much, then grow back faster than the cumulative Euro area.
Of course the projected 2021 growth will not make up for the 2020 recession. All advanced European countries' economies are set to be smaller at the end of 2021 than they were at the end of 2019.  If we can believe IMF forecasting, individually over 2020 and 2021, Germany's economy will have shrunk by 2.8%, the UK by 4.5%, France by 6.1%, and Italy and Spain both by 7.3%…
On July 1, Parliament voted to end free movement of EU citizens when the transition period ends on December 31. This is the advantage the Conservatives have with their 80-seat majority:
Guido Fawkes points out:
If he wasn't having to deal with a deadly global pandemic, this year would be going pretty well for Boris…
Millions of EU nationals already resident in Britain are eligible for settled status, allowing them to live and work here among family and friends. The scheme opened last year and has already registered 3.3 million individuals.
The Settlement Scheme for EU nationals expires on June 30, 2021:
As for our freedom of movement in Europe, we always had it — even before joining the EU:
Last week's UK-EU negotiations produced a win for clearing houses in the City of London, the capital's financial centre.
On Thursday, July 9, The Telegraph reported, in part (emphases mine):
Brussels did not confirm how long the arrangement will last. It will kick in if the UK and the European Union fail to reach a Brexit deal.
The decision is likely to be seen as a climbdown by EU chiefs, who have long resented Britain's dominance in clearing.
A power grab was launched shortly after the Brexit vote to try and force Continental firms to clear trades through hubs within the bloc, but this stalled when it became clear no other financial centre could handle the volume of activity done in the City.
Clearing houses such as LCH, ICE Clear Europe and LME Clear perform a vital role in greasing the wheels of international finance, standing between buyers and sellers to settle trades and ensure sellers get paid.
Access to London's clearing houses for financial contracts such as swaps and futures is a key issue for European firms because the UK dominates the continent's €735 trillion (£658 trillion) annual market. It was feared they could be denied access to crucial finance and face serious stability risks if frozen out.
In a further boost, Liam Fox, the Conservative MP for North Somerset and former Secretary of State for International Trade under Theresa May, is one of the nominees for becoming the next Director-General of the World Trade Organisation.
Fox is on the right in the photo below. Pictured with him is his former adviser, Adam Werritty:
On July 10, Guido Fawkes reported:
Speaking to a Chatham House event last night, the US Trade Secretary Robert Lighthizer told the audience Fox was "one of the favourites", lavishing praise:
"I'm an admirer of his … I've had many a conversation with him. I've even had the occasional cocktail with him. He's smart, he knows the area, he has a good philosophy."
Last month Lighthizer told lawmakers the US is looking to back "someone who understands the nature of the problem of free economies dealing with China", which may not be too difficult a manifesto for Fox to get on board with, given the UK's shift away from warm relations over Hong Kong, and an impending u-turn on Huawei.
Incidentally, Oliver Dowden MP, Secretary of State for Digital, Culture, Media and Sport, announced the u-turn on Huawei today, Tuesday, July 14.
On Sunday, July 12, Ireland's new Taoiseach (prime minister, pron. 'Tee-sock') Micheál (pron. Mee-hull) Martin was hopeful of a transition deal between his country and Britain:

Home Secretary Priti Patel is working with the French to stop the boat people coming to the south east coast of England every day:
The UK government has launched a new transition period scheme for businesses — Check, Change, Go:
We have a lot to look forward to next year for business, and, in the case of the European Space Agency, research and exploration:
An exciting new era awaits just around the corner.