You are currently browsing the tag archive for the 'Parliament' tag.
Omicron has British politicians reaching for the Control button yet again.
On Tuesday, November 30, 2021, the House of Commons voted overwhelmingly for new face-covering restrictions: 434 to 23. The new self-isolation rules also passed: 431 to 36.
I watched the three-hour debate that afternoon. Apart from the dissenters — all Conservative MPs — it was soul destroying, particularly since there were only three Labour MPs in attendance!
The debate transcript is on Hansard. Excerpts follow, emphases mine.
Maggie Throup was the minister who laid out the restrictions on face coverings for the next three weeks and new self-isolation rules for the next three months. She also closed the debate prior to the division (vote).
This debate concerned the wearing of masks for the next three weeks on public transport, including taxis, and in shops, post offices, banks, beauty salons, takeaways, veterinary clinics and driving instruction vehicles.
Throup did not list all of those. She did add that exemptions are in place:
Given the potential severity of the consequences of not responding swiftly to this new variant, the Government have taken decisive action to bring back compulsory face-covering wearing in an array of settings. Face coverings are again compulsory in shops and on public transport, unless an individual has a medical exemption or a reasonable excuse.
It is illegal for anyone to query why or what the exemption/excuse is.
As many organisations are now cancelling large Christmas celebrations in light of the Omicron variant, Sir Desmond Swayne was rightly concerned about the hospitality industry, which has only started recovering from a long lockdown during the first half of this year:
Will the Minister deprecate those public appointees who, notwithstanding the clear proportionate advice of the chief scientific adviser, have been on the airwaves telling people that they should not socialise, to the huge detriment of people's wellbeing and of an industry struggling to recover from earlier lockdowns?
Throup replied saying that the restrictions were:
proportionate, precautionary and balanced, and are being made in response to the specific threat.
These restrictions will expire in three weeks' time, at which point Parliament will be in Christmas recess. Therefore, if they need to be extended, the Government could automatically do so without another vote.
The Shadow (Opposition) Health Minister, Alex Norris (Labour), said that he was grateful the restrictions were brought forward for a vote.
Mark Harper, a doughty opponent of coronavirus restrictions, intervened in Norris's speech, saying that Parliament should be recalled during Christmas recess if there were an extension or a strengthening of these restrictions:
I am very pleased to hear the hon. Gentleman say that about parliamentary scrutiny. He will know that yesterday I asked the Government for assurances if they were to want to extend or strengthen these measures after the House has risen for the Christmas recess, as I feel that if that is the case the House should either continue sitting or be recalled. In answer to my question, the Leader of the House suggested that it would be up to the House. I therefore ask this of the hon. Gentleman speaking for the Opposition: if the Government were to bring forward strengthened measures or want to extend them after the House has risen, would the Opposition support the House being recalled so that we can debate and vote on the matters in advance, or is he prepared to give the Government a blank cheque?
Another Conservative MP, Karl McCartney, asked Norris whether he preferred a recall before or after Christmas.
Norris refused to commit a preference for either time period.
Sir Graham Brady, who chairs the 1922 Committee of backbench Conservative MPs, asked why the Government's regulations had become effective at 4 a.m. on the day of the debate, which was held in the afternoon:
Why on earth did the regulations come into force at 4 am today when we are here now, at 20 minutes to 2 in the afternoon, debating them? Surely it would have been possible to have a debate yesterday, or indeed to delay their implementation until this afternoon. I think that indicates a rather casual attitude to parliamentary scrutiny that persists in Government.
My right hon. Friend the Member for Forest of Dean (Mr Harper) has asked important questions about what will happen if the regulations are renewed after the three-week period, when the House is not sitting. We still have no clarity as to whether the House would be recalled or whether the regulations would simply be extended for a period of weeks without the House having the opportunity to comment.
Mark Harper noted that there was plenty of time for the debate on Monday evening, since the House of Commons had adjourned early:
It is also worth saying that one of the things we get from Ministers when we press them on these things is about parliamentary time, but my hon. Friend will know that the House normally sits until 10.30 pm on a Monday. Looking at yesterday's performance, the House got to the Adjournment debate at about quarter past 7. There were hours yesterday when the House could easily have debated both these measures, which means we could have debated them before they came into force. Even the Opposition agree that that is invariably the better solution when it is at all possible.
Sir Graham Brady agreed:
Absolutely. As a former Chief Whip, my right hon. Friend knows very well that there is always parliamentary time available when the Government want to do something; it is only when they are reluctant to do something that parliamentary time becomes elusive.
There is a further question as to why only one of the instruments before us has an expiry date in the regulations. Surely it would have been better to put an expiry date in place, which would have required some positive action to renew or extend the regulations if that was deemed necessary.
A few minutes later he said:
In the summer of 2020, the Prime Minister said that it was time to move on and time to start to trust people to make decisions for themselves. I rejoiced at that and thought what a wonderful thing it was that we were moving to a point where we would advise people, inform people and make sure they had the best evidence to make decisions in their own lives. Now, however, we see the first instinct of the Government when we do not even have any evidence that the omicron variant is worse in its effects. There is some suggestion from South Africa that it might be less severe, but the Government's first instinct is to introduce further compulsory measures and regulations relating to self-isolation and to face coverings in some settings but only until 20 December, plus measures that affect the travel industry, particularly the move back to PCR tests on day two.
He added:
We cannot move, as we appear to have done, to an environment in which the Government simply assume they can instruct us whenever there is the first small evidence from anywhere in the world of a new strain that might behave in a different way, and new and potentially swingeing public health measures are put in place. I ask Ministers to consider the implications of that and for looking at other diseases. Will we start to treat other diseases and viruses in the same way, assuming the best thing to do is to compel people and instruct them on what actions they need to take?
He was clearly disappointed with the new regulations and the continuing Coronavirus Act 2020:
We have now lived it for 18 months and we can see this reaching ahead. We think back to when the Coronavirus Act 2020 was renewed again, taking us through to spring next year, and the assurances we were given that that would be the last time. I thought we would not need this kind of legislation again, but we see the Government's immediate assumption that they should reach for new controls, new compulsion and new rules to inflict on the British people. We need to move away from that and back to a world where we trust people, engage with the public and recognise that the Government are there to serve the people, not the other way around.
Steve Brine pointed out the lack of MPs on the Opposition benches:
It was bad enough when the extension of the Coronavirus Act 2020 was nodded through without a vote. There has been lots of excitement and flurry recently about Members of Parliament and the work that we do. There is now one Labour Back Bencher, one Liberal Democrat—albeit that she is one twelfth of the parliamentary party—and one Democratic Unionist party Member in the Chamber. I understand why SNP Members are not here in force, because they rightly do not vote on English matters, but I think that this is something that the public should be concerned about. We are making an impact on their lives today, and it is a disgrace that this House is so empty.
Is anybody other than the Minister going to speak in favour of the regulations today? In the House of Commons, in my experience of 11 and a half years, you do not just have to win the vote; you have to win the argument as well. Of course the Government will win the vote today, because the Opposition—who always say "How high do you want us to jump?" when the Government propose new restrictions on our lives—will pretend to ask difficult questions while voting for the restrictions anyway. They said that they would vote for them before they had even seen the published regulations. Frankly, I think that that is a derogation of duty from Her Majesty's Opposition.
He questioned the way the new self-isolation text was worded:
Under new regulation 2B(1)(ba)—I know; how are the public meant to follow this?—of the Health Protection (Coronavirus, Restrictions) (Self-Isolation) (England) Regulations 2020, if one child in a class of 30 has had close contact with someone who
"is suspected of, or confirmed as, having an Omicron variant",
presumably the other 29 are out. We are not just looking at a pingdemic in our economy and in our businesses; we are looking at a pingdemic that will devastate education again. After everything that we have learned—everything that I have felt in my own family—are we really, seriously, going to do that to our children again?
He deplored the fact that schools are cancelling Nativity plays and that big Christmas celebrations are being cancelled:
What concerns me is the chilling effect that this is having on the rest of our society. The fact that No. 10 Downing Street, the centre of government, has taken to the national newspapers today to ask head teachers not to cancel nativity plays because of the announcement that we made on Saturday night makes me ask, "What on earth are we doing?"
We should think of the effect that this is having on confidence, on society and on hospitality. Those in hospitality have put everything into this Christmas in order to survive and to save their year. There is nothing in these regulations that says Christmas parties must be cancelled—unless, of course, Dr Harries [head of the new Health Security Agency] is in charge—but there is everything in the language and the narrative coming out of the Government right now that is causing Christmas parties to be cancelled left, right and centre. I have seen organisations in my constituency cancel events that were due to happen within the next few weeks, on a "just in case" basis. These regulations will have a chilling effect, and we should not underestimate that just because it is not written in black and white.
Brine questioned whether the Department for Health and Social Care consulted other government departments before coming up with these restrictions. Travel reservations will decrease once again. Travel agencies are also adversely affected.
Mark Harper intervened to say that the Government has not been involving other departments in coronavirus legislation:
My hon. Friend has touched on an important point about the process within Government to ensure that all aspects are considered. What normally happens is that regulations are thought about and there is a right-round process—which, for the benefit of those listening to the debate, means that all Government Departments have the opportunity to provide an input. One thing we have discovered is that in the case of covid regulations, that right-round process does not operate in the normal way. Through my hon. Friend, I ask the Minister to clarify in her winding-up speech whether, as these regulations were being drafted, other Departments were consulted and given the usual opportunity to provide an input, or whether this was done purely in the Department of Health and No. 10 Downing Street.
Sir Christopher Chope gave a long but excellent speech.
He noted that most people who wear masks are not wearing them correctly, rendering them useless:
Very few people wear their face mask correctly. The World Health Organisation's advice says that people should wash their hands as soon as they take off their face mask, that they should discard temporary face masks and that they should wash their hands again when they put on a fresh face mask.
I had a discussion with Mr Speaker on this subject some months ago and, while we were having that discussion, one of our colleagues came into the Tea Room wearing a mask, took it off and put it on the breakfast table. I said to Mr Speaker that it really makes my point. Frankly, if we are talking about public hygiene and public health, the Government should be saying, "If you think you want to wear a mask, go and wear a mask but, for crying out loud, make sure you don't contaminate yourself and others by not wearing it correctly."
He said that he could not vote in favour of the restrictions:
I cannot support these oppressive, authoritarian and dictatorial regulations, which are neither necessary nor desirable. They will have an adverse effect on lives, livelihoods and the mental health of our constituents. The Secretary of State for Health and Social Care considers that
"the requirements imposed by these Regulations are proportionate to what they seek to achieve, which is a public health response to the threat."
Where is the evidence? The Under-Secretary of State for Health and Social Care, my hon. Friend the Member for Erewash (Maggie Throup), adduced no evidence whatsoever, and there is no regulatory impact assessment—the excuse is that the regulations will be in force for less than a year. Why is there no regulatory impact assessment? Why are we being asked to support a policy for which there is no evidence?
If there had been a regulatory impact assessment, there would be a requirement on the Government under the regulation rules of the Cabinet Office to put forward the possible alternatives to these regulations. We need goal-setting requirements, rather than prescription. More and more prescription seems to be the Government's recipe.
To take an example, why is a shopkeeper not allowed to permit people to shop without wearing a face covering, provided those people have had a proper vaccination? Why is the keeper of a small shop not allowed to keep their front door open and allow people to go in and out without the need to wear a face covering—there would be adequate ventilation—or perhaps, as some small shops in my constituency do, have a one-in, one-out rule so that there is only one person in the shop with them? Why are we not allowing shops to have that freedom?
If we want to have a consistent policy, why are we treating those who have been fully vaccinated in the same way as those who have not been fully vaccinated? That seems to be wholly inconsistent with the regulations introduced by the Government in relation to people who work in care homes, and they propose to bring in similar restrictions for those working in the health service. If, having required those people to be double-vaccinated, we are saying that they are not in a privileged position when it comes to going into their local shop, what is the point of depriving those who have not been double-vaccinated of their right to work? There does not seem to be any consistency.
He also pointed out an inconsistency on mask wearing exemptions which Maggie Throup said will be corrected.
He concluded:
Obviously, people out there will be wondering about exemptions and reasonable excuses. The hon. Member for Sheffield South East (Mr Betts), who chairs the Select Committee on Levelling Up, Housing and Communities, drew attention in his intervention to the fact that young people are going around in shopping centres saying that they have a reasonable excuse for not complying with the regulations and for not wearing face masks. What is the problem with that? If people have a reasonable excuse for not wearing face coverings, let us not get too fussed about it. That is why these regulations are part of a scaremongering propaganda campaign on the part of the Government that is designed to try to stop or restrict social interaction between social animals who happen to be living in the United Kingdom. That is potentially the most damaging aspect of the regulations before us today: they are designed to suppress freedom of the individual and to suppress social contact and they are doing that through unreasonable fearmongering.
Craig Mackinlay said there were too many absurdities in the regulations for him to support them:
We are, though, left with a gross absurdity that will perhaps face everyone in the House over the next few weeks. When someone goes to the off-licence on the way to a party later, it might take them only 45 seconds to get their tipple of choice but they will have to wear a mask on pain of a fine. They can then make their way to a house party, with 100 people or perhaps more—perhaps an infinite number of people—where it will be enclosed, warm, cosy and friendly and they can take that same face mask off. Really? It is an infantile proposal and we are in danger of falling down the same absurdities as we fell down before, with the madness of the couple who could walk across a golf course but dare not play on it. This is the absurdity that I have voted against previously and will vote against again.
Let me move on to the self-isolation requirements. I am afraid that the proposals mean we are going to fall into a new pingdemic. There is nothing in the regulations, in anything the Minister has said or in anything else I have heard to date to say that the testing regime will be backed up with proper genome sequencing at the right rate, so we can get back to a situation in which people can be told, "No, your contact was not omicron. You're fine." My hon. Friend the Member for Winchester picked up on a very dangerous phrase in the regulations, and that is "suspected of". I do not know what that means. I know what "confirmed as" means—to be confirmed through a proper genome-sequence test—but what about "suspected of"? When people get that phone call, text, email or ping from the NHS—if they have been daft enough to have the app on their phone—are they now going to hear, just because the words "suspected of" have been added, "Thou shalt be held indoors for 10 days"? This is where we end up with mission creep and the chilling effect that my hon. Friend the Member for Winchester mentioned.
I am going to be somewhat concerned about going to that Christmas party or that pub, because I have friends and family coming round for Christmas day. This legislation is going to have a dangerous pingdemic effect, either through a proper pingdemic or just through the effect of fear. I asked the hon. Member for Central Ayrshire (Dr Whitford), who spoke for the SNP and is knowledgeable on these matters, whether we might be able to get a new lateral flow test that is specific to omicron, but I think the answer is possibly no. We are in a confused state and I am concerned that the regulations will shatter businesses that are getting ready for Christmas. With the support of Opposition parties, sadly the regulations are likely to go through.
Mark Harper gave another excellent speech.
First, he pointed out that the NHS was not under strain from coronavirus patients, the usual rationale for restrictions, but rather a backlog of patients who could not be treated during the pandemic:
… it is not facing pressure from the number of patients in hospital because of covid, which is around 6% of total bed capacity. The NHS is under enormous pressure dealing with the significant number of patients who were both unable to be treated and scared away from the national health service during the pandemic. We must be careful not to repeat the mistake and scare away a whole new set of patients, as it will take the NHS another very significant period of time to deal with them. There is nothing about the measures that she suggested that will deal with those pressures; they will just make them worse.
He deplored the lack of evidence for the Government's coronavirus decisions:
I listened carefully to the speech of my hon. Friend the Member for Altrincham and Sale West (Sir Graham Brady), and I agree that it is disappointing that we have moved away from a model where the Government lay out the evidence and the arguments and allow people to make their own decisions. That was a big choice that the Government made last year, and I am very disappointed that they have moved away from it. Weighing against that—this was set out very clearly by the Chairman of the Transport Committee, my hon. Friend the Member for Bexhill and Battle (Huw Merriman), and my hon. Friend the Member for Winchester (Steve Brine), a distinguished former public health Minister—is that at least those regulations have quite a tight expiry date, and they will expire in three weeks' time. Although I do not like the move back to mandating, I am prepared on this occasion—balancing up the pressures, and because there is an expiry date—not to oppose the regulations, but I will not support them either.
In the end, he voted against the self-isolation regulations.
He was also concerned about the expiry date occurring during Christmas recess, favouring a recall, if necessary:
My final point is the one that I made yesterday. Ministers have said that they will review the measures in three weeks' time, as of yesterday. That would be 20 December, when the House will have risen for the Christmas recess—I touched on this in my intervention on the Opposition spokesman. If any of the measures are to be extended, or if further measures are to be brought in, it would be unacceptable for Ministers to do it by decree, which is effectively what the Minister at the Dispatch Box did with these two orders. They should be brought forward to this House for a debate in advance of their coming in. If we have to sit in the days running up to Christmas, so be it. Many people in this country work over the Christmas period in many industries serving the public. We are better paid than most of those people, so if we have to come here and do our jobs, working on behalf of the public, to scrutinise the laws that affect their lives, then I for one am very happy to do so. It would be a failure of the responsibilities that Ministers have if they do not seek to keep the House sitting or recall it if they wish to take those powers. Ministers are accountable to the House and to our constituents through us, and they would be wise never to forget it.
You can watch his speech here:
Steve Baker followed Mark Harper.
He has been consistently concerned about the erosion of civil liberties:
… the issue is that we are taking away the public's right to choose what they do, based on flimsy and uncertain evidence. We do not know the extent to which this new variant will escape the vaccines and we do not know how harmful it would be. This debate goes to the heart of the nature of the society that we are creating.
… now that we have got the case fatality rate down to a comparable level with that of flu, we should be living with coronavirus like we live with flu. As my hon. Friend asked, are we going to manage other diseases like this?
Let me turn to the point that I really want to flesh out. The Government's approach seems to be to say, "Better safe than sorry. You can't be too careful.". The trouble is that we really can be too careful. There is a problem that I call tunnel vision and my friend, Professor Paul Dolan from the London School of Economics, calls situational blindness, whereby we end up looking only at the disease. My hon. Friend the Member for Winchester [Steve Brine] has set out brilliantly the harm that will be done to children. I cannot begin to understand the psychological harm to children of being in masks all the time; we cannot go back and repeat the experience of a missed nativity play, and so on …
Where is the hope from the Government? I know young people who are demoralised and depressed, and who have been telling me that we will go back into lockdown, and I have been saying, "No, because the vaccines are working and I do not believe that Conservative Ministers will do this to us", but we have already started to see the scope creep, the mission creep, and the goalposts perhaps being slightly unshackled from the ground, ready to be moved.
Today's debate is not about face coverings or the coming pingdemic through self-isolation measures. It is about how we react and the kind of nation and civilisation that we are creating in the context of this new disease. What is the relationship between the state and the individual? Are we to be empty vessels or mere automata—things to be managed, as if a problem? Or are we free spirits with, for want of a better term, a soul? We are free spirits with a soul—people who deserve the dignity of choice and the meaning in our lives that comes from taking responsibility. It is possible that meaning in our lives comes from little else. This is a fundamental choice between heading towards heaven and heading towards hell. If we continue to react to these fears and uncertainties by taking the authoritarian course, without impact assessments—because the regulations are only temporary, you know—we are embarked on that downward course.
Even loneliness shortens lives. Again, Paul Dolan has been very clear with me that loneliness cuts lives short, and yet we find an official going beyond Government policy to say that we should not have unnecessary socialising. The most extraordinary set of choices are being taken because of an overwhelming, narrow focus on the one issue of coronavirus. It falls on Ministers to provide the lead, the breadth of thinking, the vision and the values to set out what broad kind of society we are trying to create. Where are we going as a society and civilisation? What will be our redemption and salvation? How will we provide that hope for our future? I believe that it will be by having faith in one another. The public are not fools. We are not here to govern idiots. I have faith in the British public that they can choose for themselves to do the right thing: to wear a mask when it is sensible, to pay attention to the level of cases, to choose for themselves whether they go to a restaurant, and, indeed, to choose whether they visit vulnerable relations in care homes—I could tell a sad story about that point …
He then told the story of a constituent who is currently stuck in South Africa without accommodation and badly needs a refill of his anti-anxiety medication.
Steve Baker concluded:
There is no plausible path set out before us that leads to a genuine public health emergency, yet the Government are choosing to react in this way. As a result, I am afraid that the Government are choosing that downward path towards, frankly, hell—the hell of minute management of our lives by edict, with nothing that we can do about it and not even a say in advance in Parliament—and, incredibly, a clear majority of this House is going along with it. Some of us today have to take a decision to vote no to everything. I, for one, intend to chart a course towards heaven, and I hope that hon. Members will come with me.
You can see his speech here:
Bob Seely's speech criticised Neil Ferguson's deeply flawed modelling over the past 20 years:
I want to look particularly at Imperial College and Professor Ferguson. I have a great deal of respect for them and I will be careful how I phrase this, but I am concerned that some of the forecasting we have had has had a track record in, frankly, getting it wrong repeatedly. In 2001, Professor Ferguson predicted 150,000 human deaths from foot-and-mouth; under 200 died. In 2002, he predicted between 50 and 50,000 deaths from BSE; in the end, 177 died. In 2005, he said that 150 million people could be killed by bird flu; 282 died. In 2009, a Government estimate based on his advice said that a "reasonable worst-case scenario" for swine flu would lead to 65,000 British deaths; in the end, 457 people died. I am happy to be corrected on any of those points, but that is the publicly available information.
Moving forward to covid, Ferguson predicted 85,000 deaths in Sweden; in fact, 6,000 Swedes have died. Anders Tegnell, Sweden's chief epidemiologist, said in September 2020:
"We looked at the"
Imperial
"model and we could see that the variables that were put into the model were quite extreme…Why did you choose the variables that gave extreme results?
I love experts—don't get me wrong; I know we sometimes have our issues with them—but it is helpful if they are right, if only very occasionally. Johan Giesecke, Sweden's former chief epidemiologist, said that Ferguson's models were "not very good". The Washington Post quoted Giesecke as saying that Imperial's forecasts were "almost hysterical". This is the forecasting that has been, in part, driving Government action.
In this country, oncology professor Angus Dalgleish, in this country, described Ferguson's modelling as "lurid predictions". He said that Ferguson and his colleagues were getting it "spectacularly wrong". He said:
"Unfortunately, we have a Sage committee advising a government that is devoid of any scientific expertise, on speculative concepts such as the R number"—
which we now all know is the reproductive rate—
"and the need for everyone to stay indoors, even though the evidence strongly suggests that people are less likely to catch Covid-19 outside."
So some of the scientific evidence may have actually driven the rising covid rates in the same way that going into hospital may have been the place that people caught covid and died from it.
Viscount Ridley has criticised Ferguson's modelling. Lund University has applied Ferguson's models and found a massive difference between his predictions and what actually happened. Professor Michael Thrusfield from Edinburgh University said that Ferguson's previous modelling of foot-and-mouth was "severely flawed".
Bob Seely gave many more examples. He then said:
Every time Professor Ferguson's forecasts have been verifiable, they have been seen to be very badly flawed, and this is a serious man and a serious university.
He concluded:
We need a precautionary principle, but we need a sense of balance so that we do not overstep the mark, damage our society, damage our young people and damage poorer people by seeking to control when we need to learn to live with this. My final question to the Minister is: will the Government look into forecasting and perhaps hold an inquiry into the success of forecasting and what we can learn from it, so that we do it less badly in future?
Dr Andrew Murrison, who is a practising physician, voted for the mask restrictions but against the isolation ones.
He remains concerned about the long term effects of these measures on the public and businesses:
While they have been happy to go along with some of the impositions that we have had over the past 18 months, they are now coming to the point where they are thinking, "This could basically be the new normal. This will go on and on, and on what basis will we continue to invest in our businesses if every few months we have these kinds of things and goodness knows what else that may follow?" I am worried about that.
I am also deeply worried, as other hon. and right hon. Members have pointed out, about this "suspected of" bit. That seems to me to be rather clumsy and I am not comfortable with it. Presumably, anybody showing any coronavirus symptoms could be "suspected of" having the omicron variant …
The Government are right to be cautious—of course they are—but we also need a sense of proportion. We need to understand that everything we do in this place with regard to regulation has a consequence for liberty and livelihoods, for the economy in general and for young people in particular. I made that point in connection with the apparent suggestion of the hon. Member for St Albans (Daisy Cooper) that it was a no-cost measure. We need to be careful about the impact that it all has on young people and especially on mental health.
This is so depressing. It is hard to predict how this will affect Boris in polling. Surprisingly, many people in England support the restrictions.
Tomorrow's post will look at the reaction around England to the new restrictions.
Remembrance Sunday in Britain saw a return to normal.
In 2020, the main walk past at the Cenotaph in London was depressingly sparse because of coronavirus restrictions.
Fortunately, this year, England saw a return to normal. Between 9,000 (the BBC's estimate) and 10,000 (GB News's) people participated at the Cenotaph.
Thousands of others gathered in their own towns and villages en masse to remember their war dead. It was heartening to see so many young people, from children through to adolescents, coming together. Some honoured family members who had died in battle. Others came to remember in a more general way.
2021 marked the centenary of Remembrance commemorations.
As I watched the BBC's coverage, it occurred to me that Remembrance Day and Remembrance Sunday are the only days left where a group of people can gather in unison and concord to remember the sacrifice of the men and women who died for our freedom.
These are the only days left where a common objective unites all of us, regardless of political persuasion or social class.
The Royal British Legion — now 100 years old — posts commemorative religious symbols to donors which they can mail back to the Legion with the names of soldiers they would like remembered. Most often, these are family members. This was the display near Parliament:
On Remembrance Sunday, the Bishop of London (Anglican) leads a short Christian service after politicians and Commonwealth representatives lay commemorative wreaths, as illustrated in the following photographs from the Speaker of the House of Commons, Sir Lindsay Hoyle.
Starting with the second photograph, the UK's political leaders and Hoyle approach with their wreaths. Left to right, we see Sir Lindsay Hoyle, Sir Jeffrey Donaldson (Democratic Unionist Party, Northern Ireland), Sir Ed Davey (Liberal Democrats), Ian Blackford (Scottish National Party), Sir Keir Starmer (Labour Party) and Prime Minister Boris Johnson (Conservative Party). The Prime Minister is the first to lay his wreath, followed by Labour, SNP and so on, with the Speaker being the last in that group.
The first photograph shows some of the Commonwealth nations' representatives behind the Speaker:
Unfortunately, for the first time in 22 years, the Queen was unable to attend the ceremony at the Cenotaph. According to Buckingham Palace, she is recovering from a sprained back following a few weeks of rest on health grounds.
The Daily Mail reported:
Boris Johnson has reassured the public that The Queen is very well after seeing her last week. 
The Prime Minister gave an update on the 95-year-old monarch's health in a Downing Street conference on Sunday evening after she missed the Remembrance Sunday ceremony today for the first time in 22 years due to a back injury. 
Buckingham Palace said she made the decision not to attend the service at the Cenotaph in London on Sunday morning 'with great regret' and was 'disappointed' to miss the event.   
Speaking at the conference, Mr Johnson said: 'I know that everybody will be wanting to offer their best wishes to Her Majesty the Queen.
'I just want to reassure everybody by saying that I did see the Queen for an audience last week on Wednesday in Windsor and she is very well.
'It shouldn't need saying, but I just wanted to say it anyway.' 
The daily list of official royal engagements showed that Mr Johnson had an audience with the Queen on Friday, as he was in Glasgow on Wednesday speaking at the Cop26 climate change summit. 
Queen Elizabeth had planned on attending the Remembrance Day service at the Cenotaph in London on Sunday and it would have marked her first in-person public engagement since she was advised to rest following a night in hospital last month.
It is understood the Queen's back sprain is unrelated to her doctor's recent advice to rest.
Buckingham Palace said: 'The Queen, having sprained her back, has decided this morning with great regret that she will not be able to attend today's Remembrance Sunday Service at the Cenotaph.
'Her Majesty is disappointed that she will miss the service.
'As in previous years, a wreath will be laid on Her Majesty's behalf by the Prince of Wales.
'His Royal Highness, along with the Duchess of Cornwall, the Duke and Duchess of Cambridge, the Earl and Countess of Wessex, the Princess Royal and Vice Admiral Sir Tim Laurence, the Duke and Duchess of Gloucester, the Duke of Kent and Princess Alexandra will be present at the Cenotaph today as planned.'
The event on Whitehall was given added poignancy by a return to pre-pandemic numbers of participating veterans and military, as well as onlookers.
The Prince of Wales and Prime Minister were among those laying a wreath at the war memorial for the National Service of Remembrance.
Boris Johnson, who appeared sombre as he laid a wreath, said it was a moment to 'come together to remember those who sacrificed everything in service of our country'.
The Queen served in the British Army during the Second World War as a mechanic. When she became Queen, she still wore her Army uniform on Remembrance Sunday in the early years of her reign. Guido Fawkes posted a rare photo of her in uniform laying a wreath in the 1950s.
The Royal Family never left London during the Second World War, even though they were in as much danger as everyone else in the capital at that time.
The House of Commons was destroyed in the Blitz in May 1941:
Fortunately, it was faithfully restored to the way it was in the 19th century when the Palace of Westminster was rebuilt following a devastating fire.
Returning to the sentiments behind Remembrance Sunday, a small minority of Britons does not view it the way the rest of us do. Here is a tweet from the radical side of the Labour Party:
In that same vein, Mary Harrington wrote an excellent historical review of what happened in the years following the Great War (1914-1918) for the Daily Mail.
Those in positions of influence wanted to remake the Western world and thought it would be a good idea to erase the major unifying aspects of our society, particularly Christianity.
A century on, we are feeling those effects even more deeply.
Excerpts follow, emphases mine:
From the perspective of the ordinary citizen, the poppy simply marks an unimaginable loss. You'll find a memorial in every parish up and down the country, some huge and some simple plaques. They're markers of a collective grief, all the more unspeakable because it is so universal …
But today, those who remember the fallen are almost all gone themselves. So what is the loss we're left to remember?
The loss perhaps most clearly visible is the one concerning the values that, sadly, we no longer feel able to celebrate.
For the Great War saw the beginning of the end for faith in the foundations of a European culture that had held fast for generations.
By the end of the war in 1918, George V presided over a broken, debt-ridden empire, Tsar Nicholas was killed by revolutionaries and Kaiser Wilhelm was deposed and exiled.
The war spawned the first Communist state, and it shattered confidence in Western civilisation. Patriotism took a hammering and, perhaps more profoundly, so did institutional Christianity.
Indeed, most Christian denominations on both sides supported the conflict, with many at the time viewing it as a 'holy war'.
Notoriously, in 1915, the Bishop of London declared it the duty of 'everyone that puts principle above ease' to 'kill Germans… not for the sake of killing, but to save the world'.
The aftermath of the First World War saw a backlash by society's elite – not just against nationalism, but also against traditional religious faith and cultural forms.
Historian Anna Neima shows how many among the world's avant-garde sought to create new, ideal communities. They wanted to reimagine human society, so that nothing as horrifying could ever happen again, by transcending borders of faith or nation.
Humanity, such visionaries hoped, might be induced to forge links across what was considered to be mere national identity in favour of something higher. The elite that shared this inspiration was moulded by contact across the world as it attempted to shape humanity atop the smoking rubble of the imperialist 19th Century. Some went on to found their own visionary communities, such as the one set up at Dartington Hall in Devon by Dorothy and Leonard Elmhirst. It became a magnet for artists, architects, writers, philosophers and musicians from around the world, establishing a centre of creative activity.
It was at Dartington that the Labour politician Michael Young wrote the party's post-war manifesto. At Dartington, and other communities like it, traditional practices and values were deemed worthy only for the scrap-heap – classical music, realist painting, traditional architecture. Everything should be new, stripped of the old-fashioned loyalties that had led to the slaughter of millions and left Europe in ruins …
Everyone blamed that catastrophe on nationalism, religion and realpolitik. Elites tried to abolish all those things for good. For the good of humanity.
Significant in this was the high American ideal – inspired by President Woodrow Wilson – of nations shaping their own destinies.
With hindsight, even this now looks like realpolitik: a high ideal designed to end the empires of America's European political rivals.
And now the liberal internationalism that Wilson set in motion has itself, ironically, come adrift in another set of poppy fields: those of Afghanistan. The American civilisation that took the torch from Europe is itself embattled, under economic and cultural siege …
That said, yesterday's gatherings in England, especially London, gave me hope for the future. Thousands of people came together to meet with their comrades, relive experiences, share laughs and lively conversation. On the sidelines, away from the Cenotaph, there were shared songs and even applause as the media interviewed various military participants, from current officers in the Armed Forces to old soldiers.
Our commonly held social values will survive, but we will need to constantly cherish and protect them.
The 2021 Westminster Dog of the Year event was held on Thursday, October 28, 2021 in Victoria Tower Gardens, Westminster, London.
Had he lived, Sir David Amess MP (pictured) planned on entering with his French bulldog Vivienne. In the wake of his murder two weeks ago, his close friend and fellow Essex MP Andrew Rosindell was allowed to enter with Vivienne:
On the day of the competition, Rosindell said:
No one loved animals like David, and no one loved their dog like David. I could not feel more sadness at the fact that it will be me chaperoning Vivienne, his dog, at the Dog of the Year, instead of him, but I also could not feel more pride to be able to pay tribute to him in this small way.
Another Essex MP, Mark Francois, accompanied Rosindell, holding the dog's lead.
The public was allowed to vote for their favourite MP/dog duo. The Kennel Club judges determined their own winner.
Both public and judges voted overwhelmingly for Vivienne, a pawfect tribute to her late master.
Here's the photo of the winners. Andrew Rosindell holds Amess's dog and Mark Francois the picture of Sir David and a rescue dog from a previous year's entry:
The Kennel Club's article says:
French Bulldog Vivienne, entered with Sir David Amess before his tragic death, has been crowned Westminster Dog of the Year 2021. In second place was Stanley, a Border Terrier owned by Edward Timpson MP for Eddisbury. Placed third was Henry, a Labrador owned by Selaine Saxby MP for North Devon.
Although Conservative MPs won the top spots, Parliamentarians from Opposition parties also entered the competition, held for the first time since 2018. The 2019 contest had to be cancelled because of anti-Brexit protests and last year's couldn't take place because of coronavirus.
The Kennel Club explains that the event is a chance to bring all dog-loving MPs together to highlight animal welfare and responsible canine ownership:
Westminster Dog of the Year is a celebration of the unique bond between dogs and their owners. The competition gives parliamentarians the opportunity to highlight the important work that they have undertaken in Parliament on dog related matters, whilst promoting responsible dog ownership. All Members of Parliament are able to enter regardless of 'pawlitical' persuasion.  
Owen Sharp, Chief Executive of Dogs Trust, explains: "The Westminster Dog of the Year competition is so much more than a canine beauty pageant. The competition is strictly apolitical; judges will be looking for the dogs' good deeds and devotion to their owner rather than policies or opinions. It is a fun filled day out with an important message at its core – helping to promote dog welfare issues and encourage responsible ownership." 
Another Kennel Club article explains how the contest was judged. The Dogs Trust is part of the panel:
The judging panel – Mark Beazley; Chief Executive at The Kennel Club, Owen Sharp, Dogs Trust Chief Executive and Alex Norris MP, 2018 Winner – spent the morning with dogs from different political persuasions and ambitions and led tributes to Sir David Amess, with speeches from the Rt Hon Lord Benyon.
The Kennel Club's Mark Beazley and the Dogs Trust's Owen Sharp paid tributes to Sir David:
Mark Beazley commented: "Today we pay tribute to Sir David and all he has done for dog welfare, and hope to honour his legacy to protect and improve the lives of the nation's pets, who make such a difference to so many. Crowning Vivienne as Westminster Dog of the Year and the public's winner is testament to Sir David's commitment and his passionate campaigning for animals. We would like to thank all the MPs and their four-legged counterparts for taking part in the competition and their tributes to Sir David, and for their commitment to dog welfare."
Owen Sharp, Dogs Trust Chief Executive said:
"Sir David Amess was a cherished friend of Dogs Trust and a great supporter of Westminster Dog of the Year. He was a fantastic advocate for animal welfare and a huge dog lover, making it an honour to award his dog, Vivienne, with the coveted title of Westminster Dog of the Year today.
"His constituents and supporters across the UK voted in their tens of thousands to also crown Vivienne as the winner of the public vote – testament to his unwavering dedication to dog welfare. Sir David's memory lives on at this event and we want to thank him and the other MPs here today for caring and for making a difference to the lives of dogs here in the UK."
Afterwards, Tom Harwood of GB News interviewed Andrew Rosindell, who discussed his friendship with Sir David. The interview also has a few clips from the event. Even those who don't know what a French bulldog looks like will have no problem identifying Vivienne. She's wearing a blue bib with 'City of Southend' printed on it — Sir David's dogged cause in Parliament, posthumously successful:
The Independent also covered the event and has highlights in this minute-long video:
Well done, everyone.
I, too, voted for Sir David and Vivienne.
Yesterday's post recapped the horrific murder of Sir David Amess MP on October 15, 2021.
Today's will cover more about this much admired man's personal character and political causes.
Posthumous victory: Southend-on-Sea now a city
I was delighted to learn at dinner time last night that the Queen granted Southend-on-Sea city status. Sir David must have mentioned Southend at least once a week in Parliament. He had long campaigned for it and made 115 references to it. Here he is with his two French bulldogs, one of which is Vivienne. He was due to participate with her in the Westminster Dog of the Year charity event on October 28:
The GB News article says that Prime Minister Boris Johnson made the announcement to MPs on Monday, October 18 (emphases mine):
The Prime Minister has notified the House of Commons that the Queen has agreed to confer city status upon Southend in tribute to Sir David Amess who was recently killed.
MPs cheered in the Commons as the Prime Minister announced Southend "will be accorded the city status it so clearly deserves".
Mr Johnson said: "As it is only a short time since Sir David last put that very case to me in this chamber, I am happy to announce that Her Majesty has agreed that Southend will be accorded the city status it so clearly deserves …
That 'short time' was probably last Thursday, October 14:
In a three-hour debate on Monday, preceding a service of remembrance at St Margaret's, the Parliamentary church next to Westminster Abbey, Boris noted that Amess was never an MP interested in climbing the greasy pole to a Cabinet or party leadership position:
"That Sir David spent almost 40 years in this House, but not one day in ministerial office, tells everything about where his priorities lay."
Boris Johnson, opening tributes to Sir David Amess, told the House of Commons: "The passing of 72 hours has done little to numb the shock and sadness we all felt when we heard of the tragic and senseless death of Sir David Amess.
"This House has lost a steadfast servant, we've lost a dear friend and colleague, and Julia and her children have lost a loving husband and devoted father.
"Nothing I or anyone else can say can lessen the pain, the grief, the anger they must feel at this darkest of times."
Returning to Southend-on-Sea, having city status will help to increase its profile and encourage outside investment, as the leader of the city's council explains below. Incidentally, having a cathedral, the traditional marker of an English city, is no longer necessary. City status is now a symbolic designation:
On Friday night, this Southend business owner said that Amess was dedicated to making his town a city:
Everything I know about Southend I learned from David Amess's contributions in the House of Commons:
'Community man'
There are MPs and there are MPs.
Sir David was the type of MP who will be sorely missed by his constituents, who called him a 'community man'. GB News interviewed several over the weekend, some of whom were in tears or close to it, including men, such as this Leigh-on-Sea councillor:
This councillor from Southend says that Sir David, whose mother lived to the age of 104, used to throw parties for constituents over 100 years old. He also used to ask about local issues in Southend and resolve them with the help of councillors:
Another councillor remembers that Sir David would check on certain constituents to see if they had transport for important meetings, probably related to issues of theirs he was dealing with as an MP. The man says that Sir David would personally drive those constituents to the places they needed to go. And, yes, there were right to life issues he campaigned for:
The Chairman of Leigh-on-Sea council recalls Sir David's selflessness:
This lady from Leigh-on-Sea, the Essex town where Sir David was stabbed to death (17 times), discusses his dedication to his constituency. Like many other people, she had the pleasure of meeting him at work in nearby Southend:
As was the case with other people GB News interviewed, a man interviewed (at 2:35 in the next video) said that people used to see Amess in the local Lidl, where he took time to chat with fellow shoppers. The man said that he did not vote for him but said that the MP was always available and accessible to everyone:
Vigil Mass
On Friday evening, the Revd Jeffrey Woolnough conducted a vigil Mass at St Peter's Catholic Church in Eastwood, Leigh-on-Sea.
This is the church the Amess family attend.
The video below has a few photos from the Mass. Starting at the 40-second point, notice how traditional it is. The priest stands with his back to the people, as in days of yore. He also wears a short chasuble that is very pre-Vatican II, a fiddleback. How fortunate for the Amess family to have found such a church:
At 1:50 in the video above, two ladies expressed their grief on Friday night following the vigil Mass. One of them said that Amess 'knew everybody'. As was the case with other people GB News interviewed, one of ladies said that people used to see him in the supermarket.
GB News was on hand to cover the Mass:
A service at Saint Peter's Church in Eastwood Lane, close to where Sir David was killed, was held on Friday evening to remember him – where he was described by a priest as "Mr Southend".
The church fell silent as Father Jeffrey Woolnaugh paid tribute to the Conservative MP and invited his constituents to remember him.
He placed a photograph of Sir David at the front of the church, and said: "This liturgy is one I was not expecting to lead today.
"The whole world grieves. In this Mass we pray for the repose of the soul of dear David.
"Have you ever known Sir David Amess without that happy smile on his face? Because the greeting he would always give you was that happy smile.
"He carried that great east London spirit of having no fear and being able to talk to people and the level they're at. Not all politicians, I would say, are good at that."
Around 80 people attended the service and listened as Father Woolnough recounted his own memories of Sir David.
He said: "When you can speak to your MP and you can talk and get on like a house on fire, that's when you can talk to them later about things that are important to your area.
"What can we say? He died doing the thing he loved, meeting his constituents, his local people."
Father Woolnough added that his constituents could "count on" Sir David, and said: "He was always available. We don't have the words tonight.
"Dear Sir David, rest well."
The priest also said that Amess's smile is ingrained on everyone's hearts:
On Saturday night, a secular candlelit vigil took place near where Sir David was murdered. The Daily Mail has many moving photographs of the gathering.
Biography
Most Britons think that all Conservatives were born with a silver spoon in their mouths.
Not so.
David Amess was born in humble circumstances in London's East End.
The Telegraph recounted his life:
David Anthony Andrew Amess was born on March 26 1952 in working-class Plaistow, East London, to James Amess, an electrician, and Maud, née Martin, a dressmaker. As Amess recalled, "we were very poor and lived in a small terraced house with no bathroom, an outside toilet and a tin bath hanging on the wall". In 2014 he would compile and publish a pamphlet, Party of Opportunity, containing short biographies of Tory MPs with working-class origins.
David's mother was a Roman Catholic who brought him up in the faith and he remained a staunch Catholic throughout his life, his commitment reflected in his opposition to abortion and to the broadening of LGBT rights. "Confession," he once said, "is very important to me."
He attended St Antony's Junior School, Forest Gate, where he was "often in classes of 50, and the teachers still gave us excellent tuition and kept order to a high standard", and St Bonaventure's Grammar School, Newham, where he remembered being "quite bossy and pushy" and was rumoured to have once hit a fellow pupil over the head with a bicycle pump.
Until the age of five, Amess said, he had the nickname of "Double Dutch" on account of a bad stutter: he could not make the sounds "st" or "the" and saw a speech therapist for three years, which also had the effect of virtually eliminating his Cockney accent.
He had a varied career prior to entering politics:
He took a degree in Economics and Government at Bournemouth College of Technology. Then, after 18 months' teaching at a primary school ("I specialised in teaching children who were described as ESN"), and a short stint as an underwriter, he became a recruitment consultant.
One wonders if he met his wife Julia while he was an underwriter:
In 1983 he married Julia Arnold, a former underwriter, who survives him with their four daughters and a son.
Margaret Thatcher was Prime Minister during Amess's early years in politics:
A dedicated Thatcherite, Amess contested the safe Labour seat of Newham North West in 1979, and in 1982 became a councillor in the London borough of Redbridge.

During those years, Essex went from electing Labour MPs to Conservative ones. The county is still Conservative-dominated in Parliament.
In the 1980s and 1990s, the media coined expressions for Essex voters, many of whose families had been moved out of London after the Second World War had ended. The next generation of voters became known collectively as 'Basildon man' and 'white van man'.
Amess rode the crest of that wave, as The Sun's Trevor Kavanagh explains:
Basildon was the first constituency he served, beginning in 1983:
When the incumbent Tory MP for Basildon, the Right-wing Harvey Proctor, moved to safer Billericay for the 1983 general election, Amess was chosen to fill his shoes and was duly elected. Three years later he stood down from the council to concentrate on his Westminster seat.
Basildon was regarded as a bellwether seat, and when Amess won it again in 1992, albeit with a tiny majority, it provided the first indication that despite the pundits, and the triumphalism of Labour's leader Neil Kinnock, the Tories were on course for a fourth successive election victory. He would later describe his campaign in a short pamphlet entitled 1992: Against All Odds! (2012).
Boundary changes prior to the 1997 general election meant that Basildon was almost certain to go Labour, so Amess decided to look elsewhere, and in 1995 was selected to fight Southend West after the retirement of Paul Channon. Returned to Westminster again, he held the seat until his death.
Amess focused on his constituents, first and foremost:
Assiduous and likeable, Amess built a strong personal following by concentrating on constituency issues: the Guardian's Andrew Rawnsley once suggested that the secret of his electoral success was that "he never completed a sentence without mentioning his constituency".
This was also reflected away from Parliament:
Amess … was a lifelong supporter of West Ham United, and also followed Basildon United …
Even after he left Basildon, he still returned to visit, as this former Basildon councillor remembers:
He had many accomplishments with regard to charity, earning him a knighthood. He:
was knighted in 2015 and received several awards for his contributions in parliament, including the Animal Welfare and Environment Champion award of the 2011 Dods Charity Champion Awards, and the "Outstanding Achievement Award" at the same event the following year, in recognition of his lifetime commitment to charitable work.
This was how the newly knighted Sir David celebrated:
He did not always follow the Conservative line in Parliament:
… he incurred the wrath of many fellow Conservatives by consistently voting to ban foxhunting and hare coursing (though he was in favour of capital punishment), and supporting numerous other animal welfare campaigns.
Many MPs will remember his staunch support of Brexit, however.
They will also remember him for supporting animal causes and an end to fuel poverty:
The most significant of these were the Protection Against Cruel Tethering Act (1988), and the Warm Homes and Energy Conservation Act (2000) …
The animal-related Act, supported by the NFU, banned the tethering of "any horse, ass or mule under such conditions or in such manner as to cause that animal unnecessary suffering".
The second piece of legislation, following on from the death of a constituent from cold, required the Secretary of State to "publish and implement a strategy for reducing fuel poverty". The measure was credited with pushing fuel poverty to near the top of the political agenda, contributing to a dramatic fall in the problem in England from 5.1 million households in 1996 to 1.2 million in 2004.
Another cause that Amess supported, thanks to a Leigh-on-Sea constituent, Carla Cressy, was that of endometriosis. 
The Telegraph has the story:
"I first approached Sir David Amess when I'd just found out I had endometriosis five years ago," says Carla Cressy, 30, an accounts manager from Leigh-on-Sea. "I didn't know much about it, and realised there was very little awareness, support and education around it. He's my local MP so I visited him at his surgery. I had no expectations of what would happen. I just knew I wanted to share my story with him, about how I'd suffered with endometriosis for an entire decade before I was diagnosed.
"He was so lovely – genuinely concerned and upset about what I'd been through. He said we need to do something about it, and he then really did. He went above and beyond to champion this community like a beacon of light. It was incredible. I am devastated that he's gone."
This is what happened:
"Sir David recognised the significant impact endometriosis could have, and really wanted to make a difference to help those with the disease," says Emma Cox, CEO of Endometriosis UK, a charity that was working closely with an All-Party Parliamentary Group (APPG) that Sir David set up in 2018 to raise awareness in Parliament of the condition …
One of Sir David's goals when he created the APPG was for the government to provide education on endometriosis in schools. It's something the group achieved over a year later, meaning menstrual wellbeing is now included on the English curriculum. "We made so much progress together," says Cressy, who worked closely with Sir David on the campaign. "He really has changed so many lives, including my own."
One of Sir David's upcoming tasks, had he lived, was to ask for further research funding, as a Labour MP explains:
"He really wanted that debate," says Labour MP Emma Hardy, vice-chair of the APPG on endometriosis. "We'd published a report last year, collecting evidence from women around the country with their experience of endometriosis, and Sir David wanted to draw attention to our recommendations."
Their key goals are to reduce the time it takes for people to be diagnosed, ensure GPs have enough information to make them aware of the condition, raise public awareness, and fund more research into non-invasive ways of diagnosis …
"The main thing that comes from women is not being listened to, not being believed, taking ages to be diagnosed and then when they are, there's not much change. Sir David wanted to change that. Endometriosis isn't party politics, but he was really passionate about trying to do something about this condition. I don't want him to be remembered as the person this tragedy happened to, but the person who worked so hard to improve the lives of people with endometriosis. We can't replace him, but I hope we can find another Conservative MP to champion his work and continue with the APPG."
This GB News video covers Sir David's public life from the time he entered politics:
MPs paid respects
On Friday afternoon, Union flags were lowered to half-mast over government buildings, including No. 10:
On Saturday morning, prominent Conservative and Labour MPs laid flowers near the Methodist church hall where Sir David was murdered:
Government whips have reminded MPs that there is an Employee Assistance Programme for anyone among them who wants counselling after Sir David's senseless murder.
Everyone, regardless of party affiliation, was deeply sorry to lose this man:
This was because he befriended MPs from both sides of the aisle and found ways to work constructively with them:
One of the things I found moving in watching and reading these tributes was the recollection made by more than one MP, regardless of party affiliation, on his befriending of new Parliamentarians. He introduced himself, asked how they were getting on and enquired if they had any issues with which he could help.
Conservative MPs
These are some of the Conservative MPs' tributes, beginning with Boris's:
Long-time friend David Davis paid tribute to Amess's career of service, rather than ambition:
Stuart Anderson remembers Amess helping him settle into the job:
Andrew Rosindell, another Essex MP, lamented the loss of his oldest friend in the Commons:
Another long-time friend, David Jones, called him 'frankly irreplaceable':
I agree with Mike Wood. Forthcoming Adjournment debates will never be the same. That said, Southend is now a city:
The folks running PARLY agree on the adjournment debates, during which Sir David addressed more issues than Southend:
Labour
Party leader Sir Keir Starmer emphasised Amess's Christian faith and the fact that he was well liked across the House:
Hilary Benn remembered Amess's dogged campaigning and dedication:
Siobhain McDonagh will forever connect Amess with Southend, and who can blame her?
Steve McCabe will remember Amess's cheerful nature:
John Cryer was a former neighbour:
Liberal Democrat
The most moving tribute, however, came from Lembit Öpik, a former Liberal Democrat MP, who spoke to Mark Dolan on GB News Saturday night:
The former MP was so moved that he had to sit down and recover after that interview. Mark Dolan's producer was with him during that time.
Conclusion
It was serendipitous that the Gospel reading for Sunday, October 17, was about service (Mark 10:35-45):
10:42 So Jesus called them and said to them, "You know that among the Gentiles those whom they recognize as their rulers lord it over them, and their great ones are tyrants over them.
10:43 But it is not so among you; but whoever wishes to become great among you must be your servant,
10:44 and whoever wishes to be first among you must be slave of all.
10:45 For the Son of Man came not to be served but to serve, and to give his life a ransom for many."
What apposite verses for Sir David Amess, who gave his all in service to his constituents.
May his place in Heaven be an exalted one.
On Tuesday, October 12, 2021, Sir David Amess MP (Conservative), posted the following tweet promoting his upcoming constituency surgery in Leigh-on-Sea, Essex:
These surgeries are an opportunity for constituents to present their problems to their MP. They might be seeking help with schooling, crime or health, among other things. Meetings are face-to-face, one-on-one. One's MP then cuts through bureaucracy to achieve a successful resolution to the problem.
It seems this type of in-person connection between a member of the public and an elected constituency politician is unique to the UK. Long may it continue.
Two days later, Sir David posted a photo of himself and the Emir of Qatar. Amess was the chairman of the All-party Parliamentary Group fostering good relations between Britain and Qatar:
That same day, the MP for Southend West tweeted his gratitude for the government aid to Southend-on-Sea, no longer a smallish, seaside resort, but a town with a population of 160,000. Sir David has been campaigning tirelessly in Parliament for it to have city status. Winter fuel poverty was another of his big causes:
Little did he realise those would be his final tweets.
Just before noon on Friday, October 15, I was watching a heart-warming segment on GB News about the Westminster Dog of the Year charity event, to be held on October 28 in Victoria Tower Gardens, London. Isabel Oakeshott was interviewing Matt Vickers MP (Conservative) and his dog Karen. Karen was paying attention to the conversation. As soon as it turned to dog-napping, she began barking.
The public can vote up for their favourite MP-dog pairing until October 27. Sir David had already registered with his French bulldog Vivienne. Recently, he said:
If I am feeling down, the dog lifts my spirits as she is always pleased to see me and she makes me smile.
Little did I know watching the GB News segment with Matt Vickers and Isabel Oakeshott that Sir David was minutes away from his last breath.
Amess's last meeting was a Zoom call about the Children's Parliament, which pairs up an MP with a young member of the public. The meeting ended at 12:02 p.m.
At 12:05, Sir David was gasping his final breaths, having been stabbed multiple times in the church hall.
It was just moments after midday on Friday when Sir David Amess had his last appointment.
Richard Hillgrove, a PR professional, shared a call with Amess to discuss the Children's Parliament, an event where kids are matched with members of parliament to debate the important issues of the day.
As usual, the MP for Southend West was firing on all cylinders, full of buzz and ideas for the event: the running order, the voting system, what software they should use. Hillgrove's daughter, Lola, 11, had been matched with Amess, who visited her at school so they could have their picture taken.
Hillgrove says he ended the Zoom call at 12.02pm, so that Amess could host a constituency surgery at the Belfairs Methodist Church in Leigh-on-Sea. It was his final farewell. By 12.05pm, Amess had been stabbed to death.
A few minutes later, Hillgrove saw the first reports of the murder on television. "I didn't even realise it was Sir David at first," he recalled. "I was absolutely horrified, every minute that came passed seemed like an hour, the longer it went, the more concerning it got."
Eventually the unimaginable news filtered through. Lola came home from school in tears. "I was honoured to have known him," said Hillgrove. "He was such an inspiration, his engagement was incredible. He made sense of a crazy world."
The events of Friday afternoon have pierced the quiet provincial calm of Leigh-on-Sea, leaving the tight-knit Essex community fearful and furious. A deep, heavy sadness hangs over this seaside town. Yesterday, the flower bins were empty at the Co-op on Eastwood Road, just 100 yards from where Amess was stabbed 17 times by a 25-year-old man. Every tulip, rose and pansy had been scooped up and deposited at the tribute for the man alternately known as "Sir David" or simply "Dave".
The Telegraph reported that Amess's staff, women, witnessed his horrifying murder. Paramedics from an air ambulance worked in vain for two hours trying to stabilise him:
Sir David was attacked seconds later, stabbed repeatedly in front of his horrified staff.
… Sir David's wounds were so many and severe that paramedics were unable to stabilise him sufficiently for a transfer to hospital. After two hours of vain struggle to stem his injuries, the air ambulance took off empty.
The Telegraph spoke with the aforementioned Richard Hillgrove:
Mr Hillgrove recalled how, during their conversation, Sir David had periodically glanced to his right.
He assumes this was towards trusted assistant, Rebecca Hayton, upon whom Sir David, not being the most technologically savvy parliamentarian, relied for help when making video calls.
It was she who witnessed at close quarters the full ferocity of the knife attack, running from the Belfairs Methodist Church hall screaming. Her screams alerted Sir David's other assistant, Julie Cushion, who was positioned in the church hall lobby.
Shortly after the attack, Stephan Aleyn, a former Southend Conservative councillor, spoke to Ms Cushion.
"She is in absolute bits," he said. "What she saw is going to stick with her for the rest of her life.
"It was a normal surgery and they were assisting Sir David in helping his constituents.
"Julie and Rebecca thought this man was just another constituent who needed help from their MP, when suddenly he launched his attack on Sir David.
"For anyone to witness that sort of shocking, unprovoked assault is awful. It was a lovely, normal, sunny day – then this."
After stabbing Sir David several times, his assailant sat down next to his body, making no effort to evade police, it has emerged.
A Southend Conservative Party source said: "One of Sir David's office staff was in the hall with him, and it now appears that after attacking Sir David, this man sat down and waited for police to arrive. It's absolutely chilling."
The article says that 999 calls were made at 12:05 p.m. Police, including an armed response unit, and the air ambulance responded immediately. The suspect went quietly with the police:
The 25-year-old suspect was detained inside the church hall and led out to a police van. A knife was recovered.
Amess's staff must have also contacted a Catholic priest he knew. The Revd Jeffrey Woolnough showed up shortly afterwards and asked police to be admitted to administer Last Rites — or Extreme Unction, as it used to be known. However, he was refused entry:
He was denied entry, however, and so stood on the street with another man reciting the rosary. He described it as a "great disappointment" for a Roman Catholic not to be able to receive the last rites.
"It was remarkably calm by the time I arrived," Fr Woolnough told The Telegraph.
"I prayed from outside and I just hope David received those. I know he would have done, because any prayer said that is sincere is received by the recipient.
"I was praying the rosary – it's a half hour prayer going through all of those intentions, asking that whatever was going on in there, for God's will to be done. That's all I could pray at that point in time."
I did not know until he died that Sir David was a devout Catholic, but, given his serene demeanour, sincere smile and gentle wit, it does not surprise me that he was a churchgoer.
The Spectator's Melanie McDonagh, also a devout Catholic, expressed her displeasure with the police response regarding Last Rites:
It's not known whether Sir David was alive when the priest arrived at the scene, but he still should have been there. Nothing should come between a dying man and the mercy of the Church. Of course the police were dealing with a tremendously difficult situation and would have been shocked and confused – how could they not have been? – but it doesn't excuse this failure of judgment, which we can assume stems from a failure of training.
Essex Police sent The Spectator a statement, which says, in part:
As with any police incident, it is of the utmost importance that we preserve the integrity of a crime scene and allow emergency services to tend to those in need. A cordon is put in place to secure and prevent contamination of the area. Access into a scene is at the discretion of the investigating officers. This is a fundamental part of any investigation to ensure the best possible chance of securing justice for any victim and their family.
McDonagh says that the priest was 'an emergency service'. I cannot disagree:
The most troubling element of the statement is that the police wanted to 'allow the emergency services to tend to those in need.'
A priest is an emergency service. In the case of Sir David, the priest was someone who could help see him into the next world, not just keep him in this one. You don't have to share a belief in the efficacy of confession to go along with this; you just need a very elementary knowledge of and respect for the faith to refrain from standing between a confessor and a dying man. As for the reference to the 'emergency services administering potentially life-saving treatment,' Catholic priests are used to operating together with medics for precisely this reason.
You might like to know that Essex police recently engaged in that exercise in cultural conformity, Hate Crime Awareness Week. Perhaps in future, some awareness of Christianity might be part of the training.
Monsignor Kevin Hale, who knew Sir David, told GB News how Catholicism informed the MP's life. Amess's mother was a Catholic and she brought him up in the faith:
Monsignor Hale said that Sir David had grown up in the East End of London and attended St Bonaventure's Roman Catholic School in Newham. It is a secondary school for boys.
The Right Revd Stephen Cottrell, the Anglican Archbishop of York, lived for a time in Amess's constituency and paid a warm, faith-filled tribute to his former MP and friend in The Telegraph:
It was said of Sir David Amess that though he had opponents, he didn't have enemies. As we come to terms with the horror of his murder on Friday, this is a distinction worth pondering.
I think of David Amess as a friend. Leigh-on-Sea is my home town and, for ten glorious years as Bishop of Chelmsford, part of the diocese I served. We often met: in parliament, but usually in his constituency, Southend West.
He was, as we have heard over the weekend, a dedicated, zestful, persevering constituency MP. He loved Southend, as I do. He rooted for it. He exemplified that vital, but overlooked, root of our democracy that Members of Parliament may get elected on a party ticket, but, once elected, serve everyone …
David Amess was a kind man. The word kind is related to the word kin. When we are kind to someone, it doesn't mean we necessarily agree with them, or even like them, but that we recognise a kinship, a common humanity and treat them accordingly; or as we sometimes say, "treat them in kind".
David's robust kindness came from his Christian faith. He was a devout Christian, a Roman Catholic. But the idea that we human beings belong to one another and have a responsibility to each other is not self-evident. Observation of our behaviour and attitudes shows us the opposite. Our worst desires can be seen everywhere, leading us to separation, fuelled by selfishness, and bearing fruit in hatefulness and the possession of each other.
The picture of humanity that God gives us in Jesus Christ offers something else. In this regard, perhaps the most radical words Jesus ever spoke are the ones most of us know and many of us say every day: "Our Father." In saying these words we don't just acknowledge we belong to God, we acknowledge our belonging to each other as kith and kin …
David Amess, the friend with whom I sometimes disagreed, had the same values and the same vision. It shaped his life and it is what made him such a loved and effective constituency MP and an exemplar of what our democracy can be.
He was always very kind to me. He supported the Church. He cared. He liked to build coalitions of goodwill so that people could work together. Kindness and kinship, it turns out, gets things done.
My heart goes out to his wife and family and the constituents of Southend West. I am praying for them …
David Amess didn't wear his faith on his sleeve. He wore it in his heart. That's the best place for it. It means it runs through your very being.
Late on Friday, the Metropolitan Police's Counter Terrorism Command took over the case from Essex Police:
Early on Saturday, October 16, it was established that the suspect is a Briton of Somali parentage.
The Mail on Sunday reported that the BBC's home affairs correspondent, Dominic Casciani, downplayed the suspect's parental origins:
The BBC's home affairs correspondent was accused yesterday of trying to downplay the suspect's reported Somali origins …
Although every national newspaper with the exception of the Financial Times mentioned that the suspect had Somali 'origins', 'heritage' or 'descent' yesterday, Casciani appeared to wrestle with the issue on Radio 4's Today programme.
Presenter Nick Robinson asked him: 'The suspect is a British citizen, but he's also of Somali origin. Is that regarded as significant?'
Casciani replied: 'The Somali element – erm, no. The reason why some reporters have established this fact is that there has been some misreporting …'
Twelve hours earlier, he had tweeted: 'We have learnt from official sources that detectives have established the individual is a UK national, seemingly of Somali heritage. We report this in the interests of accuracy' …
The BBC says Casciani 'focuses on stories relating to law, order, society and belonging – including immigration, ethnicity'.
The Telegraph reported on the Met's discoveries made on Saturday. The suspect lived in London, far from Sir David's constituency:
On Saturday, officers from the Metropolitan Police's counter-terrorism team, which is leading the investigation into his death, were searching three addresses in London – at least two of which were believed to be in the east of the capital. One search had ended but the others remained ongoing on Saturday night. The suspect, a British national of Somali origin, is thought to have acted alone and travelled by train from his north London home to Essex to carry out the attack.
The Daily Mail told us that the suspect lives among at least one celebrity in London, the rest of his neighbours clearly well-heeled, and might have spent a week planning the bloody attack:
Ali, who is thought to have been targeted by the Government's anti-terror Prevent programme, may have lived in Sir David's Southend West constituency in Essex in the past.
His most recent residence is believed to be in London. Officers have been carrying out searches at three addresses.
The security services are providing assistance to Scotland Yard, which is leading the investigation. Last night, detectives were granted a warrant of further detention, allowing them to keep Ali in custody until Friday.
Police officers were yesterday standing guard outside the North London council house where Ali lives. It is in a street of £2 million three-storey townhouses where the late actor Roger Lloyd Pack, who played Trigger in Only Fools And Horses, used to live.
That day, news emerged that Sir David had received a menacing threat just days before his murder. However, police believe that the two events are unconnected, according to The Telegraph:
The threat to the veteran MP was made in the past few days and reported to police …
It is understood that Essex Police received a report of the threat, but they are not connecting it with Friday's attack.
John Lamb, the former Mayor of Leigh-on-Sea and a close colleague of the murdered MP, said Sir David had received the "upsetting" threat in the past few days …
Mr Lamb said it had been Sir David's idea to hold his surgeries in places like the Methodist church, so he could be more accessible to his constituents, rather than in the local Conservative Party offices in Southend.
It is understood this came despite concerns being expressed by some of his staff over the potential security risk at more open venues.
Mr Lamb said: "Sir David used to hold them at the Conservative Association, but that made it hard for older people to see him so around a year ago he started going out into the community. He didn't want to hide away, he wanted to be visible and accessible. He told me: 'I want them to be able to see me in their local area'.
Before this, the last time an MP was murdered was in June 2016, just days before the Brexit referendum. A white male fatally stabbed Labour MP Jo Cox outside her own surgery. He was said to have had mental health problems, aggravated by the threat of eviction. His mother was also in poor health. That is not in any way to excuse his horrific crime of murdering a young wife, mother and MP. However, at the time, the media said the motive was because he was pro-Brexit and she was not.
Sir David, along with every other MP, was deeply affected by her death. He mentioned it and attendant security issues in his 2020 book, In Ayes and Ears: A Survivor's Guide to Westminster, published last November.
He wrote:
The British tradition has always been that Members of Parliament regularly make themselves available for constituents to meet them face to face at their surgeries. Now advice has been given to be more careful when accepting appointments. We are advised to never see people alone, we must be extra careful when opening post and we must ensure that our offices are properly safe and secure. In short, these increasing attacks have rather spoilt the great British tradition of the people openly meeting their elected politicians.
He also said that he had to check the locks on his property and that certain 'nuisance' (his word) members of the public occasionally showed up outside his home. Other MPs have installed CCTV cameras on their properties.
Jo Cox's sister, Kim Leadbeater, is now an MP in her former constituency, Batley & Spen. She tweeted her condolences:
The Emir of Qatar also sent a message of sympathy. Last week, he and Sir David were discussing Afghanistan refugees who are currently living in Qatar, awaiting settlement in other countries:
On Sunday, October 17, the father of the suspect in custody spoke. The Sunday Times reported:
The father of the suspected killer of Sir David Amess said he had been left "traumatised" by his son's arrest after the stabbing of the veteran Tory MP.
Harbi Ali Kullane, a former adviser to the prime minister of Somalia, confirmed that his British-born son, Ali Harbi Ali, 25, was in custody. Kullane said that anti-terrorist police from Scotland Yard had visited him.
Speaking at his sister's home in north London last night, Kullane said: "I'm feeling very traumatised. It's not something that I expected or even dreamt of."
The suspect was a "self-radicalised" lone operative known to counterterrorist police, according to Whitehall sources. He is believed to have been referred to Prevent, the government's deradicalisation programme, before allegedly stabbing Amess on Friday …
Investigators are examining the theory that he was radicalised online during lockdown.
Officers were yesterday granted a further warrant to detain him until Friday under terrorism laws. Scotland Yard said that early inquiries had uncovered "a potential motivation linked to Islamist extremism".
Amess, 69, an MP for almost 40 years, was a devout Roman Catholic who was guided in his daily life by his strong faith …
Intelligence sources said the suspect had not been on the radar of MI5, which is monitoring more than 3,000 people who it is feared could be plotting a terrorist attack. However, he is believed to be one of thousands of extremists who have been referred to the voluntary Prevent programme after displaying potentially disturbing behaviour such as inflammatory postings on social media.
More than 6,000 people were referred by police and other agencies to the programme in the year ending March 31, 2020.
By the way, referral to the Prevent programme does not include monitoring by police and/or security services.
That day, the Amess family issued a statement thanking the public for their messages of support and urged the Government to grant Southend-on-Sea city status.
Sir David Amess's family have said that achieving city status for Southend would be a way of paying tribute to a "patriot and man of peace".
In their first public comments since the MP's murder, his family thanked people for the "wonderful, wonderful tributes paid to David following his cruel and violent death. It truly has brought us so much comfort."
Amess, 69, was married with five children and in a statement tonight they said: "The support shown by friends, constituents and the general public alike has been so overwhelming. As a family it has given us strength."
They urged people "to set aside their differences and show kindness and love to all" so that some good might come from their father's death. His family said there was "still so much David wanted to do" insisting: "This is not the end of Sir David Amess MP. It is the next chapter and as a family we ask everyone to support the many charities he worked with."
They cited his efforts to raise money for a statue of Dame Vera Lynn and said: "Closer to home, David was working hard for Southend to gain city status. In his memory, please show your support for this campaign."
As I write on Monday, no known motive for Sir David's gruesome murder has emerged.
Some of his friends believe it was because he was a devout Catholic. I'm not sure about that. I did not know he was one until he died, and I'm a political junkie and frequent viewer of BBC Parliament.
A radical Islamist preacher says it was because Sir David was pro-Israel, as the MP had been an honorary secretary of the Conservative Friends of Israel since 1998.
However, let us not forget Qatar and the current tensions in Somalia.
In Monday's Times, speculation arose over whether Amess was murdered because he headed the APPG fostering relations between the UK and Qatar. Qatar supports the current regime in Somalia:
Meanwhile, members of the public are calling for those voting for the Westminster Dog of the Year to choose Sir David and Vivienne as a fitting posthumous tribute to the tireless yet cheerful MP, who will be sorely missed.
I will have more on Sir David's life in tomorrow's post.
My deepest condolences go to the Amess family, Sir David's staff and his many friends. May the good Lord grant them His infinite grace and comfort in the days and months ahead.
Eternal rest grant unto your servant David, O Lord, and let perpetual light shine upon him. May his soul and all the souls of the faithful departed rest in your eternal mercy and peace. Amen.
Previews of a 151-page report from two parliamentary select committees appeared on October 12, 2021.
Jeremy Hunt, chairs the Health and Social Care Committee, and Greg Clark is chairman of the Science and Technology Committee. The report represents the unanimous conclusions of the 22 Conservative, Labour and SNP MPs serving on them.
Whilst one can appreciate the hours of work it took to create a report out of many hours of testimony since 2020, it might as well have been compiled from newspaper reports.
I have not yet found the full report online, but media reports have been appearing throughout the morning.
In summary, although the vaccine rollout was a great success, the Government made a lot of mistakes: not locking down sooner (!?!), neglecting the elderly, being late in creating a test and trace system and relying too much on SAGE:
Guido Fawkes looked at the criticism of SAGE (emphases in the original):
… What caught Guido's eye in the report, however, was how critical it is of the scientific advice that dictated the government's response at the start of the pandemic:
"In the first three months the strategy reflected official scientific advice to the Government which was accepted and implemented. When the Government moved from the 'contain' stage to the 'delay' stage, that approach involved trying to manage the spread of covid through the population rather than to stop it spreading altogether […] The fact that the UK approach reflected a consensus between official scientific advisers and the Government indicates a degree of groupthink that was present at the time which meant we were not as open to approaches being taken elsewhere as we should have been."
In other words, the government was wrong to consistently accept the scientific advice, and should have challenged SAGE's input more often. Quite the departure from the Twitterati's squawks that the government should always and only "follow the science"…
The report later adds:
"We accept that it is difficult to challenge a widely held scientific consensus. But accountability in a democracy depends on elected decision-makers taking advice, but examining, questioning and challenging it before making their own decisions."
The government made lots of mistakes last year, yet it's clear they were also being guided by ill-informed voices. Of course, that's bound to happen in the chaos of a pandemic; it was a novel virus and no one really had all the right answers. Hindsight makes this look a lot easier. Still, this hardly vindicates Whitty, Vallance, and SAGE – and going forward, as the report says, there should be an effort to "include more representation and a wider range of disciplines" when making these decisions…
The Times picked up on 'group-think':
"Group-think" among ministers, scientific advisers and civil servants meant that a lockdown was not brought in quickly enough early last year, ranking as "one of the most important public health failures the United Kingdom has ever experienced".
However, the Daily Mail reports that Chief Scientific Adviser Sir Patrick Vallance hit back, especially about 'following the science' (emphases mine):
Ministers shouldn't have said they were being 'led by the science' throughout the Covid pandemic, Sir Patrick Vallance has said.
No10's chief scientific adviser claimed science doesn't decide nor does it 'lead the way', insisting that there were other complex matters that needed to be factored in for crucial decisions.
He said No10 should have stuck to the phrase 'informed by science', rather than implying they were 'slavishly following' evidence 'because science doesn't have all the answers to these things'.
In his first in-depth interview since the virus hit the UK, he also said he doesn't 'sugar coat' information for the Government.
Sir Patrick, who became a household name during the course of the pandemic due to his frequent appearances at daily televised press briefings in Downing St, said he views his job as 'giving scientific advice, like it or not, to the Prime Minister and Cabinet to enable them to make decisions'.
And he revealed that his mantra has always been to act early when adopting lockdown restrictions to thwart the spread of coronavirus.
Did Vallance ever advise the Prime Minister and Cabinet ministers against saying 'follow the science' or similar? It would appear not, as they said it dozens of times in press conferences and in Parliament.
Dominic Cummings took advantage of the report to lambaste Boris again. The Mail reported:
Speaking to Sky News outside his home, the Prime Minister's former chief adviser said: 'Me and others put into place work to try to improve the system in 2020 after the first wave.
'Unfortunately, the Prime Minister being the joke that he is has not pushed that work through.
Mr Cummings, who has been a vocal critic of Mr and Mrs Johnson since he left Downing Street, added: 'Now we have a joke Prime Minister and a joke leader of the Labour party, and we obviously need a new political system.'
The report recommends better planning for the future. Ho-hum. The Government had a chance to do that following a 2016 report and the three-day-long Exercise Cygnus on how better to manage influenza. Jeremy Hunt, one of the authors of today's report, was Health Secretary at the time. He didn't do anything about the recommendations then. Therefore, it's a bit rich for him to criticise now, yet, he heads the Health and Social Care Committee and that's part of his job.
A formal inquiry on the UK's response to the coronavirus pandemic is expected to begin in 2022.
Boris Johnson is now into his third year as Prime Minister.
On Wednesday and Thursday, September 15 and 16, he reshuffled some of his cabinet and ministerial posts, signalling that he is more than halfway through his premiership. In other words, this will be the major reshuffle to lead the Conservatives into the next general election.
I hope that Boris does not go for a 2023 election, unless it is late in the year. The coronavirus crisis will have put much of the Conservative manifesto agenda on hold for two years. As such, not much has been accomplished to date, as Andrew Neil, who recently resigned from GB News, says:
Boris has appointed more Leave ministers as well as more minority and female ministers, which will not matter to most small-c conservatives:
Highlights of the reshuffle follow.
Dominic Raab no longer Foreign Secretary
It looks as if dithering over Afghanistan while holidaying in Crete has finished Dominic Raab's days as Foreign Secretary. He had to do the walk of shame after his demotion:
That said, Boris has found a new job for him as Justice Secretary.
Raab will also continue to be Deputy Prime Minister, a role he handled extremely well in April 2020, when Boris was hospitalised with coronavirus.
Defence Secretary Ben Wallace defended his fellow MP and the move in an interview with BBC Breakfast:
Wallace said of Raab: "Dominic is by trade a lawyer, he started his life in the Foreign Office as a human rights lawyer and he's gone to the Ministry of Justice, which is actually a very, very important role and a role he desperately understands."
Liz Truss becomes new Foreign Secretary
Former Trade Secretary Liz Truss replaces Dominic Raab as Foreign Secretary, with Anne-Marie Trevelyan taking her place.
Post-Brexit, Truss has made various trade deals with other nations, notably Australia and Japan.
She also remains minister for women and equalities.
Truss is popular with grassroots conservatives and her name has often been mentioned as a future party leader and Prime Minister.
She succeeded not only in trade but also in refusing wokery in 2020 …
… and in 2021, as Guido Fawkes reported on June 16 (emphases mine):
Liz Truss tells Times Radio most people aren't interested in the culture war…
"My role as equality minister is to make sure everybody in Britain is treated equally regardless of their sex, their sexuality and their race. What we have seen over the past few years is the development of identity politics where there has been division created. People are described as being members of a group rather than for their own personal, individual humanity and dignity… We have just launched for example a big data project looking where are the gaps in education, employment and enterprise across the country, and how we can fix those. That is the approach we need to take… I think some of the identity politics we have seen focus on symbolism over real results has been divisive… I think most people aren't interested in this so–called culture war, what they're interested in is, "Am I being given a fair chance? Do I have a good chance of getting a job? Am I treated fairly by public services?" And that's why I think our equality agenda should focus on, those bread and butter issues that are of concern to everyone in the country."
She is consistently among the most popular of the Cabinet members. This survey is from March 2021:
She can even ably dodge camera equipment during an interview:
Nadine Dorries moves from Health and Social Care to Culture Secretary
In what is hoped to please grassroots small-c conservative voters, Nadine Dorries now heads Digital, Culture, Media and Sport (DCMS), replacing Oliver Dowden, who, as new co-chairman of the Conservative Party, will formulate a strategy for the next general election.
Most of these grassroots supporters are fed up with the BBC. Will Dorries take on Auntie Beeb?
I do not put much stock in that possibility. Resurrecting Dorries's tweets from several years ago are no indication of her current willingness to oppose the BBC on anything much:
The BBC have just appointed a firmly left-wing executive editor of BBC News, Jess Brammar. At least one Conservative MP, Brendan Clarke-Smith, was unhappy about the possibility of her appointment back in August:
I will not be holding my breath for Dorries to take her on, although others in the left-wing and anti-Brexit political establishment are angry about Dorries's appointment, as Guido Fawkes reports; he has screenshots of her past tweets (emphasis in the original):
She's been in the job for 17 hours and is already annoying all the right people… 
John Whittingdale returns to backbenches
I have doubts about Dorries because one of the DCMS ministers, John Whittingdale, was supposed to take on the BBC in 2016 and never did. He also washed his hands of removing free TV licences for most over-75s, saying it was a decision for the BBC. Is this why he got the sack?
During the Euro 2020 soccer tournament this year, Whittingdale told Kay Burley of Sky News that travel restrictions were lifted for 'important' people associated with the matches:
Speaking on Sky News, John Whittingdale was asked why players, officials and others coming to London for the Euros final on 11 July should be allowed in without self-isolating.
He said: "We've always said that for some people who are important, players, for instance …"
The presenter, Kay Burley, interrupted him, saying: "So people who want to go on holiday are not important. Is that what you're saying?"
Whittingdale's last pronouncement, standing in for his boss Oliver Dowden, was about a proposed mandate to make all BBC and ITV output 'distinctively British'. That was on September 16. It will be interesting to see whether Nadine Dorries will insist on it.
Newsnight argument over Dorries
Nadine Dorries was the subject of an argument between Conservative MP Charles Walker and former Conservative MP, Remainer Anna Soubry, who lost her seat in December 2019.
By the way, this was Anna Soubry with Nigel Farage either just before or just after the Brexit referendum in June 2016: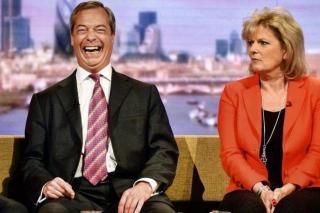 But I digress.
The discussion between Soubry and Charles Walker took place on the BBC's Newsnight on September 15:
Here's the video, with Labour MP Peter Kyle sitting at the desk with presenter Emily Maitlis:
Guido Fawkes has the highlights:
Nadine Dorries provided the biggest clash, as the eternally bitter Soubry ranted that her appointment "actually says everything that's wrong and rotten about this prime minister's stewardship of this country". Charles Walker had some thoughts:
"Nadine Dorries has been a health minister, a minister of state, at an incredibly difficult time for the department of health; has been an extremely good minister for mental health; and really to come onto this programme and just trash her like that is just not a very nice thing to do to be perfectly honest"
Responding to Soubry's claim that people don't really care about reshuffles in the real world, Walker pointed out "Why is it the lead story on Newsnight, and why are you appearing on Newsnight?" Why indeed…
However, there is a personal reason why Anna Soubry is angry with Nadine Dorries.
On July 1, 2016, one week after David Cameron stood down as Prime Minister and Conservative Party leader because of the Brexit referendum result, tensions were running high not only in the Commons but also among the public.
Soubry went out near Parliament to address her fellow Remain supporters. Dorries tweeted that Soubry was under the influence. Soubry demanded that Dorries retract the tweet. The Times has the full story, which ends with this:
Update (25.07.2016): Following publication of this article, Nadine Dorries MP has withdrawn her tweet about passing Anna Soubry MP leaving the bar before she attended a rally of Remain supporters in central London. Ms Soubry has confirmed that she had not drunk any alcohol before speaking at the event.
Another reason why I am doubtful about Nadine Dorries is because she did not question the Government's coronavirus restrictions when she was at Health and Social Care. Does she really believe everything she hears? Here she responds to Conservative Woman's co-founder Kathy Gyngell. Dorries and her mother had the virus at the same time, and her mother recovered first. Even so, not questioning lockdown earns her a black mark from me:
At least she supported Brexit.
Michael Gove moves to Housing, no longer Chancellor of the Duchy of Lancaster
Michael Gove, who is in the process of a divorce and was a recent party boy in an Aberdeen nightclub, is no longer the Chancellor of the Duchy of Lancaster.
Stephen Barclay, formerly Chief Secretary to the Treasury, replaces him in that post. Simon Clarke replaces Barclay in the Treasury role.
Michael Gove replaces Robert Jenrick at the Ministry of Housing, Communities and Local Government and is in charge of Boris's 'levelling up' agenda.
A first attempt at a new acronym for the department has produced DULL:
Guido reports on the problems with acronyms for government departments in general:
The Sun's Harry Cole reports the initial proposal for a new "Department for the Union and Levelling Up" is no longer a flyer after realisations its acronym, 'DULU', sounds too much like "Dull". It's a shame a change was needed, given it was pointed out yesterday that Michael Gove the first MHCLG Secretary with all the letters of the department in his name…
Guido will leave it up to cleverer minds to work out an acronym that includes all the letters of Gove's new remit (MHCLG + Union + Levelling Up + Elections) though it's not the worst reshuffle acronym problem encountered by a PM. As Alan Johnson recounts, in 2005 Tony Blair came up with a plan to rename the department for Trade and Industry as the "Department of Productivity, Energy, Industry and Science". Thankfully Johnson was used to it by that point however – he'd already been Minister for Higher Education and Lifelong Learning, and headed up the Sexual Health Advisory Group…
Although this looks like a demotion for Gove, it involves a hefty budget with pan-govermental reach, something that should definitely appeal to him:
New Education Secretary
Nadhim Zahawi, formerly in charge of the coronavirus vaccine rollout, is the new Education Secretary, replacing Gavin Williamson, who likely got the sack because of the school exams fiasco during the coronavirus crisis.
Zahawi has achieved the British dream, having arrived in the UK as a child refugee who could not speak English:
Other appointments
Guido Fawkes has full reshuffle information for September 15 and 16.
Some MPs have transferred to other departments:
Others will be returning to the backbenches:
Jesse Norman tweeted that he was happy to return to the backbenches:
The new role for Nigel Adams is said to be a 'fixer' appointment in order to get things done:
More information and analysis can be found at The Guardian, The Telegraph, GB News , The Spectator and The Times (here, here and here).
House of Lords
Reshuffles can affect the House of Lords, too.
Fortunately, two of the stars there are still in place.
Baroness Evans
Baroness Evans, composed and competent, will remain as Leader of the House of Lords.
Lord Frost
Lord Frost will remain Cabinet Office Minister for Europe, in charge of EU negotiations and changes to relevant legislation:
On September 16, Guido wrote about Frost's plans to rid the UK of EU laws (emphases in the original):
Lord Frost has announced the government's plans to finally capitalise on the freedoms of Brexit and remove the "special status" of all individual EU laws still on the UK's statute books. There are also plans to invest heavily artificial intelligence, transport, and farming over the Parliament. Now if we just pair deregulation with lower taxes we may actually get somewhere…
Speaking on the reforms this afternoon, Lord Frost said:
"From rules on data storage to the ability of businesses to develop new green technologies, overbearing regulations were often conceived and agreed in Brussels with little consideration of the UK national interest.
"We now have the opportunity to do things differently and ensure that Brexit freedoms are used to help businesses and citizens get on and succeed."
Lord Frost will begin with a review of so-called "retained EU law" – the huge amount of EU legislation still on the UK's statute books; removing its special status so it's no longer a distinct category of UK domestic law, and ensuring all courts have the full ability to depart from EU case law. He describes it as finalising the process of "restoring this sovereign Parliament". There's a reason he's popular with the Tory membership…
Guido's post has more detail, much of which involves digitalising everything from share (stock) certificates and driving licences.
Hmm. I hope that when his proposals reach MPs that they are not taken too far. First, not everyone is online. Secondly, think of the hacking opportunities this could provide. Finally, and perhaps most importantly, digitalisation can lead quickly to establishing a Chinese-style social credit score.
One thing I did like was this:
Permitting the voluntary printing of the Crown Stamp on pint glasses and reviewing the EU ban on markings and sales in imperial units and legislating in due course, none of which were possible within the EU.
Robert Peston's misguided predictions
Sometimes, it is better to wait for the final outcome rather than tweet silly predictions:
On September 16, Guido noted witheringly of ITV's Robert Peston:
While yesterday may not have been great for Dominic Raab, at least he can take solace in the fact he had a better reshuffle than Robert Peston. ITV's senile senior political reporter spent all day tweeting every thought process, speculation and briefing with the acumen and insight of a first-year politics student.
Guido's article lists Peston's tweets. Perhaps ITV should buy him a new crystal ball.
Conclusion
I still think that most Conservative MPs are half-hearted. It's a shame that Boris did not promote any of the 2019 intake, especially the feisty ones from the North of England.
Fortunately, last week's horrible poll results have been reversed. Participants were polled during the reshuffle days of September 15 and 16:
Onwards and upwards to Boris's promised 'sunlit uplands', I hope.
On Thursday, September 9, the Scottish parliament voted in a motion to implement vaccine passports for the nation, beginning October 1:
Patrick Harvie's Greens, who are in a new alliance with the governing SNP, changed their minds about vaccine passports and decided to vote in favour of them:
Some of the MSPs lost their internet connection during the vote. That does not matter, because they, along with MSPs voting from home, can let the moderator know and she will allow them to cast their vote in person or over the telephone. Those votes are broadcast in the chamber.
The incident gives me a chance to show you the interior of Holyrood, where MSPs meet:
The day before the Holyrood vote, MPs in Westminster debated the implemention vaccine passports for England.
Nadhim Zahawi, the vaccines minister, gave a statement about the plans. It did not go well for him.
MPs — including his fellow Conservatives — quoted his previous statements in which he said the passports would not be implemented domestically.
William Wragg (Con), a member of the awkward squad of backbenchers, chided Zahawi (emphases mine):
What a load of rubbish. I do not believe that my hon. Friend believes a word he just uttered, because I remember him stating very persuasively my position, which we shared at the time, that this measure would be discriminatory. Yet he is sent to the Dispatch Box to defend the indefensible. We in this House seem prepared to have a needless fight over this issue. It is completely unnecessary. We all agree that people should be encouraged to have the vaccine, and I again encourage everybody to do so, but to go down this route, which is overtly discriminatory, will be utterly damaging to the fabric of society.
Zahawi replied:
I am grateful to my hon. Friend, who has made his view clear to me on many occasions. It pains me to have to take a step like this, which we do not take lightly, but the flipside to that is that if we do not and the virus causes super-spreader events in nightclubs and I have to stand at the Dispatch Box and announce to the House that we have to close the sector, that would be much more painful to me.
Mark Harper, another Conservative who has opposed coronavirus restrictions, voiced his disapproval:
I have to say that I agree with the Chairman of the Public Administration and Constitutional Affairs Committee, my hon. Friend the Member for Hazel Grove (Mr Wragg). The Minister set out earlier this year that this policy was discriminatory. He was right then and that remains the case. It is a discriminatory policy. The vaccines are fantastically effective at reducing hospitalisation and death. They are very much less effective in reducing transmission of the Delta variant. This is a pointless policy with damaging effects. I am afraid that the Minister is picking an unnecessary fight with his own colleagues. I say to him that the Government should think again. The Leader of the House has been clear that we do not believe—the Government do not believe—that this policy is necessary for us to meet here in a crowded place. Let us not have one rule for Members of Parliament and another rule for everybody else. Drop this policy.
Zahawi replied, saying he hoped the vaccine passports would be temporary:
This is not something that we enter into lightly, but it is part of our armoury to help us transition over the winter months from pandemic to endemic status. I hope to be able to stand at this Dispatch Box very soon after that and be able to share with the House that we do not need to do this any more as we will be dealing with the virus through an annual vaccination programme.
An SNP MP hoped there would be proportionality:
I pay tribute to all those involved in the vaccination programme. It has been extraordinary. In Scotland, we have 4.1 million adults with a first dose and almost 4 million with a second dose, which means that north of 90% of all adults have had at least one dose. It is a fantastic result across the UK since last December, but the pandemic is not over. Lives are still at risk and the pressures on the NHS are very real, so we in Scotland are introducing a vaccine passport, but, broadly, it will be limited to nightclubs, outdoor standing events with more than 4,000 people and any event with more than 10,000 people. While the rules in England may be slightly different, I hope that they are as proportionate as that.
Zahawi said that more details would be forthcoming.
Zahawi's voice faltered several times during the debate:
It pains me to have to stand at the Dispatch Box and implement something that goes against the DNA of this Minister and his Prime Minister, but we are living through difficult and unprecedented times. As one of the major economies of the world, our four nations have done an incredible job of implementing the vaccination programme. This is a precautionary measure to ensure that we can sustainably maintain the opening of all sectors of the economy.
A Liberal Democrat MP, Munira Wilson, picked up on Zahawi's delivery:
I almost feel sorry for the Minister because he really is struggling to defend this policy. However, he has failed to answer the fundamental question posed by my right hon. Friend the Member for Orkney and Shetland (Mr Carmichael) about this deeply illiberal, discriminatory and unnecessary policy: will this House get a vote on the implementation of covid vaccine passports—yes or no?
Zahawi answered:
There will be appropriate parliamentary scrutiny, as I have said today and in the past.
Not one MP approved of the proposed policy measure in the debate.
On Friday, September 10, news emerged that, if implemented, vaccine passports could open the way for sweeping powers. They could eventually become a national ID 'card'. The Telegraph's Madeline Grant tweeted:
The Telegraph's news that day cited an article from The Sun saying that we might have to have a vaccine passport to go to the pub:
Britons could be required to show vaccine passports at more businesses, the Culture Secretary has suggested amid reports the Prime Minister is preparing to unleash a "toolbox" of contingency measures. 
The Government is set to push ahead with mandatory Covid certification for nightclubs at the end of the month.
But The Sun reports that this will be widened to include other venues such as stadiums and pubs, which will be announced next week by Boris Johnson as part of plans to control the virus through the autumn and winter. 
Oliver Dowden told Sky News: "We will be looking at bringing in certification for nightclubs at end of the month.
"If there is a need to further extend that certification according to the public health need, we will look at doing so but we're always reluctant to impose more restrictions on businesses unless we really need to."
However, having voted in the unpopular increase in National Insurance contributions and the poll result showing a Labour lead for the first time since January, the Government reconsidered their stance on vaccine passports.
On Sunday, September 12, Health Secretary Sajid Javid appeared on the BBC's Andrew Marr Show to say that vaccine passports in England will not be going ahead. I would add 'for now', because this Government is on a right merry-go-round with regard to coronavirus policies:
Mark Harper MP welcomed the news:
Even Public Health England (PHE) statistics show two inoculations (I use the term advisedly) offer little protection:
TalkRADIO's Julia Hartley-Brewer points out that vaccine passports cannot save lives and are discriminatory:
Yet, Scotland's First Minister Nicola Sturgeon insists the decision to implement them north of the border is the right thing to do:
However, one of Scotland's coronavirus advisers, behavioural psychologist Stephen Reicher implied that England, not Scotland, made the right decision:
Guido Fawkes has a quote from Reicher (emphases in the original):
They are a double edged sword. Passports accelerate uptake in the willing but accentuate opposition in the sceptical. They increase safety but can increase complacency.
Quite a departure from Sturgeon's claim that they "have part to play". At least she insisted they were "a very limited scheme"…
Scotland could still backtrack on vaccine passports, as their September 9 vote was on a motion only, not legislation:
It is good to see that politicians are taking note of the public mood — for once.
Both houses of Parliament returned from summer recess today.
The Commons debated on whether to raise tax on National Insurance (Social Security, to my American readers) by 1% to meet 'social care' needs. I put that in quotes because, as ITV's Robert Peston wrote on Sunday, September 5, there is no social care programme from the Conservatives yet, so proceeds from the tax increase will be used for the NHS, post-pandemic. Emphases in purple mine:
Election manifestos are contracts with voters. Under our parliamentary system, their promises are supposed to be broken only in exceptional and extreme circumstances.
Boris Johnson's manifesto, his contract with us that he effectively signed in December 2019, said "I guarantee we will not raise the rate of income tax, VAT or National Insurance".
… barring a full-scale cabinet revolt that forces a climbdown – he will break that guarantee, with a rise of 1.25% in the rates of national insurance paid by employees and employers to raise more than £10bn a year.
So does the Covid-19 crisis, and its deleterious impact on the public finances, represent the kind of crisis that most people would see as rendering the manifesto null and void, as in effect triggering what in business would be called a "force majeure" clause? …

Strikingly, I cannot find a single member of Boris Johnson's cabinet who argues national insurance should rise …

This does not look like laser-like targeted help, a rare example of benign hypothecation. For most ministers, the NI rise is billions being poured into a huge and fuzzy health-and-care black hole, without even the fig leaf of a half-plan to ensure the money is spent properly.
Spending the money properly is an important consideration. The NHS, laudable as it is in principle, needs looking at with regard to how it runs on a day-to-day basis.
Last week, an NHS blog post for senior management made the rounds in the UK. Guido Fawkes picked up on it today.
Amazingly, it was written by a senior manager at the Nursing and Midwifery Council. She has a degree in American Studies.
Perhaps I'm dated, but aren't nurses and midwives there to care for patients' health and new mothers' wellbeing?
If tax has to be raised, then let us ensure it is spent on patient care.
Returning to Robert Peston's article, here are the three reasons why government ministers are concerned about this tax rise:
On the one hand, it is supposed to put the social care system – long-term care for the elderly and frail – on a sustainable financial footing.
Which would be all very well, except there has been no published government report on Johnson's watch of the social care sector's needs, despite his assurance that such a plan exists.
Second, most of the new billions will be going in the first few years to the NHS, to help it catch up with the backlog of millions of operations, procedures and treatments, that have been delayed by the invasion of Covid-19 …
Third, ministers and the PM's MPs recognise that national insurance is not necessarily the fairest tax to use to raise funds for services that are predominantly of use to the oldest, since it isn't levied on those who reach retirement age, and is levied even on young people with very low earnings.
This matters, given that both the financial crisis of 2007-9 and the Covid-19 crisis had the most damaging economic impact on young people, and the finances of the older generation largely improved.
Johnson wants to be seen as a One Nation PM.
But in taxing the young disproportionately, he looks like someone penalising younger Labour voters to protect older Tory ones.
Incidentally, today's debate on the National Insurance Contributions Bill was unrelated to the proposed tax rise:
Returning to financing the NHS with a rise in National Insurance: an increase of 1% sounds small, but it isn't. The first tweet is from the Economics Editor for the Financial Times. James McKintosh is from The Wall Street Journal:
No one interviewed on GB News — whether Liberal Democrat, Labour-leaning journalists or Conservatives — thought that raising tax on National Insurance was a good idea.
On Sunday morning, Dehenna Davison, the first Conservative MP for Bishop Auckland in the north of England, held up a copy of the 2019 party manifesto which clearly says that the main three taxes will not be increased. Arlene Foster, former DUP MP, must be happy she's out of Westminster:
Guido Fawkes has come up with more opposition:
Robert Peston says that Boris is likely to get his way and use a cabinet reshuffle as a threat to comply:
The rumours of a Thursday reshuffle may be the PM's Stalin-lite threat to colleagues to back him or risk demotion or even exile to the backbenches.
But even without that threat, Johnson's not in serious trouble. Remember he picked his cabinet for loyalty not backbone.
Boris is gambling on Keir Starmer's weakness as Leader of the Opposition.
However, Starmer won't always be Labour leader. The next one will remember this and pin it on low-taxation Conservatives at the next election; we can be sure of that:
Johnson will get his tax. And whether he likes it or not, it will always have his name on it.
Boris, a keen student of history, would do well to remember what happened to Bush I when he ran for re-election in 1992. In 1988, he promised 'no new taxes'. Taxes went up under his watch. Bill Clinton won in 1992 with 'It's the economy, stupid' and served two terms.
My message to Boris is 'Danger, Will Robinson. Danger'.
We continue to find out more about what went on behind the scenes in Afghanistan.
Biden-Ghani telephone call transcript
Somehow, Reuters received recordings and transcripts of two telephone calls between Washington and Ashraf Ghani, the then-president of Afghanistan.
The fuller of the two transcripts comes from the July 23 call between Joe Biden and Ghani. Excerpts follow, emphases mine.
Biden told Ghani that the 'perception' in Washington and the Pentagon is that Afghanistan's fight against the Taliban is not going well:
And there's a need, whether it is true or not, there is a need to project a different picture.
Biden suggested that Ghani implement a new strategy focused on major population centres. He also said that the Afghan army far outnumbered the Taliban:
You clearly have the best military, you have 300,000 well-armed forces versus 70-80,000 and they're clearly capable of fighting well, we will continue to provide close air support, if we know what the plan is and what we are doing. And all the way through the end of August, and who knows what after that.
We are also going to continue to make sure your air force is capable of continuing to fly and provide air support. In addition to that we are going to continue to fight hard, diplomatically, politically, economically, to make sure your government not only survives, but is sustained and grows because it is clearly in the interest of the people of Afghanistan, that you succeed and you lead. And though I know this is presumptuous of me on one hand to say such things so directly to you, I have known you for a long while, I find you a brilliant and honorable man.
Ghani explained the situation at the time, which involved terrorists from Pakistan, insufficient pay for the Afghan army and the Taliban's refusal to negotiate with his government:
Mr. President, we are facing a full-scale invasion, composed of Taliban, full Pakistani planning and logistical support, and at least 10-15,000 international terrorists, predominantly Pakistanis thrown into this, so that dimension needs to be taken account of.
Second, what is crucial is, close air support, and if I could make a request, you have been very generous, if your assistance, particularly to our air force be front loaded, because what we need at this moment, there was a very heavily reliance on air power, and we have prioritized that if it could be at all front-loaded, we will greatly appreciate it.
And third, regarding procedure for the rest of the assistance, for instance, military pay is not increased for over a decade. We need to make some gestures to rally everybody together so if you could assign the national security advisor or the Pentagon, anyone you wish to work with us on the details, so our expectations particularly regarding your close air support. There are agreements with the Taliban that we [or "you" this is unclear] are not previously aware of, and because of your air force was extremely cautious in attacking them.
And the last point, I just spoke again to Dr. Abdullah earlier, he went to negotiate with the Taliban, the Taliban showed no inclination. We can get to peace only if we rebalance the military situation. And I can assure you…
Biden appeared to be talking at the same time, as his reply is recorded as 'crosstalk'.
Ghani continued, ending on an optimistic note about the strength of the resistance to the Taliban:
And I can assure you I have been to four of our key cities, I'm constantly traveling with the vice president and others, we will be able to rally. Your assurance of support goes a very long way to enable us, to really mobilize in earnest. The urban resistance, Mr. President is been extraordinary, there are cities that have taken a siege of 55 days and that have not surrendered. Again, I thank you and I'm always just a phone call away. This is what a friend tells a friend, so please don't feel that you're imposing on me.
Biden responded:
No, well, look, I, thank you. Look, close air support works only if there is a military strategy on the ground to support.
Was Biden indicating, consciously or otherwise, that he was going to pull US troops out within three weeks?
On August 31, Reuters issued further information about the phone call, allegedly the last conversation between the two men:
The men spoke for roughly 14 minutes on July 23. On August 15, Ghani fled the presidential palace, and the Taliban entered Kabul …
Reuters reviewed a transcript of the presidential phone call and has listened to the audio to authenticate the conversation. The materials were provided on condition of anonymity by a source who was not authorized to distribute it …
I wonder about the first sentence below:
The American leader's words indicated he didn't anticipate the massive insurrection and collapse to come 23 days later. "We are going to continue to fight hard, diplomatically, politically, economically, to make sure your government not only survives, but is sustained and grows," said Biden.
The White House Tuesday declined to comment on the call.
After the call, the White House released a statement that focused on Biden's commitment to supporting Afghan security forces and the administration seeking funds for Afghanistan from Congress.
Well, the Biden administration would say anything, because:
By the time of the call, the United States was well into its planned withdrawal from Afghanistan, which Biden had postponed from the May date set by his predecessor, Donald Trump. The U.S. military had closed its main Afghanistan air base, at Bagram, in early July.
As the two presidents spoke, Taliban insurgents controlled about half of Afghanistan's district centers, indicating a rapidly deteriorating security situation.
By August 9, it became clear that the US was leaving matters in Afghan hands:
In a little over two weeks after Biden's call with Ghani, the Taliban captured several provincial Afghan capitals and the United States said it was up to the Afghan security forces to defend the country. "These are their military forces, these are their provincial capitals, their people to defend," Pentagon spokesman John Kirby said on August 9.
That said, US intelligence indicated that Kabul would not fall into Taliban hands for at least 30 days, possibly 90:
On August 11, U.S. intelligence reports indicated Taliban fighters could isolate Afghanistan's capital in 30 days and possibly take it over within 90. Instead, the fall happened in less than a week.
I wonder if Britain received the same briefing (see below).
Pakistan took exception to Ghani's allegations that they were fuelling the insurrection by the Taliban:
The Pakistani Embassy in Washington denies those allegations. "Clearly the myth of Taliban fighters crossing from Pakistan is unfortunately an excuse and an afterthought peddled by Mr. Ashraf Ghani to justify his failure to lead and govern," an embassy spokesman told Reuters.
Ghani could not be reached for comment:
Reuters tried to reach Ghani's staff for this story, in calls and texts, with no success. The last public statement from Ghani, who is believed to be in the United Arab Emirates, came on August 18. He said he fled Afghanistan to prevent bloodshed.
Military call with Ghani
Reuters' August 31 article says that the second call with then-President Ghani also took place on July 23, after his conversation with Joe Biden:
In a follow-up call later that day that did not include the U.S. president, Biden's National Security Advisor Jake Sullivan, General Mark Milley and U.S. Central Command commander General Frank McKenzie spoke to Ghani. Reuters also obtained a transcript of that call.
In this call, too, an area of focus was the global perception of events on the ground in Afghanistan. Milley, chairman of the Joint Chiefs of Staff, told Ghani "the perception in the United States, in Europe and the media sort of thing is a narrative of Taliban momentum, and a narrative of Taliban victory. And we need to collectively demonstrate and try to turn that perception, that narrative around."
"I do not believe time is our friend here. We need to move quickly," McKenzie added.
A spokesperson for McKenzie declined to comment. A spokesman for Milley did not respond by publication time.
US armoured vehicles move from Afghanistan to Iran
On September 1, The Gateway Pundit reported that US vehicles captured by the Taliban have been seen in Iran (emphasis in the original):
The Taliban was filmed this week moving captured US military vehicles to Iran.
Thanks to Joe Biden and the woke US Generals.
The article includes the following tweets.
The first comes from Asaad Hanna, a journalist:
Comments to Hanna's tweet included another photo:
The second tweet in The Gateway Pundit's article is from Al Arabiya News:
The Gateway Pundit's article includes a long list of American military equipment that was left behind in Afghanistan.
Here is the summary:
As The Gateway Pundit reported earlier on Sunday — Joe Biden left 300 times more guns than those passed to the Mexican cartels in Obama's Fast and Furious program.
A more complete list was created with public information and help from other intelligence sources.  The list does not include all the extra kinds of nonlethal equipment, everything from MRE's, Medical Equipment, and even energy drinks.
The big story might be the pallets of cash the Taliban have been posting videos of pallets of weapons and stacks of $100 bills they have seized …
The Biden administration would rather the public not know; the information has been scrubbed. Imagine if President Trump had done this:
Britain's Foreign Secretary Dominic Raab appears before Parliamentary committee
On Wednesday, September 1, Foreign Secretary Dominic Raab appeared before the Foreign Affairs Select Committee, comprised of a cross-party group of MPs.
I watched the proceedings and thought that he acquitted himself well.
One of the difficulties in anticipating Joe Biden's sudden withdrawal of troops, he said, was weighing up America's 'intent' versus their 'capability'.
It also appears that the UK gave Raab the same aforementioned erroneous intelligence from the US about the Taliban seizing control of Kabul within 30 to 90 days:
Andrew Gimson wrote for Conservative Home about the session which lasted just under two hours. I found his article rather unfair, especially considering the US was displaying the same lack of intelligence.
However, it does provide a précis of two main points of the hearing:
Tom Tugendhat (Con, Tonbridge and Malling), the chair of the committee, sought to establish how much attention ministers had been paying not only to Afghanistan, but to neighbouring countries such as Uzbekistan, Tajikistan and Pakistan, through which evacuation by land might or might not be permitted …
Chris Bryant (Lab, Rhondda) reminded Raab that the Foreign Office's travel advice for British nationals in Afghanistan only changed on 6th August.
Bryant also pressed Raab about why he went on holiday and did not return until after August 15, the day when Kabul fell to the Taliban. Another Labour MP asked the same question, as did an SNP MP who did not give Raab time to respond.
As for his lack of discussions with ambassadors in Afghanistan and neighbouring countries, Raab said that his department's procedure is to receive regular reports from them then collate them into one report that provides a detailed meta view of the situation on the ground.
When asked why he had not been to Pakistan lately, Raab replied that the pandemic made it nearly impossible.
Tugendhat asked Raab why the UK wasn't using a safe passage to Uzbekistan as the Germans were. Tugendhat said that it was an 'effective' route. Raab countered, saying that it was 'effective' until Uzbekistan closed its border.
Raab took great pains to point out the positive aspects of the past fortnight, e.g. evacuating 17,000 people at short notice.
A few MPs, including Conservatives, asked him about the evacuation phone number in the Foreign Office that was inoperable and the emails that went unanswered. Their in-boxes were full of complaints about it. Raab said that most phone calls were answered in under a minute. He said that his staff were responding to a great number of emails.
However, this was one of several tweets from the middle of August indicating there was a problem. Sir Laurie Bristow was the UK ambassador to Afghanistan:
A Labour MP, Neil Coyle, asked why the portrait of the Queen remained in the Kabul embassy. Raab said he was unaware that it was still there. According to Coyle, the Taliban posed in front of it.
The best part was the final question from Claudia Webbe (Lab). She asked why the UK had been in Afghanistan for the past 40 (!) years:
Raab gave her a withering look and reminded her of the two decades prior to 2001, which included Soviet occupation.
Guido Fawkes said (emphasis in the original):
Claudia Webbe was back for yet another Foreign Affairs Select Committee appearance this afternoon, once again taking Dominic Raab to task with the hard-hitting questions no one else is brave enough to ask. Raab's look of total bemusement at "What is your understanding of civil wars in Afghanistan" was one particular highlight. "Claudia, this is just nonsense" was another…
It seems as if Guido Fawkes's readers have a better reading of Raab's performance than the pundits. A selection follows. Unfortunately, Guido's system does not have URLs to each comment.
Overall (emphases mine):
What was there to discuss? Pushing to ask what date he went on holiday and whether he considered resigning through to whether picture of the Queen would have been abandoned. There would have been far superior questions asked by people on any high street.
This thread had two notable comments. Here's the first:
And here's the second, about the phone call to his Afghan counterpart that was never made. The first sentence is tongue in cheek:
Raab would have made a phone call which would have resulted in the immediate surrender of the Taliban.
Though I prefer to be controversial and think that it would have made zero difference. Raab is a leaver and a Tory so the blame for the Afghan farce lies squarely with him and Trump, in the eyes of the loons.
The final comment is about Tom Tugendhat, which is probably true:
Raab left the session promptly in order to travel to Qatar where he discussed various issues relating to Afghanistan:
Raab is spending the weekend in Pakistan for talks with his counterpart from the Ministry of Foreign Affairs. There will be a discussion about the UK's £30 million aid package; one-third will go to humanitarian organisations and the rest to countries taking in Afghan refugees.
Two other political journalists reviewed Raab's performance. Madeline Grant, writing for The Telegraph, gave him a thumbs-down. However, The Times's Quentin Letts reminded us that select committee hearings are often about political point-scoring:
As Westminster cynics know, select committees are not really about policy. They are vehicles for the ambitions of the MPs who run them and they can be used to give legs to a juicy hoo-hah …
Raab's own performance? The left shoulder twitched. That is always a sign he is under pressure. He kept fiddling with his nose, too. But he is one of the grown-ups in the cabinet and it was not immediately apparent he had been seriously damaged by his self-serving scrutineers.
At Conservative Home, James Frayne did not think the public will be bothered by the select committee hearing or by Raab's perceived neglect of the Afghan situation:
While unnamed Government sources are seeking to apportion blame to particular politicians (Raab, most obviously), the public don't and won't think along these lines; within reason, they think of the Government as an entity, rather than as being devolved in any meaningful way.
This means there's a limit to what "damage control" the Government can do by throwing particular politicians and officials under a bus. It will all land at the door of the PM where public opinion is concerned.
Will there be enough stories, cumulatively, to provoke a general backlash against this Government at last? Time will tell (I have no idea what's coming out) but I doubt it. Hard as it is for many commentators to understand or believe, for most of its supporters, this Government has a lot of credit in the bank on questions of judgement and competence.
I fully agree. Dominic Raab could not have prevented the Taliban taking over Kabul. He's not one of my favourite MPs, but he is doing a good job in very difficult circumstances.
————————————————————————————
The next few weeks should be interesting. What new revelations about Afghanistan will appear?