You are currently browsing the category archive for the 'Uncategorized' category.
Have you ever wondered what a bird's eye view is really about?
This is what an eagle sees as it's flying:
Enjoy the video!
This photo montage speaks for itself.
For those outside of the United States, below are CNN's Don Lemon, MSNBC's Rachael Maddow, CNN's Anderson Cooper and Fox News's Tucker Carlson: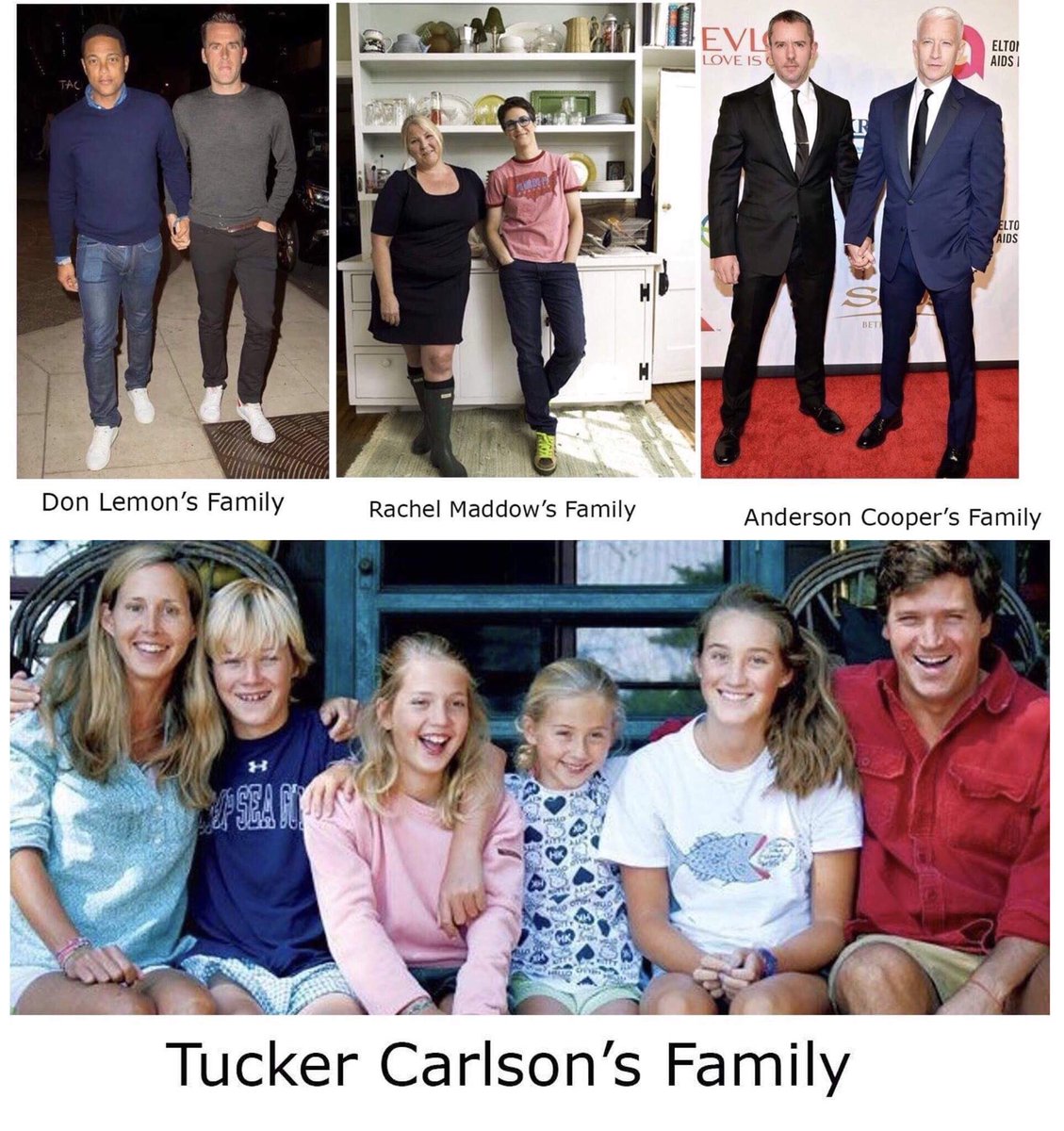 I do not know who put this together, but it speaks a thousand words.
My apologies for not posting Forbidden Bible Verses today.
I intend to schedule it for tomorrow.
Unfortunately, I had something to do this afternoon which took much longer than expected and had to be done within a particular deadline. It's finished now and I can truly agree, once again, that there is a wideness in God's mercy.
There's a wideness in God's mercy is a hymn that Dr Frederick William Faber, a clergyman with a Doctor of Divinity degree, wrote in 1862 to the melody of WELLESLEY (Tourjee).
Since then, Dr Faber's lyrics have been adapted to other melodies, such as Corvedale by Maurice Bevan (b. 1921), sung below by the Choir of St Paul's Cathedral, London:
The hymn is widely sung across many denominations and appears in 785 hymnals.
Hymnary.org has the lyrics to Faber's hymn:
1 There's a wideness in God's mercy,
like the wideness of the sea.
There's a kindness in God's justice,
which is more than liberty.
There is no place where earth's sorrows
are more felt than up in heaven.
There is no place where earth's failings
have such kindly judgment given.
2 For the love of God is broader
than the measures of the mind.
And the heart of the Eternal
is most wonderfully kind.
If our love were but more faithful,
we would gladly trust God's Word,
and our lives reflect thanksgiving
for the goodness of our Lord.
Faber was part of the Oxford Movement — members of the Church of England who moved to High Church (traditional Roman Catholic-style) liturgy — in the 19th century. The movement later became known as Anglo-Catholicism and exists today.
John Henry Newman was one of the Oxford Movement adherents. He eventually became not only a Roman Catholic but also a Cardinal.
Faber also 'crossed the Tiber' and became a Roman Catholic in 1846. Hymnary.org tells us that he was the son of a Church of England clergyman, Mr T H Faber, and:
was born at Calverley Vicarage, Yorkshire, June 28, 1814, and educated at Balliol College, Oxford, graduating B.A. in 1836. He was for some time a Fellow of University College, in the same University. Taking Holy Orders in 1837, he became Rector of Elton, Huntingdonshire, in 1843, but in 1846 he seceded to the Church of Rome. After residing for some time at St. Wilfrid's, Staffordshire, he went to London in 1849, and established the London "Oratorians," or, "Priests of the Congregation of St. Philip Neri," in King William Street, Strand. In 1854 the Oratory was removed to Brompton. Dr. Faber died Sept. 26, 1863.
Balliol College is one of the foremost Oxford colleges. It is interesting that Faber served a parish in Huntingdonshire, part of Cambridgeshire, which was known for its Low Church adherence. During Cromwell's time, two centuries earlier, Cambridgeshire was Calvinistic in belief, the very antithesis of High Church beliefs and worship.
Anyone who knows London will also know that the London Oratory is one of the centres of the capital's Roman Catholic worship. The Oratory also has a famous boys' school, which is over-subscribed year on year.
In 2016, friends of ours gave us a bottle of Hart of Gold English sparkling wine.
That was the year Hart of Gold won a Gold Medal at The International Wine Challenge.
We rather enjoyed it, and now that the height of summer is upon us, my British readers might be interested in sparkling refreshment.
Hart of Gold makes a reasonably priced host/hostess gift that everyone who likes a glass of fizz will enjoy.
(Image credit: wine-searcher.com)
The bottle is also a delight to read. The front label says:
MADE IN THE REALM OF ALBION
The back label winsomely describes the occasions which it suits best:
Just the ticket for boating expeditions and sheltering from the rain in a marquee, it is also worth opening a bottle at the end of a long day, just to toast the sunset reflected in your loved one's eyes (even if your loved one is a labrador).
A quote from Justin Howard-Sneyd MW (Master of Wine) follows:
We hope you enjoy it!
Hart of Gold was made and bottled in Ditchling, Sussex, by Ridgeview Wine Estate, owned by the Roberts Family.
They use Chardonnay, Pinot Noir and Pinot Meunier grapes to come up with a very good product indeed.
Glass of Bubbly has more interesting information about this sparkling wine, which cannot be called Champagne, as it was not made in that region of France.
The English references hearken back to the days in mediaeval times when England was a wine producer (yes!):
'Hart of Gold' which is inspired by England's rich history of viticulture especially in the Middle Ages. The name draws on folk legends of an elusive and mysterious white stag with golden horns – The Hart. This legend fascinated Richard II, who made the Hart his personal symbol.
Their article says that Justin Howard-Sneyd MW has spent his whole career in selling — and, more recently, making — wine:
Justin Howard-Sneyd MW has spent years buying wine and advising winemakers on how to make and market their wines, so has now decided to put his money where his mouth is and launch his own English Sparkling Wine.
After working at Chapel Down in 1997, Justin went on to buy English wine for Safeway, Sainsbury's and Waitrose, being instrumental in planting the John Lewis Partnership's vineyard at Leckford Estate in Hampshire.
Whilst Global Wine Director at Laithwaite's Wine, Justin started an initiative whereby anyone who worked in the Theale office was invited to adopt a vine in the 700-vine award-winning Theale vineyard …
Justin has worked with the Roberts Family at Ridgeview to produce Hart of Gold …
The article provides the tasting notes:
Eyes: A lovely pale gold in colour, with a persistent stream of fine bubbles.
Nose: A combination of citrus and stone fruit with rich toasty notes
Mouth: Complex flavours of refreshing citrus, alongside distinctive toastiness are underpinned by balanced acidity and a long mouth-watering finish.
Domaine of the Bee has more detailed information for oenophiles.
Time's running out to buy Hart of Gold, as the drinking window expires in 2018.
This is your last chance to buy what remains of Hart of Gold 2010.
Now that summer is here, those throwing parties are looking for different drinks to serve their guests.
One that we recently sampled is Gordon's Premium Pink Gin, which is around the same price as their regular dry gin.
This is not a new recipe, but one that Gordon's dug out of their archives. It dates back to 1880 and sounds sweeter than it actually is:
Inspired by an original Gordon's recipe from the 1880s, Gordon's Pink is perfectly crafted to balance the refreshing taste of Gordon's with the natural sweetness of raspberries and strawberries, with the tang of redcurrant served up in a unique blushing tone. Made using only natural fruit flavours to guarantee the highest quality real berry taste. 
I sipped it neat, because it seemed the sort of delicate flavour profile that would lose its character if diluted or altered. A large ice cube would be perfect.
This is a gin that is more for women than men. That said, I would not hesitate to drink it on occasion.
There's time only for a quick post today.
James Clapper has served in various intelligence positions in the United States government, most recently as DNI — Director of National Intelligence — from August 2010 to January 2017.
Last week, he appeared on the women's television programme The View (ABC) to say this (image courtesy of USA Carry forums):
I hope people can see through Clapper's questionable logic.
When will this ever end?
Perhaps when President Trump gets a yuge win in North Korea.
On a brighter note, best wishes to my British readers for an enjoyable Spring Bank Holiday and to my American readers for an equally pleasant Memorial Day.
Speaking of children, a social epidemic that seems to be rampant is that of child trafficking and exploitation.
The British 'grooming' cases are by now well known. Sadly, such tragic depravity continues because of local corruption (perpetrators, police, politicians) and the refusal to prosecute destructive 'cultural norms'.
The United States also has a problem with child trafficking and exploitation. I wonder if it started in the early 1980s. Many of us remember that was when missing children's photos began appearing on milk cartons.
Children Missing From Care is the source of the sad statistic that one in seven of 25,000 runaways in 2017 was likely to be a victim of child sex trafficking. Of that number, 88 per cent were in the care of social services when they went missing. This appears to be down from one in six runaways in 2016 who were trafficked.
Therefore, progress is being made, albeit very slowly.
Children Missing From Care is part of the National Center for Missing & Exploited Children.
There is a federal law against child trafficking and exploitation:
Enacted in September 2014, the Preventing Sex Trafficking and Strengthening Families Act, P.L. 113-183 (H.R. 4980) requires the States to report each missing or abducted foster child to law enforcement and to the National Center for Missing & Exploited Children.
The Bringing Missing Children Home Act, a portion of the larger Justice for Victims of Trafficking Act of 2015, P.L. 114-22, was enacted in May, 2015. Among other improvements related to record-keeping, this legislation amended federal law to ensure that law enforcement agencies respond appropriately and coordinate with NCMEC and social service agencies when a child goes missing from foster care.
For many years prior to the passage of these important laws, NCMEC has successfully partnered with social service agencies in several states and local jurisdictions by assisting and supporting their efforts to locate and return missing children to safe places. Please see Resources for Social Services for additional information regarding reporting requirements, steps to take when a child in care goes missing and how NCMEC can assist.
Unfortunately, putting an end to this horrific practice is unlikely to end soon. It is lucrative and involves many people, including government employees. In 2016, FBI Anon commented on 4chan (see here, here and here). This is what he said about child trafficking, particularly in California. The State is complicit (image courtesy of 8chan):
In January 2018, Newsweek published an article on this topic: 'We Have Set Up a System to Sex Traffic American Children' (image courtesy of 8chan):
A lawyer, Michael Dolce, wrote the article. He is Of Counsel at Cohen Milstein, and a member of the firm's Catastrophic Injury practice group.
What struck me about the article was Dolce's conclusion, which echoes the aforementioned FBI Anon quote (emphases mine):
We need law enforcement consistently prosecuting those who fail to report child abuse and runaways in a timely manner so we can find them before the pimps do. From cases of child abuse victims I have represented, I can name dozens of adults who knew of abuse in institutional care, but failed to report it.
Not one of them was arrested, even when I asked law enforcement to do it. And we must fire child welfare officials accountable for their role. I have never seen an official be fired in any case; in fact, I've seen one responsible official get a job promotion.
With or without the Internet, predators will continue to find vulnerable children to build the sex trade. Until we address the source of the victims, this will continue to be the truth we create for our nation's youth.
True. (This is the same in the UK, by the way.)
This is why President Trump is intent on putting a stop to this (image courtesy of 8chan):
There is another element to this, which is child sacrifice. 8chan can be crude at times, but it also a fertile place for morality and the occasional Bible commentary, such as the following:
Question: "What does the Bible say about child sacrifice?"
Answer: The horrific practice of child sacrifice has been committed throughout the world for thousands of years. Generally, the sacrifice of a child was intertwined with the worship of a pagan deity, often a fertility god. Worshipers sought to obtain a blessing from their god(s) or to confirm or complete a vow taken in the name of the god.
Ancient Aztecs, Incas, and a few other peoples in South and Central America practiced child sacrifice. The same for the Druids of Europe. The city of Carthage in North Africa contains evidence of child sacrifice related to the worship of Ba'al Hammon, a god imported from Phoenicia. Many Roman writers refer to this barbaric act in Carthage.
The Bible contains the heart-breaking tale of child sacrifice practiced in the name of Molech (also spelled Moloch or Molek), a god of the Ammonites. Molech worship was practiced by the Ammonites and Canaanites, who revered Molech as a protecting father figure. Images of Molech were made of bronze, and their outstretched arms were heated red-hot. Living children were then placed into the idol's hands and died there or were rolled into a fire pit below. Some sources indicate a child might also be "passed through the fire" prior to the actual sacrifice in order to purify or baptize the child. Molech worship occurred in the Hinnom Valley near Jerusalem. Because of this, the valley became associated with the idea of Tophet, or hell (Isaiah 30:33; Jeremiah 19:12; Mark 9:45).
God prohibited Israel from child sacrifice in general and Molech worship in particular. Leviticus 20:2-5 states, "Say to the Israelites: 'Any Israelite or any foreigner residing in Israel who sacrifices any of his children to Molek is to be put to death. The members of the community are to stone him. I myself will set my face against him and will cut him off from his people; for by sacrificing his children to Molek, he has defiled my sanctuary and profaned my holy name. If the members of the community close their eyes when that man sacrifices one of his children to Molek and if they fail to put him to death, I myself will set my face against him and his family and will cut them off from their people together with all who follow him in prostituting themselves to Molek.'" Many other Old Testament passages affirm God's zero-tolerance for child sacrifice.
Sadly, King Solomon became involved in this horrendous practice, as recorded in 1 Kings 11:4-11, "As Solomon grew old, his wives turned his heart after other gods, and his heart was not fully devoted to the LORD his God, as the heart of David his father had been. He followed Ashtoreth the goddess of the Sidonians, and Molek the detestable god of the Ammonites. So Solomon did evil in the eyes of the LORD. . . . On a hill east of Jerusalem, Solomon built a high place for Chemosh the detestable god of Moab, and for Molek the detestable god of the Ammonites. . . . The LORD became angry with Solomon because his heart had turned away from the LORD, the God of Israel, who had appeared to him twice. Although he had forbidden Solomon to follow other gods, Solomon did not keep the LORD's command."
Later, the evil king Manassah offered his own son as a sacrifice (2 Kings 21:6), as did King Ahaz (2 Chronicles 28:1-4). The people of Judah participated in this crime against their own sons—a sin so "detestable" that God said it had never even crossed His mind (Jeremiah 32:35). Child sacrifice was one reason for the Babylonian captivity (verse 36).
Some critics of the Bible point to the story of Abraham, who laid his son Isaac on an altar and prepared to sacrifice him as directed by God (Genesis 22:1-14). However, in this case, God was testing the obedience and faith of Abraham. God stopped him from actually following through and provided a ram as a substitute sacrifice.
Today, child sacrifice is practiced throughout the world. There has been a resurgence of child sacrifice in Uganda. Witch doctors have been implicated in the mutilation and death of children who were killed in an effort to bring good fortune and wealth to those willing to pay for it. There is also a correlation between child sacrifice and modern-day abortion. Unprecedented numbers of children have been "sacrificed" at the hands of abortionists for the sake of convenience, immorality, or pride. Hundreds of thousands of babies have been killed so that their parents can maintain a certain lifestyle. God hates "hands that shed innocent blood" (Proverbs 6:17), and we can be sure that God will judge this horrendous sin.
Whether trafficking, exploitation and/or sacrifice, I pray that God guides law enforcement and government officials to rout this indescribably egregious practice against children.
Once that happens, we will be amazed to discover that people we hold in high esteem — politicians, captains of industry and celebrities — are not only involved but also networked together, often internationally.
I also pray for the helpless victims, wherever they might be in the world. May God heal their wounds, mental and physical.
On Saturday, March 17, 2018, Churchmouse Campanologist turns 9!
(Image credit: AliExpress.com)
Many thanks to my readers, subscribers, commenters and referrers who have made this possible.
Churchmouse Campanologist attracts a broad church of readers from all over the world. ClustrMaps.com data show that during March readers have been visiting from the following countries (greatest views to least, top ten below):
1/  United States
2/  United Kingdom
3/  Canada
4/  Australia
5/  New Zealand
6/  France
7/  Philippines
8/  Germany
9/  South Africa
10/ India
My top ten referrers over the past year are as follows:
1/  voat.co (1st for second year running)
2/  Free Republic (new, for 'How George Washington died — horribly')
3/  Facebook (was 2nd last year)
4/  WordPress.com Reader (3rd last year)
5/  churchmousec-wordpress-com.cdn.ampproject.org
6/  android-app (4th last year)
7/  headrambles.com (new)
8/  Twitter (up from 9th last year)
9/  Blogarama.com (new)
10/ Martin Scriblerus (7th last year but offset by headrambles.com, a Scriblerus site)
I would like to thank my fellow bloggers for their continued support and loyalty, both of which are very much appreciated. I would like to extend special thanks to those who have reblogged my posts.
Subscriber numbers have continued to markedly increase over the past year. I am most grateful for your readership and insightful comments.
My top ten posts over the past year are as follows:
1/  This quiz can help you find the right denomination  (30,495 views, 1st place fourth year running)
2/  Big news coming, 'Q Clearance' Anon says (4,606 views)
3/  FBI Anon speaks — part 1 (3,679, down from 2nd last year)
4/  The Anglican Prayer of Humble Access (2,675, up from 9th last year)
5/  Lamb's hearts — a tasty, affordable alternative to stir-fried steak (2,473, up from 6th last year)
6/  Brendan Dilley's Intel Source: part 1 (2,230)
7/  The rosary — should you be wearing it? (1,747, up from 10th last year)
8/  The 5 Solas of Calvinism for non-Calvinists (1,649)
9/  Cadbury Dairy Milk: when chocolate won't melt, there's a problem (1,641)
10/ How George Washington died — horribly (1,626)
Thank you to all my readers who have helped make these posts into Churchmouse Campanologist 'classics'!
In closing, I would like to extend a warm welcome to my newest subscribers. Your readership is much appreciated.
On February 15, 2018, an article — press release? — appeared on Yahoo about potable water becoming an inexpensive and instant reality for millions of people.
The Australian research organisation CSIRO has developed and tested a filtration technique which uses graphene film:
with microscopic nano-channels that lets water pass through, but stops pollutants. The process, called "Graphair", is so effective that water samples from Sydney Harbor were safe to drink after being treated.
And while the film hails from graphene, Graphair is comparatively cheaper, faster and more environmentally-friendly to make, as its primary component is renewable soybean oil, which also helps maximise the efficiency of the purifying technique's filter counterpart. Over time, oil-based pollutants can impede water filters, so contaminants have to be removed before filtering can even begin, but using Graphair removes these pollutants faster than any other method.
Dr Dong Han Seo, lead author of the research, says that trials will begin in 2019 in developing countries:
All that's needed is heat, our graphene, a membrane filter and a small water pump.
This is amazing news.
Other possible uses for Graphair could be seawater treatment and effluent removal. CSIRO hopes to receive industry funding as their research continues.
In April 2017, Engaget reported on researchers at the University of Manchester in England who are working on graphene sieves for desalinating water. Dr. Rahul Nair, who leads the project, said that the holes in the sieve are nanometer-sized:
When the capillary size is around one nanometer, which is very close to the size of the water molecule, those molecules form a nice interconnected arrangement like a train. That makes the movement of water faster: if you push harder on one side, the molecules all move on the other side because of the hydrogen bonds between them. You can only get that situation if the channel size is very small.
Engaget's article concludes:
Someday, these graphene-based sieves could change lives around the world. But before that happens, the team has to make sure they can withstand prolonged contact with seawater. They also need to test the material against current membranes desalination processes use. "The ultimate goal," Nair said, "is to create a filtration device that will produce potable water from seawater or wastewater with minimal energy input."
The University of Manchester team continues their research.
These are very exciting developments for the world's poor.