You are currently browsing the category archive for the 'Uncategorized' category.
Britain's veteran television presenter Richard Madeley has a weekly agony uncle column in The Telegraph.
Recently, a 76-year-old lady from Argyll and Bute in Scotland wrote to him complaining about her 73-year-old husband's smoking and drinking.
Excerpts of the letter and Madeley's wise reply follow, emphases mine.
Anon writes:
I am 76 and I don't smoke or drink. My husband is 73: he drinks strong lager every day, he smokes and he takes no exercise whatsoever.
All of this is making me increasingly worried and angry. He is a good man, but I fear that he has deliberately set himself on a path to self-destruction. (Certainly he seems to take no evident pleasure from his habits.) He knows my views on the matter but we have never argued about it.
Richard Madeley begins by asking where the harm is in her husband's habits, as he is in his eighth decade. He tells the woman that she is:
over-worrying a bit about this.
It's not as if your husband is shooting up on class-A drugs every night or downing a whole bottle of whisky before sunset; he is indulging in some pretty mild vices. Yes, smoking is especially harmful, but if he hasn't managed to kick the habit by now I think it's probably a lost cause.
You say that he knows your views on the matter but quietly carries on puffing away and snapping open those tinnies anyway. You also say that you don't argue about it and he doesn't behave objectionably after he has sunk a few.
So my advice? Leave him be. It is not a perfect situation and you are quite right to be concerned about what his habits are doing to his liver and his lungs, but ultimately that is his responsibility, isn't it? Carry on enjoying your own retirement in your own way and let him enjoy his on his terms.
Live and let live. Or, rather, live and let smoke and drink. There are worse things in a marriage, you know.
I couldn't agree more.
This lady should be thanking God for a lasting marriage — and enjoying her husband's company more often. No doubt he was smoking and drinking lager when she married him. If it wasn't a problem then, it shouldn't be one now.
Earlier this month, a compass jellyfish enjoyed a fish for lunch in Cornwall.
This is a fascinating and unusual photograph from the Cornwall Wildlife Trust:
The Cornwall Wildlife Trust wants to know about incidents such as these:
Do remember to report all dead marine animals to our Marine Strandings Network hotline on 0345 201 2626.
Their Twitter feed has beautiful photographs of Cornwall's flora and fauna. Well worth a visit.
Yesterday was Father's Day. I hope that all dads reading had a good day with their children, communicating in some sort of significant way, either in person or by phone.
As ours is a childless household, I was interested to follow coverage of the day on GB News.
Alastair Stewart
Alastair Stewart got a pleasant surprise on his afternoon show, as his daughter, a headmistress, rang in with her good wishes and thanks on behalf of herself and her siblings as well as Mrs Stewart:
Stewart said that he has good relationships with all of his children, but that he and they relate to each other in a very individualised way, making fatherhood that much more special.
He said that he was taken aback that his daughter rang in to the show, at the suggestion of the production team. He wiped away a little tear after the call ended.
Neil Oliver
Archaeologist and television presenter Neil Oliver, also a member of the GB News team, appeared in the studio on Stewart's show and the one that followed, where Father's Day was the main topic.
Riding lessons for a young daughter
Oliver told Stewart that some children have an instinctive attraction to loving certain animals. He told Stewart how his daughter wanted riding lessons because she loved horses. Oliver and his wife thought the girl was too young. One day when the three of them were out, the girl saw horses in a field and spontaneously ran towards them. Oliver and his wife were worried for her safety, but the horses lowered their heads as she approached so that she could hug them. Riding lessons followed shortly afterwards.
His daughter will be entering Edinburgh University this autumn.
The awe of holding a newborn
On the show that followed Alastair Stewart's, Oliver said that holding his children as newborns was one of the most awe-inspiring experiences he could have. He said that holding his tiny babies turned him to jelly. He said that he felt as if his ribcage were floating around in his body, it was such a tremendous experience.
Celebrating together
As Oliver was in London in the studio and his children at home in Scotland, he told them they could celebrate Father's Day together once he returned to Stirling.
He said that he enjoys all the days that most of us regard as greeting card holidays, saying that any day that brings families closer together is worth celebrating.
Proudest accomplishments
Oliver said that his proudest accomplishments in life are being a husband and a father.
He said he knew from a young age that he wanted a wife and children. They make his life complete.
—————————–
I did search on Twitter to see if GB News had posted any of these clips. Alas, no.
Furthermore, Neil Oliver no longer has a Twitter feed.
He deleted his Twitter account in 2016, after harassment from people who want Scottish independence. The Express carried the story in August that year (emphases mine):
The archaeologist, writer and broadcaster, who presents BBC's Coast, said he was forced off social media by the so-called cybernats, disappointing his 40,000 followers.
Mr Oliver says he became a target for abuse and received scores of hate-filled messages after deciding to speak out in favour of the Union.
The Renfrewshire-born broadcaster said: "A great chunk of the response was not just negative but very personal and filled with bile and vicious loathing.
"People made it clear they wished the worst for me. They wished that I would develop cancer and said I deserved to be burnt as a traitor. It was one or two positive comments accompanied by hundreds of hate-fuelled messages" …
"I realised that by having a Twitter identity I had opened a door into my personal life in which strangers could pass at will. The minute I deactivated my account I felt like I had brought my head out of deep water and could breathe easily. It was an almost instantaneous fix."
Mr Oliver said that he was now worried about his three young children being targeted.
In an earlier article from January 2016, Oliver revealed his favourite personal photo to The Express, one of him and his wife as students at Glasgow University.
He told the reporter:
This is a picture of me and my wife Trudi at Glasgow University. l graduated with an MA in archaeology in 1988, and this was at Trudi's graduation in 1990. We were together for a long time, then broke up in our twenties.
It was nothing particularly dramatic, but we were apart for eight years and met again by chance in 2002 after I bumped into her brother. It was as if we'd never been apart and we've been together ever since.
Our daughter Evie and sons Archie and Teddy were all present when we married in Solsgirth, Kinross-shire, on October 10, 2009, exactly 23 years after we first met.
We're very similar people from similar backgrounds. We each had a happy and normal working-class childhood. Trudi grew up in Falkirk mostly, and I was raised in Ayr and Dumfries where my family still live. After several years working as an archaeologist, then I became a newspaper journalist – like Trudi.
Oliver is known for his shoulder-length hair, which he has had since he was 15.
He doesn't dare get it cut:
I've basically had the same haircut since I was 15. When I was at university, quite a lot of men were scruffy with long hair, and I fell into that and fossilised. But Trudi was taken with my long hair. She is my number one fan and likes the way I look.
We'd end up in the divorce courts if I got my hair cut short now! But I've always had people telling me I should get it cut. A TV reviewer from The Guardian recently wrote that whenever I appear on screen she wants to scream, "Get your hair cut, laddie!" Any review I get for a TV show always starts with something like "the Scottish archaeologist with the long flowing locks…"
He missed his family when he was away filming his series:
I miss Trudi and the children when I'm away from our home in Stirling. My job is not onerous in any way, and I enjoy it thoroughly, but being away is the hardest part by far. I've missed a lot of birthdays, school concerts… just family time. I try and minimise how long I'm away. When I'm home I do the school run and I go in from time to time to talk about history.
Although I'm away for long chunks of time, the kids have always had their mum with them 24/7. She has the toughest gig, operating as a single mum for half the year. But, when I am home, it's often for periods of about two months.
He wrote books when at home:
I spent five months of the last year writing my first novel Master Of Shadows in the spare bedroom at home. I had previously had eight non-fiction works published, but I was more nervous about the reaction to this.
Now Neil Oliver has a weekly show on GB News. He told Alastair Stewart that this was a career move he had not anticipated but feels that now is the time, because he has much to say about British society today.
He added that doing a show live is much different from doing a television series, where something can be redone, if necessary. He said he is always nervous before filming. He and Stewart agreed that any presenter who isn't nervous beforehand should probably stop broadcasting.
In closing, it was fascinating to hear Oliver's thoughts on fatherhood, especially as his children are teenagers now.
And who doesn't like a good love story?
Early in March 2020, my far better half and I were optimistic that Prime Minister Boris Johnson, his government and his advisers would not be too proscriptive about coronavirus restrictions.
In the end, they were, but the following timeline shows how quickly their thinking on herd immunity changed.
In light of Dominic Cummings's testimony to the Science and Technology Select Committee on Wednesday, May 26, and his lengthy Twitter thread prepared beforehand (continuing afterwards), I offer a short and a long version of what happened.
Short version
The Government denies that natural herd immunity — catching the virus — was ever government policy.
Yet, here is Sir Patrick Vallance, the UK's chief scientific adviser, at a coronavirus briefing on Thursday, March 12, 2020:
It seems that Cummings might have advised the government to backtrack and deny it was policy, however briefly:
As Cummings said on Wednesday, once he received numbers from an NHS specialist/mathematician who extrapolated scenarios on what could happen, the Government changed tack:
Long version
I haven't missed a single coronavirus briefing since they started in March 2020. As regular readers will know, I have been deep-diving into the pandemic since then.
February 2020
Lessons From The Crisis has an excellent article on how the herd immunity plan unfolded and changed. 'It's bizarre that this needs saying, but *of course* the UK had a Herd Immunity plan' is well worth reading.
It includes a capture of SAGE minutes from February 4, 2020, advocating that policies for influenza be followed. The article summarises this as follows (emphases in the original):
On the 4th of February, at the UK Scientific Advisory Group for Emergencies's fourth Covid meeting, influenza planning, with its assertions that spread was "inevitable"and halting the virus "a waste of resources" was adopted as the official recommendation- tragically this was about ten days before Chinese covid cases peaked, never return to their early 2020 levels …
The scientific consensus presented to ministers was: mass infection of the population was inevitable, a vaccine would not be available in time, so the only choices were about how to manage the mass infection of the population until the country had accumulated enough cases to get to herd immunity …
The alternative being attempted by governments elsewhere, trying to stop the disease from infecting the population, was regarded as folly; the UK government's scientific advisors were certain that countries attempting suppression would fail …
March 2020
In his testimony on Wednesday, Cummings claimed he broke rank with the Government on Wednesday, March 11:
Publicly, however, he was still on board with the Government plan:
Vallance gave his aforementioned briefing on herd immunity on March 12. This is what appeared afterwards:
This is a summary of an interview Vallance gave to Sky News the next day (full video here):
The Independent quoted a BBC interview with him on March 13:
Sir Patrick told the BBC that the advice the government is following for tackling coronavirus is not looking to "suppress" the disease entirely but to help create a "herd immunity in the UK" while protecting the most vulnerable from it.
Asked if there is a fear that clamping down too hard on its spread could see it return, Sir Patrick said: "That is exactly the risk you would expect from previous epidemics.
"If you suppress something very, very hard, when you release those measures it bounces back and it bounces back at the wrong time.
"Our aim is to try and reduce the peak, broaden the peak, not suppress it completely; also, because the vast majority of people get a mild illness, to build up some kind of herd immunity so more people are immune to this disease and we reduce the transmission, at the same time we protect those who are most vulnerable to it.
"Those are the key things we need to do."
That same day, SAGE's Professor John Edmunds also advocated natural herd immunity in this Channel 4 interview:
Nigel Farage was outraged by the policy:
The Lessons From The Crisis article says that the turning point happened almost immediately:
Partly in response to this outrage, the government changed course; Boris Johnson swapped strategies and began locking down the country just 3 days after the herd immunity plan became public, with new priorities built around suppressing the virus with blunt instruments such as lockdowns to buy time for building countermeasures- testing and tracing capacity, vaccines, treatments.
That is not to give Nigel Farage single-handed credit. The media also helped a lot, especially with frequent footage of what was happening in northern Italy at the time.
On Monday, March 16, Prof Neil Ferguson released his (spurious) numbers from Imperial College London, which changed the Government's policy. 
UnHerd reported on it the following day — 'Why the Government changed tack on Covid-19':
The Chief Scientific Adviser, Sir Patrick Vallance, Chief Medical Officer, Professor Chris Whitty, and the government's science adviser Dr David Halpern indicated that the government's strategy was to allow the virus to pass through the population, to allow individuals to "acquire herd immunity" at a delayed speed, while vulnerable groups were "cocooned." This strategy, however, was subsequently contradicted by health secretary Matt Hancock, who insisted that "herd immunity is not our goal or policy".
The quick reversals did not end there, as a ban was announced on mass gatherings just a day after the government's initial claims that it was not the right time for such measures. On Saturday, the government briefed select journalists on "wartime measures" to quarantine the elderly at home or in care homes, away from any contact with the rest of the population; earlier than such measures were expected to be announced.
Finally, it was revealed yesterday afternoon that the Prime Minister had decided to dramatically step up countermeasures, and switch entirely to a strategy of containment as a result of advice from an expert response team at Imperial College London, which concluded that the strategy of delay would likely cause "hundreds of thousands" of avoidable deaths.
The initial plans — to establish herd immunity based on research on social fatigue and assumptions that effective vaccines would not be developed — contradicted the guidance from the World Health Organisation (WHO), and the wealth of evidence in the fields of epidemiology, behavioural science and immunology, so it is unsurprising that countless experts have already questioned and criticised the strategy, including epidemiologists, immunologists, and behavioural scientists.
On Saturday, March 21, Alex Wickham from Buzzfeed summarised a tense and confused week inside No. 10, and the road to lockdown (emphases mine):
While the scientific debate was raging last week between experts, officials, and ministers in face-to-face meetings and over emails and text messages, Johnson's government was publicly insisting that the scientific advice showed the UK did not yet have to bring in more stringent measures to fight the virus.
Political aides tacitly criticised other countries who had taken more dramatic steps, claiming Britain was being "guided by the science" rather than politics.
Towards the end of last week, some ministers and political aides at the top of the government were still arguing that the original strategy of home isolation of suspect cases — but no real restrictions on wider society — was correct, despite almost every other European country taking a much tougher approach, and increasing alarm among SAGE experts.
The thought of months or even a year of social distancing was simply not feasible, some in Johnson's team still thought at that point. They continued to privately defend the controversial "herd immunity" approach outlined to the media by Vallance, even as other aides scrambled to claim the UK had never considered it to be policy.
And there was fury behind the scenes among members of Johnson's team at the likes of Rory Stewart and Jeremy Hunt, who had been publicly saying the government had got it wrong.
But data from Italy — presented to the government before it was published by experts at Imperial College on Monday — changed all that. Their report confirmed the earlier fears of the epidemiologists who had been calling for more drastic action.
On Monday, March 23 — the day Prime Minister Boris Johnson took away every Briton's civil liberties in five minutes by announcing the first lockdown — Byline Times posted a must-read article, 'COVID-19 SPECIAL INVESTIGATION: Part Three — Behavioural Scientists told Government to use "Herd Immunity" to Justify Business-As-Usual'.
SPI-B is our behavioural, or 'nudge', unit and is part of SAGE. Dr David Halpern, a SAGE member, runs the unit. This was allegedly their role in the herd immunity discussions:
A SPI-B document dated 4 March, which rejected the need for school closures, went on to refer to the medical concept of immunity. In a discussion about how the public might be confused about the disparity between the Government's approach of "not applying widescale social isolation at the same time as recommending isolation to at-risk groups", the document acknowledges disagreement within the SPI-B.
The document explains: "One view is that explaining that members of the community are building some immunity will make this acceptable. Another view is that recommending isolation to only one section of society risks causing discontent."
The idea of immunity does not come up elsewhere in the SAGE corpus. But, Professor Chris Whitty, the Government's Chief Medical Advisor, claimed that 20% of the population of Wuhan, China, had contracted the Coronavirus and acquired herd immunity. He believed that this explained why new cases had begun to fall in China. 
This flatly contradicted data from China showing that, by end of January, after the crisis had peaked, just under 95% of the Wuhan population remained uninfected by the virus. This was, therefore, nothing to do with herd immunity, but a result of China's emergency containment response. 
The UK Government, it seemed, had made a gamble: one that Dr Brian Ferguson, Director of Immunology at Cambridge University, described as "not scientifically based and irresponsible" because typically "Coronaviruses don't make long-lasting antibody responses".
Whether or not it was a specific goal of the Government, its network of behavioural science advisors had fielded herd immunity as a way of justifying to the public why the Government was not taking early action – despite having no scientific evidence behind the idea. 
Social media discussions on herd immunity began to appear:
On Tuesday, March 24, Byline Times posted another must-read article, 'The Coronavirus Crisis: Oxford Model Touting "Herd Immunity" was Promoted by PR Agency Tied to Ministry of Defence and Nudge Unit'.
Excerpts follow:
On 24 March, the Financial Times claimed that as much as half of the British population may have already been infected by the novel Coronavirus, according to a new model by Oxford University's Evolutionary Ecology of Infectious Disease group. 
The conclusion, according to the FT's science editor Clive Cookson, suggested that the country "had already acquired substantial herd immunity through the unrecognised spread of COVID-19 over more than two months". If true, this would vindicate the Government's "unofficial herd immunity strategy – allowing controlled spread of infection," he stated.
Although numerous epidemiologists and scientists had questioned the validity of the Oxford model – which had not been peer-reviewed – it was promoted to the press by a PR agency with ties to the Government, raising questions about how and why this model was published and disseminated at this time.
The draft paper, which was originally posted to Dropbox, included a disclaimer noting that its content was "not final" and could be "updated any time". The disclaimer also contained a contact point for journalists: "Contact for press enquiries: Cairbre Sugrue, cairbre@sugruecomms.com."
Dr Lewis Mackenzie, a Biotechnology and Biological Sciences Research Council Discovery Fellow, commented: "Why on earth has this been sent to the media via a third party PR company instead of the Oxford University press team? Seems very irresponsible to encourage reporting on this topic before the scientific community had a chance to comment and peer-review it."
When asked why its own press team did not release the study, Oxford University said: "All Oxford academics have freedom of expression regarding their areas of specialism, including communication through the media. It is therefore not uncommon for academics to make their own arrangements for contacting the press. The university cannot comment on individual arrangements that it is not party to."
Caibre Sugrue is the founding director of Sugrue Communications, a technology PR agency. He is also a non-executive advisory board member of 100%Open, an innovation consultancy – which has worked for several British Government agencies, including the UK Ministry of Defence's Defence, Science and Technology Laboratory (DSTL) and a leading charity which co-owns the Cabinet Office's Behavioural Insights Team (BIT) or 'nudge unit'.
This seems to be the first appearance of Prof Sunetra Gupta, later of The Barrington Declaration (a libertarian approach to coronavirus self-isolation), who works at Oxford University:
The original FT piece had claimed that, if substantial herd immunity had been achieved, restrictions could be removed sooner than expected. The article added: "Although some experts have shed doubt on the strength and length of the human immune response to the virus, Prof Gupta said the emerging evidence made her confident that humanity would build up herd immunity against COVID-19."
I contacted Professor Sun[e]tra Gupta, one of the co-authors of the study, to find out what this emerging evidence is. She did not respond to a request for comment. However, the model was reported worldwide and some commentators in both the US and UK used it to suggest that strong social distancing measures may be unnecessary …
Scientists are divided on the prospects for achieving herd immunity, but most agree that, while achieving it may be possible at some point, it is not clear how long it would last. In any case, whether or not it is achievable, the immediate focus should be on minimising fatalities.
By the end of the month, confusion among journalists reigned:
April 2020
In April, it appeared that dealing with coronavirus was becoming highly complex. Author Ian Leslie tweeted a considered an explanation from a Financial Times reader:
May 2020
Two months later, Sir Patrick Vallance denied that natural herd immunity was ever a plan:
Prof John Edmunds gave Channel 4 another interview, wherein he appeared to backtrack on his previous claims about herd immunity. The first video is from his March interview and the second from May:
I'll have more on the UK's approach to herd immunity next week.
The arrival of the Holy Spirit upon the disciples on the first Pentecost — the Church's birthday — enabled something highly beautiful out of a group of people who had previously seen through a glass darkly, to paraphrase St Paul.
Similarly, the gifts of intellect, creativity and perseverance can produce similar beauty.
Yesterday, on the night of Pentecost Sunday 2021, someone posted a fantastic video of woodworking by an artisan, Andy Phillip from Skipton, North Yorkshire, who produces a variety of beautiful woodwork for sale.
In this video from May 12, he shows us how he transformed a yew tree root, something most of us would throw into the recycling bin, into a piece of art. I was spellbound watching his 11-minute video:
Another example of transformation is in housing, also somewhere in England. The person who posted this online says this building actually exists and claims to have seen it, although he did not say where. From Bauhaus to beautiful house: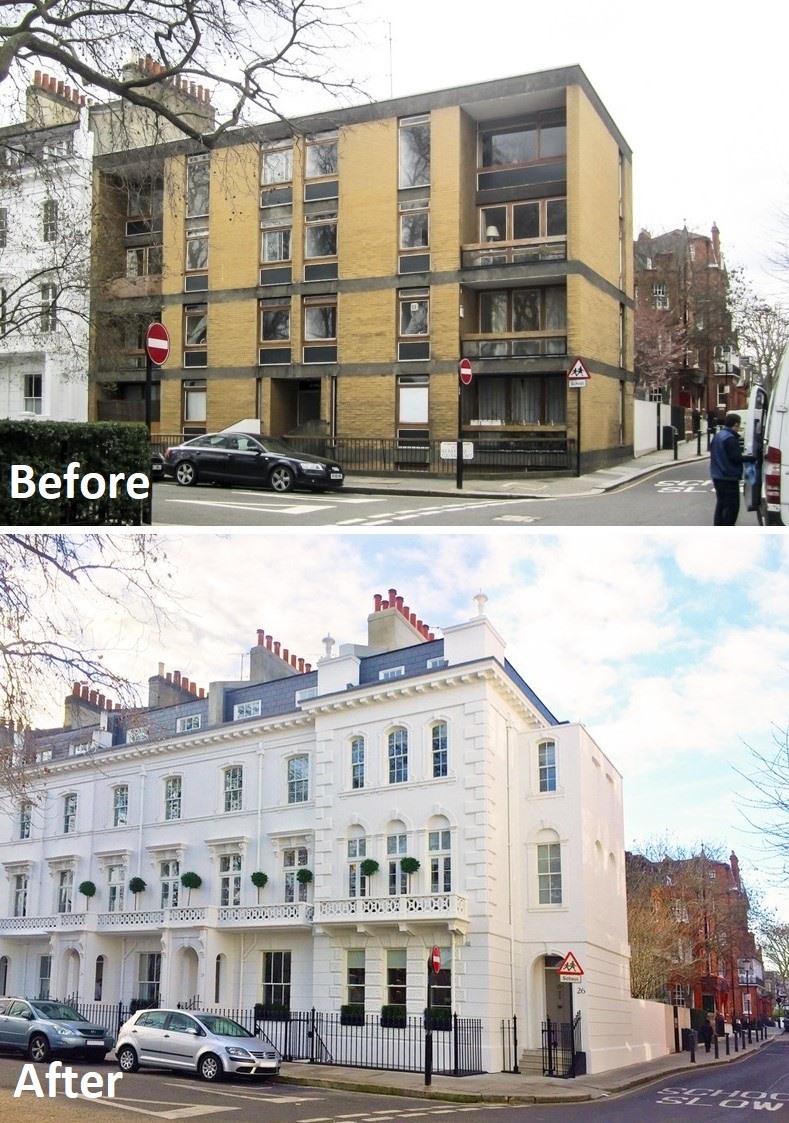 Isn't that block of flats splendid? If the Conservatives go through with their plan for 'building back better' post-coronavirus with beautiful buildings, I'll be all for it.
These two examples just go to show what mankind is capable of when using God's gifts to the fullest.
The readings for Easter Day, along with a number of my previous posts about the Resurrection, can be found here.
I have chosen John's Gospel, rather than Luke's, because in 2021, most of the Lenten and Holy Week readings have come from his book.
John refers to himself in verses 2, 4, 5 and 8. Emphases in bold are mine:
John 20:1-18
20:1 Early on the first day of the week, while it was still dark, Mary Magdalene came to the tomb and saw that the stone had been removed from the tomb.
20:2 So she ran and went to Simon Peter and the other disciple, the one whom Jesus loved, and said to them, "They have taken the Lord out of the tomb, and we do not know where they have laid him."
20:3 Then Peter and the other disciple set out and went toward the tomb.
20:4 The two were running together, but the other disciple outran Peter and reached the tomb first.
20:5 He bent down to look in and saw the linen wrappings lying there, but he did not go in.
20:6 Then Simon Peter came, following him, and went into the tomb. He saw the linen wrappings lying there,
20:7 and the cloth that had been on Jesus' head, not lying with the linen wrappings but rolled up in a place by itself.
20:8 Then the other disciple, who reached the tomb first, also went in, and he saw and believed;
20:9 for as yet they did not understand the scripture, that he must rise from the dead.
20:10 Then the disciples returned to their homes.
20:11 But Mary stood weeping outside the tomb. As she wept, she bent over to look into the tomb;
20:12 and she saw two angels in white, sitting where the body of Jesus had been lying, one at the head and the other at the feet.
20:13 They said to her, "Woman, why are you weeping?" She said to them, "They have taken away my Lord, and I do not know where they have laid him."
20:14 When she had said this, she turned around and saw Jesus standing there, but she did not know that it was Jesus.
20:15 Jesus said to her, "Woman, why are you weeping? Whom are you looking for?" Supposing him to be the gardener, she said to him, "Sir, if you have carried him away, tell me where you have laid him, and I will take him away."
20:16 Jesus said to her, "Mary!" She turned and said to him in Hebrew, "Rabbouni!" (which means Teacher).
20:17 Jesus said to her, "Do not hold on to me, because I have not yet ascended to the Father. But go to my brothers and say to them, 'I am ascending to my Father and your Father, to my God and your God.'"
20:18 Mary Magdalene went and announced to the disciples, "I have seen the Lord"; and she told them that he had said these things to her.
Commentary comes from Matthew Henry and John MacArthur.
This is one of the Gospel accounts of the Resurrection: the first Christian sabbath, as Matthew Henry's commentary states.
John MacArthur tells us:
You need to understand that the resurrection of the Lord Jesus Christ is not just a feature of Christianity, it is the main event; it is the main event.
Resurrection is the point of redemption. The whole purpose of God in creating and redeeming His people is to raise them to eternal glory so that they can worship Him forever. That is the point of His redemption – resurrection to eternal glory in not only glorified spirits, but glorified bodies. Our resurrection is secured by the power of God, the power of Christ demonstrated in His resurrection. Because He lives, we will live.
The resurrection is not only a demonstration of power, it is also a validation of His offering, because God was satisfied with the sacrifice Christ offered for the sins of His people. God raised Him from the dead, validating His work on the cross. He said, "It is finished!" God said, "I am satisfied," raised Him, and He ascended to eternal glory, sat down at the right hand of God to intercede for His people and bring them all into eternal glory spiritually and in resurrected form.
The resurrection then is the greatest event in history – in redemptive history, or in history period. It is the most significant expression of the power of God on behalf of believers. It is the cornerstone of gospel promise. We are saved to be raised from the dead, and into heaven we go forever in that resurrected form. The purpose of salvation, again, is a resurrected people.
Because Christ conquered death, because He conquered sin, we will be raised to dwell with Him forever. How important is this? Romans 10:9-10, "If you confess Jesus as Lord, and believe in your heart that God raised Him from the dead, you will be saved."
The Passover Sabbath had ended, and Mary Magdalene went to our Lord's tomb in the darkness just before dawn the next morning (Sunday), only to find that the stone had been removed from the tomb (verse 1).
Matthew Henry says:
This was the first Christian sabbath, and she begins it accordingly with enquiries after Christ.
MacArthur ties together other Gospel accounts to put a timeline in place:
… it was John who said "it was still dark" when Mary Magdalene came to the tomb. What that tells us, and what we know to be true from the other writers, is that she was the first one there; she was the first one there. Dawn happens fairly rapidly; but when she came, being the first one, it was still on the dark side of dawn.
Now she didn't start out alone. According to Matthew 27 another Mary, Mary the mother of James and Joses, was with her; so she wasn't alone. But she got there first. She's in a hurry to get there, and she gets there before the other Mary. Matthew tells us in Matthew 28:1 both Marys headed for the tomb. But now we know Mary Magdalene got there first.
Now there were even other women who were coming along as well. There were women at the foot of the cross. The same women who were at the foot of the cross were there on Friday when Joseph and Nicodemus were burying the body of Jesus. It says in Luke 23:55, "The women who had come with the Lord out of Galilee saw the tomb and where the body was laid."
Shocked by the sight of an empty tomb, she ran to tell Peter and John that someone had taken the body of Jesus (verse 2).
The two Apostles set out to see for themselves (verse 3). As John was younger than Peter, he outran him and reached the tomb first (verse 4).
John saw the burial linens from outside the tomb (verse 5), but Peter entered the tomb for a closer look (verse 6). He also saw the linen wrapping that had been placed on our Lord's head, which was rolled up and set to one side (verse 7).
Henry says it is very unlikely that, as according to doubters, someone had stolen the body of Jesus, since His burial linens were still in the tomb:
Robbers of tombs have been known to take away the clothes and leave the body but none [prior to the practices of modern resurrectionists] ever took away the body and left the clothes, especially when it was fine linen and new, Mark 15:46. Any one would rather choose to carry a dead body in its clothes than naked. Or, if those that were supposed to have stolen it would have left the grave-clothes behind, yet it cannot be supposed they should find leisure to fold up the linen.
MacArthur adds:
Now none of these people know what's happened on Saturday. They don't know that the Sanhedrin got a Roman guard to guard the tomb, and then put a Roman seal on the stone so that no one would come to fake a resurrection. They put a seal, a Roman seal, which meant that it would become a crime, a violent crime, if you broke the Roman seal; and they put a significant amount of Roman soldiers there. They don't know that.
They also don't know that in the deep, dark night of Sunday, God sent a very localized earthquake. But before He sent the earthquake, He put all those soldiers under some kind of divine anesthesia, and they all went to sleep. And then came an earthquake, and with the earthquake the stone was rolled away. Matthew 28, verses 1-4 describes it.
The soldiers didn't know what happened. The soldiers fled the tomb. Why not? They checked it. He's gone. They can't figure out why they went to sleep, because they were professional soldiers, and that was a violation of duty that had severe repercussions. They don't know where the earthquake came from. They don't know how the stone was rolled away. They don't know why the body isn't there, but it's not. So there's no reason to stay, so they leave.
We know they're gone, because Mary Magdalene never refers to them when she gets there. The other women never refer to them when they get there. Peter and John never refer to them when they get there. They're gone, startled awake in the deep Sunday darkness, shaken by the earthquake out of their divinely-induced comas.
As Peter had the temerity to enter the tomb, John followed his example. Being in the tomb, 'he believed' (verse 8).
John admitted that none of them understood the import of Scripture and Jesus's own teachings: that He must rise from the dead (verse 9).
Therefore, that is further proof none of the disciples expected the Resurrection. MacArthur says:
The point that I want you to notice is that they had no expectation that Jesus would rise: the women didn't, the leaders of the apostles didn't.
The disciples returned home (verse 10), yet Mary Magdalene stayed and wept before bending over to look into the tomb (verse 11).
She saw two angels in white, sitting where our Lord's body had been at rest — one at the head and one at the foot (verse 12).
They asked why she was weeping. She replied that she was concerned for Jesus: 'they' had taken Him away and she didn't know where (verse 13).
It could be she was blessed by the angelic presence because she, unlike the others, stayed behind to keep a vigil over the tomb.
Henry's commentary agrees:
This favour was shown to those who were early and constant in their enquiries after Christ, and was the reward of those that came first and staid last, but denied to those that made a transient visit.
MacArthur tells us part of the reason why Mary Magdalene was so attached to Jesus:
This woman rescued from seven demons had been in the sweet fellowship of the blessed Son of God, Son of love.
She received a further reward when she turned around and saw Jesus standing there, although she did not recognise Him (verse 14).
Jesus asked why she was weeping and for whom she was looking. She thought He was the gardener and pleaded with Him to tell her where her Saviour was so that she could take His body away (verse 15).
MacArthur says that the resurrected Jesus looked different to the Jesus that they knew during His ministry:
… by the way, every time Jesus appeared after His resurrection He had to identify Himself, because He was in a different form; He had a glorious resurrection body. And while there would have been familiar elements to that body, this was not the body that went to the cross, this was an eternal resurrection body that would never die and never be decayed. That is why on the road to Emmaus, as recorded in Luke 24, when Jesus joined those disciples on that resurrection day and walked along with them, it says, verse 16 of Luke 24, "Their eyes were prevented from recognizing Him."
Jesus called out her name and a relieved Mary, recognising His voice, replied in Hebrew, calling Him 'teacher' (verse 16).
Then, she touched Him in a manner of worship, a detail which John omits but which Matthew includes. MacArthur tells us:
… we know she falls at His feet, because that's what all the women did. Matthew 28 says that when the women met Jesus they came up and took hold of His feet and worshiped Him. They just put their arms around His feet, prone in front of Him, clinging to Him, worshiping Him.
And that's what Mary does. The shock of being more sorrowful than you'd ever been in your entire life to a moment of the most exhilarating explosive joy ever comprehended, the transition is to profound, and the one thought she has in her mind is, "I don't want to lose Him again." And so she takes hold of His feet kind of like the Shulamite woman in Song of Solomon who said, "I found him whom my soul loves. I held him and would not let him go." So she holds on, not going to let Him go again. This is pure love.
Jesus corrected her and said she must not do that because He had to ascend to the Father — therefore, He could not stay with her and the disciples. He then sends her on a beautiful mission (verse 17). He tells her to give the disciples — 'my brothers' — the news of their encounter:
and say to them, 'I am ascending to my Father and your Father, to my God and your God.'"
MacArthur notes our Lord's use of the word 'brothers':
That's the first time believers have been called brothers in the gospel of John. This is new. "We are called" – as the disciples were – "friends, slaves, but never brothers. This is a first. How did we become brothers who were once friends and once slaves? How did we become brothers?" The cross made us brothers. The cross made it possible for us to become the children of God, brothers and sisters.
Hebrews 2:9 says that "Jesus suffered death, suffered death, so that He could bring His own to glory because He's not ashamed to call them brothers." This stretches any kind of thought in Judaism. To say that you are a son of God individually is to claim to have the divine nature, and it's blasphemous. To say you are the brother or sister of deity would be equally blasphemous, but it's the truth. By His work on the cross we have been placed in Christ, in His death, in His burial, in His resurrection. We are in Him everlastingly. We are now His brothers, and He is not ashamed to call us brother.
We can be sure she must have set off like lightning to tell them her story, which she did (verse 18). Unfortunately, the disciples dampened her joy, as MacArthur reminds us:
Luke 24: "The women came telling these things to the apostles." Eventually the other women showed up. "They're talking to the apostles," – Luke 24:10 – "but these words appeared to them as nonsense, and they would not believe them."
They did not believe in a resurrection. They didn't even believe when somebody they knew well said, "I have seen the Lord." But their turn's coming later that night.
The lesson to be learned from this reading is that spiritual endurance and love of Christ is rewarded. We might not see angels or the Lord Himself in this life, but we will have assurance in our faith that Jesus and God the Father have a very special love for every believer who stays the course, who puts the Triune God above all things.
May all my readers enjoy a very happy and blessed Easter.
I saw the following on Friday, October 30, 2020 and had to share.
The online world can be wonderful with so many fine contributors on website posts and in comment sections.
A tip of the hat goes to Duchess01 for this splendid prayer for all of those wonderful people:
A PRAYER FOR YOU
I said a little prayer for you
Tho' we have never met
I only know you slightly
From the Internet
I see you everyday
While I am on my way
Traveling thru cyberspace
Your love I can embrace
I hear you reaching out
To give your piece of news
Sometimes you give a shout
Provide your special views
I thank God you stopped by
With what He gave to share
Right from your own mind's eye
I am grateful that you care
Just so you know why I came
To this special place today
I am here to send you Angels
To help you on your way
I pray for you all the best
God can give to you
I said a little prayer for you
Gave thanks for all you do!
AMEN!
Last week, I ran two posts about the merits of disposable plastic bags:
The one positive out of coronavirus: disposable plastic makes a comeback
Why tote bags are not necessarily better for our health or the environment
Many people think that a return to paper bags is better for the environment, however, few know just how polluting paper production is.
In some ways, paper is worse for the environment than disposable plastic.
HowStuffWorks has a great post, 'Paper Versus Plastic: Environmental Disadvantages of Each', an excerpt from which follows. Bold emphases are in the original; those in purple are mine:
On the last point, ReuseThisBag — a pro-tote bag site — explains (emphases mine):
It doesn't break down any faster than plastic in landfills. That's because, while paper breaks down much faster under ideal conditions, landfills are not ideal conditions. The lack of light, air and oxygen means pretty much nothing decomposes, so paper and plastic are destined to spend equal amounts of time there.
Paper bags are bigger than plastic, which means they take up more space in landfills. They're recycled at a higher rate, which mitigates that fact, but that still means they still have a greater per-bag impact on landfills.
Shipping paper is also more expensive:
Paper bags are very thick, so shipping them costs more fuel per bag.
Therefore, out of paper, tote or disposable plastic bags, the plastic bags seem to be the best option. Of course, we know the disadvantages of plastic, but, if we are responsible in disposing of them, there is no problem.
I have a collection of plastic bags, because at some point, post-coronavirus, they might be difficult to get in shops.
They have their purpose on this planet. I reuse mine for all sorts of things before discarding them.
In closing, last year, while I was out in the front garden, a dog walker with three canines in tow, asked me if I had any spare plastic bags. The dogs had eaten something they should not have, and she'd run out of waste bags.
I gave her three or four disposable plastic bags, which made the rest of her walk that much easier and our neighbourhood that much cleaner.
Last Thursday, I wrote about Bevelyn Beatty, who painted over provocative street signage in front of Trump Tower around two weeks ago.
A few days later, Eric Metaxas, a Christian conservative, interviewed her at length. I would like to thank one of my readers, michaelh, for this link:
This is an excellent video, just over half an hour long:
She discusses her personal Christian journey, helped along by her good friend Edmee, who was also part of the group of ladies smearing black paint over the B in BLM in front of Trump Tower.
She explains why no Christian should be associating with or supporting BLM: they don't believe in family, they don't believe in saving black lives and they do not like black men.
She discusses the horrific crime rates in New York, particularly under Mayor Bill de Blasio and says that she is seriously considering leaving.
And, yes, Bevelyn talks about her and her friends' experience in front of Trump Tower, their arrest and their excellent treatment by the police.
Bevelyn is feisty. She's got spark. She's a committed Christian.
Eric Metaxas says that the US needs a thousand more like her.
I couldn't agree more.
When she and her friends finish helping to 'take back' America, maybe they can come to cities in England. I am sure many would like to hear her speak and learn more about her journey in faith.