You are currently browsing the tag archive for the 'Archbishop of Canterbury' tag.
Shall we not call our late Queen Elizabeth the Good?
While everyone has been calling her Elizabeth the Great, historian David Starkey was right to point out last week on GB News that 'the Great' belongs to rulers who won great wars.
Our Queen has also been referred to as Elizabeth the Dutiful and Elizabeth the Faithful.
Yet, it seems we should find a monosyllabic word.
Therefore, Elizabeth the Good seems fitting.
Someone on GB News suggested that very briefly, and only once. It is a good suggestion.
Yesterday's post was about the Queen's state funeral in London, the first since Winston Churchill's in 1965.
Monday, September 19 concluded with her committal service at St George's Chapel at Windsor Castle.
The funeral cortege left London for Windsor, where the public viewing area was full of mourners. You could hear a pin drop.
The procession was smaller and made its way up the Long Walk to the castle.
The Queen's favourite pony stood quietly on the side to watch his mistress pass by one last time. Her two corgis were nearby and able to watch it. They were very well behaved. Do animals sense death? It would seem so.
Prince Andrew is now the keeper of the corgis.
The Times reported (emphases mine):
The Queen's corgis waited in the Quadrant at Windsor Castle as the funeral procession made its way to St George's Chapel.
Muick and Sandy — one on a red lead and one on a blue lead — were brought out on to the steps by two pages in red tailcoats for the arrival of the Queen's coffin.
Emma, the Queen's fell pony, was standing in a gap in the floral tributes lining the Long Walk as the procession moved towards the castle. Emma was among the Queen's favourites and is said to be still going strong at 24 years old.
The two corgis will now be looked after by the Duke of York and his ex-wife Sarah, Duchess of York.
Muick (pron. 'Mick') is named for one of Prince Philip's favourite places in Scotland, Loch Muick.
This video shows the crowds, the procession and her favourite animals:
The pallbearers carefully carried the Queen's casket, which, as it is lined with lead, weighs around 700 pounds. An even procession upwards mandates that all the pallbearers be the same height. The officer in charge gave them instructions on negotiating the steps of St George's Chapel as they progressed:
Around 800 invited mourners filled the chapel. That said, this was a more private service for those who live and work on the estate as well as for foreign royals, other dignitaries and for members of the military.
The Order of Service for the Committal is here:
The service began at 4:08 p.m., eight minutes later than scheduled. The procession in London took slightly longer than anticipated.
Senior members of the Royal Family, including young Prince George and Prince Charlotte, processed behind the casket in the chapel.
The full service is below. Access it via their tweet:
My far better half preferred the Committal Service to the one in the Abbey because it dealt with her instruments of state and her being lowered into the vault at the end.
I immediately noted the more modern English used in the prayers and the spoken readings.
Highlights of the service follow.
The pallbearers brought the Queen's casket up in front of the altar, over the lift that would take her down into the vault at the end. This also happened at Prince Philip's funeral:
The minister from Crathie Kirk near Balmoral joined the Chapel clergy and the Archbishop of Canterbury:
The service will be conducted by the Right Reverend David Connor, Dean of Windsor, with prayers said by the Rector of Sandringham, the Minister of Crathie Kirk and the Chaplain of Windsor Great Park and the blessing pronounced by the Lord Archbishop of Canterbury, The Most Reverend Justin Welby.
The Choir of St George's Chapel will sing during the Service, conducted by Director of Music James Vivian.
The choir sang Psalm 121:
I will lift up mine eyes unto the hills: from whence cometh my help.
My help cometh even from the Lord: who hath made heaven and earth.
He will not suffer thy foot to be moved:
and he that keepeth thee will not sleep.
Behold, he that keepeth Israel: shall neither slumber nor sleep.
The Lord himself is thy keeper: the Lord is thy defence upon thy right hand;
So that the sun shall not burn thee by day: neither the moon by night.
The Lord shall preserve thee from all evil:
yea, it is even he that shall keep thy soul.
The Lord shall preserve thy going out, and thy coming in:
from this time forth for evermore.
Then the choir sang The Russian Kontakion for the Departed, also sung at Prince Philip's funeral in 2021. He had been raised Greek Orthodox.
The musical arrangement was the Kiev Melody, in a nod to Ukraine.
These are the lyrics:
Give rest, O Christ, to thy servant with thy Saints:
where sorrow and pain are no more; neither sighing but life everlasting.
Thou only art immortal, the Creator and Maker of man:
And we are mortal, formed of the earth, and unto earth shall we return:
For so thou didst ordain, when thou createdst me, saying,
Dust thou art, and unto dust shalt thou return.
All we go down to the dust; and, weeping o'er the grave we make our song:
Alleluya, alleluya, alleluya.
Give rest, O Christ, to thy servant with thy Saints:
Where sorrow and pain are no more; neither sighing but life everlasting.
The Dean of Windsor recited the Bidding Prayer:
We have come together to commit into the hands of God the soul of his servant Queen Elizabeth. Here, in St George's Chapel, where she so often worshipped, we are bound to call to mind someone whose uncomplicated yet profound Christian Faith bore so much fruit. Fruit, in a life of unstinting service to the Nation, the Commonwealth and the wider world, but also (and especially to be remembered in this place) in kindness, concern and reassuring care for her family and friends and neighbours. In the midst of our rapidly changing and frequently troubled world, her calm and dignified presence has given us confidence to face the future, as she did, with courage and with hope. As, with grateful hearts, we reflect on these and all the many other ways in which her long life has been a blessing to us, we pray that God will give us grace to honour her memory by following her example, and that, with our sister Elizabeth, at the last, we shall know the joys of life eternal.
The Dean of Windsor, who is also the Register of the Most Noble Order of the Garter, for it is at St George's Chapel where the Garter ceremonies are conducted, read Revelation 21.1-7:
I saw a new heaven and a new earth: for the first heaven and the first earth were passed away; and there was no more sea. And I, John, saw the holy city, new Jerusalem, coming down from God out of heaven, prepared as a bride adorned for her husband. And I heard a great voice out of heaven saying, Behold, the tabernacle of God is with men, and he will dwell with them, and they shall be his people, and God himself shall be with them, and be their God. And God shall wipe away all tears from their eyes; and there shall be no more death, neither sorrow, nor crying, neither shall there be any more pain: for the former things are passed away. And he that sat upon the throne said, Behold, I make all things new. And he said unto me, Write: for these words are true and faithful. And he said unto me, It is done. I am Alpha and Omega, the beginning and the end. I will give unto him that is athirst of the fountain of the water of life freely. He that overcometh shall inherit all things; and I will be his God, and he shall be my son.
The minister of Crathie Kirk participated in the clergy prayers. These included one for the Royal Family and another for the Queen and her fellow Companions of the Order of the Garter:
Lord God Almighty, King of creation, bless our King and all Members of the Royal Family. May godliness be their guidance, may sanctity be their strength, may peace on earth be the fruit of their labours, and their joy in heaven thine eternal gift; through Jesus Christ our Lord. Amen.
God save our gracious Sovereign and all the Companions, living and departed, of the Most Honourable and Noble Order of the Garter. Amen.
The choir sang the prayer from John Donne that was also part of the Westminster Abbey service.
Then the drama began. I cannot think of a better word, so, please excuse me.
The Telegraph describes how the Queen's instruments of state were ceremonially removed from her coffin and placed on the altar. This was written beforehand, hence the future tense:
Queen Elizabeth II will finally part company with the Imperial State Crown, orb and sceptre as the final hymn is sung at her committal ceremony, in what is likely to be one of the most moving moments of today's funeral …
They will only be removed in the final moments before the public sees its last images of the monarch's coffin.
Before the final hymn is sung in St George's Chapel during the ceremony that begins at 4pm today, Mark Appleby, the Crown Jeweller, will remove the crown, orb and sceptre from the coffin, with the help of the Bargemaster and the Serjeants-at-Arms – royal servants who guard the regalia during state occasions. They will pass them one by one to the Dean of Windsor, who will place them on the high altar.
While the crown represents the sovereign's power over her subjects, the orb, made up of a cross above a globe, represents Christ's earthly dominion and symbolises the monarch's status as God's mortal representative. The sceptre, which holds the world's largest cut diamond, the Cullinan I, represents equity and mercy. They will be presented to the King at his coronation in 2023.
They are now back safely at the Tower of London.
Watching this ceremony, I was reminded of 1 Timothy 6:7:
For we brought nothing into this world, and it is certain we can carry nothing out.
Each instrument of state had its own purple cushion on the altar. The orb has a golden spike on the bottom to keep it anchored. Its cushion is specially designed with a metal recipient in the centre.
King Charles then had a role to play. He was sitting where the Queen used to sit.
He rose and stood before his mother's coffin to:
place a military flag on top of the coffin which, according to the Army, will be placed inside her coffin before she is interred.
The Grenadier Guards Queen's Company Camp Colour – a small flag which normally adorns the Company Captain's bunk designating his place of work – is unique to each sovereign and ceases to be used when they die …
The Grenadier Guards are the most senior of the Foot Guards regiments, and the Queen was their Colonel in Chief.
The full-sized version of the flag was draped at the foot of the Queen's coffin as she lay in state.
After that took place, the King took his place and the Lord Chamberlain, the Royal household's most senior member, broke his wand of office and placed it on top of the coffin. The wand is designed such that there is a break point in the middle, surrounded by metal on either side.
The Lord Chamberlain broke his wand because, with the Queen's death, his work has now ended — unless the King decides to reappoint him.
Here are photos of the instruments of state, King and the Lord Chamberlain:
The Queen's coffin was then lowered into the vault (see the 1:42:00 point in the Royal Family video). The complete lowering is never shown to the public.
While that took place, the Dean of Windsor recited Psalm 103:13-17 in traditional language:
Like as a father pitieth his own children:
even so is the Lord merciful unto them that fear him.
For he knoweth whereof we are made:
he remembereth that we are but dust.
The days of man are but as grass:
for he flourisheth as a flower of the field.
For as soon as the wind goeth over it, it is gone:
and the place thereof shall know it no more.
But the merciful goodness of the Lord endureth for ever and ever
upon them that fear him:
and his righteousness upon children's children.
He then recited a committal prayer, again in traditional language:
Go forth upon thy journey from this world,
O Christian soul;
In the name of God the Father Almighty who created thee;
In the name of Jesus Christ who suffered for thee;
In the name of the Holy Spirit who strengtheneth thee.
In communion with the blessèd saints,
and aided by Angels and Archangels,
and all the armies of the heavenly host,
may thy portion this day be in peace,
and thy dwelling in the heavenly Jerusalem.
Amen.
Then, the Queen's Piper, Pipe Major James M. Banks — the one who played the lament at Westminster Abbey — appeared in a side aisle to play another lament.
As he was ending, viewers could see him pass the doorway near the altar and vanish as the pipes faded away into silence.
You won't want to miss this:
The service was about to end but not before the Dean prayed for the King:
Let us humbly beseech Almighty God to bless with long life, health and honour, and all worldly happiness the Most High, Most Mighty and Most Excellent Monarch, our Sovereign Lord, now, by the Grace of God, of the United Kingdom of Great Britain and Northern Ireland and of His other Realms and Territories King, Head of the Commonwealth, Defender of the Faith, and Sovereign of the Most Noble Order of the Garter. God Save The King.
The Archbishop of Canterbury gave the blessing:
Go forth into the world in peace;
Be of good courage, hold fast that which is good,
render to no one evil for evil; strengthen the fainthearted,
support the weak, help the afflicted, honour all people,
love and serve the Lord, rejoicing in the power of the Holy Spirit;
And the blessing of God Almighty,
the Father, the Son, and the Holy Spirit
be among you and remain with you always. Amen.
The congregation sang one verse of the National Anthem.
They then processed out in order:
All remain standing as The King and The Queen Consort, preceded by the Archbishop of Canterbury and the Archbishop of York and accompanied by the Dean of Windsor, move to the Galilee Porch. At the Galilee Porch the Archbishop of York, the Archbishop of Canterbury and the Dean of Windsor take their leave.
Other members of the Royal Family, escorted by the Canons of Windsor, move to the Galilee Porch, where the Canons, the Archbishop of York, the Archbishop of Canterbury and the Dean of Windsor take their leave.
Members of Foreign Royal Families, Governors Generals and Realm Prime Ministers, escorted by Gentlemen Ushers, move to the West Doors.
The Choir and Succentor leave the Quire by way of the Organ Screen. The Clergy leave by way of the North Quire Gate. The Congregation sits.
His Majesty's Body Guard of the Honourable Corps of Gentlemen at Arms and The King's Body Guard of the Yeomen of the Guard move by way of the Centre Aisle, the North Nave Aisle and the North Quire Aisle to the Cloisters.
The Congregation will be asked by the Stewards and the Ushers to leave the Chapel.
However, the day was not yet finished for the Queen's children.
At 7:30 p.m., they returned to enter the tiny King George VI Memorial Chapel, which holds only six people maximum, to inter their beloved mother and father:
whose coffins will be moved from the royal vault to be interred alongside the Queen's parents and her sister Princess Margaret.
According to Royal experts, George VI often said to his wife and daughters before the Queen married, 'It's only the four of us'.
Here is a family portrait of them with the Duke of Edinburgh:
With the interment came the end of Operation London Bridge, which went brilliantly. It is likely to have been the first and the last occasion of its kind.
Well, the Queen was the first and last of her kind, too:
The Royal Family have another week of mourning. Until now, they have had no chance to grieve privately:
Visitors to Royal palaces should be aware that some exhibitions and tours will be closed, some for the rest of the year:
In closing, many of us will feel like this corgi, rather bereft:
My next post will analyse the significance of the funeral services and the past two weeks.
On Monday, September 19, 2022, the United Kingdom held its first state funeral since the death of Winston Churchill in 1965.
The public viewing of the Queen's casket at Westminster Hall ended at 6:30 a.m.:
I am certain that more than 250,000 people filed past in four days in London, because in 2002, 200,000 filed past her mother's coffin in three days. I was one of them. It was an unforgettable experience.
The Sky News article had more numbers before the Queen's funeral at Westminster Abbey began:
The Mayor of London's office said an estimated 80,000 people were in Hyde Park, 75,000 in ceremonial viewing areas and 60,000 on South Carriage Drive.
Overall numbers will be much higher as crowds formed on virtually the entire route to Windsor, where Thames Valley Police said 100,000 people had turned out.
The Telegraph reported much higher numbers for Westminster Hall. These seem more realistic to me:
The four-day lying-in-state ceremony has seen more than a million mourners packing the banks of the Thames, waiting in a queue which, at its peak, took 24 hours and stretched 10 miles, beyond London Bridge to Southwark Park.
On the final day, Westminster Hall was attended by dozens of foreign leaders and royals who have arrived in London ahead of the state funeral, which starts at 11am.
They included Joe Biden, the US President, Emmanuel Macron, the French leader, Olena Zelenska, the First Lady of Ukraine, President Jair Bolsonaro of Brazil and his wife Michelle, King Felipe and Queen Letizia of Spain, and King Phillipe and Queen Mathilde of Belgium.
On Sunday morning, the Government warned people not to travel to the queue "to avoid disappointment".
Another Telegraph article had more statistics about the Elizabeth Line (emphases mine):
At an average queueing time of 12 hours – perhaps even more – they had clocked up a total of 4.8 million hours between them as they shuffled forward, uncomplainingly, in the sunshine, and in the cold, and in the dark. It means that since the late Queen's lying in state began last Wednesday, her people had spent a cumulative 550 years saying their final thank you.
And if each of them entered the winding, folding queue at its end in Southwark Park, they would have walked 4 million miles between them, the equivalent of 153,846 marathons.
The fact that all of them knew how arduous the wait would be, having been given ample warning, is an even more reliable measure of how much Queen Elizabeth meant to them.
From children in push-chairs to pensioners and even global celebrities, they patiently waited their turn to spend only a few minutes in the presence of the late Queen's coffin, almost all of them pausing to bow or curtsy, many of them turning away in tears.
As one of my readers, dearieme, pointed out, this shows the trust our Queen had in her subjects and foreign visitors:
How often in the history of civilisations would governments, here or elsewhere, have allowed – even encouraged – huge mobs of the public to congregate, and trust largely to their natural instincts to keep themselves in order?
I think the answer might be "rarely".
Douglas Murray pondered all of the above in his Telegraph article: 'Our late Queen's final act was to bring her nation and the world deeply together'.
Excerpts follow:
The passing of Elizabeth II is remarkable for many reasons. But just one of them is the way in which the Queen's final act seems to have been to bring her nation deeply together.
There is the literal way in which that has happened, with the mini-nationalists across Britain ceasing – for a moment at least – their relentless task of trying to tear our country apart. The Scottish nationalists observed the death of our monarch without a series of "buts". Even Sinn Fein paid tribute and passed condolences to the Queen's son and heir – an act that would have been unthinkable beforehand.
People have rightly remarked on the way in which hundreds of thousands of people have queued to pay their own personal respects to the late Queen. But almost as remarkable is the way in which other nations around the world, as well as their media, have mourned her death …
The Queen leaves behind a Commonwealth that has been united in mourning – hardly the expected reaction if she had been the cruel tyrant of the New York Times's imagination.
What is more, although the dissenters have received an extraordinary amount of attention, more extraordinary by far is how united the world's response has been.
France, for instance, is not a country known for its love of monarchy. But on the death of Queen Elizabeth the French political and media class were united in paying tribute to her. She was honoured on the cover of almost every French magazine and periodical, as she was across the European and world media.
This reaction is largely a tribute to a reign of unparalleled length and dignity, a life given to the service of the country and the deepening of alliances with our friends and allies. But it also serves as a reminder of the way in which Britain is regarded around the world. With the exception of a few raucously noisy malcontents, we find that most people do not regard Britain as some terrible tyrannical power, either now or in history. Most see us, rightly, as having been among the fairer, certainly more benign, world powers …
This is the Britain that is still influential both in its impact abroad and also in the lives of its citizens. I doubt that there has been a figure in history whose death has led to such a voluntary outburst of feeling. There may have been despots whose death had to be mourned by their citizens and subjects, but there can have been few, if any, who have ever produced such willing devotion.
And there is a lesson in this for our institutions, and for institutions and nations around the world: people are loyal to institutions that are loyal to them. Break any part of that pact and you break the whole; sustain it and you sustain the whole.
Queen Elizabeth II swore an oath to this country as a young woman, and it was an oath she kept until her dying day. That loyalty is what is being honoured and mirrored today: the respect of people around the world for a life of service and duty. Something to remember, certainly. But something to emulate and live up to as well.
On the subject of tributes from abroad, a Belgian created this inspired photo montage of the Queen:
The next two short videos are well worth watching. The first is about Elizabeth II's 'Queenhood', probably written by the poet laureate with footage from her coronation. The second is a film montage of her entire life from beginning to end:
Operation London Bridge — the Queen's funeral plan — was now in its final phase in the capital and at Windsor Castle.
A military procession arrived at Westminster Hall to take the Queen for her final time to Westminster Abbey.
A new bouquet of pink and purple flowers with foliage and herbs — rosemary for remembrance and myrtle from the plant which supplied the sprigs for her wedding — replaced the white wreath for her lying in state:
Eight pallbearers from the military carefully placed her coffin onto a gun carriage. Naval ratings holding onto ropes in front and in back guided the gun carriage on its way.
This tradition began with Queen Victoria's funeral, which took place in January 1901. Horses were supposed to transport the gun carriage, but part of it snapped off in the cold, thereby making it impossible. Prince Louis Battenberg, who was Prince Philip's grandfather, came up with the solution, which, he said, had operated satisfactorily during the Boer War:
If it is impossible to mend the traces you can always get the naval guard of honour to drag the gun carriage.
The tradition continued throughout the 20th century:
The gun carriage is part of the materiel of the King's Troop, commanded for the first time by a woman, Captain Amy Hooper. She told The Telegraph that she was in Canada when the Queen's death was announced:
"BRIDGE, BRIDGE, BRIDGE," the text stated. "Operation LONDON BRIDGE has been activated. Initiate telephone cascade. All personnel are to return to camp" …
She was in Calgary when the news broke, along with soldiers exercising alongside Canadian mounted units. The British party was flying back to the UK within five hours …
Soldiers as far away as Turkey and America had to cancel their family holidays and return to the UK …
On Monday, she will be leading the gun team in Hyde Park for the Queen's funeral.
King's Troop, a unit of about 160 soldiers with an equal split of men and women, has one of the most important ceremonial roles in the British armed forces.
Their six 13-pounder quick-fire guns, built between 1913 and 1918, all of which have seen active service in the First and Second World Wars, are used regularly for royal salutes in Hyde Park, Green Park or Windsor Great Park for State Occasions and to mark royal anniversaries and royal birthdays …
The gun carriage is known as the George Gun Carriage, and carried King George VI's coffin from Sandringham Church to Wolferton Station in February 1952. It was also used in the funeral of the Queen Mother in 2002.
Queen Elizabeth's funeral had more troops and regiments than had ever been gathered at one time.
These included troops from around the Commonwealth, particularly Canada and Australia:
The soldiers walked at a 75 beat per minute pace, which is slow and difficult to sustain.
The Times reported on the use of a metronome, mimicked on the day by drum beats to ensure proper timing:
Military chiefs have been told to "up their game" for the Queen's funeral today and listen to a metronome at 75 beats per minute to ensure the right pace during the procession.
Admiral Sir Tony Radakin, the chief of the defence staff, admitted to nerves but said an enormous amount of planning for the event had gone on for "a very long time". He said more than 10,000 soldiers, sailors and airmen and women would perform their "last duty" to the Queen during the day's events.
Queen Elizabeth wished to have her funeral at Westminster Abbey because she had been married and crowned there.
The last monarch to have a funeral at the Abbey was George II on November 13, 1760. The other monarchs had theirs at St George's Chapel at Windsor Castle.
The Queen's children along with Princes William and Harry walked in the procession to the Abbey.
Meanwhile, heads of state and dignitaries took their places inside. Charity workers also were seated.
The Queen Consort and the Princess of Wales arrived with Prince George, 9, and Princess Charlotte, 7:
The procession arrived at the Abbey and the pallbearers carefully carried the Queen's coffin inside:
You can find the Order of Service here:
The Times has an excellent article on the service.
You can see the procession from Westminster Hall and the full funeral service. As with the other Royal Family YouTube links I have posted, if you get a message saying it cannot be viewed, click on 'Watch on YouTube' or this tweet:
The Queen chose the music, which held particular significance to her and to the Abbey:
Pardon the irreverence, but this is an aerial view of the seating plan in the transept. Look how far back Joe Biden was. Apparently, his Beasts and motorcade got caught up in traffic, although he arrived before the service began. By contrast, the dignitaries who took the white coaches in the 'podding' system got there on time. Even if he hadn't been late, he would still have been seated in the same place.
The altar is to the left and, out of shot, to the right are more seats for guests: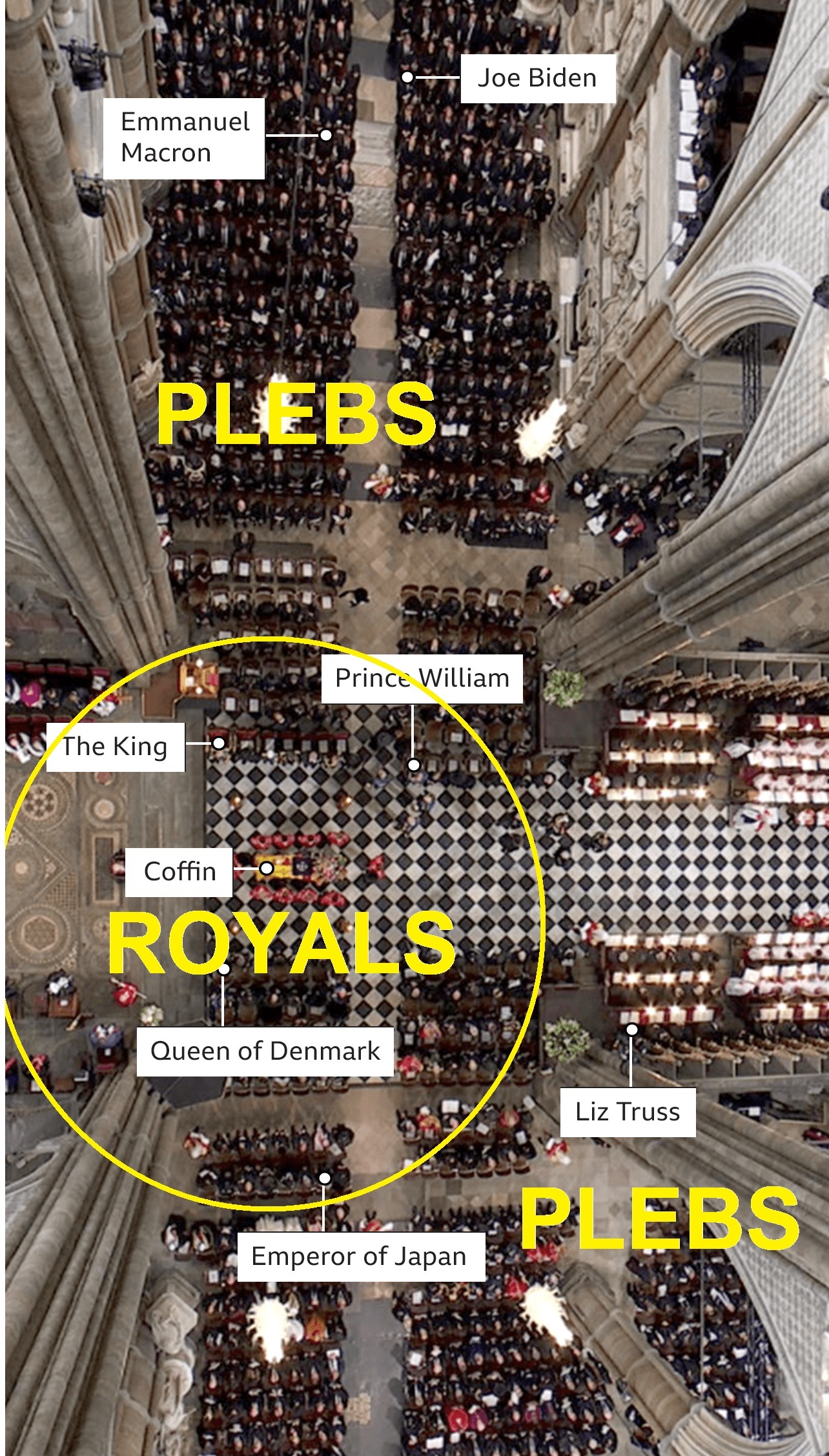 Likely sitting out of shot was, ironically, The Guardian's editor, Kath Viner:
Guido Fawkes has a quote from one of her recent editorials. I cannot bear to cite it in full, so here are the first and last sentences:
Royal rituals are contrived affairs meant to generate popular attachment to a privileged institution and to serve as reminders of a glorious past … How much Britain will be changed once this moment floats past the country is as yet unknown.
Guido commented (emphasis his):
Of course that didn't stop the Guardian's editor Kath Viner accepting a ticket to the funeral from the "privileged institution" herself. Maybe she's sentimental…
Another hypocrite turned up, Scotland's First Minister Nicola Sturgeon, she of the second independence referendum.
The Times has a photo of her and her husband, Peter Murrell, along with a few quotes:
Nicola Sturgeon has said it was an "honour to represent Scotland" as leaders from across the world joined the royal family and other mourners at the state funeral.
The first minister was among some 2,000 mourners at Westminster Abbey along with leaders of the other main Scottish political parties. She spoke of a "final and poignant goodbye to a deeply respected and much-loved monarch".
As I listened to the liturgy, I could not help but think that this is the last time we will hear language from the King James Version of the Bible and the 1662 Book of Common Prayer at a service for the Royals. How I will miss it. I hope I am wrong.
There was one prayer from an even earlier version of the Book of Common Prayer, Archbishop Cranmer's, from 1549. This was put to music. The choir did it full justice:
THOU knowest, Lord, the secrets of our hearts; shut not thy merciful ears unto our prayer; but spare us, Lord most holy, O God most mighty, O holy and most merciful Saviour, thou most worthy Judge eternal, suffer us not, at our last hour, for any pains of death, to fall from thee. Amen.
This was the Bidding Prayer:
O MERCIFUL God, the Father of our Lord Jesus Christ, who is the resurrection and the life; in whom whosoever believeth shall live, though he die; and whosoever liveth, and believeth in him, shall not die eternally; who hast taught us, by his holy Apostle Saint Paul, not to be sorry, as men without hope, for them that sleep in him: We meekly beseech thee, O Father, to raise us from the death of sin unto the life of righteousness; that, when we shall depart this life, we may rest in him, as our hope is this our sister doth; and that, at the general Resurrection in the last day, we may be found acceptable in thy sight; and receive that blessing, which thy well–beloved Son shall then pronounce to all that love and fear thee, saying, Come, ye blessed children of my Father, receive the kingdom prepared for you from the beginning of the world. Grant this, we beseech thee, O merciful Father, through Jesus Christ, our mediator and redeemer. Amen.

The entire liturgy was a lesson about faith and salvation. Even an unbeliver could not miss it.
I pray that it works on the hearts and minds of those in attendance who are indifferent.
The Queen always liked Psalm 42 for its reference to the hart, which reminded her of Scotland:
LIKE as the hart desireth the water–brooks : so longeth my soul after thee, O God.
My soul is athirst for God, yea, even for the living God : when shall I come to
appear before the presence of God?
My tears have been my meat day and night : while they daily say unto me, Where is
now thy God?
Now when I think thereupon, I pour out my heart by myself : for I went with the
multitude, and brought them forth into the house of God;
In the voice of praise and thanksgiving : among such as keep holy–day.
Why art thou so full of heaviness, O my soul : and why art thou so disquieted within
me?
Put thy trust in God : for I will yet give him thanks for the help of his countenance.
Prime Minister Liz Truss read the second Lesson, John 14:1-9a:
LET not your heart be troubled: ye believe in God, believe also in me. In my Father's house are many mansions: if it were not so, I would have told you. I go to prepare a place for you. And if I go and prepare a place for you, I will come again, and receive you unto myself; that where I am, there ye may be also. And whither I go ye know, and the way ye know. Thomas saith unto him, Lord, we know not whither thou goest; and how can we know the way? Jesus saith unto him, I am the way, the truth, and the life: no man cometh unto the Father, but by me. If ye had known me, ye should have known my Father also: and from henceforth ye know him, and have seen him. Philip saith unto him, Lord, shew us the Father, and it sufficeth us. Jesus saith unto him, Have I been so long time with you, and yet hast thou not known me, Philip? He that hath seen me hath seen the Father.

After Psalm 23 was sung, the Archbishop of Canterbury's sermon followed:
Near the end, clergy from the main Christian denominations recited their own prayers in thanksgiving for the Queen's long reign of service.
The Abbey's Precentor then recited a prayer from John Donne (1573-1631):
BRING us, O Lord God, at our last awakening into the house and gate of heaven, to enter into that gate and dwell in that house, where there shall be no darkness nor dazzling, but one equal light; no noise nor silence, but one equal music; no fears nor hopes, but one equal possession; no ends nor beginnings, but one equal eternity; in the habitation of thy glory and dominion, world without end. Amen.
After the blessing, the State Trumpeters of the Household Cavalry sounded The Last Post:
The congregation sang two verses of the National Anthem.
The funeral service closed with a poignant military lament, Sleep, dearie, sleep, performed by the Queen's Piper, Warrant Officer Class 1 (Pipe Major) Paul Burns. He stood on a balcony overlooking the congregation. Words cannot describe it.
This video has brief highlights from the funeral:
After the funeral ended, the Queen's coffin resumed its place on the gun carriage for a procession past Whitehall, down The Mall, then past Buckingham Palace, finishing at Wellington Arch on Constitution Hill.
A gun salute also took place:
The Royals walked with the military, as before. This was a long walk.
Every person in this procession has seen active military service. I put that in bold, because some living overseas think that these are 'toy soldiers', as it were. They are anything but.
Here they are in front of Buckingham Palace. Note that the Queen's household are standing in front of the gates in their normal working clothes to pay their respects:
The horses leading the procession were gifts to the Queen from the Royal Canadian Mounted Police (RCMP), or the Mounties. The Queen was their honorary commissioner.
George, Elizabeth, Darby and Sir John are the latest in a long line of horses given by Canada to the Queen and ridden by senior royals, including King Charles and the Princess Royal, during the annual ceremony of Trooping the Colour …
In 1969, the RCMP presented her with Burmese, a seven-year-old black mare who went on to become the Queen's favourite horse.
She rode her at Trooping the Colour for 18 years, including in 1981 when Marcus Sarjeant, then 17, shot six blank rounds at the Queen as she was travelling down The Mall to the parade that marks her official birthday.
Although Burmese was briefly startled, the horse won praise for remaining calm due to her RCMP training, in which she had been exposed to gunfire.
Burmese, who died in 1990, was the first of eight horses given to the Queen by the Mounties. George was given to her in 2009. Now 22, he has been ridden each year at Trooping the Colour by Charles.
Elizabeth, now 17, named in honour of the Queen Mother, was a gift to mark the Queen's Diamond Jubilee in 2012 …
Sir John, 14, was a 90th birthday present for the Queen and is ridden at Trooping the Colour by Princess Anne, a former Olympic equestrian.
Darby, a 16-year-old Hanoverian gelding, was one of two horses received by the late monarch in 2019.
[Sergeant Major Scott] Williamson is one of four RCMP officers who will ride at the front of tomorrow's funeral procession after the Westminster Abbey service.
It will travel up Whitehall and along The Mall, passing Buckingham Palace before ending at Wellington Arch. Here, the Queen's coffin will be transferred from the state gun carriage to a hearse for her final journey to Windsor.
I will cover the committal service at Windsor in tomorrow's post.
The UK experienced a busy and historic weekend as Operations London Bridge and Unicorn became reality after the Queen's death on Thursday, September 8, 2022.
The nation is now in a 10-day period of mourning, which continues through Monday, September 19, the day of the Queen's funeral in Westminster Abbey. King Charles III has declared the day to be a bank holiday. The Royals, including their staff, will mourn for an additional week.
Before going into the weekend's events, I have a few items to add from the end of last week.
Wednesday and Thursday, September 7 and 8
Last Wednesday, possibly having been busy preparing for her parliamentary statement on the energy crisis on Thursday, Liz Truss's office cancelled the weekly update on Operation London Bridge, the funeral plans for Queen Elizabeth II. However, Simon Case, the civil servant who is Cabinet Secretary, informed the Prime Minister of the Queen's decline early on Thursday morning.
Former Metropolitan Police Chief Superintendent Parm Sandhu told GB News that Operation London Bridge was originally planned in the 1960s and has been regularly reviewed since.
The Duke of Edinburgh's — Prince Philip's — plans were Operation Forth Bridge, so named for the magnificent bridge that links the Scottish capital to Fife.
Operation Unicorn involves funeral plans for Scotland in the event the Queen died there.
As my post on Friday explained, the Prime Minister found out about the Queen's death during the energy debate in the Commons.
On Friday, September 9, Conservative MP Michael Fabricant told GB News that the note she received at lunchtime might well have said:
London Bridge is down.
At that point, the Queen was receiving medical attention and her closest family members were on their way to Balmoral.
The Times reported how Thursday afternoon's events unfolded (emphases mine):
The six hours that followed brought together a fractured royal family and seemed to unite a nation in apprehension. At 12.32pm, moments after the first signs in the Commons, a Buckingham Palace spokesman said: "Following further evaluation this morning, the Queen's doctors are concerned for Her Majesty's health and have recommended she remain under medical supervision."
It was immediately clear the news was more significant than previous announcements about the Queen's health. Newspaper websites swiftly reported the announcement …
… At 12.45pm the Duke and Duchess of Cornwall announced that they were travelling to Balmoral. They were already in Scotland after hosting a dinner at Dumfries House in Ayrshire the previous evening. A minute later the Duke of Cambridge, 40, announced that he would be travelling from London. It was now clear that the situation was grave.
The Duchess of Cambridge, 40, remained at their Windsor home and drove to collect Prince George, Princess Charlotte and Prince Louis following their first full day at their new school to tell them of the news. At 1.30pm the Duke of York, 62, who was stripped of his royal duties after the scandal surrounding Jeffrey Epstein, said that he would also be flying to Scotland. Six minutes later the Earl and Countess of Wessex confirmed that they would also be travelling to Balmoral.
The Princess Royal, 72, had been on the Isle of Raasay on Wednesday and stayed at Balmoral overnight. The Duke of Sussex, despite his long- running troubles with the monarchy, announced at 1.52pm that he was also travelling to Scotland, separately from other senior royals but "in co-ordination with other family members' plans". He arrived at Balmoral almost two hours after the announcement of his grandmother's death. He had flown into Aberdeen airport alone, and his wife remained in Windsor.
Prince Harry, 37, happened to be in the UK anyway, and had been due to attend a charity event in London last night.
The first signs of serious concerns about the Queen's health had emerged at 6pm on Wednesday, when it was announced that she had "accepted doctors' advice to rest" rather than attend a virtual meeting of the privy council that evening.
That would have been only an hour after I'd heard a long pealing of bells from Westminster Abbey on Wednesday, which I mentioned in my post on Friday.
More of the timeline continues, including the hour when the Queen's death was announced:
Soon after the announcement of concerns of the Queen's doctor, Charles, 73, was seen clutching a large briefcase as he boarded the royal helicopter from Dumfries House with Camilla, 75, for the journey to Balmoral.
The flight carrying William, Prince Andrew, Prince Edward and Sophie took off from RAF Northolt in northwest London at 2.39pm. Royal Air Force flight KRF23R landed at Aberdeen airport at 3.50pm. A short while later, at 4.30pm, the prime minister was informed of the Queen's death by Simon Case, the cabinet secretary, according to her official spokesman.
Meanwhile, the Duke of Cambridge was driving his two uncles the 40 miles from Aberdeen airport to Balmoral, arriving just after 5pm. William was behind the wheel of the Range Rover, with Andrew in the passenger seat and Edward, 58, and Sophie, 57, in the back …
The Palace said in a statement: "The Queen died peacefully at Balmoral this afternoon. The King and The Queen Consort will remain at Balmoral this evening and will return to London tomorrow."
Charles had acceded to the throne immediately.
The flags in Downing Street were lowered to half mast at 6.36pm. BBC One played the national anthem following the announcement of the monarch's death, showing a photograph of the Queen, followed by a royal crest on a black background and the words Queen Elizabeth II …
The double rainbow, which I also referenced on Friday, appeared as soon as the flags were lowered to half mast, not only in London but also in Windsor.
On Friday afternoon, The Telegraph reported that only Princess Anne and Prince Charles made it to Balmoral in time to see the Queen before she died:
The King and the Princess Royal were the only two senior members of the Royal family who made it to Balmoral before Queen Elizabeth II's death, it is understood …
As for Prince William and his uncles and aunt:
Royal Air Force flight KRF23R took off shortly after 2.30pm, according to flight tracking website Flightradar24.com, landing in Aberdeen at 3.50pm.
Prince William drove the quartet from the airport to Balmoral and they were pictured sweeping into the gates of the castle shortly after 5pm.
It is possible they had known they would not make it, perhaps even before their plane took off.
In the event, by the time they arrived, it was too late.
Prince Harry's flight was delayed and he did not arrive until 8 p.m.:
… he is believed to have been mid-air when Buckingham Palace announced at 6.30pm that the Queen had died, arriving at Balmoral an hour and a half later.
The Duke's Cessna had been due to land at 6.29pm, a minute before the historic statement. But it was 20 minutes late taking off at Luton Airport, meaning he did not land in Aberdeen until 6.46pm.
The grief-stricken Duke was photographed as he was driven into Balmoral Castle just before 8pm to join other members of his family.
That evening, France paid the Queen tribute by turning off the lights on the Eiffel Tower at midnight and on Friday, at 10 p.m.:

Friday, September 9
On Friday morning, the Telegraph article said that Prince Harry left Balmoral early:
Prince Harry was the first to leave Balmoral on Friday morning, driven out of the gates at 8.20am.
He had to take a commercial flight back to Windsor:
He later boarded a British Airways flight from Aberdeen to Heathrow and is thought to have returned to Frogmore Cottage, Windsor, where the Duchess of Sussex was waiting for him.
Later that morning, the RMT (Rail, Maritime and Transport Union) head, Mick Lynch, announced that the rail strikes planned for September 15 and 17 were cancelled.
Guido Fawkes said that a postal strike was also cancelled (emphases his):
The Communication Workers Union has also called off a planned Royal Mail strike, with General Secretary Dave Ward saying "Following the very sad news of the passing of the Queen, and out of respect for her service to the country and her family, the union has decided to call off tomorrow's planned strike action."
Fair play to both Lynch and Ward, whether they're genuinely in mourning or its cynical comms, they made the right call…
England's three main political parties suspended campaigning during the mourning period. This is fine, except that Parliament is adjourned until after the Queen's funeral, at which point it will continue to be adjourned for three weeks' worth of annual political party conferences.
If Liz is smart, she will find a way to get the Commons, at least, to reconvene during conference season. There is no justification, especially this year, for every MP to attend these rather superfluous events. Furthermore, the evening events are also times of revelry, which seems inappropriate at this time.
Guido's Friday post says:
With King Charles instituting 17 days of mourning, the death of Queen Elizabeth will certainly cast shadows over all three of the major parties' conferences. Guido understands the Tories are having conversations about how to proceed with their Birmingham gathering in light of the news. With politics grinding to a halt, it's going to be difficult for PM Truss to enjoy the full political dividend from yesterday's energy policy announcement…
Parliament is not due to reconvene until October 17. October is the month when the new energy 'price cap' — i.e. a dramatic increase — comes into effect. This will affect everyone and a policy really needs to be finalised before then. Conservative MP John Redwood tweeted:
As I write on Monday afternoon, GB News's Tom Harwood says that a 'fiscal event' — an energy policy announcement — could be made on one of the four consecutive days after mourning and before conference recess. He says that his sources tell him that separate legislation would not be required. Let's hope he is right.
Friday is not normally a day when either House of Parliament meets. However, both MPs and the Lords met to pay tribute to the Queen. The sessions, which also included taking the Oath of Loyalty to King Charles — optional, as the Oath includes successors — continued into Saturday. Every MP and Lord who wanted to speak was able to do so.
The Commons session on Friday afternoon began with a minute's silence:
Afterwards, the Prime Minister began the tributes:
Guido has the video and pulled out the key quote from her address:
The United Kingdom is the great country it is today because of her, the Commonwealth is the family of nations it is today because of her.
Hansard has the full transcript of Friday's and Saturday's tributes from MPs. I commend them to everyone, because many MPs mentioned that the Queen visited their respective constituencies more than once during her reign. Only a handful had never had met her. The contributions reflected a monarch with not only dignity but also good humour. Everyone who met her said that she knew how to put them at ease.
Truss pointed out other historical highlights in her address:
In the hours since last night's shocking news, we have witnessed the most heartfelt outpouring of grief at the loss of Her late Majesty the Queen. Crowds have gathered. Flags have been lowered to half-mast. Tributes have been sent from every continent around the world. On the death of her father, King George VI, Winston Churchill said the news had,
"stilled the clatter and traffic of twentieth-century life in many lands".
Now, 70 years later, in the tumult of the 21st century, life has paused again.
Her late Majesty Queen Elizabeth II was one of the greatest leaders the world has ever known. She was the rock on which modern Britain was built. She came to the throne aged just 25, in a country that was emerging from the shadow of war; she bequeaths a modern, dynamic nation that has grown and flourished under her reign. The United Kingdom is the great country it is today because of her. The Commonwealth is the family of nations it is today because of her. She was devoted to the Union of England, Scotland, Wales and Northern Ireland. She served 15 countries as Head of State, and she loved them all …
Her devotion to duty remains an example to us all. She carried out thousands of engagements, she took a red box every day, she gave her assent to countless pieces of legislation and she was at the heart of our national life for seven decades. As the Supreme Governor of the Church of England, she drew on her deep faith. She was the nation's greatest diplomat. Her visits to post-apartheid South Africa and to the Republic of Ireland showed a unique ability to transcend difference and heal division. In total, she visited well over 100 countries. She met more people than any other monarch in our history.
She gave counsel to Prime Ministers and Ministers across Government. I have personally greatly valued her wise advice. Only last October, I witnessed first hand how she charmed the world's leading investors at Windsor Castle. She was always so proud of Britain, and always embodied the spirit of our great country. She remained determined to carry out her duties even at the age of 96. It was just three days ago, at Balmoral, that she invited me to form a Government and become her 15th Prime Minister. Again, she generously shared with me her deep experience of government, even in those last days.
Everyone who met her will remember the moment. They will speak of it for the rest of their lives. Even for those who never met her, Her late Majesty's image is an icon for what Britain stands for as a nation, on our coins, on our stamps, and in portraits around the world. Her legacy will endure through the countless people she met, the global history she witnessed, and the lives that she touched. She was loved and admired by people across the United Kingdom and across the world.
One of the reasons for that affection was her sheer humanity. She reinvited monarchy for the modern age. She was a champion of freedom and democracy around the world. She was dignified but not distant. She was willing to have fun, whether on a mission with 007, or having tea with Paddington Bear. She brought the monarchy into people's lives and into people's homes.
During her first televised Christmas message in 1957, she said:
"Today we need a special kind of courage…so that we can show the world that we are not afraid of the future."
We need that courage now. In an instant yesterday, our lives changed forever. Today, we show the world that we do not fear what lies ahead. We send our deepest sympathy to all members of the royal family. We pay tribute to our late Queen, and we offer loyal service to our new King.
His Majesty King Charles III bears an awesome responsibility that he now carries for all of us. I was grateful to speak to His Majesty last night and offer my condolences. Even as he mourns, his sense of duty and service is clear. He has already made a profound contribution through his work on conservation and education, and his tireless diplomacy. We owe him our loyalty and devotion.
The British people, the Commonwealth and all of us in this House will support him as he takes our country forward to a new era of hope and progress: our new Carolean age. The Crown endures, our nation endures, and in that spirit, I say God save the King. [Hon. Members: "God save the King."]
Labour's Keir Starmer, Leader of the Loyal Opposition, spoke next. Guido has the video:
The highlight of his speech was this:
She did not simply reign over us, she lived alongside us. She shared in our hopes and our fears, our joy and our pain, our good times, and our bad.
Interestingly, when they were younger, both Starmer and Truss wanted to abolish the monarchy.
Boris Johnson spoke a short time later, declaring the Queen:
Elizabeth the Great.
Historian David Starkey would disagree and did so on GB News on Sunday, September 11. He said that 'the Great' has applied exclusively to monarchs who waged war, e.g. Peter the Great.
Guido has the video. Boris began by saying that the BBC contacted him recently to speak about the Queen in past tense:
I hope the House will not mind if I begin with a personal confession. A few months ago, the BBC came to see me to talk about Her Majesty the Queen. We sat down and the cameras started rolling, and they requested that I should talk about her in the past tense. I am afraid that I simply choked up and could not go on. I am really not easily moved to tears, but I was so overcome with sadness that I had to ask them to go away.
I know that, today, there are countless people in this country and around the world who have experienced the same sudden access of unexpected emotion, and I think millions of us are trying to understand why we are feeling this deep, personal and almost familial sense of loss. Perhaps it is partly that she has always been there:
a changeless human reference point in British life; the person who—all the surveys say—appears most often in our dreams; so unvarying in her pole-star radiance that we have perhaps been lulled into thinking that she might be in some way eternal.
But I think our shock is keener today because we are coming to understand, in her death, the full magnitude of what she did for us all. Think what we asked of that 25-year-old woman all those years ago: to be the person so globally trusted that her image should be on every unit of our currency, every postage stamp; the person in whose name all justice is dispensed in this country, every law passed, to whom every Minister of the Crown swears allegiance; and for whom every member of our armed services is pledged, if necessary, to lay down their lives.
Think what we asked of her in that moment: not just to be the living embodiment, in her DNA, of the history, continuity and unity of this country, but to be the figurehead of our entire system—the keystone in the vast arch of the British state, a role that only she could fulfil because, in the brilliant and durable bargain of the constitutional monarchy, only she could be trusted to be above any party political or commercial interest and to incarnate, impartially, the very concept and essence of the nation.
Think what we asked of her, and think what she gave. She showed the world not just how to reign over a people; she showed the world how to give, how to love and how to serve. As we look back at that vast arc of service, its sheer duration is almost impossible to take in. She was the last living person in British public life to have served in uniform in the Second World War. She was the first female member of the royal family in a thousand years to serve full time in the armed forces.
That impulse to do her duty carried her right through into her 10th decade to the very moment in Balmoral—as my right hon. Friend said—only three days ago, when she saw off her 14th Prime Minister and welcomed her 15th. I can tell you, in that audience she was as radiant and as knowledgeable and as fascinated by politics as ever I can remember, and as wise in her advice as anyone I know, if not wiser. Over that extraordinary span of public service, with her naturally retentive and inquiring mind, I think—and doubtless many of the 15 would agree—that she became the greatest statesman and diplomat of all.
She knew instinctively how to cheer up the nation, how to lead a celebration. I remember her innocent joy more than 10 years ago, after the opening ceremony of the London Olympics, when I told her that the leader of a friendly middle eastern country seemed actually to believe that she had jumped out of a helicopter in a pink dress and parachuted into the stadium. [Laughter.] I remember her equal pleasure on being told, just a few weeks ago, that she had been a smash hit in her performance with Paddington Bear.
Perhaps more importantly, she knew how to keep us going when times were toughest. In 1940, when this country and this democracy faced the real possibility of extinction, she gave a broadcast, aged only 14, that was intended to reassure the children of Britain. She said then:
"We know, every one of us, that in the end all will be well".
She was right …
… It was that indomitability, that humour, that work ethic and that sense of history that, together, made her Elizabeth the Great.
When I call her that, I should add one final quality, of course: her humility—her single-bar-electric-fire, Tupperware-using refusal to be grand. I can tell the House, as a direct eyewitness, that unlike us politicians, with our outriders and our armour-plated convoys, she drove herself in her own car, with no detectives and no bodyguard, bouncing at alarming speed over the Scottish landscape, to the total amazement of the ramblers and tourists we encountered.
It is that indomitable spirit with which she created the modern constitutional monarchy—an institution so strong, so happy and so well understood, not just in this country but in the Commonwealth and around the world, that the succession has already seamlessly taken place. I believe she would regard it as her own highest achievement that her son, Charles III, will clearly and amply follow her own extraordinary standards of duty and service. The fact that today we can say with such confidence, "God save the King" is a tribute to him but, above all, to Elizabeth the Great, who worked so hard for the good of her country not just now but for generations to come. That is why we mourn her so deeply, and it is in the depths of our grief that we understand why we loved her so much.
Theresa May's speech was the funniest. I do wish she had shown this side of herself as Prime Minister. Her comic timing was impeccable:
Guido has a video of most of her address:
Arguably one of May's most poignant speeches. Some needed light relief for the day...
Here's the best part:
This excerpt follows:
Of course, for those of us who had the honour to serve as one of her Prime Ministers, those meetings were more frequent, with the weekly audiences. These were not meetings with a high and mighty monarch, but a conversation with a woman of experience, knowledge and immense wisdom. They were also the one meeting I went to that I knew would not be briefed out to the media. [Laughter.] What made those audiences so special was the understanding the Queen had of issues, which came from the work she put into her red boxes, combined with her years of experience. She knew many of the world leaders—in some cases, she had known their fathers—and she was a wise and adroit judge of people.
The conversations at the audiences were special, but so were weekends at Balmoral, where the Queen wanted all her guests to enjoy themselves. She was a thoughtful hostess. She would take an interest in which books were put in your room and she did not always expect to be the centre of attention; she was quite happy sometimes to sit, playing her form of patience, while others were mingling around her, chatting to each other. My husband tells of the time he had a dream: he dreamt that he was sitting in the back of a Range Rover, being driven around the Balmoral estate; and the driver was Her Majesty the Queen and the passenger seat was occupied by his wife, the Prime Minister. And then he woke up and realised it was reality!
Her Majesty loved the countryside. She was down to earth and a woman of common sense. I remember one picnic at Balmoral that was taking place in one of the bothies on the estate. The hampers came from the castle, and we all mucked in to put the food and drink out on the table. I picked up some cheese, put it on a plate and was transferring it to the table. The cheese fell on the floor. I had a split-second decision to make: I picked up the cheese, put it on a plate and put the plate on the table. I turned round to see that my every move had been watched very carefully by Her Majesty the Queen. I looked at her, she looked at me and she just smiled. And the cheese remained on the table. [Laughter.]
This is indeed a sad day, but it is also a day of celebration for a life well spent in the service of others. There have been many words of tribute and superlatives used to describe Her late Majesty Queen Elizabeth II, but these are not hype; they are entirely justified. She was our longest-serving monarch. She was respected around the world. She united our nation in times of trouble. She joined in our celebrations with joy and a mischievous smile. She gave an example to us all of faith, of service, of duty, of dignity and of decency. She was remarkable, and I doubt we will ever see her like again. May she rest in peace and rise in glory.
Saturday's session in the Commons was another marathon.
Shortly after 1 p.m., Speaker Sir Lindsay Hoyle opened it with this:
I now invite the House to resume its tributes to Her late Majesty. I expect to conclude tributes at 10 o'clock, when I shall invite Ministers to move the motion for a Humble Address to His Majesty. A hundred and eighty-two Members contributed yesterday, and many want to contribute today. I hope Members will therefore keep to the informal time limit of three minutes.
An excerpt from John Redwood's speech follows.
On Friday, he pointed out how historically significant three of our Queens were in British history and for women:
On Saturday, he said:
What always came across to all of us was just how much she respected every person and every institution that she visited. She showed that respect by impeccable manners and great courtesy—always on time, always properly briefed, always appropriately dressed for the occasion.
But, as so many have said from their personal experiences, there was something so much more than that. She was not just the consummate professional at those public events: there was the warm spirit, the personality, and above all the understanding that everyone else at that event was terrified that something was going to go wrong, that they had not understood the protocol, or that there was some magic way of doing it—as my right hon. Friend the Member for Welwyn Hatfield (Grant Shapps) was explaining—that they had to get right. At those public events, the Queen always relaxed people and showed them that there was no right way, because she was there for the people; she was there for the institution; she was there for the event. That is what we can learn from.
Of course, she was also Our Majesty. She was the embodiment of the sovereignty of people and Parliament; she represented us so well abroad and represented us at home, knowing that as a constitutional monarch, she represented us when we were united. She spoke for those times when we were gloriously happy and celebrating, or she spoke for those times when there was misery and gloom and she had to deal with our grief and point to the better tomorrow. That was why she held that sovereignty so well and for so long—a constitutional monarch who did not exercise the power, but captured the public mood; who managed to deal with fractious and difficult Parliaments and different political leaders, but who was above the politics, which meant that our constitution was safe in her hands. I wish her son, the new King, every success in following that great lead as he has told us he will do, and I can, with others, say today—"God save the King."
Redwood later tweeted that he had omitted an important part of his speech:
Indeed.
The Queen attended only two of her former Prime Ministers' funerals, those of Winston Churchill and Margaret Thatcher.
These are links to Friday's (continued here) and Saturday's (continued here) tributes from the Lords, both Spiritual and Temporal.
On Sunday, our vicar said that the Church of England lost her greatest evangelist, the Queen.
I cannot disagree with that.
The Archbishop of Canterbury spoke earlier on Friday afternoon, excerpted below.
He recalled her deep faith, something I wish more CofE clergy had:
… What has been said already today has been extraordinarily eloquent. I do not intend to repeat it but to say something about the Queen's links to faith and to the Church of England. First is her assurance, her confidence, in the God who called her. At her coronation, so long ago, conducted by Archbishop Geoffrey Fisher—the first of seven Archbishops of Canterbury who had the privilege of serving her—the service began with her walking by herself past the Throne, where she would very shortly be seated, and kneeling by the high altar of Westminster Abbey. The order of service said, "She will kneel in private prayer"—and so she did, for some time. The next thing to happen was that homage was paid to her, starting with the Duke of Edinburgh. What that said about her understanding of her role was that she pledged her allegiance to God before others pledged their allegiance to her. She had this profound sense of who she was and by whom she was called.
Then there was her profound, deep and extraordinary theological vision. Many years ago now—seven or eight years ago—I was travelling abroad, and someone who had no knowledge of these things said, "Well, of course, she's not really got that much intellect, has she? I mean, private tutors and all this—what can she know?" Well, what ignorance. In 2012, she spoke at Lambeth Palace on the occasion of her Diamond Jubilee, and the speech she made there is one we return to very frequently, because she set out a vision for what an established Church should be. It was not a vision of comfort and privilege; it was to say, put very politely, "You are here as an umbrella for the whole people of this land". The subtext was, "If you are not that, you are nothing". That is a deep vision of what it is to be the Church—of what it is to be not an established Church but a Christian Church. That came from her deep understanding of faith. Every five years, at the inauguration of the Church of England's General Synod, she came with messages of encouragement and assurance of her prayers. In 2021, her message was,
"my hope is that you will be strengthened with the certainty of the love of God, as you work together and draw on the Church's tradition of unity in fellowship for the tasks ahead."
Publicly, Her late Majesty worshipped regularly and spoke of her faith in God, particularly in her Christmas broadcasts, with quiet, gentle confidence. Privately, she was an inspiring and helpful guide and questioner to me and to my predecessors. She had a dry sense of humour, as we have heard already, and the ability to spot the absurd—the Church of England was very capable of giving her material—but she never exercised that at the expense of others. When I last saw her in June, her memory was as sharp as it could ever have been. She remembered meetings from 40 or 50 years ago and drew on the lessons from those times to speak of today and what we needed to learn: assurance of the love of God in her call, and then humility. It would be easy as a monarch to be proud, but she was everything but that. It was her faith that gave her strength. She knew that, but she knew also her call to be a servant, the one whom she served, and the nation she served, the Commonwealth and the world. Over the last 24 hours, I have had so many messages from archbishops, bishops and other people around the world, within the Commonwealth and way beyond it—from China, Latin America and many other places—in a deep sense of loss.
It has been the privilege of those on these Benches to be intimately involved with momentous occasions so often throughout Her late Majesty's life. As has been said, she has been a presence for as long as we can remember. Jesus says in the Gospel of St Matthew:
"Blessed are those who mourn, for they shall be comforted".
May God comfort all those who grieve Her late Majesty's loss, and may God sustain His Majesty King Charles III in the enormous weight and challenges that he takes on immediately, at the same as he bears the burden of grief, and those around him in his family. May God hold Her late Majesty in His presence, firmly secured in the peace that passes far beyond our understanding.
The Archbishop of York, the Right Revd Stephen Cottrell, spoke in the first of Saturday's sessions in the Lords. He added some light relief:
My Lords, like most Bishops from these Benches, I have stories to tell; stories of doing jigsaws in Sandringham on Sunday evenings and of barbeques in the woods at Sandringham in the middle of January—I even have a slightly scurrilous story about healing the Queen's car. Perhaps I will tell it.
I had preached in Sandringham parish church. We were standing outside and the Bentley was there to get the Queen. It did not start. It made that throaty noise cars make in the middle of winter when they will not start, and everybody stood there doing nothing. I was expecting a policeman to intervene, but nothing happened. Enjoying the theatre of the moment, I stepped forward and made a large sign of the cross over the Queen's car, to the enjoyment of the crowd—there were hundreds of people there, as it was the Queen. I saw the Queen out of the corner of my eye looking rather stony-faced, and thought I had perhaps overstepped the mark. The driver tried the car again and, praise the Lord, it started. The Queen got in and went back to Sandringham, and I followed in another car. When I arrived, as I came into lunch, the Queen said with a beaming smile, "It's the Bishop—he healed my car". Two years later, when I greeted her at the west front of Chelmsford Cathedral, just as a very grand service was about to start and we were all dressed up to the nines, she took me to one side and said, "Bishop, nice to see you again; I think the car's all right today, but if I have any problems I'll know where to come."
When I became the 98th Archbishop of York, during Covid, I paid homage to the Queen by Zoom conference. I was in the Cabinet Office; everyone had forgotten to bring a Bible, including me, but there was one there—which is kind of reassuring. Just as the ceremony was about to begin, the fire alarm went off.
The Queen was at Windsor Castle, but we all trooped out of the Cabinet Office, on to the road, and were out there for about 20 minutes until they could check that it was a false alarm and we could go back in. When I went back into the room, there was the screen, with Her late Majesty waiting for things to begin again. I do not know why I find myself returning to that image of her, faithful watching and waiting through those very difficult times. That was a very small part of a life of astonishing service.
The other thing I have noticed in the last couple of days is that we are all telling our stories. Yesterday, I found myself sharing stories with somebody in the street. I at least had had the honour of meeting Her late Majesty; this person had never met her, but we were sharing stories. I said, "Isn't it strange how we need to tell our stories? It's not as if she was a member of our family." Except she was. That is the point. She served the household of a nation. For her, it was not a rule but an act of service, to this people and to all of us.
I remind us, again and again, that that came from somewhere: it came from her profound faith in the one who said,
"I am among you as one who serves."
The hallmark of leadership is service, watchfulness and waiting. It was her lived-in faith in Jesus Christ, day in and day out, which sustained, motivated and equipped her for that lifetime of service. How inspiring it was last night and this morning to see the baton pass to our new King, King Charles, in the same spirit of godly service to the people of a nation.
I had not thought of this, but the Archbishop of York pointed out the important feast day that coincided with the Queen's death, the Nativity of the Blessed Virgin Mary:
Her Majesty the Queen died on 8 September, the day on which the blessed Virgin Mary is remembered across the world and the Church. Another Elizabeth, the cousin of Mary, said of her when she knew she would be the mother of the Lord:
"Blessed is she who believed that the promises made to her would be fulfilled".
Shot through all our tributes in this House and another place, and across our nation, is that which we have seen, especially as it was only on Tuesday—I thank the noble Baroness, Lady Bull, for reminding us—that the Queen received a new Prime Minister. Can it really be possible? She served to the end—a life fulfilled.
I will finish with a handful of her words. This is what the Queen wrote in a book to mark her 90th birthday, reflecting on her faith in Jesus Christ in her life:
"I have indeed seen His faithfulness."
I am not supposed to call noble Lords "brothers and sisters", but dear friends, we have seen her faithfulness too, and we see it now in our new King. May Her late Majesty the Queen rest in peace and rise in glory. God save the King.
Friday, September 9
At 6 p.m. on Friday, two significant events occurred.
The first was an hour-long service of prayer and reflection held at St Paul's Cathedral:
This service was for people who work in the City of London along with a limited number of members of the public who could apply for wristbands — tickets — to attend. St Paul's posted a page on how to obtain a wristband and how to queue on Friday afternoon for admittance.
Cabinet members attended and sat in the choir stalls. Prime Minister Truss and her Cabinet Secretary Simon Case sat in the front row. On the opposite side were Labour's Keir Starmer and other Opposition MPs.
This was an excellent service. The Cathedral helpfully posted the Order of Service, which can be downloaded from the aforementioned webpage.
Truss read Romans 14:7-12:
We do not live to ourselves, and we do not die to ourselves. If we live, we live
to the Lord, and if we die, we die to the Lord; so then, whether we live or whether we die, we are the Lord's. For to this end Christ died and lived again, so that he might be Lord of both the dead and the living.
Why do you pass judgement on your brother or sister? Or you, why do you despise your brother or sister? For we will all stand before the judgement seat of God. For it is written,
'As I live, says the Lord, every knee shall bow to me, and every tongue shall give praise to God.'
So then, each of us will be accountable to God.
This prayer in memory of the Queen is beautiful:
Eternal Lord God,
you hold all souls in life;
send forth, we pray, upon your servant, Elizabeth,
and upon your whole Church in earth and heaven
the brightness of your light and peace;
and grant that we,
following the good example of those
who have faithfully served you here and are now at rest,
may at the last enter with them
into the fullness of eternal joy
in Jesus Christ our Saviour.
Amen.
Meanwhile, King Charles III addressed the nation for the first time as monarch:
He spoke for ten minutes, first discussing his late mother then pledging his service to the people of the United Kingdom.
He ended his address by saying that Prince William would become the new Prince of Wales and that he had much love for Prince Harry as he and Meghan continue building their life together overseas.
The Telegraph included the following blurb. The last line comes from Shakespeare:
The broadcast was recorded in the Blue Drawing Room of Buckingham Palace, after the King and Queen greeted crowds of mourners outside the gates.
In a final message to his mother, the King said: "To my darling Mama, as you begin your last great journey to join my dear late Papa, I want simply to say this: thank you.
"Thank you for your love and devotion to our family and to the family of nations you have served so diligently all these years.
"May 'flights of Angels sing thee to thy rest'."
The walkabout the paper refers to involved much emotion from members of the public, especially women. One lady kissed him on the cheek and another shook his hand. Historically, one does not touch the monarch. That also applied to the Queen, even if a few people did touch her.
Another similar walkabout by the new King and Queen Consort occurred on Saturday afternoon outside the Palace.
The Accession Ceremony took place on Saturday morning. More about that tomorrow.
After a few weeks' hiatus to cover the Conservative Party leadership contest, I am now able to conclude my series on Red Wall MP Marco Longhi, who represents Dudley North in the West Midlands.
Those who missed them might find Parts 1 and 2 of interest.
Boris tribute
Marco Longhi paid Boris Johnson a brief but heartfelt tribute during the Prime Minister's final PMQs on July 20, 2022:
A long time ago, when I trained as a pilot, I had the luxury of being able to fly around turbulent storms. I also had the ability to rely on a team who kept my aircraft airworthy. As the Prime Minister prepares his new flight plans, may I suggest that he resets his compass to true north and stops off in Dudley, where he will always be welcomed with open arms and sincere affection, and where he will be able to see his legacy?
Boris replied:
I thank my hon. Friend for that renewed invitation. I have spent many happy days with him in Dudley; let us hope that there are more to come.
The Archbishop of Canterbury on Rwanda
After the first scheduled deportation to Rwanda on June 14, 2022 proved to be a non-starter, the Archbishop of Canterbury made his views known yet again.
On June 15, The Express reported (emphases mine):
In a Tweet he wrote: "To reduce dangerous journeys to the UK we need safe routes: the church will continue to advocate for them.
"But deportations — and the potential forced return of asylum seekers to their home countries — are immoral and shame us as a nation."
This, rightly, elicited reaction from some Red Wall MPs:
Red Wall Conservative MPs were furious at the attack on Home Secretary Priti Patel and suggested that Welby give up his two palaces, which come with his Archbishopric, to house illegal migrants and use his personal wealth to pay for their needs.
Ashfield MP Lee Anderson said: "If the Archbishop of Canterbury truly believes that we should do more to keep illegal immigrants in this country and love thy neighbour as thyself then perhaps he should give up his two palaces and pay for all the accommodation costs.
"He can then instruct every Church in the UK that their vicarages should also be given up to illegal immigrants to stay in. These are practical measures he could take to assure the great British public that the Church is doing all it can during these difficult times."
The Archbishop's main residence is Lambeth Palace – south of the River Thames from the Houses of Parliament.
As well as numerous bedrooms the 800-year-old palace boasts extensive gardens, a large library, an atrium, "the pink drawing room" and a state dining room.
Meanwhile, his residence in Canterbury is the Old Palace or Archbishop's Palace, another grade I-listed 800-year-old building where one of the bedrooms was used by the Queen.
Marco Longhi echoed those sentiments:
In a personal message directed at the Archbishop, Dudley North MP Marco Longhi added: "Archbishop, as you appear to feel so strongly about this, will you give up two of your palaces for illegal migrants and pay for their accommodation?
"I note how it is the liberal privileged elite, unaffected by the impact of illegal immigration, whose moral outrage is loudest."
Well said.
Policing
When Boris won the December 2019 general election, increasing the numbers of police around England was a manifesto pledge.
On December 14, 2021, Longhi recognised the efforts the Government had made thus far in the West Midlands:
This Government value all our police officers. That is why, with our 11,053 extra police officers, we are not on target, but ahead of target to deliver our manifesto pledge of 20,000 new officers; there are 867 new officers already working in the West Midlands.
The financial settlement gave West Midlands police an inflation-busting 5.8% increase to its budget—a staggering £36 million. In addition, the rises in local tax that residents pay, together with council tax, put West Midlands police at the top of league tables across the country for precept increases; since 2012, a staggering increase of 79% has been imposed on people in Dudley North and across the West Midlands by the Labour police and crime commissioner.
Dudley people—and those across the West Midlands, I am certain—can see that effective policing is about more than just money. It is about local decision making and how that filters down from the chief constable and the police and crime commissioner.
Longhi was having a go at Labour for taxing West Midlands residents excessively but delivering little value for money with regards to policing. A Labour MP asked him to give way for an intervention, but he refused:
I would rather not, just now. The facts sadly speak for themselves. We need the right strategy for deploying all the new police officers we recruit, making the right decisions locally, and having the will and competence to deliver on them. The Labour police and crime commissioner has closed dozens of police stations, while spending more than £30 million on refurbishing plush offices at his headquarters in Lloyd House in Birmingham.
Another Labour MP asked to intervene, but Longhi refused to do so.
A commotion arose.
This took place in Westminster Hall, where niche debates take place rather than in the House of Commons. This one focused on West Midlands policing.
Sir Edward Leigh (Conservative) was the chair:
Order. Calm down. The hon. Gentleman does not have to give way if he does not want to.
Longhi continued, pointing out Labour's ability to rake in tax money then do nothing for local people:
Meanwhile, Dudley and Sedgley police stations have closed. Some hope was given to Dudley people when a new police station was promised in Dudley. It was hailed by my predecessor—the noble Lord Austin—as a new multimillion-pound station to replace the one in Brierley Hill. Several years later, we are still waiting for it. In 2019, it was announced that it would open in 2021, yet no detailed plans have been submitted by the police and crime commissioner to the council planning department.
Dudley is a major metropolitan town—I believe it is the largest town in the country that is not a city—and it has been without a central police station since late 2017. We are paying the price for no presence as a result of inaction and incompetence. Perhaps the Minister might inquire of the police and crime commissioner when Dudley people might see shovels in the ground and the promised new station.
I have great respect for a local police inspector in Dudley by the name of Pete Sandhu and his team. They are trying their utmost to make do with offices borrowed from Dudley Council that are, quite frankly, not fit for purpose. Inspector Pete Sandhu, the local police teams and PCSOs in Dudley town, the surrounding villages and those across the West Midlands not only deserve but need a station that is fit for purpose. Unfortunately, time and again, Labour police and crime commissioners have failed their constituents—including mine.
At the end of the debate, Kit Malthouse, the then-Minister of State for Crime and Policing, responded on behalf of the Government:
I have never shied away from those difficult financial decisions that have to be taken. Nevertheless, generations will pass, and maybe in 50 years the Labour party will stop talking about that period of austerity and talk about what is happening today. Today, I thought I was coming to a debate about the value of neighbourhood policing. However, it has become obvious that this is a pretty naked political manoeuvre in advance of some difficult financial decisions that the police and crime commissioner for the West Midlands will have to make as he moves towards setting his council tax. My hon. Friend the Member for Dudley North (Marco Longhi) has highlighted how significantly council tax has increased over the past few years …
… I find these debates a bit disheartening because of the lack of curiosity exhibited by Members about the performance in the West Midlands. For example, they never ask themselves why other police forces are doing better. Why is Liverpool doing better than the West Midlands? Why is Humberside doing better than the West Midlands? …
I will give way in a moment. Those Members are unwilling to acknowledge the reason, which is that decisions were made by the previous Labour police and crime commissioner that set the West Midlands back. They have to take responsibility for those decisions; they cannot, I am afraid, just come to this Chamber and keep saying that everything that goes wrong in the West Midlands is the Government's fault, and that everything that goes right is the Labour party's achievement. Nobody is buying that in Edgbaston, Selly Oak, or anywhere else in the West Midlands. They recognise that difficult decisions had to be made, and I urge the Labour party to acknowledge those difficult decisions.
David Jamieson was not all good, and he was not all bad. He had difficult things to do, and he made a set of choices that produced a particular outcome and a particular baseline in the West Midlands. I have no doubt that that was what he said in the elections that he won, and that the people of the West Midlands took him at his word and believed him. They have re-elected a Labour police and crime commissioner, so presumably they are happy with that performance, but complaining that everything that goes wrong is down to the Government seems a little naive to me.
Malthouse concluded:
… The West Midlands made a certain matrix of decisions that resulted in the outcome today. A number of forces around the country made different decisions. As a result, they will have more police officers than they had in 2010. That is something with which hon. Members will have to wrestle; I am afraid that is the plain truth.
On neighbourhood policing, I am pleased to hear that there is a thrust in the West Midlands to invest in neighbourhood policing, not least because the neighbouring Staffordshire force has been doing that for some years, to great effect. The police and crime commissioner and the former chief constable there took the decision to invest in neighbourhood policing and, interestingly, traffic policing, as the basic building blocks of an excellent delivery of service to their people. As a result, they saw significant reductions in neighbourhood crime. My hon. Friend the Member for Dudley North referred to the uplift number, which is 800-odd. I encourage exactly that kind of intervention. It is what lies behind our desire to expand the number of police officers in the country.
Fireworks
I strongly disagree with Marco Longhi's desire to see ordinary people banned from using fireworks.
It has only been in recent years that virtue signallers have made complaints about a splendid celebratory tradition that has been going on for centuries.
In England, at least, fireworks may be used only a few months during the year and, even then, only on certain days:
15 October to 10 November;
26 to 31 December;
3 days before Diwali and Chinese New Year.
However, not everyone obeys the rules. Furthermore, the rules are not enforced in equal measure.
So, Longhi took a survey of his constituents on the matter.
On November 8, 2021, a debate on fireworks took place in Westminster Hall. Although this debate has taken place often in recent years, this particular one was triggered by an online e-petition. The number of signatures required a parliamentary debate.
Longhi said:
There is no denying that access to fireworks in the UK is easy and that enforcement of existing legislation is poor. Although many of us have enjoyed firework displays over the last week to celebrate Diwali or to remember the foiled plot to blow up this House, many, if not more, are traumatised by fireworks. Last year, following scores of pieces of correspondence from constituents, I decided to open a public survey so that all my constituents could share their thoughts on fireworks and the impact they have. I received both positive and negative feedback, but I was truly shocked by the sheer volume of responses I received, many of which were overwhelmingly negative. Given the nature of the internet, the survey spread widely—some might say it went viral—and I found myself with well over 1 million hits on Facebook and well over a 100,000 survey returns.
We have heard about the trauma to pets and livestock. As we approach Remembrance Day, let us also spare a thought for our veterans and those suffering from PTSD, for whom loud and unexpected bangs and flashing lights can have a devastating effect on quality of life.
We have had many Australian influences on legislation over the years, and perhaps it is time for some more. At present in the UK, there is no legal requirement to have any form of licence or training in order to let off consumer fireworks. Fireworks can be sold at any time of the year and can be bought online. In Australia, it is illegal for someone to buy, possess or discharge fireworks unless they hold a pyrotechnician's licence or single-use licence. Authorities must be notified of all firework displays, and authorised events can be found using the authorities' fireworks display search.
One question that I would ask all Members in this room and those unable to join us today is this: should local authorities take the location of public displays into consideration when granting them a licence and should they require displays to be well publicised in the surrounding area? Furthermore, is it right to place greater restrictions on the sale, purchase and use of fireworks? If we agree, surely we can then find an agreeable compromise that protects those who are traumatised by fireworks.
I have already had discussions with my hon. Friend the Minister about this issue and I greatly appreciate his time, but it is time we had a wider debate and an honest discussion. This debate is had every year, but there are no real legislative changes. Surely the time is right for that to happen now.
Paul Scully, who was the Parliamentary Under-Secretary for Business, Energy and Industrial Strategy at the time, responded for the Government.
I agree with what he said:
… I am grateful to the members of the public who took the time to sign the e-petition that has brought us here to Westminster Hall to discuss this important matter, because it has received more than 300,000 signatures and calls on the Government to limit the sale of fireworks.
Therefore, I will take the time to outline and explain the Government's position on this matter, and to say, first of all, why we believe—although I understand that it is not the subject of this debate, as has been outlined—an outright ban on fireworks or an outright ban on their sale to the public is not the appropriate course of action.
We have concerns that banning fireworks in that way could have significant adverse and unintended consequences for public safety, particularly in leading to the emergence of a black market in illicit fireworks. There was a reason why there was not a 2019 debate on this issue. Yes, it was the year of a general election, but more importantly in 2019 the Petitions Committee conducted an inquiry on this issue, which I was a part of as a Member of the Committee, and the evidence given by interested parties aligned with the Government's current view. Those interested parties included both the National Police Chiefs' Council and the National Fire Chiefs Council.
The petition being debated today also highlights the concerns that some people have—understandably—about the impact of fireworks on vulnerable groups and animals. These are issues that I was only too pleased to discuss with my hon. Friend the Member for Dudley North (Marco Longhi) when we met back in July to discuss the fireworks survey that he had carried out in his constituency; as he said, it went somewhat viral. I really sympathise with those views, and I am always sorry to hear the stories of how some individuals and animals have been affected by fireworks. That is why the Government are committed to promoting the safe and considerate use of fireworks, and why we have been carrying out a programme of action on fireworks to ensure that those who use them do so safely and appropriately.
It is important to say that this is a highly regulated area, with a comprehensive regulatory framework already in place to control the sale, availability and use of fireworks. We believe that this framework strikes the right balance for people to enjoy fireworks while aiming to reduce risks and disturbances to people and animals. For example, current legislation sets an 11 pm curfew on the use of fireworks, with later exceptions only for the traditional firework periods of 5 November, Diwali, New Year's Eve and Chinese New Year.
A load of concerned Opposition MPs from Labour and the Scottish National Party piled on with interventions.
Scully replied on noise and trading standards questions:
There is a 120 dB noise limit on fireworks available to consumers. Retailers are restricted to only selling consumer fireworks during a limited period around each of the seasonal celebrations that I just referred to, and retailers may only supply fireworks to the public outside those periods if they obtain a licence from their local licensing authority. However, I fully appreciate that it is just as important to ensure that legislation is enforced effectively. We have heard of some issues where that has fallen short, but I will describe what powers and mechanisms are in place against the illegal sale and use of fireworks.
Local authority trading standards work with retailers to ensure that the fireworks that are sold are safe, and have powers to enforce against those who place non-compliant fireworks on the market. Trading standards and local fire and rescue authorities in metropolitan counties can also enforce against those selling fireworks without an appropriate licence—for example, outside of the normal selling period.
He also said, in response to Opposition MPs:
In our polling, the Government found that 11% of the population want a total ban on fireworks, 36% want a ban on the private sale of fireworks, and, from memory, 64% enjoy the use of fireworks and want to be able to enjoy them both privately and publicly. We came to similar conclusions from our evidence as were reached by the Petitions Committee in its 2019 inquiry. In the extensive report setting out its findings, the Committee concluded that introducing further restrictions on fireworks was not the appropriate course of action, due to the potential unintended consequences. That was just two years ago. We agree with that position.
We acknowledge the experience of people who believe that banning fireworks would push the market underground and make it more difficult to regulate and monitor. We also agree with the Committee's conclusion that such a ban would have a substantial economic effect on those who have built their livelihood in the fireworks industry. Restricting fireworks would probably also have dire consequences for community displays, which raise funds for good causes.
Due to those significant concerns, the Government believe that the most balanced course of action is to continue to pursue non-legislative measures on fireworks to complement existing legislation. That is the position we set out and committed to in our response to the Petition Committee's inquiry.
Leave our fireworks alone!
I've only ever bought sparklers, but I have no idea where my neighbours purchase their fireworks.
For years, our local superette used to have a large, locked counter filled with fireworks at the appropriate time of the year. They got rid of that over a decade ago.
Our neighbourhood's home displays of fireworks, which I used to be able to watch from the comfort of my living room and kitchen, have also decreased over the past few years.
I disagree with Longhi on this subject. However, it is good that he respected his constituents' wishes, conducted a survey and presented the results to the Government.
Business of the House questions
Marco Longhi and Lee Anderson seem to have struck up a friendship. I often see them sitting together in the Commons.
Perhaps Lee's Ashfield food bank brought them together.
This is from the Business Debate of November 25, 2021, when Jacob Rees-Mogg was still Leader of the House.
Anderson said:
Last Friday I was joined by my hon. Friends the Members for Stockton South (Matt Vickers), for Bassetlaw (Brendan Clarke-Smith) and for Dudley North (Marco Longhi) in a "Ready Steady Cook" event in Ashfield. With the help of the local food bank, the college and local top chef Dave Marshall, we were able to produce 175 meals for just 50 quid. This is our fight against food poverty. Does the Leader of the House agree that we need a debate in this place on food poverty, so we can help people to cook on a budget and feed the nation?
Rees-Mogg replied:
I commend my hon. Friend for his amazing achievement and his hard work. I have a friend who teaches people to cook on a budget and runs something called Bags of Taste, which is a very successful way of encouraging people to cook on a budget. My hon. Friend is leading by example.
In the same debate, Longhi raised a complaint about a group of Travellers who refused to move on when they should have:
Yesterday, I received a three-page letter from the leader of Dudley Council. A designated Traveller site in Dudley has been occupied by Travellers who have overstayed the terms of their licence. After due process was followed in the courts in co-operation with the police, the police commander refused to support the council to give cover to bailiffs, citing the European Convention on Human Rights, as Travellers may have rights.
Will the Leader of the House agree to look into the matter and arrange a statement from the relevant Minister? This sets a terrible precedent for councils across the country, which may find that they have wasted taxpayers' money by following legislation set out by this place to invest in designated sites. It can provide indefinite leave to stay illegally, with no protection for landowners. It implies that the police can "woke interpret" and choose to follow laws other than this country's and its courts' instructions. Does that not give further credence to the need to repeal the Human Rights Act, as I have been calling for for many months?
Rees-Mogg gave a theoretically correct reply on policing by consent, which, as we saw during the pandemic, no longer works as such.
He also seemed reluctant to condemn the European Convention on Human Rights, of which the UK is still a signatory:
My hon. Friend asks an excellent question. It is really important that we are all equal under the law, and it is fundamental that the law is carried out by the police. We police by consent; the police are us, and we are the police. For that to work, people have to have confidence that the law will be enforced. Having said that, I do not know the specific details of the case or the reasons for the police decision, but the Government are taking more action to deal specifically with the issues around illegal campsites and associated criminality. I will pass on my hon. Friend's comments to the Lord Chancellor, and I note with great interest what he has to say about the Human Rights Act.
A new Human Rights Act is making its way through the Commons, with the intention that it frees us from EU conventions. However, why we cannot use and enforce the original one, the 1688 Bill of Rights, puzzles me.
King Kong
To end on a lighter note, on January 28, 2022, the Cultural Objects (Protection from Seizure) Bill debate took place.
Suzanne Webb, the Conservative MP for Stourbridge, discussed little-known artefacts and the importance of taking good care of them.
This includes a replica of King Kong:
I now want to tell the tale of an artefact of great distinction and notoriety that resided in the Midlands: an 8 foot tall, 890 kg fibreglass statue commissioned for display in Birmingham in 1972, as part of the sculpture for public places scheme in partnership with the Arts Council of Great Britain. It was commissioned to make something city-oriented, and the sculptor chose King Kong—I do not know whether my hon. Friend the Member for Dudley North (Marco Longhi) remembers the King Kong that resided in Birmingham. I do not want hon. Members to do a quick Google now, as I will be told off by Mr Speaker, but when they leave the Chamber, they can see the incredible artefact that was in Birmingham and supposed to represent it. It was down to the sculptor's association with New York City, and he created it for their own petty reasons. It was displayed in the heart of the city for many years—imagine if it was actually seized! It was something of a notoriety, and I loved it as a child growing up. We used to drive round to look at it. Hon. Members will be pleased to hear that King Kong lives on, and is now retired in Penrith.
Longhi made no reference to King Kong in his speech, but commended the Bill as an important contribution to preserving our culture and history, good and bad:
It is a pleasure to follow my hon. Friend the Member for Vale of Clwyd (Dr Davies) and to speak about this straightforward and reasonable Bill, which has been designed in a specific and targeted way, and will only help to support a sector that, like so many others, has been affected during the pandemic.
Our museums and cultural institutions in the United Kingdom do an incredible job. They have the power to transcend barriers, to preserve and to educate. Our museums, galleries and cultural institutions teach us about the past—the good, the bad and the ugly. By learning about the past, we can be inspired for the future to do better or learn from past mistakes. They stimulate our brains and make us smarter.
My Dudley North constituents are lucky that we have many rich cultural institutions on our doorstep: the Black Country Living Museum, Dudley Zoo and Castle, the Wren's Nest site of special scientific interest, the Dudley Canal Tunnel Trust, nature reserves, our microbreweries and pubs, and our bowling greens and parks. The list really does go on.
——————————————————————–
I am pleased to say that Longhi supported Kemi Badenoch in the Conservative Party leadership contest.
All the best to him for a long and satisfying parliamentary career.
On Monday, June 20, 2022, the Telegraph's columnist Tim Stanley went back in time to explain how the rot set in the Church of England.
This happened early in the Queen's reign. While she has nothing to do with the appointment of Archbishops of Canterbury, as the Prime Minister has this privileged responsibility, the decay is nearly 70 years old.
When I moved here decades ago, everyone said that the Church of England is the Tory (Conservative) Party at prayer.
Even at that time, our church — as did many other Anglican congregations in England — had non-liturgical services, disproving that trope.
The early morning service I attend probably could be described as mostly Conservative. Even then, I'm not sure, and, as only a handful of us are there week after week we are, therefore, hardly representative. The more widely attended mid-morning service certainly could be described as having adherents in the Liberal Democrats and Labour.
Stanley's article, 'How the Church of England became the Labour Party at prayer', discusses two Archbishops of Canterbury, the Right Revds Geoffrey Fisher and Michael Ramsey.
Excerpts follow, emphases mine.
Geoffrey Fisher
Geoffrey Fisher was the Archbishop of Canterbury when the Queen acceded the throne.
Like many Anglican clergy, he was a bit of an oxymoron.
On the one hand:
Fisher, a former headmaster, is rumoured to have talked Princess Margaret out of marrying a divorcee …
On the other hand:
in his diary, long ago in 1957, [Conservative Prime Minister] Harold Macmillan wrote that he dreaded his meetings with the Archbishop of Canterbury, Geoffrey Fisher. "I try to talk to him about religion, but he seems to be quite uninterested and reverts all the time to politics."
Then there was the strange middle ground. Fisher:
opined of the nuclear bomb that "the very worst" it could do "is to sweep a vast number of people from this world into the next, into which they must all go anyway." Yet he was also against Suez and the premium bond, the latter a lottery cooked up by Macmillan that Fisher regarded as ungodly.
The premium bond is great. It is one of the best investments that one can make these days. I 'win' at least one bond worth £25 nearly every month. I don't need to lift a finger; the draw takes place automatically. This is a much better appreciation in capital than a standard savings account will provide these days.
Fisher got shirty with Macmillan when it came time to select his successor:
Macmillan was as mischievous when it came to clerical appointments. He suggested to Fisher that the best choice for his successor at Canterbury might be Michael Ramsey, the liberal-minded Archbishop of York. "Dr Ramsey is a theologian, a scholar and a man of prayer," Fisher is supposed to have said. "Therefore he is entirely unsuitable as Archbishop of Canterbury." He knew this, he explained, because he had been his headmaster. "Well, you may have been Dr Ramsey's headmaster," retorted Macmillan, "but you are not mine" – and, one likes to imagine, picked Ramsey for the job in a fit of obstinacy, ushering in the Swinging Sixties.
Michael Ramsey
Again, we have a contradiction in terms if Ramsey was indeed 'a theologian, a scholar and a man of prayer', because it was during his tenure, according to Tim Stanley, that the C of E embraced the prevailing culture of the Swinging Sixties:
Under Fisher, the mission was to confirm an ancient Christian identity, but by 1960, it was obvious that England was changing fast. Rather than resist, Ramsey&Co sought to negotiate a new role as the nation's conscience, not to block legislation, such as on divorce or abortion, but to shape it (so compassionate and forensic was Ramsey's contribution to parliamentary debate on the legalisation of homosexual acts that one peer accused him of turning Hansard into pornography).
As clerics became dynamic commentators on the state of the nation, it might have seemed as if the gamble were paying off. But they were running on the fumes of the Fifties. It was Fisher-style conservatism that gave them the air of authority that they leant to causes that, in turn, made them sound not like they were trying to transform the world but allowing the world to transform them, that they had become dedicated disciples of fashion. Once, when asked what he thought about a trend for girls in London to walk about topless, Ramsey said, "We must just accept the fact that young people express themselves in new methods of dress that may seem queer to the older among us."
Political shifts also took place during this time. Ramsey became Archbishop of Canterbury under a Conservative Prime Minister. In the middle of his tenure, Labour's Harold Wilson took the helm. Edward 'Ted' Heath, a wet Conservative, succeeded him.
Harold Wilson ran into problems over immigration legislation with Ramsey:
One of the new archbishop's interests was immigration. Ramsey called the Conservatives' 1962 bill, which for the first time limited arrivals from the Commonwealth, "deplorable". Labour, keen to co-opt the church, made him chair of a committee on race relations, though in 1968 Harold Wilson limited Asian immigration from Kenya and Ramsey condemned that bill, too.
Present day
Over the past seven decades, it has been easier for Archbishops of Canterbury to visit war zones in other parts of the world, but, as Tim Stanley points out, it is often the local vicar who encounters the impact of displaced persons:
Archbishops of Canterbury are part of a global communion: they have visited warzones and dictatorships and seen the horrors that compel people to flee, and when these unfortunates turn up in Britain, it is often the parish clergy who encounter them first. A vicar friend walked into his church one day to discover a Nigerian exile had broken into the children's creche and was sound asleep in the Wendy house.
Immigration is a bigger issue than ever, especially as the Government is adamant over its plan to send illegals to Rwanda for processing, despite the fact that the June 14 charter flight lost all of its 37 passengers to legal challenges:
Its hierarchy has completely become the Labour Party at prayer … and so, in a bid to find relevance among those who don't believe in God, the CofE frequently finds itself alienating those who do. It has probably irritated a few Rwandans along the way.
It is still hard for me to believe that most Anglicans voted for Brexit, but I stand corrected. Maybe they no longer go to church? Stanley says:
the one part of the population that has remained steadfastly loyal to the church is Conservative voters (two-thirds of English Anglicans voted for Brexit) …
Most importantly, while most, though not all, C of E clergy are clearly on the Left, they are attempting to court God-fearing Africans, who do not share their social views:
Archbishop Laurent Mbanda, head of the Rwandan Anglicans, has said he supports asylum seekers being sent to his country: he is also one of three African church leaders boycotting the upcoming Lambeth conference over the CofE's tolerance of homosexuality. Here is the final twist. The Church that bent over backwards to ally with the post-colonial world has, in the process, embraced a liberal theology that now puts it at odds with much of the post-colonial world.
How Anglican clergy will reconcile that conundrum is anyone's guess.
Would that the clergy concentrate on our souls and the promise of salvation instead.
Perhaps we need more African bishops serving in England. They know what the point of the Church is — and it isn't politics.
Last weekend saw an Anglican news story make the papers: that of ordinand Calvin Robinson, who is effectively being prevented from taking Holy Orders in the Church of England.
Even though he is mixed-race black, he appears to be the 'wrong sort' of minority for the C of E: too biblical, too conservative, too traditional.
I wrote about him a month ago, when it was clear he was having problems securing a priestly placement, even though he had been offered one in central London at St Alban's in Holborn.
Background
In 2020, Calvin Robinson was a campaigner for Defund the BBC. Here he tells Dan Wootton, then a broadcaster on talkRADIO, that it was absurd for the BBC's Countryfile to suggest that people of colour would feel awkward in the countryside. Robinson said that he practically grew up in Sherwood Forest in Nottinghamshire:
He had more to say in September, when the BBC's A Question of Sport revamped its panel because of their skin colour. Robinson called for more diversity of thought and economic background instead, i.e. conservative working-class people:
Robinson worked as a schoolteacher and assistant principal before entering the seminary. He was also a school governor, so a well-rounded children's education remains important to him. On October 15, he took exception to radical 'theories' entering the British school system:
He had more to say a few days later when Parliament debated the subject. Kemi Badenoch MP is at the despatch box. The Opposition view her as the 'wrong sort' of minority woman:
He deplored the National Education Union's push for school closures early in 2021 because of the pandemic:
Shortly after he tweeted that, he had appeared on a BBC Sunday morning show, The Big Questions. His appearance brought reaction in the form of verbal insults from an activist and academic at Leeds Beckett University, more about whom below. On February 18, he wrote an article about it for the Mail:
… after I had appeared on the long-running BBC discussion show The Big Questions last Sunday morning, I saw a message on Twitter from Aysha Khanom, the founder and director of the Race Trust charity, which works with schools and universities and purports to promote 'racial equity'.
Aysha Khanom personally tweeted of me: 'Please somebody deal with this man!'
I found that menacing. I don't know exactly what she meant by it, but it echoes the sort of language that Tony Soprano would use when he wanted a rival rubbed out.
'Deal with' could easily be read as an incitement to violence.
But I shrugged it off. If I obsessed over every piece of abuse I receive through my phone, I would never think about anything else.
Shortly afterwards, though, the Race Trust Twitter account also attacked me — and this time it was less ambiguous.
'Calvin Robinson,' the tweet read, 'does it not shame you that most people see you as a house n****?'
I knew immediately that any decent person would find that language abhorrent. And sure enough, within 48 hours, Leeds Beckett University, which had worked closely in the past with the Race Trust, cut all ties and deleted Aysha Khanom's profile from its website.
For what it's worth, Race Trust now denies Aysha Khanom sent that second tweet. It claims it came from an anonymous employee without approval, and that this unnamed person has since been dismissed …
There was no apology to me for labelling me with a racist slur …
The sad truth is that many on the Left want to remove my freedom to speak independently.
To them, my skin colour means I am supposed to be part of a homogenous, faceless group, without a mind of my own.
But I am more than that. I am British, a Christian, a Midlander, a former computer programmer, a qualified teacher, a political adviser, a son and a brother.
I have many elements to my identity, and all these things have far more effect on how I see the world.
Above all, I believe in self-reliance and personal responsibility. I want to make the most of my life and refuse to see myself as oppressed or downtrodden …
After Oprah Winfrey's interview with the Sussexes aired, Robinson was dismayed that Meghan claimed the Archbishop of Canterbury married her and Harry privately in the garden when it was only a rehearsal. Robinson explains the C of E criteria for a wedding ceremony:
Robinson joined GB News as a panellist and presenter soon after its launch in the summer of 2021.
This appearance of his from August 2021 was excellent. In it, he defended traditional Christian values which have informed the UK's way of life for centuries:
Two weeks earlier, he reminded us that then-Health Secretary Matt Hancock resolutely said in November 2020 that the coronavirus vaccines would not be given to children. Robinson is opposed to children receiving the vaccine. Yet, by the time he posted this tweet, schoolchildren were receiving it. What a difference several months make:
On August 18, he was very generous in defending the free speech of the aforementioned academic at Leeds Beckett University who called him something offensive. He wrote an article for Spiked about her, saying:
It is for that reason that I haven't joined in the demands for academic Aysha Khanom to lose her job. Leeds Beckett University has cut ties with Khanom after an organisation she runs, the Race Trust, racially abused me on social media.
Earlier this year, I appeared on BBC One's The Big Questions to discuss the state of racism in the UK. I spoke about how I have been racially abused for not holding the 'correct' opinions. In response, the Race Trust tweeted: 'Does it not shame you that most people see you as a house negro?'
Khanom maintains that the 'house negro' tweet was not sent by her, though she accepts responsibility for it. Either she or someone at her organisation was clearly comfortable using such racist language in public. The good news is that the tweet was rightly challenged and 'ratioed' by the masses on Twitter …
In my eyes, what's most worrying about this incident is that Khanom's organisation was set up to promote this critical race theory view – or what it calls 'race literacy' – in schools and universities. Sadly, this is what passes for 'anti-racism' today. Is this really the kind of worldview we want to indoctrinate our young people into?
The rise of identitarian racism should definitely worry us, but we won't be able to challenge it openly if its defenders aren't free to express themselves.
On Remembrance Sunday last year, an asylum seeker attempted to bomb Liverpool Cathedral but set himself off at the nearby children's hospital instead. He had converted to Christianity. Pictured below is a man from his church who housed him for a while. Calvin voiced his opinion:
By early 2022, anyone not towing the media-Government line on coronavirus was anathema. Robinson was empathetic but frank with a university student who lost her friends because she dared to dissent:
Calvin Robinson anathema to C of E bishops
This brings us to the present, the past week, in fact.
On Friday, May 20, Robinson said on GB News that he had no choice but to leave the Church of England. He announced that he would be joining GAFCON, Global Anglican Future Conference, which is traditional in its teaching and practice.
The Mail on Sunday was already working on the story. A Mail+ article from Saturday, May 21, reported (emphases mine):
Internal emails obtained by The Mail on Sunday reveal that Archbishop of Canterbury Justin Welby asked to be shown examples of Mr Robinson's tweets amid mounting alarm within the Church over his criticism of 'bleeding-heart liberal vicars' and the Church's race policy.
In one, The Rt Rev Rob Wickham, Bishop of Edmonton, voiced his fears to senior church leaders after Mr Robinson insisted that Britain was not riven with racism. 'Calvin's comments concern me about denying institutional racism in this country,' he wrote.
Mr Robinson also claimed that the Bishop of London, the Rt Rev Sarah Mullally, lectured him about racism in the church, insisting that 'as a white woman I can tell you that the Church is institutionally racist'.
Mr Robinson, a former teacher who has trained for two years to become an ordained member of the clergy, has been told that plans for him to serve as a deacon at a parish in London have been axed.
Last night he described the decision as 'soul-destroying' and claimed it followed a 'sustained campaign' against him by the Bishop of Edmonton over his views, including on whether Britain and the Church were institutionally racist. 'These people are claiming they are institutionally racist, yet they are disregarding the opinion of an ethnic minority because it is not fitting their narrative,' he said.
In comments set to rock the Church's hierarchy, he questioned whether the Archbishop of Canterbury, who has claimed the Church is 'deeply institutionally racist', had a part in blocking his ordination.
'I would love to know how big a role the Archbishop had in it because he has certainly been a part of the conversation. He is the boss and the fact they have gone ahead and cancelled me suggests that he was happy with that.'
… The Church said last night there were only a few clergy positions in London and 'no suitable option' available in London for Mr Robinson, who became a trainee vicar – an ordinand – at St Stephen's House, a theological college at the University of Oxford, in October 2020.
Yet, Robinson had already been offered a post at St Alban's, Holborn.
I gave you his background above because that is what the bishops were examining:
The emails reveal that even before starting his studies, Mr Robinson's public comments were being scrutinised by church leaders. He claimed on ITV's Good Morning Britain in September 2020 that the Black Lives Matter movement was stoking racial tensions, adding: 'There are elements of racism in this country we need to stamp out, but while we are seeing everything as racist we are kind of undermining those racial issues we need to address.'
That day the Bishop of Edmonton emailed the Bishop of London, the Rt Rev Sarah Mullally, and a PR adviser to the Diocese of London to register 'concern' about Mr Robinson's denial of institutional racism in Britain. 'Calvin Robinson is not only a political commentator, but he's an ordinand and former teacher in this area,' he added. Despite the Church's view on racism, the Commission on Race and Ethnic Disparities concluded in March 2021 that Britain did not have a systemic racism problem. In November 2021 senior Church leaders received a complaint after Mr Robinson shared on social media a Daily Mail investigation that exposed how the Church gave official advice that being baptised could help failed asylum seekers stay in Britain.
It followed news that suicide bomber Enzo Almeni, who detonated a device at a hospital in Liverpool last year, was baptised there as a Christian in 2015. Mr Robinson, by then a GB News commentator, tweeted that 'misguided bleeding-heart liberal vicars could be complicit in recent terror attack', adding: 'Not to mention abuse of the Holy Sacrament of Baptism.'
Bishop Wickham criticised the 'highly irresponsible' comments in an email to Emma Ineson, assistant bishop to the Archbishops of Canterbury and York, and said they remained online after 27 migrants died in the English Channel. 'These are clear examples as to why, in my opinion, his ordination should be looked at very closely indeed,' he wrote. 'Calvin's Twitter feed is here. It is worth scrolling down.' He revealed the Archbishop of Canterbury had 'asked for examples of Calvin Robinson's tweets' and highlighted that Mr Robinson had also criticised the findings of the Church's anti-racism taskforce, which recommended quotas to boost the number of black and ethnic-minority senior clergy. Bishop Ineson said she would show the information to Archbishop Welby.
Mr Robinson was to be ordained as a deacon with a part-time role as assistant curate at St Alban's Church in Holborn, central London. But in February the Bishop of Fulham, the Rt Rev Jonathan Baker, told him the role was 'likely to prove problematic, and would not lead to a fruitful or happy formation for you in your early years in ordained ministry'. Mr Robinson offered to reduce his media work but was told he would still not be able to take up the proposed role because 'that moment had passed'.
The Bishop of London suggested he was stoking division:
At a meeting with Mr Robinson this month, Bishop Mullally insisted the decision was not about his politics, but because his 'presence' on social media and TV 'is often divisive and brings disunity'.
Robinson received support from a young Conservative MP, Tom Hunt:
Tory MP Tom Hunt backed Mr Robinson last night, saying: 'The message the Church seems comfortable to send out is that it's OK to propagate some political views but not others. Sadly, Church of England congregations will continue to decline as millions of Christians are alienated by its behaviour.'
The C of E prelates involved in deciding Robinson's fate as a future priest declined to comment:
The Archbishop of Canterbury and Bishops of Edmonton and London declined to comment. The Diocese of London said: 'We have a limited number of curacies available. In this instance, it is felt that there is no suitable option available that London can offer. We continue to be in conversation with Calvin, are willing to work with him to discern the right way forward, and we keep him in our prayers.'
The Mail on Sunday's article has this title: 'EXCLUSIVE: Not woke enough to be a vicar! Black political commentator Calvin Robinson who said Britain is NOT a racist country is BLOCKED from becoming a priest by a white bishop as a result'.
That title sums the situation up perfectly. Is not the bishops' attitude a racist one, as in 'We whites know better than you'?
Calvin tweeted the article:
The article is the same as Mail+'s, but it does include photos of the main players in this story.
The Mail kindly gave space for Robinson to respond beneath their article.
Excerpts follow:
Sitting in an ornate study in the Old Deanery – a 17th Century mansion house opposite St Paul's Cathedral – the Bishop of London put her hand on my arm and quietly said something that left me astounded.
'Calvin, as a white woman I can tell you that the Church IS institutionally racist,' the Rt Rev Sarah Mullally told me.
We had been discussing the Church's race policy, which I had been vocally objecting to for some time. The Bishop could not understand that as a black man, I simply did not share her – and the Church hierarchy's – view on this contentious issue.
The Archbishop of Canterbury, Justin Welby, has proclaimed that the Church of England is 'deeply institutionally racist' and called for 'radical and decisive' action. Last year an Anti-Racism Task Force recommended using quotas to boost the number of black and ethnic-minority senior clergy, introducing salaried 'racial justice officers' in all 42 dioceses and launching 'racial justice Sunday' once a year.
I fundamentally disagreed with this approach, which is based on a faith in divisive Left-wing Critical Race Theory, instead of the teachings of Christ. I believe it is divisive and offensive.
I have experienced plenty of racism in my life, but it has always been down to a minority of malicious individuals. I do not think the claim that either the Church, or wider society, is institutionally racist has ever been supported by robust evidence.
The Bishop of London's hushed condescension during our meeting made me realise that any dissent from the Church's ingrained view, which to me seems like nothing more than virtue-signalling, is not welcomed. The Church claims it wants to listen to the perspectives of minorities – well, I am one of them but it doesn't appear to want to hear my view because it also happens to be a conservative one.
For the past two years I have been training for ordination at St Stephen's House at the University of Oxford. I was due to begin a curacy at a lovely parish in Holborn, Central London, and within a year I hoped to be ordained a priest.
It takes a long time to acknowledge a call from God to serve as a priest, and it's a vocation that often involves the sacrifice of leaving behind a successful career. I gave up my career as an assistant headteacher and consultant for the Department for Education to throw myself into my theological studies.
He said that the role at St Alban's would have allowed him time to still appear on GB News and do other media work:
as an acknowledgment that I see my media work, which reaches a huge audience, as part of my calling and future ministry.
Another bishop was involved with deciding Robinson's fate, the Bishop of Fulham, also in London:
During a Zoom call, the Bishop of Fulham, the Rt Rev Jonathan Baker, told me that there had been 'a lot of turbulence' over some of the views I had expressed online and on TV. It was no secret that senior figures in the Church disliked me. I am after all a traditionalist – which means I do not believe in the ordination of women – and I have never been afraid to voice my criticism of the Church's drift away from what I, and many of its parishioners, think are its core values.
I did not expect everyone to agree with me, but what I did expect is the right to express my own opinions. I had always been taught that the Church of England was a broad church.
I later discovered that Church leaders in London appeared to have had deep misgivings about my ordination from the very beginning of my training – despite spending more than £20,000 of parishioners' money on sending me to study theology at Oxford.
Emails that I obtained via data-protection rules revealed that bishops at the very top of the Church had been closely scrutinising my public comments.
'His political agenda is I guess what you would call libertarian – anti-woke, anti-identity politics, Covid-sceptical,' the Bishop of Fulham wrote in one email. 'His tweets get him into trouble sometimes and there have been complaints to the Bishop of London that he shouldn't be ordained.'
Robinson rightly asks why, if the Church is institutionally racist, these white bishops have not tendered their resignations:
If the Church is institutionally racist, as the Archbishop of Canterbury insists, then why have he and other senior figures, including Stephen Cottrell, the Archbishop of York, and Sarah Mullally, the Bishop of London, not resigned? After all, they have all been bishops for years, which suggests they have been unable to solve the problem.
He warns that the C of E is entering apostasy. He is not wrong:
If you defend family values, the sanctity of marriage, all human life being sacred, or the fact that God made us male and female, you'll face opprobrium.
Something has gone wrong. The established Church is entering apostasy, and the faithful masses in the congregations and the hard-working clergy deserve better.
Fortunately, he has received much support from clergy and laity:
Since my ordination was blocked I've been contacted by clergymen and lay people up and down the country who have been sharing their stories of how they've been silenced by the Church for holding conservative views.
He confirmed that he will be joining GAFCON and explained why it is so heartbreaking for him to leave the C of E:
After becoming increasingly disillusioned, I recently decided to leave the Church of England and join a more orthodox institution, the Global Anglican Future Conference (GAFCON). Walking away from the Church of England has been heartbreaking.
People often quizzed me on why, if I was so troubled by its direction, I was also so determined to take holy orders in the Church of England. It was because, for me, the Church is the body of Christ and, perhaps naively, I thought I could help pull things back on track from within.
The Sunday Telegraph provided a few more details:
He had been training to become a priest at the University of Oxford for the past two years and was due to begin a curacy at a parish in Holborn, London, but was turned down for the role by the Bishop of Fulham, the Rt Rev Jonathan Baker, in February …
Mr Robinson submitted a subject access request (SAR) to the Church of England – asking the organisation for access to the personal information it held on him.
It was then that he discovered a series of internal emails between Church bosses raising concerns over his opinions on institutional racism in Britain …
In another email, the Bishop of Fulham writes: "I wanted a word about an ordinand, Calvin Robinson. You might be aware of him … "
Of the Bishop of London, he pointed out the irony of her insisting that the Church was institutionally racist:
Former teacher Mr Robinson added: "She was just ignorant. She accused me of being controversial so I said to her in a polite way that some of the things she says are controversial too – like the fact that she thinks the Church is institutionally racist. And then she turned around and said that.
"She was contradicting herself because in one instance she's saying the Church is racist and needs to listen to the lived experiences of ethnic minorities, but then she was refusing to listen to my lived experience as a black man because it didn't fit with her narrative."
On Sunday evening, he appeared on Mark Dolan's GB News show:
On Monday, May 23, The Times carried a report.
In it, we discovered that the Bishop of Edmonton's child or children attended the school where Robinson was an assistant principal:
Calvin Robinson has been blocked as a priest by the Church of England after the Right Rev Rob Wickham, the Bishop of Edmonton, privately warned church leaders against ordaining him. Robinson, a social commentator, was an assistant principal at a school where Wickham was a parent …
Robinson said that he was shocked to be told in February that his ordination was likely to be problematic. He applied under the Data Protection Act to see the information the church had on him.
He discovered that the Bishop of Edmonton had been reporting him to church leaders since he began his studies. Robinson went on Good Morning Britain in September 2020 to say that he was against Black Lives Matter because it was increasing racial tensions, and he believed that everyone in this country had an equal opportunity to succeed. The same day Wickham wrote to the Right Rev Sarah Mullally, the Bishop of London, to "bring it to your attention . . . Calvin Robinson is not only a political commentator, but he's an ordinand and former teacher in this area who has just started at St Stephen's House. Calvin's comments concern me about denying institutional racism in this country."
In December last year, Wickham wrote to the Right Rev Emma Ineson, Bishop to the Archbishop of Canterbury, and also to the Bishop of London. Wickham sent them some of Robinson's tweets, adding: "These are clear examples as to why his ordination should be looked at very closely."
Robinson said he felt "betrayed and a bit heartbroken" at Wickham's conduct. He said: "To hear that people are campaigning behind your back after you have given them all that you have got, I don't know how to put it into words."
Church sources said that Wickham's status as a parent at the school had no bearing on this matter.
Robinson rightly urges the C of E to return to the fundamentals of faith:
The TV pundit, who now works for GB News, accused the church of apostasy by "moving away from core tenets of the faith. They need to focus on scripture because that's the word of God."
He said that he had now joined the Global Anglican Future Conference and would be ordained to one of its parishes. "My hope is to attract all the people who feel the Church of England doesn't represent them because it is obsessed with woke issues."
The Diocese of London issued an updated statement:
A spokesman for the Diocese of London said: "We wish him well in the ministry he is now going to exercise."
On Monday evening, Douglas Murray's editorial for The Times appeared. It listed a modern litany of the C of E's preoccupation with race at the expense of everything else, including during the time when an African, the Right Revd John Sentamu, now retired, was Archbishop of York. Oh, the irony:
It is two years since Justin Welby, the Archbishop of Canterbury, gave a speech to the General Synod in which he apologised for the "institutional racism" of the Church of England. "I am sorry and ashamed," the archbishop said. "I'm ashamed of our history and I'm ashamed of our failure. There is no doubt when we look at our own church that we are still deeply institutionally racist."
It was a strange claim to make — not least because at the time the next most important bishop in the church was John Sentamu, the Archbishop of York.
Murray rightly points out the diversity among C of E clergy:
This fatal combination of ignorance and present-era preening seems to have become the tenor of the established church — and in no area so much as in the church's demands for clergy representation. As it happens, the Anglican communion has one of the most diverse bodies of clergy that any religious denomination could wish for. But the church has declared that it will continue to be racist until such a day as minority ethnic groups (or UKME as the acronym-laden C of E likes to call them) are over-represented among the clergy.
Even my church has had a minority vicar, who has since been promoted within the Church.
Murray then discussed Calvin Robinson's sad situation:
And in a way, here is revealed the modern Church of England's actual party political affiliation.
Having shut its doors throughout the Covid-19 crisis, the church now seems to be back with a new faith: an evangelical and dogmatic belief in its own iniquity and racism. Fail to go along with that belief and the church has no place for you.
So determined is the C of E about this new gospel that a church hierarchy of white people is even willing to bar a young black man from joining the clergy because he will not agree with their insistence that their own church is racist. It is a farce, certainly, but a tragedy, too — for a church that has need of talent, and an era that has need of institutions that are not principally intent on blowing themselves up.
On GB News Monday evening, presenter Dan Wootton chose the Bishop of Edmonton as his Union Jackass of the day. Good on the former Brexit Party MEP, the lady on the right, for nominating him:
Conclusion
Calvin Robinson is surely doing all the right things. That is why our pharisaical clergy have opposed his ordination.
May God continue to sustain Calvin with his grace. May our Lord Jesus continue to give him inner peace. And may the Holy Spirit continue to enhance his gifts of wisdom, fortitude and discernment.
I wish him all the best as he pursues a path to ordination.
On May 15, 2022, the Gospel reading for the Fifth Sunday of Easter (Year C) was from John 13, wherein Jesus gave the Apostles a new commandment at the Last Supper:
13:34 I give you a new commandment, that you love one another. Just as I have loved you, you also should love one another.
13:35 By this everyone will know that you are my disciples, if you have love for one another."
When I returned home from my local Anglican church that day, I read about two rather sad situations in the Church of England involving senior clergy.
The way the bishops handled these situations made me wonder how Christlike they are.
Loving each other the way Christ loves us demands a lot of concessions on our part, the very same that He showed towards His disciples, making allowances for human misunderstanding and weakness. Above all, He forgave those faults time and time again, with loving patience.
The Save the Parish network has been doing much heavy lifting in trying to get bishops to become more responsive to and respectful of parish churches across the country.
What follows are two examples of their efforts.
Cornwall
A conflict has been growing between Anglicans in Cornwall and their bishop, the Right Revd Philip Mounstephen, over the axeing of clergy, meaning the potential closure of historical churches in that beautiful county.
The Diocese of Truro prefers to spend money on administrative positions, as the following Save the Parish letter to the bishop makes clear:
The bishop sent back a terse reply, saying that, as the group had gone to the press with the story, he would not be meeting with them, as they had requested:
Given that you have taken this route I'm afraid I will not be offering you a meeting.
Rather, I encourage you to engage seriously in the On the Way process in your local community.
If you have continuing concerns these should best be raised in your PCC and by the normal synodical processes by which we work.
That sounds so petty and so corporate. Would our Lord have responded in such a cold and unforgiving way? Certainly not.
A Catholic chimed in to say that the same thing is going on in the Diocese of Plymouth. Very sad:
The Catholic Diocese of Plymouth is in serious decline and I wouldn't be at all surprised to learn that my Bishop (and the entire episcopate of England & Wales) and your Bishop are sharing & comparing notes on this planned 'reconfiguration'. Very best wishes to you in this.
Other Anglicans were also unhappy with the direction the C of E has taken over the past few years:
I agree with the next tweets that say the rot started around 30 years ago:
Without churches, how will the faithful gather together to worship? Please don't say via a Zoom call with self-consecrated sandwich bread and a glass of whatever juice or wine one has to hand. We are not Evangelicals.
Where is the Great Commission (Matthew 28) in this plan?
16 Then the eleven disciples went to Galilee, to the mountain where Jesus had told them to go. 17 When they saw him, they worshiped him; but some doubted. 18 Then Jesus came to them and said, "All authority in heaven and on earth has been given to me. 19 Therefore go and make disciples of all nations, baptizing them in the name of the Father and of the Son and of the Holy Spirit, 20 and teaching them to obey everything I have commanded you. And surely I am with you always, to the very end of the age."
Budget
Earlier this month, on May 11, the C of E issued its triennial budget, channelling £3.6 billion into parishes and social action.
Some people, like the Revd Giles Fraser, were happy but others wondered how much money would actually be going to parishes. Pictured is the Archbishop of Canterbury:
The Revd Marcus Walker of St Bartholomew in London, who chairs the Save The Parish network, was guardedly optimistic about the budget and its allocation to individual churches:
Interestingly, the Archbishops of Canterbury and York will not deliver the budget to the General Synod until July — with no vote.
Why wasn't it presented to them upon release?
Someone noted the irony and hypocrisy of the Archbishops going to the press to announce the budget. Hmm:
On May 12, the Archbishop of Canterbury announced that the hierarchy 'got it wrong' in ignoring parish churches, especially those in the countryside:
If it hadn't been for Save The Parish, would the hierarchy have admitted their mistake?
Would Jesus have ignored the humble faithful? No, certainly not. The people the disciples tried to shoo away, Jesus invited to approach Him. He never turned His back on anyone.
The Guardian's account of the budget emphasised its social action aspects (emphases mine):
The archbishop of Canterbury, Justin Welby, and the archbishop of York, Stephen Cottrell, admitted the C of E had been heavy-handed in concentrating funds on urban churches in recent years. "Allocating money in the past was perhaps, if we're honest, a bit too driven from the centre. Now we're trusting the dioceses much more," said Cottrell.
Rural parishes have complained that they have been starved of cash, which has been diverted to inner-city churches. As a result, churches have closed and clergy jobs have been lost, according to a campaign group, Save the Parish.
Welby said: "Over the last few years, the priority has been very much for the more heavily populated areas. Having listened carefully to what people were saying, this [funding] is for everyone, including the rural areas."
The core of the extra funding will be used for programmes that focus on young and disadvantaged people, deliver social action work, address racism and cut the church's carbon footprint.
It will support churches in the poorest areas of the country and fund more clergy in frontline ministries, including chaplaincies. "This funding will help the C of E raise its game in its service to the nation," said Cottrell.
The Telegraph's article focused more on individual parish churches, the ones that Save The Parish is concerned about:
The Church of England's Archbishops have admitted that they "got it wrong" by not prioritising rural parishes over city churches, as they announced new funding worth £3.6 billion …
In an online press conference, the Archbishop of Canterbury, the Most Rev Justin Welby, and the Archbishop of York, the Most Rev Stephen Cottrell, announced the plans and reiterated their commitment to rural church communities, saying that rural parishes "really matter" …
Furthermore, in December, figures from the Office for National Statistics revealed that the number of Christians in England is close to falling below 50 per cent for the first time, as atheists now account for more than a third of "faith" groups in an increasingly secular society.
Do we think the bishops and two archbishops care about that statistic? They should, given that they, too, must follow the Great Commission. It wasn't meant only for the Apostles.
The Archbishop of York, the Most Revd Stephen Cottrell said:
I don't think we don't need to be embarrassed by saying we've learned, we've listened. We've changed our mind. It's not that what was done in the past was bad and this is now good. It's: that was good and we think this is better.
The money which was distributed in this kind of way in recent years, was much more focused on populous areas. And of course populous areas, they really matter. But so do rural areas, and there's a lot of hidden rural poverty, and it just meant that they didn't meet the criteria. So we've changed the criteria and that's a good thing to do …
We do want to move to try to decentralise it a bit and work much more closely with dioceses and parishes.
I think the game changer has been that we've now much more clearly got a set of owned priorities as a church and that therefore provides the criteria for spending.
And it might be in very small ways in rural communities or in so-called larger ways.
It's the 'or' that bothers me in that sentence, but I could be reading too much into it. Why not say 'and' instead?
Save The Parish gave a level-headed response:
Following the press conference, Admiral Sir James Burnell-Nugent, of the Save the Parish campaign group, said: "We welcome the recognition of the pleading from Save The Parish and similar organisations that are fighting against cuts in clergy and the formation of mega-parishes.
"It is very pleasing that rural and small parishes will be able to apply for the new funding, having been deliberately excluded from the previous three-year round.
"The proof of the pudding will be whether these new funds are genuinely accessible in a way that eases the huge burden of the parish share which is a struggle for so many parishes."
I couldn't agree more.
Conclusion
The two illustrations above show how pharisaical the C of E senior clergy are.
They remind me of the Sanhedrin in the Gospels: haughtily lording their position over those they considered to be inferior — the faithful.
I do hope this new plan works out, but, on a wider note, senior clergy must really do better to be more Christlike in the way they deal with priests and laity.
There was little of an Easter recess for some British parliamentarians, especially Boris Johnson.
That said, the relatively short break proved once again that a week is a long time in politics.
The Archbishop
The Archbishop of Canterbury's Easter sermon continued to rattle cages last week. Boris was the last to chime in on Tuesday, April 19, when he spoke to Conservative MPs after making another apology in Parliament for being fined in relation to a Downing Street lockdown gathering.
The Times reported that Boris defended the new policy of flying illegal immigrants to Rwanda for processing (emphases mine):
Boris Johnson took aim at the Archbishop of Canterbury last night as he criticised senior members of the clergy for having "misconstrued" the policy of sending some asylum seekers to Rwanda.
Sources close to the prime minister said he told Conservative MPs in a private meeting that it was a "good policy" despite some "criticism on the BBC and from senior members of the clergy".
Johnson said that some clergymen "had been less vociferous in their condemnation on Easter Sunday of Putin than they were on our policy on illegal immigrants".
Justin Welby, the Archbishop of Canterbury, used his Easter Day sermon to condemn the policy, in which some migrants will be flown to Rwanda on a one-way ticket. He said it raised "serious ethical questions", contradicted Christian values and would not "stand the judgment of God".
On Wednesday, The Times reported that the Church of England fired back:
John Bingham, the Church of England's head of news, said: "If true, a disgraceful slur." He highlighted Welby's recent criticism of the invasion as a "great act of evil". Some of the country's most senior clerics today joined Welby in condemning the Rwanda policy.
Why is it a 'slur' and a 'disgraceful' one at that? Boris's words were polite enough.
The Times article also said that Boris was critical of the BBC. Hmm, I wonder:
At the private meeting of Tory MPs Johnson was also critical of the BBC's coverage of the asylum plans, claiming it had misunderstood the proposal to send migrants on a one-way flight to the African country as early as next month.
The Telegraph put the story of alleged criticisms of the BBC on their front page, which Keir Starmer picked up on at Prime Minister's Questions on Wednesday. Apparently, there was a misunderstanding between reporters and Downing Street:
The Spectator's Melanie McDonagh, a practising Catholic, explained why some sort of policy was necessary, particularly to stem the daily multiple Channel crossings to England from France:
Certainly, as the reading that preceded the Gospel in the service today [Easter] makes clear, 'God has no favourites'. By this was meant Jews and Gentiles, but by all means, make the point that asylum seekers are of equal worth to Spectator readers. But it doesn't follow that this prescribes any particular asylum policy. When the Archbishop says that the deportation to Rwanda policy 'cannot carry the weight of our national responsibility as a country formed by Christian values', he's being a little disingenuous. When Britain was far more overtly Christian than it is now – say, a couple of generations ago – it actually had a far more restrictive approach to immigration and asylum. The concept that anyone who wanted to come, should be able to come, is pretty well a product of the Blair government's opening the floodgates from 1997, 25 years ago. Before that, yearly immigration levels were in the tens of thousands; asylum claims were far lower than now but were probably dealt with more individually than at present.
As I say, declaring that 'the details are for politicians' leaves an important question hanging: should anyone who wants to come to Britain, and can get to Britain, be allowed to stay? Who should be returned? Of the 600 a day who arrive here by boat alone (leaving out of account every other means of entry), only two per cent have passports; should they by virtue of abandoning their identity documents automatically be granted leave to remain? When is it right to return people either back to where they came from, or indeed to Rwanda? (He doesn't suggest they will be persecuted there.) And what about the EU countries on the frontline of the asylum influx (on a scale that far surpasses Britain); are they ever justified in turning back boats? How many people must European countries admit? And if the Archbishop thinks there can be no sending back asylum seekers or economic migrants, he must say so. But he must also acknowledge the consequences for the host countries.
I am not so stupid as to suggest that clergy should stay out of politics; the Archbishop was speaking in Canterbury cathedral where Thomas Becket was killed for taking issue with the king. But the Archbishop – like Pope Francis in other contexts – is being disingenuous in criticising a government policy as unChristian without any attempt to acknowledge the scale and nature of the problem it is designed to address.
And there is no denying that the C of E is political. GB News's conservative commentator and former teacher Calvin Robinson is an Anglican ordinand in the Diocese of London, which claims it cannot give him an assignment, even though he has had offers:
Here's an interesting exchange on that tweet:
On Easter Monday evening, the Archbishop of Canterbury's name came up on Dan Wootton's GB News show, and one of the panellists, Emma Webb, nominated Calvin Robinson for Greatest Briton. Patrick Christys, filling in for Dan, chose Nathan Dunne, who is raising money for charity by walking across the country barefoot:
The Prime Minister
On April 12, Tuesday in Holy Week, Boris Johnson received a fine from the Metropolitan Police for an event during lockdown nearly two years ago. So did the Chancellor, Rishi Sunak.
Both men paid their fixed penalty notice — 'It's not a fine!' — promptly.
Naturally, Boris had to apologise before the House of Commons again, as he did earlier in January this year.
There was a feeling of déjà vu about it all:
… let me begin in all humility by saying that on 12 April, I received a fixed penalty notice relating to an event in Downing Street on 19 June 2020. I paid the fine immediately and I offered the British people a full apology, and I take this opportunity, on the first available sitting day, to repeat my wholehearted apology to the House. As soon as I received the notice, I acknowledged the hurt and the anger, and I said that people had a right to expect better of their Prime Minister, and I repeat that again in the House now.
Let me also say—not by way of mitigation or excuse, but purely because it explains my previous words in this House—that it did not occur to me, then or subsequently, that a gathering in the Cabinet Room just before a vital meeting on covid strategy could amount to a breach of the rules. I repeat: that was my mistake and I apologise for it unreservedly. I respect the outcome of the police's investigation, which is still under way. I can only say that I will respect their decision making and always take the appropriate steps. As the House will know, I have already taken significant steps to change the way things work in No. 10.
The only difference was the mention of the Ukraine conflict:
I travelled to Kyiv myself on 9 April—the first G7 leader to visit since the invasion—and I spent four hours with President Volodymyr Zelensky, the indomitable leader of a nation fighting for survival, who gives the roar of a lion-hearted people. I assured him of the implacable resolve of the United Kingdom, shared across this House, to join with our allies and give his brave people the weapons that they need to defend themselves. When the President and I went for an impromptu walk through central Kyiv, we happened upon a man who immediately expressed his love for Britain and the British people. He was generous enough to say—quite unprompted, I should reassure the House—"I will tell my children and grandchildren they must always remember that Britain helped us."
But the urgency is even greater now because Putin has regrouped his forces and launched a new offensive in the Donbas. We knew that this danger would come. When I welcomed President Duda of Poland to Downing Street on 7 April and Chancellor Scholz the following day, we discussed exactly how we could provide the arms that Ukraine would desperately need to counter Putin's next onslaught. On 12 April, I spoke to President Biden to brief him on my visit to Kyiv and how we will intensify our support for President Zelensky. I proposed that our long-term goal must be to strengthen and fortify Ukraine to the point where Russia will never dare to invade again …
This Government are joining with our allies to face down Putin's aggression abroad while addressing the toughest problems at home, helping millions of families with the cost of living, making our streets safer and funding the NHS to clear the covid backlog. My job is to work every day to make the British people safer, more secure and more prosperous, and that is what I will continue to do. I commend this statement to the House.
The Commons was lit, especially the Opposition benches, more about which below.
Going back to June 19, 2020, grateful conservatives were happy that Boris was even alive to celebrate his birthday, which The Times reported on the following day. No one said anything negative at the time.
Boris had survived coronavirus but was far from well. It took the rest of the summer for him to recover. Even in September, he still looked and sounded somewhat peaky.
Furthermore, some pundits and MPs have said that Downing Street is a Crown estate, thereby exempt from the rules.
We will have to see what transpires from the Metropolitan Police and civil servant Sue Gray's respective reports.
The Opposition
After Boris apologised on Tuesday of Easter Week, a number of MPs on both sides of the aisle were talking animatedly.
Keir Starmer responded for the opposition benches, which agitated his side even more:
What a joke!
Even now, as the latest mealy-mouthed apology stumbles out of one side of the Prime Minister's mouth, a new set of deflections and distortions pours from the other. But the damage is already done. The public have made up their minds. They do not believe a word that the Prime Minister says. They know what he is.
As ever with this Prime Minister, those close to him find themselves ruined and the institutions that he vows to protect damaged: good Ministers forced to walk away from public service; the Chancellor's career up in flames; the leader of the Scottish Conservatives rendered pathetic. Let me say to all those unfamiliar with this Prime Minister's career that this is not some fixable glitch in the system; it is the whole point. It is what he does. It is who he is. He knows he is dishonest and incapable of changing, so he drags everybody else down with him. [Interruption.] The more people debase themselves, parroting—[Interruption.]
The Speaker, Sir Lindsay Hoyle, interrupted:
Order. I cannot hear what is being said because there is so much noise.
There were also cries of disagreement about Starmer's labelling Boris dishonest:
Withdraw!
The Speaker agreed:
Order. What I will say is that I think the Leader of the Opposition used the word "dishonest", and I do not consider that appropriate. [Hon. Members: "Breaking the rules!"] We do not want to talk about breaking rules, do we? I do not think this is a good time to discuss that.
I am sure that if the Leader of the Opposition withdraws that word and works around it, he will be able—given the knowledge he has gained over many, many years—to use appropriate words that are in keeping with the good, temperate language of this House.
Starmer accepted the Speaker's direction and said:
I respect that ruling from the Chair, Mr Speaker. The Prime Minister knows what he is.
Starmer then launched an attack on the Conservative MP for Lichfield, Michael Fabricant, without naming him. If you wish to mention an MP by name, you must ask their permission beforehand:
Last week, we were treated to a grotesque spectacle: one of the Prime Minister's loyal supporters accusing teachers and nurses of drinking in the staff room during lockdown. Conservative Members can associate themselves with that if they want, but those of us who take pride in our NHS workers, our teachers, and every other key worker who got us through those dark days will never forget their contempt.
Casting our minds back to January — and Boris's first apology — Michael Fabricant suggested resurrecting an idea of Tony Blair's: an Office of Prime Minister, which would allow Boris to control No. 10 the way the US president does the White House. The context of Fabricant's intervention was in response to Boris saying that he was going to improve the way Downing Street is run:
On Tuesday in Holy Week, Fabricant suggested that Downing Street get a bar so that staffers would not need to wheel luggage to the local shops in order to bring alcohol back to No. 10:
Guido Fawkes had the story and accompanying audio:
Expertly reading the room, Michael Fabricant used an interview on 5 Live in the wake of Boris, Rishi and Carrie receiving pre-notices to defend staffers wheeling in suitcases of booze to Downing Street during lockdown:
There is no bar in Downing Street… That's the only way you can actually get any alcohol into Downing Street.
He then went on to argue the suitcase claims makes the argument for a bar being installed in No. 10, like there is in the Houses of Parliament.
It seems reasonable enough, provided the room is under lock and key until after hours.
The next day, however, Fabricant went further, which is what Starmer was talking about:
Guido's tweet brightened my day. It goes so far in explaining why the UK and Ireland used to be so much fun, once upon a time. Unfortunately, that fun ended by the mid-1990s as we imported an increasingly American mindset.
A terrific exchange followed his tweet, with others recalling similar memories of secondary school:
But I digress.
I don't remember how many times Boris apologised after MPs' comments.
Earlier that day, the Speaker announced that Starmer had approached him about Boris's fixed penalty notice, the lockdown 'parties' at Downing Street and the issue of parliamentary privilege:
Before we come to today's business, I wish to make a short statement. I have received letters from a number of hon. and right hon. Members, including the right hon. and learned Member for Holborn and St Pancras (Keir Starmer), the Leader of the Opposition, requesting that I give precedence to a matter as an issue of privilege. The matter is the Prime Minister's statements to the House regarding gatherings held at Downing Street and Whitehall during lockdown. The procedure for dealing with such a request is set out in "Erskine May" at paragraph 15.32.
I want to be clear about my role. First, as Members will appreciate, it is not for me to police the ministerial code. I have no jurisdiction over the ministerial code, even though a lot of people seem to think that I have. That is not the case. Secondly, it is not for me to determine whether or not the Prime Minister has committed a contempt. My role is to decide whether there is an arguable case to be examined.
Having considered the issue, and having taken advice from the Clerks of the House, I have decided that this is a matter that I should allow the precedence accorded to issues of privilege. Therefore, the right hon. and learned Member for Holborn and St Pancras may table a motion for debate on Thursday. Scheduling the debate for Thursday will, I hope, give Members an opportunity to consider the motion and their response to it. The motion will appear on Thursday's Order Paper, to be taken after any urgent questions or statements—hopefully, there will not be any. I hope that this is helpful to the House.
Incredibly, the Speaker — a Labour MP — granted five and a half hours of debating time. Some weeks back, the Opposition benches were allowed a generous two or three hours of debating Boris's suitability for office in light of these 'parties'.
How much debating time does one need?
It started at 11:30 a.m. and ended at 4:30 p.m., so, five hours in length. Here's the transcript. I saw about a third of it. Again, much like Boris's second apology, this was much like listening to the other debate from earlier this year.
What more can they reasonably say? Not a lot.
Most people I know would like for the media and the opposition to leave Boris alone. As I said above, he wasn't well at that point in 2020, was taking advice from other people upon whom he relied heavily — rightly or wrongly — and would have trusted the person(s) who said that having a short birthday get together was permissible.
It lasted around ten minutes, apparently, and the cake was left unopened in its Tupperware container.
Returning to last Thursday's debate on privilege and Boris. A division — vote — was expected, but, in the event, none took place.
The end result was that the matter will now be referred to the Committee of Privileges pending the release of the Metropolitan Police report. Chris Bryant (Lab) chairs the committee, which is cross-party:
Resolved,
That this House
(1) notes that, given the issue of fixed penalty notices by the police in relation to events in 10 Downing Street and the Cabinet Office, assertions the Rt hon Member for Uxbridge and South Ruislip has made on the floor of the House about the legality of activities in 10 Downing Street and the Cabinet Office under Covid regulations, including but not limited to the following answers given at Prime Minister's Questions: 1 December 2021, that "all guidance was followed in No. 10", Official Report vol. 704, col. 909; 8 December 2021 that "I have been repeatedly assured since these allegations emerged that there was no party and that no Covid rules were broken", Official Report vol. 705, col. 372; 8 December 2021 that "I am sickened myself and furious about that, but I repeat what I have said to him: I have been repeatedly assured that the rules were not broken", Official Report vol. 705, col. 372 and 8 December 2021 "the guidance was followed and the rules were followed at all times", Official Report vol. 705, col. 379, appear to amount to misleading the House; and
(2) orders that this matter be referred to the Committee of Privileges to consider whether the Rt hon Member's conduct amounted to a contempt of the House, but that the Committee shall not begin substantive consideration of the matter until the inquiries currently being conducted by the Metropolitan Police have been concluded.
It should be noted that no other British political leader or minister serving during the pandemic has been fined or censured for breaking lockdown or violating other coronavirus restrictions: Nicola Sturgeon (Scotland, twice); Vaughan Gething (Wales, once), Michelle O'Neill (Northern Ireland, once) or Mark Drakeford (Wales, once).
Only Boris, our Prime Minister, is in trouble.
And that trouble could become very deep, indeed.
A week really is a long time in politics.
More to follow tomorrow.
Reaction to Justin Welby's Easter heavily politicised sermon last Sunday was strong.
We appreciate that he has no time for Boris Johnson or other Conservatives, but could he please put a sock in — sorry, stop to — it and start preaching about the Risen Christ, particularly during Eastertide?
An article in The Telegraph on Easter Monday noted:
The Archbishop's Easter sermon is the latest in a series of interventions by him over government policy.
The Telegraph's report is titled 'Stop your misguided moralising on Rwanda deal, MPs tell Archbishop of Canterbury'.
Here is the background (emphases mine below):
The Archbishop of Canterbury has been accused of "misguided moralising" after leading the Church of England's attack on the Government's Rwanda deal and "partygate".
The Most Rev Justin Welby was said to have undermined the role of the Church by using his Easter Sunday address to criticise the Prime Minister's plan to send asylum seekers to the landlocked east African nation.
On the same morning, the Archbishop of York questioned what kind of country people want Britain to be and suggested that public servants should lead by example when it comes to morality.
In what has been perceived as a veiled attack on Boris Johnson over the Downing Street parties scandal, the Most Rev Stephen Cottrell asked whether the UK wants to be known for being a country where "those in public life live to the highest standards, and where we can trust those who lead us to behave with integrity and honour".
Meanwhile, the Archbishop of Canterbury said on Sunday that the policy on sending illegal immigrants to Rwanda raises "serious ethical questions" and "cannot stand the judgment of God" or "carry the weight of our national responsibility as a country formed by Christian values" …
On Sunday night, the Archbishop was accused of hypocrisy after Whitehall sources pointed out he has warned four times about the problems of illegal immigration.
Conservative MPs were quick to react:
Priti Patel, the Home Secretary, appeared to hit back, writing in The Times: "We are taking bold and innovative steps and it's surprising that those institutions that criticise the plans, fail to offer their own solutions."
Jacob Rees-Mogg told The Telegraph that whilst the Church is "authoritative in all matters that pertain to God", the same cannot be said for "day-to-day practical solutions".
"This is not an unreasonable perspective for an Archbishop, he is completely entitled to it," he said. "But he has missed the effect of the policy. It is an informed and important opinion, but it is not revealed truth."
Tim Loughton, the Tory MP for East Worthing and Shoreham, and a member of the Commons home affairs select committee, said: "There is nothing ungodly about trying to come up with practical solutions to end the vile trade in human misery where criminal gangs daily put lives at risk to profit from trafficking people into the UK illegally, based on ability to pay rather the legitimacy of their claim.
"The people traffickers and those who turn a blind eye to ending this ungodly activity are the ones who should really be the target of the Archbishop's misguided moralising."
He went on to say that the Church of England's failure to distinguish between good and evil is "directly linked to its greatly diminishing influence in our country".
Ben Bradley, the Tory MP for Mansfield, said that the Archbishop is "way out of tune with public opinion", adding that "commenting on government policy is not Justin Welby's job".
He said: "Given that Welby has previously raised concerns about immigration overburdening communities, and the importance of recognising concerns about immigration, it's pretty hypocritical to now slate the Government for finding solutions to those issues."
Good on Ben Bradley for remembering what Welby has said in the past:
The Archbishop has previously warned about the problems of small-boat Channel crossings. He described the deaths of at least 27 migrants off the coast in France last November as a "devastating loss of human life", adding: "This cannot go on."
At the time, he said Britain needs a "better system based on safety, compassion, justice and co-operation across frontiers".
He also acknowledged that "we can't overburden communities, we have to be realistic about that" and called on states, religious groups and civil society to "come together in a spirit of pragmatism and compassion" to find a solution to immigration.
The article has more of the Archbishop's best hits.
So, we had no message about the Resurrection from him or his second in command, the Archbishop of York, who started well with this opening on BBC Radio 4:
The message of Easter is that stones are rolled away …
Yes, yes, go on:
… and barriers are broken down, and therefore it's truly appalling and distressing. I'm appalled at what's being proposed and I think we can do better than this."
Oh.
He added that:
the Government was "out of tune with British people" and those arriving on small boats are in "just as much need" as Ukrainians.
Hmm. Really?
Tens of thousands of able-bodied men under the age of 40 are crossing the Channel in droves. Ukrainian women and children in need of shelter and support are coming to the UK. Goodness knows what they've been through since the end of February while their partners or husbands fight for their country.
A Telegraph editorial tells us what else was in Welby's sermon:
Mr Welby's strictures were not confined to asylum policy. He also said families were "waking up in fear" because households were facing the "greatest cost-of-living crisis we have known in our lifetimes". They had "cold homes and empty stomachs" and the soaring cost of everyday life was the "first and overwhelming thought of the day" for most people, he added.
The paper sees an issue with Welby's never-ending pronouncements. He, much like the Labour Party, never has a solution:
Mr Welby sees it as his duty to speak out on behalf of the poor and dispossessed, though it is never clear what he wants to see happen as an alternative. The asylum policy is certainly radical, but is it the Church's position that anyone who makes it to the UK should be allowed to stay? What is the Church doing to look after and house them?
Mr Welby opposed the rise in National Insurance contributions to pay for more to be spent on the NHS. This newspaper also argued against it, but because we think people in general are overtaxed, whereas Mr Welby thinks the better-off should pay more. Is it really the Church's job to conduct a running political commentary in this way?
No.
On Easter Monday evening, I tuned into Nigel Farage on GB News.
Farage is Anglican. He accused Welby of deeply damaging the Church of England's reputation. I agree.
Here's a bit more from his editorial:
GB News presenter Nigel described the Archbishop's statement as a "big virtue signal".
The former Brexit Party Leader said: "He didn't mention anything about the criminal traffickers, he didn't mention anything about the drownings in the Channel, he didn't mention anything about those who come to this country and finish up effectively working in slave labour conditions."
He added: "It is true form as a left-wing archbishop who has done more to damage the reputation of the Church of England, to decrease the numbers turning up every Sunday than almost anybody who has ever lived."
You can watch it in full:
One of the former chaplains to the Queen, Dr Gavin Ashenden, who recently converted to Catholicism, discussed Welby's sermon. He said that the Archbishop has a religion:
but the religion isn't Christianity.
Ashenden said that a BBC Panorama programme warned some years ago that we would have a global problem with immigration from the equatorial countries northward:
Farage also interviewed Steve Valdez-Symonds from Amnesty International UK, who is a relatively frequent GB News guest:
This article has a partial transcript of their discussion:
Steve Valdez-Symonds, from Amnesty International UK, criticised the Home Secretary's proposal and said "the evidence doesn't suggest it can work."
"People on these journeys are on the whole not in the position to assess what's going to happen to them at the end," added Steve Valdez-Symonds in an exclusive interview with GB News.
Nigel Farage hit back at the Refugee & Asylum Rights Director's explanation: "Oh no, they are[;] otherwise they would stay in France. They come here because they see four-star hotels."
"They think we're treasure island. That's why they all want to come here, it's obvious isn't it?" said the GB News Presenter.
Mr Valdez-Symonds responded: "I think that's absolutely nonsense I'm afraid. If that were the case, why is it that France continues to receive so many of more people into its asylum system than do we?"
The former Brexit Party Leader said: "It's because they are on the Mediterranean. France isn't choosing to have large numbers of people to come in, but they're coming across the Med."
The dinghies continue to arrive:
France requires an 18-month wait before benefits can begin. The UK has a much shorter waiting time.
Furthermore, it is unlikely that France puts migrants in four-star hotels. But, as our MPs so often say in the House of Commons:
We're better than that.
Yes, we certainly are, for better or worse.