You are currently browsing the tag archive for the 'voter fraud' tag.
On March 28, 2021 an hour-long interview with General Thomas McInerney appeared online.
I do not know of the interviewer Nino, but the two seemed to get on well. Both support President Trump and both are sceptical of coronavirus vaccines.
General McInerney, 84, began his career in the Army then joined the Air Force. He completed his initial pilot training in 1960. In 1962, he flew escort missions in the West Berlin Air Corridor during the Berlin Crisis and escort reconnaissance missions over Cuba during the Cuban Missile Crisis.
In April 1963, he was one of the first forward air controllers assigned to South Vietnam with a Vietnamese army division. He was sent to South East Asia on three additional deployments.
After the Vietnam War, he completed studies at the Armed Forces Staff College and graduated from the National War College.
In 1974, he was stationed in London as the air attaché to the U.S. Embassy. Between November 1976 and October 1977, he was assigned to the Royal Air Force Station in Upper Heyford, England, where he was vice commander of the 20th Tactical Fighter Wing.
In 1979, he was stationed in Asia, first in the Philippines, where he commanded the 3rd Tactical Fighter Wing at Clark Air Base, then in 1981, in Japan, where he commanded the 313th Air Division at Kadena Air Base.
In 1983, he was transferred to Hawaii, where he served as deputy chief of staff for operations and intelligence, Headquarters Pacific Air Forces at Hickam Air Force Base.
In 1985, he returned to Europe. He became commander of 3rd Air Force, Royal Air Force Station in Mildenhall, England. The following year, he became vice commander in chief, Headquarters US Air Forces in Europe, Ramstein Air Base, West Germany.
In 1988, he was reassigned to the United States, serving as commander of Alaskan Air Command, Alaskan NORAD Region, and Joint Task Force Alaska. In July 1989, when Alaskan Command was activated, he became its commander. In 1990, he commanded the 11th Air Force, the redesignation of Alaskan Air Command.
His last active duty assignment was as assistant vice chief of staff, Headquarters U.S. Air Force, Washington, DC. He retired from the Air Force in 1994, with the rank of Lieutenant General. Afterwards, he served on the boards of directors for several military contractors.
General McInerney endorsed Donald Trump both in 2016 and 2020. After the 2020 election, he supported the use of the Insurrection Act and all additional powers available. He was quoted as saying that he wanted President Trump:
to declare a national emergency, use the Insurrection Act, declare martial law, suspend habeas corpus, set up military tribunals, and suspend the electoral college [vote for president and vice-president] on December 14 and the presidential inauguration on January 20.
A summary of the General's interview with Nino follows. As one would expect in a conversation, the subjects ran together, so I have separated them below.
2020 election
At the 13-minute point, he said that Trump had 79 million votes to Biden's 68 million. At the 15-minute mark, he mentioned the recount in Maricopa County and two more recounts in two other states. He believes that the Supreme Court did not want to hear any cases about the election because Chief Justice John Roberts is 'compromised' in some way.
He also thinks that coronavirus was engineered to steal the election and that someone cut a deal with the C C P.
The General said that President Trump should have appointed Sidney Powell as special legal counsel in December.
He said that, as nothing has been done:
Americans have got to take control over their country.
As to why Cyber Command did not report election irregularities on the night to the President, he said
I believe we have a Deep State.
He would like to know the reasons why Trump did not contest the election and made this assertion:
Trump had a lot of the Deep State around him.
He repeated later in the interview that Trump was surrounded by:
Deep Staters.
When asked about his former Vice President, Mike Pence, he said:
I think he is Deep State. He is part of the problem.
He was disappointed that the military did not do anything with regard to the election. He believes that Germany intercepted Dominion votes but took no action:
I think the military's asleep at the switch.
He said that the United States needs:
a transparent audit that we're all comfortable with.
He asserted:
Biden did not win.
He explained that votes exceeded voter rolls in all suspect states, a situation that, on a national level, was previously:
unheard of … a stolen election.
He said that Biden did not win through properly cast votes and that one would have to throw out mail-in votes as well as:
get the right people to look at them.
He thinks the focus needs to be on clean elections for 2022:
We've got to just keep banging away at it …
and if done fairly, Trump gets in for 2024.
As for the Q movement, he said:
I don't know anything about the Q movement.
Coronavirus
With regard to coronavirus, at the 17:30 mark, the General said:
Do not take the vaccine.
He revealed that has already had one shot.
He explained that the vaccine is a prophylactic mRNA and that there will be no built-in immunity to COVID-20 and COVID-21.
Whether all the military have had it is still unconfirmed, he said.
He was and is clearly against lockdown. He added that a proper hydroxychloroquine protocol would have been sufficient and also suggested ivermectin. He believes that the CDC (Centers for Disease Control) lied to President Trump.
He mentioned a Dr Northrop, whom he described as a well renowned physician, who says that Americans should stop taking the vaccine.
The General has strong feelings on this subject:
This is our Normandy, this is our Iwo Jima.
He believes that Dr Fauci:
has been part of this cabal.
He mentioned New York's Governor Cuomo and deplored the nursing home deaths in that state.
On the other hand, he added, COVID-19 has a 99.2% survival rate and said of the American response:
We over-reacted.
Potentially, he said, Americans could go to 'camps' for refusing vaccines.
Conclusion
General McInerney said that Americans need to be realistic and resolute:
Hope is not a strategy.
He also foresees difficulties later in 2021, with serious problems starting:
this winter.
My readers wonder why President Trump is not doing more to oppose the Biden administration's agenda. I am not sure that he can do much, if anything, at this point.
I will have more on the concluding days of the Trump administration next week which might help explain his current circumstances. I haven't written about those final weeks. They have been too painful to consider.
Recently, I've been featuring a bit more about Kevin McCarthy (R-California), the GOP Leader of the House of Representatives.
In my December 15 post, I'd doubted whether he'd been on the Trump Train since 2016, but, according to my ancient bookmarks, he took his first step on board in March that year.
By the way, this is still my favourite tweet from the 2020 election. Well done:
Looking back, as early as March 2016, McCarthy, House Majority Leader at the time (Paul Ryan was Speaker of the House), believed that Candidate Trump could galvanise the Republican Party. On March 10 that year, the venerable Sacramento Bee reported (emphases mine):
House Majority Leader Kevin McCarthy on Thursday rejected the possible calamitous effects a Donald Trump nomination could have on the Republican Party, arguing instead that the businessman and political newcomer may improve the chances of GOP House challengers in November …
He also outlined his hopes for the House:
"Our desire (for) the House is to become the place of ideas," he said. "Whoever becomes president, make the debate about policy, so when the election is over we can solve the problems. But the American people decided which way they wanted to go."
He walked alone.
On May 9 that year, he made the risky move of signing up to be a Trump delegate. Politico reported:
House Majority Leader Kevin McCarthy has signed up to serve as a delegate for presumptive Republican nominee Donald Trump at this summer's national convention in Cleveland.
McCarthy's move is notable in part because House Speaker Paul Ryan has said he is "not ready" to endorse Trump, even though he is the lone Republican remaining in the contest …
Peter Thiel, the billionaire tech venture capitalist who was an early investor in Facebook and a past backer of Kentucky Sen. Rand Paul, signed up as a Trump delegate in House Minority Leader Nancy Pelosi's San Francisco district.
David Horowitz, a conservative activist, and Richard Grenell, a former spokesman for past U.S. ambassadors to the United States, also are slated to be Trump delegates.
Other notable Trump delegates from the California congressional delegation include Reps. Darrell Issa and Duncan Hunter, who was one of the earliest House members to endorse the Manhattan billionaire.
Late in 2019, Kevin McCarthy strongly supported President Trump through his first impeachment in the House:
Sadly, his optimism was misplaced on the House votes. Fortunately, the Senate acquitted the American president.
In December 2020, he spoke out against election fraud:
Around Christmas, he fought against approving billions in foreign aid when Americans were unemployed because of the coronavirus crisis:
Just after Christmas, PJ Media thought McCarthy had a good chance of replacing Nancy Pelosi as Speaker of the House. Oh, if only.
The fragrant Judge Jeanine Pirro was equally hopeful. However, McCarthy dampened her enthusiasm by telling her that Nancy Pelosi was calling back a Democrat congresswoman who had coronavirus to vote in person (true, it happened)! He also said that the Democrats were going to stop freedom of speech as guaranteed under the First Amendment (that also happened). He also thinks that California governor Gavin Newsom will be recalled (I certainly hope so):
Only a few days later, when the break-in of the Capitol building took place and a woman was shot just as electors' votes were to be tabulated (news of the policeman came later), McCarthy, according to John Solomon's Just the News, asked President Trump to make a statement:
"This is not the direction we should go," McCarthy told Fox News.
McCarthy was one of the first to say he heard police saying that shots were fired. To this day, Nancy Pelosi has not said a thing.
Then came calls for President Trump's second impeachment, which McCarthy rightly objected to, saying that the United States would recover her rightful place as 'our shining city on a hill':
Then, the anti-Trump Lincoln Project waded in. How they can use President Lincoln's name in vain is repulsive, to say the least.
The Lincoln Project objected to Trump defenders such as McCarthy, Senator Ted Cruz (R-Texas) and junior Senator Josh Hawley (R-Missouri):
Unbelievable.
This is what Kevin McCarthy said when the House held their brief impeachment hearing for President Trump. It's pretty clear that he objected to a kangaroo court (my words) impeachment with no due process and that is why he said such a move would be divisive for America (around the 3-minute mark):
Not every Trump fan was happy with his speech, but, as GOP Leader, his speech had to be balanced, speaking to both sides of the aisle.
Another Trump fan objected to McCarthy's opposition to Joe Biden's push for yet another amnesty. Why is unclear. Perhaps they do not have as many McCarthy bookmarks as I do.
However, everything Kevin McCarthy has said is consistent with his support for President Trump.
The Lincoln Project thought so, too:
At the end of January, Kevin McCarthy visited Mar a Lago to work with President Trump on a strategy to take back the House of Representatives in 2022:
On January 30, the Lincoln Project posted an egregious video aimed at McCarthy. Words fail me. This is a must watch:
On a brighter note, tomorrow's post will look at some of the newest shining stars in the Republican Party. Kevin McCarthy introduces them one by one.
On Monday, December 14, while the London area worried about moving into severe coronavirus tiers on Wednesday, electors from the 50 US states voted for the next leader of the free world.
Joe Biden won the Electoral College vote 306-232 with no faithless electors, however, the vote still has to be ratified on January 6, 2021, by the new Congress.
Biden gave an acceptance speech, riffing Margaret Thatcher's of many years ago which featured the Prayer of St Francis:
Guido Fawkes reported that Senate Majority Leader Mitch McConnell (R-Kentucky) acknowledged Biden's December 14 win:
Our country has officially a President-elect & a Vice President-elect… The Electoral College has spoken… Today, I want to congratulate President-elect Joe Biden.
Newsmax, the new network for disgruntled Fox News viewers, will now refer to the Democrat as President-elect Biden, even though reporters and presenters will continue to cover Team Trump's election battles.
It will be interesting to see what happens on January 6:
That is what the Trump supporters' Stop the Steal coalition hopes will happen. They said as much in their press conference after the electors voted and Mitch McConnell announced his congratulations to Biden and Harris:
McConnell doesn't want any Republicans countering the Electoral College result:
However, Rep. Mo Brooks (R-Alabama) is ready:
Brooks explained his position as follows:
I'm quite confident that if we only counted lawful votes cast by eligible American citizens, Donald Trump won the Electoral College, and we should not be counting illegal votes and putting in an illegitimate President of the United States.
President Trump is not wrong:
Would Mike Pence be ready to defend the Republic on January 6? He has that power, if he chooses to use it:
But, let's go back to Monday. A lot happened.
Earlier that day …
President Trump's adviser and speech writer Stephen Miller (with the dark tie below) spoke about an 'alternative slate' of electors:
Miller probably meant this:
I do not know if this would work or not, but former New York City police commissioner Bernard Kerik says:
The New York Times has a map that shows the result from each state.
In Nevada, Georgia and Pennsylvania, the electors' votes went to Biden.
However, Right Side Broadcasting (RSBN) showed a different result for Nevada:
Gateway Pundit reported that Georgia and Pennsylvania — much larger votes — also voted for the incumbent (emphases mine):
Electors in Georgia and Pennsylvania also cast procedural ballots for Trump while the states continue to be contested.
Procedural ballots are cast in states where the result is contested.
Yet, as I mentioned above, the NYT map shows that Biden won those states.
Trouble for Michigan's Republican electors
Meanwhile, appointed Republican — GOP — electors in Michigan were not allowed to vote. They could not even get in the building.
Gateway Pundit reported and included tweets:
A group of GOP electors on Monday arrived at the Michigan State Capitol to cast their votes for President Trump …
The police would not allow the Republicans in:
'The electors are already here, they've been checked in,' the police said as they blocked access to the Capitol.
The police told the Republican electors:
If you have a problem, you can contact the Governor's office.
Gateway Pundit stated that a Trump elector asked for the Sergeant at Arms. The police replied that he was in a meeting.
With that, the police directed the electors to Governor Gretchen Whitmer's office. She's a Democrat, by the way:
The Republican electors explained that they wanted to vote because Michigan's result is in dispute and under investigation (see below):
Meanwhile — Michigan: audit of Antrim County voting equipment
However, other big news took place in Michigan that day. A state judge, Kevin J Elsenheimer, ordered the release of the results of the December 4 audit of Dominion voting machines in Antrim County. (If you've ever visited Traverse City, famed for its annual Cherry Festival held in July, you've been in Antrim County.)
This is a big victory for Team Trump. As The Election Wizard explains:
The results had been shielded by a protective order, but this morning, Judge Elsensheimer removed that order, clearing the way for the audit results to go public.
The judge further ordered that the case move to the discovery phase and mentioned the case could go to trial by April of 2021.
The hearing was conducted by ZOOM and streamed live on YouTube this morning.
The release of the report is a major victory for President Trump and his supporters, who have called into question the Dominion machines.
However, the journey from December 4 to the 14th was an uneasy one for Constitutional Attorney Matthew DePerno of the DePerno Law Firm, who represented William Bailey, a member of the team who audited the county's voting equipment.
Gateway Pundit reported that Bailey and his team looked at everything:
the 16 Dominion voting machines, tabulators, thumb drives, related software and the Clerk's 'master tabulator' used in the November elections in Antrim County, MI.
The audit — inspection — resulted in a 'collection' and took eight hours:
With 16 CF cards (similar to SIM cards), 16 thumb drives, and forensic images of the Dominion voting machines in hand, the IT team was escorted to the local Antrim County Airport by two Antrim County Sheriff vehicles, where they boarded their jet plane with evidence in hand.
On the morning of December 5 — the following day — Matthew DePerno received a worrying phone call about a previous legal case about which he'd never had a complaint:
Mr. DePerno received a call from the MI State Bar warning him that they have opened an investigation into a case he tried over a year ago in Lapeer, MI.
In case anyone wonders if Lapeer is near Antrim County, it is in the opposite direction: south east central. Antrim County is in the north west.
The caller told DePerno that the State Bar of Michigan had requested 6,000 pages of documents related to the case that had never had a single complaint filed about it. DePerno told Gateway Pundit that the call might have been 'an act of intimidation' on the part of Michigan's Attorney General, Dana Nessel.
On December 9, DePerno and his client William Bailey awaited the forensic results from the election equipment inspection. While they awaited the outcome, DePerno discovered that he was named in a legal motion regarding Antrim County. It was a protection order filed by AG Dana Nessel to prevent the results of the investigation being made public.
The following day, DePerno filed an emergency order with the aforementioned state judge, Kevin J Elsenheimer, to lift the protection order, which the judge granted on Monday, December 14.
What an ordeal.
Here's a tweet with a summary of the findings:
Also, on the same topic:
One can only hope that Team Trump can use this information in their legal pursuits.
Georgia Dems gear up for January state run-off
Democrats in Georgia are gearing up for the state senate run-off in early January 2021.
On December 14, Newsmax reported that failed gubernatorial candidate Stacey Abrams was ready:
Former Georgia gubernatorial candidate Stacey Abrams, now the founder of the voting rights organization Fair Fight, said that Democrats are prepared to win the Senate runoff race in January, and that 1.2 million absentee ballots have already been requested.  
"We know from the numbers that we're in a good place; 1.2 million absentee ballots have been requested thus far," Abrams told CNN's Jake Tapper on "State of the Union." "Just to put that into context, 1.3 million were requested for all of the general election."
It is so sad that the United States has sunk this low. I never would have expected it.
Ongoing violence has its part to play
Political violence has been part of America's urban life since the summer. Granted, it hasn't been taking place everywhere, but it's been endemic in Portland, Oregon, and Seattle, Washington. Other sporadic outbursts of violence have occurred in other American cities, including Washington, DC, and towns, such as Kenosha, Wisconsin.
A former Democrat, who is a retired lawyer, commented on this year's violence on a website for ex-Dems, ex-Hillary supporters. While I disagree with most of it, the first two lines reminded me of what the Bolsheviks must have thought a little over a century ago:
For violence solves nothing, so they say.
But it does change the status quo, in ways words never can…
Think about that, then consider one possibility why the Supreme Court might not want anything to do with defending President Trump. This tweet comes from someone who seems to have an inside track on the election:
However, there is no need to be as senior as a Supreme Court Justice to receive threats:
Therefore, it seemed almost natural that the election would have gone to Joe Biden, because those committing the violence are like so many neighbourhood bullies. Sadly, they are much more serious.
Conclusion
For nearly a century, there has been a saying in Europe:
When America sneezes, the rest of the world catches a cold.
Good grief, please keep this corruption away from our shores. Thank goodness we have handwritten paper ballots and far fewer mail-in ballots.
Millions of us support President Trump even if we are thousands of miles away.
Just to keep everyone updated: President Donald Trump has not conceded.
On Friday, December 4, Sean Hannity spoke with former New York City mayor Rudy 'America's Mayor' Giuliani about vote discrepancies in the contested states, beginning with Nevada:
Giuliani said that when someone brings a civil lawsuit, the judge assumes that the allegations are 'true and correct', yet 'the judge' — US state unspecified — 'did just the opposite' (emphases mine):
Now, we can get it reversed but he's accomplished what he wants to accomplish.
He's delayed things, and, I'm sorry to say, he's a Democrat. And you can't tell me he's made this decision based his on legal knowledge unless he really didn't go to law school.
On a motion to dismiss, you have to assume that every allegation we make is true, and then say it doesn't violate the law.
Later on, you get to make a motion for summary judgement … we get a chance for a hearing.
The reason I went to the state legislatures, Sean, is because I saw what the courts were doing, and I wanted to go around them …
The Georgia court wouldn't have allowed those courts to put those witnesses up. The legislature did. In Michigan, the same thing.
We had two Democrat judges and they weren't allowing us to put witnesses up. But, I was able to get some of the witnesses up there because I went to the legislature.
Now, the simple fact is, we don't need courts.
The United States Constitution gives sole power to the state legislatures to decide presidential elections.
In fact, if we go back to the Founding Fathers, they would tell us that we're making a mistake.
This should be thrown right back to the House of Representatives and to the Senate — in each state — and they should hold hearings, they should make factual determinations, and they should decide what the right voter count is.
President Trump sounded off against Governor Kemp of Georgia:
Giuliani had a photo of the suitcases full of ballots in Georgia; I posted a video on Friday:
In Wisconsin, the state's supreme court threw out a Trump lawsuit: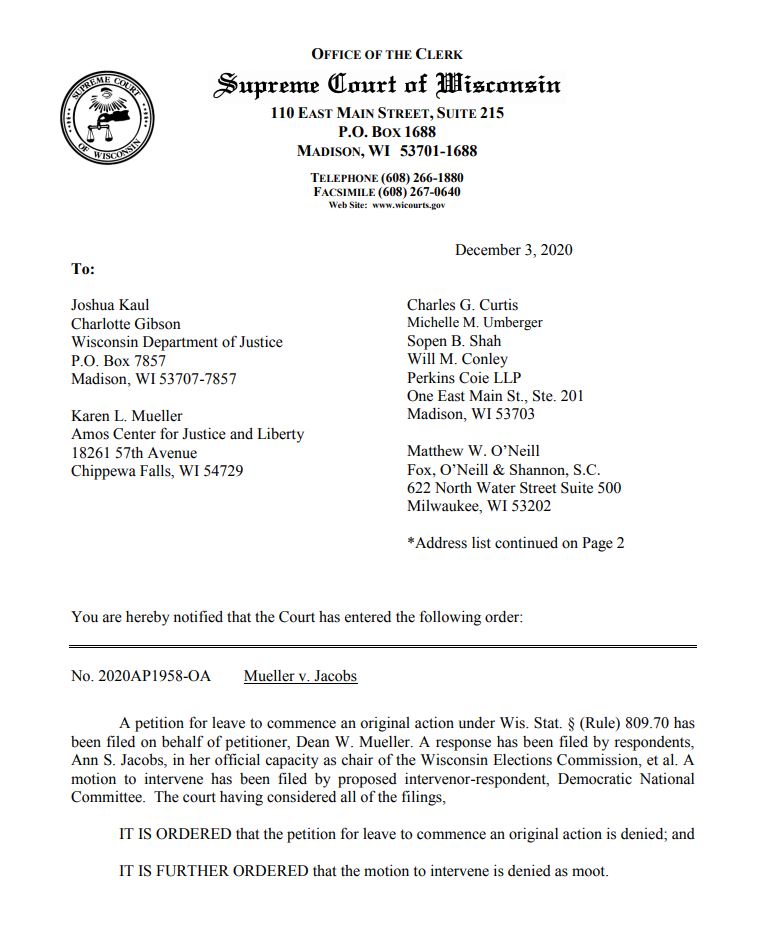 On Friday, December 4, the Daily Mail reported:
A divided Wisconsin Supreme Court on Thursday refused to hear President Donald Trump's lawsuit attempting to overturn his loss to Democrat Joe Biden in the battleground state, sidestepping a decision on the merits of the claims and instead ruling that the case must first wind its way through lower courts.
In another blow to Trump, two dissenting conservative justices questioned whether disqualifying more than 221,000 ballots as Trump wanted would be the proper remedy to the errors he alleged.
The defeat on a 4-3 ruling was the latest in a string of losses for Trump's post-election lawsuits. Judges in multiple battleground states have rejected his claims of fraud or irregularities.
Trump asked the Wisconsin Supreme Court to disqualify more than 221,000 ballots in the state's two biggest Democratic counties, alleging irregularities in the way absentee ballots were administered. His lawsuit echoed claims that were earlier rejected by election officials in those counties during a recount that barely affected Biden's winning margin of about 20,700 votes.
Trump's attorney Jim Troupis said he would immediately file the case in circuit court and expected to be back before the Supreme Court 'very soon.'
However, a hearing will take place in Wisconsin on December 11.
The Gateway Pundit reported:
Wisconsin Republicans will convene a public hearing on the 2020 election irregularities on December 11th. 'Mil' below is Milwaukee County:
Who would have ever thought voter fraud could take place in the land of touristy 'Food, Cheese, Gifts' (a ginormous sign I saw in my youth on trips to Wisconsin)?
Meanwhile, in Arizona, the state's Speaker of the House declined requests to overturn the certification of the vote count. In short:
It's so much easier to do nothing at all. However, doing nothing at all against the Democrats will have severe repercussions for the Great Republic:
It gets worse. Gateway Pundit continues to produce evidence that C h i n a was printing bogus ballots for the election. They have been following this story since November 28.
On December 5, they reported about a video, which has been properly translated into English (emphases in the original):
In the video a caller is heard requesting a bulk order of ballots to ship to the United States.
Here is the video with the translation.
FYI- Our Mandarin speaker confirmed the translation is accurate.
The order was reportedly for 5 million votes.
Two readers noticed that at the 0.54 second mark you can see "Charlotte County Florida" on the ballots …
Here are templates of the Mississippi counterfeit ballots printed in China.
Gateway Pundit have been talking to a former insider, Vinness A. Ollervides, the source for their information:
Here is the video:
On Saturday, President Trump held a successful afternoon rally in Valdosta, Georgia, for the Republican candidates in the state's run-off election early in January 2021. You can read more about it here. The candidates spoke briefly, while the audience voiced their support for the president with cries of 'Fight for Trump':
Elsewhere, President Trump's supporters are also fighting for him:
The battle continues, so, as my late grandfather used to say, 'Don't give up the ship!'
As December begins, here's where we are with regard to the November 2020 election.
This is another long thread, so feel free to grab some sustenance before reading.
Logical thinkers marvel (not) at Joe Biden's achieving the impossible:
And then there's Nate Silver, who rode to fame in predicting Obama's ascent to the White House in 2008:
This is the raw truth behind Biden's miraculous win (click on the last tweet to see the rest of the thread):
This is why Trump campaign lawyers continue to contest election results in six disputed states.
State law does not supersede the US Constitution:
The Dems' battle plan, published in 2019
In 2019, Loyola University's School of Law published a detailed battle plan on how the Democrats could win the 2020 election. It is over 50 pages long and covers all possible scenarios:
Recommended reading at the weekend.
Arizona
Arizona's chapter of the Republican Party does not want the results officially certified:
A hearing took place on Monday, November 30. Phoenix and Scottsdale are in Maricopa County:
This is how wide the disparity of votes is. Also, 100,000 ballots a day needed to be adjudicated:
One witness wanted a nationwide audit of the election results:
Furthermore, an expert witness, Colonel Phil Waldron, says the Dominion machine used was connected to the Internet on Election Day. Traffic went to Frankfurt, Germany. Algorithms changed votes. Another person alleged 35K fraud votes were added to Democrat candidates by spread distribution.
Now the state legislature must come to a decision about the election results:
This is where it gets confusing.
Governor Ducey certified the election that day …
… but a special session of the state legislature could still take place:
Arizona's Electoral College votes on December 14 could be withheld:
Meanwhile, Trump supporters gathered for a rally that started in the morning and continued into the evening:
It is astounding that a Republican governor would want to hasten the swearing in of a Democrat senator, especially after a lengthy hearing about election fraud took place.
Twitter censored at least one witness at the hearing:
On Wednesday, December 2, Doug Ducey was served with a lawsuit on his certification. This means that he must decertify Arizona's results:
Georgia
Lucian Lincoln 'Lin' Wood Jr continues to pursue the truth in Georgia, his home state:
Georgia's governor and lieutenant governor — Republicans — claim there was no voter fraud:
Suppose there has been foreign interference:
Wood has been investigating the voting machines:
On December 2, Breitbart published an assortment of Democrat campaigns to which Lin Wood donated in the past. The article also claims that Wood wants Trump supporters to vote for Democrat candidates in the upcoming state run-off elections.
Wood replied that he wants the Republican state candidates to take a tougher stand against the governor before the run-off:
That same day, The New American reported that Georgia's Secretary of State Brad Raffensperger began investigations into several groups trying to rig the January 5 run-off election:
Georgia Secretary of State Brad Raffensperger has initiated investigations into various groups, including one founded by former Georgia gubernatorial candidate and "voter suppression" alarmist Stacey Abrams, for seeking to "aggressively" register "ineligible, out-of-state, or deceased voters" before the January 5 runoff elections.
Raffensperger's office on Wednesday said the investigations probe groups like America Votes, Vote Forward and The New Georgia Project — which was founded by Abrams and previously chaired by Democratic Senate candidate Raphael Warnock.
For weeks, Raffensperger warned against registering individuals who are ineligible to vote in Georgia's runoff elections and against encouraging people to come to Georgia with the sole aim of casting ballots in the election …
On Wednesday, the secretary of state stated that his office has "received specific evidence that these groups have solicited voter registrations from ineligible individuals who have passed away or live out of state."
"I will investigate these claims thoroughly and take action against anyone attempting to undermine our elections," he assured.
President Trump will be appearing in Georgia on Saturday, November 5, to rally support the Republican candidates.
On Thursday, December 3, a 'blockbuster' video of suitcases of ballots emerged:
More follows in this thread, where you can see a Democrat deny what happened.
Michigan
After Arizona, Michigan was the next stop:
On Friday, November 13, Judge Timothy Kenny of the Third Circuit Court dismissed witness testimony regarding alleged voter fraud at the TCF Center (Cobo Hall, in old money) where ballots were being tabulated.
Judge Kenny dismissed the testimony because the witnesses, in his words, were:
not credible.
It is interesting, then, that Judge Kenny has been releasing violent criminals from prison because of coronavirus.
On Sunday, November 29, the Gateway Pundit reported (emphasis in the original):
The Detroit News broke the story, and they have not been given all the records they requested. The only time period covered so far has been from March through September 21, meaning there could be many more.
This includes alleged child molesters. And violent felons.
And it includes an alleged rapist who went on to allegedly rape while freed by Judge Kenny.
Back in March, Kenny said he would not release any violent offenders, but he did anyway:
The Wayne County Prosecutor's Office told the Detroit News: "Judge Kenny is ultimately the person determining who will be released. Prosecutor Worthy believes that Judge Kenny has been very responsible about not releasing violent criminals."
Prosecutor Worthy!
This next bit is from the Detroit News, but I could not find the direct link on Gateway Pundit. The released convicts are not people you'd invite round for tea (emphasis mine):
…released from the Wayne County Jail were Jameel Bradley and Kaylin Drewery, both of whom were convicted of third-degree criminal sexual conduct, meaning their victims were either aged 13-16, or the abusers were in positions of authority over them.
Egads.
Judge Kenny obviously does not care about the people of Michigan — or the people of the United States. He releases violent criminals. He also dismisses serious allegations of voter fraud.
Gateway Pundit has a video of several people who testified about alleged voter fraud in TCF Center in Detroit. They testified in Lansing, the state's capital on Tuesday, December 1 (emphases in the original):
Over the past three weeks The Gateway Pundit and our team in Detroit have interviewed DOZENS of GOP elections observers who were threatened, abused, attacked and harassed at the TCF Center in Detroit, Michigan following the 2020 election landslide for President Donald Trump.
Several of these observers witnessed carloads of ballots arriving at the center in the middle of the night on November 4th marked for Joe Biden.
These observers described their abuse at the TCF being followed around by far left goons and being locked out of the ballot counting room.
This was corruption and fraud at its worst.
And the Democrat Party condones this violence and theft.
A hearing took place on December 2, wherein witnesses said they have been threatened, intimidated and may not be able to find jobs:
Here is one witness's testimony. Please watch:
Nevada
By the time you read this, an inspection will have taken place in Clark County, where Las Vegas is located:
Discovery continues with Sidney Powell's team:
If the Democrats are certain they won legitimately, why would they beat someone up?
Re the discovery by Jesse Binnall, the Gateway Pundit reported that incentives were allegedly exchanged for votes (emphases mine):
The Gateway Pundit spoke to Jesse Law, one of the Trump Electors represented by Jesse Binnall in the trial that is set to begin on Thursday.
One of the issues sited in the lawsuit is improper campaigns in the Native American community, which appear to be bribes, in exchange for votes and registering to vote.
Law explained that "if we are to believe the many articles out these days that claim the Native American vote was critical to the election results this year, then yes, as it appears from your reporting and others' that this was a widespread effort in many tribal areas and states. Being from Nevada, I am familiar with a lot of the ongoing economic issues facing Native American communities and I think it's cynical and sad the way they appear to have been taken advantage of by this votes for dollars scheme."
As the Gateway Pundit reported on Sunday evening, Native Americans in Arizona, Nevada and a slew of other states were given gift cards, televisions, electronics, and even resort stays in exchange for voting. These efforts were partially funded by George Soros' Open Society Foundation and government agencies …
When asked how confident he is that the lawsuit will succeed, Law said that if the court is fair, they will win.
"If the judge will allow all the evidence to be heard, I think it will be very successful because this is a clear case of illegal behavior no matter how you spin it, and that coupled with the many other categories of voter fraud that occurred in this state well over count for the difference in current tallies for the presidential election."
A hearing was held yesterday, December 2. Matt Schlapp, who is helping with Team Trump's efforts, was confident of their evidence:
Yesterday, a Nevada judge decided not to rule on the hearing until today, Friday, December 4:
Pennsylvania
On Friday, November 27, a Circuit Court judge dismissed one lawsuit by Team Trump:
Republicans in the state legislature tried a last-ditch effort, but it was not good enough:
Not only were there not enough sponsors, the legislature is now adjourned until January 2021:
News emerges from Solomon Yue, the Vice Chairman & CEO at Republicans Overseas, that four US Supreme Court Justices have agreed to take the Pennsylvania case.
Wisconsin
On December 2, a new lawsuit was filed in Wisconsin. Developing:
The following day, the Gateway Pundit reported (emphases in the original):
President Trump's team's recent lawsuit in Wisconsin must be over the target. 

Is this why a Madison, Wisconsin Attorney pushed back and threatened Gateway Pundit after our reporting on absentee and 'indefinitely confined' ballots in Wisconsin?
This is about Dane County, where Madison is:
Thousands of IC votes were observed by recount watchers in Dane County that were in pristine condition rather than being folded or showing any sign of wear and tear. The same was observed in thousands of absentee votes with the initials of 'MLW' on them.
RedState has more details. An excerpt — an overview — follows:
This Complaint initiating the Election Contest challenges several categories of ballots that were counted by the Election Boards of Dane and Milwaukee Counties during the recount process, all of which were the subject of objections by the Trump Campaign during the recount process. The objections were denied by the Election Boards, and the ballots were included in the final tabulated results.
President Trump speaks out
President Trump spoke for 46 minutes on December 2 (full transcript here, at the end of the post):
Newsmax has a summary of the points he made about the election and about the Department of Justice's non-investigation into the spying that took place into his 2016 campaign.
An excerpt from Newsmax's article follows (emphases mine):
"Even what I am saying now will be demeaned and disparaged, but that's OK. I just keep on going forward."
"Their mail-in voting scam is the latest part of their four-year effort to overturn the results of the 2016 election, and it's been like living in Hell."
Separate from his lengthy list of alleged fraudulent acts, Trump took a moment to rip special counsel John Durham for moving too slowly.
Trump lamented that findings from Durham's investigation into potential FBI malfeasance in its probe of Russian meddling in the 2016 political cycle did not surface before the most recent election last month, effectively altering the course of the race.
"We caught them all," Trump said from the White House Diplomatic Room. "We're still waiting for a report from a man named Durham who I've never spoken to and never met. They can go after me before the election as much as they want, but unfortunately Mr. Durham didn't want to go after these people . . . before the election, so who knows if he'll ever even do a report."
Attorney General William Barr has granted Durham special counsel authority in his investigation of the investigators.
"If you look at the lies and leaks and illegal acts done by so many people," Trump insisted, "something should happen. The hardest thing I have to do is explain why nothing is happening to all of these people who got caught spying on my campaign."
But it was the fraud claims dominating the president's remarks, as he reemphasized his claim that the Nov. 3 election was "rigged." This, though AG Barr announced he has unearthed no proof of widespread voter fraud that would alter the outcome of the vote. Major news outlets have declared Biden winner, a conclusion Trump's legal team is challenging on the basis of those fraud claims.
(Though Newsmax has called several battleground states for Biden following official certification of their vote tallies, it has not yet called the overall election for either man, pending the outcome of the legal challenges.)
"This is not just about honoring the votes of 74 million Americans who voted for me," Trump said. "It's about ensuring that Americans can have faith in this election. And in all future elections."
His overarching claim: "This election is about great voter fraud, fraud that has never been seen like this before."
I knew from the beginning that Bill Barr, who served in the Bush administration, was bad news. I also had little faith in Durham.
Conclusion
Anything could happen in the days ahead.
Things could get rough:
Or this could all proceed calmly.
This is an excellent interview clip from the days of Citizen Trump:
It looks as if that fateful day has arrived for President Trump:
We should be careful what we wish for.
If this does not prove the existence of a Uniparty, what does?
What a pity.
Millions of us will continue to pray for President Trump, his family, his campaign lawyers and all who have filed affidavits and given testimony in hearings.
May the truth be acknowledged — soon.
The announcement from President Trump's campaign legal team from November 22 shocked many Sidney Powell supporters.
Many Trump and Powell supporters think that the US president's case for election redress is sunk.
Here is what is happening. My post from Monday, November 23, offers background, including the Trump team's announcement.
What Sidney Powell said
Sidney Powell issued her own statement afterwards. Her work is about 'We the People', as is L Lin Wood Jr's.
Powell's statement is as follows (emphasis in the original, those in purple mine):
I agree with the campaign's statement that I am not part of the campaign's legal team. I never signed a retainer agreement or sent the President or the campaign a bill for my expenses or fees.
My intent has always been to expose all the fraud I could find and let the chips fall where they may–whether it be upon Republicans or Democrats.
The evidence I'm compiling is overwhelming that this software tool was used to shift millions of votes from President Trump and other Republican candidates to Biden and other Democrat candidates.  We are proceeding to prepare our lawsuit and plan to file it this week.  It will be epic.
We will not allow this great Republic to be stolen by communists from without and within or our votes altered or manipulated by foreign actors in Hong Kong, Iran, Venezuela, or Serbia, for example, who have neither regard for human life nor the people who are the engine of this exceptional country.
#WeThePeople elected Donald Trump and other Republican candidates to restore the vision of America as a place of life, liberty and the pursuit of happiness.
You may assist this effort by making a non tax-deductible contribution to www.DefendingTheRepublic.org.  #KrakenOnSteroids"
Sidney Powell
What Trump's campaign lawyers are working on and what Sidney Powell is perfecting are two different issues.
The Trump realm cannot easily enter the Powell realm because that would complicate things unnecessarily.
REX, whom I've quoted before, albeit not recently, has this analysis as to why there is a pincer movement going on:
This is also a useful analysis. I am unfamiliar with the author, but what he says makes sense:
Rush Limbaugh and Howie Carr want more action
On Monday, November 23, Rush Limbaugh was disappointed that nothing was happening yet from either Team Trump or Sidney Powell.
The Daily Caller carried portions of the transcript from his show (emphases mine):
"You call a gigantic press conference like that, one that lasts an hour. And you announce massive bombshells, then you better have some bombshells, there better be something at that press conference other than what we got," he explained.
Limbaugh went on to say that a witness — even one whose identity was disguised — would have gone a long way toward bolstering the claims made by the president's team.
"But you don't — you can't — I talked to so many people who were blown away by it, by the very nature of the press conference," Limbaugh continued. "They promised blockbuster stuff, and then nothing happened. And that's just, that's not — well, it's not good. If you're going to promise blockbuster stuff like that, then there has — now, I understand. Look, I'm the one that's been telling everybody, this stuff doesn't happen at warp speed, light speed, the way cases are made for presentation in court. But if you're going to do a press conference like that, with the promise of blockbusters, then — then there has to be something more than what that press conference delivered."
Limbaugh concluded by saying that if the Trump team was going to make a case, it needed to be done quickly. "Time, of course is of the essence now, as it is speedily vanishing. So they're going to have to act fast," he said.
The Howie Carr Show, now a Newsmax programme, came on in the afternoon.
Howie couldn't get hold of Sidney Powell for another interview, but he did speak with Boris Epshteyn and Joe diGenova. The next few paragraphs are my potted summary of what they told Howie.
Boris Epstein, part of Trump's campaign legal team spoke to Howie. Epstein said ALL the states in question are still in play. He appeared during Howie's Newsmax hour. (Howie wears a jacket and tie during that portion of his broadcast.)
Epstein said they are tracking things very closely and said he wanted to reassure Newsmax viewers that everything is in hand and progressing as planned.
Joe diGenova was on Howie Carr's Newsmax hour after Boris Epshteyn. Joe diGenova said that there IS a two-pronged strategy in play. He said that Sidney Powell doesn't have any problem pursuing the voting machines angle while Team Trump pursues what went on in the polling stations with no Republican observers admitted or placed so far away that they couldn't see anything.
He confirmed what Boris Epshteyn said: ALL the questionable states were still in play that day (and this week).
Is President Trump worried about paying for recounts and/or audits in individual states? Based on 2016 and the four years of lefty turmoil that followed, his team were prepared and set money aside, especially as mail-in ballots were heavily promoted in all Democratic-controlled states or cities.
Trump knew his campaign would need to pay for recounts. That's $3 – 7 million per state. They have that covered.
For those who think Trump should take Al Gore's advice and concede, in 2000, when the hanging chad contest in Florida was in dispute, Gore didn't concede until December.
But I digress.
Back to Howie Carr. As an organised crime reporter for the Boston Herald for many years, he knows how the legal system can be manipulated. On Monday's show he asked whether Sidney Powell's legal standing would be questioned. On whose behalf could she credibly make her case? (After all, L Lin Wood Jr's case in Georgia got thrown out last week for lack of standing. He is going to appeal the decision.)
It turns out that Sidney Powell is a military lawyer. As today is still Thanksgiving Day, the ultimate American feast, here's the retweet:
Now for the original tweet:
She has been representing Gen Michael Flynn.
She has also put the frighteners on certain people involved with the voting machines:
Patience required — more information emerging
An American Thinker article by Andrea Widburg puts the election legal fight into perspective:
Currently, I believe that this election was marked by epic fraud.  You cannot convince me that Biden, who got five or six people to his rallies, as opposed to the 52,000 or so at Trump's rallies in Pennsylvania, ended with more votes than Obama.
Nobody ever said proving this fraud would be easy (or, sadly, even possible).  I'm treating its unfolding like an epic novel with a surprise ending …

So should the rest of us.
Imagine if we were on the legal team. We wouldn't have time to sleep — or contemplate our annual turkey dinner with all the trimmings.
For Team Trump, there is much to challenge. RedState has an article with dizzying detail about Georgia alone.
There are also these items:
Yet another witness has come out in Michigan, describing the same scenario as in Georgia:
This is in addition to the legal challenges going on not only in these states but a handful of others which produced dubious results.
As for Sidney Powell, more information emerges for her, including this:
I really hope this isn't true (a must see/read thread about Republicans and the voting machines).
Conclusion
Meanwhile, Donald Trump is:
Prayers continue for everyone involved in this historic battle for the future of the Great Republic.
So much news came out about the US election late last week that it was not possible to cover it all.
Below is a summary of more news.
Trump team press conference — November 19
On Thursday, November 19, lawyers representing the Trump campaign gave a two-hour press conference. Press Secretary Kayleigh McEnany was also present.
Breitbart reported on the nine main points made:
Sidney Powell interviews — November 20 and 21
During the afternoon of Friday, November 20, Sidney Powell gave an interview to Howie Carr on his radio show. Here's the podcast.
She said that this fraud was co-ordinated internationally (e.g. Canada, Lichtenstein, China) and that its extent is 'absolutely terrifying'.
The Supreme Court will definitely want to hear this case as, from what she says, it involves foreign interference in a US election.
She also says there were ballots continually run through for Biden at Trump's expense.
There was also fractional fraud going on. She said a vote for Trump counted 0.75 and one for Biden counted 1.25.
David J Harris Jr has more on the interview:
That evening, she gave an interview to the Washington Examiner's Larry O'Connor which you can listen to here.
She told him that 'multiple people' saw the fraud take place in real-time. In addition to the above, she said there were military votes, overwhelmingly for Trump, that were not counted.
She told O'Connor that she has testimony and affidavits to prove what occurred:
She hopes to file a formal complaint soon about election fraud that 'will make jaws hit the floor'.
She says that the machines are so fraudulent that the upcoming run-off state election in Georgia should not take place. The machines can be programmed to get the desired result.
On Saturday, November 21, Powell appeared on Newsmax:
She said she plans to begin with Georgia, calling their current result 'a total farce':
Georgia is the first state I'm going to blow up and Mr Kemp and the Secretary of State need to go with it.
No doubt many saw the following statement dated September 22 from Rudy Giuliani and Jenna Ellis regarding Sidney Powell:
It is unclear what that actually means.
However, she might be digging deeper, beyond the election result:
Or it might have to do with funding:
Two people in the know tweeted their views on Sunday.
Lin Wood said that he and Powell were fighting for 'We The People':
Powell's client, Gen Michael Flynn, said she had been temporarily suspended from Twitter:
Developing …
The voting machines
In the video below, Michael Voris explains in layman's terms how more votes went to Biden than to Trump on the evening of Tuesday, November 3:
The next video is also informative as it discusses what happened in the hotly contested Bush-Gore election of 2000, involving Florida's hanging chads. Incredibly, those machines are still in use in some states. They also paved the way for the current machines from Dominion and Smartmatic, which, just to repeat, are completely programmable:
Interestingly, three days after the election Shaffer tweeted this about the Department of Homeland Security's preparedness for the Democratic National Committee:
About these tweets, Gateway Pundit said on Saturday, November 21 (emphasis in the original):
These tweets caused an uproar on Twitter and liberals freaked out thinking they might have gotten caught in their attempt to steal the 2020 election. But the entire discussion was soon forgotten by the media and on Twitter.
Now with Sidney Powell's claims the President won the election by a long shot, we wonder if what really Shaffer was hiding and referring to at the same time was the election fraud relate to the voting machines? Shaffer is an expert on the machines, maybe he was telling us they were all over it and not to worry?
This just a hunch but ultimately time will tell.
The 'scandal of the century'
On November 19, a Louisiana newspaper published a report on the election. The Central City News calls it 'the scandal of the century':
With that in mind, no wonder President Trump has been tweeting frequently about it:
Regardless of 'news' reports, Pennsylvania is still in play with regard to lawsuits:
Department of Homeland Security's Cybersecurity and Infrastructure Security Agency (CISA)
On November 16, 2018, President Trump established the Cybersecurity and Infrastructure Security Agency, CISA.
CISA is part of the DHS, the Department of Homeland Security. Wikipedia states (see above link) CISA's purpose is to:
improve cybersecurity across all levels of government, coordinate cybersecurity programs with states, and improve the government's cybersecurity protections against private and nation-state hackers.[3]
CISA has Election Infrastructure Sector Coordinating Council.
Incredibly, the council has a number of entities which seem somewhat misplaced for the Trump administration. How they got there, who knows?
Bear Witness Central has a list of the council members and an in-depth article about the agency itself.
Excerpts follow, emphases mine.
CISA disputed anomalies with the 2020 election results:
… the Cybersecurity and Infrastructure Security Agency (CISA)—part of the DHS—issued a statement on November 12, 2020 disputing the allegations and saying "the November 3rd election was the most secure in American history." However, what CISA failed to disclose is that Dominion Voting Systems is a member of CISA's Election Infrastructure Sector Coordinating Council, one of two entities that authored the statement issued by CISA.
You couldn't make this up:
It is incredible that in addition to Dominion Voting Systems, Smartmatic and SCYTL are also members of the Coordinating Council. In addition, Hart InterCivic electronic machines were used in many states with questionable lack of security, the anti-Trump Associated Press, and Big Tech companies Amazon and Microsoft.
The statement about the election also says:
There is no evidence that any voting system deleted or lost votes, changed votes, or was in any way compromised. "While we know there are many unfounded claims and opportunities for misinformation about the process of our elections, we can assure you we have the utmost confidence in the security and integrity of our elections, and you should too," says the statement.
Meanwhile:
President Trump lawyers Rudy Giuliani and Sidney Powell have denounced Dominion Voting Systems with the Smartmatic software from Communist Venezuela saying that this voting system has shifted millions of votes from Trump to Biden.
Fortunately, on November 17:
President Trump acted wisely when firing Christopher Krebs, the first Director of the Department of Homeland Security's Cybersecurity and Infrastructure Security Agency (CISA), and Krebs's second in command, Matt Travis. A third official, Bryan Ware, Assistant Director for Cybersecurity, resigned.
Many insiders investigating the election think more needs to happen:
The President needs to tell the nation what the CIA did and fire its Director, Gina Haspel, as recommended by his lawyer Sidney Powell. The President needs also to tell the nation what Dominion Voting Systems did and its ties to the Communist Democratic Party. Then the President's lawyers need to take his case to the Supreme Court. Failure to do that may eliminate his chances to return to the White House for a second term.
Lastly, the President also needs to fire FBI Director Christopher Wray for covering up the stolen election and the crimes of Joe Biden and his family. And his lack of cooperation with Congressional oversight committees.
The whole article is well worth reading.
That could be part of the reason why Trump replaced Secretary of Defense Mike Esper with Acting Secretary of Defense Christopher Miller. At the end of last week, Miller announced that the US president's orders will be carried out. The Special Operations civilian leadership will report directly to Miller instead of the 'current bureaucratic channels'. This has been authorised by Congress, he said, and will put Special Operations Command on a 'direct par' with 'the military services for the first time' and will 'immediately improve agility'.
The text preceding his video (see second tweet) is the author's alone. Miller did not say those words:
Judge Jeanine Pirro sums up
Judge Jeanine did not let her audience down on Saturday, November 21.
She says that, for four years, we were led to believe that Russia was behind the 2016 election. Yet, this year, we discover that American votes were counted overseas. She adds that Trump's legal team have 250 affidavits — sworn testimony of evidence — pointing to voter fraud. She explains the pause in vote counts on November 3:
She says that, while Democrats run free, those who filed affidavits will likely need witness protection for telling the truth. Ordinary citizens are being censored for tweeting about voter fraud. Judge Jeanine tried it out with a friend of hers. Jeanine's was posted. Her friend's was suppressed. Yet, the greatest issue remains — if proven, this manipulation of votes is unconstitutional:
Judge Jeanine interviews Lin Wood
Lin Wood explains to Judge Jeanine that many Georgia legislators did not know that the voting law had been changed in March, in time for the primaries:
This is why he filed his own lawsuit only recently.
He plans to file for an emergency hearing, if necessary a district court, after his case was dismissed on Friday. He has video and photographic evidence of voter fraud in Georgia.
More on that tomorrow.
Conclusion
Here's the election investigation thus far, in a nutshell:
Please pray for everyone involved.
Those interested can show their support on December 12:
In the meantime, keep calm and carry on.
Yesterday's post featured top lawyer L Lin Wood Jr's work for President Trump's campaign team to prove voter fraud in Georgia.
Today's post features another top lawyer, Sidney Powell, who is also working on the voter fraud issue for Team Trump. She is well known to Trump supporters for her continuing tireless work representing Gen Michael Flynn.
Of Ms Powell, Lin Wood says:
I mentioned Sidney Powell earlier this week in my summary of Judge Jeanine Pirro's Fox News programme of Saturday, November 14.
Like Lin Wood, Powell is a redoubtable Southerner.
Breitbart's John Nolte wrote about both lawyers on Monday, November 16 — 'Nolte: Sidney Powell and Lin Wood Promise There's a Ton of Voter Fraud'.
Of Powell, Nolte writes (emphases mine):
Sidney Powell is no joke. She served as a federal prosecutor for ten years and earned a national reputation as the attorney who swooped in, convinced Ret. Gen. Michael Flynn to withdraw his guilty pleas, and successfully pressured the Justice Department to drop its charges. She was a stalwart and regular presence in exposing the Russia Collusion Hoax, and by my count, everything she said was going to happen did happen.
This is a serious woman. There's no circus atmosphere around her. And she is pledging, as she did over the weekend on Maria Bartiromo's Sunday Morning Futures, that they have the goods, that they can prove there was enough voter fraud to overturn Joe Biden's lead.
"There has been a massive and coordinated effort to steal this election from we the people of the United States of America, to delegitimize and destroy votes for Donald Trump, to manufacture votes for Joe Biden," she said.
I posted the link to that interview in my Judge Jeanine post. Here it is. Breitbart's copy has been removed:
Sidney Powell has been examining voter fraud in several states, including the swing states so important to Trump's results (see the Lou Dobbs video in this link).
On Friday, November 6, three days after the election, she told Lou Dobbs that the voting machines are partly to blame. The operation referred to below is one that US intelligence agencies use in foreign countries when they want to influence an election result. This operation was never intended to be used against the American people. And yet …
Sky News Australia were already on to this before the election — Saturday, October 31. Their seasoned commentator Alan Jones is fearless:
It is hard to fathom how much the Democrats have done and are doing:
On Monday, November 9, Powell tweeted about Georgia's results, which are currently being recounted:
On Wednesday, November 11, she picked up on a detailed thread from TheDonald.win alleging voter fraud in several instances:
On Friday, November 13, she told Lou Dobbs that she will soon be ready to 'release the Kraken'. I can hardly wait:
Highlights of the interview follow:
On Sunday, November 15, Powell gave an interview to Maria Bartiromo. She said that information has been coming in so quickly and in such volumes that she is struggling to 'process it all'. She explained the connection between the voting machines and a member of Joe Biden's transition team, a retired Navy admiral:
Hmm:
This is how a machine-driven voting anomaly might have worked on Tuesday, November 3:
Real Clear Politics has more on Powell's interview with Bartiromo. Powell said that CIA director Gina Haspel should be dismissed:
President Trump's lawyer Sidney Powell told FNC's "Sunday Morning Futures" with Maria Bartiromo that CIA director Gina Haspel should be fired for ignoring warnings about the Dominion voter software ahead of the 2020 election.
"It should never have been installed anywhere and we are going to show the public exactly how rotten the entire state is," she said.
"Why Gina Haspel is still there in the CIA is beyond my comprehension," Powell said. "She should be fired immediately."
Wow.
What exactly, though, does 'releasing the Kraken' mean in terms of the election?
Clarice Feldman, a regular contributor to American Thinker, reminds us that, on September 12, 2018, Trump issued an Executive Order (EO) prohibiting foreign influence in American elections:
… it cannot be doubted that two years ago he anticipated foreign interference with our election process and issued in an Executive Order a means to investigate and punish any person, group or country which engaged in such international election fraud. 
It's a lengthy order and I'll try to note some of the most significant portions of it. It tasks the DNI with preparing a report of the investigative results of such interference no later than 45 days after an election …
Clarice Feldman goes on to elaborate on the contents of the EO. She says:
Did this Executive Order set in place a means to investigate computer manipulation overseas to affect our election and did such an investigation reveal that this occurred and significantly affected the election in several key states? If so, the reported results must be amended substantially to discard the false count, or other measures taken to prevent certifying fraudulent results dependent on the manipulated reported final tallies. That is the issue I think Powell and Wood are hinting at.
To be sure, there is a great deal of evidence of regular old-timey ballot stuffing and standard election fraud, but computer and internet generated mischief has the potential to far exceed that and seems to Trump's lawyers in fact to have done so.
Feldman then describes what has happened with Georgia's results and discusses the voting machines involved.
She concludes:
At the Department of Defense, General Michael Flynn's aide Ezra Cohen-Watnick has been made acting undersecretary of intelligence. Previously he was the U.S. strategic policy coordinator for all intelligence programs, "including, among other things, covert action, human intelligence, electronic surveillance."
Are Trump's lawyers onto something big or not? We'll have to see …
Sidney Powell went so far as to say:
On November 17, Newsmax reported that Michigan's Wayne County refused to verify election results, which could send the decision to their state's legislature. Powell told Newsmax presenter Greg Kelly that this was good news. She had more to say about the voting machines, which allegedly have a 'back door' for manipulation — 'a feature' not a bug. She says she has it on good authority (a former Venezuelan military officer) that it worked successfully for Venezuela's Chavez and Maduro. The presenter said it's no wonder Biden didn't campaign. She is still in the process of gathering more information and hearing from more people every day who want the fraud revealed and stopped:
Jan Jekielek from The Epoch Times has more on that story:
The next six tweets are particularly important:
Powell told Newsmax's Greg Kelly (see video above) that Trump received 80m votes in a clear landslide. The voter fraud, she says, is 'very serious' and involves 'trillions of dollars of worldwide wealth'.
Powell is still putting together evidence and testimony, but millions await her 'release of the Kraken' with great anticipation.
President Trump praised Sidney Powell, Lin Wood, Joseph diGenova and all the other lawyers working for his campaign:
Remember:
Also:
On Thursday, November 19, Sidney Powell participated in a press conference with former New York mayor Rudy Giuliani and attorney Jenna Ellis, who also helped to defend John MacArthur's Grace Community Church against lockdown rules in Los Angeles County.
Howie Carr's audio from November 19 has excerpts of what Powell said. She sounded disgusted and saddened, in equal measure. She said that she will continue to pursue the voter fraud.
When you hear her allegations in that audio, it is difficult to comprehend just how appalling it must be to discover voter fraud on such a massive scale.
I wish Sidney Powell all the very best as she pursues the truth not only for President Trump but also America, the Great Republic.
Stay tuned for more developments in the days to come.