You are currently browsing the tag archive for the 'Red Wall' tag.
Those who missed my first post on Red Wall MP Miriam Cates can find it here.
Today's post continues a profile of the MP for Penistone and Stocksbridge in South Yorkshire.
Levelling up
Miriam Cates is interested in giving the more rural parts of Britain the same advantages as the more urban areas. This is what levelling up means.
On Wednesday, November 9, 2022, she spoke in the Levelling Up Rural Britain debate with a focus on public transport. An excerpt follows, emphases mine:
My constituents share many of the challenges of urban areas, such as the rising cost of living and access to affordable family housing, but we also face some unique disadvantages that highlight the pressing need to include rural Britain in the levelling-up agenda. To state the obvious, and as other Members have said, the lower population density of rural places means that service models that work in urban areas are much less viable in our communities. My right hon. Friend the Member for Ludlow (Philip Dunne) and the hon. Member for Westmorland and Lonsdale (Tim Farron) put this eloquently. The metrics that are used to describe the viability of urban services just do not work in rural areas; they have to have special cases.
I want to speak particularly about bus services, which over recent months have declined significantly in my constituency. Residents of Stocksbridge, Grenoside, Chapeltown, High Green, Ecclesfield, Wharncliffe Side, Oughtibridge and other villages have seen services reduced or even disappearing altogether, cutting people off from jobs, education, training, healthcare and leisure.
The impact on everyday life cannot be overstated. The old are left stranded at bus stops, the young arrive late for school and workers are forced to pay for taxis to get to work. Local employers offering good jobs have told me of their difficulty in recruiting because their premises are no longer served by bus. The vision of levelling up is to spread opportunity evenly around the country, but it really does not matter how much opportunity there is if people cannot get to it.
What has gone wrong in South Yorkshire, particularly rural South Yorkshire, and how can we fix it? Services were struggling even before covid, but the post-pandemic environment has been a perfect storm for rural bus services in South Yorkshire. From my meetings with Stagecoach and First Bus, it is clear that patronage has fallen sharply at the same time as fuel costs have increased.
I was pleased to be successful over the summer in persuading the Government to release a third round of the covid bus recovery grant. But, crucially, the South Yorkshire Mayoral Combined Authority's bus service improvement plan bid failed completely, which resulted in our region's receiving not a single penny while neighbouring authorities in Manchester, Derbyshire and Nottinghamshire received tens of millions of pounds.
I am grateful to the Bus Minister, my hon. Friend the Member for North West Durham (Mr Holden), for meeting me this morning to discuss the issue, but I urge the Minister responding to this debate, my hon. Friend the Member for North East Derbyshire (Lee Rowley), to press this matter with his Government colleagues. My constituents pay the same taxes as everybody else. It is not their fault that our combined authority's bid did not meet an acceptable standard.
Things may look bleak, but I believe there are some glimmers of hope. We have had local successes with the new No. 25 and No. 26 routes around Penistone and a new service connecting Northern College with Barnsley. Those services have reconnected isolated villages and are based on an innovative small bus model pioneered by the excellent South Pennine Community Transport.
In Stocksbridge and Deepcar, we have plans to use our towns fund to commission new buses to help residents to travel around our towns—for anyone who has not been there, Stocksbridge is incredibly steep and people absolutely need a bus to get back up the hill. We are also progressing with plans to restore a passenger rail service along the Upper Don valley and we have a levelling-up fund bid to improve the Penistone line.
However, we need to accept that a one-size-fits-all approach to public transport just does not work. Rural services will never be as profitable as urban routes, but, if they are designed sensibly around what communities actually want, if they are regular and reliable with easy-to-understand timetables, they can be self-sustaining, as we have seen with our new routes. Ultimately, levelling up rural transport requires a localism agenda, putting commissioning in the hands of local people—our town, parish and local councils—and with a funding model that recognises the unique challenges of rural life.
Considering that levelling up was in the 2019 Conservative Party manifesto, Lee Rowley, representing the Government, provided a somewhat disappointing response at the end of the debate:
… My hon. Friend the Member for North Devon (Selaine Saxby), along with my hon. Friends the Members for Witney (Robert Courts), for Redditch (Rachel Maclean), for Penistone and Stocksbridge (Miriam Cates), for Penrith and The Border (Dr Hudson) and for Meon Valley (Mrs Drummond), among others, raised the point about connectivity, be it of the physical kind, in terms of buses and public transport, or the virtual kind, in terms of broadband. They are absolutely right to advocate on the challenges that this brings. We all know that there have been challenges associated with buses in the past few years. When the level of decrease of passenger use is so profound as it has been with covid, of course we want to try to work through how we can support rural communities. That is no different in my constituency. We have to try to look at the innovative solutions that my hon. Friend the Member for Redditch highlighted with regards to a demand response to travel, while also ensuring that people have good quality bus services over the long term …
Sex education
Lately, Miriam Cates has been outspoken about sex education in English schools. She has put up with a lot for rightly pointing out that children are learning things at school that should be off limits.
On Thursday, June 30, she was granted a backbench business debate on relationship and sex education [RSE] materials in schools:
I beg to move,
That this House has considered relationship and sex education materials in schools …
Let me start with a health warning: my speech is not suitable for children. That is sadly ironic, given that all of the extreme and inappropriate material I am about to share has already been shared with children in our schools. As a former biology teacher, I have delivered my fair share of sex education. Teaching the facts of life often comes with more than a little embarrassment for teachers and pupils alike. I remember teaching about reproduction when I was about 30 weeks pregnant with my first baby. One child asked me if my husband knew I was pregnant. Another, having watched a video on labour and birth, commented, "Miss, that's really gonna hurt, you know."
Just as children do not know about photosynthesis or the digestive system without being taught, neither do they know the facts of reproduction. Thus, it is important that children are taught clearly and truthfully about sex. Of course, there is a lot more to sexual relationships than just anatomy. Many people believe that parents should take the leading role in teaching children about relationships, since one of the main duties of parenting is to pass on wisdom and values to children. Nevertheless, in some families parents cannot or do not teach children about relationships, and it is also sadly the case that the internet now presents children with a vast array of false and damaging information about sex.
There is widespread consensus that schools do have a role to play in relationships and sex education. That is why the Government chose to make the teaching of relationships and sex education compulsory in all secondary schools from September 2020. According to the guidance, the aim was to help children
"manage their academic, personal and social lives in a positive way."
Less than two years later, my right hon. Friend the Education Secretary has written to the Children's Commissioner asking her for help in supporting schools to teach RSE because we know that the quality of RSE is inconsistent.
The Education Secretary is right that the teaching of sex education is inconsistent. Unlike maths, science or history, there are no widely adopted schemes of work or examinations, so the subject matter and materials vary widely between schools. However, inconsistency should be the least of the Education Secretary's concerns when we look at the reality of what is being taught. Despite its good intentions, the new RSE framework has opened the floodgates to a whole host of external providers who offer sex education materials to schools. Now, children across the country are being exposed to a plethora of deeply inappropriate, wildly inaccurate, sexually explicit and damaging materials in the name of sex education. That is extremely concerning for a number of reasons.
First, if we fail to teach children clearly and factually about relationships, sex and the law they will be exposed to all sorts of risks. For example, if sex is defined as, "anything that makes you horny or aroused"—the definition offered by the sex education provider, School of Sexuality Education—how does a child understand the link between sex and pregnancy? Sex Education Forum tells children they fall into one of two groups: menstruators or non-menstruators. If a teenage girl's periods do not start, what will she think? How does she know that is not normal? How does she know to consult a doctor? How will she know she is not pregnant? Will she just assume she is one of the non-menstruators?
The book for teachers, "Great Relationships and Sex Education", suggests an activity for 15-year-olds in which children are given prompt cards and have to say whether they think certain types of sexual acts are good or bad. How do the children know what acts come with health risks, or the risk of pregnancy or sexually transmitted infections? If we tell children that, "love has no age"—the slogan used in a Diversity Role Models resource—do we undermine their understanding of the legal age of consent? Sex education provider Bish Training informs children that:
"Most people would say that they had a penis and testicles or a clitoris and vagina, however many people are in the middle of this spectrum with how their bodies are configured."
As a former biology teacher, I do not even know where to start with that one.
As adults, we often fail to remember what it is like to be a child and we make the mistake of assuming that children know more than they do. Children have all sorts of misconceptions. That is why it is our responsibility to teach them factually, truthfully and in age-appropriate ways, so that they can make informed decisions.
Another concern relates to the teaching of consent. Of course it is vital to teach about consent. The Everyone's Invited revelations make that abundantly clear. But we must remember that, under the law, children cannot consent to sex. Sex education classes conducted by the group It Happens Education told boys of 13 and 14 that the law
"is not there to…punish young people for having consensual sex"
and said:
"It's just two 14 year olds who want to have sex with each other who are consensually having sex."
It is not hard to see the risks of this approach, which normalises and legitimises under-age sex. Not only are children legally not able to consent; they also do not have the developmental maturity or capacity to consent to sexual activity—that is the point of the age of consent.
The introduction of graphic or extreme sexual material in sex education lessons also reinforces the porn culture that is damaging our children in such a devastating way. Of course it is not the fault of schools that half of all 14-year-olds have seen pornography online—much of it violent and degrading—but some RSE lessons are actively contributing to the sexualisation and adultification of children. The Proud Trust has produced a dice game encouraging children to discuss explicit sexual acts, based on the roll of a dice. The six sides of the dice name different body parts—such as anus, vulva, penis and mouth—and objects. Two dice are thrown and children must name a pleasurable sexual act that can take place between the two body parts. The game is aimed at children of 13 and over.
Sexwise is a website run and funded by the Department of Health and Social Care and recommended in the Department for Education's RSE guidance. The website is promoted in schools and contains the following advice:
"Maybe you read a really hot bit of erotica while looking up Dominance and Submission…Remember, sharing is caring".
Sex education materials produced by Bish Training involve discussion of a wide range of sexual practices—some of them violent. This includes rough sex, spanking, choking, BDSM and kink. Bish is aimed at young people of 14 and over and provides training materials for teachers.
Even when materials are not extreme, we must still be careful not to sexualise children prematurely. I spoke to a mother who told me how her 11-year-old son had been shown a PowerPoint presentation in a lesson on sexuality. It was setting out characteristics and behaviours and asking children to read through the lists and decide whether they were straight, gay or bisexual. Pre-pubescent 11-year-olds are not straight, gay or bisexual—they are children.
Even School Diversity Week, a celebration of LGBTQIA+ promoted by the Just Like Us group, leads to the sexualisation of children. Of course schools should celebrate diversity and promote tolerance, but why are we doing that by asking pre-sexual children to align themselves with adult sexual liberation campaigns? Let us not forget that the + includes kink, BDSM and fetish …
Even primary schools are not immune from using inappropriate materials. An "All About Me" programme developed by Warwickshire County Council's Respect Yourself team introduces six and seven-year-olds to "rules about touching yourself". I recently spoke to a mother in my constituency who was distraught that her six-year-old had been taught in school about masturbation. Sexualising children and encouraging them to talk about intimate details with adults breaks down important boundaries and makes them more susceptible and available to sexual predators, both on and offline.
Another significant concern is the use of RSE to push extreme gender ideology. Gender ideology is a belief system that claims that we all have an innate gender, which may or may not align with our biological sex. Gender ideology claims that, rather than sex being determined at conception and observed at birth, it is assigned at birth, and that doctors sometimes get it wrong.
Gender theory sadly has sexist and homophobic undertones, pushing outdated gender stereotypes and suggesting to same-sex-attracted adolescents that, instead of being gay or lesbian, they may in fact be the opposite sex. Gender theory says that if someone feels like a woman, they are a woman, regardless of their chromosomes, their genitals, or, in fact, reality.
Gender ideology is highly contested. It does not have a basis in science, and no one had heard of it in this country just 10 years ago. Yet, it is being pushed on children in some schools under the guise of RSE, with what can only be described as a religious fervour. Department for Education guidance states that schools should
"not reinforce harmful stereotypes, for instance by suggesting that children might be a different gender",
and that:
"Resources used in teaching about this topic must…be…evidence based."
Yet a video produced by AMAZE and used in schools suggests that boys who wear nail varnish or girls who like weight lifting might actually be the opposite sex. Resources by Brook claim:
"'man' and 'woman' are genders. They are social ideas about how people who have vulvas and vaginas, and people who have penises and testicles should behave".
Split Banana offers workshops to schools where children learn ideas of how gender is socially constructed and explore links between the gender binary and colonialism. A Gendered Intelligence workshop tells children that:
"A woman is still a woman, even if she enjoys getting blow jobs."
Just Like Us tells children that their biological sex can be changed. PSHE Association resources inform children that people whose gender matches the sex they were assigned at birth are described as cisgender.
Gender theory is even being taught to our very youngest children. Pop'n'Olly tells children that gender is male, female, both or neither. The Introducing Teddy book, aimed at primary school children, tells the story of Teddy, who changes sex, illustrated by the transformation of his bow tie into a hair bow. The Diversity Role Models primary training workshop uses the "Gender Unicorn", a cartoon unicorn who explains that there is an additional biological sex category called "other".
Numerous resources from numerous sex education providers present gender theory as fact, contrary to DFE guidance. However, it is not just factually incorrect resources that are making their ways into schools; visitors from external agencies are invited in to talk to children about sex and relationships, sometimes even without a teacher present in the room.
Guidance says that, when using external agencies, schools should check their material in advance and
"conduct a basic online search".
However, a social media search of organisations such as Diversity Role Models reveals links to drag queens with highly sexualised, porn-inspired names, or in the case of Mermaids, the promotion of political activism, which breaches political impartiality guidelines.
In some cases, children are disadvantaged when they show signs of dissent from gender ideology, as we saw in the recent case, reported in the press, of a girl who was bullied out of school for questioning gender theory. I have spoken to parents of children who have been threatened with detention if they misgender a trans-identifying child or complain about a child of the opposite sex in their changing rooms. I have heard from parents whose child's RSE homework was marked down for not adhering to this new creed. 
Children believe what adults tell them. They are biologically programmed to do so; how else does a child learn the knowledge and skills they need to grow, develop and be prepared for adult life? It is therefore the duty of those responsible for raising children—particularly parents and teachers—to tell them the truth. Those who teach a child that there are 64 different genders, that they may actually be a different gender to their birth sex, or that they may have been born in the wrong body, are not telling the truth. It is a tragedy that the RSE curriculum, which should help children to develop confidence and self-respect, is instead being used to undermine reality and ultimately put children in danger. 
Some may ask what harm is being done by presenting those ideas to children, and, of course, it is right to teach children to be tolerant, kind and accepting of others. However, it is not compassionate, wise, or legal to teach children that contested ideologies are facts. That is indoctrination, and it is becoming evident that that has some concerning consequences …
There has been a more than 4,000% rise in the referrals of girls to gender services over the last decade, and a recent poll of teachers suggests that at least 79% of schools now have trans-identifying children. That is not a biological phenomenon. It is social contagion, driven by the internet and reinforced in schools.
The Bayswater Support Group, which provides advice and support for parents of trans-identifying children, reports a surge of parents contacting them after their children are exposed to gender content in RSE lessons and in assemblies. A large proportion of parents say their child showed no sign of gender distress until either a school assembly or RSE lessons on those topics. Children who are autistic, who are same-sex attracted, who do not conform to traditional gender stereotypes, or who have mental health conditions are disproportionately likely to identify as trans or non-binary.
In fact, children who tell a teacher at school that they are suffering from gender distress are then often excluded from normal safeguarding procedures. Instead of involving parents and considering wider causes for what the child is feeling and the best course of action, some schools actively hide the information from parents, secretly changing a child's name and pronouns in school, but using birth names and pronouns in communications with parents.
One parent of a 15-year-old with a diagnosis of Asperger's syndrome said she discovered that without her knowledge, her daughter's school had started the process of socially transitioning her child, and has continued to do so despite the mother's objections. Another mother said:
"It's all happened very quickly and very unexpectedly after teaching at school during year seven and eight. As far as I can understand the children were encouraged to question the boundaries of their sexual identity as well as their gender identity. Her friendship group of eight girls all adopted some form of LGBTQ identity—either sexual identity or gender identity. My daughter's mental health has deteriorated so quickly, to the point of self harm and some of the blame is put on me for not being encouraging enough of my daughter's desire to flatten her breasts and for puberty blockers."
As my hon. Friend the Member for East Worthing and Shoreham (Tim Loughton) said, some parents have been referred to social services when they have questioned the wisdom of treating their son as a girl or their daughter as a boy.
Socially transitioning a child—changing their name and pronouns, and treating them in public as a member of the opposite sex—is not a neutral act. In her interim report on gender services for children, paediatrician Dr Hilary Cass remarks that although social transition
"may not be thought of as an intervention or treatment,"
it is
"an active intervention because it may have significant effects on a child or young person's psychological functioning."
The majority of adolescents who suffer from gender dysphoria grow out of it, but instead of safeguarding vulnerable children, schools are actively leading children down a path of transition. If a child presented with anorexia and a teacher's response was to hide that from parents, celebrate the body dysmorphia and encourage the child to stop eating, that would be a gross safeguarding failure. For a non-medical professional to make a diagnosis of gender dysphoria, exclude the child's parents and encourage the child to transition is just such a failure.
In some schools, children are not only taught about the concept of gender theory but signposted to information about physical interventions. Last year, sixth-formers at a grammar school sent a newsletter to girls as young as 11, detailing how to bind their breasts to "look more masculine" and outlining how surgery can remove tissue if it hurts too much. Also, schools have played a major role in referrals to gender identity clinics, where children are sometimes set on a path to medical and surgical transition.
I was really pleased to see the Health Secretary announce today that he is commissioning a more robust study of whether treatment at such clinics improves children's lives or leads to later problems or regret, because schools may think that they are being kind, but the consequences of full transition—permanent infertility, loss of sexual function and lifelong health problems—are devastating, as has become clear following the case of Keira Bell.
Anyone hearing for the first time what is going on in schools might reasonably ask, "How can this be allowed?" The answer is that it is not allowed. DFE guidance tells schools:
"Resources used in teaching about this topic must always be age-appropriate and evidence-based. Materials which suggest that non-conformity to gender stereotypes should be seen as synonymous with having a different gender identity should not be used and you should not work with external agencies or organisations that produce such material."
However, many teachers just do not have the time to look into the background of every group that provides sex education resources, and when faced with teaching such difficult and sensitive topics, they understandably reach for ready-made materials, without investigating their source.
Furthermore, those teachers who are aware of the harms are sometimes afraid to share their concerns. A lot of teachers have written to me about this situation, with one writing:
"I left my job in a Primary School after we were asked to be complicit in the 'social transitioning' of a 7 year old boy. This was after Gendered Intelligence came into the school and delivered training."
Relationship and sex education in this country has become a Wild West. Anyone can set themselves up as a sex education provider and offer resources and advice to schools. Imagine if someone with no qualifications could set themselves up as a geography resource provider, insert their own political beliefs on to a map of the world—perhaps they would put Ukraine inside the Russian border—and then sell those materials for use in schools. I do not believe that some of these sex education groups should have any place in our educational system.
Indeed, the guidance says that schools should exercise extreme caution when working with external agencies:
"Schools should not under any circumstances work with external agencies that take or promote extreme political positions or use materials produced by such agencies."
Yet all the organisations that I have mentioned today, and many others, fall foul of the guidance. What is more, the Government are actually funding some of these organisations with taxpayers' money. For example, The Proud Trust received money from the tampon tax, and EqualiTeach and Diversity Role Models have received money from the DFE as part of anti-bullying schemes. We have created the perfect conditions for a safeguarding disaster, whereby anyone can set up as an RSE provider and be given access to children, either through lesson materials or through direct access to classrooms.
Yet parents—those who love a child most and who are most invested in their welfare—are being cut out. In many cases, parents are refused access to the teaching materials being used by their children in school. This was highlighted by the case of Clare Page, which was reported at the weekend. She complained about sex education lessons that were being taught in her child's school by an organisation called the School of Sexuality Education. Until this year, that organisation's website linked to a commercial website that promoted pornography. Mrs Page's daughter's school refused to allow the family to have a copy of the material provided in lessons, saying it was commercially sensitive.
Schools are in loco parentis. Their authority to teach children comes not from the state and not from the teaching unions, but from parents. Parents should have full access to the RSE materials being used by their children. We have created this safeguarding disaster and we will have to find the courage to deal with it for the sake of our children …
… there are strong parallels here with grooming practices, and I have no doubt that children will be more susceptible to being groomed as a result of the materials they are being exposed to.
How have we gone so wrong? We seem to have abandoned childhood. Just as in the covid pandemic when we sacrificed young for old, our approach to sex education is sacrificing the welfare and innocence of children in the interests of adults' sexual liberation. In 2022, our children are physically overprotected. They have too little opportunity to play unsupervised, to take responsibility and to mature and grow wise, yet at the same time they are being exposed to adult ideologies, being used as pawns in adults' political agendas and at risk of permanent harm. What kind of society have we created where teachers need to undertake a risk assessment to take pupils to a local park, but a drag queen wearing a dildo is invited into a library to teach pre-school children?
Parents do not know where to turn, and many I have spoken to tell me how they complain to schools and get nowhere. Even the response from the DFE comes back the same every time telling parents that, "Where an individual has concerns, the quickest and most effective route to take is to raise the issue directly with the school." The complaints system is circular and schools are left to mark their own homework.
Ofsted does not seem willing or able to uphold the DFE's guidance. Indeed, it may be contributing to the problem. It was reported last week that Ofsted cites lack of gender identity teaching in primary schools as a factor in whether schools are downgraded. There is a statutory duty on the Department to review the RSE curriculum every three years, so the first review is due next year. I urge the Minister to bring forward that review and conduct it urgently. I understand that the Department is in the process of producing guidance for schools on sex and gender, so will Minister tell us when that will be available? …

The DFE should consider creating a set of accredited resources, with regulatory oversight by Ofqual, and mandating that RSE be taught only by subject specialists. The Department has previously said in correspondence that it is
"investing in a central package to help all schools to increase the confidence and quality of their teaching practice in these subjects, including guidance and training resources to provide comprehensive teaching in these areas in an age-appropriate way."
Can the Minister say when that package will be ready?
In the light of the Cass review interim report, the Department must write to schools with clear guidance about socially transitioning children, the law on single-sex facilities and the imperative to include parents in issues of safeguarding. The Department should also conduct a deep dive into the materials being used in schools, the groups that provide such materials and their funding sources …
… it is the Department for Education that imposed the mandatory requirement for schools to deliver RSE, so it is fundamentally the responsibility of the Department to ensure that schools are equipped and held accountable to deliver it well.
I look forward to hearing from the Minister how the Department plans to clean up this mess and give our children the protection they deserve.
Afterwards, Labour MP Lloyd Russell-Moyle (Brighton Kemptown) spoke. Keep his name in mind, because this was the start of an unheard-of incident in another debate in January 2023:
… Where I disagree, I am afraid, is on some of the hon. Member's examples. I did not plan to say this, but during the pandemic, my second cousin—a 15-year-old boy—died in a tragic accident of auto-asphyxiation. It devastated the family, as can be imagined, and happened in the pandemic when we were only allowed six people at the funeral. If he had been taught about risky sex acts—he was 15, not a pre-pubescent child—and how to make sure he did things safely, rather than just learning something from the internet that then led to the end of his life, he might still be around and his family might not be devastated. So, actually, because of that personal experience I do have a problem with saying that we should not teach any of this to our children.
The hon. Member picks out examples of the dice or whatever that might sound frivolous, and I cannot judge how exactly things played out in those schools—she might well be right that it was played out by some teachers incorrectly—but the principle of learning about things before people are legally able to do them but when they are physically able to engage in them, which 15-year-olds are, I am afraid, could have been lifesaving.
My sister, who is a teacher in Essex, has worked hard to try and incorporate some of those teaching methods into the school's RSHE, focused on an age-specific approach and on stories of people such as my cousin and others, so we can talk about the dangers of some of these things. We cannot know about the dangers of things if we do not talk about them, or if we say that they are just things that families need to talk about. I am afraid most families will not do that because those kinds of things are darn embarrassing to talk about—but also because you never think your child will do something like that. I disagree with that element of what we heard today. I do agree that there needs to be oversight and I do agree that there need to be checks to make sure that we are not just promoting risky activities; we need to be talking about the risks of risky activities. Then, when people are of age, they can make their own choices.
I want to reflect on the things I was planning to say in this debate in the last few seconds I have. The UK Youth Parliament ran a campaign for years to try to get RSHE better taught. Elements of the campaign were about emotions and relationships, and it was also about LGBT inclusive education—and that does include T. We have seen the Fédération Internationale de Natation ruling that competitors will not be able to swim unless they transitioned before they were 12, so we are in a difficult and complex world that we have to navigate. Broad-brush bans from the Department are unhelpful; we need to be content specific and school specific. The Department needs to show more leadership, but we cannot exclude talking about trans people or these complex issues in schools because that, I am afraid, would be very dangerous.
Later on, Northern Ireland's Jim Shannon (Democratic Unionist Party, Strangford) sided with Miriam Cates:
… Relationships and sex education is an essential issue, and a crucial topic for young people to understand. We must all realise that there is a time and a place for relationships and sex education in schools. However, underpinning that is the right of a family to pass on their morals and values, and not to be undermined by teachers who do not know individual children and cannot understand the family dynamic.
I am clear about what I want to see when it comes to sex education: no young person should be unaware of how their body works, but similarly, no teacher nor programme should seek to circumnavigate the right of a family to sow into their child's life what they see is needed. That is especially the case in primary school children—I think of innocence lost …
… a worrying number of schools across the United Kingdom have felt it necessary to teach children not only about sex, but about gender identity and trans issues. Conservatives for Women has said that children are being encouraged from as young as primary school to consider whether they have gender identity issues that differ from their biology—being male or female—as the hon. Member for Penistone and Stocksbridge outlined. That leaves children confused for no other reason than the misunderstanding, and it makes them believe that they should be looking at their own gender issues. My humble opinion—I am putting it clearly on the record—is that children in primary schools are too young to be taught sex education at that level …
It is crucial that we do not unduly influence young people or pupils' innocent minds by teaching extreme sex and gender legislation. I have seen some material taught in Northern Ireland, such an English book that refers to glory holes, sexual abuse of animals and oral sex. That book was taught to a 13-year-old boy, whose parents were mortified whenever they saw it, and the young boy had little to no understanding of what was going on. I wrote to the Education Minister in Northern Ireland, asking how that book could ever be on a curriculum and what possible literary benefit—there is none—could ever outweigh the introduction of such concepts.
There needs to be a greater emphasis on the line between what is appropriate to be taught at school and at home, and a greater respect for parents and what they want their children to be taught. Family values should be at the core of a child's adolescence education, as it is of a sensitive nature and needs to be treated carefully, with respect and compassion.
Robin Walker replied for the Government:
I congratulate my hon. Friend the Member for Penistone and Stocksbridge (Miriam Cates), along with my hon. Friend the Member for Thurrock (Jackie Doyle-Price) and the hon. Member for Canterbury (Rosie Duffield), on securing today's debate …
I have listened carefully to some of the examples that have been given by Conservative and Opposition Members, in particular those cited by my hon. Friend the Member for Penistone and Stocksbridge. There is no doubt that some of those things are totally unsuitable for school-age children: "age is only a number" is clearly an unsuitable phrase to be used in the context of consent, and the Department has been clear that the Proud Trust's dice game is unacceptable for use as a school resource. I have to say that, despite a lot of coverage of that particular issue, we are unaware of any individual cases in which that game has been used in schools.
… To support teachers to deliver in the classroom, we have run expert-led teacher training webinars that covered pornography, domestic abuse and sexual exploitation—topics that teachers told us they find difficult to teach. We also published additional guidance to schools on tackling abuse, harassment, and other sensitive topics.
It has been almost three years since the Department published statutory guidance on relationship, sex and health education, and almost two years since relationship education became a compulsory subject for all schools and relationship and sex education became a compulsory subject for all secondary schools. As has been acknowledged, primary schools can choose to teach sex education in order to meet the needs of their pupils, but if they do so, they must consult with parents on their policy and grant parents an automatic right to withdraw their child from sex education lessons …
At the heart of RSHE is the need to keep children healthy, happy and safe. The hon. Member for Brighton, Kemptown (Lloyd Russell-Moyle) gave a very powerful example of where more education could make a difference in terms of safety. I sympathise with his deep hurt …
The Ofsted review of sexual abuse in schools and colleges found that online forms of sexual abuse are increasingly prevalent, with 88% of girls and 49% of boys reporting being sent unwanted sexual images and 80% of girls and 40% of boys pressured to provide sexual images of themselves. The review also showed that children, even in primary schools, are accessing pornography and sharing nude images. We want to make sure that children receive appropriate teaching in schools on topics that are relevant to their lived experience, rather than going online to educate themselves. Through the RSHE curriculum, pupils will be taught about online relationships, the implications of sharing private or personal data—including images—online, harmful content and contact, cyber bullying, an overreliance on social media and where to get help and support for issues that unfortunately occur online. Through the topic of internet safety and harms, pupils will be taught to become discerning customers of information and to understand how comparing oneself with others online can have an impact on one's own body image. The Department is reviewing its guidance on teaching online safety in schools, which supports teachers to embed teaching about online safety into subjects such as computing, RSHE and citizenship. The guidance will be published in the autumn of this year. The Online Safety Bill will also ensure that children are better protected from pornographic content, wherever it appears online.
The statutory RSHE guidance sets out the content that we expect children to know before they complete each phase of education. We have, however, been clear that our guiding principles for the development of the statutory guidance were that all the compulsory subject content must be age-appropriate and developmentally appropriate. It must be taught sensitively and inclusively, with respect for the backgrounds and beliefs of pupils and parents, while always with the aim of providing pupils with the knowledge they need. Given the need for a differentiated approach and the sensitive and personal nature of many of the topics within the RSHE curriculum, it is important that schools have the flexibility to design their own curricula, so that it is relevant and appropriate to the context of their pupils. The Department's policy, therefore, has been to trust the expertise of schools to decide the detail of the content that they teach and what resources they use.
As mentioned previously, we have made a commitment in the White Paper to strengthen our guidance in this respect. We will also review and update that guidance regularly—at least every three years. We are confident that the majority of schools are capable of doing this well and have been successful in developing a high-quality RSHE curriculum that is appropriate to the needs of their pupils, but, in the context of this debate, it is clear that that is not always the case and that there are genuine concerns about many of the materials that have been used.
I stress that allowing schools the flexibility to make their own decisions about their curricula does not mean that they should be unaccountable for what they teach. Schools are required by law to publish their RSHE policies and to consult parents on them. As their children's primary educators, parents should be given every opportunity to understand the purpose and content of what their children are being taught. In the RSHE statutory guidance, which all schools must have regard to, we have set out a clear expectation for schools to share examples of resources with parents. Schools are also bound by other legal duties with regard to the delivery of the wider curriculum. All local authority maintained schools are required to publish the content of their school curriculum, including the details of how parents or other members of the public can find out more about the curriculum that the school is following. There is a parallel requirement in academy trust model funding agreements for each academy to publish the same information on its website. It is our intention that that should form part of the new standards for academies.
… We are clear that schools can show parents curriculum materials, including resources provided by external organisations, without infringing an external provider's copyright in the resource. For example, it is perfectly possible for a school to invite parents into the school to view materials on the premises. Although of course we have to be mindful of not overburdening schools with repeated requests, we do expect schools to respond positively to all reasonable requests from parents to share curriculum material. We therefore expect schools to share RSHE content and materials with parents openly and transparently, where requested. We are clear that they should not enter into any contracts with third parties that seek to restrict them from sharing RSHE resources with parents.
… To help schools to make the best choices, the Department published the non-statutory guidance, "Plan your relationships, sex and health curriculum". That sets out practical advice for schools on a number of topics, including using externally produced resources. Indeed, my hon. Friend the Member for Penistone and Stocksbridge quoted from it.
… We are working with the Equality and Human Rights Commission to ensure that we are giving the clearest possible guidance to schools on transgender issues. We will hold a full public consultation on the draft guidance later this year. Given the complexity of the subject, we need to get this right and we want to take full account of the review being conducted by Dr Hilary Cass.
I realise that my hon. Friend the Member for Penistone and Stocksbridge will need time to respond, so I conclude by saying that I hear very clearly the concerns that have been expressed. As a parent of both a girl and a boy, I know that we need to address these issues and to do so in a way that can reassure parents but continue to deliver high-quality relationships, sex and health education.
Miriam Cates concluded:
I thank the Minister for his response. I am looking forward to seeing the consultation on the guidance. I thank everybody who contributed today. This has been a very good debate. We have had some surprising areas of agreement. I think that most of us have agreed that this is a very important topic. The key phrase that has come out is "age appropriate". I personally do not think that it should be up to schools, teachers or, potentially, parents to have to decide that. I think that we need child development experts on the case to determine which materials are suitable for which time.
I will conclude by reflecting on the speech from my hon. Friend the Member for Thurrock (Jackie Doyle-Price). Family is key to this, and parents' values and parents' choice are so important. We must never teach relationships and sex education in schools outside the context of respecting parents' choice and parents' values. Parents are the people who love and are most invested in children, and theirs are the views that we should most take into account.
I saw that debate on BBC Parliament. My shock at the time has not diminished, even when sharing the Hansard transcript with you.
As for Lloyd Russell-Moyle, things came to a head between him and Miriam Cates in January. More on that next week.
Because events in British politics have been so dramatic, it has been some time since I wrote about Red Wall MPs in England.
My last entry was for Marco Longhi in July 2022.
Yesterday, I mentioned Miriam Cates's renewed opposition this month not only to certain aspects of sex education curricula in England but also to Chancellor Jeremy Hunt's seeming disdain for mothers who wish to stay at home to raise their children. He said:
… it is damaging to the economy …
Egregious.
Background
Miriam Cates was elected in December 2019 to represent the South Yorkshire constituency of Penistone and Stocksbridge, which was created in 2010.
Until 2019, Labour's Angela Smith represented Penistone and Stockbridge. Smith, who by then was a Liberal Democrat, ran an unsuccessful campaign in Altrincham and Sale West, which Sir Graham Brady, the Conservative incumbent and chair of the Party's 1922 Committee, won. Cates defeated Labour's Francyne Johnson by 7,210 votes, quite the achievement, considering that the old Penistone constituency had only one Conservative MP, elected in 1931. All the others were Labour.
Cates, the daughter of a general practitioner (since retired), was born in Sheffield in 1982. Her parents were practising Christians, and she has two younger brothers.
Cates has spent most of her life in or near Sheffield. She left to read Genetics at Cambridge, then returned to her home town to earn a Postgraduate Certificate in Education at Sheffield Hallam University. She taught science, including biology, at the city's Tapton School. She and her husband then founded their own firm, a technology consultancy called Redemption Media.
She and her husband have three children and live in Oughtlibridge, a village in the Sheffield area. She and her husband met at church whilst working on a project there. Cates is an Evangelical Christian.
Cates became interested in politics when she began listening to BBC Radio 4 at the age of 11. She was elected as a councillor for the Oughtlibridge Ward in 2015 and was re-elected in 2019. She resigned her post in 2021.
In 2016, she was a Remainer until aspects of the Leave campaign convinced her to vote for Brexit in the June referendum that year.
Maiden speech
Cates gave her maiden speech in the House of Commons in February 2020, when the 80-strong Conservative majority were full of optimism:
She gave her speech, during a debate on Migration and Scotland. Emphases mine below:
My interest in this place began when I was 11 years old and somehow I acquired an ancient, long-wave radio that would only tune to Radio 4. In the 1990s, before YouTube and Candy Crush, I had to make do with the "Today" programme and "Westminster Hour", but I was hooked—captivated by the history of our democracy, the workings of our politics and its power to bring change.
My first big political experience was the 1997 general election. Growing up in Sheffield, in what was the capital of the socialist republic of South Yorkshire, this was no ordinary election. I was fascinated by the whole campaign and I sent off for and displayed posters from every single political party, including the Referendum party. I even had a Liberal Democrat board on a post in our front garden, but we all make errors of judgment in our youth …
To cut a short story even shorter, I found my home in the Conservative party and I now stand before you as the Member of Parliament for Penistone and Stocksbridge. Apart from a three-year stint at university, I have lived in the Sheffield area for my whole life, so it is a profound privilege to represent a community that I call home.
Penistone and Stocksbridge is a truly remarkable constituency. We have stunning scenery, moorland and reservoirs. We have beautiful rural villages like Bolsterstone, Wortley and Cawthorne. We have the historic market town of Penistone, which received its market charter in 1290 and where Penistone Grammar School, founded in 1392, still provides an excellent education to local children. The school's original motto was "Disce Aut Discede", which means learn or leave. This sentiment clearly held sway in the 2016 referendum, where the constituency judged that the EU had failed to learn and so we should indeed leave.
The town of Stocksbridge, with its industrious history of steel manufacture, boasts the proud legacy of Mr Samuel Fox, inventor of the Paragon umbrella frame, and whose wire factories were responsible for the development of the town we know today. We have many other wonderful communities, like Dodworth, Pogmoor, Chapeltown, Ecclesfield, High Green, Grenoside and Burncross, and numerous rural villages, each with their own unique character.
Ten years ago, I moved to Oughtibridge, one of these villages, and, being until this point a city girl, I was utterly unaware of the strength and depth of community that I was about to encounter. Throwing myself into village life, I discovered voluntary groups, the school PTA, the local church and the parish council, bringing together people of all ages and from all walks of life. The wonderful thing about a village is that when everyone shares the same school, the same park and the same pub, it is natural to form friendships that are based on a common interest and a common geography, and not on social background or political worldview.
It was in my capacity as a parish councillor that I first met my predecessor, Angela Smith. I found her to be hard-working, sincere, thoughtful and helpful, and I want to thank Angela for the part that she played in securing an £8 million investment in the Fox Valley shopping centre, which has been responsible for significant regeneration in Stocksbridge and the surrounding area. In more recent times, Angela became known for her inclination to switch allegiances, being, at different times during 2019, a member of no fewer than five political parties or groups. I am heartily glad that the people of Penistone and Stocksbridge shared this enthusiasm for switching parties and in December elected me as their first Conservative MP. On the topic of Scottish migration, perhaps the Scottish Government would want to offer a visa to any of my constituents who want to complete the set and experience representation by the SNP, although I feel sure they would only require a temporary visa.
We have heard much about how we Conservatives won seats such as Penistone and Stocksbridge for the first time. Like my right hon. Friend the Prime Minister, I understand that many people lent me their votes, and I take seriously my responsibility to deliver on the commitments we made. One of the most important of these commitments is the pledge to radically improve public transport in the north of England. When I was first selected as a parliamentary candidate, I began by going around our communities asking people what changes they would like to see, and public transport was raised time and again.
We desperately need to level up our northern transport and infrastructure. Public transport is not just about getting people from A to B; it connects people with well-paid jobs, training and education, hospital appointments and shops, and it prevents loneliness and isolation. Transport is the key to spreading opportunity and investment. That is why I am campaigning with the Don Valley railway group to see a Stocksbridge to Sheffield passenger train line reinstated and with Thurgoland Parish Council public transport working group to secure better rural bus services. I am delighted therefore by today's announcement on funding for buses and trains, which demonstrates that this one nation Conservative Government are committed to an ambitious programme of levelling up.
Levelling up is not just about financial investment, bricks and mortar, and miles of train track. The national soul-searching of the past four years has demonstrated that there are areas of our country, particularly northern towns such as Penistone and Stocksbridge, that have been left behind—not just in an economic sense, although that is certainly the case, but in terms of how our communities and our culture are understood and valued as part of our national life. As I said, I have lived in the area my whole life, and that is by no means unusual. Our towns and villages are wonderful places to live, not least because of the strength and depth of community life. Social mobility should not mean having to leave your home, your family and your community to find work, training or investment. We do have ambition, aspiration and talent, but we are also rooted in a deep sense of place. We need opportunities right in the heart of our communities, and this Government's initiatives, such as the towns fund and the shared prosperity fund, will help us to deliver.
I want to finish where I started. A quarter of a century on from when my interest in this place began, I still believe that politics has the power to bring change and that we should celebrate our history as a democratic nation—not a perfect history by any means, and one with many dark moments, but one where the trend has been towards progress and fairness. To continue this progress we must begin to heal the very real divides that have been exposed, between north and south, towns and cities, leave and remain, old and young. We need to find a way to recognise and value our differences while celebrating what we have in common as citizens of this great nation. However different our life experiences, our place of birth, our social background, we have a shared identity as human beings. Whether this identity derives from an acceptance of our intrinsic worth as people or a belief, like mine, that we are all children of the same heavenly father, we need to cherish what we have in common.
There are many different opinions in this country, and we have given each other many different labels, but the vast majority of us want to make this nation a better place for everyone who lives here. We may disagree, sometimes passionately, about how that should be done, but if we can respect each other's motives and leave the labels behind, be slow to judge and quick to forgive, the healing will begin. December marked a fresh start for our democracy, and a fresh start for Penistone and Stocksbridge. I am honoured to serve this wonderful constituency, and I will work hard to deliver for all of my constituents.
Coronavirus realist
I might have coined a new expression there. Cates was not a Covid sceptic but rather a Covid realist in recognising how much damage lockdown and other measures did to the country.
She participated in the Coronavirus debate of June 16, 2021. This one concerned the extension of the Coronavirus Act 2020:
Following the science is an attractive and even comforting idea in a time of uncertainty. But—I say this as a scientist —we can no more follow science than we can follow history. Science gives us knowledge and understanding, but it cannot give us wisdom, and it is wisdom that we need to make what are essentially moral and political decisions about how we balance the short and long- term best interests of our whole society. I am saddened that we have lost—I hope only temporarily—that sense of balance.
Preventing death from covid seems to have become the principal purpose of our national endeavour, no matter the cost to our way of life. We have placed insufficient emphasis on the terrible long-term consequences of lockdown—poverty, unemployment, lost education, debt, undiagnosed cancer, loneliness, hopelessness and fear—and focused far too narrowly on just one set of metrics: the daily covid data. Even the most hardened libertarian would accept that, in a national emergency and in the face of significant threat to life, restrictions on our freedoms have been necessary and right, but with all vulnerable people having now been offered vaccination, the balance of risk has shifted.
Covid is no longer a substantial threat. The average covid mortality so far in June is seven deaths a day—seven out of around 1,500 daily deaths that we could expect in normal times. The number of people in hospital now stands at 1,177—some 37,000 fewer than at the peak in January. Thanks to the incredible efficacy of our vaccination programme, it is hard to comprehend how our hospitals could quickly become overwhelmed. The idea that we are still in a state of emergency is not supported by the evidence, yet significant legal restrictions on our basic freedoms are to remain, even dictating how many of our family and friends can visit us in our private homes. The restrictions we face are now out of proportion to the threat, so extending the measures sets a dangerous precedent.
We must learn to live with covid in the way that we live with so many other risks. Vaccines will never be 100% effective, just like seatbelts, smoke alarms or contraception, but it is vital to our autonomy and our identity as human beings that we are able to make our own choices and evaluations of everyday risks, as has been the norm in our country for generations. I have the greatest respect for Ministers, who have had to make unimaginably difficult decisions over the past year, but now is the time to restore a sense of balance, proportion and fairness, and to make a return to life in all its fullness.
In my final seconds, I want to say this: childhood should be a time that is care-free. Testing our children twice a week, making them wear masks when they are not at risk, and constantly reminding them that they may be a danger to people whom they love, is damaging them psychologically, and we have to stop.
Three months later, on September 21, the Backbench Business Committee granted her a debate about giving the coronavirus vaccine to children, which she introduced as follows (excerpted below). This took place in Westminster Hall, where additional debates take place:
I thank the Backbench Business Committee for granting this important debate, and draw Members' attention to the three e-petitions that relate to this topic, which have amassed more than 100,000 signatures between them.
Vaccination has transformed public health over the last two centuries. As a science teacher, I remember teaching students about the amazing work of Edward Jenner, who famously developed the smallpox inoculation. Two hundred and fifty years later, vaccinations have again ridden to our rescue with the rapid development and roll-out of covid vaccines across the UK. The phenomenal success of the vaccination programme can be seen clearly in the data …
Those figures are a ringing endorsement of the Joint Committee on Vaccination and Immunisation's strategy to recommend vaccination based on the medical benefits and risks to the individuals concerned. The Government have repeatedly defended both this strategy and the independence of the JCVI, and resisted calls to prioritise the vaccination of teachers or police officers over those at higher risk of serious illness. That was the right approach, and the UK has led the world in falling rates of deaths and hospitalisations.
It was therefore surprising, to say the least, when the Government put political pressure on the JCVI to quickly reach a decision about the vaccination of children. On 3 September 2021, the JCVI announced that it was unable to recommend the mass vaccination of healthy 12 to 15-year-olds. The reason was that, although there are marginal health benefits of covid vaccination to children based on the known risks of the vaccine, there is considerable uncertainty regarding the magnitude of the potential harms, such as the long-term effects of myocarditis …
There is no rush to roll out the vaccine to children. We know that children are not at risk from covid; teachers are no more at risk than the rest of the population; the vast majority of vulnerable adults have been vaccinated; over half of children already have antibodies; and there is no evidence that schools drive transmission …
It is widely known that access to GPs is challenging at the moment, and that presents challenges in this situation. It is widely understood that if a child can consent, contrary to parental consent, that is not a tick-box exercise; it is a matter for a medical professional to assess whether the child is competent to consent. If there are problems accessing GPs, there are clear issues here …
… instead of accepting the JCVI's assessment and waiting for more evidence to emerge, the Government asked the chief medical officer urgently to review the decision based on the wider benefits to children, including from education. Last week, the CMO announced that he would recommend child vaccinations on the basis of these wider benefits.
That decision is a marked departure from the principle of vaccinating people for their own medical benefit, because those wider issues—educational disruption and concerns around mental health—are the consequences of policy decisions and are not scientific inevitabilities. Children in the UK have already missed more education than children in almost any other country in Europe, despite comparable death rates. Since January 2020, British children have lost on average 44% of school days to lockdown and isolation. That is not a consequence of covid infections in children, but rather a result of policy decisions to close schools and isolate healthy children.
… There is a much simpler way to stop harmful educational disruption, and that is to follow the advice of the Royal College of Paediatrics and Child Health and end the mass testing of asymptomatic children. This unevidenced and unethical policy is costing tens of millions of pounds a week—I would be grateful if the Minister could confirm the exact cost—and is continuing to disrupt education. Even the CMO acknowledges that a vaccination programme alone will not stop school closures. Perhaps the Minister could clarify how the Government intend to end educational disruption.
On the potential mental health benefits from reducing the fear of covid, it is not covid infection that is making children fearful; it is the uncertainty, frustration, loneliness and anxiety that they experience as a result of lockdowns and harmful messages such as, "Don't kill granny." Children need not fear catching covid, but they have every right to fear policy decisions that cause them significant harm, and sadly we cannot vaccinate against those.
Nonetheless, the decision has been made, and we have to be very clear that the risks to children, both from covid and from vaccines, are tiny. Concerns should now focus on making sure that the necessary safeguards are put in place as vaccination is rolled out … While I appreciate Ministers' commitments, children already face discrimination in some schools over mask wearing and testing.
Vaccination must be a free and informed decision …  Parental consent must also be respected. Much has been said on this subject, but the heart of the matter is that parental responsibility and authority are foundational to society …
Throughout the past 18 months, "protect the vulnerable" has been our clarion call. We have rightly made significant efforts to protect elderly people and those who are particularly susceptible to covid, but children, who cannot speak out, do not own property, and have no legal agency, are also very vulnerable. Yet during the pandemic, we have asked this group of vulnerable people to make huge sacrifices to protect the rest of us. The harms of lockdown for our children are significant and, for many, will be irreversible: lost education, missed opportunities, abuse and horrific online harms. The number of children presenting in A&E with acute mental health conditions has risen by 50% since the start of the pandemic.
A climate of fear and uncertainty has robbed children of the structure, routine and security that they need to thrive and has placed on them a heavy emotional burden from inferring that they may be responsible for the deaths of those they love. We have pretended that online learning is somehow a substitute for being in schools, and closed our eyes to the consequences of social isolation for children and young people.
Of course, we should raise our children to take responsibility for their actions, but as adults we should always shoulder the greater burden. We have imposed absurd rules on our young people, right down to deciding whom they can play with at playtime and whether they are allowed to change for PE.
However, we have not seen that much action to urge adults to take responsibility for their own covid risk by, for example, losing weight or exercising—something that would have had a far greater impact on our rates of hospitalisation and death.
The lightweight Maggie Throup responded for the Government:
… My hon. Friend the Member for Penistone and Stocksbridge asked a number of questions. I reiterate that the CMOs sought advice from experts in the field; it was not just the information they had themselves. It is only right that, based on that advice, 12 to 15-year-olds are able to take up the offer of the vaccine in a fair and equitable manner.
My hon. Friend asked about disruption to education from the programme. NHS England already has plans in place for the mop-up programme, which is not likely to be on school sites, to minimise disruption to education and the rest of the immunisation programme …
It is important that we do whatever we can—use whatever we have in our toolbox—to make sure that children are able to continue with their education, and vaccination is one part of that. I know my hon. Friend is passionate, as am I, about making sure that children get a full education, and that the pandemic does not affect their futures. My hon. Friend raised several other questions and, if she will allow me, I will write to her in response to any I do not answer in my speech.
As is customary, the MP who introduces the debate concludes it. Cates ended with this:
To finish, I reiterate the questions asked by my hon. Friend the Member for Bolton West (Chris Green): what is success? Where does this end? How do we get back to normal? I do not believe the vaccine roll-out among children will get us there. We need determined political leadership that puts the welfare of children front and centre, ends educational disruption and allows us to move forward with their future.
I will have more about Miriam Cates next week.
My post last Friday was about Liz Truss's 4,000 word essay in The Telegraph, her 49-day premiership and the support her mandate for growth subsequently received.
There is still tension among conservative and Conservative voters about the direction of Rishi Sunak's premiership, especially with Jeremy Hunt installed as Chancellor in the last days of Truss's time in No. 10. Jeremy Hunt is a man no Conservative Party member ever wanted to see in either No. 10 or No. 11 Downing Street. Since October 2022, he seems to be running the country.
Even worse, Conservative Party members were denied a vote for Truss's successor. The Parliamentary Conservative Party elected Sunak and were delighted to crown their man without input from people they consider as plebs. That said, not every Conservative MP was happy with the new Prime Minister.
Public sentiment is not in Sunak's favour, as this poll from December 19 shows. Liz had far higher ratings in September:
Guido Fawkes wrote (red emphases his):
New polling from Ipsos MORI continues to show the dire state of Rishi Sunak's party. The poll puts Labour's lead at 26%, up 7% on November, with the Conservatives' trust on the economy falling. On public trust to secure economic growth specifically, Rishi's ratings are now significantly lower than Liz Truss managed. Liz had a lead of 15% over Labour, Rishi is level.
Economic statistics paint a similar picture. The economy outperformed other months in October, registering 0.5% growth in the one month Liz was PM. It seems the public had good reason to initially back Liz's pro-growth message.
This might seem like ancient history, but Jeremy Hunt's Spring Budget is due in March. He presented his Autumn statement in November.
On November 19, Liz Truss's favourite economist Patrick Minford wrote an analysis of Hunt's budget for The Telegraph. The opening and closing paragraphs follow:
Jeremy Hunt's Autumn Statement has presented us with big tax rises and spending cuts in order to avoid a large "fiscal hole" created by the need to have the debt-to-GDP ratio falling by 2027-28 – the new "fiscal rule". But it will worsen the recession and ironically will also wreck the public finances.
In short, the Autumn Statement is a wrecking ball – worsening recession, damaging growth, degrading the long-run public finances and even raising inflationary wage costs. Commons amendments are needed to restore sanity to these plans.
He had a much better critique for non-economists on November 5. While he disapproved of Truss's and Kwasi Kwarteng's mini-Budget delivery, he wrote (purple emphases mine):
The danger now is serious. Sunak and Hunt are set on a course that will turn a stagnant economy into a shrinking one, with unemployment rising, firms folding and the quality of public services declining even more.
The whole notion of a growth agenda has tragically been rendered toxic. The track we are now on – fiscal tightening (tax rises and spending cuts) plus monetary tightening (high interest and mortgage payments) – has been tried before and invariably leads us further on to the scorched earth of more tax rises, more spending cuts and a slump in living standards.
Politically, for the Conservatives, the outlook is grim. If Sunak and Hunt press ahead in the November 17 Autumn Statement with their triple whammy of tax rises, spending cuts and higher mortgage rates, the country is unlikely to forgive them.
That same day, The Telegraph released results of an Ipsos UK poll showing that voters were deeply unhappy with Hunt's tax increases:
Tory MPs have told The Telegraph that the decision by Jeremy Hunt, the Chancellor, to raise Britain's tax burden to the highest level since the Second World War on Thursday was the "economics of a madhouse" that has made the party "more Labour than Labour".
Polling conducted for The Telegraph by Ipsos UK shows the statement has also failed to reassure voters, with almost half of the public reporting they feel more concerned about the economy and their personal finances than they did beforehand …
In the wake of the Autumn Statement, three Conservative MPs told The Telegraph they had visited constituency associations and been met with hostility from members about the tax increases.
"I had an association dinner the day after the Kwasi and Liz mini-Budget – everybody was full of enthusiasm, they were excited again, they could see ­Conservative policies coming over the hill and they were cheering," said one backbencher. In contrast, the atmosphere at a dinner following Mr Hunt's statement was "unbelievably subdued", they said. 
Jacob Rees-Mogg, the former business secretary, said: "Conservative members are fretful, I think it's fair to say. They are loyal but fretful.
"They want to support Rishi [Sunak] and they want him to do well, but they are concerned about where we are on the economy."
Sir Bill Cash, the veteran Tory MP, said there was a "sense of bewilderment by some people at seeing things brought forward that are not at all Conservative economically or politically".
Another senior Tory MP said the ­party's supporters were "furious" about the statement, which they described as "the economics of a madhouse".
"Our voters feel as if frankly we've abandoned them and that we've become more Labour than Labour," they said.
On November 20, Liam Halligan, GB News's economics editor who also writes for The Telegraph, wrote, 'The Chancellor is taking us for fools with his cynical stealth budget':
This Autumn Statement was based on a false premise: that the UK is on the brink of fiscal implosion and set to be shut out of international bond markets.
As a result, Chancellor Hunt is imposing very substantial tax rises at precisely the wrong time, which risks driving an already shrinking economy deeper into recession and undermining our public finances even more.
Hours before Jeremy Hunt stood up in the House of Commons on Thursday, the 10-year gilt yield – the annual interest the Government must pay on a new decade-long loan – was 3.14pc.
Ahead of the now notorious mini-Budget in late September, that same yield was 3.49pc ­ – considerably higher.
It's not as if Britain is so much more indebted than other comparable countries. While our national debt stands at 97pc of GDP, the figures in France, Canada and the US are 115pc, 116pc and 132pc respectively. Across the G7, only Germany has less public debt than the UK.
But prior to the measures proposed by then Prime Minister Liz Truss and her Chancellor Kwasi Kwarteng, no-one was seriously questioning the UK Government's solvency. 
They weren't before this Autumn Statement either, as illustrated by the fact that – partly because of measures Hunt already implemented since becoming Chancellor – gilt yields had fallen by a third in little more than a month.
As such, was it really necessary, in the midst of a cost-of-living crisis, to drive the tax burden even higher? Government revenue as a share of GDP – 33.1pc as recently as 2019 – is now heading for 37.1pc, the highest sustained level since World War Two.
… no other major economy is imposing sharp tax rises in the face of a slowdown.
The UK is heading "into a storm", as Hunt said. But while he attempted to come across as humane – the word "compassion" appeared five times in a speech lasting less than an hour – the Chancellor came across as rather cynical …
It's as if he thinks we are fools and won't notice we're paying much more if most headline tax rates stay put.
When Nigel Lawson introduced the 40p rate of tax in 1988, it was paid by only the highest earning 1.7 million workers. Now, those paying income tax at 40pc or more will soon number almost 8 million – a fifth of the workforce …
This is the kind of fiscal management typically associated with Labour, not the Tories. And that could turn out to be ironic – given the voter anger that will be generated as this Autumn Statement sinks in.
Meanwhile, on another front, Rishi Sunak was undoing Truss's plan for a streamlined, more controlled No. 10. 'SpAds' below means 'special advisers'. I note that Sunak's welcome into No. 10 was much more muted than Liz Truss's:
Sunak also rejected Truss's plan for more affordable childcare.
On New Year's Day 2023, The Telegraph reported:
Rishi Sunak has shelved plans for a major overhaul of the childcare system aimed at saving parents money and helping them back into work.
Liz Truss had been looking at increasing free childcare support by 20 hours a week and ending mandated staff-child ratios in what her team described as a "big bang" shake-up of the system.
But The Telegraph understands that the policy drive has been postponed indefinitely, with the scale of reforms now being considered expected to be much smaller. Any proposed changes to the rules around childcare provision are not expected for months – a much later timescale than Ms Truss's push for announcements before Christmas …
The cost of childcare is often named by MPs as a major concern for constituents, with backers of reform arguing that better, cheaper provision would allow more parents to return to work, boosting the economy.
A stark drop in the number of facilities offering childcare has been a trend for years, with an overall fall of 10,600 providers since August 2019 in England – a 14 per cent drop.
Two days later, The Times reported, 'Don't ditch my childcare reforms, Liz Truss tells Rishi Sunak'.
Here we see Conservative MP Simon Clarke appearing. He will be a Trussite force with which to be reckoned this year. He was also a Treasury minister when Sunak was Chancellor:
Liz Truss has warned Rishi Sunak not to scrap her childcare reforms amid growing frustration from Tory MPs over the "unaffordable" costs facing parents …
Supporters of Truss, including Simon Clarke, the former levelling up secretary, are among those who have publicly criticised Sunak's plans.
Truss herself is understood to disapprove of the prime minister's reluctance to embrace significant reform.
A source close to Truss told The Times: "Excessive bureaucracy is making childcare in England increasingly unaffordable for many parents. The system needs to be reformed in order to boost growth and opportunity. Junking Liz's plans for this critical policy area seems economically and politically counterproductive."
Kit Malthouse, the education secretary under Truss, urged Sunak to "push the go button as soon as possible".
"The current system is a complicated Heath-Robinson affair that means no one, parents or providers, is happy. It's fundamental for economic growth that parents are supported in work and my team and I had formed up a 'Childcare Big Bang' plan to do just that," he said …
Amid concerns from Tory MPs over the spiralling costs of childcare, the education select committee will launch an inquiry into the problem.
On January 5, The Times's Katy Balls told us more about Simon Clarke's mobilisation of Trussite MPs:
Shortly before Christmas, in a darkly lit Chinese restaurant near the Home Office, a scene played out that would alarm any government whip. There, in a corner of Ma La Sichuan, was Liz Truss, dining with three of her allies. Simon Clarke, her one-time levelling up secretary, and Ranil Jayawardena, her environment secretary, were present. They were joined by her former parliamentary private secretary Rob Butler. None of them have prospered under Rishi Sunak.
… Clarke has already opened hostilities with Rishi Sunak, pushing to overturn the ban on new onshore wind farms. He's backed by Truss and Boris Johnson. He's also setting up a new group of Tories dedicated to that Trussite watchword: growth …
The less-than-edifying circumstances of Truss's ejection from Downing Street mean that both she and members of her cabinet have been keeping largely quiet …
But as the Trussites emerge from a period of reflection, they could pose the bigger threat in an ideological fight. They did, after all, triumph over Sunak in the argument with Tory members. "These MPs haven't suddenly changed their worldview," says a former adviser to Truss. As Clarke put it in an interview with The Spectator this week, "There is a real risk that with Liz's eclipse comes the wider rejection of an entire school of Tory thinking." He warns that "a battle for the soul of the Tory party is underway".
The good news for Sunak is that as things stand, a large chunk of these MPs don't want to throw another prime minister out of Downing Street. Free market Tories in marginal seats, such as Clarke and Jacob Rees-Mogg, will be nervous about more leader volatility ahead of the next election. But they also don't want to sit back and do nothing for two years. Instead, they want to see Sunak expand his ambitions for growth across housing, childcare and work …
Clarke's new outfit — Next Generation Tories — is aimed at bringing younger voters to the party, a cause few would disagree with. But it is ultimately free market with a focus on housebuilding and planning.
Truss could join the fray next. She has hired a press chief and there are talks about the possibility of her fronting or taking a role with a think tank. Not everyone thinks it is such a great idea. "I think silence is undervalued," says a former aide …
The Truss project didn't survive long enough for her to publish her growth plan, but a draft of the eight-page document offers a taste of the kind of policies this group is likely to advocate. They include mobile phone planning reform (relaxing planning regulations to extend 5G coverage across the country) which aides predicted would cause a parliamentary row over the digging required for new cabling. On childcare, easing restrictions for childminders; on farming, slowing cuts to subsidies to give the average farmer an extra £7,000 over two years; and on immigration, removing students and temporary workers from the net migration statistics as part of a looser policy to bolster the economy.
… while some MPs undoubtedly backed Truss for careerist reasons, plenty more regard her reform pitch as the right one. "If they pick their fight well, they'll start a debate on direction," says an MP who backed Sunak.
Katy Balls, who also writes for The Spectator, revealed Truss's growth plan in the magazine on February 9. It is eminently sensible and achievable. Truss planned for much of it to be achieved in 2023. Readers may peruse it at their leisure, as there are several tables to examine.
Returning to January 2023, the Financial Times took issue with Conservative efforts to reduce the deficit. They really have moved ever leftward over the years:
It also became clear that Truss wasn't such a bad PM after all. The UK's GDP results for November 2022 were better than expected:
On January 31, The Telegraph's Tim Stanley wrote that the IMF owes Liz Truss an apology. He reminded us of their previous critique in light of their new forecast:
Conservative Greg Clark made one very good point: this is only a forecast. The IMF has been known to get those wrong.
Moreover, it's the same clever-clogs IMF that advised us not to cut tax last year that now tells us our economy is in a nosedive because we raised taxes. Somebody owes Liz Truss an apology.
The Telegraph should apologise, too, for putting words in Truss's mouth when headlining her 4,000-word essay of February 4, their grand exclusive. The problem is that people who didn't read the essay, probably among them Andrew Neil, repeated the headline:
The day after Truss's essay appeared, her Conservative Party chairman, Red Wall MP Jake Berry, told the BBC that voters in the North had enough of the status quo and wanted a new way forward, i.e. Truss's policies. Guido Fawkes has the video:
That day, Grant Shapps told the BBC that Truss's instinct to lower taxes was correct in principle, but she collided with reality. A Twitter user pointed out Shapps's error. Truss's policies would have kept the UK second only to Germany in debt-to-GDP ratio of the G7 nations:
James Dyson, the vacuum cleaner mogul, would strongly disagree with Shapps. On January 19, The Guardian recapped an article he wrote for The Telegraph in which he criticised the lack of UK growth:
The founder of the eponymous vacuum cleaner firm said "growth has become a dirty word" under the current leadership and that on current trends, the average British family will be poorer than their Polish counterpart by 2030.
Dyson, a prominent supporter of Brexit, criticised the government's "ever higher tax bills" for the private sector and regulations, saying it is imposing "tax upon tax on companies in the belief that penalising the private sector is a free win at the ballot box".
"This is as shortsighted as it is stupid," Dyson wrote in the Telegraph on Thursday. "In the global economy, companies will simply choose to transfer jobs and invest elsewhere. Our country has an illustrious history of enterprise and innovation, born of a culture which we are in the process of extinguishing. We have got through the worst of Covid, but risk wasting the recovery."
Dyson said the government's failure to get workers back to the office after the pandemic had "badly damaged the country's work ethic", arguing face-to-face interaction was important, including for the training of new and young employees. He also claimed the growth of his business, which makes vacuum cleaners, fans and hairdryers, had happened largely "despite government, rather than because of it".
However, he concluded that "it is not too late for Britain to shake off its Covid inertia" if the government acts fast. "Starting with the spring budget in March, it must incentivise private innovation and demonstrate its ambition for growth," Dyson wrote.
The government is under pressure to reduce taxes for households and businesses in the spring budget to avoid a damaging and long-lasting recession.
On Sunday, February 12, John Redwood, who has been an MP since the Thatcher years, made an appeal on Sky News for more tax cuts, beginning with corporation tax (Guido has the video):
The following day, he wrote more about it in his online diary, pointing out that high corporation tax has caused AstraZeneca to renege on future expansion in the UK. Instead, the company will be moving to Ireland:
The decision by Astra Zeneca to put a major new investment  into Ireland where they charge 15% business tax compared to our new rate of 25% shows just how stupid our high tax policy is. Instead of getting 15% of a good stream of profits over many years alongside income tax and VAT on all the well paid ,jobs they bring, the UK has settled not to have any of it. 25%  of nothing is  nothing.
The same folly is evident in the North Sea. In a rush to get a bit more revenue this year with high and erratic windfall taxes, the government has delayed or lost important investments in new gas and oil fields. Instead of generating more well paid jobs and plenty of tax revenue on the output over the next decade or two, we opt to import and to pay huge taxes away to foreign governments on all the imports. Just one of the fields not currently going ahead would generate a gross £25bn over its life, with a lot of that passing directly to the Treasury in taxes.
Ireland makes my case perfectly. With a much lower rate of business tax than us Ireland enjoys a much higher proportion of its revenues from business tax because so many businesses go there to set up an HQ and to invest in plants and offices. Ireland  has a much higher per capita national income than us thanks to all the foreign investors congregating there to create jobs and spend money. The UK should copy them with a 15% tax rate as Jeremy Hunt himself proposed last summer. We too would get more revenue and have higher per capita average incomes. Enthusiasts for the EU are always urging us to align more with our Irish neighbours. This would be a great way of doing just that.
When Margaret Thatcher and her Chancellors cut higher rate income tax from 83% to 60% and then to 40% the amount of income tax paid by the better off rose in cash terms, rose in real terms, and rose as a proportion of total income tax. What's not to like for all involved? When George Osborne drove UK corporation tax down gradually to 19%, the take from company tax went up, not down. So why do OBR and Treasury models tell Ministers any cut in tax rates will lead to a reduction in tax revenue we cannot afford? History and modern experience suggests otherwise.
Last week, economic growth continued to be a hot topic. On February 24, The Telegraph published two letters from their readers on the subject.
One reads:
SIR – For many years we have believed that we live in a rich country – one that can afford top-class services such as the NHS, social support and good roads, railways and other infrastructure, and can buy whatever food it needs from abroad rather than growing it.
Sadly this is no longer the case. Britain does not generate enough wealth to support its needs, and has been borrowing ever more to make up the shortfall. Unless we make a fundamental change and start to grow our economy, we will not be able to afford the things we think we are entitled to.
The other says:
SIR – When will the Chancellor and Prime Minister remember that taxation discourages whatever it falls on, and that, in many cases, raising tax rates leads to lower overall receipts?
… we have ended in the grotesque chaos of a Conservative government – a Conservative government – scuttling around raising corporation tax at precisely the moment it should be lowering it in order to encourage businesses to set up and invest in our economy.
Meanwhile, the wagons have been circling from both the Sunak and the pro-Boris camps.
On the Sunak side, Lee Anderson is now the Deputy Chairman of the Conservative Party and, on February 21, another Red Wall MP, Brendan Clarke-Smith, was appointed to succeed Anderson as leader of the Blue Collar Conservatives. While both will do brilliantly, is it just a cynical move from Sunak to keep Red Wall voters onside with no policy changes from Downing Street?
On the pro-Boris/Liz side of the equation, David Campbell-Bannerman, a former Conservative MEP and head of the new Conservative Democratic Organisation, says that Conservative associations across England are prepared to de-select MPs who resigned when Boris was PM so that he was himself forced to stand down. They are also angry that they voted for Liz Truss and found her similarly deposed within a few weeks.
On February 23, The Telegraph's Christopher Hope reported:
Members are particularly irked that they chose both Mr Johnson and Ms Truss, only for MPs to force out both and eventually appoint Rishi Sunak as Prime Minister. During the Conservative leadership campaign last summer, members voted by 57.4 per cent to 42.6 per cent for Ms Truss over Mr Sunak.
Last weekend Damian Green, the former de facto deputy Prime Minister under Theresa May, was not selected to fight the Weald of Kent seat at the next general election. There were reports that this was because of anger at his criticism of Mr Johnson when he was prime minister, although this was disputed by friends of Mr Green.
Scores of MPs are facing votes on whether they will stand at the next election before July 23 – known as "vesting day" in Conservative Central Office – because of a shake-up of constituency boundaries.
There were suggestions in Westminster that Sir Richard Graham, who was critical of Mr Johnson, might not be readopted by his party at a meeting of local Tories in Gloucester on Friday. Sir Richard urged Conservative colleagues to focus on defeating Labour rather than party disunity …
Mr Campbell-Bannerman, a former Conservative MEP, told The Telegraph's Chopper's Politics podcast: "I get the feel of a reckoning – MPs being held to account. MPs have caused this chaos by bringing down Boris.
"There were about 60 MPs who signed letters or resigned or said Boris should go. There's more than that, maybe 150, who didn't want Boris. I'm not saying Boris was flawless. He certainly wasn't. But look at the disaster that has followed getting rid of him. Surely they should have toughed it out, got him to improve performance?"
He added that "potentially" dozens of these MPs could now find that they are not adopted as candidates by their local parties, adding: "A lot of MPs will be coming up for selection and they will be held to account.
"I'm not advocating it, but what I'm advocating is the members have the right and the power to do this. Central Office should back off and they should be allowed to make their decisions.
"We don't have a hit list or a target list. We're not operating like that. But we support members and I think we've empowered members to take back control, to say hang on, this isn't good enough. We're not getting a good enough choice here. We want to do it our way."
He said MPs were "being held to account for plunging the party into crisis", pointing out that the Tories had plummeted in the polls.
"We've really gone down badly, due to the chaos. And you can point fingers at Liz Truss, but Liz Truss would not have been there if they had kept Boris and Rishi wouldn't be there if they had kept Boris," he added.
Good! Well said!
Liz Truss stood by Boris all the way until the end. Her South West Norfolk Conservative association awarded her with reselection for the next general election:
An indirect compliment came Liz's way from Labour's Keir Starmer. Imitation is the sincerest form of flattery. He, too, is touting a growth-led economy — for now, at least:
An exciting year lies ahead, one that will make or break either the Conservatives or Labour ahead of 2024's general election.
My most recent post on Liz Truss examined her first two weeks in office as Conservative Party leader and Prime Minister, from September 6th through the 16th.
Things had started out so well. Ironically, Jeremy Hunt, who is now Chancellor, told ITV's political editor Robert Peston on September 7 that Truss would be 'formidable'. An amazing endorsement from someone who was her natural ally:
Hmm. Did he know anything at that point? We'll probably never know.
On September 20, The Sun's political editor Harry Cole was delighted to announce his and James Heale's book on Truss, Out of the Blue, which later had to have hastily written chapters added to it:
Yes, it is still coming out by Christmas — November 24, to be precise:
King Charles and COP27
Liz saw King Charles on Sunday, September 18, the day before the Queen's funeral. It was not their usual day to meet, but the Royal Family went into private mourning until the end of September:
On Saturday, October 1, The Times reported that Liz had asked the King not to attend COP27, which ran between November 6 and 18, despite an invitation from the organisers.
This was a good move, in my opinion, as climate change, or whatever it's being called this week, has turned highly political.
The article said (emphases mine):
The King, a passionate environmental campaigner, has abandoned plans to attend next month's Cop27 climate change summit after Liz Truss told him to stay away.
He had intended to deliver a speech at the meeting of world leaders in Egypt.
Had she remained PM, Liz would not have attended, either:
Truss, who is also unlikely to attend the Sharm el-Sheikh gathering, objected to the King's plans during a personal audience at Buckingham Palace last month.
There were no hard feelings between the Palace and No. 10:
… a Downing Street source claimed the audience had been cordial and there had "not been a row".
No doubt he was expecting it:
A senior royal source said: "It is no mystery that the King was invited to go there. He had to think very carefully about what steps to take for his first overseas tour, and he is not going to be attending Cop."
They said the decision was made on the government's advice and was "entirely in the spirit of being ever-mindful as King that he acts on government advice".
In the end, the King held a reception at Buckingham Palace for world leaders before they flew to the summit. In light of that, this was rather interesting:
Charles is still determined to make his presence felt there, and how he will do that is "under active discussion". A senior royal source said: "Just because he is not in physical attendance, that doesn't mean His Majesty won't find other ways to support it."
A source who knows Charles said he would be "personally disappointed" to miss it and was "all lined up to go", with several engagements planned around his Sustainable Markets Initiative (SMI) which aims to persuade businesses to invest in environmentally friendly initiatives.
Public v parliamentary opinion
In late September, a poll showed that Truss was ahead of Labour's Keir Starmer in Red Wall seats, boosting the Conservatives by eight points:
Admittedly, that was before Kwasi Kwarteng's fiscal event, or mini-budget, of Friday, September 23.
That said, I will go out on a limb and say that most conservative voters thought that Kwarteng's — Truss's — plan was the right one. My better half and I thought it was refreshingly libertarian.
However, Conservative MPs vehemently disagreed with the public and started writing in to Sir Graham Brady, the chairman of the 1922 Committee, the all-powerful group that Margaret Thatcher dubbed 'the men in grey suits'.
On September 26, the Northern Echo reported:
A former Tory minister MP has told Sky News the new Prime Minister is "f*****" and the party are already looking to bring her down following Friday's mini-budget.
The MP said: "They are already putting letters in as they think she will crash the economy. The tax cuts don't matter as all noise anyway – mainly reversing back to the status quo this year …
Another Tory MP told the broadcaster that Friday's announcement – which included reversing a 1.25% hike in National Insurance – had been a "s***show".
Note that MPs were siding with the Bank of England. Very establishmentarian of them:
"The issue is government fiscal policy is opposite to Bank of England monetary policy – so they are fighting each other. What Kwasi [Kwarteng] gives, the Bank takes away."
The mood among Conservative 'wets', to borrow Thatcher's name for such weaklings, only escalated.
At Liz's one — and only — appearance before the 1922 Committee on Thursday, October 13, Robert Halfon, a wet, told Truss she had 'trashed the past ten years'.
Liz Truss was accused by a senior MP of trashing "the last ten years" of Conservative government as her party turned on its new leader over the mini-budget.
Robert Halfon, a former minister who chairs the education select committee, unleashed a furious attack on her financial measures, saying they disproportionately benefited the wealthy and meant she had abandoned "workers' conservatism".
Anything but, however:
According to an MP present, Halfon told Truss in a meeting of the 1922 Committee of backbenchers — her first as prime minister — that "in the last ten years we had the living wage, a focus on apprenticeships and skills", contrasting that with "bankers' bonuses, benefits cuts and now cuts to affordable housing targets".
His intervention came after Truss tried to assuage Conservative MPs by saying she had "shielded families and businesses from bills of up to £6,000 this winter and for the winter ahead, while Labour has no plan beyond the next six months".
The meeting did not go well. Halfon seemed to voice other MPs' concerns:
… a Tory MP who has been in the Commons for more than a decade said: "It was the worst 1922 I've ever been to." They added: "With each tough question she looked like she'd had the wind knocked out of her — the 31st of October could finish her off on the basis of the reception she got in that room."
Halloween — who schedules these things? — was supposed to be the day Kwasi was going to set out more detail behind his fiscal event. Liz's friend and neighbour in Greenwich was on hand to support her:
Thérèse Coffey, the deputy prime minister, told reporters outside the 1922 meeting that the chancellor would meet MPs before presenting his medium-term plan on Halloween, stressing that engagement was key.
In the event, Truss had to sack Kwarteng and appoint (ahem) the aforementioned Jeremy Hunt as Chancellor. He delivered his shocking budget on Thursday, November 17, to Prime Minister Rishi Sunak's approval. Sunak nodded several times during the presentation.
Returning to The Times's article of October 13, what other wets said presaged the future:
Even those who back the prime minister expect some sort of climbdown. One MP said: "She will have to unwind everything fiscal in the statement. They have to backtrack. There is no alternative. They've done it on the 45p and they'll have to do it on the rest.
"Then if we are still 20 points behind in the polls we will have to change leader. We are cold-blooded like that."
Another admitted there was "definitely still a big split between her and the Rishi [Sunak] side of the party". Asked if Truss would have to perform another U-turn, they said: "Ultimately, I suppose it depends if she's leveraged into that position by our own party, but it's all by those with 20,000 majorities."
Hmm … Hmm.
However, one Rishi Sunak supporter — Esther McVey — is deeply unhappy over his Chancellor's budget:
On Tuesday, November 22, McVey rightly tore the budget apart in ConservativeHome, saying that Hunt's tax rises are 'socialist measures' that are 'punishing Conservative voters':
… It wasn't helped by the Chancellor's statement being such a pendulum swing from the Liz Truss / Kwasi Kwarteng mini budget. People went from thinking they were getting their taxes cut to seeing them hiked.
The Autumn Statement was clearly an over-correction to that mini-budget. Going from one extreme to the other is hardly reassuring for people. A middle ground was needed: an acceptance of Conservative principles, with a costed plan and the accompanying narrative to reassure the markets.
Instead, Hunt delivered his statement with a doom and gloom that would have appropriate were the country on the brink of financial collapse. However, despite some serious challenges, things are not so dire that we had to have such excessive medicine.
For instance, the ten-year gilt yield – the interest rate the Government must pay on a new decade-long loan – was 3.14 per cent, whereas, even before the notorious mini-Budget in late September, that same yield was much higher at 3.49 per cent.
Britain is no more indebted than other comparable countries. Our national debt (albeit too high) stands at 97 per cent of GDP, whereas France, Canada and the US stands at 115 per cent, 116 per cent and 132 per cent respectively. Across the G7, only Germany has lower levels of government debt than the UK.
So when I stood up in the House of Commons at PMQs the day before the budget and said –
Given that we have the highest burden of taxation in living memory, it is clear that the Government's financial difficulties are caused by overspending and not due to undertakings. Does the Deputy Prime Minster therefore agree, if the government has got enough money to proceed with HS2 at any cost then it has sufficient money not to increase taxes, if however, it has so little money it has to increase taxes (which is the last thing for a conservative government to do) then it doesn't have sufficient money for HS2 [High Speed Rail 2]?
So can I gently urge the Deputy Prime Minister not to ask Conservative MPs to support any tax rises, unless and until, this unnecessary vanity project is scrapped, because I for one won't support them.
– it was to remind everyone there are better choices for our Conservative government than hiking up taxes.
In fact, given that unprecedented tax burden, any self-respecting Conservative would instinctively know that the answer is to spend less. Dropping HS2 – an out-of-date white elephant, costing north of £150 billion which (as Andrew Gilligan revealed on my show on GB News) the Ministers themselves know will deliver less economic benefit than the cost of it – would have been an ideal place to start. That would certainly have been more desirable than increasing taxes on hard-working families who are already feeling the severe pain of higher energy prices and increased mortgage payments.
If a Conservative government with a sizeable majority – in a time of financial pressure – won't cut public expenditure to start living within our means, then when on earth will that ever happen? …
Parliament is debating Jeremy Hunt's budget this week. In Monday's proceedings, a number of Conservative MPs spoke out against it.
Liz's U-turn on windfall tax
On October 12, two days before she sacked her friend and neighbour Kwasi Kwarteng, she appeared to do a U-turn on 'no new taxes' by allowing an announcement for a new levy on green energy firms.
Her ally, then-Business (BEIS) Secretary Jacob Rees-Mogg, defended the move and claimed it was not a windfall tax:
Guido Fawkes reported (emphases his):
The government has announced a new plan to impose a multi-billion pound levy on green energy firms to fund support to consumers. Renewable and nuclear electricity generators in England and Wales will now have their revenues capped after windfall tax-hating Liz Truss seemingly bowed to pressure to limit profits. The announcement came from BEIS last night, which is calling the new policy a "Cost-Plus-Revenue Limit" and spinning that it isn't in any way a windfall tax "as it will be applied to 'excess revenues' as opposed to profits". If it walks like a tax, swims like a tax and quacks like a tax…
The latest backtracking on free market values by the government comes just 41 days after Liz Truss told party members at the London husting that they could read her lips, and there would be no new taxes under her leadership …
On Today this morning, Rees-Mogg tried performing a Jedi mind trick, saying "this is not a windfall tax…this is rationalising the market"…
Despite the government's denial that the new revenue limit is a tax, the boss of RWE – the third biggest renewable power generator in Britain – has told The Times the move "is a de facto 'windfall tax' on low-carbon generators that, if not designed and implemented correctly, could have severe negative consequences for investment in the renewable and wider energy market and so for the energy transition."
Guido warned that Labour's support for the new levy is not a good sign:
Ed Miliband welcoming the policy with open arms should give the government sufficient pause for thought before it buys its own spin…
The mystery of Liz signing UK up to EU's PESCO
Early in October, Liz did a strange thing, considering she is a staunch Brexit supporter.
She attended the first ever meeting of the European Political Community in Prague. The European Political Community is Emmanuel Macron's brainchild.
This group is made up of EU member countries, yet, somehow Liz got an invitation. No one knows for certain.
However, she went.
She met with Macron on Thursday, October 6, in an effort to get the Channel dinghy crossing issue resolved.
GB News reported:
Liz Truss hailed Emmanuel Macron as a "friend" on Thursday, as the two countries signalled that a new agreement could be close to tackle small-boat crossings in the Channel.
The pair met at the first summit of the European Political Community in Prague, a gathering pushed for by the French president.
There, the pair said they looked forward to "an ambitious package of measures this autumn" to address issue of migration across the Channel.
And in a sign that Ms Truss hopes to improve relations with Mr Macron, she had no hesitation in labelling him a "friend", just weeks after refusing to do so …
Mr Macron later suggested it was a "problem" if Britain could not call itself a friend of France.
But Prime Minister Ms Truss adopted a different tone ahead of a meeting with Mr Macron in Prague on Thursday.
She told broadcasters: "I work very, very closely with President Macron and the French government and what we're talking about is how the UK and France can work more closely together to build more nuclear power stations and to make sure that both countries have energy security in the future.
"We're both very clear the foe is Vladimir Putin, who has through his appalling war in Ukraine threatened freedom and democracy in Europe and pushed up energy prices which we're now all having to deal with."
Asked if he was then a friend, Ms Truss said: "He is a friend."
The bi-lateral meeting between the two leaders, which took place towards the end of the day, appeared to signal some progress on the issues of migration and energy, both areas Ms Truss had raised as priorities ahead of the summit.
"Thank you for being here," Mr Macron told the PM when they met.
It also emerged that the two countries have agreed to hold a joint summit next year to "take forward a renewed bilateral agenda", in a further sign of the desire for warmer relations between the two countries.
On migration, a joint statement said the leaders "agreed to deepen cooperation on illegal migration within the bounds of international law, to tackle criminal groups trafficking people across Europe, ending in dangerous journeys across the Channel".
But the big, and secret, news was that Liz had signed the UK up to the EU's PESCO — Permanent Structured Co-operation — which is a military initiative.
Nigel Farage announced the move on his GB News show as soon as he had heard.
On Friday, October 7, The Express said that the move could affect British armed forces by dragging them into an EU army:
The Prime Minister has been warned not to allow the UK to be dragged into an EU Army by accident after she signed a military deal this week at Emmanuel Macron's European Political Community (EPC) summit in Prague. The decision to go into part of the PESCO has alarmed some Brexiteers who fear it could undermine the UK's sovereignty.
Former defence minister Sir Gerald Howarth, a leading Brexiteer has led the campaign to resist joining PESCO for many years.
He said: "This is very serious and we must be very careful. The issue around PESCO is that the structures are permanent.
"We must not sign up to anything which undermines our sovereignty and where we do not have a veto.
"Second, we must not do anything that undermines NATO. If we have learnt anything over the last few months is that we need NATO for the defence of western values and Europe against our enemies which at the moment is clearly Russia."
Even if this has to do with Ukraine, and enables us to move troops and military equipment more easily, it still raises questions:
At the EPC meeting on Thursday, the EU member states voted unanimously to allow the UK to join the the mobility project that would allow the UK to move troops and military equipment more quickly.
The UK Government decided to enter the strand in case Britain is called upon as a NATO ally to defend the Baltic states from a Russian invasion.
However, staunch Brexiteer Mark Francois MP was relaxed about it:
One senior Brexiteer, former Armed Forces Minister, Mark Francois, who now chairs the powerful group of Tory Brexiteers the European Research Group (ERG), said he believes that the move was the right one.
He said: "As we are outside the EU, we can opt in to individual PESCO projects if they have merit and looking at how we could speed up reinforcing the Baltic States from the UK, across internal EU borders, may well have military advantages.
"However, it is NATO that remains the bedrock of our security, especially in deterring further Russian adventurism and we should never forget that."
On October 9, David Kurten, a former London Assembly member and founder of the Heritage Party, said that signing the UK up to PESCO was a betrayal of Brexit:
One month ago, the aforementioned Sir George Howarth appeared on Farage to say that we still do not know what part of PESCO Liz signed us up to. He was clearly concerned, saying that the implications could be important, especially as none of the countries involved has a veto. The EU calls all the shots:
Today, one month on, we are none the wiser about our involvement in PESCO.
Someone must know what's going on. In fact, a lot of people probably do know.
Liz's final week
All of Liz's opponents, whether on the right or the left, told us that Liz and Kwasi, joined at the hip politically, had to go.
Project Fear started as soon as Kwasi delivered his mini-budget on September 23.
On September 27, Bloomberg told us that UK markets had lost $500 billion in combined value since Liz Truss became PM. Really?
'Investor confidence' means international markets, ergo part of the Establishment.
Also at that time, former Conservative Chancellor George Osborne, who served under David Cameron, stuck the boot in.
On September 29, a comment from an UnHerd reader appeared in response to one of their articles, beginning with 'Is this the end for Liz Truss?':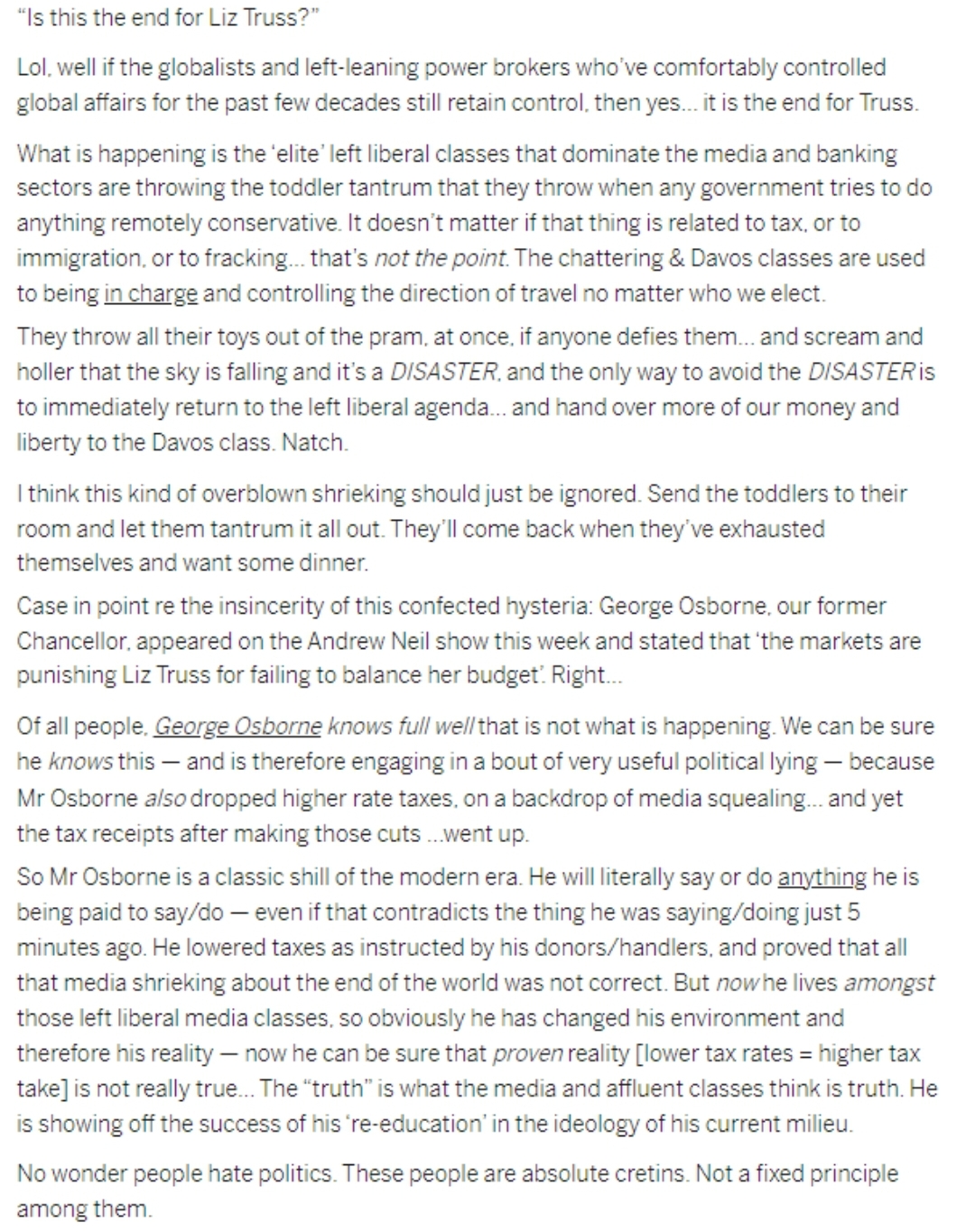 Osborne features heavily in it. The reader quotes him saying, 'The markets are punishing Liz Truss for failing to balance her budget'.
The UnHerd reader says:
Right.
Of all people, George Osborne knows full well that is not what is happening. We can be sure he knows this — and is therefore engaging in a bout of very useful political lying — because Mr Osborne also dropped higher rate taxes [the 50% rate], on a backdrop of media squealing … and yet the tax receipts after making those cuts … went up.
So Mr Osborne is a classic shill of the modern era …
As to whether Liz would have to go, the reader supplies the answer at the top of his message:
… well, if the globalists and left-leaning power brokers who've comfortably controlled global affairs for the past few decades still retain control, then yes … it is the end for Truss …
… It doesn't matter if that thing is related to tax, or to immigration, or to fracking … that's not the point. The chattering and Davos classes are used to being in charge and controlling the direction of travel no matter who we elect.
Speaking of such people, on Wednesday, October 12, King Charles greeted Liz with, 'Dear, oh dear', while the press were still there to record it for posterity:
What did he know and when?
The beginning of the end came two days later on Friday, October 14, when Liz sacked Kwasi and appointed (ahem) Jeremy Hunt as Chancellor. This was the shortest and most painful press conference — she only took four questions — in living memory. She looked like a rabbit in the headlamps or a hostage being forced at gunpoint to read out a message:
As soon as she announced it, we knew Hunt was, at that point, the de facto Prime Minister.
Hours later, The Telegraph reported:
Mr Hunt, a former foreign secretary, took the helm at the Treasury following the sacking of Kwasi Kwarteng over the mini-Budget fiasco. Ms Truss turned to him even though the pair have strongly disagreed on economic policy.
Mr Hunt, also an ex-health secretary, endorsed Rishi Sunak for the Tory leadership after being voted out of the race in July, saying: "This is the wrong time for populist crowd-pleasing and the right time for honesty."
He will hold huge power over a weakened Prime Minister, raising the likelihood that much of her growth plan will now be axed. Allies said that he would act as her "chief executive".
Mr Hunt ran for the Conservative leadership on a platform of slashing corporation tax to 15 per cent to boost growth but also opposed cuts to personal levies such National Insurance and income tax, with which Ms Truss still intends to press ahead.
His appointment was announced moments before the Prime Minister unveiled her U-turn on corporation tax at a press conference. She ditched what had been a core leadership pledge, meaning the rate companies pay on their profits will go up from 19 to 25 per cent in April. It means she has reverted to the plan put in place by Mr Sunak when he was chancellor.
Quelle surprise!
Conservative Party members had voted Liz Truss in largely on her economic policy.
The elites took out her Chancellor. Soon afterwards, they came for her in the form of Conservative MPs and the 1922 Committee. It was a grand game of political chess, not seen since Margaret Thatcher was removed from office in 1990.
To be continued on Friday.
On Wednesday, August 10, 2022, Liz Truss appeared on GB News's The People's Forum to answer questions from residents of Leigh in Greater Manchester about her proposed policies:
The veteran newsreader and broadcaster Alistair Stewart ably moderated proceedings, allowing the audience to ask questions then reading viewers' questions and asking a few himself:
The programme was an hour long:
Brian Sheeran was first up to the microphone. Leigh, established in 1885, is a Red Wall constituency. They elected their first Conservative MP in 2019: James Grundy.
Sheeran asked why the people of Leigh should trust the Conservatives. Truss said that voters no longer could rely on Labour, because Labour never did anything for them:
She said that she would make sure that she started local projects as soon as possible, because people only trust a political party once they see tangible signs of improvements being made.
She also pledged to boost local businesses by rescinding EU laws that are still on the books post-Brexit.
She said that she would place a moratorium on the green levy on fuel and prepare an emergency budget as one of her first tasks as Prime Minister.
Not everything would happen straightaway. At least one measure would have to wait until April 2023 to be implemented because the Finance Act would require amending, a procedure that would require approval in both Houses of Parliament.
Another man asked what help Truss would give to working class families now, because the price of home energy has become crippling. He has had to take on a weekend job just to make ends meet:
Truss said that 'from day one', people would be able to keep more of what they earn.
He said that he needs help now, not at some point in the future. She said that she would look into all the options as soon as she becomes Prime Minister, should that happen.
Philip Orr asked about illegal immigration and was remarkably well informed on the statistics of our population increase over the past several years:
Truss summarised the situation of people trafficking across the Channel in dinghies. Criminal gangs are making big money. She hopes to make the Rwanda deportation policy work through Dominic Raab's proposed Bill of Rights. She also hopes to expand the number of countries who could take in these illegal migrants because they need more workers.
Orr suggested revoking French fishing licences if the French authorities continue to do nothing to stop the dinghies coming across the Channel.
In response, Truss said that she had had a 'tough' conversation with the French two weeks ago and that she would continue to be 'robust' in her negotiations. She cited the Northern Ireland Protocol Bill as proof that she could get things done.
She said that these migrants are in league with their lawyers before they make the trip over, enabling the lawyers to use ECHR laws to stop their deportation from the UK.
Finally, Orr asked why the UK couldn't use other countries' ports instead of being so reliant on France.
Orr called all of this 'sticking plaster politics', because nothing so far has been successful.
Jane Knight was the next to ask a question. She noted that the Government was not working. She asked what Truss's key strengths were and how she hoped to build a good Cabinet that would be ready to run on Day One:
Truss said that she has established a record of being able to get things done and has received backing from those Cabinet ministers, past and present, who have worked with her.
She said that she would be looking for three things in her Cabinet ministers: competence, the ability to stand up to civil servants in Whitehall and loyalty to her rather than to the media.
Knight said 'yes' to those but said there should be a certain amount of 'risk taking' and asked whether Kemi Badenoch, immensely popular among the people during her leadership campaign, would be able to have a Cabinet post, such as, perhaps, Foreign Secretary, Truss's current position:
Guido Fawkes has the dialogue (emphases his):
Jane Knight: I would like you to give some opportunity to maybe people that you might not know as well at the moment… certainly somebody who fired the imagination of the public was Kemi Badenoch and I'd really like to see her given a meaty role.
Truss: Do you have any ideas about what that role should be?
Knight: Oh well, Foreign Secretary! There might be a role going there!
Truss: Look, I don't want to get ahead of myself and this leadership campaign is still going on, but I can tell you that I will make sure the best players in the Conservative Party are on the pitch if I'm elected leader… Kemi – I've worked with her as Women & Equalities Minister – we've taken on a lot of the agenda of people who are trying to deny that women are women and so on, so I think she's absolutely brilliant and I would definitely want her as part of my team if I'm successful.
Knight also asked whether the Cabinet would be 'leaner, leaner, leaner', nodding for affirmation as she spoke those words.
Truss said that she could promise a 'leaner No. 10', which 'has become a bit too presidential' and she repeated her pledge to find a good post for Badenoch.
Knight said:
Ohhh, good answer.
Alistair Stewart brought up strikes at universities which prevent students from getting a full education. Some of these strikes are about changes in terms to lecturers' and professors' pensions because some universities took a 'pension holiday', not paying in continually to the pension pot. Other strikes, however, took place during the pandemic over health concerns. Either way, students are out of pocket, to the tune of £9,000 per year. They do not receive refunds for strike action.
Theo Murphin (?), a student, asked about this situation:
Truss said that she would hold universities to account to ensure that students get what they pay for.
In other strike areas, such as railways, she would ensure that industrial action would not overrun the network completely.
Theo also asked about the Online Safety Bill and the coming restrictions on freedom of speech. Truss said that her major focus of the bill would be to ensure that minors are not adversely affected by what they see online. With regard to adults, she said that one should be able to say the same things online as well as offline.
On the subject of strikes, Janice, a Daily Mail reader, wrote in with a question about the disruption of this year's strikes in various sectors across the country. Stewart asked her question for her.
Truss said she would legislate 'as soon as possible' to ensure that a minimum level of service is provided. She added that she is also concerned about activist organisations and mentioned Extinction Rebellion. She said that she would also take steps to ensure that they are dealt with, too, so as to not disrupt the daily circulation of people and goods.
Stewart brought up child grooming gangs (30:39), which seem to be everywhere in England now. He called Paul Eckersley to the microphone. Eckersley asked Truss what she planned to do about these gangs and 'bring criminals to justice':
Truss said that police should not be spending time patrolling tweets. Instead, she said, they should be fighting crime. She said that she wants to introduce police league tables on various forces' results.
Returning to the grooming gangs, she said that what has been going on has been 'absolutely repulsive'. She said that she wanted gang members to be held to account, 'but more than that' also the locals in authority — police, councillors and so forth — who did not do anything to stop them.
She received a round of applause for her answer.
Stewart then turned the subject to housing, especially getting young people on the housing ladder.
Jessica Buckthorpe, a cheerful and polite university student, asked whether Truss had any proposals to help young people in her situation, a student who works but cannot put together enough savings:
Truss proposes using young people's rental history of paying in full and on time to go on their mortgage applications, helping them to get a mortgage more easily.
Truss added that she also wanted to give more planning control to individual communities to plan for the housing they need. It is not unusual for young people to move away from where they grew up because they cannot afford the house prices.
Buckthorpe said that, while she appreciated these ideas, she said that the enormous actual mortgage deposit required is a 'pipe dream' not just for herself but for many other young adults.
Truss replied that using rental history would play an important part in enabling young adults to get a mortgage.
Truss said that it was important to keep in mind that our current inflationary period is temporary:
… we should not bake that into the future.
Stewart looked at Buckthorpe for her reaction:
There's a smile there.
A beaming Buckthorpe said:
Thank you very much.
The subject of war widows' pensions came up, especially those widows of veterans who subsequently remarried and lost their first husbands' pensions through subsequent rule changes. They are known as the WASPIs.
Stewart called on one woman who has a problem with her pension, Patricia Morgan, to ask her question. See the 2:40 point in this video:
Morgan said that, while she does not think she is getting the right amount of state pension because of a change in retirement dates, she cannot help but notice that money is going everywhere else, from coronavirus programmes to the war in Ukraine.
Truss said that she has met many such women in her own Norfolk constituency. The matter has also been addressed — unsatisfactorily, to many women — in Parliament. Truss said that she does not think that women have been looked after fairly in this regard. However, she said it would be very difficult to revisit the circumstances of the WASPIs and she apologised for that. She did, however, pledge to look at the tax system and see how it has an unfair impact on women in changing family circumstances.
Morgan politely countered by bringing up a parliamentary ombudsman's report which said that 'maladministration' had taken place. Truss said that she did not want to make promises that she could not keep. She could only address the future.
Stewart brought up the war widows' issue. Truss said she had already looked at that when she was in the Treasury. This issue, she said, she would look at again in more detail. Some 300+ women are affected.
Stewart then discussed the problems in the NHS.
Janine Ronaldson was the next person to approach the mic. She is a registered nurse with 31 years' experience, who works as a community nurse. She asked what Truss would do about the fact that nurses' salaries and benefits have decreased in recent years, resulting in many of them leaving the profession:
Truss said that nurses on the front line should be able to make more of their own decisions. She added that additional funding could come from existing funds and that the National Insurance tax rise was unnecessary. Some of this money can also go into social care, enabling hospital beds to be freed up for the elderly to go into a care home upon release from hospital. Currently, some patients have to stay in hospital because there is no satisfactory home situation for them to return to.
This, coupled with a huge post-pandemic backlog, is becoming a national problem.
Truss also pledged to look at the pension situation and talk to individuals to assess their concerns. She said that her incoming Health Secretary would also have to be committed to this.
Ronaldson said that it has been very difficult for her to see nurses leaving the profession and having to take on their workloads.
Stewart then asked for final questions on the topics that had been addressed.
One question came from Councillor Liam Billington, who asked about the child grooming problem. He said that Greater Manchester Council keep voting down motions to hold a public inquiry into what happened in Oldham. Truss responded that she would look into it and get back to him.
Johnny Riley (?) was next. He said that he had to give up his job to become a full-time carer for his wife. He receives only £70 a week from the Government in carer's allowance. He now has to use his life's savings to help them get by.
Truss thanked him for his devotion to his wife, who has cystic fibrosis. She said that her pledged review of the tax system should reveal how it works with the benefits system. She does not people like Johnny to be penalised for doing the right thing.
He said that he has paid into the system, so it's not about paying tax; it's about benefits, the least paid of all of them. Truss said that the whole system has to work, which is why she wants to look into it. She said she does not have a detailed answer. He said it was no wonder, because there has never been a detailed answer:
All we're asking for is a fair crack at the whip.
Trevor Bell asked how the Government can retain VAT on gas and electricity, when that is an EU law that should have gone once we left the European Union:
It was a Brexit promise … It should go now.
Truss reiterated that she would abolish the National Insurance tax rise and impose a temporary moratorium on the green energy levy. She also repeated that she would have an emergency budget early this autumn.
She said that the 70-year tax high is unacceptable but, right now, she cannot be more specific because the leadership contest is not yet over.
Truss said that getting rid of the green levy would save as much as getting rid of VAT.
The penultimate question came from Shelley Guest, who asked if Leigh could break away from Wigan Council and set up its own in order to use the tax receipts that it generates for its own needs (58:08). This is known as Lexit (!), something that Leigh's MP, James Grundy, also supports.
The room burst into applause.
Stewart told Truss that, while this seems like a local concern, it is also one that many other communities in England face.
Guest is concerned about rising council tax were Leigh to become independent.
Truss herself was once a local councillor. She appreciated Leigh's wish for independence and has spoken with James Grundy about it. She said she would consult the people of Leigh and appoint a Local Government Secretary to look into the matter with Grundy.
On a much lighter note, the final question came from a viewer who wanted to know about Truss's relationship with cats. Larry is the Downing Street moggie, and Liz remembered Palmerston, the Foreign Office's cat.
She replied that Larry frequently sidles up to her at Cabinet meetings, so she would like to develop her friendship with him. As for Palmerston, she said he left the Foreign Office during the pandemic and is now:
working from home. It's a true story!
She got a huge round of applause.
Some undecided voters there told Michelle Dewberry, who came on next with her show, that they really liked what Truss said.
They were a polite but hard-hitting group of real people who spoke frankly.
One wonders if Rishi Sunak would have the bottle to sit in a studio with their like. Would he or wouldn't he?
GB News has extended him an invitation to participate in his own People's Forum, so we'll see.
Speaking of Sunak, that day, a few other developments occurred.
Guido reported:
Away from the glare of the GB News cameras, Liz's team spent the day tearing chunks out of Camp Rishi on her behalf. After Rishi attacked Liz's cost of living plan for being "clear as mud", Team Truss went nuclear: "Rishi Sunak wouldn't know how people benefit from a tax cut because he has never cut a tax in his life.
People didn't vote for the Conservative Party to be subjected to old fashioned Gordon Brown style politics of envy." Team Rishi inevitably responded in kind – see below…
The mudslinging didn't stop there: Kwasi Kwarteng and Simon Clarke have an article in the Telegraph today in which they claim Rishi "dug his heels in" as Chancellor over post-Brexit reforms, particularly on plans to ditch the EU's Solvency II rule and reform the NI Protocol. You'd be forgiven for forgetting they're all in the same party. Team Rishi insist the claims in the article are "categorically untrue", and Sunak backed a muscular approach to Brussels all along…
Rishi didn't take kindly to Team Liz's attacks – it turns out being compared to Gordon Brown doesn't exactly flatter him. His team countered by claiming Liz's backtrack on regional pay boards last week was "a serious moral and political misjudgement affecting millions of people". This is the same Liz Truss whom Rishi has claimed he'll serve under in any Cabinet role.
His campaign also sent out a dubious press release claiming he'd cut taxes "16 times during and following the pandemic". One of those 'cuts' was reducing the Universal Credit taper rate, another is the promise to cut income tax by 1p in 2024 which, last time Guido checked, is two years away…
Instead of being with an average group of taxpayers, he chose to be interviewed one-on-one by the BBC's Nick Robinson:
He also promised to do more for households this winter beyond the package already announced, although didn't go into specific details on the basis that it was simply too early.

Although when asked whether it would cost "a few billion" or more than £10 billion, he said it would be "closer to the former than the latter"…
He gave Robinson an indication that he might lose the leadership contest:
He came the closest yet to admitting the race may well be over, claiming he'd always "stay true to [his] values" and he would rather lose than "win on a false promise".
It's interesting that Sunak chooses television formats that suit him rather than the electorate, even if, at present, they are Conservative Party members.
Sunak's non-participation in public fora other than Party hustings and closed interviews tells us something about the man.
Next week I will post on The Telegraph's hustings, held on Thursday, August 11.
After a few weeks' hiatus to cover the Conservative Party leadership contest, I am now able to conclude my series on Red Wall MP Marco Longhi, who represents Dudley North in the West Midlands.
Those who missed them might find Parts 1 and 2 of interest.
Boris tribute
Marco Longhi paid Boris Johnson a brief but heartfelt tribute during the Prime Minister's final PMQs on July 20, 2022:
A long time ago, when I trained as a pilot, I had the luxury of being able to fly around turbulent storms. I also had the ability to rely on a team who kept my aircraft airworthy. As the Prime Minister prepares his new flight plans, may I suggest that he resets his compass to true north and stops off in Dudley, where he will always be welcomed with open arms and sincere affection, and where he will be able to see his legacy?
Boris replied:
I thank my hon. Friend for that renewed invitation. I have spent many happy days with him in Dudley; let us hope that there are more to come.
The Archbishop of Canterbury on Rwanda
After the first scheduled deportation to Rwanda on June 14, 2022 proved to be a non-starter, the Archbishop of Canterbury made his views known yet again.
On June 15, The Express reported (emphases mine):
In a Tweet he wrote: "To reduce dangerous journeys to the UK we need safe routes: the church will continue to advocate for them.
"But deportations — and the potential forced return of asylum seekers to their home countries — are immoral and shame us as a nation."
This, rightly, elicited reaction from some Red Wall MPs:
Red Wall Conservative MPs were furious at the attack on Home Secretary Priti Patel and suggested that Welby give up his two palaces, which come with his Archbishopric, to house illegal migrants and use his personal wealth to pay for their needs.
Ashfield MP Lee Anderson said: "If the Archbishop of Canterbury truly believes that we should do more to keep illegal immigrants in this country and love thy neighbour as thyself then perhaps he should give up his two palaces and pay for all the accommodation costs.
"He can then instruct every Church in the UK that their vicarages should also be given up to illegal immigrants to stay in. These are practical measures he could take to assure the great British public that the Church is doing all it can during these difficult times."
The Archbishop's main residence is Lambeth Palace – south of the River Thames from the Houses of Parliament.
As well as numerous bedrooms the 800-year-old palace boasts extensive gardens, a large library, an atrium, "the pink drawing room" and a state dining room.
Meanwhile, his residence in Canterbury is the Old Palace or Archbishop's Palace, another grade I-listed 800-year-old building where one of the bedrooms was used by the Queen.
Marco Longhi echoed those sentiments:
In a personal message directed at the Archbishop, Dudley North MP Marco Longhi added: "Archbishop, as you appear to feel so strongly about this, will you give up two of your palaces for illegal migrants and pay for their accommodation?
"I note how it is the liberal privileged elite, unaffected by the impact of illegal immigration, whose moral outrage is loudest."
Well said.
Policing
When Boris won the December 2019 general election, increasing the numbers of police around England was a manifesto pledge.
On December 14, 2021, Longhi recognised the efforts the Government had made thus far in the West Midlands:
This Government value all our police officers. That is why, with our 11,053 extra police officers, we are not on target, but ahead of target to deliver our manifesto pledge of 20,000 new officers; there are 867 new officers already working in the West Midlands.
The financial settlement gave West Midlands police an inflation-busting 5.8% increase to its budget—a staggering £36 million. In addition, the rises in local tax that residents pay, together with council tax, put West Midlands police at the top of league tables across the country for precept increases; since 2012, a staggering increase of 79% has been imposed on people in Dudley North and across the West Midlands by the Labour police and crime commissioner.
Dudley people—and those across the West Midlands, I am certain—can see that effective policing is about more than just money. It is about local decision making and how that filters down from the chief constable and the police and crime commissioner.
Longhi was having a go at Labour for taxing West Midlands residents excessively but delivering little value for money with regards to policing. A Labour MP asked him to give way for an intervention, but he refused:
I would rather not, just now. The facts sadly speak for themselves. We need the right strategy for deploying all the new police officers we recruit, making the right decisions locally, and having the will and competence to deliver on them. The Labour police and crime commissioner has closed dozens of police stations, while spending more than £30 million on refurbishing plush offices at his headquarters in Lloyd House in Birmingham.
Another Labour MP asked to intervene, but Longhi refused to do so.
A commotion arose.
This took place in Westminster Hall, where niche debates take place rather than in the House of Commons. This one focused on West Midlands policing.
Sir Edward Leigh (Conservative) was the chair:
Order. Calm down. The hon. Gentleman does not have to give way if he does not want to.
Longhi continued, pointing out Labour's ability to rake in tax money then do nothing for local people:
Meanwhile, Dudley and Sedgley police stations have closed. Some hope was given to Dudley people when a new police station was promised in Dudley. It was hailed by my predecessor—the noble Lord Austin—as a new multimillion-pound station to replace the one in Brierley Hill. Several years later, we are still waiting for it. In 2019, it was announced that it would open in 2021, yet no detailed plans have been submitted by the police and crime commissioner to the council planning department.
Dudley is a major metropolitan town—I believe it is the largest town in the country that is not a city—and it has been without a central police station since late 2017. We are paying the price for no presence as a result of inaction and incompetence. Perhaps the Minister might inquire of the police and crime commissioner when Dudley people might see shovels in the ground and the promised new station.
I have great respect for a local police inspector in Dudley by the name of Pete Sandhu and his team. They are trying their utmost to make do with offices borrowed from Dudley Council that are, quite frankly, not fit for purpose. Inspector Pete Sandhu, the local police teams and PCSOs in Dudley town, the surrounding villages and those across the West Midlands not only deserve but need a station that is fit for purpose. Unfortunately, time and again, Labour police and crime commissioners have failed their constituents—including mine.
At the end of the debate, Kit Malthouse, the then-Minister of State for Crime and Policing, responded on behalf of the Government:
I have never shied away from those difficult financial decisions that have to be taken. Nevertheless, generations will pass, and maybe in 50 years the Labour party will stop talking about that period of austerity and talk about what is happening today. Today, I thought I was coming to a debate about the value of neighbourhood policing. However, it has become obvious that this is a pretty naked political manoeuvre in advance of some difficult financial decisions that the police and crime commissioner for the West Midlands will have to make as he moves towards setting his council tax. My hon. Friend the Member for Dudley North (Marco Longhi) has highlighted how significantly council tax has increased over the past few years …
… I find these debates a bit disheartening because of the lack of curiosity exhibited by Members about the performance in the West Midlands. For example, they never ask themselves why other police forces are doing better. Why is Liverpool doing better than the West Midlands? Why is Humberside doing better than the West Midlands? …
I will give way in a moment. Those Members are unwilling to acknowledge the reason, which is that decisions were made by the previous Labour police and crime commissioner that set the West Midlands back. They have to take responsibility for those decisions; they cannot, I am afraid, just come to this Chamber and keep saying that everything that goes wrong in the West Midlands is the Government's fault, and that everything that goes right is the Labour party's achievement. Nobody is buying that in Edgbaston, Selly Oak, or anywhere else in the West Midlands. They recognise that difficult decisions had to be made, and I urge the Labour party to acknowledge those difficult decisions.
David Jamieson was not all good, and he was not all bad. He had difficult things to do, and he made a set of choices that produced a particular outcome and a particular baseline in the West Midlands. I have no doubt that that was what he said in the elections that he won, and that the people of the West Midlands took him at his word and believed him. They have re-elected a Labour police and crime commissioner, so presumably they are happy with that performance, but complaining that everything that goes wrong is down to the Government seems a little naive to me.
Malthouse concluded:
… The West Midlands made a certain matrix of decisions that resulted in the outcome today. A number of forces around the country made different decisions. As a result, they will have more police officers than they had in 2010. That is something with which hon. Members will have to wrestle; I am afraid that is the plain truth.
On neighbourhood policing, I am pleased to hear that there is a thrust in the West Midlands to invest in neighbourhood policing, not least because the neighbouring Staffordshire force has been doing that for some years, to great effect. The police and crime commissioner and the former chief constable there took the decision to invest in neighbourhood policing and, interestingly, traffic policing, as the basic building blocks of an excellent delivery of service to their people. As a result, they saw significant reductions in neighbourhood crime. My hon. Friend the Member for Dudley North referred to the uplift number, which is 800-odd. I encourage exactly that kind of intervention. It is what lies behind our desire to expand the number of police officers in the country.
Fireworks
I strongly disagree with Marco Longhi's desire to see ordinary people banned from using fireworks.
It has only been in recent years that virtue signallers have made complaints about a splendid celebratory tradition that has been going on for centuries.
In England, at least, fireworks may be used only a few months during the year and, even then, only on certain days:
15 October to 10 November;
26 to 31 December;
3 days before Diwali and Chinese New Year.
However, not everyone obeys the rules. Furthermore, the rules are not enforced in equal measure.
So, Longhi took a survey of his constituents on the matter.
On November 8, 2021, a debate on fireworks took place in Westminster Hall. Although this debate has taken place often in recent years, this particular one was triggered by an online e-petition. The number of signatures required a parliamentary debate.
Longhi said:
There is no denying that access to fireworks in the UK is easy and that enforcement of existing legislation is poor. Although many of us have enjoyed firework displays over the last week to celebrate Diwali or to remember the foiled plot to blow up this House, many, if not more, are traumatised by fireworks. Last year, following scores of pieces of correspondence from constituents, I decided to open a public survey so that all my constituents could share their thoughts on fireworks and the impact they have. I received both positive and negative feedback, but I was truly shocked by the sheer volume of responses I received, many of which were overwhelmingly negative. Given the nature of the internet, the survey spread widely—some might say it went viral—and I found myself with well over 1 million hits on Facebook and well over a 100,000 survey returns.
We have heard about the trauma to pets and livestock. As we approach Remembrance Day, let us also spare a thought for our veterans and those suffering from PTSD, for whom loud and unexpected bangs and flashing lights can have a devastating effect on quality of life.
We have had many Australian influences on legislation over the years, and perhaps it is time for some more. At present in the UK, there is no legal requirement to have any form of licence or training in order to let off consumer fireworks. Fireworks can be sold at any time of the year and can be bought online. In Australia, it is illegal for someone to buy, possess or discharge fireworks unless they hold a pyrotechnician's licence or single-use licence. Authorities must be notified of all firework displays, and authorised events can be found using the authorities' fireworks display search.
One question that I would ask all Members in this room and those unable to join us today is this: should local authorities take the location of public displays into consideration when granting them a licence and should they require displays to be well publicised in the surrounding area? Furthermore, is it right to place greater restrictions on the sale, purchase and use of fireworks? If we agree, surely we can then find an agreeable compromise that protects those who are traumatised by fireworks.
I have already had discussions with my hon. Friend the Minister about this issue and I greatly appreciate his time, but it is time we had a wider debate and an honest discussion. This debate is had every year, but there are no real legislative changes. Surely the time is right for that to happen now.
Paul Scully, who was the Parliamentary Under-Secretary for Business, Energy and Industrial Strategy at the time, responded for the Government.
I agree with what he said:
… I am grateful to the members of the public who took the time to sign the e-petition that has brought us here to Westminster Hall to discuss this important matter, because it has received more than 300,000 signatures and calls on the Government to limit the sale of fireworks.
Therefore, I will take the time to outline and explain the Government's position on this matter, and to say, first of all, why we believe—although I understand that it is not the subject of this debate, as has been outlined—an outright ban on fireworks or an outright ban on their sale to the public is not the appropriate course of action.
We have concerns that banning fireworks in that way could have significant adverse and unintended consequences for public safety, particularly in leading to the emergence of a black market in illicit fireworks. There was a reason why there was not a 2019 debate on this issue. Yes, it was the year of a general election, but more importantly in 2019 the Petitions Committee conducted an inquiry on this issue, which I was a part of as a Member of the Committee, and the evidence given by interested parties aligned with the Government's current view. Those interested parties included both the National Police Chiefs' Council and the National Fire Chiefs Council.
The petition being debated today also highlights the concerns that some people have—understandably—about the impact of fireworks on vulnerable groups and animals. These are issues that I was only too pleased to discuss with my hon. Friend the Member for Dudley North (Marco Longhi) when we met back in July to discuss the fireworks survey that he had carried out in his constituency; as he said, it went somewhat viral. I really sympathise with those views, and I am always sorry to hear the stories of how some individuals and animals have been affected by fireworks. That is why the Government are committed to promoting the safe and considerate use of fireworks, and why we have been carrying out a programme of action on fireworks to ensure that those who use them do so safely and appropriately.
It is important to say that this is a highly regulated area, with a comprehensive regulatory framework already in place to control the sale, availability and use of fireworks. We believe that this framework strikes the right balance for people to enjoy fireworks while aiming to reduce risks and disturbances to people and animals. For example, current legislation sets an 11 pm curfew on the use of fireworks, with later exceptions only for the traditional firework periods of 5 November, Diwali, New Year's Eve and Chinese New Year.
A load of concerned Opposition MPs from Labour and the Scottish National Party piled on with interventions.
Scully replied on noise and trading standards questions:
There is a 120 dB noise limit on fireworks available to consumers. Retailers are restricted to only selling consumer fireworks during a limited period around each of the seasonal celebrations that I just referred to, and retailers may only supply fireworks to the public outside those periods if they obtain a licence from their local licensing authority. However, I fully appreciate that it is just as important to ensure that legislation is enforced effectively. We have heard of some issues where that has fallen short, but I will describe what powers and mechanisms are in place against the illegal sale and use of fireworks.
Local authority trading standards work with retailers to ensure that the fireworks that are sold are safe, and have powers to enforce against those who place non-compliant fireworks on the market. Trading standards and local fire and rescue authorities in metropolitan counties can also enforce against those selling fireworks without an appropriate licence—for example, outside of the normal selling period.
He also said, in response to Opposition MPs:
In our polling, the Government found that 11% of the population want a total ban on fireworks, 36% want a ban on the private sale of fireworks, and, from memory, 64% enjoy the use of fireworks and want to be able to enjoy them both privately and publicly. We came to similar conclusions from our evidence as were reached by the Petitions Committee in its 2019 inquiry. In the extensive report setting out its findings, the Committee concluded that introducing further restrictions on fireworks was not the appropriate course of action, due to the potential unintended consequences. That was just two years ago. We agree with that position.
We acknowledge the experience of people who believe that banning fireworks would push the market underground and make it more difficult to regulate and monitor. We also agree with the Committee's conclusion that such a ban would have a substantial economic effect on those who have built their livelihood in the fireworks industry. Restricting fireworks would probably also have dire consequences for community displays, which raise funds for good causes.
Due to those significant concerns, the Government believe that the most balanced course of action is to continue to pursue non-legislative measures on fireworks to complement existing legislation. That is the position we set out and committed to in our response to the Petition Committee's inquiry.
Leave our fireworks alone!
I've only ever bought sparklers, but I have no idea where my neighbours purchase their fireworks.
For years, our local superette used to have a large, locked counter filled with fireworks at the appropriate time of the year. They got rid of that over a decade ago.
Our neighbourhood's home displays of fireworks, which I used to be able to watch from the comfort of my living room and kitchen, have also decreased over the past few years.
I disagree with Longhi on this subject. However, it is good that he respected his constituents' wishes, conducted a survey and presented the results to the Government.
Business of the House questions
Marco Longhi and Lee Anderson seem to have struck up a friendship. I often see them sitting together in the Commons.
Perhaps Lee's Ashfield food bank brought them together.
This is from the Business Debate of November 25, 2021, when Jacob Rees-Mogg was still Leader of the House.
Anderson said:
Last Friday I was joined by my hon. Friends the Members for Stockton South (Matt Vickers), for Bassetlaw (Brendan Clarke-Smith) and for Dudley North (Marco Longhi) in a "Ready Steady Cook" event in Ashfield. With the help of the local food bank, the college and local top chef Dave Marshall, we were able to produce 175 meals for just 50 quid. This is our fight against food poverty. Does the Leader of the House agree that we need a debate in this place on food poverty, so we can help people to cook on a budget and feed the nation?
Rees-Mogg replied:
I commend my hon. Friend for his amazing achievement and his hard work. I have a friend who teaches people to cook on a budget and runs something called Bags of Taste, which is a very successful way of encouraging people to cook on a budget. My hon. Friend is leading by example.
In the same debate, Longhi raised a complaint about a group of Travellers who refused to move on when they should have:
Yesterday, I received a three-page letter from the leader of Dudley Council. A designated Traveller site in Dudley has been occupied by Travellers who have overstayed the terms of their licence. After due process was followed in the courts in co-operation with the police, the police commander refused to support the council to give cover to bailiffs, citing the European Convention on Human Rights, as Travellers may have rights.
Will the Leader of the House agree to look into the matter and arrange a statement from the relevant Minister? This sets a terrible precedent for councils across the country, which may find that they have wasted taxpayers' money by following legislation set out by this place to invest in designated sites. It can provide indefinite leave to stay illegally, with no protection for landowners. It implies that the police can "woke interpret" and choose to follow laws other than this country's and its courts' instructions. Does that not give further credence to the need to repeal the Human Rights Act, as I have been calling for for many months?
Rees-Mogg gave a theoretically correct reply on policing by consent, which, as we saw during the pandemic, no longer works as such.
He also seemed reluctant to condemn the European Convention on Human Rights, of which the UK is still a signatory:
My hon. Friend asks an excellent question. It is really important that we are all equal under the law, and it is fundamental that the law is carried out by the police. We police by consent; the police are us, and we are the police. For that to work, people have to have confidence that the law will be enforced. Having said that, I do not know the specific details of the case or the reasons for the police decision, but the Government are taking more action to deal specifically with the issues around illegal campsites and associated criminality. I will pass on my hon. Friend's comments to the Lord Chancellor, and I note with great interest what he has to say about the Human Rights Act.
A new Human Rights Act is making its way through the Commons, with the intention that it frees us from EU conventions. However, why we cannot use and enforce the original one, the 1688 Bill of Rights, puzzles me.
King Kong
To end on a lighter note, on January 28, 2022, the Cultural Objects (Protection from Seizure) Bill debate took place.
Suzanne Webb, the Conservative MP for Stourbridge, discussed little-known artefacts and the importance of taking good care of them.
This includes a replica of King Kong:
I now want to tell the tale of an artefact of great distinction and notoriety that resided in the Midlands: an 8 foot tall, 890 kg fibreglass statue commissioned for display in Birmingham in 1972, as part of the sculpture for public places scheme in partnership with the Arts Council of Great Britain. It was commissioned to make something city-oriented, and the sculptor chose King Kong—I do not know whether my hon. Friend the Member for Dudley North (Marco Longhi) remembers the King Kong that resided in Birmingham. I do not want hon. Members to do a quick Google now, as I will be told off by Mr Speaker, but when they leave the Chamber, they can see the incredible artefact that was in Birmingham and supposed to represent it. It was down to the sculptor's association with New York City, and he created it for their own petty reasons. It was displayed in the heart of the city for many years—imagine if it was actually seized! It was something of a notoriety, and I loved it as a child growing up. We used to drive round to look at it. Hon. Members will be pleased to hear that King Kong lives on, and is now retired in Penrith.
Longhi made no reference to King Kong in his speech, but commended the Bill as an important contribution to preserving our culture and history, good and bad:
It is a pleasure to follow my hon. Friend the Member for Vale of Clwyd (Dr Davies) and to speak about this straightforward and reasonable Bill, which has been designed in a specific and targeted way, and will only help to support a sector that, like so many others, has been affected during the pandemic.
Our museums and cultural institutions in the United Kingdom do an incredible job. They have the power to transcend barriers, to preserve and to educate. Our museums, galleries and cultural institutions teach us about the past—the good, the bad and the ugly. By learning about the past, we can be inspired for the future to do better or learn from past mistakes. They stimulate our brains and make us smarter.
My Dudley North constituents are lucky that we have many rich cultural institutions on our doorstep: the Black Country Living Museum, Dudley Zoo and Castle, the Wren's Nest site of special scientific interest, the Dudley Canal Tunnel Trust, nature reserves, our microbreweries and pubs, and our bowling greens and parks. The list really does go on.
——————————————————————–
I am pleased to say that Longhi supported Kemi Badenoch in the Conservative Party leadership contest.
All the best to him for a long and satisfying parliamentary career.
On Monday, July 25, 2022, Conservative Party leadership candidates Liz Truss and Rishi Sunak headed to Stoke-on-Trent, comprised of three Red Wall constituencies, for a BBC debate:
Burning issues: earrings and China
The day began with controversies over handling China and how much each candidate had spent on their respective wardrobes.
Boris loyalist Nadine Dorries, Secretary of State for Digital, Culture, Media and Sport tweeted about the latter. The photo is from last week on the final day of Conservative MPs voting:
The normally charming Angela Richardson MP tweeted a rather sharp reply to Dorries, requesting that she be quiet.
On China, things were more complex, as Guido Fawkes reported:
Neither candidate has the edge here.
Guido wrote (red emphases his):
It's unsurprising, given his tacit endorsement from the Chinese propaganda arm Global Times, that Rishi has decided to go in hard on the country's security threat this morning. Declaring the Chinese Communist Party "the largest threat to Britain and the world's security and prosperity this century", Sunak attacks Liz for "[rolling] out the red carpet" and turning "a blind eye to China's nefarious activity and ambitions". He calls for a new NATO alliance to be set up to counter it the threat, and pledges to close all 30 Confucius centres, which teach Mandarin in the UK and are thought to be used as fronts by the Chinese intelligence services.
In response Team Truss returned fire last night, using Iain Duncan Smith to call the policy "surprising" and asking where Sinophobe Sunak has been for the last two years. Her team points to the above Sunak's endorsement by Global Times, and says he has been consistently soft on China.
Sunak's Confucius closure policy is directly levelled against Truss's supposed record at DfE, where during her two-year stint nine of the 31 centres were established:
"His team pointed out that nine of the 31 Confucius centres in Britain were established when Ms Truss was an education minister between 2012 and 2014."
Hmm.
Who is behind Rishi's race to No. 10?
Before I get to the debate, I have been thinking more about Rishi than Liz. Who is pulling Rishi's strings? I don't think Liz has an unseen agenda, but Rishi could well do.
On Thursday, July 21, The Express gave us background on Rishi, some of which not all of us knew (emphases in purple mine):
Rishi Sunak recently made headlines after he became the first frontline politician to make the Times Richlist. He and his fashion designer wife Akshata Murty's fortune stands at an eye-watering £730m. The recently resigned Chancellor owns four properties with his 42-year-old wife, including in Santa Monica, California, but now hopes to add another to his collection, in the shape of No 10.
Before landing a job with Goldman Sachs and making his millions, Mr Sunak studied at one of the most expensive private schools in the country before heading to the University of Oxford.
The 42-year-old was born in Southampton to GP mother Yashvir and pharmacist father Usha Sunak.
Mr Sunak — the eldest of three — first attended Oakmount Preparatory School in Southampton, Hants, before attending Stroud School, King Edward IV Preparatory, where the school fees grow alongside the student: the older they get, the higher the tuition.
It is thought Mr Sunak joined Stroud School in Year 4 after Oakmount closed suddenly in 1989.
In Lord Michael Ashcroft's biography, Going For Broke: The Rise of Rishi Sunak, it is claimed that the former Chancellor was well-liked, being both head boy and captain of the Stroud cricket team …
After leaving in 1992, Mr Sunak joined the 600-year-old Winchester College as a boarder, where the yearly school fees today amount to £45,936 per year, and £33,990 for day pupils …
Winchester College, founded in 1382 by William of Wykeham, has numerous notable alumni — known as "Old Wykehamists" — including several archbishops and Chief of Defence Staff, General Sir Nick Carter.
Why does Rishi want to be PM when he could be leading a charmed life?
His wife has non-dom status. Do they intend to move to India? It would be a return to that nation for her, as her father founded Infosys.
There's a story here.
In any event, so far, Rishi has more than 20,000 Conservative Party supporters, apparently.
He also agreed to allow Andrew 'Brillo' Neil, a notorious tough interviewer, to question him on Channel 4 this Friday evening:
In 2019, when Neil was still on the BBC, he was frustrated that Boris did not go on his television show to be grilled for the leadership contest that year.
Guido says that Liz Truss might follow Boris's example:
Rishi Sunak has agreed to do a sit-down Andrew Neil interview this Friday on his Channel 4 show at 19.30. Liz Truss's team are yet to say whether she'll also agree. Given she's the Boris continuity candidate, there's a past precedent she may not…
Boris petition gets 10,000+ signatures
Speaking of Boris, the petition from Conservative Party members to add him to the ballot surpassed 10,000 signatures on Monday:
Guido said:
On Wednesday, Guido reported that 3,500 Conservative Party members had signed a petition calling for Boris to be allowed to compete in the leadership contest. Since then, that number has tripled, with 10,000 fully paid-up Tories now adding their names to the list, and presumably ruining the CCHQ inbox. As Rishi and Liz take to the campaign trail, this demographic may well prove difficult to ignore. It's already over 20% of Boris's stonking majority from the last leadership election…
BBC debate
The BBC chose to hold Monday night's debate in Stoke-on-Trent — the Potteries.
Stoke-on-Trent has three constituencies, all of which are Red Wall. I wrote about their first-ever Conservative MPs earlier this year: Jo Gideon, Jonathan Gullis and Jack Brereton.
It was commendable of the BBC to get an audience of local residents who voted Conservative in 2019.
Sophie Raworth was the moderator. Off to one side were BBC experts Economics Editor Faisal Islam and Political Editor Chris Mason, who also asked questions of the candidates.
During the debate, one of the voters said that she was concerned about the ongoing issue of trust in the Government overriding the all-too-real need for strong policies.
The Express has the video. The woman spoke briefly and eloquently:
It just seems very very easy, and as we've heard a lot, to blame Boris over trust issues, as though everything is going to be fine now.
But it seems to me there is a more fundamental issue around a culture in Westminster.
It seems very much more focused on the short term, you know, the catnip of a media soundbite.
Rather, it should be focussing on, okay, 'What are the difficult things that need a long-term solution'.
She actually said, 'the short-term catnip of a media soundbite'.
She should copyright that. It sounds just like something Boris would say.
Liz had gravitas. I would rather have a reserved presentation from her than Rishi's Tony Blair impersonation, which was unsettling to watch — and hear.
Rishi also should have worn a tie. Maybe he wanted to look in touch with the audience. Even so, these debates are interviews for the next Prime Minister. One should look the part.
Overall, Rishi interrupted Liz too much. Guido counted a total of 14 times.
Often, Rishi looked as if he were mansplaining:
He was irritated. We saw this during his parliamentary campaign.
Rishi's facial expressions and voice inflection show that he does not like being contradicted:
That's not the best look and it will not go over well if he tries that with Andrew Neil on Friday. Neil will zero in on it.
Sophie Raworth only interrupted Rishi's interruptions of Liz once. That is likely because Liz is the 'continuity candidate', meaning she is loyal to Boris. By now, we should all know that the BBC, along with others, wanted desperately to get rid of Boris because of Brexit.
Ergo, Raworth was not there to do Truss any favours.
Rishi was adamant that his tax rises were the right thing. Liz said they were Project Fear:
Here's the video:
Nadine Dorries's tweet about attire came up:
Liz said that she would not give Rishi any fashion advice:
She did, however, advise him to be 'bolder' in carrying out Government policies. She did not specify any, but one that comes to mind is the amount we are still paying the EU for our exit. He should have nipped that in the bud in January 2020.
Rishi grilled Liz over her conversion to Brexit. She had been an active Remain campaigner before the 2016 referendum.
However, Guido points out that Rishi has not always been consistent. Corporation tax comes to mind:
Guido says:
Rishi's going in hard on Liz over her change of mind on Brexit – it turns out it's quite easy for them to hit back at him with even more recent examples of political conversions…
The debate ended with a quick-fire round of questions:
The candidates agreed on nearly everything. The only difference was when Sophie Raworth asked them to rate Boris on a scale of 1 to 10.
Liz Truss gave the former Party leader a 7.
Rishi hemmed and hawed a bit, then gave Boris a 10 for handling Brexit and the 2019 election well.
The Express has the exchange:
Mr Sunak said: "You know what, my views are clear: when he was great, he was great; but it got to a point where we needed to move forward."
BBC host Sophie Raworth asked: "What does that mean? Five out of ten?"
Mr Sunak replied: "Well, actually, in delivering a solution to Brexit and winning an election, that's a 10 out of 10.
"You have got to give the guy credit for that. No one else could have probably done that."
The crowd then erupted into a loud round of applause.
So, Liz did well on the topic of Boris …
… but did Rishi do better?
The hint might be that Conservatives prefer Liz.
Afterwards, Opinium took a snap poll. Liz won the Conservative vote hands down:
Guido offered this analysis:
Overall Rishi bests Liz by 1% among all voters. Rishi needed a slam dunk victory, this is the opposite of what he'd have wanted polling to show…
YouGov also polled Conservative Party members who watched the debate. Guido has the detail.
YouGov's summary results show that Liz is streets ahead of Rishi:
The UK's newest channel, TalkTV, hosted a debate sponsored by The Sun on Tuesday night:
Too bad that GB News couldn't have pipped them to the post. Then again, TalkTV and The Sun are Murdoch outlets.
More about that debate in a separate post.
Last Friday's post introduced the Red Wall MP Marco Longhi, who represents Dudley North in the Black Country area of the Midlands.
The Black Country is so-called for its long coal mining history.
On March 31, 2022, Marco Longhi gave an excellent interview to Nigel Farage on GB News, which shows the measure of the man — level headed, polite and pragmatic:
Longhi said that having served in local politics — he was mayor of Walsall for two years beginning in 2017 — was a good way of preparing for becoming an MP.  His maternal grandfather Wilfred Clarke was also mayor of Walsall in 1978.
Before that, Longhi served as a local councillor in 1999.
The conversation between him and Farage turned to the 2019 phenomenon of the Red Wall seats that voted Conservative for the first time.
Longhi, whose mother's side of the family had a career history of working in the mines, said that miners were overwhelmingly Labour voters. However, by the time the Brexit referendum came about in 2016, they started to question their allegiance for Labour, which seemed to be ignoring them.
Longhi's Dudley North constituency voted to Leave in the referendum: 72 per cent. In subsequent elections, he and Farage agreed that Labour's dominance began breaking up, with voters turning to either UKIP or the Brexit Party.
Longhi said that, when the historic December 2019 election came around, Dudley North's voters rallied around Boris Johnson's premiership. Of Boris, Longhi said that the PM was:
able to sprinkle that little bit of gold dust.
Farage, not wanting to miss an opportunity to criticise the Conservatives, asked Longhi about their Net Zero policy. Farage mentioned the fracking company Cuadrilla, which was awaiting permission from the Government to begin extracting shale gas in the North of England. To date, they still are.
Longhi said that, while he supported the general push towards decarbonisation, he said it has to be done 'pragmatically, step by step'.
Farage said he was concerned about the cost of living. Longhi agreed and hoped that the Government could do something about reversing their new taxes, brought in to help pay for the cost of the pandemic measures, e.g. furlough and business grants.
Longhi agreed when Farage expressed concern that the Conservatives could lose the next election. Longhi said that the pandemic had truly paralysed Parliament for two years — acknowledging that the public would not accept that — and that two years to make up lost ground was not long enough. Longhi said that, when he was elected in 2019, he foresaw that it would take two Parliaments — ten years — to get the Conservative policies from the manifesto in place.
Therefore, he said he has been trying to set voters' expectations for the next election.
Farage said that Labour leader Sir Keir Starmer is positioning himself as a safe pair of hands. Longhi agreed, saying:
I have been talking about this danger since the day I was elected.
I am pleased since the recent shake-up at Number 10 [post-Partygate] they are more receptive, there are different people in place, and I really hope, for all of our sakes, that those changes are going to be acted upon.
Longhi said that being an MP is
the best job in the world
and that he enjoys helping out his constituents wherever he can. He says that the occasional thank you note he receives in return adds to that personal satisfaction.
Boris
Unlike other Conservative MPs, Longhi has not made any pronouncements about Boris Johnson.
Instead, he, as the UK's trade envoy to Brazil, tweeted his delight at meeting one of the country's former presidents:
He also tweeted his support for shale gas:
We now move on to looking at Marco Longhi's participation in Parliament.
Mayor of Walsall – mental health
On May 8, 2018, when Longhi, not yet an MP, had become mayor of Walsall again for another one-year term, the Conservative MP for Walsall North commended him in a session on Health and Social Care (emphases mine):
Eddie Hughes: I hope the Minister will join me in congratulating the mayor of Walsall, Marco Longhi, whose mayoralty has raised a significant sum to support WPH Counselling and Education Services, which provides adolescent mental care and counselling in Walsall.
Jackie Doyle-Price responded on behalf of the Government:
I am very grateful to my hon. Friend for raising this matter, and I very much welcome the contribution made by the charity to support teenagers in his constituency with psychological therapies and to help to address their mental health conditions. I join him in extending my congratulations to the mayor for choosing this very important cause and for endeavouring to raise so much money for it.
Committee appointments
As a new MP, on March 2, 2020, Longhi was appointed to two parliamentary committees: the Environmental Audit Committee and the European Scrutiny Committee. The latter monitors progress on Brexit.
Trade
On May 20, 2020, Longhi participated in a debate on the post-Brexit Trade Bill:
The Trade Bill we are discussing today is a framework that allows us to continue to trade as a nation state with those countries who already have a trade agreement with the EU. It enables UK service providers to seek out business in Government procurement markets worth £1.3 trillion, and reshores from the EU those protections available under WTO rules to support British business against unfair trading activities under the new trade remedies authority.
Why is that important? It means that we will harpoon yet again the ill cited arguments that we will crash out and fall off a cliff edge through Brexit. It means that we can seek out new business, and it means that we can finally take effective action ourselves against rogue nations who do not respect international trading conventions. Let us remind ourselves of the EU's impotence when China dumped its excess steel on our markets, and the jobs it cost us here in the UK.
It is an undisputed fact that open markets and free trade generate wealth and our new-found and hard-won ability to seek out new markets will grow our economy. Covid-19 has brought about a global tendency towards protectionism, which we know has the opposite effect. We must not be drawn into this trap at any cost, as we shall be poorer for it. However, what covid-19 has shown is that for all their rhetoric, the EU's institutions fail to respond effectively, if at all, and its constituent members immediately behaved as a collection of nation states. They offered a shallow apology to the Italian people for leaving them to their own devices while protecting their own. I must ask, was that not entirely predictable? That begs the question of how, as a nation at this historic junction, we consider the strategic implications of a future crisis. Should we be more self-reliant in key areas such as energy, food and medicines? Many large corporates are now reshoring as they understand the total cost of outsourced activities, including problems with quality control, the cost of unreliable supply chains and the carbon footprint of products, just to name a few. That is why I was delighted to hear about our investment to produce 70 million masks in the UK and create around 450 jobs at the same time. It is about taking a risk-based approach and understanding the total cost-benefit arguments of decisions that we take in the key areas that affect our national resilience.
Globalisation is here to stay. As we harness the great opportunities presented to us by Brexit and FTAs, our biggest challenge is how we do so. The area that I represent in Dudley and the many areas that my new colleagues represent have not always benefited. Globalisation has seen benefits, but also a race to the bottom with a low-wage economy in traditional manufacturing and the loss of jobs in the sector. Buying a pair of boots for a few pounds less is not a huge benefit if there is not a job to go to.
Analysis shows that there are between 250,000 and 350,000 businesses that currently do not export but could. My plea is that we target those businesses, with a special focus on those in the Midlands, with determination, enthusiasm and strategic focus, and at real pace, so that we can add value and bring new jobs to these areas while we also minimise the devastating impact of covid-19 on local economies and people's lives.
On June 24, 2021, Longhi participated in the Comprehensive and Progressive Agreement for Trans-Pacific Partnership debate, led by Liz Truss, who was, at the time, the Secretary of State for International Trade:
Longhi: Does the Secretary of State agree that if British business is to invest it needs confidence, and that that confidence will come by restating our commitment to free trade by diversifying our trade offer, generating new jobs and bringing more stability to the jobs we already have?
Truss: My hon. Friend is absolutely right. A key benefit of the CPTPP is increased resilience. It means that our exporters will not have all their eggs in one basket. They will have options about where they send their goods. It will also mean our importers are able to rely on strong relationships in countries which follow the rules and have good standards in areas such as the environment and worker protection.
He then intervened in Liam Fox's speech on protecting free trade, which, in turn, helps consumers:
Does my right hon. Friend agree that consumers will therefore have cheaper access to white vans and St George's flags, which particularly our self-employed make use of in the construction industry?
Fox did not want to go there:
I cannot think what my hon. Friend is alluding to, but it is certainly true that consumers will have access to far greater choice …
Labour's John Spellar — one of their few good guys — attempted to intervene and finally succeeded:
The right hon. Gentleman knows that I am very supportive of trade and trade agreements. Equally, I was rather surprised by his response to the hon. Member for Dudley North (Marco Longhi). Should we not be encouraging people to buy white vans made in Luton, and trying to ensure that St George's flags are made and sold in the United Kingdom?
Fox batted that intervention away in short order:
The right hon. Gentleman is quite right that we should ensure that as much is made in the United Kingdom as possible …
International aid
The temporary 0.2% reduction in international aid post-pandemic has been a long-running issue amongst Conservative MPs and arises again and again. Half the Conservative MPs, it seems, strongly disagree with the reduction while the other half support it, because it is only temporary.
On June 30, 2021, in the Opposition's Official Development Assistance and the British Council debate, Longhi said that MPs who made a big deal about the reduction were virtue signalling:
Foreign aid spend has frequently been a way for politicians to compete for moral righteousness in the public eye. My Dudley residents care not for this type of posturing.
My right hon. Friend the Member for Sutton Coldfield (Mr Mitchell)—he is no longer in the Chamber—who is a near neighbour of mine, referred in his closing remarks to his electorate, implying that they agree with his stance on foreign aid. I would make two points on that. First, my constituency is literally just down the road from his, and I can categorically assert that a significant majority of my residents do not agree with him. Secondly, I gently point out to him that, on average, two thirds of all people polled in this country very recently did not agree with him either. Just the other day, on GB News, he used the majority view argument to support assisted dying, so perhaps he might consider being consistent with his rationale, instead of imposing his moral virtues on the country's majority view.
Virtue signaller Anthony Mangnall, a Conservative, intervened:
I am sorry to interrupt my hon. Friend. It is fine if that is his argument, but surely he believes that it is right for this House to have a vote on the issue, because we are all representatives of our constituencies, and of the views of our constituents. Forget the polling and allow this place to have its say. Does he not agree with that sentiment?
Longhi replied:
I might refer my hon. Friend to votes on Brexit in previous years, when a significant number of elected Members did not represent their constituents and voted the opposite way to them.
Labour will always oppose what the Government do, even if they tripled foreign aid. Having only ever averaged a maximum spend under 0.4% of national income when it was in office, compared with the 0.7% that we achieved, Labour's protestations are somewhat shallow, if not risible. People will see Labour for what it is: out of touch with working-class people and totally clueless about their priorities.
I am concerned about some of my colleagues. They are being so generous with other people's money—a notable socialist behaviour, I might add. Perhaps they can explain to my Dudley North taxpayers why we should spend £15 billion overseas when my residents cannot find council houses and when we still have homeless people on our streets, some of them brave veterans.
Longhi went on, refusing to take further interventions:
I would like to make progress, please.
Covid has given rise to exceptional circumstances, and the Government were entirely right to reduce aid and focus on rebuilding our country. Charity begins at home. That said, I do not agree with reducing the foreign aid budget from 0.7% to 0.5% of national income; I would scrap the target altogether. Foreign aid should be and needs to be completely reformed. A fluctuating number each year that bears no real link with need, priorities or actual outcomes is no way to plan or act strategically. It is not how a household would budget, it is not how a business would budget, and it should not be how a Government budget. Which other Government Department do we fund as a percentage of national income?
Mangnall succeeded at last:
It is on that point—I can give the answer. We committed in our manifesto in 2019 to funding research and development at 2.7% of our GDP. We commit to NATO spending at 2% through the Ministry of Defence. The list goes on.
At that point, Madam Deputy Speaker (Dame Eleanor Laing) said that, as many MPs were leaving the chamber, she would be lifting time limits on speeches.
Longhi concluded, refusing to take another intervention from Mangnall:
Thank you, Madam Deputy Speaker.
I will respond by saying it is not the way we fund policing, education or health here at home. Surely a more sophisticated approach that is outcome-focused and delivers measurable change in very poor countries by employing some of our own local and UK-based companies is a far better approach than the arbitrary and unaccountable system that we continue to virtue-signal about.
I would ask two things of colleagues wanting to reinstate the 0.7%: let us focus efforts on achieving much better outcomes by reforming foreign aid, and, while we are at it, focus on challenging the EU and other wealthy countries that consistently fail to meet their own targets and do not measure up to what the UK is certainly doing …
By any measure, the UK already does far more than most, both in cash terms and in areas not captured by our foreign aid spending. Certainly my constituents know that very well.
Yes!
Buying a house
On October 7, 2020, Longhi put forward a Ten Minute Rule Bill, a type of Private Members Bill, about reforming Conveyancing Standards.
I do not know what became of it when it was debated, but he made good points about the pitfalls of house buying:
I beg to move,
That leave be given to bring in a Bill to establish minimum standards regarding searches and assessments of risk for solicitors and licensed conveyancers acting on behalf of purchasers of residential properties; and for connected purposes.
The main aim of this Bill is to help protect people who wish to buy a house—sometimes their first home—from being exposed to risks that currently are not sufficiently visible or understood at the point of purchase. The Bill does not propose radical changes to the conveyancing process; nor, indeed, does it propose changes to the development control system, although some may argue that that might be desirable to further de-risk the process for homebuyers.
I will set out two examples to illustrate the types of difficulties faced by homebuyers. Both are real cases of people who have been let down by a system that has not kept pace with an industry that has become increasingly cut-throat. The system does not offer enough consumer protections for people who are about to make possibly the single most important investment of their lives, while the transaction itself is mired in documents and legal complexities that are rarely fully understood.
My first example is of a developer who purchases land and applies for planning permission, which is granted subject to conditions. Those conditions are wide ranging and set out requirements of the developer in order for them to receive final planning certification at the end of the development. One such condition may be that soil sampling is undertaken to establish whether any contamination is present; another may be that properties must not be occupied until planning conditions have been fully satisfied.
That developer set up a limited company for the sole purpose of the development and started marketing the site almost immediately. Some properties were sold off-plan; some were sold when the buildings were largely complete. When the final plot was sold, the developer immediately liquidated the company. That means the legal entity that sold the properties no longer existed.
It became apparent immediately that a significant number of planning conditions had not been met: no soil sampling, no preventing of owners from occupying, and no top coating of road services or pavements to bring them up to council adoptable standards. Drainage was not connected properly, and the new homeowners had a huge list of unfinished works and complaints about poor standards of work.
At that point, the homeowners turned to the council for help, in the expectation that it would have the ability, as a local regulatory body, somehow to fix things. It transpired that any regulatory liabilities relating to the properties transferred to the property owners at point of sale, and that if the council chose to enforce breaches of planning, it would have to pursue the new homeowners.
It is important to note that the current system places no requirements on local planning authorities to pursue developers to evidence compliance with planning conditions. The expectation is that a developer will want final planning certification, but that is all it is: an expectation. What if a developer does not care about obtaining the certification? Their objective is to build, sell and maximise profit. So here we are; we have just purchased a property in good faith following the advice of the conveyancing solicitor—who, by the way, was recommended by the developer—and the property does not have planning permission. Certification costs could be extremely significant, and we have no recourse to the developer because they no longer exist as a legal entity.
My second example is probably more widespread than my first, and I suspect that similar examples may be present in several MPs' casework folders. Imagine we are very keen to buy a property. At the point of purchase, our solicitor handling the conveyancing might highlight the fact that there is a contract for maintenance of green spaces on the estate—grass cutting, hedge trimming and so on—as well as that those areas do not belong to any of the properties and the cost is about £100 per year. Do we still want to buy the property? Of course we do. That is not a lot of money in the grand scheme of things, and if it means securing the property of our dreams, of course we will pay it.
What is not discussed with sufficient clarity at the point of conveyance, if at all, is that the small print of the maintenance contract will state that contract owners can increase the price as and when they wish, and there is virtually no recourse within the contract for poor workmanship or lack of clarity. The fee of £100 per year may soon become £500 per year, and the grass cutting may be once a year instead of once a month. These areas remain unadopted by local councils—something that I find a little too convenient. How would you feel, Mr Speaker, if you paid an even higher council tax for services you did not receive, compared with a neighbour around the corner who pays less and gets more?
Usually, when a service is not rendered, one may choose not to pay. That cannot happen here, because these contracts state that a charge will be placed against the property, so it cannot be sold without payment. Furthermore, homeowners cannot complain to anybody, because an unresponsive contractor is virtually unaccountable and has plenty of legal cover, while homeowners are usually bounced around from contractor to subcontractor to developer in a never-ending merry-go-round.
Those two scenarios are real. The same thing has happened in Dudley and to other people from the Black Country whom I have met. People find themselves financially exposed. The system is being gamed by unscrupulous developers and contractors, because it is not transparent enough to shine a light on the potential risks to people when they are buying a property. People might feel that the very fact that a solicitor is handling the conveyance means that they are sufficiently protected. They employ a solicitor not just to carry out due diligence for them, but to highlight any potential downsides. That is not happening with enough robustness, and that is why I propose the Bill.
Crime and Labour
In a Business of the House session on June 16, 2021, Longhi lamented that Labour MPs voted against the Government's Police, Crime, Sentencing and Courts Bill:
I am sorry to say that it came as no surprise to me when Labour voted against tougher sentences for rapists and child rapists this week. My constituency of Dudley North has been waiting for a new police station in the centre of Dudley for many years, as was promised by the Labour police and crime commissioner. Will my right hon. Friend agree to explore this issue with me, and perhaps with the Home Secretary, and agree to a debate on the effectiveness of police and crime commissioners more generally?
Jacob Rees-Mogg, then Leader of the House, replied:
My hon. Friend raises an important point. The socialists, as always, are weak on crime and weak on the causes of crime, and they have shown their true colours in the recent refusal to support tougher sentences for violent criminals. Unfortunately, socialist police and crime commissioners have been failing their constituents. I hope that my hon. Friend will continue to hold his local PCC to account and at the highest level, because the Government are continuing to back the police and to support the public in fighting to bring down crime.
… We are taking the landmark Police, Crime, Sentencing and Courts Bill through Parliament at the moment, which will tackle serious violence throughout the country. We have hired nearly 9,000 additional police officers and are well on track to meet our target of 20,000 new officers this Parliament. I am grateful to my hon. Friend the Member for Dudley North (Marco Longhi) for the important issue that he raises.
Marco Longhi gets it, as it were.
I will conclude with more of his policy perspectives next week.
The voters of Dudley North should be pleased with him. He cares about them.
It is apposite to follow my posts about Lee Anderson with a series on his fellow Red Wall MP Marco Longhi.
Among other things, they have in common a dislike of Steve Bray, the noisy anti-Brexit protester who had his amplifying equipment taken by police this week.
Steve Bray
This is where I left off yesterday:
I'll get to the debate in which Marco Longhi said those words.
First, however, Steve Bray reappeared in the area around Parliament on Wednesday, June 29, 2022, with a new boombox:
Guido Fawkes had the story and a video:
His post says (emphases in the original):
Just when you thought it was all over, Steve Bray's back for an encore. With his boombox ripped from his hands yesterday by a swarm of Met officers, it looked like it was finally time to say bye, bye Bray-by. Not so much.
Undeterred, and as promised during a BBC interview yesterday afternoon, Bray is back on his island outside Parliament, having found a new boombox to blast his tunes at full volume as MPs walk past. He's also picked up a gang of new supporters to chant along with him. Presumably they don't have jobs to go to either. Chopper [The Telegraph's Christopher Hope] even claims he's seen pedestrians hand Bray some cash in solidarity. It's not like Met officers have far to commute given New Scotland Yard's just metres away…
On May 11, Marco Longhi mentioned Steve Bray, although not by name, in a parliamentary debate, Preventing Crime and Delivering Justice.
Guido covered the bit about Bray:
Guido wrote:
… Speaking in the Chamber yesterday afternoon alongside Bray's arch nemesis Lee Anderson, Longhi said:
I will not dignify his existence by tarnishing Hansard with his name, but there is a noisy man outside who dresses up as a clown and harasses and chases Members of Parliament and our staff from his little camp on the crossing island on Parliament Street. He is someone else who serves no public benefit whatsoever… This person needs to have his loudspeaker system confiscated and to be moved on. Personally, I would like to see him locked up in the Tower with a loudspeaker playing "Land of Hope and Glory" on repeat at maximum volume. The Met really should deal with him.
Labour's Lloyd Russell-Moyle intervened to offer swapping offices with Longhi so that "there will be no problem and we will not need to shut down free speech either"…
Guido concluded by saying that, like Lloyd Russell-Moyle, he has no problem with Bray's braying as it shows we tolerate free speech.
Personally, I disagree. After six years of his daily noise, the Met should put a stop to it.
Returning to the debate, which took place after the Queen's Speech in May, Longhi discussed the people from his constituency, Dudley North, and their concerns, among them Brexit and re-establishing law and order (emphases mine):
I was going to confine my speech to the Public Order Bill, but I will follow up on a few comments that the right hon. Member for East Antrim (Sammy Wilson) made. The more I listen to him, the more I think he speaks a good deal of common sense. I would like him to know that I for one, and a number of my colleagues, agree with much if not everything of what he says, and we have a steely resolve to make sure that we are one United Kingdom. That is what we voted for when we voted for Brexit.
My daughters, for some unfathomable reason, sometimes describe me as a grumpy old man. I really do not know why. However, there are a few things that can make me a little bit miserable, and one thing that has really grated on me in recent years is the minority of protesters who have pretty much used guerrilla warfare to disrupt the everyday lives of the vast majority of our constituents—not just mine, but everybody's.
The good people of Dudley North are ordinary folk, working hard to make a living, a living that is increasingly harder to make in the current climate. I cannot fathom how the privileged and entitled few think it is acceptable to stop our carers and nurses from being able to get to work to care for our sick and elderly, or to blockade a fire appliance from getting to a serious fire burning a local business to the ground—or, more tragically, perhaps preventing people inside the burning building from being saved. Of course, that applies to any blue light service, not just the fire service. That minority of criminals truly disgust me. They have no concept of the real world out there. They have no concept of the misery they bring to those less fortunate than themselves.
I hope that you, Mr Deputy Speaker, and those on the Front Benches will join me in making working here more bearable for our staff, myself and my colleagues. I will not dignify his existence by tarnishing Hansard with his name, but there is a noisy man outside who dresses up as a clown and harasses and chases Members of Parliament and our staff from his little camp on the crossing island on Parliament Street. He is someone else who serves no public benefit whatsoever.
Lee Anderson intervened:
I know the character my hon. Friend alludes to, and I have witnessed some ferocious verbal attacks on my hon. Friend from that character, who patrols Whitehall like a public nuisance. May I suggest telling him that, if he is interested in changing things in this country, he should come to Dudley North and stand against my hon. Friend at the next general election?
Longhi replied:
In fact, that invitation has already been made. I am going to print off a set of nomination papers, but I wonder about the 10 people this person might need for the form to be valid.
My staff cannot hear distressed constituents on the phone through the awful racket he causes. All our staff who have offices in 1 Parliament Street suffer considerable stress and anxiety from the disruption he causes to their, and our, work. I doubt that staff in the Department for Digital, Culture, Media and Sport and Her Majesty's Revenue and Customs, the buildings opposite, would say anything different—[Interruption.] Is someone wanting to intervene? I do not know. I heard some noises. It is like a Hoover—an irritating thing in the background. I do not know what it is.
This person needs to have his loudspeaker system confiscated and to be moved on. Personally, I would like to see him locked up in the Tower with a loudspeaker playing "Land of Hope and Glory" on repeat at maximum volume. The Met Police really should deal with him. He is causing misery to hundreds of staff, he is intimidating many—
Then Labour's Lloyd Russell-Moyle, who is quite the leftie, intervened for a bit of to-ing and fro-ing:
Russell-Moyle: No, he's not!
Longhi: I think someone wants to intervene, Mr Deputy Speaker. This person intimidates many who are passing by, going about our business and representing our constituents—
Russell-Moyle: No, he doesn't!
Longhi: Would the hon. Gentleman like to intervene?
Russell-Moyle: The hon. Member clearly does not know how Parliament works, but we often make sounds across the Chamber when we disagree with someone, and I disagree with him. I am happy to swap offices: I will take his office and he can have my office. Then there will be no problem and we will not need to shut down free speech either. Win-win!
Longhi: I am actually very comfortable for the hon. Member to come to Dudley North and make those very arguments, because he would be out of office completely. Please do come and make those very arguments. I am not going to allow this kind of behaviour from someone outside, who is a public nuisance, to force us to have to make changes for him.
Our police, whether in Dudley, the Met or elsewhere, need the tools to better manage and tackle the dangerous and highly disruptive tactics used by a small minority of selfish protesters to wreak havoc on people going about their daily lives. Our police already have enough to be doing without the unnecessary burden of a privileged few who seek to rinse taxpayers' money.
It will come as no surprise that I wholeheartedly support the Public Order Bill. If that disruptive minority want to glue themselves to anything, maybe the Bill should make it easier for them to have their backsides glued to a tiny cell at Her Majesty's pleasure. They would be most welcome.
Kit Malthouse MP, the minister for Crime and Policing, concluded the debate. Malthouse, incidentally, worked for Boris Johnson in a similar position when the latter was Mayor of London:
… We have had a variety of contributions this afternoon, falling broadly into three categories. First, there were the constructive contributions. My hon. Friend the Member for Bracknell (James Sunderland) talked about antisocial behaviour in his constituency, a theme we heard from several hon. Members. The three graces—my hon. Friends the Members for Ashfield (Lee Anderson), for Peterborough (Paul Bristow) and for Dudley North (Marco Longhi)—expressed strong support for the Public Order Bill. The general theme was expressed pithily by my hon. Friend the Member for Peterborough:
"We want criminals to be scared of the law. We do not want the law-abiding majority to be scared of criminals"—
a sentiment with which the Government heartily agree. My hon. Friend the Member for Stoke-on-Trent North (Jonathan Gullis) made his usual vigorous and wide-ranging contribution, illustrating neatly why his part of the world is becoming more of a Conservative stronghold with every month that passes …
I wrote about Jonathan Gullis in April.
Malthouse ended with this. I do hope he is correct when he says:
As my right hon. Friend the Home Secretary set out earlier in this debate, the first job of any Government is to keep their people safe, which is why we are delivering ambitious reforms to do just that by cutting crime, delivering swifter justice and making our streets safer. We are backing the ever-growing numbers of police with the tools and support they need, making sentences tougher for violent and sexual crimes, strengthening victims' rights and restoring confidence in the criminal justice system. We will ensure that we strike the right balance in our human rights framework so that it meets the needs of the public and commands their confidence, strengthens our traditions of liberty, particularly the right to free speech, adds a healthy dose of common sense and curtails abuses of our justice system. I commend the Government's programme on crime and justice to the House.
In the beginning
Marco Longhi was born in the Midlands town of Walsall, Staffordshire, on April 22, 1967, to an Englishwoman and an Italian airline worker. He grew up in Rome.
He took after both parents in his personal choices.
Following his father's interest in airlines, he trained as a pilot. Later, following the example from his mother's family, he entered politics.
In between, he studied at Manchester University and worked in the oil and gas industry. Later on, he became interested in real estate and was the director of the lettings (rental) firm Justmove. He also owns ten houses in Walsall.
His grandfather Wilfred Clarke was mayor of Walsall in 1978. Longhi became a Conservative councillor for the town in 1999 and served two terms as its mayor, in 2017 and 2018.
Dudley North
Longhi ran successfully for election to Parliament in 2019, after the much-admired Labour MP, subsequently Independent, Ian Austin, stood down for Dudley North.
The constituency of Dudley North was created in 1997. Labour's Ross Cranston served as its MP between 1997 and 2005. Afterwards, Ian Austin succeeded him until 2019. Austin became an Independent in February 2019. He resigned from Labour because he was troubled by its anti-Semitism, which prevailed in some factions of the party under Jeremy Corbyn's leadership. Austin's adoptive father Fred was a Czech Jew who was adopted by an English family, hence the surname change from Stiller to Austin. Fred Austin was the headmaster of The Dudley School from its foundation in 1975 to his retirement in 1985.
In December 2019, Marco Longhi handily defeated Labour's appropriately named Melanie Dudley with a majority of 11,533, a swing of 15.8 per cent.
Maiden speech
Longhi gave his maiden speech to the Commons on February 26, 2020, during the debate on the Environment Bill.
Although coronavirus was seeping into the news narrative, getting on with Brexit was still the main topic of discussion among Conservative MPs. The debates were marvellous, imbued with optimism.
Everyone was also happy with the relatively new Speaker of the House, Sir Lindsay Hoyle, who was a breath of fresh air compared with his predecessor John Bercow who did so much to try and thwart Brexit.
Longhi's speech tells us about Dudley and his hopes for the historic town:
Let me start by thanking you, Mr Deputy Speaker, for allowing me to present my maiden speech today, and to thank your staff—and, indeed, all staff on the estate—for keeping us safe and looking after us so well and with such professionalism. I should like you to convey my more profound thanks, if that is possible, to Mr Speaker for the way in which he has signalled that he will carry out his office as Speaker of the House, in complete contrast to his predecessor. The conventions and integrity that he is restoring in such an unassuming way are having a much greater impact in restoring faith in our democracy than any commentators may be giving him credit for, which is why I want to do so today.
It is the convention to comment on one's predecessor in a maiden speech. I shall do so, but not for that reason: I will because I want to. I am certain than many in this place will want to recognise Ian Austin for his integrity, and for the brave way in which he decided to stand up against antisemitism. There is not a person in my constituency to whom I have spoken who does not speak well of Ian, even when they disagreed with his politics. So I want to thank him for his efforts as a local MP, and for the example that he has set for many of us, on both sides of the House, in standing up to prejudice and hatred. I suspect that some of my colleagues on this side of the House—myself included—may wish to thank him for other reasons too.
I say with a degree of both pride and humility that I am the first ever Conservative Member of Parliament for Dudley North, the first ever Member called Marco, and the Member holding a larger majority than any of my predecessors in this seat. For that, I thank the people of Dudley, who, like the people in the rest of the country, decided to tell the House—yet again, at the umpteenth time of asking—what they wanted us to do.
The Dudley North constituency is made up of the town of Sedgley, the suburban areas of Upper Gornal, Lower Gornal and Gornal Wood, Woodsetton, and other conurbations around Dudley town itself. It has several attractions of national significance, including the Black Country Living Museum, Dudley Castle and Dudley Zoo.
Dudley has been a market town since the 13th century, and its fortunes over the centuries have ebbed and flowed with the economic cycles of the heavy industry that its coal-rich mines supported. This also means that it has suffered much since the decline of the traditional industries, which is why a focus on skills and future jobs is crucial if the economic prosperity of the area and the wellbeing of Dudley people are to be secured for the coming decades.
Dudley is also credited with being the birthplace of the industrial revolution, with the advent of smelting iron ore using coal instead of charcoal, which is manufactured by burning trees and therefore much rarer and more costly to obtain. Abraham Darby introduced this revolutionary method, which meant that iron and steel could be made in much larger quantities and more efficiently and cheaply. He effectively kick-started the industrial revolution, so Dudley's heritage and legacy are second to none—notwithstanding what other people in this House might say! However, I will say that competing with Magna Carta and perhaps alienating a doctor might not be my smartest move. Abraham Darby was born in Woodsetton in 1678 and is reported to have lived at Wren's Nest, which is now a site of special scientific interest—I had to practise that—and, since 1956, one of only two national nature reserves assigned on geology alone because of the variety and abundance of fossils found on the site.
However, although the new industrial revolution brought wealth, it also resulted in the area being named the most unhealthy place in the country in the mid-19th century, because of the dreadful working and living conditions. That led to the installation of clean water supplies and sewerage systems. Dudley had the highest mortality rate in the country. In the 21st century we are faced with the fourth industrial revolution, characterised by a range of new advancements in the digital and biological worlds, but with a different impact on human wellbeing.
Improving health and wellbeing and seeking to tackle mental ill health are some of the areas on which I wish to focus during my time in this House, for the benefit of everyone at home and in their workplaces. If we tackle the issue of poor mental health at its core and in its infancy, we can prevent crisis moments and the devastating consequences that they can have. That it is also why having an environment that we can all enjoy, which supports us in our own wellbeing and that we can leave as a positive legacy to our children and grandchildren, is so important. Mother Nature has been talking to us for some time, and it is time we did more than simply listen. It is time to take action as well, which is why the Bill is so welcome.
Mr Deputy Speaker, if you ever come to Dudley, the capital of the Black Country, you will be warmly welcomed, because that is the nature of Dudley people. You will also feel a sense of expectation—a feeling that change is about to happen, a feeling of optimism—and this is another reason why I am so privileged to represent the town and its people. In the near future, we will be seeing the demolition of the infamous Cavendish House in the town centre to make way for many new homes, the metro extension and I hope—subject to consent—a very light rail system.
Like many high streets around the country, Dudley's has suffered much. Nobody has a silver bullet to fix that, but increasing footfall by attracting more people feels like part of the solution. If attracting more people into the town centre is part of the solution, and if the focus on skills for future jobs is key, I would like to see our plans for a university campus on the edge of Dudley town centre finally being delivered. I am pleased that the Prime Minister agrees with me on that. These game-changing plans were drawn up before my arrival, and some have been spoken about for many years. Now is the time to turn words into action and to deliver for Dudley. My pledge to all Dudley people is that I will fight every step of the way to make things happen and bring about the change that they want. It is Dudley's turn now.
On May 12, 2021, he rightly objected to lefties trolling him over Brexit in the Better Jobs and a Fair Deal at Work debate, which followed that year's Queen's Speech:
"Your name isn't English, why don't you go back to where you came from?" That is a recent Facebook comment from an articulate but clearly limited left-wing activist, so I took some pleasure in replying in Italian "Che in realtà sono nato da un minatore di carbone del black country"—that I was in fact born to a Black Country coalminer.
More condescending left-wingers recently said this:
"You'd think Marco would understand why Brexit is bad. He's lived in Italy and EVEN his Dad is Italian. Why is he such a strong Brexiteer? He must be stupid."
Well, brownie points for working out that my dad is Italian. I did explain at length why Brexit is vital, but it became clear to me that there was a limit to their thinking, too—I mean Marco, Italian, therefore remainer, otherwise stupid is a bit of a "micro-aggression", and is rather limited thinking isn't it, Mr Deputy Speaker?
Here is my suggestion for the Labour party: set up an internal limited-thinking focus group to eradicate it from among their ranks, because how can they represent people who are clearly not limited? They may want to start in Amber Valley where the Labour leader blamed voters for their election results; it might prove more useful than rearranging the deckchairs on their Front Bench.
So, yes, my name is Marco, and, yes, my father is Italian, but here I am. How did I get here? Two words: opportunità e lavoro—opportunity and graft. My grandfather's story is one of rags to riches and my parents are examples of blue-collar workers who for years lived hand to mouth. They bent over backwards to give me opportunities, and I put in the work.
Opportunity and work are two pillars of Her Majesty's Gracious Speech. People out there do not want handouts; they want a hand getting back on their feet. More than anything, they want opportunities to do well. The lifetime skills guarantee is a massive investment in education and apprenticeships, readying people for the jobs coming their way. We may remember the Prime Minister—or "our Boris" as they say back home—visiting Dudley and going to the site of our new Institute of Technology, where he delivered his "jobs, jobs, jobs" vision. The pandemic has shown that fish can be necessary, but fishing rods are what people really need, and that institute will provide the rods.
The Queen's Speech contained a vast array of steps that will take us out of the clutches of the pandemic, freeing us to be even stronger than when we entered it. The commitment to our NHS and continuing with our investment in the vaccination programme and in private sector life sciences are huge bonuses that this country will benefit from.
The roaring '20s are upon us. Dio salvi la Regina—God save the Queen.
I hope he is right about the roaring '20s being upon us.
One year on, and it's hard to see. However, that is no fault of Marco Longhi's.
I will have more on this gently witty and highly incisive Red Wall MP next week.
Continuing my series on Red Wall MPs and, most recently, Lee Anderson, this post gives his positions on various topics in British life.
Those who missed previous instalments can read about his adventures and opinions in Parts 1, 2, 3 and 4.
Rail strikes
This week, England has been crippled by a series of rail strikes, one every other day, which means that on the days there are no strikes, it is still fruitless trying to travel by rail.
On Monday, June 20, 2022, the House of Commons held a debate, Industrial Action on the Railway.
Lee Anderson was the last MP called to speak. He asked the following question of Grant Shapps, Transport Secretary (emphases mine):
This strike is a real kick in the teeth for hard-working taxpayers, who have dug deep over the past 18 months to keep this industry alive. Does my right hon. Friend agree that the Labour party—the spineless party opposite—should grow a backbone and condemn these strikes?
Grant Shapps replied:
That is an appropriate place to end. My hon. Friend is absolutely right. People have dug deep—that is exactly what they have done; it was £600 per household. People are furious. They paid out that money to make sure that nobody lost their jobs, and what thanks have they got? Where is the reward? Where is the "thank you" for keeping the railway going? It is a strike that will put people out of pay and hit people's pockets once again, and Labour Members cannot even find their way to say, "We condemn the strikes." It is a disgrace.
Immigration
On Wednesday, June 15, Home Secretary Priti Patel made a statement about the fact that the June 14 flight to Rwanda with scheduled deportees never took off. There were originally 37 people who were to be deported. Because of last minute legal delays, only a handful boarded the charter flight and, by 11 p.m., even they were taken off.
The Opposition parties hate the idea of sending illegals to Rwanda for processing. Strange that, as it is called the Switzerland of Africa.
Labour, the Lib Dems and Scotland's SNP have all said during debates about illegal migration that people can legitimately come to the UK from France. Such a statement implies that France is not a safe country.
In the June 15 debate, Migration and Economic Development Partnership with Rwanda, Lee Anderson asked Priti Patel:
Just when you think this place cannot get any dafter, you turn up and listen to the rubbish that the Opposition are coming out with today. Is the Home Secretary aware of the sniggering, smugness and delight shown on the out-of-touch Opposition Benches about the cancelled Rwanda flight? Will she please advise me? I need some travel advice—I am going away this summer. Is France a safe country to go to?
Priti Patel replied:
For the benefit of the British people, the public, I have in my hand just four pages with a list of Opposition Members making exactly that point with glee—basically wanting the policy to fail, condemning it and saying all sorts of things without coming up with alternative solutions.
My hon. Friend is absolutely right about France as a safe country. This is a fundamental principle of working with our colleagues more broadly—[Interruption.] Those on the Opposition Front Bench have already had their chance to speak. These are safe countries and there are people who are effectively picking to come to the UK. That is something we have to stop by going after the people smugglers and breaking up their business model.
Moral failings of Tony Blair versus Boris Johnson
Also on June 15, Boris Johnson lost his latest ethics adviser, Lord Geidt, who suddenly resigned.
This month, for whatever reason, Tony Blair became a member of the prestigious Order of the Garter, an honour the Queen decides independently.
On GB News, Patrick Christys asked a panel who was less ethical, Boris or Blair. Lee Anderson was one of the participants. He said that he had canvassed his constituents in Ashfield, Northamptonshire, and all said that Blair was less ethical. Anderson said there is no comparison between a Prime Minister being presented with cake and one who got us into a highly costly war in Iraq. The second tweet shows Blair with his spin doctor Alastair Campbell at the time:
The full discussion follows:
Labour
Anderson was a member of the Labour Party until 2018, when he switched to the Conservatives.
He has no praise for Labour MPs, especially Deputy Leader Angela Rayner. On May 22, she was angry with Chancellor Rishi Sunak for giving more aid to Ukraine.
The Daily Mail reported:
The party's deputy leader sparked outrage after she told the Chancellor on Twitter to 'do one' – a slang insult meaning 'get lost'.
The message was posted in response to a weekly No 11 newsletter from Mr Sunak, in which he detailed an additional £40 million of aid for Ukraine.
It is not the first time the senior Labour figure has landed herself in hot water for her remarks about those on the other side of the Commons. The former care worker resorted to calling senior Conservatives 'a bunch of scum, homophobic, racist, misogynistic, absolute pile of… banana republic… Etonian … piece of scum' in a foul-mouthed tirade at last year's Labour party conference.
Lee Anderson made his views known:
Lee Anderson, Tory MP for Ashfield, accused Ms Rayner of behaving pathetically after the latest controversial outburst.
He said: 'I don't know what it is about Angela Rayner and the Left that have it in for successful people running the country, surely it's much better for successful people who are successes in business to hold the purse strings of the country rather than somebody whose only claim to fame is dishing out insults.
'She is someone throughout her career who has made childish insults against Conservative politicians and now she's having a go at Rishi, who by the way is one of the most polite politicians you'll ever wish to meet. He's a real gentleman, regardless of your politics.'
Green energy policies
As is the case in most European countries, the prices of home fuel and petrol have gone through the roof.
On January 3, Nigel Farage asked Anderson for his views on what the UK should do. Anderson said that while it was imperative that we leave the planet in better shape for the next generation, he and his Ashfield constituents think that some of Boris's Net Zero policies need to be wound back. Furthermore, he wants us, rightly, to use our own energy sources during our transition period to Net Zero:
Two months later, Anderson appeared on Farage's Talking Pints segment of his show. They discussed the necessity of energy independence, which the UK can easily achieve. Instead, the Government prefers a policy of importing coal and gas from Russia:
You can see the full interview here, where Anderson says:
We should be selling gas to the rest of Europe!
The BBC
Anderson remains a firm supporter of Boris Johnson and wants him to be allowed to get on with his job. He accuses the BBC of conducting a witch hunt against the Prime Minister.
This interview took place the day after Boris survived a Conservative vote of confidence. Anderson laid his dislike of the BBC's tactics on the line. This is short, sharp and to the point:
Guido Fawkes wrote (emphases in the original):
Lee Anderson provided daytime fireworks as he confronted the BBC over anti-Boris bias live on the channel. He also called them "quite sad" over their refusal to let the Boris leadership question drop, accusing them of spearheading a witchhunt. Agree or not, it was great TV…
Not surprisingly, it was Guido's most popular post that day:
That night, the question of a BBC witch hunt popped up on Dan Wootton's GB News show:
Wootton invited Anderson on to discuss the issue with left-wing pundit Nina Myskow, who defended the BBC. Anderson said that his constituents supported Boris. He invited Myskow to speak with his constituents to hear their views. She replied, although not in this clip, that she never travels north of Selfridges:
Russia
On April 27, Anderson was disappointed not to have made the list of 287 MPs that Russia sanctioned.
He wrote a letter to the Russian ambassador to the UK to ask that his name be added to the list:
Crime
Lee Anderson has been outspoken against crime. I posted some of his perspectives last week.
During his candidacy in the autumn of 2019, he proposed creating forced labour camps for noisy council tenants:
After Winston Churchill's statue was desecrated in June 2020, during the pandemic and 'mostly peaceful' protests, Anderson gave a brief interview to a young independent reporter. He ended by saying:
You wouldn't be stood here today, young man, talking to me if it wasn't for Churchill.
On March 16, 2021, Anderson participated in the Crime Bill debate. Highlights follow:
Here's another, courtesy of Guido:
Ashfield's straight-talking MP Lee Anderson gave the Labour Party both barrels last night in the Crime Bill debate. Effusively supporting the Bill, no-nonsense Anderson took aim at what he sees as Labour's hypocritical positions:
I find it strange that Labour are talking about tougher sentences for crimes against women, yet in December they were trying to stop us deporting foreign rapists. One Labour MP said we should not deport these criminals in December as it was too close to Christmas. I disagree. I thought it was a great Christmas present.
Guido is fairly sure that the residents of Ashfield will be in overwhelming agreement. For such a short speech, many shots were fired – rounding off on some Labour politicians' attitude to the law…
Seven months later, his fellow Conservative MP Robbie Moore led a debate on the sexual exploitation of young girls by a certain demographic. Sadly, the 'grooming gang' phenomenon is growing to the extent that it is said to be present in every town in the UK.
Moore focused his attention on Bradford.
Guido points out that none of the three Labour MPs for Bradford bothered to show up for the debate.
Anderson contributed and, as one would expect, has strong views on what should happen to such politicians:
Away from the noise of the Budget, earlier this week Conservative MP Robbie Moore led a Commons debate on child sexual exploitation across Bradford, calling for a "Rotherham-style inquiry" into the scandal and claiming it had been "swept under the carpet" by the local authorities. Although the debate only attracted small number of MPs – none of the three Labour MPs for Bradford bothered to appear, despite two previously claiming they would – there was one booming voice lending his support to Moore's campaign: the Honourable Member for Ashfield, Lee Anderson. Asking Moore to give way twice so he could give the Chamber a piece of his mind, Anderson said:
The only way that we know the full scale of these vile crimes in Bradford is for a full Rotherham-style… investigation, and would he also agree with me that certain local politicians on the council, and the mayor, should hang their heads in shame.
Once this inquiry takes place, and we get to the bottom of this, and these grooming gangs are put away where they rightly belong in prison, then the next call will be these lazy politicians – and they need locking up too.
Even Moore sounded a bit surprised by Lee's fury…
Guido has the video:
Anderson's no-nonsense speech might have been partly due to his appointment to the Women and Equalities Committee in May 2021:
Guido wrote:
Guido learns that parliament's wokest committee – the Women and Equalities Committee – is to welcome two new, perhaps unexpected, members: Philip Davies and Lee Anderson. Philip Davies is making a, no doubt, welcome return after having served on it in 2016 – where he made headlines calling for the word "women" to be removed from the Committee's name. Lee Anderson is a co-conspirator favourite: from saying nuisance tenants should be forced to live in tents; to recently ranting that he's torn up his licence fee. Confirming the appointment, Lee told Guido:
The great women of Ashfield have been the backbone of my community for hundreds of years with barely any recognition.
Yes the men have worked down the pits and gone off to war but its our women that have kept everything together.
The women in communities like Ashfield need a voice in Parliament and anyone who knows me will tell you that I am a firm believer in better rights for women. I am a modern man with a modern outlook who is keen to speak up for the women in my community.
They deserve to be on a level playing field with us men which is not always the case. I will still open doors for women and give up my seat on public transport as I am a gentleman first and a politician second, but you can be assured that I will be fighting on all fronts for the women of Ashfield.
Both men will no doubt relish the appointments, which they richly deserve. Guido sends his warmest congratulations to the pair. Chapeau to the 1922 Committee on the wit and wisdom of their appointments.
Returning to politicians, on November 9, he had a go at convicted Labour MPs and recommended that they should work as a condition of their licence:
This morning in Parliament, straight-talking Lee Anderson told Deputy Prime Minister Dominic Raab exactly how he thinks the government should solve labour shortages:
Prisoners and ex-offenders out on licence should help fill the labour shortage and […] on release, all prisoners – including ex-Labour MPs – should be ready for work and starting work should be a condition of their licence.
Guido has the video:
Nutritious meals on the cheap
As I wrote in my third post on Lee Anderson, he took a lot of unnecessary stick in May 2022 for saying that people can make nutritious meals for only 30 pence per portion.
He revealed that he, too, had been a single parent for many years and lived scrimping and saving. He still got pilloried.
On May 26, however, the Mail profiled a partnered mother of three who makes meals for 29 pence a portion.
Was there any criticism of her from other media outlets, such as the BBC? No, there was not.
Such double standards. Such hypocrisy.
Conclusion
Regrettably, I have run out of Lee Anderson anecdotes.
He is my favourite MP. I would love to see him as the next Conservative leader, if not Prime Minister.
Sadly, that will not happen. He is not Establishment enough and never will be.
I hope that he is re-elected as MP for Ashfield and wish him all the best in his Parliamentary career.
We need more MPs like him.
A profile of another Red Wall MP will appear next week.