You are currently browsing the tag archive for the 'Second World War' tag.
Sunday, June 6, 2021, was the 77th anniversary of D-Day, the Longest Day: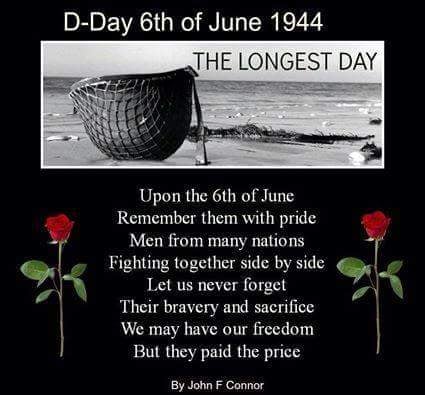 This map shows the landings in Normandy: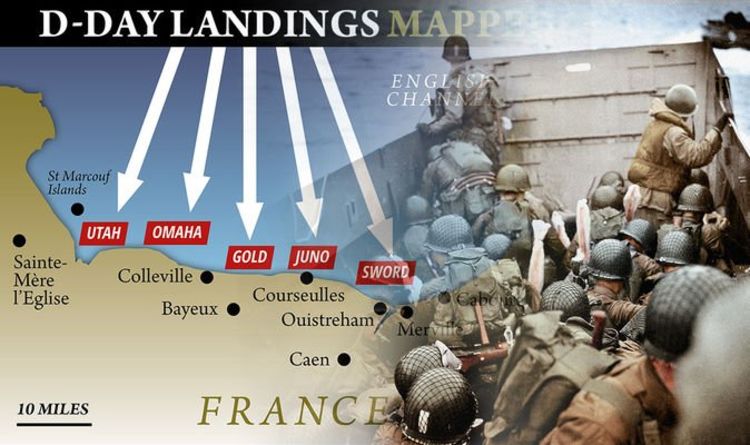 While preparing Sunday dinner, I listened to C-SPAN's Sunday morning show, broadcast on BBC Parliament. Sarah Rose, the author of D-Day Girls, was the guest. Her book is a novel, but she did a lot of historical research showing the intelligence work that women did behind the scenes as part of a carefully-managed international network.
The phone-in included many sons and daughters of Second World War veterans. Nearly all said that those veterans were, understandably, highly reluctant to talk about their war experiences. However, some said that their fathers or grandfathers opened up in their later years. One caller said that she has several hours of memories that she has recorded for posterity, particularly for younger family members.
With more and more of those veterans passing from this mortal coil, now is the time for children and grandchildren to record and catalogue those memories, if they can. One person who has done so is the author of Pacific Paratrooper, remembering Everett A Smith, their father. It's an excellent website, which also documents much history about the battles and conditions in the Pacific theatre. I am delighted to have the author as one of my regular readers.
We will always remember those heroic men and women:
Incidentally, the Houses of Parliament were bombed in 1941 and had to be reconstructed authentically in the 19th century manner. Both were faithfully restored. The next tweet shows the House of Commons:
Seventy-seven years later, we are still in the grip of the coronavirus crisis and a loss of freedom the troops involved in D-Day would have found unthinkable.
In Britain, former Prime Minister Tony Blair (Labour) appeared on The Andrew Marr Show to say that Britons who have had two vaccinations should be allowed greater freedoms, thereby creating a two-tier society:
If a Conservative had said that, Marr would have heaped criticism all over him or her.
It is mystifying that Tony Blair even gets airtime on this topic. He isn't in government, nor is his party.
It appears I am not alone, judging from the replies to this tweet:
On the topic of vaccines, Tony Blair has never said if his son Leo, born when he was in No. 10, had the MMR vaccine, which was highly controversial at the time. So, it was okay for him to refuse to give his son a vaccine that every other child born in Britain had/has to have. It is very difficult to get separate children's vaccines for measles, mumps and rubella. One imagines that Blair managed to get them for his son.
Tony Blair also wanted national ID cards. The debate raged for a few years in Parliament. Fortunately, nothing happened.
On Monday, Guido Fawkes's cartoonist Rich, recalling the ID card debate from the Blair years, posted this:
On the topic of vaccines, the Government is talking about giving them to children. Highly dangerous, one would have thought. The Telegraph's Bob Moran was moved to create this cartoon a week ago:
ITV's Good Morning Britain stoked the flames by asking whether the vaccinated should refuse to associate with the unvaccinated:
Fortunately, most Britons disagree with Good Morning Britain:
June 21 is supposed to be Freedom Day, according to the Government, with the caveat that full reopening of Britain will be based on data rather than dates.
It should come as no surprise that the Government could now backtrack on that date:
On June 1, we had no coronavirus deaths, but that did not make the news:
TalkRADIO host Julia Hartley-Brewer is fed up with the delays. In fact, as the chart below from Peston shows, the UK's actual coronavirus stats are much better than SAGE's models:
On June 3, Portugal, the only European country on the UK's green list for travel, was moved to the amber list, yet these charts tell a different story:
One suspects that it was only ever on the green list for the Champions League final in Porto:
Oddly, we had more freedom a year ago — with no masks and no vaccines — than we do now:
In Wales, First Minister Mark Drakeford (Labour) says that social distancing will not be disappearing any time soon:
Data for the UK should be available on June 14, at which point the Government will announce their decision regarding June 21:
The Government have paid for coronavirus advertising and COVID marshals, extending to 2022. Former London Assembly member David Kurten tweeted a reminder:
I, too, want my country back.
In Germany, scientists from Munich University say that lockdown had no effect on the virus spread:
Something is very wrong when, in a five-minute speech on television, a prime minister or a president can remove everyone's civil liberties at a stroke.
Monday, March 23, 2020, will be etched on my memory forever. That was the date of the UK's first lockdown.
D-Day. Freedom Day. What has happened to us — and for a 'pandemic' with fatality rates no worse than influenza? We are in a very bad way, not only in the UK, but also elsewhere in the West.
This is my final post on Prince Philip, as the Queen and Princess Anne returned to work last week, just days before his funeral, but more importantly because of his own views:
The Queen
The Queen turned 95 today, Wednesday, April 21. May she have many happy returns. Prayers continue for God's comfort to her at this difficult time:
The funeral commentators on Sky News remarked at how the Queen's eyes always lit up when Prince Philip entered a room, even after 73 years of marriage:
She posted this photograph of herself with Prince Philip in Scotland, a nation which they loved. Muick, by the way, is pronounced 'mick':
The Countess of Wessex said that the Queen regarded him as her protector:
He also kept a gimlet eye on public opinion for her. One wonders how much he influenced the Queen to return to Buckingham Palace with Princes William and Harry after Princess Diana died in August 1997. As dictated by the media, we were under the impression that then-Prime Minister Tony Blair was responsible for the return of the Royal couple and their grandsons to London, but, now, one wonders:
The Queen will treasure the many memories of her husband — and his pragmatism.
Prince Philip's practical wisdom
Prince Philip had straightforward views on various aspects of everyday life.
Attire
The Prince was probably the best dressed British man for decades. Who could top his effortless, yet classic, style of dress and accessories?
He also kept himself in trim throughout his life, which helped him maintain his sense of impeccable style:
The Daily Mail has an article with a retrospective of photos of him through the years. Although the Prince had his clothes made by top Savile Row tailors, all any man has to do is adopt the classics (emphases mine):
According to [celebrity stylist] Rochelle [White], the Duke's suits were 'impeccably' tailored, with the royal selecting classic, handsome suiting; most often single-breasted jackets in navy. 
Meanwhile off-duty, the royal would often relax in a cool polo shirt and button-down linen shirts which made him 'eye-catching' …
Becky French, creative director of one of his preferred tailors Turnbull & Asser, told The Telegraph: 'Prince Philip was quite simply one of the best dressed men in the world, 'Up until the age of 99, he always looked impeccable, with his naval blazer, shirt and tie.
'Never a slave to fashion, he knew how he wanted to dress and perfected that style over almost a century.' 
Brevity in public speaking
On Monday, April 12, both Houses of Parliament met to pay tribute to the Prince.
Ian Blackford (SNP) cited an excellent piece of advice from the Prince on public speaking. It is ironic that it was Blackford who found the following quote, as he speaks endlessly.
This is excellent — and so true:
What the backside cannot endure, the brain cannot absorb.
Fools
Winston Churchill's grandson, Sir Nicholas Soames, a former MP, told Freddie Sayers of UnHerd that Prince Philip did not suffer fools gladly:
Honesty
A former Royal butler said much the same thing as Sir Nicholas Soames, adding that the Prince spoke as he found. As such, he enjoyed working for the Prince, because he told one exactly what he wanted, politely but succinctly:
Stiff upper lip
Prince Philip was a 'stiff upper lip', 'old school' gentleman:
However, as the generations pass, personal conduct changes:
Spiked's Tim Black referred to the interview with Sir Nicholas Soames above, writing (emphases mine):
As Tory grandee Nicholas Soames put it this week, Philip was 'the epitome of the stiff upper lip'.
But so were many others of Philip's generation. Because maintaining a stiff upper lip, remaining in control of one's emotions, especially in public, was long considered by many to be a mark of one's character. It was something to be cultivated, worked on. Because it meant that one was able to act according to something beyond one's own impulses. It meant that one was committing oneself to something – a duty to others, perhaps, or to an idea or a cause – over and above one's feelings. To not be in control of one's emotions, to succumb easily to tears or anger, was the mark of a lack of character, a sign of immaturity.
Tim Black is right. Maintaining a stiff upper lip is hard work: no two ways about it.
Sense of duty
Tim Black pointed out that the Prince was devoted to duty:
You don't have to be a fan of the monarchy – and we at spiked are not – to mourn the passing of the character represented by Prince Philip. 'Everyone has to have a sense of duty', he told an interviewer in 1992. 'A duty to society, to their family.' Too many in high places, it seems, only have a duty to themselves.
I think it is incumbent upon us to rediscover this lost virtue.
Some of Prince Philip's duties involved recognising others for their achievements. Former Chancellor of the Exchequer George Osborne recalled the Prince giving his father an award in 1970:
Interviews: never discuss yourself
Gyles Brandreth, a former Conservative MP, has written two books about the Royal Family. After the Prince's death, the Daily Mail asked him what the Queen's consort thought of Prince Harry's and Meghan Markle's interview with Oprah.
The Sun reported:
Gyles Brandreth told the Daily Mail the fact the interview was aired while Philip was is in hospital "did not trouble him".
But he added: "What did worry him was the couple's preoccupation with their own problems and their willingness to talk about them in public.
"Give TV interviews by all means,' he said, 'but don't talk about yourself'.
"That was one of his rules. I know he shared it with his children. I imagine he shared it with his grandchildren, too."
The royal biographer revealed Philip, who died on Friday aged 99, thought the interview was "madness".
Mr Brandeth also said Philip believed his grandson was a "good man" but regretted his decision to step down as a senior royal.
Prince Philip gave many interviews. In the following one from 1995, he discussed his memories of the Second World War. Remarkably, revealing little about himself, he spoke of the various ships on which he served and the tension surrounding battle. Whilst conversational, he speaks so well in recalling so many details that might as well be narrating a documentary. This is a marvellous video, especially for people interested in the war in the Pacific:
Food
Probably the only time Prince Philip and the Queen disagreed was when it came to their meals.
A former Royal chef, Darren McGrady, who now works in the United States, says that the Queen ate to live, whereas the Prince lived to eat. As such, the Prince did not mind if the Queen had a dinner engagement elsewhere, because he could request what he wanted from the kitchen.
The Queen doesn't like garlic. Prince Philip did. Sometimes McGrady prepared the same dinner two different ways: garlic-free for the Queen and extra garlic for the Prince. McGrady discusses the subject here:
Both were known to bring back recipes from their international tours for the Royal chefs to prepare once they were back in the UK.
In the next video, McGrady relates his first meeting with the Prince, whom he mistook for the gardener because of his scruffy, well-worn clothes. Here he prepares one of the Prince's favourite dishes, salmon coulibiac, a Russian form of salmon en croute:
In this next video, McGrady said that the Prince did not suffer fools gladly. He was no stranger to the Royal kitchens, stopping in to ask what was being served and, during the summer, what fruit was ripening. McGrady said that the Prince already knew what was in the gardens, therefore, the staff had to know, too. Prince Philip taught McGrady how to remove mango fruit with a spoon. Another favourite dish of his was Icelandic pancakes, filled with jam and folded in half. The recipe is at the 6:47 mark:
Those who knew him, including Darren McGrady, said that the Prince enjoyed barbecuing — whatever the weather. One of the Sky News funeral commentators said that the Prince held a barbecue in freezing weather one January. The Prince loved it; his guests were polite — and cold.
The Prince also went in for fancier meats to grill outdoors, such as lamb noisettes. He found steaks rather ordinary, McGrady says.
Gordonstoun
On April 12, the Daily Mail revealed previously undisclosed details about Prince Philip's schooldays at Gordonstoun (pron. 'Gordons-town') in Scotland. The article comes complete with photographs. He was Prince Philip of Greece at the time, with no surname.
Although he could be mischievous, he always wanted to do better in his studies and school activities:
The Duke of Edinburgh's old boarding school has released his report cards which reveal 'he was naughty, but never nasty'.
The report from the £40,000-per-year Gordonstoun in Moray was written for the Duke's marriage to The Queen in 1947.
Headmaster Kurt Hahn's notes also reveal a comical incident when the young prince nearly knocked over a young woman with a pram – but his apology was 'irresistible'.
The school has educated three generations of the UK Royal Family – including Prince Philip, who joined at the age of 13. 
Gordonstoun – which featured in Netflix's hit series 'The Crown' – was founded by Dr Hahn, who fled Nazi Germany and became an inspiring mentor to Philip. 
When Philip came to Gordonstoun 'his marked trait was his undefeatable spirit, he felt deeply both joy and sadness, and the way he looked and the way he moved indicated what he felt'. 
Dr Hahn noted of the young pupil: 'He had grown impatient of what for short may be called Royalty nonsense. After matches and theatrical performances, people often asked him for an autograph. He found this ridiculous and on one occasion signed himself "The Earl of Baldwin", to the bewilderment of the autograph-hunter.' 
He also reveals Philip had 'meticulous attention to detail' and was 'never content with mediocre results' … 
Sarah Ferguson
It seems that the only person the Prince was not keen on was Sarah Ferguson.
While the Queen is quite fond of her — Andrew being her favourite child — the Prince preferred to keep her at arm's length.
My older readers might remember when, in 1992, photos of her lover sucking her toes circulated around the world. Prince Philip decided that was the moment she was persona non grata.
On April 13, Gyles Brandreth wrote an article for the Daily Mail on the Prince's views of Fergie:
On the whole, Prince Philip was reasonably circumspect when talking about his children and their relationships — except in the case of Prince Andrew and Sarah Ferguson.
He spoke with real affection of their daughters, Beatrice and Eugenie, but he made no secret of the fact that he regarded Sarah, Duchess of York, as 'simply beyond the pale'.
One day in the summer of 1992, while she was staying at Balmoral with the Queen and Prince Philip, photographs had appeared in a daily newspaper of Sarah topless and having her toes sucked by a lover in the South of France.
The Duke of Edinburgh decided that, as far as he was concerned, 'enough was enough'. He did not want — or need — to have anything more to do with her.
For the remainder of Sarah's stay at Balmoral, his actions spoke louder than words. 'It was ridiculous,' she told me. 'As soon as I came in through one door, he'd be falling over the corgis to get out of the other. It was very funny. Except, of course, it wasn't.'
After Sarah's separation from Prince Andrew, the Queen continued to have tea with her from time to time.
But Prince Philip was resolute: he had no desire to see her again.
This Sarah knew and it pained her. 'Of course I want to see him,' she told me after her divorce. 'I am the mother of his granddaughters, after all.'
I raised this with Prince Philip, but he just shrugged and said: 'But the children come and stay.'
When I asked him why he wouldn't see Sarah, he said: 'I am not vindictive.' Then, looking at me directly, he added emphatically: 'I am not vindictive, but I don't see the point.' That Andrew and Sarah appeared to remain friends after their separation — and that they shared a home even after their divorce — seemed to him 'truly bizarre'.
'I don't pretend to understand it,' he said.
Sarah, however, kept trying to mend bridges … 
I'm with Prince Philip on that. I could never understand Fergie and Andrew's relationship. I still don't.
On April 15, The Sun reported that both Sarah and Andrew have been seen with the Queen:
They have been making the short drive from Royal Lodge to Windsor Castle, sometimes twice a day, to walk with the Queen and her new corgis.
However, Andrew has been warned to forget plans to use his public appearances as a springboard back into royal duty.
Royal watchers believe Philip's passing aged 99 boosts the chances of Fergie making a comeback after years in the wilderness.
Now her husband has departed, the Queen, who has a soft spot for her former daughter-in-law, might be more open to the idea of her and Andrew returning to a more prominent role within the Firm.
Princess Anne
Prince Philip was closest to his daughter Anne.
Princess Anne's own children have praised her as a mother. She gave her father full credit:
The Prince might have been no-nonsense, but he had fun, especially with three generations of Royal children.
This is a priceless little video:
He also kept his children amused on car trips:
Princess Anne survived a kidnapping attempt in 1974:
Prince Philip was no stranger to Royal weddings. On the right hand side of the photo montage, he walked Princess Margaret down the aisle (George VI had died a few years beforehand) and, in 1973, Princess Anne:
So that Anne would smile walking down the aisle, the Prince cracked one of his usual jokes, which made her laugh:
This was the happy result:
Here's a close up of her gown, which has attracted much favourable comment.
After her father's death, Princess Anne released a statement, along with a photo:
Three days later, she was back at work:
Great-grandchildren
Members of the Royal Family have posted some splendid photos of Prince Philip with his great-grandchildren.
Here he is taking Prince George for a carriage ride:
The next photo shows the Prince sharing a bite to eat with Princess Anne's granddaughter. Click to see it in full — absolutely charming:
This group photo was taken in 2018 and made the front page of the Daily Express on Thursday, April 15:
More tributes
The Daily Mail has an article recapping pre-recorded interviews with Prince Philip's children. These were broadcast after he died. ITV has more, complete with longer clips.
The Royal Family also posted a multi-generational photo montage.
Prince William wrote that his grandfather shared his life at all times:
both through good times and the hardest days.
Prime Minister Boris Johnson and fellow MPs paid tribute on Monday, April 12, as did members of the House of Lords. A number of their anecdotes are not only interesting but also amusing. In the devolved assemblies, including Northern Ireland, the only person who had anything negative to say was Patrick Harvie of the Scottish Greens.
Conclusion
In closing, I do wish that the general public had known more about Prince Philip while he was alive. We could have had an even fuller recollection of his life and service, not only to the UK but also to the Commonwealth.
Will there ever be another like him? We might be waiting a century or more. The only other Royal consort who was mentioned in the many tributes was Queen Victoria's husband, Prince Albert. He died in 1861.
With that in mind, it will be up to us to emulate the best of Prince Philip's example. Adopting a stiff upper lip would be a great start. So would feeling a sense of duty towards others.
Friday, May 8, 2020, was a national holiday in the UK to commemorate the 75th anniversary of VE Day.
It's a bittersweet commemoration.
The Allies fought for our freedom.
In the UK, we are still in lockdown for coronavirus.
Not a day has gone by when I haven't considered that all those freedoms fought for were taken from us on the evening of Monday, March 23, 2020. All it took was an announcement from Prime Minister Boris Johnson.
This is where we are:
We await Boris's announcement on Sunday, May 10, re lockdown.
This tweet is from the co-editor of Conservative Woman:
I find it hard to believe that Boris can credibly extend lockdown (which isn't saying he won't) …
… particularly in light of Prof Neil Ferguson's bogus numbers …
… and resignation from SAGE for having his mistress over — twice:
Boris told us his was to be the People's Government. I hope someone reminds him of that.
This was VE Day 2020, as Kathy Gyngell, the other co-editor of Conservative Woman, puts so aptly:
This letter to the editor comes from author Virginia Ironside, born a year before VE Day:
She nails it in the last paragraph.
The lockdown has shown there is an 'us' and a 'them'. Ferguson's lover said that lockdown was straining her marriage. Aww diddums. She lives in a £1.9m house. Imagine if she were living with an abusive husband on the 15th floor of a council block:
So, what hope have we?
I have never lost sight of this fact:
A German virologist agrees. (I'm ever thankful that peacetime brought Europe together.) I watched this interview, which is excellent:
Meanwhile, in Sweden:
And let's not forget the economic impact, the worst since 1706:
These facts make watching the late afternoon daily coronavirus briefing all the more painful.
Dominic Raab, Boris's First Secretary (deputy PM), was at the main lectern on Thursday, May 7:
One veteran of the Second World War, Captain Tom Moore, raised more than $28m for the NHS by walking around his garden 100 times. He uses a zimmerframe (walker), so this could not have been easy.
For his 100th birthday a few days ago, the Royal Air Force gave him his own personal flypast.
And now ITV made a documentary about his time in the war, which was shown on Friday:
God bless him. Many happy returns, Captain Tom!
A 100-year-old RAF veteran died in Salford last week.
Oswald 'Ossie' Dixon has no family in England. It's probable that he outlived his friends, too.
Therefore, an appeal has been sent for people living in the Salford/Manchester area to attend his funeral on Wednesday, October 9:
Originally from Jamaica, Ossie Dixon fought in the Second World War.
The Manchester Evening News — a great newspaper, by the way — featured an excellent and moving article on his life last week along with an appeal to attend his funeral:
An RAF veteran with no family has died at the age of 100.
Now the public are being asked to turn out to salute his life and sacrifice at his funeral.
Oswald Dixon – known as 'Ossie' – made Manchester his home after leaving Jamaica to serve during the Second World War.
He was the oldest resident at Broughton House care home for veterans in Salford and passed away peacefully at the home on September 25.
Mr Dixon turned 100 in April.
Known for his wicked sense of humour, he joined the RAF in Kingston, Jamaica, in November, 1944, as a flight mechanic then moved to Britain to serve before the conflict ended.
He became a leading aircraftman and remained in the service teaching new recruits until he retired.
Mr Dixon, who was registered blind, was living alone in Salford until he moved to Broughton House in 2015.
He received greetings from the Queen, the Government and the Jamaican High Commissioner on his milestone birthday earlier this year, which was celebrated at the care home with a huge party.
Co-op Funeral Care in Salford has arranged his funeral for Agecroft Cemetery and Crematorium in Salford on Wednesday, October 9.
The service is due to start at 2.20pm.
Read more here and see photos of this generous veteran who made it his life's mission to help other people and bring joy into their lives.
I was particularly impressed by the photo of him on his 100th birthday in his dress uniform. He looked very smart, indeed.
May God bless Oswald Dixon with eternal rest in Heaven.
UPDATE — October 9:
I am pleased to report that many people turned out for Oswald Dixon's funeral:
Johnny Mercer MP is our minister for veterans.
President Donald Trump and First Lady Melania Trump were in England and Normandy for commemorations of the 75th anniversary of D-Day.
The night before, he hosted Prince Charles and Camilla the Duchess of Cornwall for dinner at the US ambassador's residence in Regent's Park, London. The guests at his table were also in Portsmouth the following morning. Theresa May is on the right in the photo:
On Wednesday, June 5, the Royal Family's Twitter account summarised D-Day's importance:
Also:
The Allied landings on the Normandy beaches marked the start of a long and costly campaign to liberate north-west Europe from German occupation. #DDay75
This was the scene in Portsmouth, on England's south coast that day:
A short time later, veterans who had been involved 75 years ago began taking their seats:
The Queen, who served as a mechanic during the war, arrived:
This is a photograph for the history books:
Warm exchanges took place beforehand:
The Queen stood between Prince Charles and President Trump to watch the proceedings:
She addressed the crowd, referencing her father, George VI:
President Trump read then-President Franklin Delano Roosevelt's prayer for the troops:
D-Day veterans appeared on the dais to grateful applause.
Actress Celia Imrie (speaking in the next video) compered (emceed) the various performances:
The following ABC News video has the Portsmouth commemorations in their entirety:
The BBC has a set of photographs covering the day's events.
Afterwards, the Queen, Prince Charles and the Trumps met with veterans who so bravely served in D-Day operations:
Trump also met with British veterans as well as US Navy personnel based in England:
The Queen then bade farewell to the Trumps, who were leaving for Ireland, where the president met with the prime minister there that afternoon:
The Trumps went to Normandy the following day for D-Day ceremonies before returning to Ireland, then onwards to the United States.
The Q Tree has the Trumps' schedule after Portsmouth for the rest of June 5 (emphasis in the original):
2:50pm BST / 9:50am EST THE PRESIDENT and THE FIRST LADY depart Southsea Commons en route to Southsea Castle Landing Zone, Portsmouth, United Kingdom
2:55pm BST / 9:55am EST THE PRESIDENT and THE FIRST LADY arrive at Southsea Castle Landing Zone, Portsmouth, United Kingdom
3:05pm BST / 10:05am EST THE PRESIDENT and THE FIRST LADY depart Portsmouth, United Kingdom, en route to Southampton Airport, Southampton, United Kingdom, Portsmouth, United Kingdom
3:25pm BST / 10:25am EST THE PRESIDENT and THE FIRST LADY arrive at Southampton Airport, Southampton, United Kingdom
3:35pm BST / 10:35am EST THE PRESIDENT and THE FIRST LADY depart Southampton Airport en route Shannon Airport, Shannon, Ireland, Southampton, United Kingdom
~ U.K State Visit Concludes ~
4:50pm IST / 11:50am EST THE PRESIDENT and THE FIRST LADY arrive at Shannon Airport, Shannon, Ireland
5:00pm IST / 12:00pm EST THE PRESIDENT and THE FIRST LADY depart Shannon Airport en route to Shannon Airport Terminal, Shannon, Ireland
5:05pm IST / 12:05pm EST THE PRESIDENT and THE FIRST LADY arrive at Shannon Airport Terminal, Shannon, Ireland
5:15pm IST / 12:15pm EST THE PRESIDENT participates in a bilateral meeting with Prime Minister Taoiseach Leo Varadkar of Ireland, Shannon, Ireland
5:20pm IST / 12:20pm EST THE PRESIDENT participates in an expanded bilateral meeting with Prime Minister Taoiseach Leo Varadkar of Ireland, Shannon, Ireland
6:00PM IST / 1:00pm EST THE PRESIDENT and THE FIRST LADY depart Shannon Airport Terminal en route to Shannon Airport, Shannon, Ireland
6:05pm IST / 1:05PM EST THE PRESIDENT and THE FIRST LADY arrive at Shannon Airport, Shannon, Ireland
6:15pm IST / 1:15pm EST THE PRESIDENT and THE FIRST LADY depart Shannon, Airport, en route to Trump International Doonbeg Landing Zone, Doonbeg, Ireland, Shannon, Ireland
6:35pm IST / 1:35pm EST THE PRESIDENT and THE FIRST LADY arrive at Trump International Doonbeg Landing Zone, Doonbeg, Ireland
The Clare Champion featured their arrival:
At the end of Tuesday, Trump tweeted:
He and his entourage would fly from Ireland to Colleville-sur-Mer in the département of Calvados of Normandy the following morning.
Speaking of Normandy, two British veterans were preparing to re-enact their jumps from 1944. Here is one of them undergoing a refresher course:
This is what happened on Wednesday, June 6:
This is what the Trumps saw as they landed in France that morning:
The following is an excerpt of President Trump's speech on Omaha Beach:
The Q Tree has his speech in full on Omaha Beach, excerpted below (emphases mine). More than 60 surviving American D-Day veterans flew to France for this important anniversary. Many more Second World War military survivors also attended:
President Macron, Mrs. Macron, and the people of France; to the First Lady of the United States and members of the United States Congress; to distinguished guests, veterans, and my fellow Americans:
We are gathered here on Freedom's Altar. On these shores, on these bluffs, on this day 75 years ago, 10,000 men shed their blood, and thousands sacrificed their lives, for their brothers, for their countries, and for the survival of liberty.
Today, we remember those who fell, and we honor all who fought right here in Normandy. They won back this ground for civilization.
To more than 170 veterans of the Second World War who join us today: You are among the very greatest Americans who will ever live. You're the pride of our nation. You are the glory of our republic. And we thank you from the bottom of our hearts.
Here with you are over 60 veterans who landed on D-Day. Our debt to you is everlasting. Today, we express our undying gratitude.
When you were young, these men enlisted their lives in a Great Crusade — one of the greatest of all times. Their mission is the story of an epic battle and the ferocious, eternal struggle between good and evil.
On the 6th of June, 1944, they joined a liberation force of awesome power and breathtaking scale. After months of planning, the Allies had chosen this ancient coastline to mount their campaign to vanquish the wicked tyranny of the Nazi empire from the face of the Earth.
The battle began in the skies above us. In those first tense midnight hours, 1,000 aircraft roared overhead with 17,000 Allied airborne troops preparing to leap into the darkness beyond these trees.
Then came dawn. The enemy who had occupied these heights saw the largest naval armada in the history of the world. Just a few miles offshore were 7,000 vessels bearing 130,000 warriors. They were the citizens of free and independent nations, united by their duty to their compatriots and to millions yet unborn.
There were the British, whose nobility and fortitude saw them through the worst of Dunkirk and the London Blitz. The full violence of Nazi fury was no match for the full grandeur of British pride.
There were the Canadians, whose robust sense of honor and loyalty compelled them to take up arms alongside Britain from the very, very beginning.
There were the fighting Poles, the tough Norwegians, and the intrepid Aussies. There were the gallant French commandos, soon to be met by thousands of their brave countrymen ready to write a new chapter in the long history of French valor.
And, finally, there were the Americans. They came from the farms of a vast heartland, the streets of glowing cities, and the forges of mighty industrial towns. Before the war, many had never ventured beyond their own community. Now they had come to offer their lives half a world from home.
This beach, codenamed Omaha, was defended by the Nazis with monstrous firepower, thousands and thousands of mines and spikes driven into the sand, so deeply. It was here that tens of thousands of the Americans came …
One of those men in [Colonel George] Taylor's 16th Regiment was Army medic Ray Lambert. Ray was only 23, but he had already earned three Purple Hearts and two Silver Stars fighting in North Africa and Sicily, where he and his brother Bill, no longer with us, served side by side.
In the early morning hours, the two brothers stood together on the deck of the USS Henrico, before boarding two separate Higgins landing craft. "If I don't make it," Bill said, "please, please take care of my family." Ray asked his brother to do the same.
Of the 31 men on Ray's landing craft, only Ray and 6 others made it to the beach. There were only a few of them left. They came to the sector right here below us. "Easy Red" it was called. Again and again, Ray ran back into the water. He dragged out one man after another. He was shot through the arm. His leg was ripped open by shrapnel. His back was broken. He nearly drowned.
He had been on the beach for hours, bleeding and saving lives, when he finally lost consciousness. He woke up the next day on a cot beside another badly wounded soldier. He looked over and saw his brother Bill. They made it. They made it. They made it.
At 98 years old, Ray is here with us today, with his fourth Purple Heart and his third Silver Star from Omaha. Ray, the free world salutes you. Thank you, Ray.
Trump related a few more real life stories about what is known as the Longest Day, unimaginably harrowing. God was with the Allied troops.
Trump concluded:
The men behind me will tell you that they are just the lucky ones. As one of them recently put it, "All the heroes are buried here." But we know what these men did. We knew how brave they were. They came here and saved freedom, and then, they went home and showed us all what freedom is all about.
The American sons and daughters who saw us to victory were no less extraordinary in peace. They built families. They built industries. They built a national culture that inspired the entire world. In the decades that followed, America defeated communism, secured civil rights, revolutionized science, launched a man to the moon, and then kept on pushing to new frontiers. And, today, America is stronger than ever before.
Seven decades ago, the warriors of D-Day fought a sinister enemy who spoke of a thousand-year empire. In defeating that evil, they left a legacy that will last not only for a thousand years, but for all time — for as long as the soul knows of duty and honor; for as long as freedom keeps its hold on the human heart.
To the men who sit behind me, and to the boys who rest in the field before me, your example will never, ever grow old. Your legend will never tire. Your spirit — brave, unyielding, and true — will never die.
The blood that they spilled, the tears that they shed, the lives that they gave, the sacrifice that they made, did not just win a battle. It did not just win a war. Those who fought here won a future for our nation. They won the survival of our civilization. And they showed us the way to love, cherish, and defend our way of life for many centuries to come.
Today, as we stand together upon this sacred Earth, we pledge that our nations will forever be strong and united. We will forever be together. Our people will forever be bold. Our hearts will forever be loyal. And our children, and their children, will forever and always be free.
May God bless our great veterans. May God bless our Allies. May God bless the heroes of D-Day. And may God bless America.
The Q Tree has full coverage, including this 90-minute video of the day's commemorations:
This is NBC's video, which begins with an analysis of D-Day:
French president Emmanuel Macron also addressed the American veterans. I was in France at the time and watched part of his speech on BFMTV. It was highly evocative and really captured the idea of Americana. Whoever wrote it should get a pay rise. I was very moved by it. He spoke, as did Trump, of young soldiers from farms in the Midwest mixing with their comrades from Manhattan and New Jersey, writing their girlfriends farewell letters.
Afterwards, Macron shook hands with all the veterans and spoke with each individually. I'm not a Macron fan at all, but I have to give him credit for that.
Trump tweeted a short video recapping his day in Normandy:
This is the view of the Trumps' departure, returning to Ireland before flying back to Washington:
Reflecting on D-Day, someone online posted this excellent graphic from Gab:
We should be so grateful for everything that God has given us — especially peace and freedom in the Western world.
However, it would also be prudent to look at how we have squandered the opportunities for our young people in peacetime. The safe space generation is not equipped to deal with the horrors of life such as it is.
May the good Lord grant us the wisdom to get us out of a navel-gazing attitude towards one of genuine progress and ingenuity, such as that of the post-war years.
In closing, let us give thanks to the Greatest Generation for their immense courage and bravery.
On Thursday, December 27, the good Lord took Richard Arvin Overton, America's oldest veteran and living male, to his heavenly rest.
Mr Overton was 112 years old and died of pneumonia-related complications.
A God-fearing churchgoer, he was of the old school in his daily habit of smoking Tampa Sweet cigars — up to 12 — and enjoying whisky. He was still driving a car at the age of 109.
This intriguing video shows us more about this good man, who served his country during the Second World War:
Black History Heroes honoured him on Veterans Day this year:
Prior to that, Richard Overton, a lifelong Texan, received other public honours, as Wikipedia tells us:
Overton gained media attention during the 2013 Memorial Day weekend when he told Fox News he would spend his Memorial Day "smoking cigars and drinking whiskey-stiffened coffee."[11] On that same Memorial Day, Overton met with Texas Governor Rick Perry. Overton was also invited to the White House where he met with President Barack Obama, and to the Veterans Day ceremony at Arlington National Cemetery, where he was singled out by name for praise by the President.[5][12][13]
During an NBA game between the San Antonio Spurs and the Memphis Grizzlies on March 24, 2017, Overton was honored during a half-time break.[14]
Overton is the subject of a 2016 documentary, Mr. Overton, in which he is interviewed about his daily routine, thoughts on his longevity, and his military service.[15][16] On May 3, 2016, he became the oldest surviving American veteran after the death of Frank Levingston.[17][18][19]
On his 111th birthday, the University of Texas club feted him with a luncheon. Biography reports that he said:
111, that's pretty old, ain't it. I can still get around, I can still talk, I can still see, I can still walk.
His home city of Austin — the Texas state capital — even officially designated his birthday as Richard Overton Day. How cool is that?
Richard Overton was born to Gentry Overton, Sr. and Elizabeth Franklin Overton Waters on May 11, 1906, in Bastrop County, Texas. He was a great grandson of John Overton Jr., whose father served as a political adviser to President Andrew Jackson.
Wikipedia provides us with details about his tour of duty during the Second World War:
Overton enlisted into the U.S. military on September 3, 1940 at Fort Sam Houston, Texas.[8]
He served in the South Pacific from 1940 through 1945, including stops in Hawaii, Guam, Palau and Iwo Jima. He left the U.S. Army in October 1945 as a technician fifth grade.[9]
He earned several service medals, including the Meritorious Unit Commendation, the US Army Good Conduct Medal, the American Campaign Medal, the Asiatic-Pacific Campaign Medal and the World War II Victory Medal.
After the war ended, Overton worked in furniture shops before taking on a position with the Texas Department of the Treasury, as it was known at the time.
He married twice and had no children.
In 2016, his relatives launched a GoFundMe campaign so that he could continue to live in his own home rather than go to an assisted living facility. The GoFundMe campaign was wildly successful and raised more than $200,000 as of 2017. Biography says that Home Depot and Meals on Wheels also made their own donations. Ultimately, Richard Overton was able to have his house refit to accommodate his changing health circumstances and enable round the clock care at home.
Biography tells us that, when asked if he had any secrets to a long life:
Overton simply replied that he has none. "I don't have a secret," he told People. I am here because the man upstairs wants me to be here… He put me here, and he decides when it's my time to go."
Well said!
His funeral will take place in Austin on January 12, 2019; KXAN has details. His house could well be turned into a museum — his dying wish.
Richard Overton honoured God, his country, his family and his fellow citizens.
One cannot say better than this …
… other than to add: may he rest in peace.
On Monday, March 20, 2017, Britain's singing legend Dame Vera Lynn, celebrated her 100th birthday.
Dame Vera is as iconic as the Queen.
Incredibly, on March 17, Decca Records released her latest album, Vera Lynn 100: We'll Meet Again. She is thought to be the first centenarian to have a new album on sale.
The London Evening Standard reports (emphases mine below):
The record comes eight years after Dame Vera became the oldest living artist to land a UK number one album and also marks the wartime singer's 93 years in the industry as she made her stage debut at the age of seven.
New re-orchestrated versions of her most beloved music alongside her original vocals will feature on the music release …
The album also features a previously unreleased version of Sailing – a surprise find as it was not widely known she had recorded the track.
Dame Vera recorded the songs with young British talent, including Alfie Boe and The Ayoub Sisters.
A photo of her with a Happy Birthday message was projected onto the white cliffs of Dover, also the name of one of her greatest wartime hits. Others, too numerous to mention, included We'll Meet Again and A Nightingale Sang in Berkeley Square:
Dame Vera still lives at home in Ditchling, East Sussex.
Yesterday, the BBC reported that she participated in a Skype call from home with students from her old school, Brampton Primary School in East Ham, east London. The students serenaded her with a selection of her most famous songs.
The Dame Vera Lynn Children's Charity held a daytime party on top of the white cliffs of Dover. It was very windy that day, but:
veterans, re-enactors and the Singing Sweethearts serenaded Dame Vera and sang happy birthday.
A military-style salute and flag-waving carried on regardless, all in support of her children's charity but also celebrating the 100th birthday of our own Forces' Sweetheart.
The Evening Standard reported:
Dame Vera said: "It is an unprecedented honour to have my birthday marked in such a beautiful way and I am truly thrilled by this wonderful gesture.
"As we look to the white cliffs on Monday, I will be thinking of all our brave boys – the cliffs were the last thing they saw before heading off to war and, for those fortunate enough to return, the first thing they saw upon returning home.
"I feel so blessed to have reached this milestone and I can't think of a more meaningful way to mark the occasion."
BBC Radio 2 asked her for her advice on ageing:
… she said: "Be active to your full capabilities.
"Keep interested, read books, watch television and try to keep in touch with life and what people are doing, seeing and enjoying."
Speaking to BBC Radio 2, she added: "While you can do that, I hope you will continue."
Finally! Someone who defends television! Thank you, Dame Vera!
Dame Vera gave an exclusive newspaper interview to The Sun:
"I try not to worry too much about anything any more, and enjoy every day as it comes," she says.
"There is always something we can be concerned about. The secret is to rise above it and do whatever we can to make the world a better place."
As for the young Second World War troops who loved her and her music:
she is still full of praise for the true Brits who gave up everything to bring peace to future generations.
She adds: "The war was a dark and difficult time but it was quite easy to keep faith when I saw for myself the sacrifices being made by the boys on the front line and everyone on the Home Front.
"The community spirit and collective sense of patriotism saw us all through."
Also:
"The white cliffs were the last thing they saw before they left for war and, for those fortunate enough to return, the first thing they saw to tell them they were home."
The Sun reminds us of why Dame Vera was The Forces' Sweetheart:
To borrow from the familiar lyrics, millions of men and women didn't have the chance to meet their loved ones again some sunny day.
But at least Vera gave them hope and comfort in the darkness and it explains why she ranks her people's title of Forces Sweetheart as highly as any official accolade.
"I consider it to be one of my greatest achievements," she affirms. "I feel very honoured that people regard me in this way.
"I am exceptionally fond of all the brave servicemen and women who have worked, and continue to work, to keep us safe and secure, and protect our values."
The BBC has a great retrospective, complete with family photos, of Dame Vera's life and career. Highlights follow:
Vera Welch was born on 20 March 1917 in East Ham in London. Neither of her parents were involved in showbusiness – her father Bertram was a plumber and mother Annie a dressmaker. But by the age of seven, the talented young Vera was singing in working men's clubs – an audience she described as "great" – and soon became the family's main breadwinner.
This is my favourite:
When she turned 11, Vera took her grandmother's maiden name of Lynn as a stage name. She had no formal singing lessons as a child – and just one as an adult. She said: "I thought I could extend my range but when the teacher heard me sing she said 'I cannot train that voice, it's not a natural voice'. So I said: 'Well thank you very much madam', and left."
I do wonder what that teacher thought later! You know what they say: 'Those who can't do …'
Dame Vera started singing professionally at the age of 15 and released her first single at the age of 19:
By the age of 22 she had sold more than a million records, bought her parents a house and herself a car.
During the Second World War, she went on tour:
it was during World War Two that her reputation was made. She frequently sang to the troops at morale-boosting concerts, becoming known to posterity as The Forces' Sweetheart.
She married Harry Lewis in 1941. They had a daughter, Virginia. Harry died in 1998. Mother and daughter are still very close.
Dame Vera appeared on radio shows. Below, she is the lady in the fur coat:
Dame Vera's career and fame continued after the war ended:
She was appointed OBE in 1969, made a Dame in 1975, and a Companion of Honour in 2016. Her wartime fame meant she was never far from the television screens …
She enjoyed meeting new talent:
She made the acquaintance of glam rock band Slade in 1973, when they gathered round a piano at the Melody Maker Awards.
Her records continue to sell very well and she:
holds the record for being the oldest living artist to achieve a top 20 UK album.
Over the years, Dame Vera has participated in many Second World War commemorative events.
In closing, this is what the Queen wrote Dame Vera on her 100th birthday:
You cheered and uplifted us all in the War and after the War, and I am sure that this evening the blue birds of Dover will be flying over to wish you a happy anniversary, Elizabeth R.
Many happy returns, Dame Vera Lynn!
Norman and Joyce Johnson celebrated their 75th wedding anniversary a few days ago in July 2015.
The two grew up in the same area of Sheffield, South Yorkshire, and met early in adolescence.
Joyce was quite taken by Norman. When she found out he was attending night school, she, too, enrolled, although they took different courses.
They were married during the Second World War. Norman requested weekend leave. The ceremony took place on Saturday, and Norman returned on Sunday night.
He was among those safely evacuated from Dunkirk. In his pocket was a photo of Joyce which he'd wrapped in a 100,000 Deutsche Mark banknote to protect it.
Amazingly, although he had to swim to the rescue boat, the banknote and photo survive to this day.
After the war, Norman worked for the English Steel Corporation. Joyce took in laundry.
They have two daughters, Carol and Sue, seven grandchildren and ten great-grandchildren.
Although they went through the same life experiences as any other couple of their time, Joyce said:
we lived happily ever after.
Norman explained:
the secret to a long and happy marriage was 'being easy-going with each other'.
He said: "I can honestly say we've never fallen out. We've been very happy indeed.
"We've done very well really."
Congratulations to the happy couple!
Let's take a few pages out of their marital notebook!
The weekend of 8 – 10, May 2015, saw several celebrations and ceremonies recalling the 70th anniversary of VE Day.
The BBC televised the main events. The media have also interviewed many veterans and others who were but children at the time.
Their recollections follow, emphases mine.
The Queen and the new film
A new film now showing in cinemas, A Royal Night Out, purports to tell the story of Princesses Elizabeth and Margaret out on the town on VE Day.
Unfortunately, much has been fabricated. Many will see the film and think these things actually took place when they did not.
The Queen's first cousin and best friend, the Hon. Margaret Rhodes, 89 — then Margaret Elphinstone — set the record straight for the Daily Mail. She was working as a secretary for MI6. Princesses Elizabeth and Margaret were both active in the Auxiliary Territorial Service (ATS). The future Queen served as a lorry driver and mechanic.
Mrs Rhodes reveals what really happened on May 8, 1945, when she
was lodging at Buckingham Palace while working as a secretary for the military intelligence service MI6. She recalls how a small gang including 19-year-old Princess Elizabeth, Princess Margaret, 15, and Mrs Rhodes's brothers, left the Palace by the Privy Gate.
… Princess Elizabeth was wearing her Auxiliary Territorial Service uniform …
As was Princess Margaret.
The princesses were protected on their VE Day jaunt by Captain Harold Campbell RN, equerry to Princess Elizabeth's father, King George VI. 'He was deeply disapproving of the whole manoeuvre,' says Mrs Rhodes.
The Express's account of the evening adds:
Mindful of her war service and the need for his daughters to let their hair down the King and his wife gave their blessing, despite mutters of disapproval from advisers.
The royal adventure into the thronging streets of London was to be unofficial and a group of 16 chaperones was hastily convened to ensure the Princesses came to no harm ...
Among those accompanying the Princesses was Lord Porchester, a Royal Horseguards officer, who recalled: "We were mixed up in the crowd.
"No one recognised Princess Elizabeth or Princess Margaret and we went round up Whitehall, up Piccadilly, into the Ritz Hotel and back through Hyde Park Corner, down the Mall.
"Everyone was very jolly, linking arms in the streets and singing Run Rabbit Run, Hang Out The Washing On The Siegfried Line, Roll Out The Barrel, Under The Spreading Chestnut Tree – all those sorts of things."
It might seem remarkable now that the Princesses were not recognised but Elizabeth wore her uniform with the cap pulled down over her eyes.
Mrs Rhodes said that one of the officers said that he would not continue to accompany them unless the Princess wore her cap properly. She quickly adjusted it correctly and the group pressed on into the streets of London.
Mrs Rhodes said that, contrary to what the new film portrays, there was no evening romance with a young man named Jack. There was also no gambling and no visit to a brothel in Soho. Furthermore, Princess Margaret never escaped on a bus. In reality, the group stayed together.
Mrs Rhodes also disputed another episode in the film in her interview with the Mail:
Princess Margaret is also shown quite drunk. 'No! There was no possibility. We never encountered anyone offering one a drink,' insists Mrs Rhodes, the daughter of the 16th Lord Elphinstone.
Mrs Rhodes described people kissing each other, although the Royal party did not engage in such activity.
I hope this film tanks at the box office. Why make such a disrespectful movie about the world's longest serving monarch, a lady who has served her country and the Commonwealth faithfully every day for 63 years?
Film aside, it was a rare outing on an historic and happy day:
The party returned to the Palace after midnight. 'It was emancipation,' says Mrs Rhodes. 'I don't think anybody realises what she has had to give up. You give up your independence. Poor Princess Margaret is dead, but that night is something I know the Queen will never forget.'
She explained:
It was like we had all been living under a huge, heavy, dark cloud. And suddenly, it had gone.
In a recent interview with the Radio Times, Mrs Rhodes said that the future Queen was excited about the prospect of her handsome beau, Prince Philip of Greece, returning from war. King George VI and the Queen Mother were planning on extending an invitation to him to spend several days with the Royal Family.
More memories of VE Day
A veteran quoted by the BBC said on Sunday, May 10, said that no brawls broke out that day because
everyone was sick of fighting.
The Radio Times (2-8 May 2015, p. 176) interviewed 88-year old Joan Alexander who spent the war at the Air Ministry, working long shifts. She was part of the Women's Auxiliary Air Force (WAAF). She remembers Winston Churchill's courtesy:
He used to come in at night, doff his hat and say 'Good evening ladies!' Very courteous.
Of VE Day, she said:
You nearly got squashed. Everyone went mad!
She was with her friends, fellow WAAF comrades, that day, adding:
And then the crowd surged up to Buckingham Palace to see the King and Queen on the balcony. There were all these Americans and Canadians. Some of us girls walked back to Chelsea to see my mum and dad, and everybody was celebrating because the war had gone on so long.
But VE Day wasn't a party for everyone. One veteran whom the BBC interviewed on Sunday, May 10, recalled that he was still stationed in Italy. Despite war being declared over, fighting continued in parts of Europe for the next few weeks. This man remembered his commanding officer telling the troops that it was business as usual. Indeed, they were fired upon that day before the enemy eventually surrendered.
This Army veteran also said that his parents were preparing for his brother's funeral on VE Day. The young soldier had been gunned down in another European country only a few days before peace was declared. The veteran was unable to attend his brother's funeral or share in his parents' grief because he had to concentrate on war.
For some, peacetime was boring
The BBC interviewed a woman who worked in the Timber Corps. She explained that she chose that route rather than enlisting in one of the women's military corps because she never liked taking orders.
She remembered the Timber Corps as being very hard, yet gratifying, work. Despite the heavy lifting and felling of huge trees — as well as the constant blistered hands and feet — she missed the experience when the war ended:
Peace was here and we had to put up with it.
However, she was able to reminisce with her husband in the decades that followed. He also served in the Timber Corps. They married soon after the war.
Women's conscription
It is worth mentioning that women were conscripted during the Second World War.
Although many volunteered to join the military and the Land Army whilst others worked in munitions factories, in December 1941, the British government passed a second National Service Act:
It widened the scope of conscription still further by making all unmarried women and all childless widows between the ages of 20 and 30 liable to call-up.  
Women served as pilots, lorry drivers and did what had been considered men's work. The National Archives site has an excellent page describing the women's effort:
Times had moved on and along with, still vital, clerical and domestic duties, women were driving and maintaining vehicles, manning anti-aircraft guns and RADAR stations, ferrying aircraft from factories to airfields, deciphering coded German messages in secret naval communications units and working as spies in the Special Operations Executive (SOE).
As part of the conscription requirement women had to chose whether to enter the armed forces or work in farming or industry. By December 1943 one in three factory workers was female and they were building planes, tanks, guns and making bullets needed for the war.
One civilian choice open to women was to join The Women's Land Army, set up in June 1939. At its peak in 1943, there were over 80,000 'Land Girls'. The women undertook hard farm work including ploughing, turning hay, lifting potatoes, threshing, lambing and poultry management. Six thousand women worked in the Timber Corps, felling trees and running sawmills.
Women's contributions were huge. It is no wonder that so many marvellously feisty females emerged from that generation!
Not such a happy time for all
Although the war was officially over in Europe, fighting was still going on in Asia. That did not end until August 1945.
Actress June Brown, 88, told the Radio Times (2-8 May 2015, p. 34) that she was in Scotland serving with the Wrens on VE Day:
… I was with a young naval chap at the time and he was being sent to the Far East. Things like that held it back from being a full celebration.
What children then remembered
The BBC commentators told us that, for security purposes, there were no weather forecasts during the war. Imagine six years of not knowing whether to carry a brolly or prepare for snow!
The Radio Times interviewed several actors and other media stars who were children when the war ended. Nearly all recalled the return of light, which after nightly blackouts, was as welcome as it was startling.
Joan Bakewell, now 82, remembered (p. 33):
I can remember the war ending, when I was 12, and this tram coming down the tracks from Stockport that night, illuminated so brightly, covered in light bulbs. We'd lived under a blackout for so long that we'd not seen any electric lights during the night. All of us children, we just ran out and started dancing around the tram, amazed to see so much electric light.
Raconteur and comedy writer Barry Cryer, 80, said that the smells from wartime England stuck in his mind, particularly wet earth and the rubber of his gas mask.
VE Day street parties were aplenty. Many octogenarians recall attending them or family-style parties in the pub. Euphoric dancing, singing, kissing and hugging marked VE Day.
Any readers who remember VE Day are most welcome to comment below!
In closing, I hope that, in future, these memories are passed down to younger generations. May we always remember our ancestors' sacrifices for our freedom.
After Election 2015, London quickly made the segue into a weekend-long remembrance and celebration of victory in Europe in 1945 on May 8.
Ceremonies and celebrations
That Friday afternoon a ceremony took place at the Cenotaph in Whitehall, at which all the party leaders — including those who had resigned just hours earlier — were present.
The Daily Mail's Robert Hardman reported:
If Mr Cameron exuded the authority of a man freshly delivered of a clear mandate from the British people, it should also be said that the outgoing leaders of the Labour and Liberal Democrat parties showed great dignity, too. There was no yawning, no fidgeting or the faintest hint of a scowl from two men who had just gone 36 hours without sleep, lost the fight of their lives and, subsequently, their jobs.
Both Ed Miliband and Nick Clegg could have deputed this ceremony to someone else and gone to bed. Instead, both had dressed immaculately – as had Scottish First Minister Nicola Sturgeon. Both joined in all the hymns and prayers (not bad for two professed atheists). Both sang the National Anthem with gusto (unlike Miss Sturgeon, who appeared to chew it instead).
As for the ceremony:
All stood solemnly to attention as Randolph Churchill, 50, a former Royal Navy officer, recited his great-grandfather's immortal VE Day broadcast: 'After gallant France had been struck down we, from this island and from our united Empire, maintained the struggle single-handed for a whole year,' said Mr Churchill.
'We may allow ourselves a brief period of rejoicing but let us not forget for a moment the toil and efforts that lie ahead.'
The first VE Day was hardly the end of the war for a number of those in active service:
After the party leaders had laid their wreaths, Mr Churchill stepped forward to lay one with former Able Seaman Robert Gale DSM, 92, from Headley, Hampshire. Mr Gale and his landing craft flotilla had been through all the big Allied amphibious landings before VE Day, by which time he found himself in India preparing for the final push against Japan. 'I was bloody annoyed because they were celebrating the end of their war and we were still fighting out in the Far East,' he said.
Various events took place in London for the veterans and their families at the weekend. Some were open to the public, who seized the opportunity to wear 1940s attire.
The BBC televised the main events.
Westminster Abbey Service of Thanksgiving
On Sunday, May 10, a special service took place at Westminster Abbey. The Royal Family, religious leaders, military officers, dignitaries and representatives of the political parties (Harriet Harman for Labour, Tom Brake for the Liberal Democrats and Nigel Farage for UKIP) joined 1,000 Second World War veterans and their families.
Canon Dr John Hall led the service.
The Abbey choir sang the processional hymn Praise to the Lord so exquisitely, it was as if we heard the voices of angels.
(I am using the ESV for the Scripture readings below. The Psalm, set to music, no doubt has lyrical variations.)
The first reading was Isaiah 58:6-9a, 11-12:
6 "Is not this the fast that I choose:
    to loose the bonds of wickedness,
    to undo the straps of the yoke,
to let the oppressed[b] go free,
    and to break every yoke?
7 Is it not to share your bread with the hungry
    and bring the homeless poor into your house;
when you see the naked, to cover him,
    and not to hide yourself from your own flesh?
8 Then shall your light break forth like the dawn,
    and your healing shall spring up speedily;
your righteousness shall go before you;
    the glory of the Lord shall be your rear guard.
9 Then you shall call, and the Lord will answer;
    you shall cry, and he will say, 'Here I am.'
11 And the Lord will guide you continually
    and satisfy your desire in scorched places
    and make your bones strong;
and you shall be like a watered garden,
    like a spring of water,
    whose waters do not fail.
12 And your ancient ruins shall be rebuilt;
    you shall raise up the foundations of many generations;
you shall be called the repairer of the breach,
    the restorer of streets to dwell in.
The choir sang Psalm 107:1-16:
1 Oh give thanks to the Lord, for he is good,
    for his steadfast love endures forever!
2 Let the redeemed of the Lord say so,
    whom he has redeemed from trouble[a]
3 and gathered in from the lands,
    from the east and from the west,
    from the north and from the south.
4 Some wandered in desert wastes,
    finding no way to a city to dwell in;
5 hungry and thirsty,
    their soul fainted within them.
6 Then they cried to the Lord in their trouble,
    and he delivered them from their distress.
7 He led them by a straight way
    till they reached a city to dwell in.
8 Let them thank the Lord for his steadfast love,
    for his wondrous works to the children of man!
9 For he satisfies the longing soul,
    and the hungry soul he fills with good things.
10 Some sat in darkness and in the shadow of death,
    prisoners in affliction and in irons,
11 for they had rebelled against the words of God,
    and spurned the counsel of the Most High.
12 So he bowed their hearts down with hard labor;
    they fell down, with none to help.
13 Then they cried to the Lord in their trouble,
    and he delivered them from their distress.
14 He brought them out of darkness and the shadow of death,
    and burst their bonds apart.
15 Let them thank the Lord for his steadfast love,
    for his wondrous works to the children of man!
16 For he shatters the doors of bronze
    and cuts in two the bars of iron.
Prime Minister David Cameron read Romans 8:31-39:
31 What then shall we say to these things? If God is for us, who can be against us? 32 He who did not spare his own Son but gave him up for us all, how will he not also with him graciously give us all things? 33 Who shall bring any charge against God's elect? It is God who justifies. 34 Who is to condemn? Christ Jesus is the one who died—more than that, who was raised—who is at the right hand of God, who indeed is interceding for us. 35 Who shall separate us from the love of Christ? Shall tribulation, or distress, or persecution, or famine, or nakedness, or danger, or sword? 36 As it is written,
"For your sake we are being killed all the day long;
    we are regarded as sheep to be slaughtered."
37 No, in all these things we are more than conquerors through him who loved us. 38 For I am sure that neither death nor life, nor angels nor rulers, nor things present nor things to come, nor powers, 39 nor height nor depth, nor anything else in all creation, will be able to separate us from the love of God in Christ Jesus our Lord.
The Archbishop of Canterbury, Justin Welby, gave a brief sermon. He emphasised not only peace but also the reconciliation of peoples that took place after the Second World War.
Military cadets and veterans read out the prayer petitions which followed. Winston Churchill's great-granddaughter and a veteran shared another reading.
Excerpts from King George VI's unforgettable VE Day speech were also read:
Armed or unarmed, men and women, you have fought and striven and endured to your utmost. No-one knows that better than I do, and as your King, I thank with a full heart those who bore arms so valiantly on land and sea, or in the air, and all civilians who, shouldering their many burdens, have carried them unflinchingly without complaint.

With those memories in our minds, let us think what it was that has upheld us through nearly six years of suffering and peril. The knowledge that everything was at stake: our freedom, our independence, our very existence as a people; but the knowledge also that in defending ourselves we were defending the liberties of the whole world; that our cause was the cause not of this nation only, not of this Empire and Commonwealth only, but of every land where freedom is cherished and law and liberty go hand in hand.
In the darkest hours we knew that the enslaved and isolated peoples of Europe looked to us, their hopes were our hopes, their confidence confirmed our faith. We knew that, if we failed, the last remaining barrier against a worldwide tyranny would have fallen in ruins.
But we did not fail. We kept faith with ourselves and with one another, we kept faith and unity with our great allies. That faith, that unity have carried us to victory through dangers which at times seemed overwhelming …
There is great comfort in the thought that the years of darkness and danger in which the children of our country have grown up are over and, please God, forever. We shall have failed and the blood of our dearest will have flowed in vain if the victory which they died to win does not lead to a lasting peace, founded on justice and good will.
To that, then, let us turn our thoughts to this day of just triumph and proud sorrow, and then take up our work again, resolved as a people to do nothing unworthy of those who died for us, and to make the world such a world as they would have desired for their children and for ours.
This is the task to which now honour binds us. In the hour of danger we humbly committed our cause into the hand of God and he has been our strength and shield. Let us thank him for his mercies and in this hour of victory commit ourselves and our new task to the guidance that same strong hand.
As his speech shows us, George VI was a devout Anglican, unafraid to speak of the Almighty.
The last hymn was Christ is the World's True Light, sung to Martin Luther's Now Thank We All Our God.
Veteran's walk and lunch
Most of the veterans participating in this year's VE Day commemorations will not be returning if there is a 75th or 80th anniversary.
They are at least 90 years old now.
After the service at Westminster Abbey, the veterans and their families walked up Whitehall, past the Cenotaph to Horse Guards Parade and, finally, to St James Park for a delightful picnic lunch.
When passing the Cenotaph, they saluted it, remembering their fallen friends and family members. One veteran also blew a kiss.
As I watched these men and women walk, I was struck by their relatively robust health. Although, not surprisingly, a good number of them were in wheelchairs or required walking sticks, there were many who walked unaided — and briskly. This is a testament to the NHS and postwar medical care.
The Prince of Wales — Prince Charles — and his wife the Duchess of Cornwall, Camilla, greeted the veterans when they arrived at Horse Guards Parade to listen to the massed bands before lunch.
One veteran was so thrilled to see them that he leapt out of his wheelchair and rushed to shake their hands. They all talked for a few minutes. The elderly man had difficulty returning to his wheelchair; the two women accompanying him helped him, but it took a few minutes.
The gathering ended with a flypast with the Red Arrows as well as Spitfires and Hurricanes. The Lancaster scheduled to fly was out of service, unfortunately.
The Daily Mail has magnificent photos of Friday's events and Sunday's. Looking at them will make you feel as if you were there.
Youngest looking 93-year-old
The BBC interviewed several men and women who saw active service or participated in the war effort.
I shall look at their memories tomorrow.
For now, SpouseMouse and I were amazed to find out that one of the interviewees, Frank Tolley, is 93 years young. He served in Bomber Command and is very physically active. He has very few wrinkles and looks as if he were in his late 60s. More power to Mr Tolley. Whatever he's doing is working a treat.